While Medellin has some amazing sites to visit and explore ​such as Parque Arvi, El Centro, Parque Lleras, Jardin Botanique, among plenty others, don't you think it could be fun to see the city from above?
Well thankfully there is an option for that – paragliding above the city of Medellin.
Located in San Felix, about 40 minutes north of the city there are several companies that offer this incredible Medellin paragliding experience.
Since Medellin is located in a valley flanked by mountains on either side, once you are up in the sky you will really be able to take in the sheer size of the city with views that you will remember for a lifetime.
* Affiliate Disclosure: This post may contain affiliate links, which means I may receive a commission if you make a purchase through the links provided, at no additional cost to you. Thanks for supporting the work I put into TripTins!
1) Medellin Paragliding San Felix Introduction
If you want to add an exhilarating activity to your list of things to do in Colombia then Medellin paragliding should definitely be one of them.
The city of Medellin sits in a vast valley with mountains on either side, and over 200 neighborhoods laying between them.
Most paragliding companies are in the town of San Felix, which is located northwest of the city.
The great thing about paragliding here is that once you are up in the air you will have an incredible view of all these different neighborhoods as far as the eye can see. Medellin paragliding is safe, cheap, and an experience you will not soon forget.
The rest of this guide will go over how to prepare and what to expect for this one of a kind day.
2) Medellin Paragliding Companies
This is one activity that you will need to sign up in advance for to reserve a spot. You can do so through a variety of highly rated companies. My friends and I ending up going with Paragliding Medellin and it was a pretty easy process from beginning to end.
For the most part all of these different companies will offer a very similar experience and those found in the TripAdvisor link all have pretty solid reviews. So when choosing a company do not worry too much about it and just go ahead and pick one that looks good to you.
Throughout the rest of the post I will talk about my experience with Paragliding Medellin, however other companies might have just a bit different of a process from beginning to end.
3) Before You Go
Once you have a company picked out, simply email or submit their online booking form to get the ball rolling. That should be followed by a brief email exchange finalizing dates and any other logistics and personal information they will need from you before you arrive.
A couple days before you are set to go I would also just re-confirm with the company that all is ready to go for your flight.
One additional thing to note here is the folks at the company mentioned the earlier in the day the better due to wind conditions. Because of this I would recommend getting an earlier morning start.
If winds are not calm enough they will make you wait until conditions improve, and if you will be there early, it will leave you with plenty of time for the winds to calm down.
If you end up booking paragliding for later in the day and winds are not looking good, that leaves you with less of an opportunity to get up.
Paragliding Medellin also offers to bring your group to and from San Felix for $40 extra. Other companies will also offer similar options. If you do not opt for that then Uber and taxi will be your next best bet.
The cost from Paragliding Medellin is 160.000 COP or $53 for a 20 minute flight.
4) Location of San Felix
As mentioned the Medellin paragliding takes place outside of the city in a place called San Felix. Below on the map you can see the drive to get there from the El Poblado neighborhood.
5) The Medellin Paragliding Experience
Once you get to the company's office all you have to do is sign your name and give them some basic information. Then walk up quite a few stairs to get to the take off area.
When you arrive to the take off area (given wind conditions are good to go) they will strap you up, give you a quick safety demo and have you flying before you know it. If you are a bit concerned or have any questions, be sure to ask before taking off.
If you haven't paraglided before it really is a super easy process. Once you are strapped in with your guide, you run for about 10-15 feet then lift your legs up when they tell you to and off you go. You are literally just sitting upright as if you were in a chair.
As you begin to ascend you will begin to see the vast valley of Medellin beneath you along with the forests and mountainsides in every which direction.
If you have a GoPro definitely bring it (companies also offer the ability to rent one for the flight) – check out some of the views you will see from up top: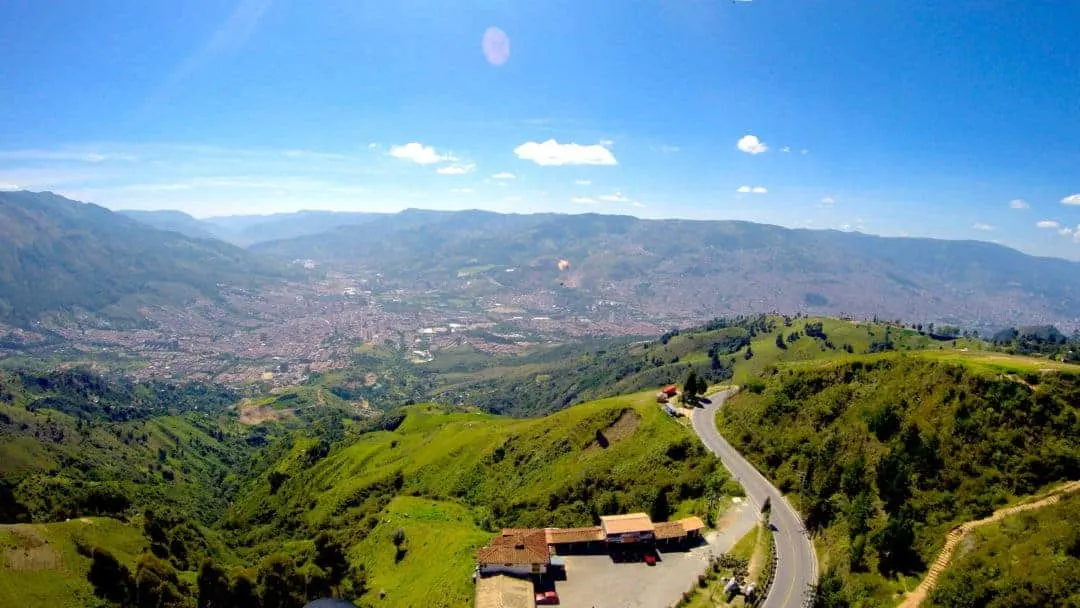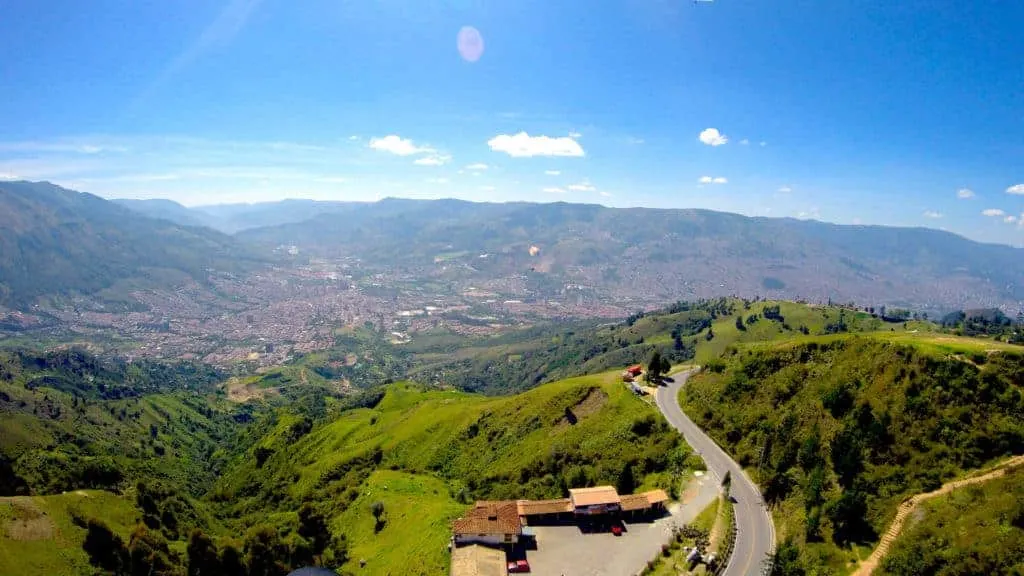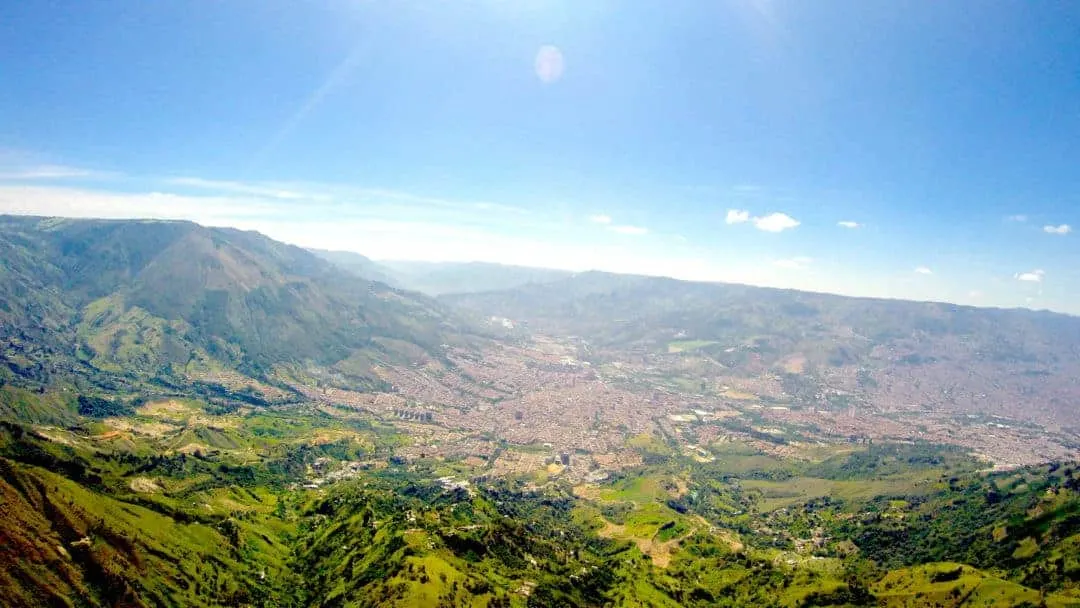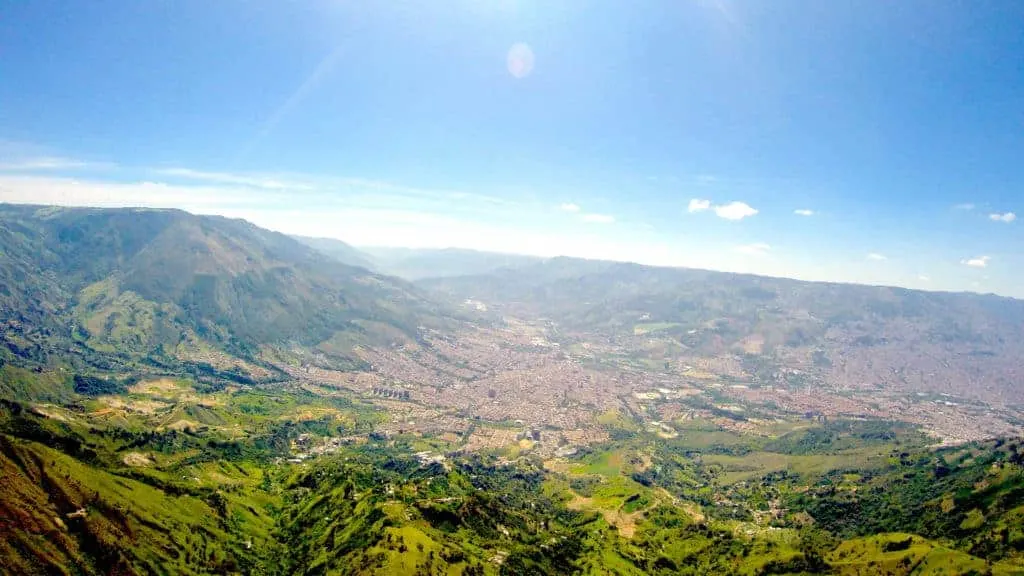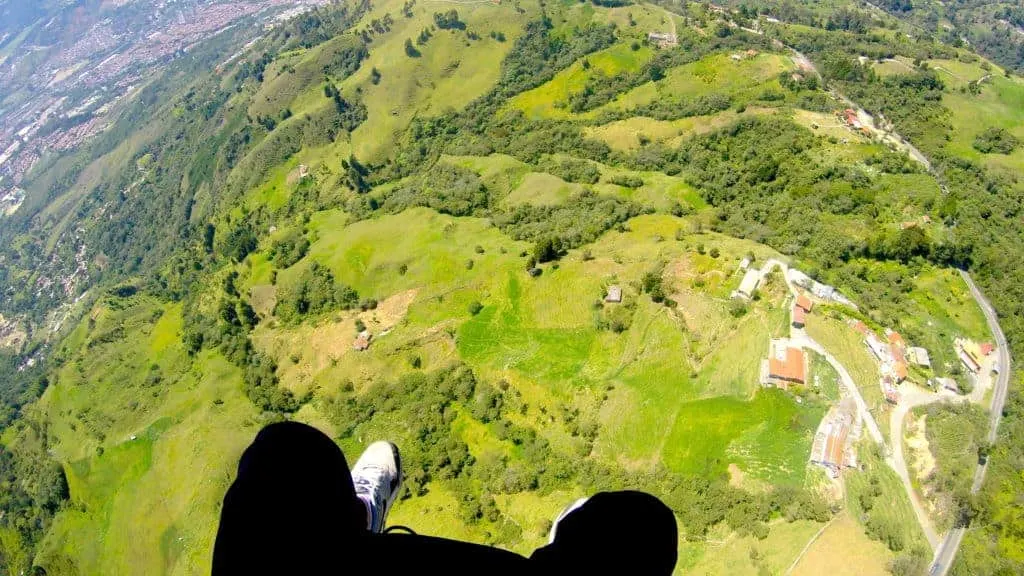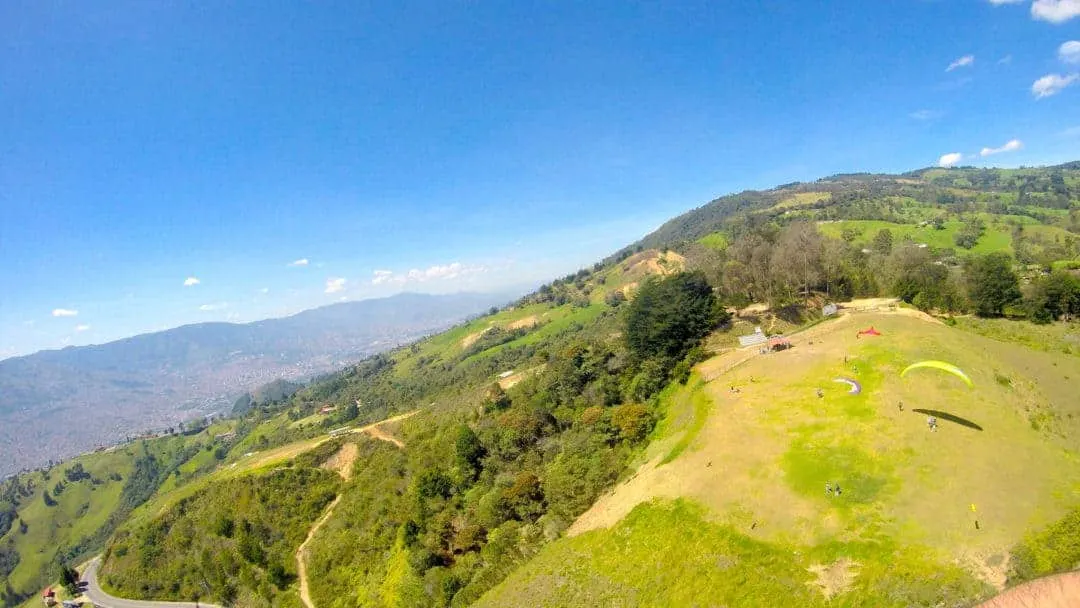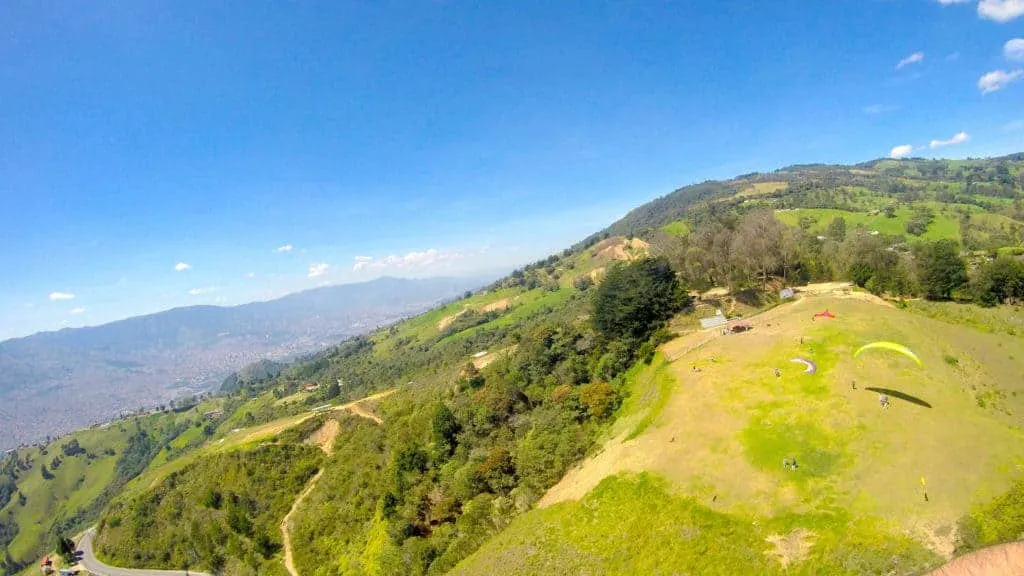 After 10 or so minutes of navigating and enjoying the landscape your guide will ask if you want to do some more "extreme" stuff.
Below is a video of one of the vortexing sessions that lasted 20 seconds or so. Depending on your guide you can do these 2-4 times throughout the ride.
Once 20 minutes is up you will head on in for a landing and then take some time to enjoy the view from the ground.
A great thing about Medellin paragliding in San Felix is that you land exactly where you take off from, so you can leave anything behind and grab it when you come back down.
After a morning of paragliding is complete you will head back to the city either with the driver that took you there or have a cab called for you.

6) Where to Stay in Medellin
Medellin is a pretty large city with numerous neighborhoods sprawled throughout the valley.
My recommendation though would to stay near the El Poblado area, where you will find great hotels, nightlife, and restaurants. Here are some highly rated hotels in the area:
That about wraps up your guide to Medellin Paragliding. Take a look at our other Colombia itineraries and guides to help out with any other trip planning.
If you have any questions about the experience feel free to comment below!