The eighth day of the Huayhuash Circuit takes you from Huayllapa to the campsite of Qashpapampa. Along the way you will get to enjoy some beautiful views, and make your way up the Tapush Pass, before descending down to camp.
Read on to learn more about the route between Huayllapa to Qashpapampa and what to expect out on the trail.
* Affiliate Disclosure: This post may contain affiliate links, which means I may receive a commission if you make a purchase through the links provided, at no additional cost to you. Thanks for supporting the work I put into TripTins!
1) Hiking Overview: Huayhuash Day 8
Day 8 of the Huayhuash Circuit will take you from Huayllapa to Qashpapampa. Below are some helpful stats about the day and what the trail is all about.
Starting Point: Huayllapa
Huayllapa Elevation: 3,500 meters / 11,480 feet
Ending Point: Qashpapampa
Qashpapampa Elevation: 4,500 meters / 14,765 feet
Mountain Pass: Tapush Pass
Tapush Pass Elevation: 4,790 meters / 15,715 feet
Distance: 8.5 miles / 13.7 km
Elevation Gain: 4,100 feet / 1,250 meters
Duration: 5-6 hours
Day 8 Highlights
• Hiking along the river to Huatiac
• Views from Tapush Pass
• Susucocha Lake
• Views of Diablo Mudo from camp
While this article will simply talk through day 8 of the trek, you can learn much more of the overall experience in the Huayhuash Circuit overview up on the site.
Route Note: this daily trekking guide (as well as the other daily guides on the site) go over a standard 10 day Huayhuash Route. Trekking routes can be greater or fewer days depending on your preferences (learn more about these in the previously mentioned overview above!).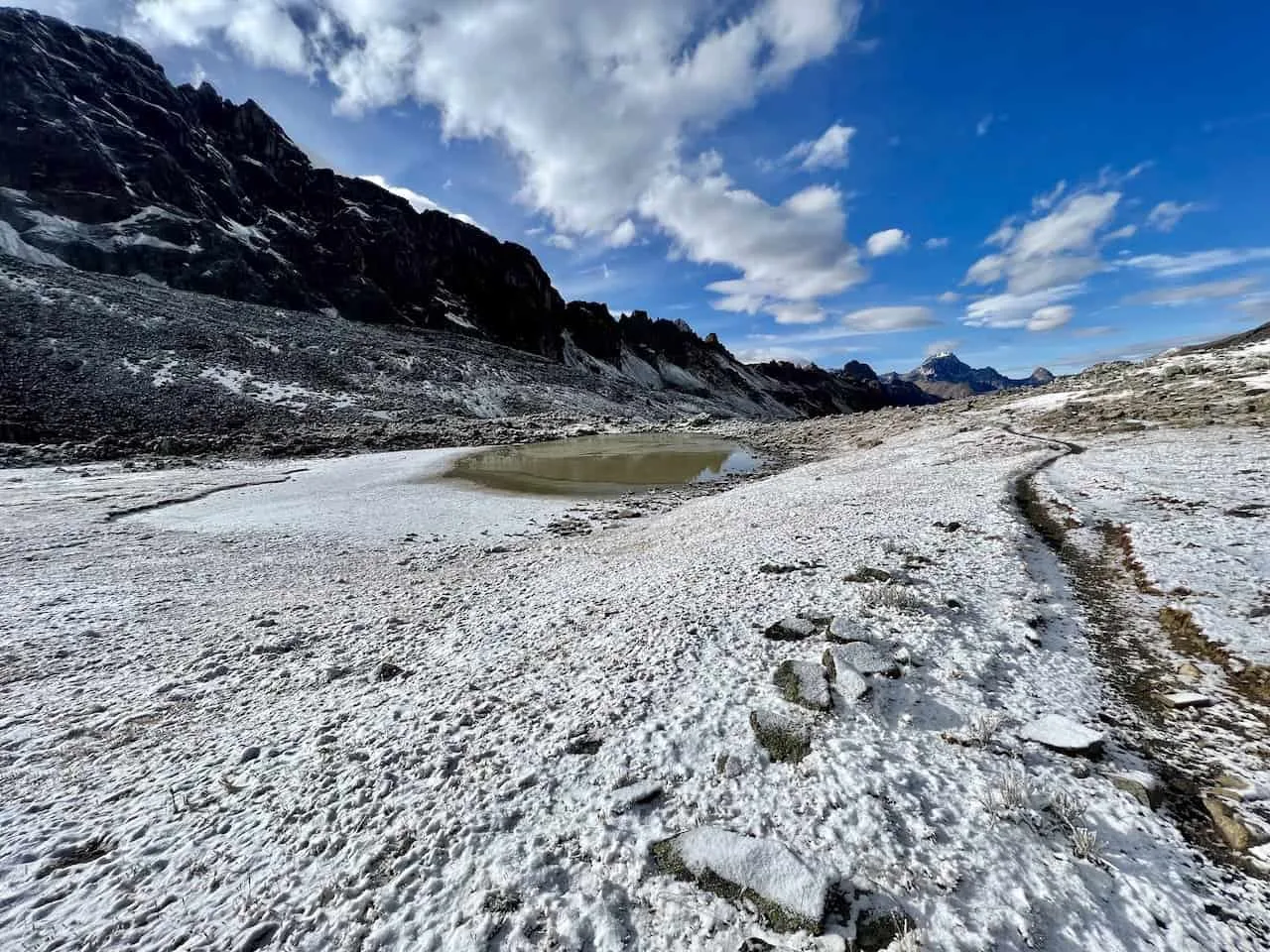 Learn More: Be sure to check out the Huayhuash Circuit resource page that includes many helpful travel guides to get you prepared for the trek.
2) Huayhuash Circuit Day 8: Huayllapa to Qashpapampa Map
To better visualize the hiking route on day 8, below you can find a trail map for the eighth day of the circuit.
If you would like to see the full route, be sure to check out the guides I put together for the complete Huayhuash Circuit Map and Huayhuash GPX file (for navigation purposes).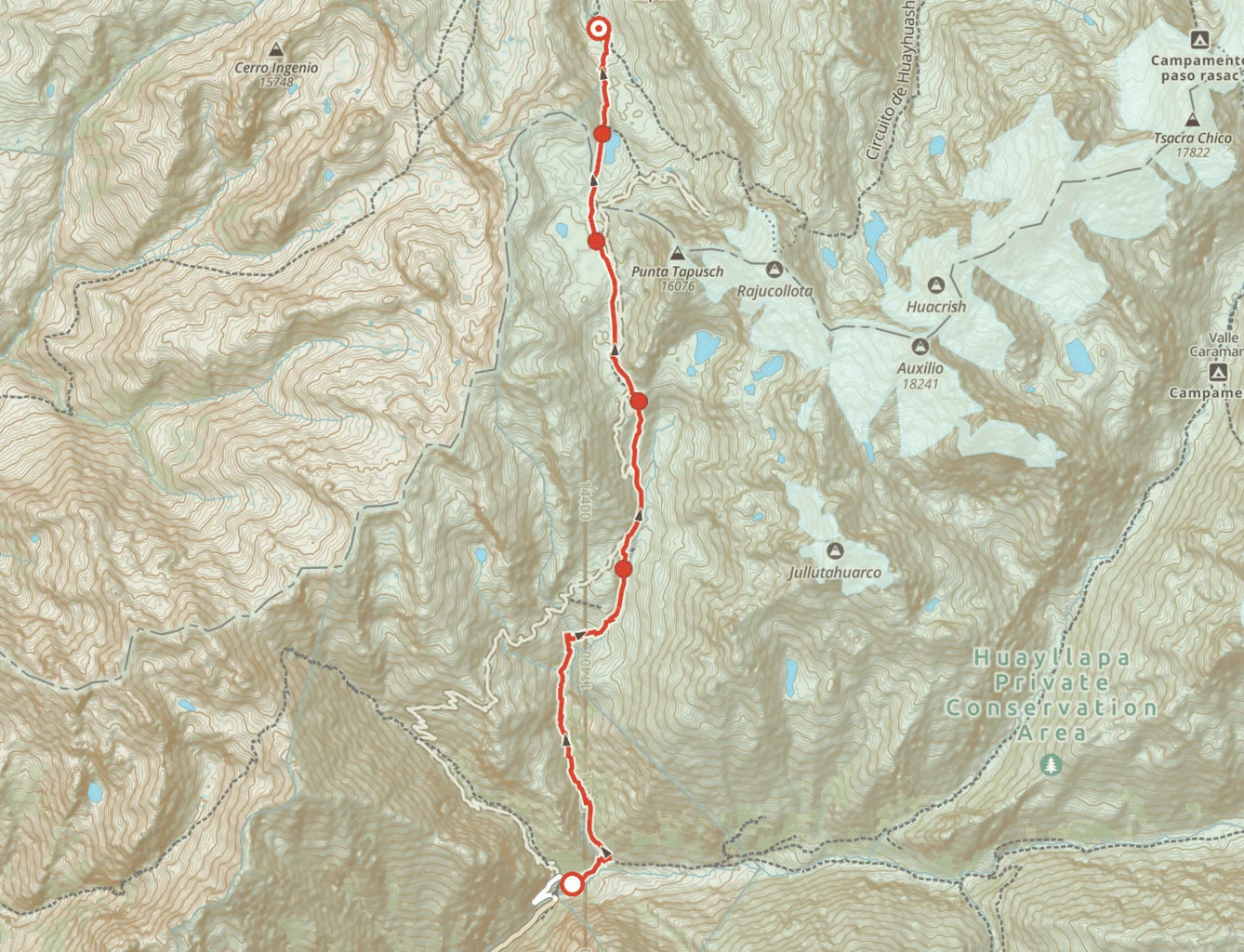 3) Elevation Gain Profile
Below you can find the elevation gain profile for day 8 of the Huayhuash Circuit. The trail heads from Huayllapa to Qashpapampa as it peaks at the Tapush Pass, which sits at 4,790 meters / 15,715 feet in elevation.
Since Huayllapa is the lowest starting point of the circuit, this day will involve a lot more elevation gain than usual. Be sure to take breaks as needed and don't overexert yourself as you continue on up back into the mountains.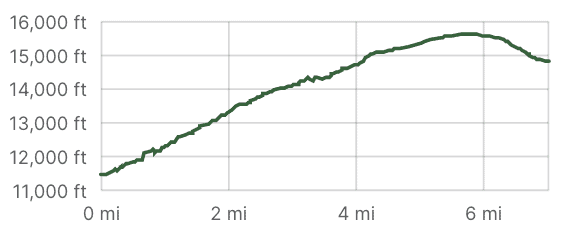 4) Huayhuash Circuit Packing List
A complete Huayhuash Circuit packing list will be essential for your time out on the trail (especially if hiking without a guided tour). Be sure to check out the comprehensive Huayhuash packing list I put together for more detail.
Below you can find just some of the most important camping items to consider for your trek:
• Hiking Backpack | Hyperlite Southwest 3400
• 3-Season Tent | Big Agnes Copper Spur HV UL
• 0 F Degree Sleeping Bag | Thermarest Questar 0
• Sleeping Bag Liner | Sea to Summit Liner
• Sleeping Pad | Thermarest NeoAir Xlite
• Camping Pillow | Thermarest Camping Pillow
• Trekking Poles | Black Diamond Distance Carbon FLZ Trekking Poles
• Water Bottle | Katadyn BeFree 1 Liter
• Headlamp | Petzl Actik Core
• Emergency Satellite Locater | Garmin inReach 2 Mini
• Solar Charger | GoalZero Nomad 10
• Portable Charger | Anker Portable Charger
• Cooking Stove | Jetboil Micromo
• Hiking Shoes | Keen (Targhee Series)
• Hiking Socks | Darn Tough Socks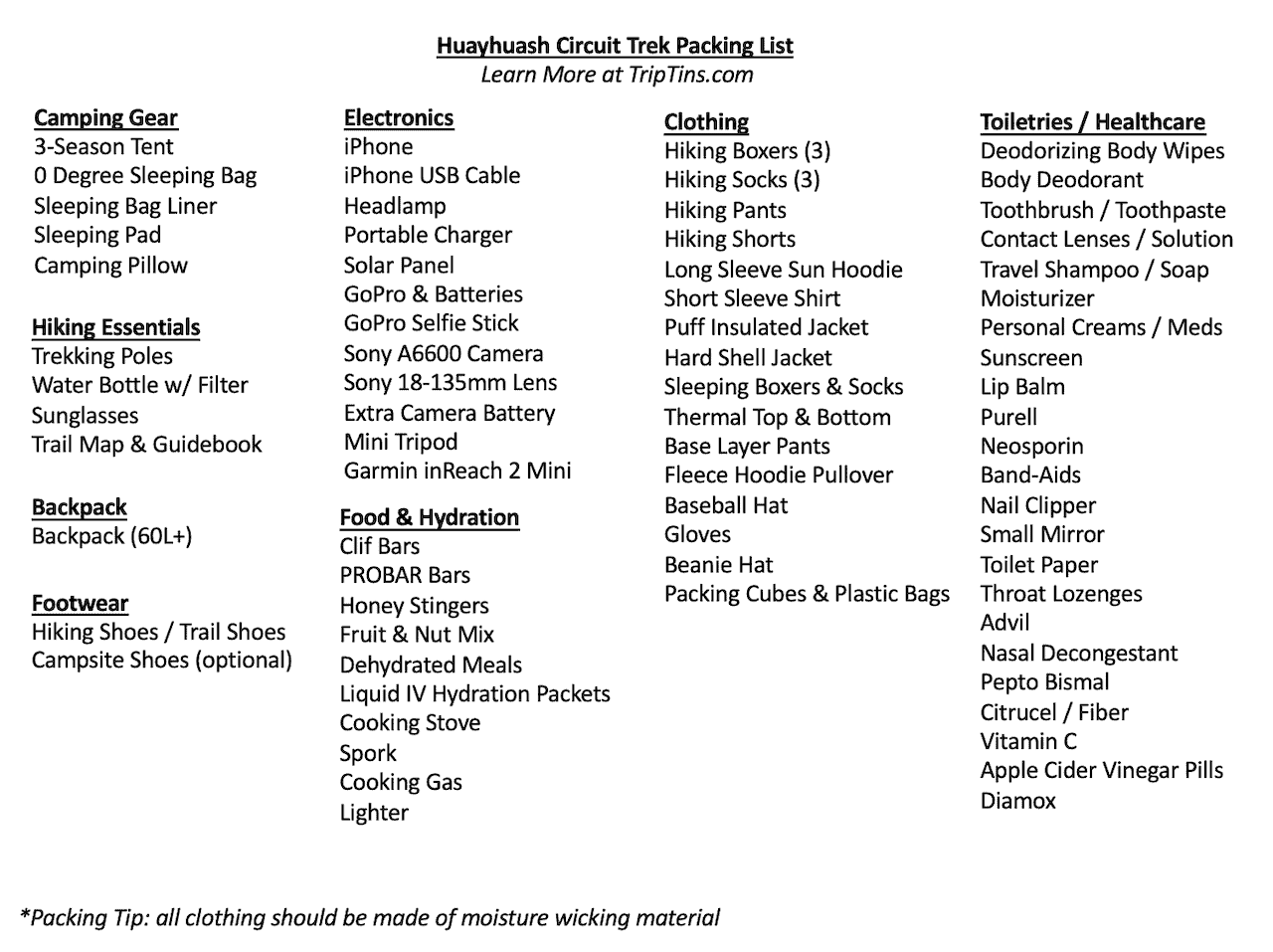 Considering travel insurance for the Huayhuash Circuit?

World Nomads offers coverage for more than 150 adventure activities as well as emergency medical, lost luggage, trip cancellation and more.

For years, World Nomads has been protecting, connecting & inspiring independent travelers, offering travel insurance & safety advice to help you travel confidently. Their mission is to support and encourage travelers to explore their boundaries.

World Nomads has simple and flexible travel insurance that has been designed by travelers for travelers. Even if you leave home without travel insurance or your policy runs out, you can buy or extend out on the road.

Get a quote for a World Nomads travel insurance policy today!
5) Huayhuash Circuit: Huayllapa to Qashpapampa Hike
After an easier hike the day prior from Cutatambo to Huayllapa, it is time to gain some elevation back into the heart of the Cordillera Huayhuash.
This day will entail the largest amount of elevation gain throughout the entire circuit. Luckily, some of this will be at a lower elevation in general. Since Huayllapa is at 3,500 meters / 11,480 feet, it may feel like some easier elevation to start the day. But as you continue up, it can get harder as you reach higher altitudes.
Once you are all checked out from your guesthouse, you can follow the path back out of town, and towards the intersection from the day prior. Follow the sign to Huatiac, as you begin day 8 out on the trail.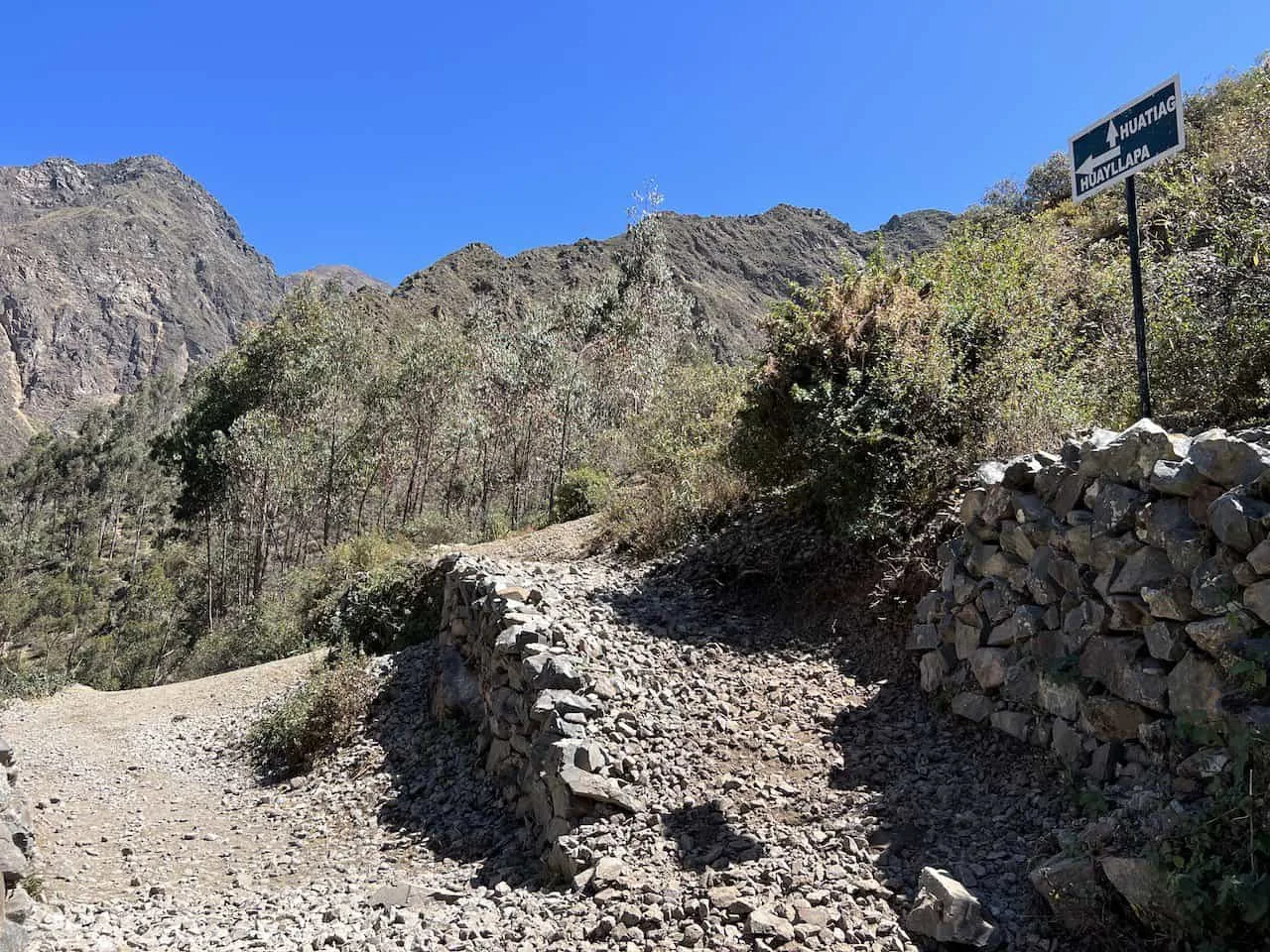 Huatiac is another less frequented campsite on the circuit. This is usually used to cut a day out altogether – combining 3 days into 1 (Cutatambo to Huatiac & then Huatiac to Jahuacocha).
The trail from Huayllapa to Huatiac is going to entail pretty consistent elevation gain all the way through and can get steep from time to time. Since you should be a bit more rested up after the previous day, this hopefully will not be too difficult for you.
Instead of snowcapped peaks out in front of you, there will be a more greenery filled landscape. Many of the views will be out behind you. As you continue to gain elevation, be sure to take some rest breaks and enjoy those panoramas.
Continue up the hillside until you reach the river once more. You will soon see a toilet block on the right hand side. This is where the Huatiac campsite is located (third photo below). Feel free to take a break here, and fill up your water, before continuing on with the next portion of the trail.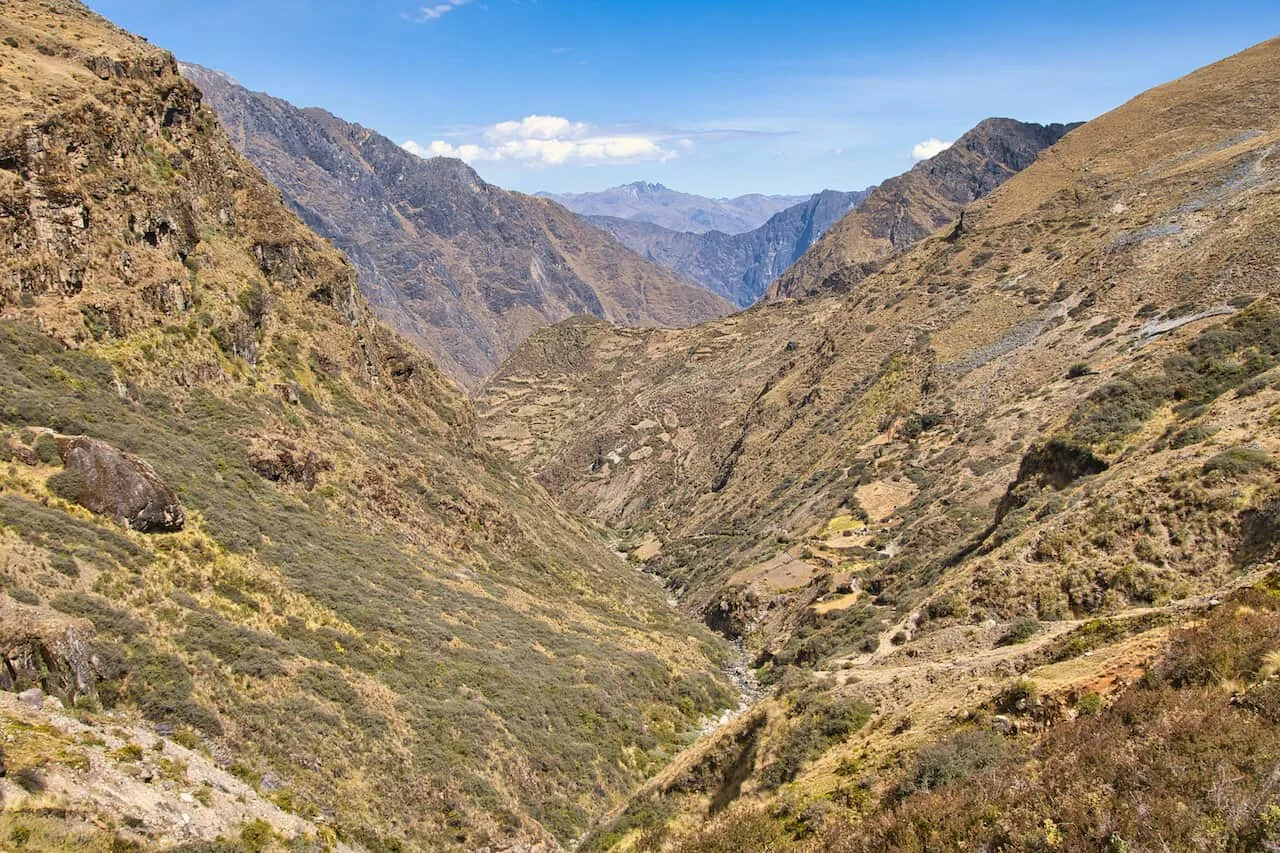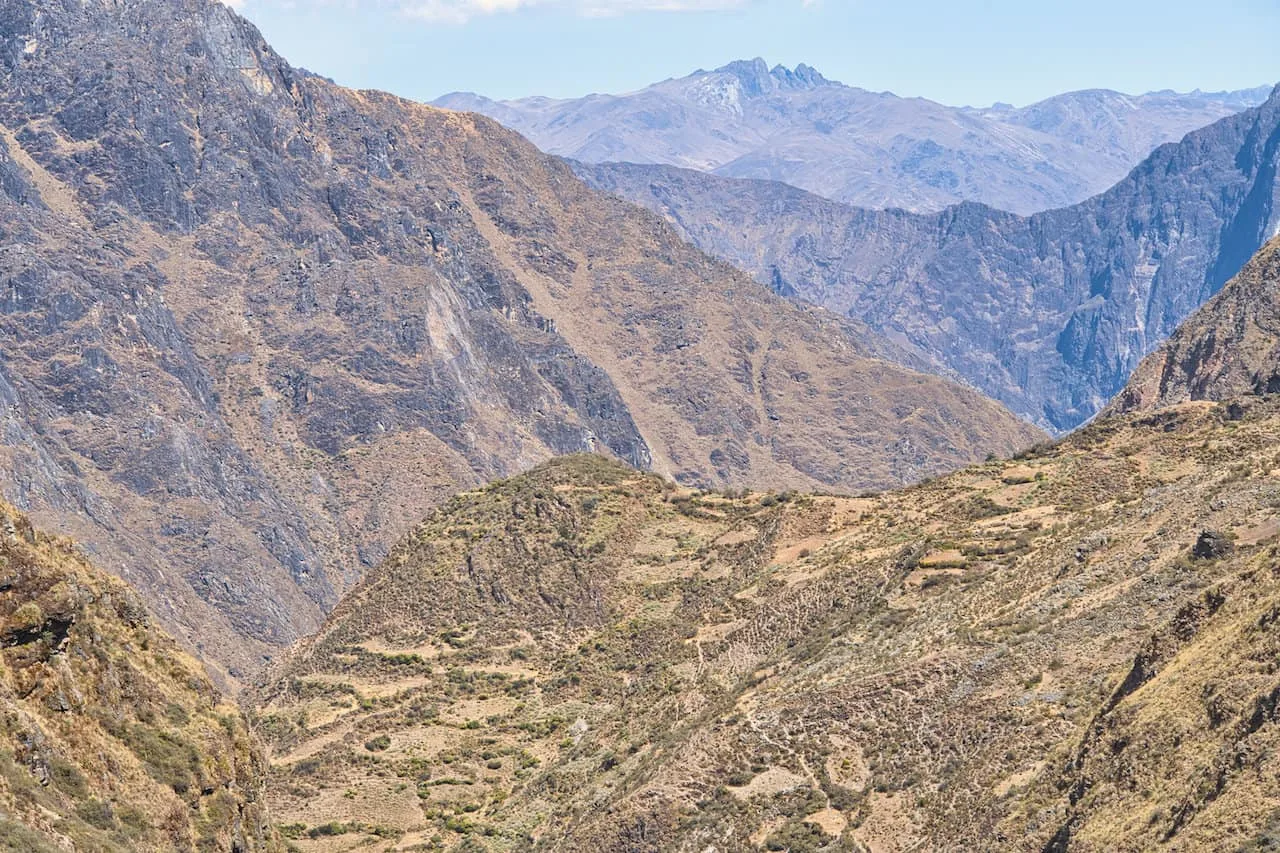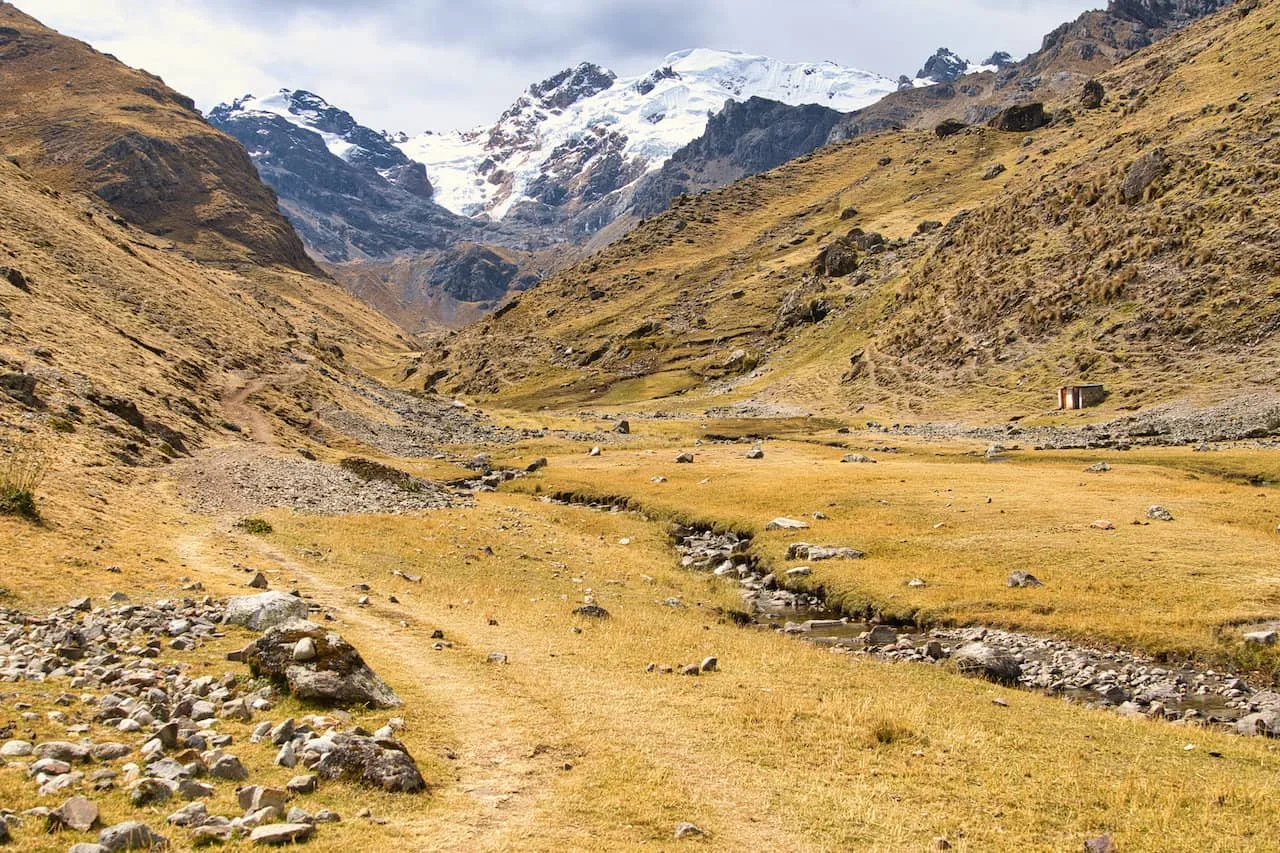 The next point of interest of the day is going to be the Tapush Punta Pass, the high point for the day. The trail continues on from Huatiac, along the side of the valley.
The elevation gain will be a bit more gradual altogether compared to the first part of the day, but you should still expect some tougher portions.
As you continue along the path and begin to reach the far end of the valley, the trail will pick up some incline as it heads up and over a small pass. You will get some nice views from here, and then be welcomed to new views on the other side.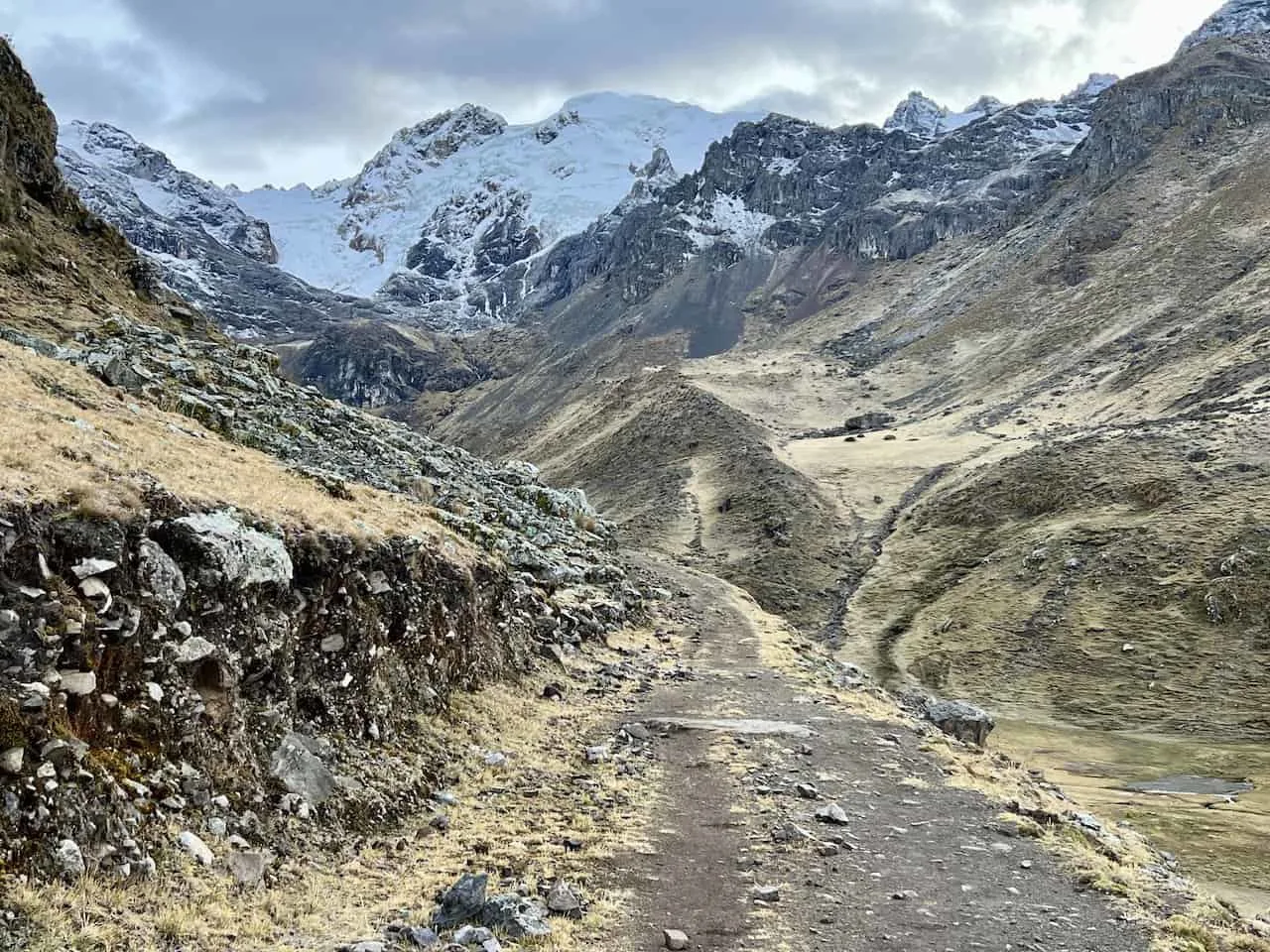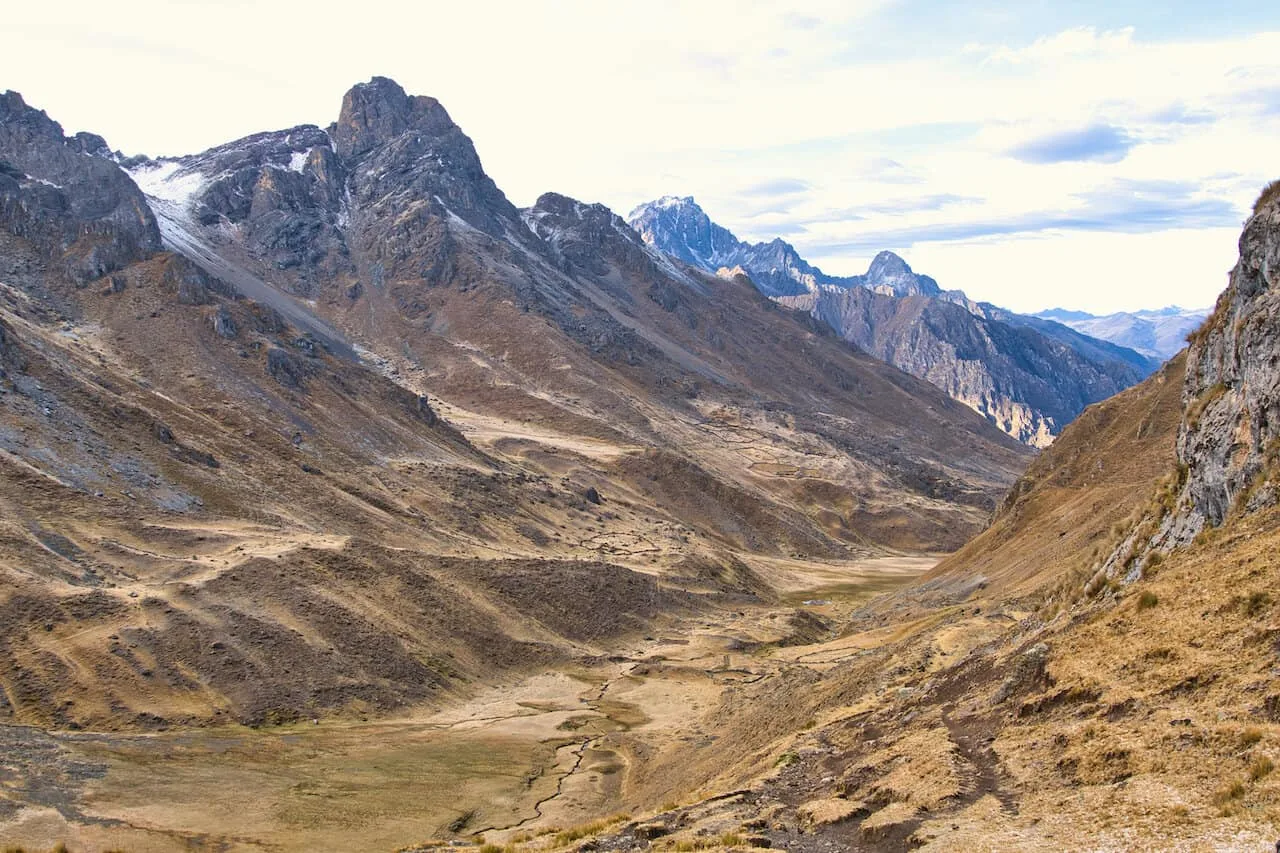 Once over onto the other side of the valley, you will gain some mild elevation towards the Tapush Pass. During my time on the circuit, it had snowed the night before, making this portion of the route quite entertaining to hike through.
Instead of a nice easy dirt trail to follow, I was heading along a snow filled path with white covered terrain all around. It actually made for a nice change of scenery compared to the rest of the trek.
Soon enough though, you will reach the top of the pass, and get some great views of the surrounding landscape.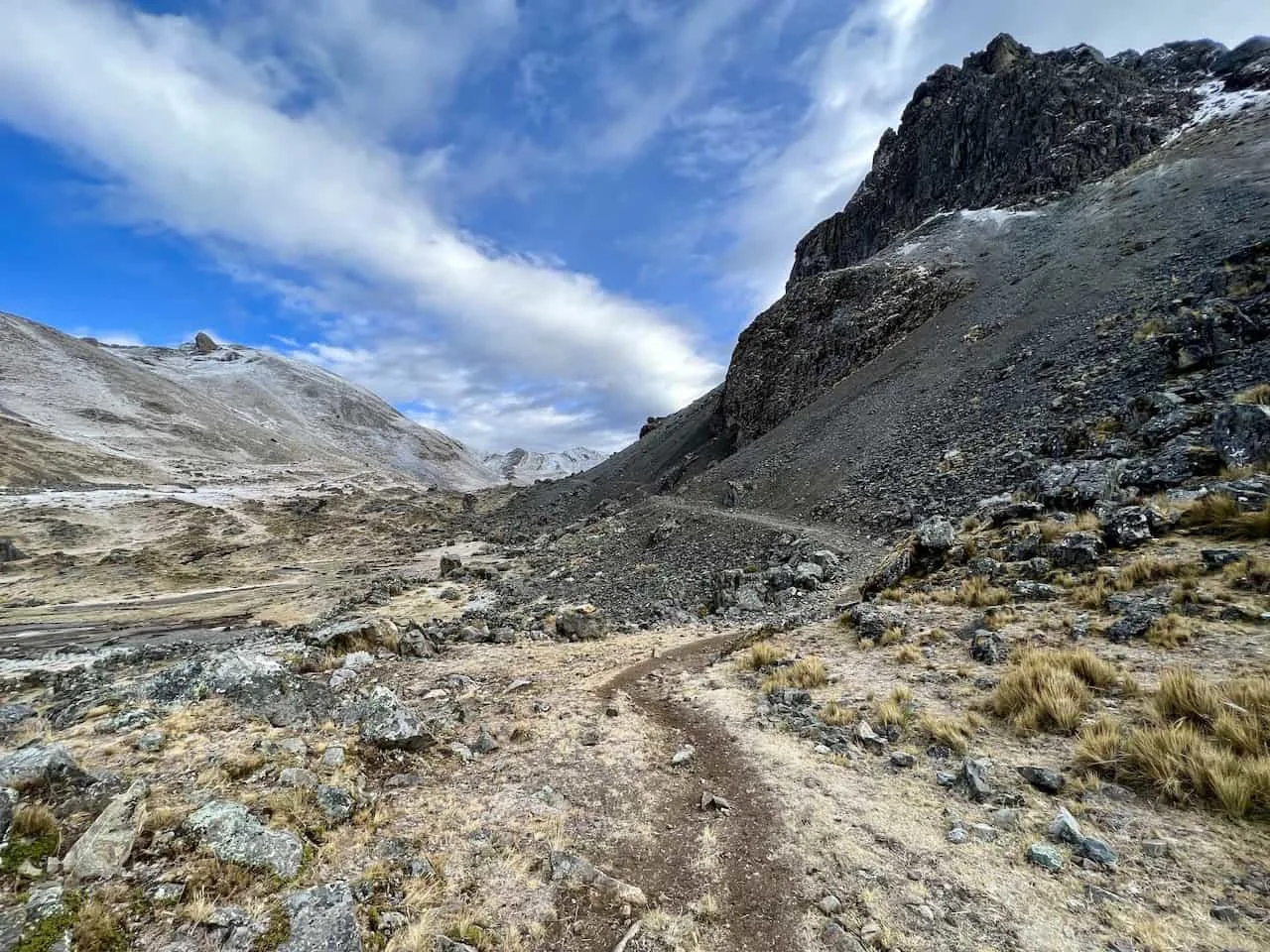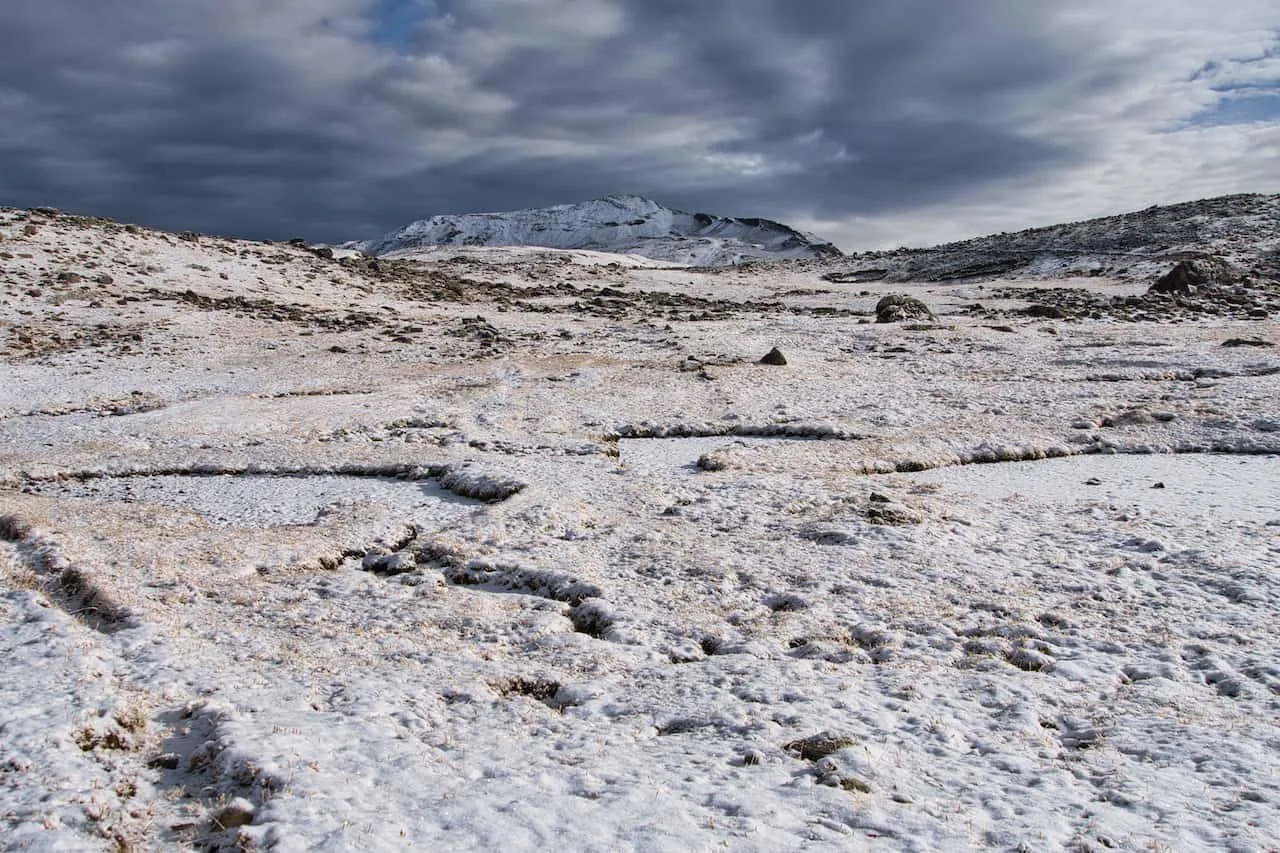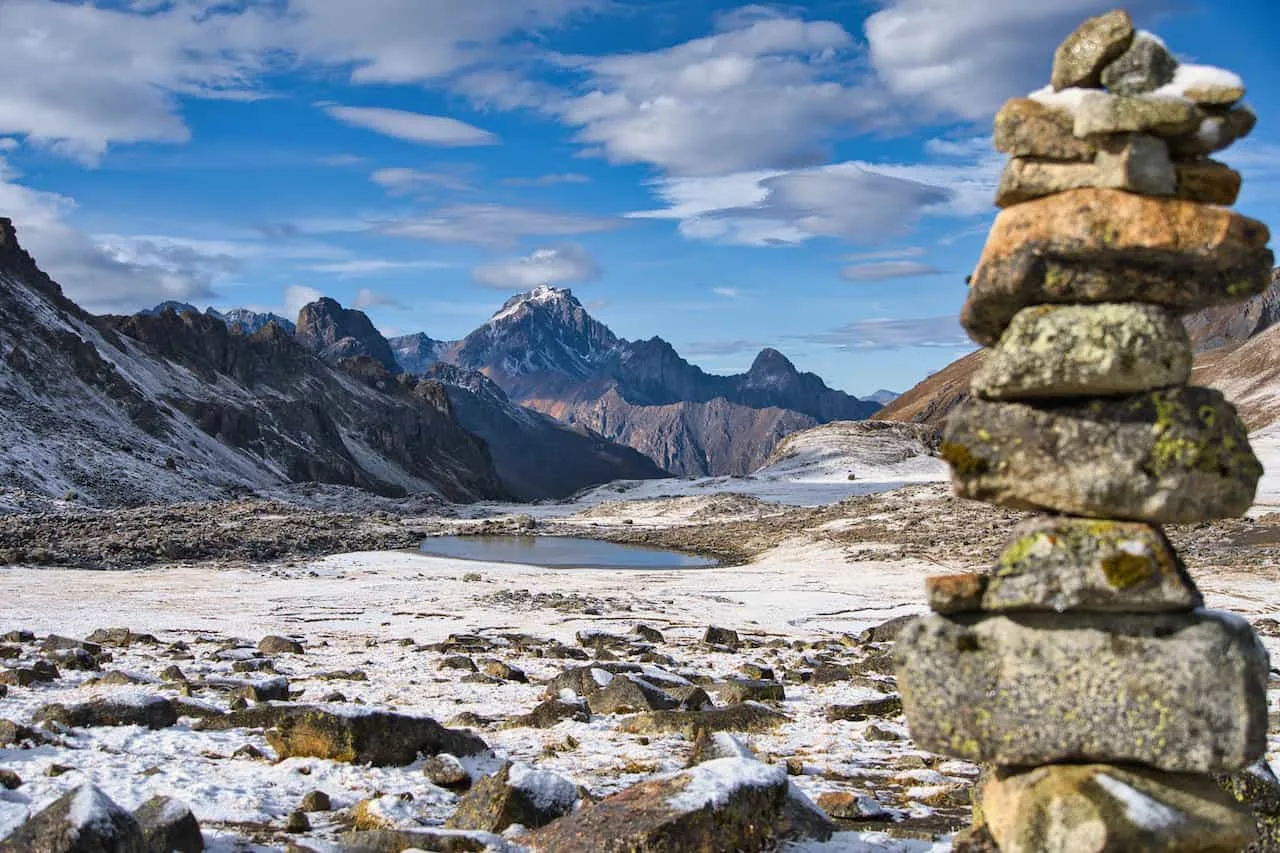 After leaving the pass behind, you will continue onto Qashpapampa. The trail from the pass is easy to follow and will begin descending into camp. Before that however, you will come across the beautiful Susucocha Lake.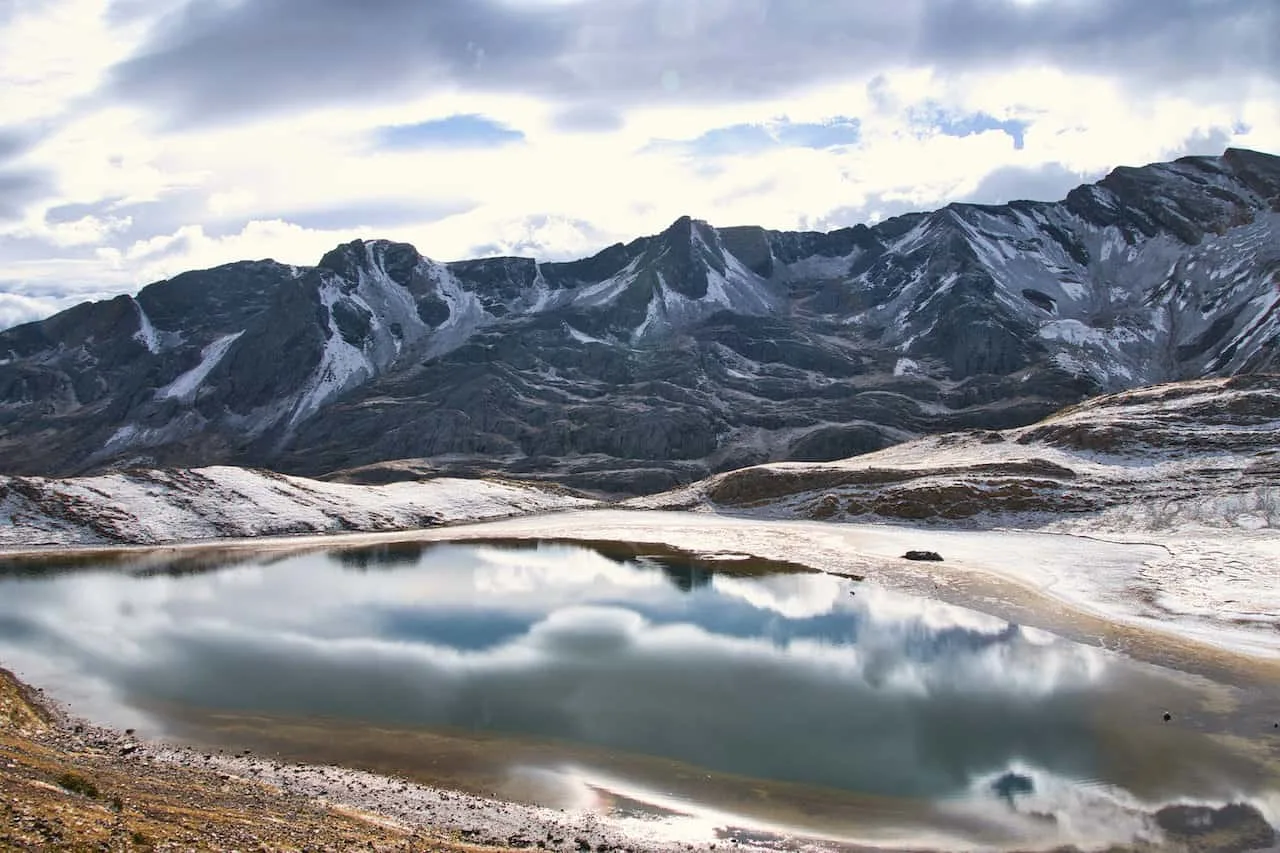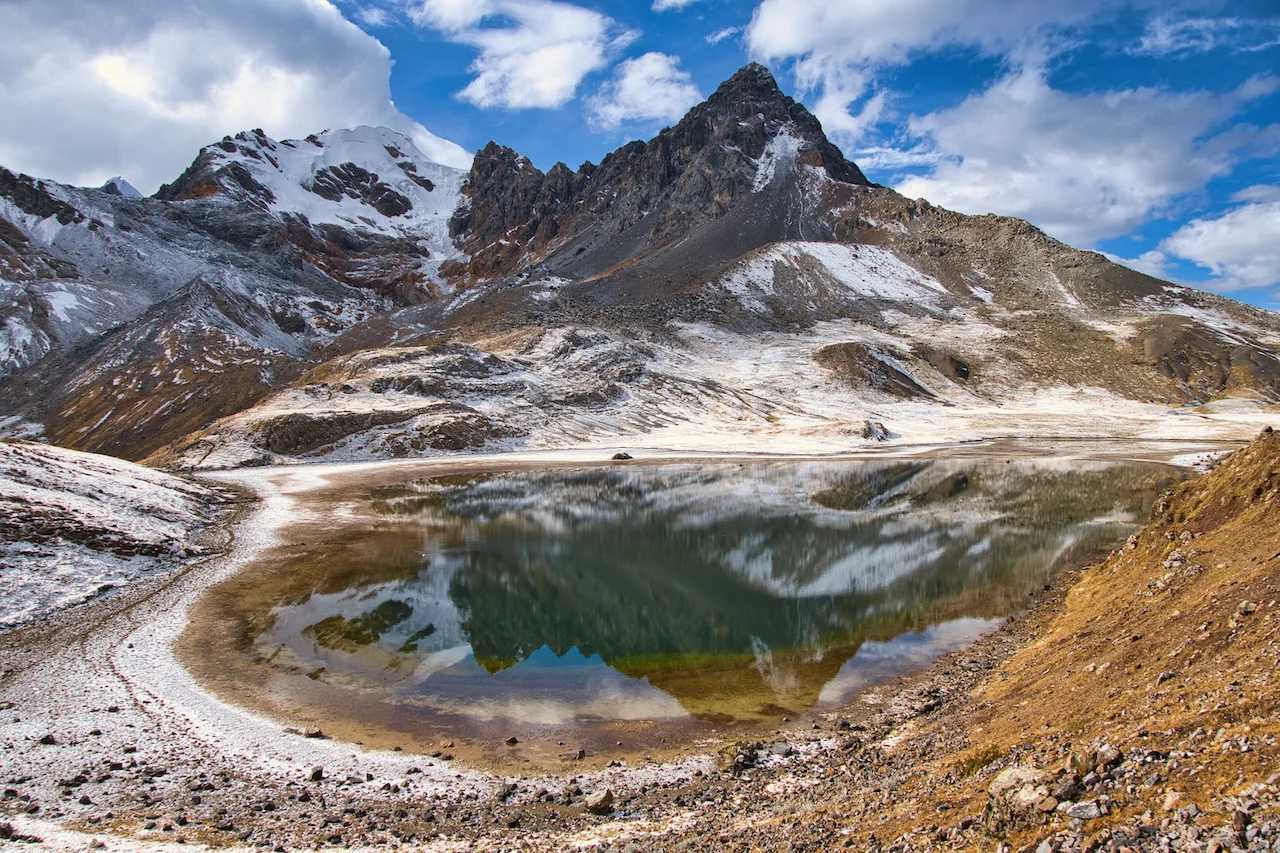 Once past the lake, you will reach a viewpoint over the campsite, before quickly descending down. After passing over the river, you will be welcomed to the campsite of Qashpapampa.
Here is where climbers base themselves to take on the towering Diablo Mudo, which can be seen from camp. You can see in the last photo below, a large group of climbers, who were prepping to take on Diablo Mudo the following day.
Rest up in camp as you get ready for the penultimate day on the Huayhuash Circuit.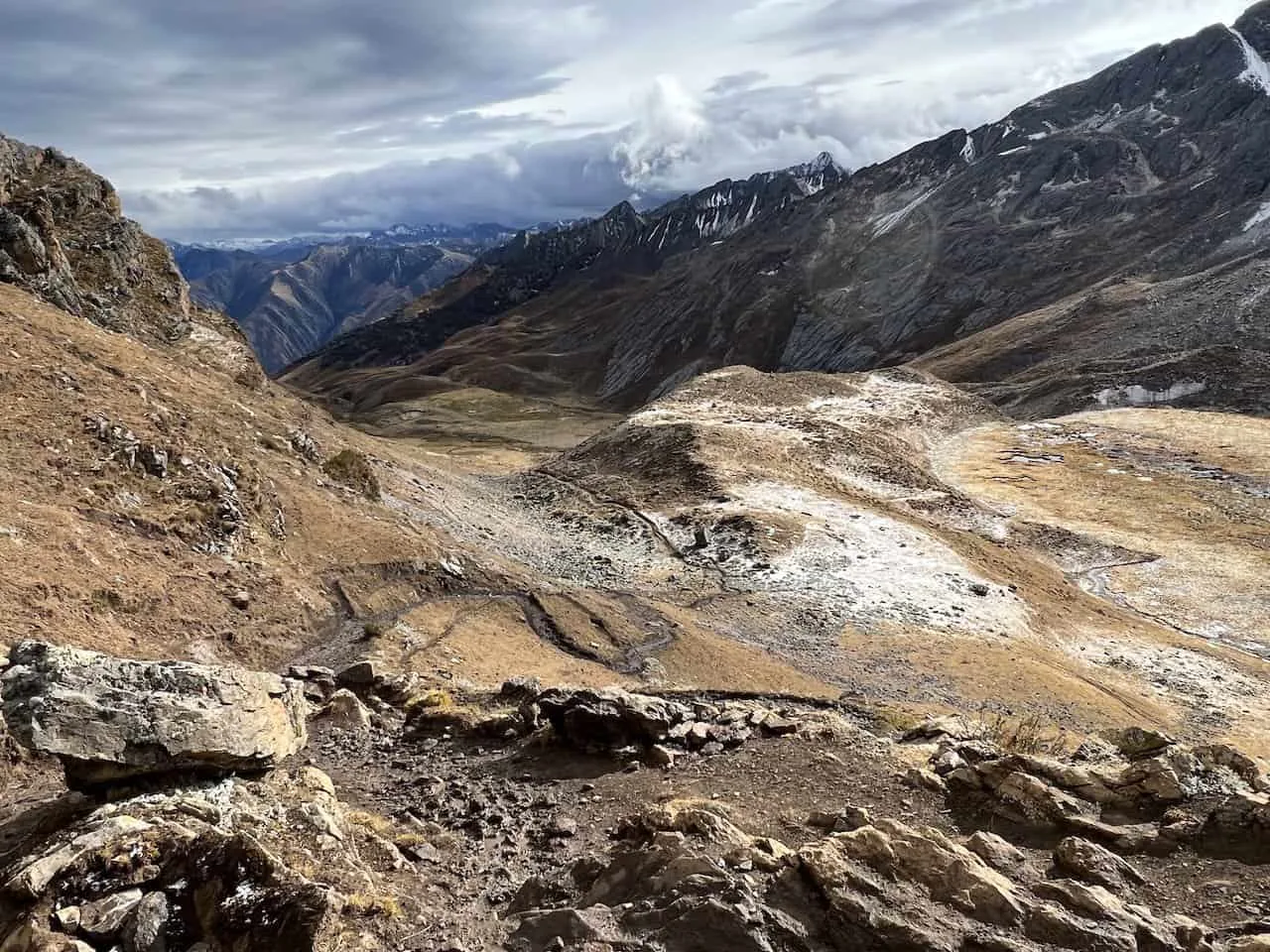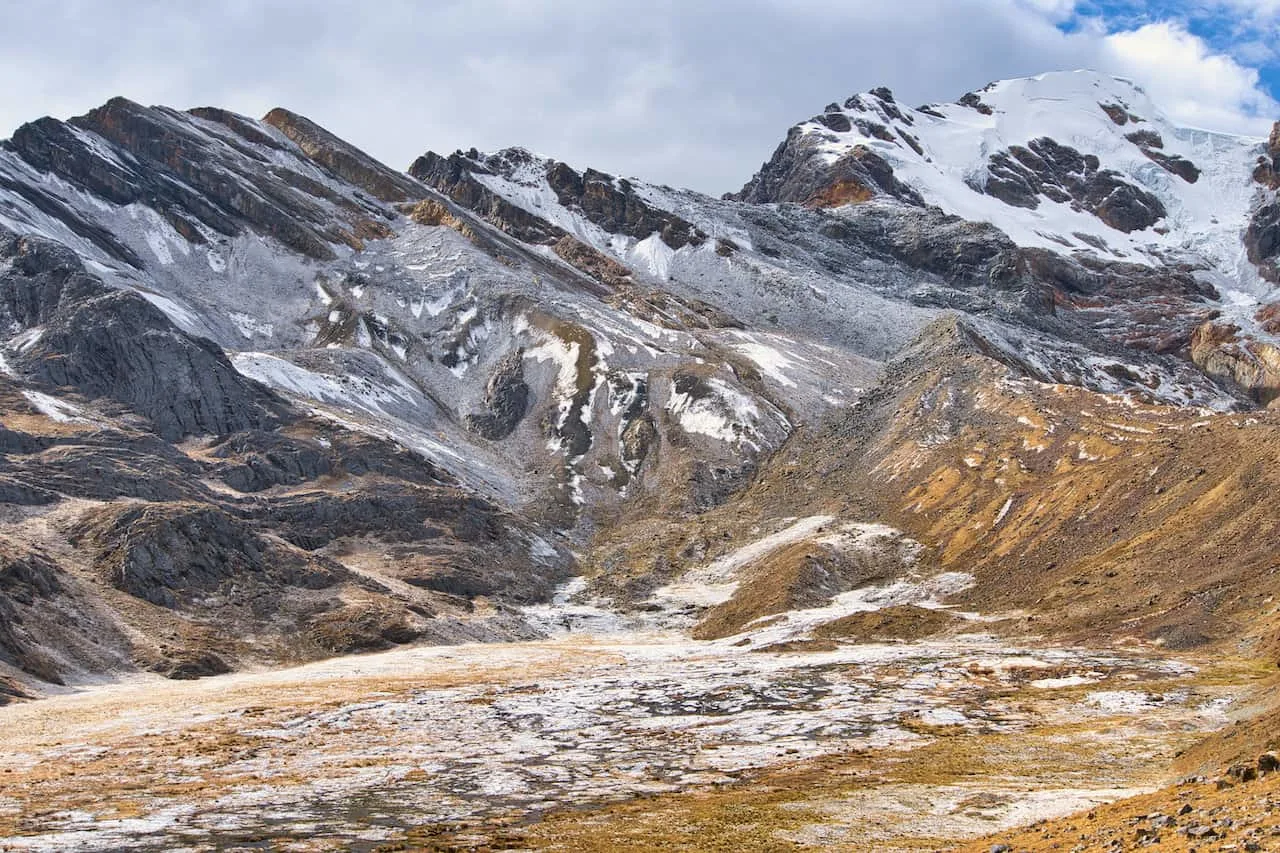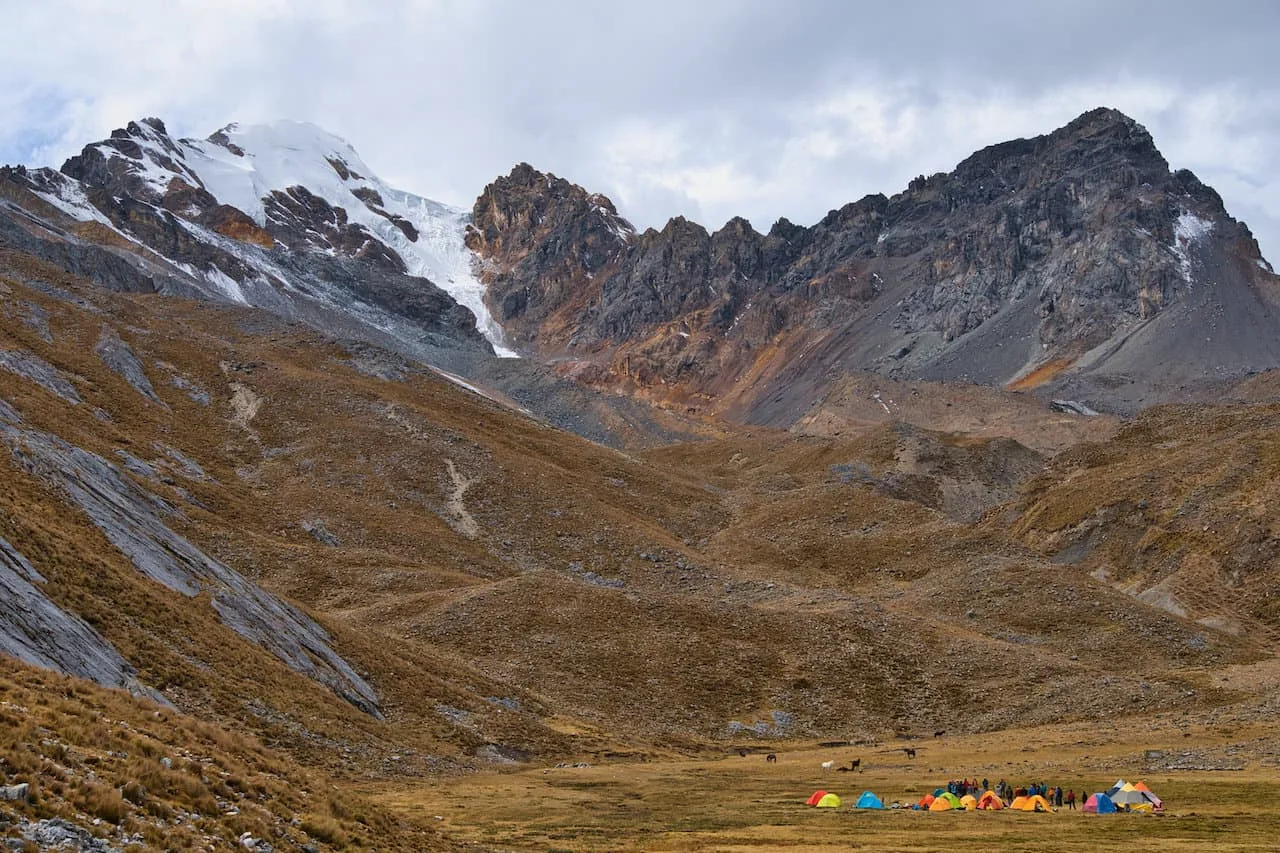 If you have any questions or comments about the day, or the circuit in general, feel free to add them in below. Have fun out there and safe travels!