Throughout New York you are sure to find plenty of beautiful waterfalls. However, Kaaterskill Falls of the Catskills has to be towards the top of that list.
Kaaterskill Falls is the perfect place to visit with its two-tiered waterfall, viewing platform, hiking trail, and more to enjoy.
This guide will go through everything there is to know about visiting Kaaterskill Falls and what to expect along the way.
* Affiliate Disclosure: This post may contain affiliate links, which means I may receive a commission if you make a purchase through the links provided, at no additional cost to you. Thanks for supporting the work I put into TripTins!
1) History & Facts
To start, below is a quick high level history of the waterfall and some helpful facts to get yourself familiar with it.
Kaaterskill was created thousands of years ago as "Ice Age glaciers and meltwater carved this shale and sandstone topography, creating impressive falls". The name derives from the Catskills themselves. The word "cat" was meant to represent a mountain lion and "kill" is a Dutch saying for stream.
The waterfall is fed from Spruce Creek and is made up of two tiers – the first tier measures in at 167 feet and the second tier at 64 feet. Altogether the total waterfall height comes in at 231 feet.
A man by the name of Peter Schutt purchased the land that included Kaaterskill Falls in the 1820's. Over the years, he created a tourist attraction out of it. A boarding house called Laurel House was built that could hold 300 visitors, a staircase took people down to the Upper Falls, and he even restored a dam to manually send additional water into the falls.
During those years, Laurel House and Kaaterskill Falls became a spot where many artists, writers, poets, painters, and others came to be inspired by the waterfall. You can find Kaaterskill Falls mentioned and depicted in several works of art.
By 1967 Laurel House closed and burnt down, and many of the original platforms, staircases, and other structures were damaged. However, today you will find renovated pathways, staircases, viewpoints, railings, and more to make the waterfall safely accessible to visitors.
During a visit to the Kaaterskill Falls, you will have a few different ways to enjoy the waterfall, which include:
Seeing the Upper Falls from the viewing platform
Hiking down to the Upper Falls level
Hiking down to the Lower Falls level
If you decide to head all the way to the lower level, you will need to be comfortable with ~200 stone steps as you head down the trail & staircases. Similarly, you will need to be comfortable walking back up the steps as well.
Here are a few other helpful pieces of information regarding a visit to Kaaterskill:
Kaaterskill Falls Camping: if you would like to camp overnight, I would recommend looking into the nearby North South Lake Campground
Is Kaaterskill Falls Still Closed: Kaaterskill Falls is open, however, the Molly Smith parking lot is closed (more on that soon but always be sure to check the latest!)
What Time Does Kaaterskill Falls Close: I did not see any hours posted, nor anything stopping someone from visiting the waterfall at any time of day
Warning: As you will consistently see around the area, there are many warning signs about the dangers of Kaaterskill Falls. Over the years, there have been several deaths due to people getting too close to the ledges. Always stay clear of drop-off points and stick to the main trails to ensure your safety.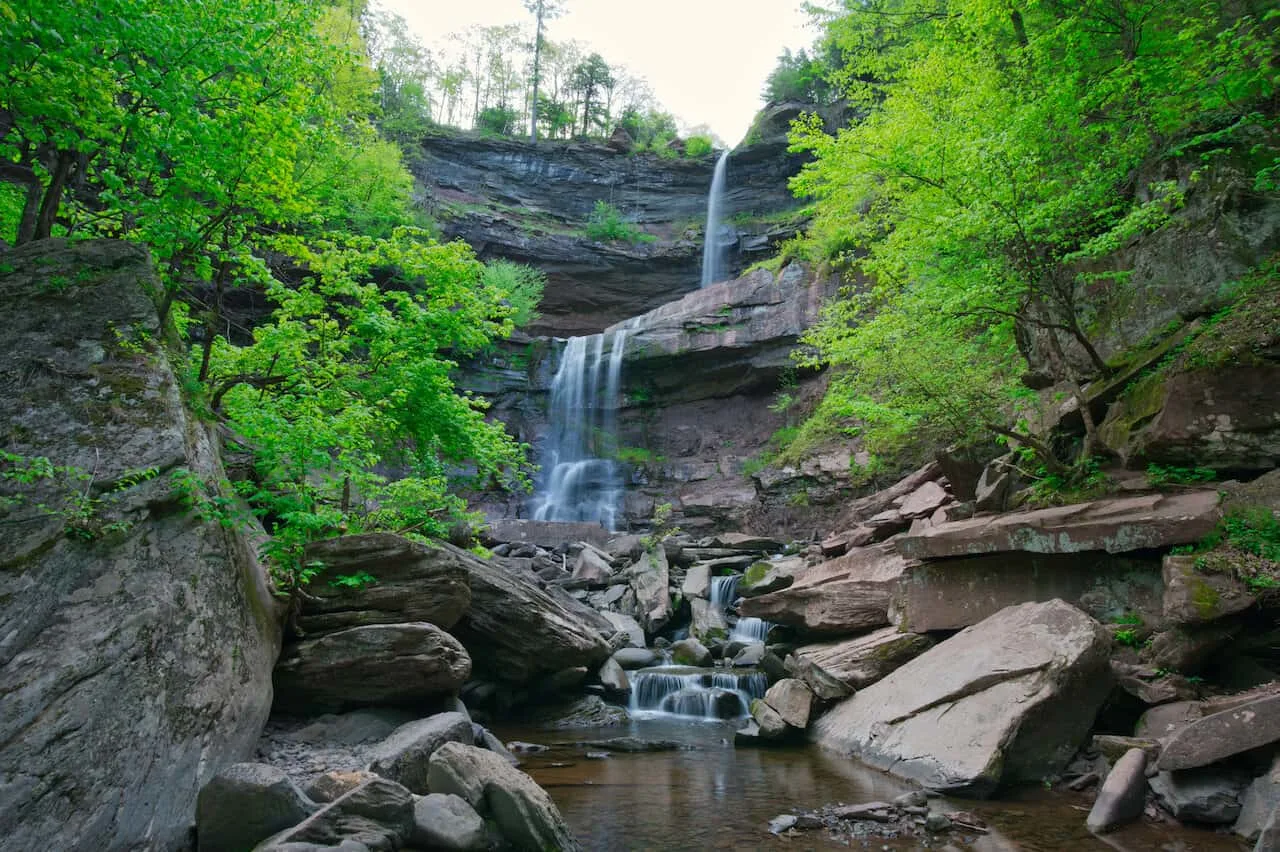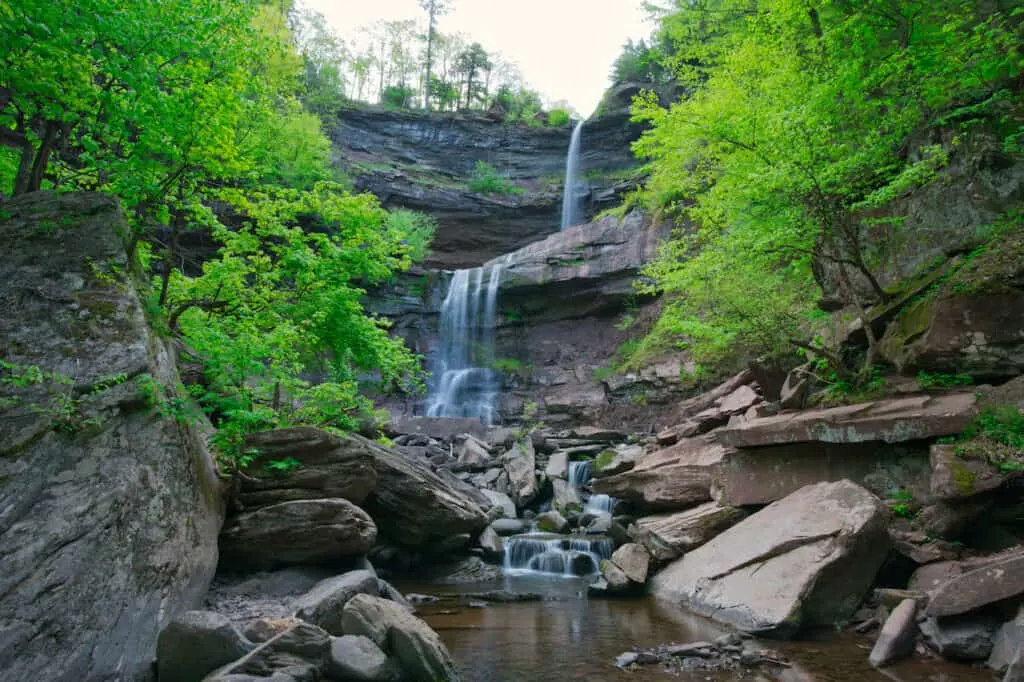 2) Kaaterskill Falls Location
The first order of business is actually getting yourself to Kaaterskill Falls. Below are some helpful topics when it comes to how to get there.
Where is Kaaterskill Falls?
Kaaterskill Falls is located in the Catskills region of New York State. It is placed right between the small towns of Haines Falls and Palenville.
Generally speaking, there is one "main" parking lot, where you can begin your journey down to Kaaterskill Falls. This parking lot is known as the "Laurel House Road Parking Lot".
Kaaterskill Falls Address: if you are looking for an address to put into your GPS, you can insert "103 Laurel House Rd, Palenville, NY 12463". This will take you right to the lot.
Note that there are three other parking lots, where you can begin your journey from, which include:
Molly Smith Parking on NY Route 23A (closed until further notice)
Scutt Road Parking Lot
South Lake Road Parking Lot
Molly Smith used to be the main trailhead of choice as you had the chance to follow the stream, past Bastion Falls and towards Kaaterskill. This lot is closed until further notice for safety improvements. Be sure to check the latest if you are interested in hiking from here instead.
Hiking in from Scutt Road or South Lake Road are also options. You are just looking at a longer overall hike. I would estimate an additional 1.5 miles round trip altogether for either one.
Kaaterskill Falls Parking
If you are planning to park at the Laurel House parking lot, you should expect to find a very large lot capable of fitting plenty of cars. With that said though, expect the parking lot to fill up early and often throughout the peak summer and fall months (especially on weekends).
Street parking near the lot is not allowed, so be sure to arrive on the earlier side to guarantee yourself a spot and not need to worry.
During my time at Kaaterskill, I arrived on a weekday in late May at 7:30AM. For my entire two hour visit, I was the sole person there (which I would say is more lucky than anything).
Below is an image of the parking lot when I arrived in: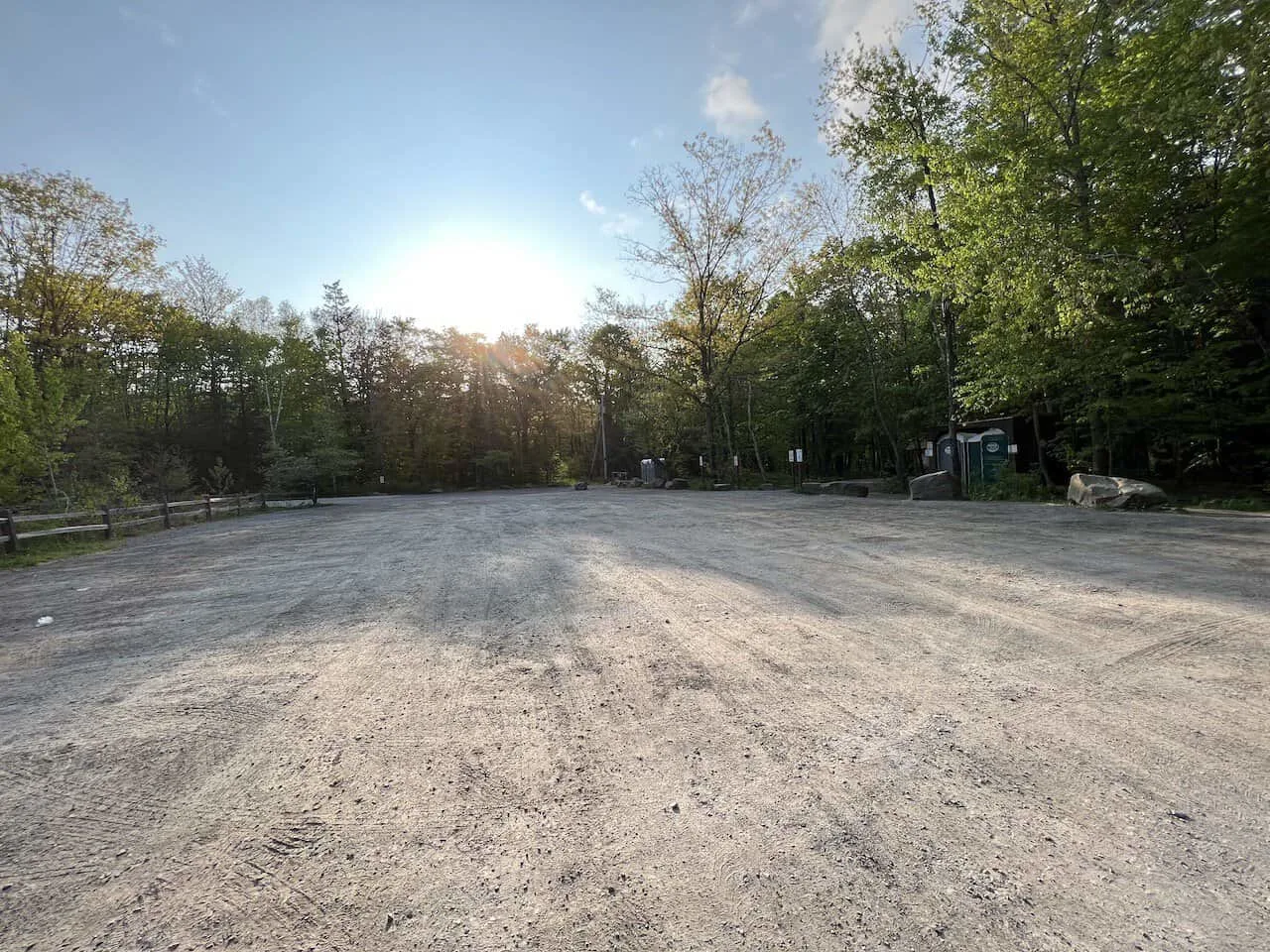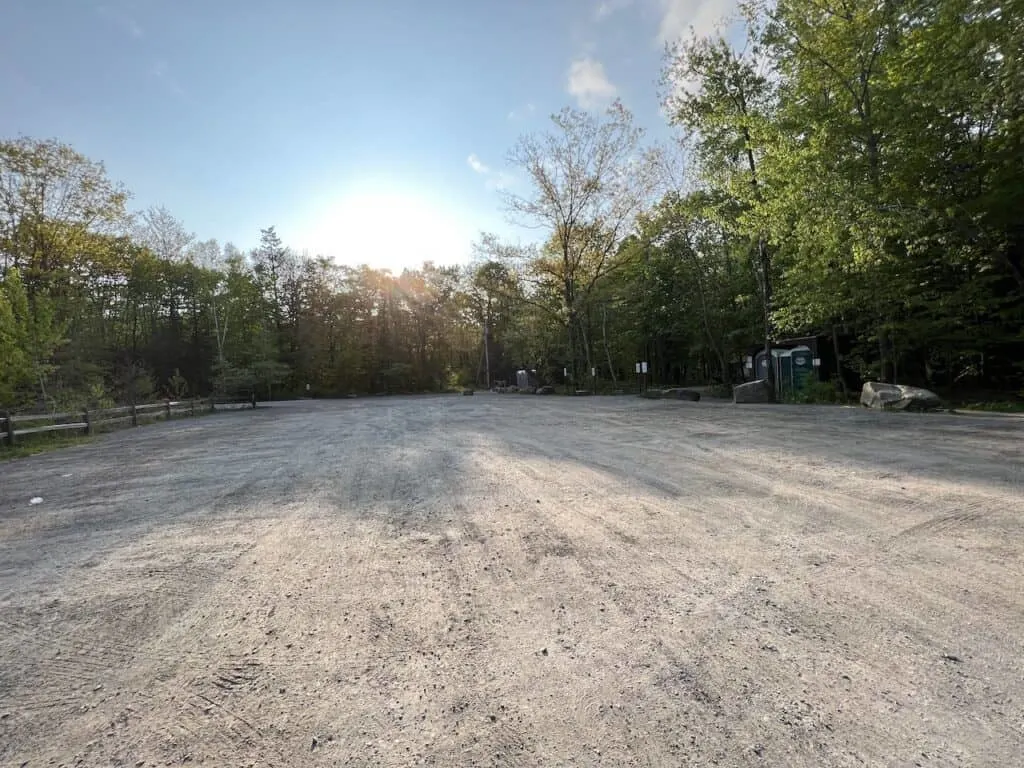 Kaaterskill Falls from NYC
If you are planning to visit Kaaterskill Falls from NYC, expect the drive to be about 2.5 hours long (without traffic). There is no public transport to Kaaterskill, so you are best to come with your own car.
The drive is pretty easy once you get out of the NYC area as you head along I-87 for 70+ miles. Once you reach the area around Saugerties, NY, you will take exit 20 onto NY-32.
From there it is just a few slight turns onto NY-32A, which turns into NY-23A. A right hand turn onto North Lake Road followed by another right onto Laurel House Road, and you are there!
Don't worry, the navigation apps will take care of all of this for you. However, it may be beneficial to download offline maps just in case your cellular service does not work in the region.
Need to rent a car? Check out Rentalcars.com, which gives you a whole array of car options to choose from for your trip.
3) When to Visit
Time of year can be an important decision factor when it comes to Kaaterskill Falls. Here are some helpful things to know by season:
Spring: usually the best time to go for the strongest waterfall flow as the snow melts and temperatures are comfortable.
Summer: getting into late summer, the water flow is at its lowest. If you do visit during the summer, try to plan for earlier on in the season.
Fall: the best part of the fall are the colors around the waterfall. Instead of greenery, the foliage will be a vibrant color of yellow, orange, and red.
Winter: while the early winter will still have water flow, it is possible that the waterfall freezes during the colder months.
If I had to choose a season, Fall would be my choice just for the colors. Spring would be my second choice based on water flow and fewer crowds compared to the Fall/Summer.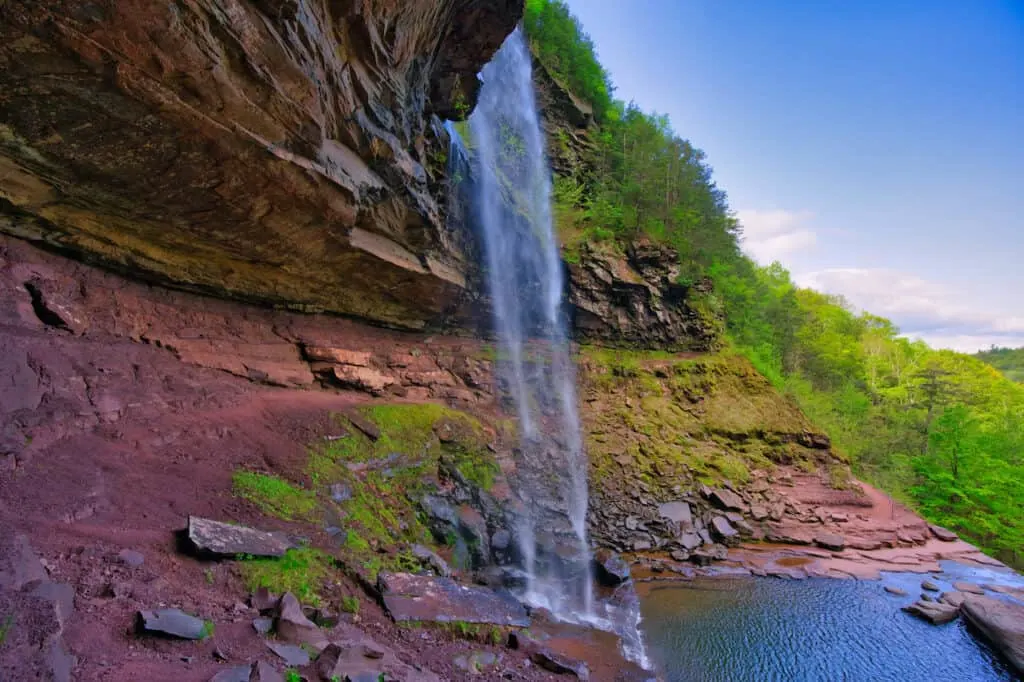 4) Where to Stay
While a day trip is possible to Kaaterskill Falls, it can be a lot of driving for a single day (especially if coming in from places like NYC). Instead, why not make an overnight trip out of it.
This way you can fully enjoy your time in the Catskills as you visit the waterfall, and take part of some other hiking trails in the region (like the trail up to the Giant Ledge or Wittenberg Mountain!).
It also gives you the chance to visit Kaaterskill early on in the day like I did. Avoiding the crowds and having the waterfall to yourself will be a special experience to remember.
Here are some Kaaterskill hotels to choose from throughout some nearby towns:
You can also browse through many more Catskills hotels if those don't work for you!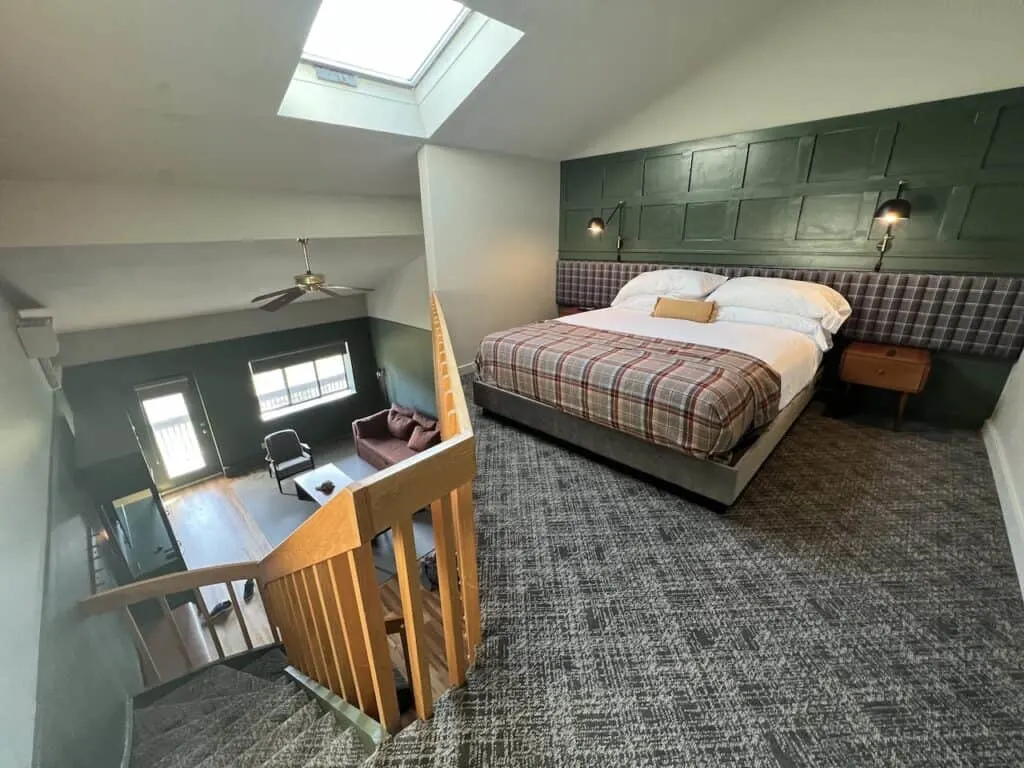 5) Kaaterskill Falls Trail Map
To better give you a sense of the Kaaterskill Falls area, below is a trail map that shows what the route looks like.
As mentioned, there are three main points of interest – the viewing platform, Upper Falls, and Lower Falls. Visiting just the platform requires a short & simple walk, while visiting the upper/lower falls will require more of a hike & staircases.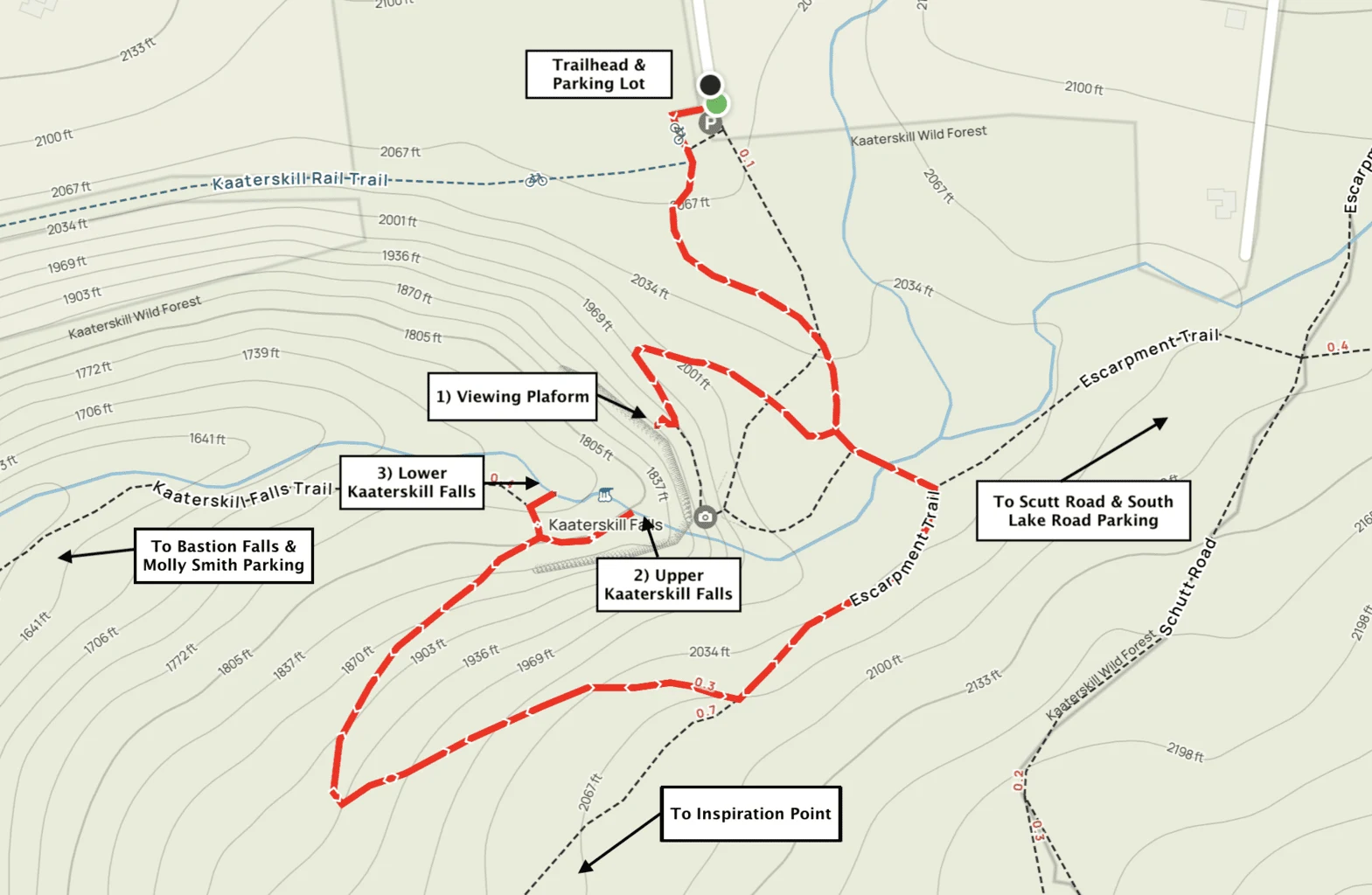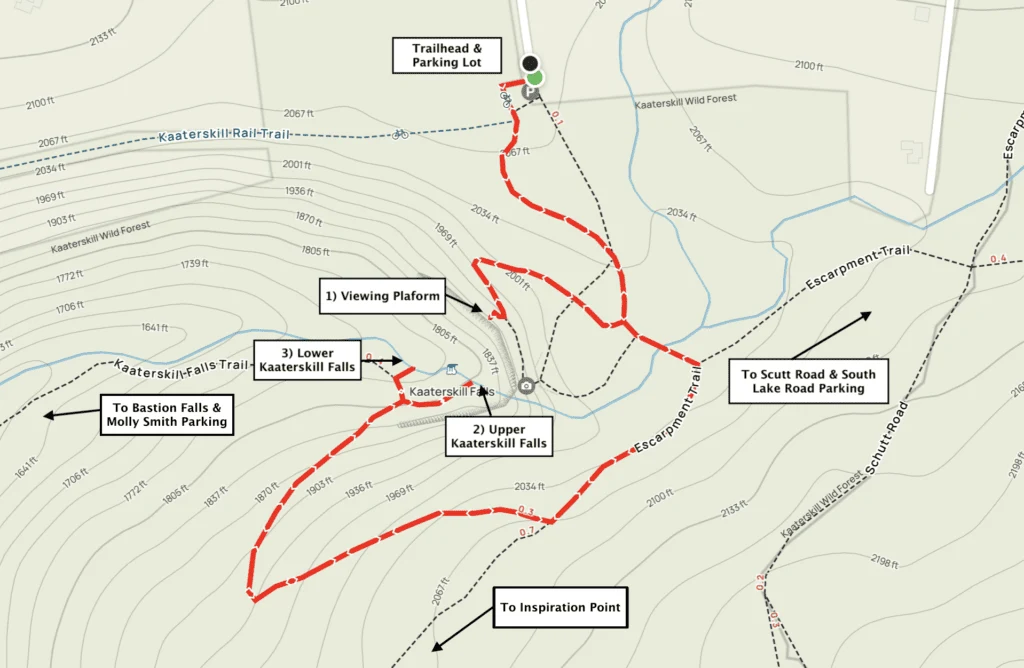 6) Kaaterskill Falls Hike
Let's start out with some Kaaterskill Falls hiking details to give you a better sense of what this trail is all about. The metrics below reflect starting & ending by the Laurel House Road lot. If you start (or end) at another location, expect to have a longer route altogether.
How Long Is the Hike to Kaaterskill Falls: the round trip hike is 1.8 miles which includes the viewing platform, Upper Falls, and Lower Falls. Expect to spend around 2-3 hours enjoying it all.
How Many Steps are There in Kaaterskill Falls: there are about 200 stone steps that take hikers from the trail down to the upper/lower falls.
How Difficult a Hike is Kaaterskill Falls: I would consider the overall hike to be on the easier side. As long as you are comfortable with some descents/ascents, you should be good to go.
Can Kids Hike Kaaterskill Falls: yes, kids are able to hike to the waterfall. However, they do need to be able to walk up and down the staircase section.
Can You See Kaaterskill Falls Without Hiking: yes, you simply can enjoy the view from the viewing platform. This will require a short half mile round trip walk.
Note: it is popular to combine Kaaterskill Falls with Inspiration Point, as you can easily extend from the same trail. A total round trip (waterfall & Inspiration) comes in around 5 miles & 900 feet of elevation gain.
The following sections will go over what to expect during a complete visit to Kaaterskill Falls:
Kaaterskill Falls Viewing Platform
From the parking lot, you can make your way to the trailhead, where you will find an information board and the start of the hike.
Head past the information board, and follow the trail sign to "Falls Viewing Platform", which is just 0.3 miles away. The trail is flat and easy to follow as you head through the forest.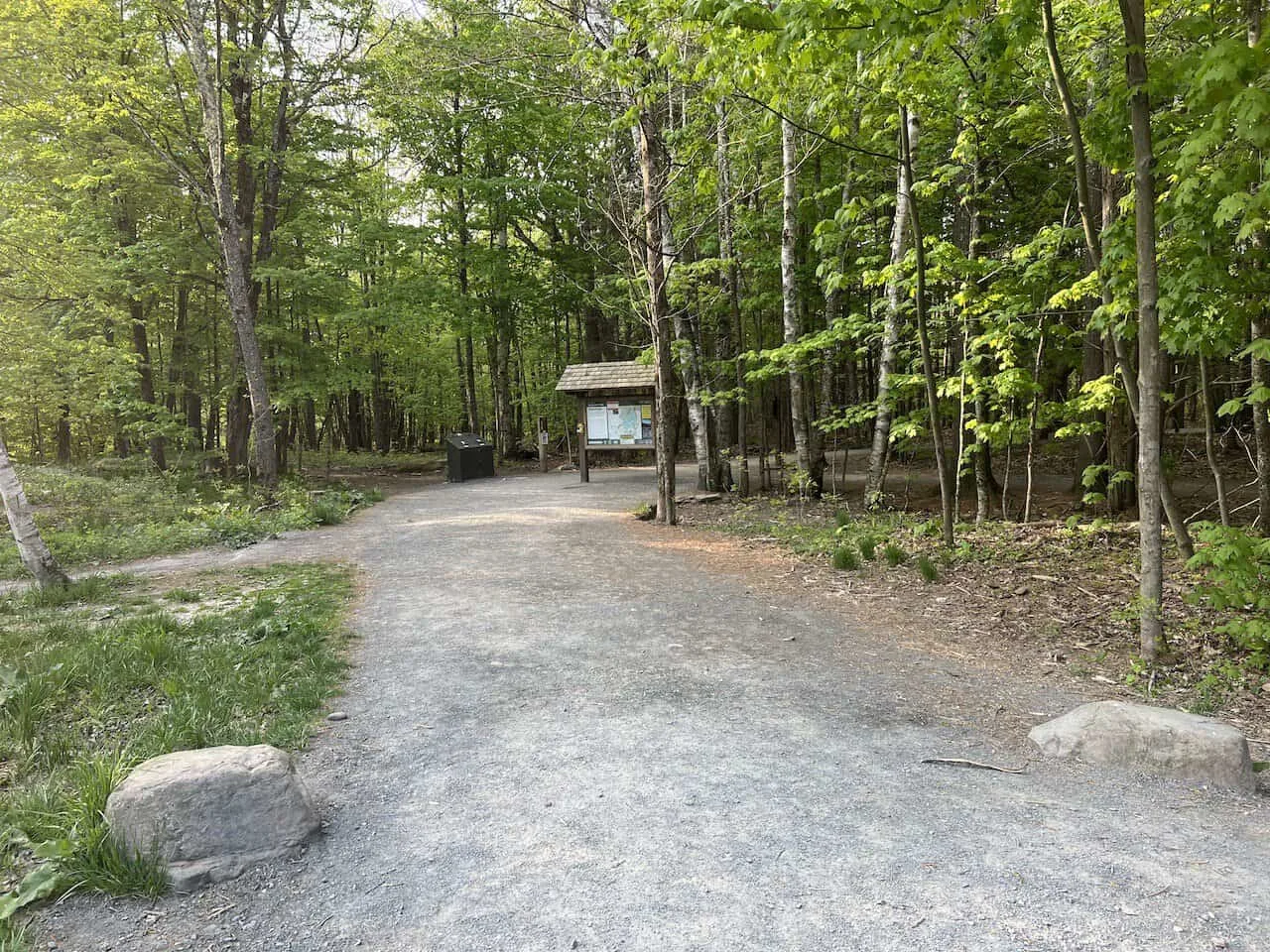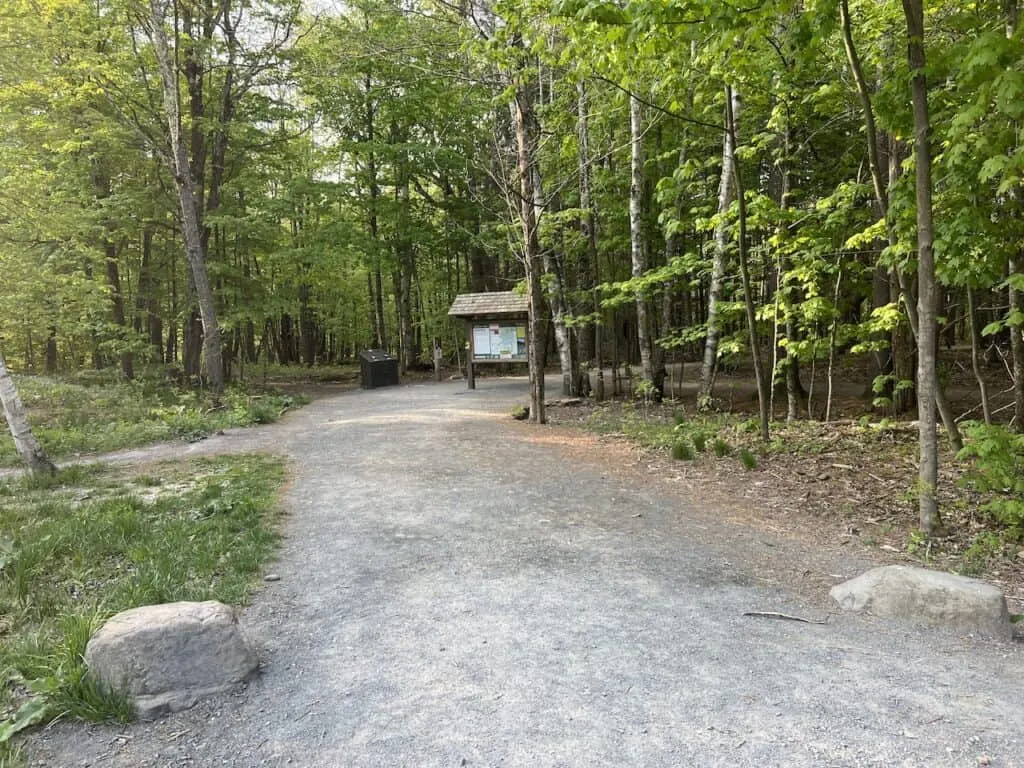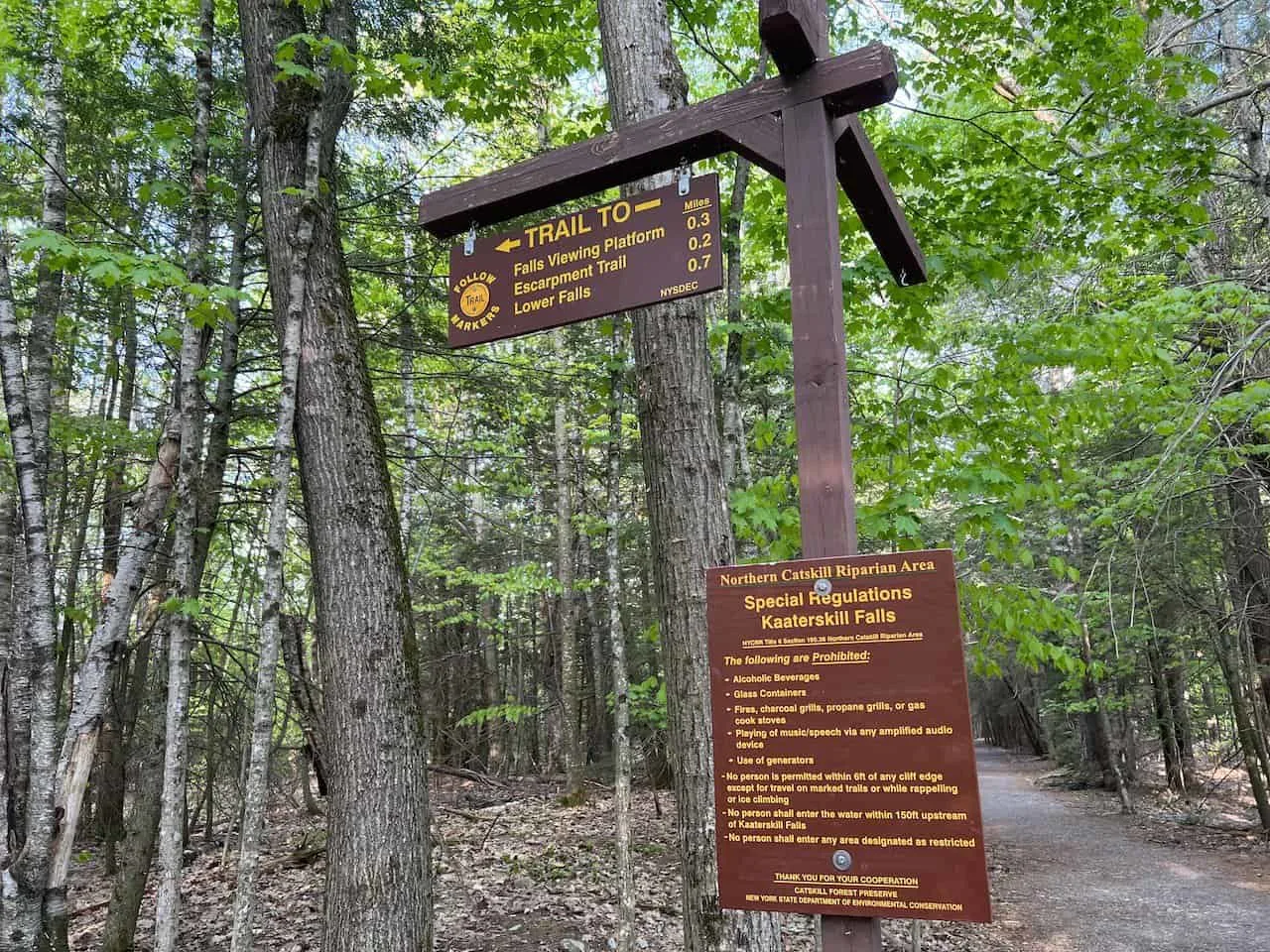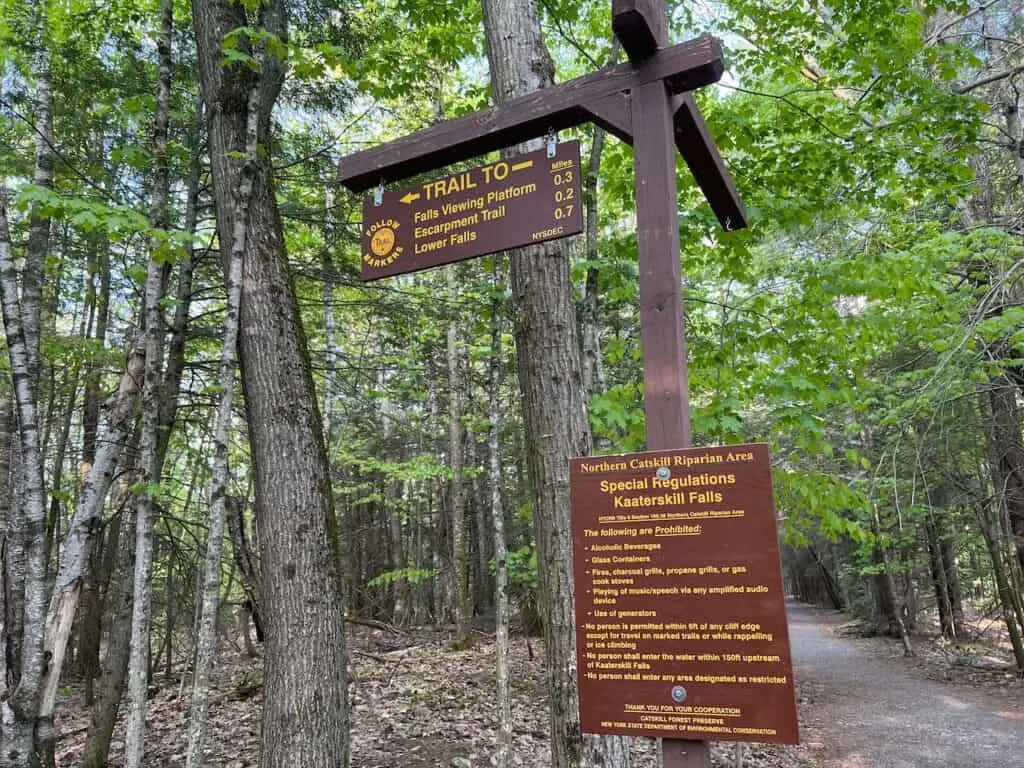 After just under 10 minutes of hiking, you will reach an important intersection. To your right is the last 0.1 miles to the viewing platform on the yellow trail. To your left is the blue trail to the Lower Falls.
Before heading to the falls, make the right on the yellow trail to the platform. Continue along the windy path and soon enough you will arrive right at the platform.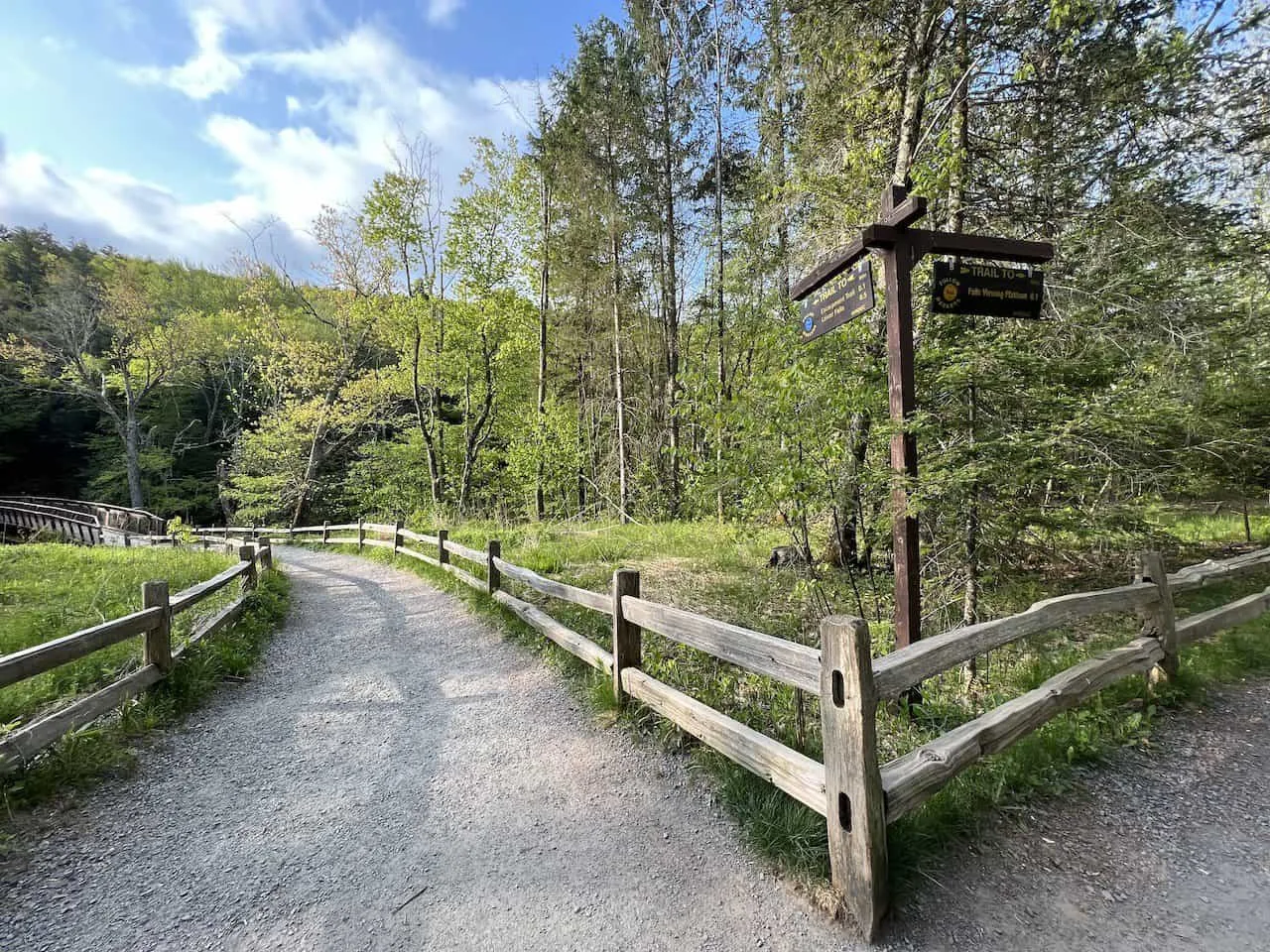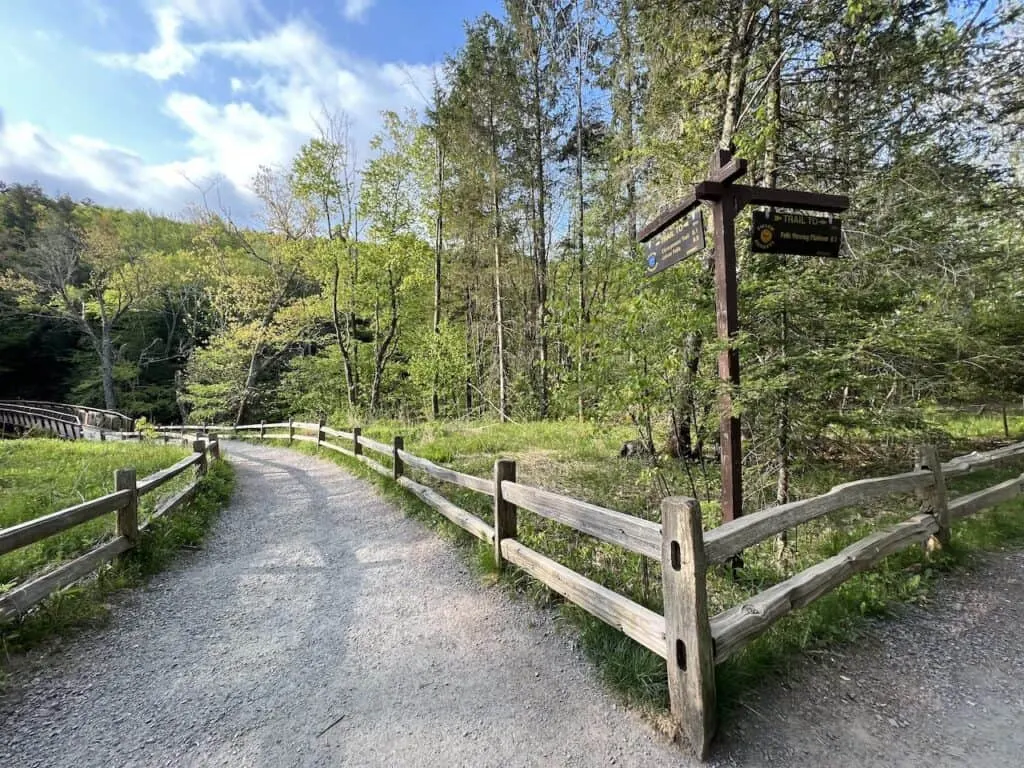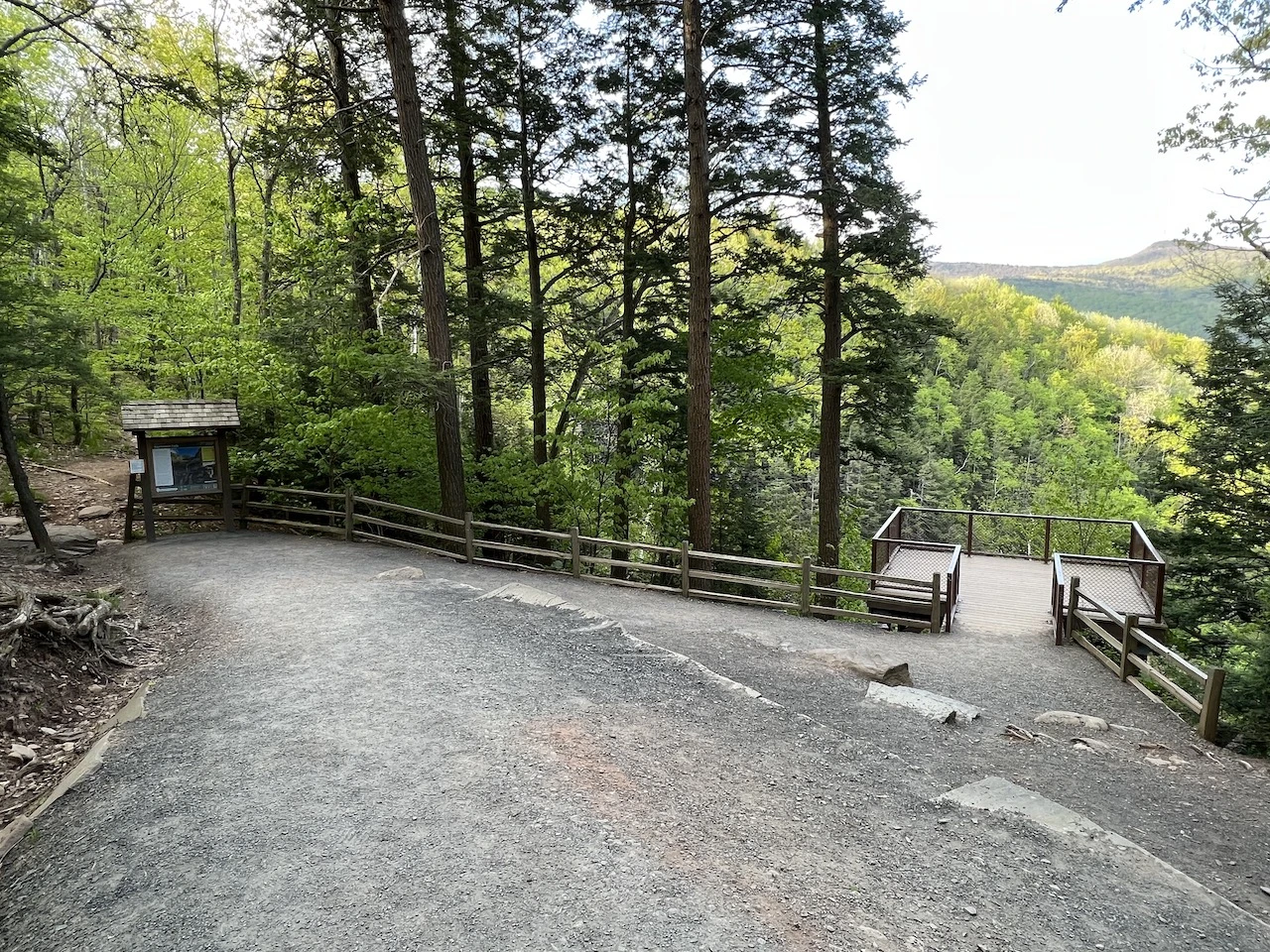 You can read through the information board here, and enjoy the view of the Upper Falls surrounded by the natural landscape of the Catskills.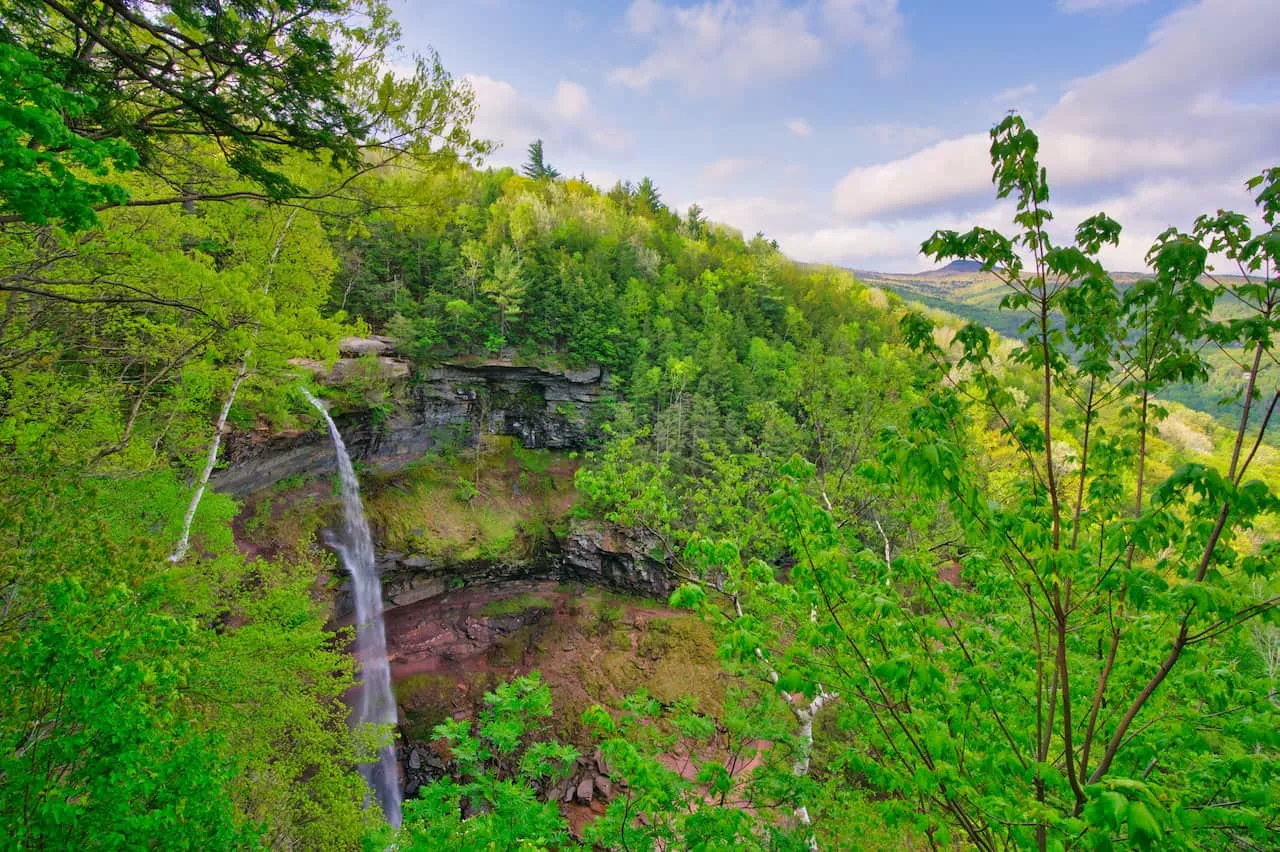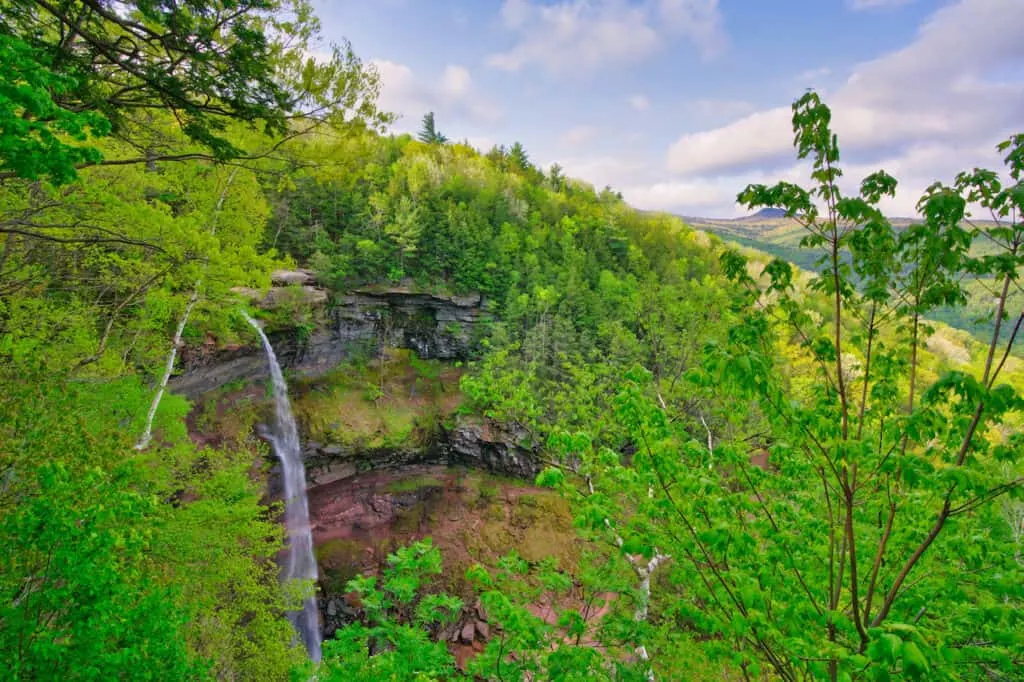 Upper Falls
Once all wrapped up by the viewing platform it is time to actually head down to the Upper Falls. While the view from up top is one thing, getting to see it up close is another.
Retrace your steps back to the intersection, where you can then follow the blue trail to the Upper Falls. The trail crosses over Spruce Creek, and you will then reach another intersection on the other side of the bridge.
Simply follow the blue trail to the right, pointing you towards the "Junction to Lower Falls". Here is where the trail gets a bit more challenging. Instead of a nice flat path, the forest will include a more uneven rocky terrain.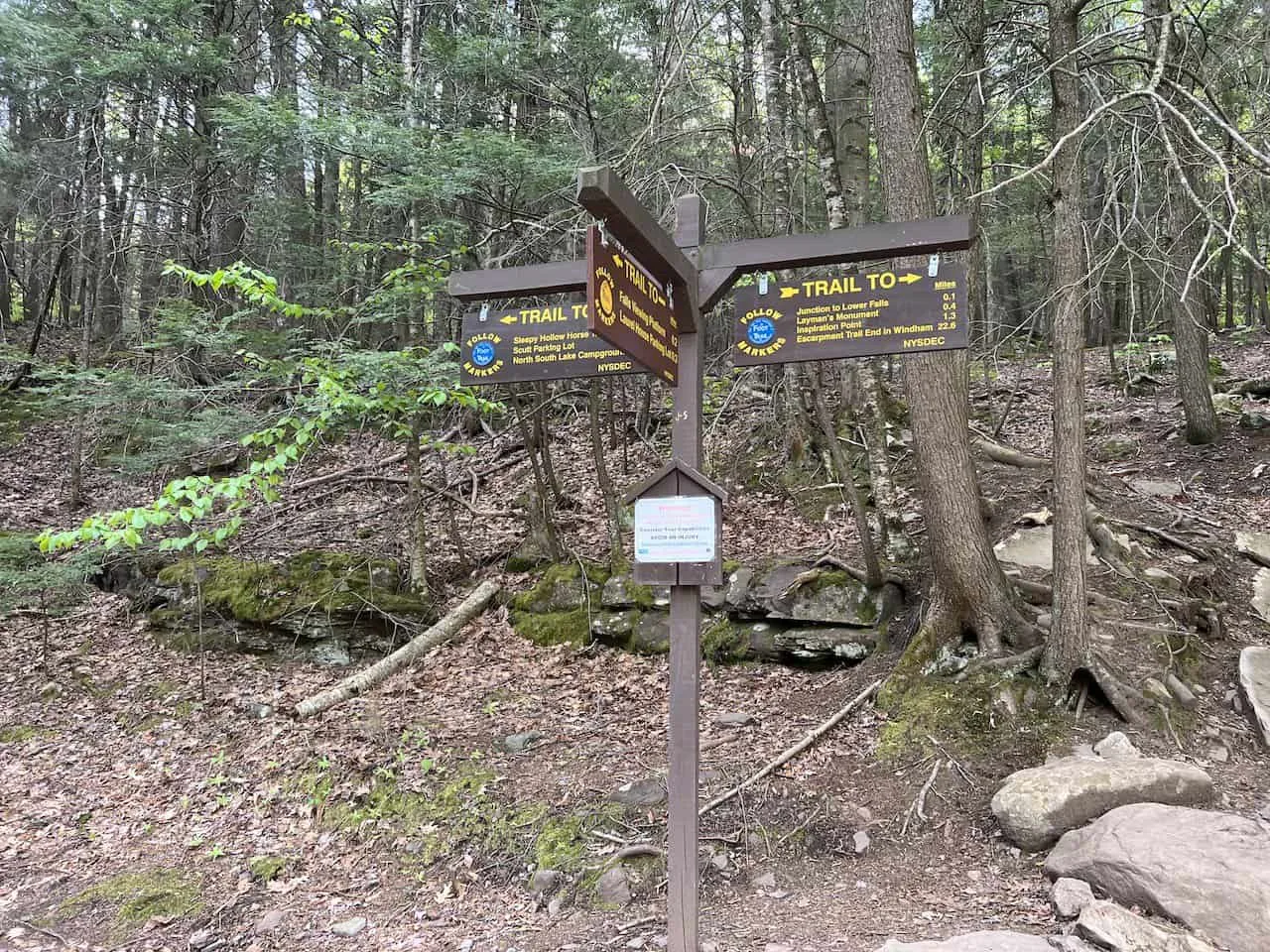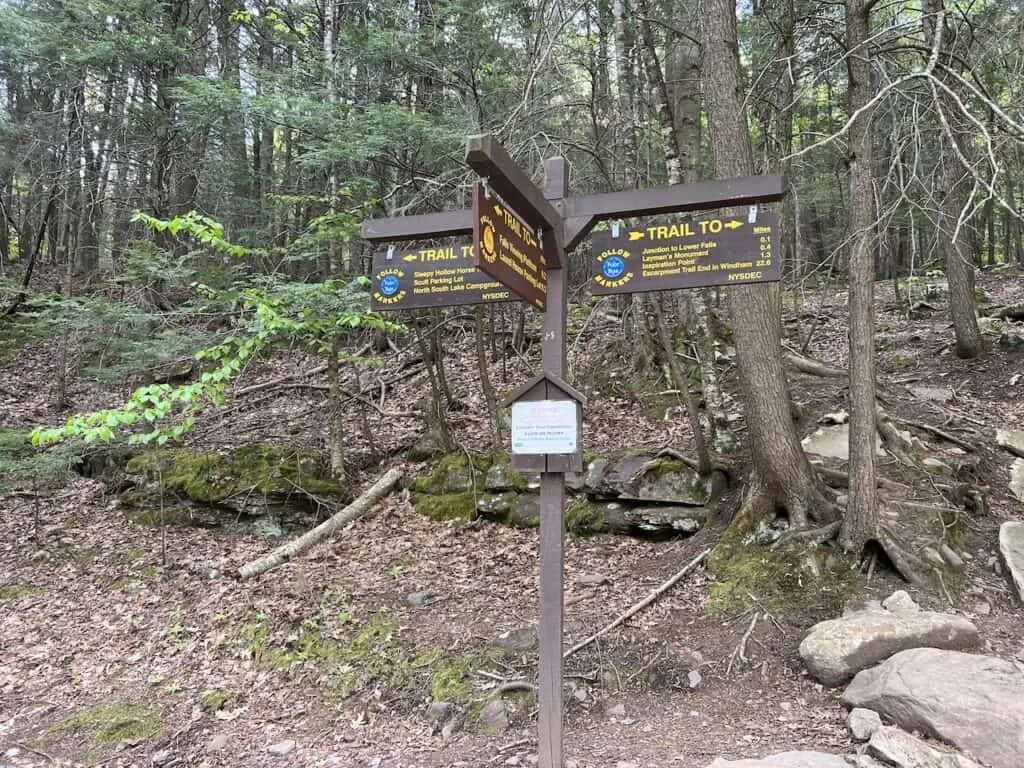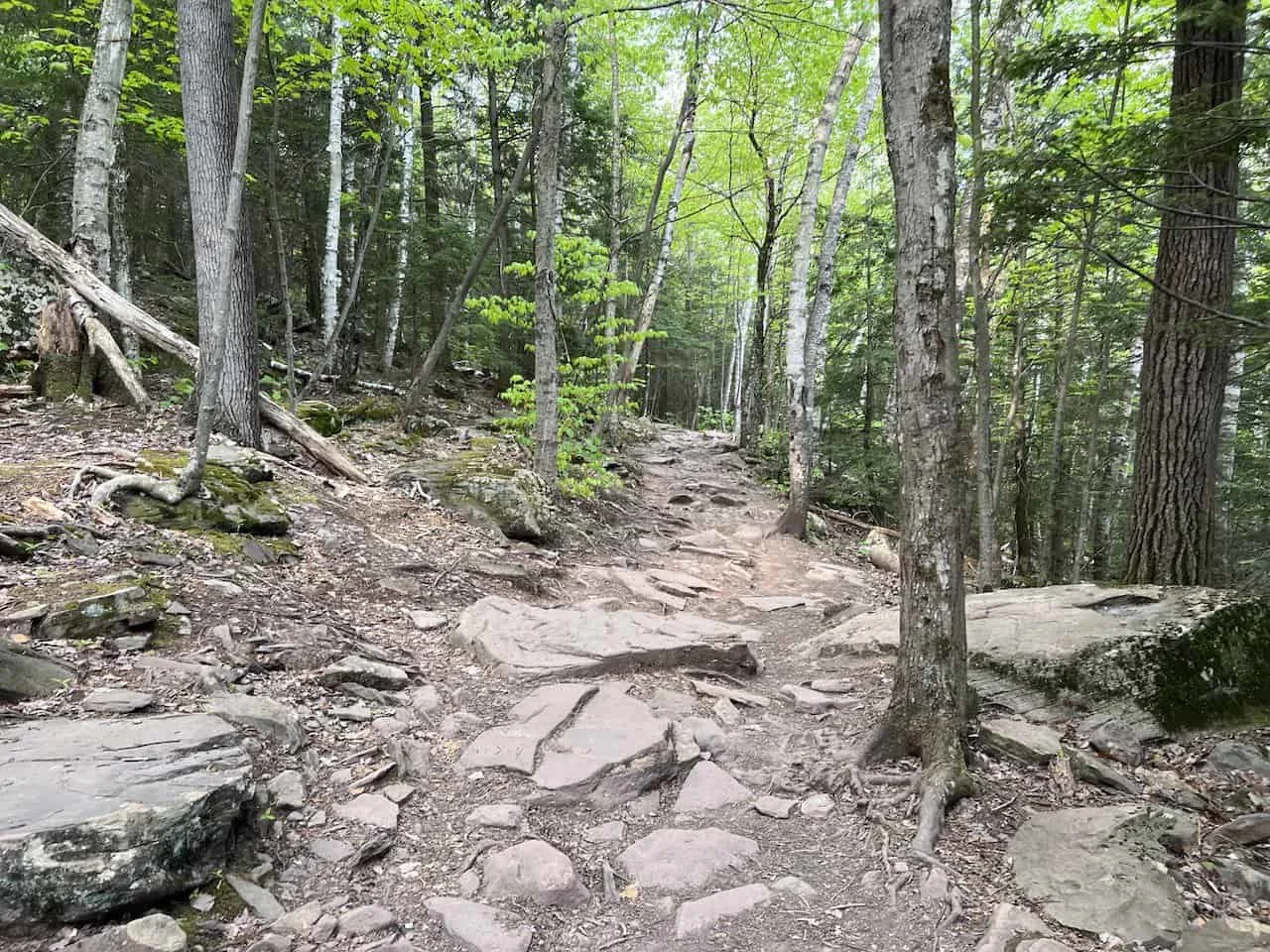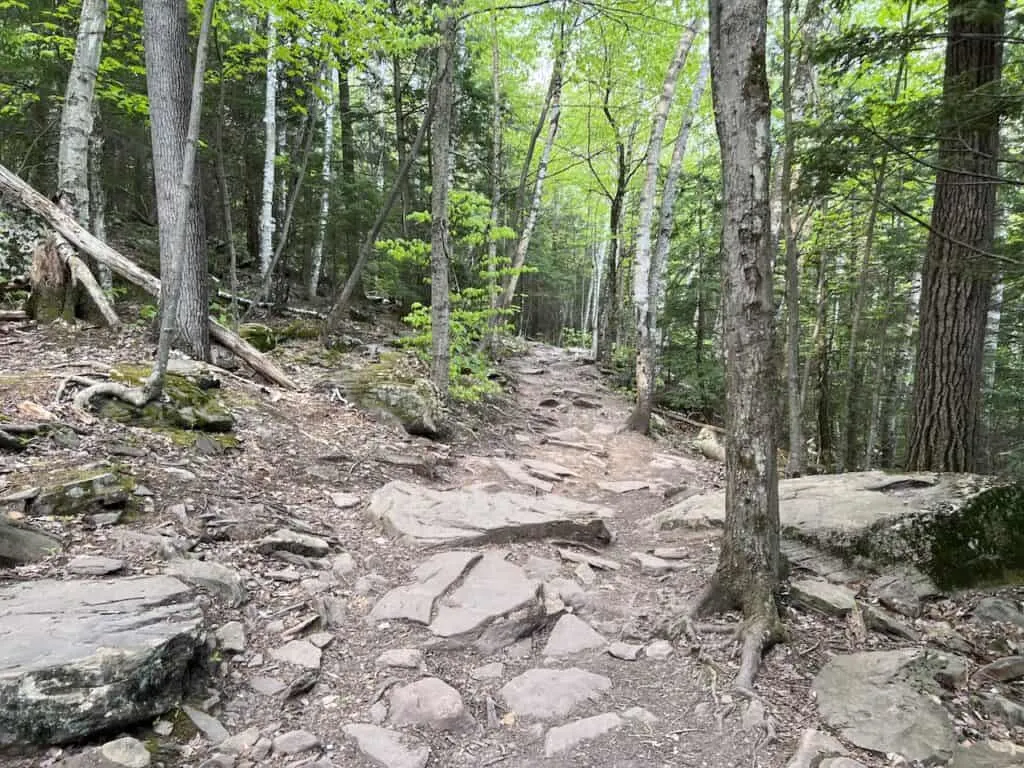 Be on the lookout though, because shortly after there is one more intersection. This time it is to make a right hand turn back onto the yellow trail to the waterfall.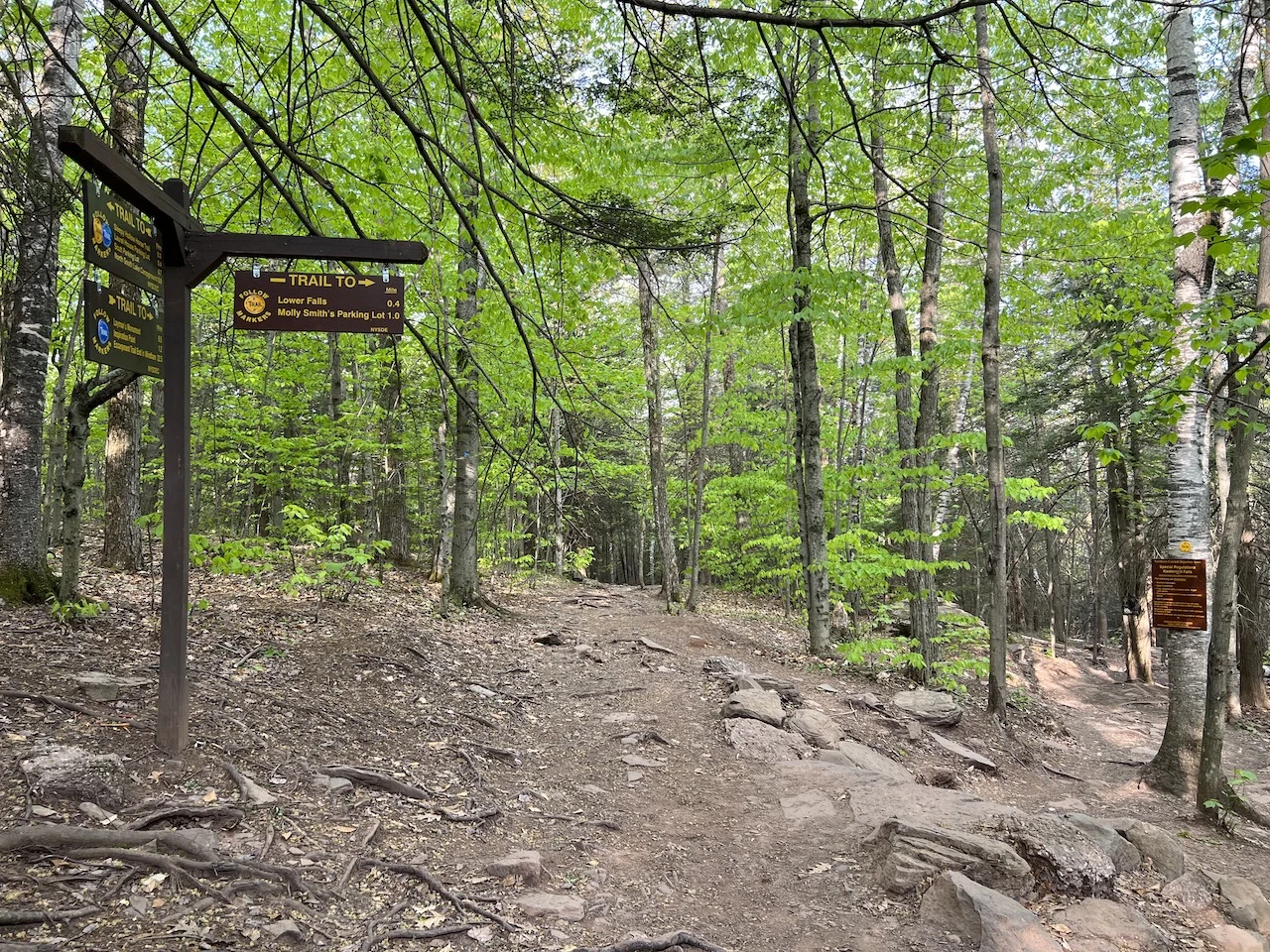 Here is where the descent really begins. There will be many stone steps taking you further down towards the waterfall, some of which are more built out than others.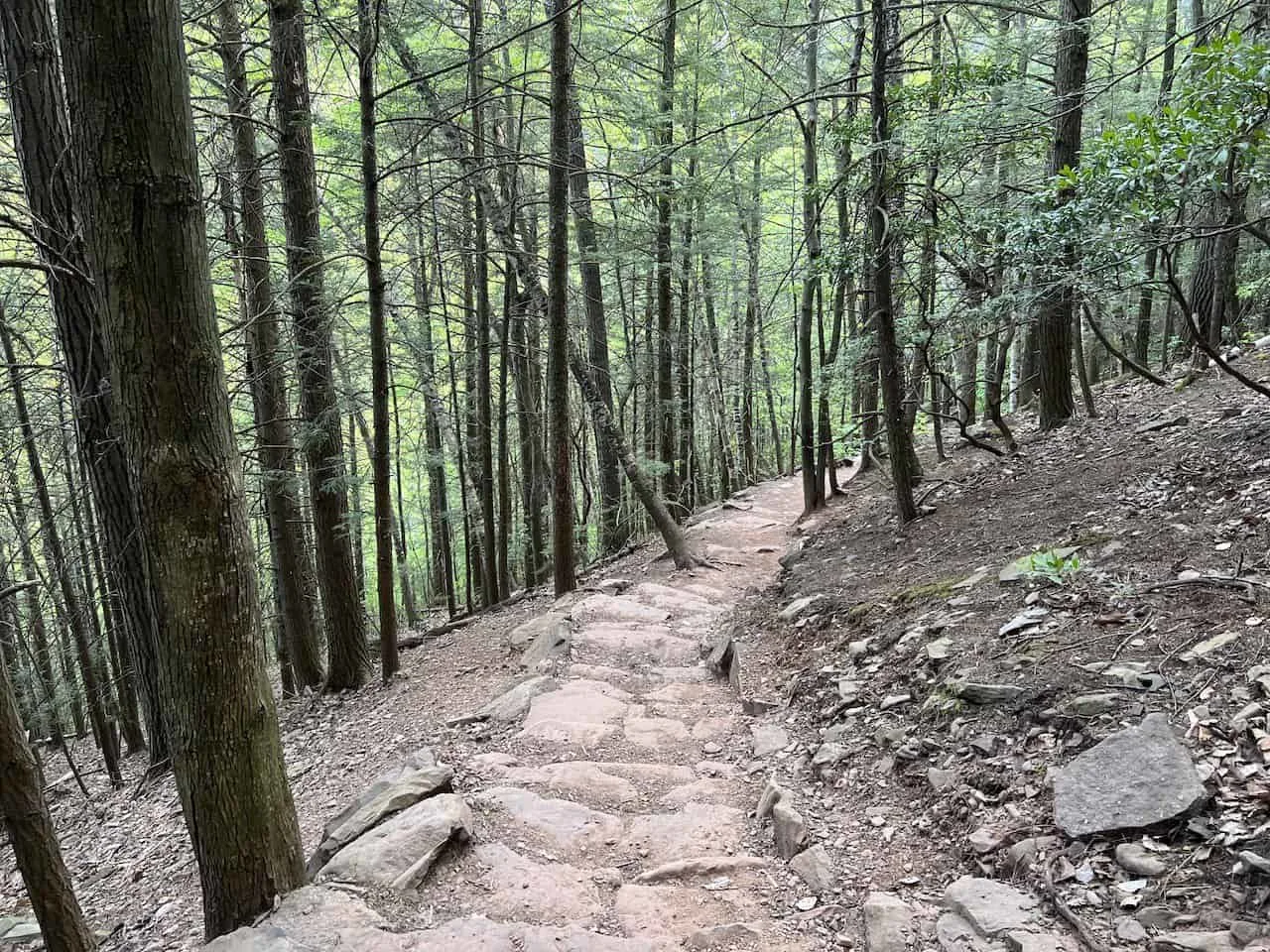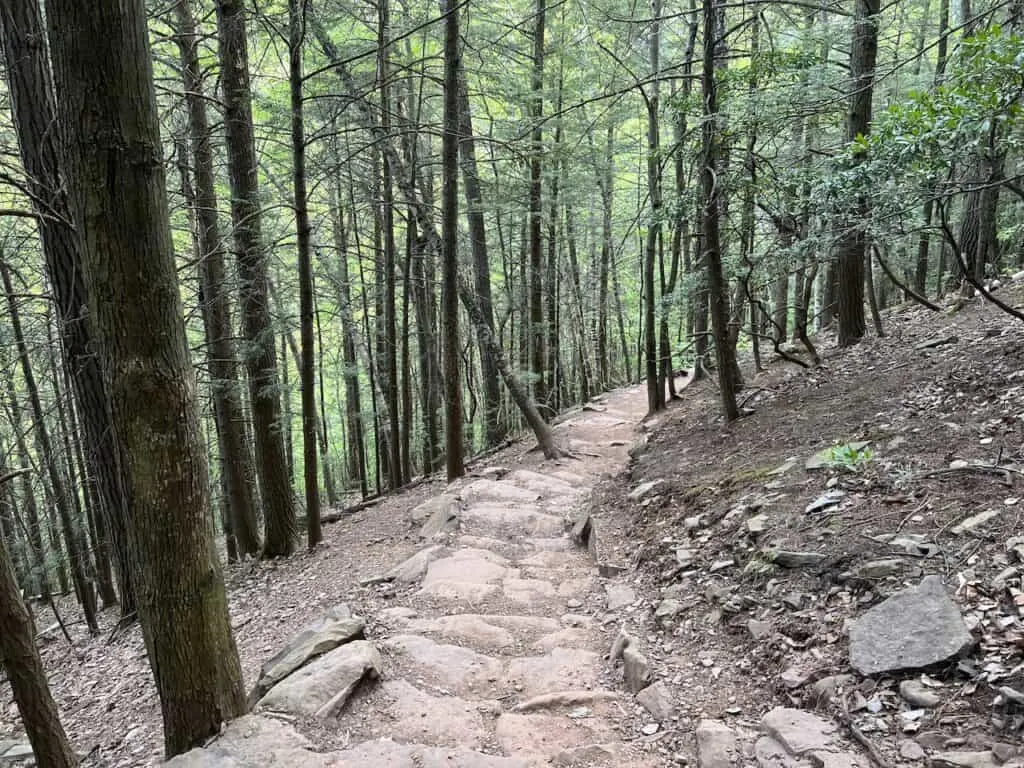 After descending for a bit, the lower waterfall will come into view. But before visiting the Lower Falls, you can follow the dirt pathway off to the right (pictured below), to visit the Upper Falls.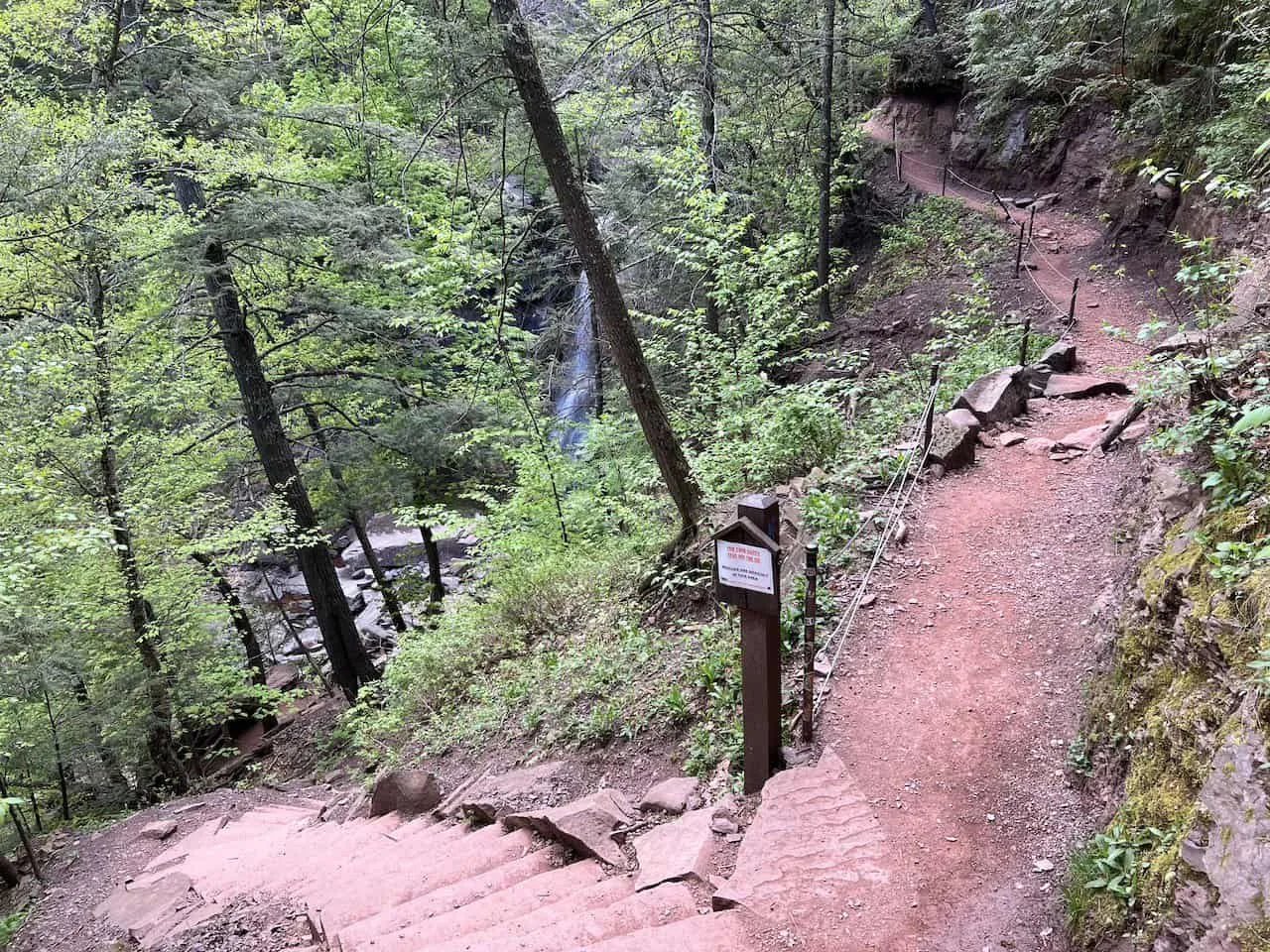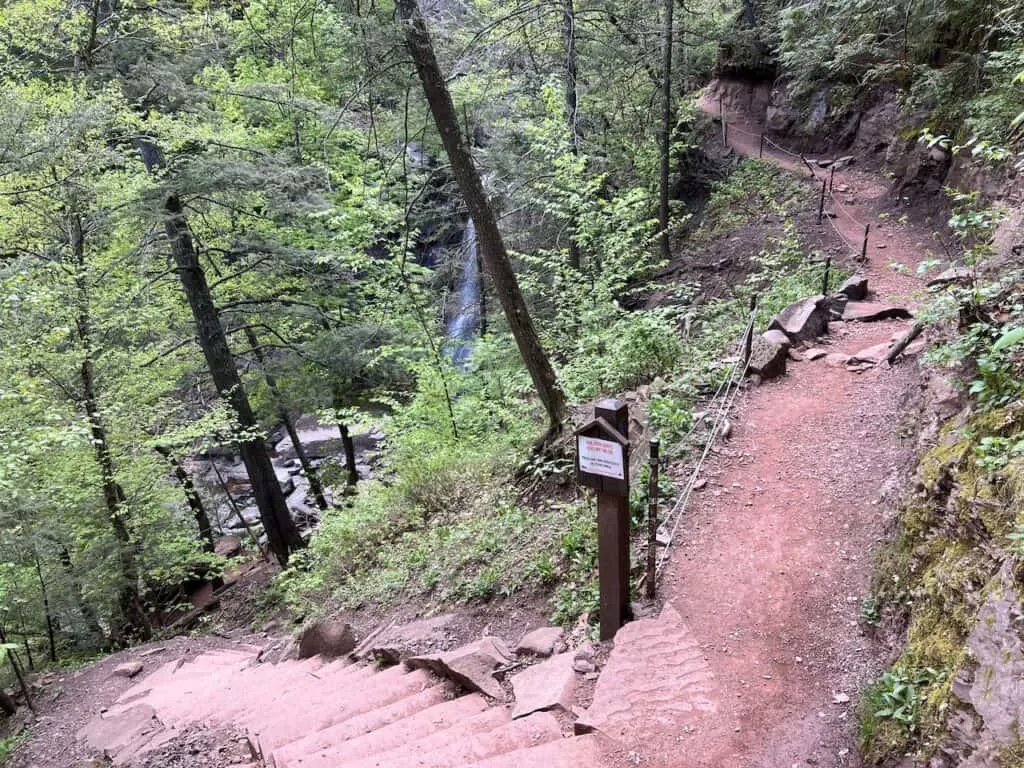 The Upper Falls is a beautiful site to see. You have the stream of water gushing over the cliffside into a pool of water below.
Be careful though to avoid the slippery and wet rocks as that can cause dangerous conditions. Also, be sure to stay away from the waterfall drop between the pool and the Lower Falls.
You can spend some time enjoying the waterfall, taking some photos and just relaxing around the area.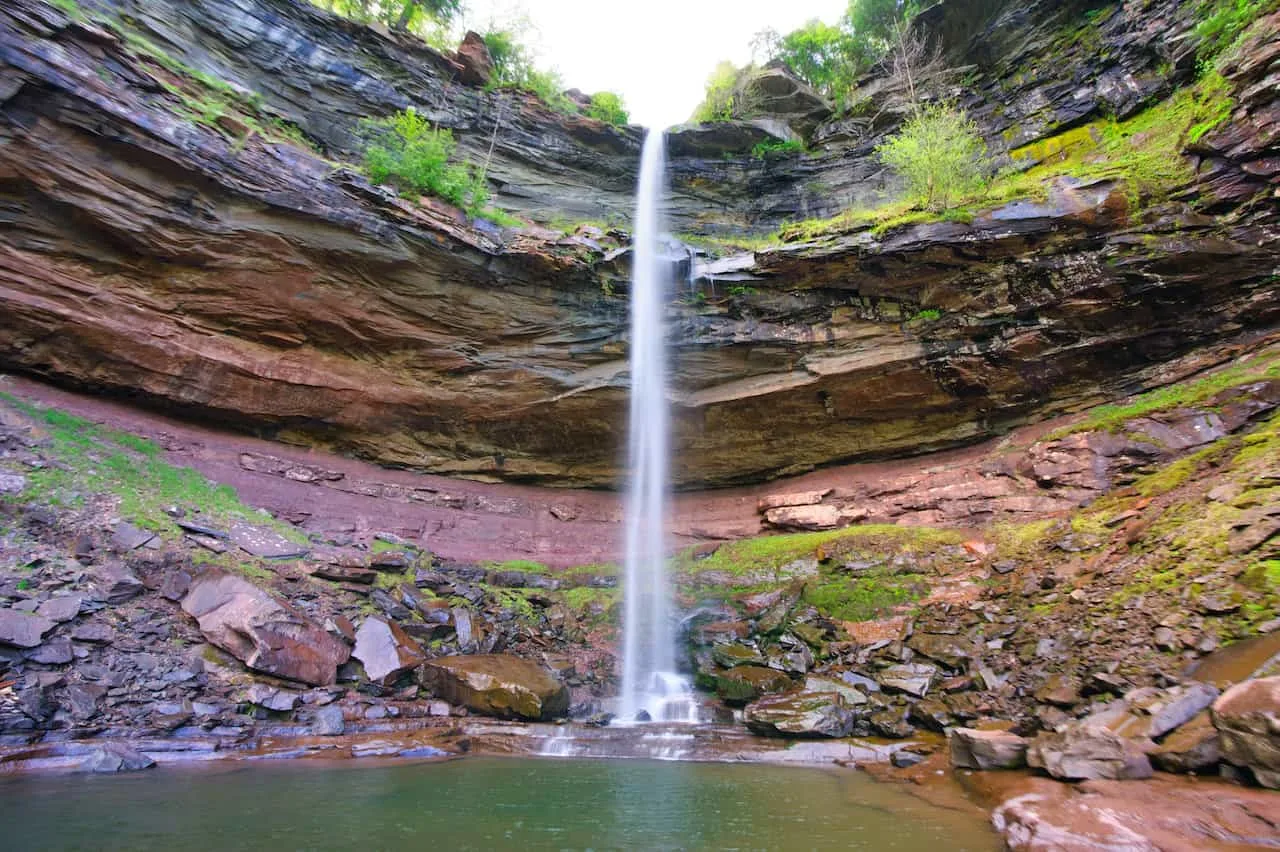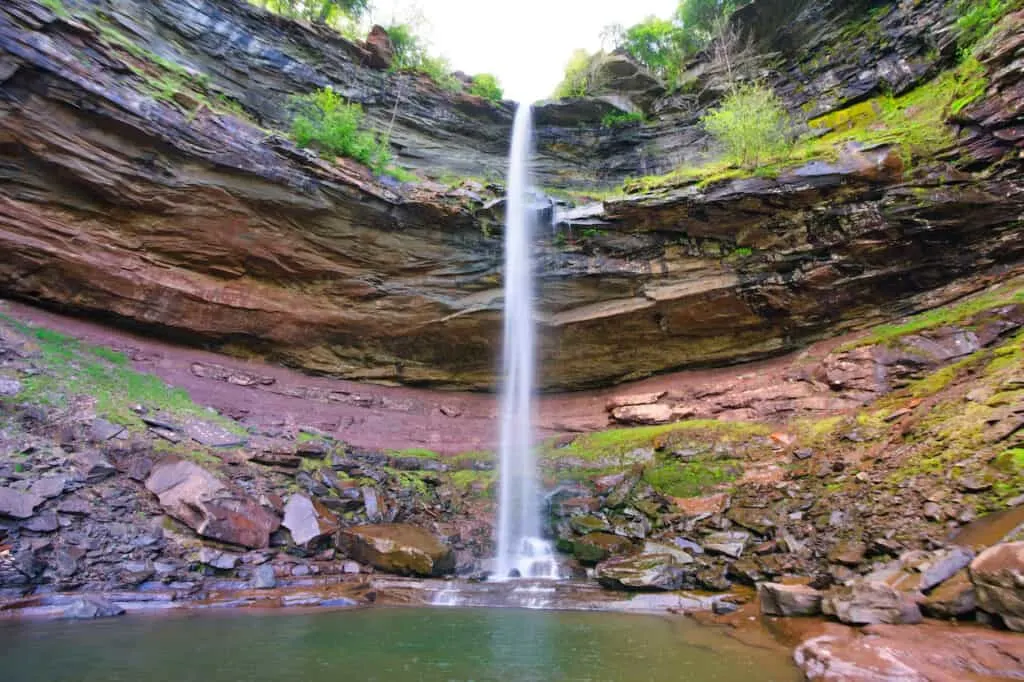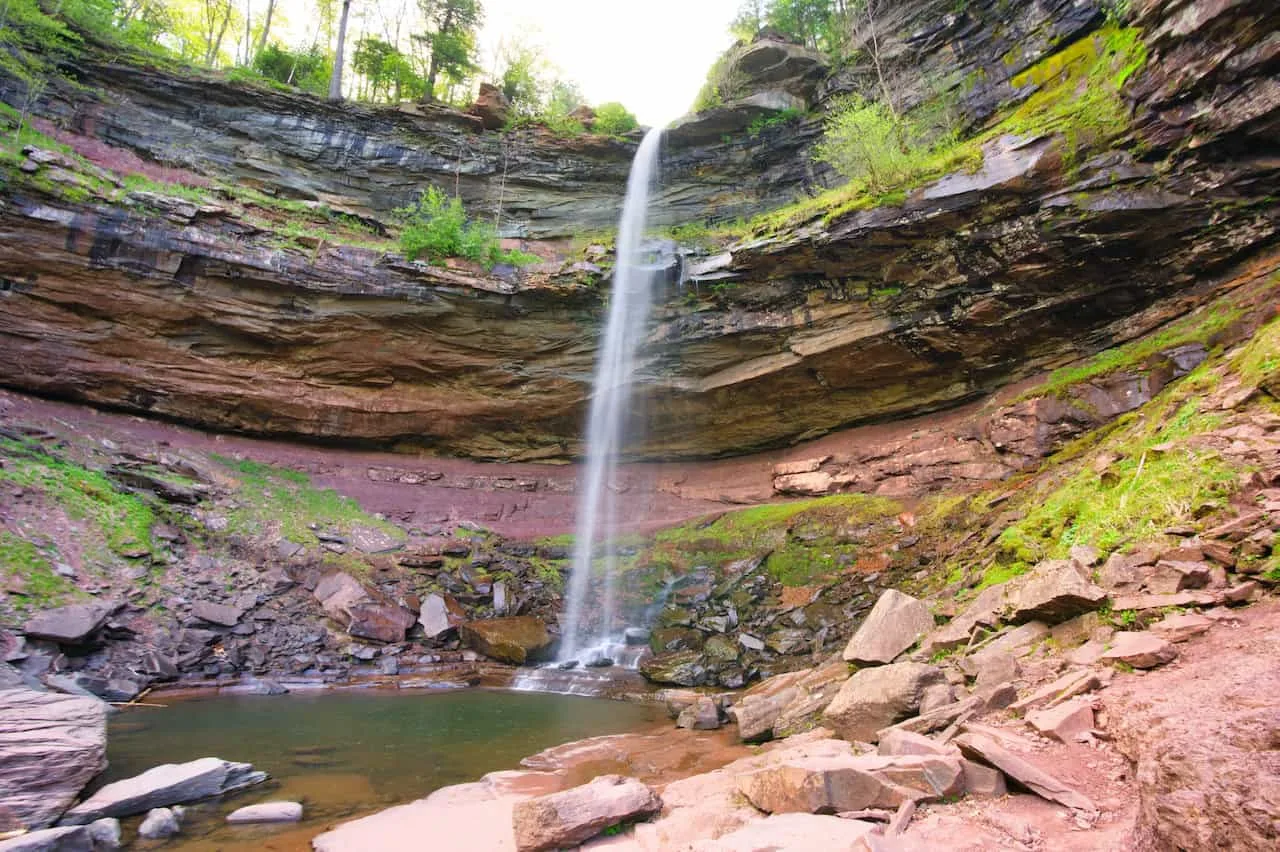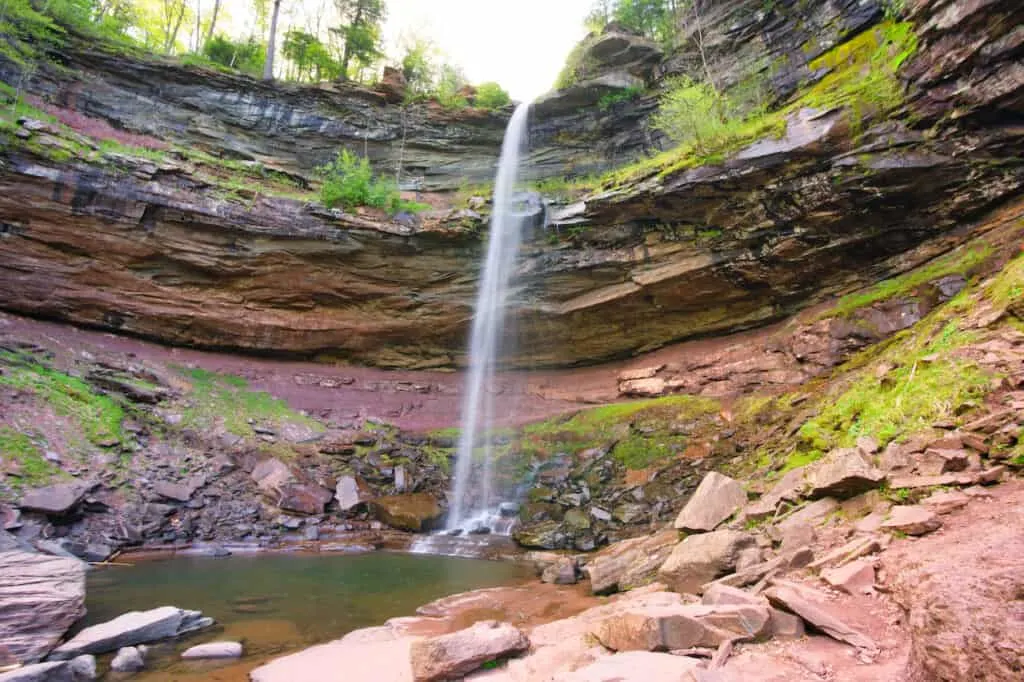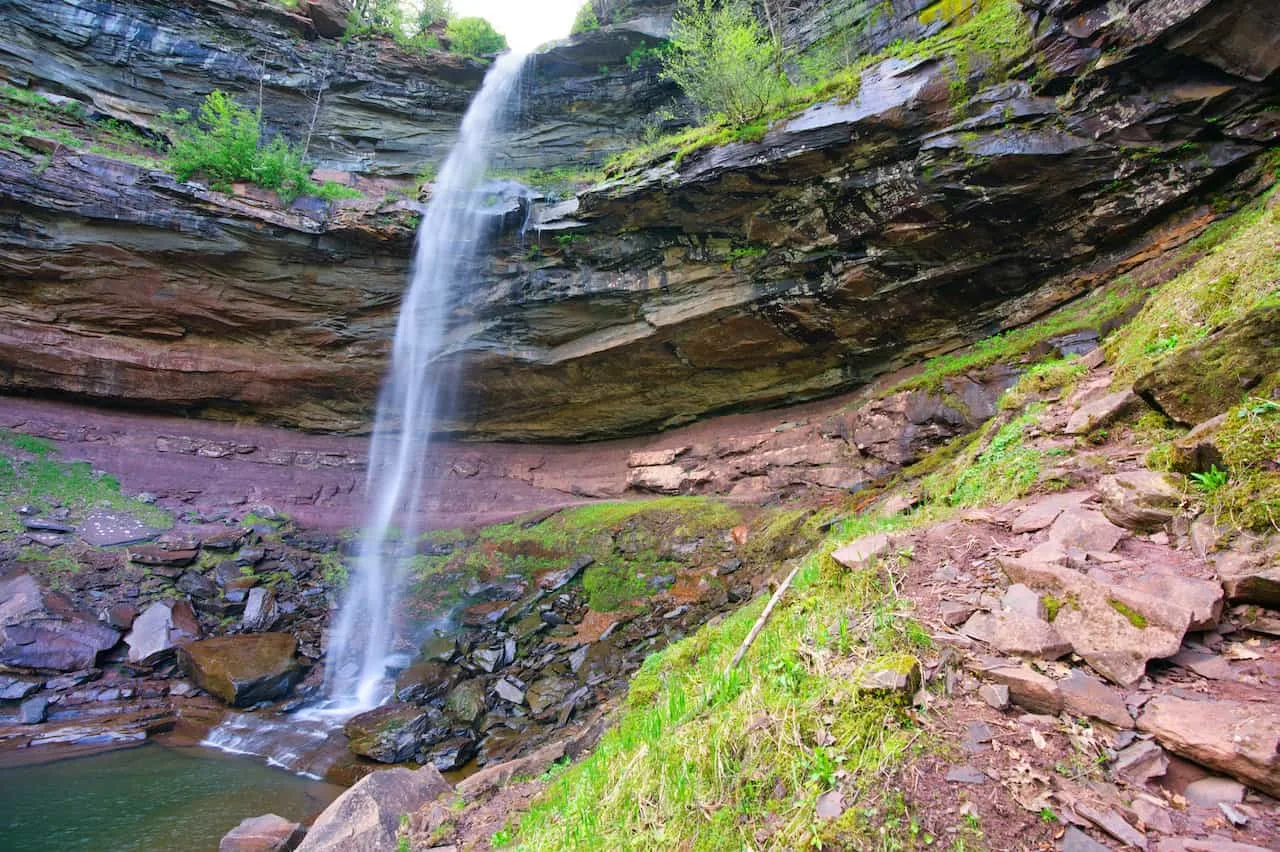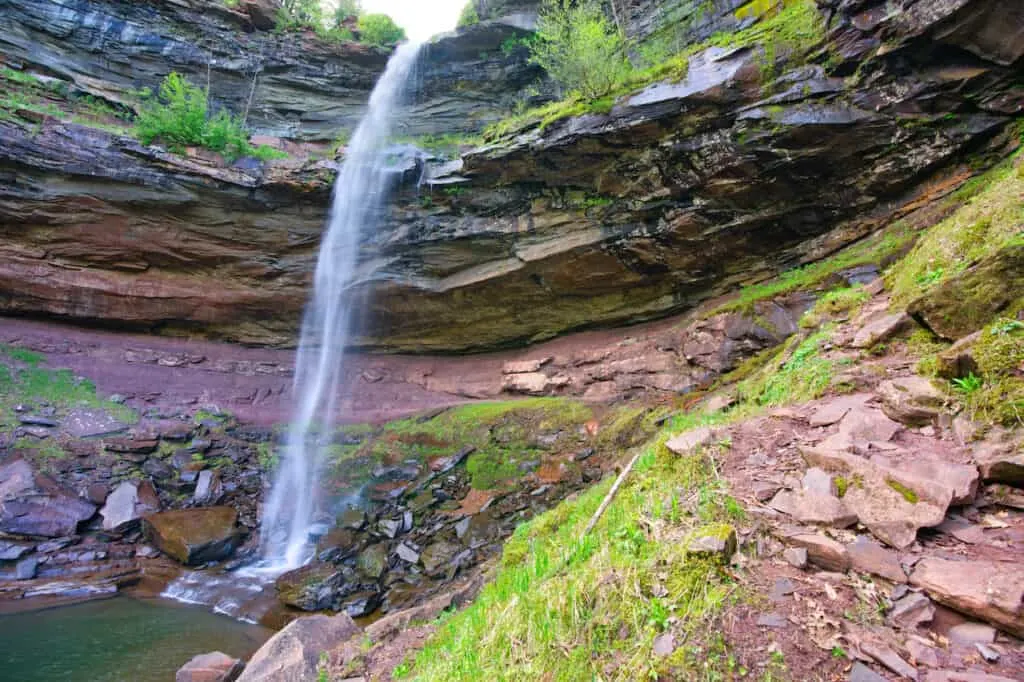 Is Swimming Allowed at Kaaterskill Falls? -> If the conditions allow, many people enjoy jumping into the water here and hanging out on the nearby rocks. This can be done when the water levels are relatively low and there isn't a rush of water going from the pool over the next ledge.
Lower Falls
It is then time to continue the descent down to the Lower Falls. There will be some more steps to head down as you arrive at a rocky area with beautiful views of the Lower Falls and the Upper Falls.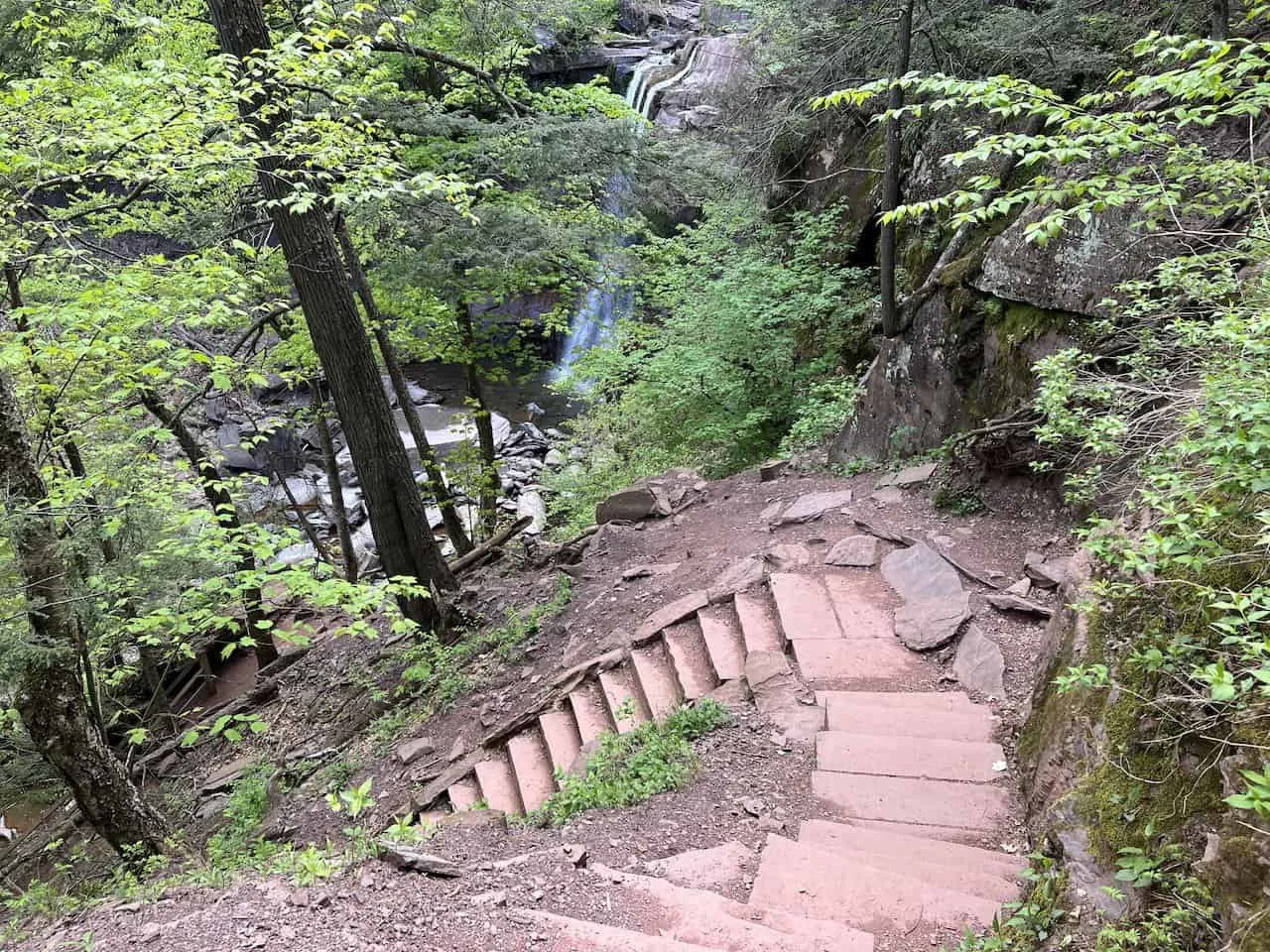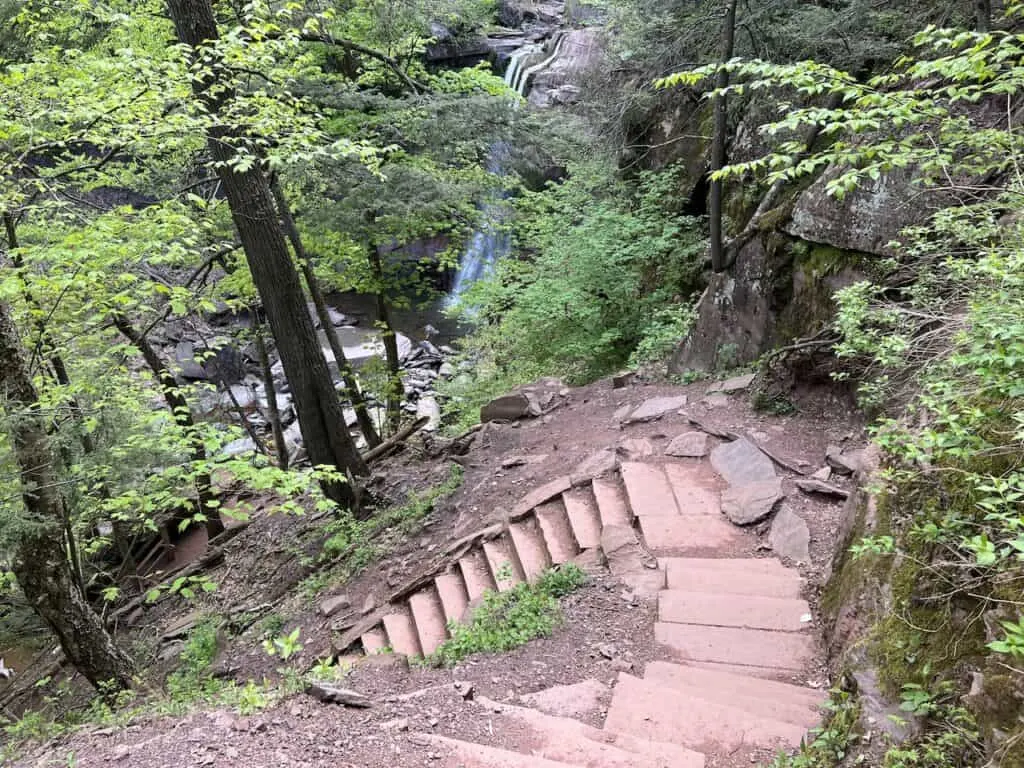 From this angle you really can see the full Kaaterskill Falls with its multiple tiers. Once again, just be careful of your step here. There is not necessarily a platform, but rather a variety of small & large rocks, where you can safely find a spot.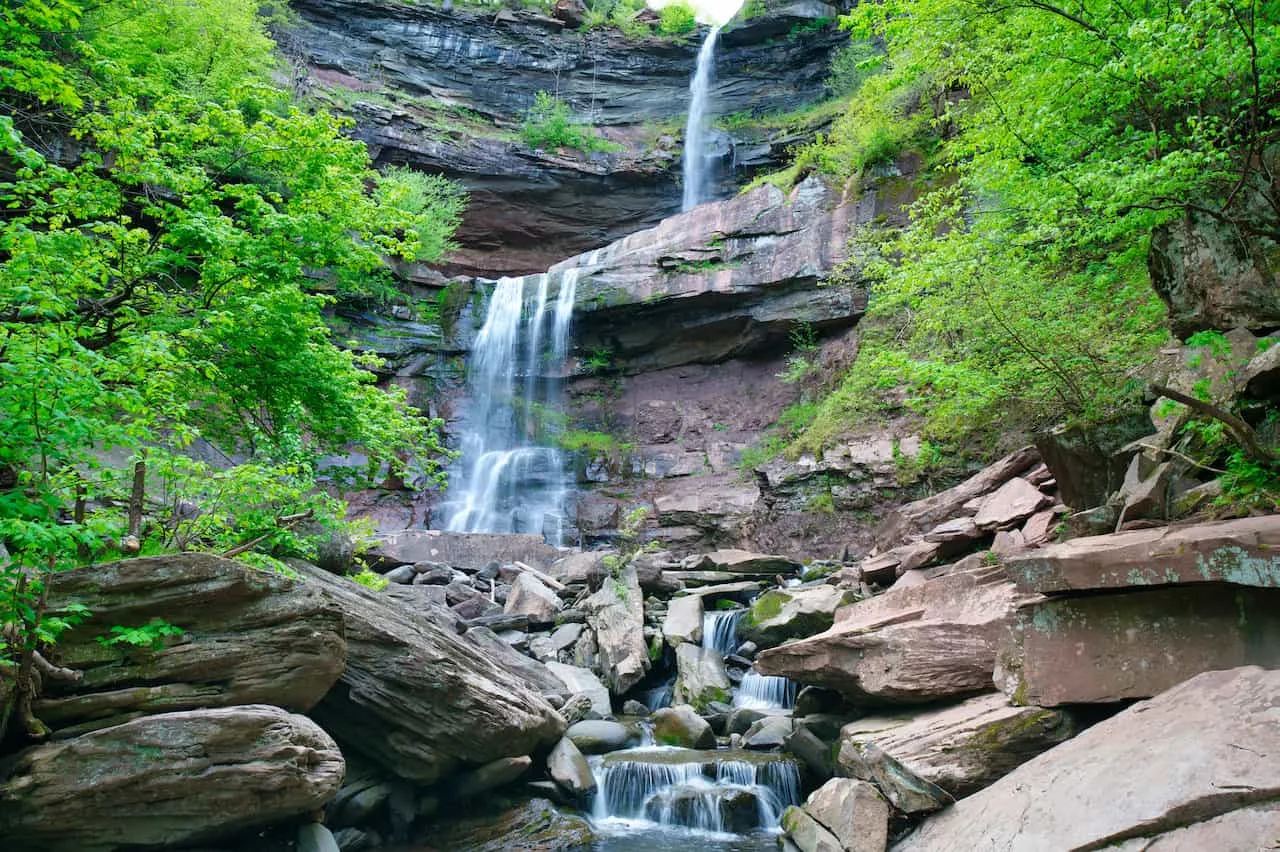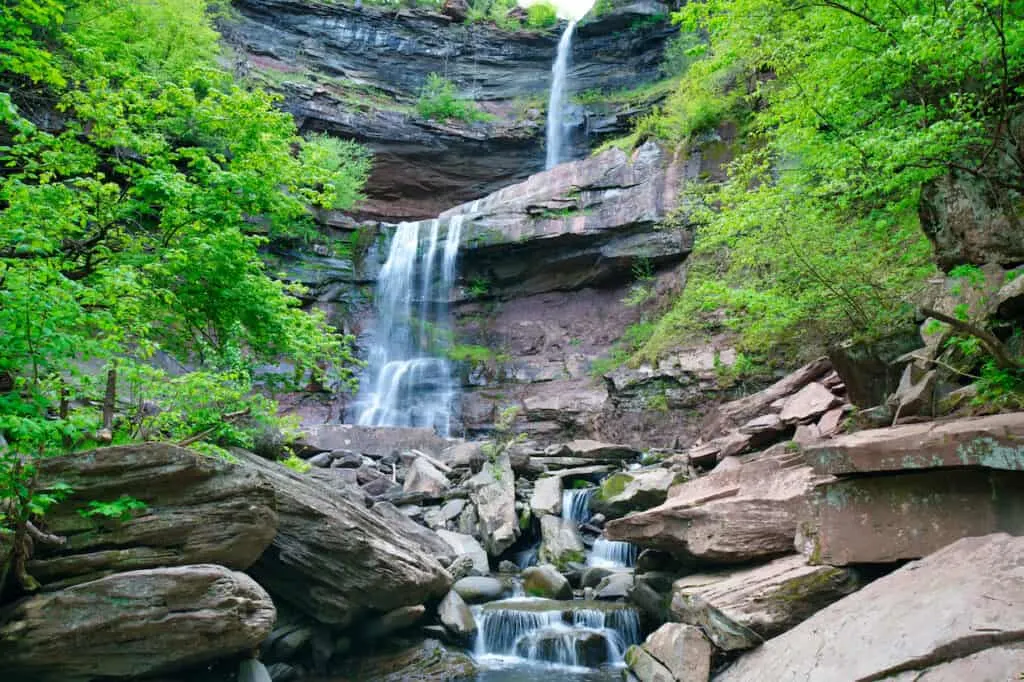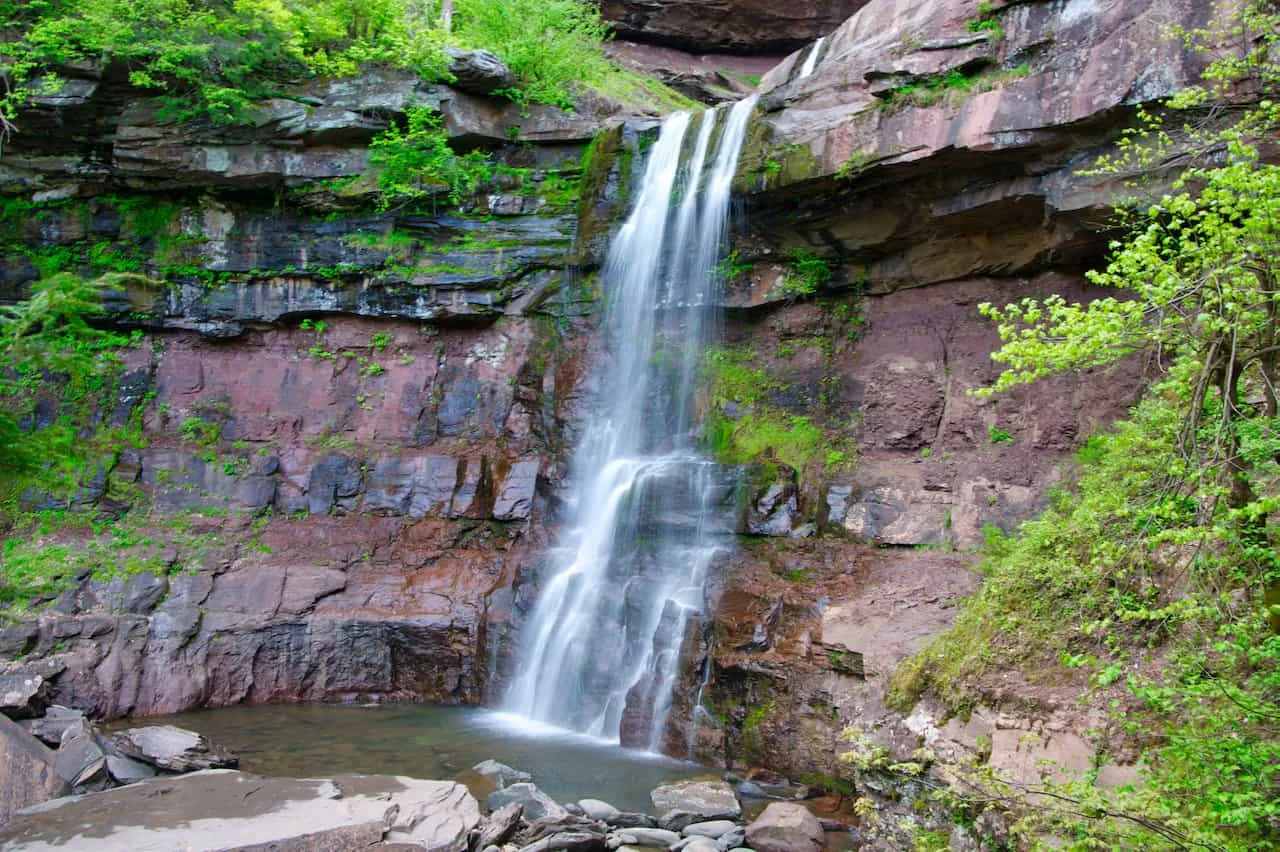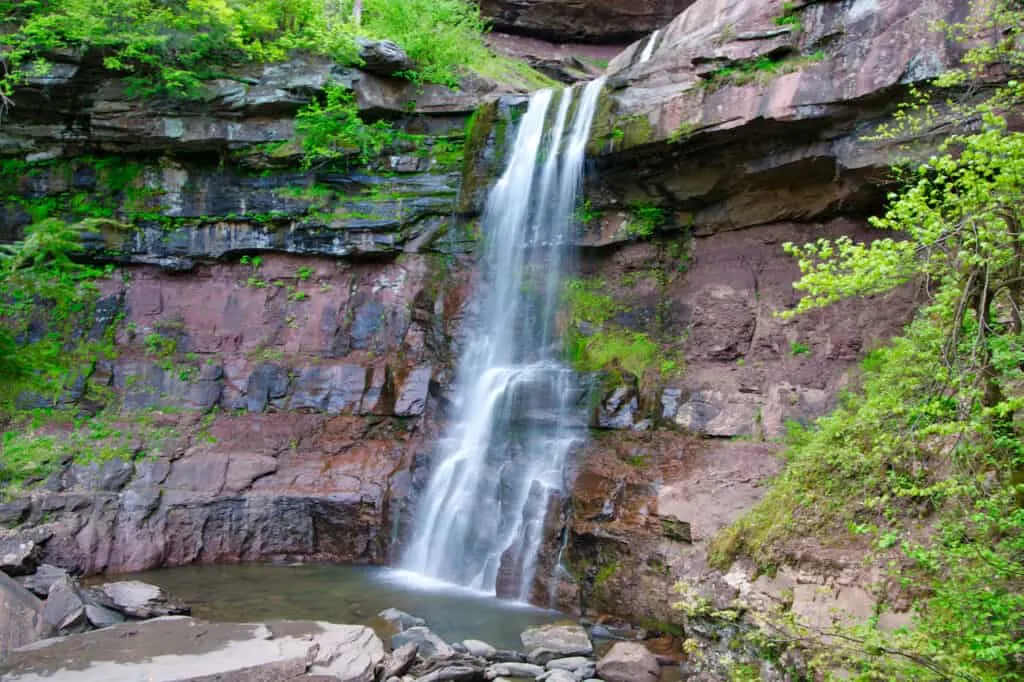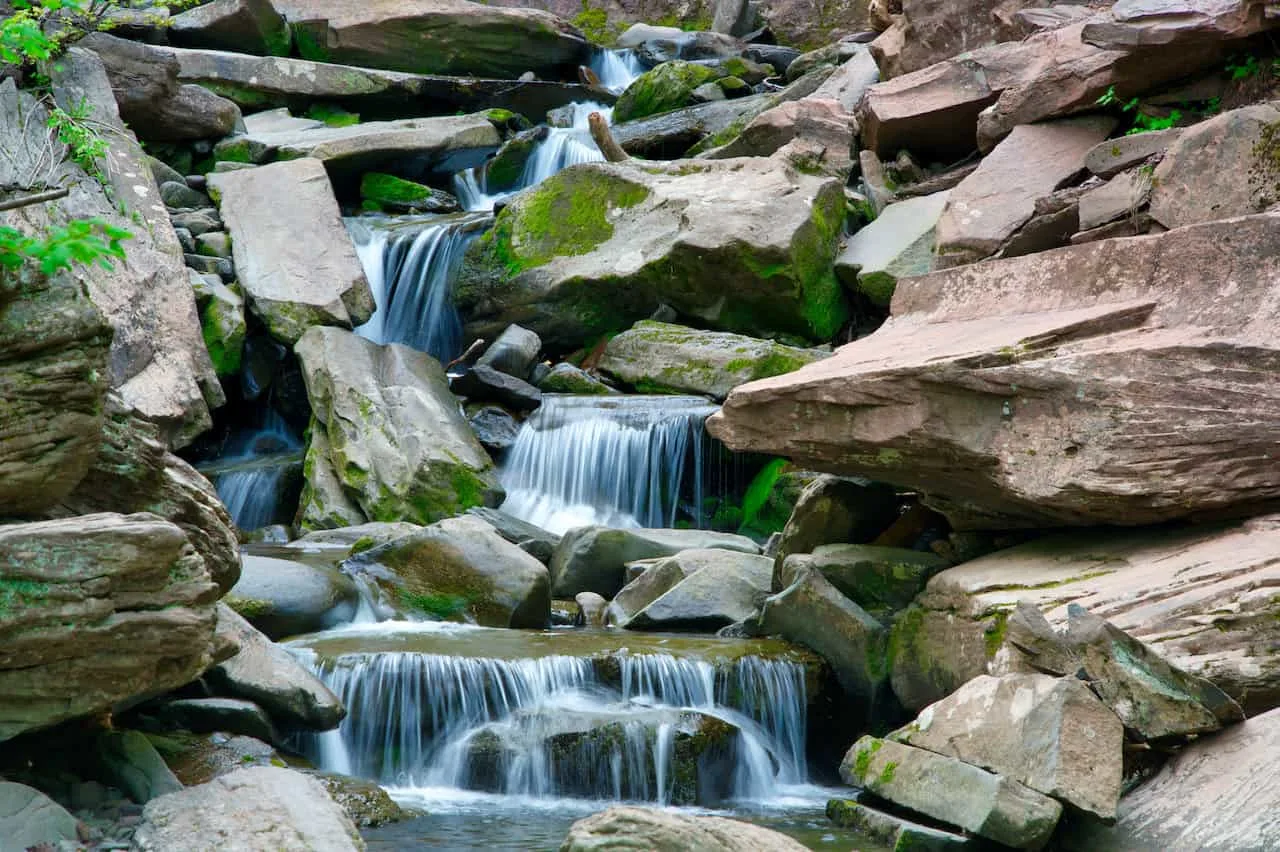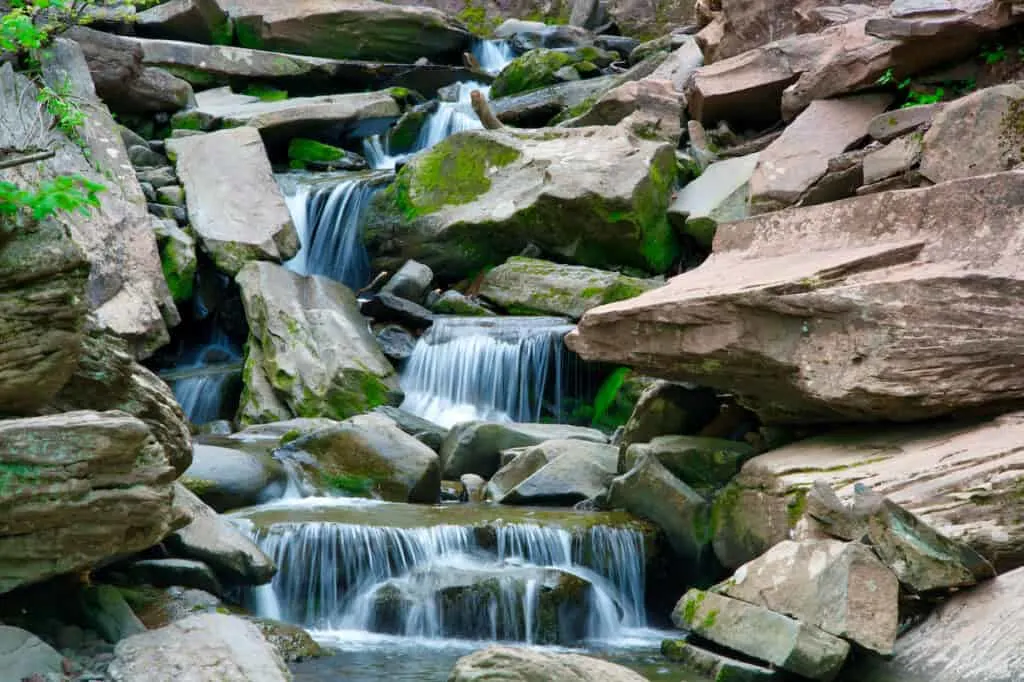 Back Up to the Parking Lot
After taking in the views from all angles, the real hike up the parking lot begins. This time you need to retrace your steps uphill and along the staircases.
Just be sure to watch your step, take breaks as needed, and continue to follow the trail signs to the trailhead.
That will end a successful day out at Kaaterskill Falls for you!
7) Kaaterskill Falls Photos
I spent a couple hours at Kaaterskill Falls enjoying all the various angles and viewpoints I could find. Below are some of my favorites that I did not include above.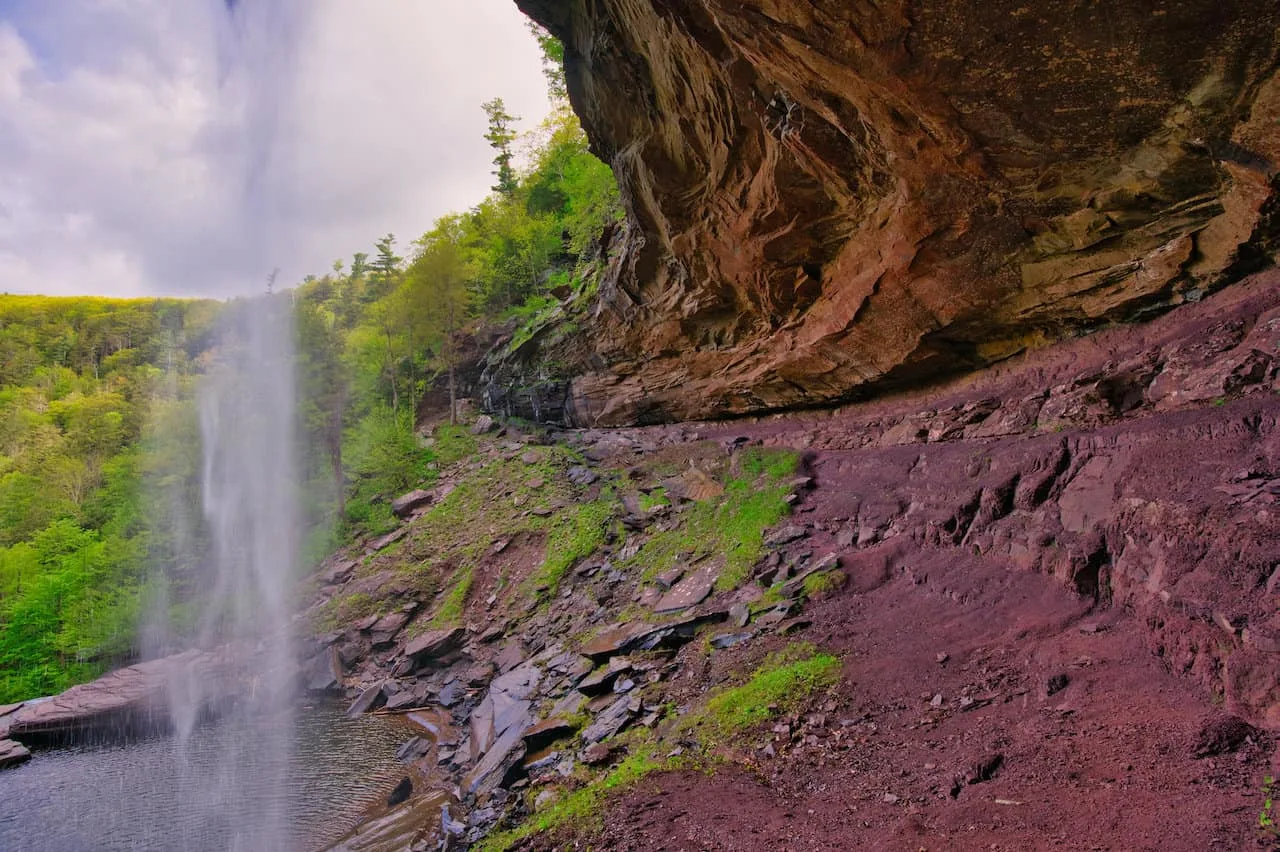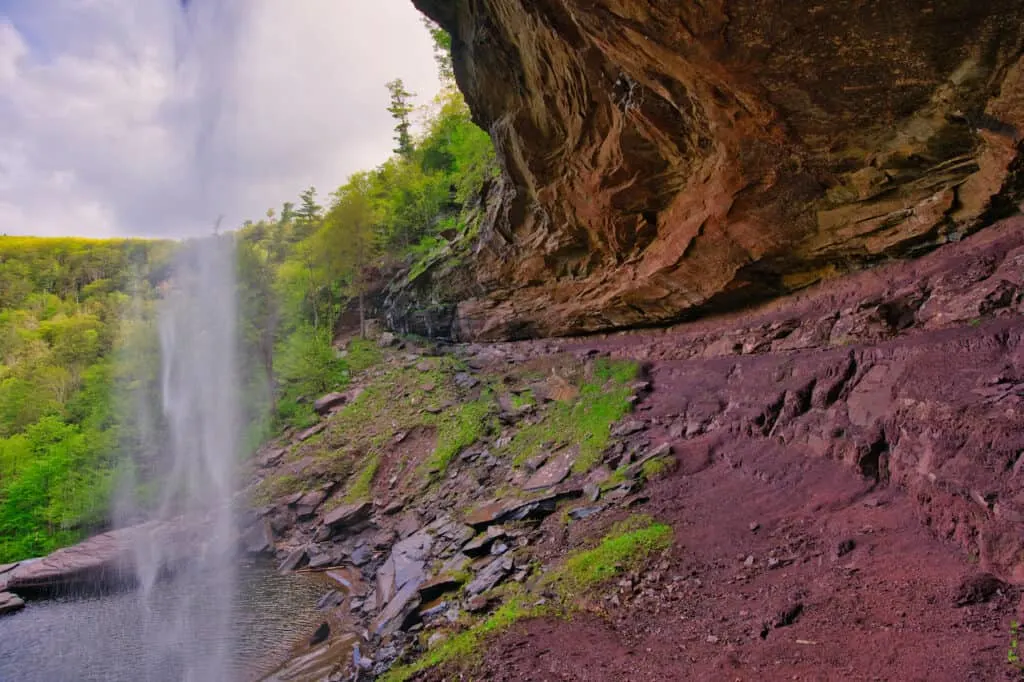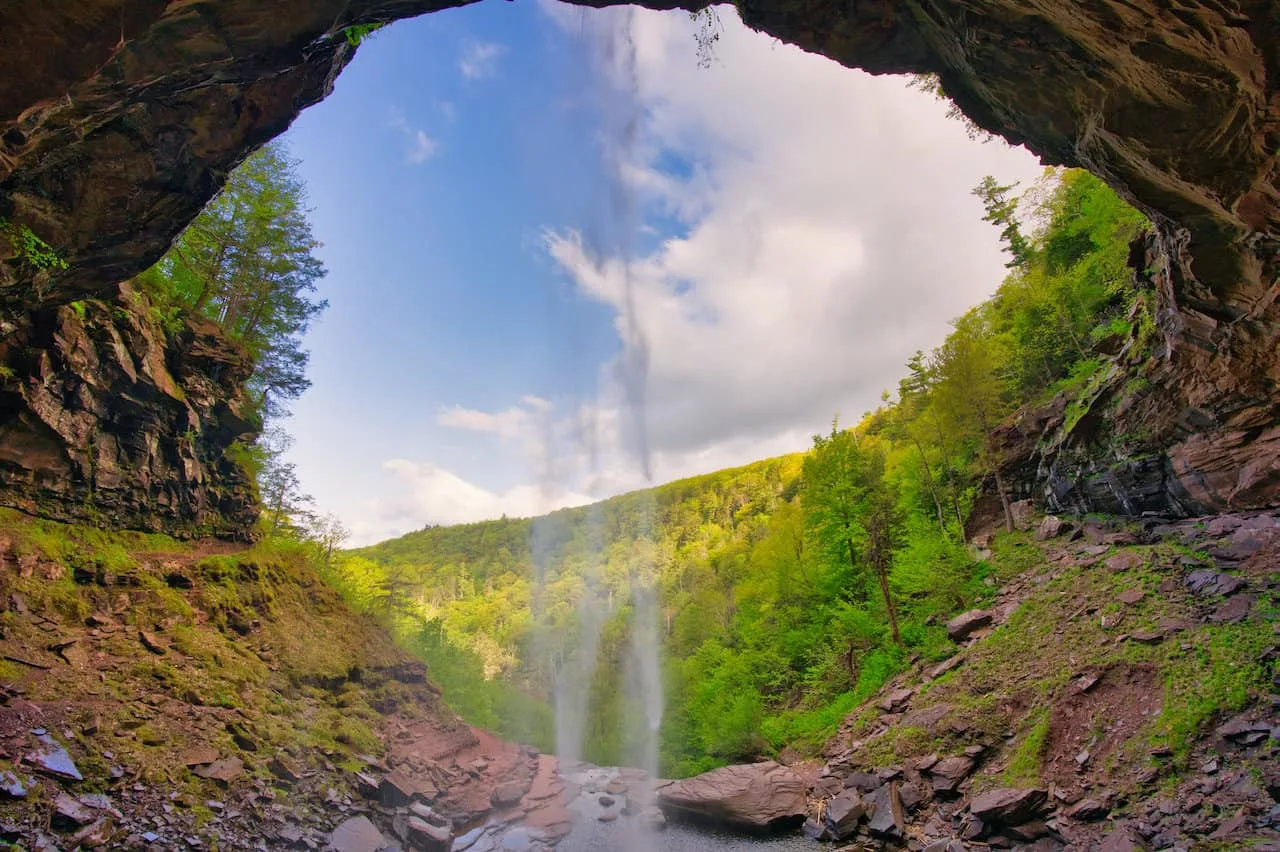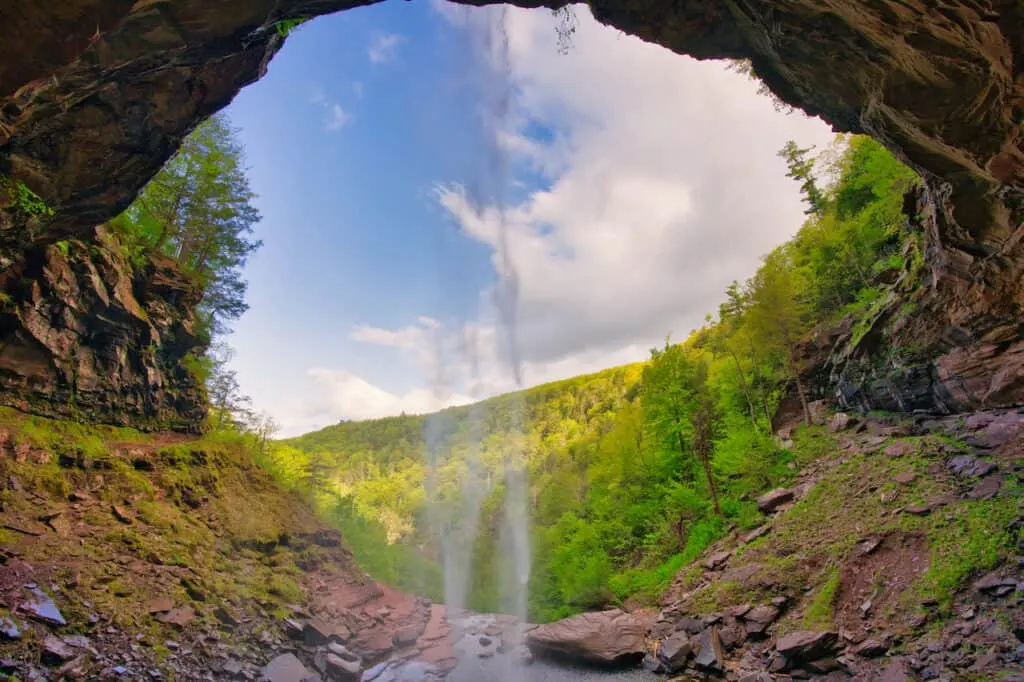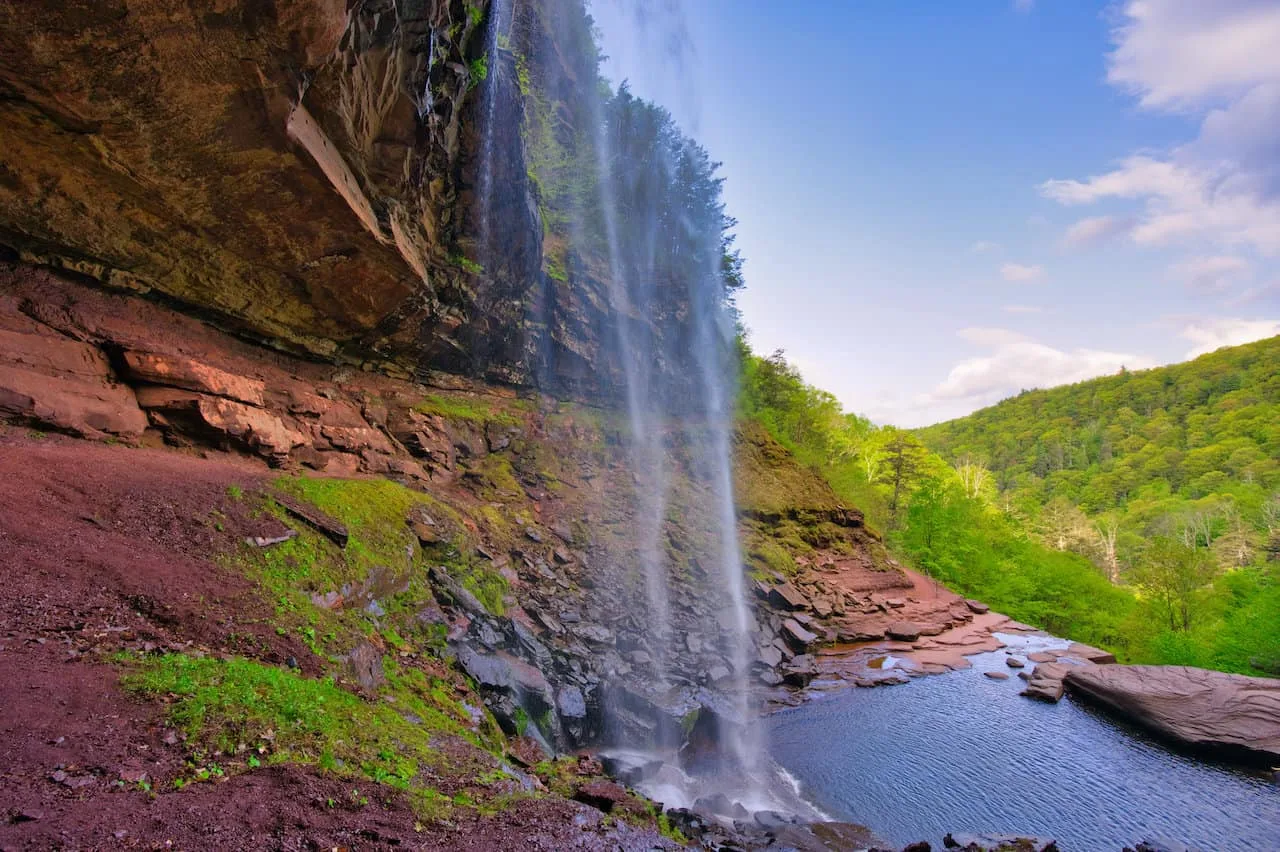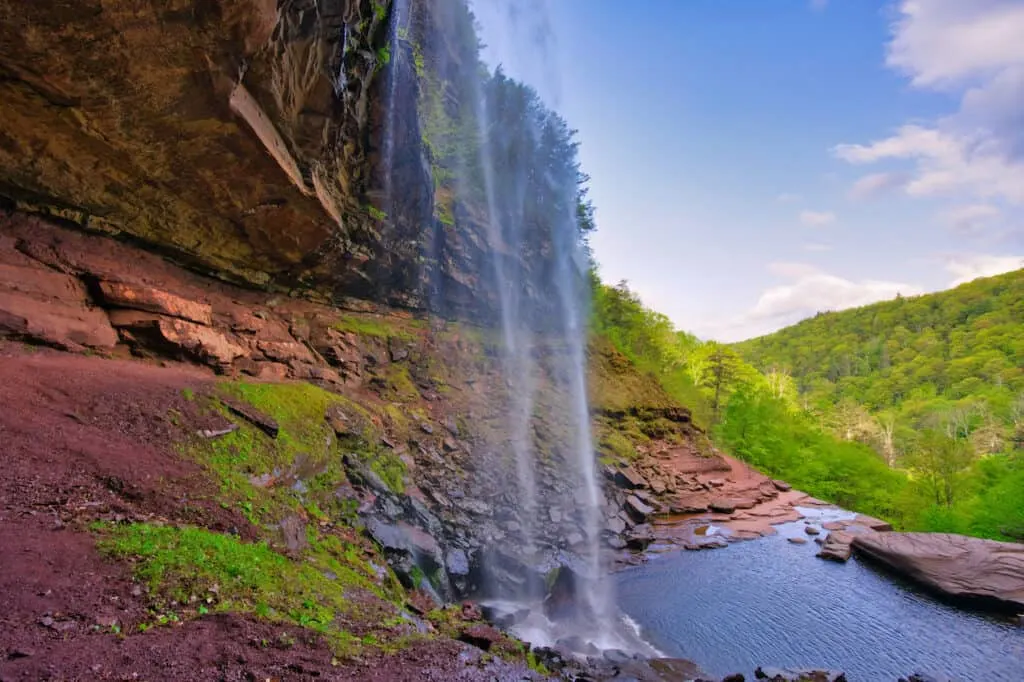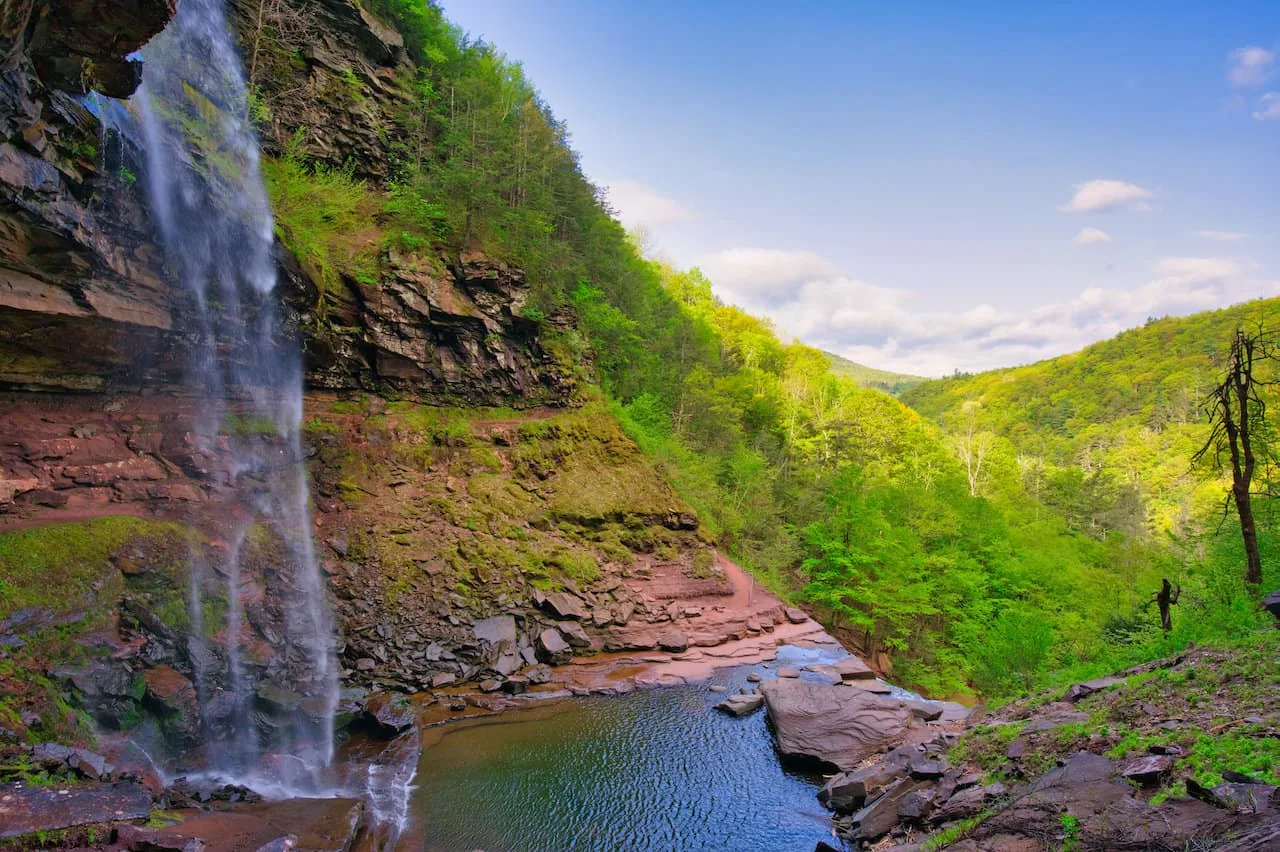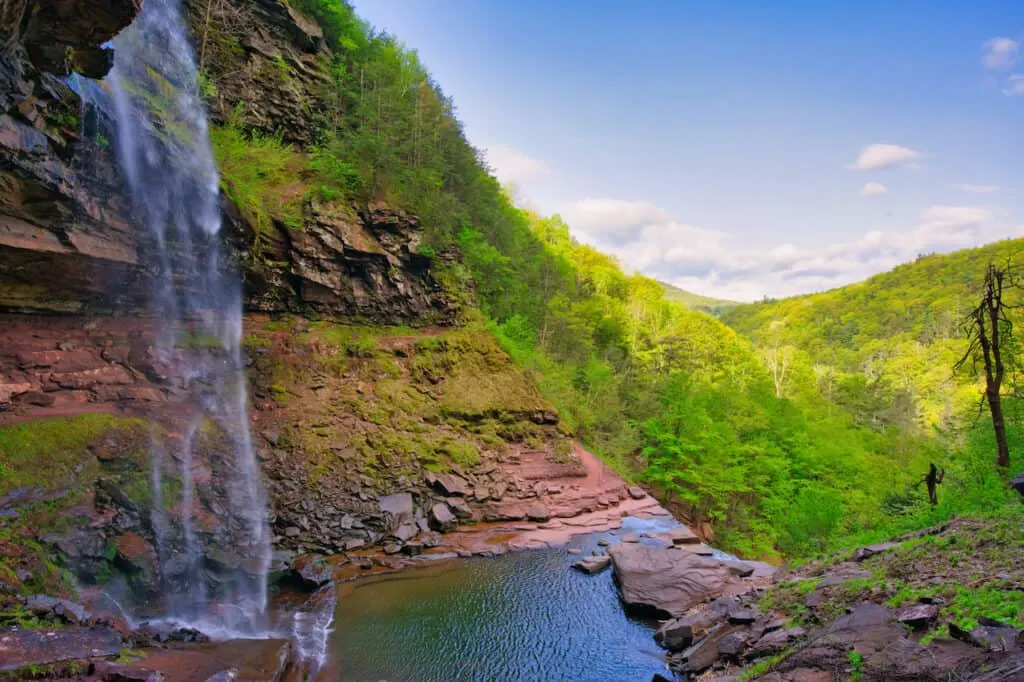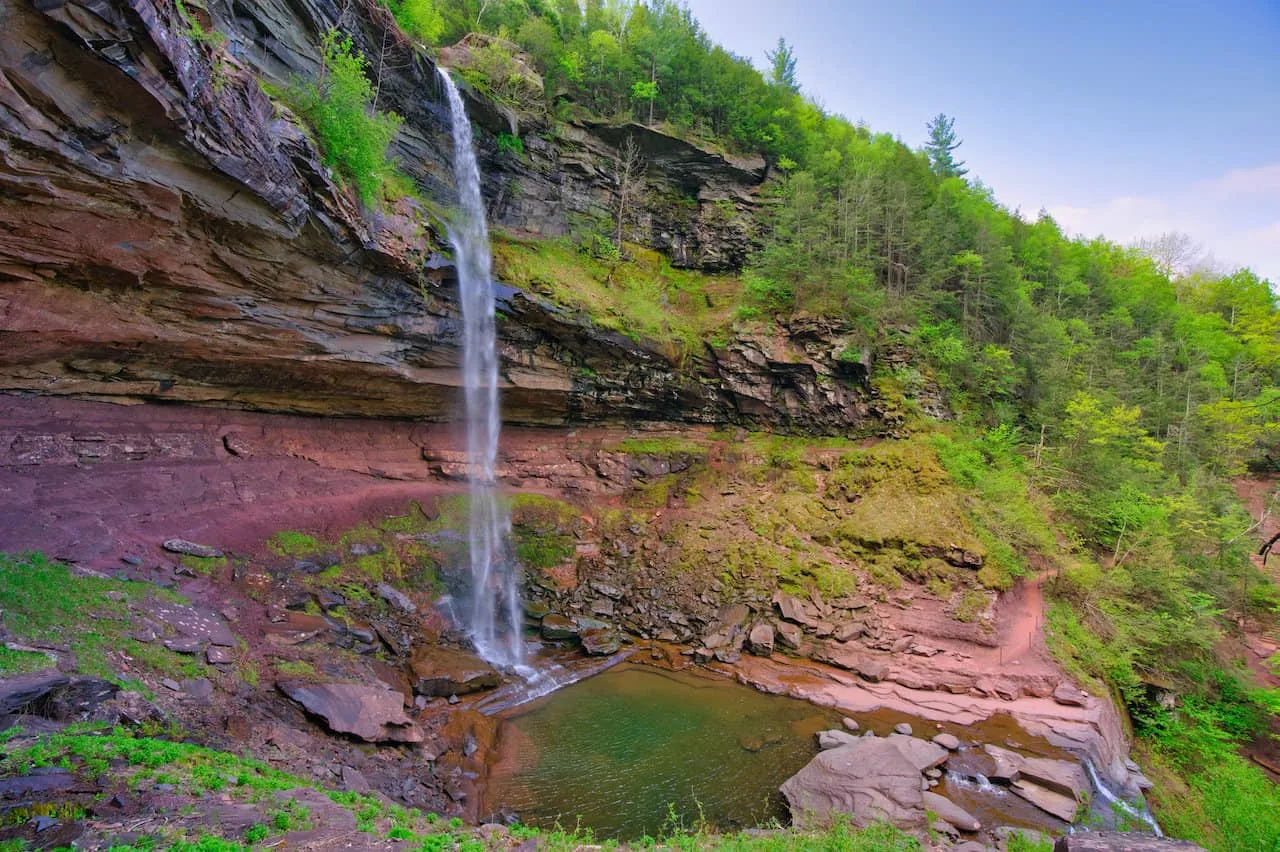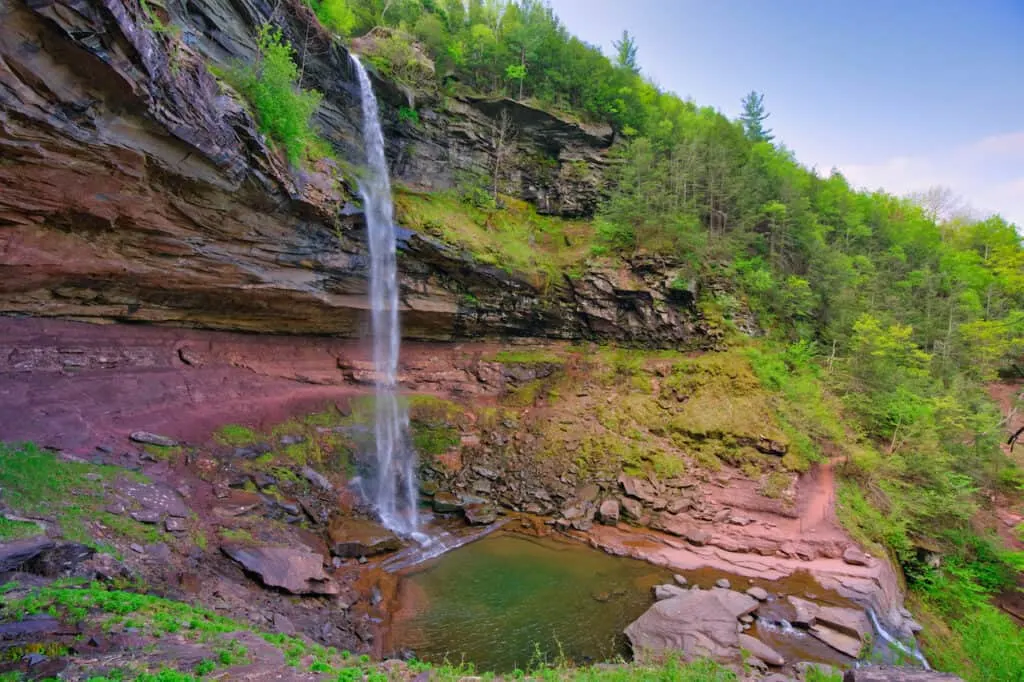 That wraps up an overview to Kaaterskill Falls. If you have any questions or comments, be sure to add them in below.
Also, feel free to check out the other New York itineraries and guides to help with any other travel planning (like the top things to do in NYC!).
Have fun out there and safe travels!