Are you searching for the best New York quotes and captions to best represent your favorite photos? Well, you are sure to find something that works for you throughout this list of 75+ NYC quotes.
New York is quite possibly the most famous city in the world, and so it's inevitable that many people have had a great deal to say about it. From hopeful quotes to humorous observations, there's no shortage of soundbites that describe the Big Apple perfectly.
Let's take a look at what many have said about NYC through the years!
Funny NYC Quotes
There are a lot of funny New York City quotes. Many of them, naturally, revolve around the city's infamous traffic. Just as many, though, are about the irascible but kindhearted New Yorkers themselves.
"Traffic lights in New York City are just rough guidelines." – David Letterman
"The last time anybody made a list of the top hundred character attributes of New Yorkers, common sense snuck in at number 79." – Douglas Adams
"Someone asked me for directions, so you can call me a real New Yorker."
"Anytime four New Yorkers get into a cab together without arguing, a bank robbery has just taken place." – Johnny Carson
"What's the use of a great city having temptations if fellows don't yield to them?" – P.G. Wodehouse
"When you leave New York, you are astonished at how clean the rest of the world is. Clean is not enough." – Fran Lebowitz
"Every true New Yorker believes with all his heart that when a New Yorker is tired of New York, he is tired of life." – Robert Moses
"New York is the only city in the world where you can get deliberately run down on the sidewalk by a pedestrian." – Russell Baker
"It'll be a great place if they ever finish it." – O. Henry
"Manhattan is an accumulation of possible disasters that never happen." – Edward Irving Koch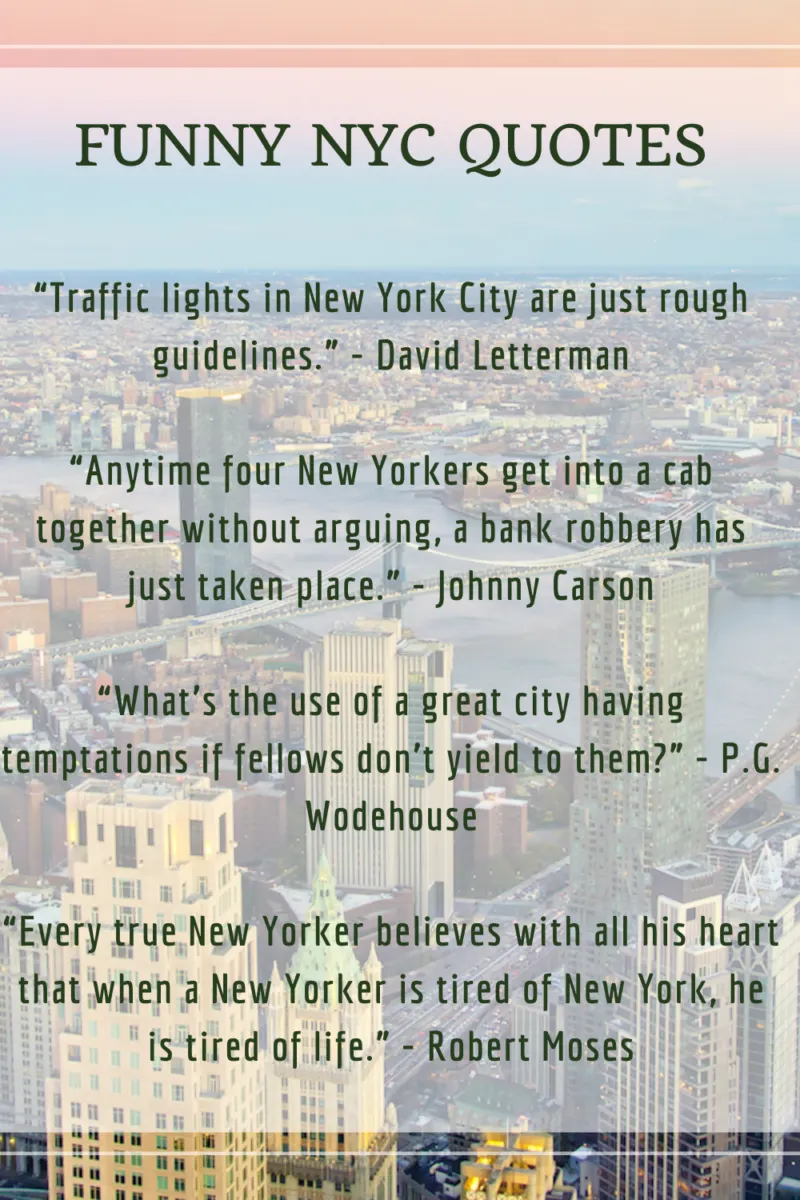 NYC Quotes from Movies
Though it may lag a little compared to the movie-appearance stakes behind the USA's other great city, Los Angeles, NYC has been the setting for many, many movies. Here are the best New York City movie quotes.
"My father told me we was all born of blood and tribulation, and so then too was our great city." – Amsterdam Vallon, Gangs of New York
"The only people who can afford to be artists in New York are rich." – Sophie, Frances Ha
"And I always heard people in New York never get to know their neighbors." – Paul Varjak, Breakfast at Tiffany's
"I'd rather be a cockroach on a baseboard up here than the Emperor of Mississippi." – Fly, The Brother From Another Planet
"There are thirty Ray's Pizzas. They all claim to be the original. But the real one's on 11th. And if you see a sign that says "Peep Show", that doesn't mean that they're letting you look at presents before Christmas." – Santa, Elf
"New York is not as big a city as it pretends to be." – Michael O'Hara, The Lady from Shanghai
Here we are Marv. New York City, the land of opportunity. – Harry, Home Alone 2: Lost in New York
"You know what it's like saving money in New York? It's like making it with your sister – it's just not done." – Stu, Spring Break
"This is New York City. A man can do whatever he wants." – Bloomingdale's Cop, Moscow on the Hudson
"Being miserable and treating other people like dirt is every New Yorker's God-given right." – The Mayor, Ghostbusters II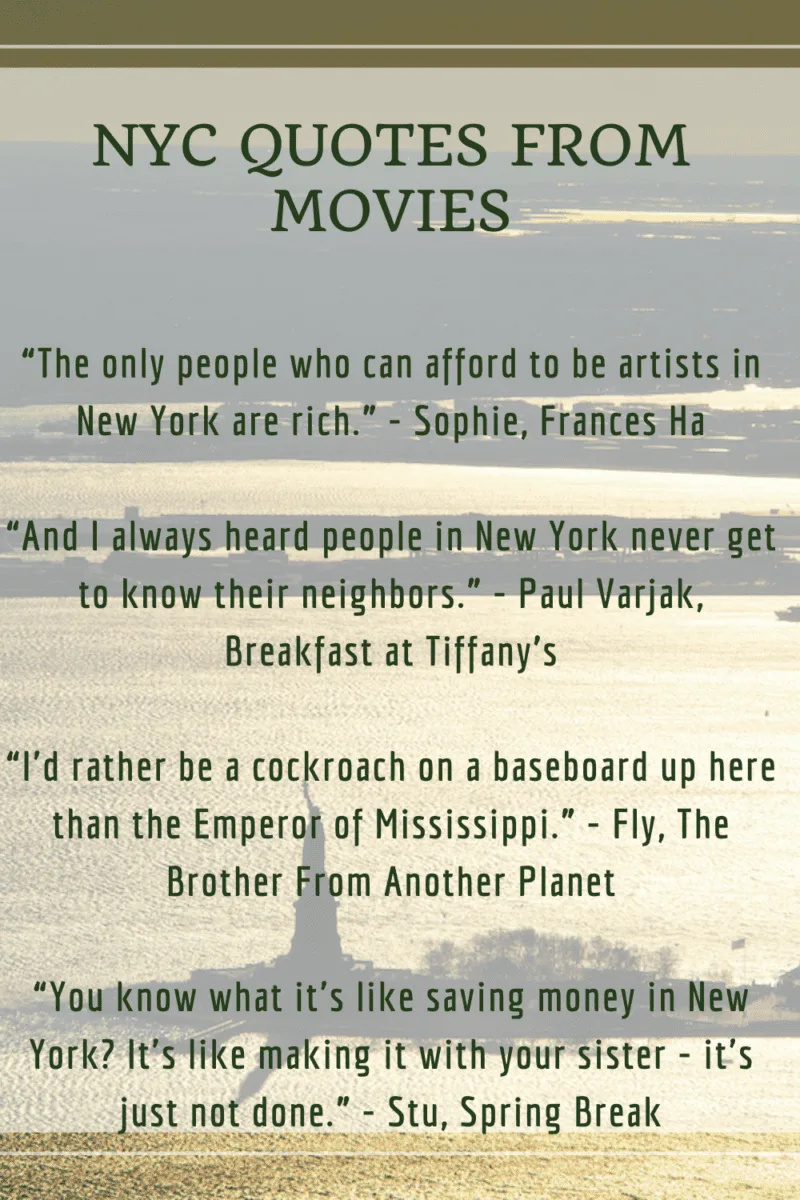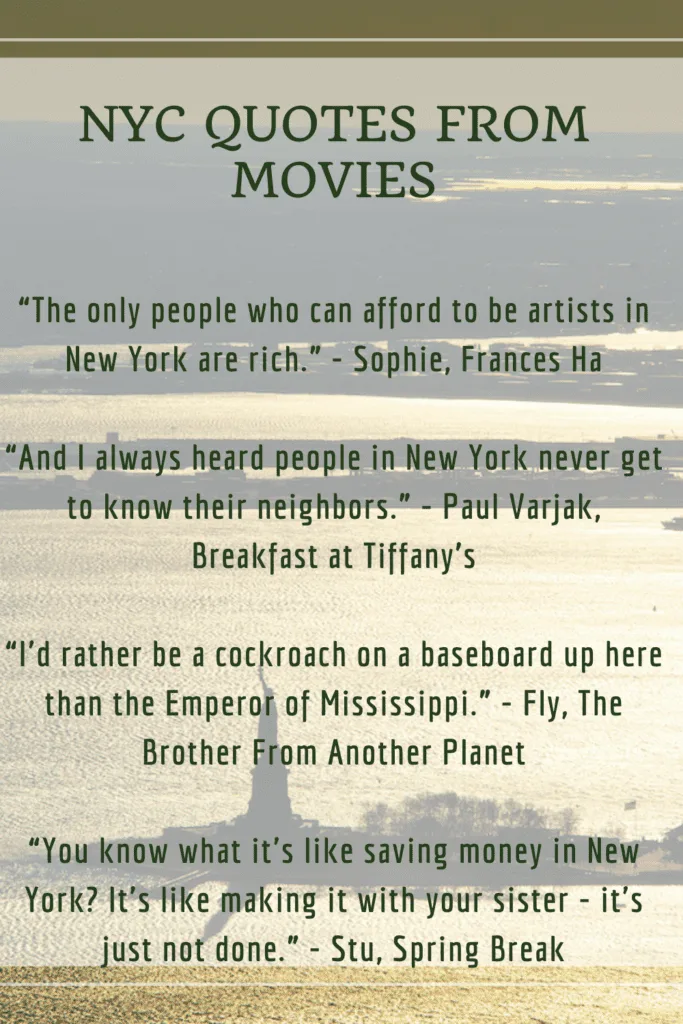 New York City Quotes From Songs
New York City has no small number of songs dedicated to it. Here are some of the most memorable New York City song quotes.
"New York City's the place
Where they said, "Hey, babe,
Take a walk on the wild side."
– Lou Reed, A Walk on the Wild Side
"The reason that you're cool
Is 'cause you're from the old school and they know it
All the critics love you in New York"
– Prince, All the Critics Love U in New York
"Hot town, summer in the city
Back of my neck getting dirty and gritty
Been down, isn't it a pity
Doesn't seem to be a shadow in the city"
– Loving Spoonful, Summer in the City
"Everybody here wanted something more
Searching for a sound we hadn't heard before
And it said
Welcome to New York"
– Taylor Swift, Welcome to New York
"New York, concrete jungle where dreams are made of
There's nothin' you can't do
Now you're in New York
These streets will make you feel brand new
The lights will inspire you
Let's hear it for New York, New York, New York"
– Jay Z featuring Alicia Keys, Empire State of Mind
"Broadway looked so medieval
It seemed to flap, like little pages:
I fell sideways laughing with a friend from many stages."
– Television, Venus
"Hey, I've got nothing to do today but smile.
Da-n-do-da-n-do-da-n-do here I am,
The only living boy in New York."
– Simon & Garfunkel, The Only Boy Living in New York
"If the man wants to shove
Us out
We gonna jump and shout
The Statue of Liberty said,
"Come!"
– John Lennon, New York City
"Here in the streets of American nights
Rise to the bottom of the meaning of life
Studied all the rules, and I want no part
But I let you in just to break this heart"
– The Strokes, New York City Cops
"If I can make it there
I'll make it anywhere
It's up to you
New York, New York"
– Frank Sinatra, Theme from New York, New York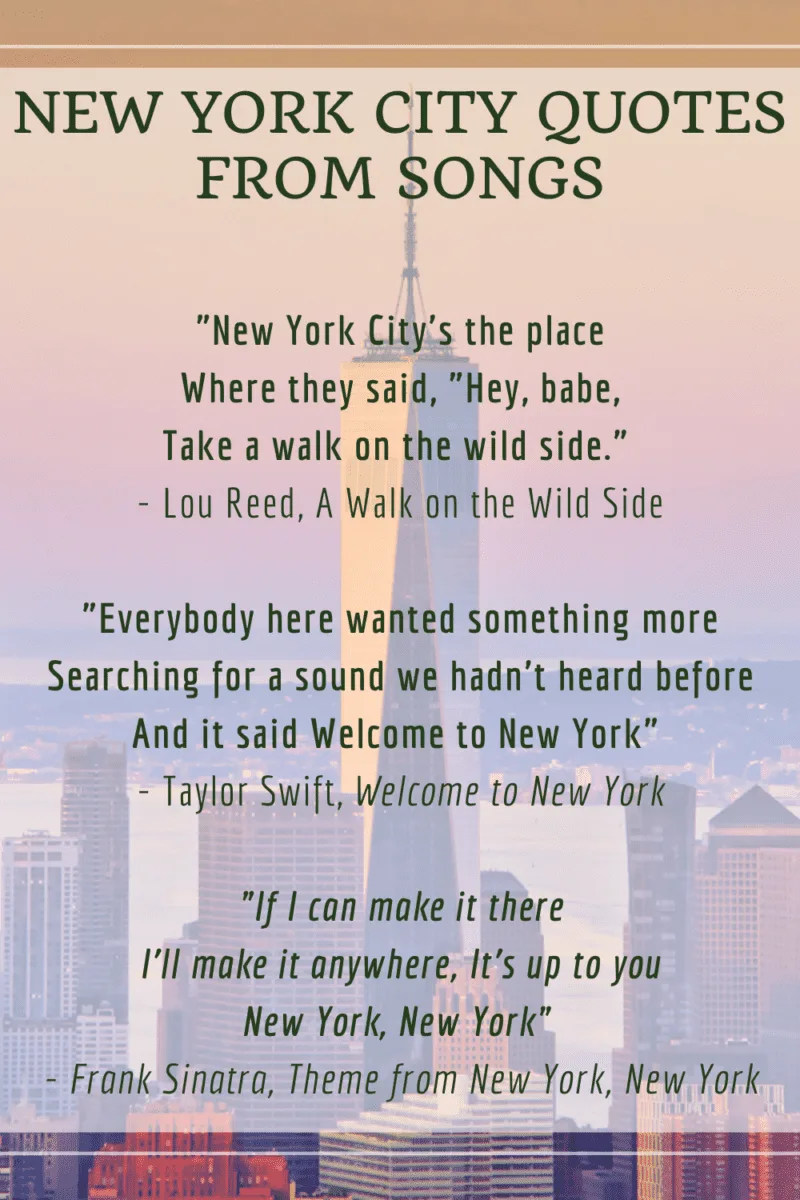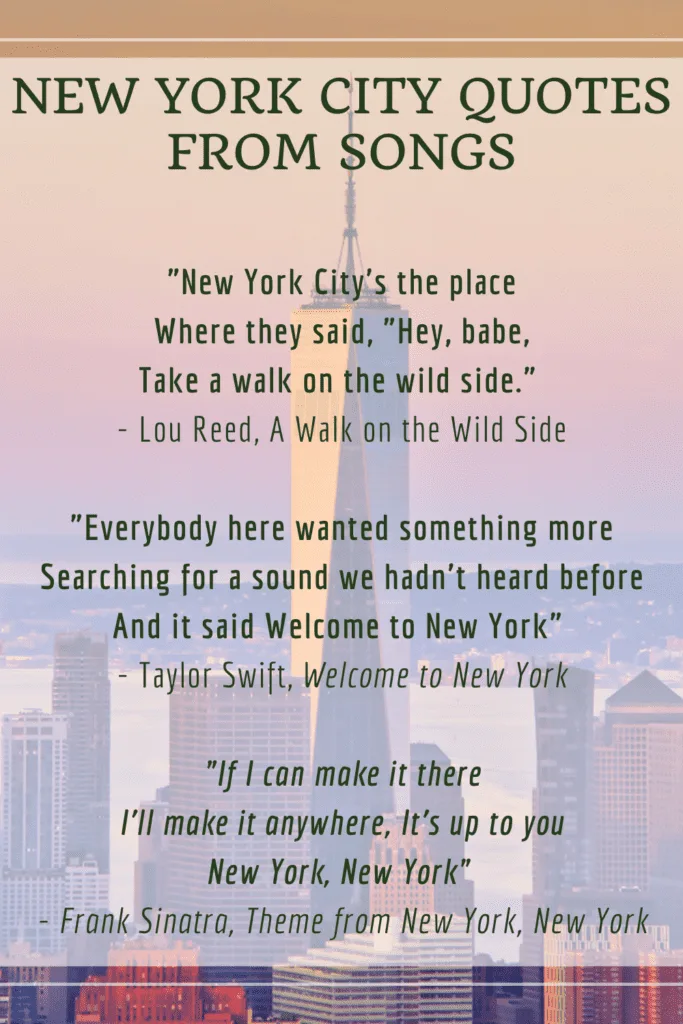 New York Short Quotes
It doesn't always take a million words to sum up what's so great about NYC. Here are the best NYC short quotes around.
"New York is not a city. It's a world." – Iman
"You haven't lived until you've died in New York." – Alexander Woollcott
"Make your mark in New York and you are a made man." – Mark Twain
"There is something in the New York air that makes sleep useless." – Simone de Beauvoir
"I'm in a New York state of mind." – Billy Joel
"Give me the streets of Manhattan!" – Walt Whitman
"New York is a diamond iceberg floating in river water." – Truman Capote
"If London is a watercolor, New York is an oil painting." – Peter Shaffer
"One can't paint New York as it is, but rather how it's felt." – Georgia O'Keefe
"Skyscraper National Park." – Kurt Vonnegut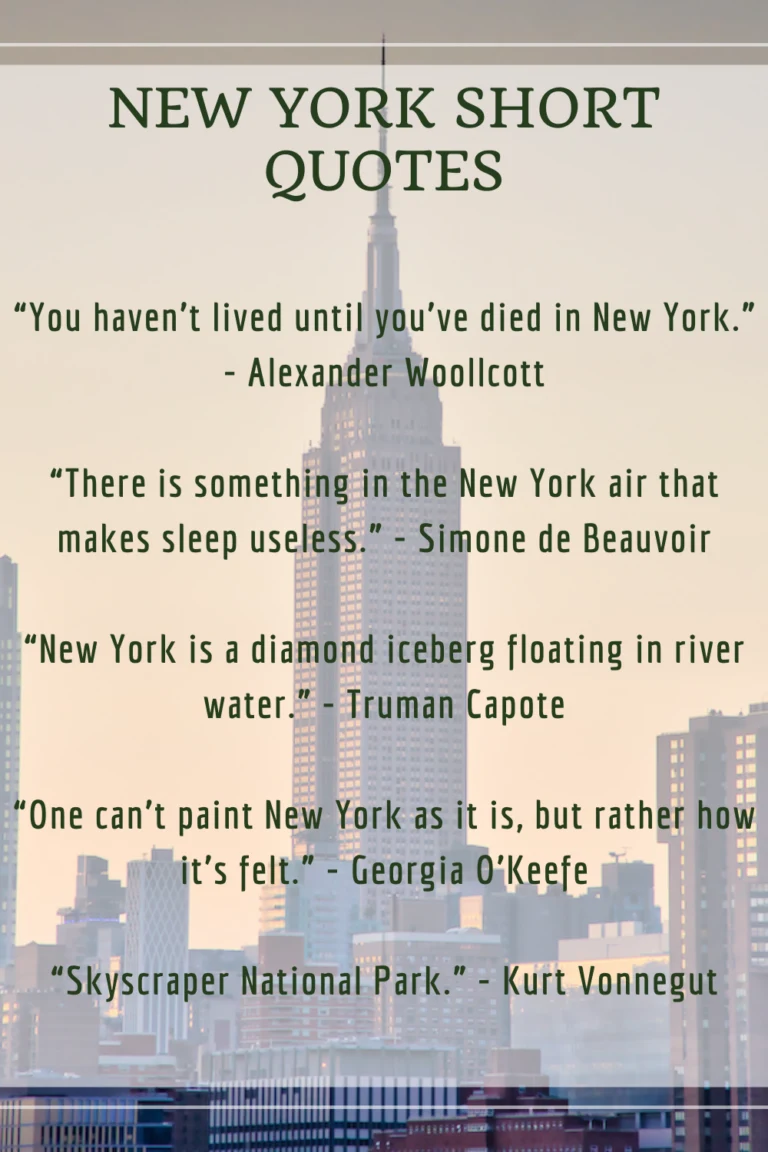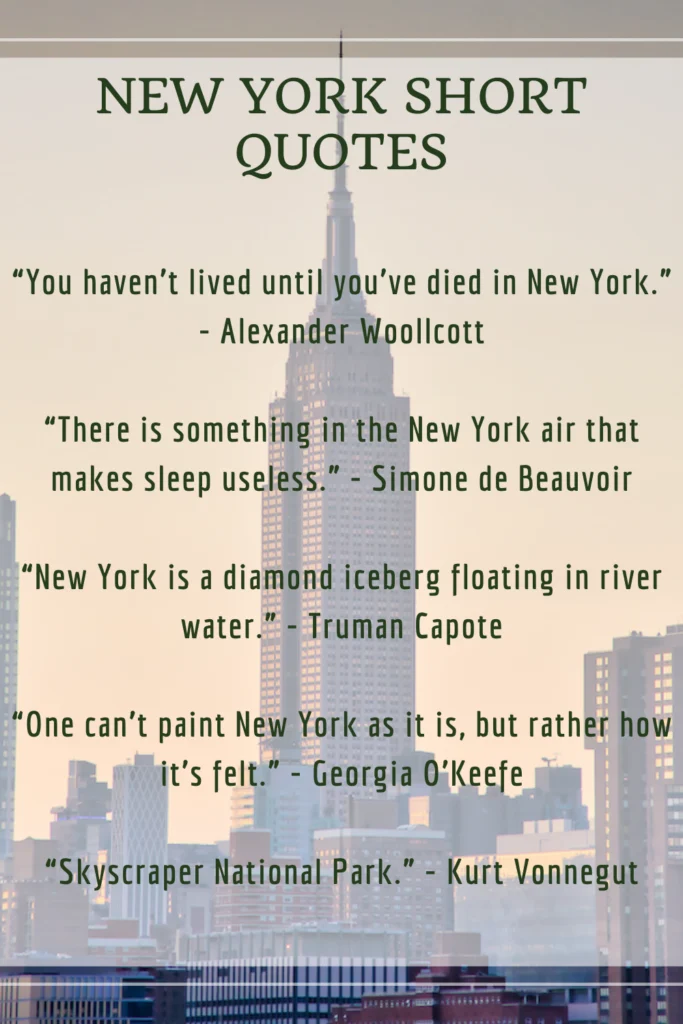 NYC Love Quotes
NYC might not be quite as renowned as a romantic spot as Paris is, but it's nevertheless a city where love is in the air. Let's take a look at the best NYC love quotes.
"I love New York, even though it isn't mine, the way something has to be, a tree or a street or a house, something, anyway, that belongs to me because I belong to it." – Truman Capote
"I look out the window and I see the lights and the skyline and the people on the street rushing around looking for action, love, and the world's greatest chocolate chip cookie, and my heart does a little dance." – Nora Ephron
"I was in love with New York. I do not mean 'love' in any colloquial way, I mean that I was in love with the city, the way you love the first person who ever touches you and never loves anyone quite that way again." – Joan Didion
"People never forget 2 things: their first love and their first day in New York City."
"Sometimes I feel like my only friend in the city I live in is beautiful Brooklyn." – Mos Def
"I love that about New York: You just dress the way you want to dress and feel really comfortable because nobody is judging. You can just be yourself, and it's perfectly normal." – Henrik Lundquist
"Don't you love New York in the fall? It makes me want to buy school supplies." – Meg Ryan (as Kathleen Kelly), You've Got Mail
"I don't mourn the old, romantic, dirty Times Square, although it was more unique." – Lee Ranaldo
"I fell in love. His name is New York"
"I love the way New York has washed over me, seeped into my pores and become part of who I am." – Pamela Barsky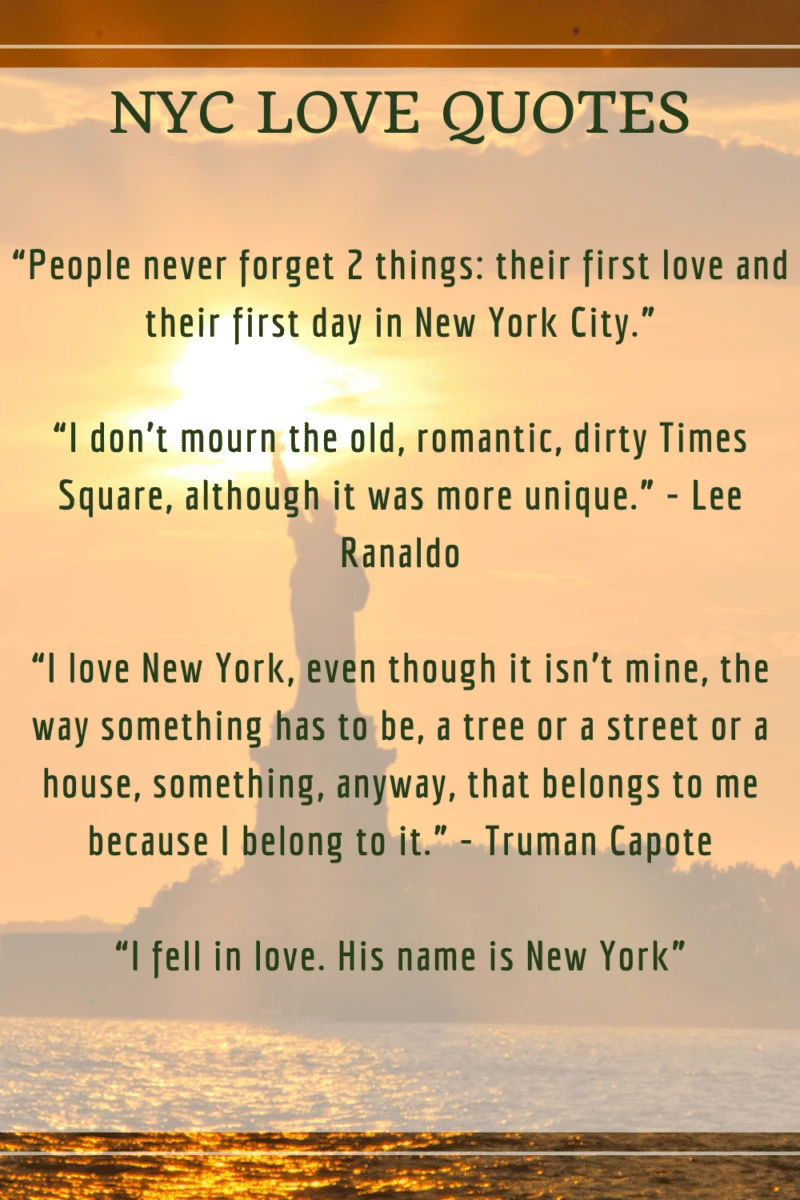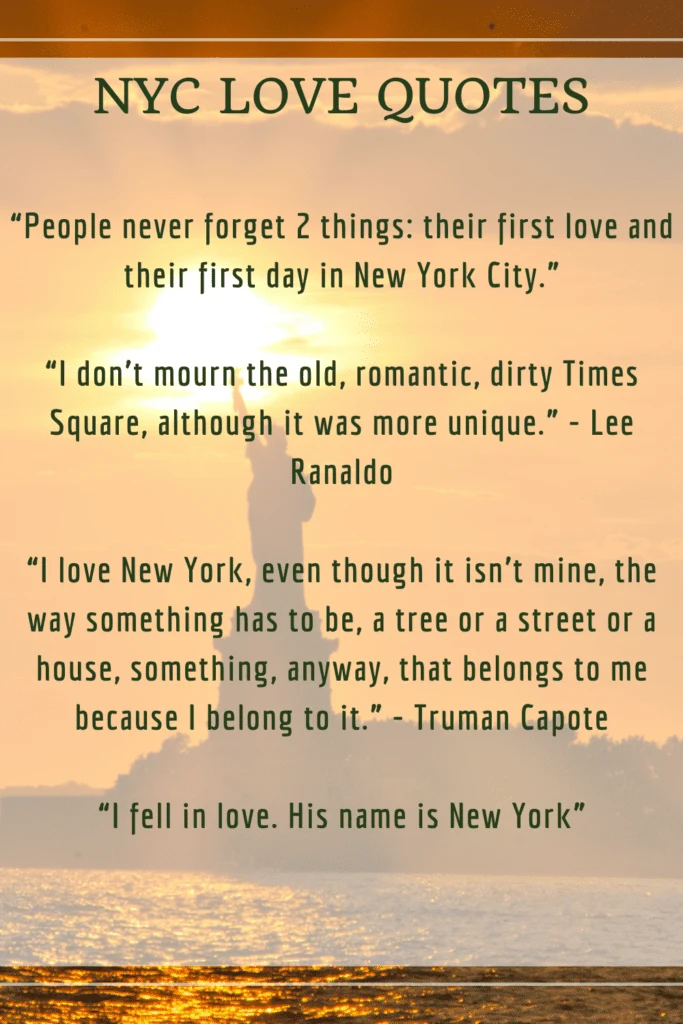 New York Quotes for Instagram
There's no better place for your inspirational, witty, or incisive quotes about NYC than Instagram. Let's take a look at some of the best New York quotes and captions for Instagram.
"A bad day in New York is still better than a good day anywhere else."
"New York State of Mind."
"If you follow your heart just right, you'll end up in New York."
"London is a mystery; NYC is an explanation."
"If you can survive in NYC, you can survive anywhere."
"New York is not a place. It's a feeling."
"Faster than a New York minute."
"Welcome to the Concrete Jungle."
"Somewhere between living and dreaming, there's NYC."
"Times Square can't shine as bright as you."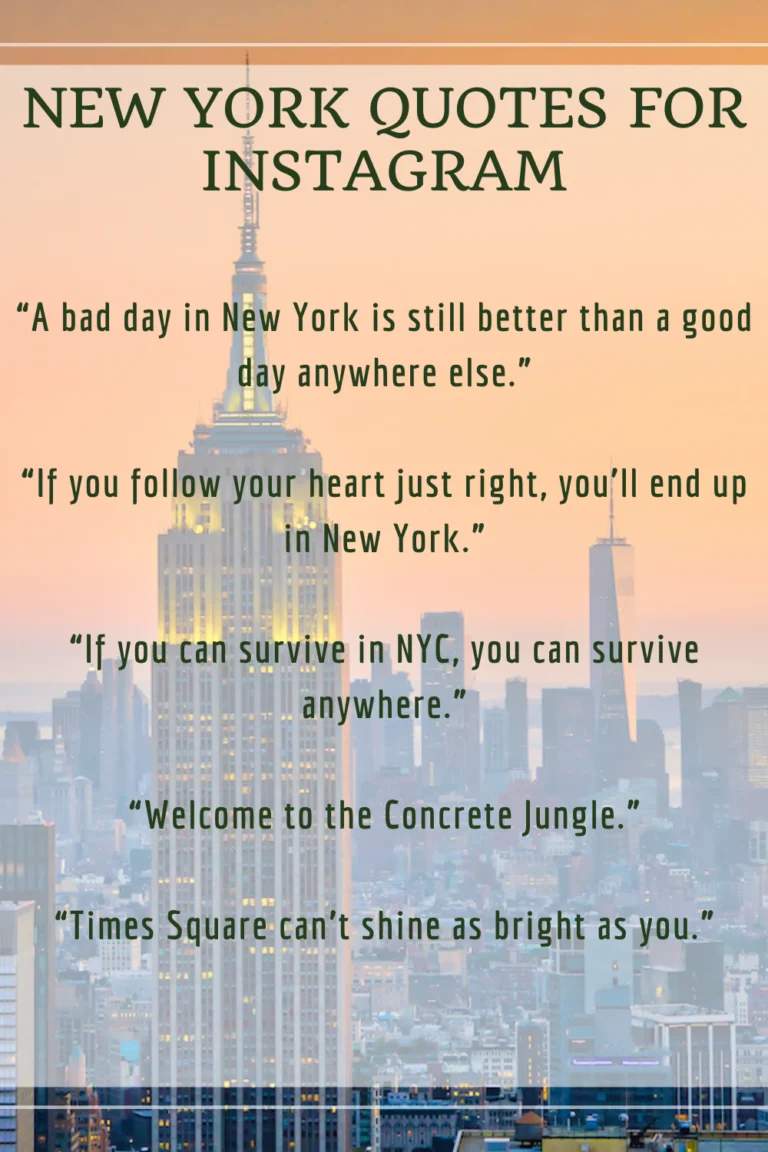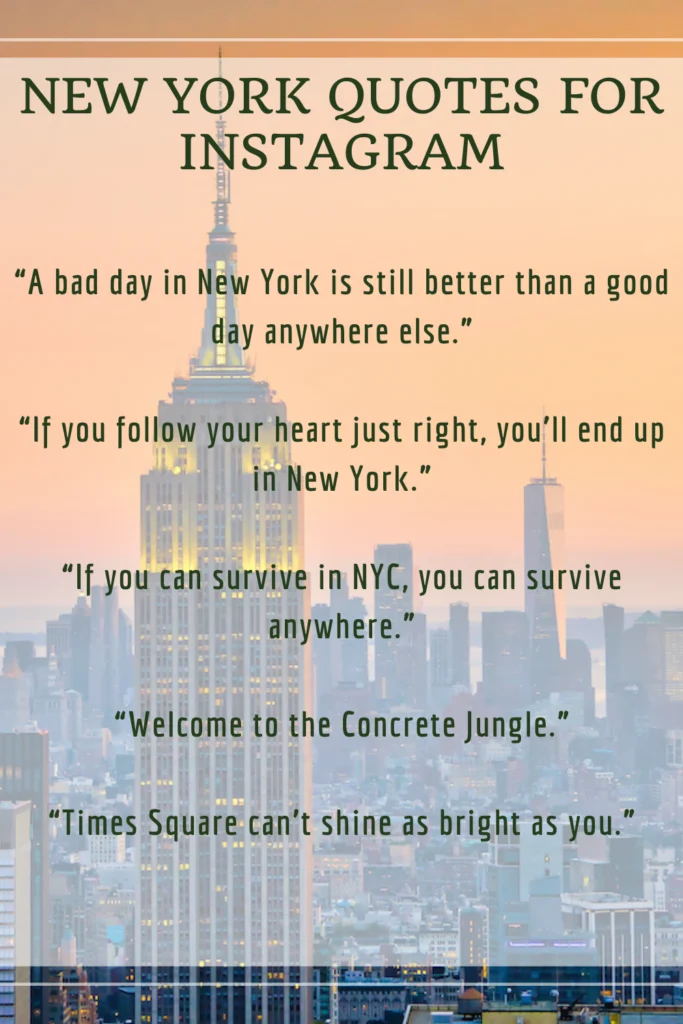 NYC Quotes About Life
New York, as chaotic and lively as it is, acts as the perfect metaphor for life itself. Here are the best New York City quotes about life.
"Living in California adds ten years to a man's life. And those extra ten years I'd like to spend in New York." – Harry Ruby
"The city is like poetry; it compresses all life, all races and breeds, into a small island and adds music and the accompaniment of internal engines." – E.B. White
"In New York, the opportunities for learning, and acquiring a culture that shall not come out of the ruins, but belongs to life, are probably greater than anywhere else in the world." – Thomas Wolfe
"The true New Yorker secretly believes that people living anywhere else have to be, in some sense, kidding." – John Updike
"You don't come to live [in New York City] unless the delusion of a reality shaped around your own desires isn't a strong aspect of your personality. 'A reality shaped around your own desires' – there is something sociopathic in that ambition." – Zadie Smith
"But there is one thing about it – once you have lived in New York and it has become your home, no place else is good enough." – John Steinbeck
"[Life in New York] grounds you in every way. Before you walk out of the house, you can dress in the nicest clothes and be whoever you think you are, but when you're on those streets, you're just in the school of fish." – Awkafina
"Living my own Miracle on 34th Street."
"New York is made up of millions of different people, and they all come here looking for something." – Lindsey Kelk
"My favorite thing about New York is the people, because I think they're misunderstood. I don't think people realize how kind New York people are." – Bill Murray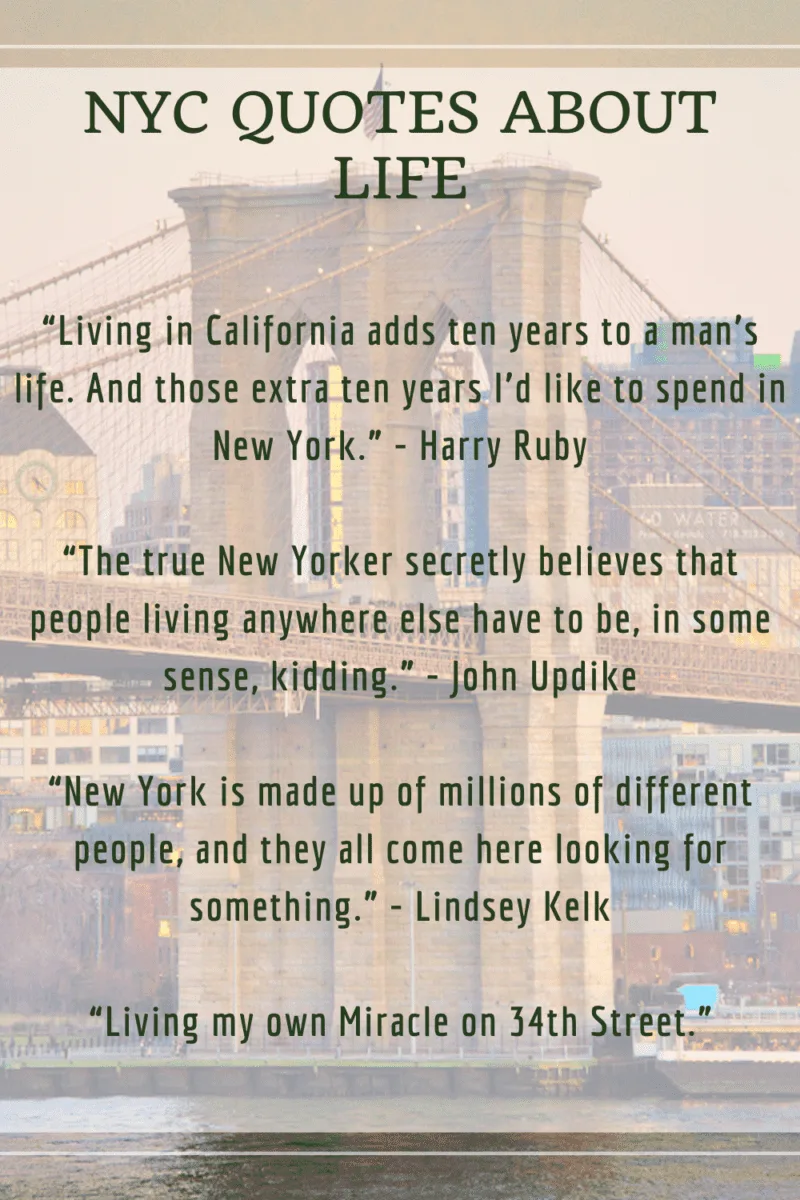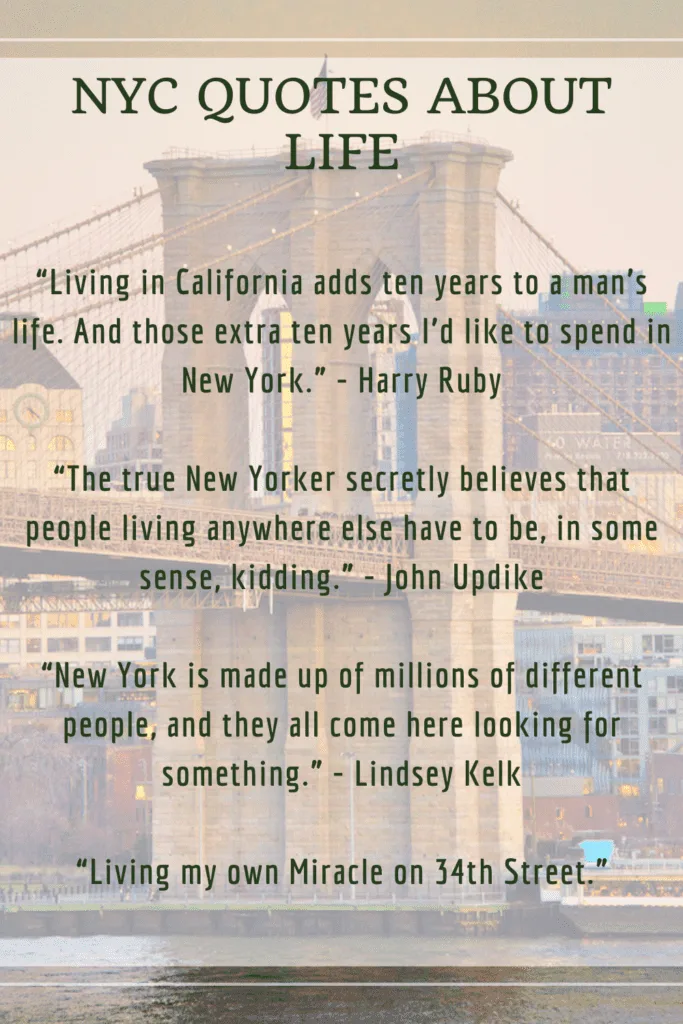 Famous NYC Quotes
To wrap up this list, below are some of the most famous New York quotes that are perfect to describe your time in NYC.
"I would give the greatest sunset in the world for one sight of New York's skyline." – Ayn Rand
"I love New York on summer afternoons when everyone's away." – F. Scott Fitzgerald
"I get out of the taxi and it's probably the only city which in reality looks better than on the postcards, New York." – Milos Forman
"The city seen from the Queensboro Bridge is always the city seen for the first time, in its first wild promise of all the mystery and the beauty in the world." – F. Scott Fitzgerald
"I don't like cities. But I like New York. Other places make me feel like a dork." – Madonna
"I wake up every morning and say to myself, 'Well, I'm still in New York'. Thank you, God." – Ed Koch
"For me, New York is comfortable, not strange." Karl Lagerfeld
"Anything is possible. This is New York." – Carrie Bradshaw
"When I'm in New York, I just want to walk down the street and feel this thing, like I'm in a movie." – Ryan Adams
"Practically everybody in New York has half a mind to write a book, and does." – Groucho Marx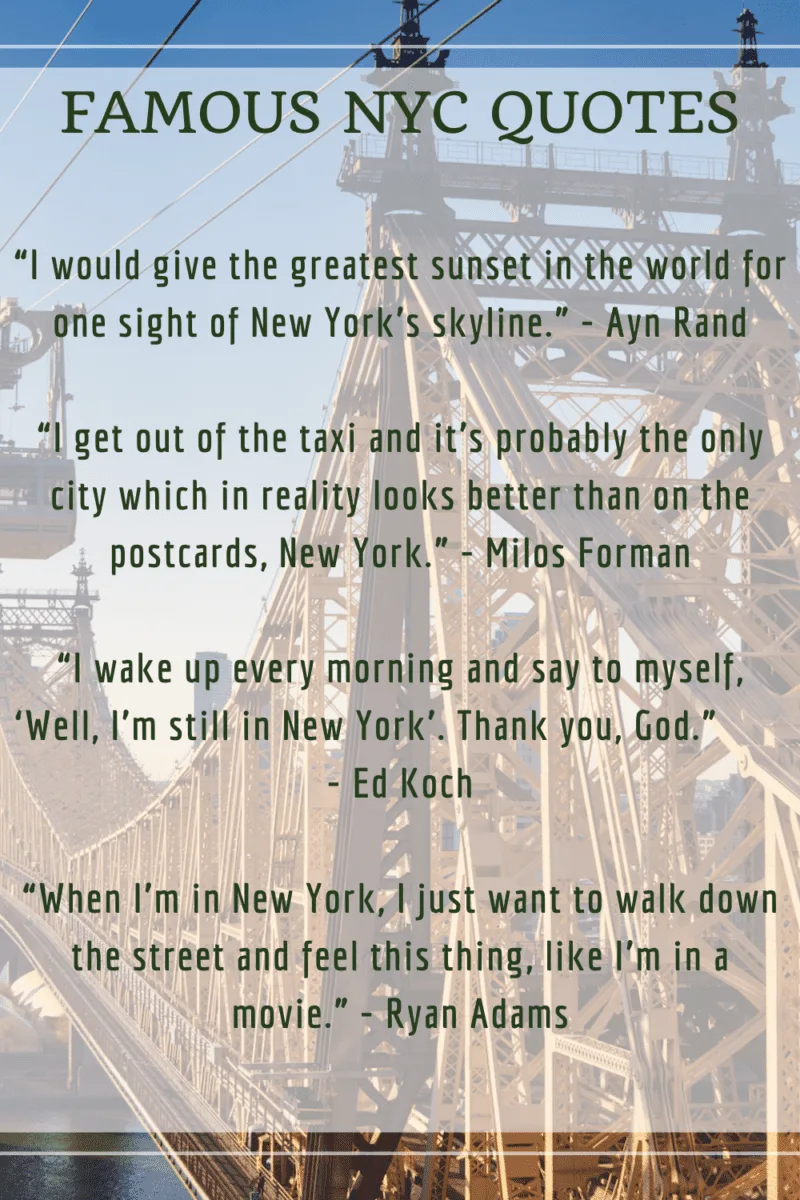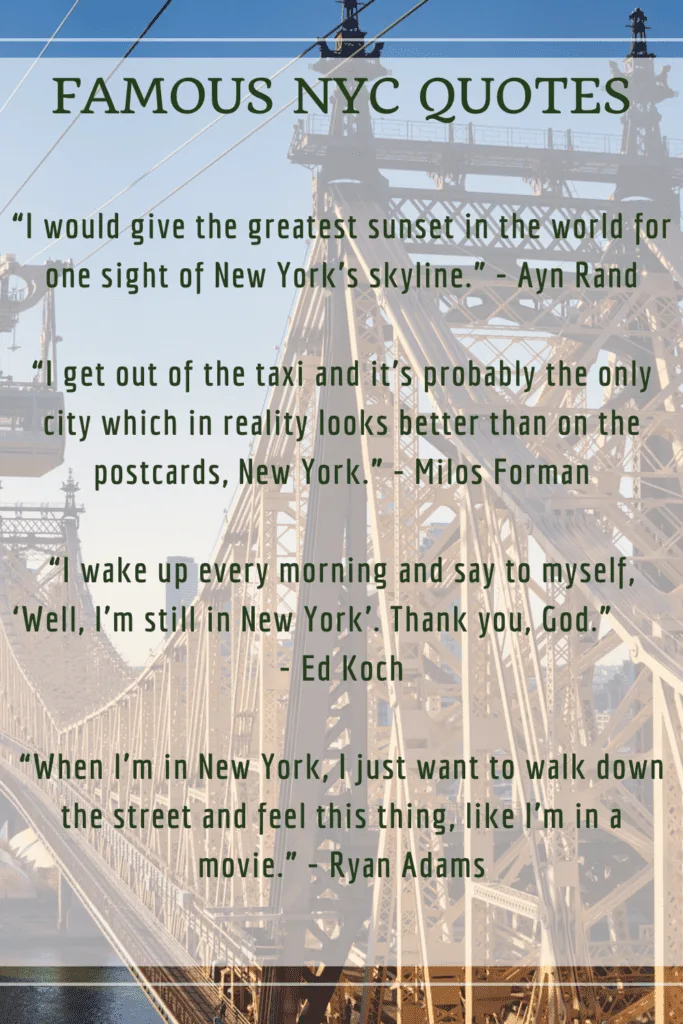 As we have seen, there is a seemingly endless supply of quotes related to New York City and its various locations.
Poets, scholars, politicians, actors, authors and many more people have written and spoken at length about the city over the years, and there is a quote for every occasion.
It's almost certain that there will be many more quotes about the Big Apple over the coming years.
It's not for nothing, after all, that there are many NYC nicknames such as "the center of the universe" or the "capital city of the world".
Hope you enjoyed this list of New York quotes! Be sure to check out the other New York itineraries and guides up on the site (like the best things to do in New York and an NYC itinerary).
Have fun out there and safe travels!