Los Glaciares National Park of Patagonian Argentina is full of lakes, channels, glaciers, icebergs, mountains, & more to enjoy.
One of the top ways to see all of these highlights is to take part of a Todo Glaciares boat trip experience. During a full day boat trip, you will get the chance to steer through the waters of the National Park seeing features such as the Upsala & Spegazzini Glaciers.
This guide will go through what to expect on a Todo Glaciares tour and how to go about the experience for yourself.
* Affiliate Disclosure: This post may contain affiliate links, which means I may receive a commission if you make a purchase through the links provided, at no additional cost to you. Thanks for supporting the work I put into TripTins!
1) Todo Glaciares Overview
If you find yourself in the Patagonian town of El Calafate, odds are you will want to see some of the world's greatest glaciers.
Situated just outside of Los Glaciares National Park, El Calafate is the home base to many of the best glacier experiences you can ask for.
While the main glacier highlight in the National Park is the Perito Moreno Glacier, you can also visit other glaciers as part of a full day boat navigation tour.
The most frequented boat tour is called Todo Glaciares (translated to All Glaciers). That is of course due to the sheer amount of ice that you will get to see throughout the day.
The main glaciers you will get to enjoy as part of Todo Glaciares include the Upsala Glacier, Spegazzini Glacier, and Glacier Seco.
In addition, you will have plenty of other beautiful Patagonian scenery to take in during the full day tour.
While there are a few companies out there that run boat tours, Solo Patagonia is the main operator that runs the Todo Glaciares experience (more on booking later).
The remainder of this guide will go through the Todo Glaciares tour in particular and what to expect out on the water.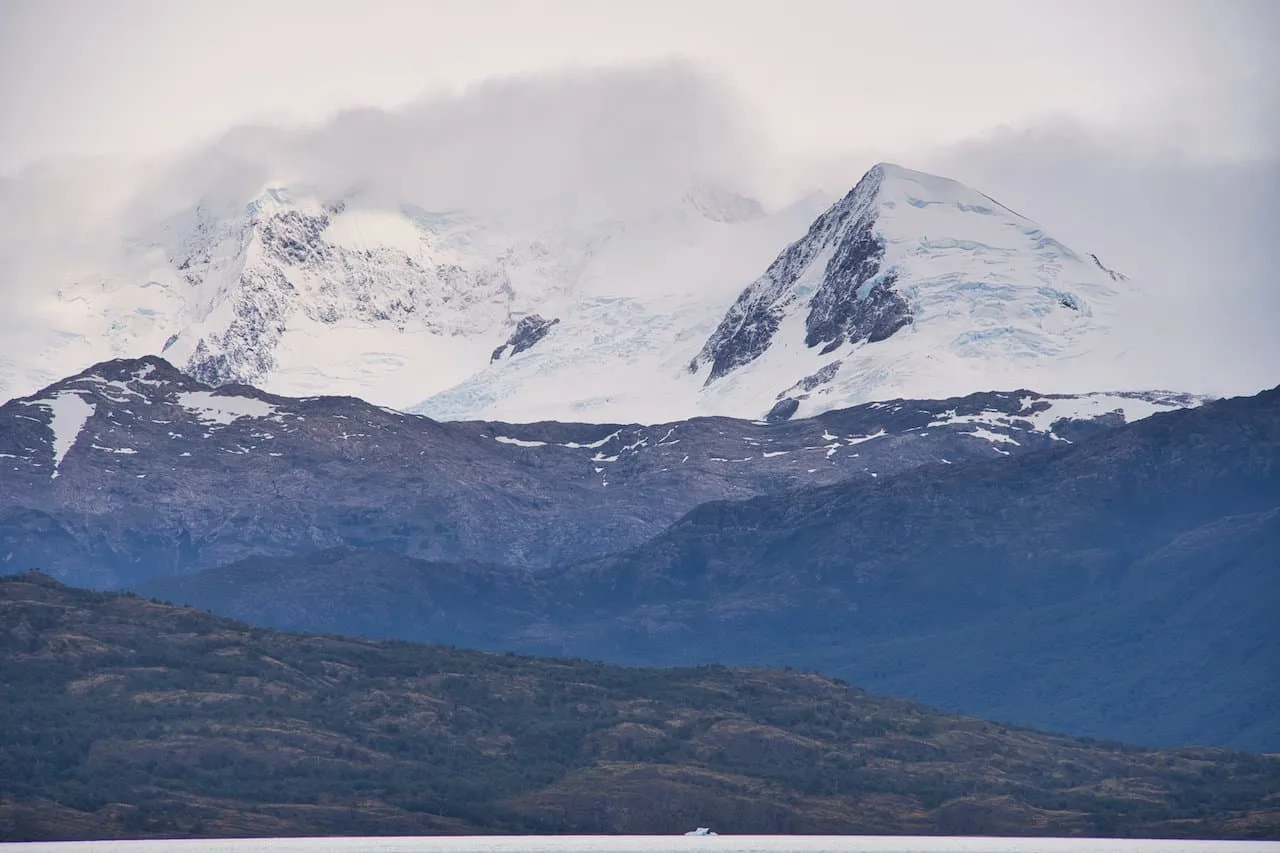 2) Todo Glaciares Navigation Map
To give you a better understanding of what the boat tour will entail, I have included a map below. Here you can see the main route & highlights that Todo Glaciares offers: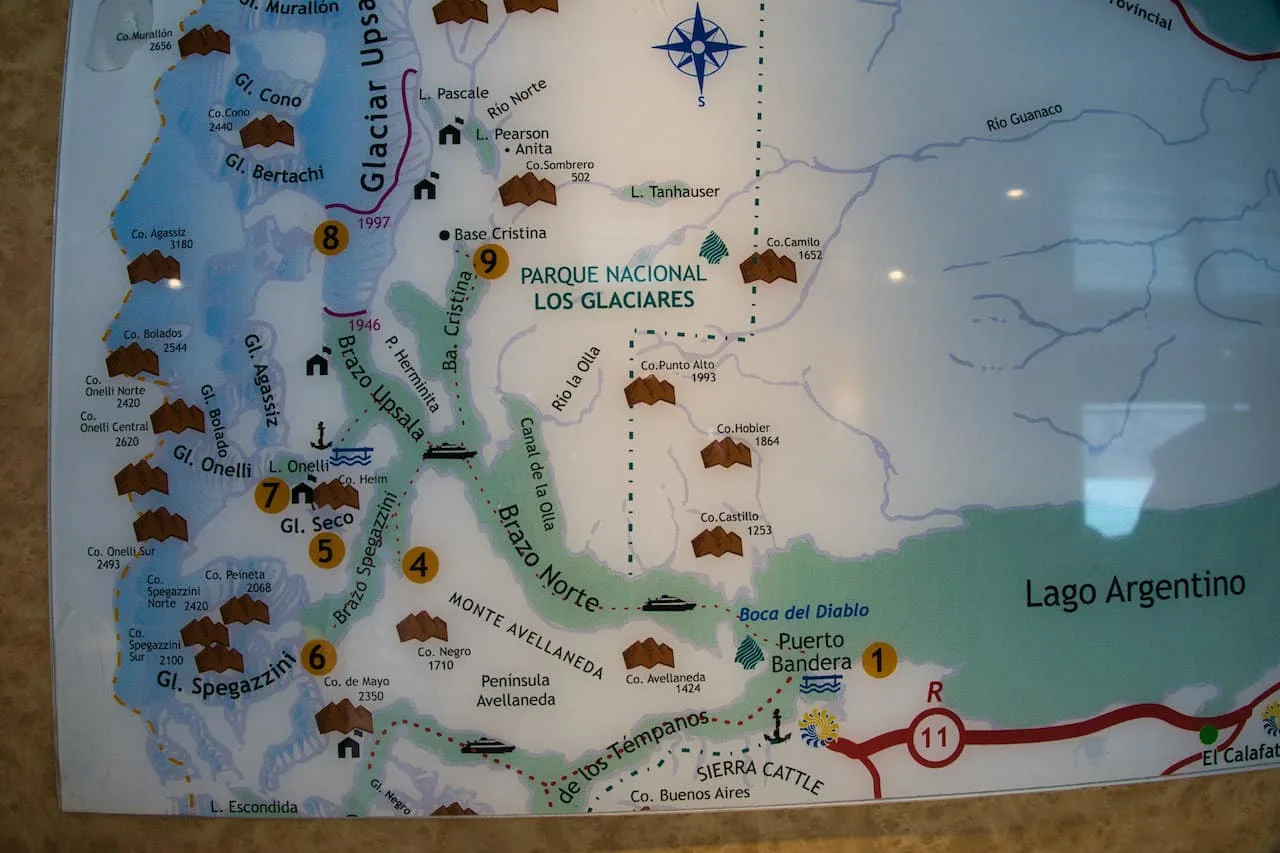 3) Boat Tour Itinerary
While each boat tour may be slightly different, below is what a standard Todo Glaciares itinerary will look like. In the following sections I will be diving more in depth about this itinerary and provide some photos all along the way.
1) El Calafate Pickup
2) Drive to Puerto Bandera Port
3) Check in & Purchase Park Tickets
4) Onboard Boat
5) Boat Tour

Lago Argentino Brazo Norte Navigation
Upsala Channel Navigation
Upsala Glacier
Spegazzini Channel Navigation
Glacier Seco
Spegazzini Glacier

6) Base Spegazzini
7) Boat Back to Puerto Bandera
8) Drive to El Calafate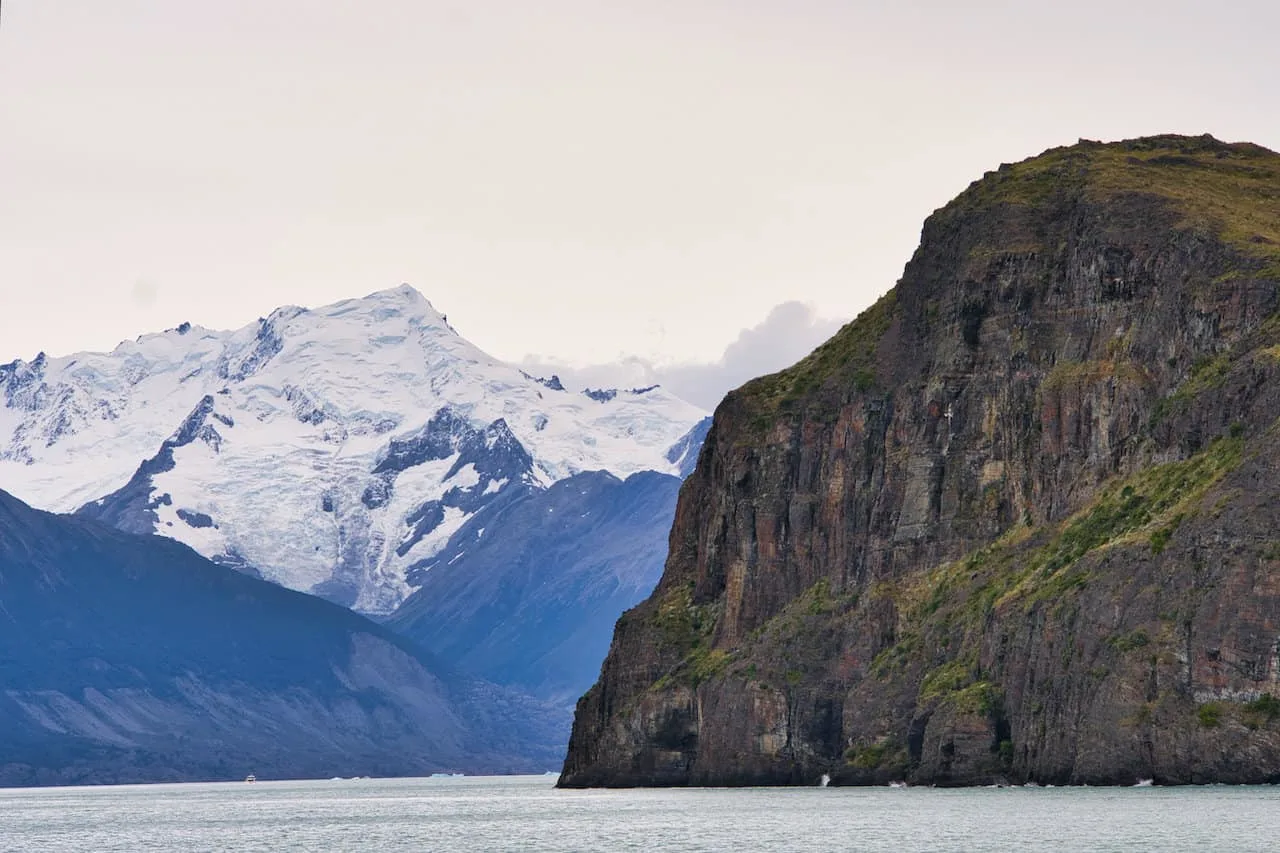 4) Todo Glaciares Tours
Before jumping into the boat trip details, I wanted to list out some of the top tour options to choose from.
For the purposes of this article, I will be focusing on the first tour mentioned above. This should give you a good idea of what a standard boat tour navigation will look like.
If you are looking for a different type of experience such as visiting Perito Moreno or taking part of a multi day tour, you can check those out as well.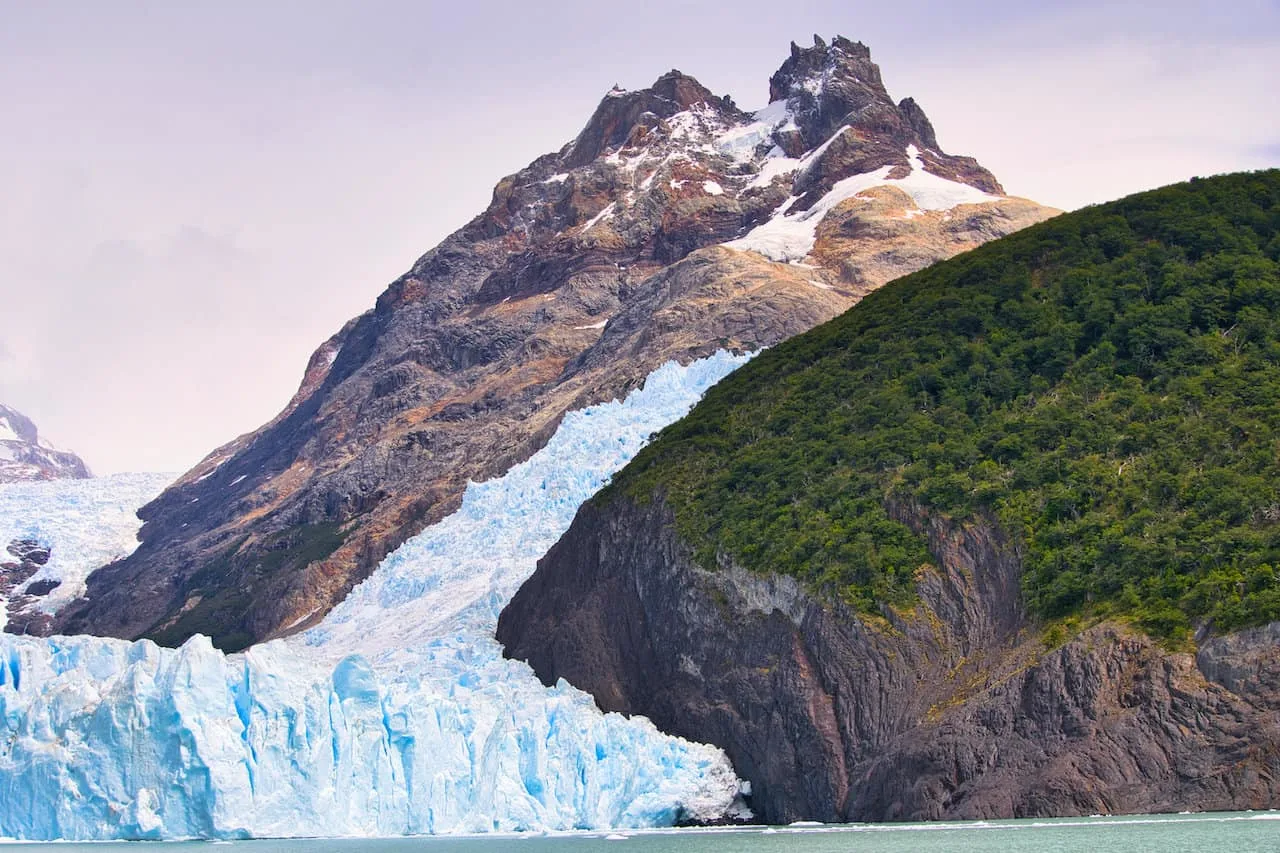 5) Tips & Things to Know
Here are some helpful tips and things to know about the Todo Glaciares Boat Trip:
1) While there are plenty of seats on the inside of the boat, you will also be able to stand on the outside of the boat. This is best for views and taking photographs throughout the tour.
2) During my tour, most people only went outside of the boat during the main stops. However, there are still plenty of views & landscapes to enjoy all throughout the voyage. While you don't need to stand outside the whole time, I would highly recommend doing so for a portion of the ride.
3) Some boats have a photographer on board, where they will take professional photos in front of the major highlights. These will be available to purchase at the end of the tour.
→ If interested in visiting Perito Moreno, check out the Perito Moreno tours offerings in El Calafate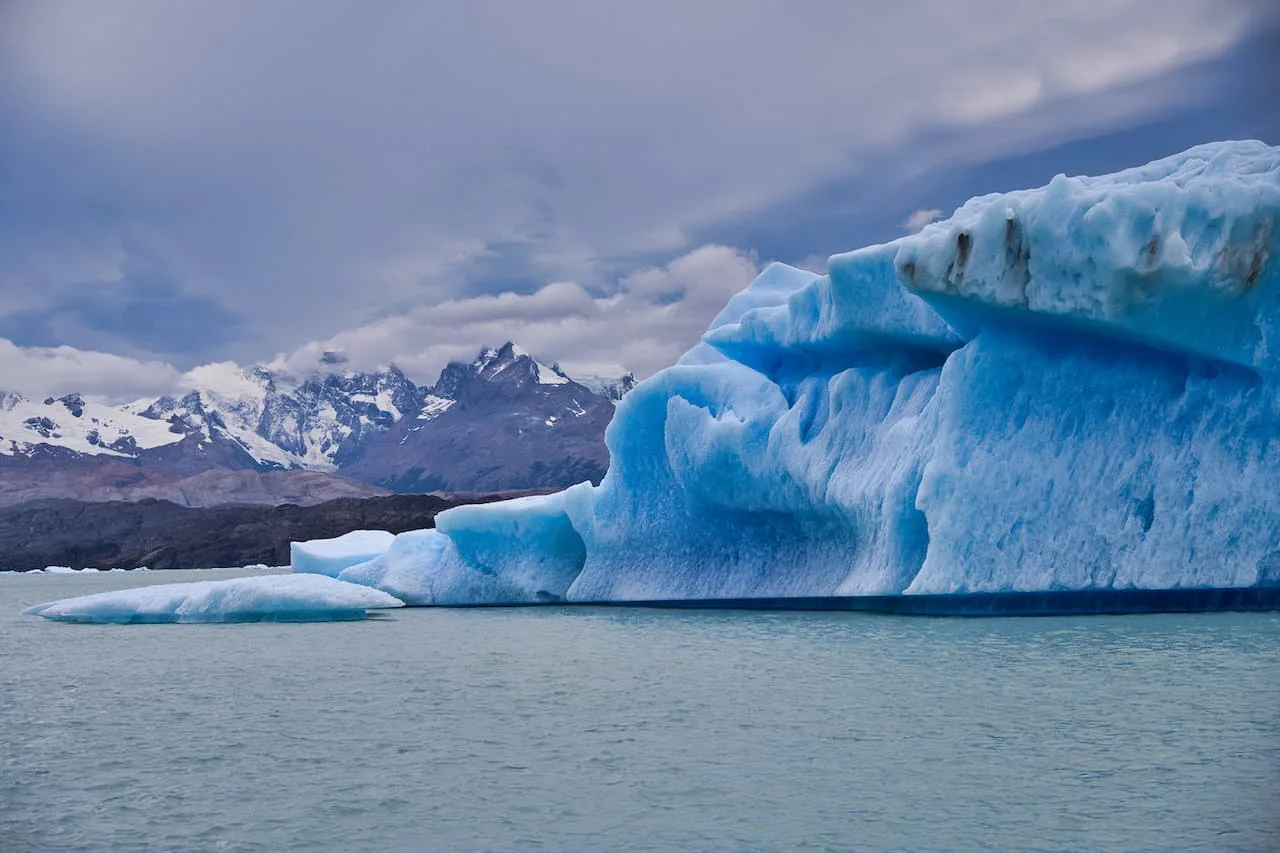 Todo Glaciares Captain's Club
The Todo Glaciares Captain's Club is an optional add on for the Solo Patagonia boat tours. This in essence is a VIP package for the day. You will get both a luxurious cabin on the boat and a 3 course lunch at the Base Spegazzini.
The price is around $100 more than the normal ticket but is a great option for those that want a bit more luxury and privacy.
6) Patagonia Travel Insurance
Considering travel insurance for Patagonia?

World Nomads offers coverage for more than 150 adventure activities as well as emergency medical, lost luggage, trip cancellation and more.

For years, World Nomads has been protecting, connecting & inspiring independent travelers, offering travel insurance & safety advice to help you travel confidently. Their mission is to support and encourage travelers to explore their boundaries.

World Nomads has simple and flexible travel insurance that has been designed by travelers for travelers. Even if you leave home without travel insurance or your policy runs out, you can buy or extend out on the road.

Get a quote for a World Nomads travel insurance policy today!
7) Todo Glaciares Boat Trip
Below you can find the itinerary of the day broken down into individual sections. Get ready for what is sure to be a top highlight of your time in Patagonia!
El Calafate Pickup & Drive to Puerto Bandera Port
The first part of the tour will take you from El Calafate to the Puerto Bandera Port – where your boat awaits you.
Most tours will offer the option to pick you up directly from your hotel. If you have a car, you can save a bit of money and drive yourself to the port area.
Pickup will be around 7:00AM/7:30AM, with the drive taking around 45 minutes to the Puerto Bandera Port. After enjoying the bus ride along the shores of Lago Argentino, you will arrive at the port terminal.
Tip: sit on the right hand side of the bus for better views of the lake
Check In, Purchase Park Tickets, Onboard Boat
Once you arrive at the port, you will enter a small building where you will find a ticket office. While you will have already paid for your tour, you also have to pay for the entrance fee to Los Glaciares National Park.
Tickets for the National Park are not included in the price of the tour (be sure to check as this may change tour to tour).
Expect these tickets to cost around $25-$30 USD. You can also purchase a 2 day ticket if visiting Perito Moreno on a separate day.
After purchasing tickets, it is time to make your way on board your boat. By now it will be around 9:00AM, giving you plenty of time to enjoy the day ahead.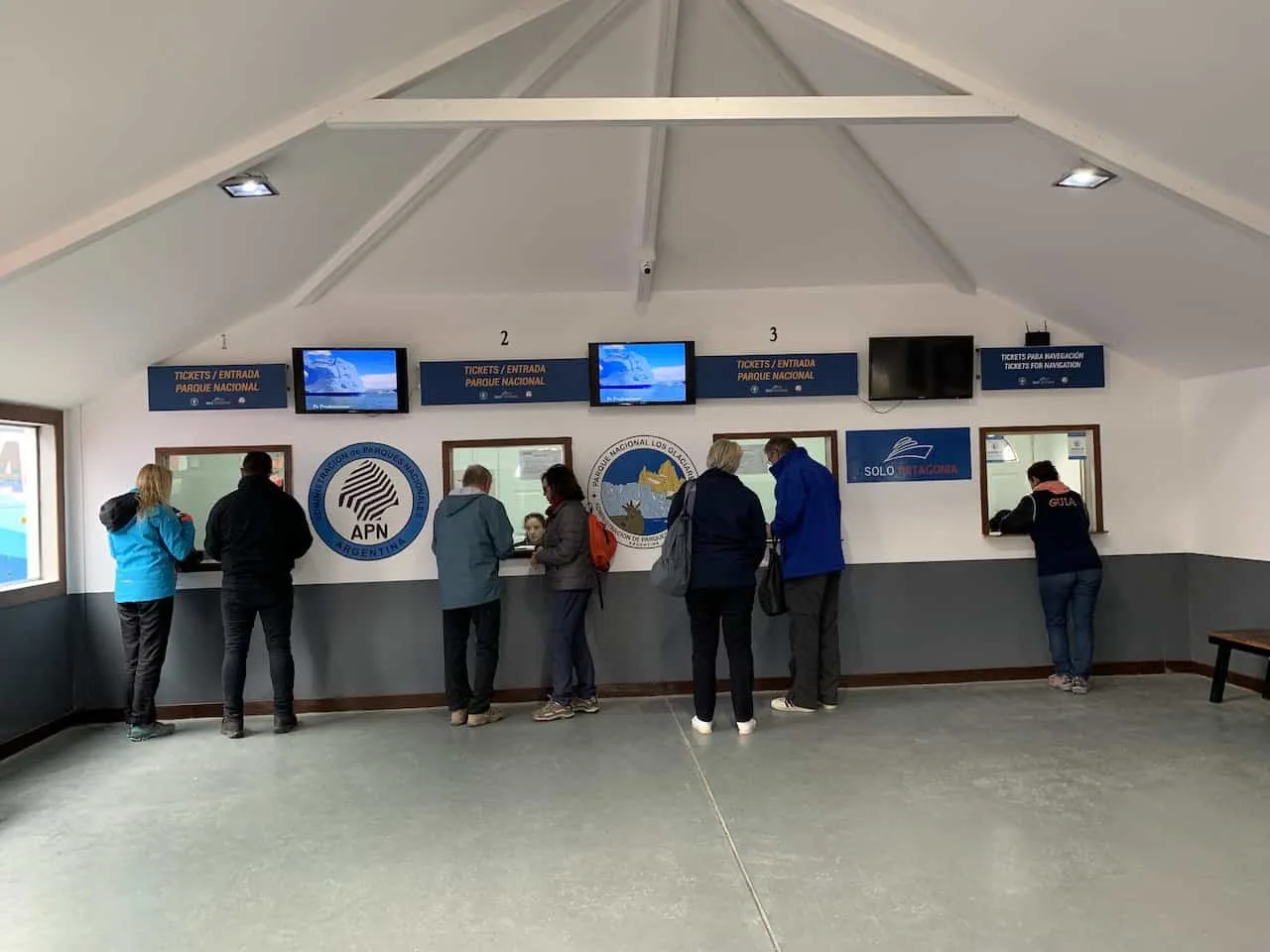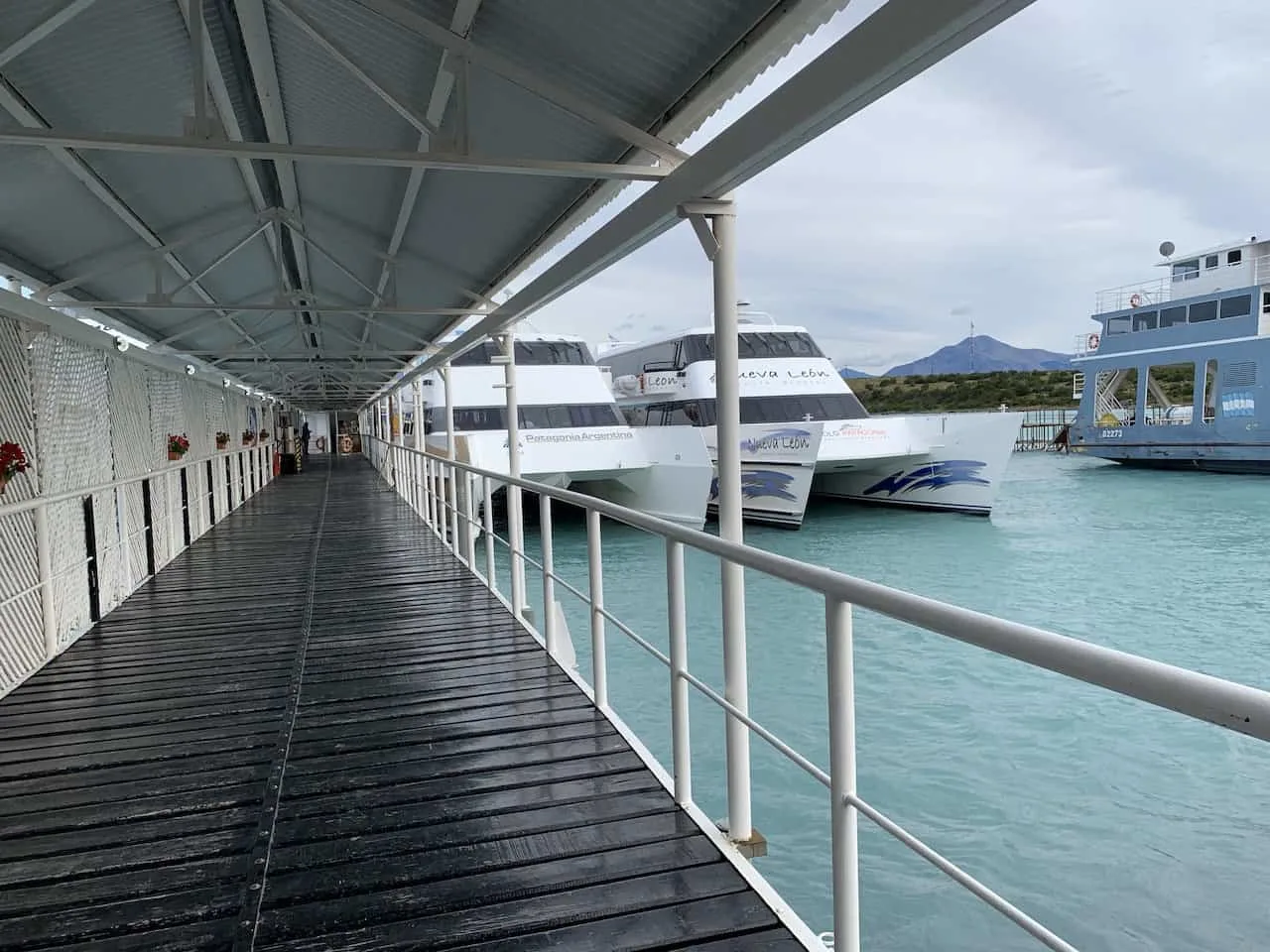 Todo Glaciares Boat Tour
As you can see in the map shown earlier, the boat tour will take you to several different spots around Los Glaciares National Park.
The main body of water here is called Lago Argentino. The tour will focus on the northern arm of the lake (Brazo Norte) and head deeper along the Upsala and Spegazzini channels.
Lago Argentino Brazo Norte Navigation
The first portion of the ride will take you along the Lago Argentino Brazo Norte section of the lake. During this part, it will make its way through the narrowest part of the boat tour at Boca del Diablo.
Throughout the ride, you will get to enjoy some stunning views in all directions.
Mountains, glaciers, and waterways will be surrounding you. After some time of navigating the lake, the boat will reach an intersection and head up to the Upsala Channel.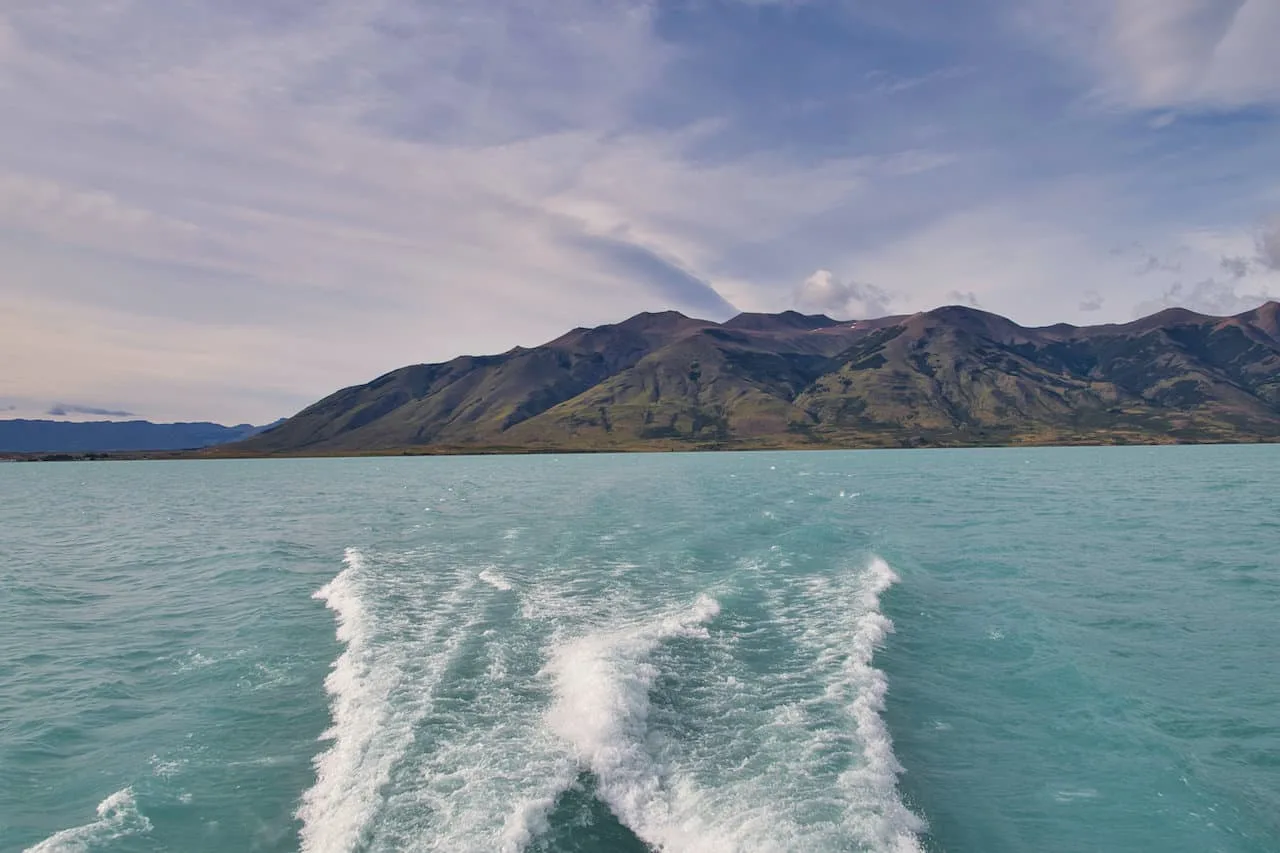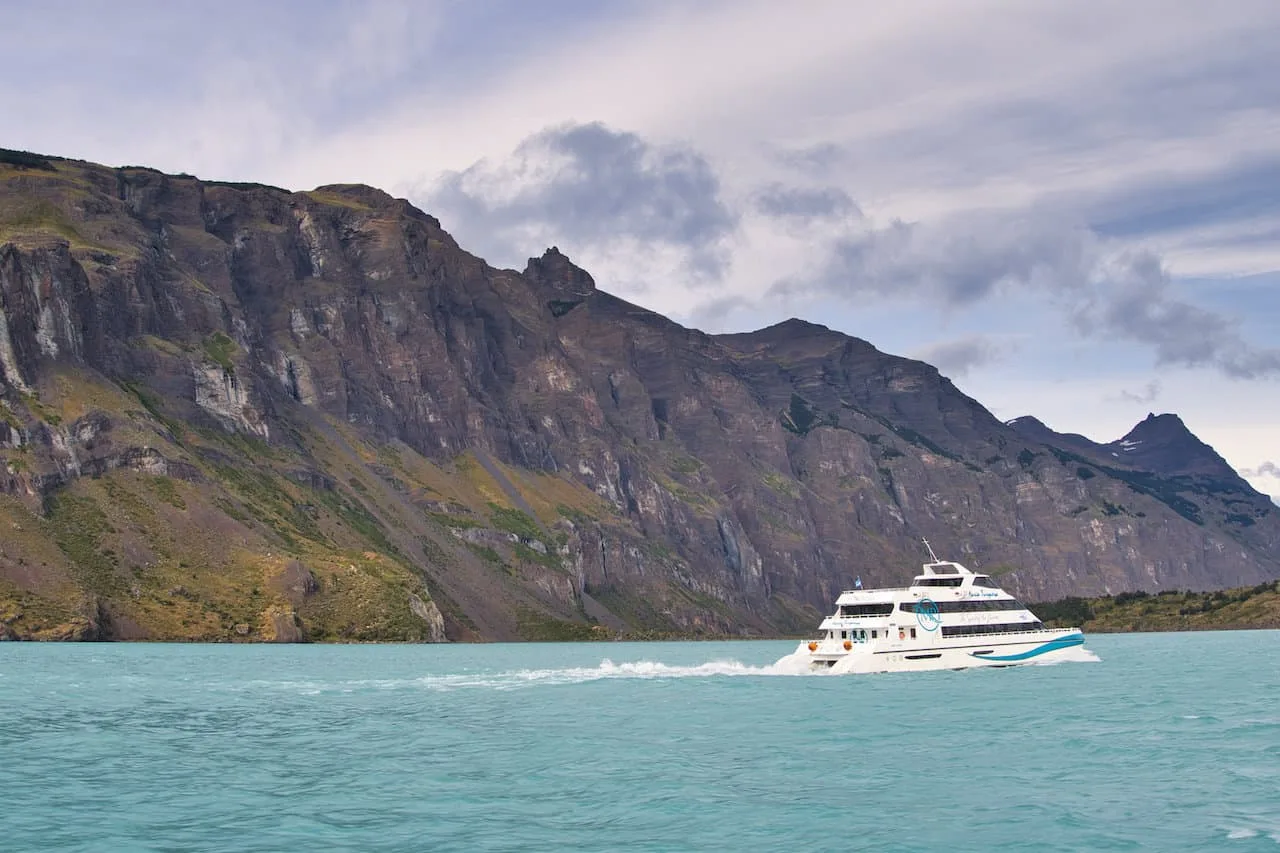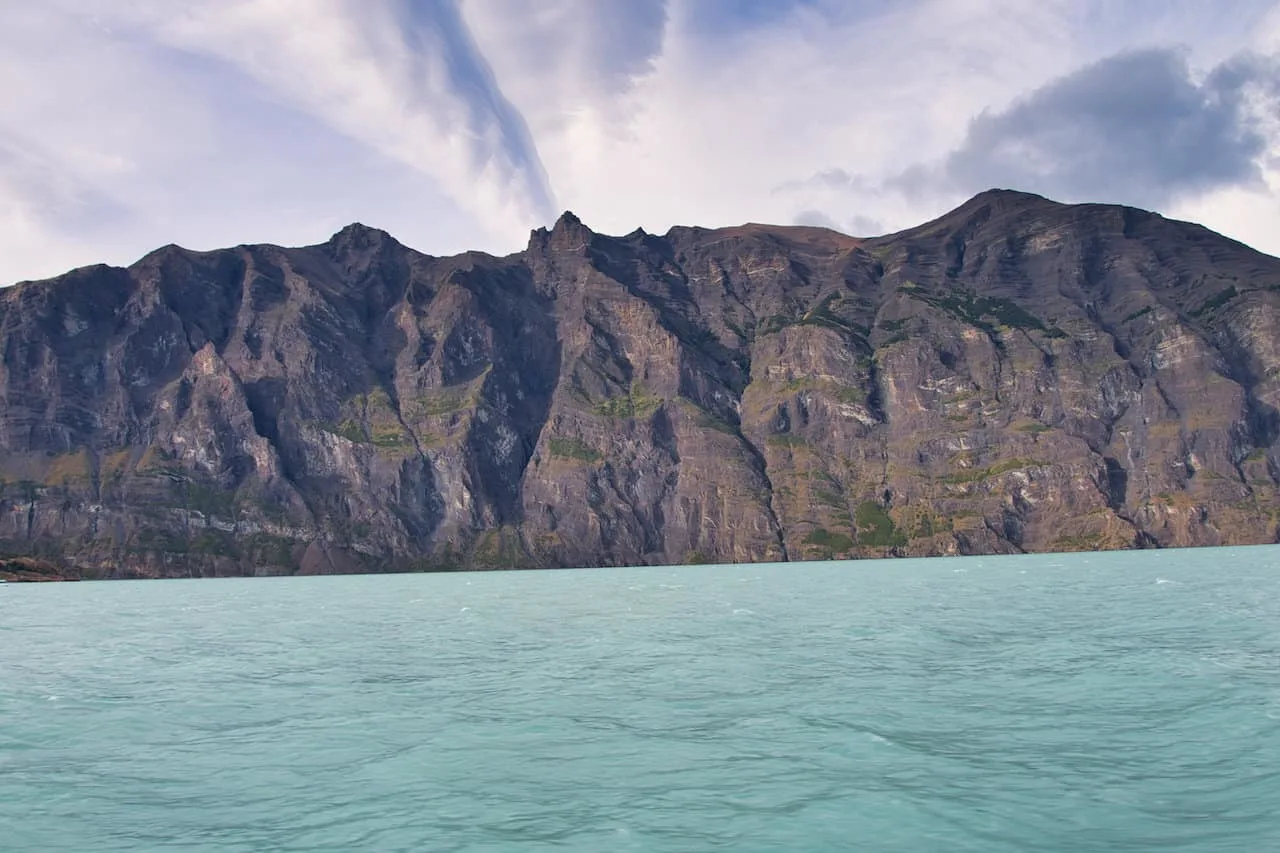 Upsala Channel & Glacier
As the boat turns into the Upsala Channel, you will begin to get more and more unique Patagonian views out in front of you.
At the end of the channel you will see the massive Upsala Glacier that is seemingly never-ending. In addition to the glacier, you will have other smaller glaciers in view as well.
The boat wont go all the way to the wall of the glacier, but you will get the views of the Upsala Glacier from a distance.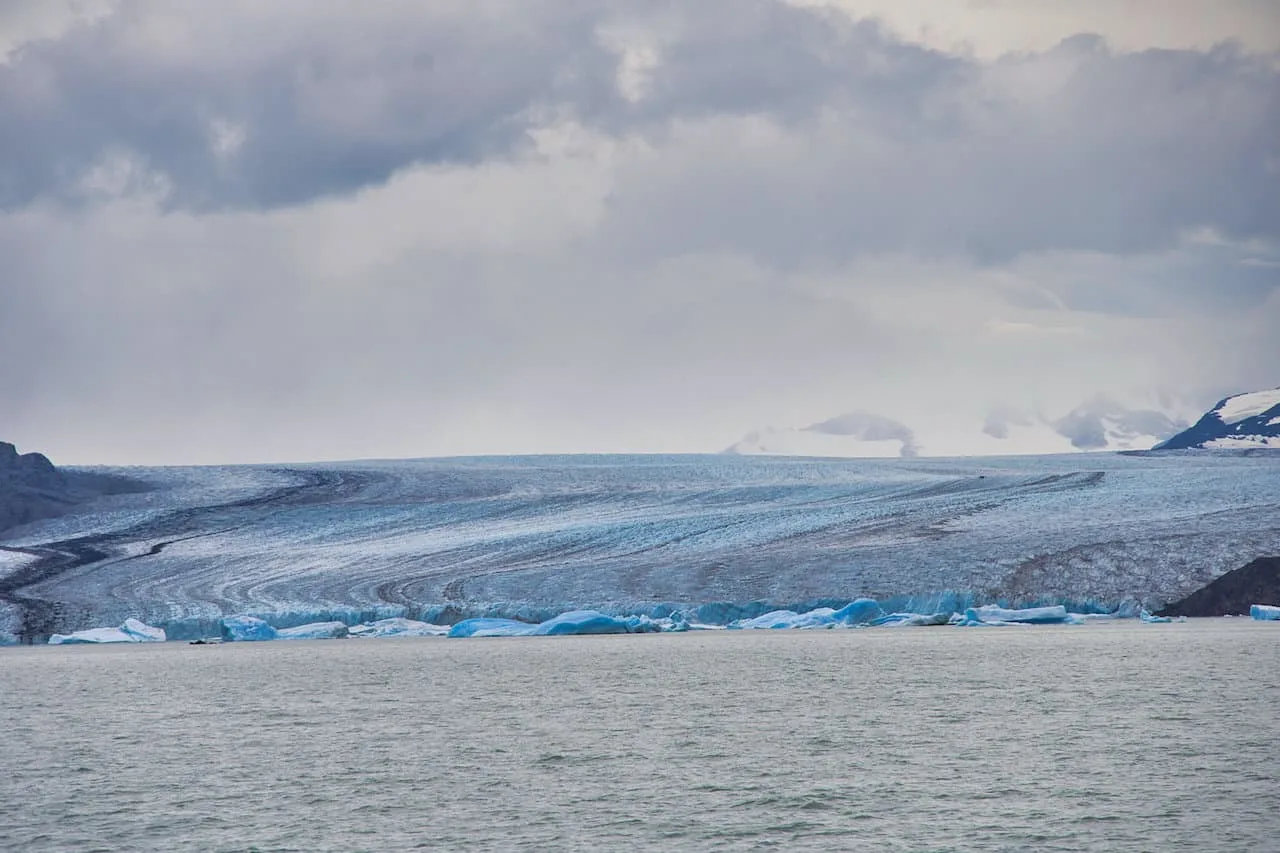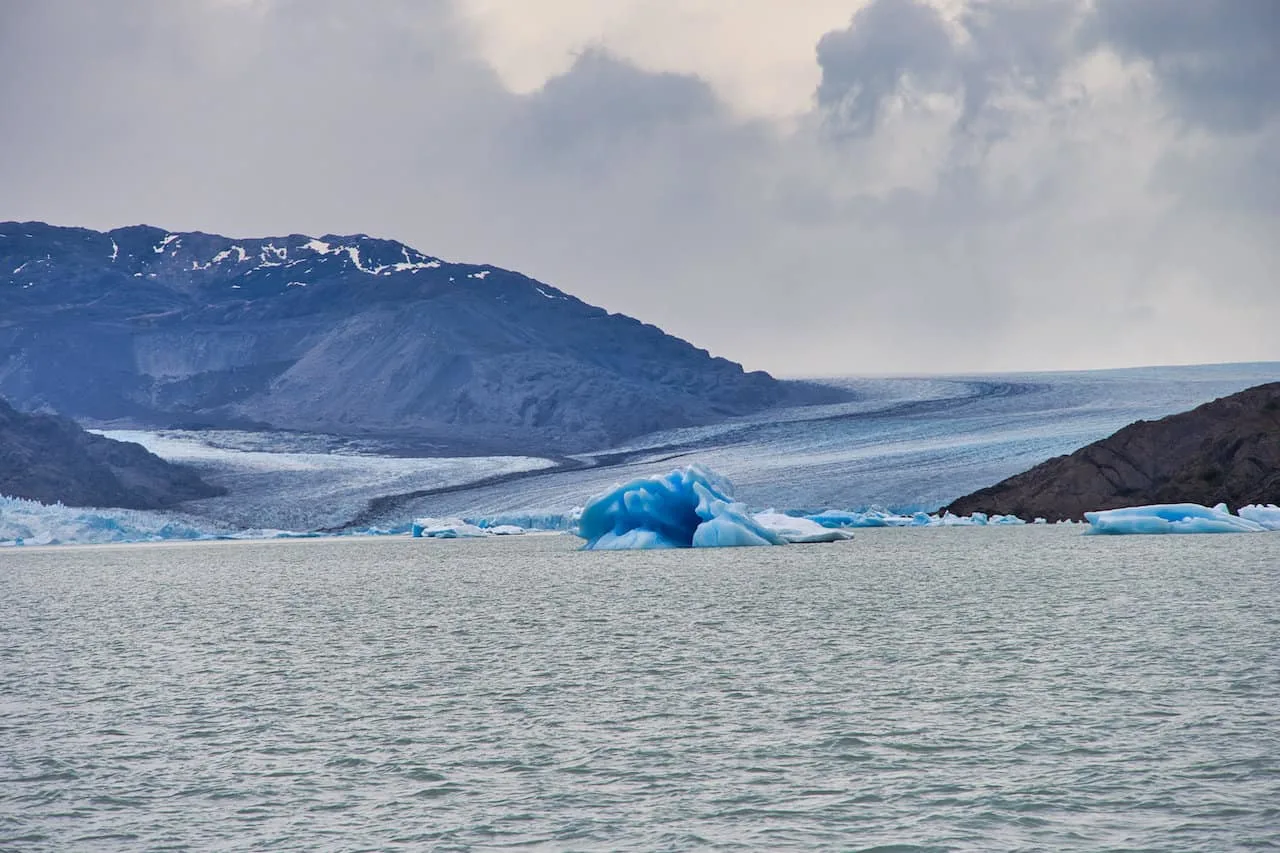 In addition to the glacier views, this area of water also has many large icebergs floating out in the water.
While these icebergs are consistently changing in size and shape, you are bound to come across some big ones.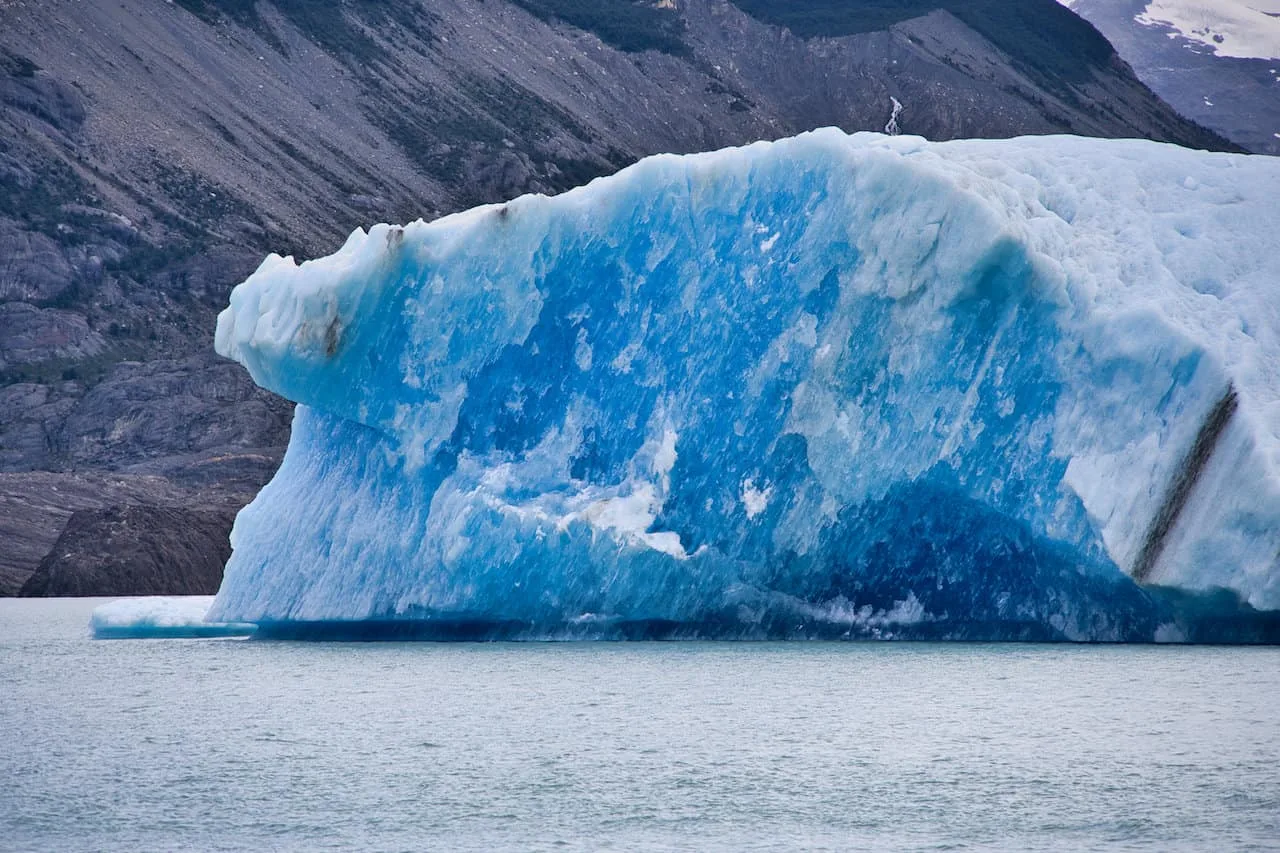 After enough time near the Upsala Glacier, the boat will then turn back around and head towards the initial intersection. It is then time for the second portion of the day.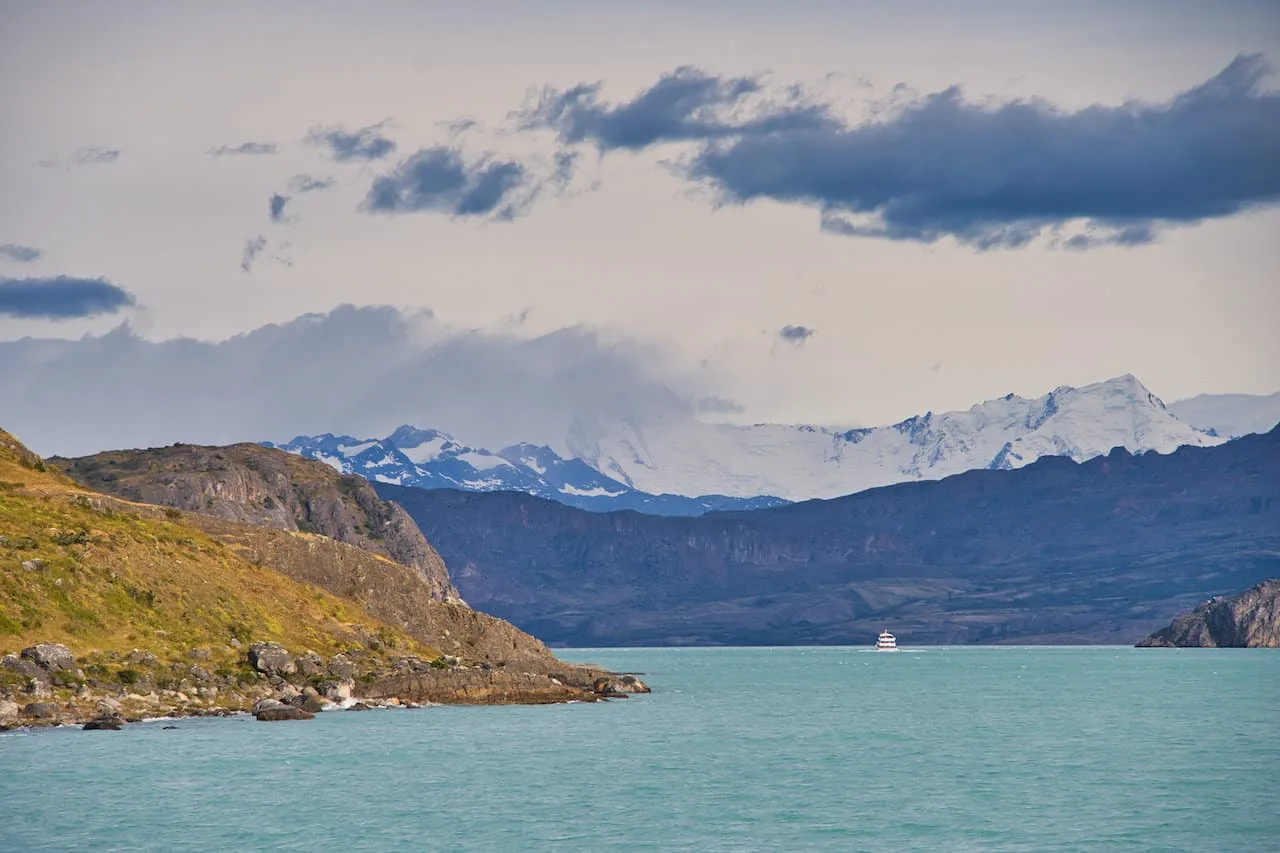 Spegazzini Channel & Glacier
From the intersection, the navigation will then take you along the Spegazzini Channel, where you will get even more views of the beautiful landscape.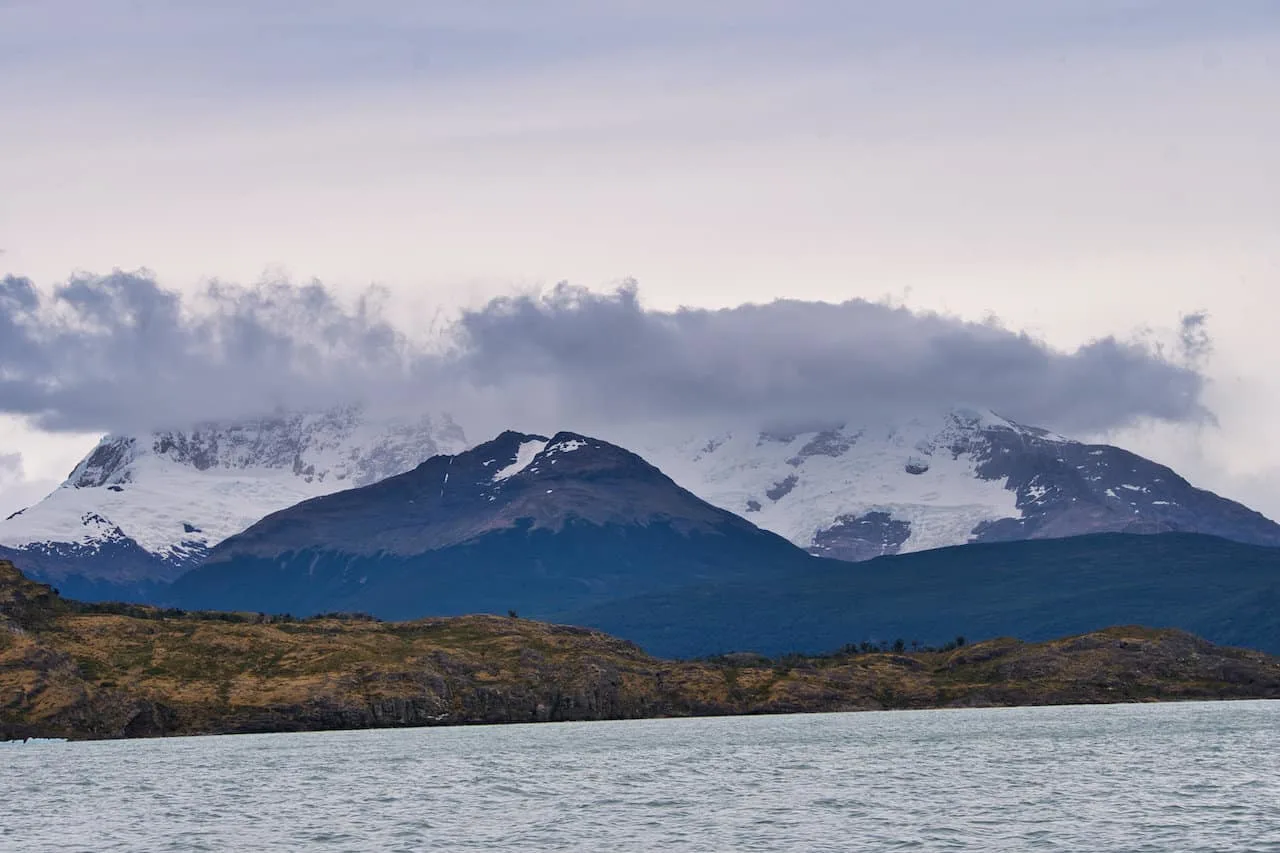 Be sure to keep an eye out on your right hand side for Glacier Seco up in the mountains.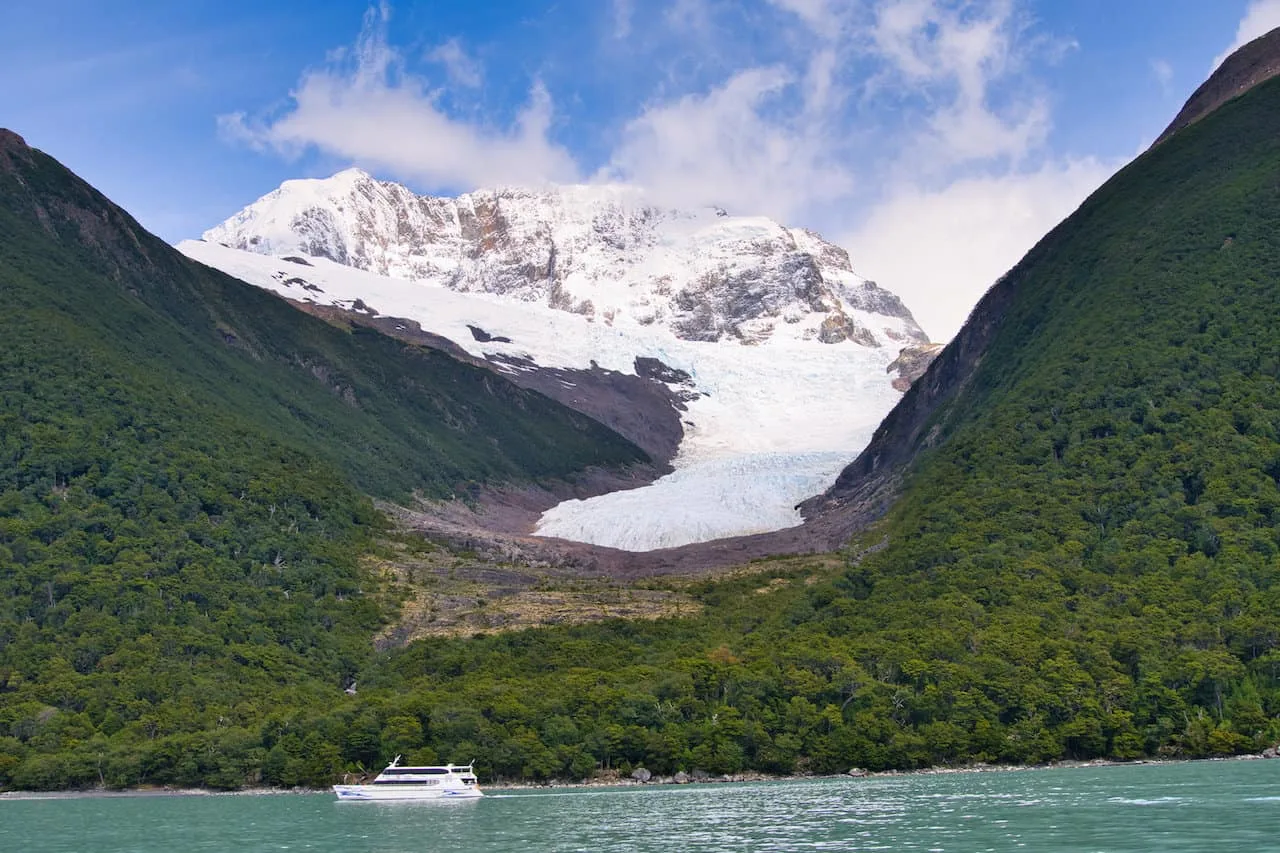 Once past that point, you will slowly but surely approach Spegazzini Glacier. The boat will make its way right up and close to the glacial walls as you get to see the Spegazzini Glacier and additional glaciers making their way down the hillside.
When it comes to views in Patagonia, this is surely going to be one of the best ones you come by. It is just surreal to take in the massive size of these glaciers that are just out in front of you.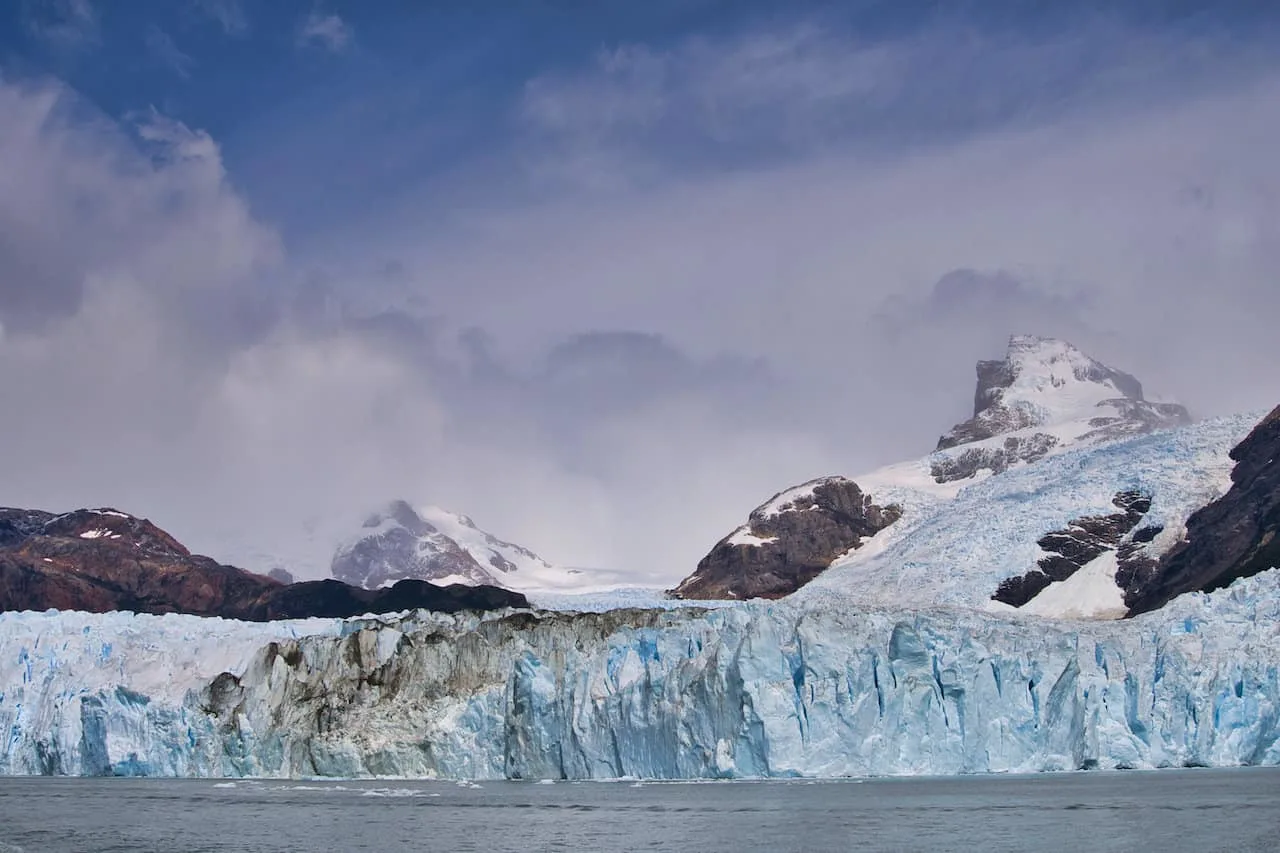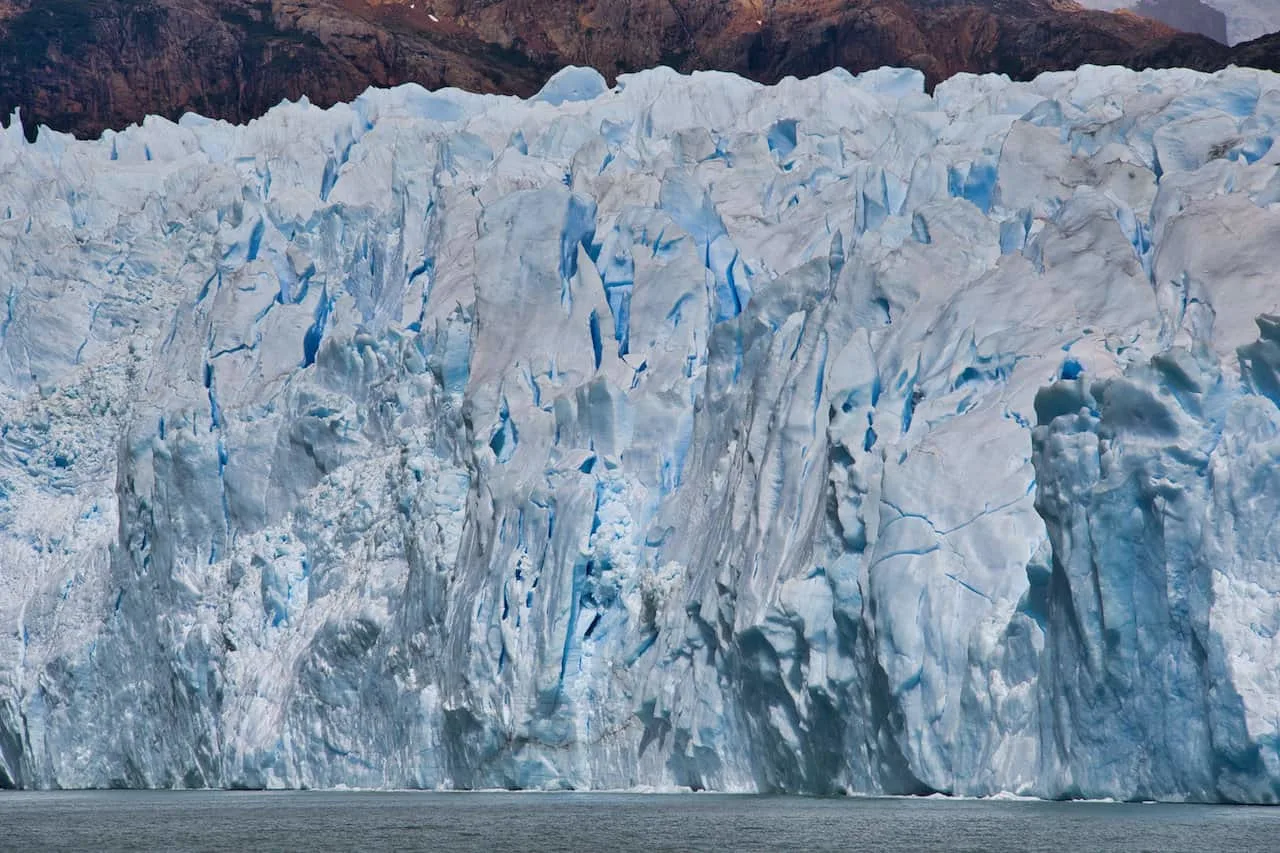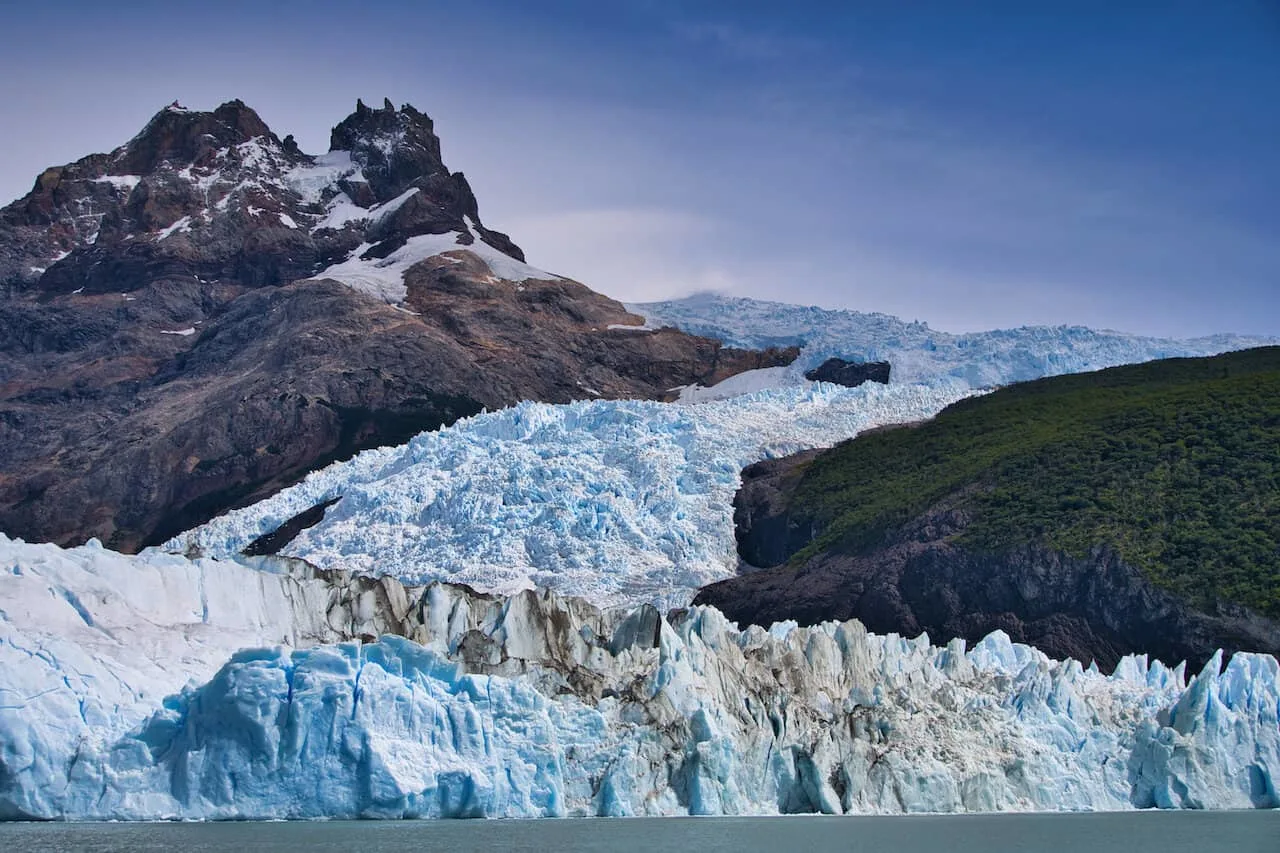 Base Spegazzini & Hike
After enjoying some time by the glacier itself, the boat will anchor just across the way near the Base Spegazzini. This is the perfect place to have a meal or some drinks, and just enjoy the view.
There is also the option to head out on a short hike to various viewpoints along the shoreline to get new perspectives over the glacier.
Boat Back to Puerto Bandera & Drive to El Calafate
Once all done at the lunch spot, it is then time to make your way back on the boat and towards the Puerto Bandera Port. Keep an eye out for more great landscapes, before arriving back at the port.
Once you disembark from the boat, it is back on the bus and onto El Calafate to end a successful day out on the water.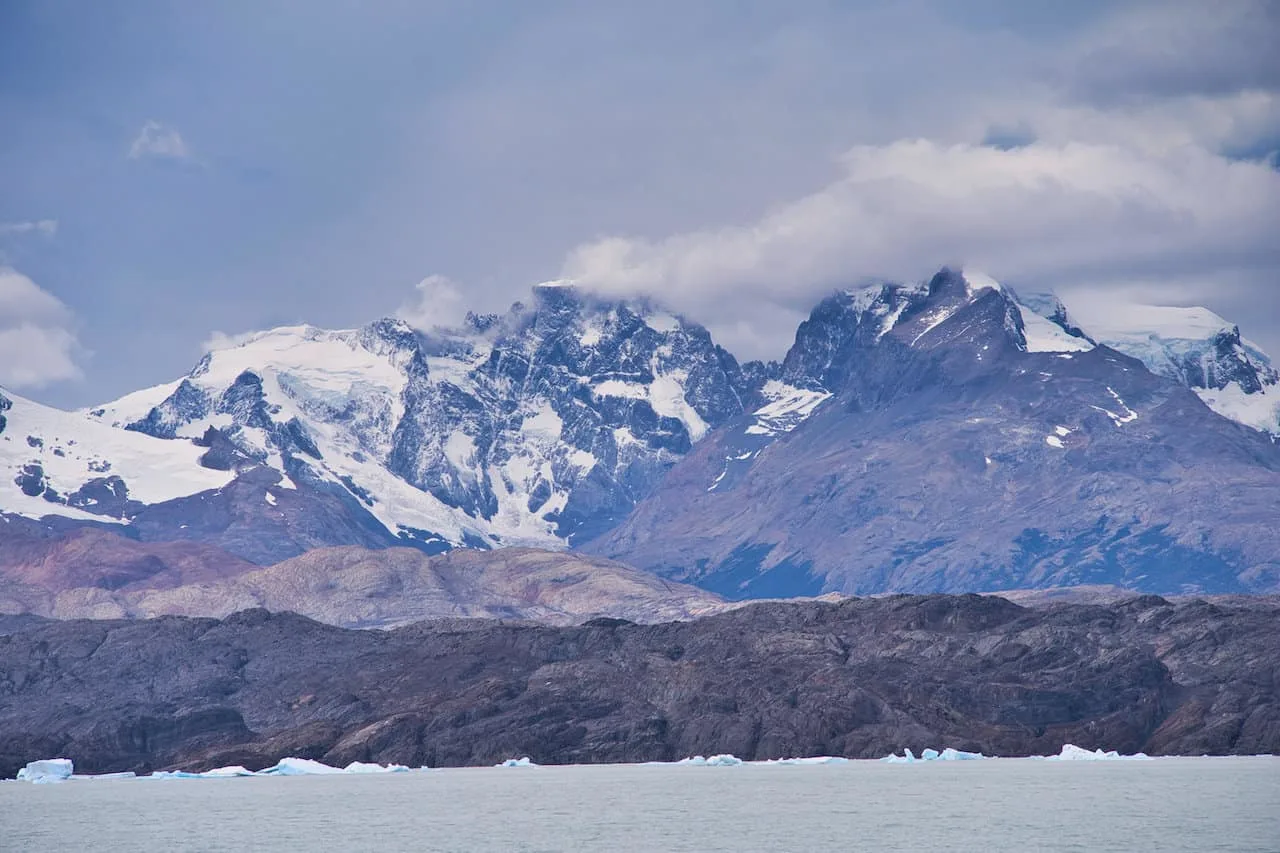 8) What to Bring
Since you will be out on the water, you will need to be sure to bring along the appropriate gear. In addition, the weather can turn very quickly in Patagonia, so you will want to be prepared for all types of conditions.
In general, I found layering to be the upmost important part of a trip. For this boat tour in particular, I would recommend the following:
→ Hiking Pants
→ Hiking Shirt
→ Mid Layer Fleece
→ Puff Jacket
→ Packable Rain Jacket
→ Comfortable Shoes
→ Warm Socks
Additional day hike recommendations include:
→ Hiking Backpack & Rain cover
→ Water Bottle & Nutrition
→ Portable Charger
→ Hat & Sunglasses
→ Sunscreen
» Be sure to check out the Hiking Packing List guide I put together that will go through all of it and more.
Food and Drink
Note that food & drink is an optional add on to many boat tours. You may need to bring your own lunch from El Calafate if you opt out of purchasing food on the tour.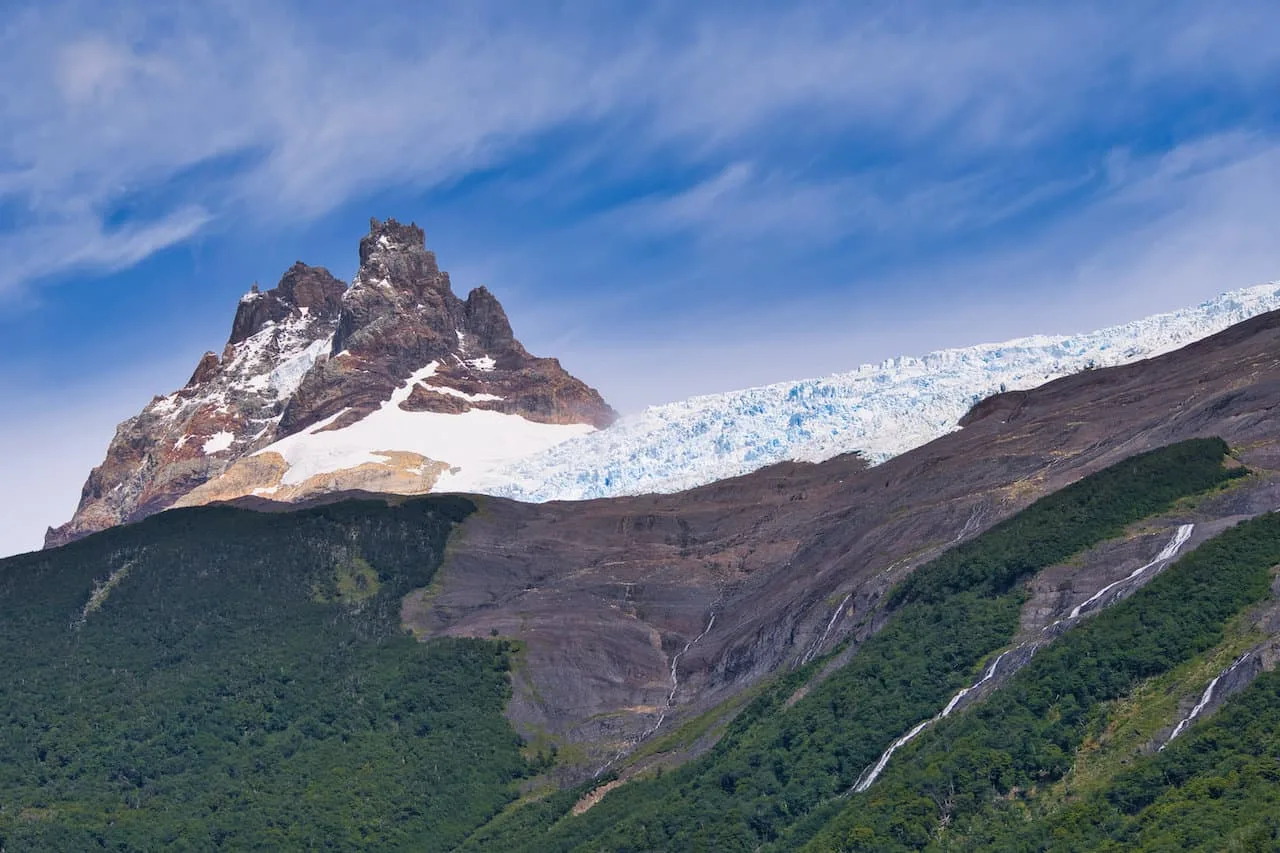 9) Where to Stay
El Calafate is a beautiful Patagonian town built to cater for tourists, who fly from all over the world to visit these glaciers. You will find hotels within walking distance to town center and also some that are further out from town. If taking part of a tour, most of them do pick people up directly from hotels.
Below you can find some highly rated and reviewed hotel options to choose from during your trip to El Calafate. During high season, top options can sell out.
I would recommend booking your accommodation as soon as you know your dates:
Luxury Option: Xelena Hotel & Suites
Budget Option: Calafate Hostel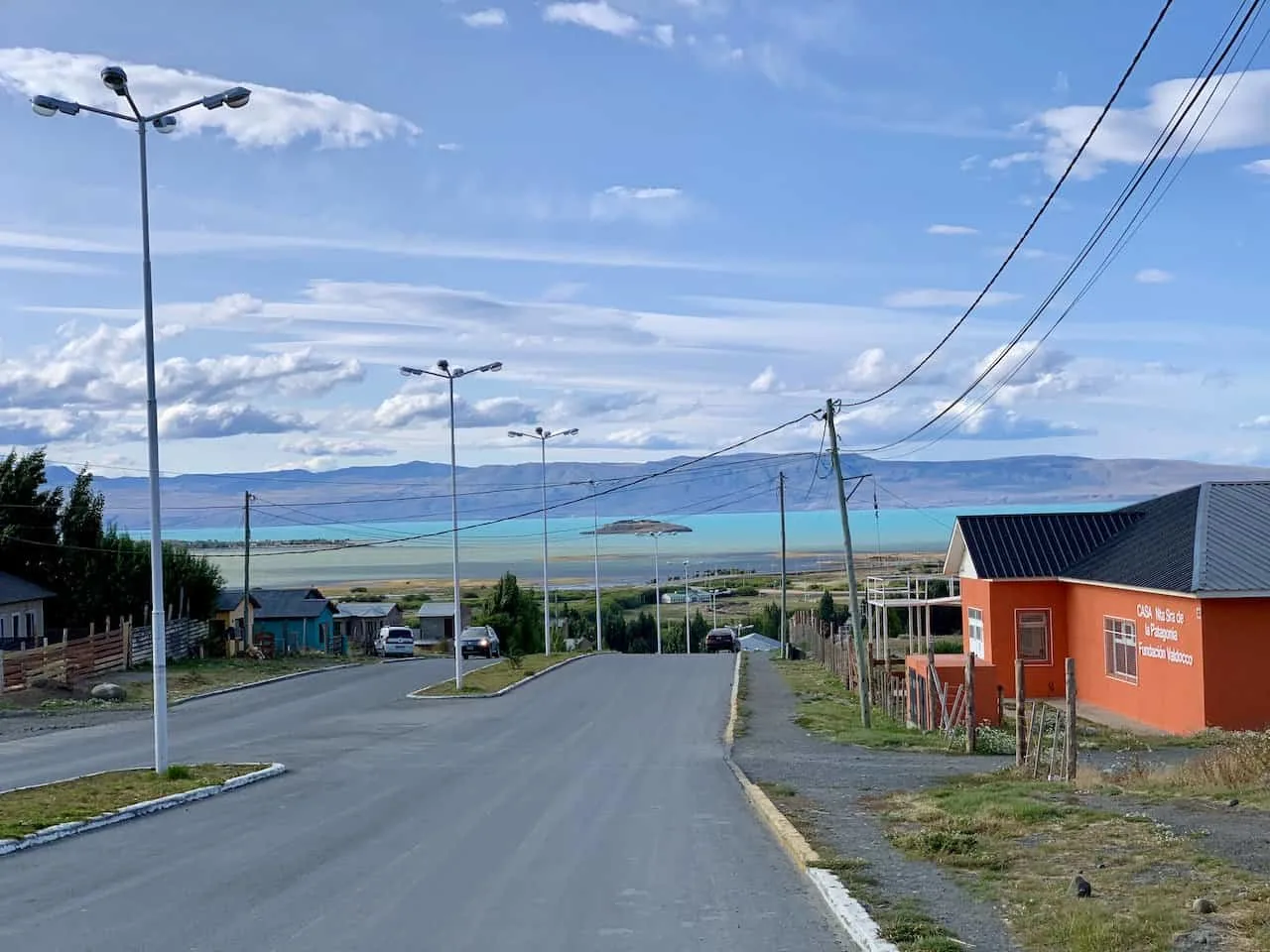 That wraps up a guide to the Todo Glaciares boat tour to the Upsala and Spegazzini glaciers. If you have any questions or comments about the trip, feel free to add them in below.
Also, don't forget to check out the other Patagonia itineraries and guides up on the site like the best El Chalten hikes, Laguna de Los Tres, the Huemul Circuit, and Tierra del Fuego National Park.
Have fun out there and safe travels!