The Perito Moreno Glacier of Los Glaciares National Park in Argentina is one of the top highlights to visit during your time in Patagonia.
Located just outside the town of El Calafate, lays this magnificent 100 square mile glacier that can be experienced in a variety of ways.
Whether you want to enjoy the views from the boardwalk, head on a glacier trek, or take part of a boat cruise & kayak. There are plenty of options to go about a visit to Perito Moreno Glacier.
Read on to learn more about the Perito Moreno Glacier and how to plan your trip to this one of a kind place.
* Affiliate Disclosure: This post may contain affiliate links, which means I may receive a commission if you make a purchase through the links provided, at no additional cost to you. Thanks for supporting the work I put into TripTins!
1) Background & Facts
During my travels, I have been to a variety of glaciers big and small around the world. But none have compared to the experience at Perito Moreno Glacier. Not only is it a beautiful site to take in, but it also has some fascinating facts.
Below is a quick background about the glacier and what it entails:
Name: The glacier is named after the Argentinian explorer – Francisco Moreno, who began the exploration of the region in the 1800s. The word "perito" translates to proficient / expert, so he became better known as Perito Moreno over the years.
Size: When it comes to size, Perito Moreno Glacier is a big one. It measures in around 100 square miles / 250 square km in area. From one end to the other, it is about 19 miles / 30 km in length, and 3 miles / 5 km in width.
Growth: Unlike most other glaciers in the world, Perito Moreno is actually growing in size. If you head to glaciers in other parts of Patagonia and the world, you will find many of them are shrinking.
Rupture: A phenomenon that happens every several years is called a rupture. This is when the glacier reaches the shore of the lake (Lago Argentino) and creates an ice dam between Canal de Los Tempanos & Brazo Rico. Eventually the pressure created by the water will cause a huge rupture in the glacier as large chunks of ice continuously fall off. The cycle then repeats itself over the course of the next several years.
Ice Fields: The glacier is also one of 48 glaciers that jut out of the Southern Patagonian Ice Fields. The Ice Fields are one of the largest contiguous pieces of ice in the entire world. If you want to view the Ice Fields, head to the Huemul Circuit in El Chalten for a once in a lifetime trekking experience.
In general though, there are three main ways to experience the Perito Moreno Glacier for yourself. These include:
Walking the various boardwalks on the shores of Lago Argentino
Taking part of a glacier hike on the glacier itself
Viewing the glacier from the lake as part of a boat or kayak tour
This guide will go through it all, so you can get a better idea of what works best for your visit.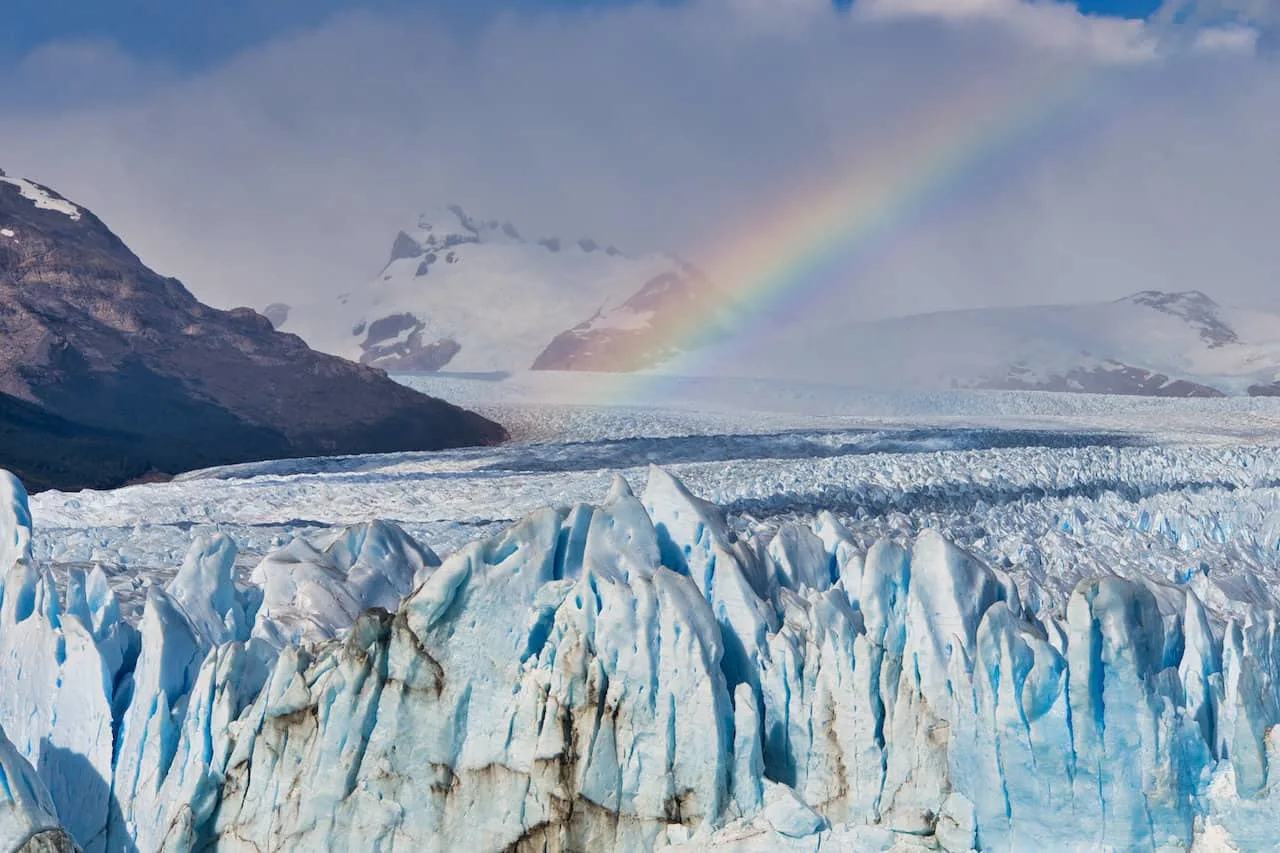 2) Perito Moreno Glacier Map
In the next several sections I will be talking through all the various walking/hiking opportunities to take part of at Perito Moreno.
The map below should help you better understand the boardwalks & glacier hike options that I will be talking more thoroughly about in the next few sections.
3) Perito Moreno Boardwalks
I will start off talking through the various boardwalk walking trails of Perito Moreno.
If not interested in a glacier trek or boat/kayak tour, then walking the boardwalks is how you will get to experience the glacier during your trip.
Note: during the glacier treks & some boat/kayak tours, you will have time to also walk the boardwalks. This will be on a tighter schedule but the option is there for you.
Altogether there are five boardwalk walking trails to choose from at Perito Moreno. You can choose just one, combine a few, or head on all five of them.
Throughout these boardwalks you will find viewpoints, seating areas, and some staircases all around the routes. Some of the boardwalks will be right against the water near the glacier, while others will be a bit more set back as you get a wider view of Perito Moreno.
Below is a map of the boardwalks to better familiarize yourself with the area: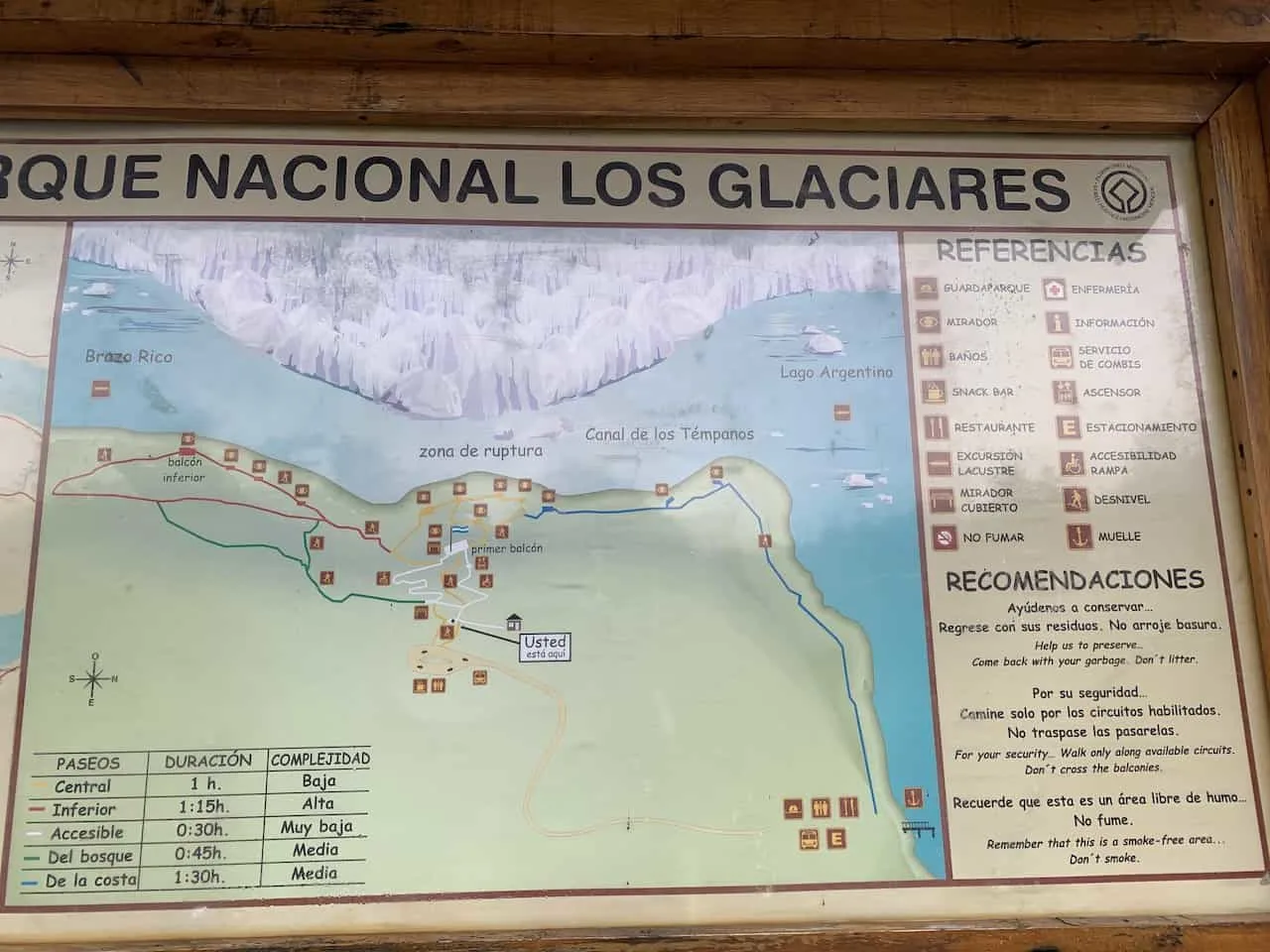 Route 1
Name: Paseo Central
Length: 600 meters
Duration: 1:00 hrs
Difficulty: Easy
From the parking lot / visitor center, the first route you will come across to the main boardwalk that focuses in on the central part of the glacier. You will pass by a main viewpoint area before heading down closer to the waterside.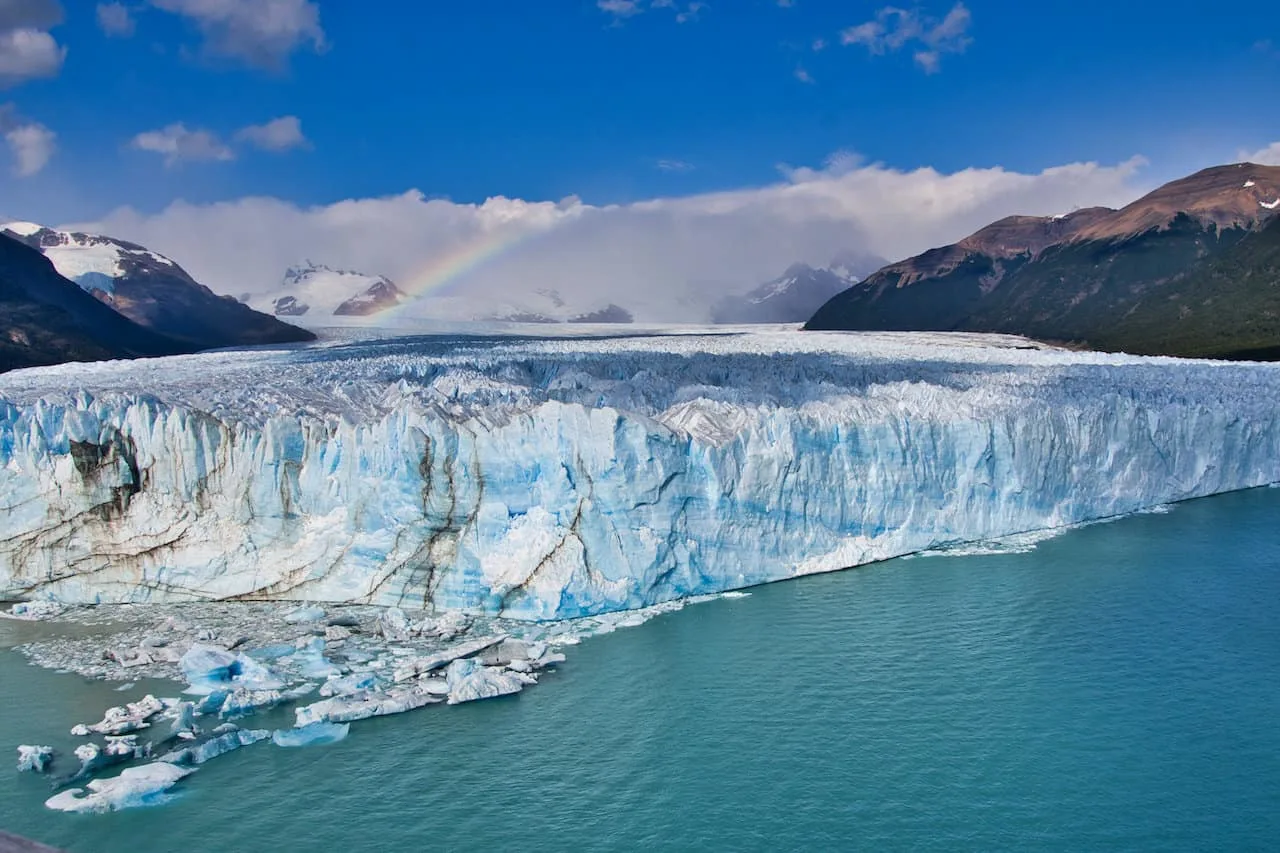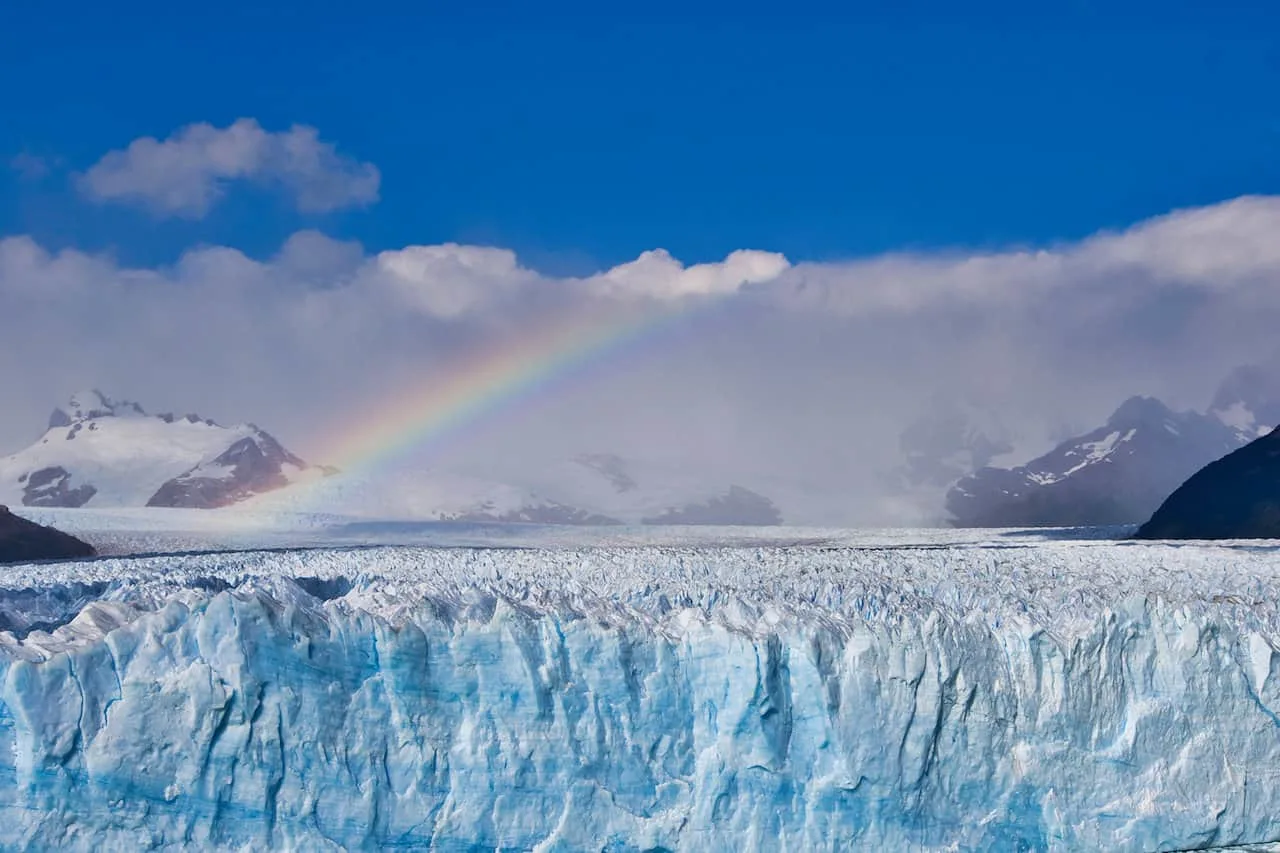 Route 2
Name: Paseo Accesible
Length: 565 meters
Duration: 0:30 hrs
Difficulty: Very Easy
Going hand in hand with the Paseo Central route is the accessible route that is handicap friendly. This wont go down to the waterside, but it will go to a main elevated viewpoint area.
If you are doing the first route above, you are essentially doing the this one as well.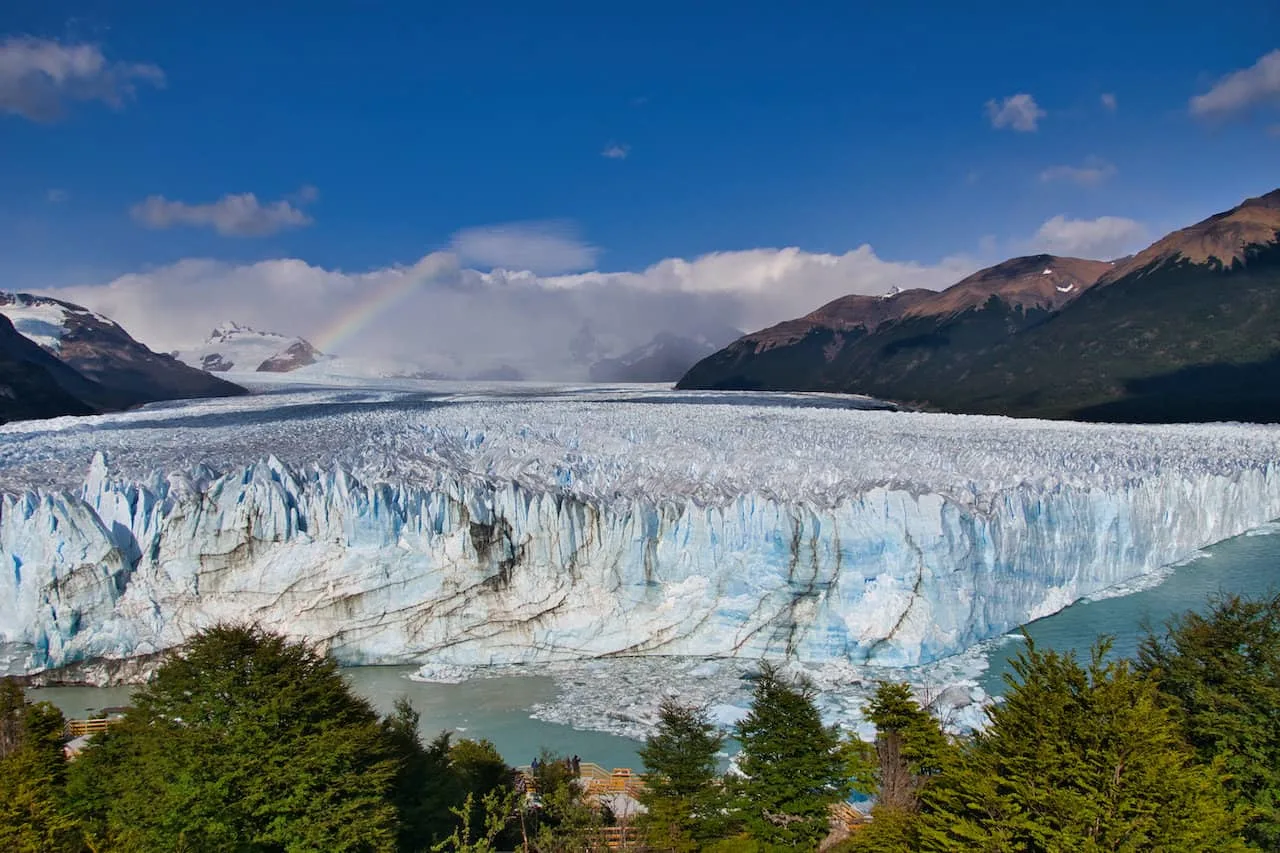 Route 3
Name: Circuito Inferior
Length: 1,100 meters
Duration: 1:15 hrs
Difficulty: Challenging
After visiting the central portion of the boardwalk, you can head over to the left along the Circuito Inferior circular route.
This will take you all along the left hand side of the glacier with plenty of viewpoints all throughout. You can then loop back around more towards the central section.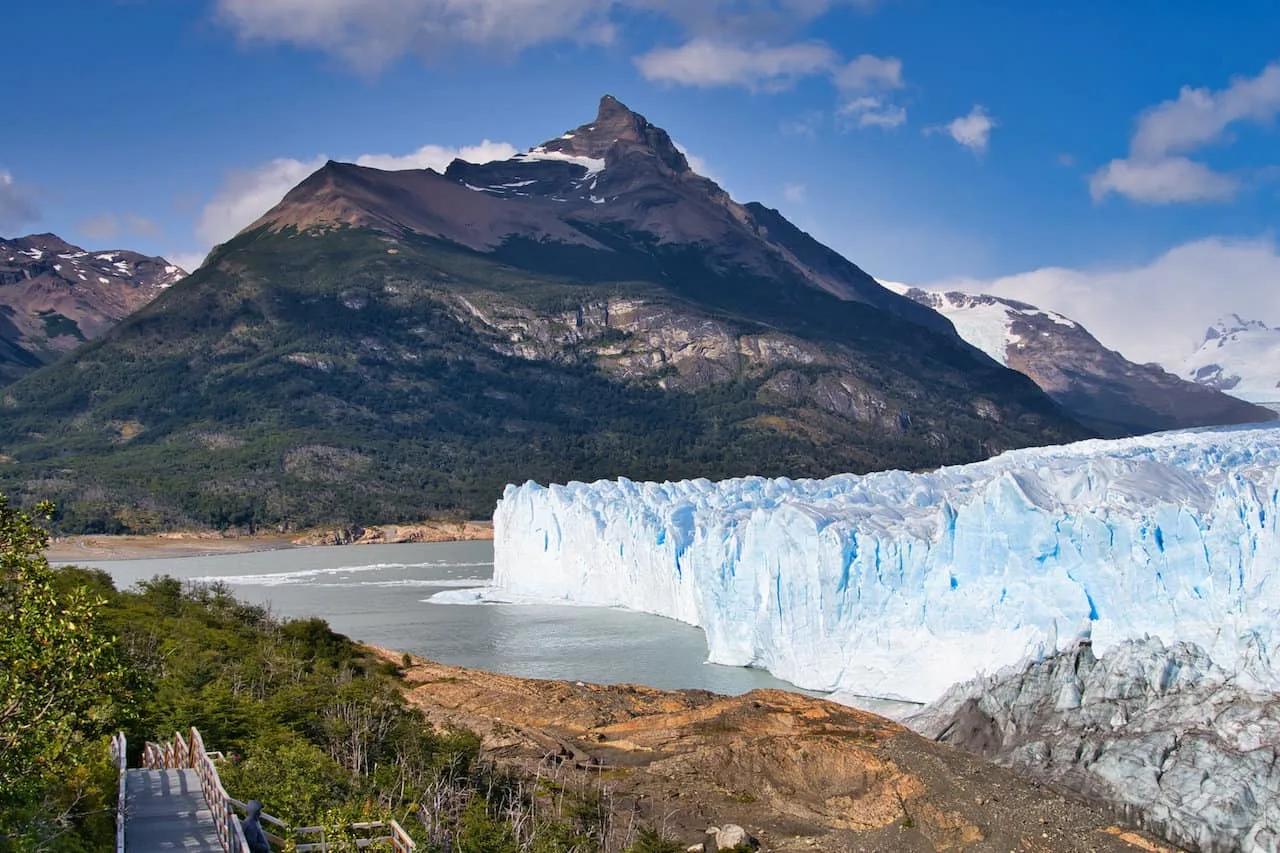 Route 4
Name: Sendero Del Bosque
Length: 570 meters
Duration: 0:45 hrs
Difficulty: Moderate
Instead of looping back on the Circuito Inferior trail, you can also decide to head on the Sendero Del Bosque trail back to the parking lot area. This will have different views as you are walking through some trees, but it does switch things up a bit.
Route 5
Name: Sendero De La Costa
Length: 1,117 meters
Duration: 1:30 hrs
Difficulty: Moderate
Lastly is the Sendero De La Costa, which focuses on the right hand side of the glacier. This was also one of my favorite parts of the Perito Moreno boardwalks.
The trail continuously makes its way along Lago Argentino as you get views of the glacier and the larger lake all in view. During my time in this area, I was the only one on the boardwalk here, which made it that much more special.
The trail does go on for a while, but you can decide to go as far as you want before turning back around.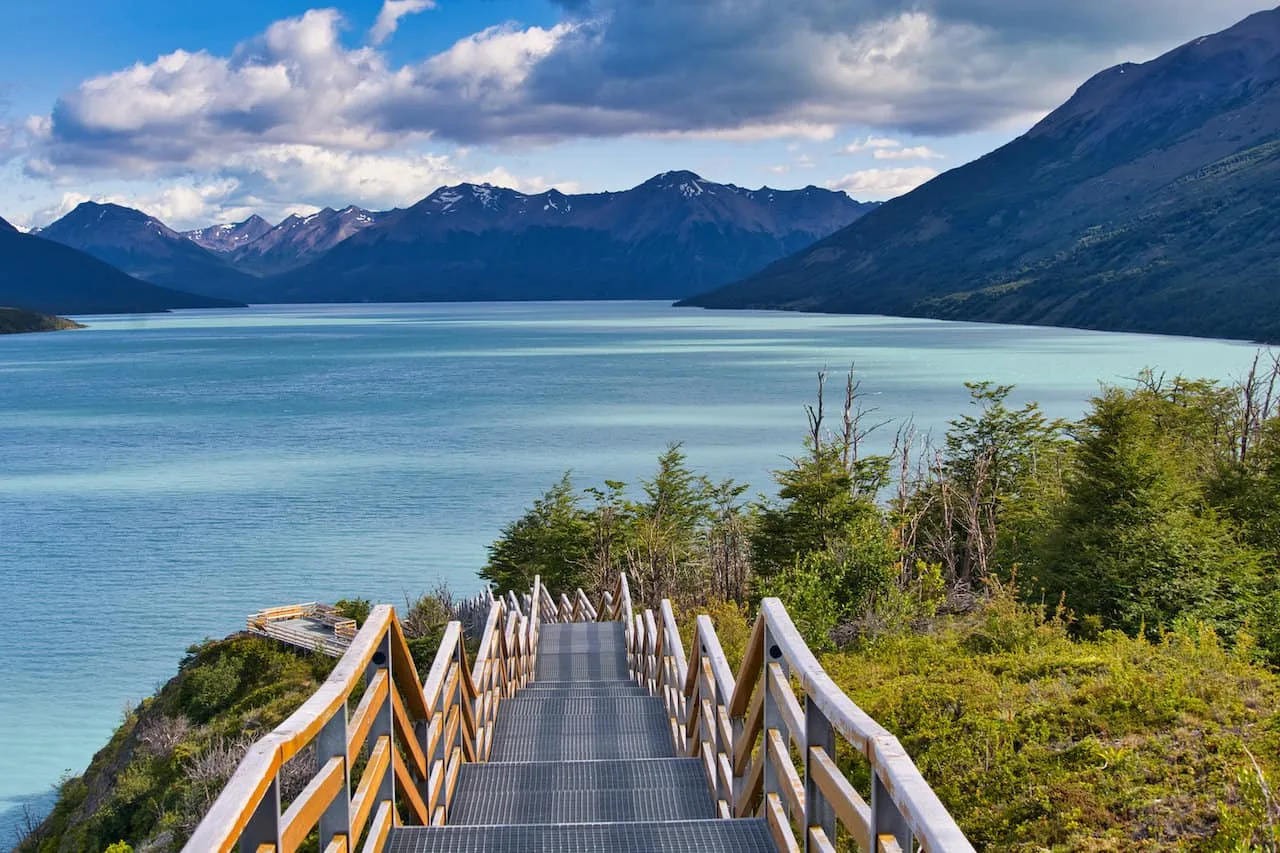 4) Glacier Trek: Minitrekking & Big Ice
While the boardwalks are one way to experience the glacier, hiking on the glacier itself will be a while different type of experience.
There is one company (Hielo & Aventura) that is allowed to bring groups onto the glacier and they offer two different tours – Minitrekking & Big Ice. Both tours leave from El Calafate town center, where you will hop on a bus and be taken care of for the remainder of the day.
Learn More: Check out the Perito Moreno Minitrekking overview and Perito Moreno Big Ice overview to learn more about each one
Perito Moreno Minitrekking
Minitrekking on Perito Moreno will give you a chance to walk along the ice closer to the front of the glacier. The experience on the ice will last about one hour but you will get much more out of your day.
A minitrekking itinerary will look something like this:
Bus from El Calafate to Perito Moreno Port
20 minute boat ride to glacier hike kickoff point
3 hours hiking to & from glacier with 1 hour on the glacier itself
30 minute boat road back to port in front of glacier walls
1 hour to visit the walkways
Bus from Perito Moreno to El Calafate
Expect the full day experience to last around 9-10 hours altogether.
Note that this is by far the most popular option when it comes to El Calafate / Perito Moreno tours. If you want to take part of this experience, I would advise to use the link below to reserve your spot!
Book Today → Perito Moreno Glacier Minitrekking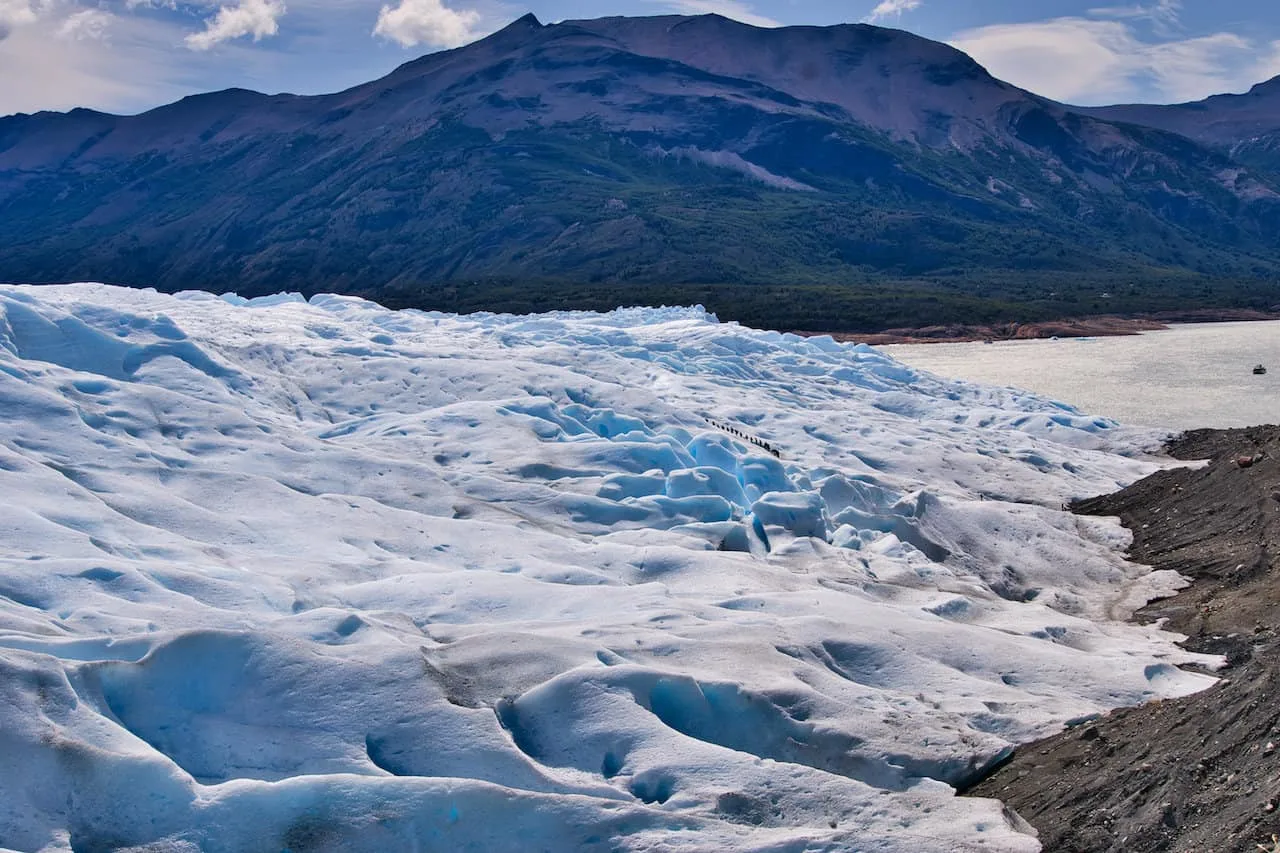 Perito Moreno Big Ice
While the minitrekking glacier hike is a great way to get a feel for walking on Perito Moreno, the Big Ice experience will be even better.
Instead of just 1 hour on the ice, expect to spend closer to 3 hours on the glacier. This will get you further along the glacier with even more views and more highlights along the way.
The Big Ice itinerary will look something like this:
Bus from El Calafate to Perito Moreno
1 hour to visit the walkways
20 minute boat ride to glacier hike kickoff point
2 hour hike to the glacier
3 hours hike on the glacier
2 hour hike back to kickoff point
30 minute boat road back to port in front of glacier walls
Bus from Perito Moreno to El Calafate
Since there is more hiking involved here, expect the day to be closer to 12 hours altogether.
Book Today → Perito Moreno Glacier Big Ice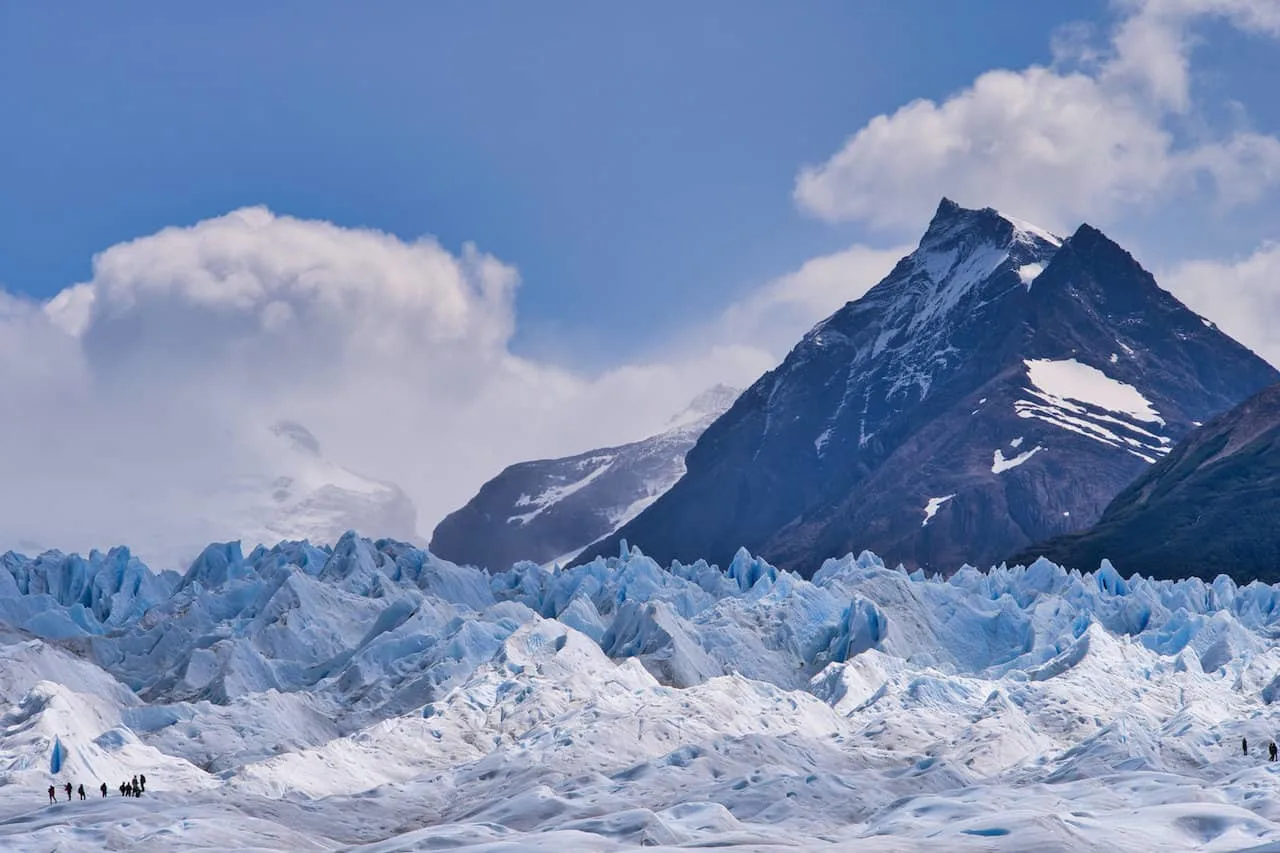 5) Boat & Kayak
Your last main option here is to take part of a boat or kayak ride along the glacier walls as part of a guided tour.
Each Perito Moreno tour may be a bit different with its offerings, but these options will have you getting up close and personal to the glacier itself.
Below are some of the top options to choose from depending on your overall interest level:
Walkways & Boat Cruise
This is a great option if you want to take advantage of walking the boardwalks & hop on a boat cruise in the water. It will give you the chance to see the glacier from both the land and the lake.
The tour linked below allows for two hours exploring the boardwalks & then an additional hour on the boat tour.
*Note that if going on your own to the glacier, you should be able to join a boat cruise on the spot (and not need to sign up for a whole tour)
Kayak
If you want a more active experience, kayaking the waters right underneath the glacier is a perfect option to go for. The kayaking portion of the day will last 90 minutes & then you will have additional time to walk among the boardwalks after.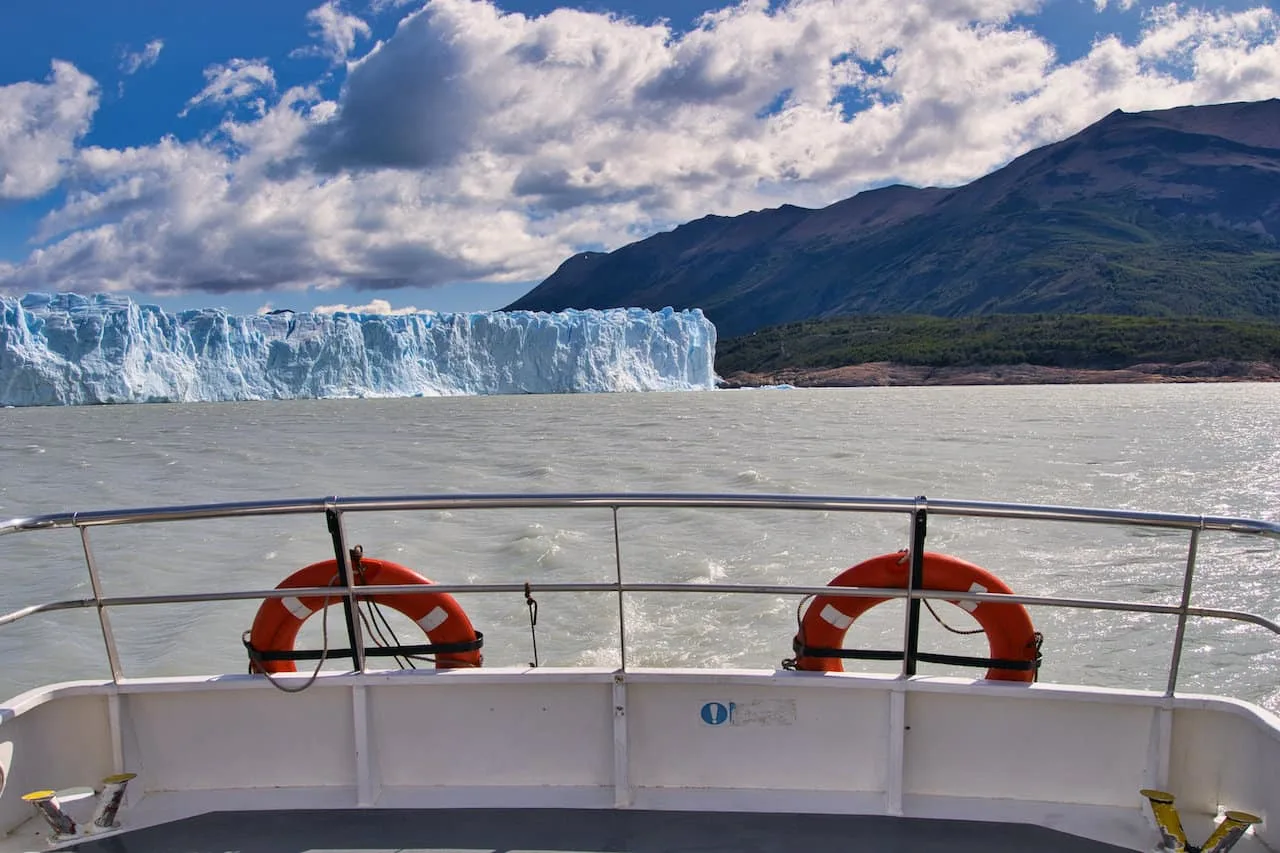 6) How to Get to El Calafate
Before getting to the glacier, you first must make your way to the town of El Calafate.
El Calafate is the home base for many highlights around the area. Whether you are visiting the glacier, taking part of Los Glaciares National Park boat tour, or just enjoying some nearby hikes, El Calafate is the place to stay.
Getting to El Calafate can be accomplished in a few main ways depending on your overall trip:
Plane
You will find an airport just outside the town center (FTE). Here you can find flights coming in from various Argentinian cities such as Buenos Aires, Cordoba, Ushuaia, among others. Once landed, you can take a taxi or shared van into the town center.
Bus
Depending on your Patagonia route, you can also decide to get to El Calafate by bus. The station is located around 20 minutes from the town center, but very may well be within walking distance of your hotel.
Check out Busbud for the latest schedules that connect El Calafate to places such as El Chalten and Puerto Natales (where you can hike the O Circuit in Torres del Paine).
Car
You can also rent a car for your trip to Patagonia. This will give you the chance to go about your itinerary at your own pace and on your own schedule.
Feel free to check out Rentalcars.com for a variety of car rental options for your trip.
Important note: there is also a town in Argentina called "Perito Moreno". This is not the location of the glacier, and hence can cause quite the confusion. Get yourself to El Calafate and you should be good to go.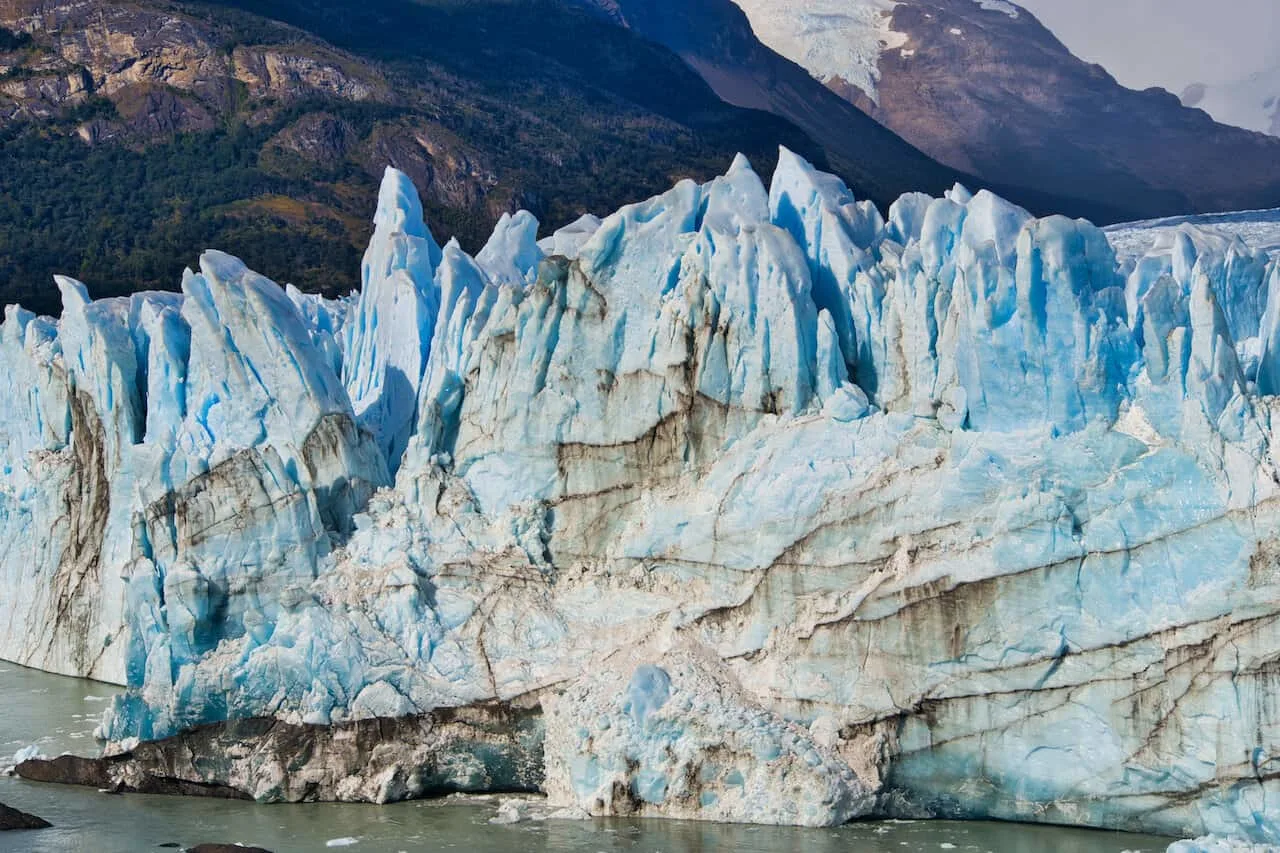 7) Where to Stay in El Calafate
El Calafate is a beautiful Patagonian town built to cater for tourists, who fly from all over the world to visit Perito Moreno.
You will find hotels within walking distance to town center and also some that are further out from town. If taking part of a tour (like to Cerro Frias), most of them do pick people up directly from hotels.
Below you can find some highly rated and reviewed hotel options to choose from during your trip to El Calafate. During high season, top options can sell out.
I would recommend booking your accommodation as soon as you know your dates: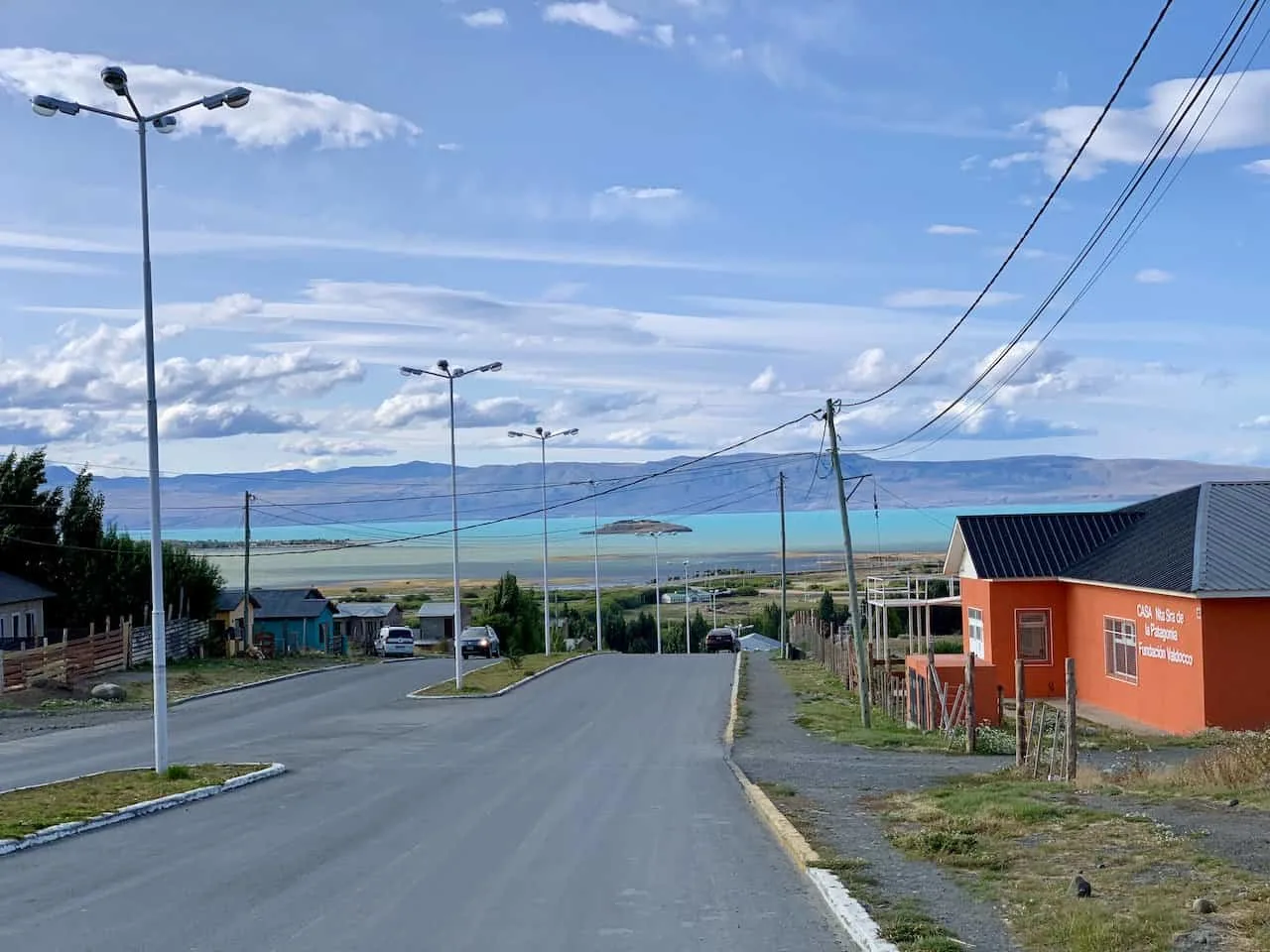 Learn More: Check out this Patagonia Itinerary that can better help you put together a complete trip to the region, including Perito Moreno Glacier.
8) How to Get to Perito Moreno Glacier from El Calafate
Once situated in El Calafate, it is then time to begin the journey to Perito Moreno Glacier. From town center, you can expect the drive to take just around 90 minutes.
The entrance gate to the National Park is located around 1 hour into the drive, where you will show / buy your entrance tickets. Once all set, it is another 30 minutes towards the parking lot.
Below are the main ways to get yourself from El Calafate to Perito Moreno Glacier. Note that if joining a tour, you won't need to worry about logistics since transport is usually taken care of.
Bus to Perito Moreno Glacier
One of the most cost-efficient ways to head to Perito Moreno Glacier is by bus. You will find departures in both directions run by a few different companies.
While it may not be as convenient as driving yourself or taking a taxi, you should still have the flexibility to choose from a solid set of options.
One of the main companies running busses back & forth is called Caltur, who run two round trip routes per day:
Option 1: 9:00AM Departure / 4:00PM Return
Option 2: 1:00PM Departure / 7:30PM Return
You can expect round trip bus tickets to be around $40 USD, with busses leaving from the main terminal in town.
Self Drive
As previously mentioned, renting a car in Patagonia is certainly an option to consider. During my travels around the world, I loved having the flexibility to always be on my own schedule and not needing to worry about logistics.
This will give you the chance to head there right at opening time before crowds of other tourists arrive. Having the boardwalks all to yourself will be a beautiful experience to take in.
Taxi
If you don't have a car and are not keen on taking the bus, a taxi is another easy and convenient option to consider. You can find taxis in town or have your hotel set one up for you.
This way you will have transportation to the glacier, spend as much time as you would like, and then return back with your driver.
Depending on how many hours you spend there, expect it to cost anywhere around $100 USD. While a bit more on the expensive side, it can be worth it if splitting among several people.
Hitchhike
The cheapest and most risky of options is to hitchhike your way from town to Perito Moreno Glacier. While this is not something I did during my time there, I saw plenty of people trying to do so.
Simply make your way to outside of town, on the road leading to the glacier. Write up a sign and hold it out, and hope that someone makes some room for you in their car.
Of course, you can also mix and match several of the above. Taxi to the glacier and bus back, or bus to the glacier and hitchhike back. No matter what there are plenty of options to consider.
Tour
As mentioned, you can also do a glacier hike or take part of kayak/boat tours. By taking part of these options, transport will already be taken care of for you.
As part of the price of the tour, a bus or van will come pick you up at your hotel in the morning and then drop you off at day's end (or give you a specific meeting spot in town).
Learn More: Check out this complete overview of how to get to Perito Moreno Glacier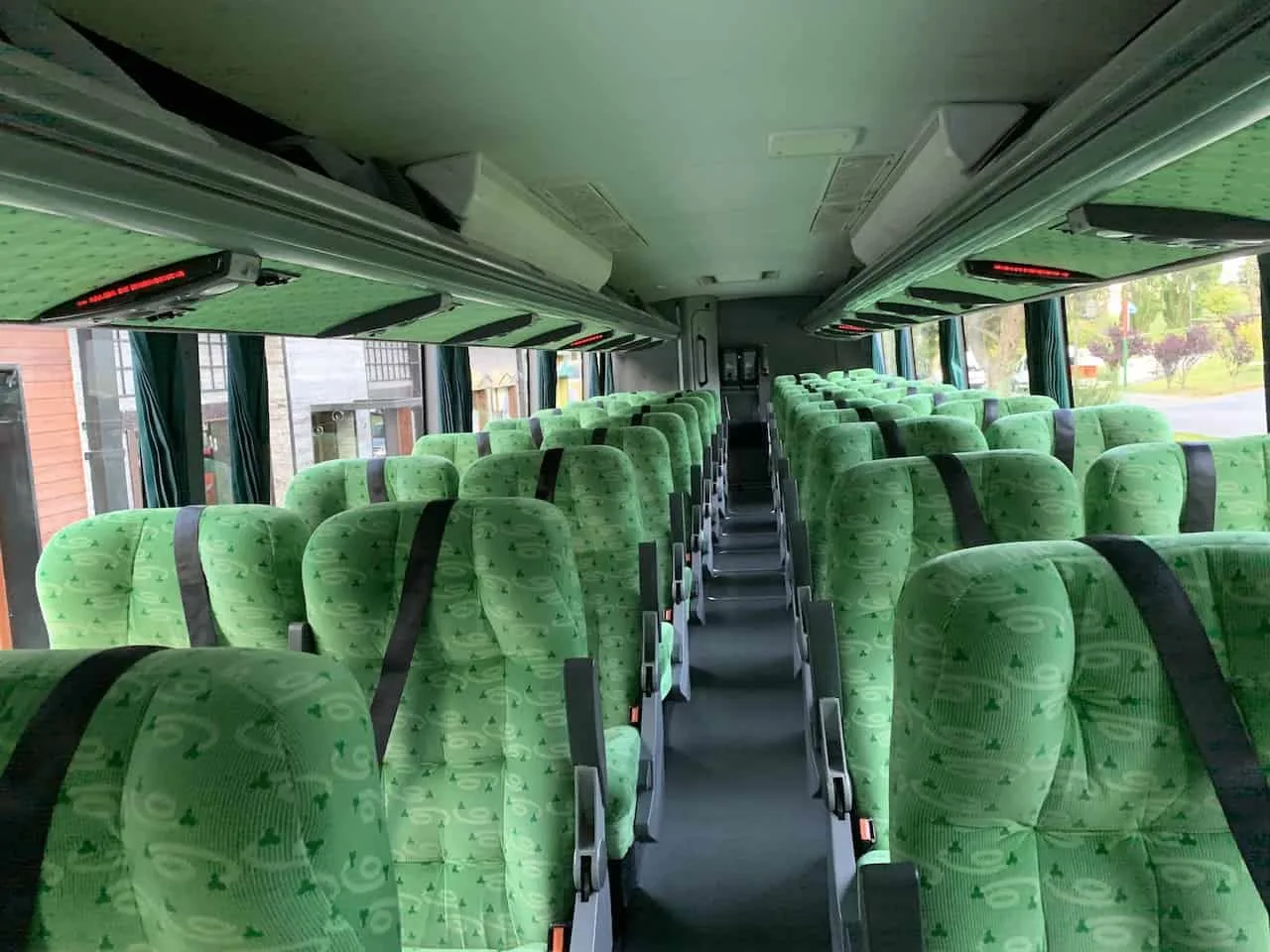 9) How Much Does it Cost
The entrance fee for Perito Moreno Glacier costs around $25 USD for a single day ticket.
You can also opt for a two day pass which will give you 50% off on the second day of a visit. The use of the 2nd day can be made up to 72 hours after the first entry.
Note that I did not include the price in ARS and mentioned "around" $25 USD. This is due to the constant devaluation of the Argentinian Peso.
So, you will consistently be seeing the local price changing over time. Due to this, it is easier to speak in USD, where you will find a ticket to be between $25-$30 give or take.
Most tours do not include the entrance ticket in the tour price. You can save time by just purchasing tickets online beforehand, or pay in cash at the entrance.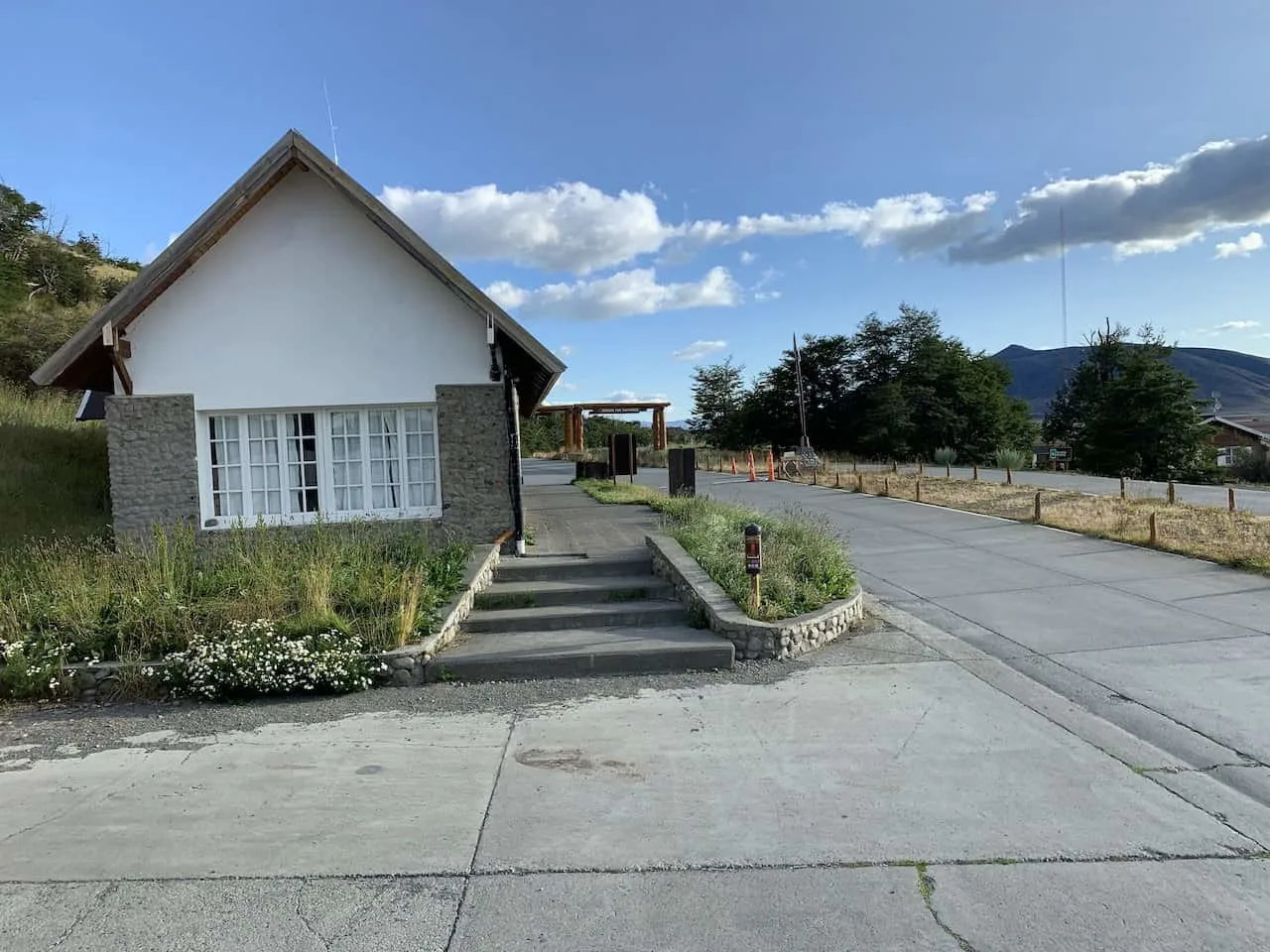 10) Best Time to Visit
When deciding when is the best time to visit the Perito Moreno Glacier you will to consider two main aspects – time of year & time of day:
Time of Year
From a time of year perspective, the best time to visit Patagonia in general will be during its summer months between December and February. During this time you will have long days and calmer overall weather.
Visiting in the shoulder months of October, November & March, April are not bad choices either. You will have fewer tourists around and will still have the chance for some optimal weather days.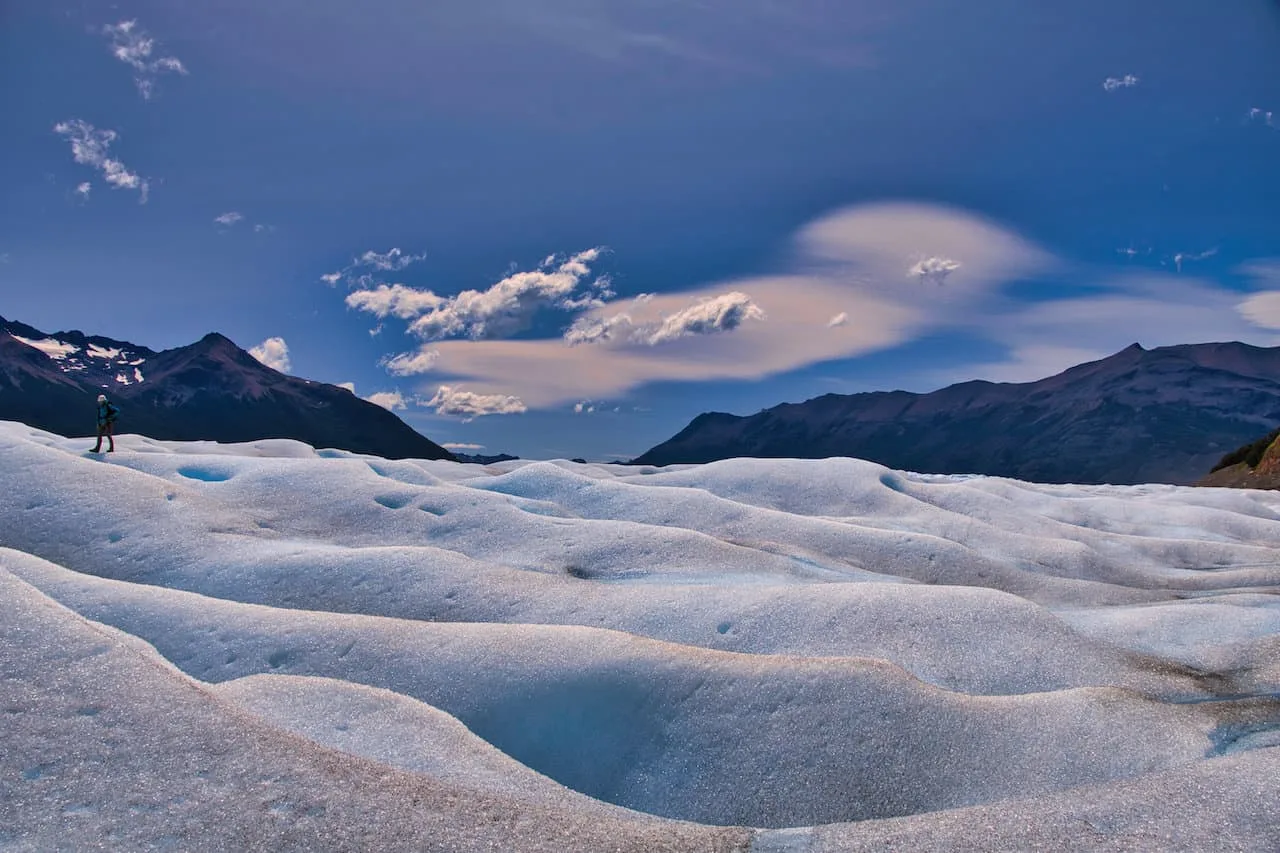 Time of Day
The entrance gates to Los Glacieres National Park are open from 8:00AM – 6:00PM from September to April, and 9:00AM – 4:00PM from May to August. While the gates close at 6PM/4PM, you can stay for an additional two hours past closing time.
If going about a tour, you will be stuck to whatever schedule they lay out for you. However, if just visiting the boardwalks, you can pick and choose when to head there and back.
For the most peaceful times, I would recommend an early morning visit to the boardwalk. This will give you the chance to enjoy the boardwalks without the crowds.
It will also give you ample time to walk as much of the boardwalks as you would like and find some spots that are not frequented by others.
If you visit in the afternoon, it gives you a better chance to see ice breaking away from the glacier. This is due to the sun warming up the glacier throughout the day. While you still can experience some ice breaks in the morning, they are known to more frequent in the afternoon.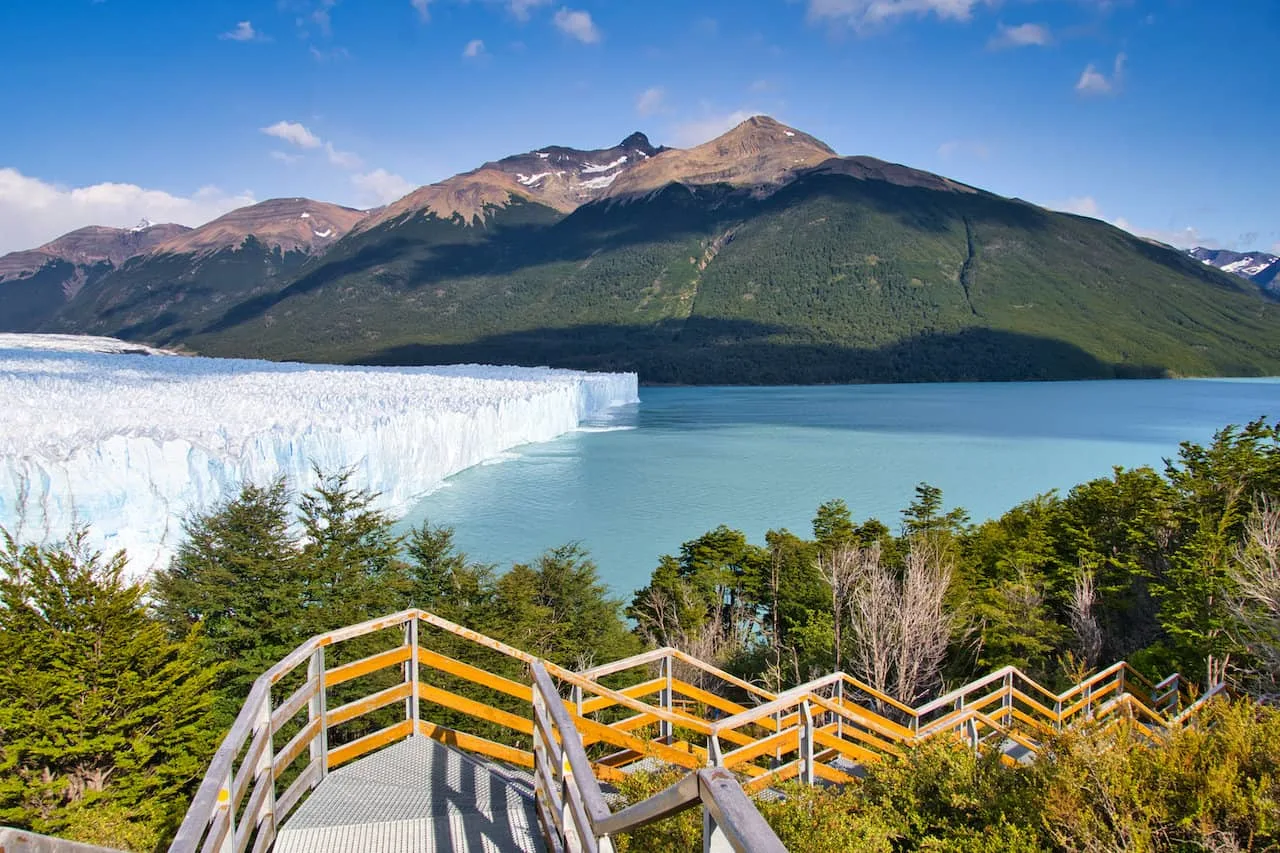 11) Weather & Forecasts
Not only will you need to think about time of year and time of day, but you also will need to consider the Perito Moreno weather forecast.
Patagonia is well known for its unpredictable and overcast weather, even during its summer season. As you are planning your trip, you very well may want to add extra buffer days in each place you visit to account for this weather.
I would recommend checking out Meteoblue or Windguru for up to date weather forecasts of the glacier itself.
You are looking for clearer days, so you can enjoy the full landscape of the glacier out in front of you. While it is hard to get a perfectly clear day, you want to at least avoid those heavy clouds and rain that can make their way to the area.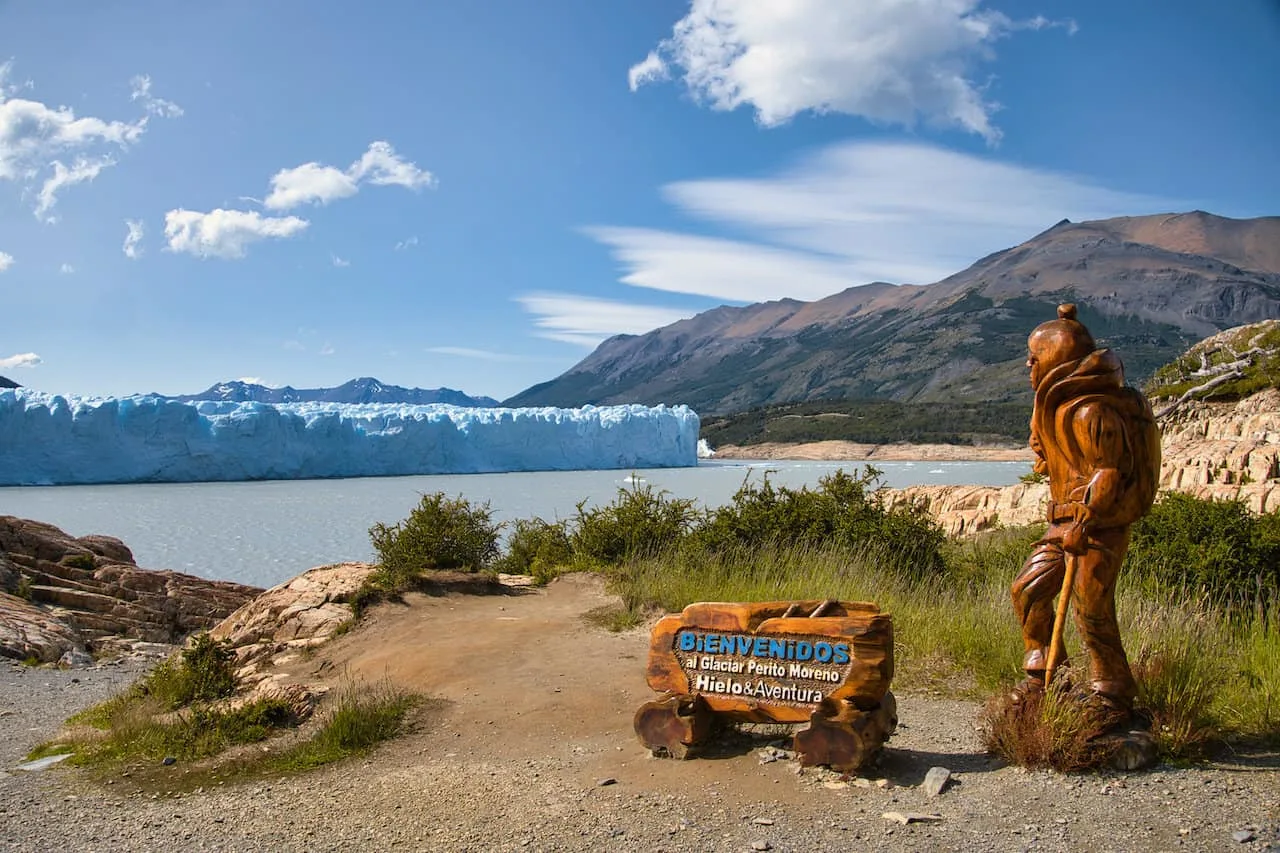 12) Patagonia Packing List
Hiking in Patagonia is all about layers and proper footwear. Since the weather can turn very quickly, you will want to be prepared for all types of conditions.
In general, I found layering to be the upmost important part of a trip. On all day hikes in Patagonia, I brought along the following layers:
Hiking Shorts
Hiking Pants
Short Sleeve Shirt
Long Sleeve Shirt / Sun Hoodie
Mid Layer Fleece
Puff Jacket
Packable Rain Jacket
While layers are important so will be your footwear. You want to be sure to bring appropriate waterproof hiking shoes along with solid hiking socks as well.
Additional day hike recommendations include:
Hiking Backpack & Rain cover
Water Bottle & Nutrition
Portable Charger
Hat & Sunglasses
Sunscreen & Bug Spray
Packing List: Be sure to check out the Hiking Packing List guide I put together that will go through all of it and more.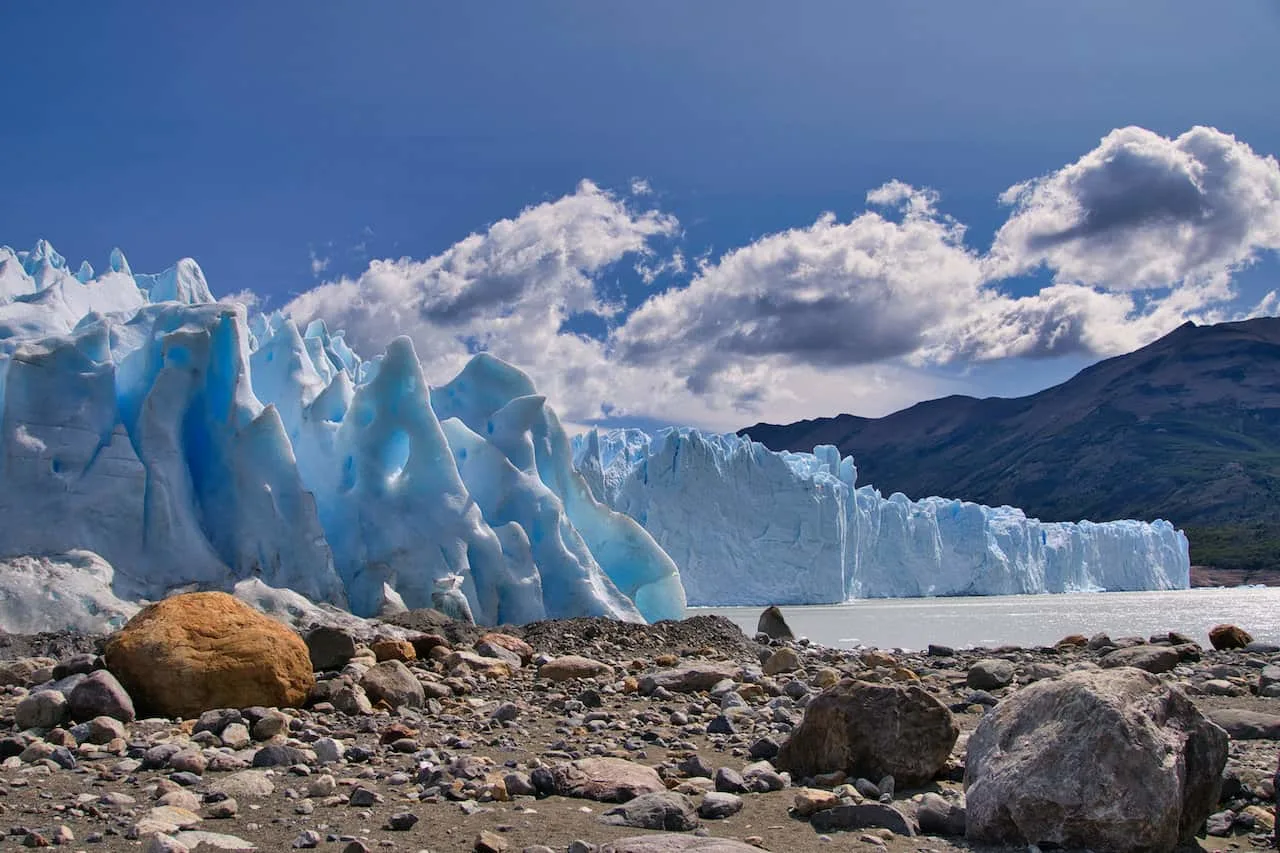 13) Frequently Asked Questions
To finish up this guide to the Perito Moreno Glacier, I figured I would answer some of the most frequently asked questions.
Can You Walk on Perito Moreno Glacier?
Yes, you can walk on Perito Moreno Glacier but only as part of a guided trek (Minitrekking or Big Ice). There is no option to go about a glacier hike on your own, so be sure to sign up in advance to reserve your spot on the ice.
Why Should You Visit Perito Moreno Glacier?
When it comes to the world's glaciers, Perito Moreno is surely one of the top accessible ones to visit. You will get to experience one of the most beautiful glaciers in all of Patagonia in several unique ways.
Getting the chance to take in the views from a far and also walk on the glacier ice itself will be some of the best memories of your trip.
What Can You Do at Perito Moreno Glacier?
I would say there are 4 main things to do at Perito Moreno Glacier:
Walk along the 5 boardwalk routes that line the shores opposite the glacier
Head on a glacier hike that will take you onto Perito Moreno glacier itself
Enjoy a boat ride in Lago Argentino to view the glacier walls from up close
Make your way onto a kayak to paddle your way through the waters and see the glacier from a new perspective
Whatever you choose here, you certainly cannot go wrong!
How Long Should You Stay in El Calafate?
In my opinion, I would recommend 3 days in El Calafate for an everyday visitor. This will give you the chance to take advantage of some of the best that the area has to offer. In addition, it does give you some extra time in case the weather doesn't always cooperate.
A three day itinerary could look something like this:
Perito Moreno Day
Los Glaciares National Park Glacier Boat Tour
Enjoy El Calafate / buffer day / Perito Moreno boardwalks*
*If you opt for a glacier hike on your first day you will just have an hour on the boardwalks. You can opt to head back to the glacier for a second time to just focus on the boardwalks and spend hours walking and relaxing along the various paths.
Is Perito Moreno Glacier Worth It?
Without a doubt a visit to Perito Moreno Glacier is well worth the visit. When it comes to glacier experiences, this is going to be on the top of the list.
Whether you are just walking the boardwalks, heading onto the glacier itself, or going on a boat/kayak tour, a visit to Perito Moreno will be one of the top experiences out there.
There is a reason why people add El Calafate to their Patagonia itinerary in general. Perito Moreno is that reason. So, I hope you enjoy it as much as I did and you have a fantastic time down in Patagonia!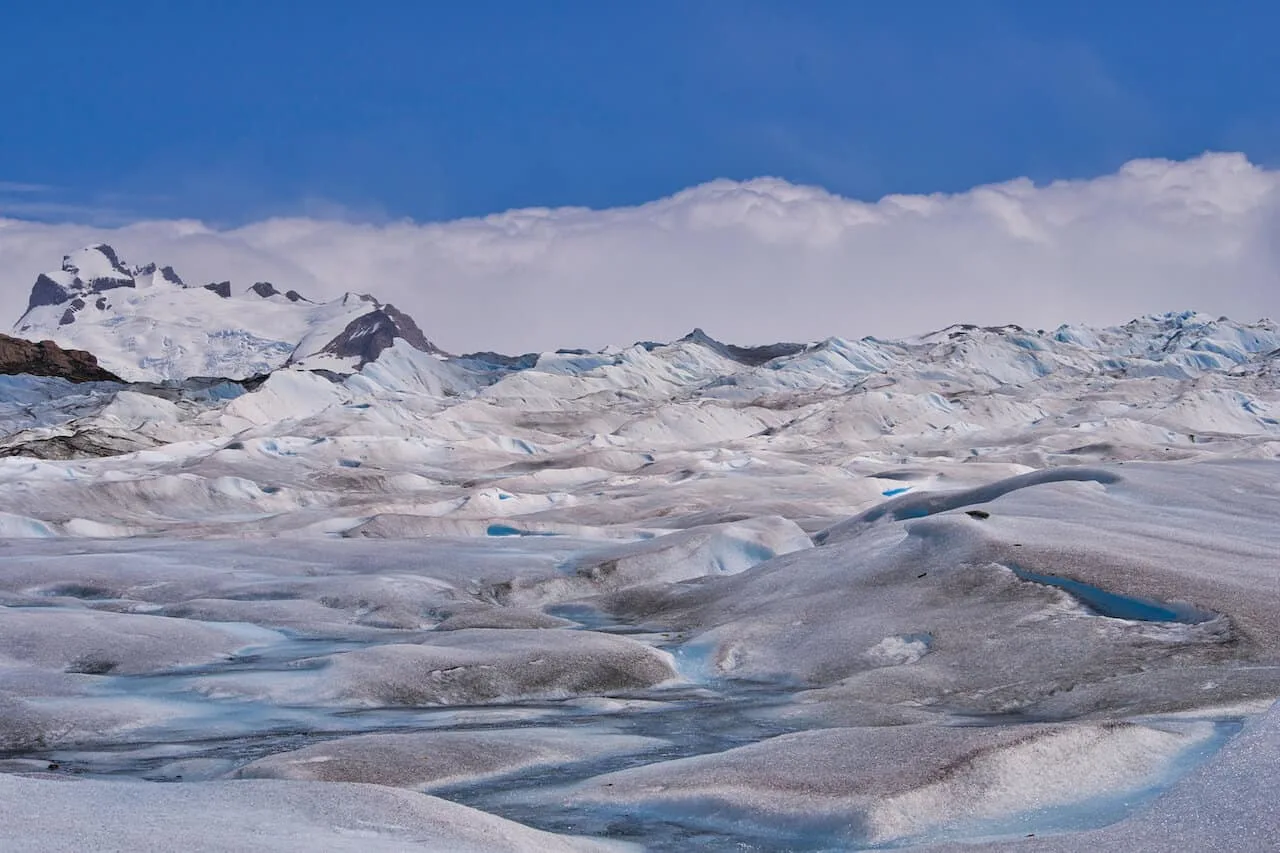 That about wraps up a guide to the world renowned Perito Moreno Glacier. If you have any questions or comments, feel free to add them in below.
Also don't forget to check out the other Patagonia itineraries and guides up on the site.
Have fun out there and safe travels!