This guide will focus on the Big Ice Perito Moreno glacier hike experience – a full day adventure that will include heading onto the glacier itself.
When it comes to trekking on ice, it does not get much better than a Perito Moreno glacier hike. While you can view Perito Moreno Glacier from the boardwalks, getting to walk on the ice is something truly special to take part of.
By the end of reading through this guide you will be well on your way to enjoying the Big Ice trek for yourself!
* Affiliate Disclosure: This post may contain affiliate links, which means I may receive a commission if you make a purchase through the links provided, at no additional cost to you. Thanks for supporting the work I put into TripTins!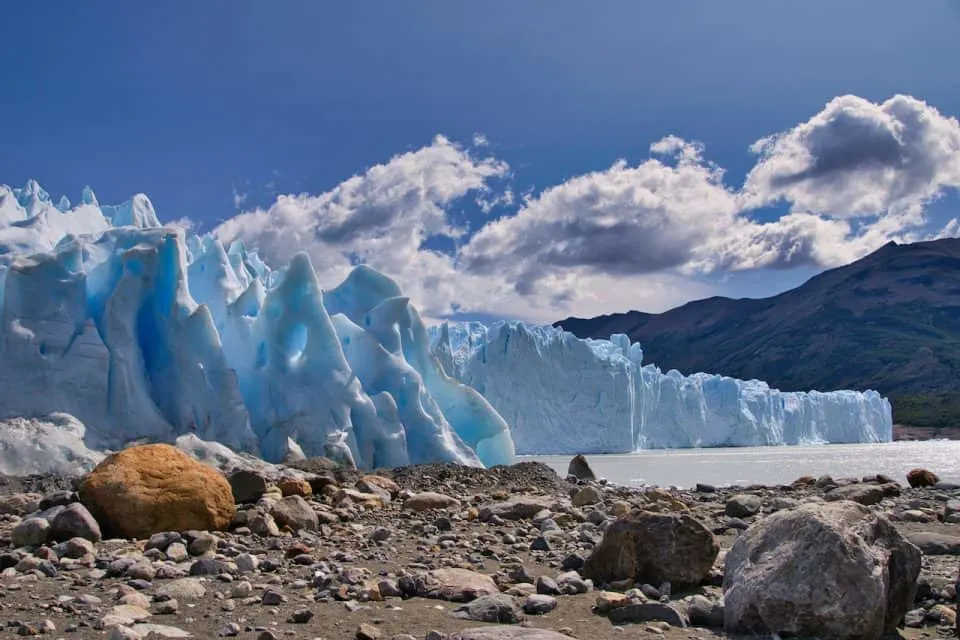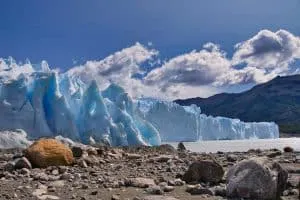 Book Your Glacier Hike!
Are you just looking to book your Perito Moreno Big Ice hike? Reserve your spot today before it sells out!
1) Perito Moreno Glacier Hike Overview
When visiting the Perito Moreno glacier, there are a few main ways you can go about a visit. These options include:
Glacier trekking on Perito Moreno Glacier
Walking the Boardwalks Overlooking Perito Moreno
Taking Part of a Boat or Kayak Tour
The main difference between the initial two options, is that the first one is for those that want to actually hike on the ice itself. The second one is simply walking along the various boardwalks that overlook the glacier.
While anybody can walk the boardwalks by just paying an entrance fee and entering Los Glaciares National Park, taking part of a glacier hike is a whole other type of experience.
However, you can only hike on Perito Moreno Glacier if you join a guided tour. And there is only one company out there that runs tours on the glacier – Hielo y Aventura.
They run two different types of glacier trekking tours – one called Minitrekking and one called Big Ice. The main difference between the two is the time spent on the glacier.
Minitrekking spends around an hour on the near end of the glacier while Big Ice spends about 3 hours deeper on the glacier.
In the next section I will dive into more details about Minitrekking & Big Ice.
Read More: Learn about the glacier and its offerings, in the Perito Moreno Glacier guide up on the site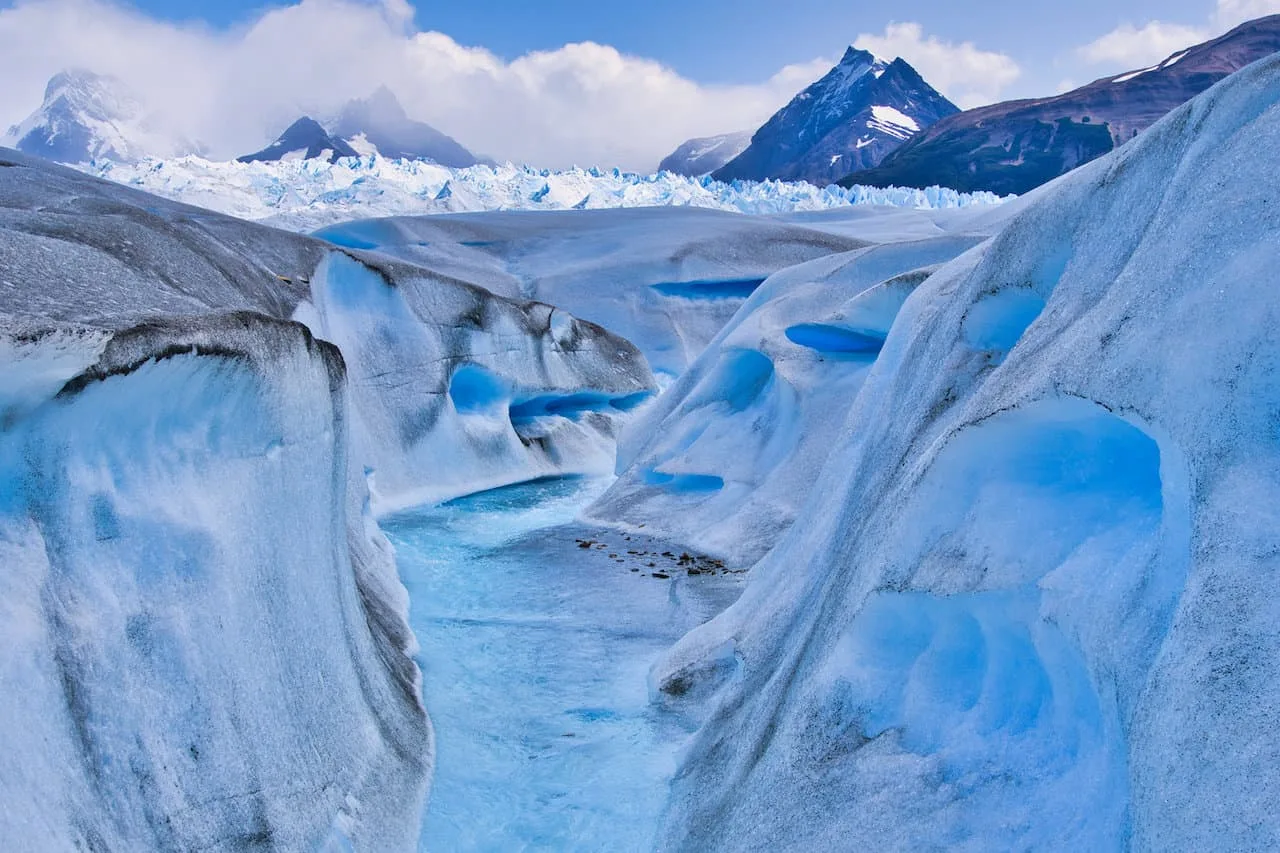 2) Minitrekking vs Big Ice Glacier Treks
Minitrekking and Big Ice are going to be two different types of experiences given the large difference in amount of time hiking (both on land and on the ice).
If you are someone who just wants a feel for glacier hiking then the Minitrekking option may be your best bet. On the other hand, if you want to have a more in depth experience on the ice and have more time to explore, then the Big Ice is for you.
Below is a comparison between Minitrekking & Big Ice:
Perito Moreno Minitrekking
Perito Moreno Big Ice
# of Hours on Ice: 3 Hours
Total Duration: 12 Hours
Age Restriction: Between 18 and 50 years old
Availability: September 15th to April 30th
Price: ~$500 USD
Booking: Perito Moreno Glacier Big Ice
Glacier Hike Notes
→ Note the age restrictions for these glacier hikes. It is clear on their website that there is no exceptions granted. If you fall above (or below) the age limit, you will need to just enjoy the boardwalks instead.
→ Prices have drastically gone up in the last couple years. Be sure to check the booking links for the latest prices. I have included these in USD due to the consistent devaluation of the Argentinian Peso.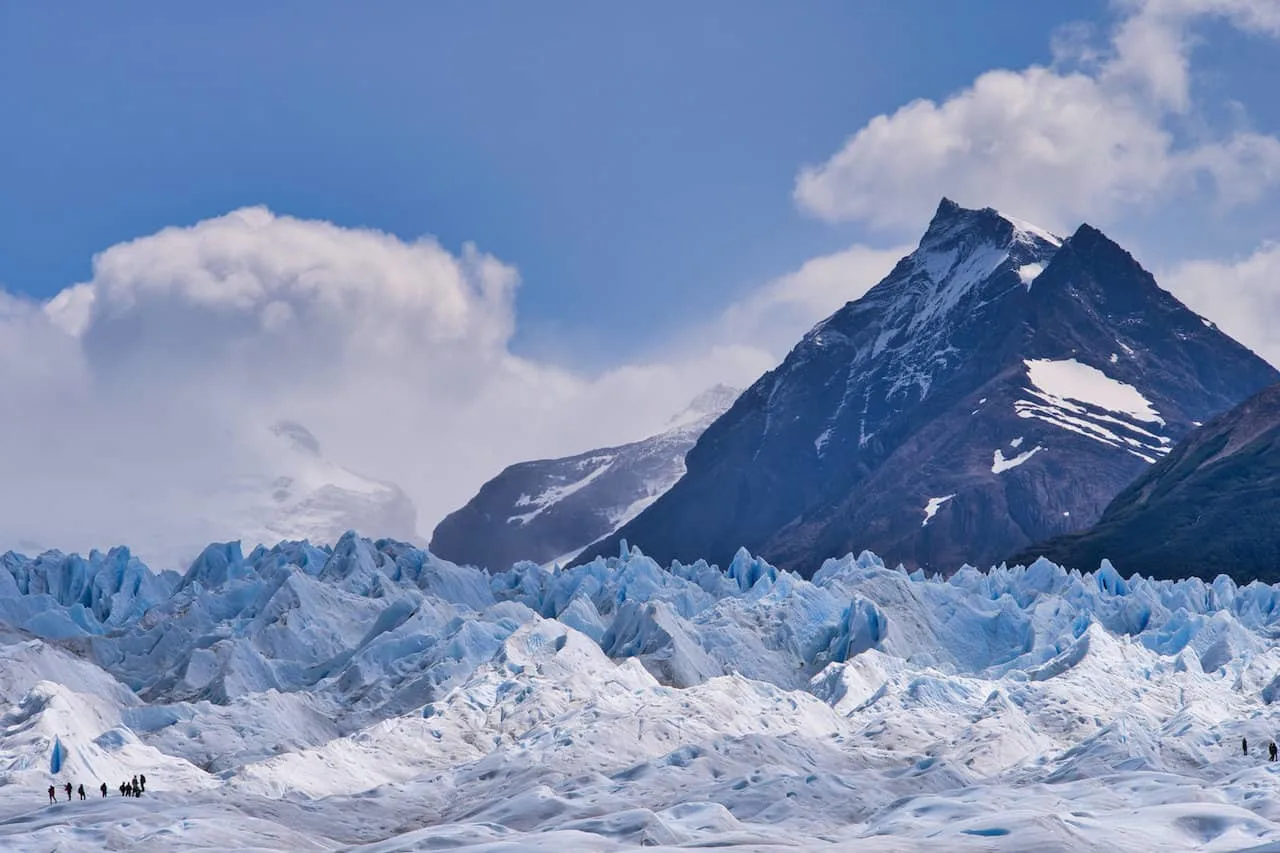 3) How Long is the Big Ice Glacier Hike?
So, this question really has two answers – the amount of time spent on the ice, and the TOTAL amount of time that the entire tour takes.
For the Big Ice hike, expect to spend just around 3 hours on the Perito Moreno ice as you explore the ins and outs of the glacier. However, in total, expect the full day to last closer to 12 hours! Yes, I know that is quite the difference in amount of time.
But the full tour is not just about the glacier (as you will soon read more about). Instead, you will also get to take part of the bus ride to/from the glacier, boat rides to/from the glacier hike starting point, hiking to the glacier ice, lounging time by the shore, and an hour to walk the famous boardwalks.
Everything that is part of the day makes this a much broader experience than you may have first anticipated. But it is one of the best days you can ask for from beginning to end.
Book Today: Be sure to reserve your Perito Moreno Big Ice hike as soon as you know your travel dates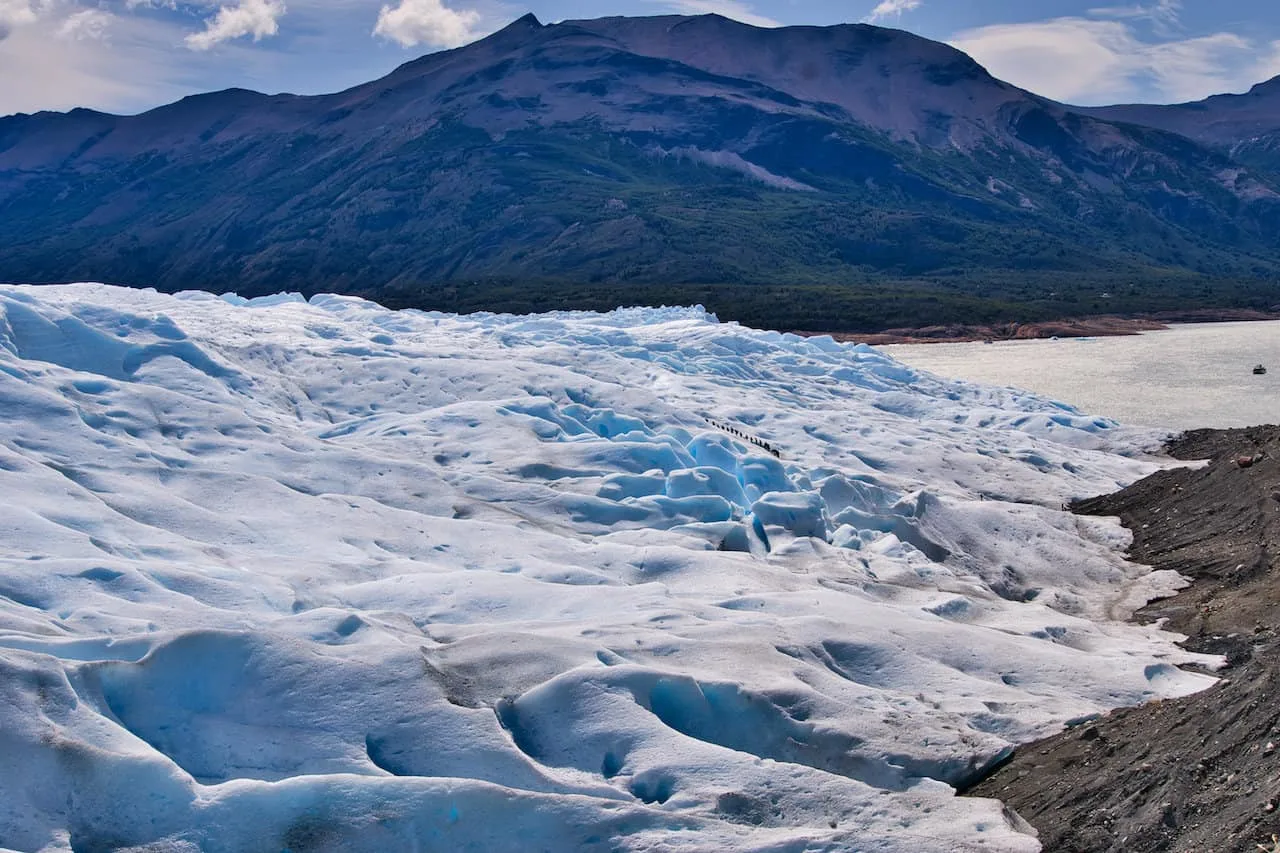 4) How Much Does Perito Moreno Big Ice Cost?
Without a doubt, taking part of the Big Ice glacier hike is going to be one of the more expensive things to take part of during a trip to Patagonia.
Expect to pay about $500 (USD) for the entire glacier hike experience.
When going about booking you can save about $45 if you opt to drive yourself back and forth to the glacier. This of course will only work if you have your own car though.
Hiking Resources & Checklist

Before heading out for the trails, be sure to read up on some of the hiking resources up on the site. These are here to better prepare you for all types of outdoor adventure.
5) Glacier Trek Itinerary
While the above gives you a high level view of what these glacier hikes are all about, I also wanted to include a more detailed itinerary view for the Big Ice Trek.
Perito Moreno Big Ice Itinerary
Bus Ride: Bus from El Calafate to Perito Moreno
Walkways: 1 hour to visit the walkways
Boat: 20 minute boat ride to glacier hike kickoff point
Hike: 2 hour hike to the glacier
Glacier Hike: 3 hours hike on the glacier
Hike Back: 2 hour hike back to kickoff point
Boat: 30 minute boat road back to port in front of glacier walls
Bus Ride Back: Bus from Perito Moreno to El Calafate
Glacier Trek Itinerary Notes
→ Note that the trekking times to/from the glacier also include time to prep gear, get an overview of the hike, and be broken up into smaller groups
→ If you want to save around $45 USD and spend more time on the boardwalks, you can decide to drive yourself to Perito Moreno instead of taking the bus service. This will allow you to spend more than the 1 hour allocated time slot that is given for the boardwalks.
→ You can rent a car for your trip to Patagonia to give you the chance to go about your itinerary at your own pace and on your own schedule. Feel free to check out Rentalcars.com for a variety of car rental options for your trip.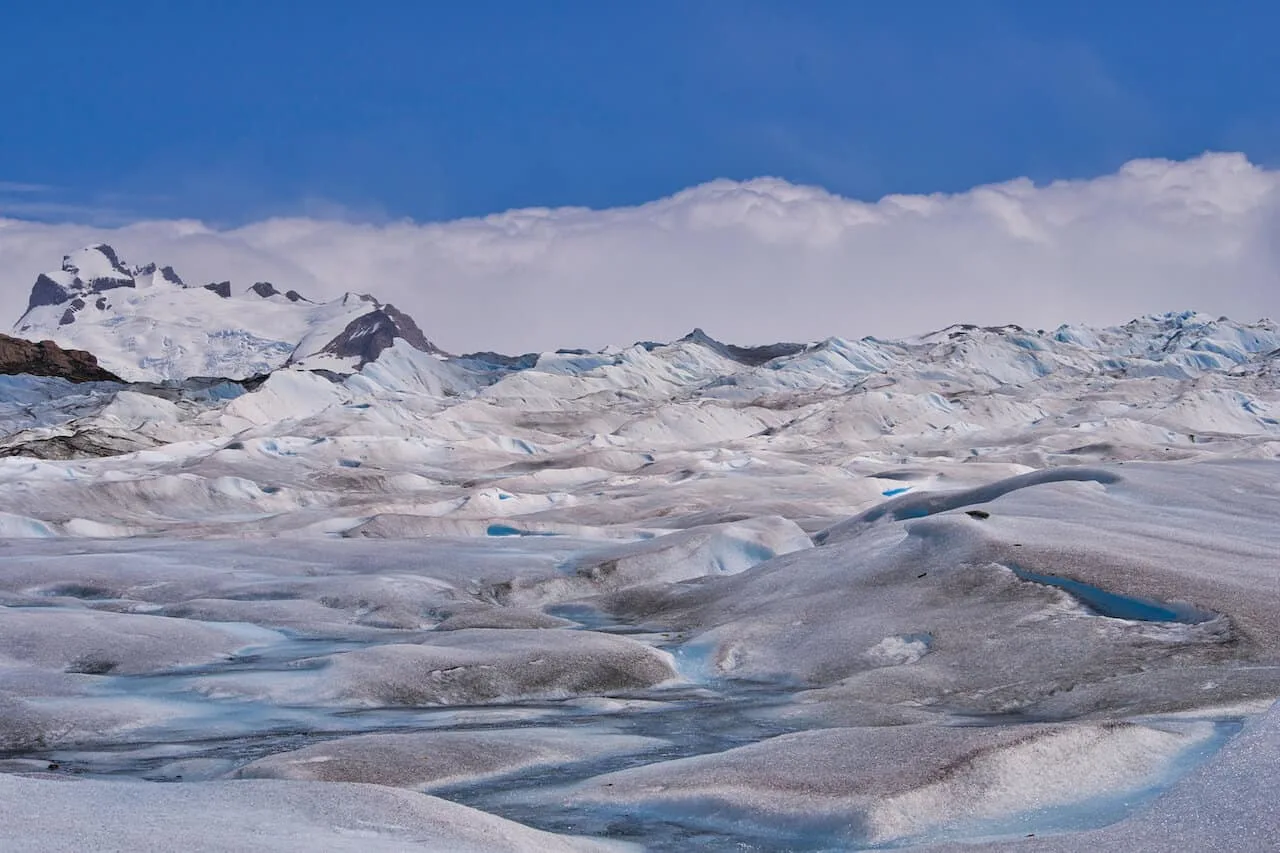 6) Glacier Tour Booking
People travel from all around the world to head to El Calafate just to visit the Perito Moreno Glacier. While the vast majority of people just head to the boardwalks and/or head on a boat tour, the glacier hikes sell out consistently.
Since there are just a limited number of openings open per day, you can expect that spots fill up quickly. This is even more so the case during the high season from December to February.
My advice would be to book your glacier hike as soon as you know your dates.
I was also told by the trekking guides that tours are very rarely cancelled, so that shouldn't be a major concern for you. I've had glacier hikes in both Iceland and New Zealand rescheduled due to weather but that doesn't seem to be frequent on Perito Moreno.
Book Today: Reserve your spot today and book your Perito Moreno Big Ice Glacier Hike
7) What to Bring
Since you will be hiking on a glacier, you will need to be sure to bring along the appropriate gear. In addition, the weather can turn very quickly in Patagonia, so you will want to be prepared for all types of conditions.
In general, I found layering to be the upmost important part of a trip. For the Perito Moreno Glacier hike in particular, I would recommend the following:
Hiking Pants
Hiking Shirt
Mid Layer Fleece
Puff Jacket
Packable Rain Jacket
Hiking Shoes
Hiking Socks
Additional day hike recommendations include:
Hiking Backpack & Rain cover
Water Bottle & Nutrition
Portable Charger
Hat & Sunglasses
Sunscreen
Food and Drink: Note that food & drink is not included on either glacier tour. You must bring your own from El Calafate. During the Big Ice tour, there is a 30 minute lunch break on the ice itself. And yes, you can certainly fill up your water bottle on the glacier.
Packing List: Be sure to check out the Hiking Packing List guide I put together that will go through all of it and more.
While the above items are what you should plan to bring along with you, there are some items that will be provided for you. These include:
Crampons
You will not be able to trek on the glacier without crampons. For each hike there is a "crampon point", where you will be fitted with crampons before heading onto the ice.
Helmet, Harness & Gloves
After getting off of the boat and to the glacier kickoff point, you will be given a helmet, harness and gloves. These are necessary to protect yourself in case you take a fall. You can also bring along your own gloves if you wanted to come with something more comfortable.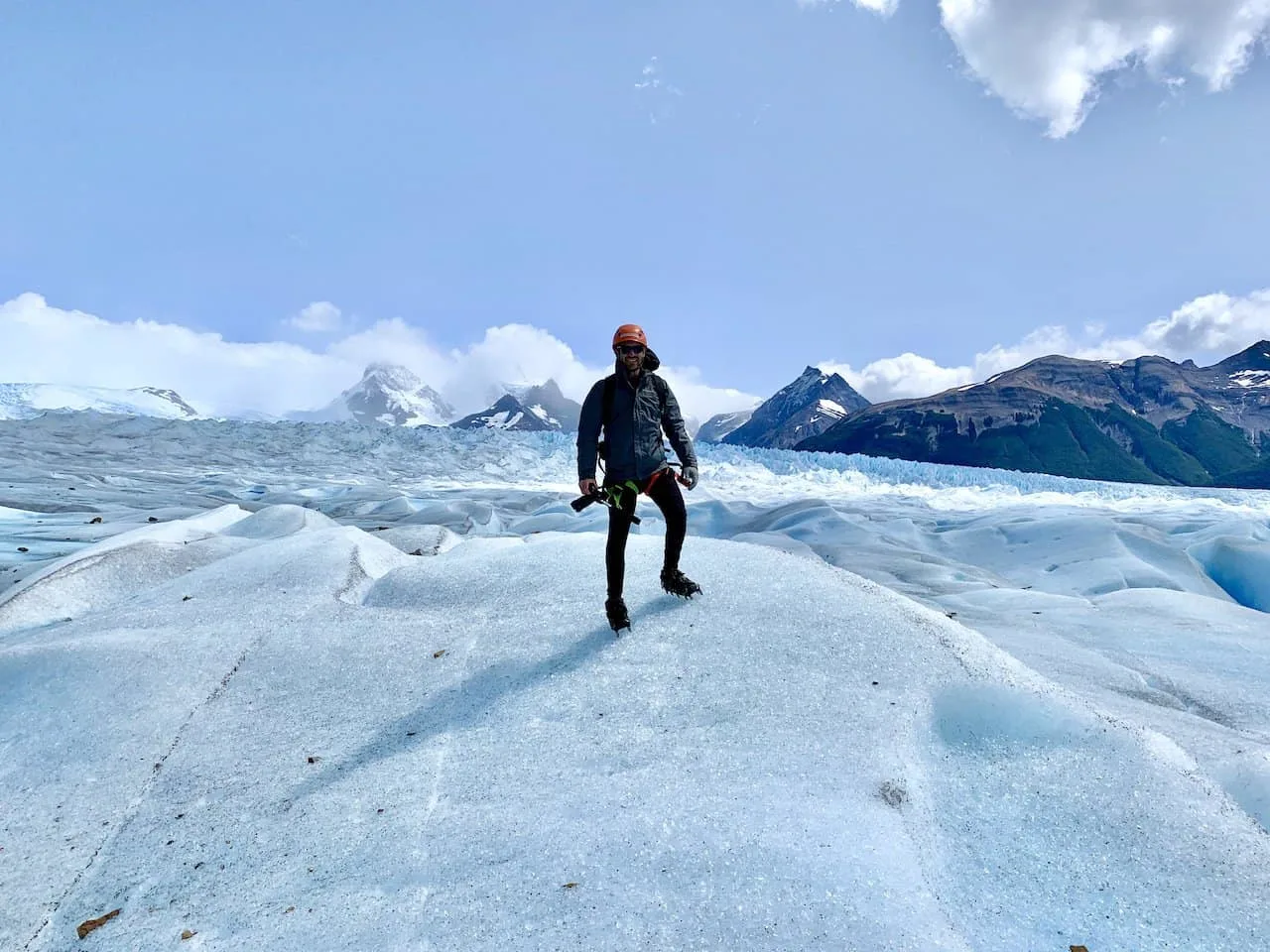 8) Perito Moreno Glacier Hike Map
In the following section I will go into detail about the Perito Moreno Glacier hike and what it entails. Below though you can find a map that clearly lays out what a day at the glacier will entail.
You will find the main parking lot & boardwalk area, the boat port, Hielo y Aventura lodge, and the Minitrekking / Big Ice hiking routes.
The Big Ice route follows the longer dark blue line that you can see on the glacier.
9) Perito Moreno Big Ice Glacier Hike
Now that you have some background on how to take part of the glacier trek, let's go through what to expect on the tour itself. I will break it down into the various sections of the day and include many photos all along the way.
Please note that schedules are subject to change!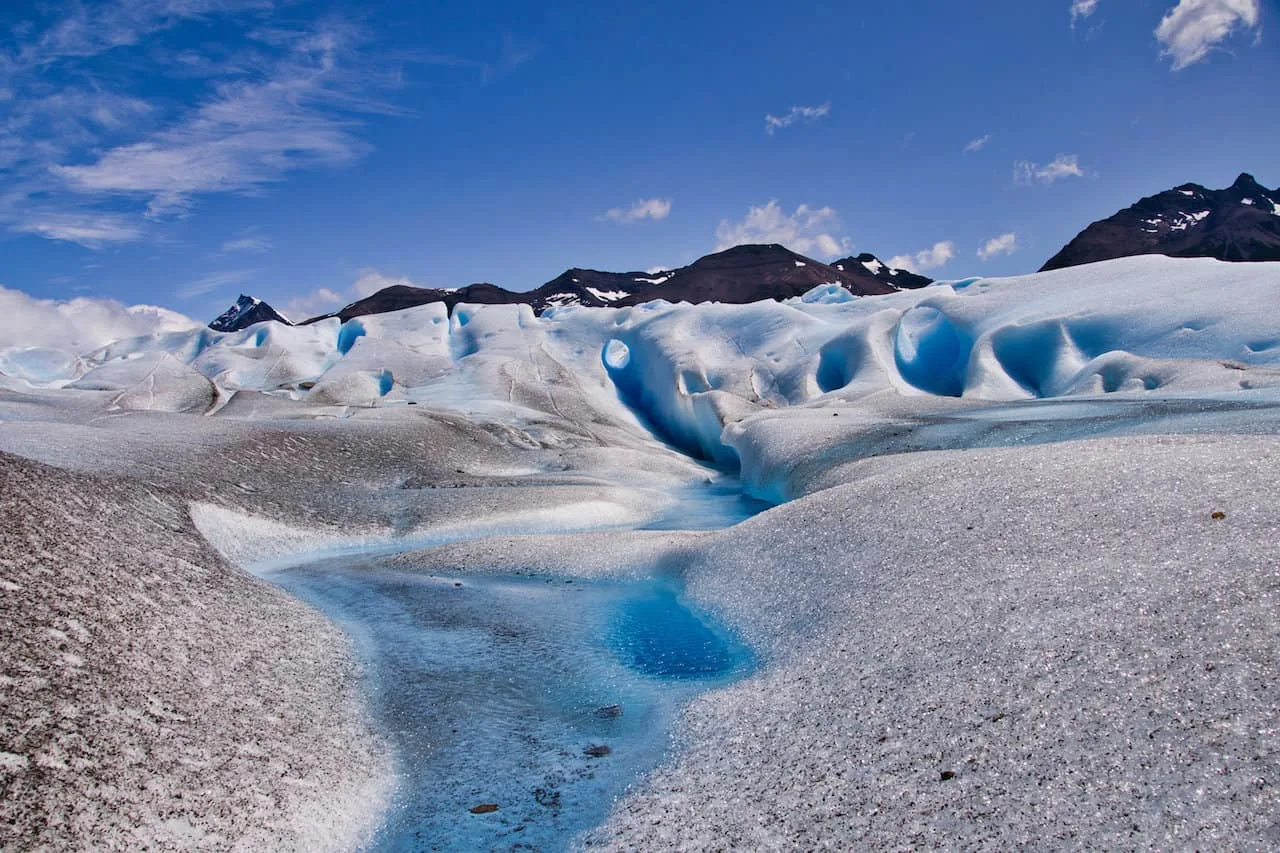 El Calafate to Perito Moreno (7:30AM – 9:00AM)
The first part of the day is getting from El Calafate to Perito Moreno Glacier. Hielo y Aventura offers pickup in El Calafate or simply meeting at their offices. When you book, they will give you your options.
The drive from El Calafate is 80 km / 50 miles long and should take around 1.5 hours altogether. Around one hour into the ride, the bus will pass by the entrance of Los Glaciares National Park.
Here you will need to purchase your ticket to enter the park (around $25 – $30 USD). The entrance tickets are not included in the tour price. You can save some time and purchase these online through the park's website.
After getting through the park entrance, it is another 30 minutes of driving along the lake as you soon see the Perito Moreno Glacier come into view.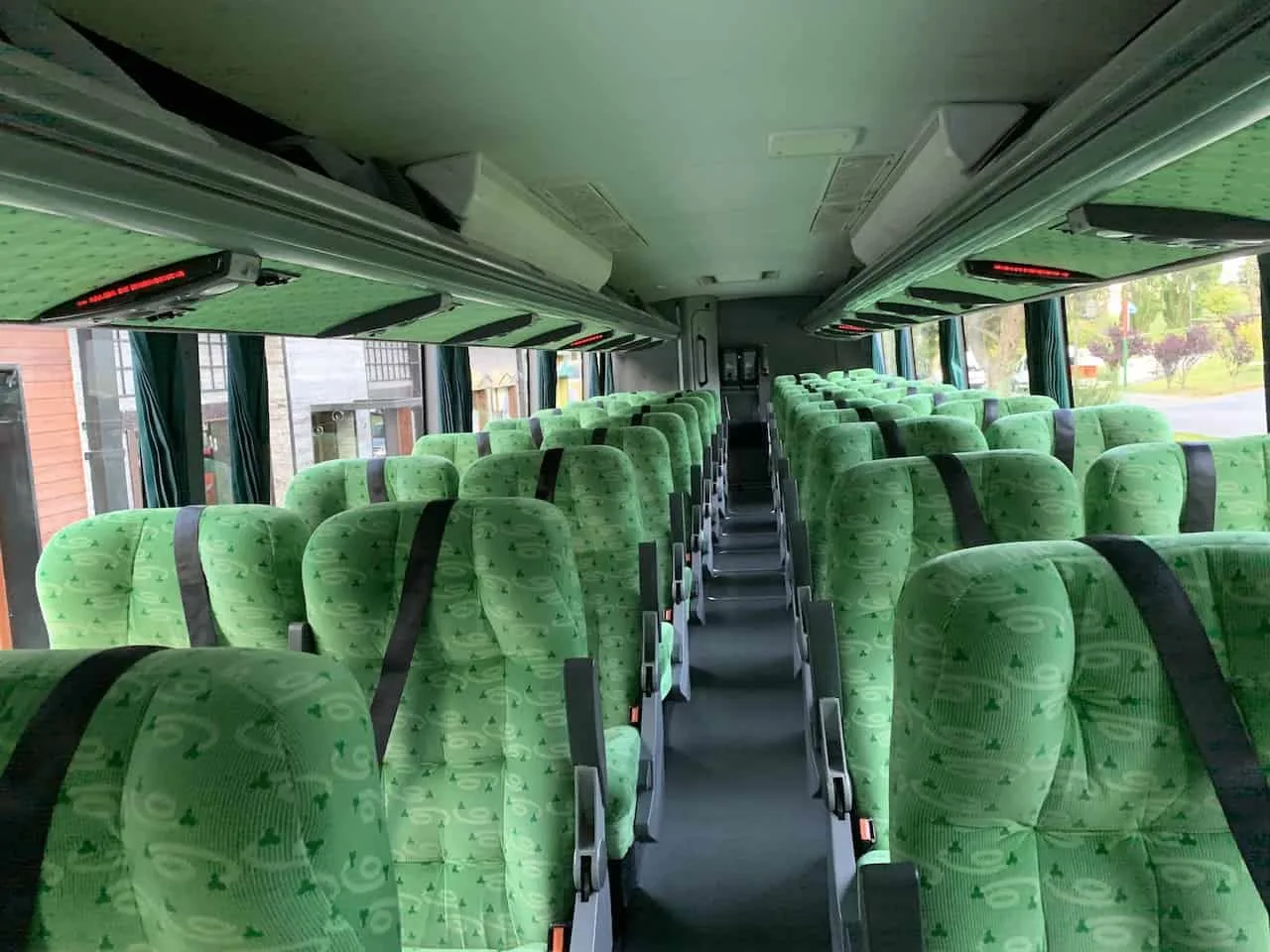 Perito Moreno Boardwalks (9:00AM – 10:00AM)
Once you arrive at the main parking lot, you will have one hour to explore the several boardwalks overlooking Perito Moreno.
Since you only have an hour here, you can focus one one or two main areas of the boardwalks as you enjoy the vast glacier out in front of you.
You need to pay close attention to your timing in order to give yourself enough time to get back to the main parking lot. Once there, it is back on the bus to continue on with the day.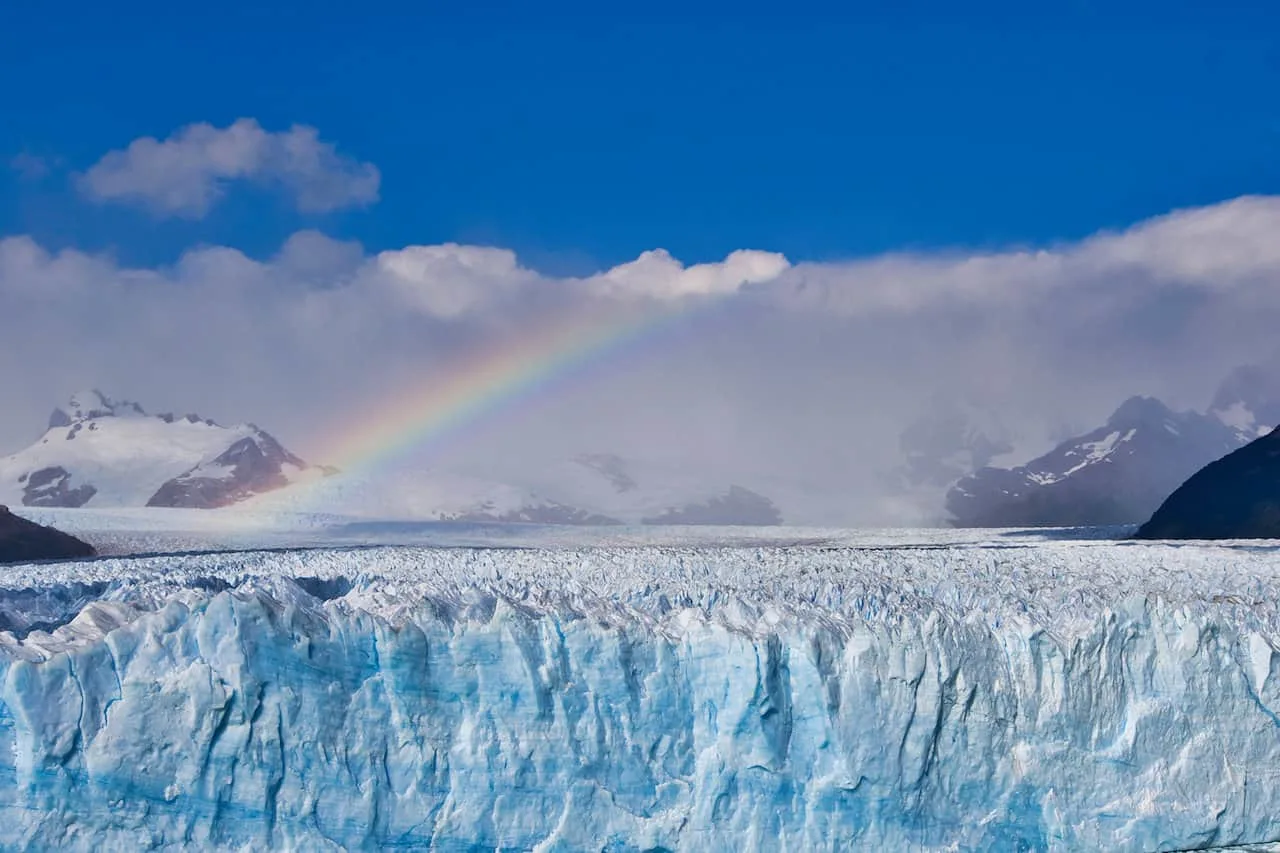 Brazo Rico Boat Ride (10:00AM – 10:30AM)
After departing from the boardwalks, you will take a quick bus ride to the Bajo de las Sombras port. Once at the port, you will get onto a boat to cross the glacier lagoon and towards the kickoff point for the glacier hike.
While it is a short boat ride across, it is a great way to experience the glacier. Sit on the right hand side to get the best views!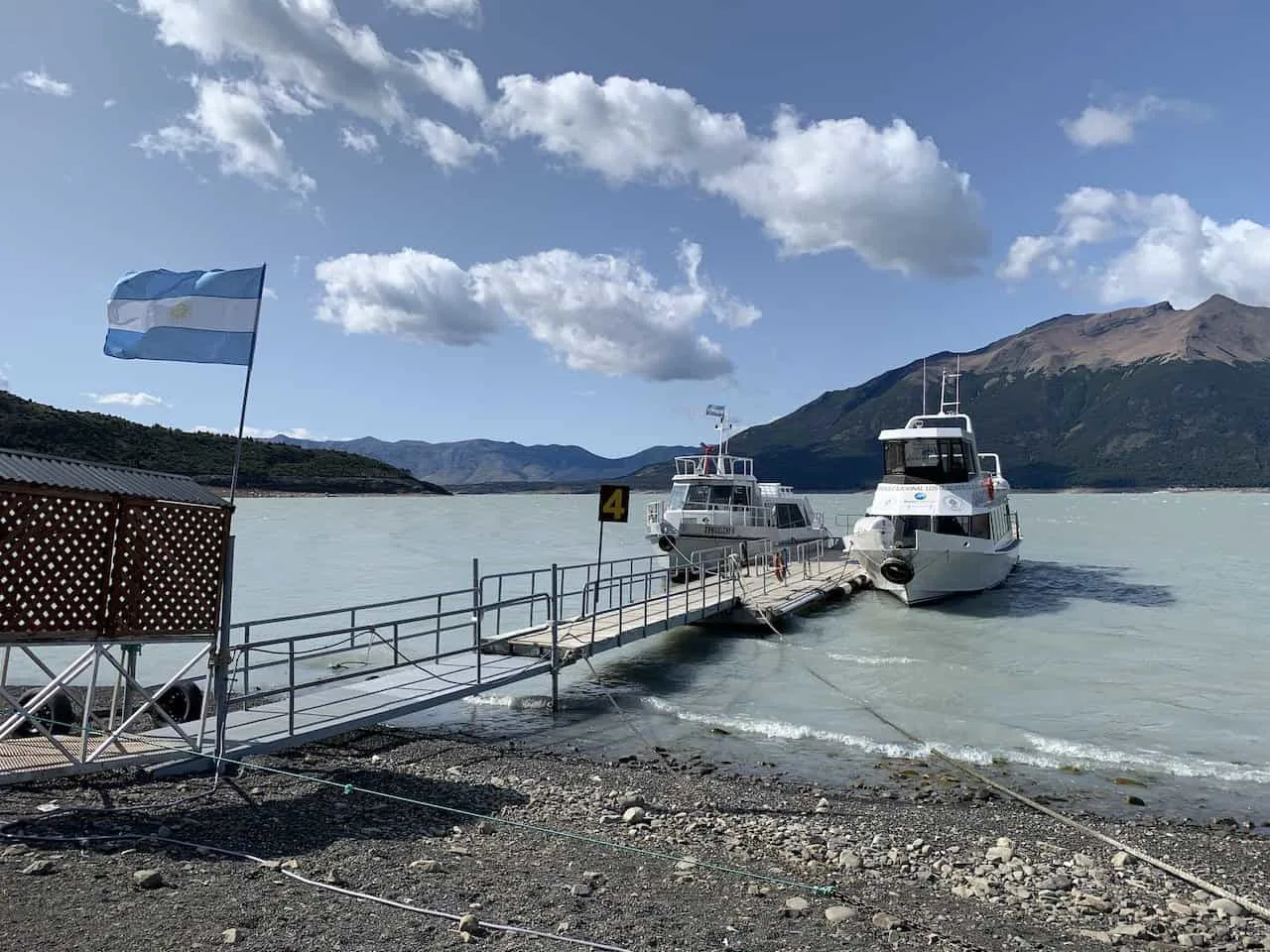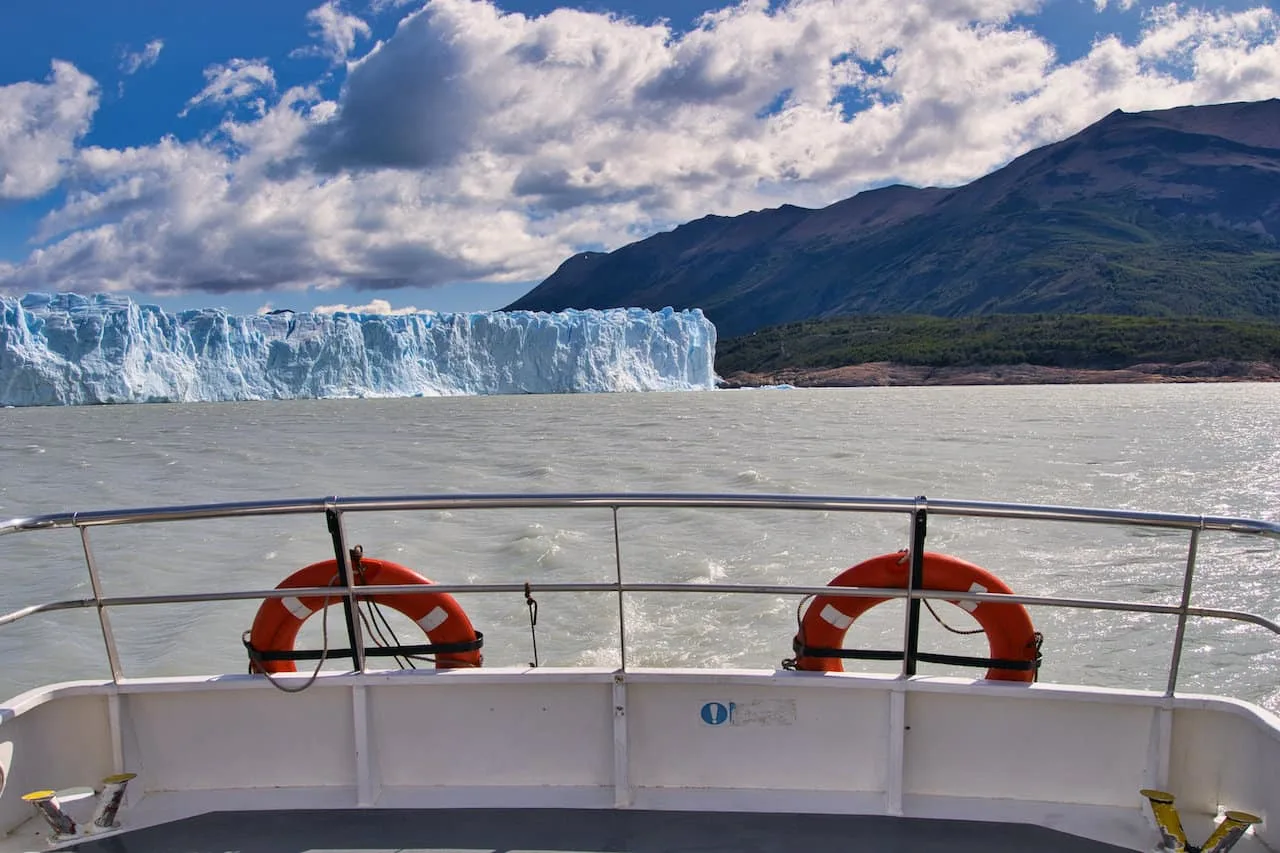 Prep & Hike to Glacier (10:30AM – 12:30PM)
Before beginning the hike to the glacier, you will first be welcomed to a lodge to prep for the trek. You will be supplied with gloves & helmets, and be split into smaller groups.
Once everyone is all set, it is time to begin the hike to the glacier trek starting point. The hike should take around 1-1.5 hours as you walk in a forested area alongside the glacier.
This portion in of itself is a beautiful experience to take part of as you will have an elevated view of the glacier.
Soon enough you will reach the crampon point. Here you will be fitted with crampons over your hiking shoes, and then make the short walk over to the glacier itself.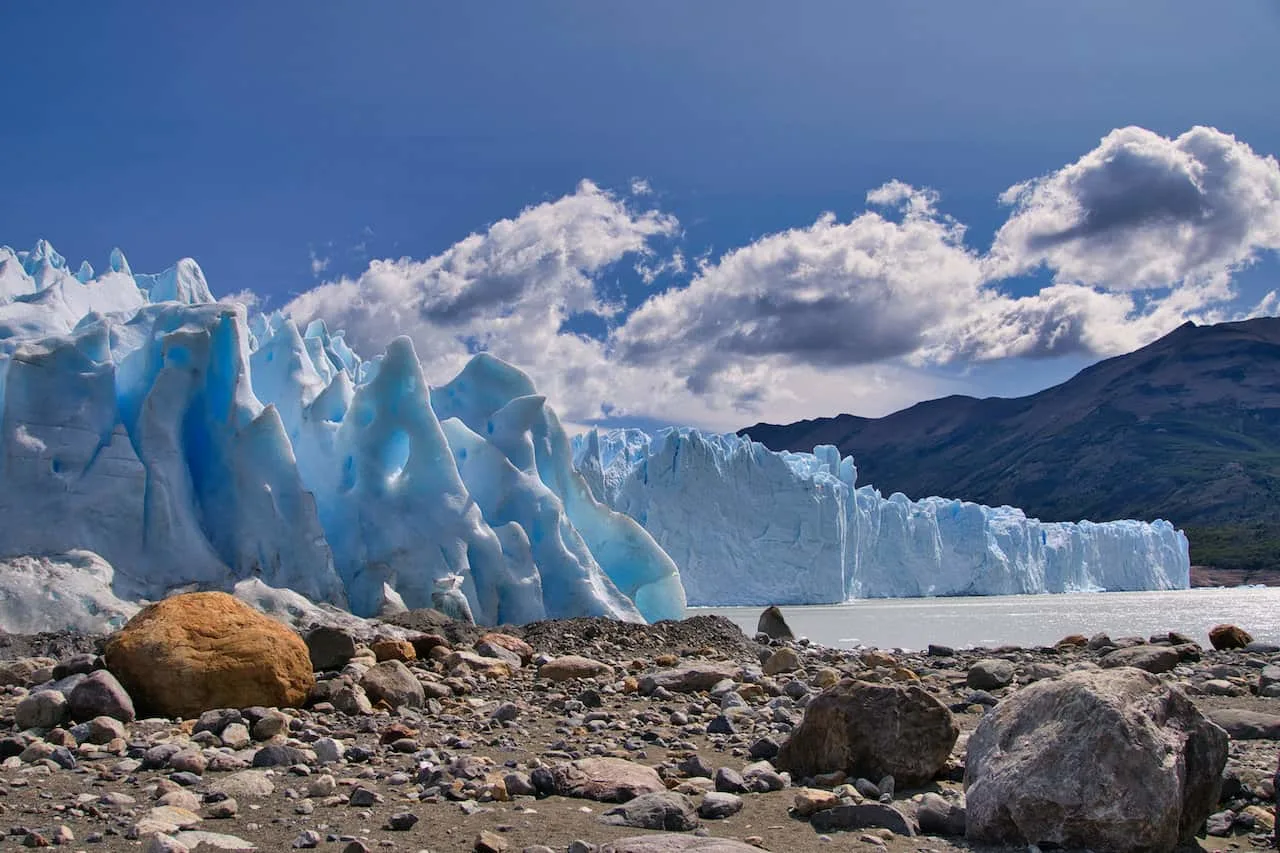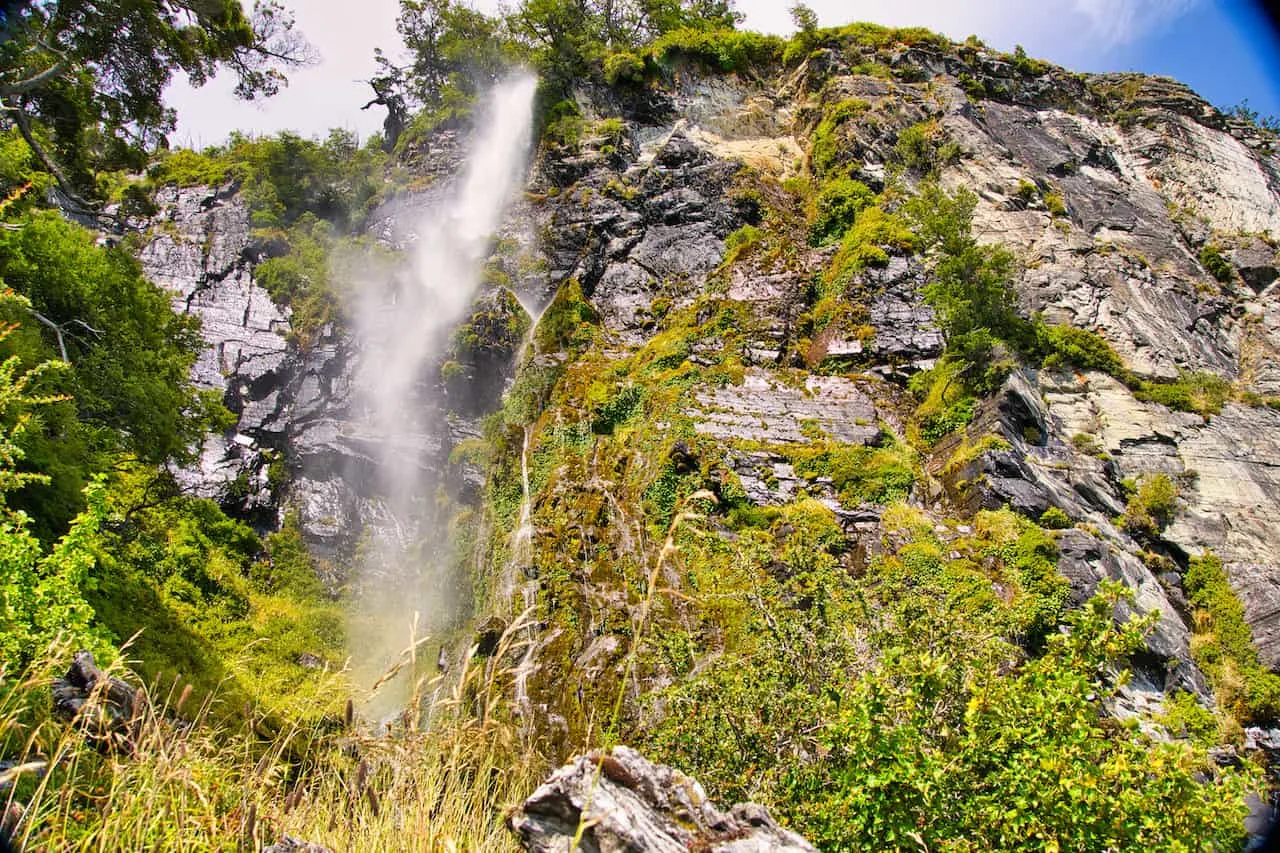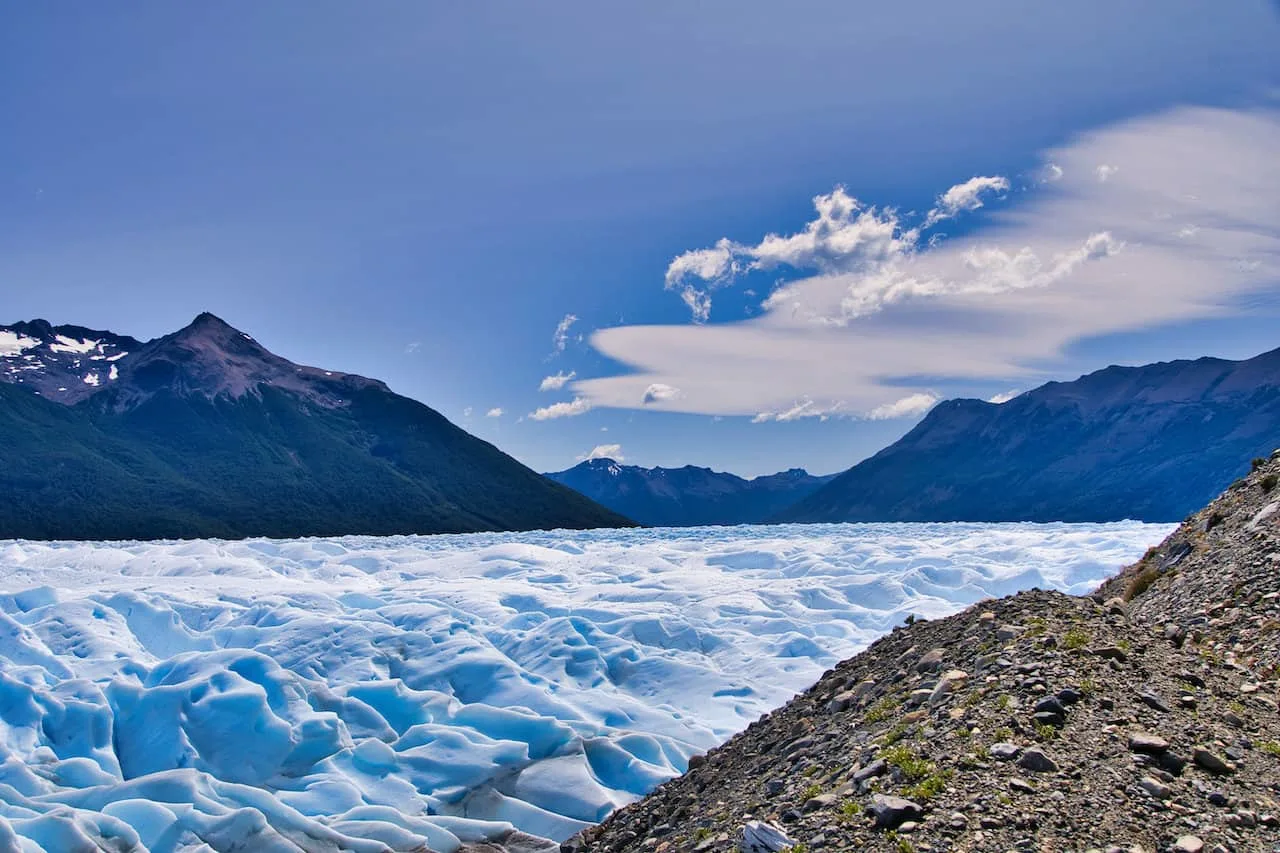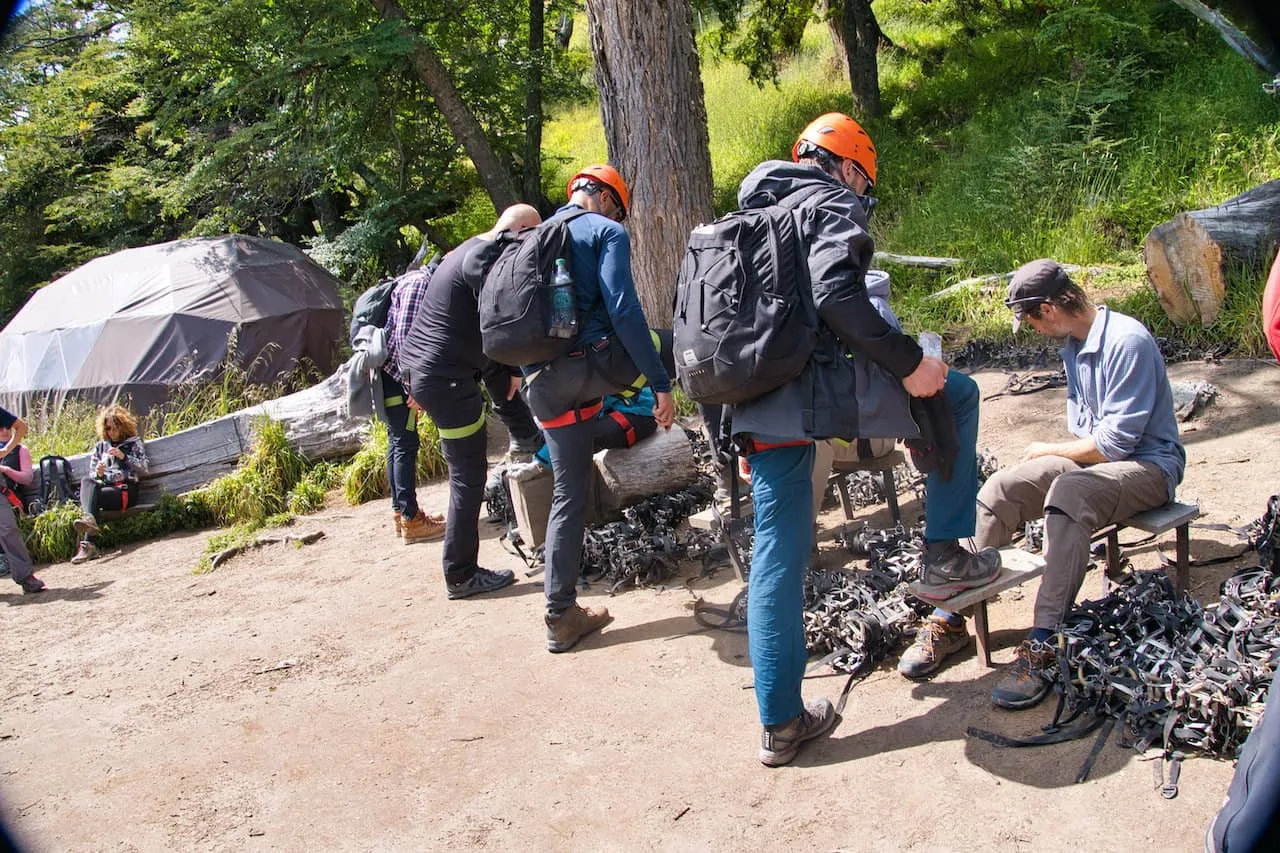 Perito Moreno Glacier Hike (12:30PM – 3:30PM)
For the next three hours, you will have the unique opportunity to hike on the glacier ice. The glacier is absolutely massive so you will just focus on somewhat of a loop hike taking you to various highlights along the way.
You will get to walk by glacial rivers, deep crevasses, photo op spots, and potentially even some ice caves. While the glacier may seem pretty much the same from a distance, you will be surprised by how much the landscape can truly change once you are on it.
Along the way, your guides will also continuously give you additional background and helpful facts about the glacier. So, this is also an opportunity to learn what Perito Moreno is all about and how it is one of the more unique glaciers in the world.
Since you will be spending quite an amount of time on the ice, there will be a 30-minute lunch break near a small glacial lake. Here you can fill up your water, have some food, and get you ready for some more time on the ice.
After a bit more exploring, the glacier trek will take you back towards the starting point to end a successful day out on Perito Moreno Glacier.
Check out plenty of photos below to get an idea of what to expect out on the glacier: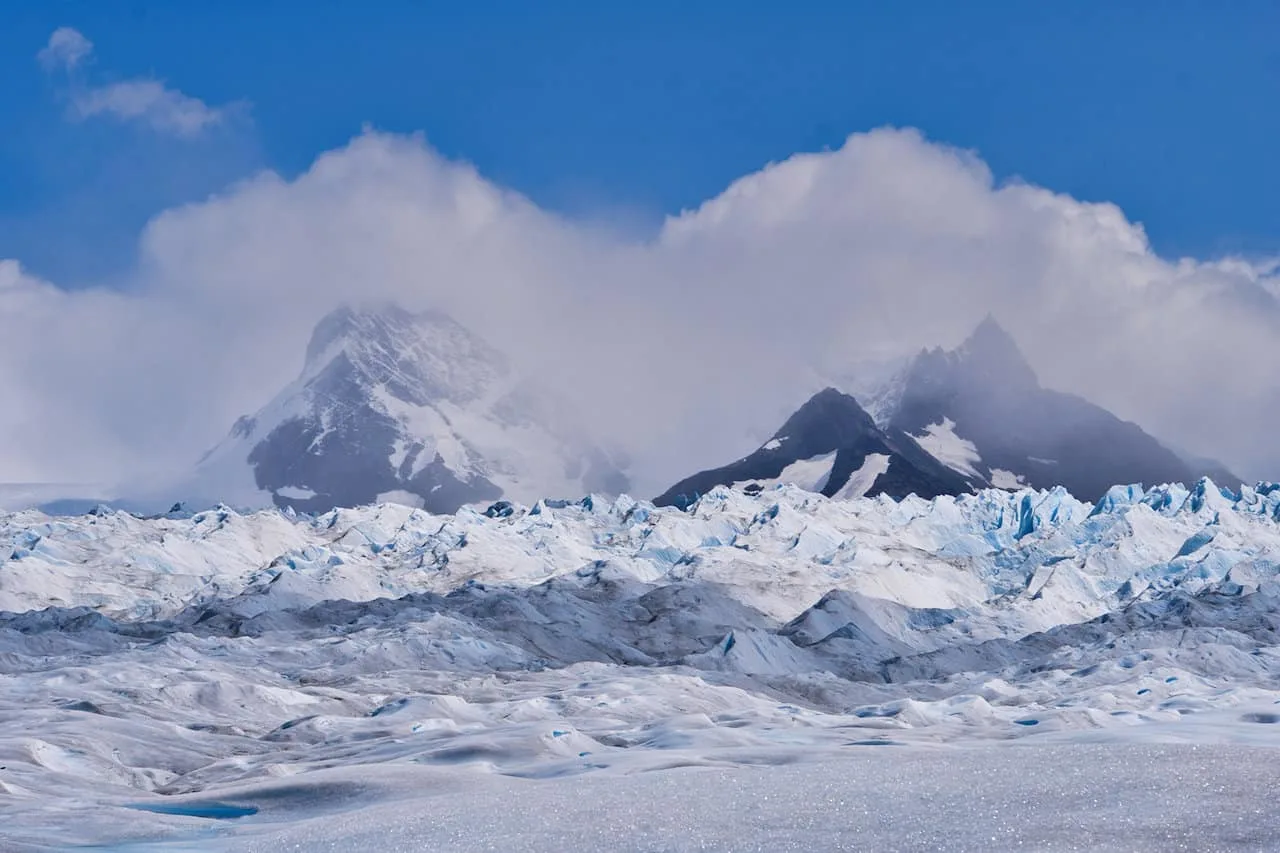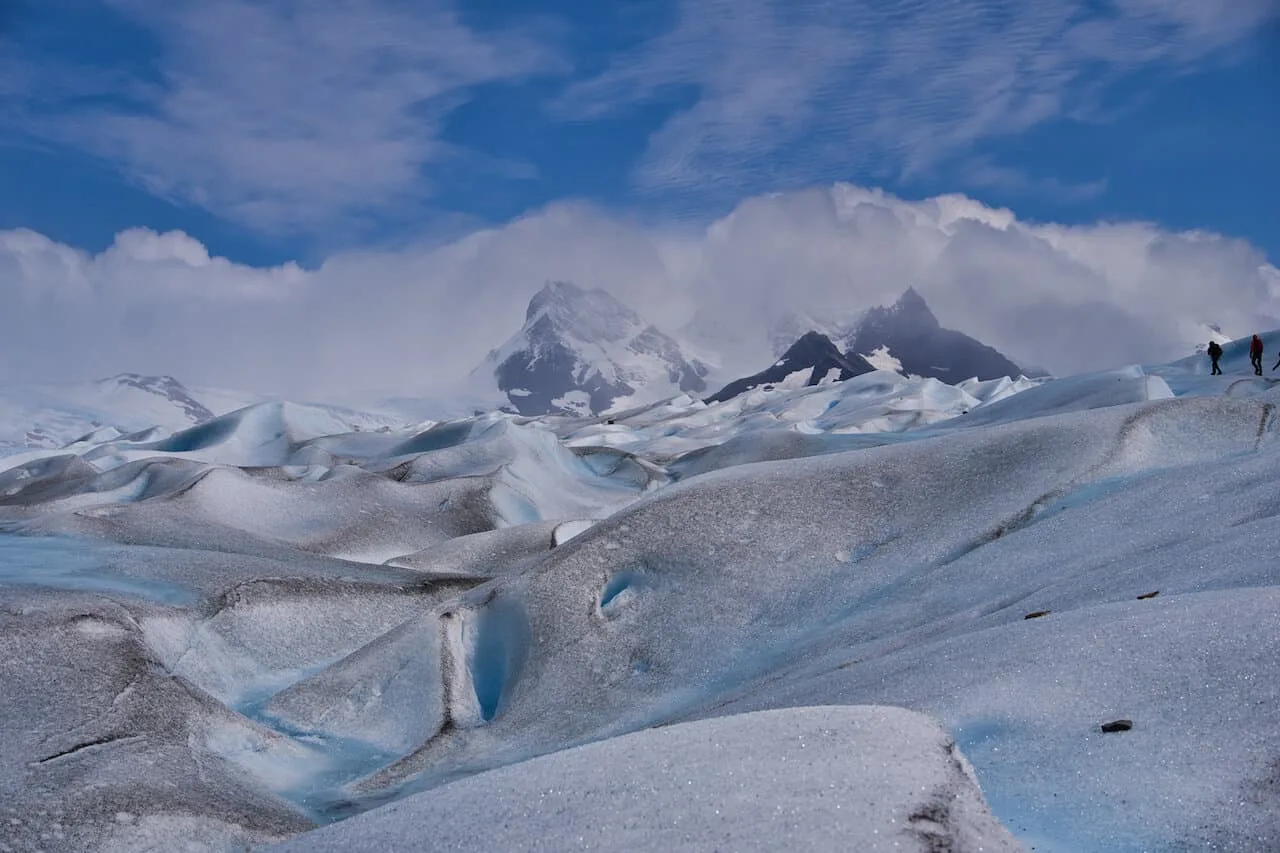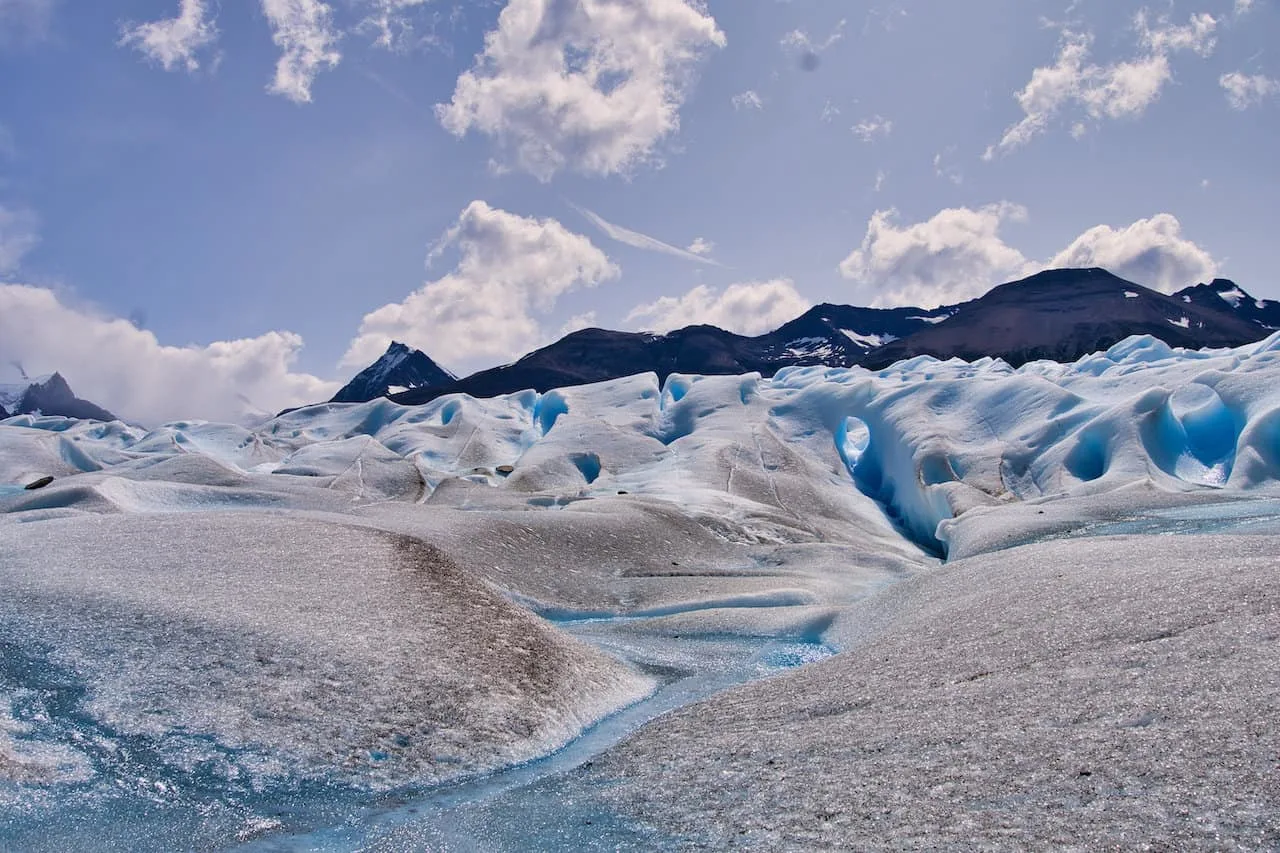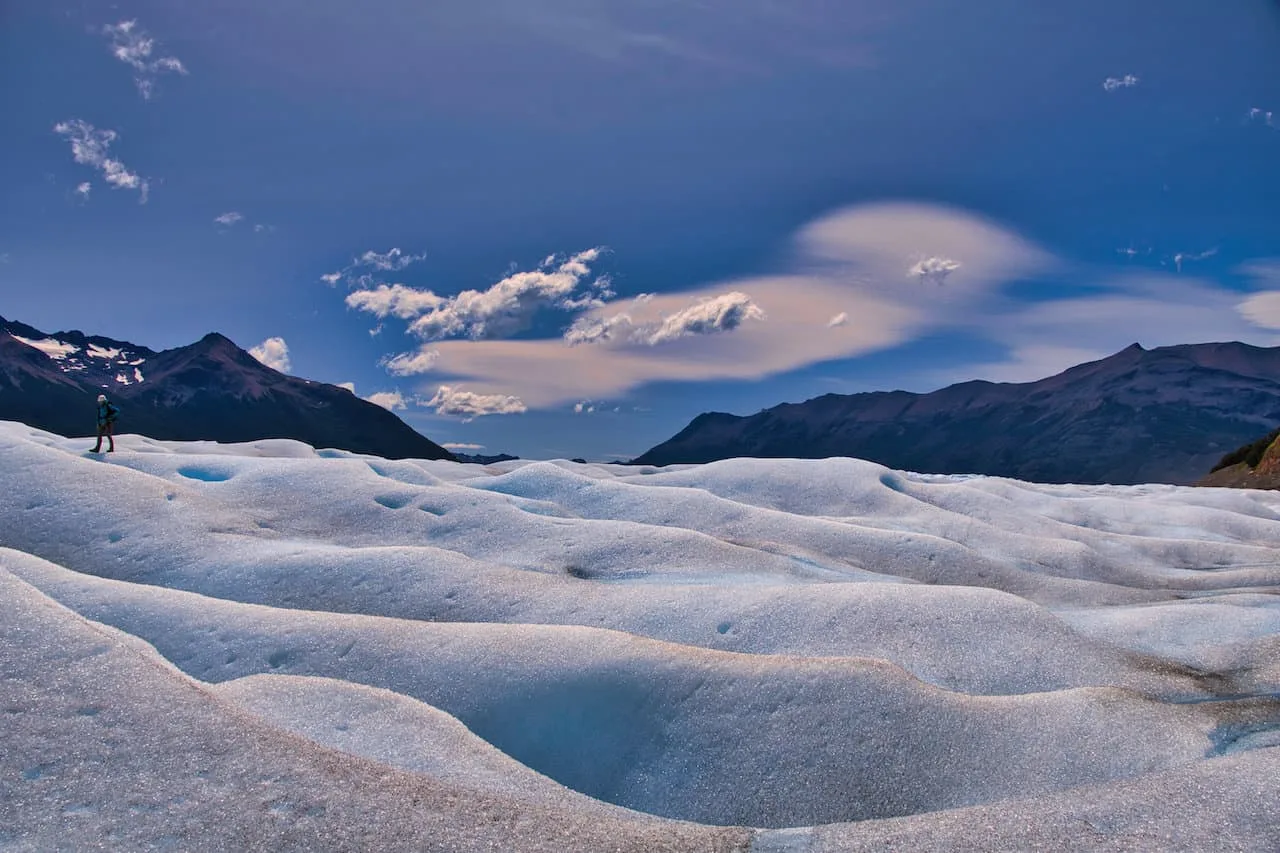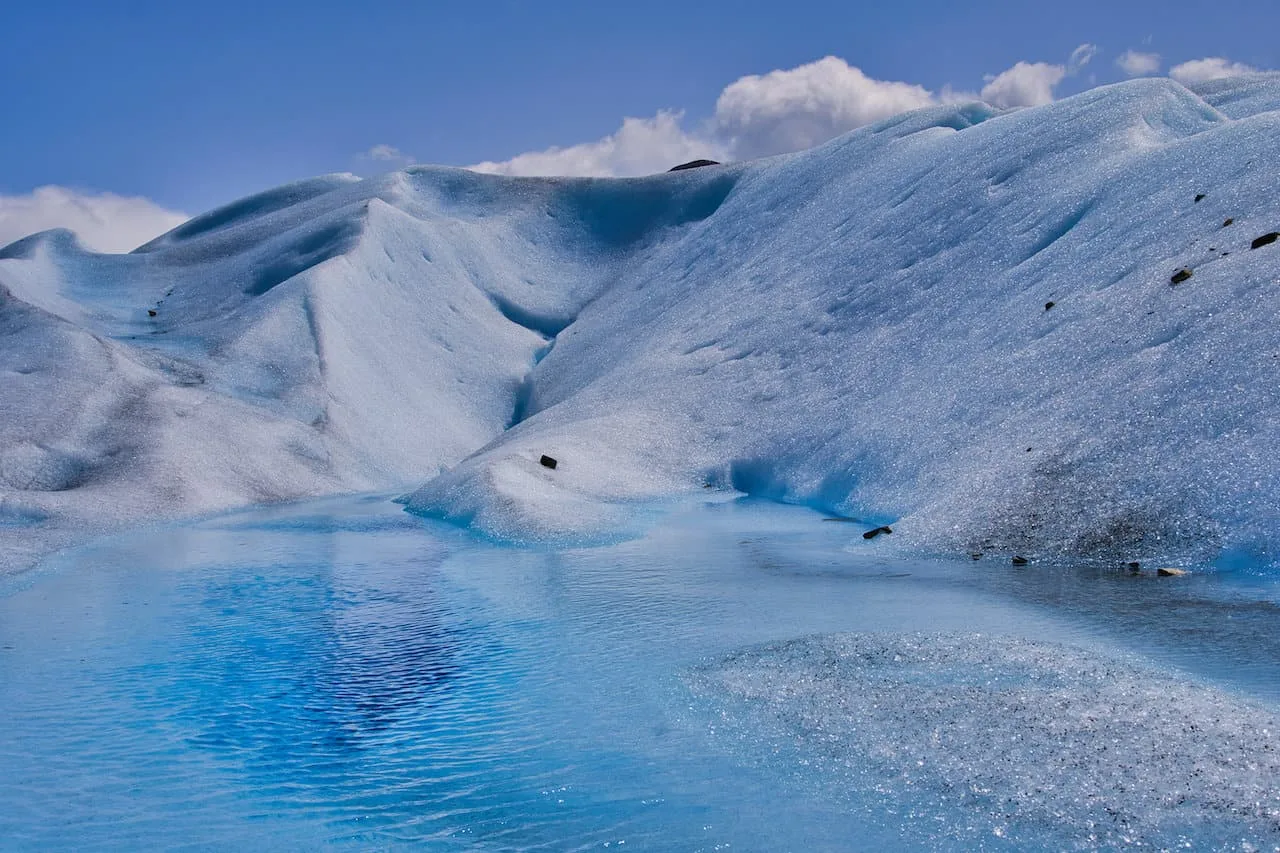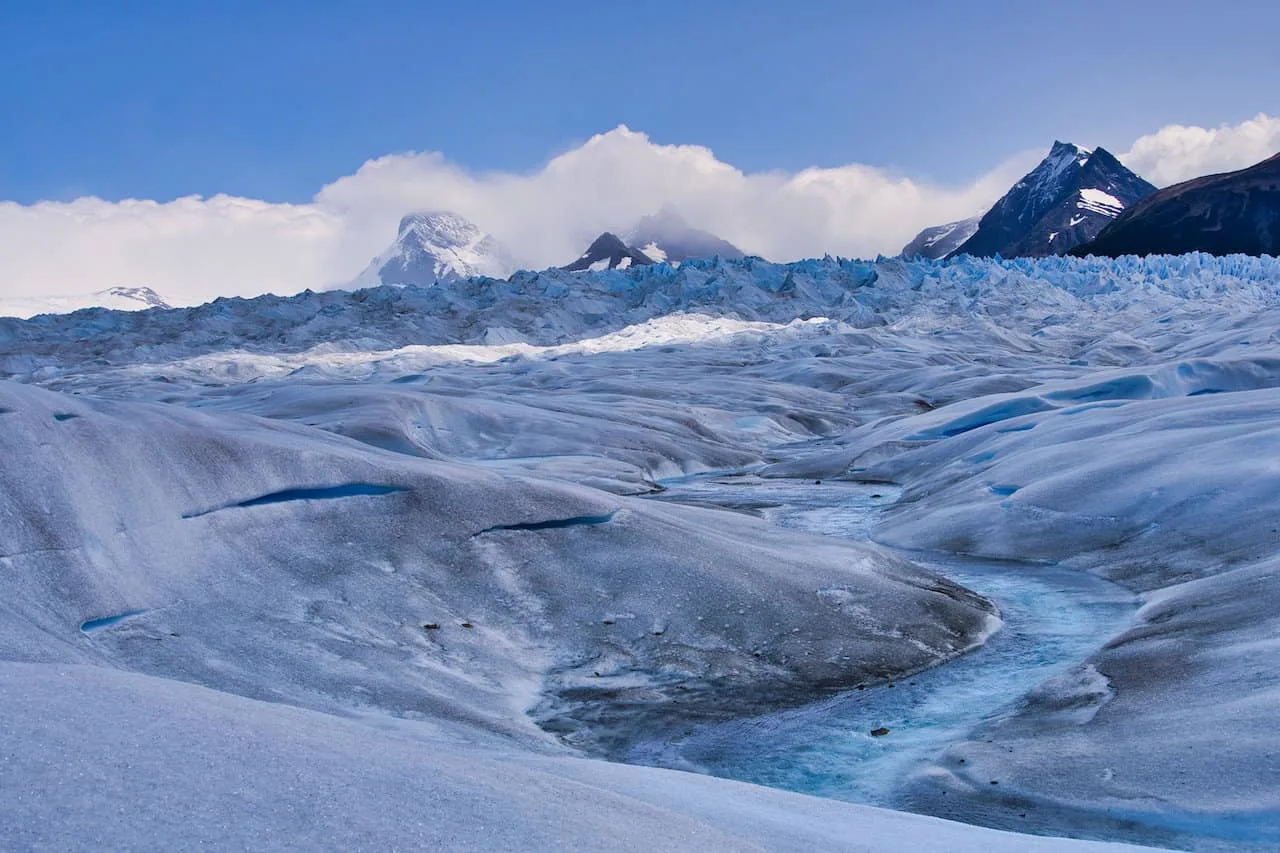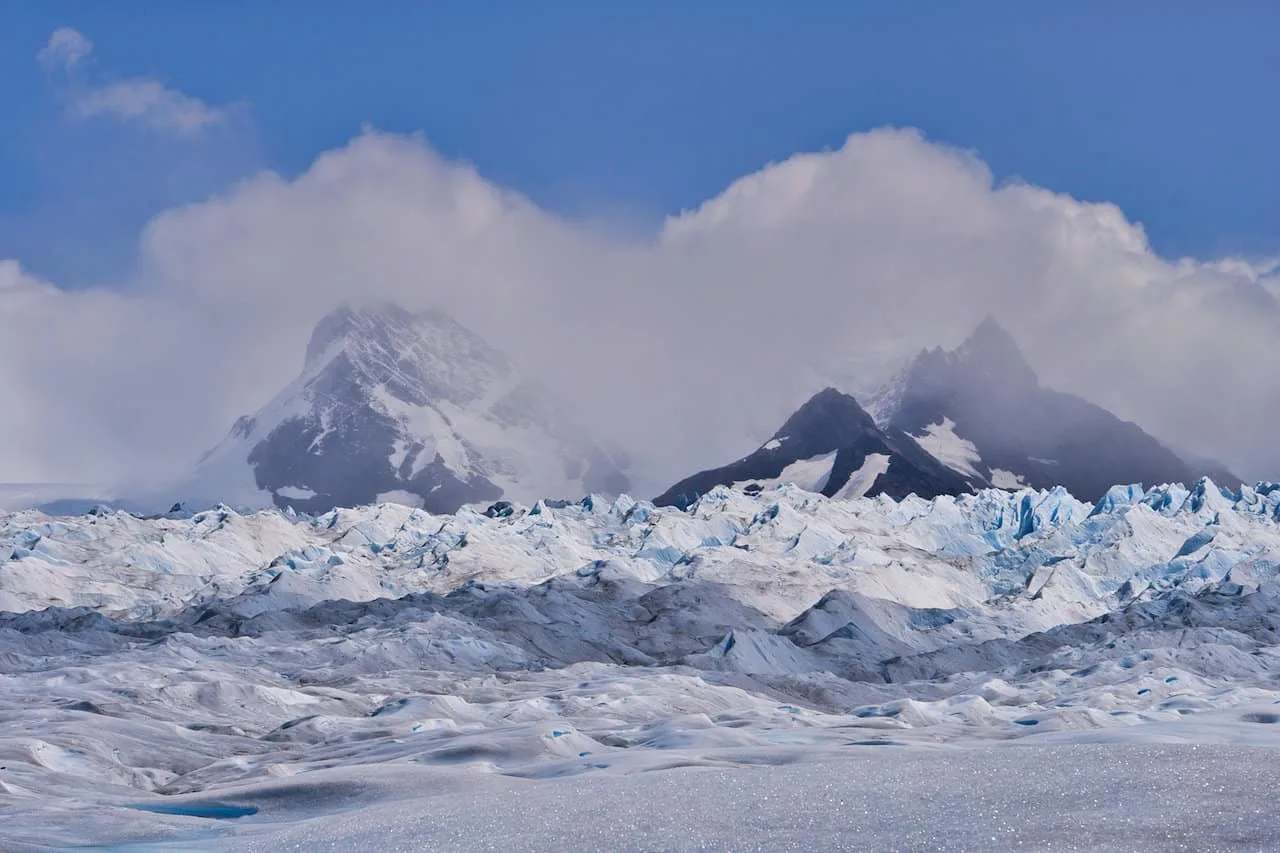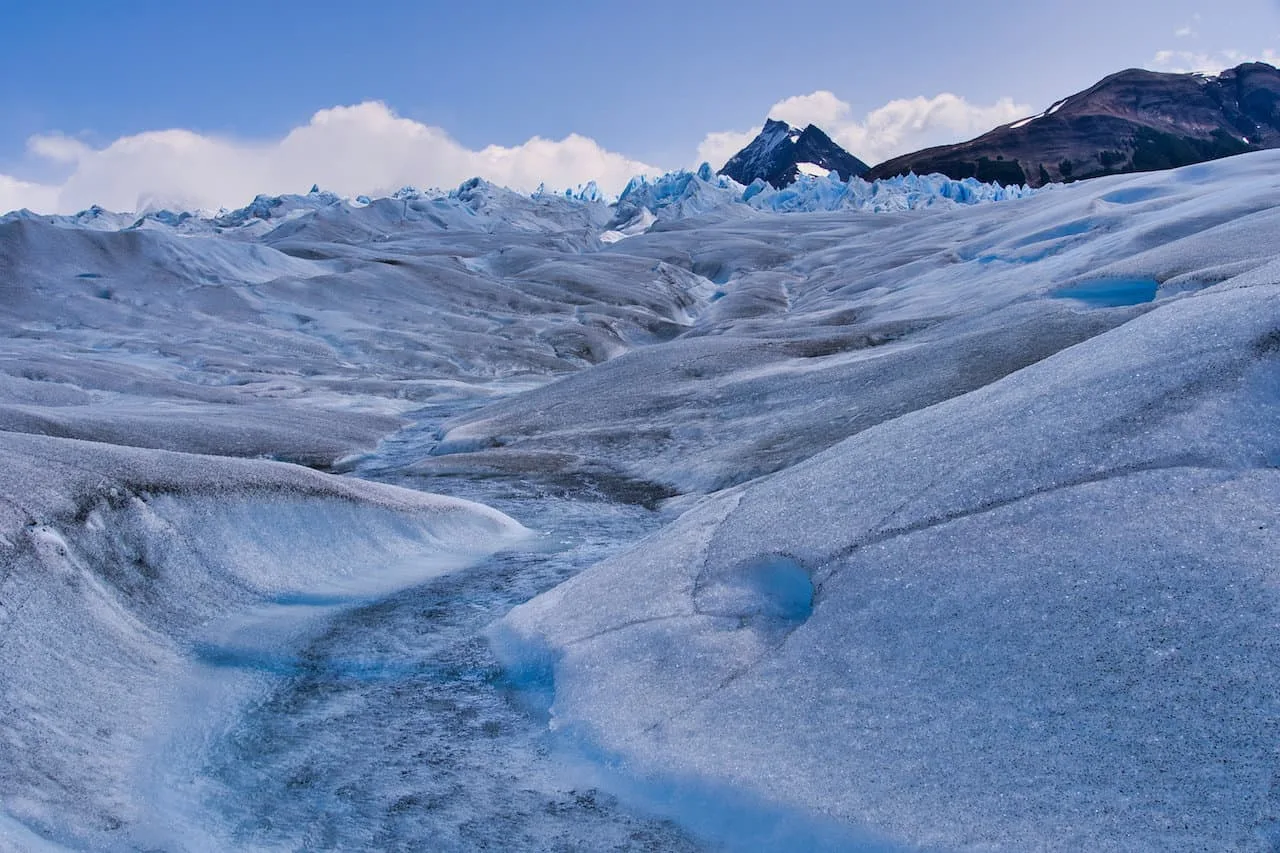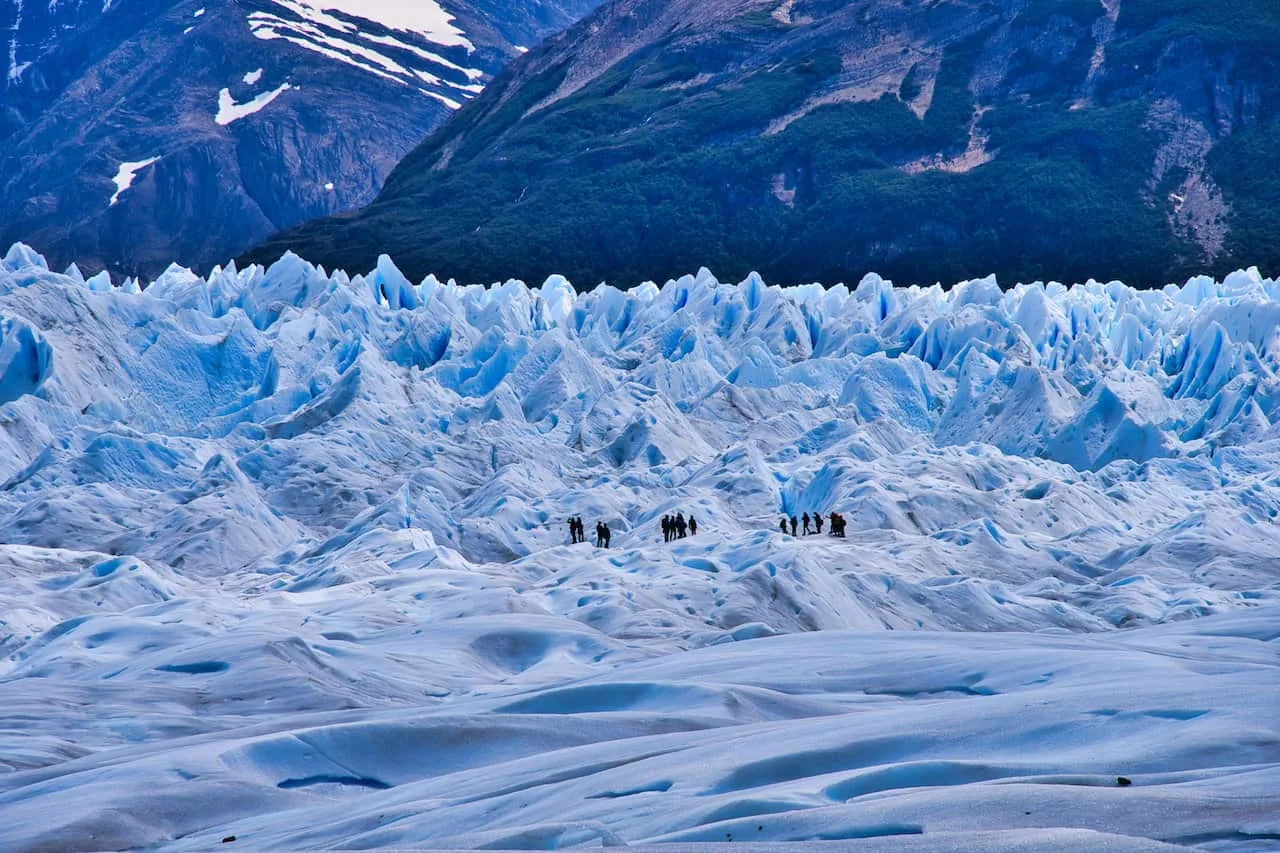 Hike Back to Kickoff Point (3:30PM – 5:00PM)
The hike back from the glacier to the lodge should be a bit quicker this time around. You will simply drop off your crampons after getting off of the ice, and make the walk back down towards the lodge.
During this hike, you once again will get to enjoy the views of the glacier from above, before arriving to the starting point.
You will give back the helmet, gloves, and harness, and then make your way to the boat.
When I took part, we had a little bit of extra time to explore the lakeside before getting onto the boat. Nearby the boat dock, you can head up the rocks to get some more fantastic views of the glacier across the lake.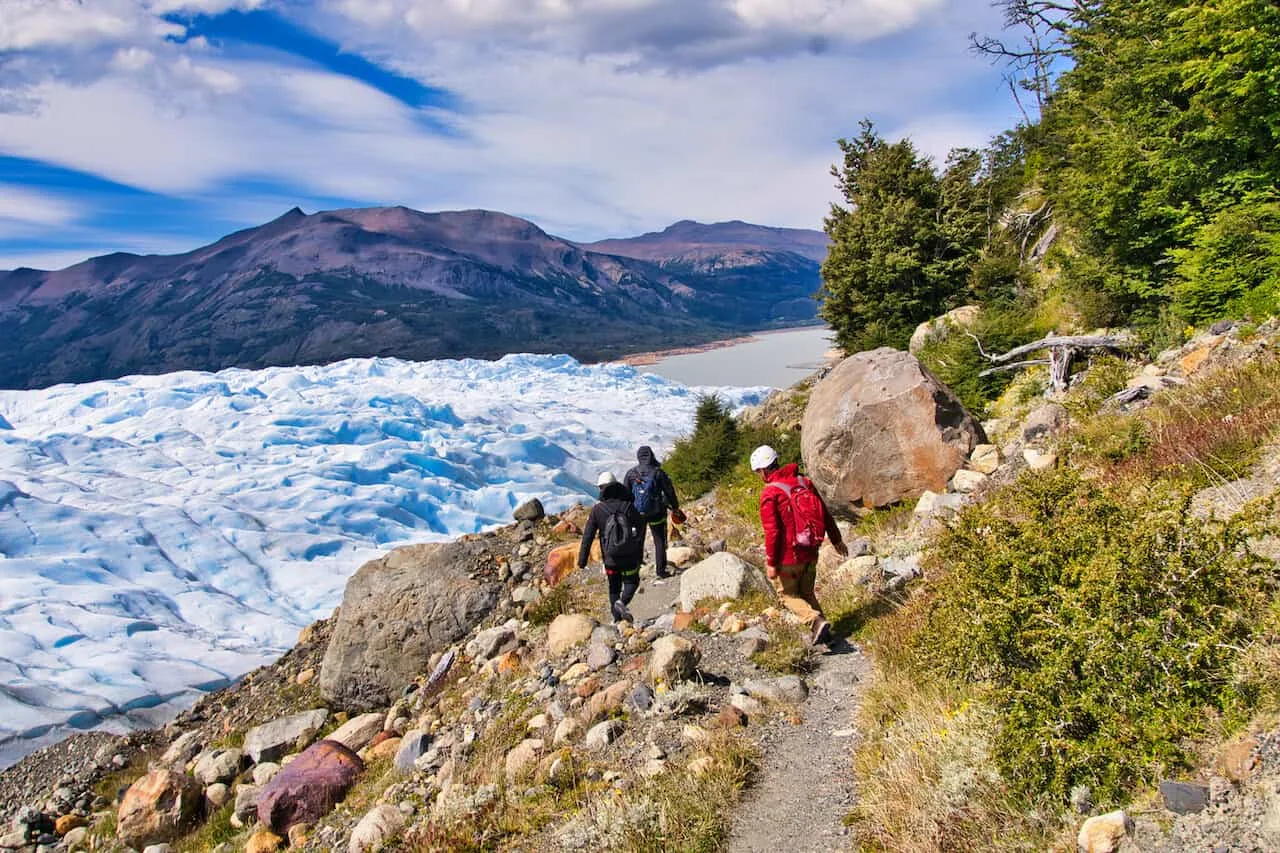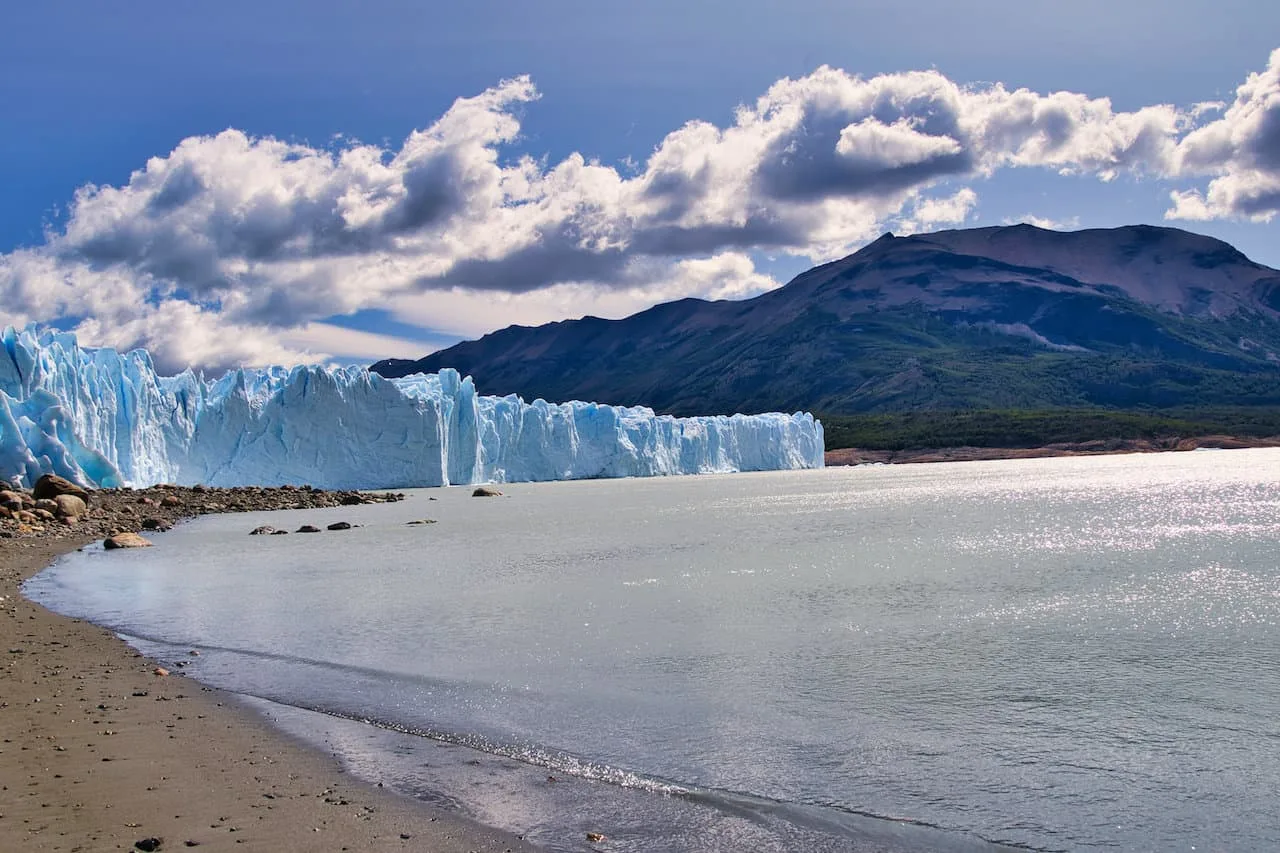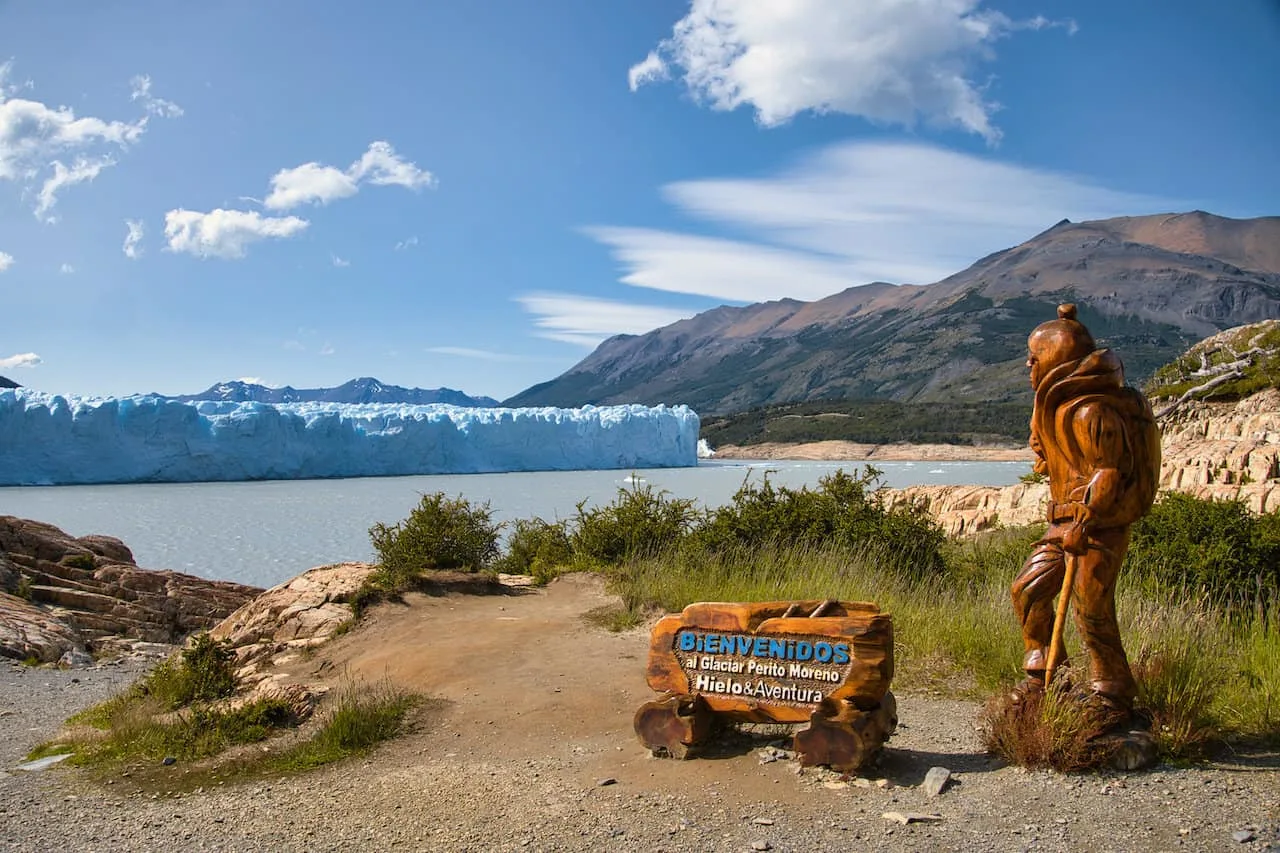 Brazo Rico Boat Ride (5:00PM – 5:30PM)
Same as earlier, it is now time to cross back over Brazo Rico by boat and get back to the Bajo de las Sombras port area.
During this boat ride, we were given some whiskey on the rocks (using ice from the glacier) and a small souvenir keychain.
Once back at the port, it is time to head back to El Calafate.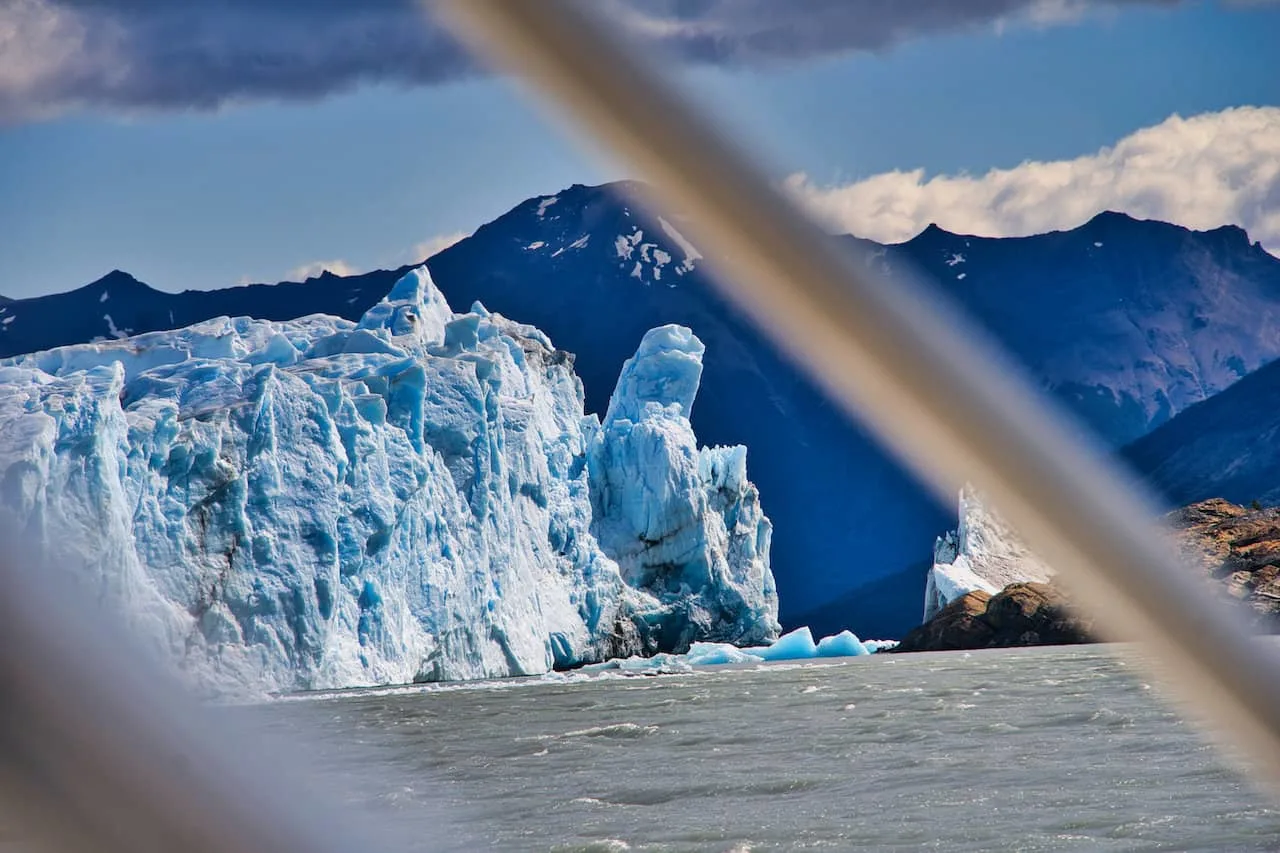 Bus from Perito Moreno to El Calafate (5:30PM – 7:00PM)
The day ends with the 1.5 hour bus ride back from Perito Moreno to El Calafate. Along the way, you will get some final views of the glacial lake before heading out of the National Park and back to town.
While it will certainly be a long day out on the trail, it will be a memorable one. The day is full of unique activities, viewpoints, and experiences as you are sure to enjoy your time at the Perito Moreno Glacier.
10) Where to Stay in El Calafate
El Calafate is a beautiful Patagonian town built to cater for tourists, who fly from all over the world to visit Perito Moreno.
You will find hotels within walking distance to town center and also some that are further out from town. If taking part of a tour, most of them do pick people up directly from hotels.
More Perito Moreno Tours: If you would like to take part of other offerings, check out the other Perito Moreno tours in El Calafate.
Below you can find some highly rated and reviewed hotel options to choose from during your trip to El Calafate. During high season, top options can sell out.
I would recommend booking your accommodation as soon as you know your dates: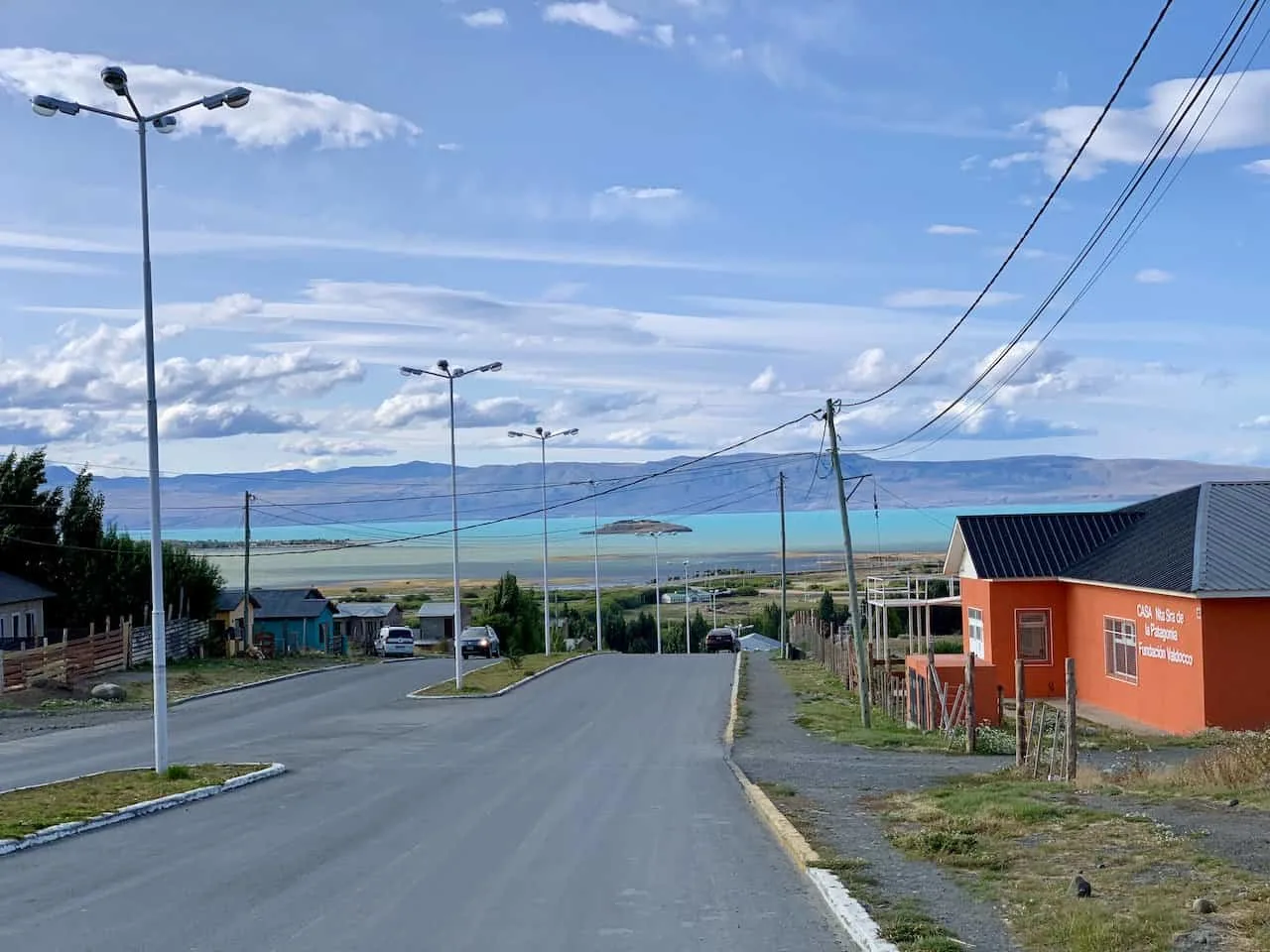 That about wraps up a guide to the Perito Moreno Glacier Big Ice Hike. If you have any questions about the day, feel free to add them in below.
Also, don't forget to check out the other Patagonia itineraries and guides up on the site. These include:
Have fun out there and safe travels!