If you are visiting the southernmost Patagonian city of Ushuaia, then you most likely will want to take part of some hiking opportunities. Trekking Ushuaia will be a true highlight of your time around the region.
In and around Ushuaia you will find many different types of hiking options. Glaciers, mountains, lakes, forests and rivers, make up just some of the landscape you will come across while trekking.
This guide will give you an overview of how to prepare for trekking in the region as well as dive into some of the best hikes in Ushuaia.
* Affiliate Disclosure: This post may contain affiliate links, which means I may receive a commission if you make a purchase through the links provided, at no additional cost to you. Thanks for supporting the work I put into TripTins!
1) Background & Overview
Ushuaia is located all the way at the very southern tip of Argentina in a region called Tierra del Fuego. Due to its location, the city is also nicknamed "The End of the World".
Ushuaia is part of Patagonia, which encompasses some of the southern regions of Chile and Argentina.
Patagonia is known to have some of the most beautiful and inspiring landscapes in the entire world, and the region around Ushuaia is no exception.
Surrounding Ushuaia are glaciated mountains, lush forests, glacial rivers, stunning lagoons, and the famous Beagle Channel. The best way to explore the diversity of Ushuaia is to take part of some hiking opportunities.
You will find many different hiking options within a 10-20-minute drive from the town center. In addition, the protected Tierra del Fuego National Park is located just 30 minutes southbound from the city.
At the National Park, you will find several more hiking trails to enjoy that are all within a short radius from one another.
This guide will go through many of these hikes, both within and outside of the National Park area. In addition, I will talk through some other important things to consider such as hiking gear, weather, logistics and where to stay.
2) How to Get to Ushuaia
Before taking parts of hikes in Ushuaia, you first must get yourself there. Even though the city is located as far south as it gets, Ushuaia is still pretty well connected to the rest of the country.
There are three main ways to get yourself to Ushuaia – airplane, car, or bus.
Airplane
The easiest of options to get to Ushuaia is to simply fly in to the local airport (USH).
You can grab flights from several Argentinian cities around the country including Buenos Aires, El Calafate, Cordoba, among others.
You will not find any international flights into Ushuaia, so you first need to make your way to a city in Argentina that connects to Ushuaia.
If coming from Buenos Aires, expect the flight to take around a 3.5 hours. Also be aware that there are multiple airports in Buenos Aires and you may need to switch airports depending on your itinerary.
Once you get to the airport, you can simply hop into a waiting taxi to get into the town center. Expect the cost to be around the equivalent of $6 USD.
Car
Instead of flying down to Ushuaia, you can also make the drive down. Now, if you are driving all the way down there, odds are you will not only be visiting Ushuaia.
Instead, this can be more of a Patagonian road trip, visiting other cities and highlights along the way such as the Perito Moreno Glacier and the O Circuit of Torres del Paine (in Chile).
If you are looking to rent a car during your time in Argentina, feel free to take a look at a variety of options through Rentalcars.com. By using Rentalcars you should be able to browse through cars & prices for different rental car companies. It makes for an easy way to compare across all the choices.
Bus
Lastly, taking a bus to/from Ushuaia is also going to be a potential option. There are a few bus companies that make the trip during peak season.
Of course you can also mix and match some of these options according to your travel plans and what makes most sense for you.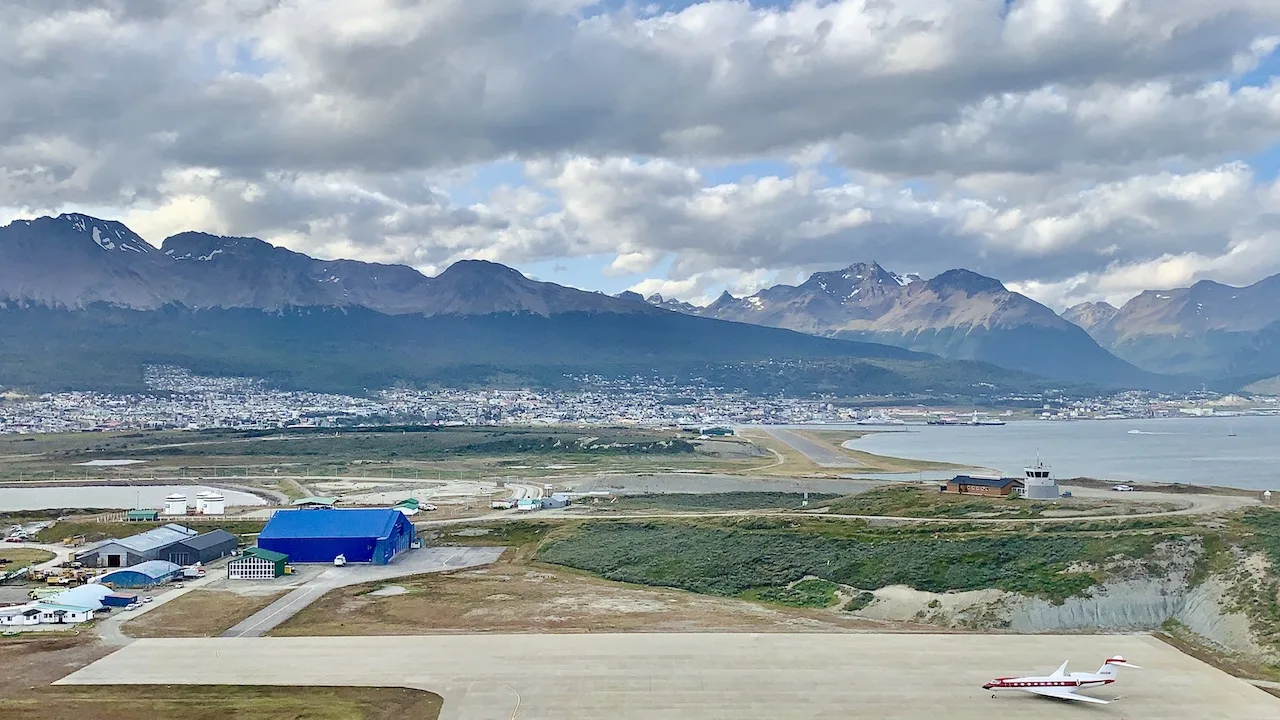 Hiking Resources & Checklist

Before heading out for the trails, be sure to read up on some of the hiking resources up on the site. These are here to better prepare you for all types of outdoor adventure.
3) Getting to Trailheads
Essentially all trailheads are going to be located outside of the city center. This means you will need to figure out some logistics to get yourself to the starting points of the hikes.
In general, there will four main options when it comes to transport options – shuttle bus, rental car, taxi, or tour.
Shuttle Bus
Within the city center you will find a shuttle bus terminal that has transport options to various hikes in the region.
You simply just need to show up 30-60 minutes prior to departure, purchase your tickets and be on your way from there. These shuttles will set up round trip transportation with set return times at the end of the day.
To confirm departure times, I would recommend heading over to the shuttle bus terminal the day prior and understanding the various schedules. That way you should be good to go in the morning and know what time to prepare for.
Note that shuttles are not available to all trailheads. If that is the case, you may have to opt for one of the next few options.
Rental Car
If you did end renting a car – either coming in from another city or just renting a car in Ushuaia, you should be able to drive yourself to the trailheads. All of these hikes are within a short radius from the city center, so you will have no trouble planning out your own schedule when it comes to hiking.
The one thing to note here is that within the National Park there are some one way hikes (starting in one spot but ending in another). It could be a bit tricky with a car if you wanted to take part of any of these, but there are other options in the area that shouldn't be an issue at all.
Taxi
Grabbing a taxi from the town center to trailheads is another way to go about your day. You can simply grab one on your own or have your hotel call one for you. I did this a couple of times when taking part of hikes where shuttle busses were not an option.
If taking part of hikes where there won't be taxis just hanging around at the trailhead, you will want to consider agreeing on a time for your taxi driver to pick you up. This way you will not need to worry about getting stuck without a ride.
Tour
The last main option here is to join a tour that will take care of all logistics for you and have a certified guide accompany you on the trail. This will take all worries away and will give you the chance to ask questions along the way.
In each of the trail guides I link to throughout this article, you will find recommended tour options to choose from.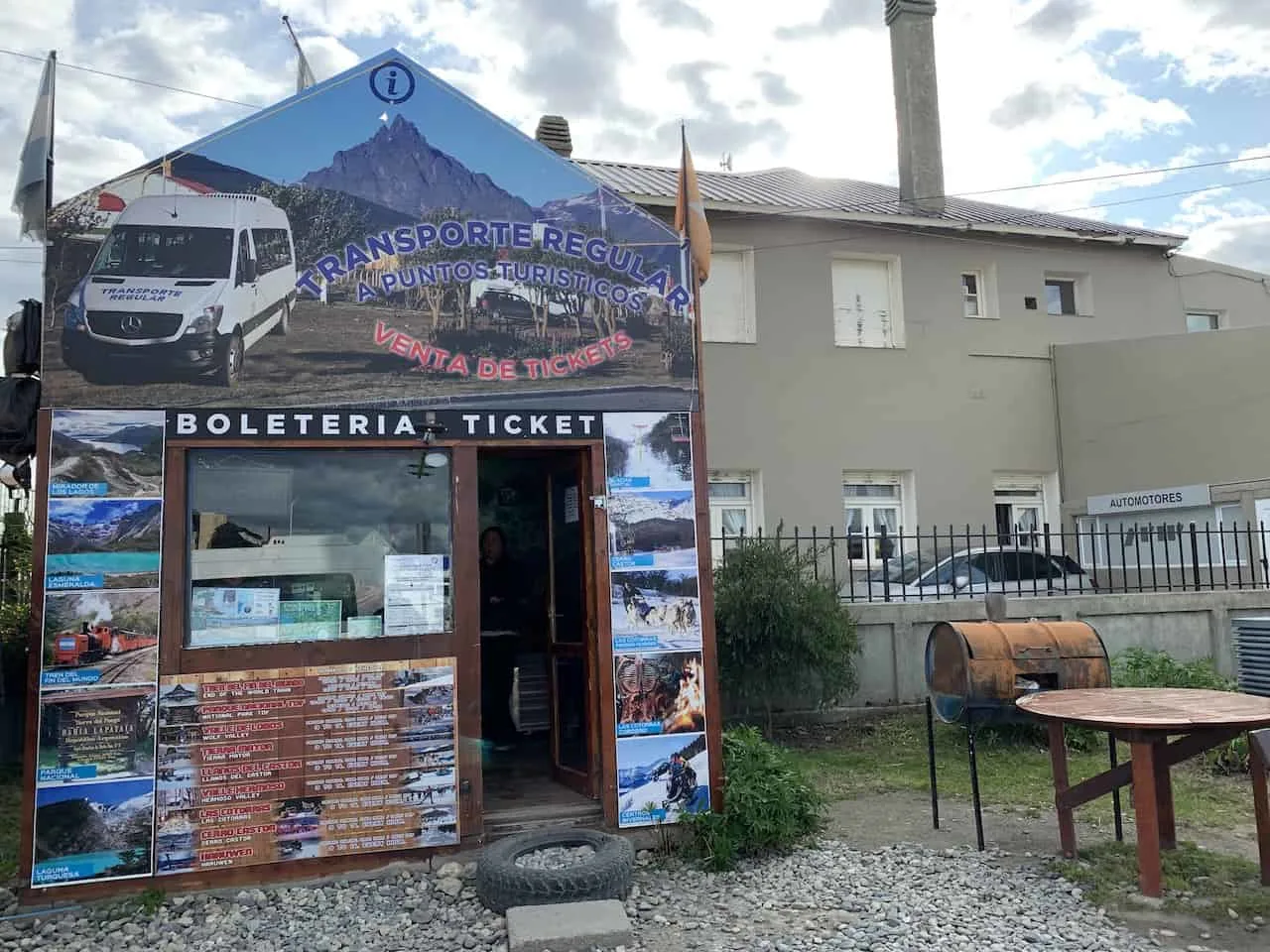 4) Ushuaia Weather
The one frustrating part of traveling to Patagonia is that the weather can be very hit or miss. The region is known to have some of the most unpredictable weather in the world. One day can start off nice and sunny, and the next moment can be windy and snowy (even in the summertime).
When I traveled to Patagonia, I visited several different regions. Instead of planning to stay a set number of days based on what I wanted to do in each one, I always gave myself an extra few days of buffer.
It is very possible that some days will just be impossible or at least very dangerous to go out on hikes.
Giving yourself a couple extra days just in case would be my recommendation when it comes to having the most productive trip possible.
You should also think of the time of year you are traveling down to Ushuaia. The summer season runs from December to March. While this is the best time to go in terms of weather, you really just cannot predict what the forecast will be.
I did find weather apps such as Meteoblue and Windguru to be some of the more reliable of forecasts when dealing with Patagonian weather. While forecasts were never perfect, they gave me a good sense of when hiking would just not be possible.
Due to all of this, you will want to be sure you are prepared from a gear standpoint. Check out the next section to learn more.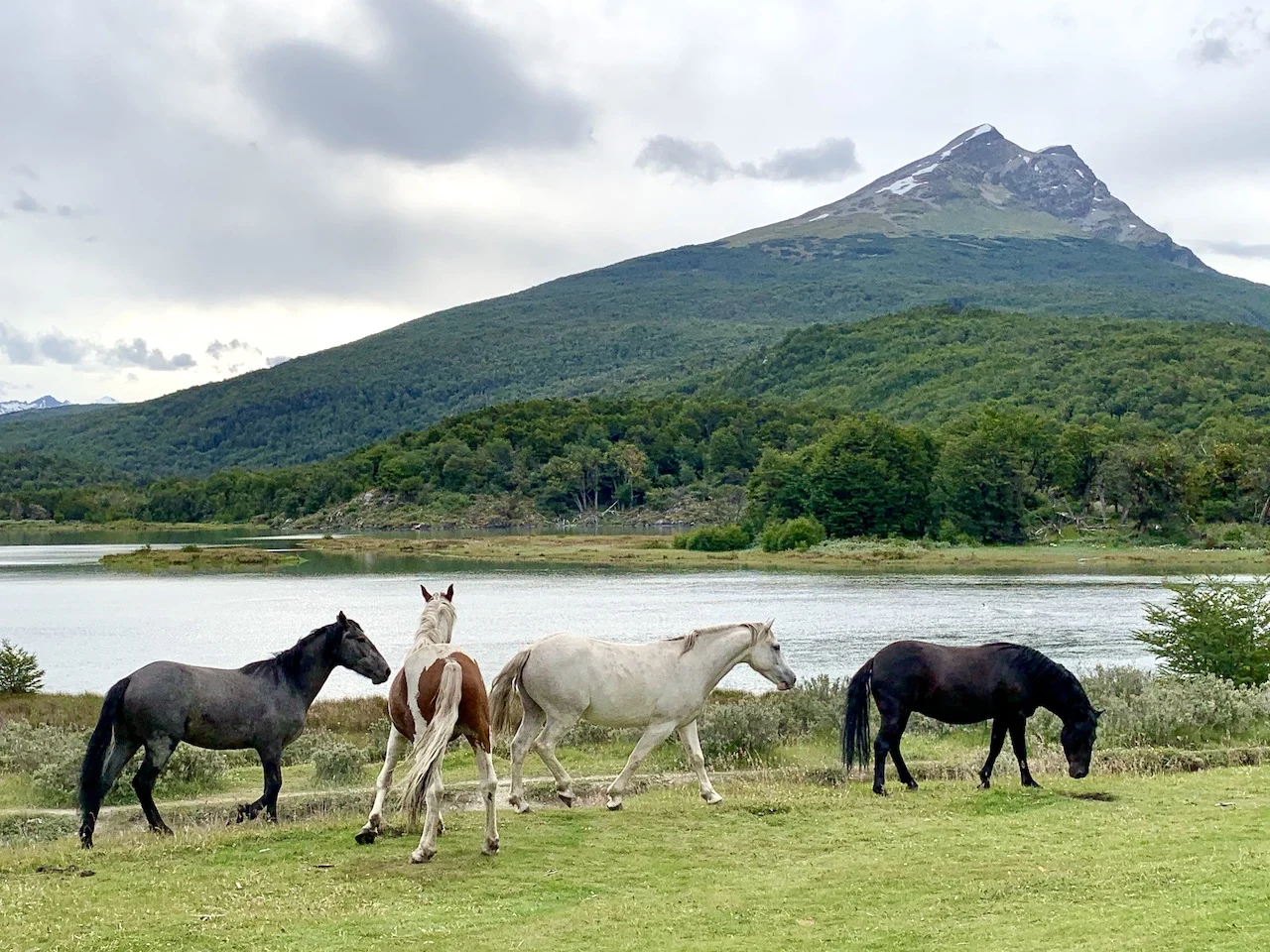 Learn More: Check out this Patagonia Itinerary and Ushuaia Itinerary that can better help you put together a complete trip to the region.
5) Clothing Recommendations
Hiking in Patagonia is all about layers and proper footwear. Since the weather can turn very quickly, you will want to be prepared for all types of conditions.
In general, I found layering to be the upmost important part of a trip. On all hikes in Ushuaia, I brought along the following layers:
→ Hiking Shorts
→ Hiking Pants
→ Short Sleeve Shirt
→ Long Sleeve Shirt / Sun Hoodie
→ Mid Layer Fleece
→ Puff Jacket
→ Packable Rain Jacket
While layers are important so will be your footwear. Some of the trails in Patagonia were the muddiest and soggiest hikes I ever took part of. There were times that my entire foot would unknowingly get sucked into the ground.
Due to this, you want to be sure to bring appropriate waterproof hiking shoes along with solid hiking socks as well.
Additional day hike recommendations include:
→ Hiking Backpack & Rain cover
→ Water Bottle & Nutrition
→ Portable Charger
→ Hat & Sunglasses
→ Sunscreen & Bug Spray
» Be sure to check out the Hiking Packing List guide I put together that will go through all of it and more.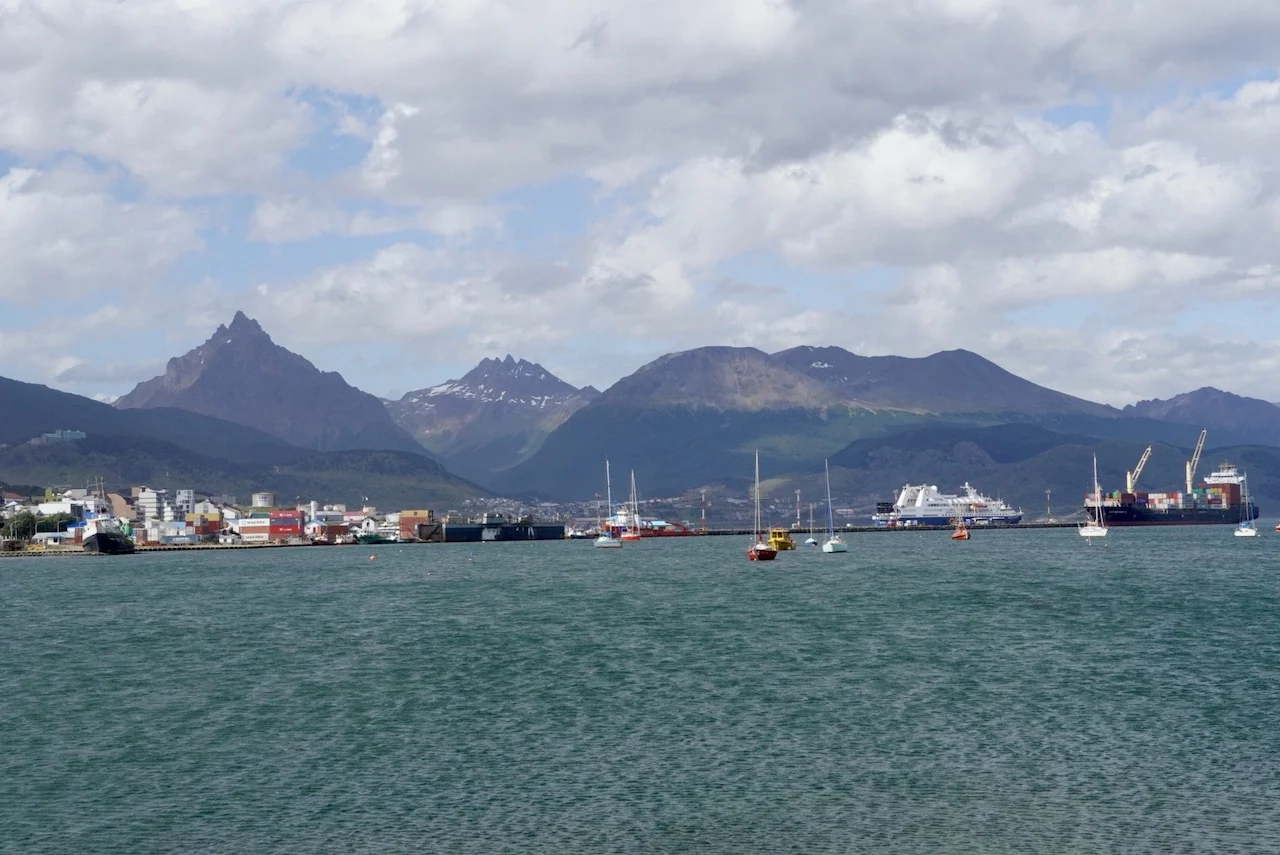 6) Ushuaia Trekking Map
Throughout the remainder of this guide I will be going through some of the best hikes in Ushuaia. These will include the following:
→ Glacier Martial
→ Vinciguerra Glacier & Laguna de Los Tempanos
→ Laguna Esmeralda
→ Bahia Encerrada
The following trails are within Tierra del Fuego National Park:
→ Cerro Guanaco
→ Senda Pampa Alta
→ Senda Costera
→ Senda Hito XXIV
→ Lapataia Sector
On the map below, you can find each one of these hiking routes. This should give you a better idea of what the trail looks like and where each of these trailheads are located.
7) Ushuaia Trekking Routes
By now you should have a pretty solid understanding of the logistics and important things to know when planning a trip to Ushuaia. Now, let's talk about the trails themselves and what to expect on each one of them.
Glacier Martial
Trailhead Location: Refugio de Montana
Driving Time from Ushuaia: 15 minutes
Trail Type: Out and back
Hiking Distance: 8.4 km / 5.2 miles
Elevation Gain: +588 meters / +1,930 feet
Hiking Duration: 3 hours
Trail Guide: Glacier Martial Trekking Guide
The hike up to Glacier Martial is one of the more popular trails in the area. Not only is it an easier trail but it is also located just 15 minutes by car from the town center.
The trail begins at Refugio de Montana and from there continues along a wider trail with the mountains and glacier out in the distance. While the route is a pretty consistent incline up during this section, it is not on a steep portion of trail.
Around the halfway point you will reach the second part of the trail, where the incline will get steeper. From here you will see the glacier approaching out in the distance with views of the valley and Beagle Channel out behind you.
Once you reach the foot of the glacier, you will get some up and close views of the glacier itself. In the opposite directions you will have the surrounding mountains, valley, Beagle Channel, and town of Ushuaia to enjoy.
On the way down the trail, you will come across a turnoff (which you would've previously passed). Here you can opt for a detour to yet another viewpoint area. Whether or not you head on the detour, you can enjoy the walk back down the trail and back to the trailhead.
Note: during the first portion of trail, you can opt on a few different trail options that meet up with one another. While I opted for the open wider route, there is a more serene forest/river route to choose from. One idea is to do one route on the way up and another on the way down.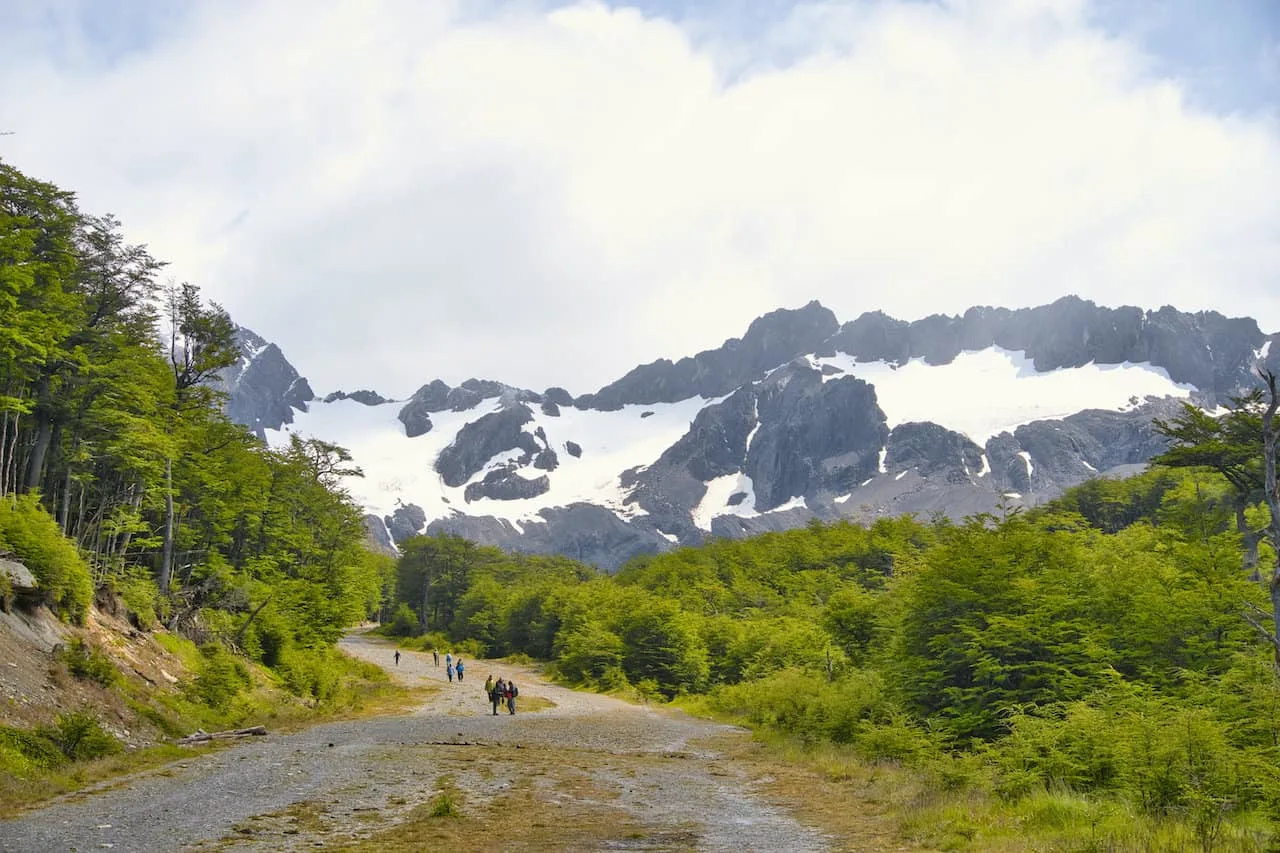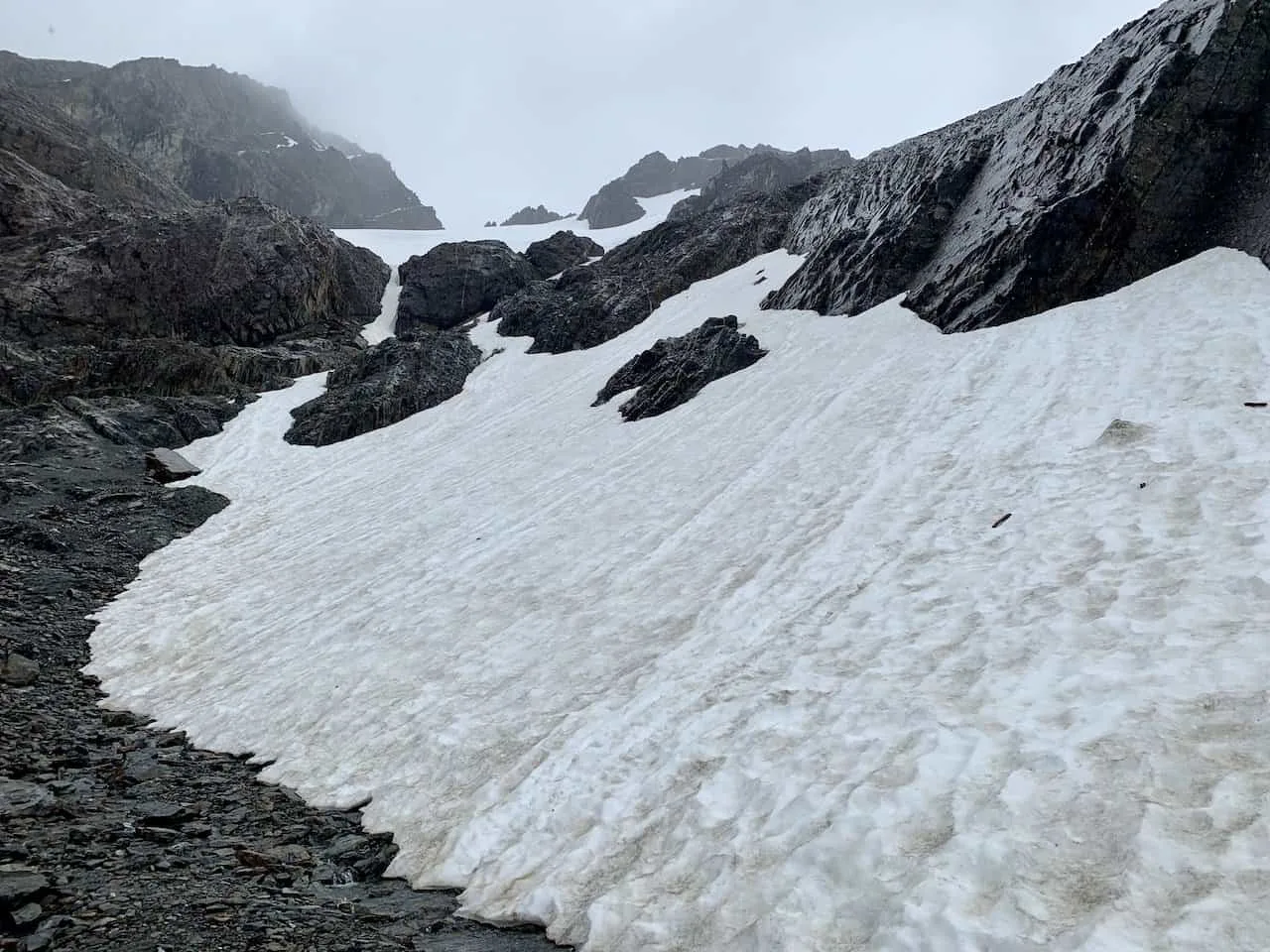 Vinciguerra Glacier & Laguna de Los Tempanos
Trailhead Location: -54.764343, -68.301304
Driving Time from Ushuaia: 15 minutes
Trail Type: Out and back
Hiking Distance: 11.5 km / 7.2 miles
Elevation Gain: +650 meters / +2,132 feet
Hiking Duration: 4-6 hours
Trail Guide: Vinciguerra Glacier & Laguna de Los Tempanos Trail Guide
Located outside of the city center you will find the trailhead to the Vinciguerra Glacier & Laguna de Los Tempanos hike.
This hike is full of beautiful scenery as you hike along rivers, through the forest, and then out to a glacial lagoon and glacier.
The hike starts out in a more open area as you get some great views of the vast surrounding landscape. You will find yourself hiking alongside a river, before making your way across a bridge and into a forested area.
From here, the climb begins as you gain elevation throughout the forest and get closer to the lagoon itself. After exiting the forest, you will be welcomed to the flowing river that you will hiking along for the next portion of trail.
Here is where the incline picks up as you make the last push towards Laguna de Los Tempanos. As you are making the climb up the surrounding views will get better and better until you reach the lagoon.
From the lakeside you will get views of the lagoon and the glacier out behind it. I would recommend hiking up the small hill at the base of the lagoon for some even better views.
After taking in those views, you also have the option to hike towards the glacier itself. On the right hand side you will find a trail that follows the lakeside and then along the moraine to the glacier itself.
Once at the glacier, you can get those up close and personal views of Vinciguerra Glacier before retracing your steps back to the trailhead.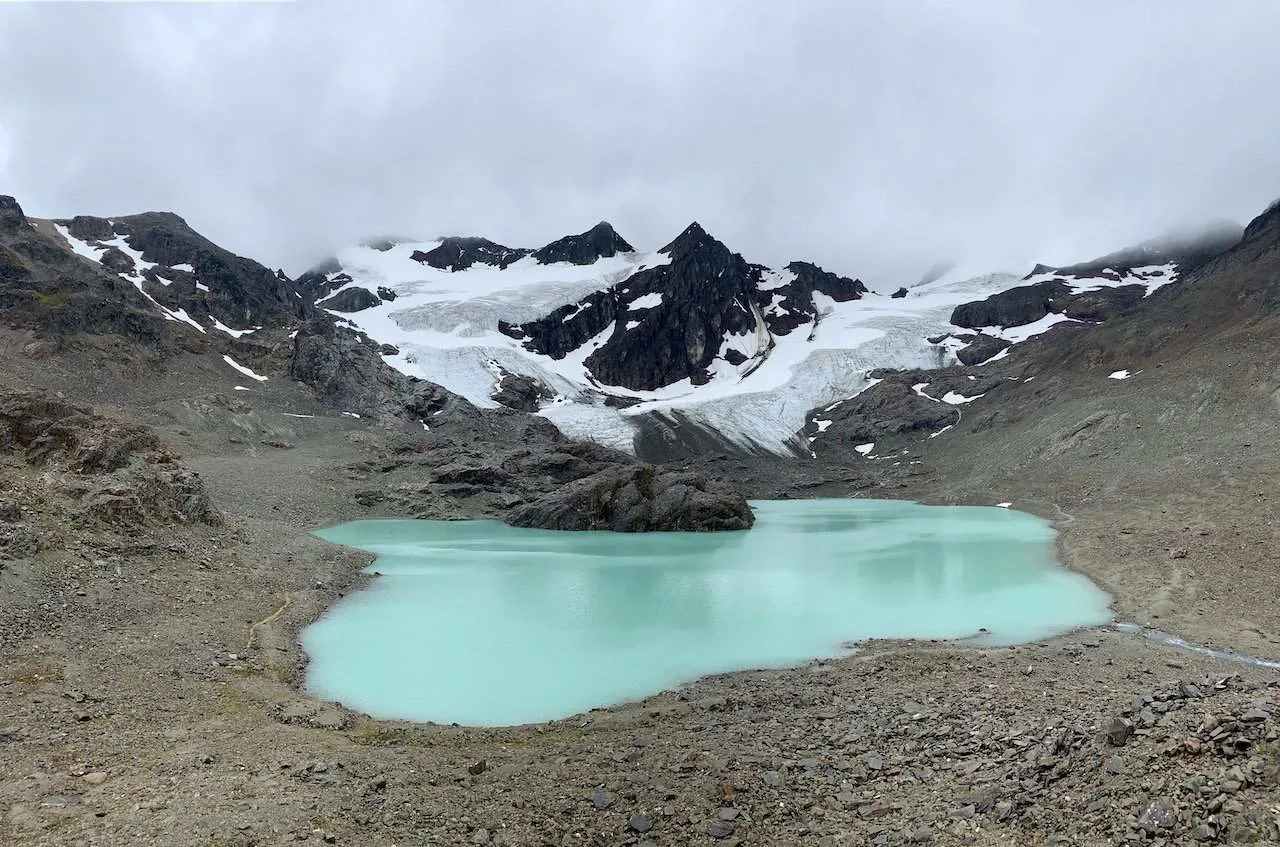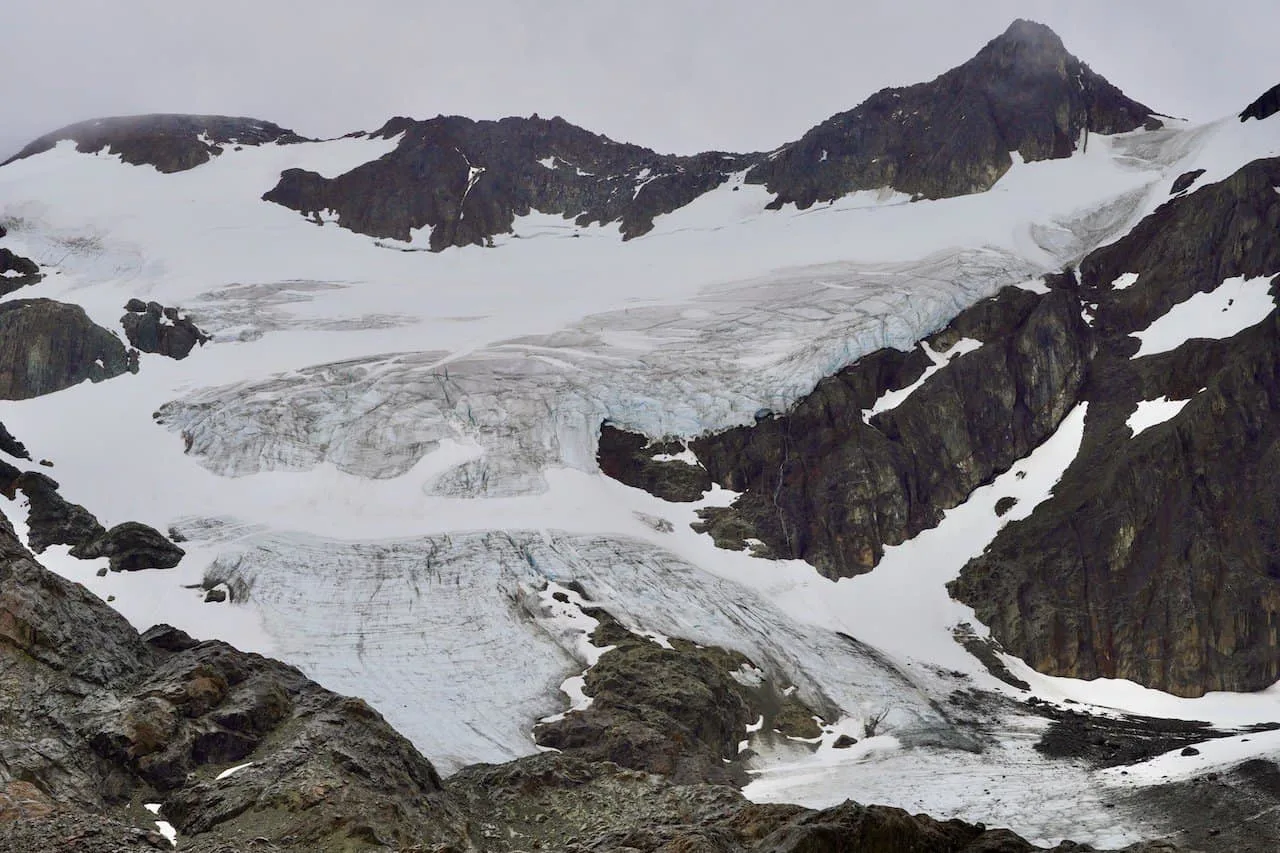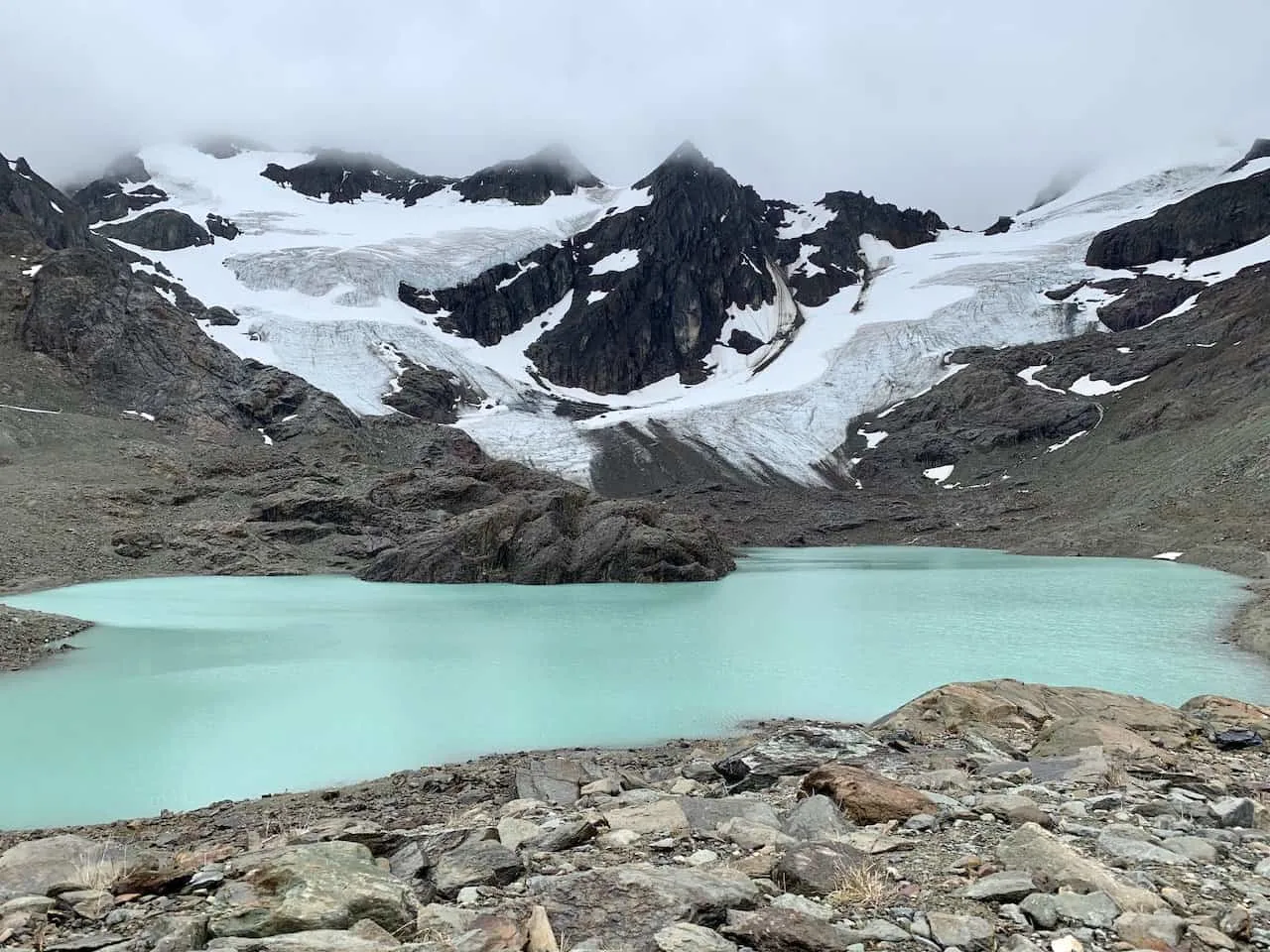 Laguna Esmeralda
Trailhead Location: 54°43'18.8″S 68°07'18.4″W
Driving Time from Ushuaia: 20 minutes
Trail Type: Out and back
Hiking Distance: 5.4 miles / 8.8 km
Elevation Gain: +700 feet / +214 meters
Hiking Duration: 3-4 hours
Trail Guide: Laguna Esmeralda Trail Guide
The most famous of hikes around Ushuaia is that of Laguna Esmeralda. The lagoon is one of the most picturesque places to visit and will give you some stunning views of the surrounding mountains.
While the views and experience at the lagoon will be memorable, it is important to note that the hike itself can get quite muddy and soggy along the way. Out of all of the hikes I did in Patagonia, this is the one that had some of the worst terrain out there.
The trail will begin through a forest, before opening up alongside a river. Here you will get your first glimpses of the various mountains in the region. After hiking through this open area, the trail then heads back into the forest, where you will begin to gain that elevation (and hike through some muddy conditions along the way).
After getting out of the second forest portion is when the trail will get tough to follow as you head through a soggy peat bog. Once you figure out a route to the other side, you will once again hike alongside the river and up to Laguna Esmeralda.
At Laguna Esmeralda you can enjoy the lakeside, taking in the views of the lake and mountains out back. If you are up for it, you can even make the hike around the lagoon to enjoy it from all different angles.
Once back at the base of the lagoon it is then retracing your steps back to the trailhead.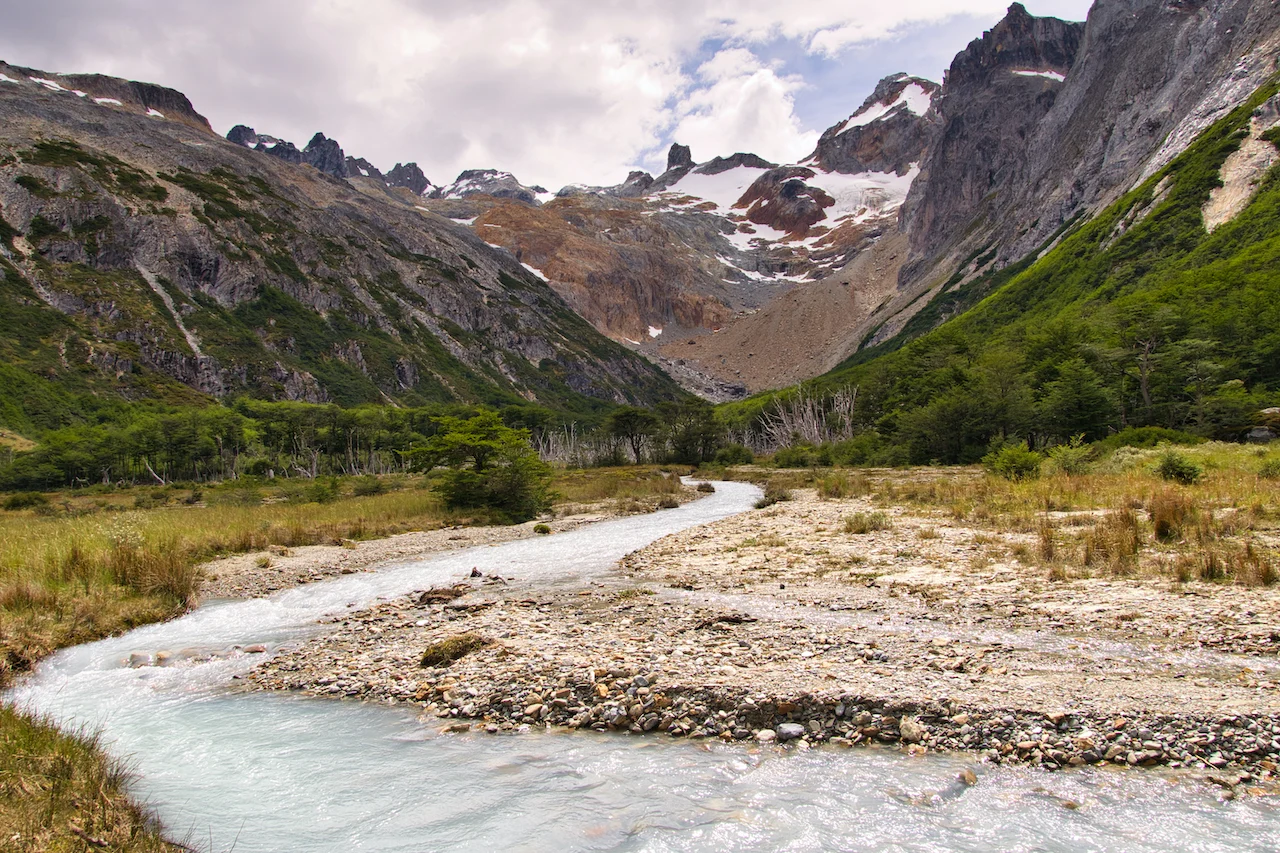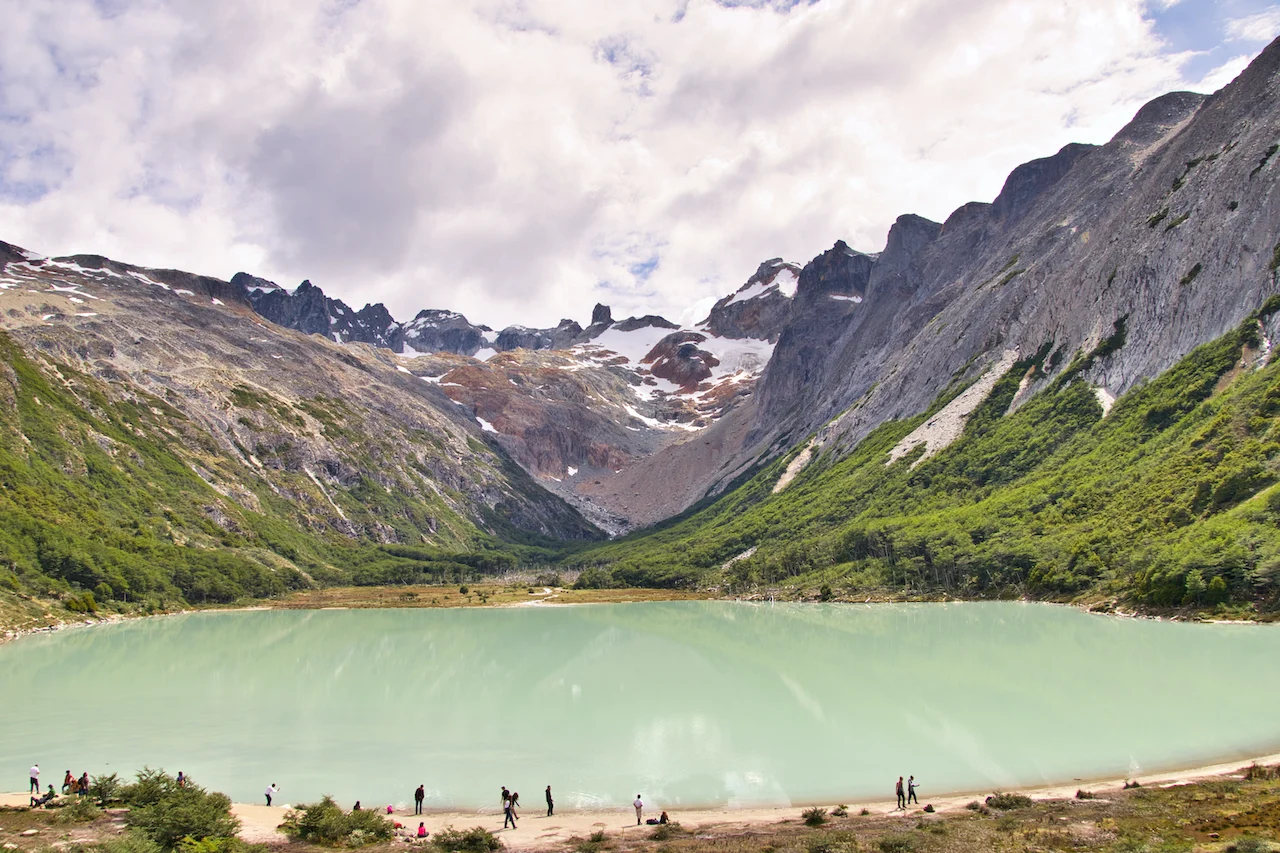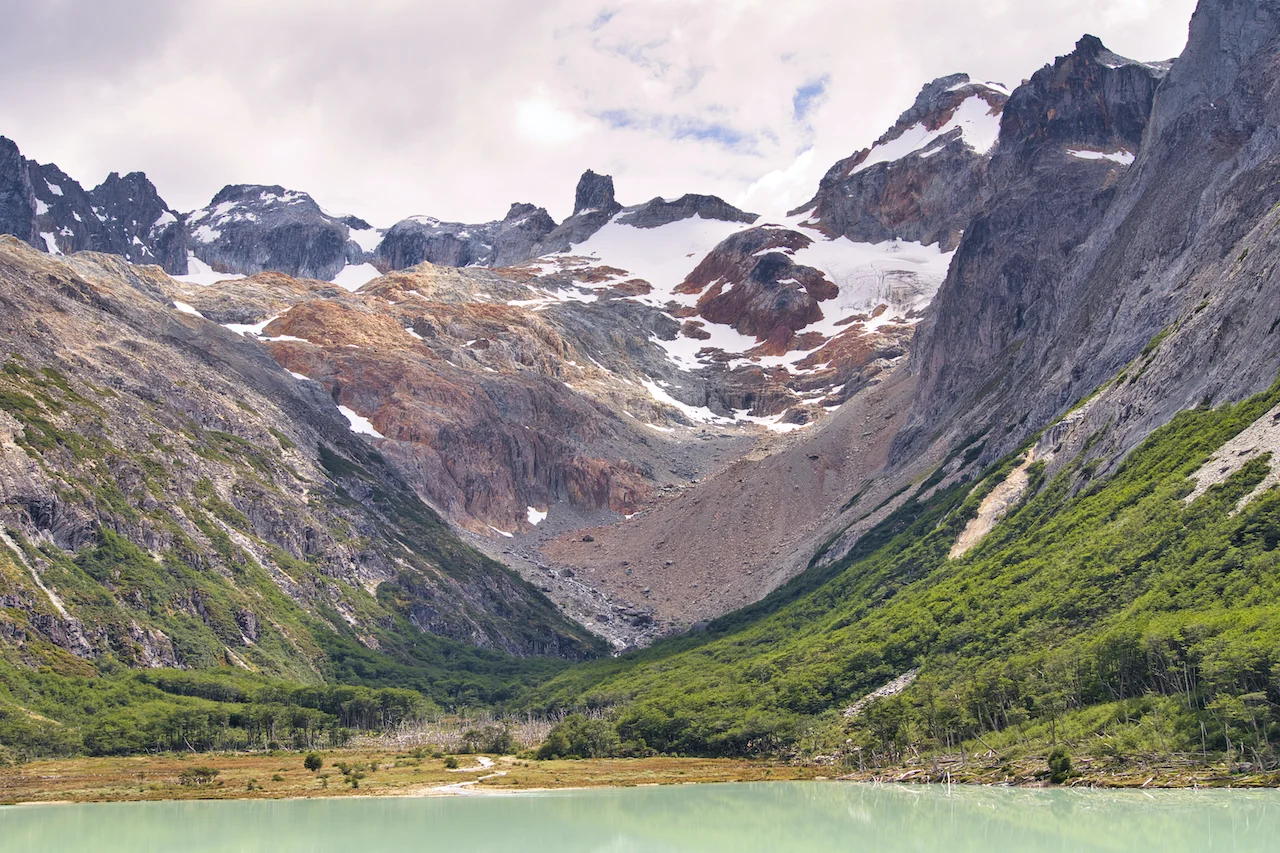 Bahia Encerrada
Trailhead Location: Ushuaia Waterfront
Driving Time from Ushuaia: N/A
Trail Type: Loop Trail
Hiking Distance: 2.7 km / 1.7 miles
Elevation Gain: N/A
Hiking Duration: 1 hour
After arriving in the late afternoon in Ushuaia, I decided to take advantage of the long hours there and head out for a short hike from town. While I wouldn't consider this an official hike by any means, this is a perfect short trail to take part of if you don't want to overexert yourself.
I started the trail along the waterfront as I passed by the Saint Christopher ship and some viewpoint spots.
From there I turned onto the road that separates the Bahia Encerrada from the Beagle Channel (Luis Pedro Fique).
I then continued to circle the small lagoon following a few different pathways before getting back on the main waterfront road. Along the way there were some great spots to enjoy with views of the town and the mountains out back.
Don't be surprised if you get up and close to some airplanes taking off and landing in as the trail heads right towards the airport area.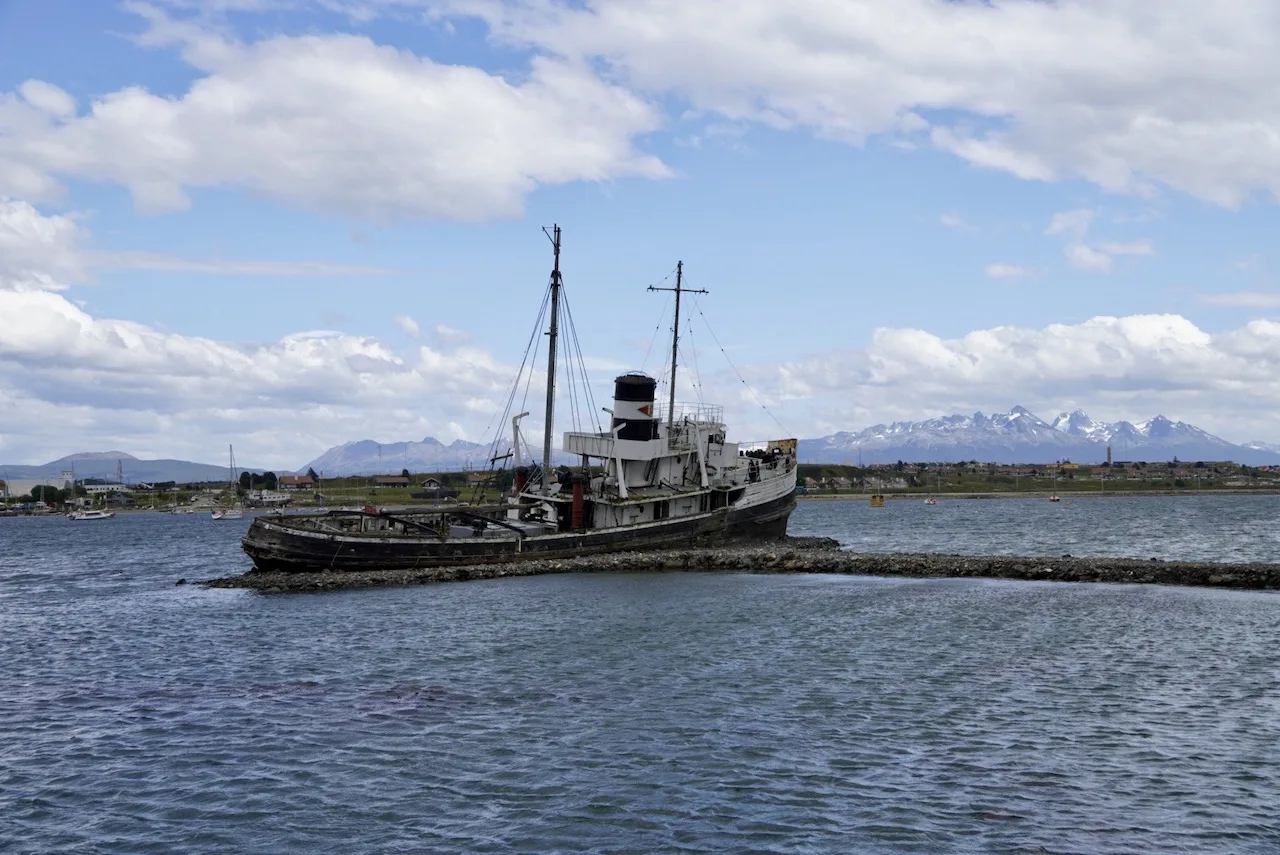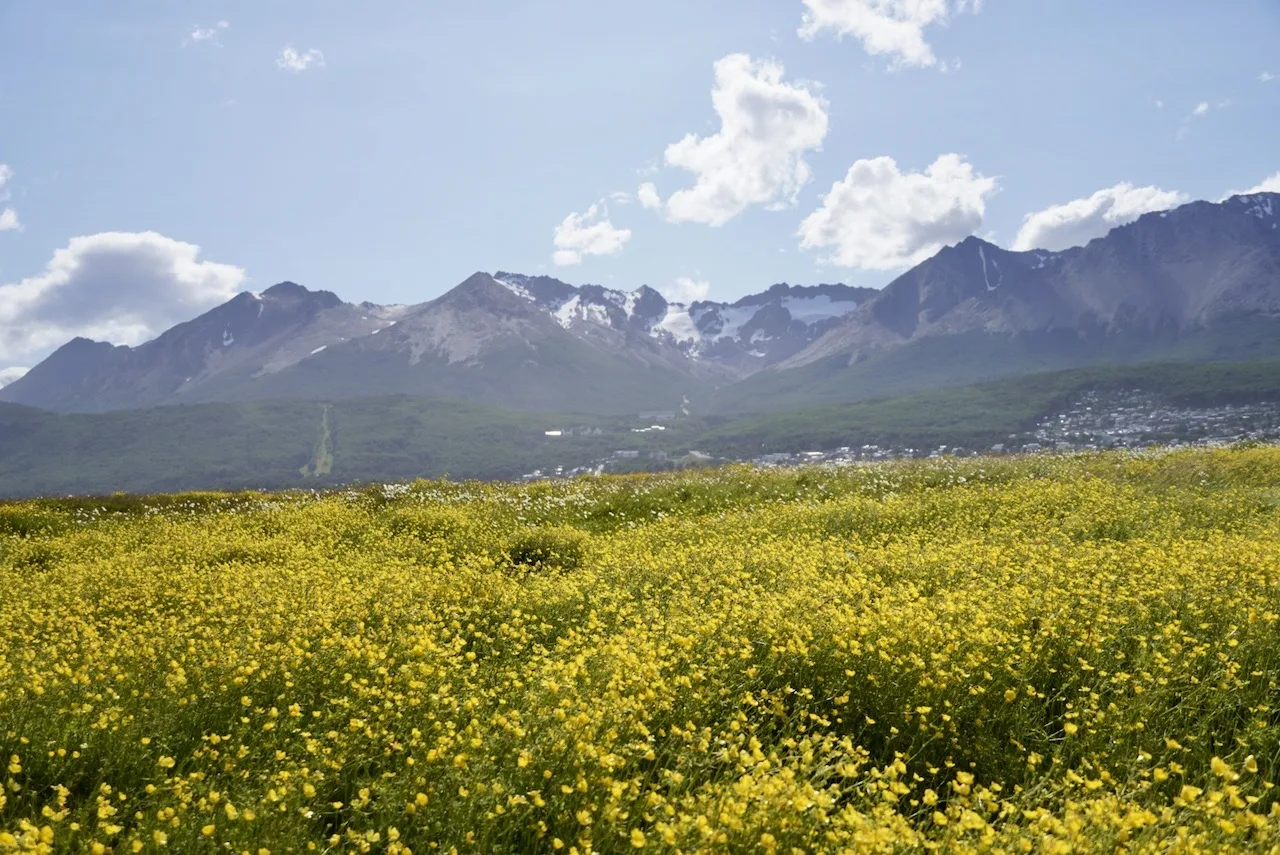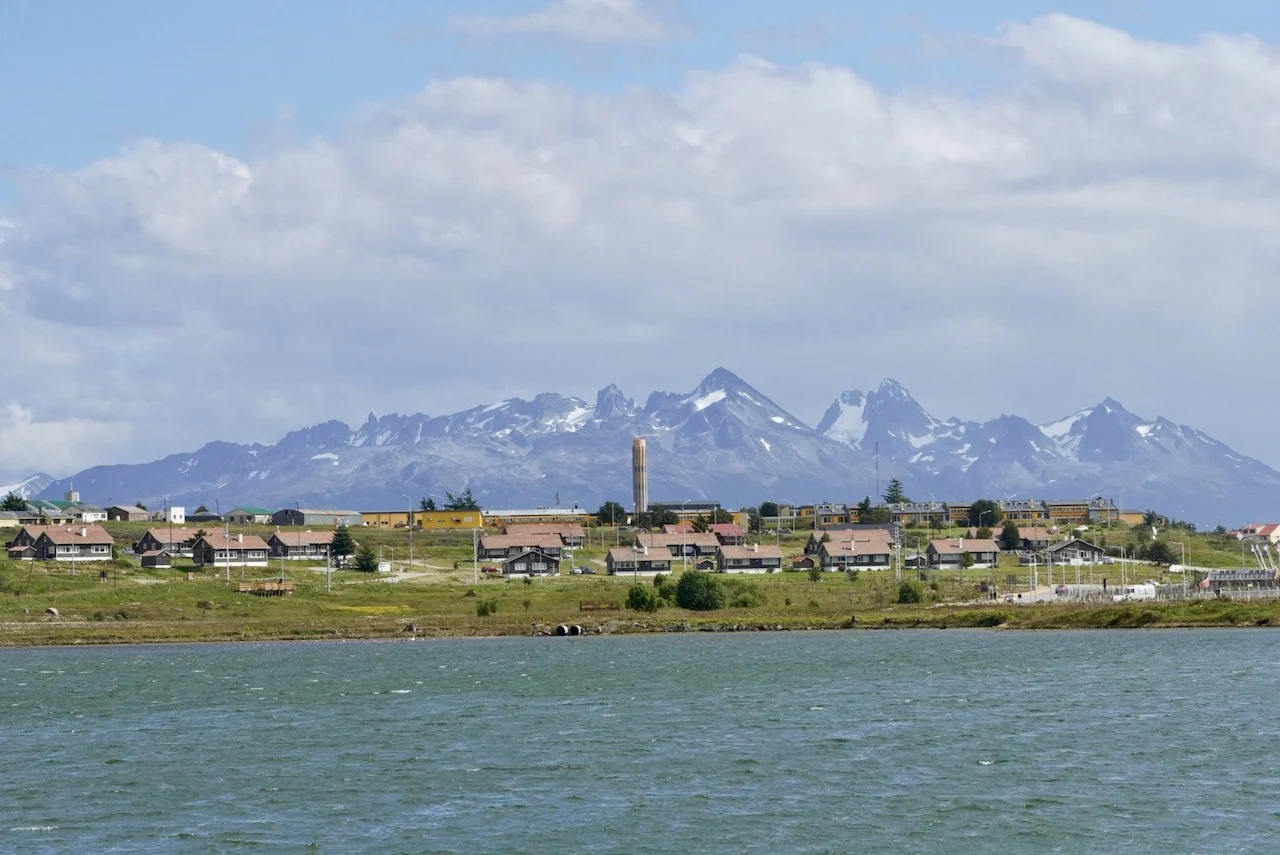 8) Best Tierra del Fuego Trekking Routes
The remainder of these hikes are located within Tierra del Fuego National Park. Since this is a protected area, you will find a single entrance to get into the park along with an entrance fee.
→ Learn more about the park in the Tierra del Fuego National Park guide up on the site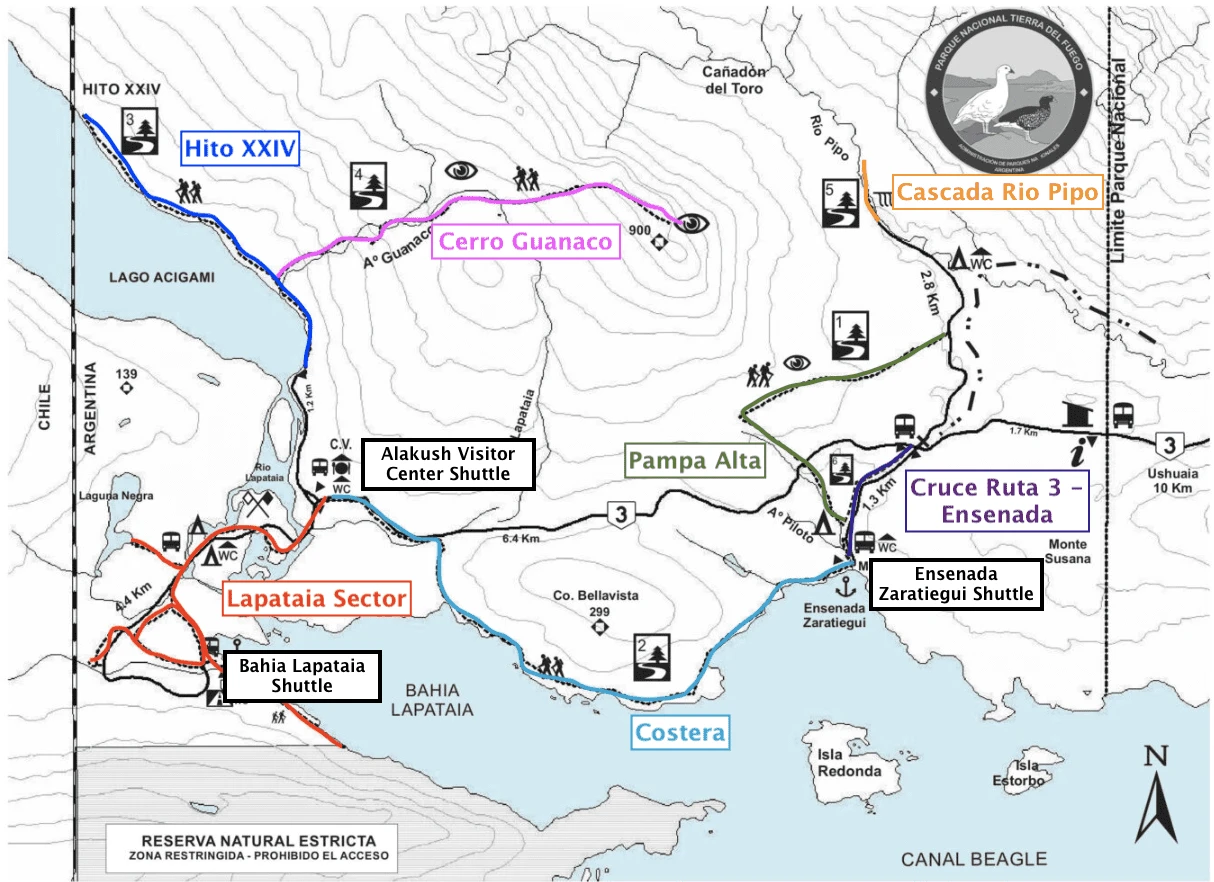 Cerro Guanaco
Trailhead Location: Alakush Visitor Center
Driving Time from Ushuaia: 35 minutes
Trail Type: Out and back
Hiking Distance: 14 km / 8.7 miles
Elevation Gain: +1,000 meters / +3,280 feet
Hiking Duration: 5-6 hours
Trail Guide: Cerro Guanaco Trail Guide
When it comes to mountain hikes in Ushuaia, it doesn't get much better than the Cerro Guanaco trail. The hike begins from the Alakush Visitor Center, heads around the Lago Acigami, and then up into the forest.
From here on out, the elevation gain will continue to increase as you get higher and higher above the National Park. Soon enough, the forest portion of trail will end and you will get to be above the treeline.
It is then a long, arduous climb as you follow the pathway etched into the mountainside and onwards to the Cerro Guanaco summit.
Along the way and up top, you will get the best views you can ask for. In every direction you will have various mountains, glaciers, lakes, valleys, and even the town of Ushuaia in view.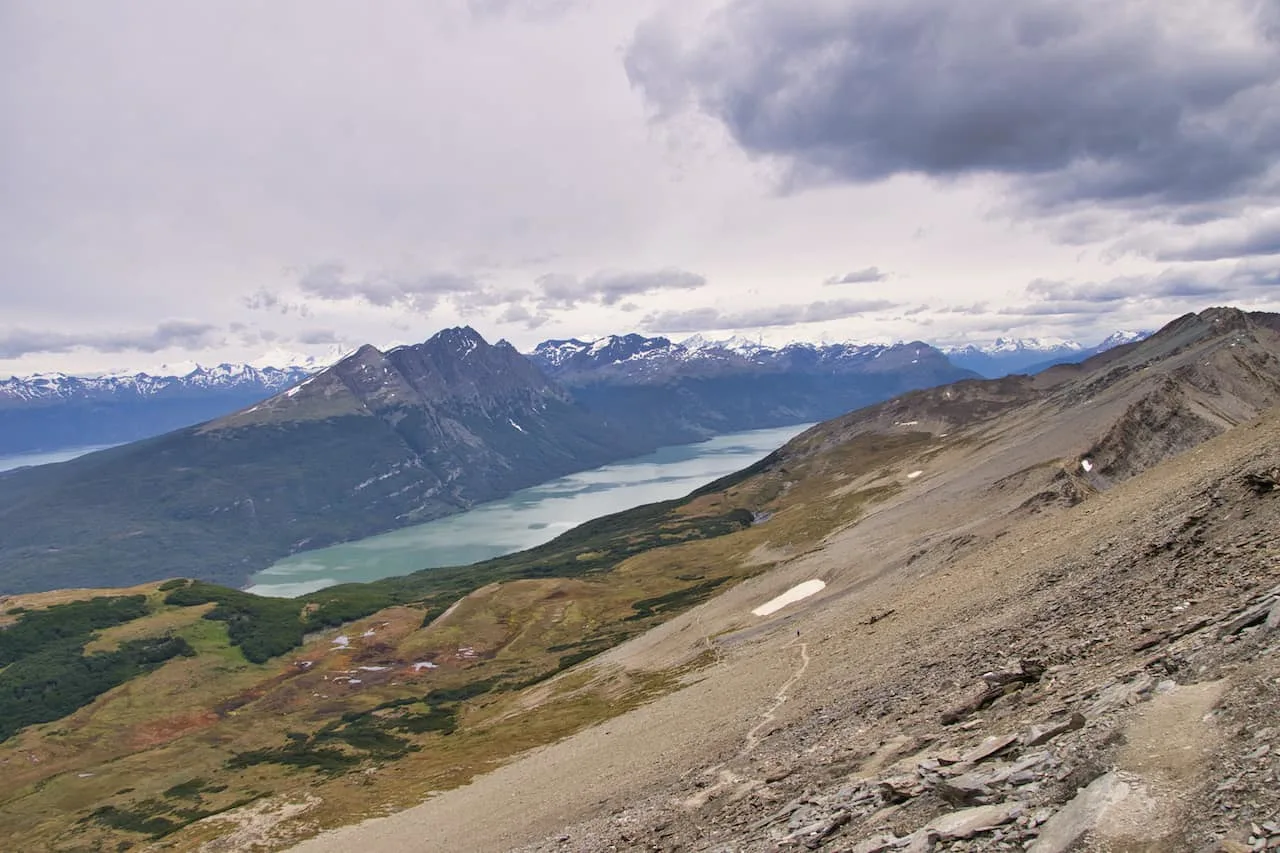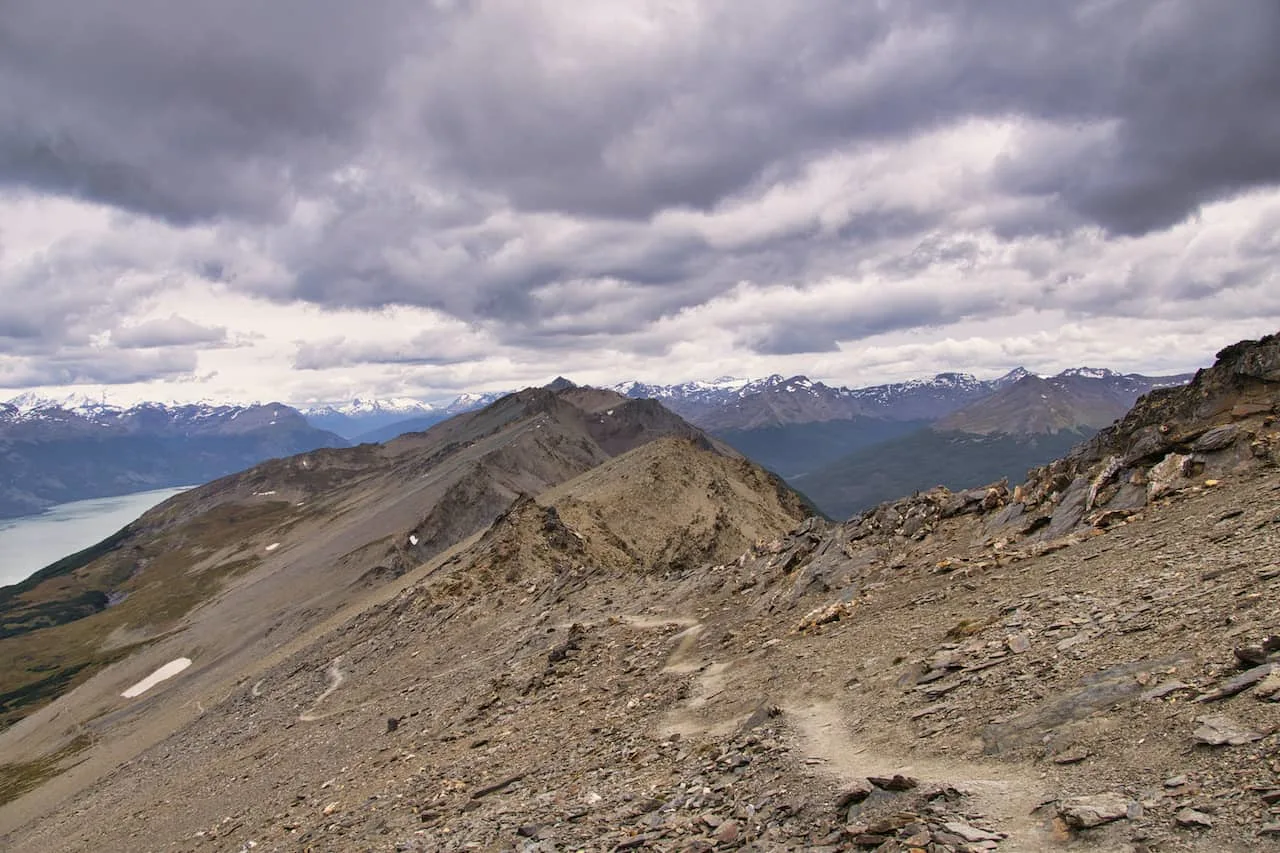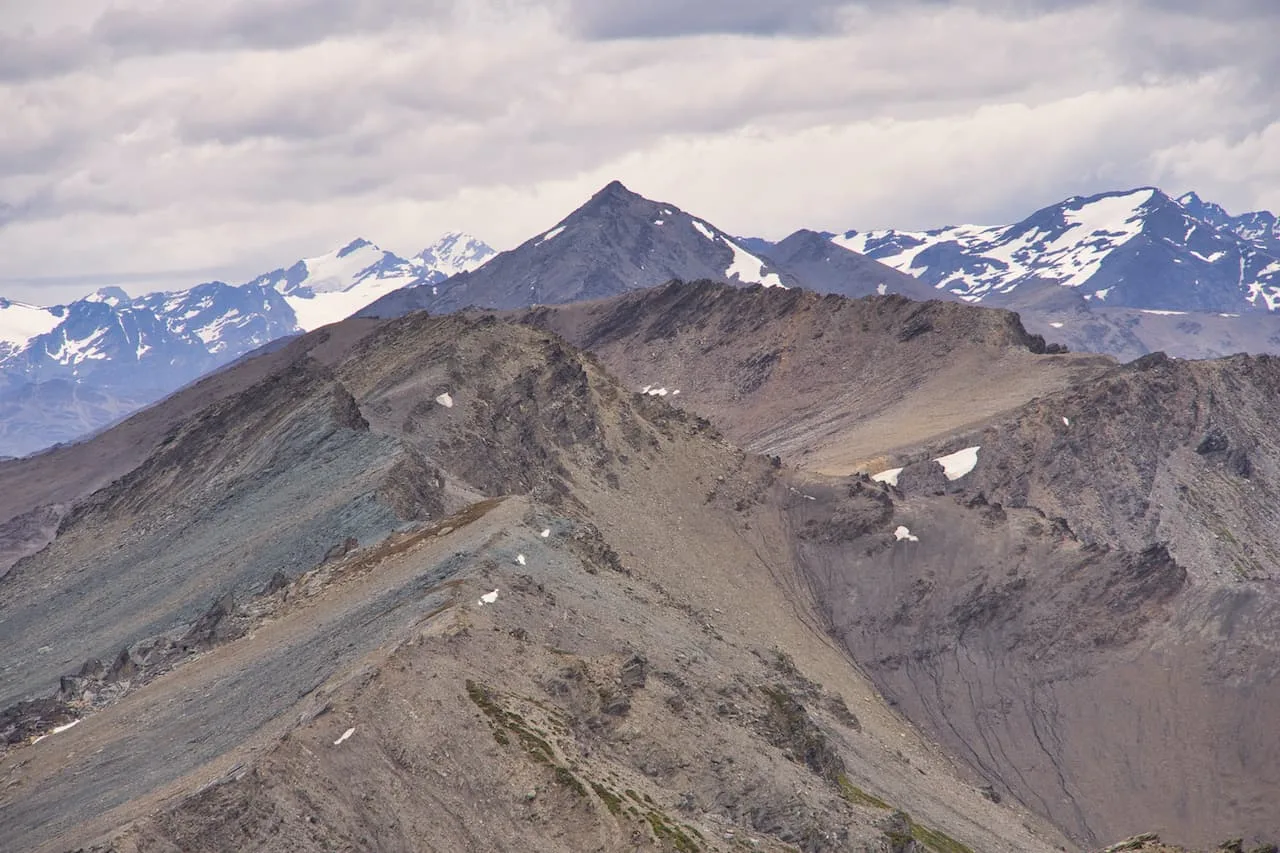 Senda Pampa Alta
Trailhead Location: Ensenada Zaratiegui
Driving Time from Ushuaia: 25 minutes
Trail Type: One Way or Out and Back
Hiking Distance: 4.7 km / 2.9 miles
Elevation Gain: +275 meters / +900 feet
Hiking Duration: 2 hours
This is a hike that starts at Ensenada Zaratiegui, heads up to a viewpoint, and then heads down the other side to the road that connects to Rio Pipo waterfall.
You can also make this an out and back hike instead, by just heading up to the viewpoint and back down the same way you came (starting and ending at Ensenada Zaratiegui).
From the Zaratiegui Bay campsite / shuttle bus stop you can follow the trail upwards into the woods. About an hour into the hike you will be welcomed to views of the Beagle Channel, Bahia Lapataia, and the unique Patagonian landscape all around.
From the viewpoint you can decide to head back down the same way you came or continue onwards to the other side, which meets up with the road that leads to the Rio Pipo waterfall.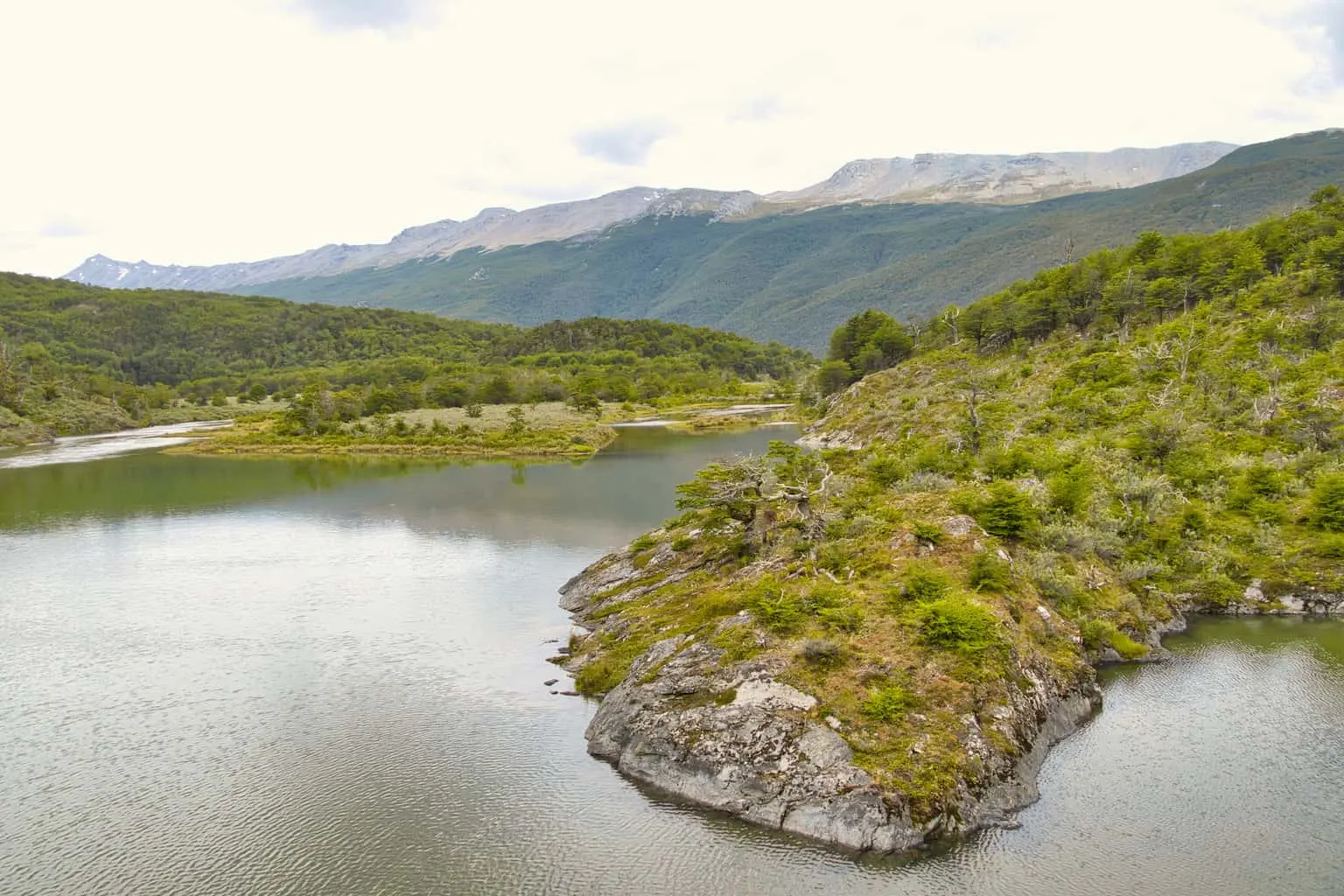 Senda Costera
Trailhead Location: Ensenada Zaratiegui
Driving Time from Ushuaia: 25 minutes
Trail Type: One Way (ends at Alakush Visitor Center)
Hiking Distance: 8 km / 5 miles
Elevation Gain: +180 meters / +600 feet
Hiking Duration: 4 hours
If you are looking for the best coastal track of the National Park, then head on the Senda Costera trail.
The route also begins at Zaratiegui Bay and then wraps its way alongside the waterside before heading inland towards the Alakush Visitor Center.
During the duration of the trail, you will come across small beaches and bays with views of Bahia Lapataia, the Beagle Channel and small islands that dot the water.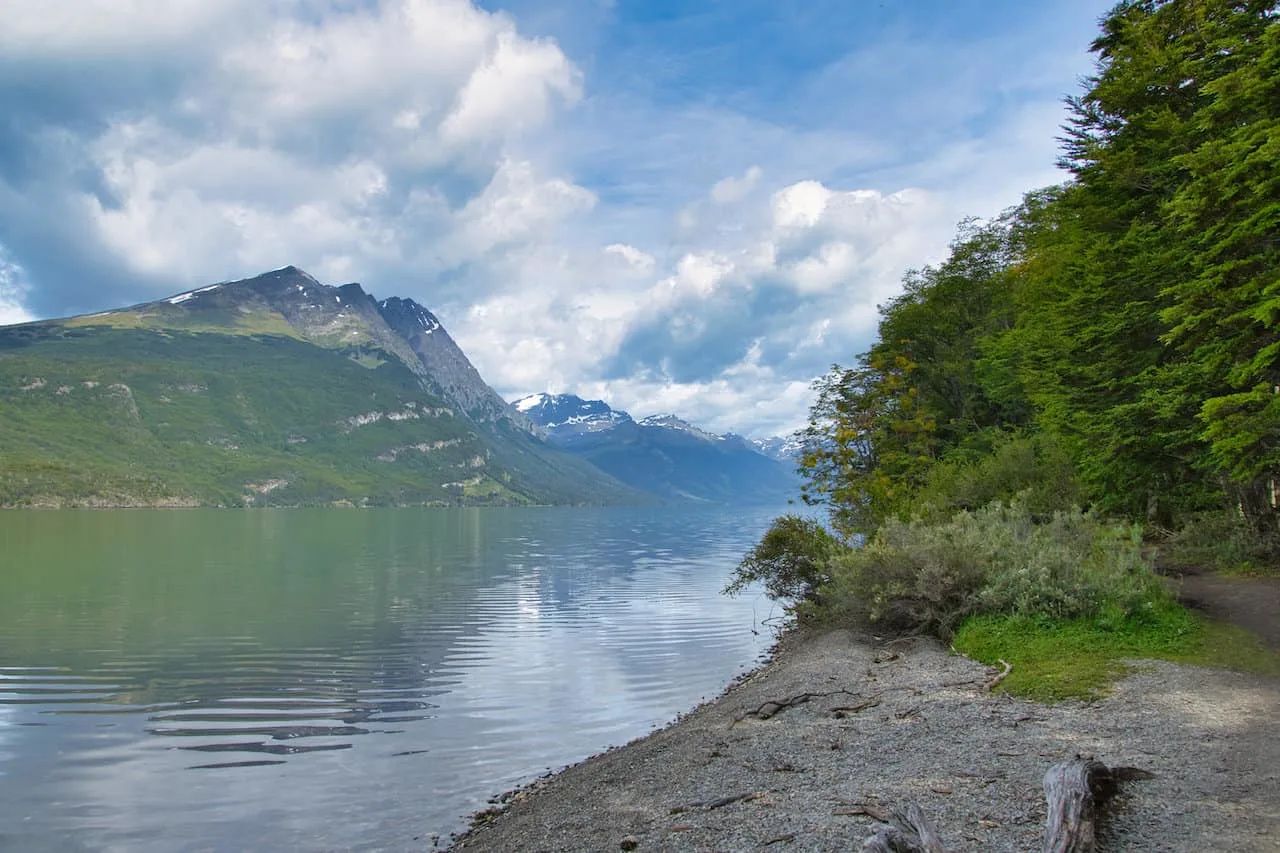 Senda Hito XXIV
Trailhead Location: Alakush Visitor Center
Driving Time from Ushuaia: 35 minutes
Trail Type: Out and back
Hiking Distance: 7 km / 4.3 miles
Elevation Gain: +60 meters / +200 feet
Hiking Duration: 3 hours
The Senda Hito XXIV trail begins at the Alakush Visitor Center and makes its way all along Lake Acigami.
Along the way you will see the turnoff for the Cerro Guanaco hike. But unlike the hike up Guanaco, this hike is quite flat and peaceful to enjoy.
The interesting thing about the hike is at the end point (halfway point I should say), the trail meets up at the border of Chile and Argentina. If you want to quickly step foot in another country, here is your chance!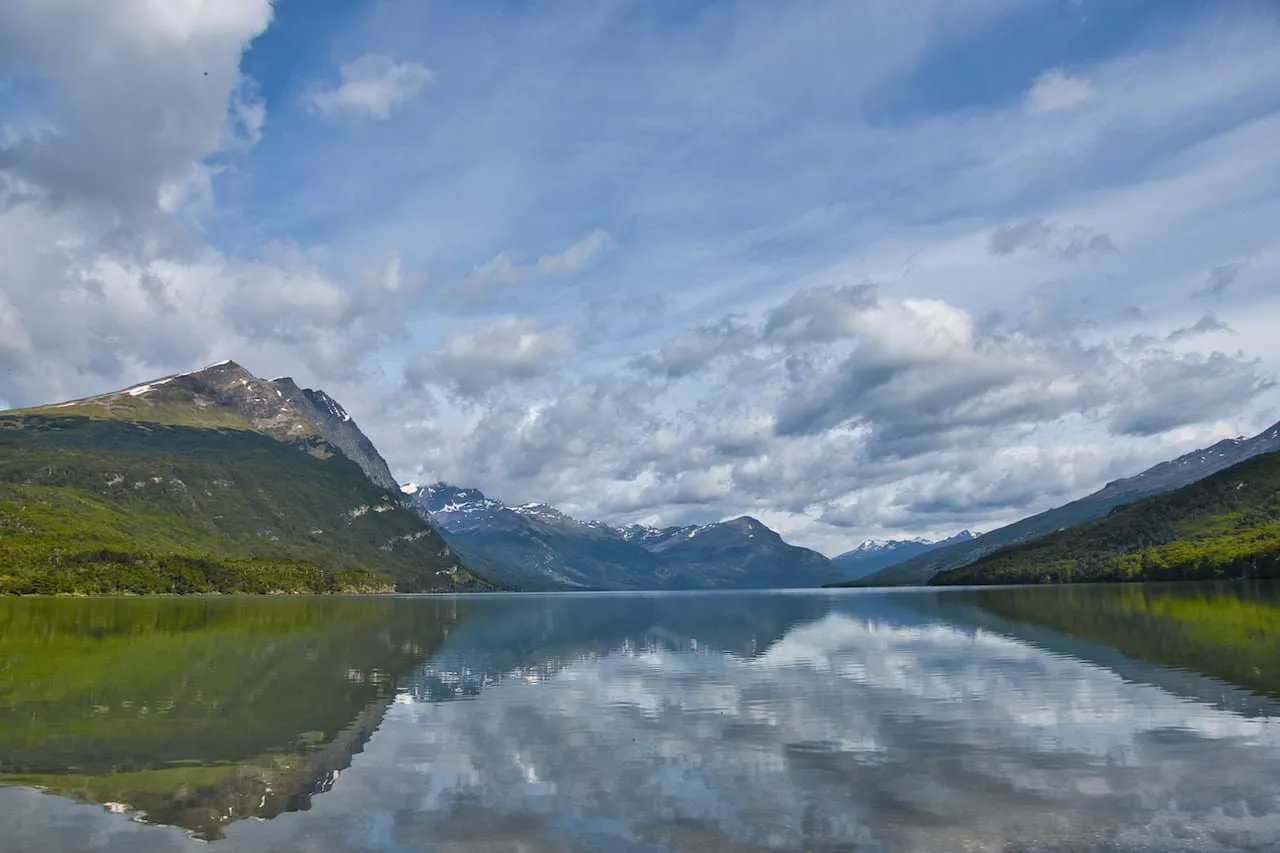 Lapataia Sector
Within the Lapataia Sector there are 6 hiking trails to choose from. However, the most realistic option here is to combine several of the smaller ones into one longer trail. You can start the route from the Alakush Visitor Center and then take part of some or all of the 6 trails towards the endpoint at Bahia Lapataia.
Walking these trails will take you around the small islands and archipelagos of Tierra del Fuego National Park. You have the chance to head towards viewpoints overlooking lagoons and the Beagle Channel with the surrounding mountains of the park in all directions.
Paseo de la Isla
Length: 1.3 km
Duration: 30 minutes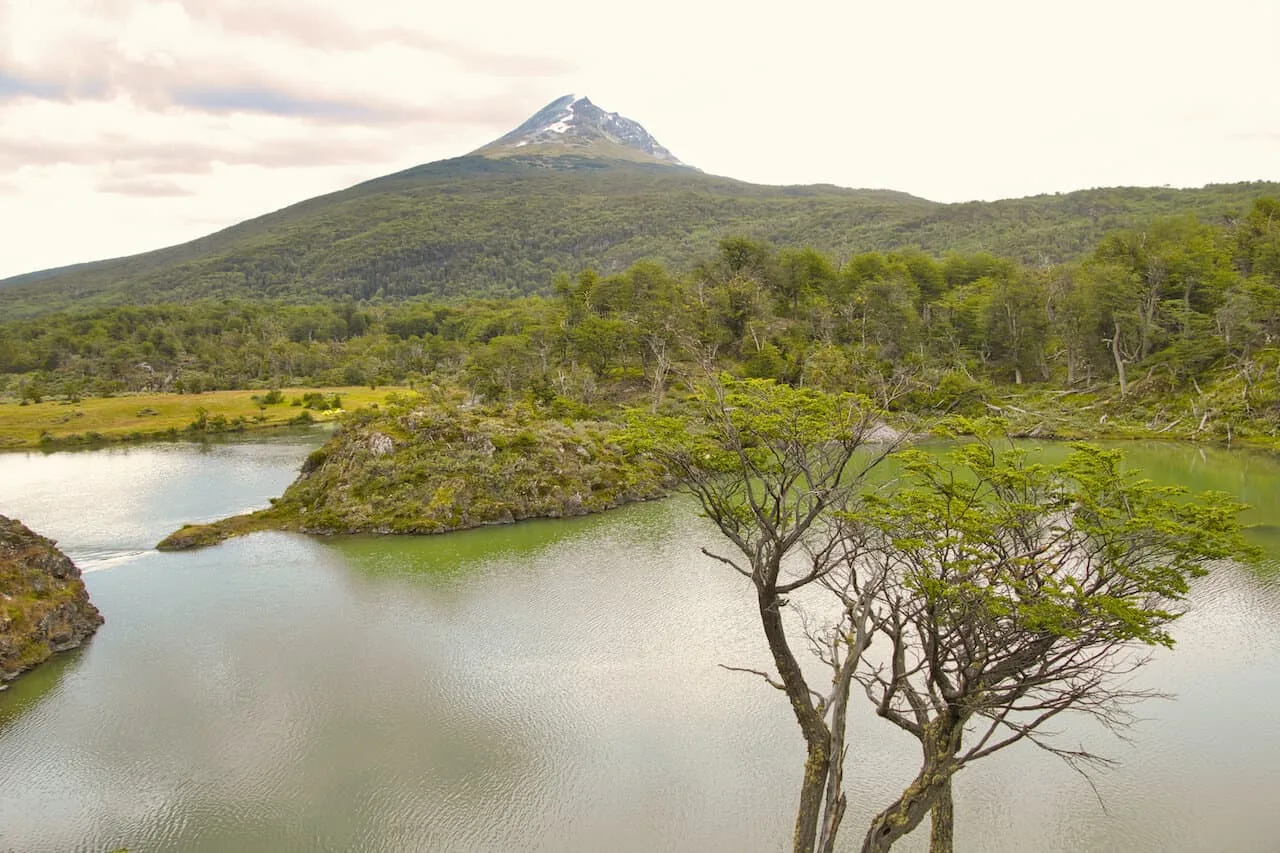 Laguna Negra
Length: 1 km
Duration: 30 minutes (round trip)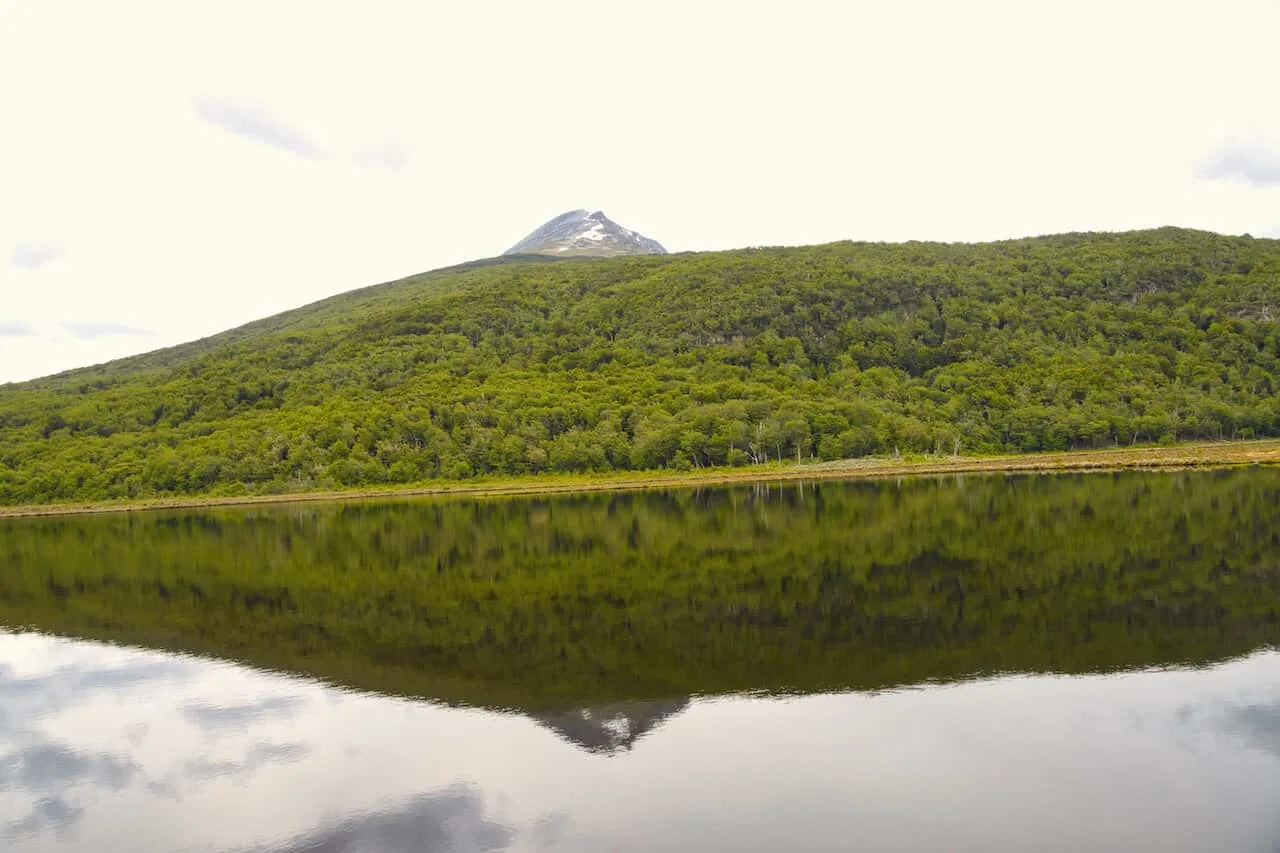 Mirador Lapataia
Length: 1 km
Duration: 30 minutes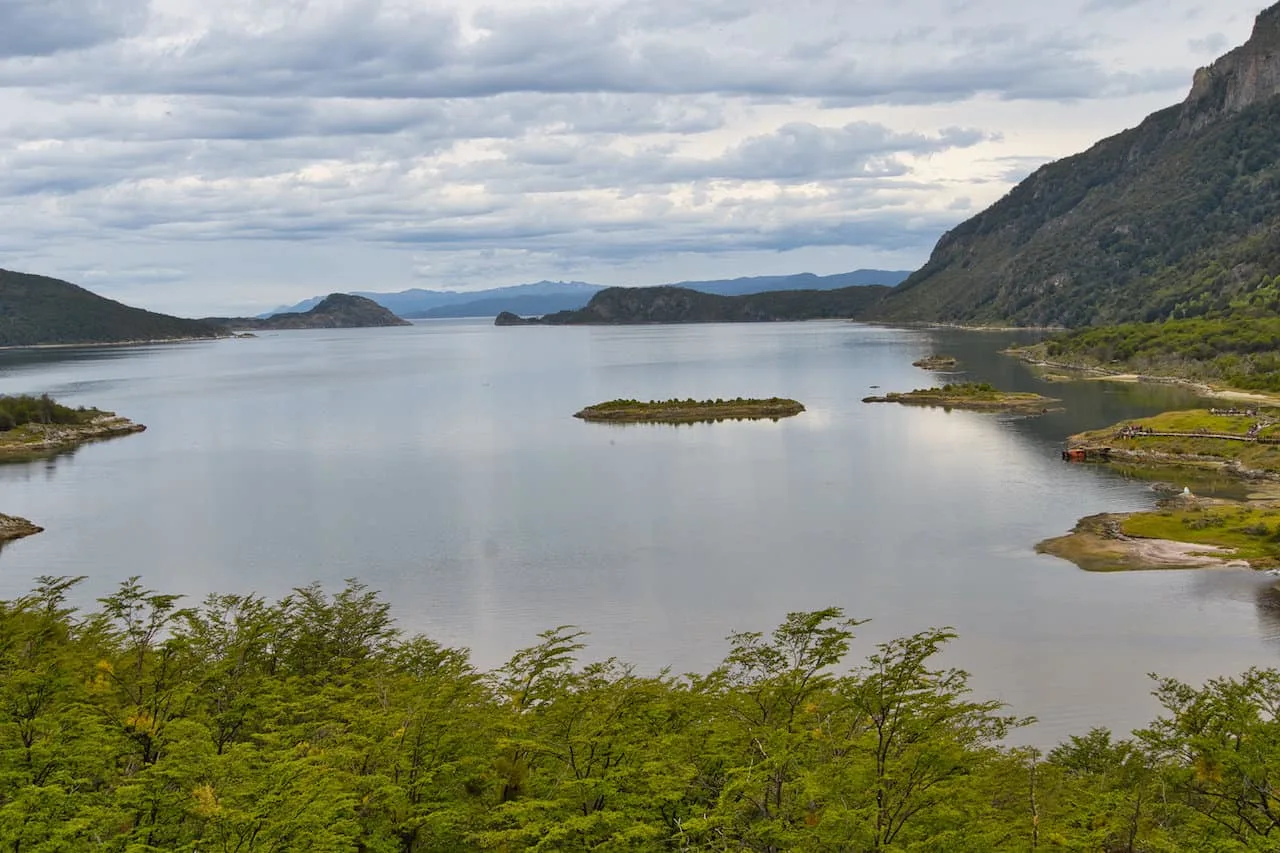 Del Turbal
Length: 1.3 km
Duration: 40 minutes
Castorera
Length: 0.5 km
Duration: 20 minutes
Senda de la Baliza
Length: 2.4 km
Duration: 40 minutes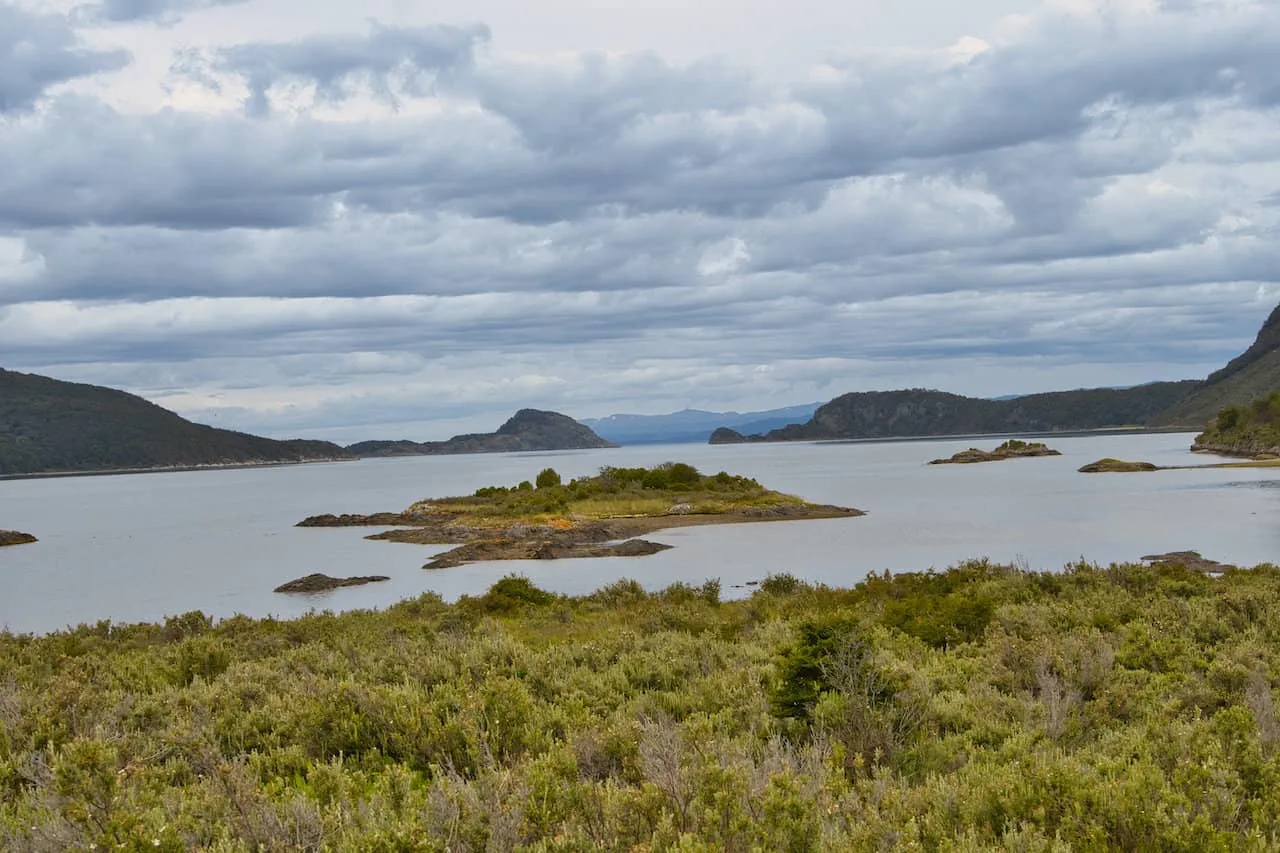 9) Where to Stay in Ushuaia
Ushuaia is essentially the only place you are going to want to base yourself in as you explore the surrounding area and take part of some hikes. Below are just a few of my top recommendations when it comes to where to stay in the city.
These are all highly reviewed and recommended options so you really can't go wrong with any of them.
Just note that during the high season (December- February), accommodation can get booked up. So, once you know your dates, you should book your hotels.
Hotel Tierra del Fuego: for a hotel located directly in the town center, Hotel Tierra del Fuego is a great option. Views of the town, mountains, and water will be right outside your window, and you will be minutes away from the action.

MIL810 Ushuaia Hotel: another centrally located hotel that is a great mid tier option is the MIL810 Hotel. It is a short walk from all the top spots in town to & offers everything you need from an accommodation standpoint.

Los Acebos Ushuaia Hotel: perched up above the town center, Los Acebos is a luxury option that offers guests some of the best views of the Beagle Channel. It is the perfect hotel for those that want a little more style & class.

Arakur Ushuaia Resort & Spa: if you are looking for the top option in Ushuaia, then the Arakur Resort & Spa is for you. While it is on the expensive side, there are few hotels that can compete with its luxurious offerings.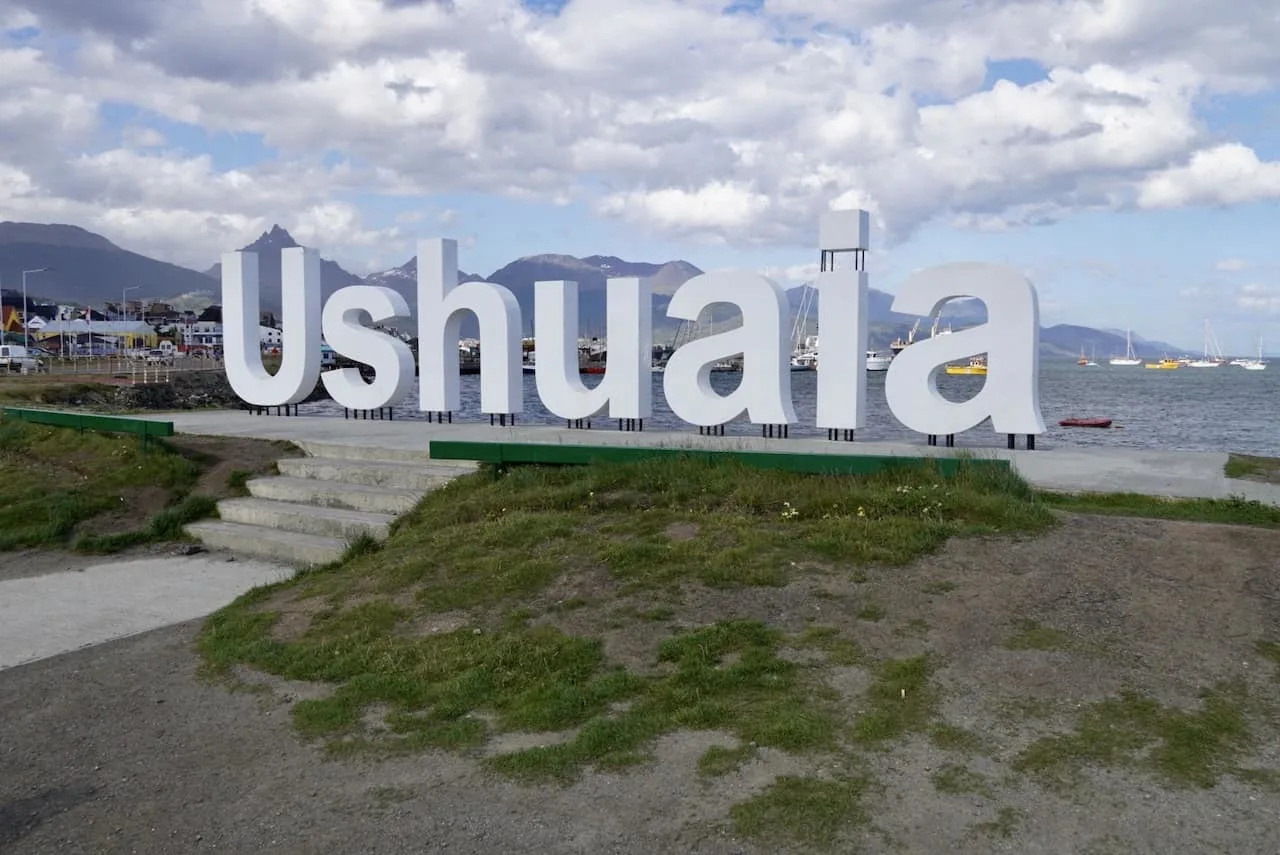 That about does it for a guide to trekking Ushuaia. If you have any questions or comments, feel free to add them in below.
Also, don't forget to check out some of the other Patagonia itineraries and guides up on the site like hiking the Perito Moreno Glacier.
Have fun out there and safe travels!