When it comes to trekking in Ushuaia and the Tierra del Fuego region, it does not get much more beautiful than the Laguna Esmeralda hike. Located just outside of the town center, you will find the trailhead that will be the starting point of your journey.
From there it is a hike through the lenga forest, around the peat moss, along the river, and towards Laguna Esmeralda itself.
This hiking guide will go through all you need to know to take part of the trail. The trekking details, maps, photos, and helpful tips will get you well prepared for your time on the route.
* Affiliate Disclosure: This post may contain affiliate links, which means I may receive a commission if you make a purchase through the links provided, at no additional cost to you. Thanks for supporting the work I put into TripTins!
1) Laguna Esmeralda Trekking Details
Below are some helpful trekking details regarding the Laguna Esmeralda hike so you better understand what this trail is all about.
Trail Name: Laguna Esmeralda
Trailhead Coordinates: 54°43'18.8″S 68°07'18.4″W
Trail Type: Out & Back
Hike Length: 5.4 miles / 8.8 km
Elevation Gain: +700 feet / +214 meters
Trekking Duration: 3-4 Hours
The hike to Laguna Esmeralda is an out and back route that should take around 3-4 hours to complete round trip.
Depending on your interest, you can decide to spend time around the lagoon itself, which will then add additional time to your overall day.
In addition to just hanging out at the lagoon, you can also make the hike around Laguna Esmeralda. This optional add on will lengthen the total hiking time but will give you some great views of the lake from all angles.
At the end of the day, it is hard to go wrong when trekking to Laguna Esmeralda, and you are sure to enjoy your time out on the trail.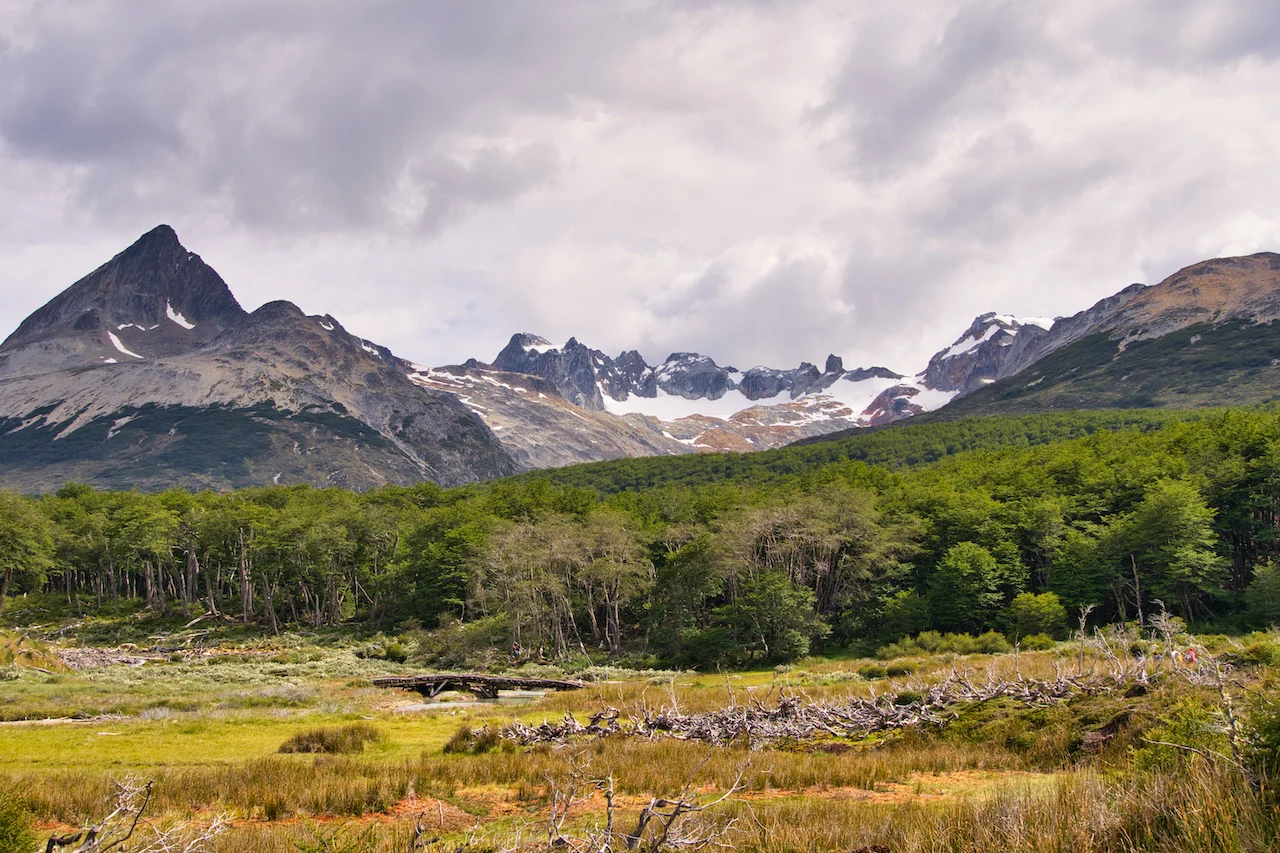 2) Hiking Tips
Before going into more details about logistics, I did want to point out some helpful tips for one section of the trail in particular.
Out of all of the hikes I took part of in Ushuaia, this trail had by far the muddiest and soggiest section to hike through. Towards the later half of the route, you will come across a peat moss bog.
While there are some wooden planks here and there, much of the trail can be pretty tough to walk through. There are times when you may not know if your next step will sink your foot right into the ground.
This is going to be an annoying and frustrating portion of trail to hike around. However, I did want to give a few tips to consider when going about it.
Footwear: Be sure to bring the appropriate footwear on this hike. You will not want to just wear regular sneakers or running shoes. Having proper hiking boots will go a long way in terms of keeping your feet dry and getting a better grip in the muddy and soggy terrain (bringing knee high rain type boots would be even better for this section).
Packing List: In general, you may want to take a look at this hiking packing list I put together to get a good idea of the various items to bring along.
Route: While this soggy section can differ from year to year, I had some better luck heading to the left (to the right on the way back). I can't say for certain if this will still be the case, but it is worth a shot if you are having trouble finding a walkable trail.
Follow the Guides: If you see hiking groups with a guide, I would recommend following their lead in this section. The local guides will have a better idea of the best route to keep your feet dry.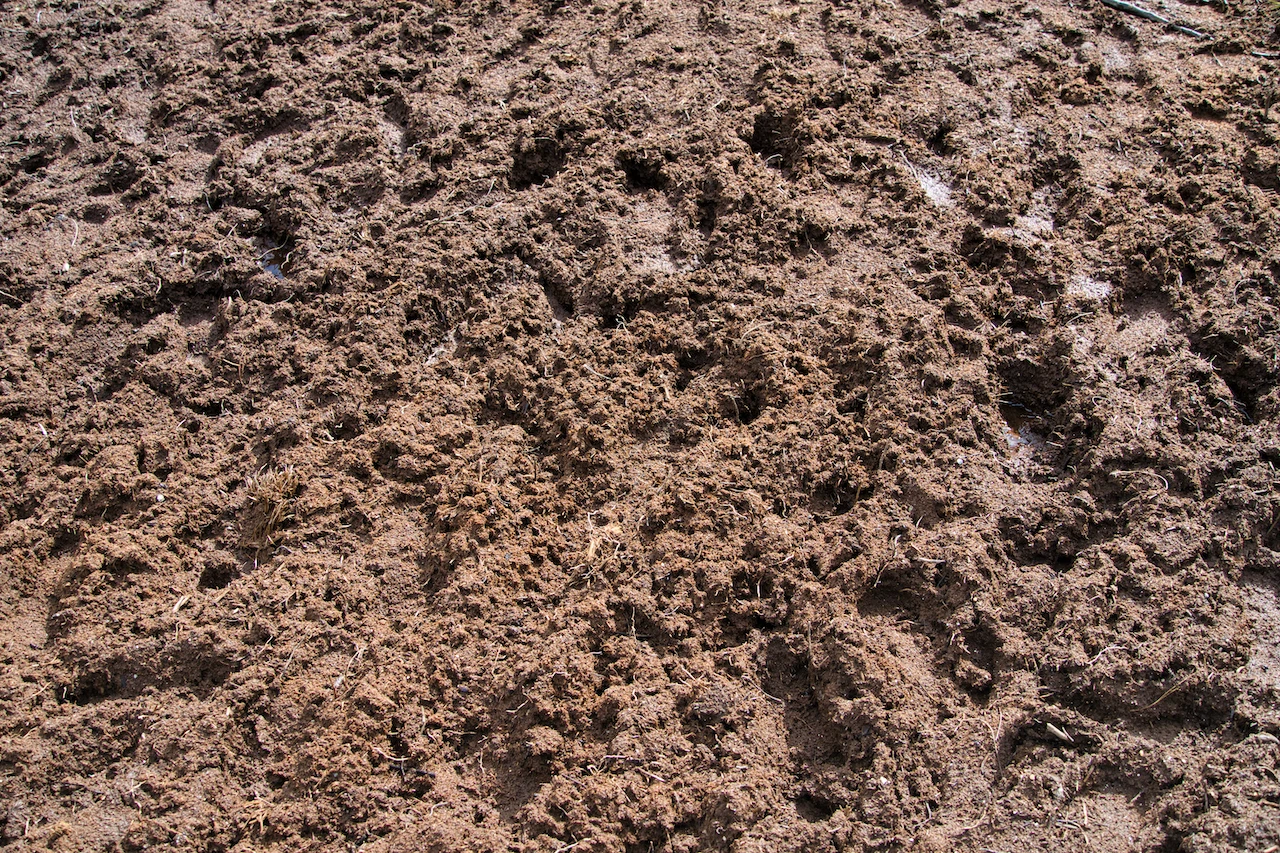 Hiking Resources & Checklist

Before heading out for the trails, be sure to read up on some of the hiking resources up on the site. These are here to better prepare you for all types of outdoor adventure.
3) How to Get to the Trailhead
Since the trailhead is located just 20 minutes / 18 km away from Ushuaia, it won't be too difficult to get yourself there. In general, there are four main ways to get to the trailhead from the town center.
Laguna Esmeralda Shuttle Bus
In town, there is a shuttle bus station that is the central place to grab shuttles to various hikes around the region.
During my time in Ushuaia, they had one shuttle bus leaving at 10:00AM each morning to the Laguna Esmeralda trailhead
If this option if of interest to you, I would recommend double checking the day before on the shuttle bus timing just to be certain.
The shuttle bus costs around $7 round trip, with return times at 3:00PM and 5:00PM (but remember to check with them to understand the most up to date times).
Rental Car
If you rent a car while in Ushuaia, you should have no trouble driving yourself to the trailhead on your own schedule.
The trailhead is just 18 km from the town center and you will find a parking lot there to leave your car. If the lot is full, you may have to find some roadside parking.
The nice thing about having your own car is that you can head there at any time of the day based on your own schedule. So, if you wanted to get an earlier start, this could work out for you.
Feel free to take a look at Rentalcars.com to get a good overview of all the different car rentals options that are available
Taxi
On the other hand, you could also hire a taxi to take you to the trailhead. You will find taxis in town or could just have your hotel call one for you.
If you do opt to take a taxi, you will want to let them know what time to pick you up. I would say to leave at least 5 hours, given you may want to spend time around the lake itself.
Tour
The last option is going to be a guided tour. This will be the most convenient and hassle free of options. You will have all logistics taken care of for you and a guide will help get you back and forth on the trail.
If this is something that is of interest to you, I would recommend checking out this Laguna Esmeralda tour, which is one of the highest recommended options out there.
Below you can find a map with the route from Ushuaia to the trailhead in addition to the trail itself.
4) Laguna Esmeralda Map & Elevation Gain Profile
I would say there are four main sections of the trail from the parking lot to Laguna Esmeralda.
Lenga Forest: 1 km / 0.6 miles
Along the River: 0.7 km / 0.4 miles
Back in the Forest: 1.3 km / 0.8 miles
Peat Bog & Up to the Lake: 1.4 km / 0.9 miles
The trail is a mixture of forest and hiking along a river. During that last section of trail, when you exit the forest, is when things will get soggy. But after getting through the peat bog terrain, the trail then follows the river and heads up to the lagoon itself.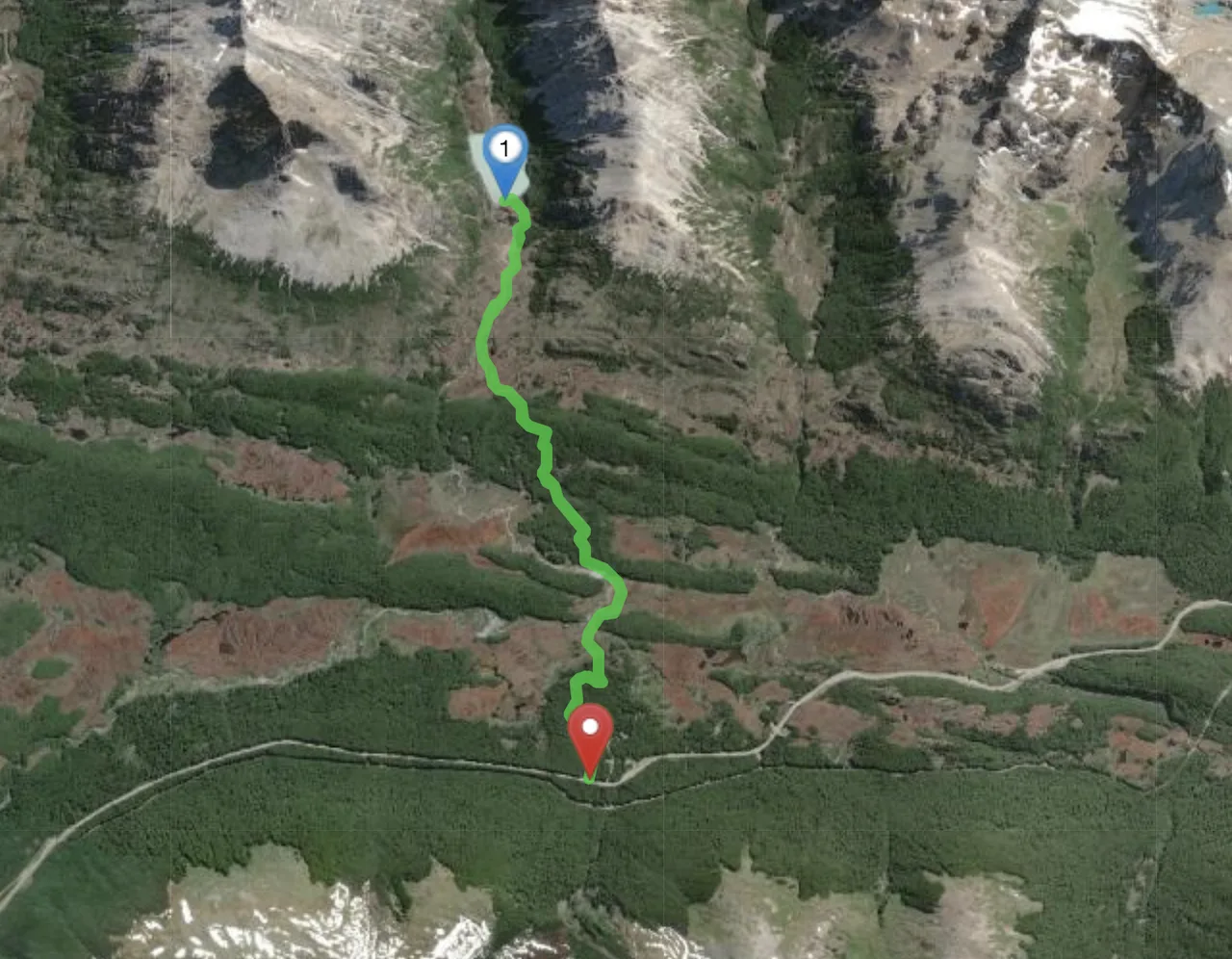 You can also see the elevation gain profile of the hike below. Overall, there is not too much elevation gain all things considered.
You will find most of the gain through the second part of the trail as you head through the forest and up towards the lake.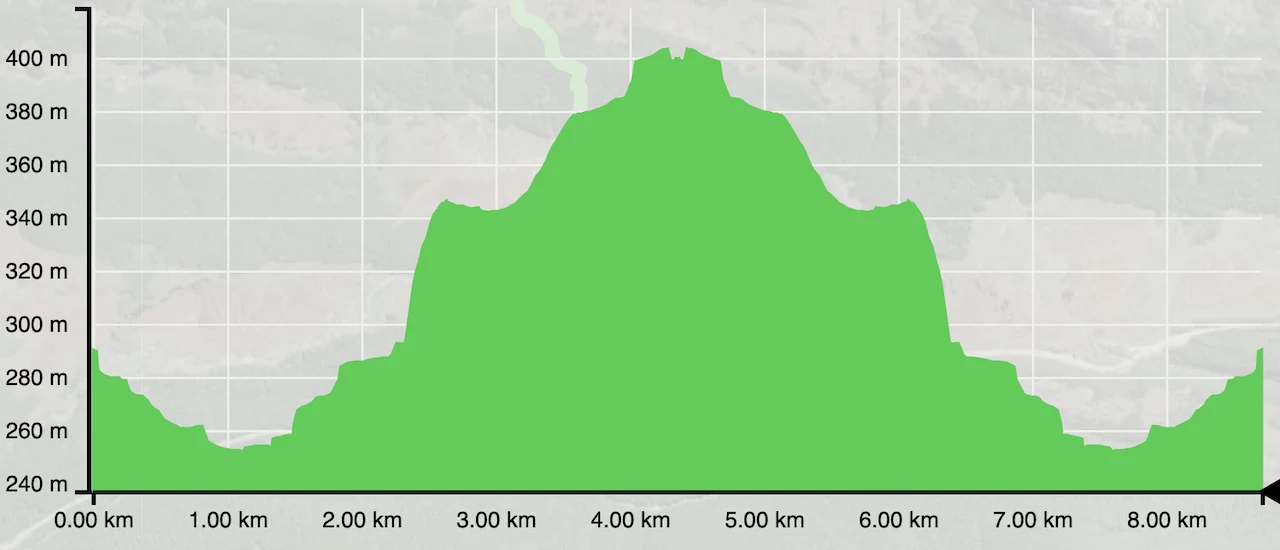 Learn More: Take a look at this Ushuaia itinerary to get a better idea on how to put together a comprehensive trip to the region.
5) Laguna Esmeralda Hike
Once you have made your way to the parking lot, either by shuttle bus, rental car, taxi, or tour, it is time to begin the hike up to Laguna Esmeralda.
From the parking lot you will see two trails – one straight and one on the left. It does not matter which trail you take as they meet up around 10 minutes into the hike.
This first section of the trail will be through a lenga forest.
This is an easier portion of trail that is mostly flat and has some slight downhill section to it too. It is a great little warmup to the overall hike and shouldn't take too long at all. Be aware though that this portion of trail can get muddy after recent rains.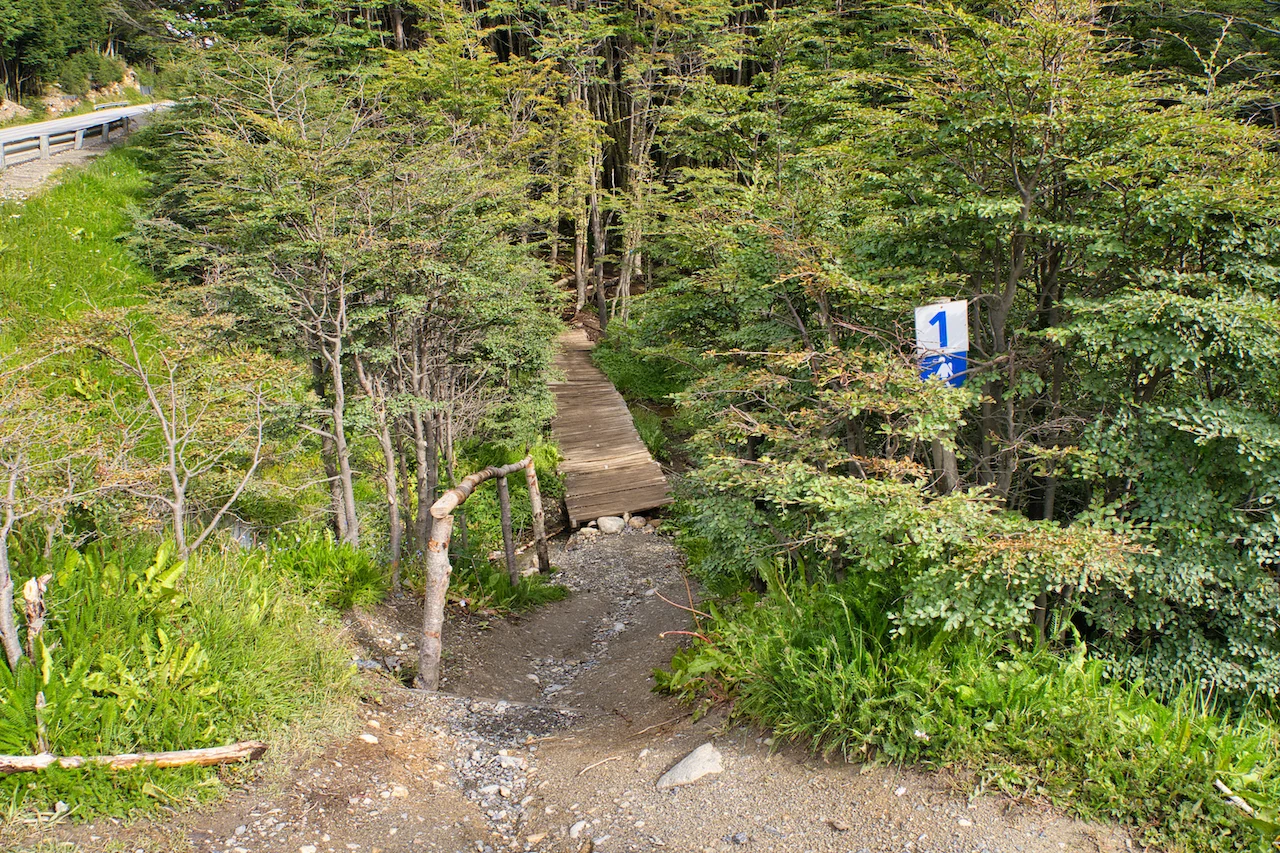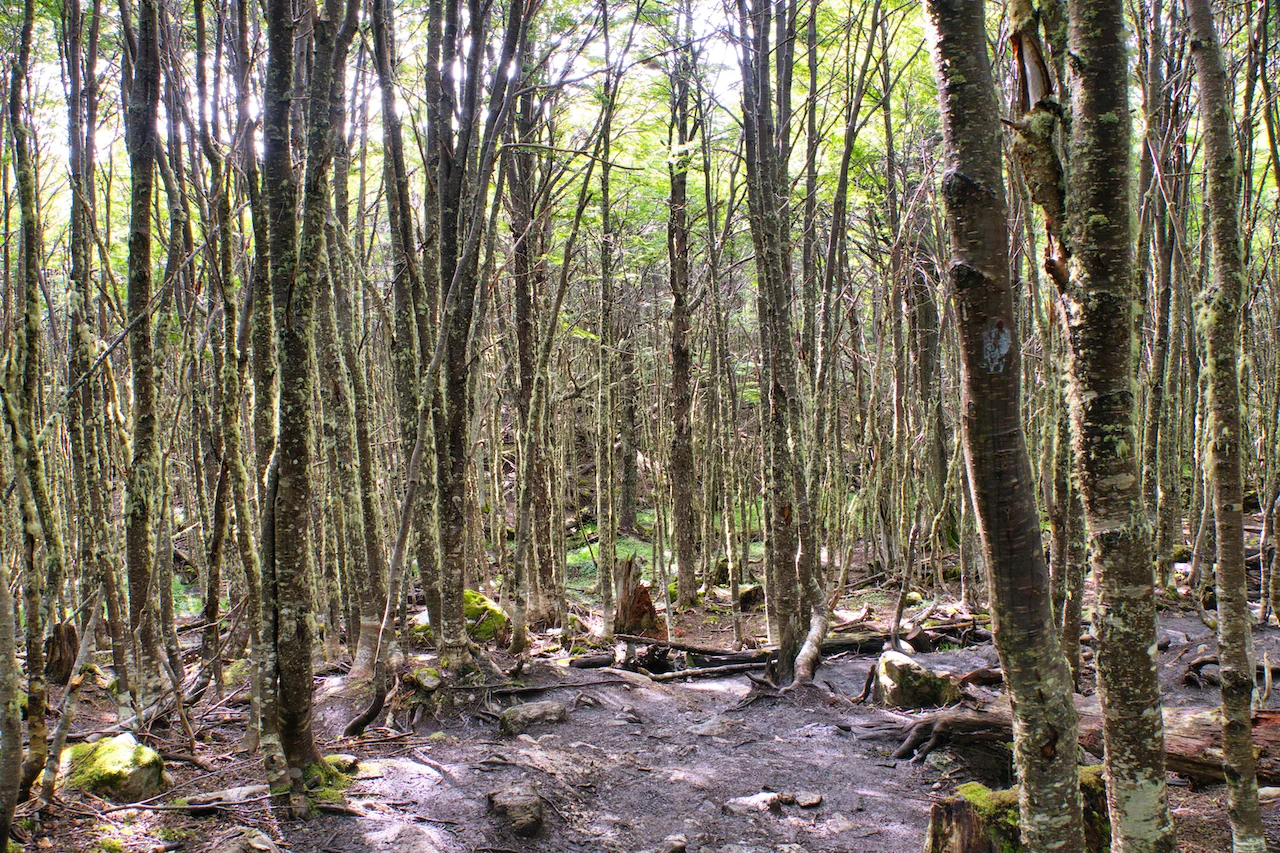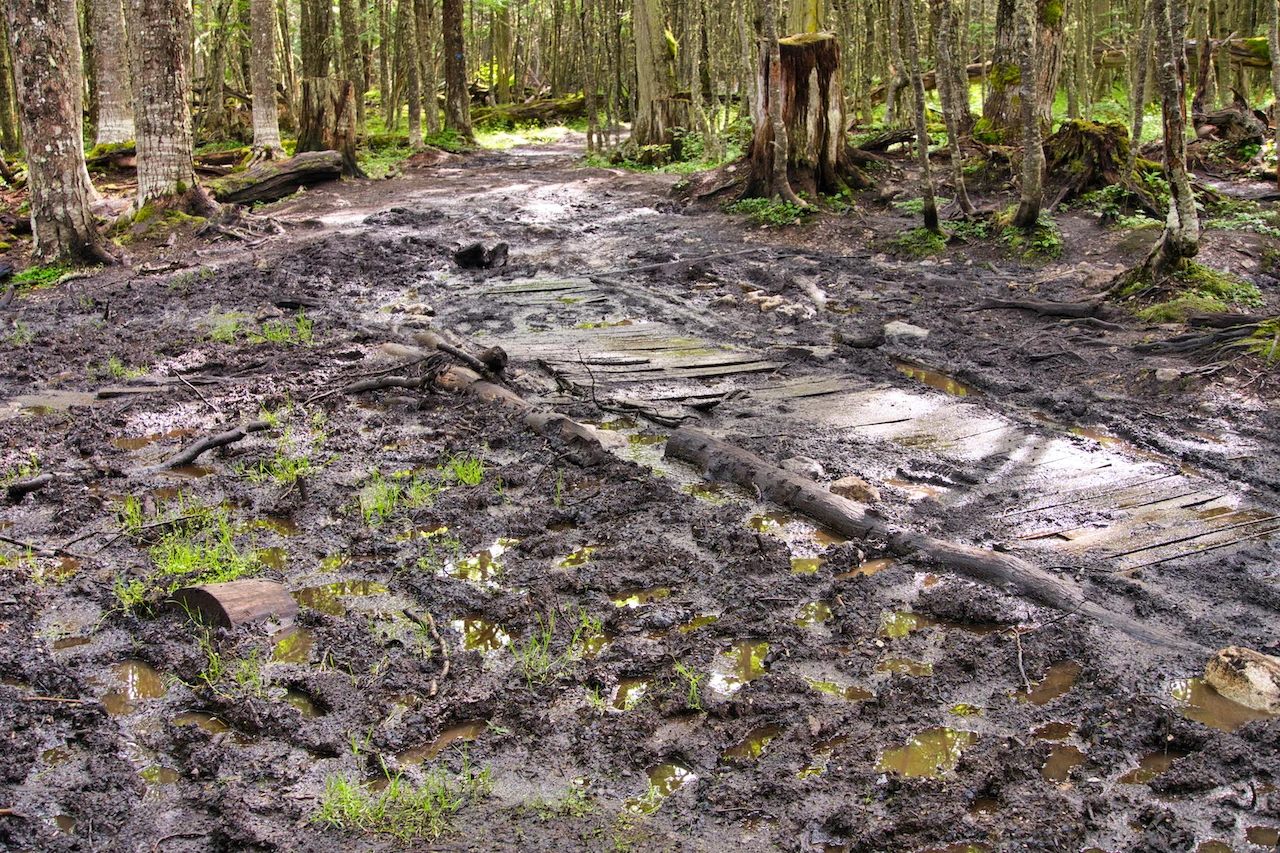 Once out of the forest, you will get to walk around a more open area of the trail. During this portion, you will also get your first glimpses of the beautiful river, as you walk right alongside it for a short while.
You will also have views here of the surrounding mountains, making this panorama landscape a great one to take in.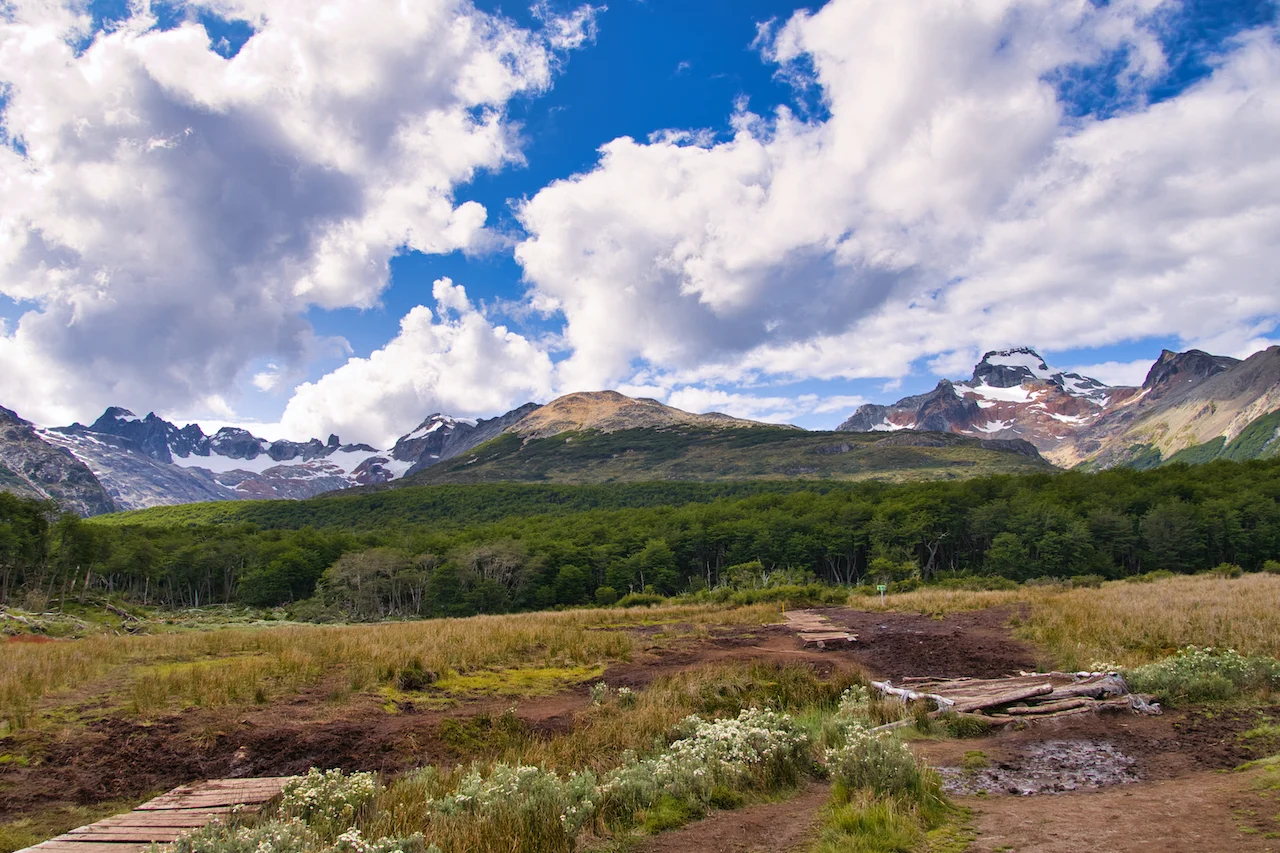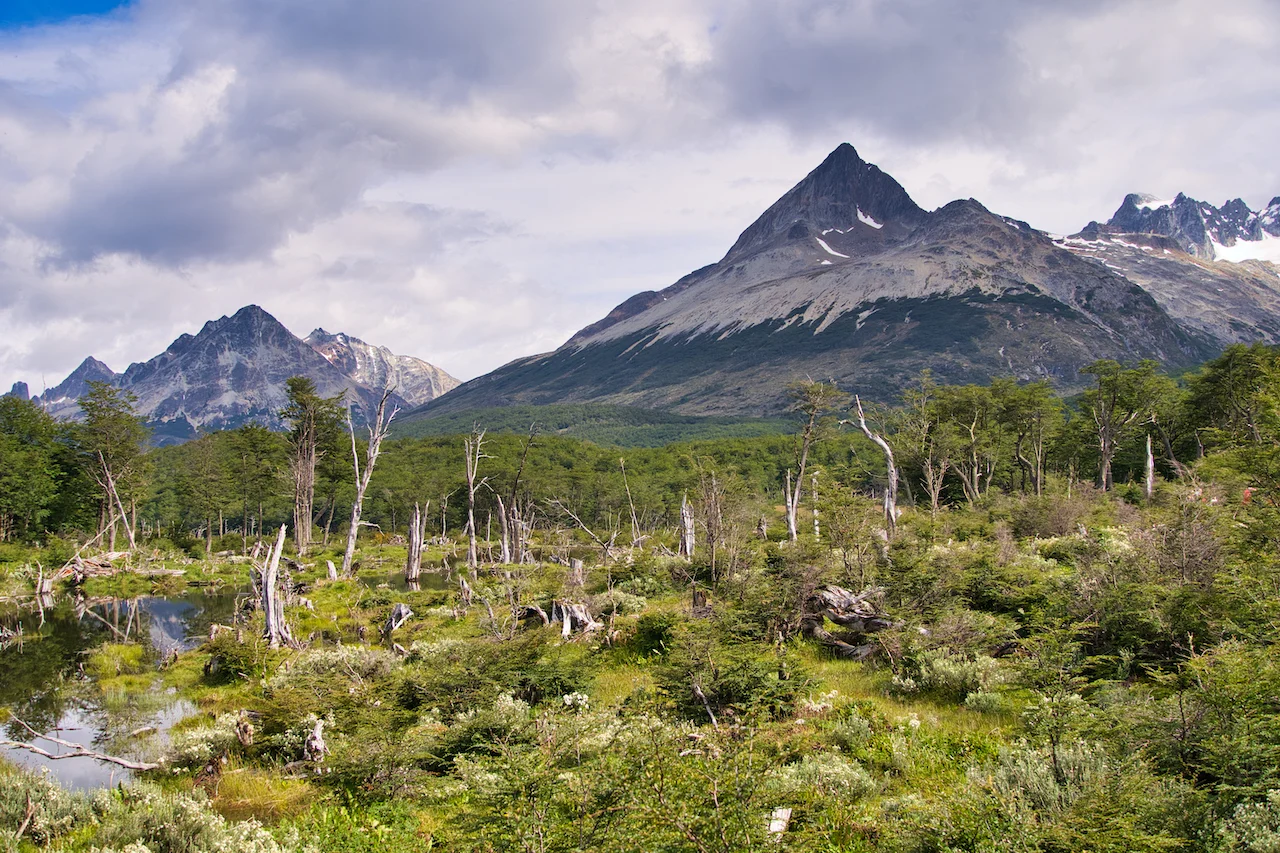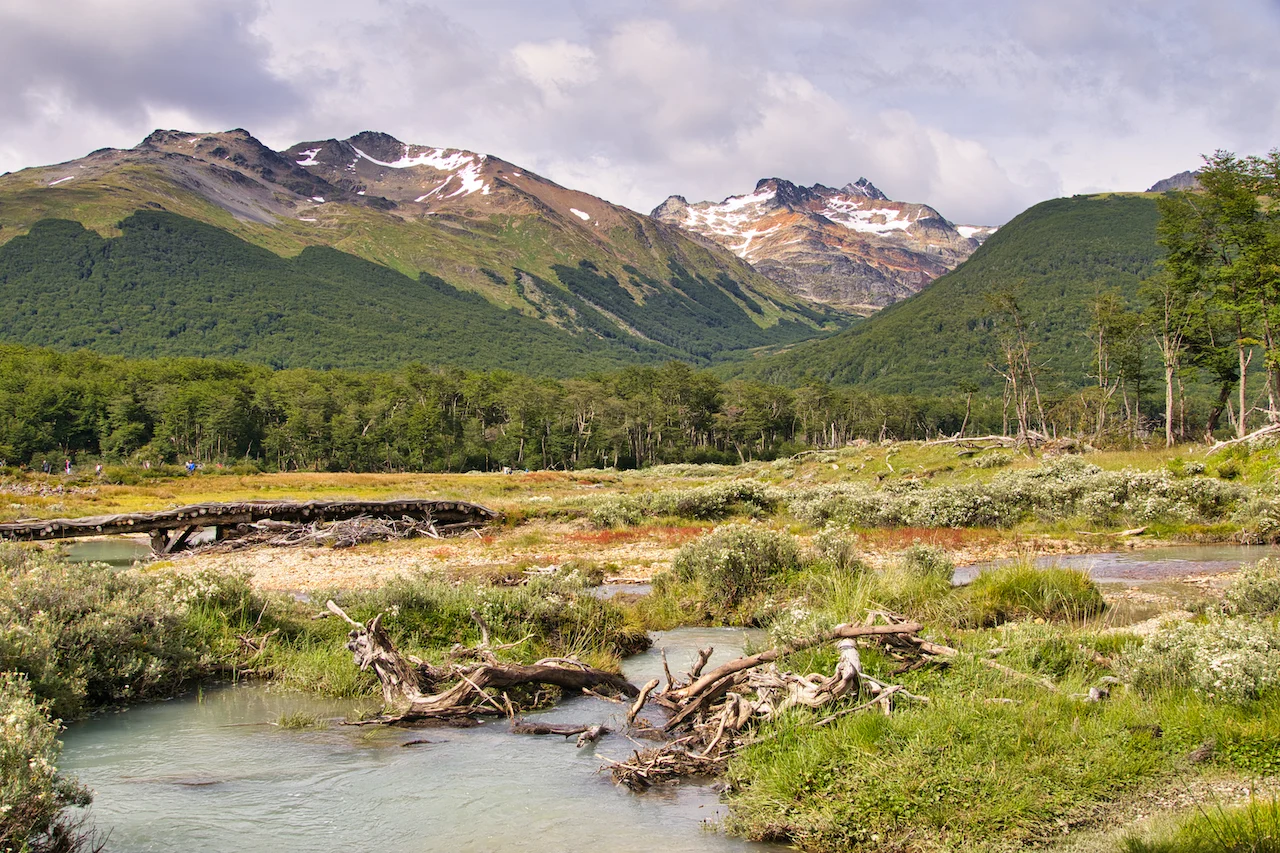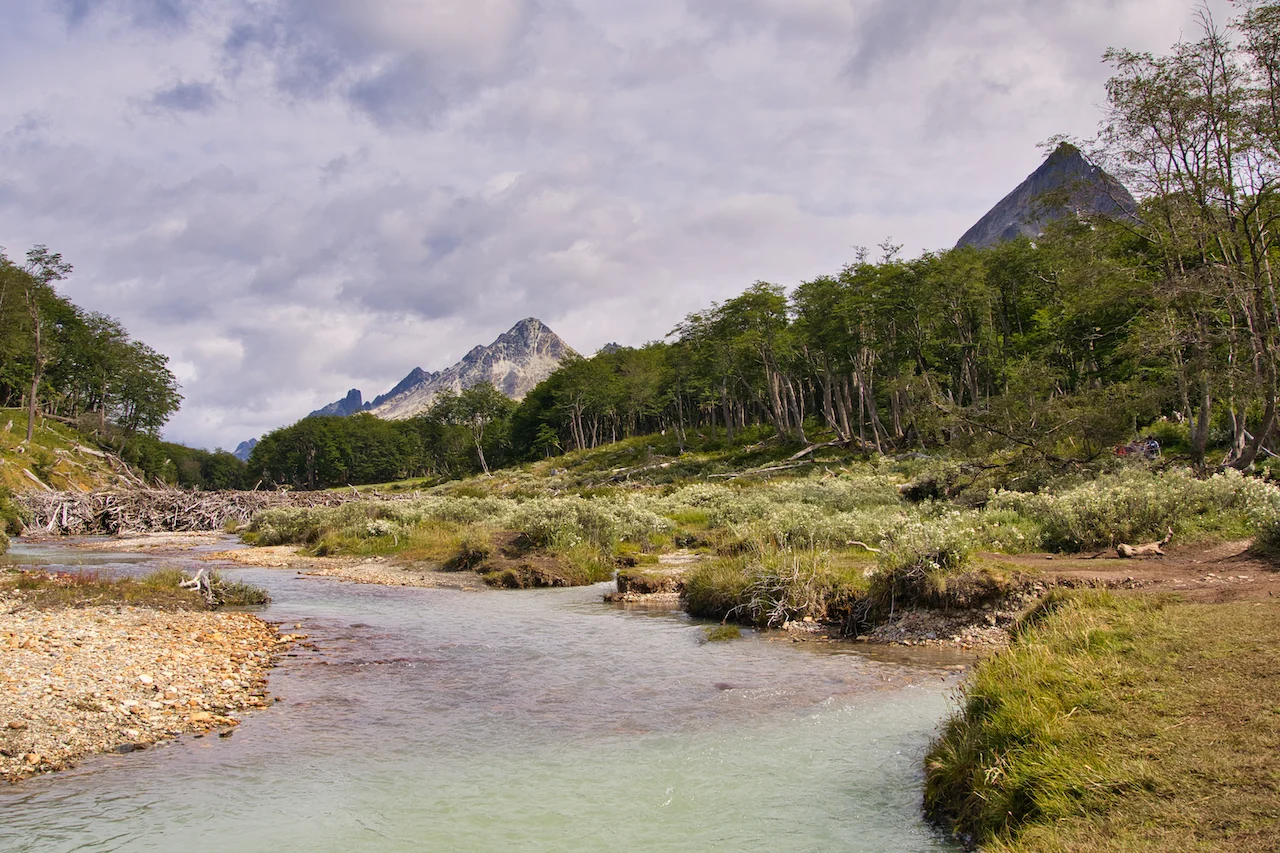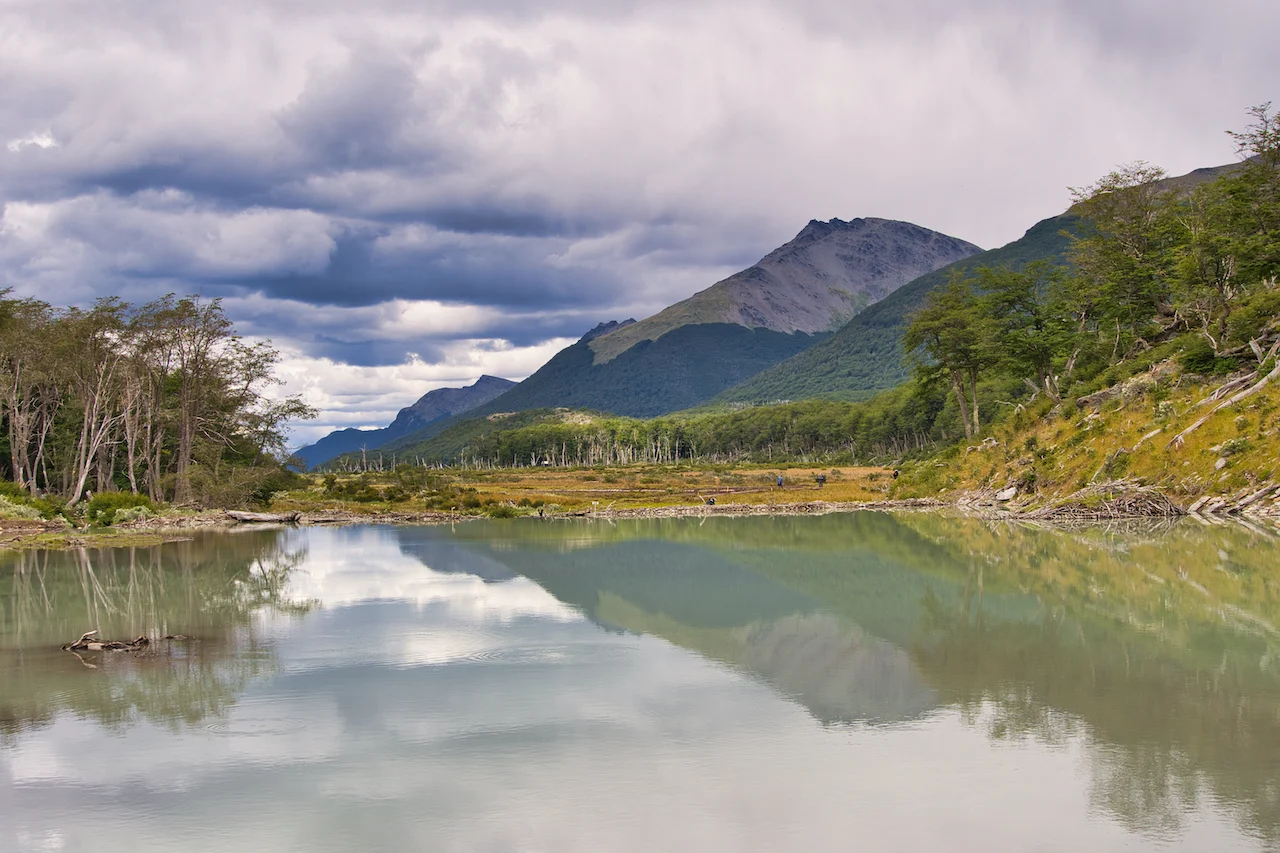 After a short while you will be welcomed to the second forest portion of the trail.
This section is going to longer and more strenuous than the first one. Instead of a nice flat route, you will begin to gain some more elevation here with a couple steeper sections to the trail.
In addition to the incline, be prepared for the muddy terrain in the forest too. Be sure to watch your step as you make your way up along the trail (and also for some wild foxes!).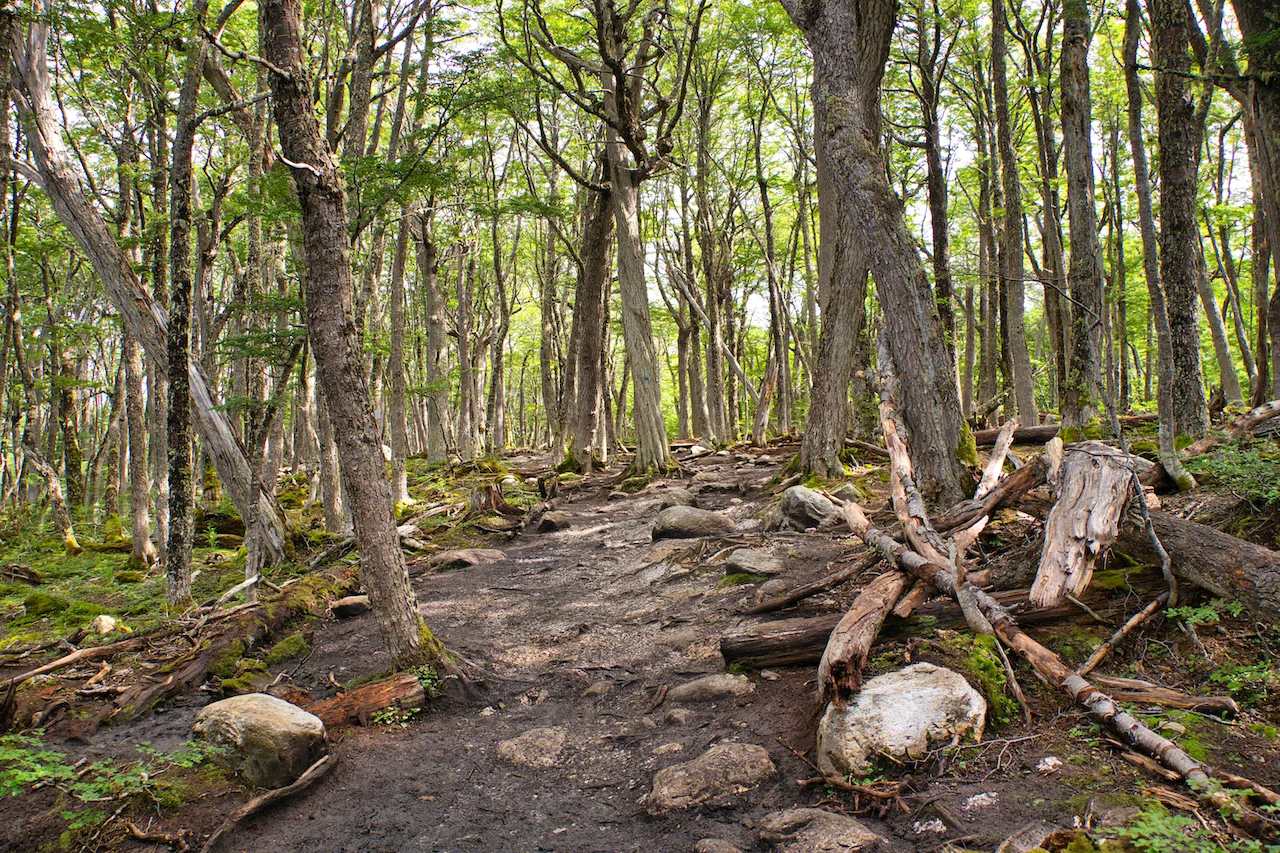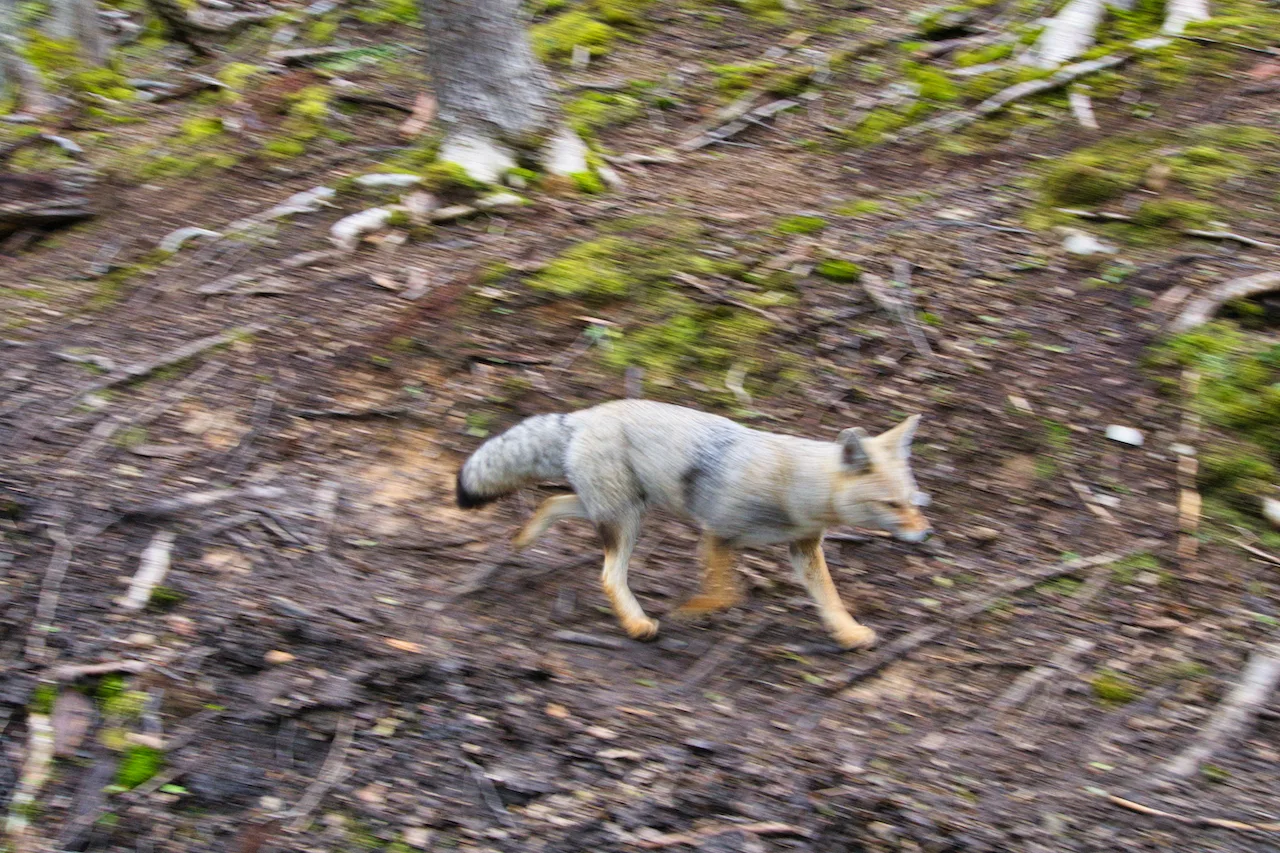 After exiting the forest, you will then be welcomed to the soggy peat bog section of trail.
While there is a route here to an extent, I did see people heading in all sorts of directions to best avoid the soggiest of sections.
As mentioned earlier, I did find the left hand side of the open field to be less soggy but I can't say for certain if that will always be the case. You are probably dealing with around 0.5 km of this type of soggy terrain, before the trail then meets up with the river and continues to gain some elevation.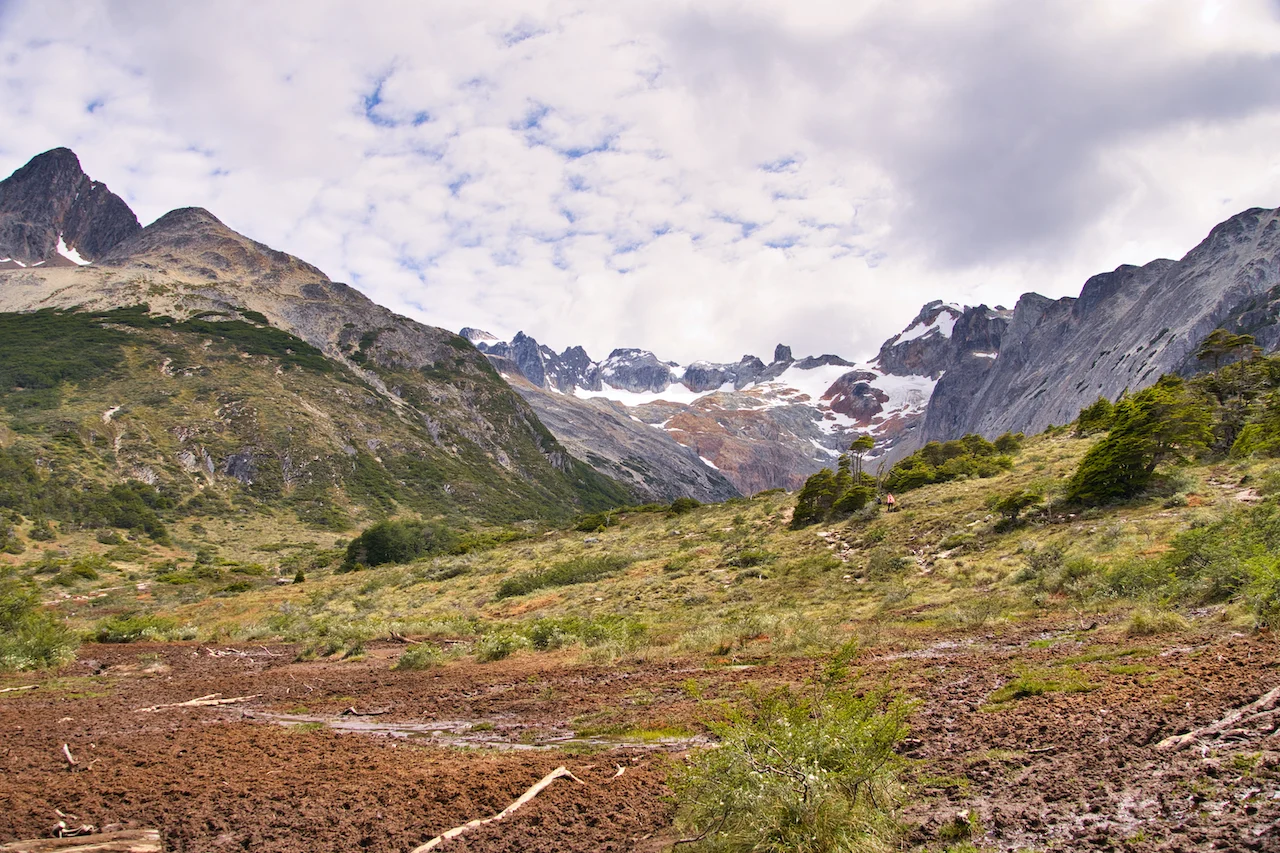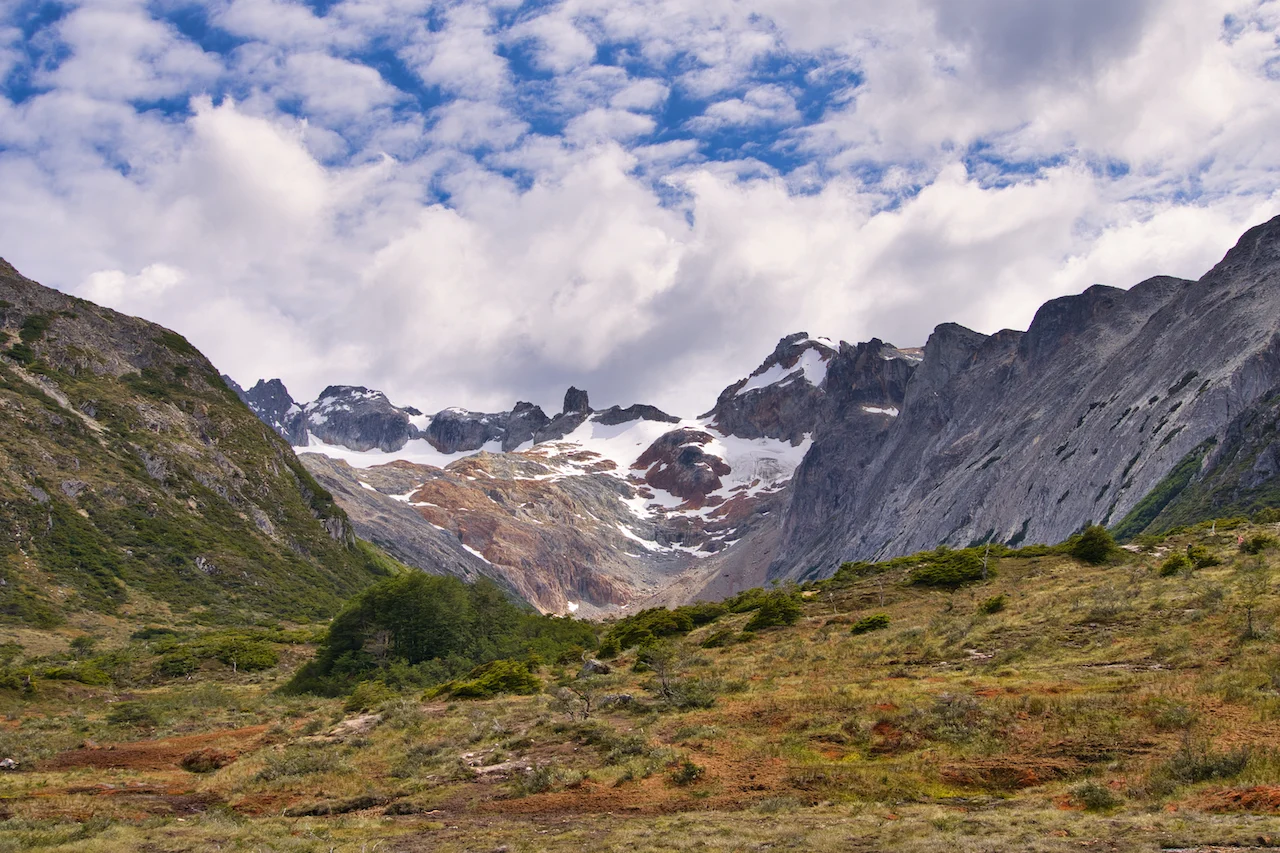 I loved this section of this next section of the route as I got up and close to this flowing river, with great views all around.
Be sure to turn around from time to time to get views of the river flowing down below. You will also be able to see these views on the way down.
It is then one last push to the top of the hill, where you will be welcomed to Laguna Esmeralda and its surrounding peaks.
There will be some elevated viewpoints from above to enjoy, before moving down to the lakeside. Once at the lakeside, you can just sit back and enjoy the view.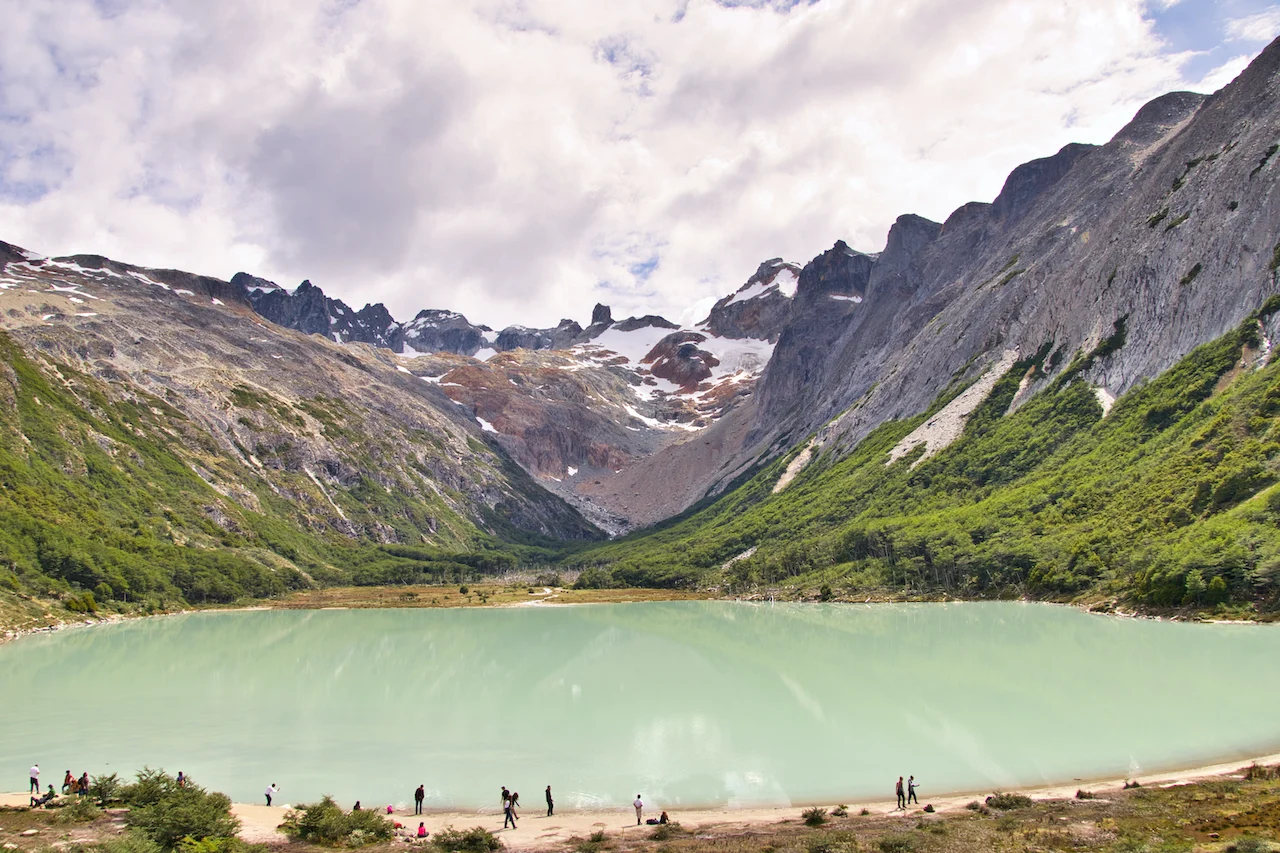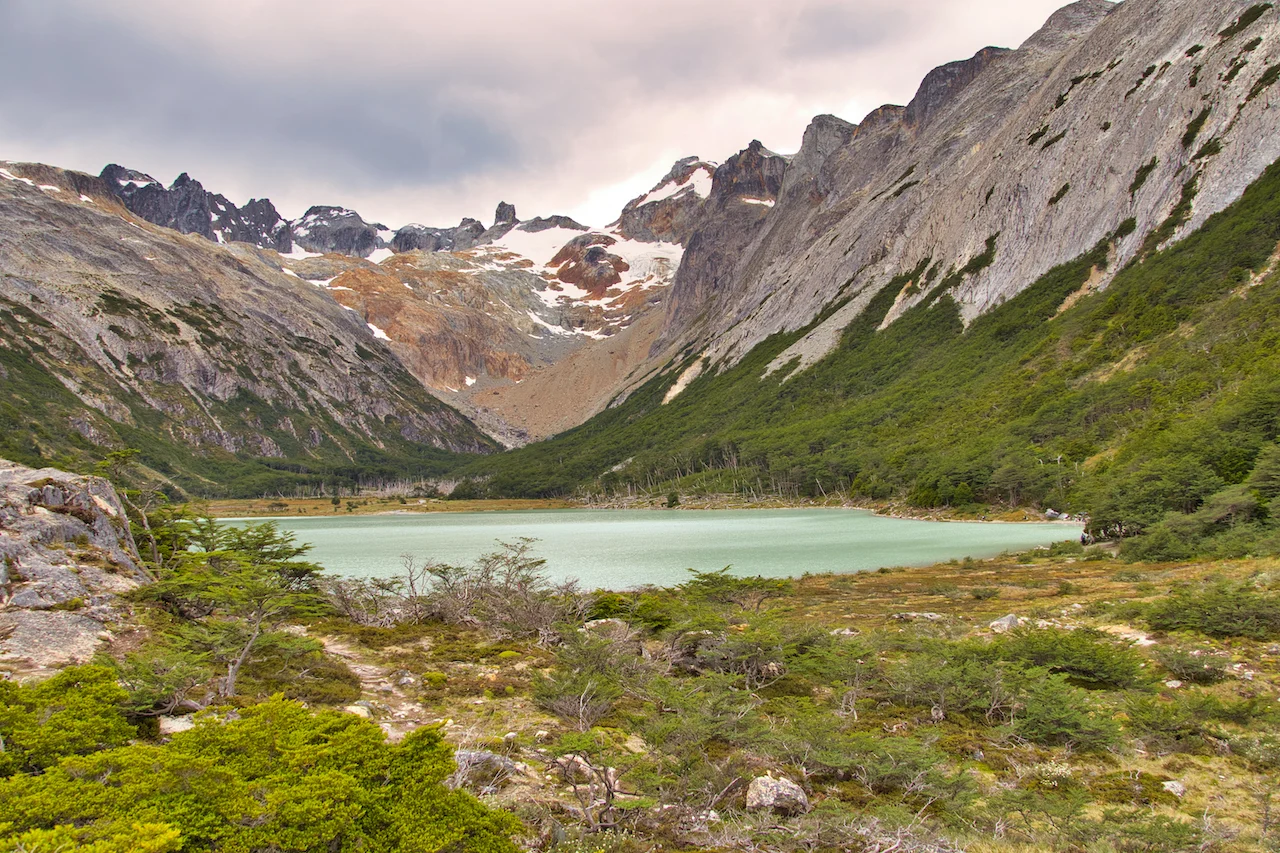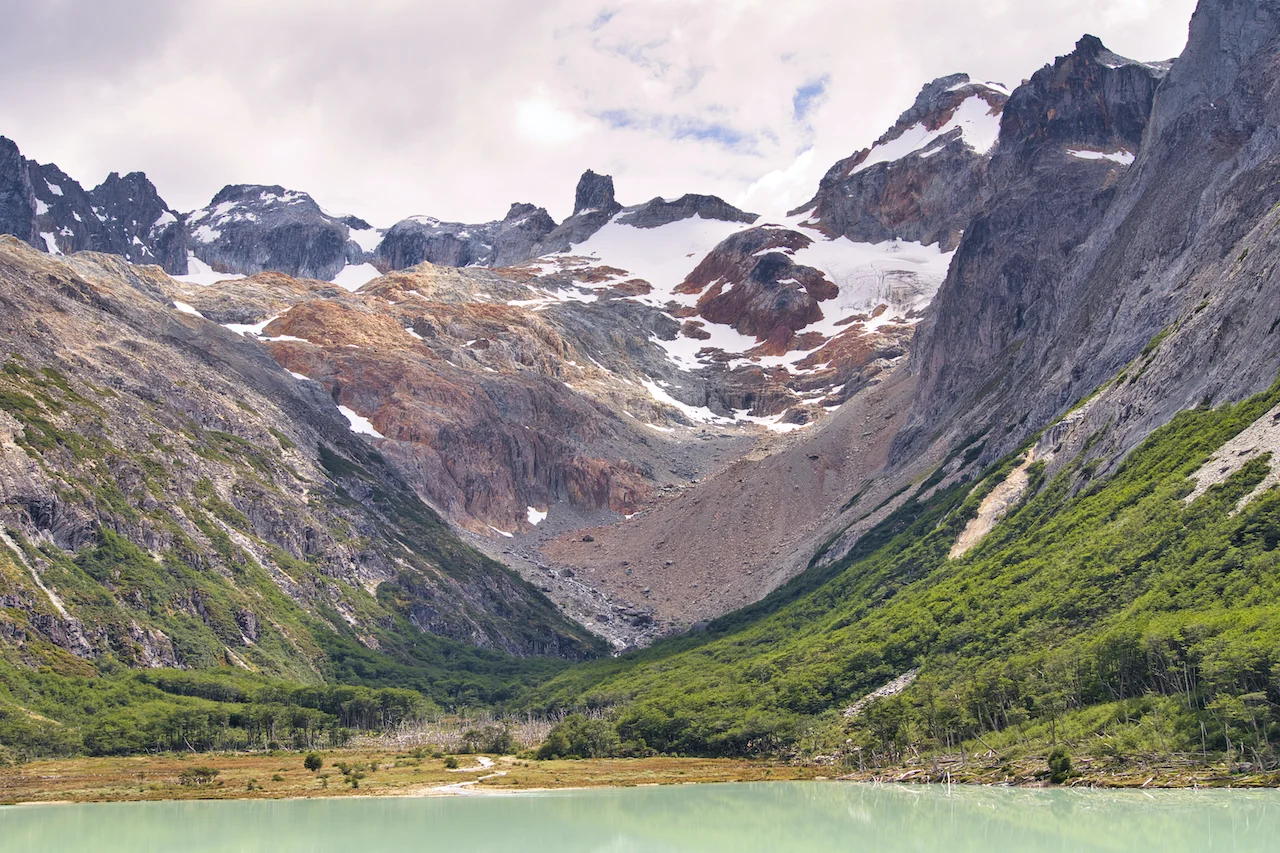 If you are up for it, you can also follow the trail encircling the lake. Once you get to the top of the lake, you will need to find somewhere safe enough to cross over the river that feeds the lake.
After getting yourself to the other side, continue the route around back to the main lakefront area. It is then up to you how long you want to stay around for before deciding to retrace your steps back to the parking lot.
Learn More: Take a look at some of the best Ushuaia hikes out there to add to your trip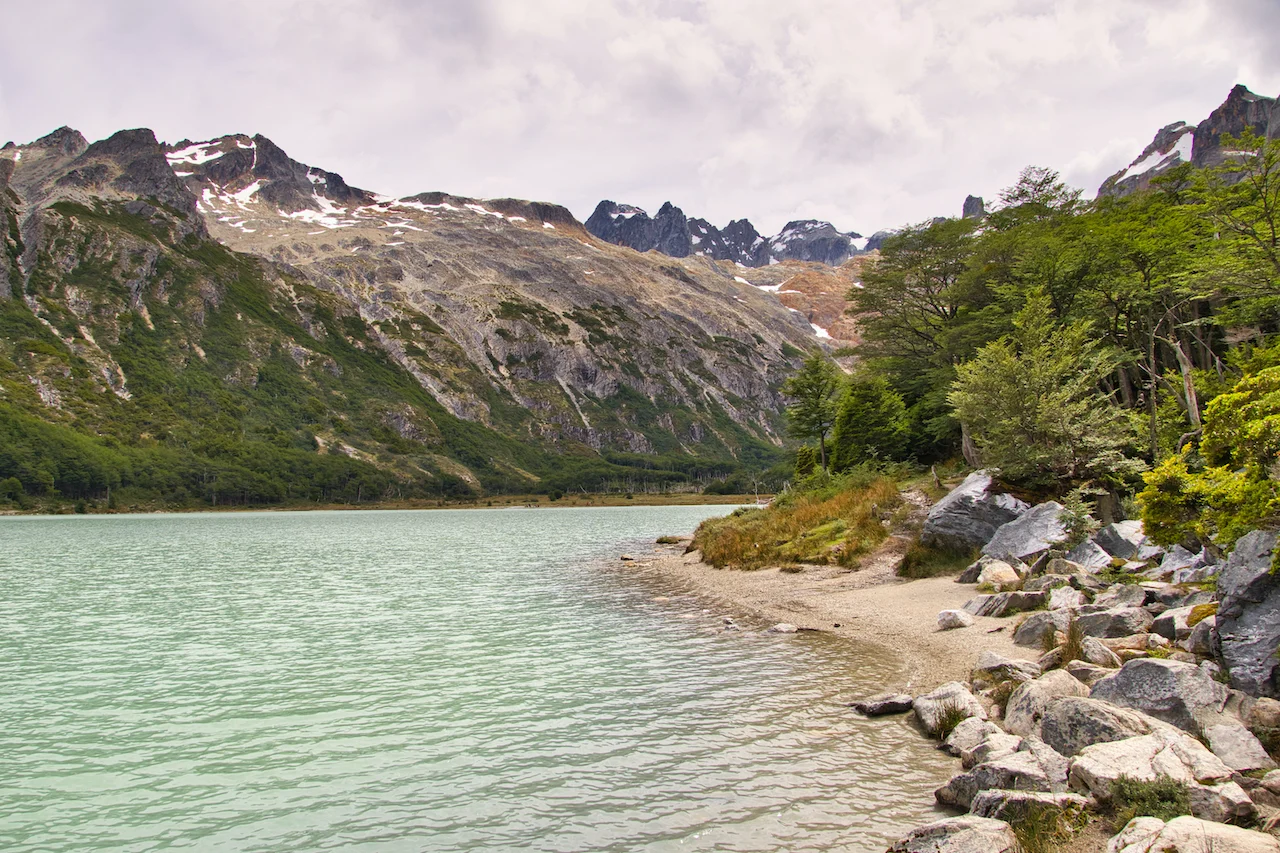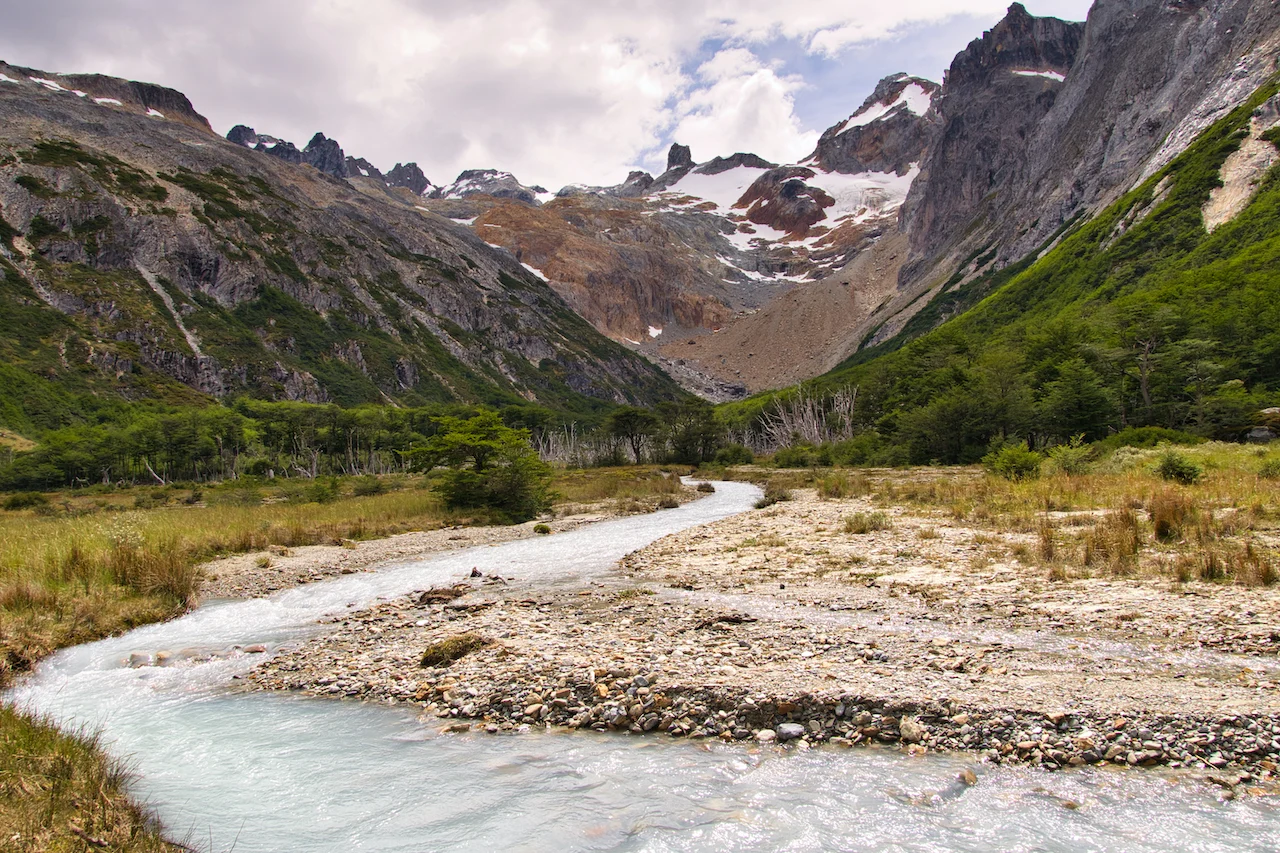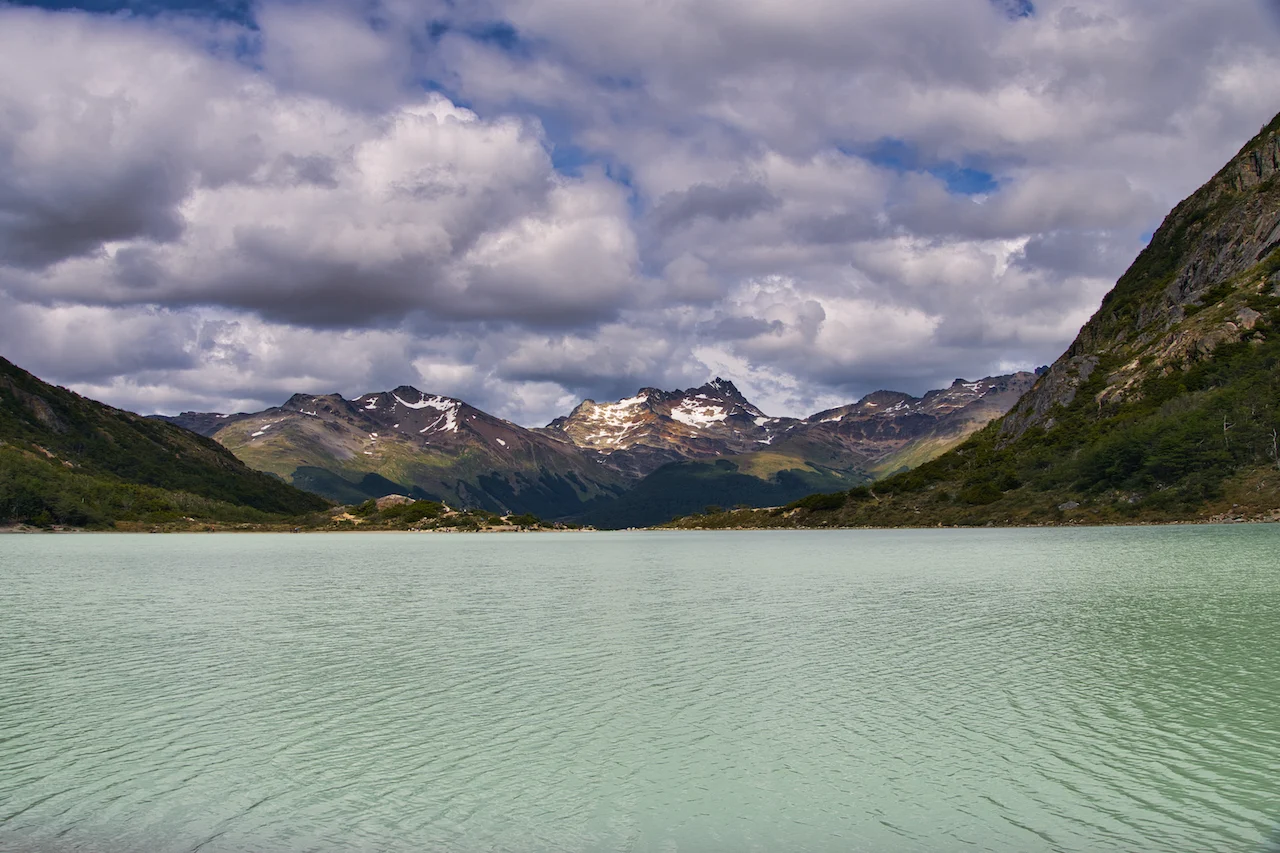 6) Where to Stay in Ushuaia
Ushuaia is essentially the only place you are going to want to base yourself in as you explore Laguna Esmeralda and Tierra del Fuego National Park. Below are just a few of my top recommendations when it comes to where to stay in the city.
These are all highly reviewed and recommended options so you really can't go wrong with any of them.
Just note that during the high season (December- February), accommodation can get booked up. So, once you know your dates, you should book your hotels.
Hotel Tierra del Fuego: for a hotel located directly in the town center, Hotel Tierra del Fuego is a great option. Views of the town, mountains, and water will be right outside your window, and you will be minutes away from the action.

MIL810 Ushuaia Hotel: another centrally located hotel that is a great mid tier option is the MIL810 Hotel. It is a short walk from all the top spots in town to & offers everything you need from an accommodation standpoint.

Los Acebos Ushuaia Hotel: perched up above the town center, Los Acebos is a luxury option that offers guests some of the best views of the Beagle Channel. It is the perfect hotel for those that want a little more style & class.

Arakur Ushuaia Resort & Spa: if you are looking for the top option in Ushuaia, then the Arakur Resort & Spa is for you. While it is on the expensive side, there are few hotels that can compete with its luxurious offerings.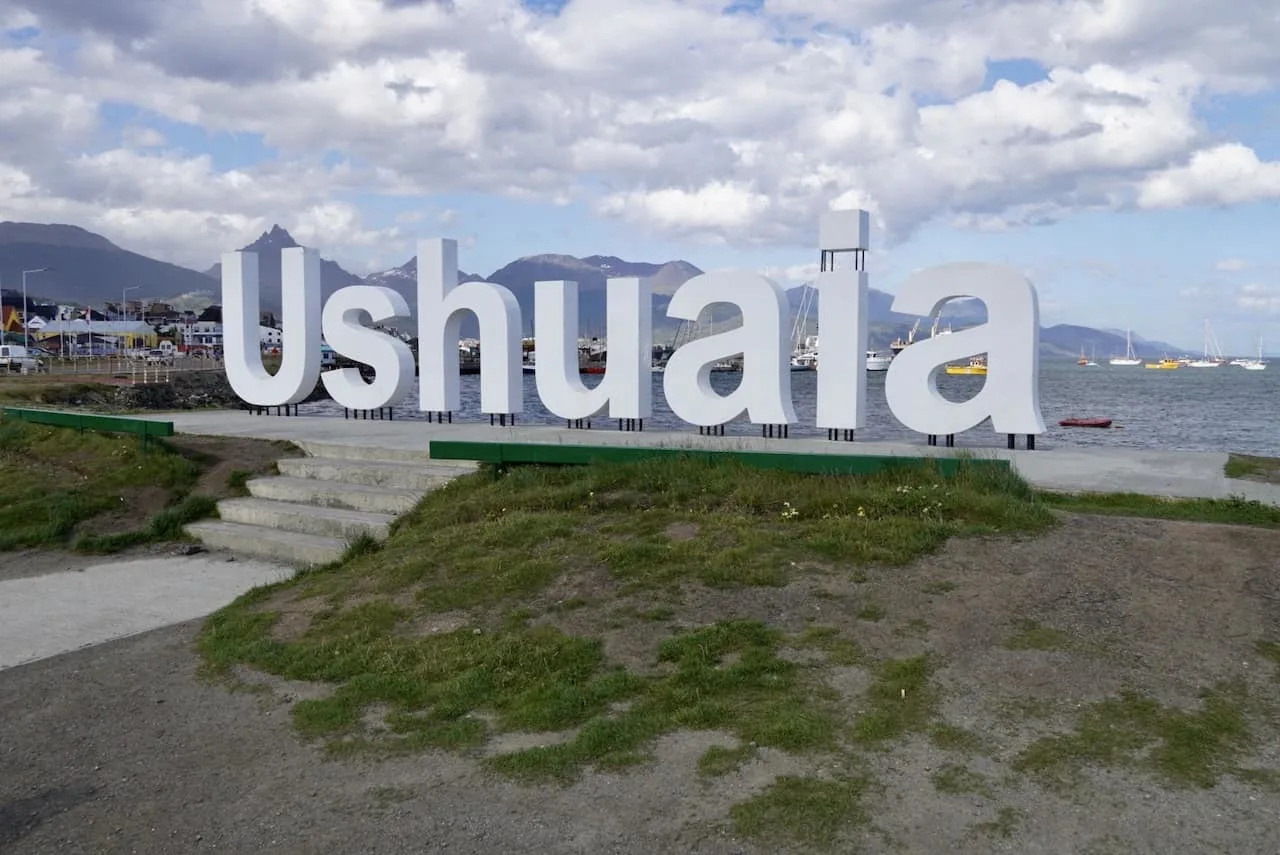 That about wraps up a guide to the Laguna Esmeralda of Tierra del Fuego, Ushuaia. If you have any questions or comments about the hike, be sure to add them in below. Also, don't forget to check out the other Patagonia itineraries and guides up on the site.
Have fun out there and safe travels!