This overview will focus on how to put together a complete El Calafate itinerary for your trip. Whether you have just one day to spare, or are looking to travel for 2, 3, or even 4 days, we will cover it all and more.
When it comes to El Calafate, there are just so many fun & exciting things to do around the area. You can visit the famous Perito Moreno Glacier, explore further into Los Glaciares National Park, walk around town center, or visit some other nearby highlights.
Read on to learn more on how to put together an itinerary as you visit one of the best places in Patagonia.
* Affiliate Disclosure: This post may contain affiliate links, which means I may receive a commission if you make a purchase through the links provided, at no additional cost to you. Thanks for supporting the work I put into TripTins!
1) Overview & Things to Know
To get things started, below is some high-level information about El Calafate that I will be diving deeper into throughout the remainder of this itinerary.
Location: El Calafate is located in the heart of Patagonian Argentina within the Santa Cruz Province. It sits right alongside Lago Argentino, which extends further to many of the region's top highlights.
Highlights: Throughout El Calafate's surroundings, you will find plenty of glaciers, lakes, mountains, waterways, and of course Los Glaciares National Park. The main attraction here is the Perito Moreno Glacier, one of the top places to visit in South America.
Getting There: Arriving in El Calafate is quite simple if you are coming from another major city in Argentina. It is home to the El Calafate airport (FTE), which connects to places like Buenos Aires, Bariloche, Cordoba and Ushuaia. Taking a bus is also a possibility since there are direct routes from El Chalten, Puerto Natales (Chile), among others.
Transportation: Getting around El Calafate can be done in a variety of ways. Rental cars, busses, tours, and taxis are all options. This will all depend on the activity and your preferred method of transport.
Weather: Since Patagonia is located in the southern hemisphere, the best time to travel there will be during the December to March timeframe (give or take). During these months, daylight hours will be at their longest and temperatures at their warmest.
How Many Days in El Calafate: Ideally you can set aside around 3 days for your time in El Calafate to fully take advantage of your time there. This is not a place you want to rush through or risk too short of a weather window.
Learn More: Check out this Patagonia Itinerary that talks through all the other places to visit as part of a longer trip to the region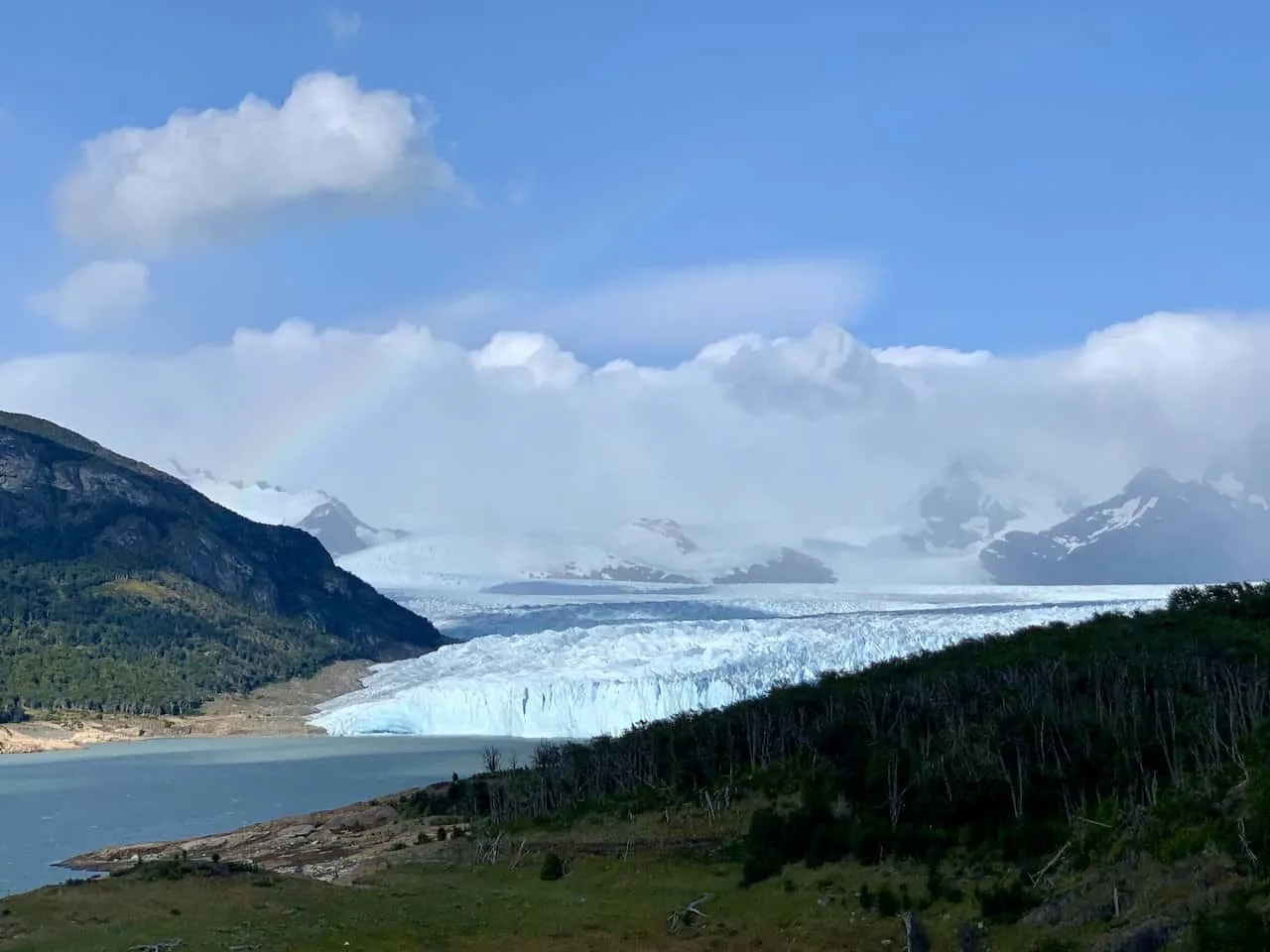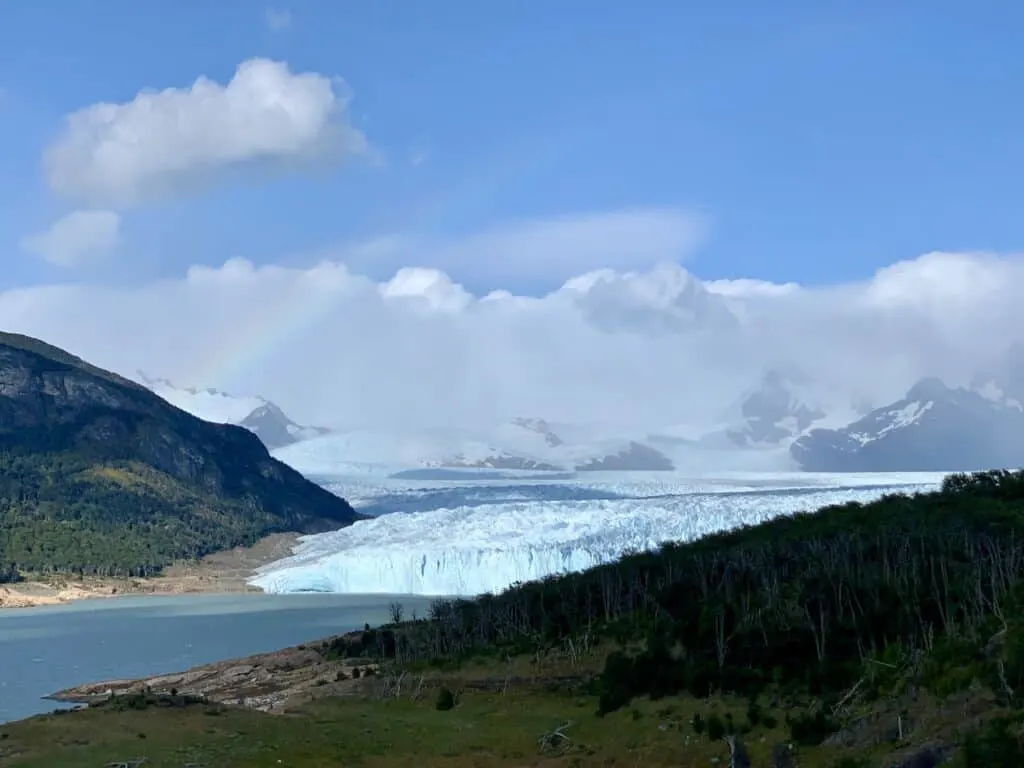 2) El Calafate Itinerary
Now that you have a better sense about El Calafate, let's talk through what an itinerary can entail.
As a baseline, below is a what a three-day itinerary will look like. From there, I will mention how to make it shorter (1-2 days) or longer (4+ days).
In my opinion, three days is the perfect amount of time to set aside in El Calafate as you take your time exploring the best things that this area of Patagonia has to offer.
Day 1: Perito Moreno Glacier
On your first full day in El Calafate, you can visit the one and only Perito Moreno Glacier. This glacier is arguably the most famous in Patagonia, as its sheer size, length, and beauty make it a must visit attraction.
It is interesting to note that this is a glacier that is actually not receding (or growing). It melts and grows at a nearly identical rate. This in turn gives visitors a very similar experience year in and year out.
Now, when visiting Perito Moreno Glacier, there are several different ways to go about a visit. This will all depend on what type of activities you are most interested in.
Learn More: Check out this Perito Moreno Glacier overview for more helpful info
Perito Moreno Boardwalks
The most popular way to go about a visit to the glacier is to walk along its various boardwalks. In all, there are five interconnected routes that take you to different vantage points overlooking Perito Moreno.
Some of these routes are just 30 minutes in length, while others can be 90 minutes. At the end of the day, you will be able to mix and match these routes as you see fit.
These boardwalks give you the chance to see an elevated view over the glacier, in addition to walking more in line with the glacier walls.
My recommendation is to head to the boardwalks first thing in the morning. That way you can take a stroll along them before the crowds arrive. Having the walkways to yourself is going to be a relaxing and memorable experience.
You can visit the boardwalks using your own rental car, hiring a taxi, taking the bus, or signing up for a guided tour.
Feel free to learn more about the logistics in this overview about how to get to Perito Moreno Glacier.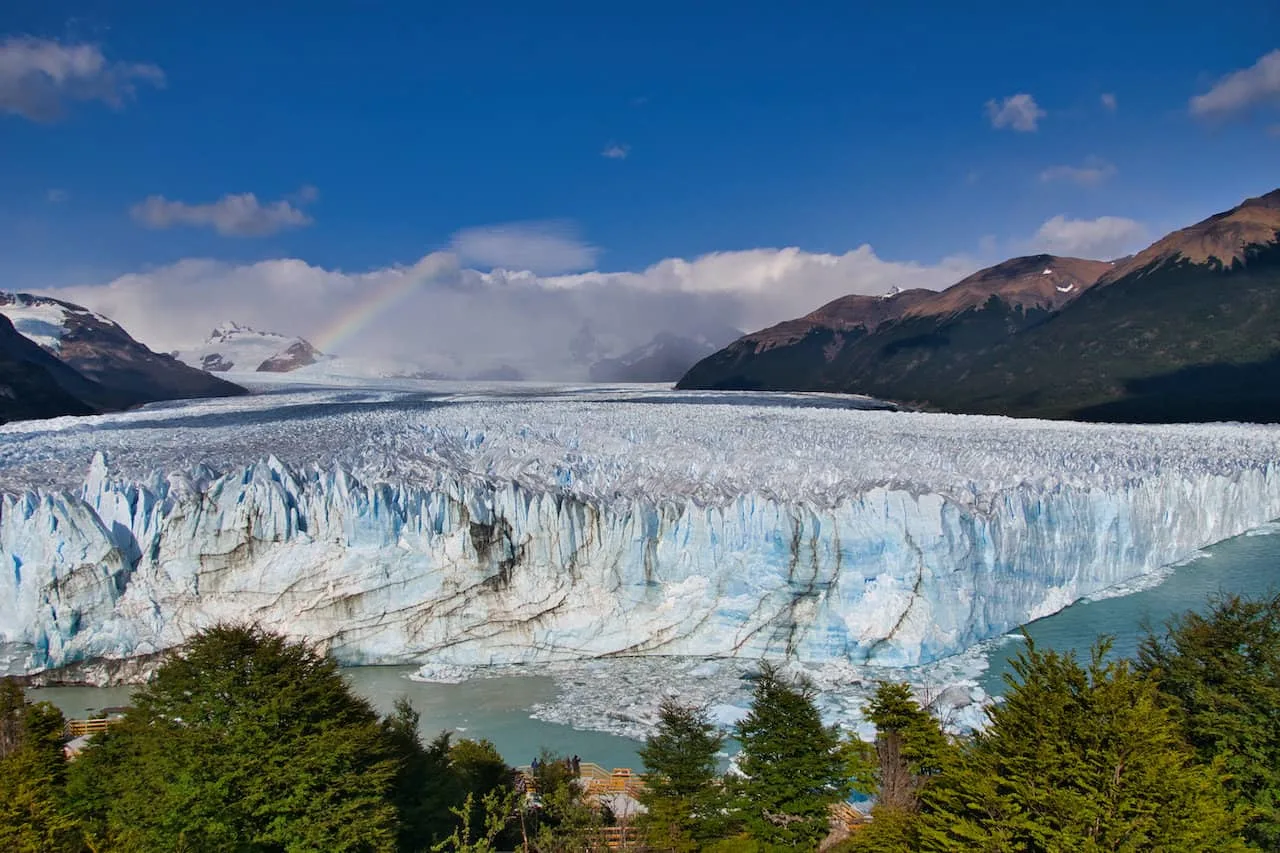 Perito Moreno Boat Tour
In addition to walking along the boardwalks, there is also the opportunity to take a 1-hour boat ride from the nearby dock. In order to take part, you do not necessarily need to sign up in advance. Tickets are sold on the spot for rides that consistently leave throughout the day.
The boat ride takes you along Canal de Los Tempanos as you get up close and personal to the glacier's walls. It is a unique and fun experience to take part of as you see the glacier in a whole new way.
Similarly, you can join the boat tour by using your own rental car, hiring a taxi, taking the bus, or signing up for a guided tour.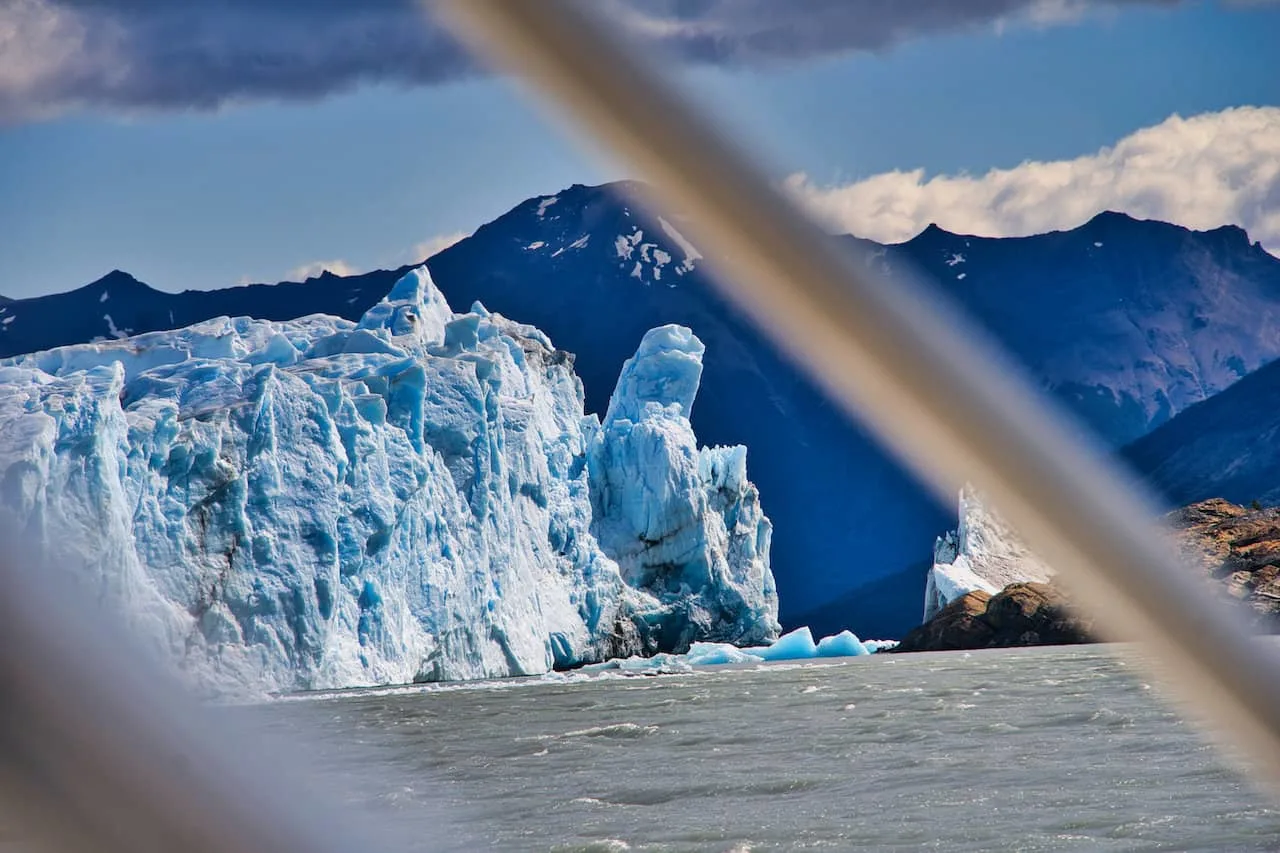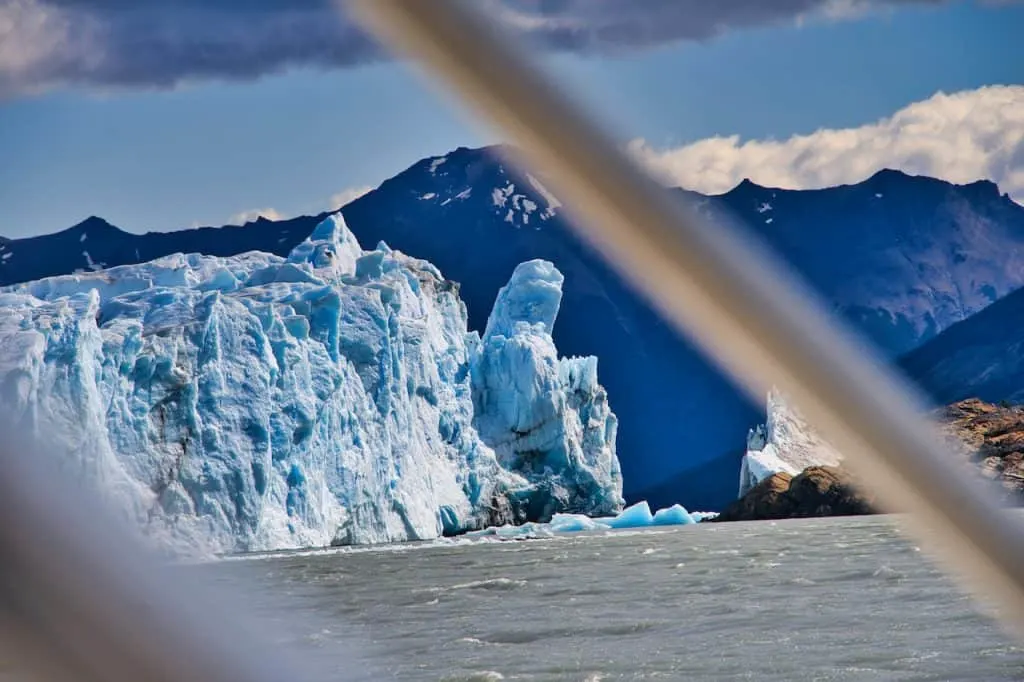 Minitrekking or Big Ice Trek
Another more immersive experience is to join a guided hike on the ice itself! This is the best way to get up close and personal with the glacier.
These glacier hikes come in two different packages – Minitrekking and Big Ice. Both of these are full day experiences, with the main difference being how much time you spend on the glacier.
The Minitrekking hike includes around 1 hour on Perito Moreno Glacier. In addition, there will be time to walk the boardwalks for an hour, take a short boat ride to the glacier hike starting point, and have some relaxing time by the shore.
The Big Ice trek includes closer to 3 hours on the glacier ice. On top of that, there is a longer hike to the starting point. Altogether, you will need to be comfortable hiking for closer to 6 hours altogether (3 hours on ice and 3 hours of round trip normal hiking). Similar to above, expect time at the boardwalks, a short boat ride, and the opportunity to relax on the shore.
Tour Sign Ups: these hikes do sell out in high season. You can check availability for Minitrekking and Big Ice depending on your interest level.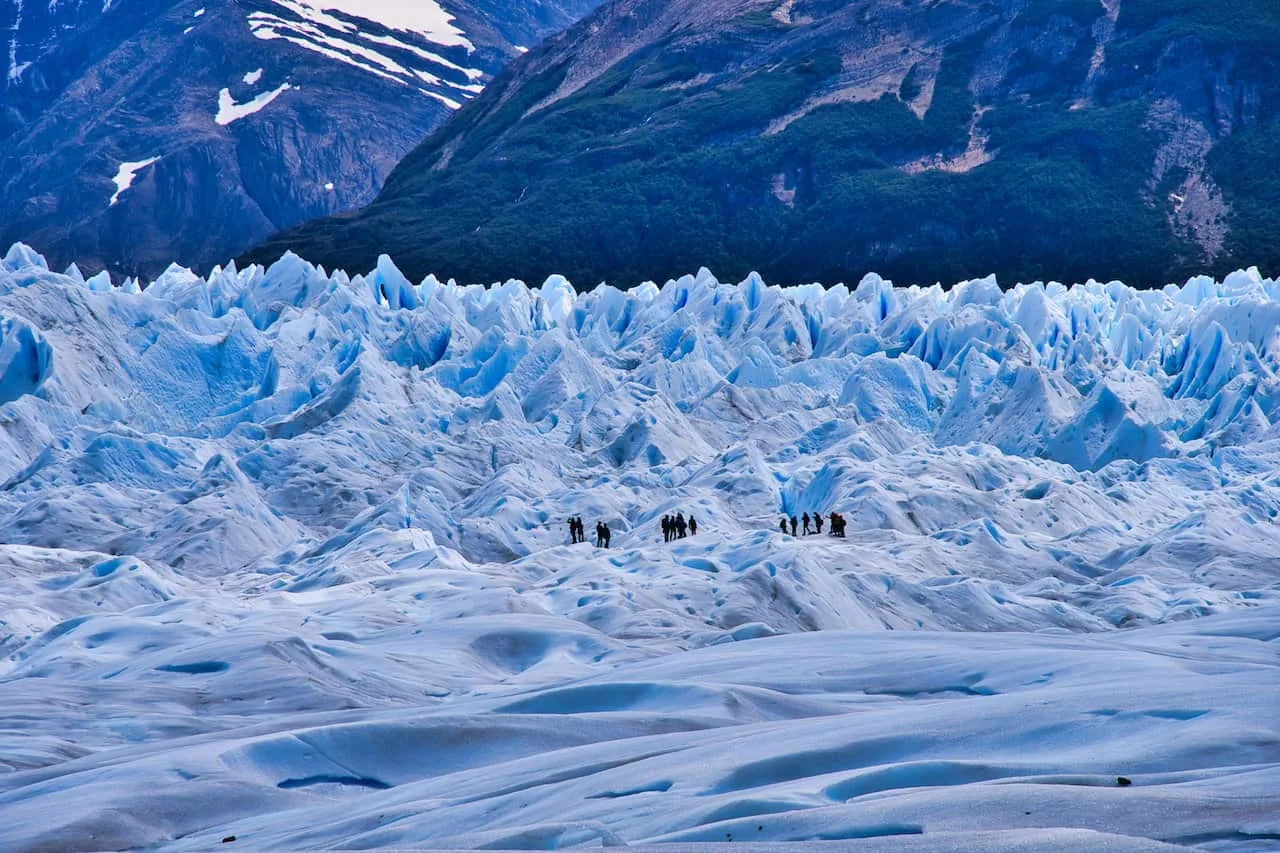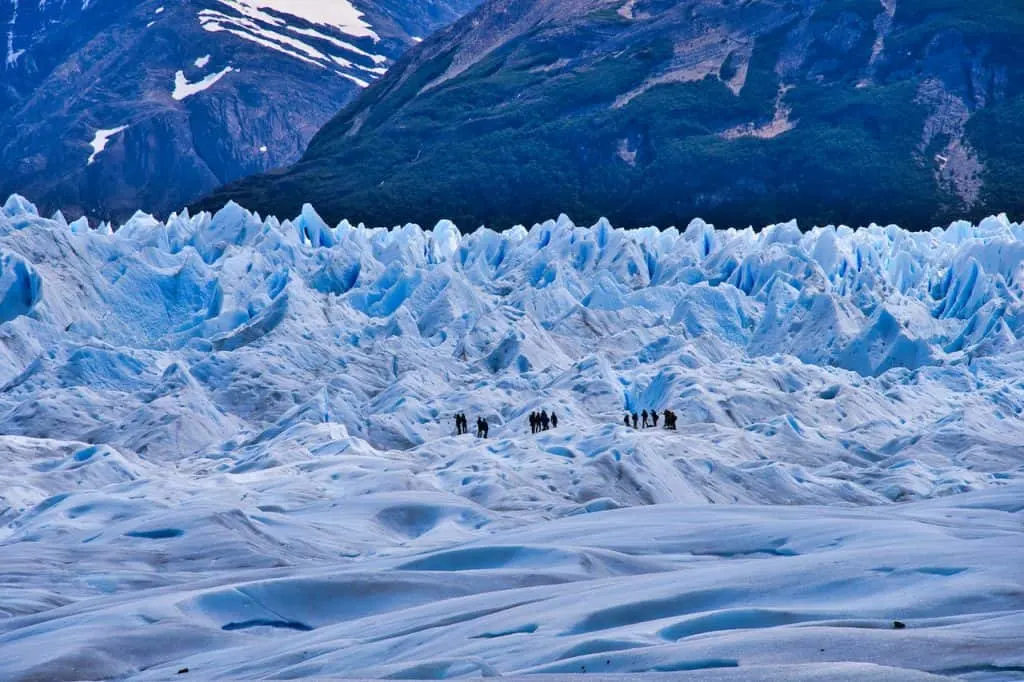 Kayaking
Lastly, you can also decide to visit Perito Moreno Glacier as part of a kayaking trip. This can only be done as a guided day trip tour.
Instead of a boat ride, these kayaks will give you that water level view of Perito Moreno as its giant ice hovers up above.
When joining a tour, you will also have time to walk along the boardwalks either before or after the kayaking portion of the day.
Perito Moreno Glacier Recap
As you can see, visiting the glacier can be done in a variety of ways:
Boardwalks: walk the boardwalks as part of an unguided trip or a guided excursion from El Calafate.
Boardwalks + Boat Ride: not only walk the boardwalks, but also join a boat ride in the glacial waters. These can be joined on the spot if going on your own, or you can sign up for a tour in advance from El Calafate.
Glacier Trek: join a Minitrekking or Big Ice glacier hike tour that offers the chance to trek on the actual glacier.
Kayaking: sign up for a kayaking trip from El Calafate that includes time in the water and the chance to explore the boardwalks.
Whatever option you choose, it is hard to go wrong with your time around Perito Moreno. It will be the perfect way to start off your El Calafate itinerary.
Entrance Fee: note that you will need to pay a ~$30 USD entrance fee to enter Los Glaciares National Park. This holds true for Perito Moreno Glacier and the boat trip that I will talk about next.
Learn More: Check out the best Perito Moreno tours to sign up for during a trip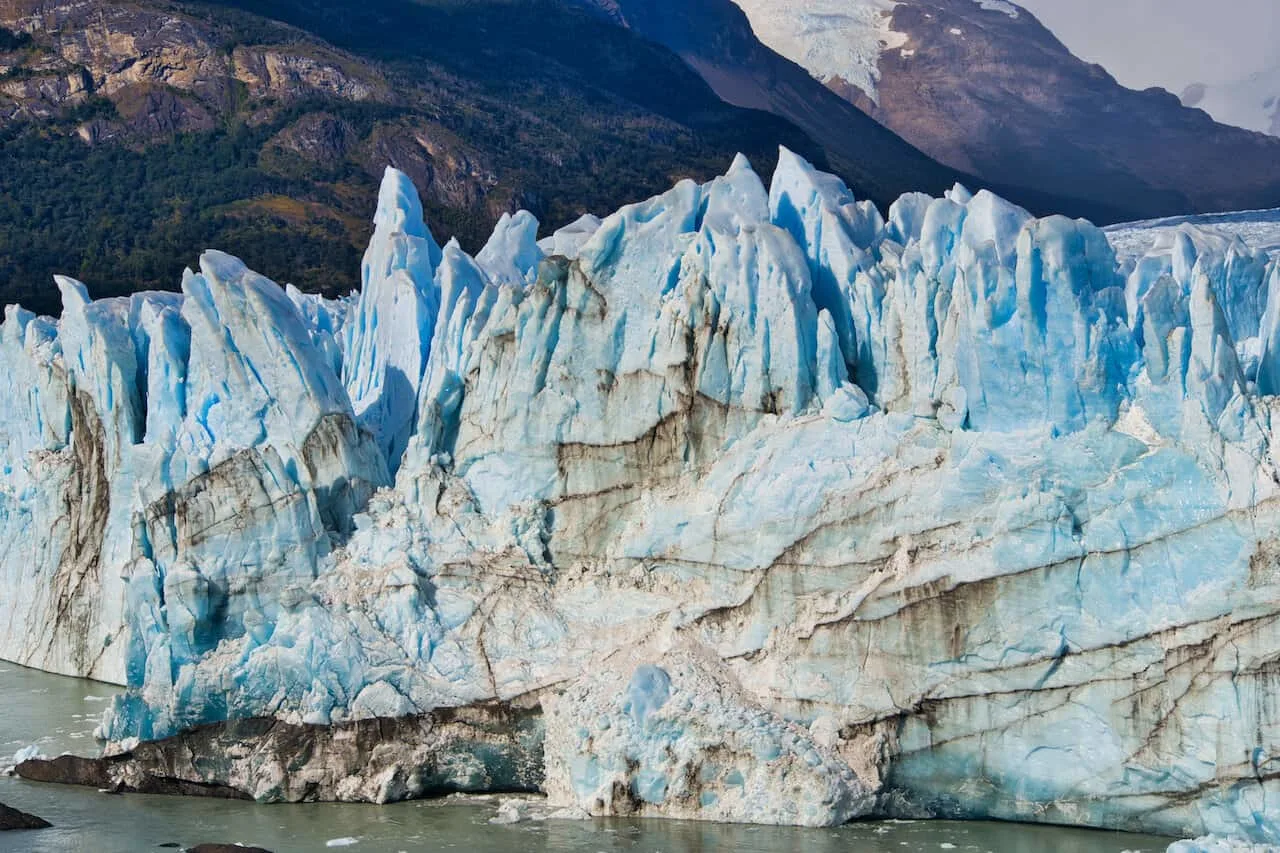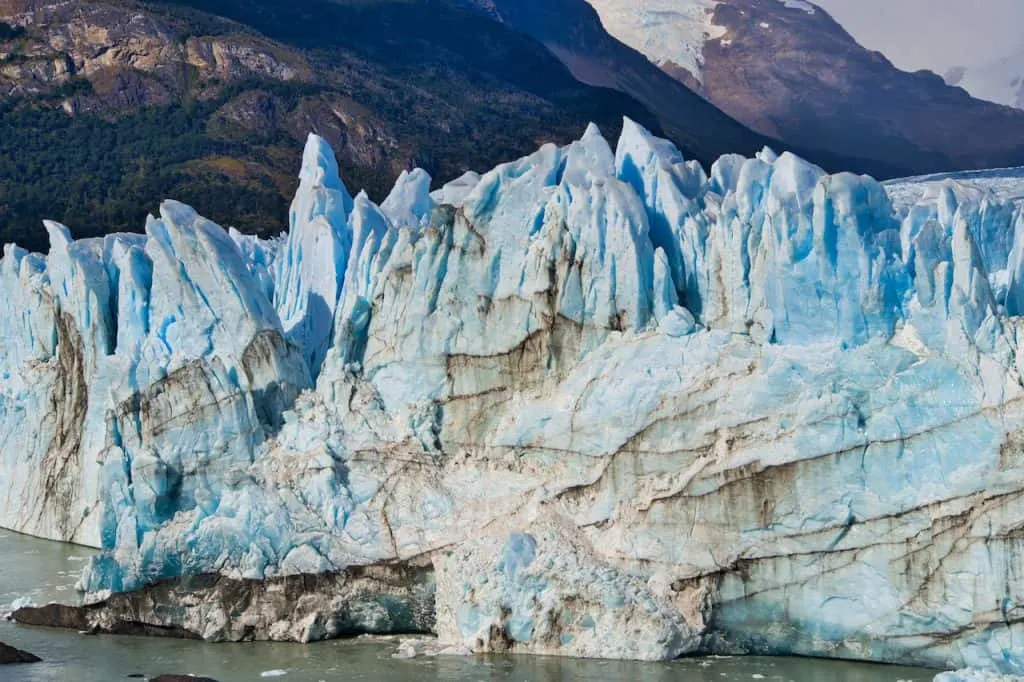 Day 2: Los Glaciares Boat Trip
Your second day in El Calafate can be all about navigating deeper into Los Glaciares National Park. While Perito Moreno may be the most famous glacier in the area, it certainly is not the only one.
There are endless glaciers all around the National Park, with many of them being inaccessible to everyday visitors. However, one great way to see some of the top glacier highlights is to join a boat trip.
While there are several to choose from out there, the Todo Glaciares cruise is a top choice. Over the course of this full day tour you will get the chance to explore the waterways of Los Glaciares and take in some new glacier views along the way.
In particular, Todo Glaciares gives you access to visit the Upsala Glacier and Spegazzini Glacier, with much more beautiful Patagonian landscape to see throughout the ride.
Feel free to read through my overview to the Todo Glaciares Boat Trip to learn more. You can also sign up for the boat trip to reserve your spot today!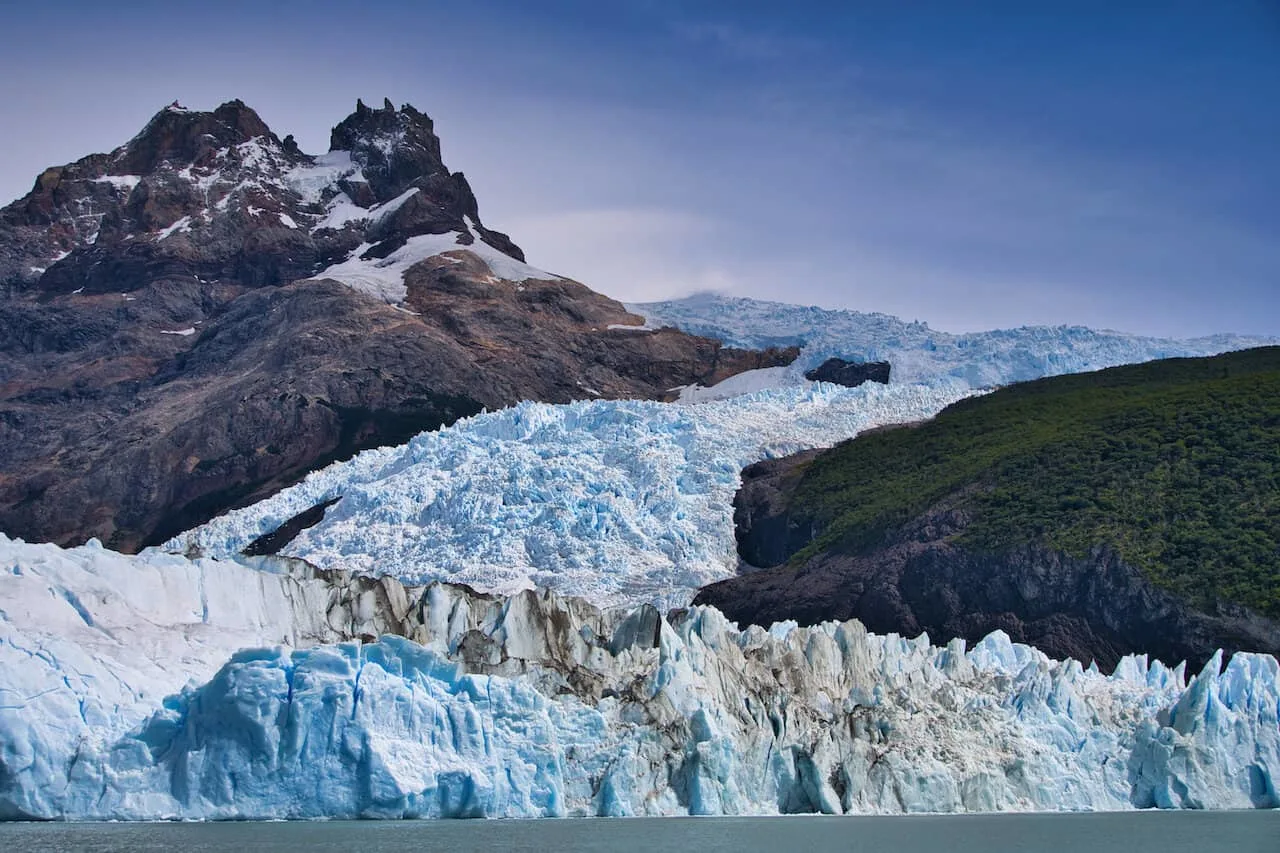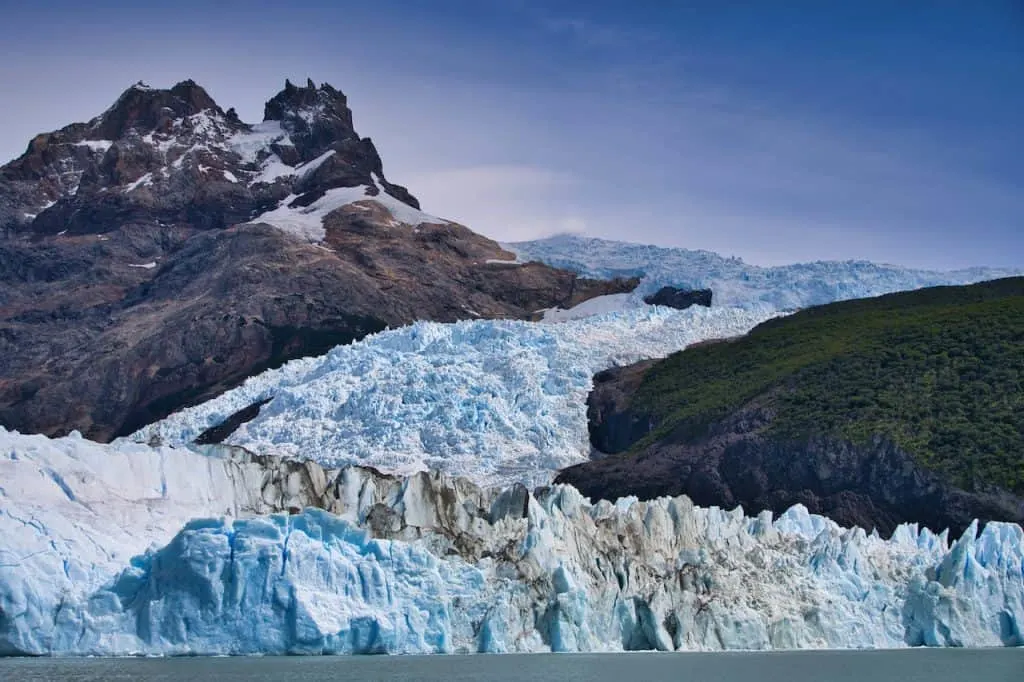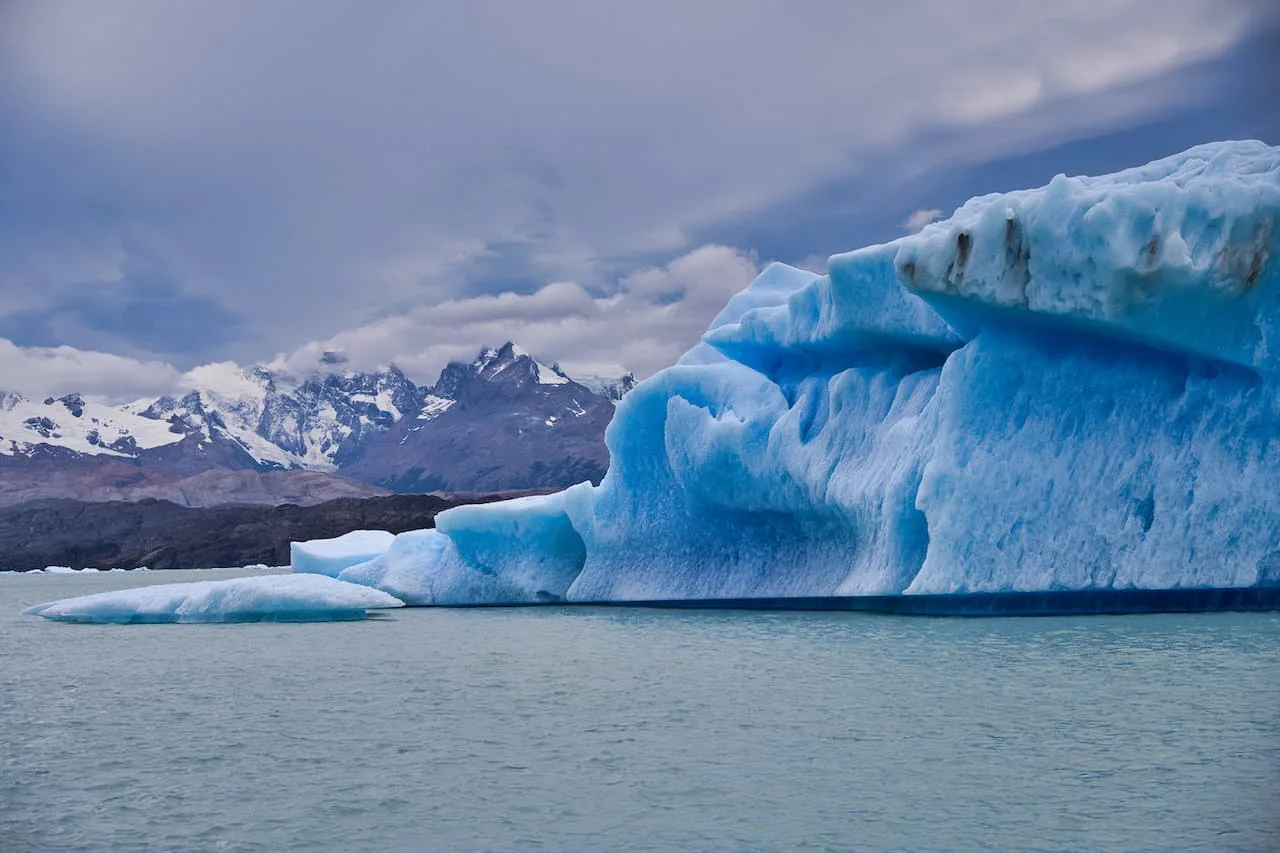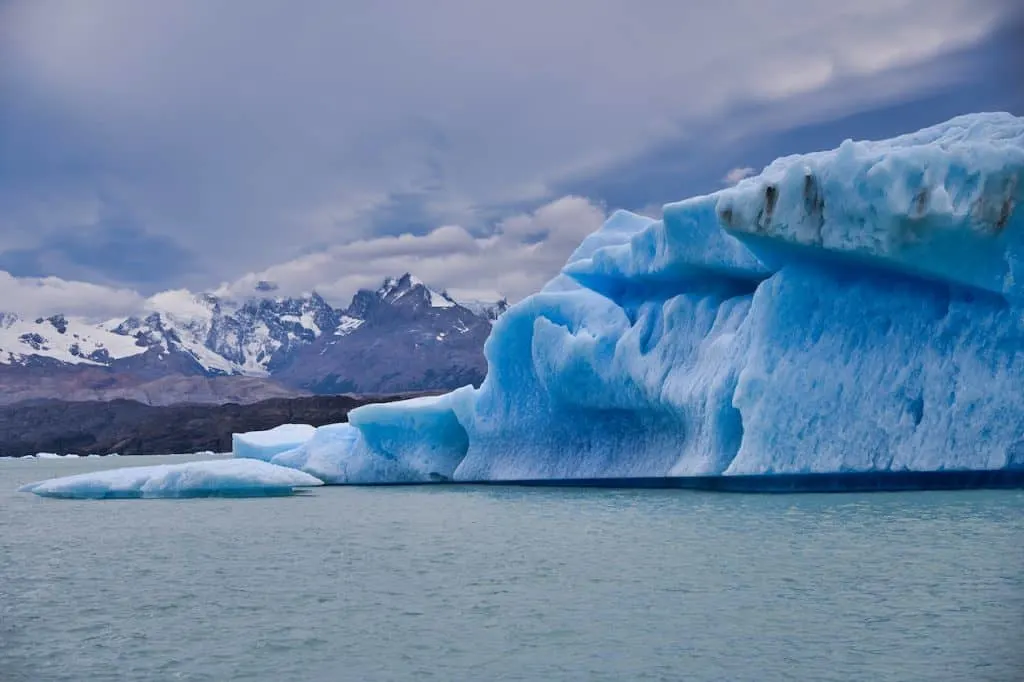 Day 3: Laguna Nimez & Cerro Frias
On your last day in El Calafate, you will get a mixture of a couple different top highlights closer to the town center.
Laguna Nimez
Within walking distance from downtown El Calafate is the Laguna Nimez Bird Sanctuary Reserve. This is the place to be if you are looking to see a whole variety of birds and wildlife (there are about 80 different species here).
For a small fee, you are able to walk along the boardwalks to various viewing platforms around the reserve. If you want to encircle Laguna Nimez, the walk is around 1.5 miles (2.4 km).
Since the birds can be a bit further away from the walking paths, you will also be able to rent some binoculars for your time there. In addition, you could hire a local guide, who will be able to give you much more insight into the various species along the way.
Note: you can also exit the reserve and spend some time walking along the beach nearby Lago Argentino after a visit.
Cerro Frias
In the afternoon, you can head on out to Cerro Frias, which is about a 30-minute drive away. Cerro Frias is a privately-owned mountain that offers multiple excursions along its hillside.
You will be able to choose from horseback riding, ziplining, 4X4 jeep riding, and hiking.
Tours begin in town center, where you will be taken the route along Lago Argentino until you reach the estancia at the base of the mountain. After getting divided into various groups, you will then head further up along Cerro Frias.
Each activity offers its own unique experience of the area, as you get to take in some beautiful views over the lakeside and surrounding scenery.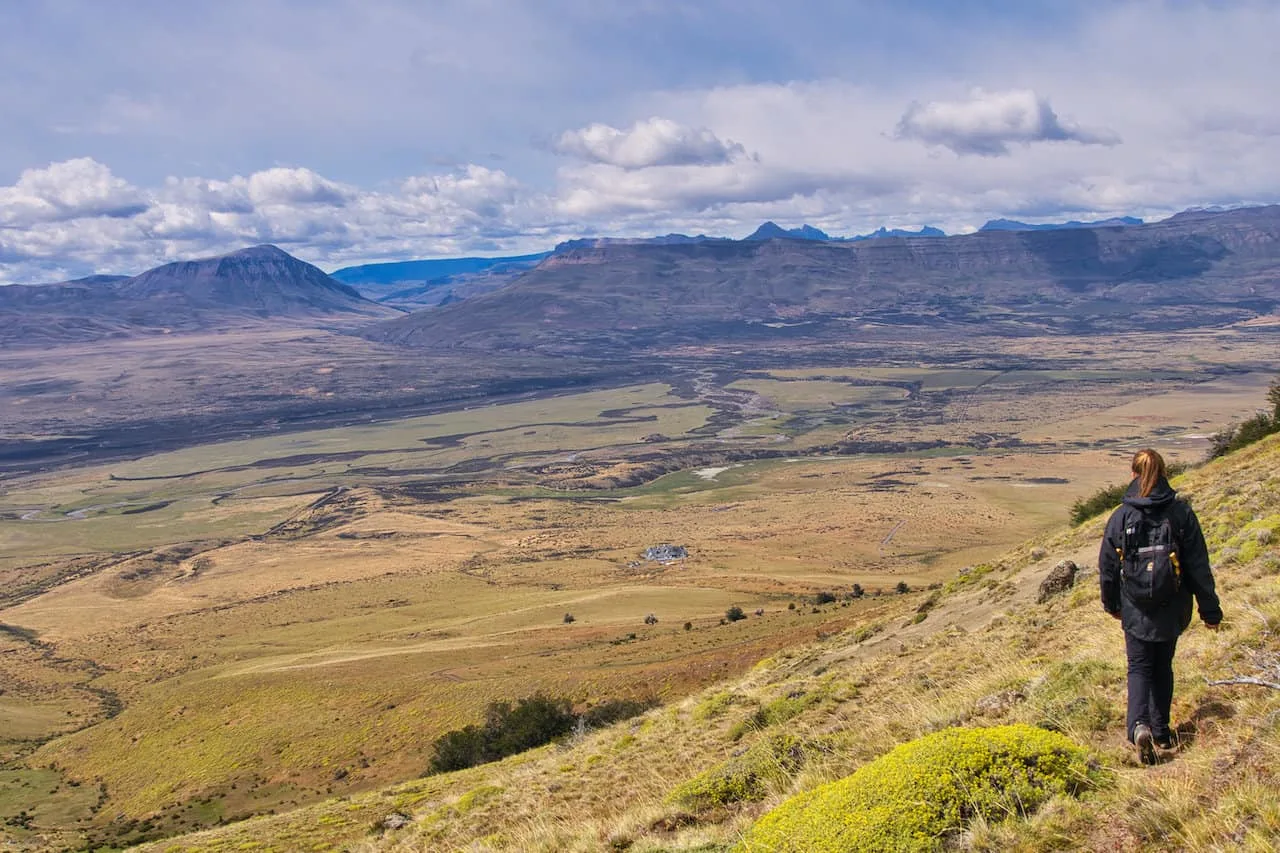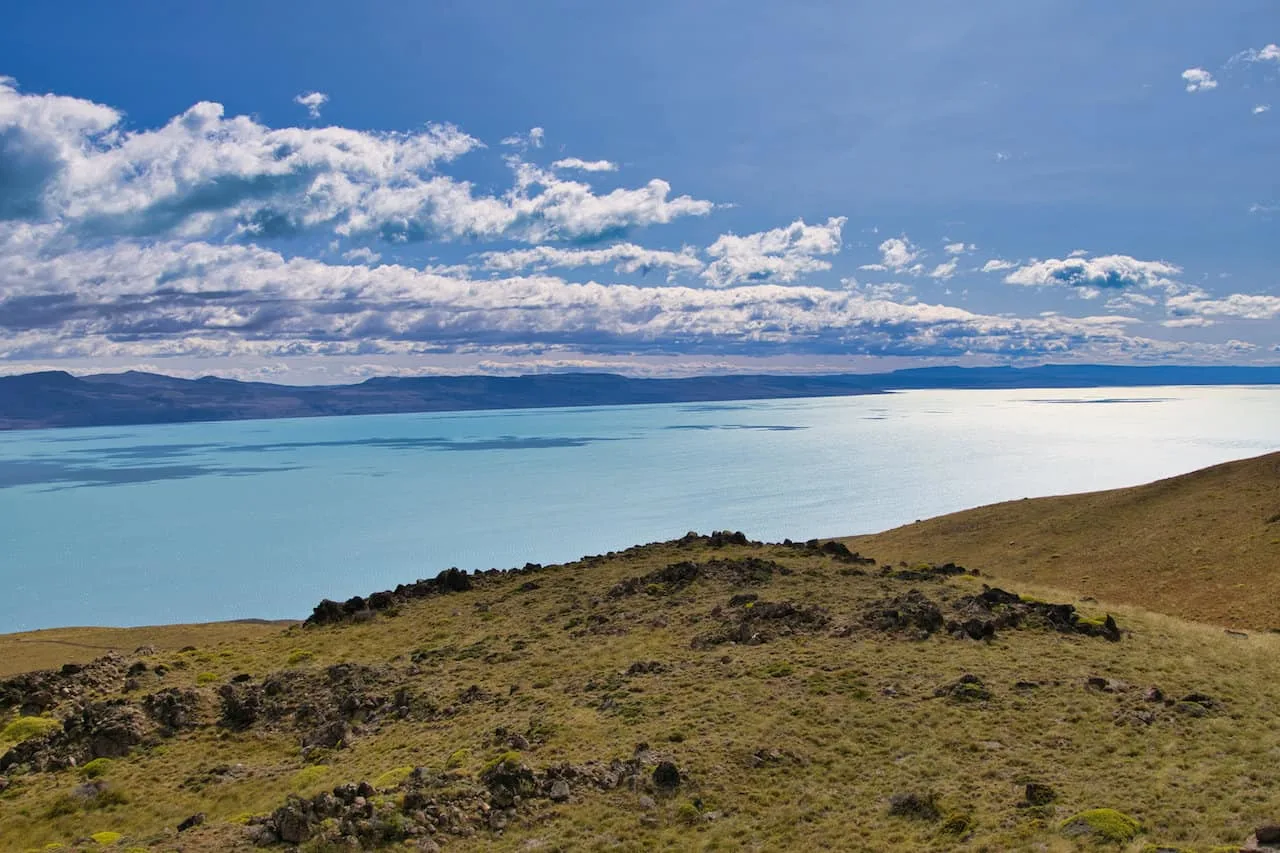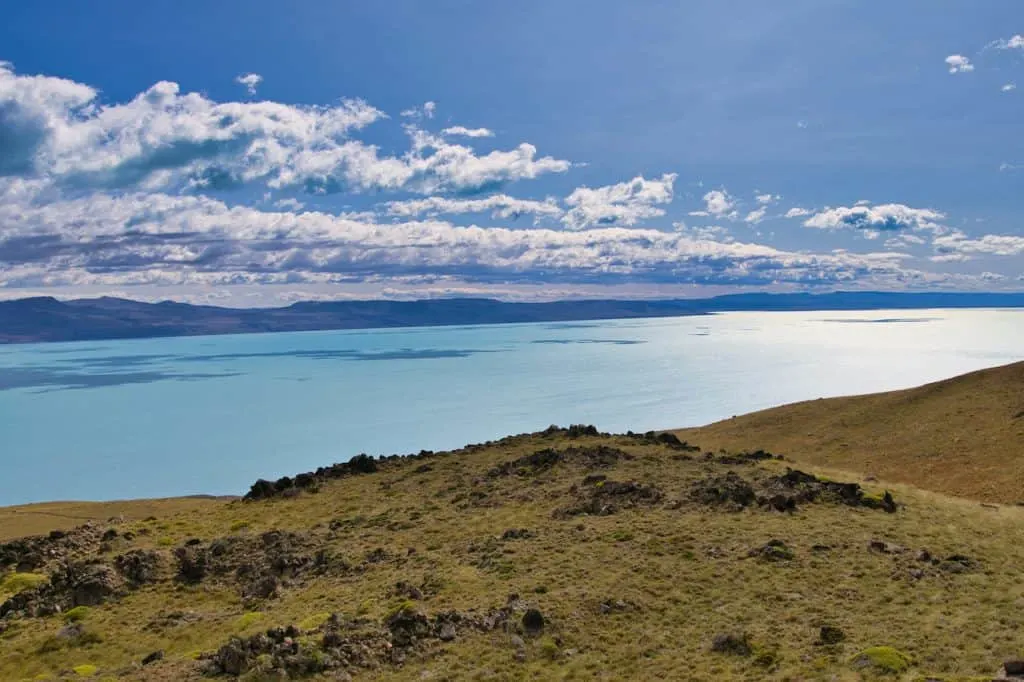 Town Center
End the day exploring the small town center of El Calafate and taking in this vibrant Patagonian town. I am sure you will pass it by throughout your time here, as you have some meals, walk down the main street, and check out some shops.
Be sure to have some delicious Patagonian lamb, trout, ice cream, and other local cuisine offerings.
Weather Note: If your first day in the area around Perito Moreno is hampered by poor weather, you can also use day 3 as a buffer.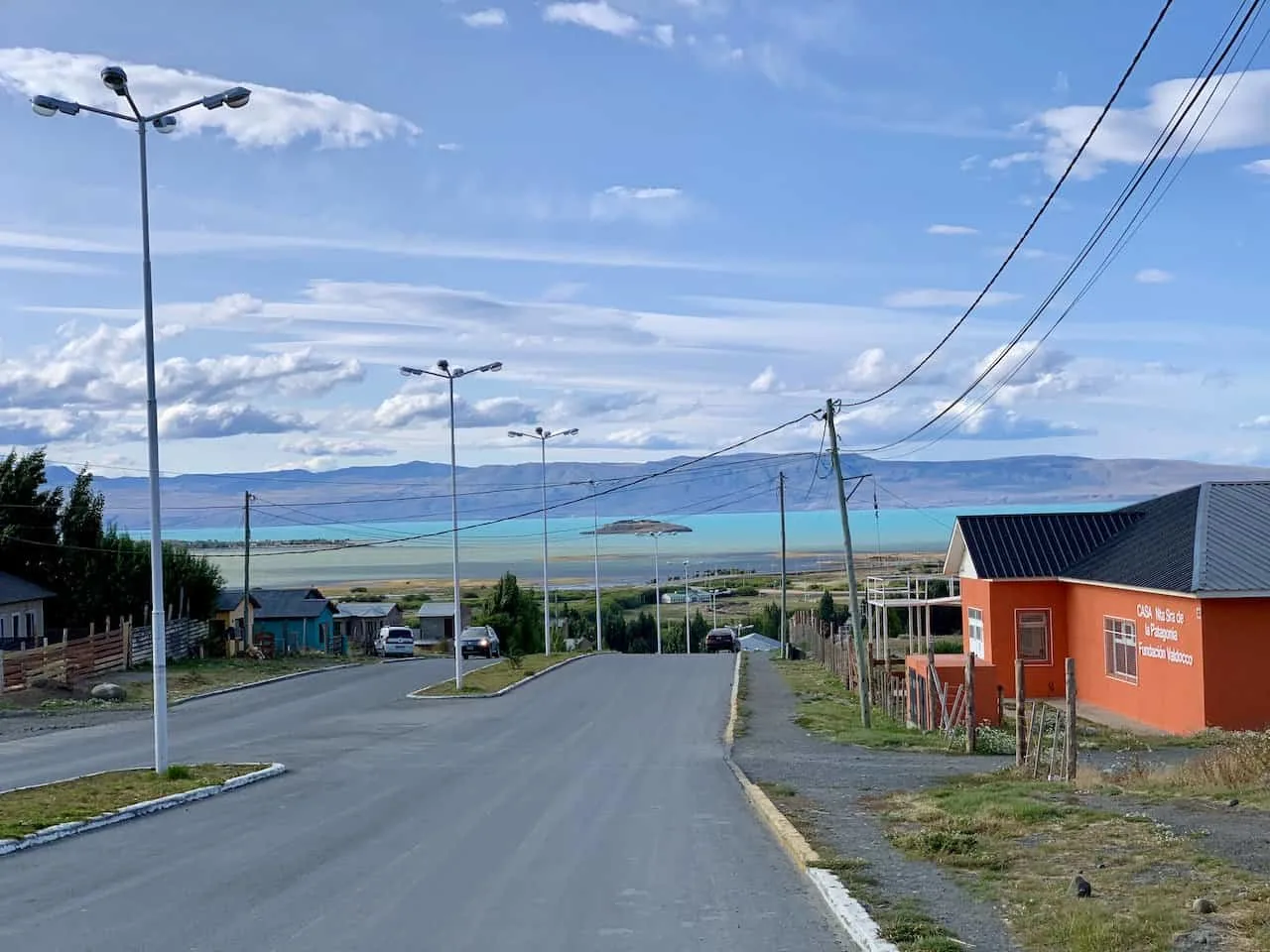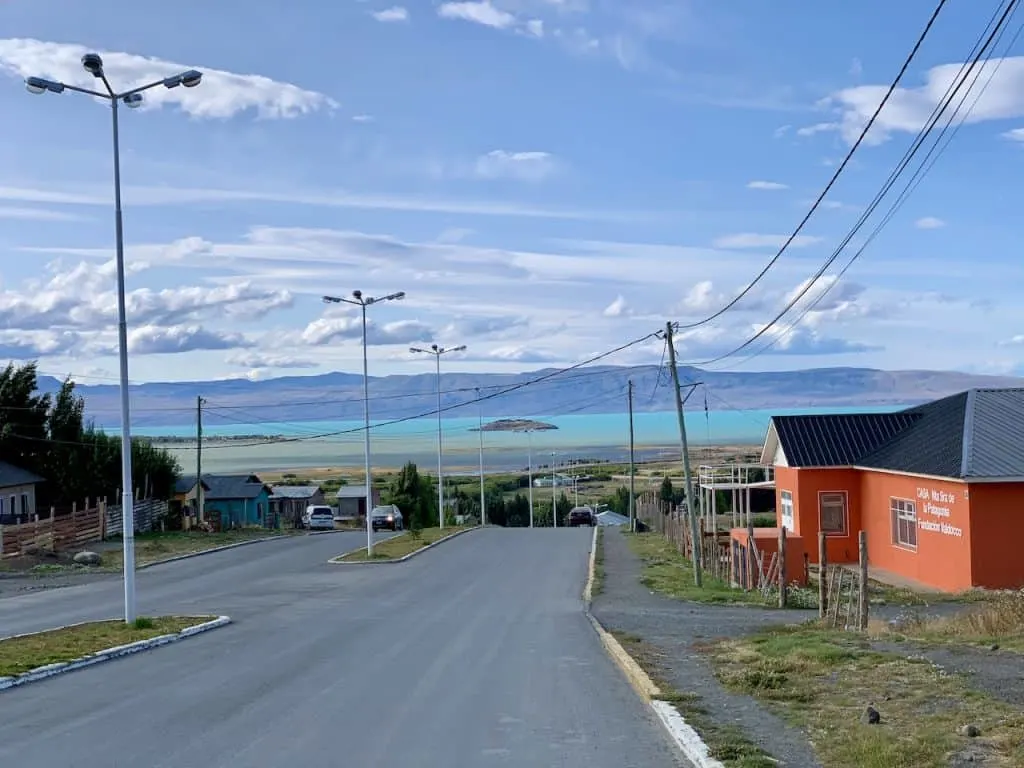 Three days will give you a good amount of time to really get to know El Calafate and its surroundings. For those with more or less time, here are some additional itineraries.
1 Day Itinerary
If you only have a single day to spare, I would recommend to focus solely on Perito Moreno Glacier. While it is not ideal to just spend one day, you may as well see the top highlight!
When going about your day at Perito Moreno, you can opt for any one of the four main options mentioned earlier on:
Boardwalks
Boardwalks + Boat Ride
Glacier Hike (Minitrekking or Big Ice)
Kayaking
Remember, the first two options can be done on your own (rental car, taxi, bus) or with a guided tour. The second two options must be done with a guided tour.
In the evening, feel free to explore town, have a nice meal, and enjoy a late El Calafate sunset.
2 Day Itinerary
Now, for those that have two days to set aside for El Calafate, I would recommend to focus on Perito Moreno Glacier and Los Glaciares National Park.
This will essentially entail the same two days mentioned above as part of the three-day itinerary.
Day 1: Perito Moreno Glacier (choose your experience)
Day 2: Los Glaciares National Park Boat Tour
Hopefully everything will go off without issue and you will still be able to enjoy the best of the best that El Calafate has to offer.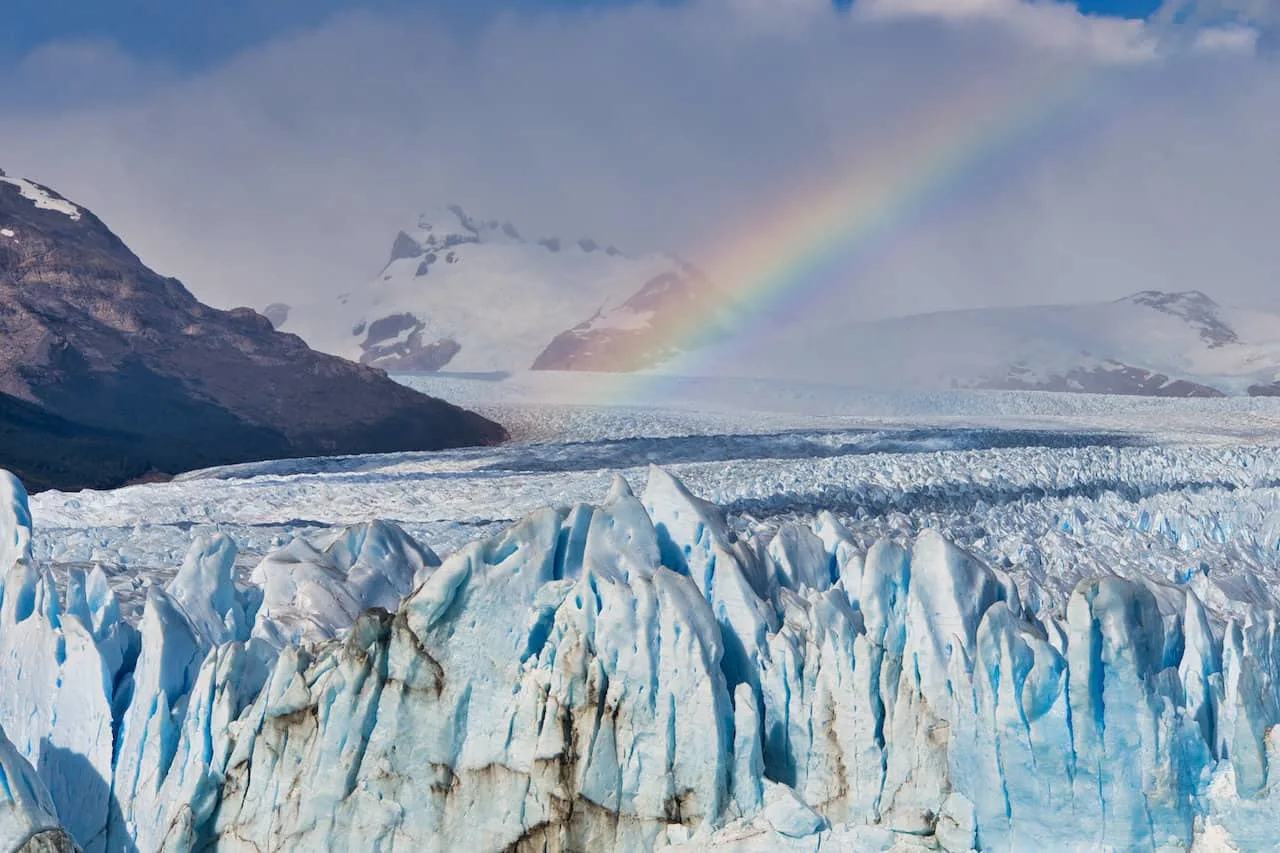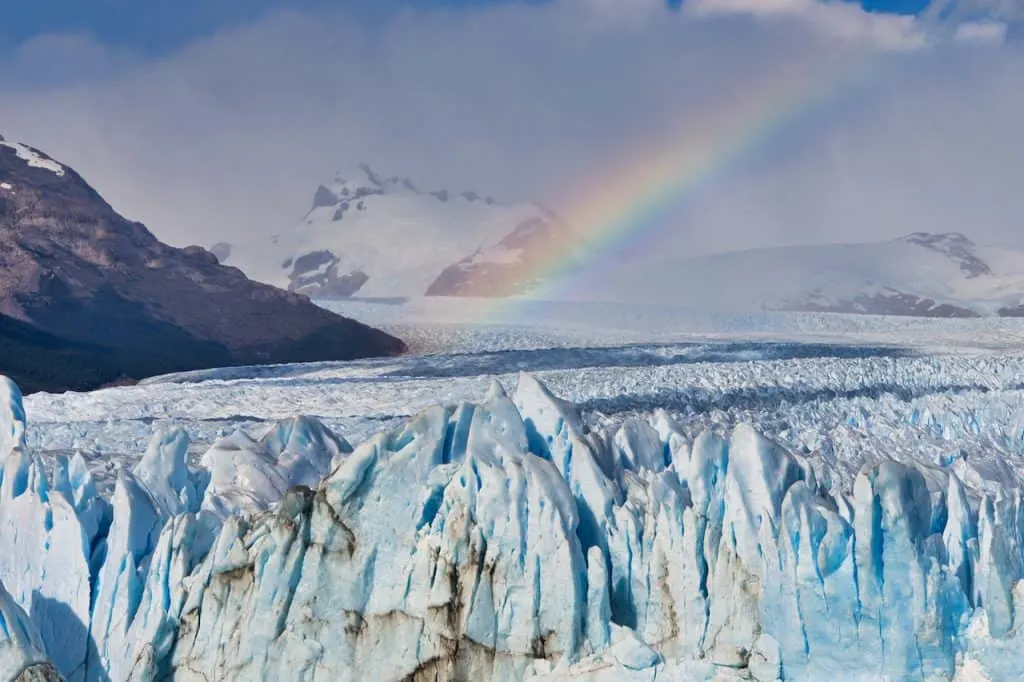 4 Day Itinerary
With four days to spare in El Calafate, you will have enough time to take part of everything already mentioned and more!
We can keep the first three days the same as above with additional options for day 4:
Day 1: Perito Moreno Glacier (choose your experience)
Day 2: Los Glaciares National Park Boat Tour
Day 3: Laguna Nimez & Cerro Frias
Day 4: La Leona Petrified Forest / El Calafate Options
Below is some more insight into the options for the final day in El Calafate:
La Leona Petrified Forest
If you want to spend your final day taking part of a full day activity, then the La Leona Petrified Forest is a great option. This is a little bit of a different type of experience compared to the glaciers from the days prior.
La Leona is located about halfway between El Calafate and El Chalten around Estancia Santa Teresita and Lake Viedma. So, if you happen to be visiting El Chalten after, many tours offer the service to drop you off there too.
At the petrified forest you will get to walk among a paleontological site, where tree trunks and fossils go back millions of years. The landscape will be a stark contrast compared to other hikes in Patagonia, but it will definitely be a unique experience.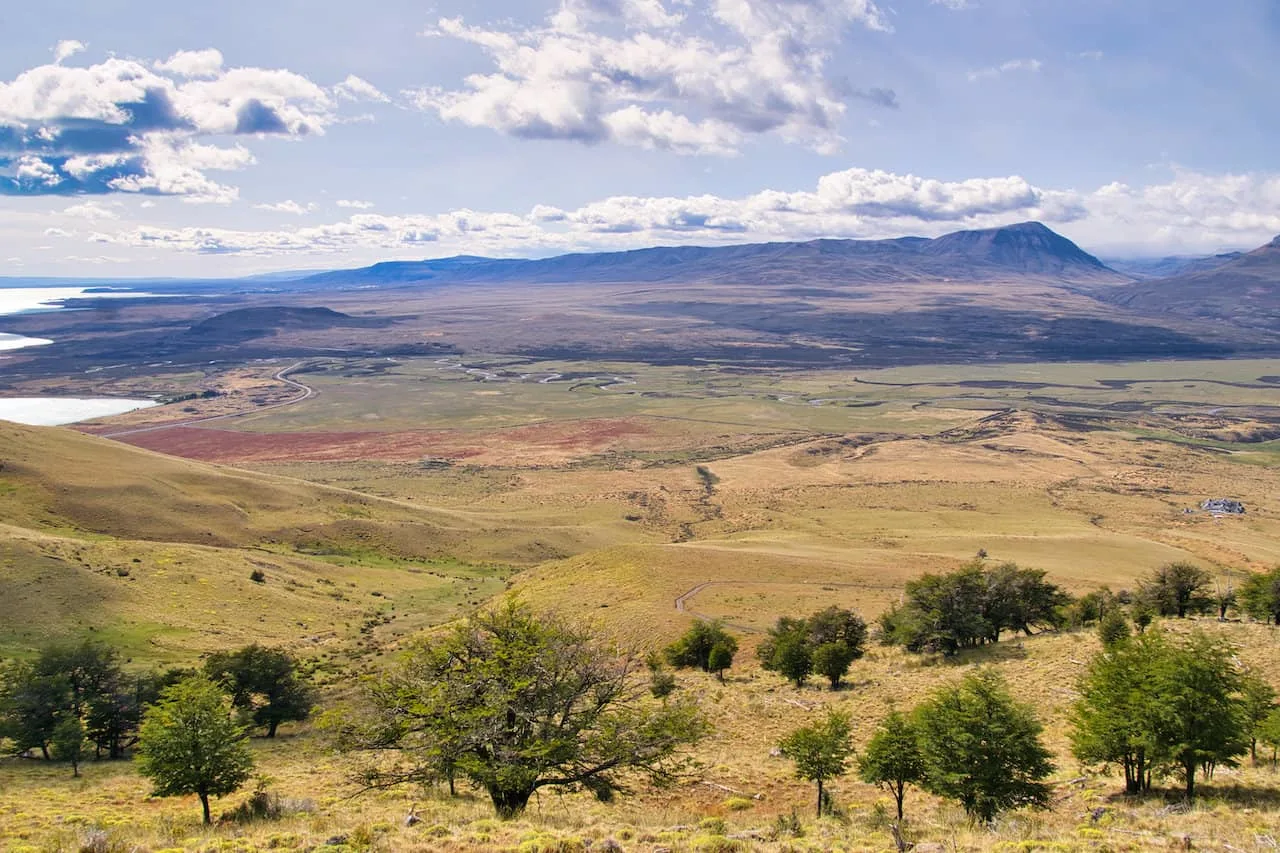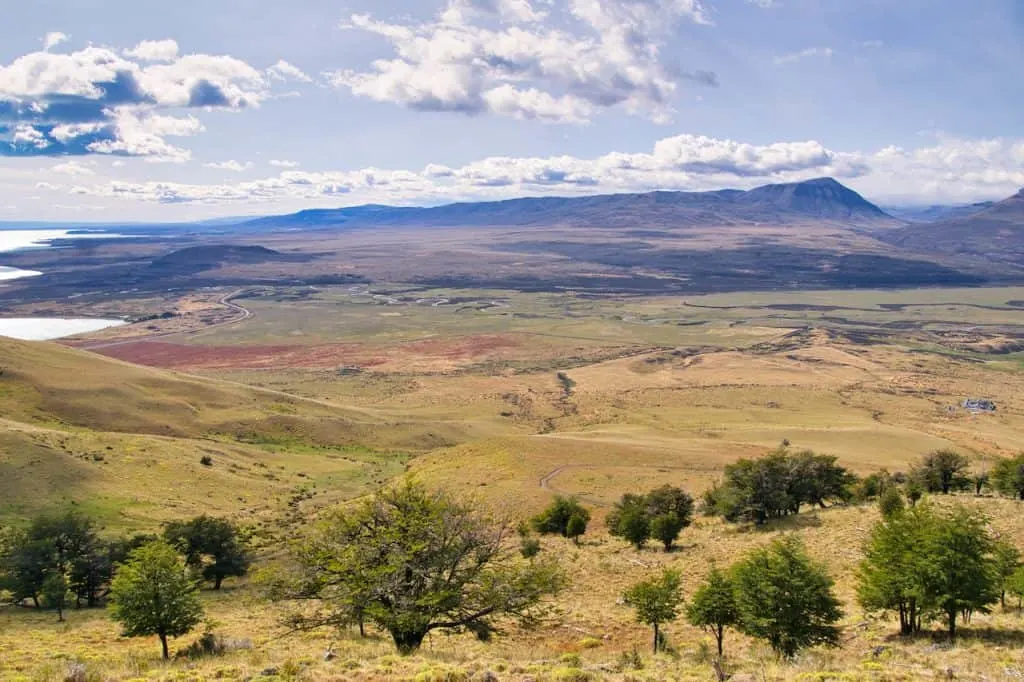 Glaciarium & Walichu Caves
For those that want to spend time closer to El Calafate, there are some additional options to consider as well.
First up is the Glaciarium, a modern museum dedicated to teaching visitors all about the region's history. Throughout the museum, there are informative exhibits and interactive demonstrations all about glaciers.
Since it is located just 15 minutes away from the town center, you can easily make your way there by car, taxi, or shuttle.
In the opposite direction of the town center are the Walichu Caves. At this archeological site on the shores of Lago Argentino, you will be able to see the some of the first cave paintings in the region.
There is an audio guide you can take part of as you explore the cave, the drawings, and the history of the area.
Be sure to also enjoy some beautiful views of Lago Argentino during your time out there!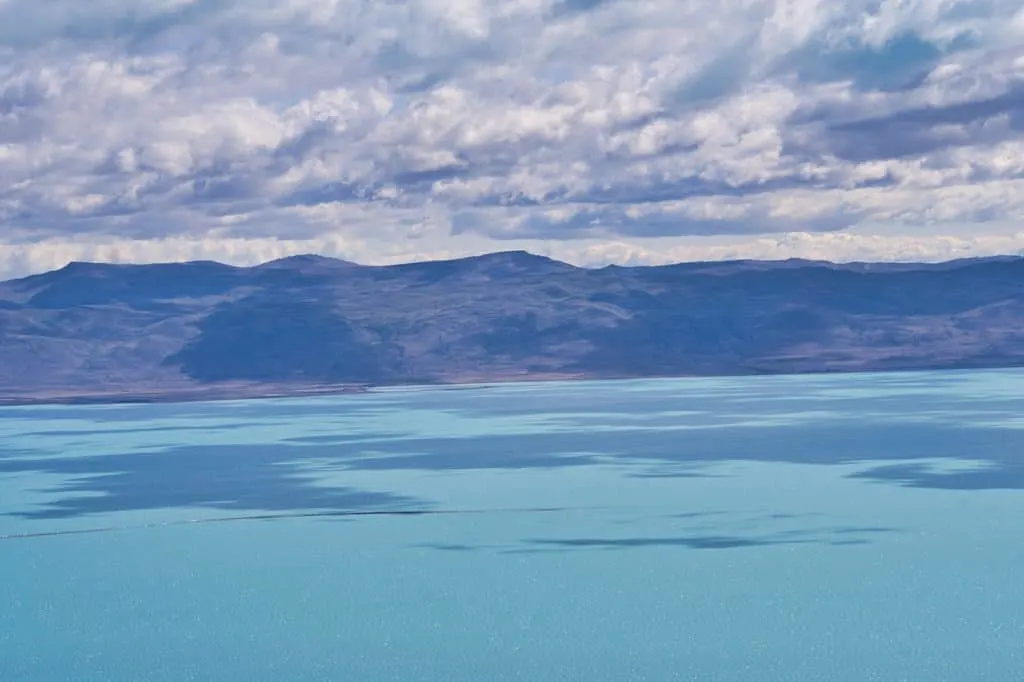 3) Where to Stay
You will find hotels within walking distance to town center and also some that are further out from town. If taking part of a tour, most of them do pick people up directly from hotels.
Below you can find some highly rated and reviewed options to choose from during your trip to El Calafate. During high season, top options can sell out.
I would recommend booking your accommodation as soon as you know your dates:
All Around #1: Mirador del Lago Hotel
Within walking distance from the town center is Mirador del Lago Hotel. It is one of the highest rated hotels in the area with comfortable rooms, attentive staff, and easy access to the nearby attractions. The hotel overlooks the lake and mountainside, making it a scenic place to start & end your day.
All Around #2: Calafate Parque Hotel
Located right within town is the Calafate Parque Hotel. The hotel offers everything you will need for a relaxing experience in El Calafate. Whether that is the included breakfast, spa, gym, or restaurant, it is the perfect place to stay during a trip.
All Around #3: Lagos Del Calafate
Lagos Del Calafate is situated on a hill just above the town center. From the hotel you will get to enjoy nice views over Calafate and the lake. You will also be able to enjoy the indoor pool and delicious restaurant after a long day of exploring the area.
Luxury: Xelena Hotel & Suites
For a more luxurious option, the Xelena Hotel is a top choice. Located outside of the town center, right along the lake, the hotel offers a relaxing & enjoyable environment. The heated pool, spa, restaurant, and of course the views all make Xelena one of the best in the area.
Budget: Calafate Hostel
If you are looking for a cheaper option in the area, then the Calafate Hostel is a great choice. The hostel offers both private and dorm rooms depending on your travel preference. It is one of the highest rated hostels in El Calafate and located just within town center.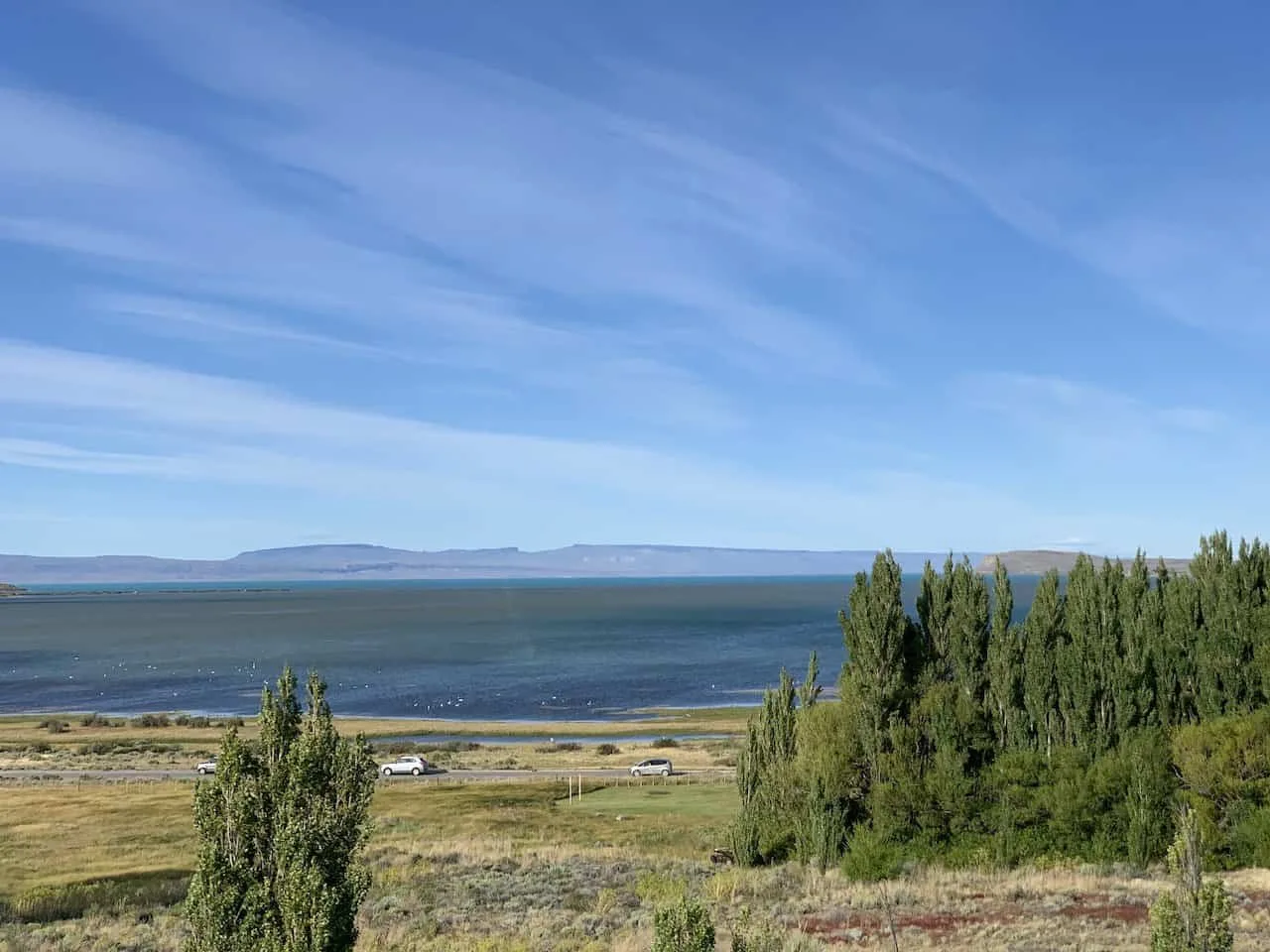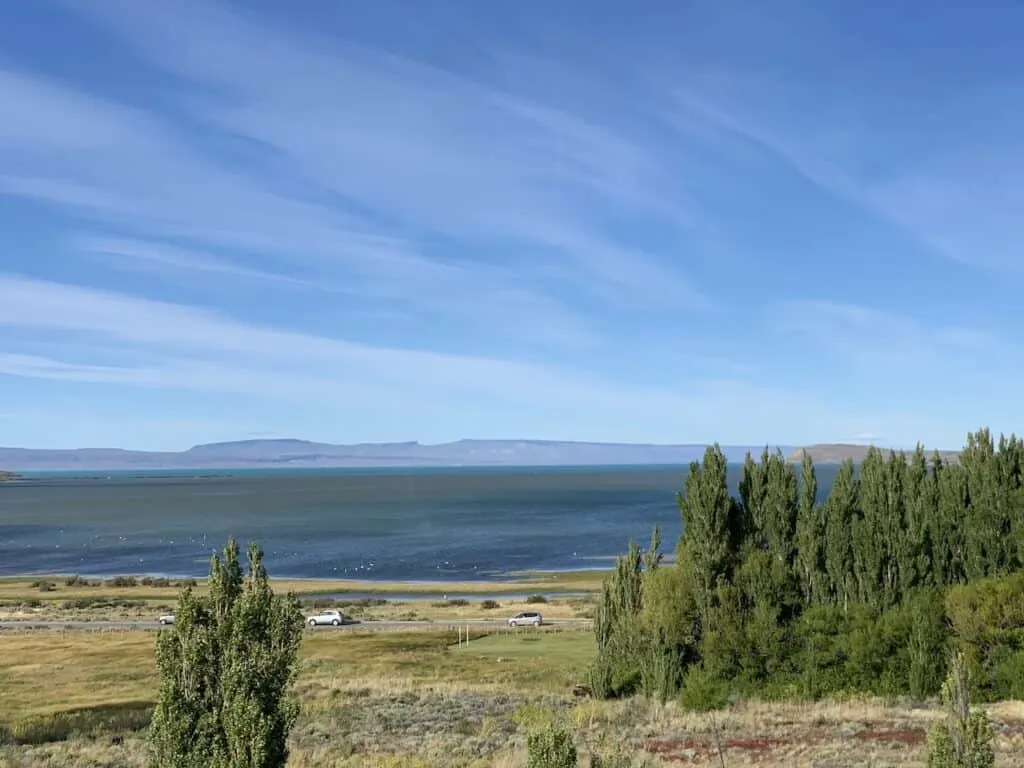 4) How to Get There
When it comes to getting to El Calafate, there are a few main options to consider – plane, bus, and car.
By Plane
The easiest way to make your way down to El Calafate will be by plane. There is an airport directly next to the town center (FTE), which has flights to/from Buenos Aires, Cordoba, Ushuaia, among other local spots.
Just note that flight schedules can change and are more common in the country's high season.
Once you arrive at the airport, you can hop in a quick taxi, or grab a rental car.
By Bus
There are also bus routes that go to and from El Calafate. Some of the main places you may be coming from include El Chalten, Bariloche, or Puerto Natales (in Chile).
Feel free to check out busbud for the latest routes, prices, and schedules.
By Rental Car
If you are taking part of a longer Patagonia road trip, then renting a car is certainly an option to consider.
This will give you more freedom to make your own schedule as you go. You can easily visit places in the vicinity of El Calafate and then head on over to El Chalten to enjoy some more Patagonian adventure.
Renting a Car? When searching for rental cars, feel free to check out Rentalcars.com for potential options.
Getting Around
Now, once you are in El Calafate there are a few different ways to get yourself around.
Rental Car: if you have a rental car, things should be easy enough for you. Simply make your way over to the various activities and attractions.
Tour: many activities can be done as part of a guided tour. These will almost always have an option to pickup from El Calafate (either included in the cost or for an extra fee).
Bus: mostly in regards to Perito Moreno Glacier, there are busses that make the route back and forth from town center.
Taxi: you can also opt for a taxi ride to any of the main highlights listed out. It is not uncommon to pay for a taxi ride, have them wait for you, and then head back by taxi once you are finished up.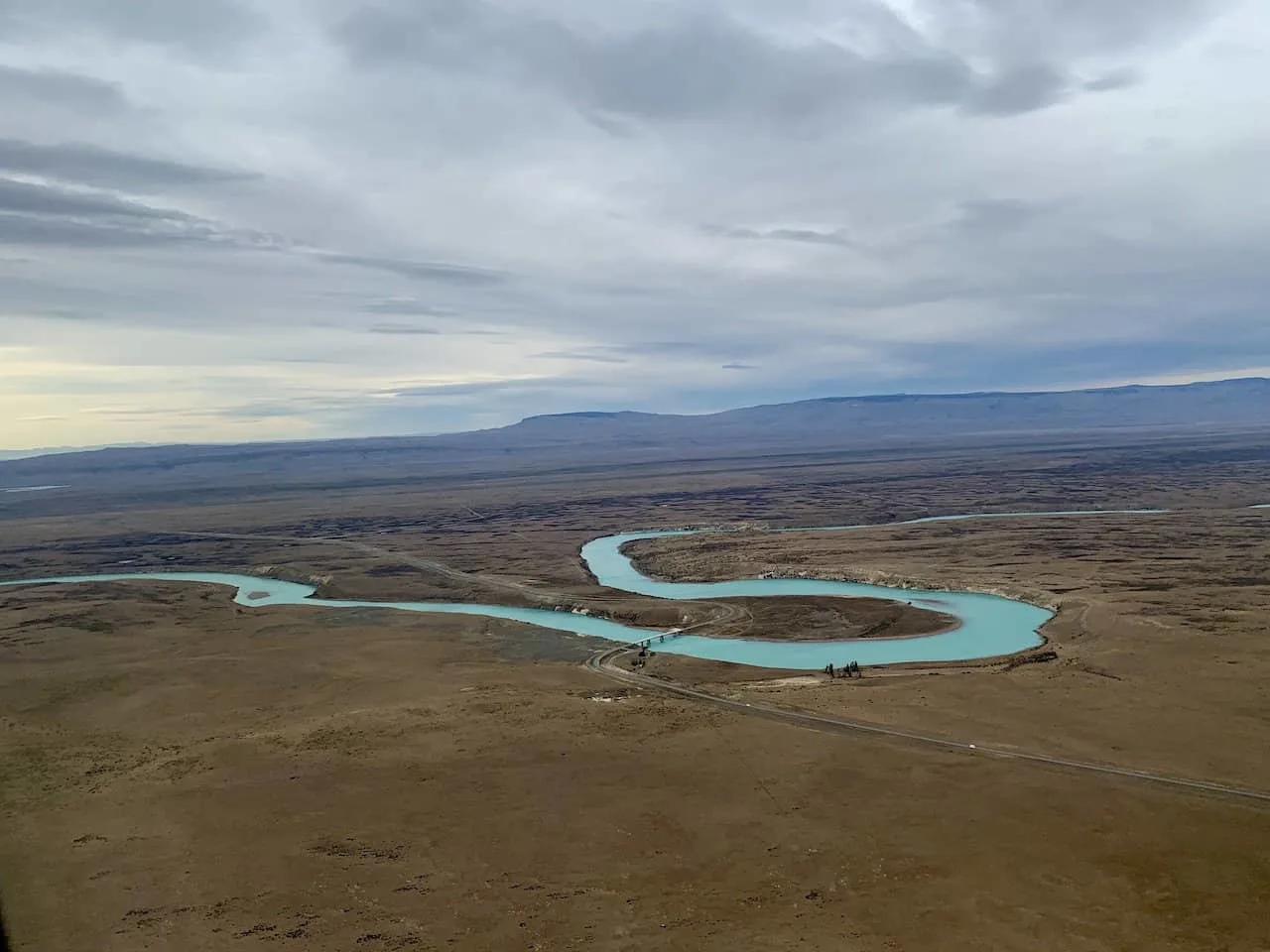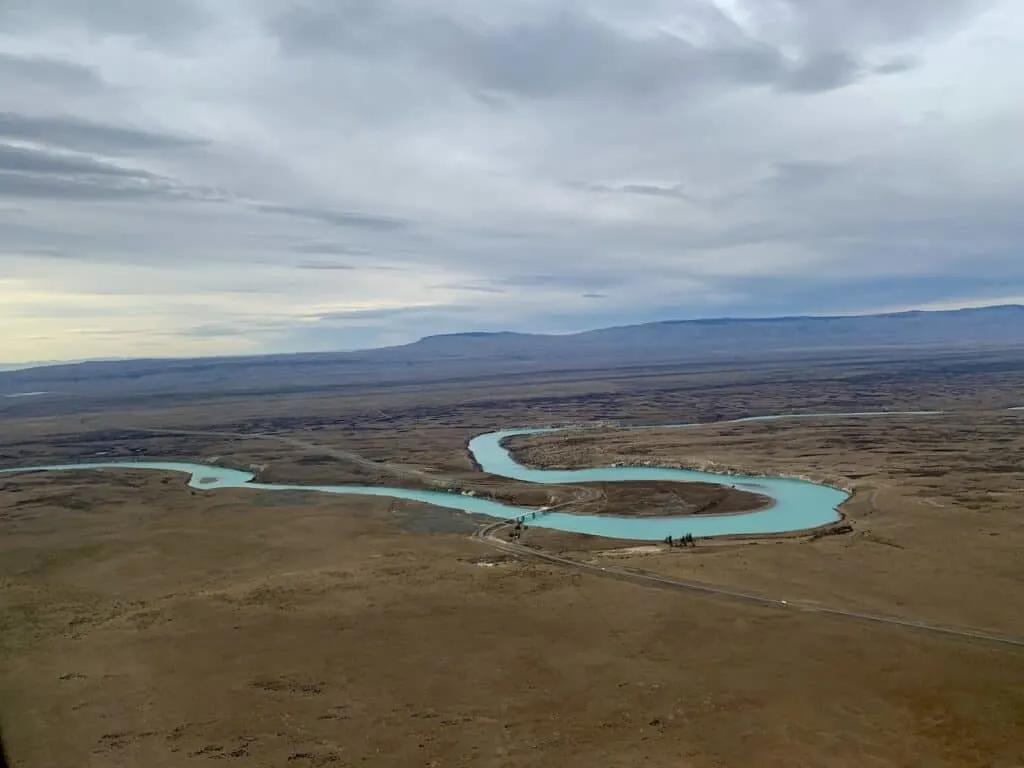 5) When To Go
As you go about your trip planning to El Calafate, you will need to think about the best time of year to take your trip. Since the region is in the southern hemisphere, that means that the summer period runs from December to March.
During the summer time, you can expect temperatures to be at their highest, and the overall weather to be a bit calmer. Due to this, the summer is when most tourists make their way to Patagonia. Hiking, outdoor activities, and other nature-based attractions will be at their most accessible.
Throughout the summer, you can also expect some much longer days, with more available daylight. This can be a benefit in the instances where certain parts of the day may have worse weather. Given the longer days, you can be a bit more flexible with your day to day schedule.
If you are looking to still get some good weather but without the crowds, you may want to consider the shoulder months of October/November and April/May. The weather may not be as stable during these times but you can still get a lot out of a trip.
I would not recommend a trip between June and September (for the most part), as it gets too cold, wet, snowy, and more unpredictable.
6) How Many Days Do You Need in El Calafate
In my opinion, I would recommend setting aside three days in El Calafate during your overall trip to Patagonia.
Given you have three days, you will be able to enjoy the top highlights, without needing to rush during your time there. Three days also gives you a buffer day just in case one of the first couple of days doesn't have ideal weather conditions.
Since you are traveling all this way to see highlights such as Perito Moreno Glacier, you may as well give yourself the best chance to enjoy it all.
7) Is It Worth Visiting El Calafate
Without a doubt, a visit to El Calafate is worth it. While there are glaciers around the world, Perito Moreno really is one of the best places to experience them. Getting to see the sheer size and depth of the glacier from so up close is just something that is hard to come by in other places.
And while Perito Moreno is going to be the top highlight, El Calafate offers more than just that. Whether you want to take a boat trip further into Los Glaciares National Park, enjoy the Lago Argentino lakeside, or visit some other nearby attractions, El Calafate has it all.
So, if you are thinking about heading to Patagonia for your next trip, definitely consider adding El Calafate to the list.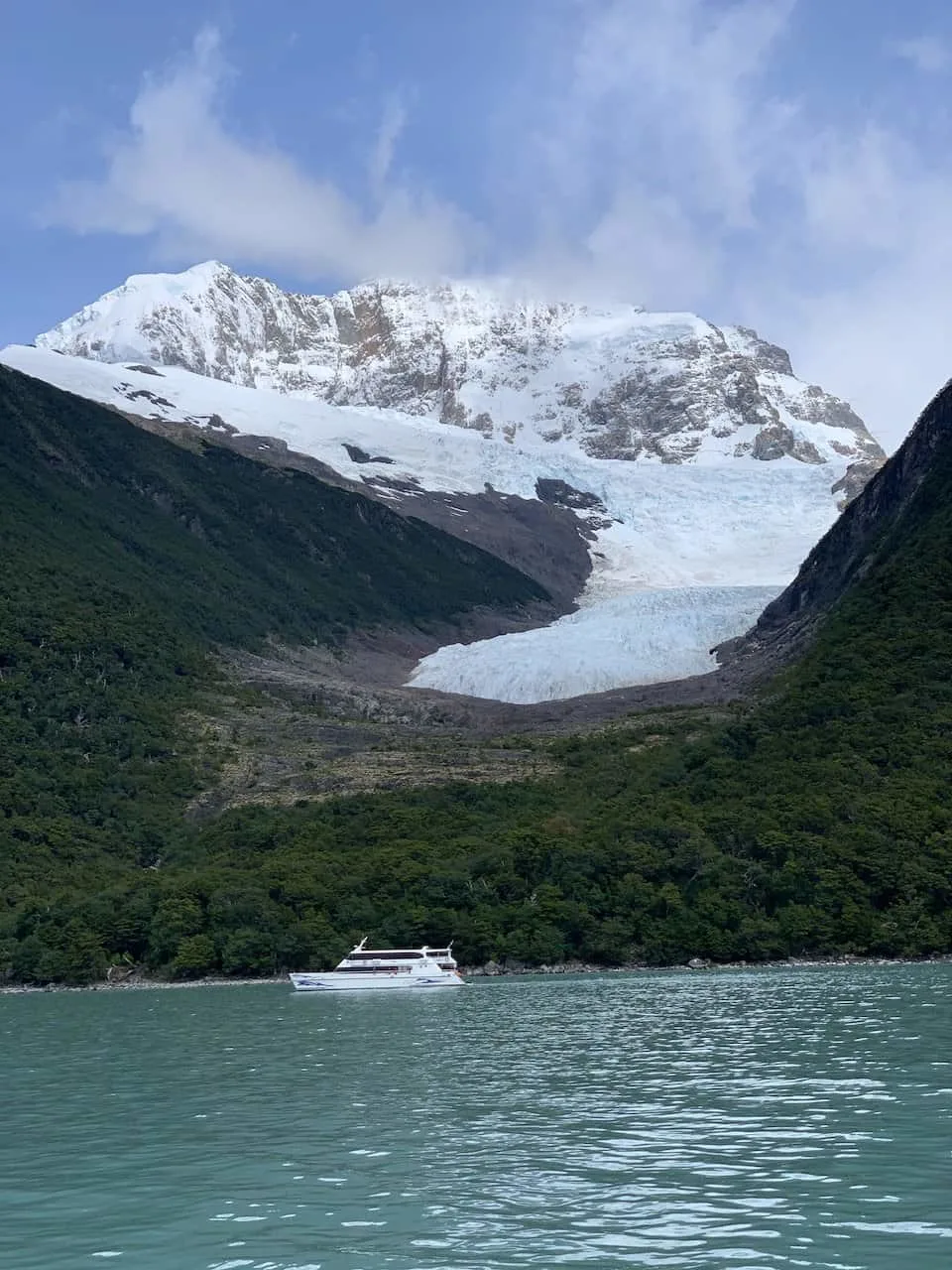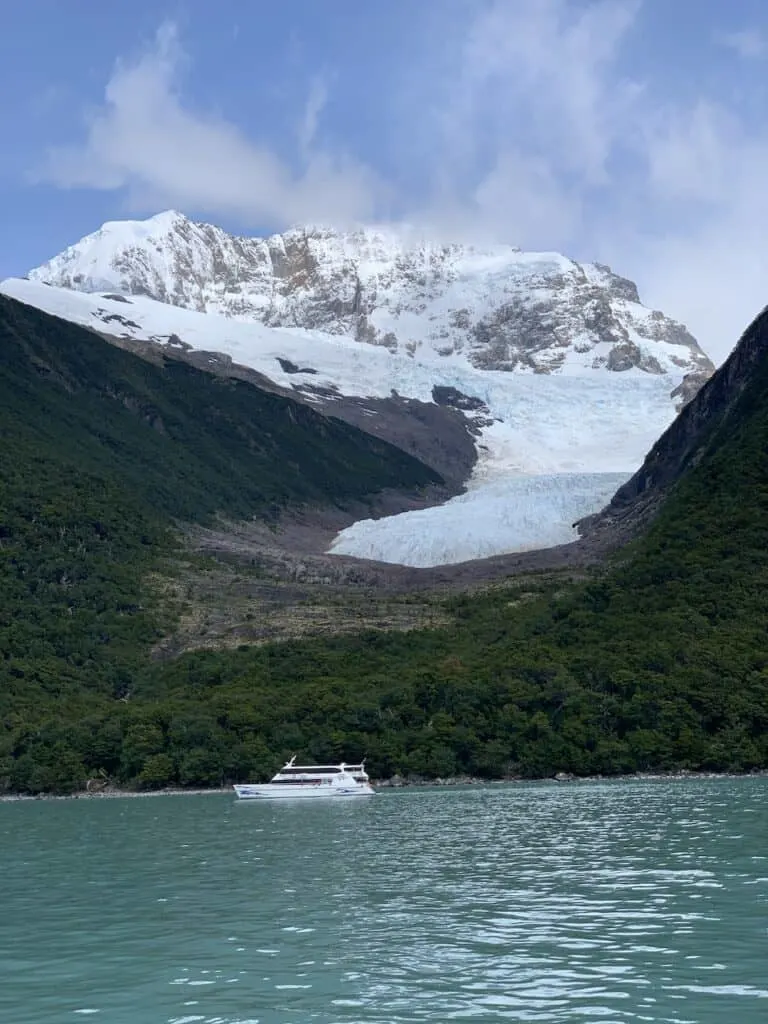 I hope you have a better sense on what an El Calafate itinerary can entail. If you have any questions or comments, be sure to add them in below.
Also, don't forget to check out the other Patagonia itineraries and guides up on the site.
Torres del Paine National Park: Take part of the O Trek, the W Trek, or other TDP day hikes
El Chalten: enjoy some of the best El Chalten hikes like Fitz Roy & Laguna de Los Tres and the Huemul Circuit
Ushuaia: visit Tierra del Fuego National Park, spend a day walking among penguins, and hike to Laguna Esmeralda.
Have fun out there and safe travels!