Within Torres del Paine National Park you will find some of the best multi day treks in the world. Most notably the 4-5 day W Circuit and the longer 8 day O Circuit. Adventures that take you to some of the best landscapes and panorama viewpoints that Patagonia has to offer.
Since these are a multi-day hikes, you must come prepared with a comprehensive Torres del Paine packing list. This will include camping gear, clothes, food, and other hiking essentials. Everything of which you must carry in your backpack for the duration of your hike.
Read on to learn more about these two circuits and what this Torres del Paine packing list entails to get you ready for your time out on the trail.
* Affiliate Disclosure: This post may contain affiliate links, which means I may receive a commission if you make a purchase through the links provided, at no additional cost to you. Thanks for supporting the work I put into TripTins!
Torres Del Paine O & W Trek Overview
When it comes to Torres del Paine National Park in Chilean Patagonia, there are two main multi day treks to choose from. You have the 4-5 day W Circuit and the longer 8 day O Circuit.
Depending on how many days you are interested in hiking for will be one of the main considerations when choosing between the W or the O.
It is important to note that the W Circuit is part of the O Circuit. So, if you are completing the O, then you are completing the W as well.
→ Learn more in the Torres del Paine O Circuit and Torres del Paine W Circuit overviews up on the site
Throughout the W & O Circuits of Torres del Paine, you will find "sectors". At these various sectors, there are campsites and refugios (mountain lodges), where trekkers will stay the night.
Now, there are a few main ways to go about your time along these circuits. Based on your choice, will also dictate what your overall packing list will look like.
1) Camping Only
The first option is to only utilize the Torres del Paine campsites on a nightly basis and to bring all your own gear for the camping experience. This would entail bringing along a tent, sleeping bag, mattress pad, etc., in addition to all your other hiking gear.
Campsites Note: there is also an option to rent individual items at the campsites (tent, sleeping bag, mattress pad). So, you could technically bring along certain gear, and then rent other items at the campsites. This way, you won't need to carry too much gear along the circuits.
2) Refugios / Ready Made Campsites Only
Now, if you do not want to carry all your sleeping equipment along the routes, then you can simply stay at the refugios or ready made campsites along the way.
Every sector has a refugio except for Seron and Los Perros, both of which are located on the O. If taking part of the W, then refugios are available all the way through.
While refugios are the more comfortable option, they are also the more expensive option. Instead of staying in the refugio, all of the campsites also offer ready made campsites for trekkers. These will include all the main overnight gear items you will need -> tent, sleeping bag, and mattress pad.
3) Mix and Match
There is also an option to mix and match between the the above two options. If you bring your own sleeping equipment, but want to also enjoy a refugio from time to time, that certainly can be an option. Especially if taking part of the longer O Circuit, it can be nice to have a night or two in a comfortable bed.
Below is a photo of the ready made campsites along the Torres del Paine circuit: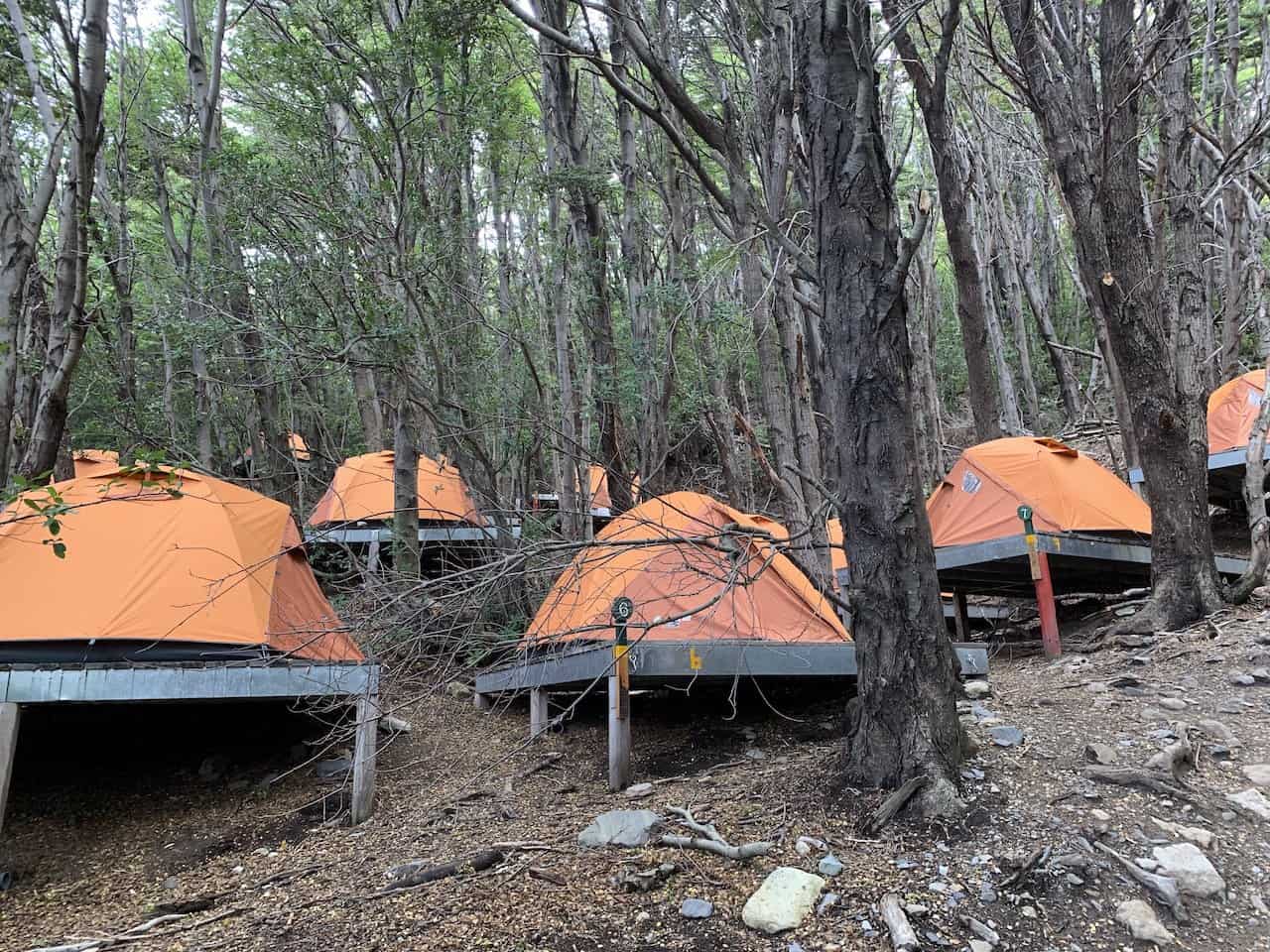 Food Options
At each one of these campsites/refugios, you will be able to purchase meals ahead of time (either individually or full board, depending on the sector).
So, it is possible to go about the circuits without bringing any of your own food. You can also purchase snacks for sale at some campsites as well.
On the other hand, if looking to save some money, you can simply bring all of your own food (either from home or purchase in Puerto Natales). If you bring your own food, you will most likely need to bring along cooking gear as well. I will talk more about food considerations later on.
Read on to learn more about what exactly you should bring with you to have the most comfortable and stress free time out on the trail.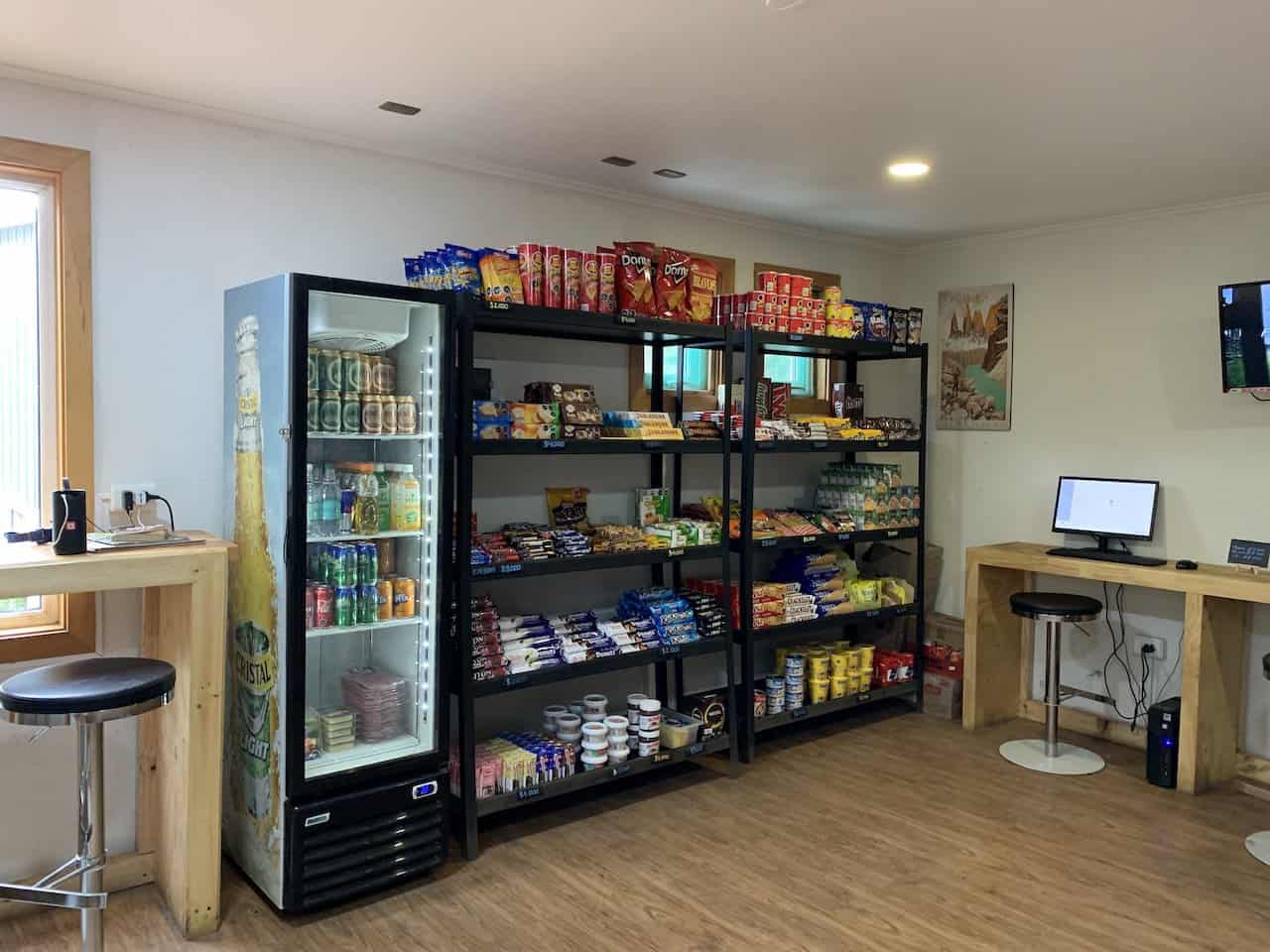 Considering travel insurance for Torres del Paine?

World Nomads offers coverage for more than 150 adventure activities as well as emergency medical, lost luggage, trip cancellation and more.

For years, World Nomads has been protecting, connecting & inspiring independent travelers, offering travel insurance & safety advice to help you travel confidently. Their mission is to support and encourage travelers to explore their boundaries.

World Nomads has simple and flexible travel insurance that has been designed by travelers for travelers. Even if you leave home without travel insurance or your policy runs out, you can buy or extend out on the road.

Get a quote for a World Nomads travel insurance policy today!
A Torres Del Paine Packing List
There are several different categories to consider when going about a Torres del Paine packing list. Camping & hiking gear, clothing & layers, and food & hydration.
You will want to make sure you have a solid understanding of each of these categories as you build up your packing list.
Below is my recommended packing list for the O & W Circuits, but understandingly each person may be a bit different with what type of gear & clothing they bring along. At the end of the day, this should still help you greatly when it comes to putting together a packing list on your own.
Note: the overall gear list will not change between the O Circuit and W Circuit (just potentially the quantity of some items).
Hiking & Camping Gear
The first section of gear I will dive into is all of the different hiking and camping gear to consider.
The first two items (backpack and hiking poles) will be for everyone, while the remainder of the items are just for those bringing their own overnight gear (and not sleeping in the refugios / ready made campsites).
Note that much of these can be rented or bought in Puerto Natales if you do not have everything already.
Hiking Backpack | Hyperlite Southwest 2400/3400 (and Backpack Rain Cover)
The first item to consider is going to be your hiking backpack. I would recommend a backpack in the 50L+ range in order to fit all of your gear. While you may be able to bring all along a bag that is a bit smaller (for those not bringing overnight gear), you will need to be certain that all of your gear fits.
The newest pack in my collection is the Hyperlite Southwest 3400 which is a 55 liter pack with an additional 10 liters in the outside pockets.
Hiking Poles | Black Diamond Distance Carbon FLZ Trekking Poles
Hiking poles are optional for trails like the O and W Circuits. However, they certainly can be helpful for certain days out on the trail. The hike up to Mirador Las Torres can get steep at times (both W and O), as well as the hike up/down the John Gardner Pass (only for those on the O Trek).
3-Season Tent | Big Agnes Copper Spur HV UL
A comfortable and sturdy tent will an important part of your overnight experience. I would recommend going lightweight here as you will need to carry it along for 45/70 miles over the course of 4-8 days.
You will also want to consider the ease of use and setup. The Big Agnes Copper Spur collection is a great place to start. While the tent is more on the expensive side, it is one of the most lightweight and sturdy tents out there.
Depending on preferences you can either buy a tent that fits just the amount of people you are with. Or you can opt to get one size bigger to have more internal room for yourself at night.
Sleeping Bag (20 F – 40 F) | Thermarest Questar 20 ; Thermarest Hyperion 32
A good night's sleep will mostly rely on your comfort and that is where sleeping bags will come into play. The idea that I go by is to have a strong weight to warmth ratio. You will want to consider sleeping bags that are around that 30 degree Fahrenheit range (0 Celcius).
It certainly can get colder at night and staying warm will be of upmost importance. Thermarest makes some great sleeping bags, but you are sure to find plenty other options if those don't work for you.
Note with sleeping bags, the degree mentioned on a bag, does not necessarily equate to "comfort level". Rather they usually refer to the "lower range" of comfort. So, I would always pay attention to those details when purchasing or renting a bag.
Sleeping Bag Liner | Sea to Summit Liner
For increased warmth and to keep your sleeping bag clean, be sure to buy a comfortable liner that will go inside the bag during your night's sleep.
Sleeping Pad | Thermarest NeoAir Xlite
While sleeping bags are important, so are sleeping pads. You do not want to just lay a sleeping bag on the floor of your tent. The cold ground will certainly be felt if you do so.
Instead, opt to invest in a lightweight and reliable sleeping pad. Thermarest makes some of the best out there, and their pads would be perfect for the circuit.
Camping Pillow | Thermarest Camping Pillow
Lastly from a sleeping standpoint, you will also want to bring along a comfortable camping pillow. While blow up pillows save space and are as lightweight as it gets, I do find them to have lower comfort. Thermarest also makes a great camping pillow that rolls up small and is very comfortable for what it is.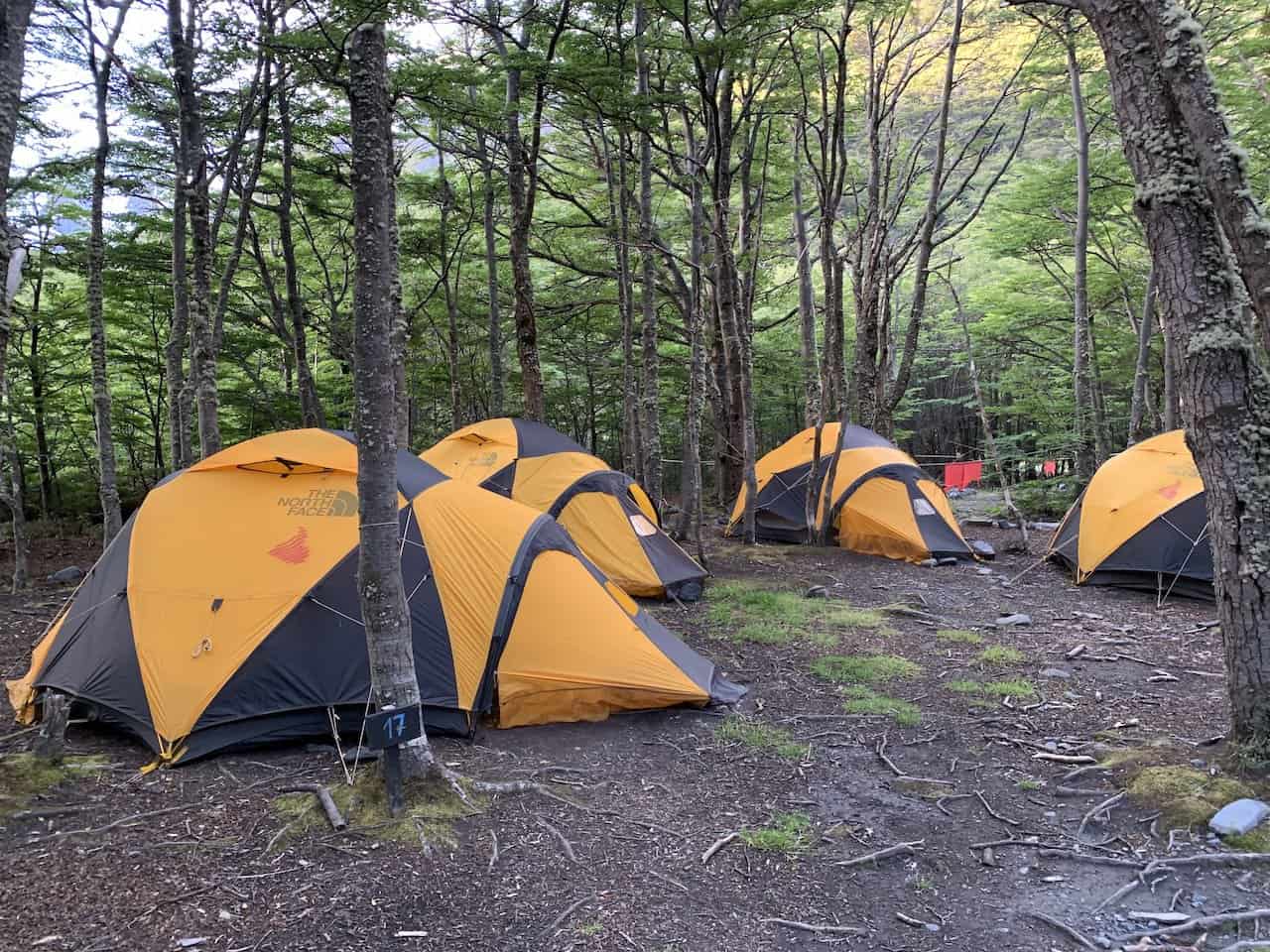 Clothing
From a clothing perspective, you will want to bring along what is needed for your days out on the trail.
Every person will be a bit different here with the types of clothing and layers of clothing that they prefer. But below is going to be a great starting point to build off of.
When it comes to hiking clothing in general, you will want to be sure to focus in on moisture wicking materials (polyester, wool, etc). Try to stay away from cotton as much as possible.
It is also important to note how essential layers will be on a hike like this. The Patagonian weather can change quite often and you never know when that calm sunny weather can turn to windy rainy weather. Be sure to come prepared with all the appropriate layers to keep you comfortable in various weather scenarios.
Note that the quantities mentioned can change based on your comfort level with rewearing clothes on a day to day basis.
• Hiking Boxers (2-3)
• Hiking Socks (2-3)
• Hiking Pants (1)
• Hiking Shorts (1)
• Long Sleeve Sun Hoodie (1)
• Short Sleeve Hiking Shirt (1)
• Puff Jacket (1)
• Hard Shell Jacket (1)
• Sleepwear
• Sunglasses
• Baseball Hat
• Quick Dry Towel | Rainleaf Microfiber Towel
• Packing Cubes & Laundry Bag | Shacke Pak Packing Cubes & Laundry Bag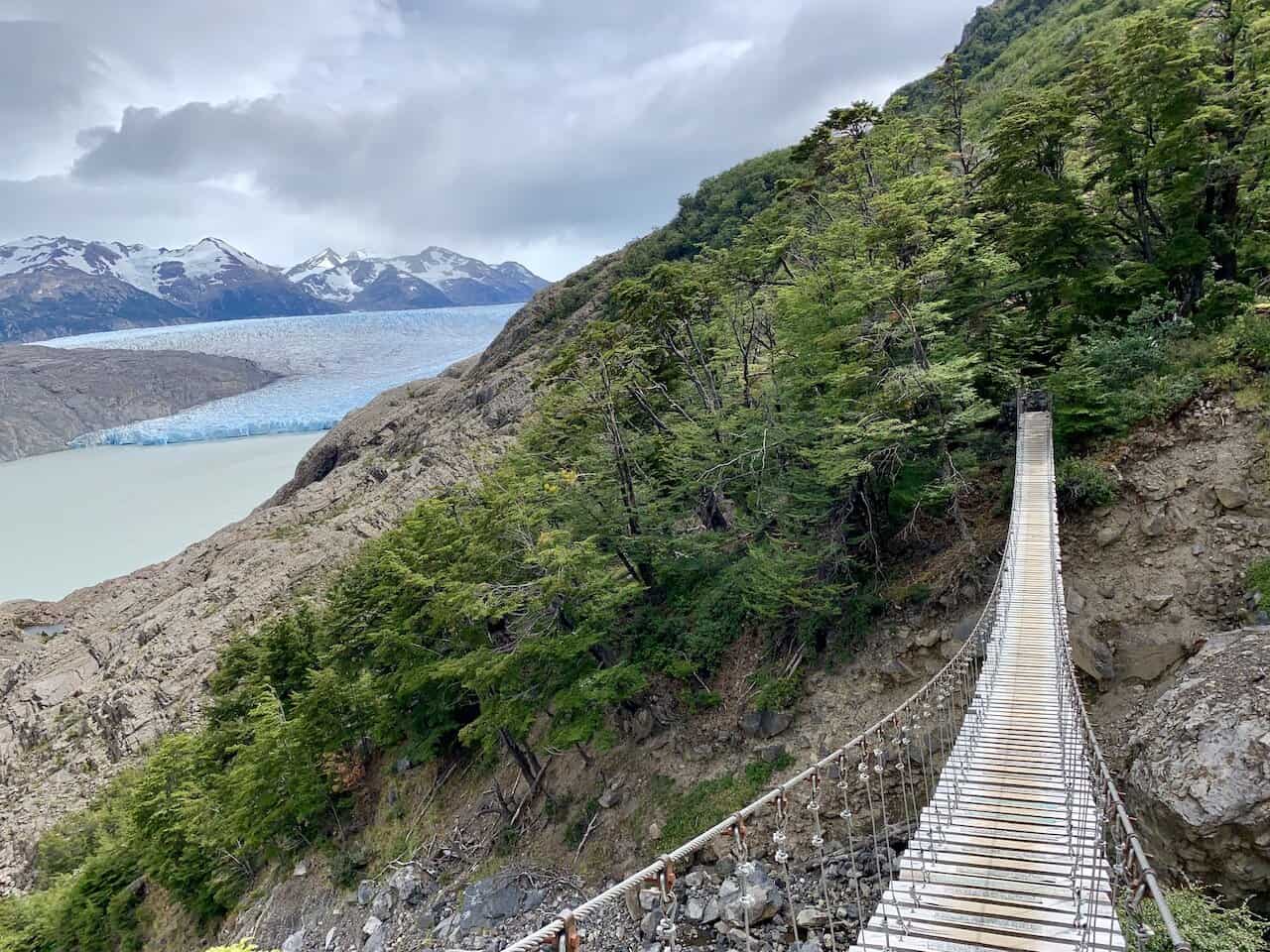 Hiking Shoes
Hikes like the O & W Circuits must be done with the appropriate footwear. Be sure to invest in quality hiking shoes for your time on the trail. Some of my recommended shoes include:
↔ Keen (Targhee Series)
↔ Merrill (Moab Series)
↔ North Face (Ultra Series)
↔ Salomon (X Ultra Series)
Note: you may also want to consider bringing a pair of lightweight packable shoes for campsites/refugios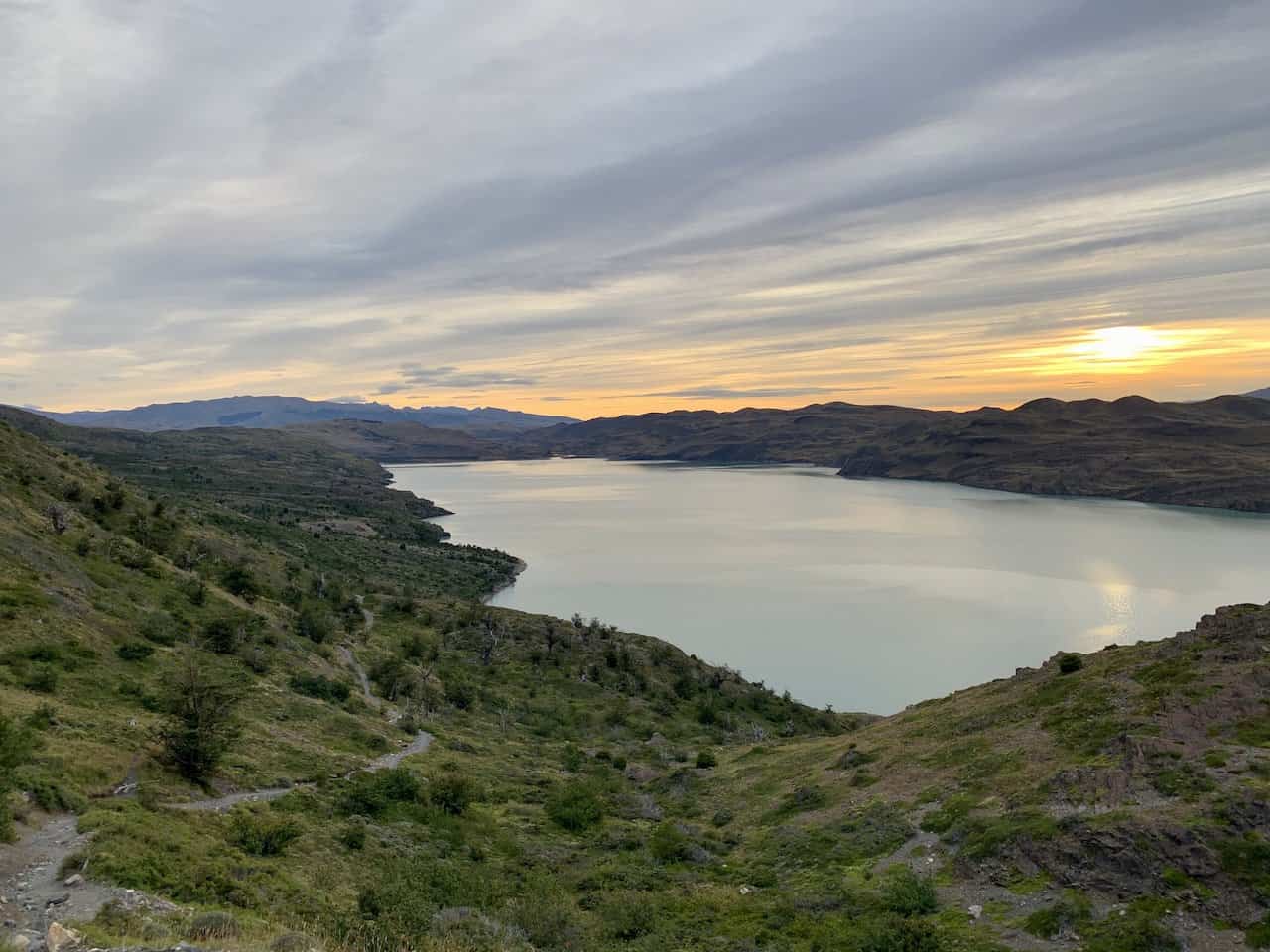 Electronics
Most of my electronics were used for photography and navigation purposes. Be sure to also pay attention to the last item listed out – a Garmin inReach.
iPhone & USB Cable
Headlamp | Petzl Actik Core
Portable Charger | Anker Portable Charger 10,000 mAH
Action Camera
→ GoPro
→ GoPro Stick
→ Extra GoPro Batteries
Mirrorless Camera
→ Sony A6600
→ Extra Battery
→ 256GB SD Card
→ Mini Tripod
Satellite Communicator | Garmin inReach 2 Mini
→ While there are many people along the trails of the O & W Circuit, having a satellite device like the Garmin inReach is always going to be a good idea. This small device gives you the chance to communicate with family, track your route, and call for SOS in case of emergency.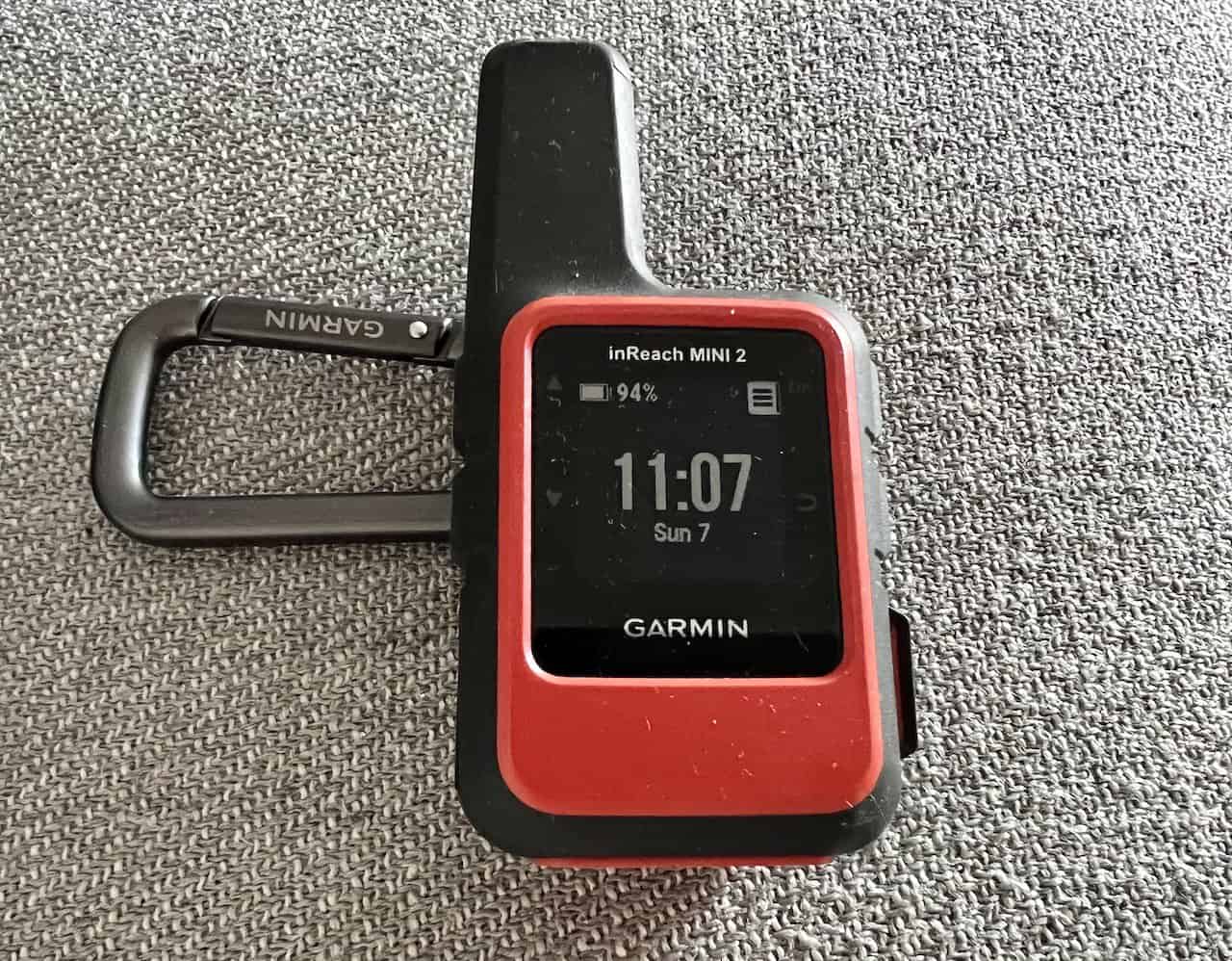 Food & Drink
If you are planning to purchase meals at the campsites/refugios, then you will not need to worry about this section (besides for the hydration portion). However, if you plan to bring along all of your own food, then you will need to consider what to buy beforehand.
There are supermarkets in Puerto Natales where you can stock up on certain items. If you want to come prepared with food that you prefer, then check out my usual food purchases below.
I would recommend going with high calorie / low weight types of food. You don't want to carry too much unnecessary weight. So, make sure the food you are bringing along will fill you up and not weigh you down.
Again, this is one area where everyone will be different when it comes to preferences. Here is what I usually bring along on multi day hikes:
Breakfast
Lunch/Snacks
→ Variety of Bars including PROBAR Bars, Honey Stinger Bars, Clif Builder Protein Bars
Dinner
→ Variety of dehydrated meals including Peak Refuel, Outdoor Herbivore, and GOOD TO-GO
Cooking Gear
→ Cooking Stove: Jetboil Micromo
→ Spork: TiTo titanium spork
→ Cooking Gas (purchase in Puerto Natales)
→ Lighter
Hydration
Note that you will easily be able to fill up your water bottle consistently throughout the trek. Along most of the hike you will find rivers and streams, where you can get some fresh Patagonian water.
During my time on the circuit, I just filled up directly from these without any filtration. However, if you do want to play it safe, you can get a filtered water bottle like the Katadyn BeFree water bottle. I also brought along some Liquid IV hydration packets to keep hydrated at the beginning of the day.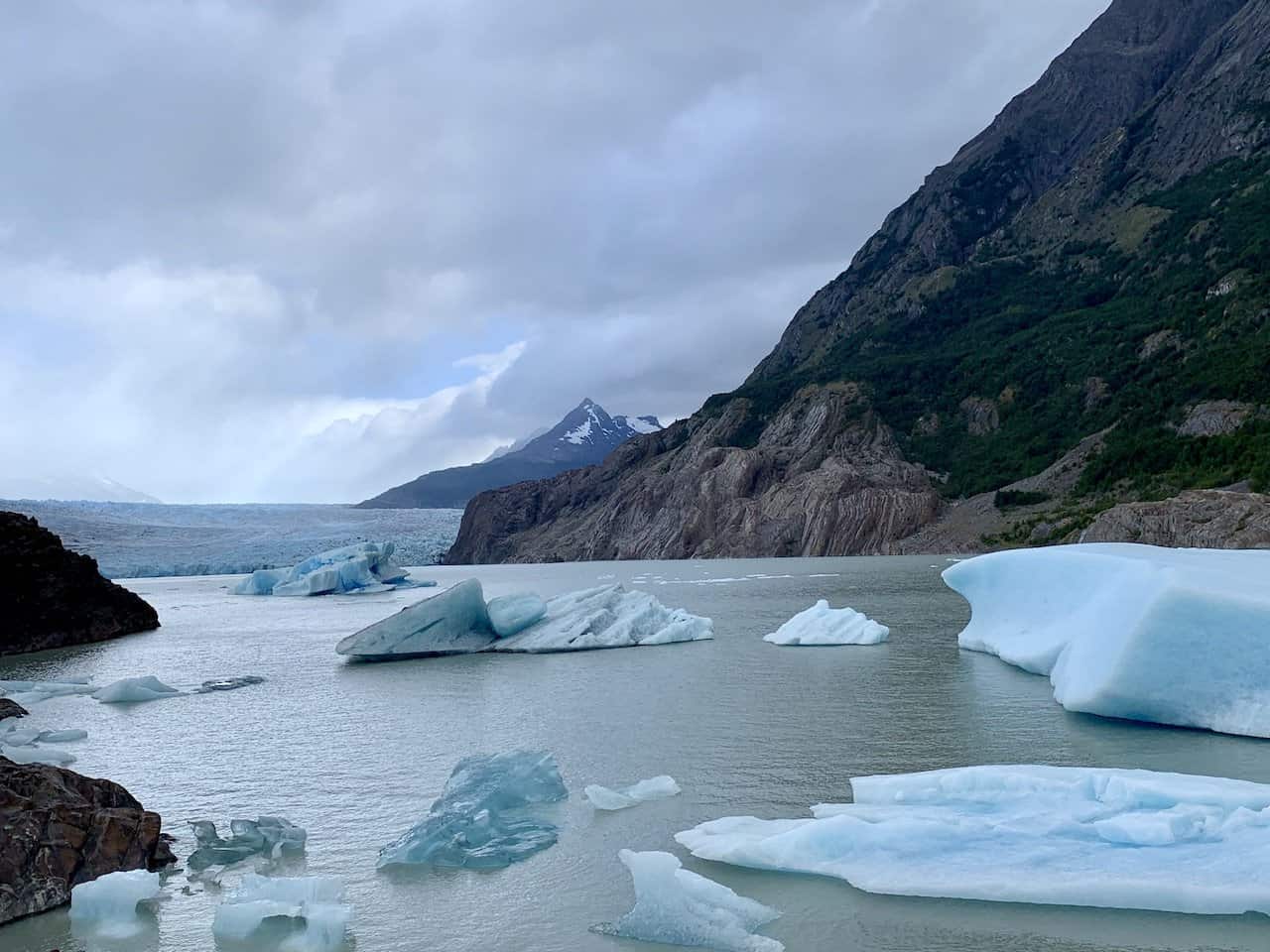 Toiletries
This last section of the packing list will be toiletries. Each person will also be different here, but below are the main items I brought along with me.
› Deodorizing Body Wipes | Alcala Bamboo Deodorizing Body Wipes
› Body Deodorant
› Toothbrush / Toothpaste
› Contact Lenses / Solution
› Travel Shampoo & Soap
› Moisturizer
› Personal Creams & Medications
› Sunscreen
› Lip Balm
› Purell
› Neosporin
› Bandaids
› Nail Clipper
› Small Mirror
› Toilet Paper
Below you can find a photo of what inside a refugio room looks like at the Grey sector of Torres del Paine (just nearby the famous Grey Glacier).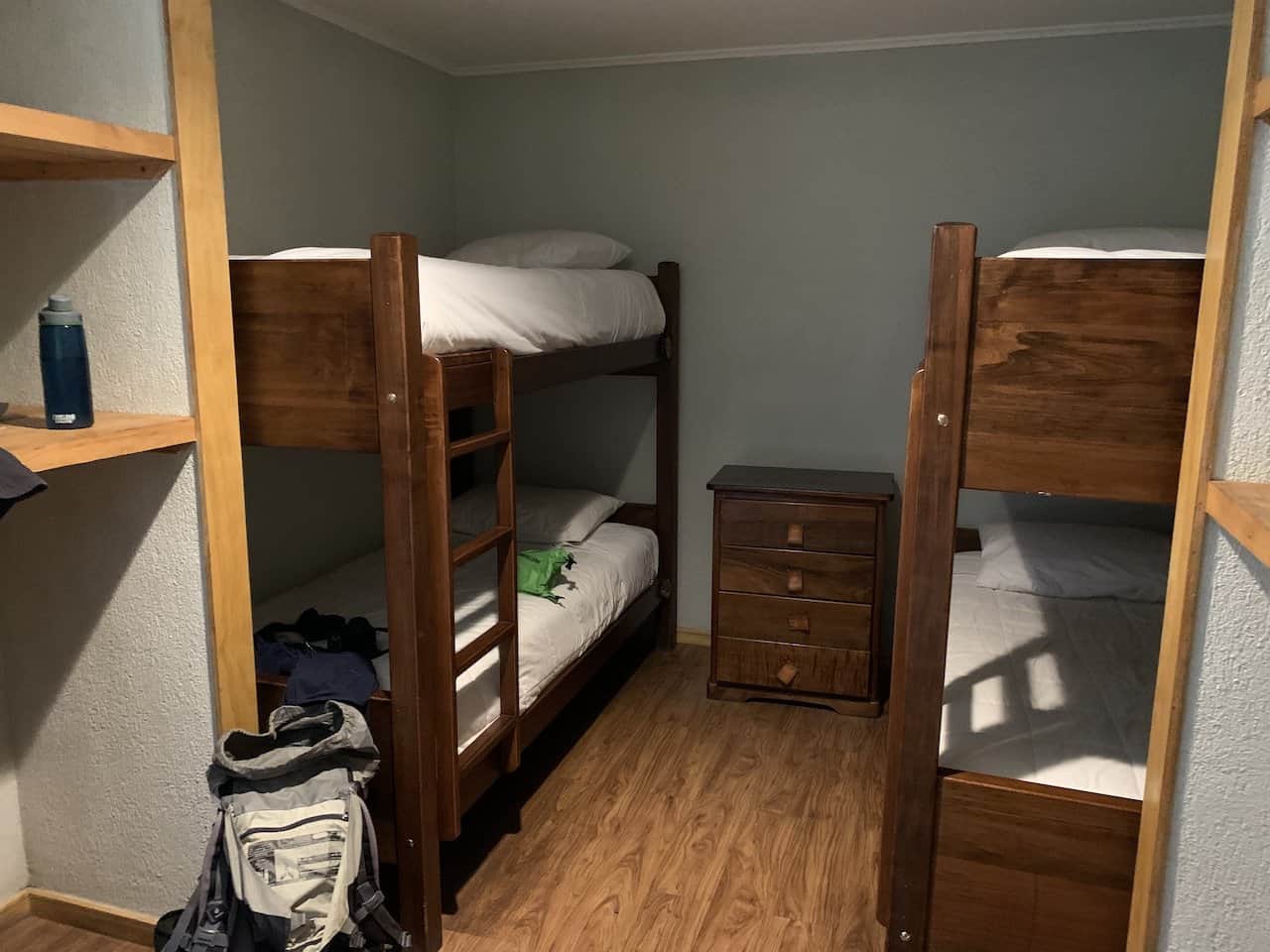 Torres del Paine O & W Circuit Packing List Recap
To recap, here is a screenshot of the entire multi day Torres del Paine packing list mentioned above. Feel free to use this and print it out as you are building up your gear list.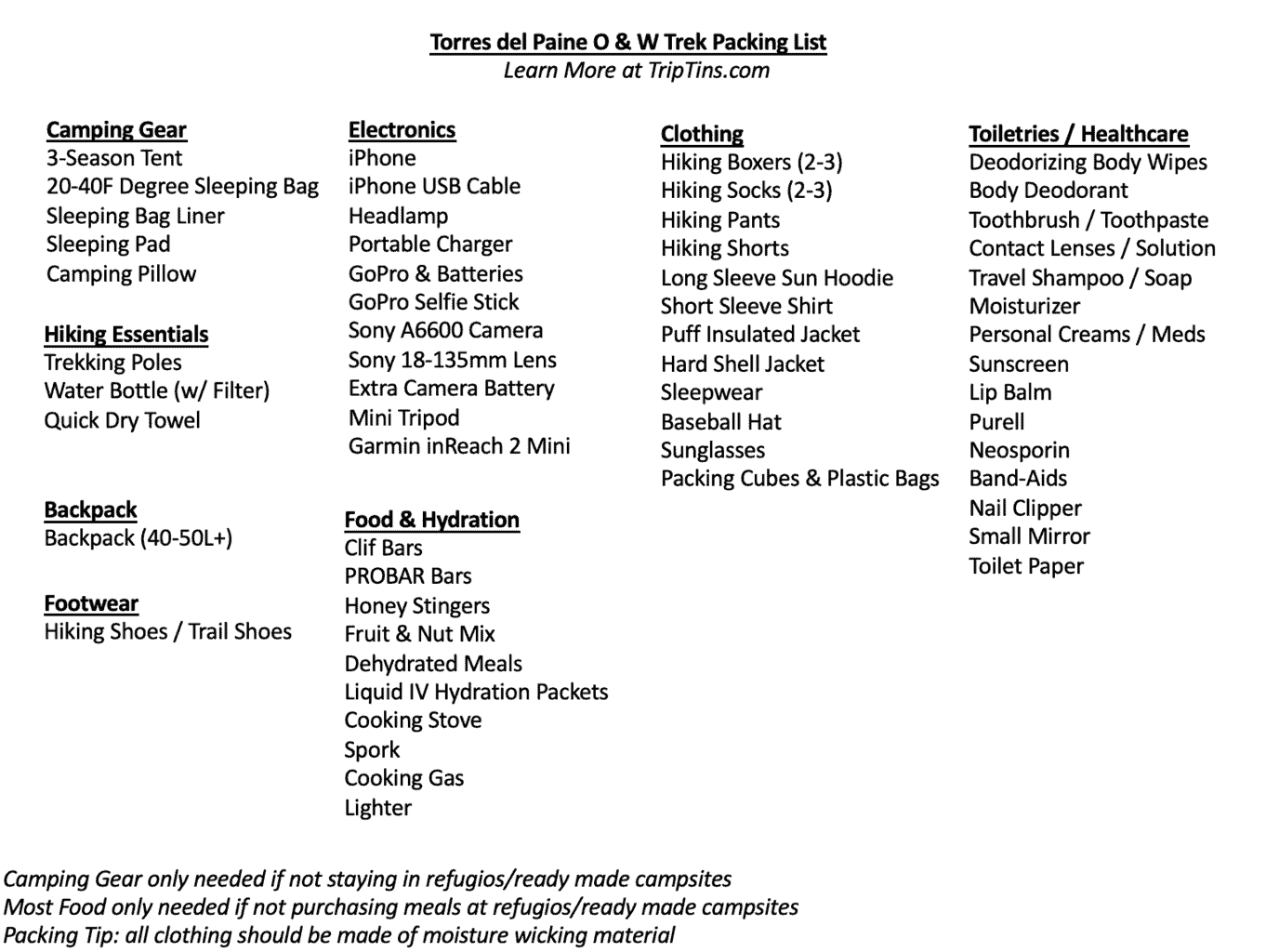 I hope you now have a better understanding of what a Torres del Paine packing list entails for the O or W Circuits. If you have any questions about the list or the hike in general, feel free to add them in below.
Also don't forget to check out the other Patagonia itineraries and guides up on the site.
Have fun out there and safe travels!