The Loma del Pliegue Tumbado hike of El Chalten may very well be the most underrated hike in Patagonia.
Instead of hiking through a valley and up to a lake, the route takes you high above the surrounding landscape. In turn, from the final viewpoint, hikers will get an elevated uninterrupted view of the immense mountains, rivers, & lakes from above.
Read on to learn all you need to know about the Loma del Pliegue Tumbado trail and how to go about a hike up to this stunning viewpoint.
* Affiliate Disclosure: This post may contain affiliate links, which means I may receive a commission if you make a purchase through the links provided, at no additional cost to you. Thanks for supporting the work I put into TripTins!
1) Introduction & Hiking Details
Below are some important hiking details to note about the Loma del Pliegue Tumbado trail. The rest of this guide will go more into depth about this hike and El Chalten in general.
Trail Name: Loma del Pliegue Tumbado
Starting & Ending Point: El Chalten APN Visitor Center
Mid Point: Loma del Pliegue Tumbado Viewpoint
Hike Length: 17.1 km / 10.6 miles
Elevation Gain: 905 meters / 2,970 feet
Duration: 6 – 8 Hours
Trail Type: Out & Back
The Loma del Pliegue Tumbado hike begins at the El Chalten APN Visitor Center, which is just outside the main town center.
From the visitor's center, the trail continuously gains elevation until it reaches the final viewpoint at Loma del Pliegue Tumbado. Throughout the trail, you will be welcomed to a variety of landscape including open fields, enclosed forests, and more technical terrain closer to the final view.
Once you reach the top, you will get to take in views of the Fitz Roy mountain range, the Cerro Torre mountain range, Laguna Torre, & many more Patagonian highlights.
Optional Add On: although the final viewpoint is quite special, there is an option to ascend another 0.8 km / 0.5 miles & +230 meters / +750 feet to the top of the mountain. I will talk through this option later on in the guide.
• Read More: A guide to all El Chalten hikes to consider during a visit to Patagonia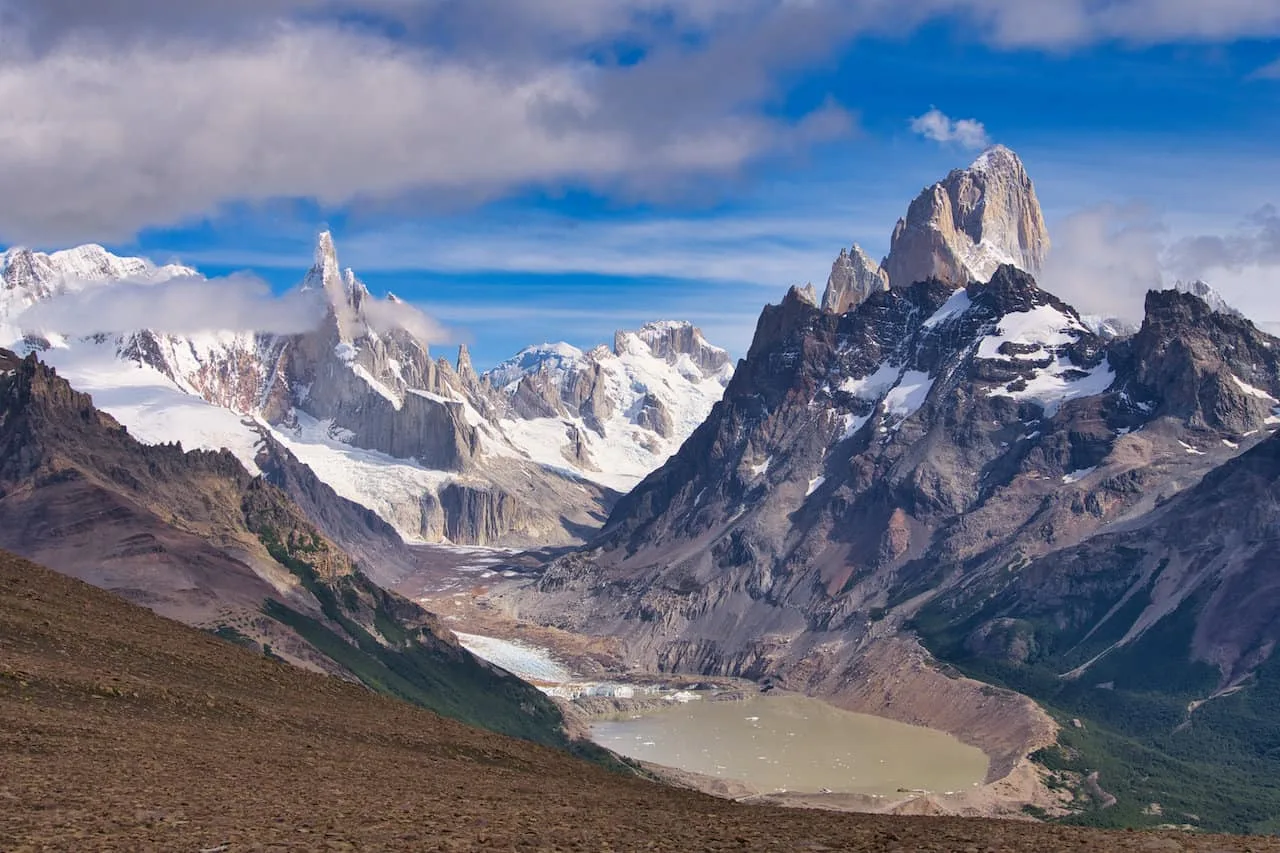 Hiking Resources & Checklist

Before heading out for the trails, be sure to read up on some of the hiking resources up on the site. These are here to better prepare you for all types of outdoor adventure.
2) Loma del Pliegue Tumbado Trail Map
To better acquaint yourself with the layout of the trail, below is an interactive view of the route on Google Maps.
You can easily download the map and add it onto a navigation app (Maps.me, AllTrails, Gaia, etc.). This way you will be able to easily follow the route once you are on the trail for yourself.
The map shows the main route up to the viewpoint in orange, and then the optional hike to the top of the mountain in purple.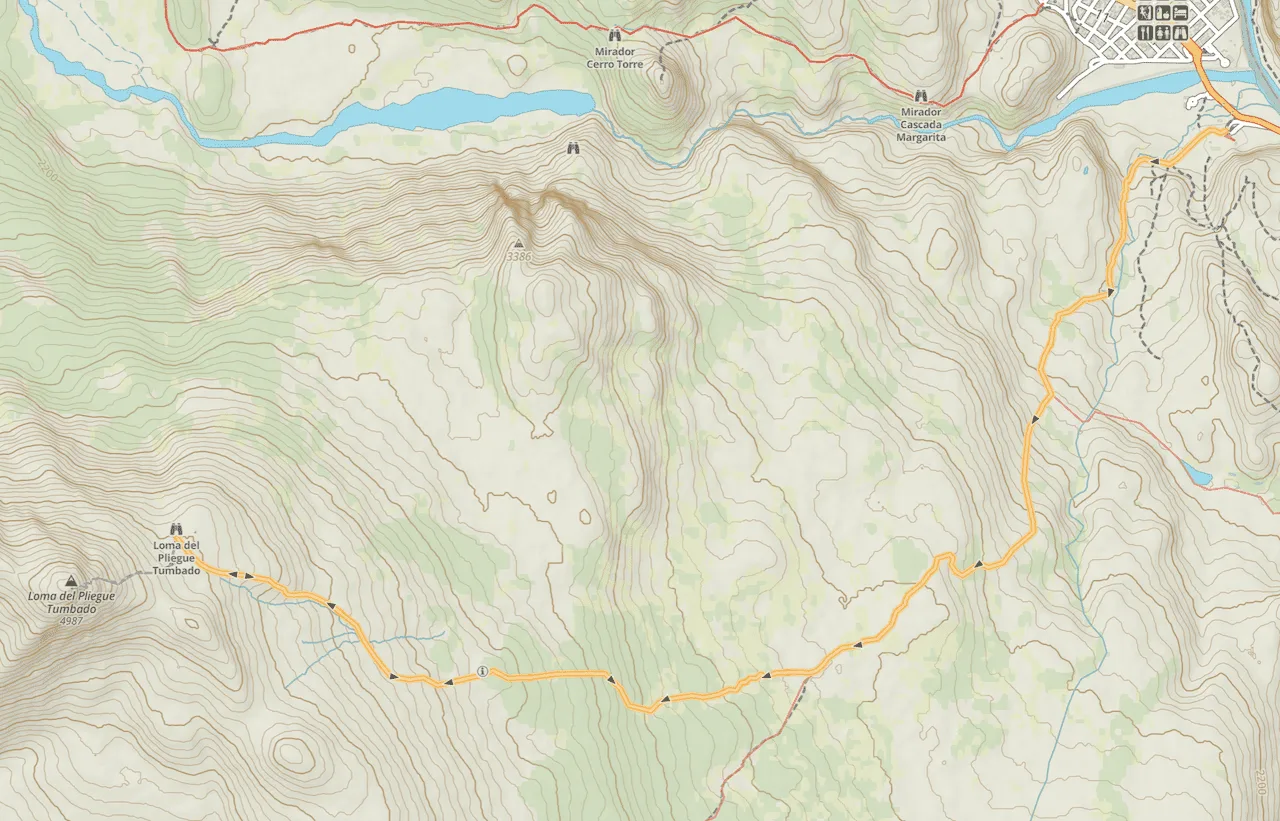 3) Elevation Gain Profile
In addition to the map, you can also see the elevation gain profile of the hike below. Unlike some of the other hikes in the area, this one is essentially going to be a consistent uphill climb all the way through.
Once you reach the top, it is then back down the same way you came as you lose all of that elevation gain.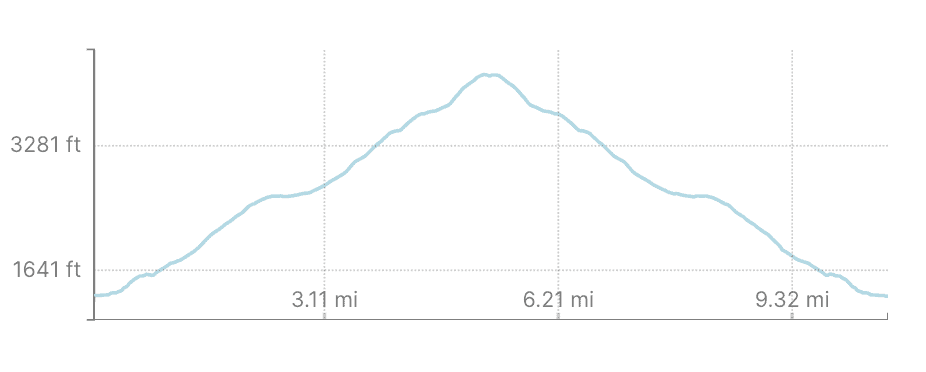 4) Getting to the Trailhead
Just like many other hikes in El Chalten, you can find this trailhead within walking distance of the town center.
Simply make your way by foot south out of town along the main road to Route 23. Just after you cross over the Rio Fitz Roy bridge, you will see the El Chalten APN Visitor Center on the right hand side of the road.
From the visitor center, you will find trailheads to several different hikes around the area. Be on the lookout on the right side of the building for hiking signs to Loma del Pliegue Tumbado.
Since there are a few different trails that share the same route for a portion of the hike (like the easier Mirador de Los Condores), just pay attention to those hiking signs as you make your way up.
Note: over half of the Loma del Pliegue Tumbado route is shared with the first day of the famous Huemul Circuit (a 4 day / 3 night trek). When these trails split off from one another, there will be a clear hiking sign pointing you in the right direction.
→ Read more to learn about the Huemul Circuit if a longer trail is something that you are interested in taking part of.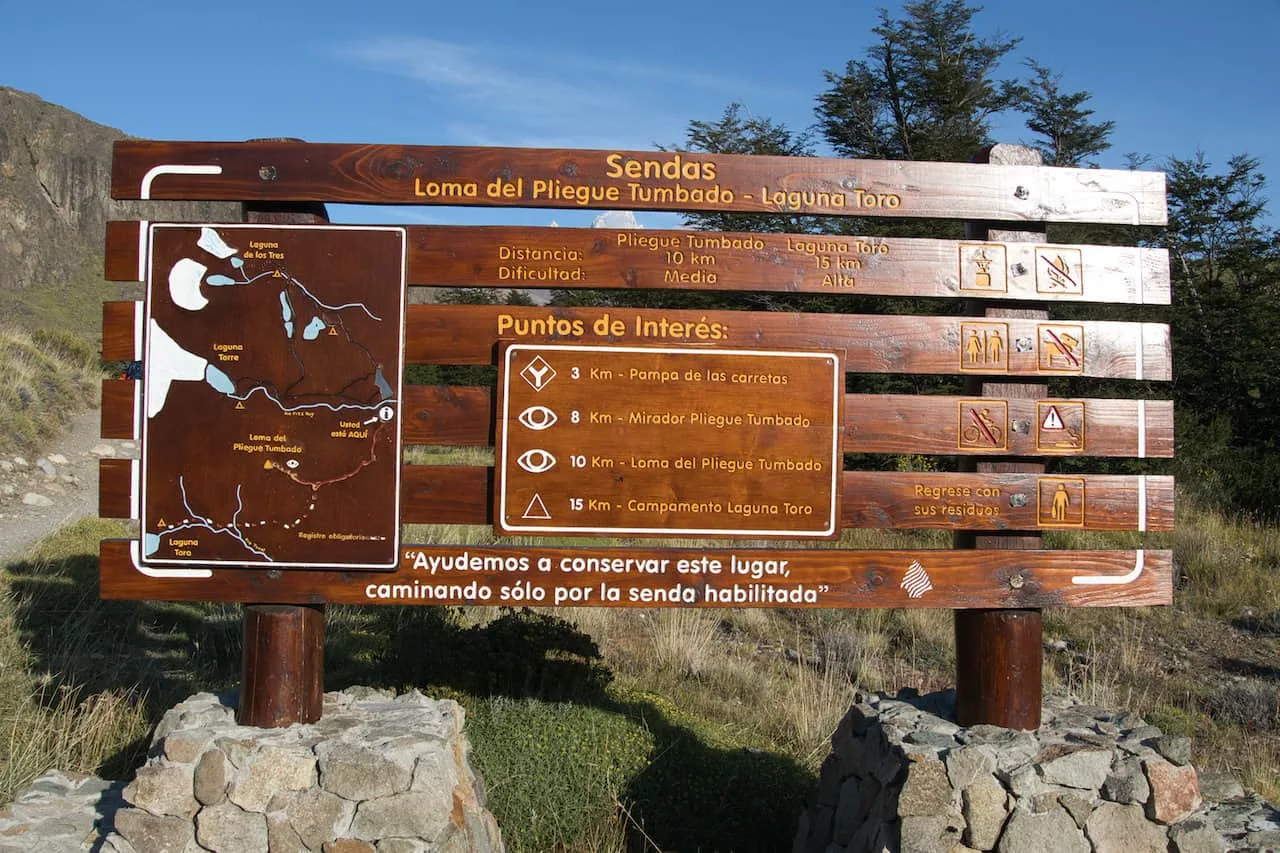 5) Patagonia Travel Insurance
Considering travel insurance for Patagonia?

World Nomads offers coverage for more than 150 adventure activities as well as emergency medical, lost luggage, trip cancellation and more.

For years, World Nomads has been protecting, connecting & inspiring independent travelers, offering travel insurance & safety advice to help you travel confidently. Their mission is to support and encourage travelers to explore their boundaries.

World Nomads has simple and flexible travel insurance that has been designed by travelers for travelers. Even if you leave home without travel insurance or your policy runs out, you can buy or extend out on the road.

Get a quote for a World Nomads travel insurance policy today!
6) Loma del Pliegue Tumbado Hike
After getting yourself from the town center to the visitor center, it is time to begin the hike up to Loma del Pliegue Tumbado.
The entirety of the path is pretty well maintained so you should have no trouble following the trail. If you do end up venturing off for some reason, be sure to have a navigation app handy that can get you back on track.
After passing by the trailhead hiking signs, you will immediately be welcomed to views of the Fitz Roy mountain range out back.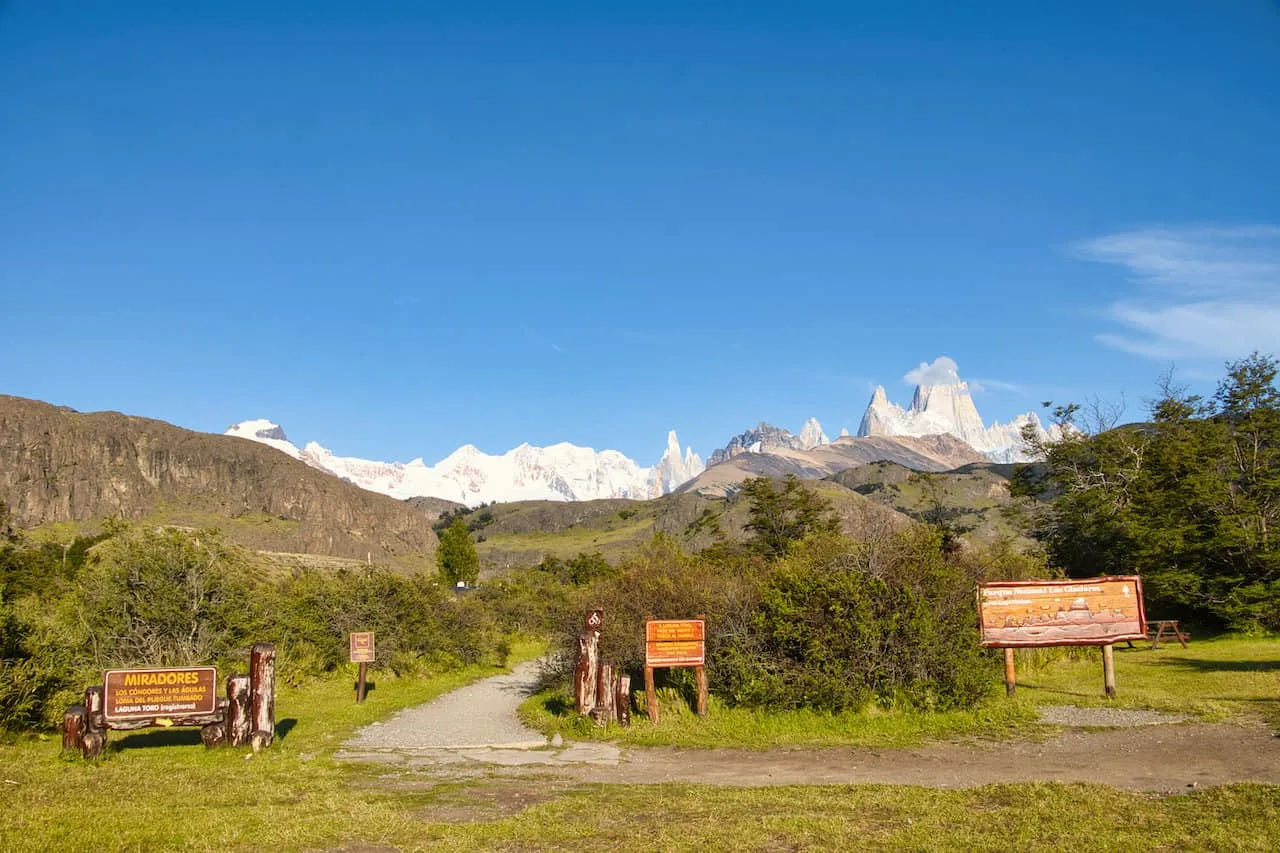 During this first 3 km / 1.9 miles of trail, you will mostly have a more open landscape out in front of you. While there will be a few forested areas, most of the beginning of the hike will entail some beautiful mountain views as you make your way up through the fields.
Also, be on the lookout for the famous balancing rock that seems to be dangerously just hanging out on the cliff's edge.
As mentioned, essentially the entirety of the hike to the viewpoint is uphill. So, do be wary of the incline and be sure to take breaks as needed. There are plenty of opportunities to just sit back and enjoy the view during this section.
You can even hang out with some Patagonian cows with Fitz Roy hanging out up back.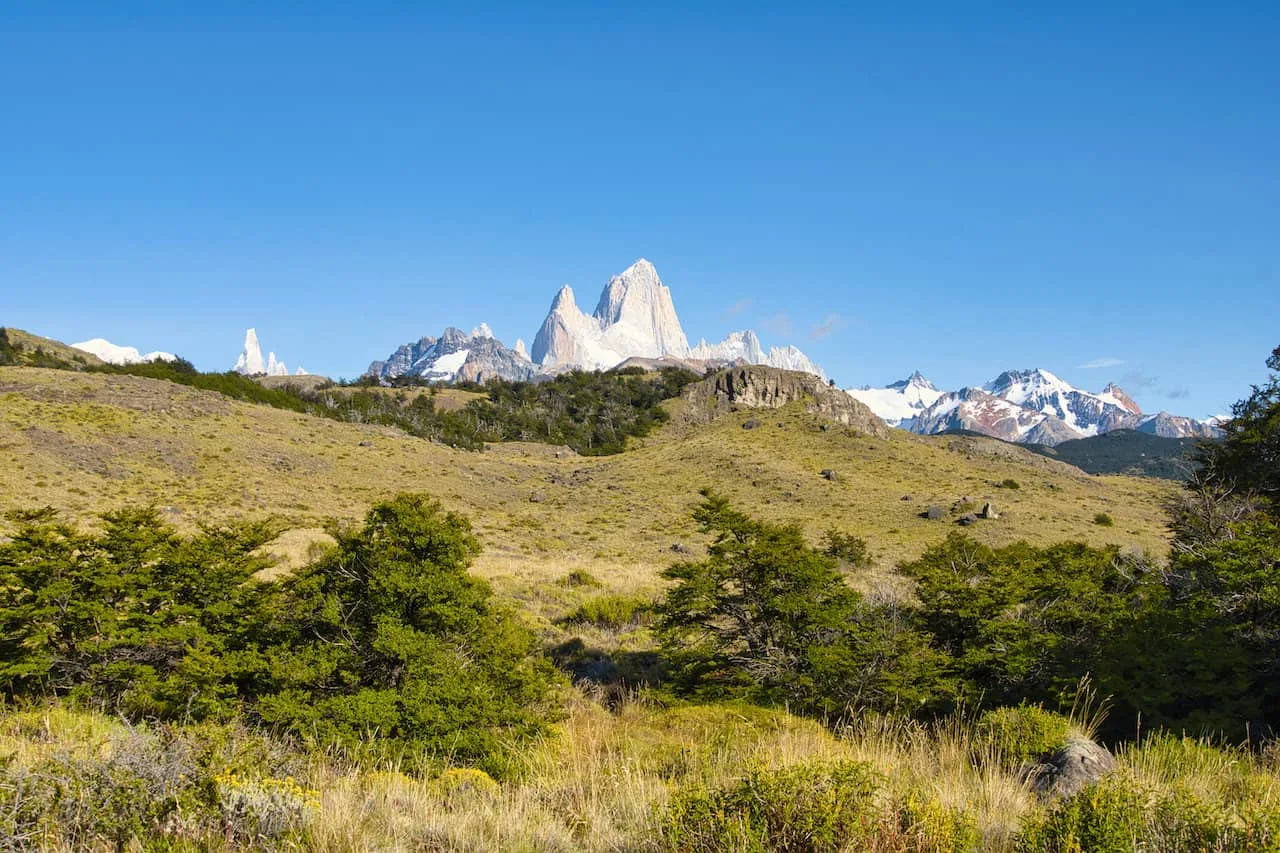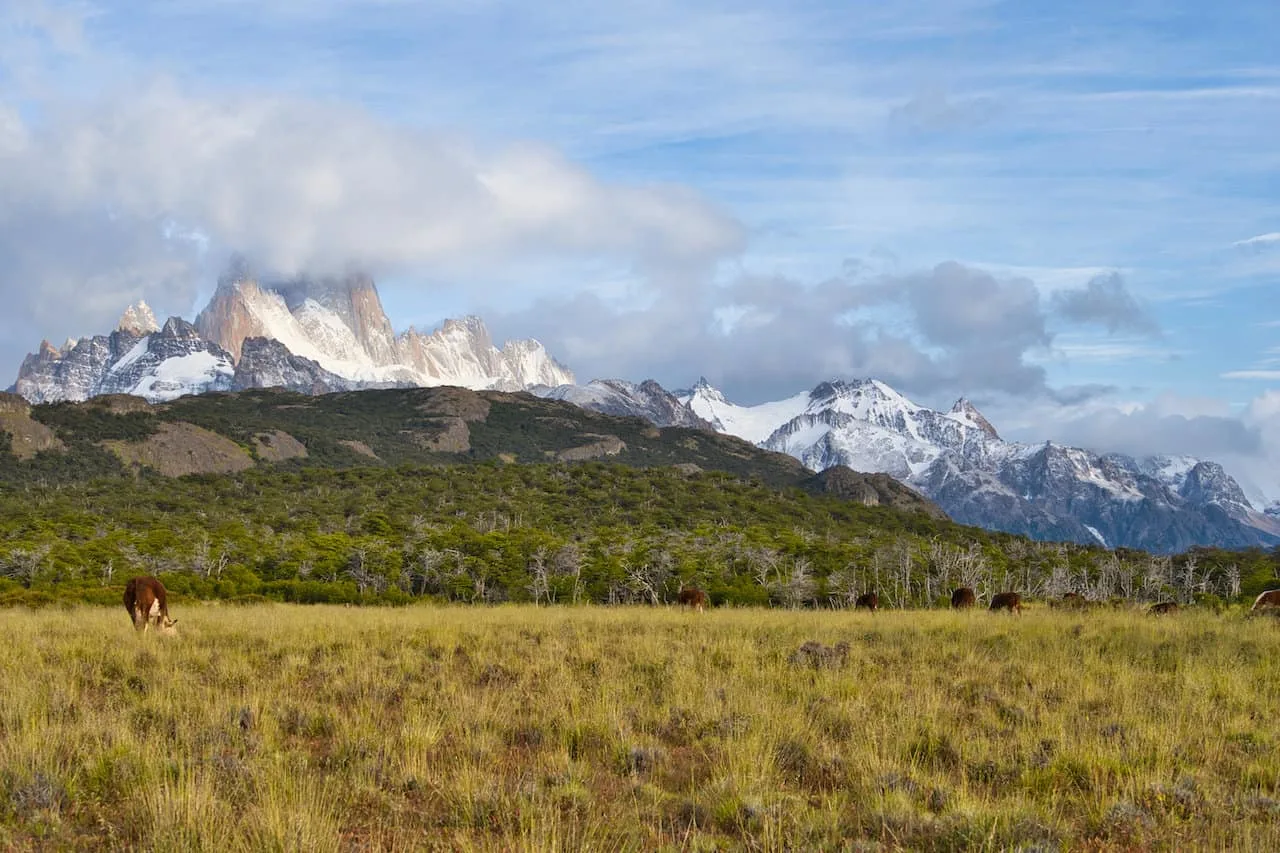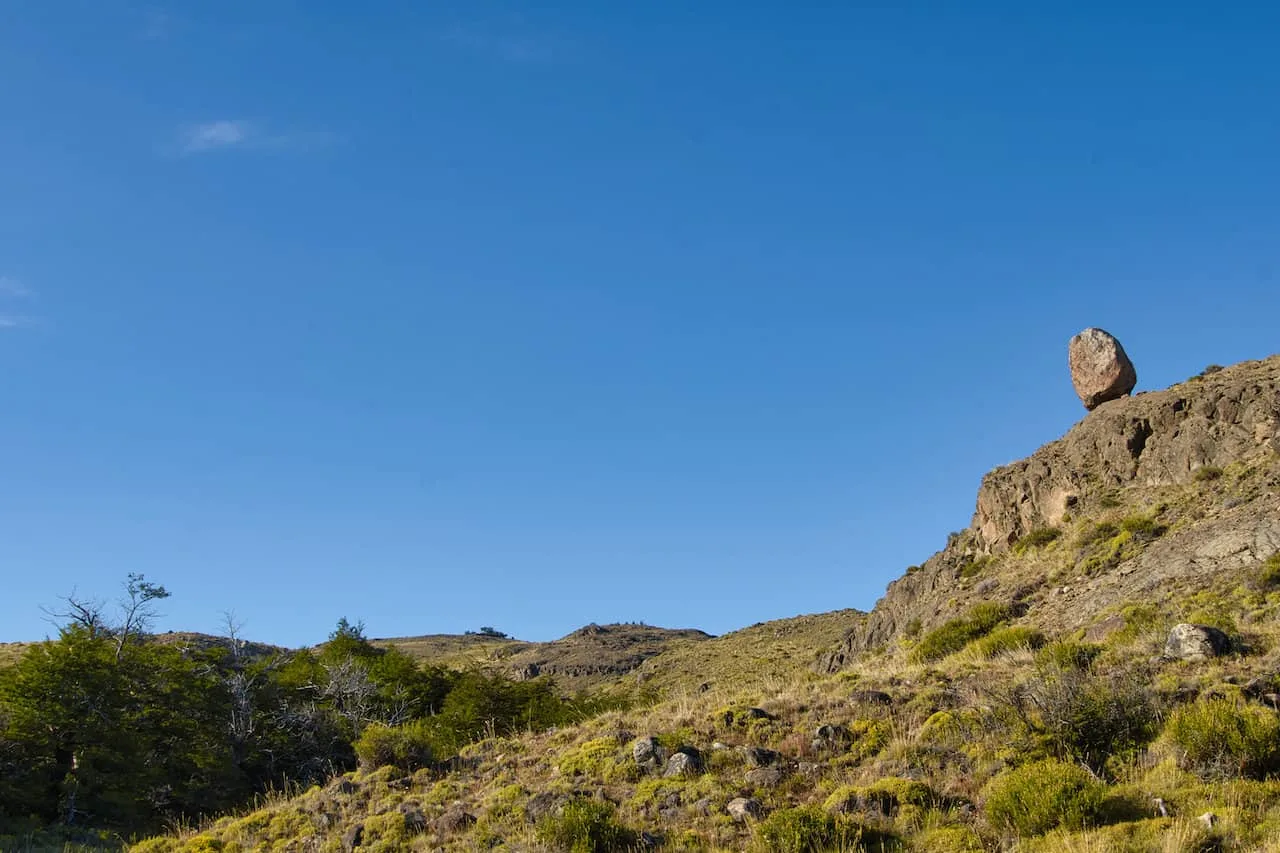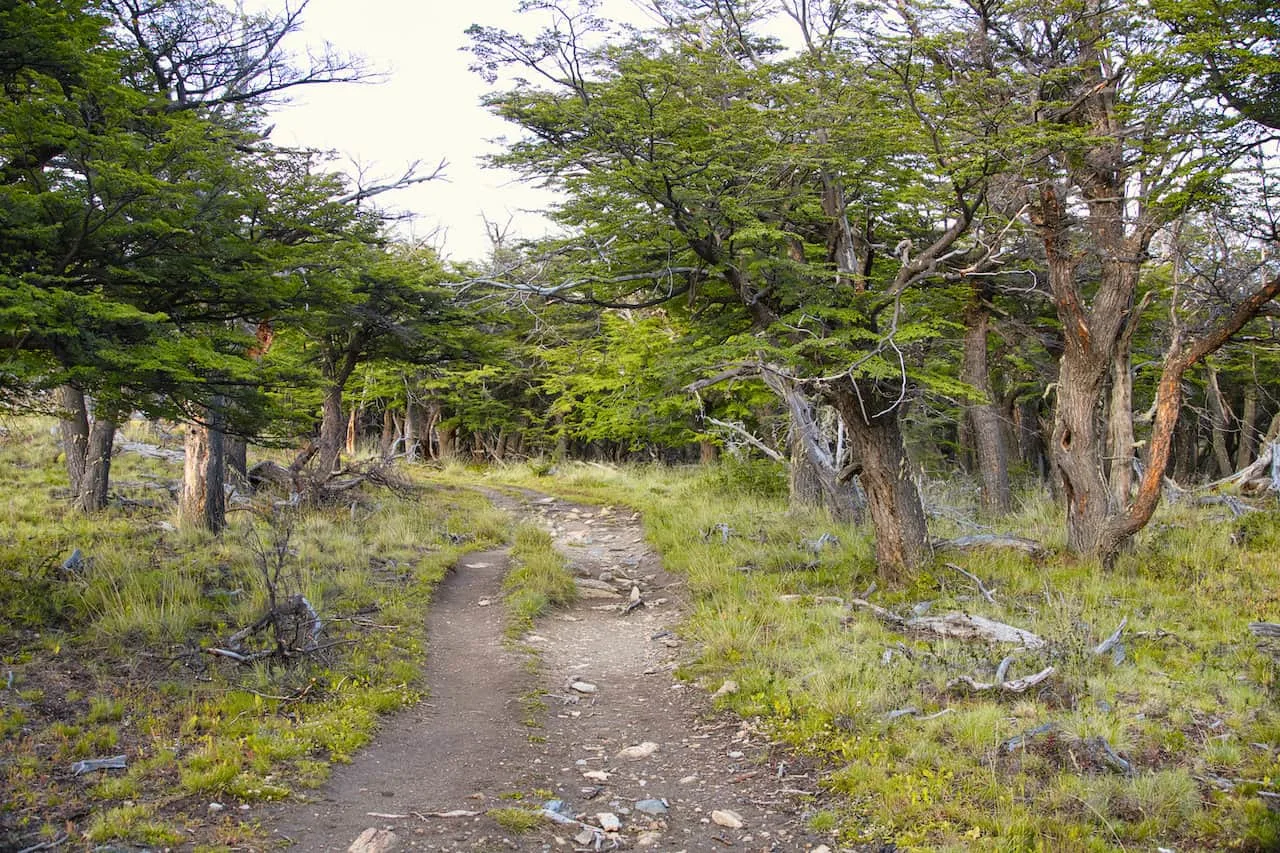 Soon enough, you will approach the all-important intersection mentioned before. To the left is Laguna Toro, the first campground for the Huemul Circuit. To the right is the path that continues up to Loma del Pliegue Tumbado.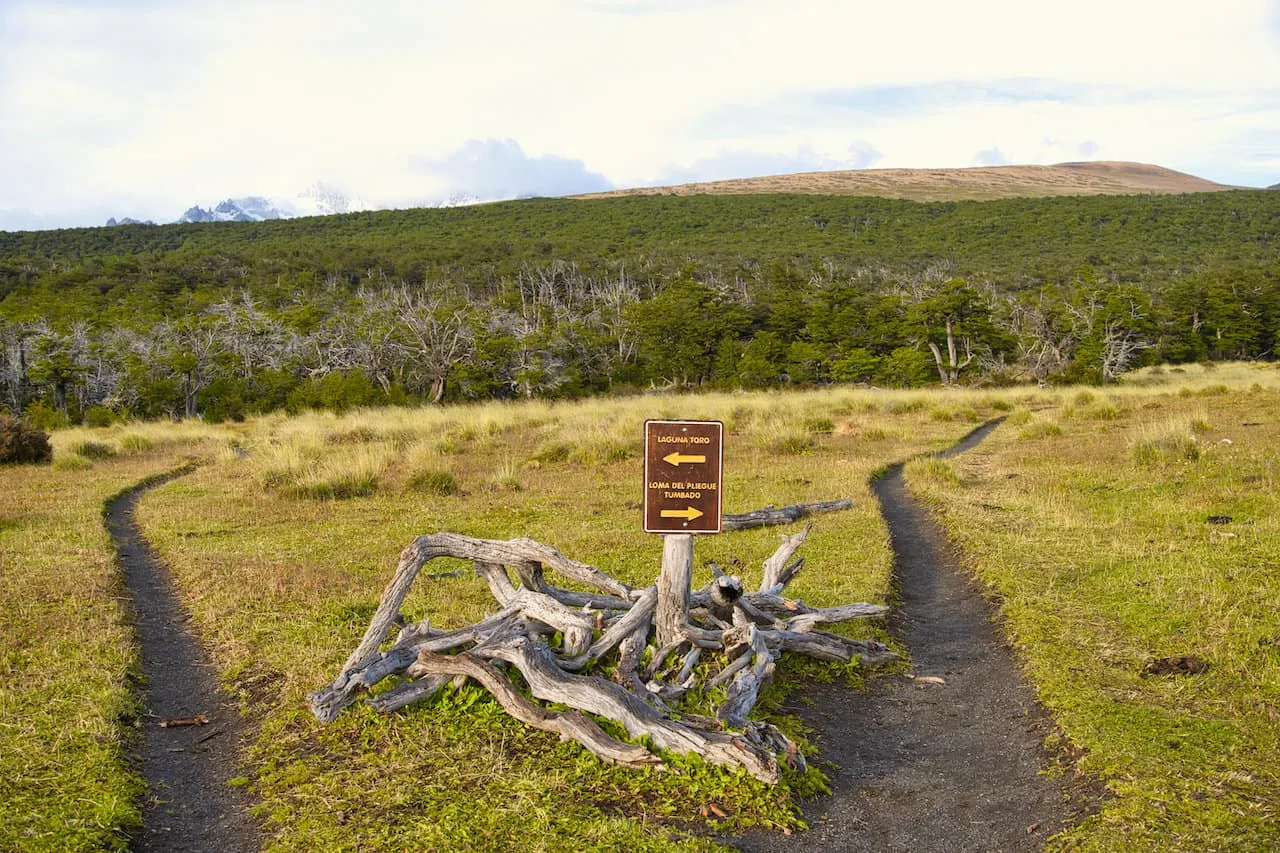 Follow the path to the right, where you will soon enter back into the forest for the next 1.2 km / 0.8 miles.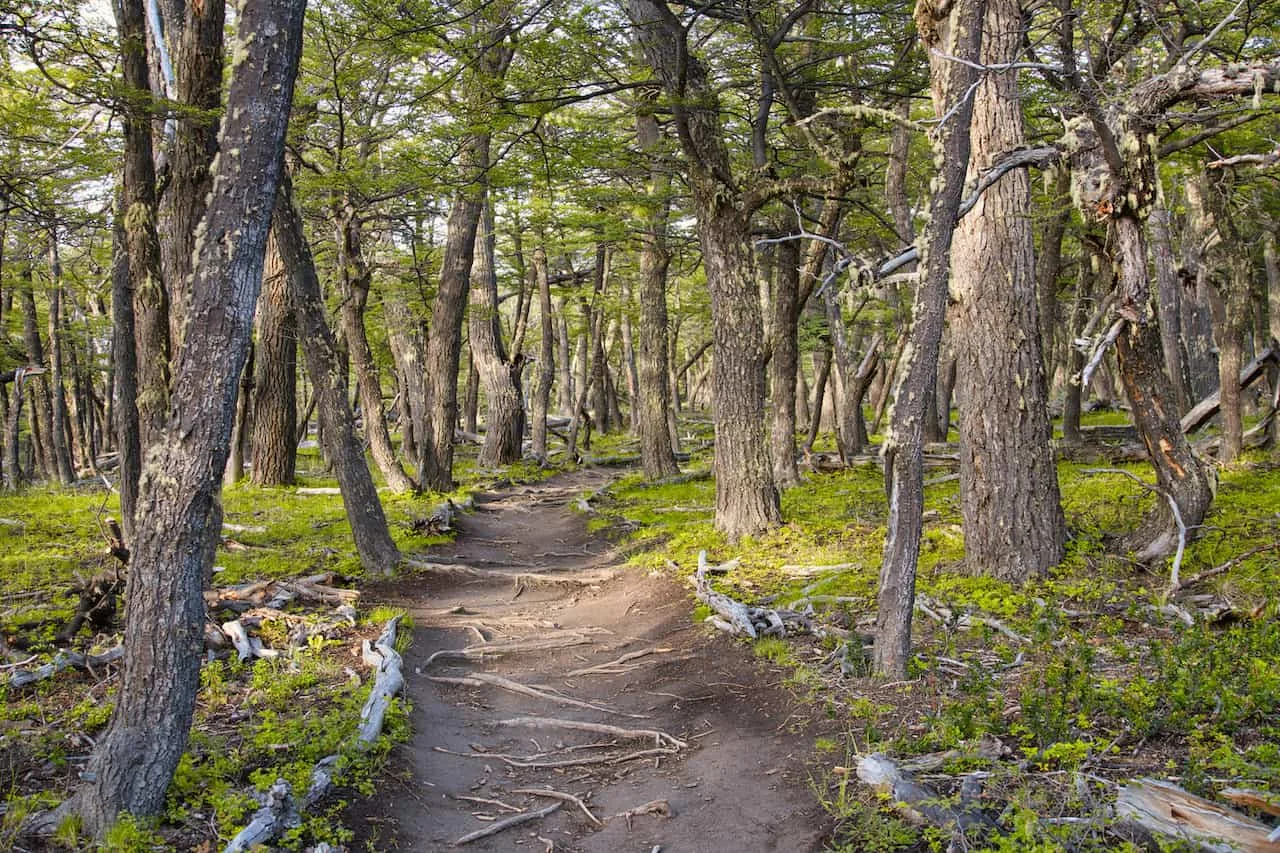 It is then back out of the forest, where for the rest of the hike up you will be welcomed to wide open landscape. Out in front of you will be Fitz Roy once again (and maybe some more cows).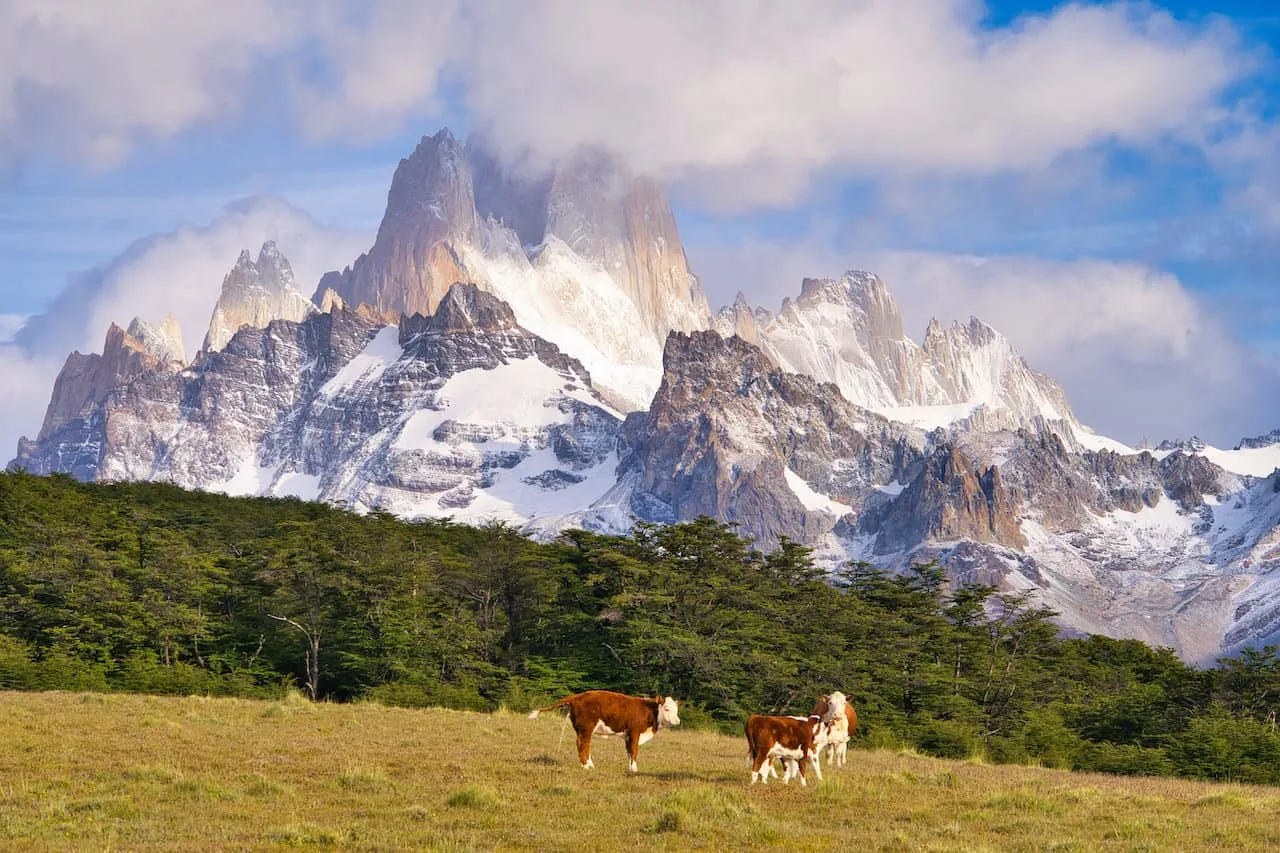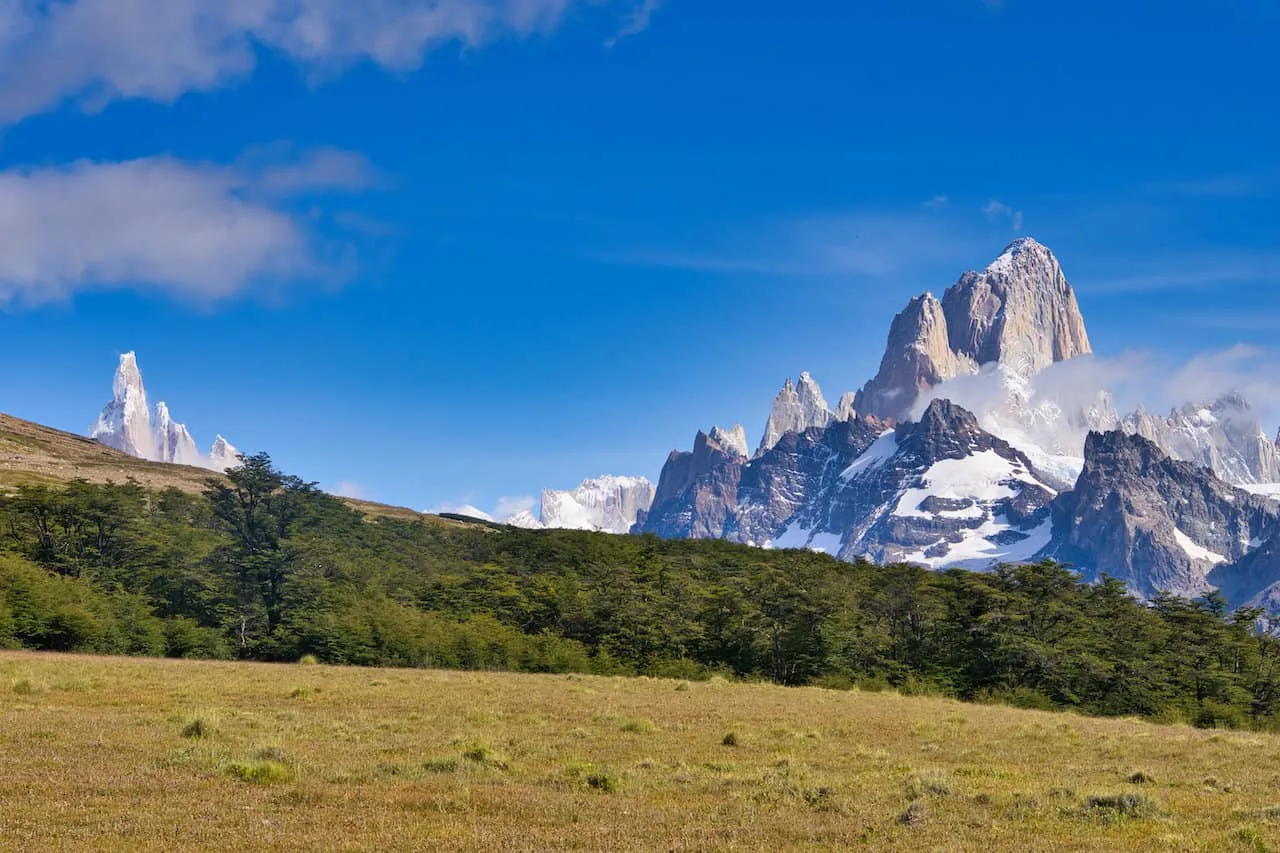 The trail then begins to have a bit steeper of elevation gain as the trail moves away from the dirt path and up a rockier terrain. While the rest of the trail (4.3 km / 2.7 miles), will be more difficult, it will also be more rewarding.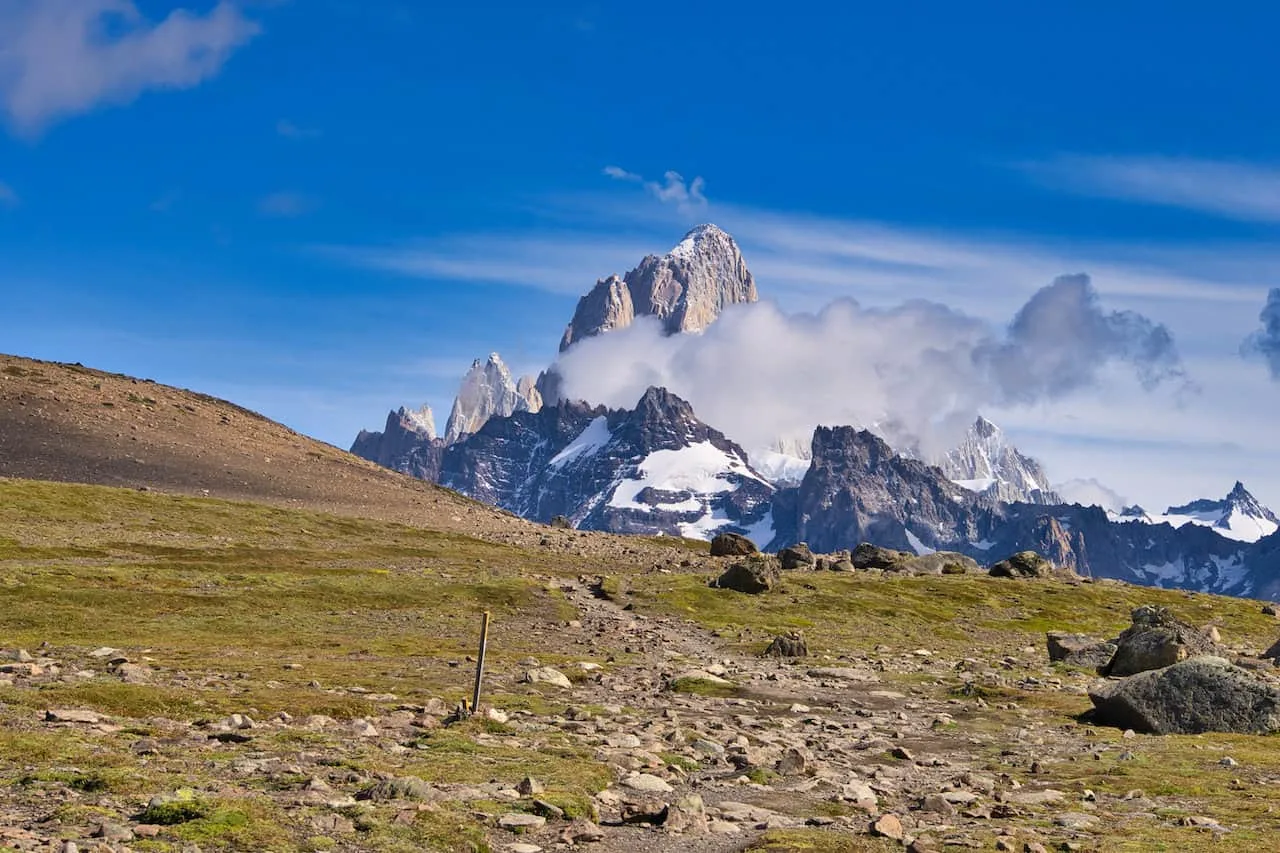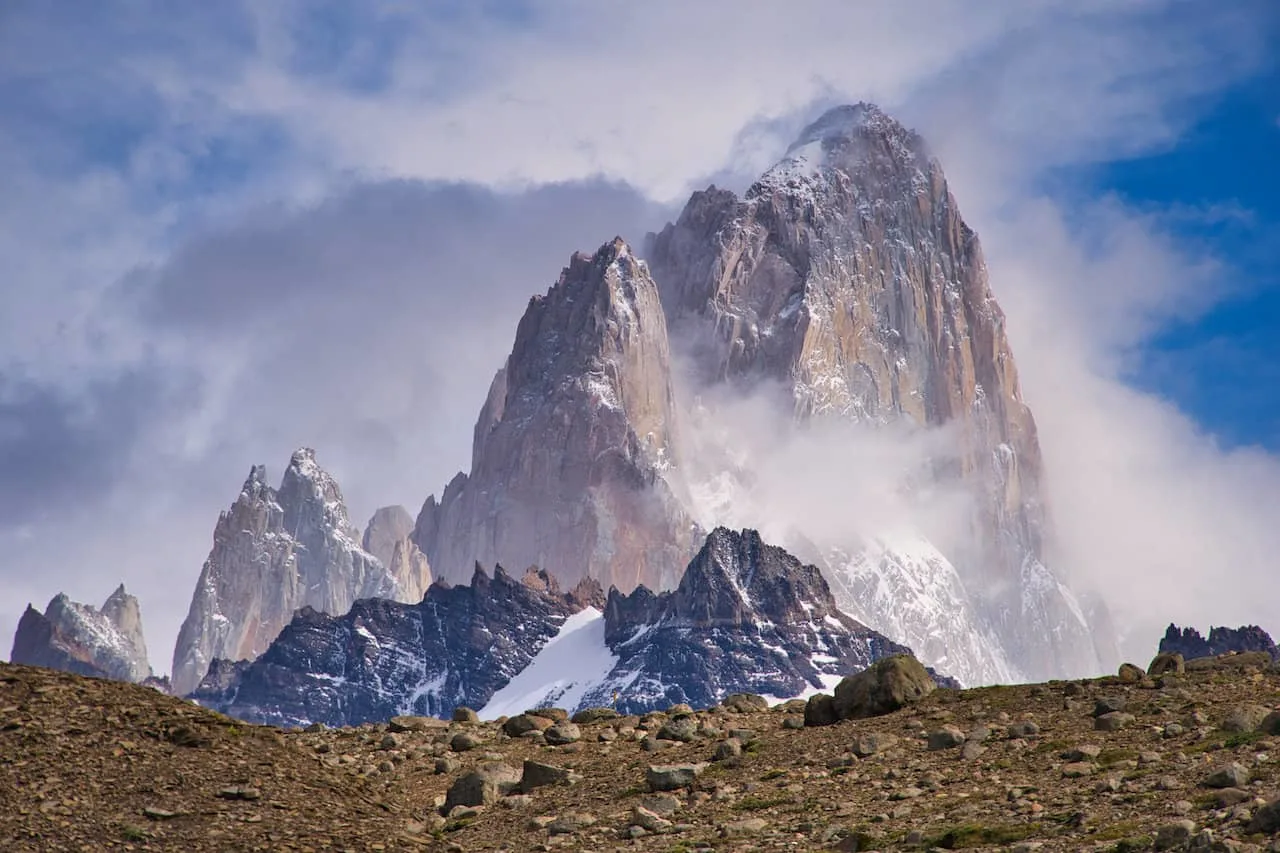 Continue to follow the path and the marked poles, which will guide you further along on the trail. Fitz Roy will continuously be peaking out in front of you as you start to approach the final view.
During this portion, you will also come across a flowing stream, where you can fill up your water bottle, and take any breaks as needed.
It is then onwards on a final push to the Loma del Pliegue Tumbado viewpoint.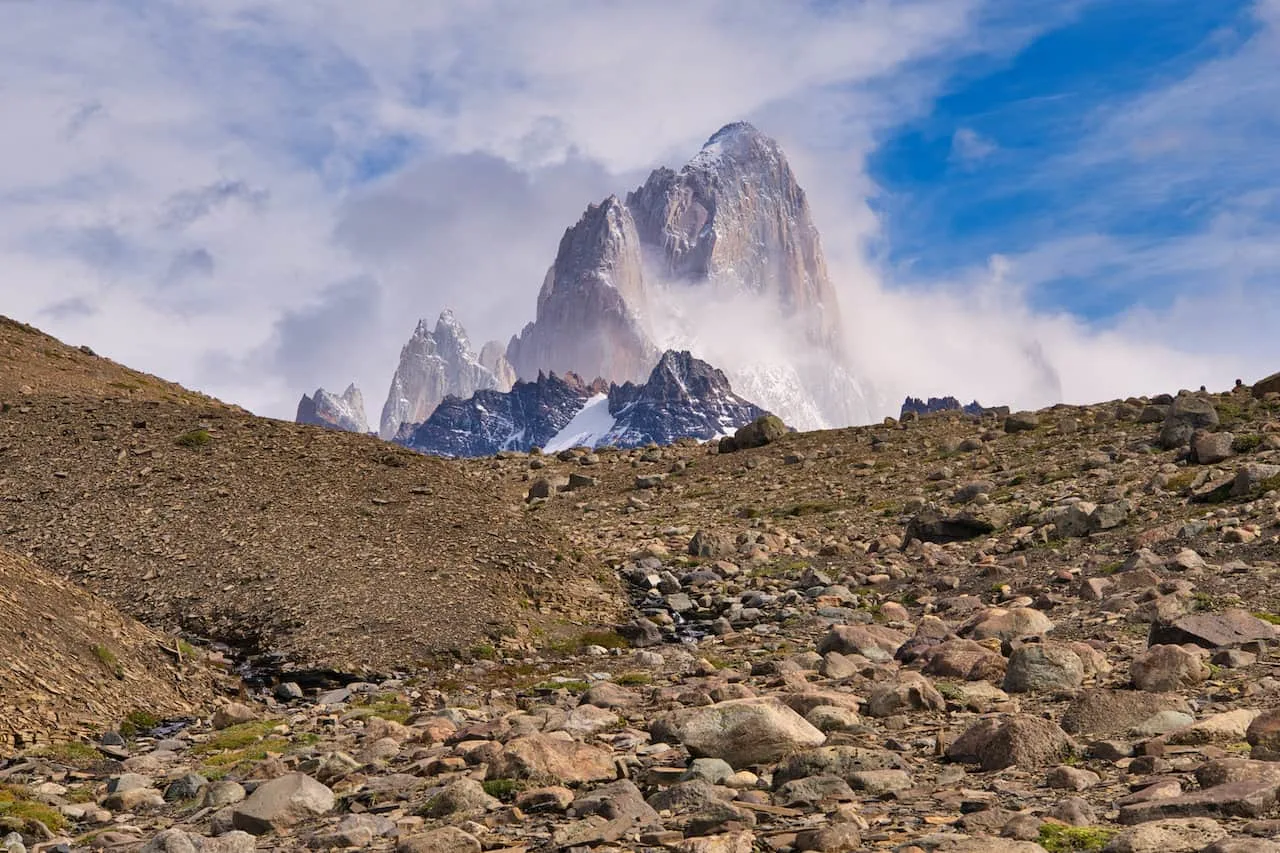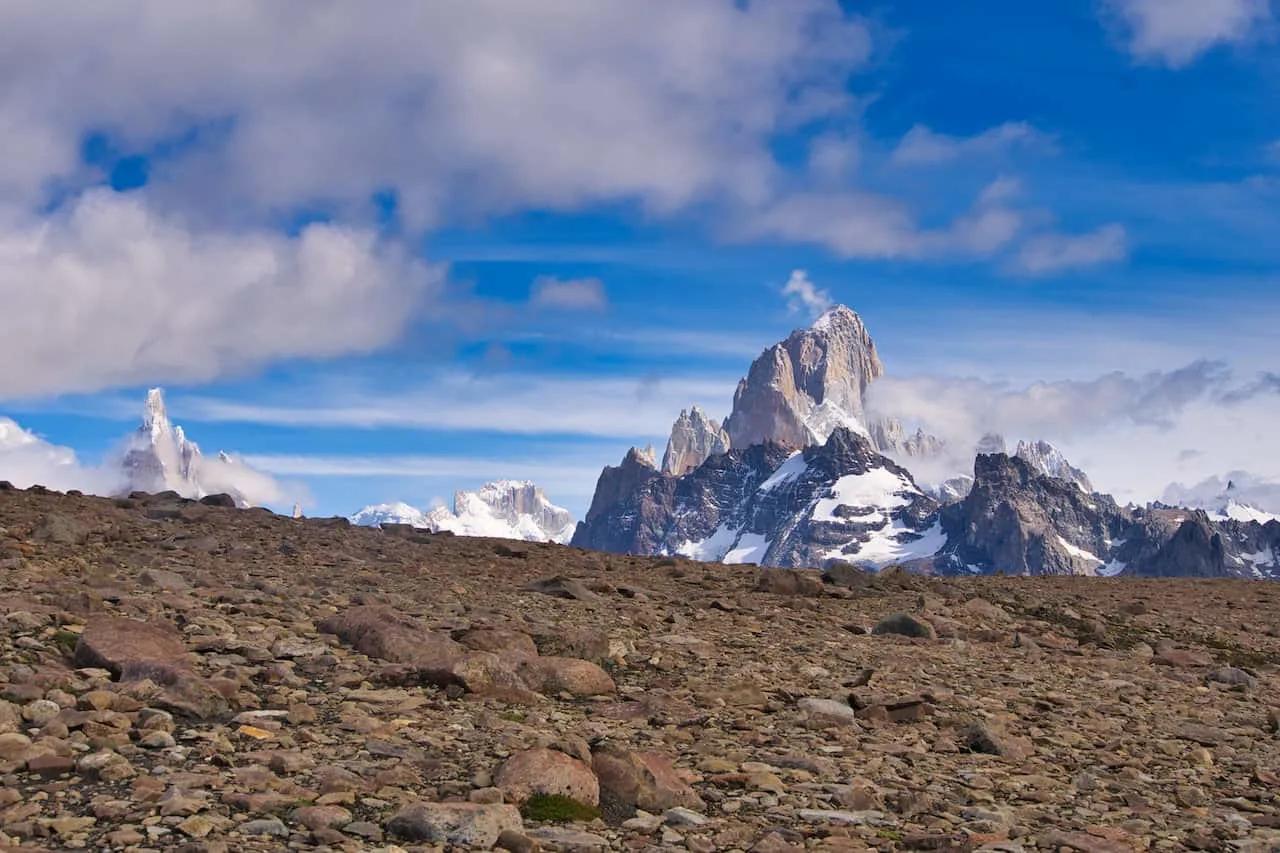 7) Loma del Pliegue Tumbado View
Here you will come across a viewpoint sign surrounded by a large semi circle rock formation. Sit back, enjoy the view, and take in all in.
From the viewpoint, you can enjoy the view of Fitz Roy, Cerro Torre, Laguna Torre, and plenty more mountains, glaciers, & unique landscape all around.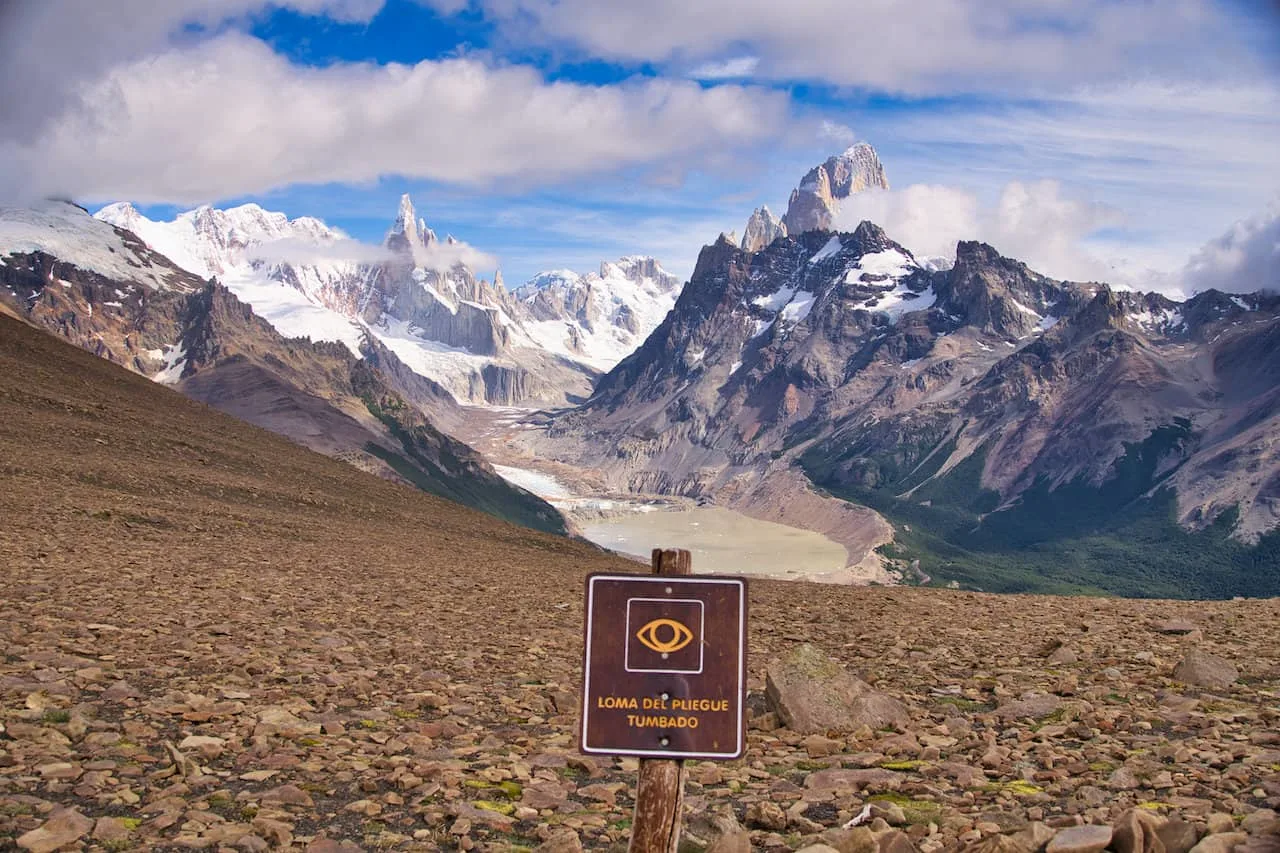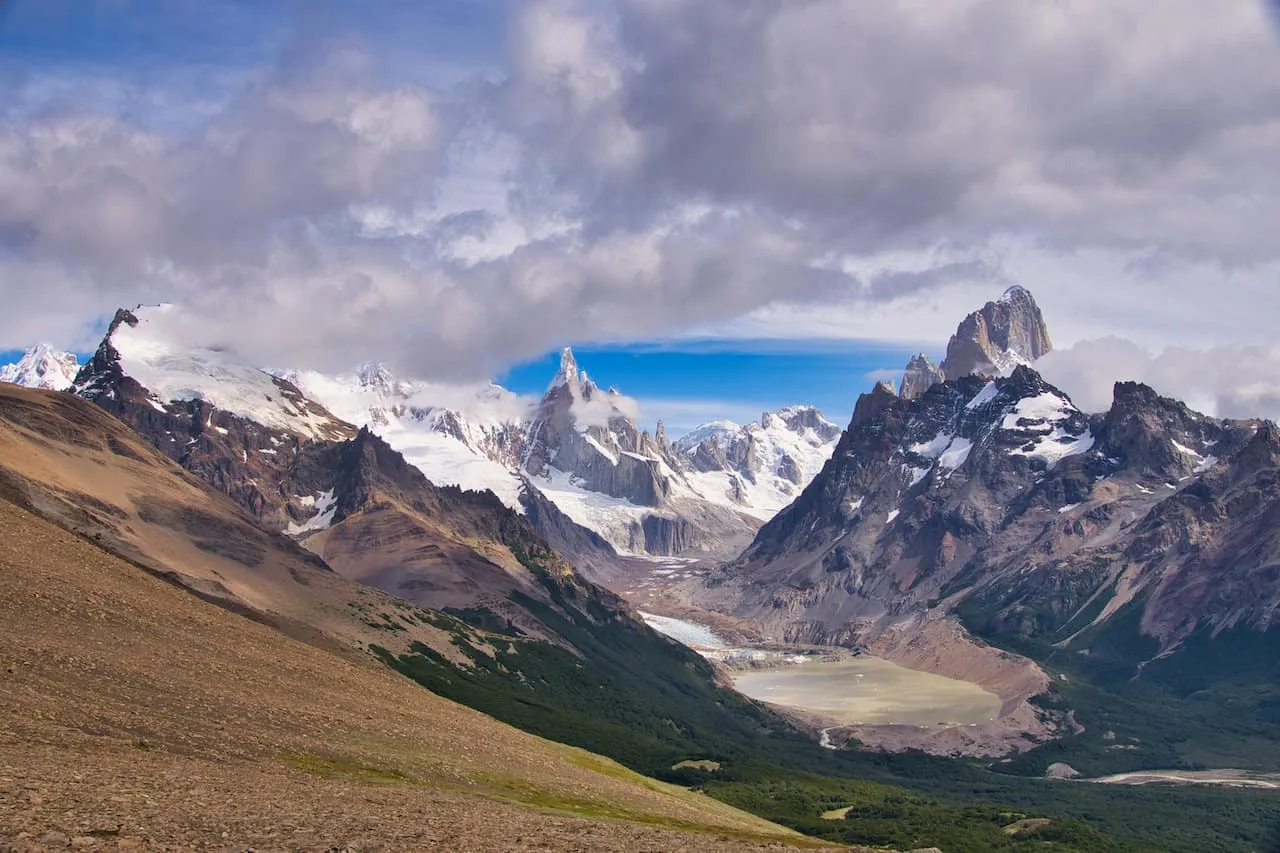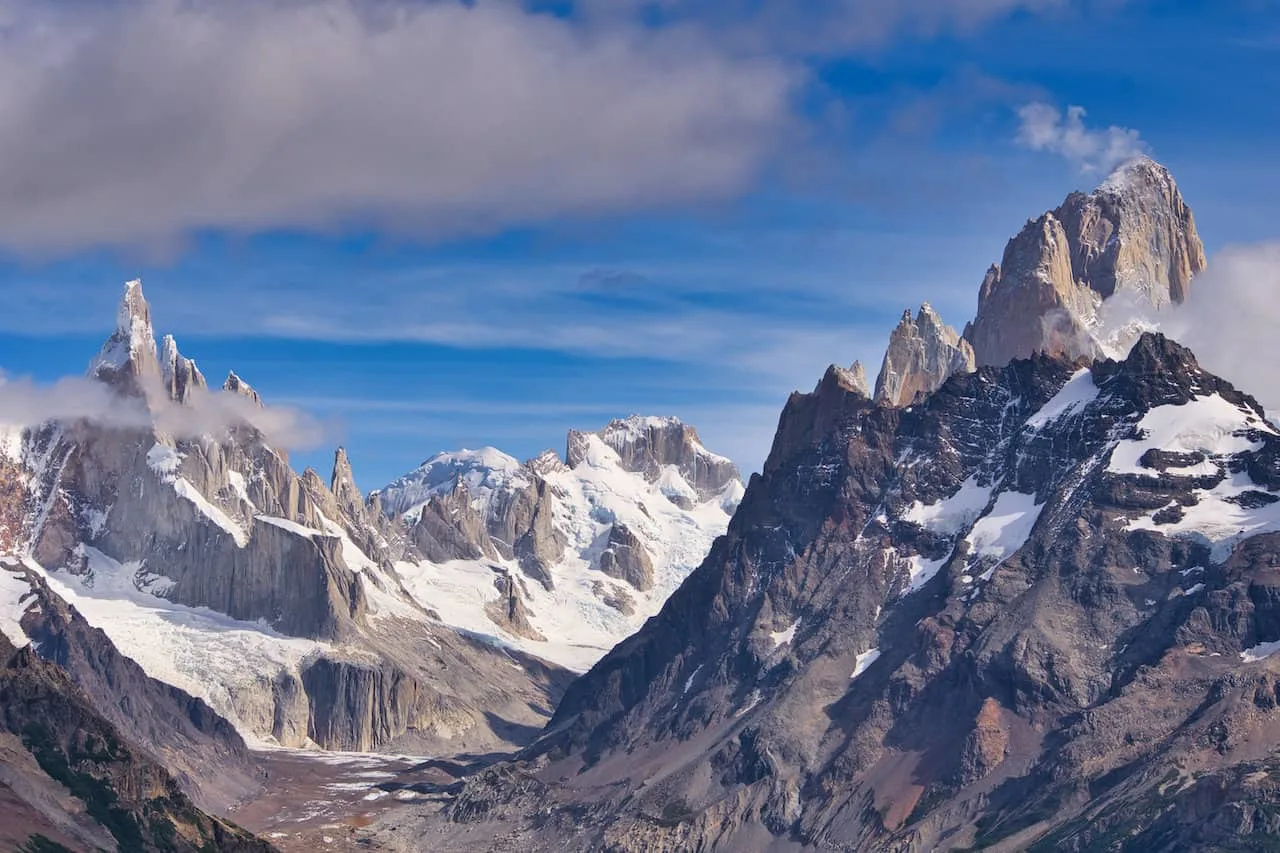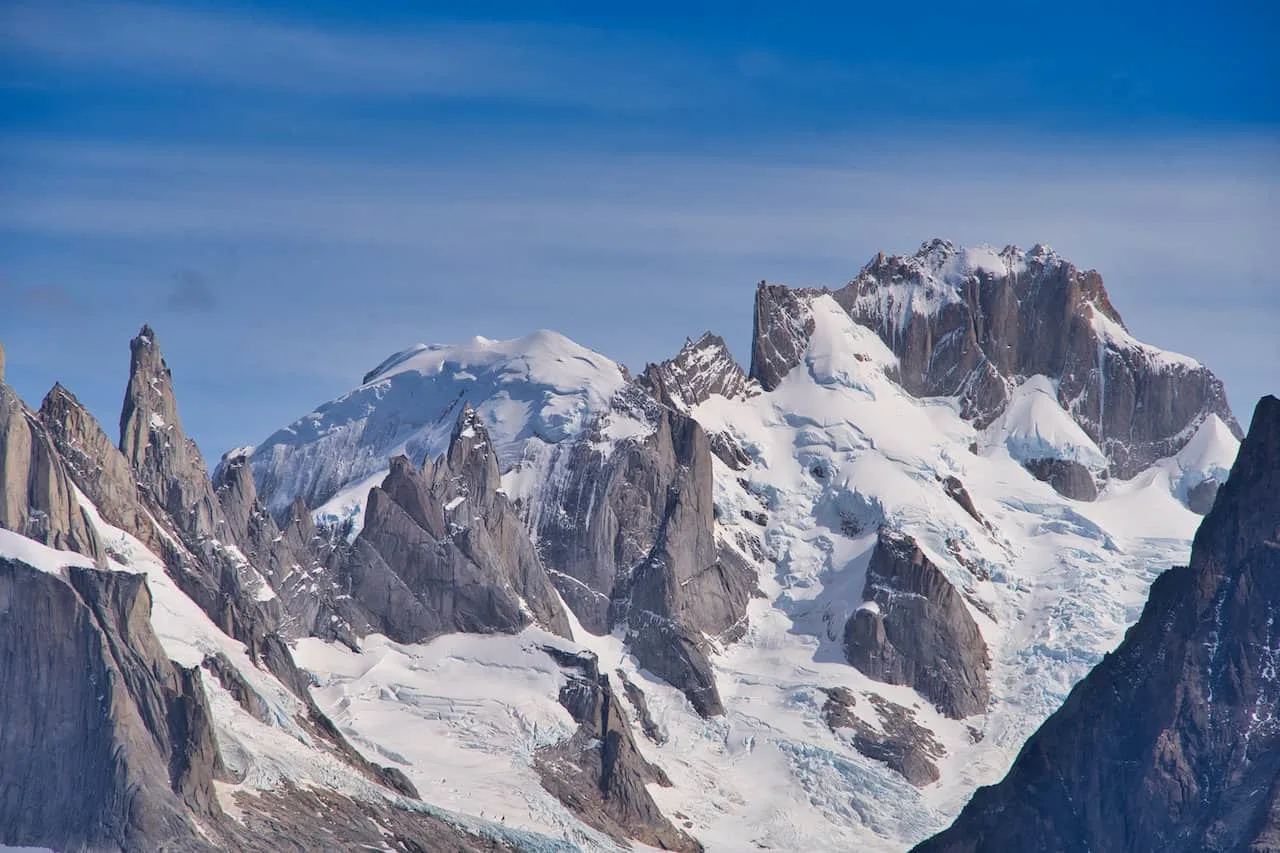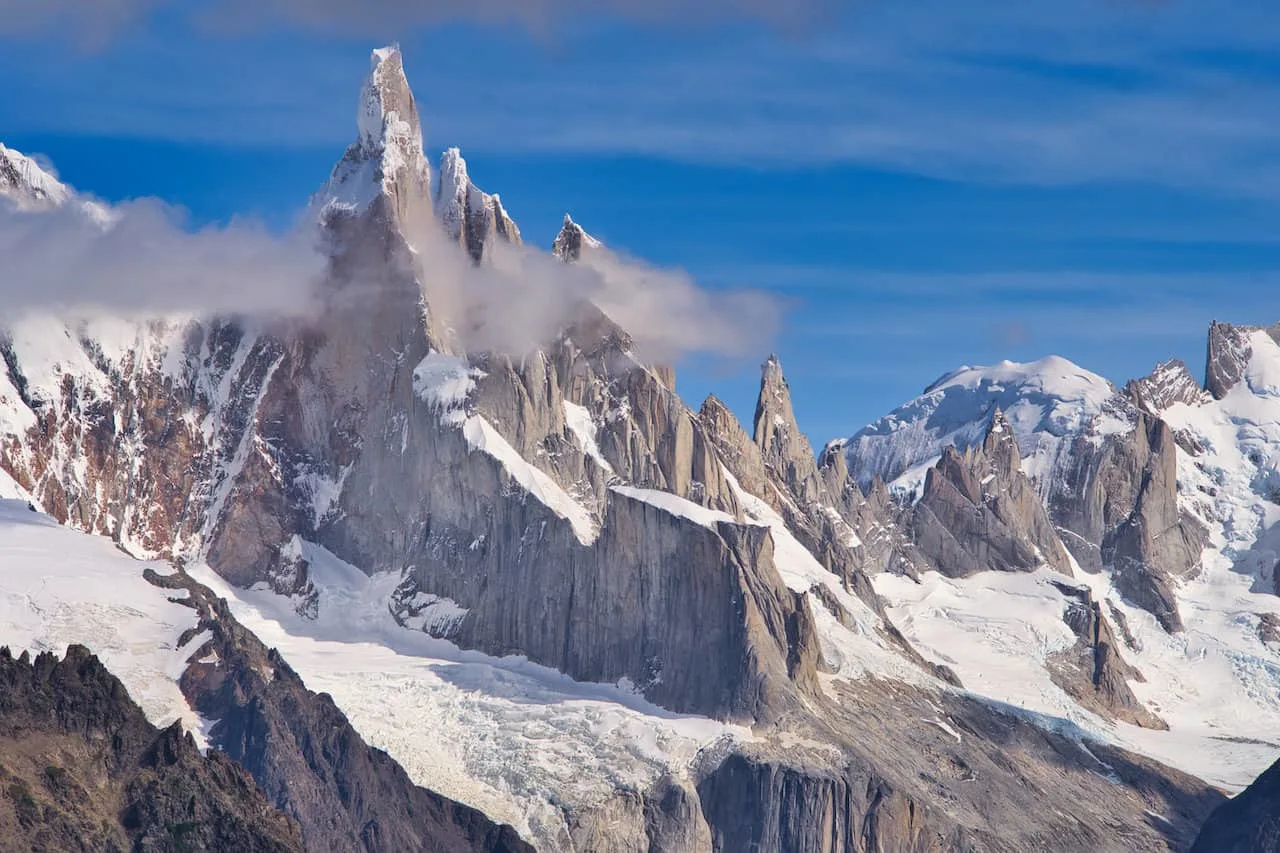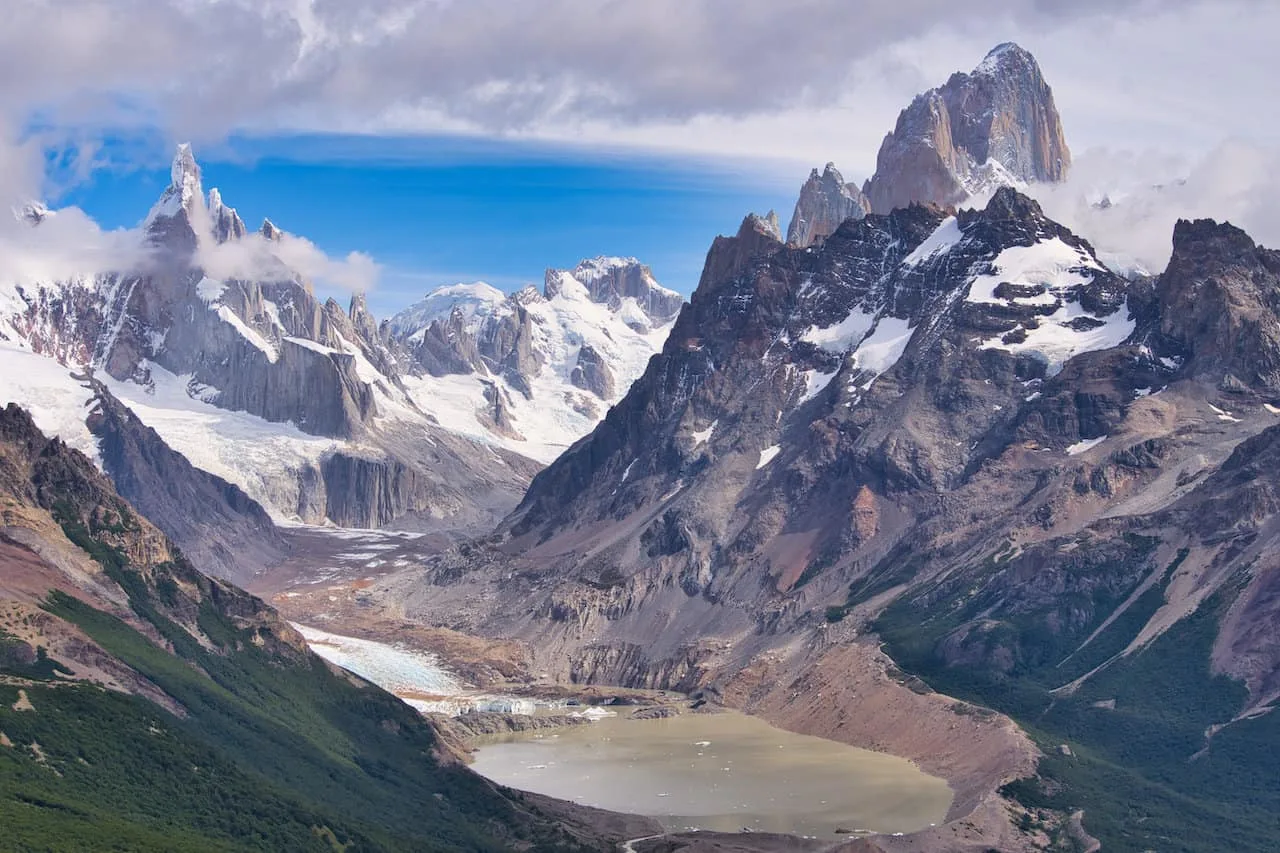 8) Loma del Pliegue Tumbado Summit
If you are up for an even higher vantage point, you will see a hill out behind the lookout area. From up top, you will get even grander views, and some better views in the opposite direction.
The hike up to the top is 0.8 km / 0.5 miles & +230 meters / +750 feet of elevation gain. This means you will need to add another 1.6 km / 1.0 mile to your overall hike at a steeper incline.
Be on the lookout for the path etched in the hillside here. I had trouble finding it at first, but there should be an "obvious" path to follow once you eye it.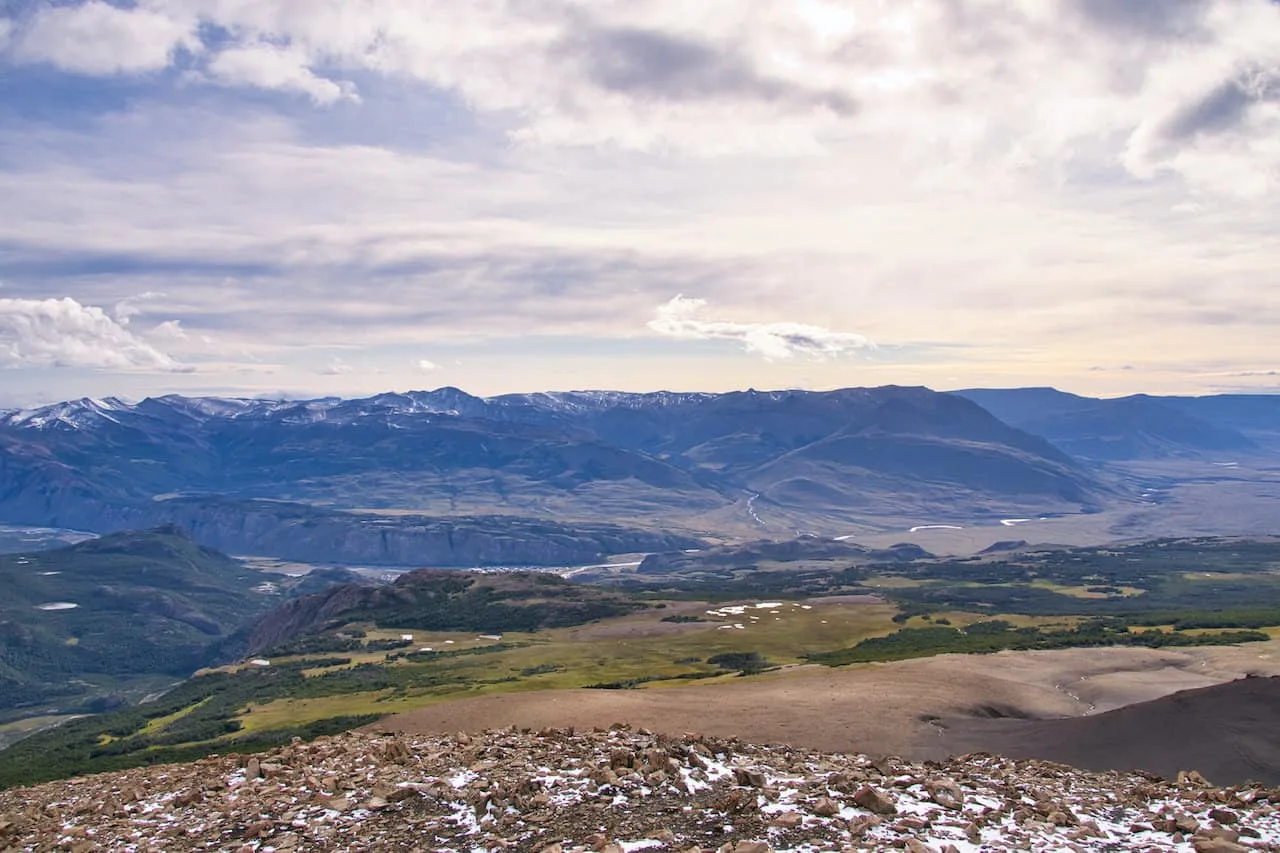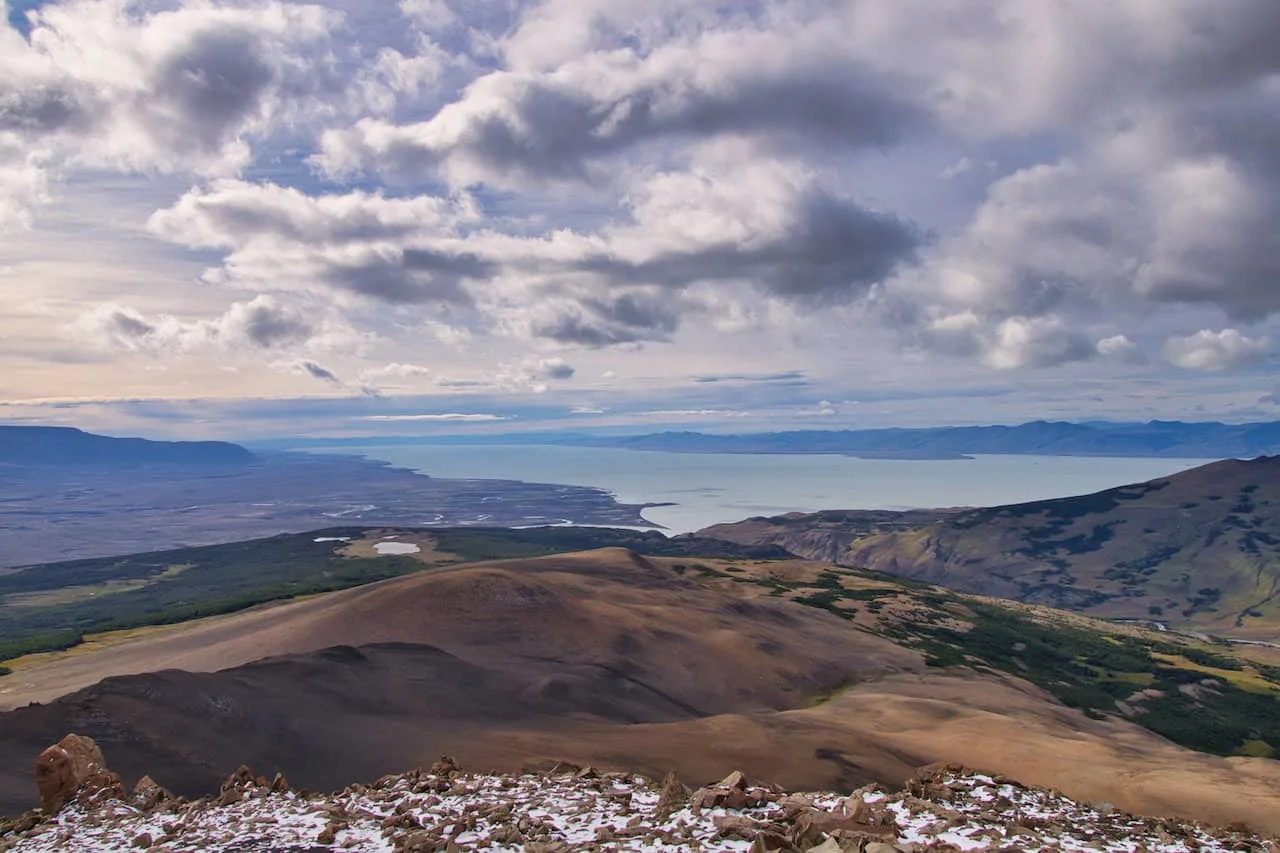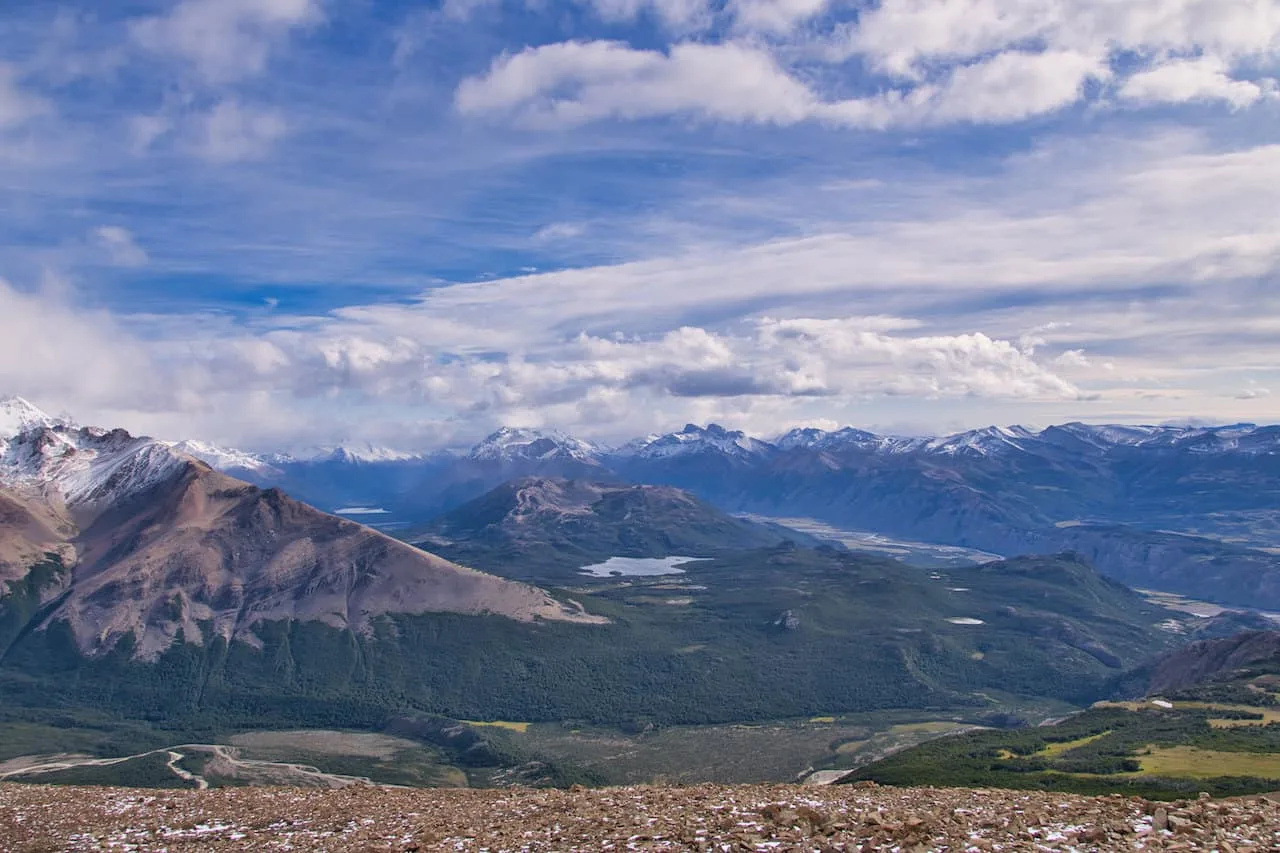 Once your time up top comes to end (whether or not you made it to the second higher viewpoint), it is time to begin the hike to the trailhead. It is an easier hike down, as you get some beautiful views out in front of you.
It is then back to El Chalten, where you can enjoy a nice rest after a long day of hiking.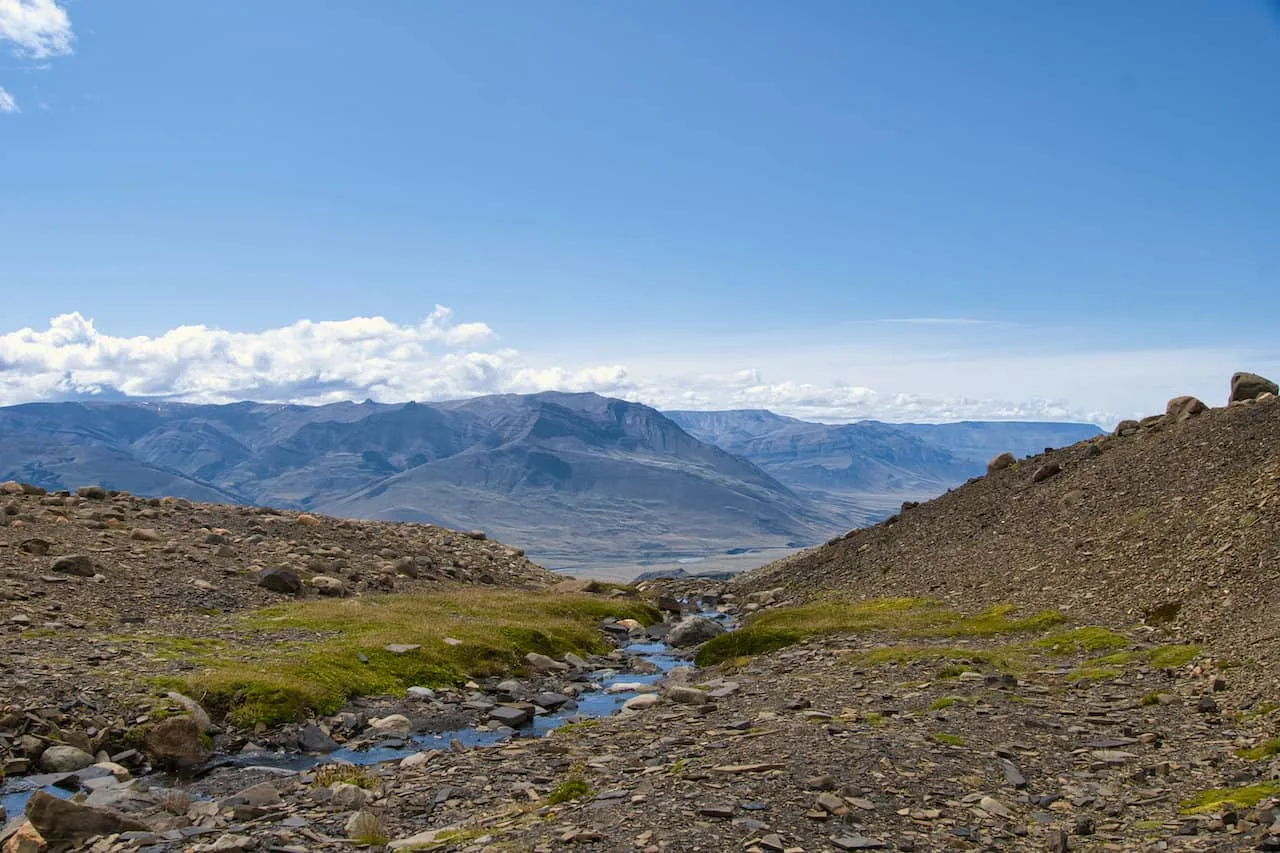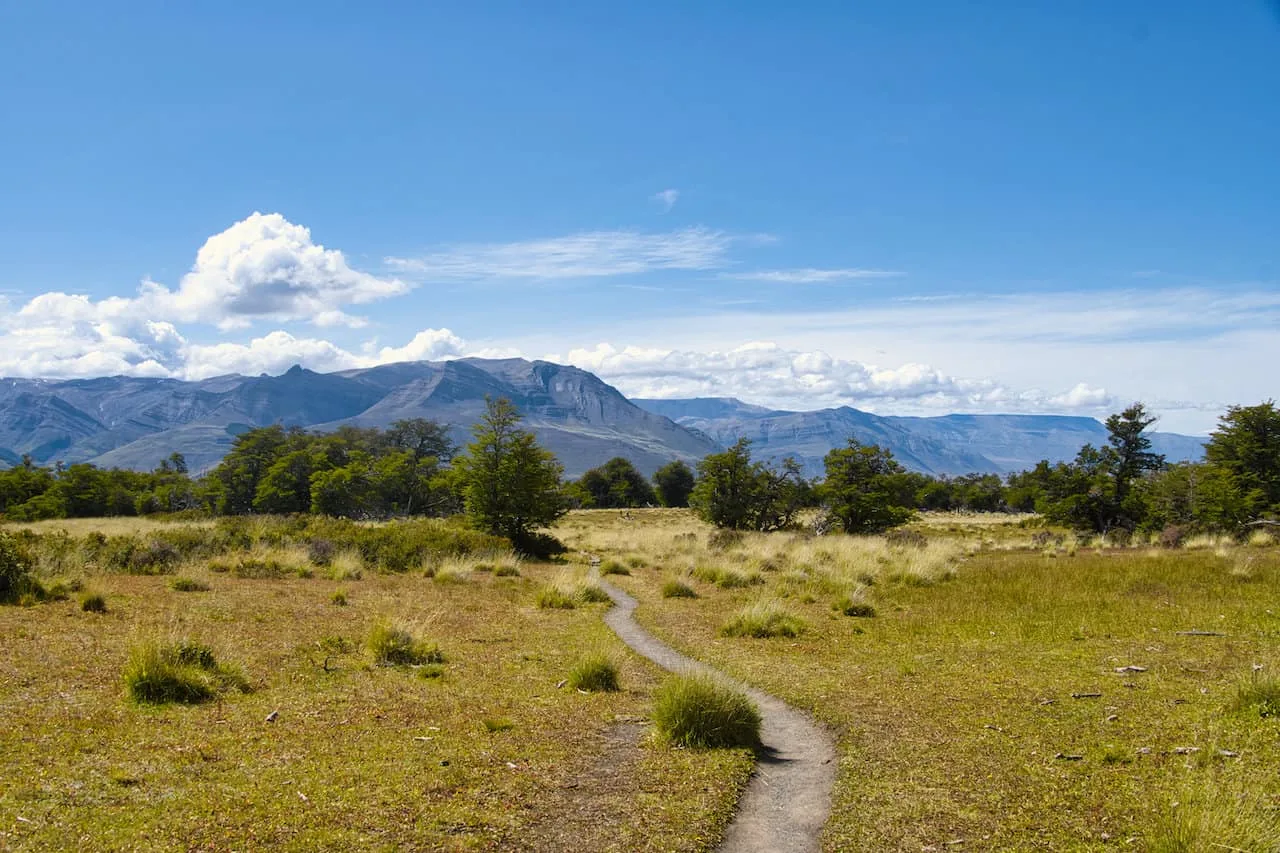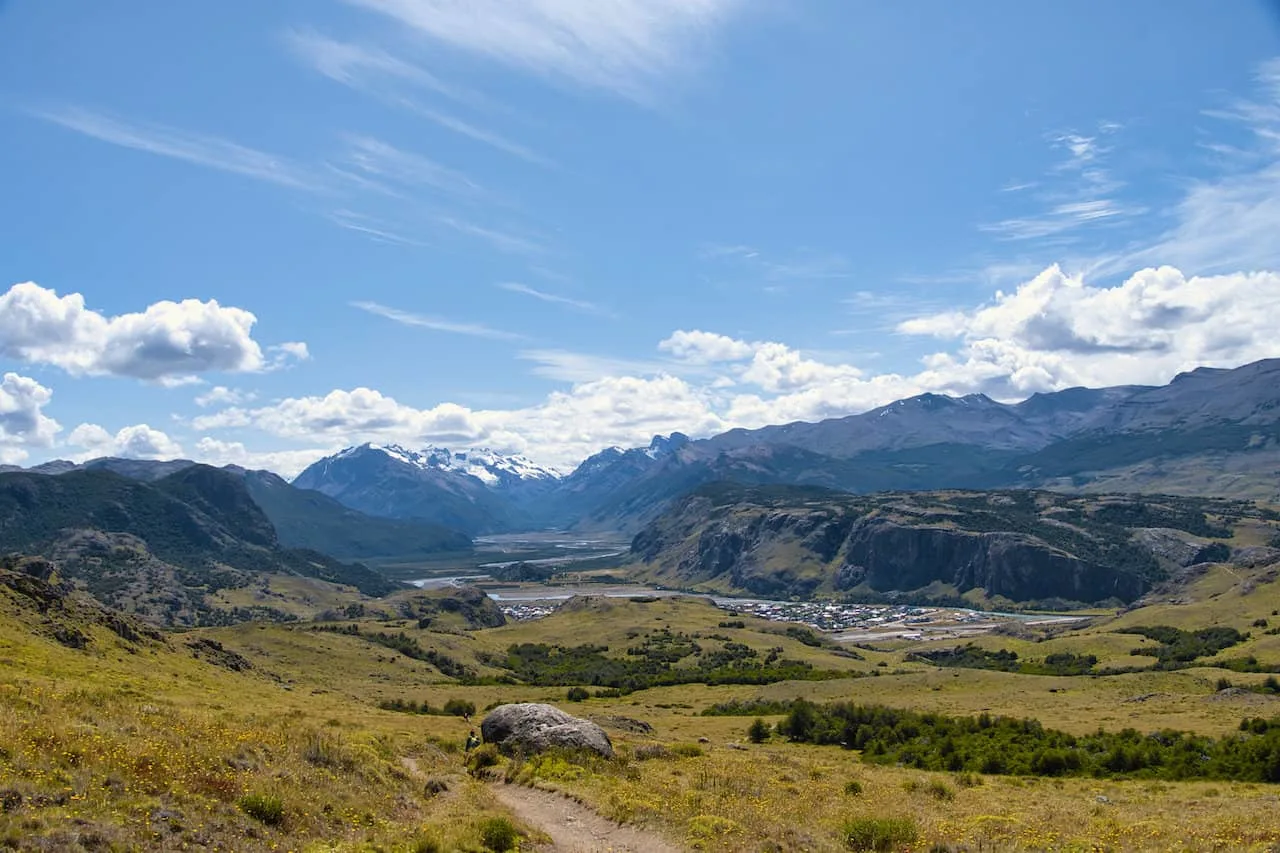 9) Getting to El Chalten
El Chalten is a small town within the Los Glaciares National Park of Patagonian Argentina.
Surrounding the town, you will find some of the most beautiful peaks, lakes & views in Patagonia. Since El Chalten was essentially built to cater to the surrounding landscape, you will be able to walk right from town to the various trailheads (including this hike).
There are two main ways to get yourself to El Chalten – either by bus or by rental car.
Bus
Since El Chalten does not have an airport, you most likely will be coming in by bus from El Calafate (home to the closest airport).
You can reach El Calafate by plane from major cities like Buenos Aires. The bus ride from El Calafate is relatively quick, taking around 3 hours between the two towns.
There are multiple busses a day, serviced by several companies. Feel free to look through Busbud to see options across many of the companies. Some of these busses stop at both the bus terminal and the airport. You can take a look on the site for the latest schedules and fares for your journey,
A one way ticket will cost somewhere around $20-$25 USD.
Rental Car
Renting a car in Patagonia is also a great option for those that want more flexibility. You can make more of a road trip out of it, visiting several places all along the way.
Depending on where you plan on going, some of the drives may be quite long. However, you will be surrounded by some stunning natural landscapes all around, making the drive a highlight within itself.
Feel free to take a look at Rentalcars.com that has options across several different car rental companies.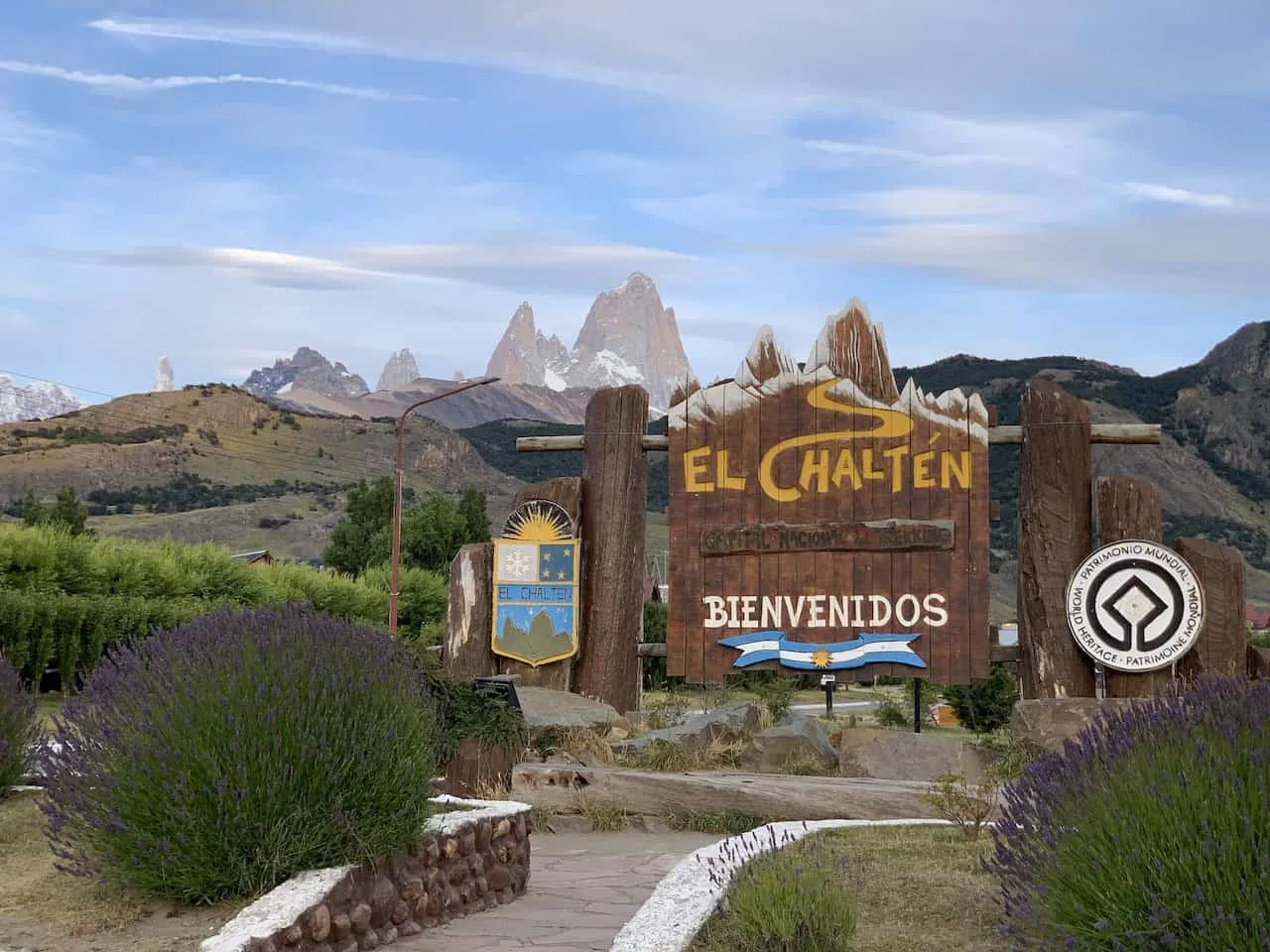 10) Where to Stay in El Chalten
El Chalten is home to many different hotels and lodges for visitors. Essentially, everything will be within walking distance from one another. Hotels, restaurants, shops, supermarkets, and the trailheads, are all located within the same general vicinity.
These hotels will sell out during peak season, so be sure to book your accommodation as soon as you know your dates.
Below are some of my top recommendations based on budget for your trip to El Chalten:
→ Mid Tier | Hosteria Senderos | Senderos Aparts & Suites
→ Luxury | Chalten Suites Hotel | Los Cerros del Chaltén Boutique Hotel
→ Budget | Hosteria y Cabañas Koonek | Rancho Grande
Note: El Chalten receives its WiFi connection via a radio connection from El Calafate. This means that you should not expect strong WiFi for most of your visit. Phone signals did not work as well, so be prepared to have limited access to Internet during your time there.
» If staying in El Chalten for a longer period of time, be sure to check out the Laguna de Los Tres & Laguna Torre hiking trails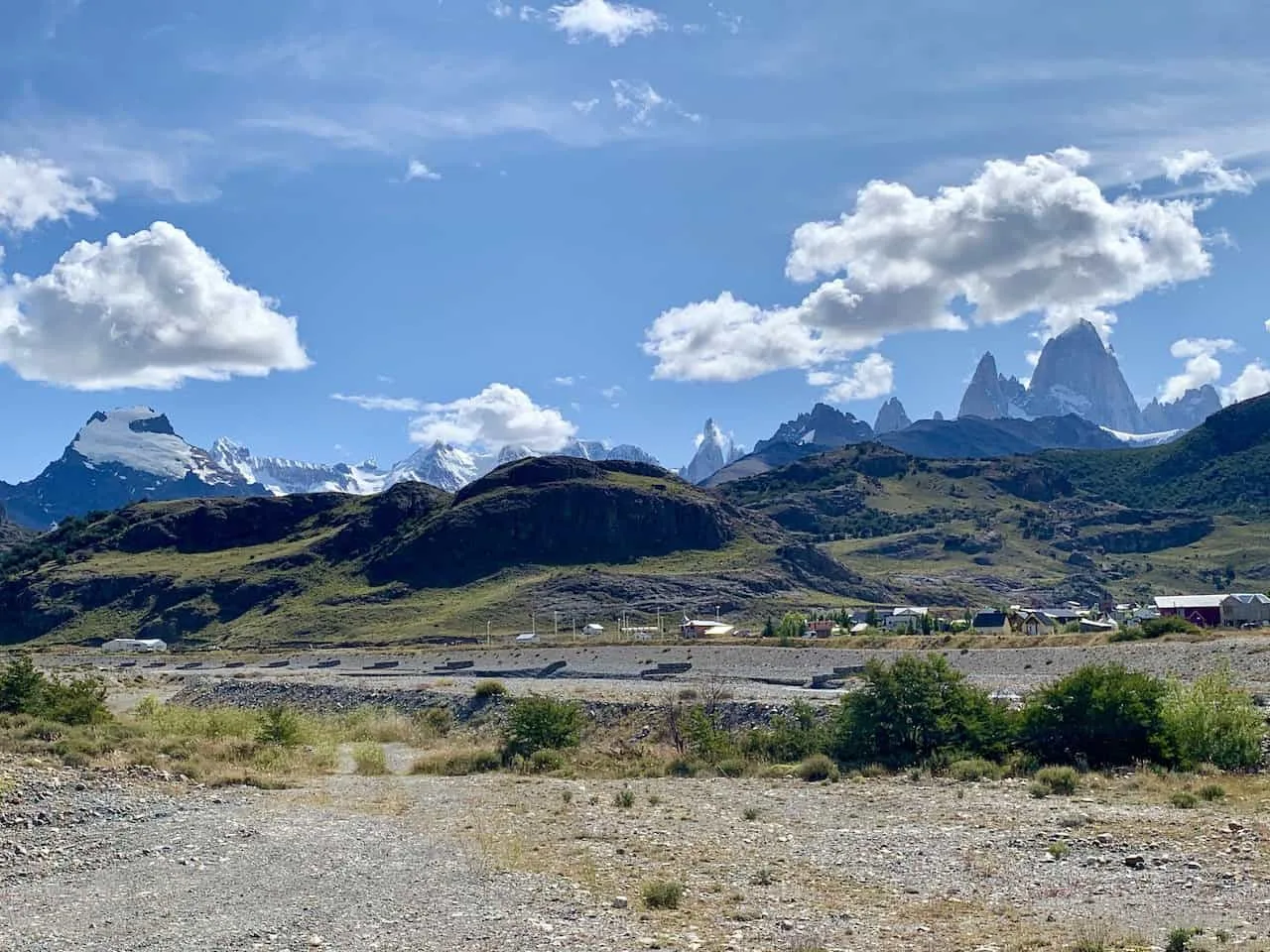 11) Patagonia Weather
From a time of year perspective, the most realistic timeframe to enjoy hiking in Patagonia will be during the southern hemisphere's summer period. From the months of December to March you will have the best chance to have the most suitable hiking conditions in general.
I visited El Chalten at the end of January / beginning of February. Even though it was the prime time to visit, the weather was very inconsistent throughout my time there. One day would be clear and sunny while the next day would be completely clouded over with snowfall.
When it comes to Loma del Pliegue Tumbado, the main highlight is to get to see the Fitz Roy & Cerro Torre mountain ranges throughout the duration of the trail, and at the viewpoint itself.
Hiking this trail with clear skies vs. having the mountain range covered with clouds will be two completely different types of experiences. While it is always hard to count on the Patagonian weather, try and save this hike for a better weather forecasted day of your trip.
Also note that the weather can change throughout your time on the trail. Clear skies can turn to clouds and rain, which can then turn back into clear skies. This certainly happened during my time out on the trail.
Weather forecasting is tough enough in mountainous regions, but even tougher in a place like Patagonia. The locals were keen on using Windguru as their best source of truth when it came to weather forecasts.
Here is a link to the free version of Windguru for Fitz Roy (the mountain itself). Upgrading to the paid version will give you more insight and features.
What you are looking for here is low wind speeds, low % of cloud cover, and no precipitation.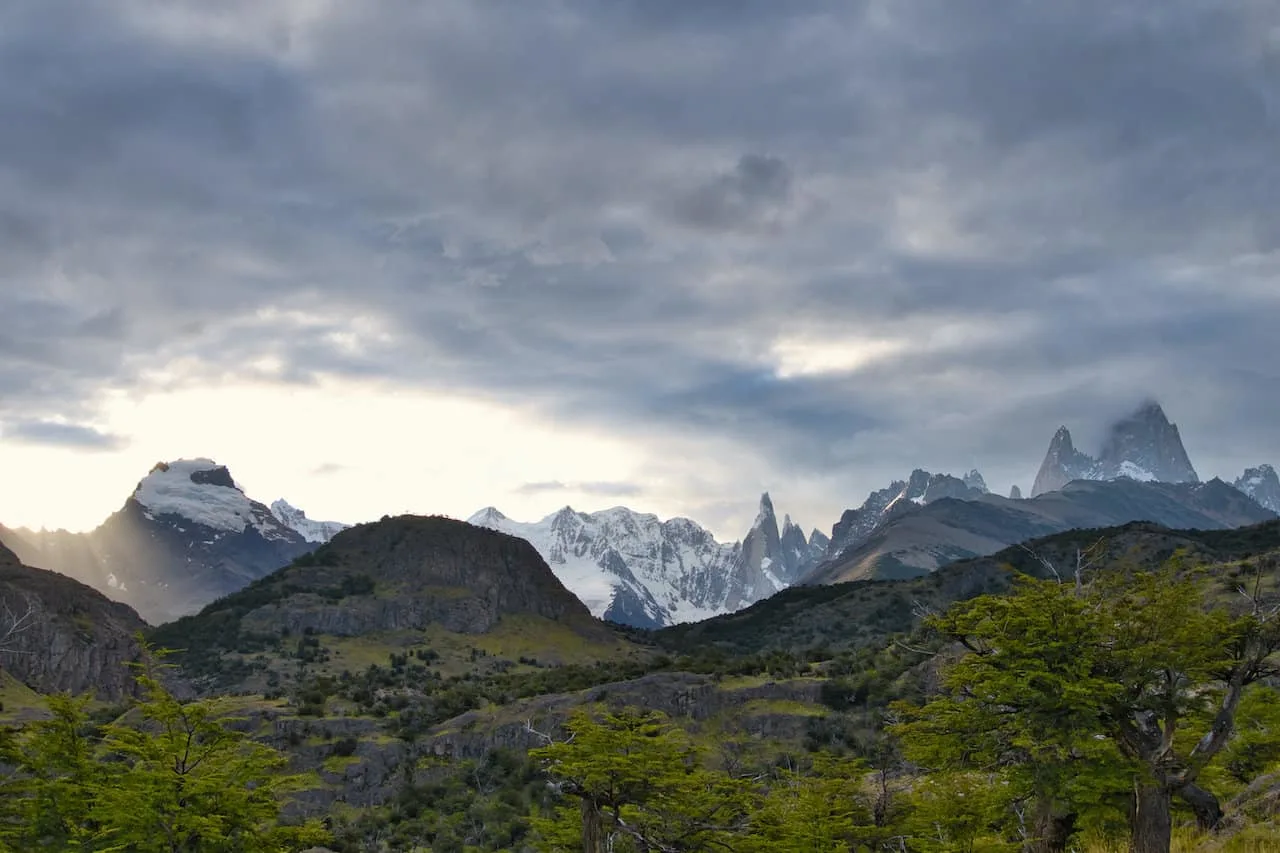 12) What to Bring
Hiking in Patagonia is all about layers and proper footwear. Since the weather can turn very quickly, you will want to be prepared for all types of conditions.
In general, I found layering to be the upmost important part of a trip. On all day hikes in Patagonia, I brought along the following layers:
→ Hiking Shorts
→ Hiking Pants
→ Short Sleeve Shirt
→ Long Sleeve Shirt / Sun Hoodie
→ Mid Layer Fleece
→ Puff Jacket
→ Packable Rain Jacket
While layers are important so will be your footwear. You want to be sure to bring appropriate waterproof hiking shoes along with solid hiking socks as well.
Additional day hike recommendations include:
→ Hiking Backpack & Rain cover
→ Water Bottle & Nutrition
→ Portable Charger
→ Hat & Sunglasses
→ Sunscreen & Bug Spray
» Be sure to check out the Hiking Packing List guide I put together that will go through all of it and more.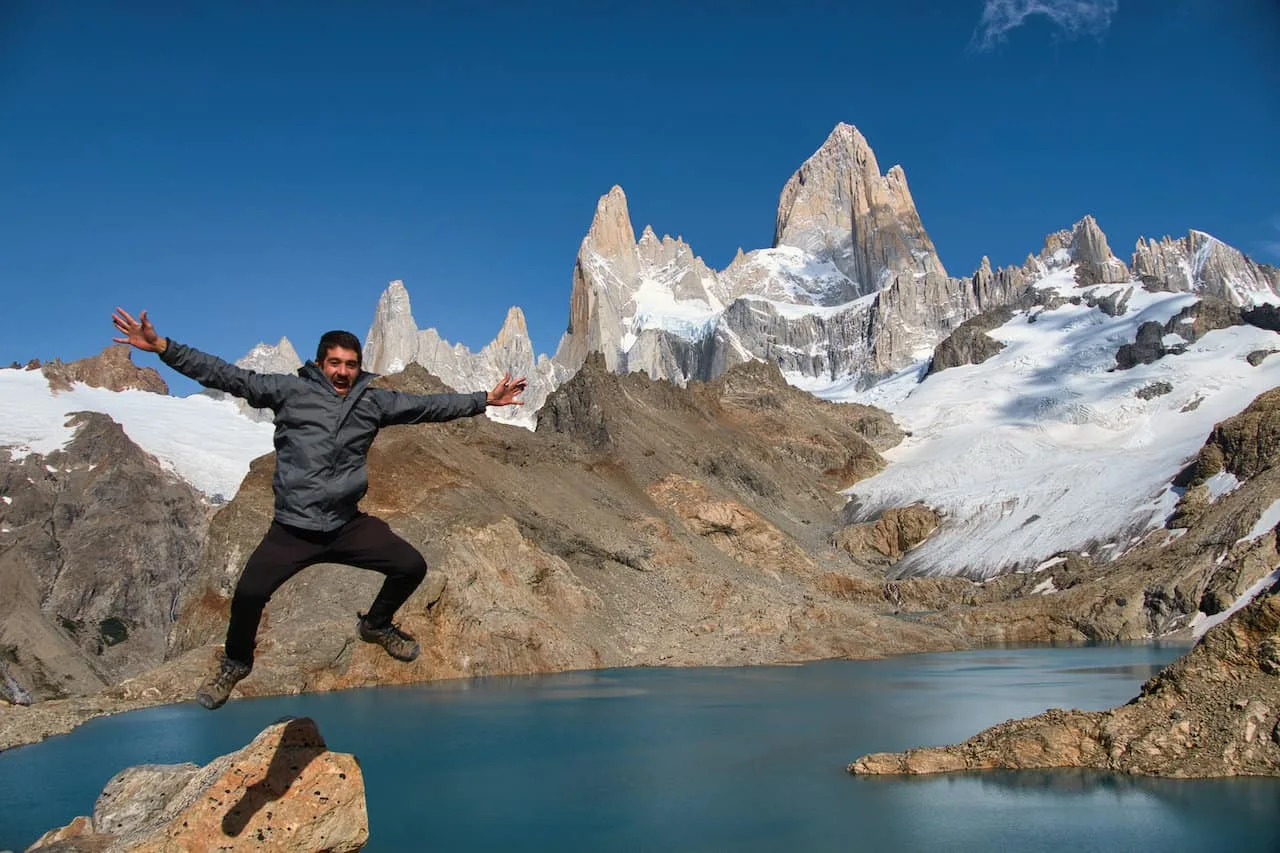 That about does it for the Loma del Pliegue Tumbado of El Chalten, Patagonia. If you have any questions or comments about the hike, feel free to add them in below. Also, don't forget to check out the other Patagonia itineraries and guides up on the site.
Have fun out there and safe travels!