The Laguna Torre trek of Los Glaciares National Park is one of the top hiking opportunities in El Chalten. Since this trail is relatively flat throughout, it really is a hike that many can take part of.
From the trailhead, the hike takes you up towards the beautiful Laguna Torre, with views of the Cerro Torre mountain range out in front of you during the duration of the trail.
Read on to learn everything you need to know about a Laguna Torre hiking experience and how to enjoy the trek for yourself.
* Affiliate Disclosure: This post may contain affiliate links, which means I may receive a commission if you make a purchase through the links provided, at no additional cost to you. Thanks for supporting the work I put into TripTins!
1) Laguna Torre Trek Info
To start, let's go through some of the important details you should know when taking part of the Laguna Torre hike in general. Note that the hiking metrics are for the roundtrip route.
Trail Name: Laguna Torre
Starting & Ending Point: El Chalten Town: Intersection of Lao Llao – Los Huemules & Los Charitos
Trailhead Coordinates: 49°19'52.1″S 72°53'42.8″W
Mid-Point: Laguna Torre
Viewpoints: Mirador Cascada Margarita & Mirador Cerro Torre
Cerro Torre Hike Length: 17.7 km / 11.0 miles
Elevation Gain: +480 meters / +1,580 feet
Duration: 6 – 8 hours
Trail Type: Out & Back
Optional Add On: Mirador Maestri (+4.2 km / +2.6 miles | +170 meters / +560 feet elevation gain)
The trail to Laguna Torre begins right from the El Chalten town center, heads past a few viewpoint areas, and then onwards to the lake itself.
To clarify, this hike heads to Laguna Torre (the lake), not to the Cerro Torre peak (the mountain). You will get some stunning views of Cerro Torre throughout the trail and at the lake itself.
Once at the lake, you can sit back, relax and enjoy the view of the beautiful mountains, lake, and glaciers all around.
→ While the lake and hike is named after Cerro Torre, you will see three main needle looking mountains throughout the hike. Cerro Torre is on the left, Torre Egger in the middle, and Aguja Standhardt on the right.
→ If you are up for a little additional hiking, you can also head to a secondary viewpoint area at Mirador Maestri. This route heads up alongside the moraine wall as you take in some elevated views of the area.
After finishing up at the lake, it is retracing your steps all the way back down to El Chalten.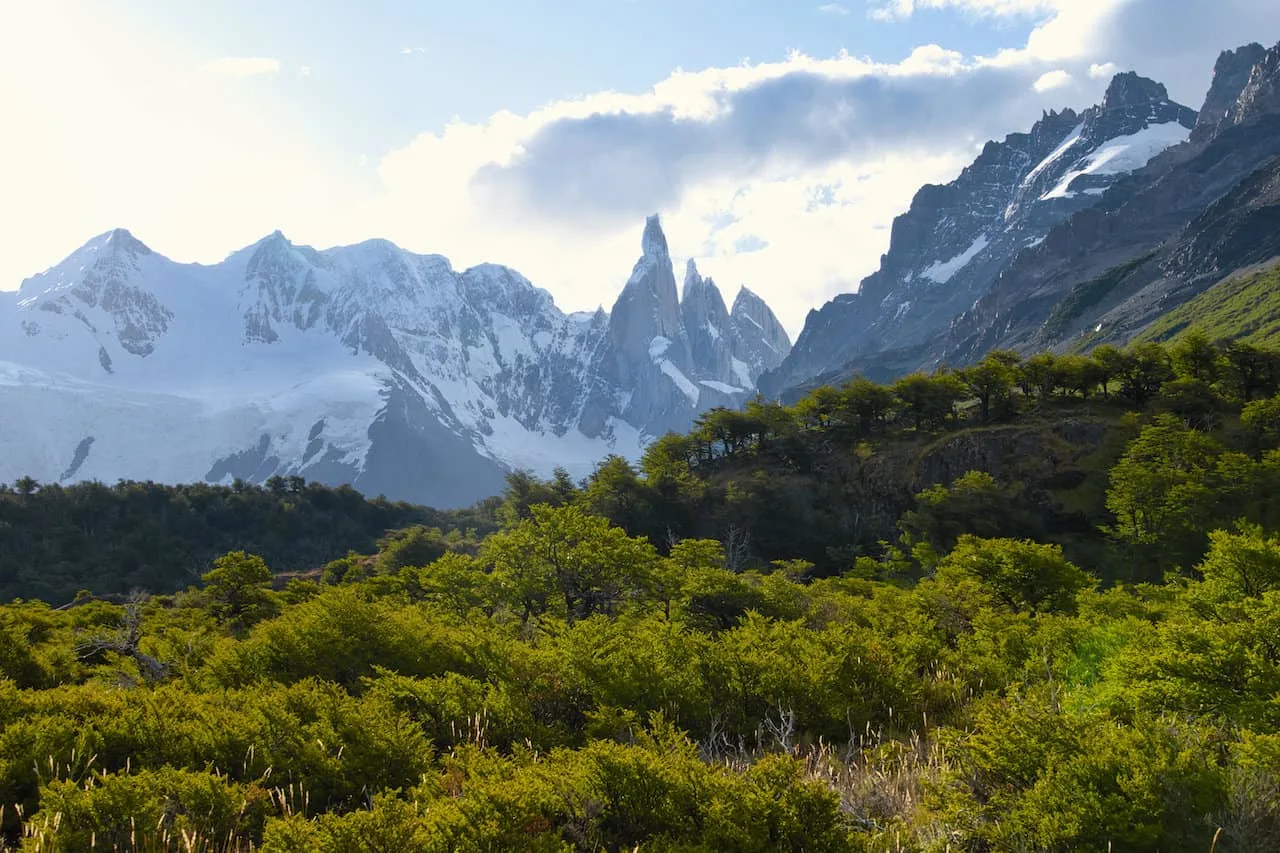 2) Laguna Torre Trailhead
One of the top benefits of spending time in El Chalten is that all the major hiking trails have trailheads that begin directly from town (or very nearby). This makes it easy to take part of some of the best hikes in the world by just stepping outside your doorstep.
The Laguna Torre trailhead is no exception and it actually has the most centrally located trailhead out of the main hiking trails.
For simplicity purposes, you can use these GPS coordinates to guide you to the trailhead: 49°19'52.1″S 72°53'42.8″W. Here is the intersection of the two streets of Llao Llao / Los Huemules, & Los Charitos.
There are actually a couple of alternate starting points that have routes that meet up with one another. But this would be the main one and where you will find the official trailhead signs.
Since you are most likely not going to have cell reception in El Chalten, I recommend downloading offline maps, so you can still navigate through town and on the trail.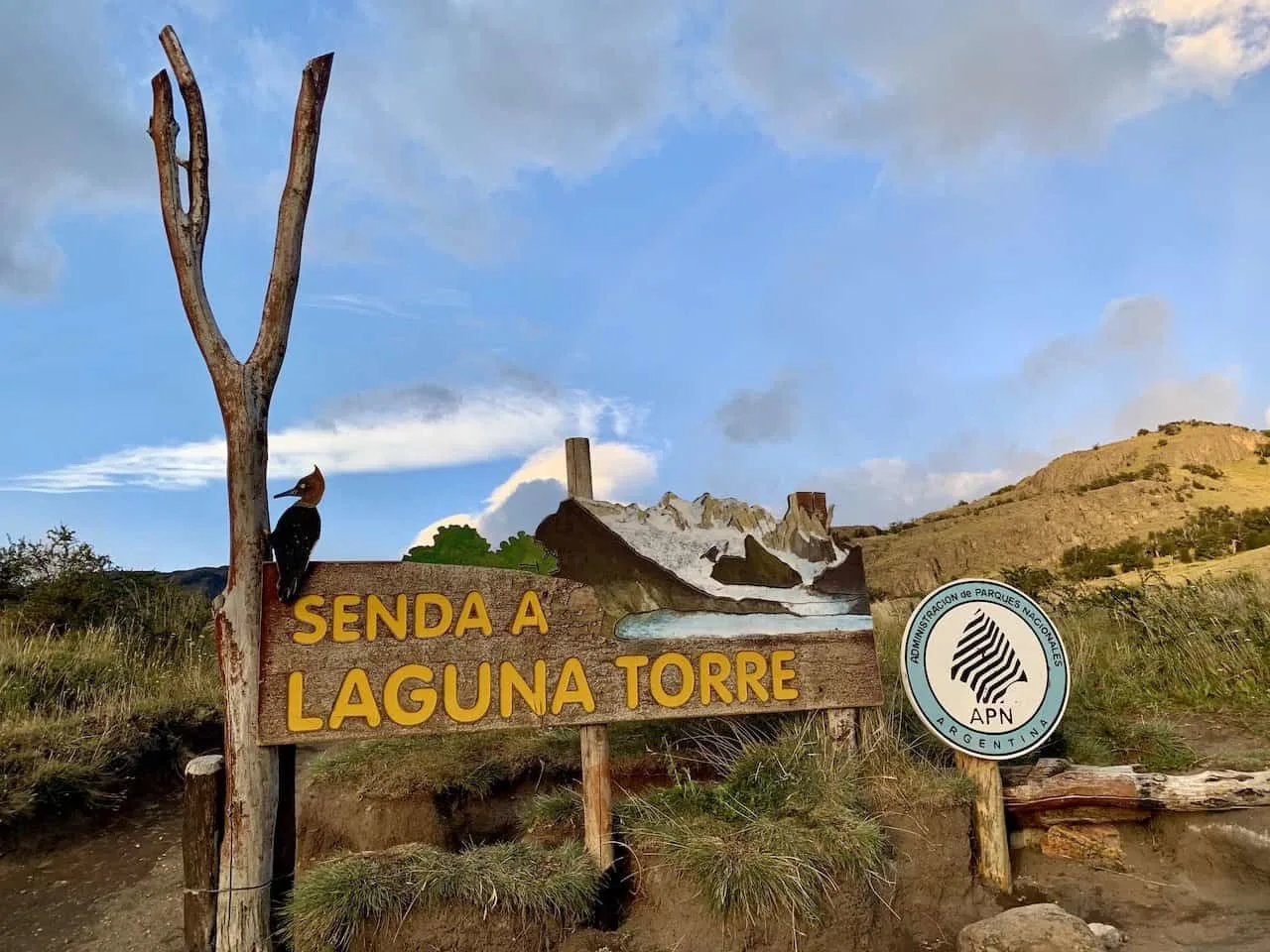 3) Laguna Torre Map
To get yourself better acquainted with the route, I have included both an interactive Google Maps view of the hike and a screenshot of it too.
I would advise to download the Google Maps route as a KML or GPX file and add it onto your navigation app (Maps.me, GAIA, AllTrails, etc.). This will give you the ability to track yourself to the route once you are on the trail for yourself.
You can see the map includes the trailhead, viewpoints, the main route (red), and the additional route to Mirador Maestri (blue).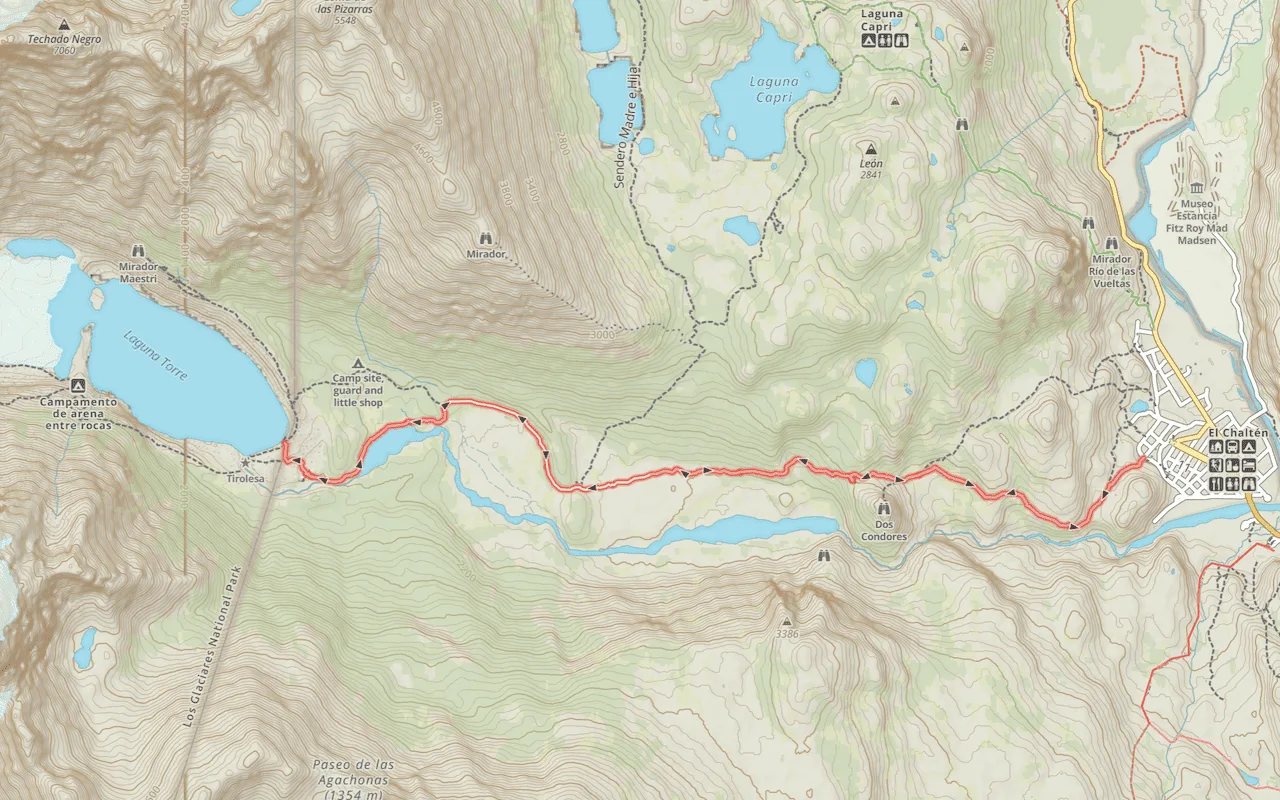 4) Elevation Gain Profile
While the Laguna Torre does gain some elevation, it is by far an easier alternative to some of the other hikes in the area like Laguna de Los Tres.
Altogether the trail entails 480 meters / 1,580 feet of elevation gain with the majority of it coming in the first 2.9 km / 1.8 miles.
From the trailhead to the Mirador Cerro Torre viewpoint, the trail gains 180 meters / 600 feet. During the next 6.0 km / 3.7 miles the trail only gains another 100 meters / 300 feet. So, it is essentially a flat trail up until the lake.
On the way down, there are some inclines here and there, which make up the remaining elevation gain.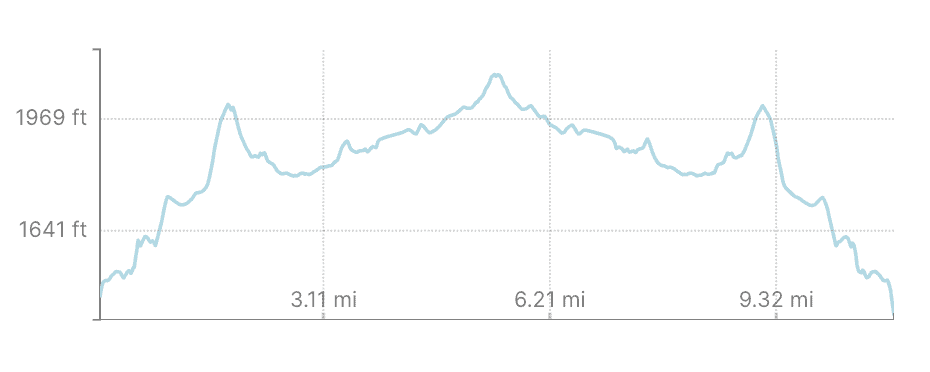 Hiking Resources & Checklist

Before heading out for the trails, be sure to read up on some of the hiking resources up on the site. These are here to better prepare you for all types of outdoor adventure.
5) Laguna Torre Trek
Now that you have some background on the trail, let's dive into what to expect out on the trail itself. In addition to talking through the hike, I will also include plenty of photos along the way.
Trailhead to Mirador Cascada Margarita (1.0 km / 0.6 miles)
The first portion of the hike will take you on an uphill ascent to the first main viewpoint of the trek at Mirador Cascada Margarita (named after the nearby waterfall).
Follow the marked path, continue your way up the trail, and arrive at your first view of Cerro Torre way out in the distance.
In addition to Cerro Torre, you will also get to see the peaks of other mountains such as the famous Fitz Roy.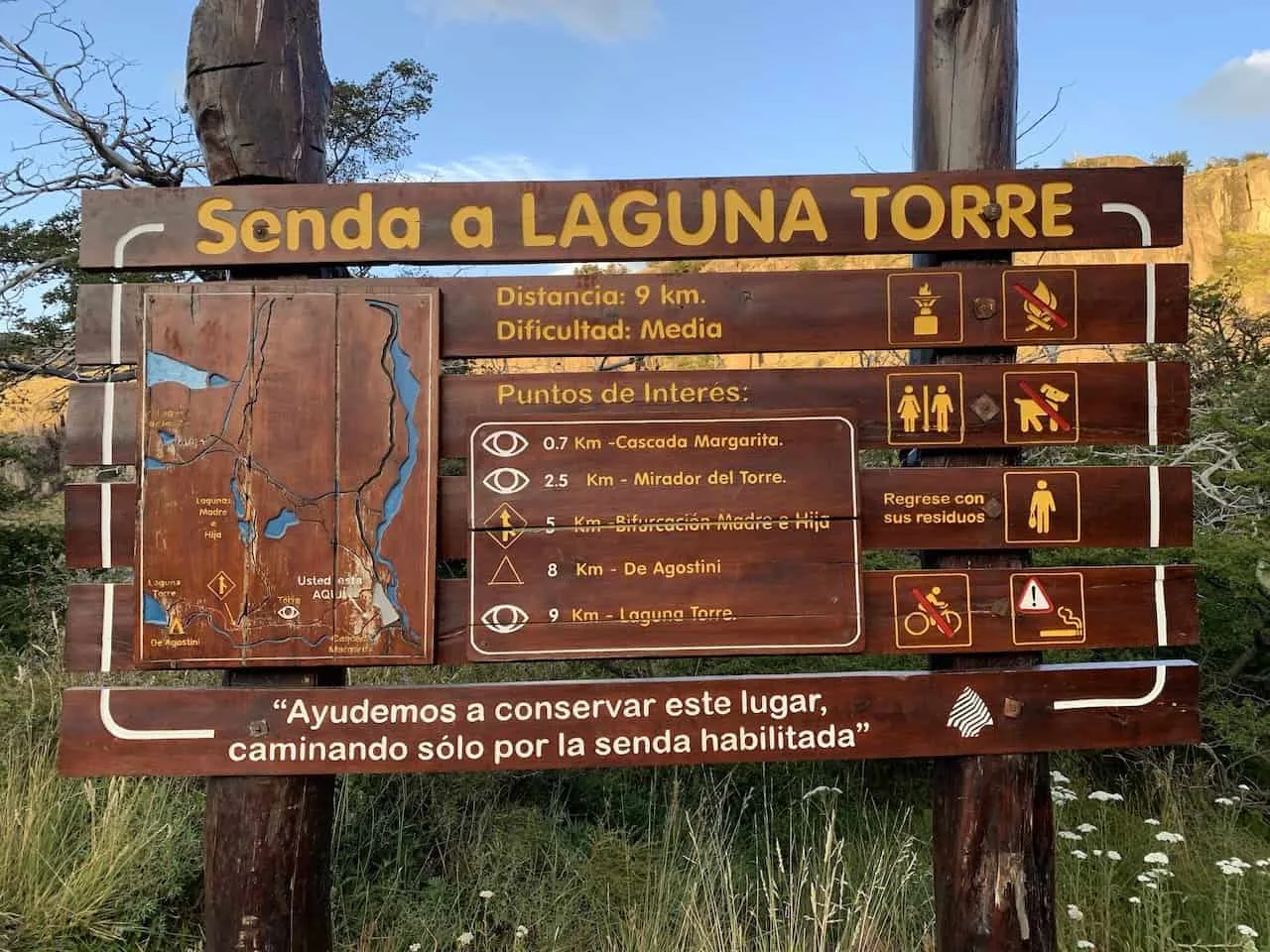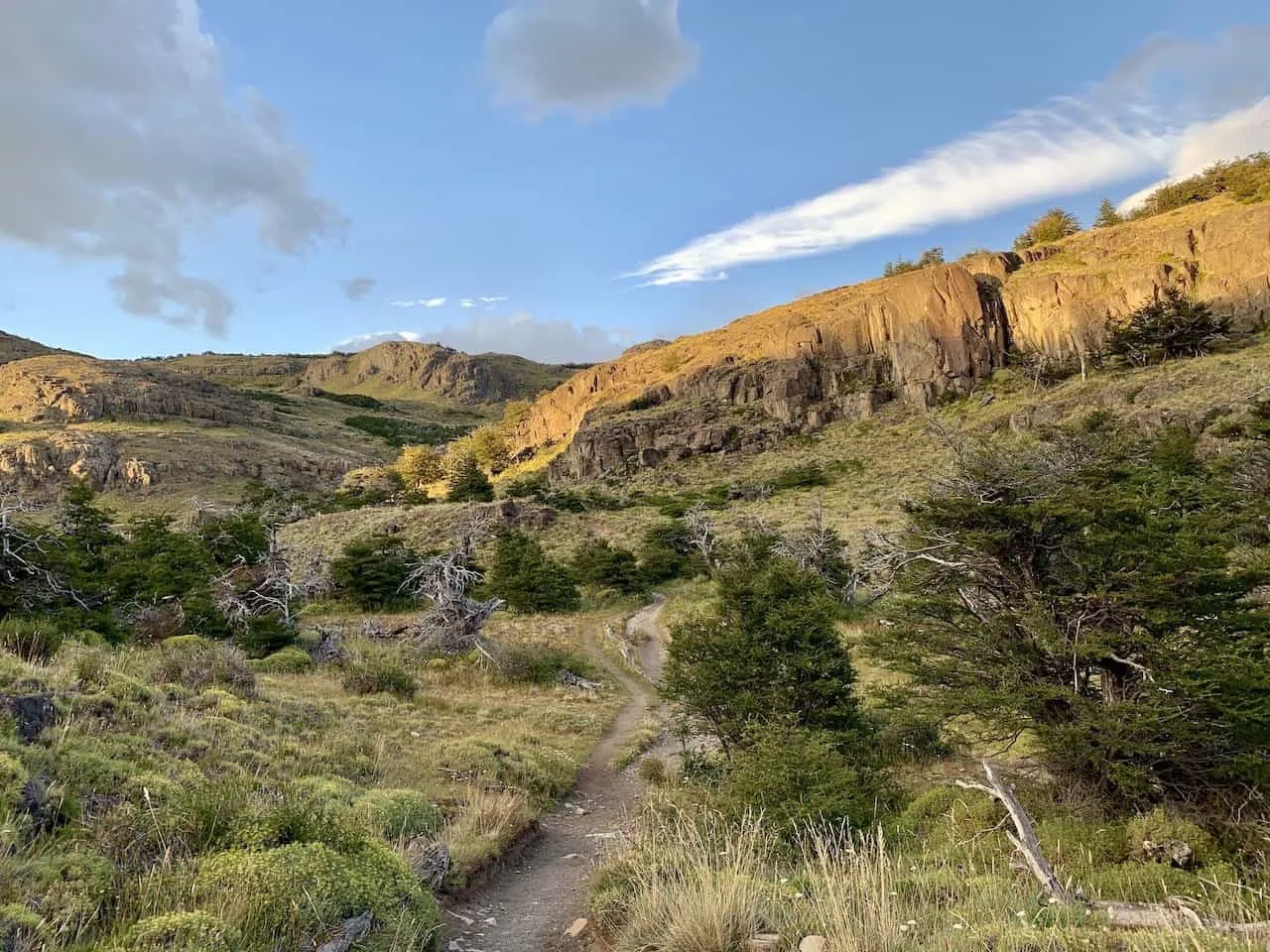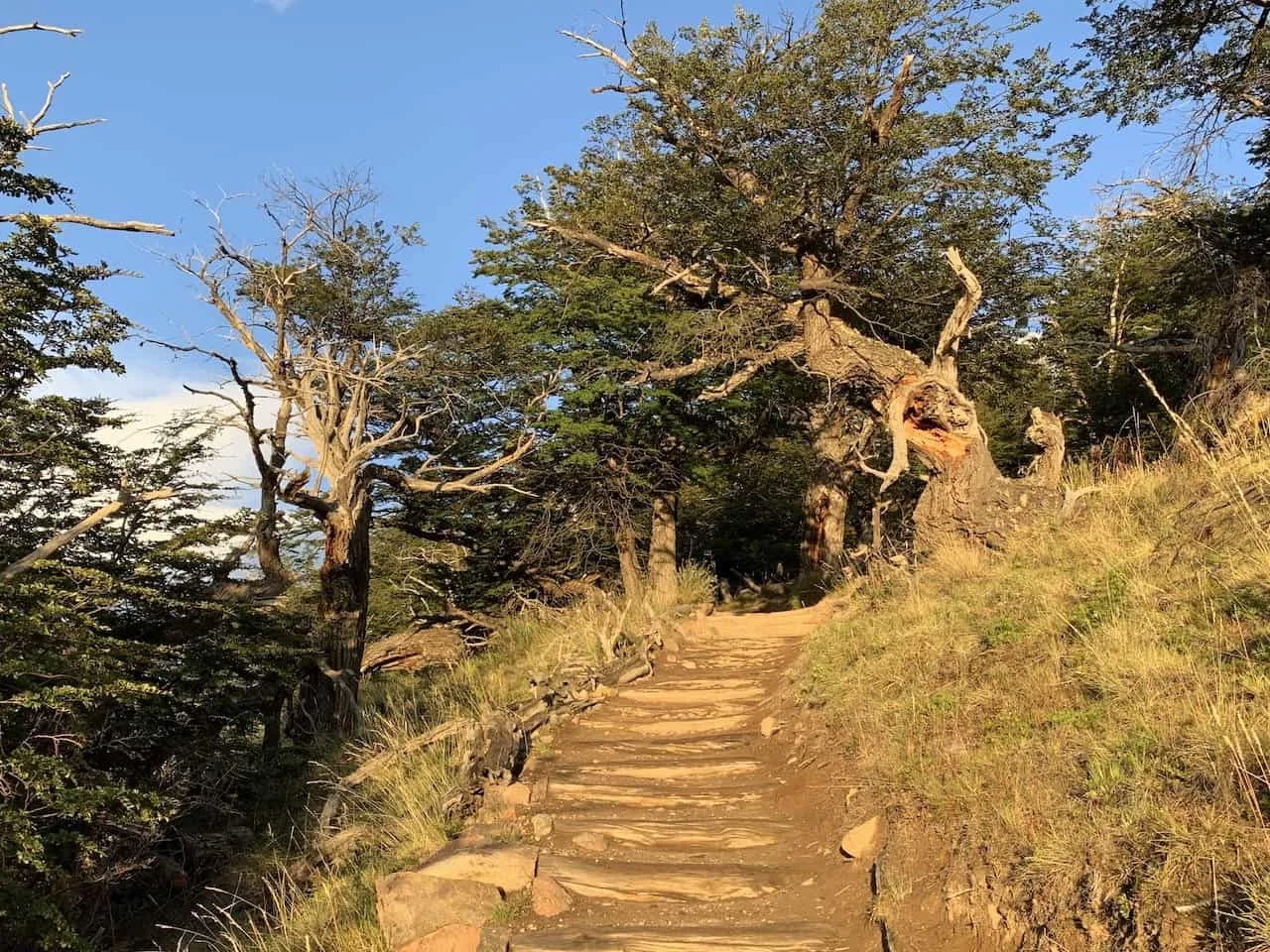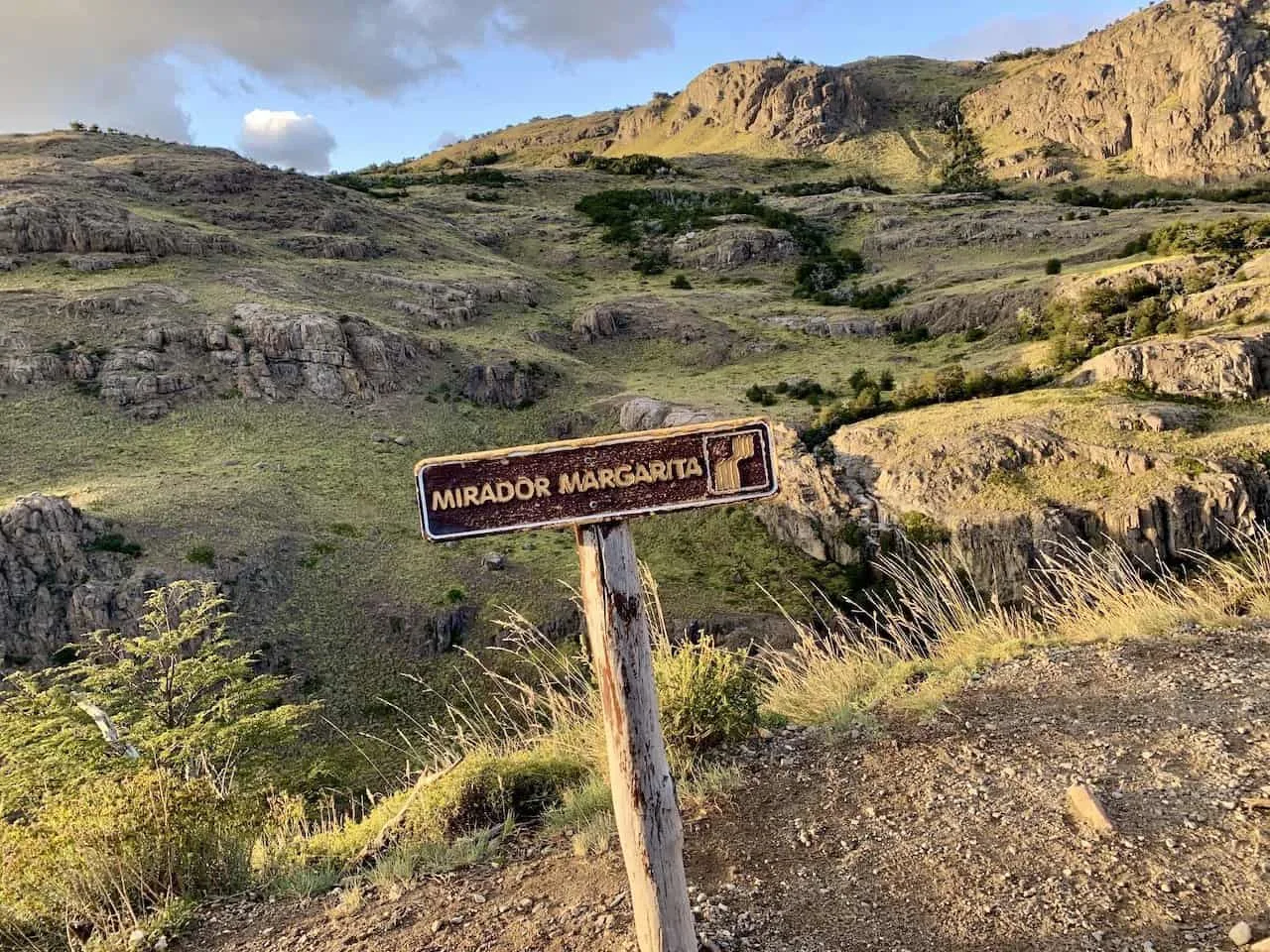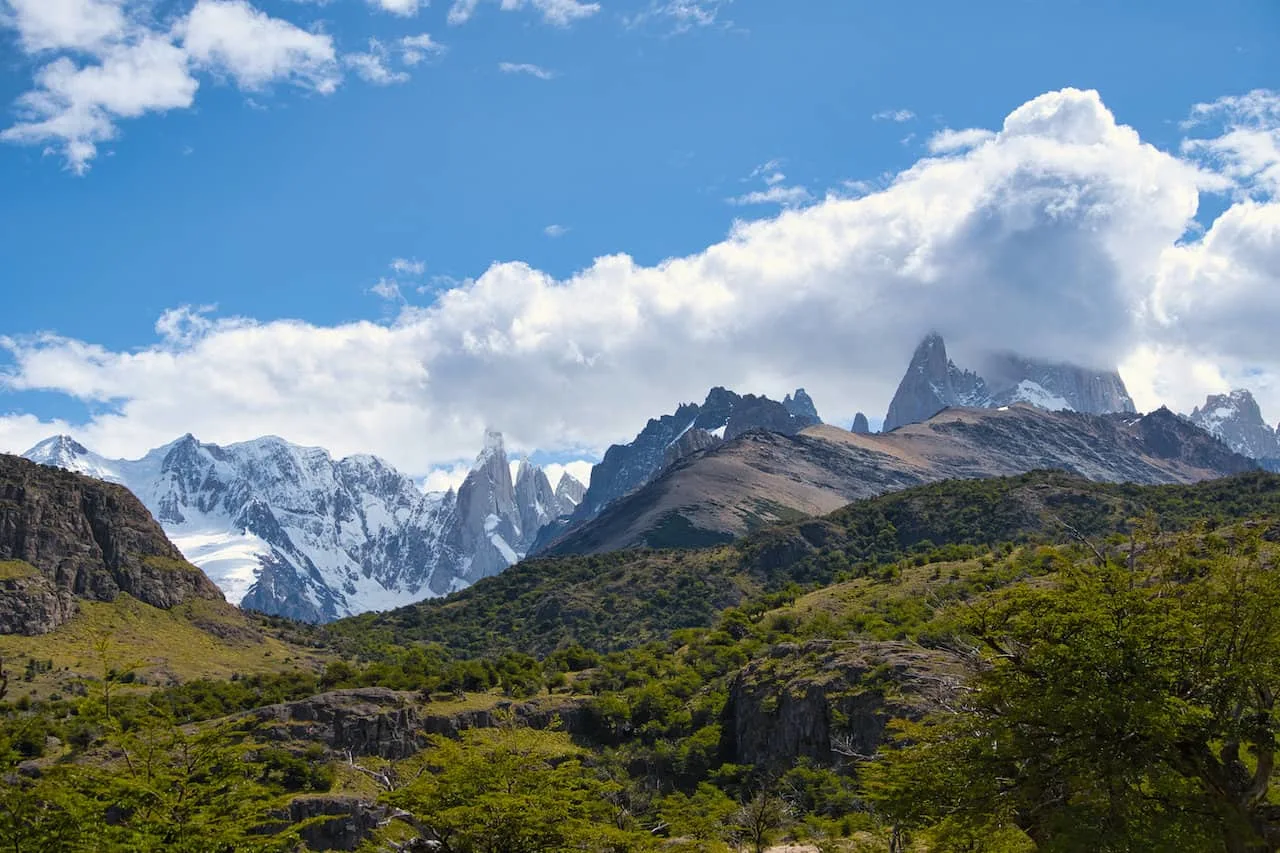 Mirador Cascada Margarita to Mirador Cerro Torre (2.1 km / 1.3 miles)
For the next mile or so, you will mostly be hiking along through a wooded area and continuing to gain some elevation along the way.
Soon after, you will exit the woods and head just off of the main pathway to the Mirador Cerro Torre viewpoint.
From here, you will get a more open view of the Cerro Torre mountain range out in front of you.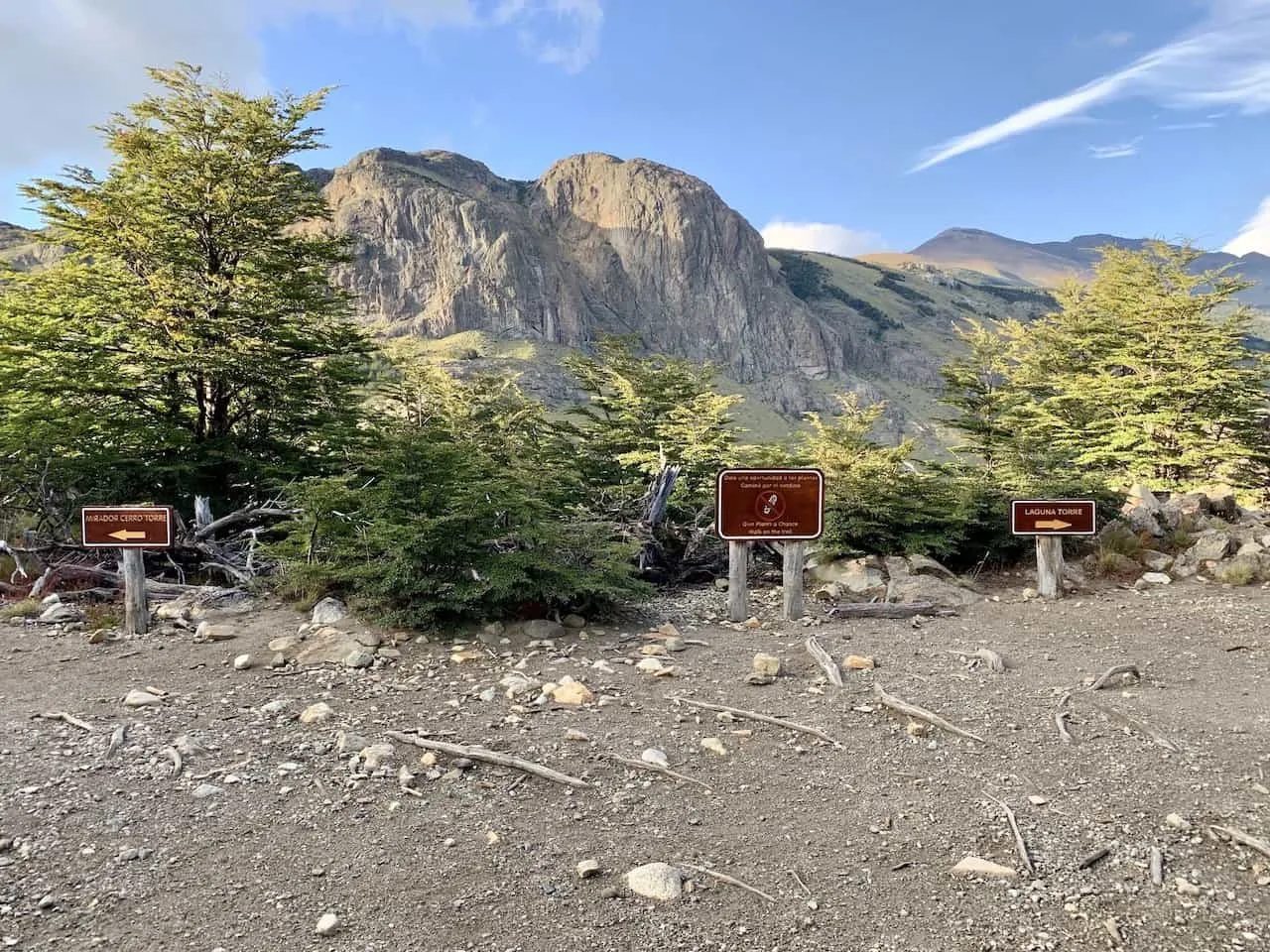 Mirador Cerro Torre to Laguna Torre (5.8 km / 3.6 miles)
From the viewpoint the trail descends down to the valley floor as you now begin to take in some grander views of Cerro Torre.
The pathway through the valley will feel relatively flat as you gain some mild elevation. Out in front of you will be a blanket of trees in the foreground with the mountain range out back. There will be several instances of walking into and out of the forest during the remainder of the hike.
Take your time to walk the path, enjoy the views, and be sure to watch your step on the rocky terrain.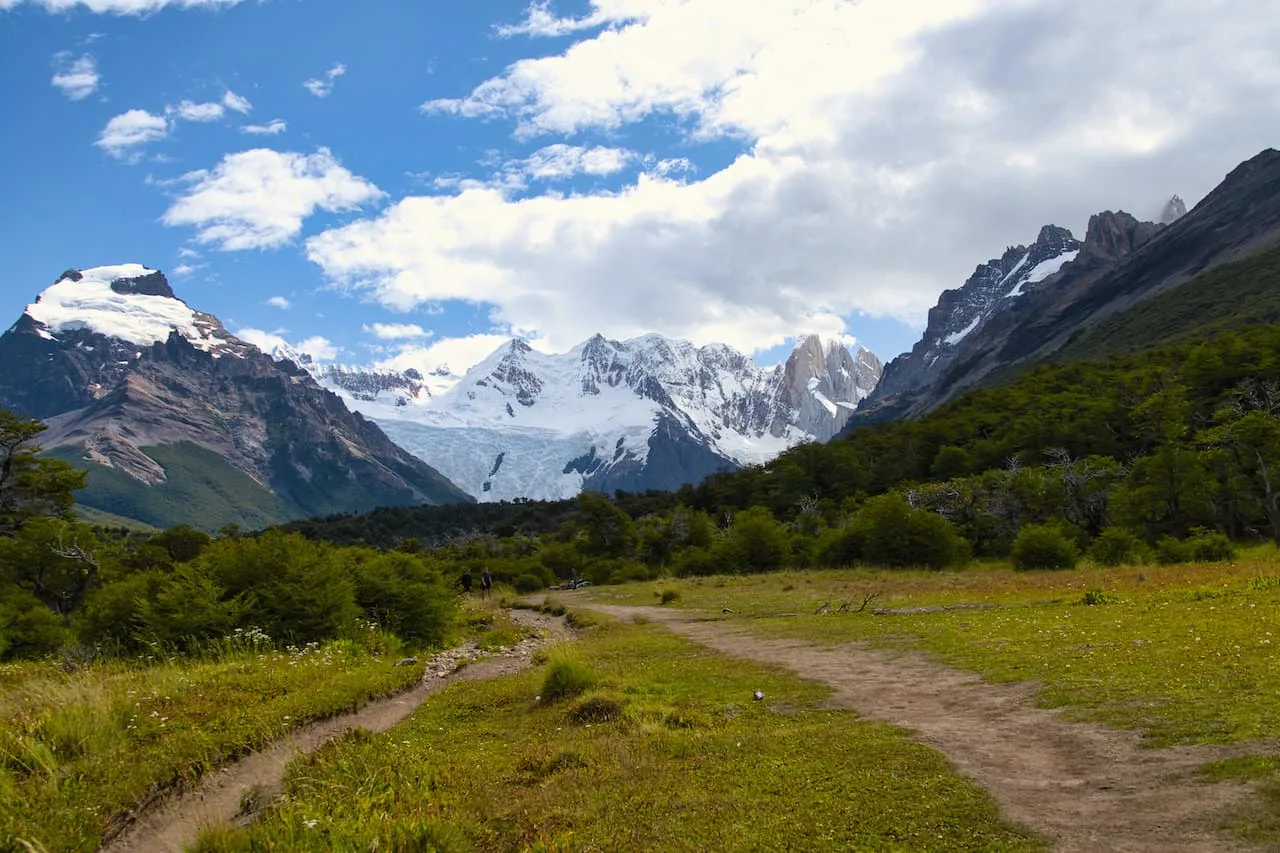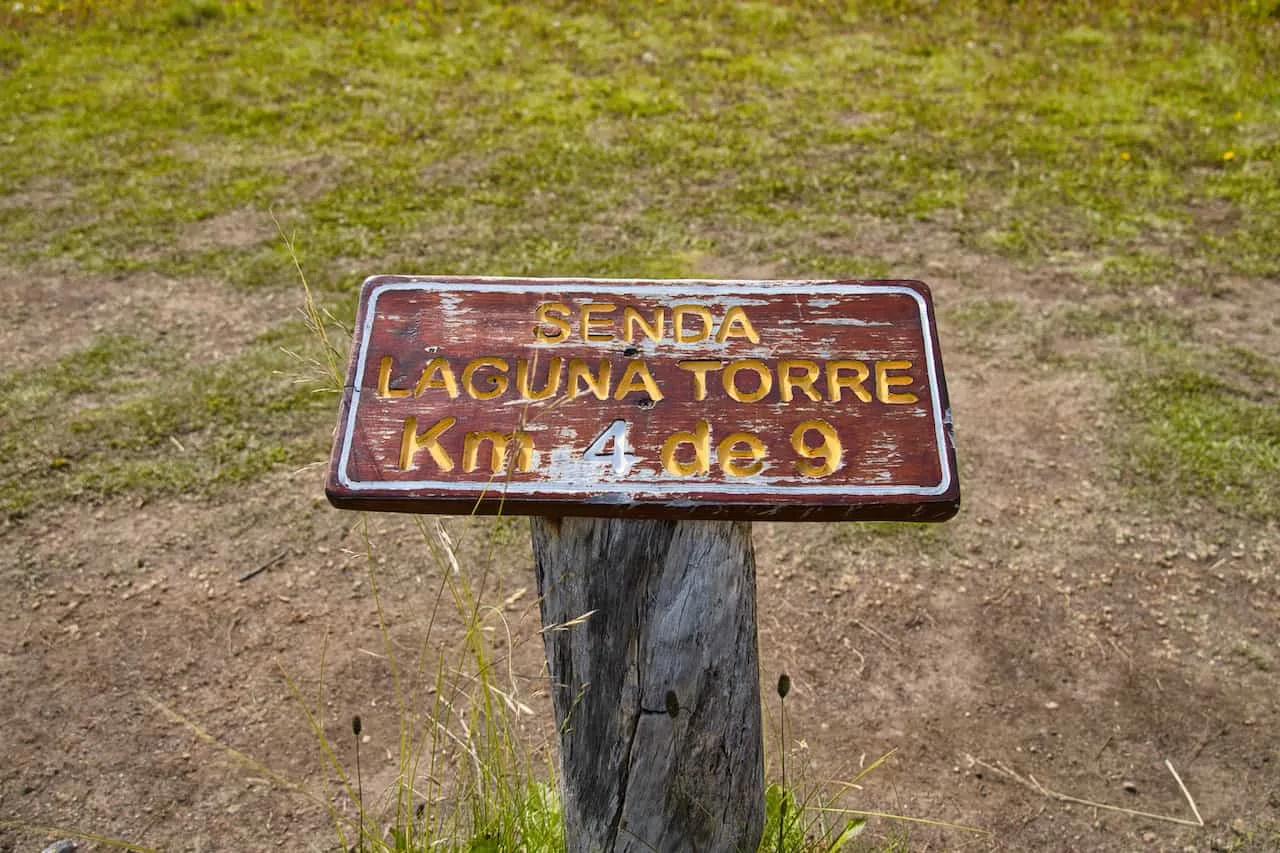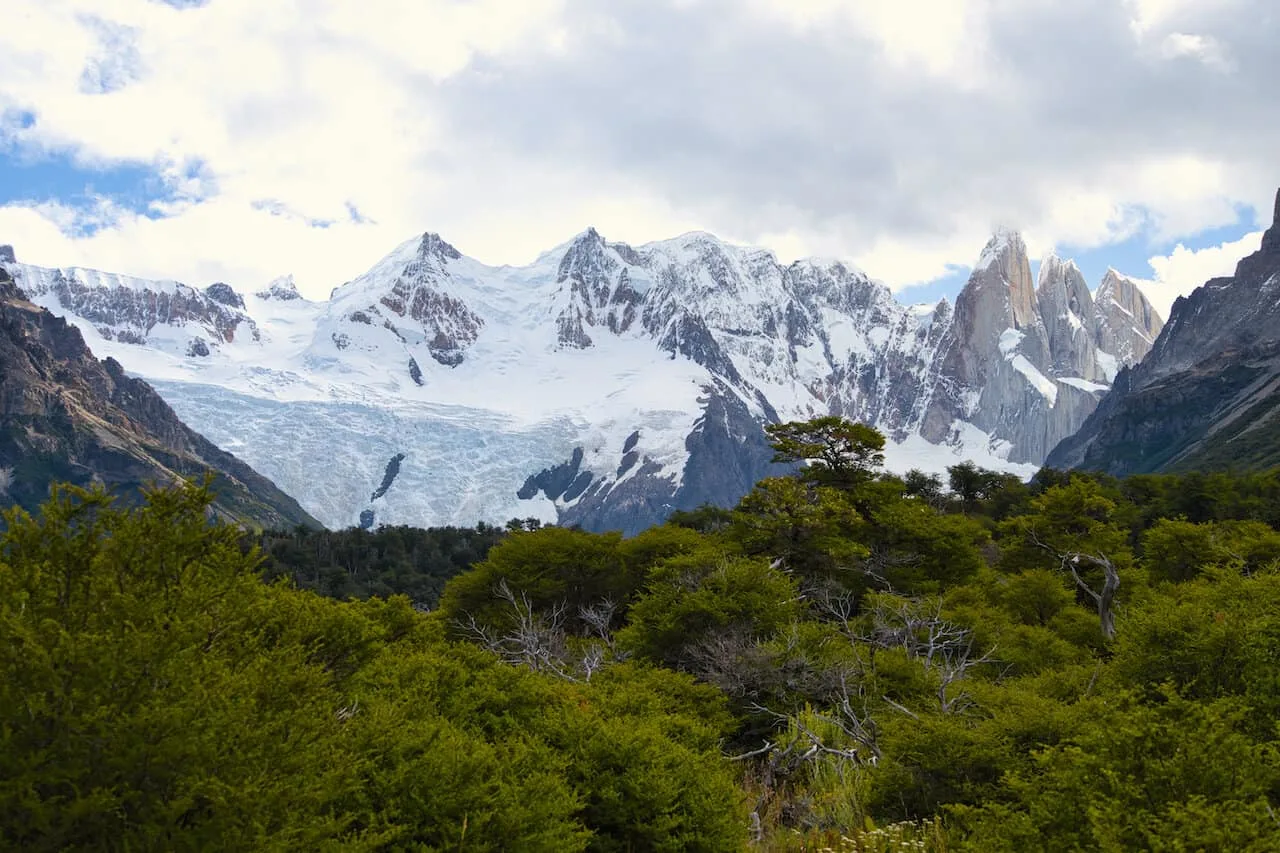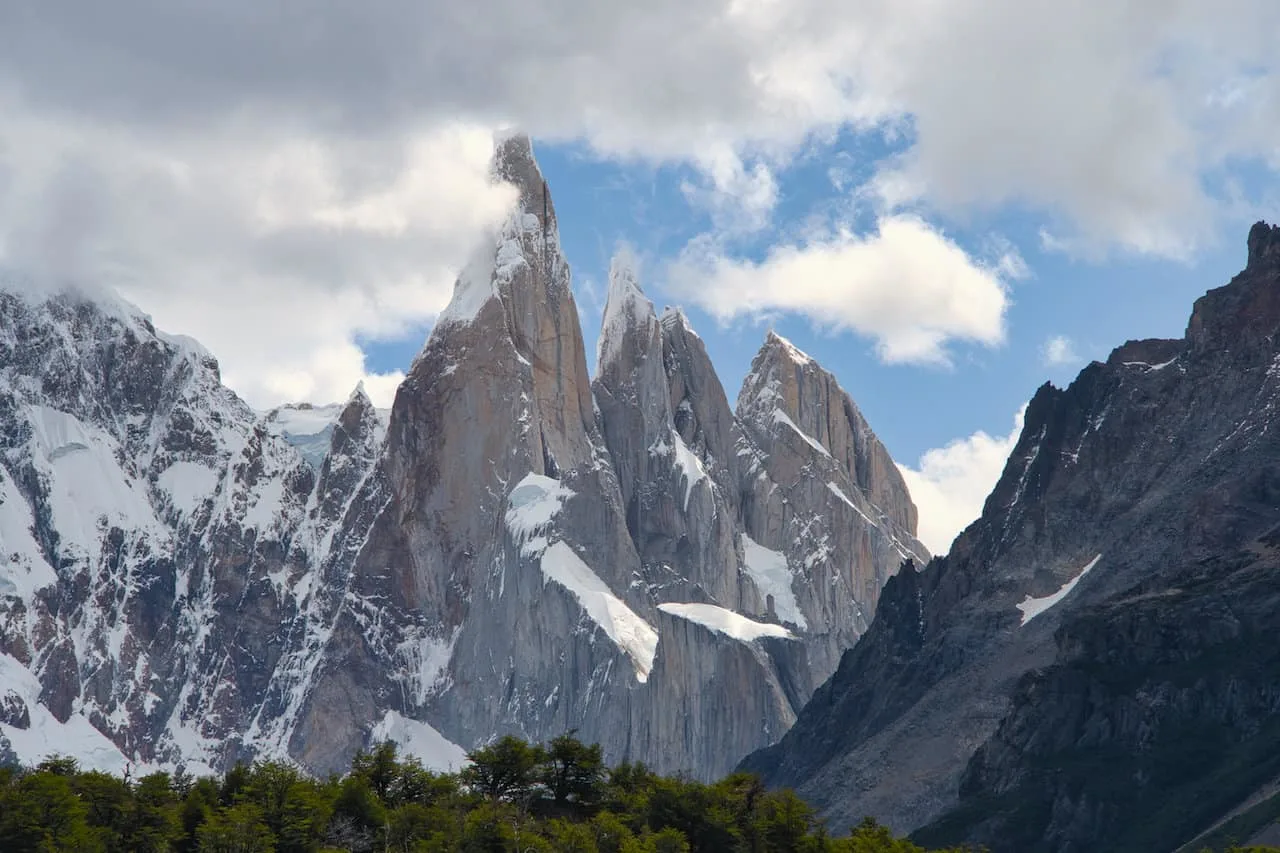 During this portion of trail you will also come across a couple intersections. One of these paths take you to the Laguna de Los Tres section of Los Glaciares National Park, while another intersection will take you to the De Agostoni campsite.
Be sure to just follow the path to Laguna Torre and you should be good to go.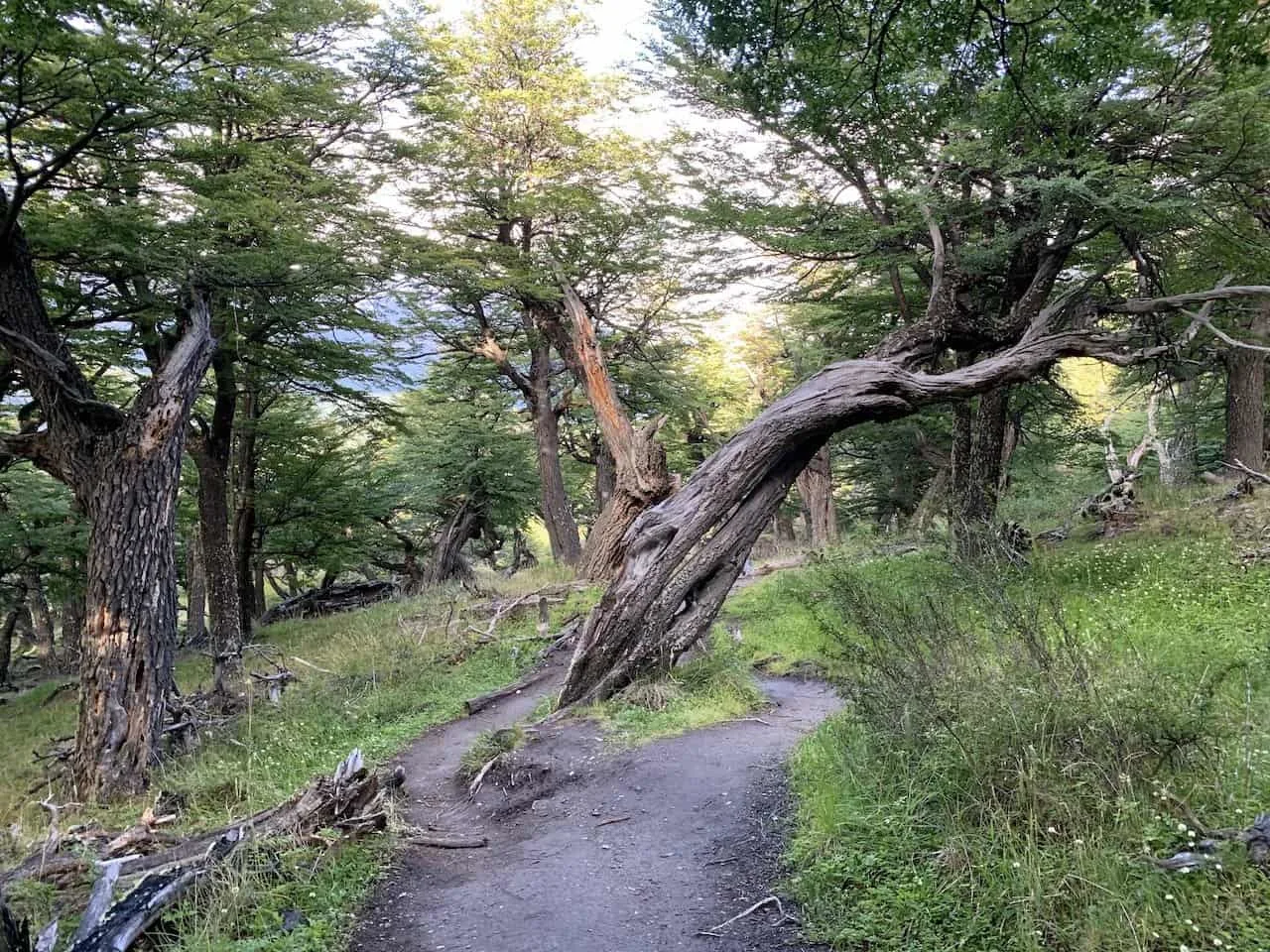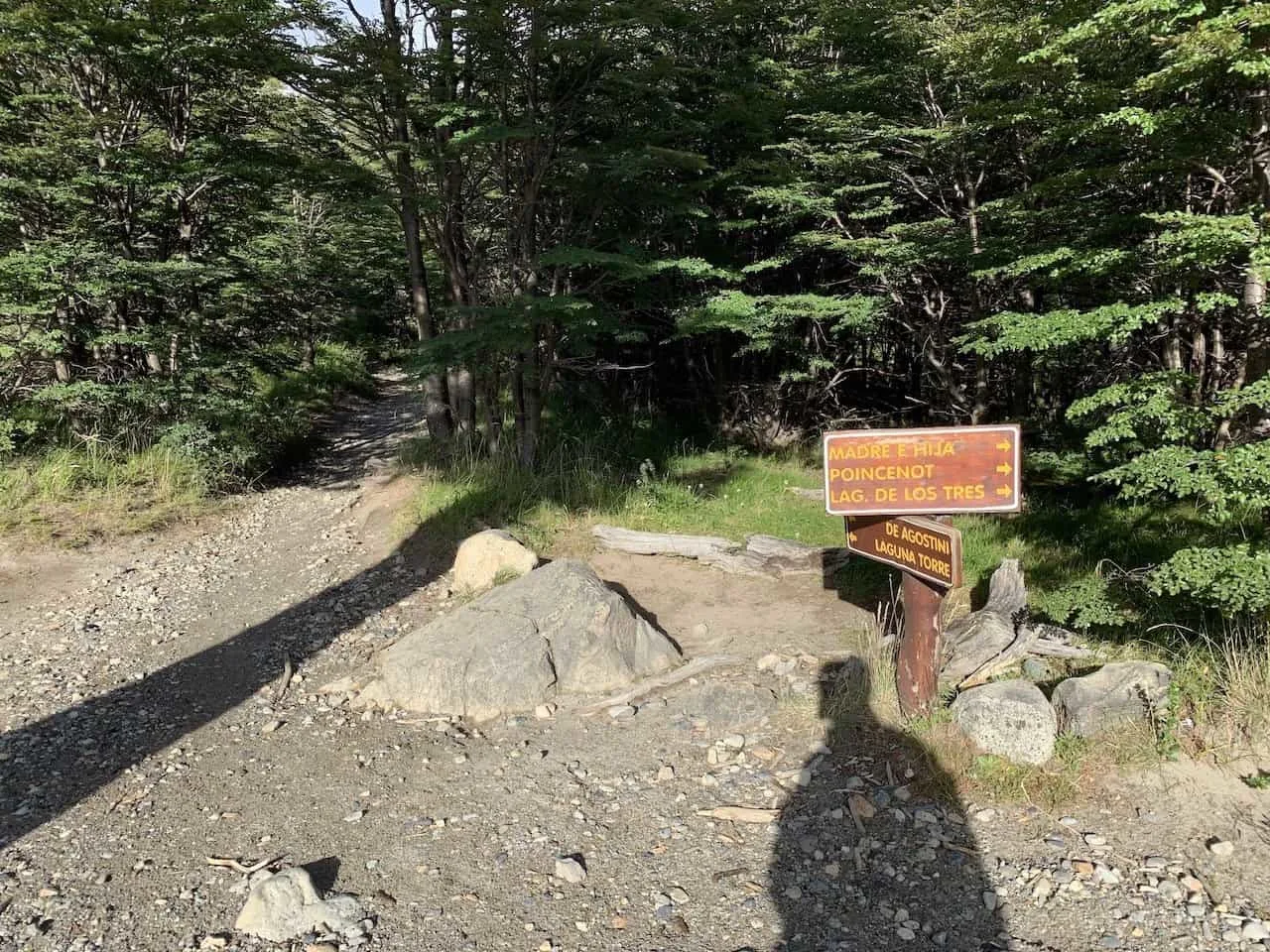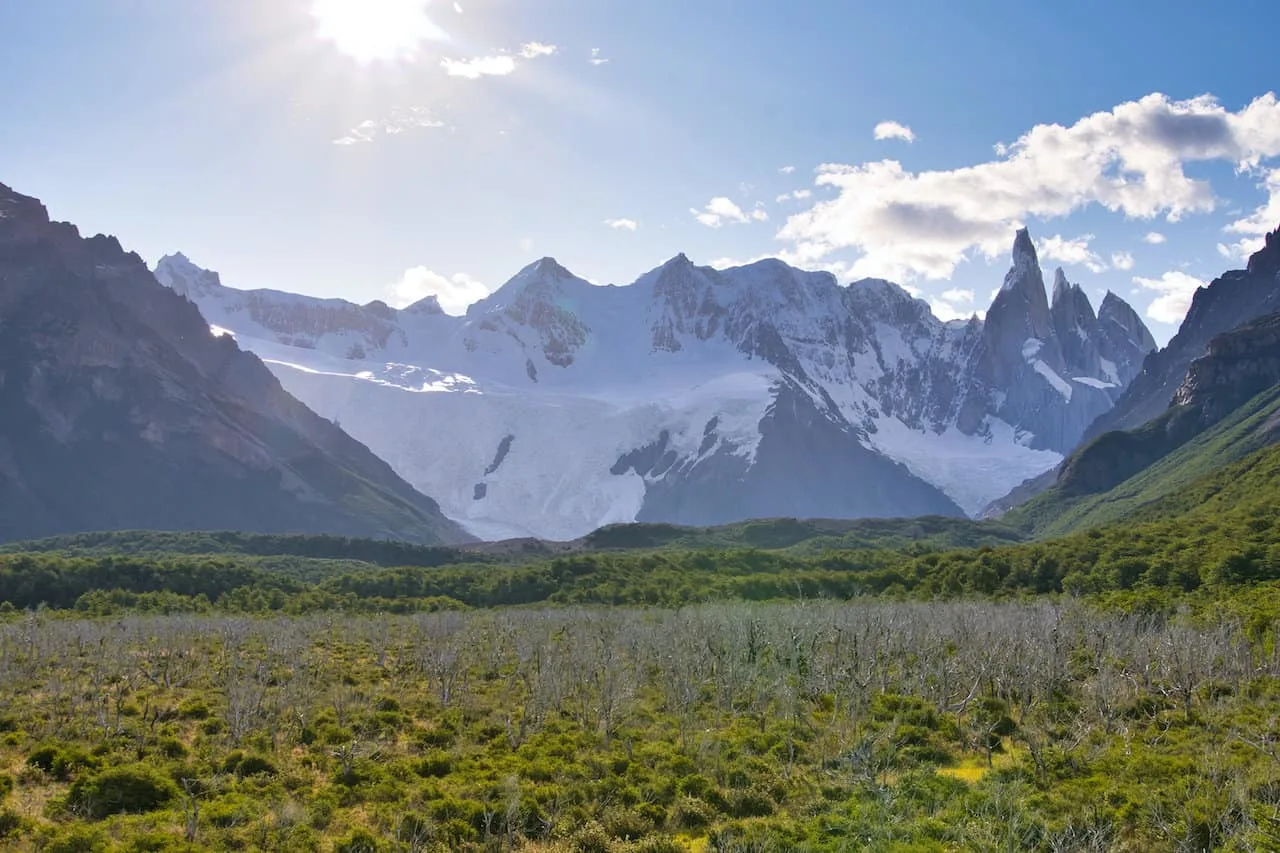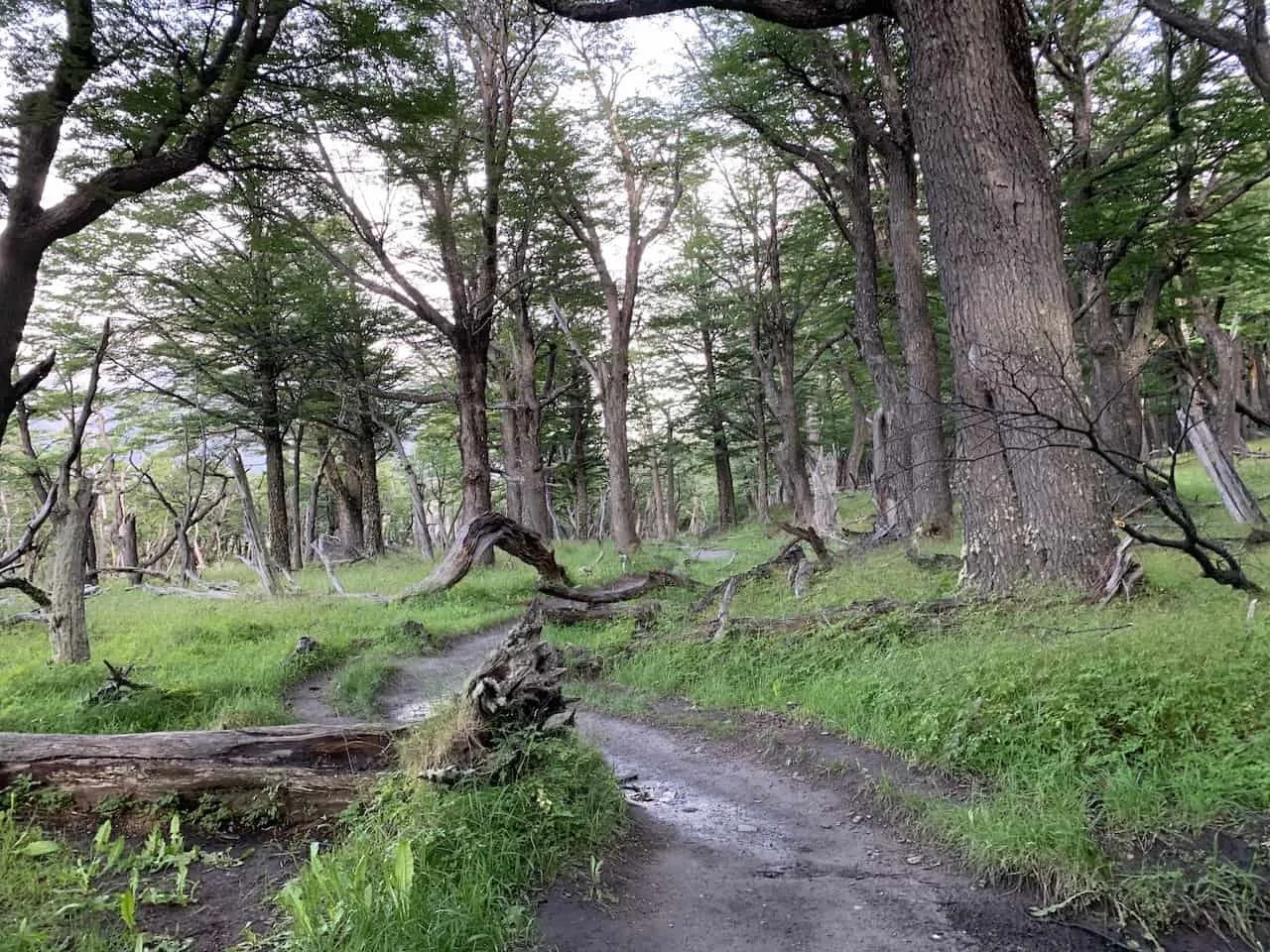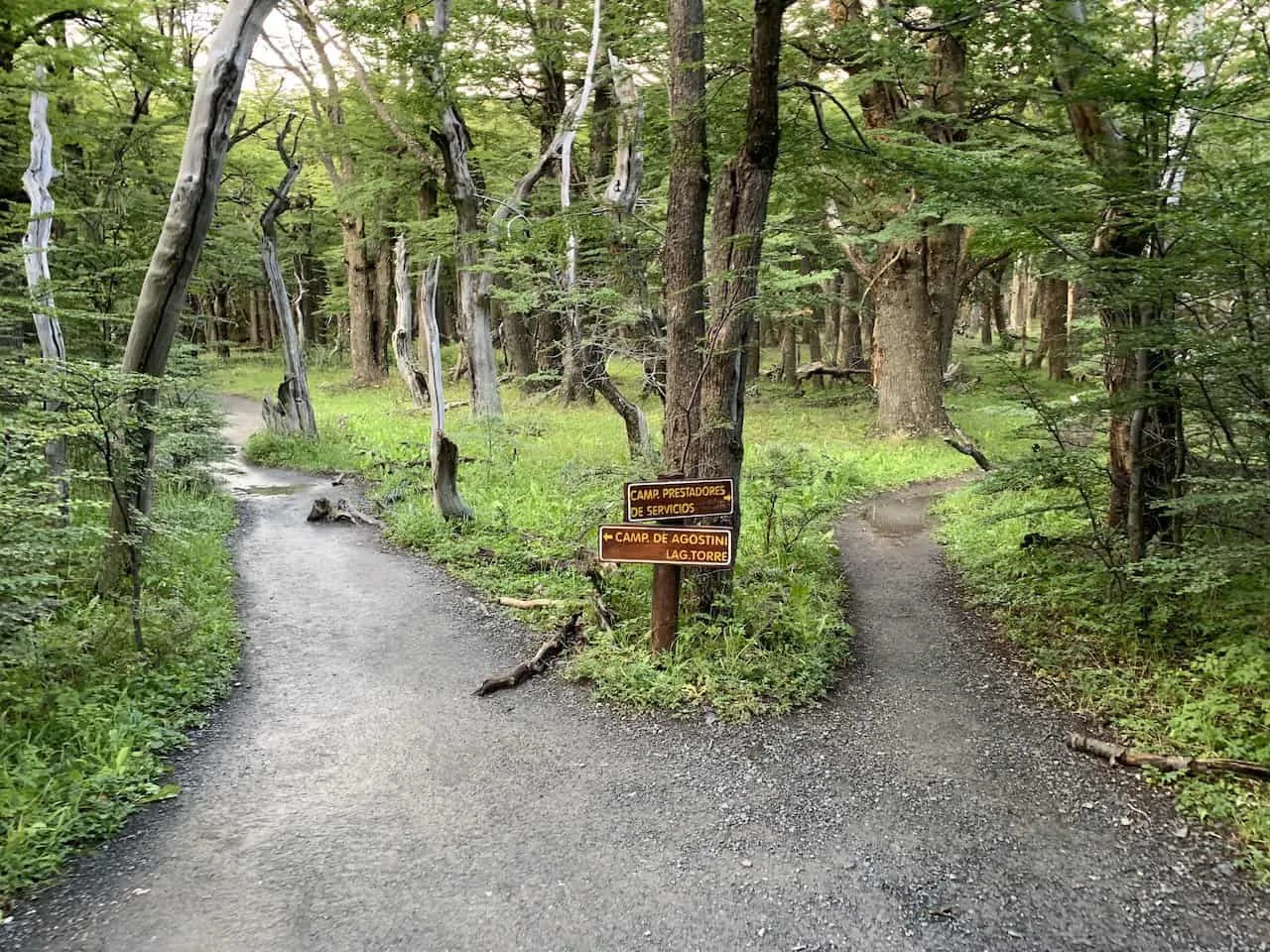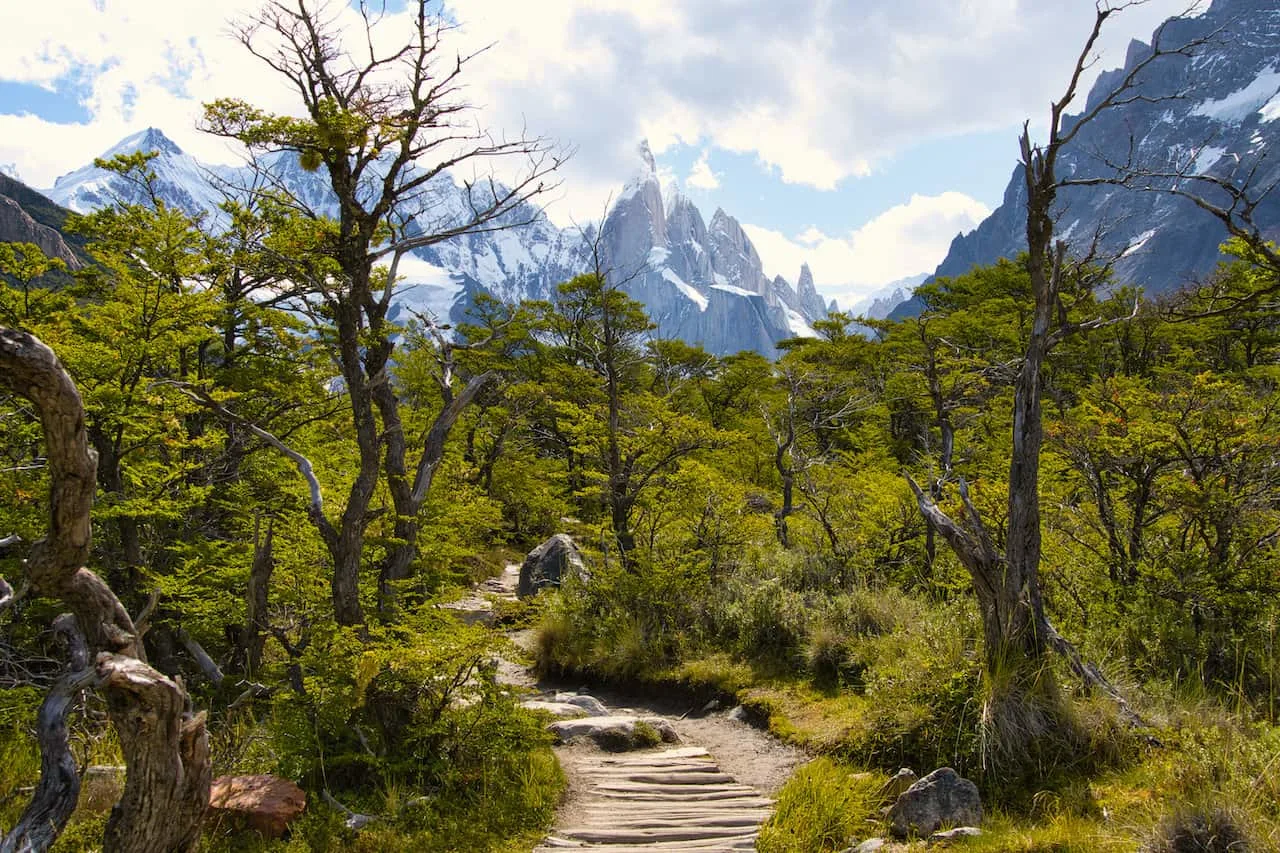 During the main forest portion and just after it, you will be welcomed to the Rio Fitz Roy river. Here you can fill up your water bottle, take in the views, and get ready for the final push.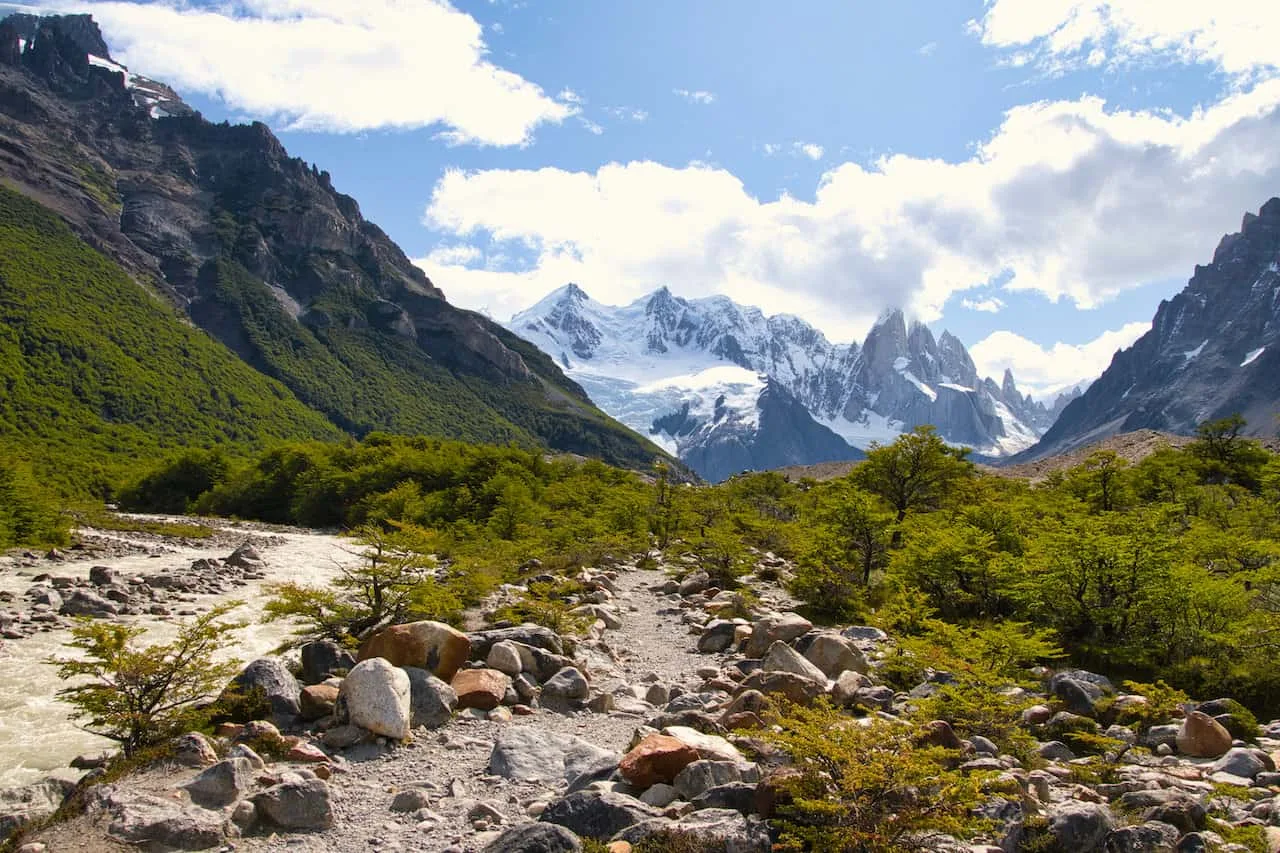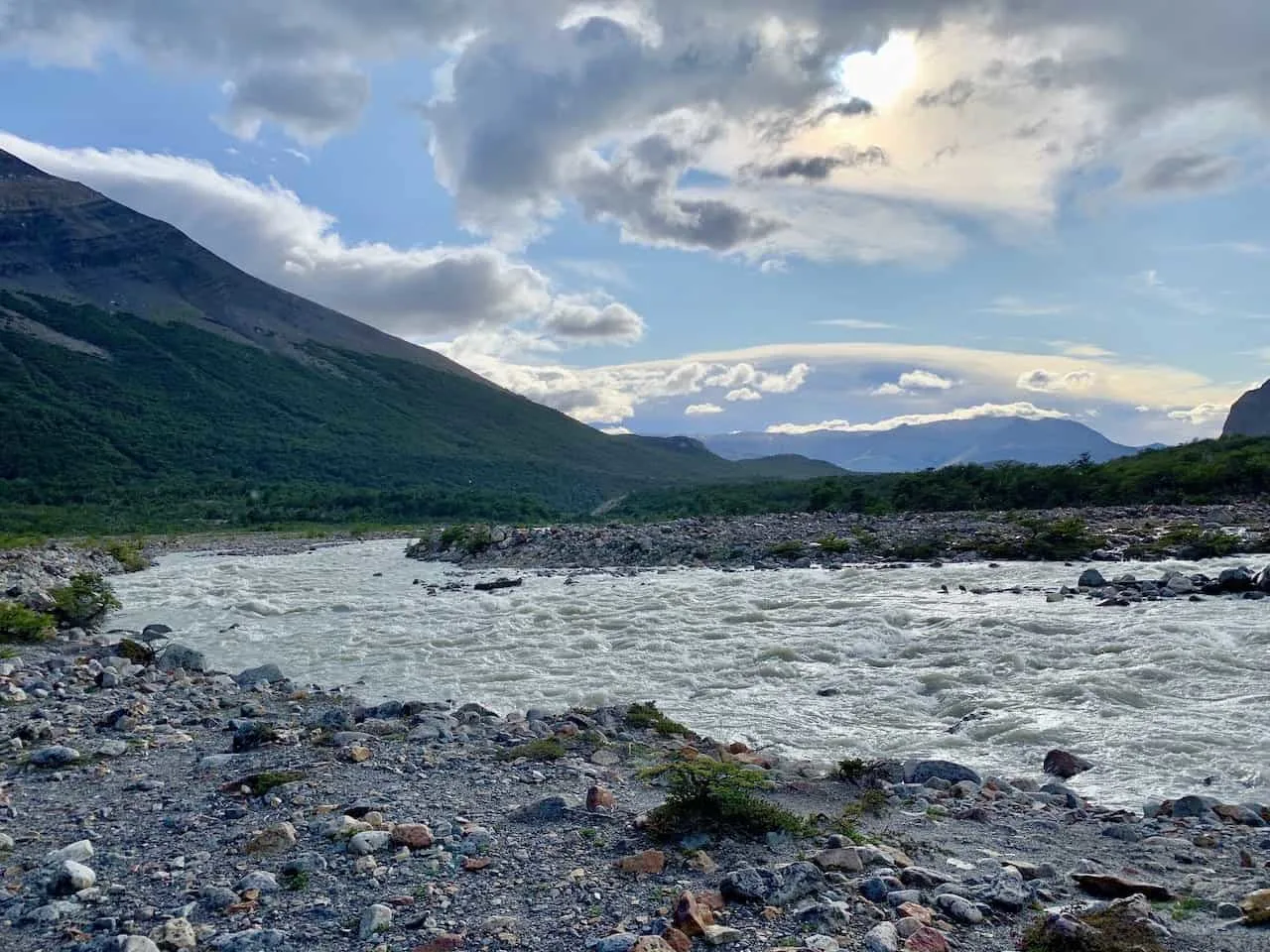 After exiting the last portion of trees, you will see Cerro Torre standing tall out back, with a maze full of rocky terrain in front of you.
Continue to follow the signs to Laguna Torre, watch your step, and make the final push to the lake itself. After getting over the rocks, the lake will finally come into view.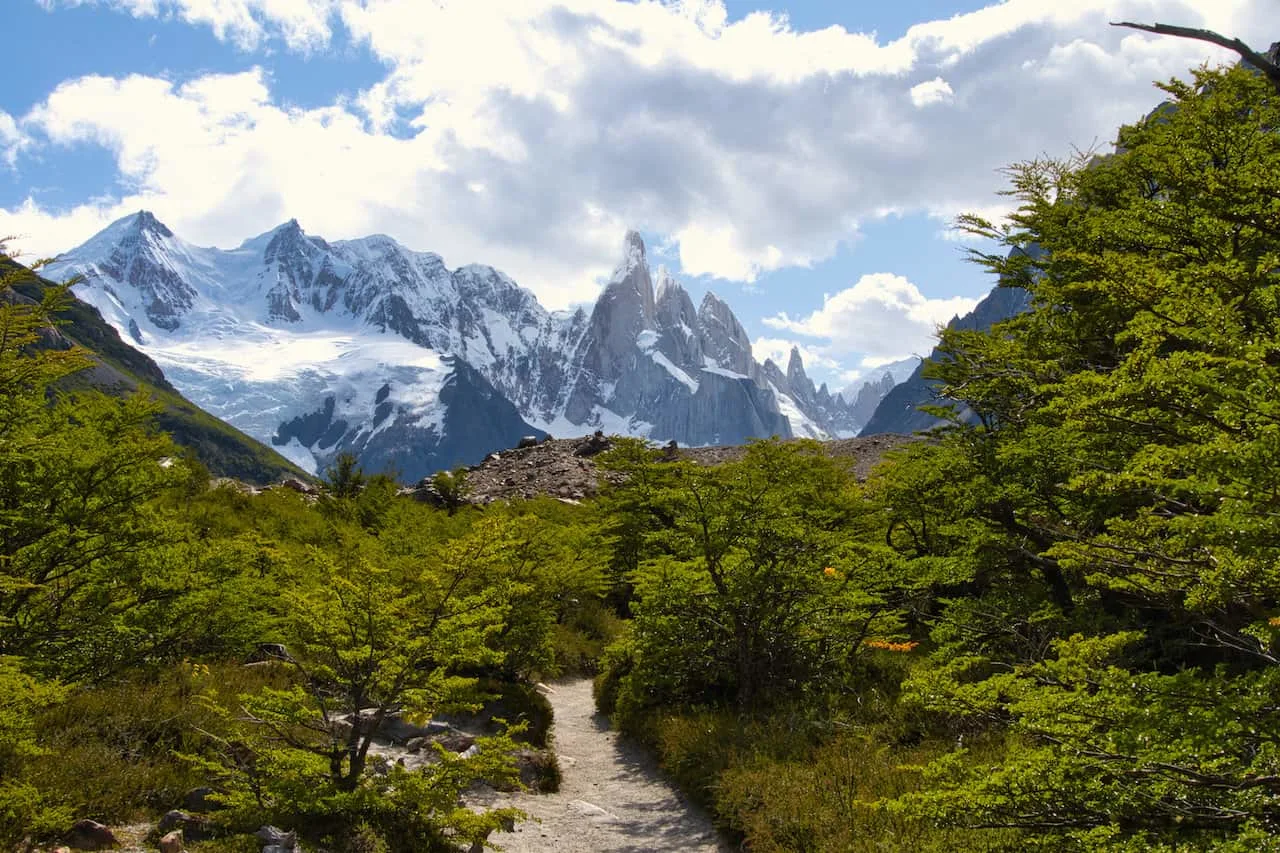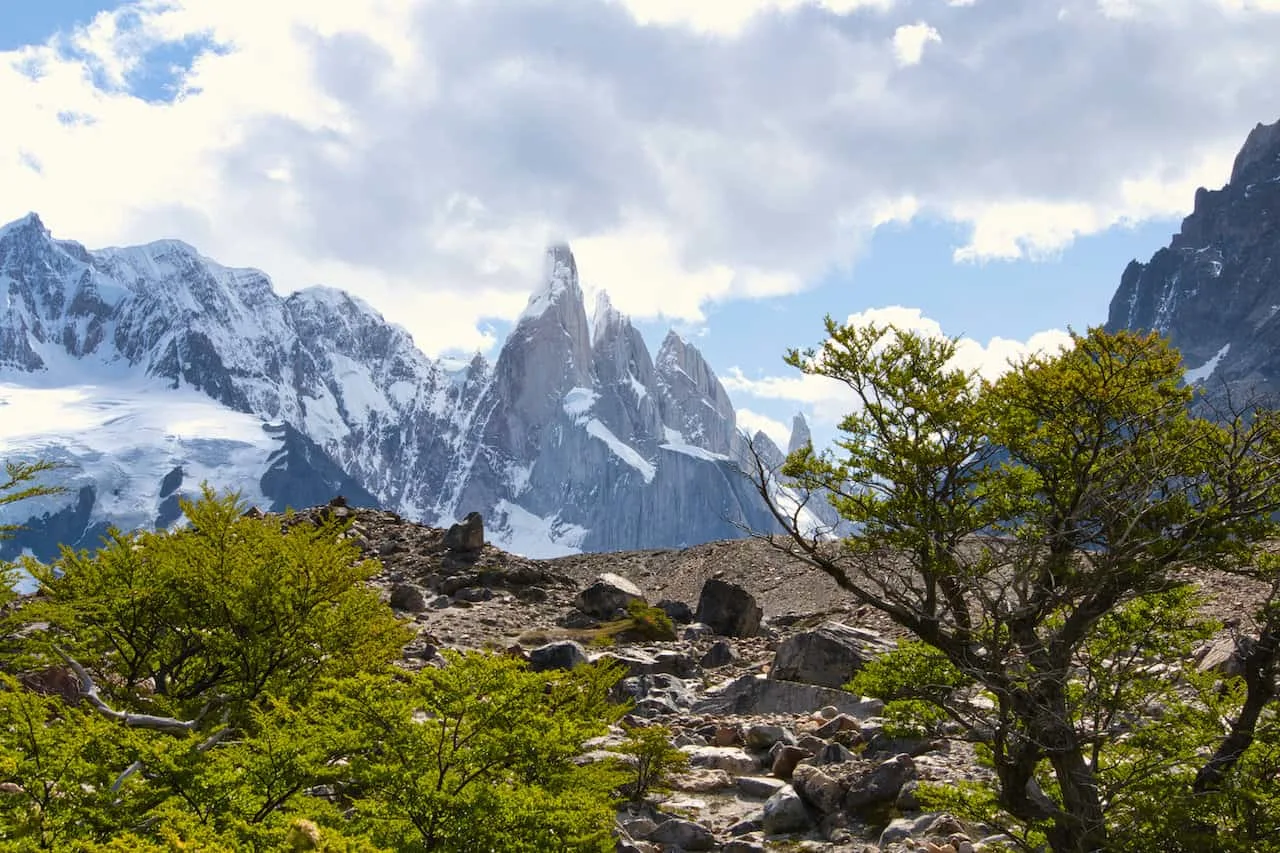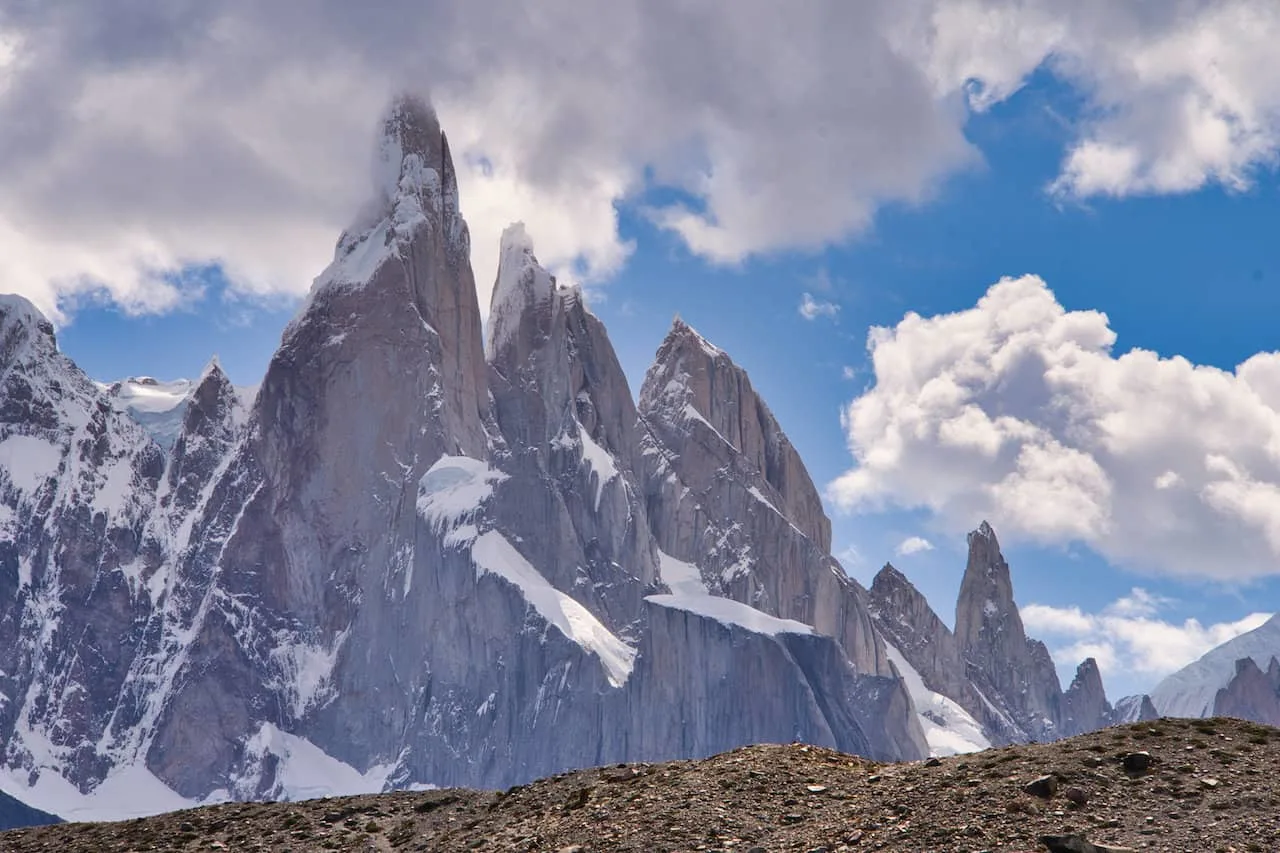 Once at the lake you can enjoy several viewpoints all along the lakeside with the mountains, glaciers, and icebergs all in view.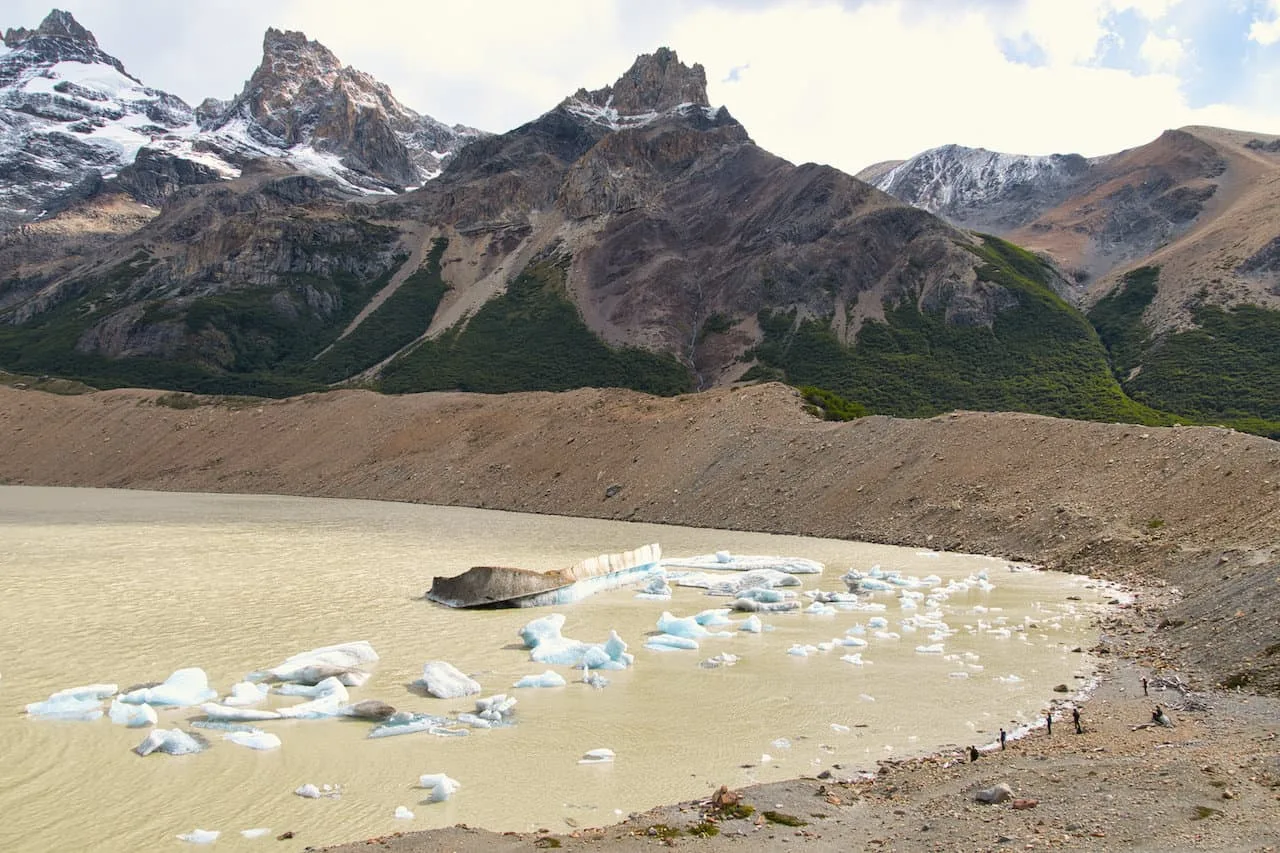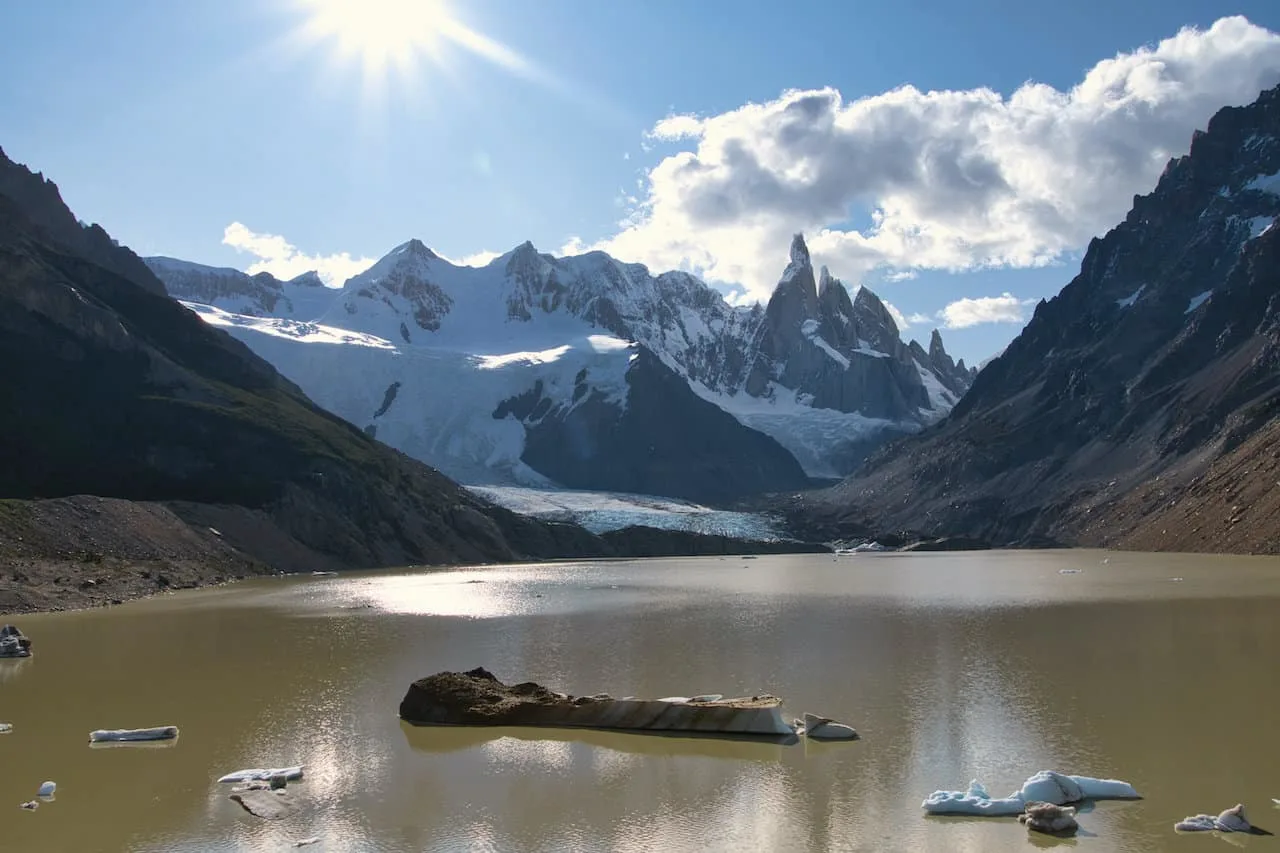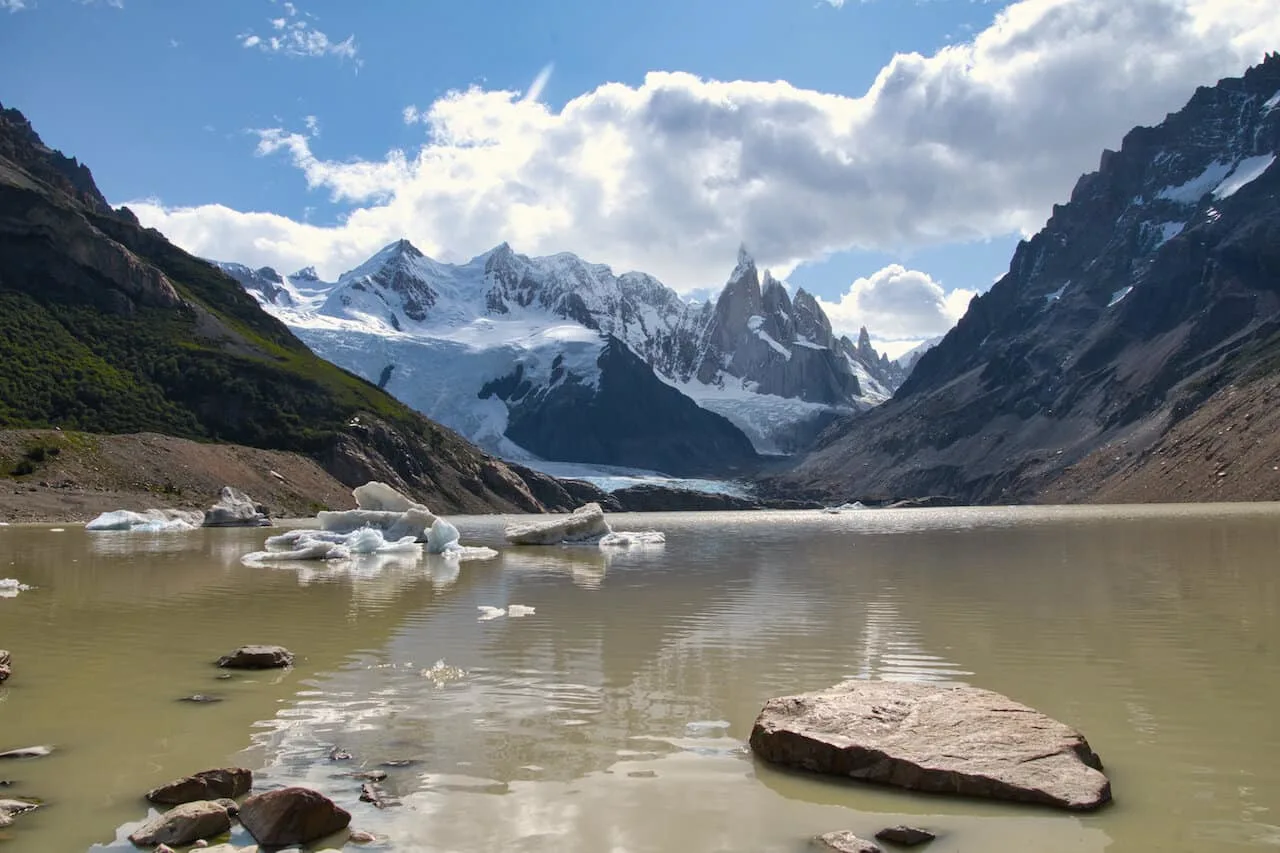 Laguna Torre Mirador Maestri (4.2 km / +2.6 miles)
While the hike to the lakeside is surely going to be well worth the effort, why not get even more views. To the right of the lake, you will see a pathway etched into the rocks that takes you up the moraine wall.
Once elevated over the lake, the trail continues for a bit longer until it reaches the Mirador Maestri viewpoint area.
From here you will get vaster views of the Torre Glacier in addition to new vantage points of Cerro Torre and Laguna Torre.
In addition to the final viewpoint, I found some great photo op spots to enjoy on the way up (one of which is the cover photo of this site's homepage!).
The round trip hike from the lakeside will be just around +4.2 km / +2.6 miles, and does include some elevation gain.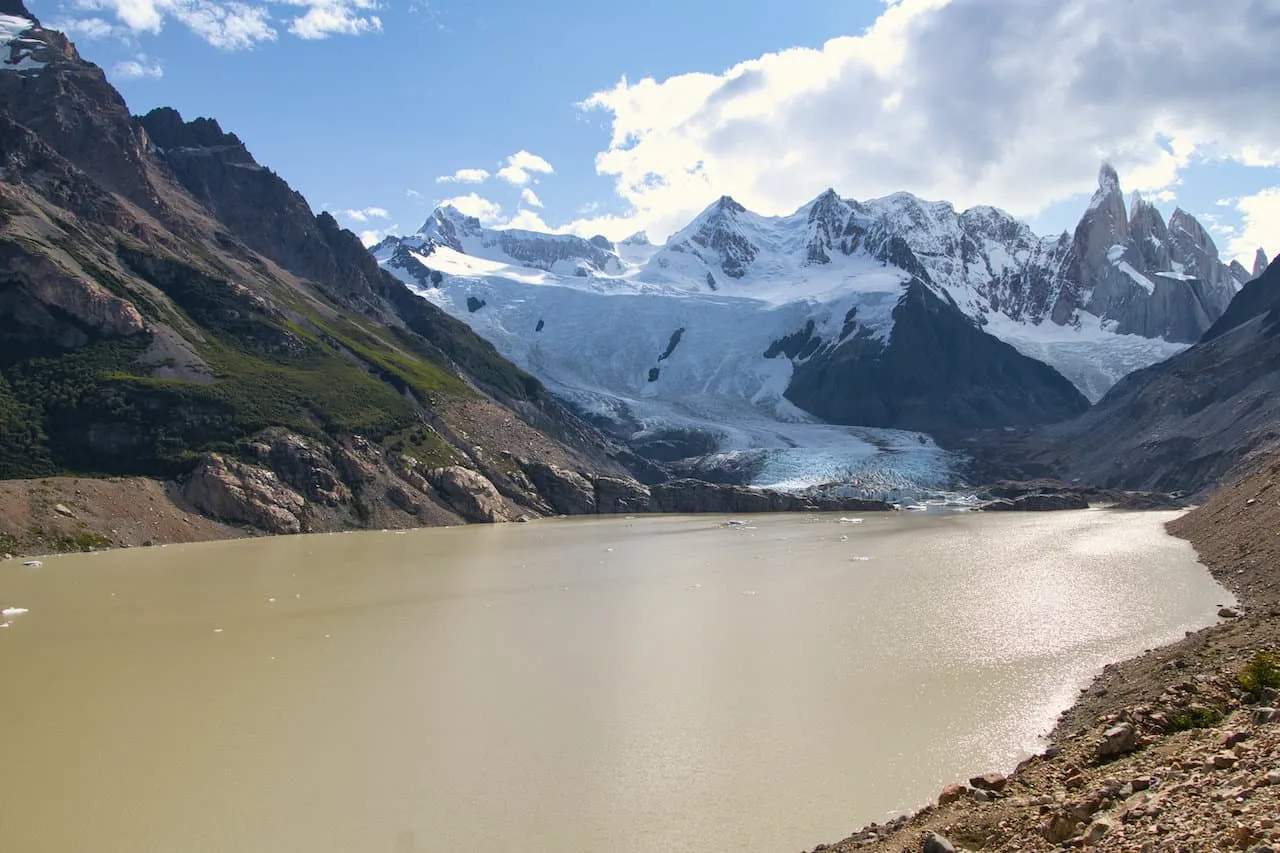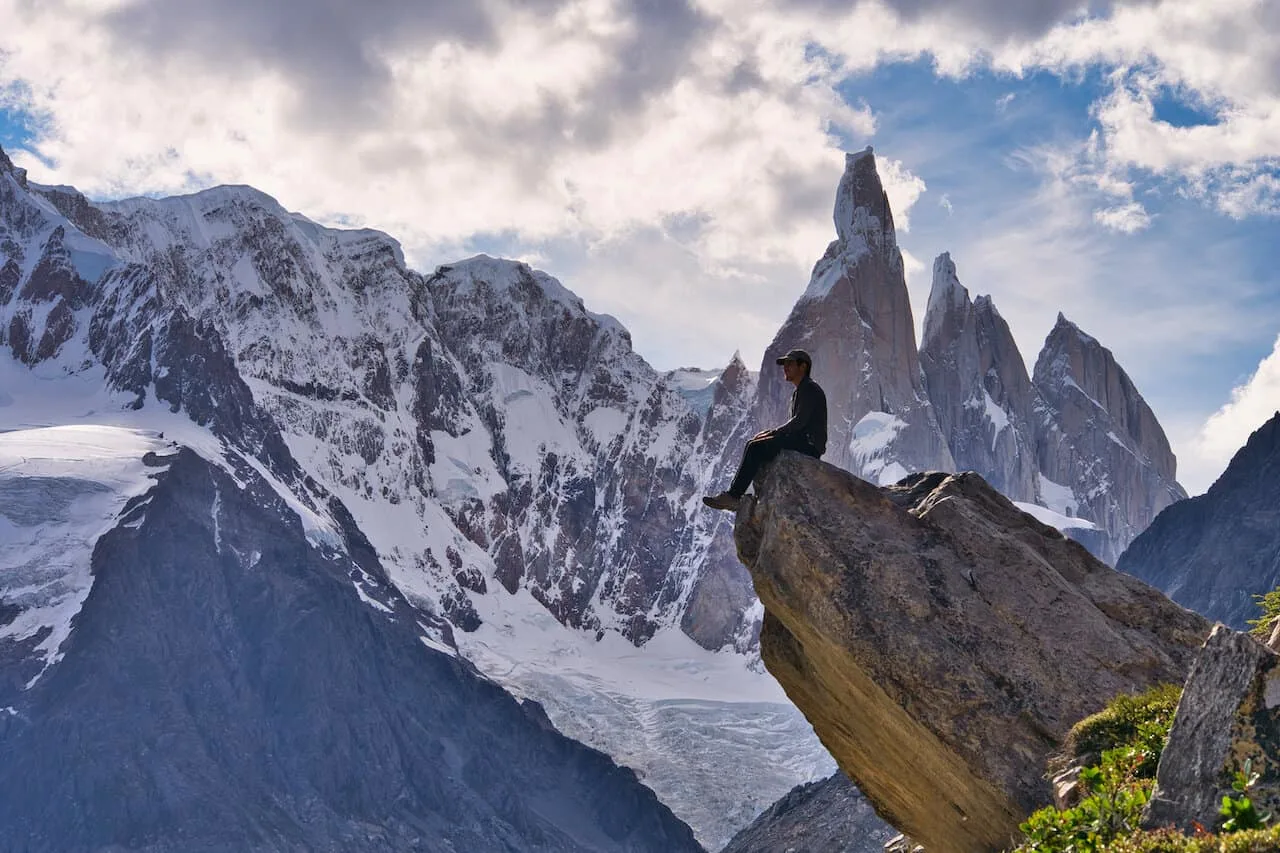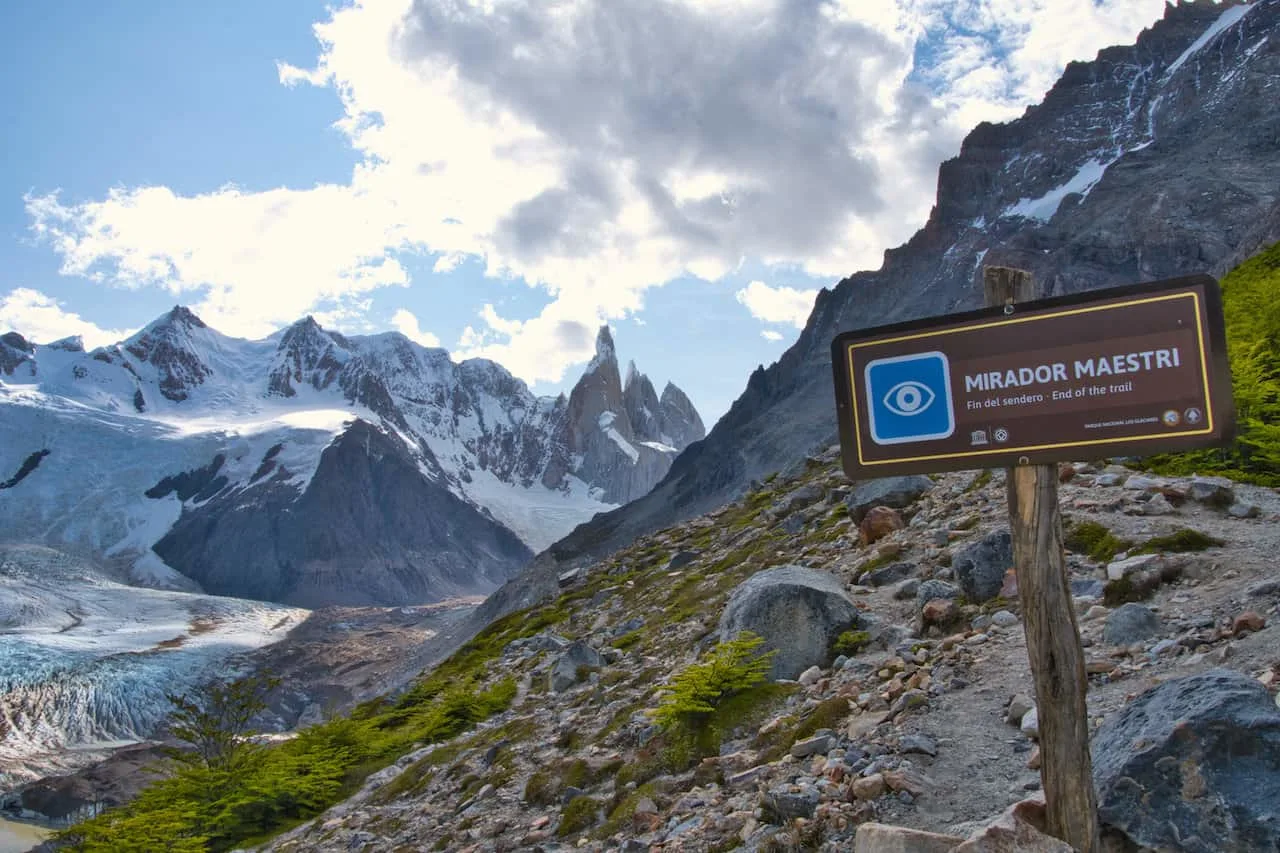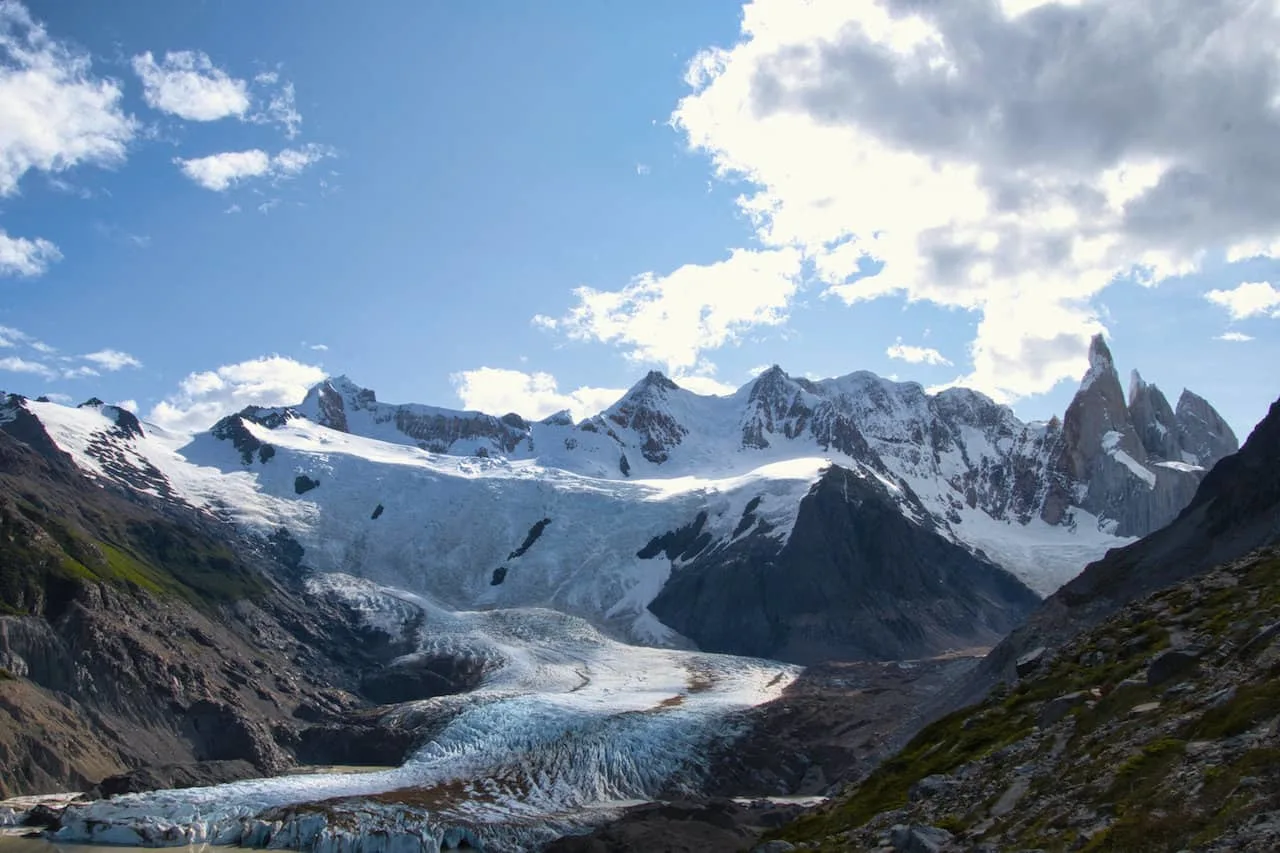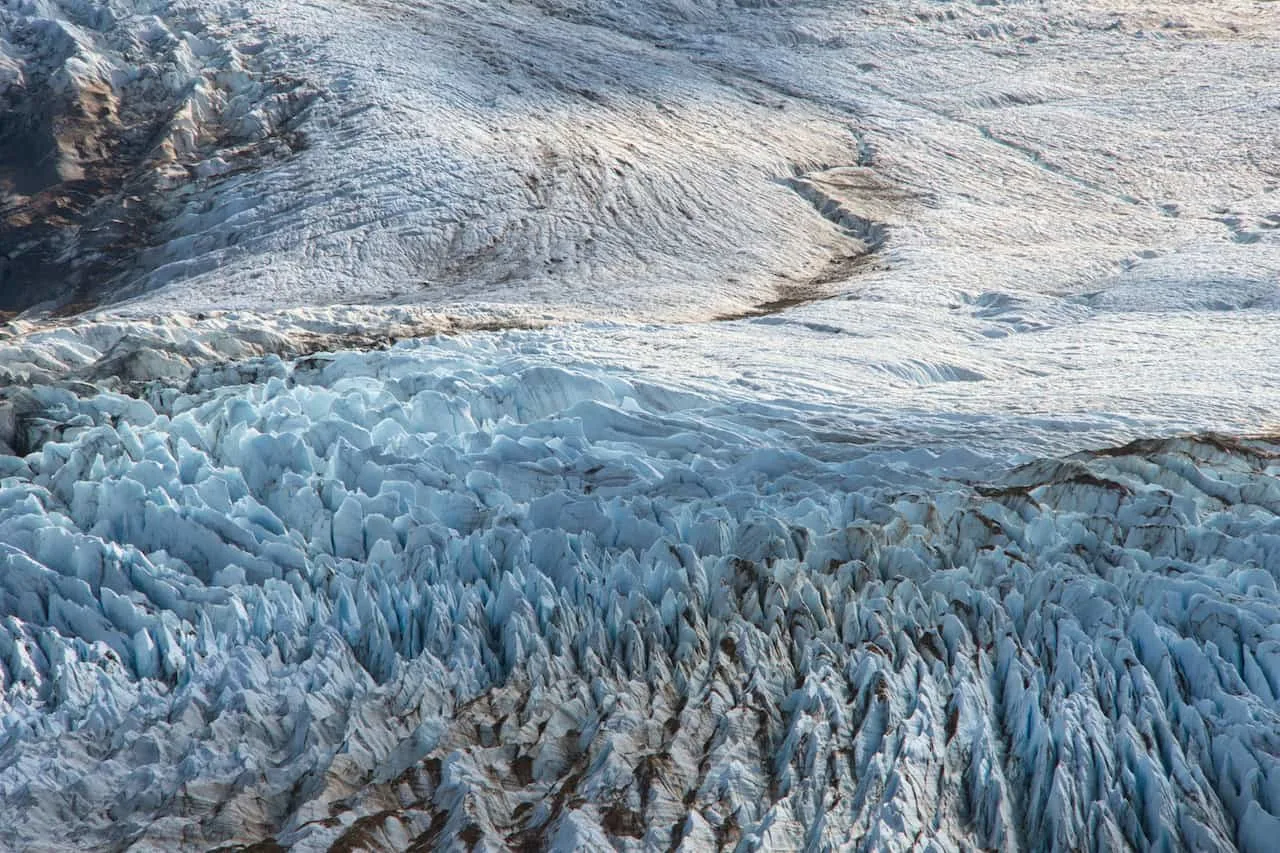 Once all finished up by the viewpoint, you can then head back to the bottom of the lake, and then relax for a bit longer. It is then all the way back to the starting point in El Chalten, where you can have a nice rest at day's end.
In addition to the hike itself, below is a list of helpful information regarding El Chalten and general hiking tips for the area.
6) Getting to El Chalten
El Chalten is a small town within the Los Glaciares National Park of Patagonian Argentina.
Surrounding the town, you will find some of the most beautiful peaks, lakes & views in Patagonia. Since El Chalten was essentially built to cater to the surrounding landscape, you will be able to walk right from town to the various trailheads (including this hike).
There are two main ways to get yourself to El Chalten – either by bus or by rental car.
Bus
Since El Chalten does not have an airport, you most likely will be coming in by bus from El Calafate (home to the closest airport). You can reach El Calafate by plane from major cities like Buenos Aires. The bus ride from El Calafate is relatively quick, taking around 3 hours between the two towns.
There are multiple busses a day, serviced by several companies. Feel free to look through Busbud to see options across many of the companies.
Some of these busses stop at both the bus terminal and the airport. You can take a look on the site for the latest schedules and fares for your journey,
A one way ticket will cost somewhere around $20-$25 USD.
Rental Car
Renting a car in Patagonia is also a great option for those that want more flexibility. You can make more of a road trip out of it, visiting several places all along the way.
Depending on where you plan on going, some of the drives may be quite long. However, you will be surrounded by some stunning natural landscapes all around, making the drive a highlight within itself.
Feel free to take a look at Rentalcars.com that has options across several different car rental companies.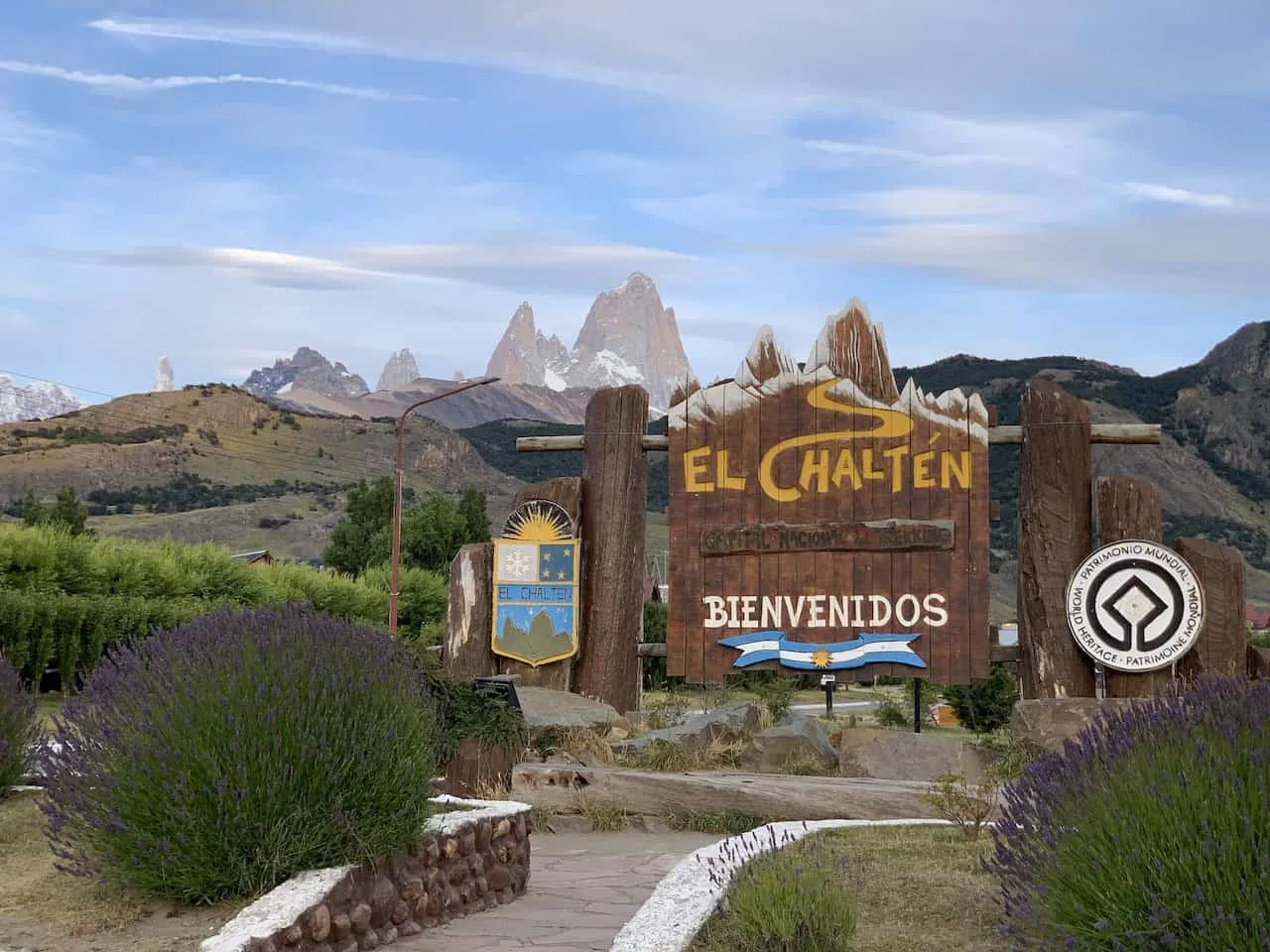 7) Where to Stay in El Chalten
El Chalten is home to many different hotels and lodges for visitors. Essentially, everything will be within walking distance from one another. Hotels, restaurants, shops, supermarkets, and the trailheads, are all located within the same general vicinity.
These hotels will sell out during peak season, so be sure to book your accommodation as soon as you know your dates.
Below are some of my top recommendations based on budget for your trip to El Chalten:
→ Mid Tier | Hosteria Senderos | Senderos Aparts & Suites
→ Luxury | Chalten Suites Hotel | Los Cerros del Chaltén Boutique Hotel
→ Budget | Hosteria y Cabañas Koonek | Rancho Grande
Note: El Chalten receives its WiFi connection via a radio connection from El Calafate. This means that you should not expect strong WiFi for most of your visit. Phone signals did not work as well, so be prepared to have limited access to Internet during your time there.
» If staying in El Chalten for a longer period of time, be sure to check out the 4 day / 3 night Huemul Circuit for a once in a lifetime experience and the rest of the El Chalten hikes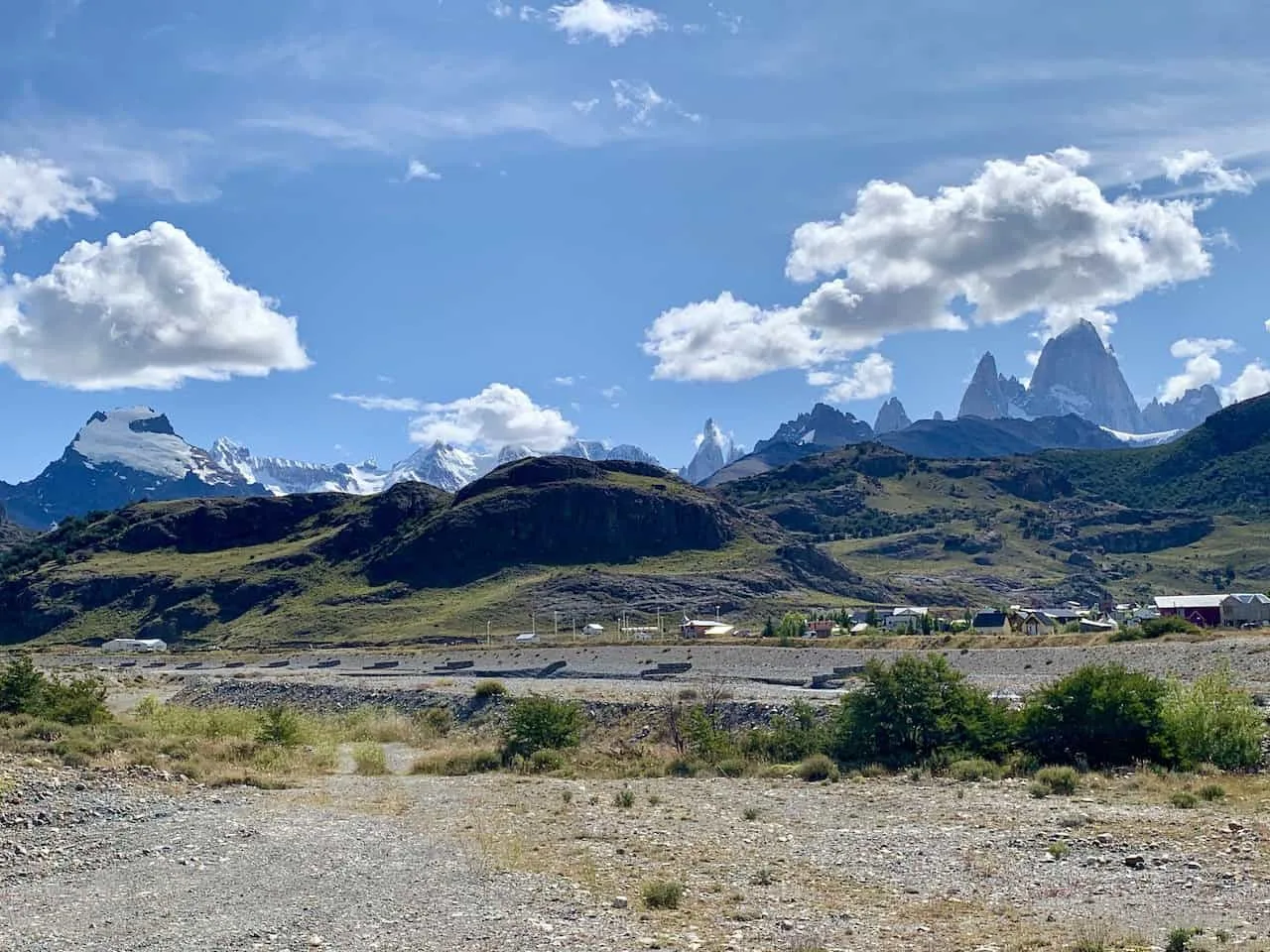 8) Laguna Torre Weather
From a time of year perspective, the most realistic timeframe to enjoy hiking in Patagonia will be during the southern hemisphere's summer period. From the months of December to March you will have the best chance to have the most suitable hiking conditions in general.
I visited El Chalten at the end of January / beginning of February. Even though it was the prime time to visit, the weather was very inconsistent throughout my time there. One day would be clear and sunny while the next day would be completely clouded over with snowfall.
When it comes to the Laguna Torre, the main highlight is to get to see the Cerro Torre mountain range throughout the duration of the trail, and at the lake itself.
Hiking this trail with clear skies vs. having the mountain range covered with clouds will be two completely different types of experiences.
While it is always hard to count on the Patagonian weather, try and save this hike for a better weather forecasted day of your trip.
Also note that the weather can change throughout your time on the trail. Clear skies can turn to clouds and rain, which can then turn back into clear skies. See below for a picture I took on the way back to the trailhead at day's end!
Weather forecasting is tough enough in mountainous regions, but even tougher in a place like Patagonia. The locals were keen on using Windguru as their best source of truth when it came to weather forecasts.
Here is a link to the free version of Windguru for Cerro Torre (the mountain itself). Upgrading to the paid version will give you more insight and features.
What you are looking for here is low wind speeds, low % of cloud cover, and no precipitation.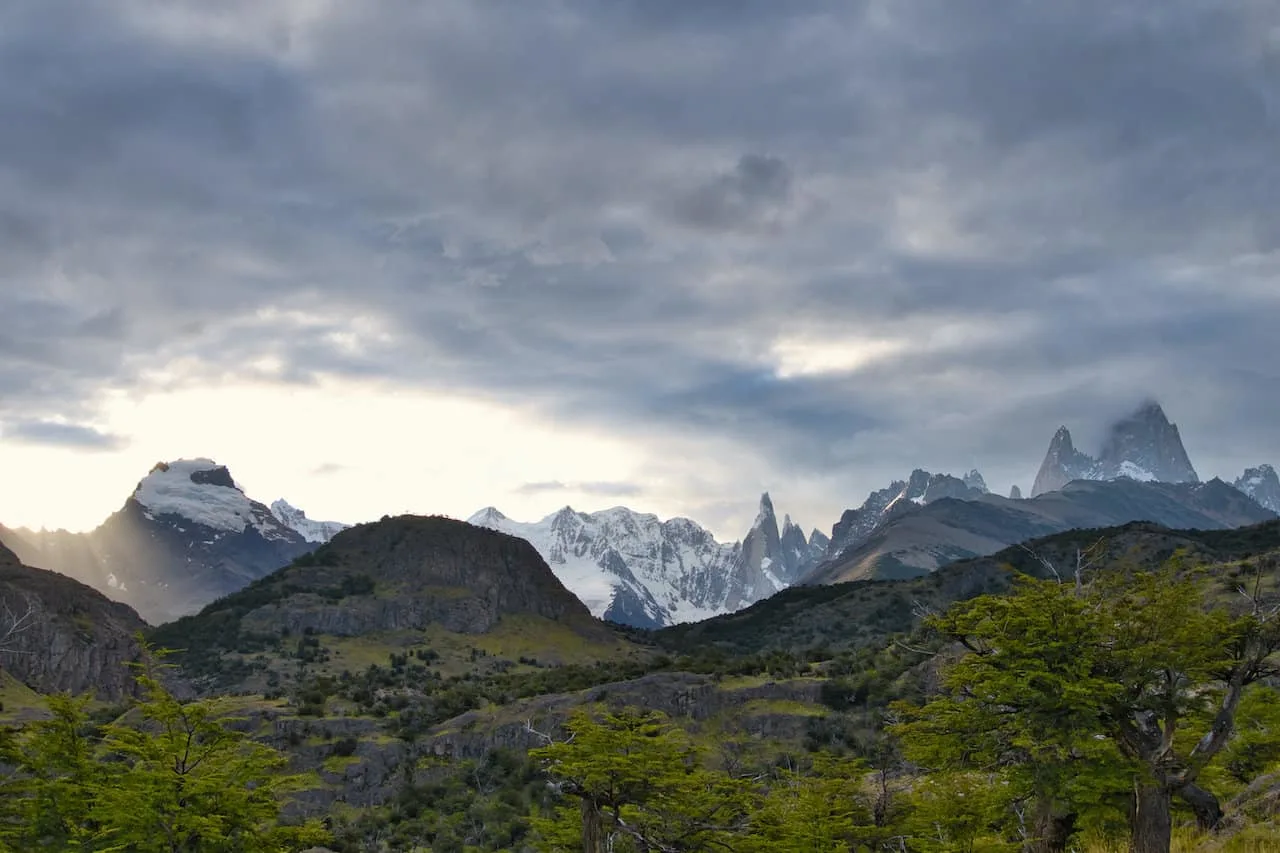 9) What to Bring
Hiking in Patagonia is all about layers and proper footwear. Since the weather can turn very quickly, you will want to be prepared for all types of conditions.
In general, I found layering to be the upmost important part of a trip. On all day hikes in Patagonia, I brought along the following layers:
→ Hiking Shorts
→ Hiking Pants
→ Short Sleeve Shirt
→ Long Sleeve Shirt / Sun Hoodie
→ Mid Layer Fleece
→ Puff Jacket
→ Packable Rain Jacket
While layers are important so will be your footwear. You want to be sure to bring appropriate waterproof hiking shoes along with solid hiking socks as well.
Additional day hike recommendations include:
→ Hiking Backpack & Rain cover
→ Water Bottle & Nutrition
→ Portable Charger
→ Hat & Sunglasses
→ Sunscreen & Bug Spray
» Be sure to check out the Hiking Packing List guide I put together that will go through all of it and more.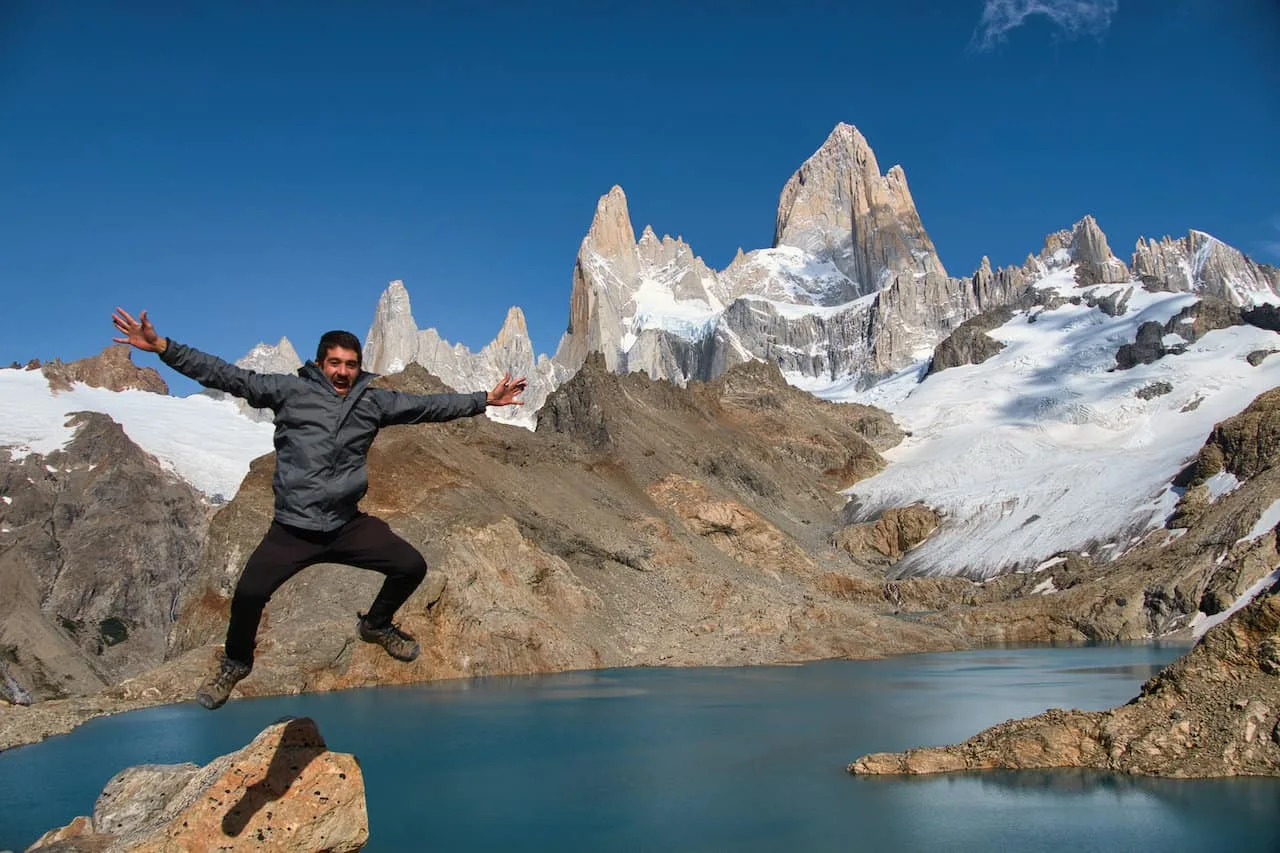 10) Laguna Torre or Laguna de Los Tres
For those short on time or who don't have the fitness levels to complete both hikes during a trip, you may need to decide between Laguna Torre and Laguna de Los Tres hikes.
By now you should have a pretty solid understanding of what the Laguna Torre hike is all about. A relatively flat trail, with stunning views of the Torre mountain range, and the chance to relax at the lakeside. All said and done, it's a 18 km / 11 mile trail, with a 4 km / 2.5 mile optional add on to Mirador Maestri.
On the other hand, the Laguna de Los Tres hike takes you to a lake at the base of the Fitz Roy mountain range. Fitz Roy and its surrounding peaks are much grander in stature but the hike is much more difficult.
The hike is mildly longer in length, coming in at 21 km / 13 miles but does have much more elevation gain – about 1,100 meters / 3,600 feet of gain.
All said and done, Laguna de Los Tres is a much tougher hike to take part of. Especially, the last hour push up to the lake, which is by far the hardest portion of any of the major day hikes in El Chalten.
Ideally you can do both of these hikes (or combine them into a multi day hike – see next section). However, if you need to choose, I would do so based on your fitness levels and experience.
If you think you can handle the longer and more strenuous hiking then I do believe Laguna de Los Tres will be well worth the effort. On the other hand, if you are looking for a shorter, more pleasurable experience, then opt for Laguna Torre.
• If you are looking for a viewpoint hike, check out Loma del Pliegue Tumbado & Mirador de Los Condores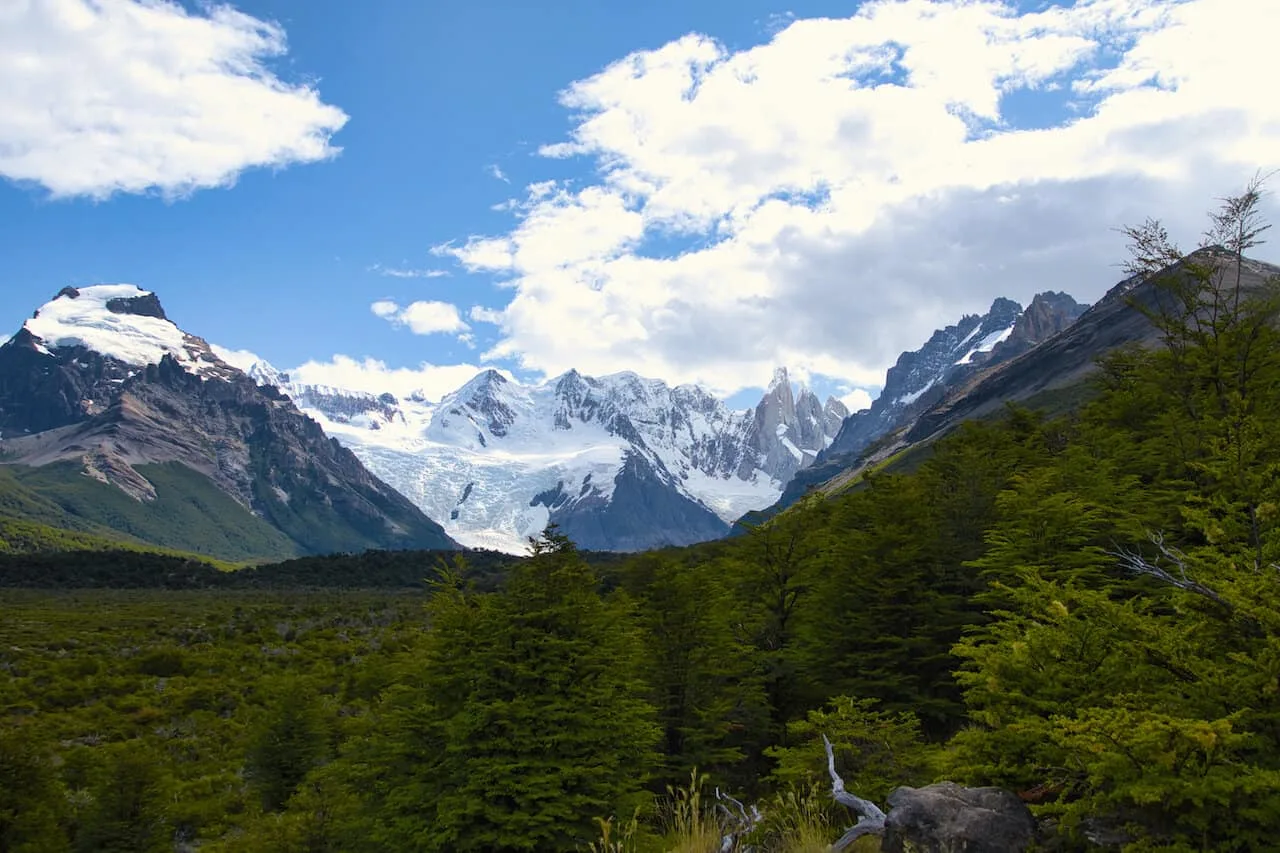 11) Multi Day Hikes
Instead of just doing a day hike, you also have the opportunity to do a multi day hike. This may entail just visiting Laguna Torre or also adding in an additional highlight such as Laguna de Los Tres.
Here are a few different options to consider if you would like to take part of an overnight experience:
2 Day Option – Laguna Torre
Day 1: Hike from Trailhead to De Agostoni campsite
Day 2: Hike to Laguna Torre for sunrise & return to trailhead
2 Day Option – Laguna de Los Tres & Laguna Torre
Day 1: Hike from Laguna de Los Tres trailhead to Laguna de Los Tres, and stay overnight at Poincenot campsite
Day 2: Hike to Laguna Torre and return to Laguna Torre trailhead
→ You can book this as a guided tour option as well
3 Day Option – Laguna de Los Tres & Laguna Torre
Day 1: Hike from Laguna de Los Tres trailhead to Poincenot campsite
Day 2: Hike to Laguna de Los Tres for sunrise & return to De Agostini campsite
Day 3: Hike to Laguna Torre and return to Laguna Torre trailhead
Those are just three of the options out there, but there are certainly other overnight possibilities to consider as well.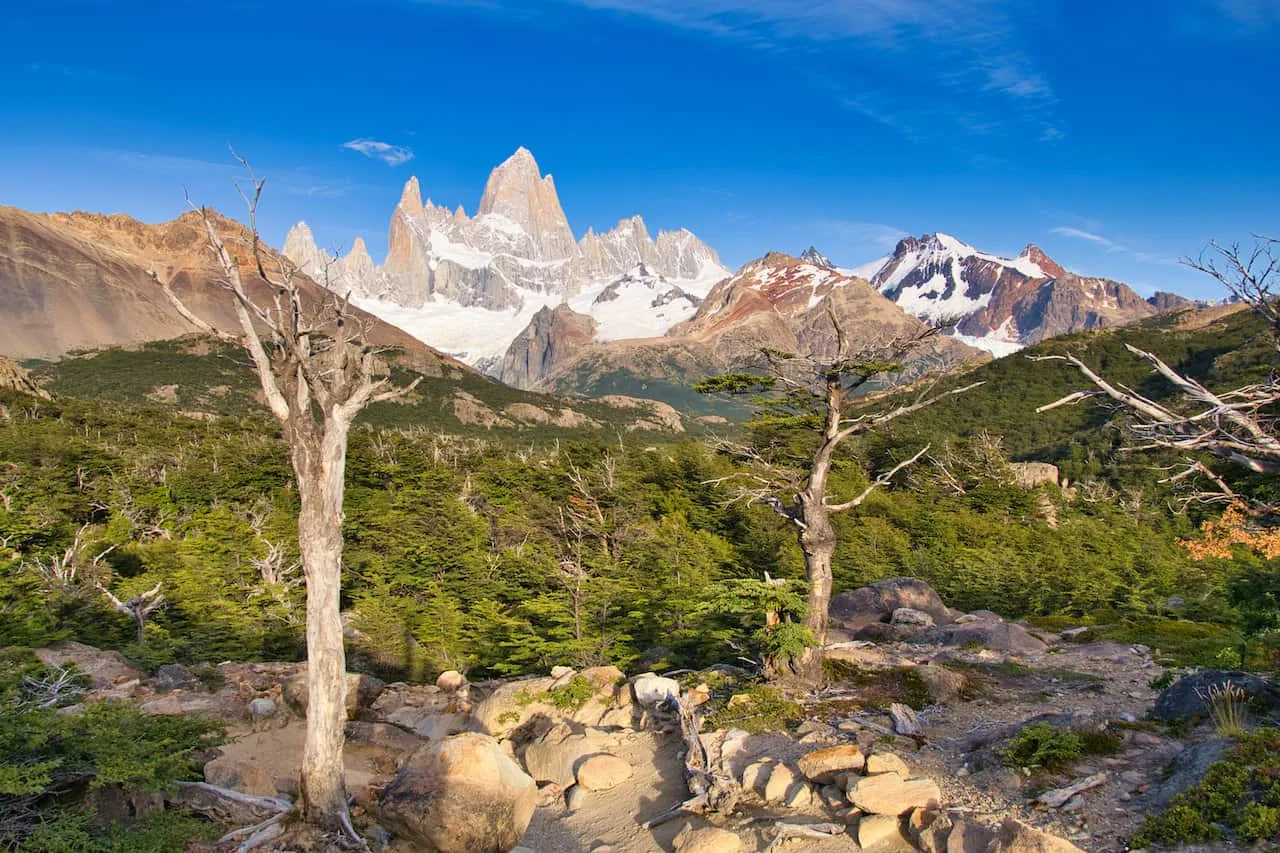 By now you should have a much better sense of what the Laguna Torre hike is all about. If you have any questions or comments, feel free to add them in below.
Also, don't forget to check out some other Patagonia itineraries and guides up on the site. Have fun out there and safe travels!