Are you looking to put together a 7 day Vietnam itinerary for your next trip? Well, you have come to the right place, because this one week in Vietnam overview has you covered.
While one week is not the longest of times to explore, this itinerary will have you seeing so much of this beautiful country during your time there.
I will be going through a travel route that focuses in on three main cities in the Vietnam – Ho Chi Minh, Hoi An, and Hanoi.
By the end of reading through, you should be well on your way to understanding the ins and outs of what these cities have to offer.
* Affiliate Disclosure: This post may contain affiliate links, which means I may receive a commission if you make a purchase through the links provided, at no additional cost to you. Thanks for supporting the work I put into TripTins!
1) 7 Day Vietnam Itinerary Overview
As mentioned, this 7 day itinerary will have you going to three of the main cities in Vietnam. These include Ho Chi Minh, Hoi An, and Hanoi.
While this overview will be going about the trip from south to north, you can easily do it in the opposite direction if that works better for your overall plan.
Here is a quick overview of what the itinerary will look like:
Ho Chi Minh (Days 1-2)
Hoi An (Days 3-5)
Hanoi (Days 6-7)
For a trip like this, you will need to figure out two logistical aspects as you travel from Ho Chi Minh to Hoi An and from Hoi An to Hanoi. Due to the time constraint of the week long trip, I would recommend flying.
Day 3 Morning: Flight from Ho Chi Minh to Danang (closest airport to Hoi An)
Day 5 Evening: Flight from Danang to Hanoi
At the end of the trip, you can either fly back to Ho Chi Minh if that is where your final flight is going out of, or you can head on out from Hanoi.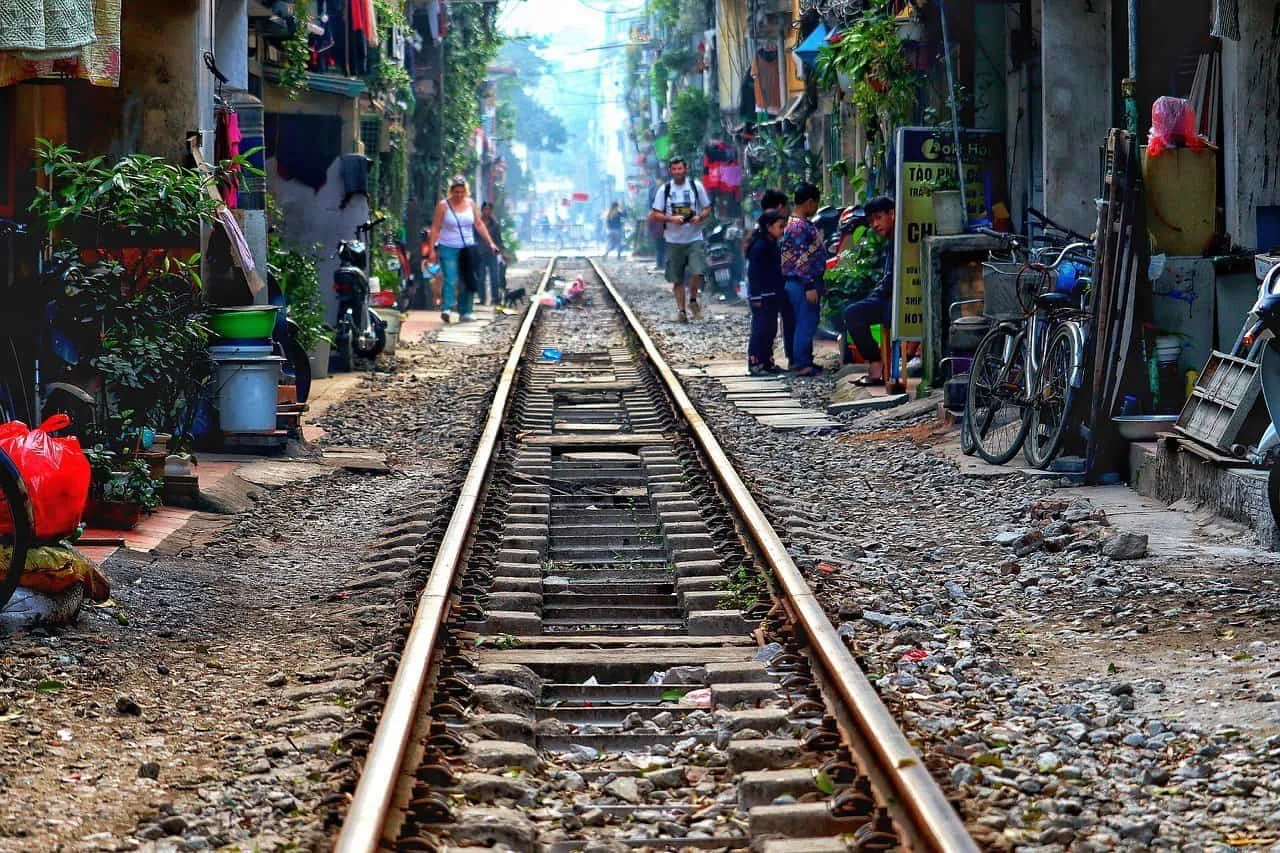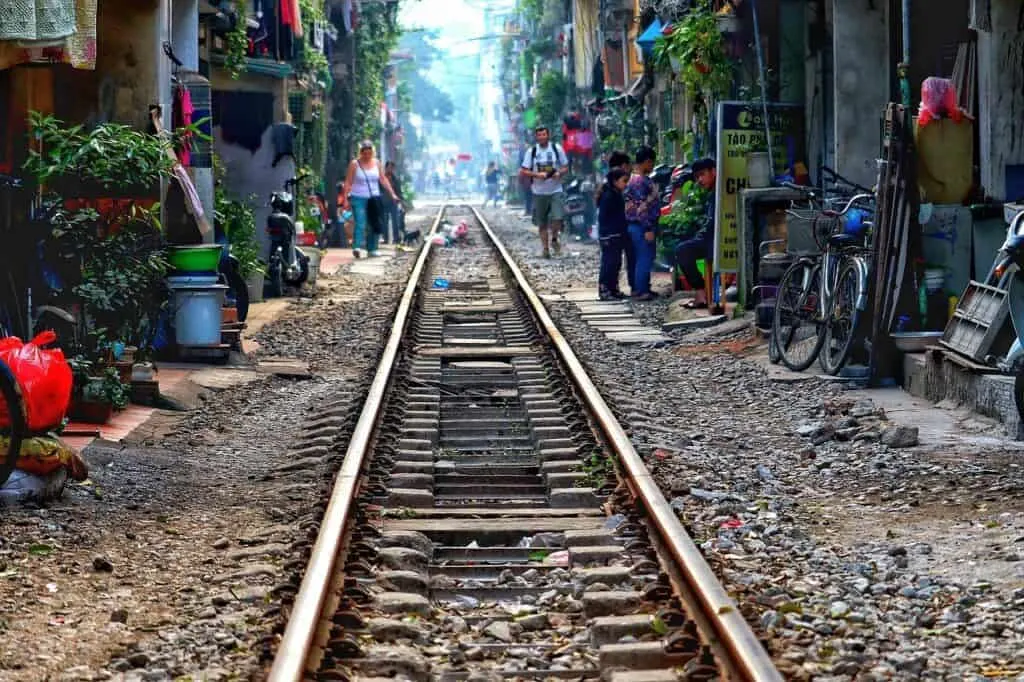 2) Where to Stay
To make things simple, I did want to give you a quick overview of where to stay in Vietnam if following this itinerary.
Ho Chi Minh (Nights 1 & 2)
In Ho Chi Minh City I would recommend centering your search around District 1. Many of the attractions within the city are easily accessible by foot and you will also be nearby plenty of restaurants and nightlife.
Hoi An (Nights 3 & 4)
While in Hoi An you can opt for hotels right on the ocean or more towards the center of town. You cannot go wrong with either option as the city is not that large.
Be aware that some hotels may come up in Danang during your search. I would not recommend staying there if your goal is to explore Hoi An.
Hoi An Town Hotels
Hoi An Beach Hotels
Hanoi (Nights 5 & 6/7)
Finally in Hanoi, take a look at places within the Old Quarter. That is where most of the markets, restaurants, and nightlife options are, and it is a great place to explore.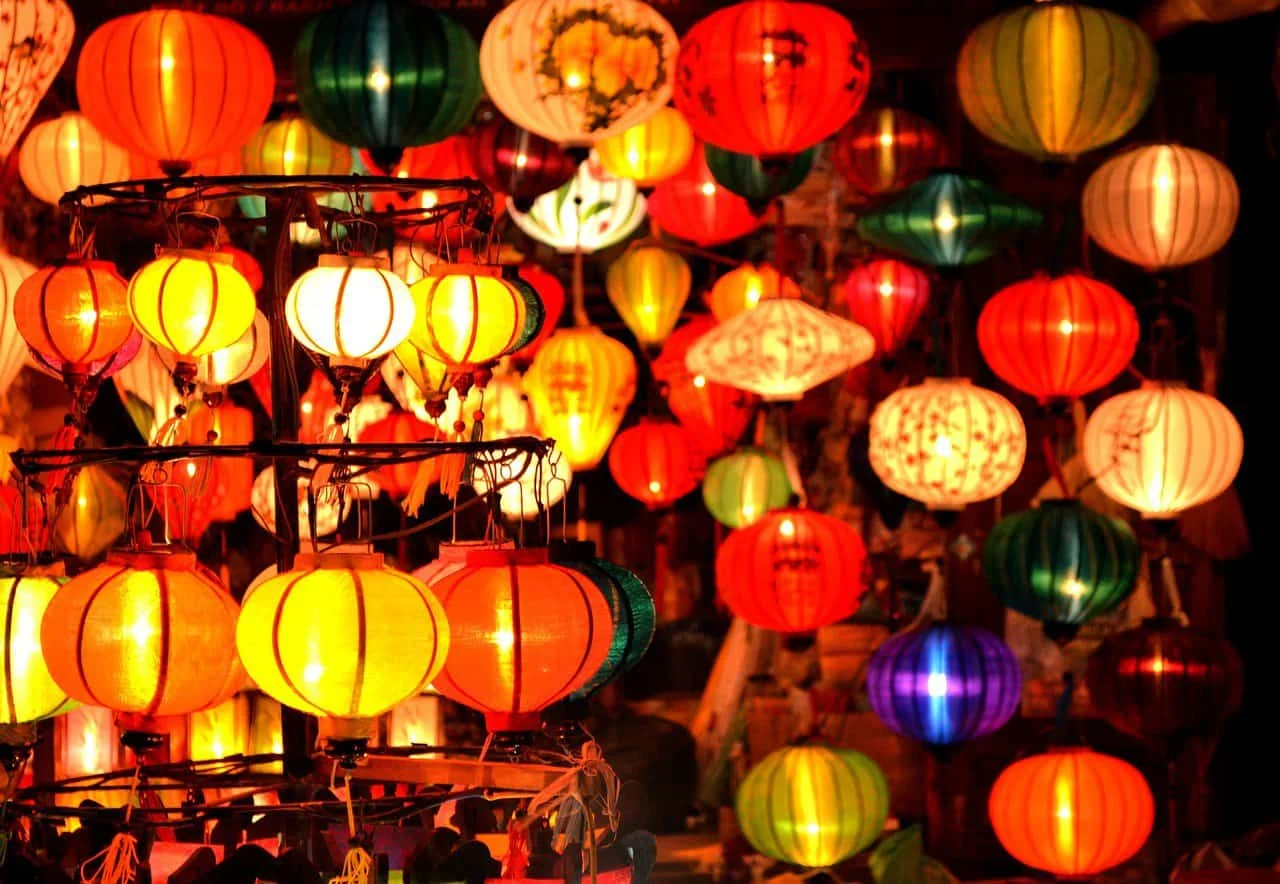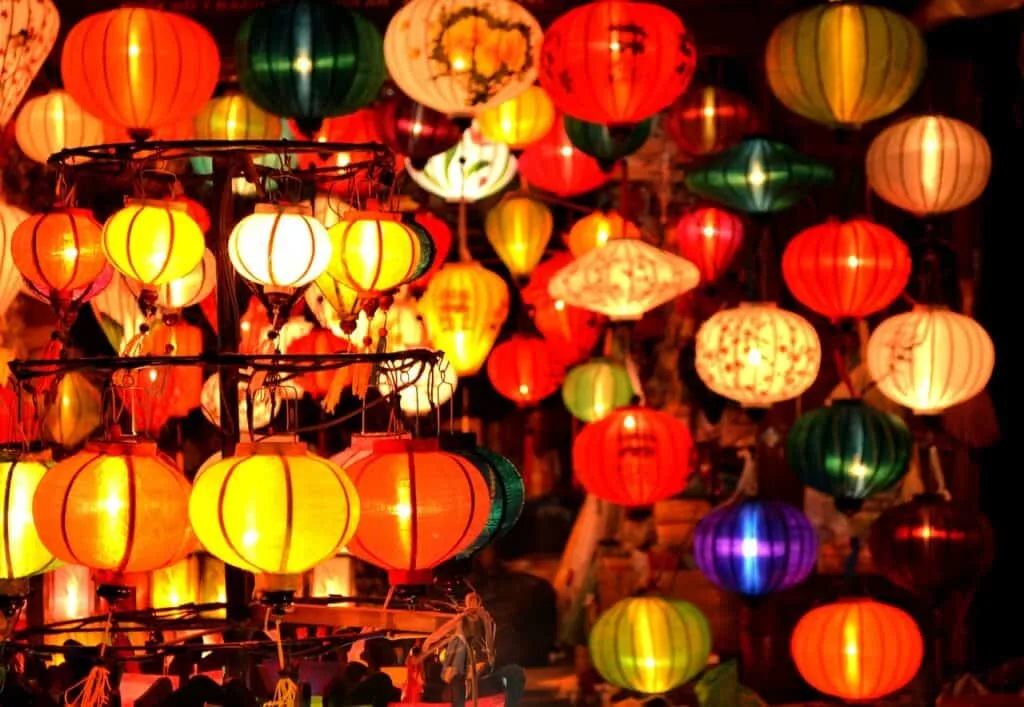 3) One Week in Vietnam Map View
Take a look at the map below which shows you where each city that is part of this 7 day Vietnam itinerary is located throughout the country.
You will start the journey down south in Ho Chi Minh City before making your way up the coast to Hoi An and then onto Hanoi, where you depart for a day trip to Halong Bay if you choose so.
4) Day by Day Breakdown
In the following section, I will be going through a day by overview of each attraction and activity on this itinerary.
The below screenshot gives you a wholistic view of what this itinerary will look like: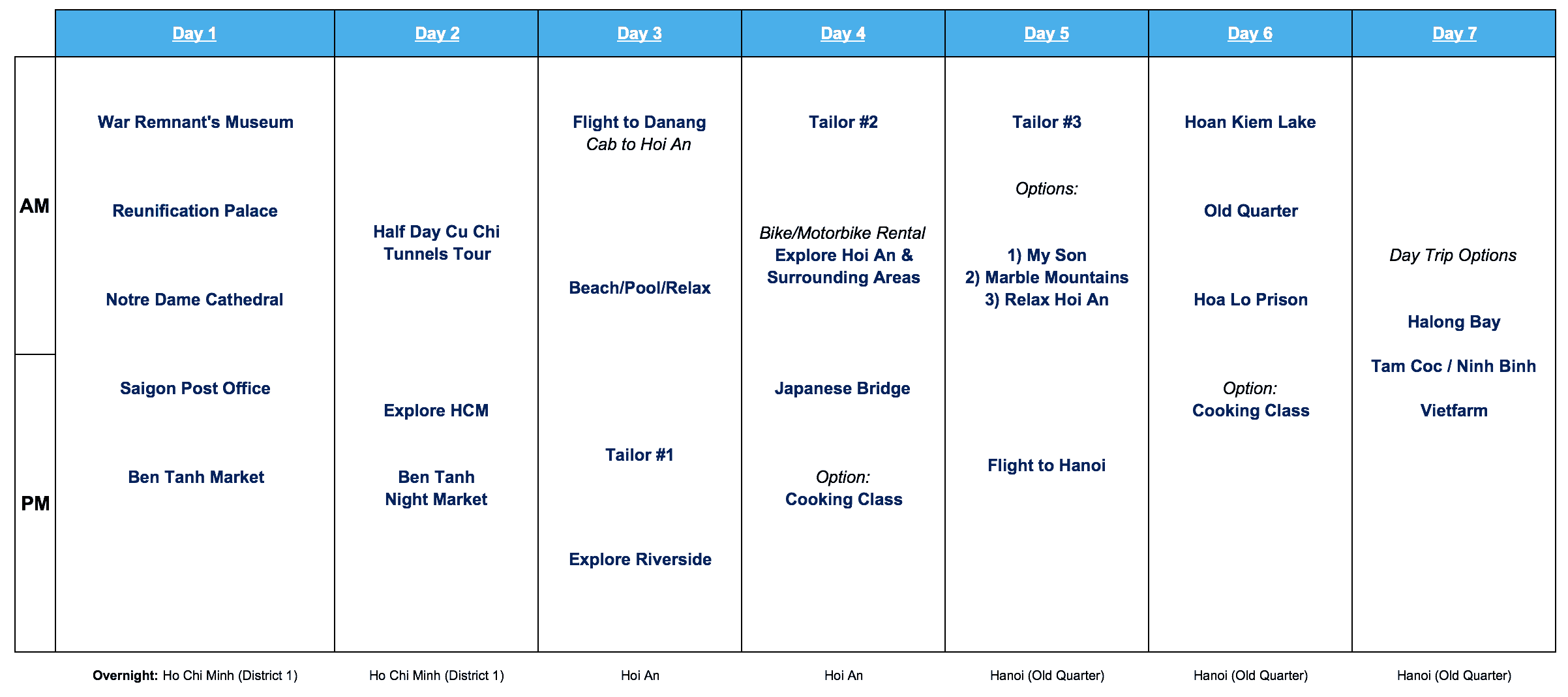 5) A Detailed 7 Day Vietnam Itinerary
​Now lets get on to the actual trip! The following is a detailed breakout of the daily attractions and activities on this one week in Vietnam itinerary.
Feel free to scroll through and click on any more in depth posts along the way.
Day 1 – Ho Chi Minh City
​You will start you trip in the southern city of Ho Chi Minh City, which is also known as Saigon.
Here you will be able to walk around this city, browse the museums and markets, as well as take some day trips.
Day 1 takes you around the main attractions that the city has to offer.
» Check out the Ho Chi Minh City Guide which gives you more info about each place mentioned below
The War Remnants Museum
The main museum to visit in Ho Chi Minh City is the War Remnants Museum.
Here you will find several exhibitions that give you a perspective of how the Vietnamese viewed the war & how it eventually affected the people for years to come.
As I will mention later on in the tips section, to be aware of some propaganda that may be written out along the way.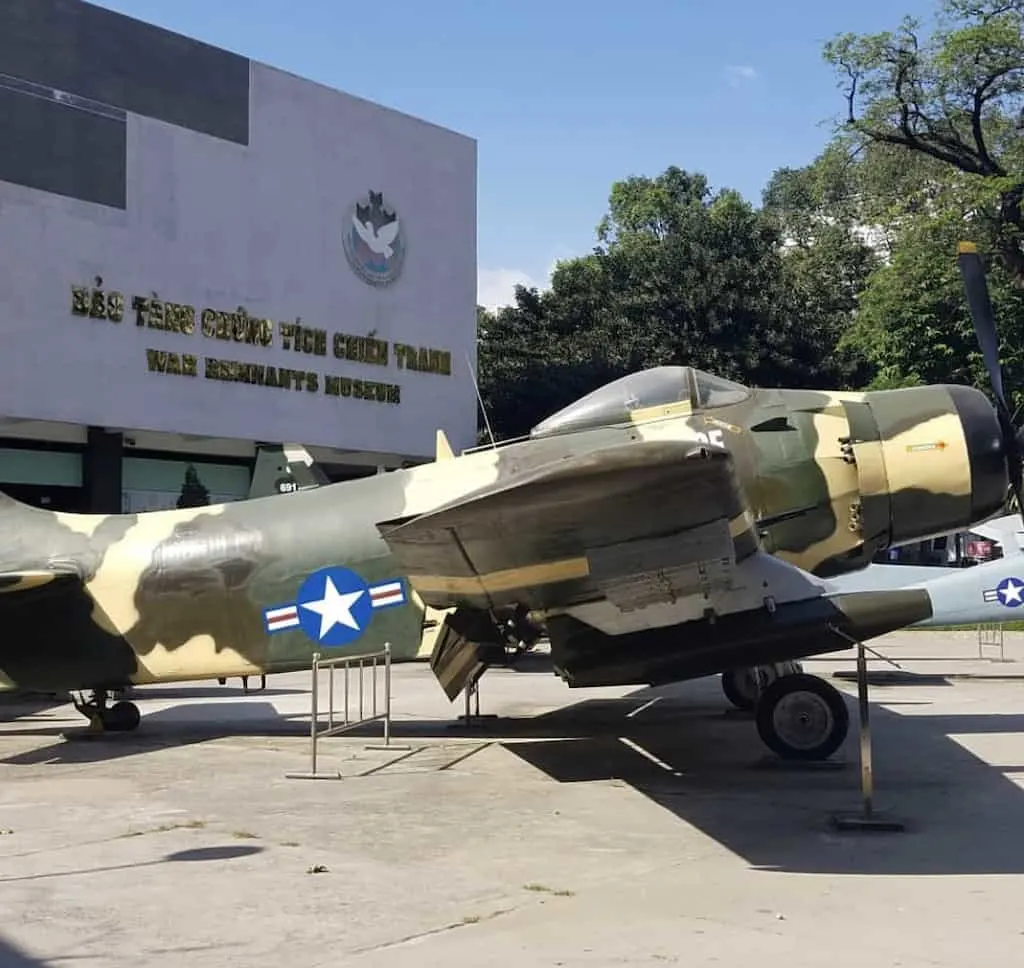 Reunification Palace
After finishing up your time at the museum, you can then walk on over to the Reunification Palace.
Plan on staying for maybe around an hour here either walking around by yourself or getting a free guided tour.
The palace is where the Vietnam War came to an end. It is the spot where the northern Vietnamese tanks crashed through the front gates of the palace.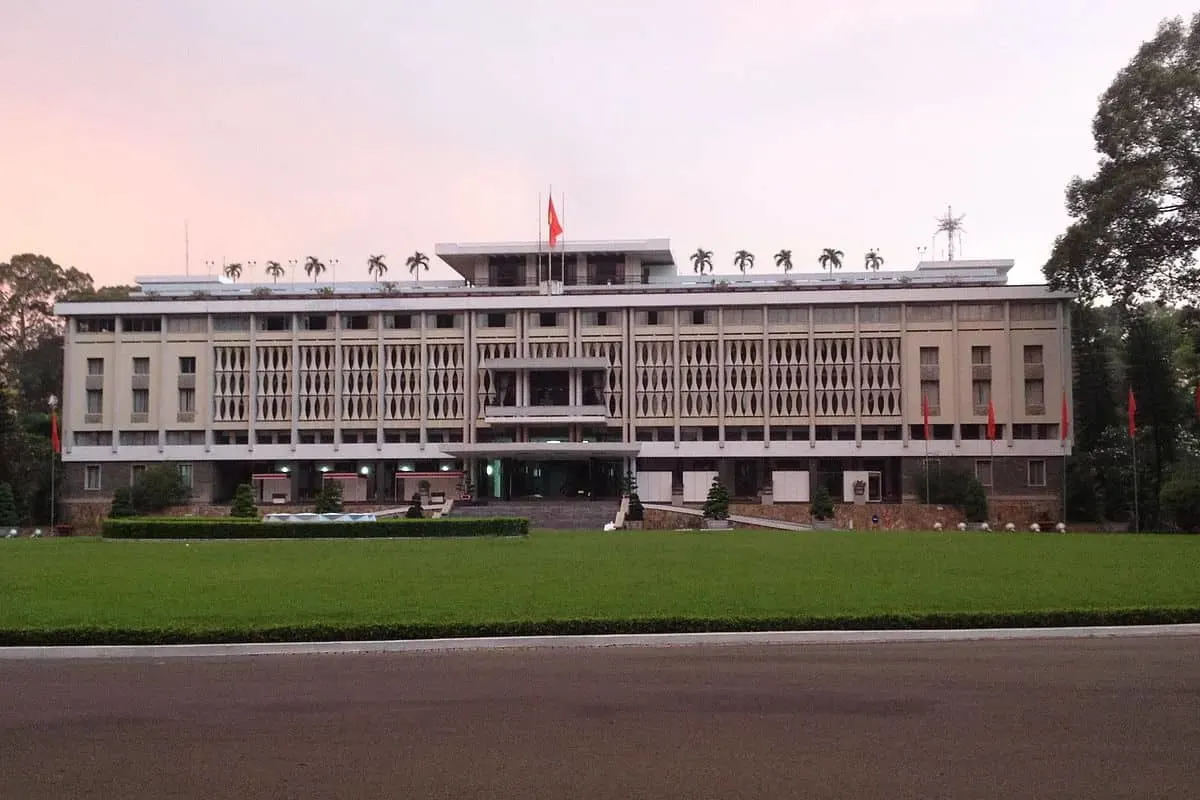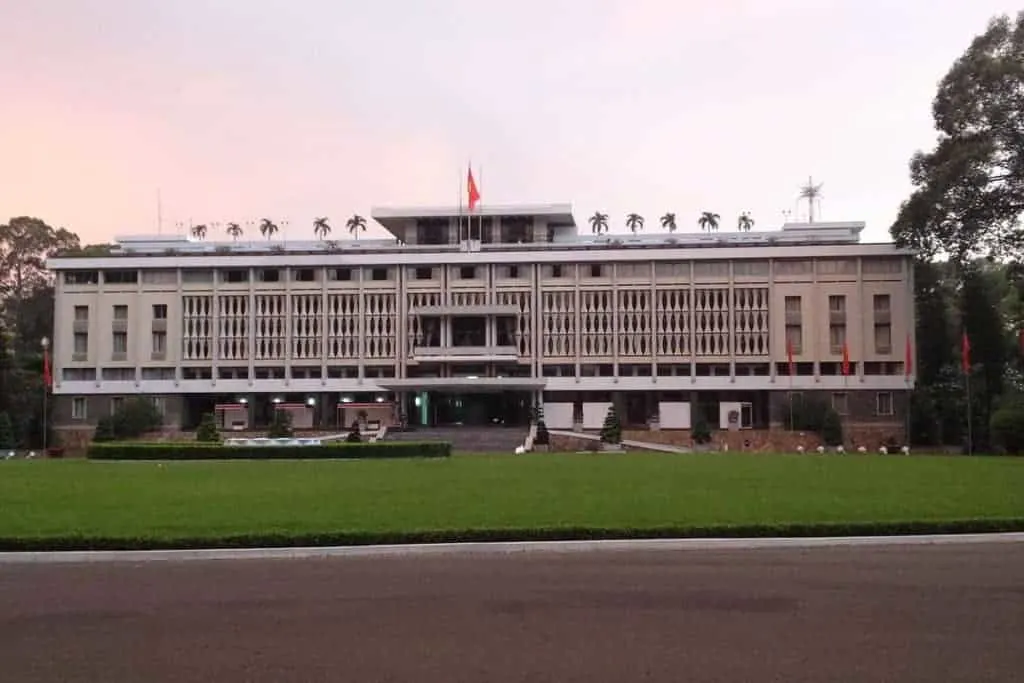 Notre Dame Cathedral
Ho Chi Minh is also filled with beautiful architecture. One example can be seen at the Notre Dame Cathedral, which was built by the French in the 1800s.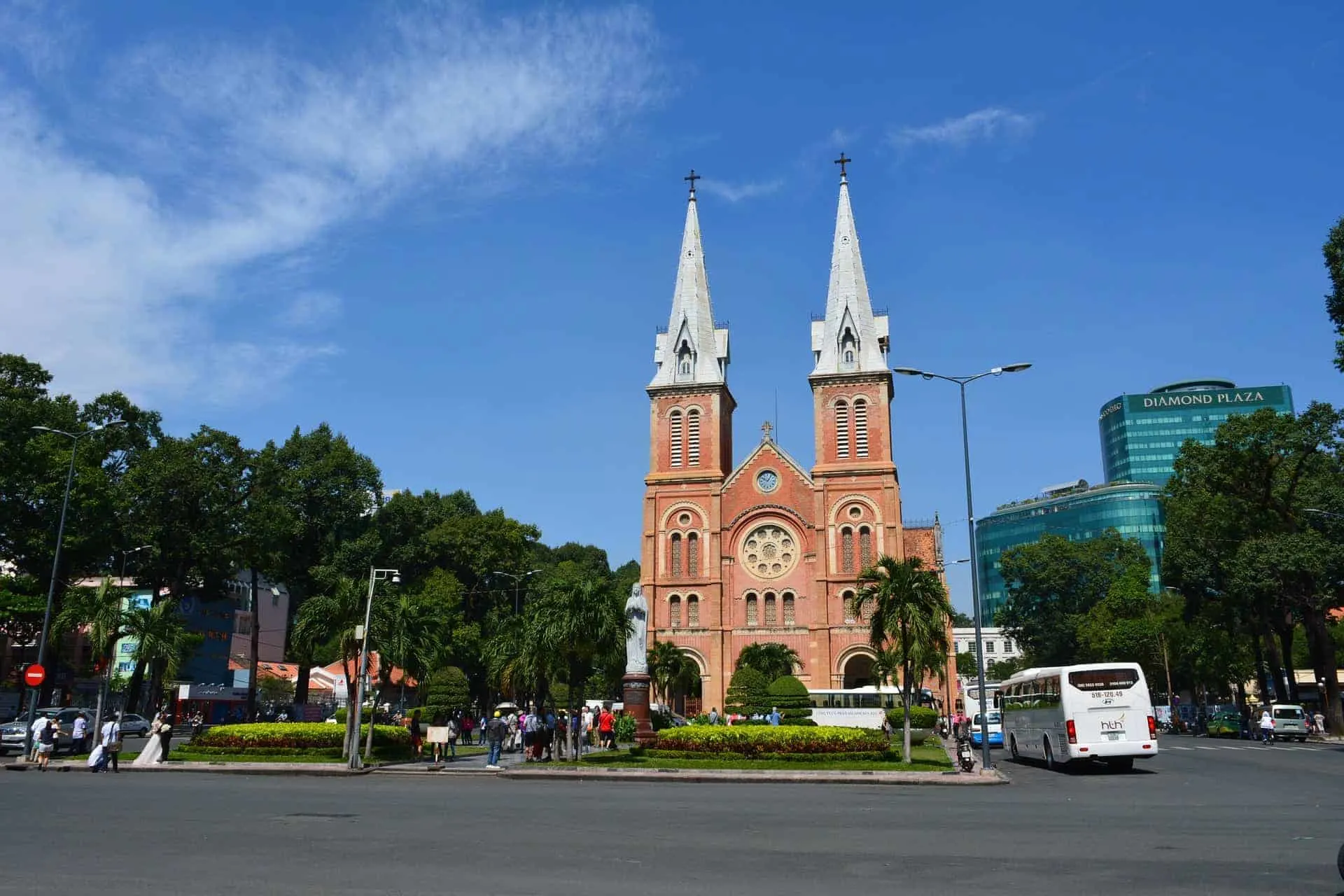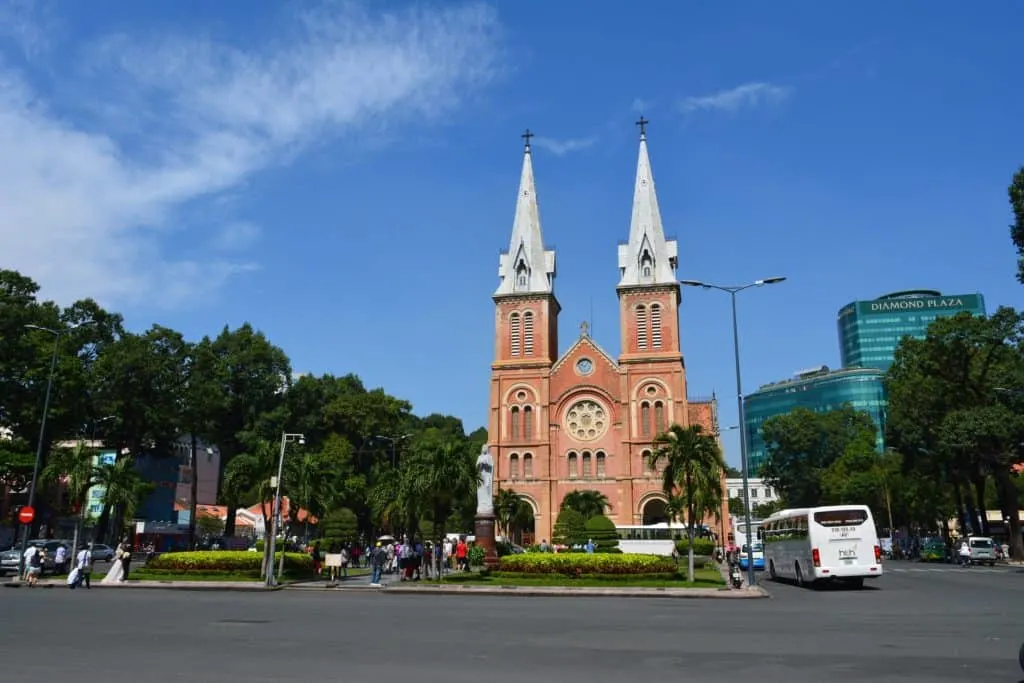 Saigon Central Post Office
Another piece of architecture right nearby the cathedral is the Saigon Central Post Office.
Another French built building, it is probably the most elaborate post office that you have ever seen. Its large archways and intricate details are not to be missed.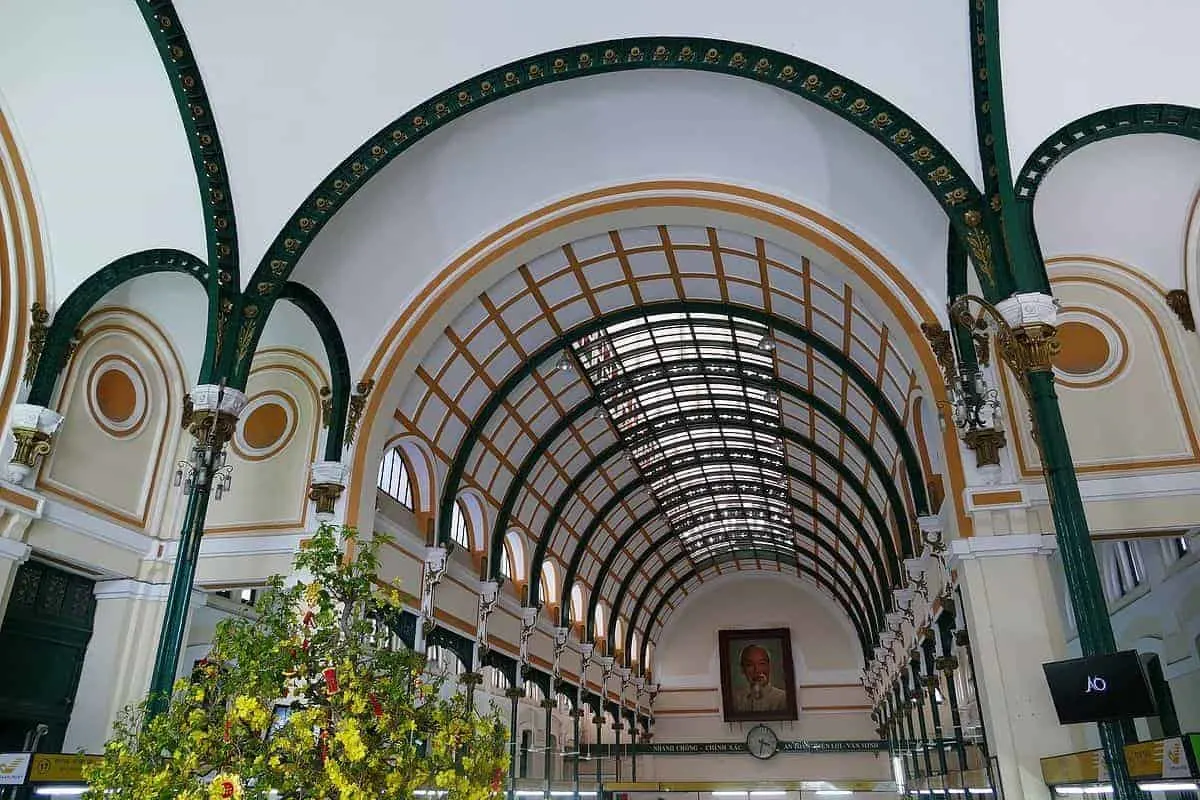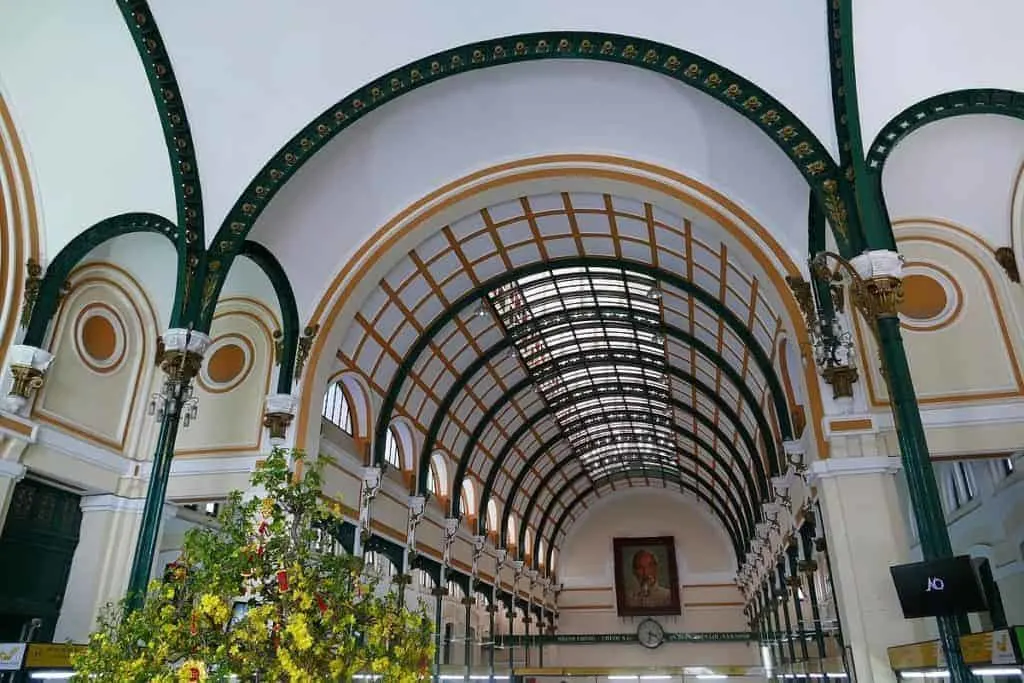 Ben Thanh Market
After a day of sightseeing head on over to the main market of the city – Ben Tanh. The market has both a day and night market to visit during your time in the city.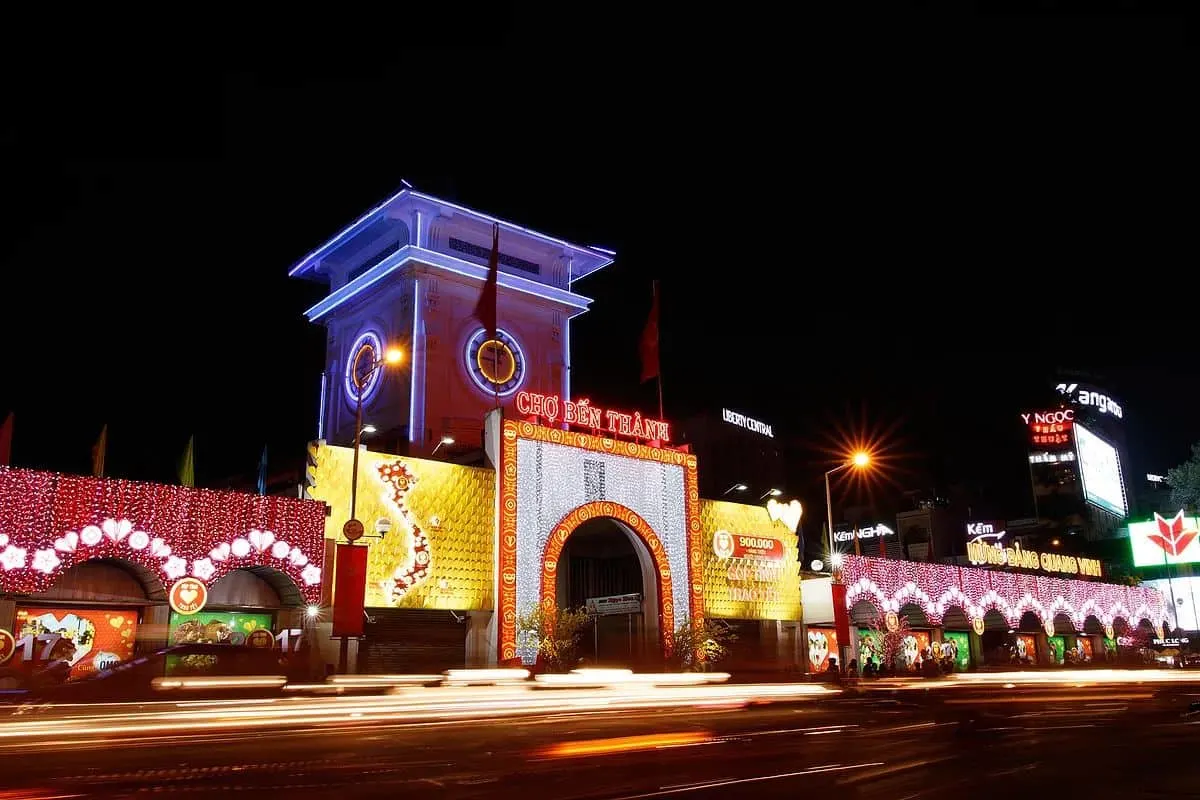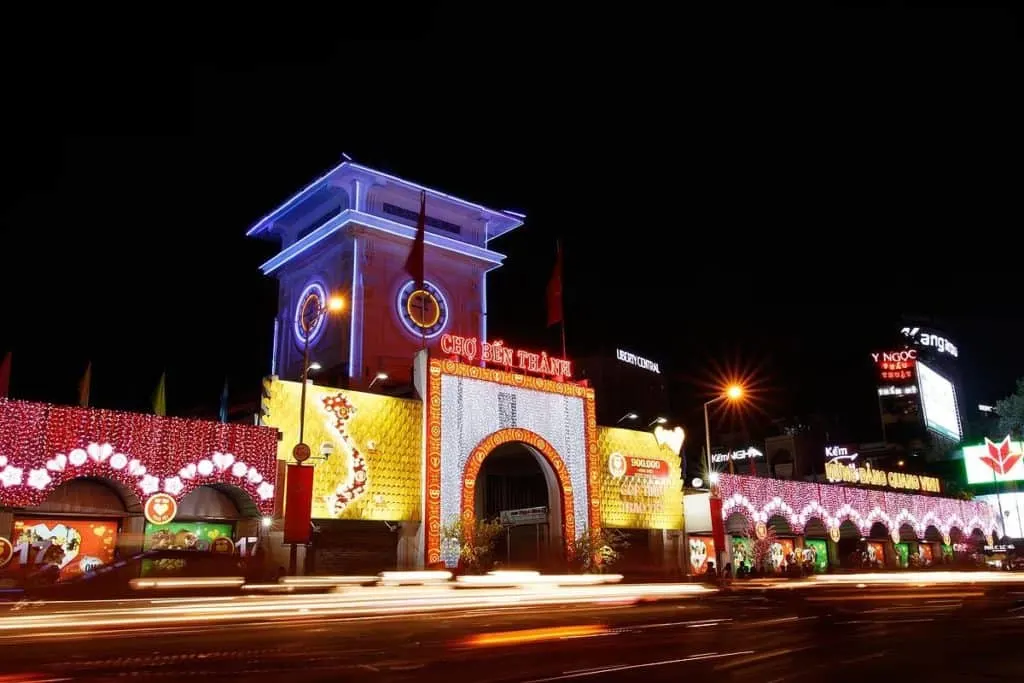 Day 2 – Cu Chi Tunnels
​On the second day in Ho Chi Minh City, you will be heading outside of the city to the Cu Chi Tunnels.
There are usually two tours that you can choose from – either a morning or afternoon tour lasting about 5 hours.
Throughout Vietnam there was an extensive underground network of tunnels built by the Viet Cong. These tunnels were used to attack the south, while giving troops somewhere safe to sleep, eat, and live during the war.
During a tour, you will get to learn all about the Cu Chi Tunnels, and even get to head down into a section of them for yourself.
Cu Chu Tunnel Tour Options
» I put together a Touring the Cu Chi Tunnels guide that talks about everything you will need to know about the trip.
Once back from the tour you will be dropped off somewhere in the city. You can take the next couple hours to eat and walk around a bit more.
At night feel free to go back to the Ben Thanh Market, which opens up an outdoor night market after the indoor one closes.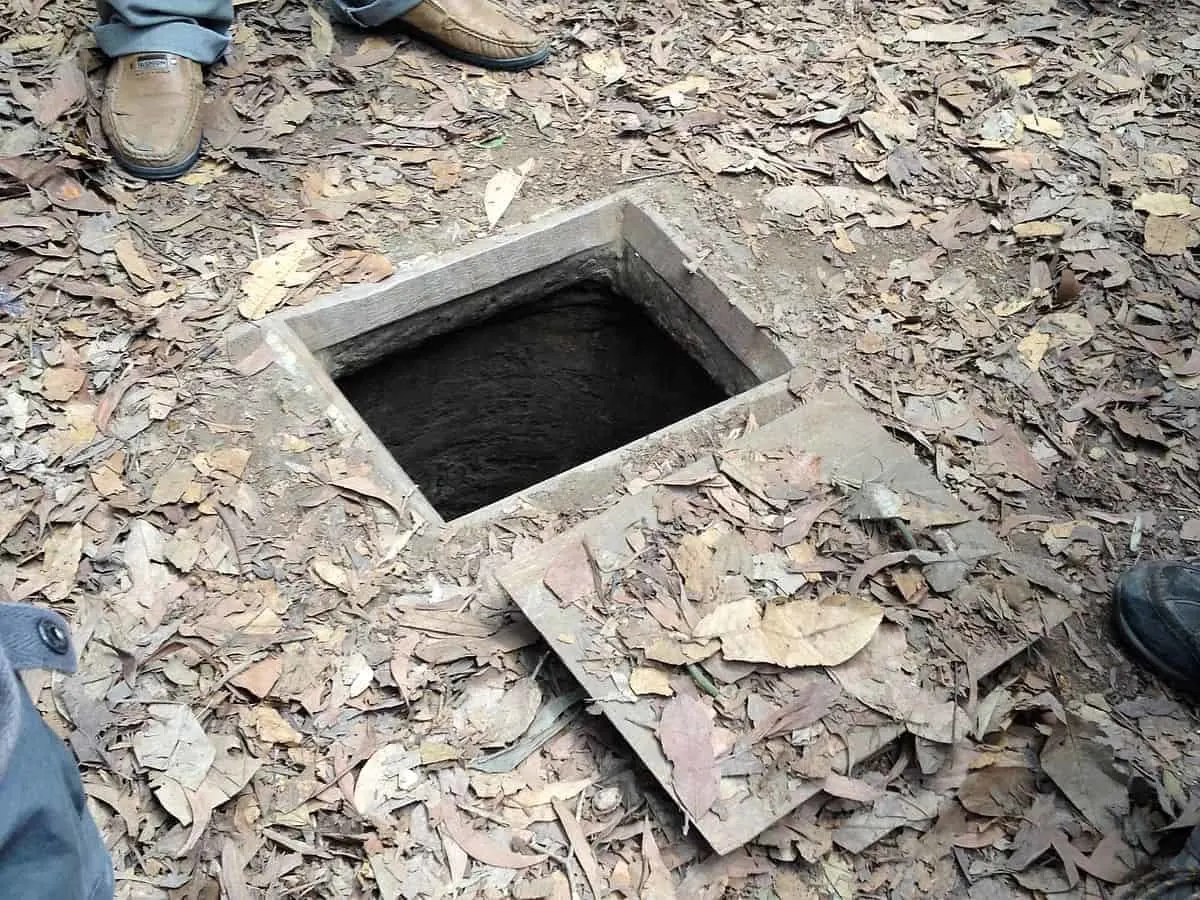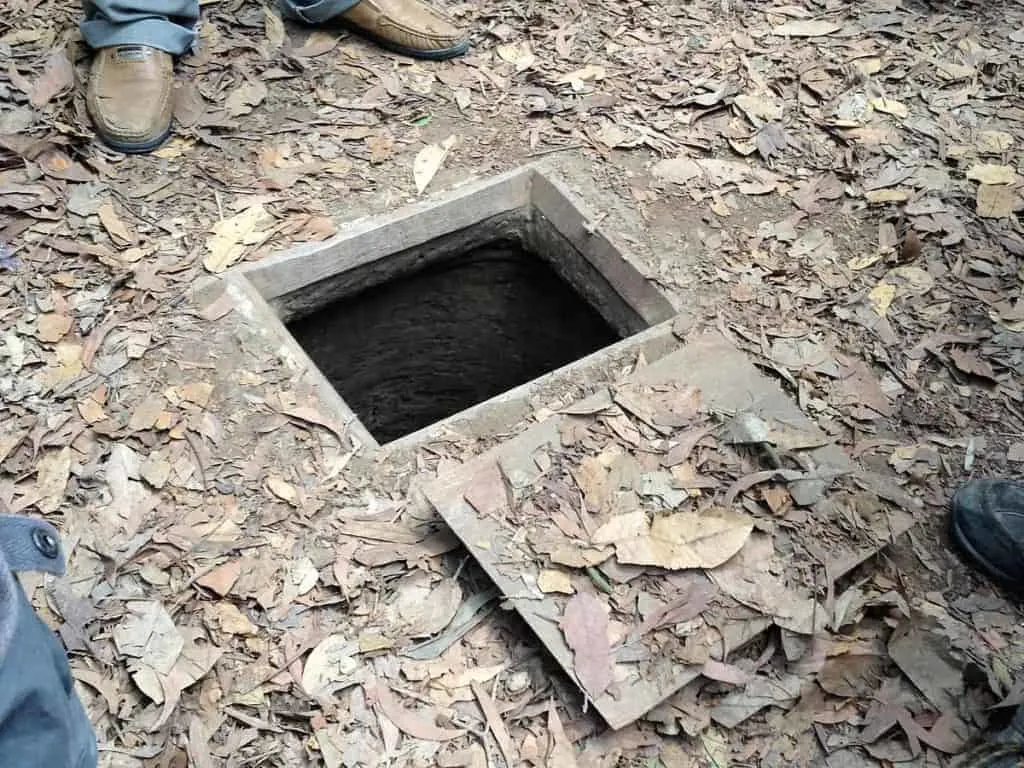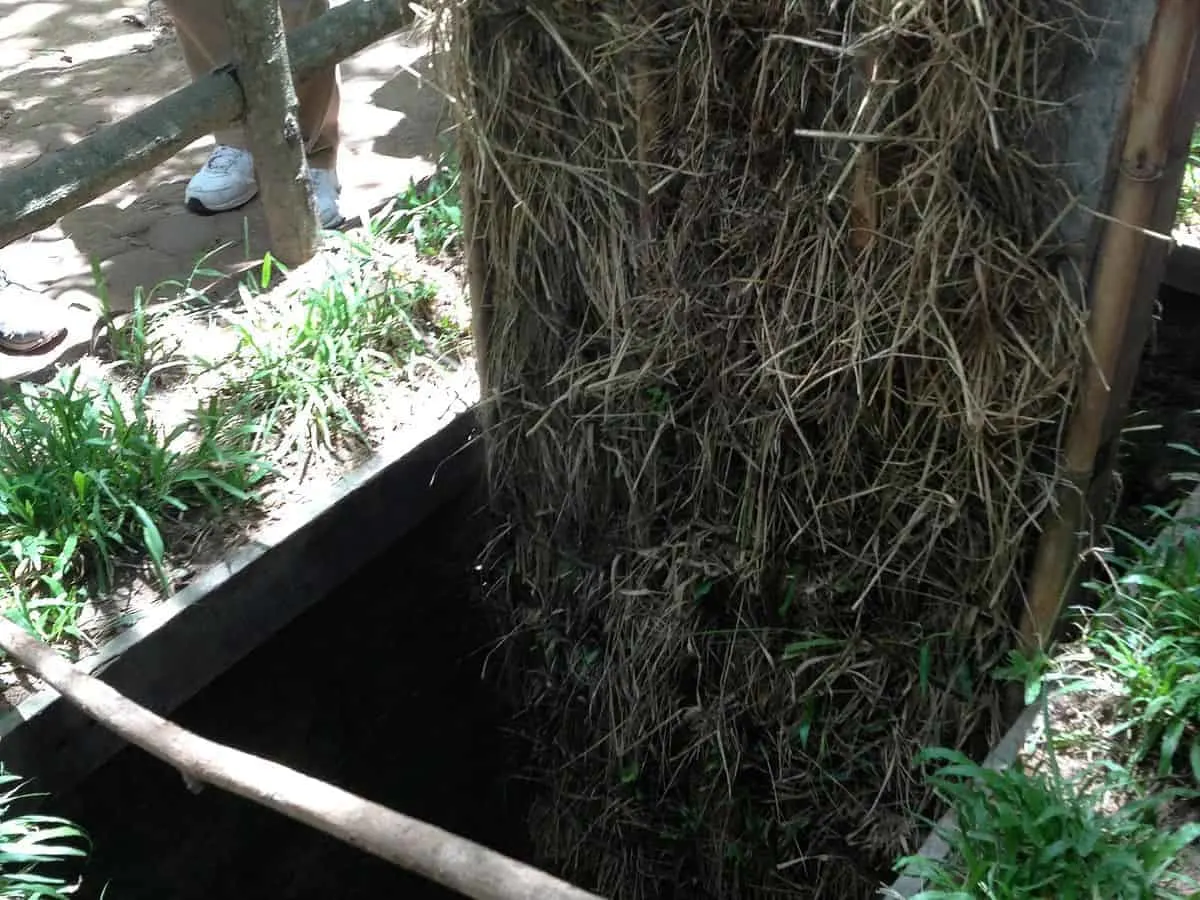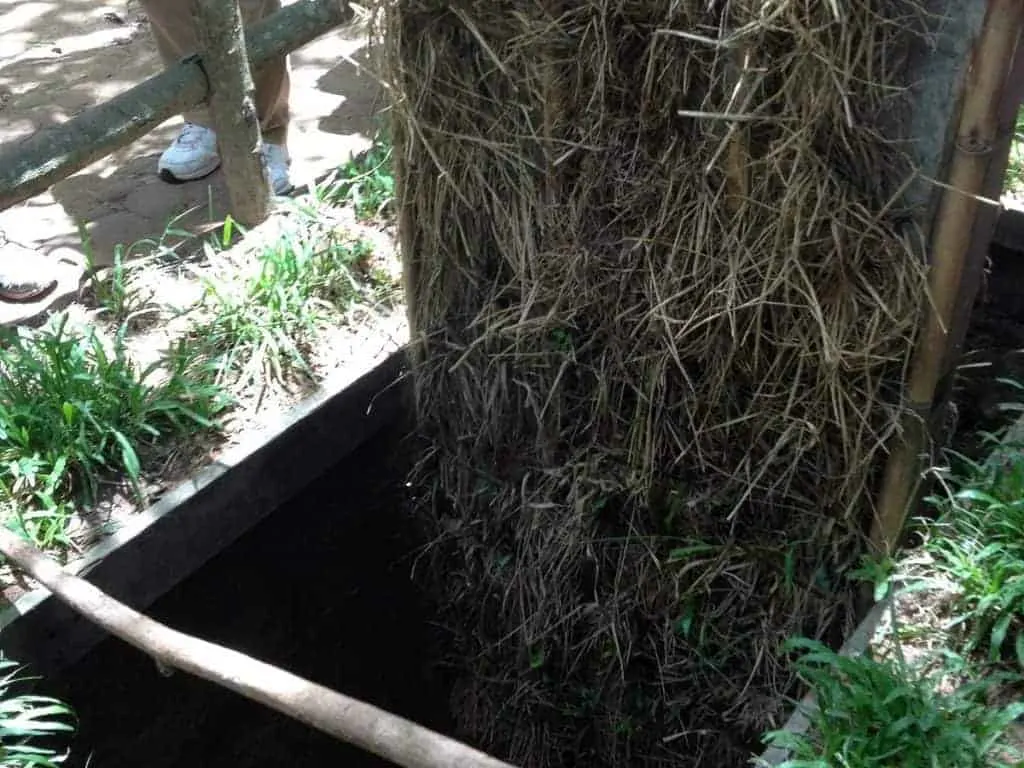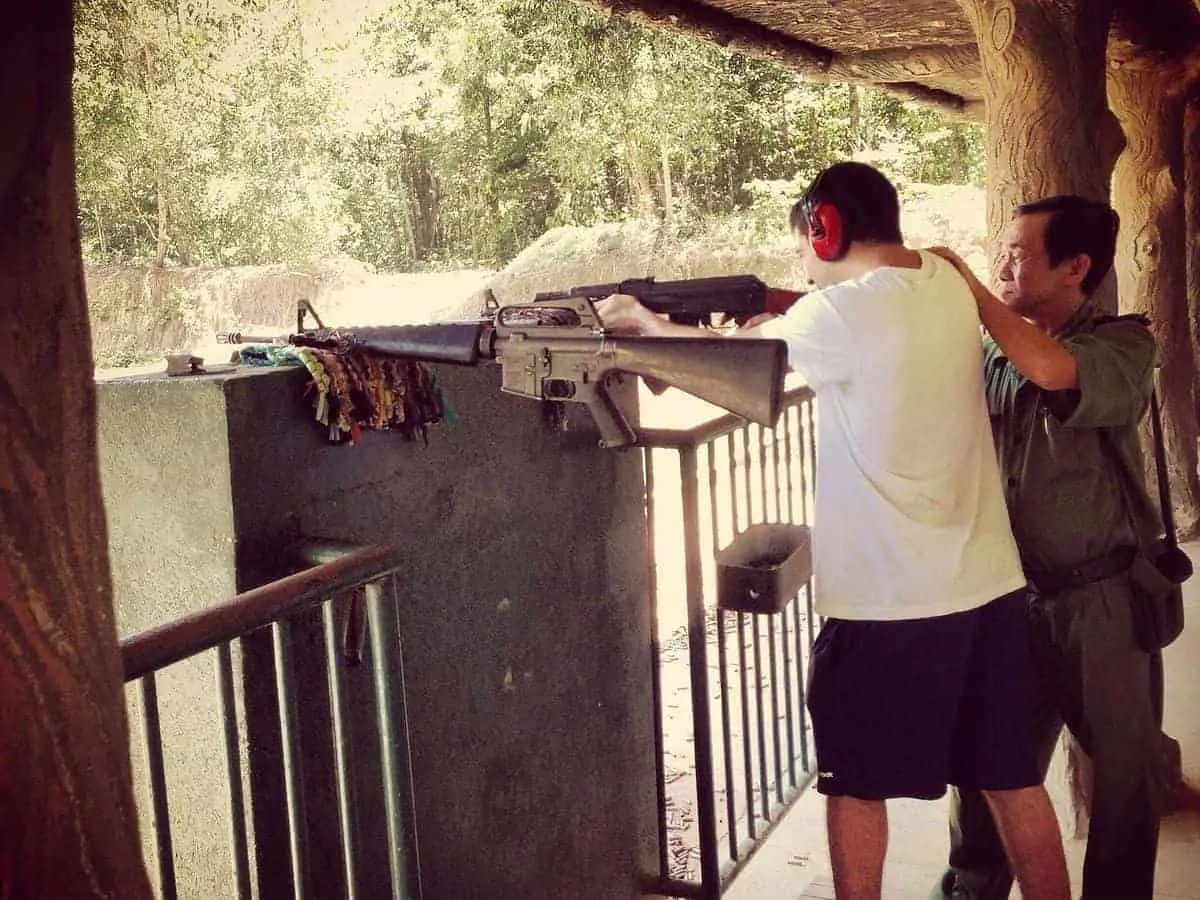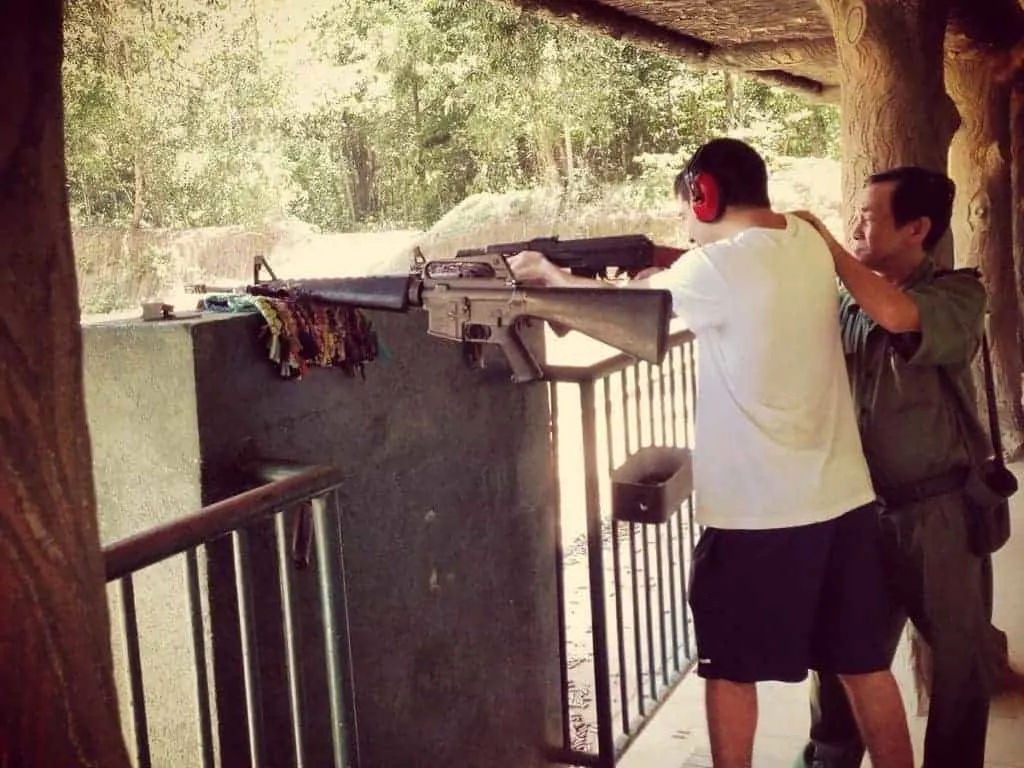 *Note if you have an additional day in HCM you can do a tour of the Mekong River. If you do have an extra day you will then fly to Danang on day 4 and push everything back a day.
Day 3 – Fly to Danang/Hoi An
Try and get out early from HCM and take a flight up the coast to central Vietnam and the city of Danang.
There are flights leaving as early as 6:00AM, and I would recommend grabbing an early one to take advantage of your time there.
From Danang you will take a 30 or so minute cab to the beach town of Hoi An – one of the best there is.
In Hoi An you will be able to do a variety of things from getting custom clothing made to relaxing on the beach to exploring the town.
If you arrive midday into Hoi An, check into your hotel, get something to eat and relax by the beach or pool.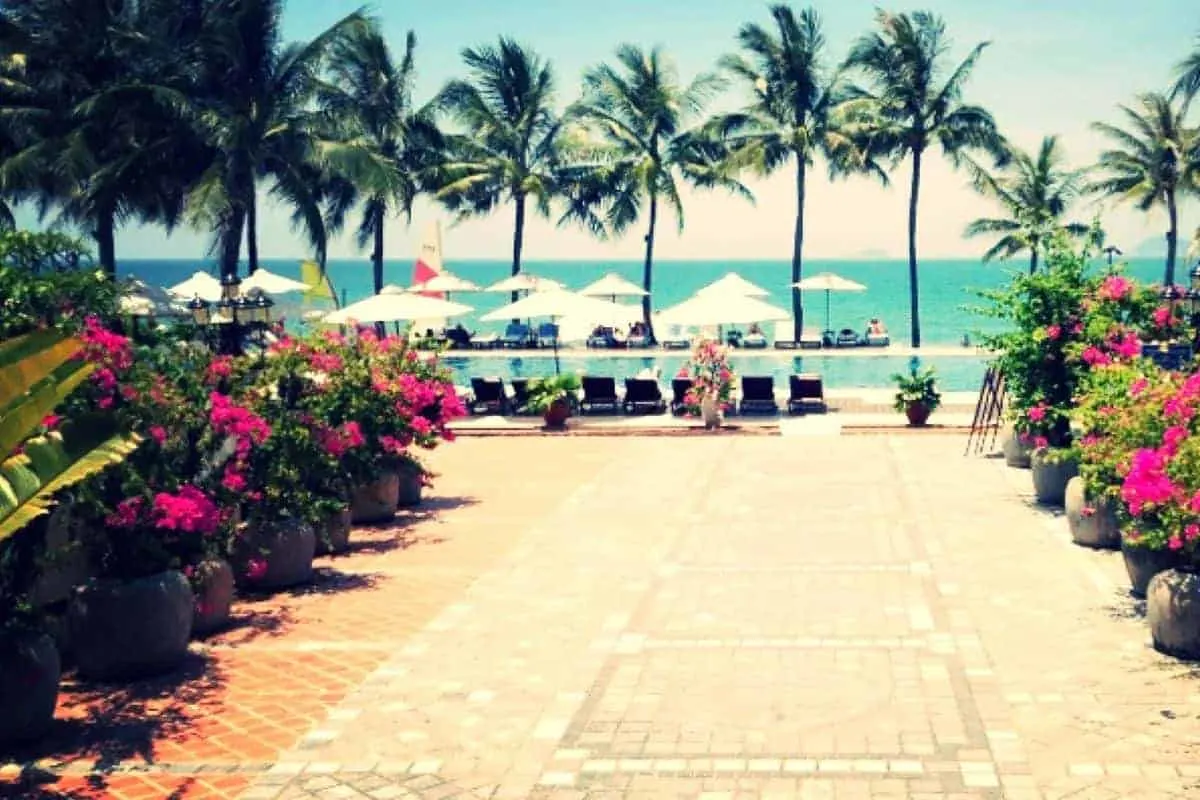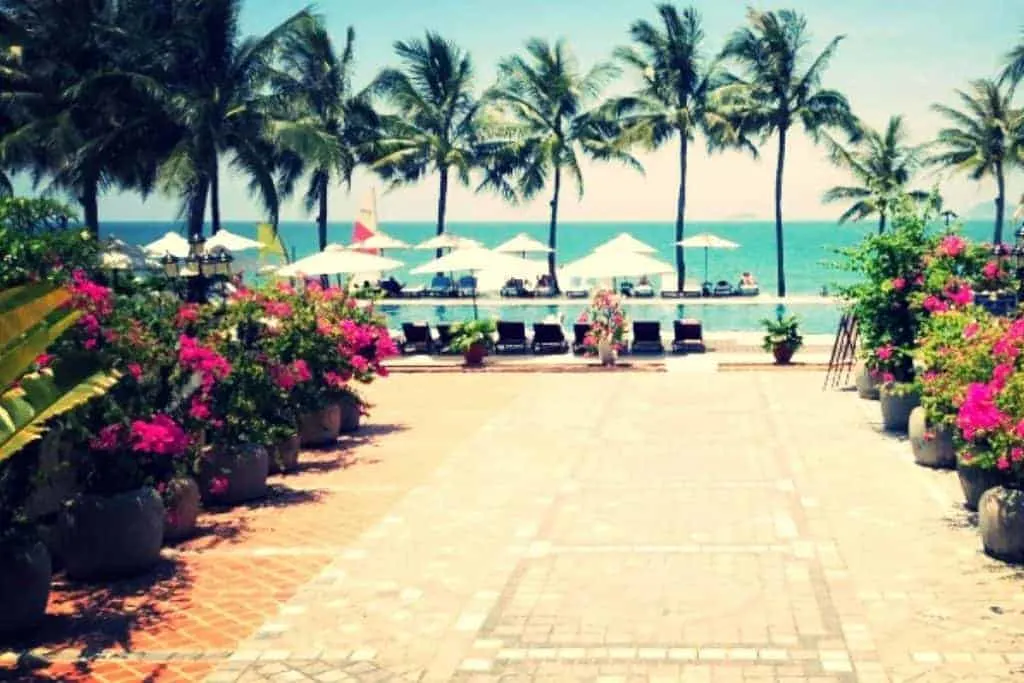 If interested in having clothes made, make your way into town later in the day to one of many custom made clothing shops (A Dong Silk being one of the top rated).
This will be your longest visit to the store as you pick out the articles of clothing you want as well as fabrics, colors, designs etc.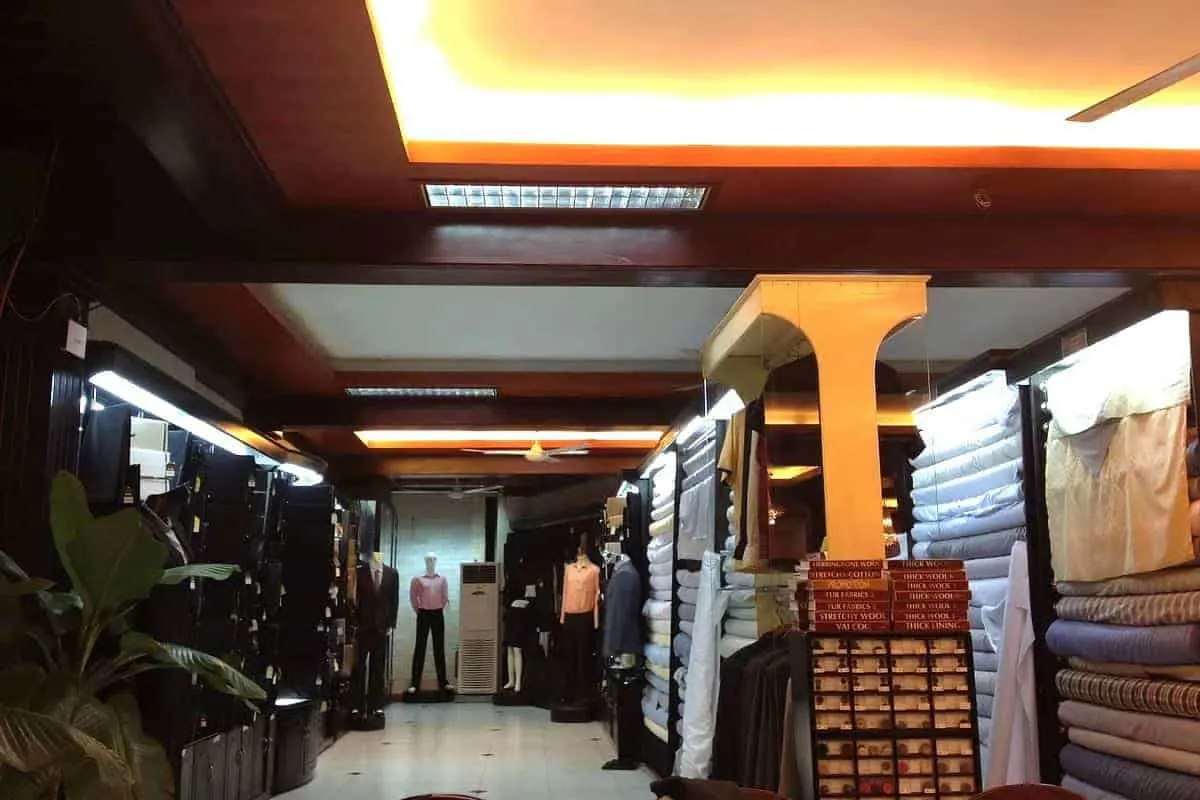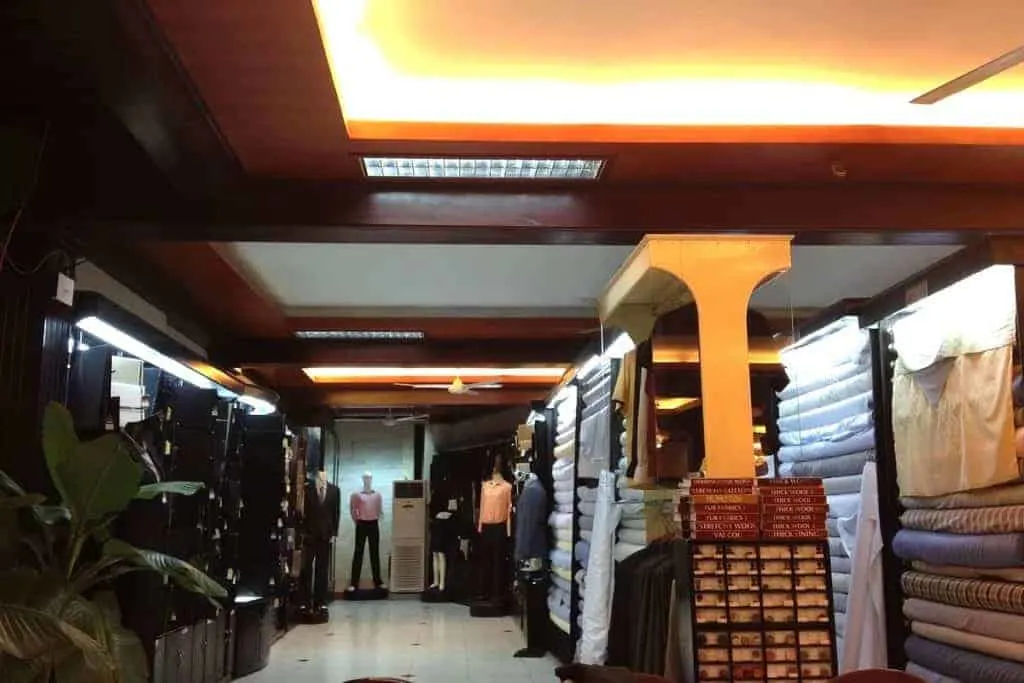 After spending some time here it should be time for dinner as you make your way to the river and pick a spot to grab some food and drinks.
If you aren't into the custom made clothing scene or don't want to spend time doing that during your trip, then no worries – just more time to explore the city and relax.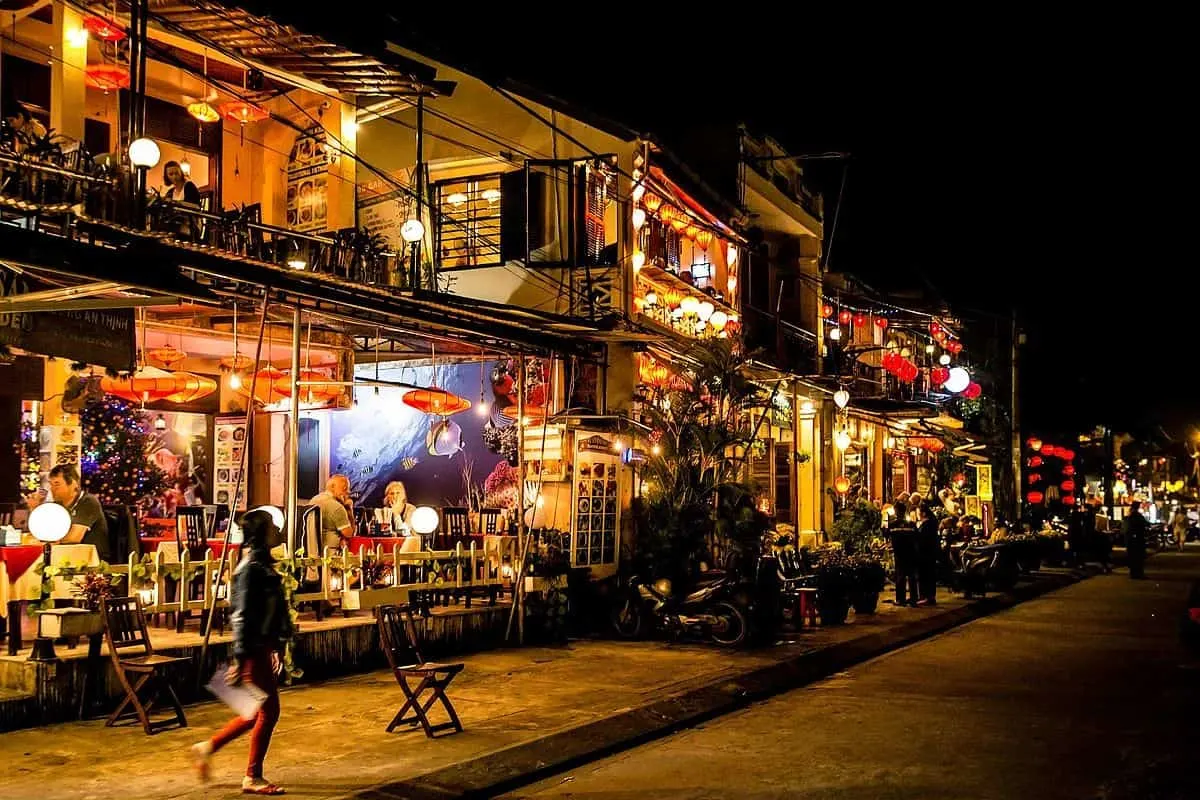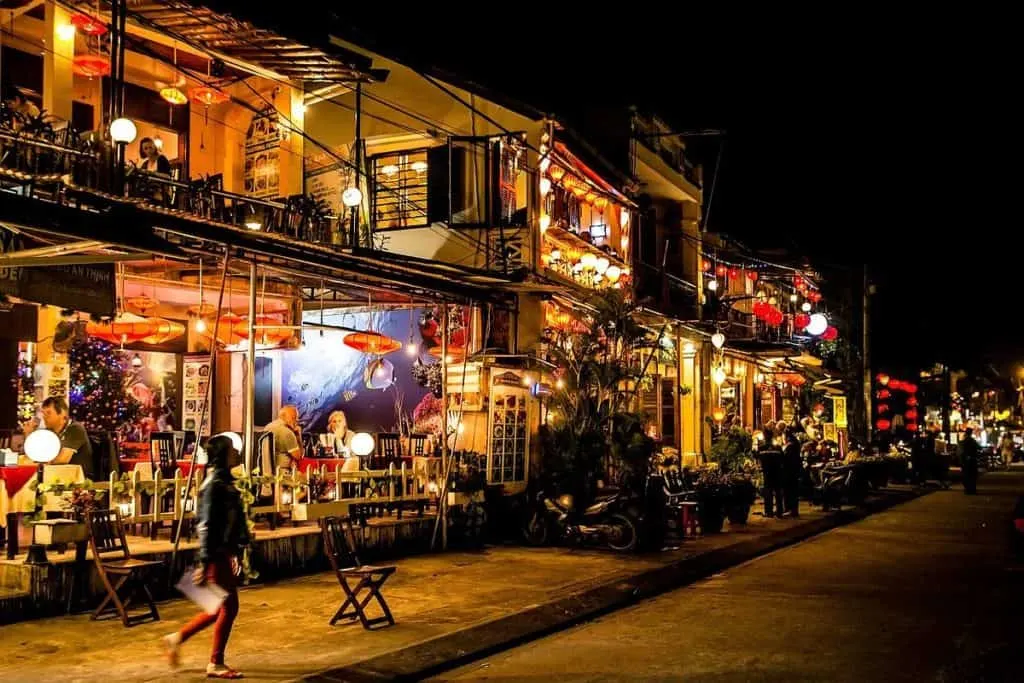 Day 4 – Hoi An
​On your second day in Hoi An you can choose from a bunch of different activities depending on how you are feeling.
If you did opt to get clothing made, your first stop after breakfast is back to the tailor for your first fitting (yes they literally get your clothing made overnight!). This time it won't as long but they just want to make sure the clothes fit and if they have to make any additional alterations.
You can then decide to rent bikes (or motorbikes) for the day and explore the city and beyond.
These may be rented from your hotel or one of the local spots in town. It should just cost a few dollars to rent the bikes and you will receive a map of the different areas to explore.
Wander around to different villages, rice fields, and along the beach. It will be a great experience getting a sense of all the different scenery that Hoi An has to offer.
After getting lost for a couple hours on the roads head back near the city center where we you can get some lunch and relax for a bit.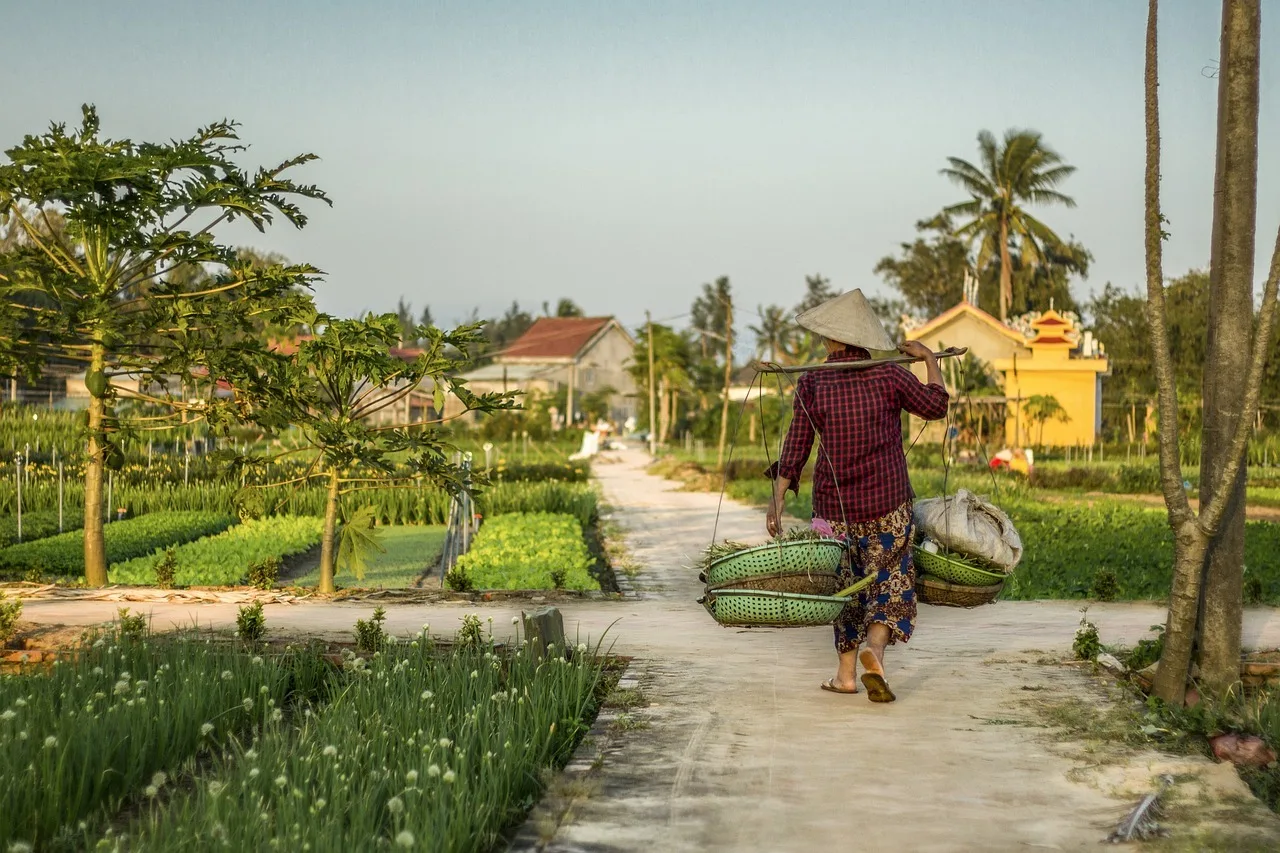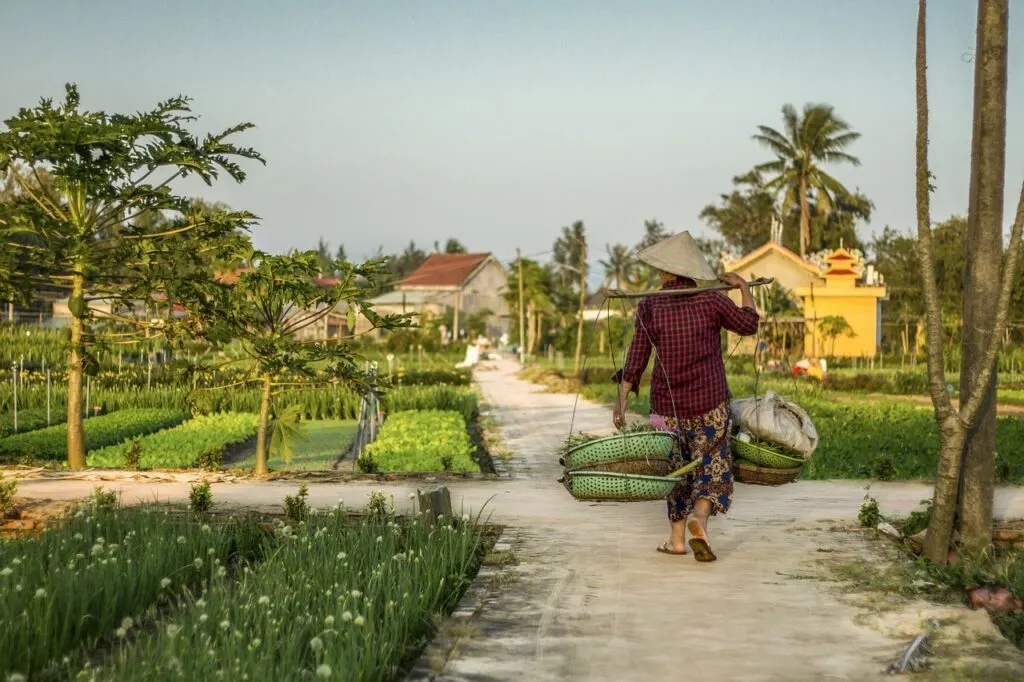 Next up is really up to you. You can head back to your hotel and hang out by the pool/beach or just continue to walk around the river area taking in the sites such as the famous Japanese Bridge or a local museum.
Hoi An is a UNESCO World Heritage Site so just take it all in and wander the streets.
You could also do something such as a Hoi An cooking class (you will also have the opportunity to do this in Hanoi).
First you will be taken to the local markets to pick up foods directly from street vendors. From there you will prepare the food and then make it into a delicious meal.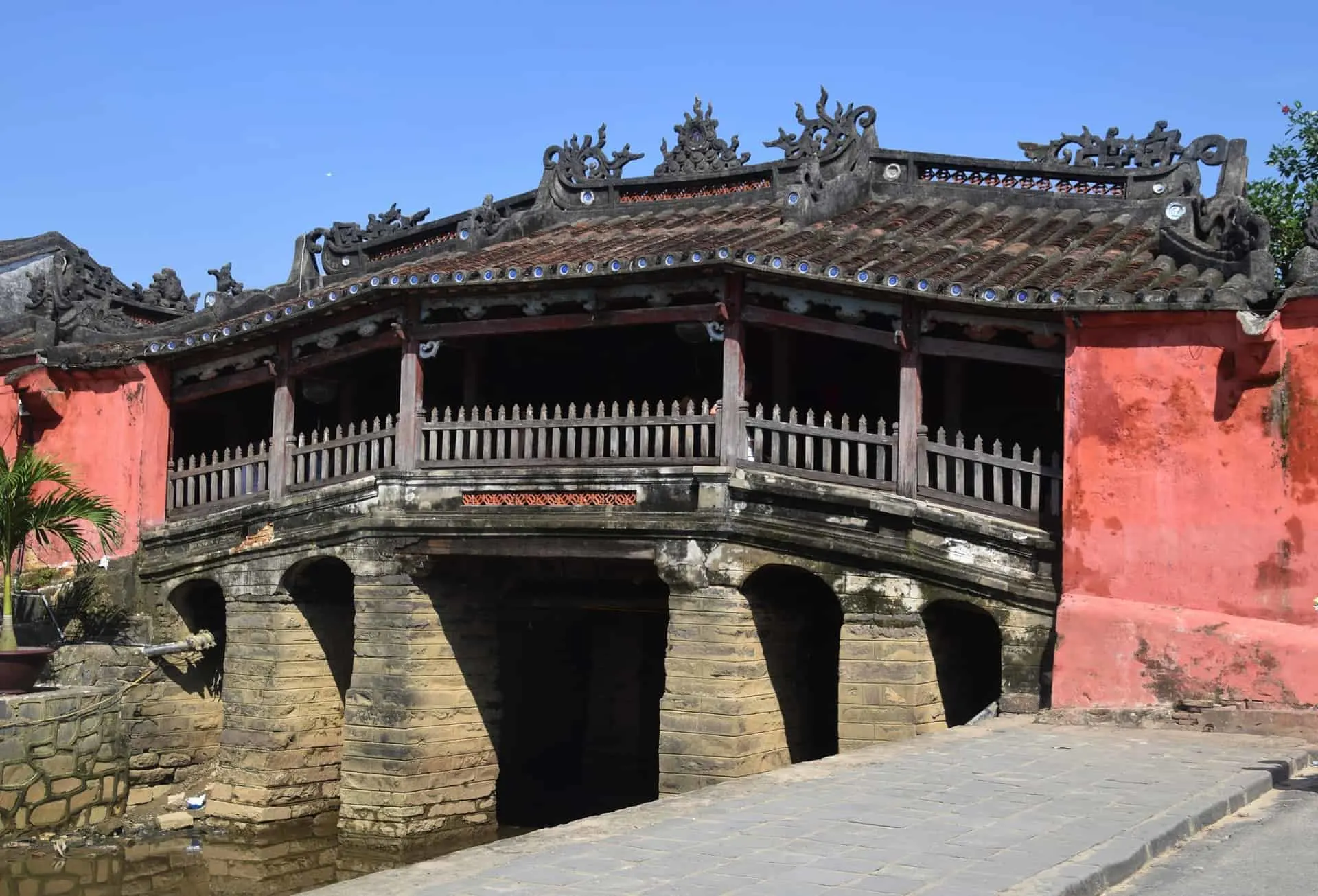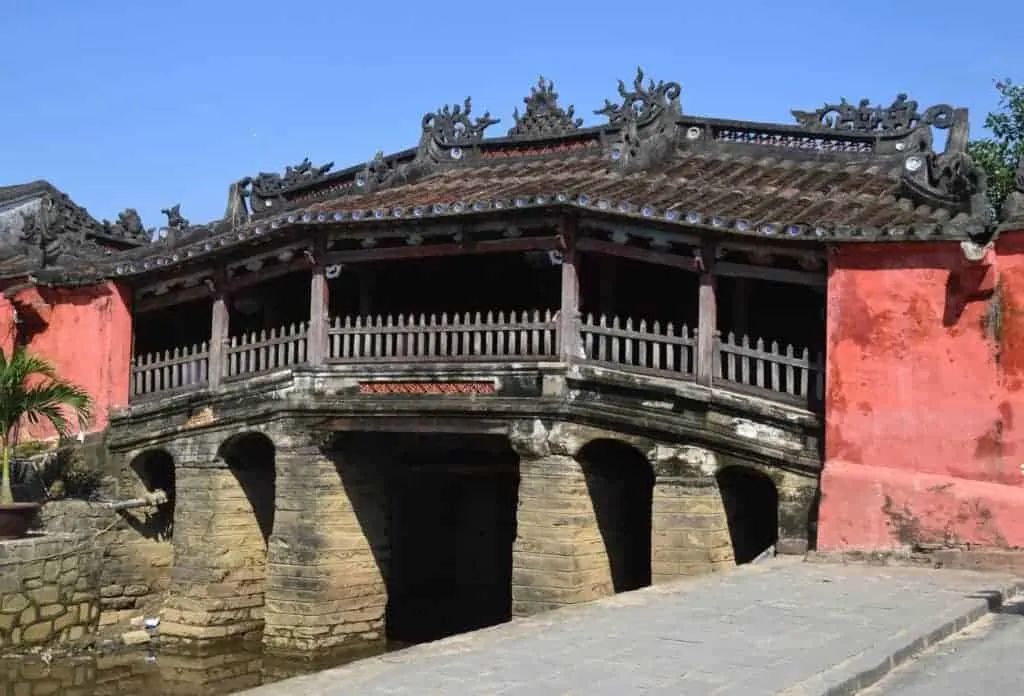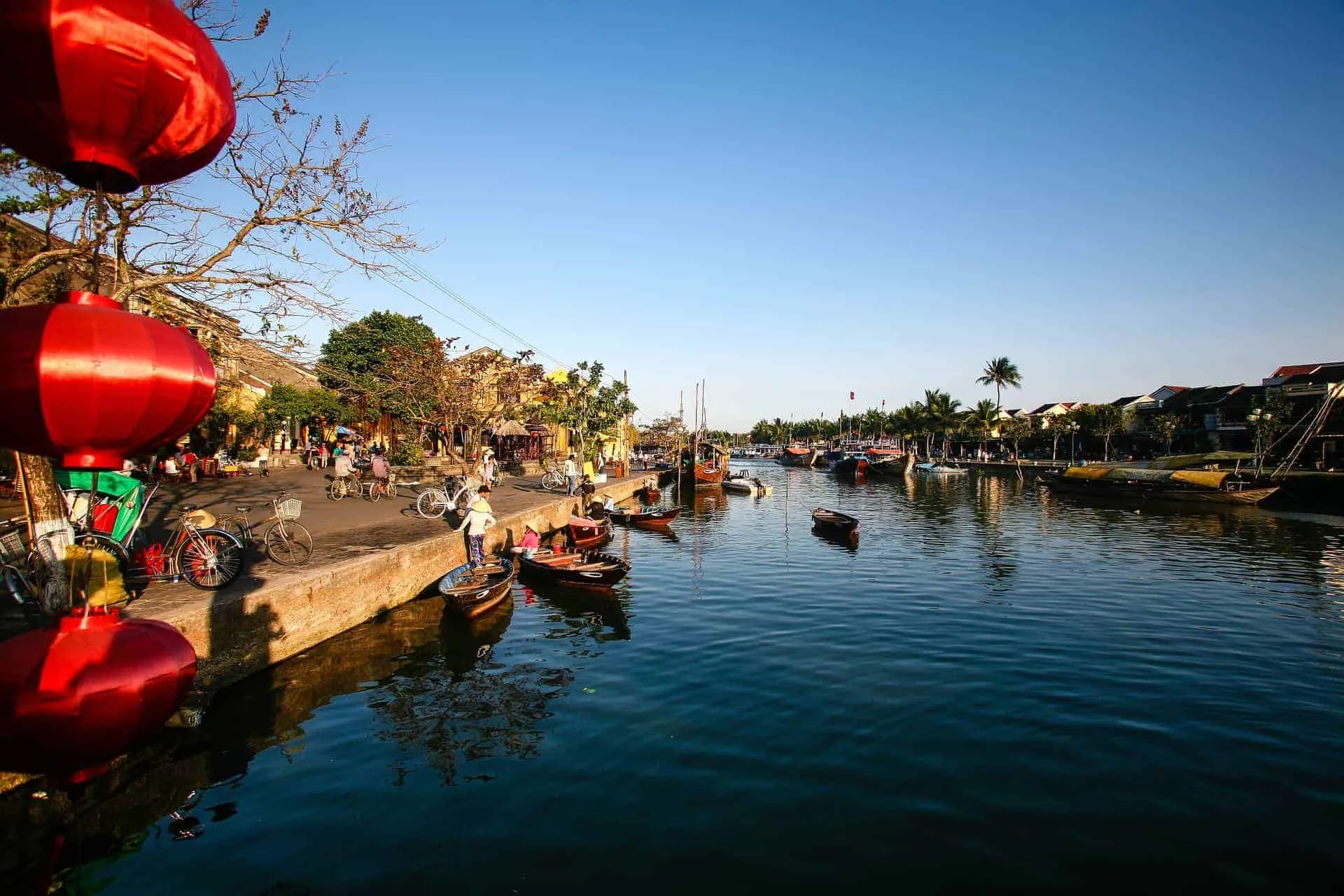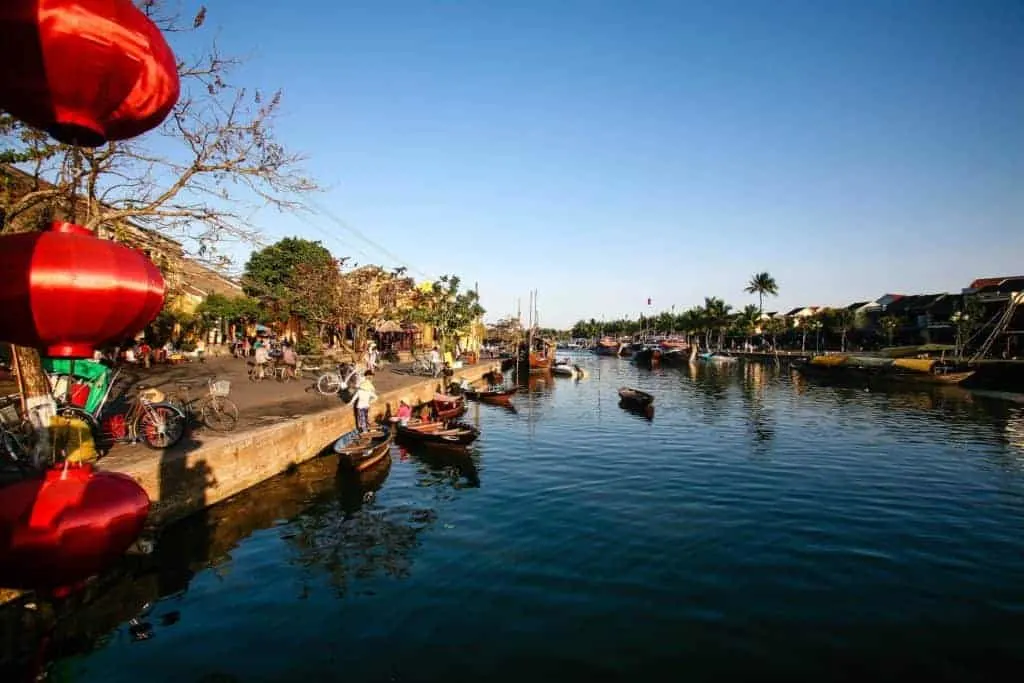 Day 5 – Hoi An / Travel to Hanoi
​On your last day in Hoi An, the first thing you will do once again is head back to the tailor to pick up your finished product (if you opted to have anything made).
After trying it on one last time, you can either take the clothing with you if it isn't too much to fit in your suitcase or you will also have the opportunity to ship it back home for an additional fee.
If you have an evening flight to Hanoi and you have already ventured the city enough, you can head outside Hoi An for a couple additional activity options:
My Son
About an hour or so outside the city is My Son. If you have already been to Angkor Wat then this might just be more of the same for you but it is a complex filled with numerous temples and structures that will be well worth the half day trip.
-> Check out this highly reviewed My Son tour as a potential option
You will get picked up from your hotel, make the hour or so drive and then have a few hours to explore the groups of ruins.
Your guide will give you some good background info about the ruins and you can ask questions along the way.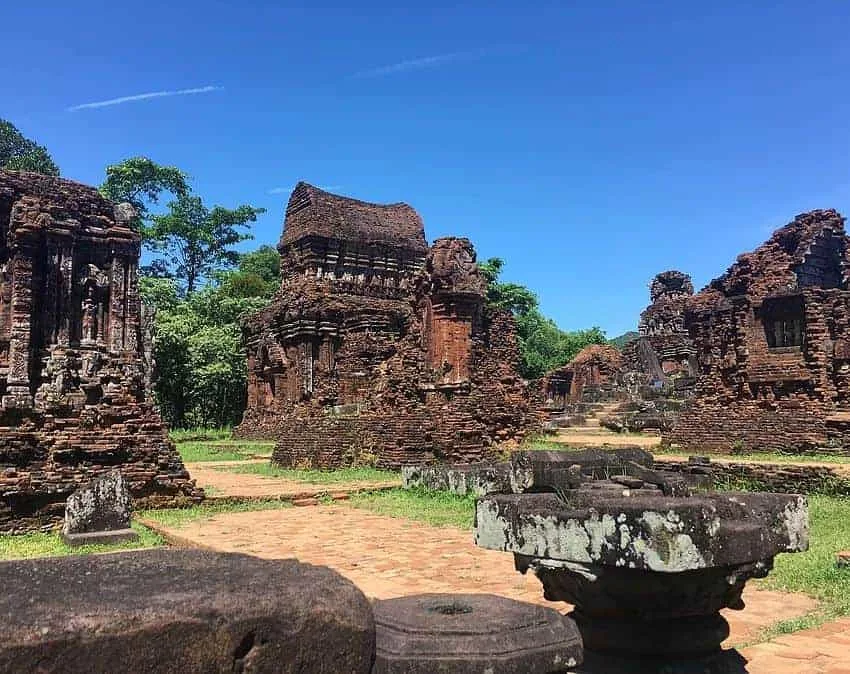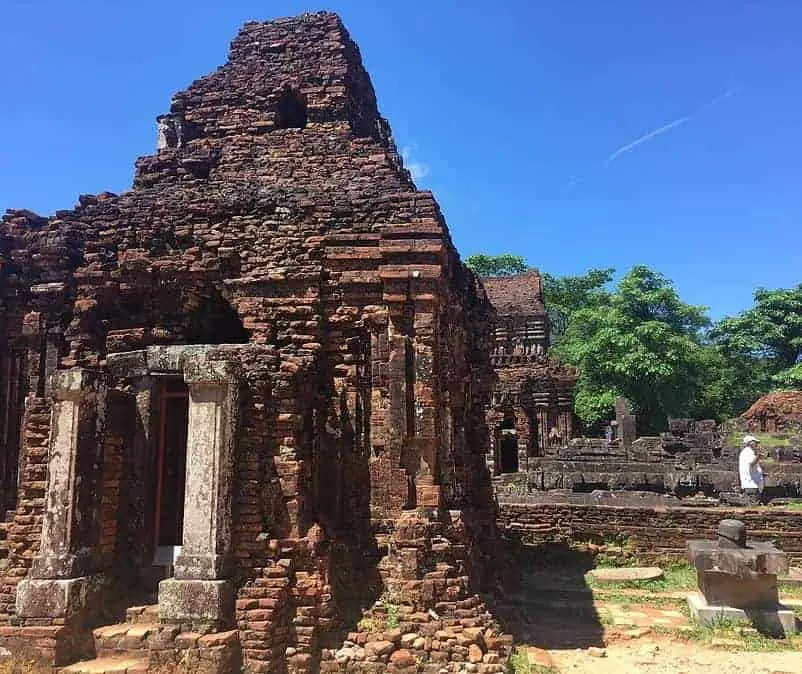 Marble Mountains
The Marble Mountains are another option to spend some time around Danang (where you will departing later in the day anyway).
Here you can spend some time checking out this city and/or heading to the Marble Mountains – a place filled with amazing views and caves & tunnels to explore.
It is only about 15/20 minutes away from the city center of Danang so you can hire a driver who can take you from Hoi An to the Marble Mountains and then off to the airport after.
There are five mountains to explore but feel free to head out to as many as you would like.
Take a look at this Marble Mountain tour that may work for you!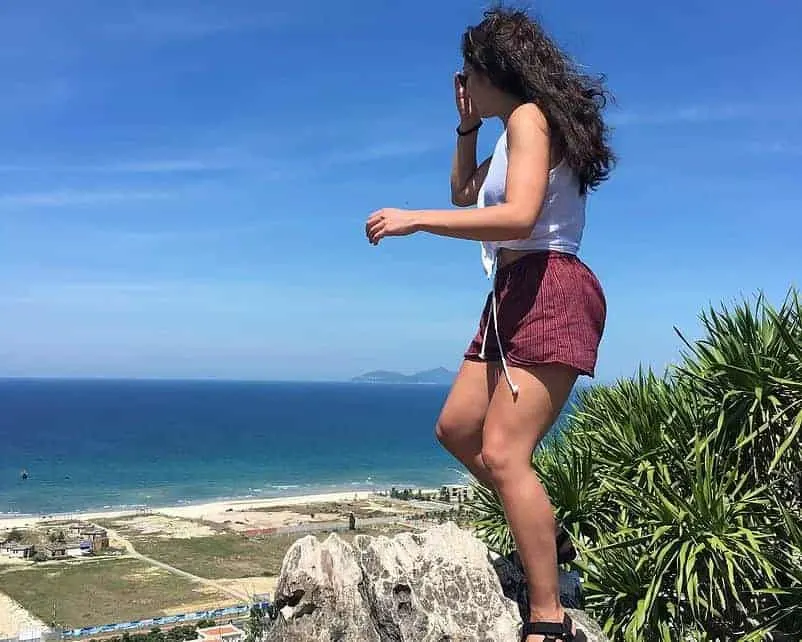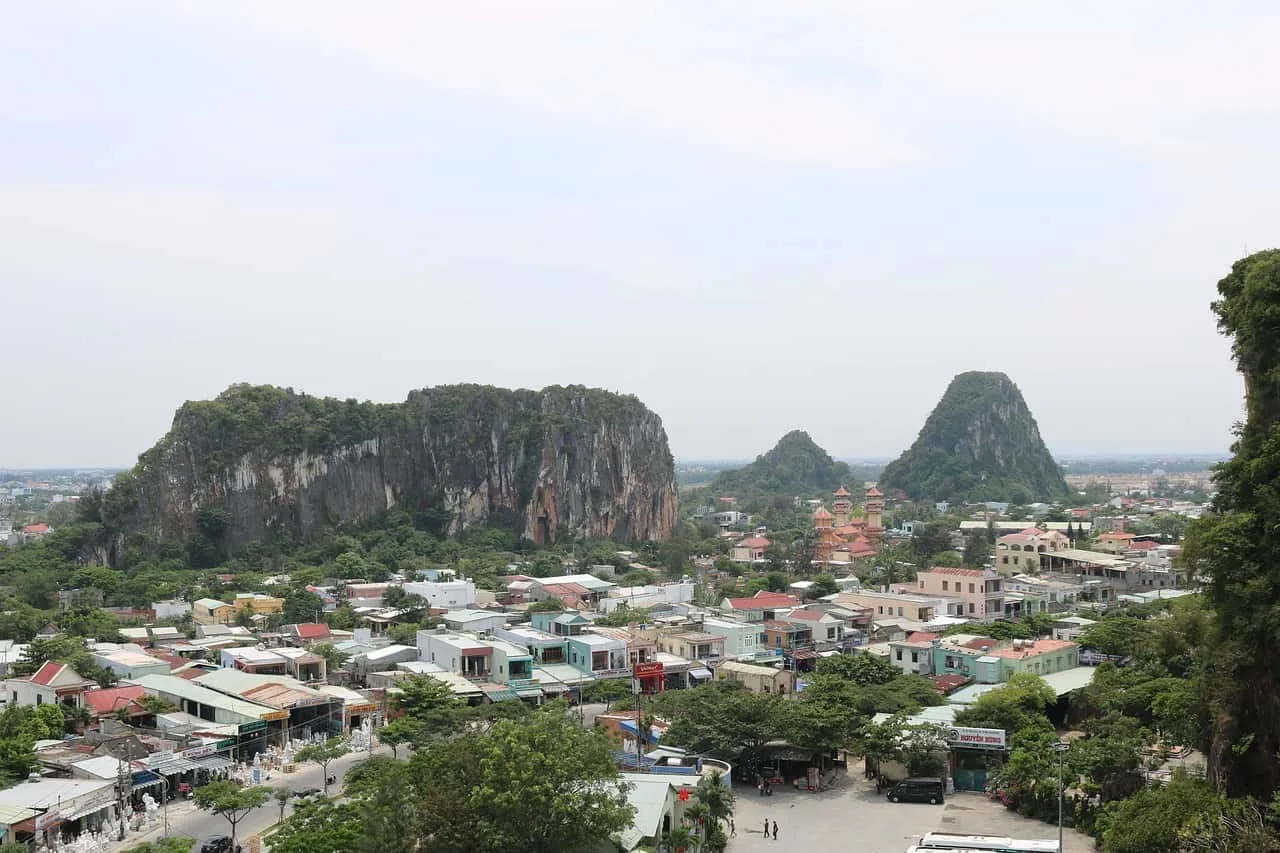 So, depending what time your flight is, there are a bunch of options either in Hoi An, Danang or further out.
You will then arrive in Hanoi at some point on day 5 – it could be early afternoon or later in the evening.
If you have some time feel free to explore the city, check out restaurants, and browse the markets.
Day 6 – Hanoi
You have now made it to the northern capital of Vietnam – Hanoi. On your first day in Hanoi be prepared to start exploring.
Surrounding the Hoan Kiem Lake is the Old Quarter of Hanoi. There are winding streets with thousands of motorbikes, cars and pedestrians crossing at will.
It is a great place to just wander around, check our some markets, eat some street food and get a sense of the city.
Make sure to also head over to the lake and take a walk around it where you will be able to relax a bit from the craziness of the city itself.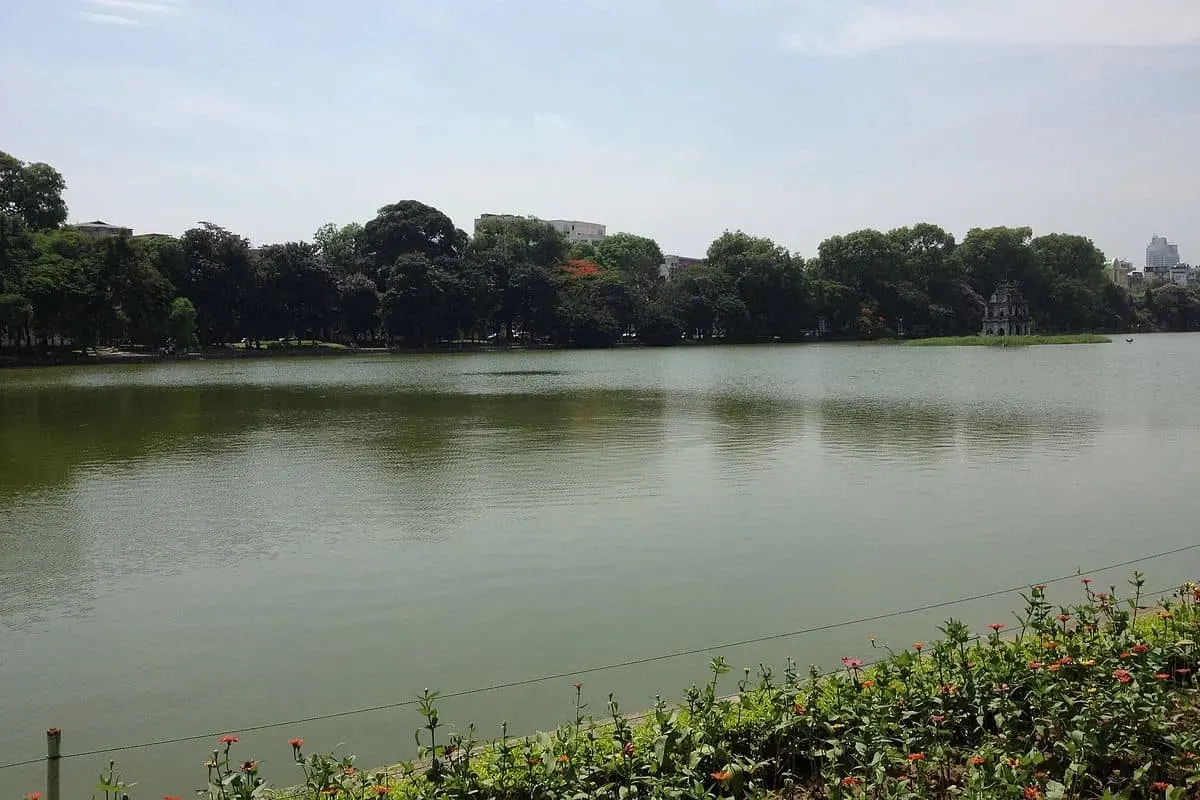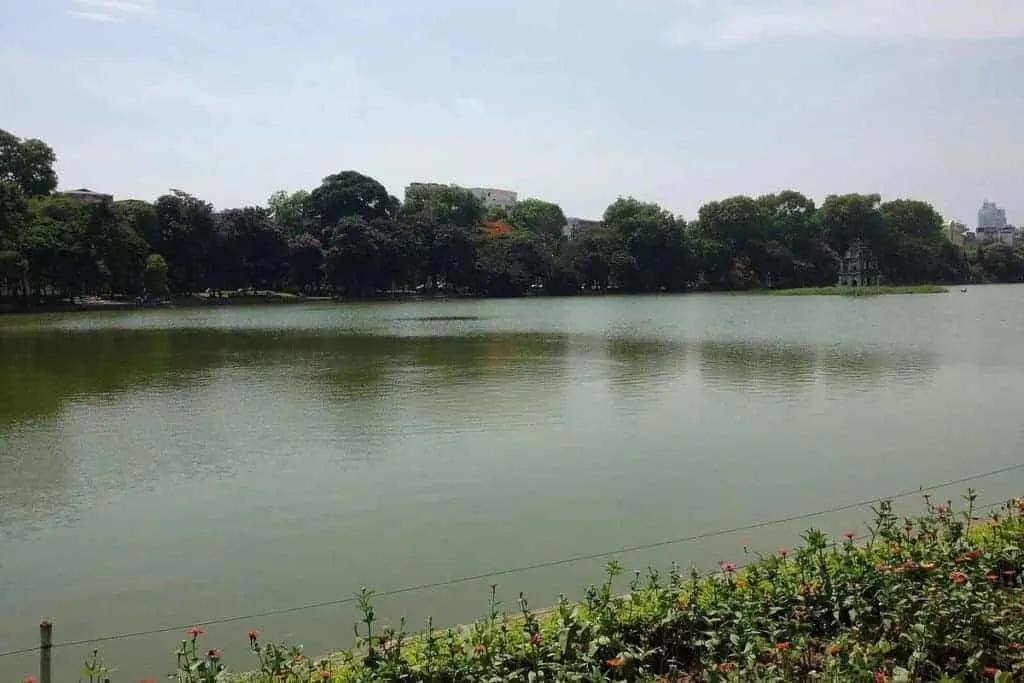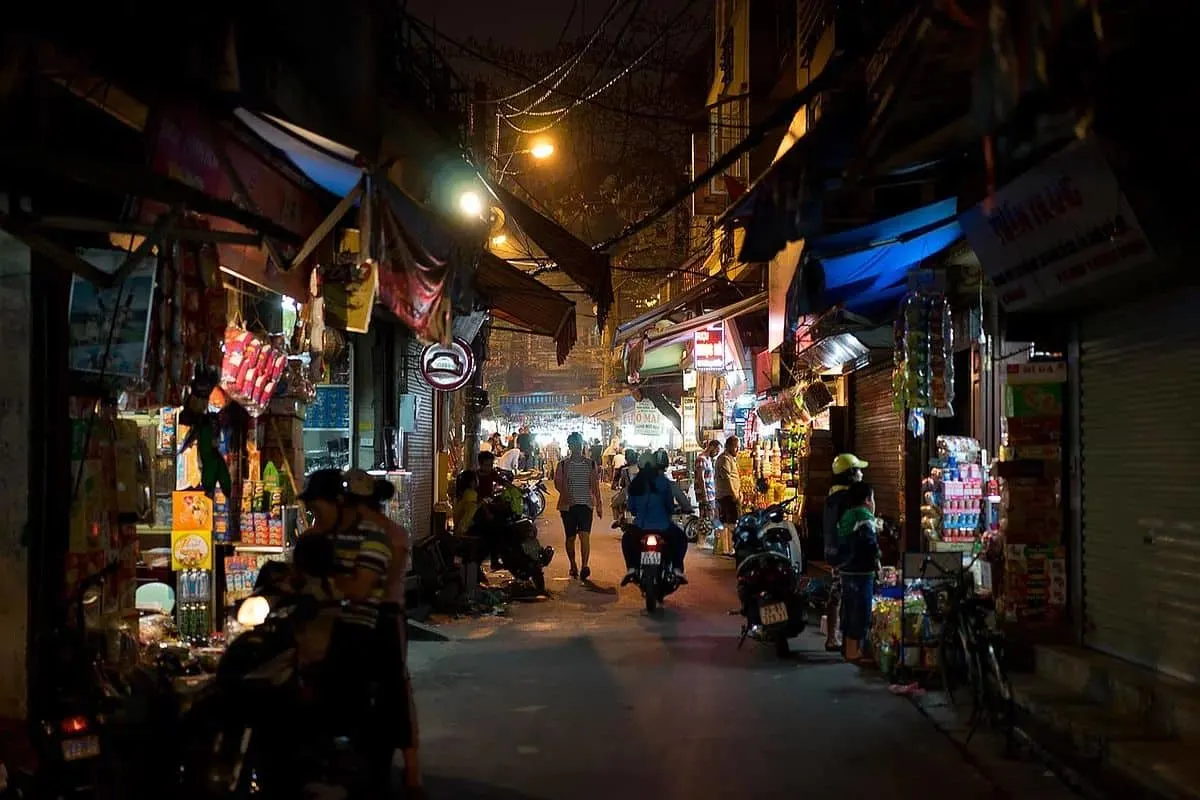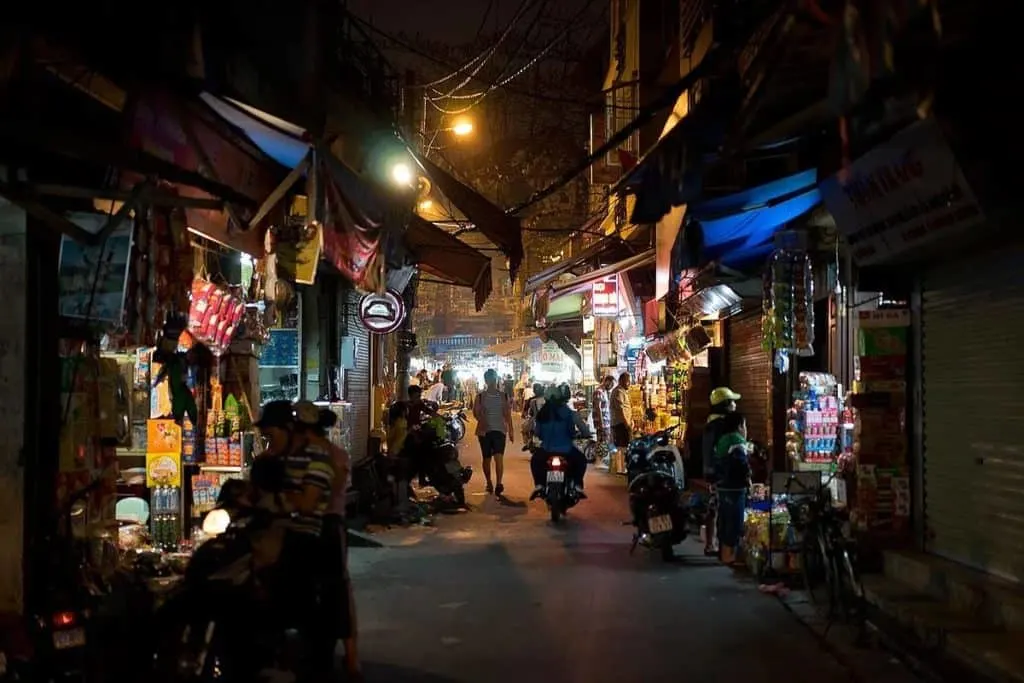 After wandering around a bit make your way to Hoa Lo Prison (also known as the Hanoi Hilton). Originally it was used when the French occupied Vietnam.
After that it was used by the northern Vietnamese during the Vietnam War and where they would hold American prisoners – the most famous of which was John McCain.
Here you will find a similar type of propaganda that you might have seen at other museums around the country.
There is also a whole section about John McCain, with pictures of his capture and even his original Air Force uniform that he wore when his plane was shot down.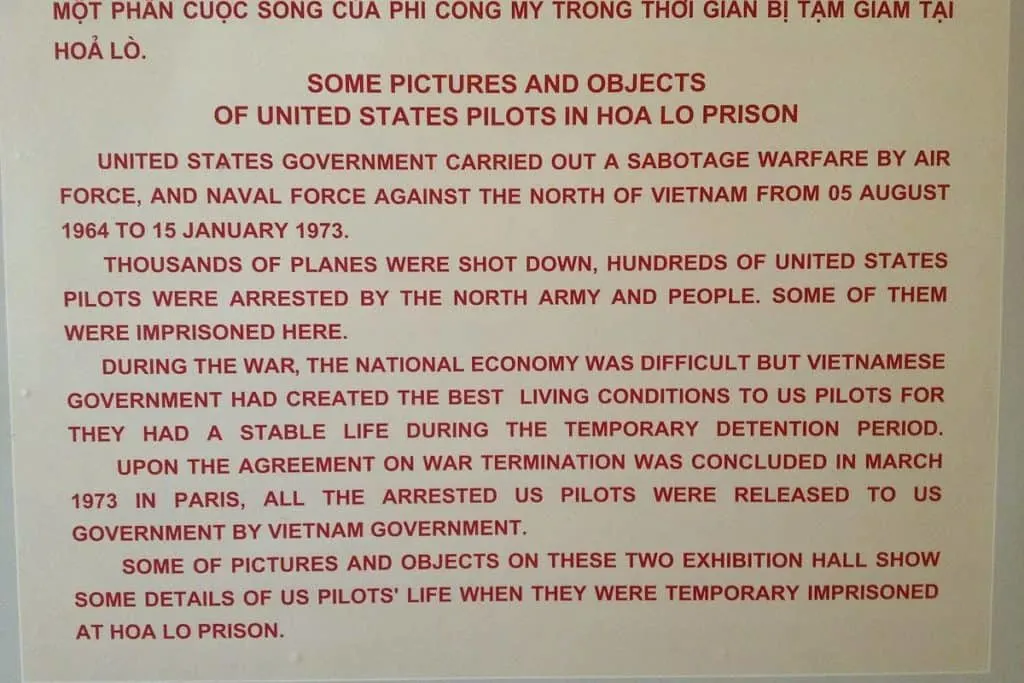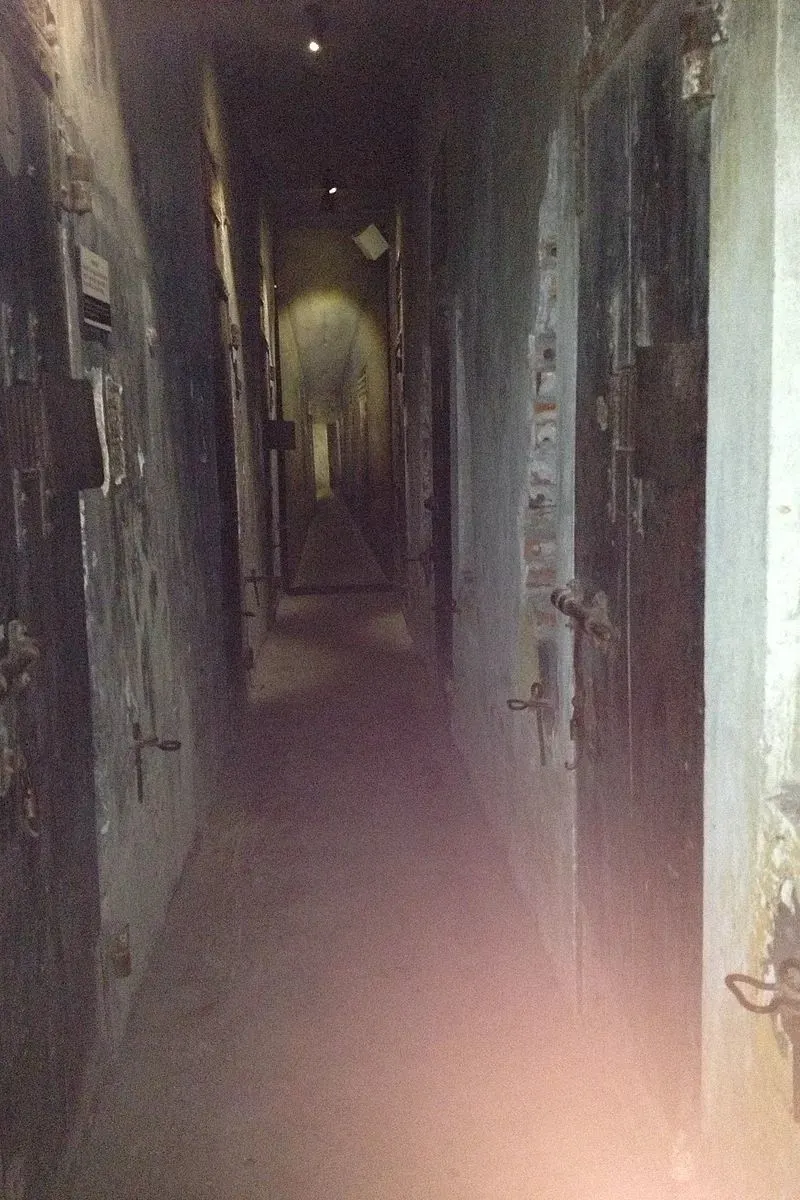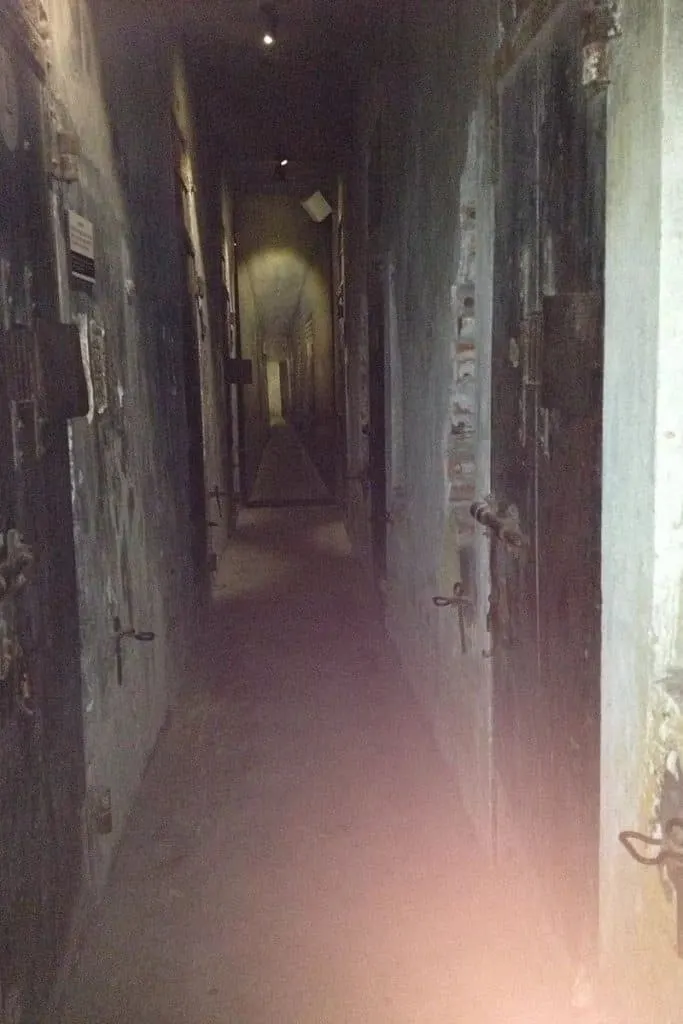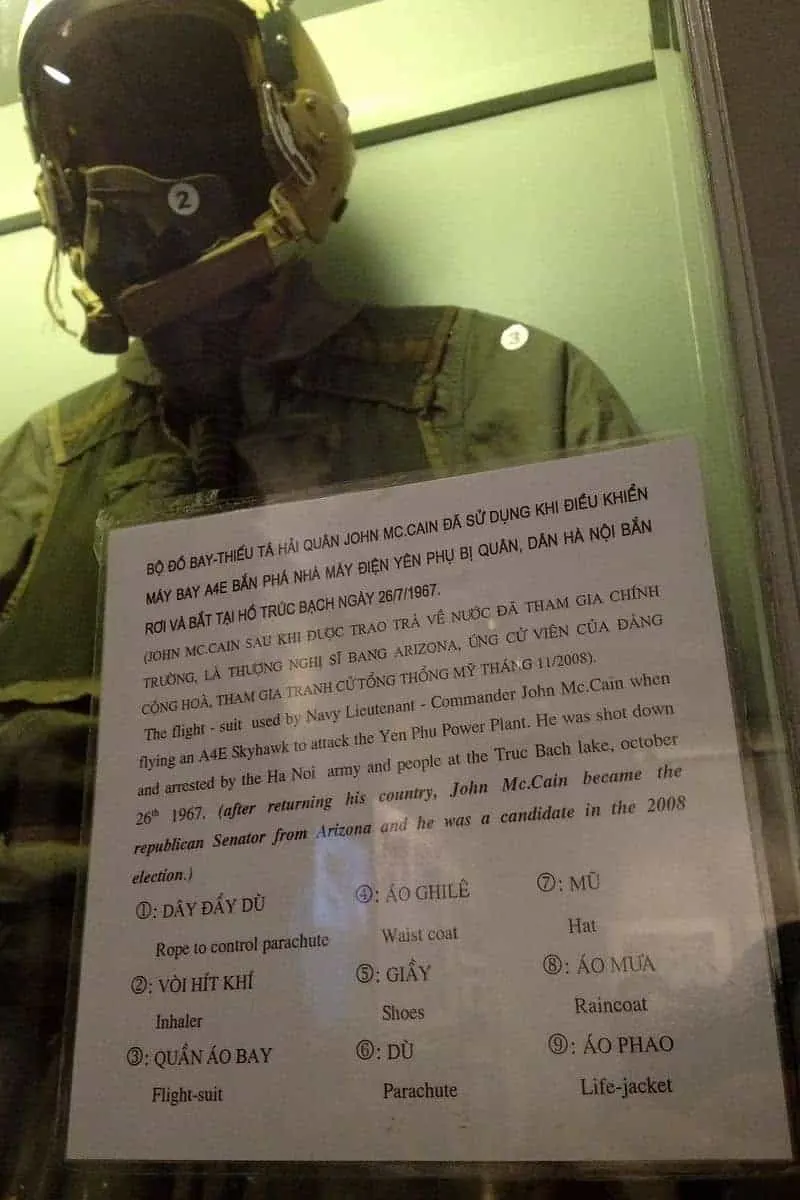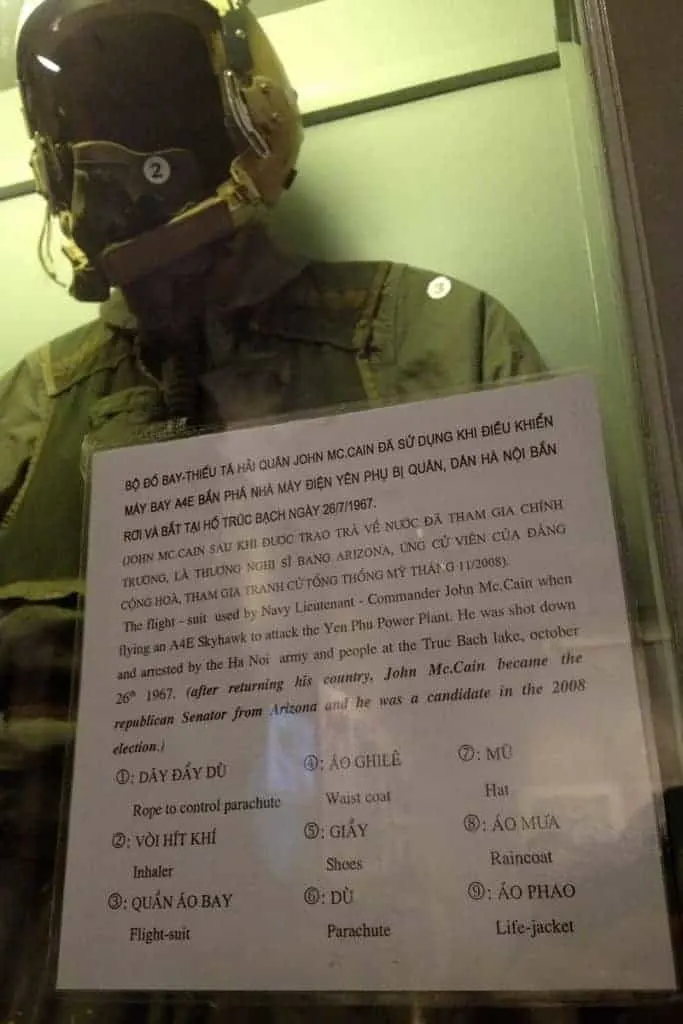 You might have time to take a Hanoi cooking class this afternoon/evening here if you have not done one already in Hoi An.
Similarly you will be able to go out to the market with your chef and purchase different ingredients for the multiple dishes that you will make.
You then will head back to the kitchen where your chef will take you through the cooking process for everything from spring rolls to pho.
Once you complete your dishes you will then be able to taste and enjoy them. Who knows, maybe you will use your cooking skills when you are back home!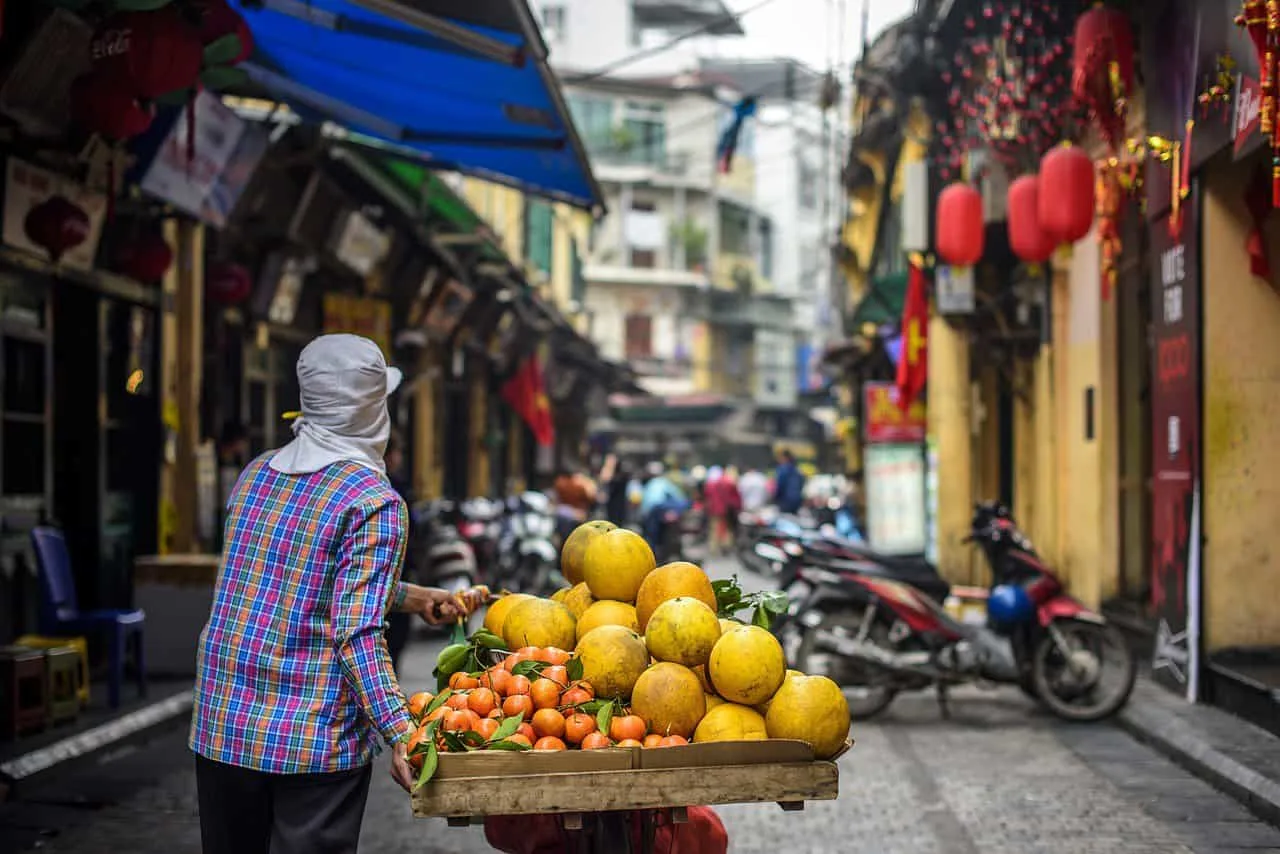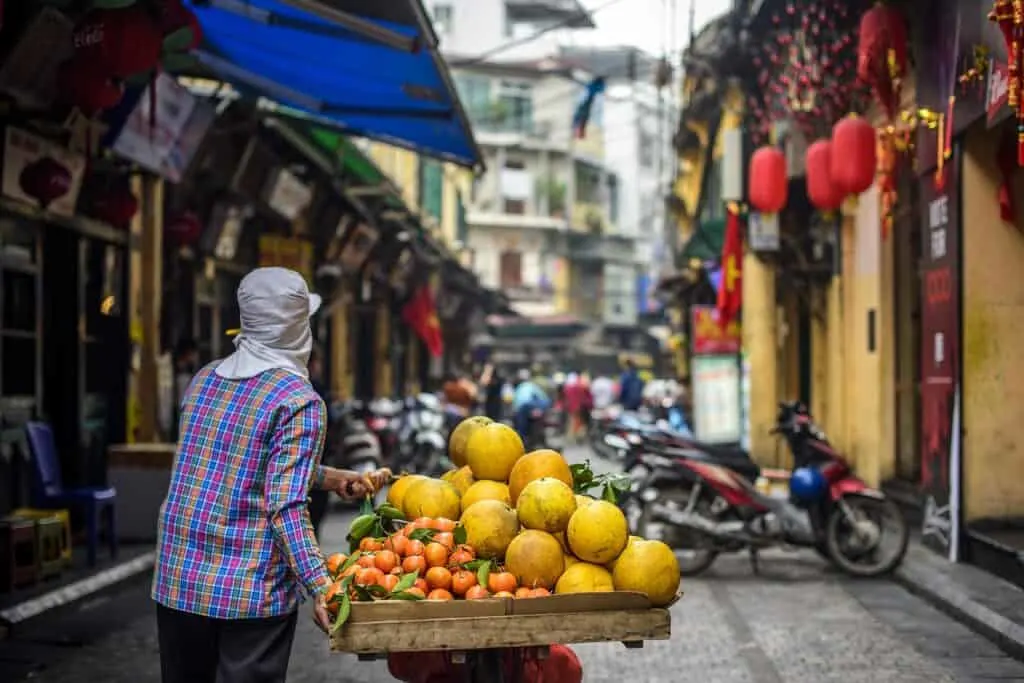 Day 7 – Day Trip Options
On your last day in Vietnam you can choose between several different day trip options. A few top ones to consider include:
Halong Bay
Tam Coc
Vietfarm
Halong Bay
This 7 day Vietnam itinerary only has a one day tour of Halong Bay. If you want to cut another day out of this trip or add another day in Halong Bay, go for it.
It is a beautiful place to explore and it has everything from the 1 day option to 3 day / 2 night options that will all give you a great experience.
Throughout a full day Halong Bay tour, you will be driven up from the city center, and to the bay itself. From there you will hop on a boat and get to enjoy a full day out on the water, taking in the beauty of the area.
After a day of exploring, it is then back to the harbor and onto Hanoi to end a successful day on the bay.
» Take a look at the Halong Bay Guide I put together to get an idea of what to expect. For a one day option you can assume it is similar to the first day mentioned in the guide.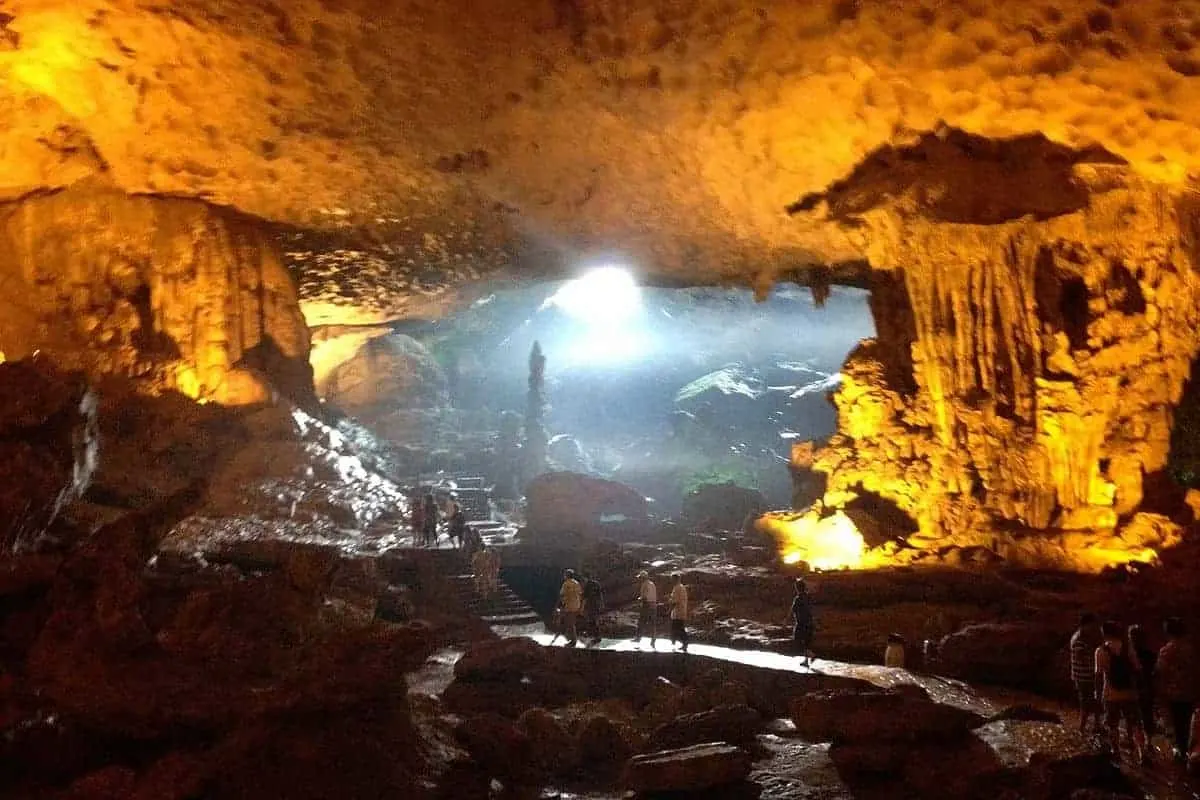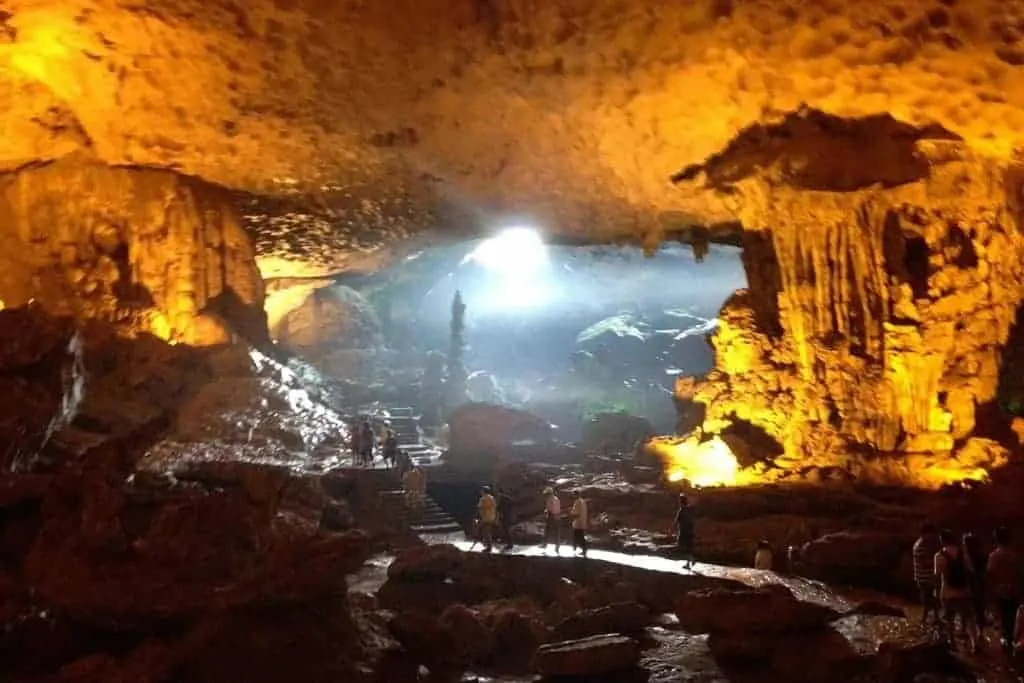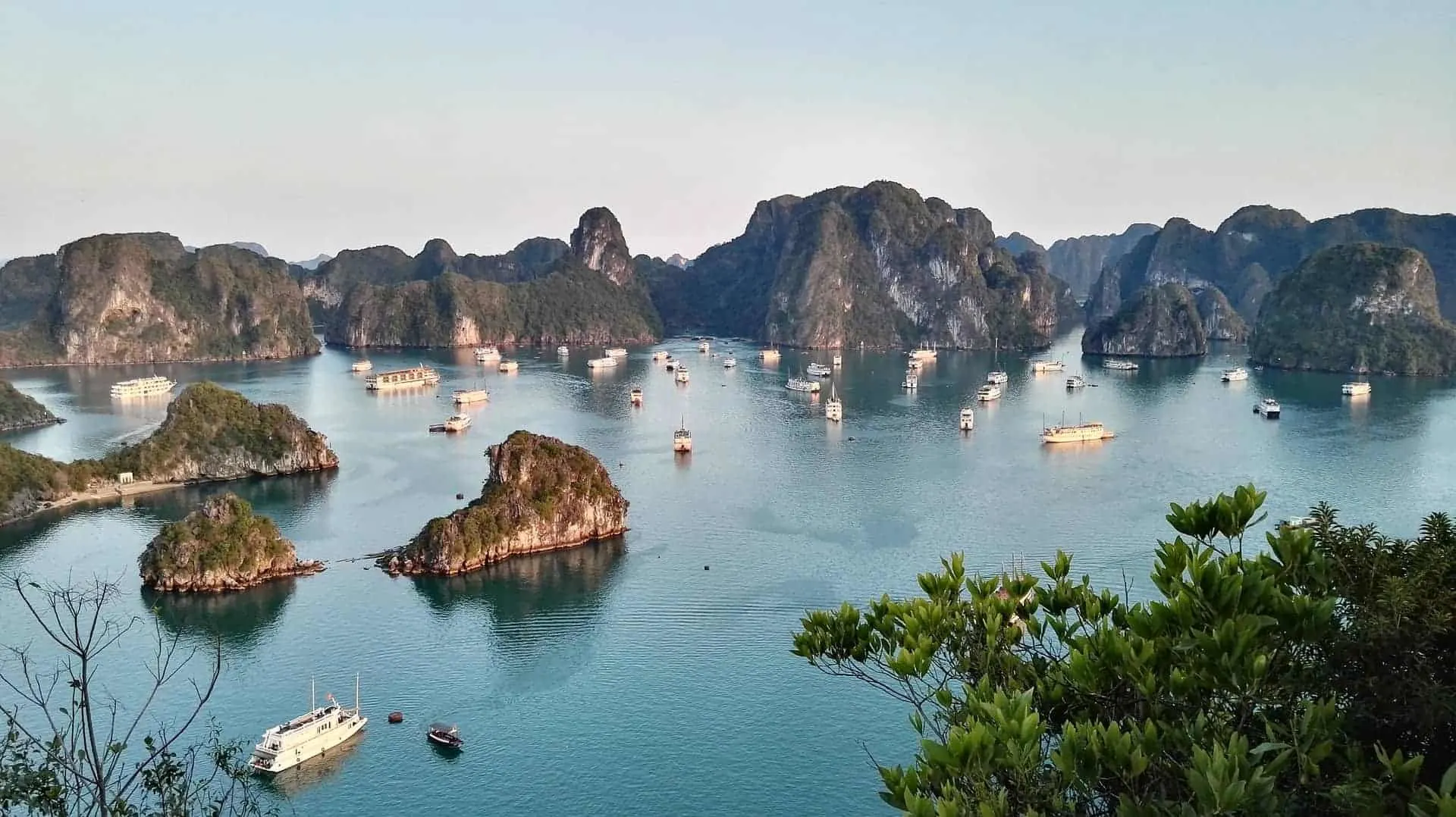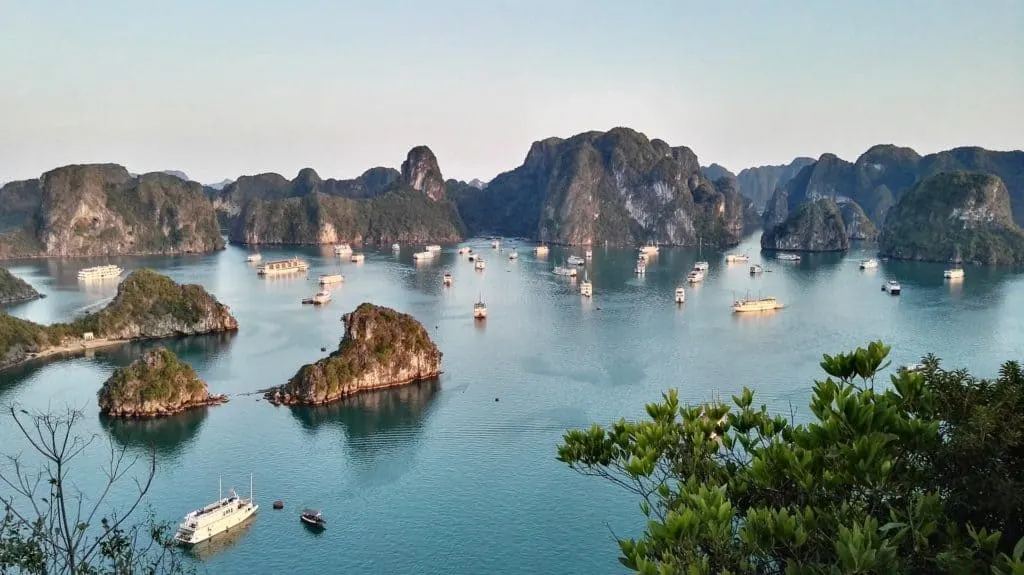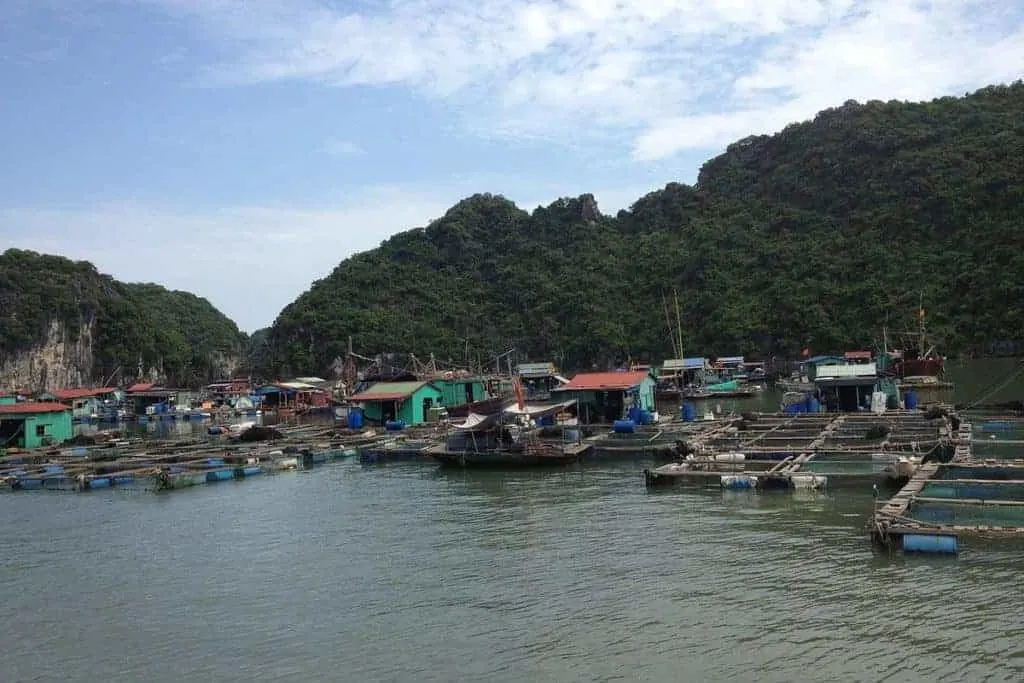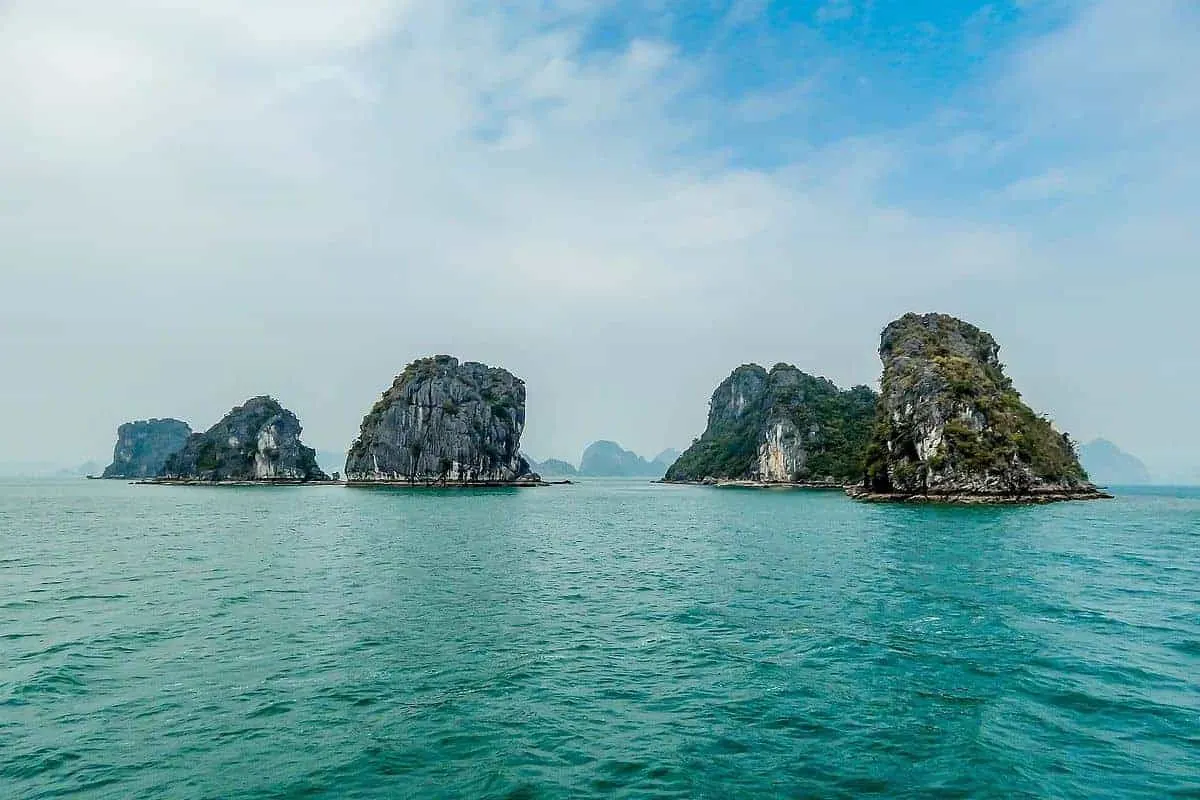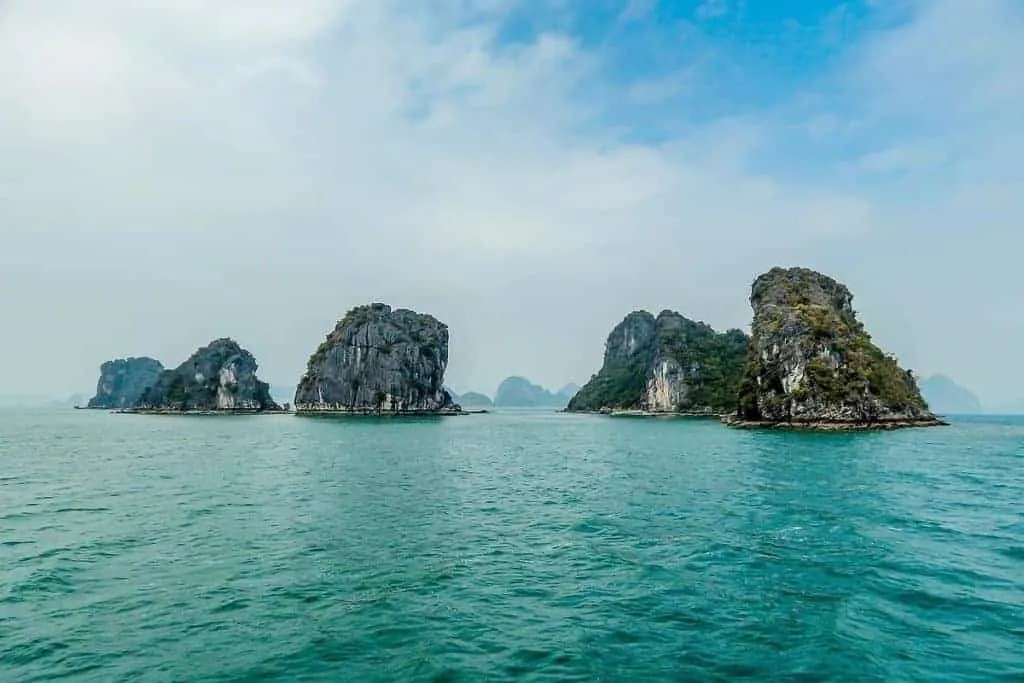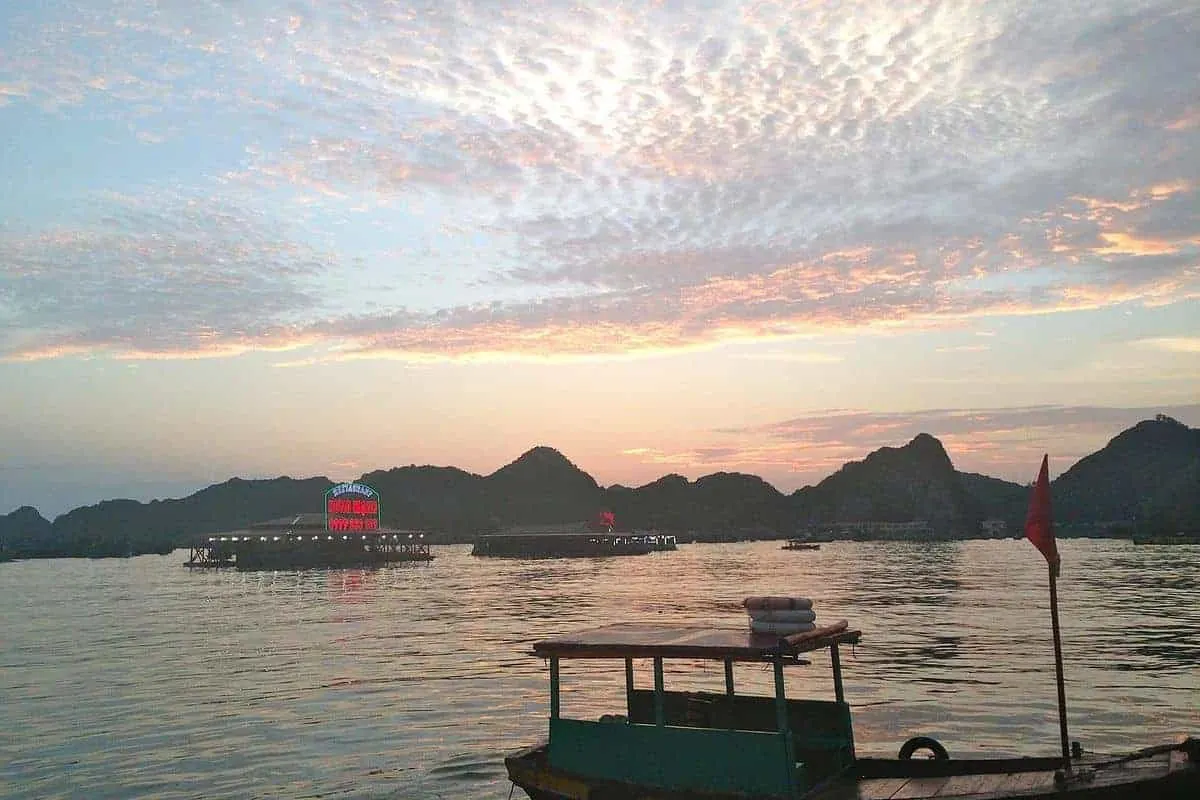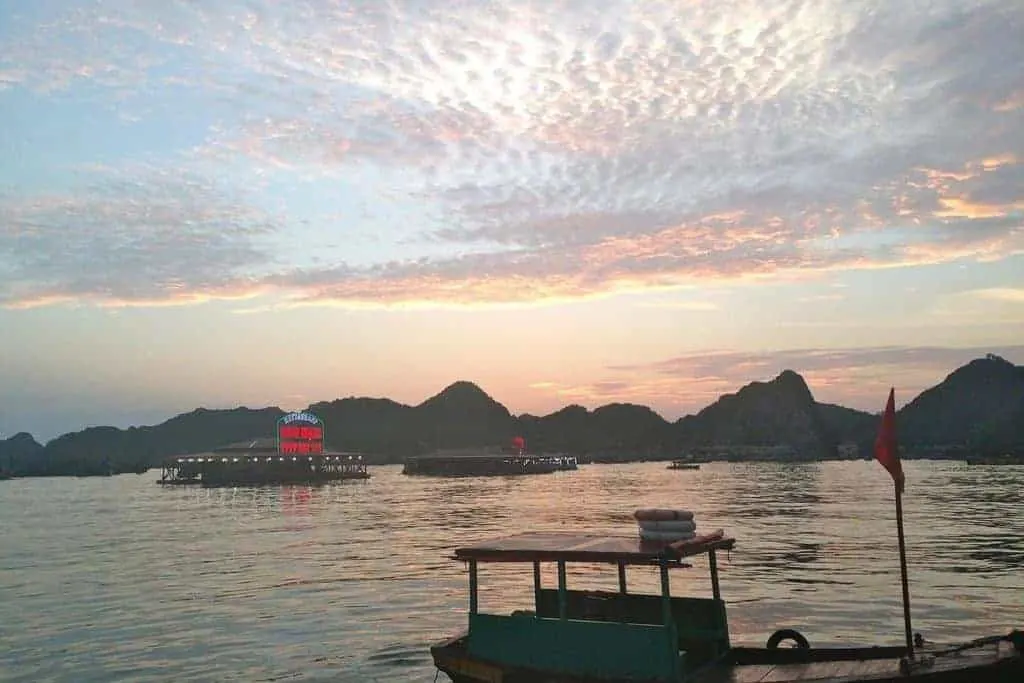 Tam Coc
After arriving in the Tam Coc area you will be able to see a couple ancient temples (Dinh King and Le King), check out some nice viewpoints, and take a couple hour boat ride down the river with a local.
The boat ride will pass by a few grottos as you make your way down the river surrounded by limestone cliffs and rice fields. Your local driver might even be paddling the boat with their feet!
You might also have an opportunity to bike ride around the area as you explore the city on two wheels. If you are up for it you can even climb to the top of Hang Mua (about 500 steps to the top of a spectacular viewpoint).
» Feel free to book your Tam Coc tour ahead of time if you don't want to worry about doing it on your own!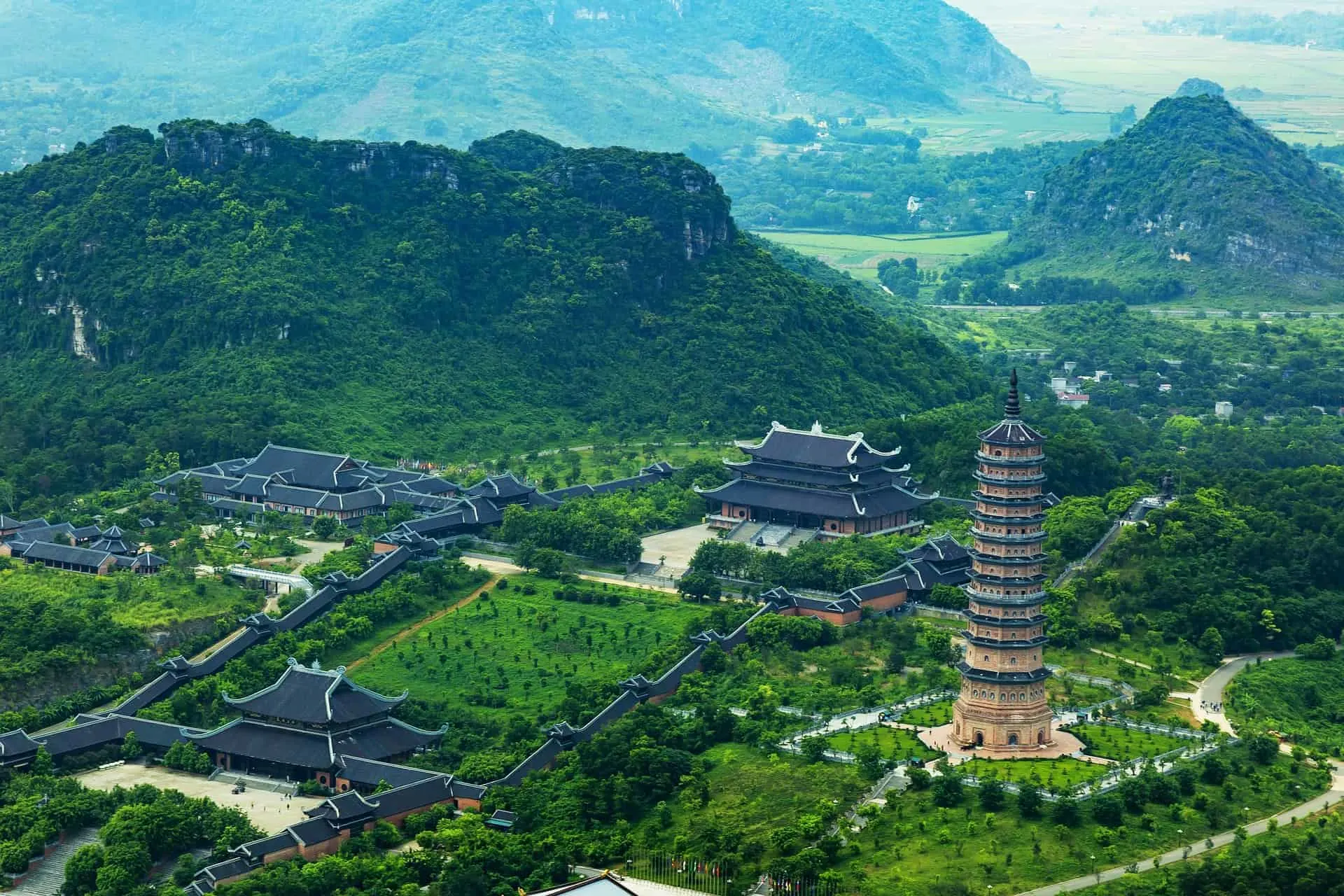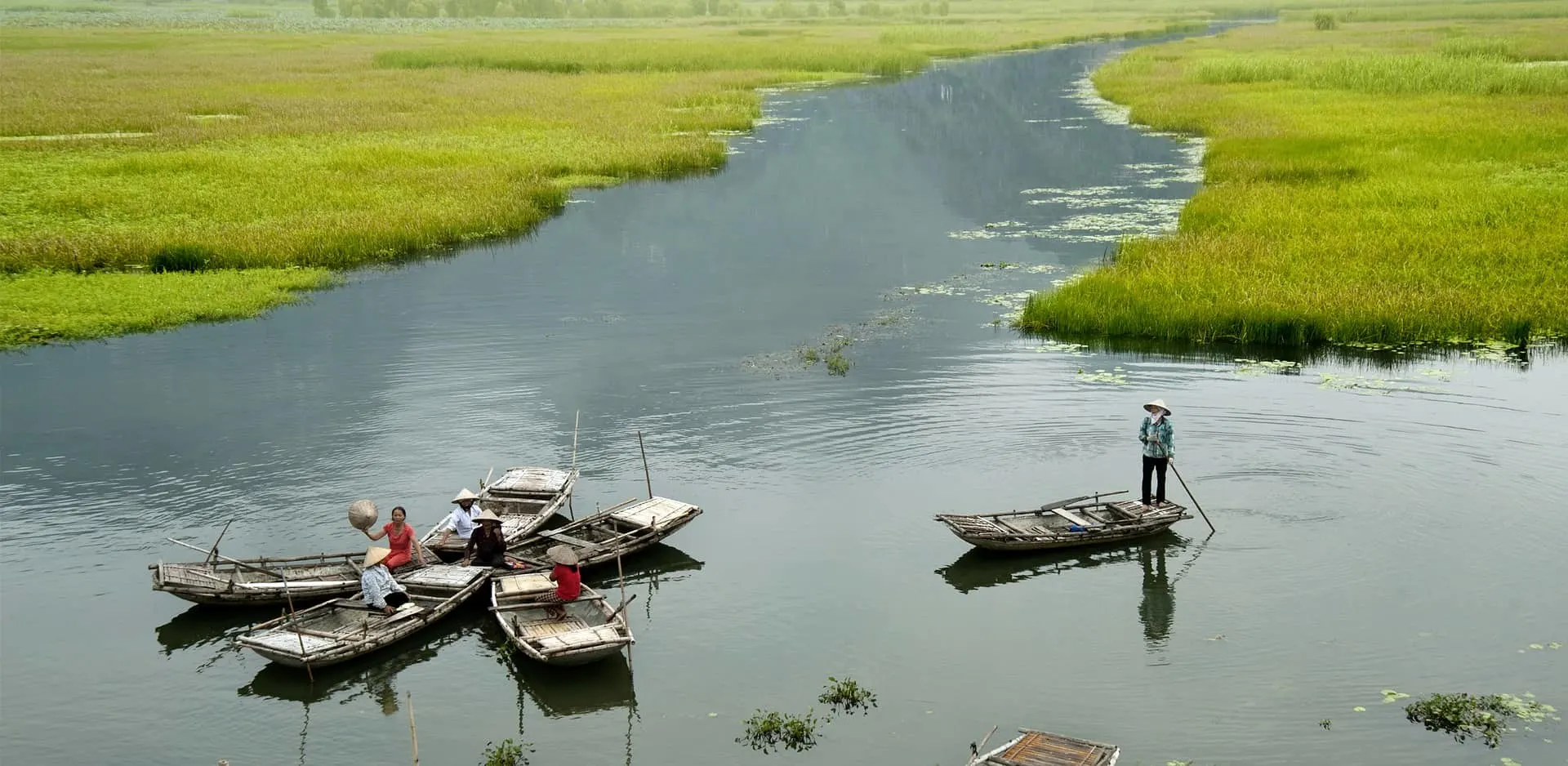 Vietfarm
The last option here is to head off to a Vietfarm – a place where you will be able to live like a local Vietnamese farmer.
You will have a full day of interacting with a family, work the rice fields and explore the surrounding areas. After meeting the family, they will give you local farming clothes to wear as you plow and rake the rice fields.
You will learn all about the rice making process and even get a little bit of a cooking lesson from the family. You will then have the opportunity to bike ride with some of the locals as they give you a tour around the area.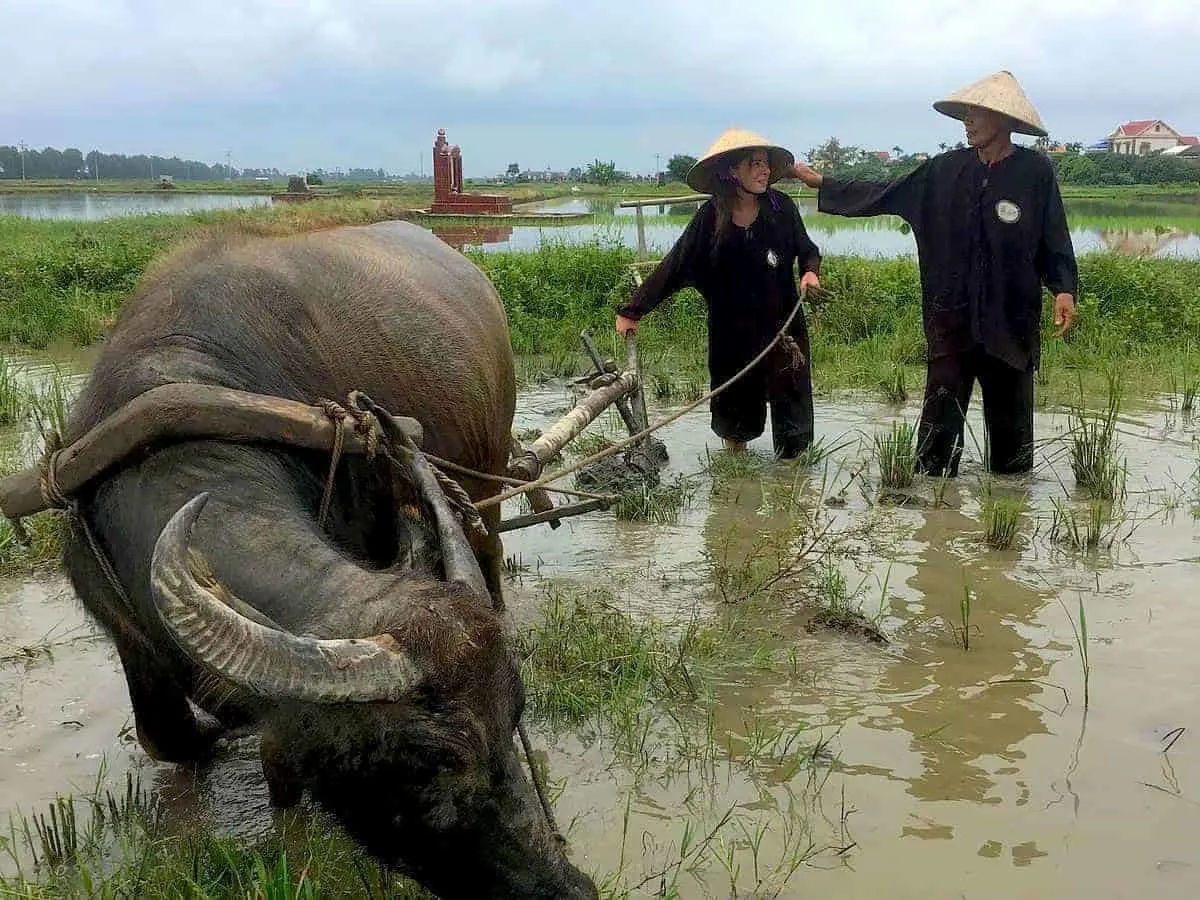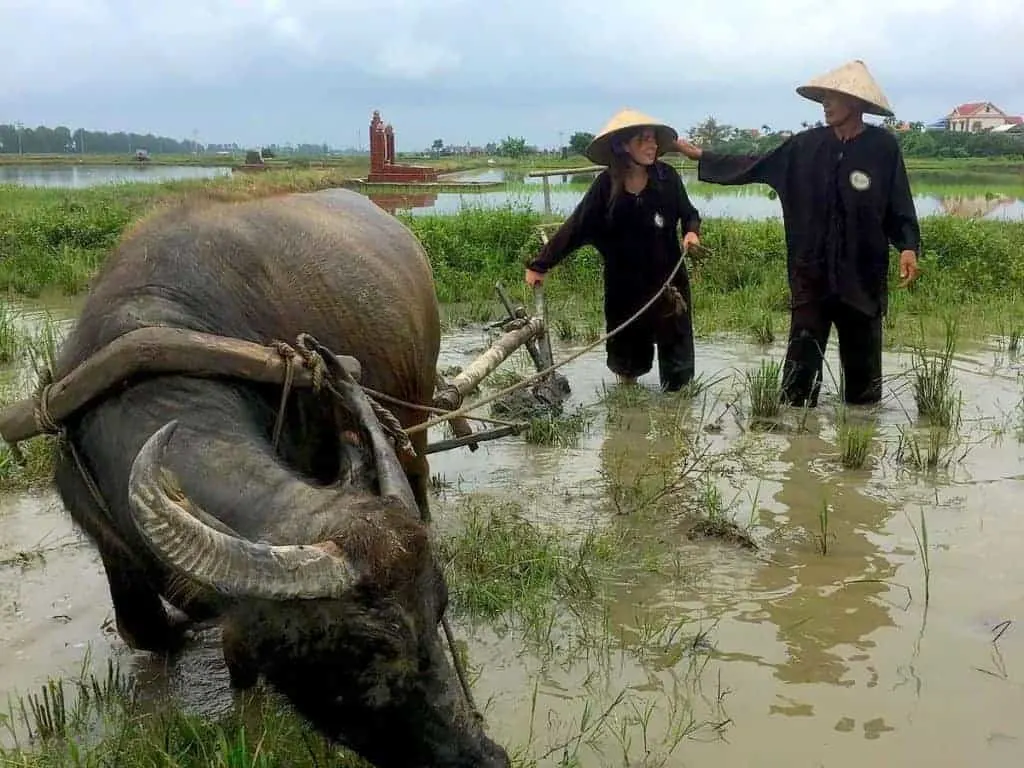 Whatever option you choose for your last day in Vietnam, you are sure to have an amazing time!
Check out some more helpful sections below to get you all ready for your trip.
6) Is 7 Days Enough in Vietnam?
You may be asking yourself if 7 days is enough time to visit Vietnam?
Of course, we would all like to have more time to spend in the places we travel to. But if you only have a certain amount of days, you will want to take advantage of them to the fullest.
So, when it comes to Vietnam, one week is on the shorter side of things given how vast the country is.
With that said though, I do believe that 7 days is enough to scratch the surface of the top places to visit within Vietnam.
You will have enough time to head to the three more major cities in the country, and take part of several attractions along the way.
If you find yourself loving your time there, then you will always be able to re-visit and add on other top spots that you weren't able to make it to the first time around.
At the end of the day, you are sure to have a great time exploring Vietnam for a week as you head from south to north.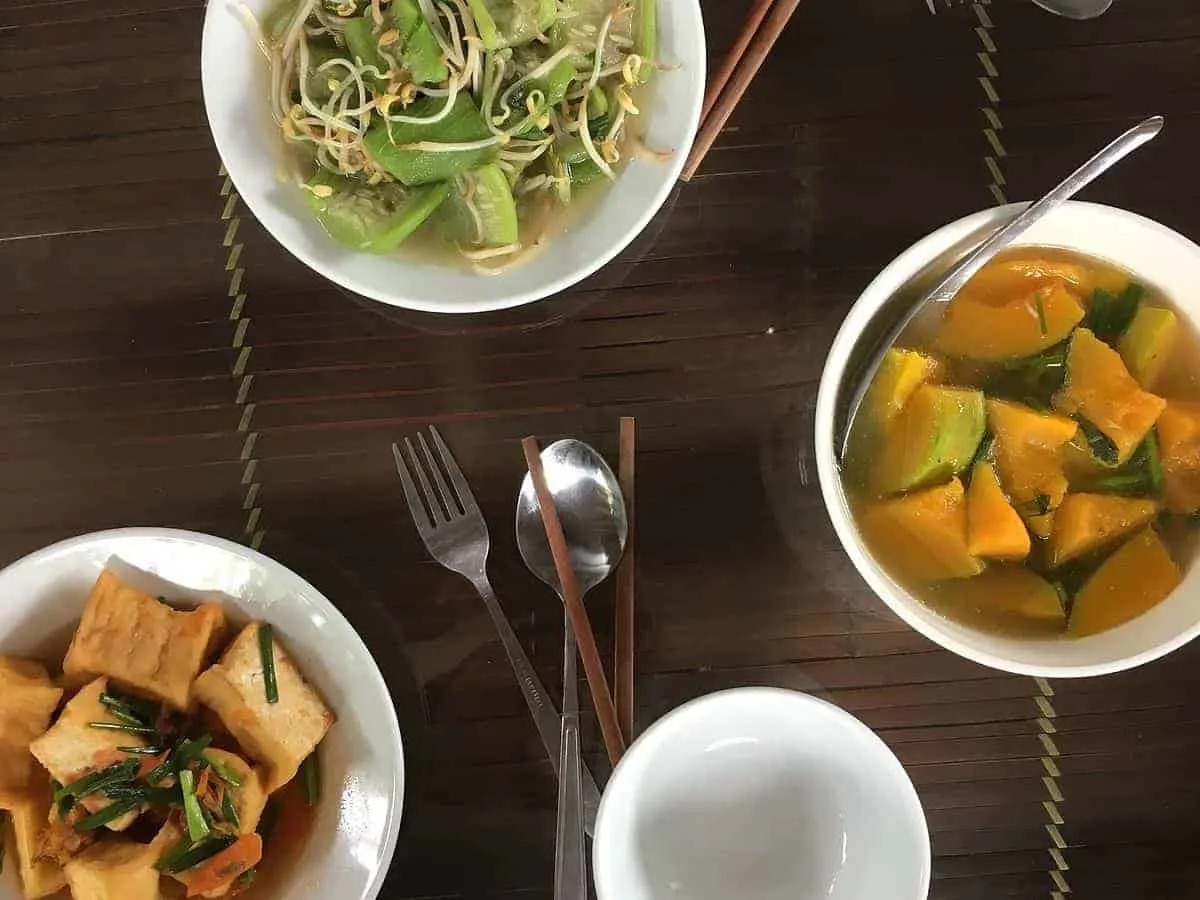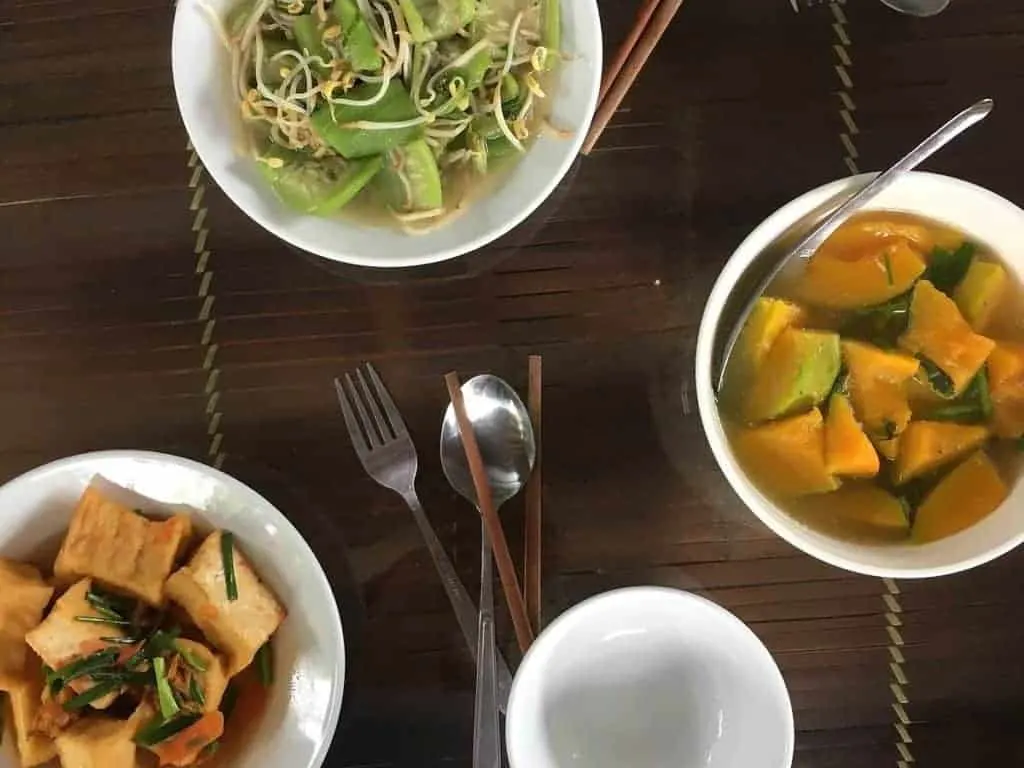 7) One Week in Vietnam Budget
A major consideration when it comes to travel is your budget. Luckily, if you have chosen Vietnam for your destination of choice, you should expect your budget to go a long way.
Vietnam is one of the most budget friendly countries in the world, and you can get by no matter what your budget may be.
When it comes to your budget for one week in Vietnam, that will all come down to what type of trip you are trying to take.
On one end of the spectrum, you can be a true backpack traveler, staying at hostels, taking public transport, and eating cheap meals.
This can certainly be done on a $20 – $30 per day budget if you have it in you.
However, if you are looking for fancier hotels, more expensive meals, and high-quality activities, then you will need to plan for a higher number.
This can range around $100 – $150 a day. Not bad though for a more luxurious vacation!
Of course, there is also the middle ground between the budget and the luxury. That is where I would imagine most people will end up.
Spending between $50 – $75 a day in Vietnam will still have you traveling well.
You will be able to get decent hotel rooms, have nice meals, and take part of activities.
At the end of the day, Vietnam is a very budget friendly place. No matter where you are on the spectrum, you should be able to have a great and enjoyable time exploring the country.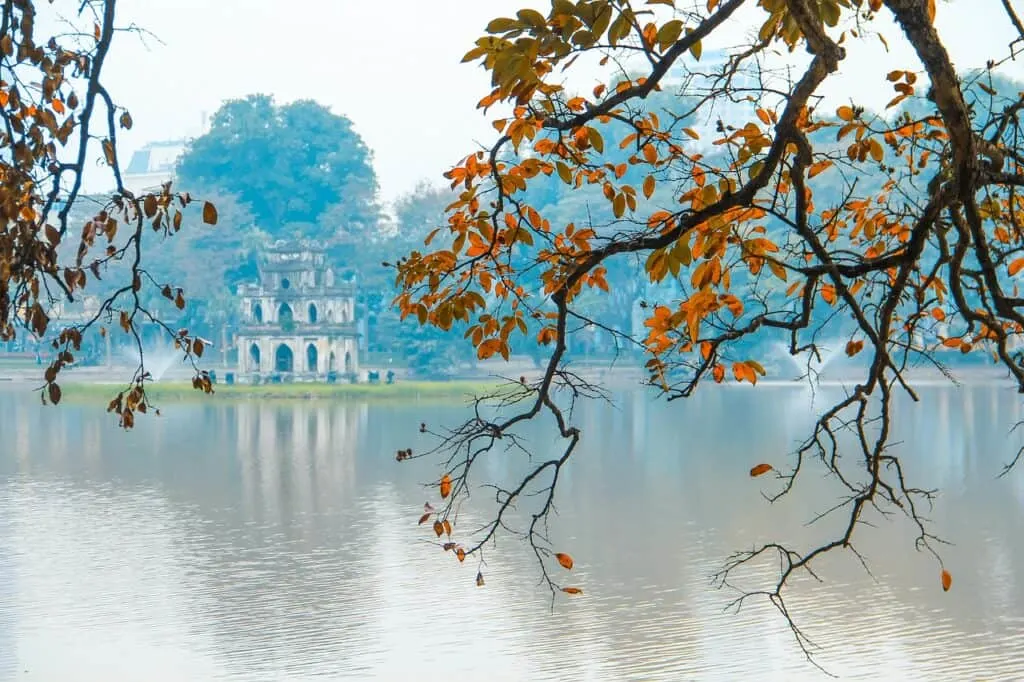 8) Vietnam Travel Tips
To help prepare you for your trip, I did want to point out some helpful Vietnam travel tips.
Bring Along Cash: while you may find yourself using credit cards in the country, cash is going to be used quite frequently. Be sure to always have some Vietnamese Dong handy when traveling around. ATMs are found all around, so you shouldn't worry too much about finding cash when running low.
Crossing the Street: this may sound like an interesting tip, but crossing the street is no joke in cities like Hanoi and Ho Chi Minh. You will find thousands motorcycles with very few traffic signals and crosswalks. If you need to cross the street you just need to go for it! Take it slow, and the motorcycles will stop or go around you.
Beware of Scams: unfortunately, no matter where you go in the world, scamming may always be an issue. A couple popular ones in Vietnam are cyclos trying to take you on a tour (and charging you for one) instead of just taking you to your destination – ALWAYS agree on a price beforehand. Another potential scam is giving you incorrect change – it can be easy for a foreigner to miss the difference between a 20,000 note and a 200,000 note.
Everything is Negotiable: whether you are dealing with taxis, souvenirs, or markets, you should always find yourself in a place where you can negotiate. Just because one price is listed, doesn't mean that price is final. If you are looking for a better deal, just try and ask for one!
Propaganda: if you find yourself at places like the War Remnants Museum or Hoa Lo Prison, don't be surprised if you come across a fair share of Vietnam War propaganda. There are always two sides to the story, so don't take everything as the truth.
Take Advantage of Tours: if you are on a budget, be sure to take advantage of the cheap day tours offered. While these will be larger groups tours, it is nice to be able to join for a very reasonable amount of money. Even if you want to go with a private tour, don't expect to break the bank.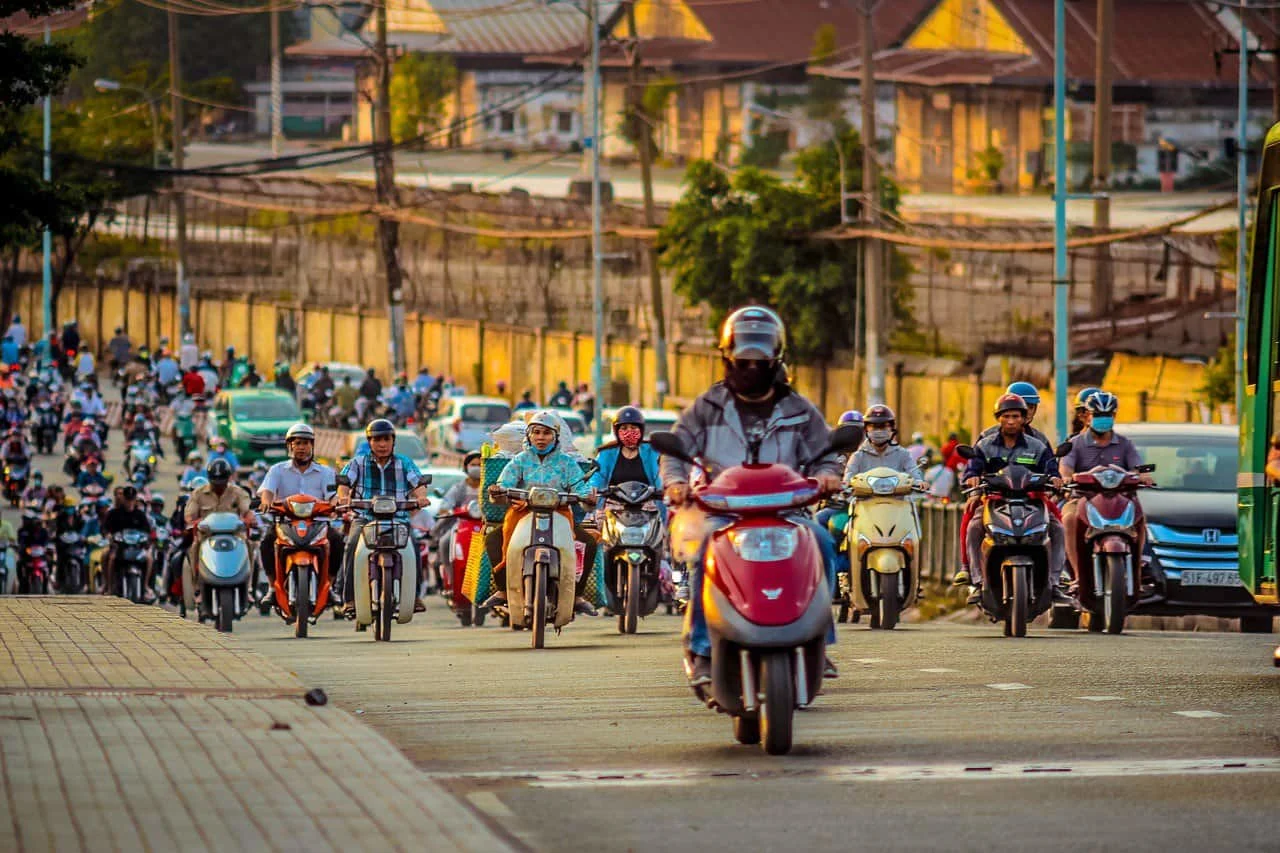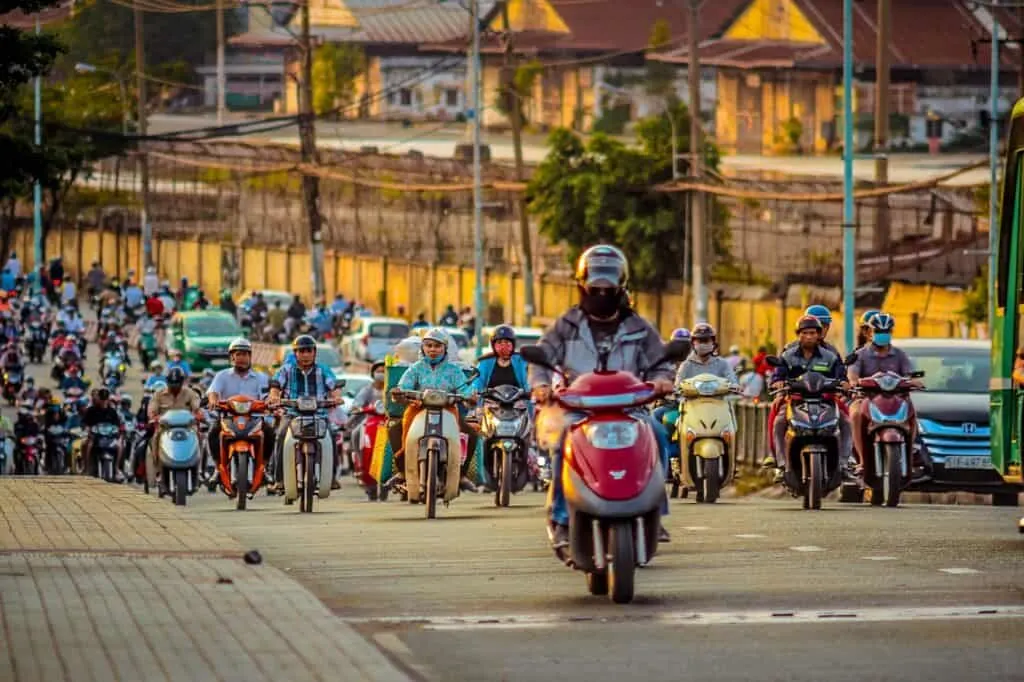 9) Getting Around Vietnam
As you are deciding how to get in between cities, you can opt for flights, trains, or busses.
Flights are going to be the quickest options, while trains & busses will keep you on a lower budget.
Flights
Between major cities you can book flights for a pretty reasonable price. Vietnam Airlines is one of the most efficient and reliable airlines in Vietnam. They are even part of the SkyTeam Alliance.
You can also check out budget airlines such as Jetstar Pacific and VietJet among other options.
Trains
Going along the coast of Vietnam you also have the option of taking some longer and potentially overnight train rides.
If you are not tight on time but are tight on a budget this option could be for you.
Bus
If you decide to bus between cities you should be just fine planning that once you arrive at your hotel or hostel.
Speak to the front desk or concierge and they should already have schedules and options for different destinations. They will be happy to book you on a bus/minibus that could even pick you up directly from the hotel.
Travel Within Cities
Now when it comes to travel within cities, there are some simple options to consider.
These include taking a taxi (be aware of scam taxis though!), hopping on a Grab motorbike, or simply walking along to your next destination.
You may also find cyclos around, which are essentially three wheeled bicycles with a two seater in the back.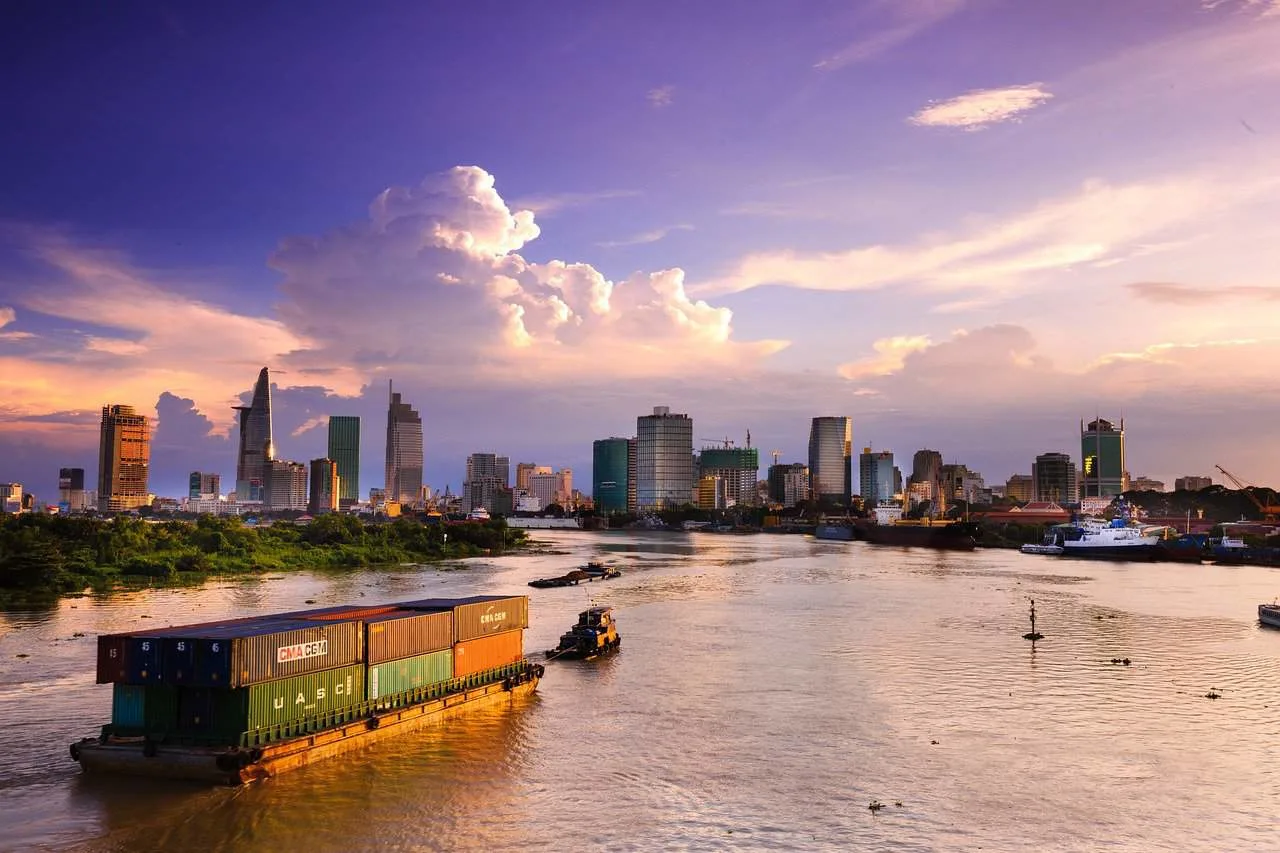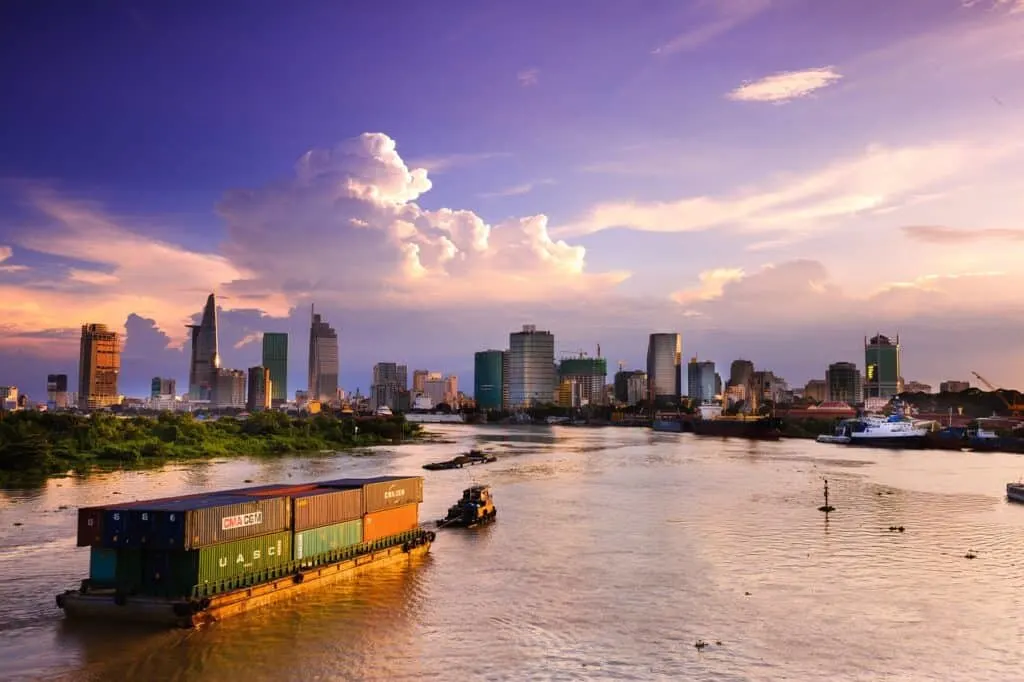 10) Vietnam Visa
When traveling to Vietnam you will need a visa to enter. But no worries at all as the process is super simple to take part of.
​The process is relatively easy as you can apply for an E-Visa ahead of time. Head over to the Vietnam Visa Application and follow the instructions. The cost for the visa is $25 for a 30 day entry.
Note that it can take a few days until the process is complete. Once you receive confirmation you should be good to go.
11) Best time to Visit Vietnam
If you were not aware already, Vietnam is a very long country, stretching around 1,650 km / 1,025 miles from north to south.
Due to the length of the country, you should expect to find different types of weather in different parts of the country.
Some quick notes about Vietnamese weather in general:
The main rainy season in the north and south lasts from May to September give or take. While the central region has more rainy days from September to December.
Although these may be rainy seasons, don't expect it to be raining constantly throughout the days. The rain can come and go, and sometimes only lasts for a short amount of time.
In the far north, closer to Sapa you can also expect the weather to turn quite cold during the wintertime. If visiting up there, you may want to opt for other times of the year.
I find the spring time to have the most stable weather no matter where you are in the country. It can be a great option for those that want to explore from north to south without fears of too much rain.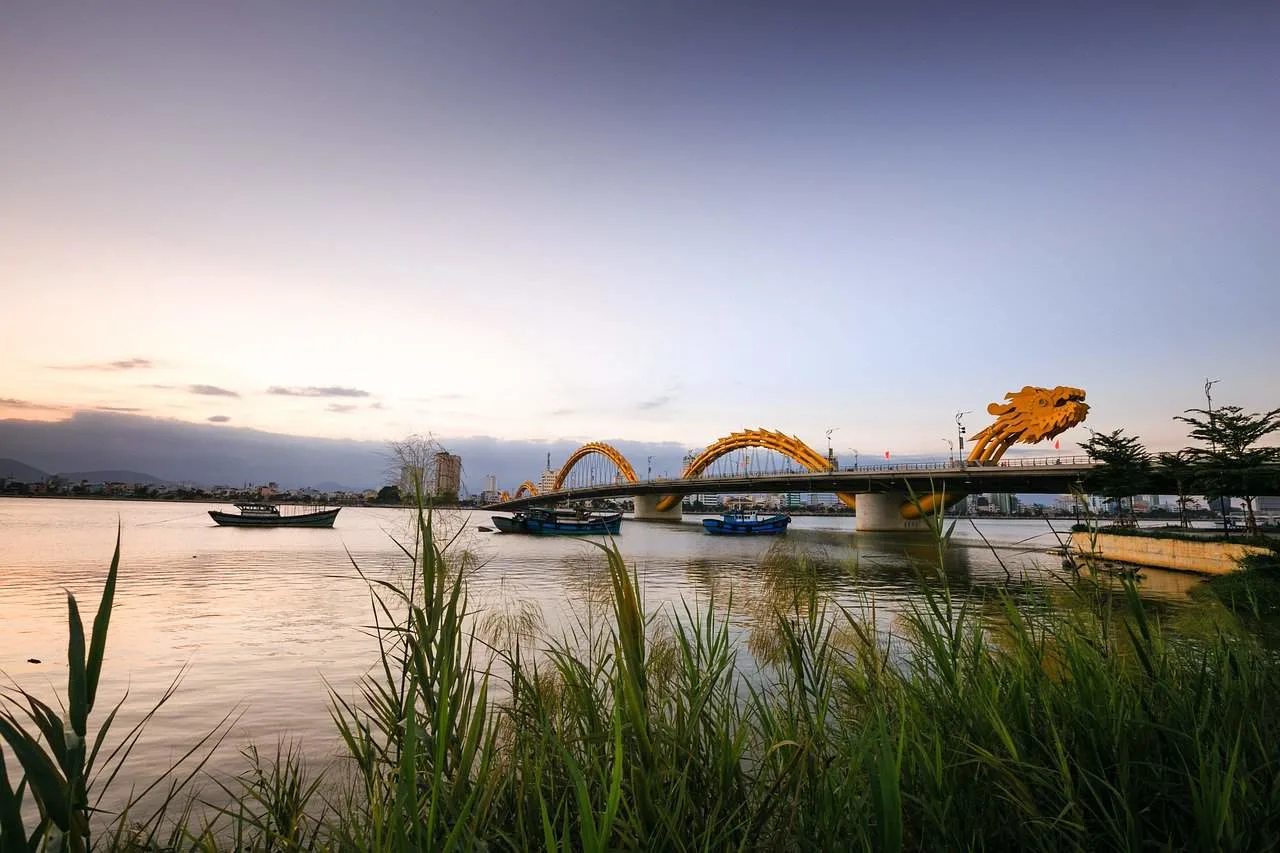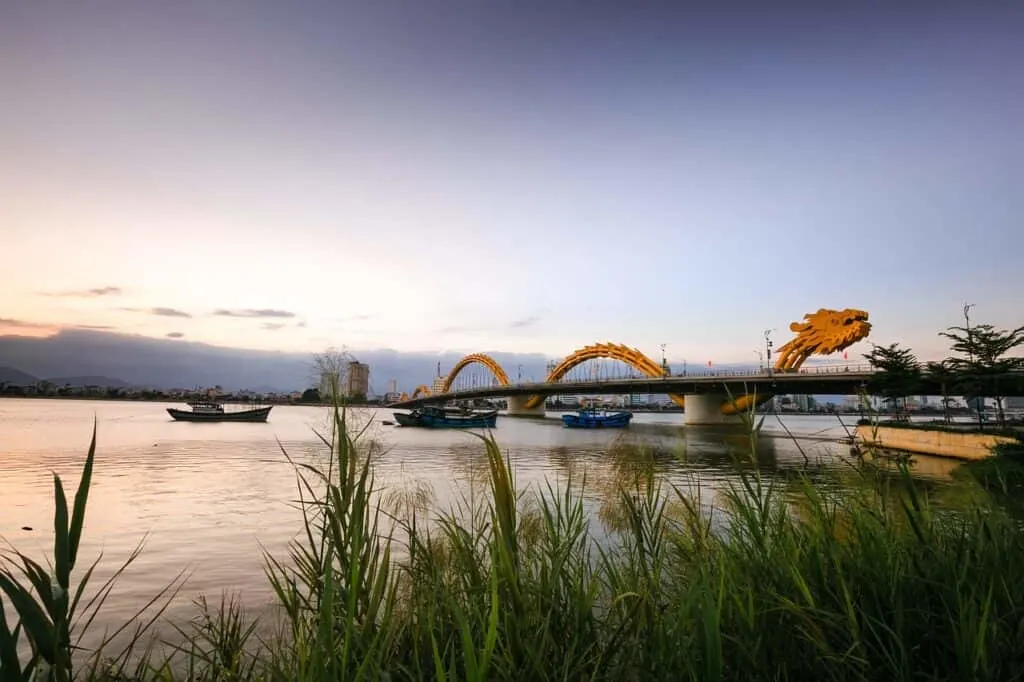 That about does it for one week in Vietnam! If you have any questions or comments be sure to add them in below.
Also feel free to check out some more Vietnam itineraries and guides. Have fun out there and safe travels!