If you already have a trip planned to Vietnam or if you are thinking about heading there, this short list of tips could be a helpful start to getting yourself all set. These 10 Vietnam travel tips are just some questions and general facts that I learned when planning and taking my trip to Vietnam.
* Affiliate Disclosure: This post may contain affiliate links, which means I may receive a commission if you make a purchase through the links provided, at no additional cost to you. Thanks for supporting the work I put into TripTins!
Tip #1: Getting Into Vietnam – Visa Requirement
​If you are a US citizen traveling to Vietnam you must apply for a visa in order to enter the country. The process is relatively easy compared to previous years. They recently came out with an E-Visa option which can be accessed through their website. Head over to the Vietnam Visa Application and follow the instructions.
The cost for the visa is $25 for a 30 day entry. Note that it can take a few days until the process is complete. Once you receive confirmation you should be good to go. Below is a screenshot of the page that you should arrive on after clicking the "For Foreigners" image on the homepage.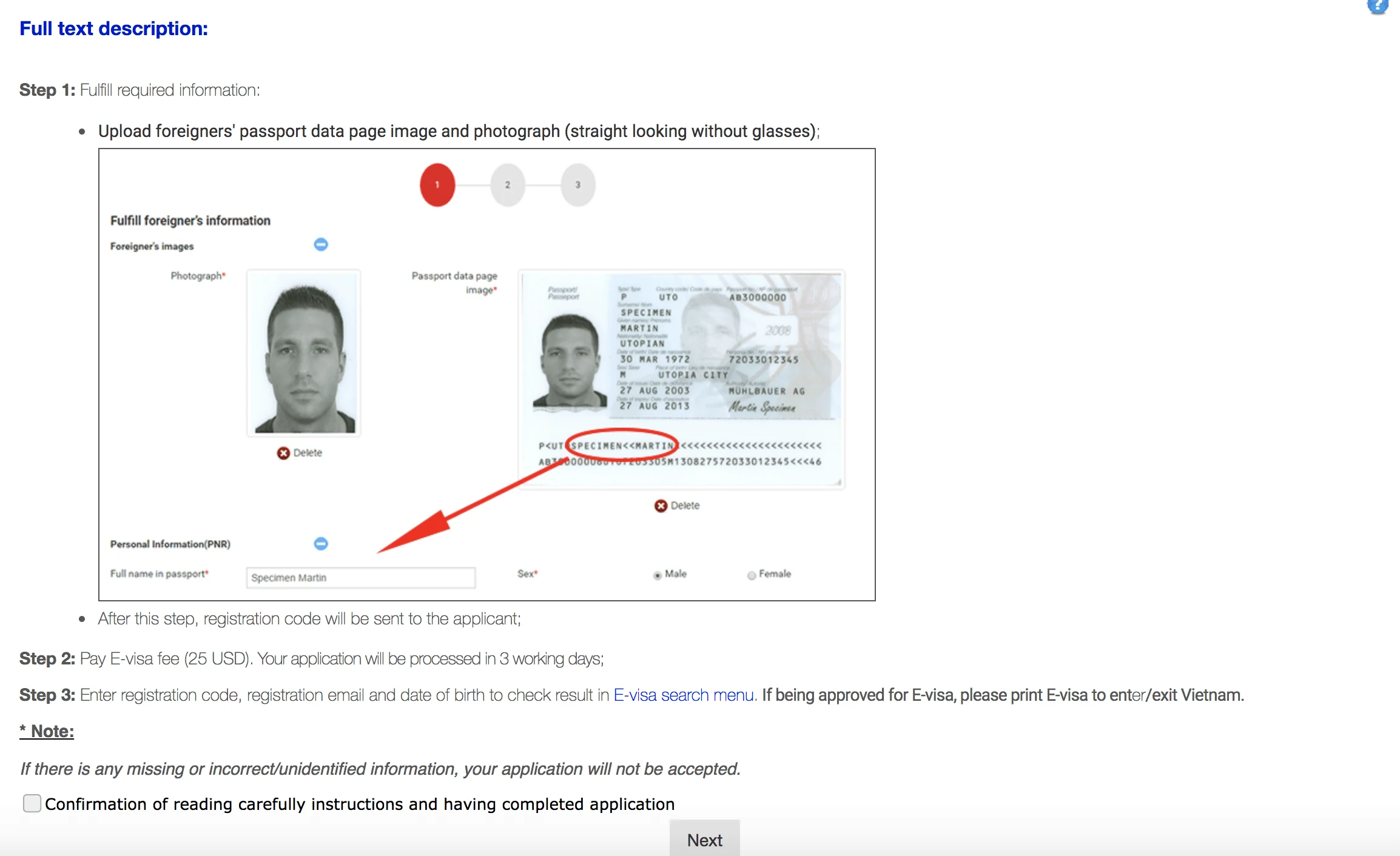 Tip #2: Where to Stay – Accommodations
​Like most of Southeast Asia there are plenty of cheap and easy options for whatever your budget may be.
On one end of the spectrum hostels will be very cheap (a shared room can be just a few dollars depending on the city) and will definitely be more social and interactive if that is the type of trip you are trying to take.
From a hotel perspective you can get five star accommodations for only a couple hundred dollars a night throughout the country.
Booking.com will have you covered no matter what type of accommodations you choose. As for what locations you should be filtering for when searching for the best hotel options for yourself:
In Ho Chi Minh City I would recommend centering your search around District 1. Many of the attractions within the city are easily accessible by foot and you will also be nearby plenty of restaurants and nightlife.
While in Hoi An you can opt for hotels right on the ocean or more towards the center of town. You cannot go wrong with either option as the city is not that large. One thing I would make sure to look out for is to make sure that your search is focused in Hoi An (Danang hotels might pop up as well in your search). Although Danang is a great place too, it is a bit too long of a ride if you are trying to explore Hoi An.
Finally in Hanoi, take a look at places within the Old Quarter. That is where most of the markets, restaurants, and nightlife options are, and is a great place to explore.
Tip #3: Getting Around
​You are bound to use all types of transportation options throughout your trip:
​Flights: between major cities you are book flights for a pretty reasonable price. Vietnam Airlines is one of the most efficient and reliable airlines in Vietnam. They are even part of the SkyTeam Alliance. You can also check out budget airlines such as Jetstar Pacific and VietJet as other options.
​Trains: Going along the coast of Vietnam you also have the option of taking some longer and potentially overnight train rides. If you are not tight on time but are tight on a budget this option could be for you. Check out this helpful train website that goes into more depth about train times and options.
​Taxis: There are plenty of taxi scams going on around Vietnam with "fake" cab companies that will charge a hefty price for a quick trip. Here is a quick write up for what to pay attention to when getting into a taxi.
​Busses: If you decide to bus between cities you should be just fine planning that once you arrive at your hotel or hostel. Speak to the front desk or concierge and they should already have schedules and options for different destinations. They will be happy to book you on a bus/minibus that could even pick you up directly from the hotel.
Vietnam Itineraries: 10 Day Vietnam Itinerary | 2 Weeks in Vietnam
Tip #4: Money
​The local currency in Vietnam is the Vietnamese Dong. You will definitely want to order some VND before the trip to ensure you are ready to go when you land.
Once you start running low on cash there will be plenty of ATM's around where you can use your debit card. Just realize that there is about a $5 fee each time you take out so it could also be smart for one person to take out for everyone and then have someone else do the same time next time around.
For the most part you will be using cash in all situations but might be able to use a credit card at a fancier restaurant or hotel. Also to note – there are no coins used in Vietnam – only paper bills, which can help with any money confusion.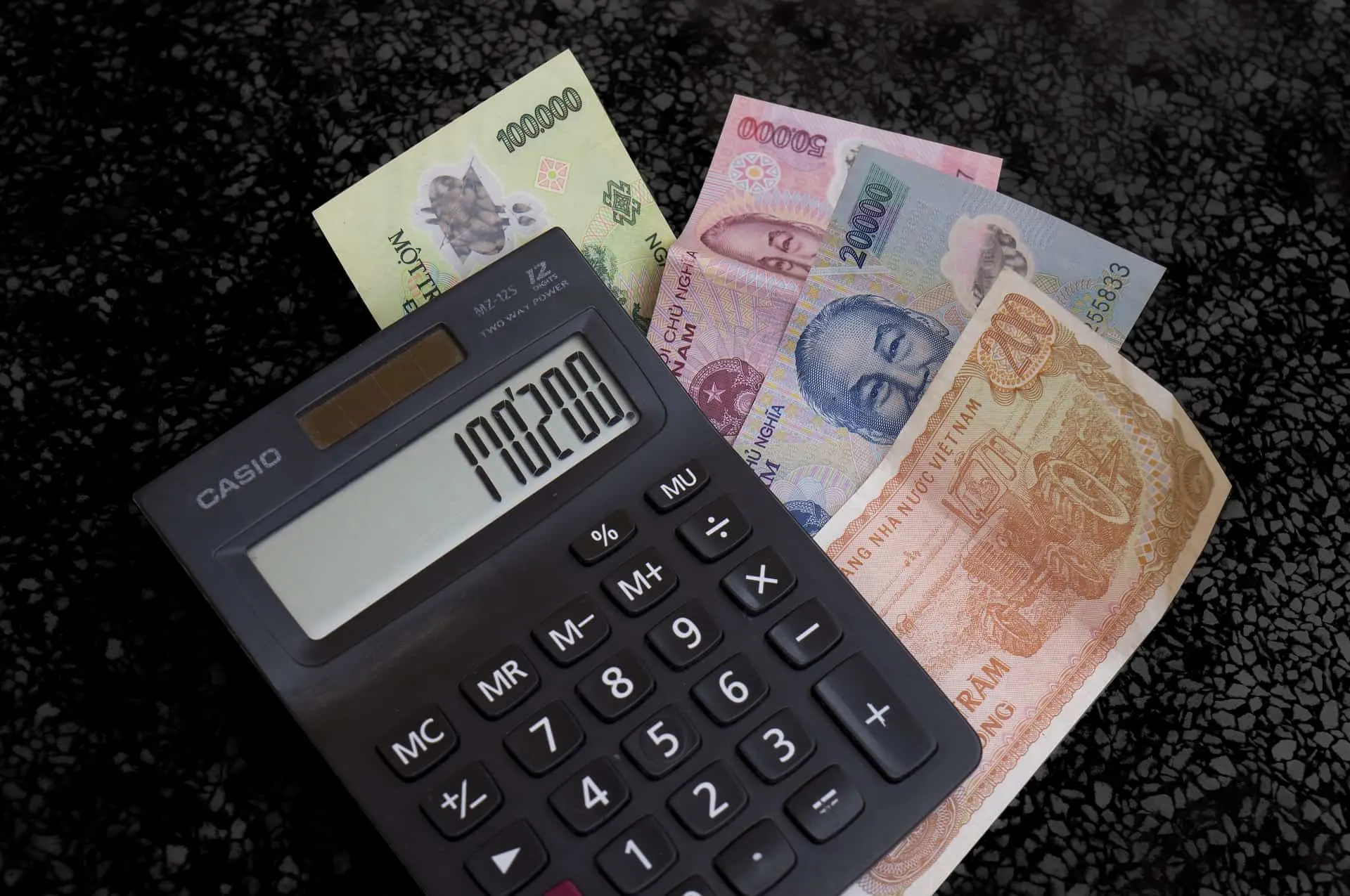 ​
Tip #5: Crossing the Street
​This one might seem like a silly one but once you arrive in major cities like Ho Chi Minh or Hanoi you will see firsthand the incredible amount of people driving their motorbikes around the streets. At one point or another you will have to cross the street where there is no crosswalk.
Do not worry though – as you start to walk the motorbikes will go around you. It might seem crazy at first but once you see others doing the same you will see that all drivers are used to getting around pedestrians.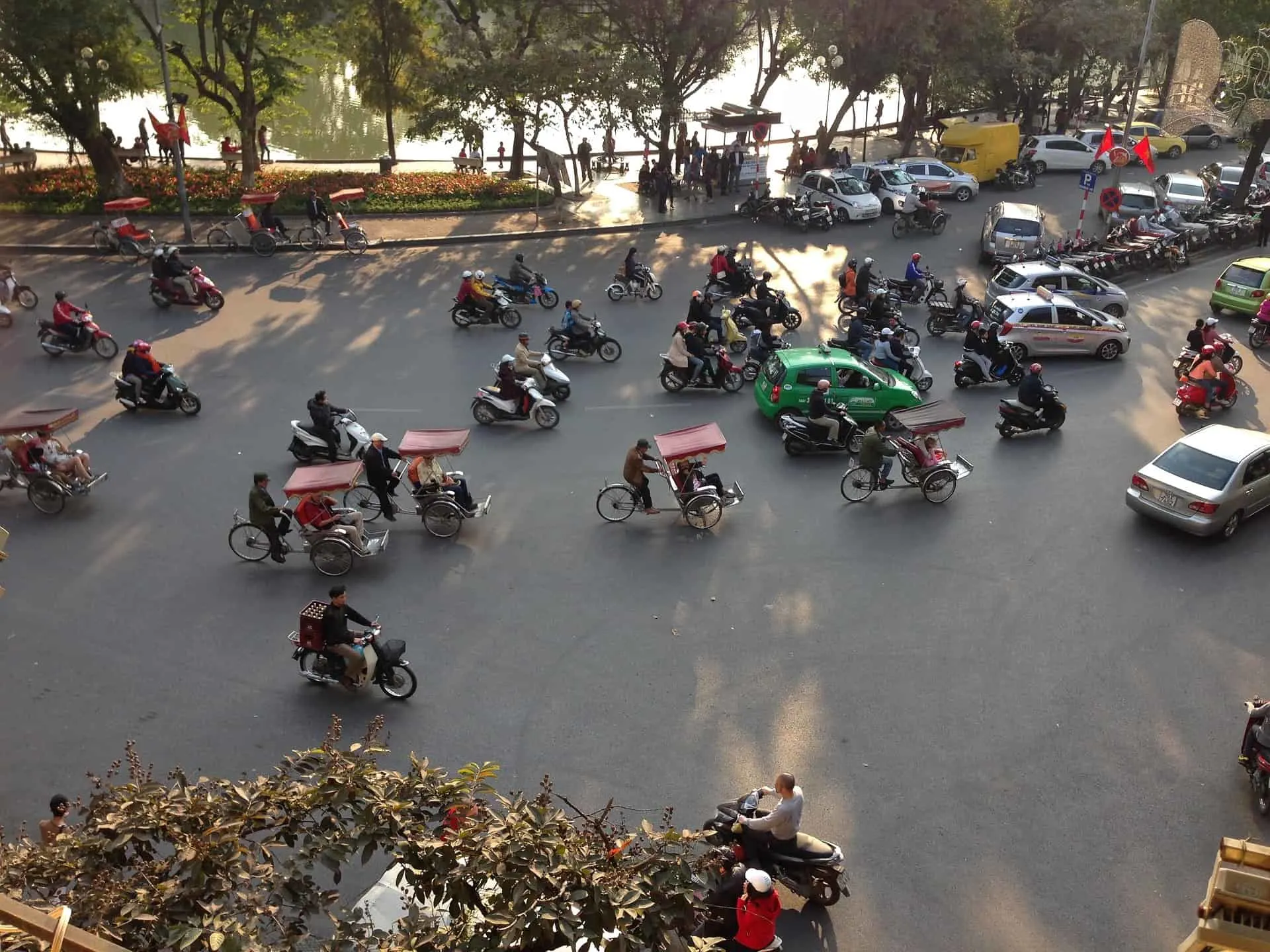 Tip #6: Beware of Scams
Being a foreigner in Vietnam can definitely get you into some tricky situations among locals. I came across this mostly dealing with taxi drivers and cyclos. First off as mentioned earlier, not all taxi companies are "legit".
That is not saying they will not take you from point A to point B but they will vastly overcharge you. Take a look a the link above in the getting around section that will better prepare you for what to look out for.
While in Hanoi, there were a couple times where we wandered around further than expected and wanted to catch a ride back on a cyclo (a guy on a bike pushing a seated cart). However each time we entered one they wanted to take us on a tour of the city and started to point at different price points on their sheet of paper.
Some were understanding that we just wanted to get back to our hotel – and we agreed on a price beforehand. Others pretended to understand but then at the end of the ride would point at their sheet again demanding more money than necessary.
Lastly make sure you know what currency bills you are giving and receiving during transactions. This is not the only country this has happened to me, but you might find yourself needing back 200,000 VND bill but you only receive a 20,000 VND bill. Some people try and trick foreigners hoping they will not realize and take more money than required.
Tip #7: Get Your Bargain On
While the prices in markets and on the streets might be one number, odds are there is plenty of room to do some negotiating. Don't be afraid to go back and forth on a souvenir, or food, or transportation if you think the price is an unfair one.
You will most likely save a few dollars during each transaction, which can add up over a longer trip. You will find this very common around Southeast Asia if you are planning on heading out to some other countries before or after Vietnam.
Tip #8: Be Prepared For Some Propaganda
If you are not as familiar back in the 50s, 60s, and 70s the Vietnam War took place between the communist North along with the Vietcong, and Southern Vietnam along with their American allies.
If you make your way to some places like the Hoa Lo Prison in Hanoi or the War Remnants Museum in Ho Chi Minh, you will read a lot of information from the perspective of the Vietnamese.
Now while a lot might be true, there are definitely some questionable insights in there as well. For example at Hoa Lo (the prison where John McCain was held) they had the following plaque there that read "Vietnamese government had created the best living conditions to US pilots..". As always there are two sides to everything.
Tip #9: Weather & When To Go
The weather in Vietnam can be all over the place by time of year and by region so it might be difficult to find the perfect time to go to every place on your itinerary. However a couple rainy or bad weather days should not stop you from enjoying your trip. If you are looking to go from south to north, a good time to go is probably in that Spring time period (March – June).
During the summer it can get wet in the south and north, in the fall rainy in the central region, and the winter can get cool as you head up north to Sapa. But do not let the rain stop you from going! Even though it may say "rainy season", it rarely rains all day long, rather just a few showers here or there. Here is a great recap of the weather courtesy of Vietnam Travel Guide.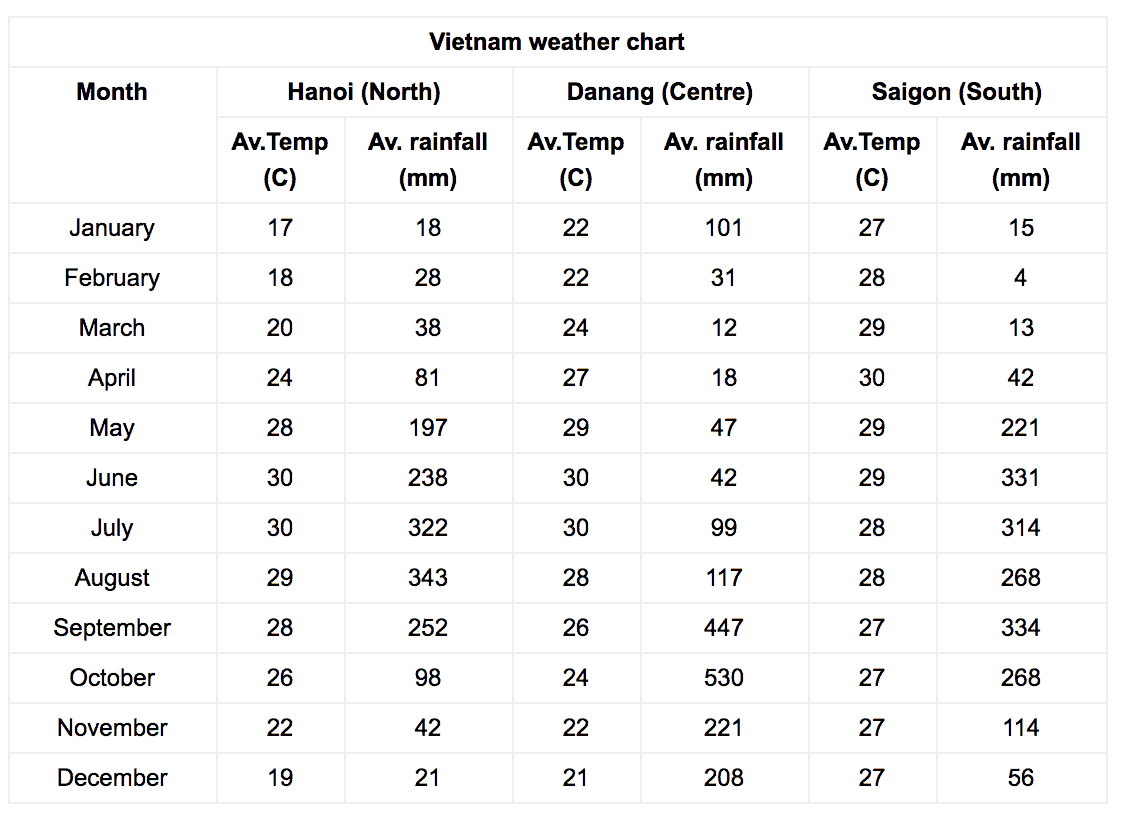 Tip #10: The Cheap Day Trips
No matter where you are in Vietnam you are sure to come by day trip options offered by your hotel and tourism shops at very cheap rates (I am pretty sure the Cu Chi Tunnel tour I took was like $8).
Some people will recommend to avoid these and hire a taxi to do it on your own, others will say go for it as its all part of the experience. I had no problem with the few I did but just be ready with what to expect.
The group tours to the Cu Chi Tunnels, Mekong Delta, My Son, Halong Bay etc can be filled with a bus load of people, as it makes stops all throughout the city to pick others up.
Even though the drive might be an hour on Google maps, it will probably take double that as they will most likely also always stop at a souvenir pit stop for tourists.
Some experiences might not feel as genuine or local as you might expect since they are geared towards tourists, but at the end of the day you will not be able to experience any of these sitting at home.
So go out and enjoy Vietnam and all that it has to offer. Safe travels!