One of the highlights near the Bavarian town of Garmisch Partenkirchen is the Alpspitze Klettersteig that brings you to the summit of the mountain.
This Via Ferrata takes you from the top of the cable car station up to the Alpspitze summit at 2,628 meters / 8,622 feet high. Once you reach the summit, you can enjoy the endless mountainous landscape in every which direction before making the hike back down.
Read on for everything you need to know about the climb.
* Affiliate Disclosure: This post may contain affiliate links, which means I may receive a commission if you make a purchase through the links provided, at no additional cost to you. Thanks for supporting the work I put into TripTins!
1) Alpspitze Klettersteig Overview
While there is a cable car that takes you up Alpspitze mountain, it does not reach the summit. The cable car takes you up to around 2,020 meters / 6,630 feet in elevation and from there you will need to do the rest on your own.
Climbing to the summit of Alpspitze can be broken down into two parts – first is the Klettersteig / Via Ferrata that starts just beyond the cable car station to the summit.
A Via Ferrata is essentially a fixed line route, where you must have special climbing equipment to clip into the line during the duration of the climb.
The second part of the day is the hike down from the summit back to the top cable car station (a different route than the Via Ferrata up).
The hike down is not easy as it is done on uneven slippery rocky terrain before flattening out as you approach the cable car station.
» Note: from the cable car station to the starting point of the Via Ferrata, you will need to follow a 20-minute walking trail.
Klettersteig / Via Ferrata Portion
Route Name: Alpspitze Klettersteig
Route #: 7 (found on local hiking maps)
Length: 530 meters / 1,740 feet
Duration: 2 Hours
Difficulty: B (Easy)
Terrain: Rocks, Pegs, & Ladders
Hiking Portion
Route Name: Nordwandsteig -> Osterfelderkopf
Route #: 8 (found on local hiking maps)
Length: 2.5 km / 1.6 miles
Duration: 2 Hours
Difficulty: Moderate
Terrain: Uneven, Steep & Rocky -> Flat & Rocky
Overall, you are looking at a day comprising of around 4-5 hours of Via Ferrata climbing and hiking. If you also consider the amount of time spent resting, taking photos, and enjoying the summit, you will need to add some additional time to your day on the mountain.
For those that want a bit different and more technical hiking experience, I feel as this day at Alpspitze is the perfect option.
It is a relatively easy Klettersteig route and at the same time gives you that thrill of mountaineering.
» This Via Ferrata Beginner's Guide is a must read for those who are new to the world of Via Ferratas
Hiking Resources & Checklist

Before heading out for the trails, be sure to read up on some of the hiking resources up on the site. These are here to better prepare you for all types of outdoor adventure.
2) Alpspitzbahn Cable Car
While you can make the hike up to the starting point of the Via Ferrata from ground level, that will require an additional 1000+ meters of elevation gain.
Instead just head on over the Alpspitzbahn Cable Car Station. Be careful here, as there are actually two different cable cars that go up Alpspitze – the Alpspitzbahn and Kreuzeckbahn.
The Kreuzeckbahn takes you only about 75% of the way up while the Alpspitzbahn takes you to the main viewing platform, where you can begin the hike from. These two cable cars are right next to each other so just be certain when going on.
There is another mountain also called Alpspitze, which also has an Alpspitzbahn. The map below though has the correct points of interest for you to follow when planning your trip.
Operating Hours
Below are the hours of the Alpspitzbahn. Note that the last ascent is 30 minutes prior to closing.
November to February: 8:30AM – 4:30PM
March to April: 8:30AM – 4:45PM
May to June: 8:30AM – 5:00PM
July to September: 8:00AM – 5:30PM
October: 8:30AM – 5:00PM
March to June: 8:30AM – 4:30PM | 5:00PM
July to September: 8:00AM | 5:00PM | 5:30PM
October to February: 8:30AM | 4:00PM | 4:30PM
Ticket Cost
You can purchase what is called a Garmisch Classic Ticket for the day which costs 33.50 Euro round trip for adults, 27 Euro for ages 16-18, and 17 Euro for ages 6-15.
Alpspitze Map
Below you can find a map that includes all the necessary points of interest for the cable car and via ferrata.
Renting a Car: When it comes to car rentals, I would highly recommend checking out Rentalcars.com for potential options. By going through Rentalcars.com, you will have the chance to compare car prices among a variety of rental companies, and choose the best option for you.
3) Alpspitze Hiking Map
Below you can see the zoom in of the local Garmisch Partenkirchen hiking map that can be found at the cable car stations.
From the top of the Alpspitzbahn you will make the 20 minute walk towards the beginning of the Via Ferrata, where you can then take route #7 up the Ferrata Klettersteig.
Once you reach the Alpspitze summit you can take the #8 Nordwandsteig trail down the side of the mountain and then wrap back around to the cable car station.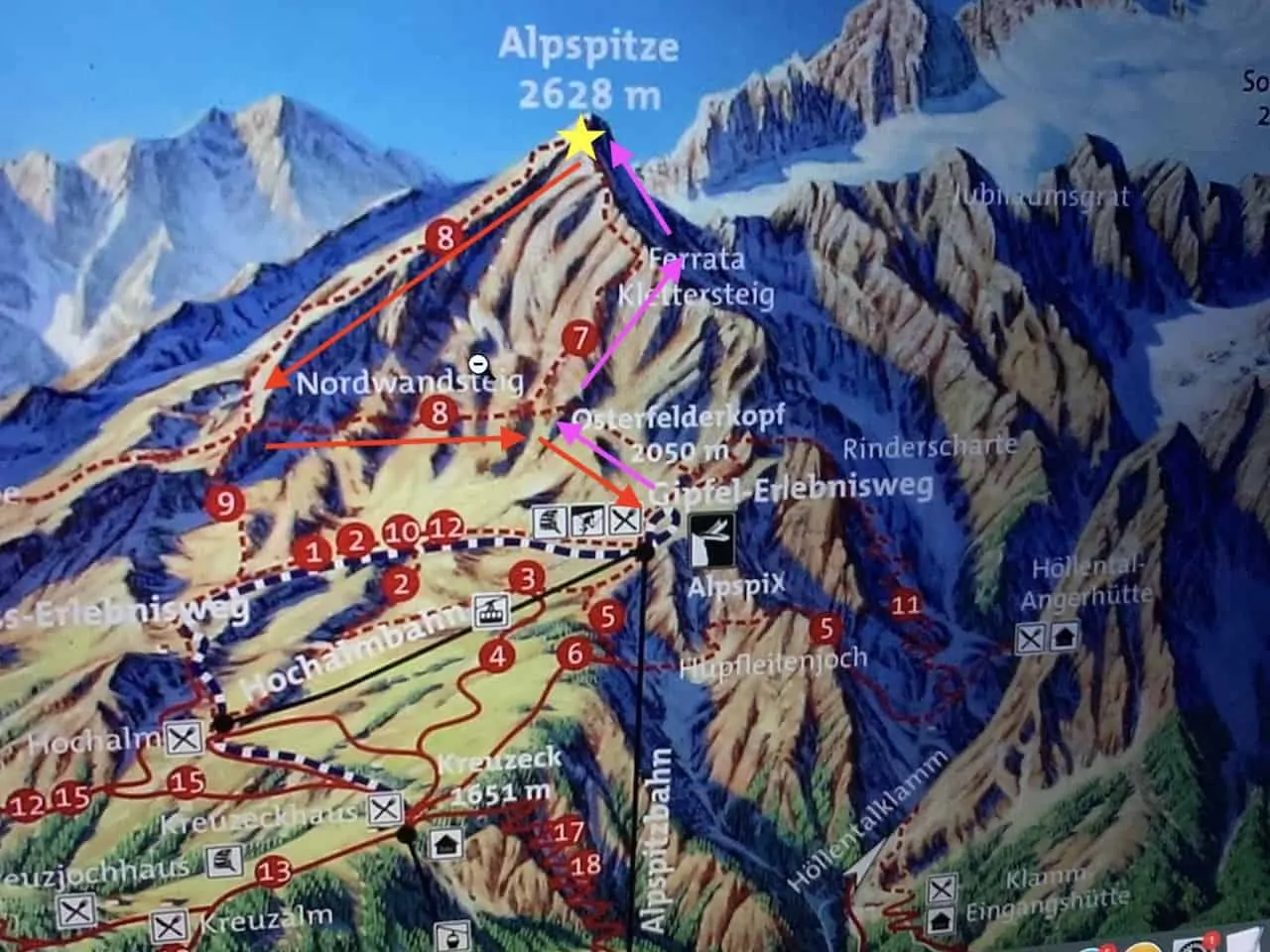 4) Where to Stay in GP
The town of Garmisch Partenkirchen is full of hotels and guesthouses that are frequented both in the winter months for skiing and the summer months for hiking. Below are some highly rated options that you can choose from when visiting Alpspitze:
→ You can hike Alpspitze as part of a longer Bavaria Itinerary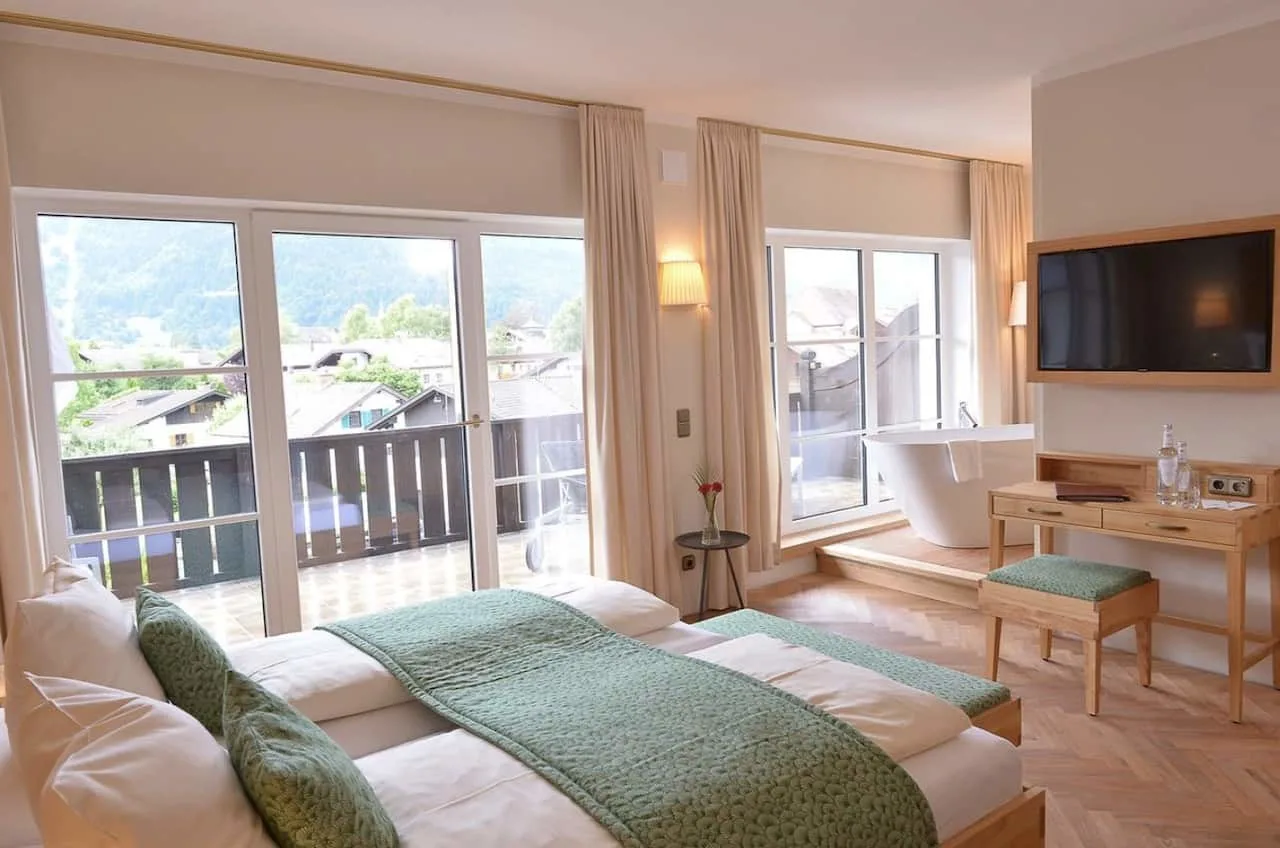 5) What to Bring on the Climb
There are three main pieces of Via Ferrata equipment you will need – 1) Climbing Harness 2) Via Ferrata Lanyard with Two Carabiners 3) Helmet. Also having gloves can be very helpful for your grip.
» Since most people don't actually own this type of equipment, here is a link to a Via Ferrata Kit that has the three required items included. I would highly recommend you purchase your own equipment if you are looking to enjoy Via Ferratas during your travels.
On top of the gear, I would also recommend bringing along some hiking essentials.
Hiking Packing List

In general when it comes to hiking, there are a few main aspects to consider. These includes clothing layers, hiking shoes, hydration & fuel, electronics, and other essentials.

Below in a breakdown of some of the top items, but be sure to check out the Hiking Packing List for a more comprehensive view.

Clothing Layers

Layering is going to be a top consideration when hiking. You will want to be prepared for all sorts of weather so you can be comfortable in different situations. Some items may include:

→ Hiking Shorts
→ Hiking Pants
→ Short Sleeve Shirt
→ Long Sleeve Shirt / Sun Hoodie
→ Mid Layer Fleece
→ Puff Jacket (not always needed)
→ Packable Rain Jacket (Columbia Watertight II)

Note that your layers should be made of moisture wicking material as they are breathable and quick drying.

Footwear

Having appropriate footwear will also be very important. You will want to have shoes with the necessary grip and support to keep you safe on the trail.

→ Hiking Shoes (Keen Targhee)
→ Hiking Socks (Darn Tough)

Other Essentials

Whether it is hiking gear, electronics, or just some miscellaneous items, here are some other essentials to bring along on hikes.

→ Hiking Backpack (Osprey Talon 22) & Rain Cover (Joy Walker Cover)
→ Hiking Poles (Black Diamond Trekking Poles)
→ Water Bottle (CamelBak Chute or Katadyn Filter Bottle)
→ Portable Charger (Anker PowerCore 5000mAh)
→ Action Camera (GoPro Hero)
→ Energy Bars & Snacks
→ Hat & Sunglasses
→ Sunscreen & Bug Spray
6) Alpspitze Klettersteig
Once you arrive at the lower Alpspitzbahn station, you can park your car, purchase tickets, and take the quick ride up the mountain.
At the top station, you can enjoy the view from the AlpspiX viewing platform before following the signs towards the Alpspitze Klettersteig.
This will be an easy 20 minute walk away from the top station towards the starting point of the Via Ferrata route. As you are walking this route, you can see the cross way up above that sits on top of the Alpspitze summit.
Once you reach the steel rope, you can put on your gear, clip on your carabiners, and get ready for your climb up.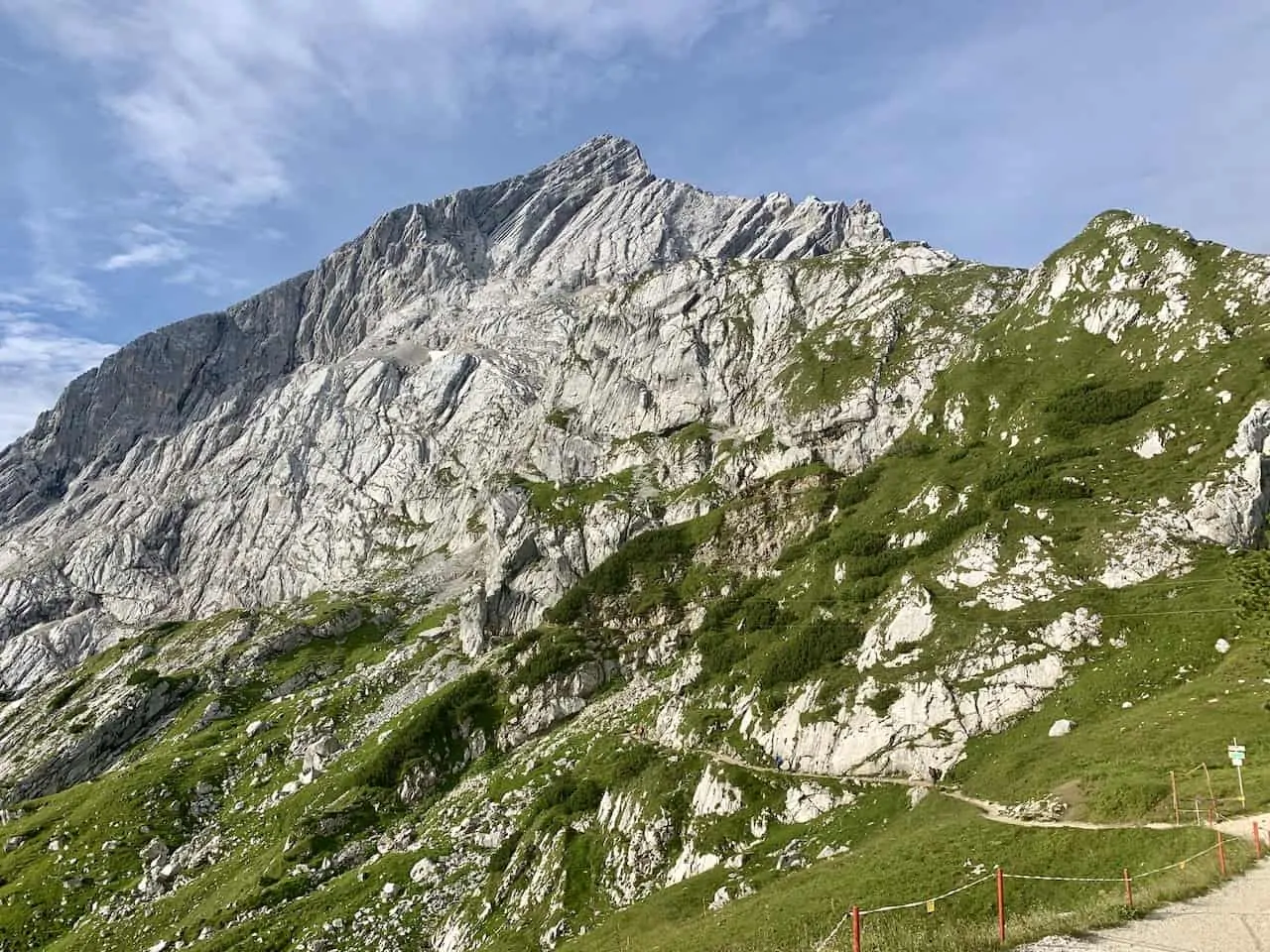 I should note that while this is a Via Ferrata, you may find that many sections of the route are easy enough to complete without clipping on. So, depending on your experience and comfort level you may decide to clip in the entire time or just the more technical ones.
During the few first sections of trail you will be welcomed to some vertical ladder and peg climbs as you begin to get continuously higher.
When you are off those ladders and pegs, things get a bit easier as you are able to just hike normally from one section to the next.
Behind you will be the Alpspitzbahn station, the city of Garmisch Partenkirchen down below, and plenty more mountain peaks coming up all around you.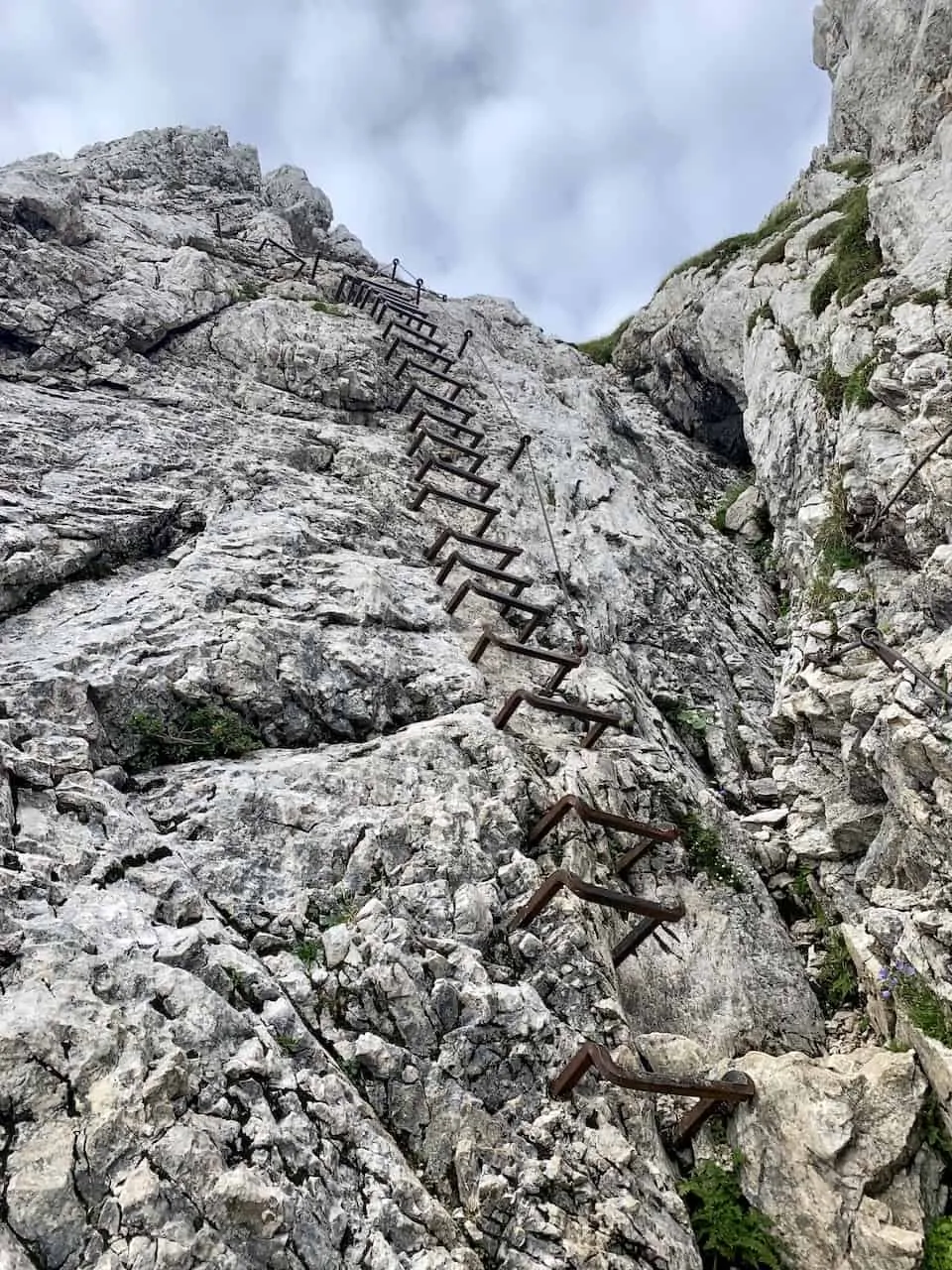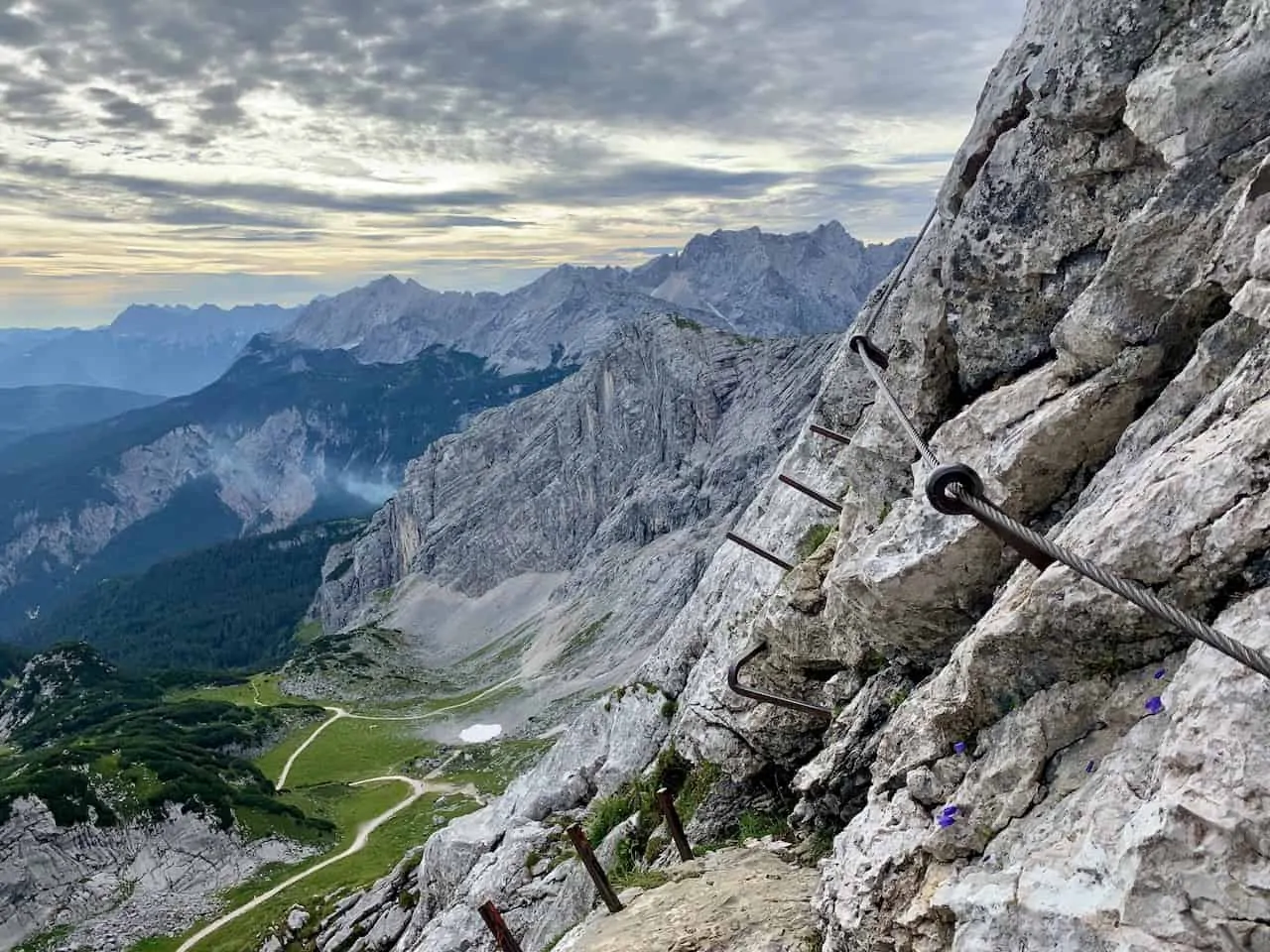 As you continue to get higher you will also be able to get a glimpse of the top of Zugspitze and its viewing platform.
This is the highest point in all of Germany so if you are looking to head there too be sure to check out the Hiking Zugspitze Guide up on the site.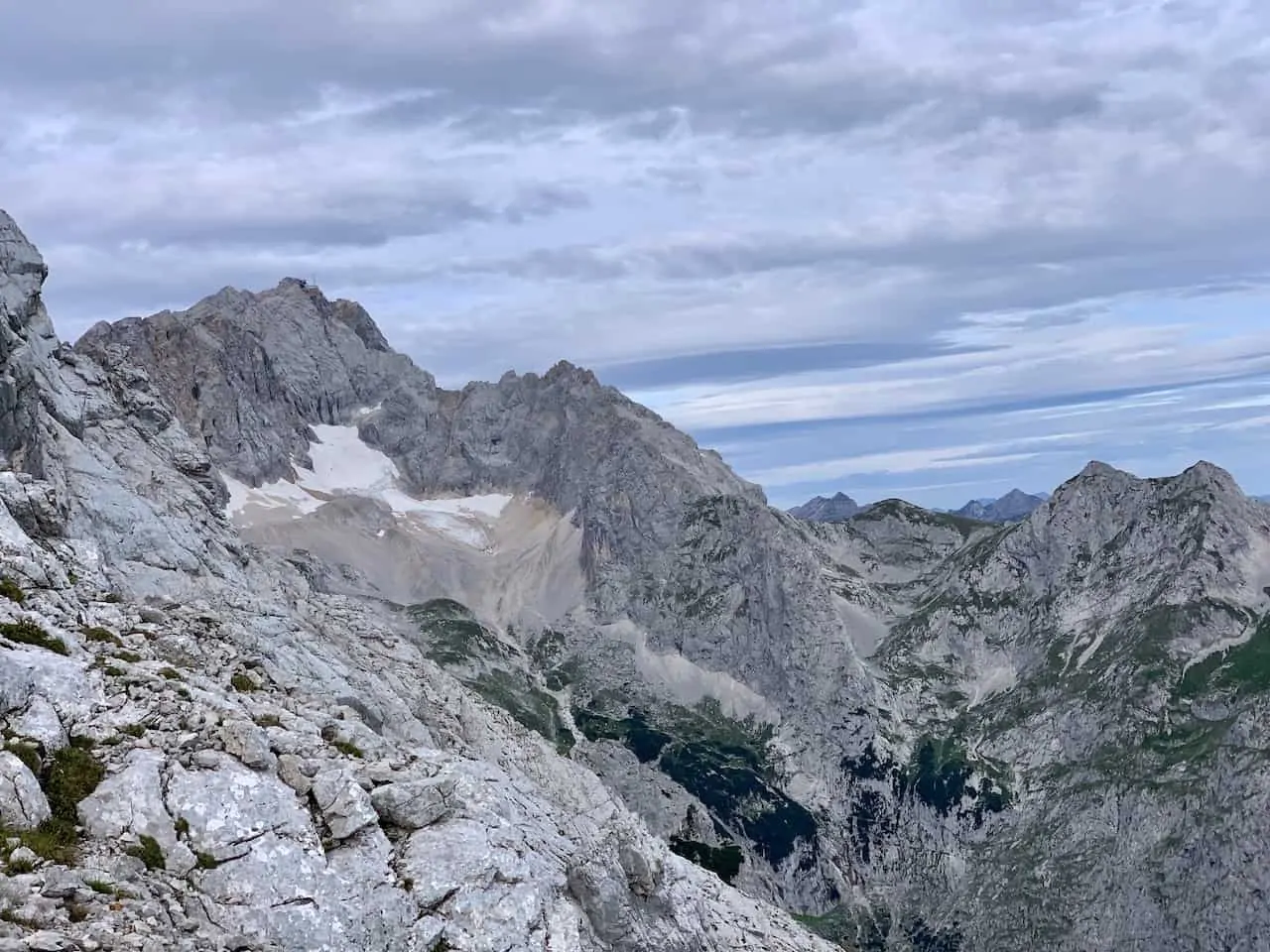 The Via Ferrata route will continue with some back and forth sideways climbs, some rocky terrain, and some more vertical peg sections sprawled throughout.
The views will continually get vaster behind you as you get to see further and further out in the distance.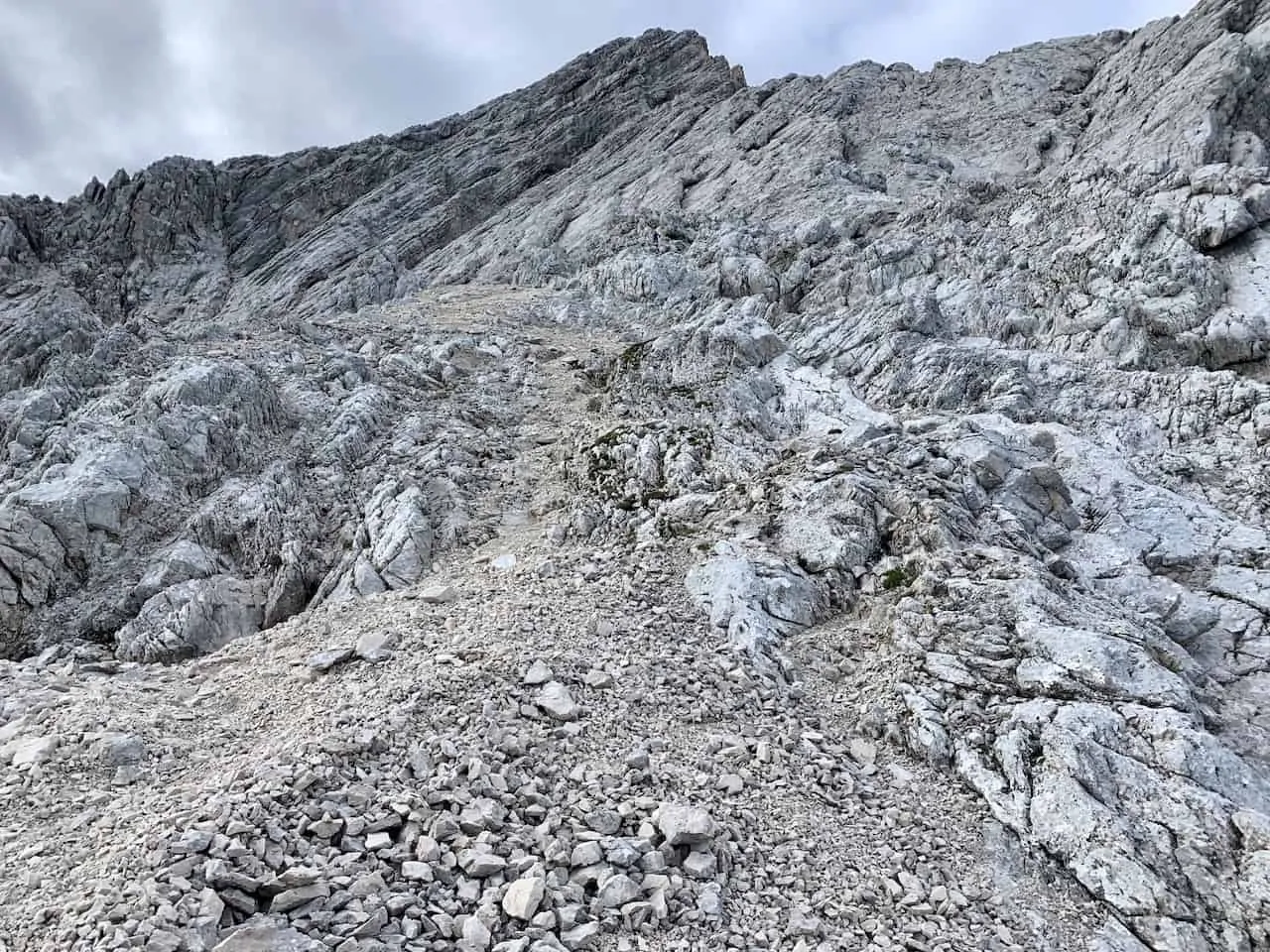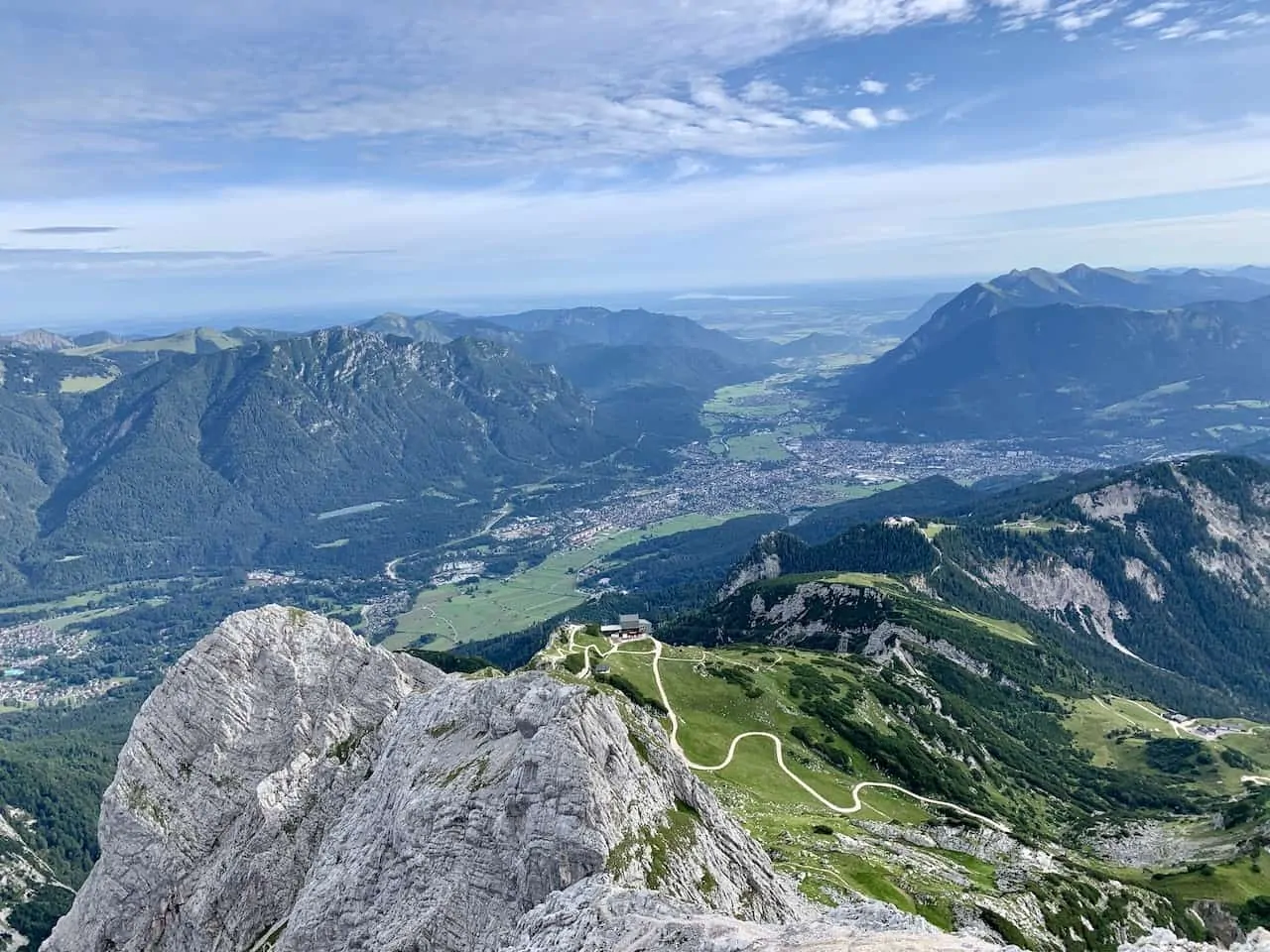 During the last bit of the route, you will have one more long ladder section to get yourself through before the summit cross begins to come into view. From there it is just a few more steps until you reach the summit of Alpspitze.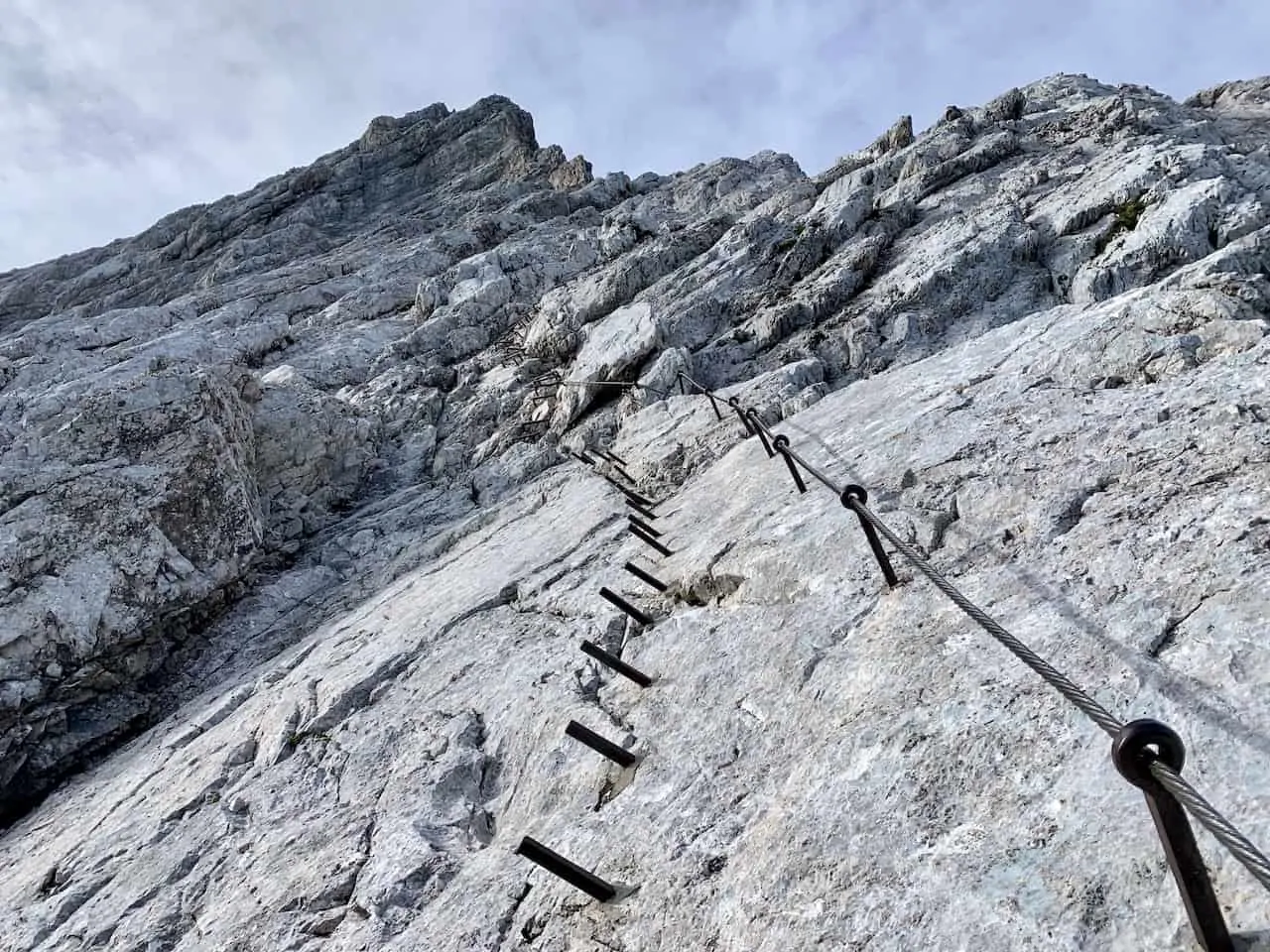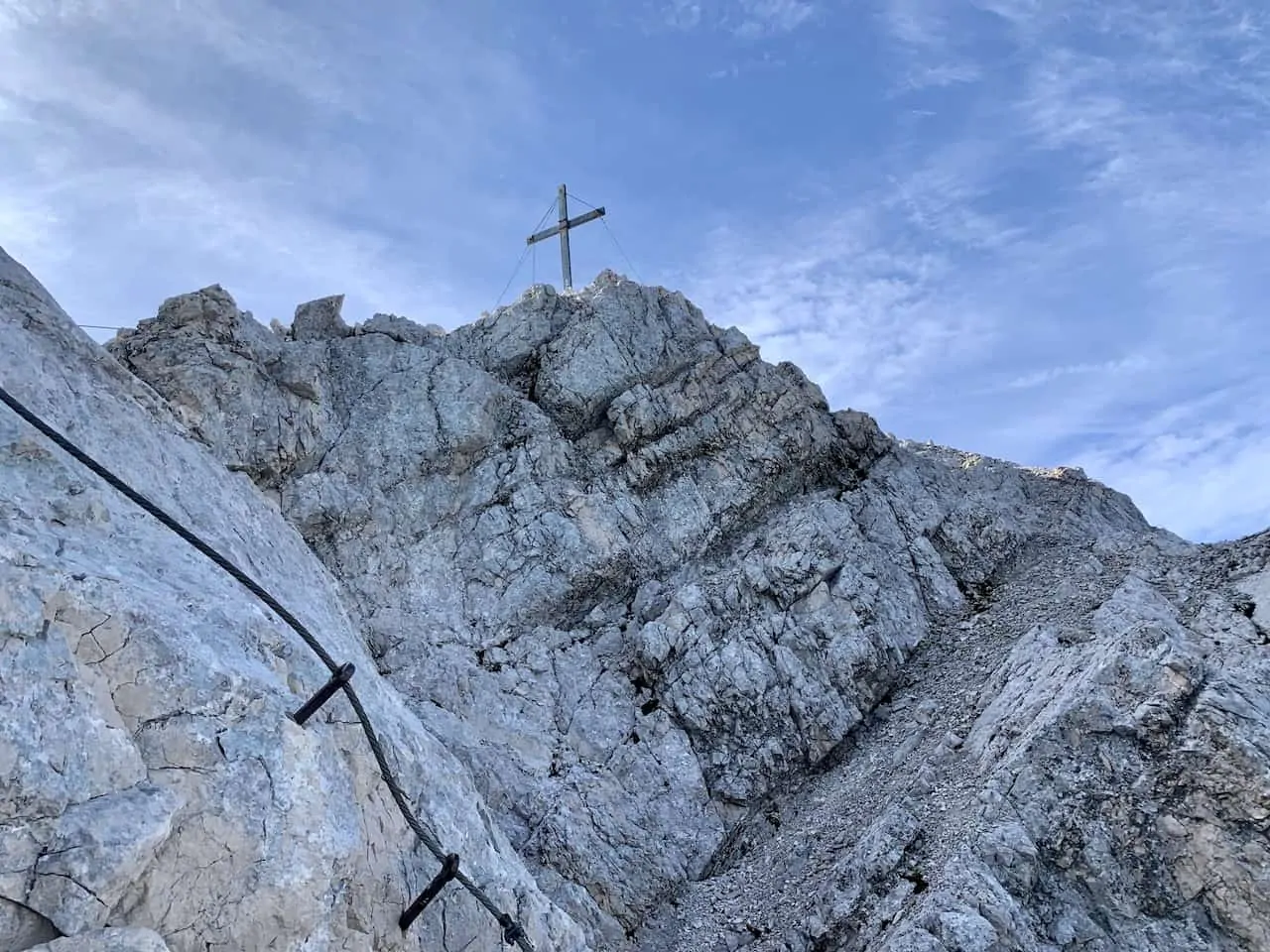 7) The Summit
Before hiking back down, you will get to enjoy the 360 degree views from the top of Alpspitze. Once up top you not only will be able to see the views out in front of you but you now will be able to see the backside of the mountain and way into Austria.
It is a fantastic summit experience to have and I recommend taking your time to fully enjoy the top of the peak.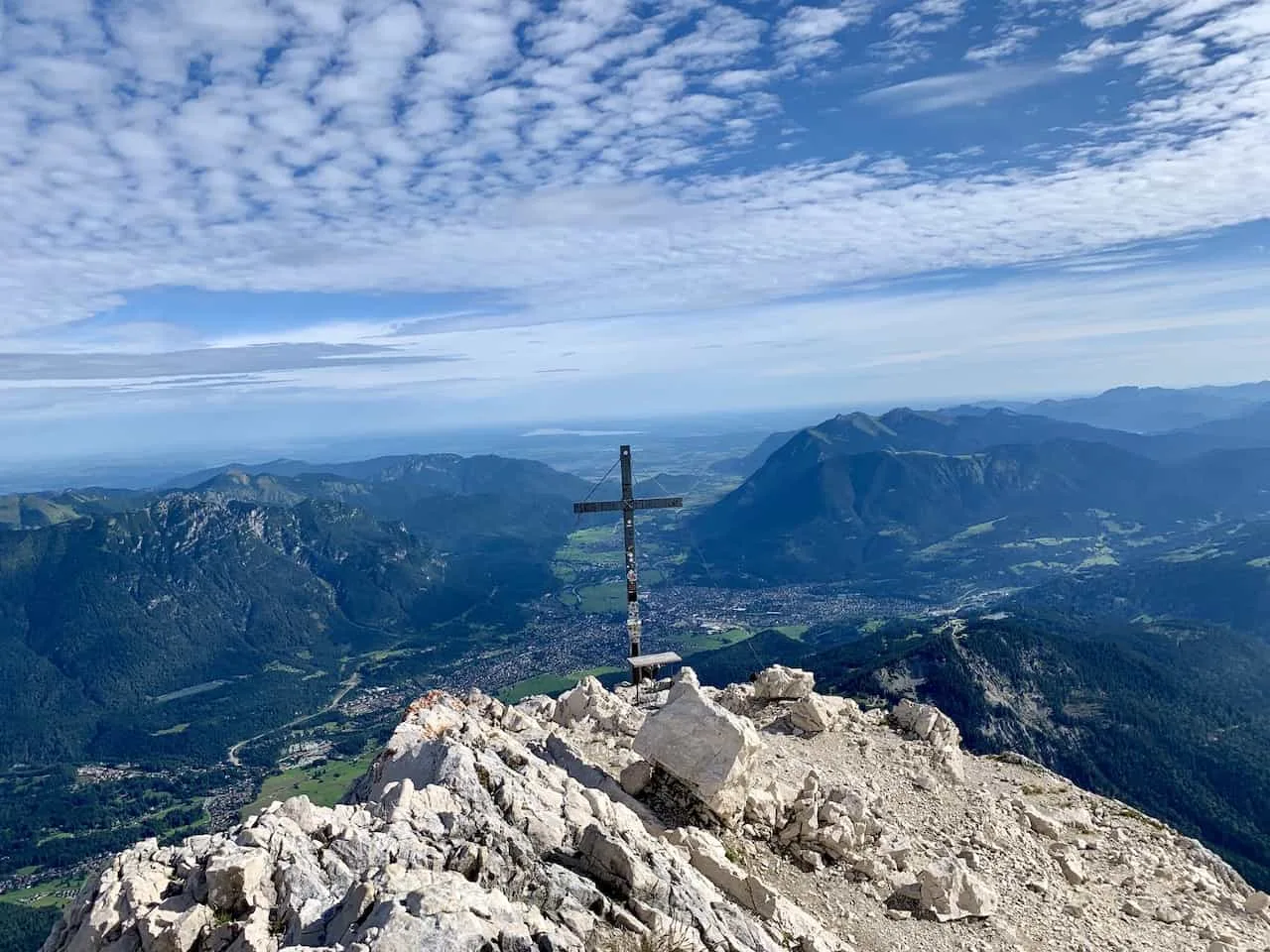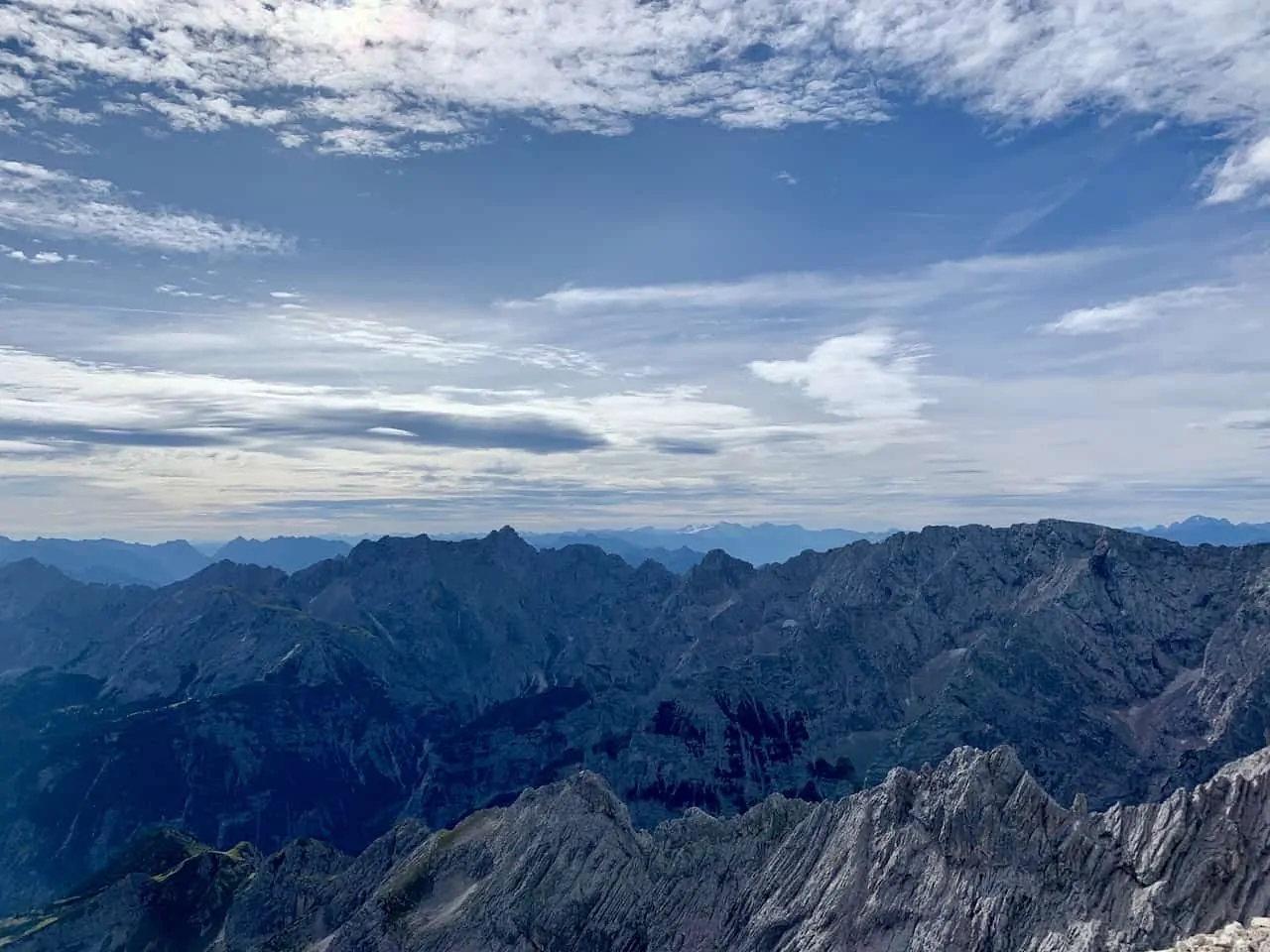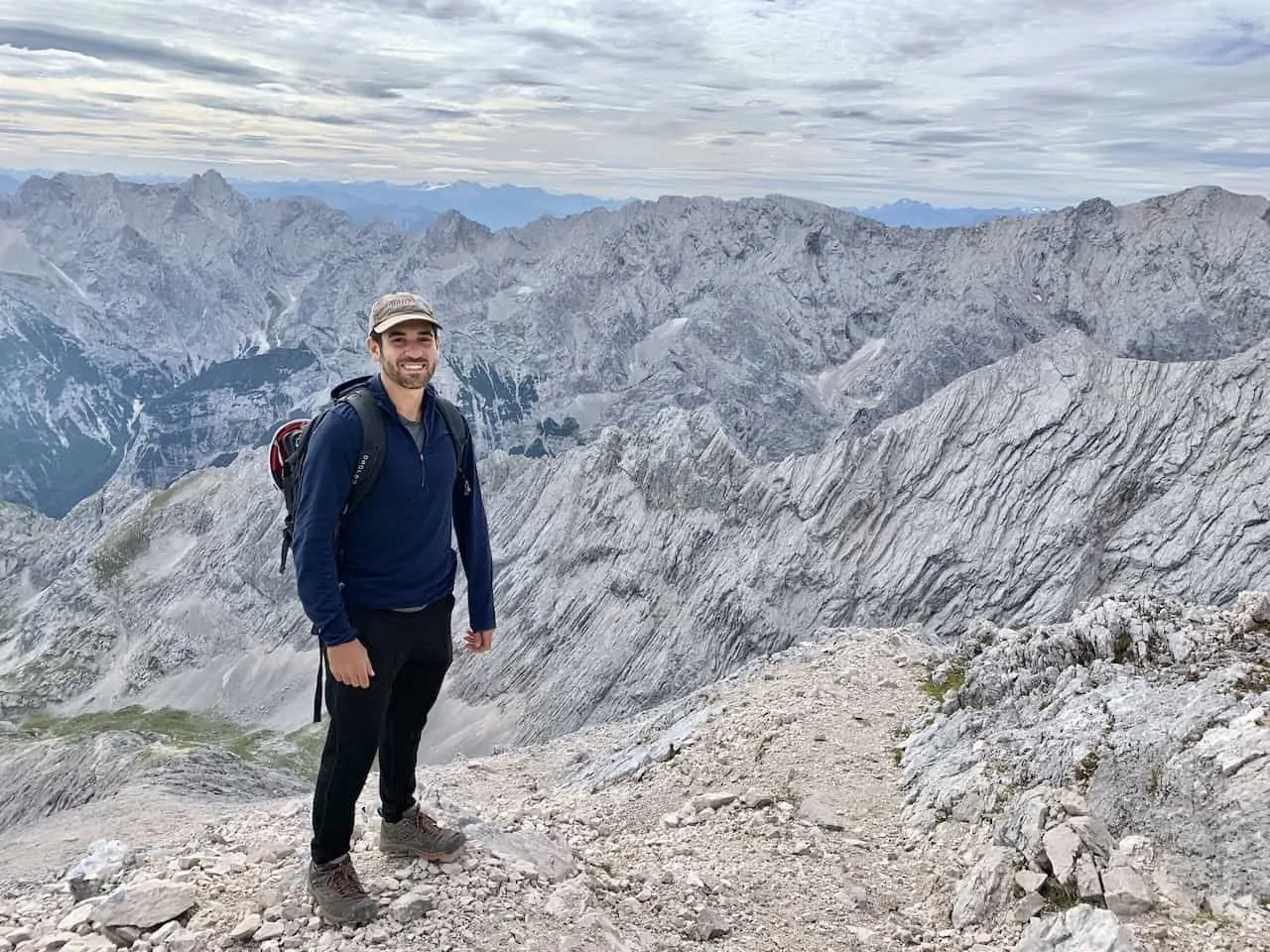 8) The Hike Down → Nordwandsteig → Osterfelderkopf
It is now time to make the treacherous hike back down to the cable car station. About half the trail is done on steeper rocky terrain with some ladder and rope sections as well, while the second half of the hike is more hiker friendly.
With your back towards the summit cross you will want to catch the trail on your left-hand side. There will be red markings on the rocks that will help you make the traverse down the mountain.
It can get pretty slippery in certain parts so take your time and watch your step as you are heading down.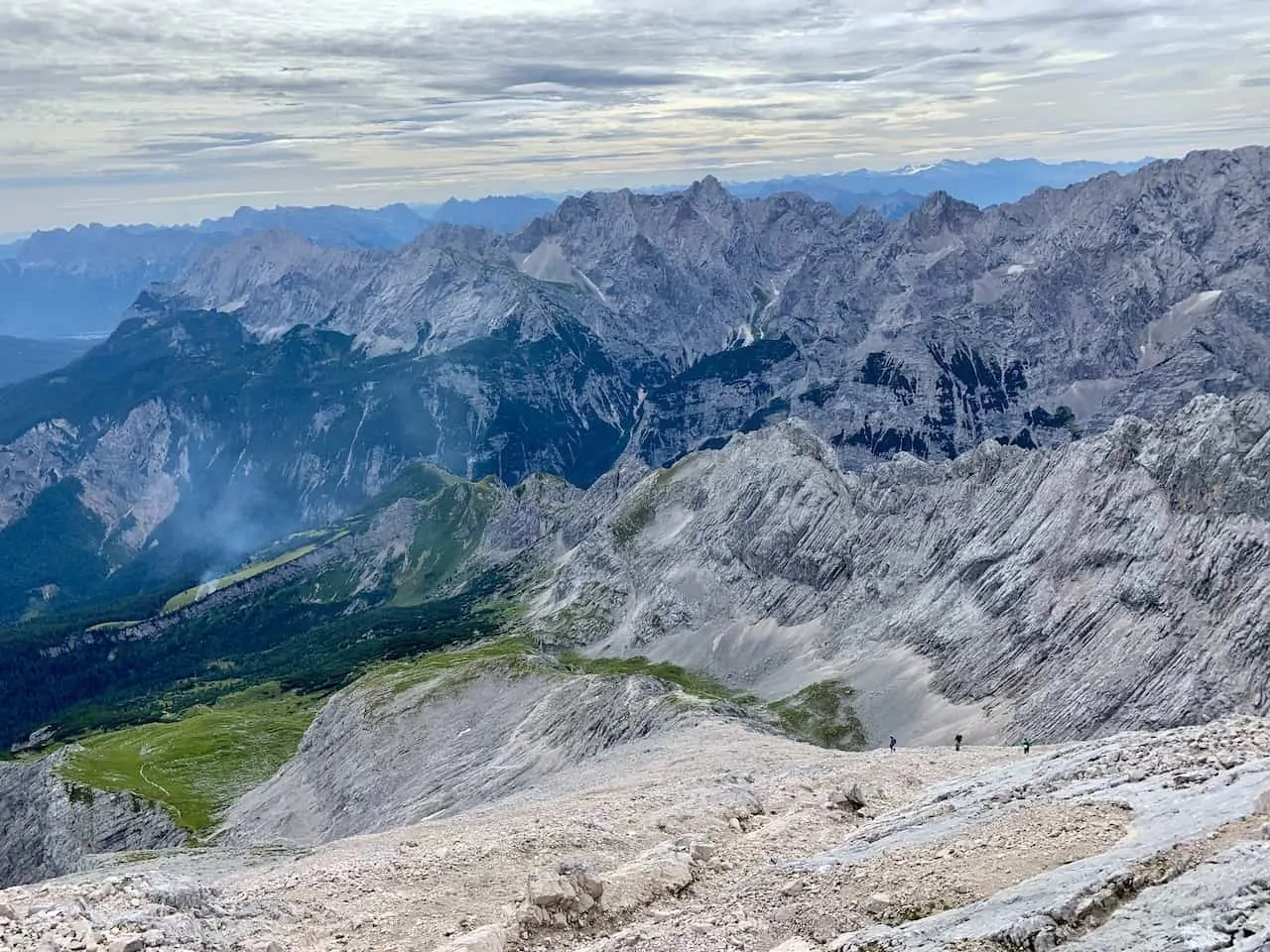 At a certain point, the loose rocks will end and you will be welcomed to another fixed rope section. You don't necessarily need to clip on here but you can do so if you feel like it's necessary.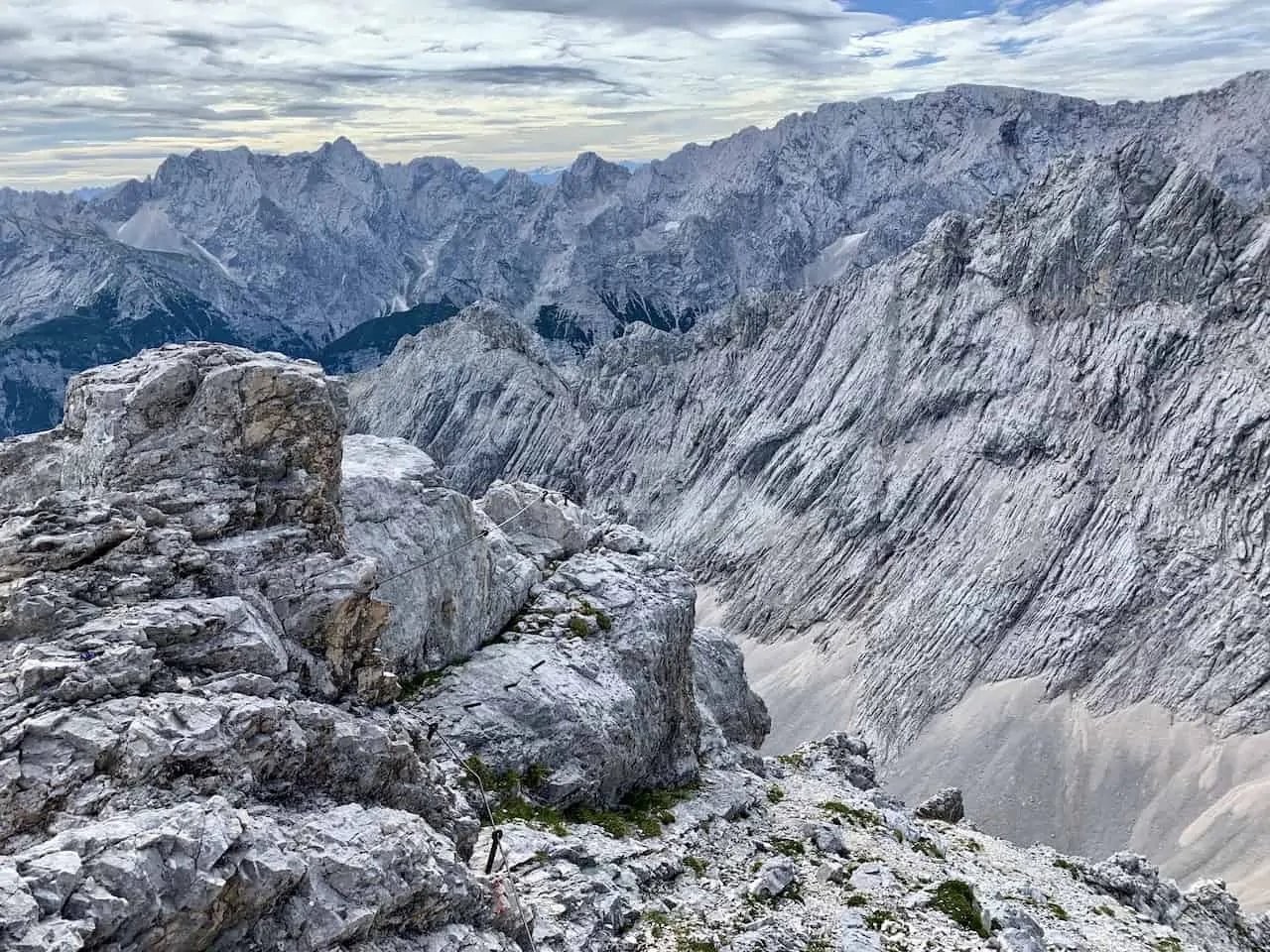 As you continue along be sure to follow the signs that say Nordwandsteig / Alpspitzbahn as there are some intersections here that can take you in various directions.
From here you will traverse the mountain on some easier and more navigable terrain. There will be one ladder section to head down followed by a tunnel built into the side of the mountain.
All you need to do is follow the path back towards the main platform area from the beginning of the day and you should be done in no time.
You can sit back and relax, and grab some food and drinks while taking in the view before heading back down the cable car to end a successful day on Alpspitze.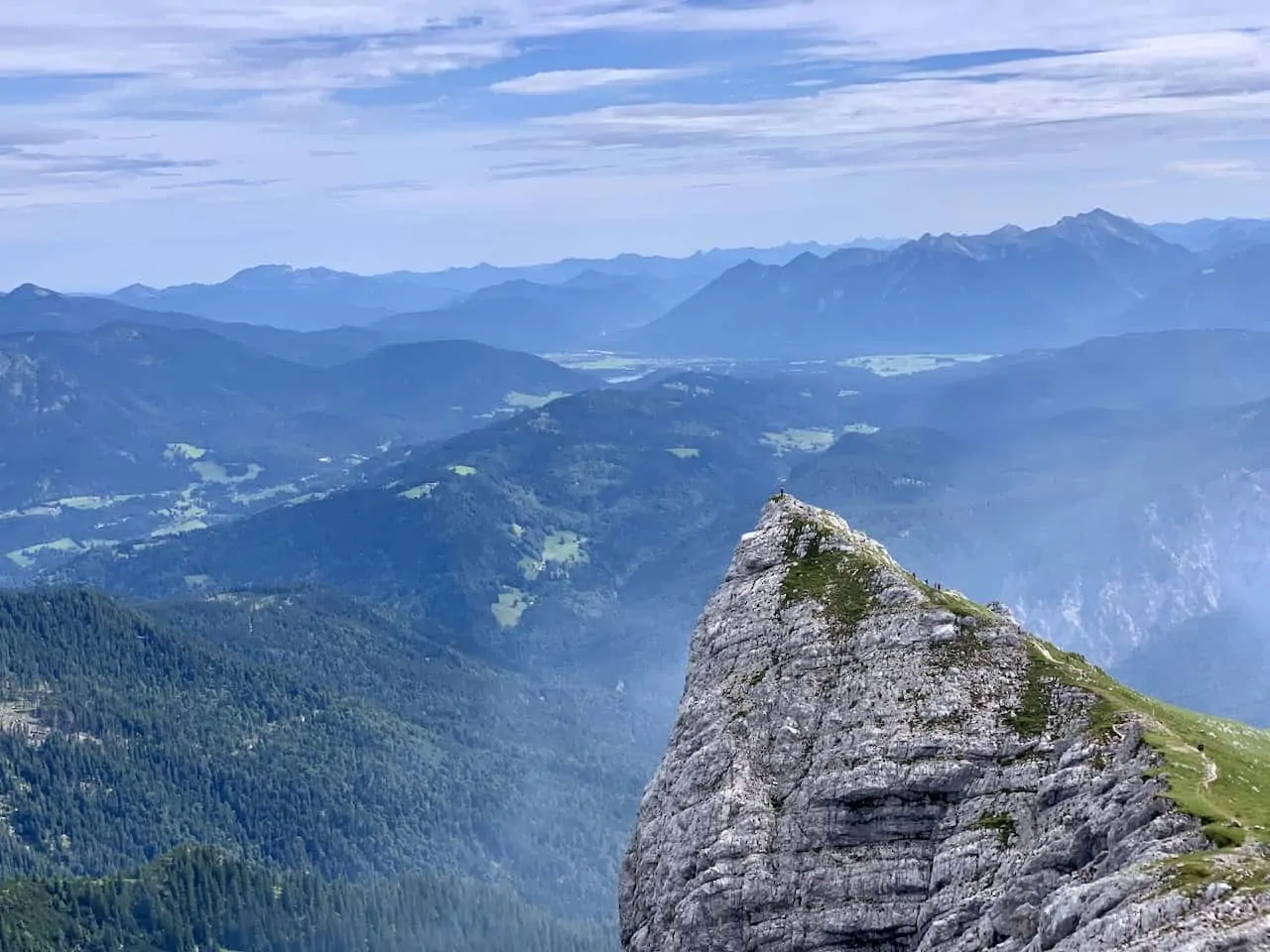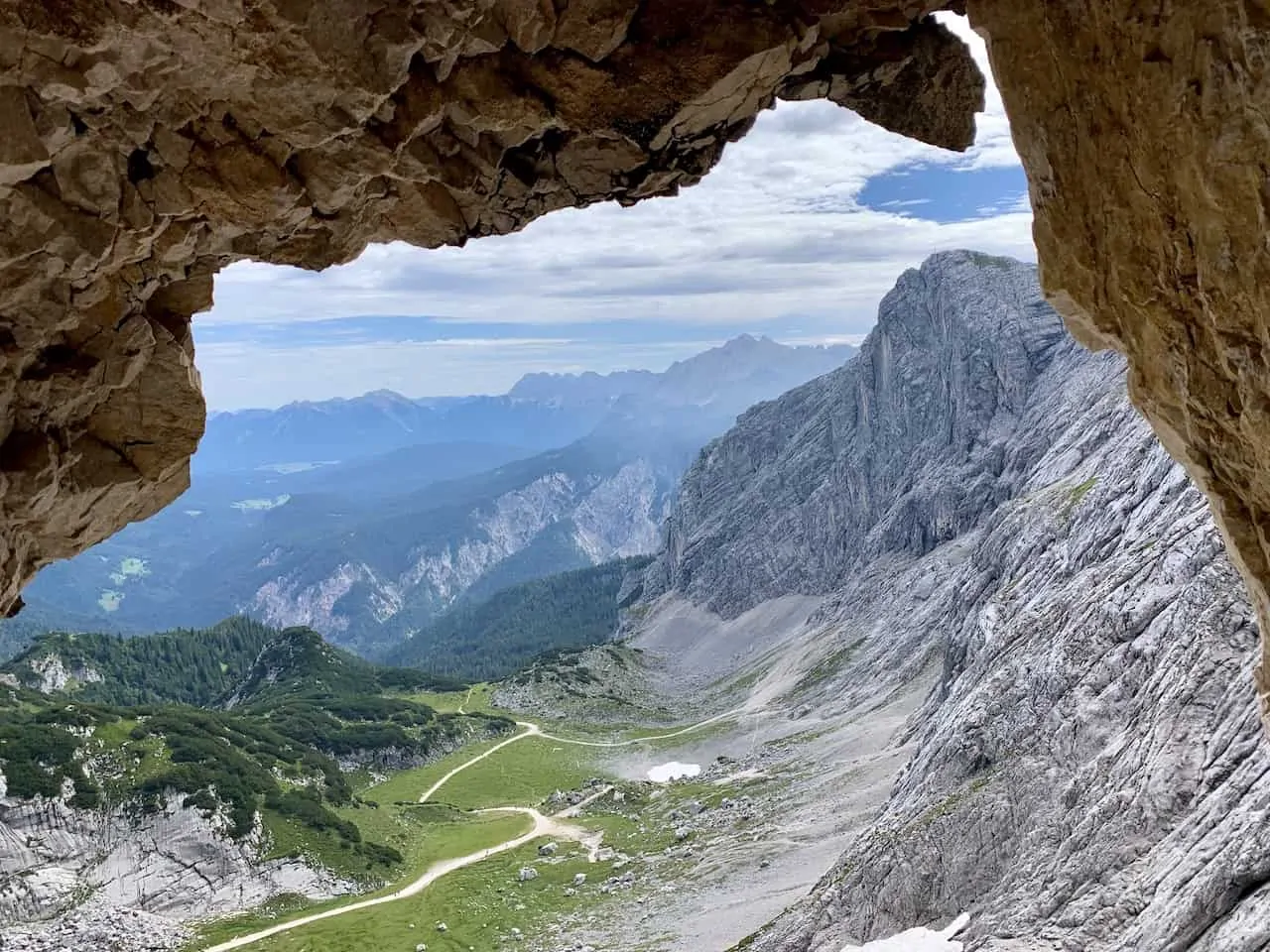 With that all said, I hope you now have a much better idea on how to conquer the Alpspitze Klettersteig on your own and you are all ready for your time in the Bavarian Alps.
Be sure to also check out some of the other things to do in Garmisch Partenkirchen during a visit.
If you have any questions or comments feel free to write them in below. Have fun out there and safe travels!