Photos of the clouds and the sky can be some of the most awe-inspiring and breathtaking landscape to capture. Choosing the perfect Instagram caption for a photo full of clouds can be tough though.
That is why I put together this list of 75+ of the best cloud quotes that is sure to help you find that perfect caption. So, whether you are looking for clouds quotes that are inspiring, funny, or motivational, this list has covered.
For all of your cloudy day photos, here is the ultimate list of cloud quotes that make superb Instagram captions.
* Affiliate Disclosure: This post may contain affiliate links, which means I may receive a commission if you make a purchase through the links provided, at no additional cost to you. Thanks for supporting the work I put into TripTins!
Top Quotes About Clouds for Instagram
Clouds are a miracle of nature! And just like all the best miracles, the best cloud photos need the most beloved quotes to caption them. For all of your favorite sky-high photos, here are the top quotes about clouds for Instagram.
"Rest is not idleness, and to lie sometimes on the grass on a summer's day, listening to the murmur of the water, or watching the clouds float across the sky, is by no means a waste of time." – John Lubbock
"I've got sunshine on a cloudy day." – My Girl, The Temptations
"The air up there in the clouds is very pure and fine, bracing and delicious. And why shouldn't it be? It is the same the angels breathe." – Mark Twain
"The more clouds you have in your sky, the more colorful sunset it will be." – Sajal Sazzard
"Yesterday I inhaled a cloud, and immediately my eyes started raining." – Jarod Kintz
"No cloud is so dark that the sun can't shine through." – Miranda Kerr
"Clouds can never hide the sun forever." – Debasish Mridha
"Watch the clouds. They will teach you about the world of form." – Eckhart Tolle
"At every sunset, the sky is a different shape. No cloud is ever in the same place. Each day is a new masterpiece. A new wonder. A new memory." – Sanober Khan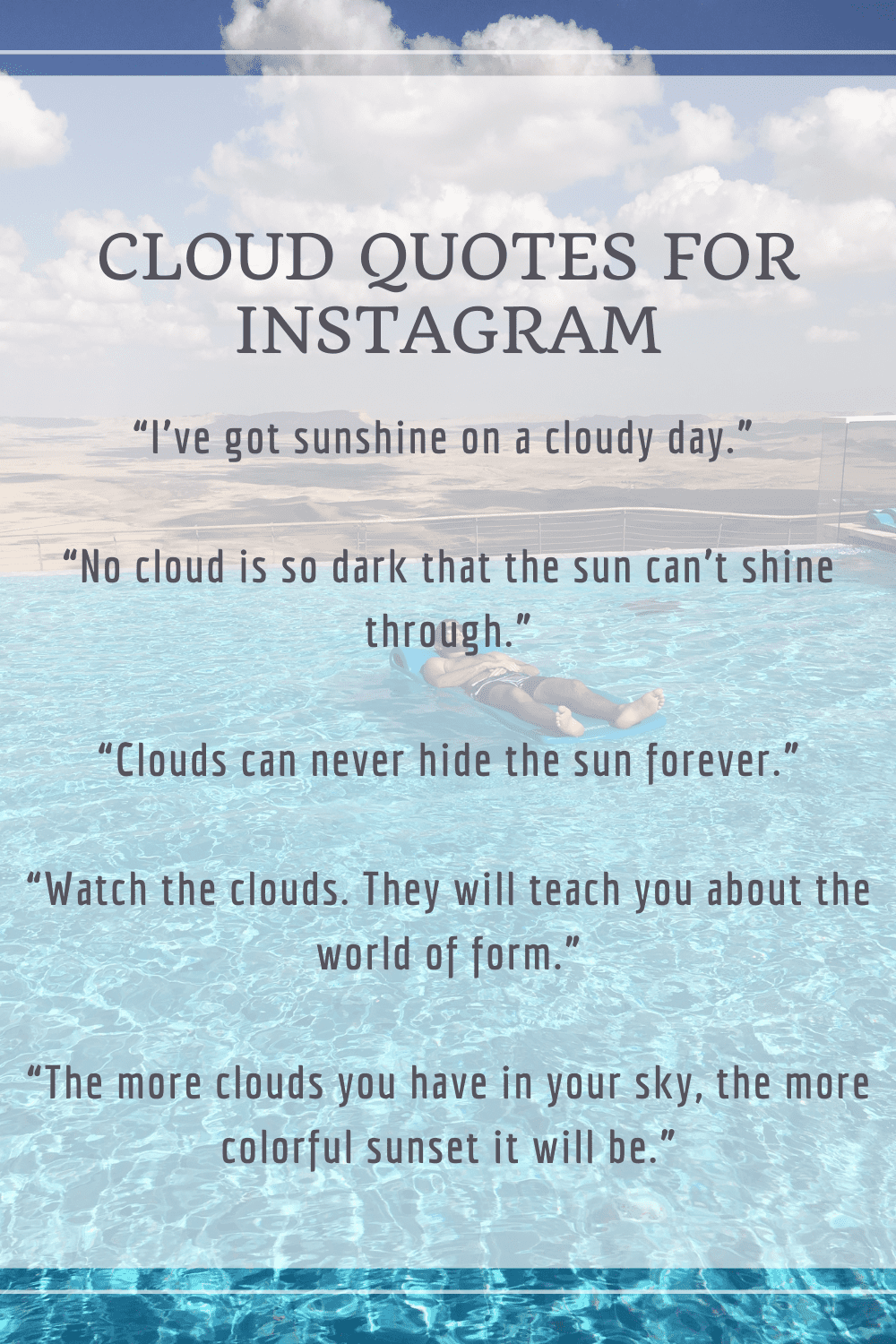 Motivational Cloud Quotes
Even after a cloudy rainstorm, the sunshine always finds its way back through. Just as in our hardest days, happiness and joy always find a way back into our lives. For a little motivation on those cloudy days, here are some of the best motivational cloud quotes.
"A cloudy day is no match for a sunny disposition." – William Ward
"Try to be a rainbow in someone's cloud." – Maya Angelou
"There's a bright spot in every dark cloud." – Bruce Beresford
"Don't let one cloud obliterate the whole sky." – Anais Nin
"If you learned how to make a cloud, your time is not wasted." – Bob Ross
"Don't let the dark clouds get you down."
"You may run into some gray clouds along your journey, so hold on tight to the sunshine within you." – Christine E. Szymanski
"Even when the clouds grow thick, the sun still pours its light earthward." – Mark Nepo
"Keep your eye on the clouds, not on the crowds."
"Clouds are on top for a reason. They float so high because they refuse to carry any burden." – Jasleen Kaur Gumber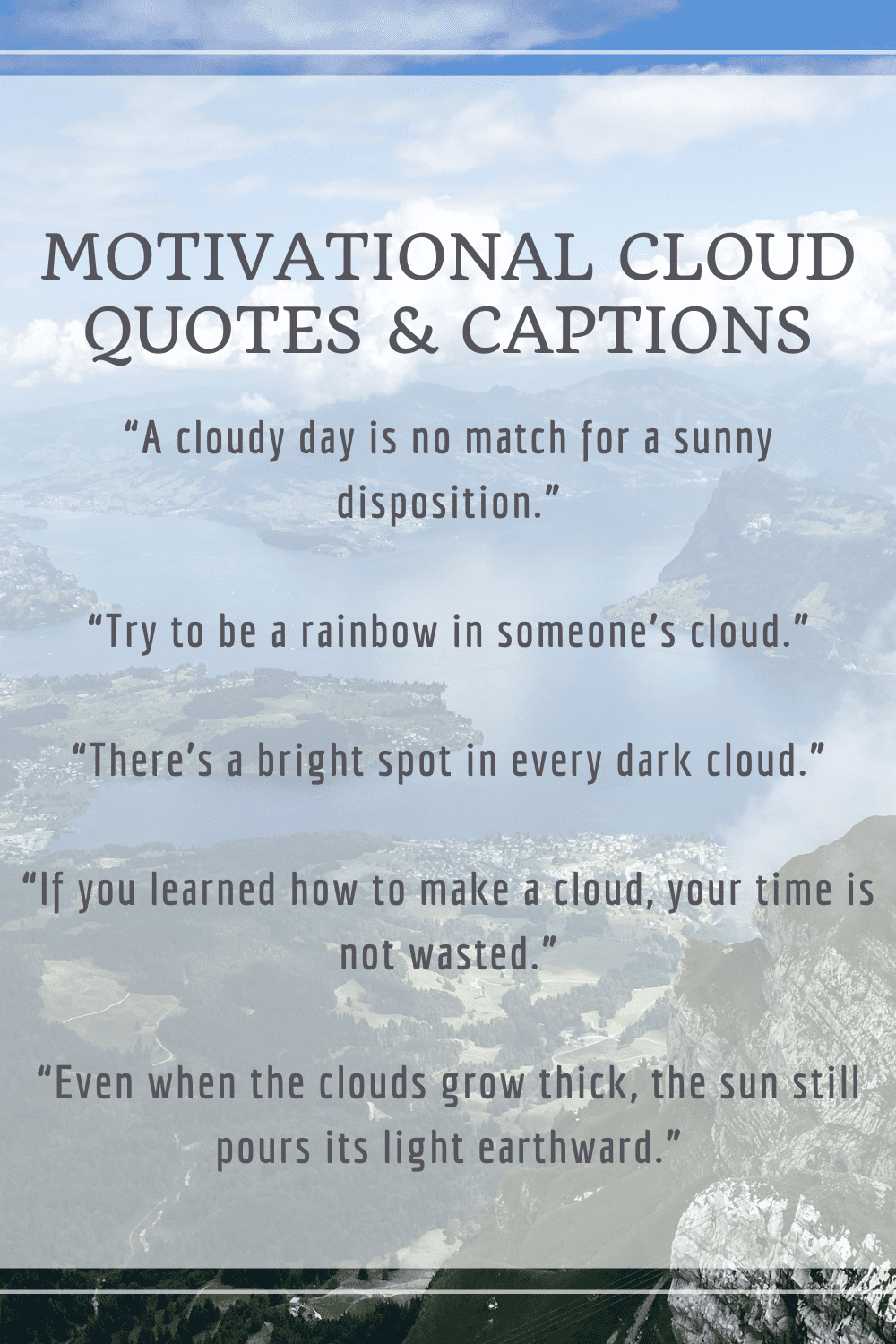 Short Cloud Captions
Cloud photos can be quite eye-catching and attention-grabbing for your social media feed. Something short and sweet can easily lead to something huge and exciting! Here are some of the best short cloud captions.
"Every cloud has a silver lining."
"Love is like the clouds of the sky." – Alan Maiccon
"Revelations are found in clouds." – Serge King
"Clouds add character to the heavens." – Dahi Tamara Koch
"Every cloud has a history."
"I'm on cloud 9."
"Clouds are the sky's imagination."
"Smiles on a cloudy day."
"Like cloud on cloud, no stir of air was there."
"Listen to what the sky is telling you." – Adrienna Posey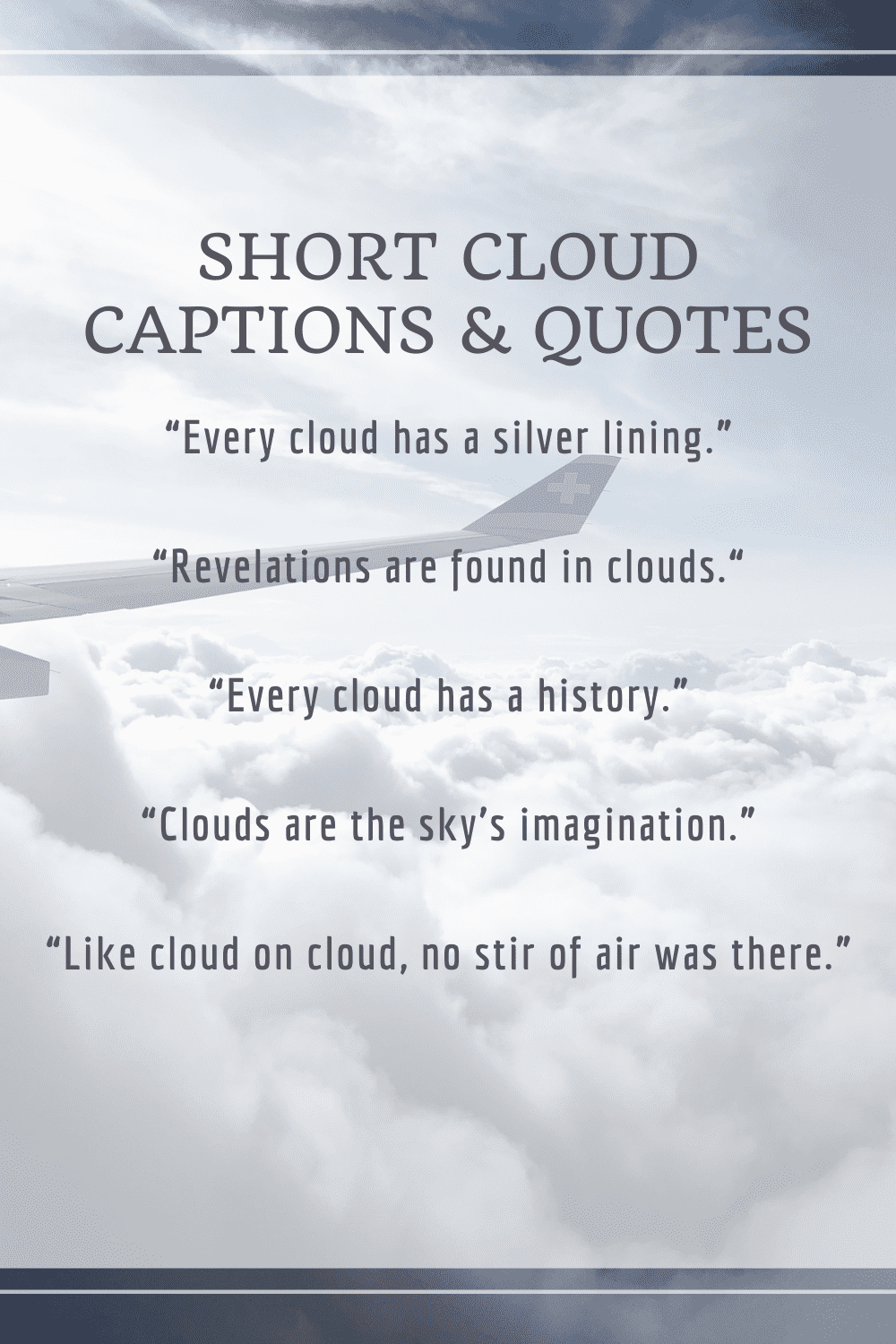 Cloud Quotes for Sky Photos
If you love taking photos, chances are you have a lot of cloud and sky pictures in your albums. Whether the skies are sunny or gray, clouds are often lighter around, adding the perfect aesthetic for sky photos. Here are some of the best cloud quotes for sky photos.
"Sometimes, the clouds in the sky are mistaken. They didn't come to block the sunlight. They came to embrace it." – Kaylee Stepkoski
"Go up in the clouds because the views a little nicer." – Zach Sobiech
"What if the sky is the way of the moon?"
"There are no rules of architecture for a castle in the sky."
"There is something in the sky awaiting discovery." – Steven Magee
"Clouds come floating into my life, no longer to carry rain or usher storms but to add color to my sunset sky." – Rabindranath Tagore
"The beauty of white clouds; every morning brings new clouds and sunshine." – Lailah Akita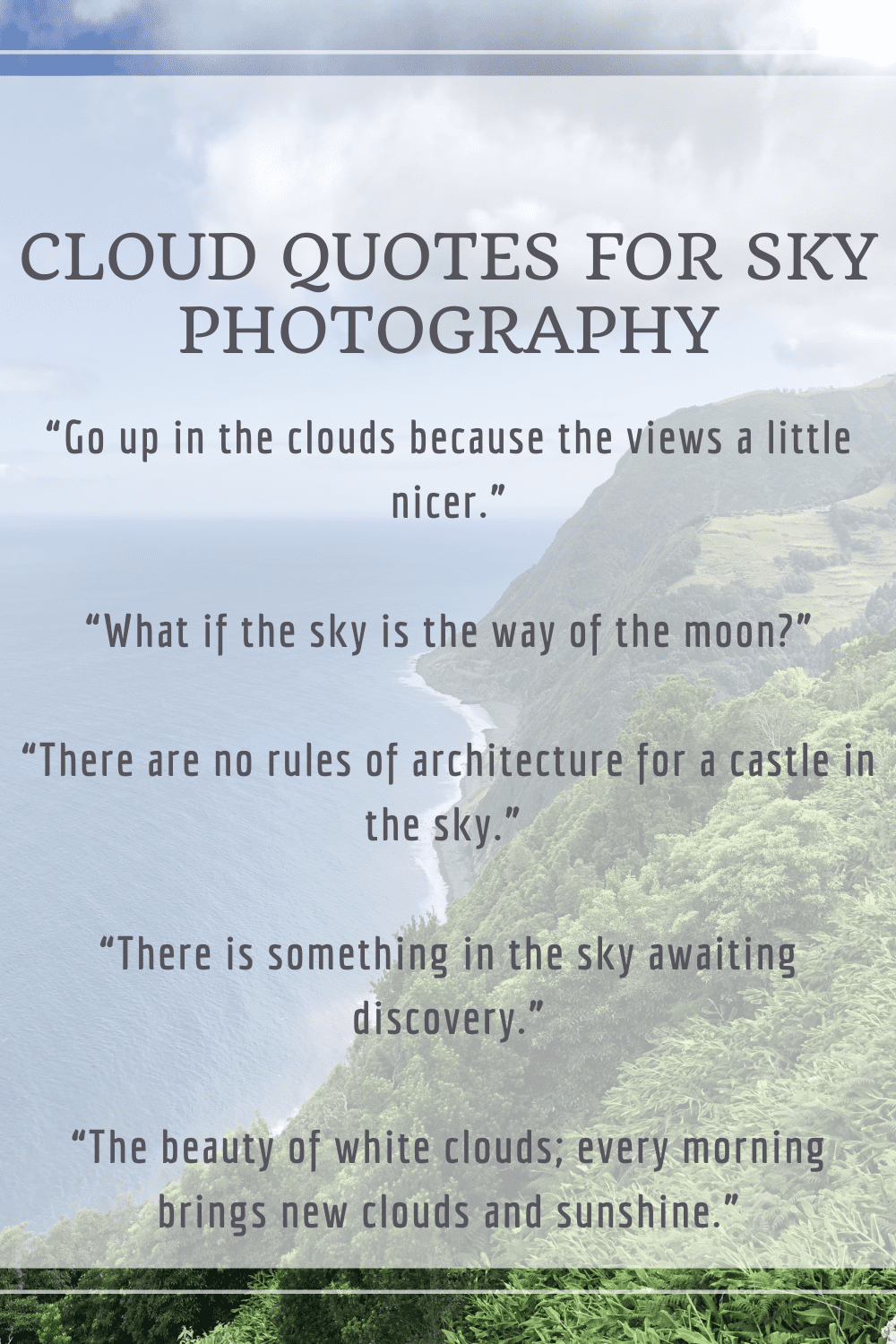 Cute and Aesthetic Cloud Captions for Instagram
Looking for a quote that is trendy and fits perfectly with the filter and aesthetic of your photos? These cute and quirky quotes are great for those intense and lovely sky pictures. Here are some of the best cute and aesthetic captions for Instagram.
"Be the sunshine of a cloudy day." – Christina Casino
"The clouds don't overthink; they just drift." – Avijeet Das
"Sleep in the clouds. Dream in the sky."
"Cloud-friendly."
"Perfect skyline every time."
"How sweet to be a cloud. Floating in the blue!" – A.A Mine
"Clouds have so much depth."
"No cloud above, no earth below."
"Clouds float in the same pattern only once." – Wayne Shorter
"If I miss a star then I grab a handful of clouds." – Mike Tyson
"I need you like the sky needs clouds."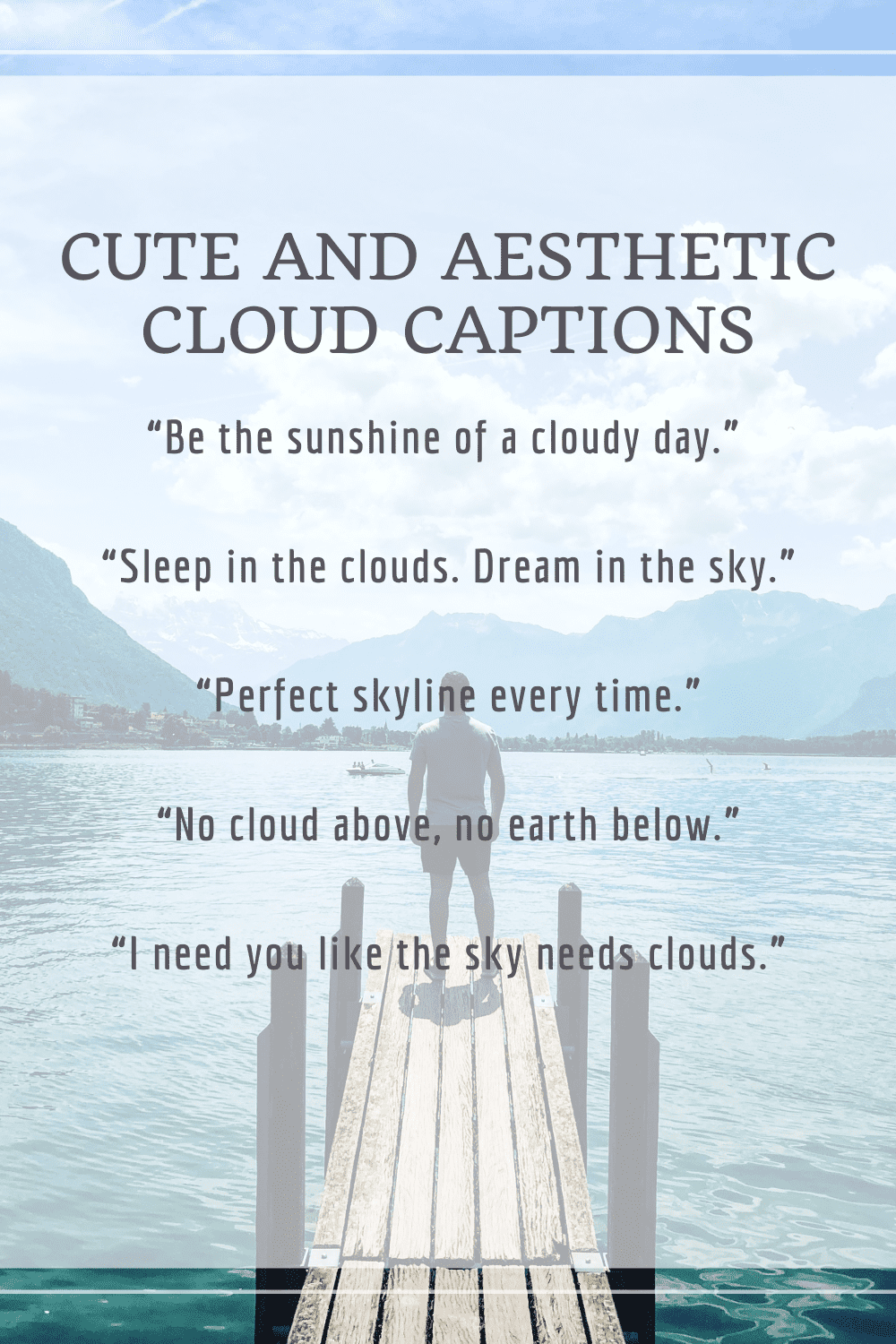 Inspirational Cloud Quotes
Looking up at the sky can be really motivational and inspiring, especially on those blue cloudy days in life. For a push towards the right direction, or a little motivation to get the ball rolling, here are the best inspirational cloud quotes.
"Behind every cloud is another cloud." – Judy Garland
"Potential isn't in a limitless sky. It's in the clouds." – A.D Aliwat
"When we feel stuck, look at the sky. The clouds remind us that everything changes."
"If you want the rainbow, you gotta put up with the rain." – Dolly Parton
"The sad girl knew that clouds are only temporary and the sun is forever." – Giovannie de Sadeleer
"Every cloud has a silver lining but it is sometimes a little difficult to get it to the mint." – Don Marquis
"Clouds can be seen, and thunders can be heard. You are stronger than you think. Show them what you are."
"Never lose hope. The darkest clouds precede the loveliest rain!" – Avijeet Das
"My experiences remind me that it's those black clouds that make the blue skies even more beautiful." – Kelly Clarkson
"For it is when calm clouds gather that thunder is made." – Soroosh Shahrivar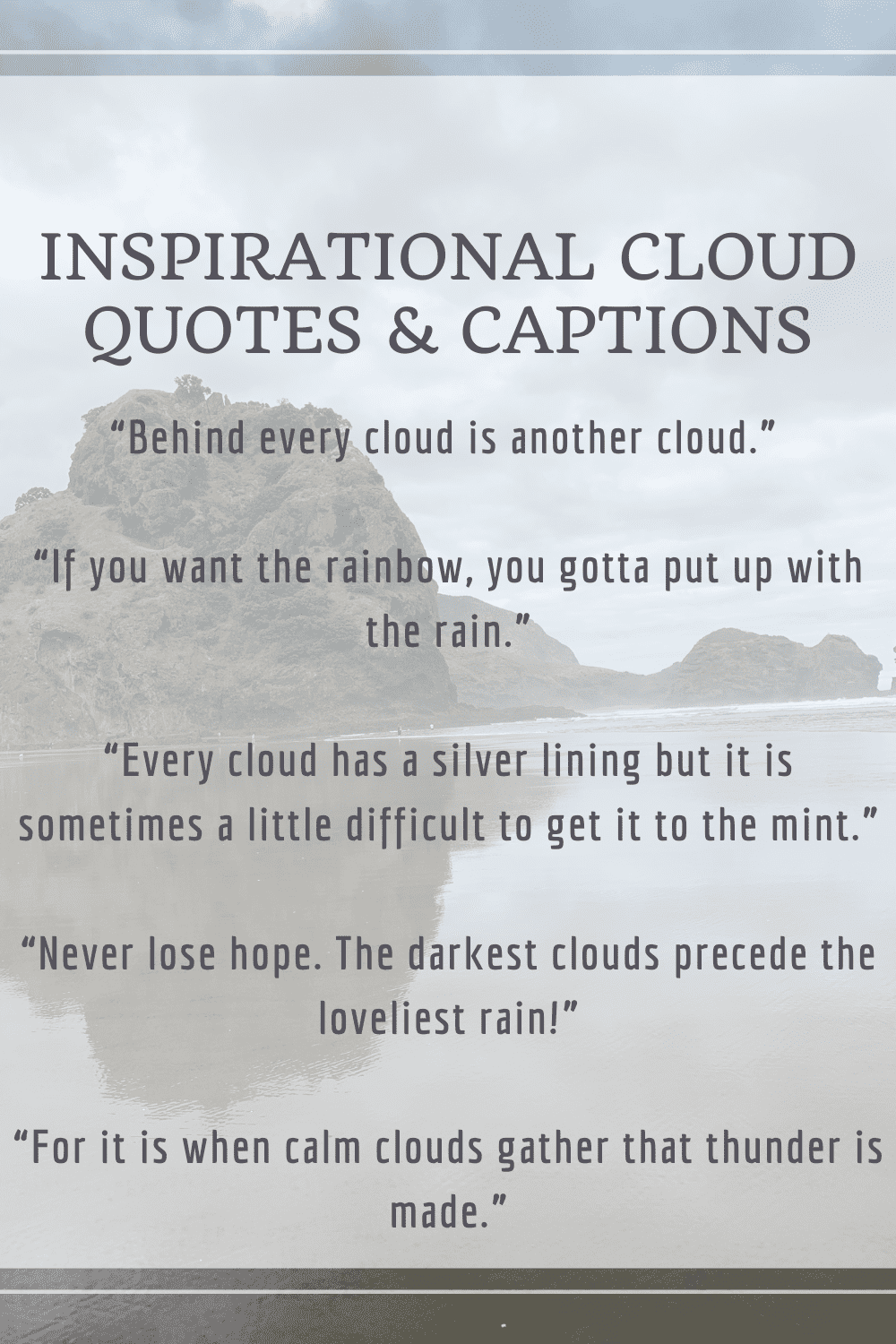 Funny Cloud Captions for Instagram
Ever catch yourself smiling just by looking at the sky? To brighten the mood on all those cloudy days, sometimes all you need is a few funny words to get through the day. Here are some of the best funny and comical cloud captions for Instagram.
"Clouds are zero-effort photography."
"Constantly changing clouds."
"The wind is always changing the cloudscape."
"Clouds suit my mood just fine." – Marie Lu
"Aren't the clouds beautiful? They look just like big balls of cotton… I could just lie here all day, and watch them drift by." – Lucy, Peanuts
"Got my head in the clouds and I can't come down."
"I could not decide who was the wanderer; the rain, the clouds, or me!" – Avijeet Das
"I sit on the clouds and obsess with angels when I should be obsessing on the fact I can fly." – Atticus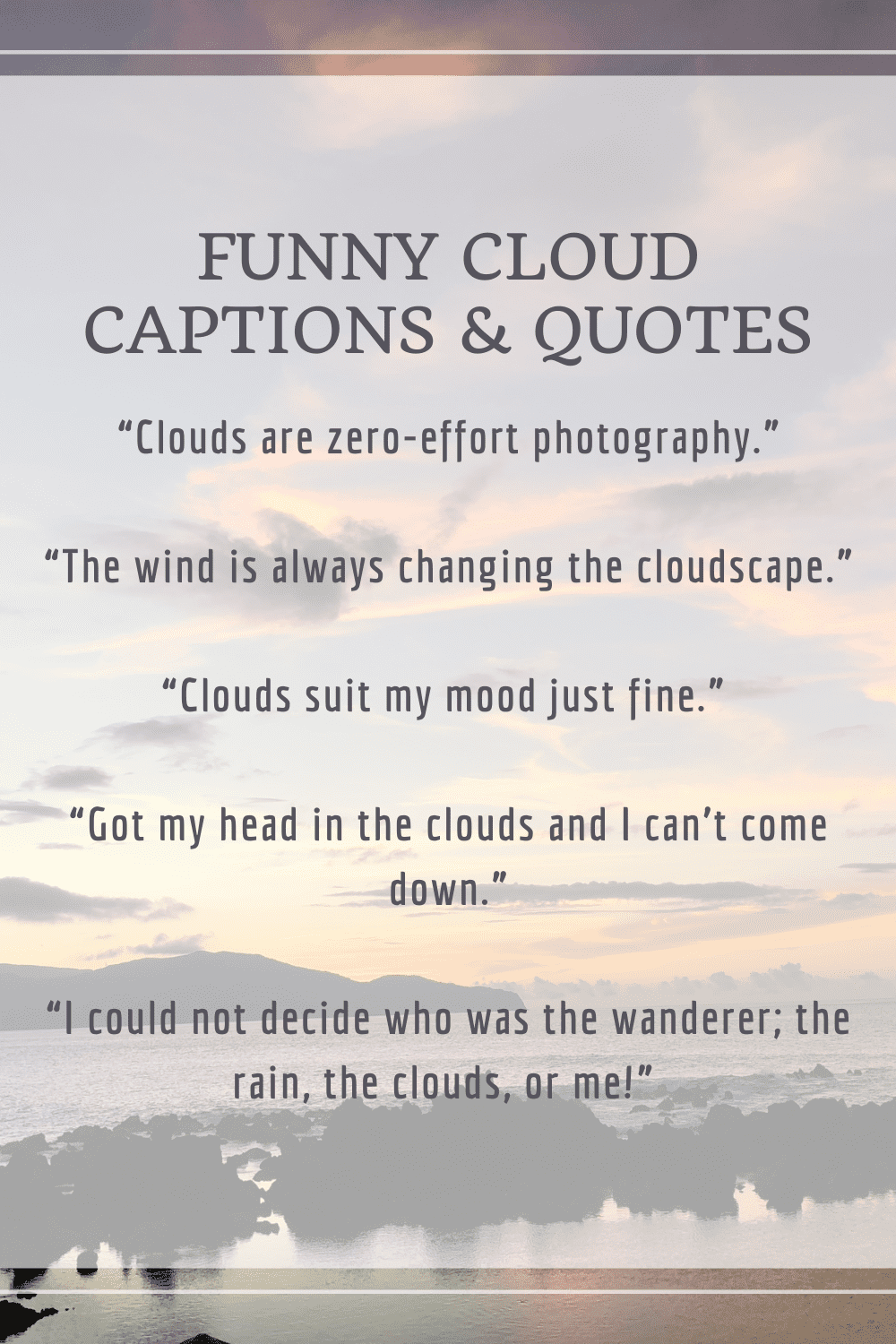 Even More Quotes About Clouds
Too many cloud photos to count? No worries, here are even more quotes about clouds for Instagram.
"You'll think of me every time you see clouds." – Jordan Hoechlin
"Not believing in clouds won't keep them from forming." – Richelle Goodrich
"I love the cloudy days for they, too, contain beauty." – Julie Parker
"She is gentle as a cloud but loves with the fury of a storm."
"You are the sky, everything is just weather."
"You are my sunshine when the skies are gray." – My sunshine
"When your star arises, your cloud of opposition awakens."
"She's in the clouds, heavy and dark, ready to fall like rain." – Christy Ann Martin
"The sky and the sun are always there. It's the clouds that come and go." – Rachel Joye
"When I do not walk in the clouds I walk as though I were lost." – Antonio Porchia
"The best friends of the highest mountains are only the clouds and the adventurer mountaineers!" – Mehmet Murat ildan
I hope that if you were having a cloudy day, this list of cloud quotes has brightened your mood. Refer back to this list for all the greatest quotes and caption ideas for your cloud Instagram photos!
Looking for more inspiring quotes & captions? Check out these lists for more great ideas:
→ Short Travel Quotes with Friends
→ Short Travel Quotes for Instagram
→ One Word Short Travel Quotes