Are you planning your trek to Mount Everest Base Camp and wondering what to bring along for the trip?
Well, this Everest Base Camp packing list has you covered as it goes through each and every item I brought along on my trek.
From clothing to electronics to everyday essentials, this list will have it all. I hope by the end of this guide, you will be all set to conquer the EBC trek for yourself!
* Affiliate Disclosure: This post may contain affiliate links, which means I may receive a commission if you make a purchase through the links provided, at no additional cost to you. Thanks for supporting the work I put into TripTins!
1) Everest Base Camp Introduction
The Everest Base Camp (EBC) trek is an 11 day out and back trail beginning in the village of Lukla, heading up to Everest Base Camp over an 8 day period, and then returning to Lukla over the next 3 days.
The elevation of the trail starts at 9,318 feet in Lukla and goes up to 17,598 feet at Base Camp. If you add in the optional trek up Kala Patthar (HIGHLY RECOMMENDED), then you will reach 18,176 feet! You can learn more about the stats in the guide I put together about the Everest Base Camp distances and elevation gains.
Throughout the trek you will hiking each day from one small village to the next along the dirt and rocky pathways.
There are no vehicles, no electricity lines (solar only), and no heating throughout the entirety of the hike to Everest Base Camp.
Due to the duration of the trek, the high elevation, and the lack of heating, what you bring along with you is absolutely essential for having a comfortable experience from beginning to end.
While the EBC trek is the most popular trek in the region, you can also extend the trek by a few or several days.
These longer treks may include the Gokyo Lakes and all or some of the Three Passes. If you are doing a longer trek, you can still easily leverage the list below and add to it from there.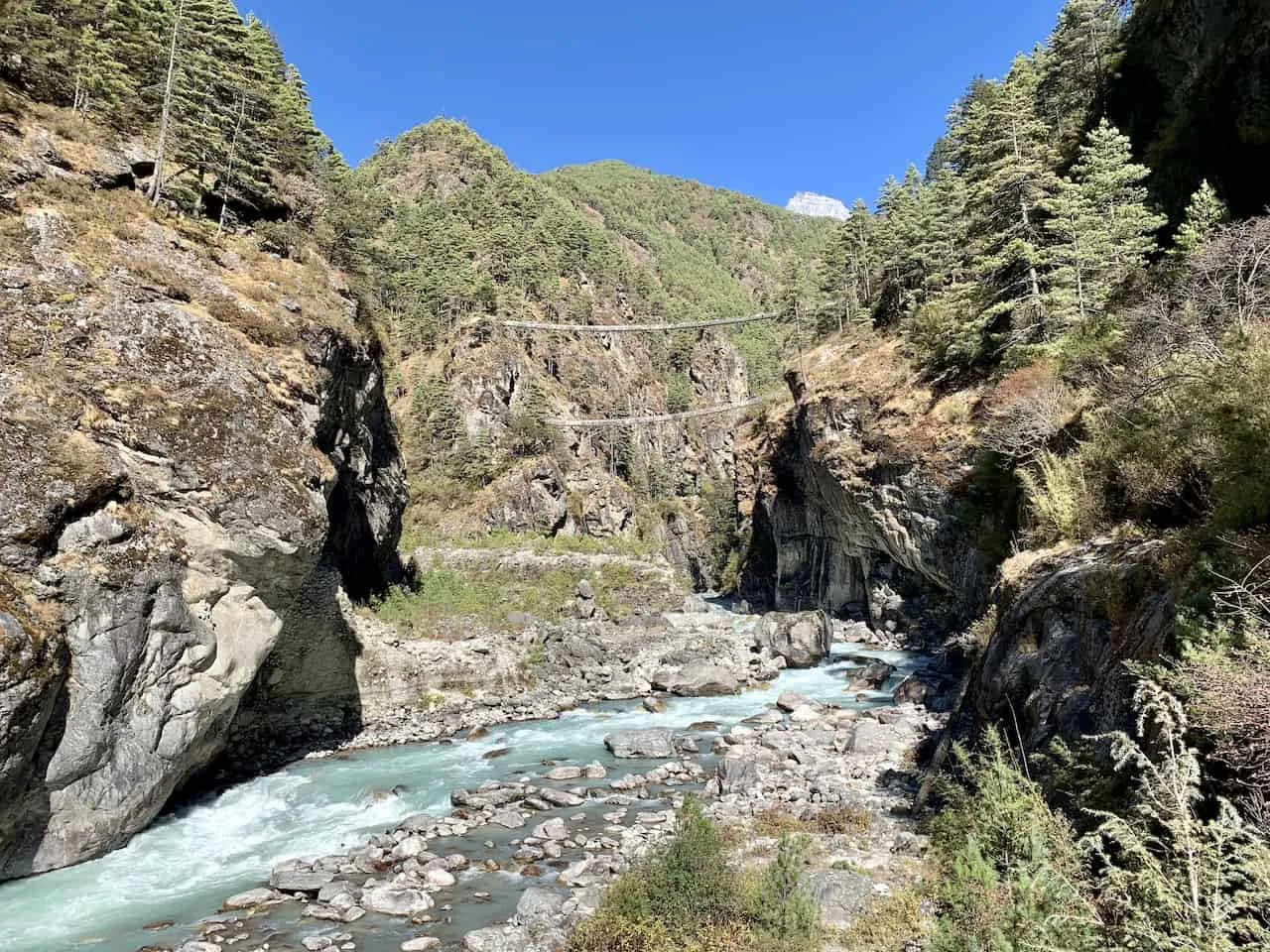 2) Time of Year
Another big decision you will need to make when planning your trek, is the exact time of year you would like to go.
And based on that decision, you may need to pack certain items that you may not need during another part of the year. I will do my best to name those items when going over the packing list and recommend when you will need them most.
Essentially there are two main seasons that people head to EBC – from March to May and from September to November.
Beyond those months, you will either find the weather to just be too cold or too rainy to fully enjoy a multi day trek like this one.
The packing list for these 6 months will be quite similar and that is what I will be going over in the rest of this guide.
I won't be going over gear that you would need for a winter or summer trek as those options are just not as popular or frequented.
» Read why I believe an Everest Base Camp Trek in November is one of the best options
To give you an example of the weather, below is a screenshot of the Dingboche weather (over halfway up the trail), showing the temperatures and rainfall by month.

3) Can You Buy Gear on the Trail?
One of the worst feelings to have is arriving in Lukla only to realize that you have forgotten an essential item back home. The good thing is that you can buy certain items along the trail. The bad news is that you cannot buy certain items along the trail too.
In the villages of Lukla and Namche Bazaar (where you will reach on day 2), you will find plenty of shops selling all sorts of climbing gear for an inflated price.
While the brands will say North Face, Arcteryx and Patagonia, don't expect those to be the real deal.
However, these products still can work for you – they will have everything including backpacks, clothing layers, jackets, pants, hiking shoes, trekking poles, hats, sunglasses, etc.
You will have a tougher time trying to find items such as solar chargers, UV light water purifiers, body wipes, and specific medicines just to name a few.
Beyond Lukla and Namche though, don't expect there to be much else available in other villages.
4) Renting Gear in Kathmandu
Another thing you can think about is renting (or buying) some gear in Kathmandu. Before heading to Lukla I had one free day in Kathmandu to prep for my trip to the Everest region.
Since I did not have a heavier jacket and sleeping bag at home, I decided to just rent those items once I arrived in Kathmandu.
The streets of Thamel (tourist central), are packed with all types of clothing and gear stores. You will have no trouble at all finding all the gear necessary and it is a cheaper option than buying anything on the trail in Lukla or Namche.
I ended up renting both a jacket and sleeping bag for around $2.50 USD per day together, and then returned the items at the end of my trip when I had an extra day to spare in Kathmandu.
Renting these larger items can be great for those that don't want to carry too much luggage on their international flights, or for those who are on a longer trip and not going back home after Nepal.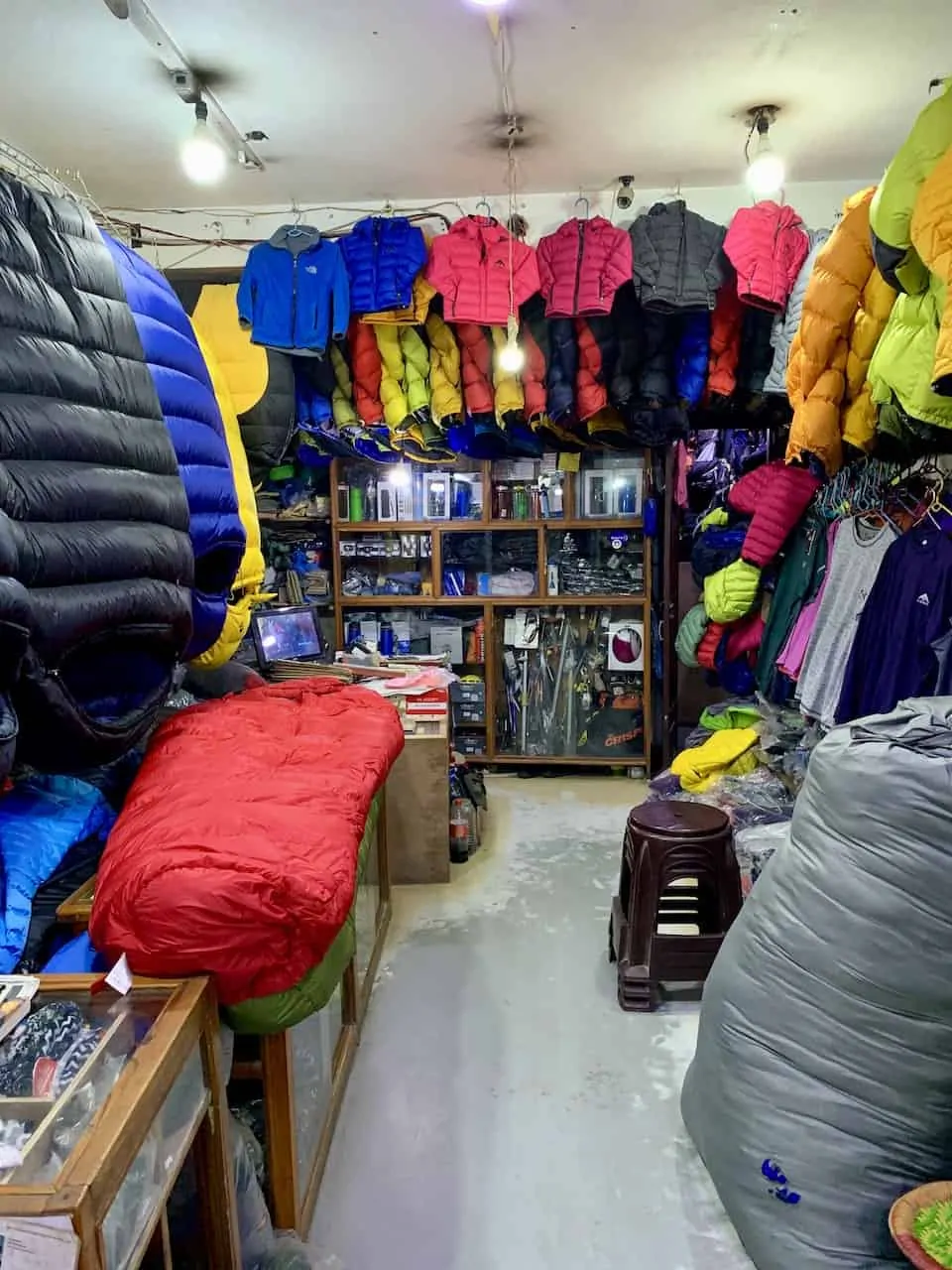 5) Porter or No Porter
You will also want to consider whether or not you will have a porter to carry your gear during the duration of the trail. Having a porter with you will cost around $15-$20 USD per day (+ tip).
Beyond carrying your gear, a porter can also help out reserving your room at a teahouse ahead of time and it is a great way to support the local communities.
If you decide to hire a porter, you will want to bring along two backpacks – one with most of your gear and essentials that the porter will carry (50-60 liters) and one smaller daypack that you will carry (20 – 30 liters).
In the daypack you can bring some clothing layers, water bottle, snacks, portable chargers, and other essentials that you will need on the trail.
If you decide to just go solo without a porter, then you will obviously need to carry all of your gear with you. I would recommend at least a 60 liter backpack if that is the case.
You can also opt for one with a removable day pack (or bring a small day pack as well), which can be useful for any acclimatization hikes along the trail.
→ If you are thinking about taking part of the trek, be sure to check out the Everest Base Camp Trek Cost breakdown to learn more
6) The Everest Base Camp Packing List
Now that you have some good background on the topic, let's dive into the various items that you will need during an Everest Base Camp trek.
At the end of this guide you can find a PDF version of the Everest Base Camp packing list.
When thinking about packing you will want to keep your gear as lightweight as possible. There is no need to pack extras of certain items if you know you probably won't use them during the trek.
The flight from Kathmandu to Lukla has a weight limit of 15KG / 33LB per passenger, so you will want to make sure to stay below that number.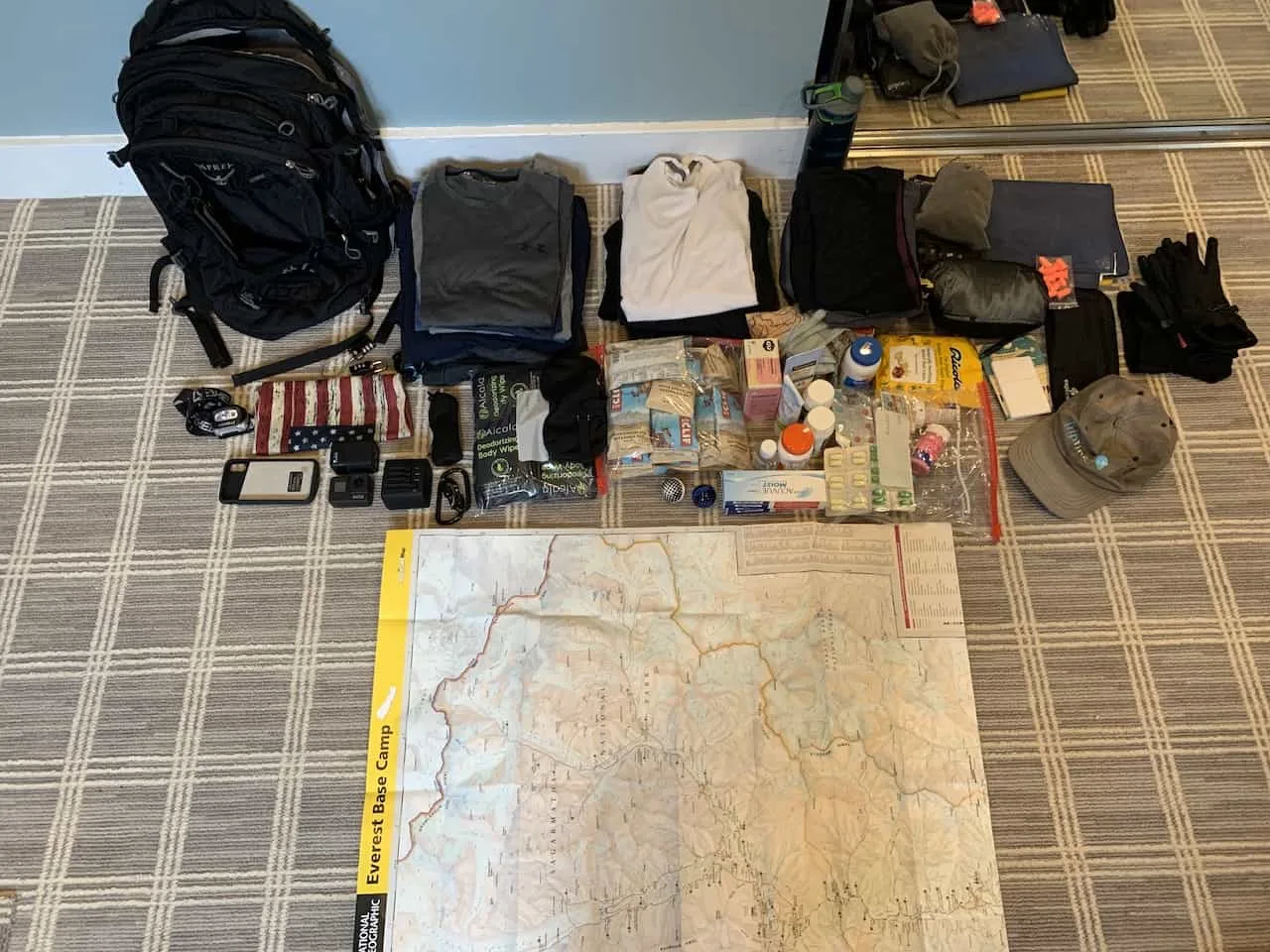 A) Hiking Clothing
Your clothing will be the most important aspect of your packing list as you will want to make sure you will be as comfortable as possible when hiking for 11 days.
I would advise that all layers of your clothing be made of breathable, moisture wicking fabric such as dri fit or wool material. That way you will stay nice and dry during your hike.
Below I have listed out the items along with recommendations on how many of each you should bring with you, as well as links to products to purchase.
Boxers / Underwear (3 pairs)
The first layer you will want to use is your boxer/underwear layer. I only brought a handful of dri fit Under Armour boxers and washed them a couple times during the trek.
I am not an expert here on the women's side, but did see the below linked Reebok line as a solid option. Don't feel to overpack here but also don't bring just one!
Recommended Options: Under Armour Men's Tech | Reebok Women's Seamless
Hiking Socks (3 pairs)
A comfortable hiking sock is essential on the Everest Base Camp trek. You will want to choose a solid wool type of sock that can keep you warm and dry during the trail.
Similar to the boxers, you can wash your socks 1-2 times during the trek to keep things a bit cleaner.
Recommended Hiking Socks: Darn Tough Merino Wool Crew Mens | Darn Tough Merino Wool Crew Womens
Thermal Base Layer (1 pair)
The weather can obviously get a bit chilly on the trail and at night. I would recommend bringing along one thermal base layer that can be used on higher up portions of the trail.
During my trek in mid-late November, I only used the base layer a couple of times at the highest elevations during the day and at night.
If going closer to the warmer months around May to September, it may not be necessary at all to have a thermal layer.
Recommended Thermal Top & Bottom Set:
Trekking Pants (1 pair)
Every day you will be hiking or several hours in Sagarmatha National Park. Having a comfortable pair of trekking pants will go a long way here.
I honestly don't think you need to bring more than one pair since they are destined to get a bit dirty every day either way.
Beyond a potential thermal layer, having just a single pants layer for your lower body should be just fine. Your legs will be in constant movement and therefore have the most blood flow and warmth in your body.
Recommended Hiking Pants: Eddie Bauer Men's Guide Pro Pants | Eddie Bauer Women's Guide Pro Pants
If you are hiking in the warmer months, then you may want to consider bringing a pair of hiking shorts as well. Towards the bottom of the trail, it can get a bit warmer and hiking in pants may not be as comfortable.
Recommended Hiking Shorts: MAGCOMSEN Men's Hiking Shorts | Eddie Bauer Women's Guide Pro Shorts
Long & Short Sleeve Hiking Shirt (1-2 each)
During most of the trail, my base layer was just a long or short sleeve hiking shirt. When I got to those higher portions of trail, I also added on the thermal layer.
Even during November, I was comfortable enough to hike just with a short sleeve dri fit shirt during the beginning portions of trail.
As I continued farther up in elevation though, I began to add layers and then switch to the long sleeve shirt instead.
Having 1-2 short sleeve and 1-2 long sleeve shirt (depending on month) to choose from during the trek should be a good combo to work with as you make your way along the trail.
Recommended Short Sleeve Shirt: Under Armour Men's Tech | Under Armour Women's Tech
Recommended Long Sleeve Shirt: Under Armour Men's Tech 2.0 | Under Armour Women's Tech 2.0
Mid-weight Fleece / Pullover (1)
After a short/long sleeve layer, I also brought along one lightweight Patagonia jacket. Since I was hiking in one of the cooler months, I felt like this was the perfect amount of layers for me at higher elevations (thermal, short/long sleeve dri fit, mid weight pullover, and jacket when necessary).
If you rather be a bit more flexible with your layering you could also opt for a lighter hoodie pullover before putting on a warmer mid-weight fleece.
For many who are hiking in the warmer months, having just a couple layers may be just fine and you may only need to add on an additional layer just a handful of times.
Recommended Fleece: Columbia Men's Ascender Softshell | Columbia Women's Kruser Ridge II Softshell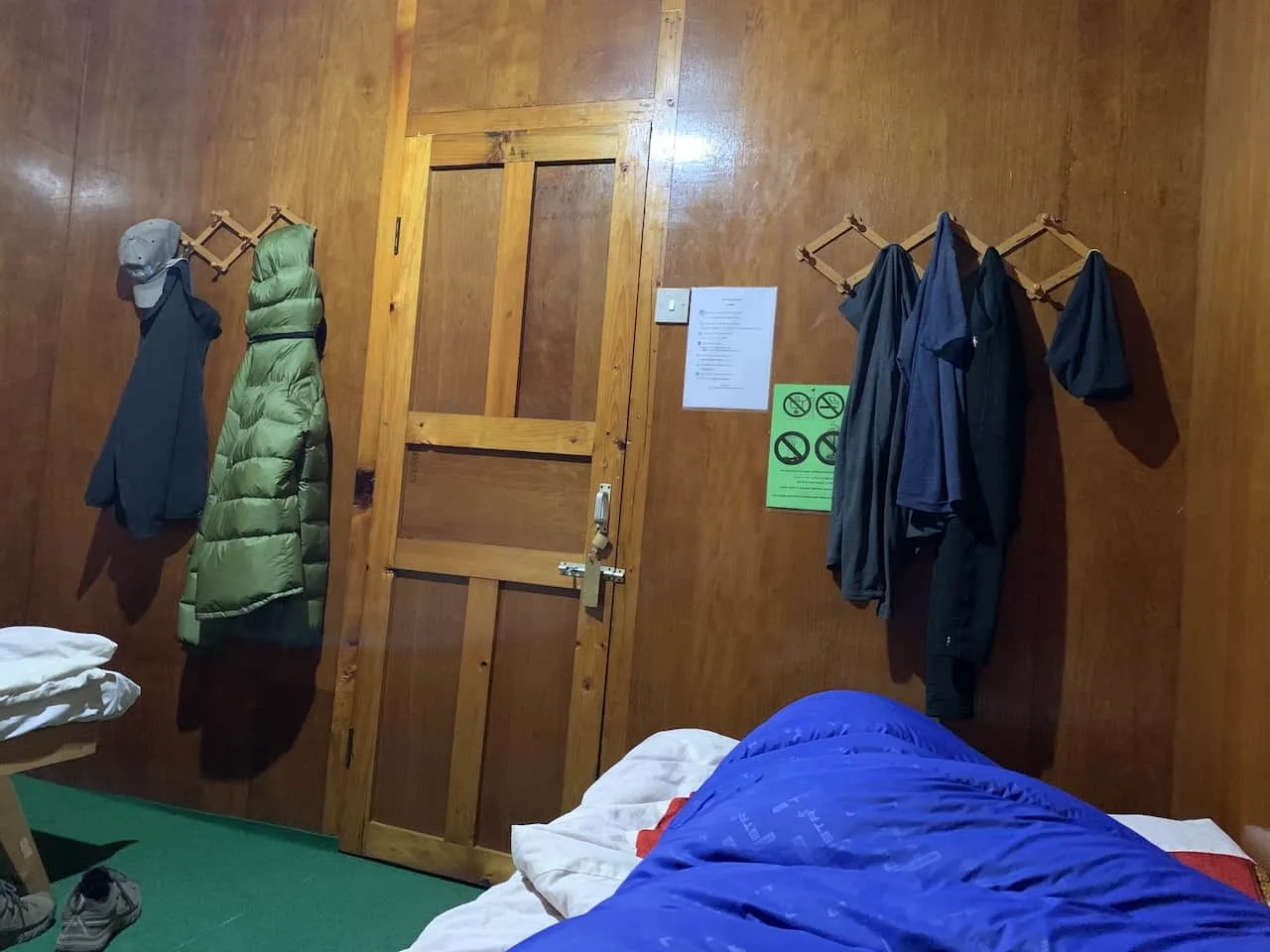 Down Jacket (1)
Even hiking in November, I did not find a down jacket to be a total necessity every day, especially with the other layers I brought along. I used it just a handful of times, one of which was when taking in the view from Kala Patthar (the highest point of the trek).
Many people also wore their jackets in the teahouses to stay warmer if they weren't up close to the fireplace.
Overall, you should bring one for a trek in the cooler months (March, October, November), but you may not use one much during the warmer months (April, May, September) if you pack accordingly.
I rented a down jacket in Kathmandu, however if you would like to bring one along with you, below are some recommended options.
Recommended Jacket: Eddie Bauer Men's CirrusLite | Wantdo Women's Hooded Packable Ultra Light Weight
Packable Rain Jacket (1)
While it did not rain at all during my November trek, I found the rain jacket to be the perfect layer for when it got very windy on the trail.
So even if you are not hiking during those rainy months, I would still recommend bringing along a packable rain jacket for the trek.
Recommended Jacket: Columbia Men's Watertight II | Columbia Women's Arcadia II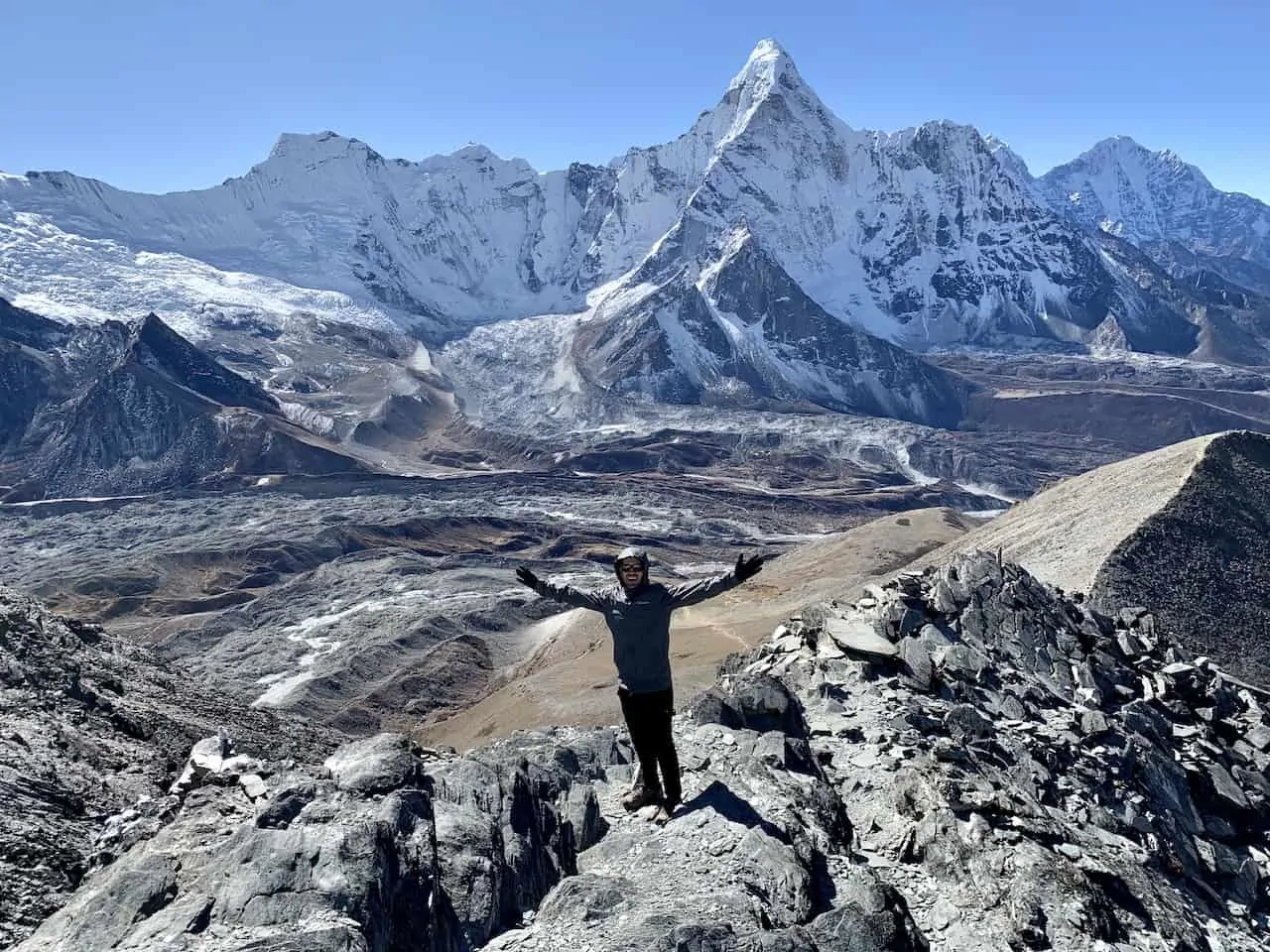 B) Hiking Gear
Beyond just hiking clothing, you will need some additional gear during the duration of the trek. Below are those essential items to bring along.
Hiking Shoes
Arguably the most important piece of gear to bring along are your hiking shoes. If you have a pair that work for you already, then go will those.
If not, I would recommend going with Keen. I have been using their shoes for the past 5+ years now and the latest Targhee series has worked well for me.
Recommended Hiking Shoes: KEEN Men's Targhee III | KEEN Women's Targhee III
» I would also recommend buying some Sneaker Deodorizer Balls to keep your shoes smelling nice and clean.
Backpack
Osprey has been one of my go to brands over the years when it comes to hiking packs. I have listed out some of the highest rated options to choose from for both men and women.
The first recommendation would be for your larger bag, and the second for a smaller daypack.
Mens Hiking Backpack: Osprey Atmos 65 | Osprey Talon 22
Womens Hiking Backpack: Osprey Renn 65 | Osprey Tempest 20
I would also bring along a backpack rain cover to protect your belongings from any rainfall. Although I never used it in November, there is definitely a chance that rain could be an issue in other months.
Trekking Poles
While I do not think that everyone needs trekking poles during an EBC trek, they certainly can be helpful from time to time. If you are doing the Three Passes trek I would definitely recommend a pair.
Recommended Trekking Poles | Black Diamond Distance Carbon FLZ Trekking Poles
Water Bottle & Water Sterilizer
Water can get expensive on the trail so it is important to bring along a sturdy water bottle with you for the trek. You will be able to fill up the water bottle at each teahouse or even in some streams as you hike along.
However, it is very important to note that the water is not safe to drink. You must sterilize the water beforehand. Most people do so by adding small iodine pills in or using a water sterilizer.
I loved the idea of the rechargeable water sterilizer and the single charge lasted me the entirety of the trek! Simply fill up your bottle, stir the sterilizer for a minute, and you will be good to go!
You could also opt for a water bottle that has a filter (like the Katadyn listed below). But this would only perform against bacteria and not viruses.
Recommended Water Bottle | Camelbak Eddy Water Bottle or Katadyn BeFree 1 Liter
Recommended Sterilizer | SteriPEN UV Water Purifier
Other Hiking Essentials
C) Teahouse Clothing
Once you reach the teahouse at day's end, the first thing you will want to do is wash up and get out of those clothes.
I simply brought along one set of teahouse clothes that I used during the duration of the EBC trek for the teahouse and sleeping at night. These included items such as:
Boxers
Socks
Warm pants
Long sleeve shirt
Lightweight pullover hoodie
Pair of lightweight shoes
If you don't want to carry an extra pair of shoes, bringing slip on sandals is a solid choice as well.
Sleeping Bag and Liner
Lastly, you will definitely want to bring along a solid sleeping bag. The nights can get quite cold and a sleeping bag is your best bet to stay warm out up there.
If you don't rent one in Kathmandu, check out the Thermarest Questar (they have 0 F degree and 20 F degree options) and don't forget to get a sleeping bag liner too!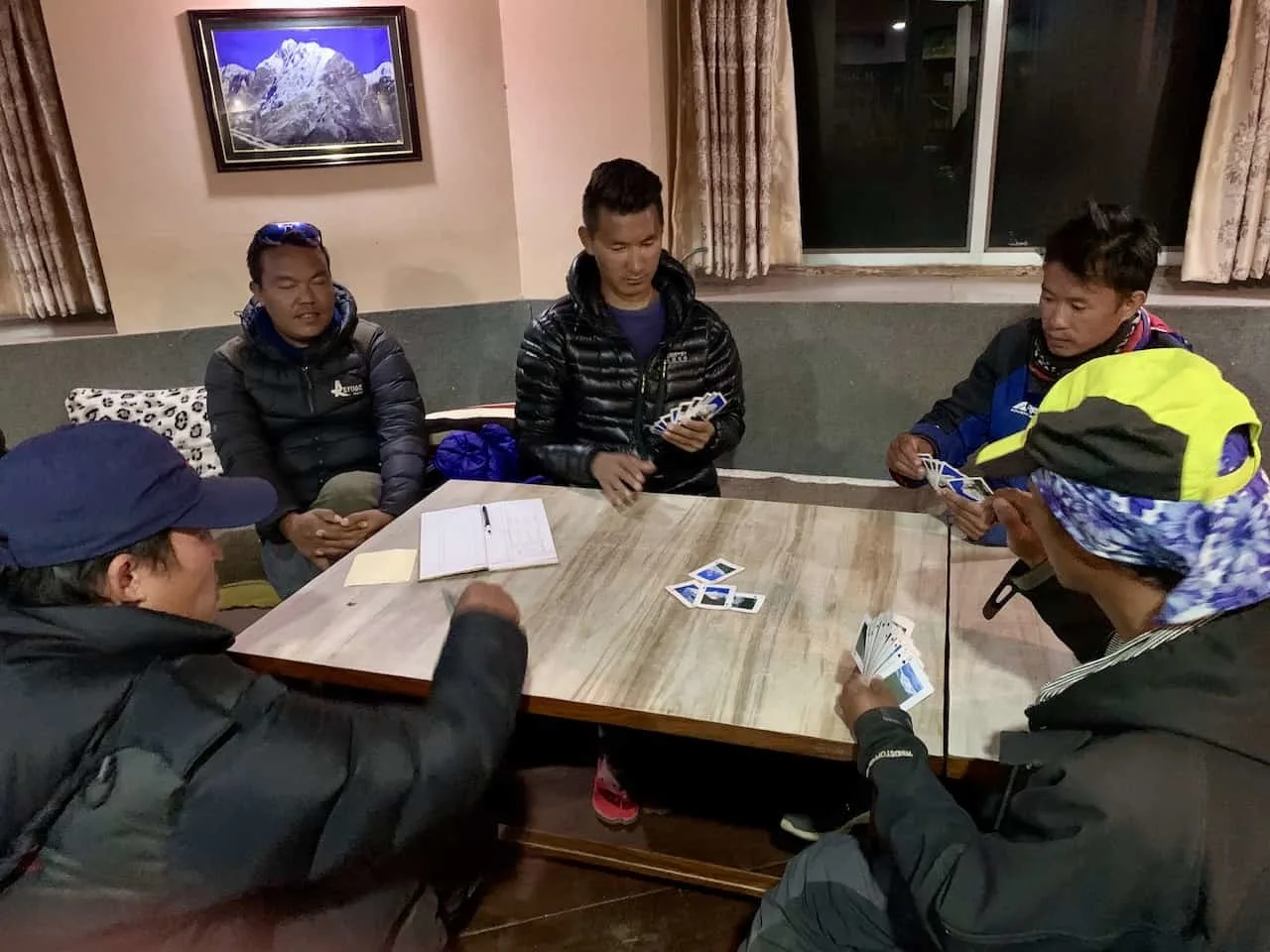 D) Other Random Essentials
› Packing Cubes & Laundry Bag | Shacke Pak Packing Cubes & Laundry Bag
↔ Packing cubes are a great way to organize your belongings and not have so many loose items in your bag. You can easily separate your trekking clothes and teahouse clothes by bringing along a couple cubes.
› Quick Dry Towel | Rainleaf Microfiber Towel
↔ A packable quick dry towel is a great item to have for showers or just if washing your face. Just be sure to hang it up after use so it can dry before heading out the next day.
› Trekking Map | NatGeo Waterproof Map
↔ Bringing along a trekking map of the EBC trail is a great way to get a sense for where you are on the trail and what to expect on a day to day basis. You can also purchase various maps in Kathmandu, however I really liked this waterproof one that doesn't tear.
› Bag Locks | Sure Lock TSA Travel Locks
↔ Locking up your bags is just a safe move when traveling in general. These TSA locks have been my go to when abroad.
› Laundry Detergent | SinkSuds Travel Laundry Detergent
↔ Just in case you want to clean some boxers or socks, having a small travel laundry detergent can give you the opportunity to wash your clothes in the sink. Make sure to hang them up immediately in the sun to give some time to dry.
› Playing Cards | Bicycle Playing Cards
↔ You will get bored in the afternoon/evening times. Bringing some cards along is a great way to kill some time and meet some other people in the teahouses.
› Toilet Paper
↔ The teahouses you visit will not have toilet paper in the bathrooms. You must bring your own or pay around $5 USD for a roll from the teahouse.
› Passport
↔ If you were planning on leaving some luggage behind in Kathmandu, don't leave your passport with it. You will need to bring your passport along for both the flight to Lukla and for your hiking registration forms in the park.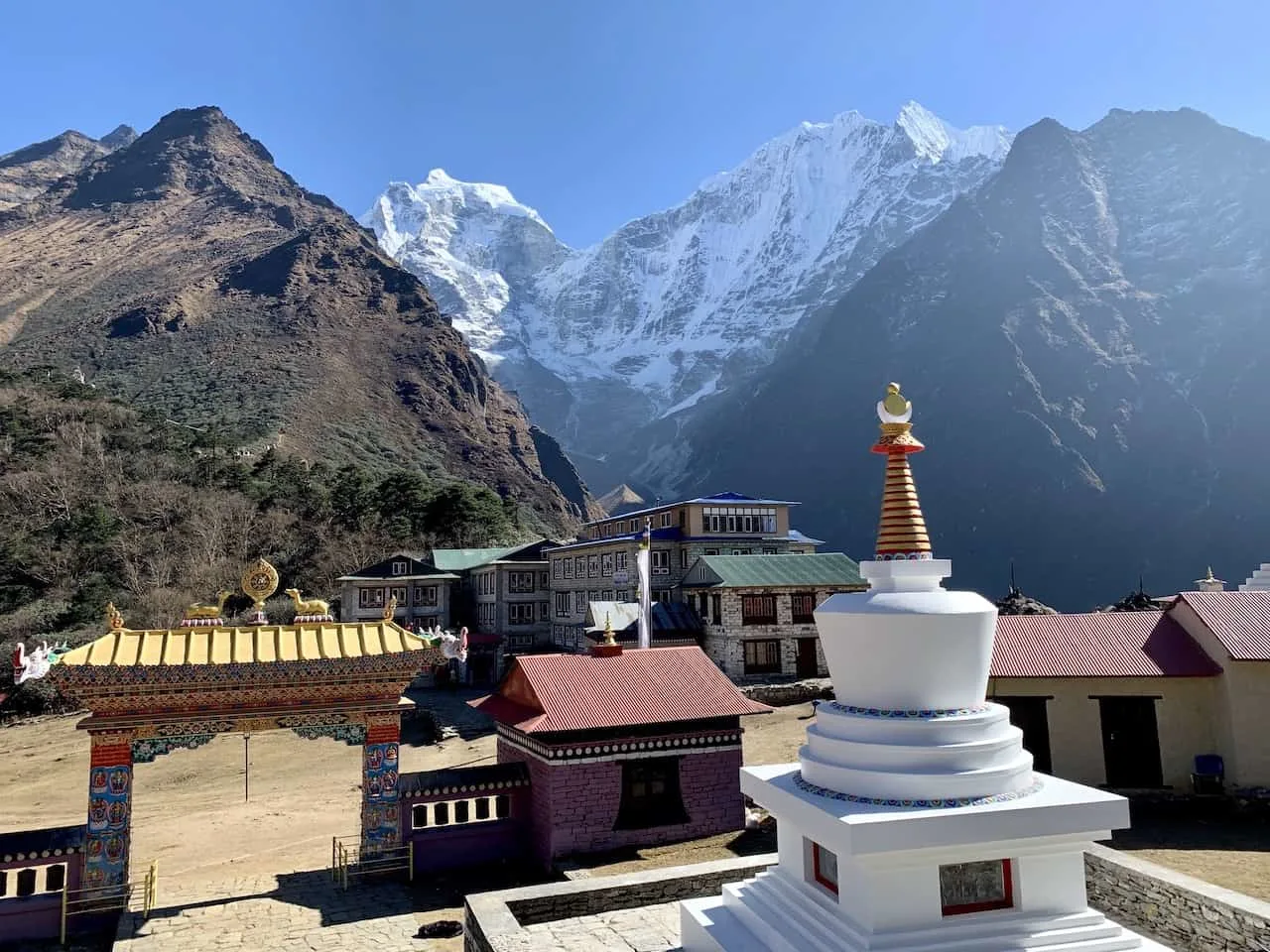 E) Nutrition
Since you will be burning a ton of calories on a day to day basis, it is super important to stay on top of your nutrition.
The teahouses have vast menu offerings and you always should be sure to have your breakfast, lunch and dinner each day. During your time on the trail though, you will also want to make sure you are properly fueled.
You won't find many snack options on the trail or even in Kathmandu, so I would advise to bring some from home. My go to hiking nutrition includes:
F) Electronics
Next on the list are your various electronics that you will want to bring along with you.
One of the most important tips I have when it comes to electronics would be to make sure you put all your batteries, phones, etc. in your sleeping bag during the night.
The cold really drains your batteries and by keeping them in your sleeping bag, you can help save that energy.
↔ When it comes to charging your electronics, you will not have the opportunity to do so for free during the trek. The only place I was able to charge for free was in Namche Bazaar.
In all other places, you will need to pay around $5 USD or so to charge a cell phone for example with other items (cameras, power banks, etc) at varying costs.
Due to this, I found it very helpful and cost efficient to purchase a solar power bank for the trail. Before the trek I charged it fully, recharged it Namche, and then kept it on the outside of my backpack for the duration of the trail to keep it as full as possible.
Note: I have since found that a separate solar charger can be more efficient than the solar power bank. Check out the GoalZero linked above.
Photography Gear: Check out my latest travel photography gear list to see what is my camera bag these days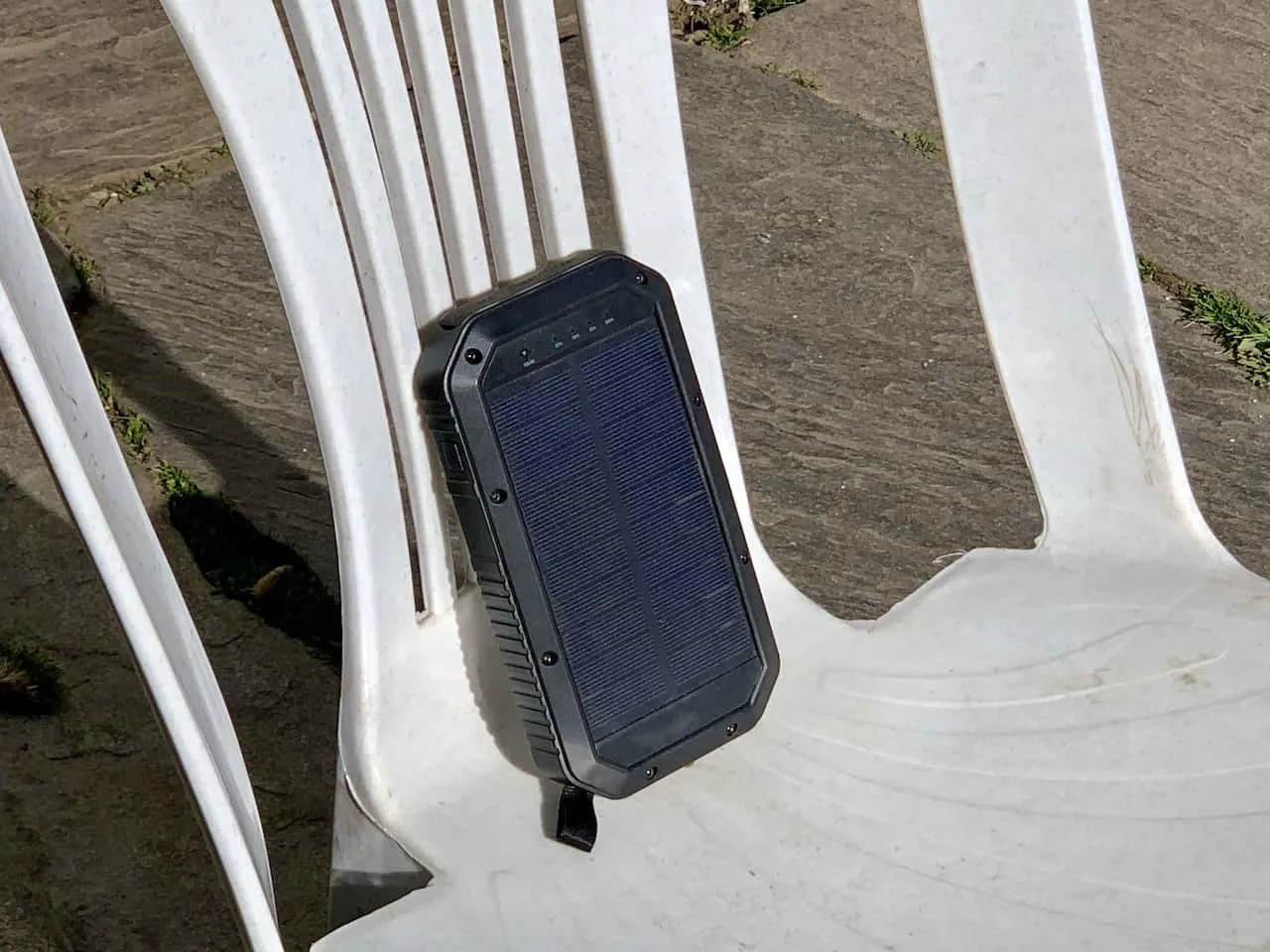 G) Healthcare
Last up on your Everest Base Camp packing list are the various healthcare items you will want to bring with you. It includes most of the essentials but I am sure each person has different needs when it comes to healthcare.
› Deodorizing Body Wipes | Alcala Bamboo Deodorizing Body Wipes
↔ You can get a hot shower at some teahouses during the trek. However, these will cost you around $5 – $10 USD, and in some higher up villages you may not have any opportunity at all.
For the most part I stayed away from the showers and just washed up my face and then used a couple of these deodorizing body wipes, which really did the trick.
Body Deodorant
Toothbrush / Toothpaste
Contact Lenses / Solution
Travel Shampoo & Soap ⇔ for the times you do use the shower
Moisturizer
Personal Creams & Medications
Sunscreen ⇔ even in the cold, the sun is quite strong!
Lip Balm
Purell ⇔ you won't find much soap at all at teahouses
Neosporin
Bandaids
Nail Clipper ⇔ great to clean nails and to safely release potential blisters
Small Mirror ⇔ helps with creams and contact lenses
Medicines / Health Benefits
Ricola Throat Lozenges
Advil / Ibuprofen
Nasal Decongestant
Pepto Bismal
Citrucel / Fiber
Vitamin C
Apple Cider Vinegar Pills
Diamox for altitude sickness ⇔ be sure to consult your doctor ahead of time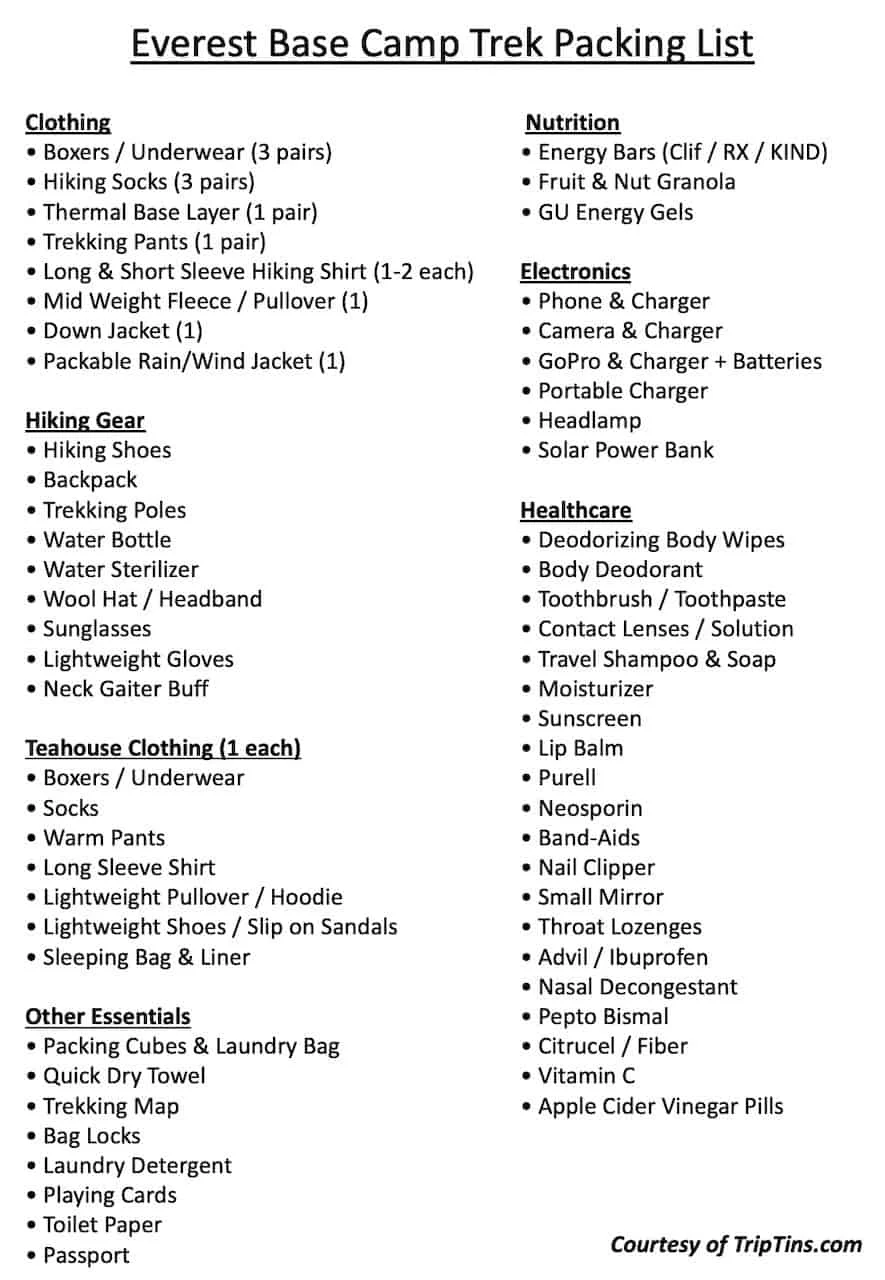 Well then, that about does it for a complete Everest Base Camp packing list. I sure hope that this guide has helped you out better prepare for your trip to EBC! If you do have any questions or comments, feel free to write them in below.
Also don't forget to check out the other Nepal trekking guides up on the site. Have fun out there and safe travels!