The Everest Base Camp trek is not complete without a climb up Kala Patthar (also spelled out as Kalapathar). This 18,176 foot / 5,540 meter peak hovers over the small village of Gorak Shep, and is one of the best spots in Sagarmatha National Park to take in the views of Mount Everest itself.
This guide will go over everything you are going to need to know about the Kala Patthar trek and how to fit it into your Everest Base Camp itinerary.
* Affiliate Disclosure: This post may contain affiliate links, which means I may receive a commission if you make a purchase through the links provided, at no additional cost to you. Thanks for supporting the work I put into TripTins!
1) Kala Patthar Trek Facts
Right behind the village of Gorak Shep you will see a winding trail up the rocky mountain. This mountain is Kala Patthar (translated to "black rock"), and is one of the highlights of the overall Mount Everest Base Camp trek.
Below will be some super helpful facts to know about the climb up, so you have a better idea of what to expect on the trail.
Everest Base Camp Trek Day 9 (Part 1): Kala Patthar
Trail Name: Kala Patthar | Kalapathar
Starting & Ending Point: Gorak Shep
Gorak Shep Elevation: 16,814 feet / 5,125 meters
Mid Point: Kala Patthar Summit
Kala Patthar Elevation: 18,176 feet / 5,540 meters
Distance: 2.3 miles / 3.7 kilometers (round trip)
Duration: 3 hours (round trip)
Elevation Gain: 1,362 feet / 415 meters
» Learn more about the various distances, elevations, and durations of the Everest Base Camp Trek
» Learn more about flying into the region in the Kathmandu to Lukla Flight Experience Guide
I should mention that most Everest Base Camp itineraries will include a climb up Kala Patthar for sunrise / morning of day 9. Since the weather is usually clearer in the morning, this is the classic recommendation.

However, my recommendation would be to head up to Kala Patthar for sunset in the late afternoon of day 8, ONLY if the weather is clear. I will go into this thought process later on in the guide.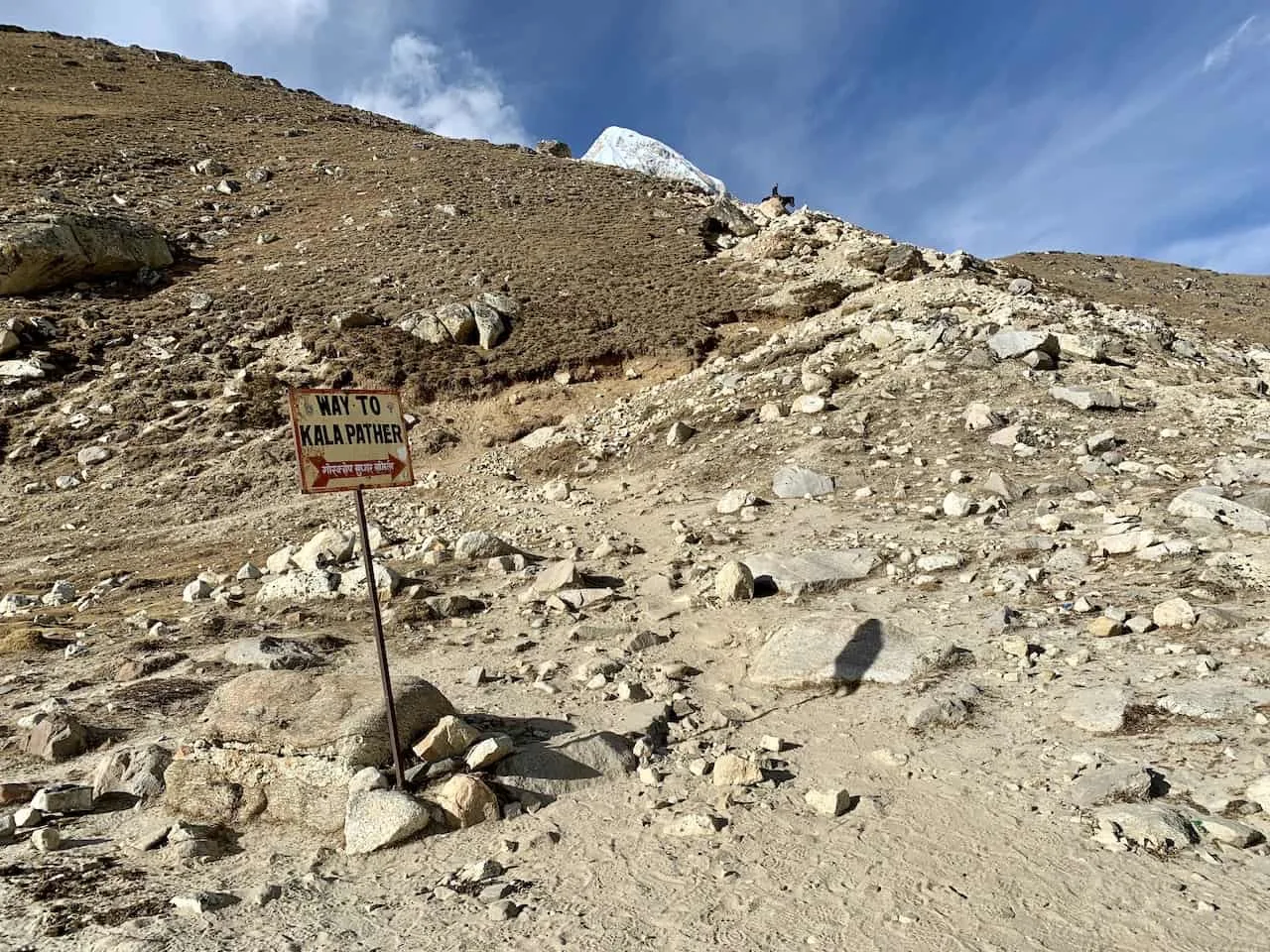 2) Kala Patthar Elevation Profile
Since this is simply a mountain climb, you will find that it comprises of mostly uphill and steeper elevation gain sections compared to most other parts of the Everest Base Camp trek.
There will be some sections that flatten out a bit but do be prepared for an uphill climb throughout.
Below you can see the round trip Kala Patthar elevation profile that takes you from Gorak Shep, up to the summit and then back down.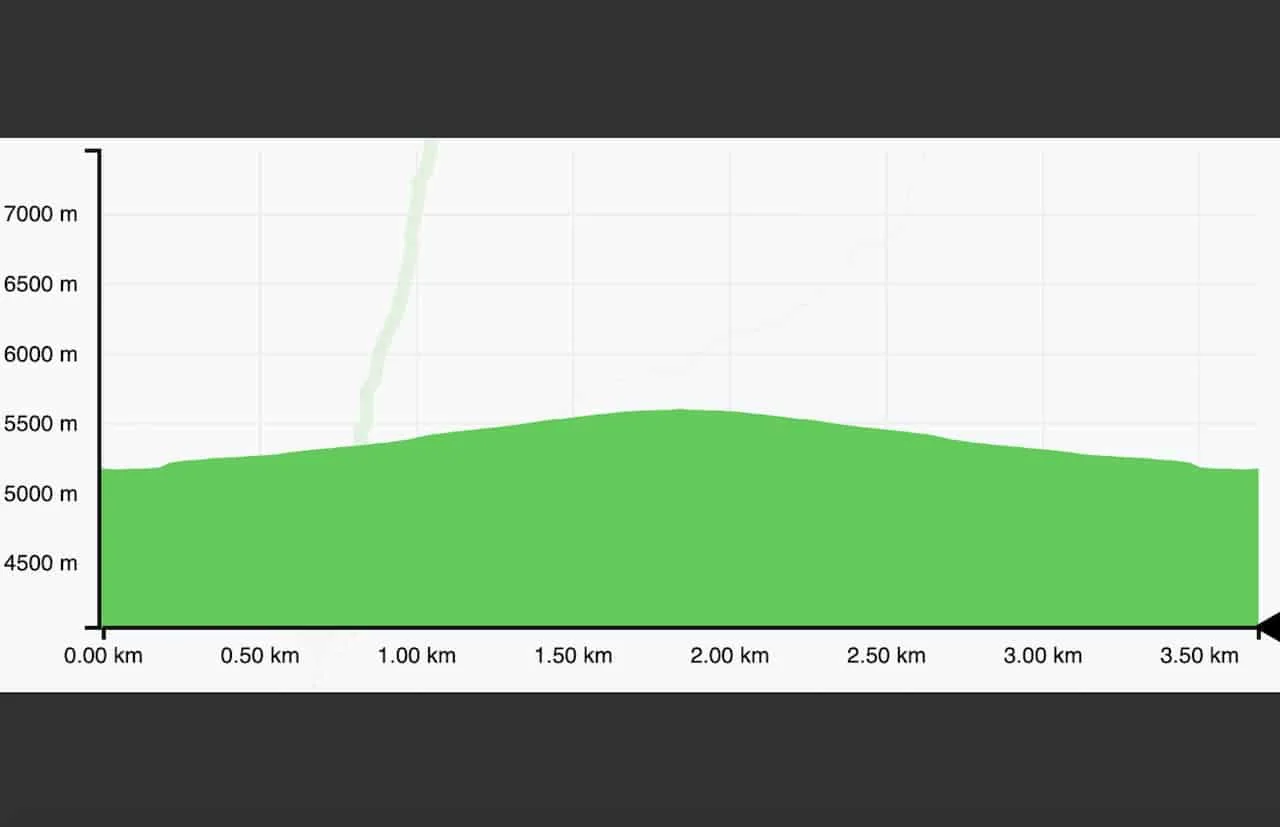 3) Trekking Map
Below is an aerial view of the route that you will take on the Kala Patthar trek. You will start right down in Gorak Shep and make your way directly behind the village.
From there it is just a climb up the black mountain rock of Kala Patthar until you reach the summit.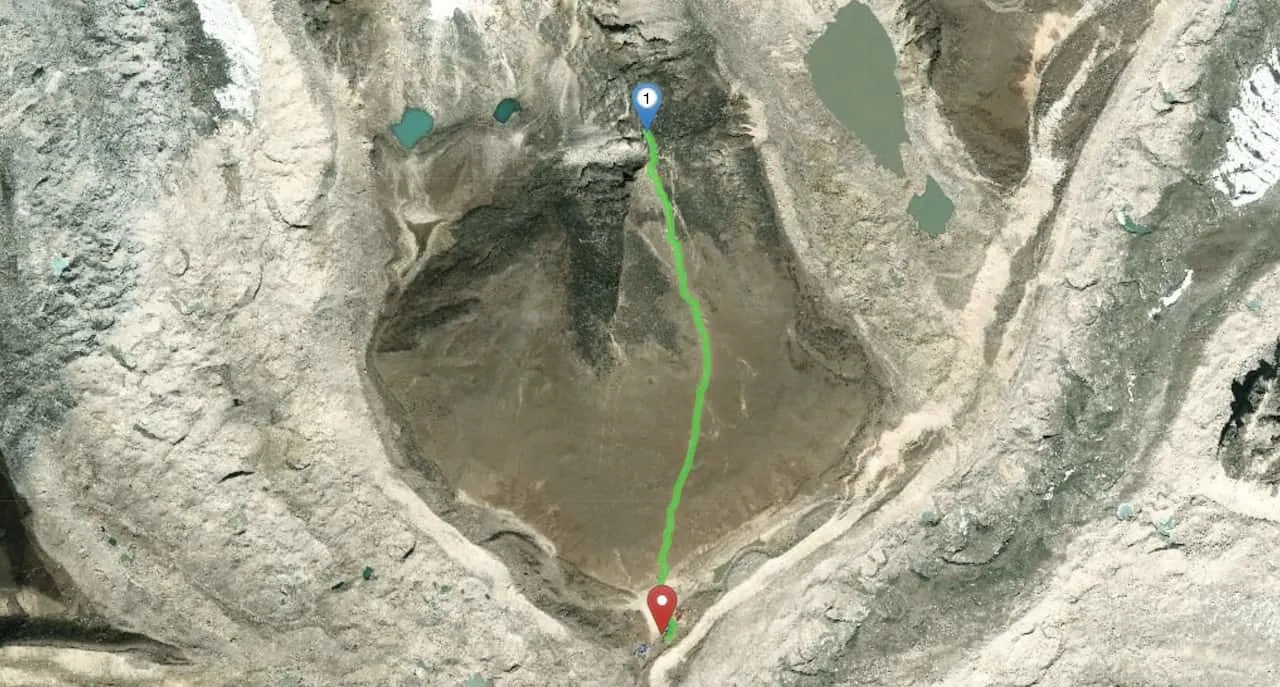 Considering travel insurance for the Everest Base Camp Trek?

World Nomads offers coverage for more than 150 adventure activities as well as emergency medical, lost luggage, trip cancellation and more.

For years, World Nomads has been protecting, connecting & inspiring independent travelers, offering travel insurance & safety advice to help you travel confidently. Their mission is to support and encourage travelers to explore their boundaries.

World Nomads has simple and flexible travel insurance that has been designed by travelers for travelers. Even if you leave home without travel insurance or your policy runs out, you can buy or extend out on the road.

Get a quote for a World Nomads travel insurance policy today!
4) Everest Base Camp Packing List
You will want to pack accordingly for this 11 day trek in the Himalayas. I put together a complete Everest Base Camp Packing List that goes over every single item I brought along on the trail. There are a couple things I did want to note about the Kala Patthar hike in general:
1) Many people opt to head up the mountain for sunrise (day 9) or sunset (day 8). Either way though, you will be hiking a portion of the trail in the dark. Be sure to bring along a headlamp for safety reasons – I love the Foxelli Headlamp Flashlight that has worked well during my travels.
2) It can get quite windy and cold on top of the summit, especially when you stop hiking and are just sitting in one spot.
Be sure to bring all your layers with you on the trek. Since this is just a side hike, you won't need to bring along all your gear and can just bring a daypack filled with your extra clothing.
Below are many of the recommendations for what you should bring along on the trail in general: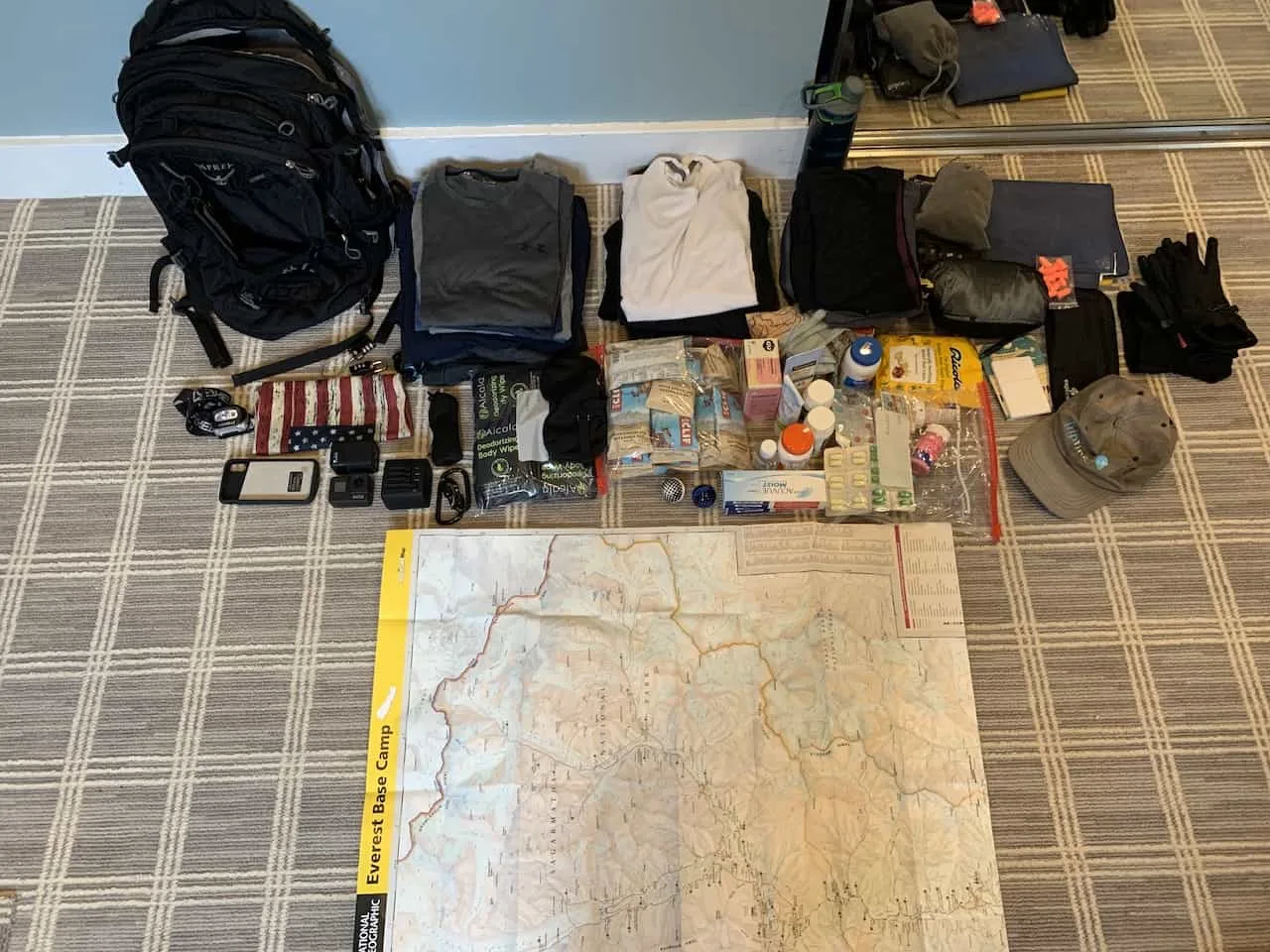 5) The Kala Patthar Trek
Since you will be based in Gorak Shep for the night, you will be able to tackle this trek with just a daypack instead of taking along all of your gear.
Once you are all ready to go, you will head out of the small village and down to the sandy area just below Kala Patthar.
From this sandy area, you will clearly see the winding route up the mountain with Pumori mountain hovering out in the background.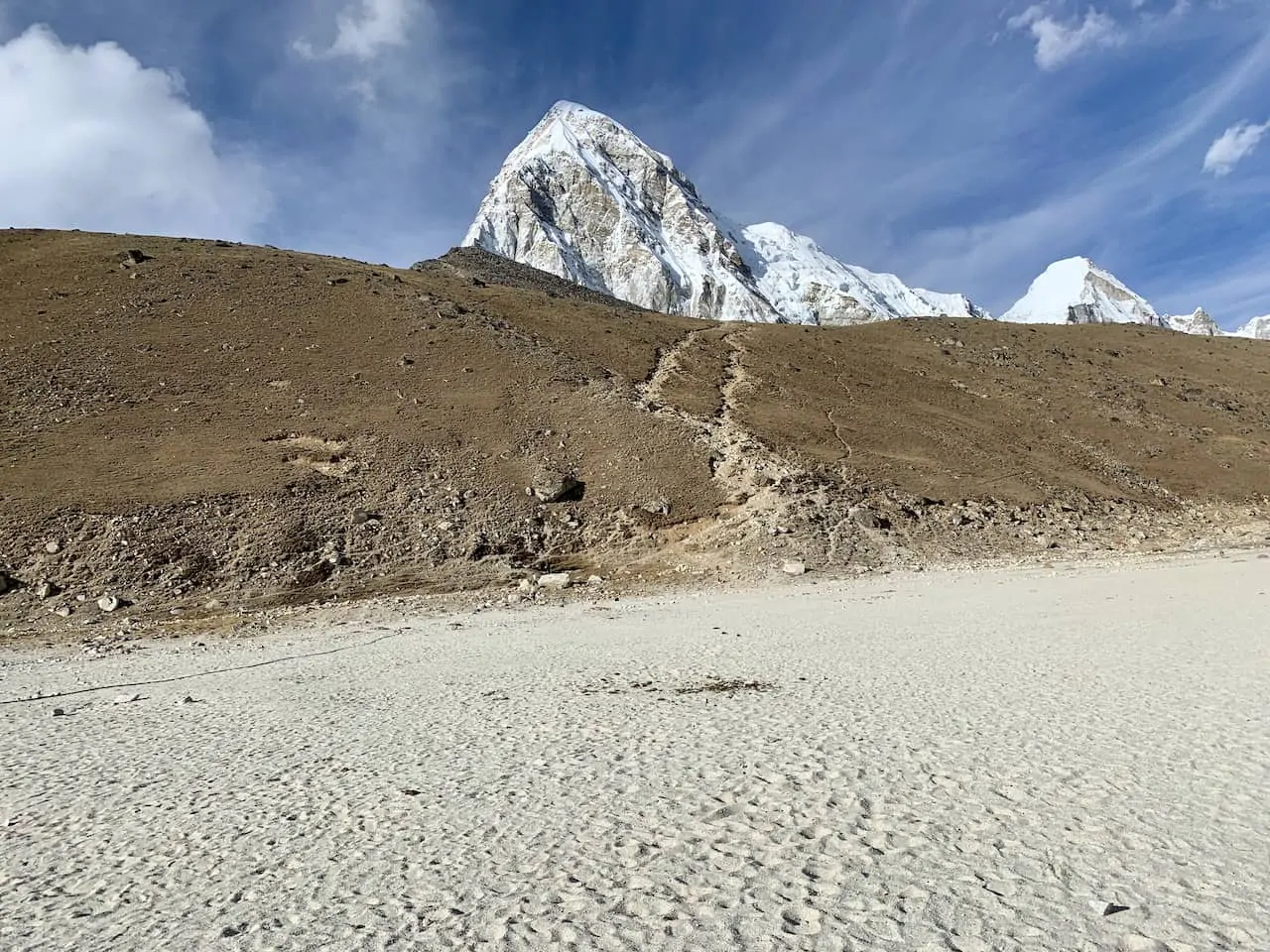 A good portion of the trail up is a relatively smooth and easy to navigate path as you slowly make your way up the mountainside.
Behind you will be the the village of Gorak Shep, the Khumbu Glacier, and various mountains (including Ama Dablam) further out in the distance.
From the path you will also be able to see the top of Mount Everest just peeking out above the surrounding mountain range. As you begin to get higher, the more Everest will come into view.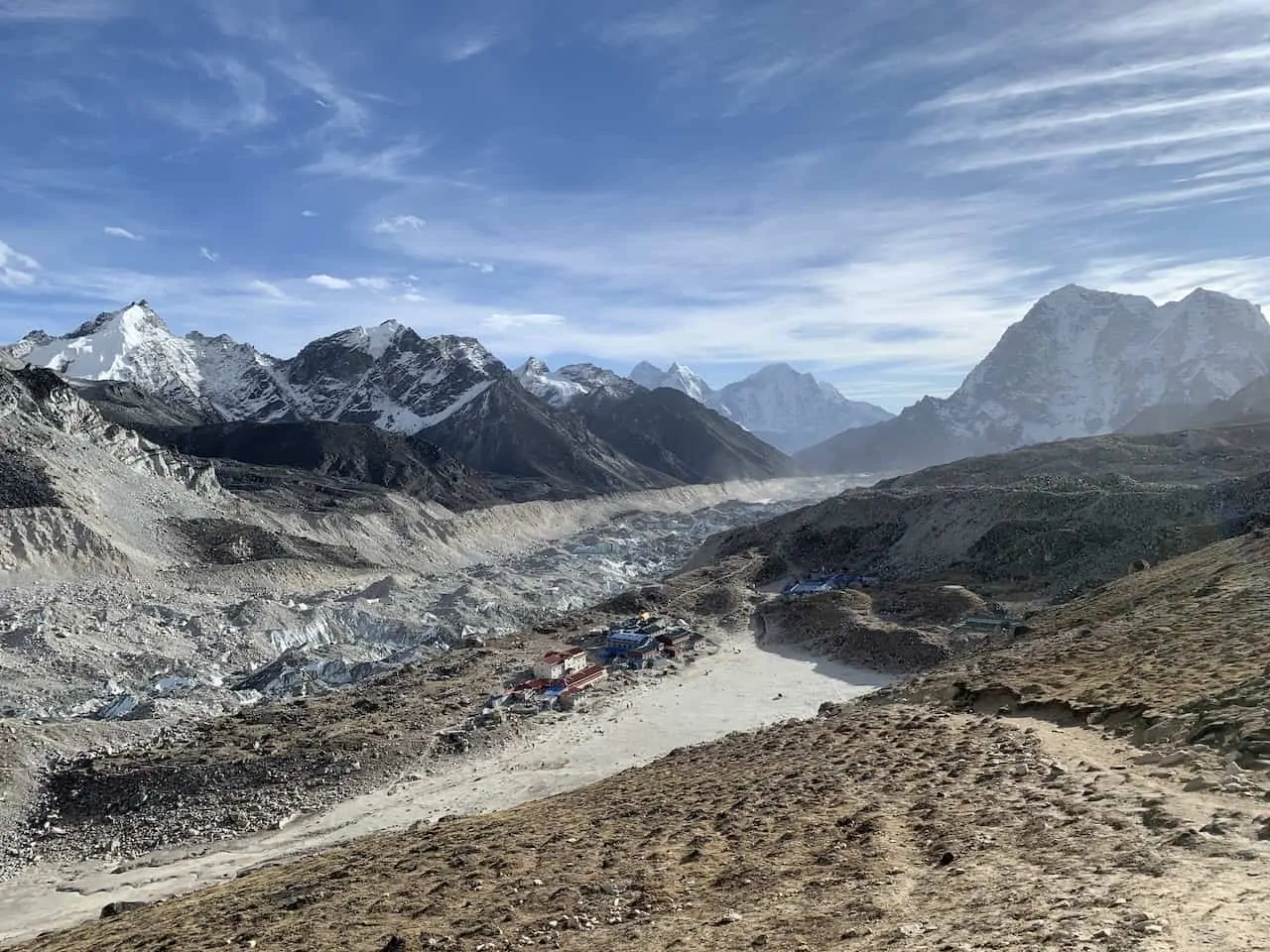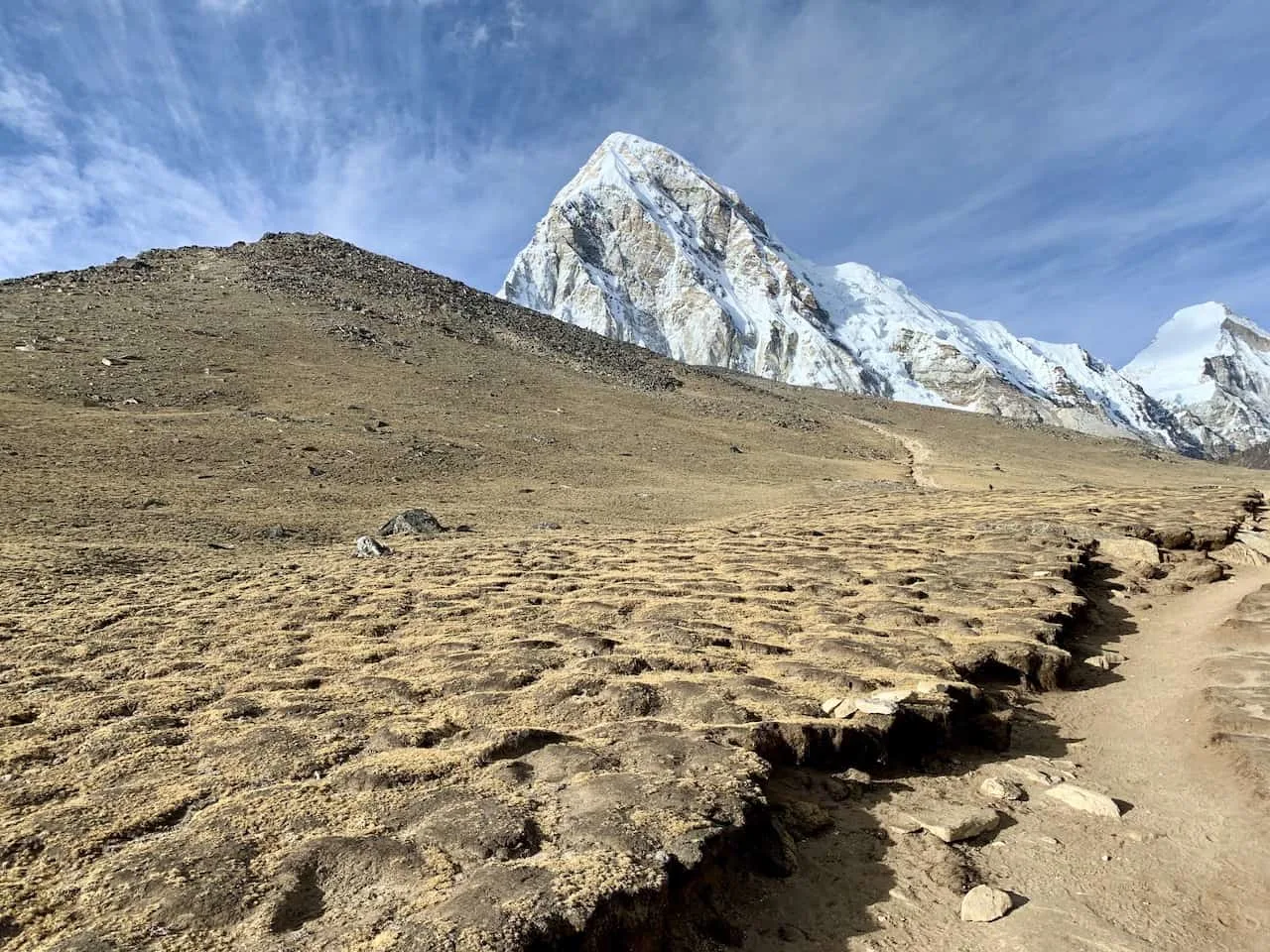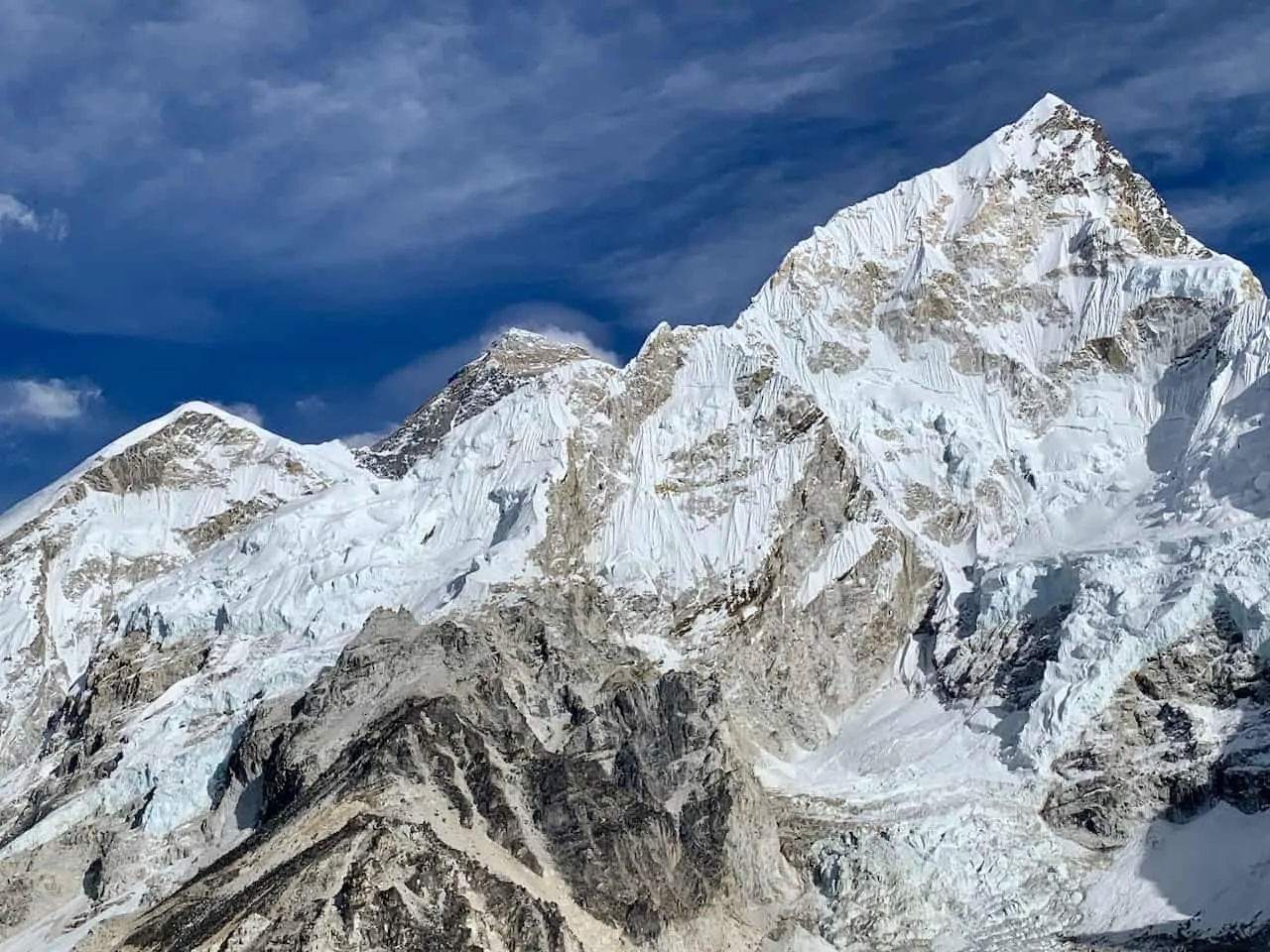 What makes the hike up Kala Patthar so special is that you can really enjoy the surrounding landscape throughout its entirety. This is not a trek where only the summit has the special views.
Rather for all the trek you will be able to enjoy the Everest Mountain Range and the rest of Sagarmatha National Park behind you.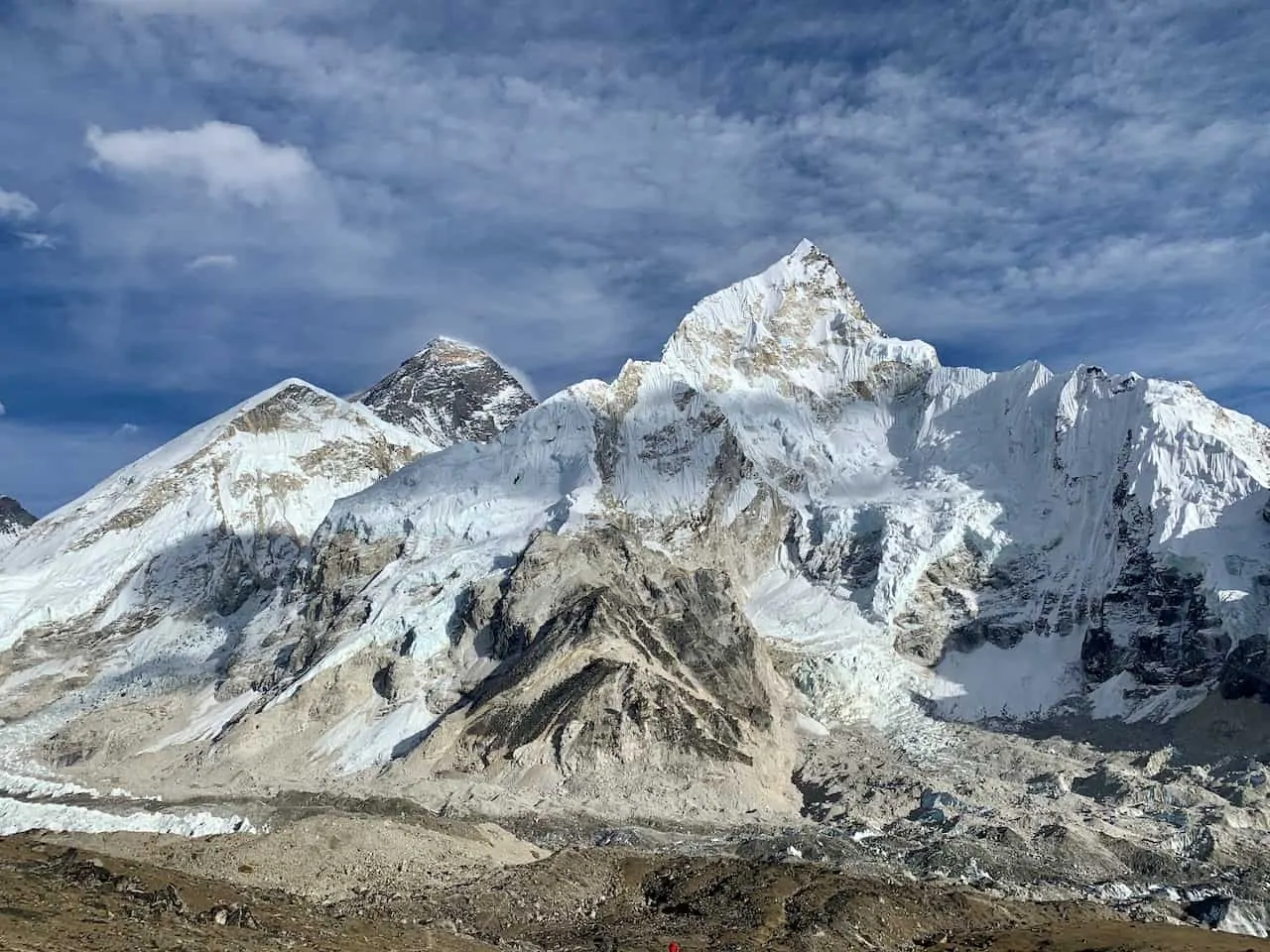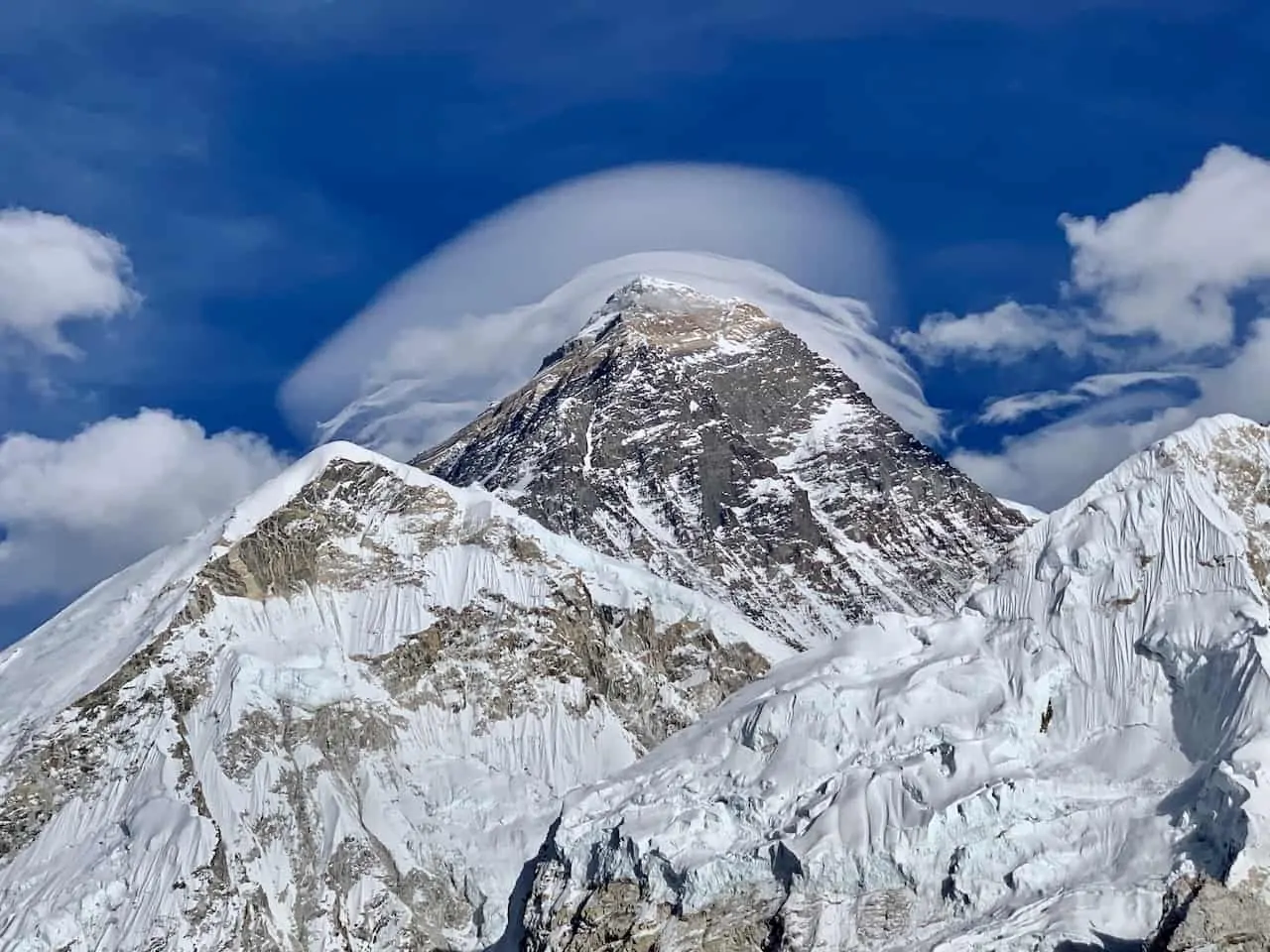 As you get higher along the trail, you will find that it does get rockier and trickier to navigate. Just be sure to watch your step during these portions as you don't want to hurt yourself going up or coming down the mountain.
During the trail, you may be asking yourself where the peak actually is since you will not be able to see it for most of the trek. Don't get your hopes up with any false peaks up there!
You will know when you are approaching the summit only when those Sherpa prayer flags alongside the wind/weather reading device come into view.
This last portion of trail will be especially rocky as you are making your final push to the summit. While the top of Kala Patthar may seem close, just take your time and don't rush through the terrain.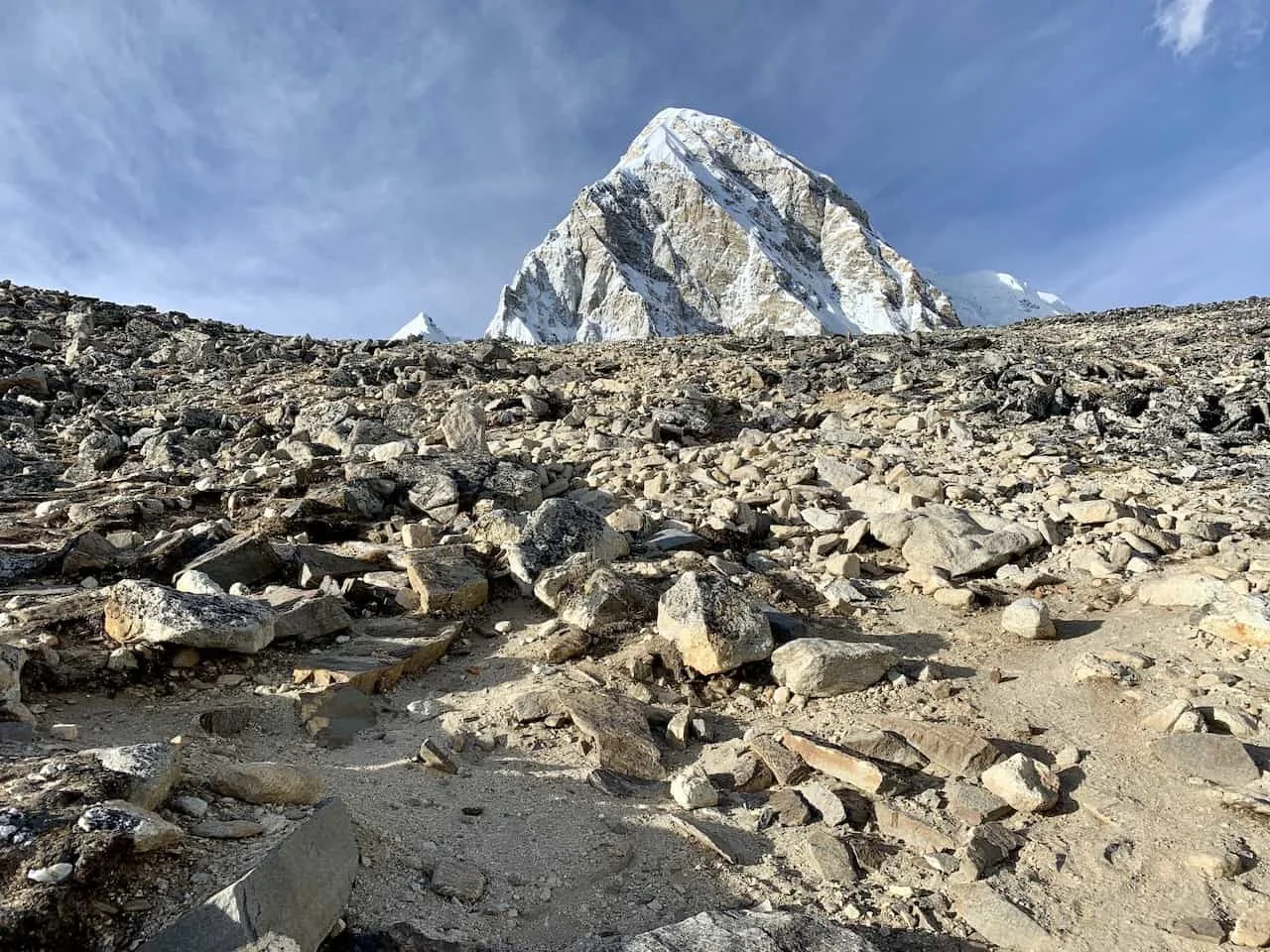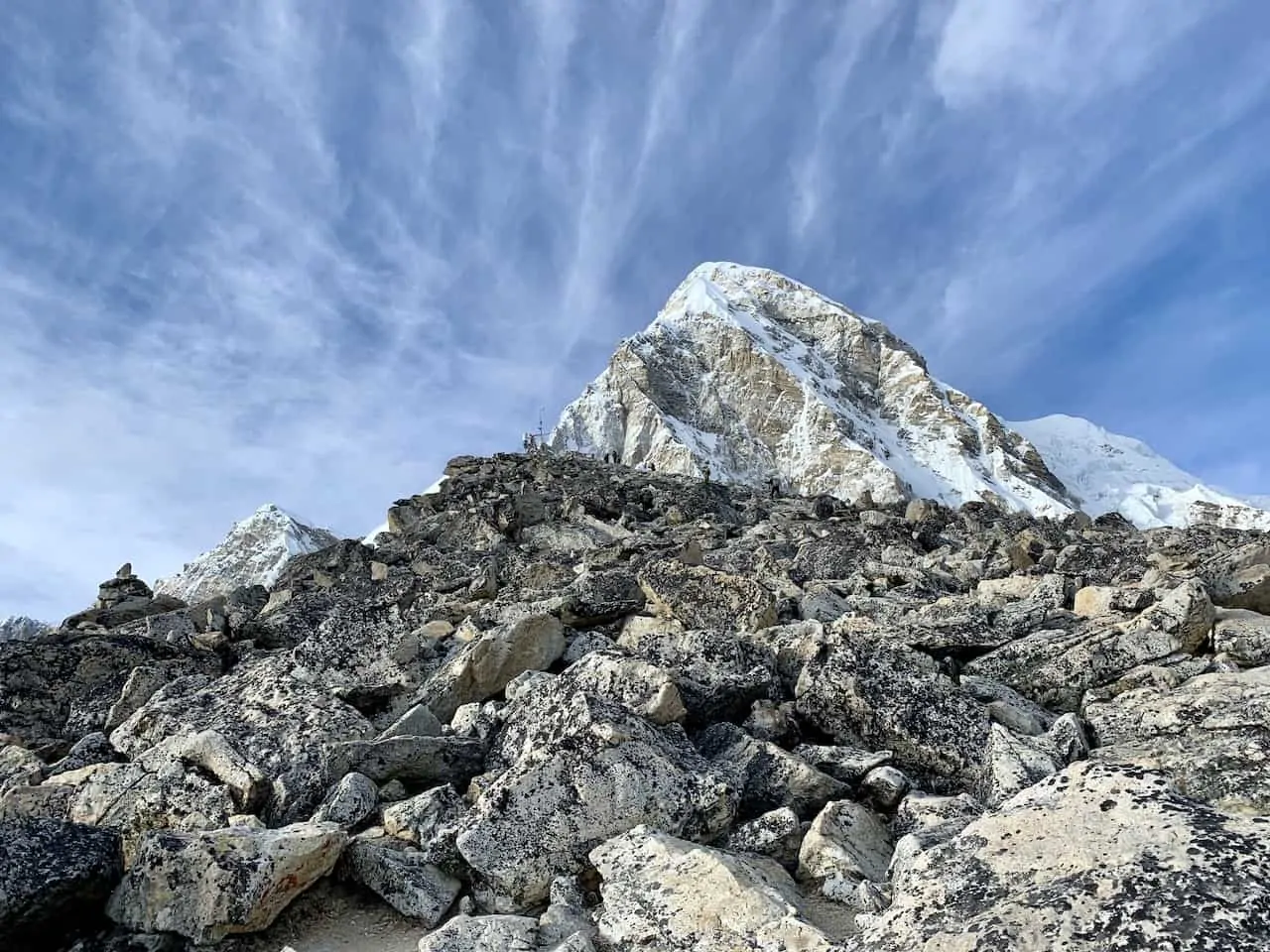 6) The Summit
Soon enough you will reach the summit of Kala Patthar. From here you will get breathtaking views of Sagarmatha National Park in every which direction.
The main attraction here is of course Mount Everest itself. While you wont be able to see the entirety of the mountain, this will be the best view there is during the entirety of the Everest Base Camp trek.
Below Everest will be the famous Khumbu Icefall that then feeds into the Khumbu Glacier. And that large mountain to the right, is the face of Nuptse.
The view will also have some small lakes right down below, giving you one of the best shots in all of the Himalayas.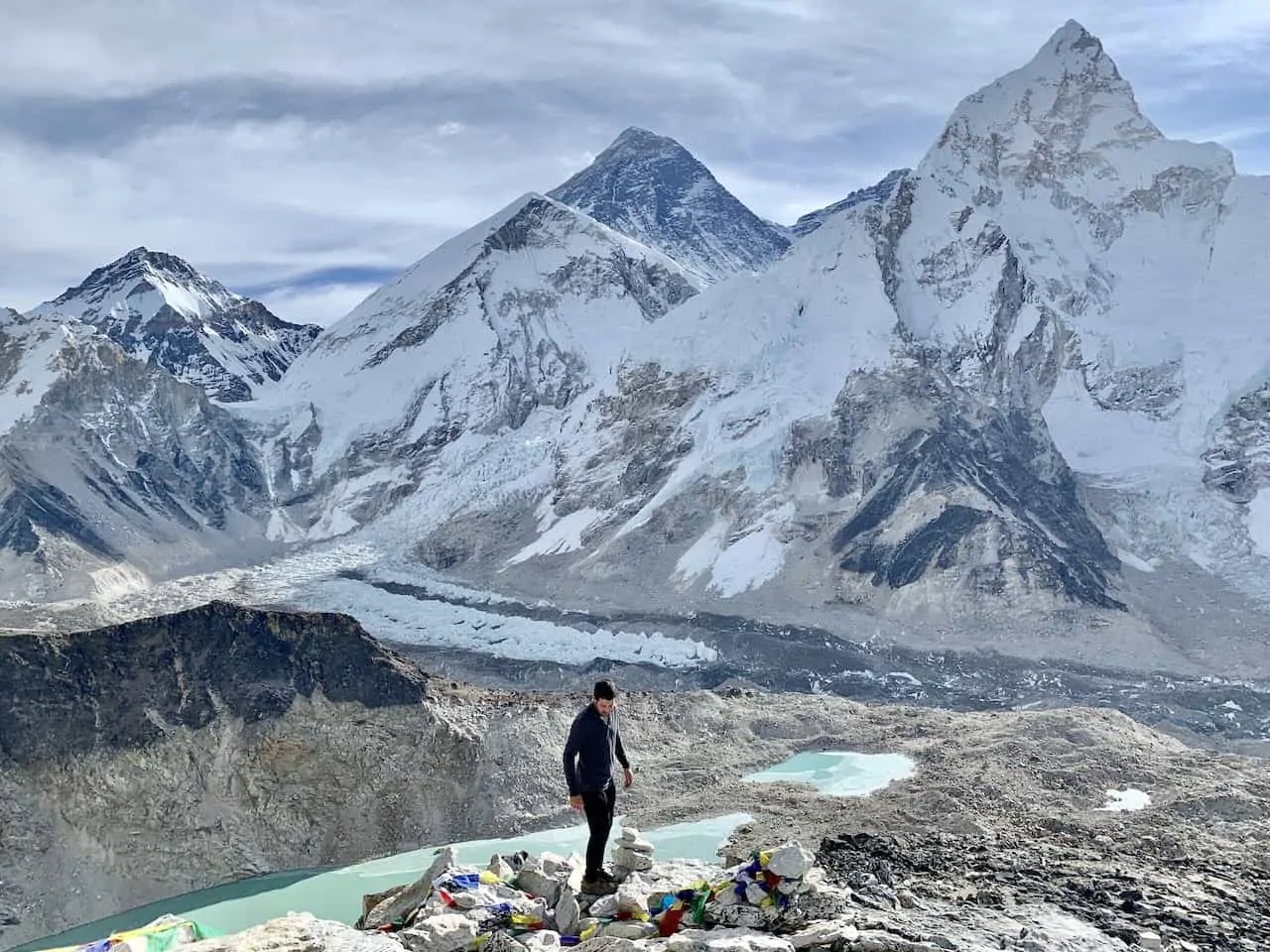 On the opposite side of the peak, you will see even more glaciers, lakes, and mountains all around you as far as the eye can see.
If you look straight down the ridge, you will be able to take in the vast Khumbu Glacier making its way down the valley with Ama Dablam and various other peaks completing the landscape.
When it comes to natural beauty viewpoints, it is hard to beat the one from the peak of Kala Patthar.
After spending enough time up top, it is then down the same way you came. This will be much easier and quicker than the trek up, but either way please watch your step as you are making your way down the mountain.
Once back in Gorak Shep, enjoy a nice meal and refuel before continuing on with your day (unless you go for sunset!).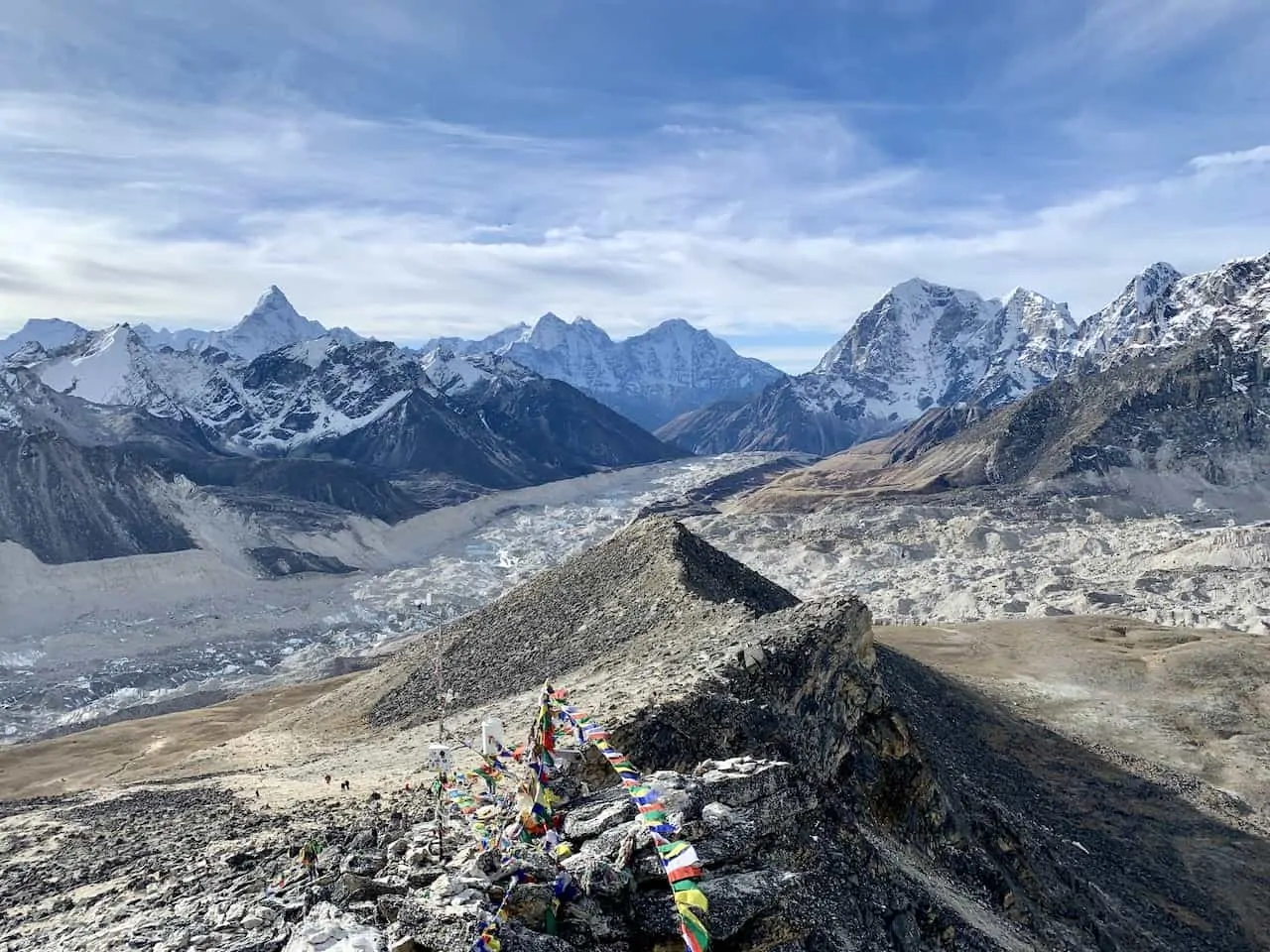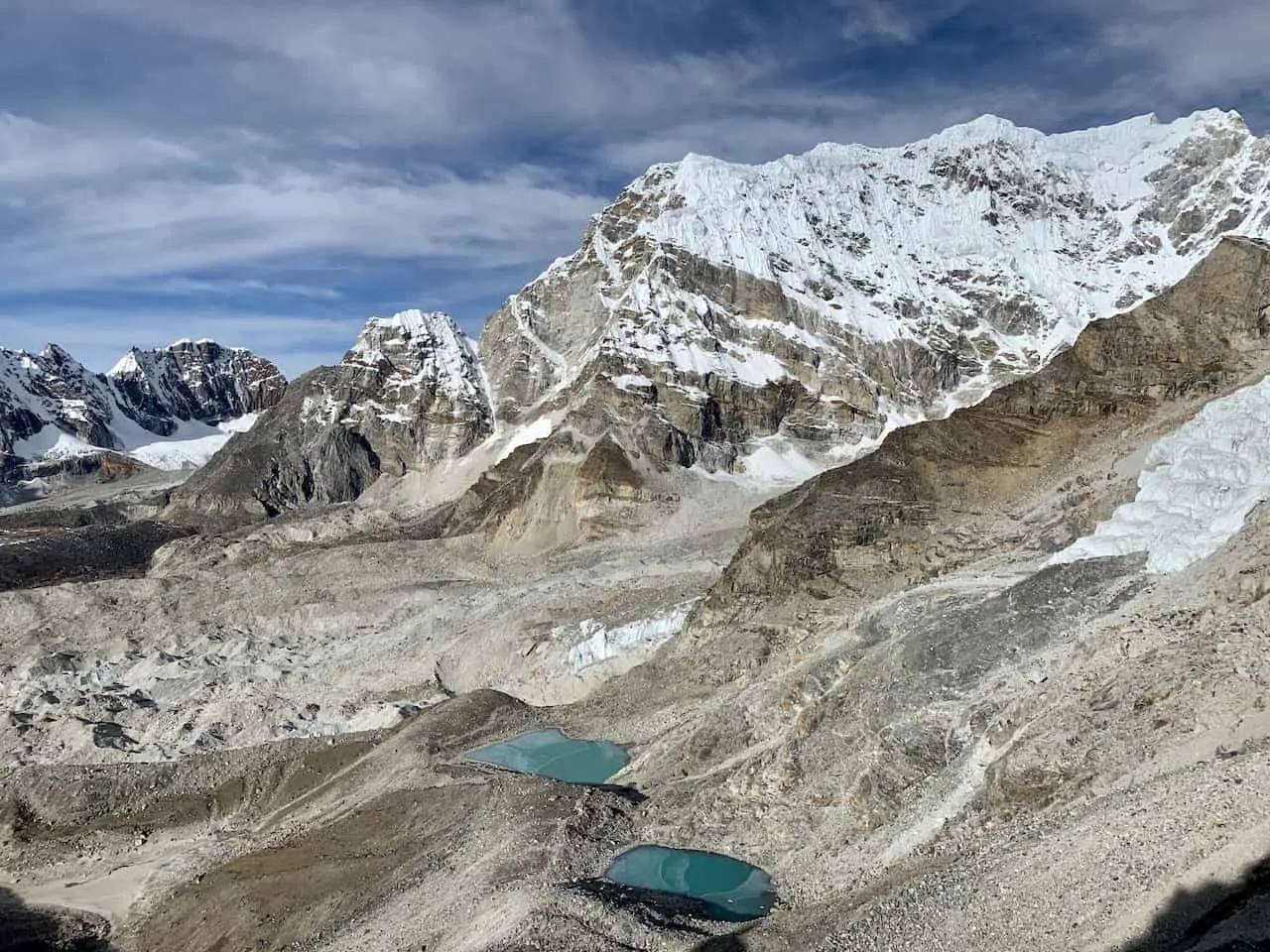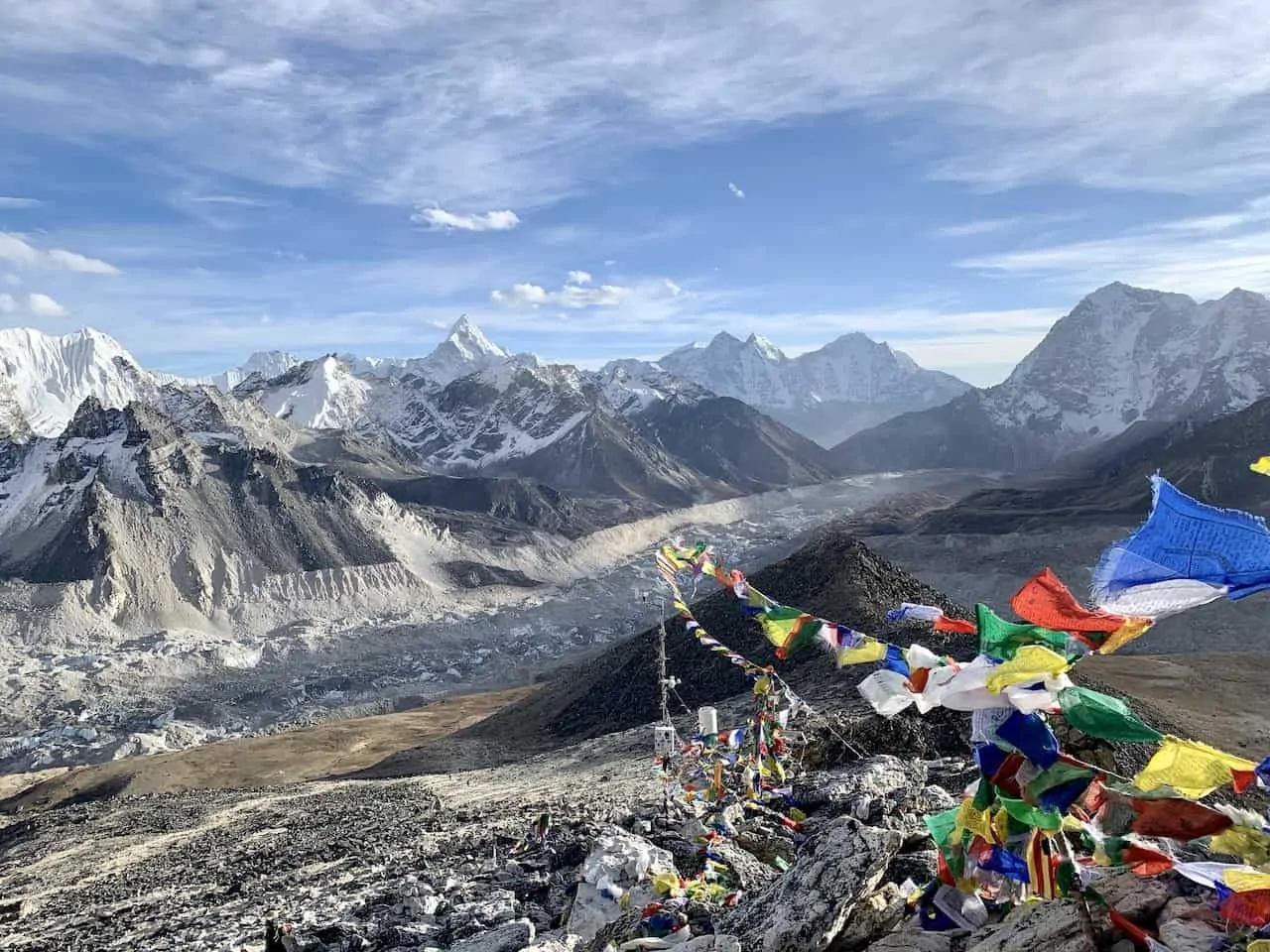 7) Kala Patthar Sunrise or Sunset
The big Kala Patthar debate is whether to make the ascent for sunrise or for sunset (or neither!).
The "standard" EBC itinerary will have you going from Lobuche to Gorak Shep on the morning of day 8 and the round trip to Everest Base Camp during the afternoon of day 8. On day 9, it will be an early Kala Patthar climb for sunrise, followed by an afternoon walk down to Pheriche.
That itinerary is just fine and probably the more realistic one due to weather constraints. Like I mentioned earlier, the weather in the morning times are usually much clearer than later on in the day.
What can start off as a picture perfect day can then turn into a whole lot of clouds and low visibility later in the afternoon. Due to this, a sunset hike to Kala Patthar may just not be worth it given the visibility concerns.
However, if the weather during the afternoon of day 8 is looking clear and the forecast doesn't call for the clouds to roll in, then I would recommend swapping Kala Patthar to sunset on day 8 (either in addition to Everest Base Camp OR switching EBC to day 9).
The reason why sunset is the choice for many is due to the location of the sun and the direction of the light.
The sun rises behind Mount Everest, giving a silhouette view of the mountain during sunrise. While still a beautiful site to see, it is not as special as sunset in my opinion.
During sunset, you will have Mount Everest and the surrounding mountains glow up from the last moments of sun hitting the mountains, which is known as the alpenglow effect.
Having the whole mountain range light up with the various pink/yellow/orange colors of the sky was one of the best sunsets I could have asked for.
Either option you choose, a hike up Kala Patthar is an absolutely must in my book if you are up for the challenge. Believe me, this is one last view you will want to see for yourself.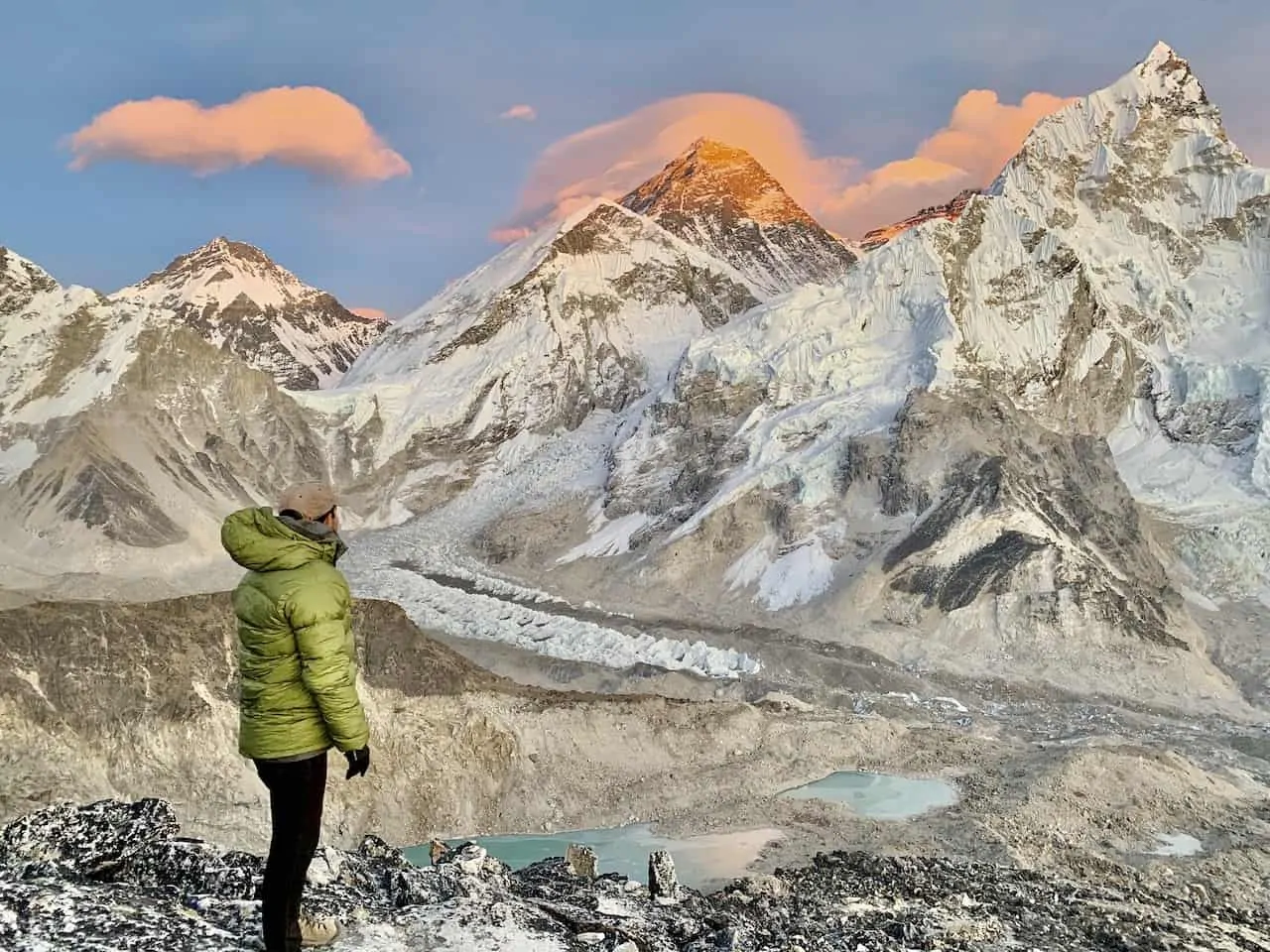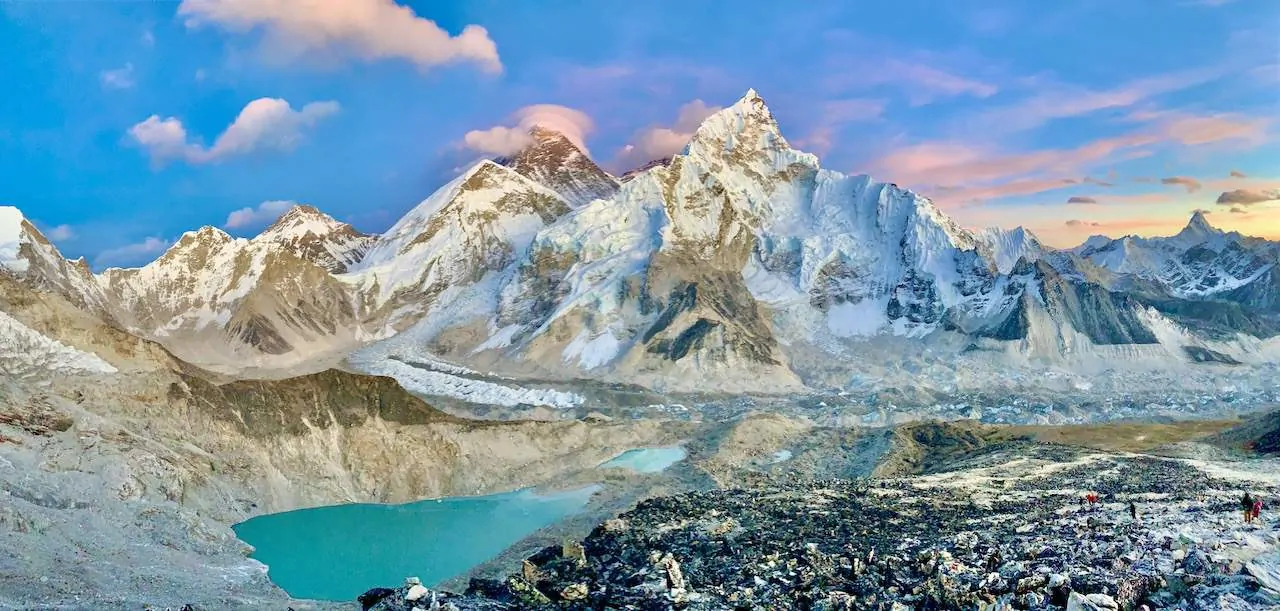 Take a look at this in depth overview of the Everest Base Camp Trek as well as the below guides I put together for each day of the journey:
Day 1 – Lukla to Phakding
Day 2 – Phakding to Namche Bazaar
Day 3 – Hotel Everest View Acclimatization
Day 4 – Namche Bazaar to Tengboche
Day 5 – Tengboche to Dingboche
Day 6 – Nangkartshang Acclimatization
Day 7 – Dingboche to Lobuche
Day 8 – Lobuche to Gorak Shep & Everest Base Camp
Day 9 – Kala Patthar & Gorak Shep to Pheriche
Day 10 – Pheriche to Namche Bazaar
Day 11 – Namche Bazaar to Lukla
That about does it for your complete guide to the Kala Patthar trek. If you do have any additional questions or comments, feel free to add them in below.
Also don't forget to check out the other Nepal itineraries and guides up on the site. Have fun out there and safe travels!