The Nangkartshang Peak acclimatization hike on day 6 of the Everest Base Camp trek takes you up above the valley as you get to enjoy some of the best views during the multi day trail.
This guide will go over what to expect when hiking Nangkartshang Peak along with some helpful info to better prepare you for the climb, such as elevation gain, distance, tips and more!
* Affiliate Disclosure: This post may contain affiliate links, which means I may receive a commission if you make a purchase through the links provided, at no additional cost to you. Thanks for supporting the work I put into TripTins!
1) What is an Acclimatization Hike
Before jumping into the hike itself, I wanted to quickly go over what acclimatization means, what an acclimatization hike is, and why it is so important to include on a trek like the one to Everest Base Camp.
For most people out there, being 10,000 – 20,000 feet above sea level is not what the body is used to on a day to basis. At 10,000 feet for example, oxygen levels are already at 70% of normal levels (to give you some context, Lukla is at 9,318 feet and Dingboche (60% oxygen) is at 14,469 feet)
Since you will be exerting a good amount of energy during your hikes, your body is going to need to adjust to having less oxygen at these higher elevations.
Going up in elevation too quickly can result in altitude sickness (dizziness, headaches, nausea) and potentially even more dangerous complications like cerebral and pulmonary edema.
To help prevent altitude sickness on the Everest Base Camp trek, it is common that acclimatization begins around 11,500-foot mark.
Since Namche Bazaar is just below that elevation, most people spend 2 or even 3 nights in the village to get the body better prepared for the rest of the journey.
Essentially the two main rules here to follow include:
» You should increase your altitude by no more than 1,000-1,600 feet / 300-500 meters per day (most days are just within this level)
» For every 3,000 feet / 915 meters of altitude gained, you should take a day off from going upwards (you would have previously done another acclimatization day in Namche on day 3)
» Since Namche Bazaar is at 11,286 feet and Dingboche is at 14,469 feet (+3,183 feet), you must stop for an extra day here, as you pass that 3,000 foot threshold.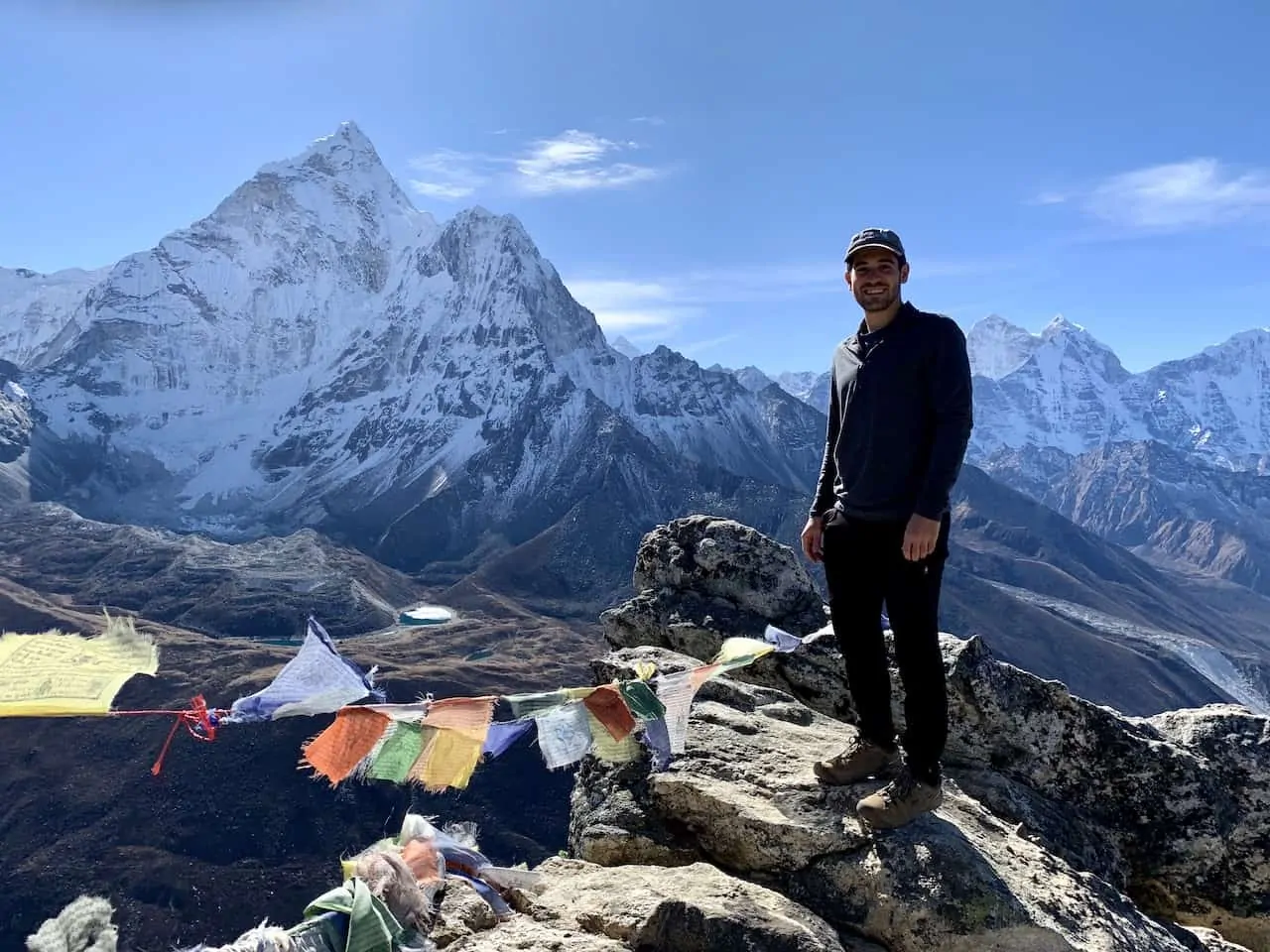 While in Dingboche on day 6, many people enjoy taking an acclimatization hike. Essentially, it is a hike that heads up to a higher altitude than where you are sleeping for the night.
This gets your body prepared for the higher elevation that is yet to come on the trek, but is safe in that you are not sleeping at that higher altitude.
Nangkartshang Peak is at 16,677 feet and Dingboche is at 14,469 feet. So, the hike will have your body more prepared for the next few days at the higher elevation and at the same time you will be able to rest up at that lower elevation in Dingboche overnight.
Considering travel insurance for the Everest Base Camp Trek?

World Nomads offers coverage for more than 150 adventure activities as well as emergency medical, lost luggage, trip cancellation and more.

For years, World Nomads has been protecting, connecting & inspiring independent travelers, offering travel insurance & safety advice to help you travel confidently. Their mission is to support and encourage travelers to explore their boundaries.

World Nomads has simple and flexible travel insurance that has been designed by travelers for travelers. Even if you leave home without travel insurance or your policy runs out, you can buy or extend out on the road.

Get a quote for a World Nomads travel insurance policy today!
2) Nangkartshang Peak Hike Overview
Below are some quick facts about the climb up Nangkartshang Peak from Dingboche so you have a better sense of what the acclimatization hike is all about.
Everest Base Camp Trek Day 6: Nangkartshang Peak
Starting & Ending Point: Dingboche
Dingboche Elevation: 14,469 feet / 4,410 meters
Mid Point: Nangkartshang Peak
Nangkartshang Peak Elevation: 16,677 feet / 5,083 meters
Distance: 3.2 miles / 5.1 km (round trip)
Duration: 5 hours
Elevation Gain: 2,208 feet / 673 meters
» Learn more about the various distances, elevations, and durations of the Everest Base Camp Trek
» Learn more about flying into the region in the Kathmandu to Lukla Flight Experience Guide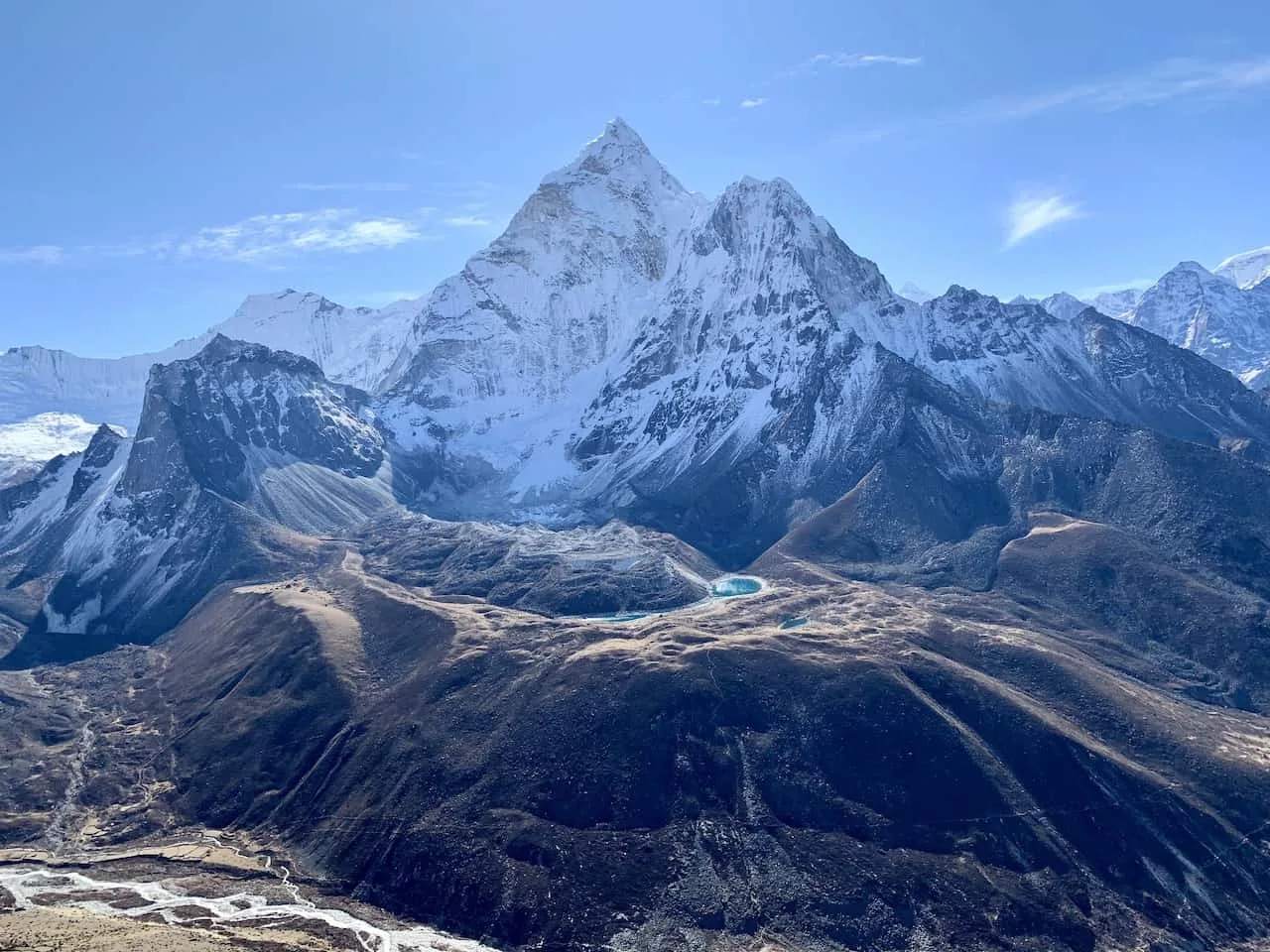 3) Dingboche to Nangkartshang Peak Elevation Profile
Below is the elevation profile for the round trip hike from Dingboche to Nangkartshang Peak. The entirety of the way to the peak will be uphill as you climb this mountain that sits behind Dingboche.
Once you have enjoyed the summit, it is time to head back down the same way you came.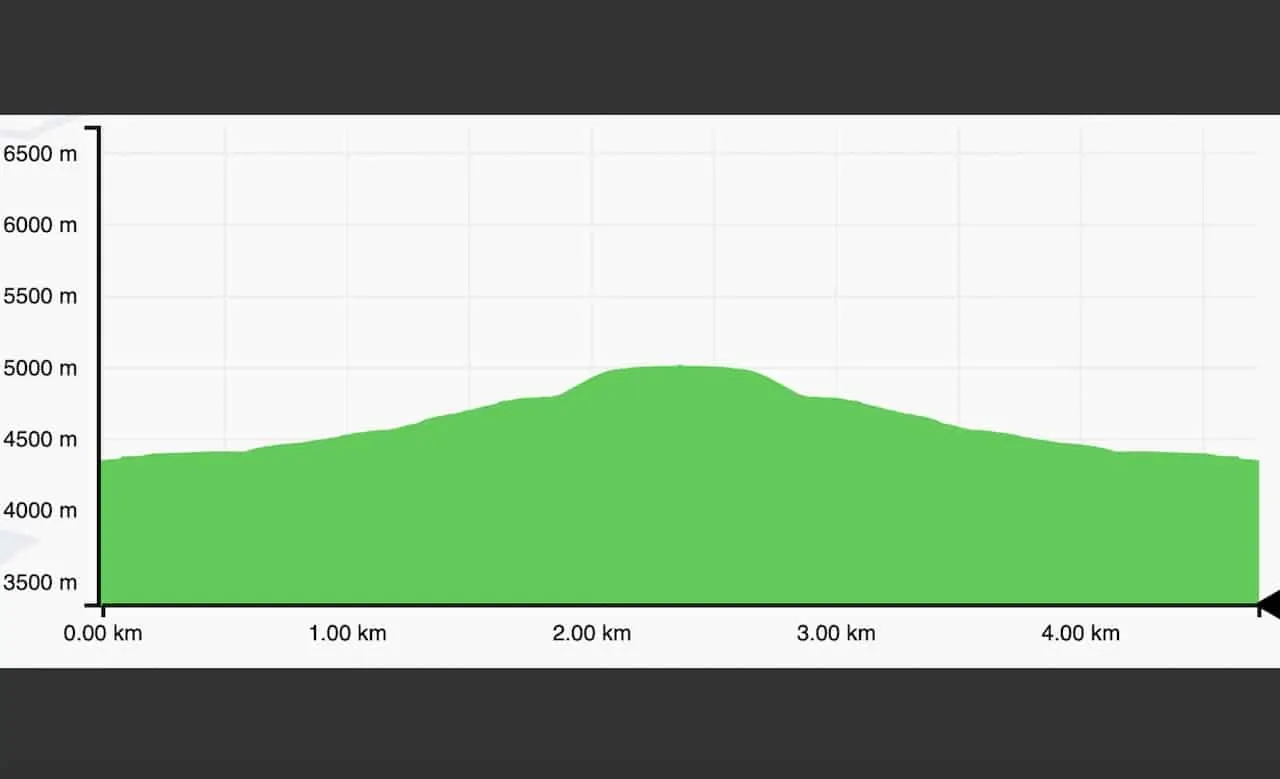 4) Trekking Map
As you can see on the map below, the route takes you from Dingboche towards the ridge of Nangkartshang, which you will slowly zig zag your way up.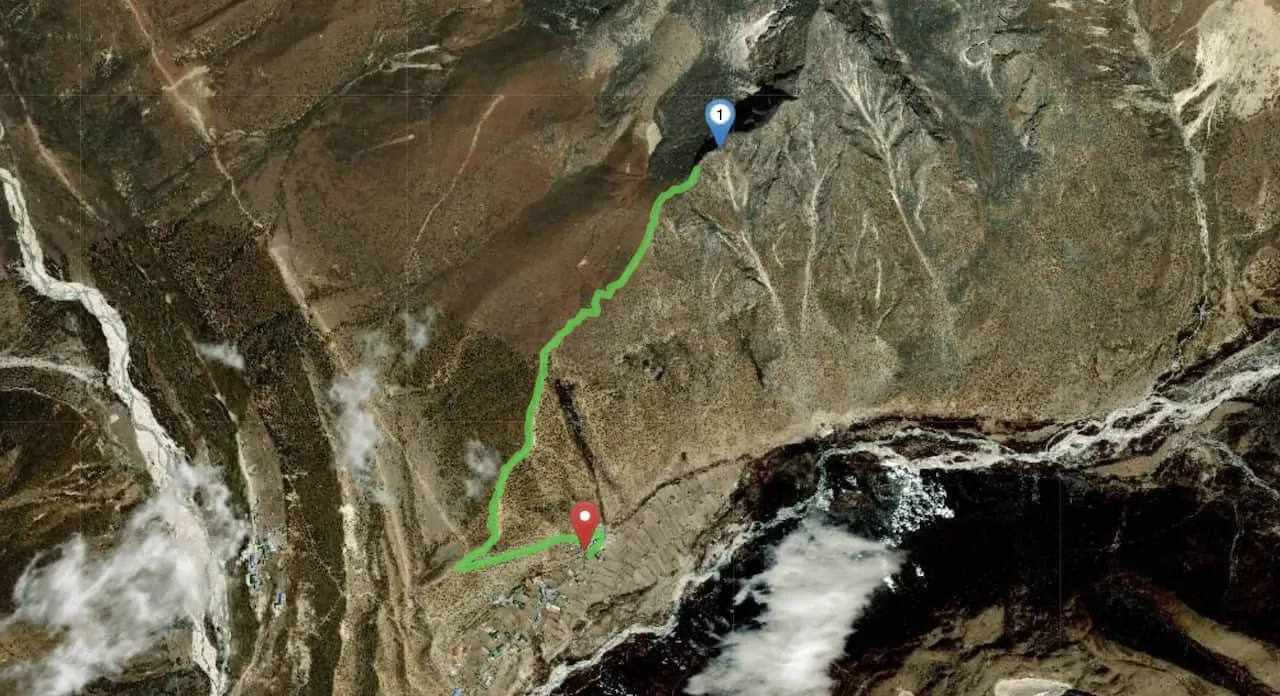 5) Everest Base Camp Packing List
You will want to pack accordingly for this 11 day trek in the Himalayas. I put together a complete Everest Base Camp Packing List that goes over every single item I brought along on the trail, some of which include:
» Since this is a side hike, having a smaller day pack available with some of the essential items listed above should work well for a day like this one along the trail.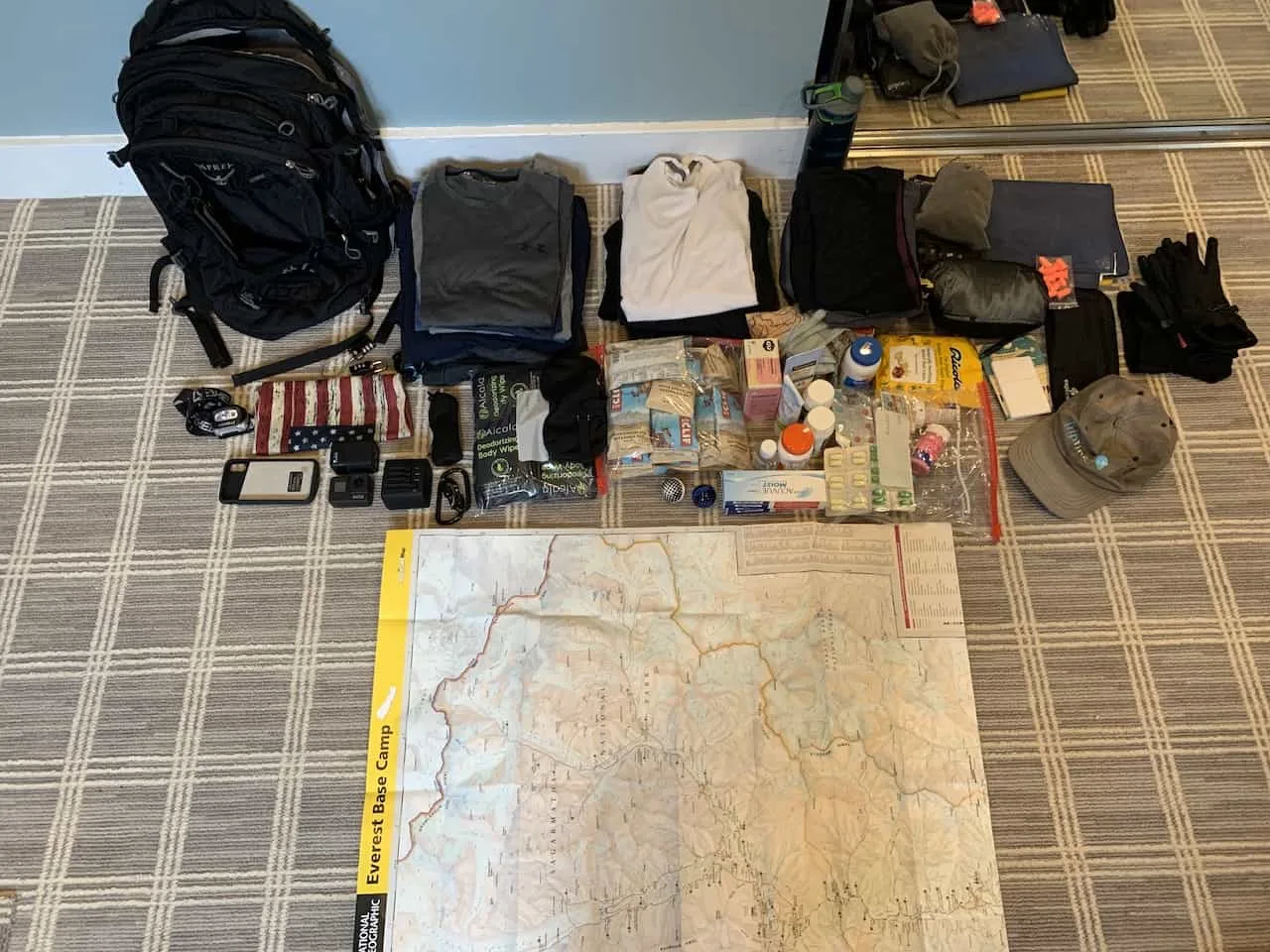 6) Nangkartshang Peak Acclimatization Hike
After a hearty breakfast at your teahouse in Dingboche on the morning of day 6, it is time to head out for a day hike up Nangkartshang Peak.
Unlike most of your other days on the trail, here you will be able to leave most of your belongings in the teahouse instead of carrying all your belongings with you. Simply grab a day pack and get ready for your climb up.
To get to the trailhead you will want to make your way behind town towards Lobuche. There you should see a bunch of Sherpa flags and the winding sandy trail up the ridge of the mountain.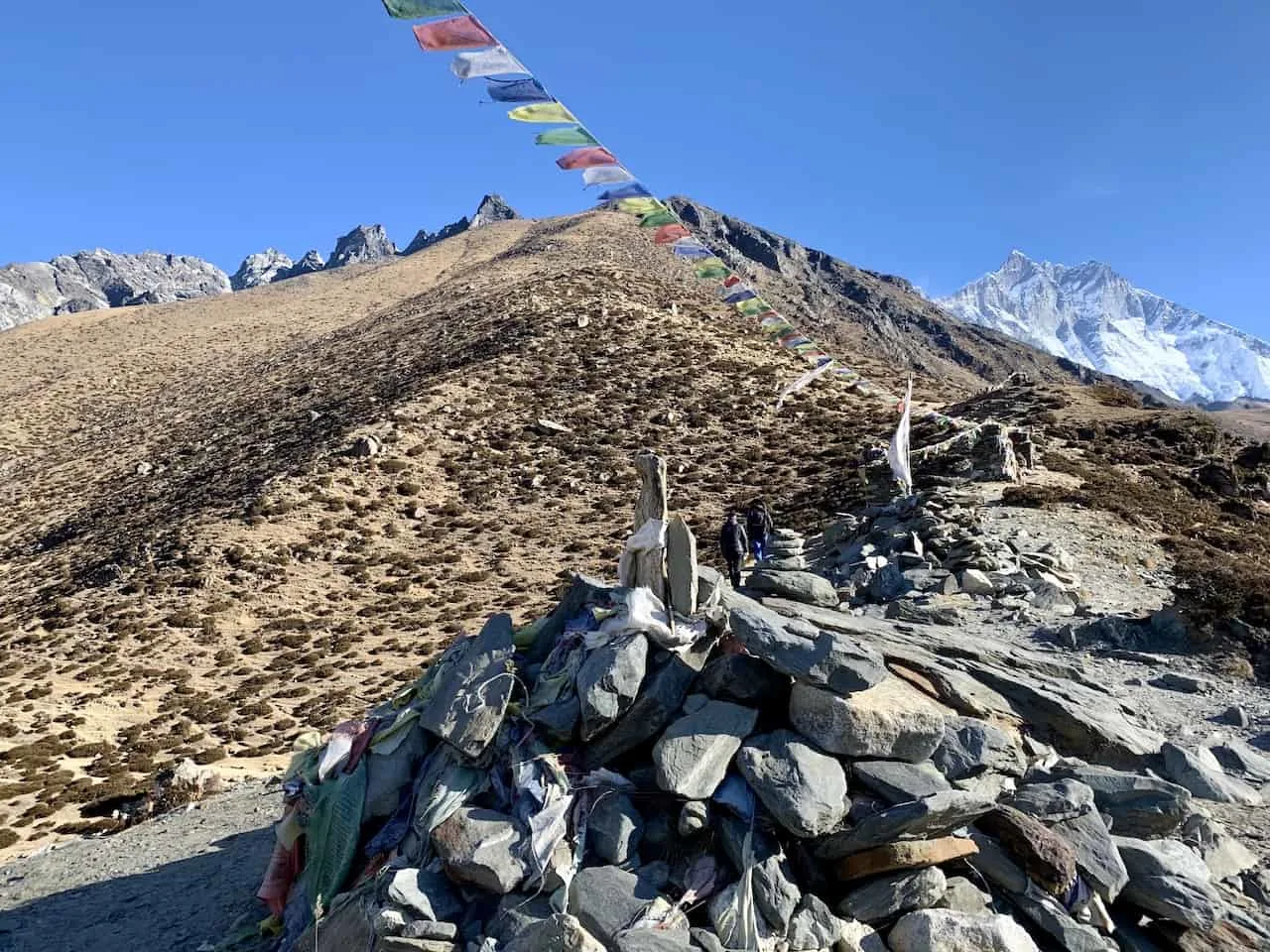 What I love about the hike, is that you now will really be able to get above the valley and take in some new, more vast views of the surrounding landscape.
On one side of the ridge you will be able to see the Imja valley towards Chhukung, and on the other side will be the valley towards Lobuche. Nangkartshang is essentially the mountain that splits the valley into two.
On either side of you there will be glaciers, rivers, and snow capped peaks, as you slowly continue along the zig zagging ascent up the mountain.
Turning around, you will see Dingboche down below as well as some of the trail that you took from Tengboche.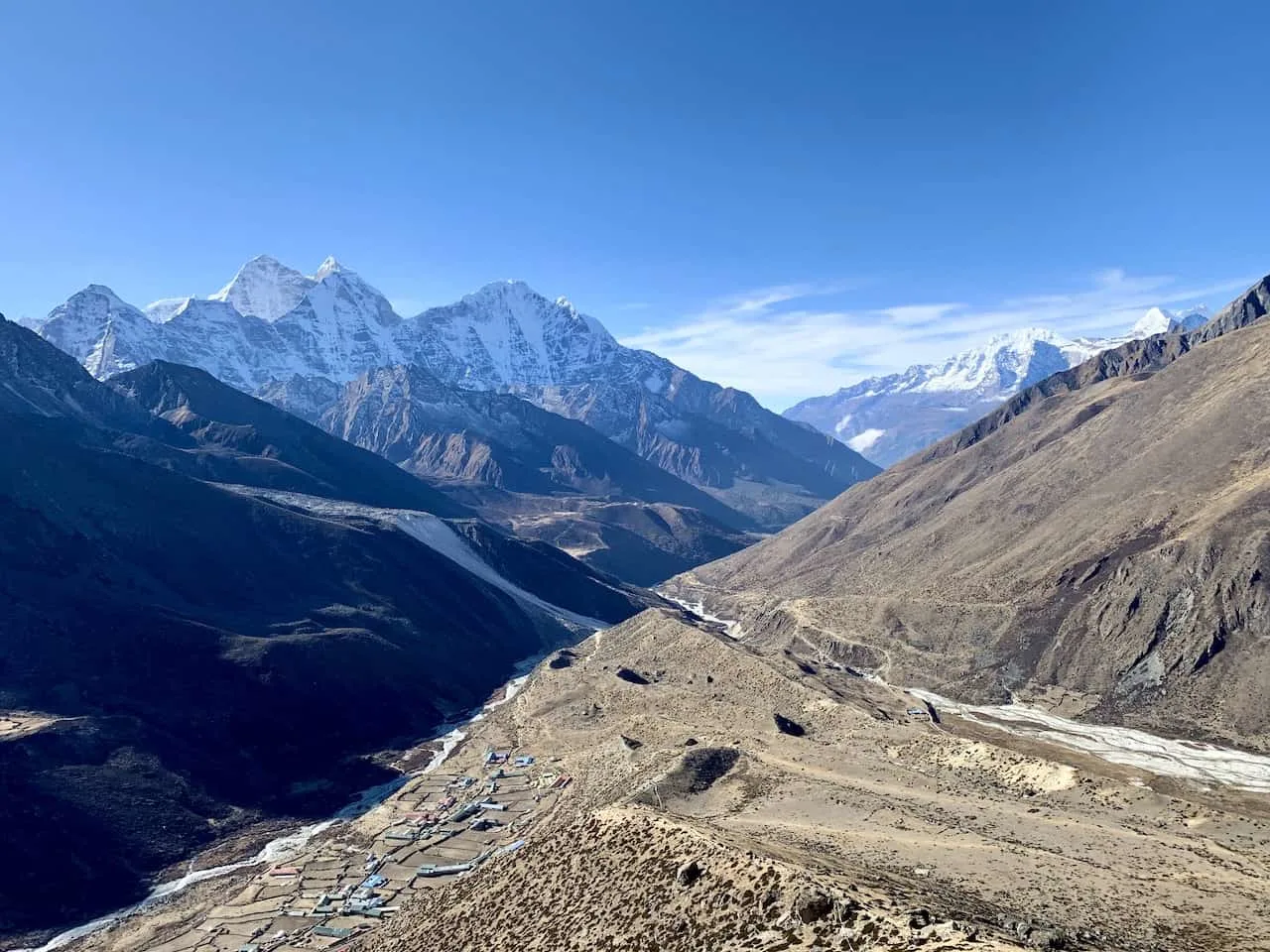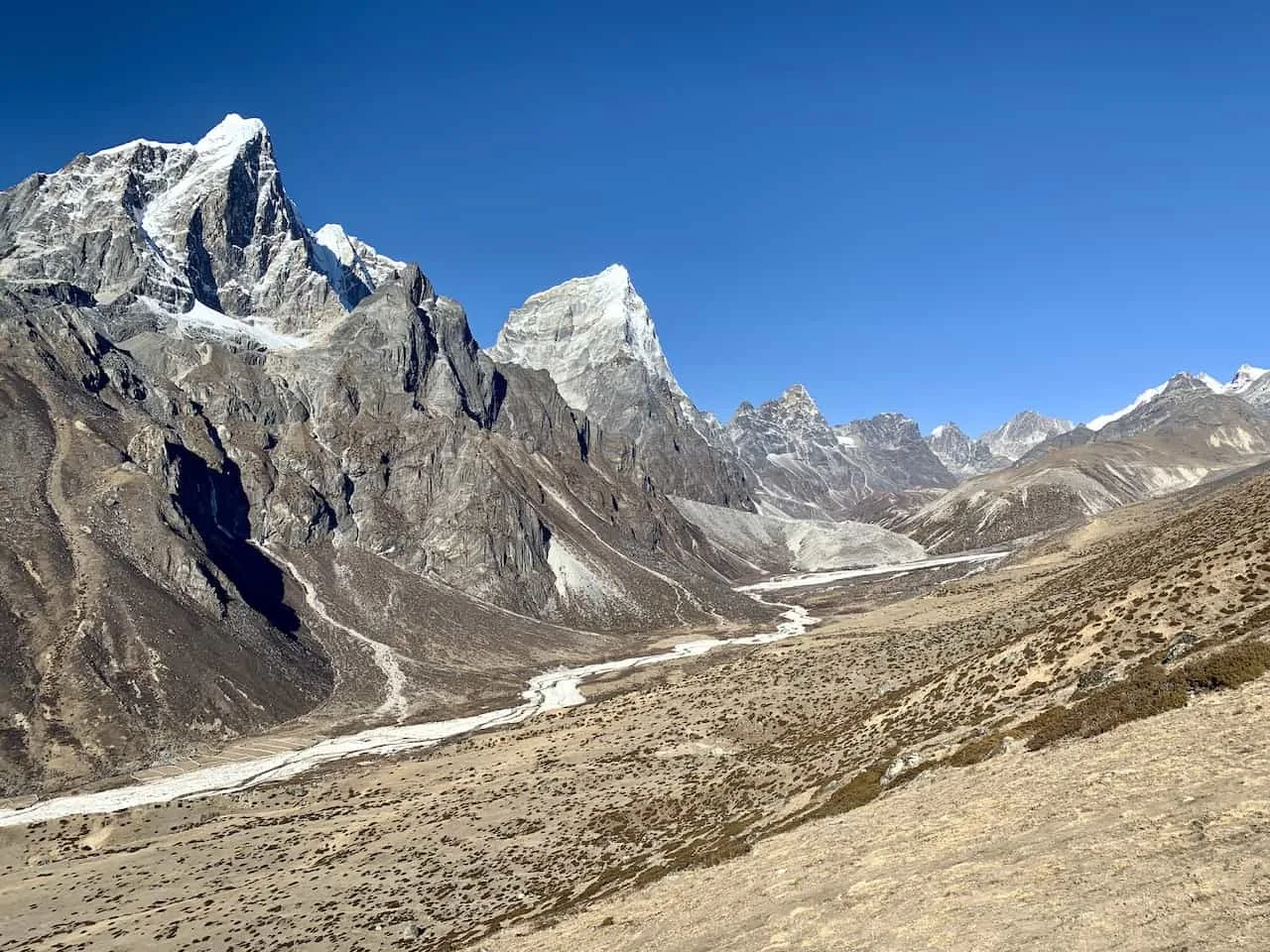 Some of these views are truly extraordinary as you continue to get higher and higher along Nangkartshang.
Since this is pretty much an uphill climb all the way through, you will want to make sure to take plenty of breaks on the ascent and pace yourself.
Believe me, you will want to take some time to truly take in these views all around you.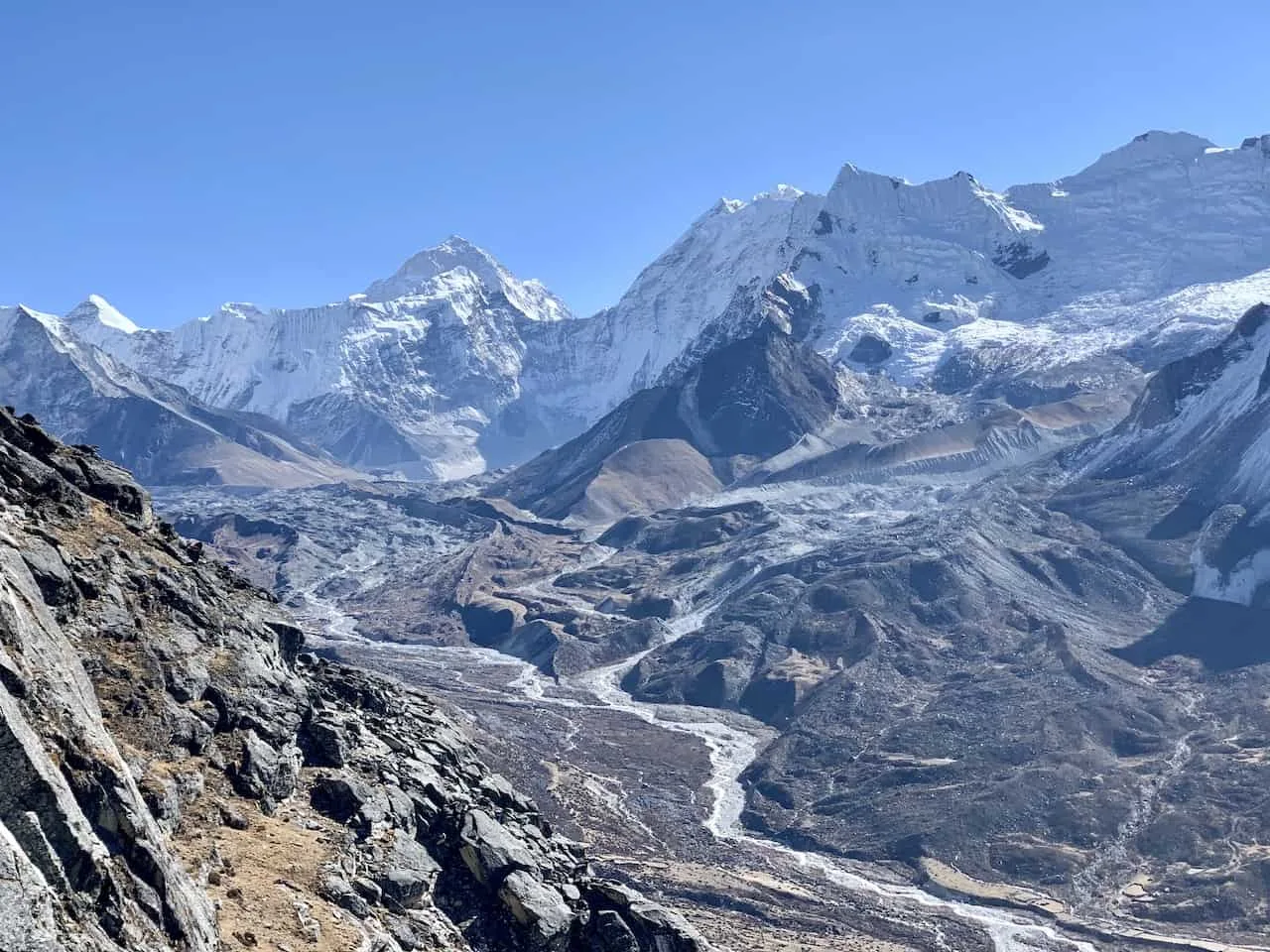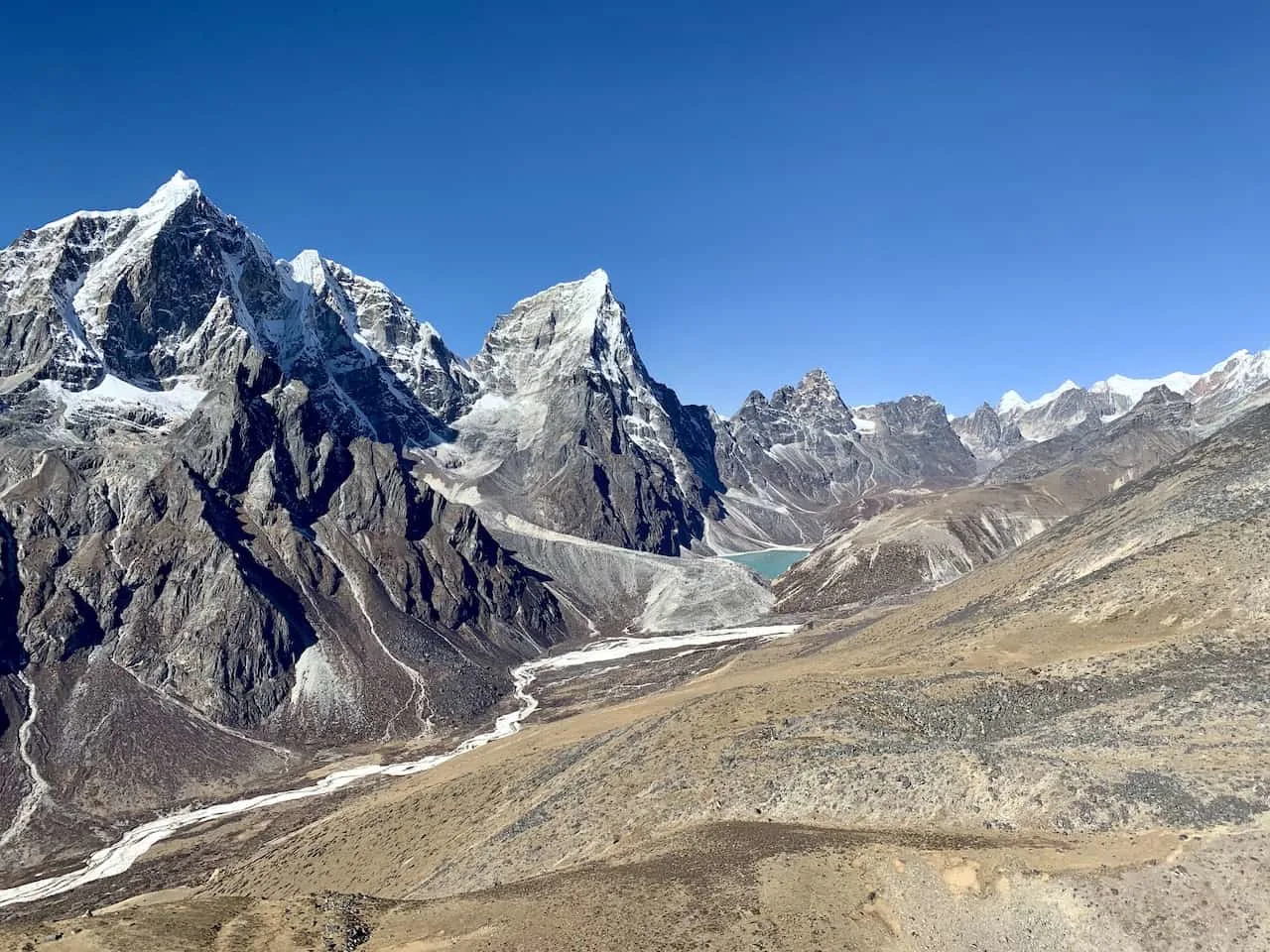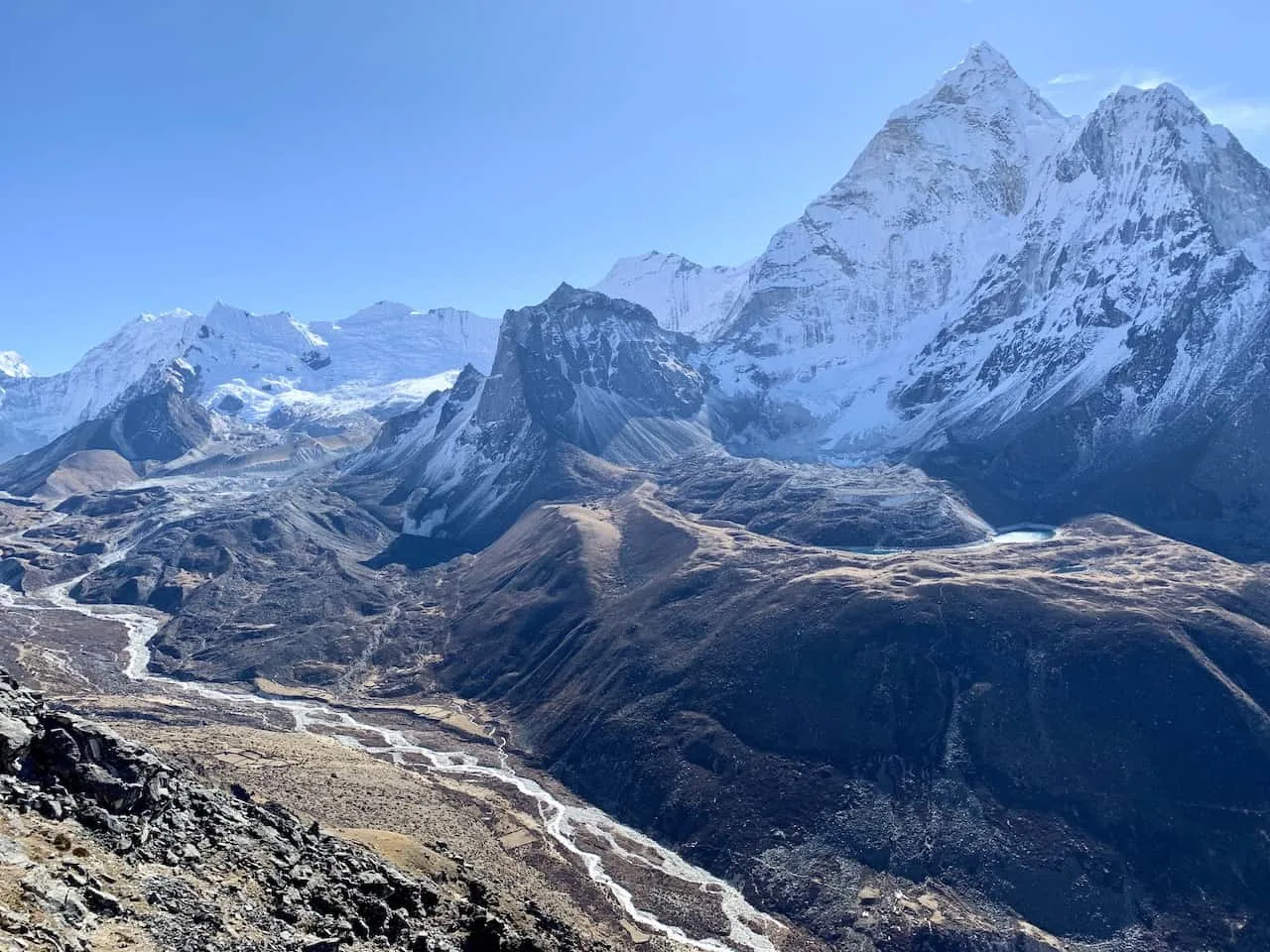 Throughout the trail you will be able to take in views of Makalu, Lhotse, Cho Oyu, Island Peak, Ama Dablam, among plenty other high peaks, as well as the Imja glacier down below.
As you get higher, the path does get rockier as you maneuver around some larger stones that make up the mountain's ridge. The higher you get, the better the landscape will be as more alpine lakes and glaciers will come into view.
Soon enough, you will spot the Sherpa flags on the summit of Nangkartshang. Make that last push to the top, where you can enjoy some of the best views of the entire Everest Base Camp trek.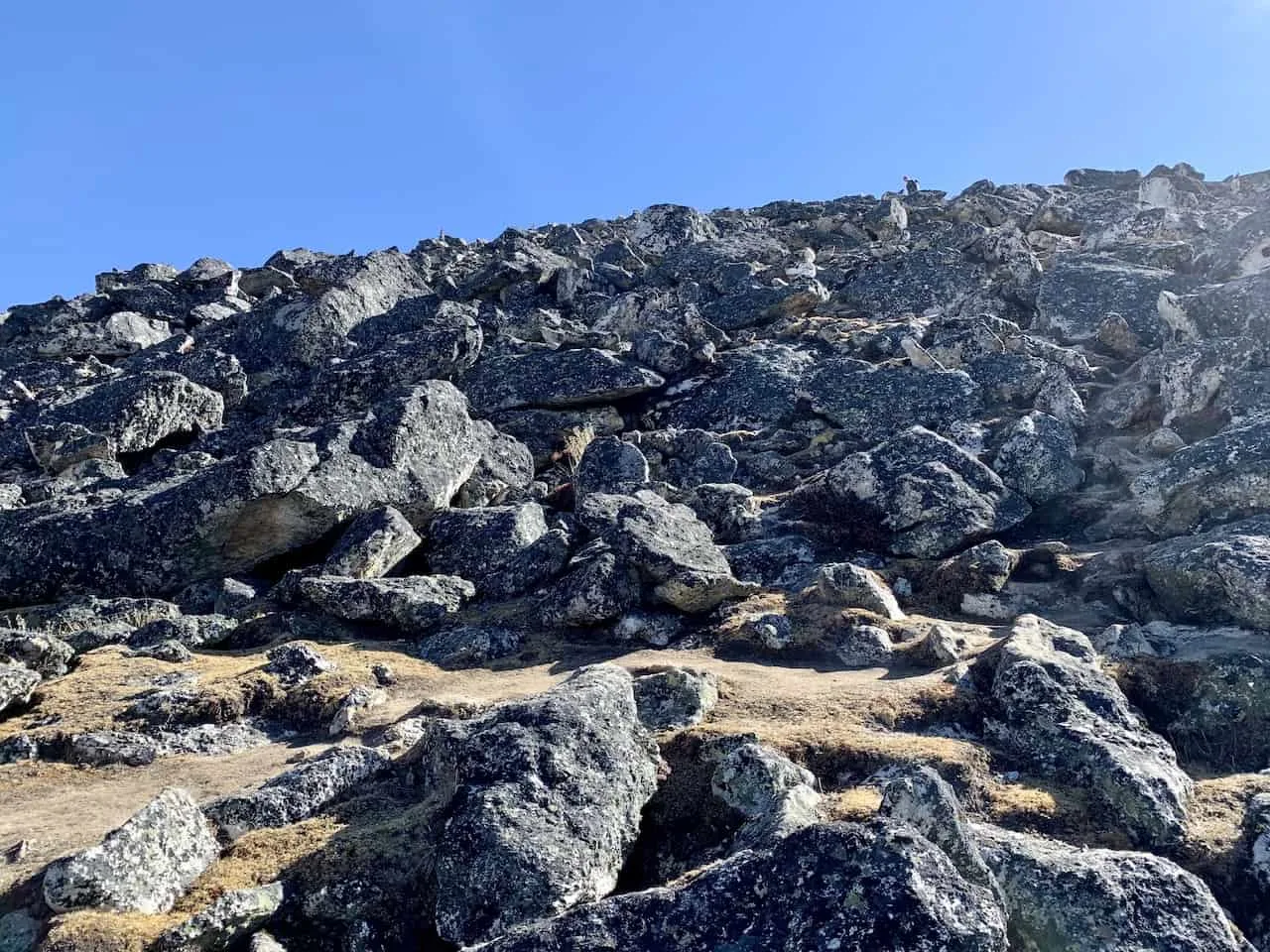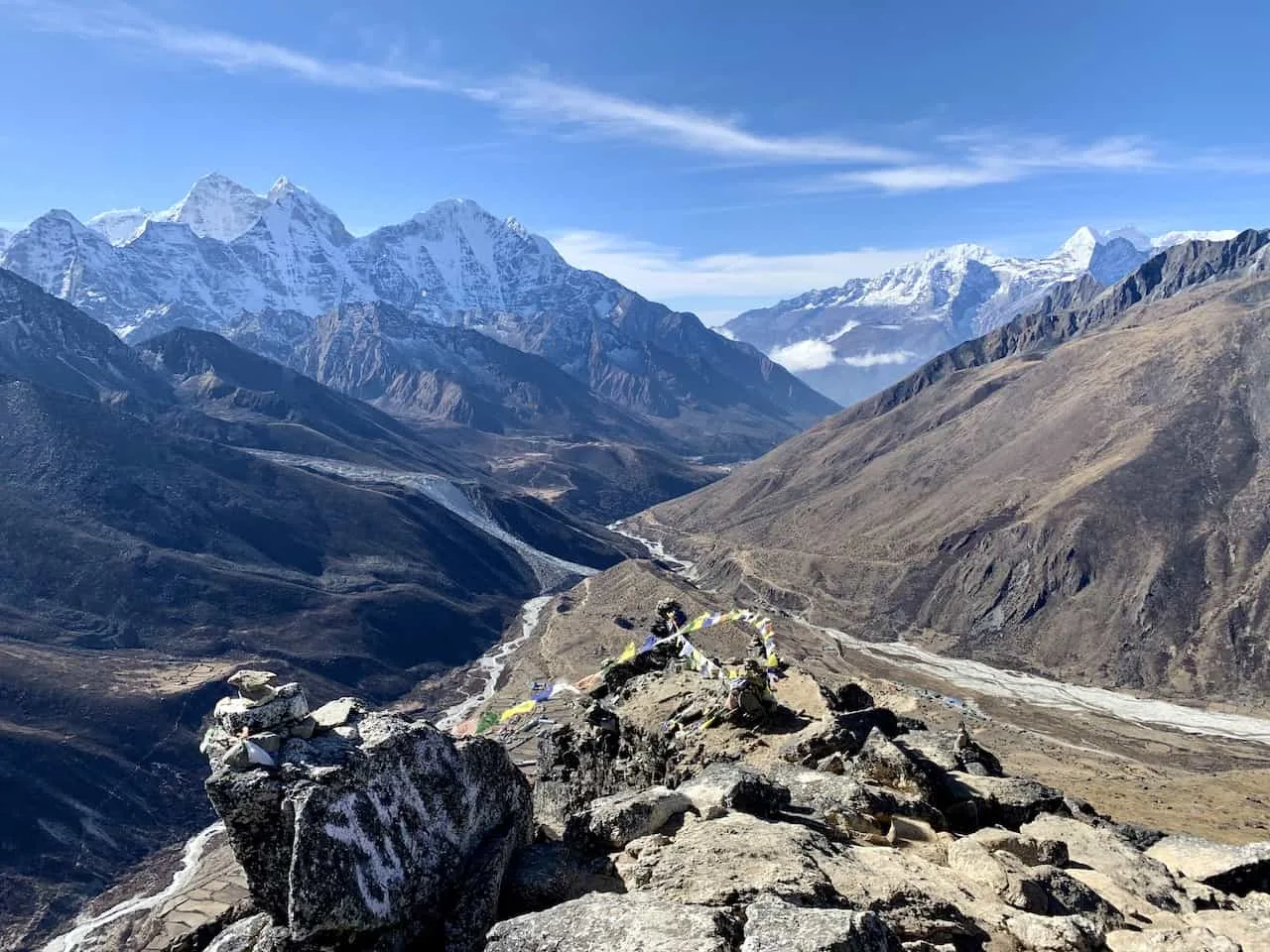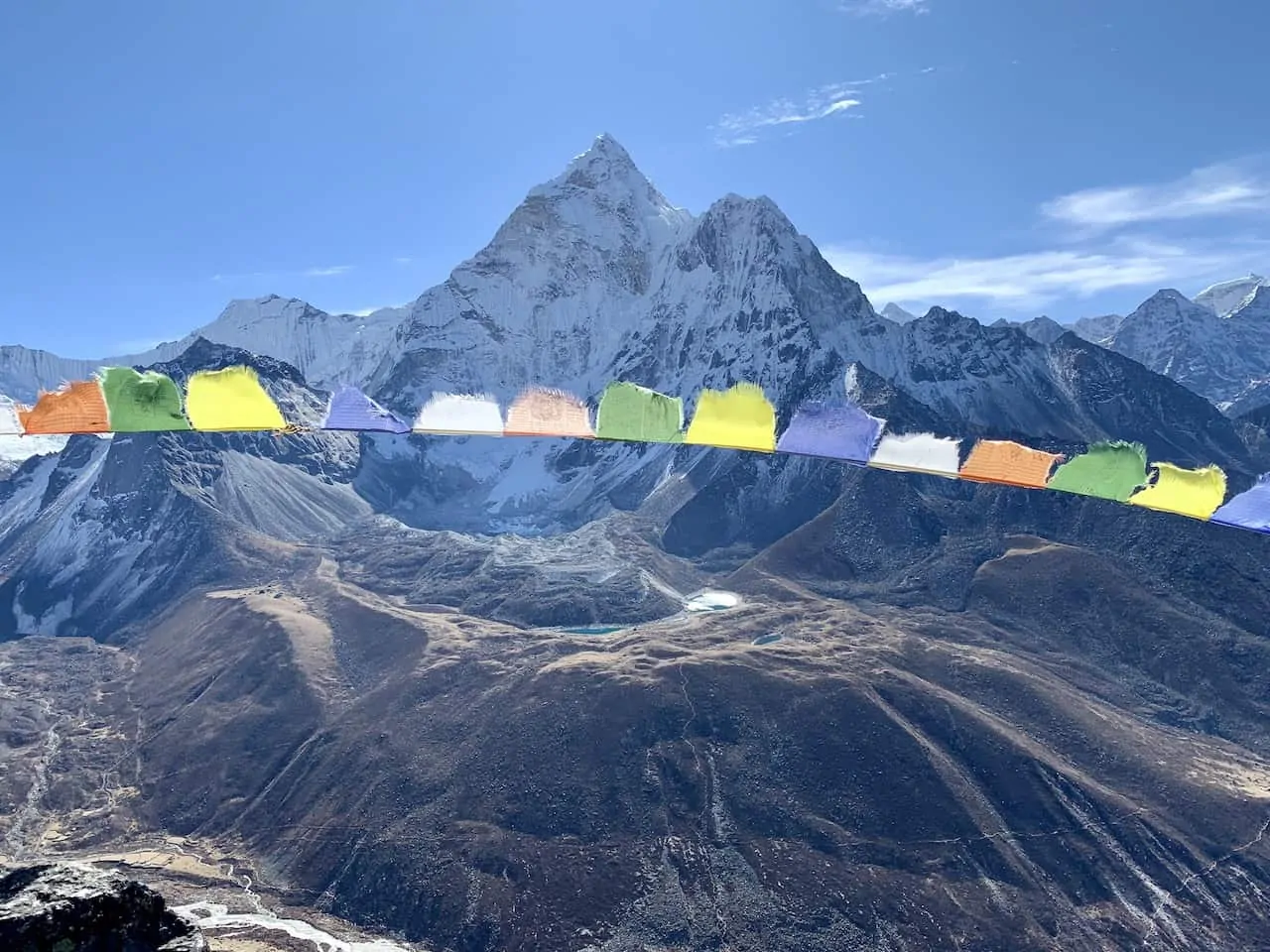 While most of the trek will have you moving uphill as you use plenty of energy, and increase your body temperature, once you are up top, things can start to get chilly very quickly.
Depending on the day, the cold temperatures and the constant winds may have you bundling up as you try to keep warm up top.
Just be sure to pack some layers with you if you do want to spend some time on the summit.
After enjoying the view from Nangkartshang Peak at 16,677 feet / 5,083 meters, it is time to follow the same path back to the village of Dingboche. Be careful here as the downhill portions can get slippery from time to time and you don't want to hurt yourself going down.
Once safely at the bottom, head back to your teahouse, where you can have a nice lunch and rest up your body after completing day 6 of the Everest Base Camp trek. Next up is Lobuche on day 7!
Take a look at this in depth overview of the Everest Base Camp Trek as well as the below guides I put together for each day of the journey:
Day 1 – Lukla to Phakding
Day 2 – Phakding to Namche Bazaar
Day 3 – Hotel Everest View Acclimatization
Day 4 – Namche Bazaar to Tengboche
Day 5 – Tengboche to Dingboche
Day 6 – Nangkartshang Acclimatization
Day 7 – Dingboche to Lobuche
Day 8 – Lobuche to Gorak Shep & Everest Base Camp
Day 9 – Kalapathar & Gorak Shep to Pheriche
Day 10 – Pheriche to Namche Bazaar
Day 11 – Namche Bazaar to Lukla
I hope this guide has given you a better idea of what the hike up Nangkartshang is all about. If you have any questions or comments, feel free to add them in below.
Also be sure to check out the Nepal itineraries and guides up on the site. Have fun out there and safe travels!