Day 8 is a big one on the Everest Base Camp trek as you make your way from Lobuche to Gorak Shep in the morning, followed by a round trip hike to your final destination of Everest Base Camp in the afternoon.
This guide will go into detail about what the round trip portion of the trail from Gorak Shep to Everest Base Camp entails, and what to expect along the way.
* Affiliate Disclosure: This post may contain affiliate links, which means I may receive a commission if you make a purchase through the links provided, at no additional cost to you. Thanks for supporting the work I put into TripTins!
1) Gorak Shep to Everest Base Camp Overview
Below you will find some key details for what the round trip hike from Gorak Shep to Everest Base Camp will look like.
Since you will be arriving in Gorak Shep from Lobuche in the morning, you will be able to drop off your bags at your teahouse before continuing on with your day. That means for the round trip to hike to EBC, you simply can head off with just a small day pack.
Everest Base Camp Trek Day 8 Part II: Gorak Shep to Everest Base Camp
Starting & Ending Point: Gorak Shep
Gorak Shep Elevation: 16,814 feet / 5,125 meters
Mid Point: Everest Base Camp
Everest Base Camp Elevation: 17,598 feet / 5,364 meters
Distance: 4.5 miles / 7.2 kilometers (round trip)
Duration: 4 hours (round trip)
Elevation Gain: 784 feet / 239 meters
» Learn more about the various distances, elevations, and durations of the Everest Base Camp Trek
» Learn more about flying into the region in the Kathmandu to Lukla Flight Experience Guide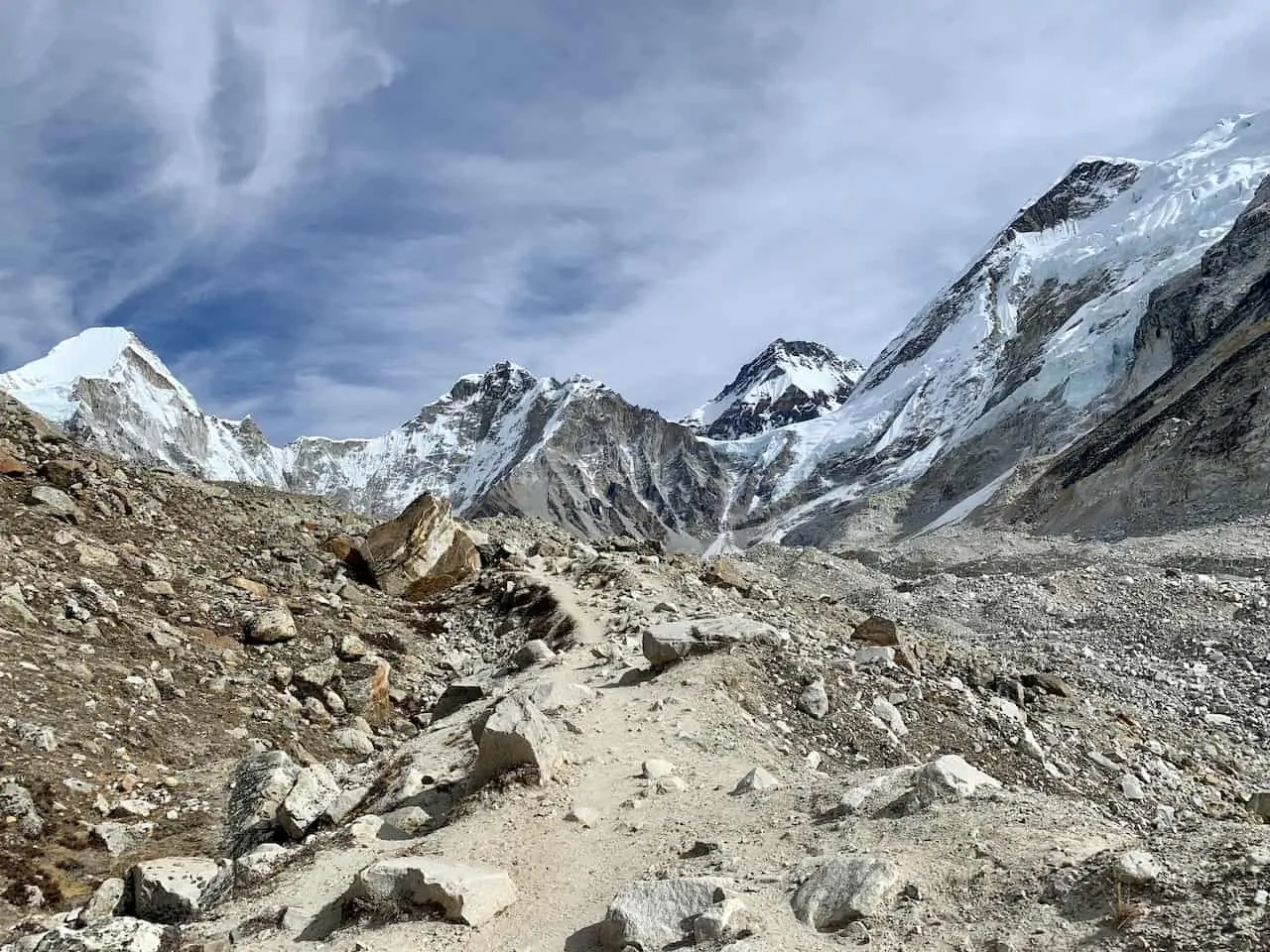 2) Gorak Shep to Everest Base Camp Elevation Profile
Below you can find the round trip Gorak Shep to Everest Base Camp elevation profile.
It is a slight incline all the way through on a rocky and sandy path until you reach EBC. Don't expect any steep elevation gains or losses but do be sure to watch your step along the way.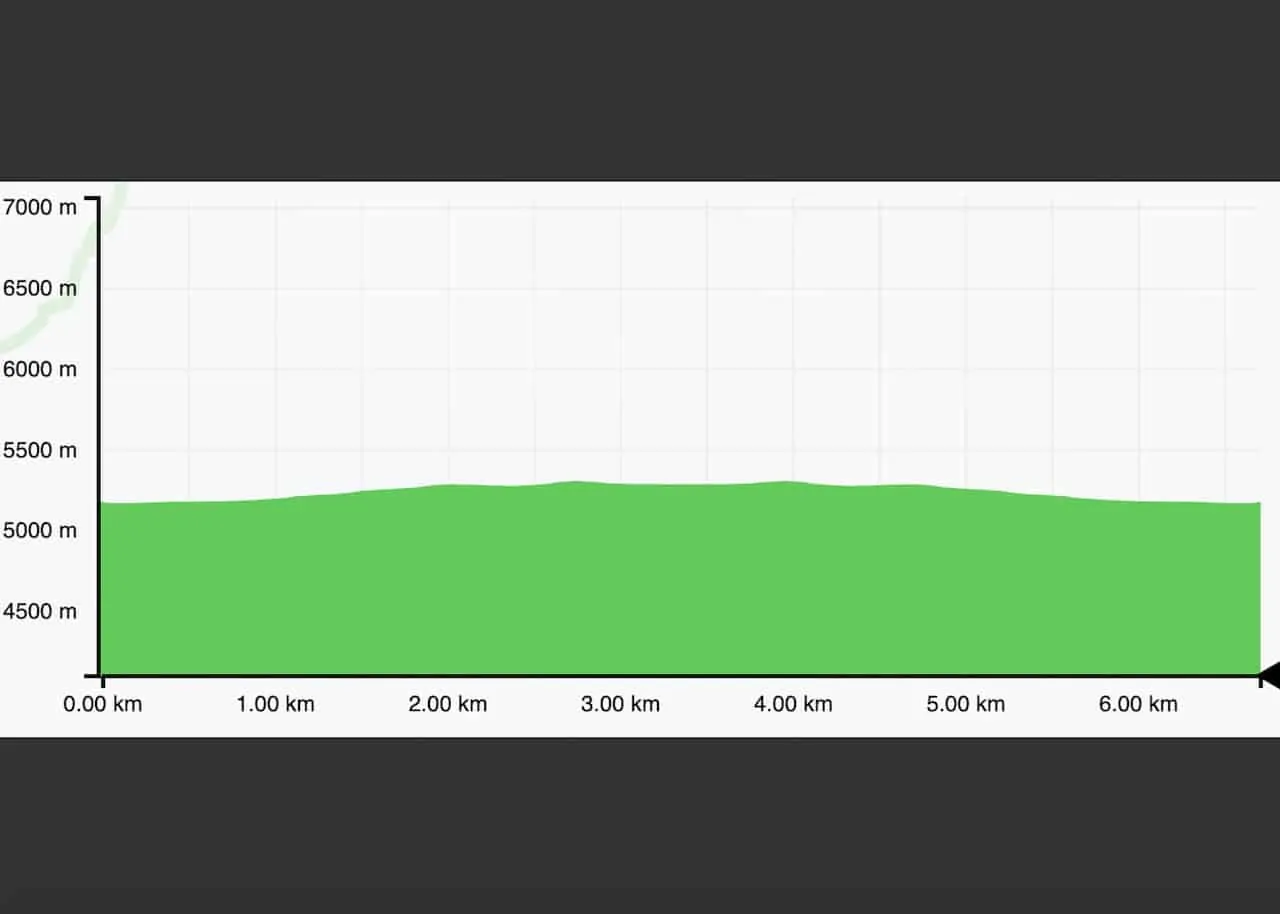 3) Trekking Map
As you can see on the map below, the majority of the path to Everest Base Camp will be on the outskirts of the Khumbu Glacier.
The trail leaves Gorak Shep as you pass Kala Patthar on your left and then it continues along the glacier until you reach Everest Base Camp.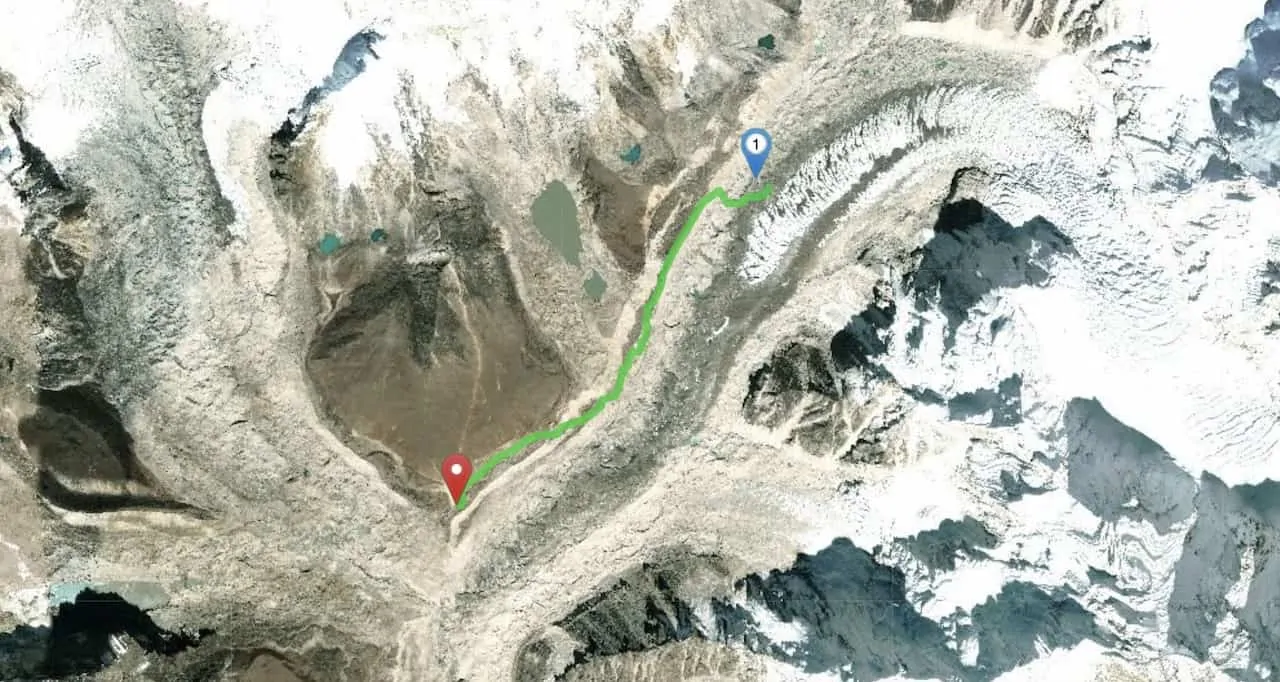 4) Everest Base Camp Packing List
You will want to pack accordingly for this 11-day trek in the Himalayas. I put together a complete Everest Base Camp Packing List that goes over every single item I brought along on the trail. Some of the most important items on the list include: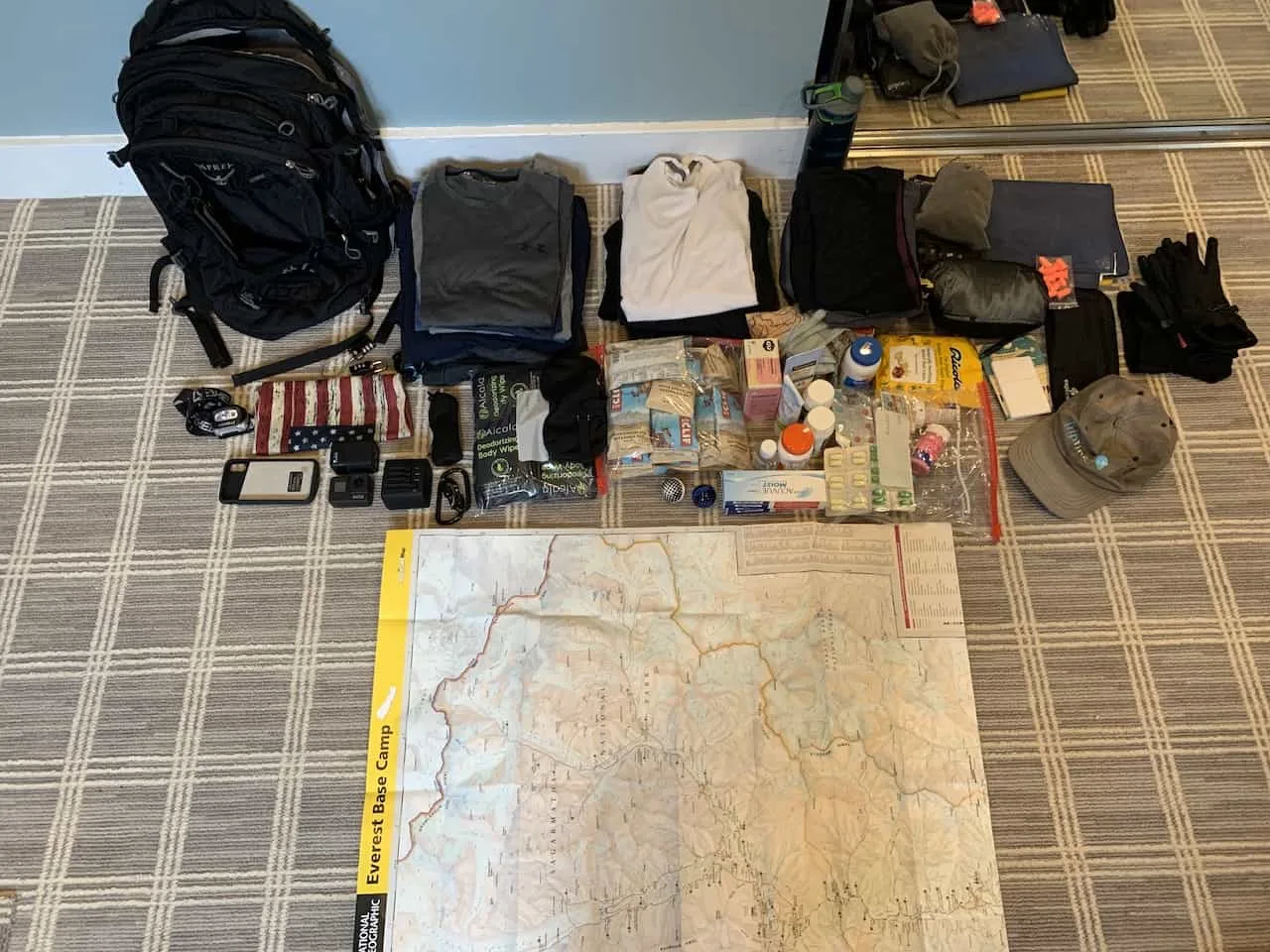 5) Gorak Shep to Everest Base Camp
On the morning of day 8, you will first make your way from the village of Lobuche to the final village of Gorak Shep. After this 3 hour trek, you will be able to head to your teahouse in Gorak Shep, drop your bags, and grab some lunch.
Once you are all set, it is time to make the final push to Everest Base Camp. This portion of trail will be just under 2.5 miles and shouldn't take longer than about 2 hours or so.
My recommendation here would be to leave Lobuche as early as you can in the morning to beat the crowds for the rest of the day ahead.
Not only will you have a better chance of securing your spot in a teahouse in Gorak Shep, but you also will be able to enjoy Everest Base Camp without too many other people around.
As you leave Gorak Shep you will immediately be walking right alongside the Khumbu Glacier with the Everest Mountain Range right behind it.
You will see that this massive glacier is full of dirt and rocks, as sediments have been falling down on it from the surrounding peaks over the years. Through all that sediment though you still will be able to see that white ice below it and how vast it really is.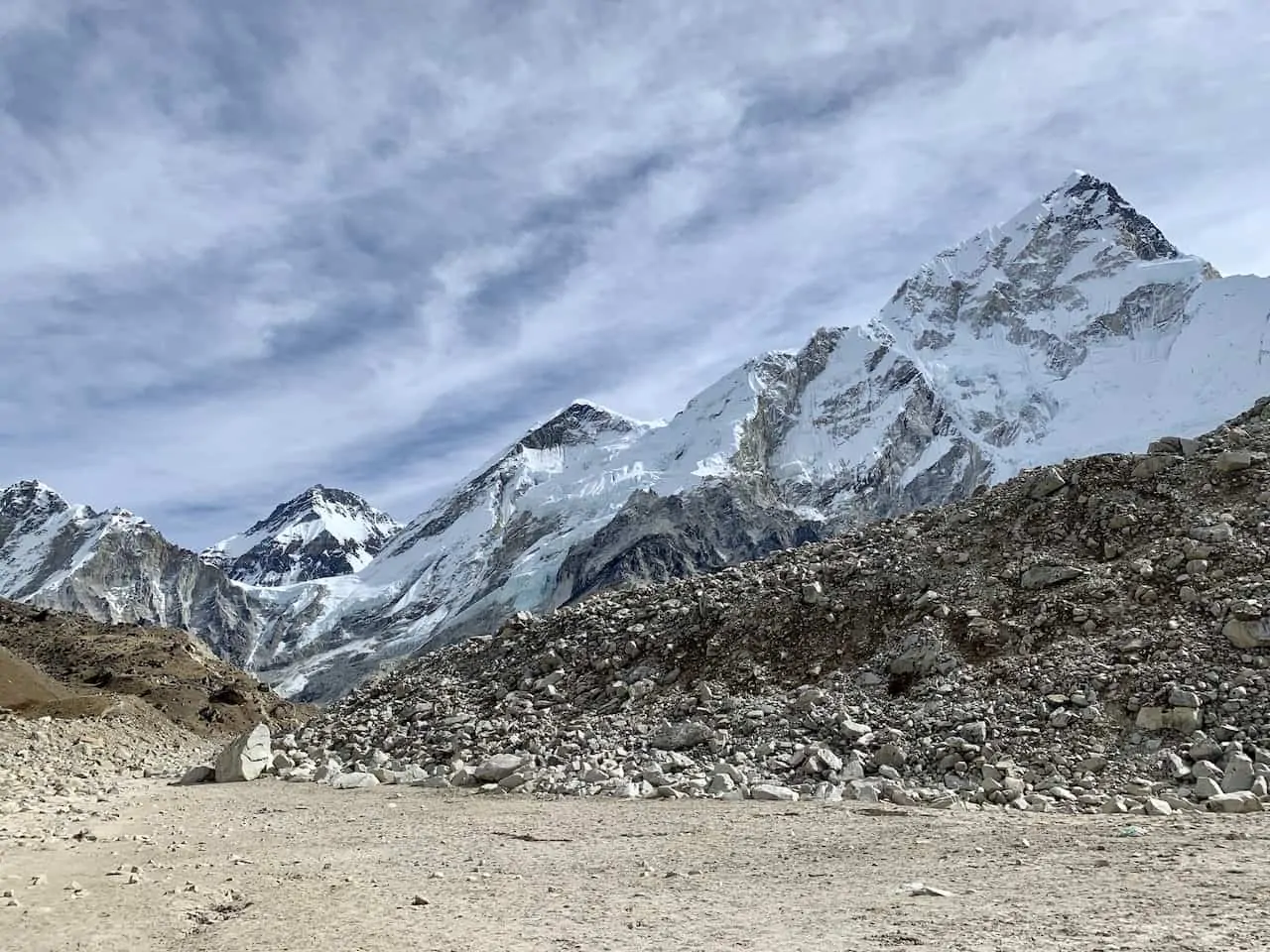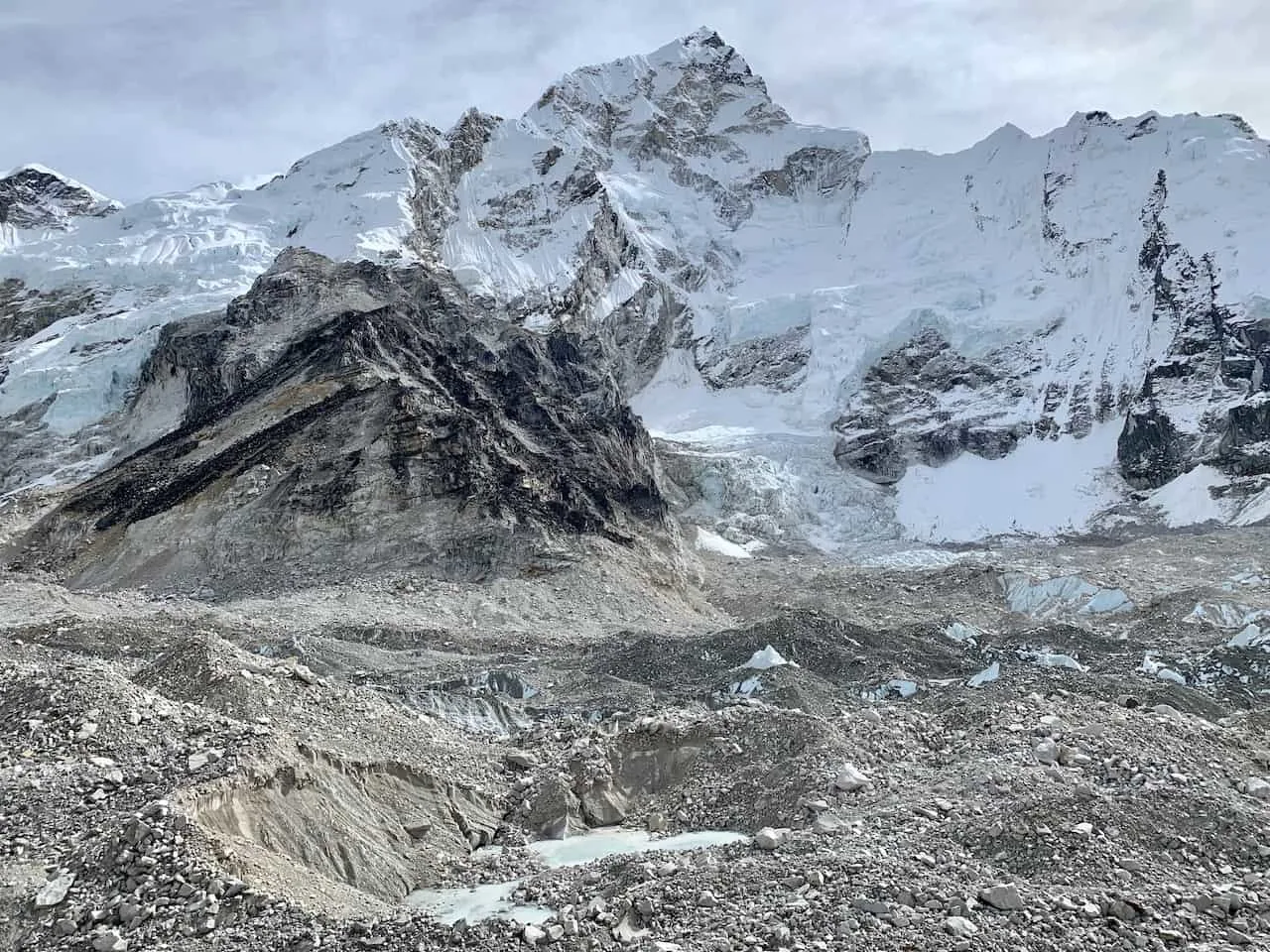 As you continue walking alongside the glacier, you will be continuously gaining elevation until you reach base camp. It is a slight to moderate incline but as mentioned before, there is nothing too steep up there.
You should watch out for the technical terrain that lays ahead. There will be a mixture of sand and rocks all the way through with some slippery sections at some points as well. As long as you watch your step and don't rush through, you should be good to go.
Another thing many people don't realize, is that you can actually see Mount Everest for most of the trail to base camp. It is only a tiny part of the top of the mountain but if the clouds are not blocking the view, you will be able to see the peak of Everest.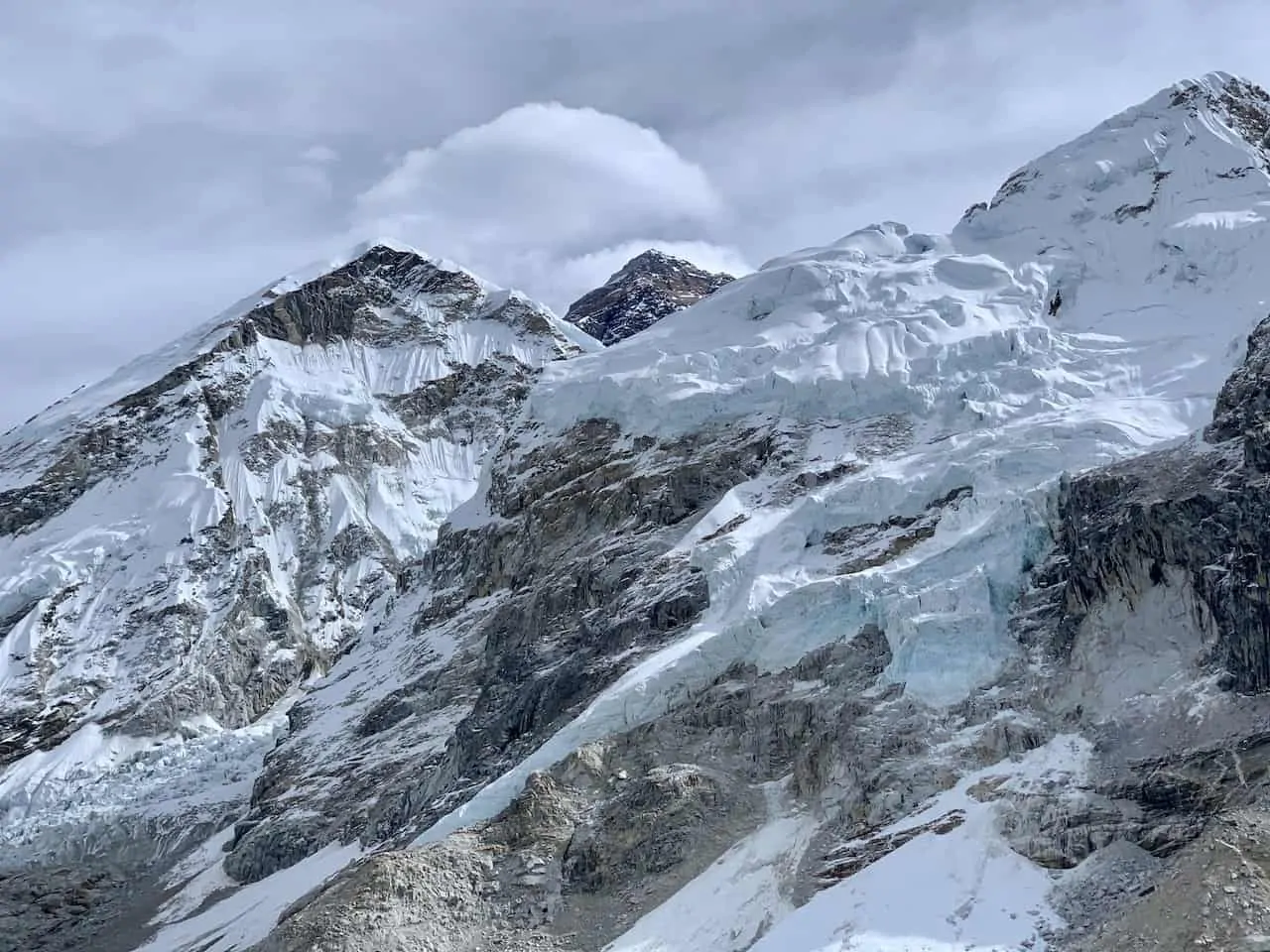 As you continue up and along the trail, you will reach a point, where the Khumbu Icefall comes into better view.
This essentially is the beginning of the Khumbu Glacier and will not be covered in all that dirt, rock and sediments. Instead you will be able to view the sharp white icefall as it winds its way down the mountain and into the valley.
For those that are not familiar with the actual climb up Mount Everest, the first portion of trail is the climb up the Khumbu Icefall with various vertical and horizontal ladders built throughout to help climbers get onto the next section of trail.
Considering travel insurance for the Everest Base Camp Trek?

World Nomads offers coverage for more than 150 adventure activities as well as emergency medical, lost luggage, trip cancellation and more.

For years, World Nomads has been protecting, connecting & inspiring independent travelers, offering travel insurance & safety advice to help you travel confidently. Their mission is to support and encourage travelers to explore their boundaries.

World Nomads has simple and flexible travel insurance that has been designed by travelers for travelers. Even if you leave home without travel insurance or your policy runs out, you can buy or extend out on the road.

Get a quote for a World Nomads travel insurance policy today!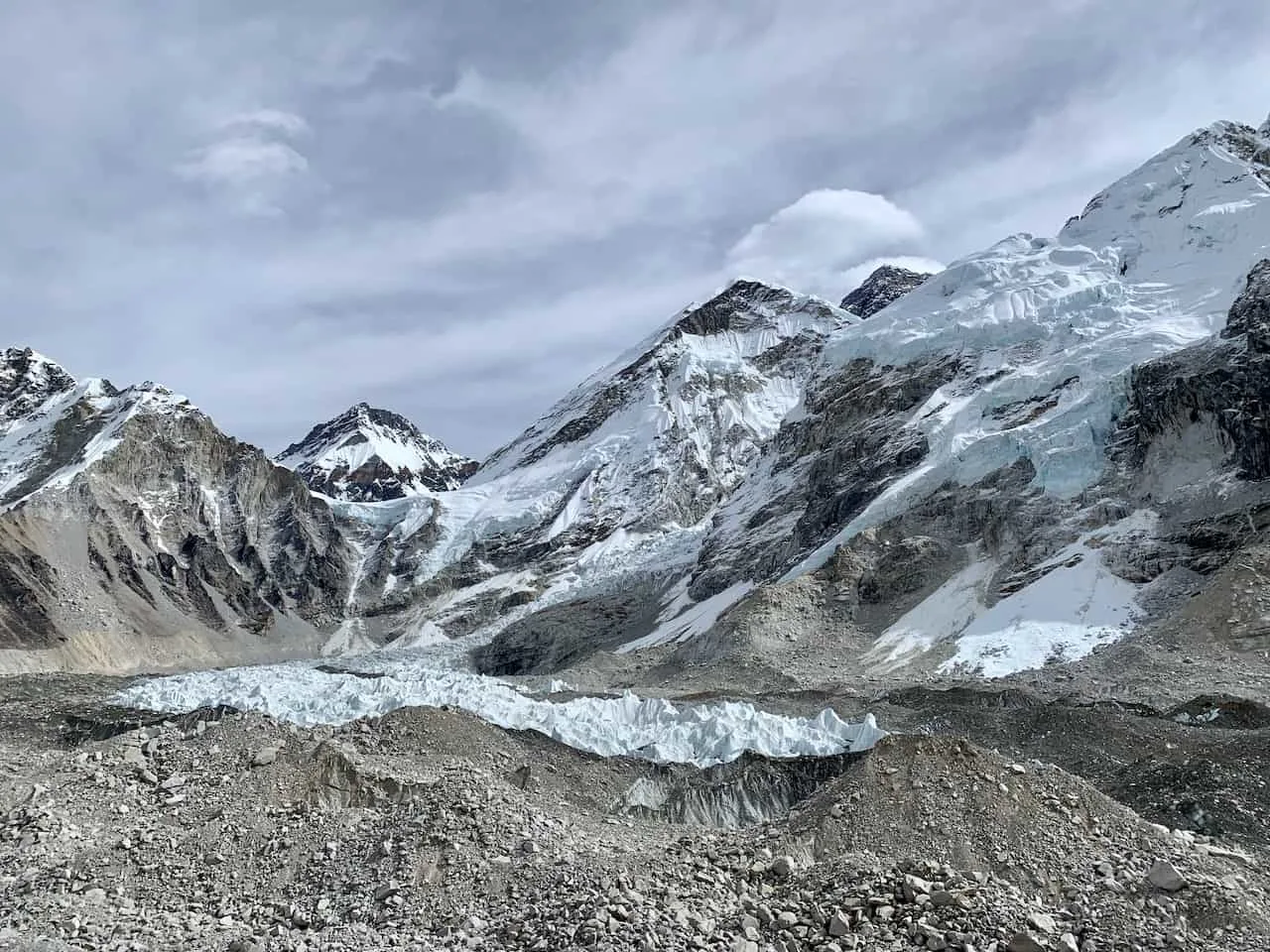 You will continue to walk past some Sherpa prayer flags on the rocky terrain and inch closer to the icefall itself.
The trail will make its way a bit inwards during the last final stretch of trail to Everest Base Camp, where you will see tons of prayer flags and the famous Everest Base Camp rock.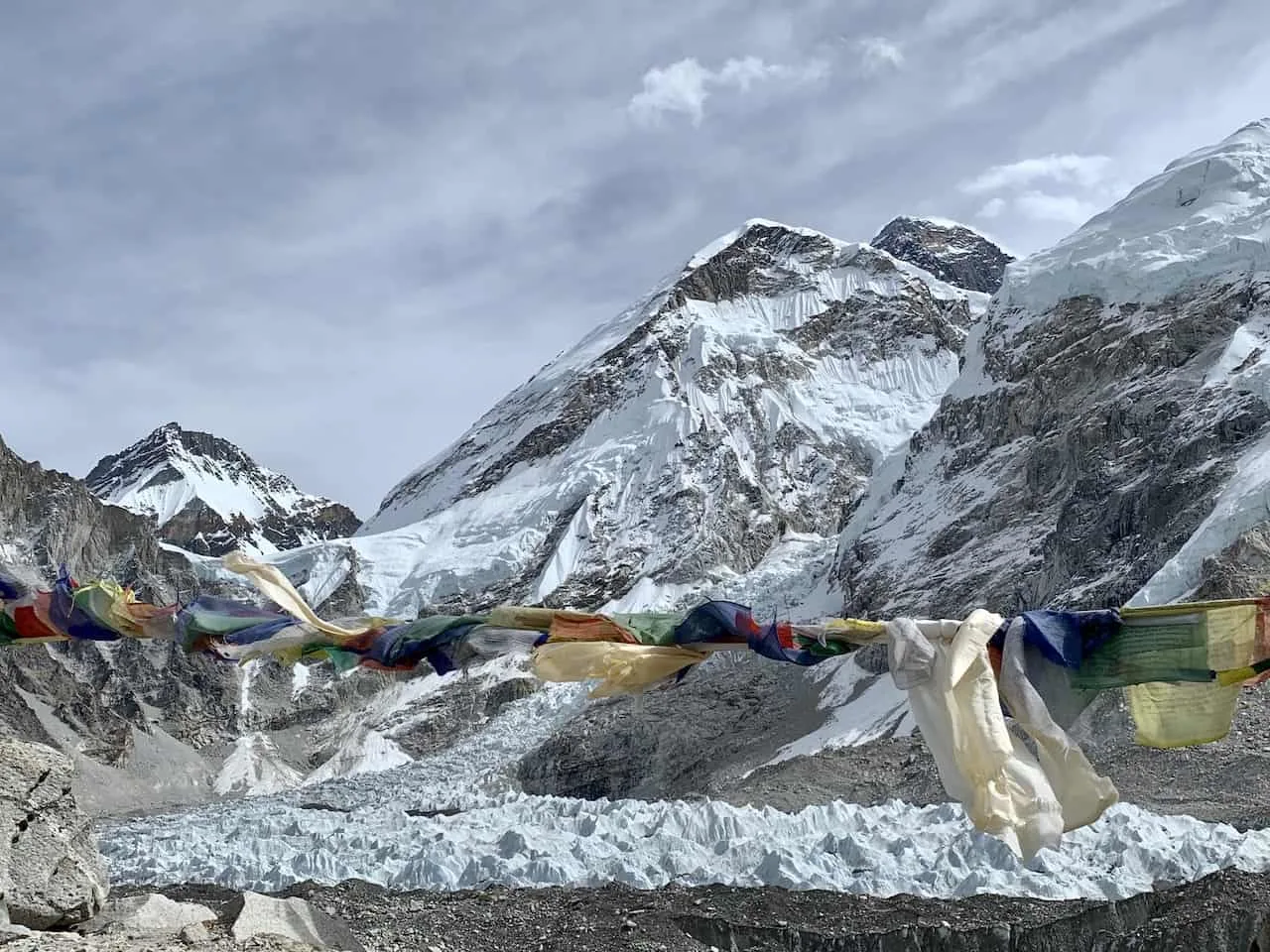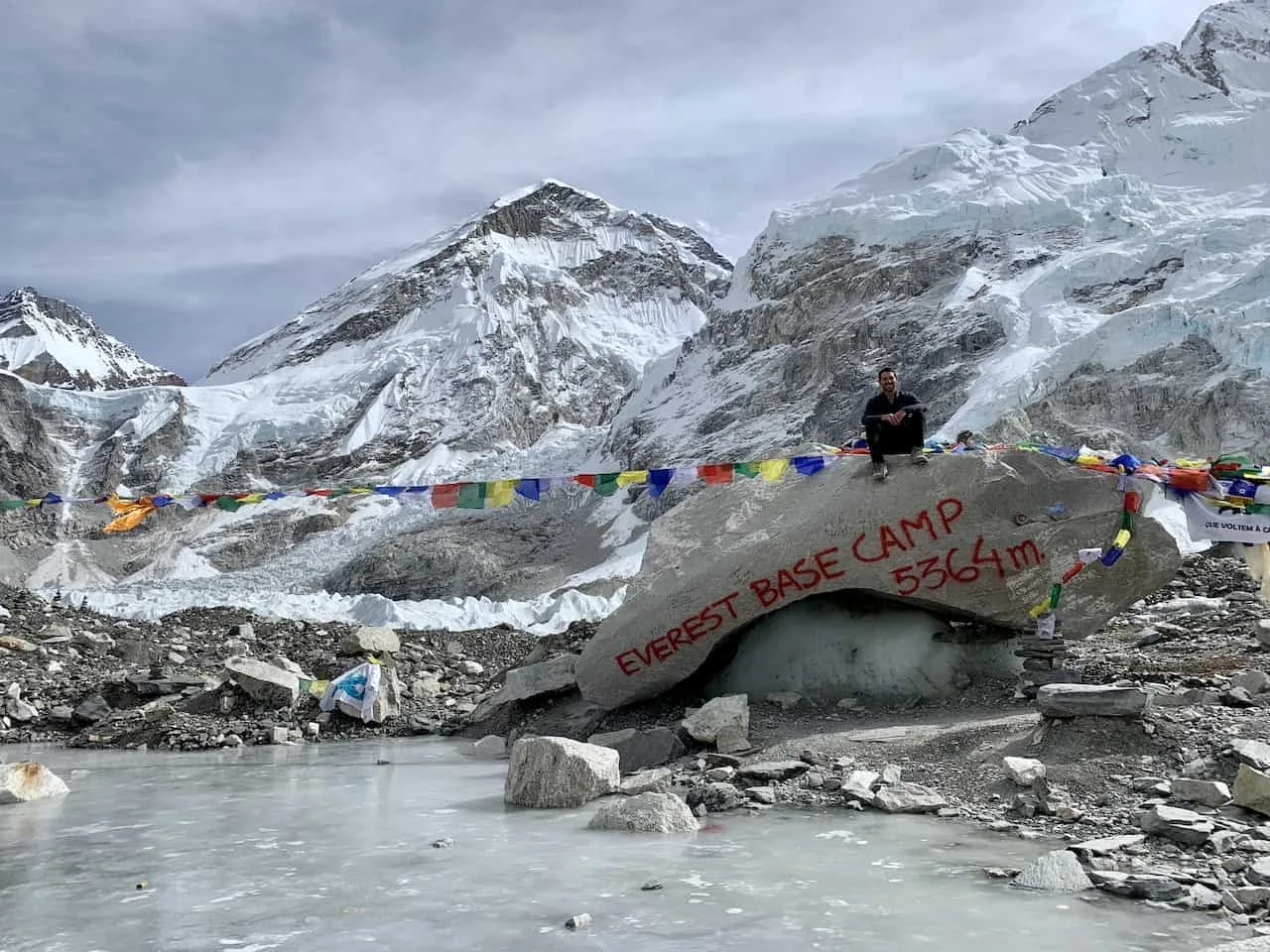 6) Everest Base Camp
Congratulations! You have finally made it to Mount Everest Base Camp at 17,598 feet / 5,364 meters. Now this base camp (where the painted rock lays), is not the "official" Everest Base Camp. Instead this is considered trekkers Everest Base Camp.
The people who are actually climbing Mount Everest, set up base camp about 45-60 minutes further down the glacier closer to where the Khumbu Icefall meets the valley.
If you are heading on your trek in the March-May time period, you will see the various tents out in the distance as climbers prepare for their ascent.
As you may imagine, for those climbing Everest and for those supporting the climbers, it is very important not to be distracted or interrupted during the rest/preparation process. If you do decide to head down to the active base camp, be considerate of where you are.
Now, if you head on the Everest Base Camp trek during any other time of year besides March-May, you won't see any tents down there at all and you can just enjoy the view from trekkers base camp.
After taking some pictures and enjoying the view around the rock and prayer flags, I would recommend walking around the area a bit and even closer to the icefall.
Do not go into the icefall though as that is way too dangerous of a section to be walking through. You never know when a piece of ice can fall. Instead just walk right to the outskirts of the icefall to take in some beautiful views of the area.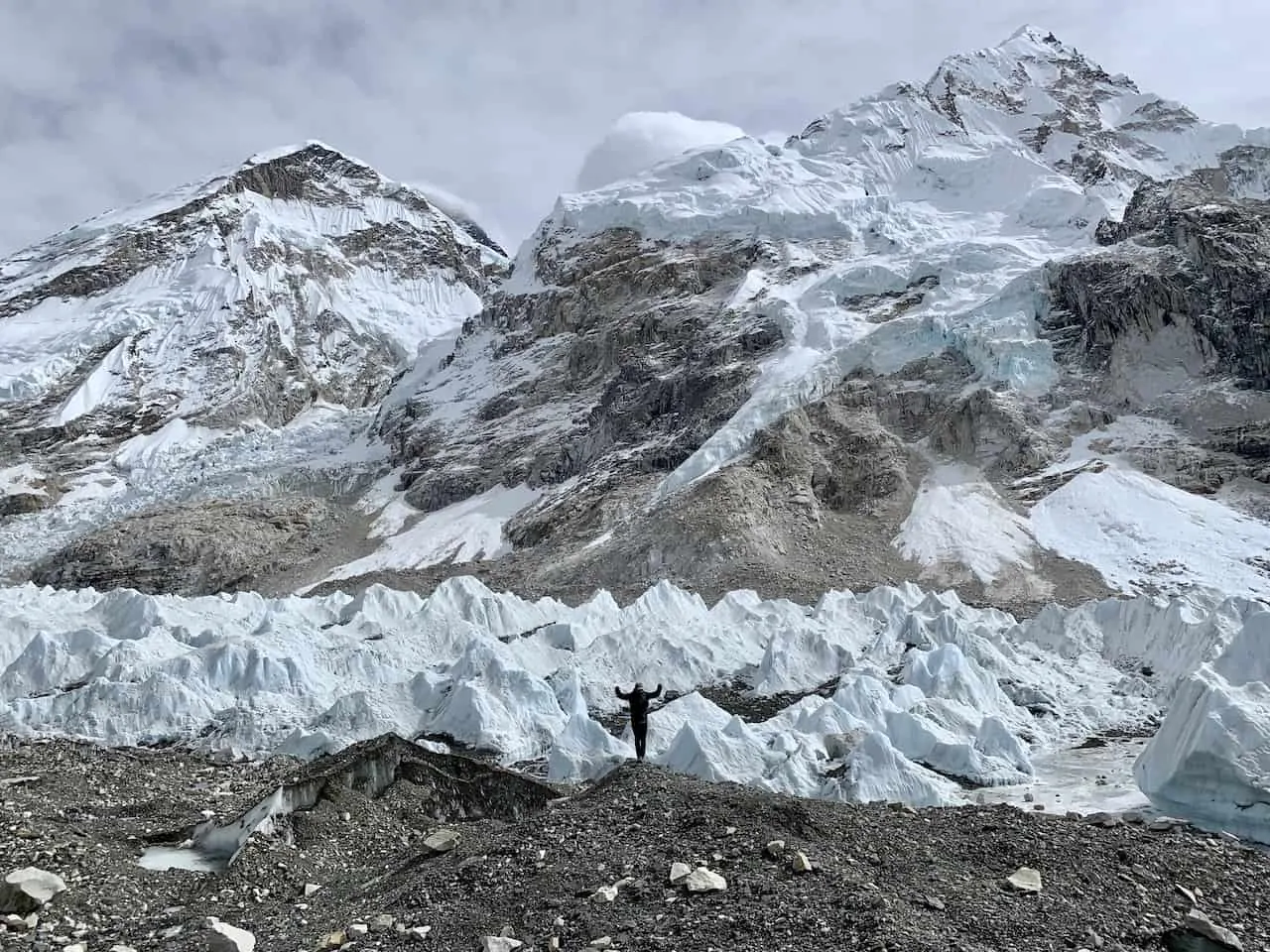 Once you have had enough time enjoying the area around Everest Base Camp, it is time to head back to Gorak Shep for a nice rest.
You will simply just need to follow the same rocky trail back as you now get to enjoy the view of the Khumbu Glacier in the opposite direction.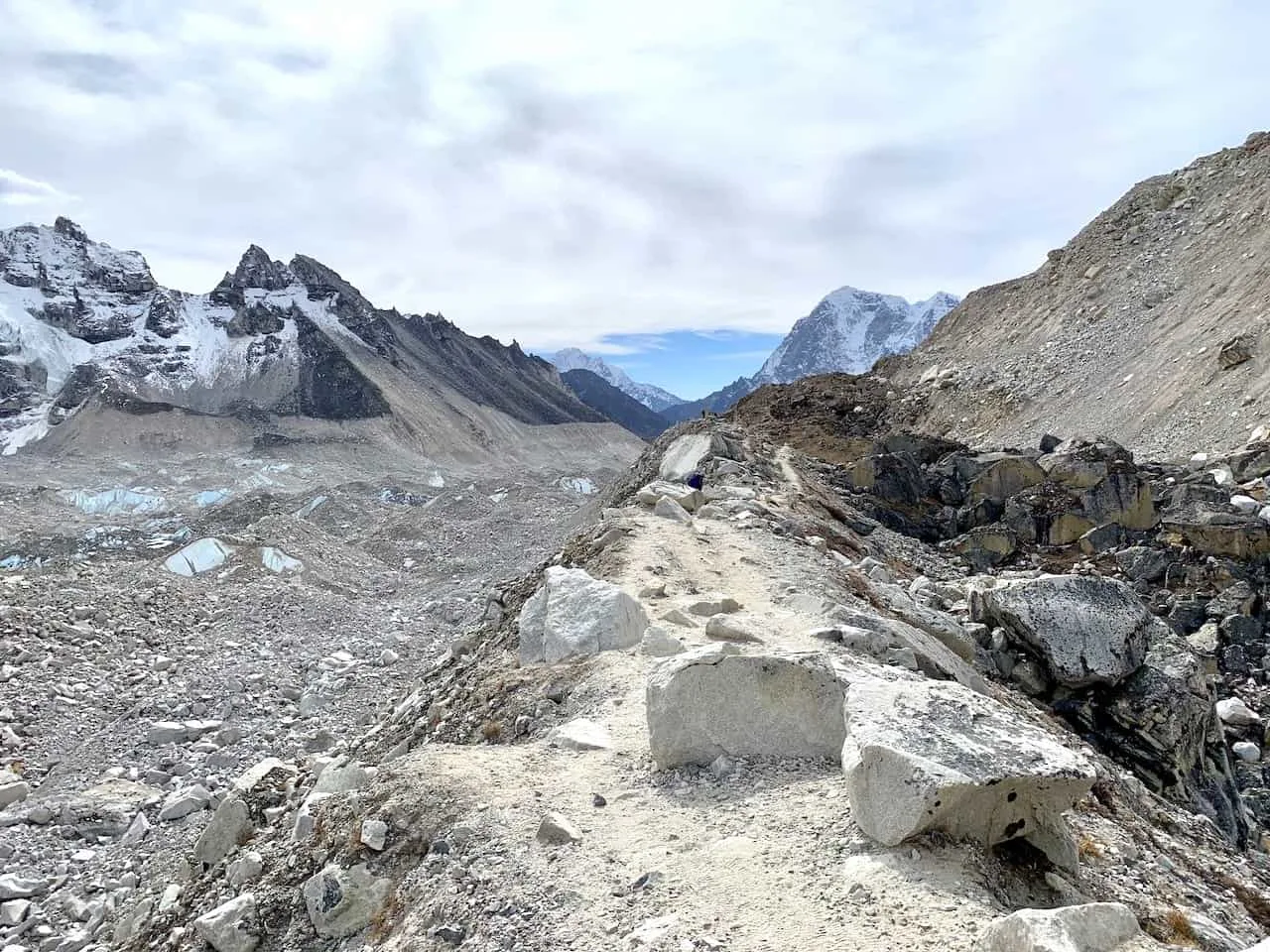 7) Gorak Shep Teahouse / Accommodation
I wouldn't overthink your accommodation choices too much on the trail in general. I found all the places I stayed at pretty much the same give or take.
Essentially, rooms will cost Rs 500 (less than $5 USD) for the most part, given you eat your meals at the teahouse as well.
In Gorak Shep you will find the fewest number of teahouses available. During peak season it is common that many people need to sleep in the common areas due to the lack of available rooms. When I visited, I stayed at the Buddha Lodge, which was one of my favorite on the trail.
The other teahouses to check out include the Himalayan Lodge, Snowland Highest Inn, Everest Inn, and Gorak Shep Yeti Resort.
While I have heard a lot of complaints about Gorak Shep – very cold, no running water, terrible sleep, etc., I had a pretty good experience overall. Since there is no running water though (at least when I was there), I had to purchase water bottles from the teahouse instead of using my water sterilizer.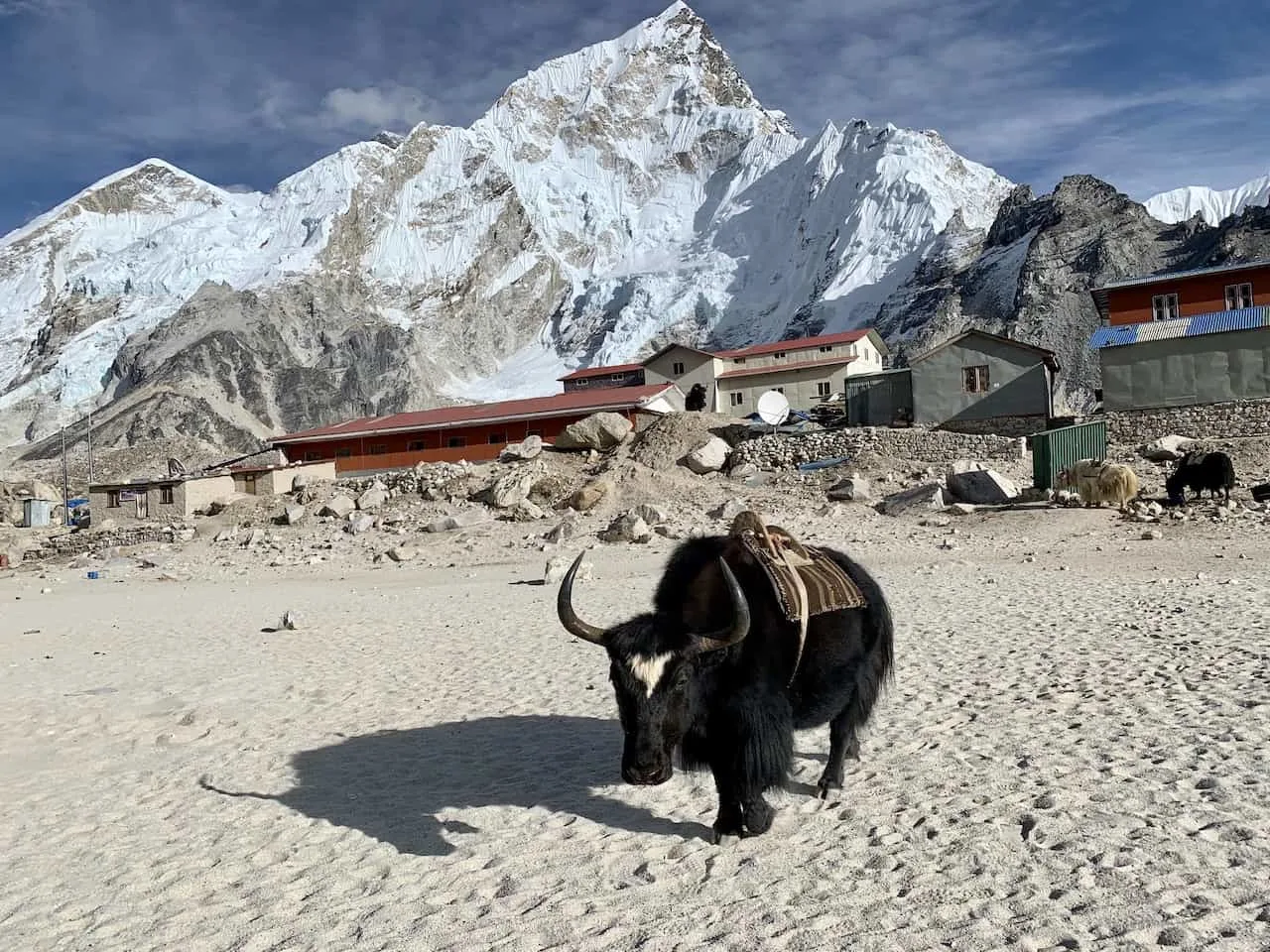 Take a look at this in depth overview of the Everest Base Camp Trek as well as the below guides I put together for each day of the journey:
Day 1 – Lukla to Phakding
Day 2 – Phakding to Namche Bazaar
Day 3 – Hotel Everest View Acclimatization
Day 4 – Namche Bazaar to Tengboche
Day 5 – Tengboche to Dingboche
Day 6 – Nangkartshang Acclimatization
Day 7 – Dingboche to Lobuche
Day 8 – Lobuche to Gorak Shep & Everest Base Camp
Day 9 – Kalapathar & Gorak Shep to Pheriche
Day 10 – Pheriche to Namche Bazaar
Day 11 – Namche Bazaar to Lukla
That about wraps up the guide for the round trip trek from Gorak Shep to Everest Base Camp. If you have any questions or comments, feel free to write them in below.
Also be sure to check out the other Nepal itineraries and guides up on the site (including why I think a November Everest Base Camp trek is a great option).
Have fun out there and safe travels!