Are you thinking about heading to Nepal for a trek to Mount Everest Base Camp? Well, one of the main decisions you will need to make is what month to complete the trek.
This guide will go over what a trek to Everest Base Camp in November is like and why I believe it is the best time of year to complete the hike for yourself.
* Affiliate Disclosure: This post may contain affiliate links, which means I may receive a commission if you make a purchase through the links provided, at no additional cost to you. Thanks for supporting the work I put into TripTins!
1) What is the Everest Base Camp Trek
Before jumping into why I believe November is the best month for the base camp trek, I just wanted to quickly explain what the trek is.
Every year in the May time period, there are hundreds of mountain climbers and Sherpas who attempt an ascent up the highest mountain in the world – Mount Everest.
At 29,029 feet / 8,848 meters high, Everest is a dream ascent for those mountain climbers, who are adequately skilled and prepared enough for such a climb.
Before these climbers actually begin climbing Everest though, they must trek from the village of Lukla (9,318 feet) to Everest Base Camp (17,598 feet), where they will set up tents and supplies for their attempt up the mountain.
It is this trek from Lukla to base camp that is known as the famous "Everest Base Camp (EBC) Trek", and the one that most of the population who want to enjoy the Everest region hike on.
And while nearly all climbers ascend Everest in May due to weather reasons, an Everest Base Camp trek can technically be done at any time of year.
The customary route from Lukla to Everest Base Camp and back takes 11 days (8 days up / 3 days down).
During these 11 days trekkers will experience traditional villages, mountain landscapes, valleys, rivers, glaciers, and much more, making this one must do trek for any hiker out there.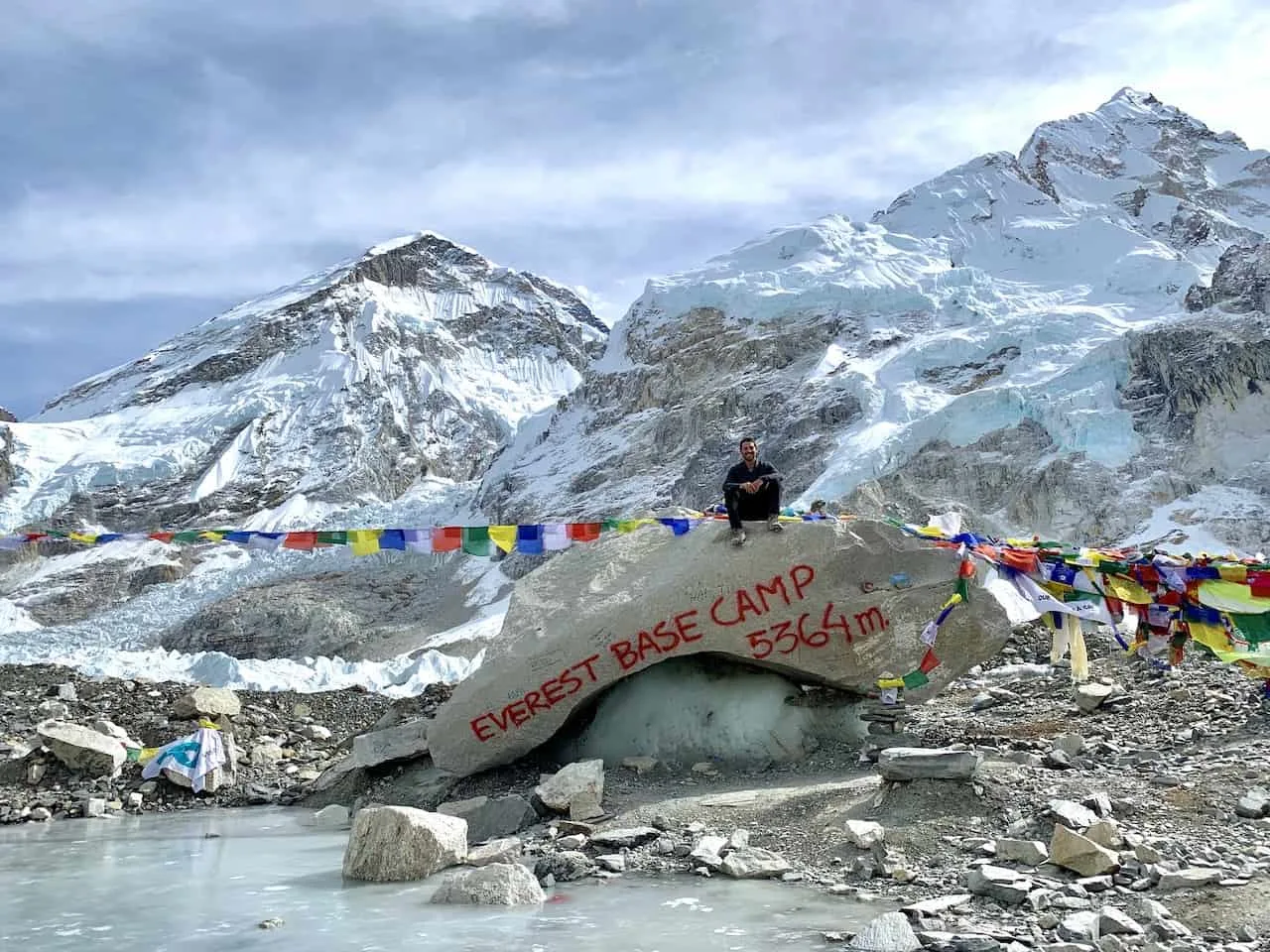 2) Everest Base Camp Map
Below is a day by day view of the Everest Base Camp trek along with a map of the route. You can learn more in the guide I put together about the Everest Base Camp stats and numbers.
Day 1 – Fly to Lukla (9,318 feet) / Trek to Phakding (8,563 feet)
Day 2 – Phakding to Namche Bazaar (11,286 feet)
Day 3 – Acclimatization Namche
Day 4 – Namche Bazaar to Tengboche (12,664 feet)
Day 5 – Tengboche to Dingboche (14,469 feet)
Day 6 – Dingboche Acclimatization
Day 7 – Dingboche to Lobuche (16,109 feet)
Day 8 – Lobuche to Gorak Shep (16,814 feet) + Everest Base Camp (17,598 feet)
Day 9 – Kala Patthar Ascent (18,176 feet) / Gorak Shep to Pheriche (13,911 feet)
Day 10 – Pheriche to Namche Bazaar (11,286 feet)
Day 11 – Namche Bazaar to Lukla (9,318 feet)
It is also important to note that while the most popular option is this 11 day out and back route, there are several modifications that can be made to make the route longer.
These include the Three Passes Route (15+ days), or just adding in the Gokyo Region (12+ days).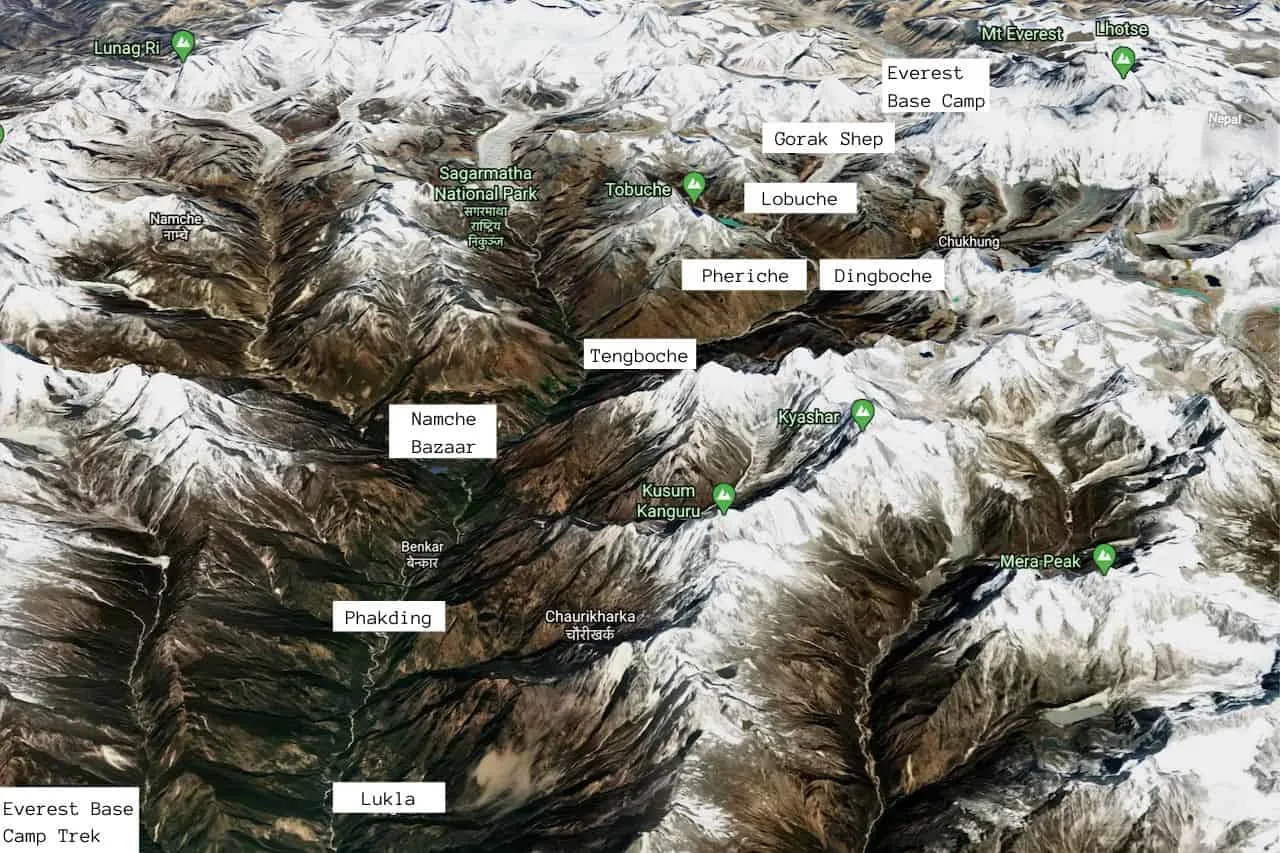 Considering travel insurance for the Everest Base Camp Trek?

World Nomads offers coverage for more than 150 adventure activities as well as emergency medical, lost luggage, trip cancellation and more.

For years, World Nomads has been protecting, connecting & inspiring independent travelers, offering travel insurance & safety advice to help you travel confidently. Their mission is to support and encourage travelers to explore their boundaries.

World Nomads has simple and flexible travel insurance that has been designed by travelers for travelers. Even if you leave home without travel insurance or your policy runs out, you can buy or extend out on the road.

Get a quote for a World Nomads travel insurance policy today!
3) Time of Year to Trek
While I mentioned that you can take part of the EBC trek at any time of year, there are certainly months that would give trekkers a better overall experience – these include March, April & May, and October & November. The main two things you will want to take into account are weather and crowds.
Below is a quick overview of why certain months are better than others:
January and February – very cold weather, snow on trails, high winds, limited trekkers, many teahouses closed
March, April & May – you get to trek alongside climbers who are actually attempting an Everest ascent, you can see an active base camp, warmer weather starting in April with periods of clouds and rain.
June – shoulder season as it begins to get much rainier towards the middle of the month
July & August – rainy season, low clouds blocking views, but greener landscape
September – shoulder season as rain begins to drop off and days become more clear
October – high season with moderate temperatures, clear weather, little to no rainfall, but the most trafficked time of year. Sold out teahouses, big groups on trail.
November – high season ends in the beginning of the month, no rain, limited clouds, begins to be less people on the trail, temperatures begin to get much cooler
December – shoulder season as temperature begins to drop, snowfall and wind begins
While March, April, May, October and November are the most popular months to trek to Everest Base Camp, taking part of the hike in those shoulder months (September & December) can also work out well for you depending on weather.
Below are a couple helpful charts to give you a sense of crowds and weather.
The first shows the amount of people entering Sagarmatha National Park (where the EBC trek goes through) on a monthly basis. The second is a screenshot of the temperature and rainfall in Dingboche by month.
» Also be sure to check out the Everest Base Camp Trek Packing List up on the site!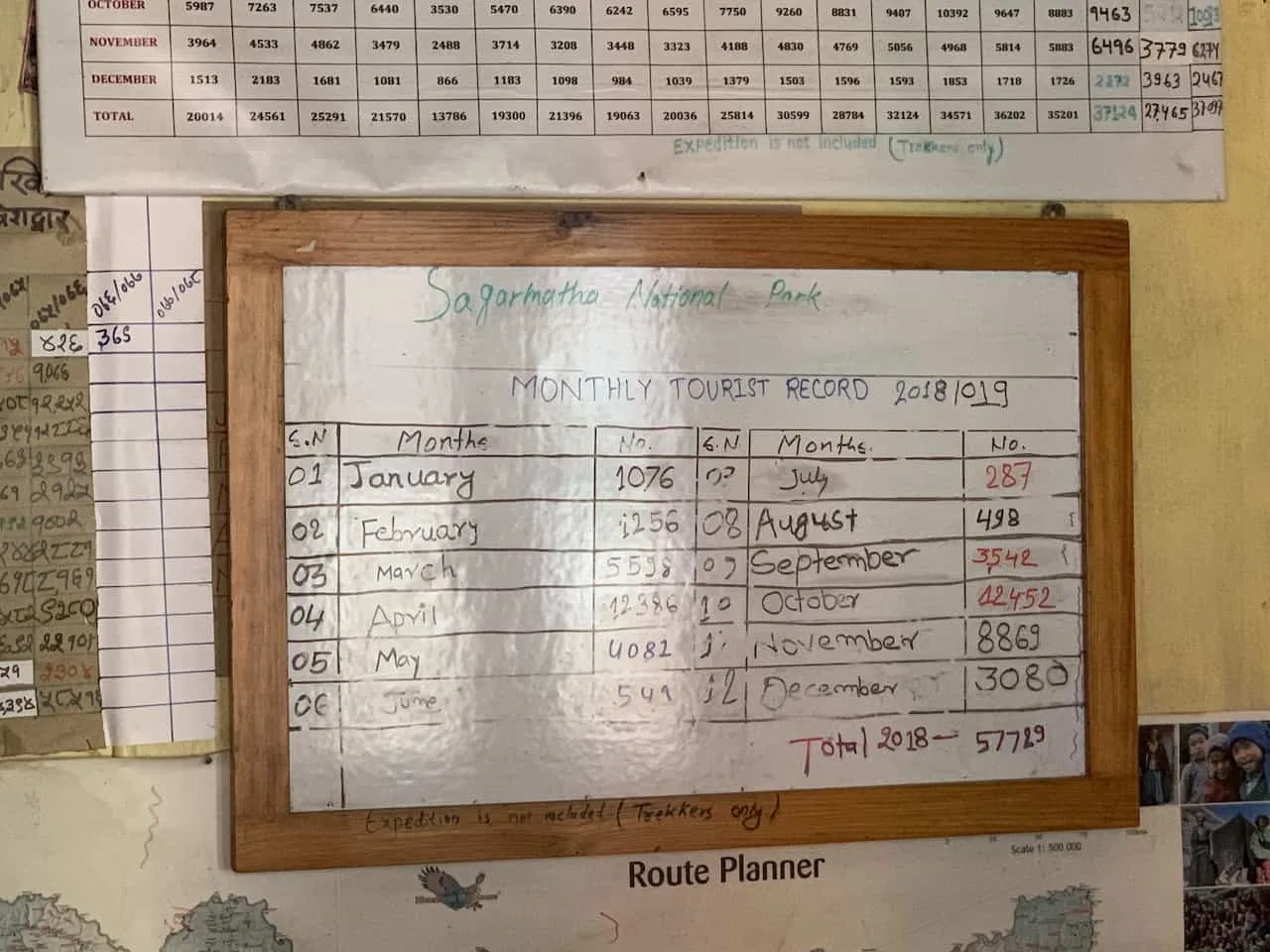 4) Why Everest Base Camp in November
With all that said though, my recommendation here would be complete the Everest Base Camp trek in November, with mid-late November being the ideal time.
From November 14th to December 1st, I completed the Three Passes Trek (which includes nearly all of the Everest Base Camp trek), and I cannot recommend that time of year enough.
There are a few main reasons why I would recommend a trek during this time of year:
A) The Visibility
In the month of November, you will have some of the best visibility on a day to day basis. What I mean by that, is you won't have constant clouds blocking your views in the valley or of the mountains higher up around you.
During my 18 days in the region, I experienced just 1 single day when the skies were overcast for the entirety of the day.
The remaining days were nearly perfect weather wise, with the clouds rolling in later in the afternoon on some of the days, once trekking was already complete.
The main reason why trekking in the Everest region is so special, is because of the incredible mountain landscapes in every which direction – not to mention Mount Everest itself!
Having low lying clouds in the valley or clouds hovering around the mountain tops can ruin those views.
I have heard of people who have done the EBC trek and never even saw Everest! A November trek though will get rid of those worries as you get to experience the trek in one of the best months weather wise.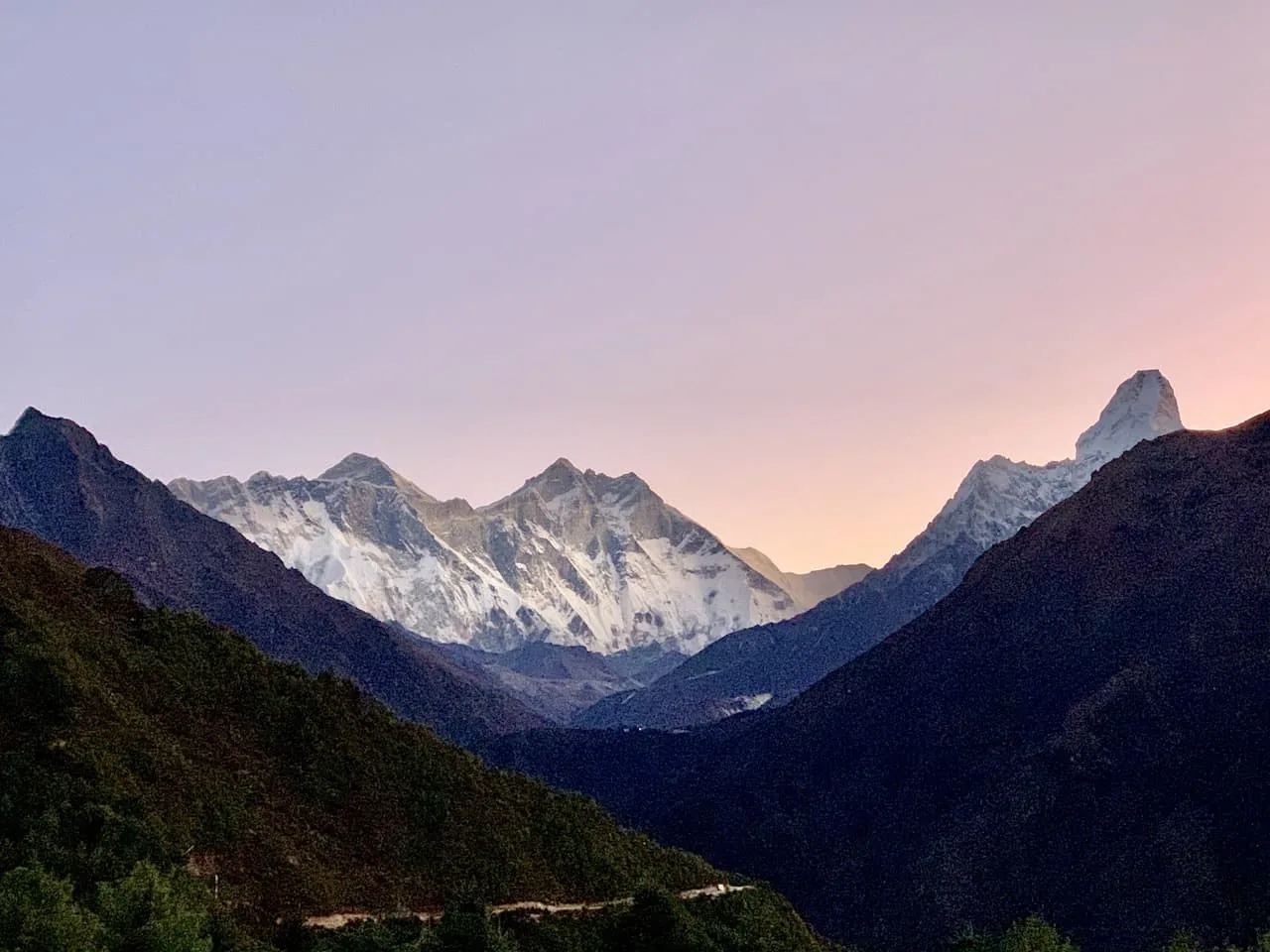 B) The Lack of Rain
Similarly, to the clouds issue, would also be the rain issue. The more clouds there are, the more likely rain may be coming at one point or another.
November has little to no rainfall and during my time I did not experience one drop of rain.
No one wants to be trekking in the rain, getting wet, and not being able to enjoy the surroundings!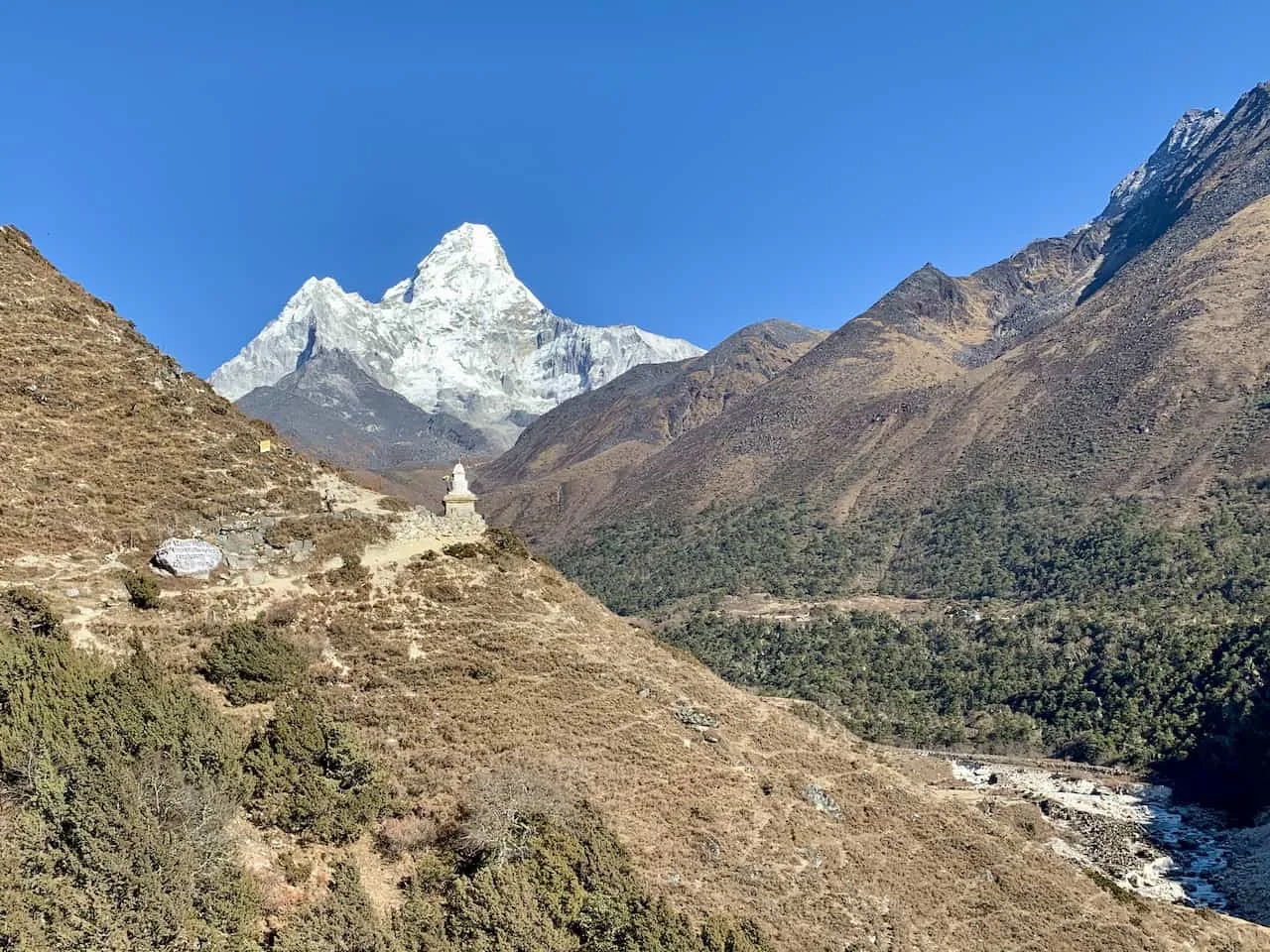 C) The Crowds are Disappearing
While October is the most popular month to trek to base camp, that begins to die off once November comes rolling around.
It is not like the path is nice and wide where everyone can separate and pass one another easily. For the most part you are dealing with a single narrow pathway all the way through.
During a month like October or April for example, not only will you have to deal with the constant cattle (yaks, donkeys, horses, etc.) bringing supplies along the trail, but you also will have to deal with the numerous tour groups going up and down as well.
If you are looking to enjoy a more peaceful trek without the craziness of the crowds then November is a great option for you. While the beginning of the month still may have more groups than normal on the trail, as you get to the mid/end of the month, you shouldn't see many at all.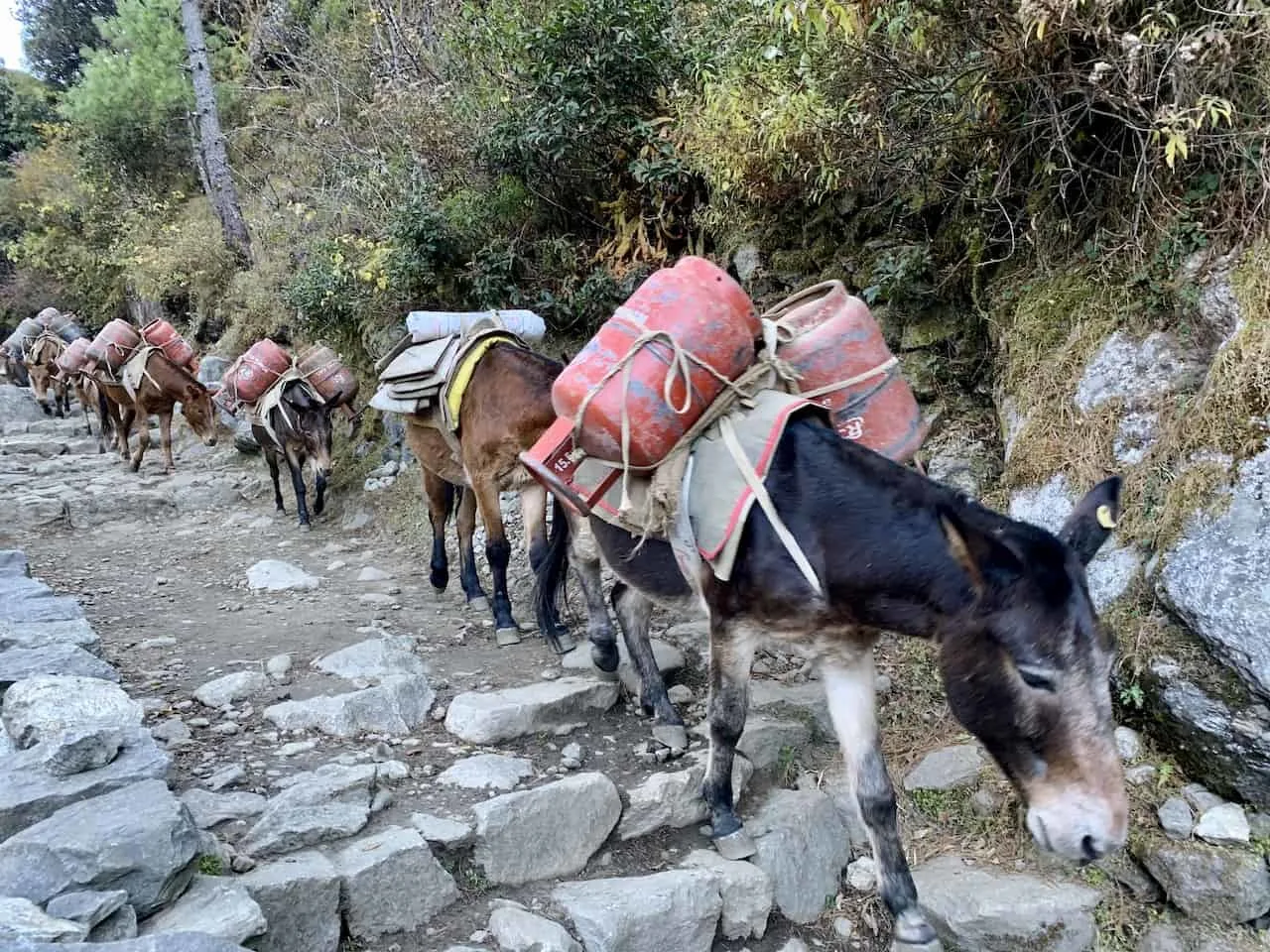 D) Teahouse Availability
Going off the idea of crowds, comes the ability to easily find a spot at a teahouse. During those more popular months, you will have all these groups booking up many of the spots ahead of time for teahouses along the route.
Since November doesn't see as many crowds, finding a spot at a teahouse should not be a worry for you at all.
You should have no issue getting to a certain village, checking out a few teahouses and then choosing the one that is best for you.
Also to note for solo travelers out there – if you are trekking in high season, there is a good chance you will need to share a room with another trekker.
Most rooms have two twin beds and during my trek, I always had the room to myself.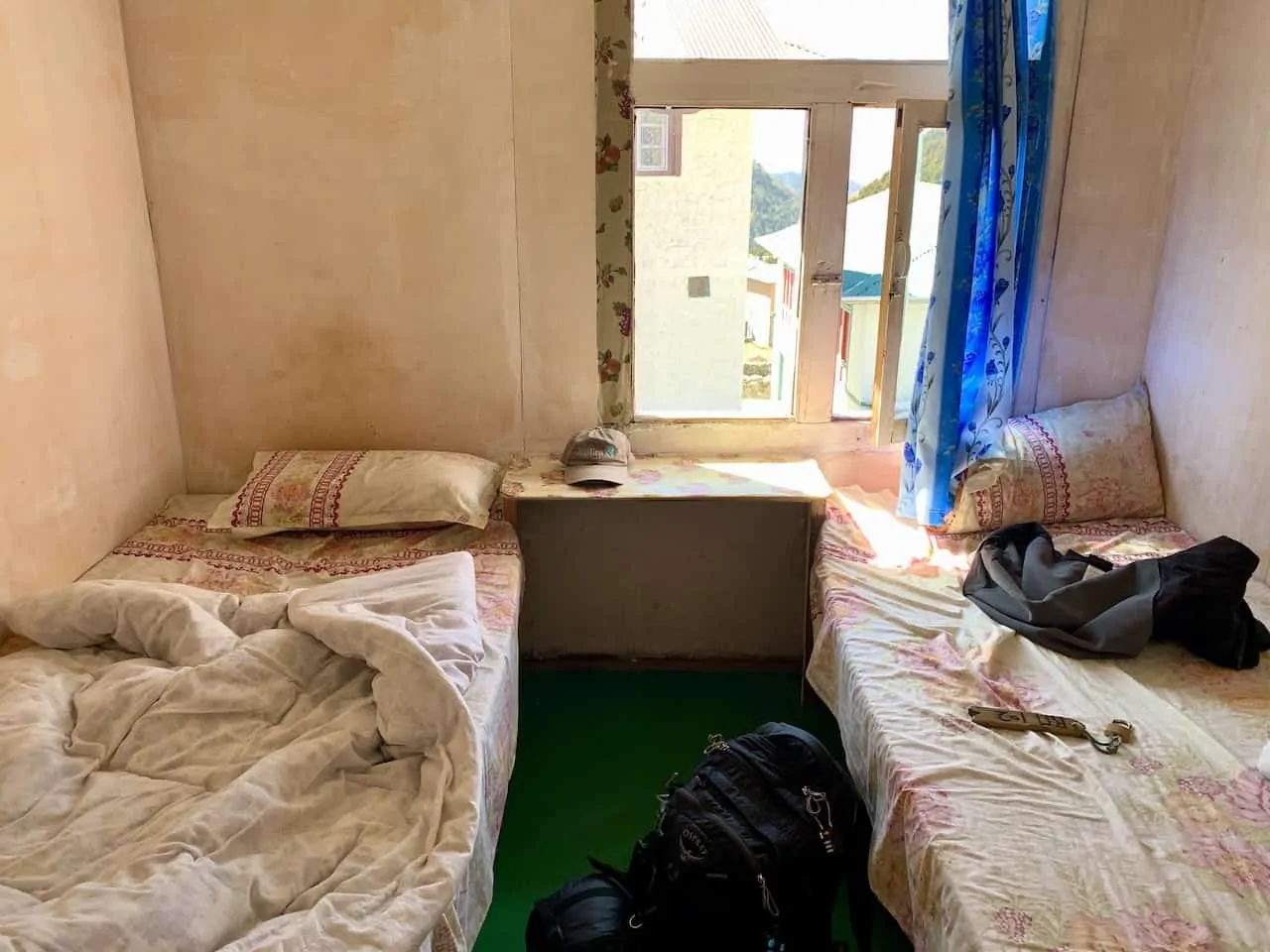 E) The Flight to and from Lukla
One of the biggest worries I honestly had going into the trek was the flight from Kathmandu to Lukla and return.
This flight is notorious for being delayed or cancelled due to the complexity of the landing at Lukla Airport.
The wind, cloud, and visibility conditions need to be perfect in order for planes to land and take off from Lukla. So, if there are cancellations then you will need to wait until the next day to see if there is any better luck (or take a more expensive helicopter ride).
This can really get in the way of your trekking experience if the weather does not cooperate, and it's a big reason why it is recommended to always leave a couple of buffer days between your flights in/out of the country.
Thankfully I had no trouble at all when it came to these flights and all went off without a hitch.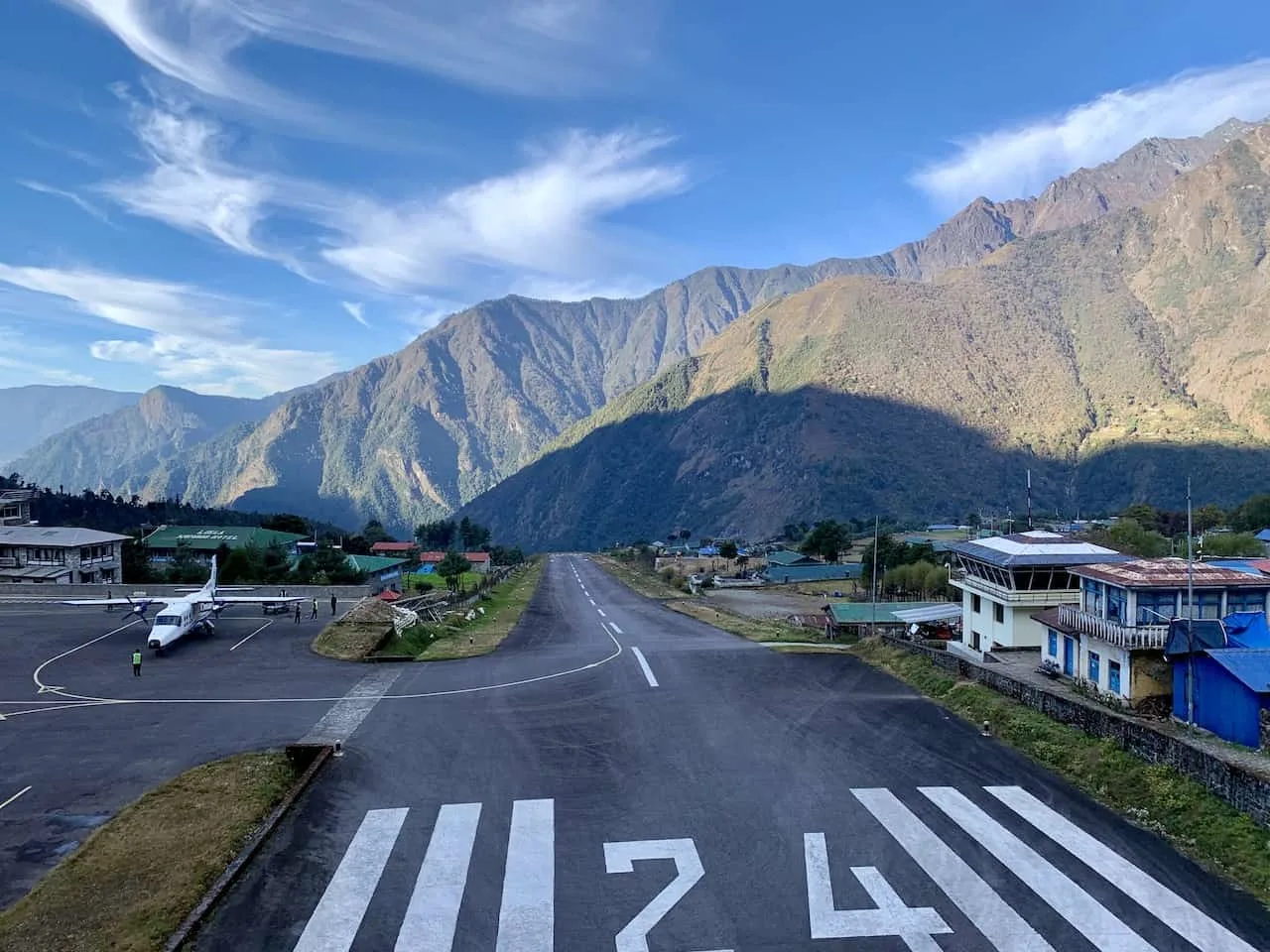 5) The November Cold
While all the above goes over why a November trek to EBC is one of the top options out there, there is one main downside as well. For most people, that tends to be the colder weather.
If you take a look at the Dingboche weather chart from above, you can see that in November the highs for the day get to 42 F with the lows at 12 F. Those numbers drop even more as you continue further along to Lobuche and Gorak Shep.
Although it may be cold temperature wise during the day time, when you are trekking for hours in the sun, you don't feel as cold as you may think. However, I will say once that sun disappears it can get quite cold up there.
Once you leave the teahouse dining area after dinner (the only place that is heated by a fireplace), you will find it necessary to just run into your room and into your sleeping bag.
Getting up out of your sleeping bag in the middle of the night and in the morning will probably be the worst part of your day as you get ready in the cold for your day of trekking.
If you think you can handle the November cold though, then all else should hopefully be good to go to fully enjoy Everest Base Camp in November.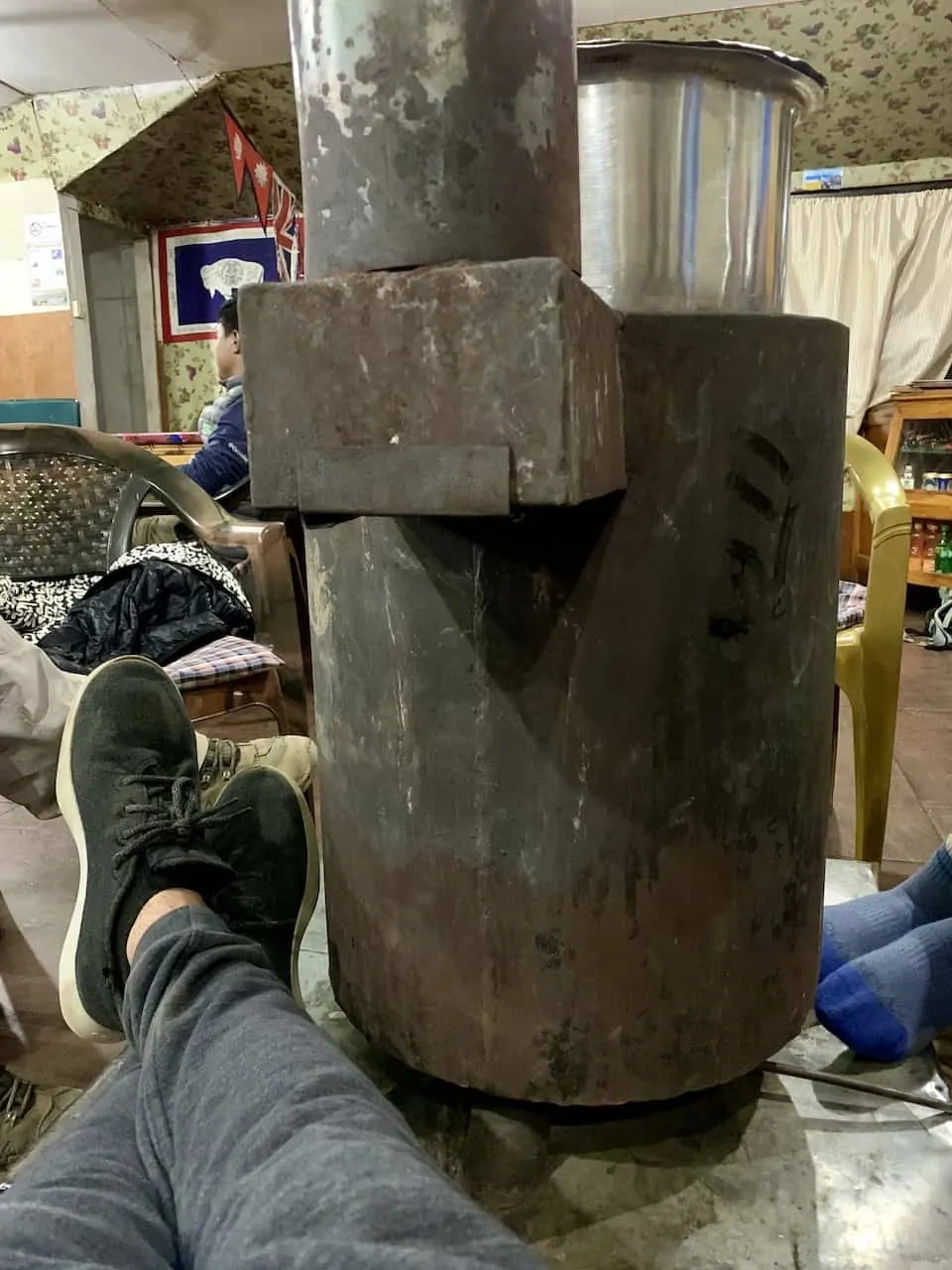 While November would be my recommendation given all the various reasonings, there are other months that I can still see being great options too, such as March, April, May, and October, with pros and cons for each.
→ If you are thinking about taking part of the trek, be sure to check out the Everest Base Camp Trek Cost breakdown to learn more
I hope this guide has helped you a bit with what to expect during a trek to Everest Base Camp in November.
If you do have any questions or comments feel free to write them in below. Also, don't forget to check out the other Nepal itineraries and guides up on the site!
Have fun out there and safe travels!