Day 3 of the Everest Base Camp trek is known to be an acclimatization day in Namche Bazaar. Many people opt to hike up to the Hotel Everest View, located 1,444 feet / 440 meters above the village center.
From the hotel you will be able to enjoy some views of the Everest mountain range while having some lunch and drinks. This guide will walk you through the Hotel Everest View acclimatization hike and what to expect along the way.
* Affiliate Disclosure: This post may contain affiliate links, which means I may receive a commission if you make a purchase through the links provided, at no additional cost to you. Thanks for supporting the work I put into TripTins!
1) What is an Acclimatization Hike
Before jumping into the hike itself, I wanted to quickly go over what acclimatization means, what an acclimatization hike is, and why it is so important to include on a trek like the one to Everest Base Camp.
For most people out there, being 10,000 – 20,000 feet above sea level is not what the body is used to on a day to basis. At 10,000 feet for example (just above Lukla), oxygen levels are already at 70% of normal levels.
Since you will be exerting a good amount of energy during your hikes, your body is going to need to adjust to having less oxygen at these higher elevations.
Going up in elevation too quickly can result in altitude sickness (dizziness, headaches, nausea) and potentially even more dangerous complications like cerebral and pulmonary edema.
To help prevent altitude sickness on the Everest Base Camp trek, it is common that acclimatization begins around 11,500-foot mark.
Since Namche Bazaar is just below that elevation, most people spend 2 or even 3 nights in the village to get the body better prepared for the rest of the journey.
Essentially the two main rules here to follow include:
» You should increase your altitude by no more than 1,000-1,600 feet / 300-500 meters per day (most days are just within this level)
» For every 3,000 feet / 915 meters of altitude gained, you should take a day off from going upwards (one more acclimatization in Dingboche on day 6)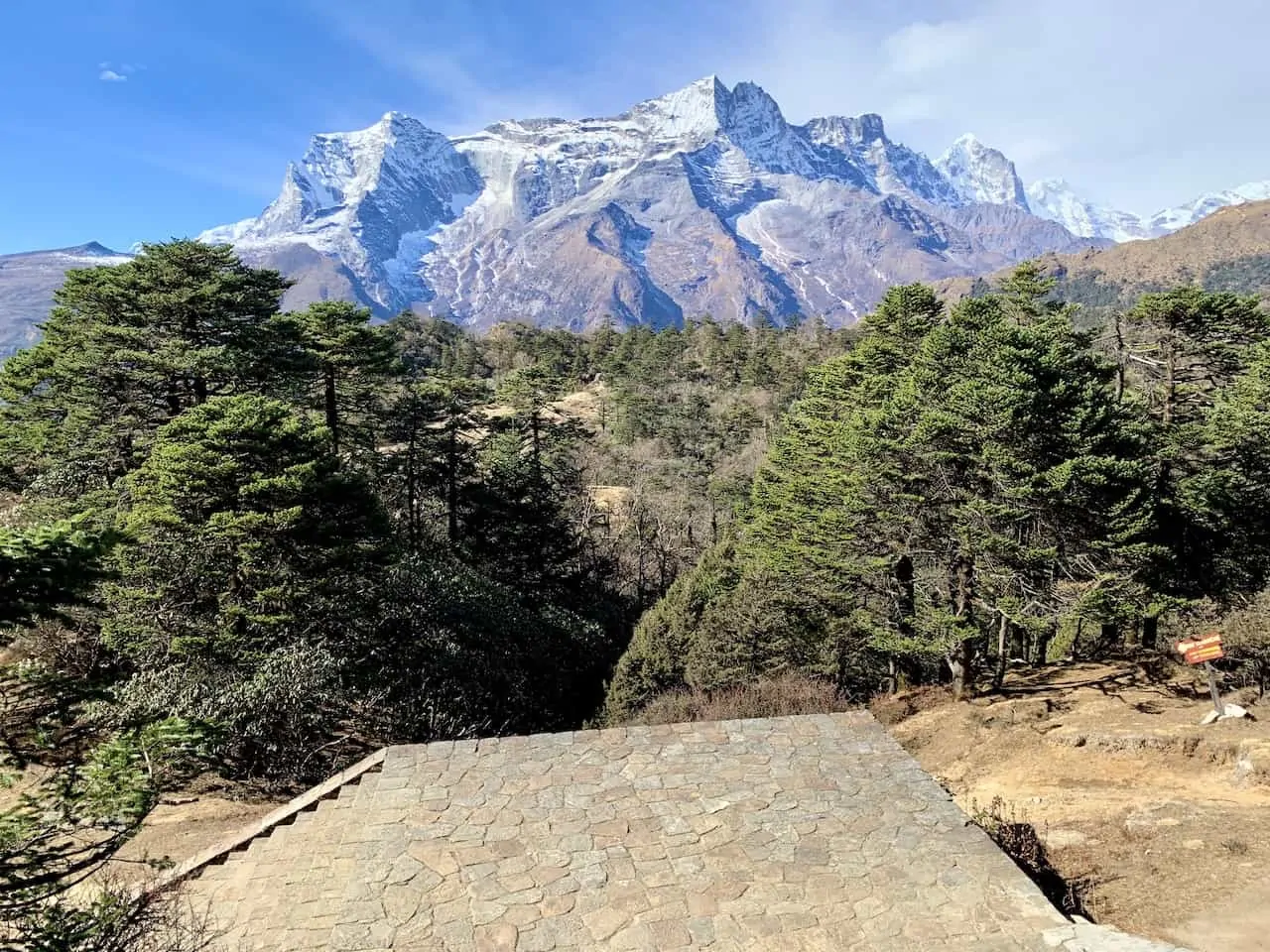 While in Namche on day 3, many people enjoy taking an acclimatization hike. Essentially, it is a hike that heads up to a higher altitude than where you are sleeping for the night.
This gets your body prepared for the higher elevation that is yet to come on the trek, but is safe in that you are not sleeping at that higher altitude.
The Hotel Everest View is at 12,730 feet and Namche is at 11,286 feet. So, the hike will have your body more prepared for the next few days at the higher elevation and at the same time you will be able to rest up at that lower elevation in Namche overnight.
Considering travel insurance for the Everest Base Camp Trek?

World Nomads offers coverage for more than 150 adventure activities as well as emergency medical, lost luggage, trip cancellation and more.

For years, World Nomads has been protecting, connecting & inspiring independent travelers, offering travel insurance & safety advice to help you travel confidently. Their mission is to support and encourage travelers to explore their boundaries.

World Nomads has simple and flexible travel insurance that has been designed by travelers for travelers. Even if you leave home without travel insurance or your policy runs out, you can buy or extend out on the road.

Get a quote for a World Nomads travel insurance policy today!
2) Hotel Everest View
Hotel Everest View is one of the most unique accommodation options you will come by in your life. Situated at nearly 13,000 feet, it is among the highest hotels in the world (and named the highest Luxury Hotel in the World by Guinness World Records).
Besides for the elevation factor, each of the 12 rooms of the hotel have sweeping views of the Himalayas and the Everest mountain range.
The hotel was opened back in 1971, when every piece of infrastructure either had to be carried by porters over 80 kilometers or flown in by helicopter. It took several years to complete with some materials flown in all the from Japan!
Today the hotel offers amenities that are unique to be seen in such an isolated area, such as room heating, free WiFi, laundry service, and a full service bar and restaurant.
You will also find a beautiful outdoor seating deck, where you can enjoy some food and drinks overlooking Mount Everest.
You can reach the hotel by foot (as most do during their trekking experience), but you can also arrive by helicopter if you decide to spend the night.
If you are interested in making a booking there you can contact them at info (at) hoteleverestview.com. Prices start around $300 USD per night.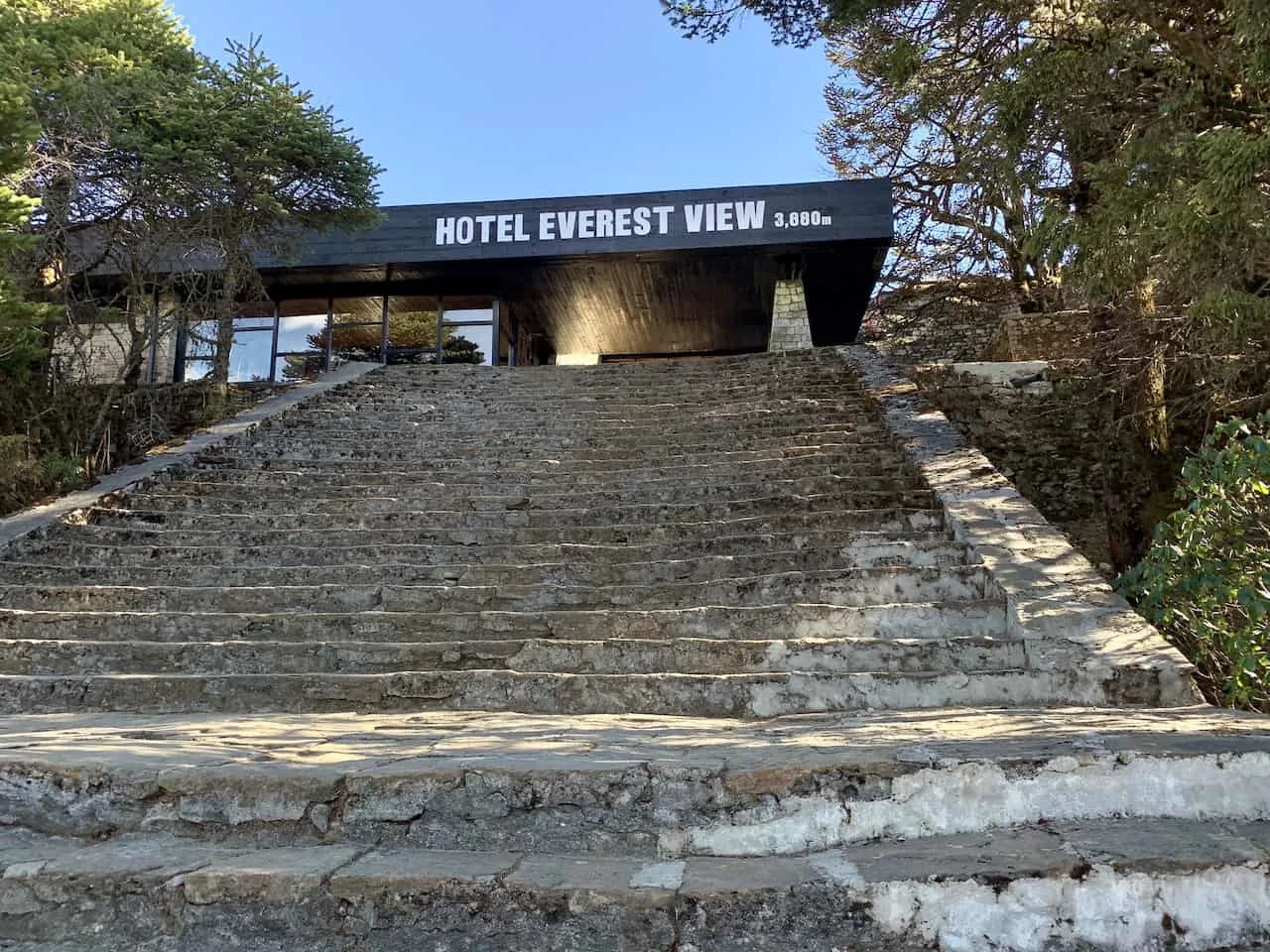 3) Hotel Everest View Acclimatization Hike Overview
Below are some quick stats about the Namche Bazaar to Hotel Everest View trekking experience:
Everest Base Camp Trek Day 3: Hotel Everest View
Starting & Ending Point: Namche Bazaar
Namche Bazaar Elevation: 11,286 feet / 3,440 meters
Mid Point: Hotel Everest View
Hotel Everest View Elevation: 12,730 feet / 3,880 meters
Distance: 3.4 miles / 5.4 kilometers (round trip)
Duration: 3 hours (round trip)
Elevation Gain: 1,444 feet / 440 meters
» Learn more about the various distances, elevations, and durations of the Everest Base Camp Trek
» Learn more about flying into the region in the Kathmandu to Lukla Flight Experience Guide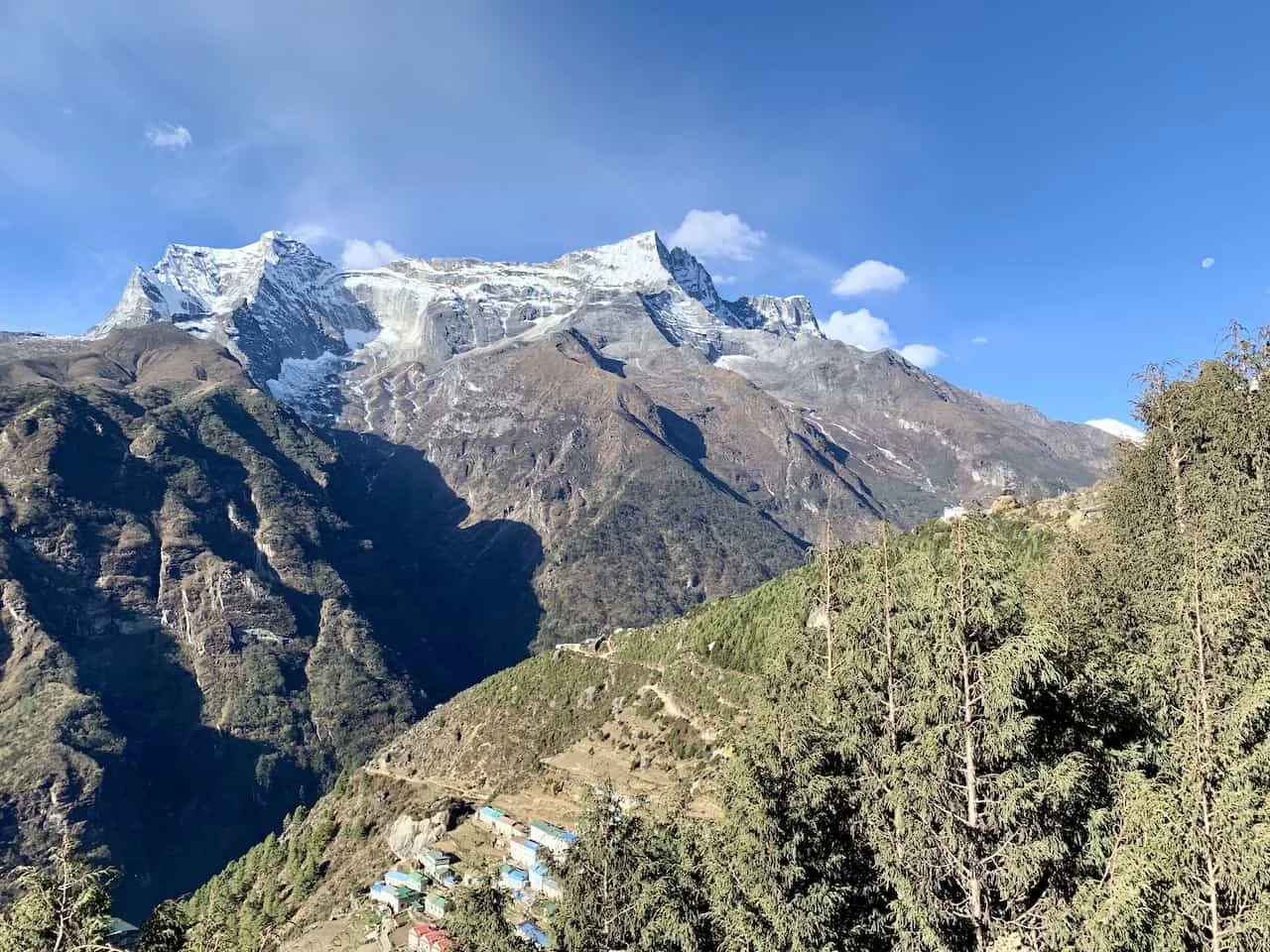 4) Namche Bazaar to Hotel Everest View Elevation Profile
Below is the elevation profile of the Hotel Everest View hiking trail so you have a solid understanding for what to expect for the day.
It is pretty much an uphill climb, which flattens out towards the top, and then a downhill track back to Namche after enjoying the hotel.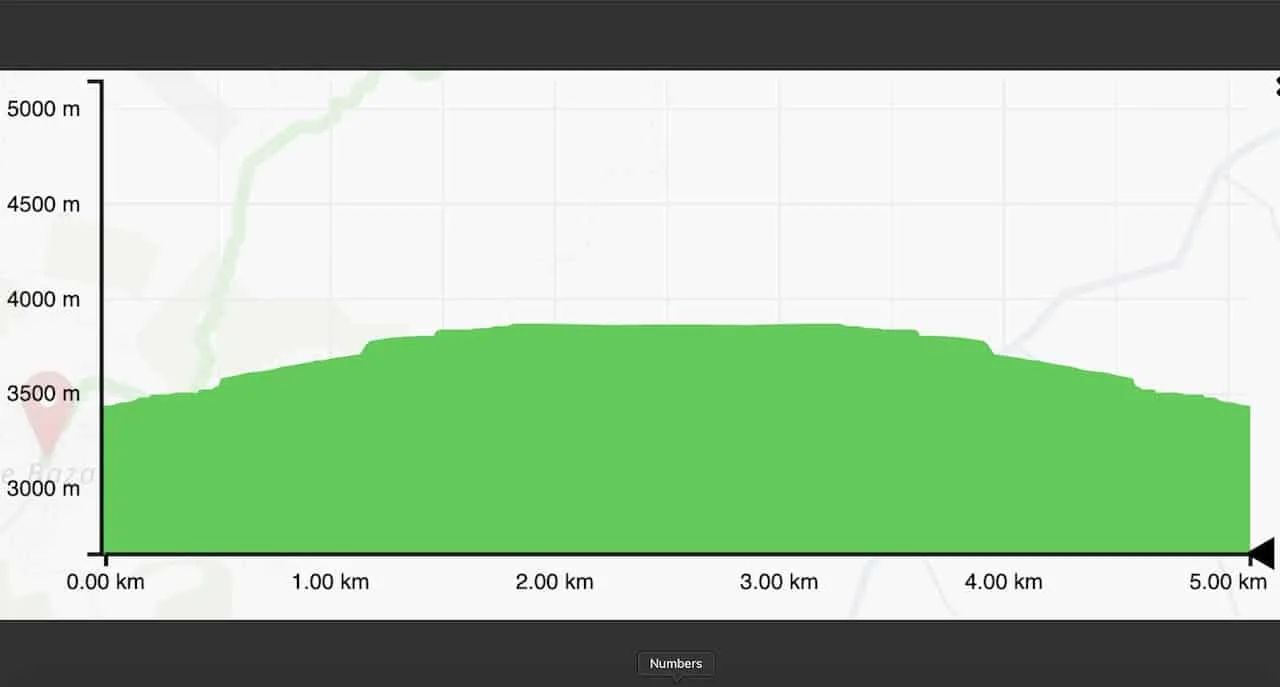 5) Trekking Map
Below is a topographic map view of the route from Namche Bazaar to Hotel Everest View, to give you a bit better idea of what the route will look like.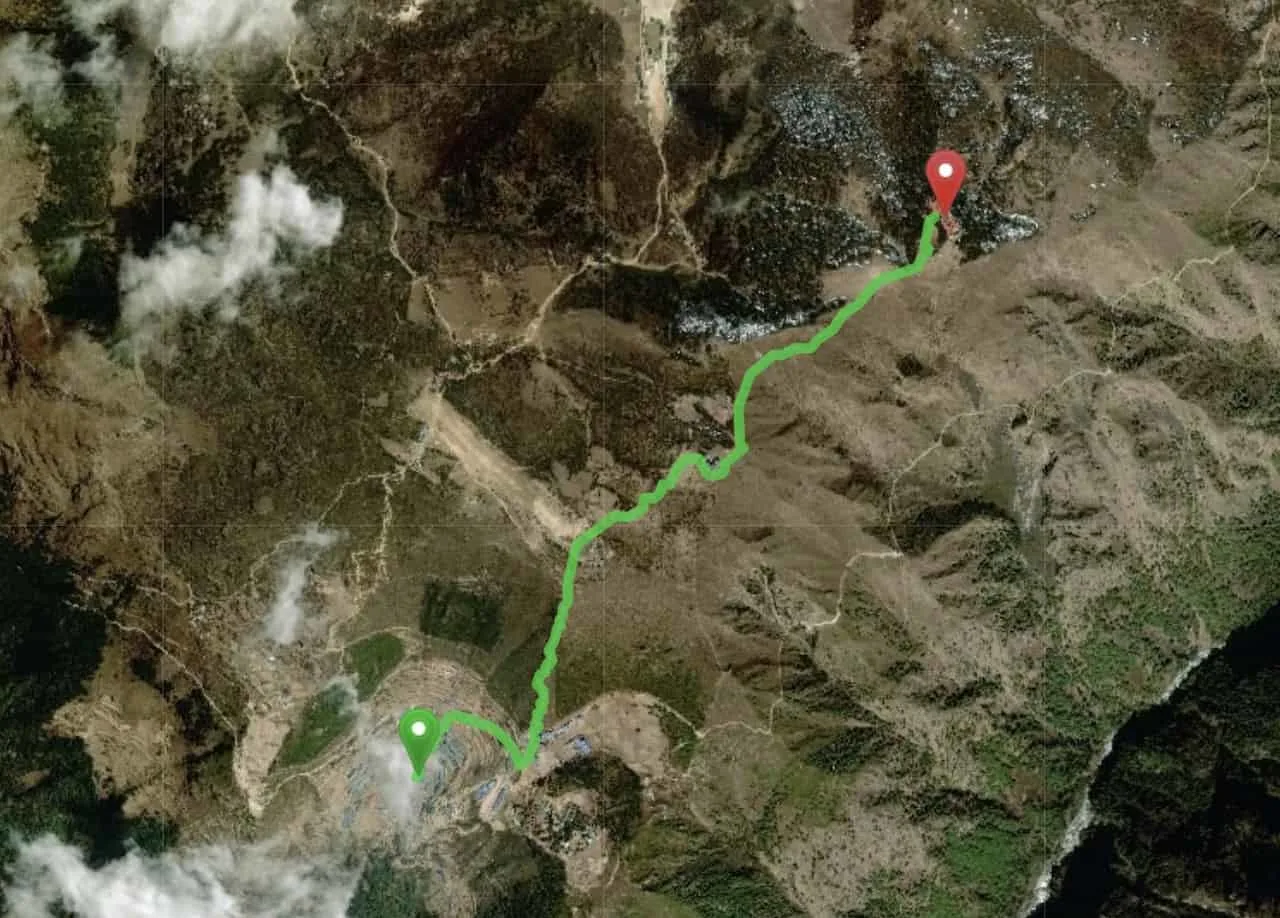 6) Everest Base Camp Trek Packing List
You will want to pack accordingly for this 11 day trek in the Himalayas. I put together a complete Everest Base Camp Packing List that goes over every single item I brought along on the trail, some of which include: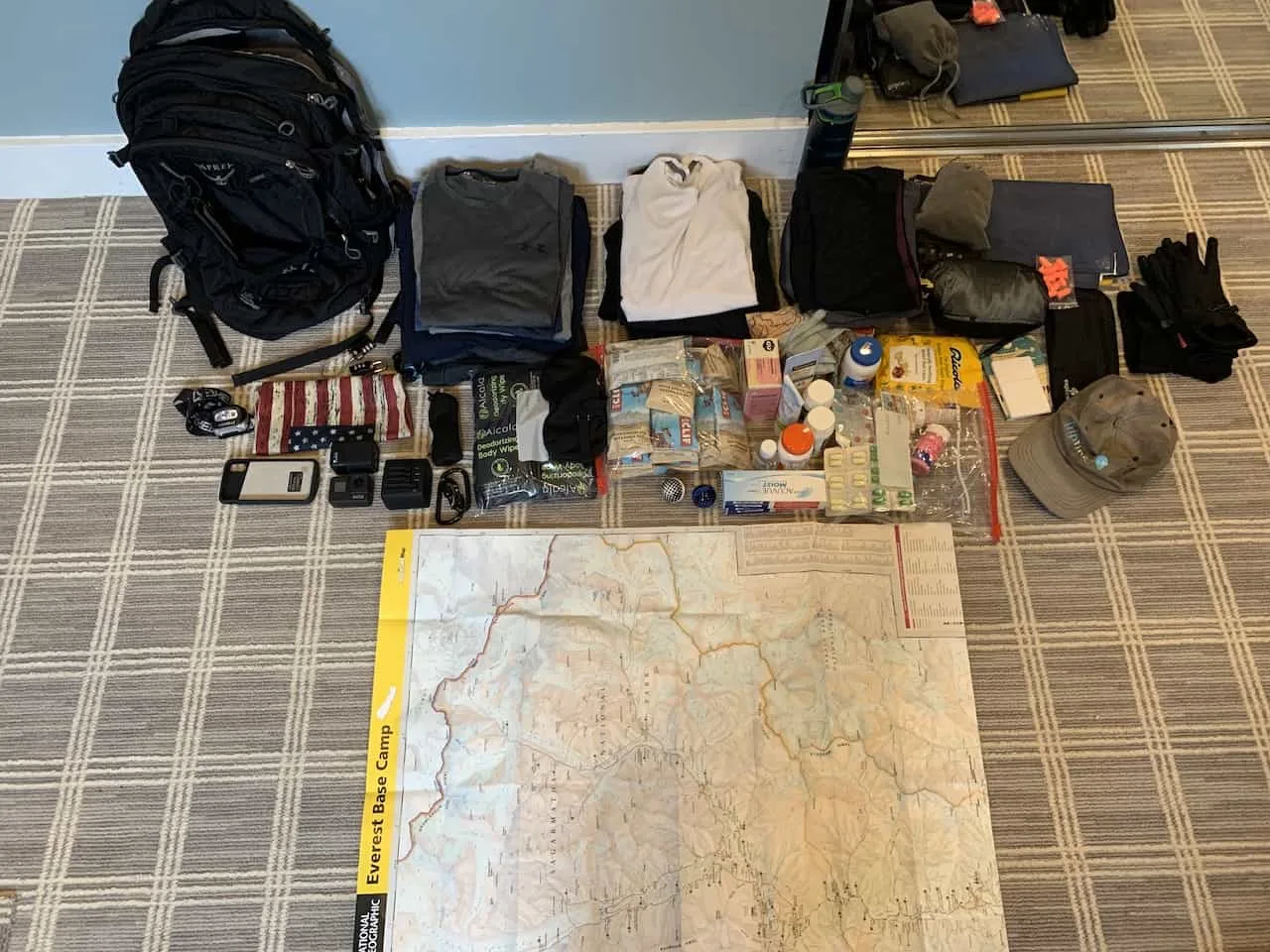 7) Hotel Everest View Acclimatization Trek
The hike up to the Hotel Everest View will start at your accommodation in Namche Bazaar.
Namche is a town that is built along multi leveled terraces, so you could be staying at the bottom of town (which would require more elevation gain) or you could be staying closer to the top of town (less elevation gain to the hotel).
You will first want to make your way to the top of town, where you will head towards the right hand side. This is also the same direction you will be going in the next day on your way to Tengboche.
Instead of going all the way to the right to towards the valley and Tengboche though, you will make the zig zagging hike up the mountain. The hike up will be a mix of stairs and an incline dirt path as you slowly gain elevation and make your way up the hillside.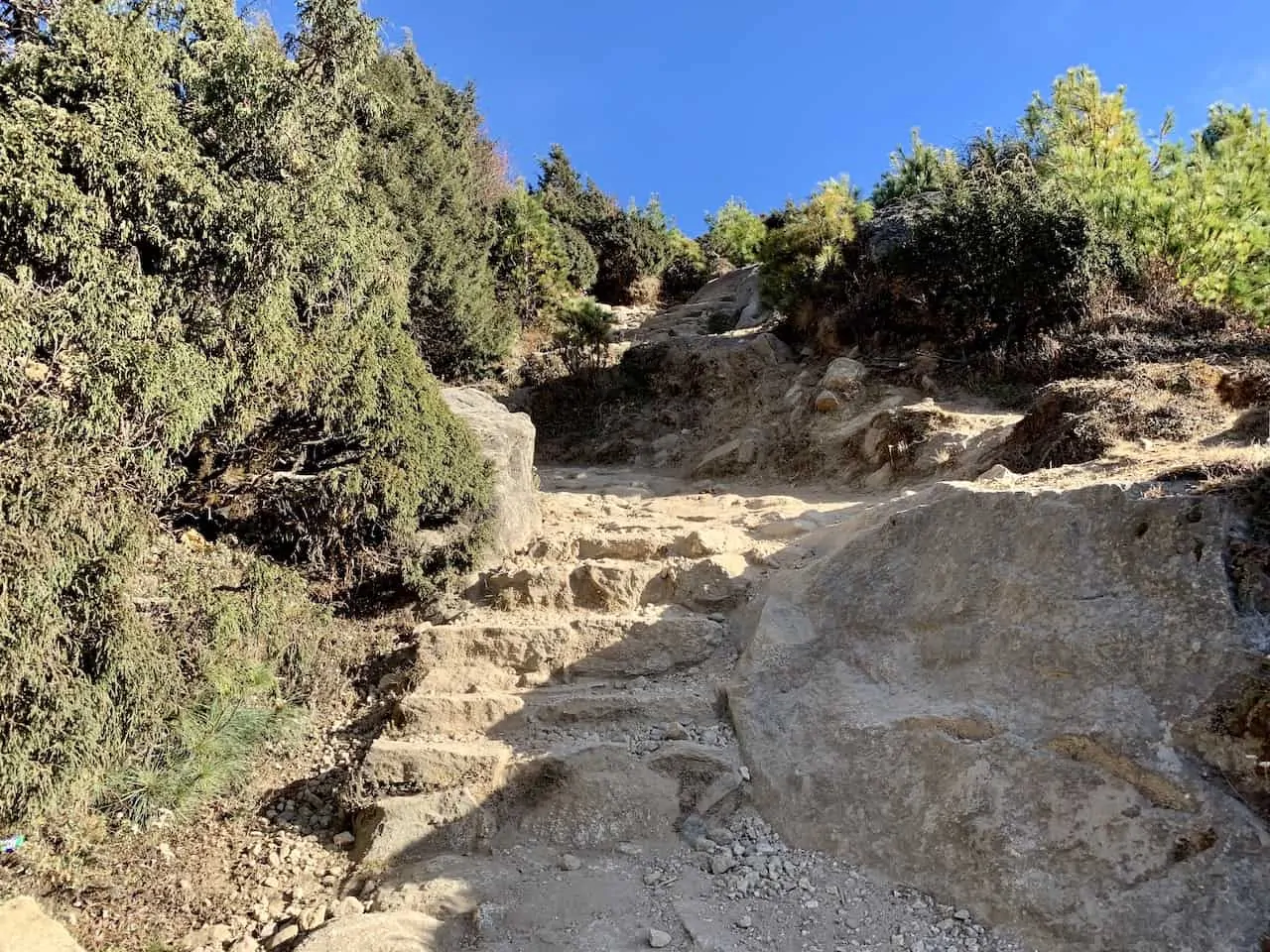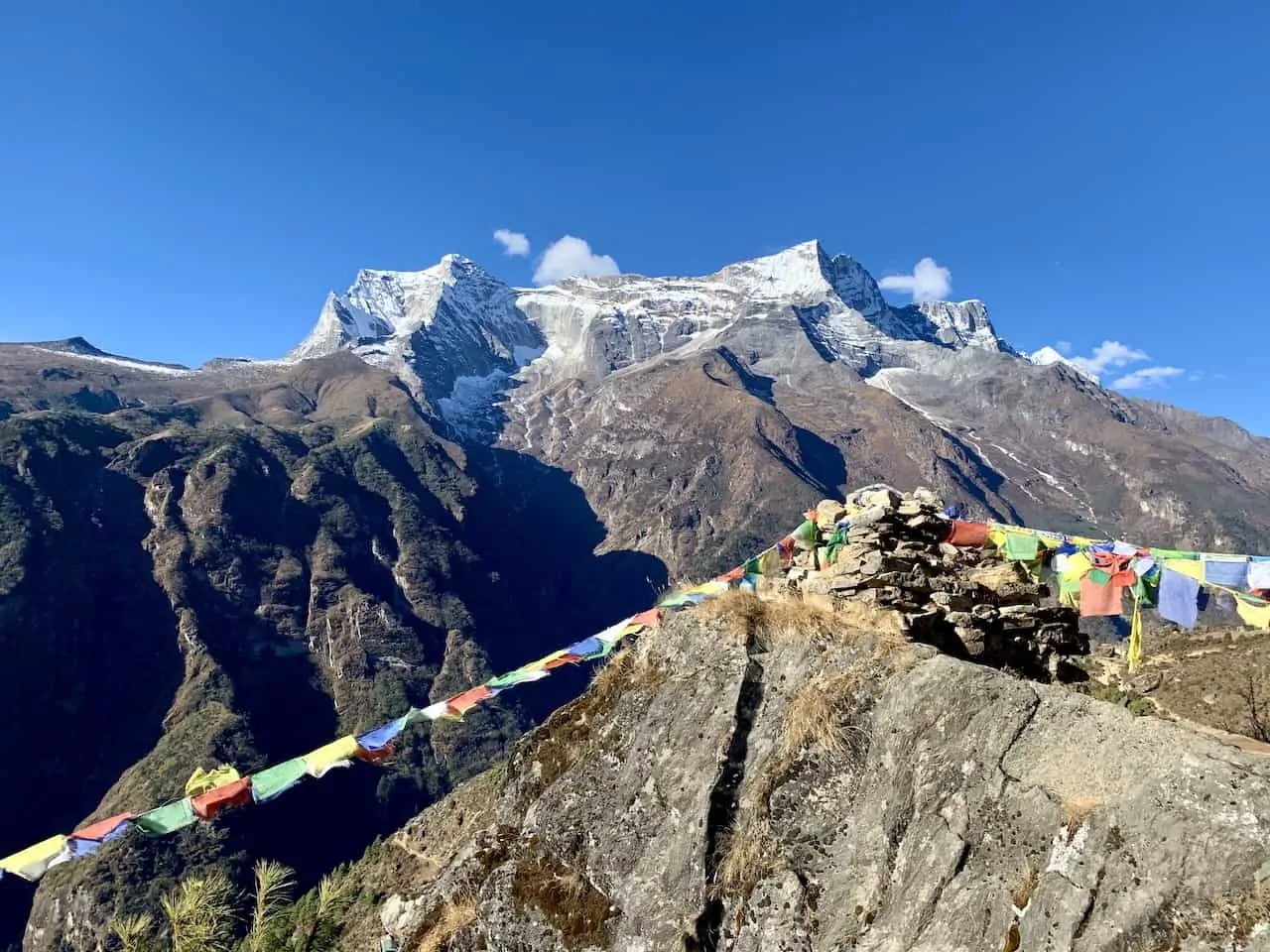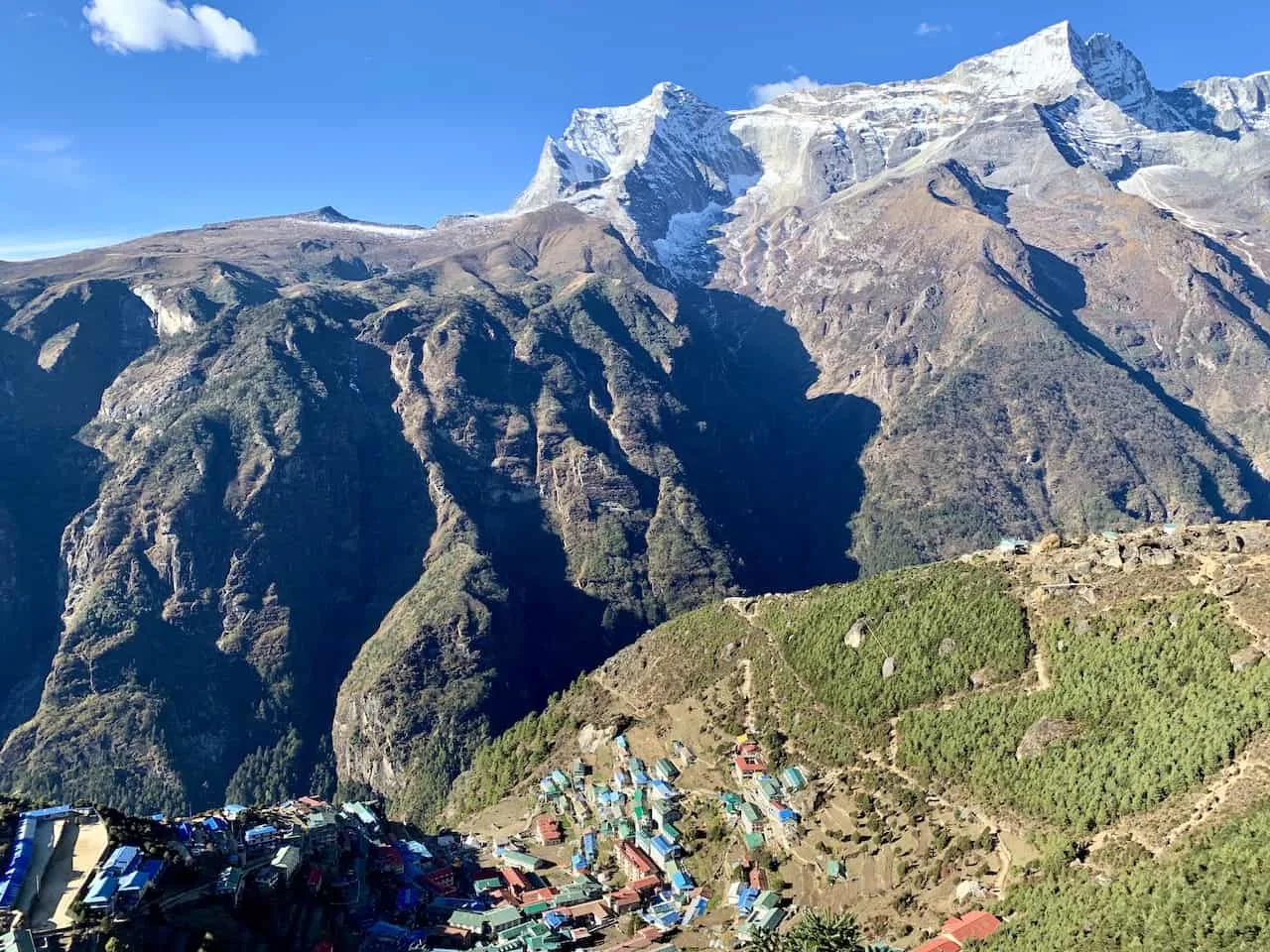 Behind you, you will be able to enjoy views of Namche Bazaar from up top as well as the mountain range that hovers over the village.
For the better part of 75 minutes or so, the majority of the trail will be this zig zagging incline with some flat portions at some points as well.
You will pass by some Sherpa flag displays along the way as you can take your time to stop and enjoy the view from time to time.
Shortly after, the zig zagging incline will end and it will be more so a slight incline dirt/sandy path along the valley wall.
Out in front of you will be the one of a kind Ama Dablam mountain with its unique looking shape, as well as the Everest mountain range – Lhotse, Nupste and Everest itself.
Soon enough you will make it past a helicopter landing platform and the Hotel Everest View will finally be right in front of you.
Head inside and out to the deck area, where you can rest those legs and order some drinks and food, with a Mount Everest view out in the distance.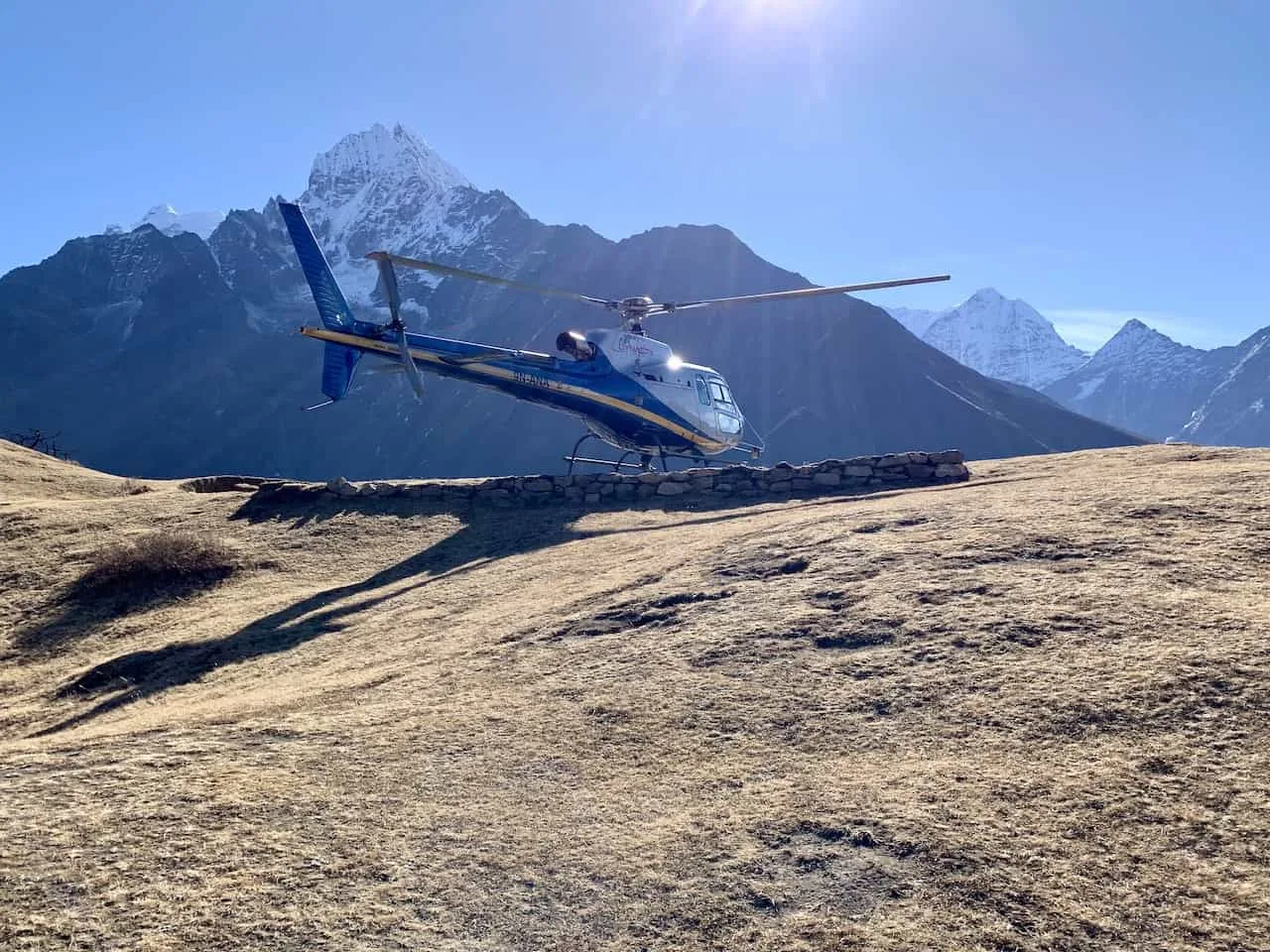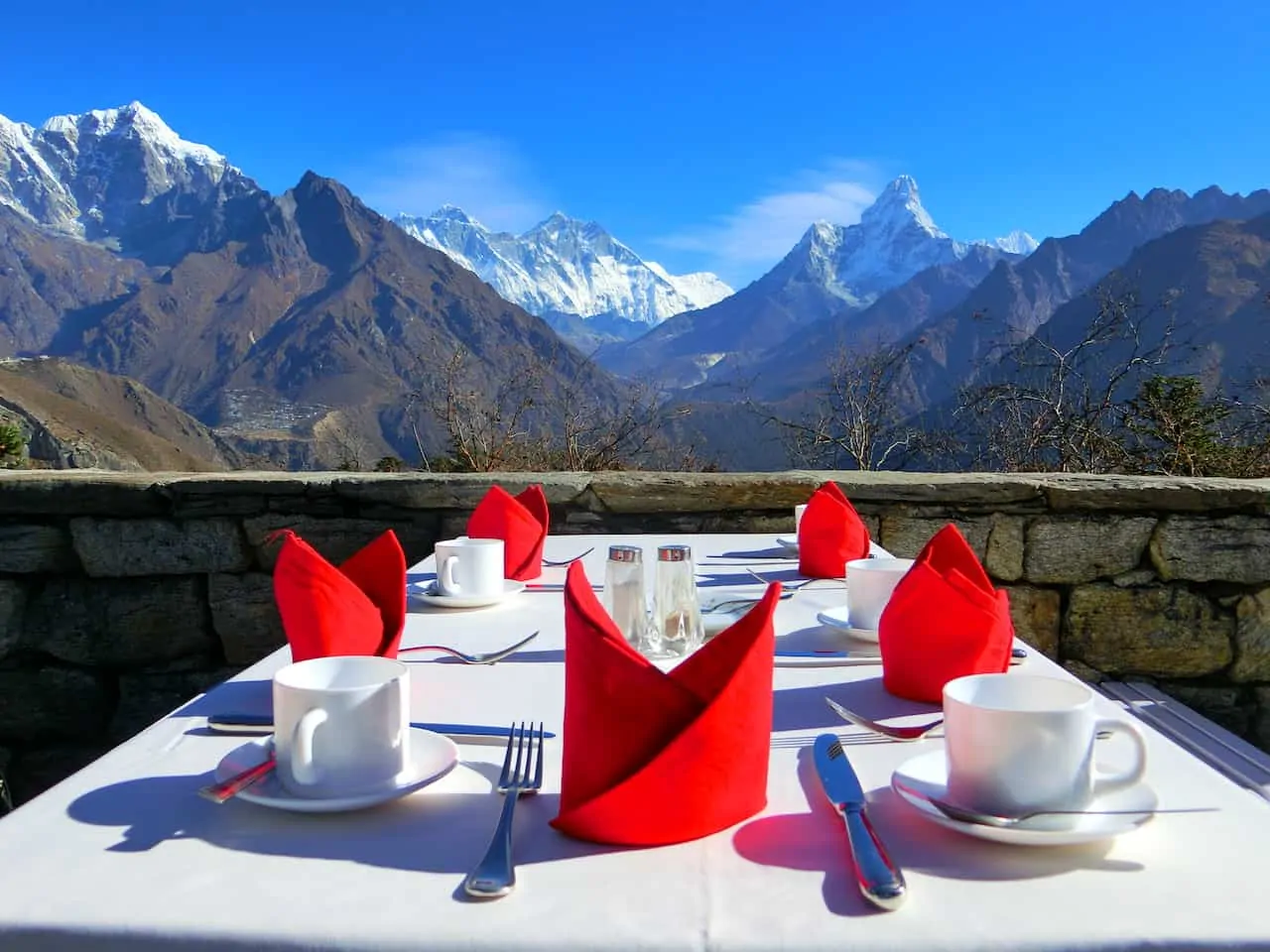 Once all complete with your time at the hotel, you can head back in the same direction you came as you now get to take in some new views heading down to Namche.
I really enjoyed the walk about as you get to see the vast valley out in front of you, along with the terraced fields and ultimately the town of Namche Bazaar.
Note: there are other routes you can take down by making it more of a loop trail. It will add additional time to your day, but you will get to enjoy some more trail variety for your hike.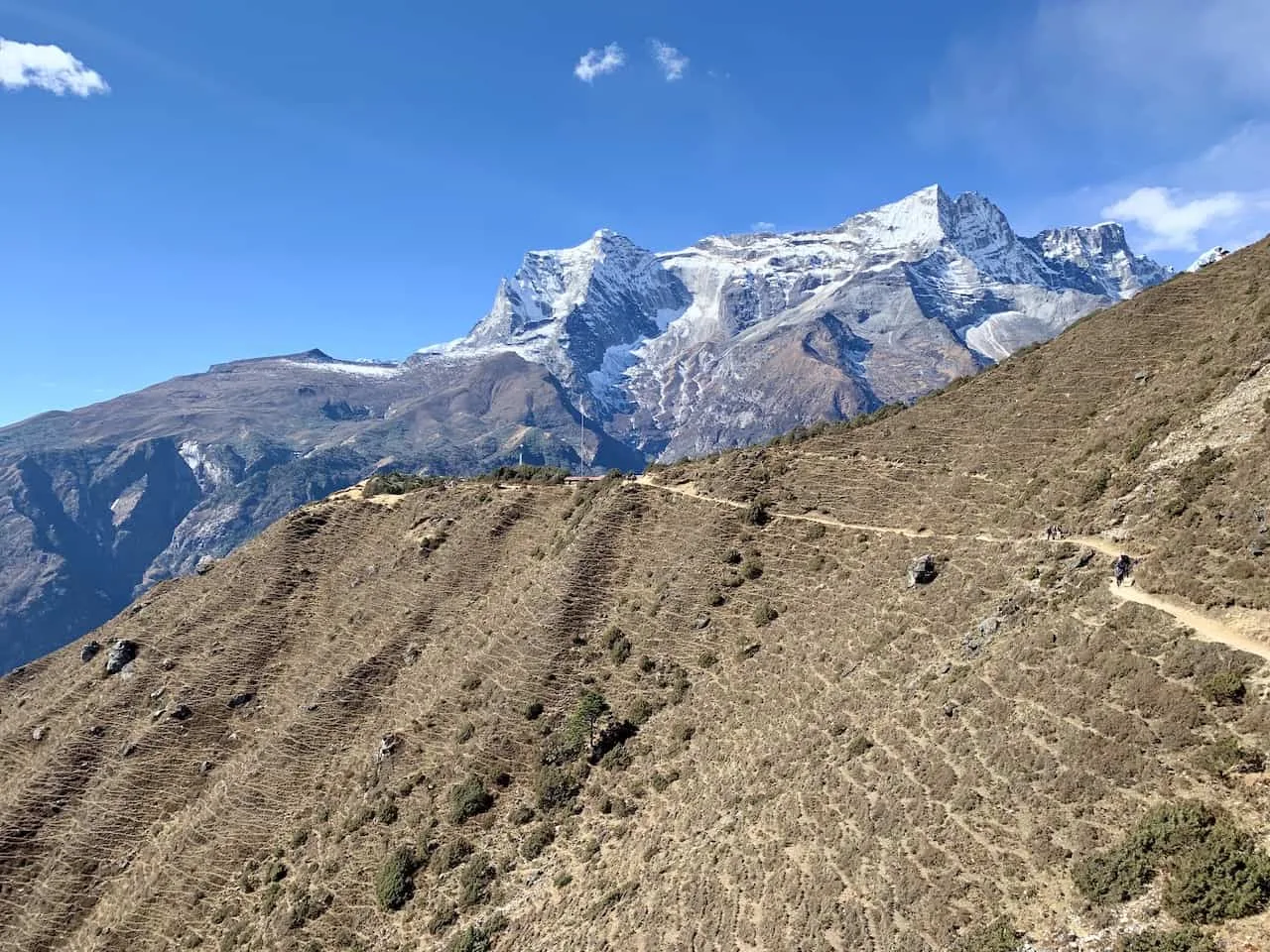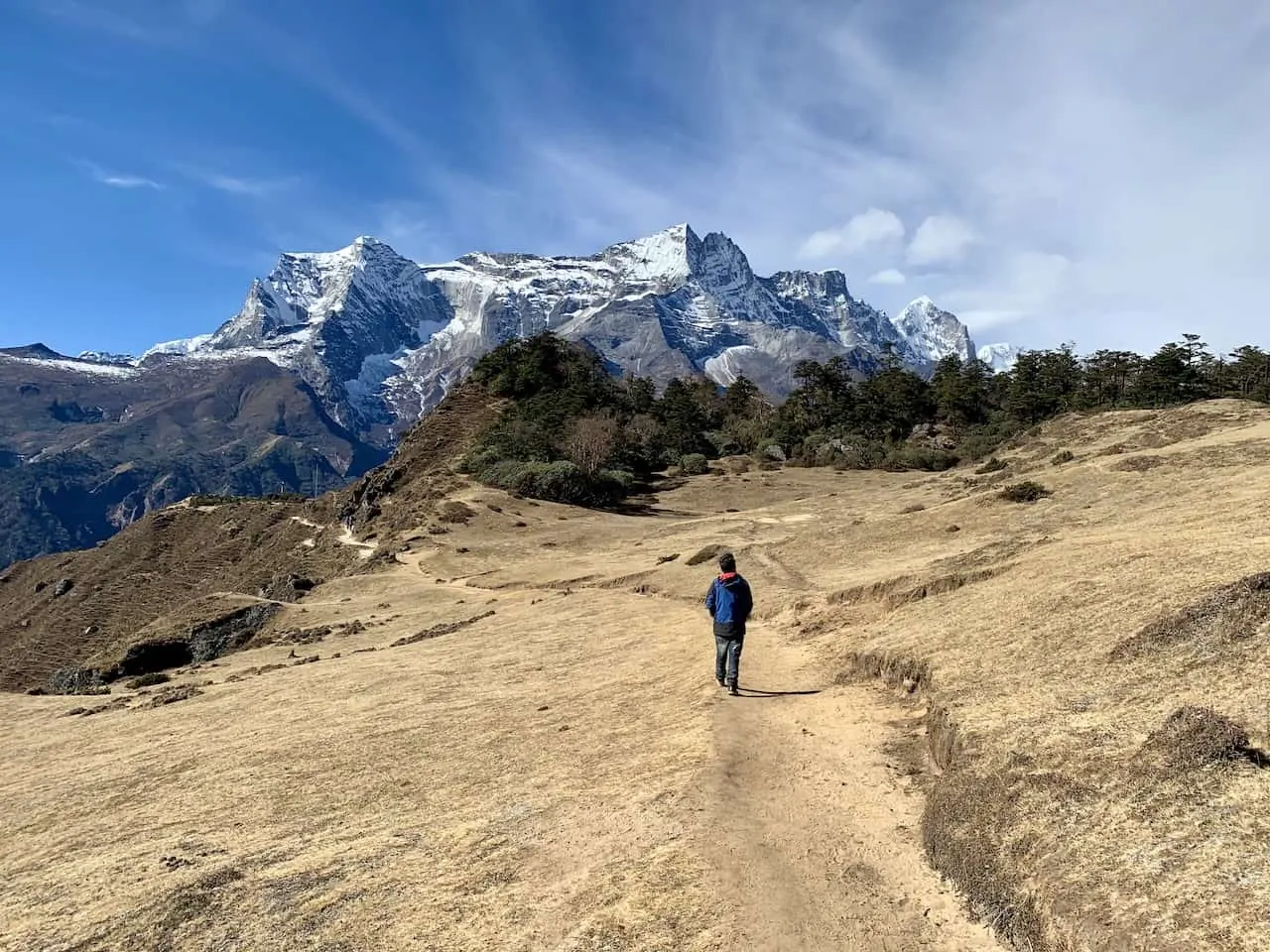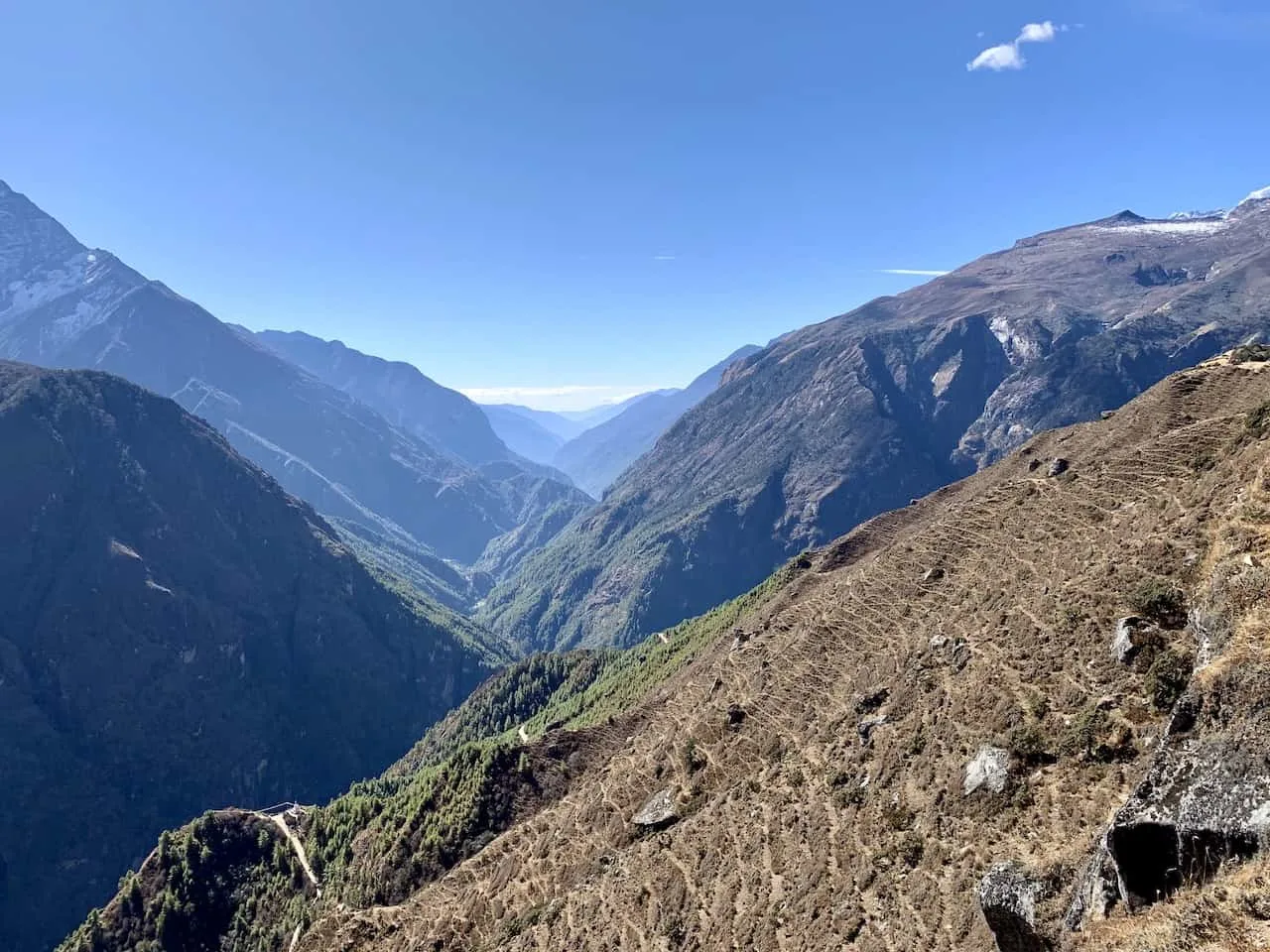 Take a look at this in depth overview of the Everest Base Camp Trek as well as the below guides I put together for each day of the journey:
Day 1 – Lukla to Phakding
Day 2 – Phakding to Namche Bazaar
Day 3 – Hotel Everest View Acclimatization
Day 4 – Namche Bazaar to Tengboche
Day 5 – Tengboche to Dingboche
Day 6 – Nangkartshang Acclimatization
Day 7 – Dingboche to Lobuche
Day 8 – Lobuche to Gorak Shep & Everest Base Camp
Day 9 – Kalapathar & Gorak Shep to Pheriche
Day 10 – Pheriche to Namche Bazaar
Day 11 – Namche Bazaar to Lukla
That about does it for day 3 of the Everest Base Camp trek. If you have any questions about the day or the trail in general, feel free to write them in below.
Be sure to check out the other Nepal itineraries and guides up on the site (like why I would recommend an Everest Base Camp Trek in November). Have fun out there and safe travels.