A trip to the Everest region in Nepal is not complete without the Kathmandu to Lukla flight into Tenzing Hillary Airport. The 30 minute flight is known to be one of the most dangerous in the world but at the same time, it gives you the chance to take in some incredibly beautiful views of the Himalayas.
This guide will go over what you need to know about the flight and how to go about booking it for yourself.
* Affiliate Disclosure: This post may contain affiliate links, which means I may receive a commission if you make a purchase through the links provided, at no additional cost to you. Thanks for supporting the work I put into TripTins!
1) A Kathmandu to Lukla Flight Overview
When visiting Sagarmatha National Park, home to the Everest Base Camp trek, Gokyo Lakes, Three Passes, and more, the majority of people start their journey in the mountainside village of Lukla at 9,318 feet / 2,840 meters above sea level.
To get to Lukla though your options come down to the plane ride, a more expensive helicopter ride, or a 8 hour drive followed by a multi day trek.
Since an airplane is both efficient and cost effective, most people who travel to the region do so by this Kathmandu to Lukla flight.
When it comes to airports, Lukla is as far and high as planes can go in the region.
The Tenzing Hillary Airport (LUA) is notorious for its unique runway – a 527 meter / 1,728 foot landing strip on an incline that drops off the side of a mountainous cliff.
Flying up above the Himalayas and landing in Lukla is sure to be a highlight in your travel experiences for years to come.
The remainder of this guide will cover various topics about the flight including what airlines fly the route, weather delays, and those alternative options to get you to Lukla.
» Be sure to to check out the end of the guide, which has a compilation of videos from takeoff to landing of the flight.
Important Note: Flights sometimes only depart from Ramechhap, a 5-6 hour drive from Kathmandu. Be sure to check the latest flight schedules to better understand if Kathmandu offers departures during your trip.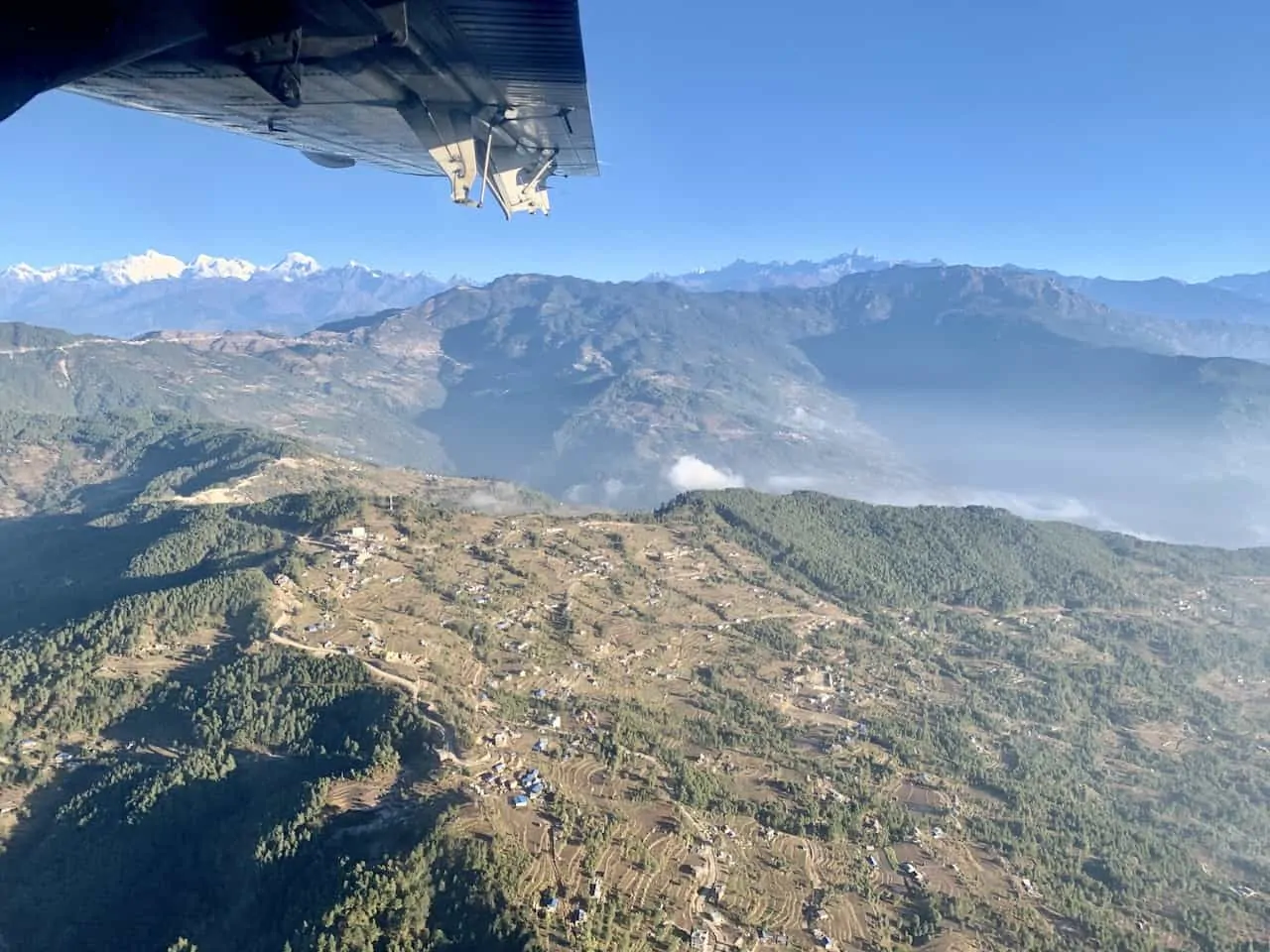 2) Helpful Tips & Notes
↔ The average cost for a one way flight from Kathmandu to Lukla is $180 USD, meaning a round trip will cost around $360 USD.
↔ The flight lasts just about 30 minutes from take off to landing, covering 85 miles / 136 km.
↔ Be sure to sit at a window seat on the left side of the plane from Kathmandu to Lukla and the right side of the plane from Lukla to Kathmandu.
Also depending on aircraft, be sure to avoid the middle of the plane, where the wings can block some of your view. Note that you cannot book a seat beforehand – it is just first come first serve.
↔ The weight restriction is 15 kg / 33 lb (10 kg of check in / 5 kg of carry on) to bring onto the aircraft. You will need to pay some hefty fees per kilo if you go over the restrictions.
↔ Take the earliest flight of the day you can find. This will give you the best chance of not having your flight be cancelled by weather.
↔ And lastly, be sure to spare a day at the beginning and end of your trek just in case one of your flight legs does get cancelled!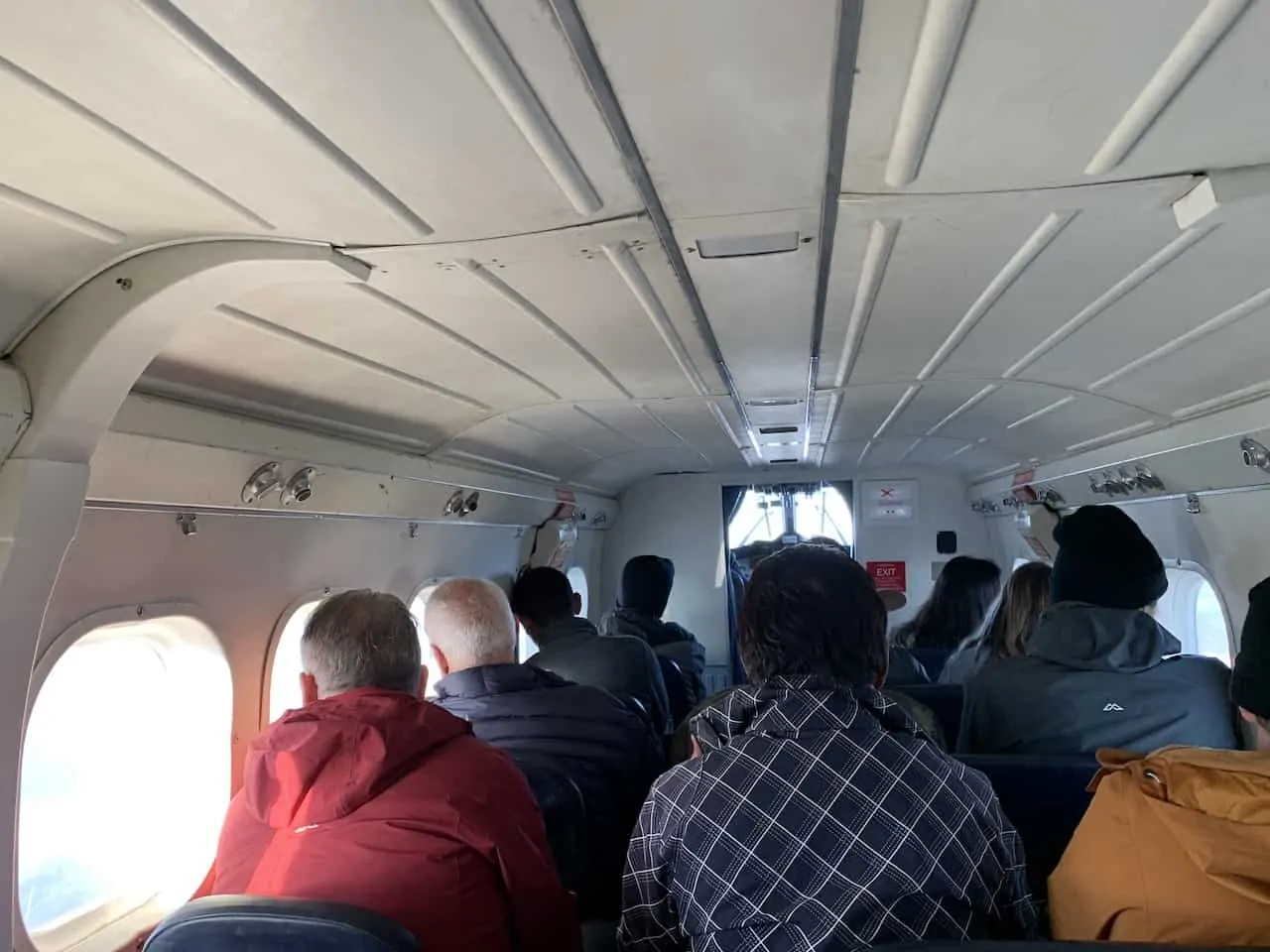 3) Is the Flight from Kathmandu to Lukla Dangerous
One of the main concerns people have about the flight is how dangerous it actually is.
There are a lot of articles and headlines out there naming Tenzing Hillary Airport as the "most dangerous airport in the world" so I wanted to dig into why that is a bit more.
To start, the actual flight is not known to be the dangerous part here. Instead it is the landing and take-off at the Tenzing Hillary Airport that tends to be dangerous.
The runway at the airport is only about 500 meters / 1,700 feet long. This is about half the length of normal runways that use smaller aircrafts like the ones used for the Kathmandu to Lukla flight.
The runway is also on an 11.7% gradient, which helps with slowing down the plane due to its very short length.
On top of that, unlike most runways, the end of the runway just completely drops off the side of a cliff. So, if something does go wrong on take off or landing, it is much more difficult to deal with.
Due to the mountainous landscape around the airport, once a plane goes down for a landing, that plane must try to land even if something goes wrong. In aviation terms that means there is "no go around" order.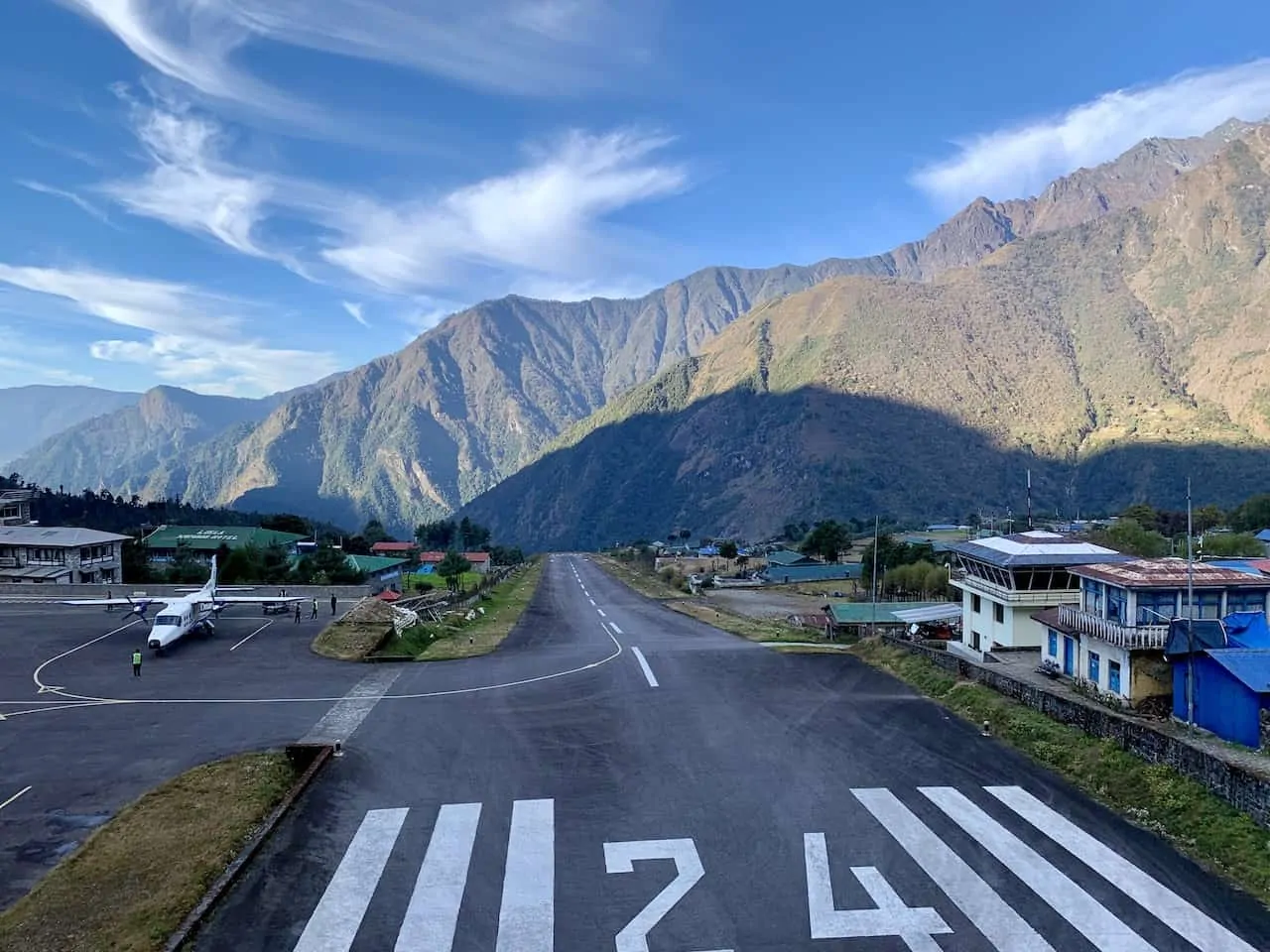 If you take those factors into account and then combine it with the high altitude weather, that is when things begin to become most dangerous.
If there are sudden burst of wind or a whole group of clouds that overtake the runway, there is basically zero room for error.
This is why the flight also happens to be one of the most cancelled routes in the world. If the weather isn't perfect, the airlines will not take the risk of flying in and out.
At the end of the day though, since 2004 there have been 7 accidents at the airport out of the thousands of flights going into and coming out of the airport. So while dangerous, it is still rare for something to go wrong.
4) Airline Options
The flights between Kathmandu and Lukla do operate year round and you will find more options during the high trekking seasons (March to May and September to November).
All the airlines operate small aircrafts such as Dornier Do 228 and DHC-6 Twin Otter, which hold around 15 or so passengers.
You will only find flights in the earlier parts of the day starting around 6AM. Due to the notorious mountain weather, the clouds can build up as the day goes on.
The early morning has the best weather window for all flights to land and take off successfully. I would highly advise to take the earliest available flight in the day when booking.
There are three main airlines that run this route frequently – Tara Air / Yeti Airlines, Summit Air and Sita Air.
You can take a look at their respective websites for flight schedules by day and go ahead with your booking from there.
I ended up taking Tara / Yeti Airlines and had a great process from beginning to end.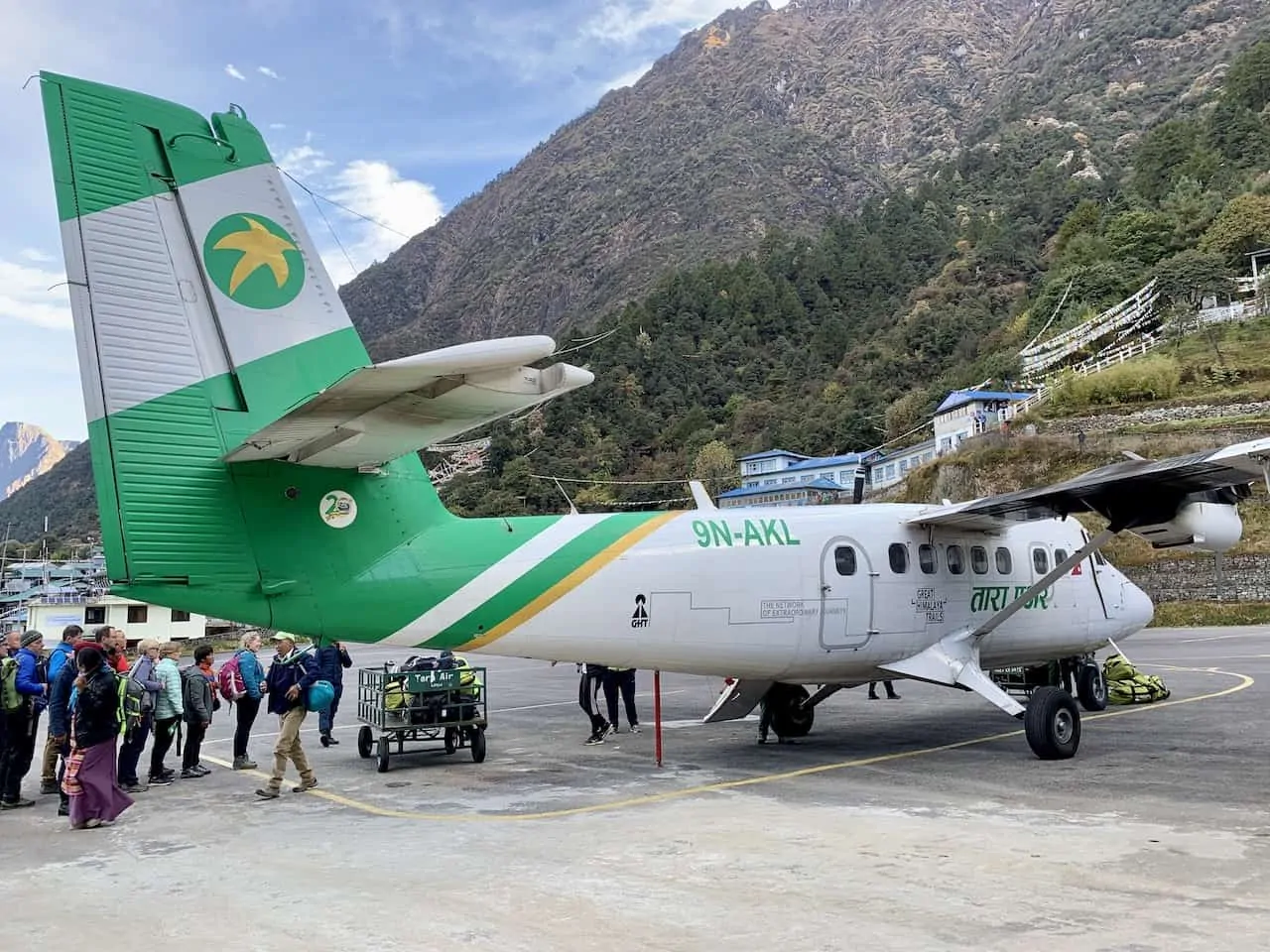 Considering travel insurance for the Himalayas?

World Nomads offers coverage for more than 150 adventure activities as well as emergency medical, lost luggage, trip cancellation and more.

For years, World Nomads has been protecting, connecting & inspiring independent travelers, offering travel insurance & safety advice to help you travel confidently. Their mission is to support and encourage travelers to explore their boundaries.

World Nomads has simple and flexible travel insurance that has been designed by travelers for travelers. Even if you leave home without travel insurance or your policy runs out, you can buy or extend out on the road.

Get a quote for a World Nomads travel insurance policy today!
5) Weather Delays & Alternatives
As mentioned already, weather can have a huge impact on the Kathmandu to Lukla flight. Lukla sits at over 9,000 feet in elevation, and the mountainous terrain can bring along wind, rain, clouds, and fog.
If there is any chance that the weather in Lukla is not looking good, then the flights will automatically be delayed until the weather clears or cancelled completely.
For this reason I always recommend keeping a couple buffer days in your trip plans just in case you do get delayed by a day at the beginning or end of your trip.
These weather concerns will also vary by time of year. I traveled in November to the Everest region when it is known to have very clear and dry days while in the summer months, monsoon season can be in full effect.
So, while the flight cancellation risk is very low in November, there may always be a small chance that a flight can still be cancelled.
In the event of a cancellation you have a few choices:
1) You can wait things out either in Kathmandu or Lukla until the next day, when you will be put onto a new flight, which hopefully takes off as planned.
2) You can hop in a helicopter that will take you the route. This will cost around $500 USD one way per person.
3) You can opt for a longer hike if you have the time to spare. You can do so by taking an 8 hour bus to either Jiri or Salleri followed by a 4+ day trek to Lukla.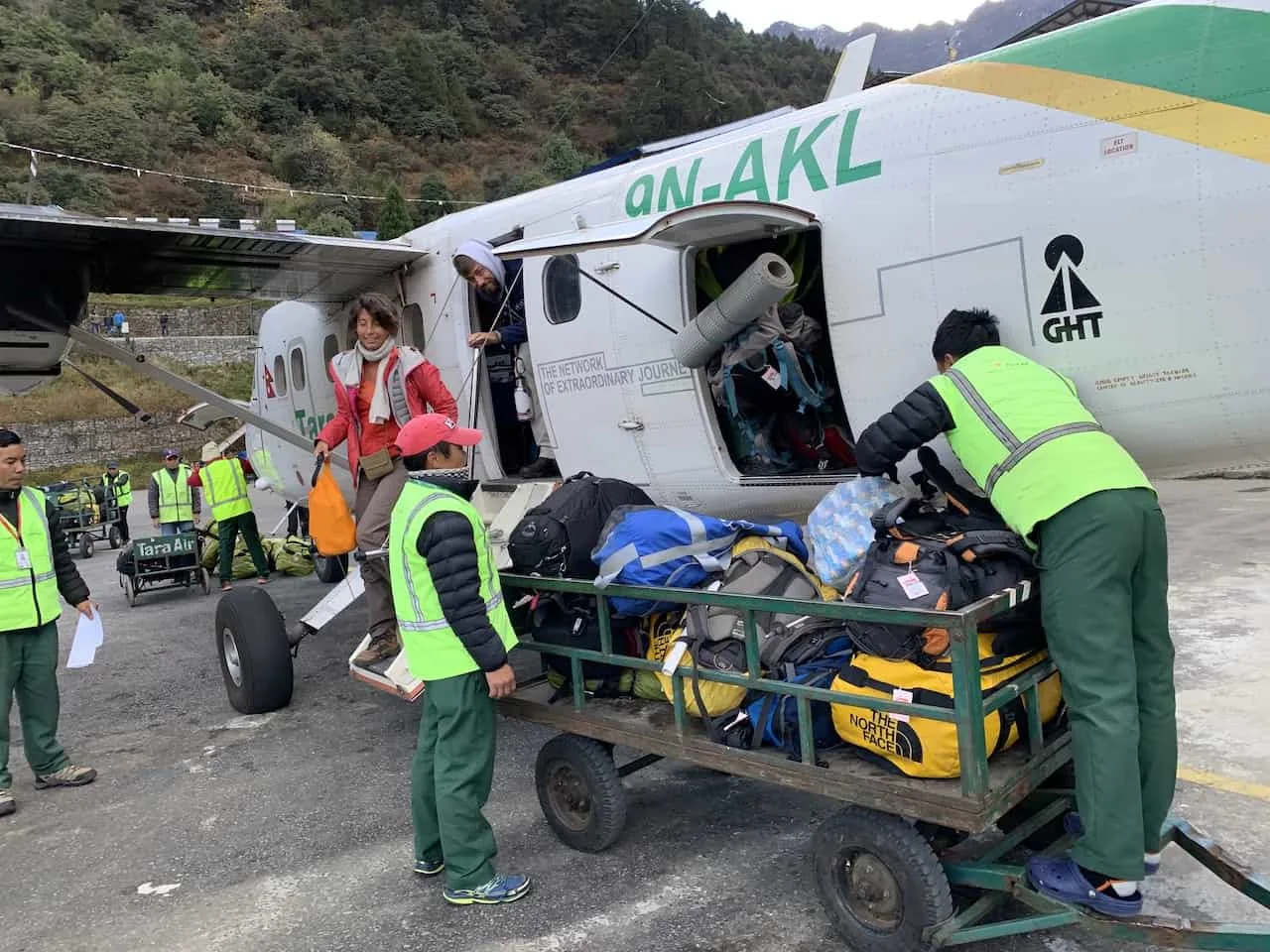 6) The Kathmandu to Lukla Flight – What to Expect
After arriving in Kathmandu and spending a day or two getting settled, it is time to head off to Lukla to start your Himalayan trekking experience.
You should plan to get to Tribhuvan Airport (KTM) around 1.5 – 2 hours before your flight, to give yourself adequate time to check your bags and get through security.
At the airport, you will see small check in counters for the various airlines and destinations, where you will drop off your bags and get your boarding pass. They will weigh your baggage and if it happens to be overweight you will need to pay an extra cost per kilo.
From there you will head through the security checkpoint and take a seat in the waiting room. Be sure to listen to the boarding announcements as they begin to call the various flights.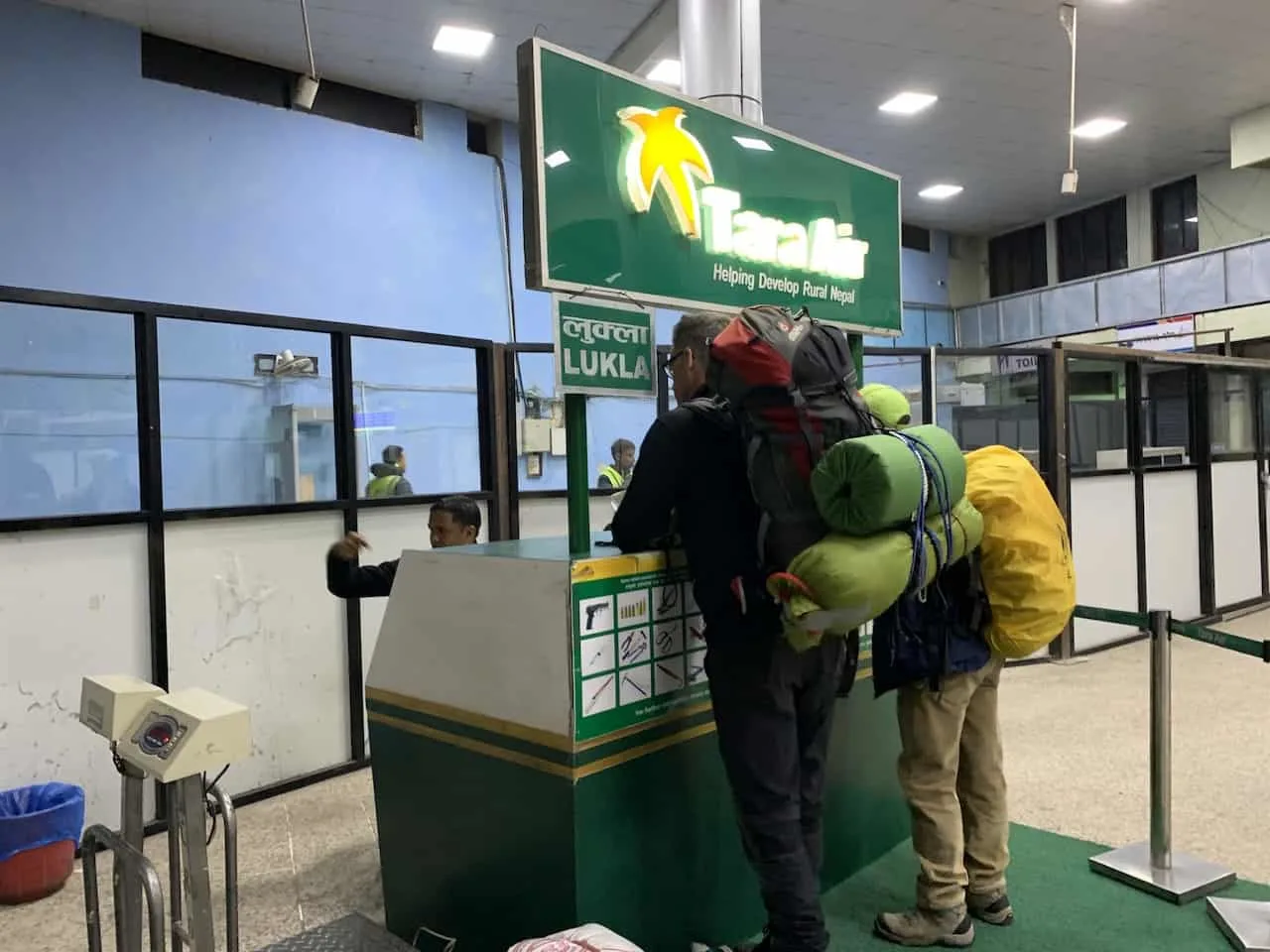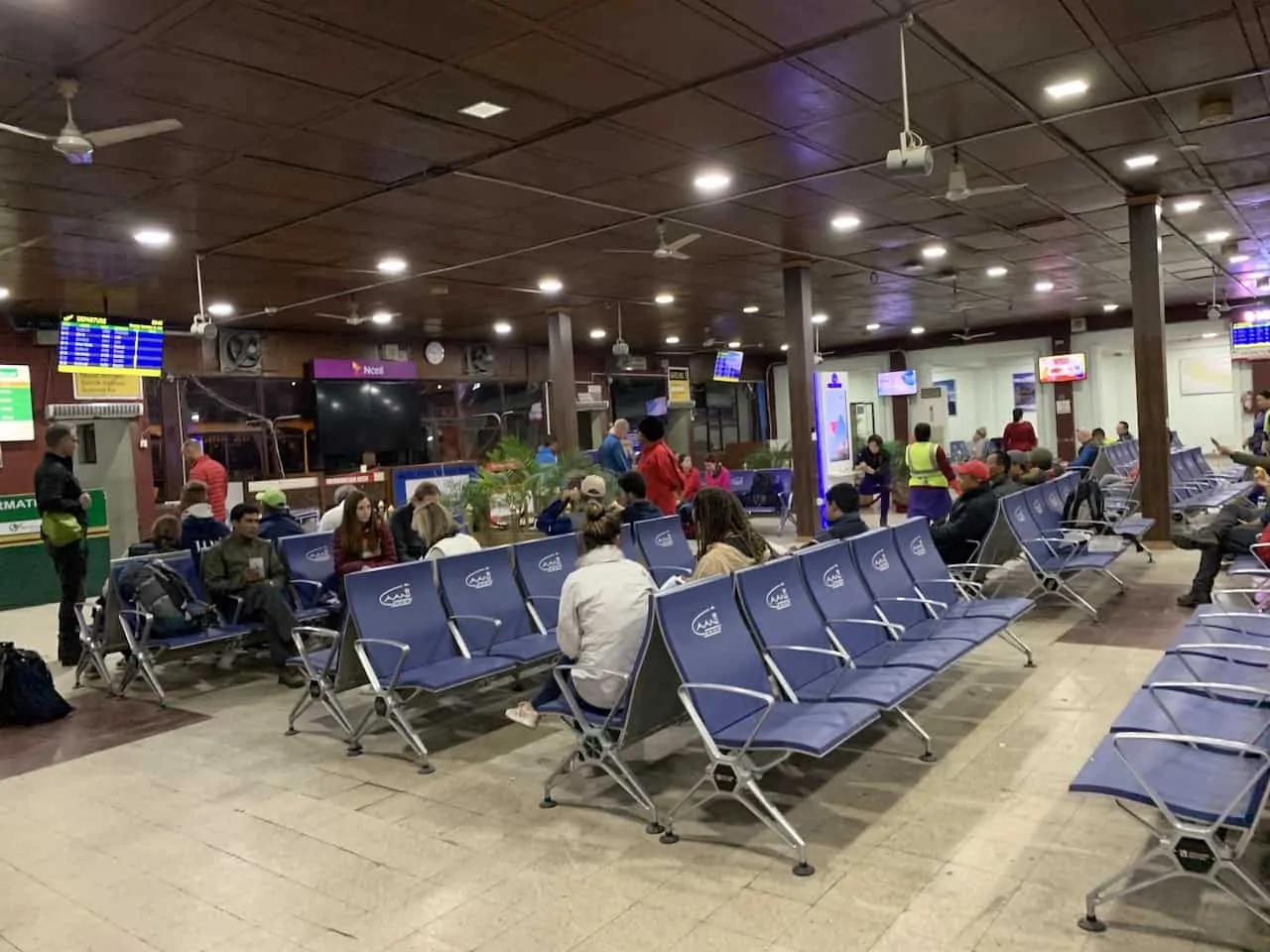 Once your flight is called, you will head through the gate and onto a shuttle bus that will take you to the plane.
During my experience we waited on the bus on the runway for around 20-30 minutes before they let us off and onto the plane.
Tip: Be sure to sit at a window seat on the left hand side of the plane during the Kathmandu to Lukla leg and then the right hand side coming back.
Sitting towards the front or back of the plane away from the main wing area (depending on plane type) will give you the best chance to see the mountain views from your window.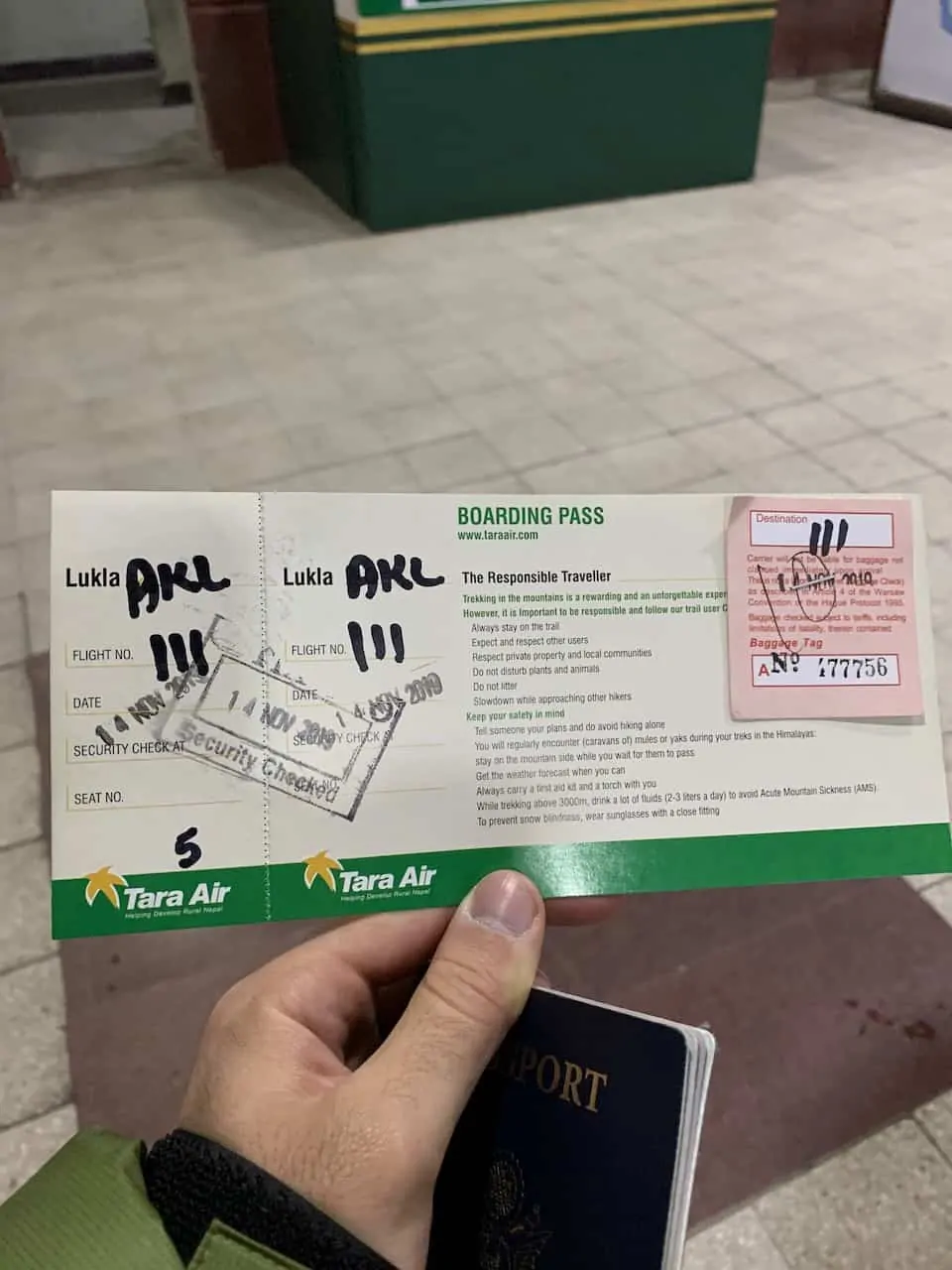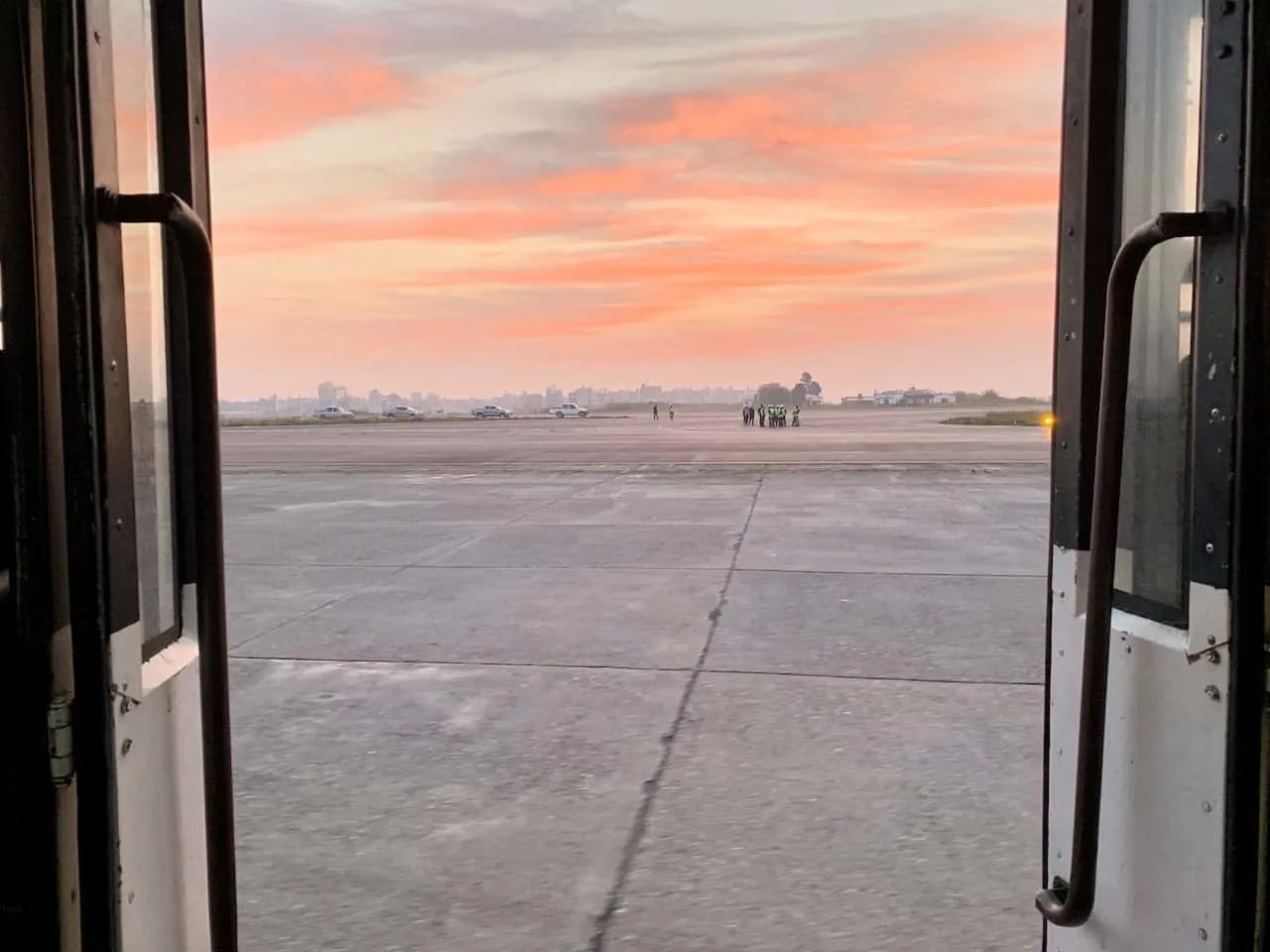 After you get on the plane, everything happens very quickly. You will take your seat and before you know it, the plane will already be taking off.
There is one flight attendant who will give out small candies to chew on and cotton balls to put in your ears.
The airplane is not pressurized and the engines can get loud, so chewing the candy and putting cotton in your ears can help with both of those issues.
From there it is just staring out the window with your camera ready as the Kathmandu landscape soon turns mountainous.
You will be able to enjoy endless snow capped peaks, farming terraces, and more beautiful scenery during the next 30 minutes or so.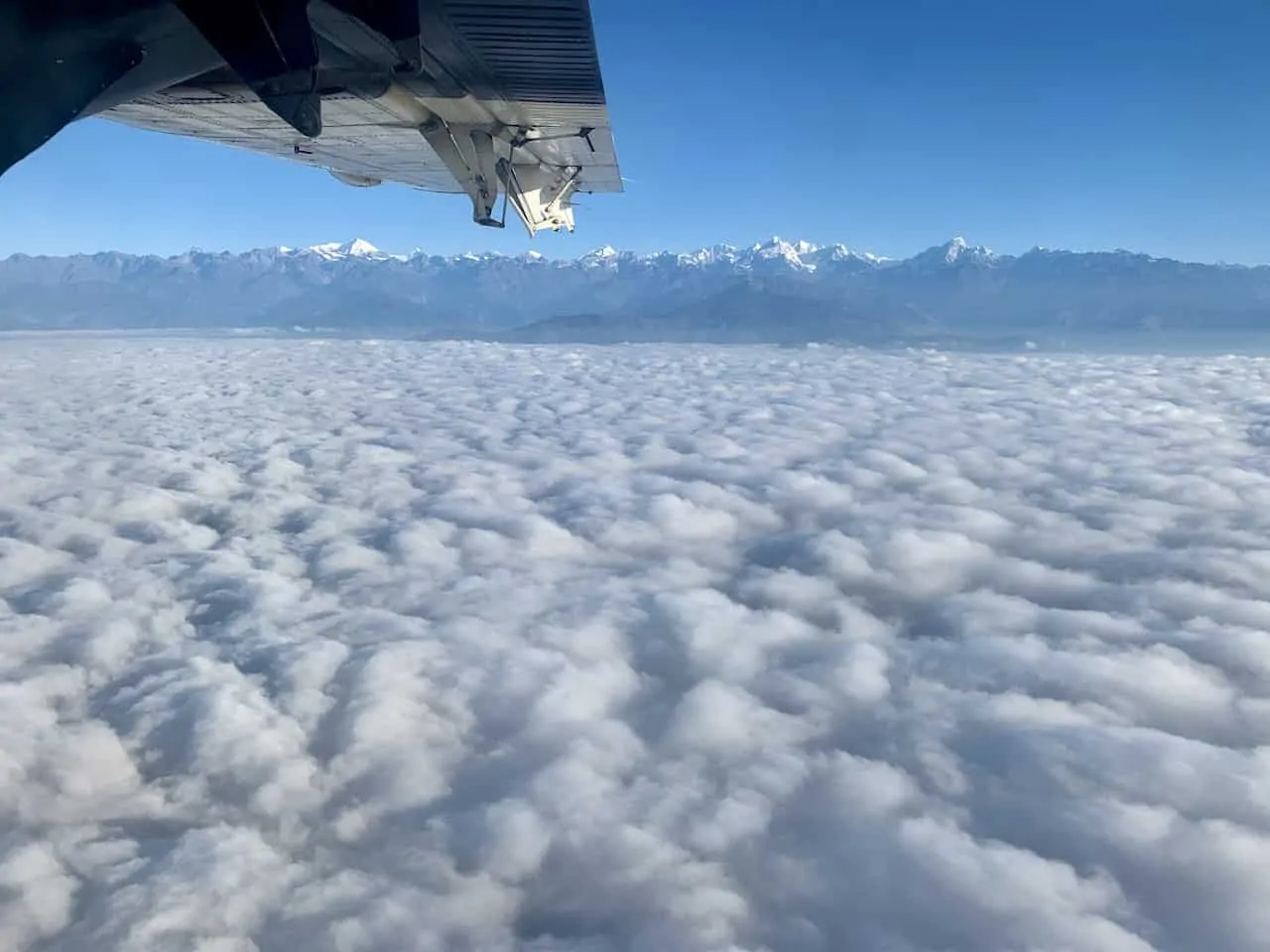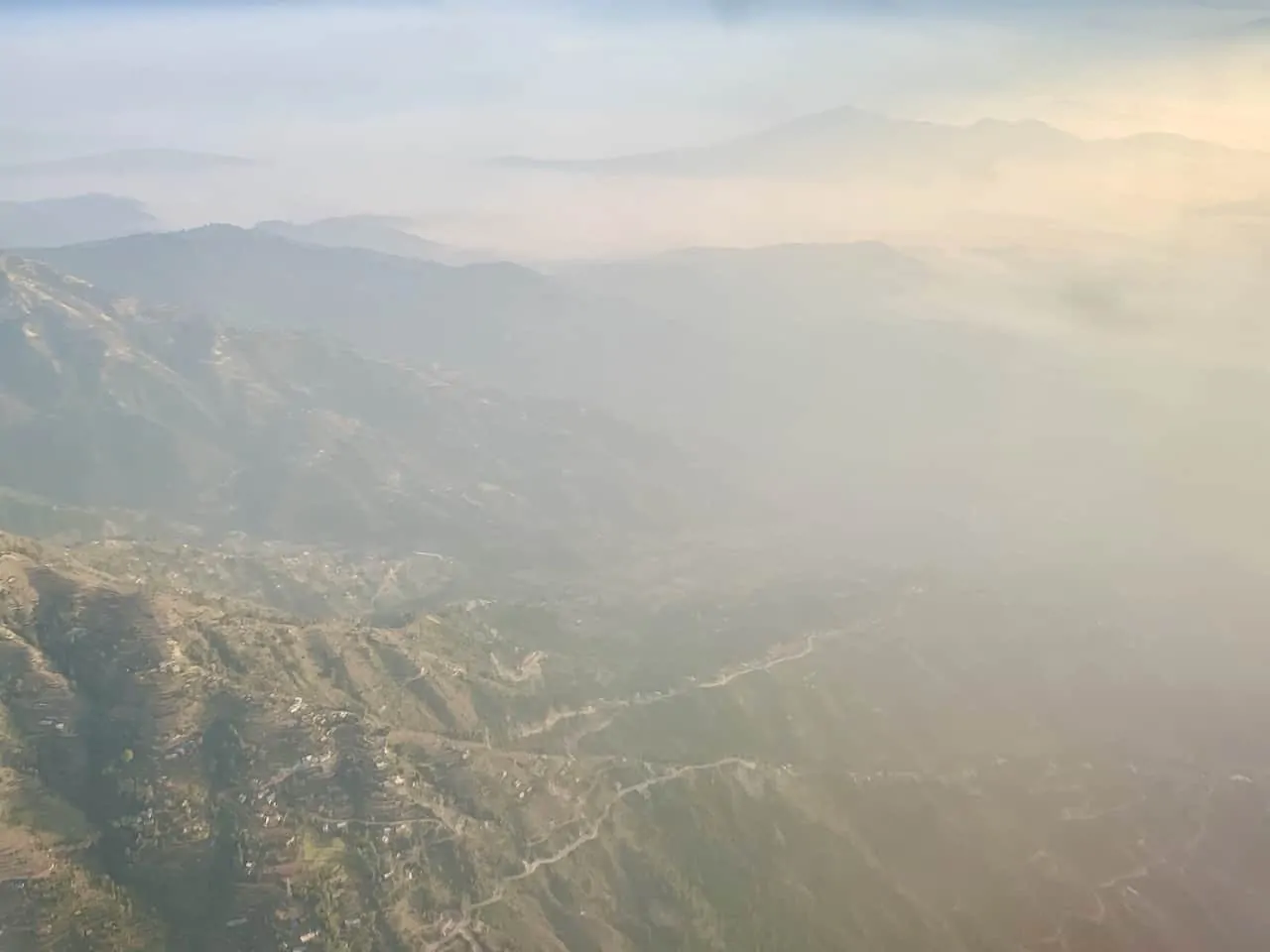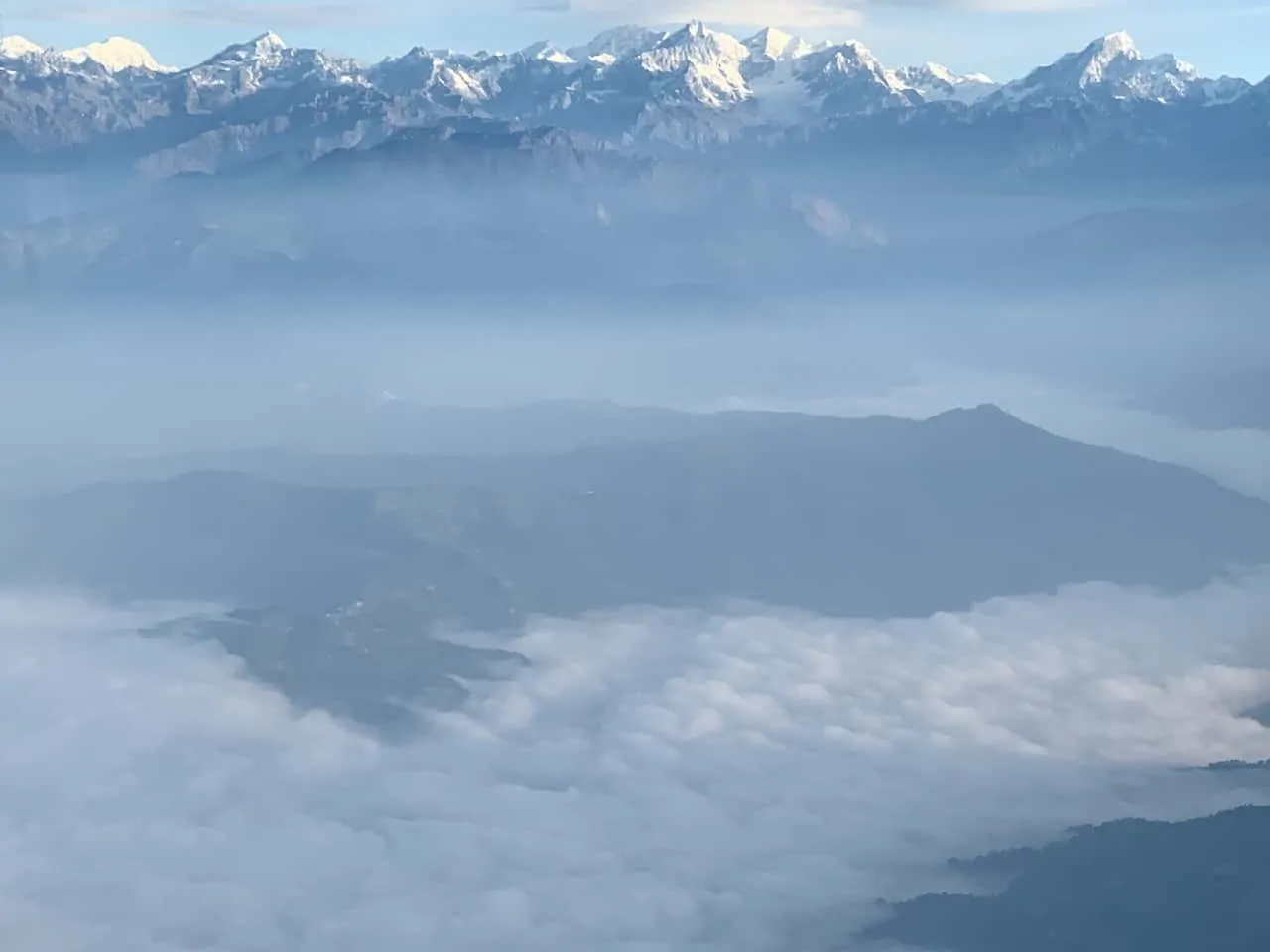 Before you know it, your destination will slowly be approaching, and your pilots will begin making the landing at Tenzing Hillary Airport.
Once off the plane, your bags will quickly be offloaded and the next group of people will be waiting to get on the plane back to Kathmandu. From the airport, you can then begin your Himalayan trekking route and be on your way.
At the end of your trek, the same process applies for the most part. You can arrive around 1-1.5 hours before your flight time at the airport in Lukla, check in at the small counters, check your bag, and then head to the waiting room.
As your inbound aircraft is approaching, they will get your group and luggage ready on the runway. Your plane will land and the passengers will quickly disembark and you will get right on as the plane turns around and takes off.
Literally the whole process of the in bound flight landing in Lukla and the flight taking off back to Kathmandu took no more than 5-10 minutes. They really do their best to turn these planes around quickly given the weather windows.
Below is a video with some highlights on both legs of the trip. Hope you enjoy it!
Now you should be all set to take on the Kathmandu to Lukla flight on your own. If you do have any questions or comments, feel free to write them in below.
Also don't forget to check out the other Nepal itineraries and guides up on the site. You may also enjoy some related trekking guides such as an Everest Base Camp Trek Packing List and Understanding the Everest Base Camp Trek Elevation Gain & Distances.
Have fun out there and safe travels!