The fourth day of the Everest Base Camp trek takes you from the village of Namche Bazaar to the village of Tengboche. This will be one of the toughest days of trekking from an elevation gain perspective as you gain nearly 4,000 feet / 1,200 meters.
However, it will also be one of the most rewarding days as you get to enjoy some stunning views of the Everest Mountain Range out in the distance throughout the trek. Read on to learn more about the trail!
* Affiliate Disclosure: This post may contain affiliate links, which means I may receive a commission if you make a purchase through the links provided, at no additional cost to you. Thanks for supporting the work I put into TripTins!
1) Namche Bazaar to Tengboche Overview
Below are some quick stats about the Namche Bazaar to Tengboche trekking experience:
Everest Base Camp Trek Day 4: Namche Bazaar to Tengboche
Starting Point: Namche Bazaar
Namche Bazaar Elevation: 11,286 feet / 3,440 meters
Ending Point: Tengboche
Tengboche Elevation: 12,664 feet / 3,860 meters
Distance: 6.0 miles / 9.6 kilometers
Duration: 5 hours
Elevation Gain: 2,881 feet / 878 meters
Net Elevation Gain: 1,378 feet / 420 meters
*Elevation gain is the true amount of elevation gained for the portion of the trail. Net elevation is just the difference in elevation between Namche Bazaar and Tengboche.
» Learn more about the various distances, elevations, and durations of the Everest Base Camp Trek.
» Learn more about flying into the region in the Kathmandu to Lukla Flight Experience Guide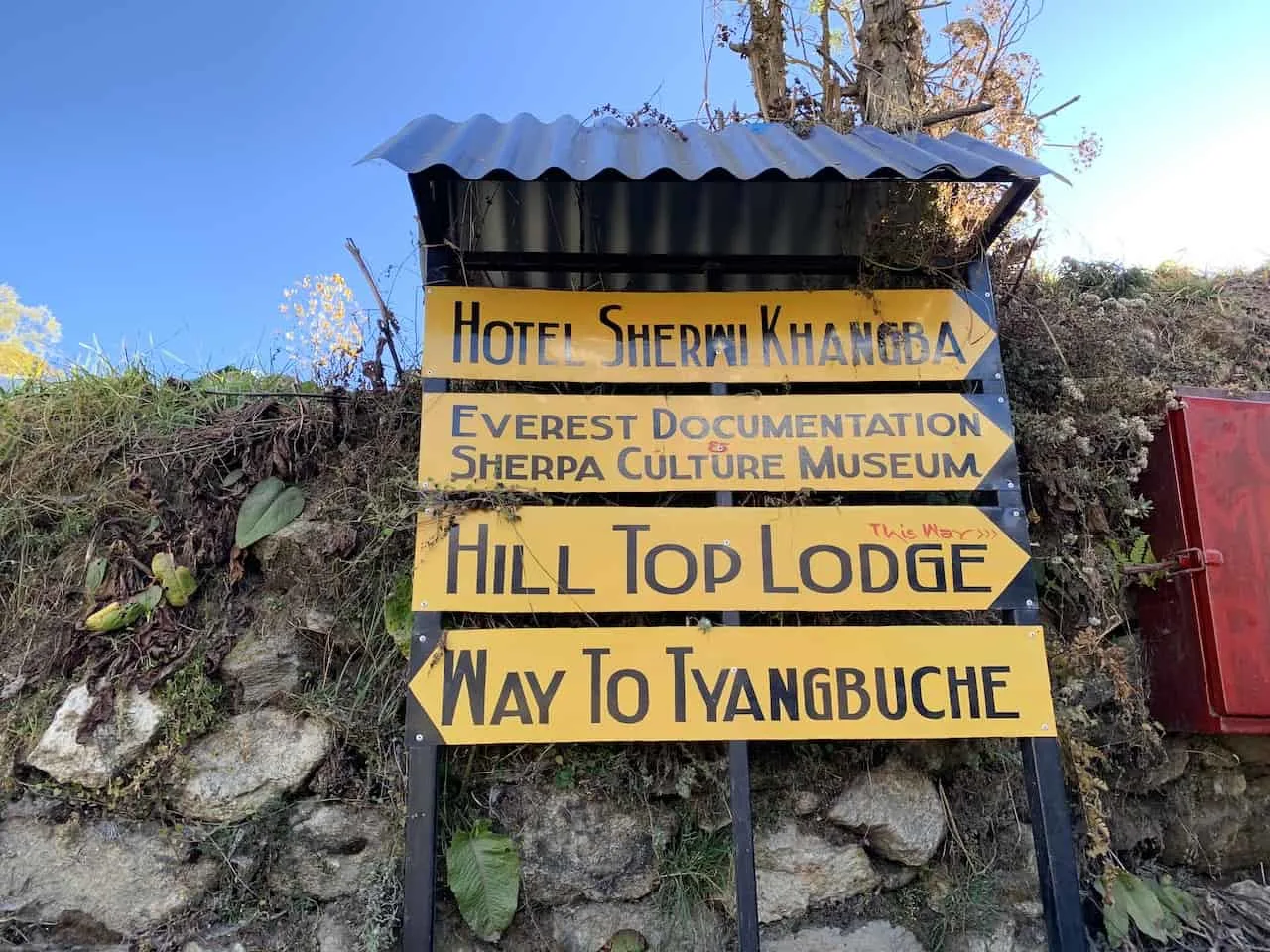 2) Namche Bazaar to Tengboche Elevation Profile
The route from Namche Bazaar to Tengboche is one of the more misleading days on the Everest Base Camp trek.
While Tengboche is just 1,378 feet / 420 meters higher in elevation than Namche Bazaar, you will actually be gaining more than double that during the day.
As you can see on the elevation profile chart below, this is because about half way on the trail, you will have a large decrease in elevation before gaining all that elevation back (and then some) during the last portion of trail.
Below is the elevation profile of the Namche Bazaar to Tengboche hiking trail so you have a better understanding for what to expect for the day: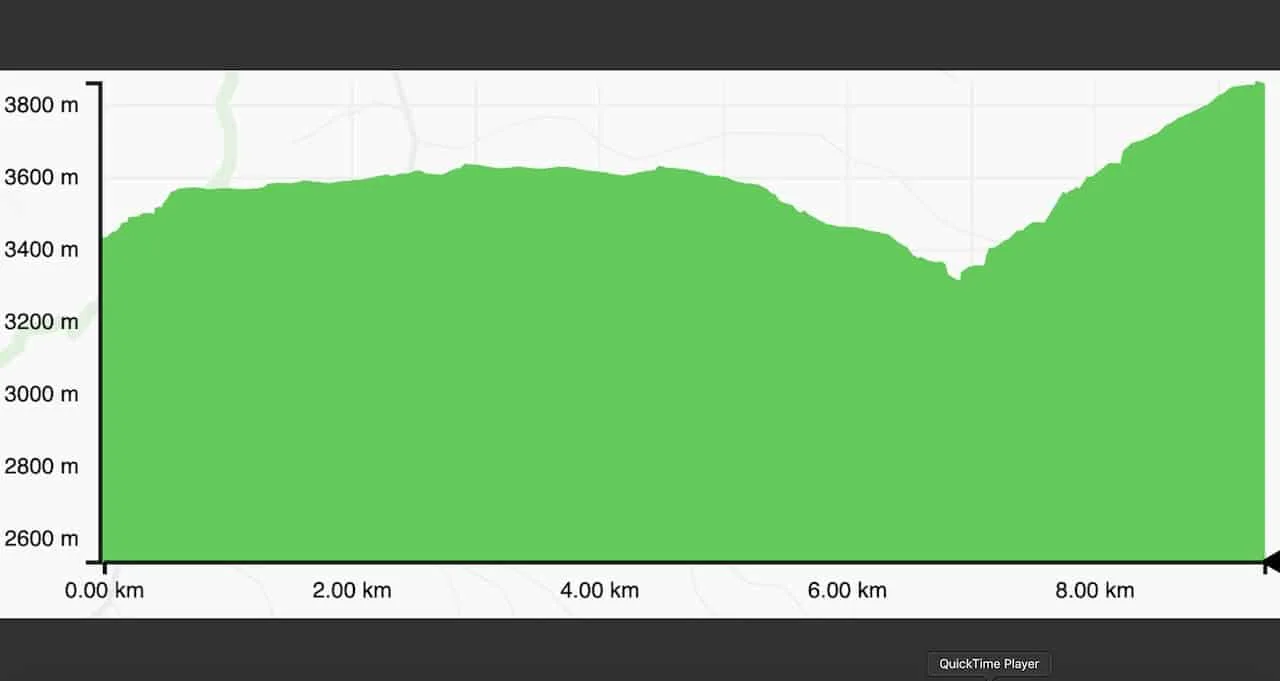 3) Trekking Map
Below is a topographic map view of the route from Namche Bazaar to Tengboche to give you a bit better idea of what the route will look like.
Essentially you will begin the day by walking along the valley wall as you get some great shots of the Everest mountain range out in front of you.
The path will then head down to the valley floor as you lose a bunch of elevation before crossing over the river and then gaining all the elevation back as you approach Tengboche.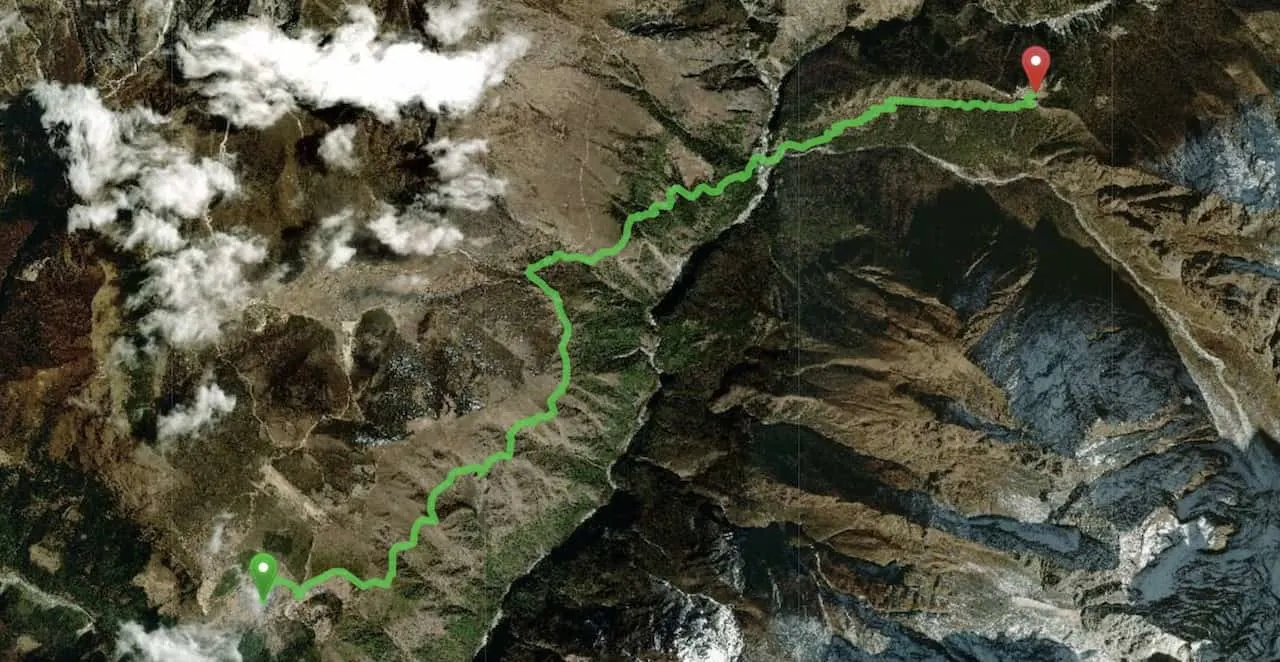 4) Everest Base Camp Trek Packing List
You will want to pack accordingly for this 11-day trek in the Himalayas. I put together a complete Everest Base Camp Packing List that goes over every single item I brought along on the trail. Some of the most important items on the list include:
5) Namche Bazaar to Tengboche Trek
It is now time to leave Namche Bazaar after spending a couple nights in the main village of Sagarmatha National Park. You will begin the day by heading out of town and to the right hand side as you begin to walk up alongside the valley.
The beginning of the trail will have a bit of incline as you get up over the village and then onto the sandy trail etched into the side of the valley wall.
After you are on this path, you will follow its way for the next 2.5 miles / 4 km as you slightly gain some elevation throughout the way.
This is the easiest part of the trail as it is a relatively smooth, sandy path. Along the way though, do expect there to be a few stair sections as well.
This 2.5 mile stretch is also one of my favorites of the entire trek (on a clear day that is). As you wind your way around the valley you will have the mountain of Ama Dablam comes into and out of view, as well as the Everest mountain range further out in the distance.
You will be able to see Lhotse, Nupste, and the top of Mount Everest as you continue along on the trail. This is also probably the best view of Everest that you will get until you reach Gorak Shep, when you can climb up Kala Patthar.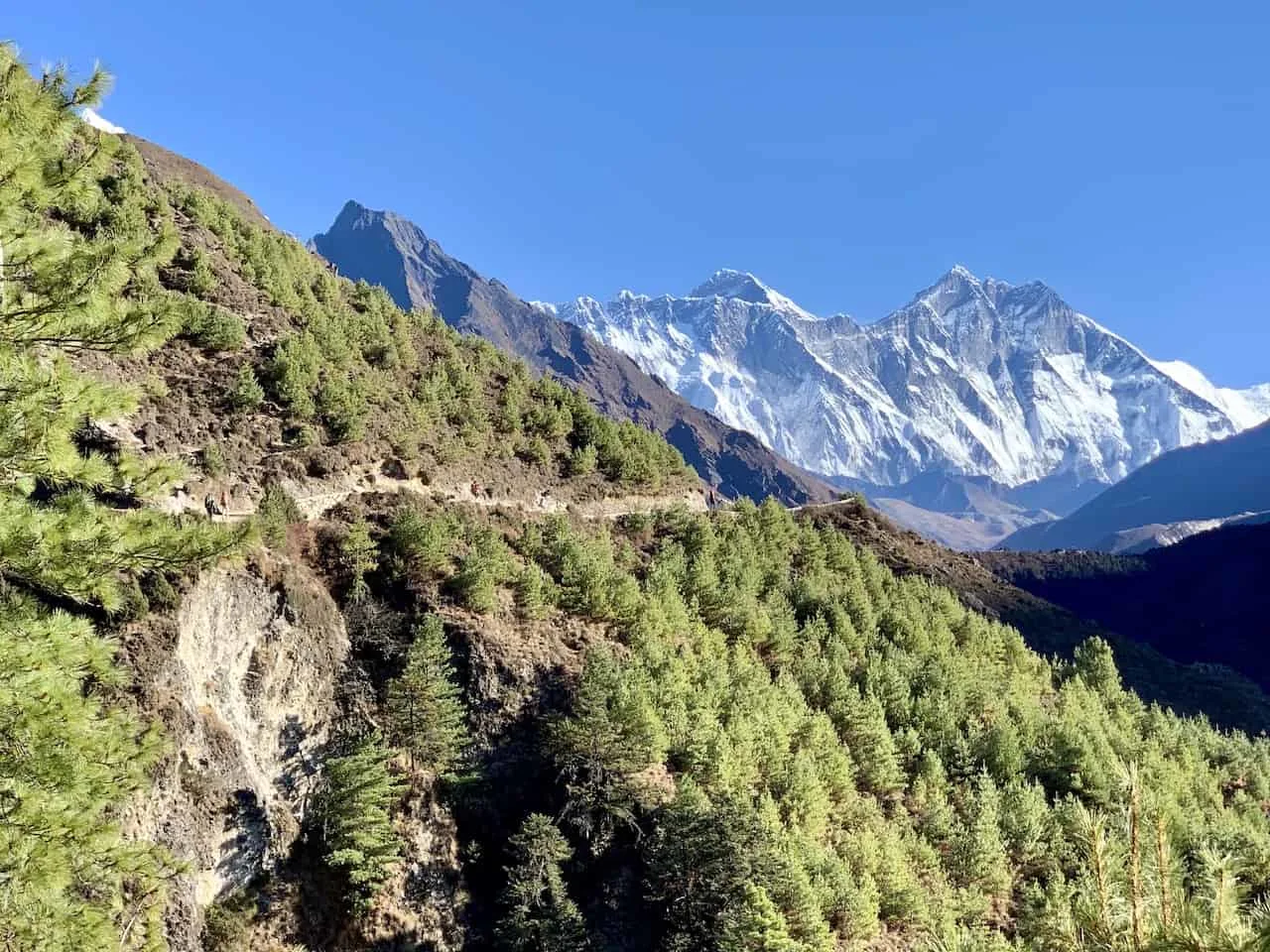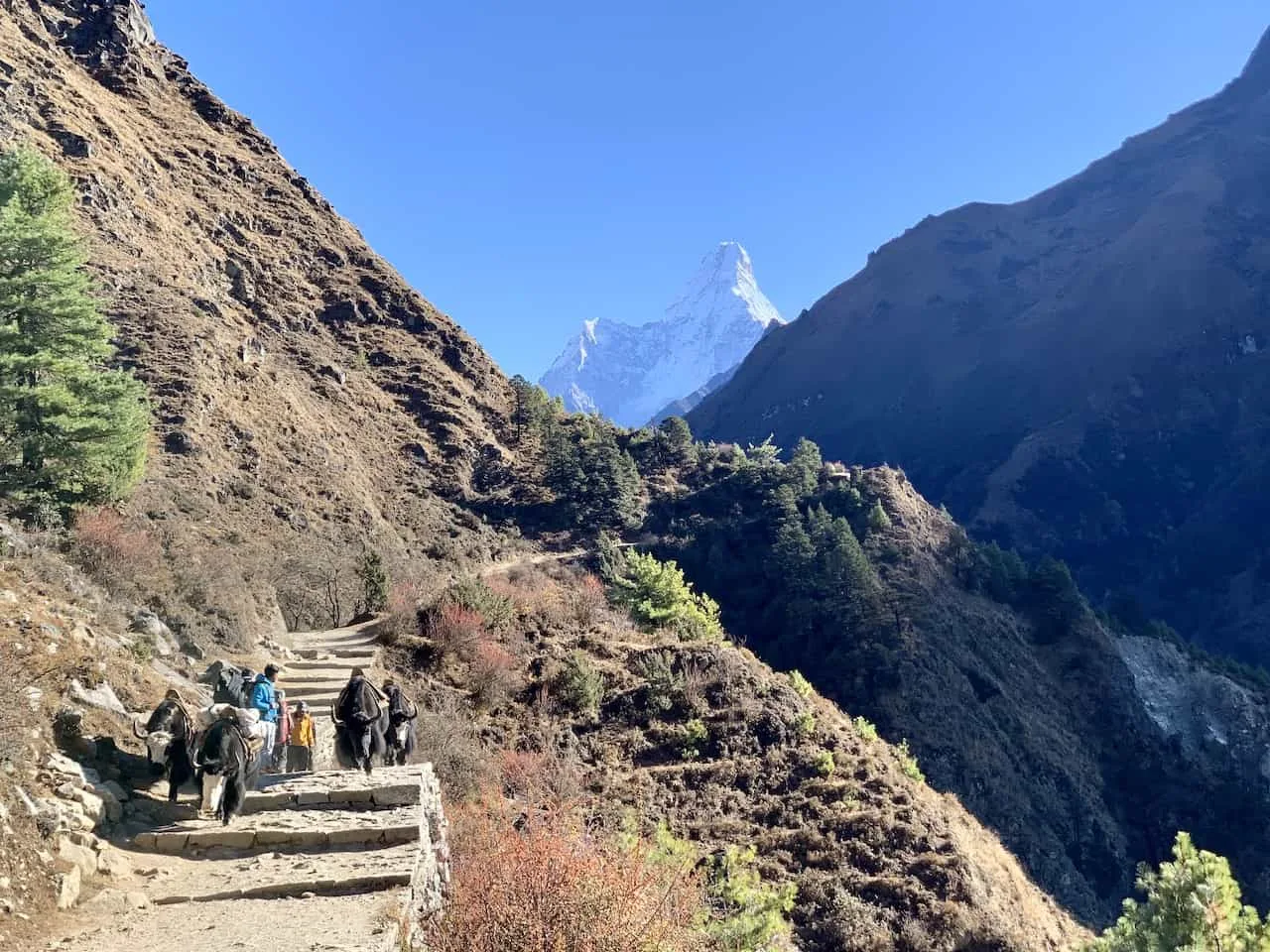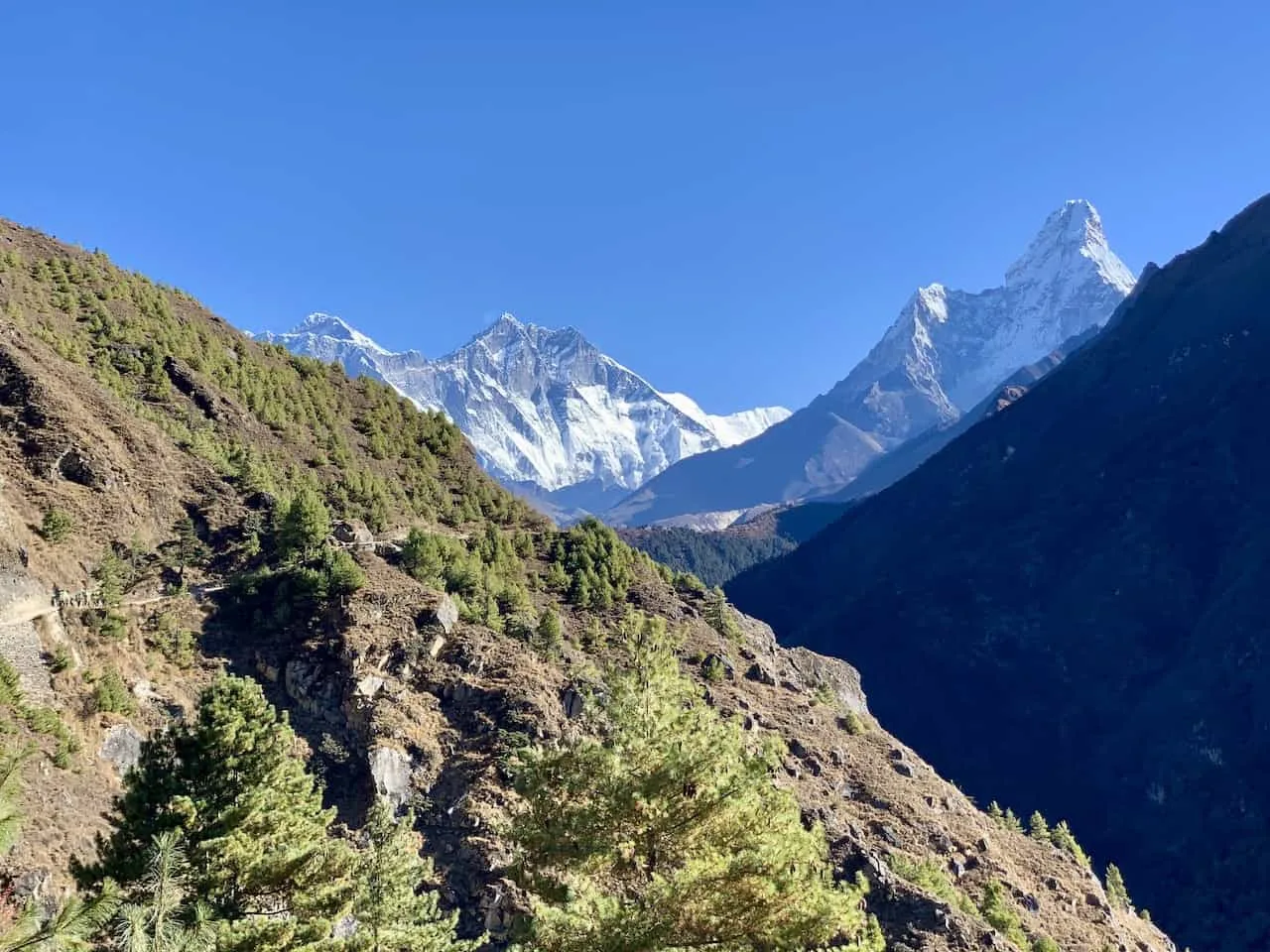 As you continue further along though, you soon will lose the angle to see the Everest mountain range and the path will begin heading down into the forest below.
The path down to the valley can get a bit tougher as the terrain is more uneven and rocky. You will lose around 1,000 feet of elevation here as you walk through the forest and get down to the suspension bridge to cross on over to the other side.
Right after you make this crossing, you will need to show your permits at a checkpoint in order to continue onwards.
Considering travel insurance for the Everest Base Camp Trek?

World Nomads offers coverage for more than 150 adventure activities as well as emergency medical, lost luggage, trip cancellation and more.

For years, World Nomads has been protecting, connecting & inspiring independent travelers, offering travel insurance & safety advice to help you travel confidently. Their mission is to support and encourage travelers to explore their boundaries.

World Nomads has simple and flexible travel insurance that has been designed by travelers for travelers. Even if you leave home without travel insurance or your policy runs out, you can buy or extend out on the road.

Get a quote for a World Nomads travel insurance policy today!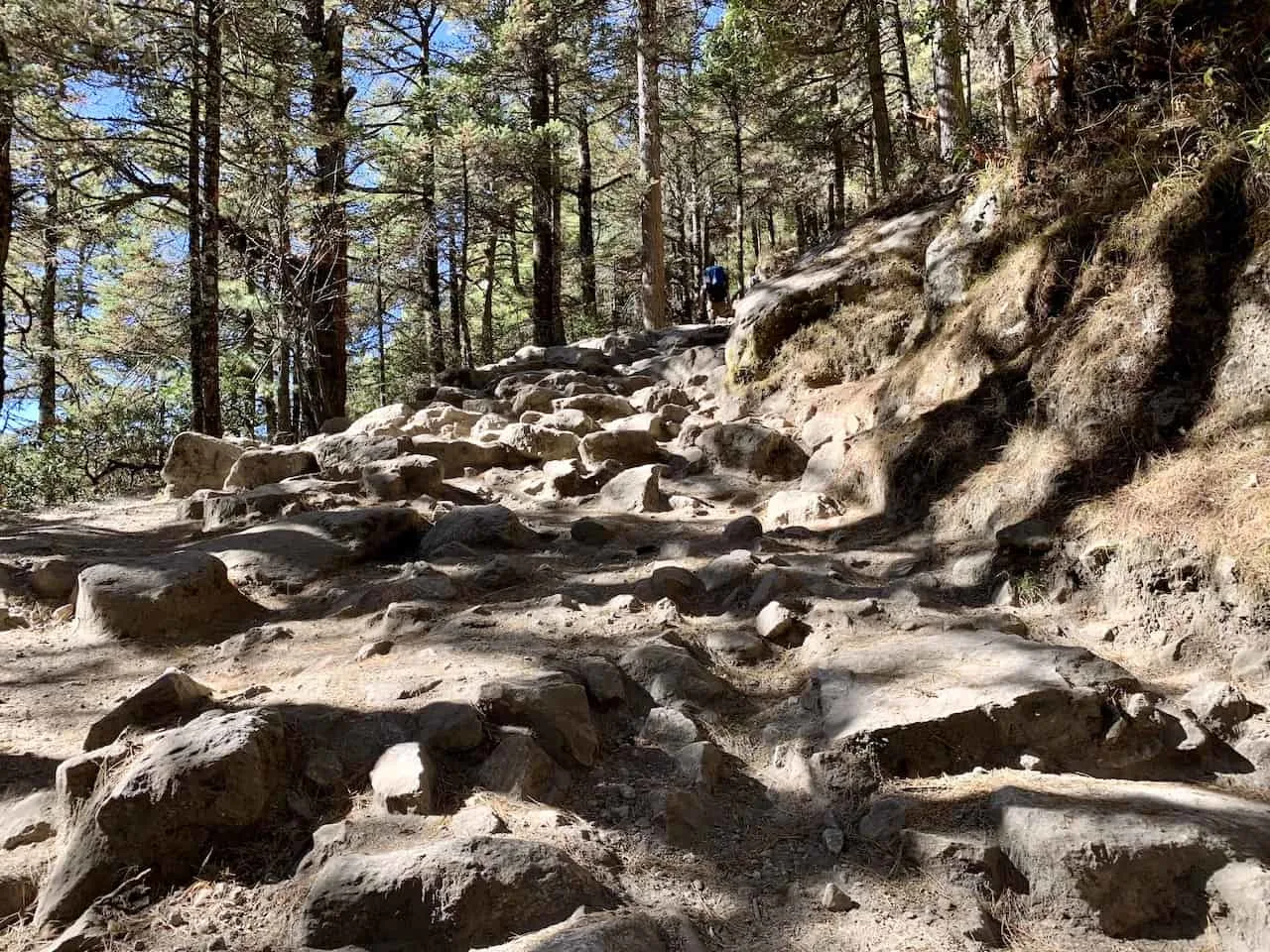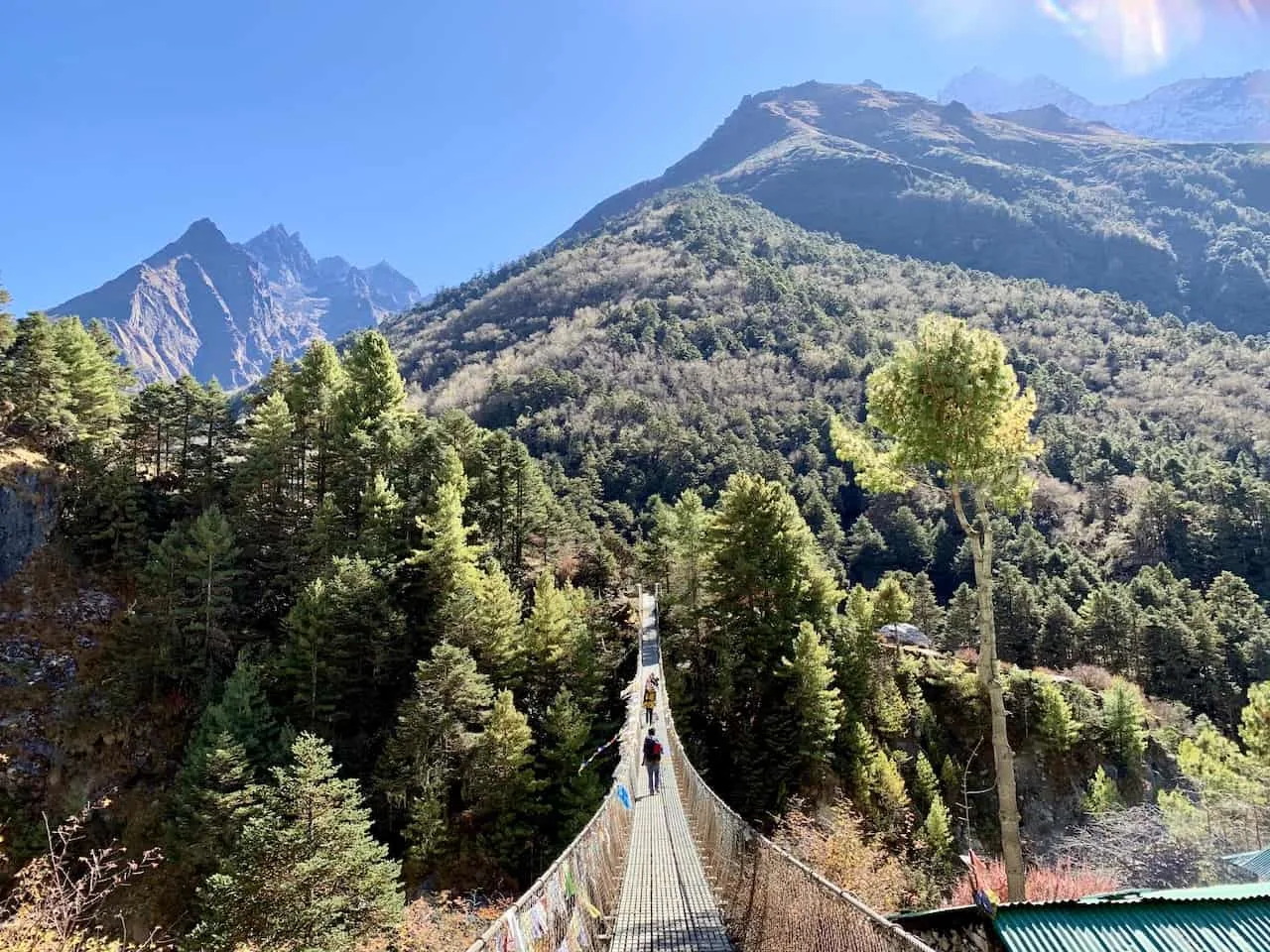 Now that you are across the river, it is time to gain all that elevation back and some more on top of it. This last portion of trail to Tengboche is an uphill 1.2 mile / 2 km climb until you reach the village.
During the uphill climb, expect there to be a ton of short rocky switchbacks as you slowly zig zag up to Tengboche. I would recommend taking it slow during this portion of trail and not pushing yourself too hard.
Expect the terrain to be similar to the downhill portion of trail with many uneven, steep rocky sections to maneuver through.
As you begin to gain more elevation though, you will also begin to get above the tree line a bit and enjoy some beautiful views of the valley down below.
There will be various snow capped mountains out in the distance as you make the last push to Tengboche.
The trail will get a bit less steep and flatten out after the switchbacks and soon enough you will be welcomed to the village of Tengboche.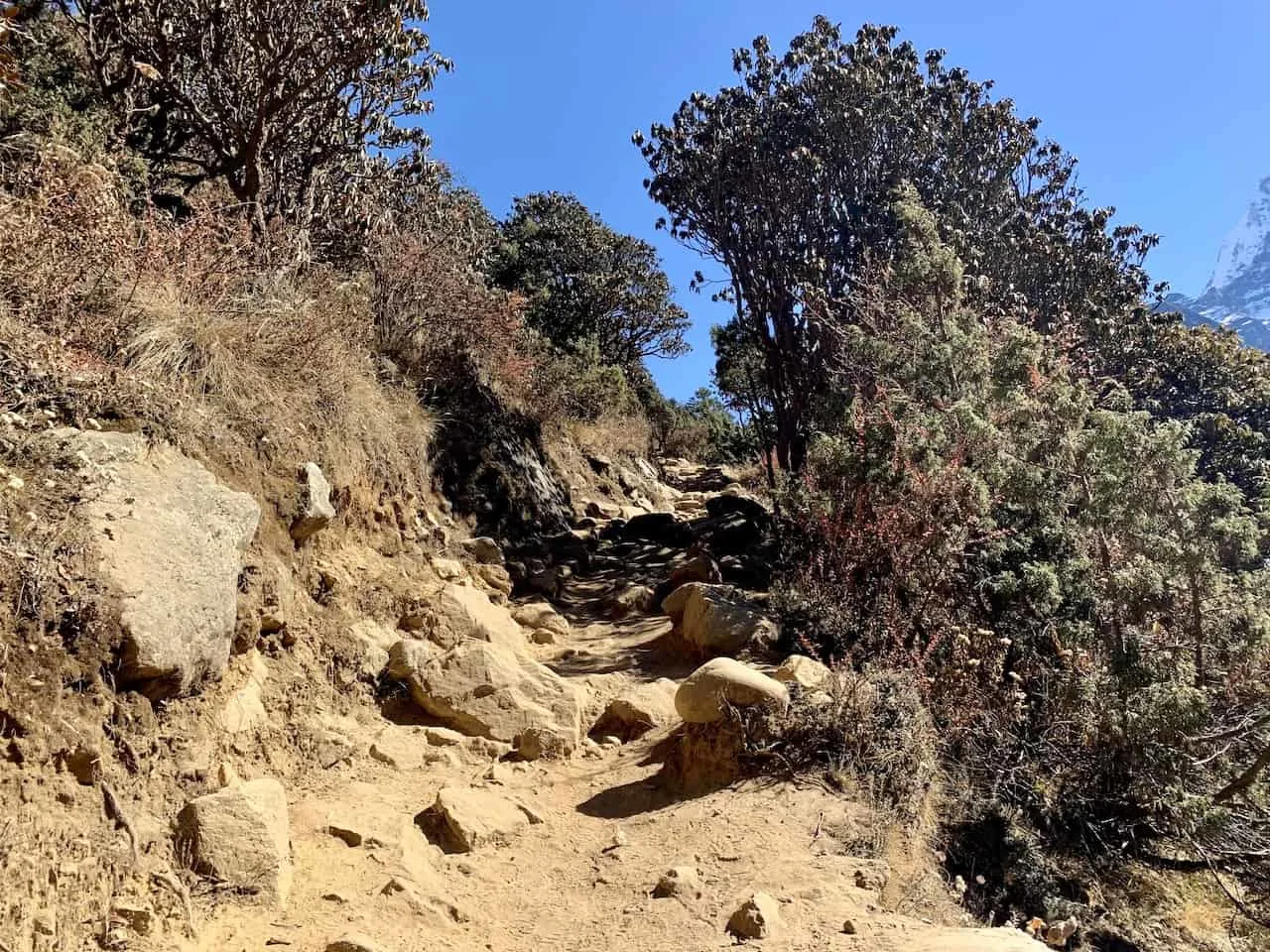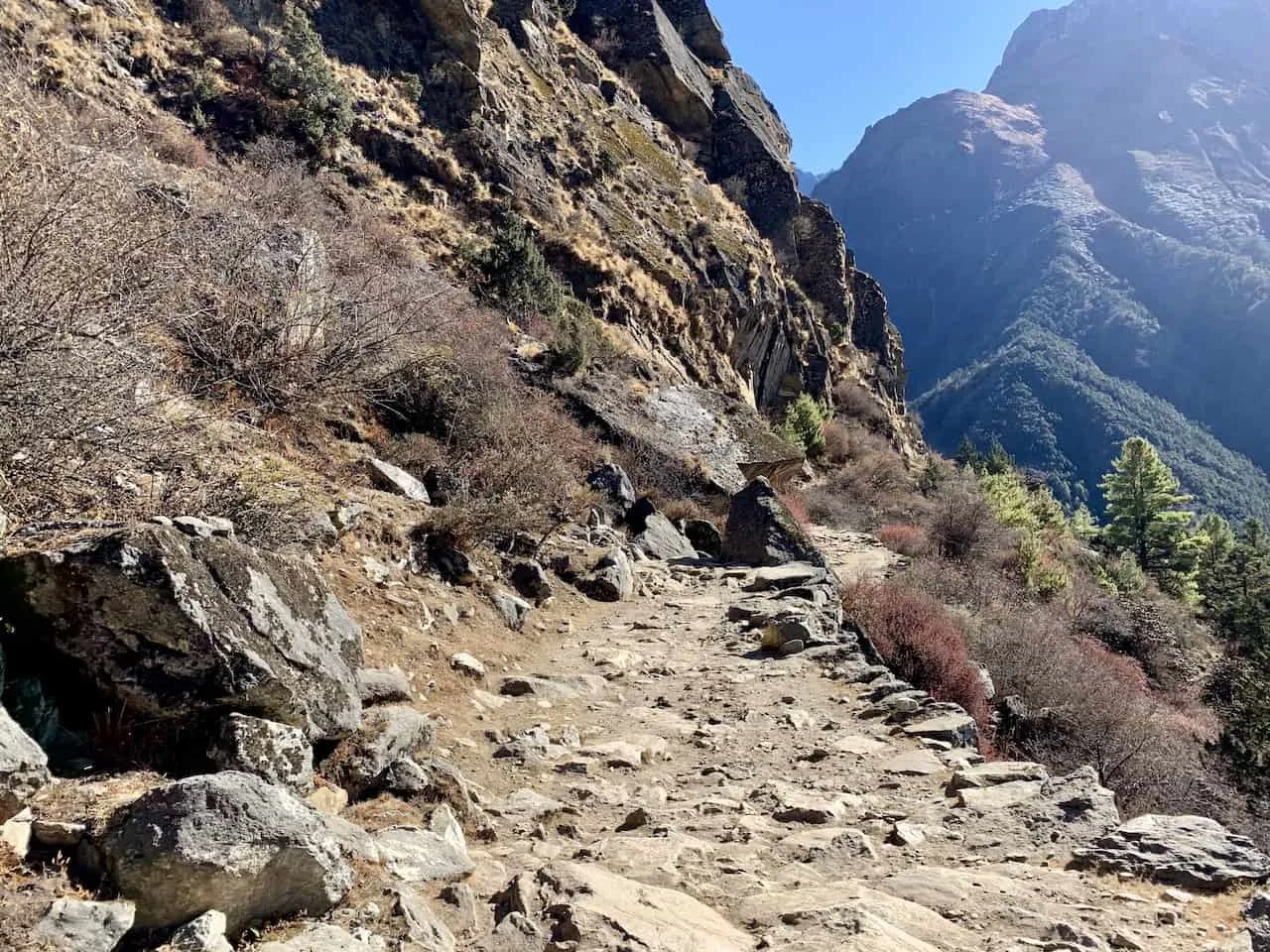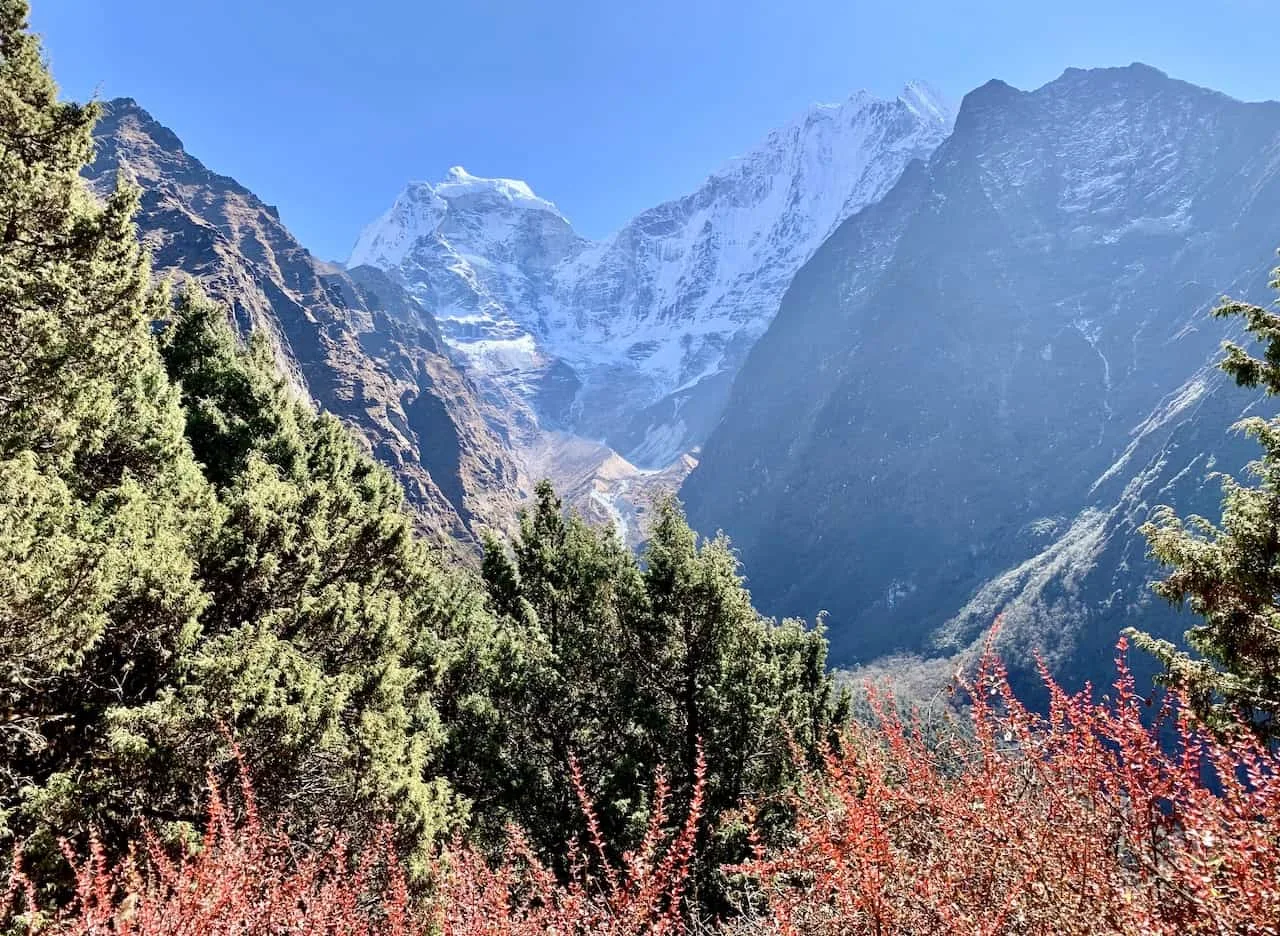 6) Tengboche Teahouse / Accommodation
I wouldn't overthink your accommodation choices too much on the trail in general. I found all the places I stayed at pretty much the same give or take.
Essentially, rooms will cost Rs 500 (less than $5 USD) for the most part, given you eat your meals at the teahouse as well.
Tengboche has several teahouses to choose from including Trekker's Lodge, Himalayan Hotel, Tengboche Guesthouse, Tashi Delek, among a few others.
However, while Tengboche is one of the main overnight options during an Everest Base Camp trek, during peak season it is possible that the teahouses will sell out there.
If that happens my advice would to hike just past Tengboche for about 20 minutes until you reach another village named Deboche. Here you will find even more teahouses available if Tengboche does happen to sell out.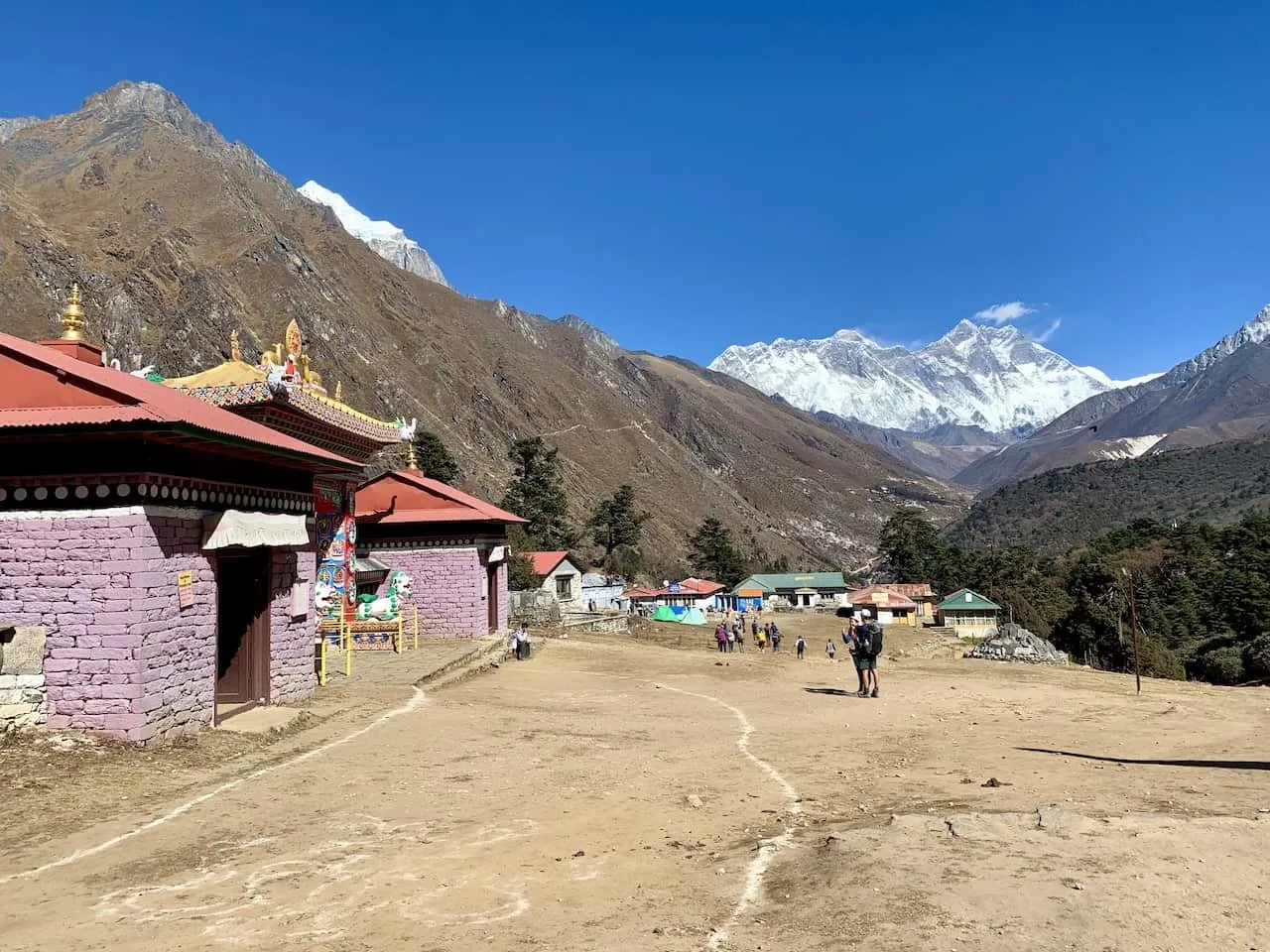 7) Tengboche Monastery
Tengboche is built on this large piece of land with several teahouses and other structures found throughout.
One of the main highlights of Tengboche is the Tengboche Monastery (Dawa Choling Gompa) that overlooks town and the surrounding mountain landscape.
The monastery is one of the most important cultural aspects of the Everest Base Camp trek and you should definitely spend some time visiting it when you arrive.
The monastery is open only during certain hours of the day though:
↔ 7:00AM – 8:00AM
↔ 9:00AM – 11:00AM
↔ 1:00PM – 4:30PM
» You can either visit during the afternoon you arrive or you can wait until the next morning and visit before you head on to Dingboche on day 5.
» While you can take pictures of the outside area of the monastery, you are not allowed to take photos once inside. Also be sure to take off your shoes and hat before entering as well.
» There are daily prayers that occur in the monastery, once in the morning around 7:00AM and once in the afternoon around 3:00PM, if you would like to be part a true cultural experience.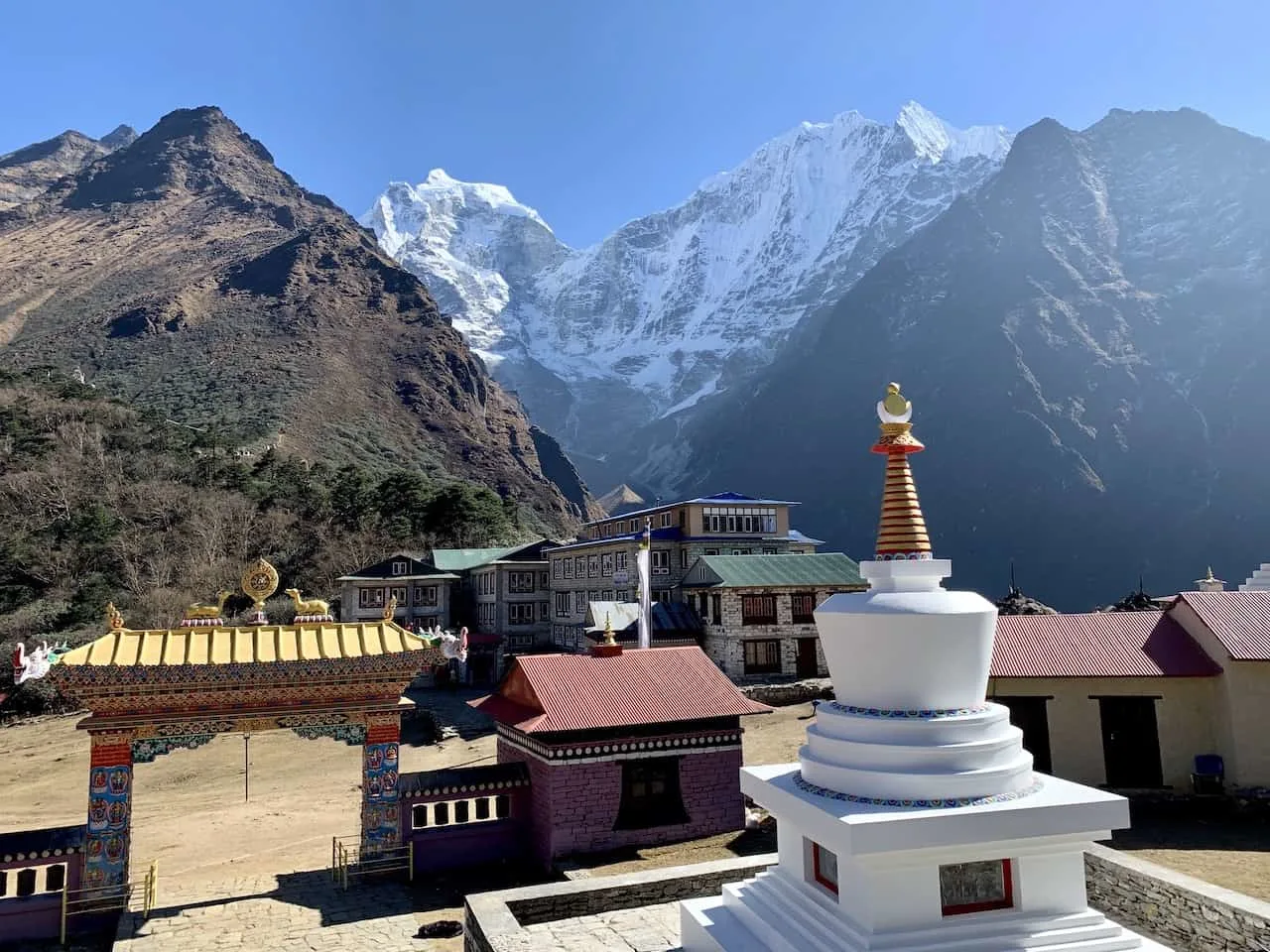 Take a look at this in depth overview of the Everest Base Camp Trek as well as the below guides I put together for each day of the journey:
Day 1 – Lukla to Phakding
Day 2 – Phakding to Namche Bazaar
Day 3 – Hotel Everest View Acclimatization
Day 4 – Namche Bazaar to Tengboche
Day 5 – Tengboche to Dingboche
Day 6 – Nangkartshang Acclimatization
Day 7 – Dingboche to Lobuche
Day 8 – Lobuche to Gorak Shep & Everest Base Camp
Day 9 – Kalapathar & Gorak Shep to Pheriche
Day 10 – Pheriche to Namche Bazaar
Day 11 – Namche Bazaar to Lukla
That about does it for your guide to day 4 of the Everest Base Camp trek from Namche Bazaar to Tengboche. If you do have any additional questions or comments about the day or the trail in general, feel free to add them in below.
Also be sure to check out the other Nepal itineraries and guides up on the site (like why I would recommend an Everest Base Camp Trek in November). Have fun out there and safe travels.