While most people who explore the Everest region just head on the standard out and back trek to Everest Base Camp, you also have the option to head over the Kongma La Pass from Chukhung.
Instead of hiking from Dingboche to Lobuche on day 7 of the EBC trek, you instead can walk the route on the alternate side of the valley to Chukhung.
Read on to learn about this portion of trail and plenty more along the way.
* Affiliate Disclosure: This post may contain affiliate links, which means I may receive a commission if you make a purchase through the links provided, at no additional cost to you. Thanks for supporting the work I put into TripTins!
1) Dingboche to Chukhung Trekking Details
Adding on Chukhung (also spelled Chhukhung) to your itinerary, will give you the chance to experience an area that most do not get to see.
Not only will you have the chance to head over the Kongma La Pass to Lobuche, but you also can head on hikes to Island Peak Base Camp as well as a hike up Chukhung Ri.
During my trip taking part of the entire Three Passes Trek, I headed to Chukhung on day 7, checked into my teahouse, and then did the round trip hike to Island Peak Base Camp that afternoon.
On day 8, I did the hike up Chukhung Ri before heading over the Kongma La Pass on day 9.
Below are some of the important trekking details to note for the route between Dingboche and Chukhung:
Dingboche to Chukhung Trek
Starting Point: Dingboche
Dingboche Elevation: 14,469 feet / 4,410 meters
Ending Point: Chukhung
Chukhung Elevation: 15,518 feet / 4,730 meters
Distance: 2.8 miles / 4.5 km
Duration: 2 hours
Elevation Gain: 1,312 feet / 400 meters
Net Elevation Gain: 1,049 feet / 320 meters
*Elevation gain is the true amount of elevation gained for the portion of the trail. Net elevation is just the difference in elevation between Dingboche and Chukhung.
» Learn more about flying into the region in the Kathmandu to Lukla Flight Experience Guide
2) Dingboche to Chukhung Elevation Profile
Below is the elevation profile between Dingboche and Chukhung. All said and done, it is a pretty easy portion of trail compared to the trek as a whole.
You will slightly gain elevation along the entirety of the trek but it is just over 1,300 feet of gain over 3 miles, so not too bad at all.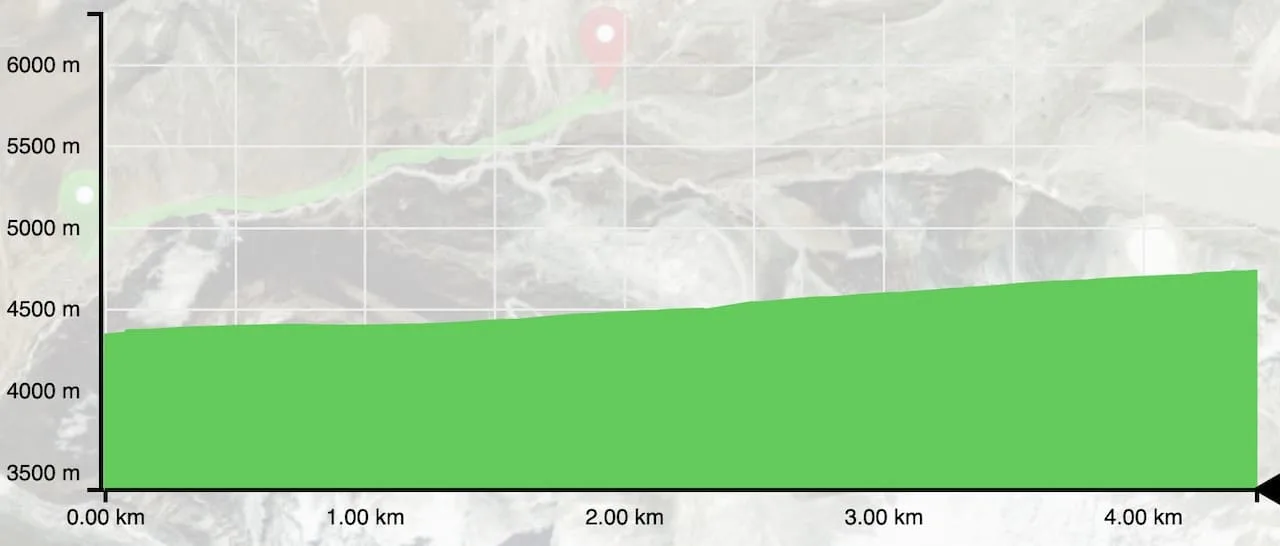 3) Dingboche to Chukhung Elevation Map
Below you can see the aerial map of the trekking route between the two villages. You can see the village of Dingboche in the bottom left hand corner, and from there will just follow the way on the side of the river towards Chukhung.
If you were going to Lobuche, instead of heading to the right of the valley, you will head to the left of the valley.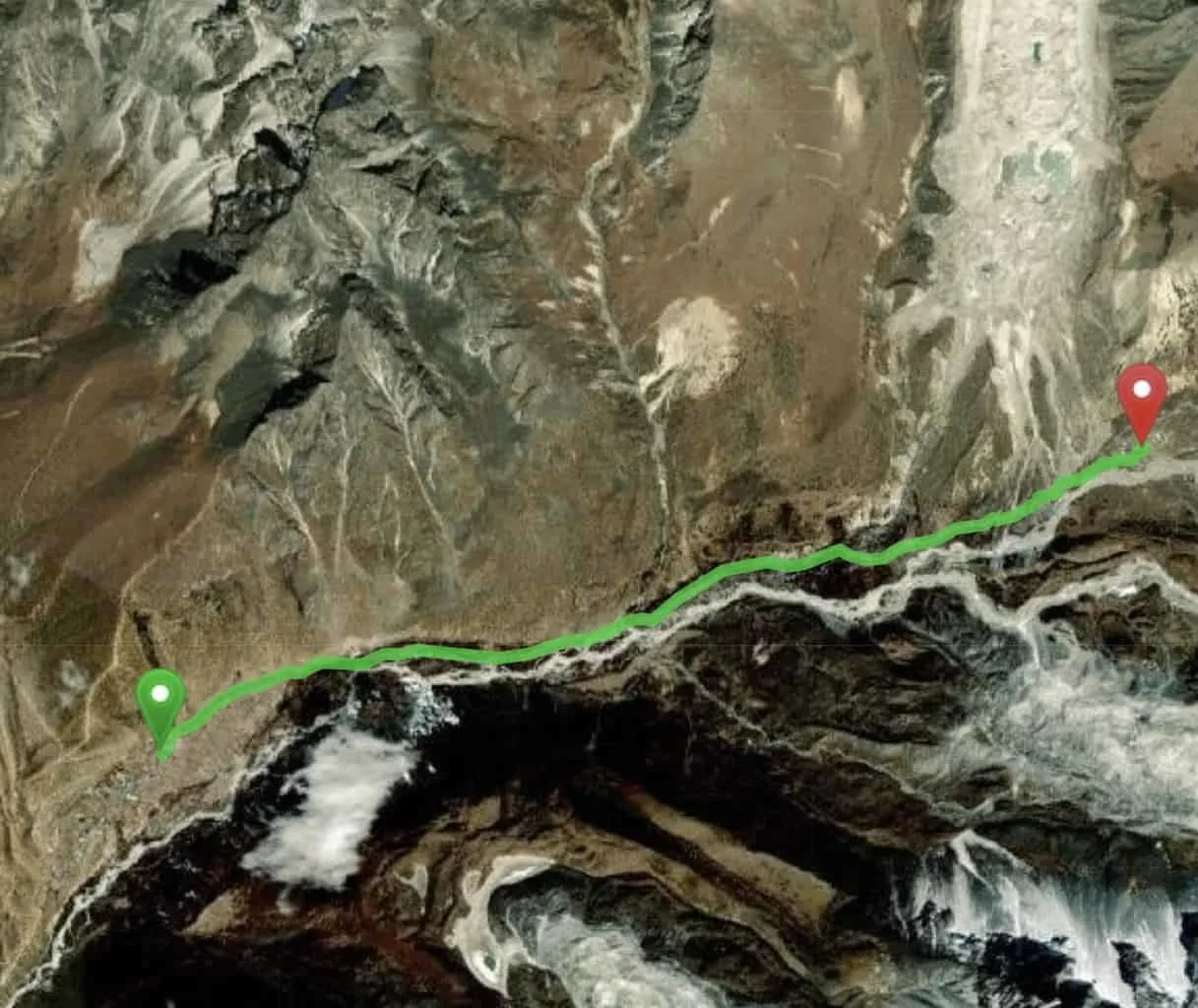 4) Everest Base Camp Packing List
You will want to pack accordingly for this trek in the Himalayas. I put together a complete Everest Base Camp Packing List that goes over every single item I brought along on the trail. Some of the most important items on the list include: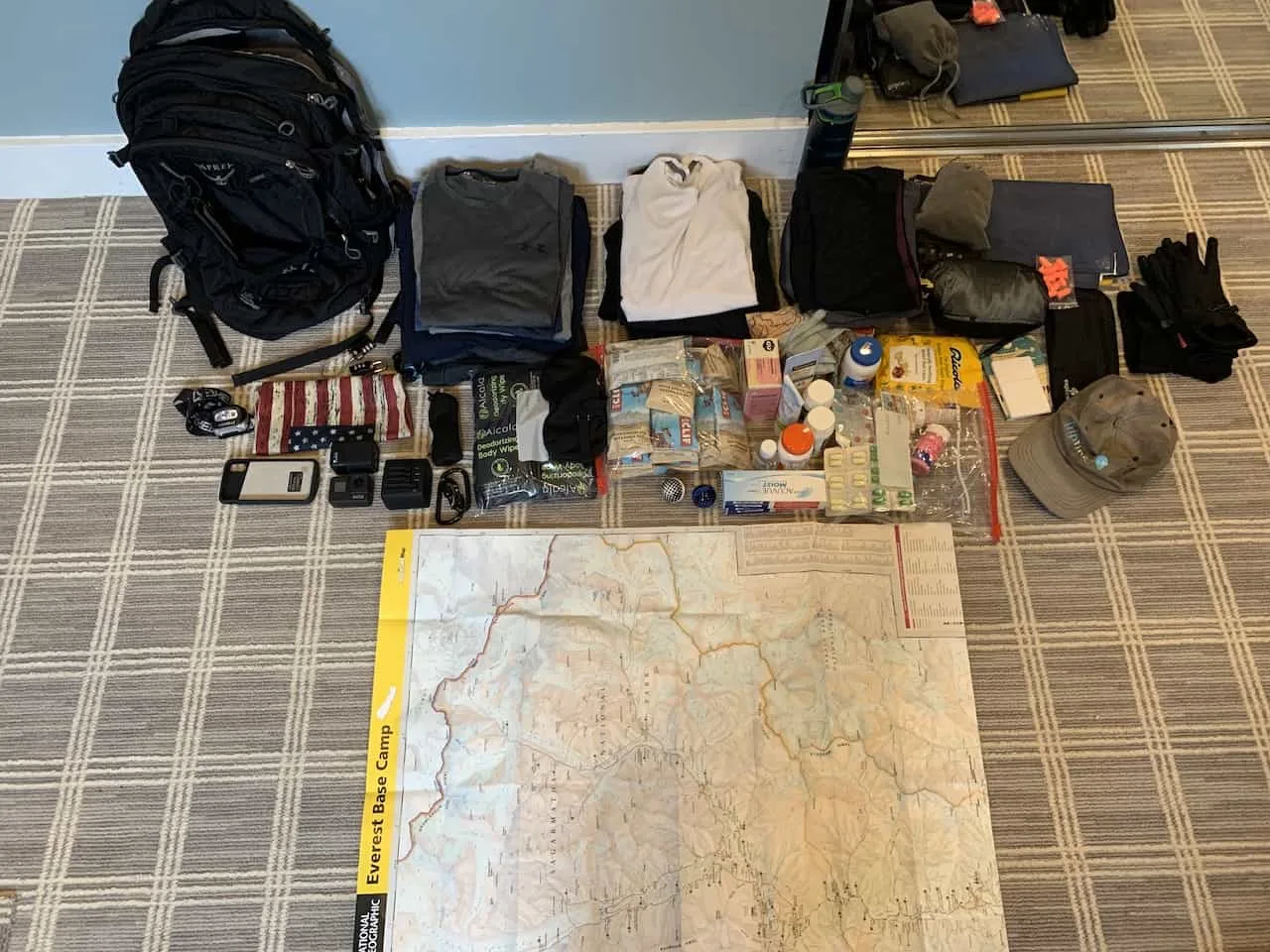 5) Dingboche to Chukhung Trekking
Since the trek from Dingboche to Chhukung is pretty straightforward, below you will find just a bit of commentary of the trail. However, I have also included a ton of photos, which should better help you understand what to expect for the day.
After having breakfast at your Dingboche teahouse, you will pack up your stuff and begin the hike right alongside the river further down the valley. You will make your way through the village and past some of the last structures on the outskirts of Dingboche.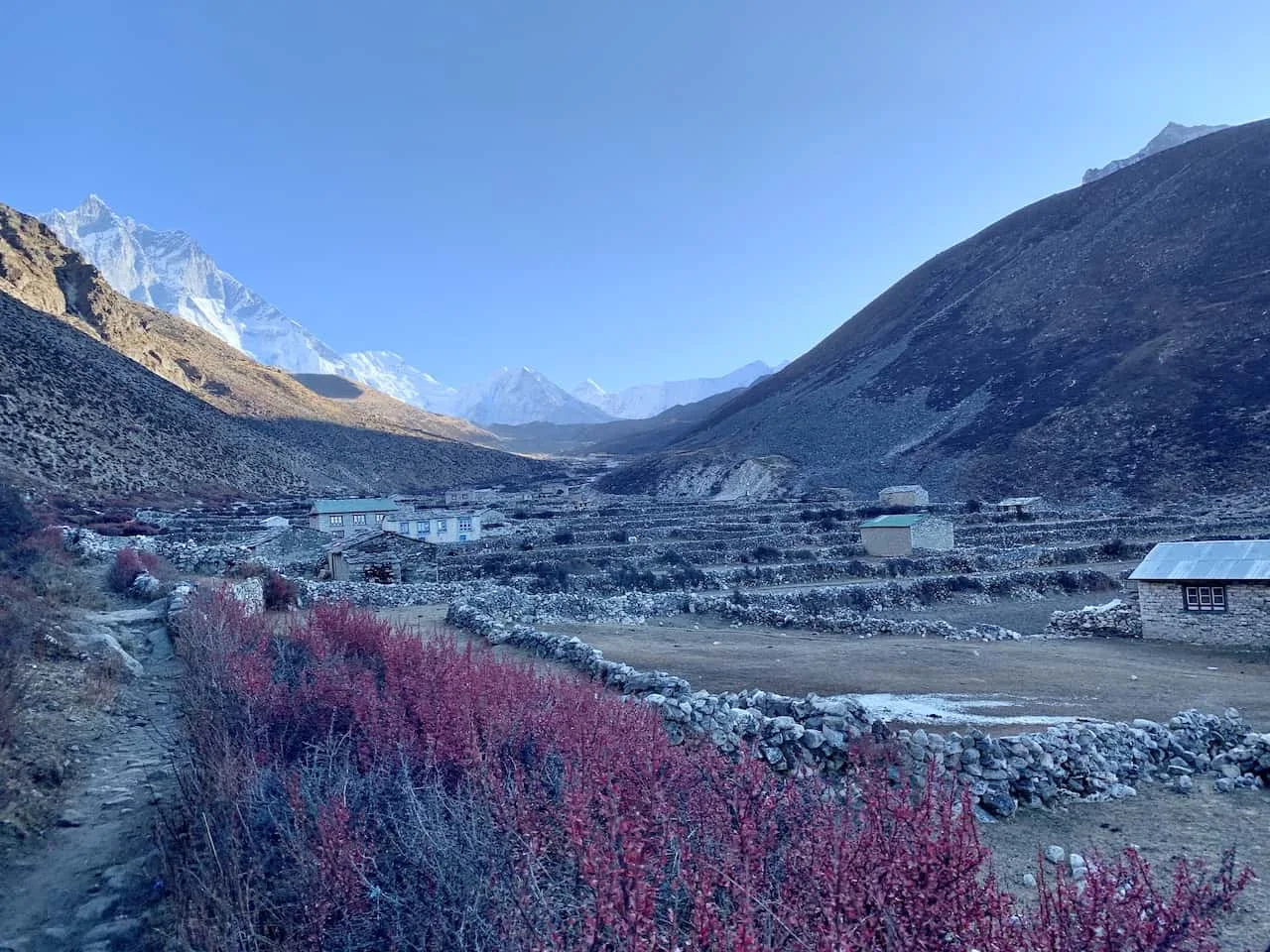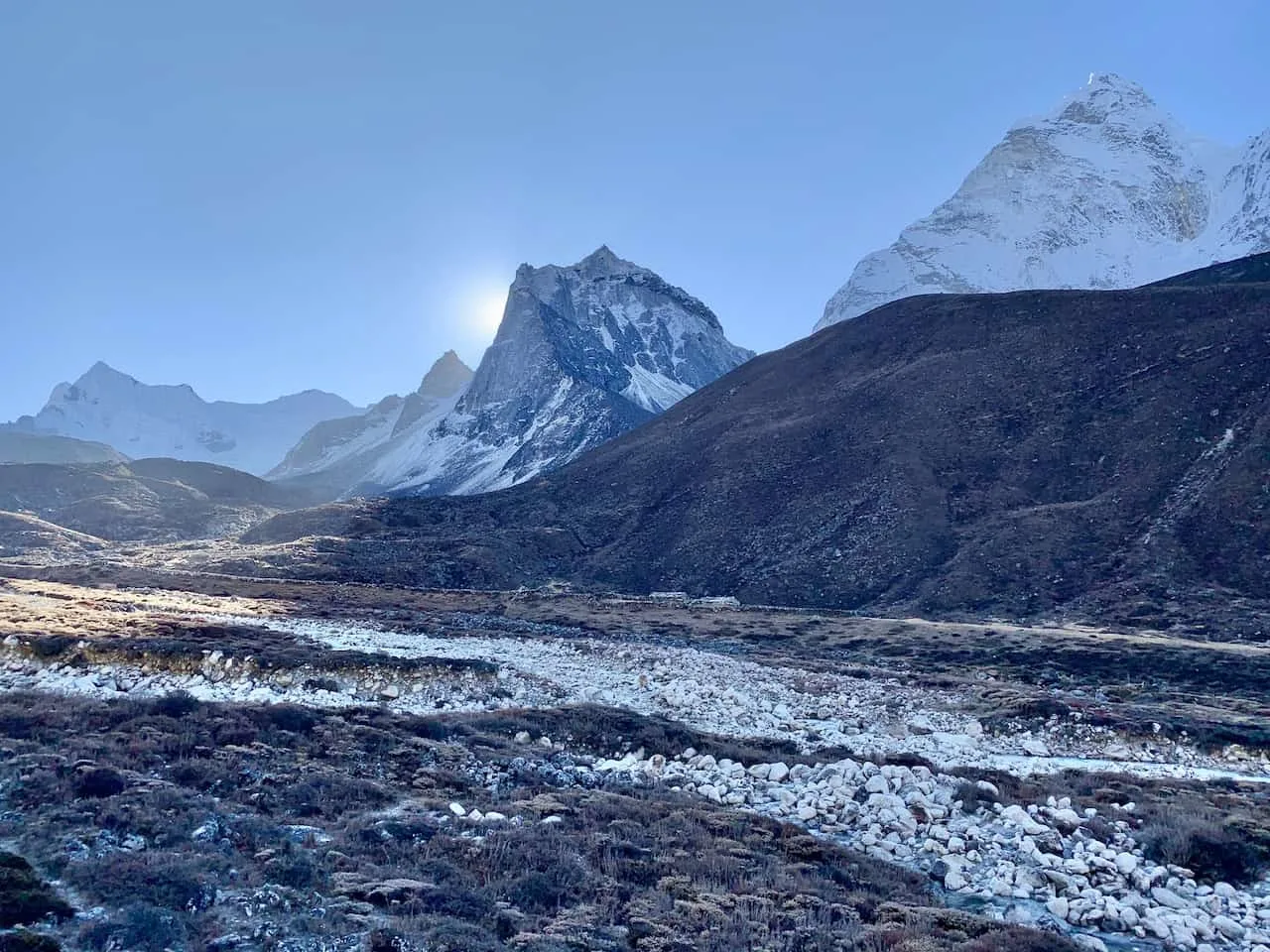 The whole way through you will have a dirt/rocky/sandy pathway guiding you between these two villages. On all sides of you, expect to see various snow capped mountains peaking their way above the valley.
Behind you will be the backside of Ama Dablam, which you will have seen frequently up until this point from other angles.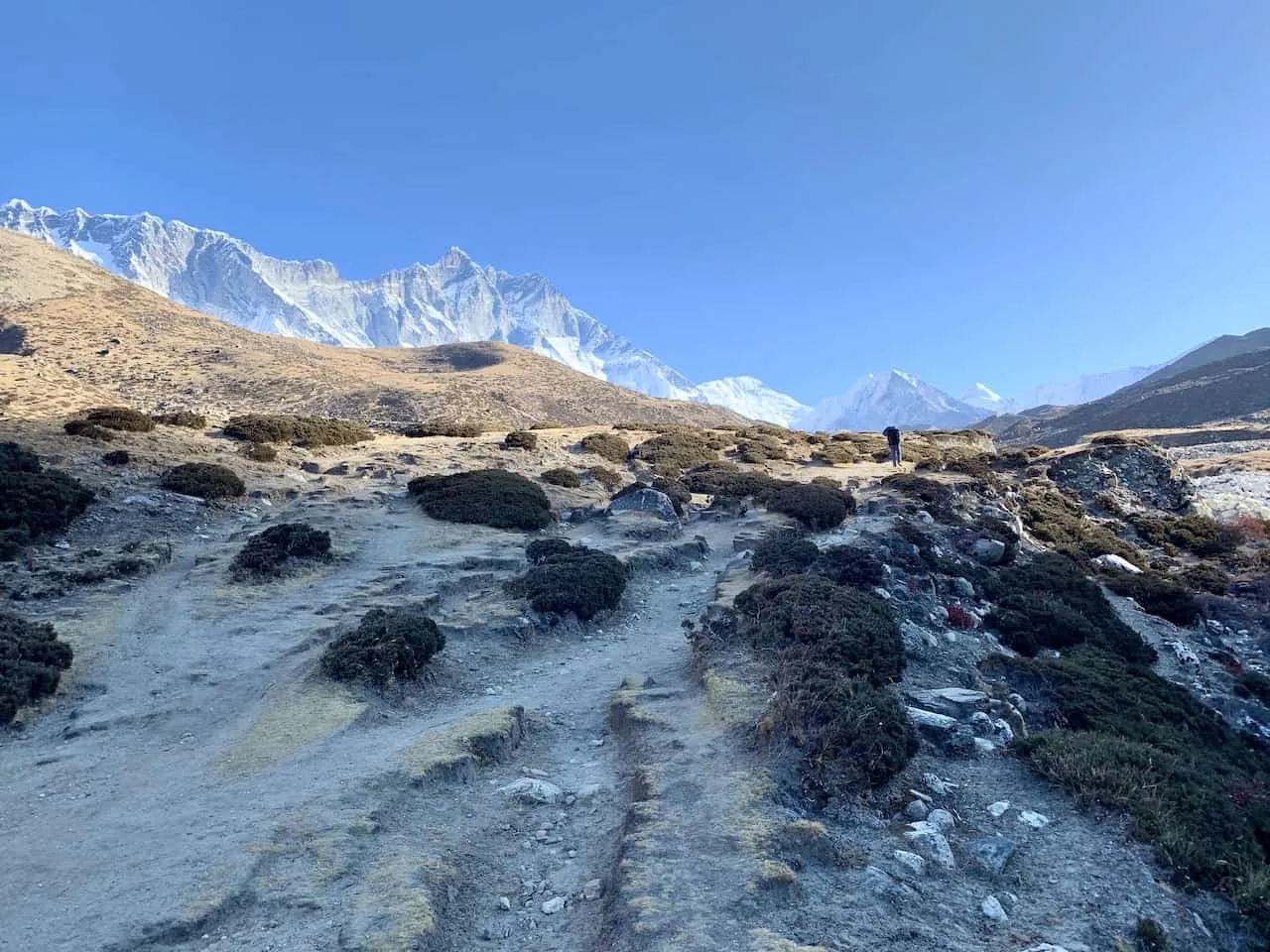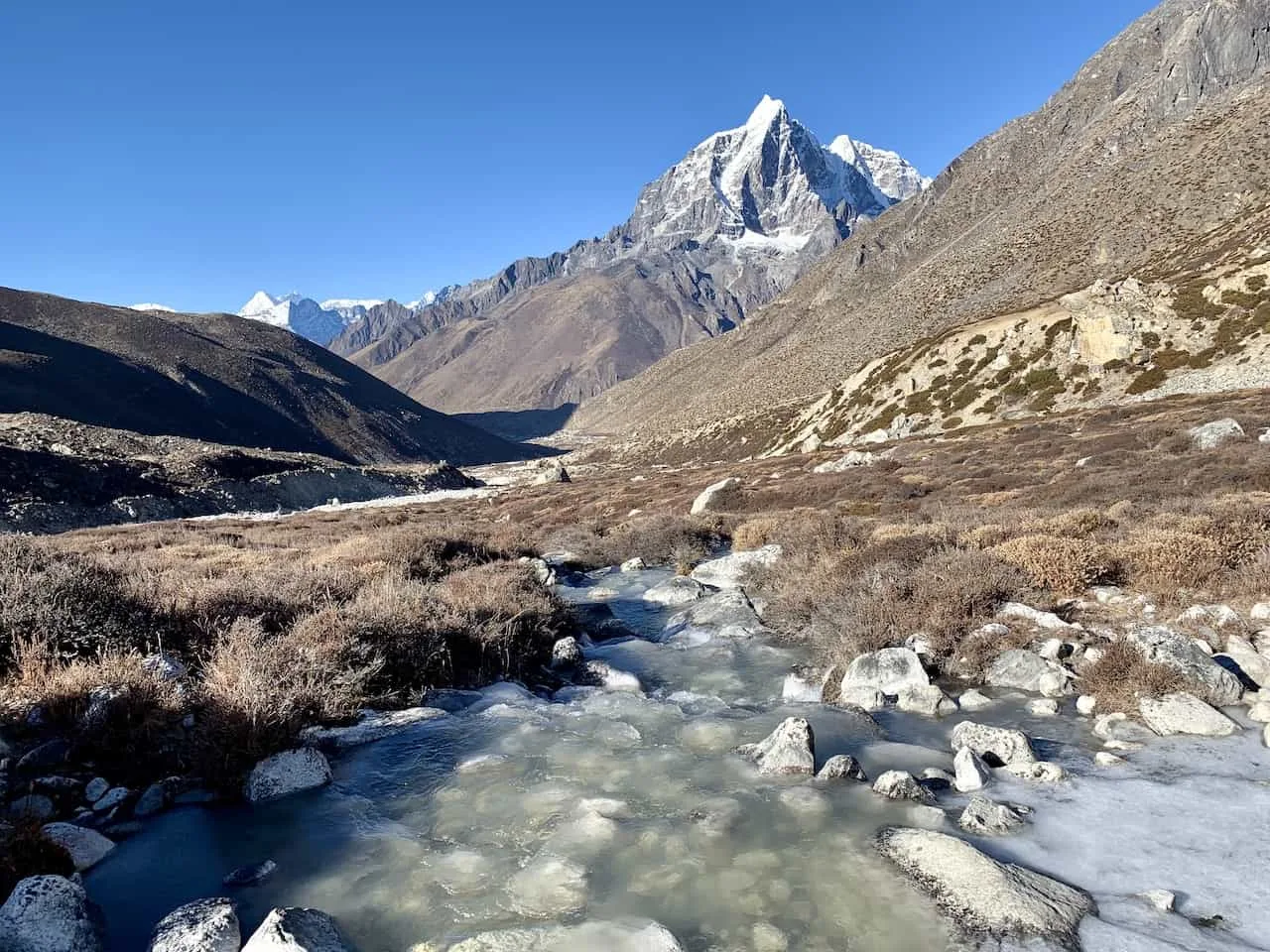 As you make your way further along you will get stunning views of Lhotse and Nuptse directly in front of you.
At one point you will also come by the Lhoste South Face Memorial in memory of those who lost their lives attempting to climb its peak.
Continue following along the river until you reach the small village of Chukhung. Don't expect much here besides just a few teahouses as it certainly is one of the smallest villages of the trek.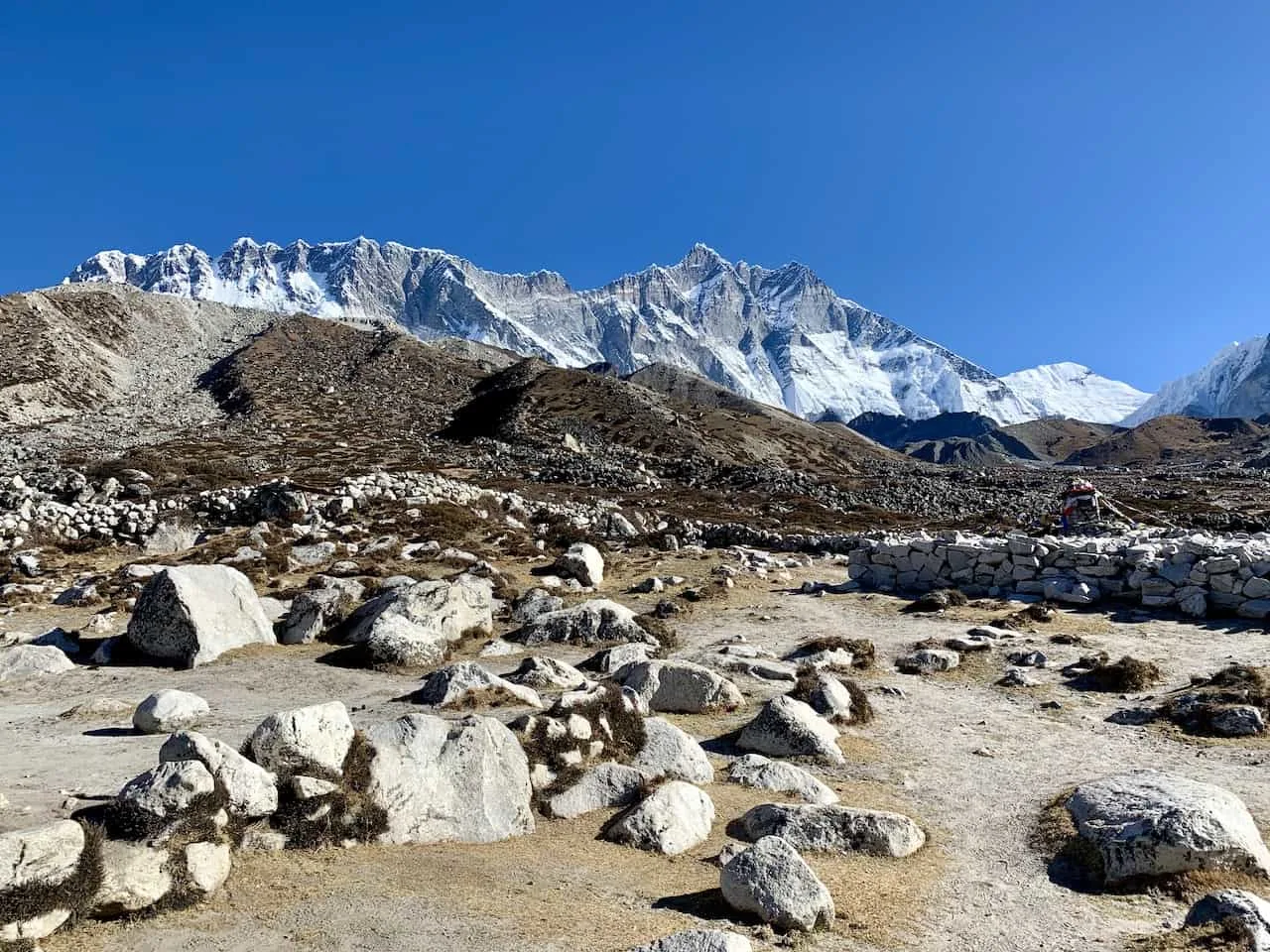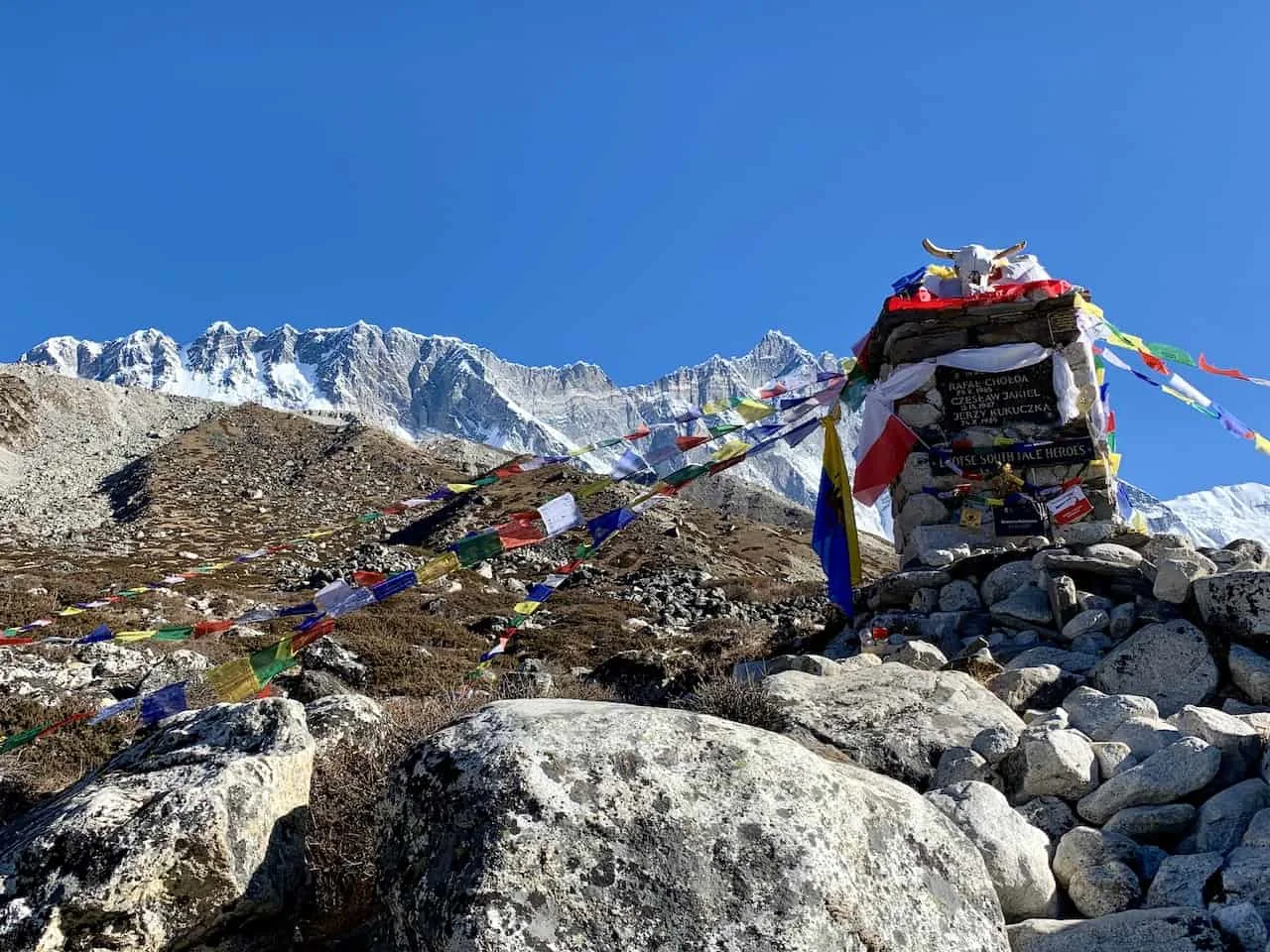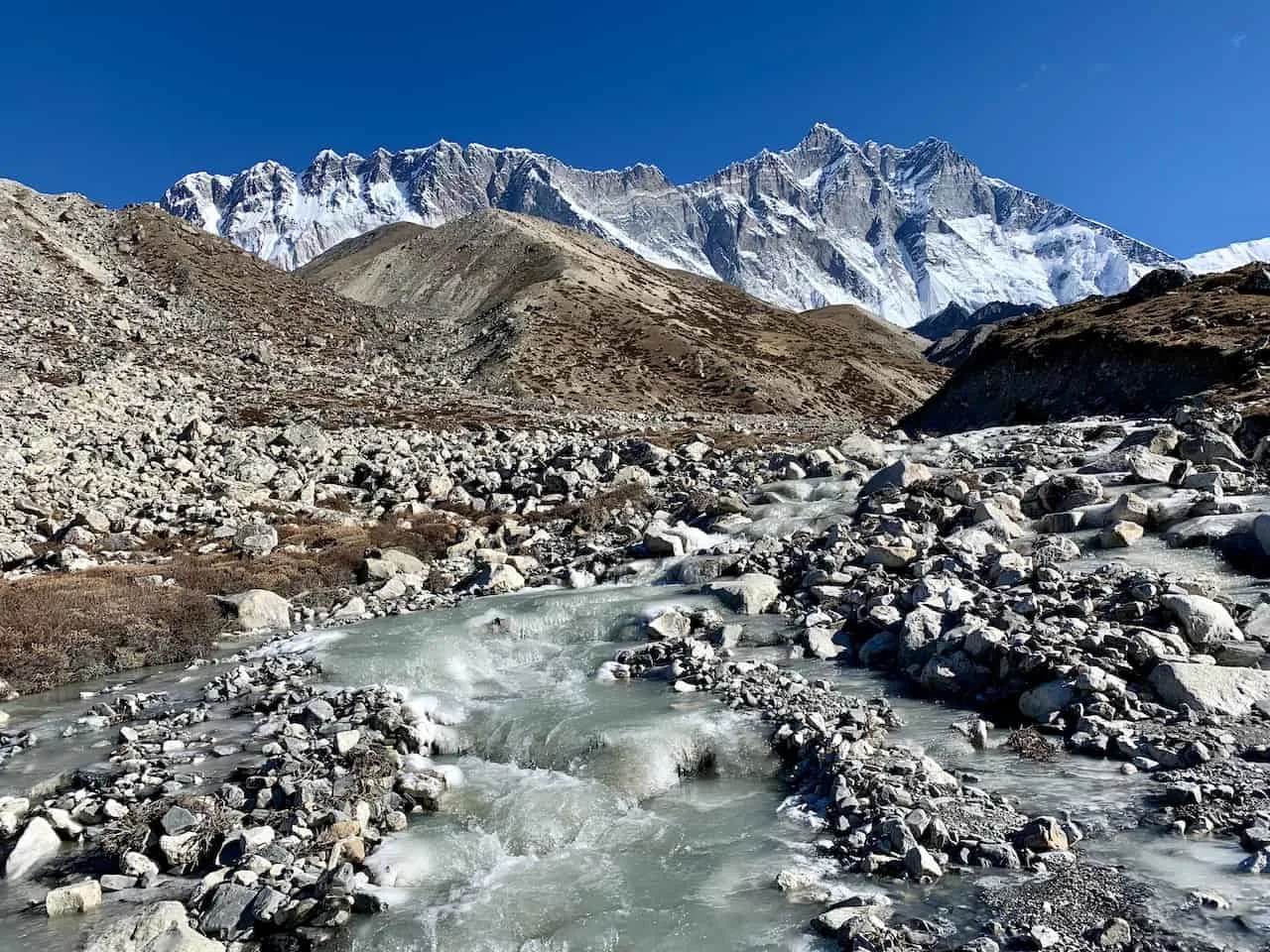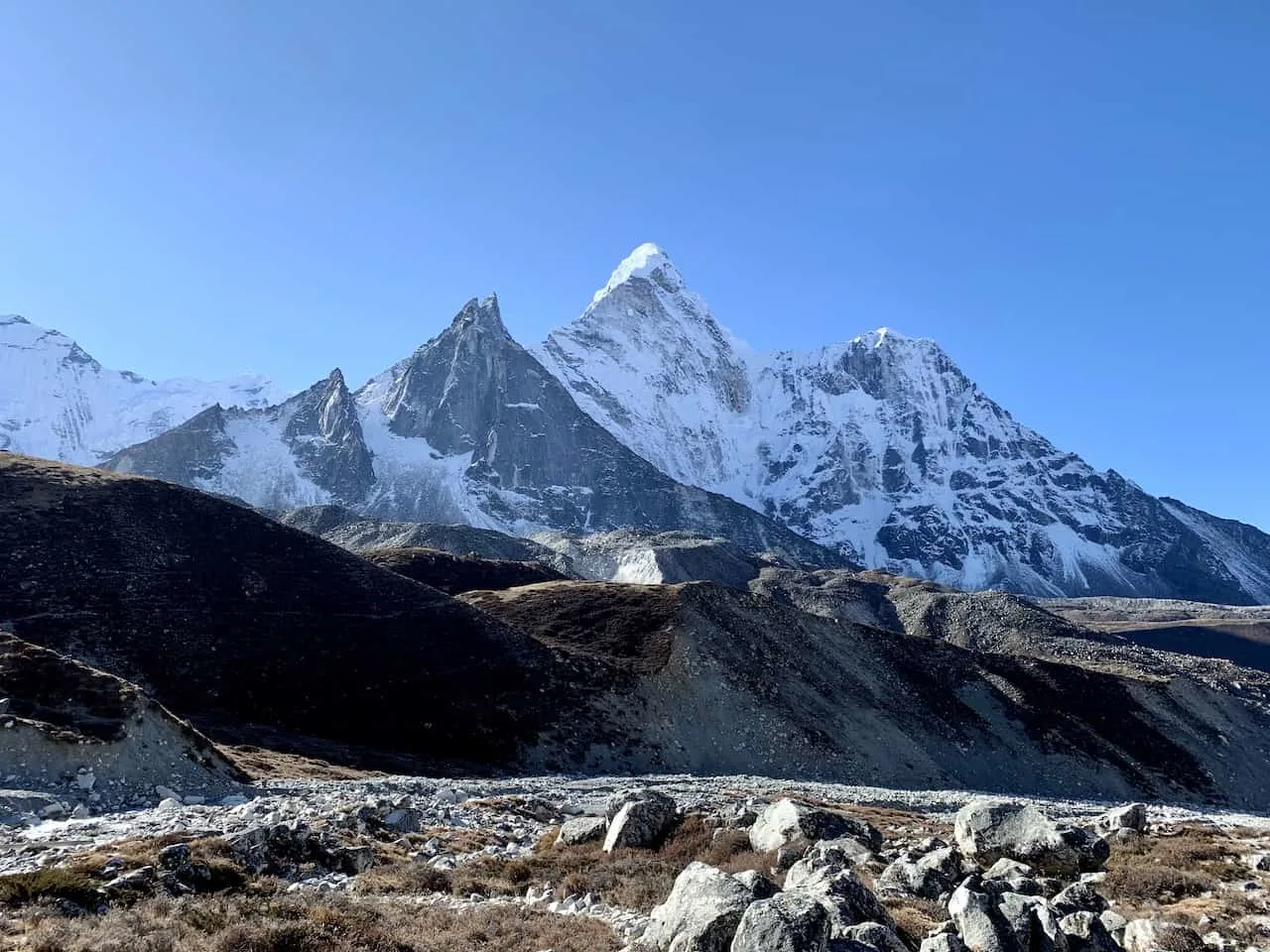 Considering travel insurance for the Himalayas?

World Nomads offers coverage for more than 150 adventure activities as well as emergency medical, lost luggage, trip cancellation and more.

For years, World Nomads has been protecting, connecting & inspiring independent travelers, offering travel insurance & safety advice to help you travel confidently. Their mission is to support and encourage travelers to explore their boundaries.

World Nomads has simple and flexible travel insurance that has been designed by travelers for travelers. Even if you leave home without travel insurance or your policy runs out, you can buy or extend out on the road.

Get a quote for a World Nomads travel insurance policy today!
6) Chukhung Accommodation
There are just a handful of teahouses to choose from in Chukhung and you can easily make that decision once you arrive. I ended up at the first teahouse in the village – Chukhung Resort and Restaurant but I don't think you can go wrong here.
I have heard good things about the Khang-Ri Resort Lodge, which has some snooker you can enjoy. Besides for those two, the others I came across included the Makalu Lodge and the Sunrise Lodge.
Up next for you can be a nice hike to Island Peak Base Camp, a trek up Chukhung Ri, and the Kongma La Pass back to the Everest Base Camp route.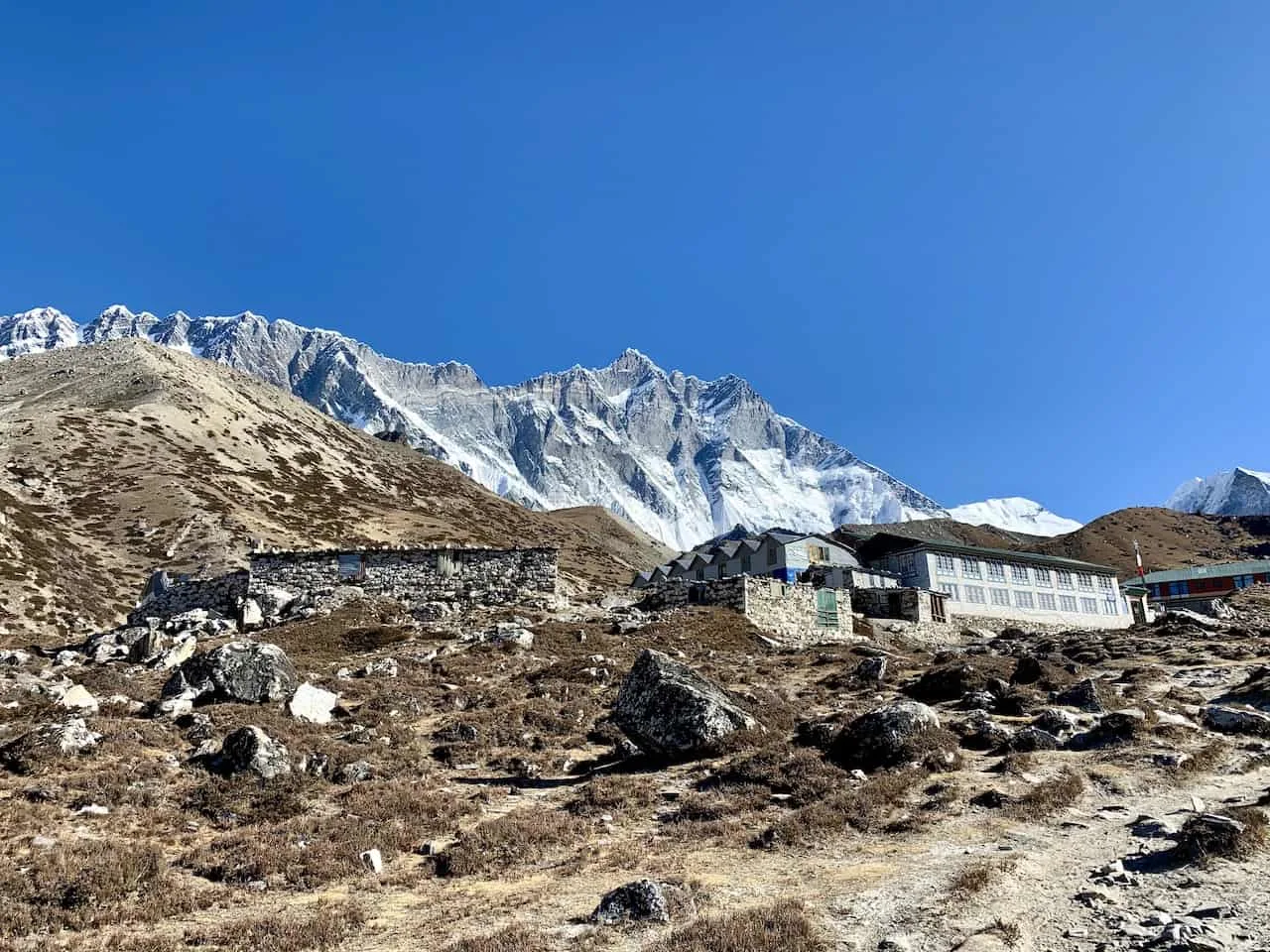 For more helpful info about the standard route up to base camp, check out the guides linked below!
Take a look at this in depth overview of the Everest Base Camp Trek as well as the below guides I put together for each day of the journey:
Day 1 – Lukla to Phakding
Day 2 – Phakding to Namche Bazaar
Day 3 – Hotel Everest View Acclimatization
Day 4 – Namche Bazaar to Tengboche
Day 5 – Tengboche to Dingboche
Day 6 – Nangkartshang Acclimatization
Day 7 – Dingboche to Lobuche
Day 8 – Lobuche to Gorak Shep & Everest Base Camp
Day 9 – Kalapathar & Gorak Shep to Pheriche
Day 10 – Pheriche to Namche Bazaar
Day 11 – Namche Bazaar to Lukla
Also, don't forget to check out all of the other Nepal itineraries and guides up on the site. Have fun out there and safe travels!