Day 10 on the Everest Base Camp Trek will take you further back down the valley as you make your way from Pheriche to Namche Bazaar. Although you are heading to a lower elevation at the end of the day, you will still come across plenty of ups and downs throughout the trek.
This guide will go over what the Pheriche to Namche Bazaar portion of trail entails and what to expect along the way.
* Affiliate Disclosure: This post may contain affiliate links, which means I may receive a commission if you make a purchase through the links provided, at no additional cost to you. Thanks for supporting the work I put into TripTins!
1) Pheriche to Namche Bazaar Trek Facts
Below will be some very helpful facts to know about the hike so you have a better idea of what to expect up on the trail.
Everest Base Camp Trek Day 10: Pheriche to Namche Bazaar
Starting Point: Pheriche
Pheriche Elevation: 13,911 feet / 4,240 meters
Ending Point: Namche Bazaar
Namche Bazaar Elevation: 11,286 feet / 3,440 meters
Distance: 12.1 miles / 19.5 kilometers
Duration: 6 hours
Elevation Gain: 2,234 feet / 681 meters
Net Elevation Gain: -2,625 feet / -800 meters
*Elevation gain is the true amount of elevation gained for the portion of the trail – although a downhill trail, there will be still be plenty of uphill sections throughout. Net elevation is just the difference in elevation between Pheriche and Namche Bazaar.
» Learn more about the various distances, elevations, and durations of the Everest Base Camp Trek
» Learn more about flying into the region in the Kathmandu to Lukla Flight Experience Guide
2) Pheriche to Namche Bazaar Elevation Profile
Below you can get a sense of the elevation profile between Pheriche to Namche Bazaar. As I mentioned before, although you will have a large net elevation loss for the day, there will still be a few uphills to make your way through during the trek.
The hike on day 10 will essentially be the opposite route of days 4 and 5, which goes from Namche to Tengboche and then Tengboche to Dingboche (Dingboche is located right next to Pheriche).
The first portion of the hike will be nearly all downhill until you get closer to Tengboche, where you will have a short uphill climb to the village.
After Tengboche it is a big downhill as you reach the valley floor, followed by the trek back up the valley walls towards Namche as you can see in the profile below.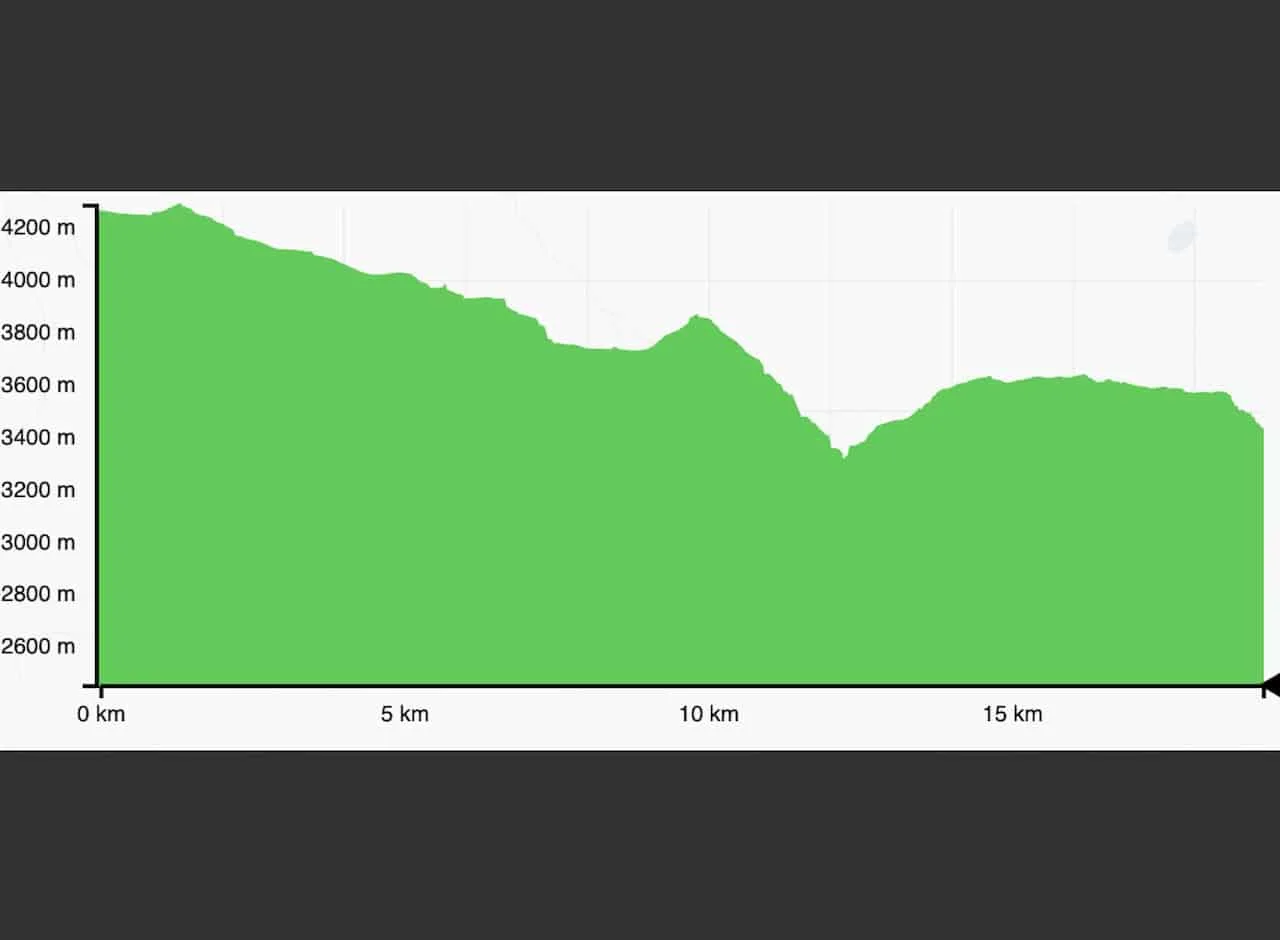 3) Trekking Map
I have also included a trekking map view of the route between Pheriche to Namche Bazaar to give you a better sense of the hiking layout.
It is quite a long trek on day 10 as you make a 20 km / 12 mile journey back down the valley.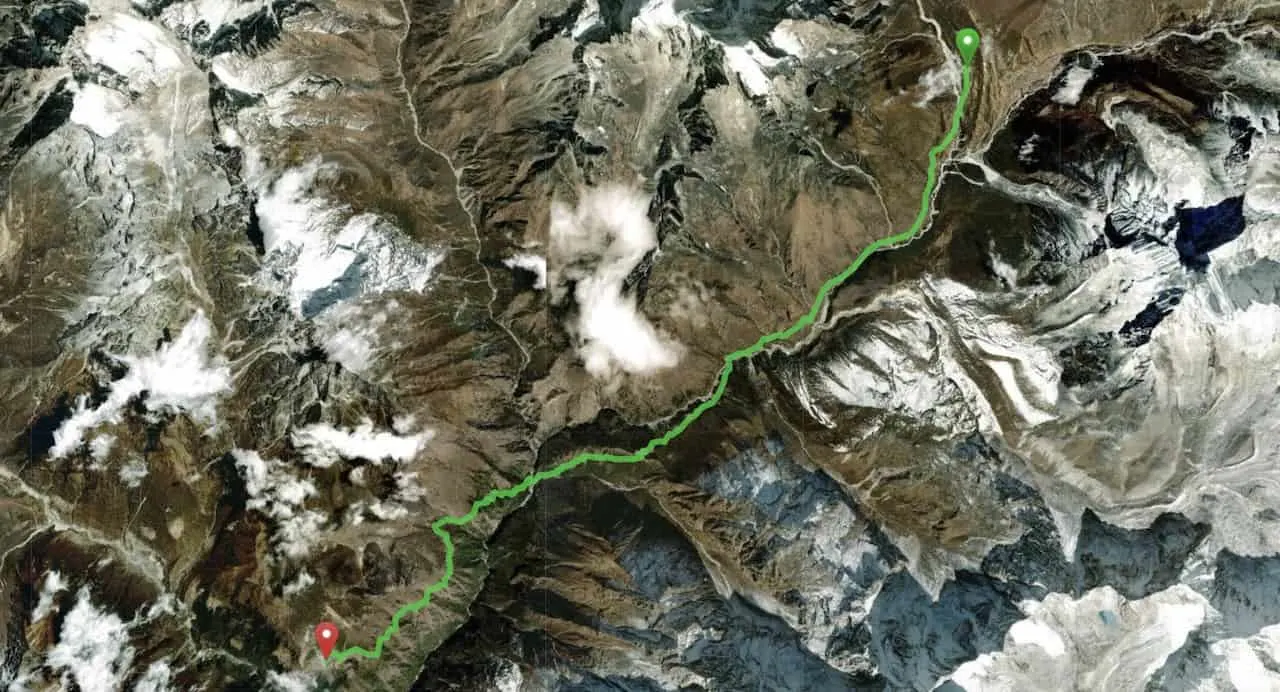 4) Everest Base Camp Trek Packing List
You will want to pack accordingly for this 11-day trek in the Himalayas. I put together a complete Everest Base Camp Packing List that goes over every single item I brought along on the trail. Below you can find just some of those recommended items that are including on the list: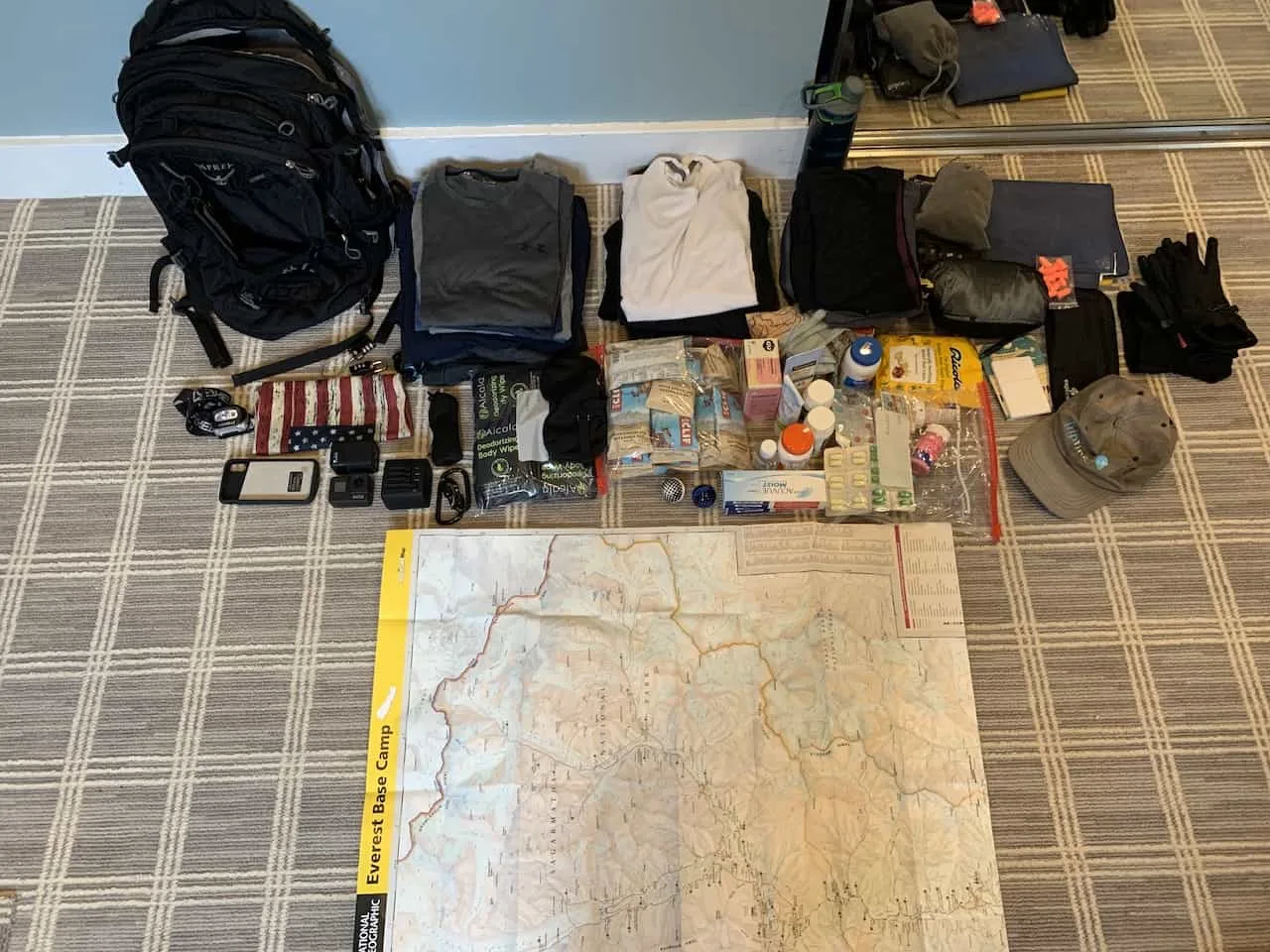 5) Pheriche to Namche Bazaar Trek
Your Everest Base Camp trek is slowly coming to an end, and on the second to last day of it, you will make the hike from Pheriche to Namche Bazaar.
Since this is a longer day of trekking I would recommend an earlier start so you don't arrive in Namche too late.
After packing up and having a hearty breakfast, it is time to depart Pheriche. The start of the journey will have you heading down from the village, across the river and then back up the valley wall, as you take in a bit of elevation gain.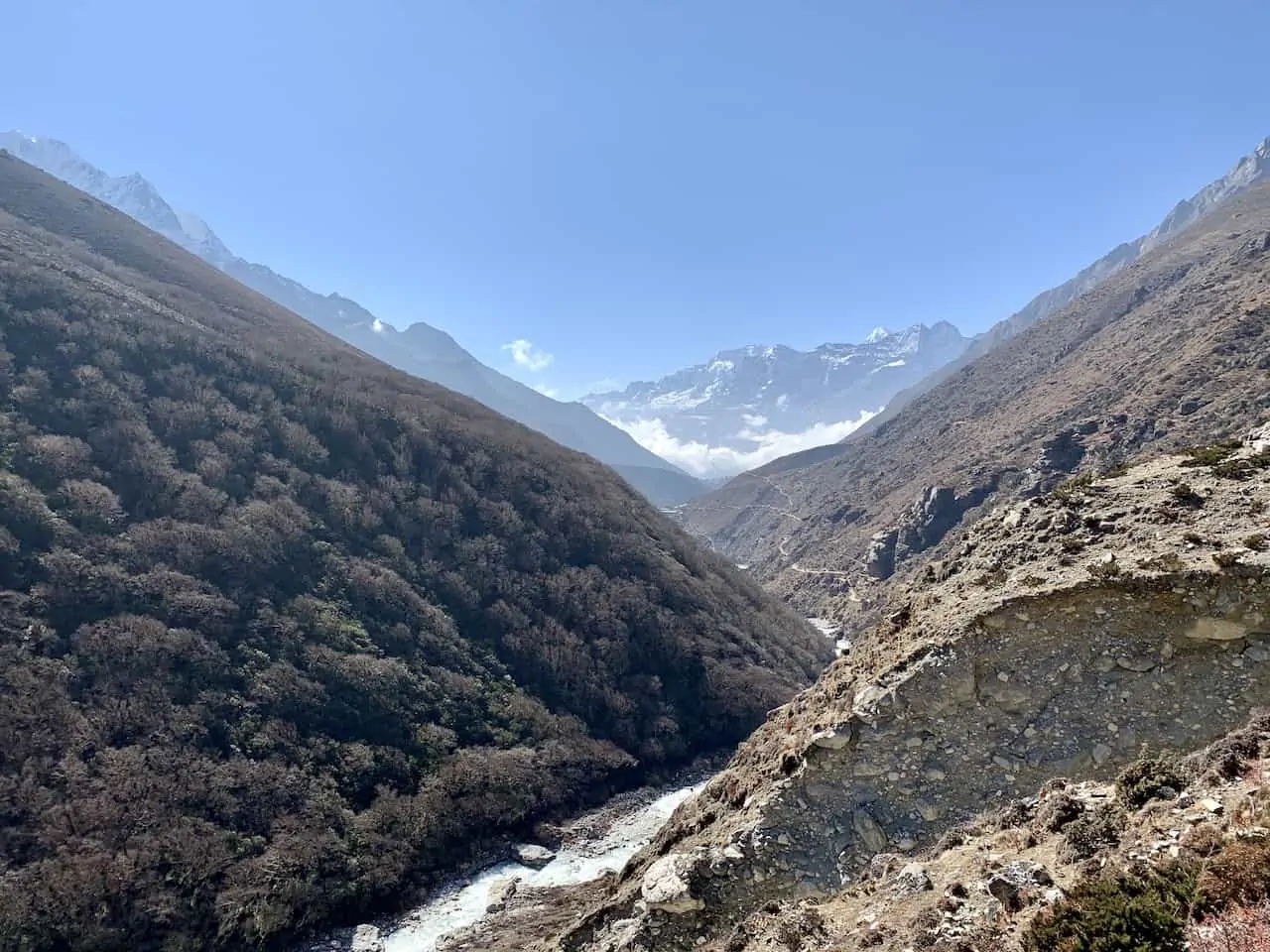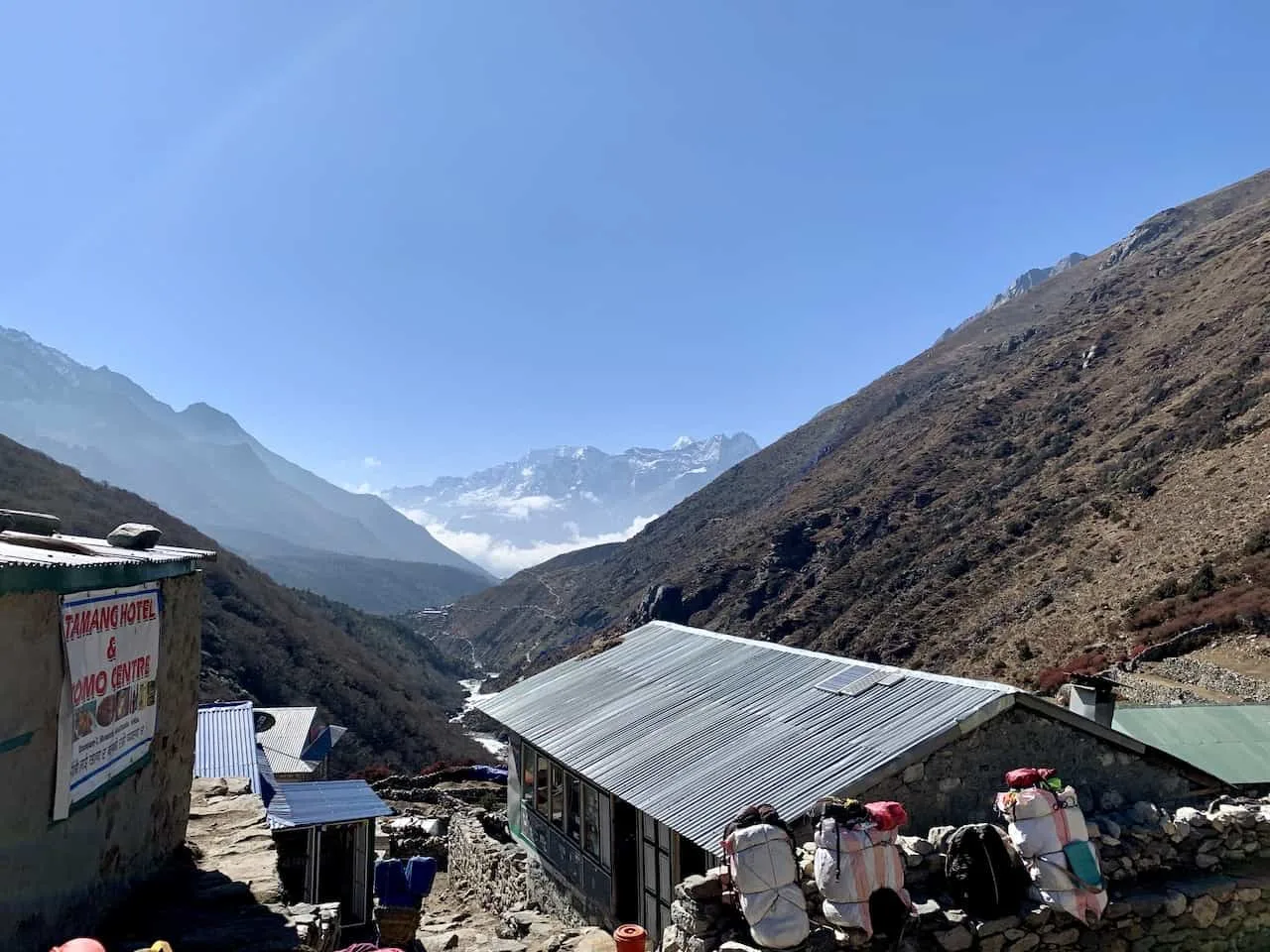 Shortly after you begin hiking alongside the valley, you will meet back up with the same path that you took earlier on during day 5 of the trek (between Tengboche and Dingboche).
From here on out, the trail should feel pretty similar with the only difference is that you are now walking in the opposite direction.
So, instead of having those views down the valley towards the Everest mountain range and Ama Dablam, you will now have some views out in the other direction.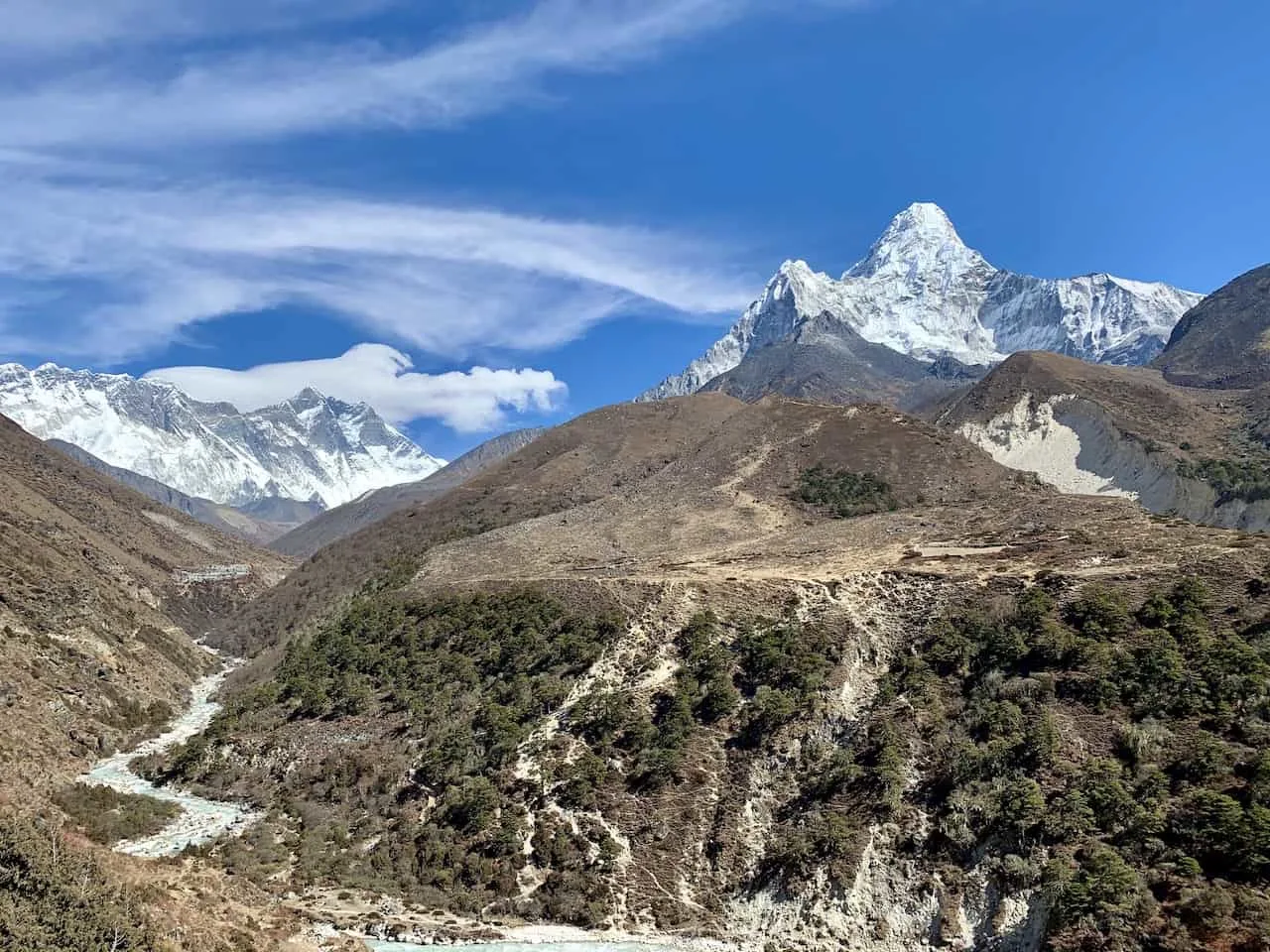 Through the duration of this portion of trail, you will slowly continuously lose elevation as you make the trek downhill. You will find this portion of trail to be pretty standard and less technical than other parts of the EBC trek.
A little over 5 km into the hike, you will reach the village of Pangboche, which is a great place to rest up for a bit before continuing along.
Considering travel insurance for the Everest Base Camp Trek?

World Nomads offers coverage for more than 150 adventure activities as well as emergency medical, lost luggage, trip cancellation and more.

For years, World Nomads has been protecting, connecting & inspiring independent travelers, offering travel insurance & safety advice to help you travel confidently. Their mission is to support and encourage travelers to explore their boundaries.

World Nomads has simple and flexible travel insurance that has been designed by travelers for travelers. Even if you leave home without travel insurance or your policy runs out, you can buy or extend out on the road.

Get a quote for a World Nomads travel insurance policy today!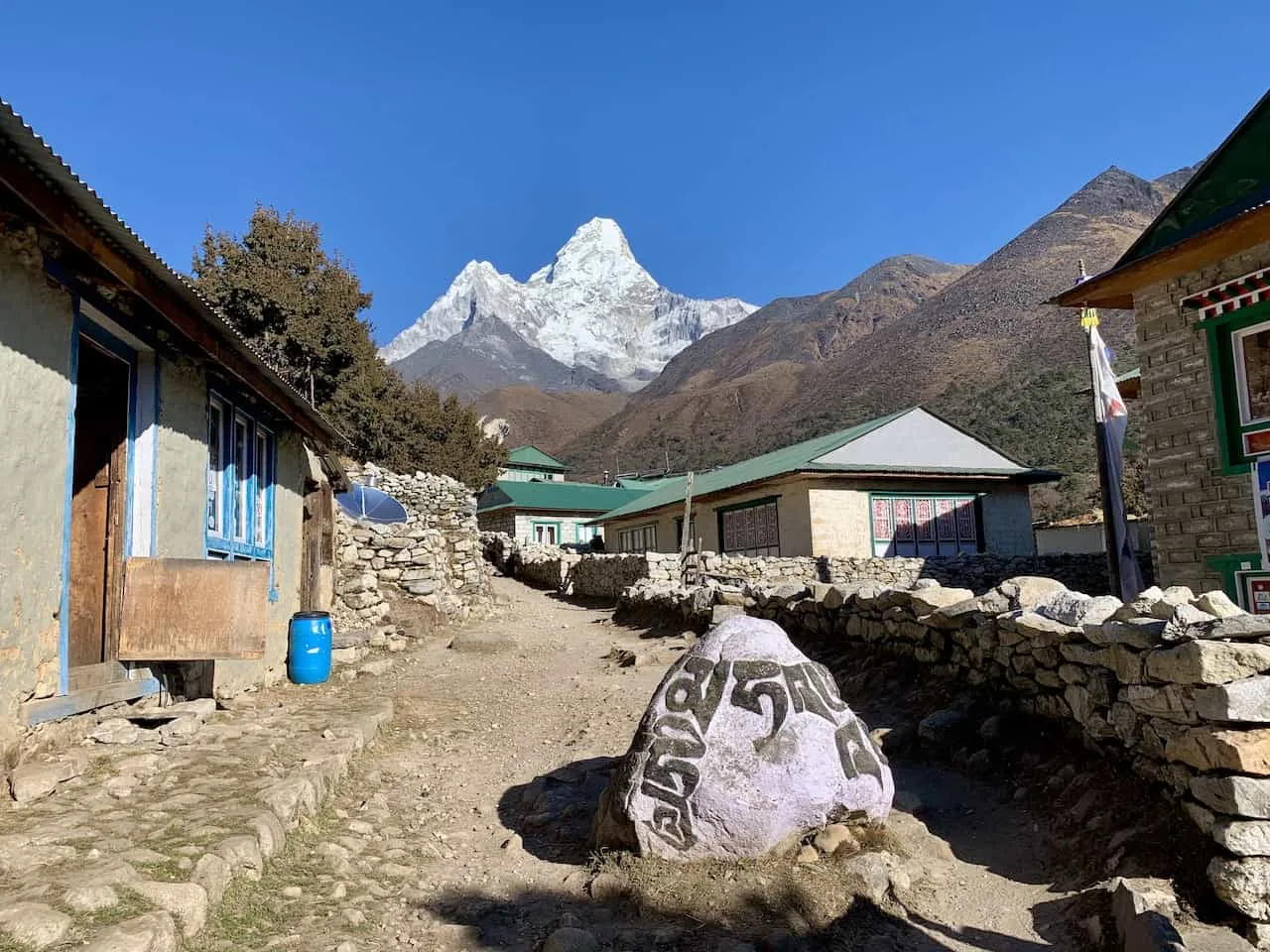 After leaving Pangboche, you will continue the decline down the valley and cross a suspension bridge to the other side of the river.
The terrain will flatten out a bit before a more technical incline section from the small village of Deboche to the village of Tengboche.
Tengboche is basically your half way point here, so feel free to have a break, eat lunch, and take in some views of the Everest mountain range. If you haven't checked out the Tengboche Monastery yet then you can also take some time to enjoy that too.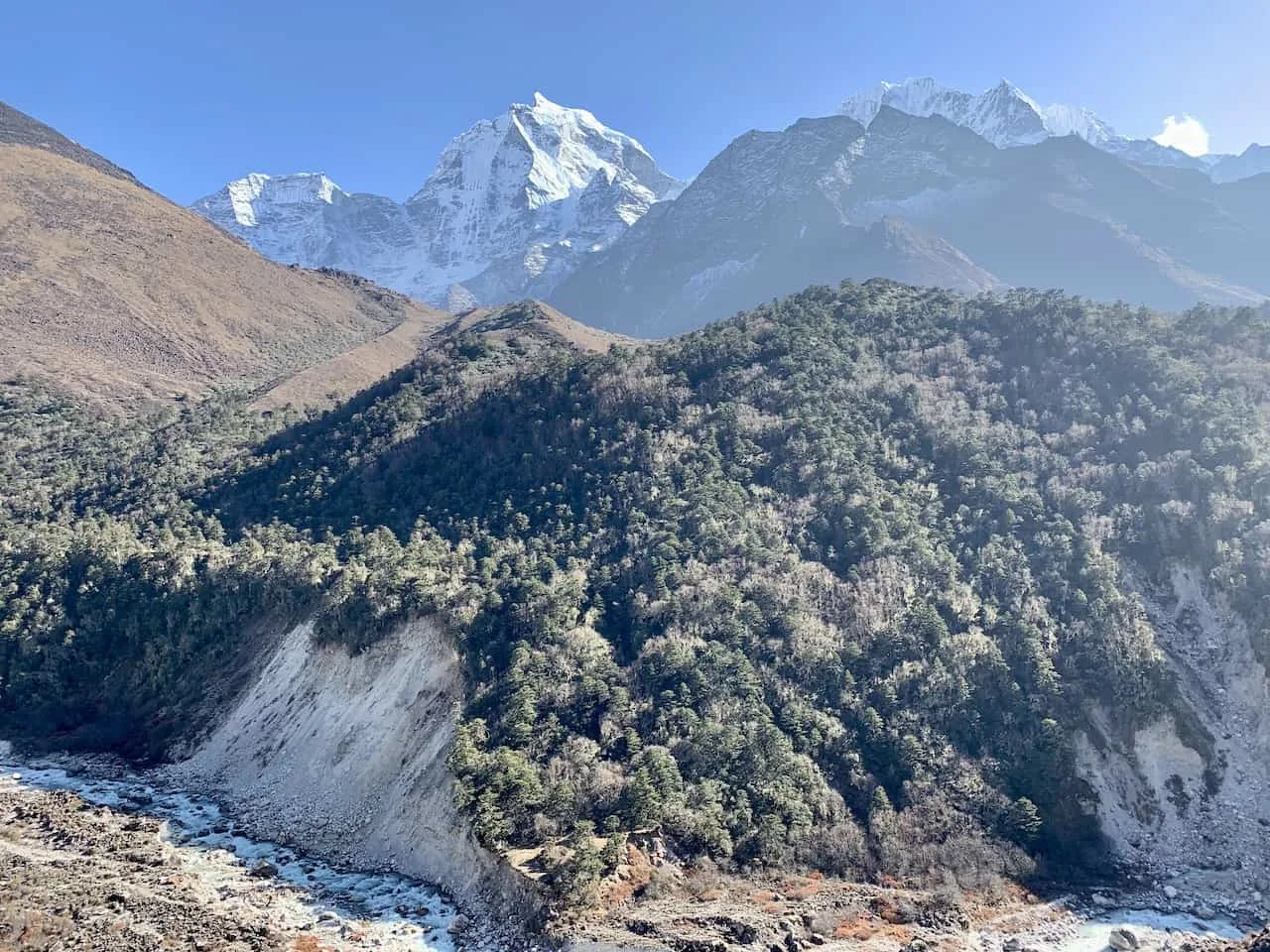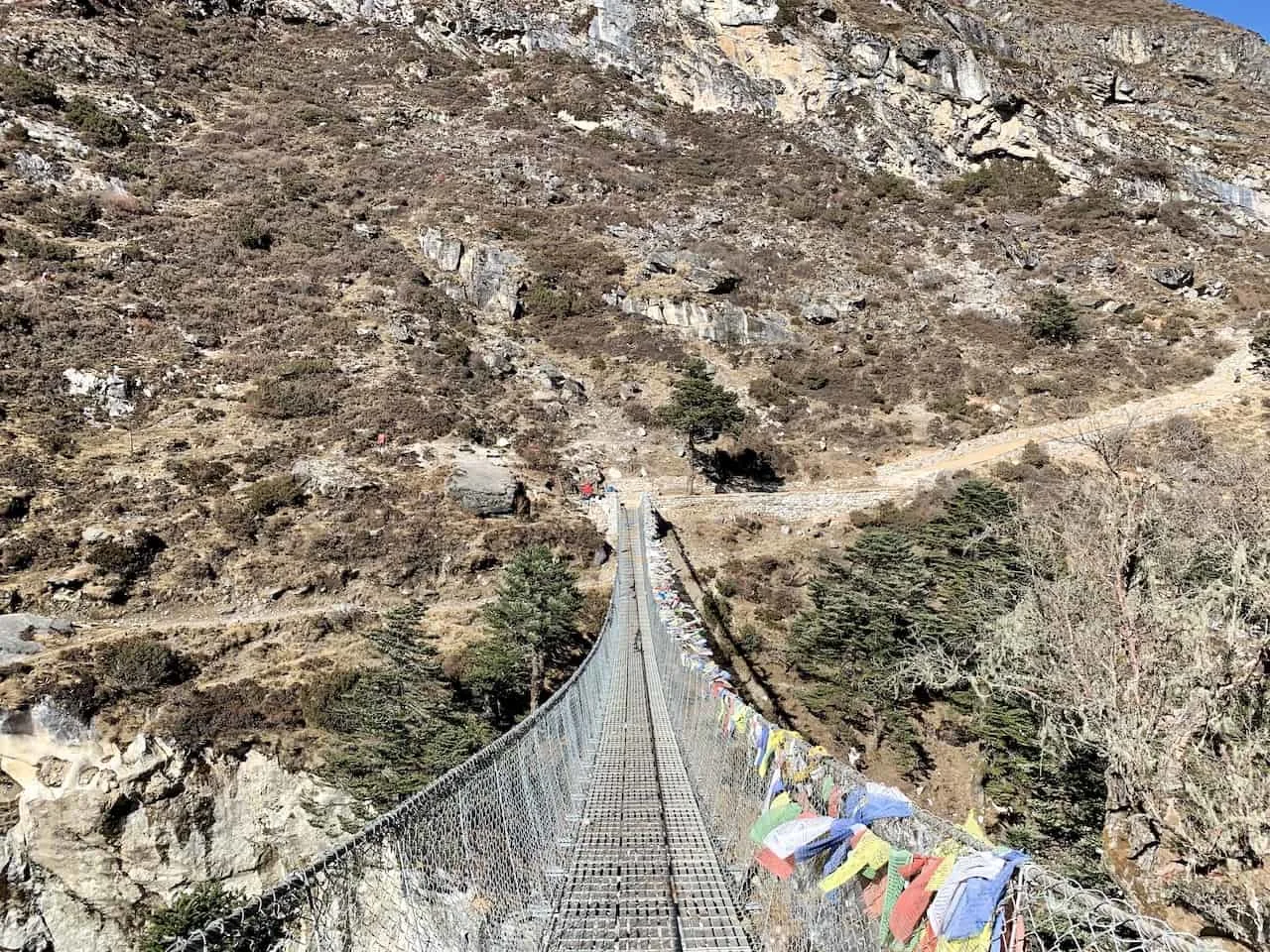 Nearly immediately after leaving Tengboche you will make a steep, technical, and zig zagging trek downwards for the next 2.5 km or so.
This can be a difficult path to maneuver through (if you remember from day 4). Be aware of your footing as you head down the trail, and be on the lookout for people walking up in the opposite direction.
Once done with the decline, you will cross another suspension bridge and begin the 2km+ incline trek back up the valley wall. After losing so much elevation already and continuously going downhill, here is where things can start getting more difficult.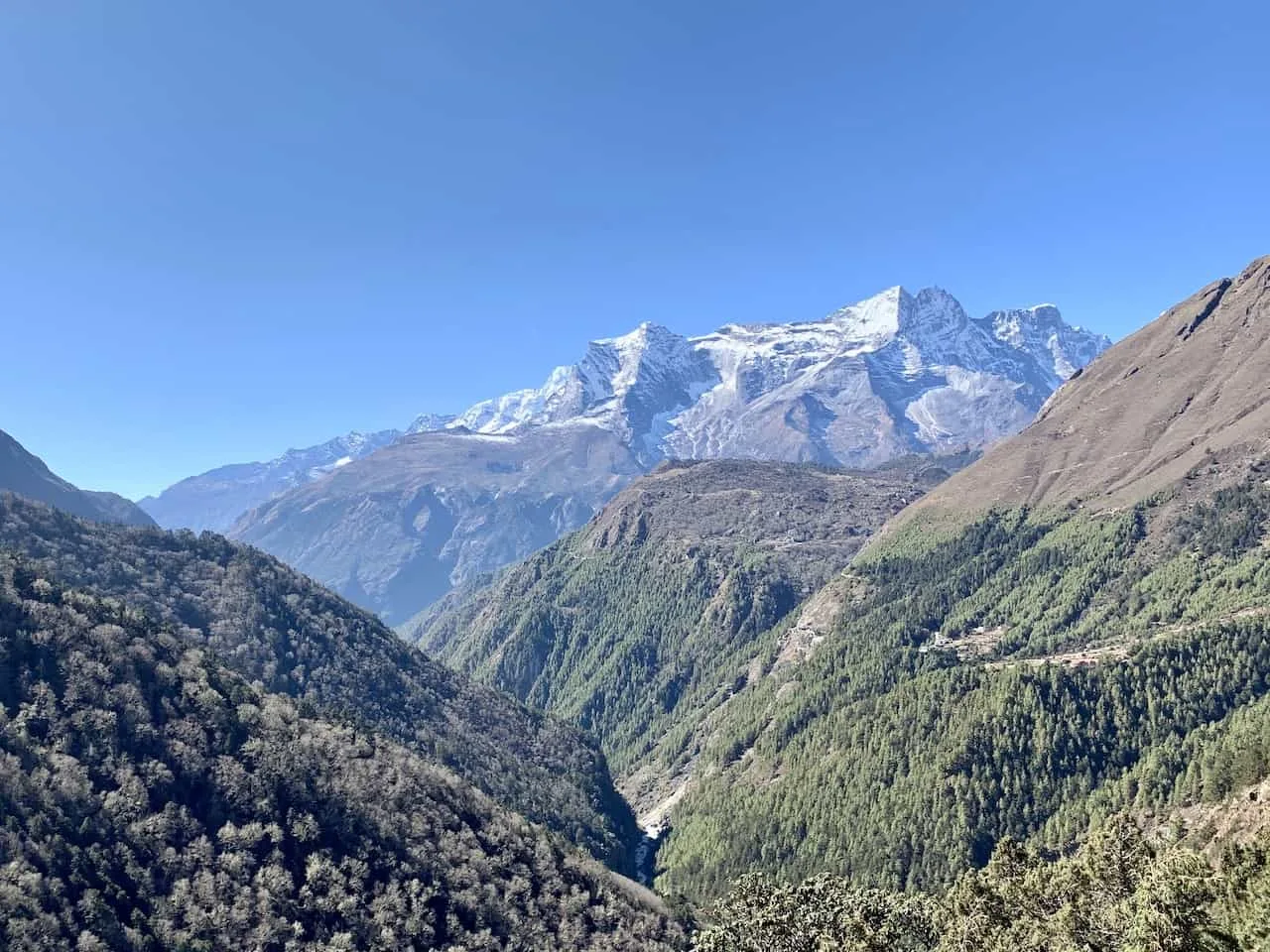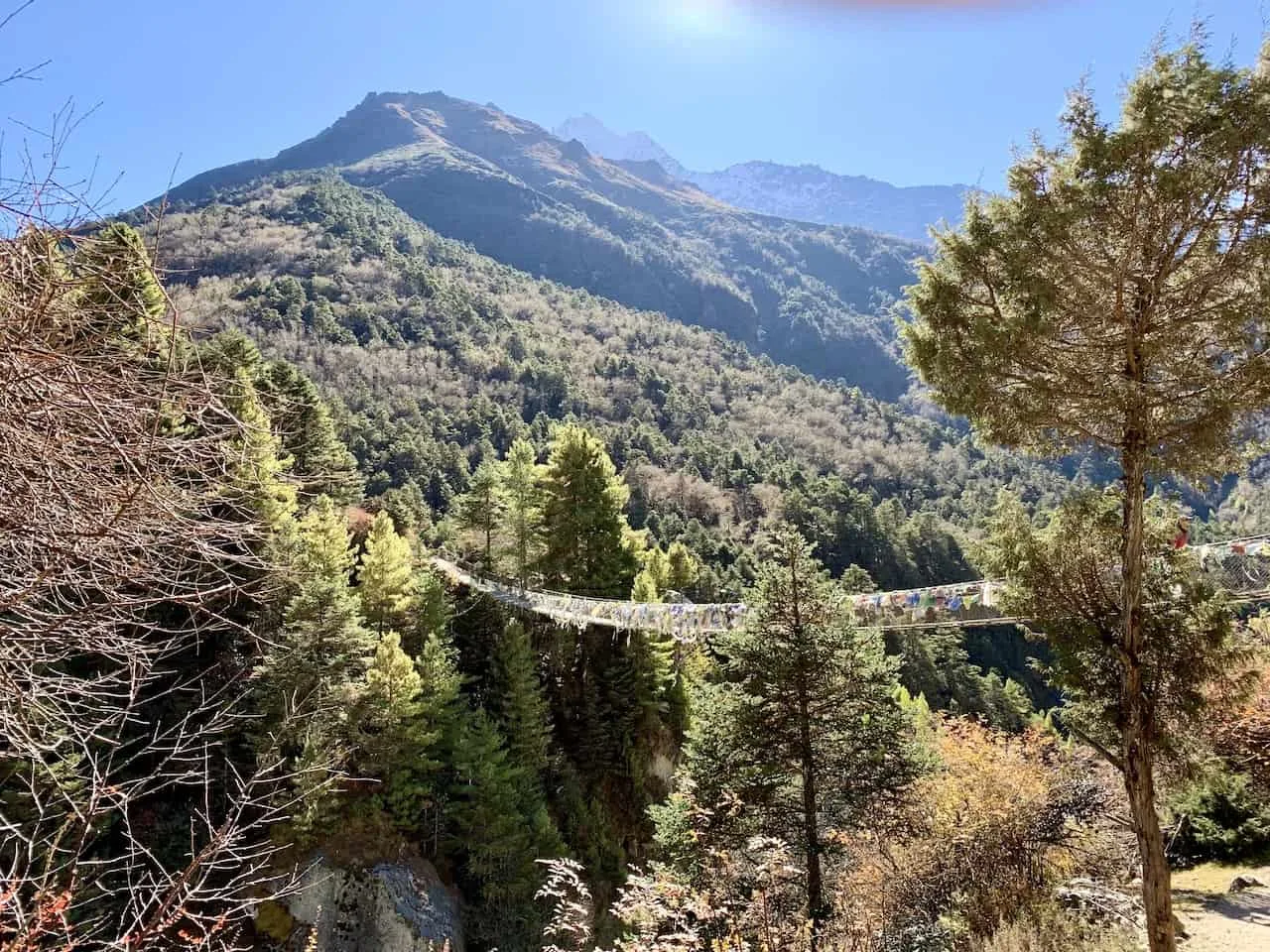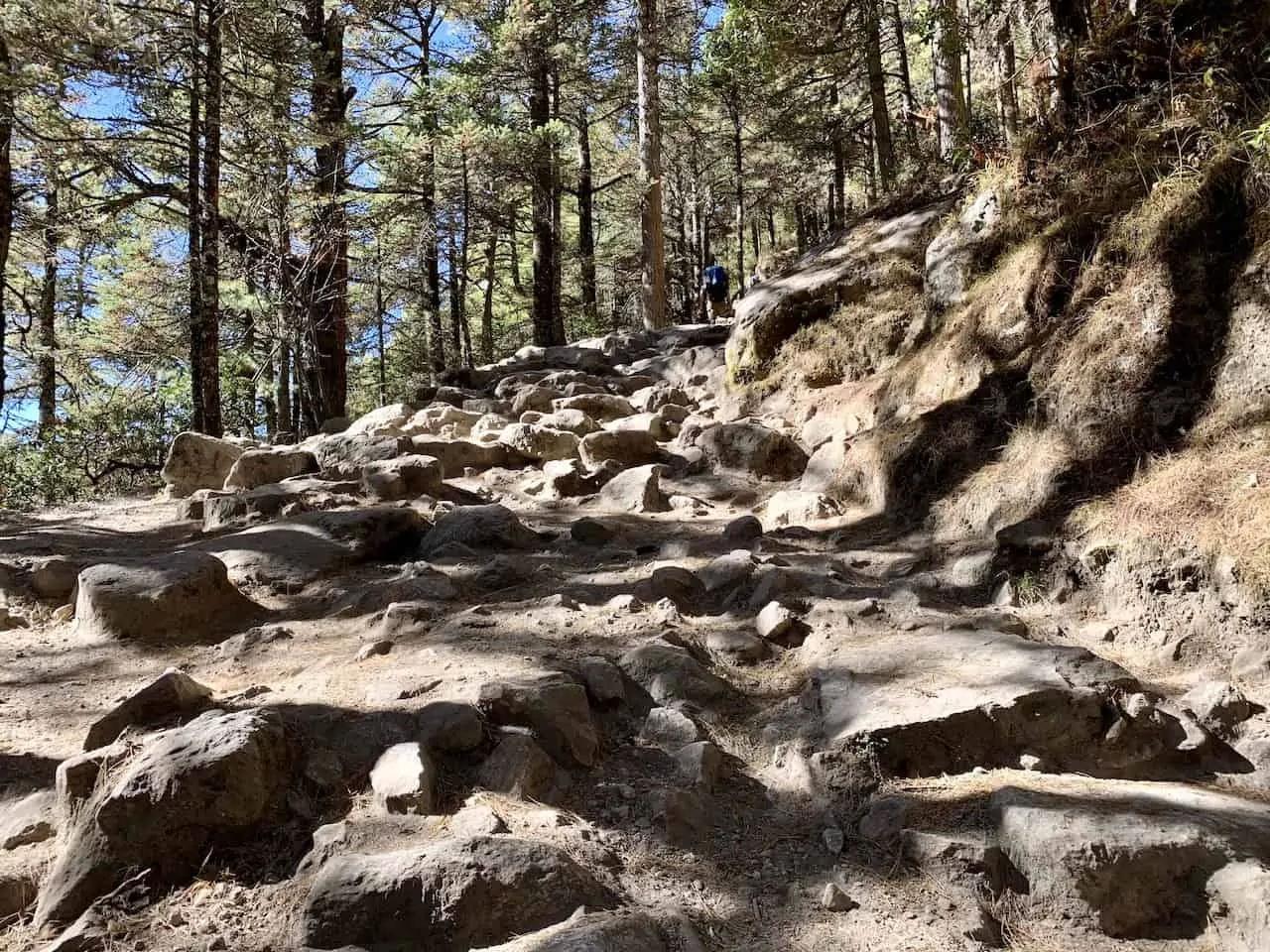 Similarly to the previous section, which was a technical downhill, now you will have somewhat of a technical uphill to go through.
You will enter a more forested part of trail, as you now zig zag your way up the trail and back onto the easy path towards Namche Bazaar.
Thankfully, once you have completed this uphill section of trail, where you would have gained a few hundred meters in elevation, the remaining 5 km to Namche Bazaar will be a much smoother trek.
As you walk the path etched into the valley wall, you will have the river down below, Everest and Ama Dablam behind you, and a beautiful view out in front.
Be sure to turn around from time to time to get those glimpses of Everest, Nupste, and Lhotse as you slowly make your way to Namche Bazaar.
Eventually the path will turn inwards, and you will be welcomed to views of Namche Bazaar from above as you then descend into town and to your guesthouse. Be sure to have a nice big meal and then get some rest to prepare for your last day hiking the Everest Base Camp route.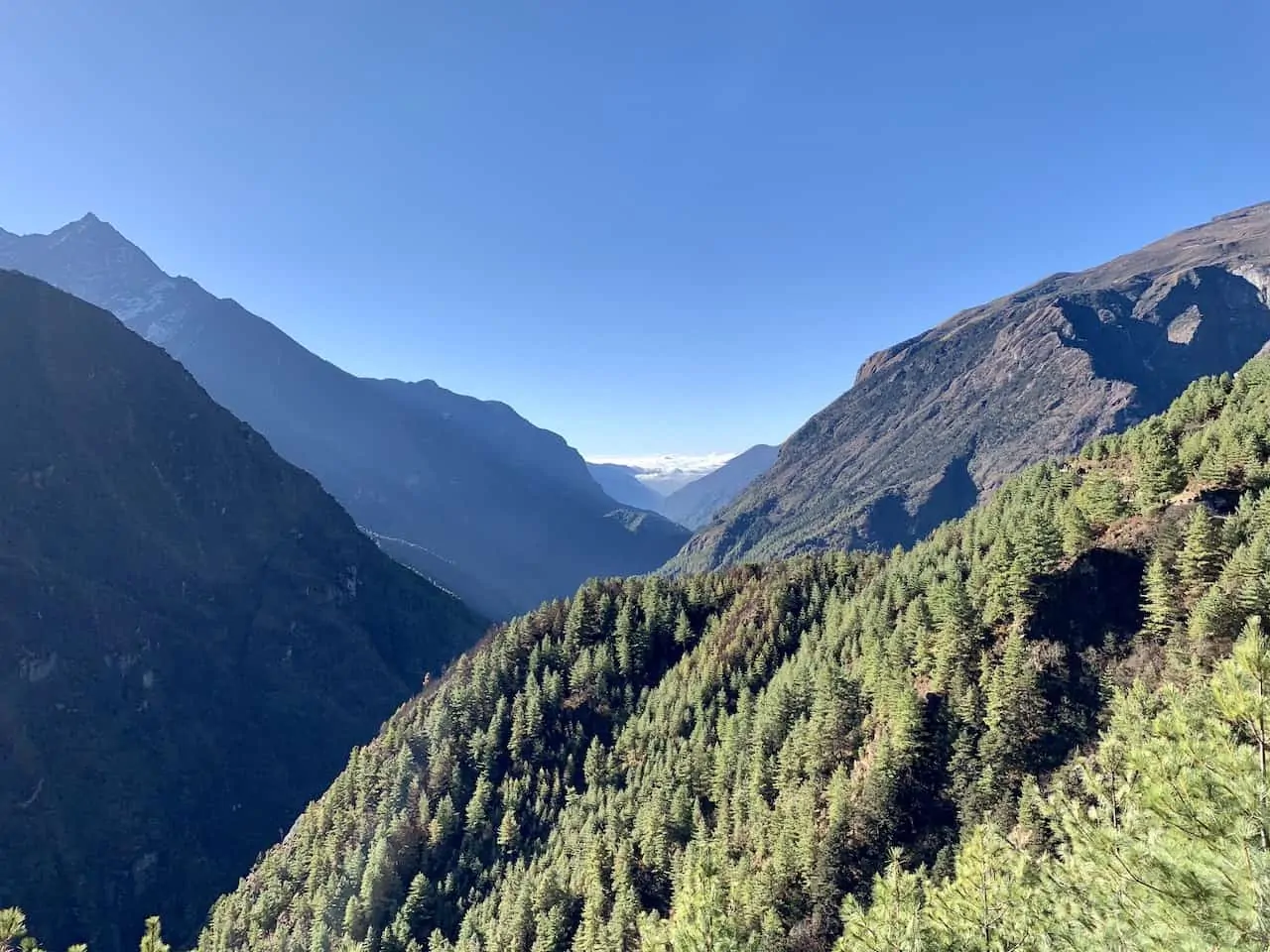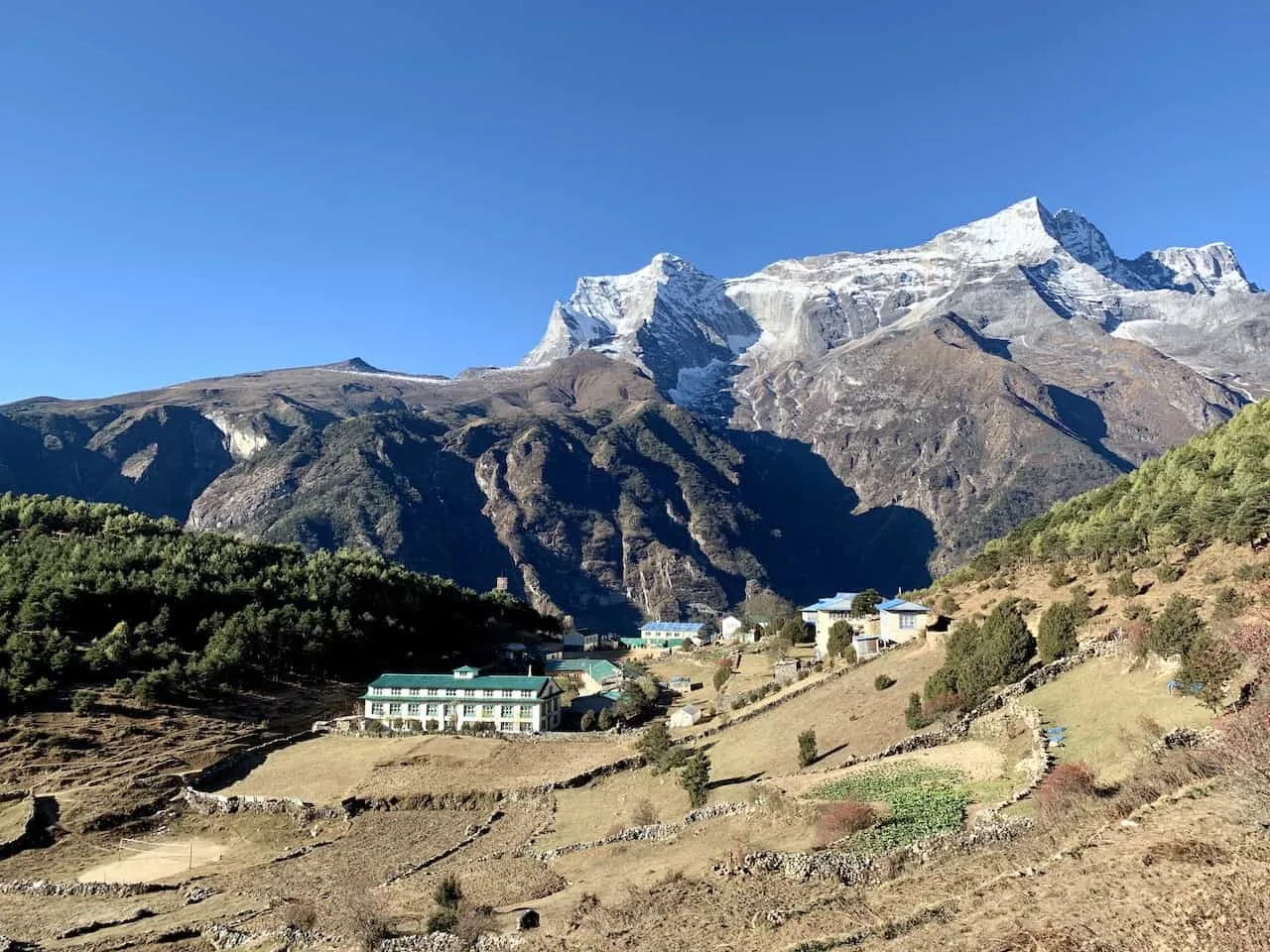 Take a look at this in depth overview of the Everest Base Camp Trek as well as the below guides I put together for each day of the journey:
Day 1 – Lukla to Phakding
Day 2 – Phakding to Namche Bazaar
Day 3 – Hotel Everest View Acclimatization
Day 4 – Namche Bazaar to Tengboche
Day 5 – Tengboche to Dingboche
Day 6 – Nangkartshang Acclimatization
Day 7 – Dingboche to Lobuche
Day 8 – Lobuche to Gorak Shep & Everest Base Camp
Day 9 – Kalapathar & Gorak Shep to Pheriche
Day 10 – Pheriche to Namche Bazaar
Day 11 – Namche Bazaar to Lukla
That about wraps up a recap of the Pheriche to Namche Bazaar trek. If you have any questions about the Everest Base Camp trek in general feel free to add them in below. Be sure to also check out the other Nepal itineraries and guides up on the site.
Have fun out there and safe travels!