The second day of the Everest Base Camp trek takes you from the village of Phakding to Namche Bazaar, the main hub of Sagarmatha National Park.
This will be one of the toughest days of trekking from an elevation gain perspective as you gain nearly 4,000 feet / 1,200 meters.
By the end of the day though you will be in the most happening town of the trek as you get to enjoy Namche Bazaar for the next two nights.
* Affiliate Disclosure: This post may contain affiliate links, which means I may receive a commission if you make a purchase through the links provided, at no additional cost to you. Thanks for supporting the work I put into TripTins!
1) Phakding to Namche Bazaar Overview
Below are some quick stats about the Phakding to Namche Bazaar trekking experience:
Everest Base Camp Trek Day 2: Phakding to Namche Bazaar
Starting Point: Phakding
Phakding Elevation: 8,563 feet / 2,610 meters
Ending Point: Namche Bazaar
Namche Bazaar Elevation: 11,286 feet / 3,440 meters
Distance: 6.8 miles / 10.9 kilometers
Duration: 7 hours
Elevation Gain: 3,986 feet / 1,215 meters
Net Elevation Gain: 2,723 feet / 830 meters
*Elevation gain is the true amount of elevation gained for the portion of the trail. Net elevation is just the difference in elevation between Phakding and Namche Bazaar.
» Learn more about the various distances, elevations, and durations of the Everest Base Camp Trek.
» Learn more about flying into the region in the Kathmandu to Lukla Flight Experience Guide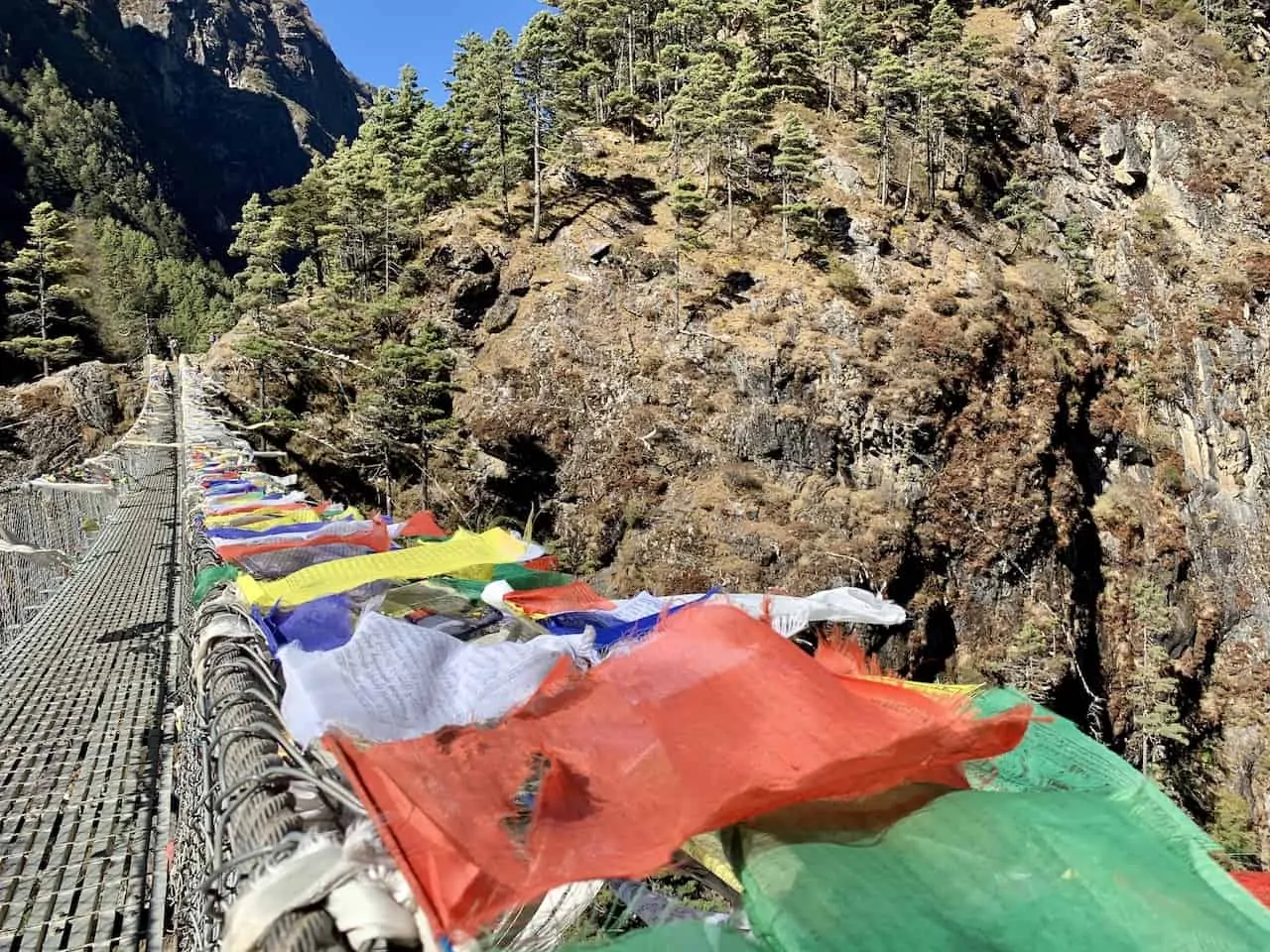 2) Phakding to Namche Bazaar Elevation Profile
The first several miles after leaving Phakding has its fair share of ups and downs as you slowly begin to gain net elevation.
But it's during the last 25% of the trail that you really will be heading on those uphills and gaining most of the elevation for the day.
My advice is to take your time today and listen to your body. There will be plenty of opportunities to stop along the way so do take advantage of that.
Below is the elevation profile of the Phakding to Namche Bazaar hiking trail so you have a better understanding for what to expect on the trail: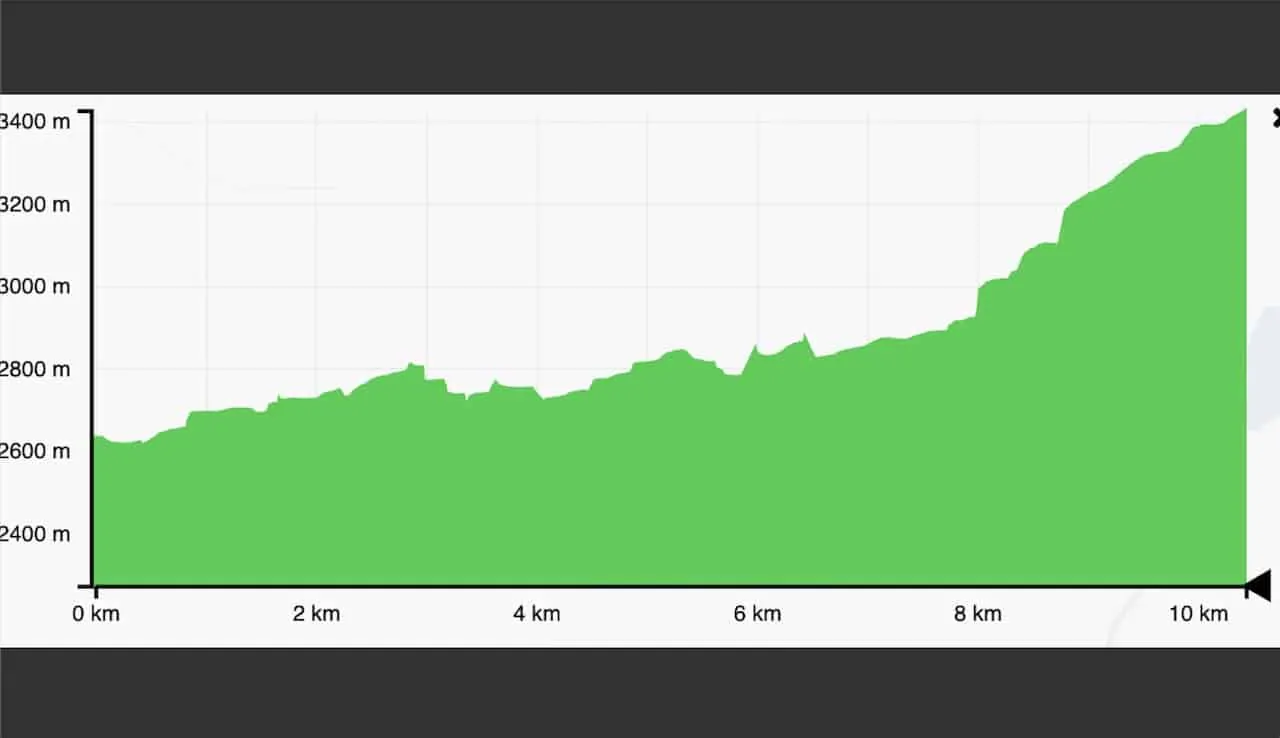 3) Trekking Map
Below is a topographic map view of the route from Phakding to Namche Bazaar to give you a bit better idea of what the route will look like.
Much of the day will be spent heading along and across the river until you make that last push to Namche.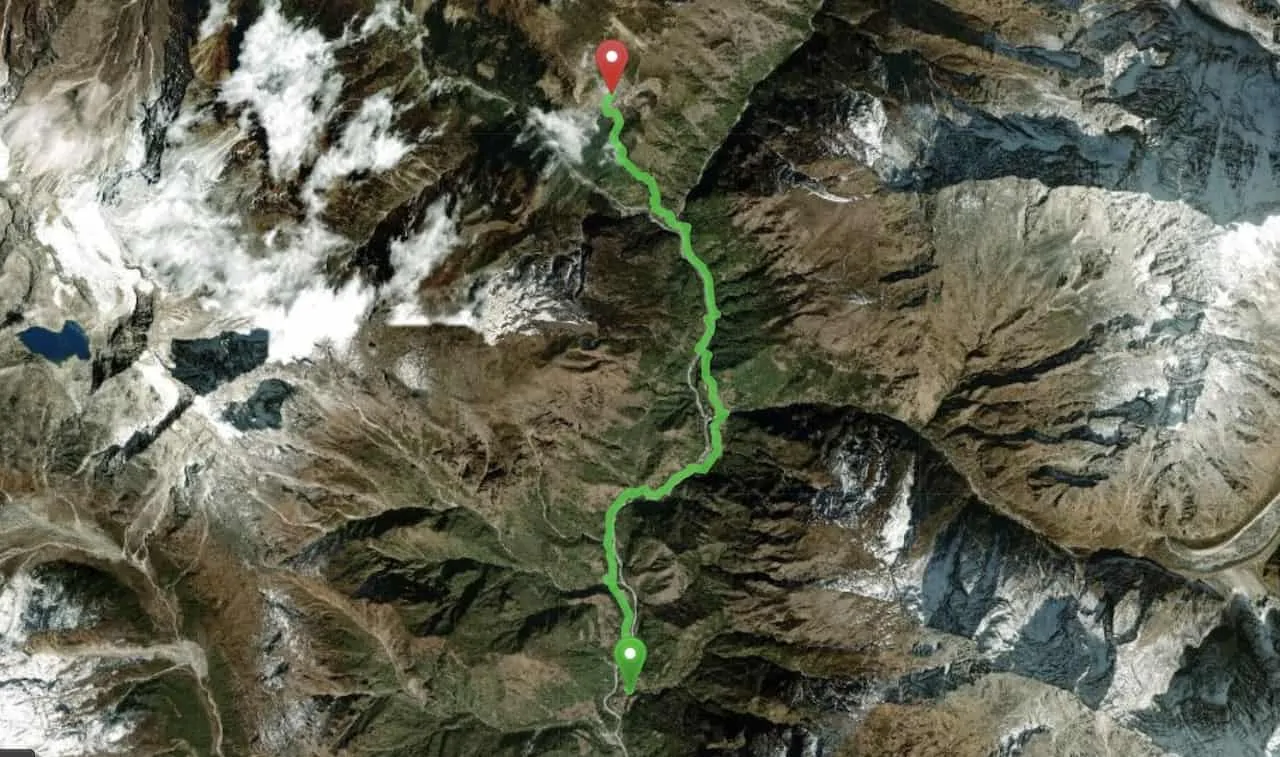 4) Everest Base Camp Trek Packing List
You will want to pack accordingly for this 11-day trek in the Himalayas. I put together a complete Everest Base Camp Packing List that goes over every single item I brought along on the trail.
Since you will still be on the lower portion of trail and will be doing a lot of uphill trekking, you will most likely be comfortable in less layers for the day.
This depends on season and day to day weather, but I found myself in a just t-shirt for most of day 2. Some of the items on the list include: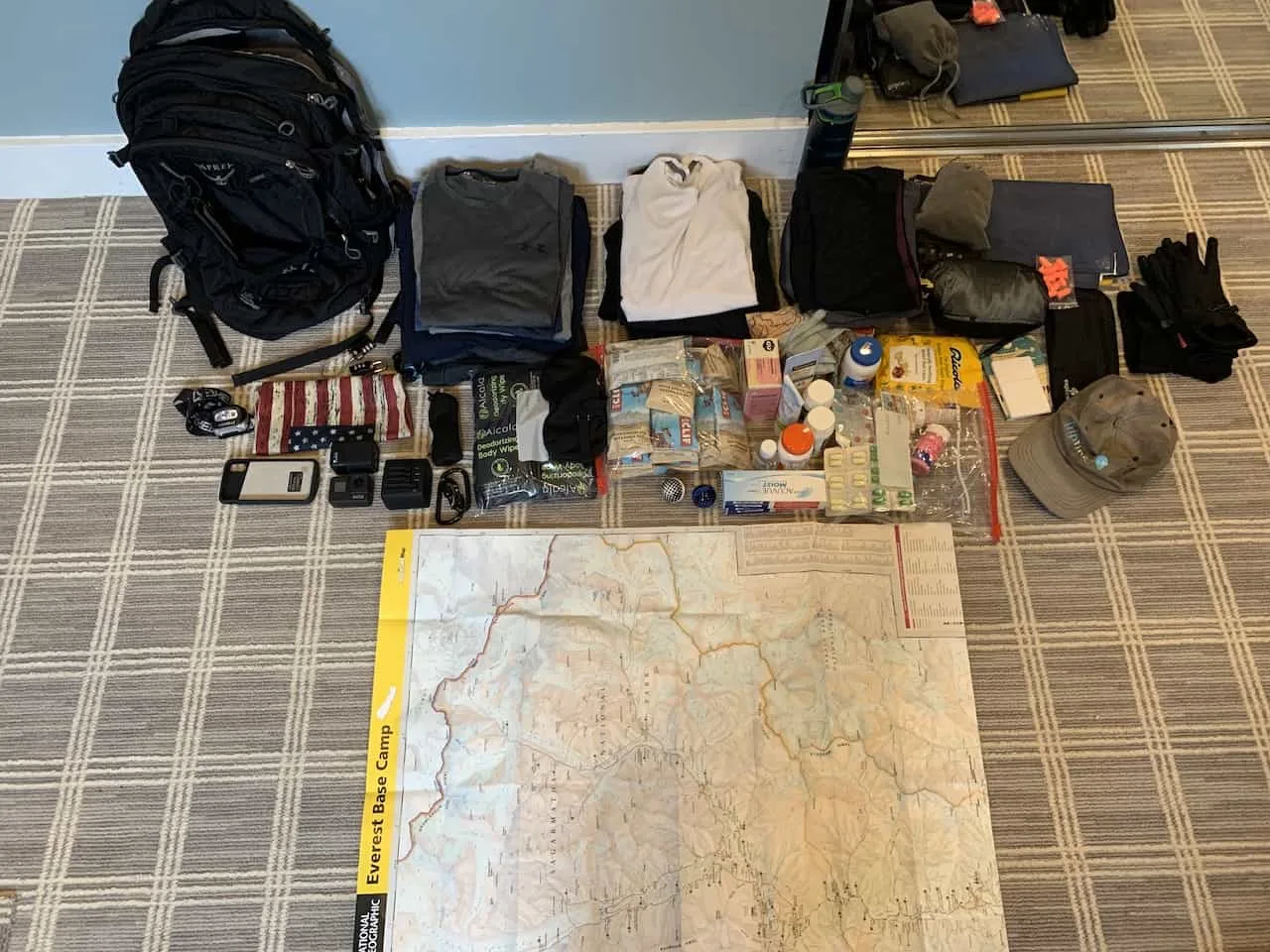 Considering travel insurance for the Everest Base Camp Trek?

World Nomads offers coverage for more than 150 adventure activities as well as emergency medical, lost luggage, trip cancellation and more.

For years, World Nomads has been protecting, connecting & inspiring independent travelers, offering travel insurance & safety advice to help you travel confidently. Their mission is to support and encourage travelers to explore their boundaries.

World Nomads has simple and flexible travel insurance that has been designed by travelers for travelers. Even if you leave home without travel insurance or your policy runs out, you can buy or extend out on the road.

Get a quote for a World Nomads travel insurance policy today!
5) Phakding to Namche Bazaar Trek
Since this is a longer day of trekking, expect an earlier start. The day will start off by leaving Phakding and crossing over the suspension bridge just on the other side of the village.
You will soon come across the Sherpa Shangri-la Resort followed by the Khumbu Pasanglhamu Rural Municipality ticket checking counter. Here you will need to show the permit that you purchased the day before in Lukla.
Along the path there will be plenty of stairs, river and valley views, and beautiful snowcapped peaks out in the distance.
Similar to the previous day, expect a lot of animals on the trail as you pass by several small villages. Since this is a long day of trekking, you can decide to eat lunch at one of these smaller villages or wait until you reach Namche.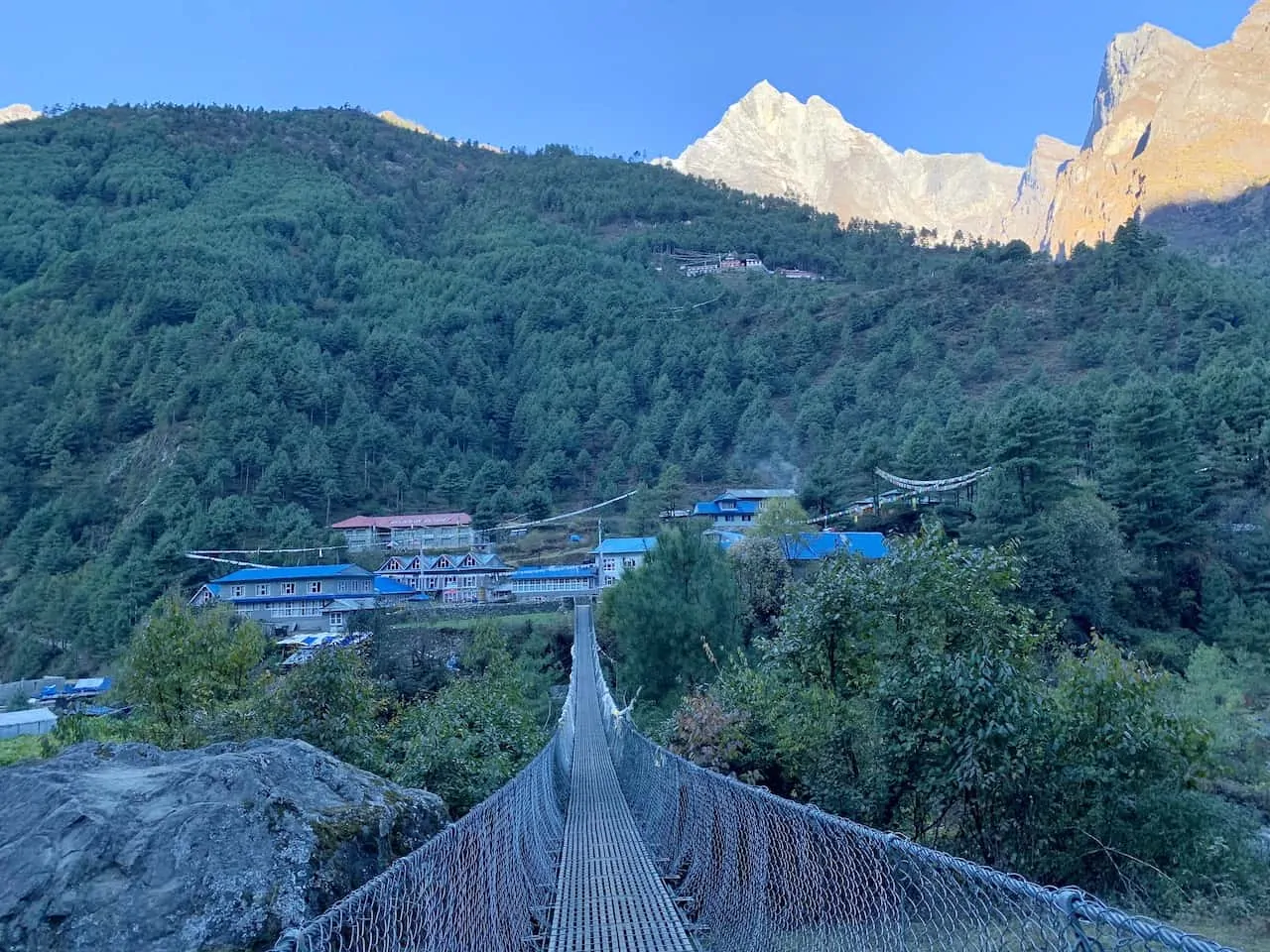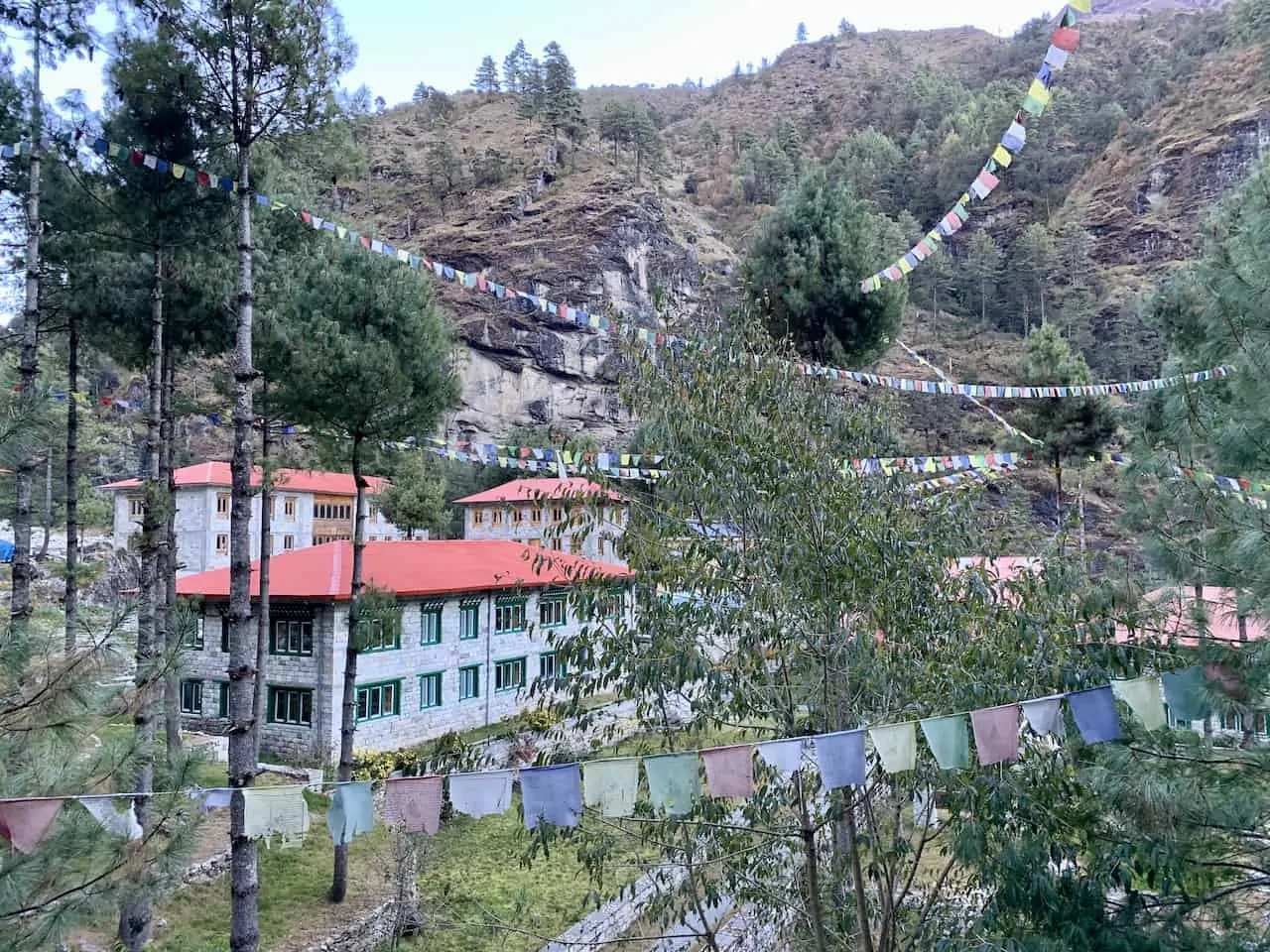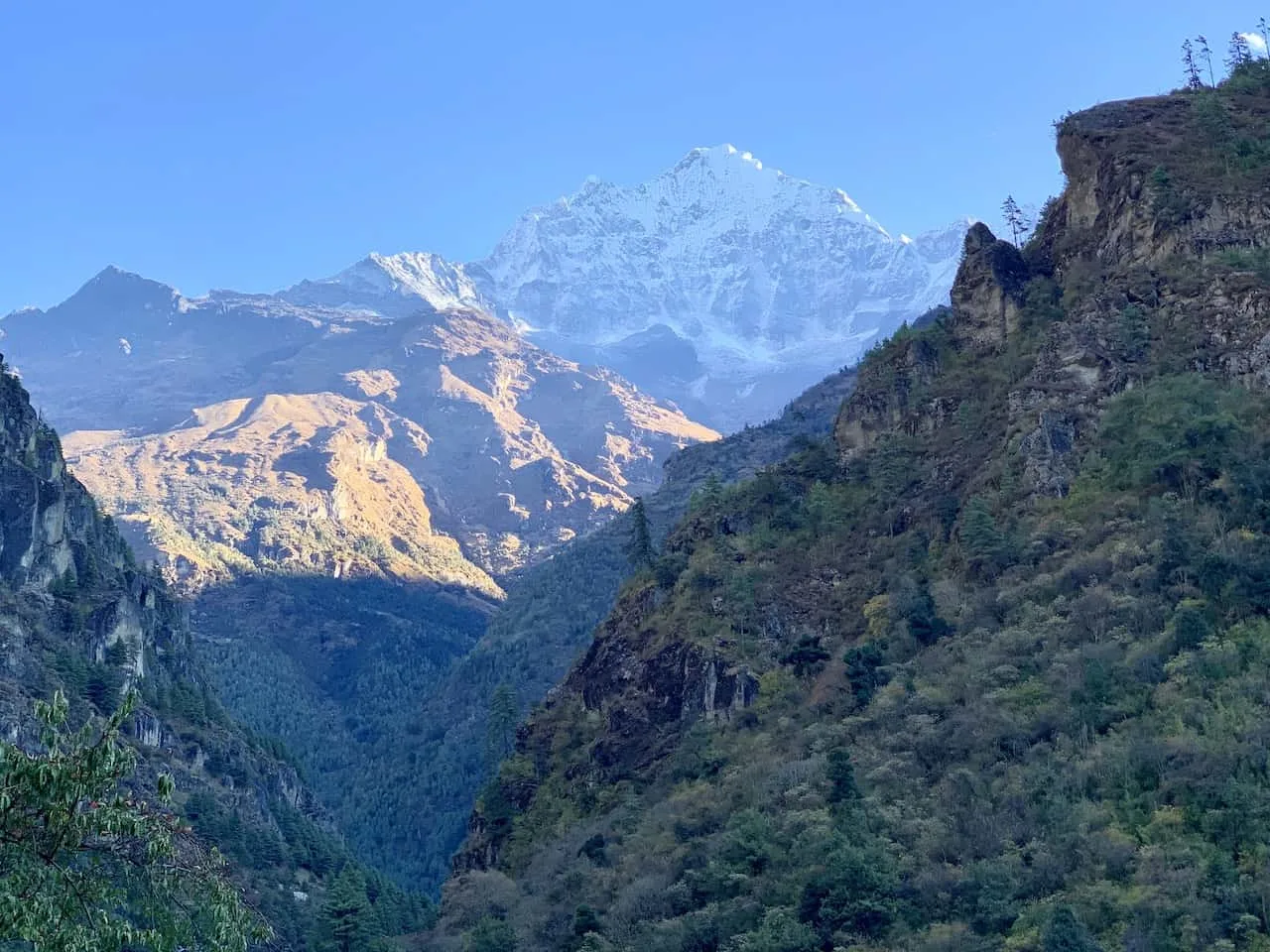 Around 2.5-3 hours or so into the trail you will come across the Sagarmatha National Park permit counter. Here you will need to purchase a permit for the park before entering. The entrance permit costs Rs. 3,000 (~$25 USD).
Once past the permit station and through the gates, you will head on a downhill section of trail as you get closer to the river below.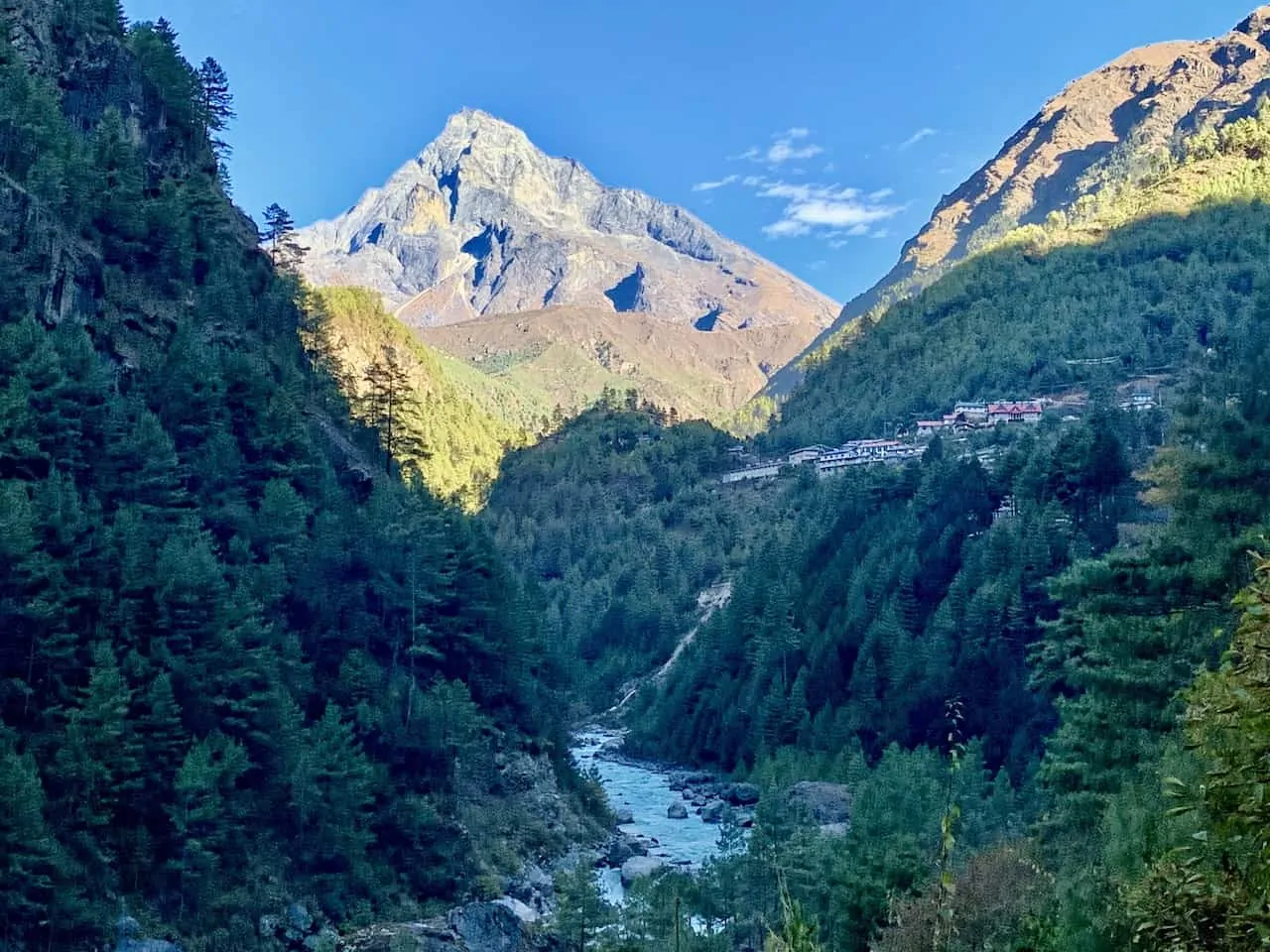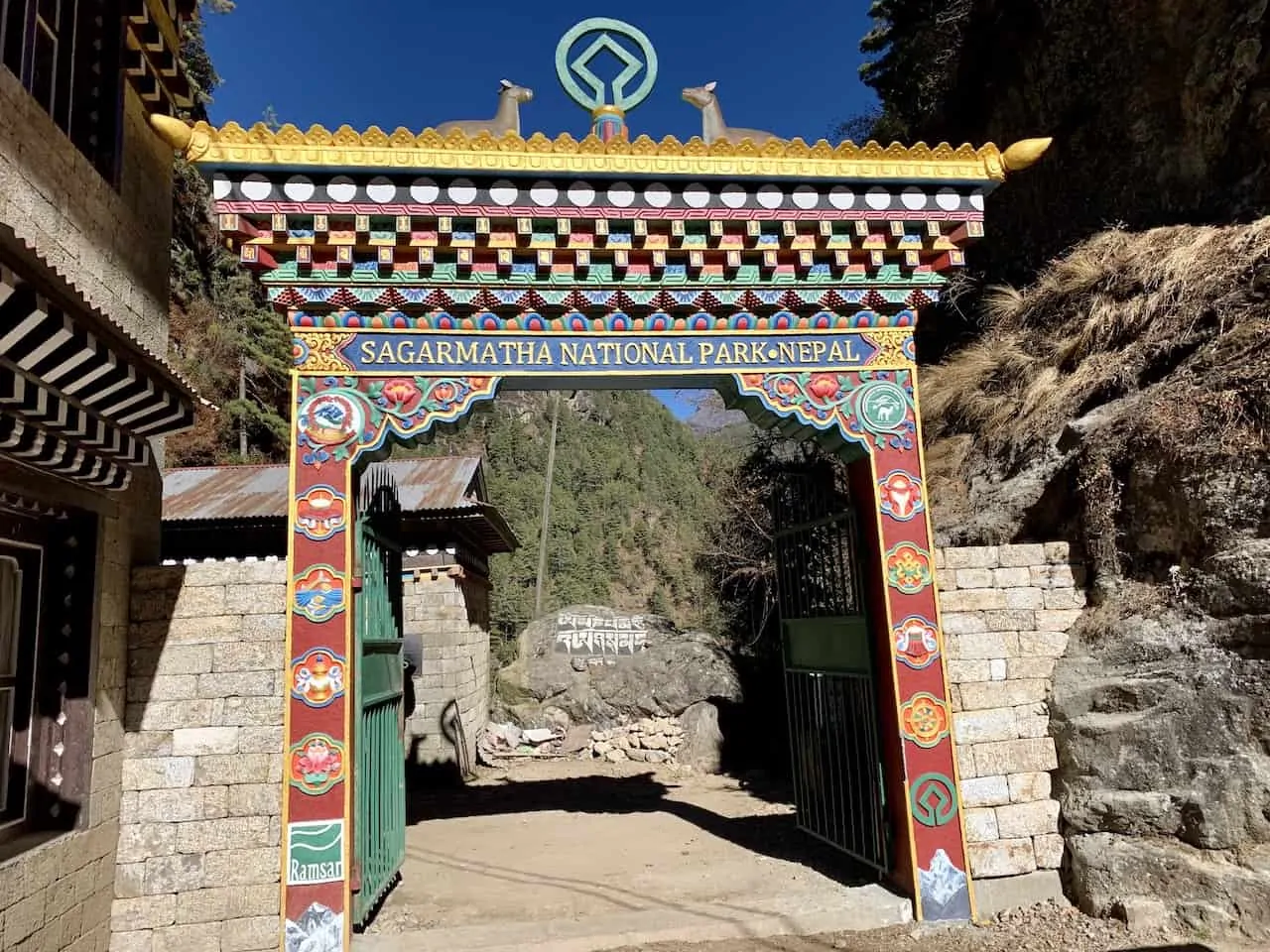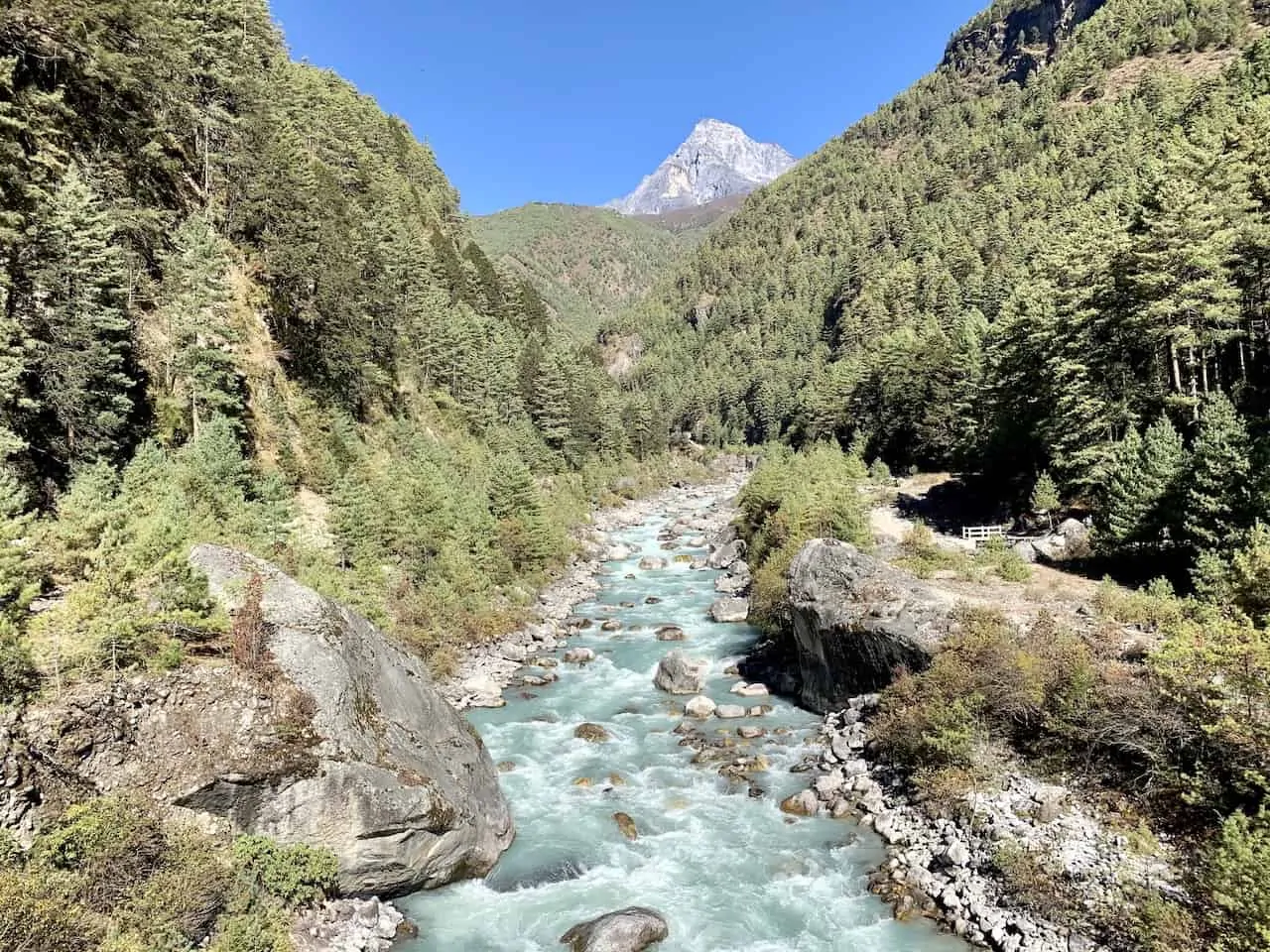 Along the way you will pass plenty of suspension bridges, some are short while others are quite long. One of those coming up is the famous double suspension bridge right before the last portion of trail towards Namche..
You will head back up the stairs and across the upper bridge as you get to the other side. From the bridge you will get some beautiful views of the river, valley, forest, and mountains out in the distance.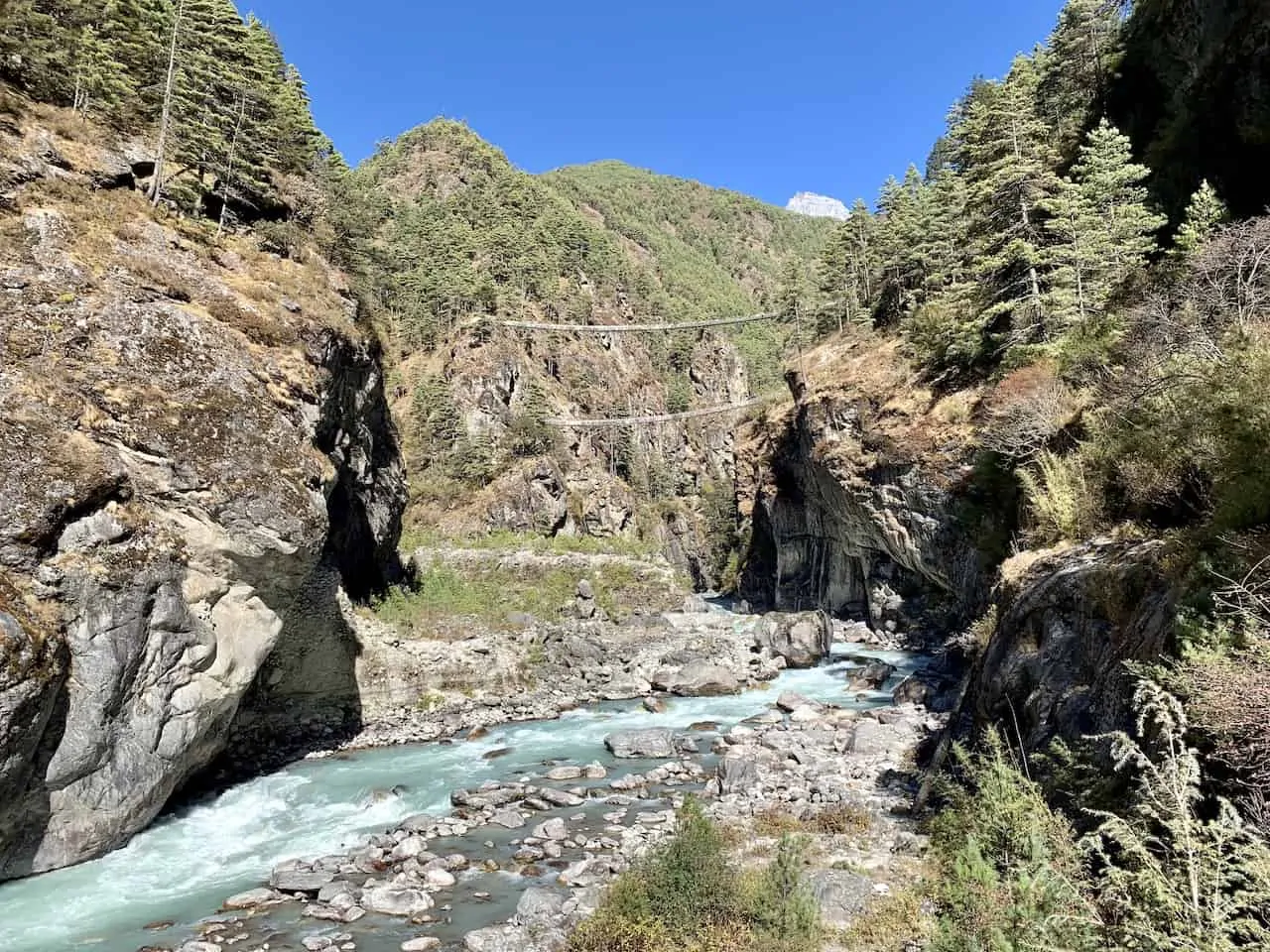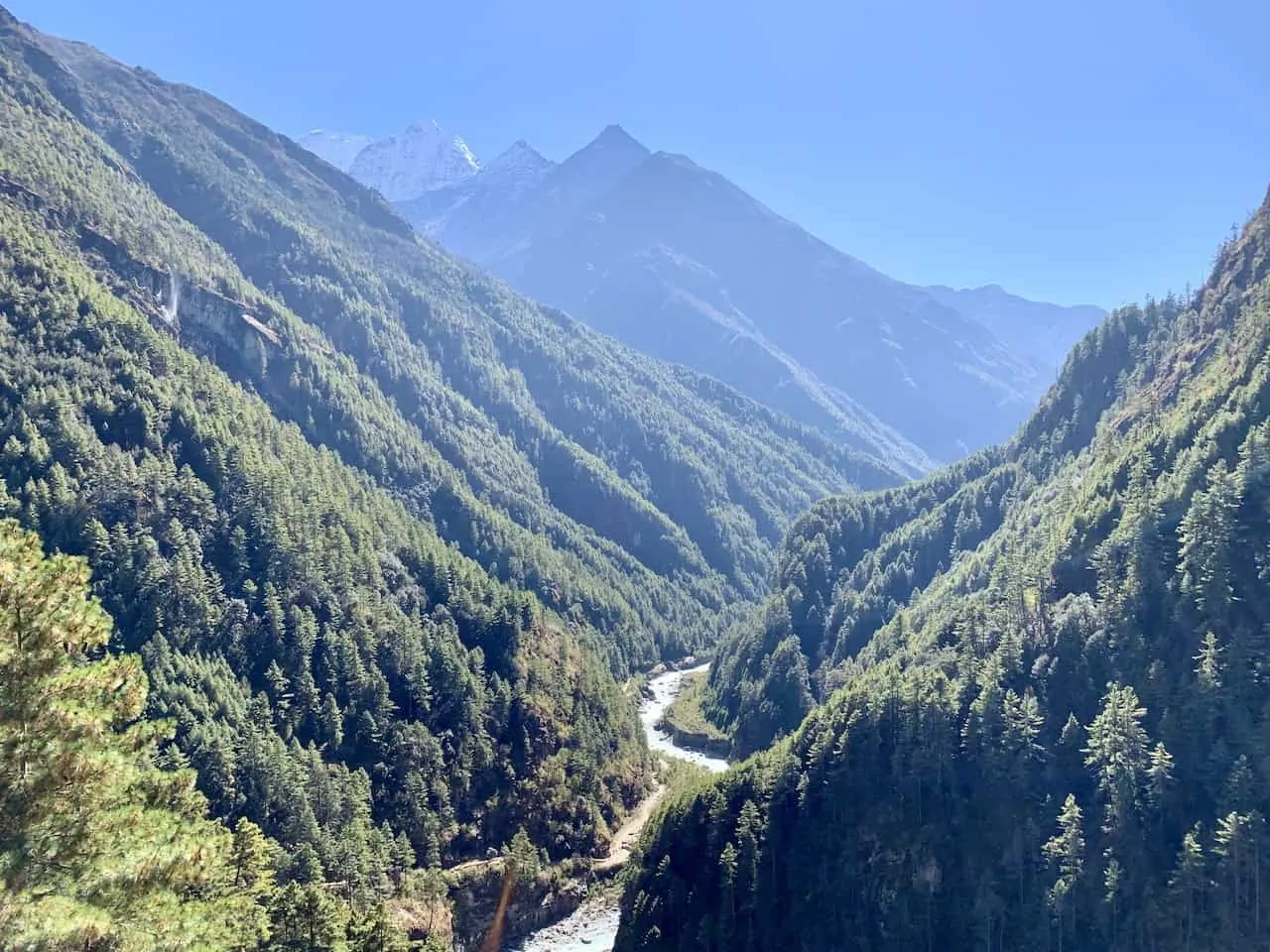 This is also where the incline gets steeper as you gain a good amount of elevation over the last 2.5 miles / 4 km of trail.
Not far after you cross the bridge, you will come across a resting platform, where you will find food and drinks sold by locals. Here is also the first opportunity for you to see Mount Everest!
On a clear day, if you head towards the trees and position yourself the right angle, you will see the top of Mount Everest way out in the distance.
This will be the first of many times (hopefully!) that you will be able to enjoy a view of the tallest mountain in the world.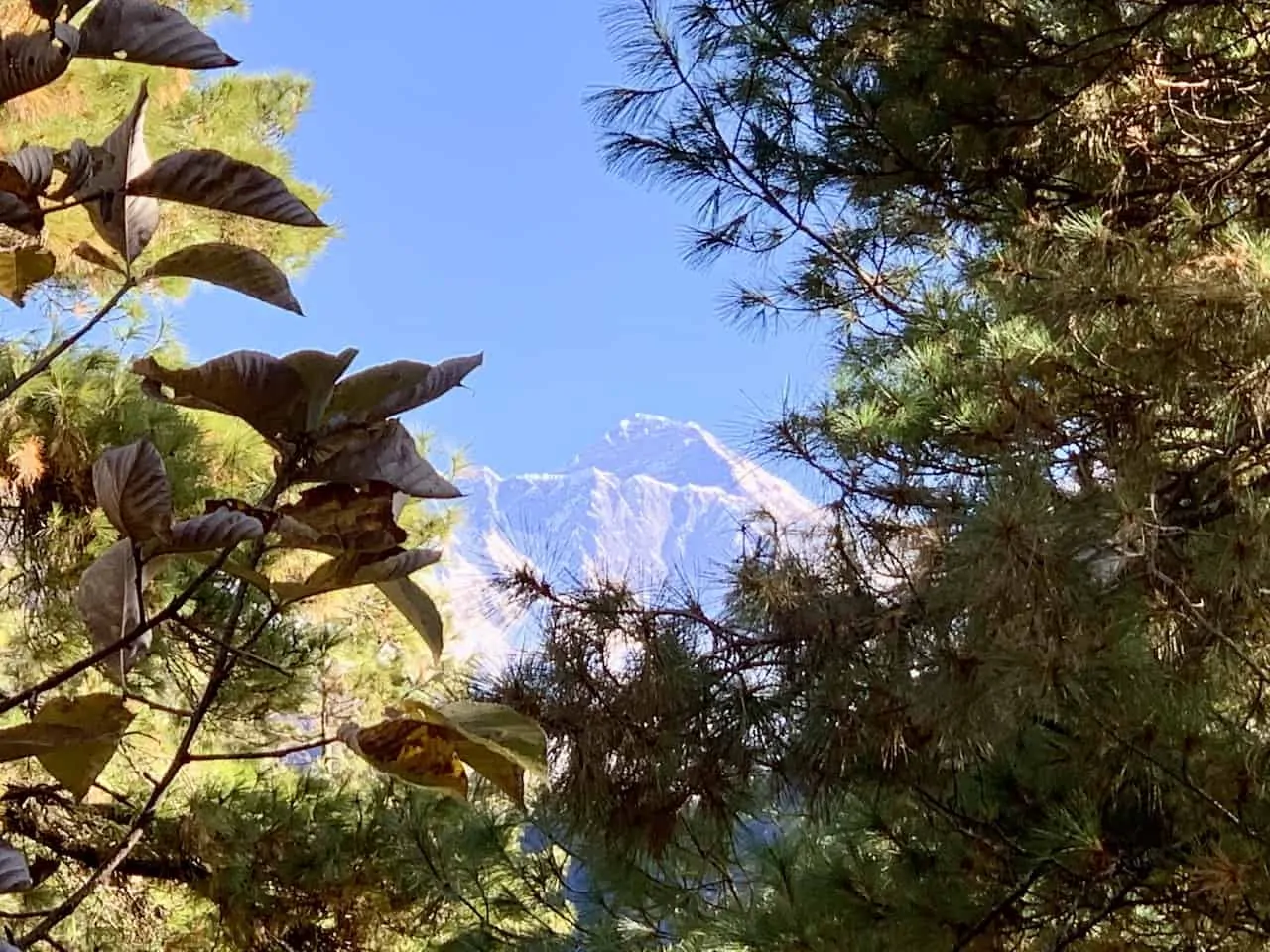 After leaving the viewpoint, you continue to walk through the forest for the next 1.5+ hours until you reach the last checkpoint before Namche Bazaar.
Here you must show your permit before being allowed to continue along into the village.
Just shortly after leaving the checkpoint, you will arrive at the bottom of Namche Bazaar. From there you will head up the terraced village and onto your guesthouse for the night.
6) Namche Bazaar
Namche Bazaar really deserves its own article, which I will get to eventually but for now, here is a little breakdown of the village:
» Since day 3 is an acclimatization day, you will be spending 2 nights in Namche. This gives you the chance to get a better feel for the area and wander around a bit.
» Namche is basically built in a semi circled formation along multi leveled terraces on the mountainside. From the bottom of Namche to the top is a difference of ~200 feet / ~60 meters. Due to the layout of the village, expect to go up and down a bunch of stairs during your stay here.
» While you will need to eat at your guesthouse for most meals (unless you are OK with paying a higher room rate), Namche is filled with many restaurants and bakeries.
» If you need any hiking gear, now is the last chance to purchase most items and you can find plenty of shops all around town.
» I would recommend heading to the Sagarmatha National Park Museum, which around a 30-minute walk from the center of town. There you will get some great views of the Everest mountain range including Lhotse, Nupste, and of course Everest itself.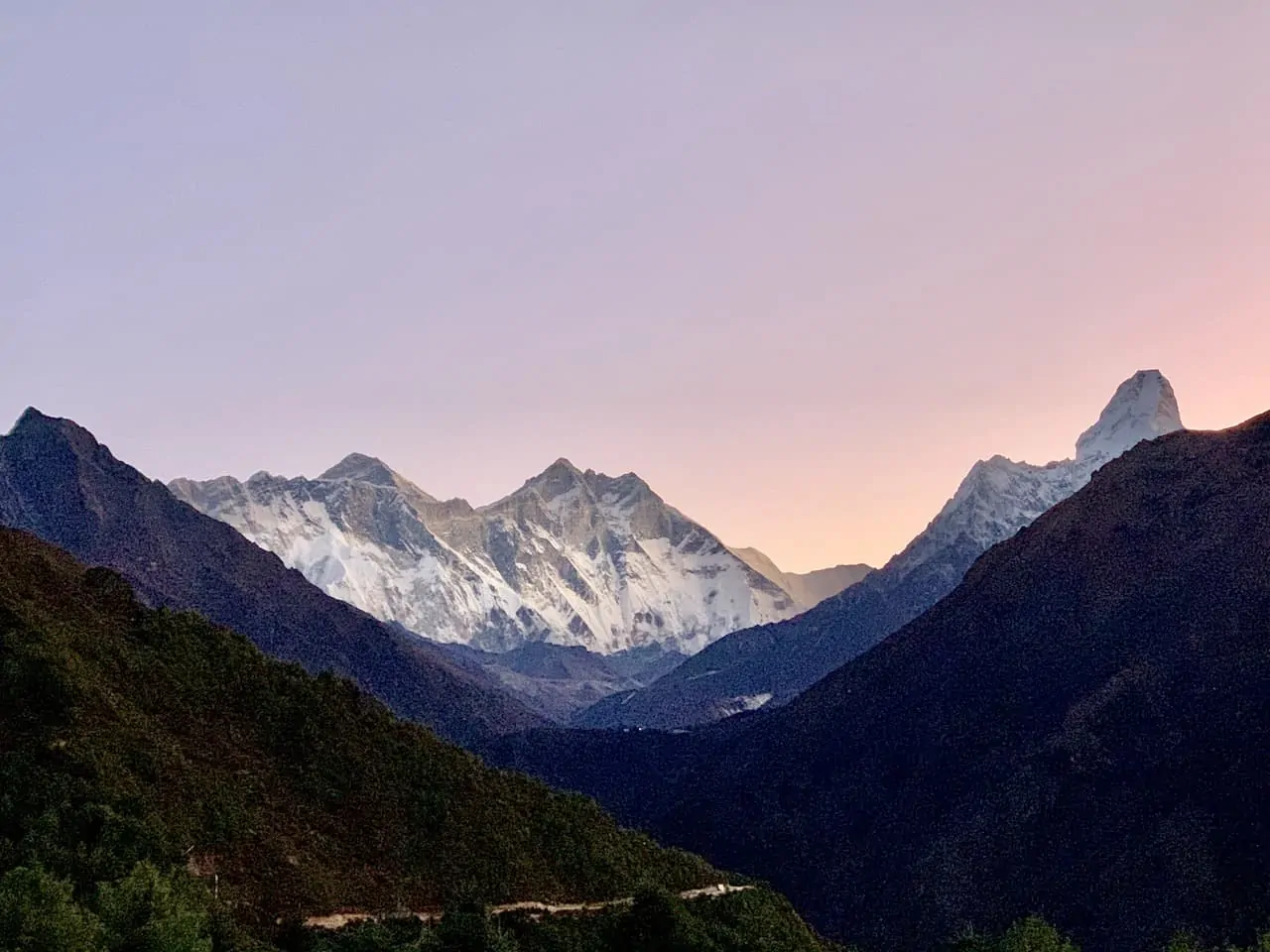 » You can get a great birds eye view of Namche while you you are walking up to the museum, or if you head to the other side of town, you can enjoy a different view from the very beginning of the trail towards Thame.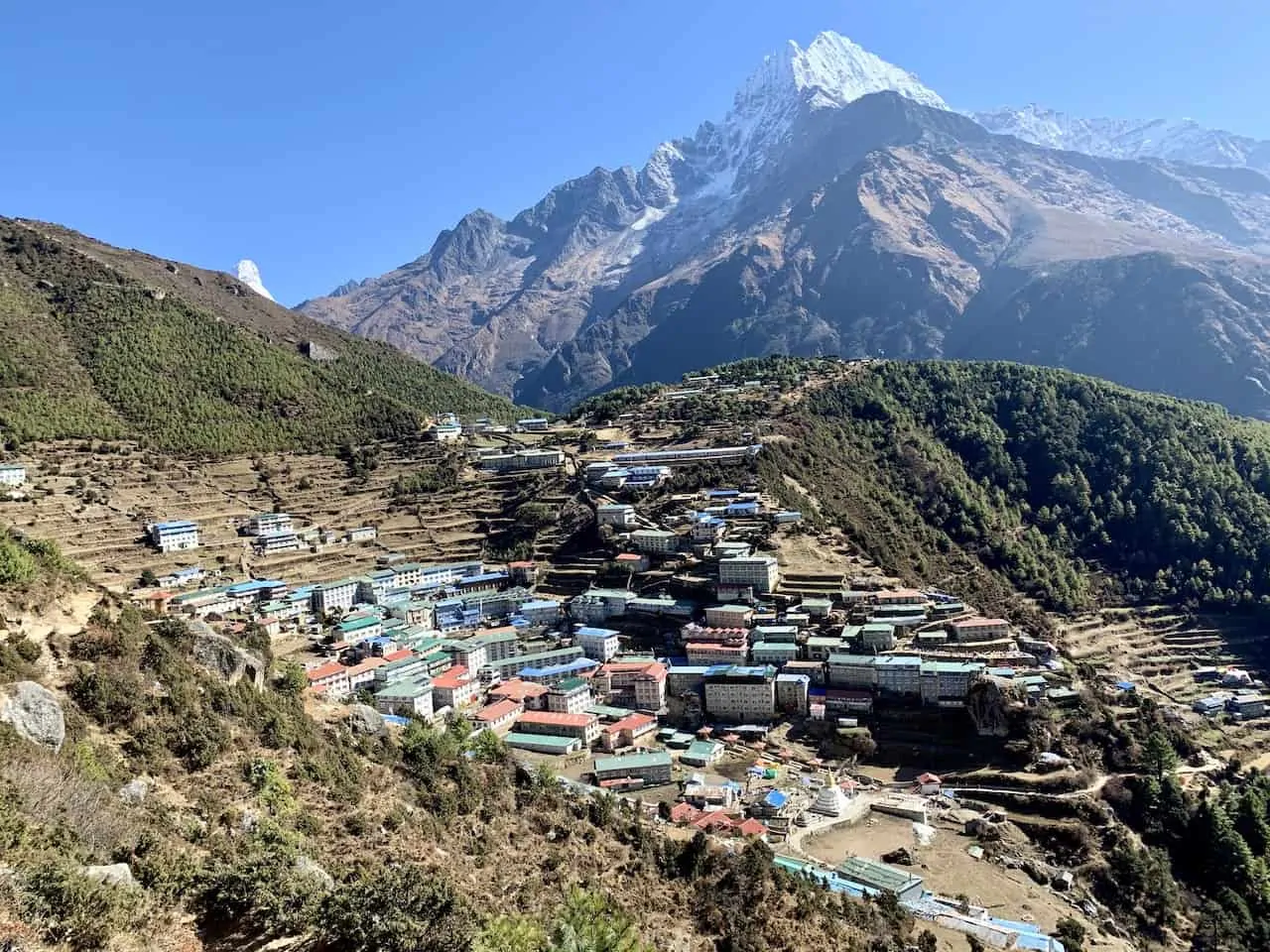 7) Namche Bazaar Teahouse / Accommodation
While most teahouses on the EBC route are generally the same, you can find much more variety in Namche. They will have more "hotel" type of options available at various price points.
Teahouse rooms will still cost Rs 500 (less than $5 USD), given you eat your meals at the teahouse as well.
In Namche Bazaar I stayed at the Friendship Lodge located in the middle of town. Some other options to choose from include Khumbu Lodge, Hotel SherpaLand, Panorama Lodge and Hotel Camp de Base (among PLENTY of others).
Friendship was well located, had a super welcoming and helpful staff and free electronic charging.
If you want the experience of all experiences and to truly treat yourself on the trail, then a stay at Hotel Everest View is sure to be a one of kind accommodation choice.
This is actually where most people hike to the next day as part of their acclimatization but you can also choose to stay there as well.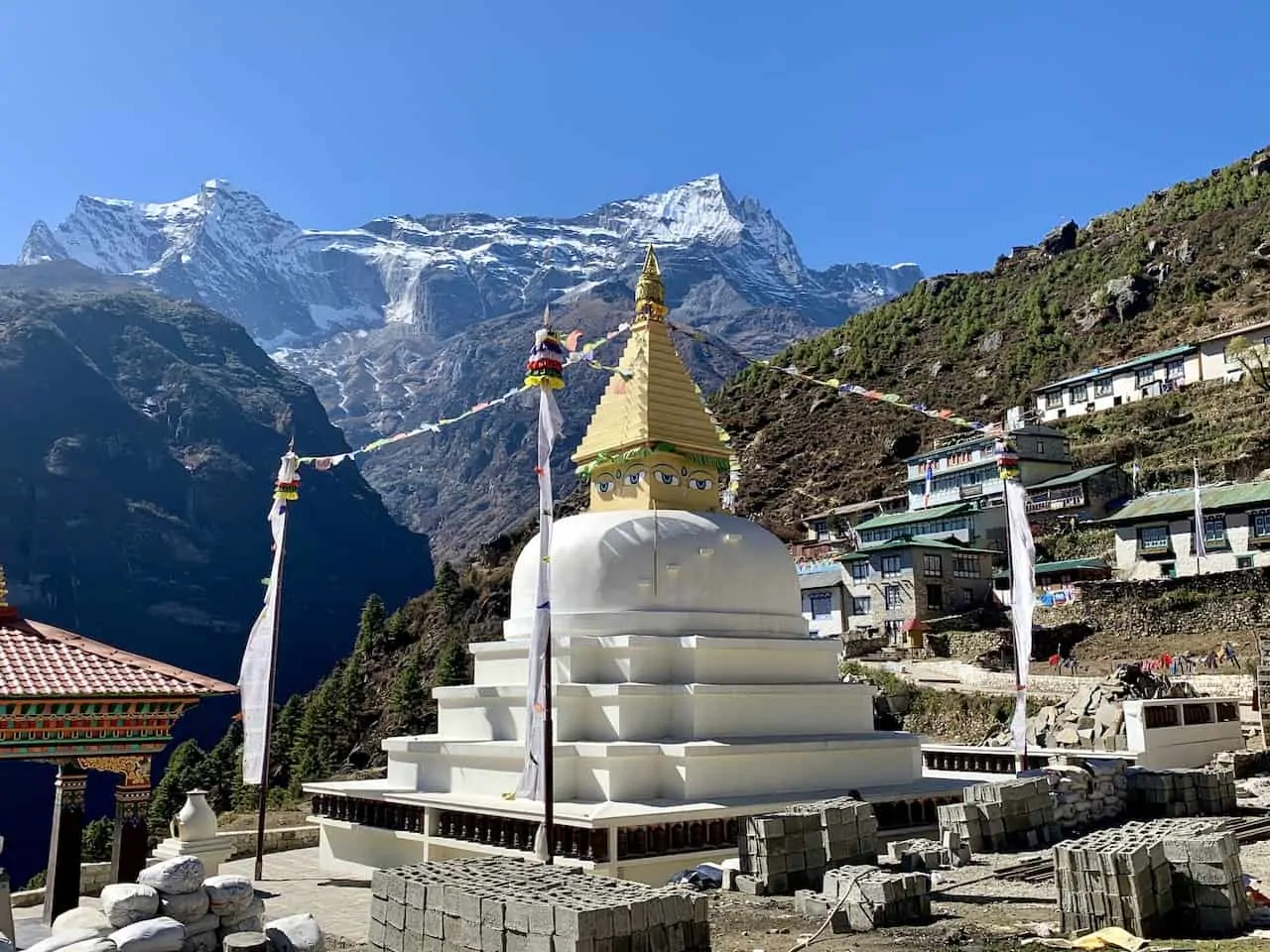 Take a look at this in depth overview of the Everest Base Camp Trek as well as the below guides I put together for each day of the journey:
Day 1 – Lukla to Phakding
Day 2 – Phakding to Namche Bazaar
Day 3 – Hotel Everest View Acclimatization
Day 4 – Namche Bazaar to Tengboche
Day 5 – Tengboche to Dingboche
Day 6 – Nangkartshang Acclimatization
Day 7 – Dingboche to Lobuche
Day 8 – Lobuche to Gorak Shep & Everest Base Camp
Day 9 – Kalapathar & Gorak Shep to Pheriche
Day 10 – Pheriche to Namche Bazaar
Day 11 – Namche Bazaar to Lukla
That about does it for day 2 of the Everest Base Camp trek. If you have any questions about the day or the trail in general, write them in below.
Be sure to check out the other Nepal itineraries and guides up on the site (like why I would recommend an Everest Base Camp Trek in November). Have fun out there and safe travels.