If taking part of the Three Passes trek in Nepal, you will be making your way through the village of Dzongla (also spelled Dzonglha) at one point or another. Dzongla sits at the base of the Cho La Pass, connecting the main Everest Base Camp trekking path to the Gokyo region.
This guide will walk you through the route between Gorak Shep and Dzongla as you prepare to extend your trek towards the Gokyo Lakes.
* Affiliate Disclosure: This post may contain affiliate links, which means I may receive a commission if you make a purchase through the links provided, at no additional cost to you. Thanks for supporting the work I put into TripTins!
1) Three Passes Trek Overview
While most people who visit the Everest region typically go on the 11 day out and back trail between Lukla and Everest Base Camp, there is also the opportunity to add several additional days onto your trip as you explore more of the Himalayas.
One of the most popular routes here is the Three Passes Trek, which covers most of the standard Everest Base Camp trek but then adds on three beautiful mountain passes along the way – Kongma La, Cho La, and Renjo La.
Since I took part of the Three Passes in the counter clockwise direction, I first made my way over the Kongma La, headed to Everest Base Camp, continued towards the Cho La and Gokyo Lakes, before wrapping up over the Renjo La.
You could of course do this in the opposite direction, or decide to take part of just 1 or 2 of the passes instead of all three.
But either way if you are trying to connect the main Everest Base Camp route with the Gokyo region, then the Cho La Pass is the way to do it. Along the way you will most likely be spending the night in Dzongla before heading over the pass the next morning.
» Learn more in the Three Passes Trek guide up on the site
The rest of this guide will go through the route from Gorak Shep (the last village before Everest Base Camp), to Lobuche, and then onwards to Dzongla.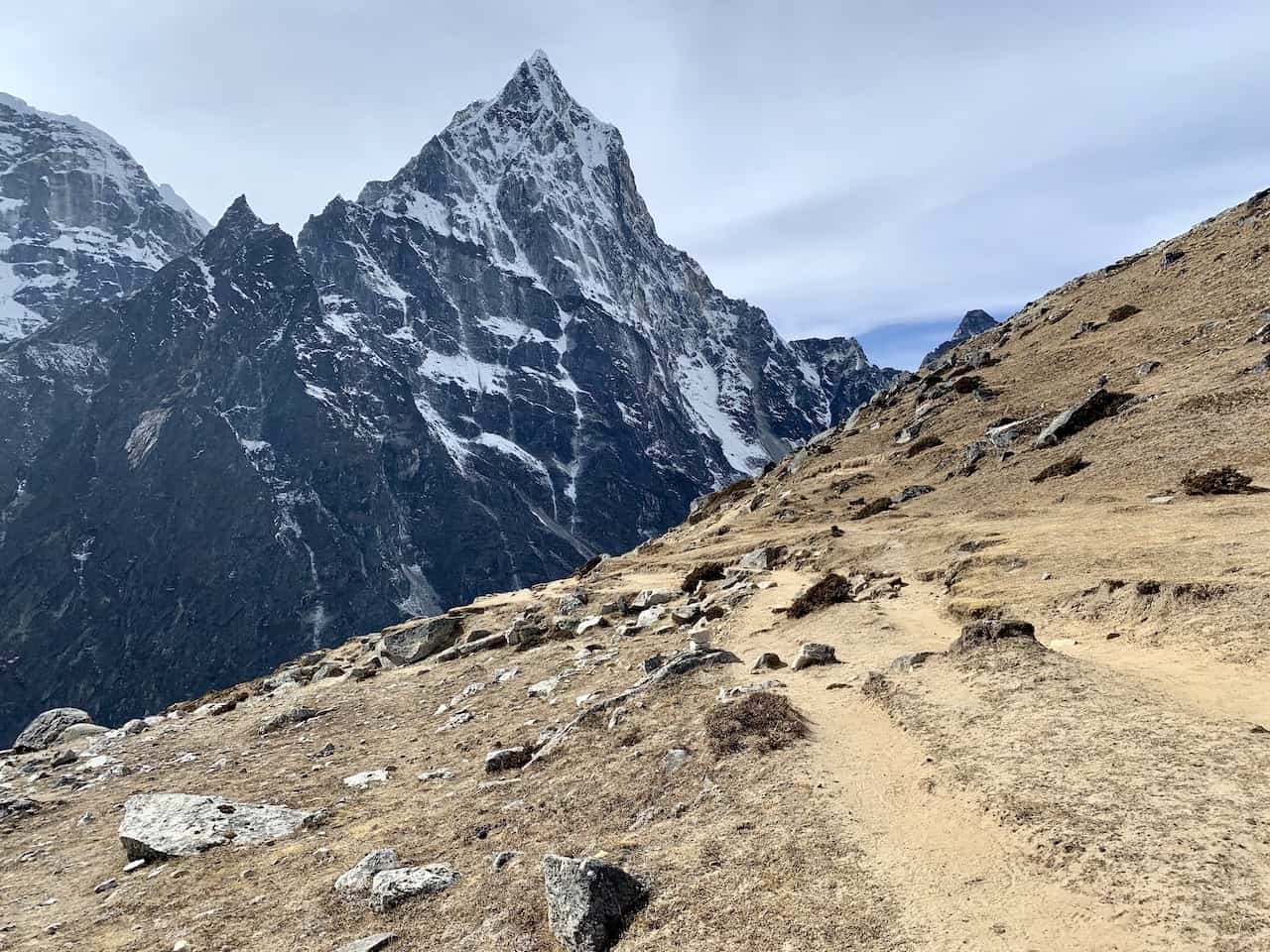 2) Gorak Shep to Dzongla Overview
Remember, since you will be coming from Gorak Shep, odds are you will be visiting either Everest Base Camp or Kala Patthar on the SAME DAY that you will be hiking to Dzongla.
So, while the route itself from Gorak Shep to Dzongla is not too tough, you will be combining it with an additional 4+ hours of higher elevation hiking.
After checking out Everest Base Camp or climbing up Kala Patthar, it is time to backtrack back down the route towards Lobuche.
Once you reach Lobuche and you continue along the trail, the route will split into two -> to your left is the standard route back to Dingboche / Pheriche, while towards the right will be the route to Dzongla.
Below are some important things to note for this day out on the trail:
Starting Point: Gorak Shep
Mid Point: Lobuche
Ending Point: Dzongla
Starting Elevation: 16,814 feet / 5,125 meters
Ending Elevation: 15,850 feet / 4,830 meters
Distance: 6.7 miles / 10.8 kilometers
Duration: 4 Hours
Elevation Gain: 590 feet / 180 meters
Net Elevation Gain: (964 feet) / (295 meters)
*Elevation gain is the true amount of elevation gained for the portion of the trail. Net elevation is just the difference in elevation between Gorak Shep and Dzongla.
While this is a net loss of elevation for the route, there are still portions of uphill, hence the elevation gain of 590 feet / 180 meters mentioned.
» Learn more about the various distances, elevations, and durations of the Everest Base Camp Trek
3) Everest Base Camp Packing List
You will want to pack accordingly for trekking in the Himalayas. I put together a complete Everest Base Camp Packing List that goes over every single item I brought along on the trail.
Below you can find just some of those recommended items that are including on the list:
Hiking Socks: Darn Tough Merino Wool Crew Mens | Darn Tough Merino Wool Crew Womens
Hiking Pants: Eddie Bauer Men's Guide Pro Pants | Eddie Bauer Women's Guide Pro Pants
Fleece: Columbia Men's Ascender Softshell | Columbia Women's Kruser Ridge II Softshell
Rain Jacket: Columbia Men's Watertight II | Columbia Women's Arcadia II
Hiking Shoes: KEEN Men's Targhee III | KEEN Women's Targhee III
Hiking Backpack: Osprey Atmos 65 | Osprey Renn 65
Trekking Map | NatGeo Waterproof Map
Solar Power Bank | Anker 20,000mAh Solar Power Bank
Deodorizing Body Wipes | Alcala Bamboo Deodorizing Body Wipes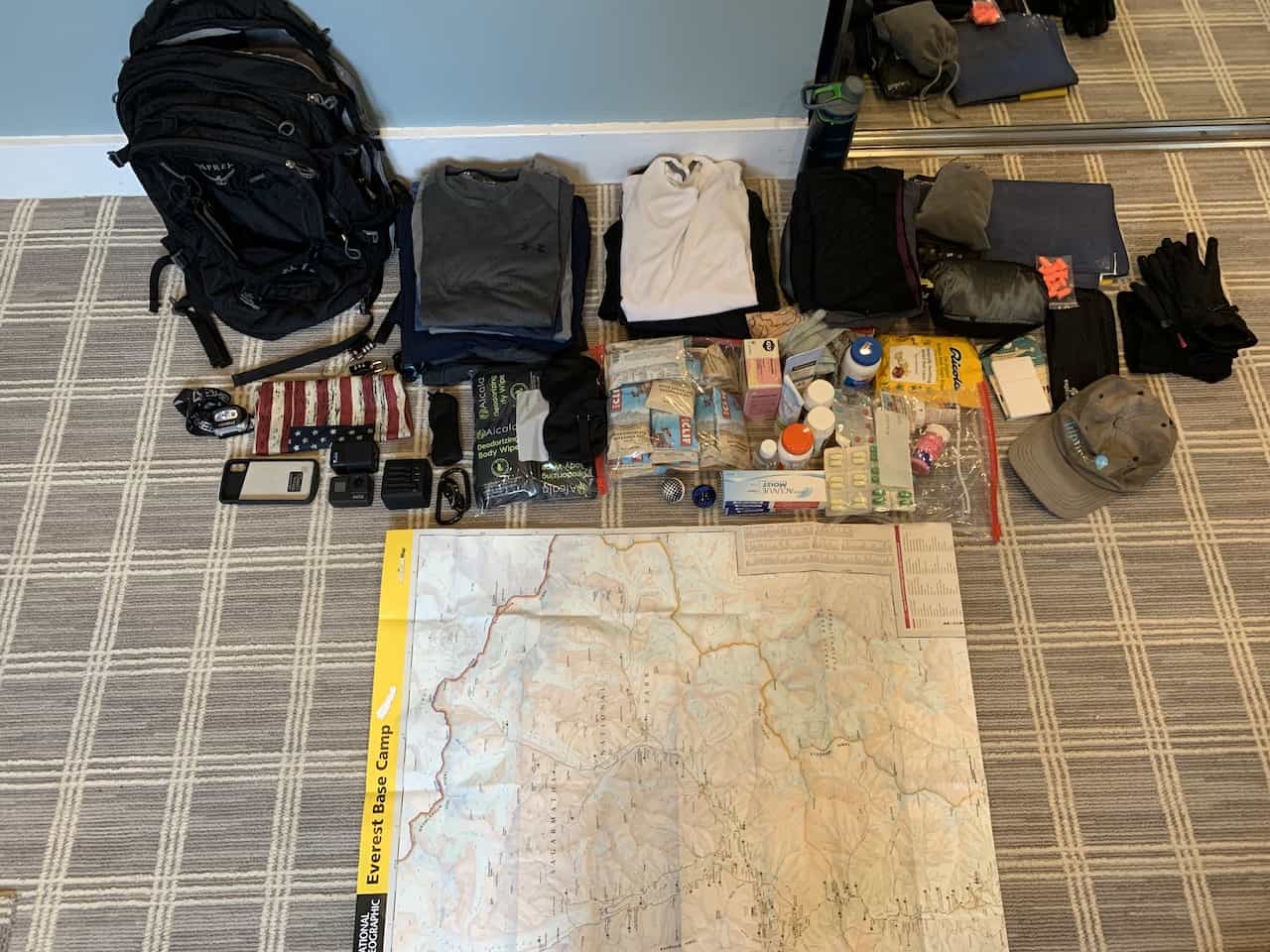 4) Gorak Shep – Lobuche – Dzongla Elevation Gain
As you can see from the elevation gain profile below, it will mostly be a downhill climb as you make your way from Gorak Shep to Dzongla.
However, along the way there will be some slight gains in certain sections of the trail. Overall, you are looking at a pretty manageable hike between the two.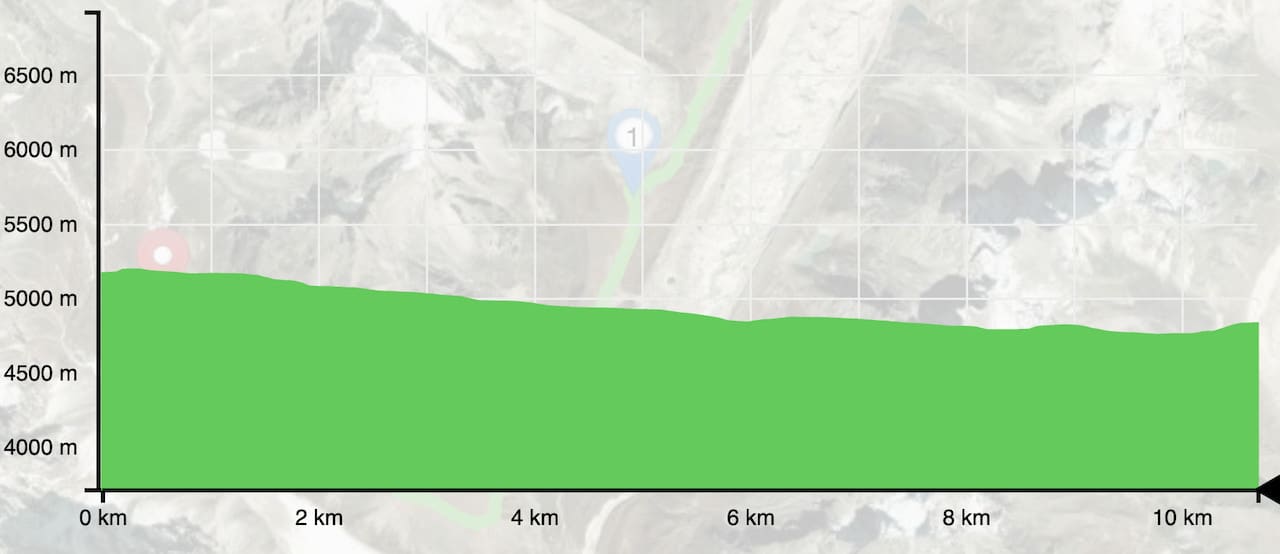 5) Dzongla Map
The map below shows the route between Gorak Shep and Dzongla, with Lobuche highlighted as well.
More than half of this route will be the exact same path that you would have taken previously making your way up the trail to base camp.
However, after leaving Lobuche, instead of continuing straight down, you will make the right hand turn towards Dzongla.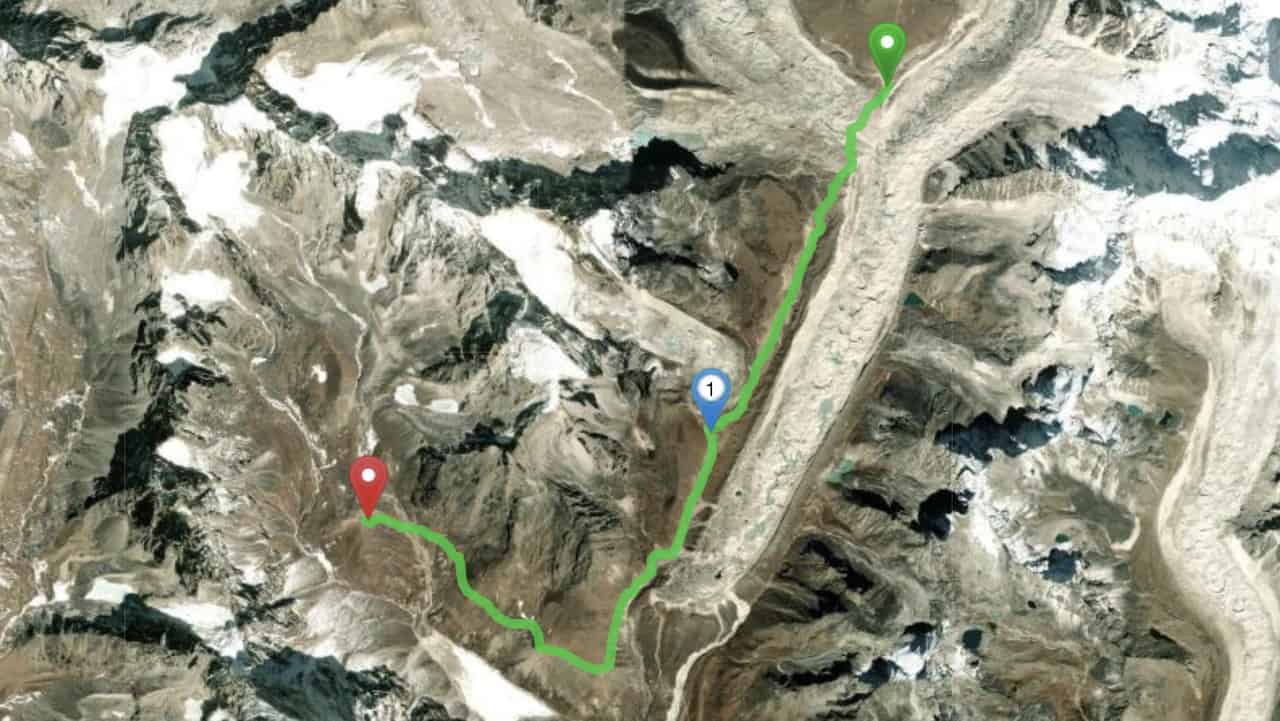 Considering travel insurance for the Himalayas?

World Nomads offers coverage for more than 150 adventure activities as well as emergency medical, lost luggage, trip cancellation and more.

For years, World Nomads has been protecting, connecting & inspiring independent travelers, offering travel insurance & safety advice to help you travel confidently. Their mission is to support and encourage travelers to explore their boundaries.

World Nomads has simple and flexible travel insurance that has been designed by travelers for travelers. Even if you leave home without travel insurance or your policy runs out, you can buy or extend out on the road.

Get a quote for a World Nomads travel insurance policy today!
6) Gorak Shep to Lobuche to Dzongla
Now that you have some background about the trail, let's get into a quick overview of the route alongside some photos.
After visiting Everest Base Camp or trekking up to Kala Patthar, you can check out of your teahouse, grab some food, and begin the journey to Dzongla.
Immediately after leaving Gorak Shep, the terrain does a bit tricky as you are making your way over part of a glacier. However, once you are up and over that section, the remainder of the way is pretty manageable.
You will have some beautiful views of the Khumbu Glacier off to your left with the surrounding Himalayan peaks on either side of you.
The path can get a bit rocky in sections, so always be sure to watch your step as you are making your way along.
The trail will continue to lose elevation as you get further along the route. Since you will be losing elevation here, you will also slowly lose those views of looking down on the Khumbu Glacier.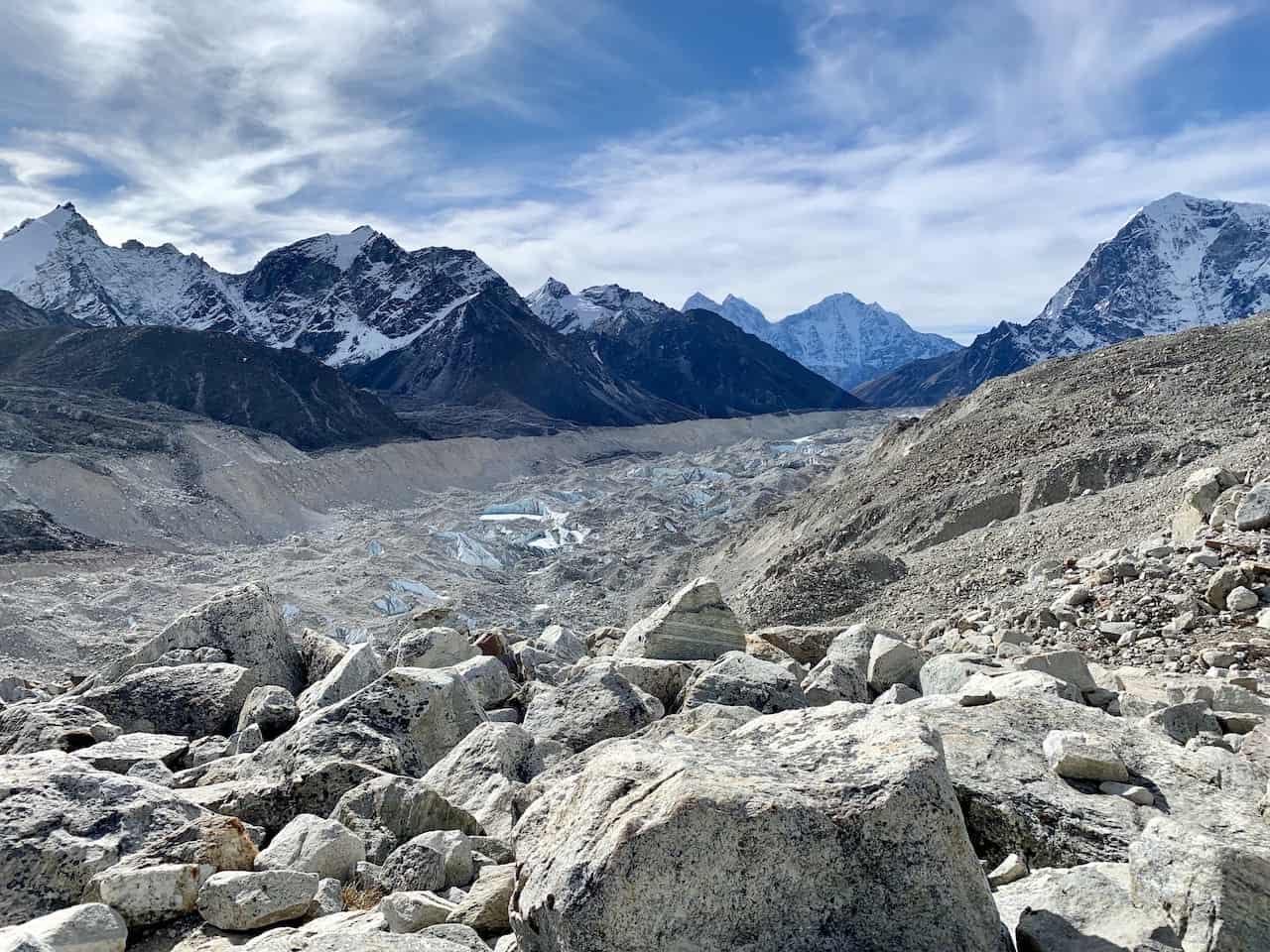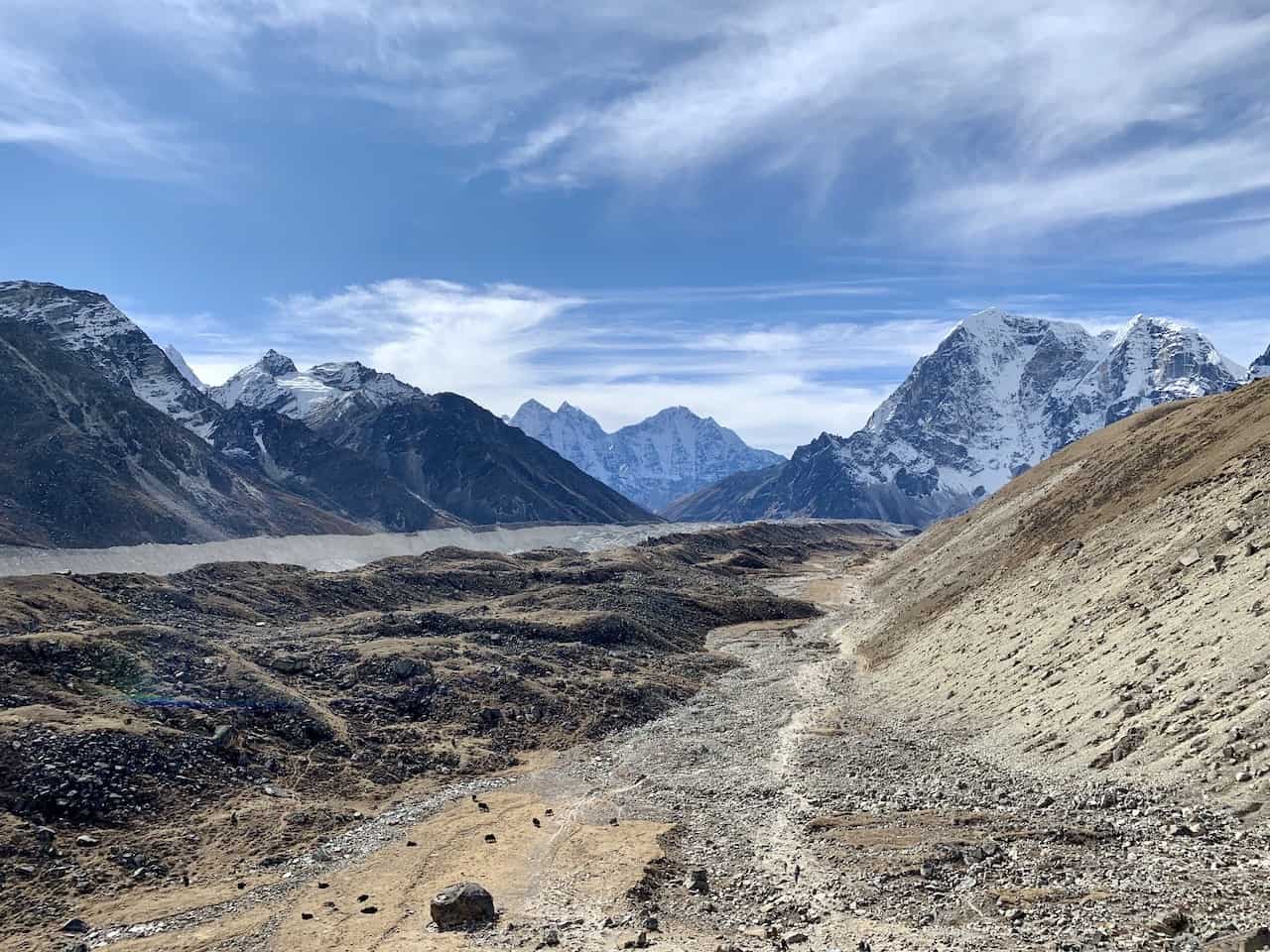 After a couple hours of trekking, you will arrive right back in the village of Lobuche, where you would have stayed a couple nights prior.
You can take rest at one of the teahouses there, fuel up with some food and tea, before continuing on with your trek to Dzongla.
After leaving Lobuche, you will continue to follow the path that goes alongside the Khumbu Glacier. 30 minutes or so past Lobuche, you will reach an intersection. To the right is towards Dzongla, while to the left is back to Dingboche or Pheriche.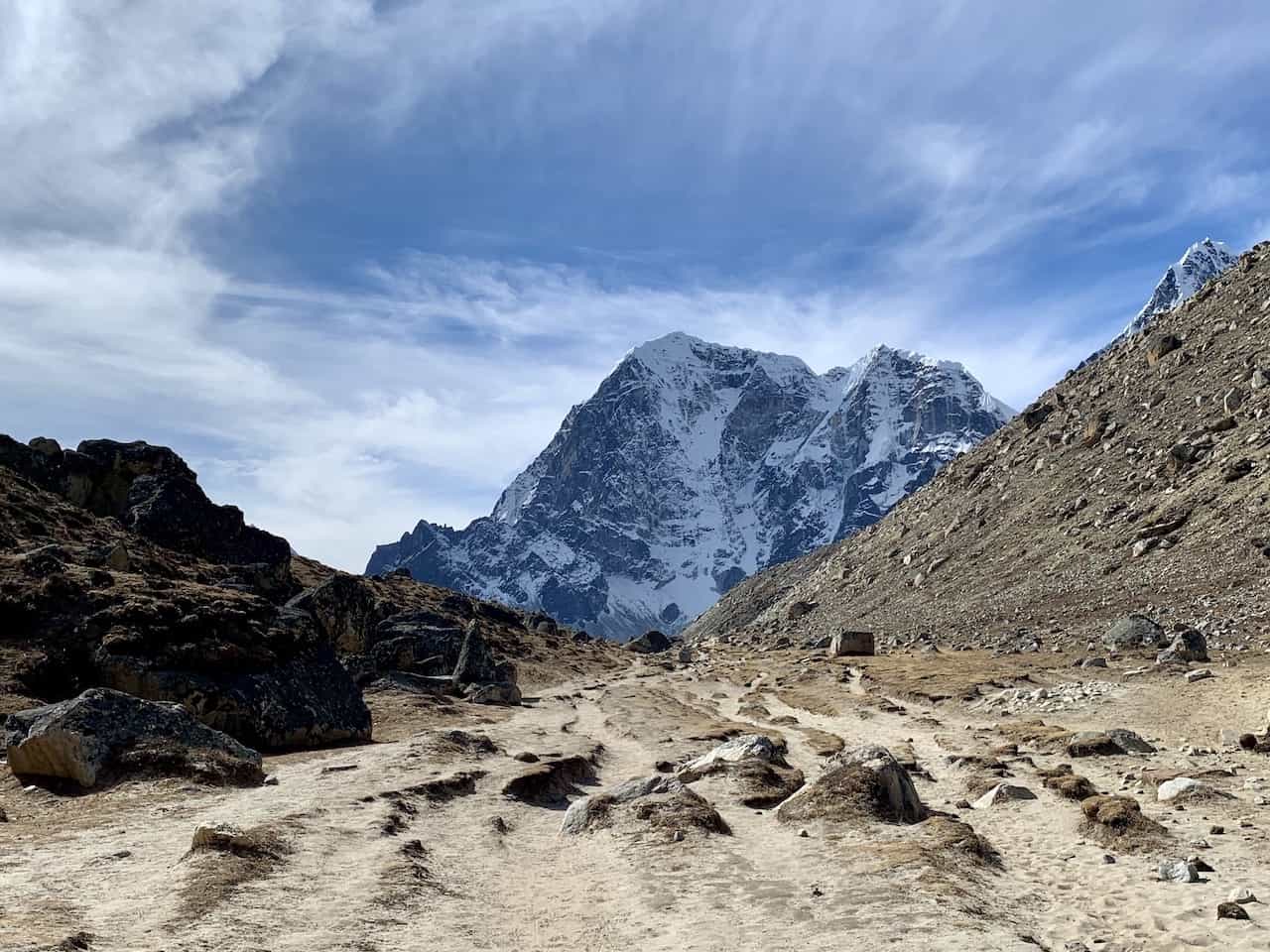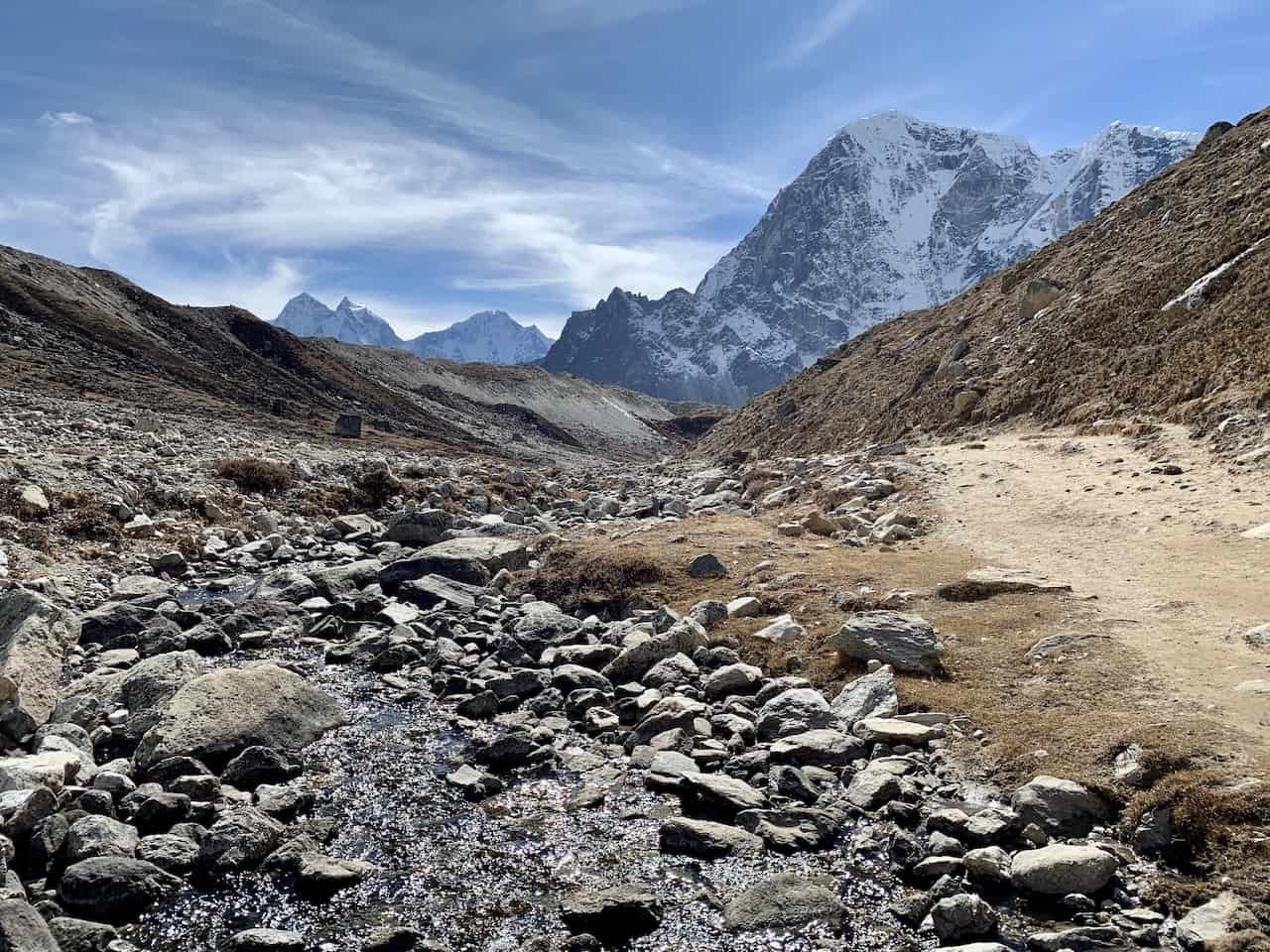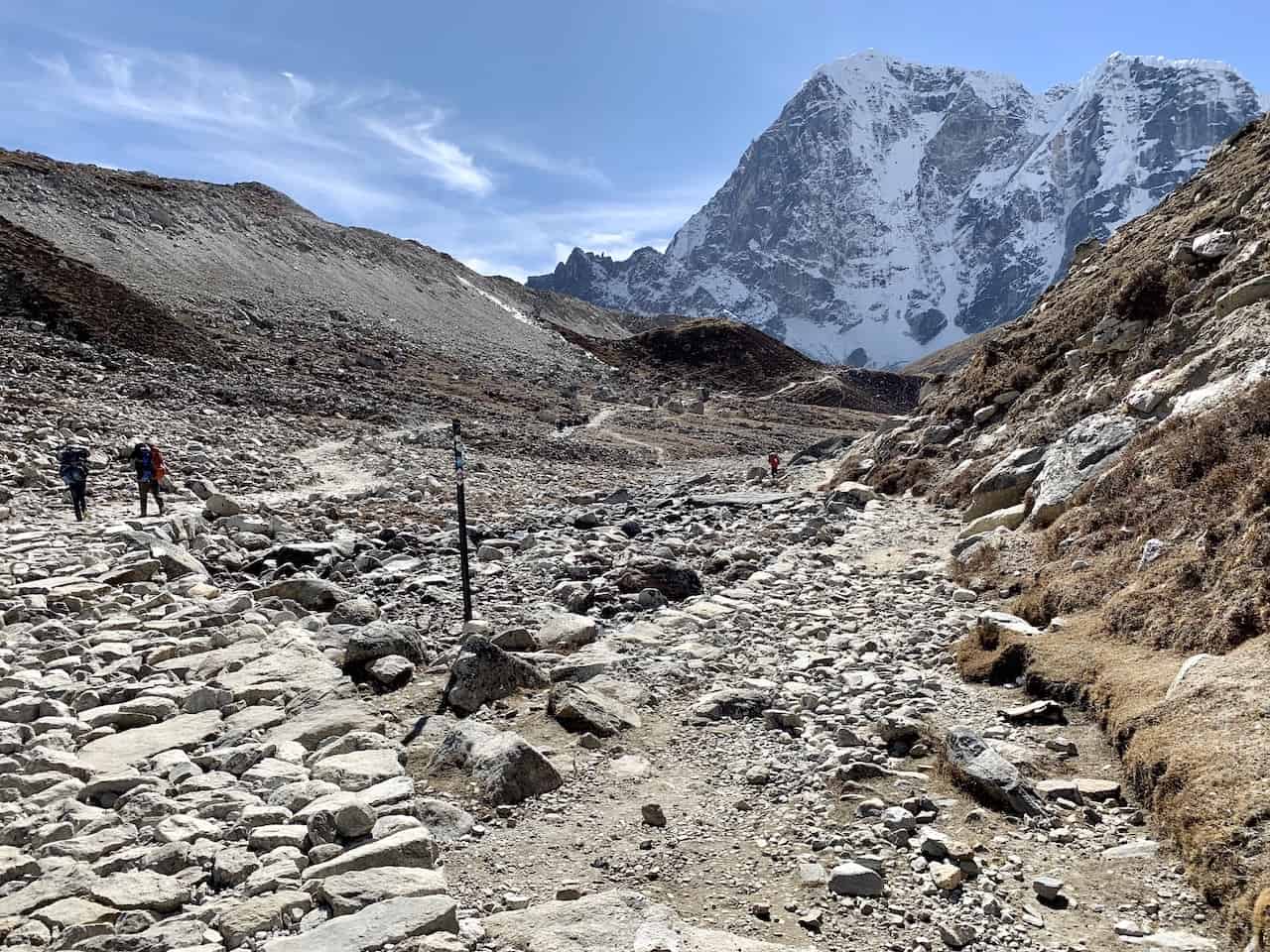 Be sure to stay to the right here as you now will be walking the path etched alongside the mountainside that wraps around towards Dzongla.
Not knowing much about this portion of trail beforehand, I was pleasantly surprised to see how stunning the landscape was on the rest of the route to Dzongla.
You will have vast views of the valley down below with Ama Dablam and other peaks towering out in the distance. The river will be flowing down below with view of Pheriche all the way towards the end of your line of site.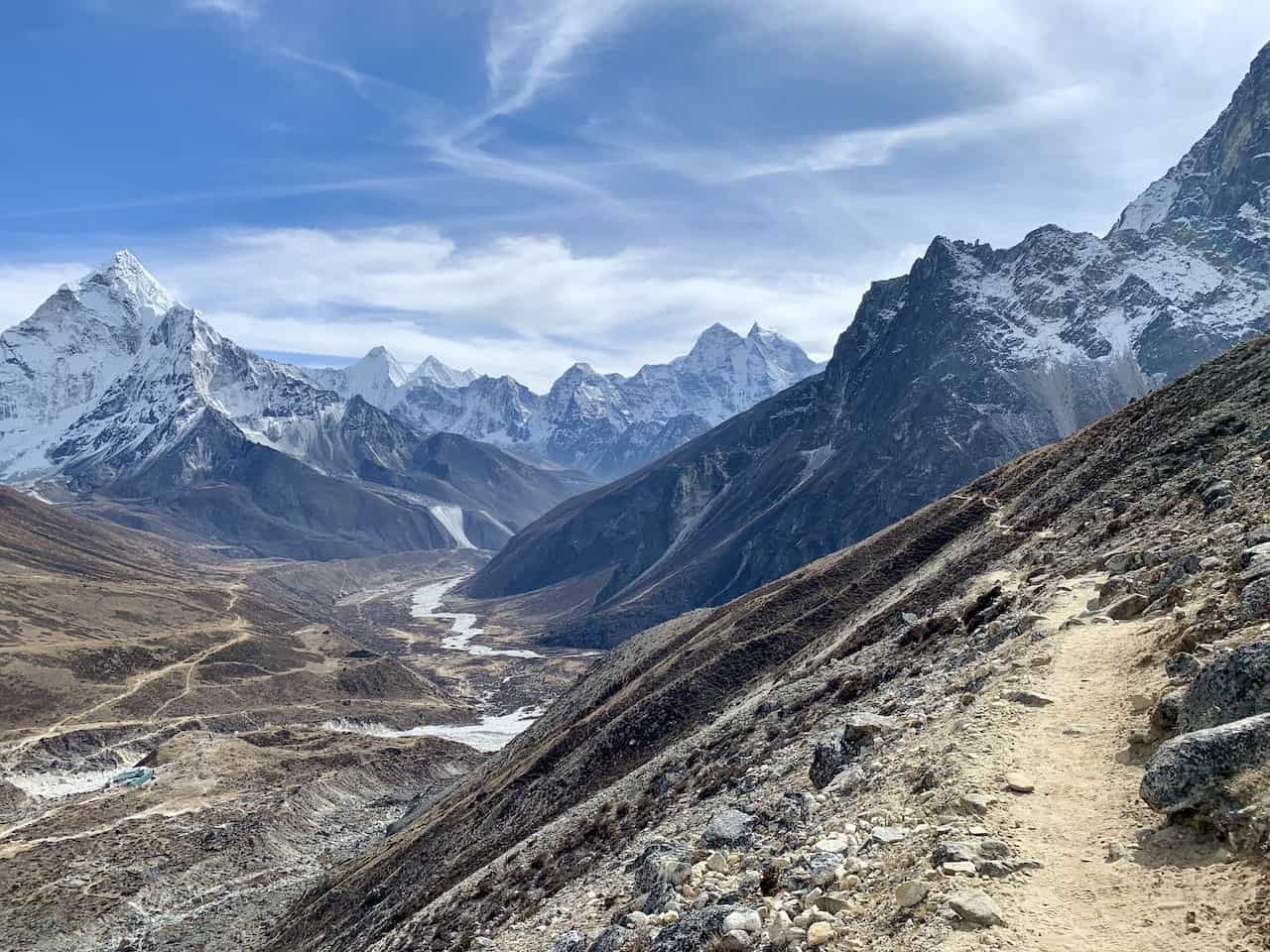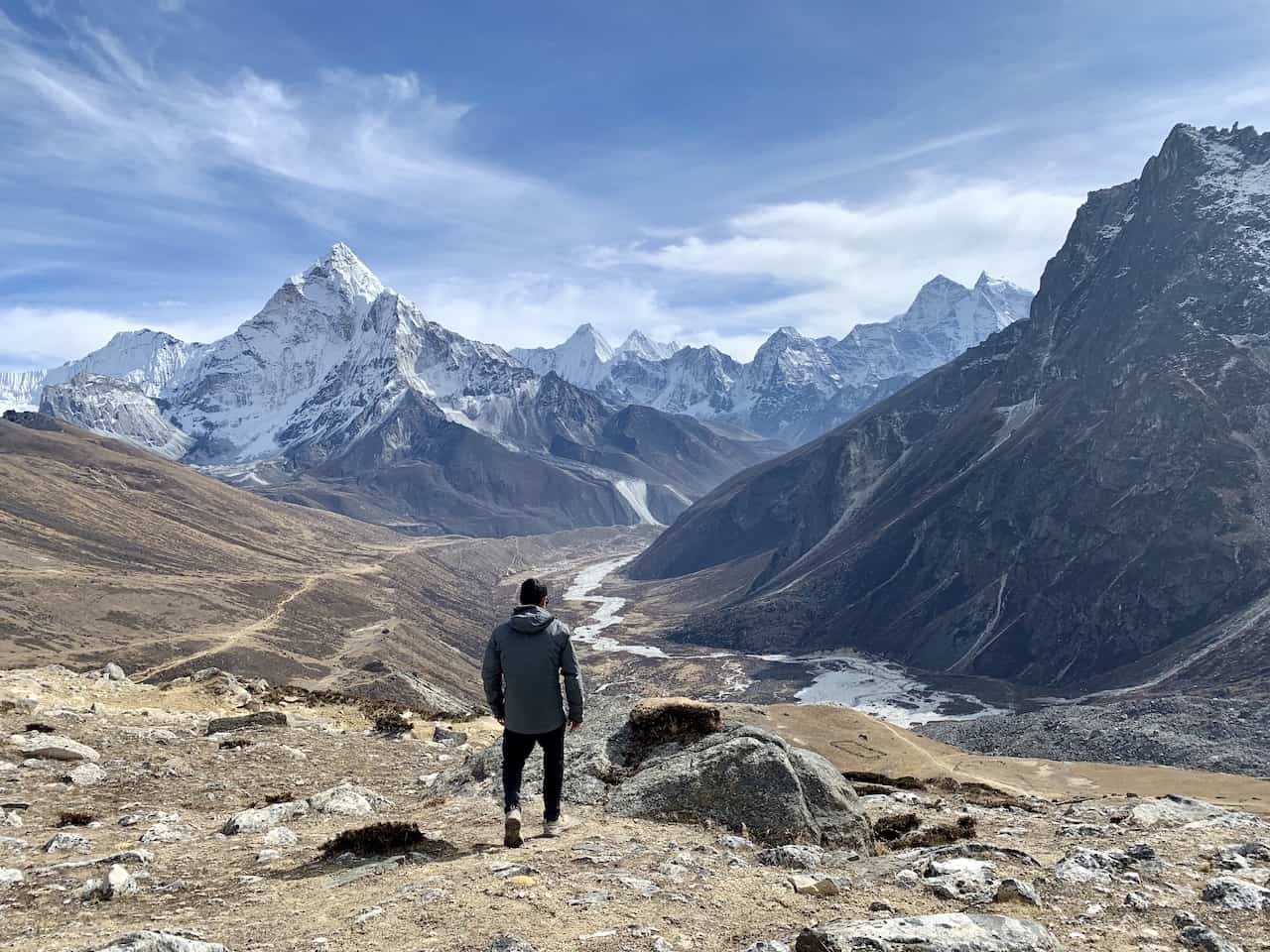 After enjoying this view, the trail will begin to curve around the mountainside, where this beautiful alpine lake comes into view. It's turquoise color pops out with the towering black colored peaks rising above.
You will be walking up above the lake on this cliffside trail, as you now will see the village of Dzongla out in the distance. Continue further along as you slowly approach the village and end a successful day of hiking the Himalayas.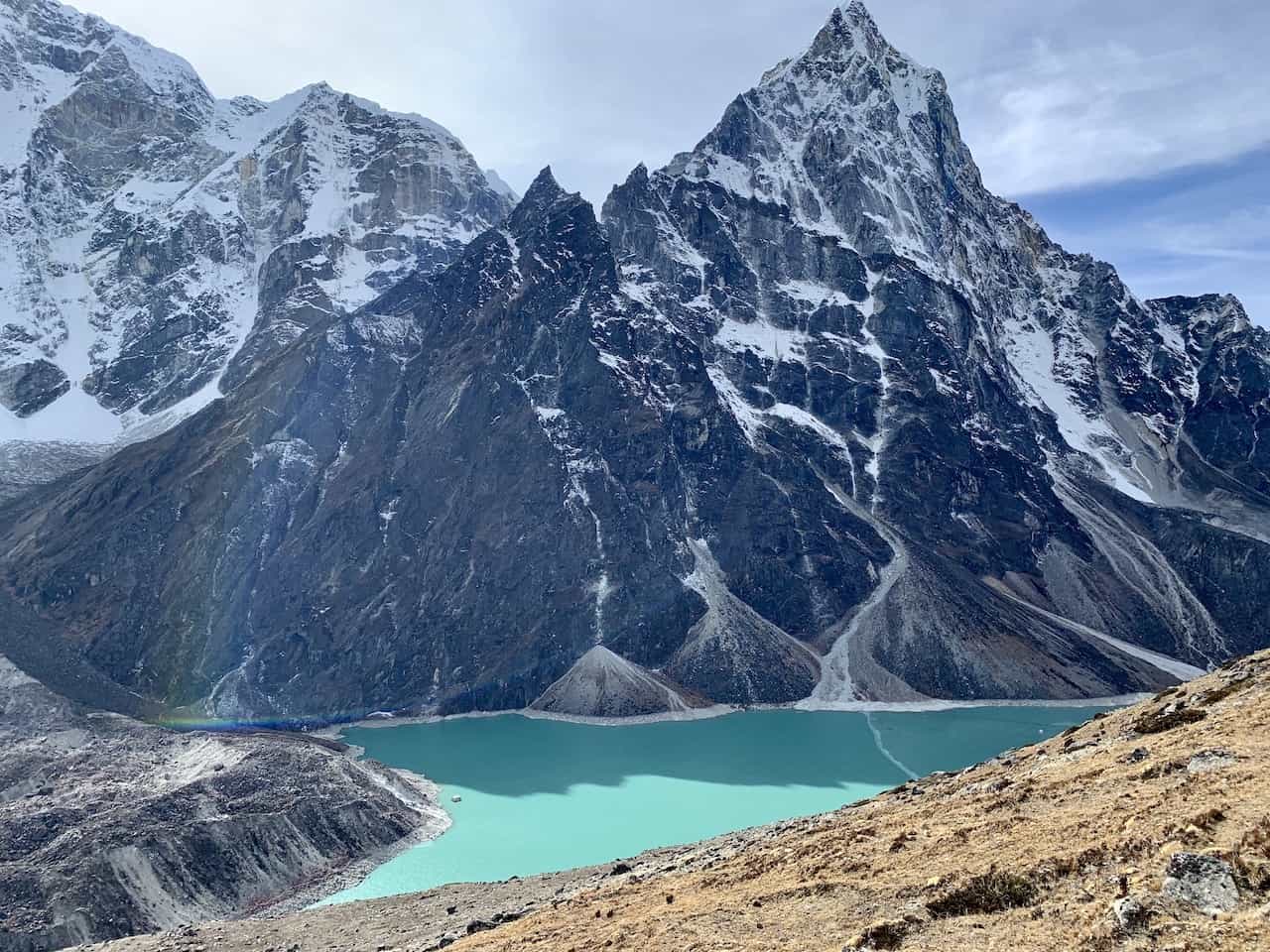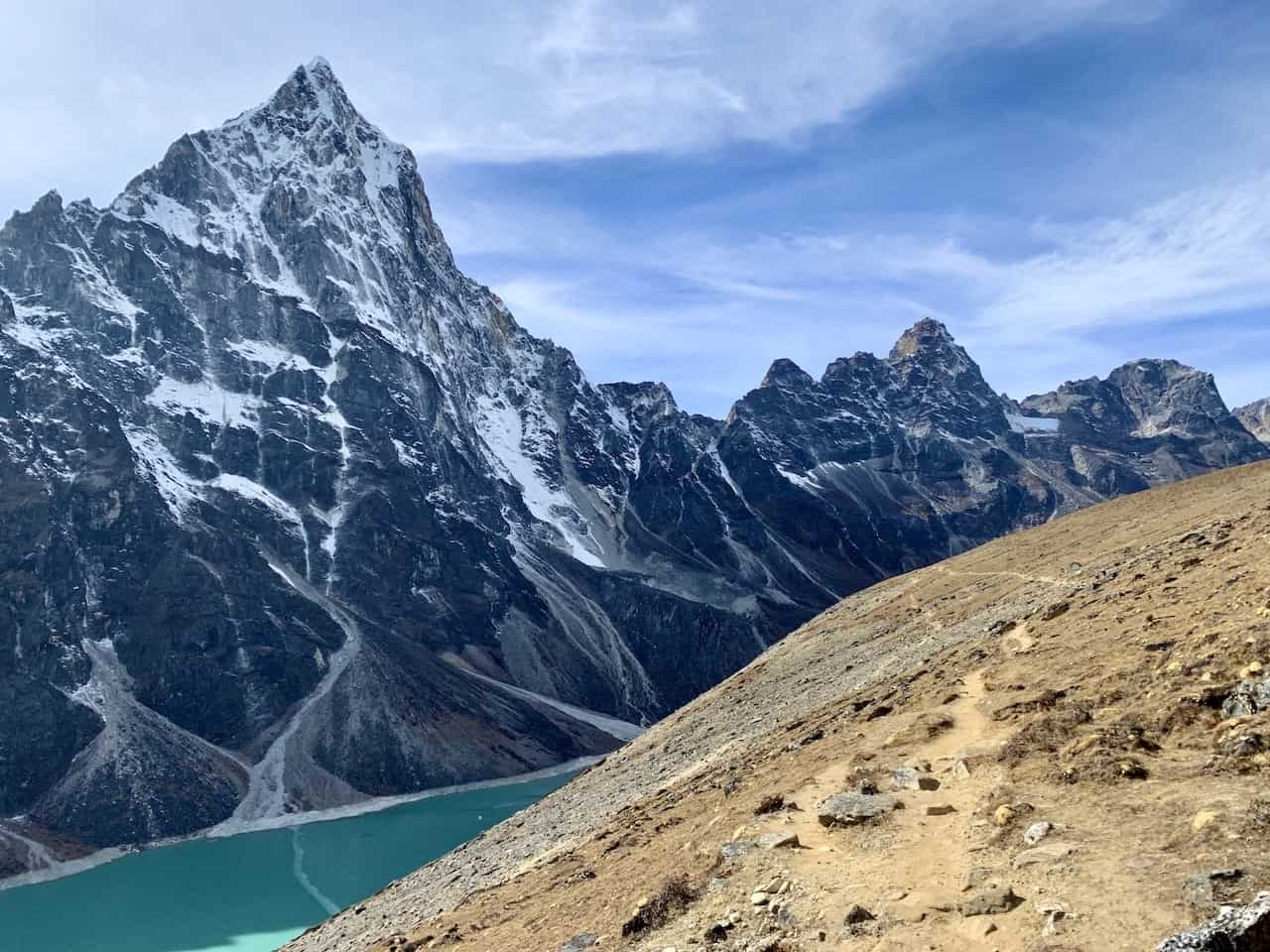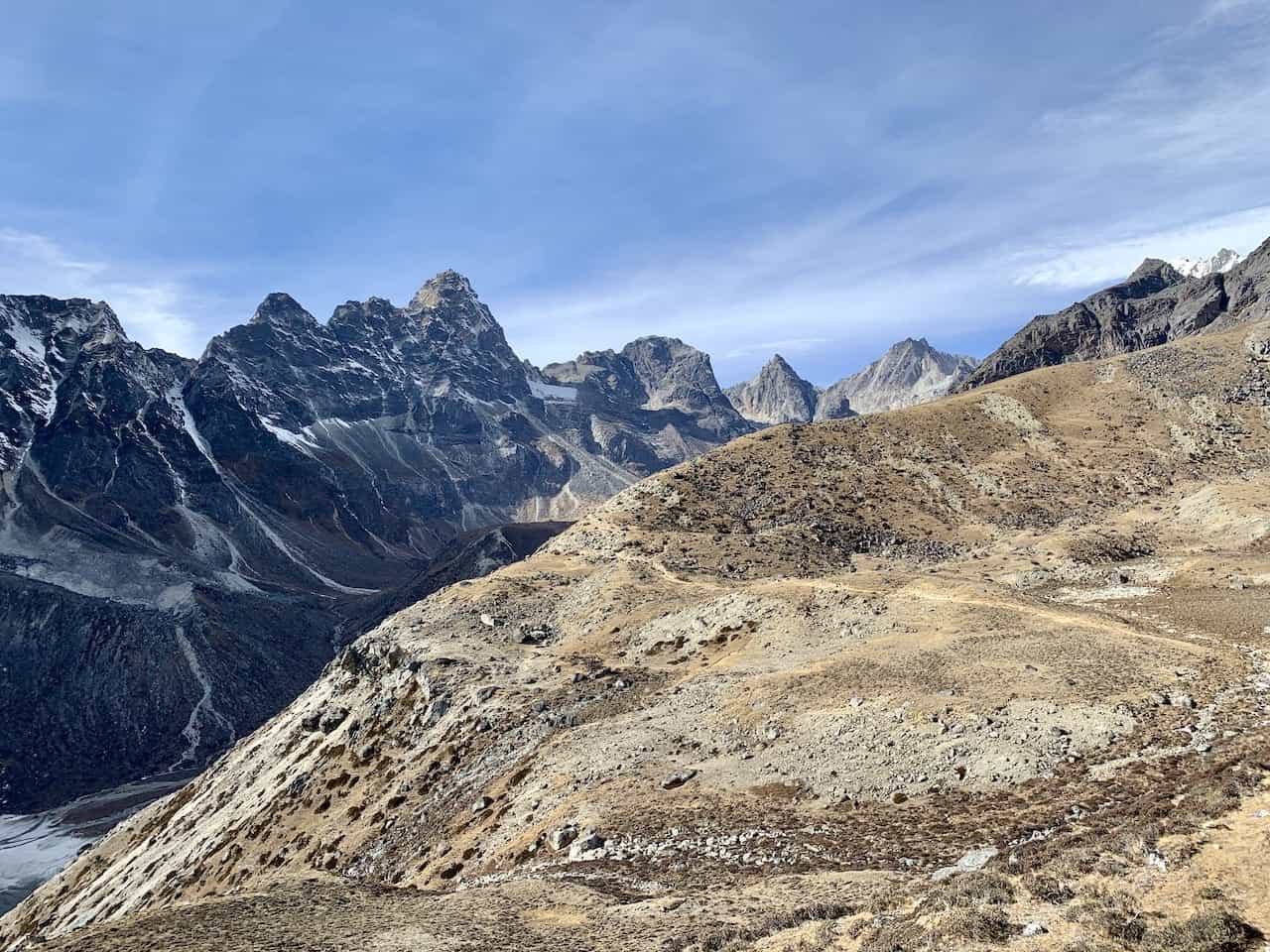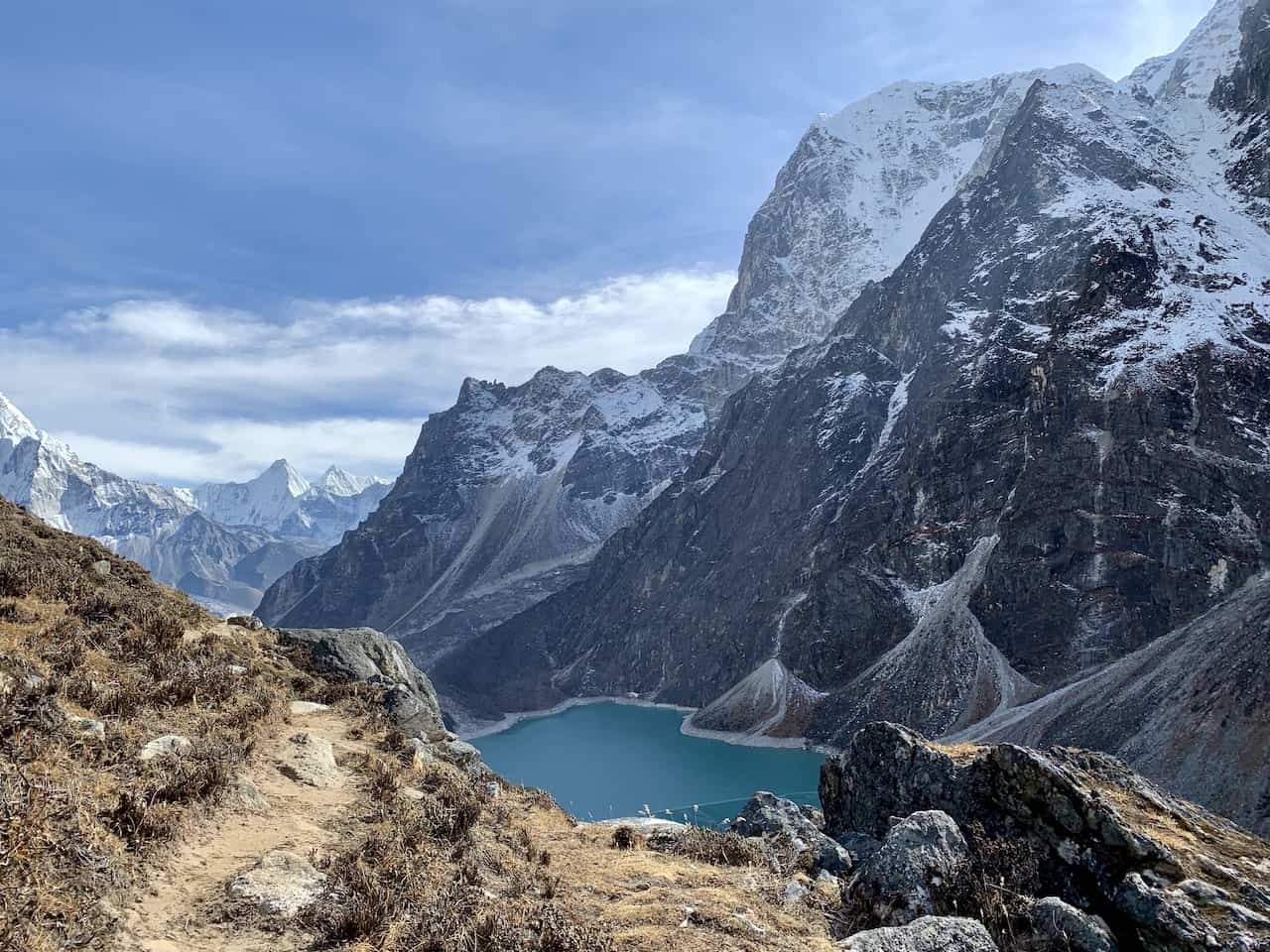 There are just a few teahouses to choose from here as it is one of the smaller villages in the region.
Be sure to fuel up and rest up as the next day you will be heading up and over the Cho La Pass towards the Gokyo Lakes!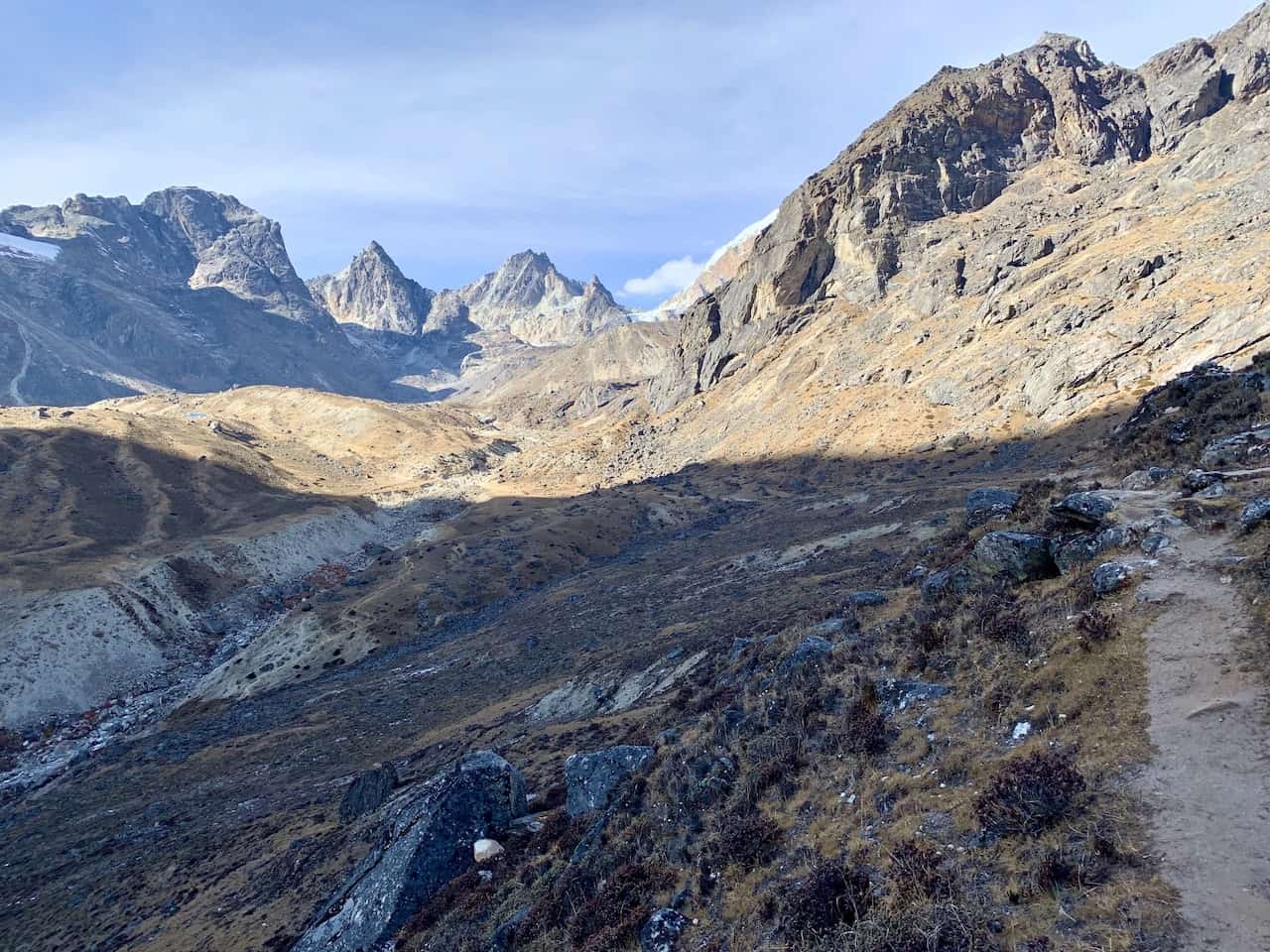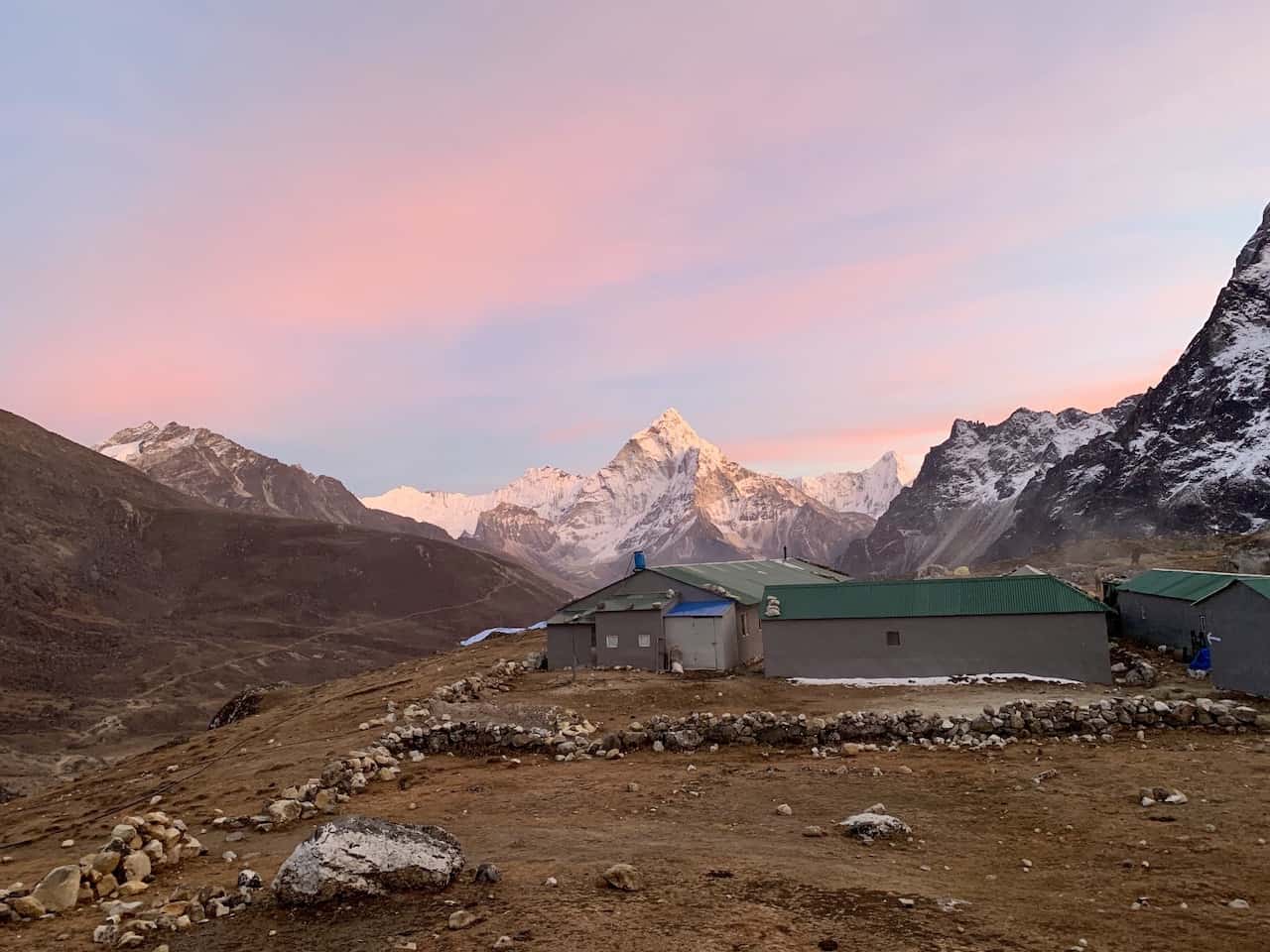 I hope that this guide has given you some more insight into what the Gorak Shep – Lobuche – Dzongla trail entails.
If you have any questions or comments, feel free to add them in below. Also be sure to check out the remaining Nepal itineraries and guides up on the site.
Have fun out there and safe travels!