The Kongma La Pass is known to be one of the more difficult trekking options for everyday hikers in the Everest region. However, with that difficulty also comes its beauty.
The views that you will take in from the top of Kongma La are truly some of the best you will come across in the region.
This guide will go into detail about what the Kongma La Pass is all about and what to expect along the way.
* Affiliate Disclosure: This post may contain affiliate links, which means I may receive a commission if you make a purchase through the links provided, at no additional cost to you. Thanks for supporting the work I put into TripTins!
1) How to Take Part of the Trek
Most people who visit the Sagarmatha National Park region just head out on the classic 11 day Everest Base Camp trek. Others decide to spend some additional time in the area to take on treks like the one up and over the Kongma La Pass.
If you want to add the Kongma La Pass to your overall trek you will need to get off the "main" Everest Base Camp route and add a couple more days to your itinerary.
You can either just add on Kongma La, or if you have even more time you can complete the full Three Passes trek (Cho La Pass & Renjo La Pass).
» Learn more in the Three Passes Trek guide up on the site
Either way, I would recommend going counter clockwise here and have your itinerary look something like this:
Day 1 – Lukla to Phakding
Day 2 – Phakding to Namche Bazaar
Day 3 – Namche Bazaar Acclimatization
Day 4 – Namche Bazaar to Tengboche
Day 5 – Tengboche to Dingboche
Day 6 – Dingboche Acclimatization
Day 7 – Dingboche to Chukhung
Day 8 – Chukhung Ri
Day 9 – Chukhung to Kongma La Pass to Lobuche
Day 10 – Lobuche to Gorak Shep and Gorak Shep to Everest Base Camp
On day 11 you can decide to either just head back to Lukla over the course of 3 days OR you can extend your trek even further to the Gokyo Lakes region and take part of the other two passes.
***The classic Everest Base Camp route simply goes from Dingboche to Lobuche on day 7. Chukhung is not on the normal route.***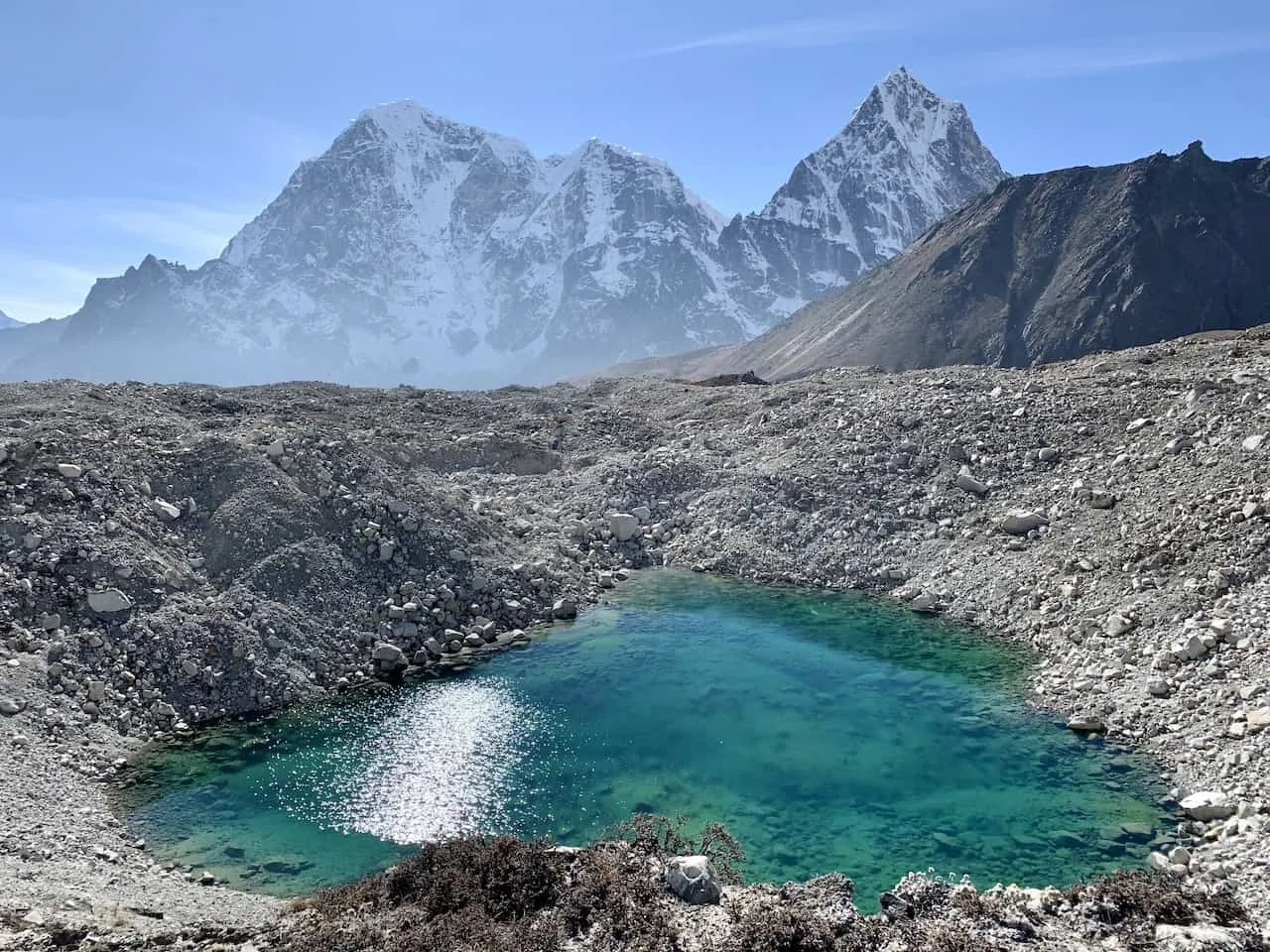 2) Kongma La Pass Details
Essentially, the Kongma La Pass will be a more rewarding (but more difficult) route between Chukhung and Lobuche. Below are the details of the trek starting in Chukhung, going over the Kongma La Pass and ending in Lobuche.
Starting Point: Chukhung
Chukhung Elevation: 15,518 feet / 4,730 meters
Mid Point: Kongma La Pass
Kongma La Pass Elevation: 18,209 feet / 5,550 meters
Ending Point: Lobuche
Lobuche Elevation: 16,109 feet / 4,910 meters
Distance: 6 miles / 9.6 km
Duration: 7-9 hours
Elevation Gain: 2,691 feet / 820 meter gain | 2,100 feet / 640 meter loss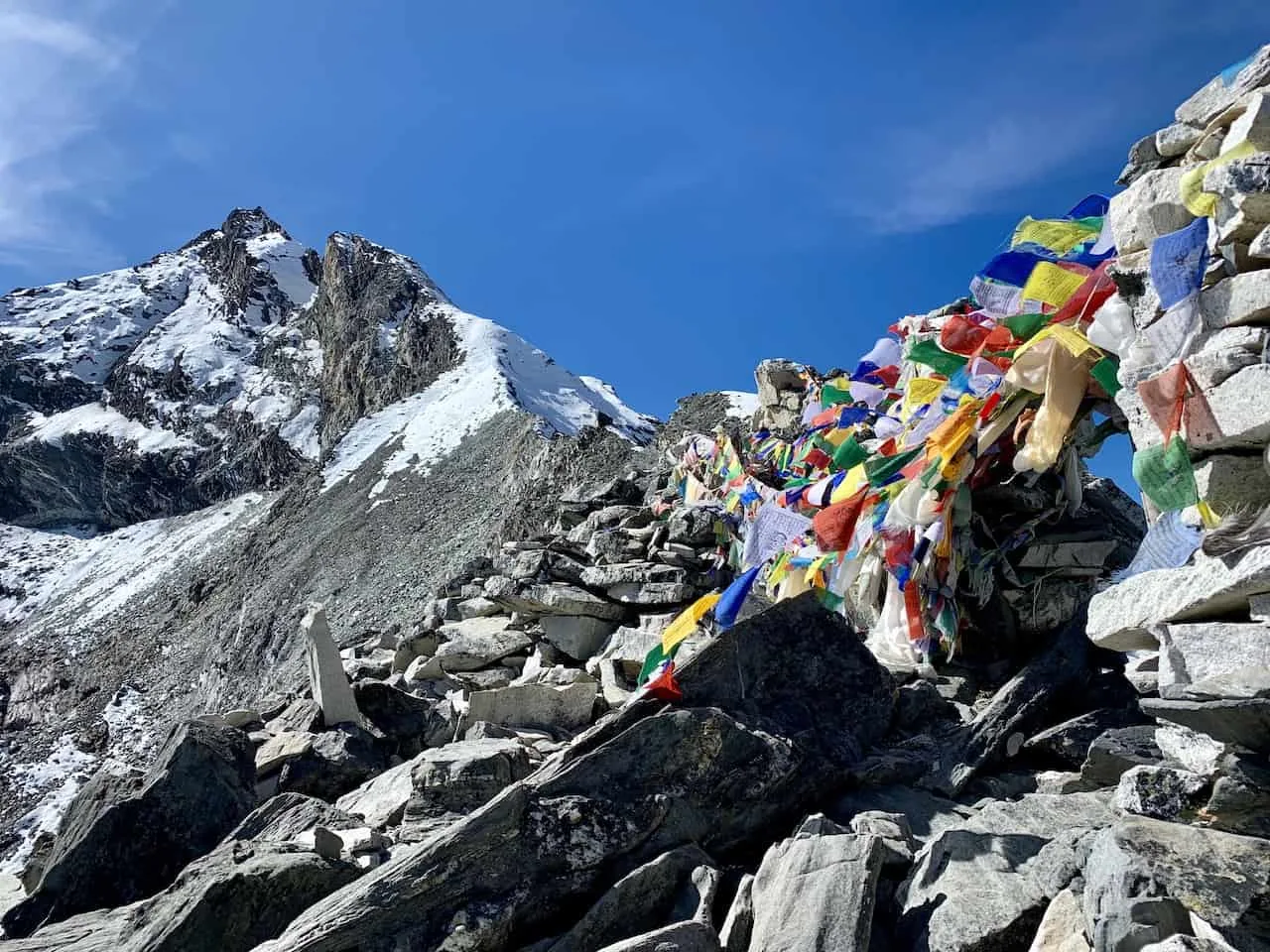 The day up and over the Kongma La Pass was in my mind the most difficult day on the entire Three Passes trek. It is not only a major elevation gain but it is also a significant elevation loss.
The terrain of the trail is also not easy to navigate. While there are some flatter and more dirt like sections, a lot of the trail is also done on more rocky and uneven terrain.
Below are some more details with a map and elevation profile of the trek.
Considering travel insurance for the Himalayas?

World Nomads offers coverage for more than 150 adventure activities as well as emergency medical, lost luggage, trip cancellation and more.

For years, World Nomads has been protecting, connecting & inspiring independent travelers, offering travel insurance & safety advice to help you travel confidently. Their mission is to support and encourage travelers to explore their boundaries.

World Nomads has simple and flexible travel insurance that has been designed by travelers for travelers. Even if you leave home without travel insurance or your policy runs out, you can buy or extend out on the road.

Get a quote for a World Nomads travel insurance policy today!
3) Kongma La Pass Map
Here is an aerial view of the route between Chukhung and Lobuche via the Kongma La Pass. The normal EBC route simply goes directly from Dingboche to Lobuche.
The extended version here, takes you from Dingboche to Chukhung, followed by the route over the Kongma La Pass and down to Lobuche.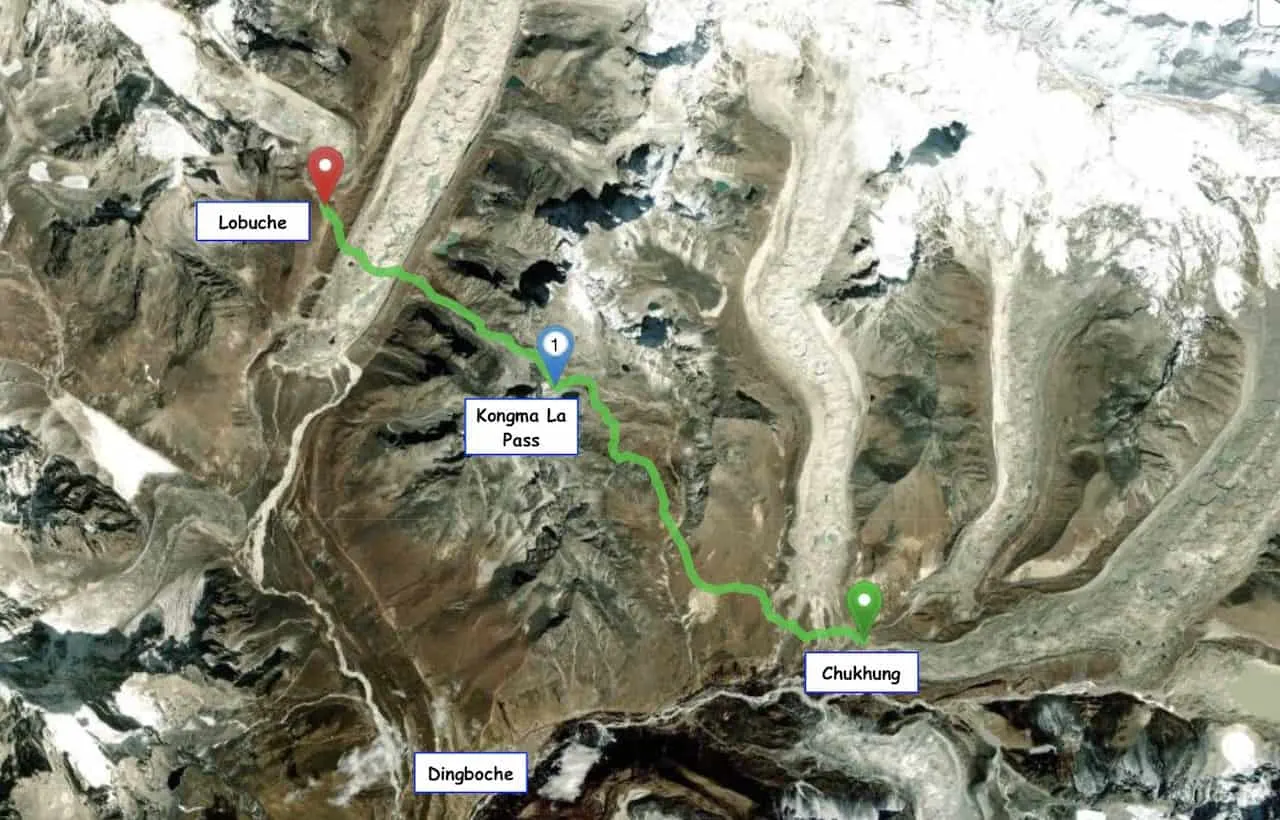 4) Elevation Profile
Below is the Kongma La elevation profile starting in Chukhung and ending in Lobuche, with the highest point being the Kongma La Pass.
You can see it is a steady incline all along the way from Chukhung to the top of the pass with a couple flat sections sprawled throughout. Once on top of the pass, it is a major decline down to the Khumbu Glacier and then across to Lobuche.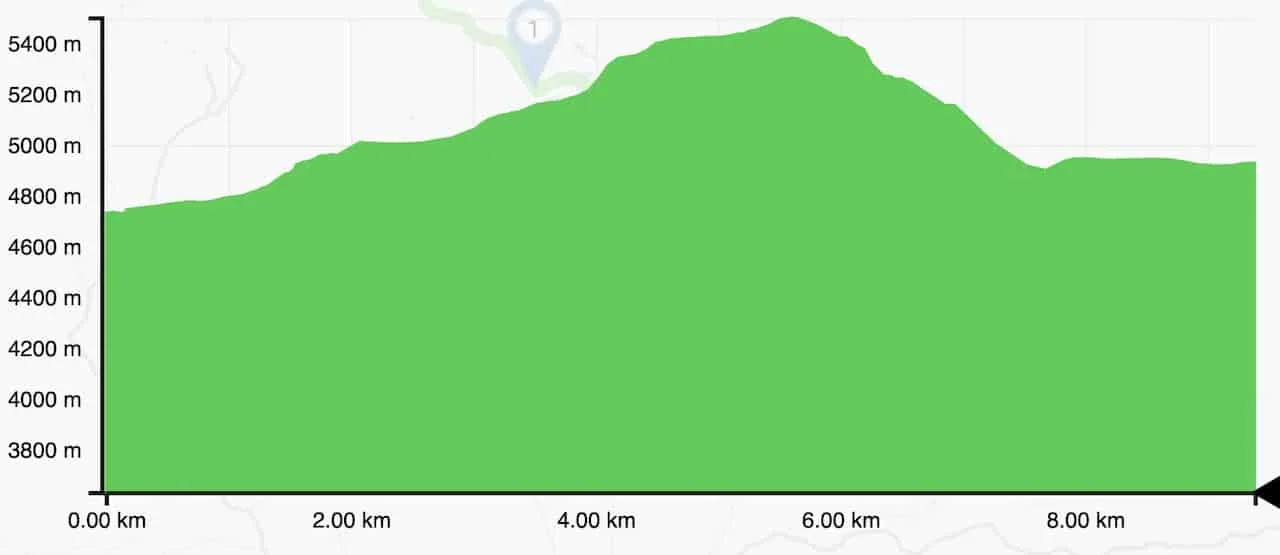 5) Kongma La Pass Trek
This is one day that you will want to start as early as possible as you will have a long and strenuous day ahead. After packing up and having some breakfast, it is time to hit the trail.
Food Tip – the teahouses in Chukhung can pack a lunch for you to have during your day. Since this is a longer day and there are no villages between Chukhung and Lobuche, I would recommend taking a packed lunch with you.
The trail starts just behind Chukhung village as you very quickly end up crossing over the river by carefully making your way from one rock to the next. Once on the other side of the river, you should see the yellow sign (pictured below) pointing you towards the Kongma La Pass.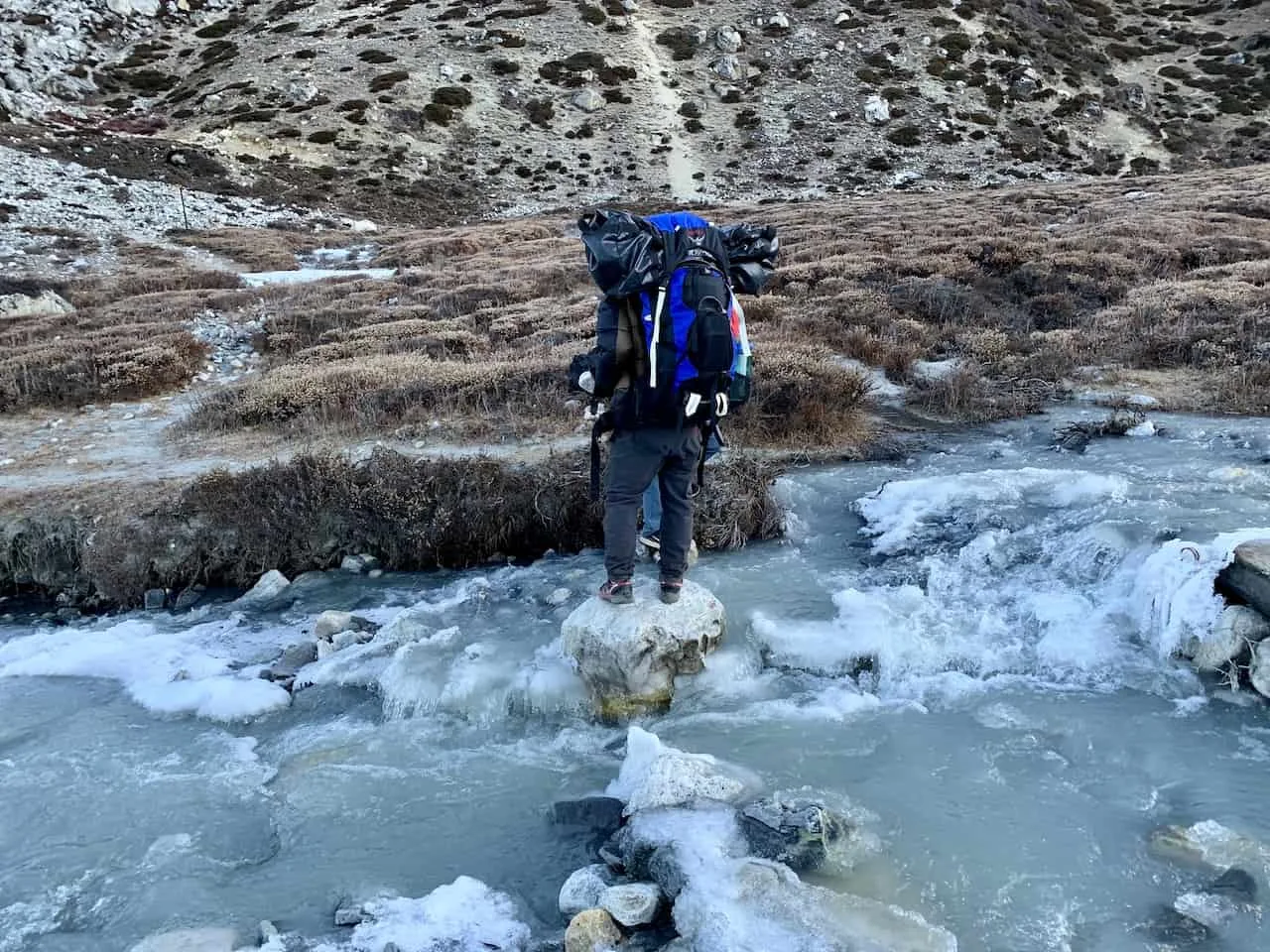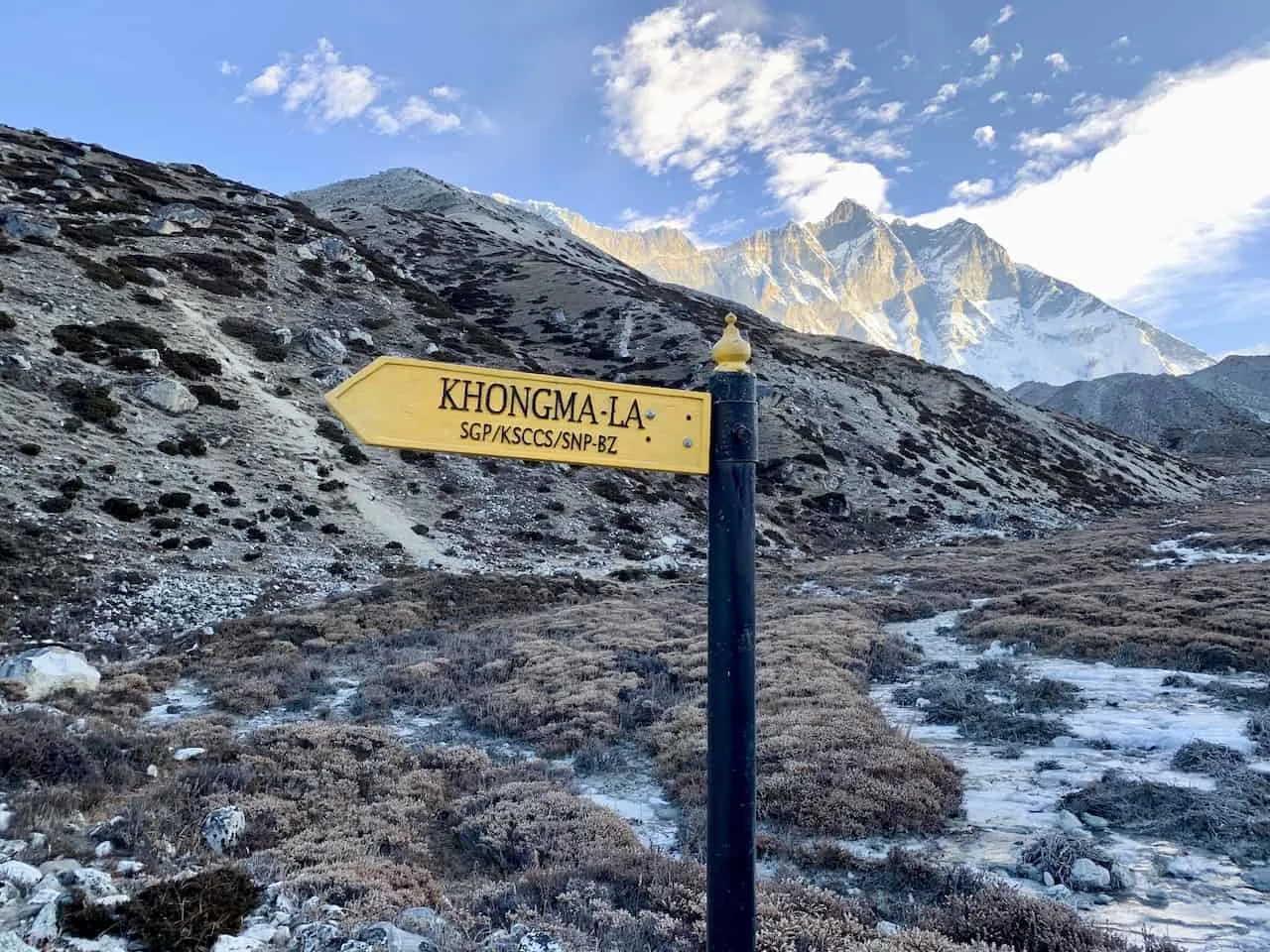 You will slowly begin to gain elevation as you follow along on the dirt path etched into the mountainside. From time to time you should also see some red arrows painted on the rocks pointing you out in the right direction.
Also, be aware that the terrain can also get a bit more technical at times as the trail turns a bit rockier in certain sections.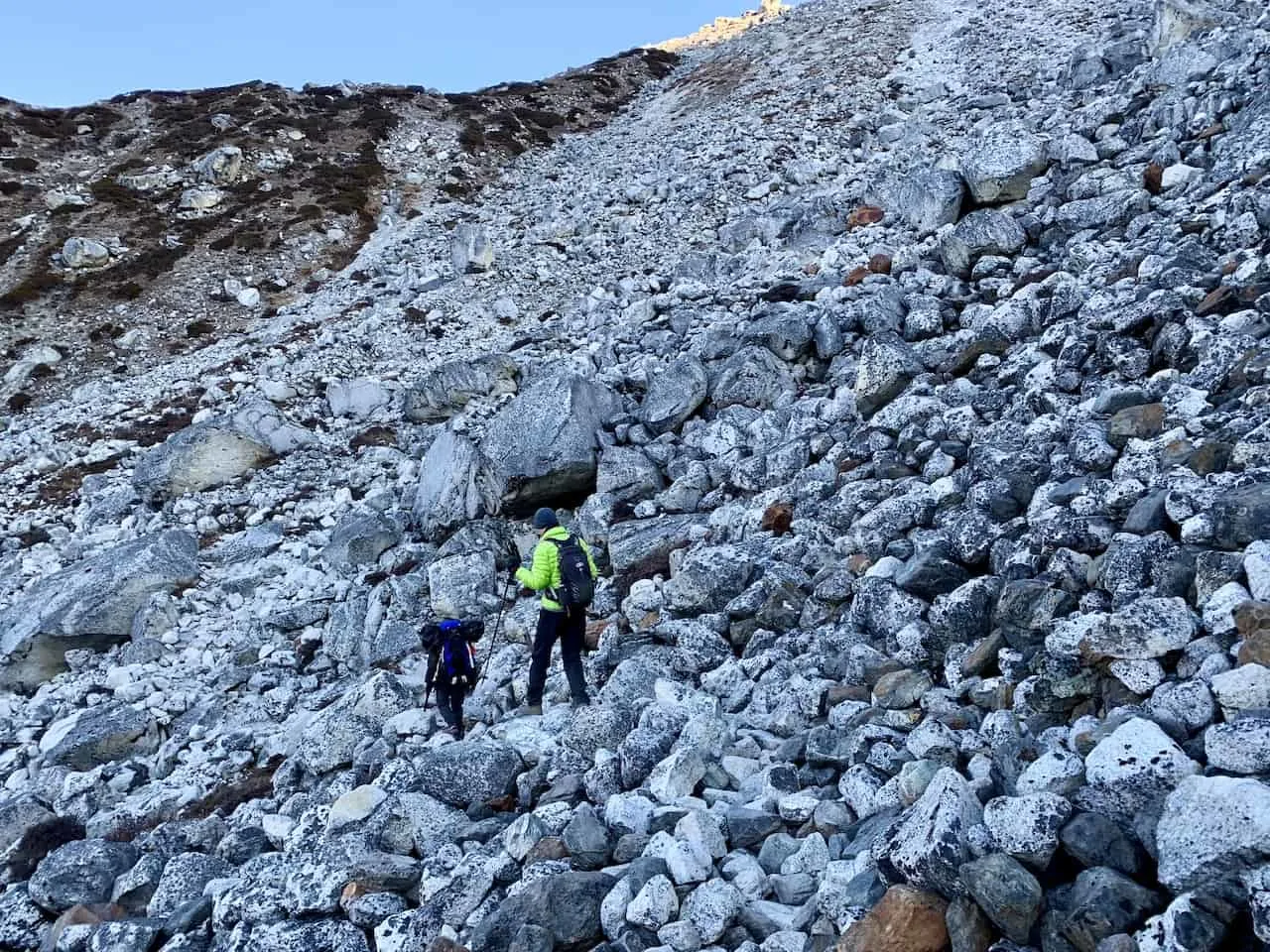 Taking some looks behind you, you should see Chukhung down below alongside the mountain of Chukhung Ri – a highly recommended day hike from Chukhung if you are up for it.
You will also see the beautiful Ama Dablam mountain and the vast valleys on either side of you. Out in front you will be welcomed to views of Lhotse and Nupste mountains as well as the mountain range that includes the Kongma La Pass.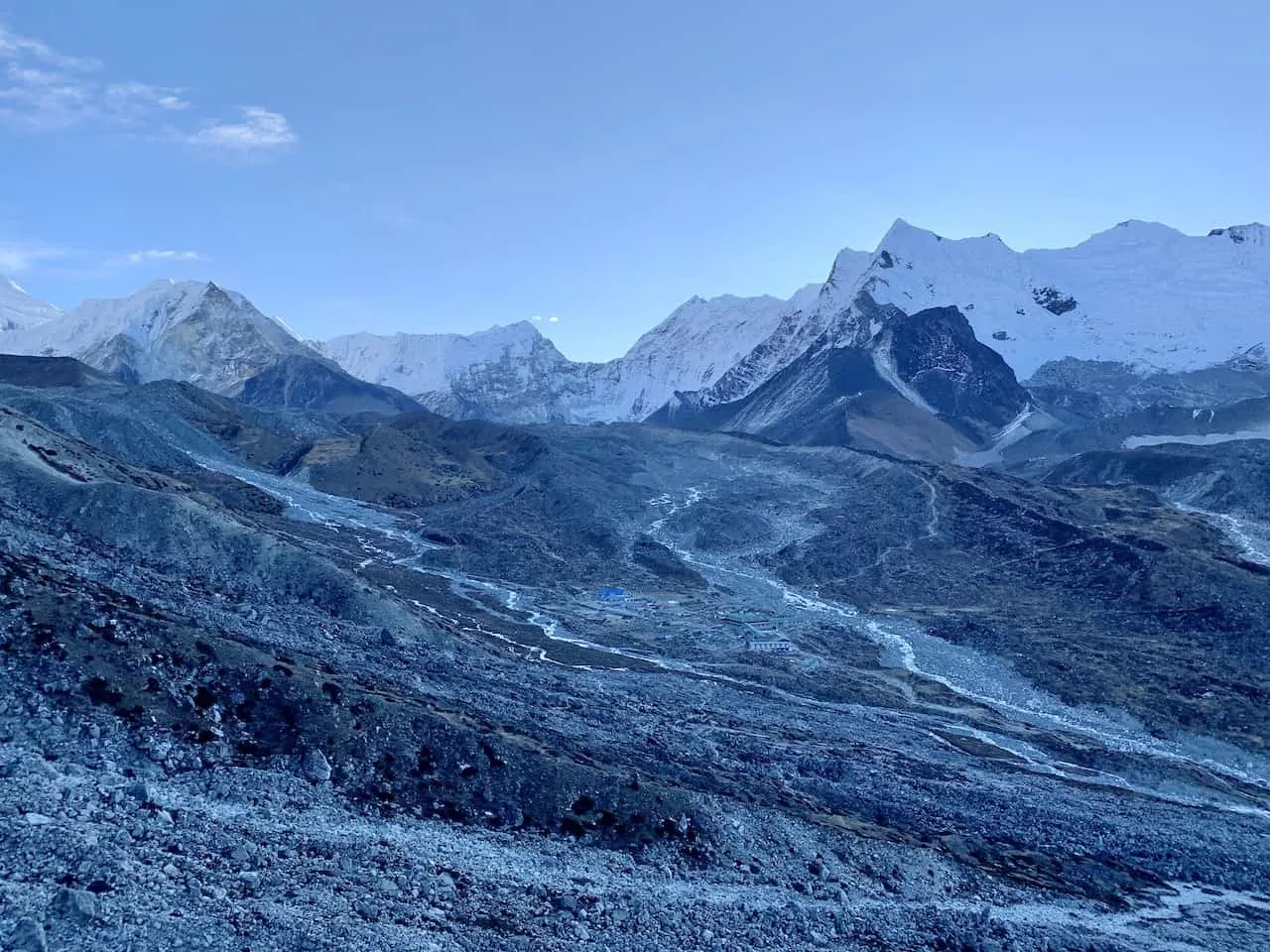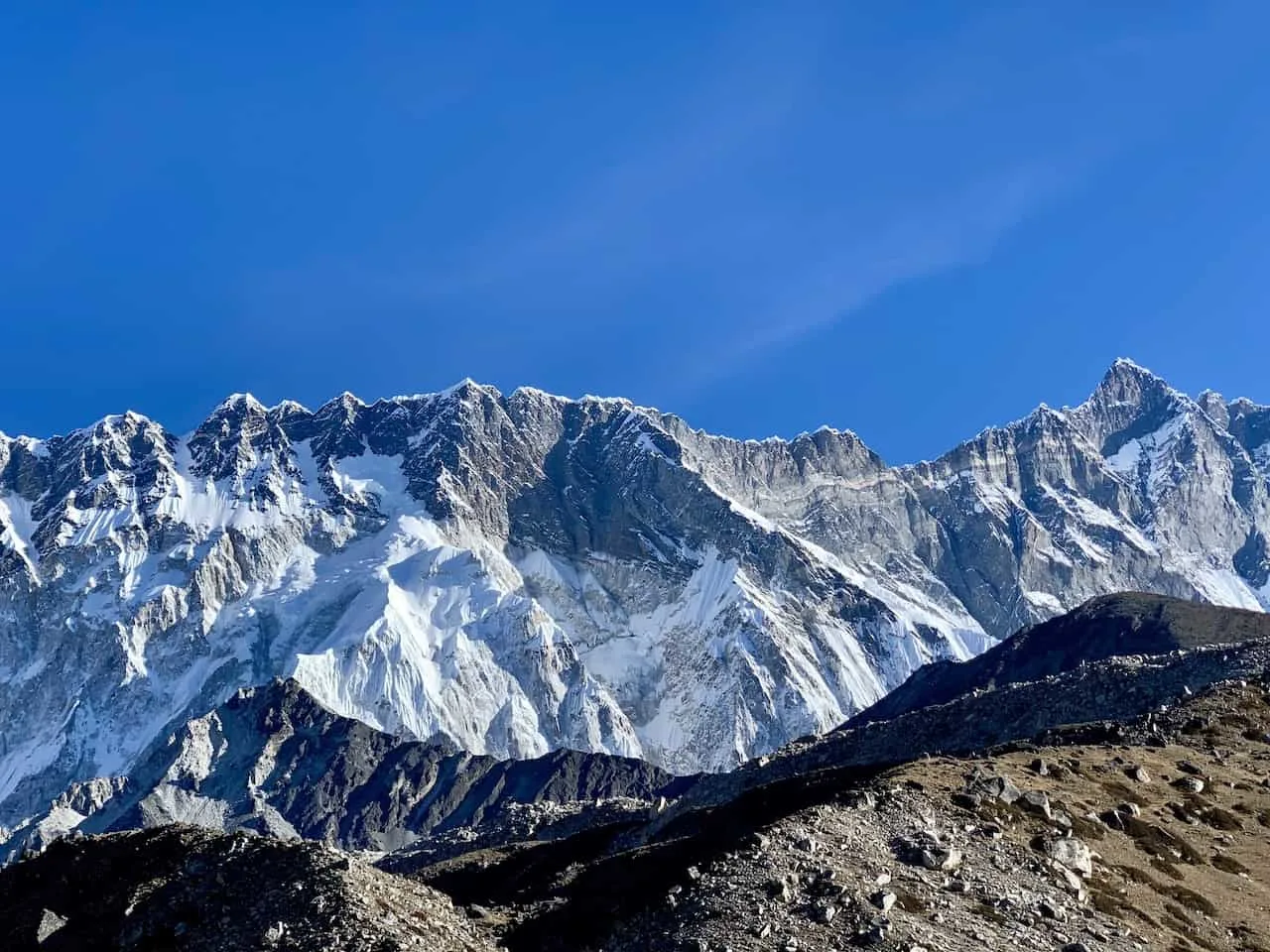 The trail actually does get a bit easier here as it flattens out for a little over a half mile (1 km).
You will continue to make your way further towards the Kongma La Pass and through a beautiful valley type landscape with multi colored rock structures all around you.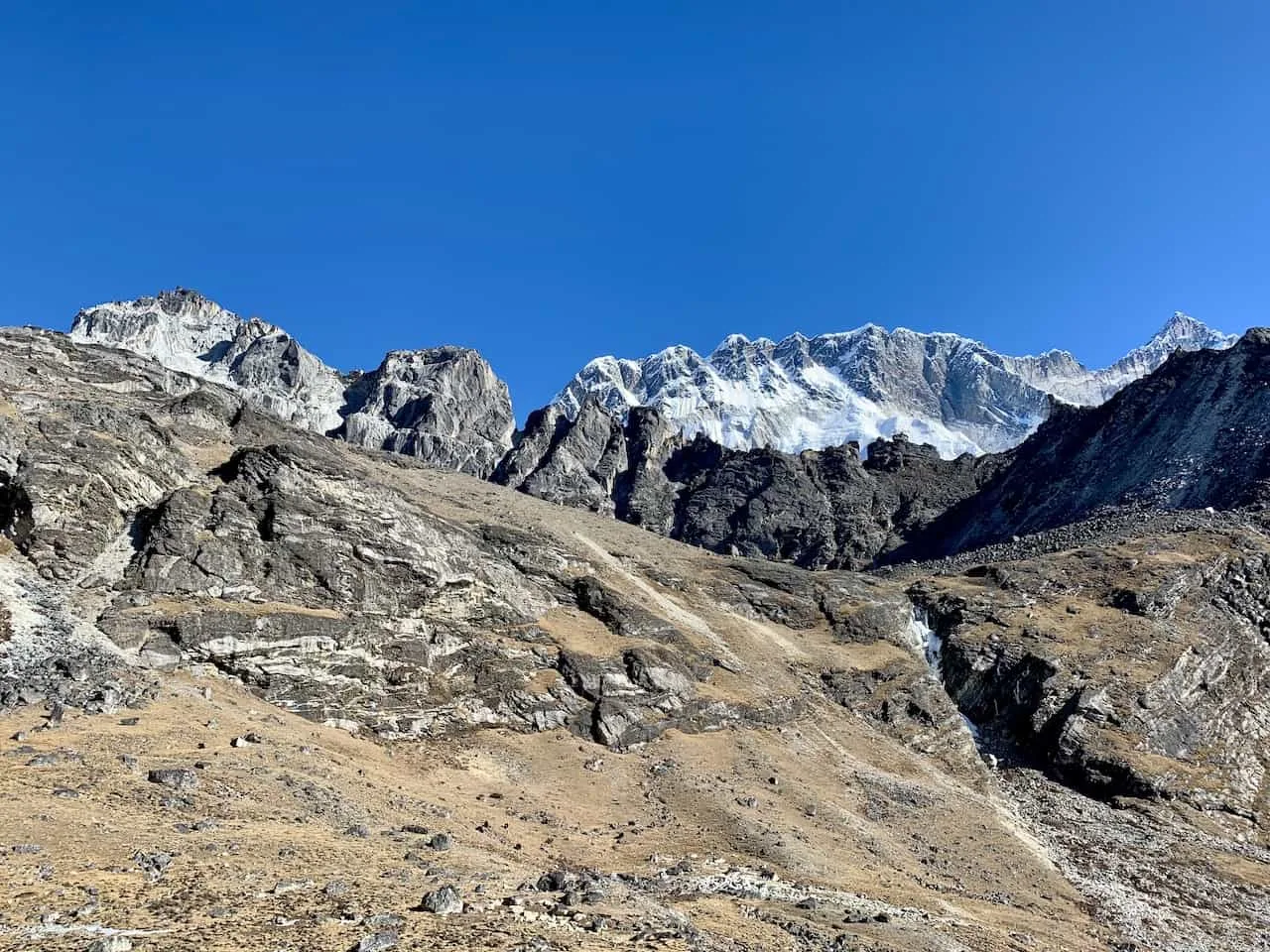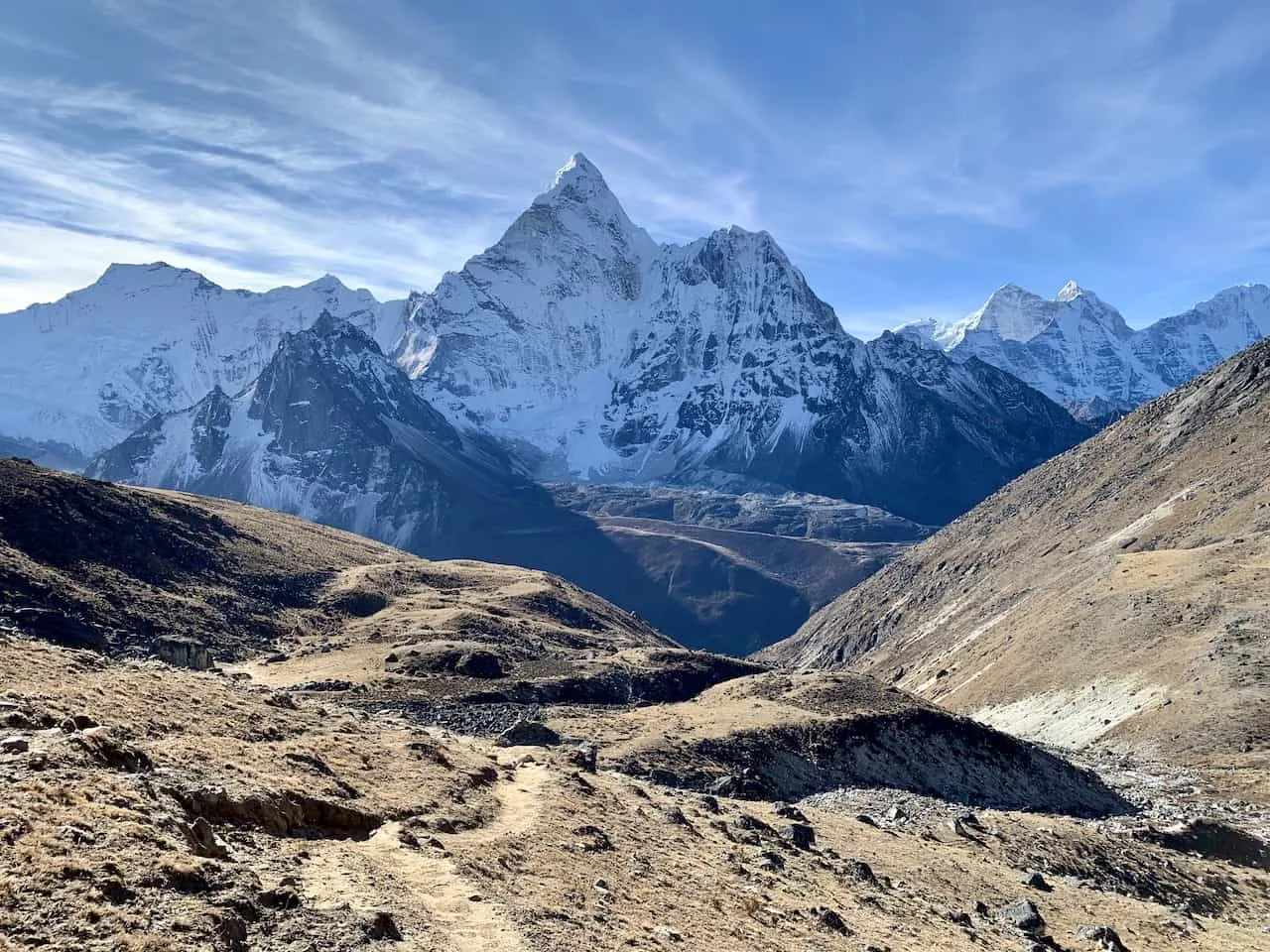 But soon enough, the trail will begin to pick up steam once again. Expect a lot more incline as you follow the trail further up in altitude.
Be sure to also take breaks when necessary here as it can be seriously tough and you do not want to overexert yourself.
Throughout the way up you will have some more views of Lhotse and Nuptse to distract you from the toughness of the trail.
You will soon come across some of the smaller lakes in the area, some of which may be frozen depending on what time of year you head there.
Behind you will be some more beautiful views of the valley down below as you have Ama Dablam further out in the distance with glaciers, rivers and other mountain peaks surrounding you.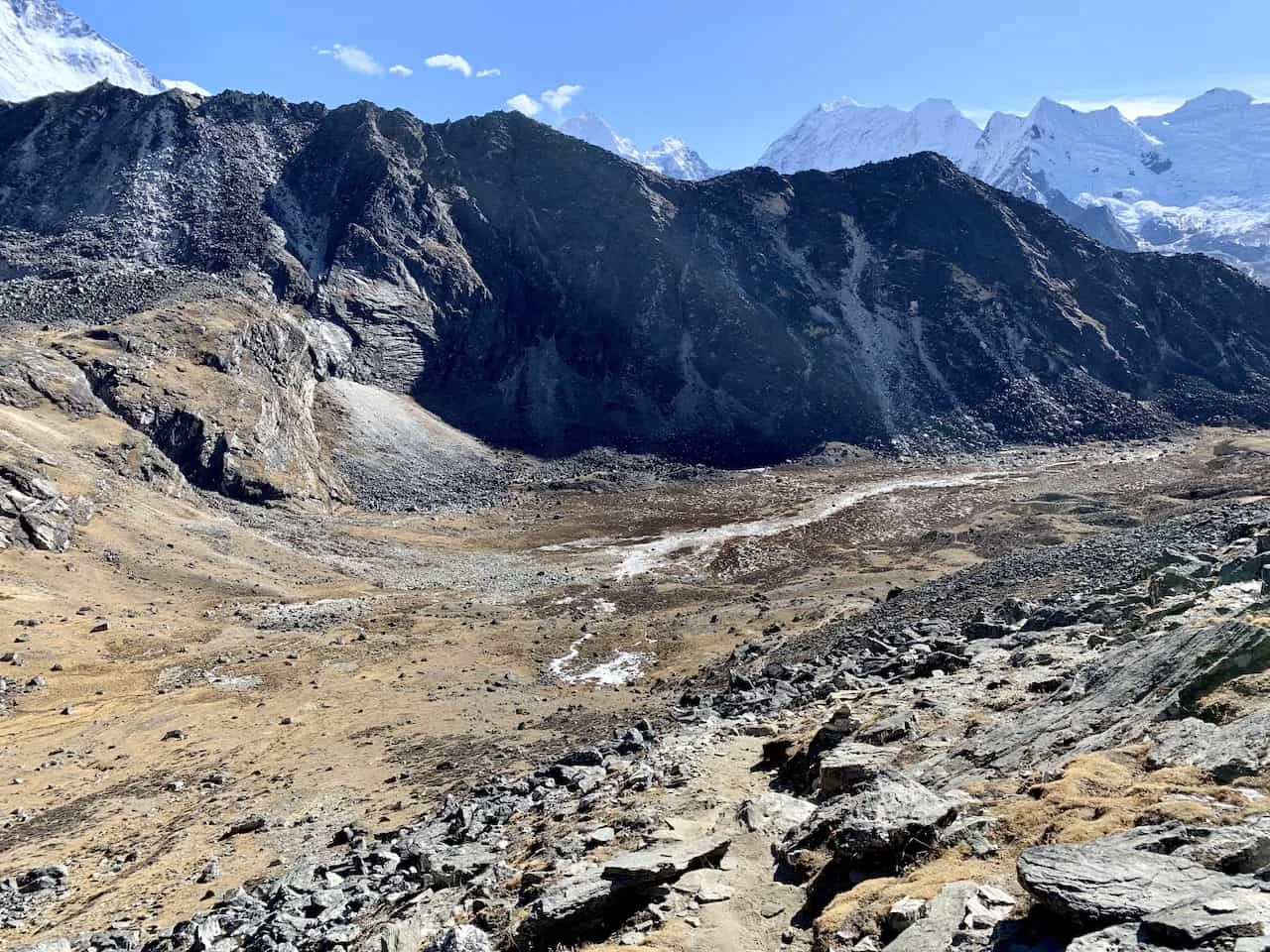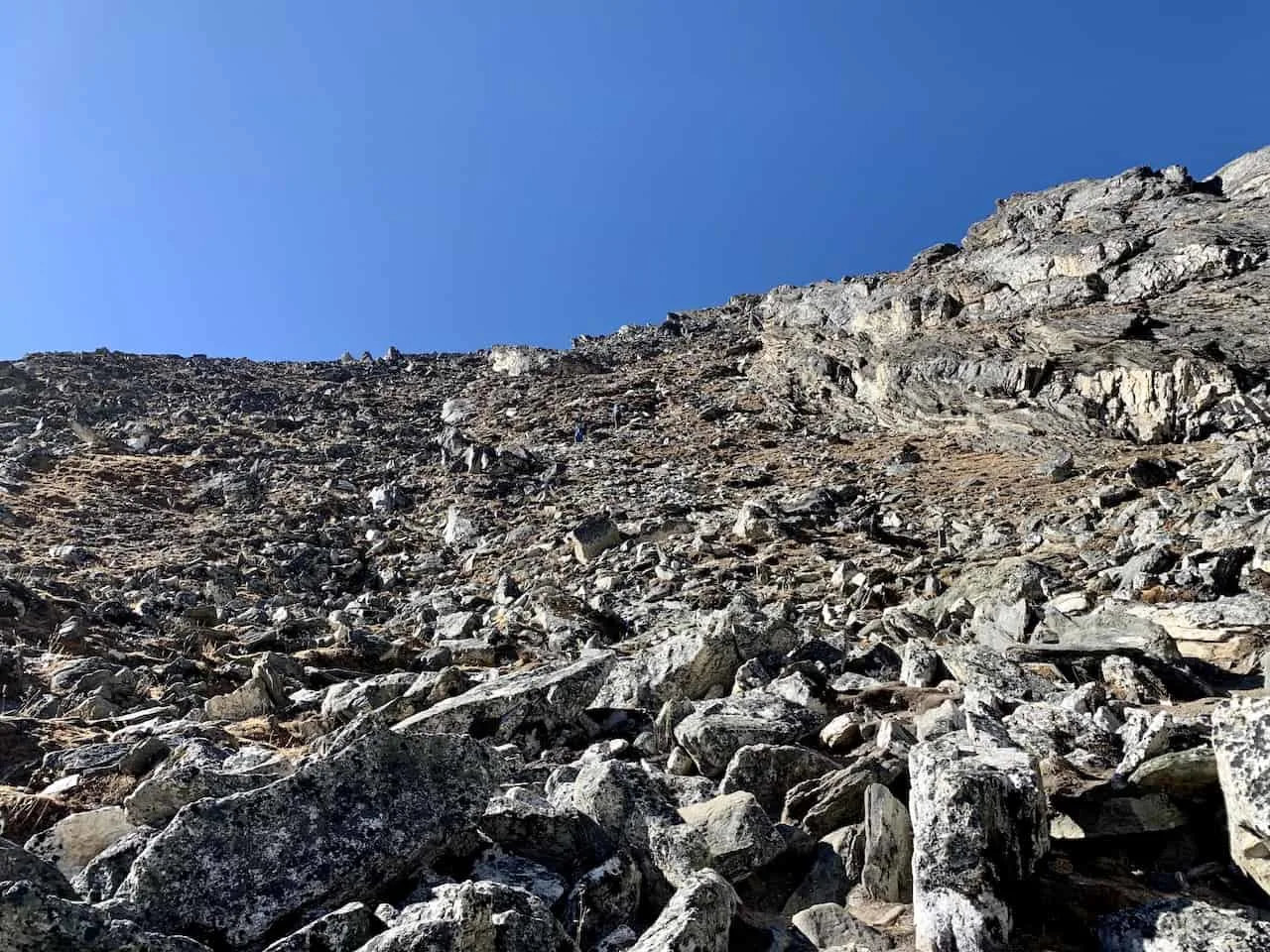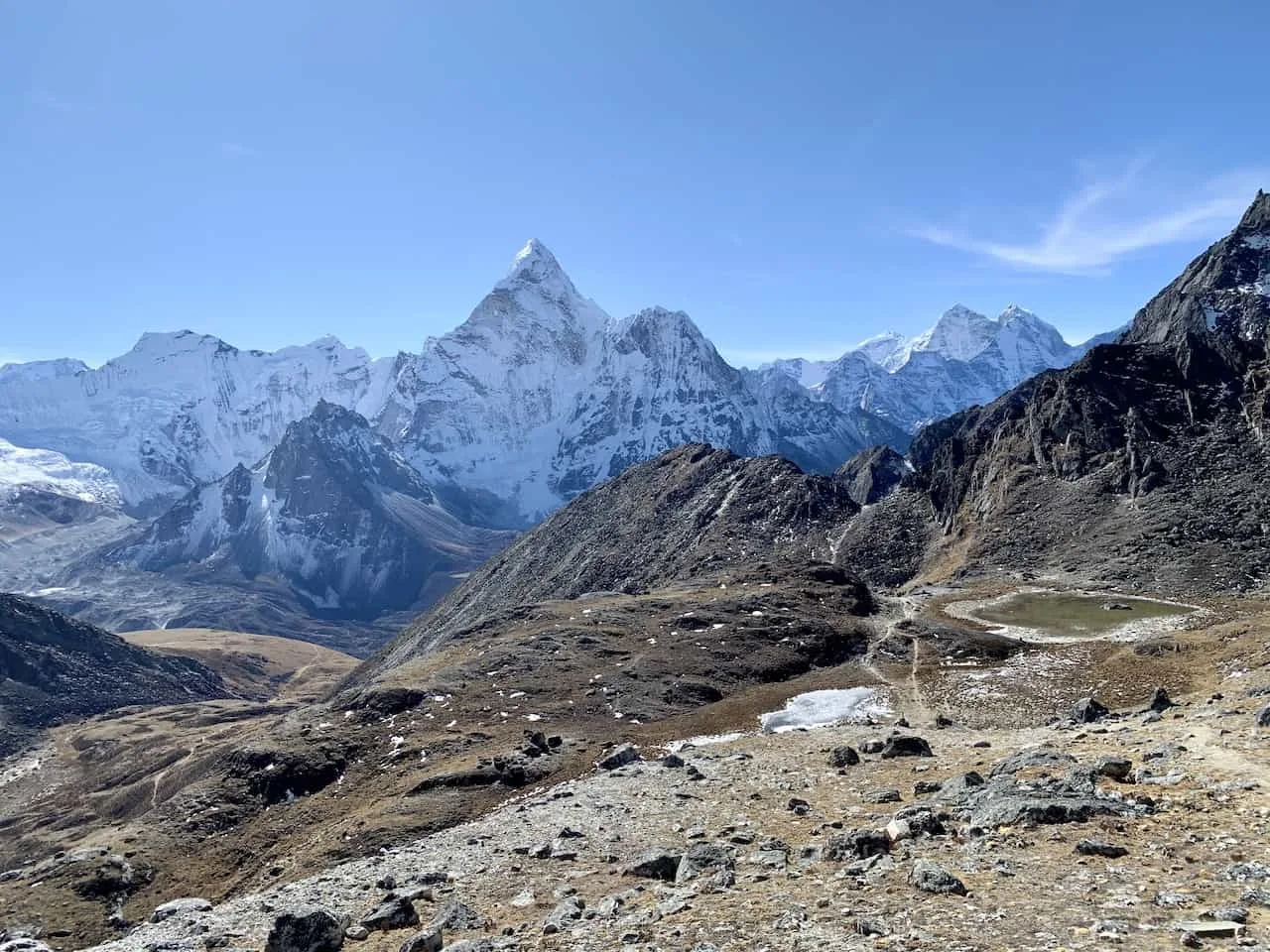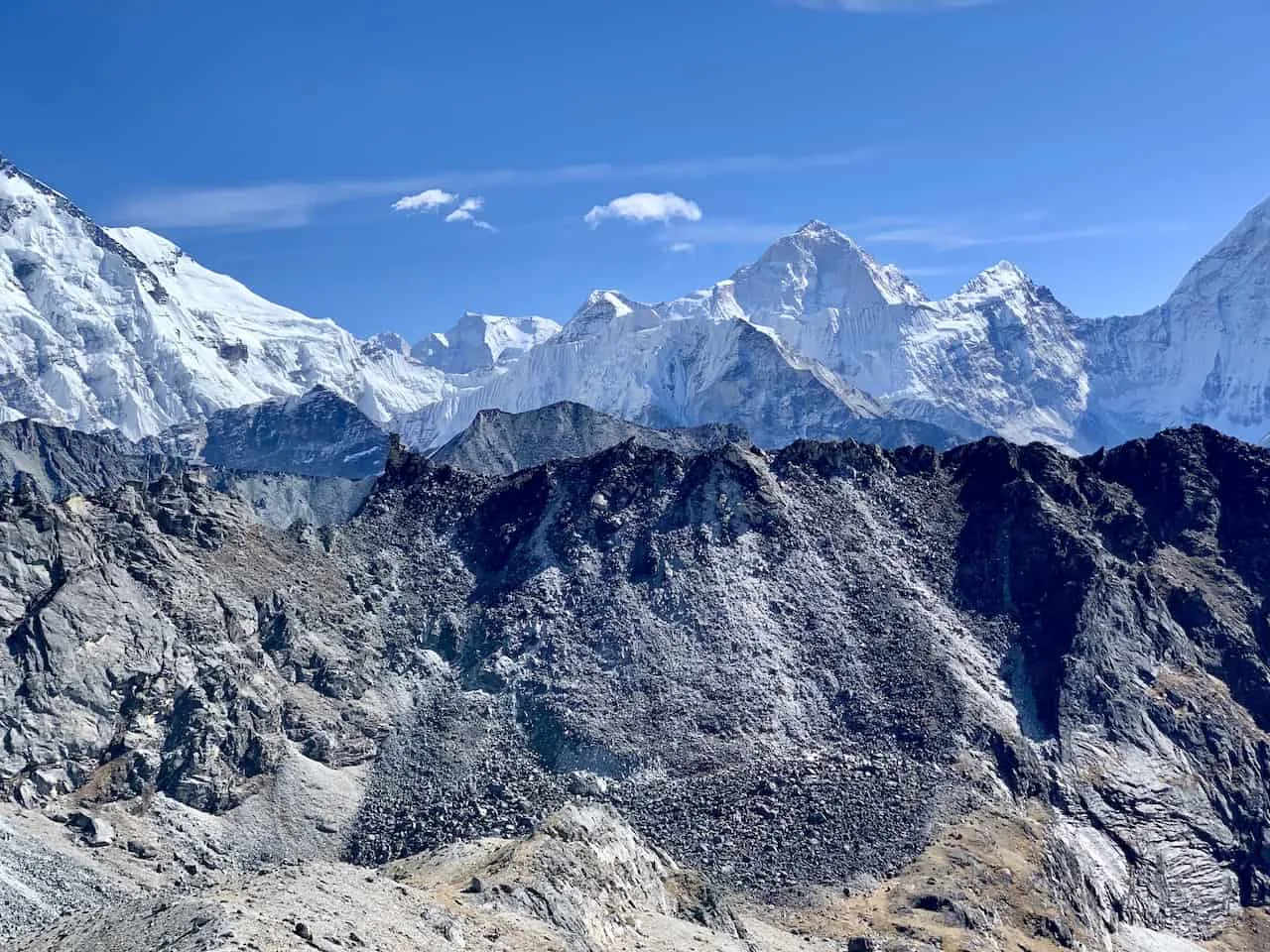 She trail will once again begin to flatten out as you now approach the main Kongma La lake. It is a great place to sit back and relax for a bit before making the final push to the pass itself.
It is then just a short and rocky hike up to the Sherpa flags at the Kongma La Pass, where you can enjoy one of the top views in the entirety of Sagarmatha National Park.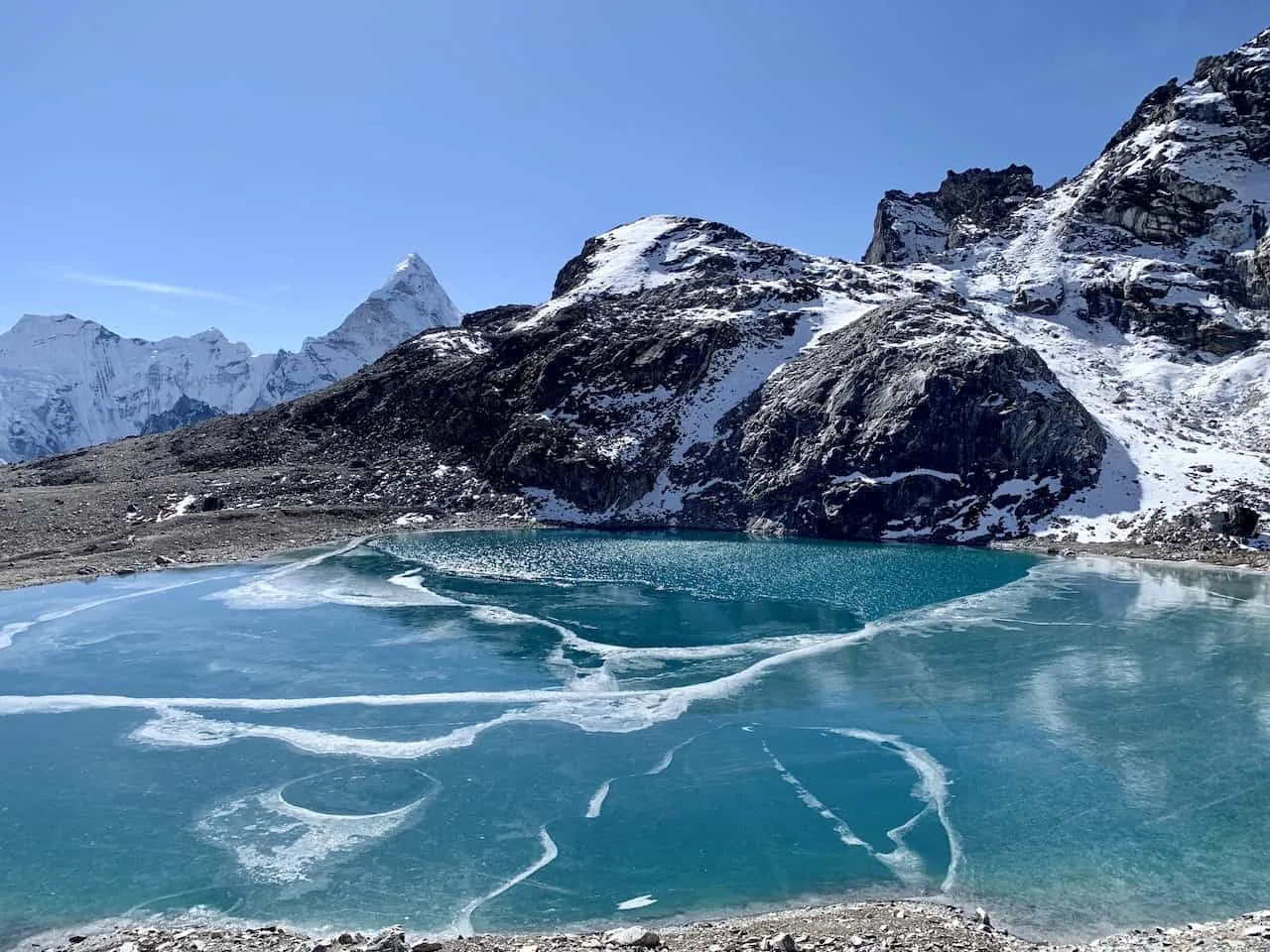 In one direction you will see the Kongma La lake surrounded by various snowcapped peaks, and in the opposite direction you will see the village of Lobuche down below with the Khumbu Glacier making its way down the valley.
Not to mention you will still have those views of Nuptse and Lhotse to enjoy too!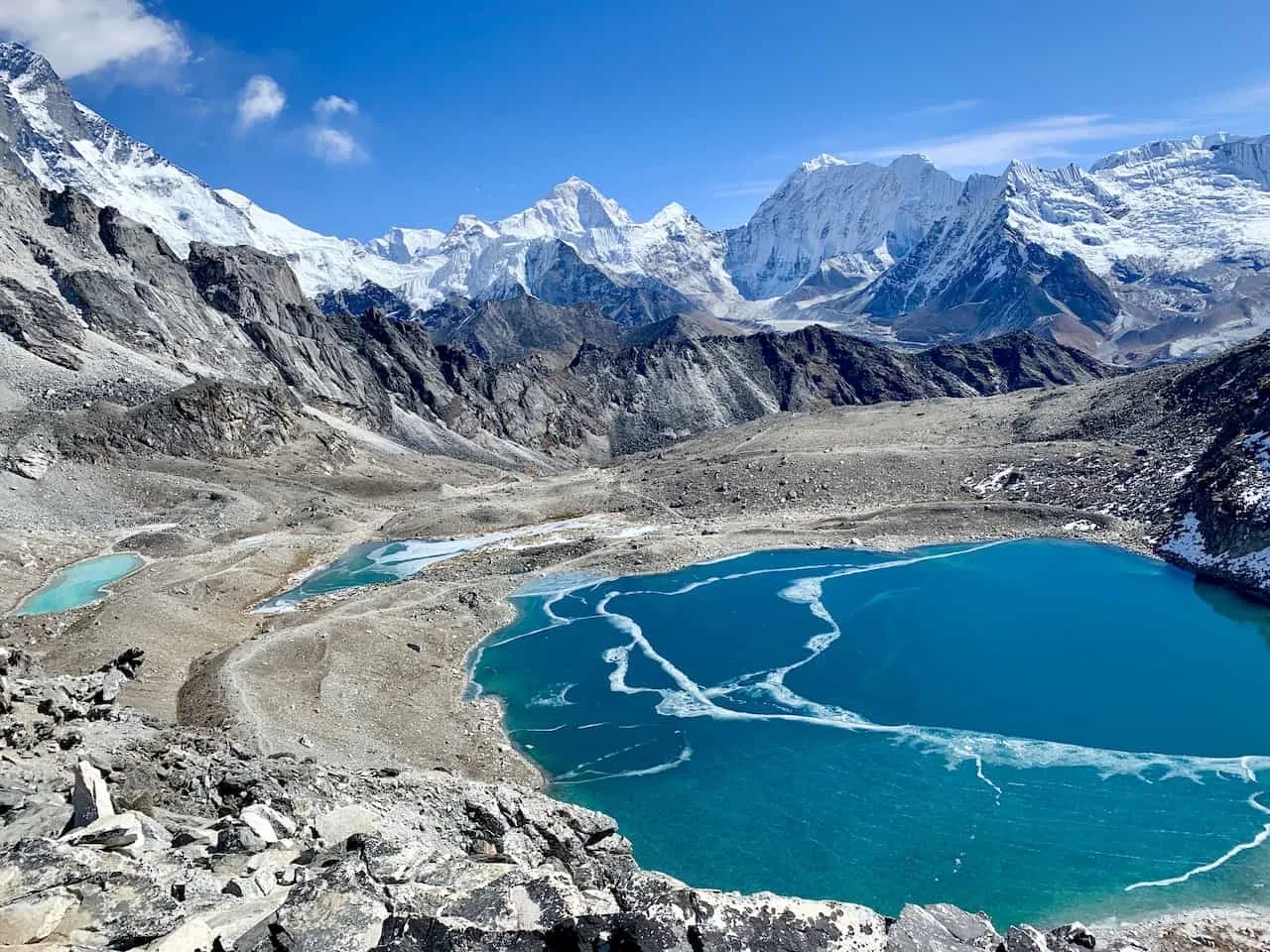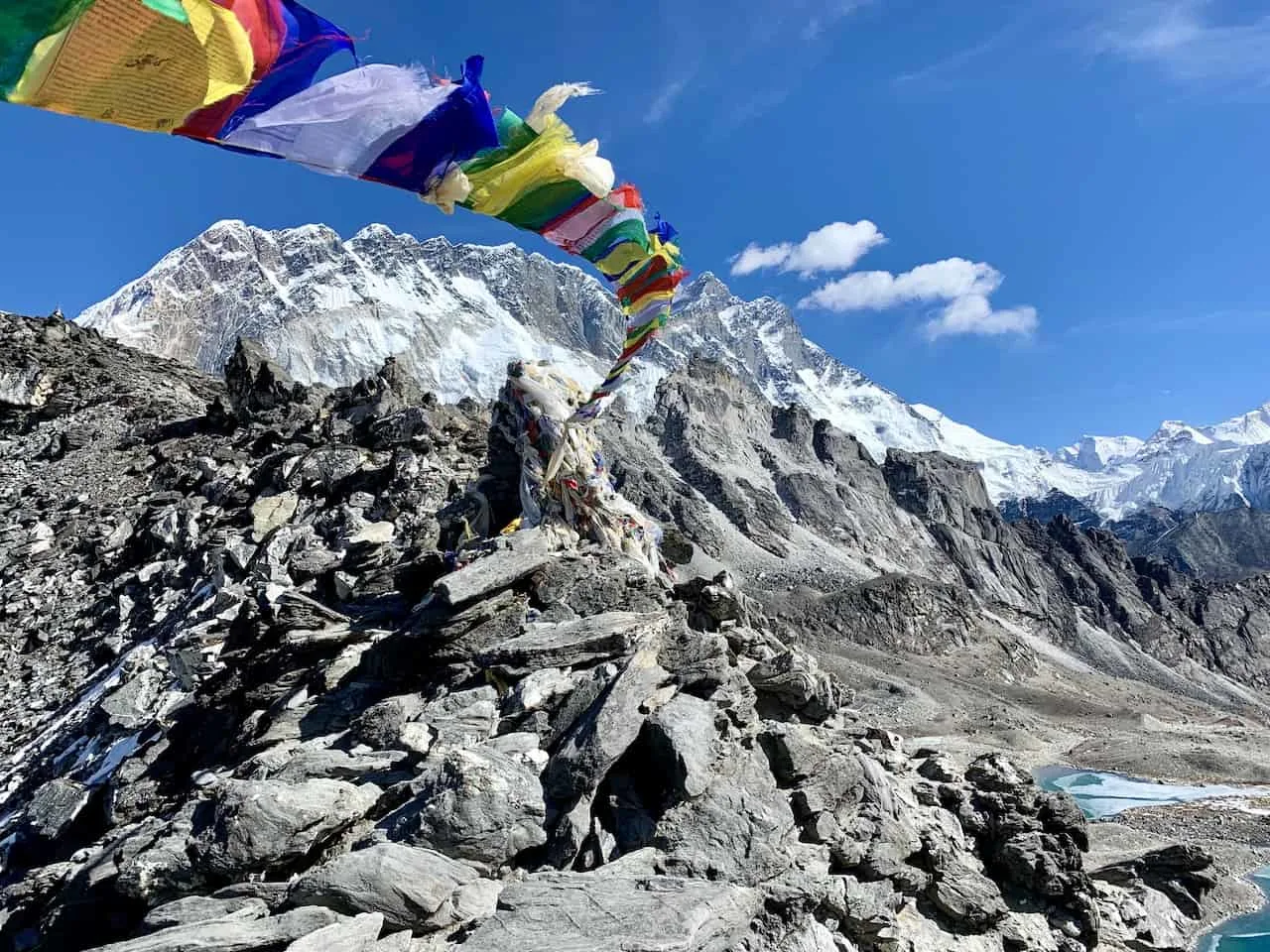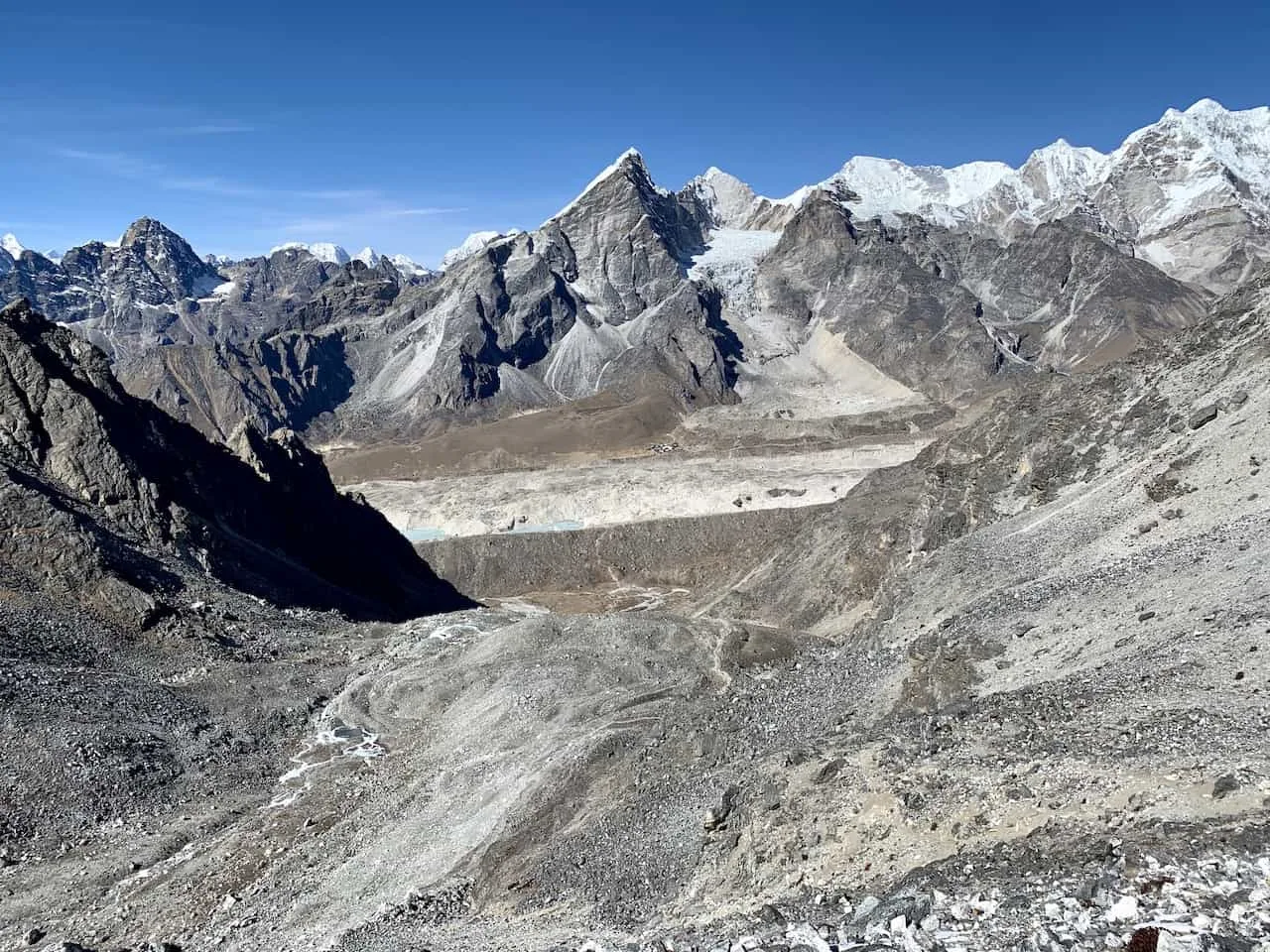 If you haven't had your lunch yet, now is a good time to fuel up as you now have to prepare for the steep and technical hike all the way down to Lobuche.
Out of the Three Passes, Kongma La is the only one that has both a very tough uphill and a very tough downhill. As you look down below, you will see somewhat of a zig zagging path down to the bottom.
While you should be able to eye the path as you make your way down, much of it will also be on uneven rocks. There will be small rock piles to follow during those trickier sections to help guide you in the right direction.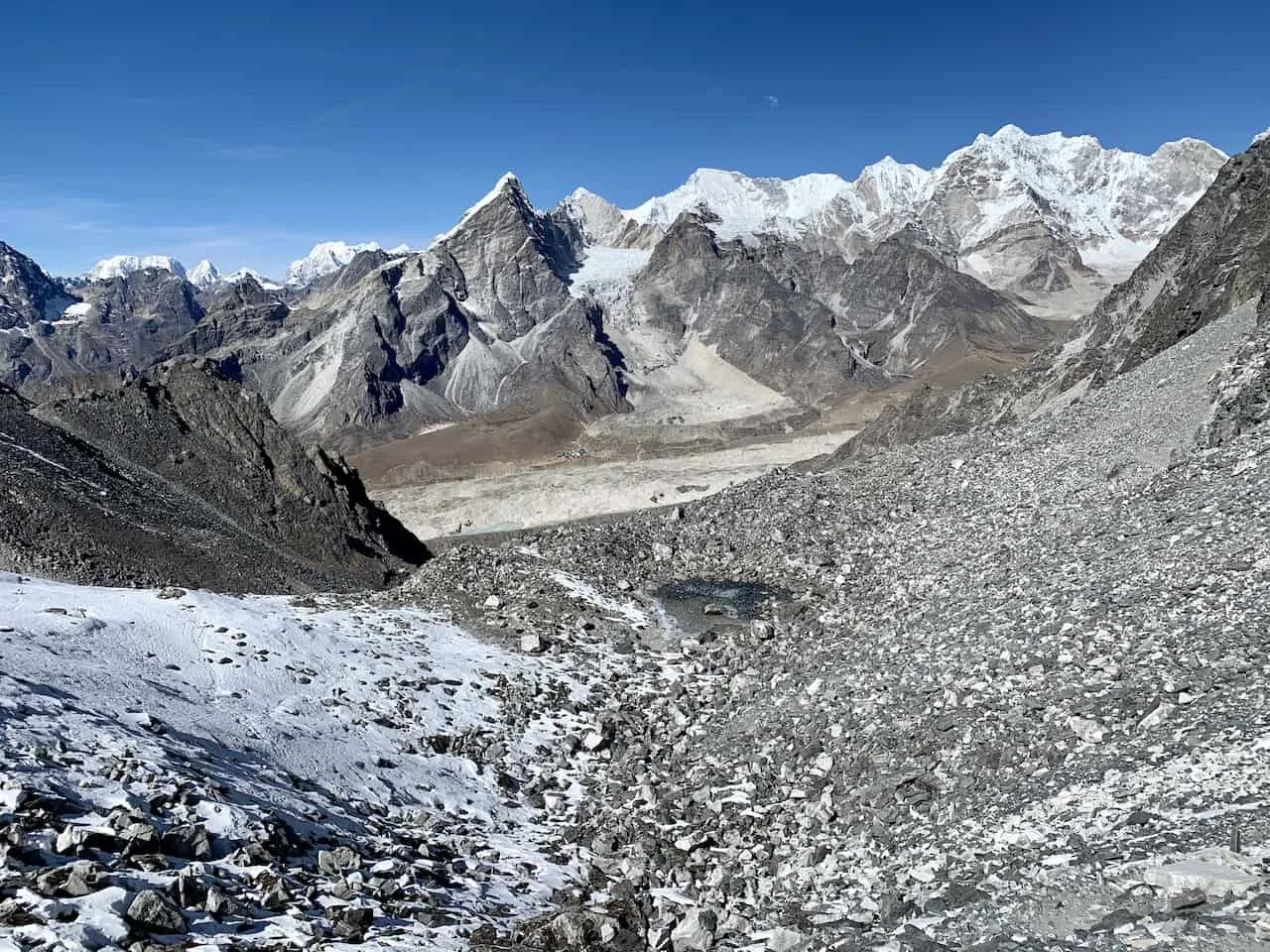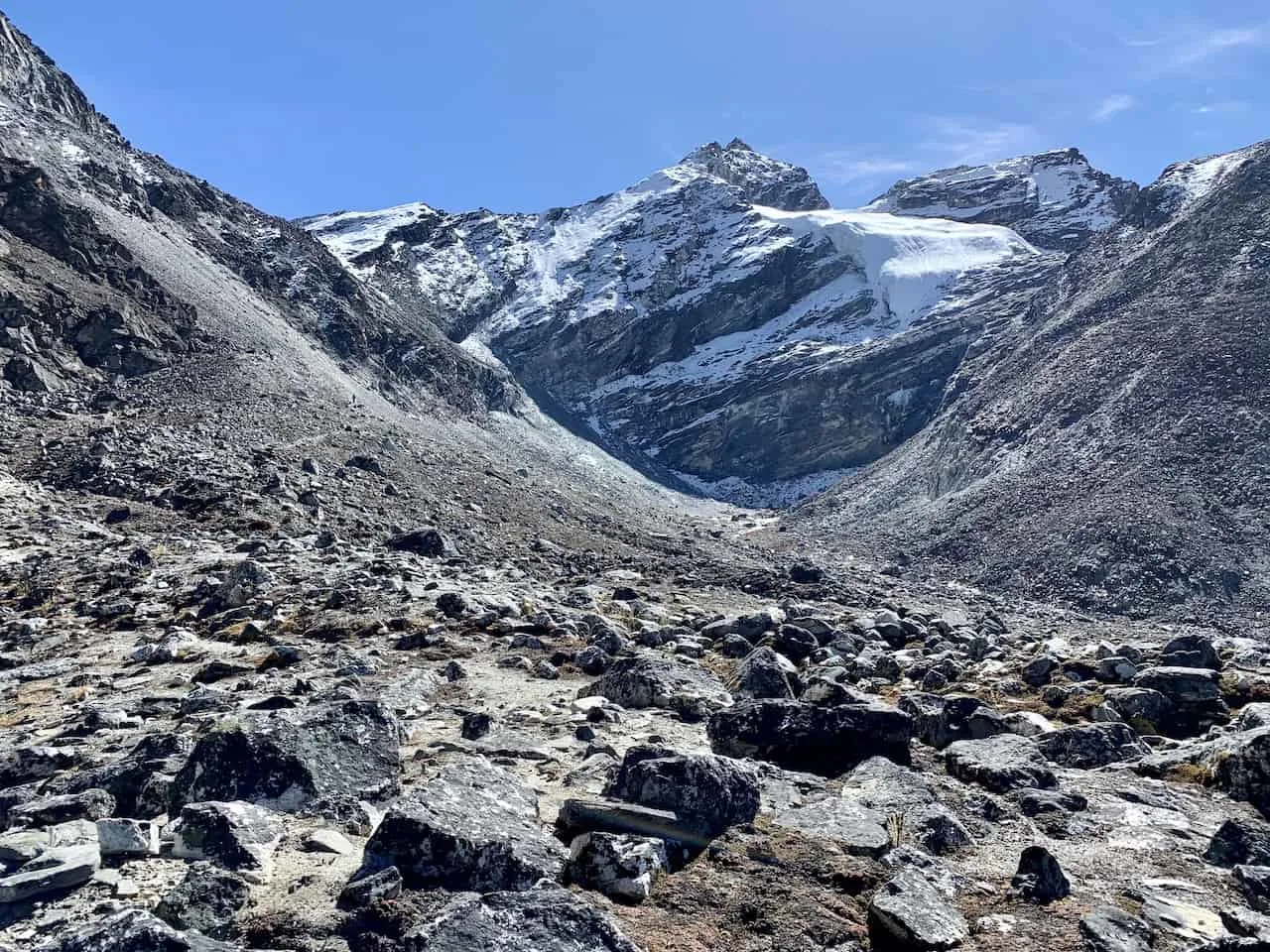 After quite the trek down you will reach the base of the Khumbu Glacier. Since Lobuche is located on the other side if the glacier, you will need to now make the hike across.
You should see some arrows pointing you in the right direction (and a nice little helpful map) as you head onto the glacier wall.
While you are walking on a glacier here, you are not walking on ice. The glacier is filled with dirt and rocks so it will feel more like a normal hike than a glacier hike.
Throughout the glacier you may come across various small and large lakes that make the experience even that more unique.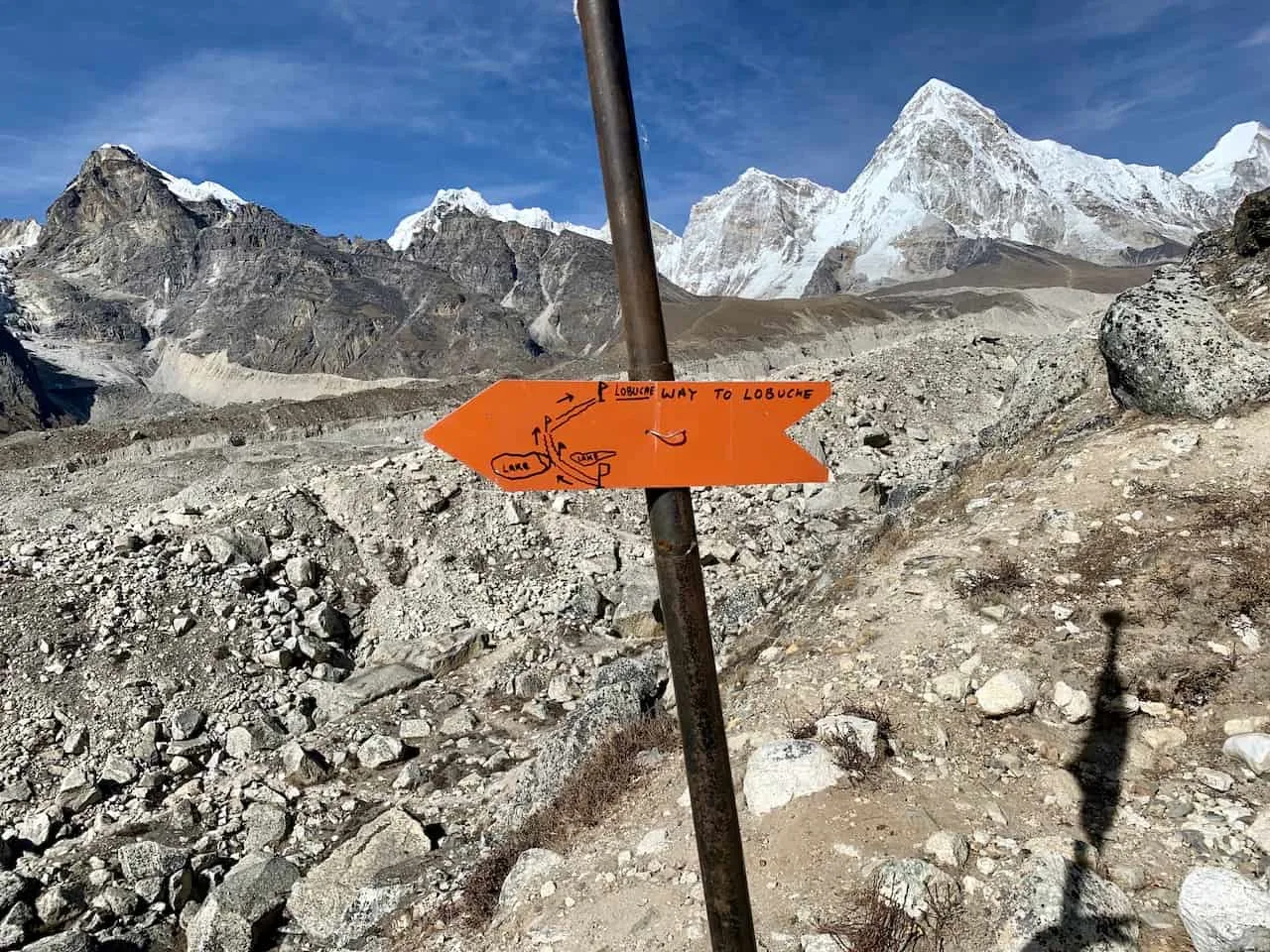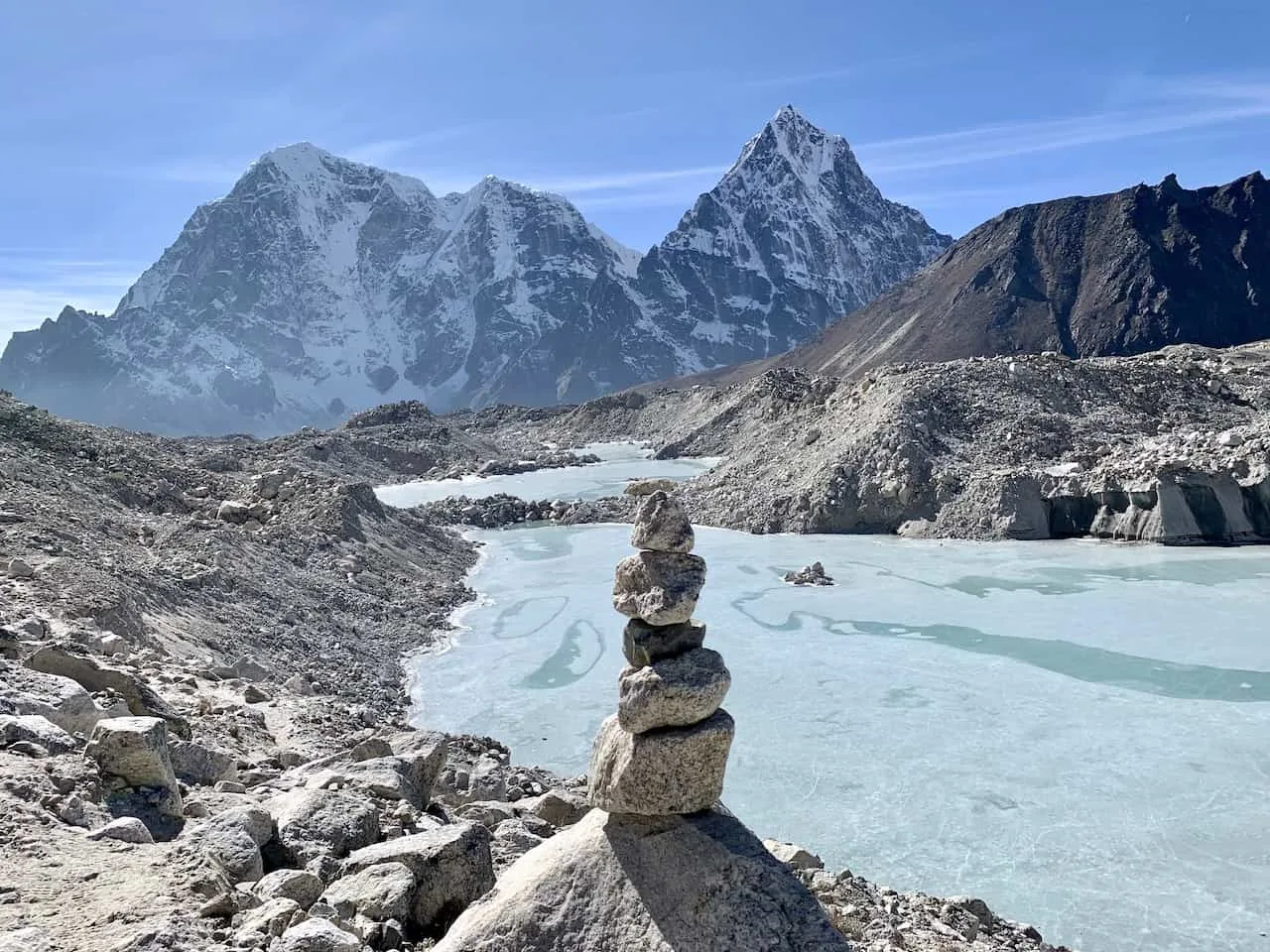 Once you are across the glacier safely and on the opposite side wall, you will see the village of Lobuche come into view. It is just a short hike towards the village, where you will end a successful Kongma La Pass trek.
Be sure to rest and fuel up well in Lobuche as you will want to be ready to go the next day as you head towards Gorak Shep and Everest Base Camp itself.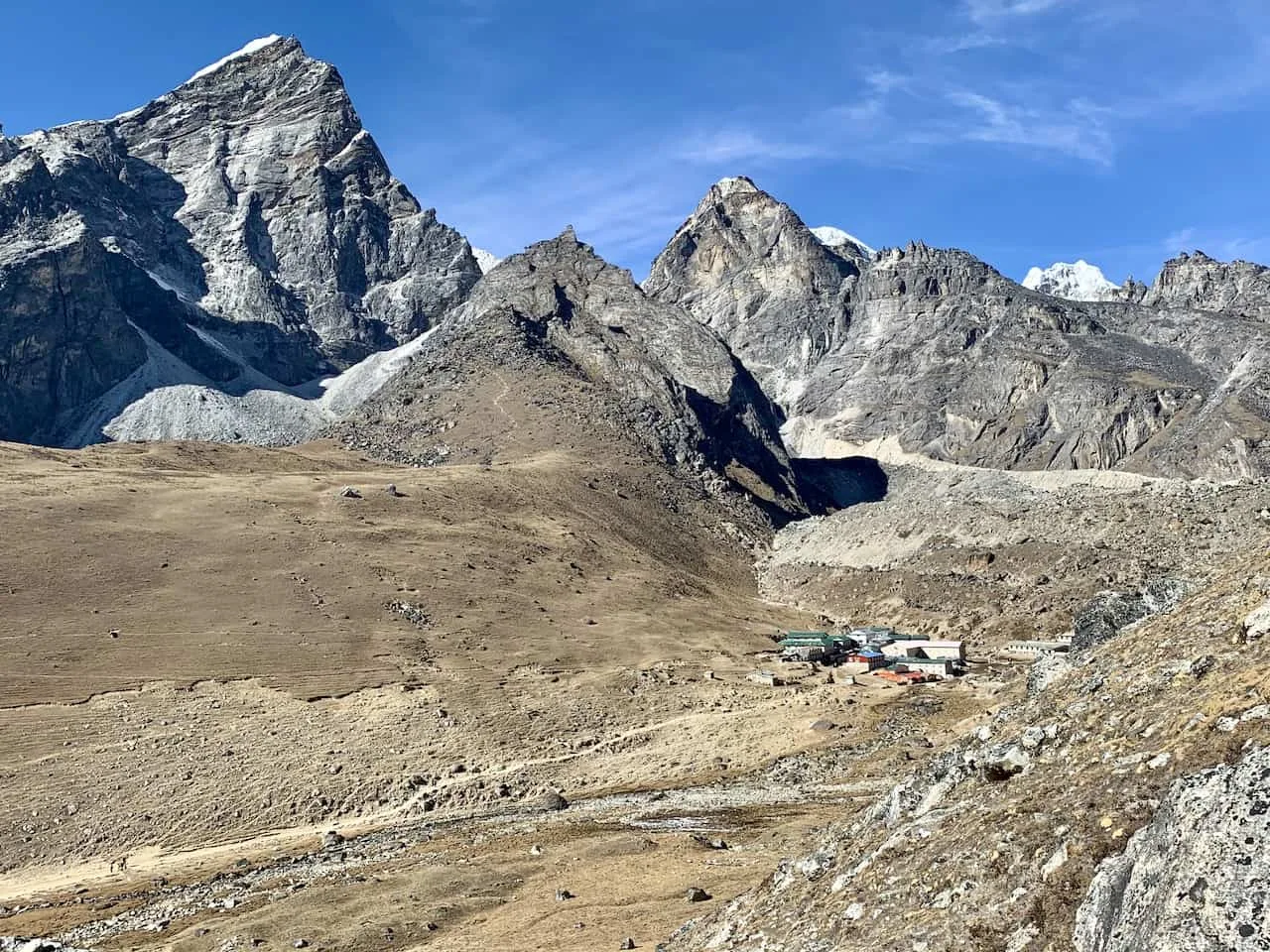 6) Kongma La Pass Difficulty
One of the main questions people ask about is what the Kongma La Pass difficulty is like. As I mentioned earlier, in my opinion, the day over Kongma La is the hardest day of the Everest Base Camp / Three Passes trek.
The hike has it all – steep elevation gain, steep elevation loss, high altitude, and tricky terrain.
Over the course of 6 miles, you will gain nearly +2,700 of elevation and then lose 2,100 feet of elevation. Not only that but the hike will be done at the highest altitude of the trek, peaking at 18,209 feet!
While some of the terrain is nice and easy to navigate on the way up, you will also come across much rockier and uneven sections as well. For some people, the way down can be even tougher than the way up.
There are tons of uneven rocky sections to make your way through, plus the more sandy sections can get quite slippery.
For some, a day like this could take upwards of 8+ hours, making it the longest day of the trek as well. So, while not the toughest hike I have done in my life, it certainly is the most difficult during an Everest Base Camp / Three Passes trek.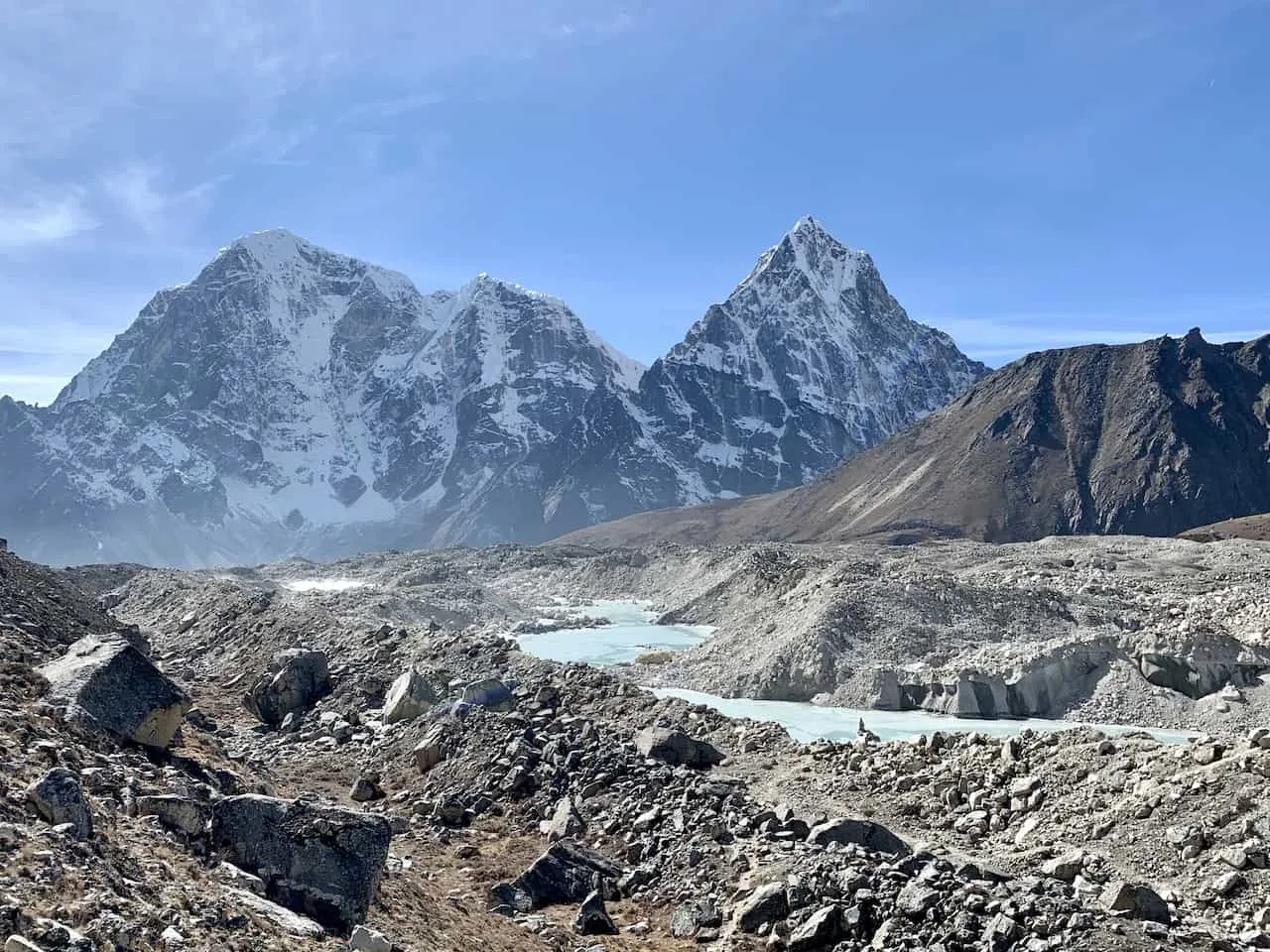 I hope you now have a better understanding of what the Kongma La Pass is all about and what to expect out on the trail.
If you have any questions or comments about the trek feel free to add them in below. Also don't forget to check out the other Nepal itineraries and guides up on the site.
Have fun out there and safe travels!