Lake Bled is known to be one of the most scenic lakes in the world. Its beautiful calm water is surrounded by the mountain of the Julian Alps in all directions. Directly in the middle of the lake you will find the Pilgrimage Church of the Assumption of Maria, and up on the cliffside is the Bled Castle overlooking the lake down below.
To enjoy the best view of Lake Bled though you must head up to the Ojstrica & Osojnica viewpoints. Located on the western side of the lake, these viewpoints will give you some of the most unobstructed views of the lake, castles, and surrounding mountains.
This guide will walk you through all there is to know about hiking up to the viewpoints and how to best prepare for a visit on your own.
* Affiliate Disclosure: This post may contain affiliate links, which means I may receive a commission if you make a purchase through the links provided, at no additional cost to you. Thanks for supporting the work I put into TripTins!
1) Ojstrica & Osojnica Viewpoint Hike Overview
I think it is important to note that the famous viewpoint spot that you will see in nearly every article or blog post about Lake Bled is not necessarily one single viewpoint spot.
Instead there are actually THREE viewpoint areas to enjoy all along the same hiking trail. It will be up to you though to decide if you want to visit just one of the viewpoint spots or add on a 2nd and 3rd one as well.
This guide will talk through the circular loop that you can follow that will bring you to all three spots plus an additional few lookout points along the way.
Here are the three viewpoint spot names that will be shown on maps, hiking apps like Maps.me, and hiking signs on the trail itself.
Viewpoint #1: Ojstrica
Viewpoint #2: Velika Osojnica
Viewpoint #3: Mala Osojnica
In the next section you can see the map of the Lake Bled hike that can give you a better idea of where each one of these spots are located and how a circular loop can look like.
Learn More: Be sure to check out some of the other best things to do in Lake Bled during a visit.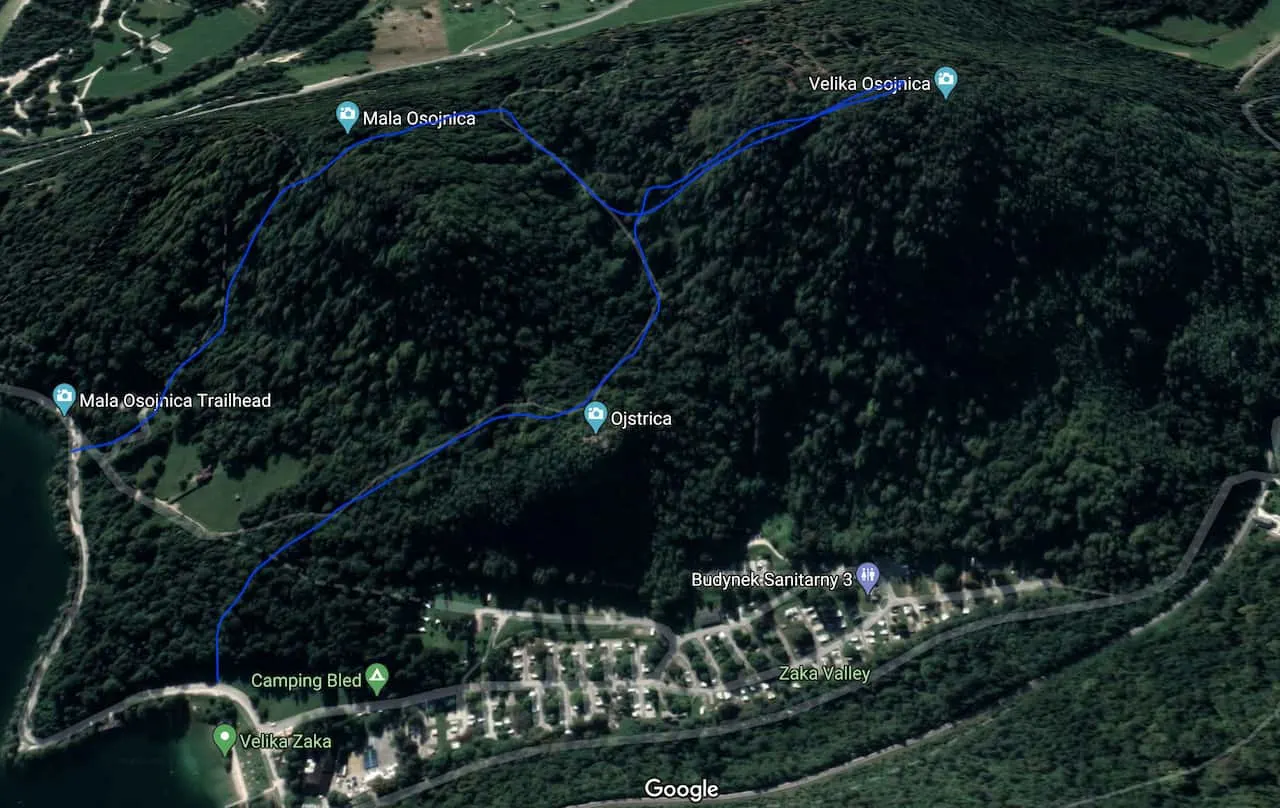 2) Lake Bled Hiking Map
Below is a Lake Bled hiking map from Maps.me with additional overlays showing the route I took.
As you can see, I started on the right hand side, first went up to the Ojstrica viewpoint, then all the way up to Velika Osojnica, and came back down looping around to Mala Osojnica before getting back to ground level.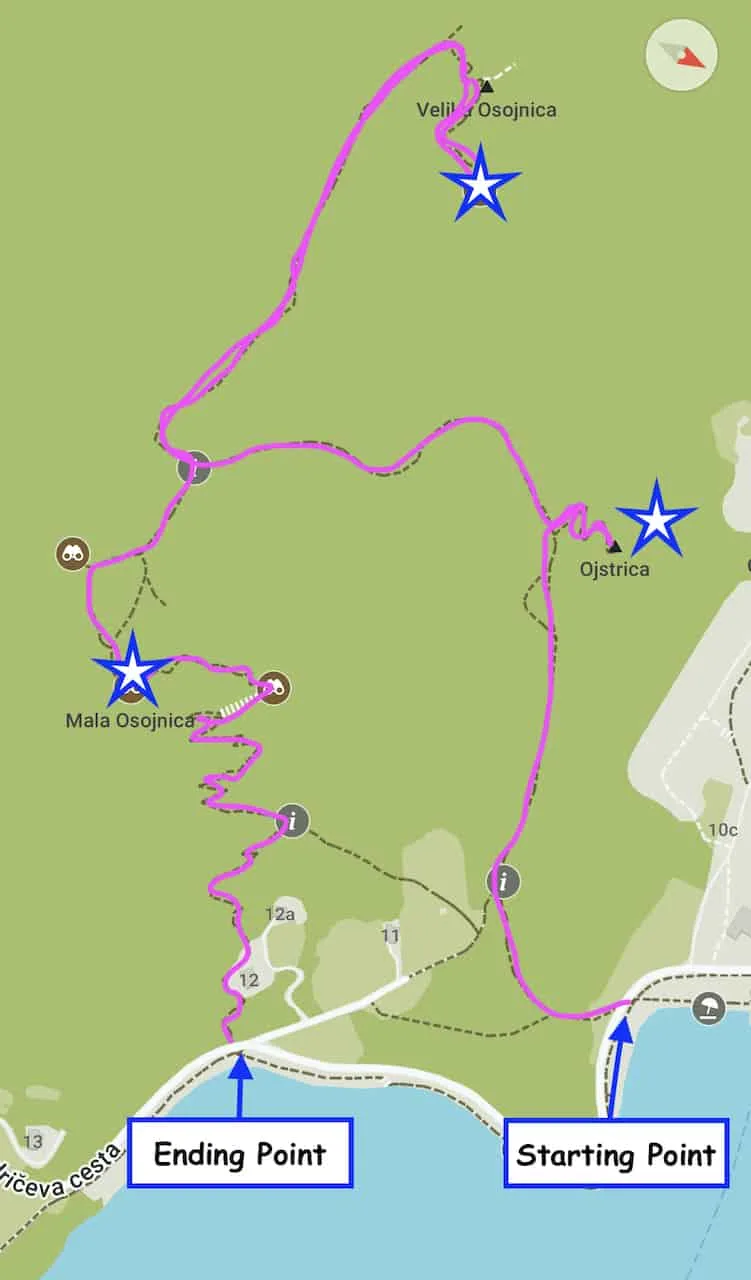 I would say you have a few main options here:
Ojstrica – there and back same route (40 minutes)
Ojstrica and Mala Osojnica – loop hike (1 hour)
Ojstrica, Velika Osojnica and Mala Osojnica (1 hour 20 minutes)
Note that you do not need to start & end in the exact spots that I did. You can decide to go in the opposite direction / end in a different spot vs. what is shown above.
Read More: Visit these Lake Bled viewpoints (and other Slovenia hikes) as part of a longer Slovenia itinerary around the country
3) Ojstrica Parking
The nice thing about Lake Bled is that it is very walkable. The whole town and lake area is full of pedestrians, runners and bikers. So, if you are staying in Bled itself, the walk to the starting point of the hike is around 40 minutes.
Not only will you not need to worry about driving and parking, but you also will be able to enjoy Lake Bled itself. The pedestrian path hugs the lake in its entirety basically so it is a peaceful walk to take part of.
However, if you are already driving in from somewhere else or if you don't want to add the walking time to your day, there is a parking lot just minutes from where I started the hike.
If you type in "Parkirišče, Veslaška Promenada 1, 4260 Bled, Slovenia" you will be brought to a parking lot right nearby one of the main small beaches of the lake – Velika Zaka. From the parking lot it is just a couple minutes until you see the hiking signs pointing up to the viewpoints.
Note that if you do park, you do need to pay a small fee to leave your car there.
Car Rental: When renting a car in Slovenia, I would recommend checking out Rentalcars.com for potential options. You will be able to browse through cars based on price, category & other filters, to find the perfect car for your trip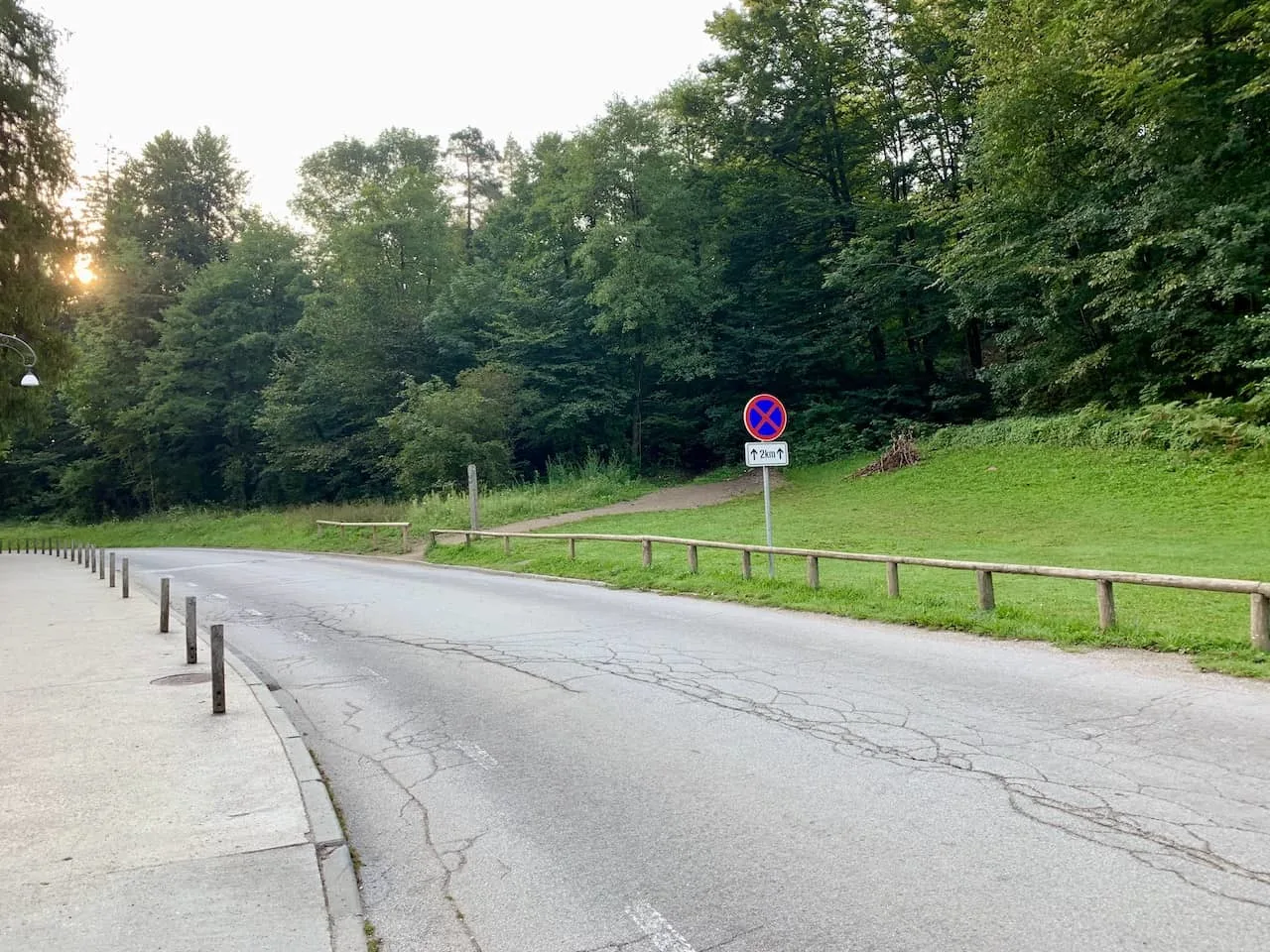 4) Lake Bled Starting Point
Whether you decided to walk on your own or take a car, your next destination will be the starting point of the trail.
While not exact, you will find that these GPS coordinates (46°21'40.9″N 14°04'59.2″E) will take you very close by the trail entrance.
If coming from the Velika Zaka parking lot, it is just a few minutes' walk on the main road. On the side opposite of the lake (right hand side if coming from the parking lot), you will see a hiking post pointing you into the woods.
Note on Google Maps you will see an entrance marked as "Mala Osojnica Trailhead". You can start here as well! This is actually where I technically ended my hike.
5) Where to Stay in Bled
Bled is a charming little town located closer to the eastern end of the Lake. There are plenty of hotels, guesthouses, and apartments to choose from during a visit to the region.
I thought it may be helpful to give three highly recommended options of where to stay.
During high season, these hotels will sell out. So once you know your dates I would advise to book your hotel as soon as possible.
Hotel Lovec is located in the heart of Bled, just a few steps from Lake Bled. It offers magnificent views of the lake and the surrounding Alps. All rooms provide air conditioning, a bathroom and a mini-bar. Some also have a balcony with park or lake views and cable TV.
Located on the shores of Lake Bled, the elegant Grand Hotel Toplice features panoramic views of the lake and the Alps. The hotel has a boutique wellness center with a thermal pool, saunas and various massage and beauty treatments. Guests can relax at the lake-view terrace.
Set in the heart of Bled, Rikli Balance Hotel enjoys an elevated position boasting panoramic views of Lake Bled, its Castle and the Julian Alps. It features a modern spa center with indoor and outdoor pools.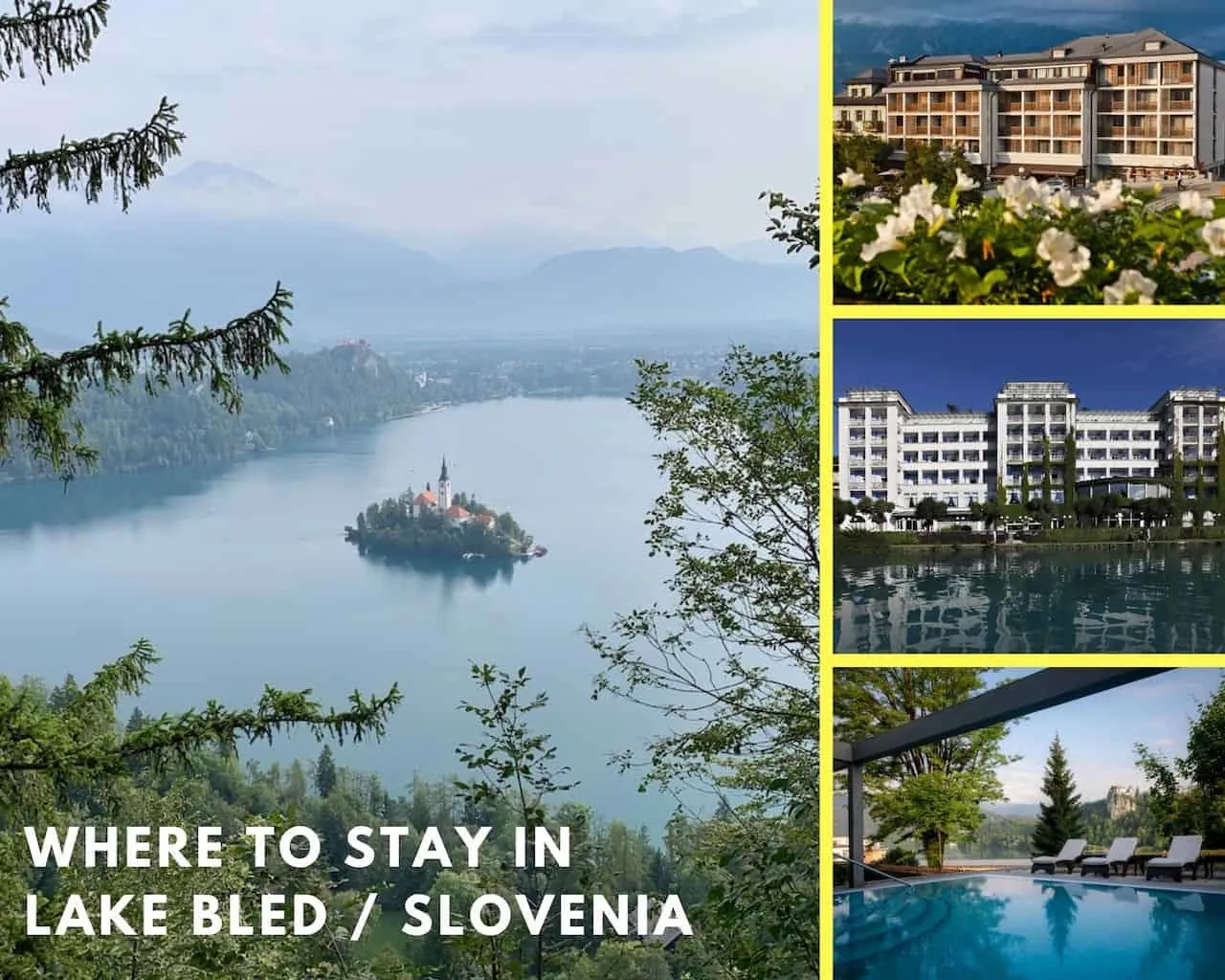 6) Hiking Above Lake Bled
Now that you have a bit of background of the trail and how to get there yourself, let's dive into the hike up to the Ojstrica & Osojnica viewpoint spots.
Like I mentioned, there are 3 main viewpoint areas to choose from and you can decide to go just one or to all three.
Be sure to also read to the end of the guide for some additional helpful tips!
The below will walk you through the circular loop first going to Ojstrica, then up to the highest Velika Osojnica viewpoint and then looping down to the Mala Osojnica spot.
A) Ojstrica
After getting yourself to the entrance, you will see the sign post saying "20 minutes" to Ojstrica. All you need to do is follow these sign markers throughout the trail to get yourself from one viewpoint to the next.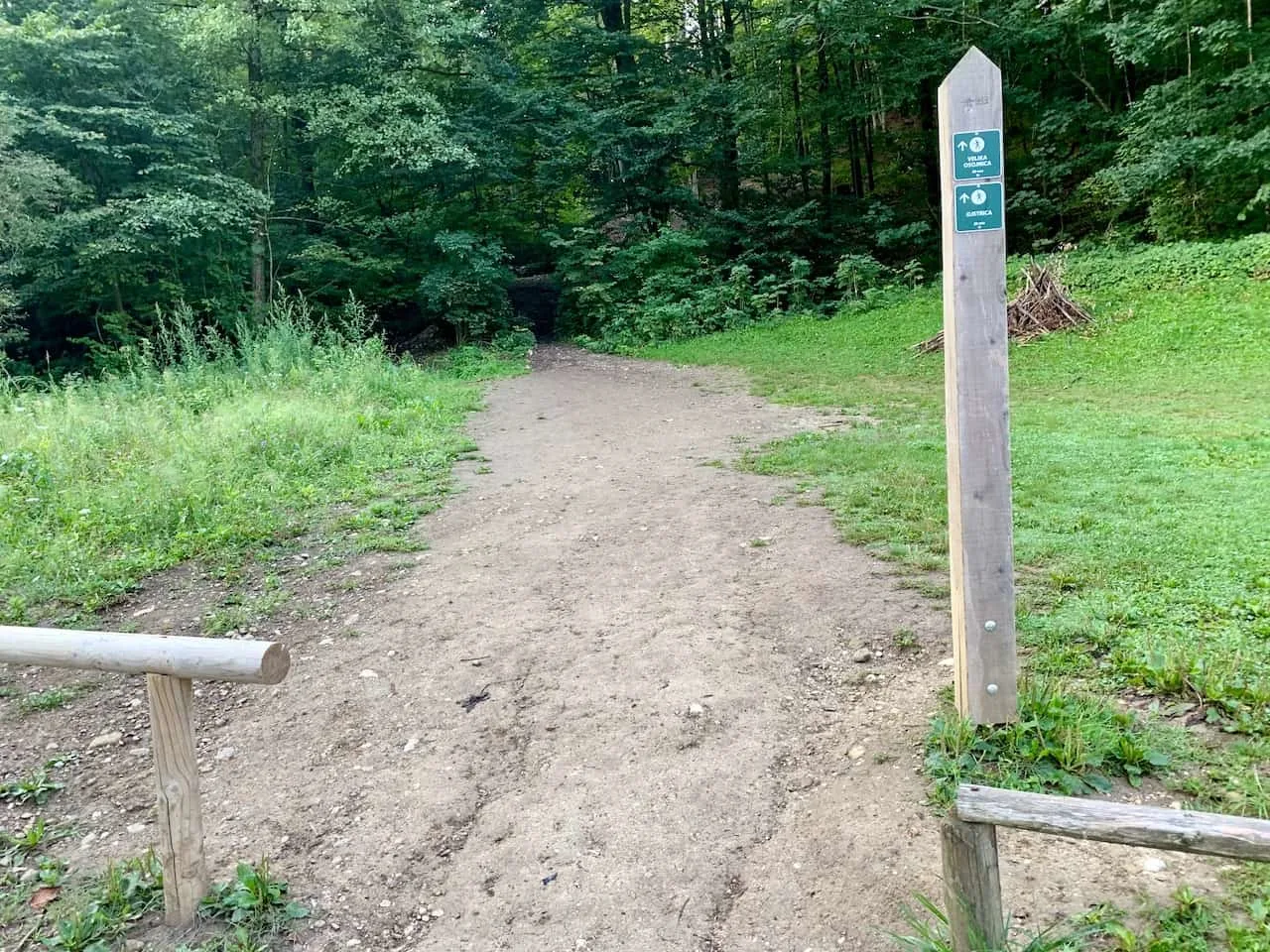 You will enter the heavily forested area with tall trees and greenery surrounding you in every direction.
The path itself is a mixture of dirt, rock, and branches. Since this is not a smooth path by any means, do watch your step as you make your way along.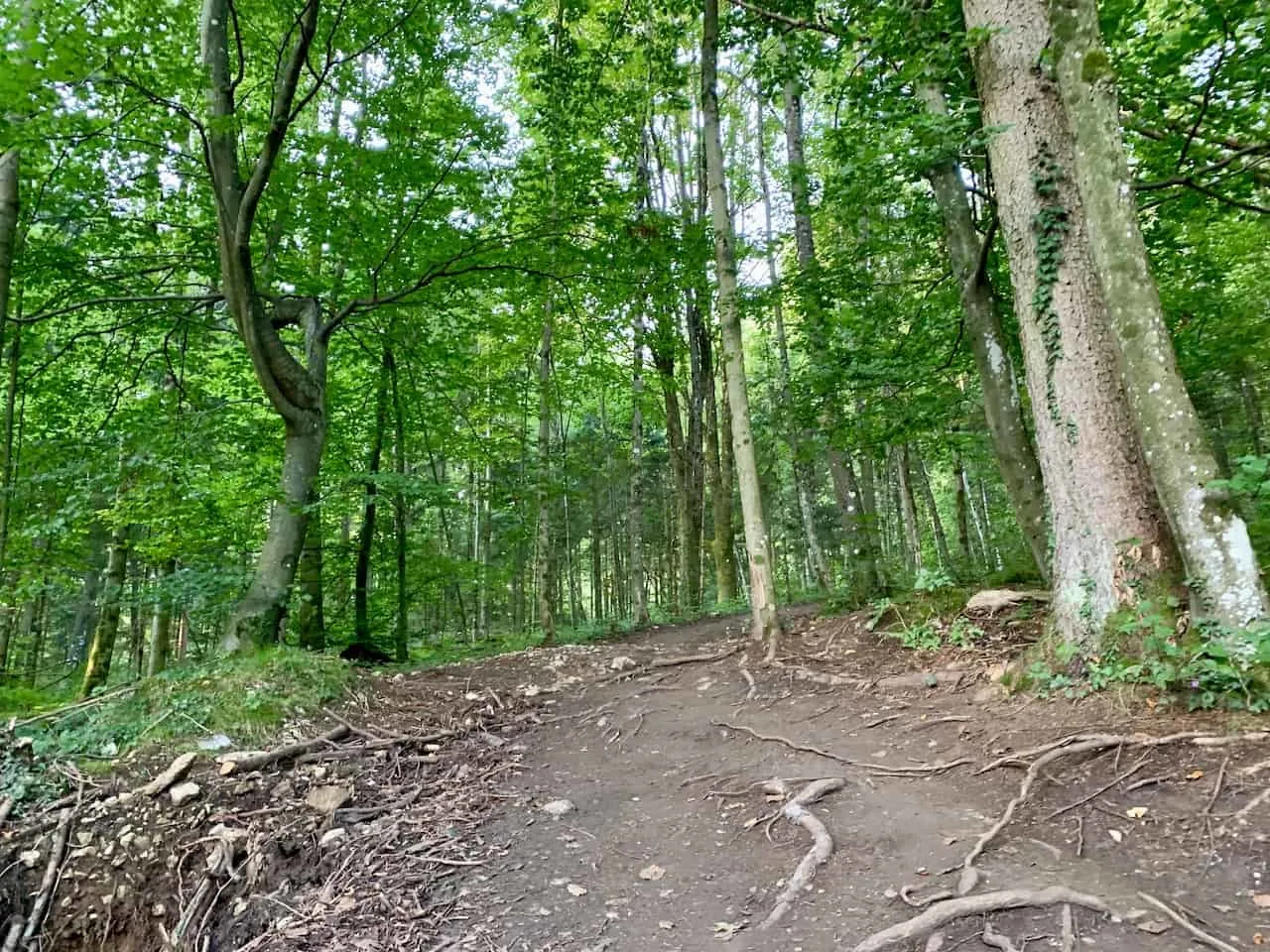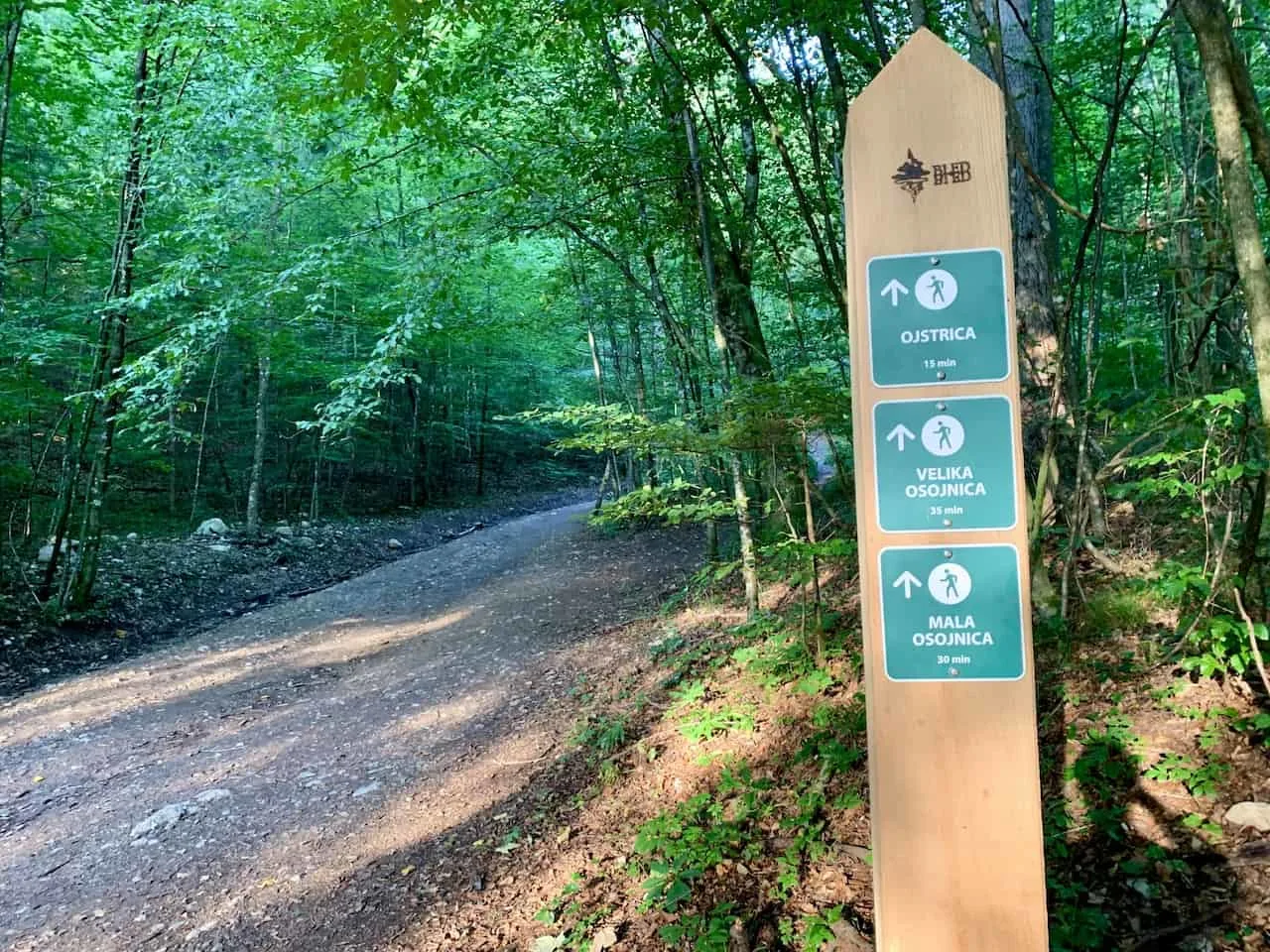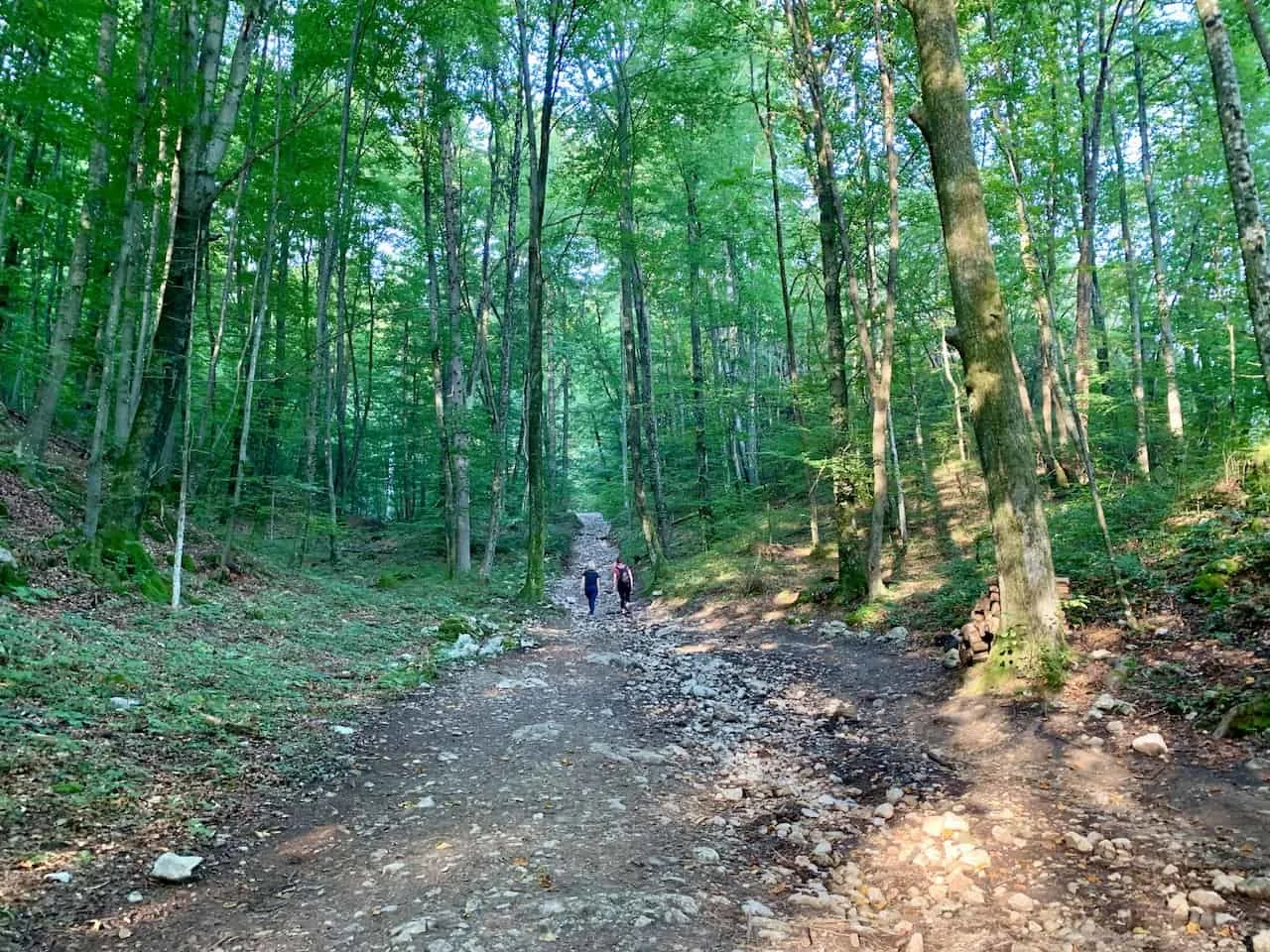 Remember, these are "viewpoints" that look over the lake. So, as you would imagine, there is an incline involved as well. While not a long hike by any means, still be prepared to gain some elevation here.
Continue to follow the trail up the hillside, where you will soon come across a right hand turn to the viewpoint spot. You may see signs pointing you further up towards Velika Osojnica and Mala Osojnica but we will save that for after.
The terrain basically turns into large rocks here as you make the approach to Ojstrica.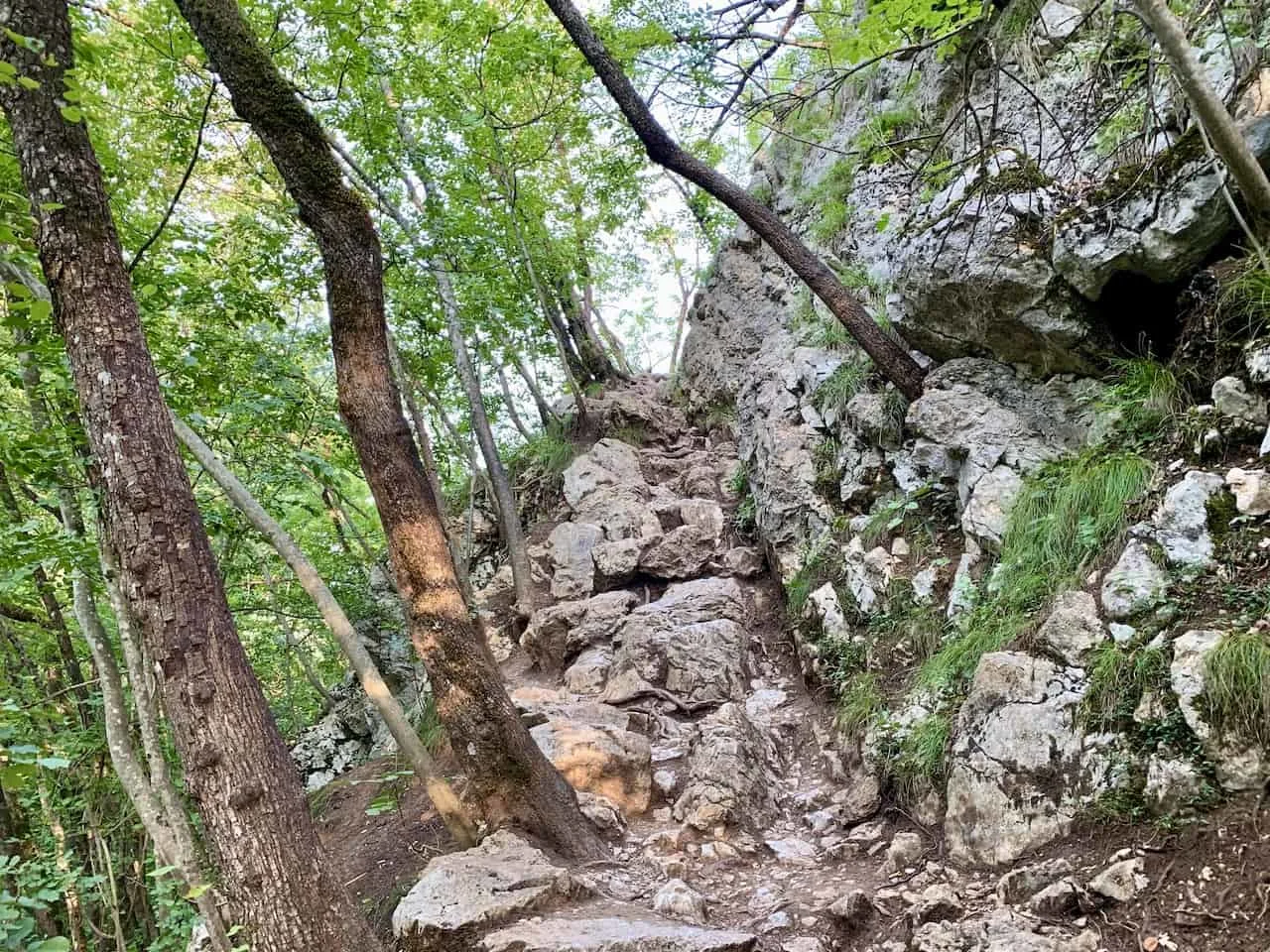 Enjoy the view from Ojstrica with the stunning Lake Bled backdrop. Below are some shots I took from the viewpoint area to give you a sense of what to expect.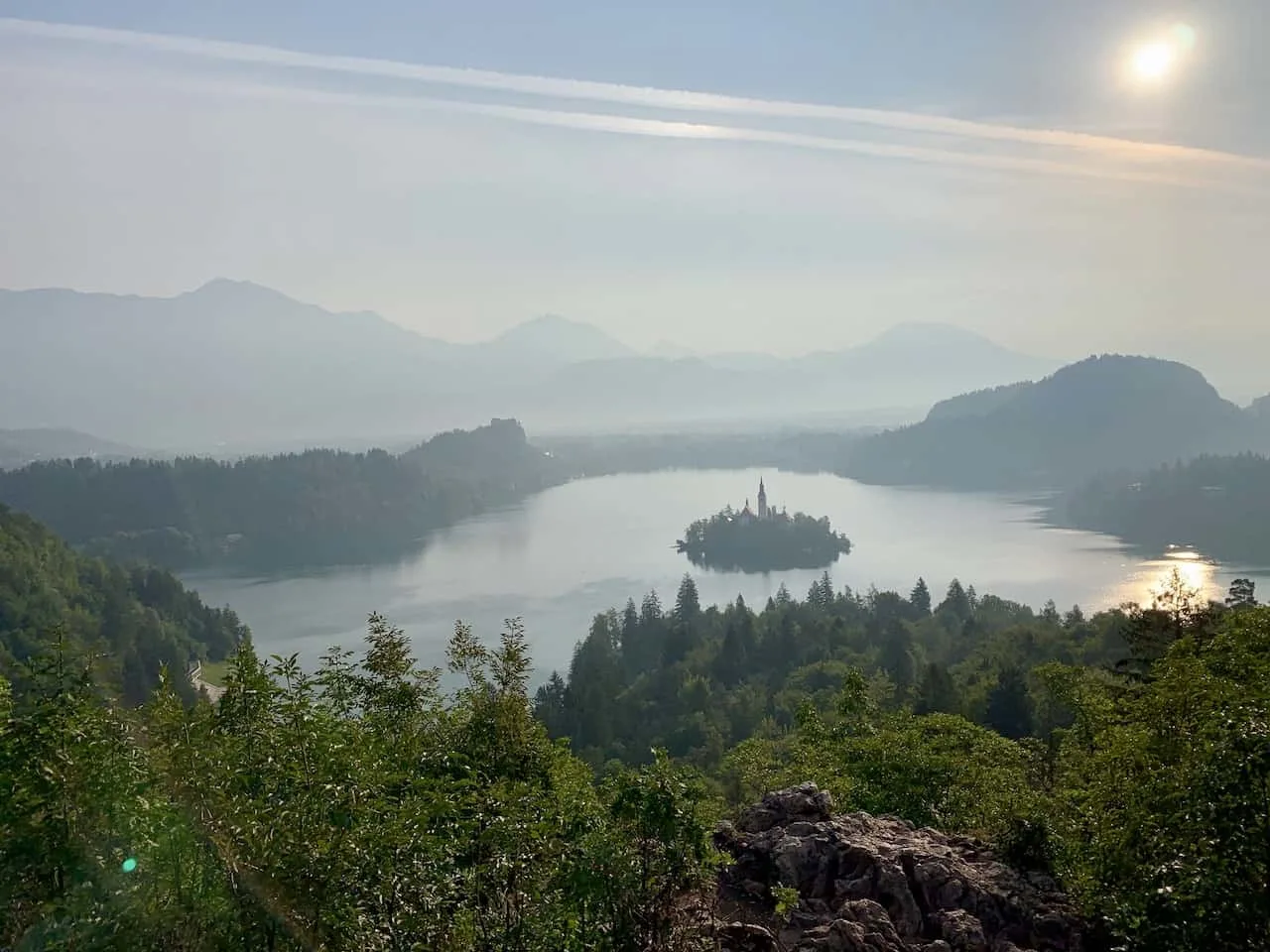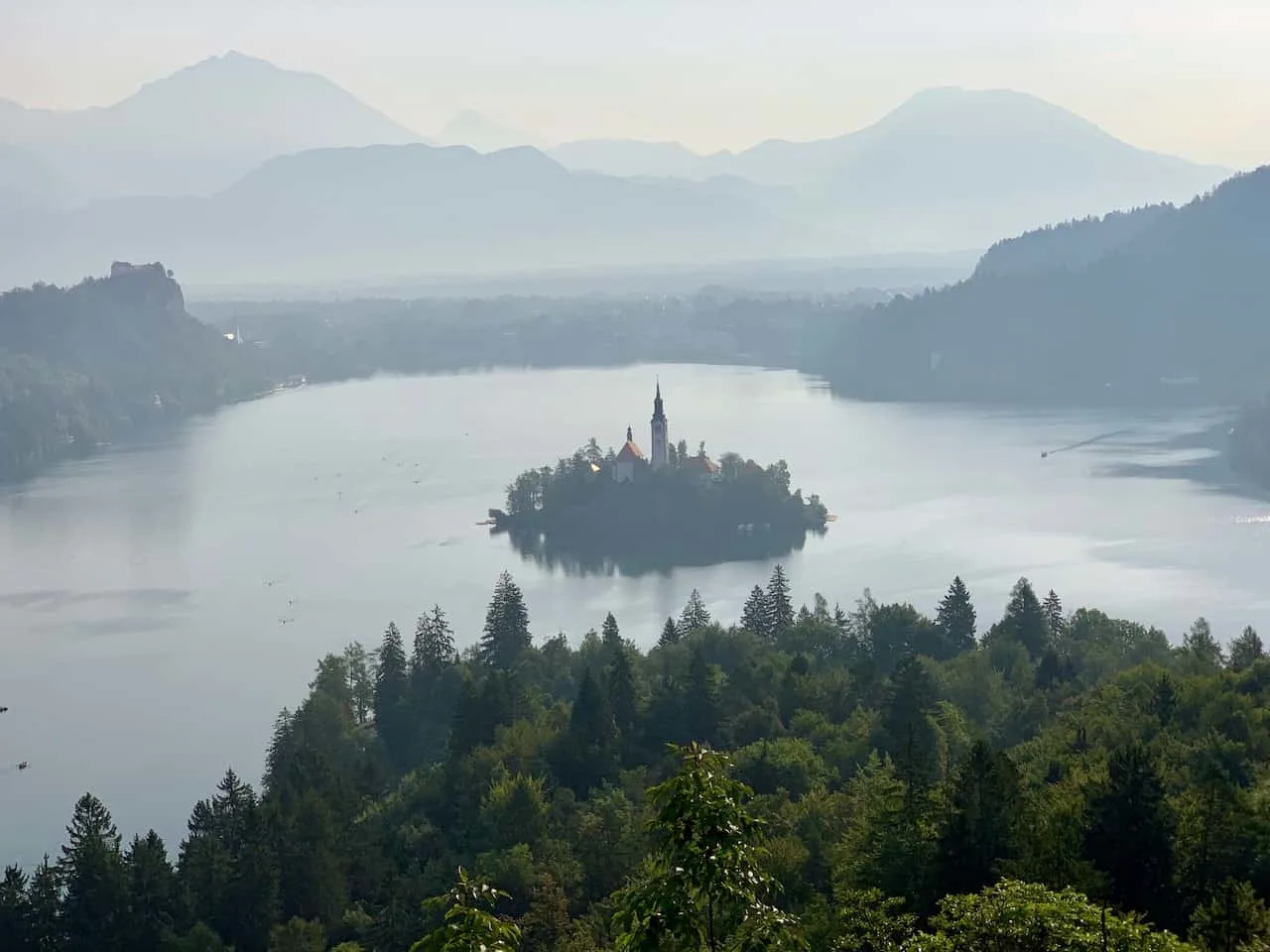 After backtracking a bit from the viewpoint spot, you can make the decision to head back down the same way you came OR continue up to the next 1-2 areas.
You will soon see the hiking sign pointing you further up the mountain towards Velika Osojnica and Mala Osojnica.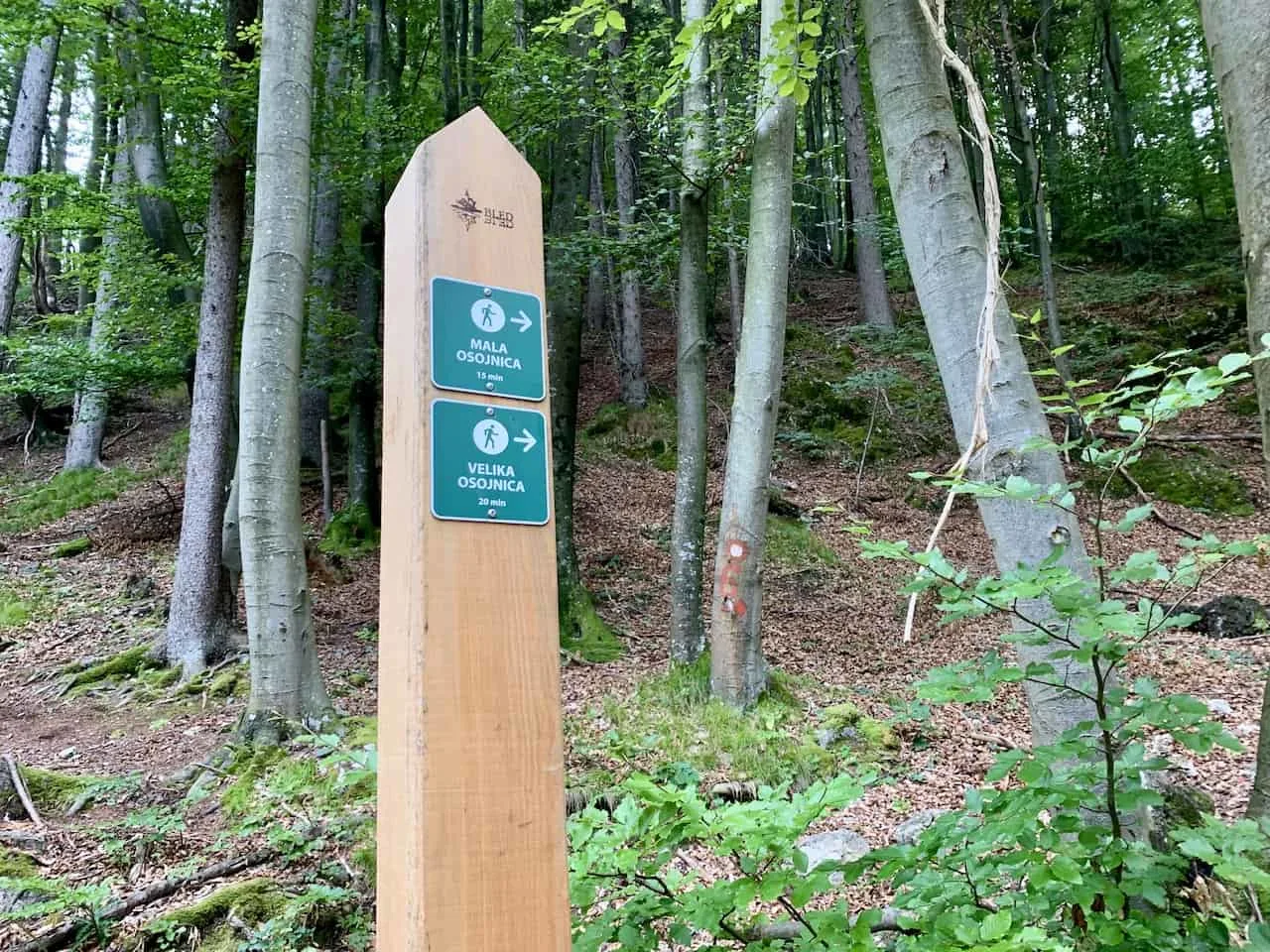 B) Velika Osojnica
Around 10 minutes after leaving Ojstrica you will come across yet another hiking sign posted in an intersection.
Here you have a decision to make – you can head up to the highest viewpoint of Velika Osojnica or just loop around to Mala Osojnica.
I continued following the path to Velika Osojnica, which would add on another 30 minutes or so to the overall hike.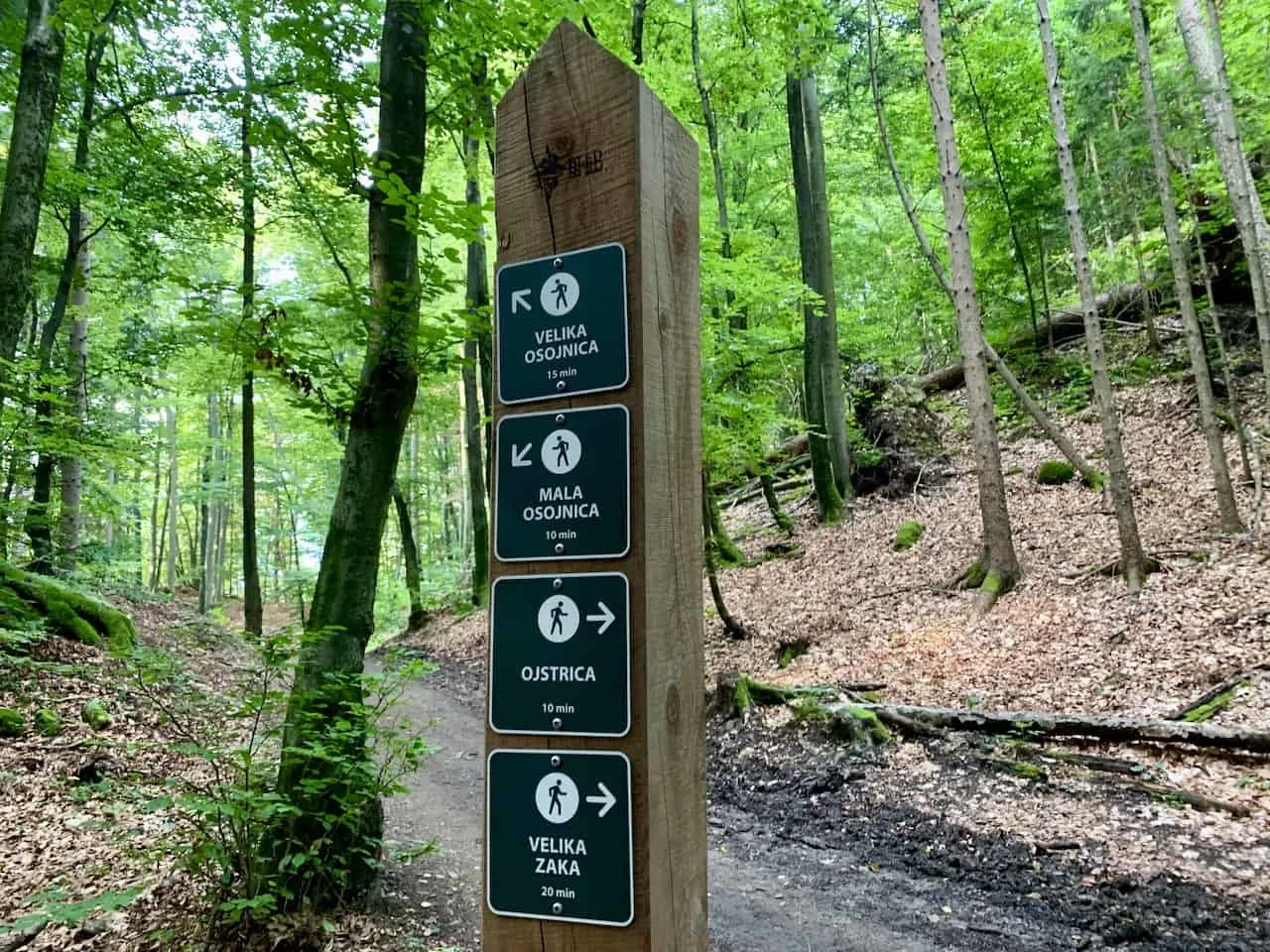 The path continues upwards through the trees on a mostly dirt path as you gain more elevation above the Lake Bled area.
For myself as I was approaching the end of the path, there were some downed trees to hop over. Hopefully those are cleared up by the time you are reading this though!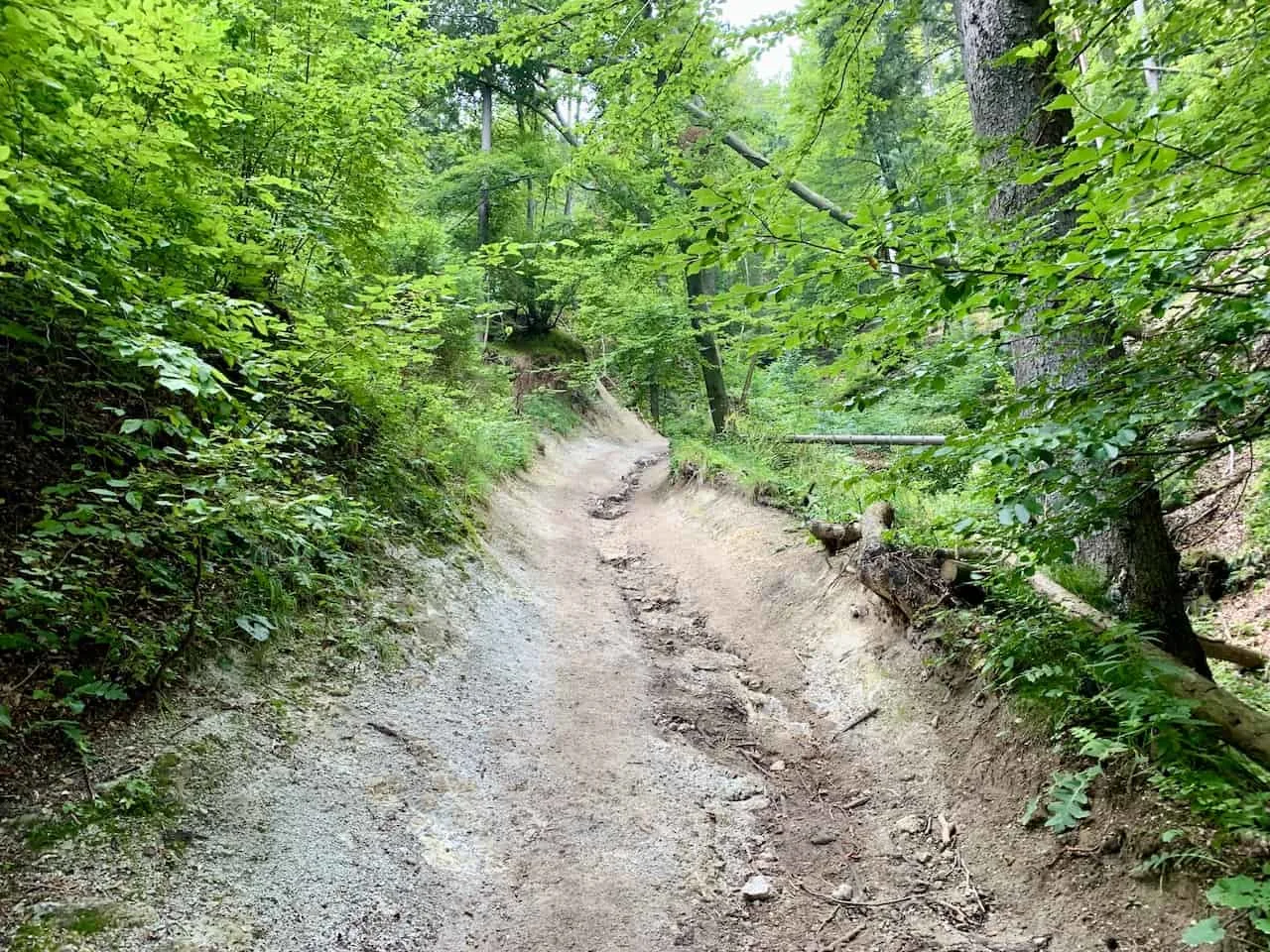 As you get further along, the path will veer to the right (as seen on the map above), and you will soon enough come across Velika Osojnica. Here you will be way above Lake Bled as you see even more of the lake and surrounding landscape.
You will also find a bench here where you can sit back and enjoy the view.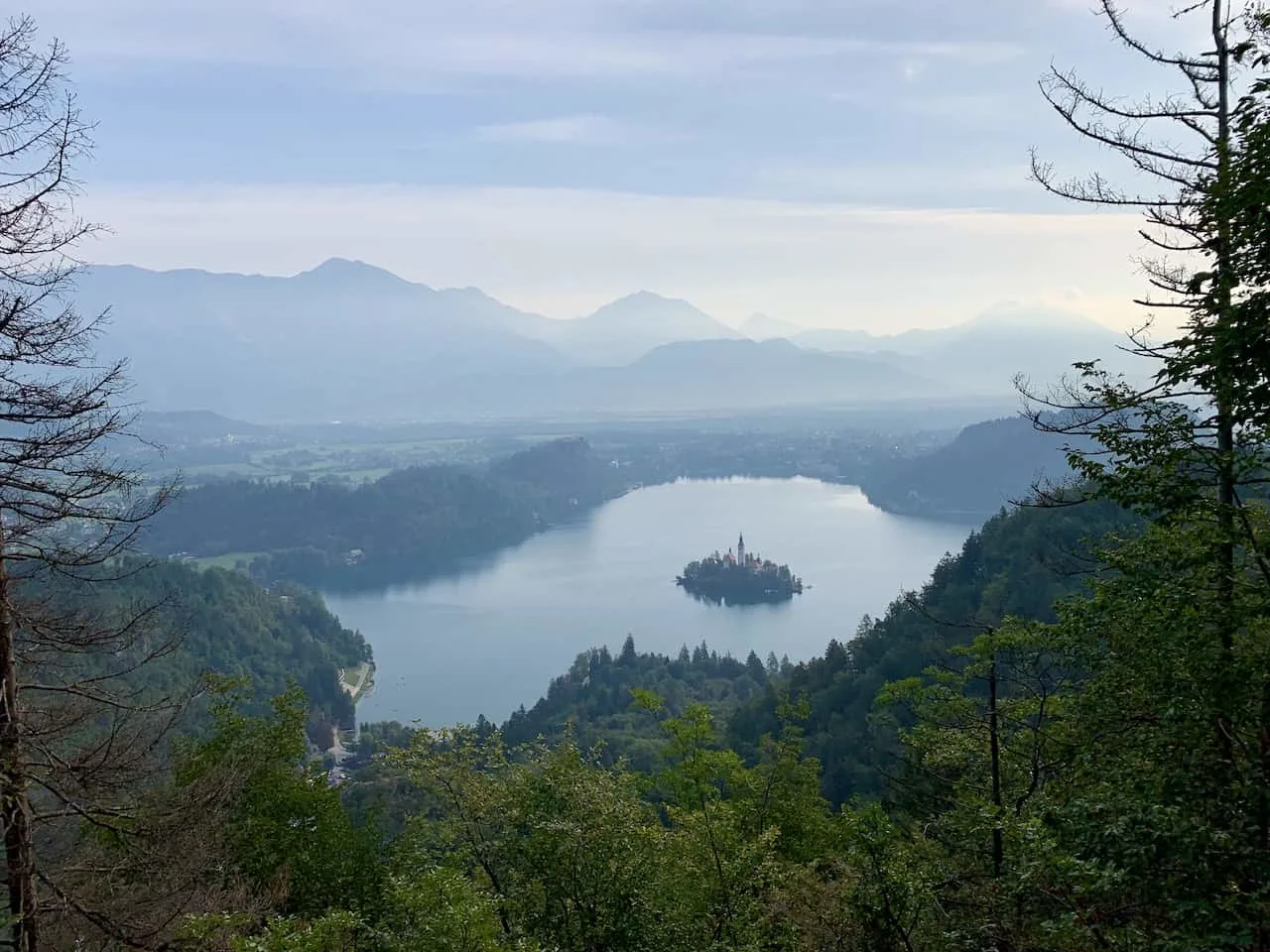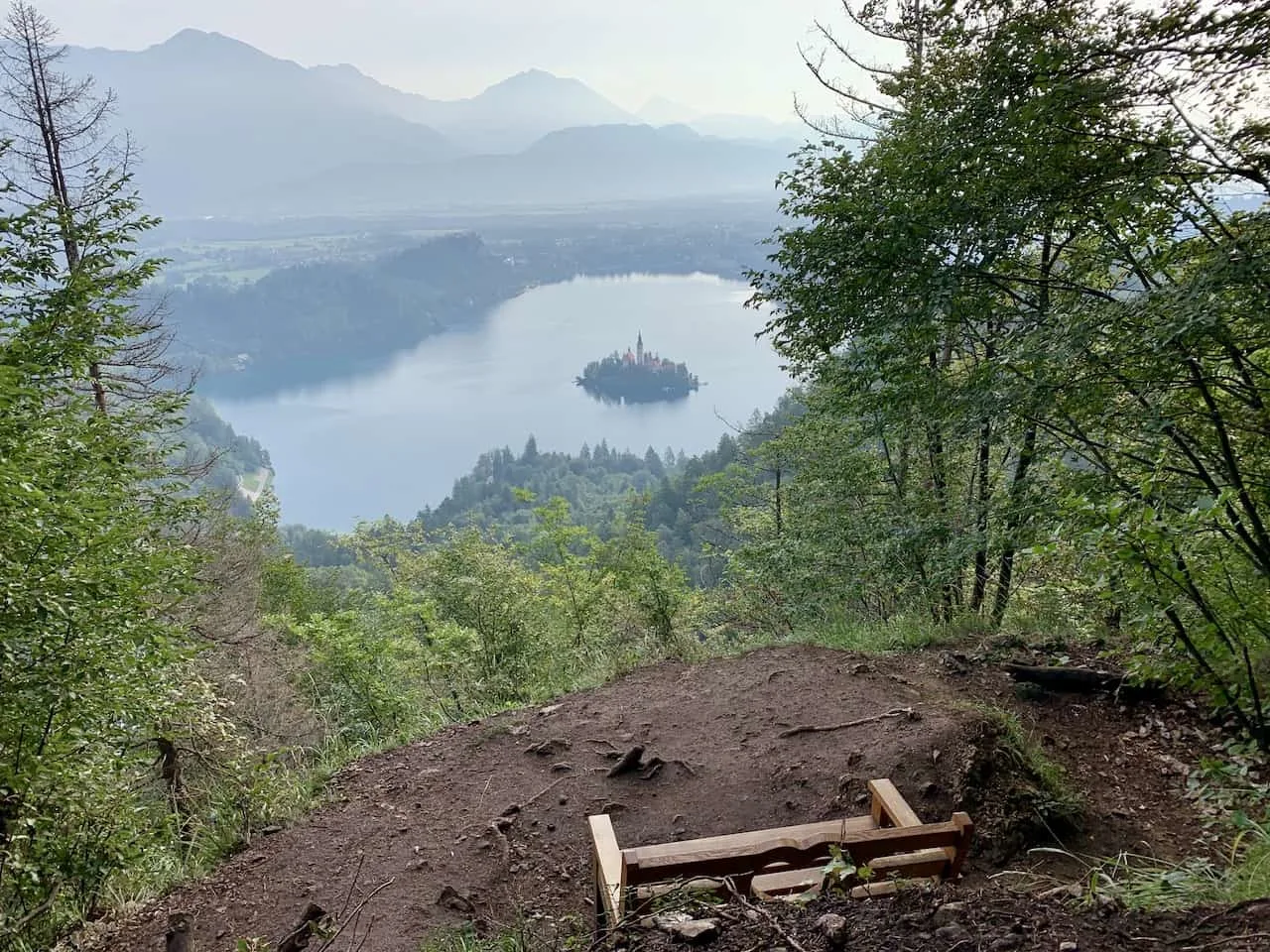 C) Mala Osojnica
It is now time to backtrack your way back down the mountainside until you reach the intersection from earlier on. You will want to head to the right-hand side here pointing you in the direction of Mala Osojnica.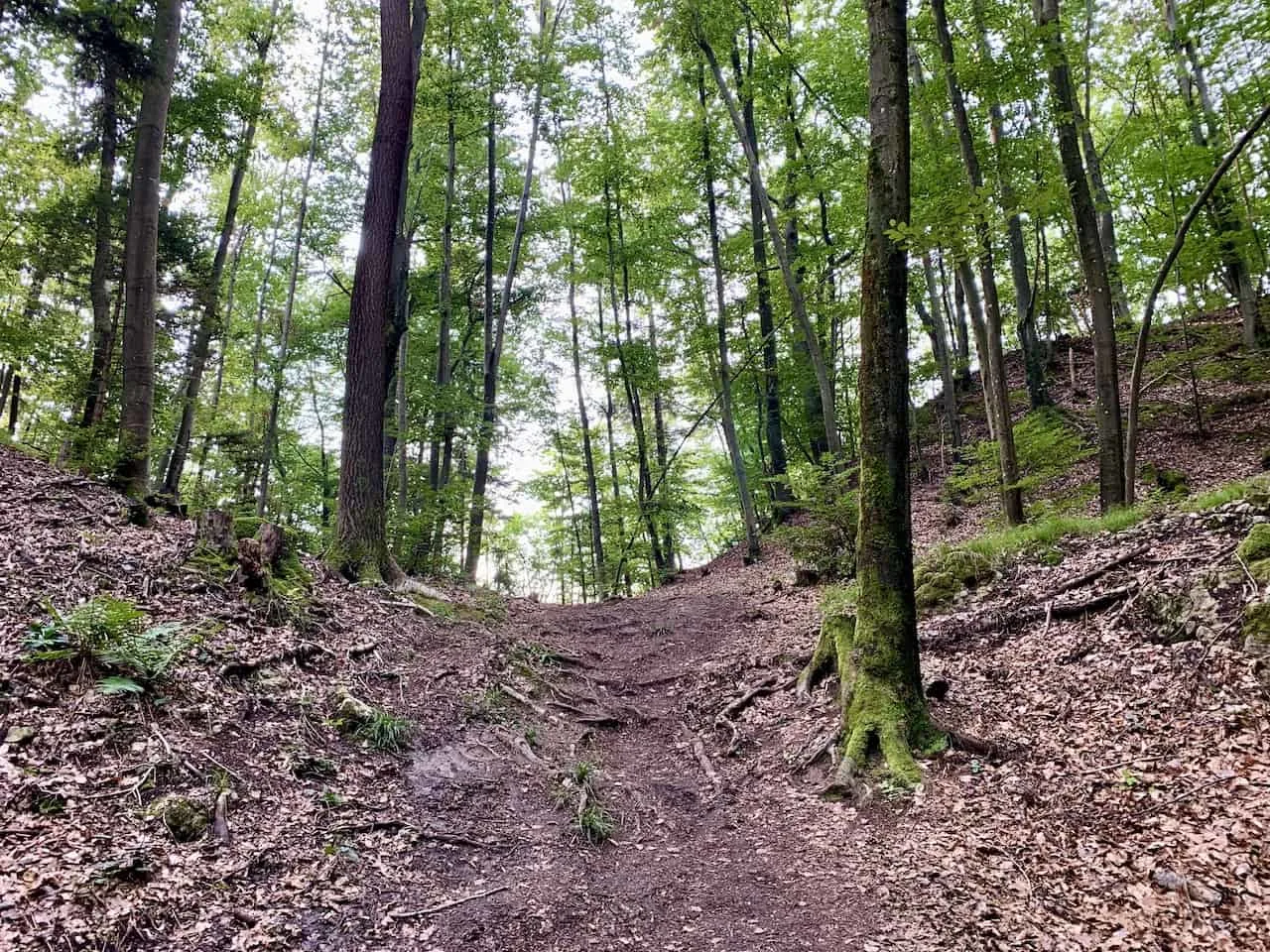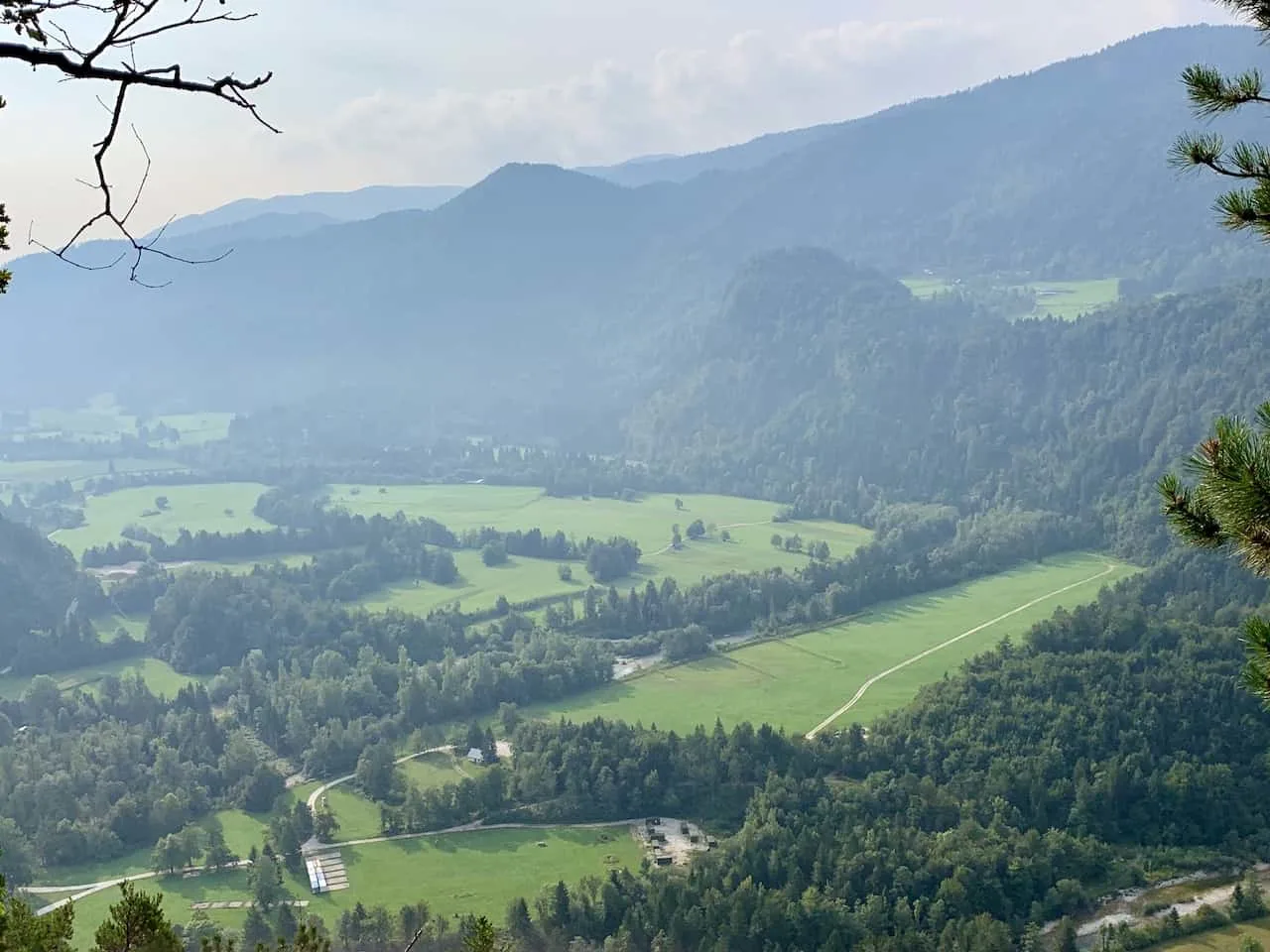 It is just a few minutes more from the intersection until you see the Mala Osojnica viewpoint area. Here you will find a helpful signboard explaining the different highlights of the region and another bench to sit down and relax at.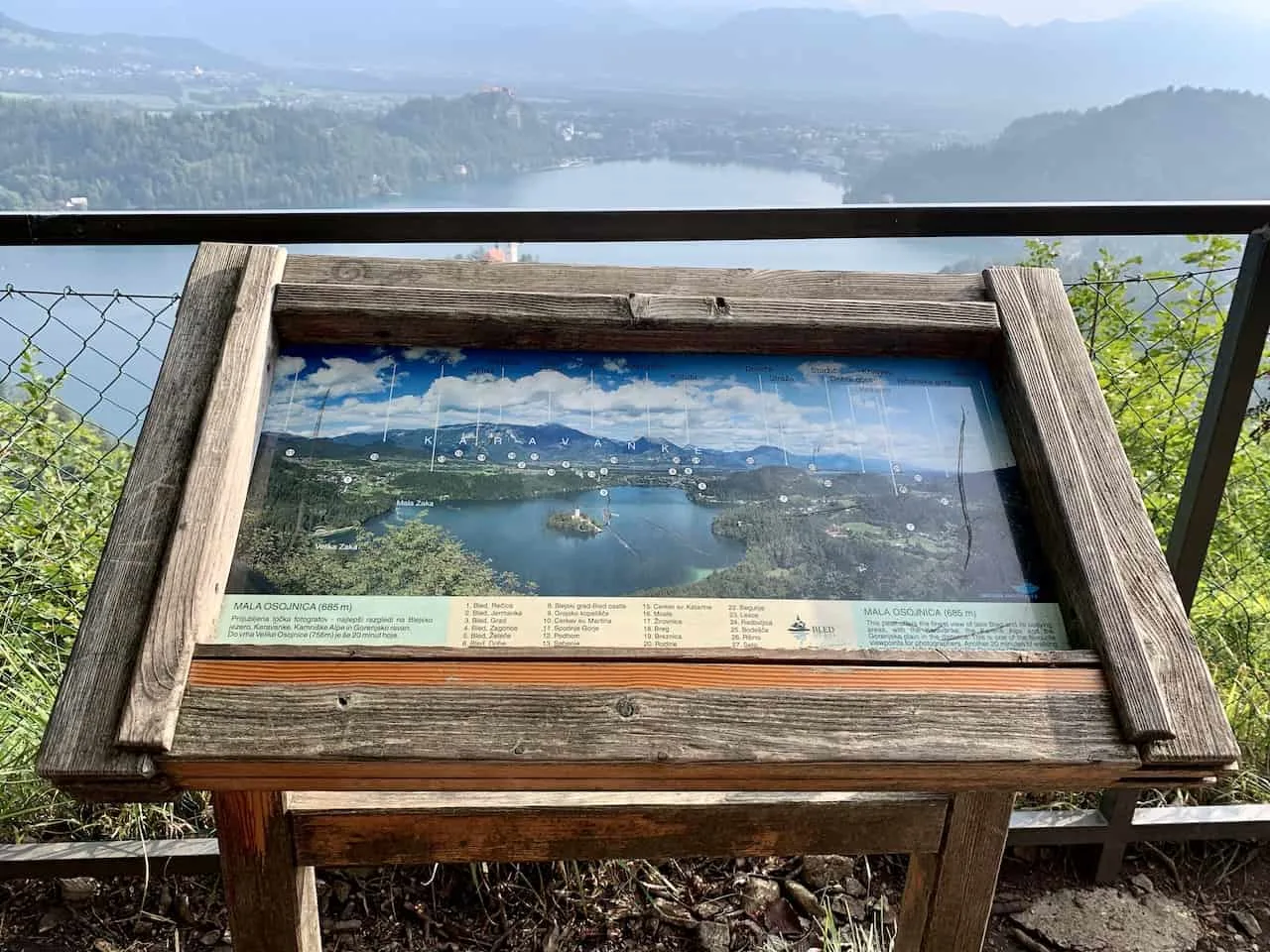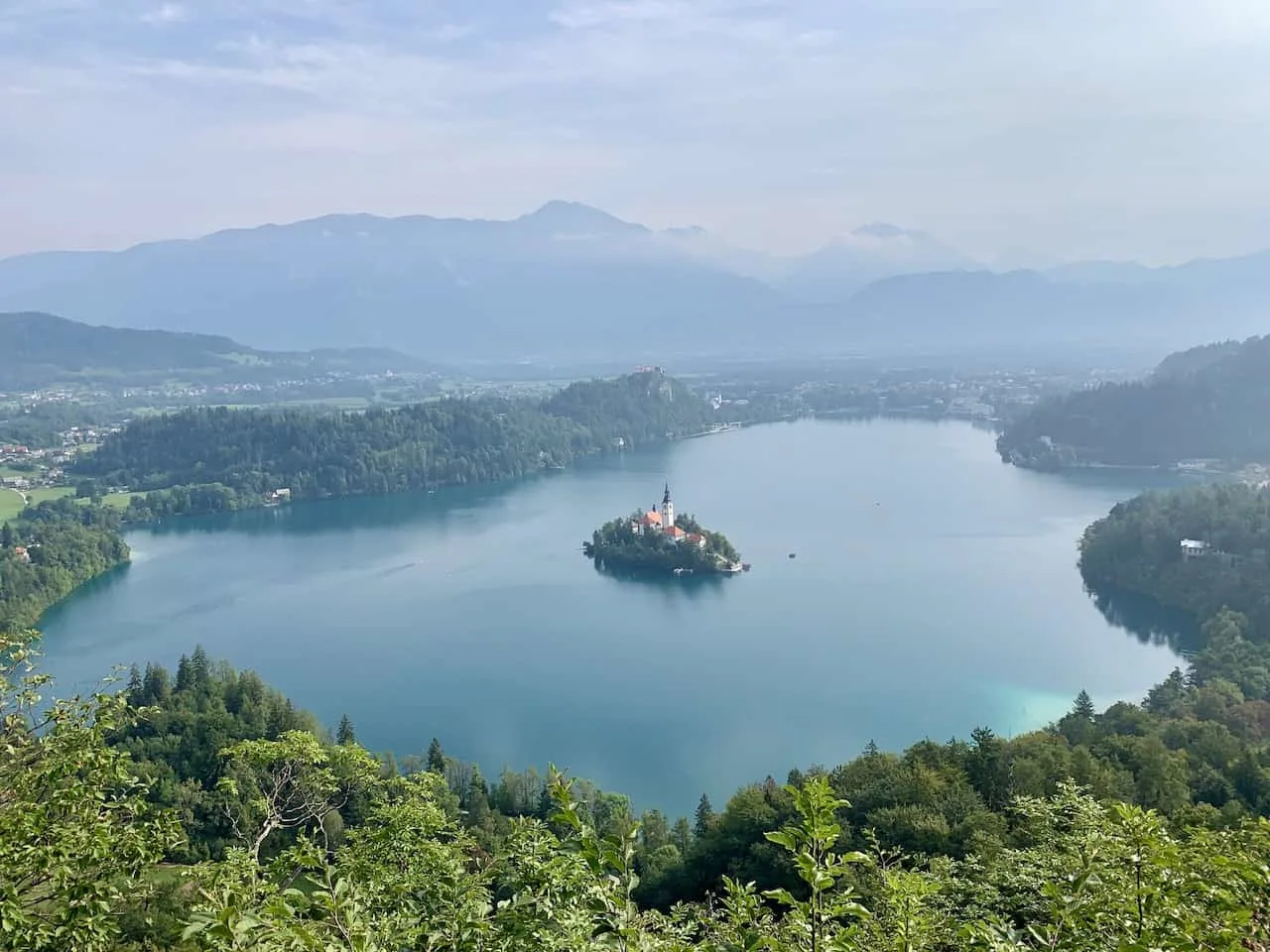 Once all done at Mala Osojnica, continue down the trail, where you will come across one more bench area before heading all the way down the hillside.
You will come across some steel stairs in the steepest areas to help you get further along the trail. From time to time you will also get some final views of Lake Bled and the Pilgrimage Church of the Assumption of Maria.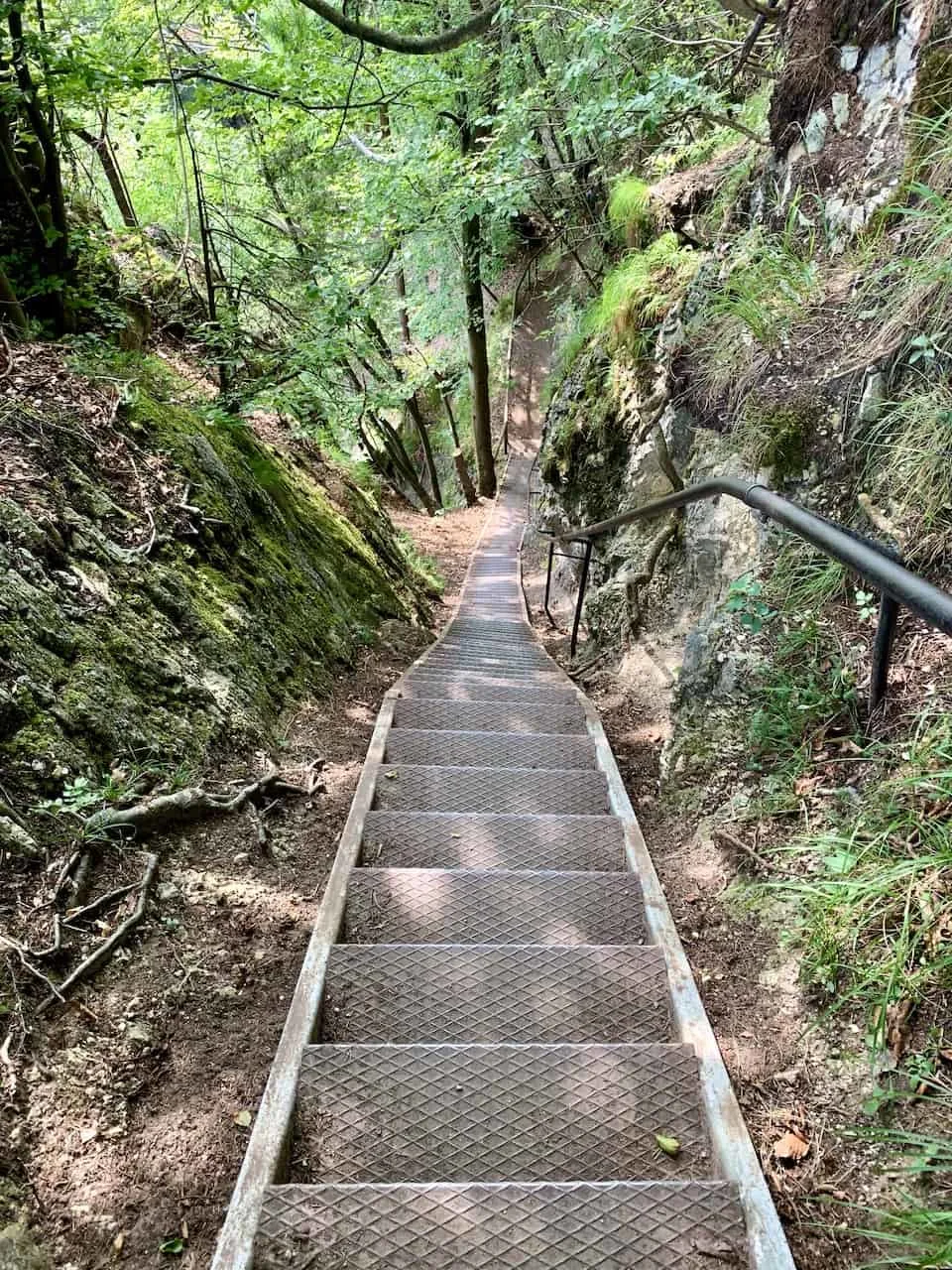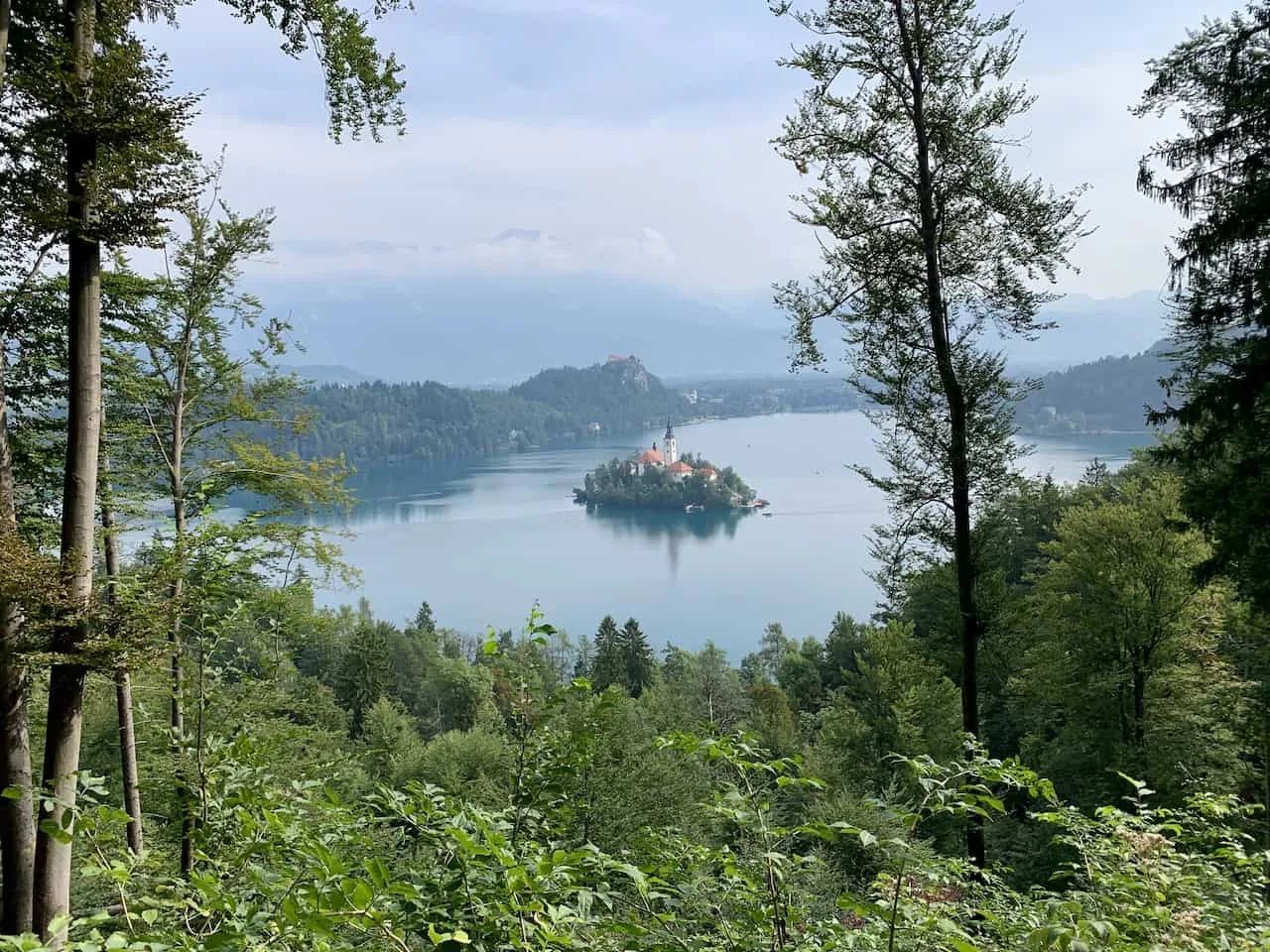 You will finally arrive back down at ground level near the "Mala Osojnica Trailhead" area marked on Google Maps. Here you can continue with your walk around the lake and back to Bled.
Remember, you can also do this in the opposite direction – starting at the Mala Osojnica Trailhead before heading up to Mala Osojnica, then Velika Osojnica, and end at Ojstrica.
7) Lake Bled Hiking Tips
» This is one of the more popular spots to visit for visitors to the Bled area. Heading there early on in the day is your best bet to avoid the crowds.
» A sunrise climb is a definite recommendation if the weather is nice. I was a bit exhausted after climbing Triglav the previous day but would have loved to experience a sunrise over Bled.
» While the trail is mostly straightforward since there are sign markers and basically one main path, having a navigation app like Maps.me can be very helpful just in case you have any doubts.
» Bring good walking or hiking shoes. While you may be in flip flops for some of your time around Bled, the hike up to the viewpoints requires sturdy footwear.
» If I had to choose from one of the three viewpoints, I think I would need to go with Ojstrica due to its more "open" viewpoint area. I still loved checking out all three but if you are short on time, then that is the one I would recommend.
I hope that helps with understanding this Lake Bled hiking opportunity. If you have any questions about the trail, feel free to add them in below.
Be sure to also check out some other Slovenia itineraries and guides up on the site such as the overview of Slap Savica Waterfall.
Have fun out there and safe travels.