While Slovenia may not be one of the most well-known destinations, I must say that it really should be. Historic cities, beautiful lakes, iconic peaks, and pristine coastal towns, Slovenia has it all and much more.
Renting a car and taking a Slovenia road trip around for 7 to 10 days is the perfect way to see so many different aspects of the country. You will get the chance to see Slovenia at your own pace, and get to experience the best of what the country has to offer.
This guide will go through what a Slovenia road trip itinerary can look like for a 7 day to 10 day period, depending on how much time you have to spare. I hope by the end of this itinerary, you will be able to start booking the trip for yourself!
* Affiliate Disclosure: This post may contain affiliate links, which means I may receive a commission if you make a purchase through the links provided, at no additional cost to you. Thanks for supporting the work I put into TripTins!
Slovenia Road Trip Overview
In this guide I will go over what a 10-day Slovenia road trip itinerary will look like.
In the next section, I will also mention where in the itinerary you can cut out days to make this closer to a one-week itinerary.
To start though, below is a high-level overview of what the day by day itinerary will entail:
Day 0 – Arrive in Ljubljana
Day 1 – Ljubljana
Day 2 – Drive to Bled / Bled
Day 3 – Bled
Day 4 – Bled
Day 5 – Bled – Vrsic Pass – Bovec
Day 6 – Bovec
Day 7 – Bovec / Drive to Piran
Day 8 – Piran
Day 9 – Piran
Day 10 – Cave, Castle & Depart
Car Rental: When renting a car in Slovenia, I would recommend checking out Rentalcars.com for potential options. You will be able to browse through cars based on price, category & other filters, to find the perfect car for your trip.
One Week in Slovenia Alternative
So, the above gives you a good sense of what 10 days in Slovenia will look like. To make it a 7 day itinerary, you could alter it as follows:
1) Remove a day from Bled. The itinerary has around 3 days in the Bled area. Removing one day from Bled will still give you time to enjoy it.
2) On day 6 (below), go directly from Bovec without any stops to Piran. In the 10 day itinerary, I mention several spots to visit from Bovec to Piran. By cutting these out and going directly to Piran, you will still get to enjoy a couple days there.
3) Day 10 is essentially leaving Piran, visiting a cave and castle, and departing. By removing the cave/castle, you can end up leaving on the day before.
Here is how a 7 day Slovenia itinerary can look like for a week in the country:
Day 0 – Arrive in Ljubljana
Day 1 – Ljubljana
Day 2 – Drive to Bled / Bled
Day 3 – Bled
Day 4 – Bled – Vrsic Pass – Bovec
Day 5 – Bovec
Day 6 – Drive to Piran / Piran
Day 7 – Piran / Depart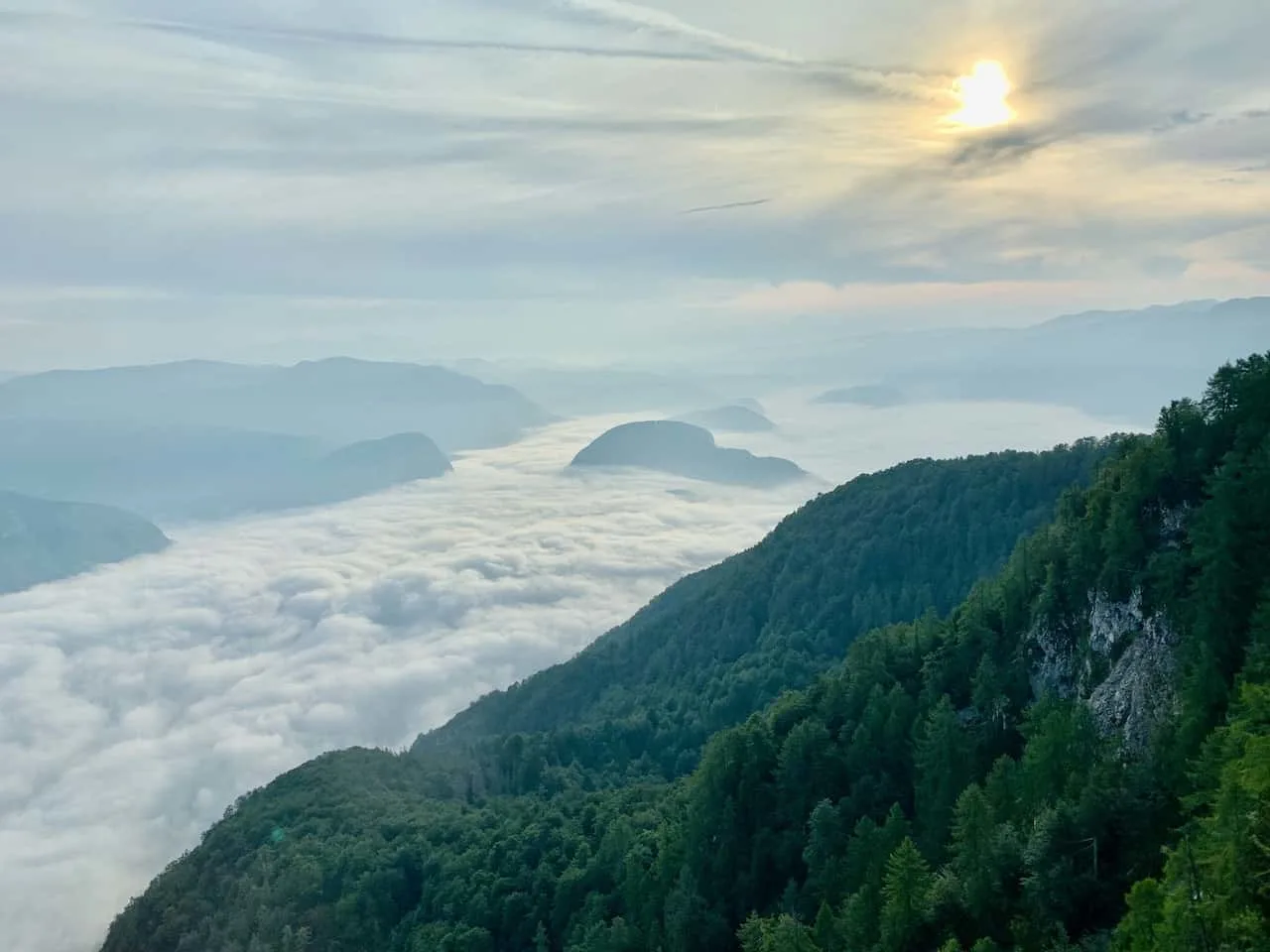 Things To Know Before You Go
Before getting into the itinerary, I did want to point out some helpful things to know for this trip in particular:
» As you can see in the above itineraries, this is 7 or 10 full days in the country. That means arriving on day 0 or early on day 1, and departing later on day 7/10 or the following day. Be sure to plan your flights, busses, or trains accordingly!
» This is a Slovenia road trip itinerary, so having a rental car will be an important aspect of your trip. You can easily rent cars from many of the major car rental companies in Ljubljana.
If you are coming by plane you can pick up by the airport. And if you are coming by bus/train, you can pick up from the city center.
» This itinerary can really be done year-round, however I would recommend taking part of the trip outside of the winter months.
In order to enjoy the lakes, beaches, hikes, and waterfalls, a trip in the Spring to Fall would be my recommendation. I traveled there at end of August to beginning of September and had a fantastic experience.
» The great thing about Slovenia is that you can take part of many free attractions and activities. This itinerary will have a mixture of both free and paid things to do during a visit to the country.
» Throughout this itinerary I have linked to other guides that I put together for particular hikes, waterfalls, and things to do. Feel free to check those out too to dive into some more detail.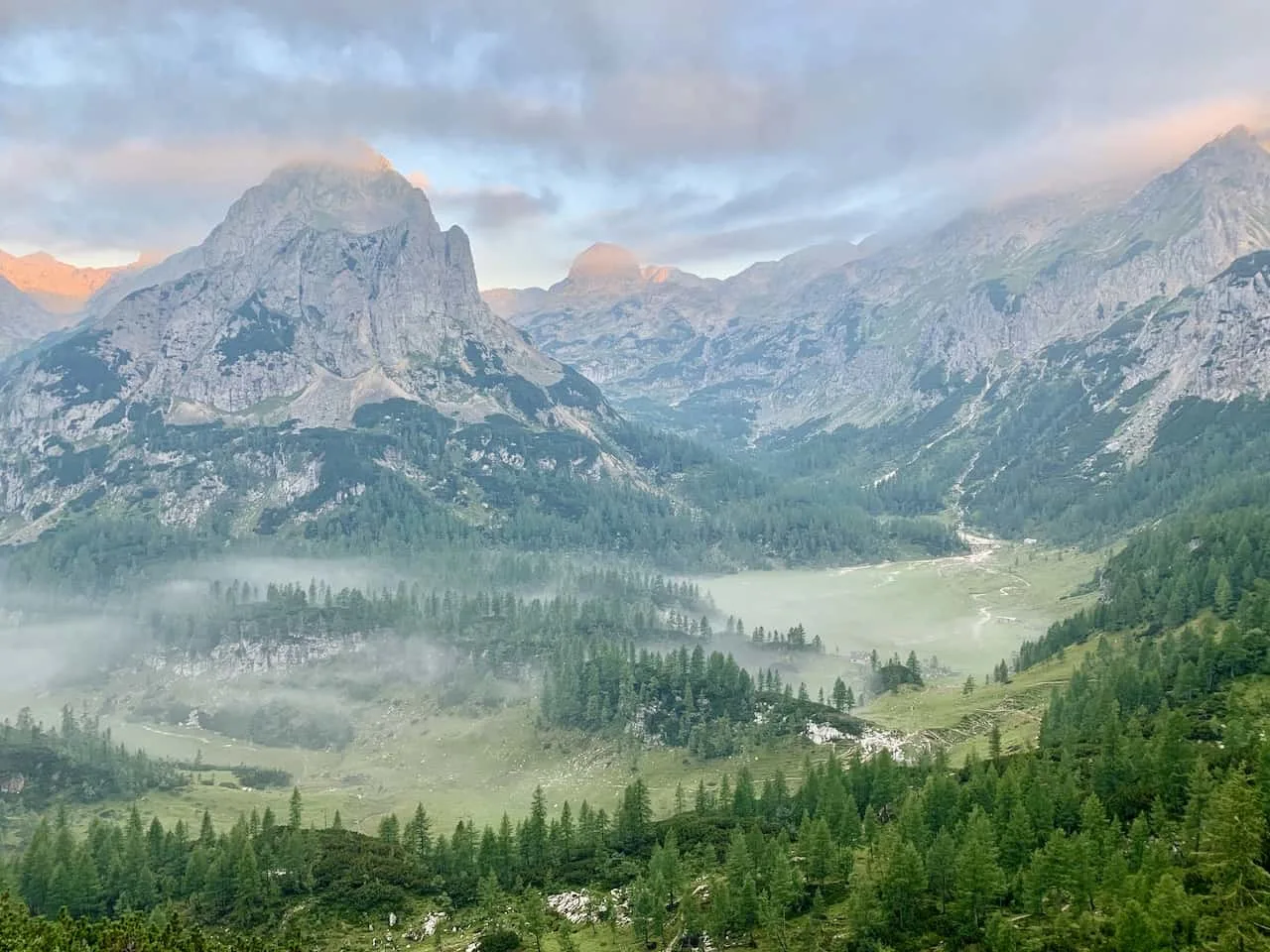 Arriving in Slovenia
There are three main ways to arrive in Slovenia – by plane, train, or bus.
Odds are you will be arriving in the capital city of Ljubljana but it is possible to train or bus from nearby countries into other cities.
Plane: the airport in Ljubljana (LJU) is located about 25 minutes north of the city center. Flights to Ljubljana only arrive from other European countries. So unless you are already in Europe, you will need to grab a connecting flight from a whole list of potential countries.
Once you arrive at the airport, head on over to grab your rental car, and make your way into the city. You can either find street parking nearby your hotel or make your way to one of the parking garages. Everything in the city is walkable so you wont need a car for day 1 of your trip.
Note: you can pick up a rental car in the city center on day 2 before heading off to Bled. Either option works here.
Train: the Ljubljana train station is located just a 10 minute walk down the road from the Old Town. There are trains from many nearby countries that will make their way through the capital city. When I visited, I came in through Austria and then left via train to Croatia.
Bus: the Ljubljana bus station is located just outside the train station. Similarly, you should be able to take a bus to Ljubljana from other countries or other cities within Slovenia.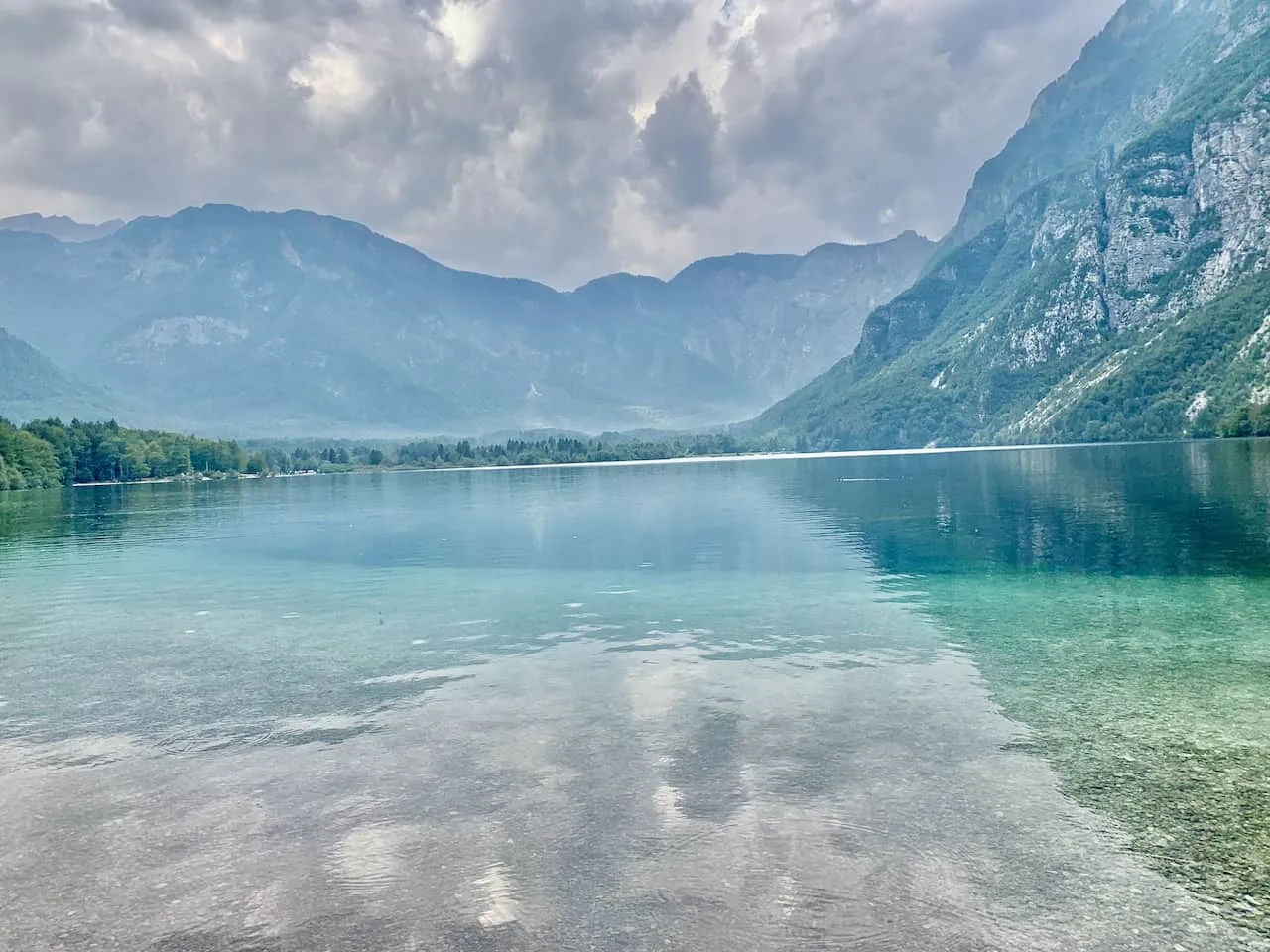 Driving in Slovenia
When it comes to a Slovenia road trip, there will be no better option that renting a car and driving around Slovenia. The great thing about Slovenia is that there is so much variety of things to do and see in a pretty small country.
This means you will not have crazy long drives between cities, and you won't waste time just driving. And even on some longer drives, you can easily break it up by visiting a sight along the way.
One very important thing to note about driving in Slovenia is that you need a DARS Vignette sticker on your windshield for driving on motorways.
Without one, there could be a hefty fine involved. Your car rental company should include this but double check with them just in case.
Overall though, Slovenia is a pretty easy country to navigate by car.
The only times where the driving can be a bit sketchier is when traveling over mountain passes (Vrsic Pass), or heading to some further out trailheads (Triglav or Seven Lakes Valley). Besides for that, you should not have much issue with driving the roads.
Once again, be sure to check out Rentalcars.com for car rental options for your road trip.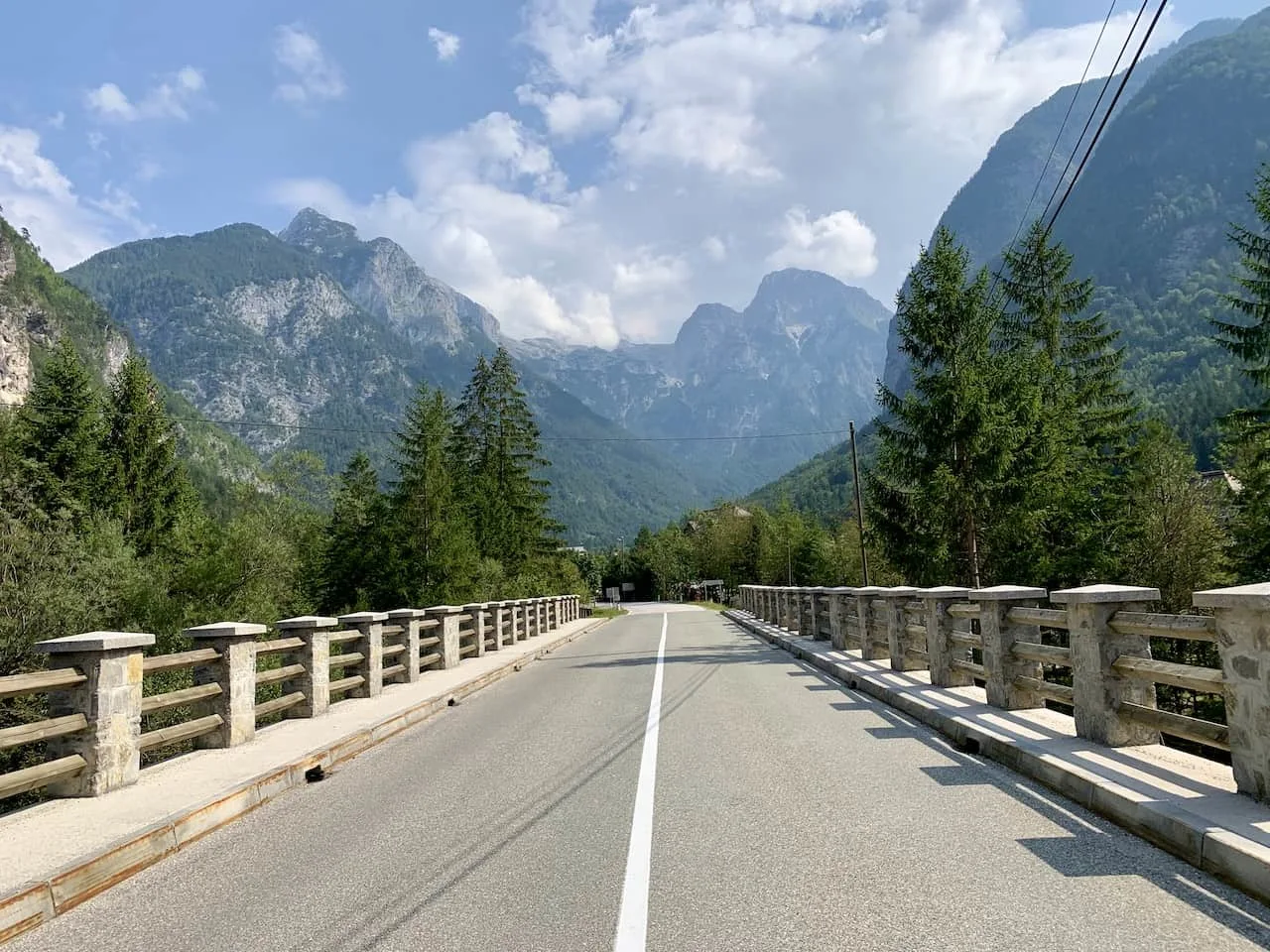 Slovenia Road Trip Map
To better show you what this route around Slovenia looks like, below is a detailed map of the country.
I have included the main driving route that you will take for this 7-10 day trip in addition to all of the various highlights and attractions that you sure to visit along the way.
Slovenia Itinerary Day by Day View
Turning the map above into an itinerary view, I have also laid out an easy to read day by day overview of what this Slovenia itinerary will go through. You can see the attractions, activities, and overnight locations.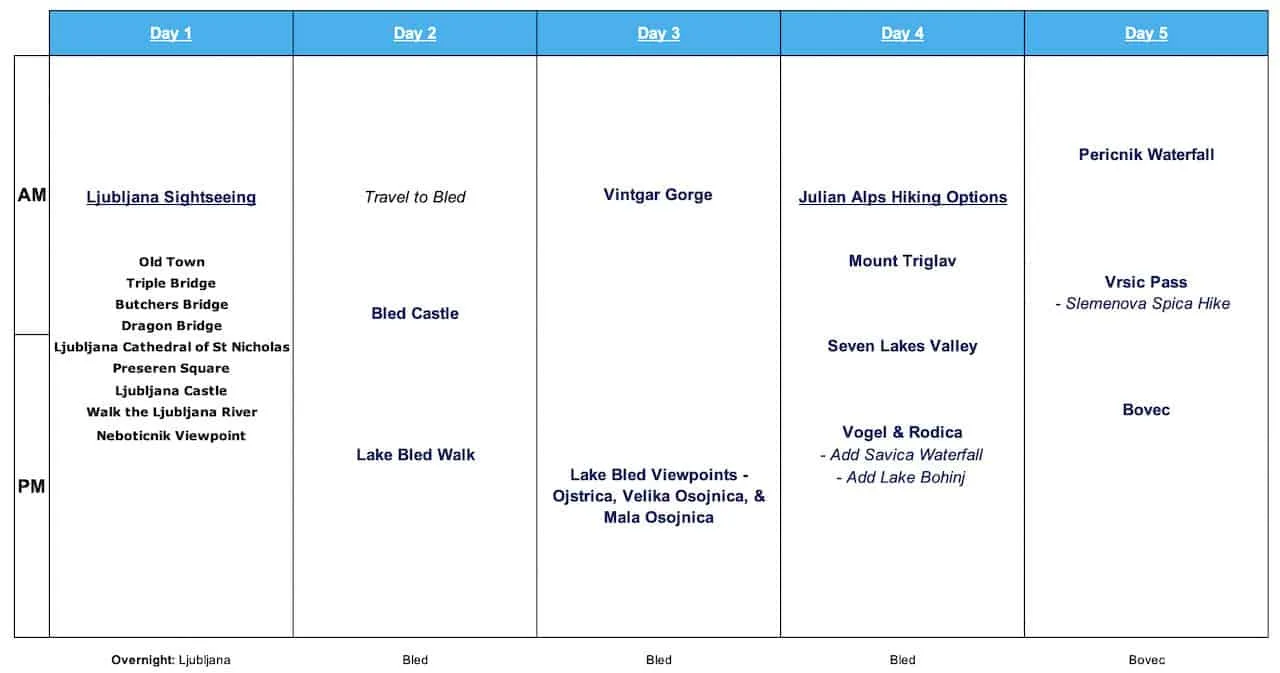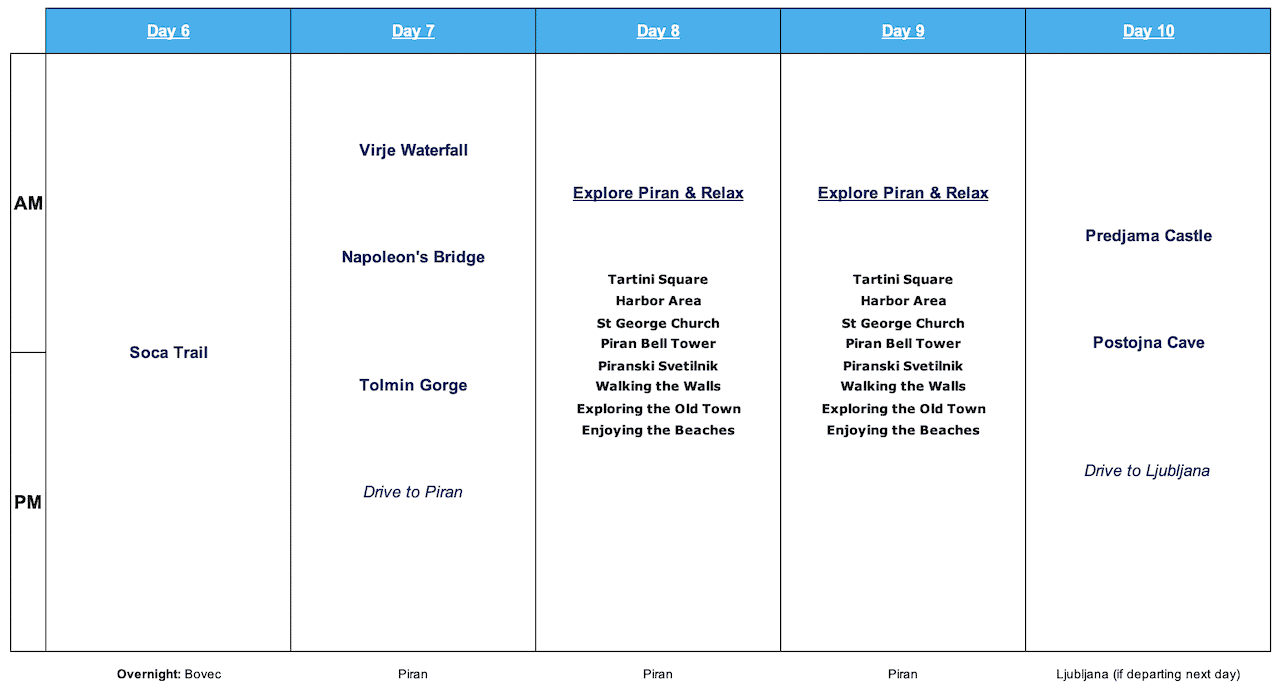 Where to Stay
Altogether the trip takes you to 4 places to base yourself in throughout the 10 days:
Ljubljana: 2 Nights
Bled: 3 Nights
Bovec: 2 Nights
Piran: 3 Nights
Two things to note about the number of nights in each city:
It will be 2 nights in Ljubljana if arriving the night prior to day 1. If you arrive early on day 1 then it will only be 1 night in the city
Depending when your departure flight is, you may need an additional night in Ljubljana at the end of the trip
Below are some of the top-rated hotel options to choose from during your time in each one of the cities.
Ljubljana
Bled
Bovec
Piran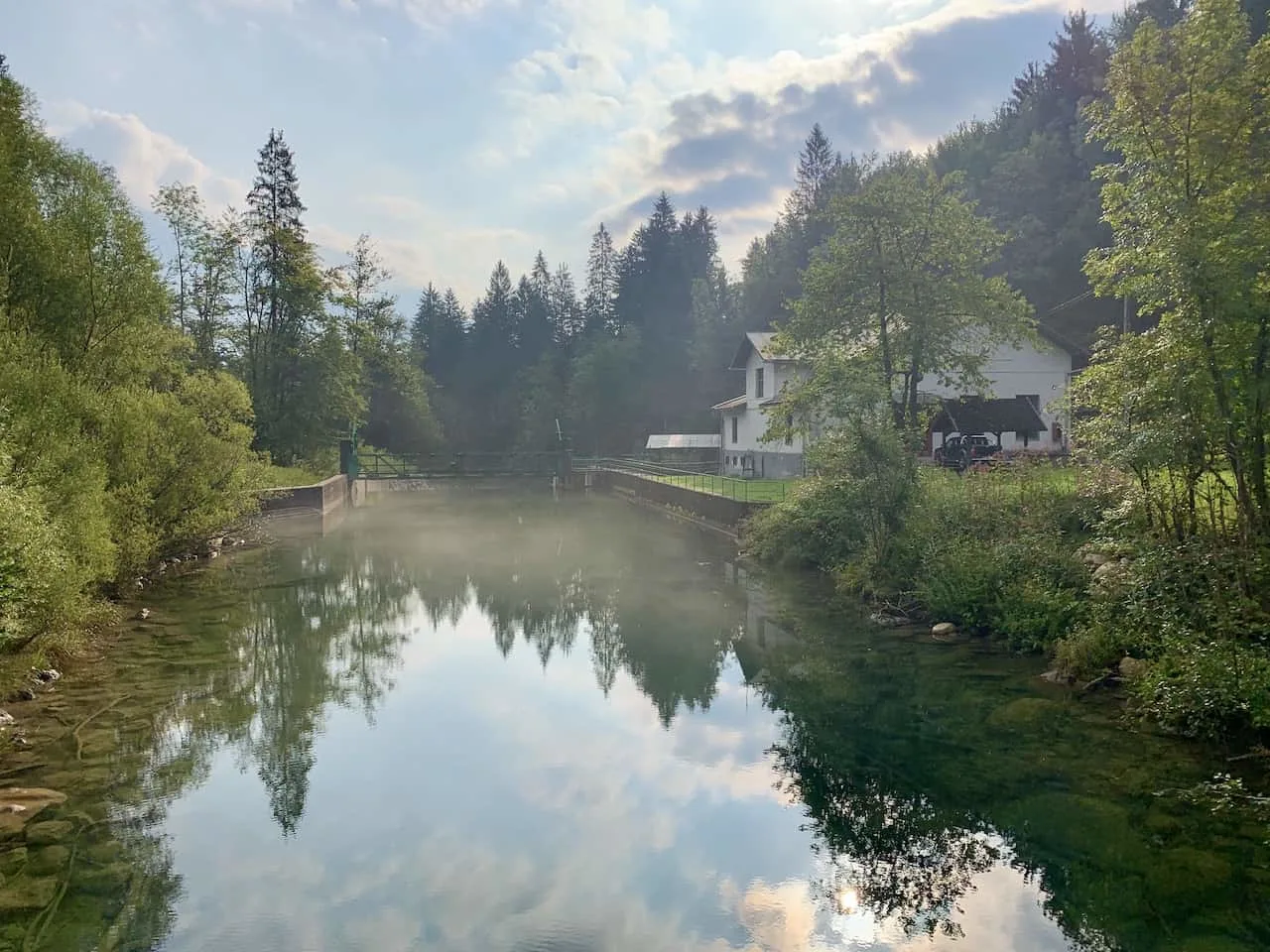 Slovenia Road Trip
Now it is time to go through each day of the road trip and give you a better sense of all the various things to do along the way.
I will talk through the longer 10-day itinerary but remember, you can certainly remove some days from this trip to shorten it to your desired length.
After getting yourself to Ljubljana either the night prior or sometime early on day 1, it is time to start exploring the country.
Be sure to check out the Slovenia hiking guide up on the site that talks more about several of the trails mentioned in the itinerary.
Day 1: Ljubljana Sightseeing
The first day of the road trip will take you to Slovenia's beautiful and historic capital city of Ljubljana. The nice thing about the city is that it is all walkable. There really isn't a need to take a car or taxi, or even bus anywhere.
During your day in the city you can take your time to visit several of the highlights, which include:
Old Town
Triple Bridge
Butchers Bridge
Dragon Bridge
Ljubljana Cathedral of St Nicholas
Preseren Square
Ljubljana Castle
Walk the Ljubljana River
Neboticnik Viewpoint
Read More: Learn about all of these in detail by reading through the Top Things to Do in Ljubljana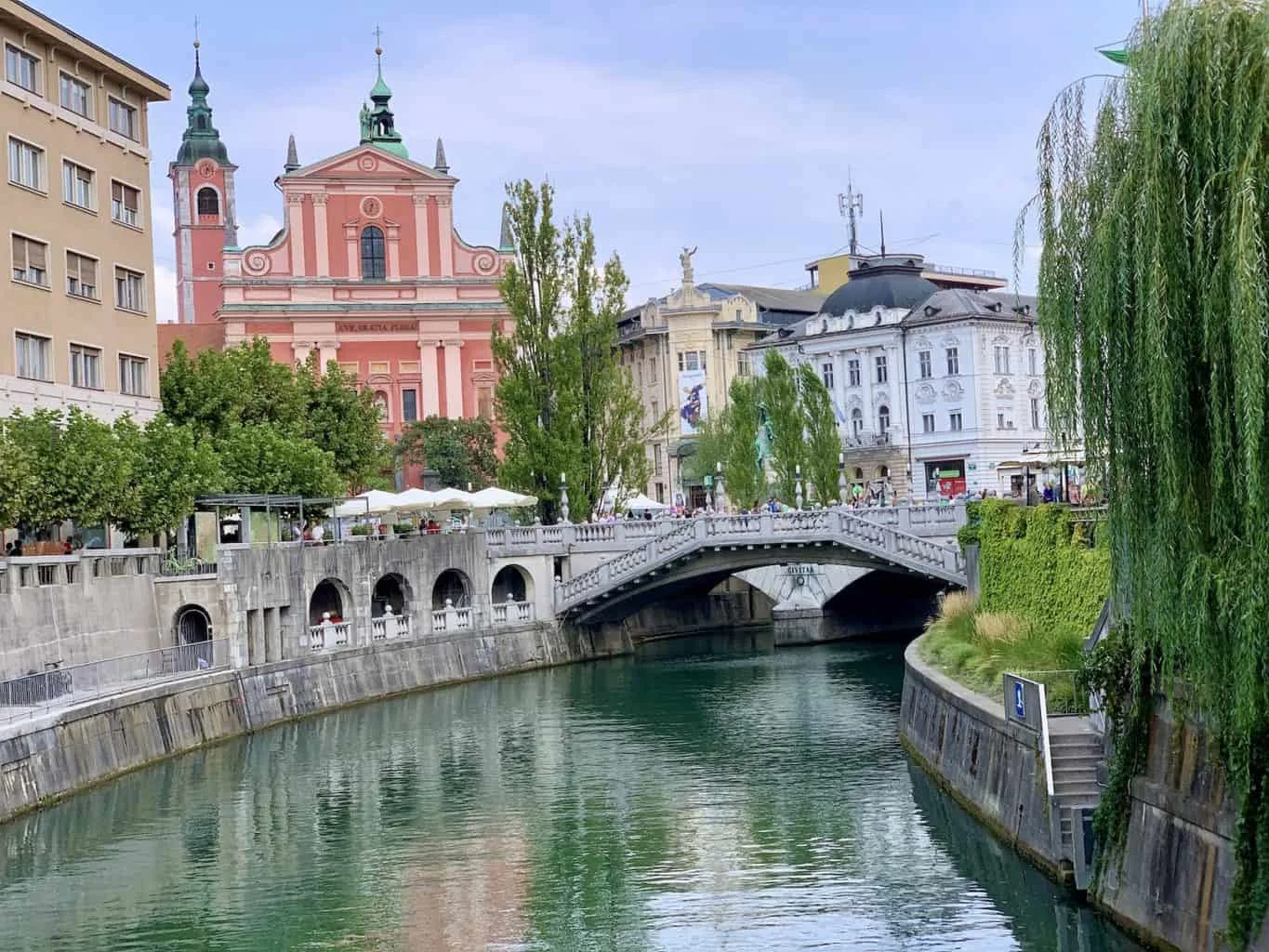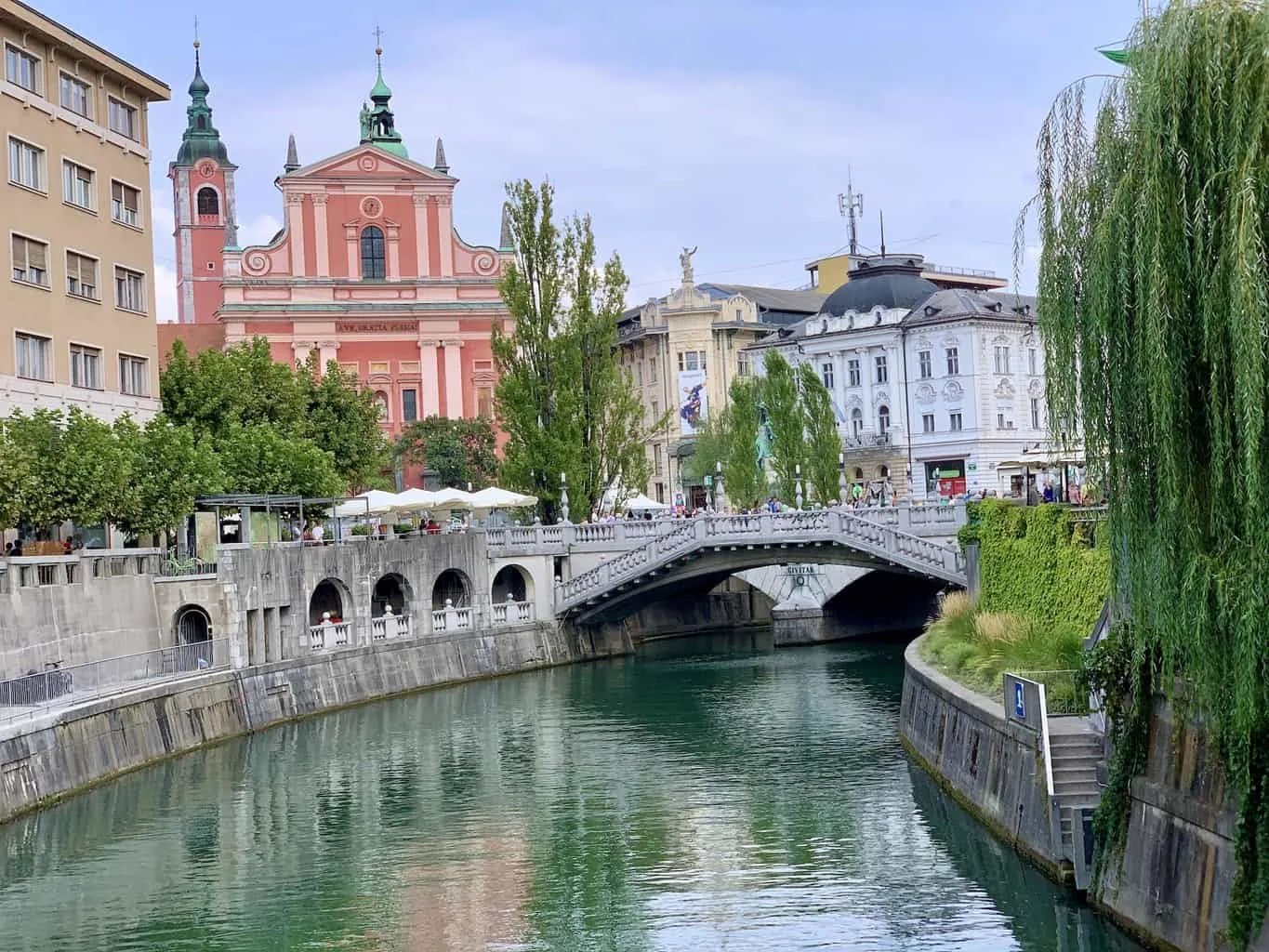 Day 2: Drive to Bled / Bled Castle & Lake Bled
Wake up on day 2, pack your bags, and get out on the road to the second city of your journey – Bled. The drive from the capital to Bled should take just around 45 minutes. Here you will find a charming town that sits just on the eastern end of Lake Bled.
Lake Bled is full of different attractions and activities. Some of which are right within walking distance of the town while others may be a bit of a drive away.
Learn more about the area in the Lake Bled overview guide up on the site.
After getting yourself to your hotel, you can spend your first day spending time around the lake itself.
Bled Castle
Sitting high above the lake is the Bled Castle. This medieval castle is one of the oldest in the entire country. From up top you will get some of the best views of the lake that you can ask for.
In addition to the viewpoints, you can also explore the ins and outs of the Castle itself. Whether it is the wine cellar, the museum gallery, the chapel, or the courtyards, the Bled Castle has a bit of everything to enjoy.
You can walk the 20 minutes from town up to the Castle along one of the sign pointed trails. Note though that this will be an uphill walk, but shouldn't be anything too bad.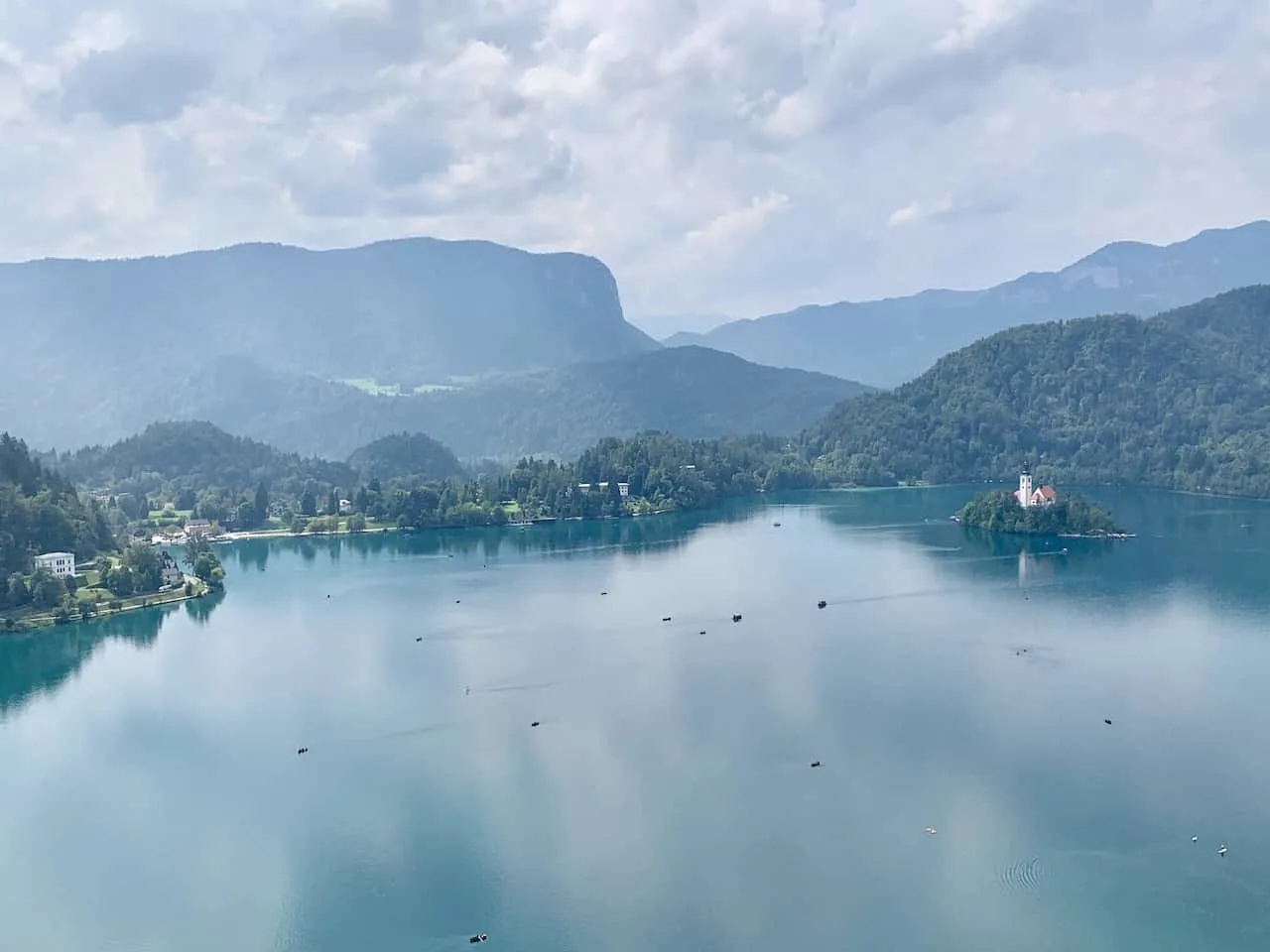 Lake Bled Walk
After taking in the views from above, why not enjoy it from the lakeside. My recommendation here is to actually take a walk all along the outer path of the lake. The distance around the lake is around 6 km / 3.7 miles, so expect something like that to take a couple of hours with breaks in between.
If you do not want to walk the entire thing, that is no problem! Feel free to just walk a portion of it and take in some beautiful views along the way.
There are a couple beaches to enjoy along the shores including Velika Zaka, Grajsko Kopalisce and Mala Zaka. Head to one of these if you are looking to find some space to sit back and relax by the water.
Note: you can also take boats out to Lake Bled and visit the picturesque island's church that sits in the middle of it – Assumption of Maria Church.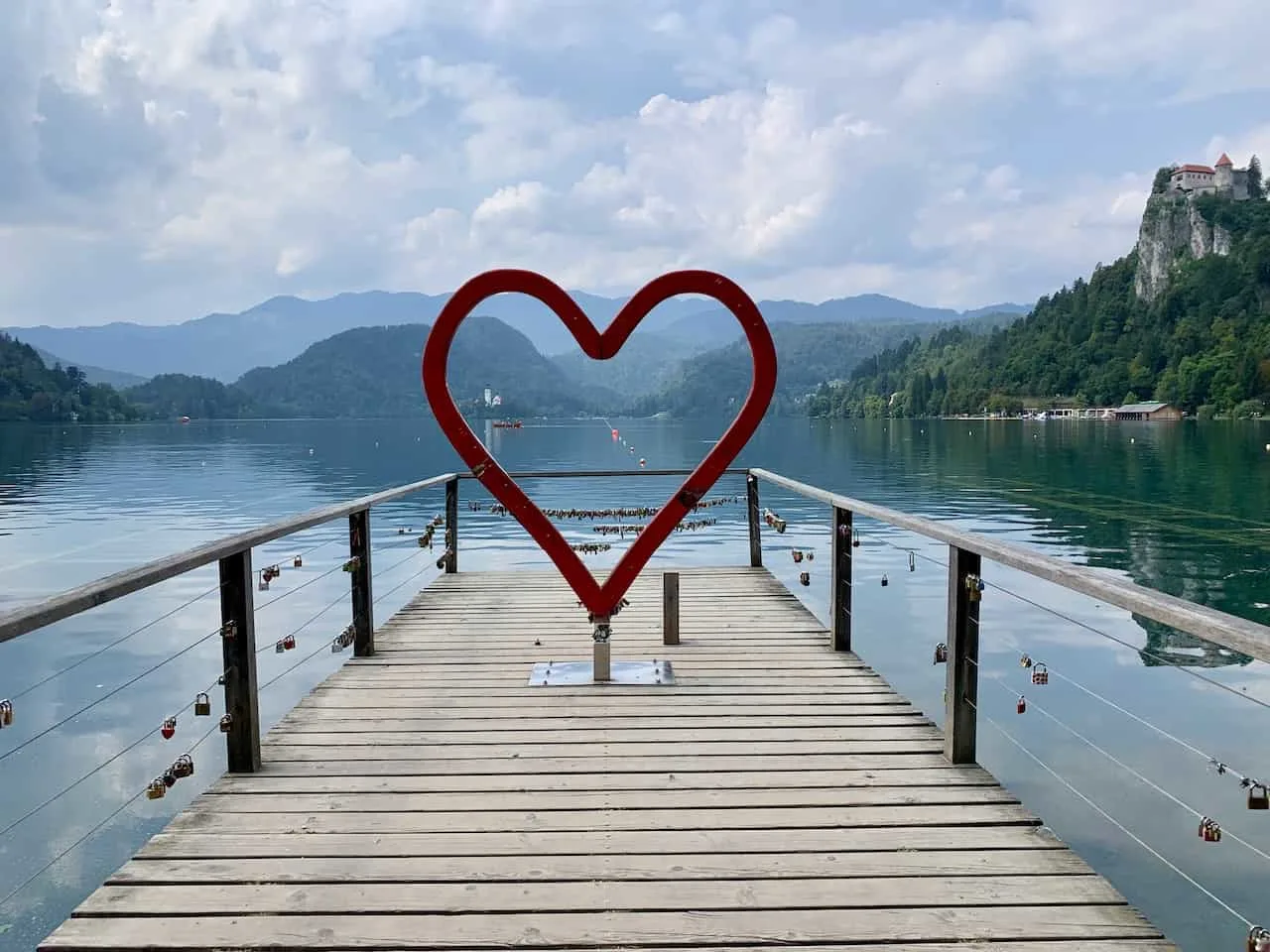 Day 3: Vintgar Gorge / Lake Bled Viewpoints
The second day in Bled will take you to three different fantastic attractions around the area starting with the Vintgar Gorge.
Vintgar Gorge
The Vintgar Gorge is a 1 mile long gorge on the outskirts of the town center. Here you will find a boardwalk hugging the gigantic walls of the gorge with the stunning turquoise water down below.
The walk is just such a great experience to take in as you enjoy the various parts of the gorge, and finally ending with some waterfalls. Once you reach the end of the gorge, you can decide to take 1 of 2 walking trails back around to the starting point.
I would highly recommend getting to the gorge right around opening hours to avoid the over congested boardwalks that occur later on in the day. Expect your time at the gorge to take around 2-3 hours in total.
Read more: Take a look at the Vintgar Gorge guide to learn more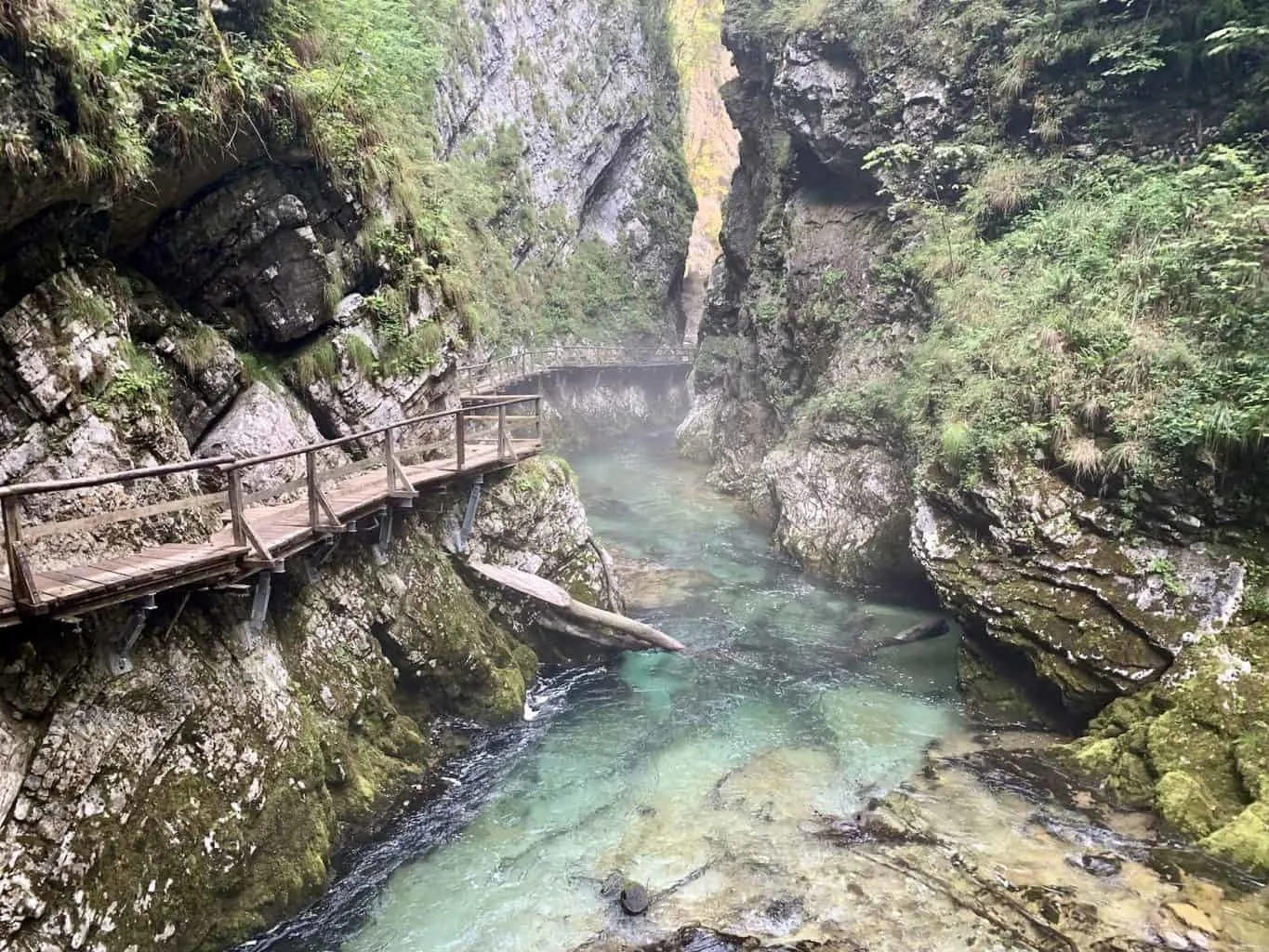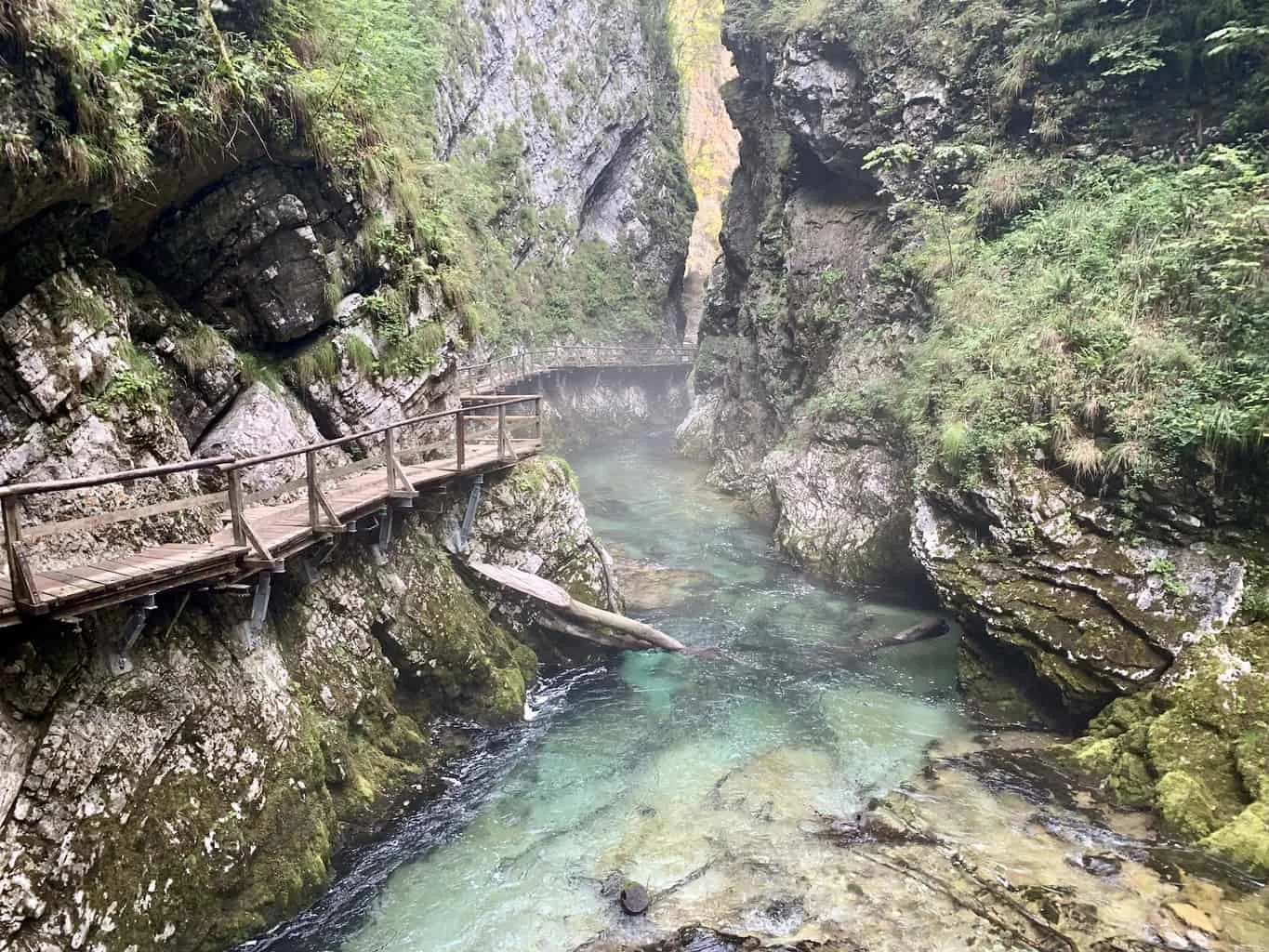 Lake Bled Viewpoints
Next up, make the drive to the other side of the lake, where you will find a hiking trail up to three different viewpoints – Ojstrica, Velika Osojnica, and Mala Osojnica.
Depending on your interest and your fitness levels, you can decide to head to just one of the viewpoints or head to all three of them. The hike is up through the forest, with a mostly dirt and rocky trail that will take you to these open viewpoints.
Throughout the hike there are some signboards that will point you in the correct direction towards the various viewpoints. Expect your time on the trail to be between 45 minutes to 90 minutes depending on how many of the viewpoints you want to go to.
Read more: the Lake Bled Viewpoints guide has much more info about the hikes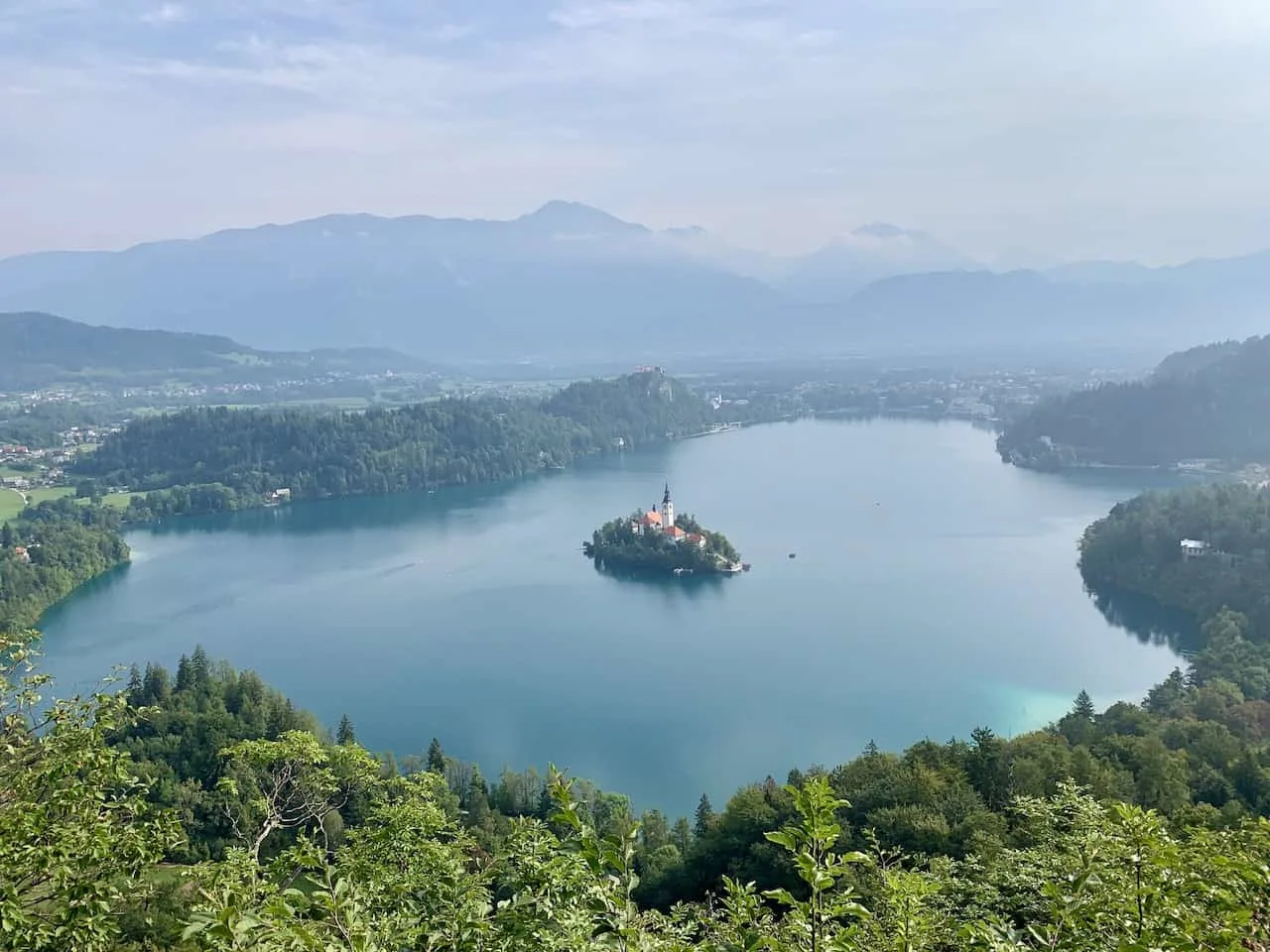 Day 4: Hiking Day Options
Next up on this Slovenia road trip, you can decide to head off on a longer hike around Triglav National Park.
Below are three different options to consider, all with their unique offerings:
Mount Triglav
This should only be considered if you are a well traveled hiker who is comfortable with a 10+ hour day out on the trail. Triglav is the highest point in Slovenia and this hike gives you the chance to make it to the summit.
If you really want to climb the mountain but can't do it in one day, then a two day climb is certainly possible too. There are mountain huts up on the mountain, where you can sleep to break the hike up.
Read more: Check out the Triglav Hiking guide to learn more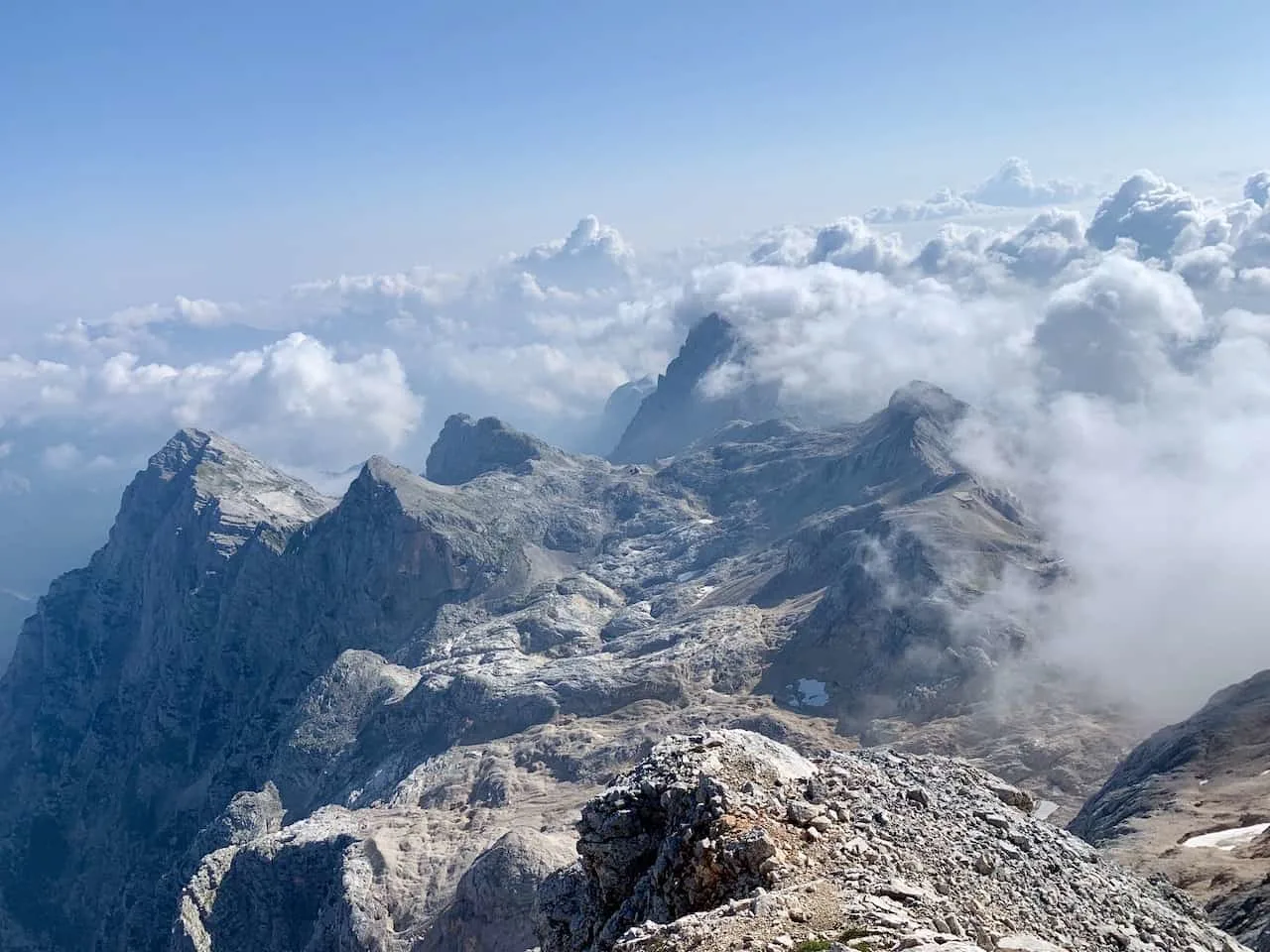 Seven Lakes Valley
The Triglav Seven Lakes Valley hike is another fantastic option to take part of. This hike is also a long one but can be shortened depending on an individual's hiking ability.
During this hike you will be welcomed to vast views of the Julian Alps mountains, with many lakes dotting the landscape all along the way.
Read More: I would recommend reading up on the Seven Lakes Valley hiking guide to learn more about what the hike entails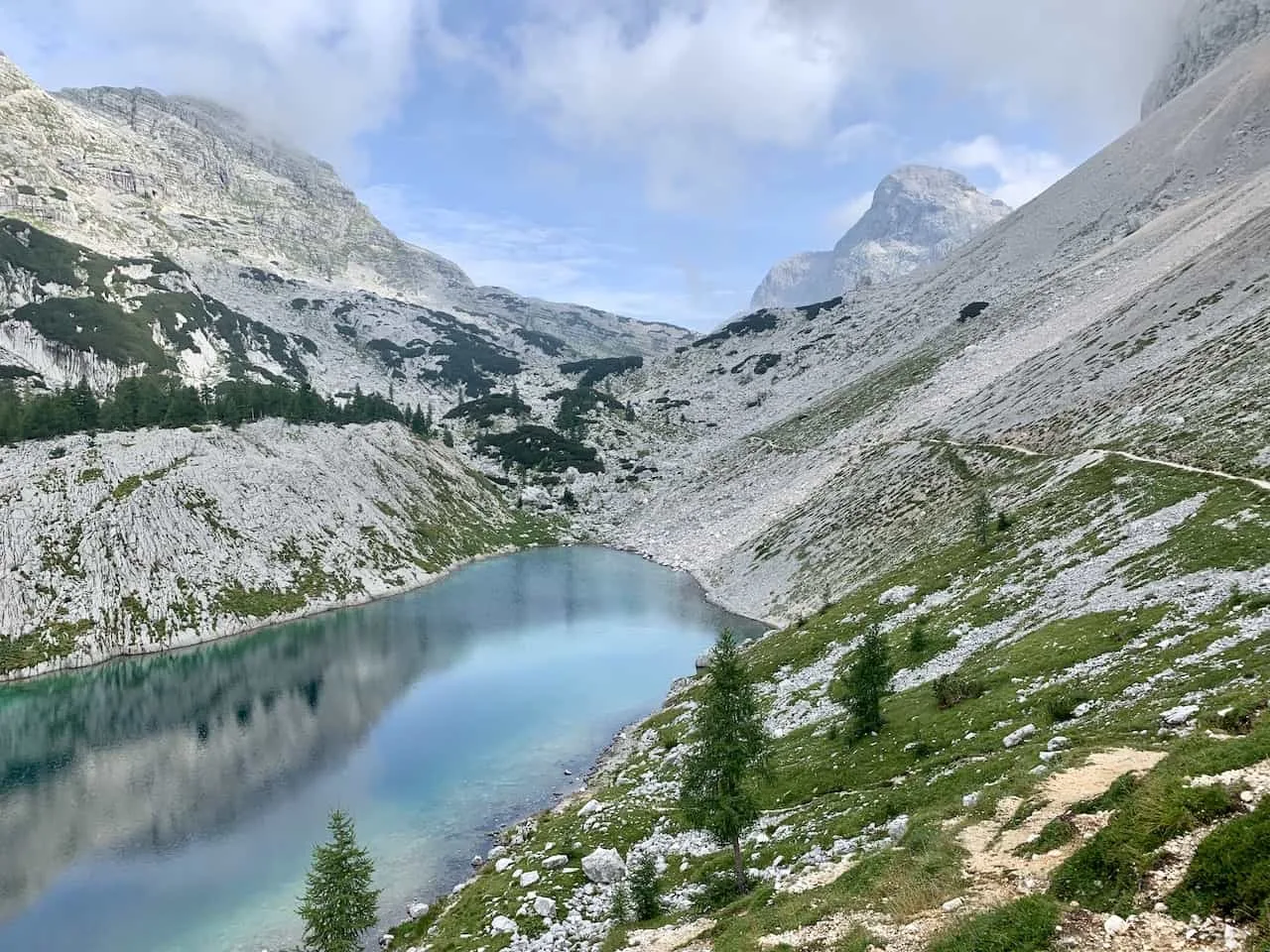 Vogel & Rodica
Lastly, on the list is a hike up Mount Vogel or Mount Rodica (or both). This hike starts off near Lake Bohinj (the next lake over), and requires a cable car to get to the trailhead.
I would recommend this hike for those that want to spend some time around Lake Bohinj, which is certainly worth the visit.
From on top of the cable car you can begin the hike up to the summits of Vogel and Rodica. You can decide to head up one or another, or combine it for a longer multiple summit hike.
After enjoying the hike, head down to Lake Bohinj, where you can cool down and jump in the water to end the day.
Read More: the Lake Bohinj Hiking guide has everything you need to know about the climb (and learn more about other things to do near Lake Bohinj)
Note: if you have time at the end of the day, try to make your way to the Slap Savica waterfall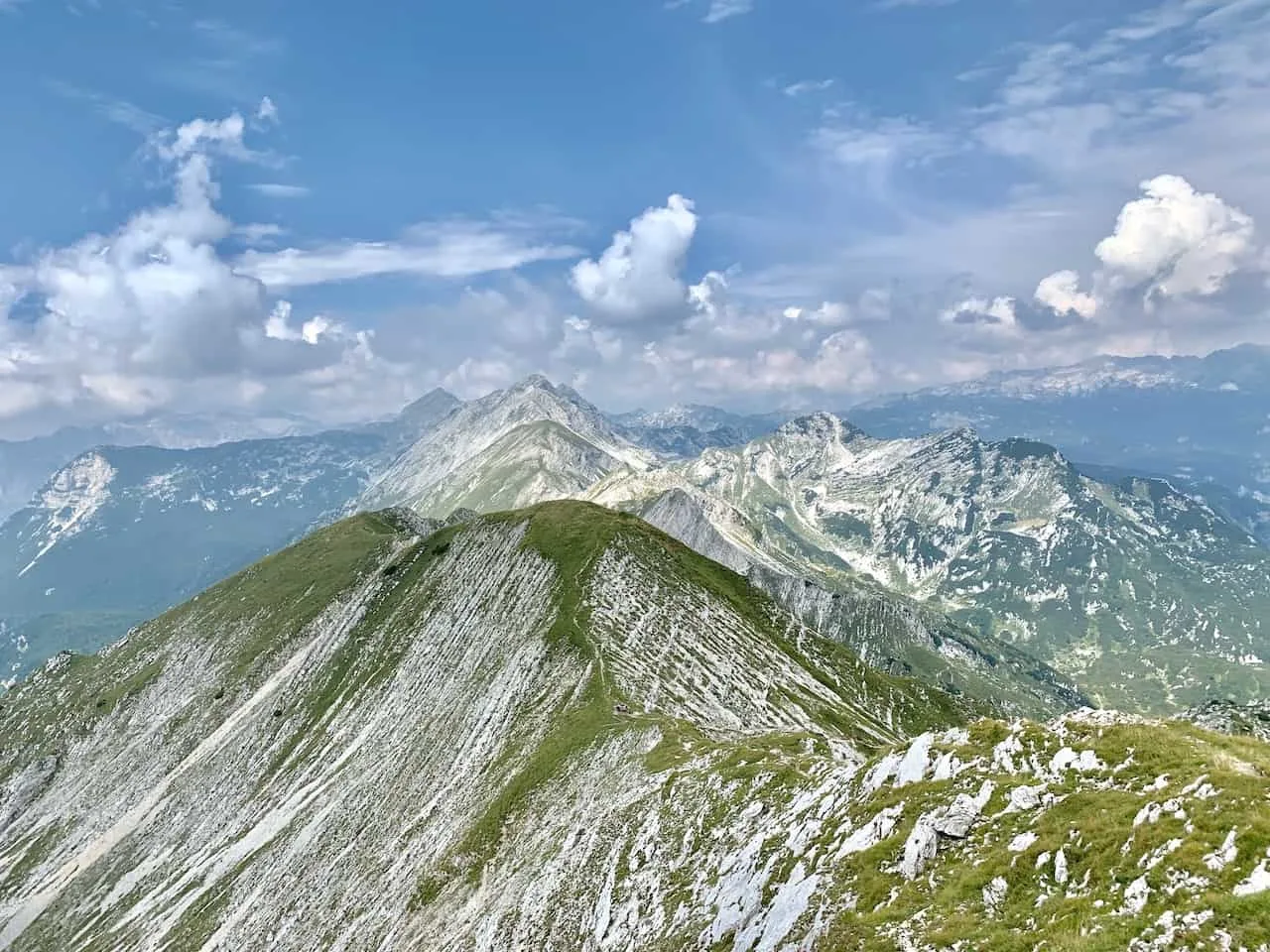 Day 5: Pericnik Waterfall / Vrsic Pass / Drive to Bovec
It is now time to make your way out of Bled and head towards Bovec. Along the way though, there will be several things to do that will make the day a great one.
Pericnik Waterfall
Start the day by driving the 30 minute route towards the Slap Pericnik Waterfall. This multi leveled waterfall is one of the most unique ones you will come by during a trip to Slovenia.
Not only is it multi leveled, but there is also a chance to walk behind the waterfall itself
Read more: Check out the Pericnik Waterfall guide to learn more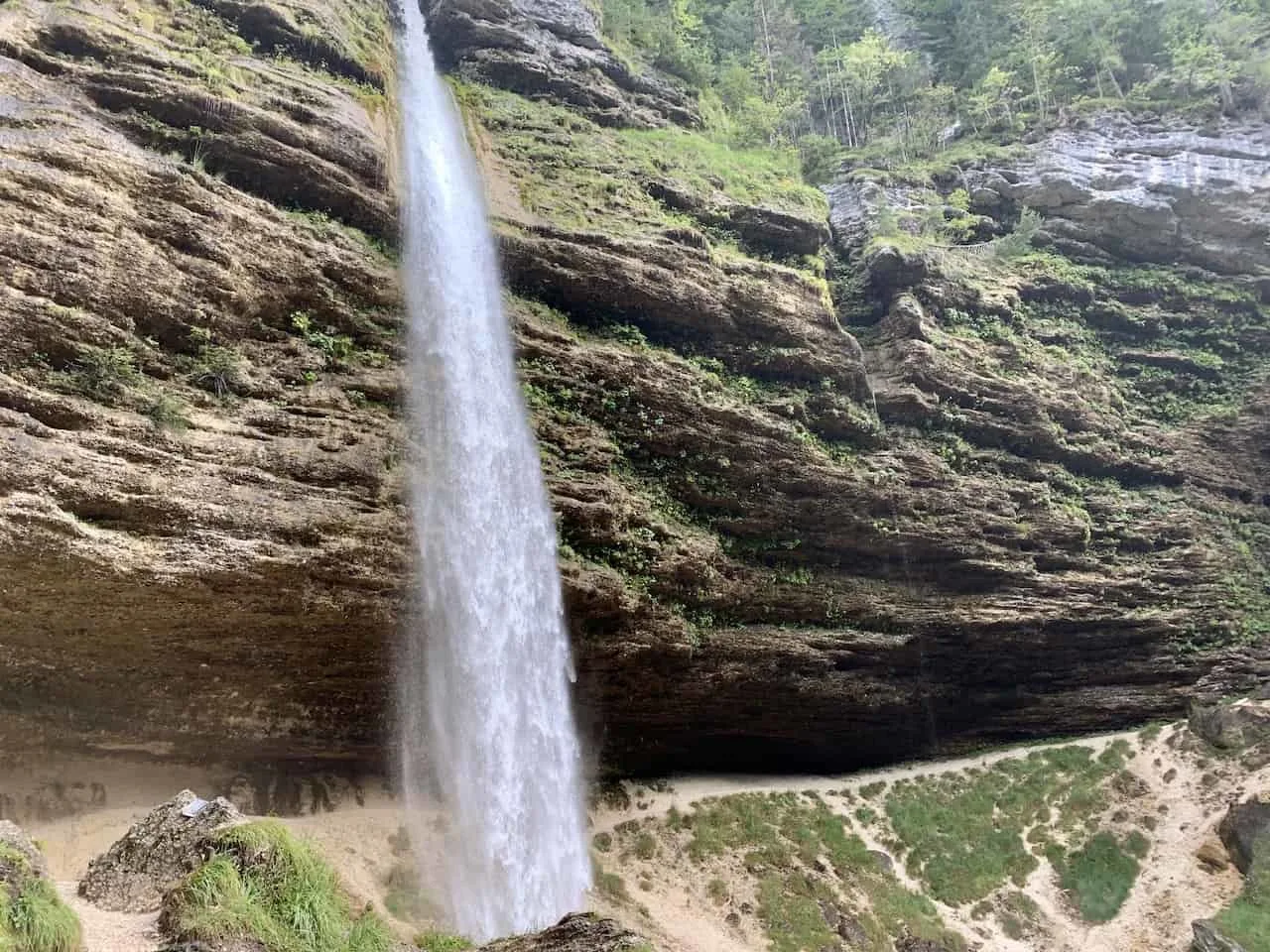 Vrsic Pass
Next up is the winding road of the Vrsic Pass. The pass includes over 50 hairpin turns that wind their way up and down the mountainside, reaching a maximum elevation of 5,285 feet / 1,611 meters.
Once you reach the top of the pass, you will find several parking options off to the side of the road. Here you can park your car, enjoy the view, and even take part of some hiking trails.
If you have it in you I would recommend the Slemenova Spica trail that will take you to viewpoints like this: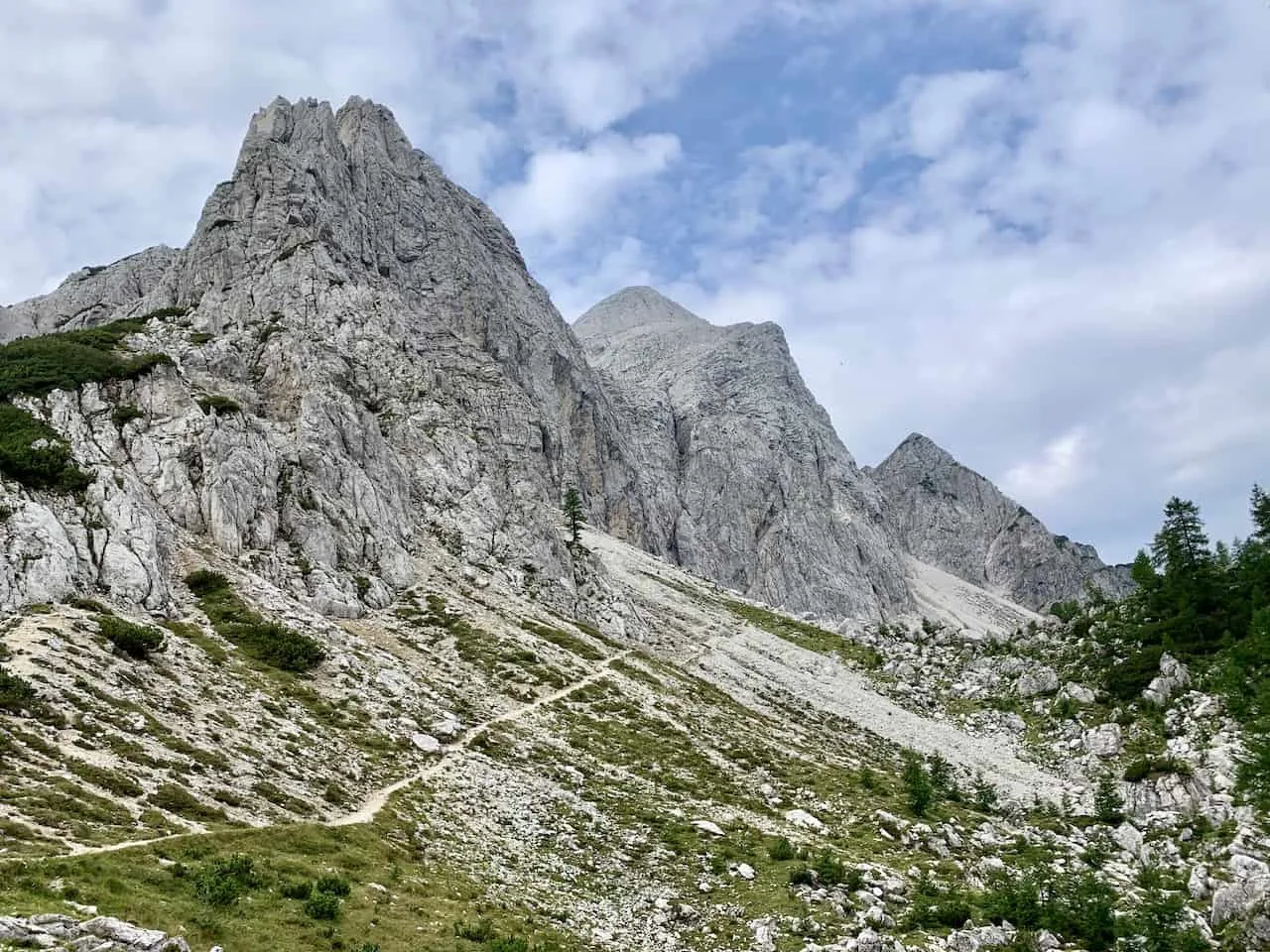 But even if you don't take part of a longer hike, you can still make stops all along the way of Vrsic Pass as you get to enjoy various viewpoint spots.
Be sure to take it nice and slow on this section of road as it is one of the more dangerous roads you will come by.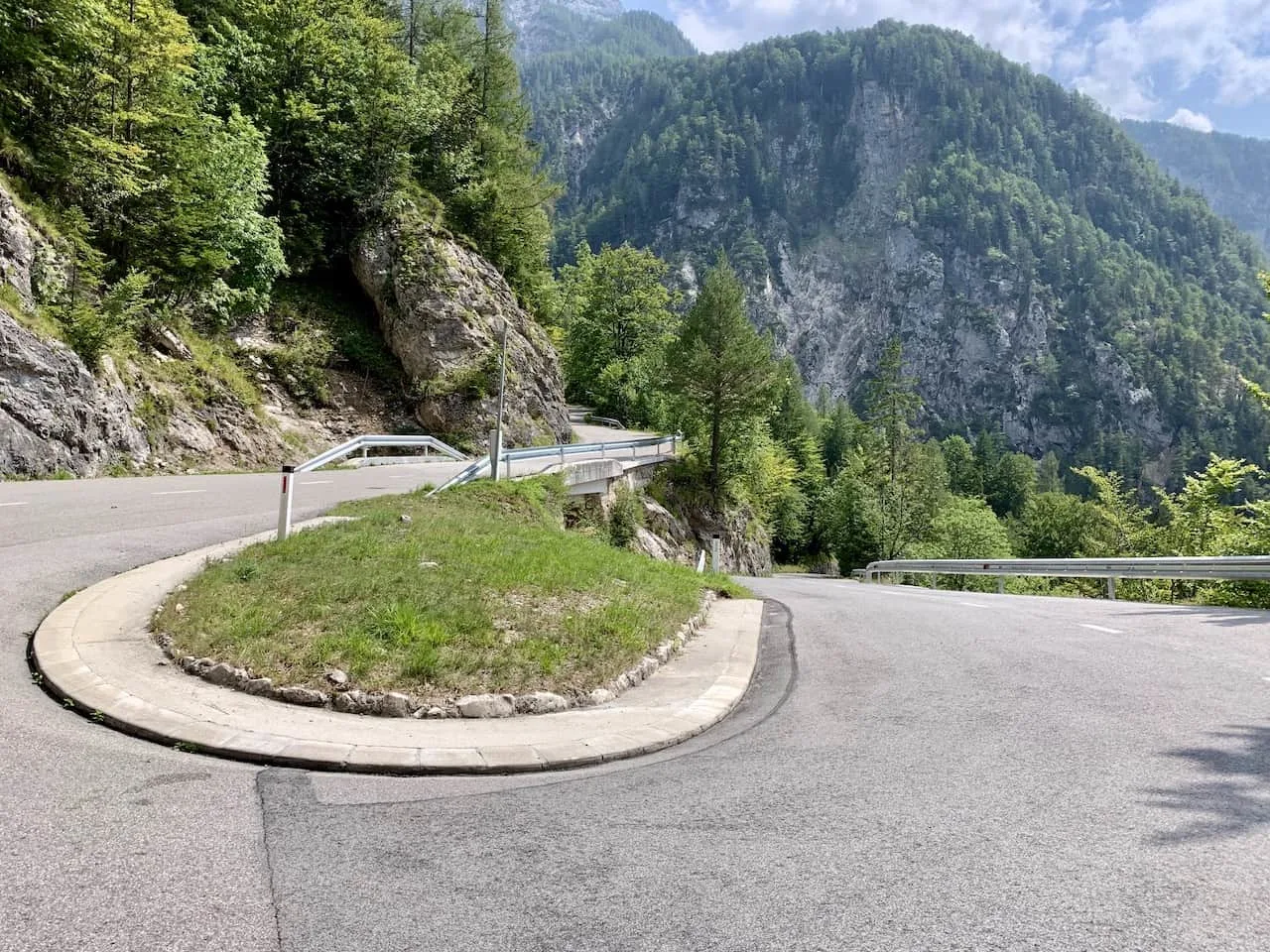 Bovec
From the Vrsic Pass, the road continues down towards the village of Bovec, where you will spend the next couple of nights. Spend some time walking around town and enjoying some great views of the surrounding mountains.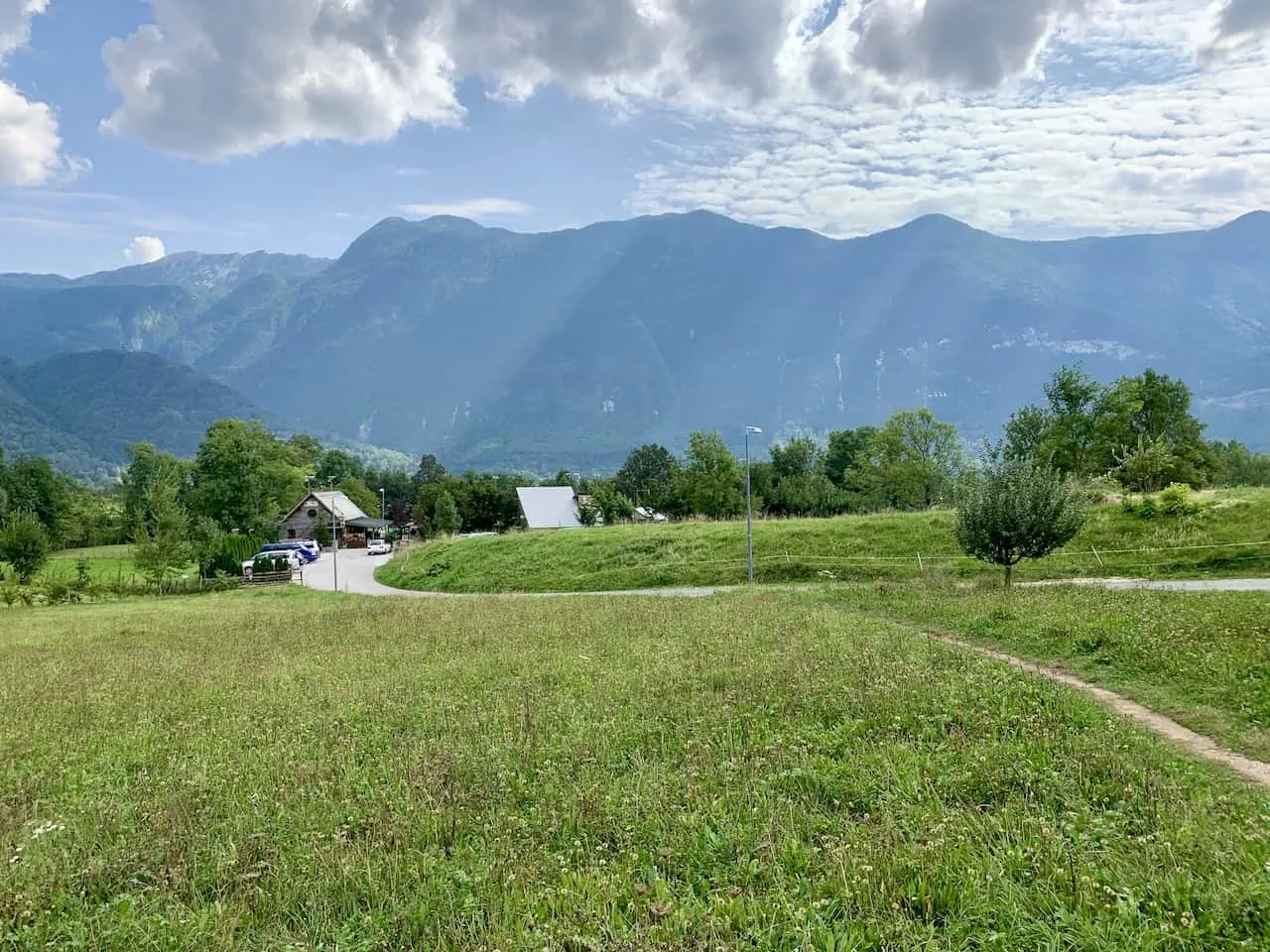 Day 6: Soca Trail
The Soca Trail is a 25 km / 15.5 mile trail that starts at the source of the Soca River and continues down to Bovec. You can decide to take part of the entire thing or you can decide to just enjoy parts of it.
If you do want to hike the whole trail, you will want to take a bus first thing in the morning from Bovec to the start of the hike at Izvir Soce. From there it will be following the river all the way back to Bovec.
On the other hand, you can decide to just enjoy sections of the trail and drive your way to a few different highlights. These may include Izvir Soce (source of the river), the Great Soca Gorge, and the Small Soca Gorge.
Either way though, I would highly recommend checking out the Soca Trail as it is one of the most beautiful river hikes I have ever taken part of.
Read more: The Soca Trail hiking guide will go over it all and more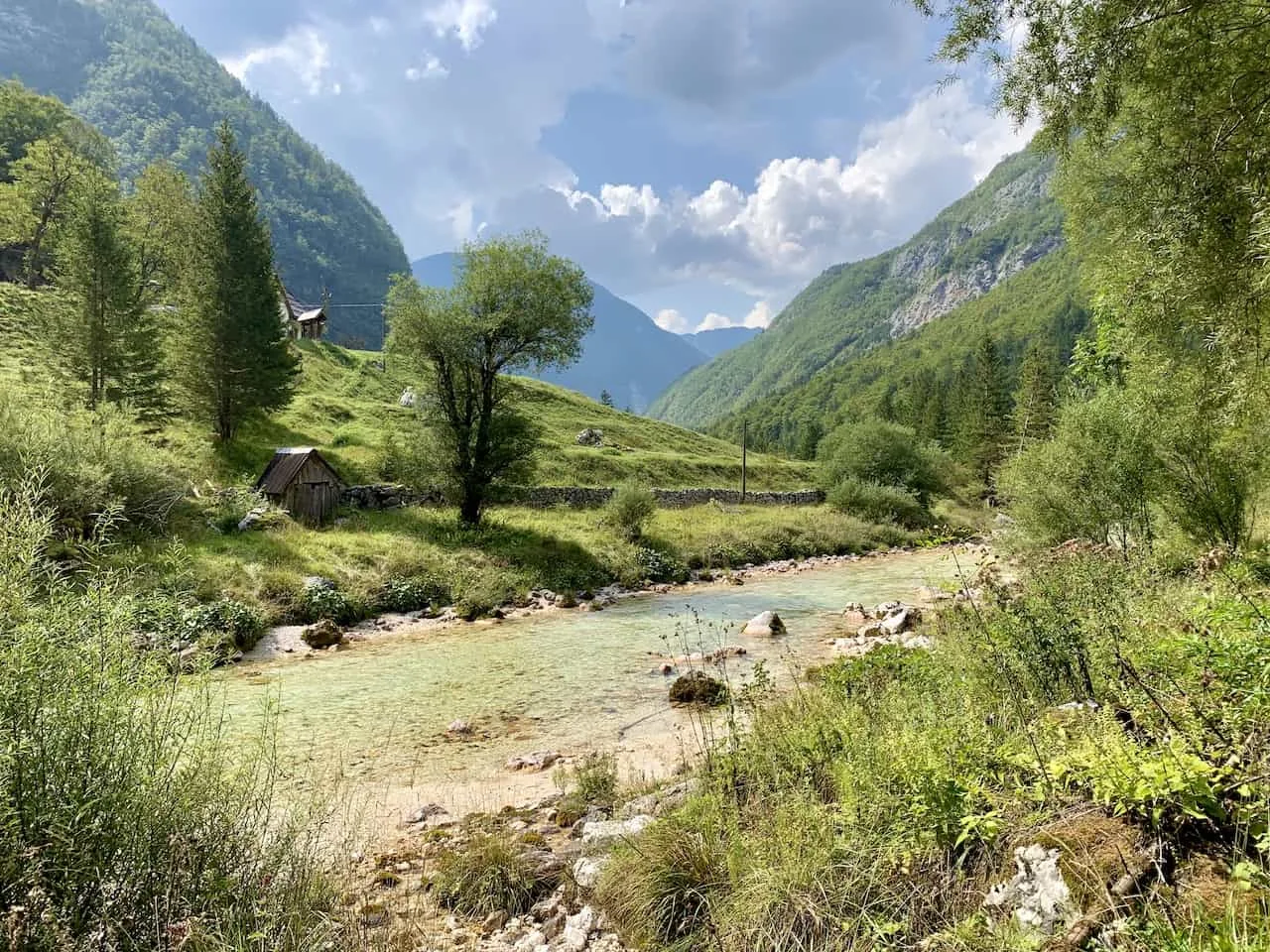 Day 7: Virje Waterfall / Napoleon's Bridge / Tolmin Gorge / Drive to Piran
It is now time to leave Bovec and head to Piran. Along the way though you can stop at 3 different places to break up the drive (remember you can head directly to Piran to cut down a day here too).
Virje Waterfall
First up is a waterfall just 10 minutes outside the town center called Slap Virje Waterfall. From the parking lot it is just a few minutes of walking along the trail before you arrive at the waterfall itself. Note if you are interested, you can also stop at the Boka Waterfall too.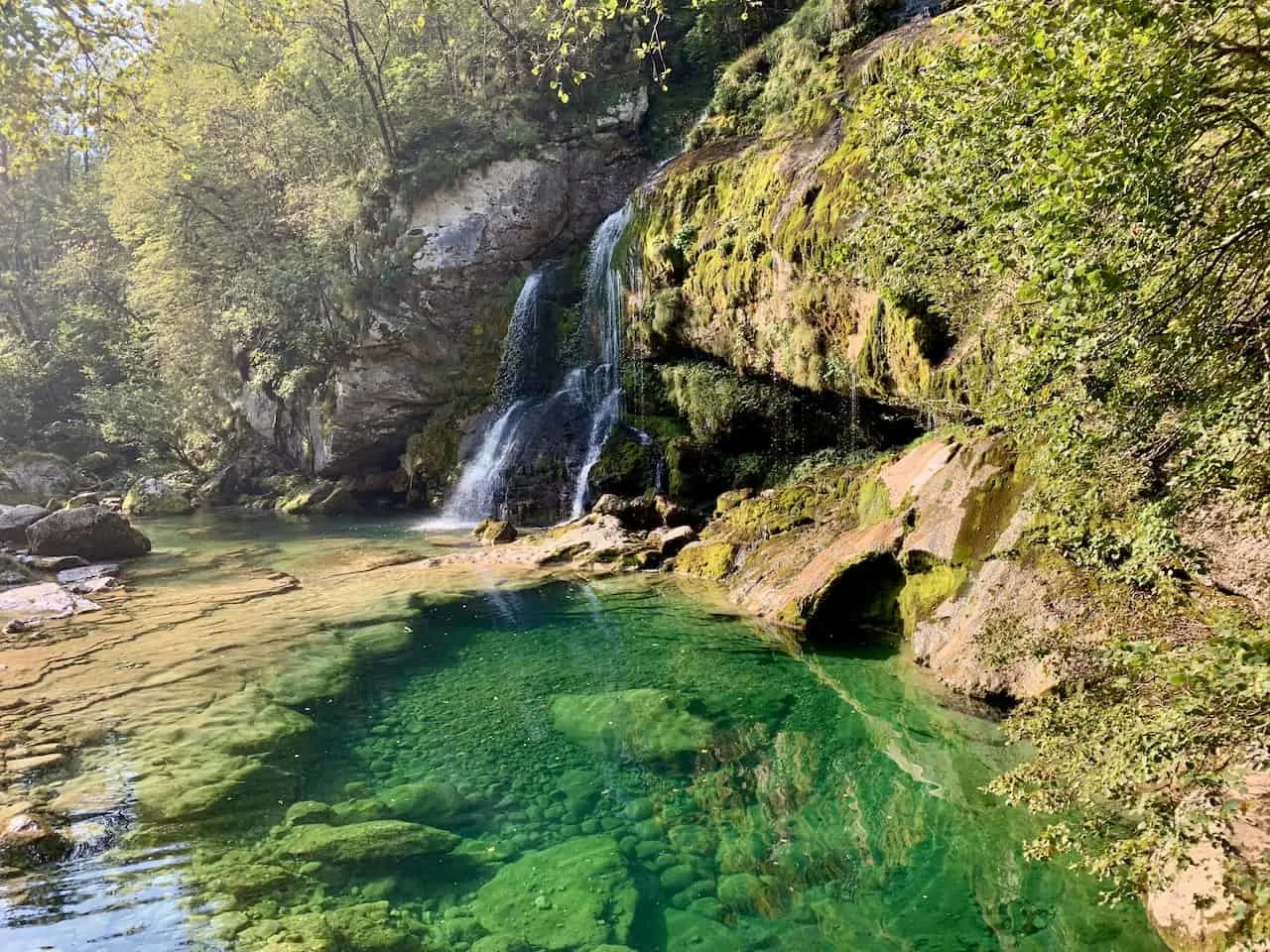 Napoleon's Bridge
From the waterfall it is then a 30 minute drive to the famous Napoleon's Bridge. It originally was used by Napoleon's troops, where it got its name from. The bridge was then used in both WWI and WWII.
Today, you can visit this bridge that connects the two sides of the Soca River. There is a parking lot up the road (Parking Kozjak) that you can leave your car at for a small fee, before making your way by foot to the bridge itself.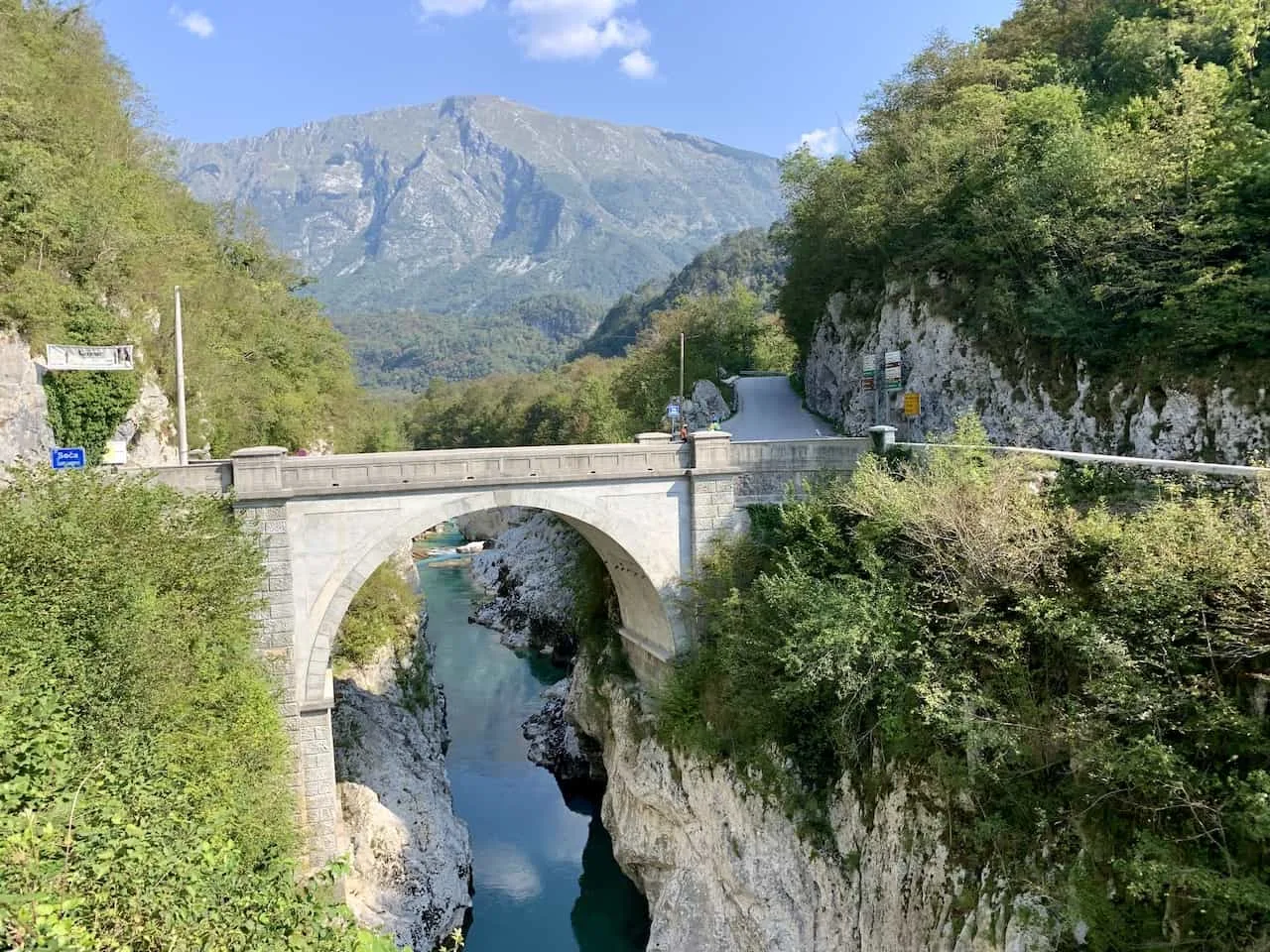 Tolmin Gorge
From the bridge it is just a 20 minute drive until you reach another highlight of Slovenia, the Tolmin Gorge.
The Tolmin Gorge has its similarities and differences to the Vintgar Gorge from earlier on.
The trail around the gorge will take you along the gorge's boardwalks, to a thermal spring, cave, and even viewpoints from up above.
You can decide for yourself which sights are of most interest to you and visit just some or all of them during a visit.
Read More: Take a look at this Tolmin Gorge overview guide that goes through all you need to know for a visit.
From the Tolmin Gorge it will then be a 2 hour drive to end the day as you make the way down to the coastal city of Piran. Note that this a car free town, so you will need to park at one of the lots just outside of the town center.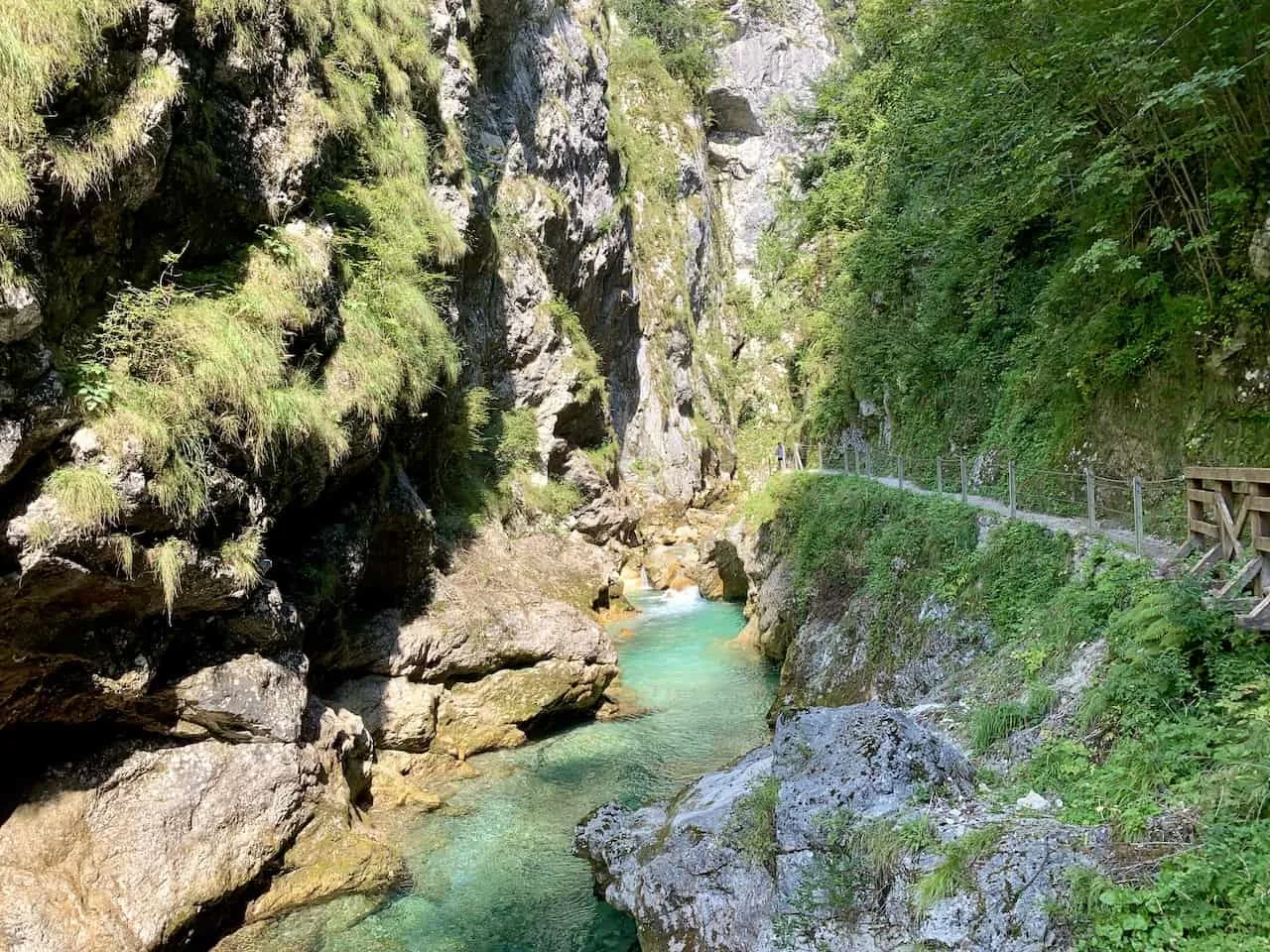 Day 8 & 9: Piran
After a week of exploring the best of Slovenia, it is time to relax and enjoy the small coastal town of Piran. During your two days in the area you can enjoy a little bit of everything that it has to offer including:
Tartini Square
Harbor Area
St George Church
Piran Bell Tower
Piranski Svetilnik Lighthouse
Walking the Walls
Exploring the Old Town
Enjoying the Beaches
Read More: Take a look at the best things to do in Piran to learn more
Day 10: Predjama Castle, Postojna Cave & Depart
After two days of winding down and just enjoying the coast, it is time to make your way back to Ljubljana to finish up the Slovenia road trip.
Before you get back to the city center / airport, why not visit a couple last attractions along the way. Around halfway between Piran and Ljubljana you will find the Predjama Castle and Postojna Cave.
Predjama Castle
The Predjama Castle is medieval fairytale type castle that is perched on the mountainside on the outskirts of cave. It is essentially a cliffside cave castle.
You can decide to go on a guided tour, view the castle from a far, or even visit a set of caves underneath the castle itself.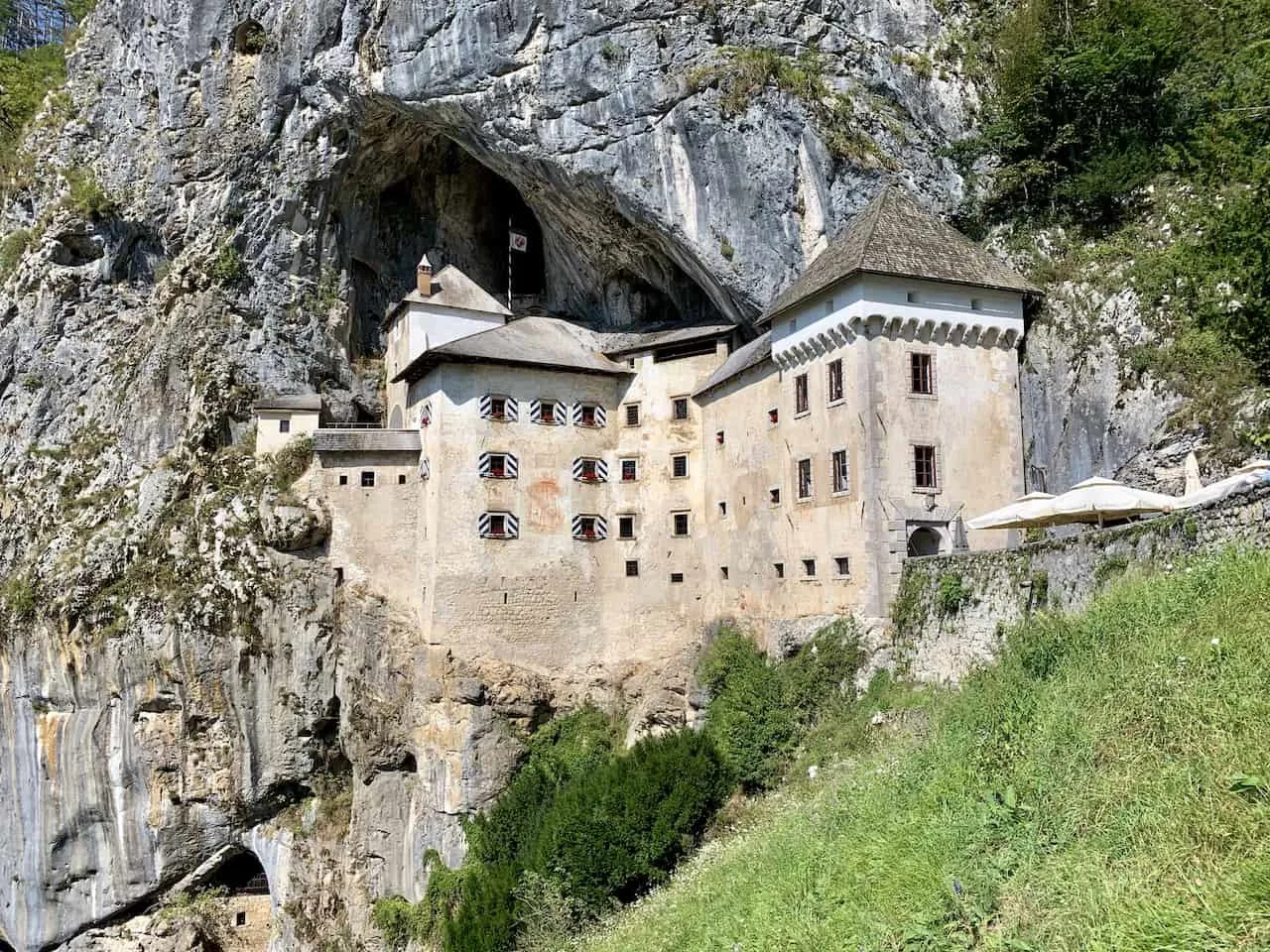 Postojna Cave
The Postojna Cave is truly a captivating place to visit. The journey begins by taking a 3.7 kilometer train ride further through the cave.
Once off the train you will be guided through a 1.5 km walking path visiting several different sections of the cave. After the walking tour is done, you will then hop back on the train and back to the entrance.
Expect the tour to take 90 minutes altogether and it is advised to book your time slot in advance to be certain you are on schedule. The castle and cave are part of the same complex, so you can buy tickets for both through the same site.
Once your time at the cave and castle is all complete, it is then another hour drive back to the capital to end a very successful Slovenia road trip.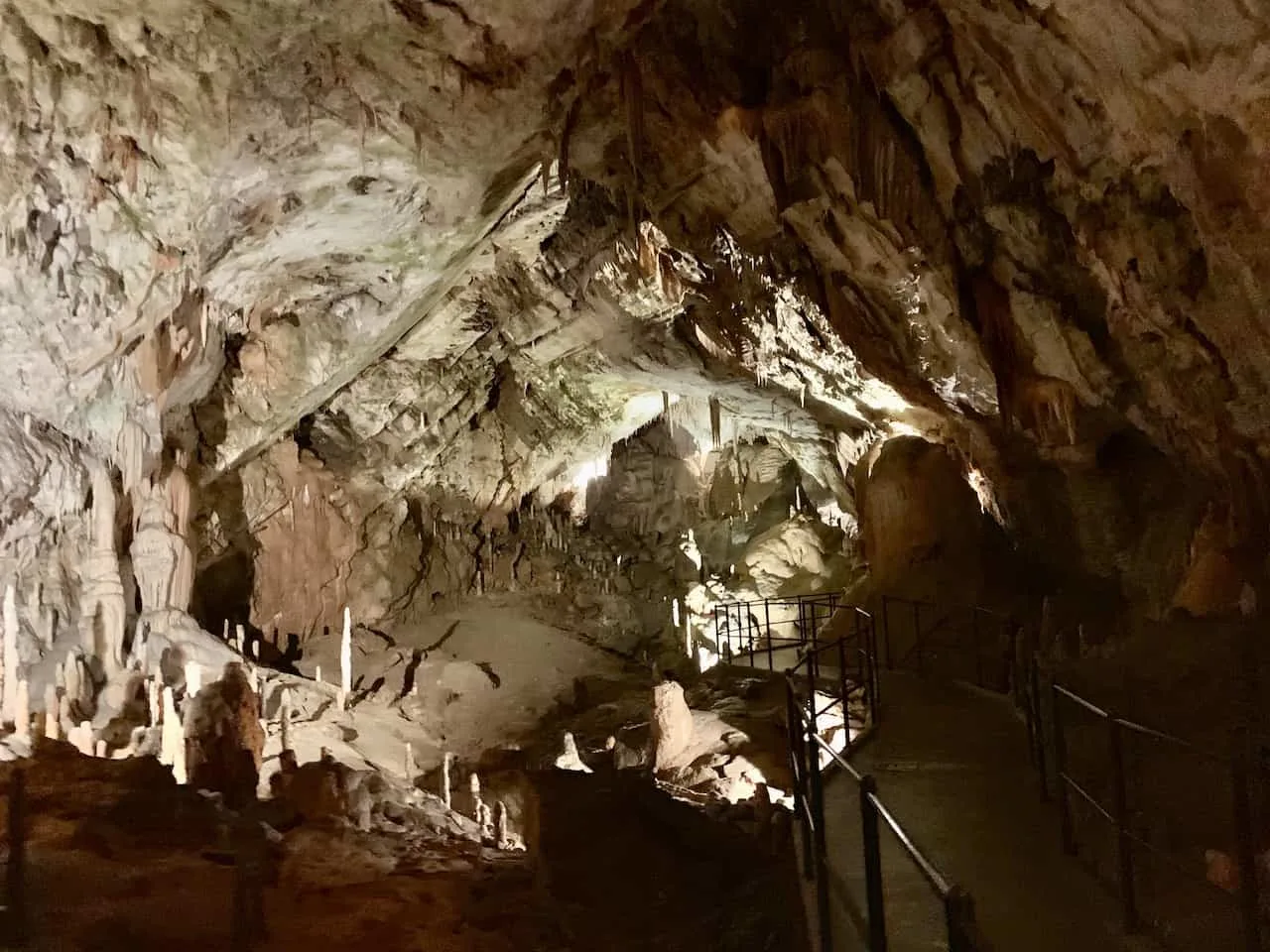 I hope by now you have a better sense of what a 7-10 day Slovenia itinerary can look like. There is a lot to see in the country and it can certainly be difficult to pick and choose what to do.
However, I do believe this itinerary gives you the chance to see some of the best that the country has to offer.
You can certainly gear parts of the trip to your interests and make any change you see fit. At the end of the day, you will still have a great time in the country.
If you have any questions or comments, feel free to add them in below.
Have fun out there and safe travels!