Hiking in Slovenia offers some of the best experiences you can ask for during a visit to the country.
You will find all different types of hikes in Slovenia including mountain summits, lakes, waterfalls, gorges, and plenty of beautiful viewpoints.
This guide will go through everything you need to know when it comes to hitting the trails in Slovenia during your next trip.
* Affiliate Disclosure: This post may contain affiliate links, which means I may receive a commission if you make a purchase through the links provided, at no additional cost to you. Thanks for supporting the work I put into TripTins!
1) Slovenia Hiking Introduction
When it comes to hiking in Slovenia, there are some important aspects to consider. Throughout the remainder of this guide, I will be diving deeper into these topics:
Hiking Areas
Slovenia is home to three "main" hiking areas. These include the Julian Alps, the Kamnik Alps, and the Karawanks.
These three areas are located in the northern part of the country, where mountainous landscape can be found. The mountain ranges can also overlap with other nearby countries such as Austria and Italy.
When it comes to the most popular hiking region in the country, that would be the Julian Alps, also home to the only national park in Slovenia – Triglav National Park.
Within Triglav National Park, you will find some of the top trails, lakes, and waterfalls. You will also find the highest point of Slovenia – Mount Triglav at 2,864 meters / 9,396 feet.
This guide in particular will focus more on the Julian Alps mountain range.
When to Hike
While lower elevation hikes can be completed year round, it is safest to head further into the mountains during the warmer months of the year.
Hiking season therefore usually runs from June to September.
This is mostly due to the snowy and more uncertain weather conditions that occur at other times of the year.
Getting to Trailheads
When it comes to traveling around Slovenia you can either choose from renting a car or leveraging public transport.
In my opinion, renting a car is the way to go for a Slovenia road trip.
This will give you the chance to operate on your own schedule and not worry about public transport.
It is also important to note that many trailheads may not be accessible by public transport, so you should consider that as well.
Packing Lists
When hiking in the Slovenian Alps, what you bring along will also be very important.
Since you will be dealing with mountain weather, it is crucial to be well prepared with any sort of weather situation.
Later on I will be diving into some of the most important items to bring along with you on hikes in Slovenia.
Trail Guidance
Without a doubt, there are some complicated trails in Slovenia.
What I mean by this is that there can be many different trails heading in different directions all in one area.
While hiking signs may be present at some intersections, many times you are left with spray painted rocks or no indication at all that a trail may split into two.
Be sure to download offline maps ahead of time on a navigation app like Maps.me, AllTrails, or Gaia. This way you will always be aware of where you are and where you should be going.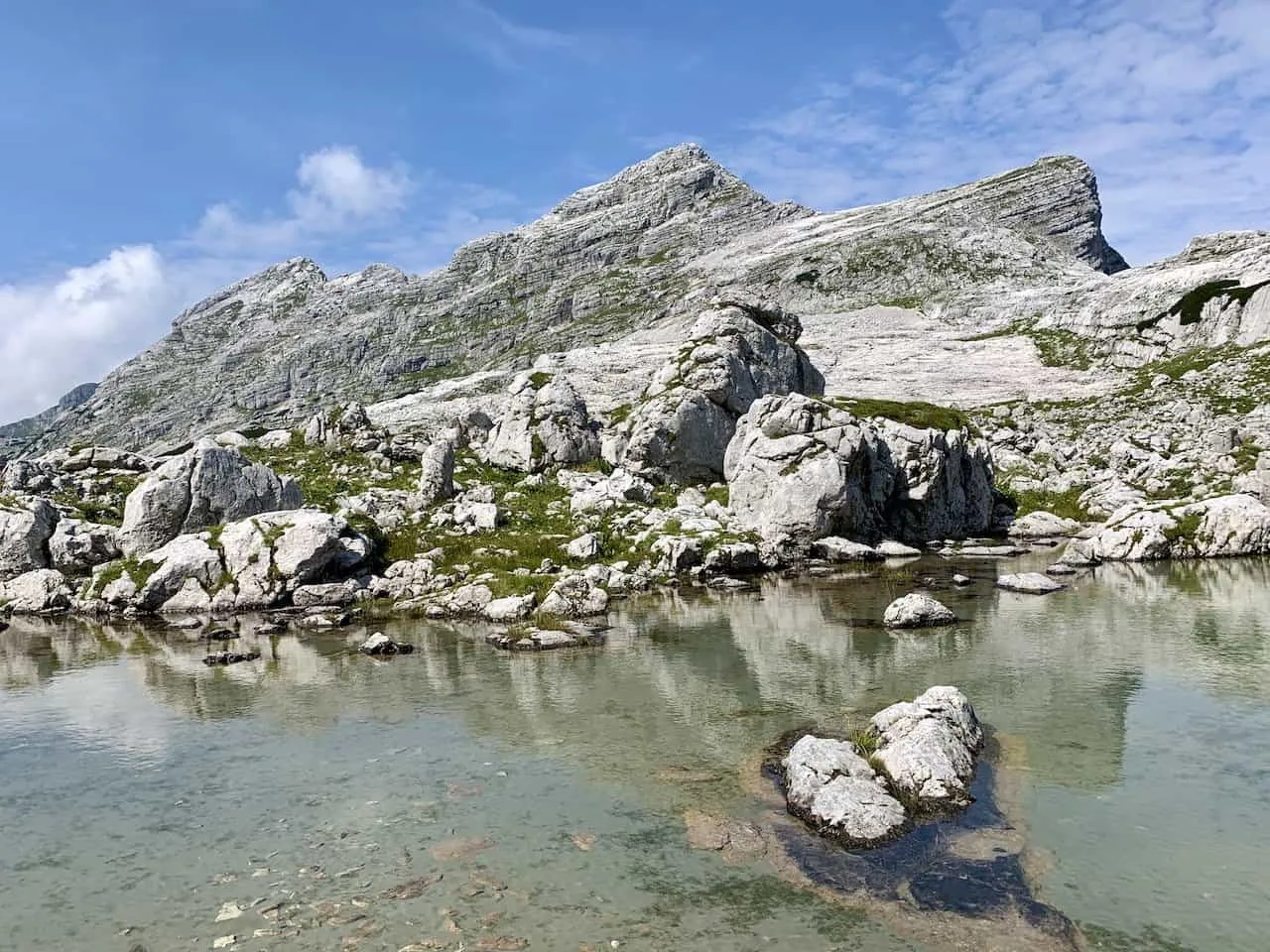 2) Slovenia Hiking Map
As mentioned there are three main hiking areas in Slovenia. Below you can find a Slovenia hiking map that shows where these areas are located.
In addition, I have included several trail routes that I will be talking through later on in this guide.
3) Best Time to Hike in Slovenia
As mentioned the best time to hike ALL types of trails in Slovenia will between the June and September time period.
Once the mountains are cleared of snow around June, the trails will be safer to hike along. This lasts until sometime in October, when snowfall begins once again.
Now, while June to September is ideal for all hiking, you can certainly take part of lower elevation trails throughout the year (even in the winter!).
Whether you just want to visit a waterfall, head through a gorge, or walk around a lake, those are all possible to do outside of the summer months (for the most part).
In general, the "shoulder season" months of April, May, and October can be the perfect time to visit Slovenia.
Crowds will certainly be lower during the shoulder months, prices will be cheaper, and the natural beauty will still be at its best.
Just note, you will probably not be able to take part of higher elevation hikes, where snowfall can be more of an issue.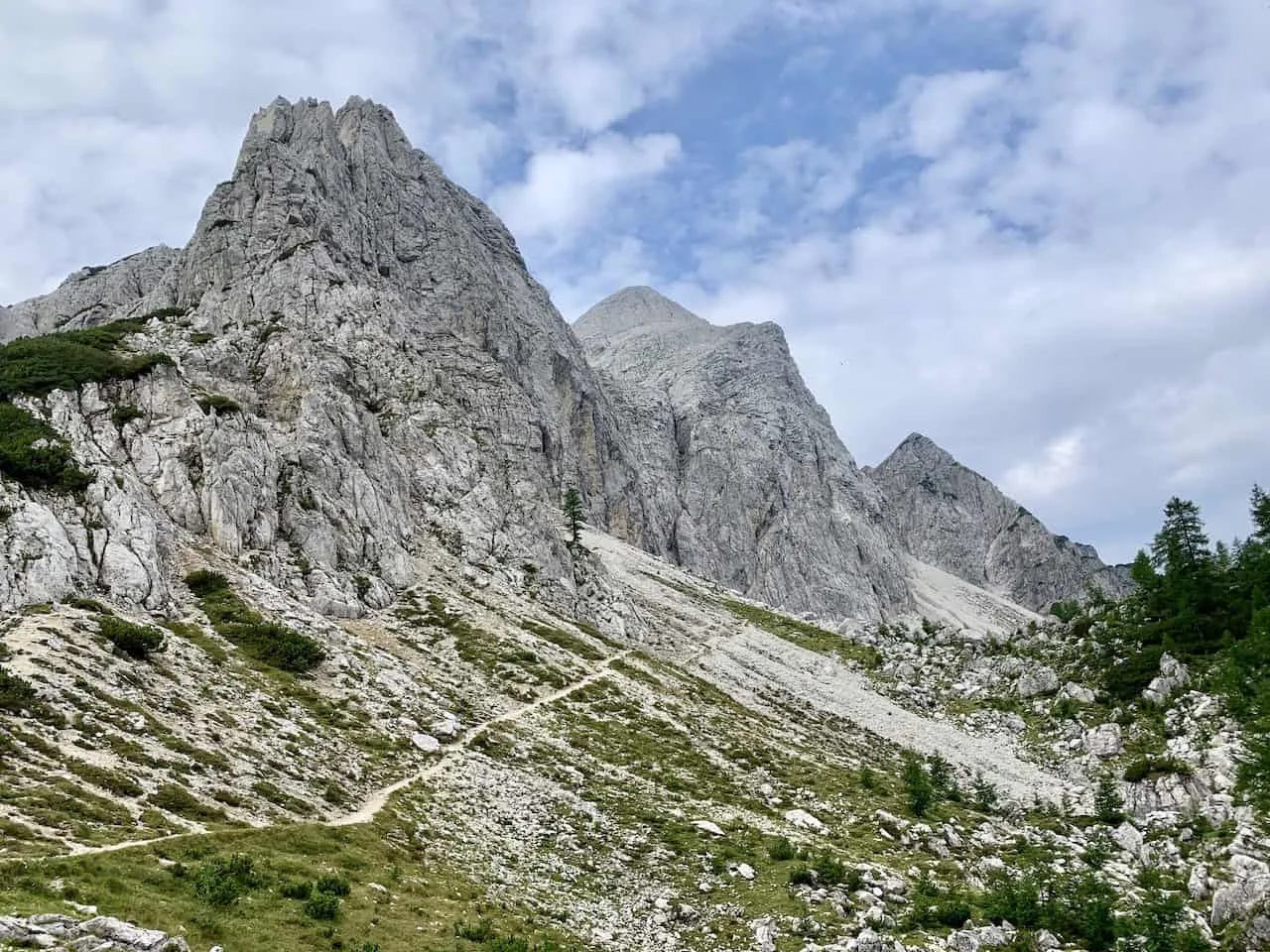 4) Slovenia Hiking Weather
Now, although the summer months offer the best overall weather for hiking, it is not always going to be perfect.
The summer is notorious for afternoon rainfall. Sometimes this is just a quick shower, while other times the rain & clouds can linger.
Due to this, I would recommend taking part of hikes earlier on in the morning (at least if that is what the forecast shows). This way you can avoid the rainfall and you will be able to truly enjoy the experience (and the views!).
When looking at weather forecasts, I would recommend checking out websites like Meteoblue.com. There you can insert a specific mountain name, and get more accurate forecasts for that altitude.
Weather Forecast Tip: if going into the mountains, be sure to search for the weather in the mountains! Don't type in "Lake Bled" if you are going to climb a mountain in Triglav National Park. The weather down by the lake can be much different than the weather up in the mountains.
In addition to the weather forecasts, you can also check out some live webcams (such as the Triglav webcam). This can give you a better idea of how the weather is looking at the moment.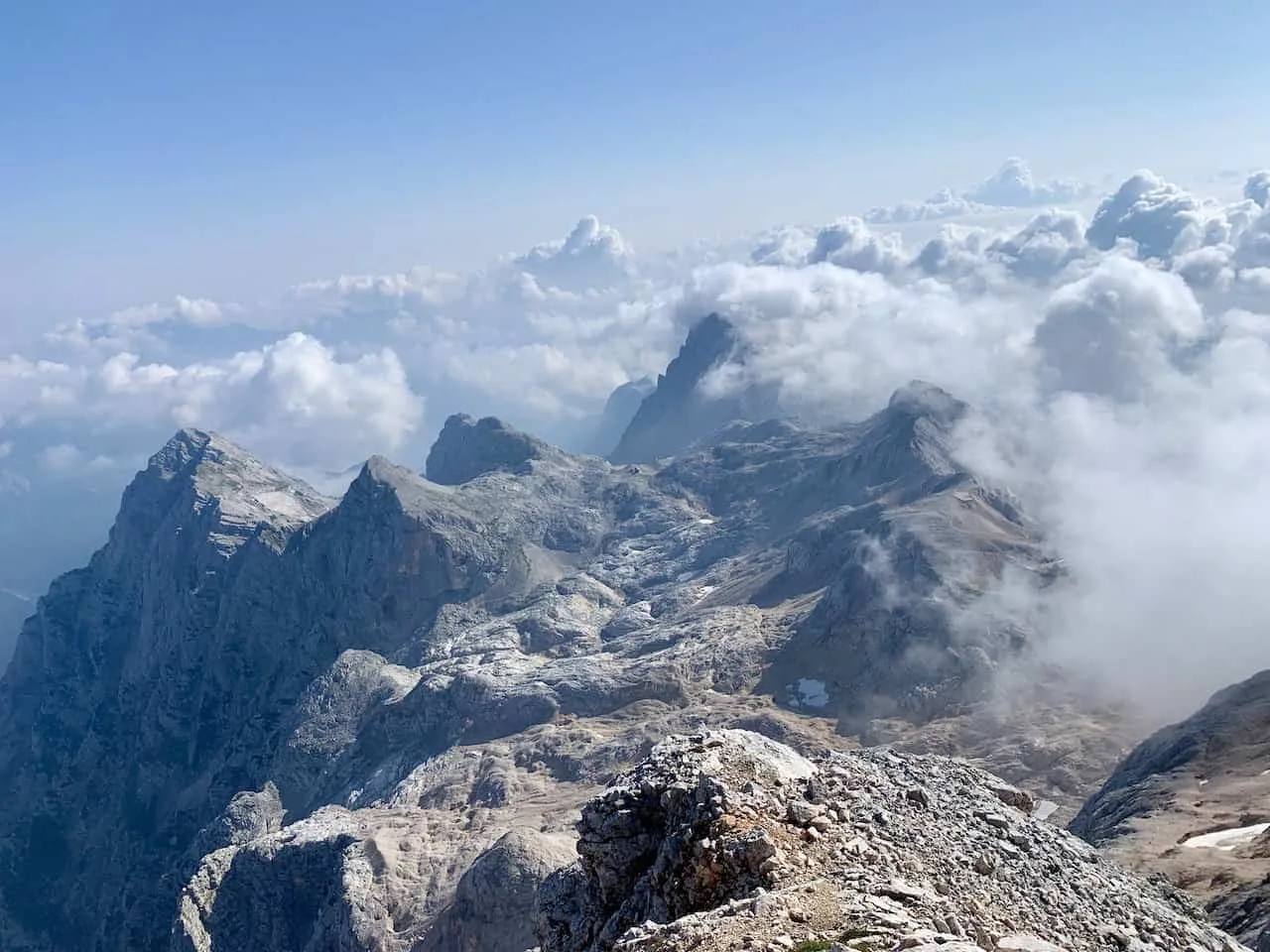 Hiking Resources & Checklist

Before heading out for the trails, be sure to read up on some of the hiking resources up on the site. These are here to better prepare you for all types of outdoor adventure.
5) Getting Around Slovenia
If you are someone who will be doing a lot of hiking and traveling around Slovenia, then having a rental car will be the most convenient of options.
While the country does have its fair share of public transport options (especially in the summertime when seasonal routes open up), you will always need to be on those schedules.
I found it much more beneficial to have the car rental and travel around the country at my own pace without the need to think about the public transport options.
Also, not all trailheads are accessible by public transport either (or if they are, the busses may not run at earlier times). Having a rental car handy will solve both of these issues and will have you hitting the trails in no time.
Driving Tip: not all roads to trailheads are paved. However, you will not need 4WD for your time there. If you do come across unpaved roads, they are usually just standard dirt tracks.
Be sure to check out Rentalcars.com for plenty of car options for your trip. You will be able to filter for car type, size, price, and more.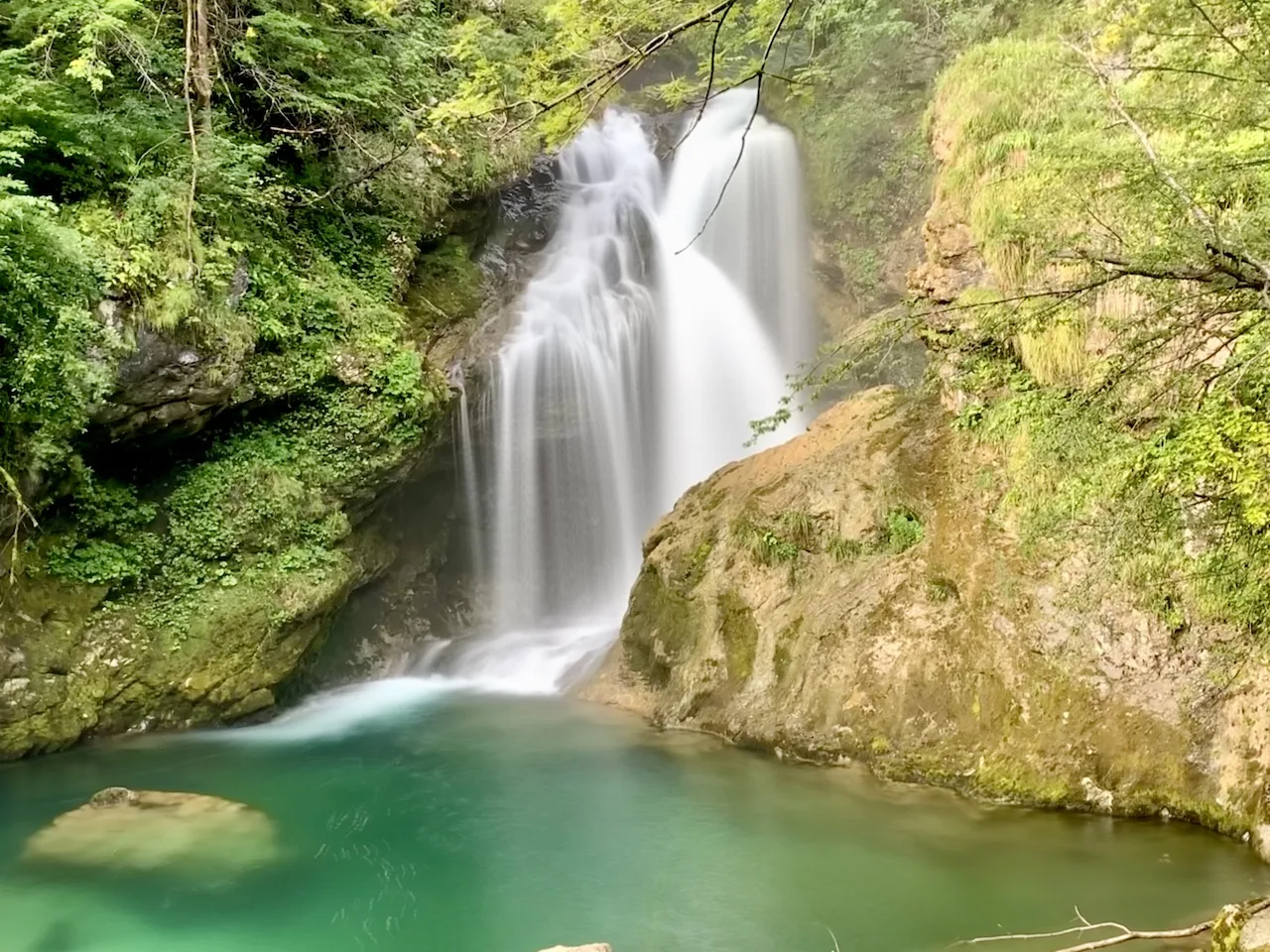 6) Packing Lists
If you have not realized by now, hiking in Slovenia can bring all sorts of weather, especially up in the mountains.
While sunny days (or at least mornings) are common, be prepared for rain, wind, and clouds throughout a day of hiking.
Bringing along a packing list to ensure you are prepared for the weather conditions will be key.
Below is my recommended day hike packing list that includes everything I bring along on the trails.
Hiking Packing List

In general when it comes to hiking, there are a few main aspects to consider. These includes clothing layers, hiking shoes, hydration & fuel, electronics, and other essentials.

Below in a breakdown of some of the top items, but be sure to check out the Hiking Packing List for a more comprehensive view.

Clothing Layers

Layering is going to be a top consideration when hiking. You will want to be prepared for all sorts of weather so you can be comfortable in different situations. Some items may include:

→ Hiking Shorts
→ Hiking Pants
→ Short Sleeve Shirt
→ Long Sleeve Shirt / Sun Hoodie
→ Mid Layer Fleece
→ Puff Jacket (not always needed)
→ Packable Rain Jacket (Columbia Watertight II)

Note that your layers should be made of moisture wicking material as they are breathable and quick drying.

Footwear

Having appropriate footwear will also be very important. You will want to have shoes with the necessary grip and support to keep you safe on the trail.

→ Hiking Shoes (Keen Targhee)
→ Hiking Socks (Darn Tough)

Other Essentials

Whether it is hiking gear, electronics, or just some miscellaneous items, here are some other essentials to bring along on hikes.

→ Hiking Backpack (Osprey Talon 22) & Rain Cover (Joy Walker Cover)
→ Hiking Poles (Black Diamond Trekking Poles)
→ Water Bottle (CamelBak Chute or Katadyn Filter Bottle)
→ Portable Charger (Anker PowerCore 5000mAh)
→ Action Camera (GoPro Hero)
→ Energy Bars & Snacks
→ Hat & Sunglasses
→ Sunscreen & Bug Spray
7) Hiking Tips
Before getting into the hikes themselves, I did want to layout some helpful hiking tips to consider for your time out on the trail.
Offline Maps: Always be sure to download offline maps along with the trail you plan to hike before heading out for the day. It will be greatly beneficial in helping in those situations where the trails get more complicated.
Trail Markers: On the trail, be on the lookout for white/red trail markers that are painted on rocks. If you find yourself not seeing an obvious trail and have not passed by these markers, you may need to backtrack until you are certain you are on the correct path.
Parking GPS: Some parking lots are not marked on navigation apps like Google Maps. As you prepare for hikes, try and find the GPS coordinates to input into your navigation.
Equipment: Be aware of trails where additional equipment may be necessary. Hiking helmets are common when heading into the mountains due to loose rock terrain. Via Ferrata equipment is highly advised for heading up Mt Triglav.
Go for a Swim: Bring a bathing suit along for the day! I found myself jumping into some lakes & rivers after a day of hiking (Lake Bohinj and the Soca River were two of my top spots!). This is a perfect way to cool off after spending time on the trails.
Opening & Closing Times: While most trails don't have set hours, some gorges & waterfalls do. Be aware of the opening/closing times when going about a visit.
Hut to Hut Hiking: day hikes are going to the most popular option but overnight hut to hut hiking is a possibility too. If you are going on a hut to hut hike, then be sure to reserve your overnight spots ahead of time.
Come Prepared: especially when hiking up in the mountains, the weather can come and go at a moment's notice. Be sure to bring along the appropriate gear to keep you comfortable in all conditions.
Start Early: to best help with that preparedness, try and start your hikes early – especially when you have that weather window. While it is not guaranteed that the mornings are calmer, it will usually be your best bet.
Trail Closures: stay on top of trail closures by visiting the Stanje Poti website. This will help you plan accordingly in case there are closed hikes.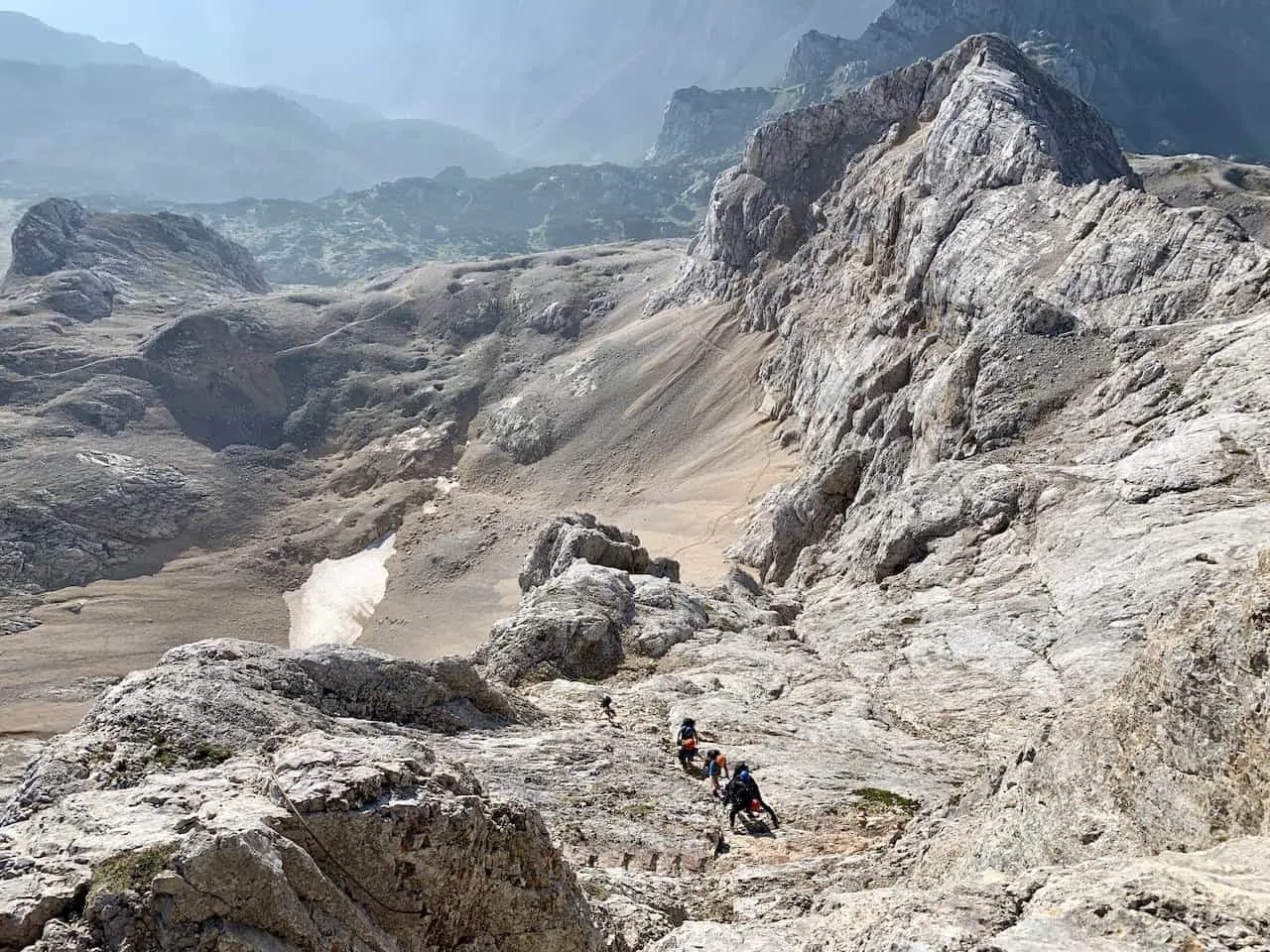 8) Slovenia Day Hikes
Next up is a list of 15+ Slovenia hiking trails that can be added to your trip to the country.
These will be a mix of mountains, lakes, waterfalls, & gorges, so it gives enough diversification for those looking for a little bit of everything.
Be sure to also check out the linked hiking guides, which dive deeper into a specific hike.
Soca Trail
One of the most famous hikes in Slovenia is the 25 km trail that starts at the source of the Soca River and heads all the way towards the town of Bovec.
Since this is a one way hike, you will need to figure out logistics. This most likely means, heading on an early morning bus to the Izvir Soca and beginning the trail back to the Bovec from there.
If you don't want to do it all in one shot, you can also opt for an overnight at a guesthouse along the river. This is the perfect way to fully enjoy the trail without rushing through.
All along the Soca Trail you will get to take in beautiful views of the crystal clear river, as you follow the path on either side.
Throughout the trail there are some other top highlights such as the Dr Julius Kugy Monument, Mlinarica Gorge, Great Soca Gorge, among others.
For those that want to head for a swim, that should be no issue at all as you have plenty of opportunities to do so.
Starting Point: Izvir Soca
Ending Point: Bovec
Trail Type: One Way
Trail Length: 25 km / 15.5 miles
Elevation Gain: 365 meters / 1,200 feet
Duration: ~10 hours (1-2 days)
Hiking Guide: Soca Trail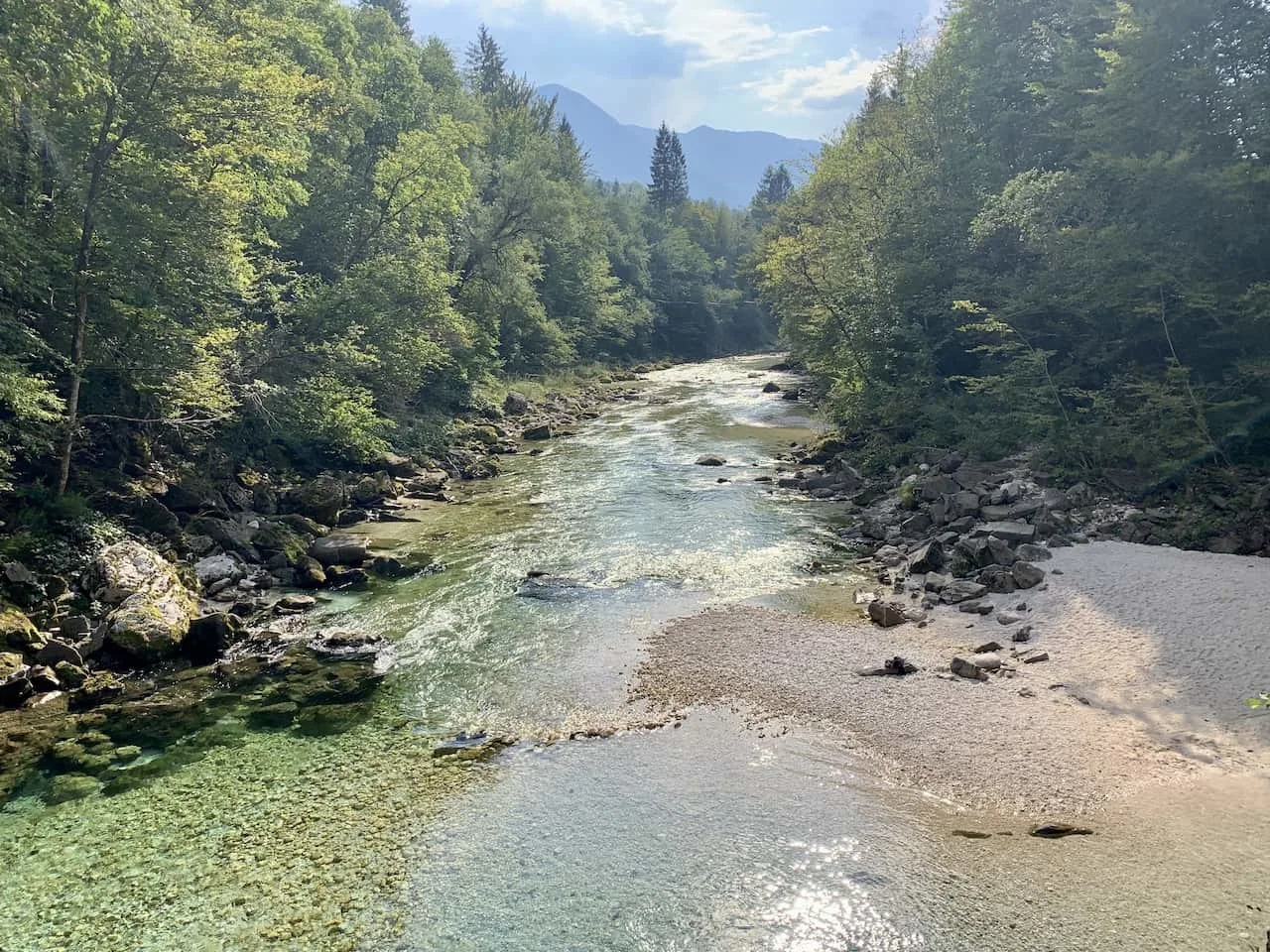 Mount Vogel
High above Lake Bohinj, you will find hiking trails taking you towards some peaks in the region.
One of the fan favorites is Mount Vogel.
Getting to the summit of Vogel begins at the top of the Bohinj cable car at the Vogel Ski Station. From there, you will slowly but surely gain elevation as you head higher into the mountains.
Be on the lookout for plenty of views across the way, where you should have quite the panorama of Triglav National Park (with Mt Triglav standing tall).
You can opt to head up and down the same way, or you can make it more of a loop trail.
Starting Point: Vogel Ski Station
Ending Point: Vogel Ski Station
Trail Type: Circular
Trail Length: 11.3 km / 7.0 miles
Elevation Gain: 745 meters / 2,440 feet
Duration: 5-6 hours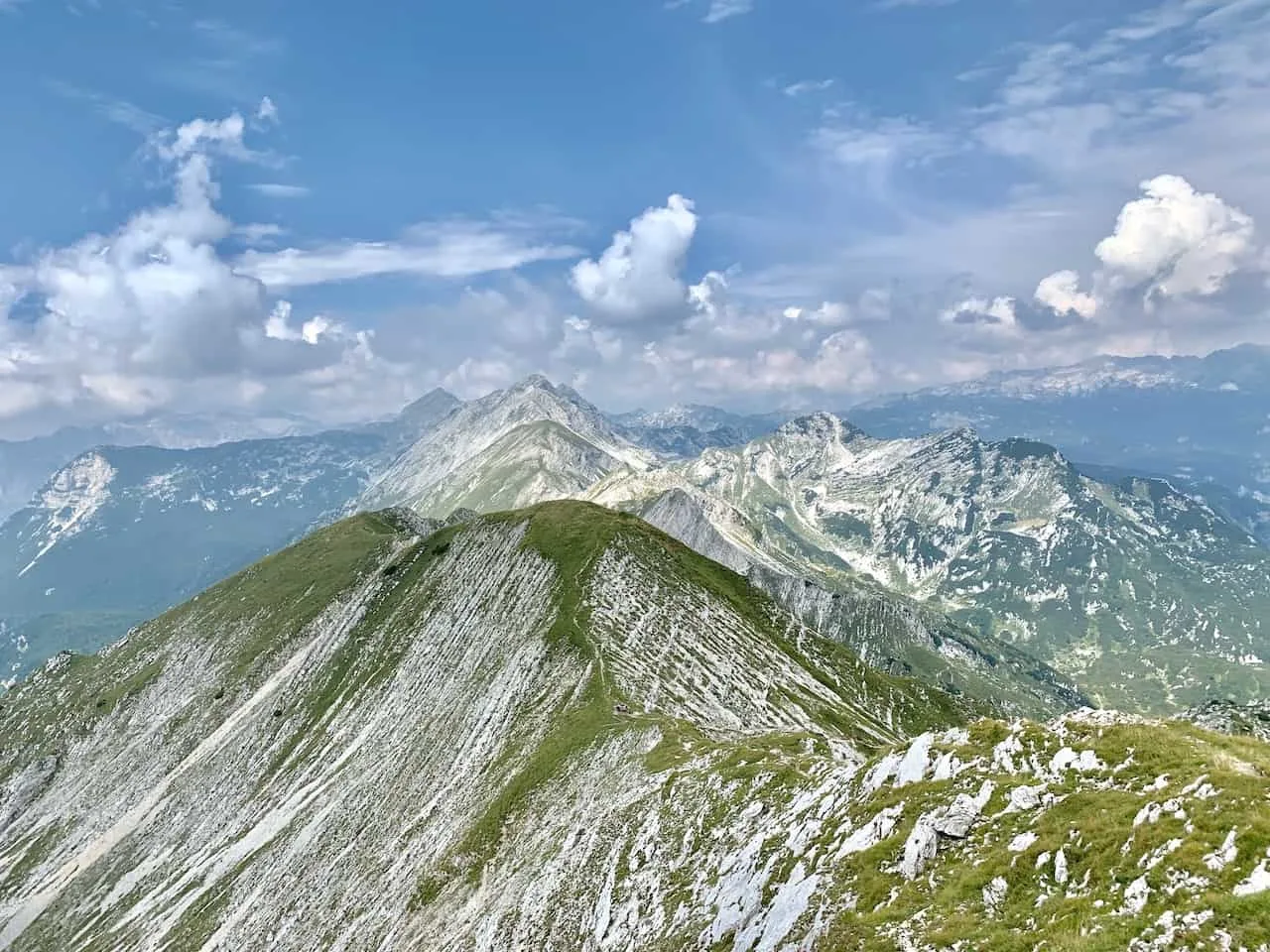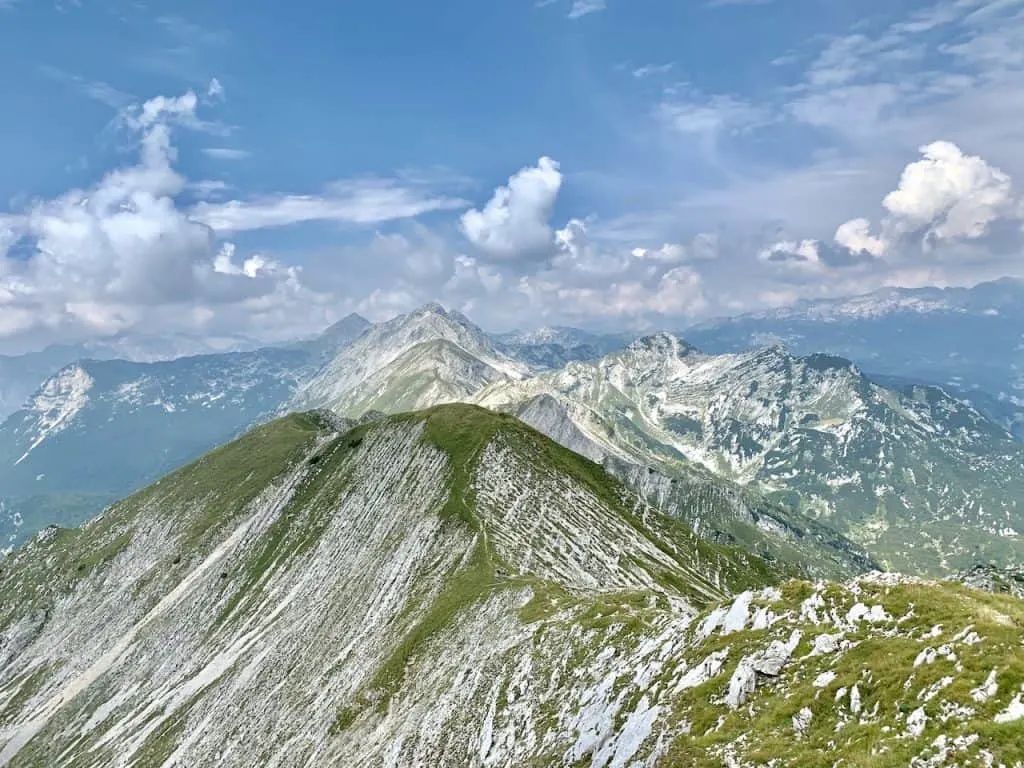 Mount Rodica
The trail up to Mount Rodica shares a fair amount of it with the trail to Mount Vogel.
However, at one point the Vogel trails veers right, while the Rodica trail veers left.
Throughout the trail towards Rodica, you will get to follow the mountainside and walk along the ridgeline until you reach the summit.
Since it is a bit further out, it is a quieter trail & summit compared to Vogel. It also has some fantastic view through all along the way.
Starting Point: Vogel Ski Station
Ending Point: Vogel Ski Station
Trail Type: Out & Back
Trail Length: 13.2 km / 8.2 miles
Elevation Gain: 805 meters / 2,640 feet
Duration: 6-7 hours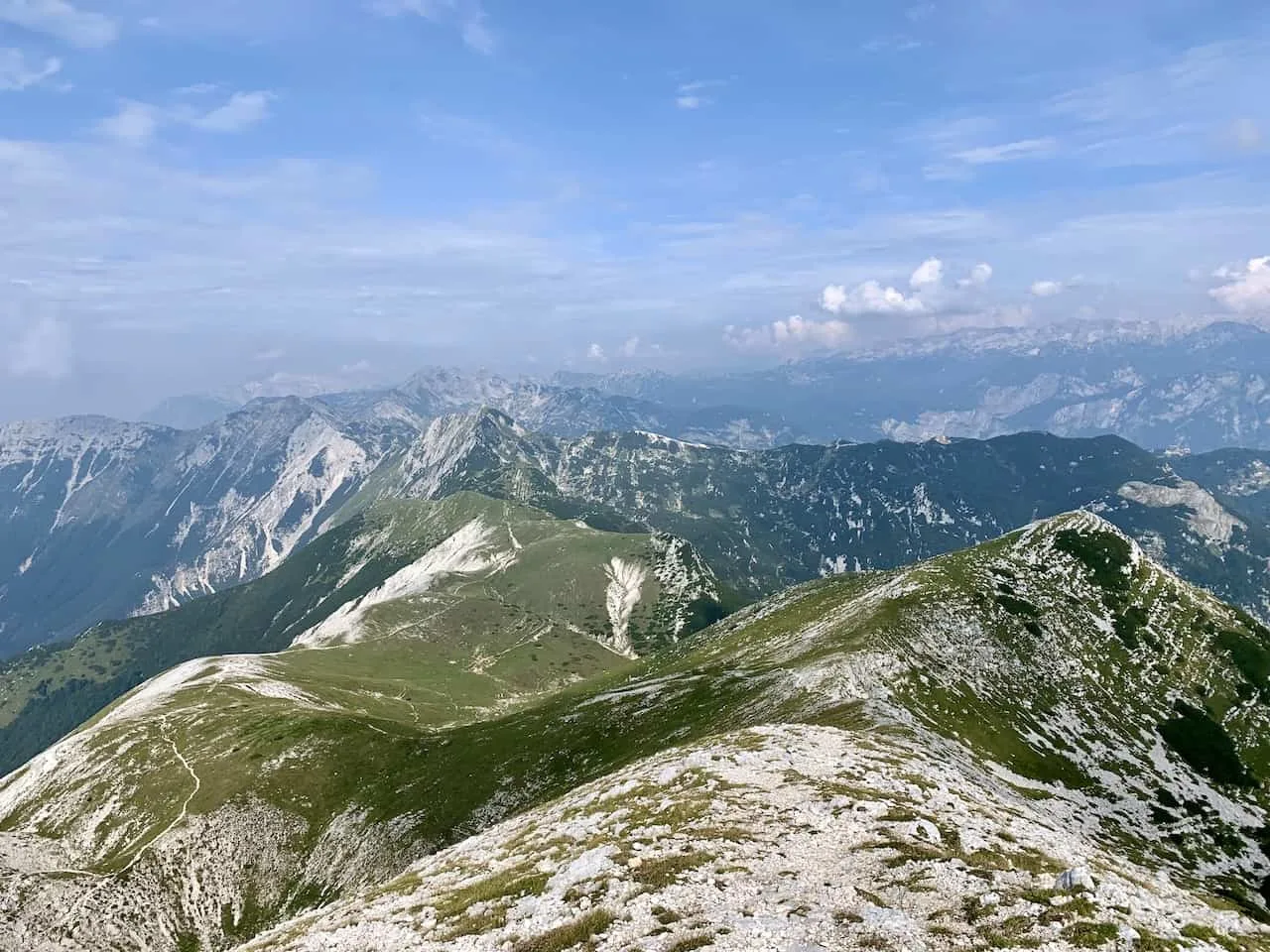 Hiking Notes
You can easily combine Rodica and Vogel into one longer day hike if you have it in you. The Lake Bohinj hiking guide goes through what that entails.
There is a third summit called Mount Sija, which only requires a short detour to reach the summit. This can be added onto either trail.
Mount Triglav
We can't talk about hiking in Slovenia without mentioning the highest peak in the country! At 2,864 meters / 9,396 feet, Triglav stands tall among the rest.
Luckily, Triglav can be summited by those with the necessary fitness and experience levels over the course of a 1-2 day hike.
Most people opt for the 2 day hike with an overnight at ones of the mountain huts (most likely Kredarica or Planika Hut). However, for those that want to give it a try in one go, a single day push to the summit and back is possible.
It is also important to note that there are several different routes that merge to the summit. Some are harder than others, so you will want to choose wisely (I would recommend the Pokljuka Plateau or Krma Valley for those that want the easier of options).
But no matter what route you choose, a via ferrata (fixed line route) is going to be necessary to reach the top.
Bringing along the appropriate equipment will be key here, as you want to ensure you are going about your climb in a safe and productive way.
Once you reach the top though, you will be welcomed to never-ending views all around. Summits, valleys, glaciers, and more are going to be at their best.
Below are the stats for the trail starting/ending at the Pokljuka Plateau:
Starting Point: Pokljuka Plateau
Ending Point: Pokljuka Plateau
Trail Type: Out & Back
Trail Length: 26.0 km / 16.2 miles
Elevation Gain: 2,001 meters / 6,562 feet
Duration: 12 – 14 hours (1-2 days)
Hiking Guide: Mount Triglav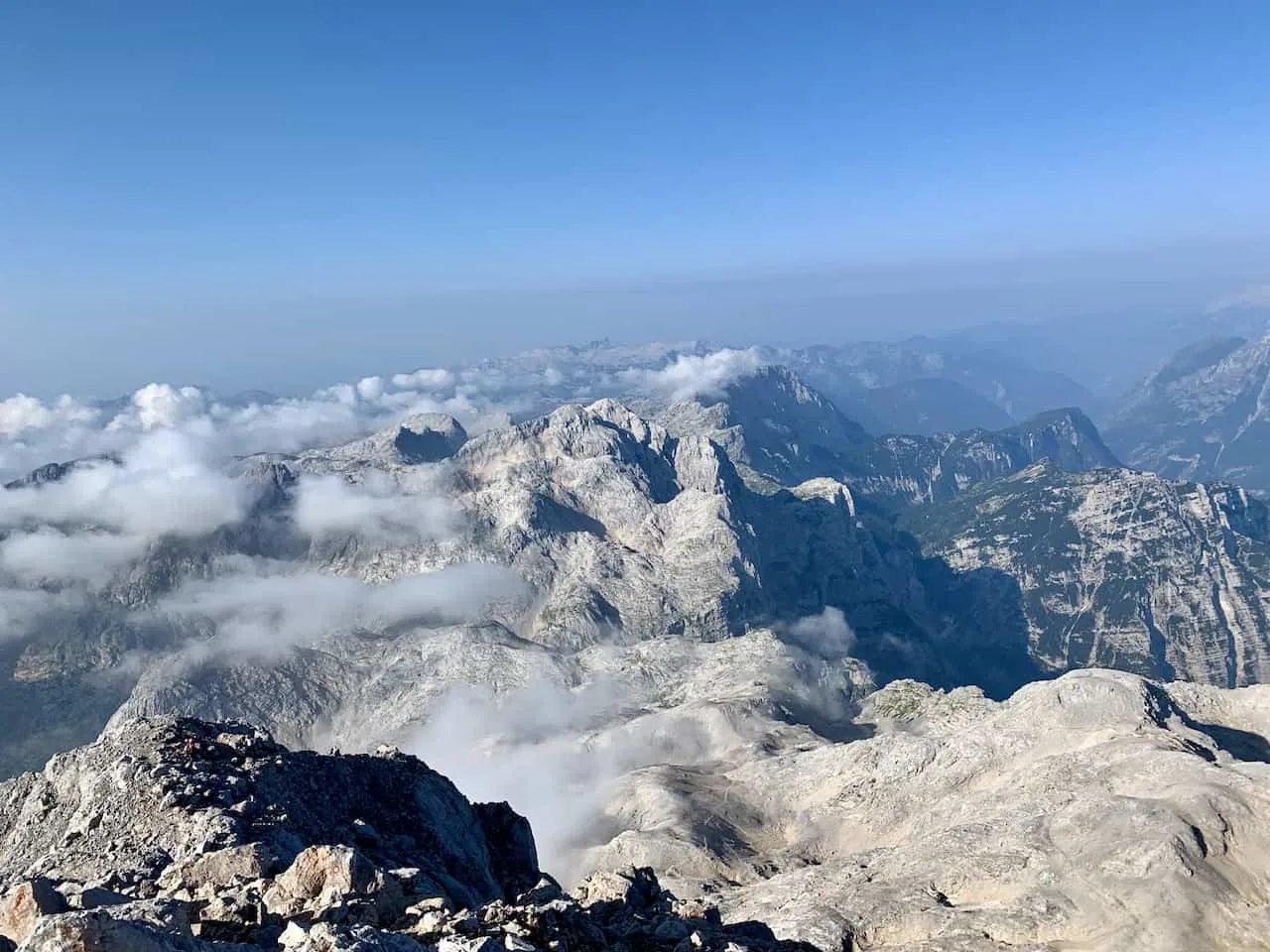 Seven Lakes Valley
Another one of the top hikes in Slovenia is the Seven Lakes Valley.
This hike can really be completed in a variety of ways depending on how long you want to spend out on the trail.
You can do an out and back hike to one of the huts/lakes, or take part of a full loop trail (stats below).
It can also be done as an overnight hike if you want to take things more slowly and have more time to spend enjoying your surroundings.
The main trailhead is at Planina Blato, where you will then set off to visit many lakes around the area. While it is called the "7 lakes", I found there to be even more than that!
The two main huts along the way will be the Triglavskih Jezerih Hut or Prehodavcih Hut. So, if you did want to opt for the overnight, be sure to book in advance.
Hiking Note: this is one of those trails where there are a lot of intersections to choose from. It can be quite complicated and having the trail downloaded onto a GPS app will help greatly.
Starting Point: Planina Blato
Ending Point: Planina Blato
Trail Type: Circular
Trail Length: 26.0 km / 16.2 miles
Elevation Gain: 1,219 meters / 4,000 feet
Duration: 8-10 hours (1-2 days)
Hiking Guide: Seven Lakes Valley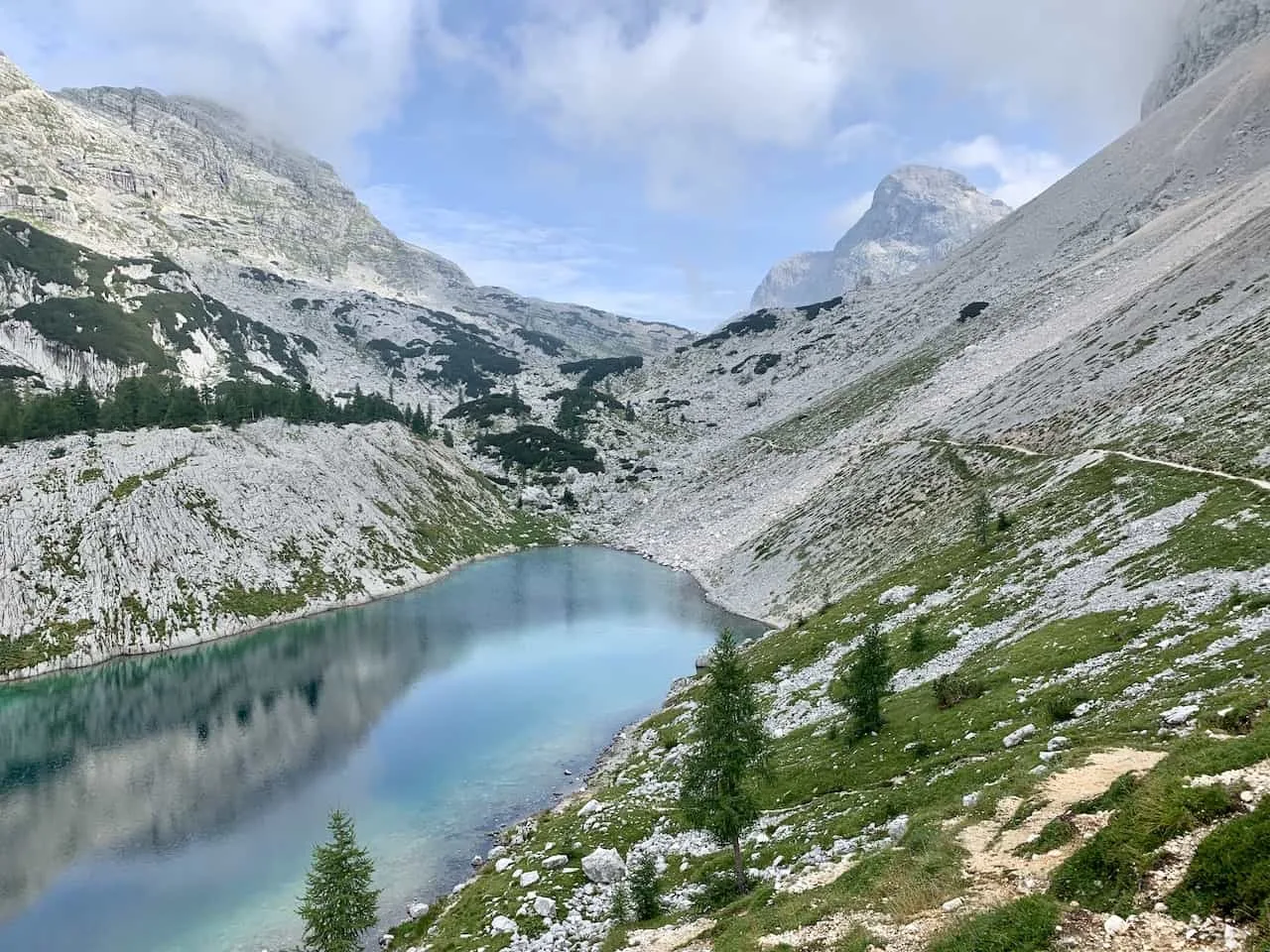 Slemenova Spica
One of the craziest roads in Slovenia is called the Vrsic Pass. The road comprises of 50 hairpin turns that take drivers through Triglav National Park.
On top of the pass, there are parking areas to enjoy the views and hiking trails around the area.
One of those hiking trails is Slemenova Spica.
The hike is a great addition to a day as you head from one side of the pass to the other. I took part of the hike as I drove between Kranjska Gora and Bovec.
Over the course of the hike, there will be several different viewpoints to check out, in addition to the beautiful surrounding mountainsides.
At the final viewpoint, you will find a nice area to sit back & relax at before turning around and completing the trail.
Hiking Note: this can either be done as an out and back hike or circular loop.
Starting Point: Vrsic Pass
Ending Point: Vrsic Pass
Trail Type: Circular (or out & back)
Trail Length: 5.4 km / 3.4 miles
Elevation Gain: 500 meters / 1,645 feet
Duration: 2-3 hours
Hiking Guide: Slemenova Spica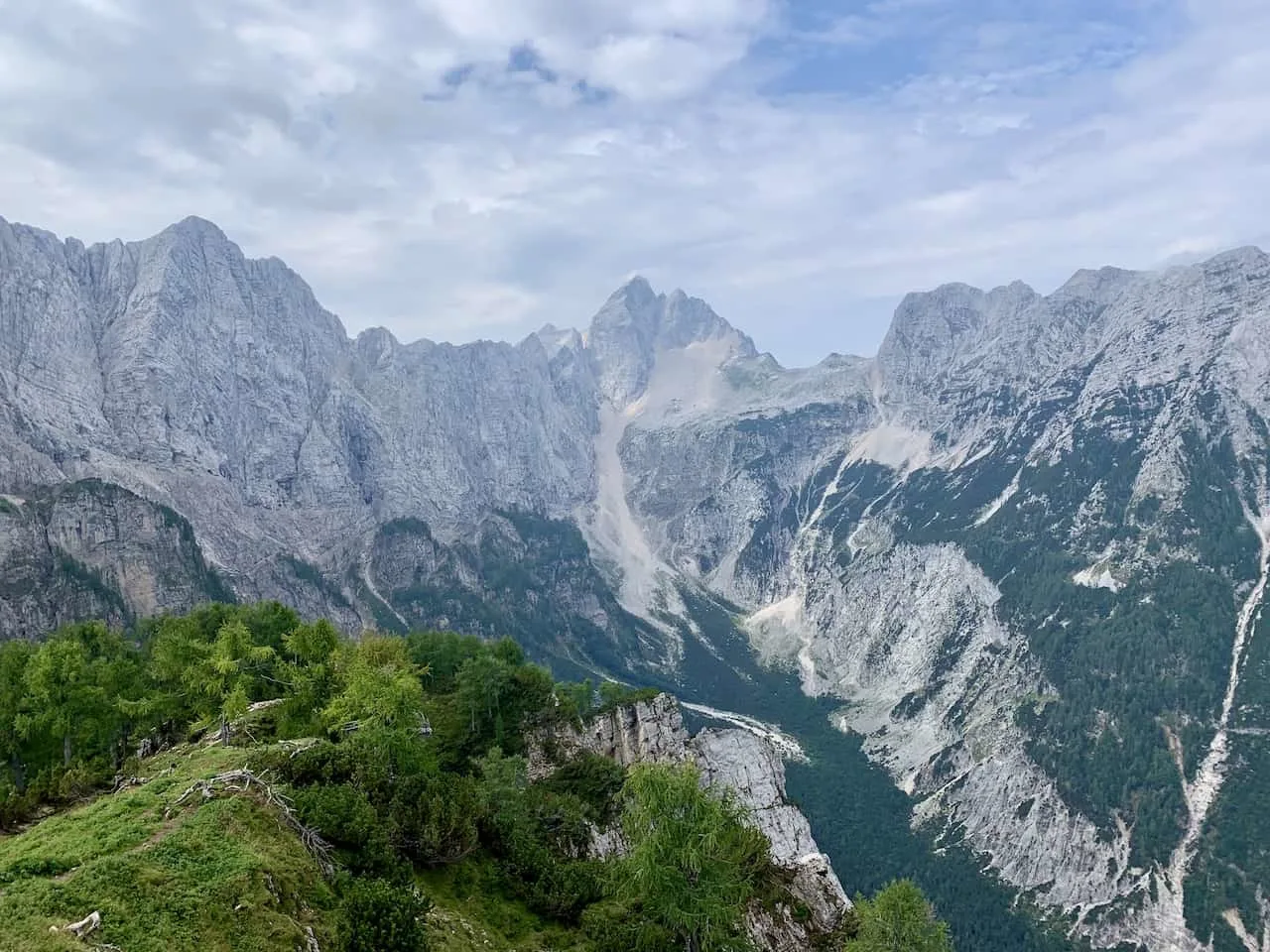 Slap Savica Waterfall
Hiking in Slovenia is not only about the mountain views. There are also plenty of waterfalls to visit around the country.
The Slap Savica waterfall is one of the most famous of them due to its stunning colored pools.
You will find the waterfall on the western side of Lake Bohinj. From the parking lot, it is a 30 minute hike up along the trail until you reach the waterfall lookout area.
The waterfall and its pool sits behind a staircase and closed gate. While you can't go past that gate, the views from the staircase will still be well worth the visit.
Starting Point: Slap Savica Parking Lot
Ending Point: Slap Savica Parking Lot
Trail Type: Out & Back
Trail Length: 2.4 km / 1.5 miles
Elevation Gain: 260 meters / 850 feet
Duration: 30 – 45 minutes
Hiking Guide: Slap Savica Waterfall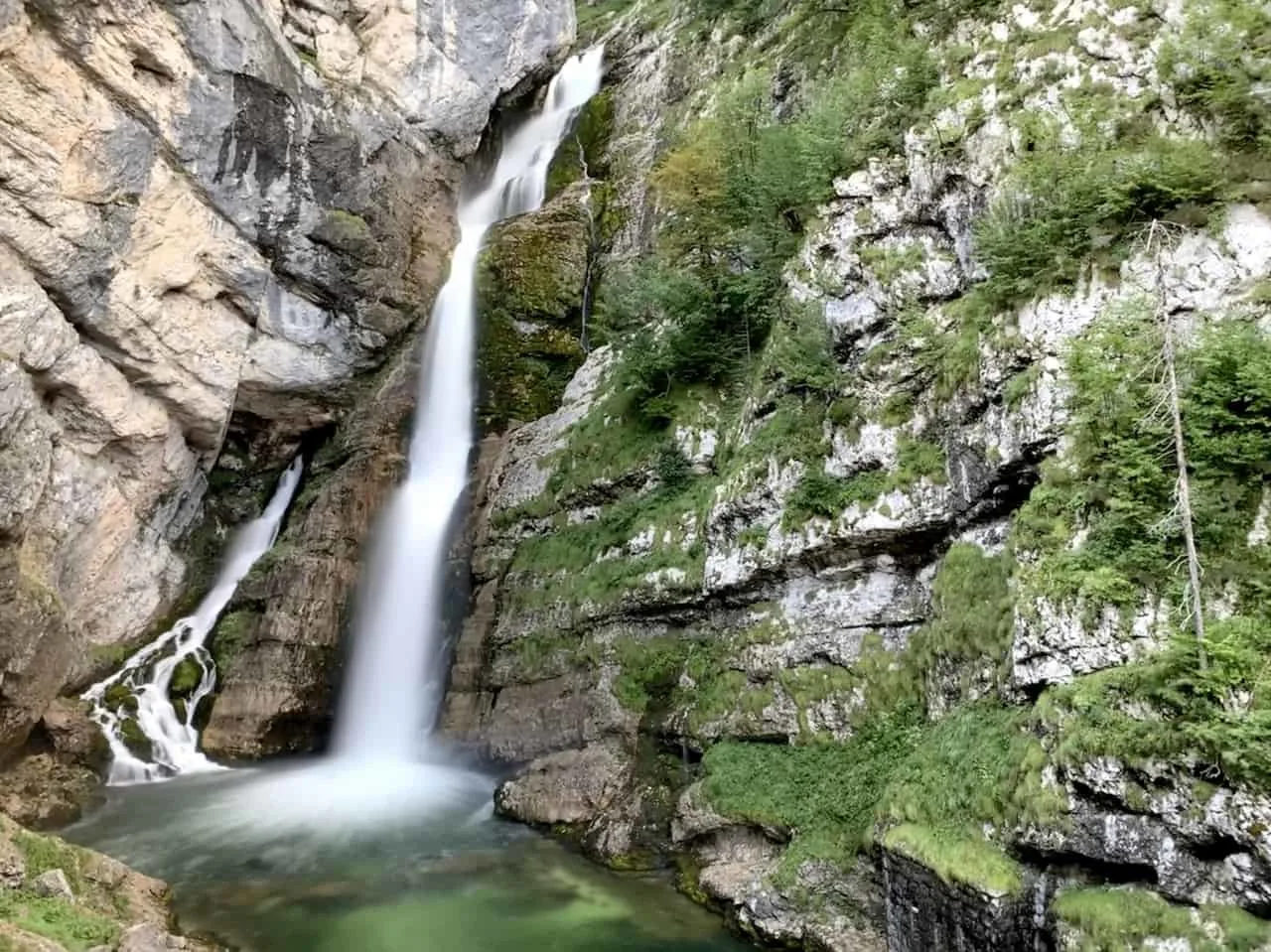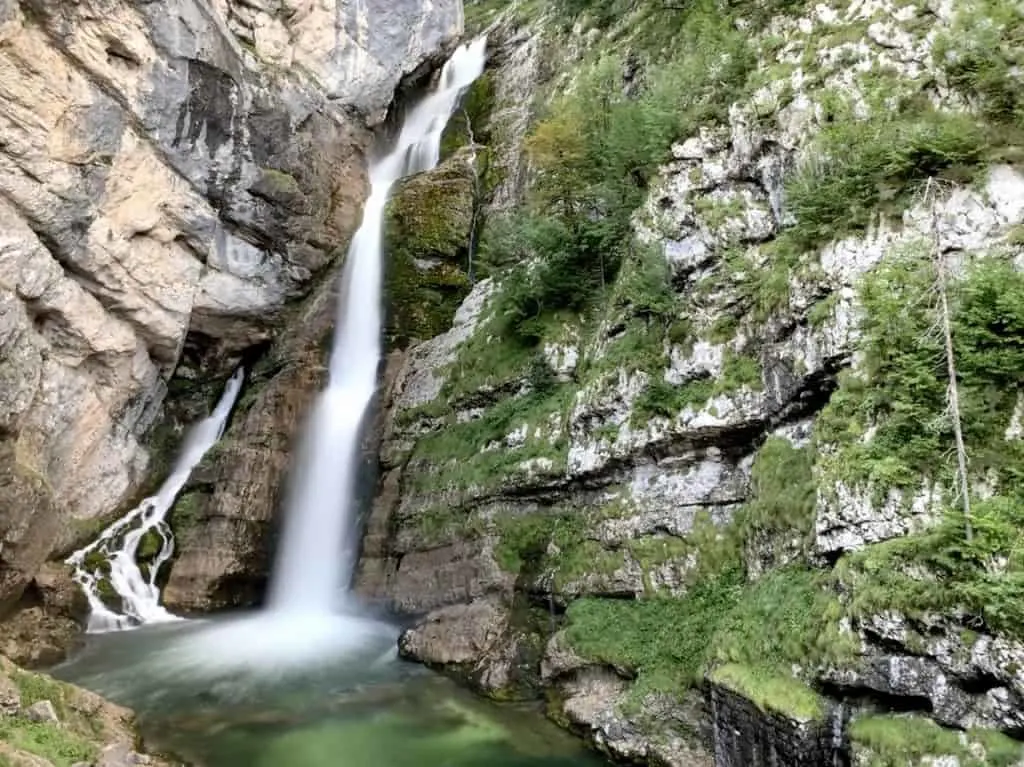 Pericnik Waterfall
One of my favorite waterfall hikes in Slovenia is the one that makes its way to Pericnik waterfall.
As you head up from the parking lot, you will be welcomed to some viewpoints of the waterfall from afar. As you head on up, the trail reaches the waterfall, where you can then follow a path that wraps behind the falls itself.
Getting that 360 degree view of the waterfall with the surrounding mountains & greenery out back is a pretty cool experience to take part of.
And it is not quite done just yet. The hiking trail does continue even further up above the waterfall.
While the terrain does get a bit trickier here, you will get to take in views standing on top of Slap Pericnik. Not only that, but there is also another waterfall and pool to enjoy up there.
Starting Point: Pericnik Waterfall Parking Lot
Ending Point: Pericnik Waterfall Parking Lot
Trail Type: Out & Back
Trail Length: 0.6 km / 0.4 miles
Elevation Gain: 70 meters / 220 feet
Duration: 20 minutes
Hiking Guide: Slap Pericnik Waterfall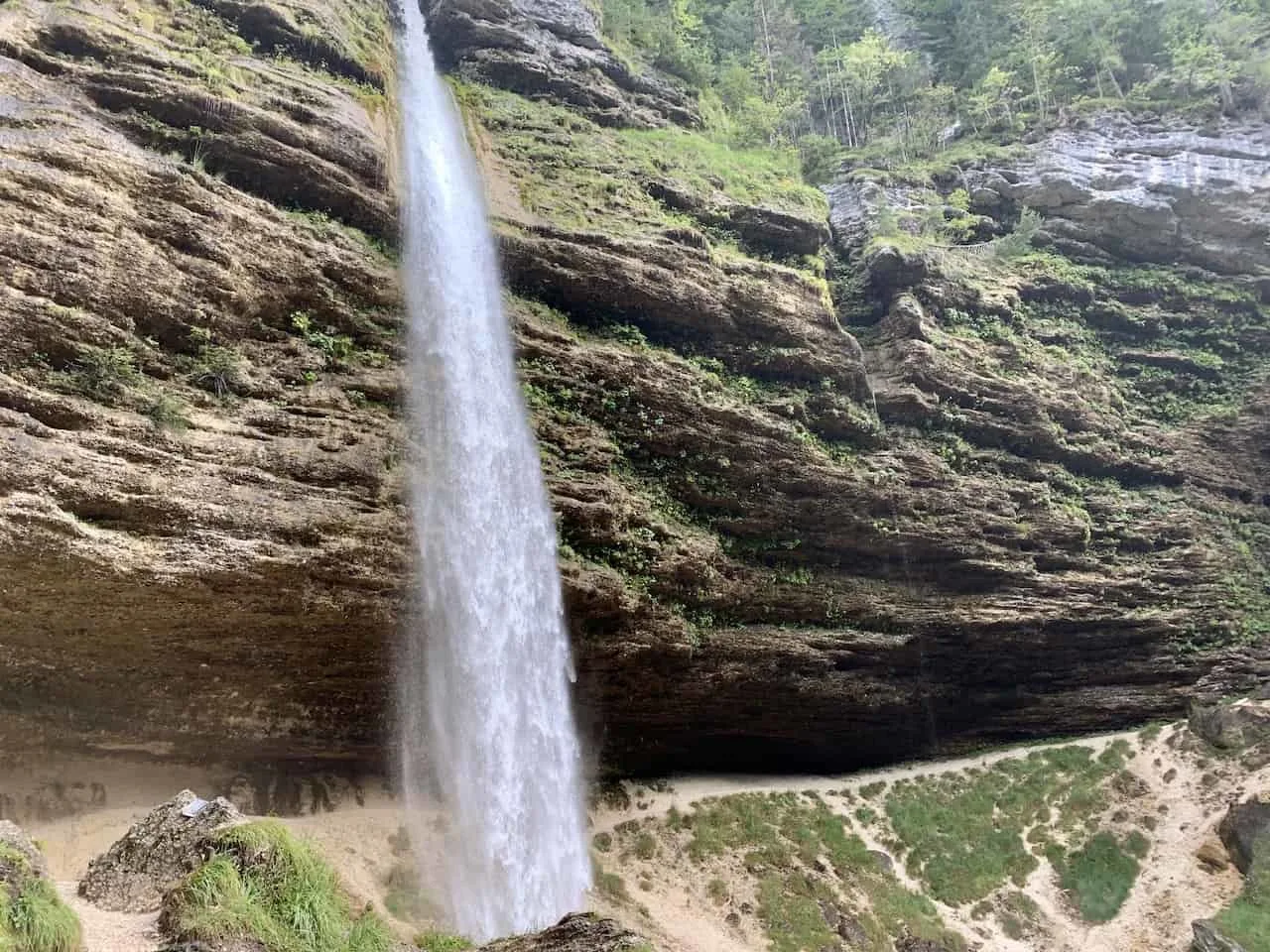 Boka Waterfall
The Boka waterfall is the tallest waterfall in Slovenia. When going about a visit, you have the chance to hike to one or more of the viewpoint areas (the stats below include a longer multi viewpoint hike).
It is important to note though that these viewpoint areas are very far away from the waterfall itself.
Even though the views are from a distance, getting to see the waterfall (in addition to the surrounding landscape) is still worth the hike.
Hiking Note: I have heard of people who have hiked all the way to the side of the waterfall. It seems like a more dangerous hike to take part of but it is possible.
Starting Point: Boka Waterfall Parking Lot
Ending Point: Boka Waterfall Parking Lot
Trail Type: Out & Back
Trail Length: 2.9 km / 1.8 miles
Elevation Gain: 440 meter / 1,440 feet
Duration: 1 – 1.5 hours
Hiking Guide: Boka Waterfall Hike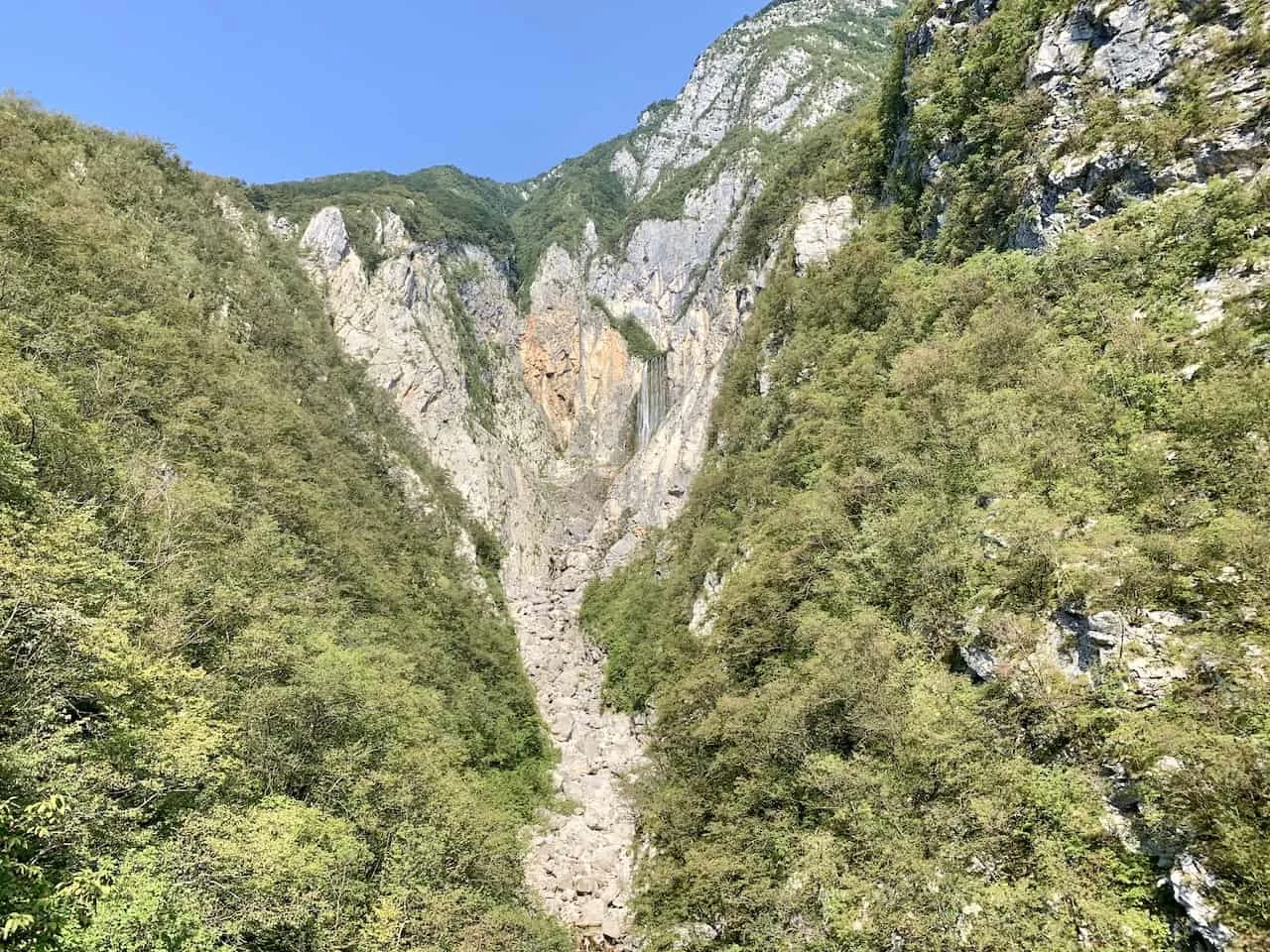 Virje Waterfall
The shortest Slovenia hike on this list is the one to the Virje Waterfall, located just outside of Bovec.
The waterfall is a popular spot for those that want a place to sit back and relax while taking in a scenic view.
The emerald pools of the waterfall are a true highlight here, so be sure to add it to the list!
Note that in addition to the waterfall, you can also hike to the Izvir Glijuna and Pluzna Lake.
Starting Point: Virje Waterfall Parking Lot
Ending Point: Virje Waterfall Parking Lot
Trail Type: Out & Back
Trail Length: 0.8 km / 0.5 miles
Elevation Gain: 15 meters / 50 feet
Duration: 15 minutes
Hiking Guide: Virje Waterfall
Tolmin Gorge
Gorges are another way to experience some hikes in Slovenia.
When going about gorge hikes you will (usually) be welcomed to high cliffside walls with a scenic river running through it.
Along the river will be boardwalks and walking paths that give you easy access to the gorge itself.
At the Tolmin Gorges, you will come across something just like that. But it is not only about the walking along the river here.
In addition to the gorge, the area includes other highlights such as Confluence of Tolminka & Zadlascica Rivers, Thermal Spring, Bear's Head, Dante's Cave, and Devil's Bridge.
Depending on your preferences, you can decide to visit some or all of the places during a visit.
Starting Point: Tolmin Gorges Parking (P1)
Ending Point: Tolmin Gorges Parking (P1)
Trail Type: Circular
Trail Length: 2.0 km / 1.2 miles
Elevation Gain: 170 meters / 550 feet
Duration: 1.5 hours
Hiking Guide: Tolmin Gorges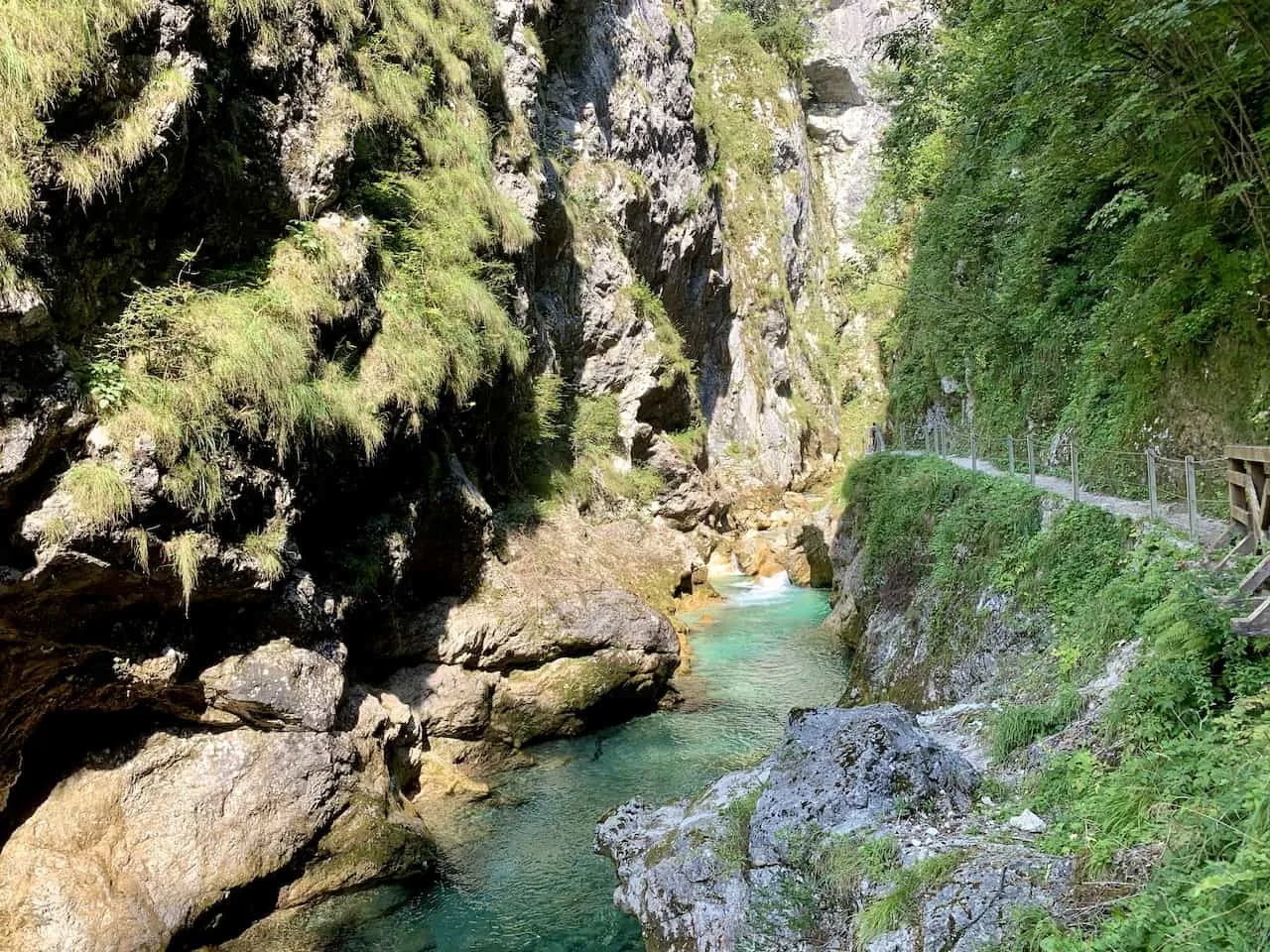 Mostnica Gorge
Located just outside of Star Fuzina near Lake Bohinj, you will find the Mostnica Gorge. The Mostnica River is a perfect place to spend an afternoon exploring the crystal clear waters.
While most people head to the more famous Tolmin and Vintgar Gorges, Mostnica is the perfect place to escape some of the crowds.
You can take part of short or long routes around Mostnica, depending on how much time you would like to spend in the area (longer trail stats are listed below).
The highlight will be the turquoise waters and unique rock formations that can be found all throughout. While you can turnaround at any point, it is worth heading to the final 20 meter Voje waterfall located at the end of it.
Starting Point: Stara Fuzina
Ending Point: Stara Fuzina
Trail Type: Out & Back
Trail Length: 12.1 km / 7.5 miles
Elevation Gain: 350 meters / 1,140 feet
Duration: 4 hours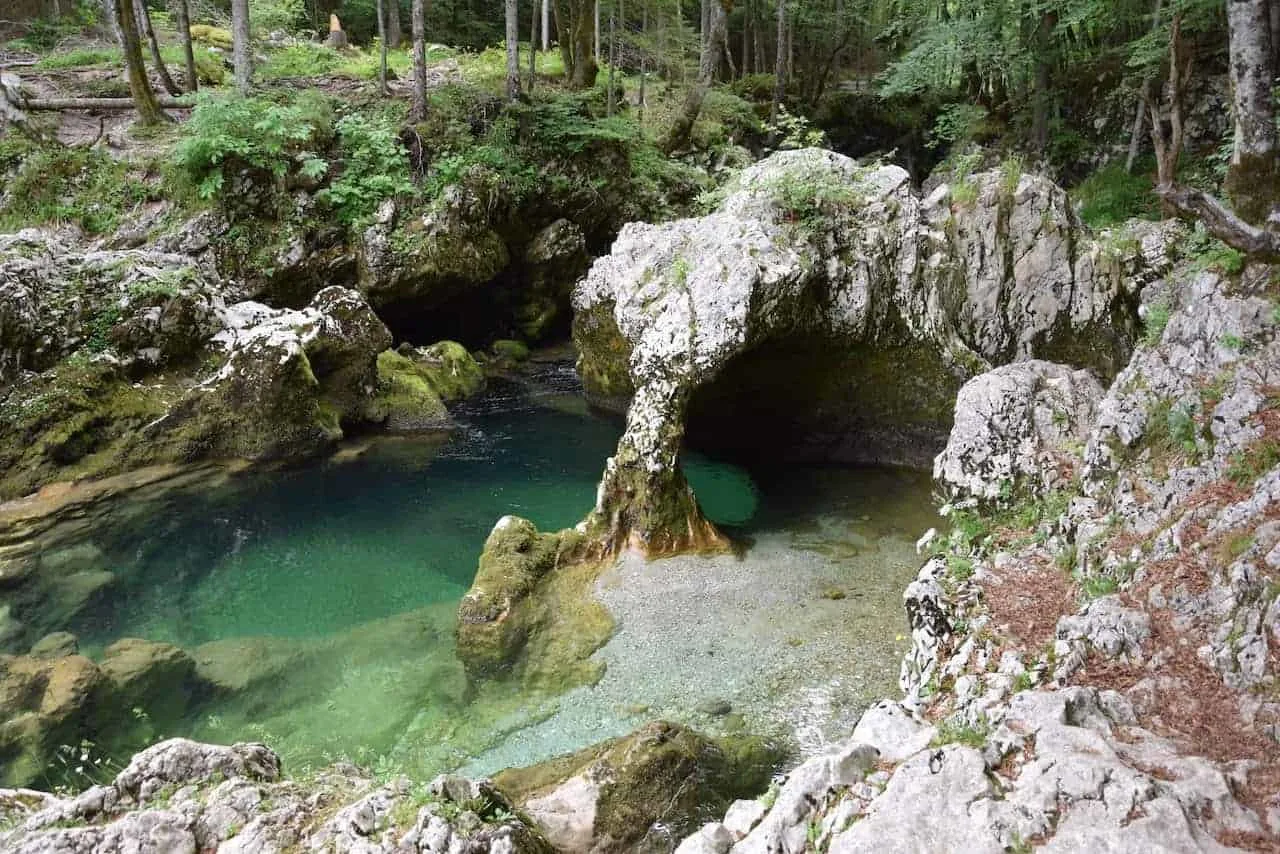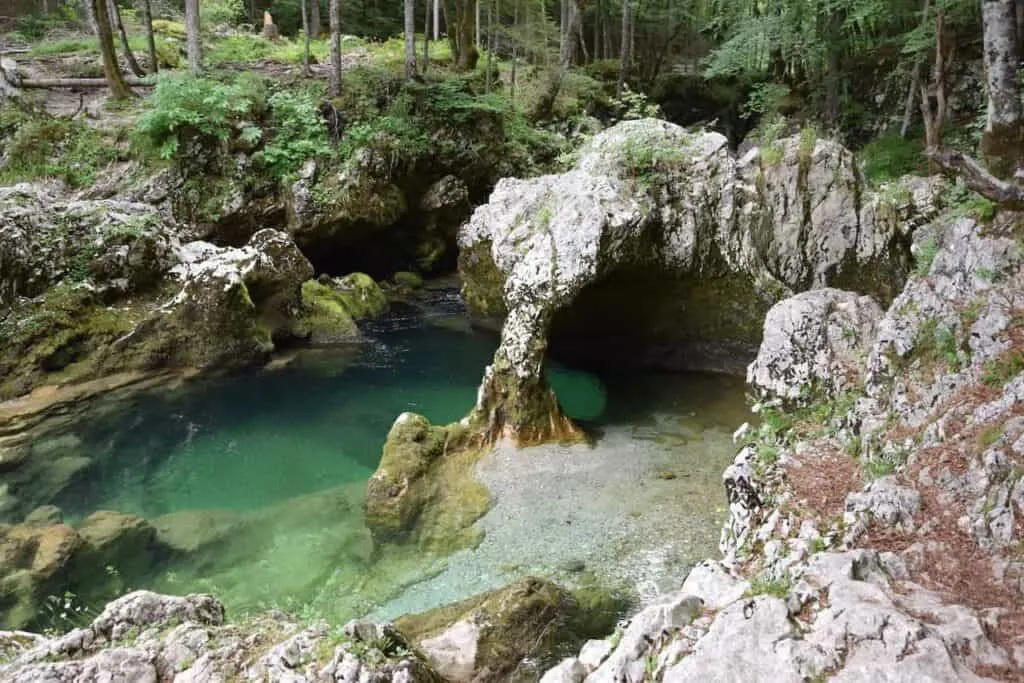 Vintgar Gorge
Without a doubt, the most popular of gorge hikes in Slovenia is the one through Vintgar Gorge.
The gorge is located just a short drive away from Bled, and it can get quite busy during the day.
I would recommend heading up to the gorge right at opening time to avoid the crowds and have the place to yourself.
The Vintgar Gorge hike follows the Radovna River, as you head along boardwalks viewing the river from all different angles.
Towards the end of the gorge, you will come across some smaller waterfalls as well as the famous Sum waterfall.
Once out of the gorge, you can then choose from a couple hiking trails that will loop back to the entrance (longer hiking stats listed below).
Starting Point: Vintgar Gorge Parking Lot
Ending Point: Vintgar Gorge Parking Lot
Trail Type: Circular
Trail Length: 4.8 km / 3.0 miles
Elevation Gain: 180 meters / 600 feet
Duration: 2-3 hours
Hiking Guide: Vintgar Gorge Hike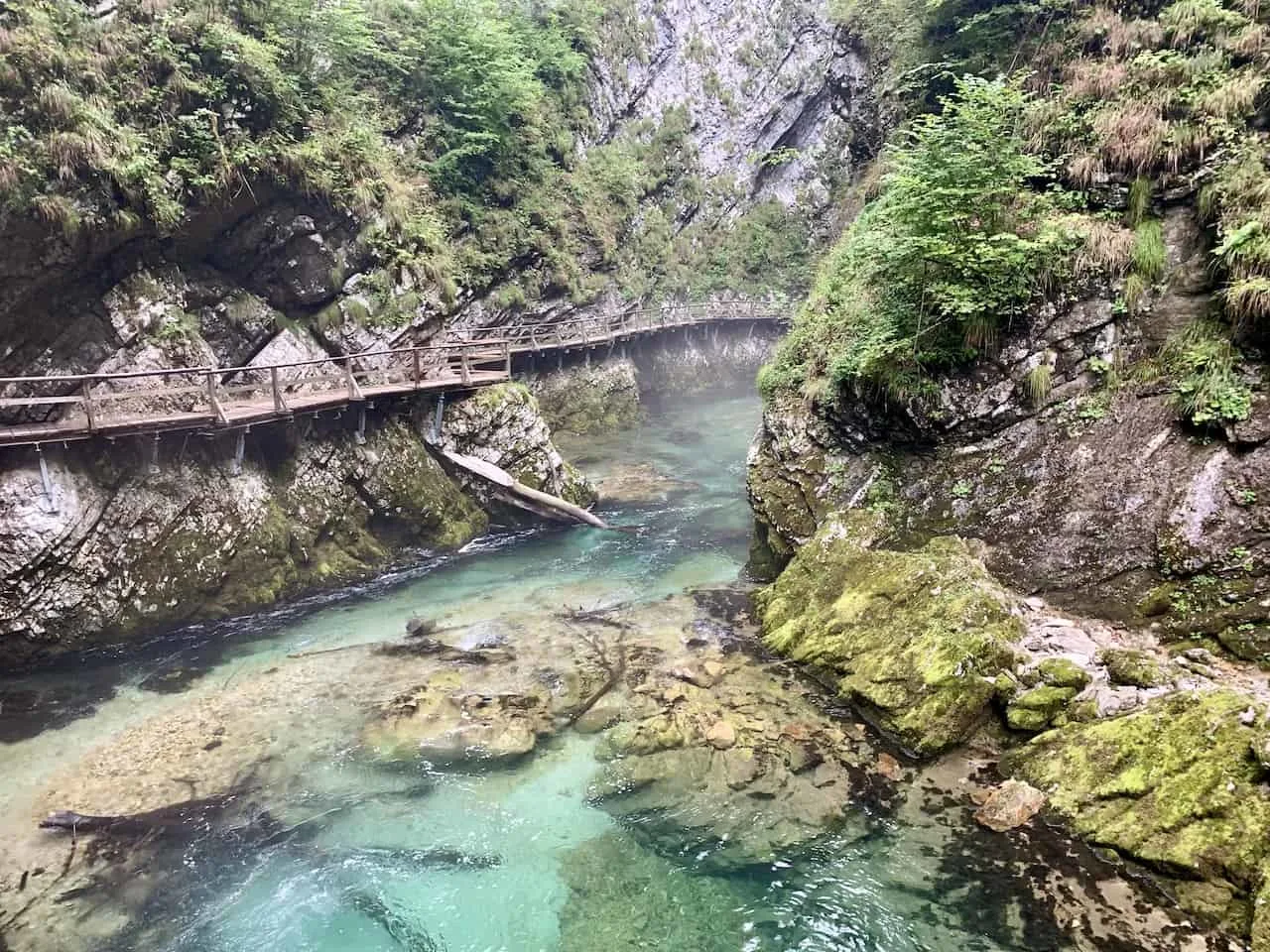 Lake Bohinj Hike
Nothing beats an easy stroll around one of Slovenia's beautiful lakes!
The hike around Lake Bohinj offers a flat trail for hikers of all ages to take part of.
It is perfect for those that want to still enjoy the immense beauty that Slovenia has to offer, without the inclines and declines that you will come across on other trails.
The best part is that you can take breaks as you see fit and jump into the water to cool down.
If you find yourself not wanting to hike around the whole thing, no worries! You can simply turn around whenever you would like back to your starting point.
Starting Point: Ribcev Laz
Ending Point: Ribcev Laz
Trail Type: Circular
Trail Length: 11.2 km / 7.0 miles
Elevation Gain: 150 meters / 500 feet
Duration: 3 hours
Learn more about the best things to do in Lake Bohinj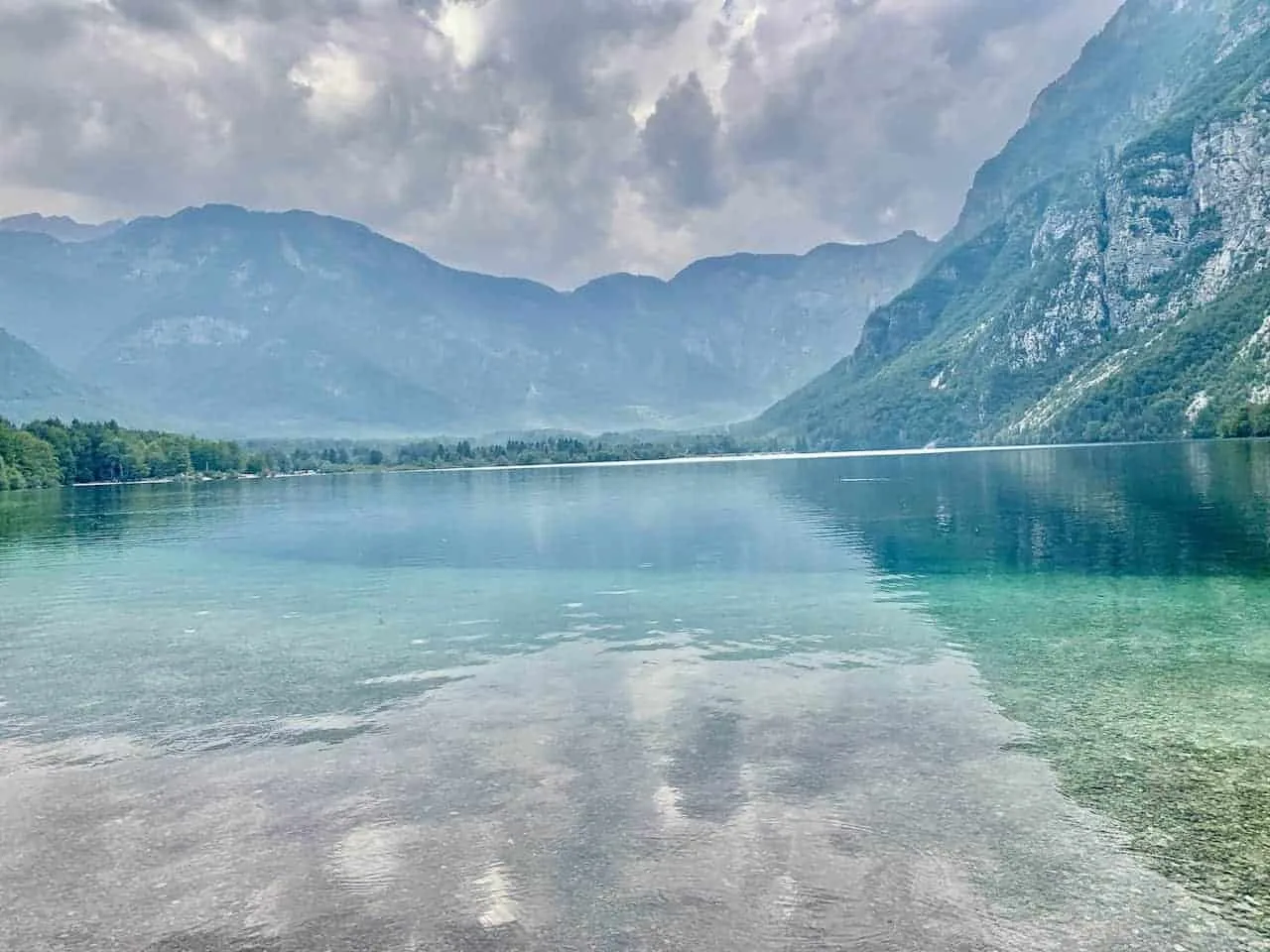 Lake Bled Hike
Similar to Lake Bohinj, you can also hike around Lake Bled. Since the lake is smaller, the trail is shorter in length.
Lake Bled is truly a special place with its reflective waters on a calm day, and famous Bled Island sitting in the middle of the lake.
Up top on the mountainside is Bled Castle, which makes the surrounding scenery even that much better.
During a walk around the lake, you can find a bench to sit down and relax on, head into the water at one of the swimming areas, or even hop on a boat ride to the island (and visit the church).
Starting Point: Bled
Ending Point: Bled
Trail Type: Circular
Trail Length: 6.0 km / 3.7 miles
Elevation Gain: 120 meters / 400 feet
Duration: 2 hours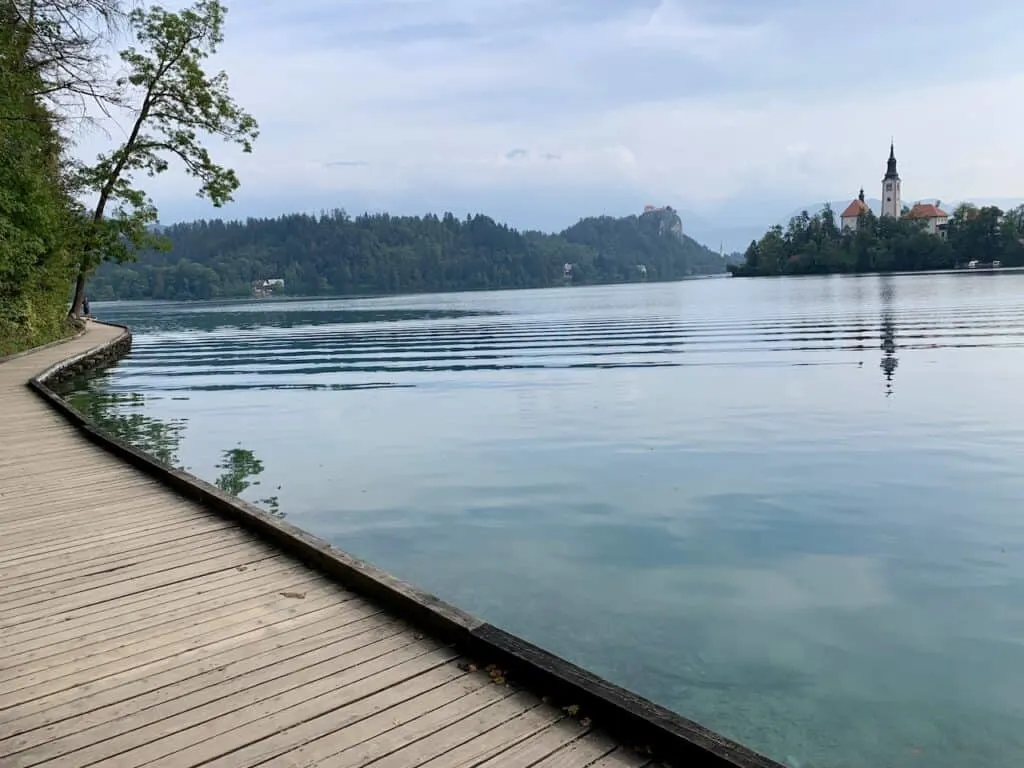 Bled Viewpoint
Now, while walking around the lake is one thing, seeing it from up top is another.
In my opinion, the best spot to see the lake from above is from Ojstrica and Osojnica. In this area you will find three separate viewpoints to hike to.
You can decide to hike to just one, or make it a loop trail and head to all three (stats below for the full loop).
Getting that elevated perspective, with the whole lake out in front and the castle & mountains out back is the ideal viewpoint.
When it comes to hikes in Slovenia, I would highly recommend adding this one to the list!
Starting Point: 46°21'40.9″N 14°04'59.2″E
Ending Point: 46°21'40.9″N 14°04'59.2″E
Trail Type: Circular (or out & back)
Trail Length: 4.8 km / 3.0 miles
Elevation Gain: 300 meters / 1,000 feet
Duration: 1.5 hours
Hiking Guide: Lake Bled Ojstrica & Osojnica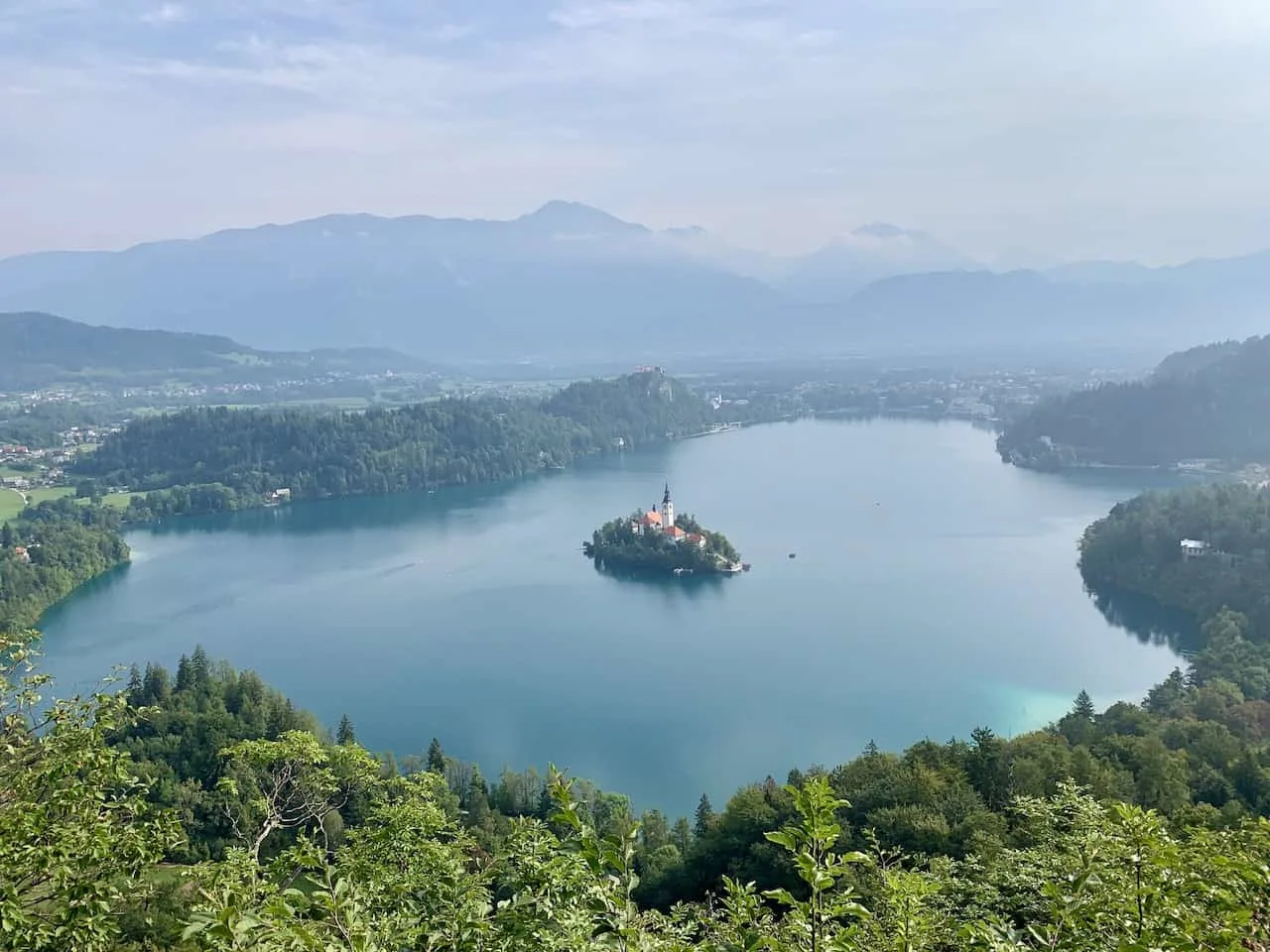 9) Slovenia Hut to Hut Hiking
All of the hikes mentioned above are ones that can be completed in a single day. With that said, I did list out a few that could be done over the course of multiple days.
When it comes to multi day hikes out in the mountains of Slovenia, you will need to consider where to stay each night.
Since wild camping is not allowed in Slovenia, your next best option is to stay at mountain huts.
All throughout the country you will find these mountain huts that come in all different shapes and sizes.
Spending a night at a hut will give you the chance to extend hikes, and go to sleep / wake up to some of the best views you can ask for.
And don't worry – the huts serve meals as well. So, you should be well fed during your multi day excursions.
Hut to Hut Note
One reason why hut to hut hiking can be frustrating is because you really should be booking these ahead of time. This means you are locked into those dates and can't work around the weather.
While you can always see if there are last minute openings once you arrive, there is a good chance that you will be locked out of making those bookings.
If you are heading on a hut to hut hike, it is even that more important to come well prepared with ALL types layers for any type of weather conditions.
When it comes to multi day hikes, below are a few to consider:
Mount Triglav
As mentioned, hiking up Triglav is usually done over the course of a couple of days.
This gives hikers the ability to trek up to the mountain hut on day 1, and then summit early in the morning on day 2 (when the weather is usually clearer).
Once all done with the summit, it is back down to the hut and to the trailhead.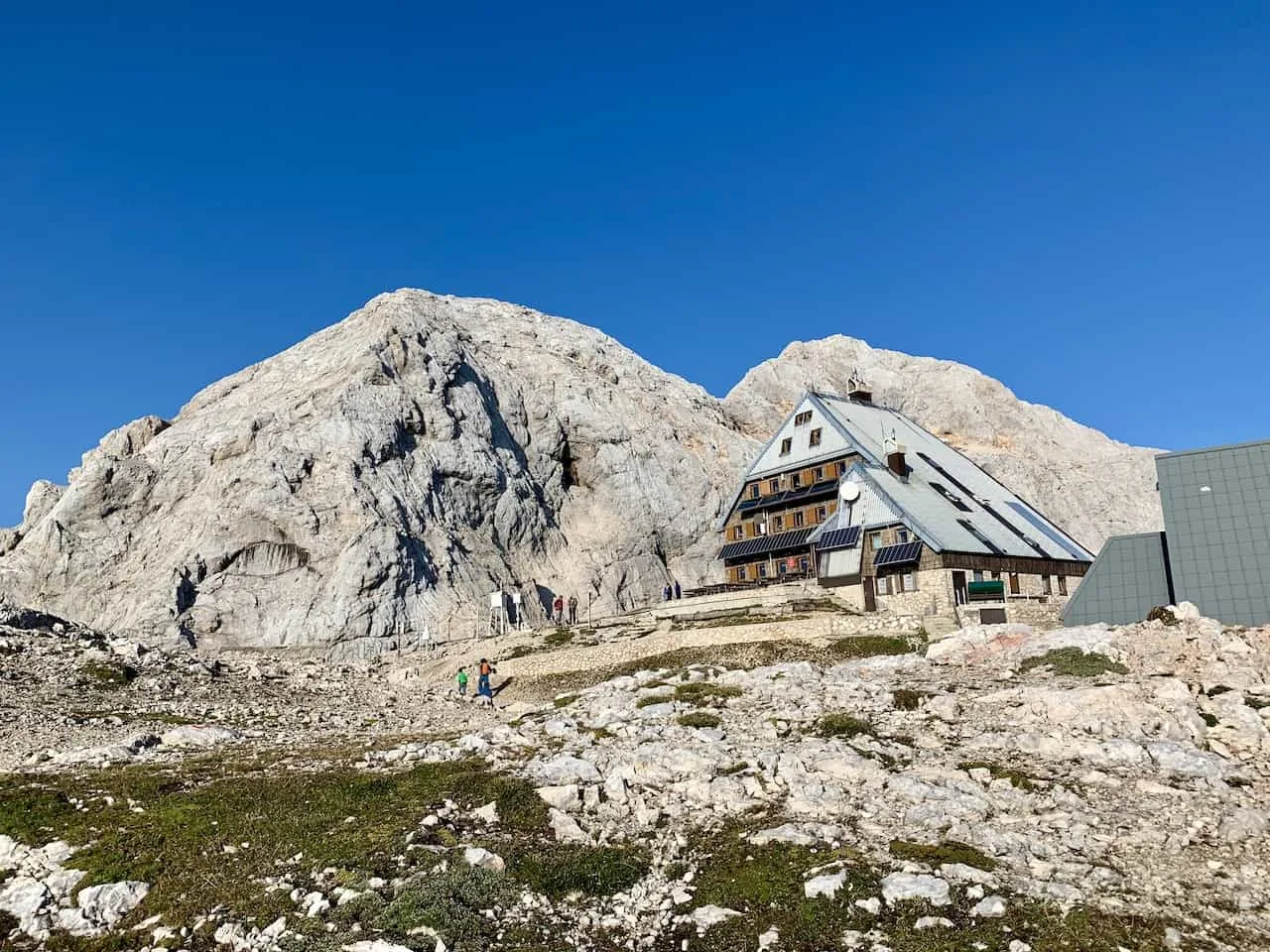 Seven Lakes Valley
The 7 Lakes Valley is another hut to hut hiking experience to opt for. During a hike through the valley, people usually choose from either the Triglavskih Jezerih Hut or Prehodavcih Hut.
The Triglavskih Jezerih Hut sits right on the lake, while the Prehodavcih Hut hut overlooks a mountainous viewpoint.
By choosing to do a hut to hut overnight hike, you will more easily be able to take part of the full loop trail without cramming it all into one day.
Another Slovenia hut to hut option to consider is the combination of the Seven Lakes Valley with Triglav.
While most of the Triglav routes are 1-2 hikes, the route through the Seven Lakes Valley will most likely be a 3 day endeavor.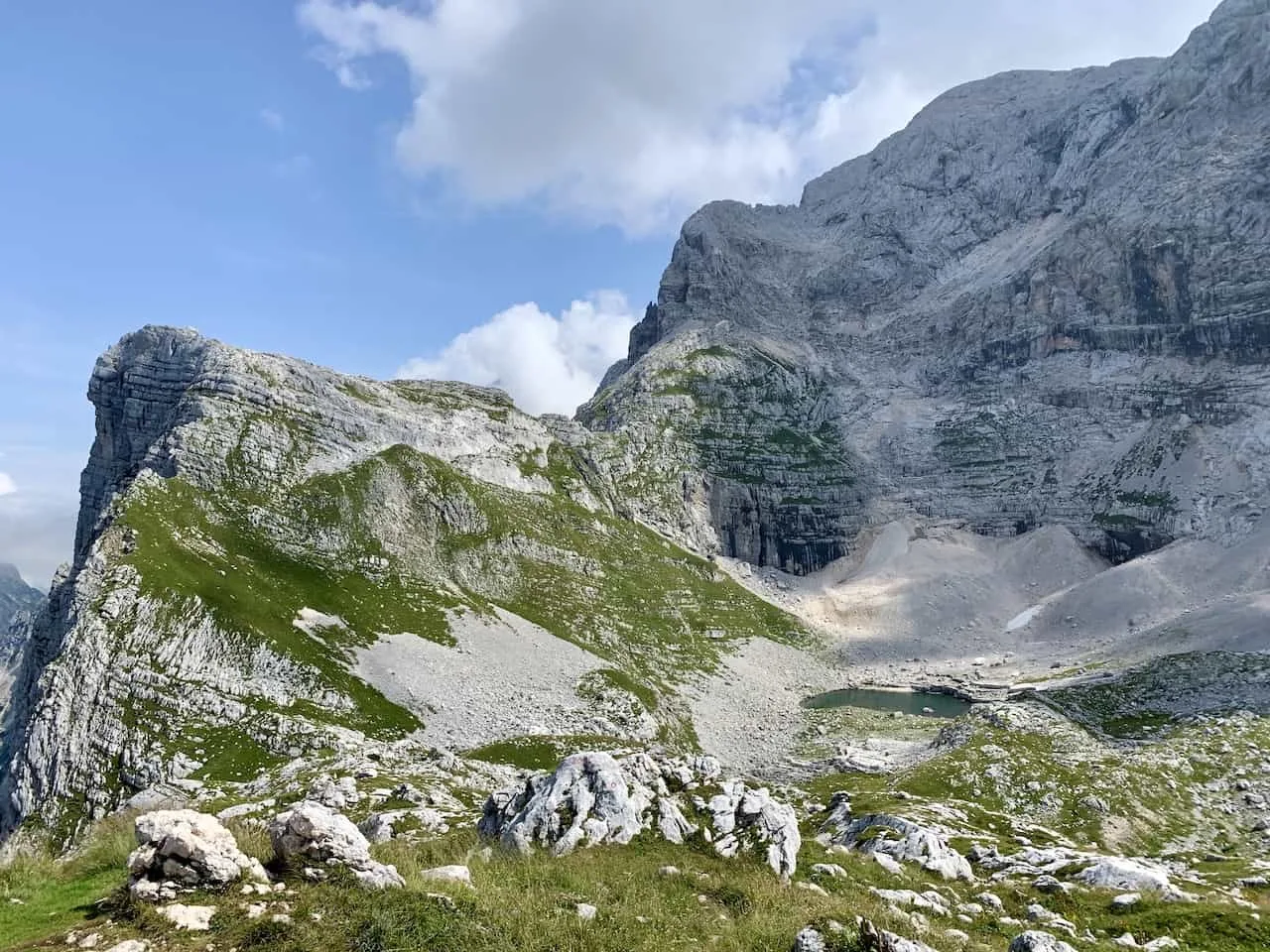 Triglav National Park Traverse
What cooler way to see Triglav National Park then hiking all the way through it from north to south.
While there are some various routes to consider, a popular way to go about it is starting at the Vrsic Pass and ending at Lake Bohinj.
During a traverse through TNP, you will get to pass through the Seven Lakes Valley, hike up Triglav, and take in plenty more Slovenia landscape along the way.
Set aside around 5 days for a traverse like this and be sure to book those huts ahead of time!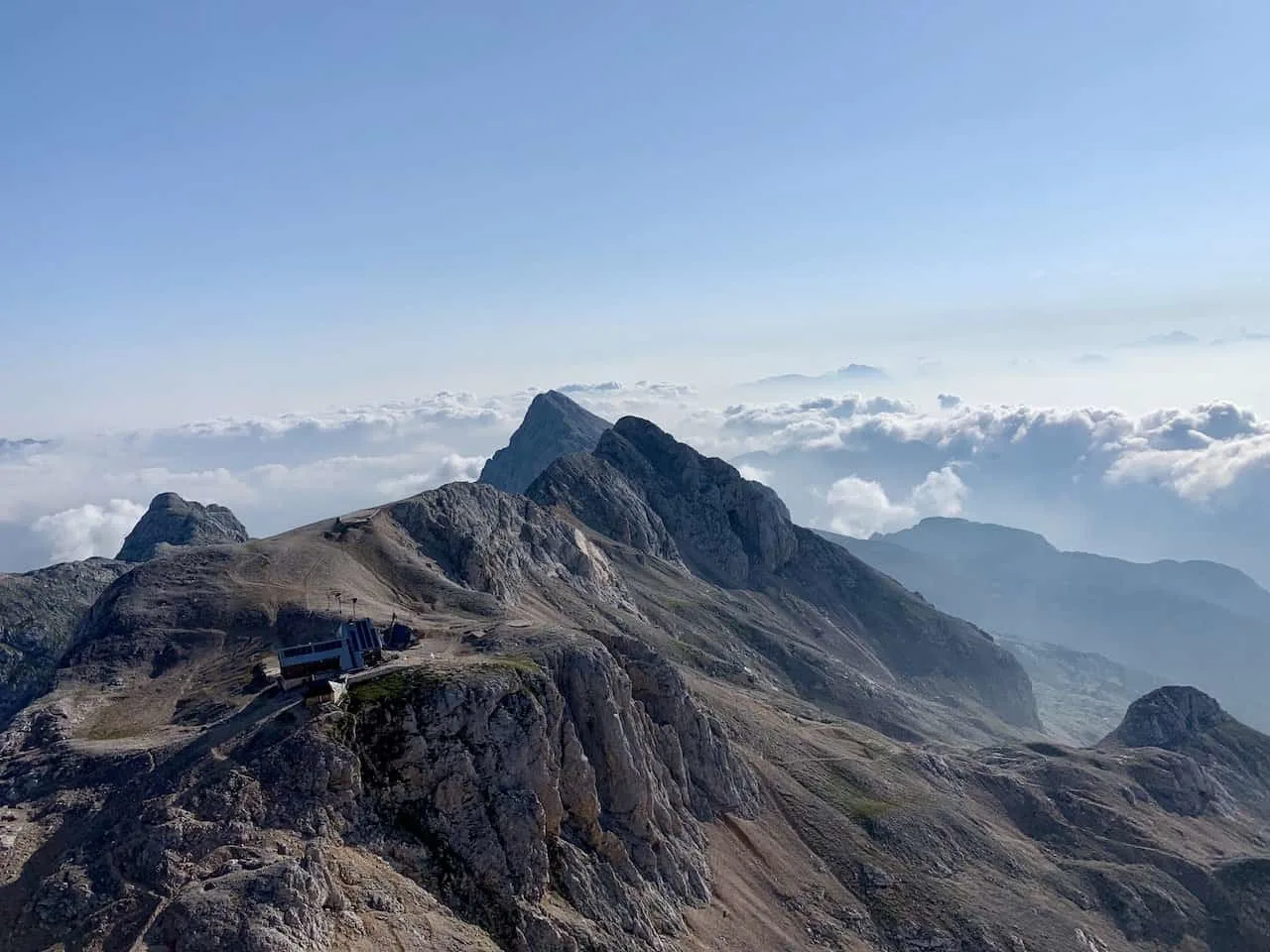 Juliana Trail
While not a "hut to hut" hiking trail, the Juliana Trail takes you all throughout the Julian Alps of Slovenia.
It is not a hike that heads up into the mountains, but rather through the valleys and towns that encircle the the alps.
The trail is a long one and is advertised as a 16-20 day hike. Instead of staying at huts each night, you will actually be able to sleep in small towns along the way.
This is great for those that want the comfort of a hotel/guesthouse and the ability to go to a restaurant for example.
If you have the time, energy, and commitment, the Juliana Trail may be just for you.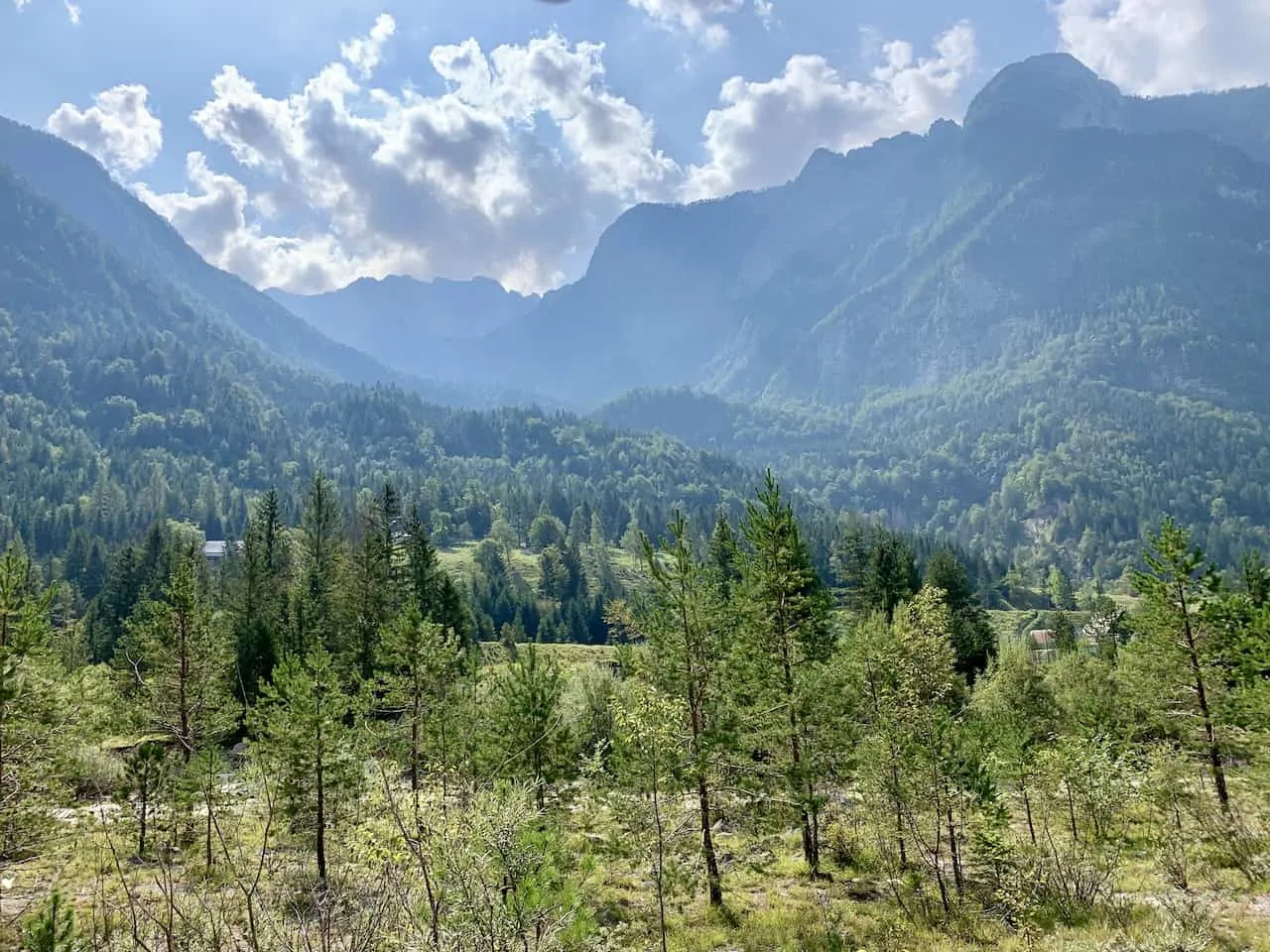 10) Slovenia Hiking Itinerary
Now, you may be wondering what a Slovenia hiking itinerary can look like.
I have put together a more encompassing Slovenia itinerary that takes you hiking in addition to other spots around the country such as Ljubljana and Piran.
But for those avid hikers out there, who are only really interested in heading onto the trails, check out the below 7 day itinerary.
This will be a mix and match of easier options, multi day routes, and some down time to just relax by a lake.
Day 0: Arrive and travel to Lake Bled
Day 1: Lake Bled Hike | Ojstrica and Osojnica Viewpoint Hike
Day 2: Mount Vogel / Rodica Hike | Savica Waterfall Hike | Lake Bohinj
Day 3 & 4: Mount Triglav Hike or Seven Lakes Valley Hike
Day 5: Pericnik Waterfall | Vrsic Pass | Slemenova Spica Hike
Day 6: Soca Trail
Day 7: Virje Waterfall | Boka Waterfall | Rest & Recover
That is definitely a lot of hiking to take on! So, if you feel like it's too much, feel free to take a day or two off and just spend some time relaxing.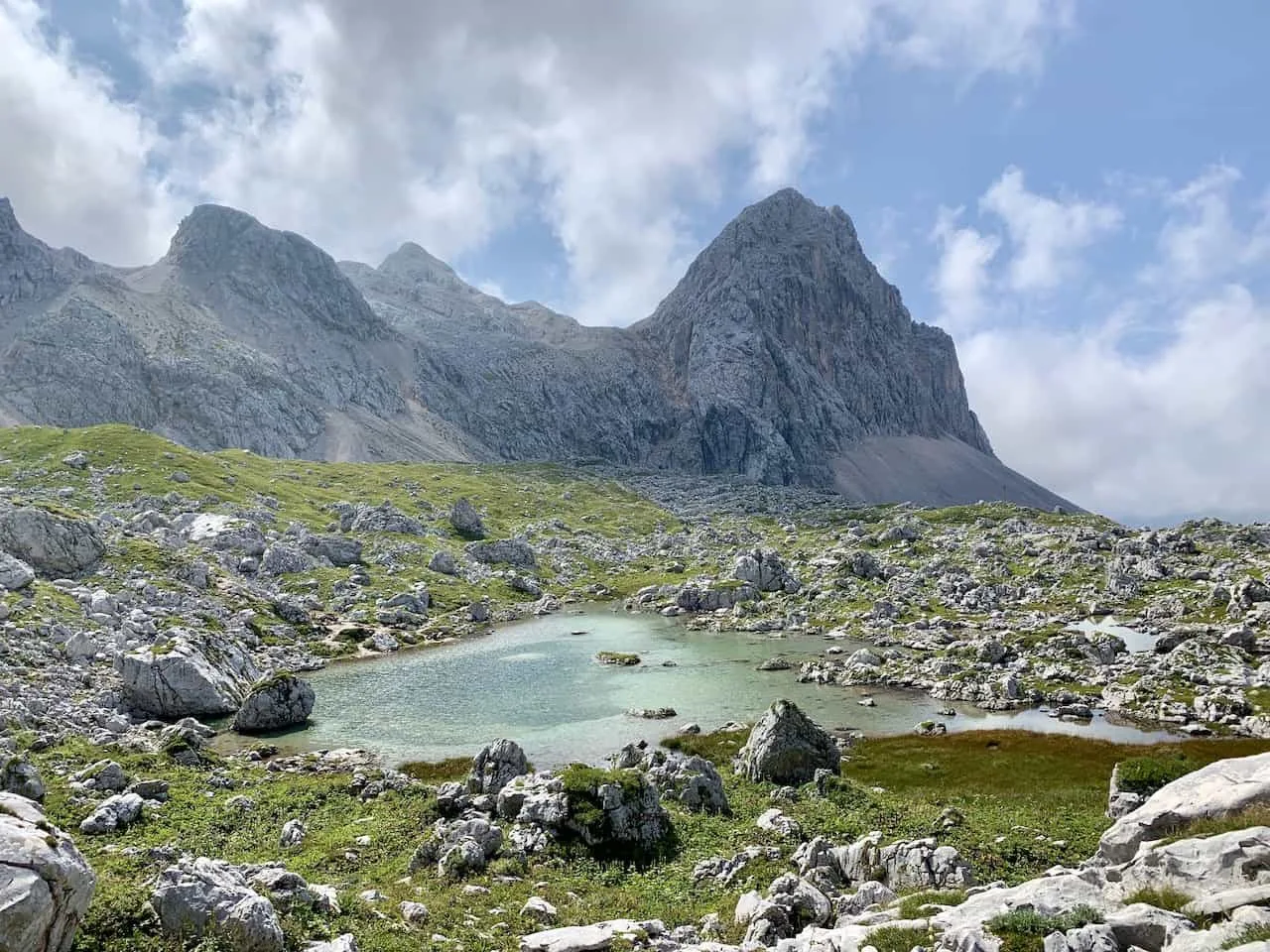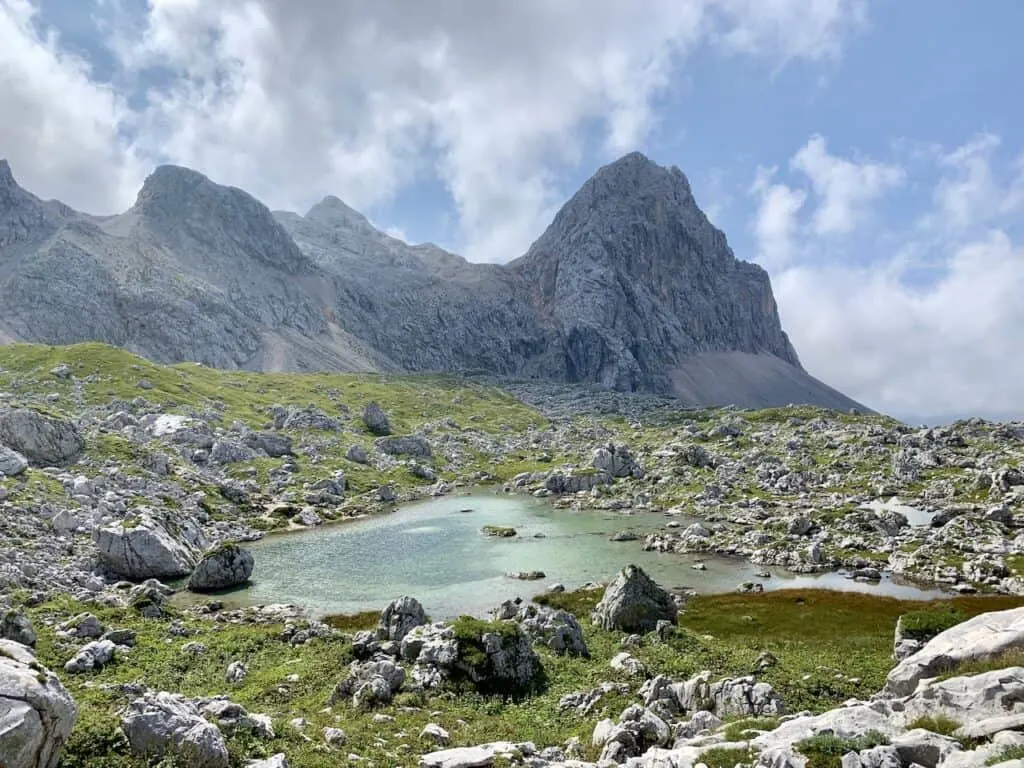 That wraps up a guide to the best hikes in Slovenia and how to go about them!
If you have any questions or comments, be sure to add them in below. Also don't forget to check out the other Slovenia itineraries and guides up on the site.
Have fun out there and safe travels!