When it comes to lakes in Slovenia (and in Europe for that matter), Lake Bled is near the top of the list.
Surrounded by mountains and greenery in all directions, Lake Bled makes for one of the most picturesque locations to visit in the country.
All around the lake there is so much to do and see. Whether that is hiking, swimming, visiting a viewpoint, or heading onto the small island in the middle of the lake – you can do it all & more during a visit.
Read on to learn more about Lake Bled and how to enjoy this one of kind place for yourself.
* Affiliate Disclosure: This post may contain affiliate links, which means I may receive a commission if you make a purchase through the links provided, at no additional cost to you. Thanks for supporting the work I put into TripTins!
1) Where is Lake Bled
Lake Bled is located in the northwestern part of Slovenia in the Upper Carniola region of the country.
The lake is surrounded by the mountains of the Julian Alps range, and is just on the outskirts of the famous Triglav National Park.
On the eastern side of the lake, you will find the town of Bled. This is the perfect place to base oneself when visiting Lake Bled and the surrounding region.
-> Visit Lake Bled as part of a longer Slovenia road trip around the country.
Below are a couple maps that show where Bled is located in relation to the rest of the country, as well as a zoomed in view of the region itself.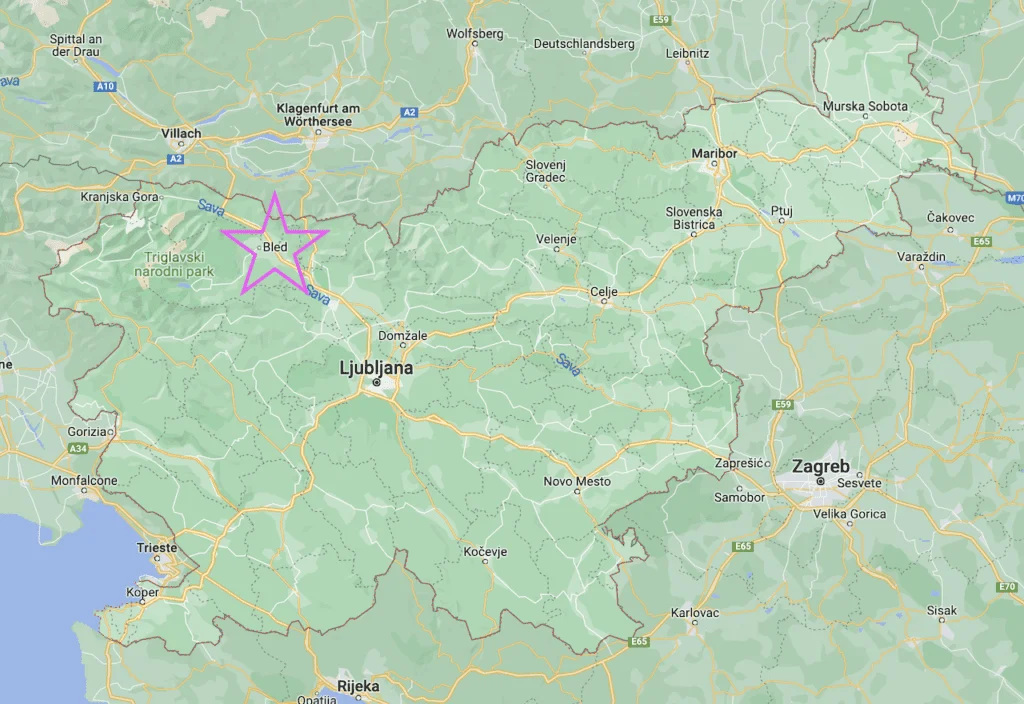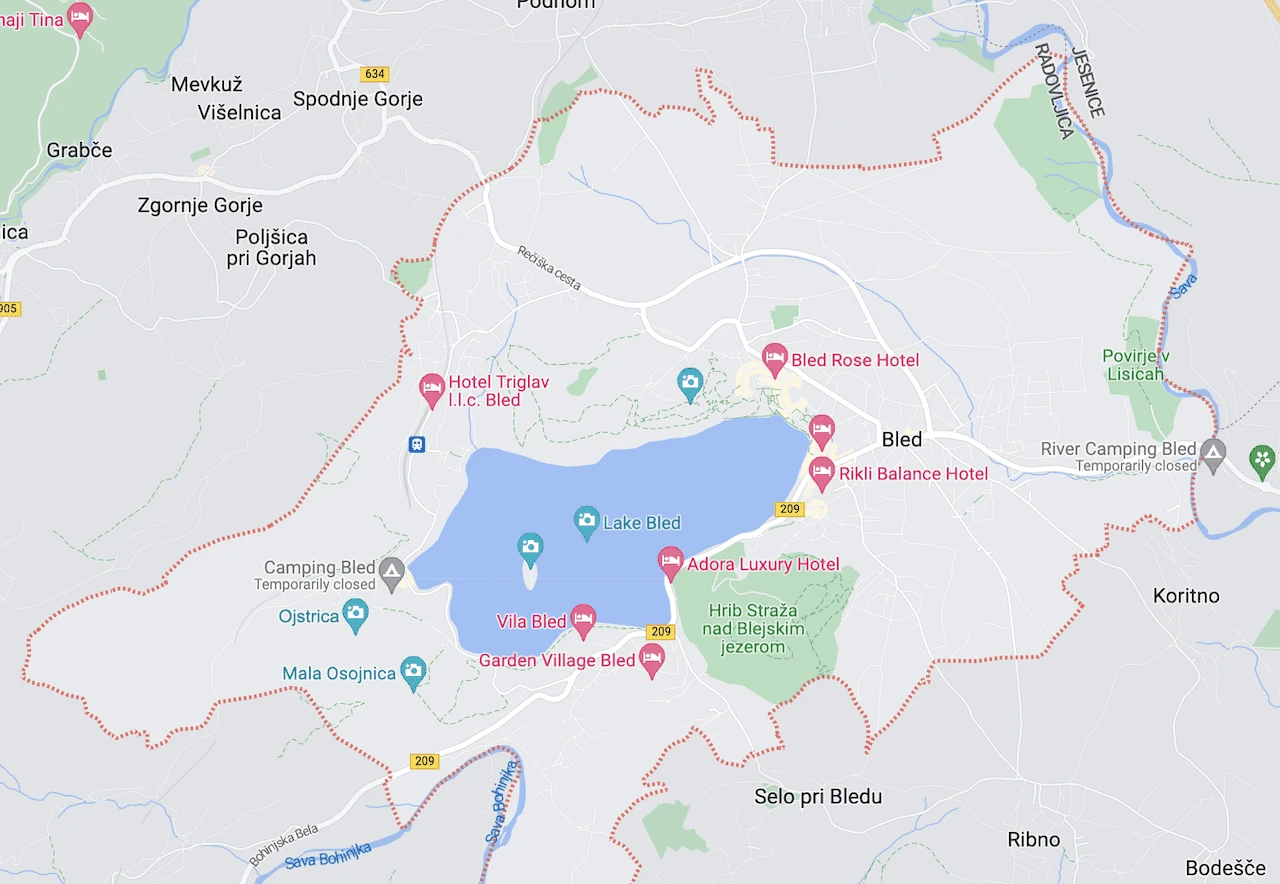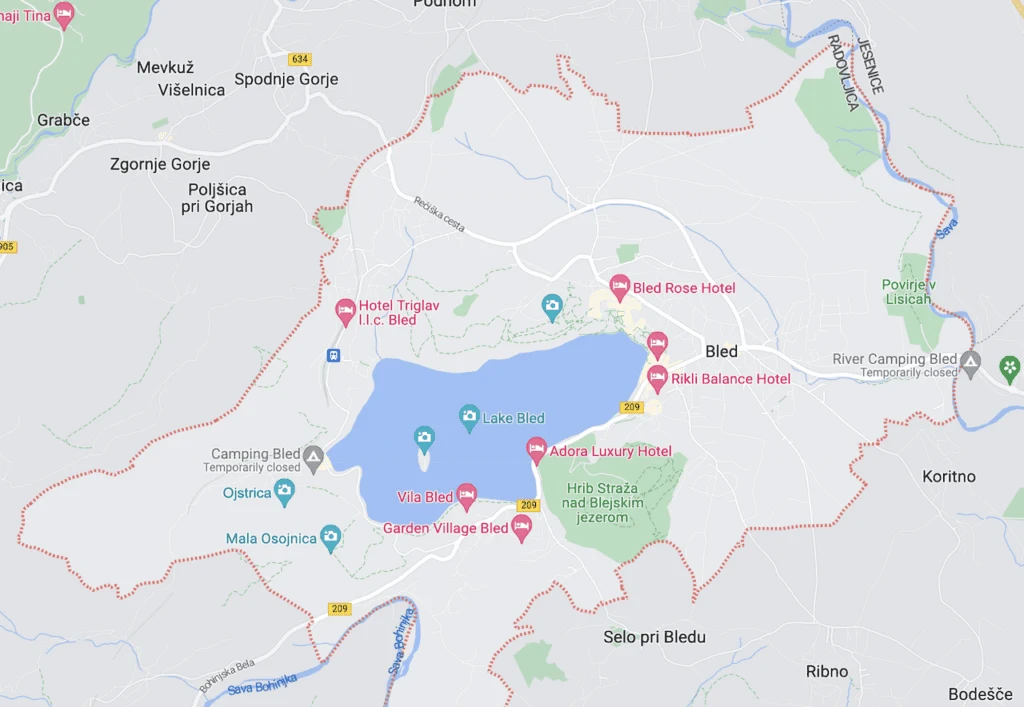 2) How to Get There (Ljubljana to Lake Bled)
Before exploring Lake Bled, you must get yourself there.
For many people visiting Slovenia, the capital of Ljubljana may be the starting point of a longer itinerary around the country.
Getting between Ljubljana and Bled should be no issue at all though.
There are four main ways to get there: rental car, bus, train, or tour.
Rental Car
In general, I found that renting a car in Slovenia is the best way to get yourself around.
A car gives you the chance to do what you want, when you want, without the worry about public transport.
Having a car also helps when it comes to getting to trailheads, waterfalls, or other attractions that aren't connected by public transport.
The drive from Ljubljana to Bled should take just around 45 minutes, as you head north of the capital for 50 km / 30 miles.
When eyeing rental cars, be sure to check out Rentalcars.com. There you will be able to sort and filter through various car options that would work best for your trip.
Lake Bled Parking: if you are worried about parking, feel free to check out some Lake Bled parking lot options. There is a good chance your hotel may offer free parking as well.
Bus
At the Bled bus station (which is just near the train station), you will find busses heading to Bled at all hours of the day.
The busses start in the early hours (around 5:00AM) and run multiple times per hour until late in the evening.
You can purchase tickets and see the schedule on the Ljubljana bus website.
Train
Another public transport option to consider is taking a train to Lake Bled from Ljubljana.
Within the Lake Bled area there are two train stations – Bled Jezero and Lesce-Bled.
The downside of taking the train is that these stations are not located directly in town. Both will require 5 minute taxi rides into Bled itself.
Feel free to check out the latest Slovenia train schedules & costs.
Tours
Now, it is also possible to take a day tour to Lake Bled from Ljubljana. For those that don't have as much time to spare, this is a perfect way to go about visiting Bled without the hassle of figuring out logistics.
Given tours will be more on a set schedule, you may not be able to do everything you want to do. However, you should still hit some of the top highlights.
Below are a few Lake Bled tours to consider for your time out there: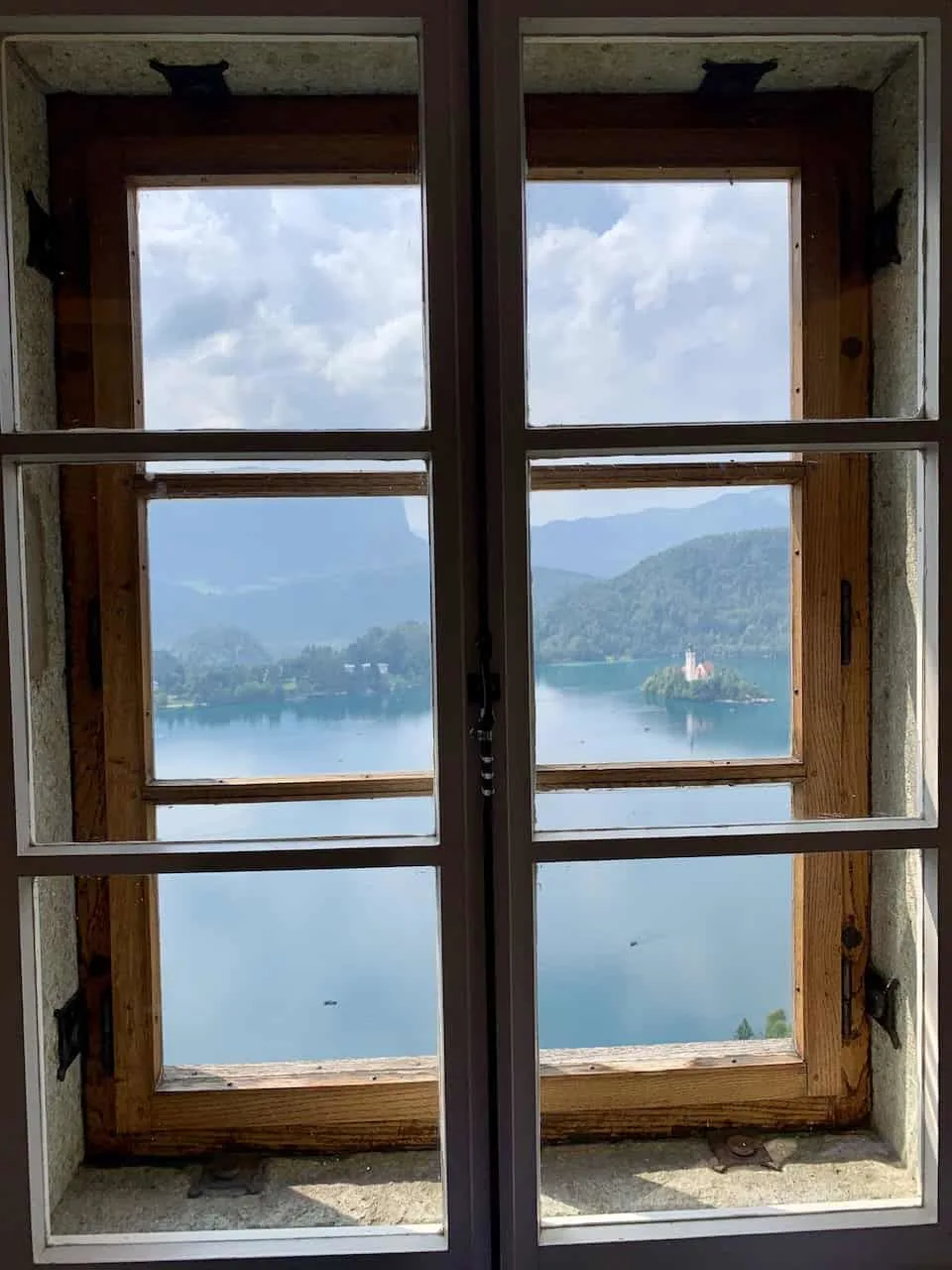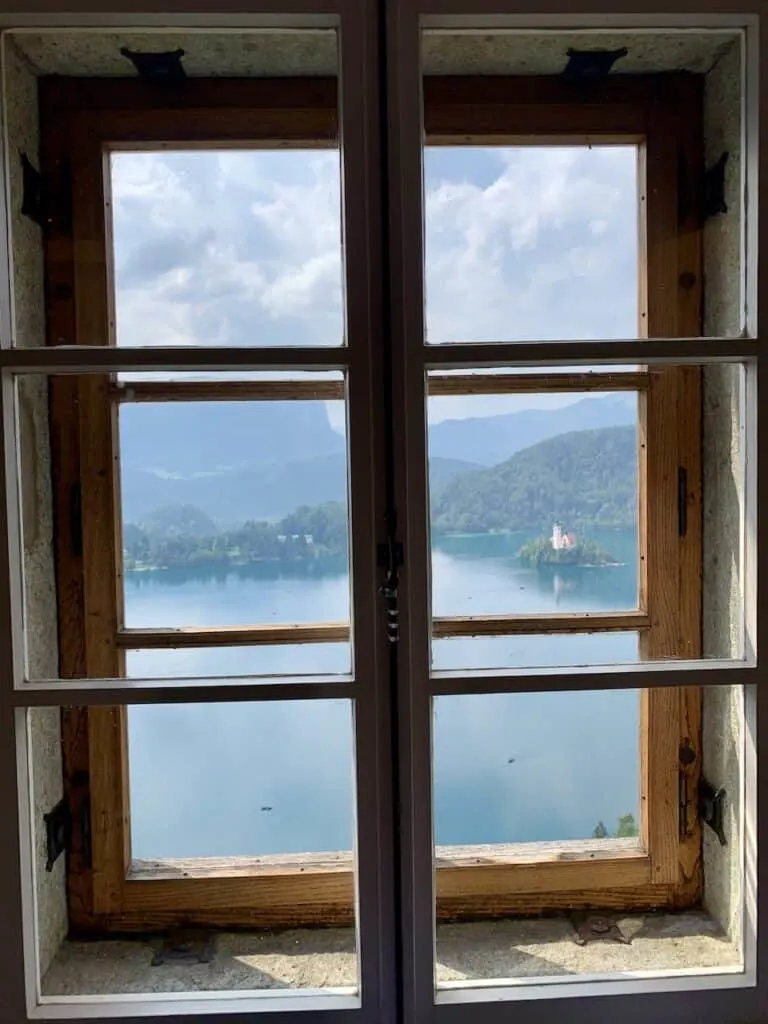 3) How to Get Around
Once you make it to Bled, you may be wondering how to get around the lake and surrounding areas.
This can be done by foot, by car, local bus, or taxi if need be. It will all depend on where you are going and what type of preferences you have.
By Foot
The great thing about Bled is that a lot of it is accessible by foot. The town sits right by the lakeside, so you will have easy access to walk around the lake area, hop on a boat, or even head up to Bled Castle.
However, some spots may be a bit further away, towards the opposite ends of the lake. While walking is still possible, you may find yourself wanting to save some energy too.
For those situations, there are easier & more convenient options to consider, which I will go through next.
Note: renting bicycles can also be an option if you want the exercise but don't want to walk.
By Car
If you have a rental car, this should take care of any issues regarding further out attractions.
Simply type in the address and be on your way.
Many of the attractions around Bled will be less than a 10 minute ride, so you won't need to be in your car for long.
This also gives you a chance to visit further out attractions within Triglav National Park if you are up for it.
By Public Bus
In the summer months, you will find a free shuttle bus that runs all around Bled (see map below). This is perfect for those that want to explore the area, who don't have their own transport.
There is also a "tourist train" which rides the streets around Lake Bled. This is another option for those that want to get further out from the town center to other parts of the lake. While there is a small fee, it is a great (and fun!) option to consider.
By Taxi
Of course, if you want the convenience of your own ride, then taking a taxi around to attractions is possible too.
As mentioned, many of the Bled attractions are in the immediate vicinity of the lake area. So, you shouldn't be in the car for long.
Expect to pay around 10 – 15 Euro for rides near Bled.
4) Lake Bled Hotels
Since Bled is the main hub of the region, there will be no shortage of place to stay within town.
You will find many hotels surrounding the eastern side of the lake – some of which are directly in town, while others more so on the outskirts.
During high season, these hotels will sell out. So once you know your dates I would advise to book your hotel as soon as possible.
Below are a few top rated options to choose from when deciding between Bled hotels.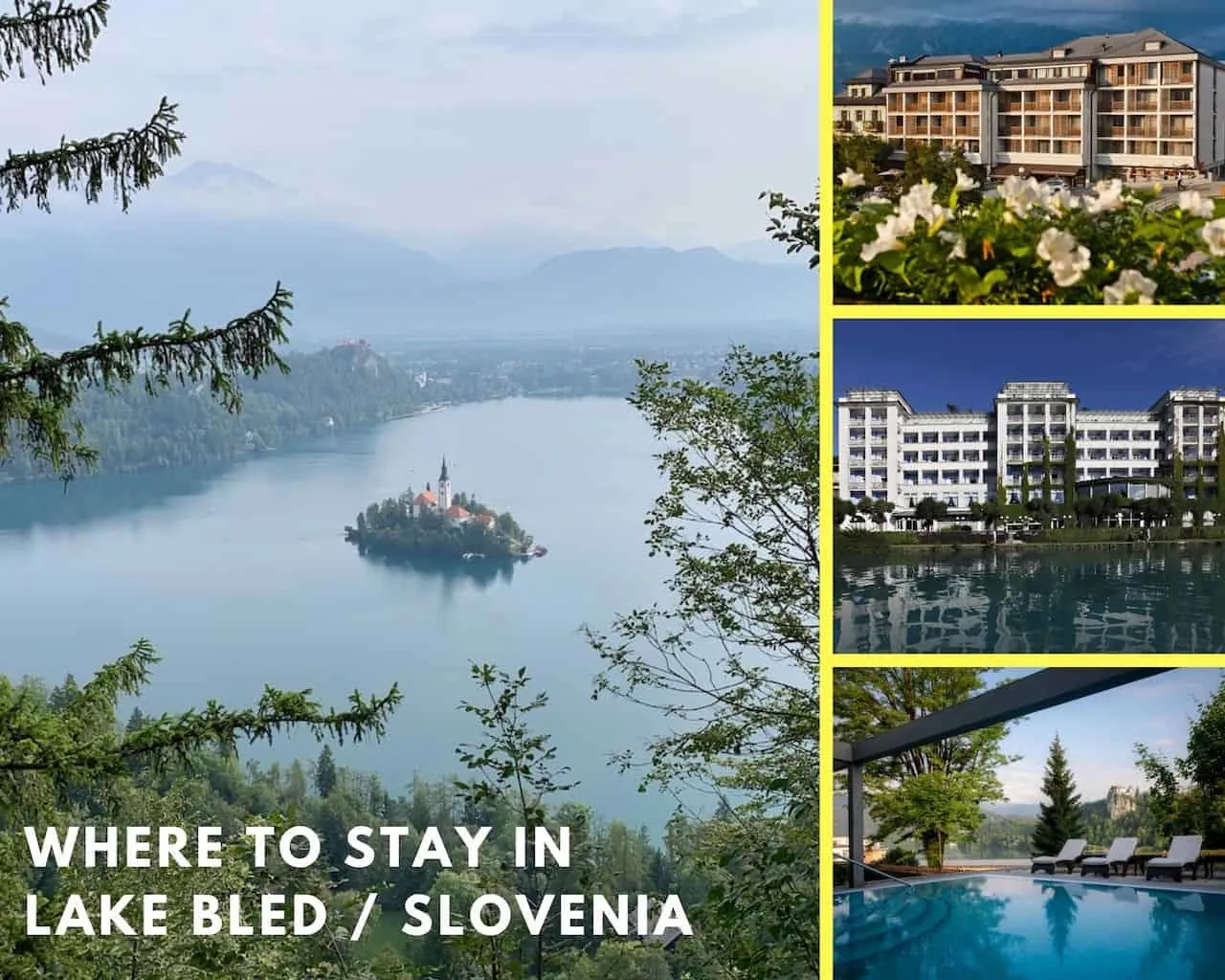 Lake Bled Campsites
If you are someone who wants to enjoy the Bled lakeside in a camping environment, that is possible too.
On the western shore of Lake Bled, is the Bled Camping site (right next to the Velika Zaka swimming spot). From April until mid October, this campsite is open with over 200 pitches to choose from.
While it is not within the town center, it does give you easy access to the lake itself.
At the same campsite, you will also find the Gozdne vile & Family Glamping sites if that is something of interest.
5) Lake Bled Weather
While Lake Bled is a year-round destination, the warmer months of the year do offer the best chance to fully take advantage of its offerings.
Whether that be hikes, time out on the water, or some of the nearby natural attractions – those warmer months will be ideal to do it all.
Visiting Bled anywhere from May – September will give you that opportunity.
The peak summer months of July & August will bring the most crowds. While May, June, & September will still offer sunny warm weather with fewer tourists around.
Although rain is more prominent during those summer months, it usually comes in the form of quick afternoon showers.
You should still have plenty of time in the mornings and early afternoons to fully enjoy what Bled has to offer.
Hiking Note: hiking at higher altitudes in the mountains may still not be possible in May (and maybe even June). This is due to the snow not completely melting by then.
For weather related forecast, be sure to check out Meteoblue, which can better help guide you with weather related decisions once you are there.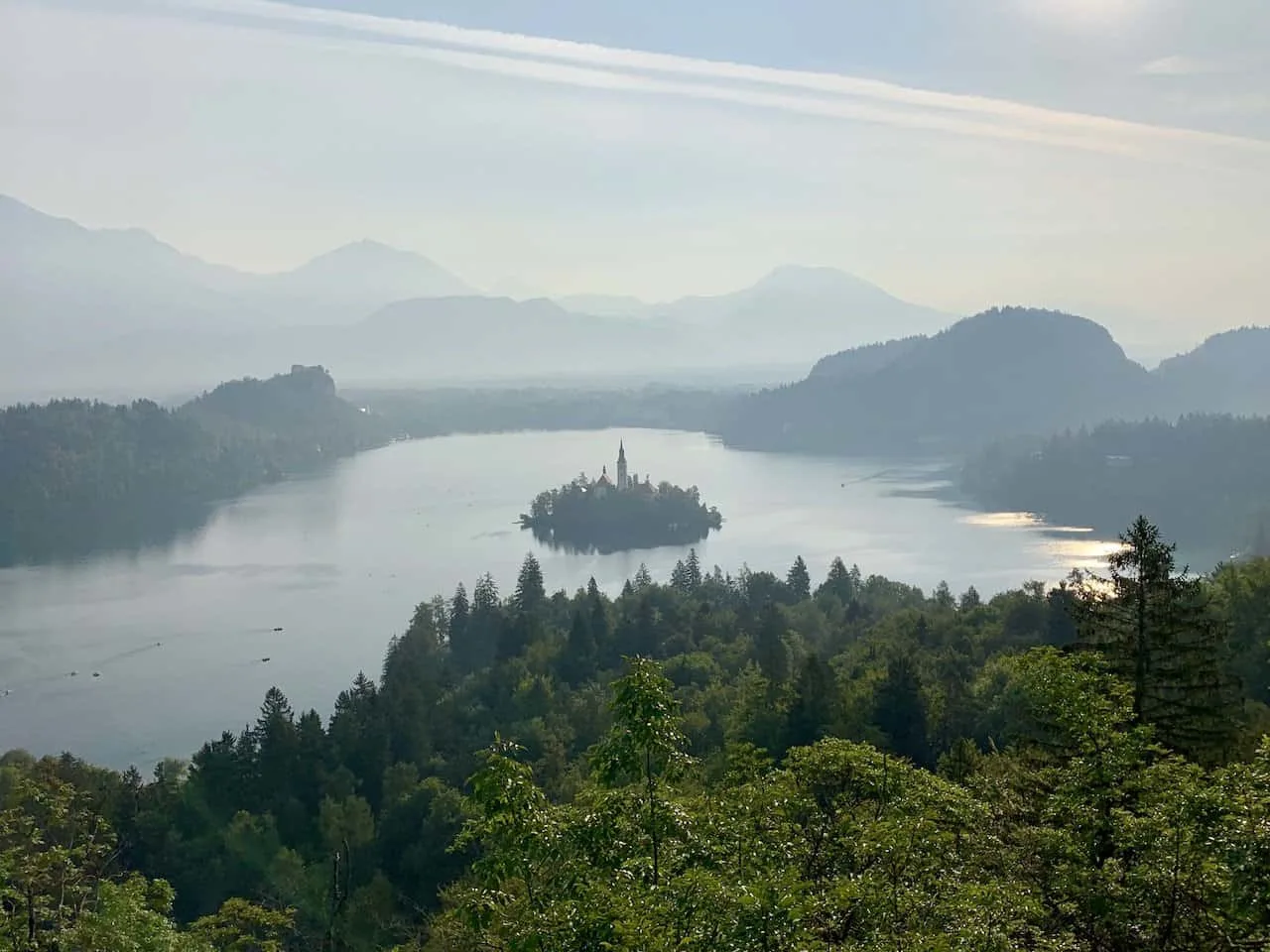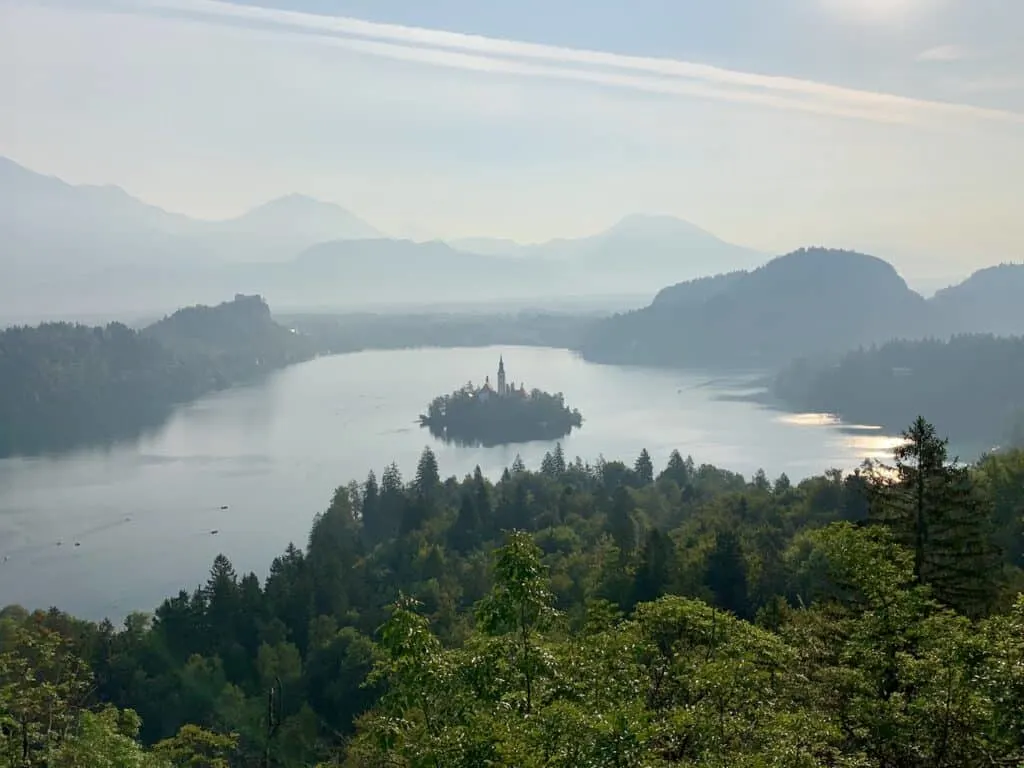 6) Things To Do at Lake Bled
When it comes to things to do at Lake Bled, there is plenty to consider. You will find activities and attractions for everyone to take part of.
Here are some of the top things to do around Lake Bled:
Bled Castle
Sitting high above Lake Bled on its northeastern shore you will find the Bled Castle, the oldest castle in Slovenia (also called Blejski Grad).
From the castle's 130 meter cliff, you will be able to take in some of the most panoramic views of the lake, town, island, and surrounding mountainsides.
The castle was built back around the year 1000 CE, when the Bishops of Brexen used it as a defensive fortress.
Over the 20th century, the castle has been restored and improved upon. Within the castle today, you will find a gallery, museum, chapel, wine cellar, courtyard and restaurant.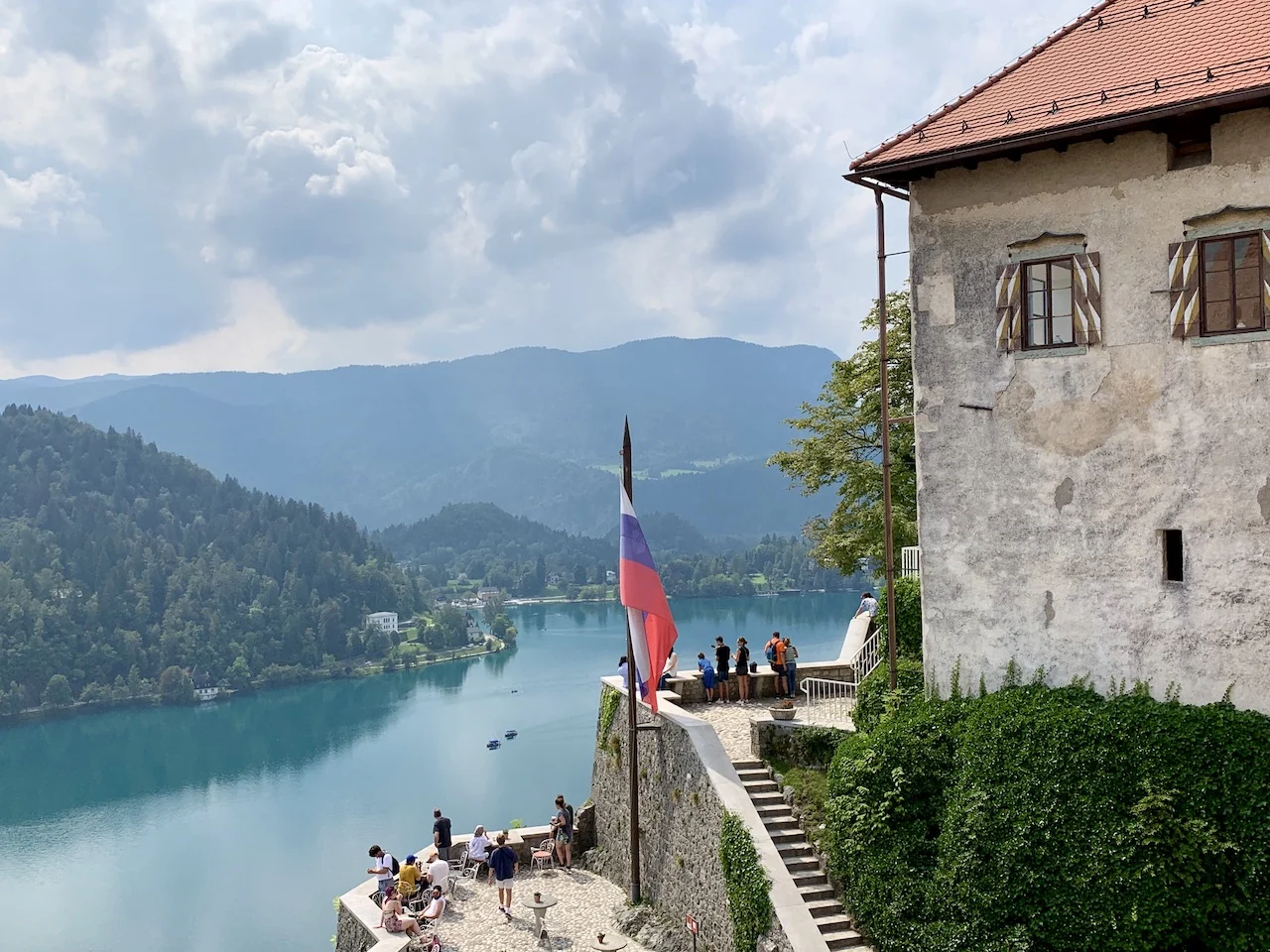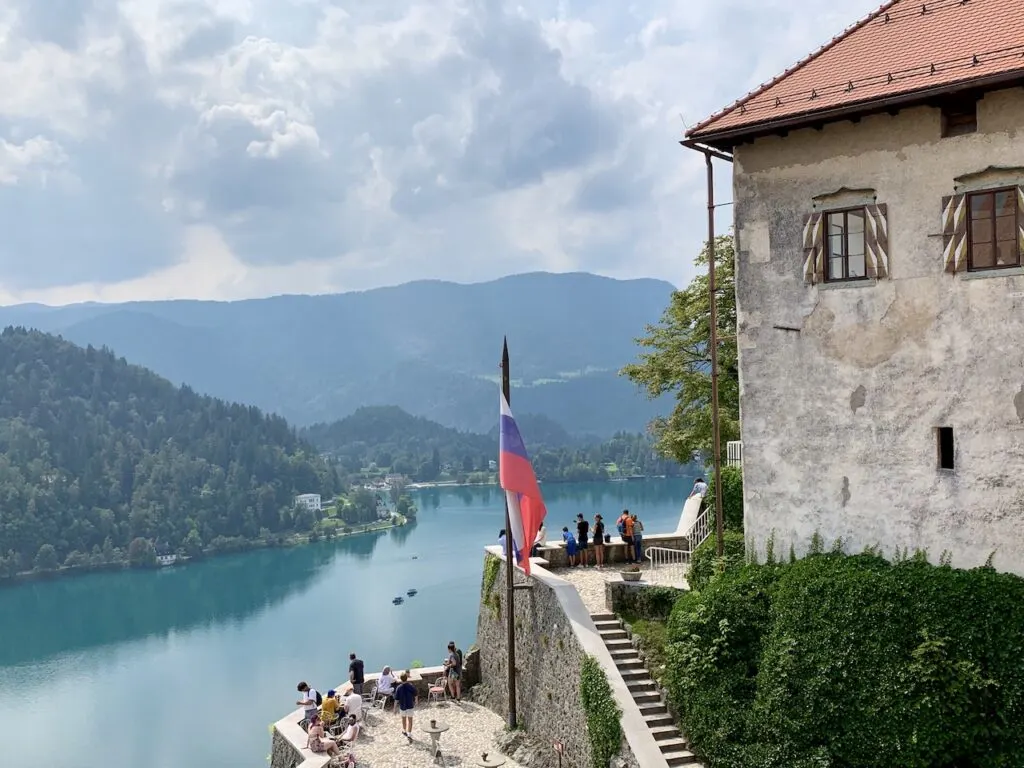 The castle of course also offers views of Lake Bled throughout. Whether that is from within the rooms of the castle, or along the outdoor passageways.
To reach the castle, you can take the local bus, drive your car, or walk along the pathway etched in the mountainside.
While you do have to walk uphill from town to reach it by foot, it is a great way to go about a visit.
The castle is open year-round with varying hours based on the month. Also expect to pay an entrance fee to enter.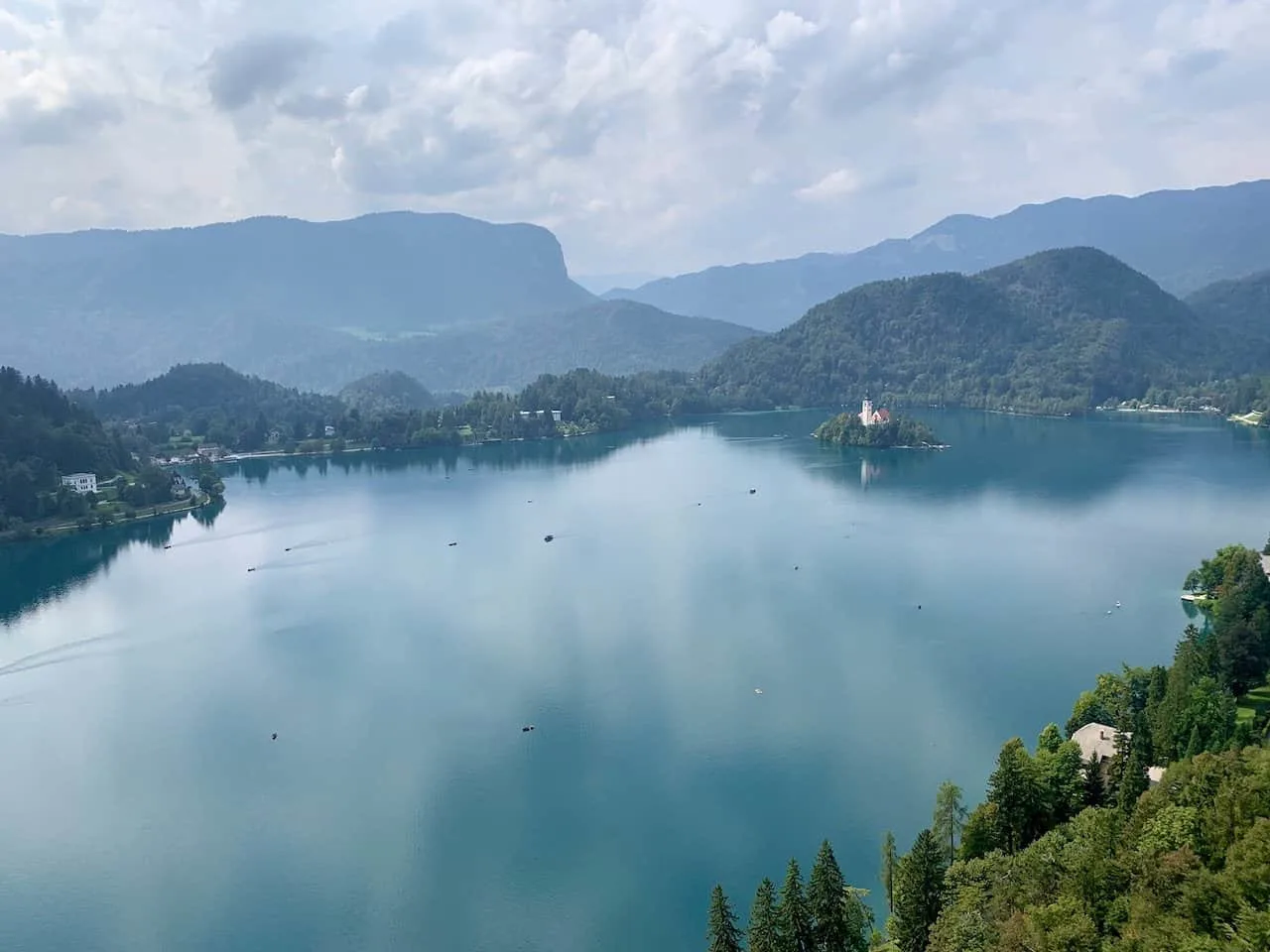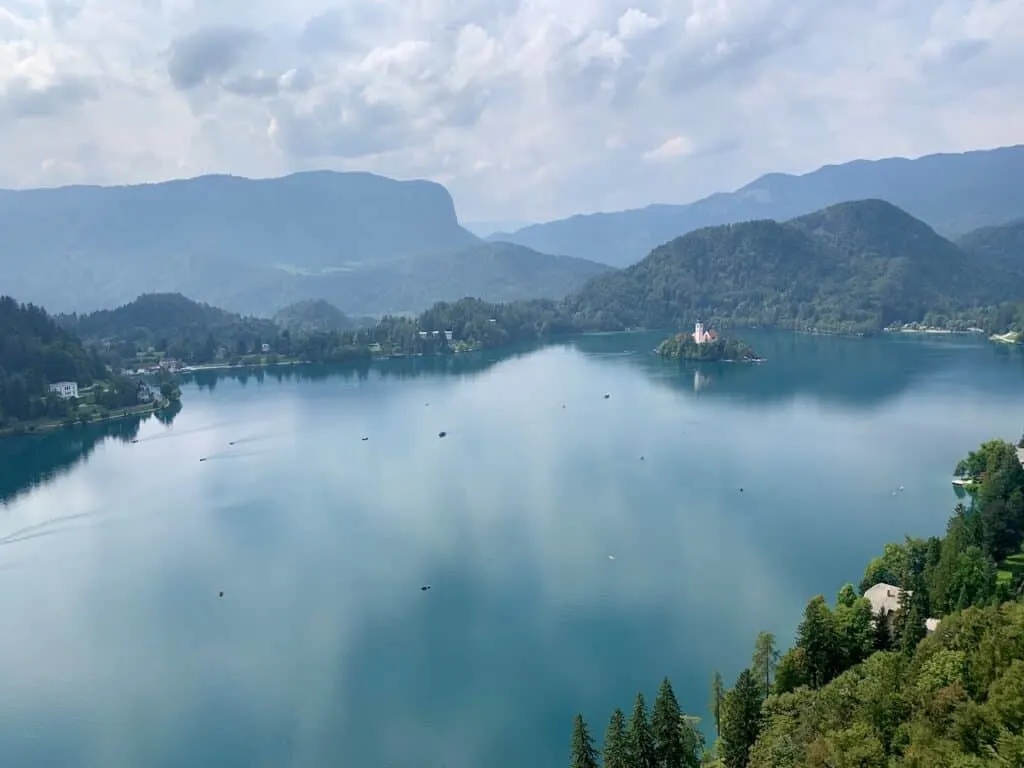 Walk Around the Lake
If you are up for an easy and enjoyable walk, you can head all along the shores of Lake Bled.
Here you will find a 6 km / 3.7 mile walking path that encircles the lake as you get to enjoy it from all different angles.
Throughout a walk, you can take in the view, hop in the water, or find a spot to sit down and relax.
It is the perfect way to go about your time in Bled as you see the lake from all around.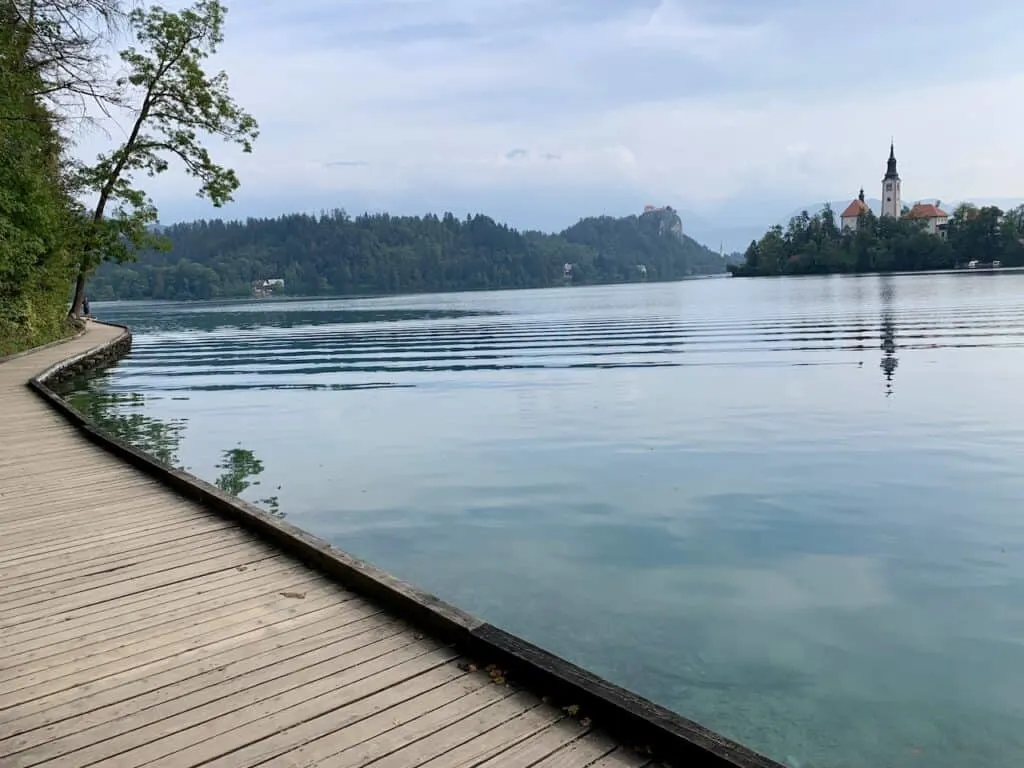 Paddle Boat / Kayak / SUP
All around Lake Bled, you will find rental companies that offer paddle boats, kayaks, and stand up paddle boards.
These are great options for those that want to explore the lake at their own pace in a fun and active way.
If you are up for it, you can even make your way to the island that sits in the middle of Lake Bled during your time out on the water (more on that soon!).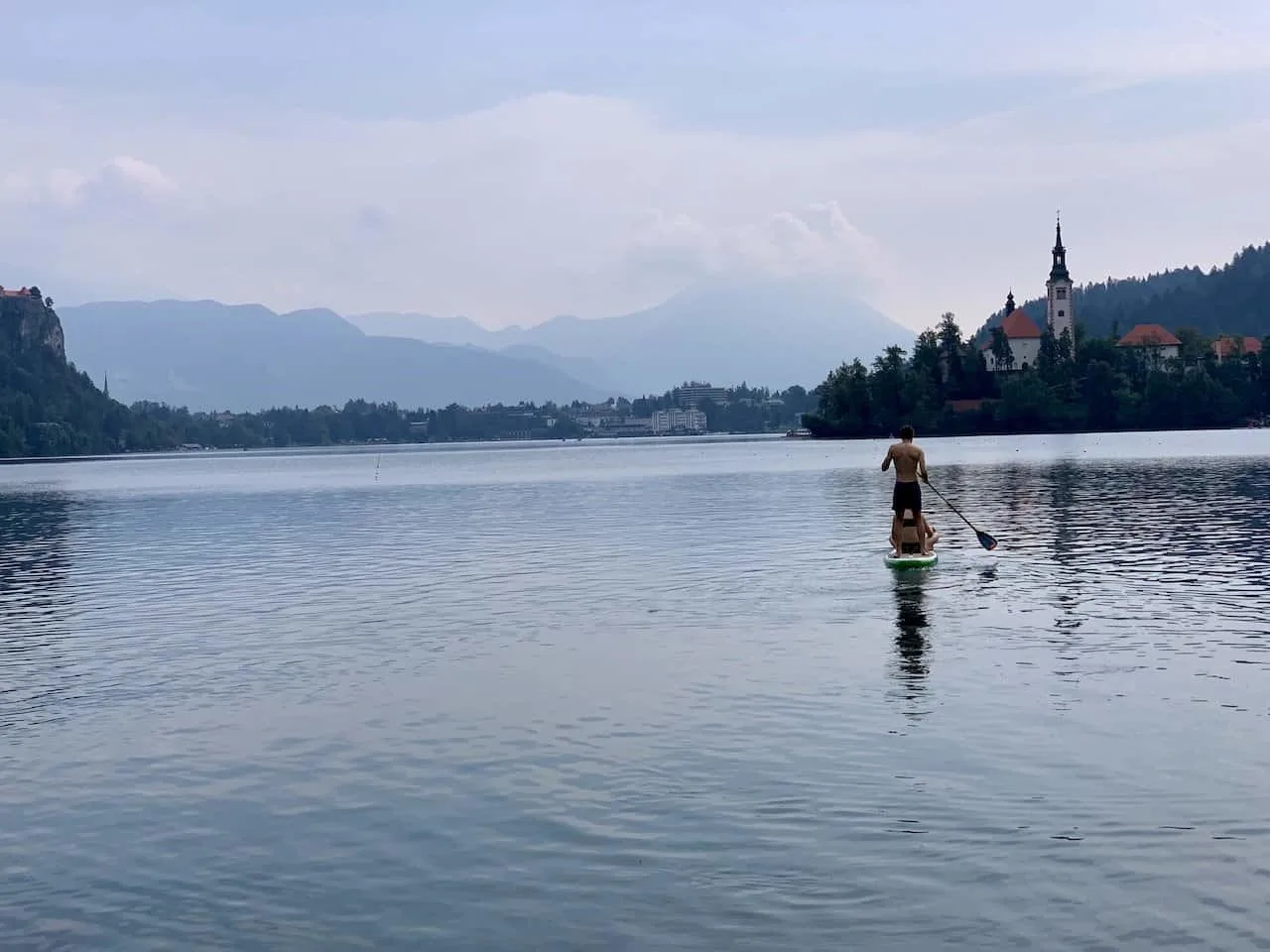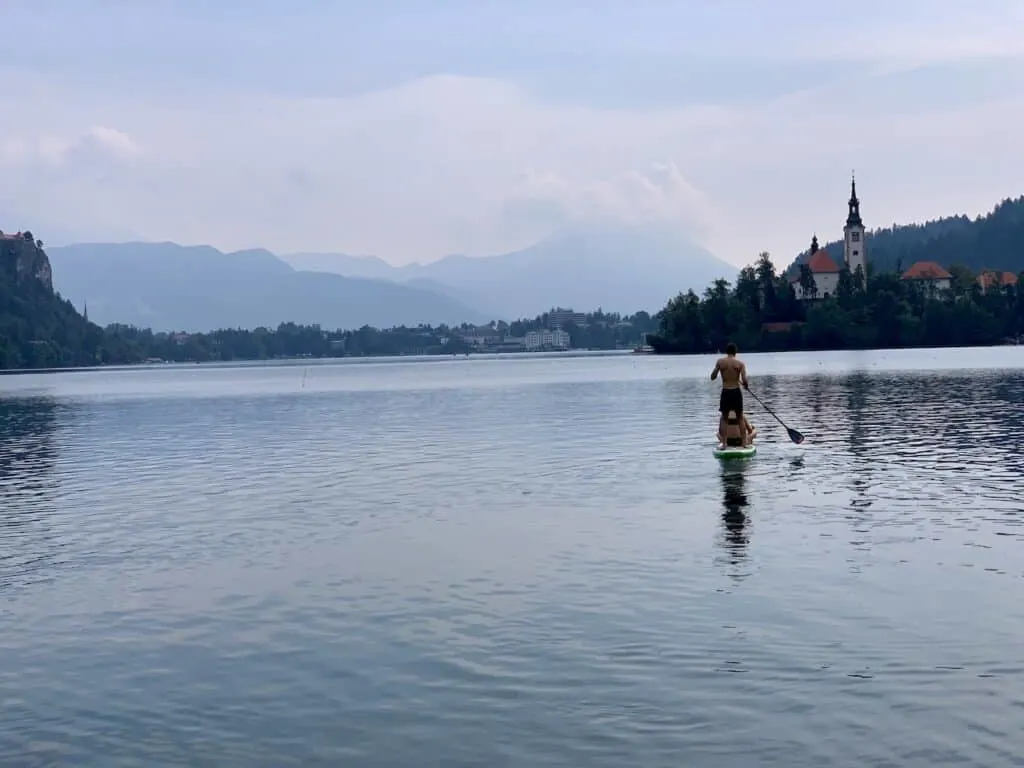 Pletna Boat
Now, for those that want to head out on the water and visit the island without renting, there is an option for you.
Throughout the lake you will see traditional Pletna boats that take visitors around the lake to the island.
The boats have historical significance as they have been around since the 16th century. They are rowed with oars by someone called a pletnar and are able to fit up to 18 people.
Along the waters there are 23 Pletna boats in commission, who run boats around the lake with a ~30 minute stop on Bled Island.
There are a few places where you can hop on a boat including: in front of the Hotel Park, Mlino Port, and Velika Zaka.
Expect to pay around ~15 Euro round trip to/from the island.
Note: there are also motorized boats that head around the lake and to the island as well.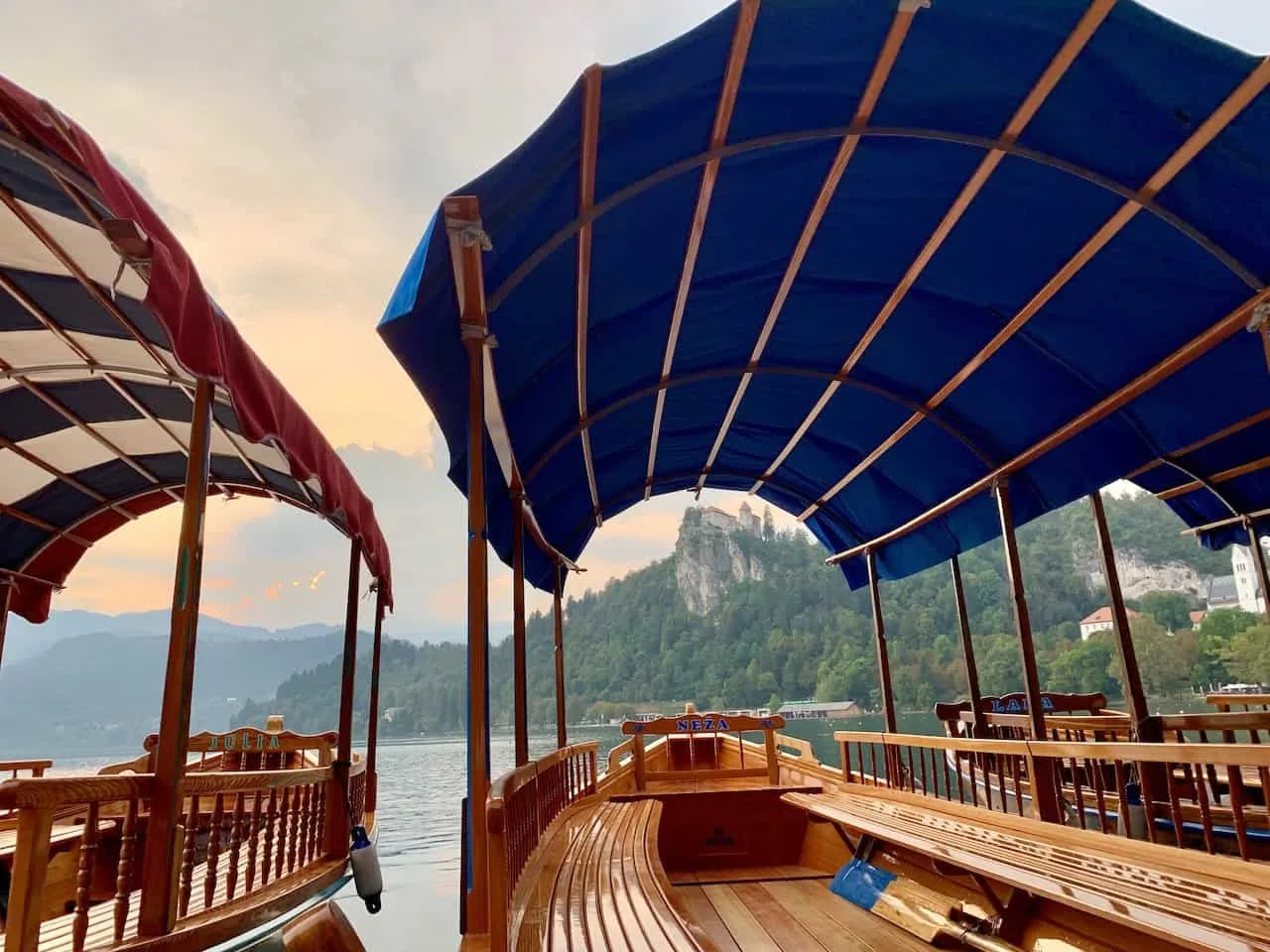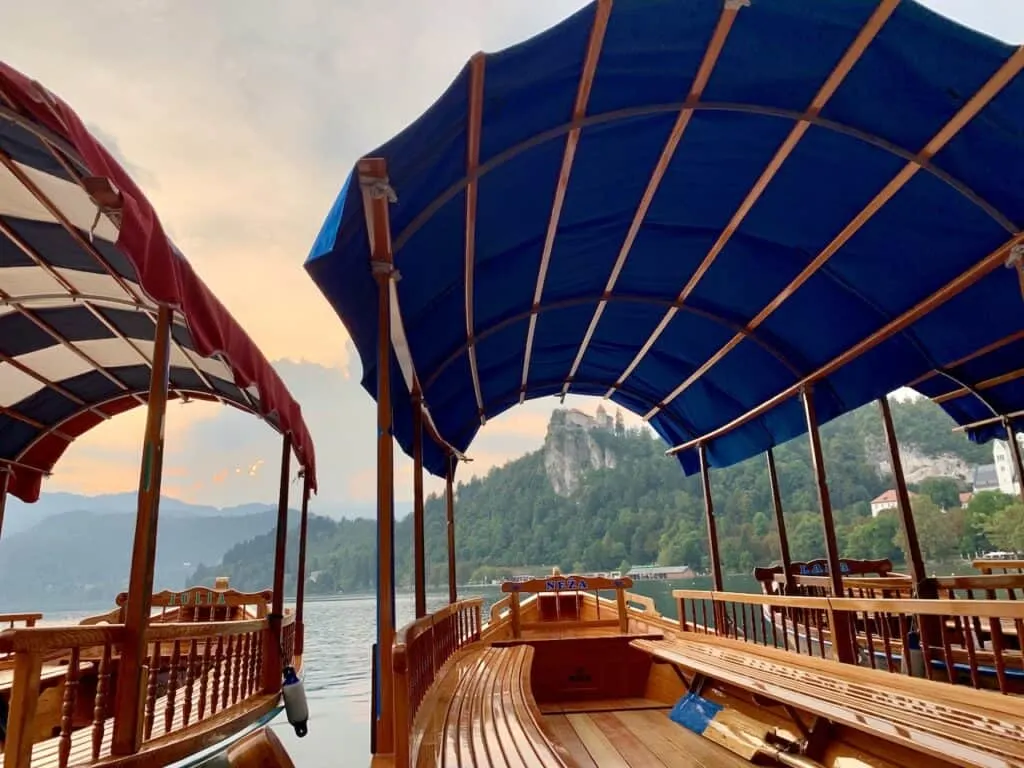 Lake Bled Island & Assumption of Maria Church
While you can simply enjoy the island of Lake Bled from the shores or from a viewpoint, visiting the Assumption of Maria Church is possible too.
There has been a church on the island since the 9th century, but the current one was built in the 17th century.
You can get there by either renting your own boat/kayak or heading on a pletna boat (or tour boats).
Once you arrive on the island, you will be welcomed to the famous 99 step staircase.
From there you can head into the church, museum, and tower for a fee.
Here you will also be able to ring the bells – a classic tradition for those who visit. The story goes, if you ring the bell three times you will have a wish come true.
Feel free to also climb to the top of the tower, where you will get some great views of the lake from above.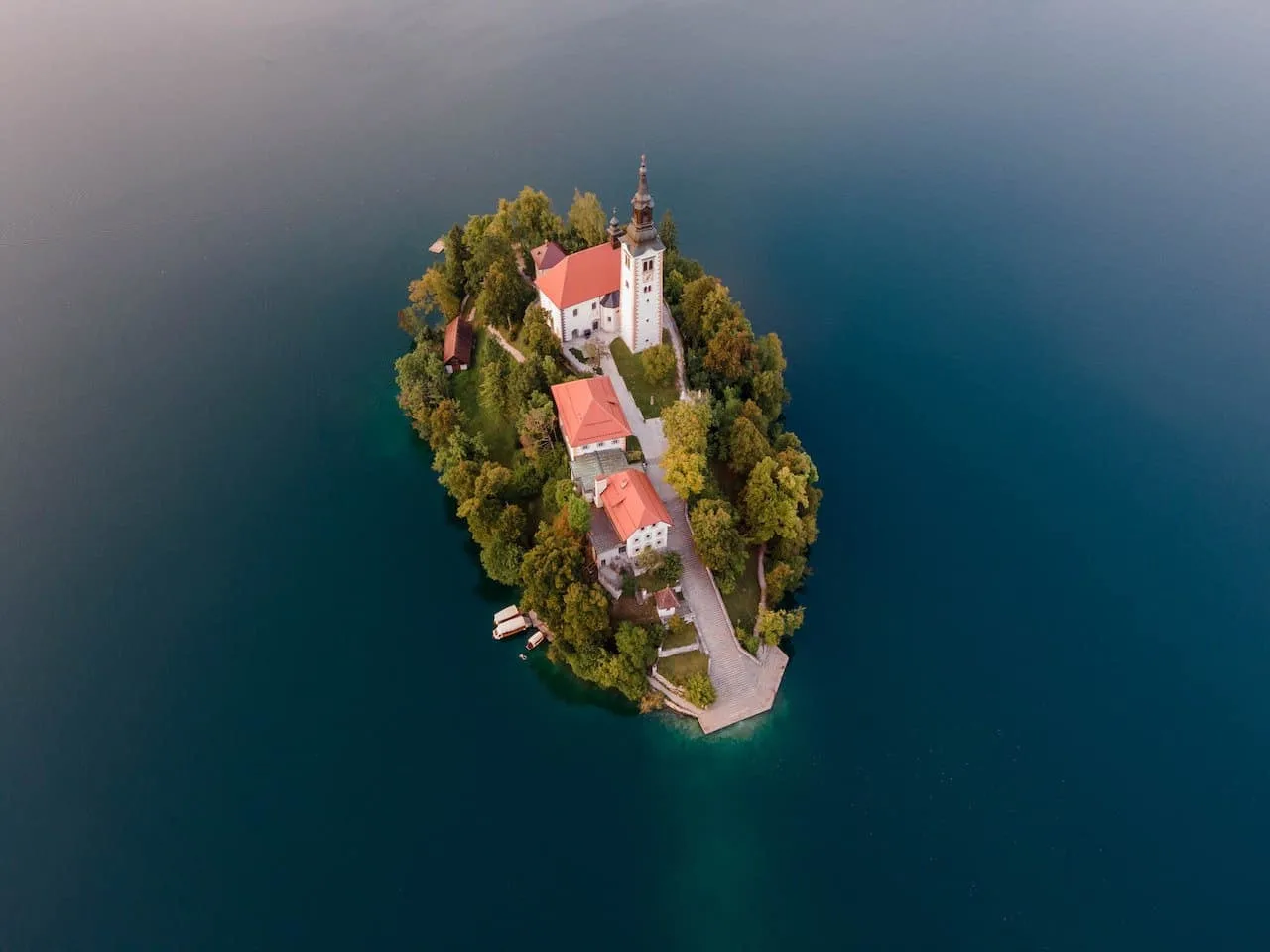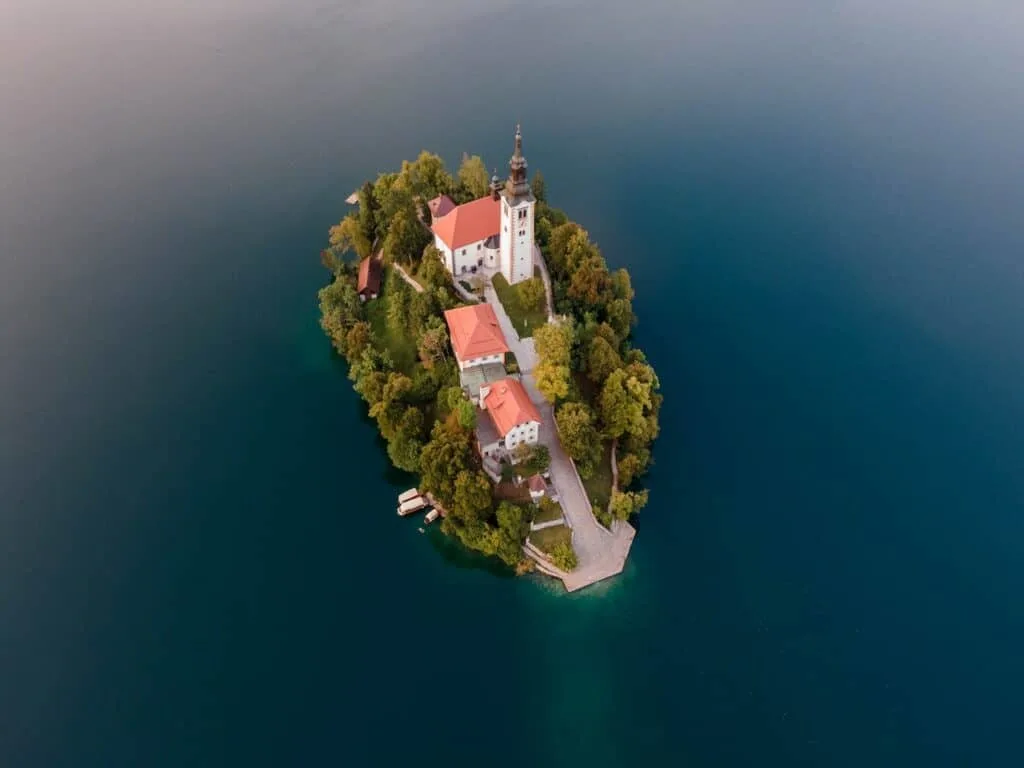 Lake Bled Swimming
For those that actually want to go into the water, swimming in Lake Bled is also an option.
Now, you cannot just hop in wherever you want though. There are designated swimming areas around the lake to ensure your safety.
Some of these swimming areas include:
Castle Bathing Area (Grajsko Kopalisce)
Mala Zaka
Velika Zaka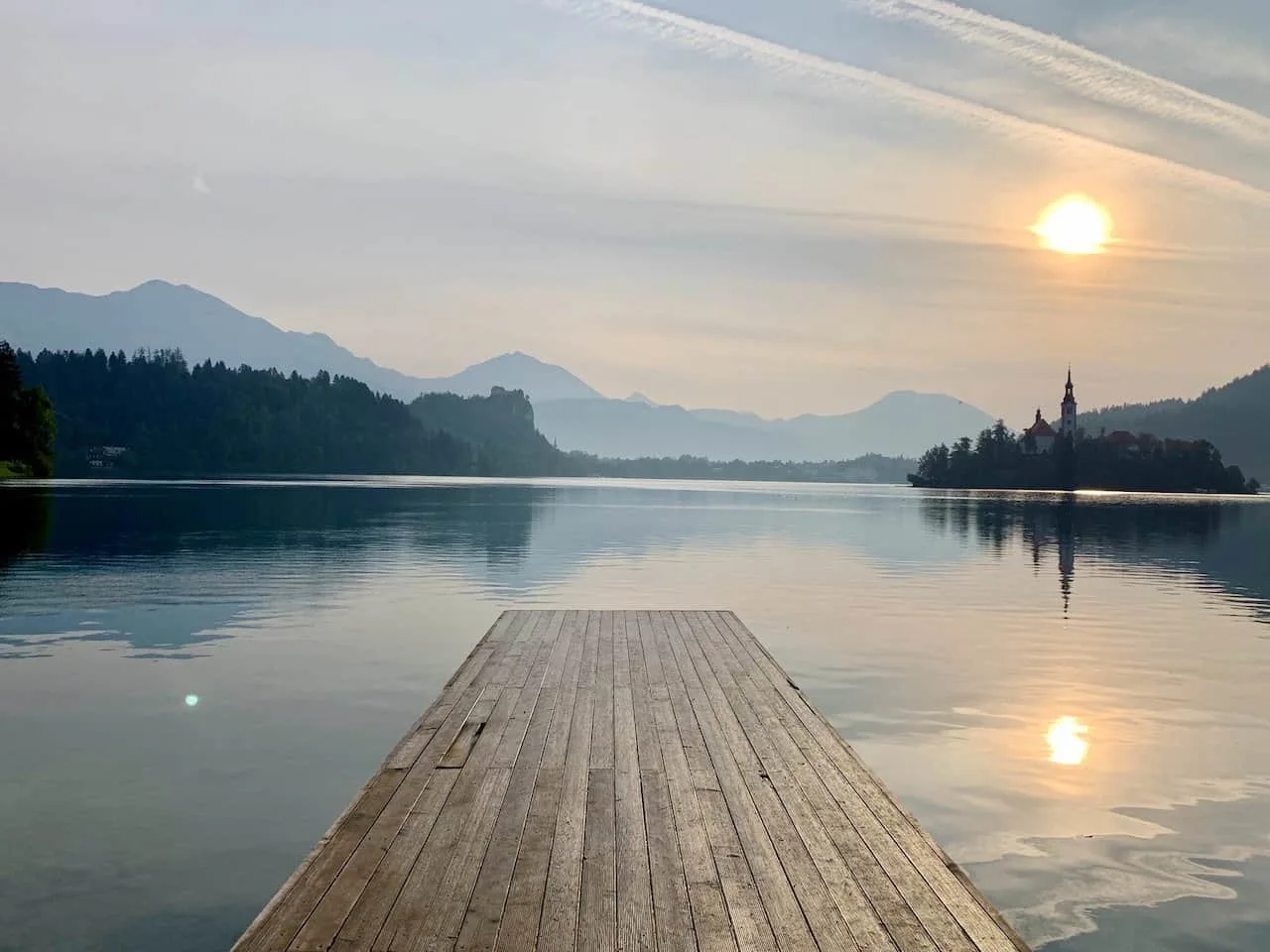 Lake Bled Toboggan
If you want to take part of a fun activity and see beautiful views of Lake Bled at the same time, why not try some tobogganing.
On the southern shore of Lake Bled is the Straza Bled ski slope.
You can take the chair lift up and then take a 520 meter toboggan track down to the bottom. The ride can reach up to 40 km/h (25 mph)!
Tickets are available to ride the toboggan just once or multiple times depending on your preference.
It is a great activity for those that want to get a little bit of adrenaline going during their stay.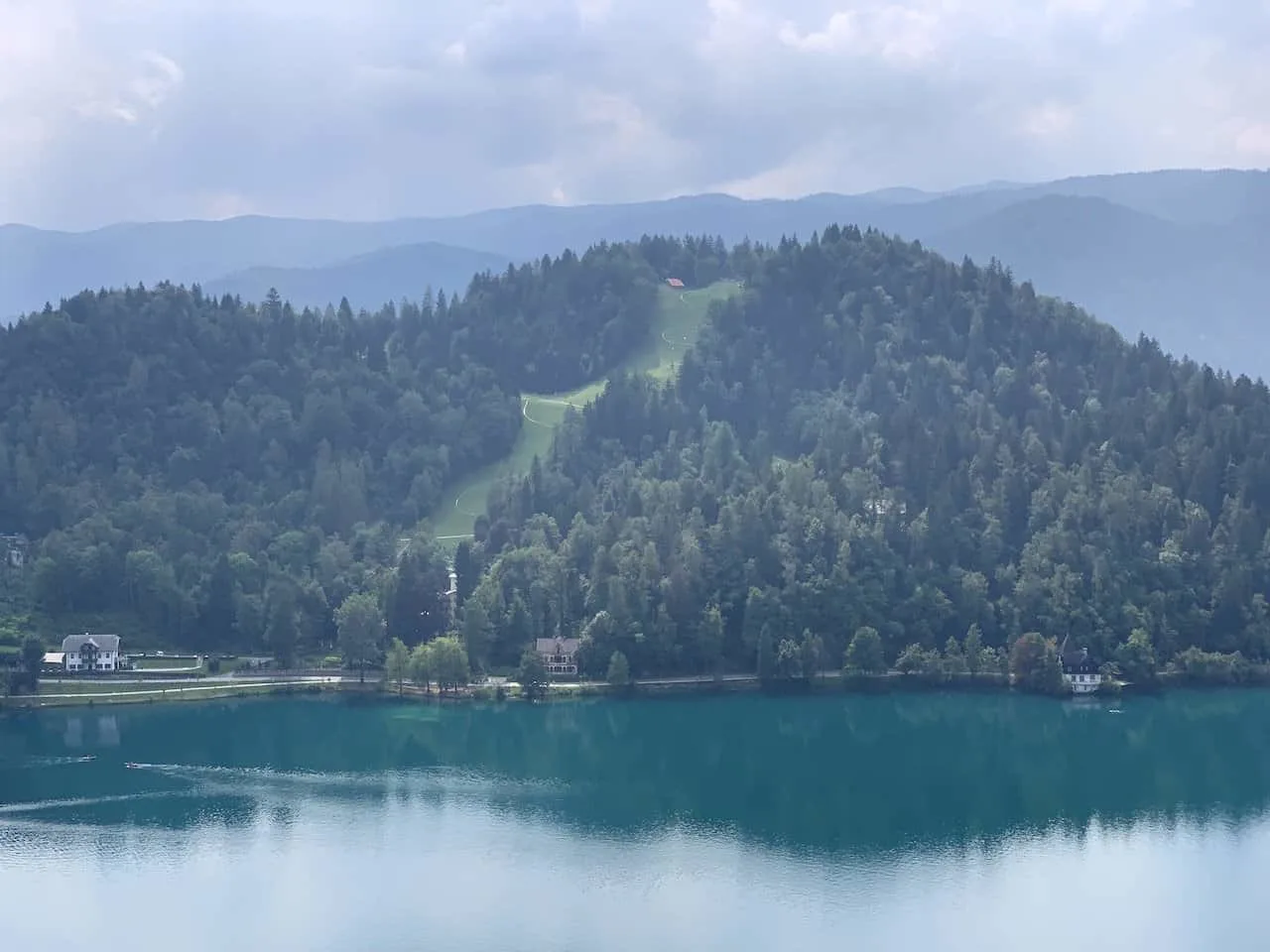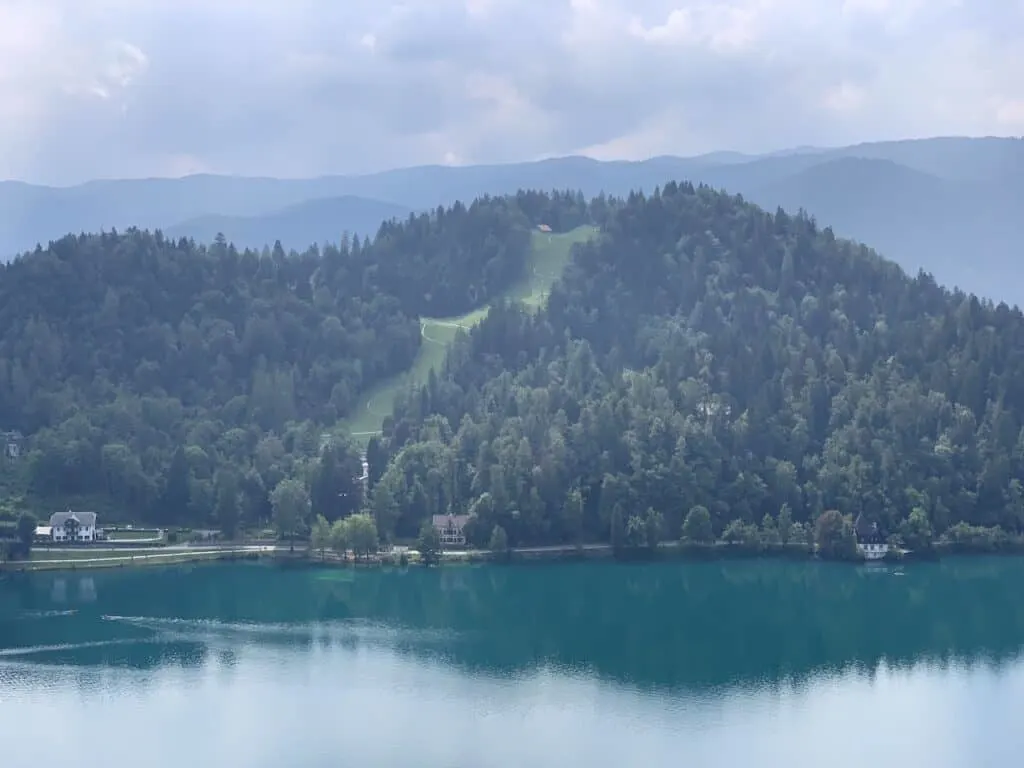 Lake Bled Hiking Viewpoints
There is no better way to truly appreciate Lake Bled then viewing it from above.
Without a doubt, the best viewpoint area to visit is near the southwestern part of the lake.
Here you will find the three viewpoints of Ojstrica, Velika Osojnica, and Mala Osojnica.
In order to reach thee viewpoints, you must hit the hiking trail!
During a hike up, you can decide to visit just one of these viewpoints or you can opt to visit all three. It will just depend on your fitness and interest levels.
Visiting just the one Ojstrica viewpoint will take around 40 minutes round trip. While visiting all three will be closer to 80 minutes on a circular loop.
This was one of my favorite Lake Bled experiences (and one of my top Slovenia hikes), so be sure to add it to the list!
Learn More | Lake Bled Viewpoints Ojstrica & Osojnica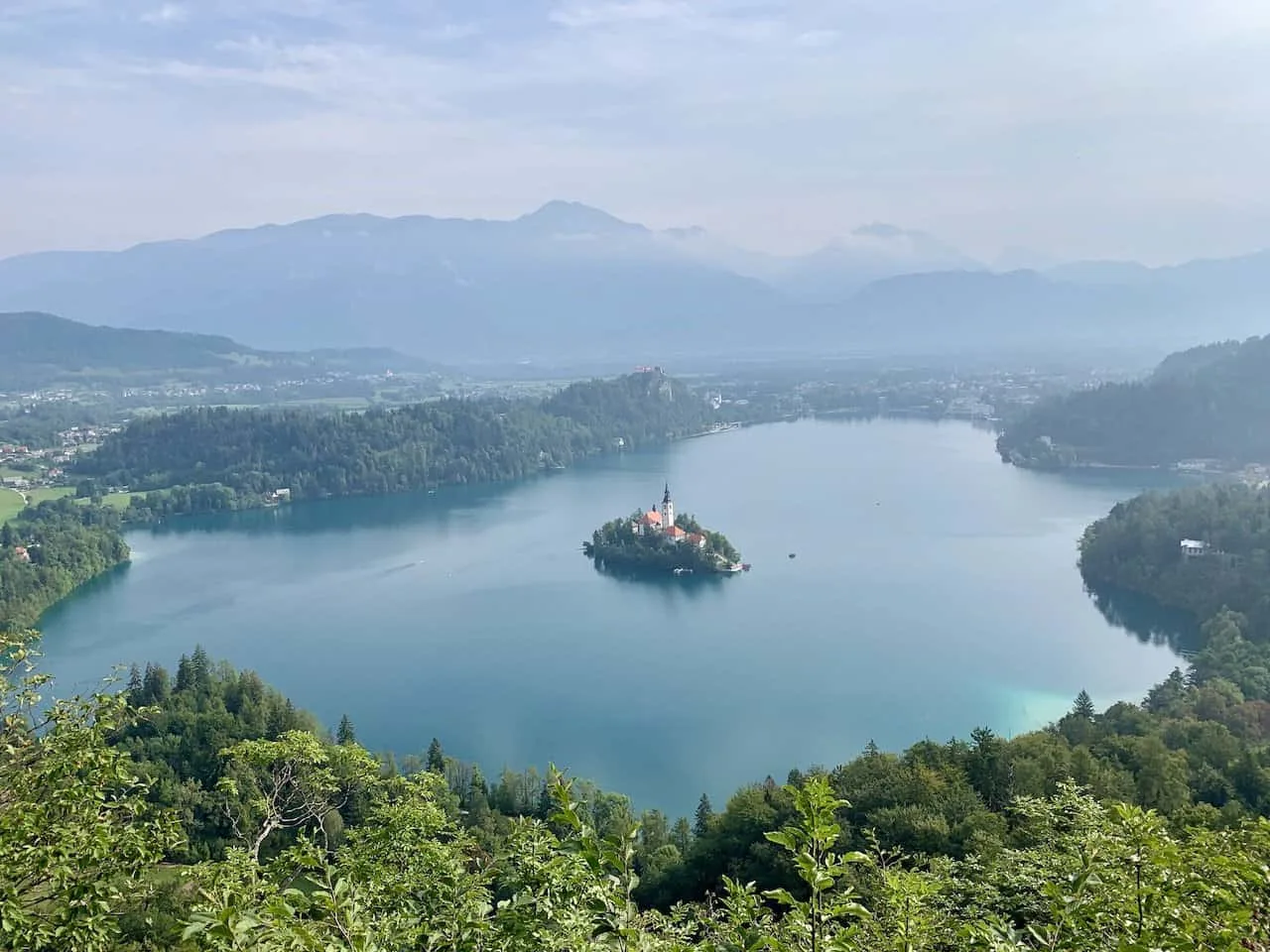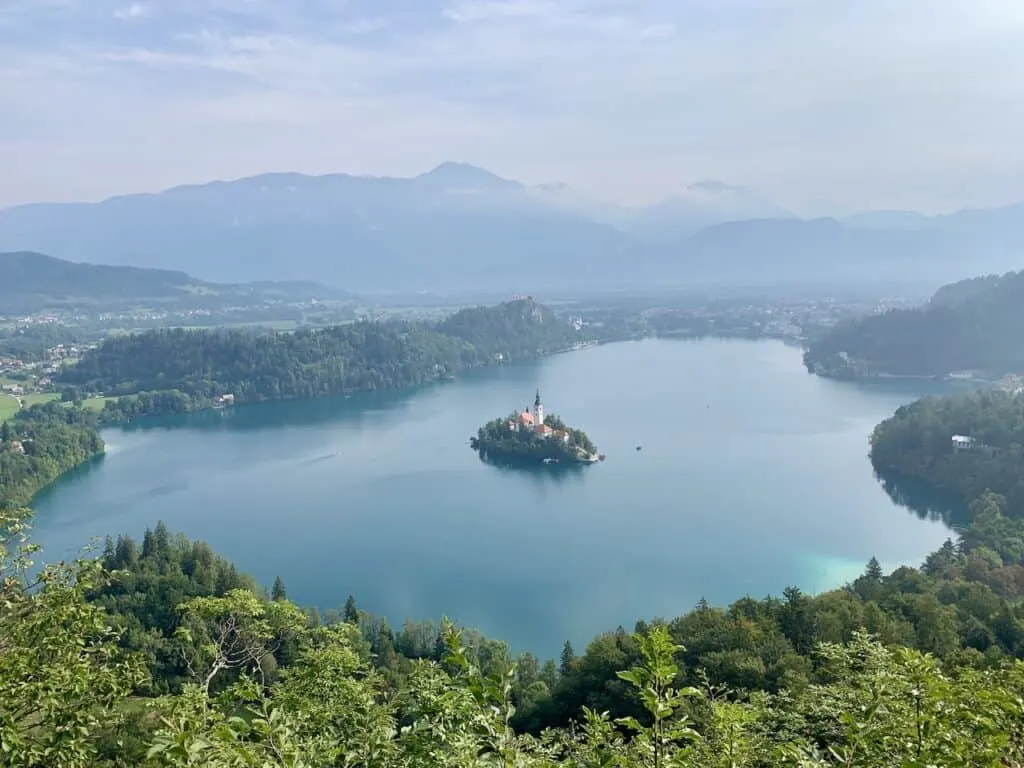 Vintgar Gorge
Located just north of the town center, is one of the most famous gorges in the country.
The Vintgar Gorge is a 1.6 km / 1 mile trail that is surrounded by 50-100 meter tall walls. Between the walls, you will find the Radovna river and its turqoise waters.
There is a scenic pathway built right along the river that gives visitors the chance to fully appreciate the gorge and the water down below.
Throughout the gorge, you will find some smaller waterfalls and some larger ones towards the back end (such as the Sum waterfall).
Since the gorge's pathways are quite narrow and it is just a mile long, it can get quite busy.
I would highly recommend visiting the gorge first thing in the morning at opening or later on in the day near closing time.
This will give you the chance to enjoy a peaceful visit to Vintgar Gorge without the crowds.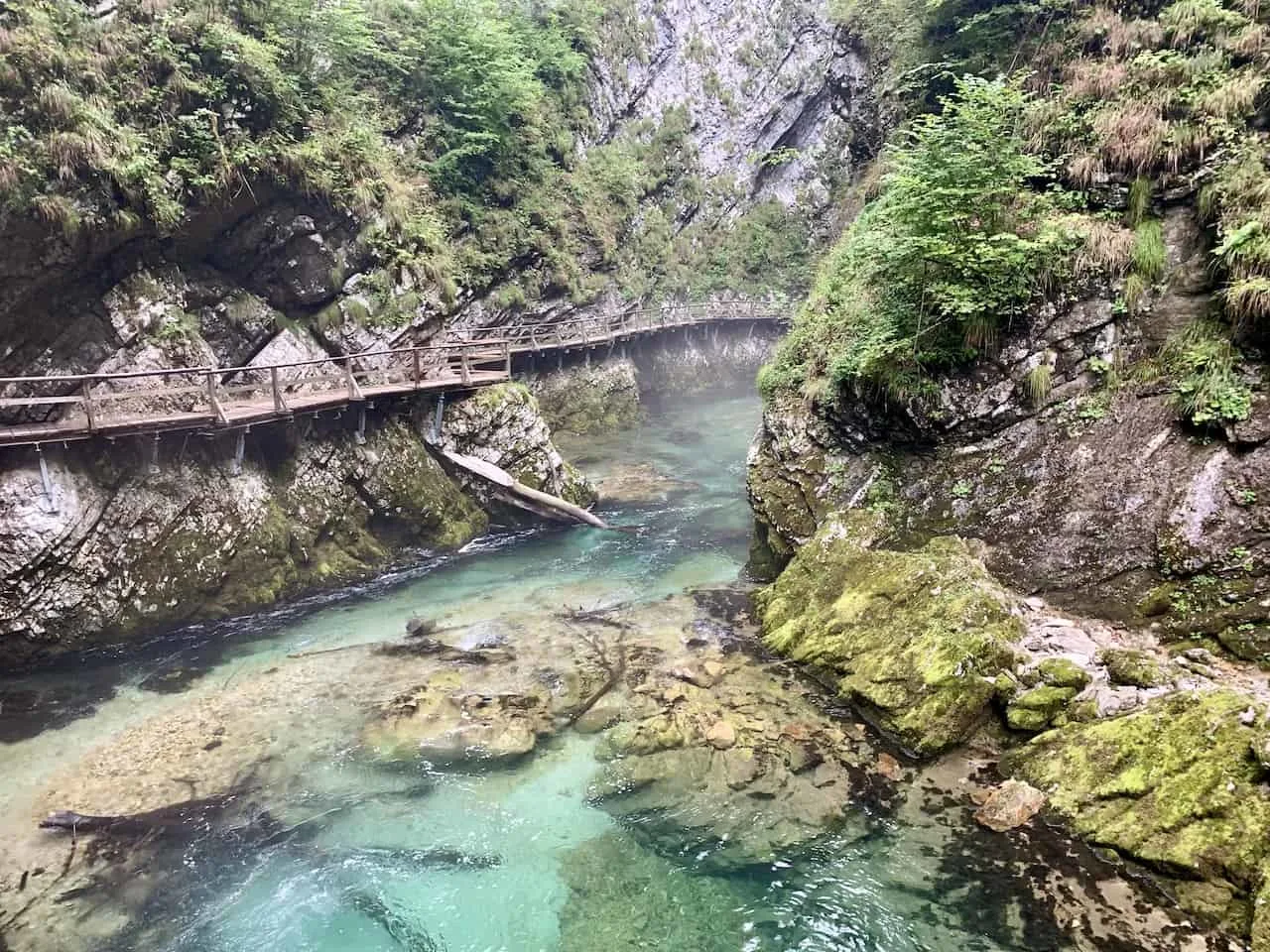 The Heart of Bled
Just on the lakeside near the town center, you will find a dock that goes over the lake.
At the end of the dock is the famous Heart of Bled (Blejsko Srce), and it offers the picture perfect spot to take a photo.
In general, this whole area by the lakeside is quite scenic with walking paths, benches, and lawns to take advantage of.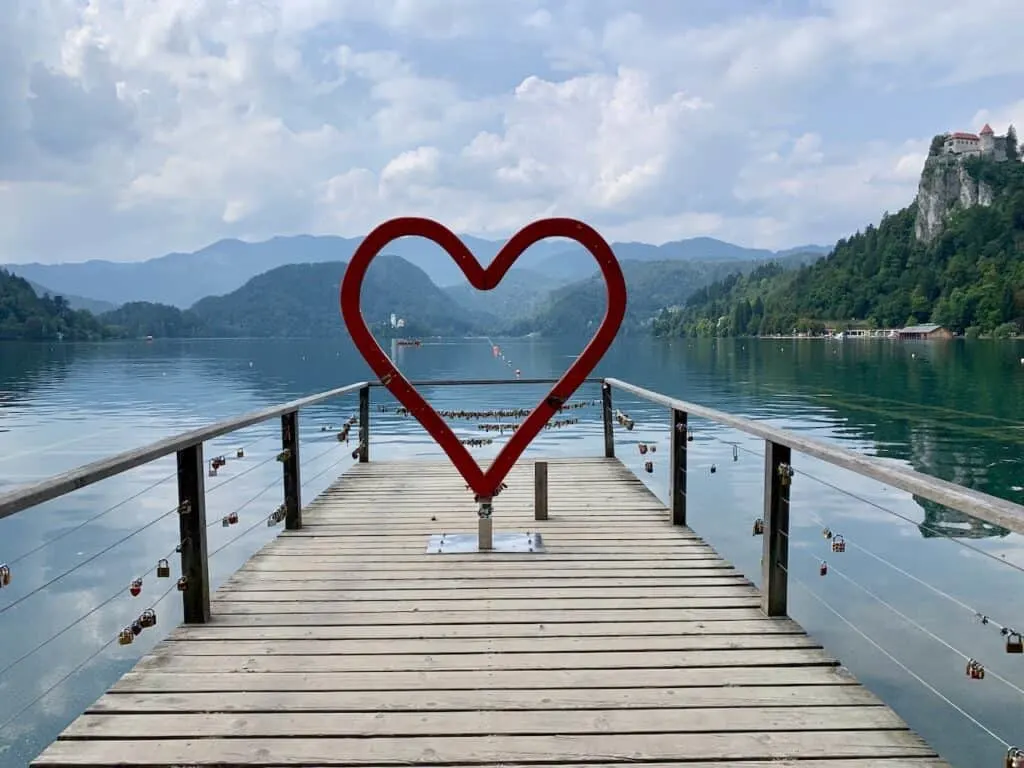 Bled Cream Cake
If there is one dessert dish to try while visiting Slovenia it is without a doubt the Bled Cream Cake.
The cake was first introduced in the year 1953 at the Hotel Park cake shop.
On the cake, you will find several layers containing puff pastry, custard, whipped cream, and a sugar icing.
It is estimated that over 15 million pieces of Bled Cream Cake have been made since its inception so you know you will be missing out if you don't give it a try.
While you can find the cake being sold throughout Bled, head out to the Park Café right along the lakeside near town to give the original cream cake a try!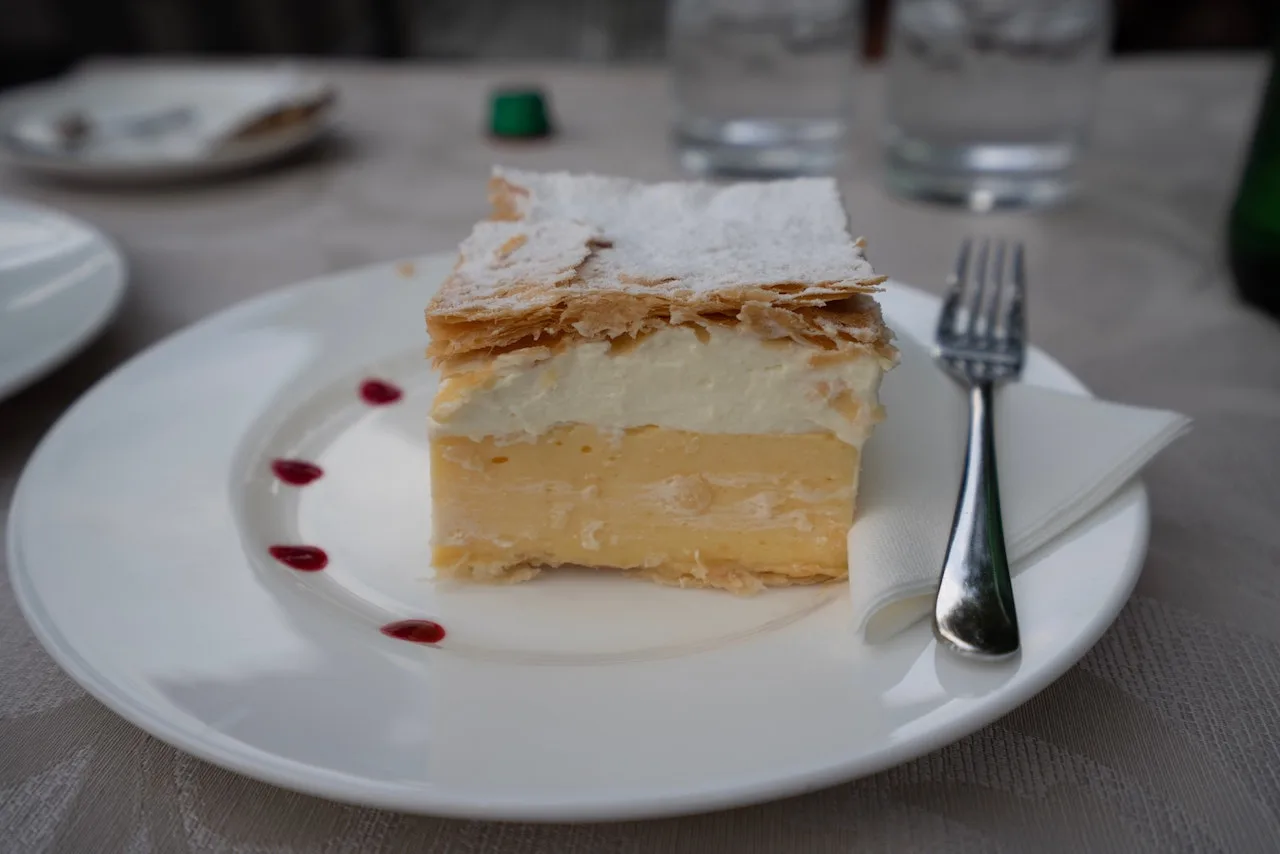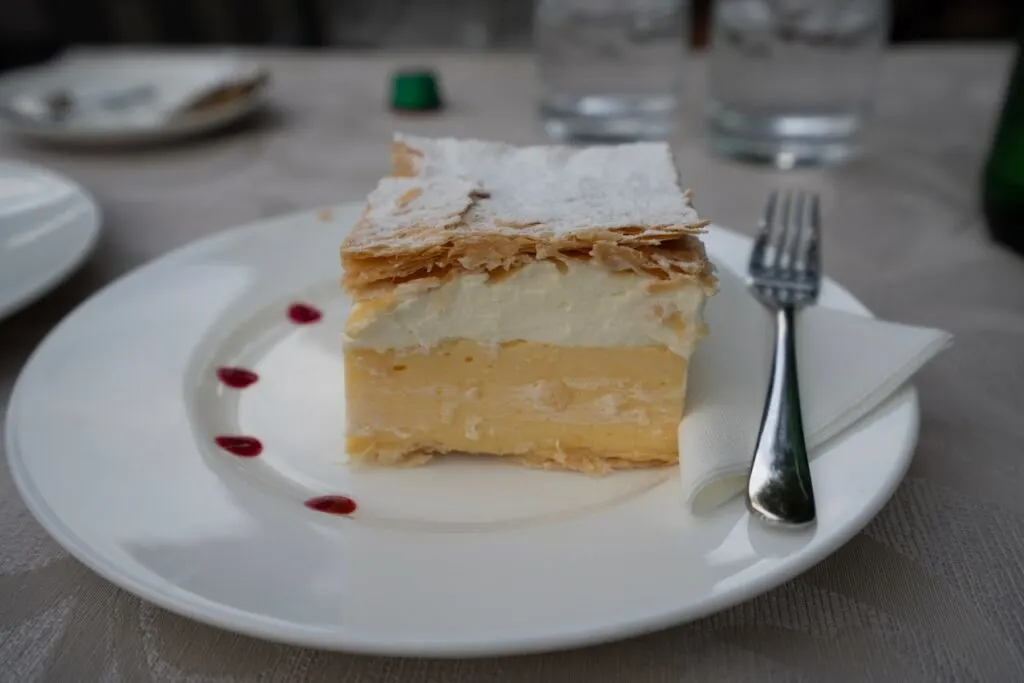 Triglav National Park
Since Lake Bled is just on the outskirts of Triglav National Park, you will have easy access to explore all that the park has to offer during a visit.
As the only national park in Slovenia, and the one that holds the highest peak (Mount Triglav), you can expect to find endless things to do.
Hikes, lakes, viewpoints, waterfalls, rivers and more are sprawled along Triglav National Park.
Just a few of the highlights to consider include:
Hiking
Soca Trail: a 25 km trail that runs from the source of the Soca River to the town of Bovec.
Mount Vogel, Sija & Rodica: a hiking trail that sits a top along Lake Bohinj. You have the chance to combine 3 peaks all into one hike!
Mount Triglav: if you want to reach the top of Slovenia, you can opt for a 1-2 day hike up to the summit.
Seven Lakes Valley: a trail that can be completed in a variety of ways, which takes hikers all along some of the best lakes in the region.
Slemenova Spica: located on top of the Vrsic Pass, this trail offers beautiful views of the Julian Alps mountain range.
Waterfalls
Martuljek Waterfall
Sum Waterfall
Lakes
Lake Bohinj
Lake Jasna
Zelenci Nature Reserve
You can learn about all of the above & more in the Triglav National Park and Lake Bohinj guides up on the site.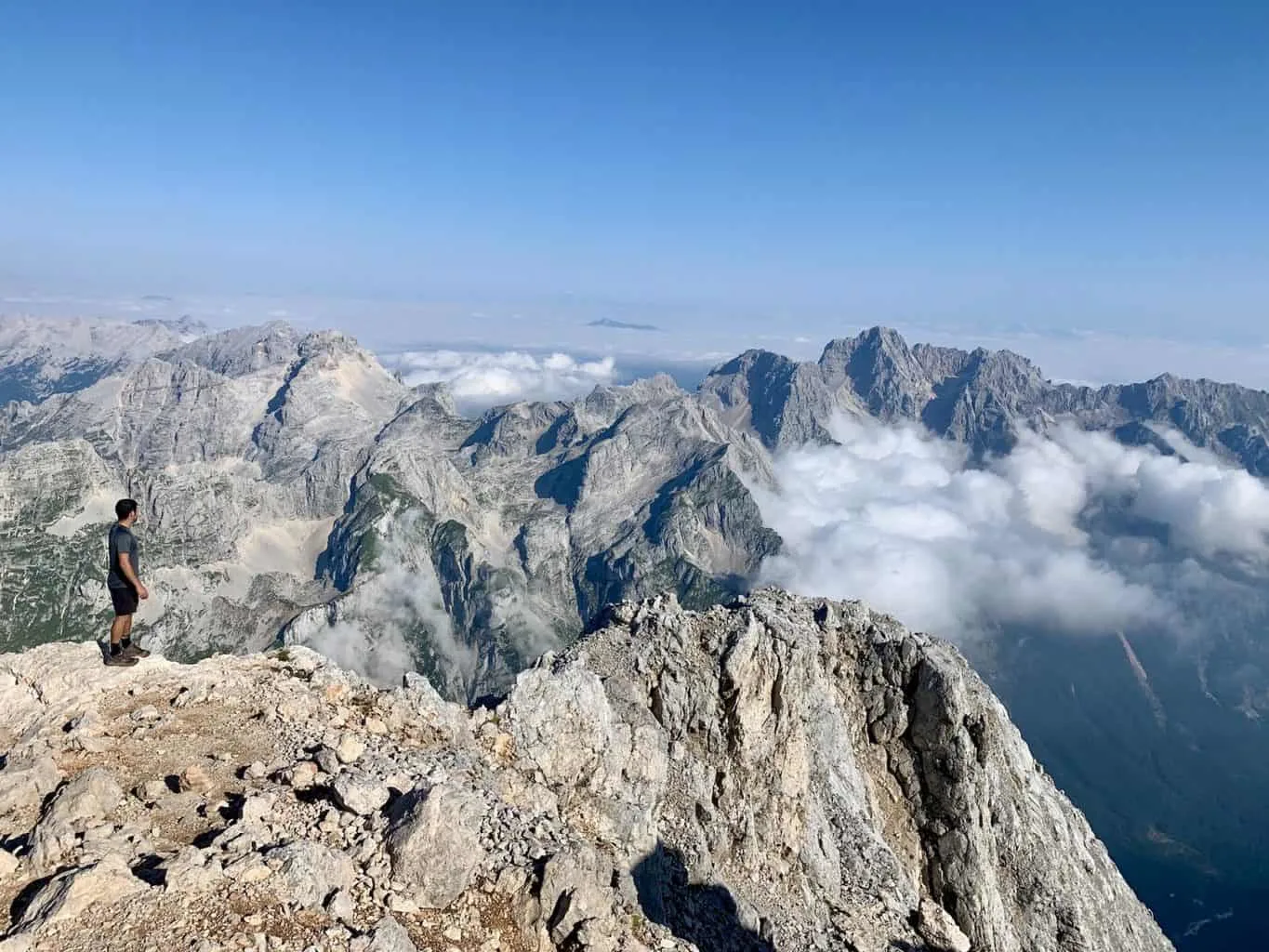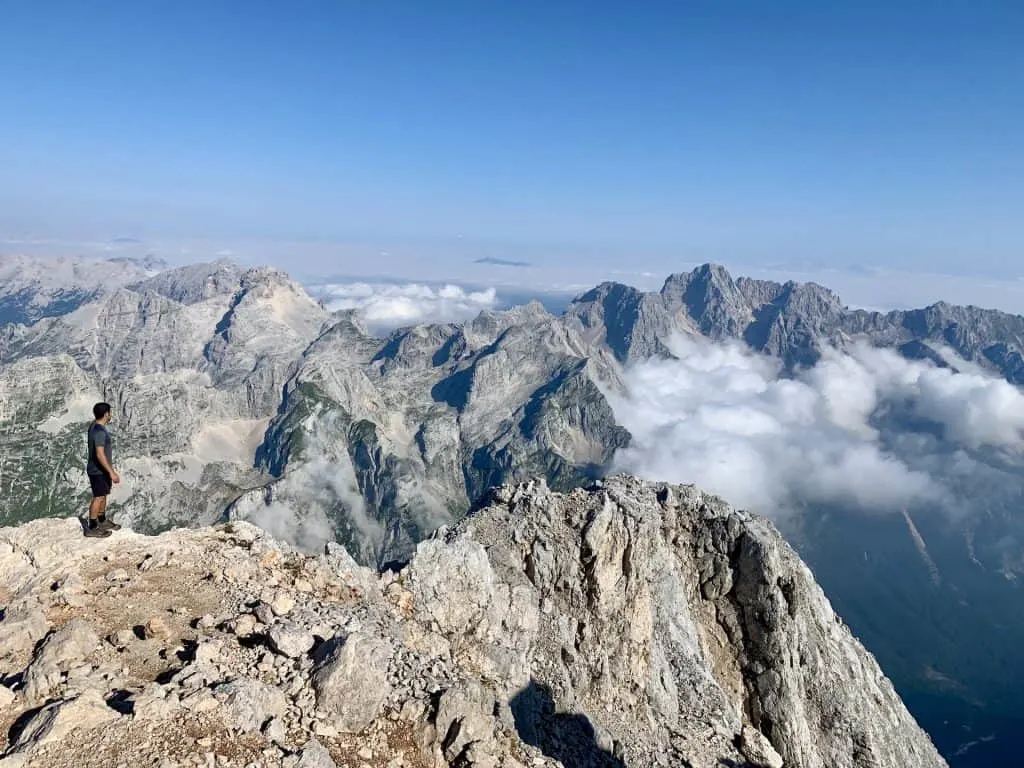 7) Lake Bled 2 Day Itinerary
Before wrapping up, I wanted to lay out a sample Lake Bled itinerary for a first time visitor.
It includes 2 full days around the lake as you get to experience a little bit of everything.
Lake Bled Day 1
Stop #1: Early morning visit to Vintgar Gorge to enjoy the gorge & walkways without the crowds.
Stop #2: Head up to Bled Castle to get your first viewpoints of the lake from above.
Stop #3: Enjoy some lunch in town & hang out by the lakeside.
Stop #4: Spend the afternoon walking around some of the lake or the entire thing!
Lake Bled Day 2
Stop #1: Make your way to the western side of the lake and hike up to one or more of the Ojstrica, Velika Osojnica, and Mala Osojnica viewpoints.
Stop #2: Spend some time by the Velika Zaka beach to relax after a morning of hiking.
Stop #3: Hop on a pletna boat (or rent a boat/kayak) and head on over to Bled Island. Visit the church, ring the bell, and make your way back to the mainland.
Stop #4: End the day back in town, grab some Bled Cream Cake, and enjoy the lakeside before continuing on with your journey.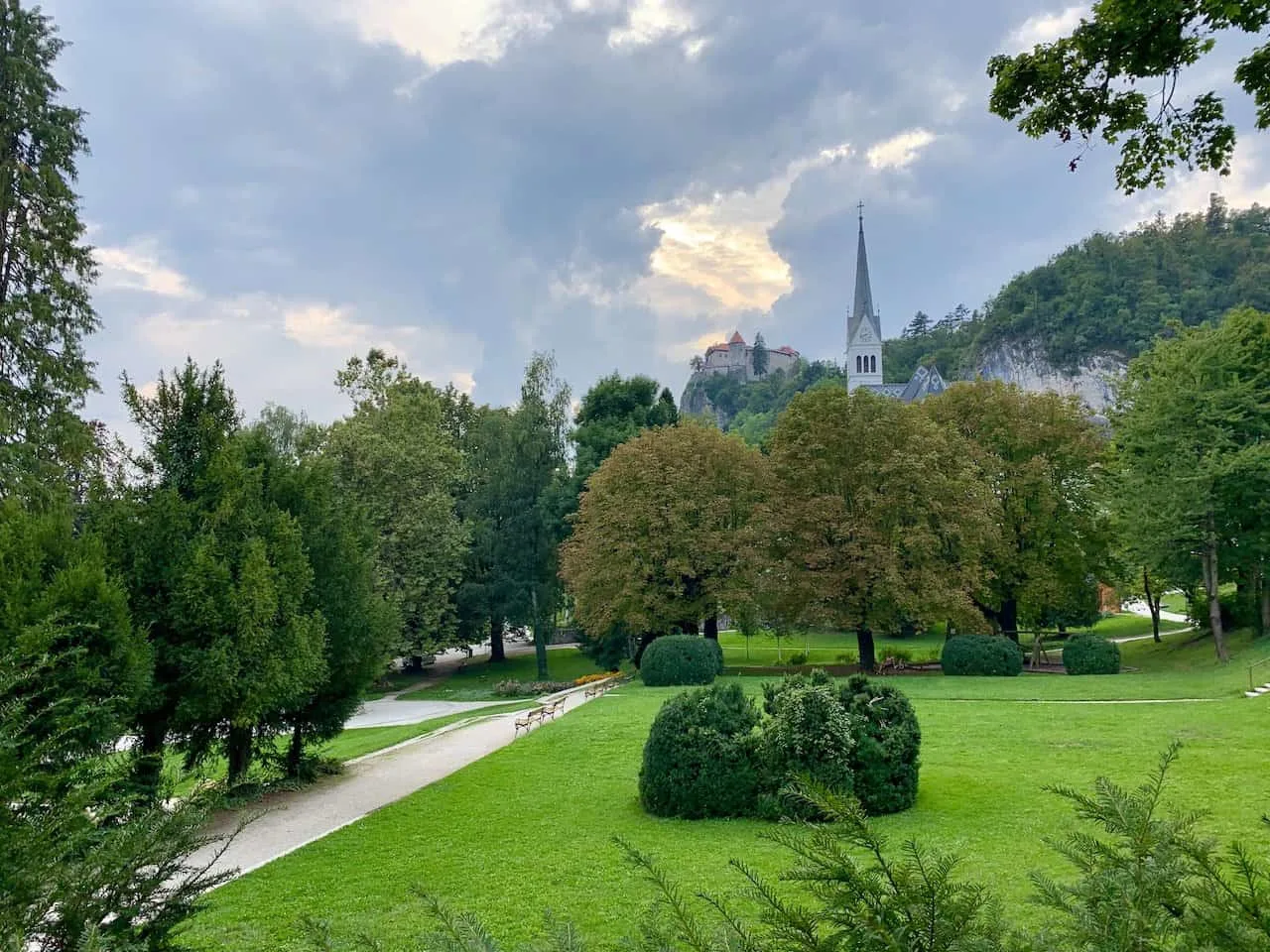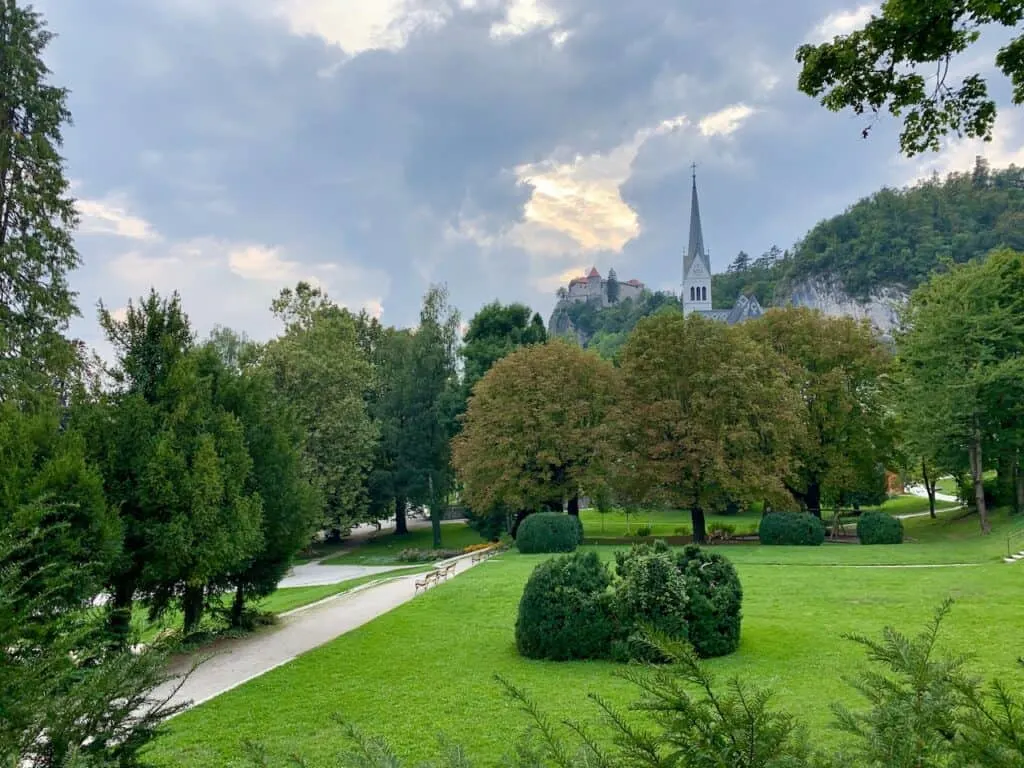 8) Frequently Asked Questions
When it comes to Lake Bled, there are some frequently asked questions that I wanted to answer. See below for a few of the main questions.
How Much Time Should I Spend in Lake Bled?
I would recommend spending 2-3 days around Lake Bled itself. This will give you the opportunity to see and do most of the top attractions & activities.

It will also give you a little bit of a buffer in case the weather doesn't hold for one of your days there. Giving yourself an extra day or so will give you a better chance to take advantage of all that the lake has to offer.

Now, if you are also planning to explore Triglav National Park, you can continue to base yourself in Bled (if you choose to). I would recommend a few additional days though so you can have enough time to take part of those activities as well.
Can I Swim in Lake Bled?
Yes! You can swim in Lake Bled, but do note that there are only specific swimming areas of the lake that should be used.

Since there is a fair share of boat traffic, it is safer to keep to these areas to enjoy your time in the water.
Do You Need a Car in Lake Bled?
For Lake Bled itself, you can get away without needing a car. All of the attractions are within walking distance or can be visited with the local bus (or quick taxi ride).

However, when you consider the rest of Slovenia and the nearby Triglav National Park, you will find a car is the way to go.

Having a car will give you the peace of mind of not worrying about getting to certain attractions on your own schedule.

Simply come and go as you please, and fully take advantage of your time in the country.
Is Lake Bled Worth a Visit?
A visit to Lake Bled is certainly worth the visit. The lake is truly one of the most beautiful you will come across. And if you actually take advantage of its offerings (and the top things to do I listed out), I would imagine you will feel the same way.

If you are visiting Slovenia, be sure to stop by Lake Bled, even if it's just for a day or two. Believe me it's worth it!
That about wraps up an overview to Lake Bled of Slovenia. If you have any questions or comments, feel free to add them in below.
Also don't forget to check out some of the other Slovenia itineraries and guides up on the site.
Have fun out there and safe travels!