When it comes to Slovenia, there are so many beautiful natural landscapes to take in. One of my favorite spots in the country to explore is Lake Bohinj.
Located within Triglav National Park, Bohinj is the largest lake in all of Slovenia. Surrounding the lake are mountains, towns, waterfalls, gorges, and other top highlights.
During a visit, you will have the chance to explore it all and more. Read on to learn about the top things to do around Lake Bohinj, and other helpful tips for a visit.
* Affiliate Disclosure: This post may contain affiliate links, which means I may receive a commission if you make a purchase through the links provided, at no additional cost to you. Thanks for supporting the work I put into TripTins!
1) Lake Bohinj Map
To start, I did want to layout the map of the Lake Bohinj region to get you more familiar with the area.
While Lake Bohinj (also called Bohinjsko Jezero) is the lake itself, there are several main town centers nearby.
These town centers include:
Bohinjska Bistrica (main city center 10 minute drive from the lake)
Ribcev Laz (lakeside town on the eastern shore)
Stara Fuzina (just north of Ribcev Laz & walking distance to the lake)
Ukanc (lakeside town on the western shore)
When going about your visit to Lake Bohinj, you can choose from any one of these towns as possible options to situate yourself in.
It is also feasible that you may just want to take a day trip to the lake from nearby Lake Bled or even from Ljubljana.
Below is a map that pinpoints the towns, as well as the top things to do in Lake Bohinj that I will talk through in the remainder of this guide.
2) Top Things to Do in Lake Bohinj
Let's get right into some of the top things to do around Lake Bohinj. After talking through these top spots, be sure to check out the remaining sections that will help you plan your visit.
Hike Around Lake Bohinj
One of the top things to do in Bohinj is to walk around the perimeter of the lake itself. What better way to take in the surroundings than by actually going all around it.
There is a hiking trail that makes its way around the entire lake that can easily be followed and is well marked. Just be aware that the path is not perfectly flat all the way through.
As you make your way around the lake, you are sure to pass some highlights (some of which I will talk a bit more about in the next sections), such as the St John Baptist Church, the Church of the Holy Spirit, and the Zlatorog Statue.
One of the best parts of walking around the lake, is that you can make it more than just a hike. Whether you want to find a spot to have lunch by the lakeside, take in the view from some scenic panoramas, or just hop into the water. There are a whole bunch of options to take part of throughout.
I would recommend starting the hike in Ribcev Laz and heading counter clockwise around the lake. Once you reach the shores near Ukanc, you can even decide to take a pleasant boat ride back if you didn't want to finish up the full loop.
Lake Bohinj Trail Distance: 12 km / 7.5 miles
How Long Does it Take to Walk Around Lake Bohinj: 3-5 hours (depending on stops)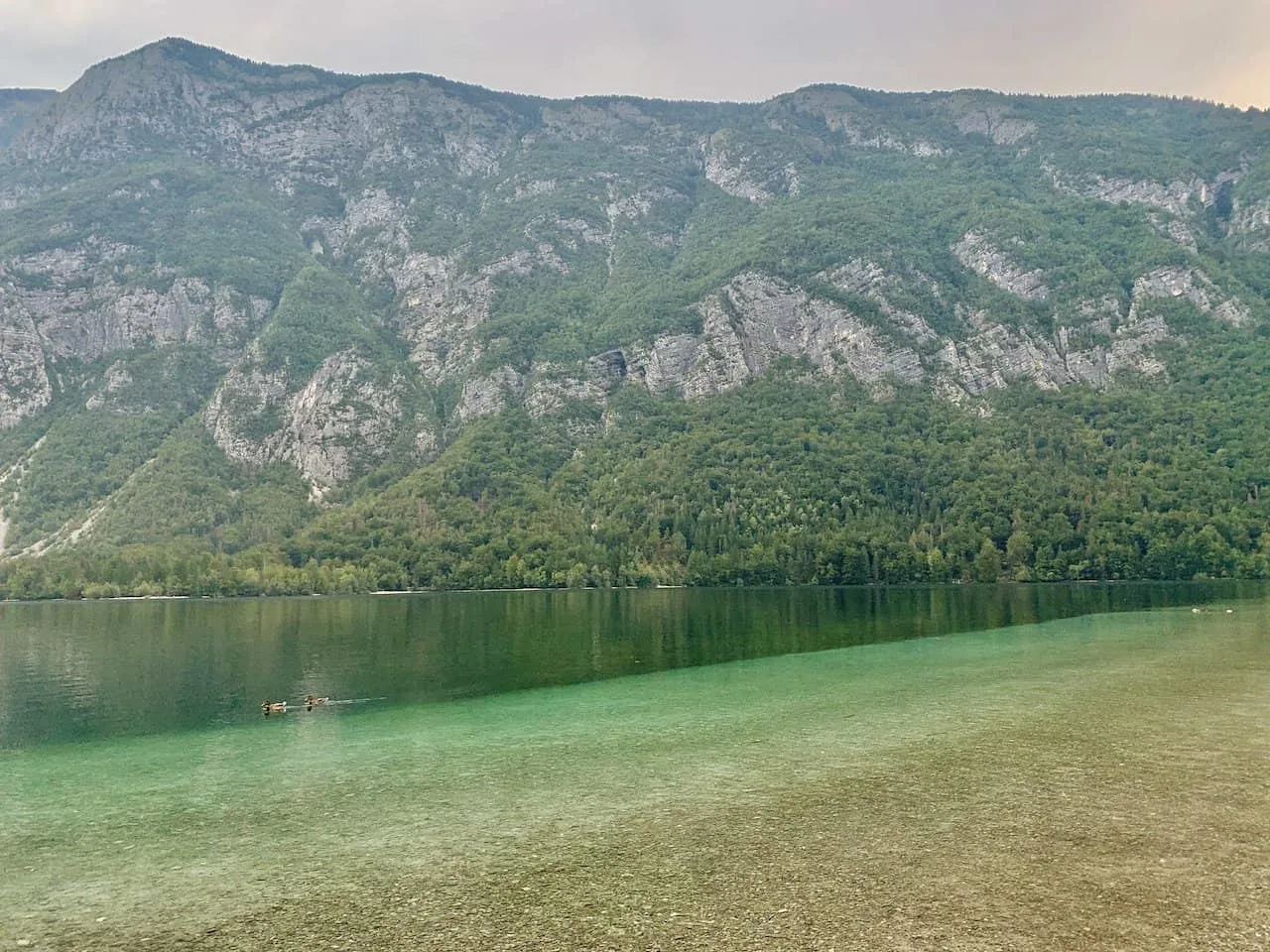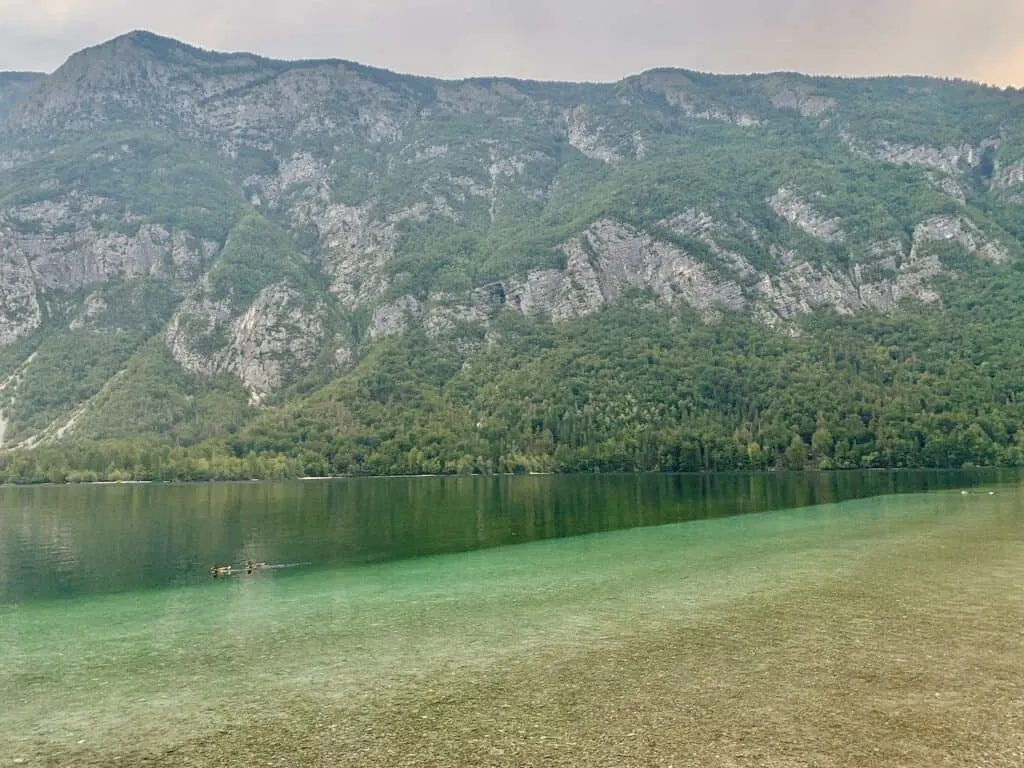 Hop in for a Swim
If you are looking to cool down after some hiking & exploring, then taking a swim in Lake Bohinj is for you. Be aware though, the water can be very cold, even on a hot day.
But there really is nothing more refreshing than a cool swim in a beautiful lake to add to the itinerary.
You can find swimming spots all over the lake. Some of these will be more official swimming spots while others will be away from the crowds and a quieter experience altogether.
Just be aware not to head too far into the lake as there are kayaks, canoes, and paddle boards (and even boats), making their way through.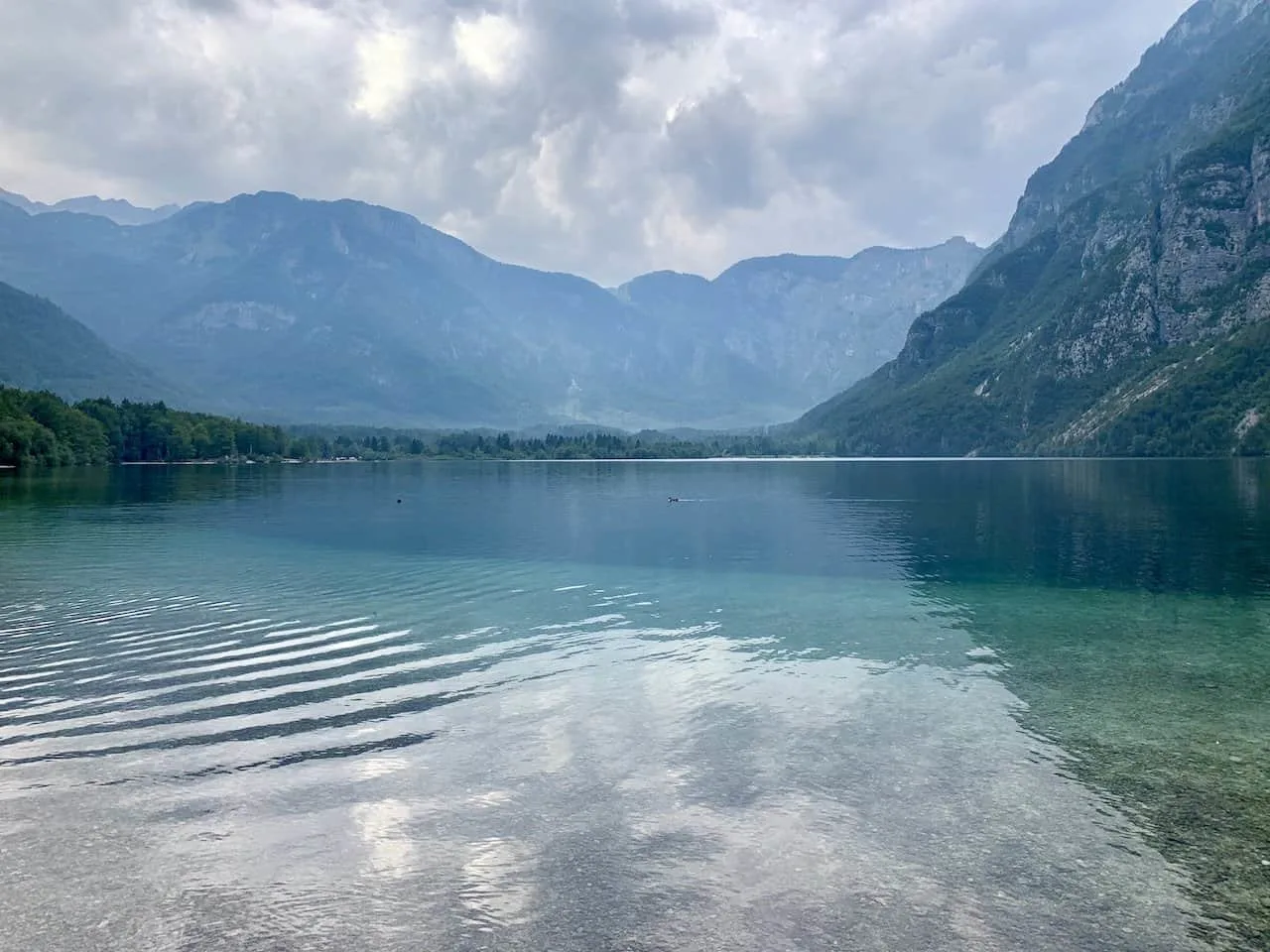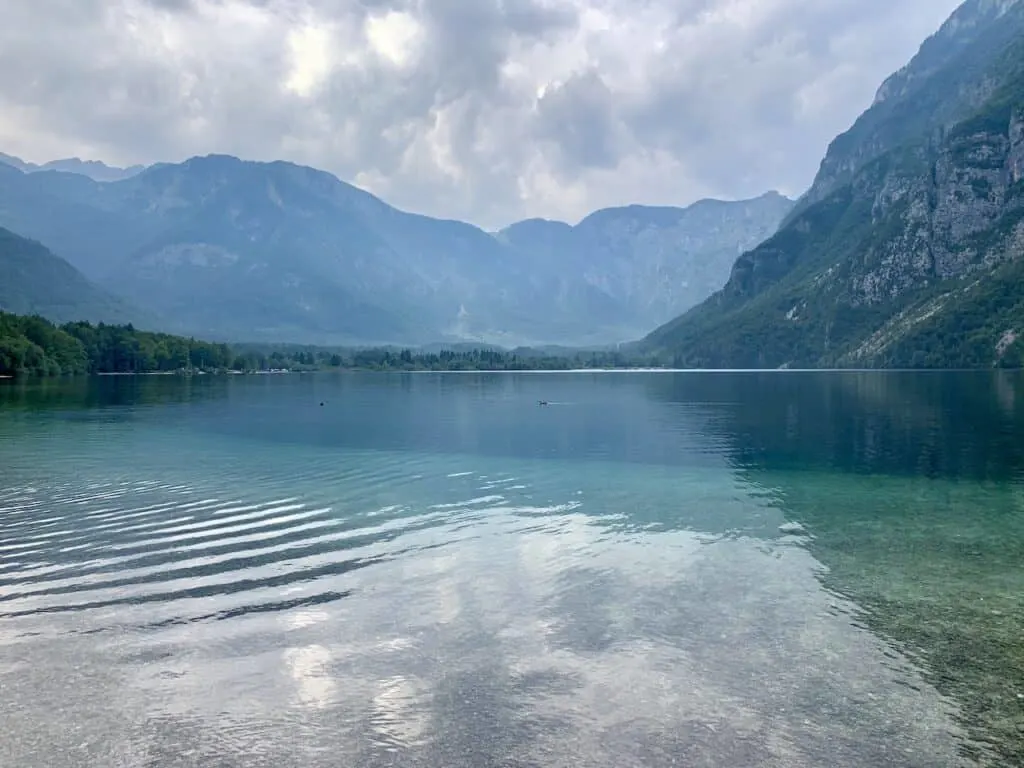 Take Part of Some Water Sports
While swimming is one way to experience Lake Bohinj, heading out on a kayak, SUP, or canoe is another. Instead of just hanging out by the lakeside for a swim, you can rent a kayak, stand up paddle-board or even canoe to explore deeper into the lake.
This is the perfect activity for those that want to stay active and take part of something fun along the way.
You can rent all sorts of equipment near the lakeside near Ribcev Laz (in addition to a few other options along the lakefront).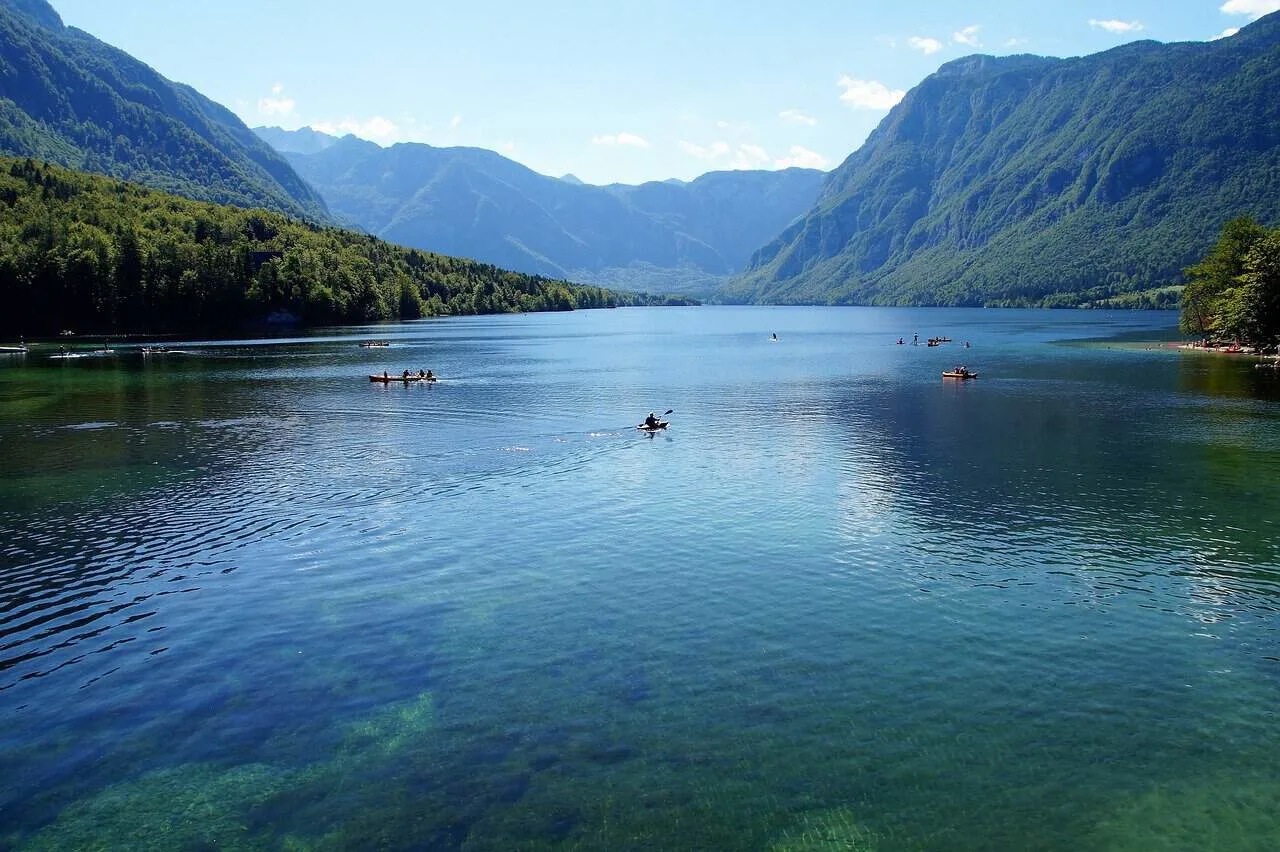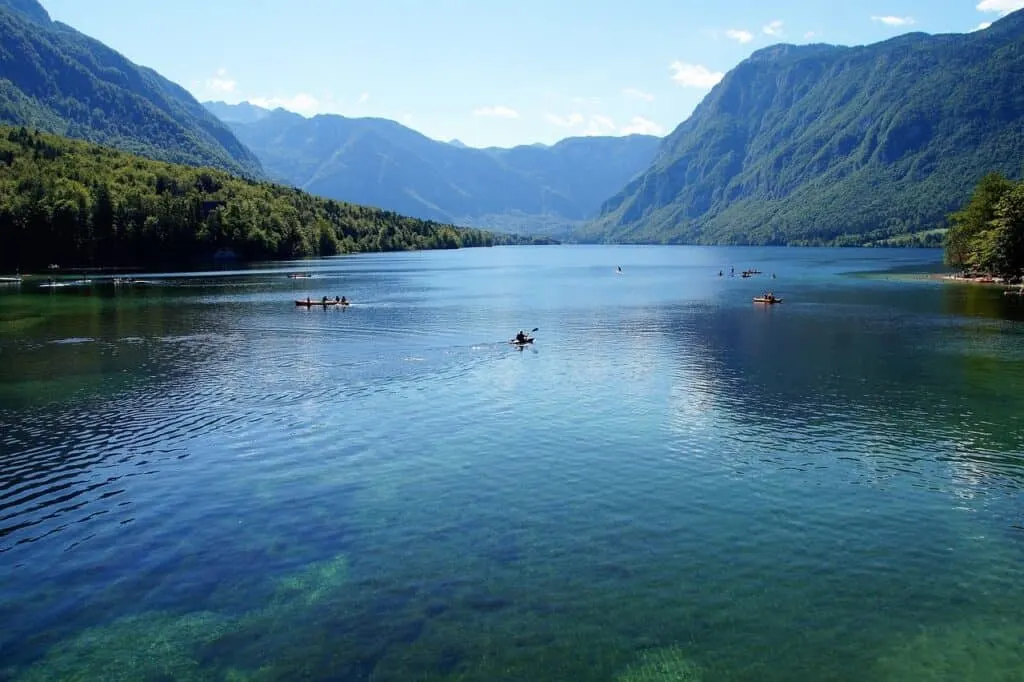 Visit the St John the Baptist Church
Sitting on the southeast corner of Lake Bohinj, is the St John the Baptist Church. The church is located just off of the famous stone bridge that makes its way over the lake's river.
When it comes to iconic churches in Slovenia, this is towards the top of the list. It was built over 700 years ago and today visitors have the chance to not only take in the architecture from the outside but also visit the interior of the church. A combo ticket to the church and bell tower (head up for some views!), costs just 5 Euro.
Be sure to check the latest opening hours for your visit.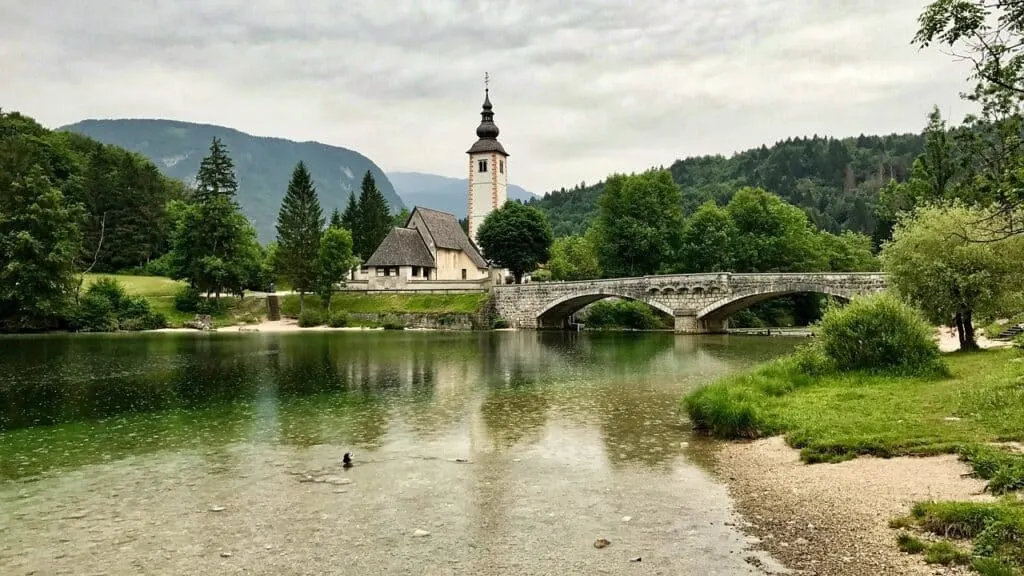 Check out the Zlatorog (Goldhorn)
Another famous piece of architecture on the shores of Lake Bohinj is the Zlatorog Goldhorn statue. Located just a couple minutes away by foot from the church, is this mythical horned animal statue sitting atop a rock. It is recognized as a symbol of Bohinj and its natural beauty.
Today, the area around the Goldhorn serves as a popular sun bathing & swimming spot in the summertime.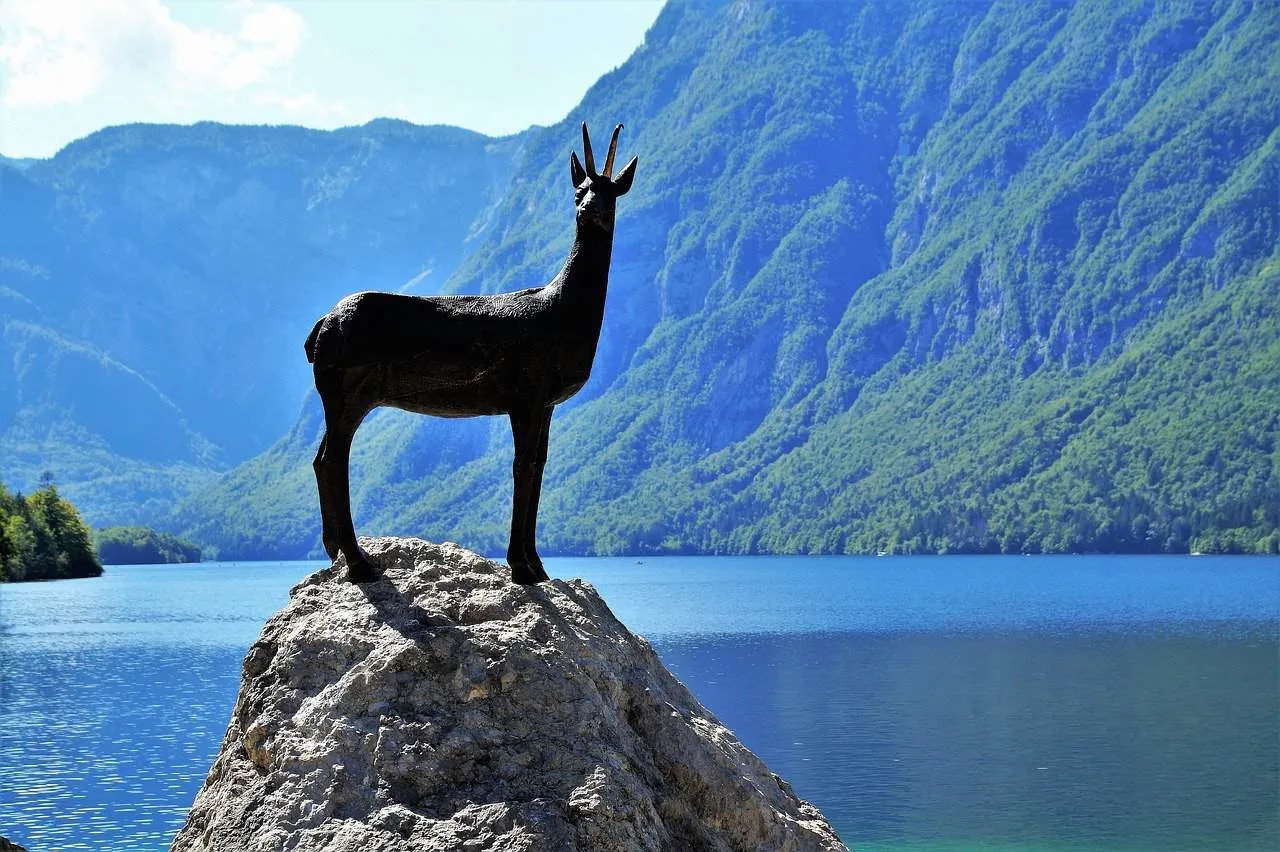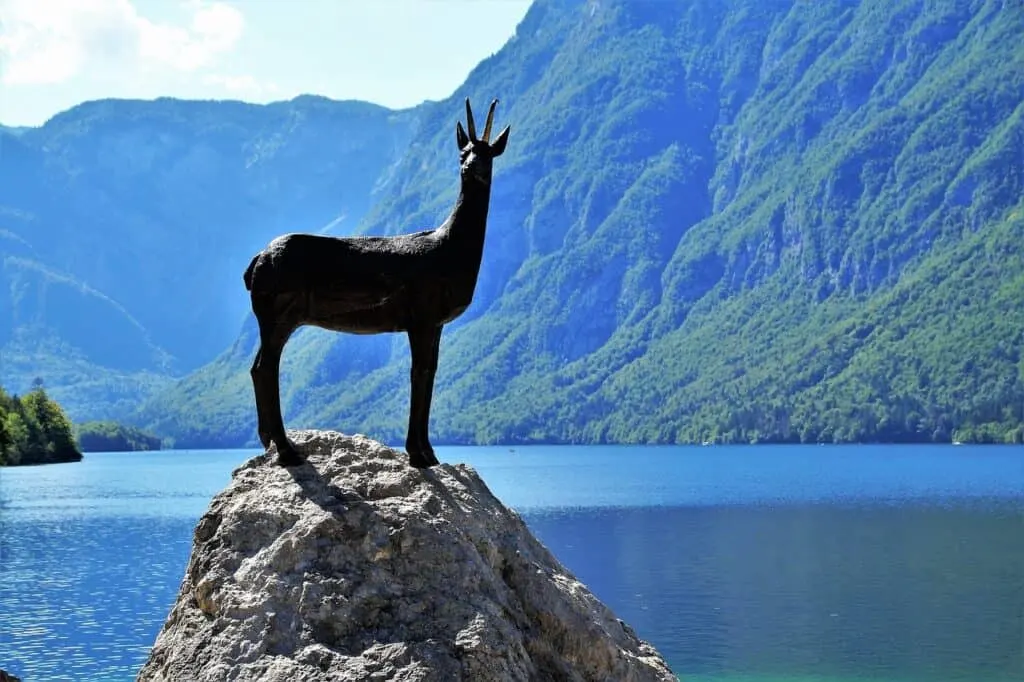 Monument to Four Courageous Men
Another nearby statue to check out is the Monument to Four Courageous Men. This statue depicts the first four men who summited Mount Triglav in 1778 – Lovrenc Willomitzer, Stefan Rozic, Matija Kos, and Luka Korosec.
I will talk about Triglav soon, but today you have the chance to follow in these men's footsteps & summit the mountain for yourself.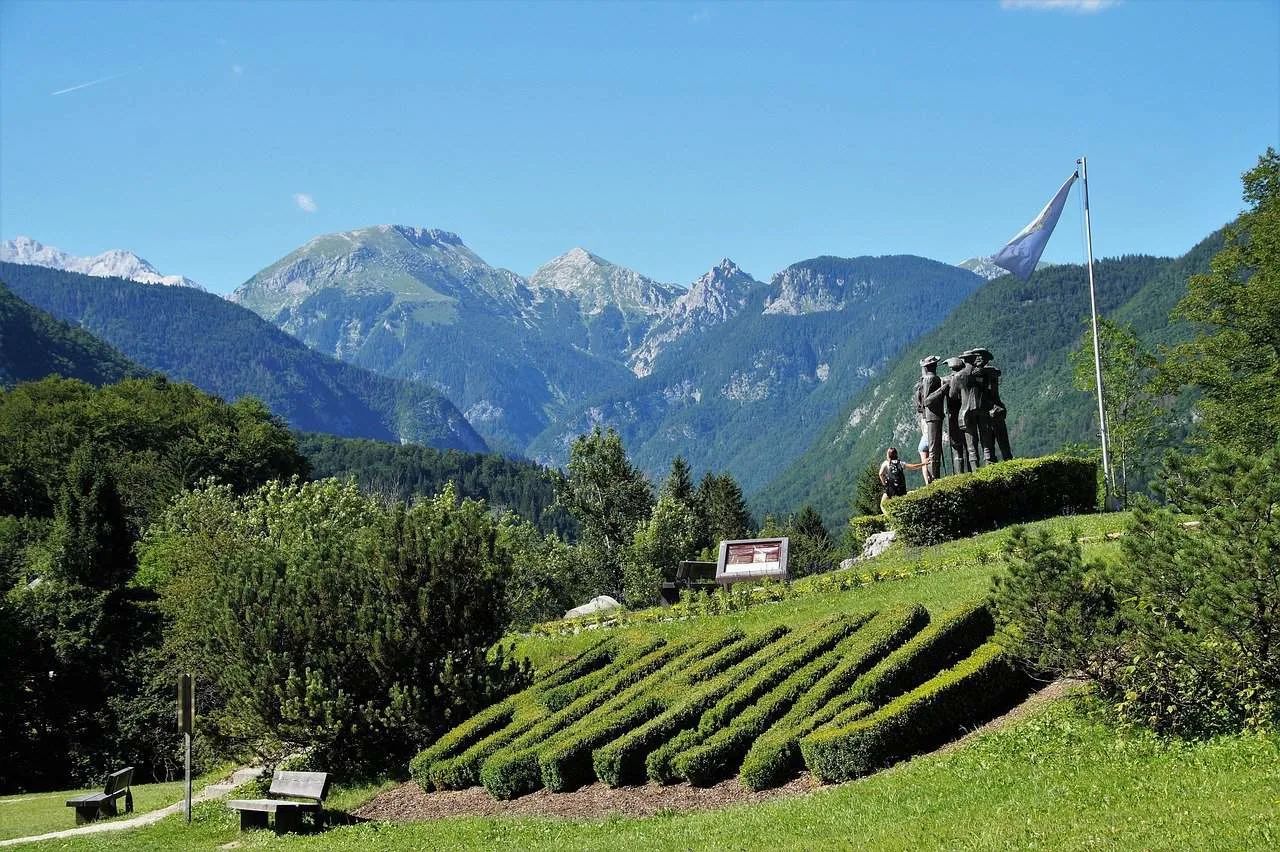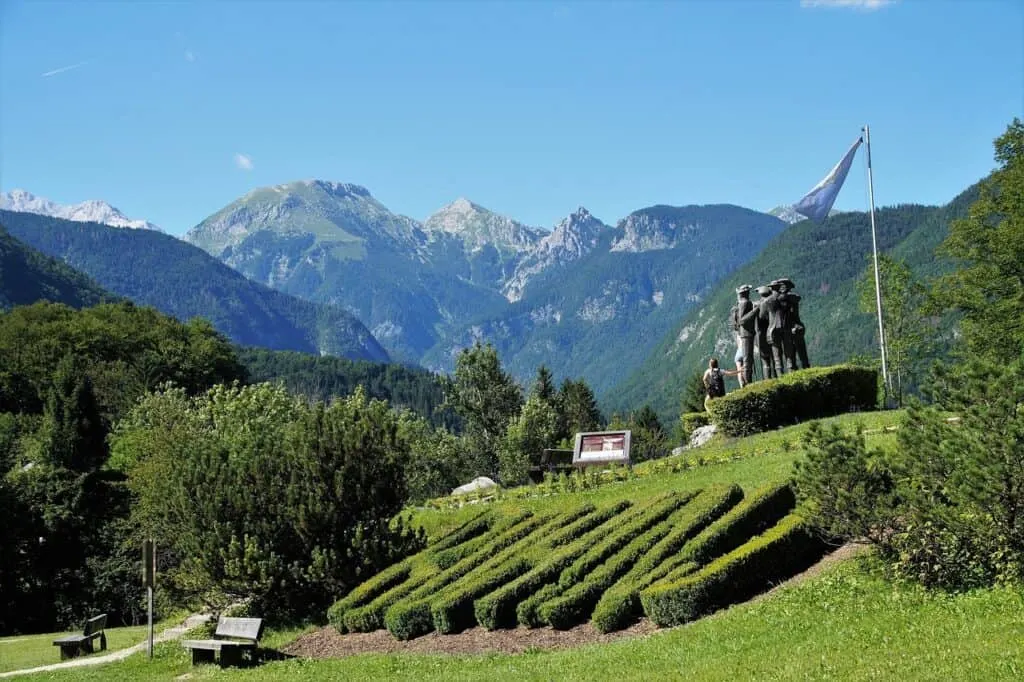 Hike Through the Mostnica Gorge
The area around Triglav National Park does have its fair share of gorges to explore (such as the Vintgar Gorge). These narrow passageways include scenic hiking trails along beautiful crystal clear waters.
Once of the top option to choose from at Lake Bohinj is the Mostnica Gorge. The gorge is located just north of Stara Fuzina, where you can start your hike from.
It is a perfect place to spend an afternoon exploring the crystal-clear waters and the surrounding nature. You can take part of short or long routes around Mostnica, depending on how much time you would like to hike in the area.
You can either just hike through the gorge and onto the Koča na Vojah mountain hut (4 miles round trip), or you can head all the way to the Voje Waterfall & the Koca pri Slapu Mostnice hut (7.5 miles round trip).
The gorge is open outside of the winter months, and has a small fee to enter.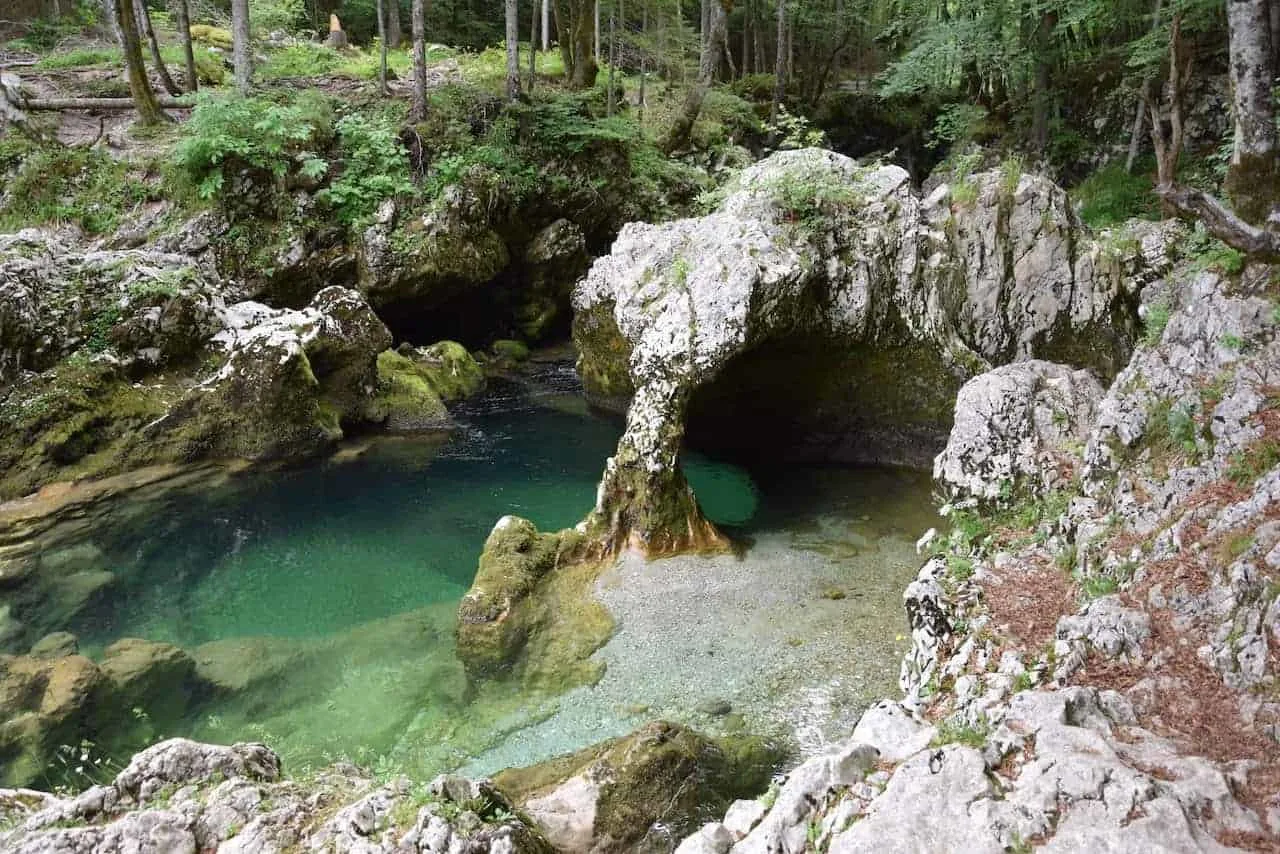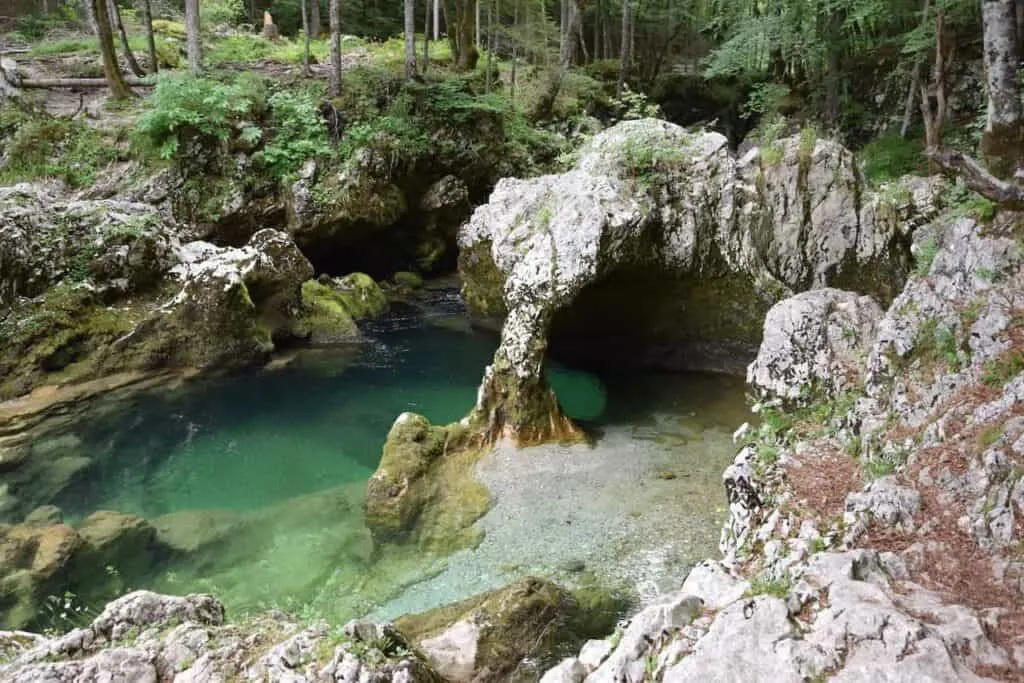 Ride Up the Lake Bohinj Cable Car
Now, if you want to get those views of Lake Bohinj from above, there is no better spot than taking the Vogel Cable Car. The cable car is located near Ukanc, and takes you high up in the mountains to the Vogel Ski Center.
During the wintertime, this is one of the top spots to enjoy some time out on the slopes. During the summer, the views & hiking is what brings the people up.
Once you reach the top of the cable car, you will immediately be welcomed to a viewing platform. This is one of the best spots to see the view of Lake Bohinj & Triglav National Park from above.
Around this area you will also come across some food options, walking trails, and even some guesthouses.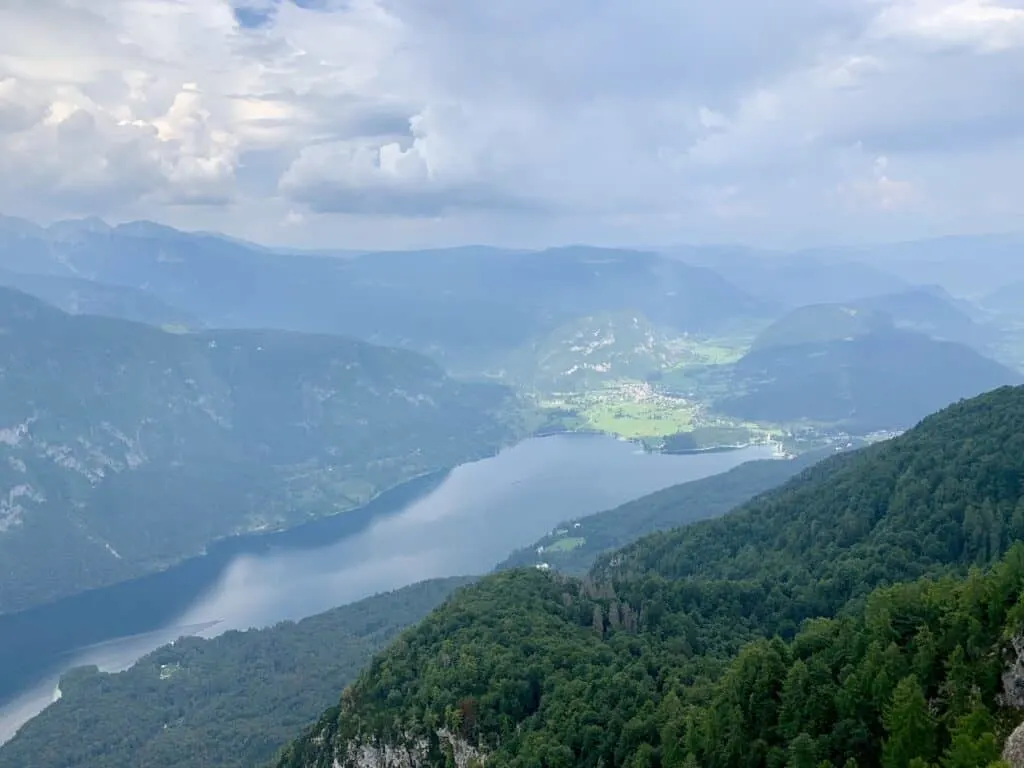 If you want to take in some views from a bit higher up, I would recommend hopping onto the nearby Orlove Glave chairlift. This will be easier than hiking, and it still gives you the chance to take in some more elevated panoramas from the top.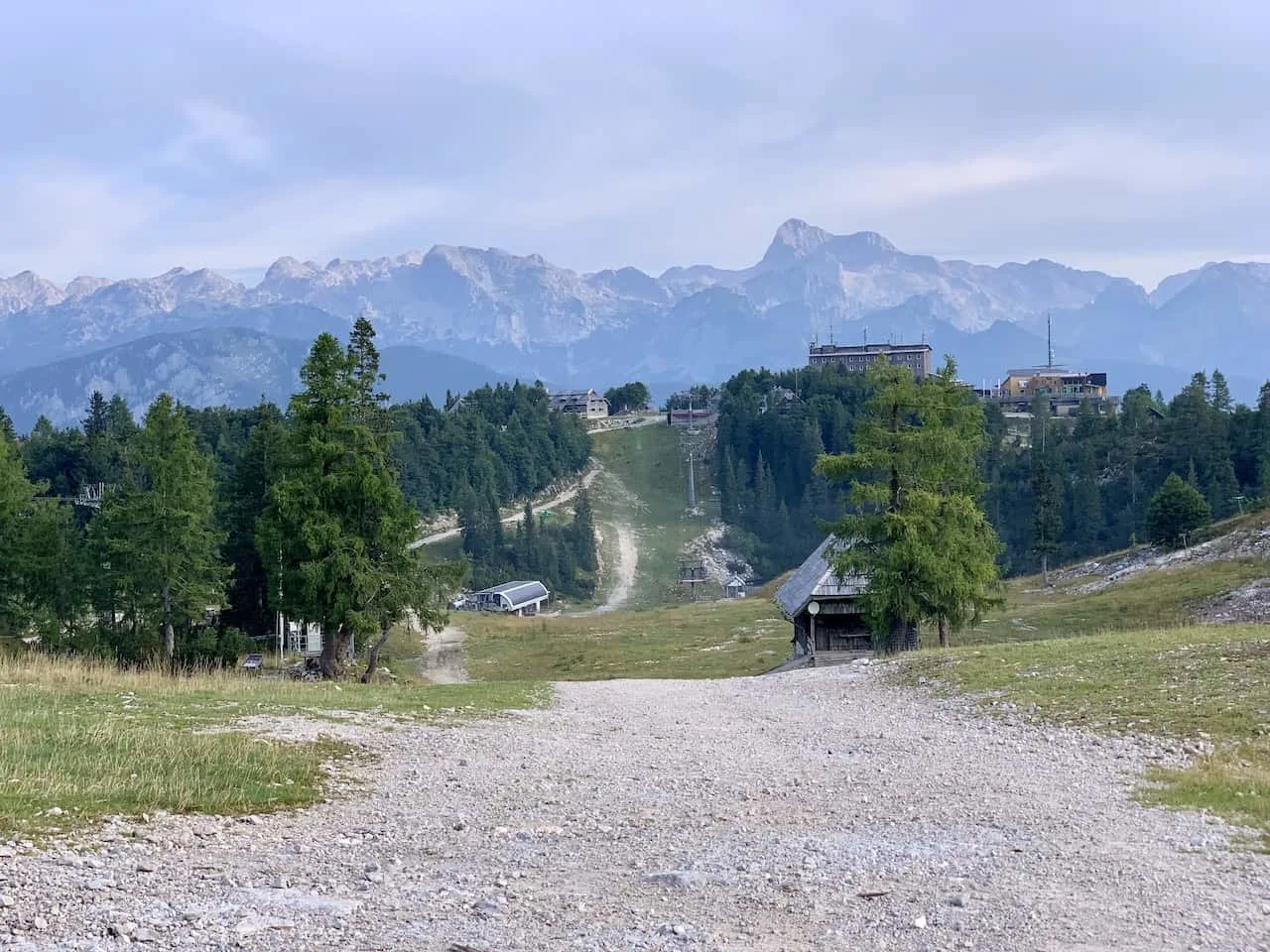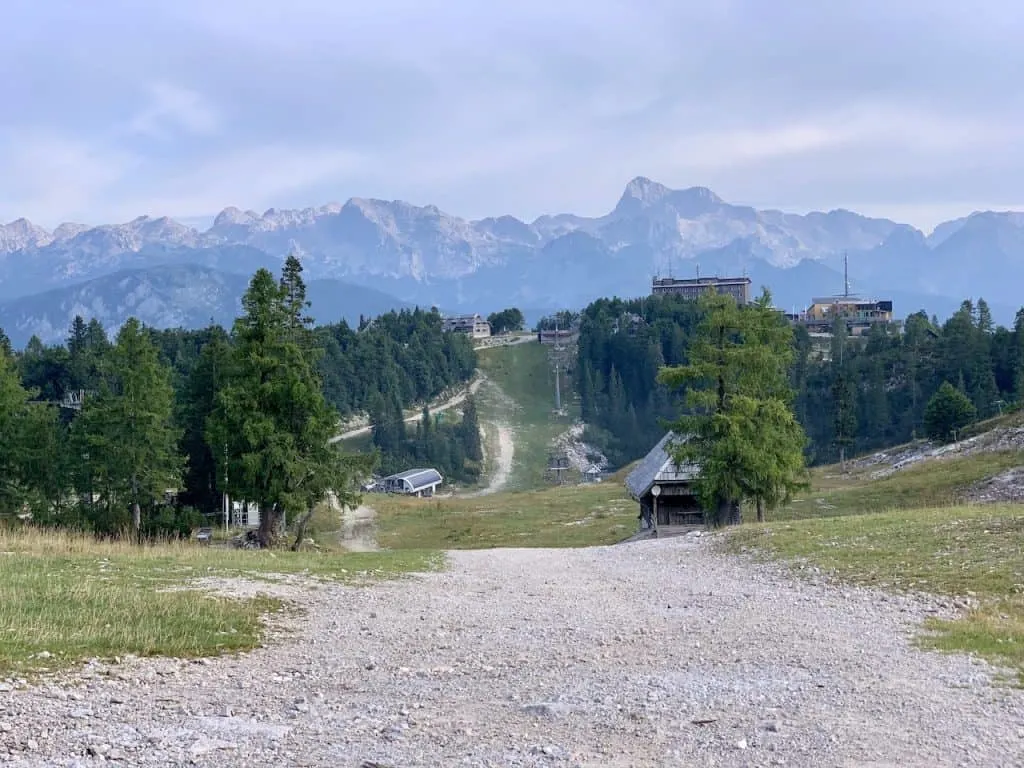 Summit Mt Vogel & Rodica
While a short hike around the area is going to be pleasant, there are three potential summits to conquer if you are up for it.
From the top of the Orlove Glave chairlift (whether you hiked up to it or simply rode it up), you can continue your way along the mountainside to Sija, Rodica, and Vogel.
These can be completed on their own, or you can combine them all into one much longer hike. Here are some trail stats for a few potential trail combinations (starting & ending by the Vogel Ski Center):
Vogel, Sija, & Rodica (11 miles / +3,820 feet elevation gain)
Sija & Vogel (7 miles / +2,440 feet elevation gain)
Sija & Rodica (8.2 miles / +2,640 feet elevation gain)
If you are just interested in a shorter trail, you can simply do a ~4.5 mile round trip to Sija (including around 1,200 feet of elevation gain). This can be shortened if you take the chairlift up too.
Learn More | Lake Bohinj Hiking Overview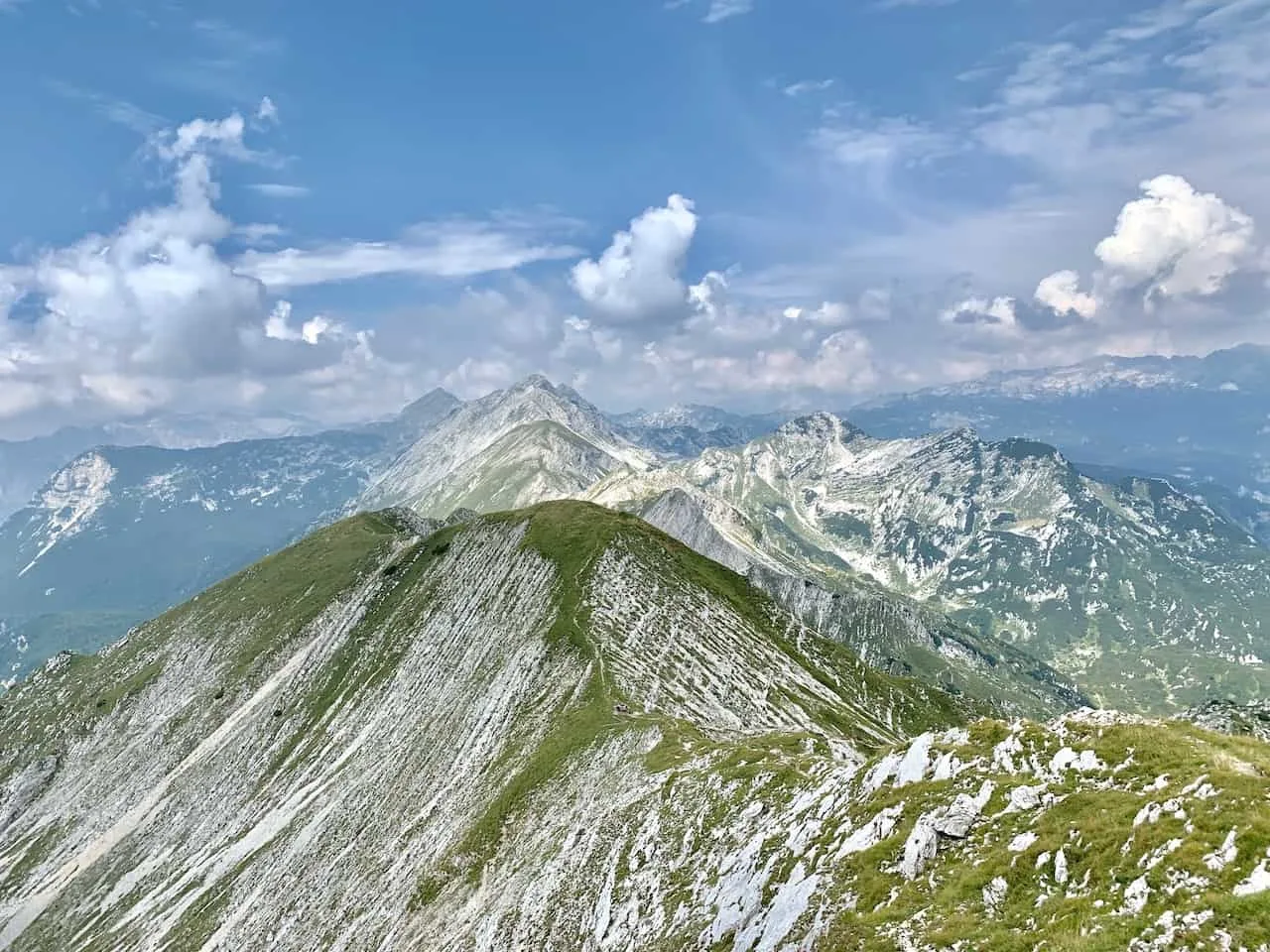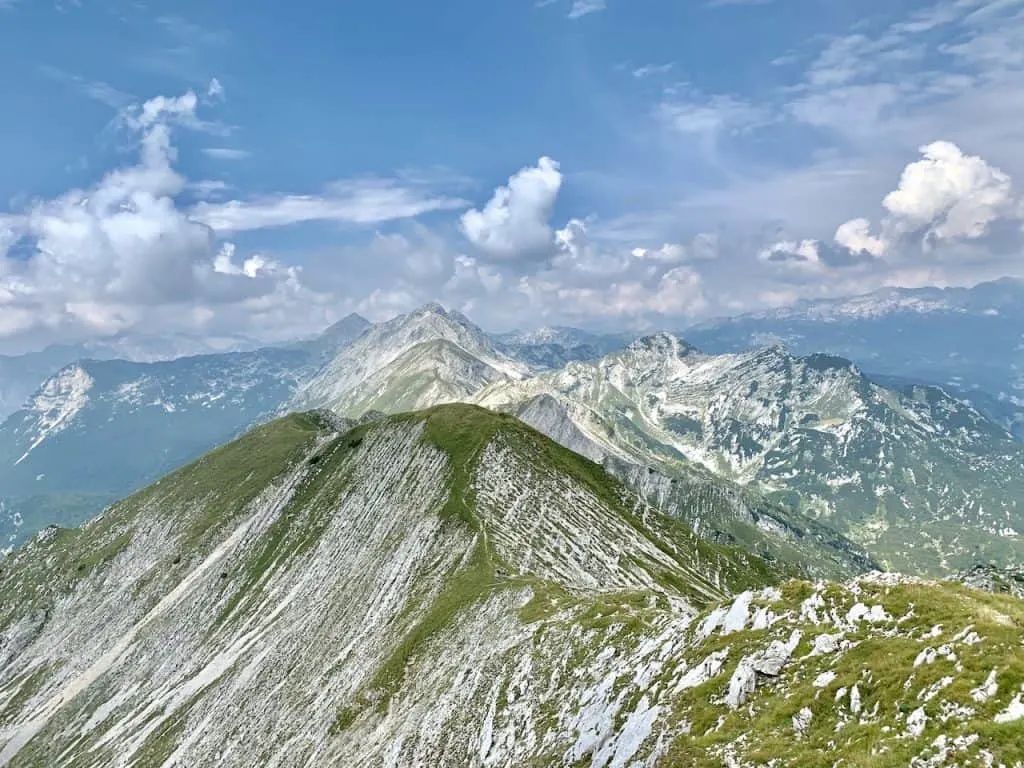 Visit the Beautiful Slap Savica Waterfall
You can't leave the Bohinj region without heading to a waterfall. Thankfully, one of the most beautiful waterfalls of the region is located just outside of Ukanc – Slap Savica.
This double waterfall stands at 250 feet / 80 meters in height and includes both a larger and smaller falls.
From the parking lot, you can head on the 20-30 minute trail through the forest towards the final viewpoint spot. This hike does require several hundred steps so be ready to gain some elevation along the way.
Now, this is not one of those waterfalls where you can just go in and enjoy a swim. Instead, you will just find a staircase leading down to a closed off gate. So, any views you are going to take in will be coming from afar.
No worries though, because the view from the stairs really captures the waterfall and its emerald pool.
Learn More | Slap Savica Waterfall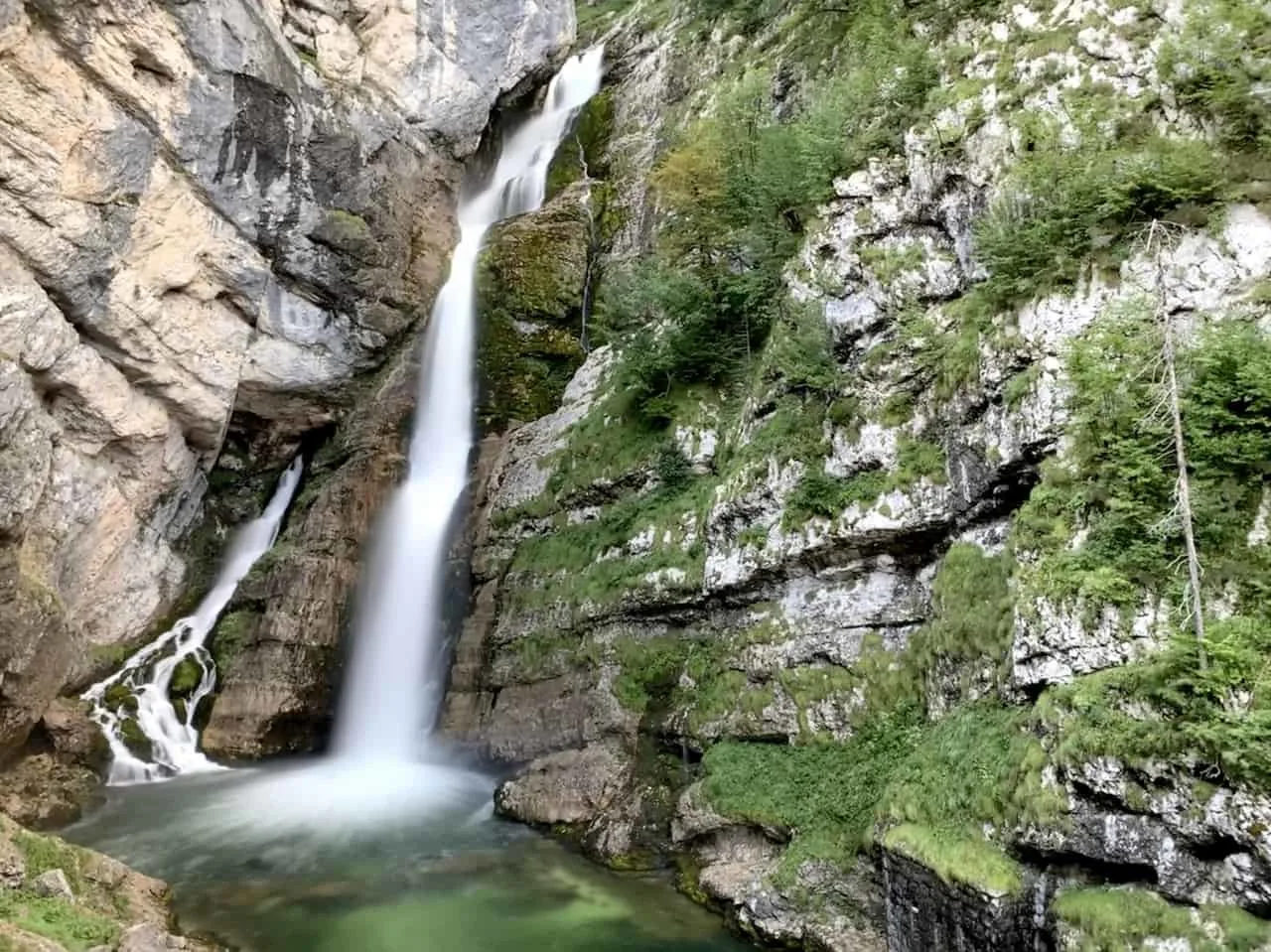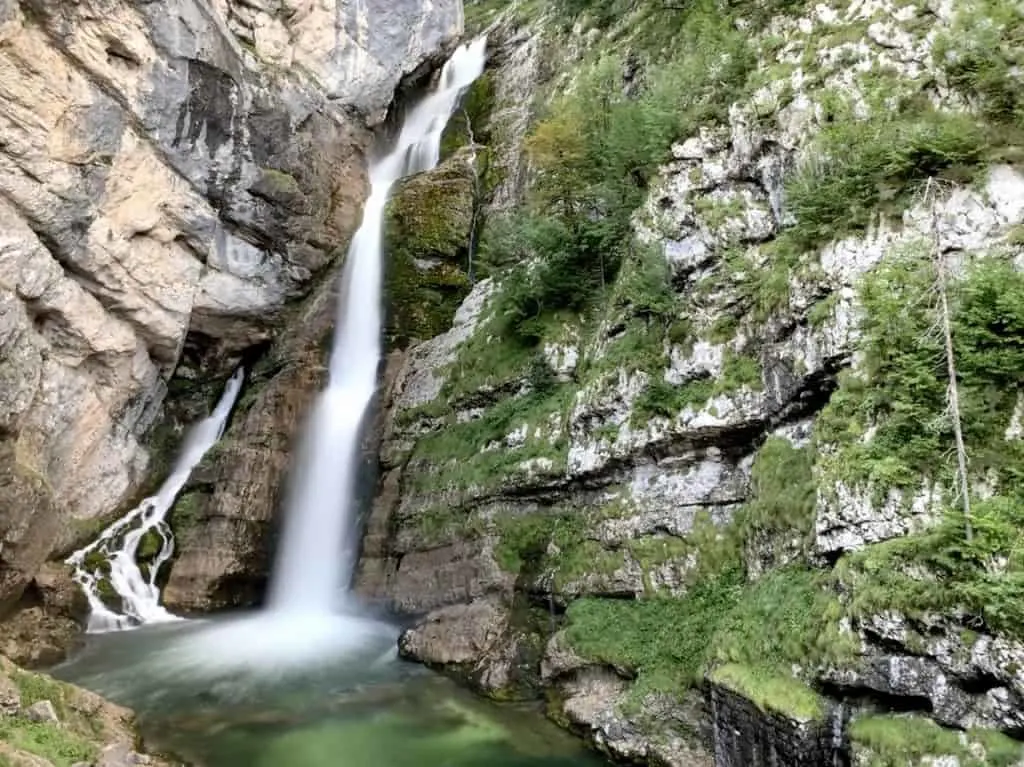 Explore the Seven Lake Valley
While everything mentioned so far is this Lake Bohinj guide is suitable for an active everyday visitor, I also wanted to mention a couple more strenuous trails.
One of the more famous trails just north of the lake is the Seven Lakes Valley hike. This circular (or out & back) hike takes you through a stunning valley filled with plenty of lakes, mountain huts, pastures, forests, and much more.
This isn't a standard hiking trail though, as you will find various routes & turnoff points all throughout. I would highly recommend reading through this Seven Lakes Valley overview for more details about the hike.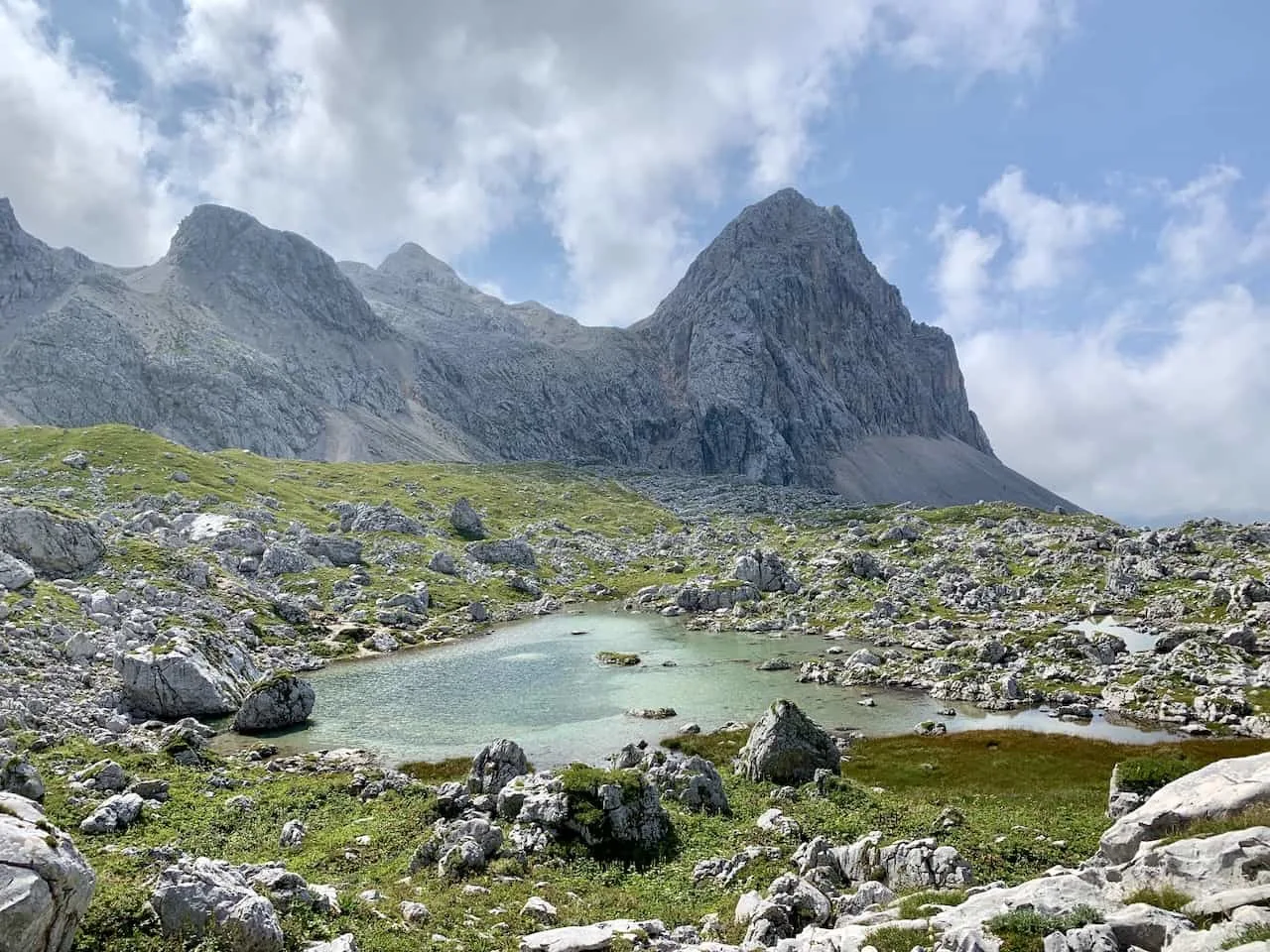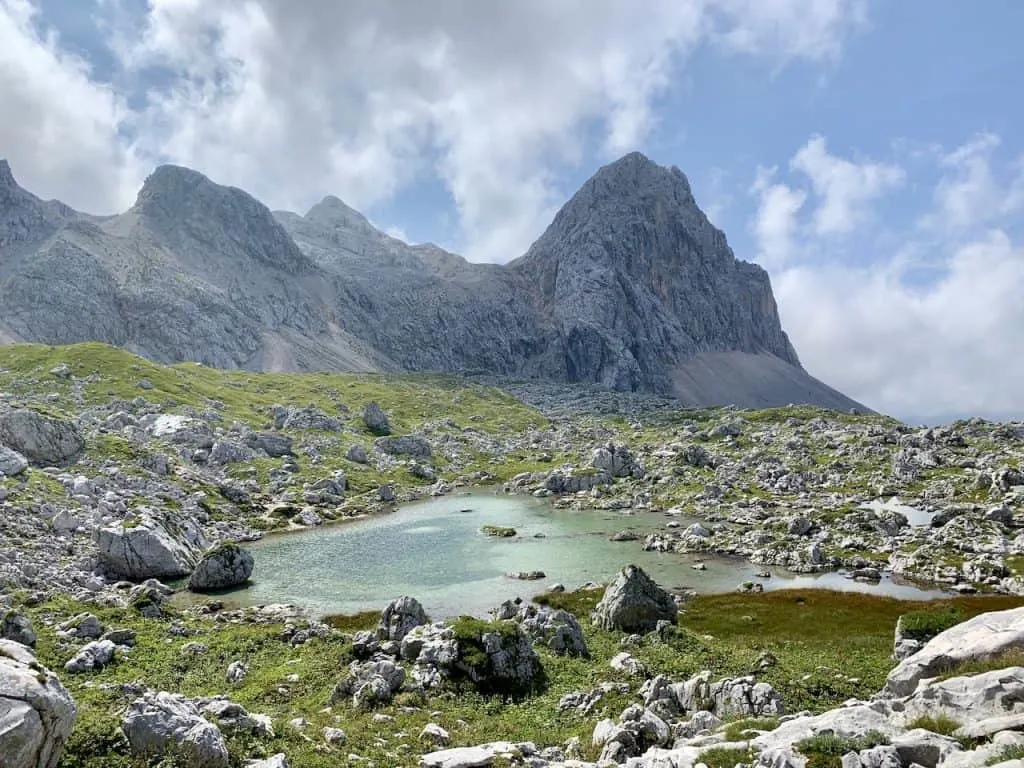 You can start from Planino Blato (a 20 minute drive from Bohinj), and then begin a circular clockwise route. The full hike comes in close to 16 miles / 26 km, 4,000 feet / 1,200 meters of elevation gain, and 8-10 hours of hiking.
This full loop will take you along all of the lakes, in addition to two mountain huts and plenty of jaw dropping viewpoints. Due to its length, it is quite popular to split this up into two days.
You can also make the hike much shorter by simply going on the out & back route to the Triglavskih Jezerih Hut.
Whatever you decide, the Seven Lakes Valley is going to be worth the effort if you have it in you.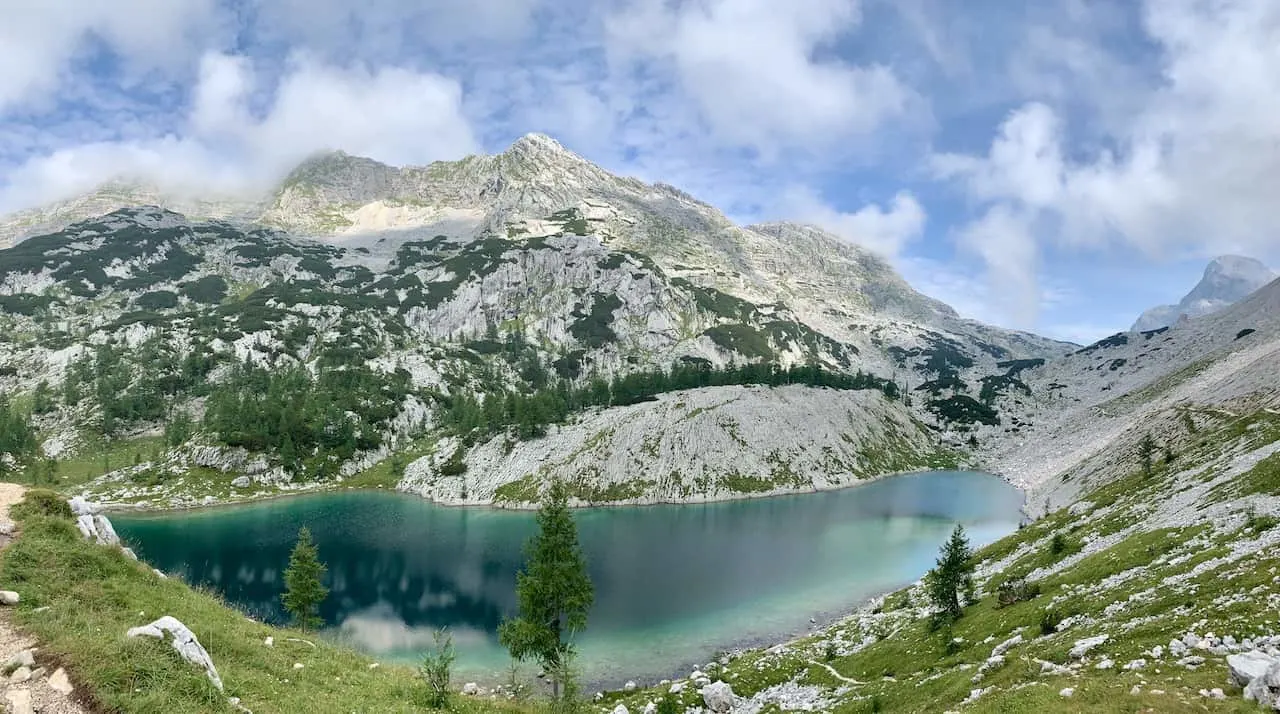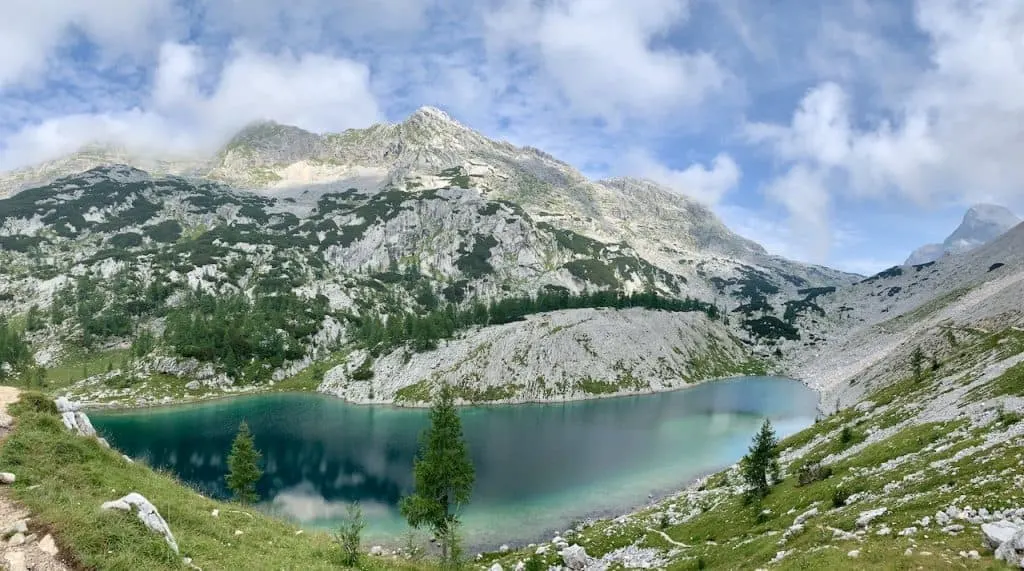 Climb Triglav
By now, you are familiar with Triglav National Park. But did you know that the highest point in Slovenia is Mount Triglav itself?
A bucket list hike for many, Triglav stands tall among the rest at 9,396 feet / 2,864 meters.
It is a hike that most people opt to do over the course of 2 (or even 3) days as they sleep in mountain huts along the way.
This isn't a trail for everyone though. The distance, elevation gain, and long hours of hiking makes it a difficult climb. Couple that with the fact that a via ferrata must be used on the way to the summit, can make it that much more difficult.
There are several routes that head up to the summit, that entail different difficulty levels. To learn more about it all, feel free to read through the Mount Triglav hiking guide up on the site.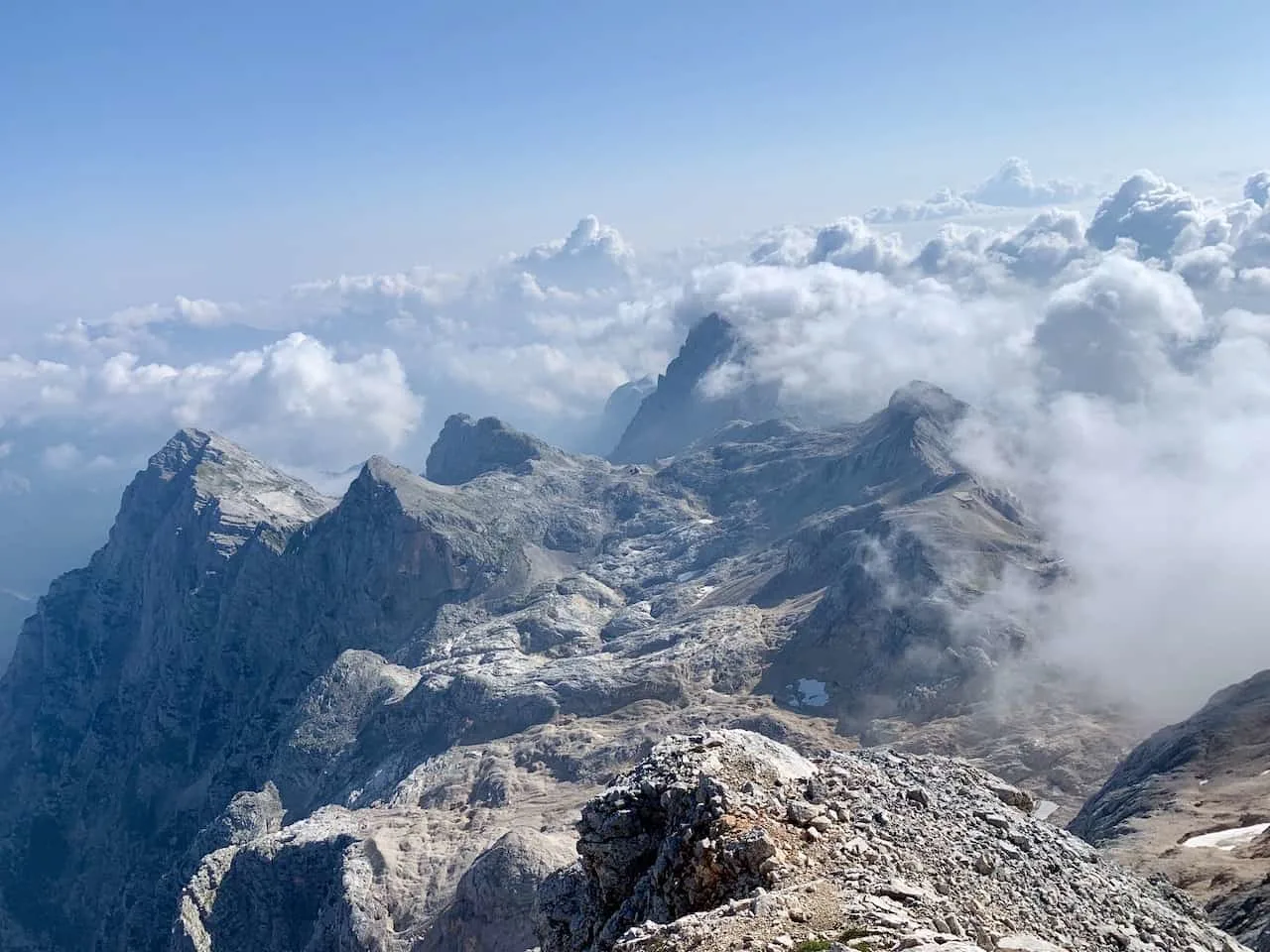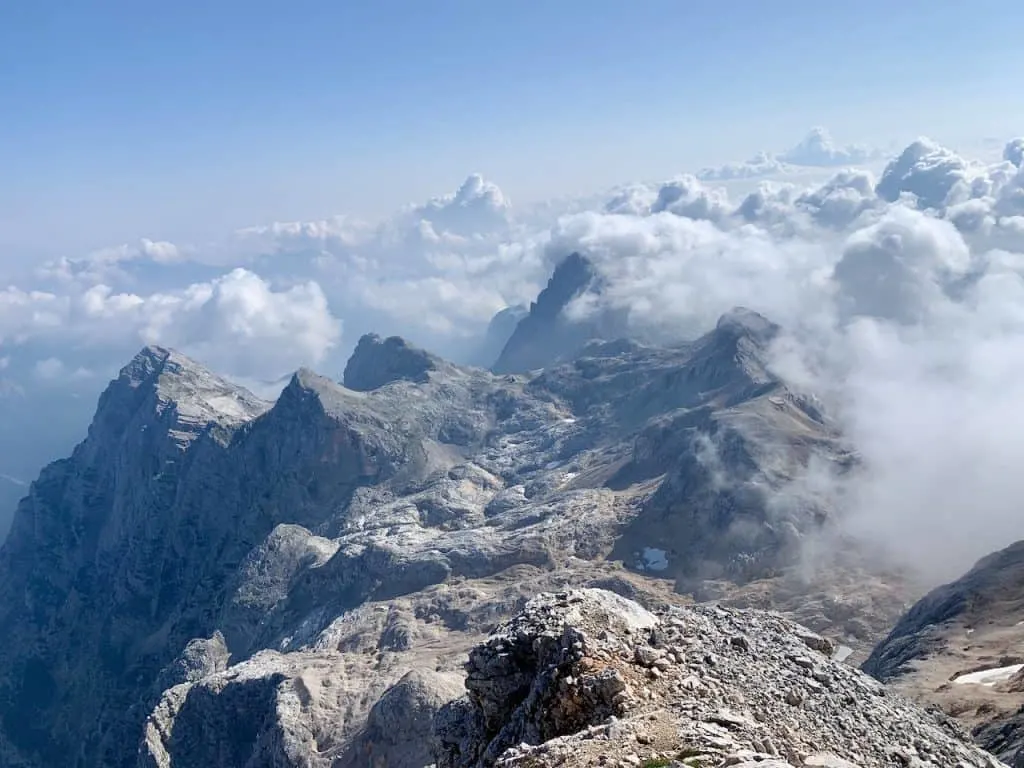 Other Lake Bohinj Hikes
There are plenty of other hikes to take part of around Lake Bohinj. A few shorter hikes that start near the lake and head up to viewpoints include:
Pec Viewpoint: 3.5 km / 2.2 mile out & back trail to a viewpoint overlooking Lake Bohinj
Rudnica Hike: 8 km / 5 mile circular viewpoint loop hike that can also include Pec
Vogar Viewpoint: 6 km / 3.7 mile out & back hike to a viewpoint on the north side of the lake
Feel free to also check out some of the other top hikes in Slovenia during your trip.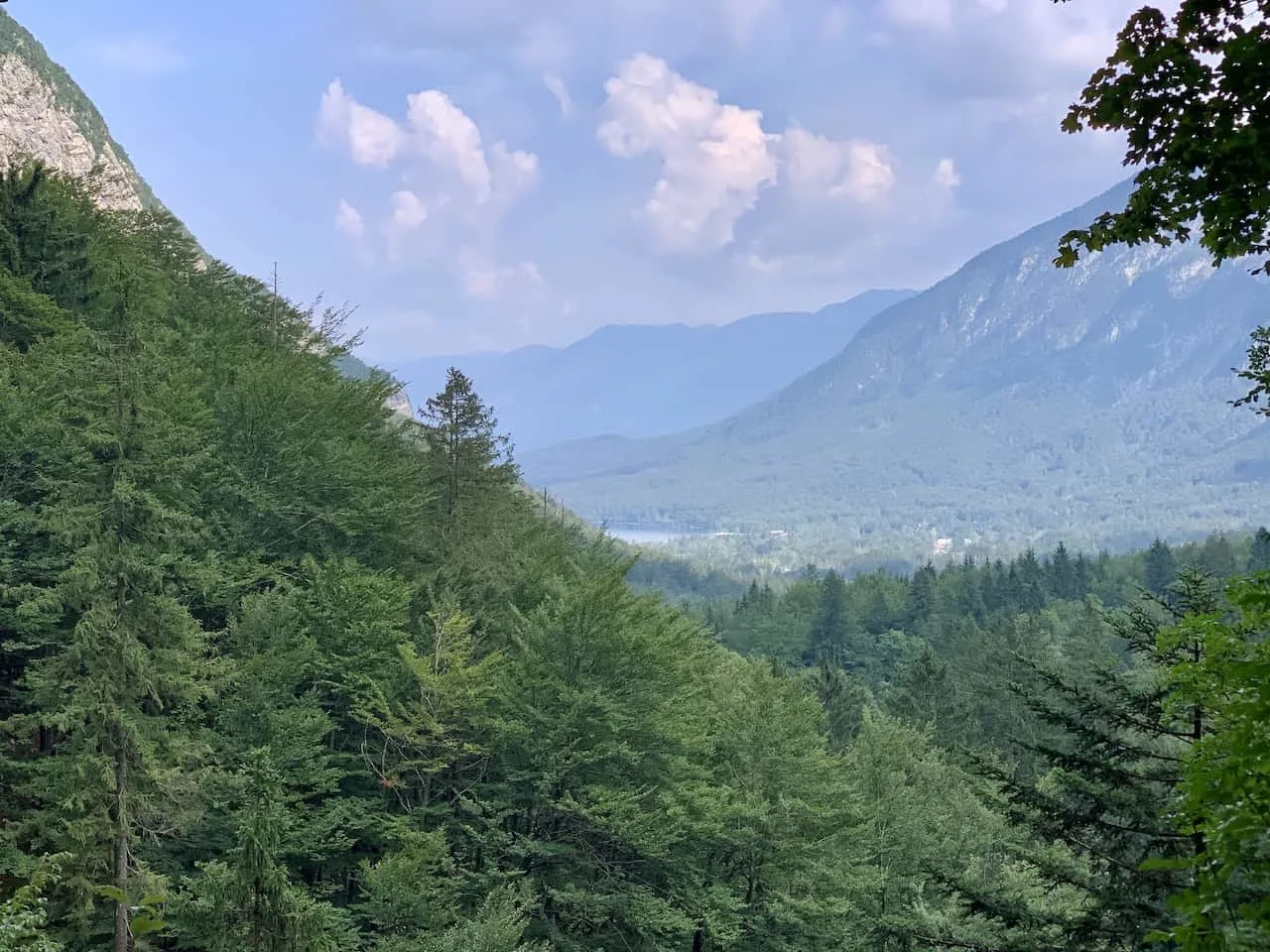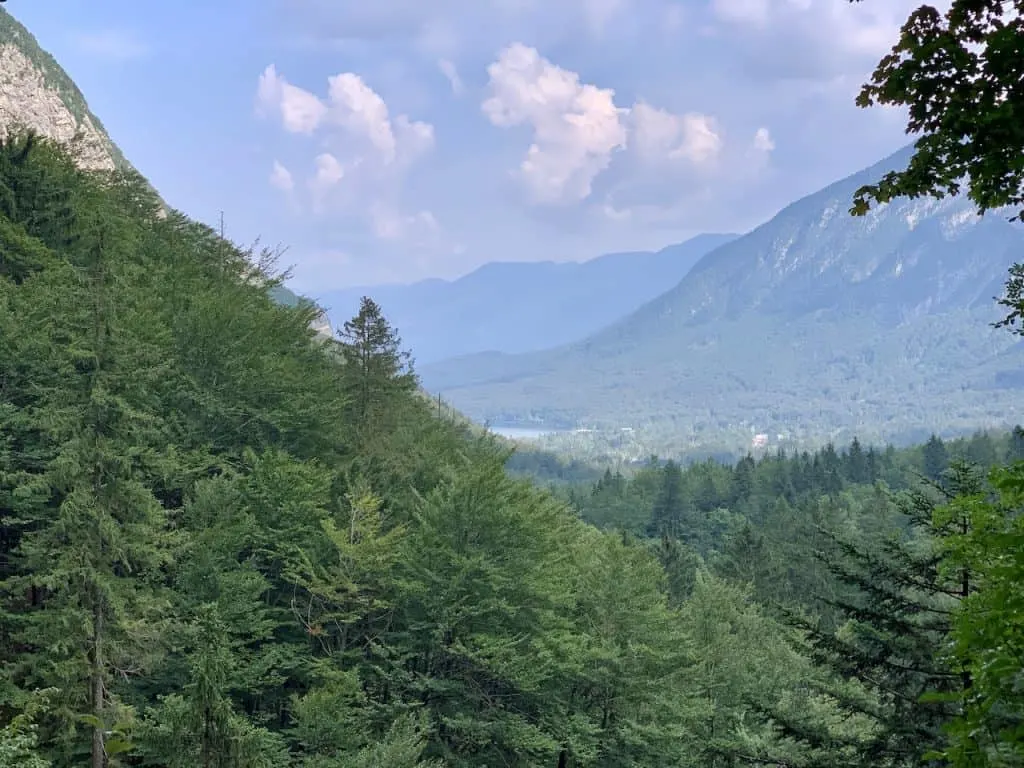 Enjoy a visit to Lake Bohinj as part of a longer Slovenia Itinerary around the country
3) How to Get There
Before taking part of those Lake Bohinj attractions, you first must make your way to the area. In general, there are three main ways to get yourself there – rental car, bus, or train.
Rental Car
When it comes to traveling around Slovenia, I would highly recommend renting a car for your trip. While there is public transport between and within regions, it can get difficult to be on your own schedule.
Instead, by having a rental car you will be able to do what you want, when you want, without the worry of needing to catch the next bus or train.
When renting a car in Slovenia, I would recommend checking out Rentalcars.com for potential options. You will be able to browse through cars based on price, category & other filters, to find the perfect car for your trip.
In addition, depending on your itinerary, there can certainly be certain spots that just aren't accessible by public transport – whether that is a trailhead, waterfall, or other natural attraction.
Having a car removes all that worry and lets you create the itinerary that you want to do.
Bus
If you do opt for public transport, then taking the bus to Bohinj is the way to go. You can get to towns around Lake Bohinj such as Bohinjska Bistrica or Ribcev Laz directly from Ljubljana.
Many of these busses pass through Bled too. So, if you happen to be coming from there, you shouldn't have an issue making the drive over to Bohinj.
Train
The last main option to consider is to take the train into Bohinjska Bistrica. The route from Ljubljana is usually longer than the bus, making a train ride the less efficient option to consider.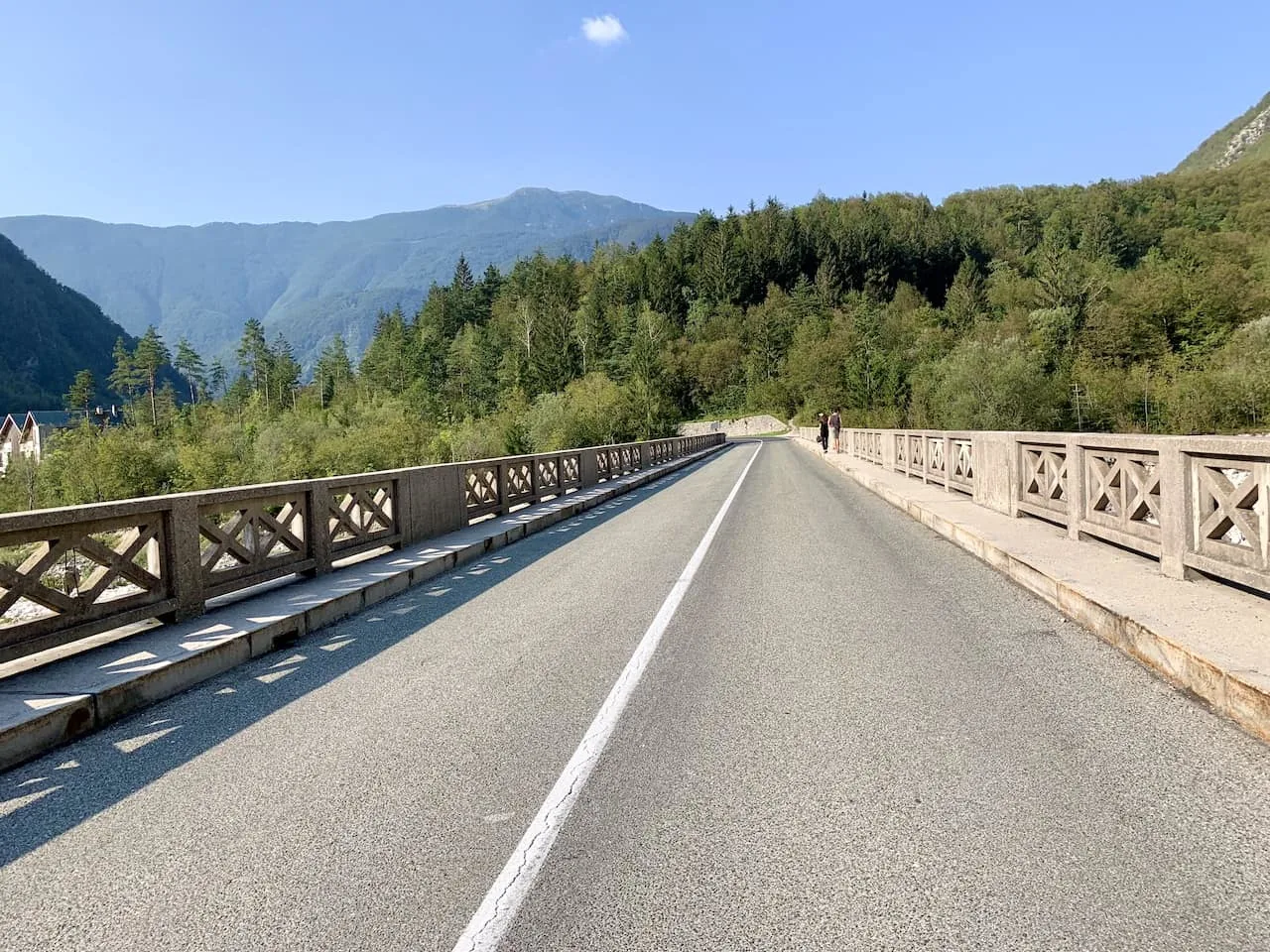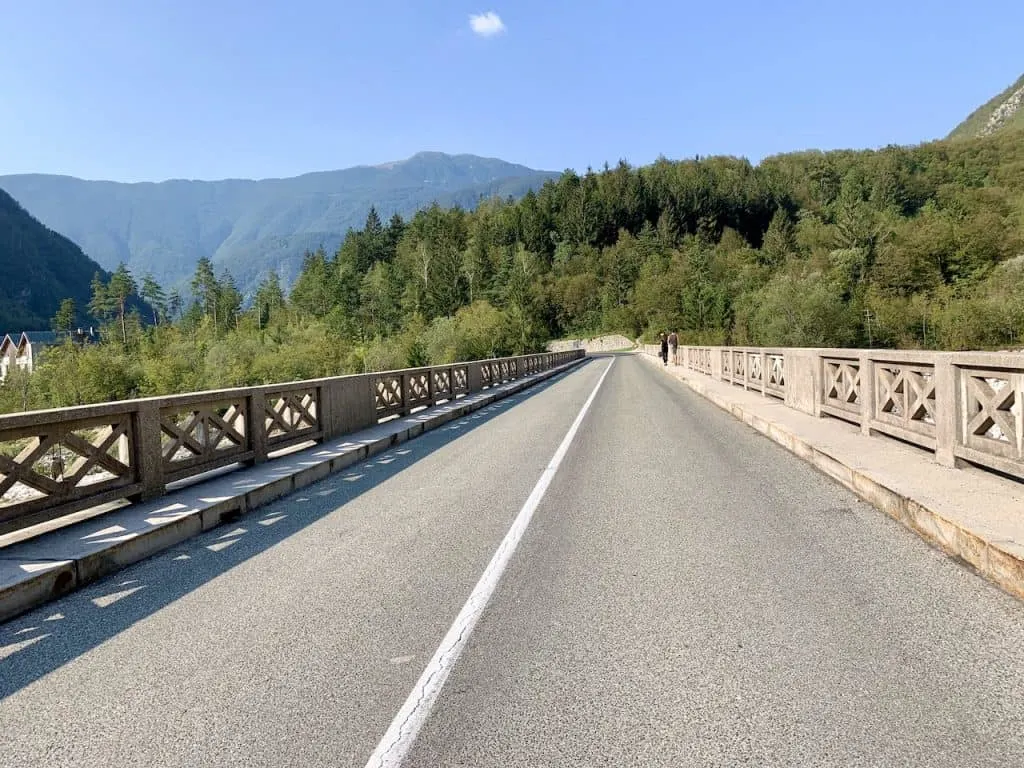 4) Getting Around
Once you are in/near Lake Bohinj, you will need to get yourself around to visit the main attractions.
As mentioned before, my recommendation would be to use a rental car to get yourself from point A to point B. But if you are without a car, there are still options for you.
During the peak months, you will find local busses that stop at some of the main attractions. There is actual a free shuttle bus that makes its way around the area too.
Feel free to learn more about Bohinj public transport for your trip.
Julian Alps Bohinj Card
You may also want to consider purchasing the Julian Alps Bohinj Card. There are a few different options to consider, but in essence you are able to pay one single price for a whole variety of benefits.
Some of the main ones include free parking, free local transport, nearby attraction tickets, and other discounts.


5) Lake Bohinj Hotels & Places to Stay
There are a few places right nearby the vicinity of Lake Bohinj to choose from. These include Bohinjska Bistrica, Ribcev Laz, Stara Fuzina, and Ukanc.
If you are looking for hotels or guesthouses, below are a few top rated options to consider for your overnights.
If you are planning to stay in Bled, be sure to check out Hotel Lovec as a potential option.
6) Lake Bohinj Weather & When to Visit
While Lake Bohinj is actually a year round destination (they do have skiing in the winter), most people visit the region in the warmer months of the year.
During those warmer months, you will actually be able to take advantage of the lake itself, hit the hiking trails, and have longer days to enjoy it all.
In general, the main peak season runs from June until September, with the neighboring months of May/October also as options.
When it comes to Lake Bohinj weather during the summer, you can expect a little bit of everything.
Usually (but not always), the mornings & early afternoons is when you will want to get most of your sightseeing done. Afternoon showers are common and can get in the way of some attractions.
Usually these showers don't last long, and you may be able to pick up right where you left off after the rain has subsided. Be sure to always check the weather forecasts though as you don't want to be stuck up in the mountains during a rainstorm.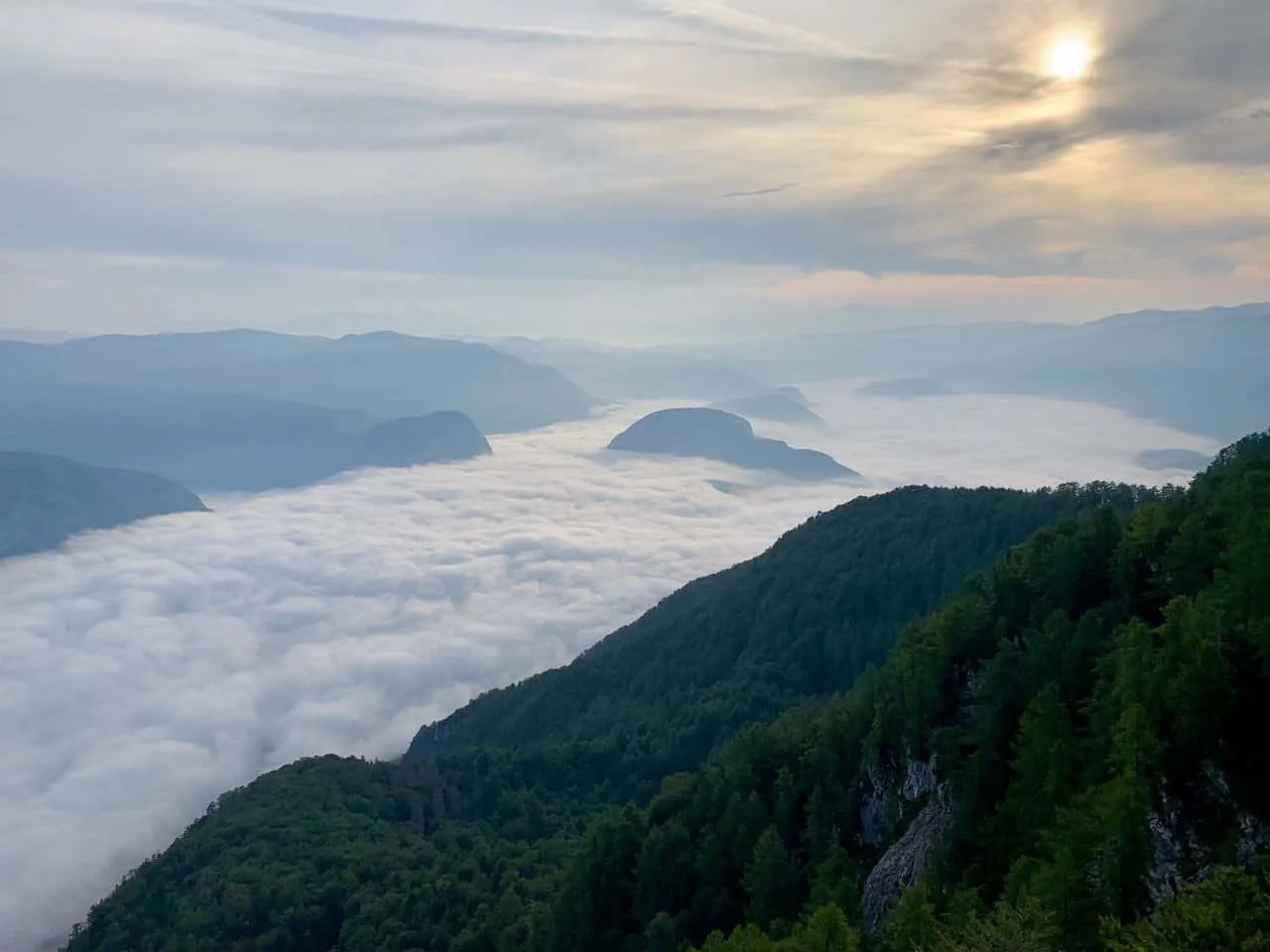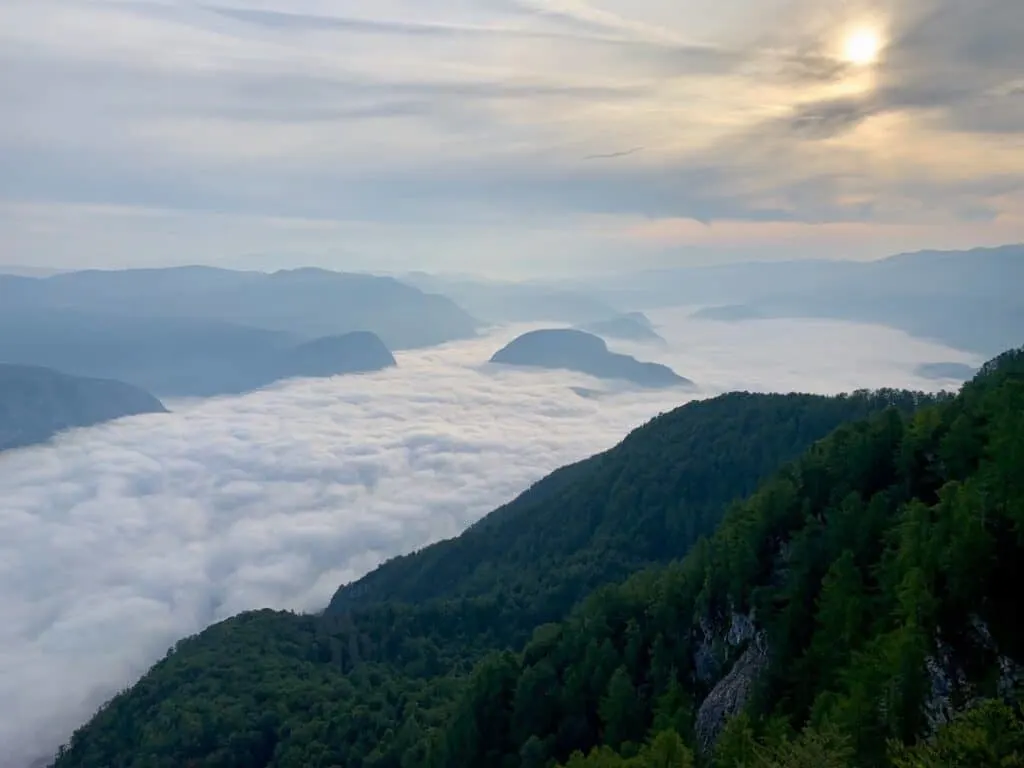 What To Do in Bohinj When in Rains
So, what if the weather is bad and you can't take part of most of the outdoor activities that Bohinj is known for?
Well, there are certainly some options to keep you busy for a day. And hopefully for your trip, you won't even need to worry about this section.
Some of the rainy day activities in Bohinj include:
St John the Baptist Church
Tomaz Godec Museum
Oplen House Museum
Alpine Dairy Farming Museum
Bohinj Indoor Aquapark
River Rafting
Canyoning
You can see that this is a combination of indoor and even outdoor activities. You can visit the church & some nearby museums, and even check out the indoor waterpark (which also has a spa). For those that are more adventurous, outdoor activities such as river rafting and canyoning are also possibilities that usually run during rainy weather.
7) How Many Days in Lake Bohinj
This is a common question that comes up a lot when visiting Bohinj. To answer the question though you really need to ask yourself how much of the above do you want to do, and at what pace do you want to do it at.
I find that for the immediate vicinity of Lake Bohinj, two days is just enough time to see & do a lot of the top things around the area.
You can spend time hiking, visiting waterfalls, checking out the viewpoints, and spending time around the lake itself.
To give yourself a bit of buffer room when it comes to the weather, it may be a good idea to have one additional day in there as well. This way, you can spread things out more if it doesn't rain. And if it does rain for one of the days, then you still have those two other days to take part of activities.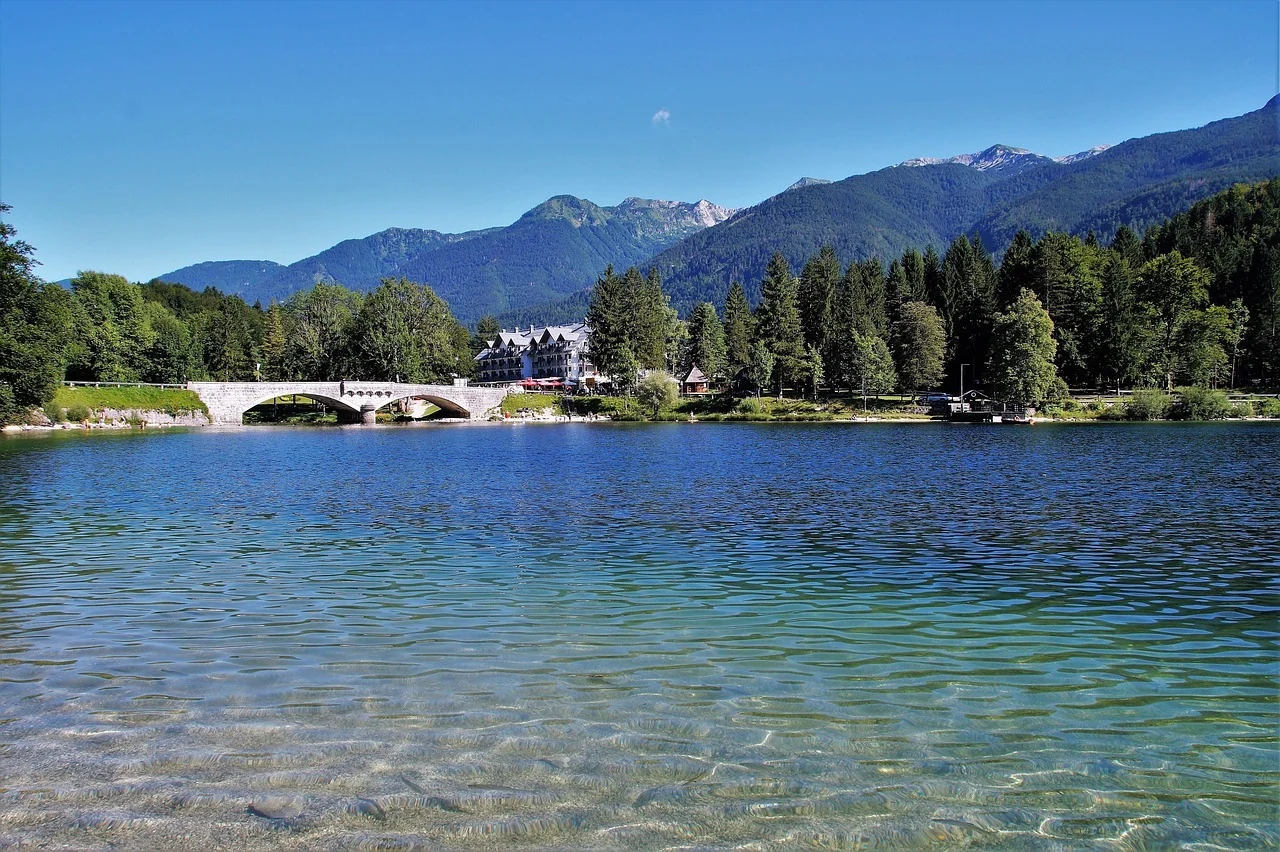 8) Lake Bohinj Itinerary
So, with that said, I wanted to layout a potential 2 day itinerary that you could take part of during a visit to the area. Of course you can mix and match things based on your own preferences.
Day 1
During your first day, you can focus on the lake itself and spend most of your time enjoying all that it has to offer.
You can first walk around the town of Ribcev Laz and visit some of the lakeside attractions such as St John the Baptist Church, the Goldhorn, and the Monument to Four Courageous Men.
After checking those out, you can then decide to walk the whole perimeter or the lake, or simply walk a portion of it. During your walk around, feel free to head out for some swimming as you cool down in its water.
Before or after taking part of the hike, feel free to rent a kayak or stand up paddle board to venture further out onto the lake.
Day 2
On the second day, you can focus more on some of the attractions further away from the lake itself.
I would recommend to spend the morning heading up the Mount Vogel cable car and then taking part of the Vogel and/or Rodica summit hikes.
If you are not up for the Vogel/Rodica hike, then you may want to consider the Mostina Gorge instead. This will be an easier hike as it does not have the same type of elevation gain. However, you wont get those elevated viewpoints that Vogel has to offer.
After a morning of hiking, you can head back down the cable car and visit the nearby Slap Savica Waterfall.
Finish up the day by the lakeside, before continuing on with the rest of your Slovenia itinerary.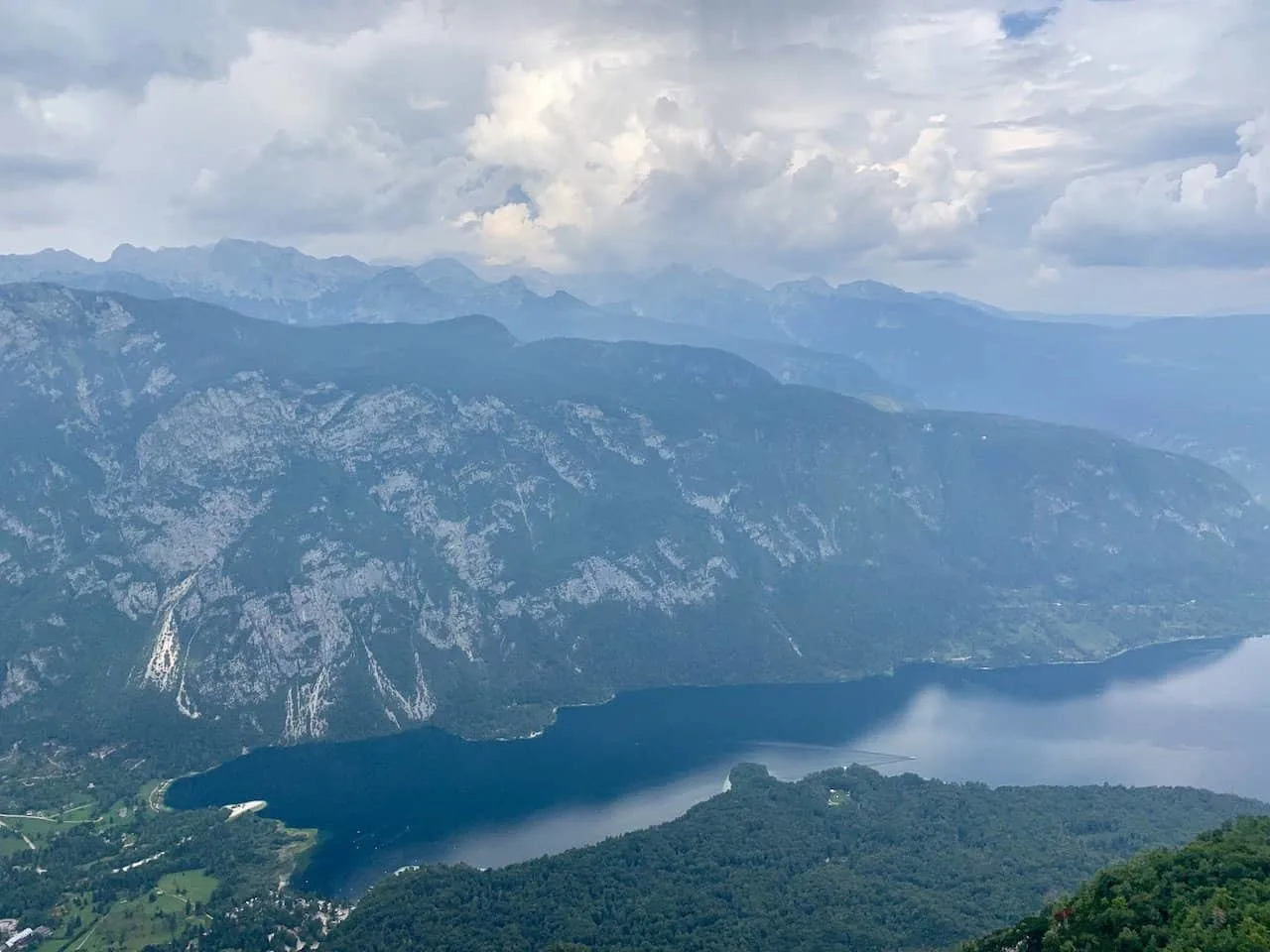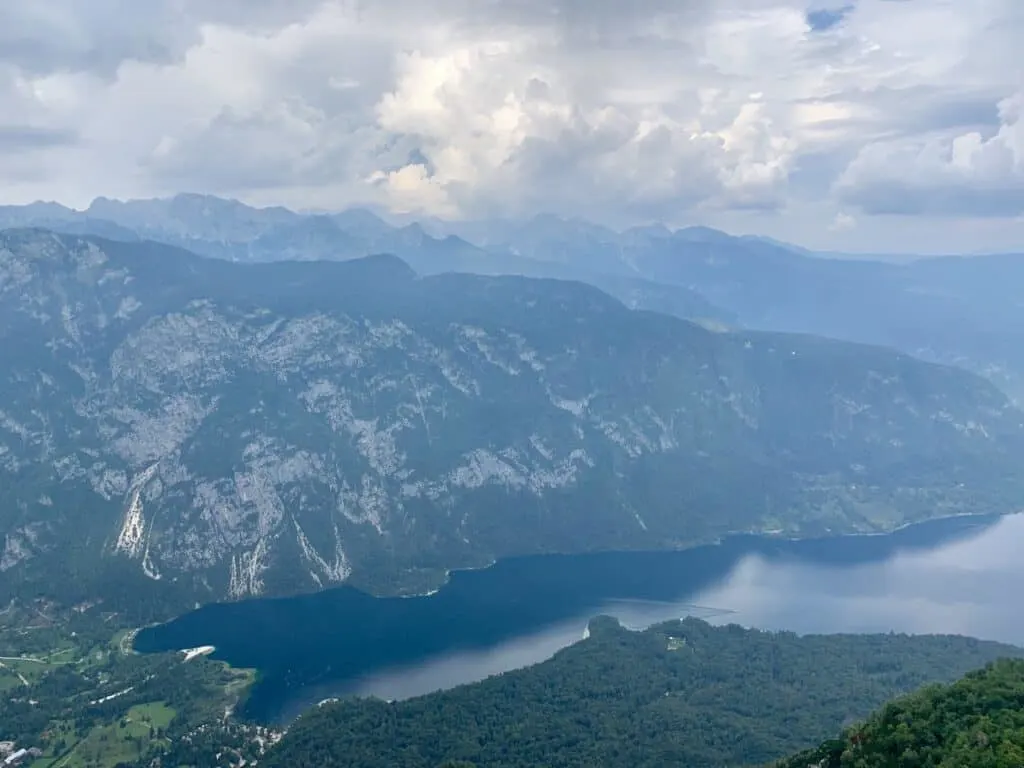 How Do You Spend a Day at Lake Bohinj
If you only had one more at Lake Bohinj, you will need to be very thoughtful with your time. However, you can still get much done around the lake, especially if it's a long beautiful summer day.
First thing in the morning, you can head up the Vogel cable car. From up top you can enjoy the views of Lake Bohinj and even take part of a short hiking trail (as you probably won't have time to do a longer Vogel/Rodica hike).
After enjoying the view from up top, make your way to the Slap Savica waterfall, where you can hike the short trail to the beautiful falls.
By now it will be sometime in the afternoon, and you can head on over to the Bohinj waterfront. Enjoy some of the views of the church, town, and the lakeside.
You can spend some time swimming in the water and even walk a short portion of the trail around the lake. All said and done, it will be one great day at Lake Bohinj.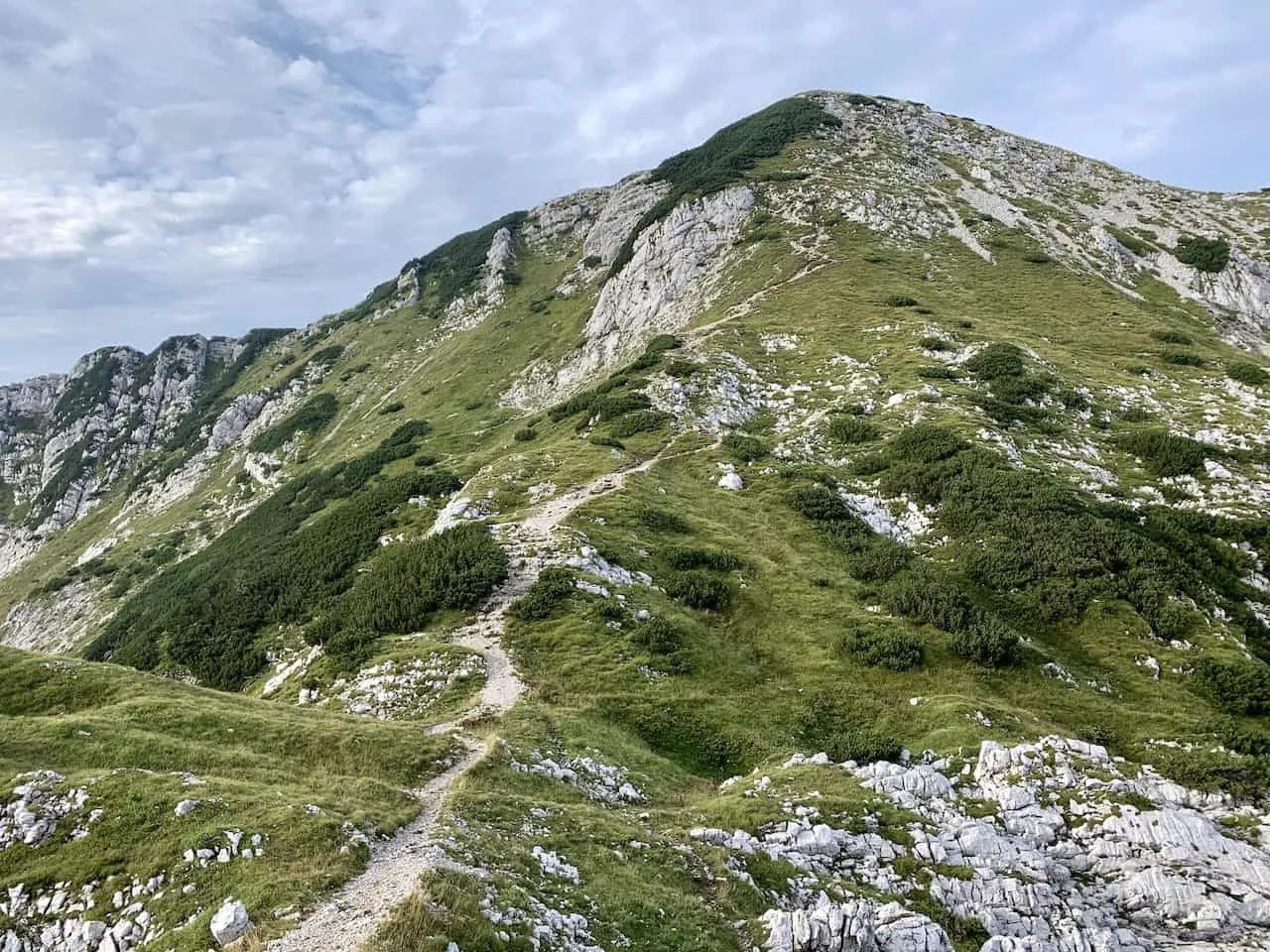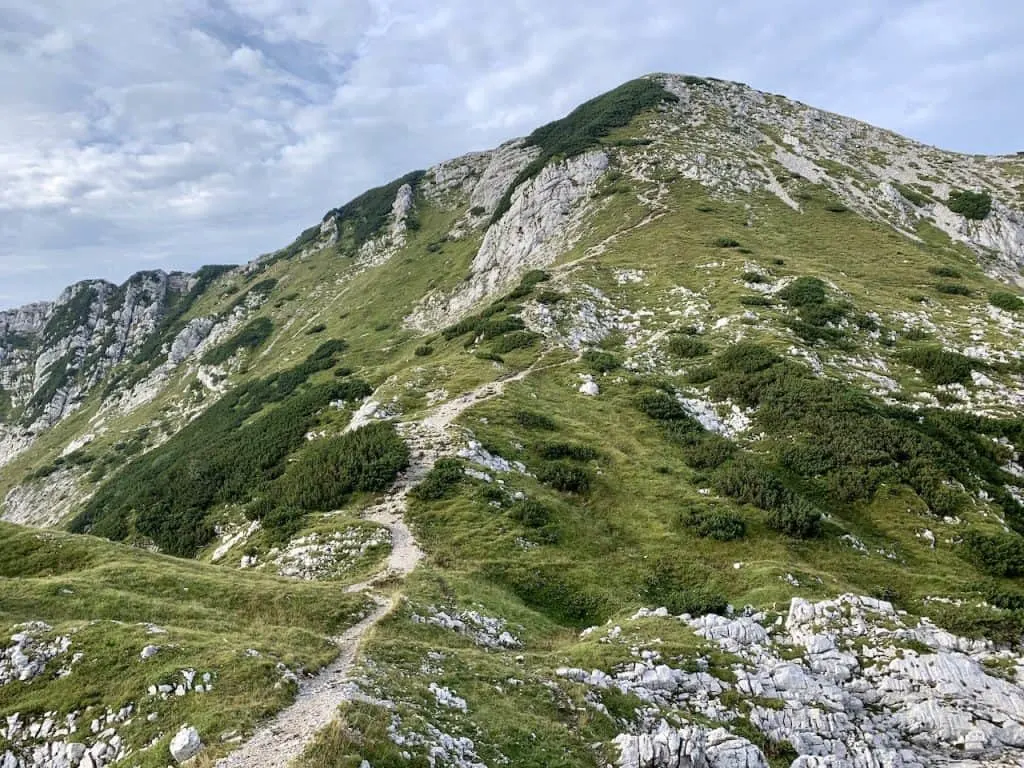 9) Is Lake Bohinj Worth It
If you are someone who enjoys lakes, mountains, waterfalls, nature, and views, then yes Lake Bohinj is certainly worth it.
While there are other beautiful places all around Slovenia, what better way to take in the natural landscape than to visit the largest lake in the country.
You will really have a little bit of everything to choose from when visiting the lake. So, this does give you the variety and uniqueness that isn't offered everywhere else.
As long as the weather holds up, I have a hard time believing you won't say that Lake Bohinj is worth the visit.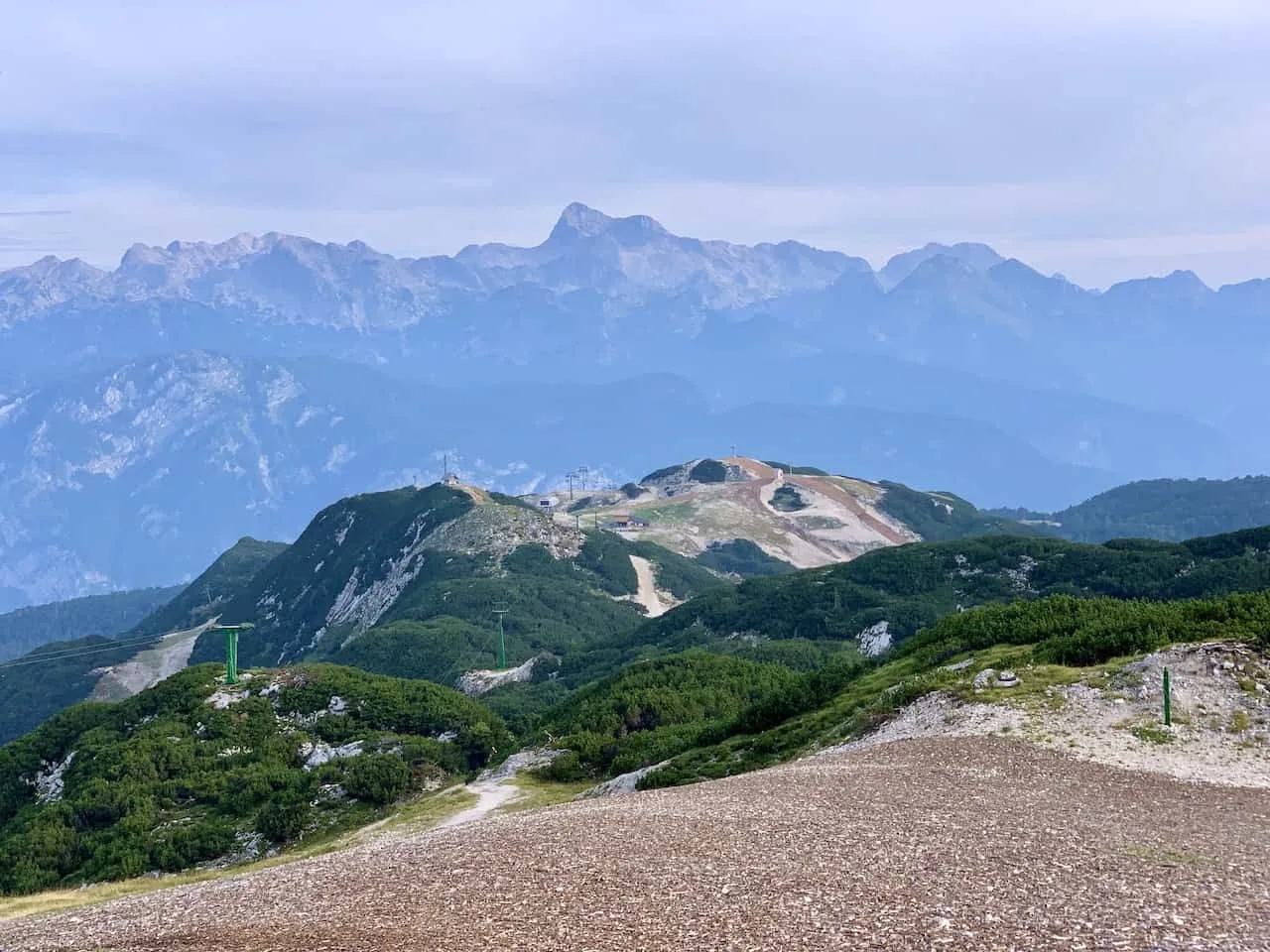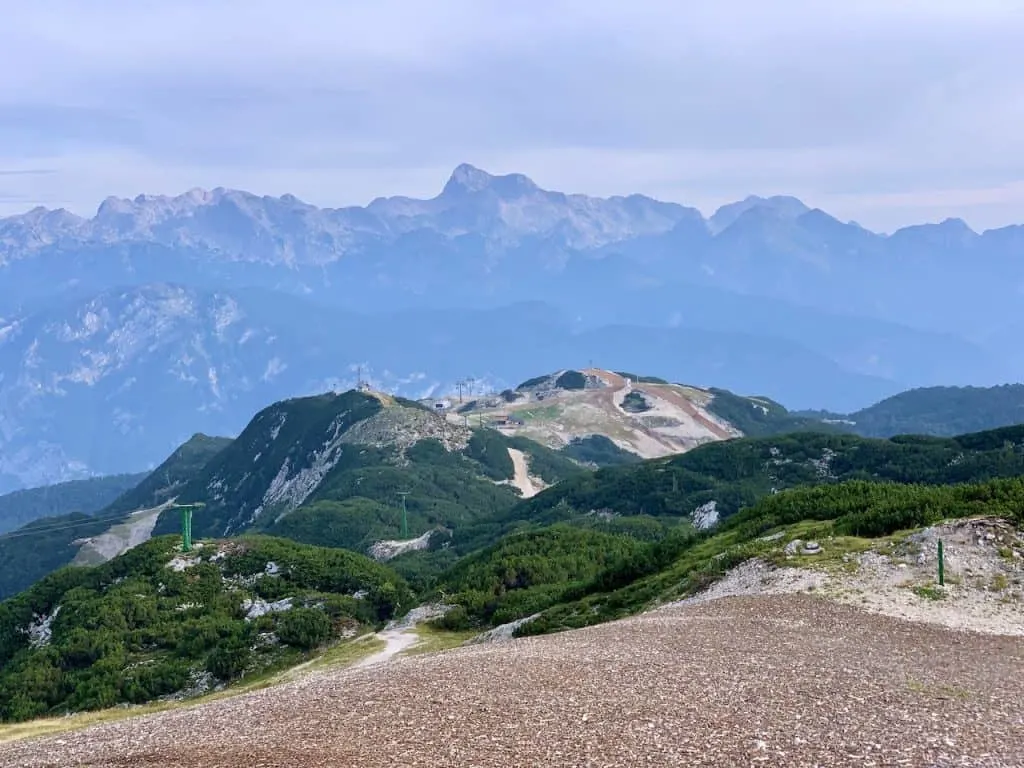 That about does it for a guide to Lake Bohinj. If you have any questions or comments about the area, feel free to add them in below.
Also, don't forget to check out some of the other Slovenia itineraries and guides up on the site.
Have fun out there and safe travels!