Indonesia has some of the most beautiful waterfalls on this planet. Air Terjun Madakaripura Waterfall of East Java is no exception. Located about half way between Probolinggo and Cemoro Lawang, Madakaripura is a must visit when visiting the region.
A mixture between a motorcycle ride and trekking experience will get you through the valley and to this one of a kind 200 meter waterfall.
Read on to learn about everything you need to know about the journey!
* Affiliate Disclosure: This post may contain affiliate links, which means I may receive a commission if you make a purchase through the links provided, at no additional cost to you. Thanks for supporting the work I put into TripTins!
1) How to Get to Madakaripura
Before diving into the waterfall itself, it is important to note all the different steps necessary to get yourself going in the right direction.
From a logistical standpoint you will most likely be visiting the waterfall in a few main ways. You may be driving there yourself from Cemoro Lawang or Probolinggo, or you may have a private driver / tour take you there.
Private Driver / Tour
If you are with one or more people, my overall recommendation here would to simply hire your own private driver to take you around.
During my time visiting the area, I had a driver take my group from Cemoro Lawang to Madakaripura and then onwards to Banyuwangi.
He then took us to Ijen later that night before heading to Ketapang Harbour, where we hopped on a quick ferry over to Bali.
The cost for the two days of transport (Cemoro Lawang – Madakaripura – Banyuwangi – Ijen – Ketapang), was 1.200.000 IDR (around ~$80 USD). Split up between a few people, the cost is well worth any additional hassle of figuring out logistics.
While I found a driver through TripAdvisor, you can also sign up for a tour through Viator as well. These tours usually include more than just Madakaripura by either adding on a full itinerary of Bromo and/or Ijen.
» You can check out some of the Madakaripura tours for some options.
Scooter / Car
I have heard of several people now who have either rented a car or scooter to explore East Java.
Taking a scooter around can be quite dangerous unless you are a very experienced driver. Renting your own car is also an option if you want to have a bit of an East Java road trip.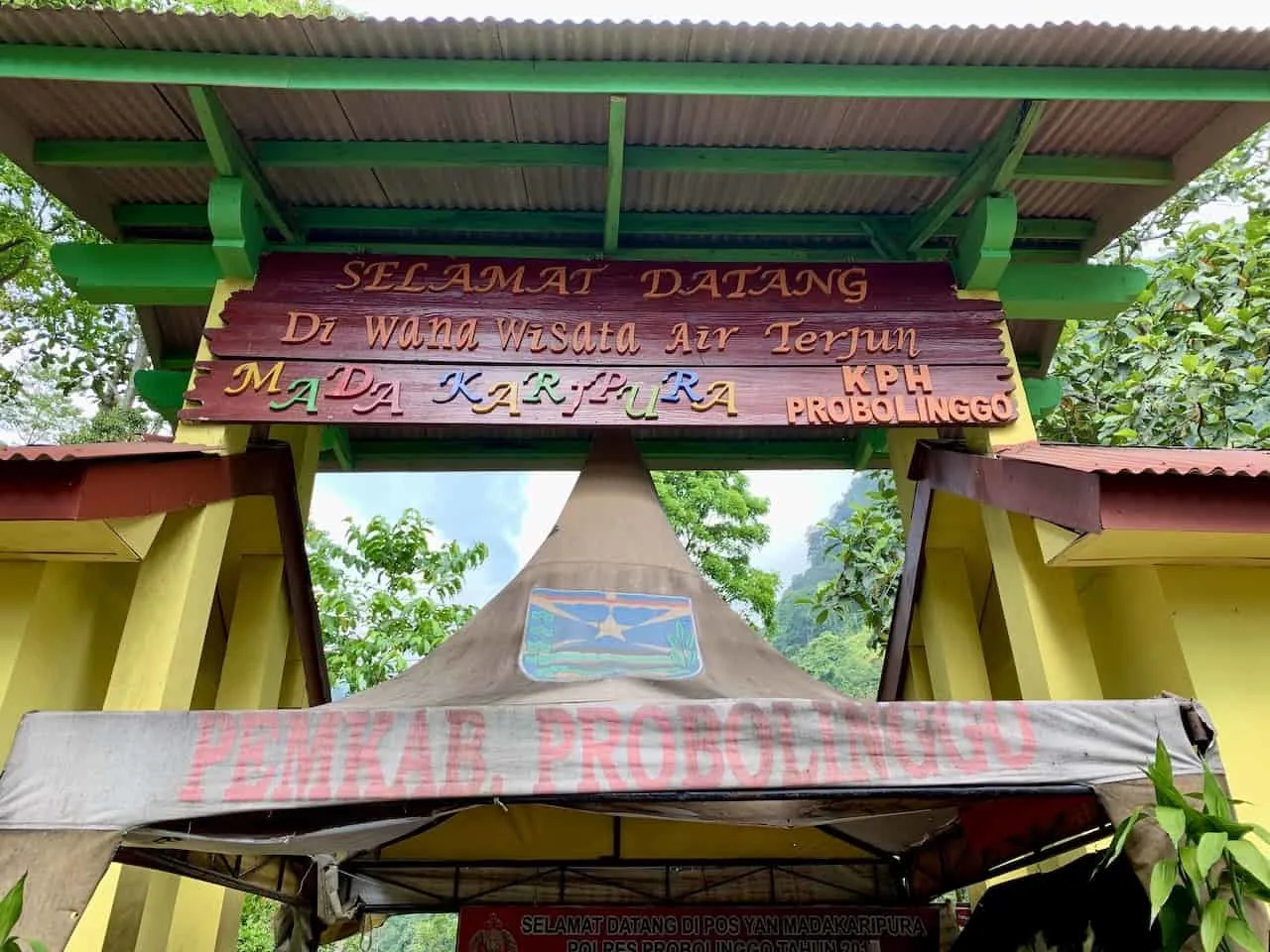 2) Madakaripura Waterfall Entrance Location
There are 3 steps to get yourself to Madakaripura Waterfall – first you need to get to the main parking lot, then you need to hop on a local's motorbike (or walk) to the entrance of the waterfall pathway, and finally you need to trek the last 20-30 minutes to the waterfall itself.
If you are heading there yourself, you will need directions to the parking lot. The GPS coordinates for the Madakaripura Waterfall parking lot are 7°50'03.7″S 113°02'08.7″E.
Do not just simply type in "Madakaripura" into Google Maps. This may actually take you nowhere near the main entrance to the waterfall.
If you head to those exact GPS coordinates, you should have no trouble getting yourself to the starting point.
Waterfall parking costs 8.000 IDR (around $0.50) and the entrance ticket itself costs 26.000 IDR ($2 USD).
3) Madakaripura Motorbike Ride
Once you arrive at the main parking lot, you will either need to walk 3km or hop on the back of a local's motorbike to get you to the main entrance of the waterfall trek.
Unless you want to walk the extra 6 km round trip, I would recommend just opting for the motorbike ride. It is quite the fun experience hopping on and speeding further down the valley.
No matter what you are told at the main parking lot, do not pay too much more than 10.000 IDR. I have heard of some people getting asked for 100.000 IDR or more but that just is not the case.
While prices may have risen a bit since I traveled there, it still shouldn't be too much more than the 10.000 IDR.
All in you should be prepared to spend around $3-$4 USD on this experience (parking, ticket, motorbike). Believe me when I say that this cost is well worth it!
Be sure to head to the end of the article for a video showing the motorbike ride, waterfall valley and Madakaripura itself!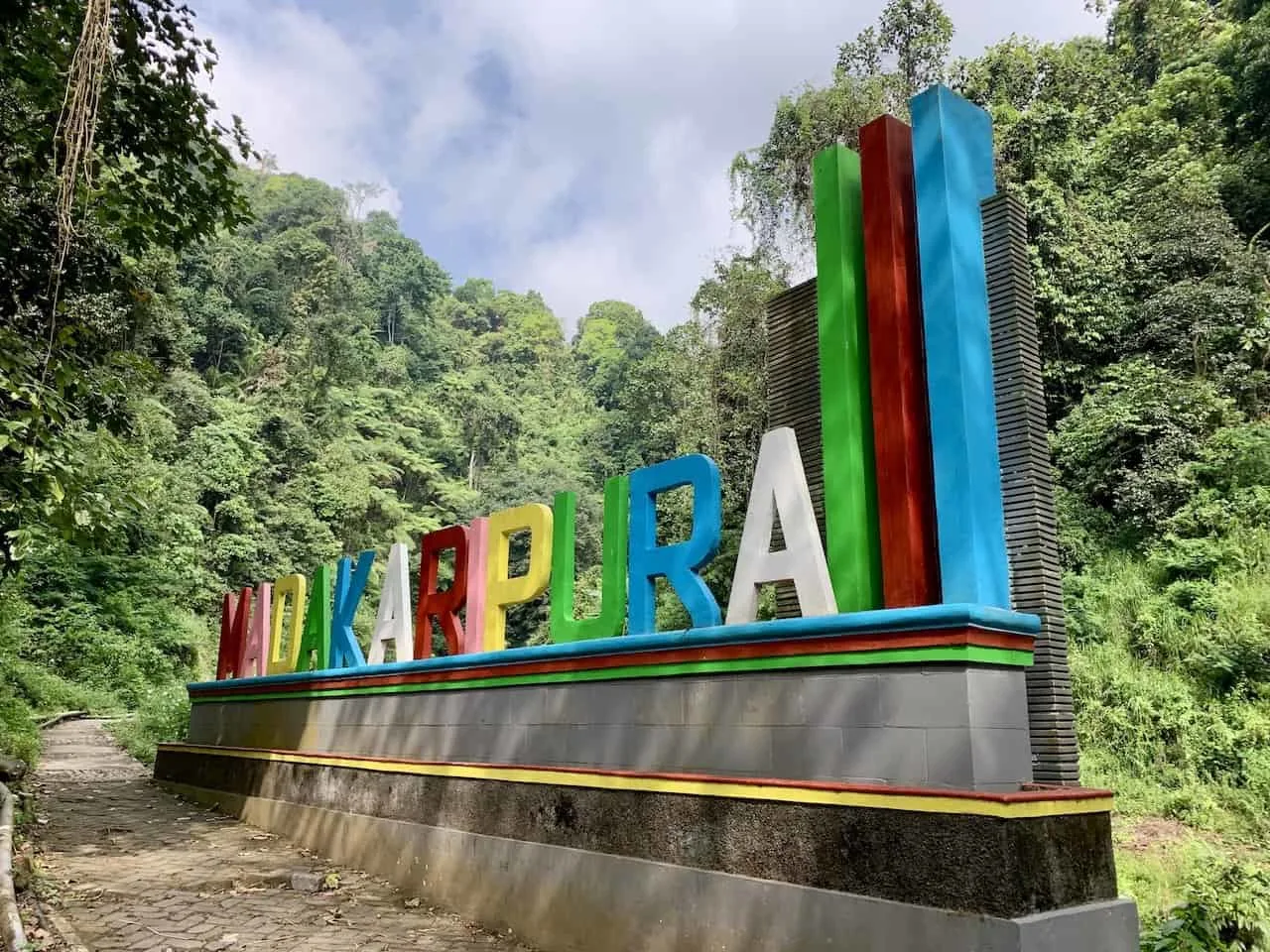 4) The Waterfall Trek
From the motorbike drop off spot, you will now make your way by foot to the waterfall itself. The trek through the valley is around 1.5km one way (3 km / 1.8 miles round trip), and is mostly done on a maintained pathway until the last portion of trail.
You will see people both by the main parking lot and the trekking entrance trying to sell you rain ponchos and gear.
This is because towards the back end of the trek, you will be getting wet as water makes it way off the valley walls down below.
If you want to stay dry, feel free to grab some gear. If you want to just enjoy the water as part of the experience, just head on out in your bathing suit or clothes you don't mind getting wet.
The path begins on an easy to follow walkway as you are surrounded by lush greenery in every which direction. Besides you will the river that you will be following that takes you right along to the waterfall itself.
Below are some photos showing you what this portion of the trail entails.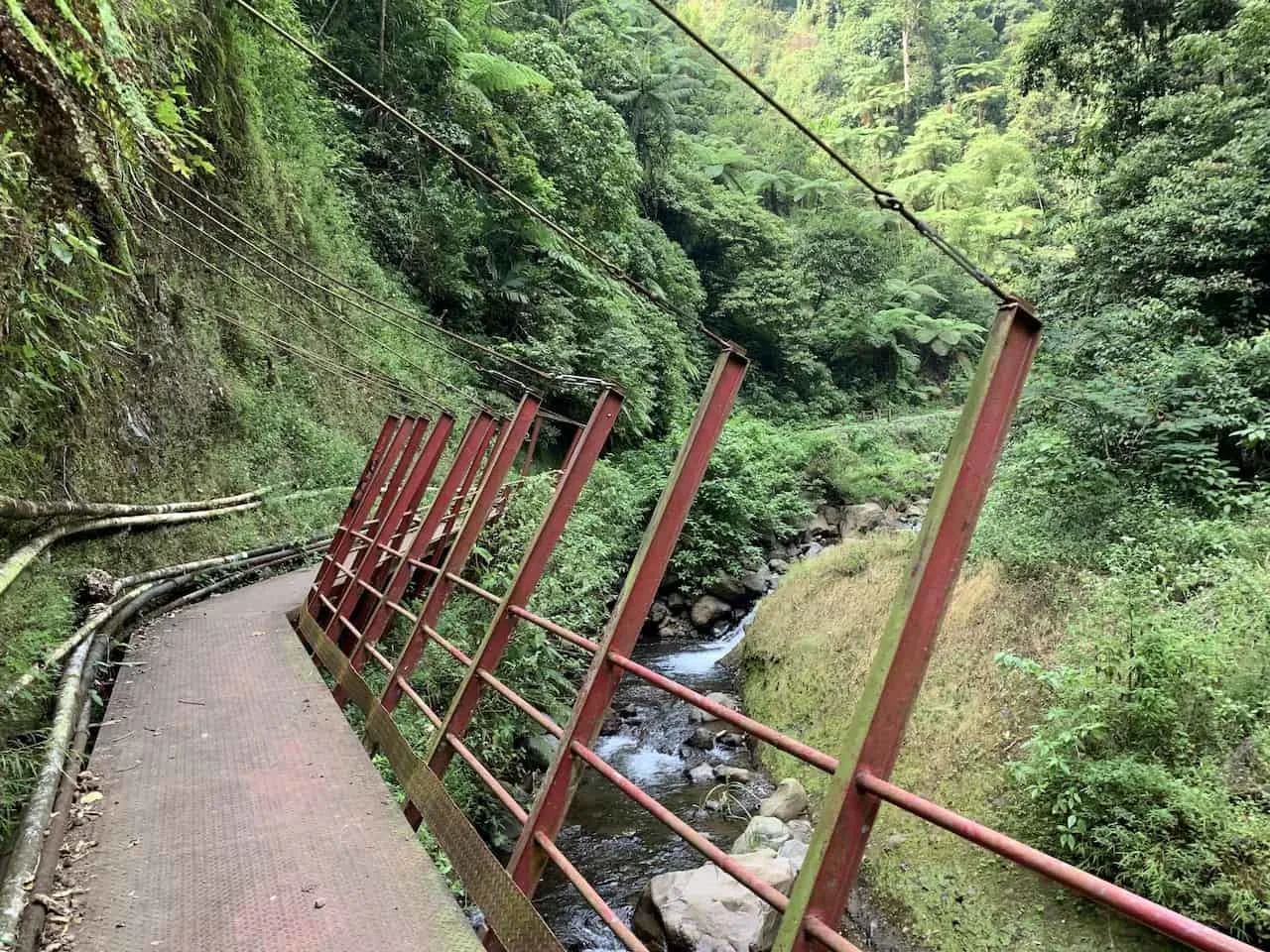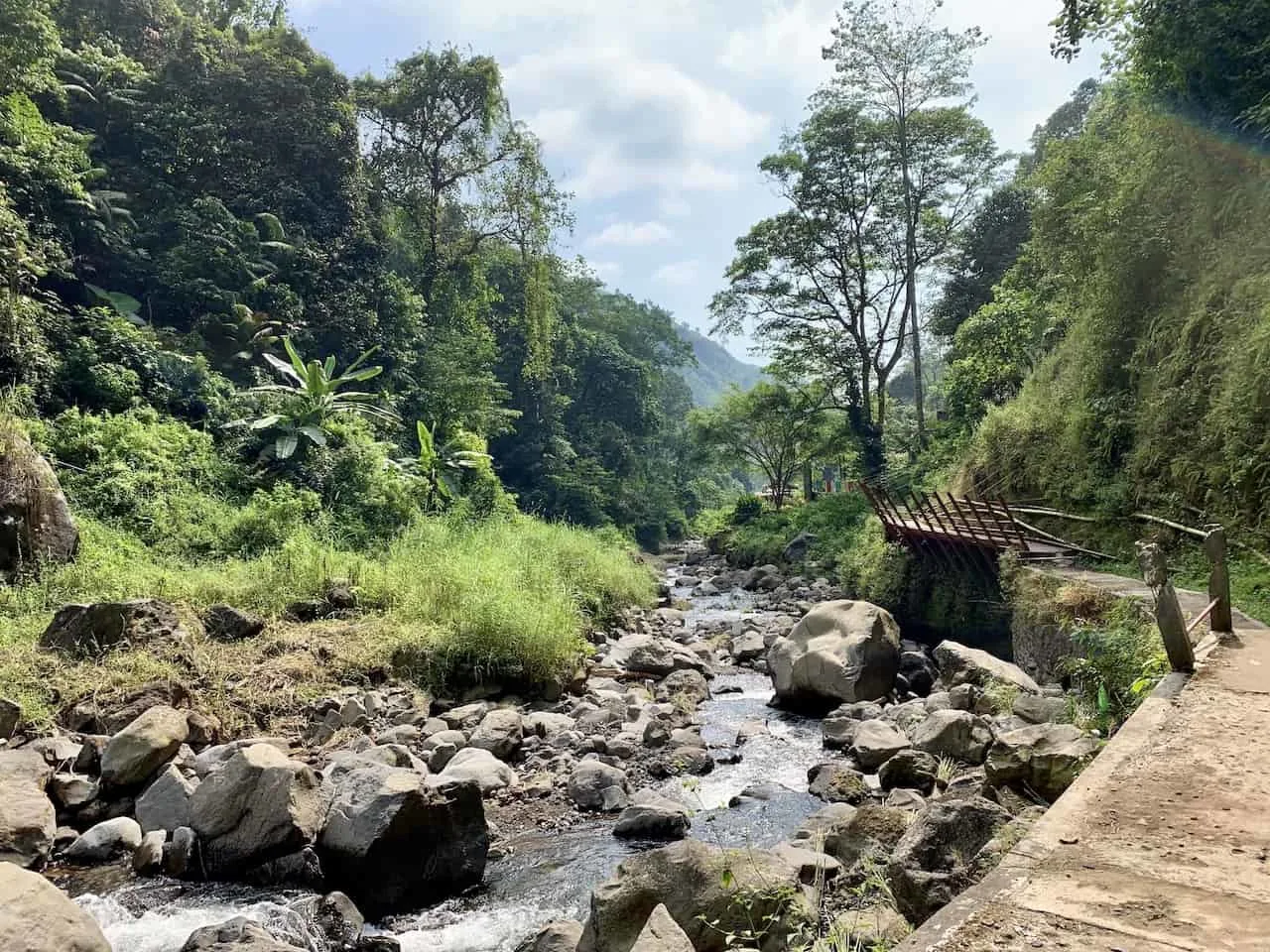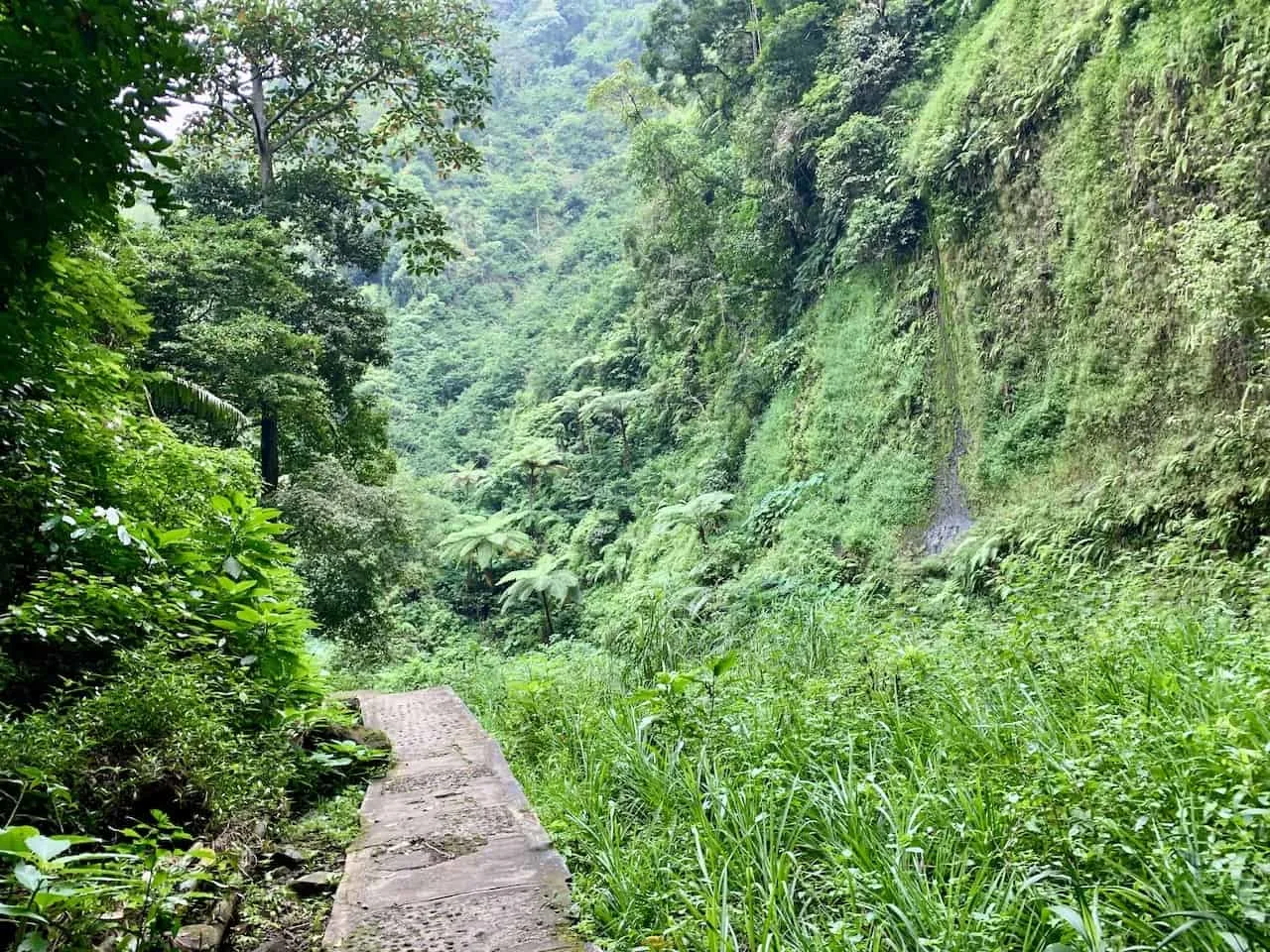 After this easy part of trail you will reach a locker area. Since you will get wet at some point during this next portion of trail, you can opt to put your belonging here.
My recommendation however is to simply come prepared with a dry bag.
This way you can be responsible for your belongings and ensure they don't get wet or damaged.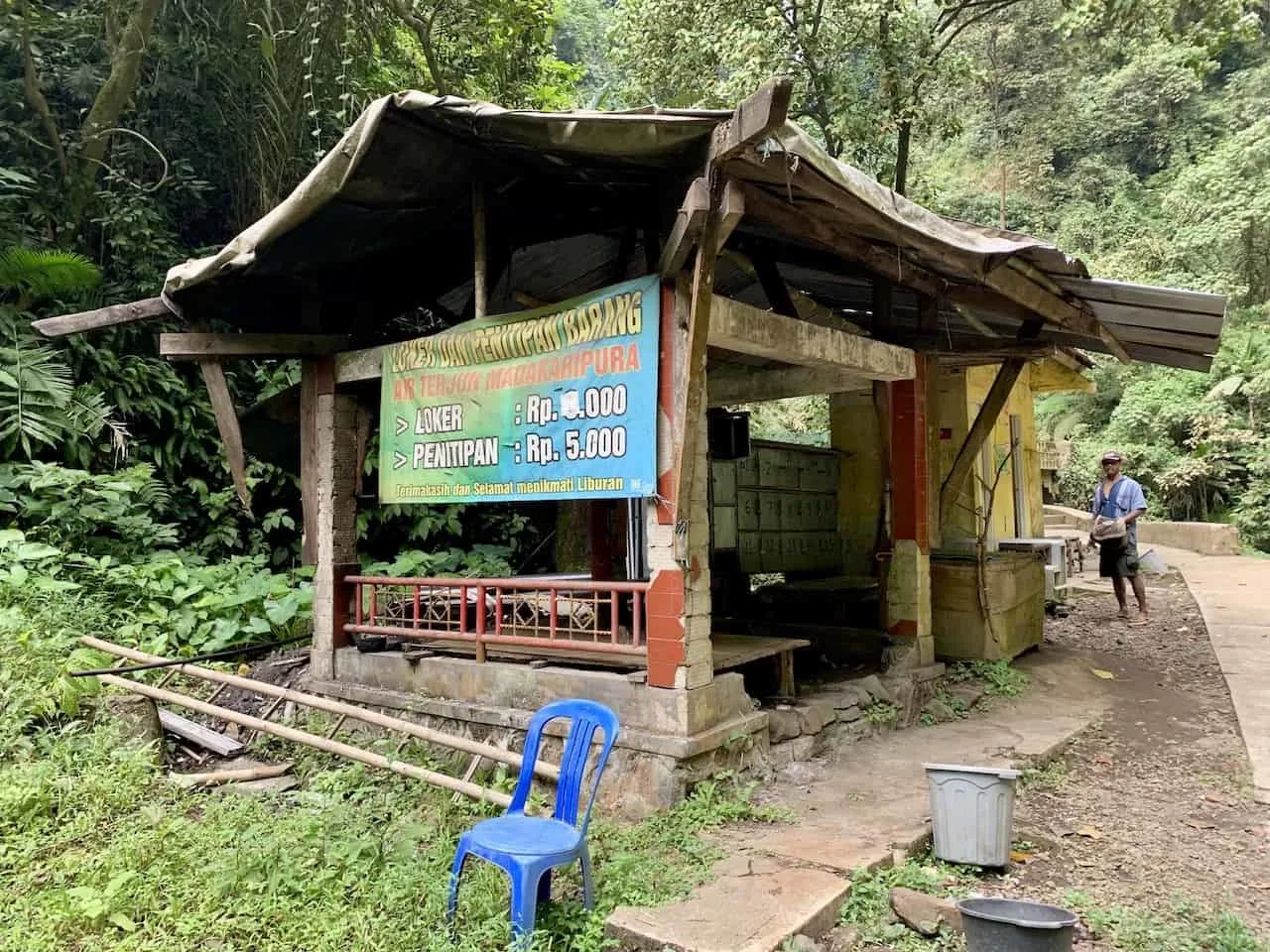 The maintained path will then end and you will need to make your way along the valley floor towards the waterfall itself.
As you can see there are plenty of smaller waterfalls coming off the valley walls right down where you will be walking.
The path now is essentially on slippery rocks within the river itself. Be sure to take it slowly here as it can get quite slippery as you are making your way along.
The video at the end of the article can give you a better idea of what to expect during this portion of trail.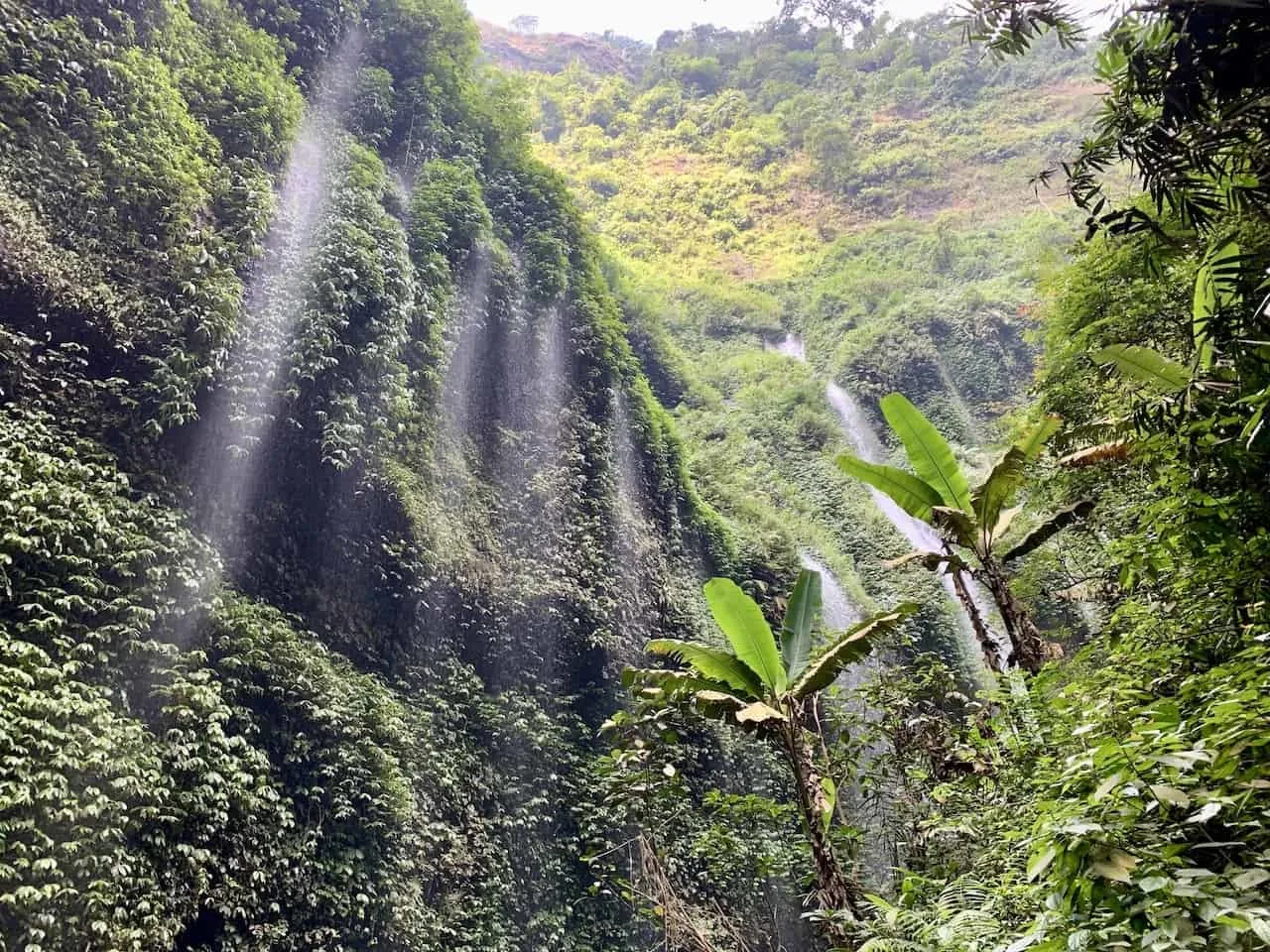 Soon enough you will get your first peak of Madakaripura between the two greenery filled valley walls. Continue the trek closer to the waterfall as you are soon welcomed to 200 meters of jaw dropping beauty.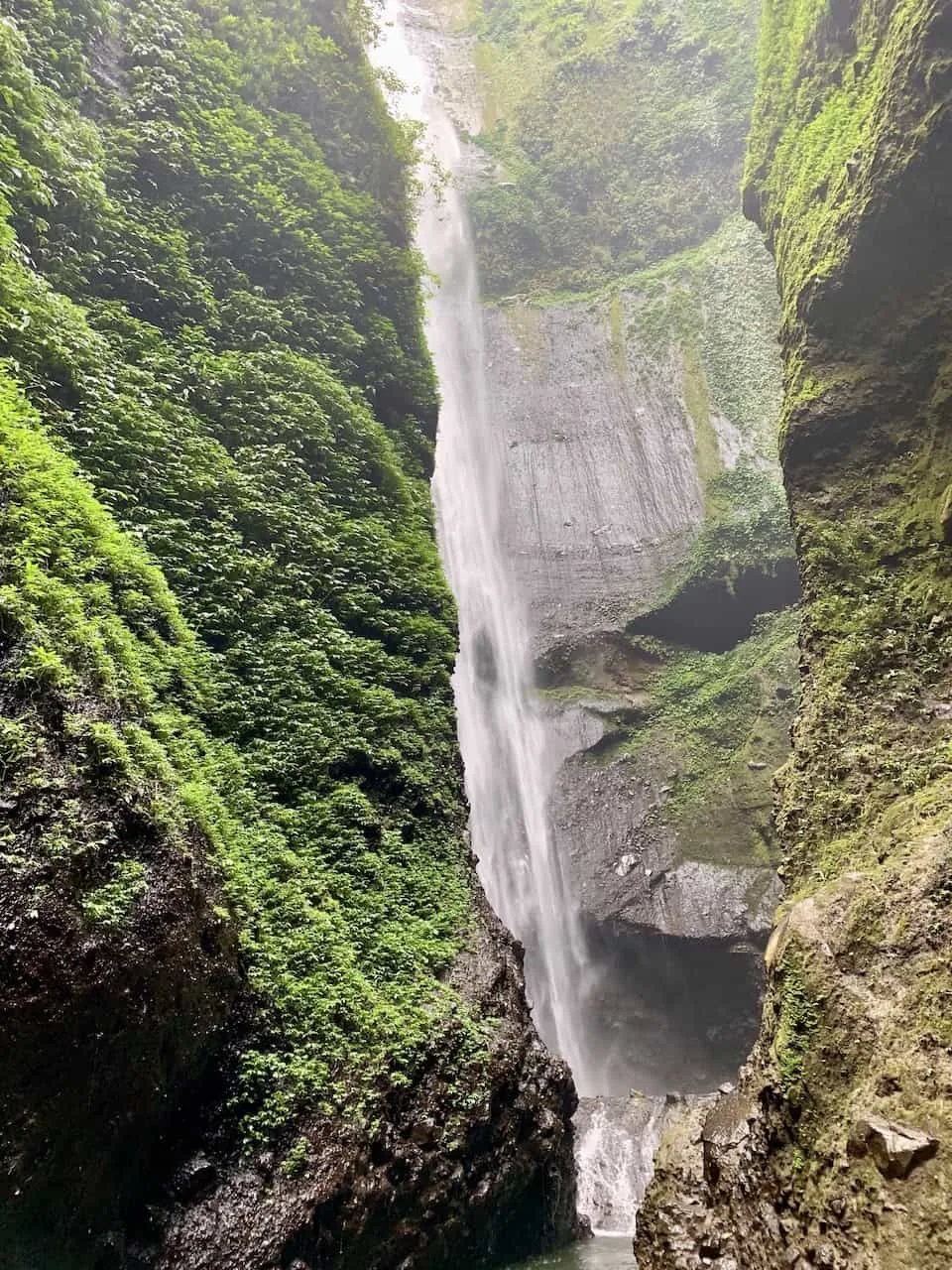 The waterfall is so tall, that you wont be able to even get a picture of the whole thing without doing some sort of sideways panorama.
If you are feeling adventurous, you can hop into the pool beneath this giant waterfall and take a swim. I was told by a local that the pool is 20 meters deep!
While you should steer clear of the area right beneath the waterfall, there are plenty of safer areas to enjoy as well here.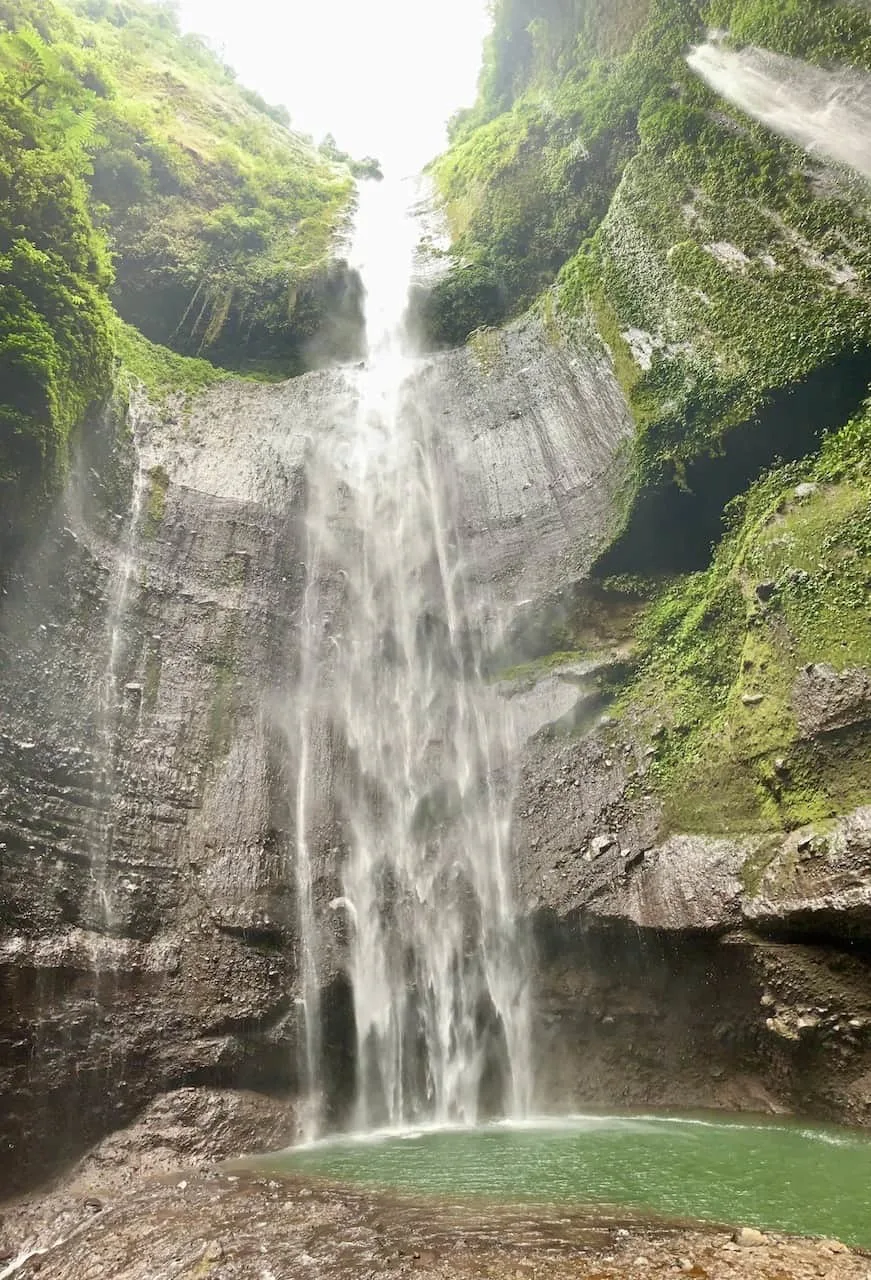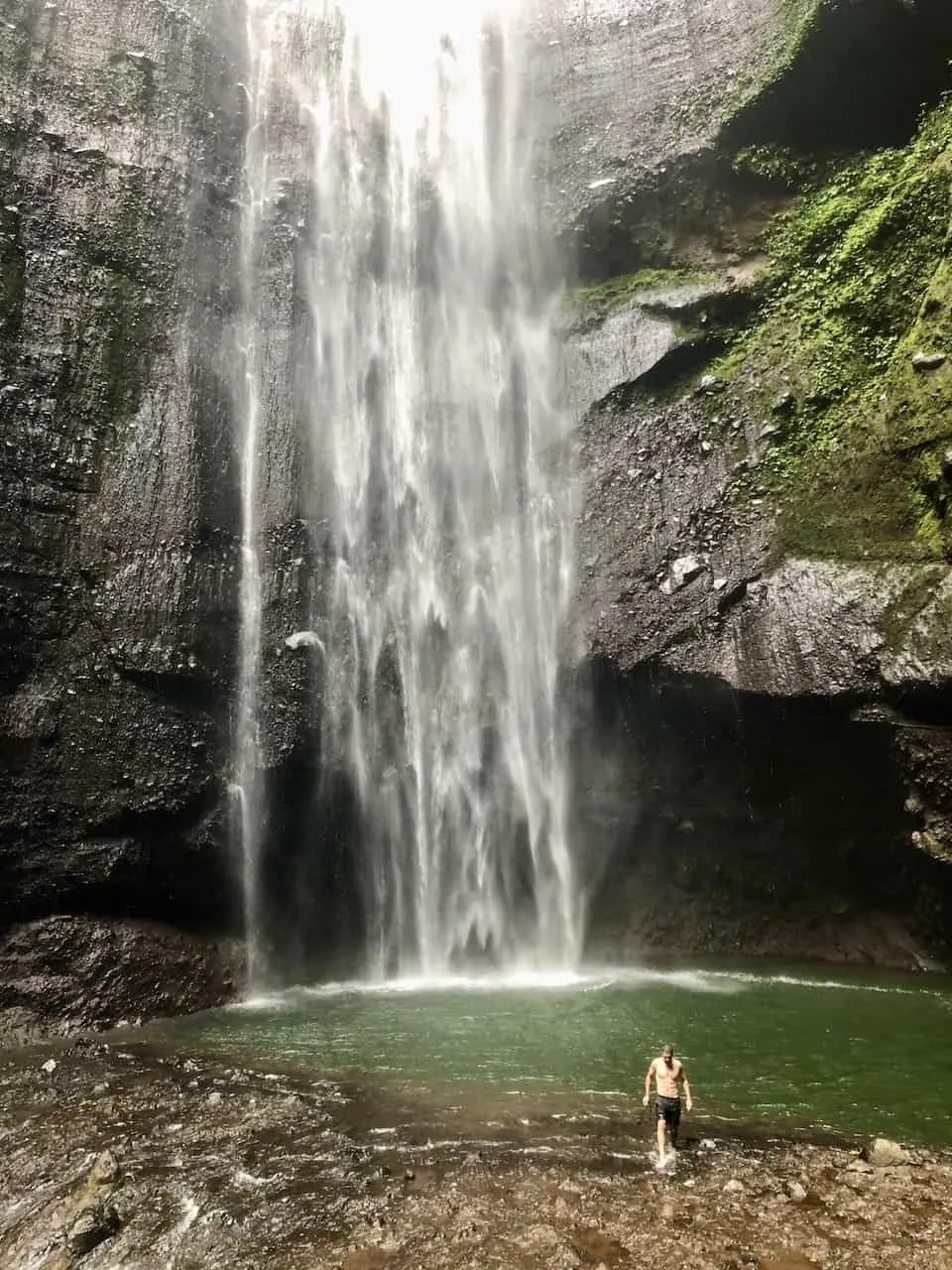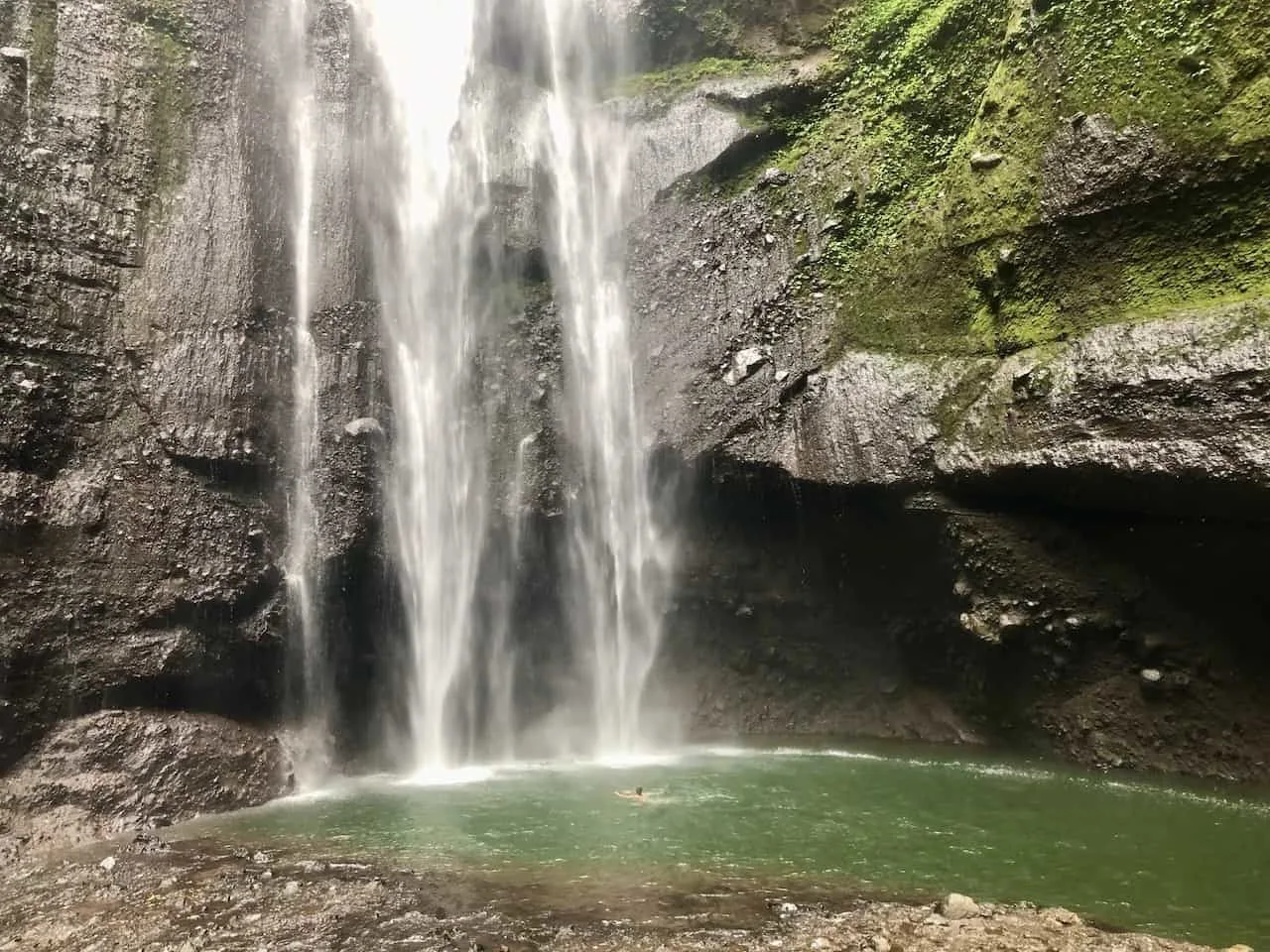 Once you have had enough time at Madakaripura, it is time to head back out the same way you came. First through the waterfall valley and then onto the walking path back to the motorbike drop off point.
Your original driver should be there waiting (or on their way back), and you can then hop back on towards the main parking lot.
I absolutely loved the experience I had at Madakaripura. After seeing a Bromo sunrise the day prior, and enjoying an Ijen sunrise the next day, it was quite the action packed time I had around East Java.
To take part of this adventure during a longer Java trip, take a look at this Java backpacking itinerary I put together.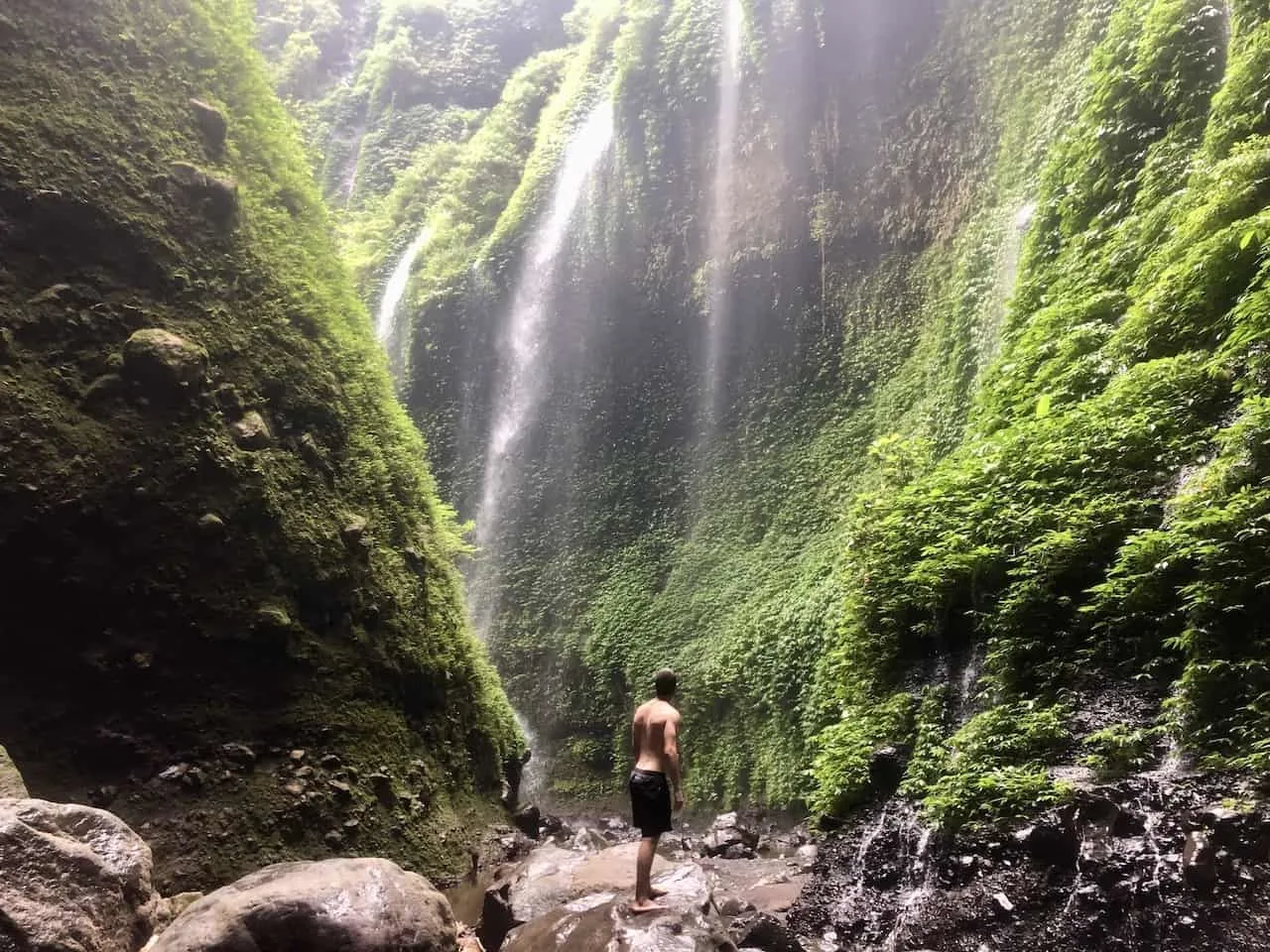 5) Madakaripura Waterfall Video
Below is a quick video highlighting the motorbike ride to the starting point, the trekking experience through the valley, and the Madakaripura waterfall itself:
6) Other East Java Waterfalls
While Madakaripura is certainly a special waterfall to visit, East Java is full of others as well. The Lumajang region has several top waterfalls all within the same general area.
Depending on how you are going about your itinerary, you could visit this region before or after your time at Bromo.
During my two days of Indonesia waterfall trekking, I got to visit 5 of these stunning waterfalls sprawled throughout these East Java valleys.
For each one of these waterfalls, I have put together a more detailed guide for you to read. Below are the names, links, and a couple photos from these experiences.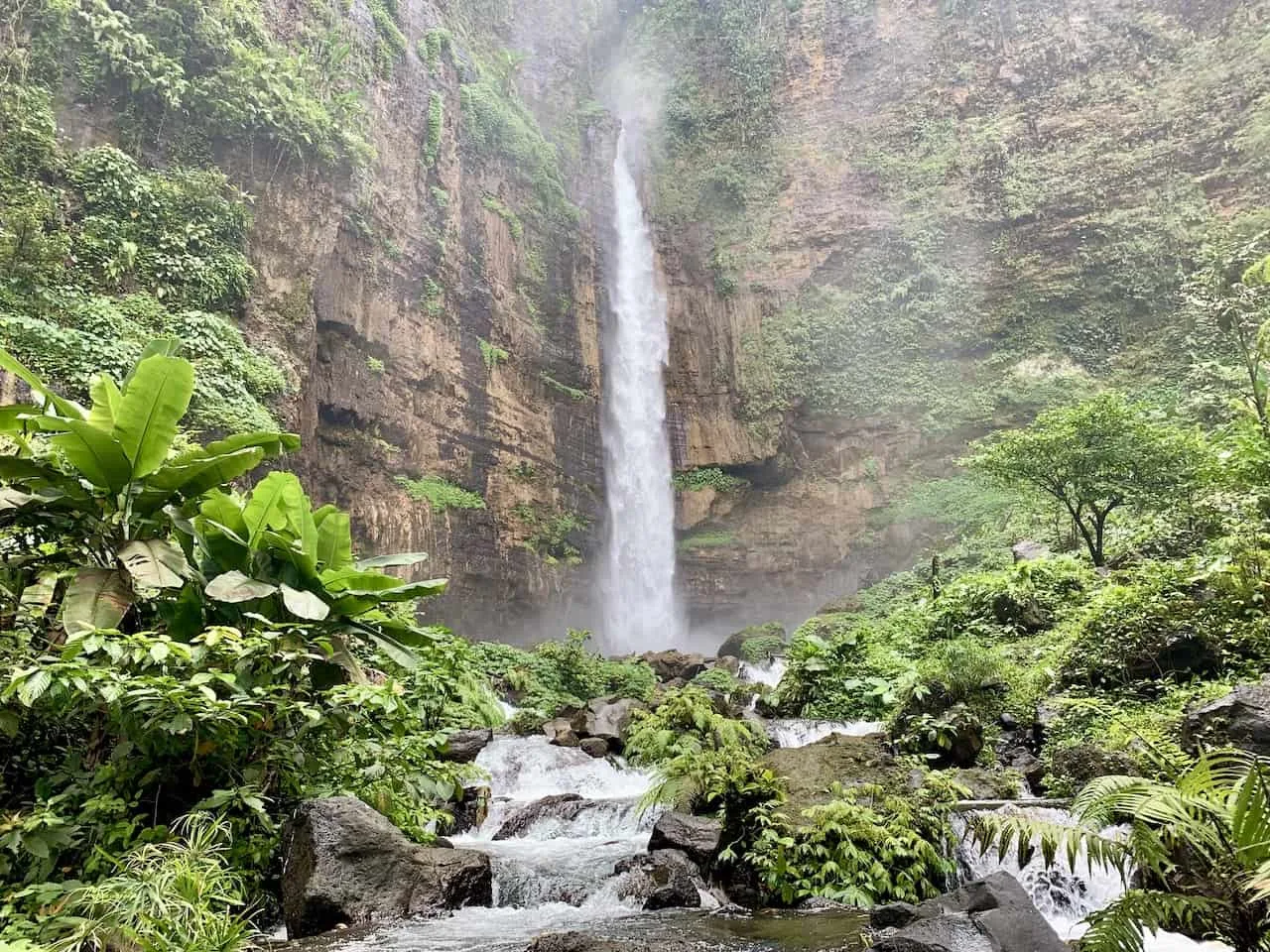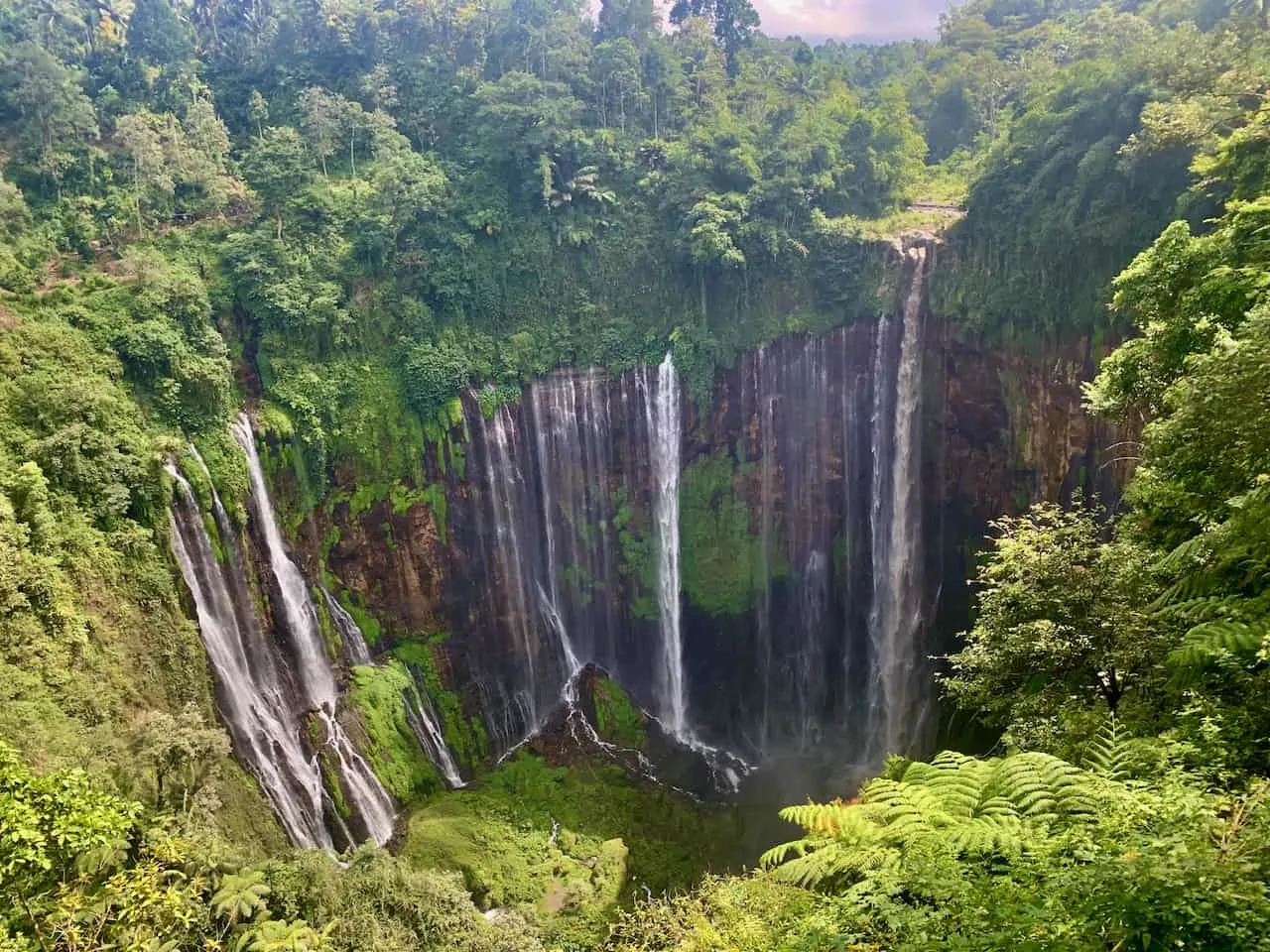 That about does it for a Madakaripura waterfall experience. If you have any questions or comments be sure to write them in below.
Also take a look at some of the other Indonesia itineraries and guides up on the site.
Have fun out there and safe travels!