When it comes to scenic drives in the United States, Trail Ridge Road of Rocky Mountain National Park in Colorado is towards the top of the list.
Connecting Estes Park and Grand Lake is a 48 mile road that twists and turns its way up high above the surrounding landscape, peaking at 12,183 feet.
Along the way, visitors can stop at viewpoints, take part of hikes, relax at lakes, and learn more about the park at the Alpine Visitor Center.
This overview will go over everything you will need to know about a drive along the Trail Ridge Road and what to expect along the way.
* Affiliate Disclosure: This post may contain affiliate links, which means I may receive a commission if you make a purchase through the links provided, at no additional cost to you. Thanks for supporting the work I put into TripTins!
1) Trail Ridge Road Background & Facts
To start off, here is some helpful background information about Trail Ridge Road and what it is all about.
Road Name: Trail Ridge Road / US-34
Location: Rocky Mountain National Park, Colorado
Opening Dates: Late May – Mid October (year dependent)
Starting & Ending Points: Estes Park / Grand Lake
Length: 48 miles (11 miles of it is above the tree line)
Driving Duration: 2 hours (+ time for stops)
Highest Point: 12,183 feet
Elevation Gain: ~+4,000 feet (from Estes or Grand Lake)
Road Grade: Max 7 degrees (mostly under 5)
Turn Radius: 100 feet (200 feet on blind curves)
Width: 22 feet (2 lane road)
Speed Limit: ~15-30 MPH
Nicknamed the "Highway to the Sky", Trail Ridge Road is the highest continuous paved road in all of North America. Located within Rocky Mountain National Park, the road offers visitors the chance to enjoy some of the most beautiful views out there.
While the road itself is amazing to drive on, there is plenty to do & see all along the way (which what this overview will dive into).
So, whether you are looking to drive the entire thing, or just want to take in a few highlights, the Trail Ridge Road will be the perfect addition to your Rocky Mountain National Park itinerary.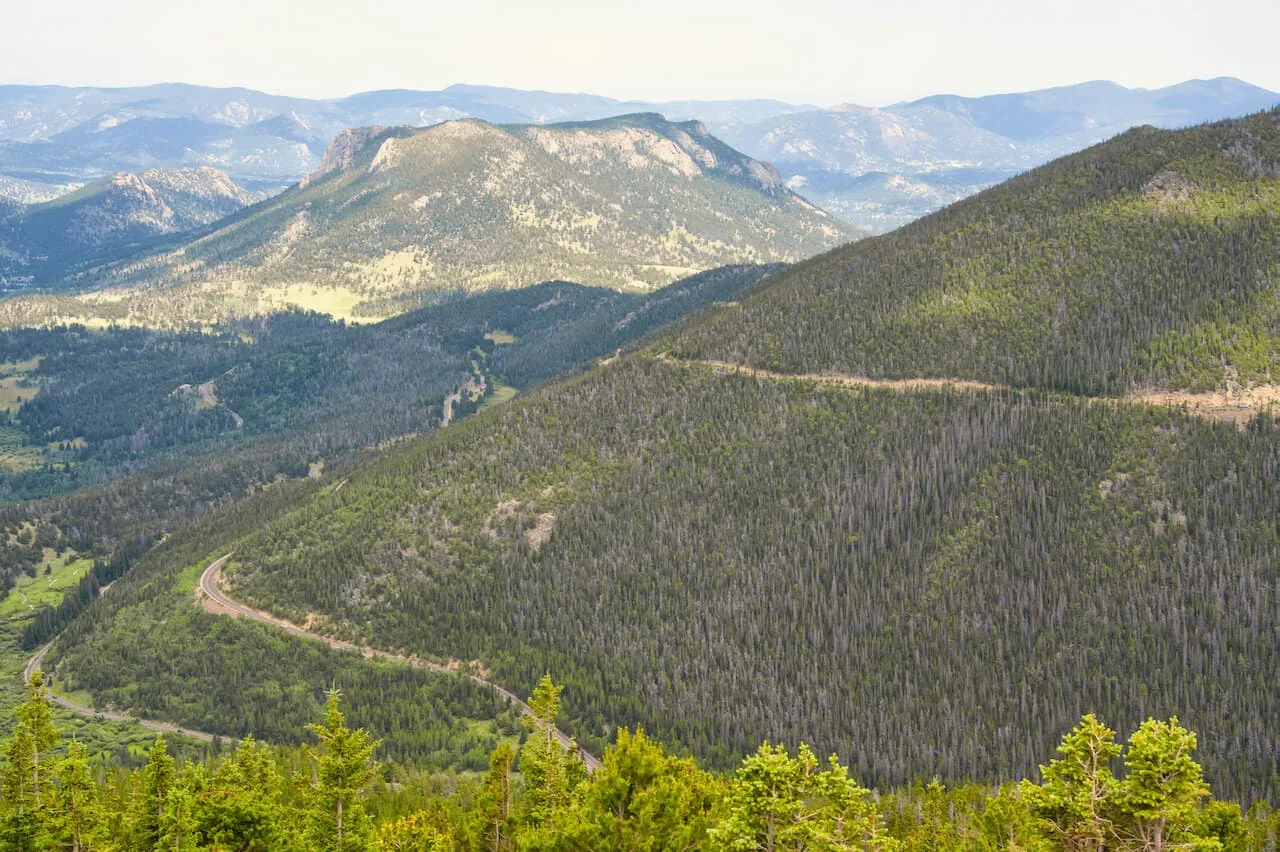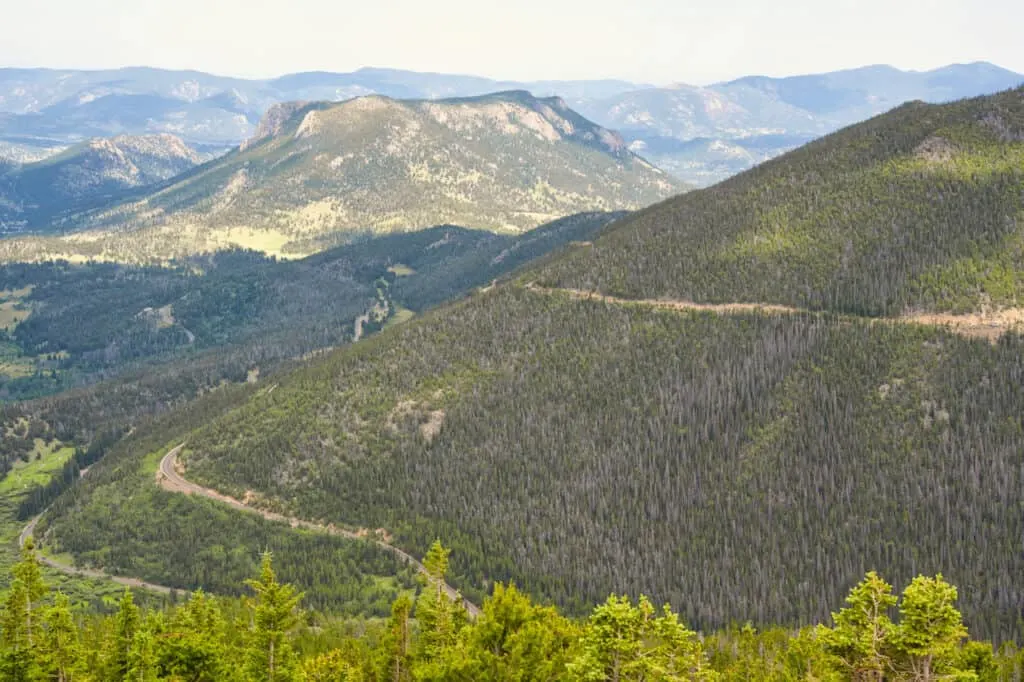 2) Starting & Ending Points
The official starting and ending points of the Trail Ridge Road are Estes Park (east) and Grand Lake (west).
These are the two towns that are closest to the main entrances of RMNP, so they are popular places to base oneself when visiting (Estes being the preferred option).
Connecting the two towns is this 48-mile portion of road, 11 of which are above the tree line.
Now, on the eastern side of the park, there are two main entrances: Fall River and Beaver Meadows. If you are looking to drive Trail Ridge Road, it does not really matter which entrance you choose from.
Both entrance roads meet up with one another at Deer Ridge Junction. From this point heading westbound is where you will find nearly all of the top highlights.
Once you continue westbound, it is essentially just the one main road that loops you all the way to the Grand Lake Entrance of the park.
Driving Tip
For most people, it is not necessary to travel all 48 miles from entrance to entrance (unless you would like to visit the opposite town – Grand Lake or Estes Park).
Starting in Estes Park: If you are looking to hit nearly all of the highlights, turning around at the Farview Curve Overlook would be my recommendation.
Starting in Grand Lake: If you are looking to hit nearly all of the highlights, turning around at the Many Parks Curve Overlook would be my recommendation.
Heads Up! Remember that anything you drive one way, you will need to double back and return on. Be sure to keep that in mind as you are planning your day. If you are doing a one-way road trip, then this will not apply.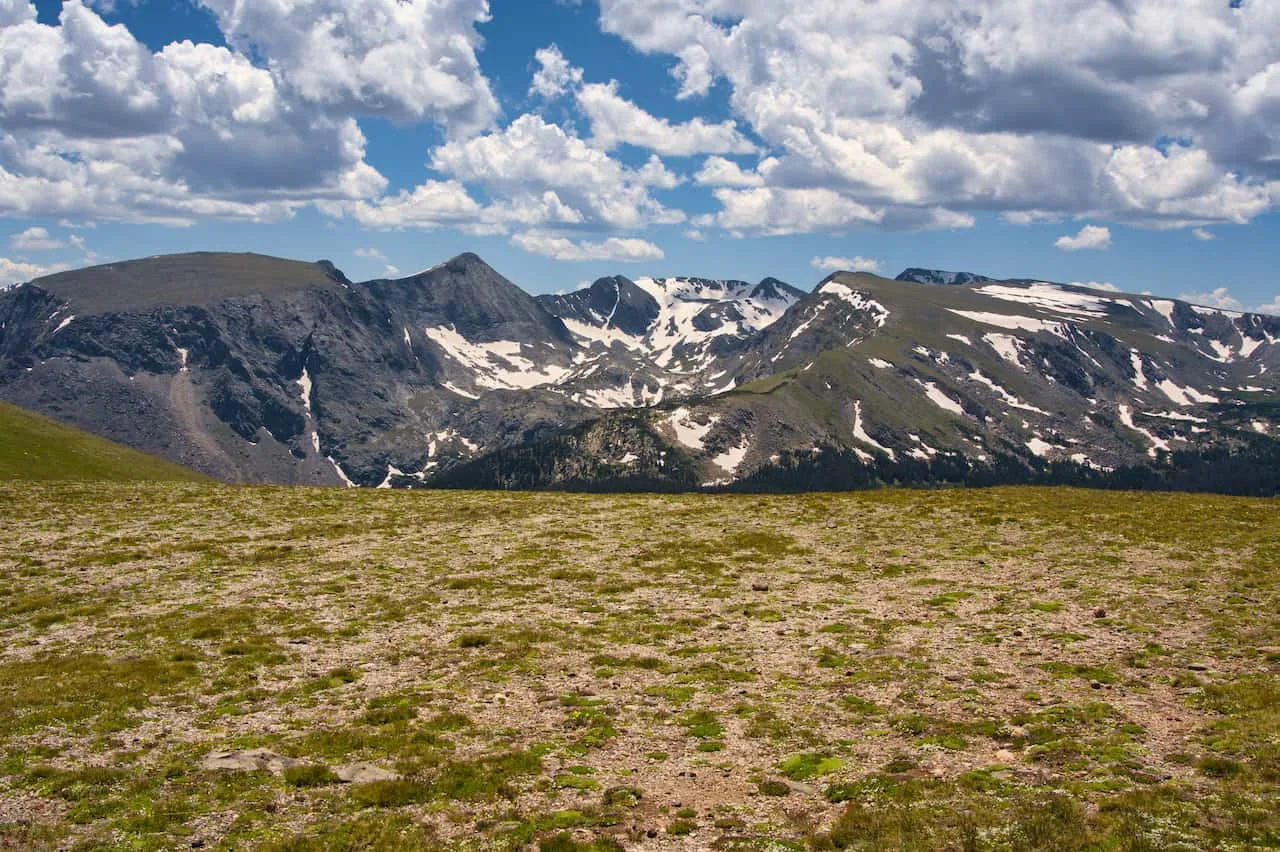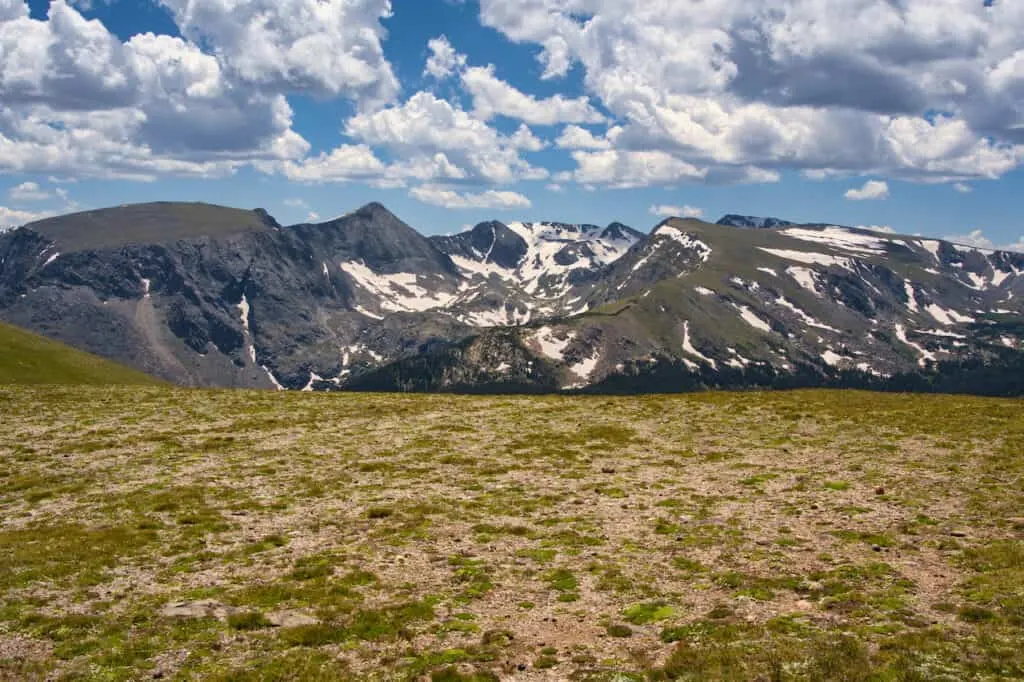 3) Where to Stay Near RMNP
When visiting RMNP, you can choose between the two main options of Estes Park and Grand Lake. Estes is the more popular option as it is closer to most of the top attractions.
However, Grand Lake can still be a relaxing and enjoyable place to stay too!
Below are a few top accommodation options to consider for your visit – note that these can sellout quickly during prime summer season, so be sure to book well in advance.
Estes Park
Grand Lake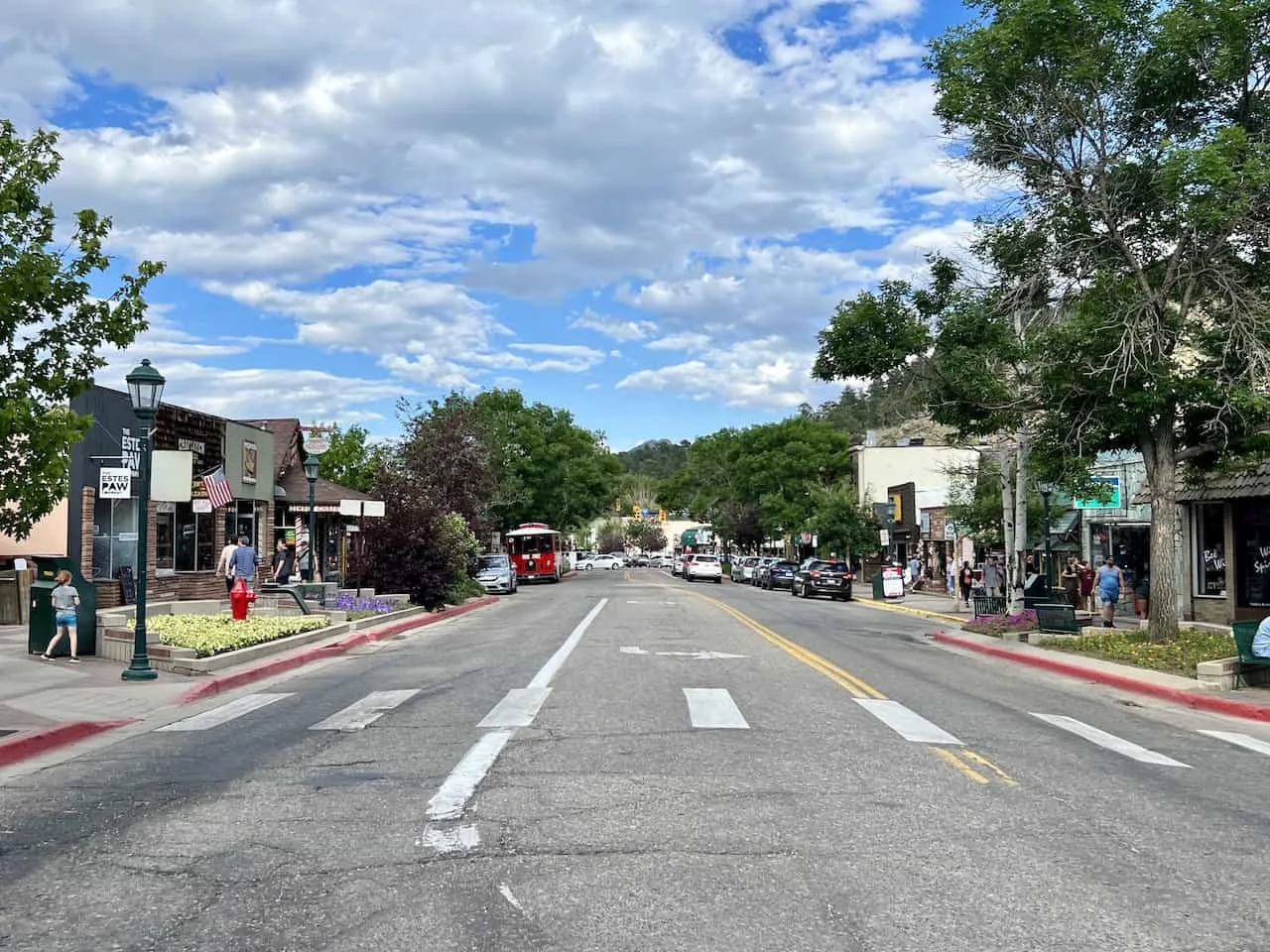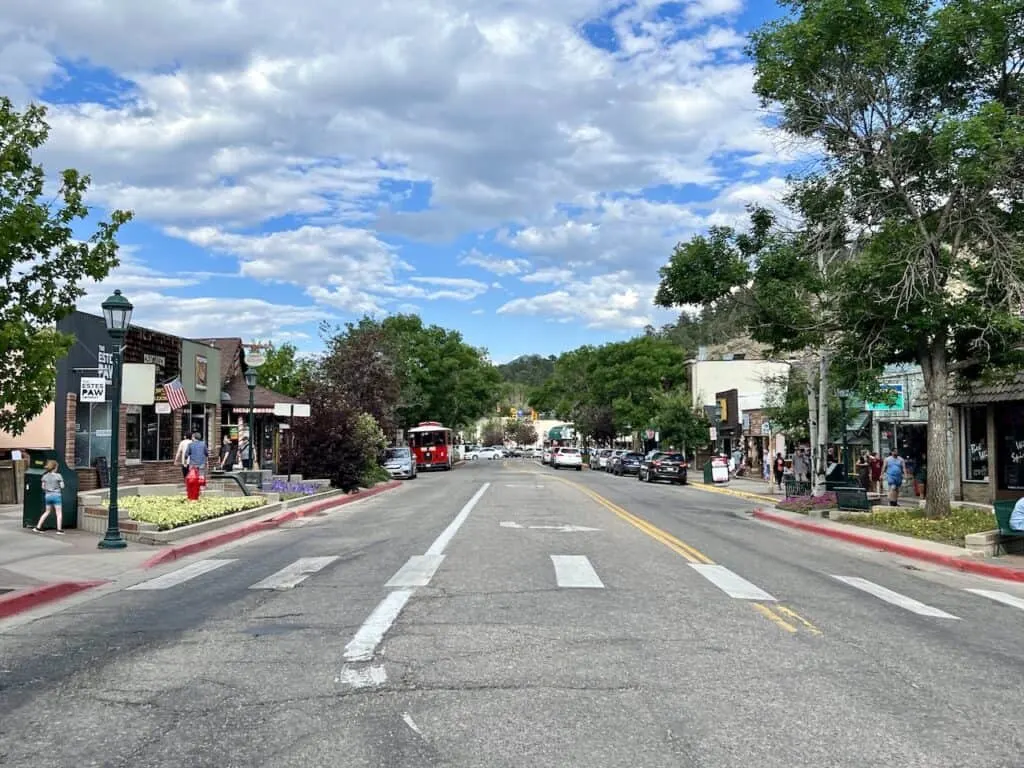 4) Trail Ridge Road Highlights
All along Trail Ridge Road, there are just so many highlights to stop at. Depending on your preferences & time allowance, you will need to pick & choose which ones look best to you.
While the list below does not include every single last point of interest, these are going to be the most popular spots to consider on your drive.
Here are the main highlights I would recommend you consider visiting during your Trail Ridge Road scenic drive (east to west).
Deer River Junction
Many Parks Curve Overlook
Rainbow Curve Overlook
Ute Trail
Forest Canyon Overlook
Tundra Communities Trailhead
Lava Cliffs Overlook
Gore Range Overlook
Alpine Visitor Center
Medicine Bow Curve
Continental Divide
Lake Irene
Farview Curve Viewpoint
If coming in or out of the Fall River Road Entrance, you can also consider adding these spots as well before meeting up with Deer River Junction:
Sheep Lakes
Alluvial Fan
Horseshoe Park
From a more technical standpoint, Sheep Lakes and Alluvial Fan are located on Fall River Road, just prior to it changing to Trail Ridge Road (which happens around the Horseshoe Park area).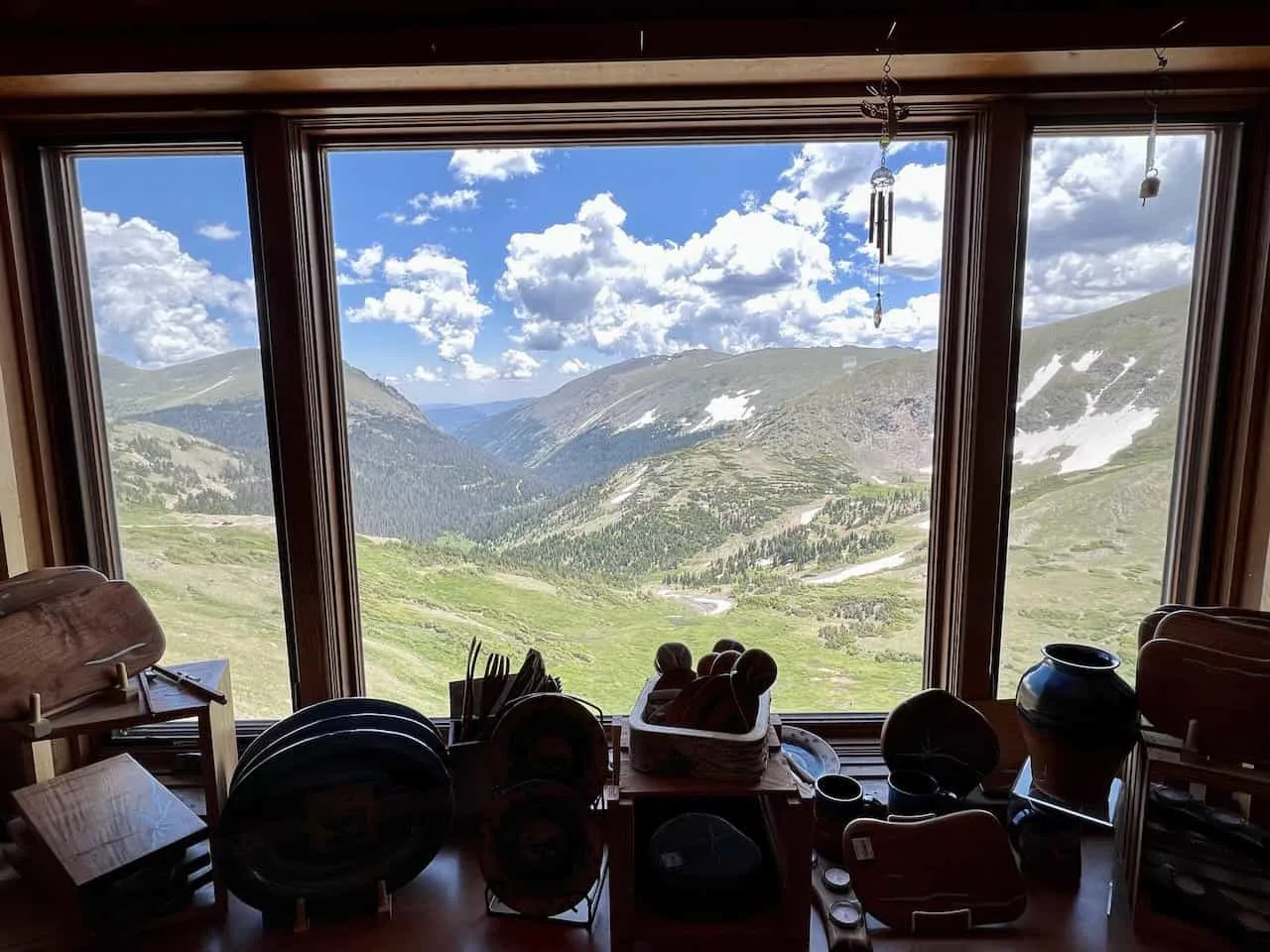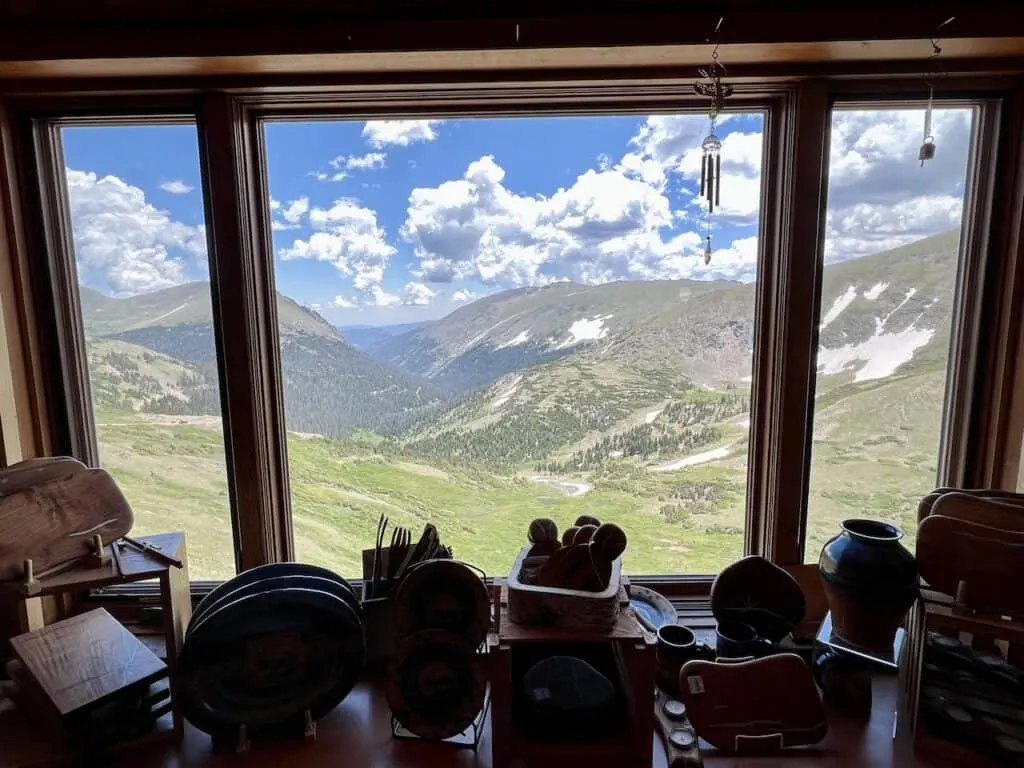 5) Trail Ridge Road Map
Before continuing on, I thought it may be helpful to include a map that pinpoints everything that is mentioned above. This can give you a better idea of the distance between highlights and where places are located.
6) RMNP Permits & Reservations
Another important aspect to consider is the Rocky Mountain National Park (RMNP) permit situation.
If you are planning to drive along Trail Ridge Road, you will be entering the confines of RMNP. Therefore, a permit will be needed during most of the peak season.
Below is a high-level overview of RMNP permits. Feel free to read through more details on the RMNP website.
Between May 26 and October 22, a timed entry reservation is needed to enter RMNP during certain hours.
There are two types of timed entry reservations available:
Park Access (includes access to the entire park besides Bear Lake Road): 9:00AM – 2:00PM
Park Access+ (includes access to the entire park with Bear Lake Road): 5:00AM – 6:00PM
Trail Ridge Road does not overlap with Bear Lake Road, so just a normal Park Access timed entry is required. However, if you arrive prior to 9:00AM or after 2:00PM, then no timed entry reservation is needed.
Be sure to reserve your spots as soon as reservations open up! This usually happens on the 1st of the month, prior to the following month (example: July reservations open up on June 1).
Also, note that a general Park Pass is required for entry into RMNP no matter what. These can be bought online or at the entrance.
Trail Ridge Road Opening Dates: Note that the opening dates of the Trail Ridge Road will loosely align with the dates when permits are needed. This is usually between late May until mid-October (depending on snowfall).
Guided Tour: Interested in taking a guided tour of Rocky Mountain National Park? Check out this RMNP Glass Top Van Tour!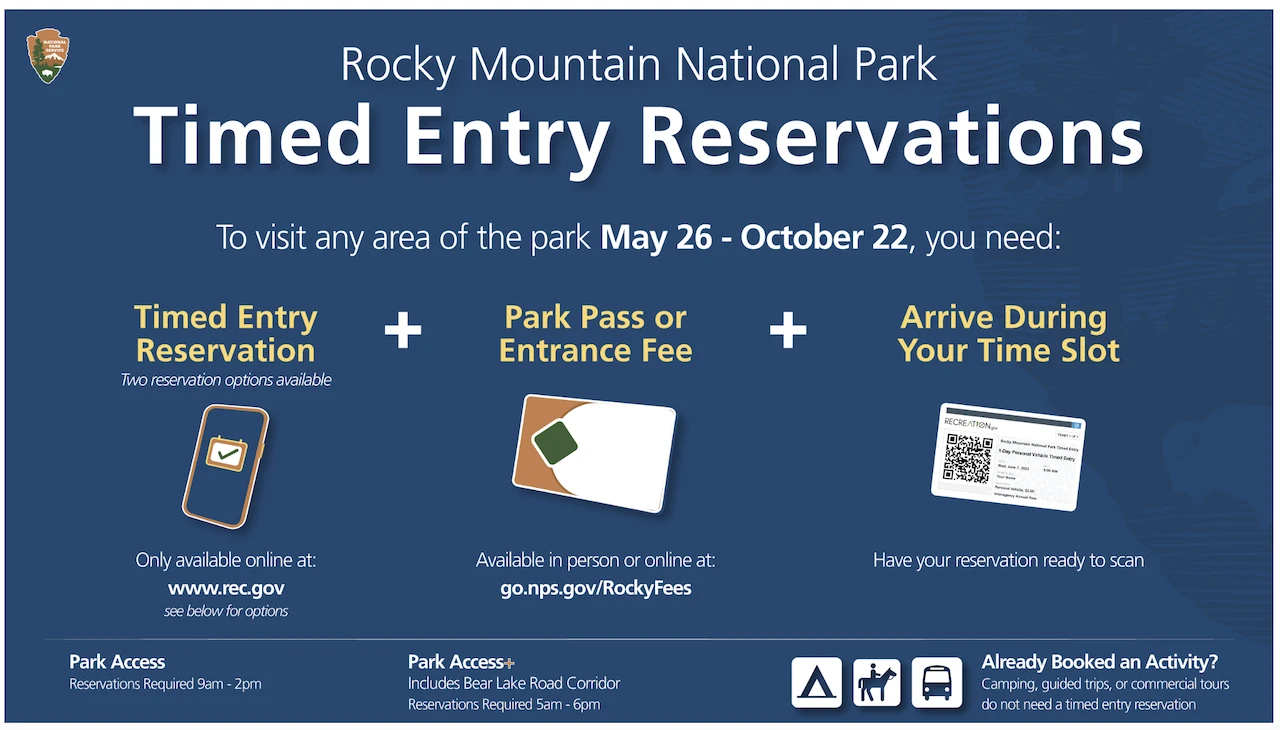 7) Helpful Tips & Things to Know
Read up on some helpful tips & things to know about driving Trail Ridge Road:
Start Early: the Trail Ridge Road can get very busy! If you want to enjoy the lookouts and highlights without the crowds, I would recommend an early morning start.
Enjoy the Ride: it is not just about the highlights mentioned on the list. It is also about the drive itself. Take things slowly, enjoy the view, and don't rush through it all.
Weather: be sure to keep an eye out on the RMNP forecast and try to pick a clear, calm day. The weather can change quickly up along the road, with afternoon thunderstorms common in the summer months.
Trail Ridge Road Webcam: you can always take a look at some of the RMNP webcams that give you a live view of what the conditions are up on the road. There is one situated at the Alpine Visitor Center.
Protect the Tundra: anytime you head out on the trail, stay on the trail itself. The tundra is a protected area, and by walking off trail, you could cause damage to the landscape.
Animals: there are many types of animals that can be seen in the park including moose, elk, ptarmigans, marmots, pikas, and plenty more. Always be sure to keep your distance when around them.
Parking: never stop in the middle of the road. Instead just use the many pullover areas that allow for a safe parking situation.
Guardrails: just a heads up that the entirety of the road does not include guardrails. This is more so a callout for those that are not comfortable driving at high altitudes with drop-offs.
Bicycling: taking a bike along the Trail Ridge Road is an option for those interested. As a driver, take things slowly and be on the lookout for any as you are making your way along.
Altitude Sickness: for those coming from lower elevations, altitude sickness is a real possibility. Be sure to not rush and give yourself some time to acclimatize before heading up the road.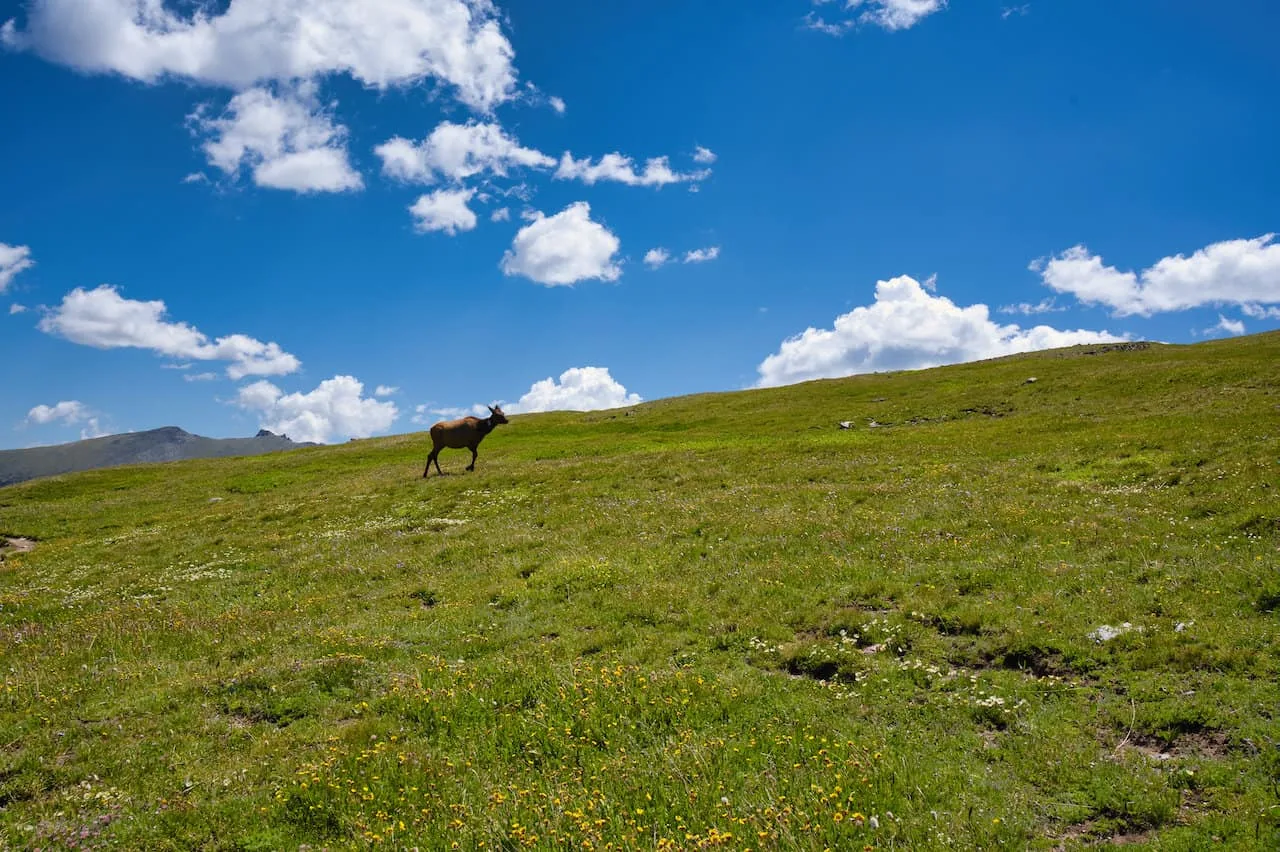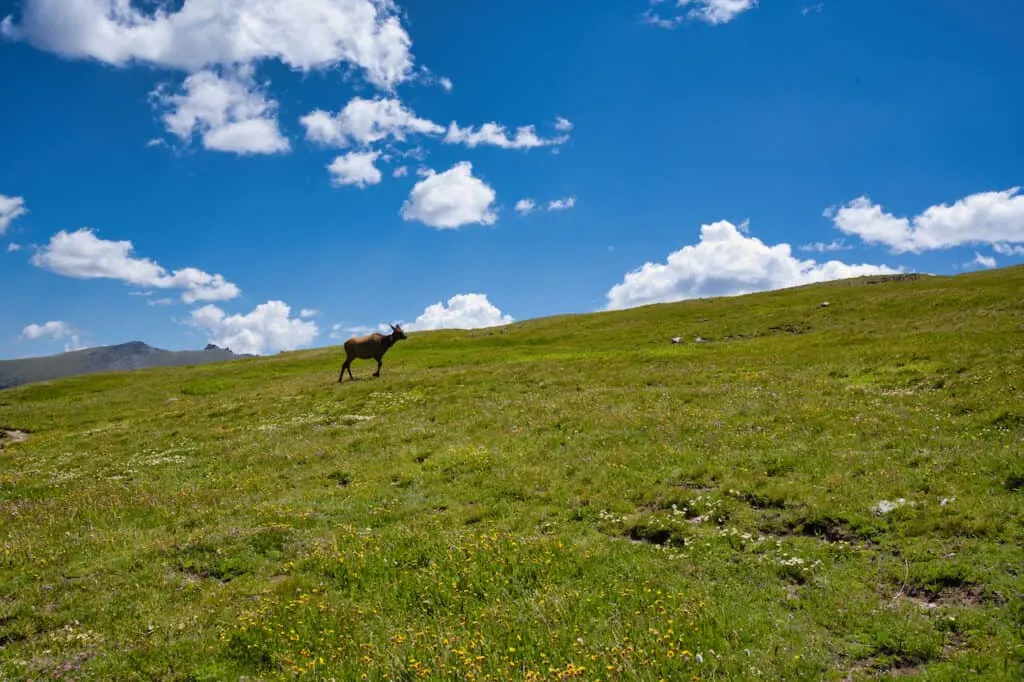 Hiking Resources & Checklist

Before heading out for the trails, be sure to read up on some of the hiking resources up on the site. These are here to better prepare you for all types of outdoor adventure.
8) Trail Ridge Road Views, Hikes, & Highlights
With all of that said, let's get into some of the top highlights of Trail Ridge Road.
I will start on the eastern side, heading westbound. If you happen to be coming in from Grand Lake, just flip everything in the opposite direction.
Starting in Estes Park though, the drive to either the Beaver Meadows or Fall River entrance will take between 10-15 minutes.
Once past the entrance, it is another 10 or so minutes until you reach Deer River Junction.
Deer River Junction
Deer River Junction is where the two roads from either entrance meet up with one another. The area can get quite busy as the two roads intersect, and people park to take on the Deer Mountain Trail.
Deer Mountain is a 6 mile out & back trail that gains around 1,400 feet of elevation. It is considered one of the more moderate mountain hikes in RMNP.
Along the way and from the top of the mountain, panoramas of the surrounding landscape will come into view. If you are not up for the entire hike, you can still park at Deer Ridge Junction and take a short walk around the area and along the first portion of trail.
Some nice views should still be out in front of you as you get a glimpse of what Rocky Mountain National Park is all about.
Many Parks Curve Overlook
The first "official" viewpoint to stop at is the Many Parks Curve Overlook. Similar to some of the other viewpoints along the road, this one is right on a hairpin turn.
There are two parking lots to choose from – one smaller lot directly at the overlook and one larger lot just around the bend. If coming from the east, you will need to park at the second lot due to turning restrictions on the road.
After parking your car, simply follow the pathway across the street and along the hairpin curve, as views start to appear out in front of you.
The views all along the curve will be beautiful as you see the RMNP mountains, valleys, and other natural landscape.
Feel free to also head closer to the smaller parking lot, where you can find a rock outcrop. Climbing the rock offers a fun little activity to do as more views await up top.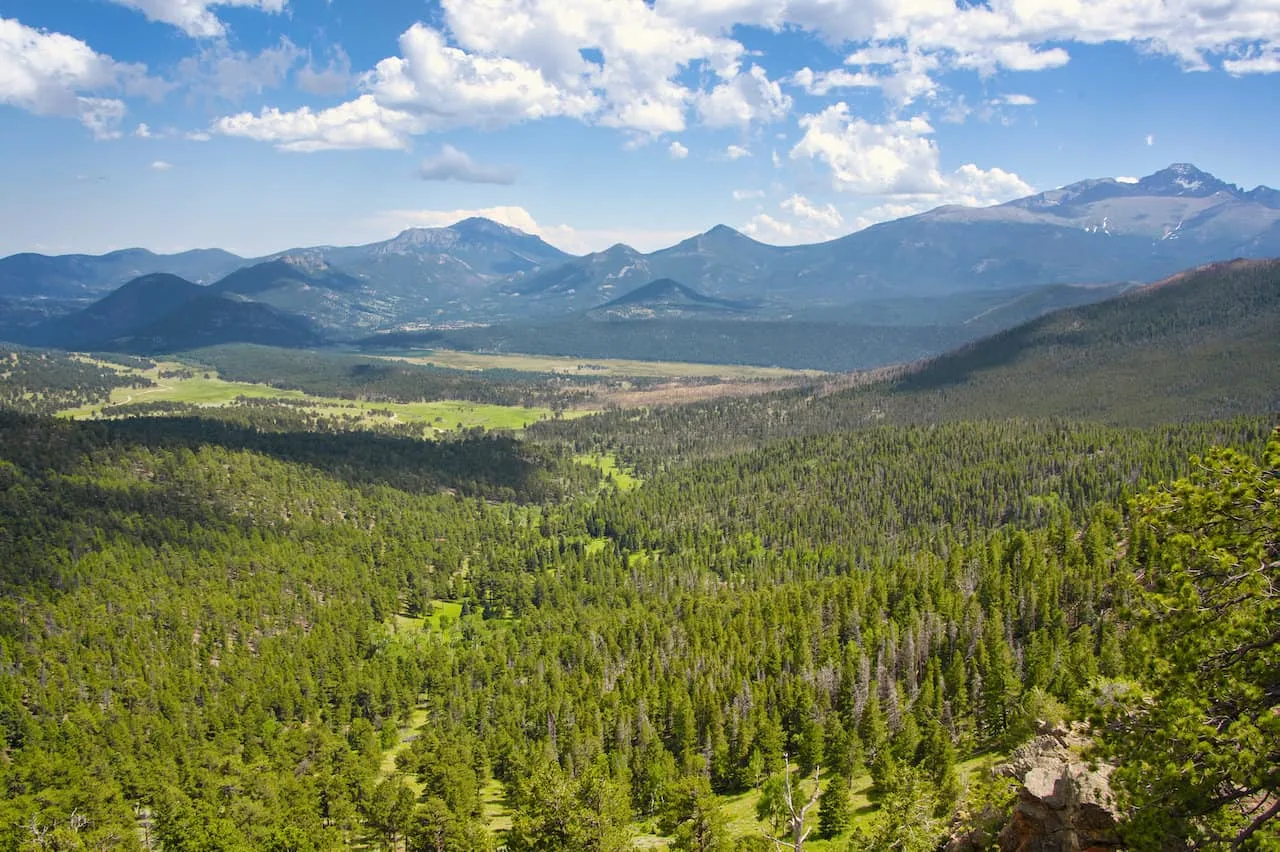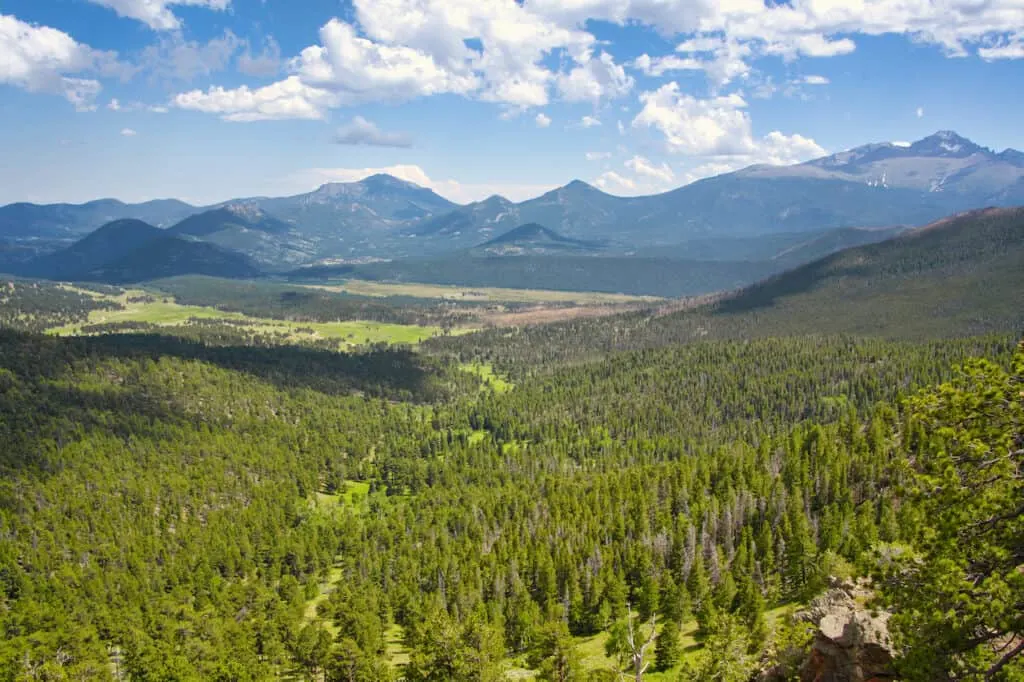 Rainbow Curve Overlook
Up next is the Rainbow Curve Overlook, another top viewpoint area to enjoy.
This viewing area is also along a sharp turn with a parking area just in front of it. In addition, a public restroom can be found here too.
Simply park your car, and the views will be right there. The reason it gets its name, is due to the appearance of rainbows that appear here after rainfall. While I didn't get to see that happen, the view is still worth it!
Horseshoe Park, the Alluvial Fan, and Deer Mountain can be seen from Rainbow Curve, in addition to plenty more mountains in the distance.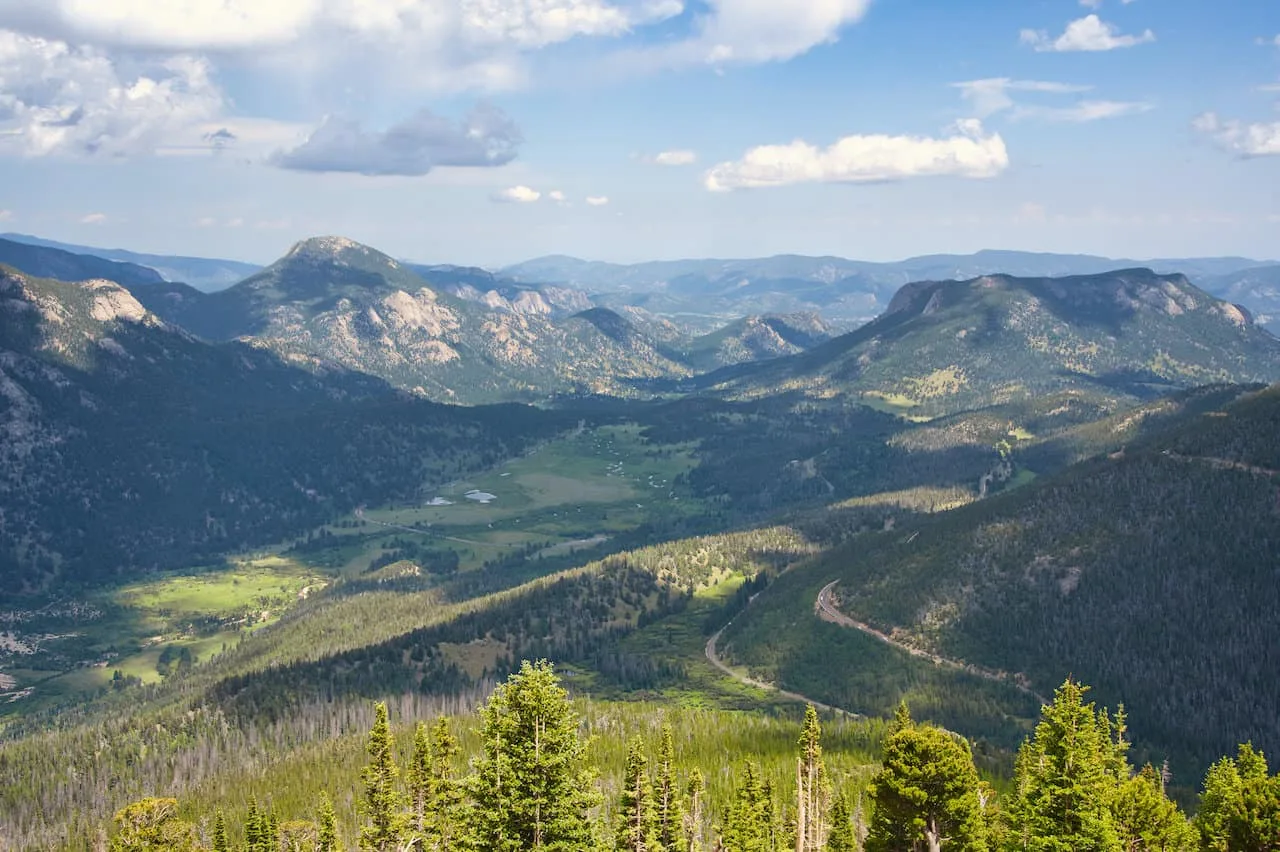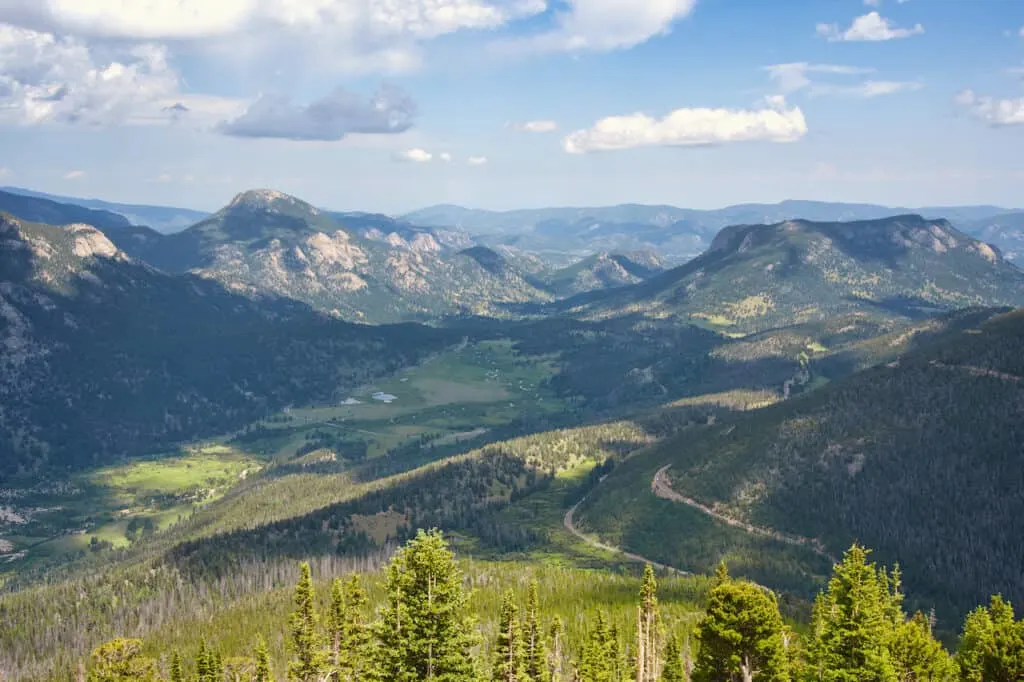 Ute Trail
Within Rocky Mountain National Park, you will find a hiking route called the Ute Trail. This is route actually has quite the history as the Ute Native Americans walked along it to connect their summer and winter hunting grounds.
Within RMNP there are two popular sections to hike – the first section is a one way route between the Alpine Visitor Center and Milner Pass.
However, this section is a simple out & back hike along the Tombstone Ridge section of trail. For an easy and very scenic hike, this is going to be one of my top choices within the park.
It comes in at 4 miles round trip, with less than 500 feet of elevation gain. Almost immediately from the start you will be surrounded by mountain views all around.
Just be aware that parking is very limited here with a pullover at the trailhead (and 2-3 more pullovers leading up to it).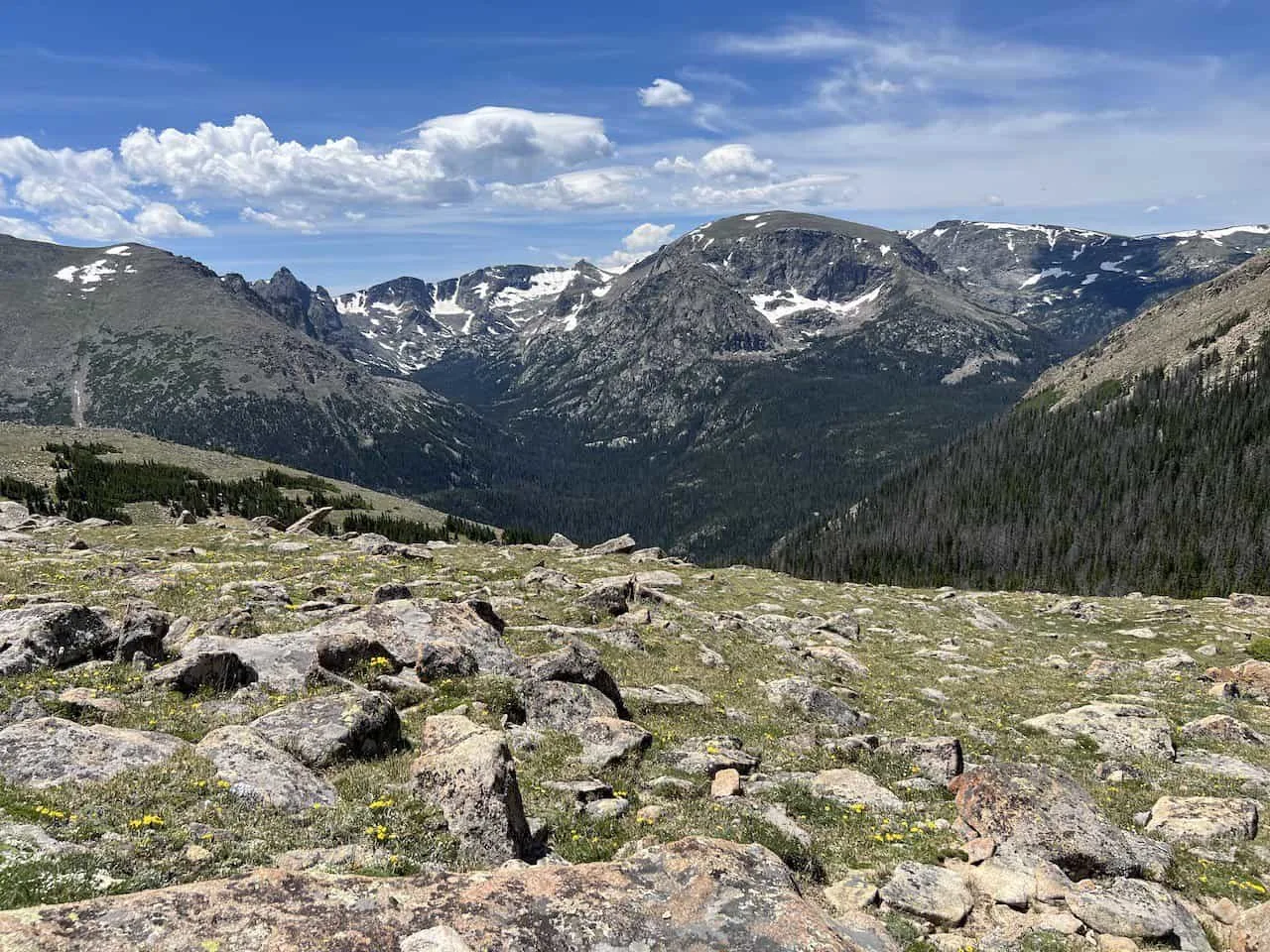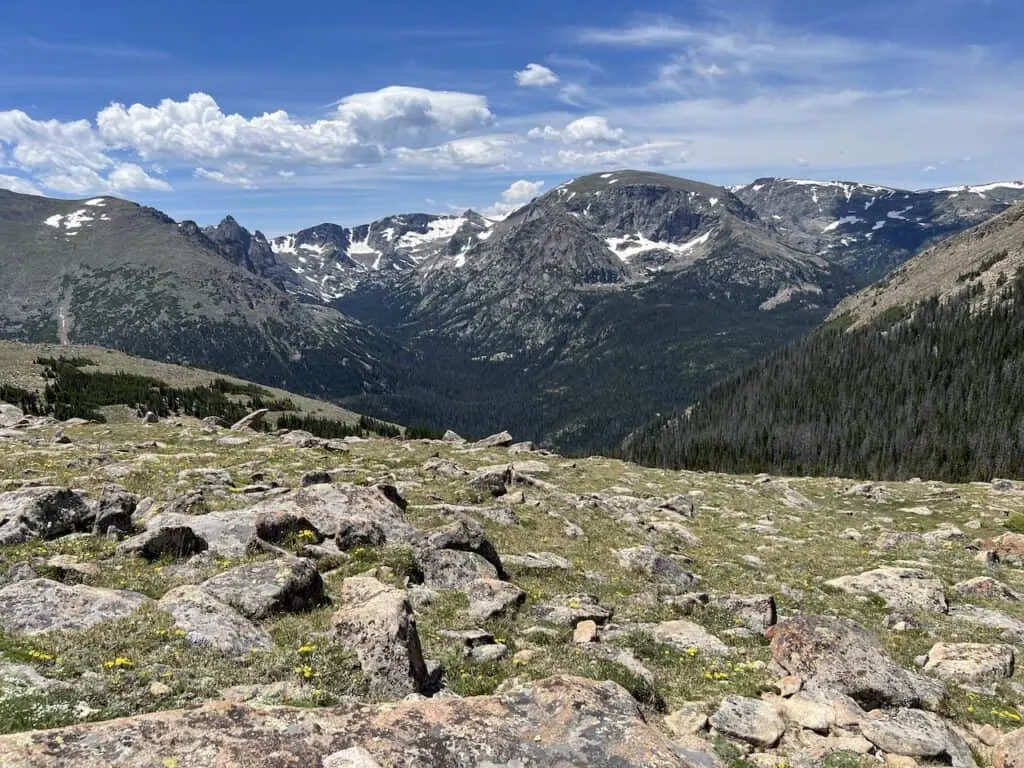 Forest Canyon Overlook
Heading just west of the Ute Trailhead is another viewpoint area – the Forest Canyon Overlook. The views will start to differentiate here compared to the first couple of overlooks as you get higher along the road.
At Forest Canyon, there is a large parking lot area, where a very short trail brings you to the lookout platform.
Once at the platform, enjoy some amazing mountain views as you see the forest end and the alpine begin. Stones Peak, Sprague Mountain, Terra Tomah Mountain, Taylor Peak, and more will all be out in front of you.
You can also learn a little bit along the way by reading some of the informational signboards about the area.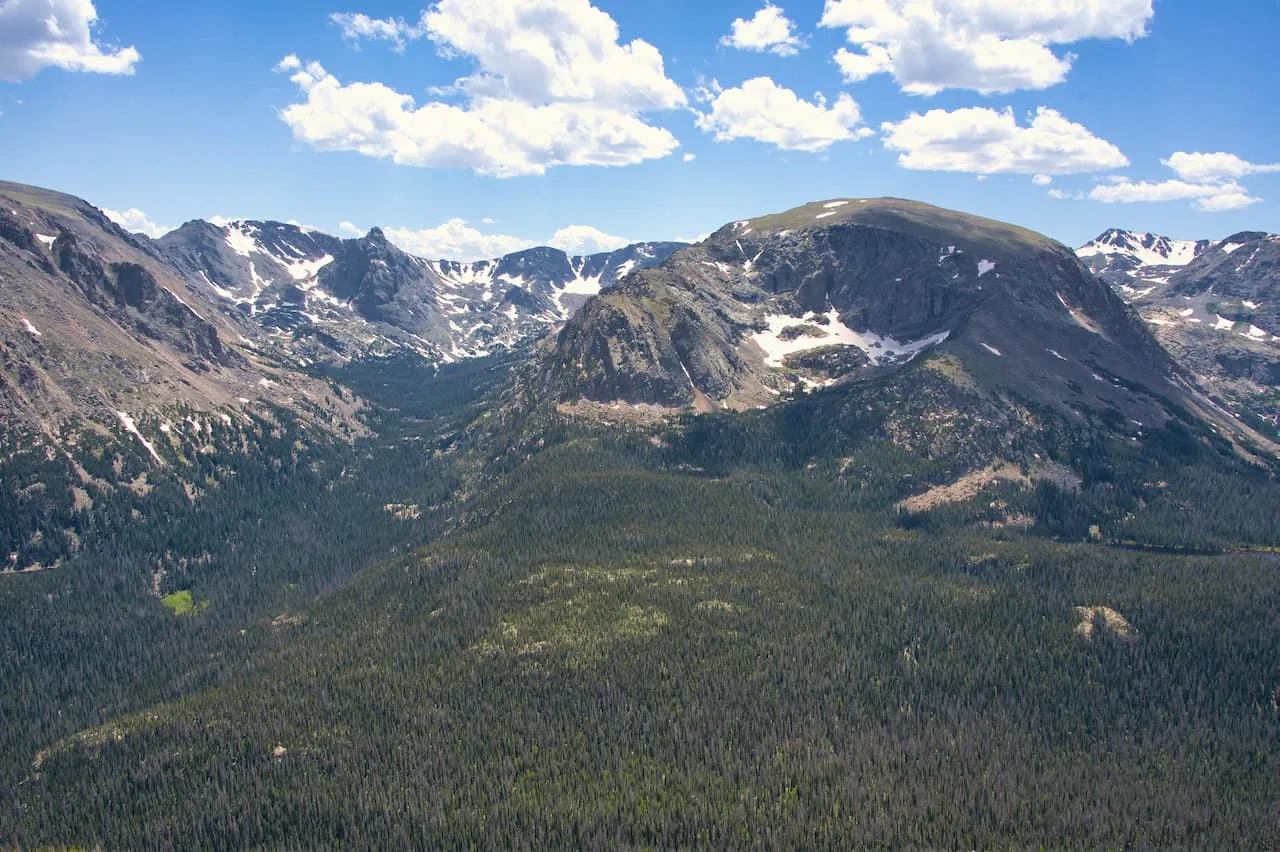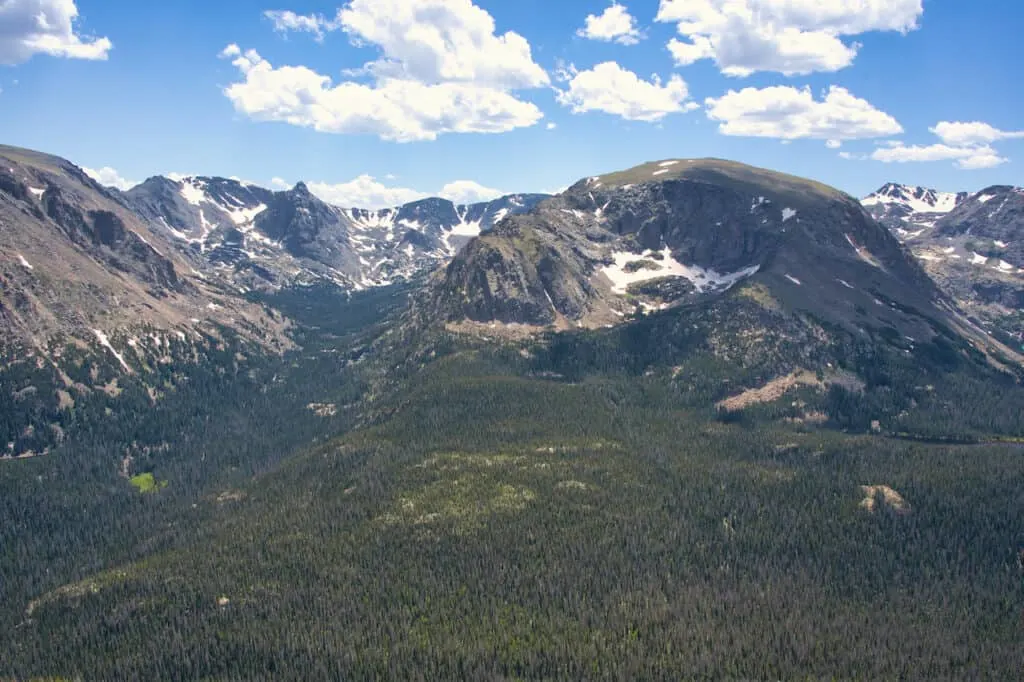 Tundra Communities Trailhead
The next stop along the road is the Tundra Communities Trailhead. You will find parking on either side of the street, in addition to some restrooms.
At the trailhead, there are several points of interests / things to do depending on your interest levels.
Viewpoint: the simplest of options here is to just park your car and enjoy the view from the roadside parking. Mountains, glaciers, forests, and lakes will be in view.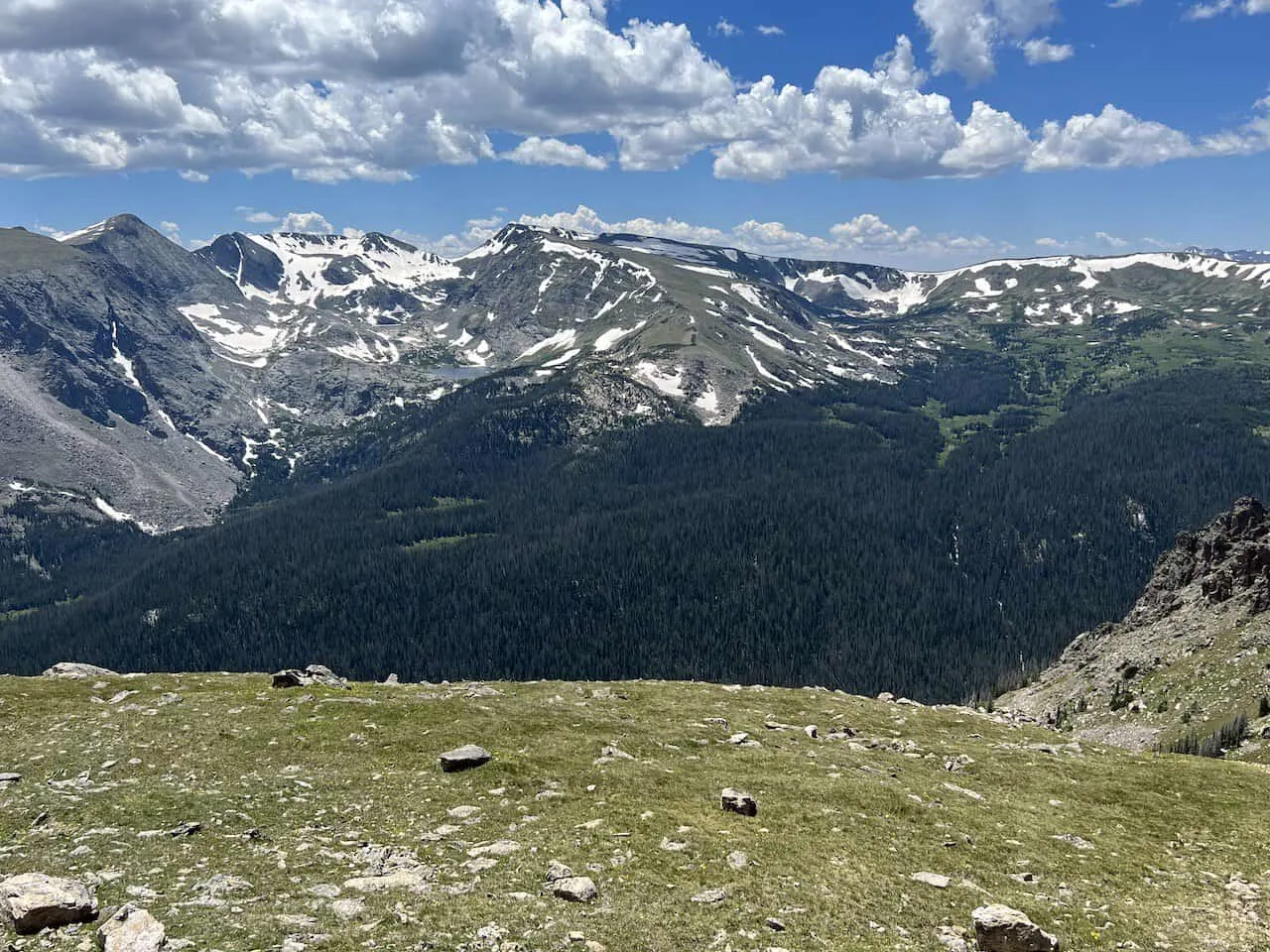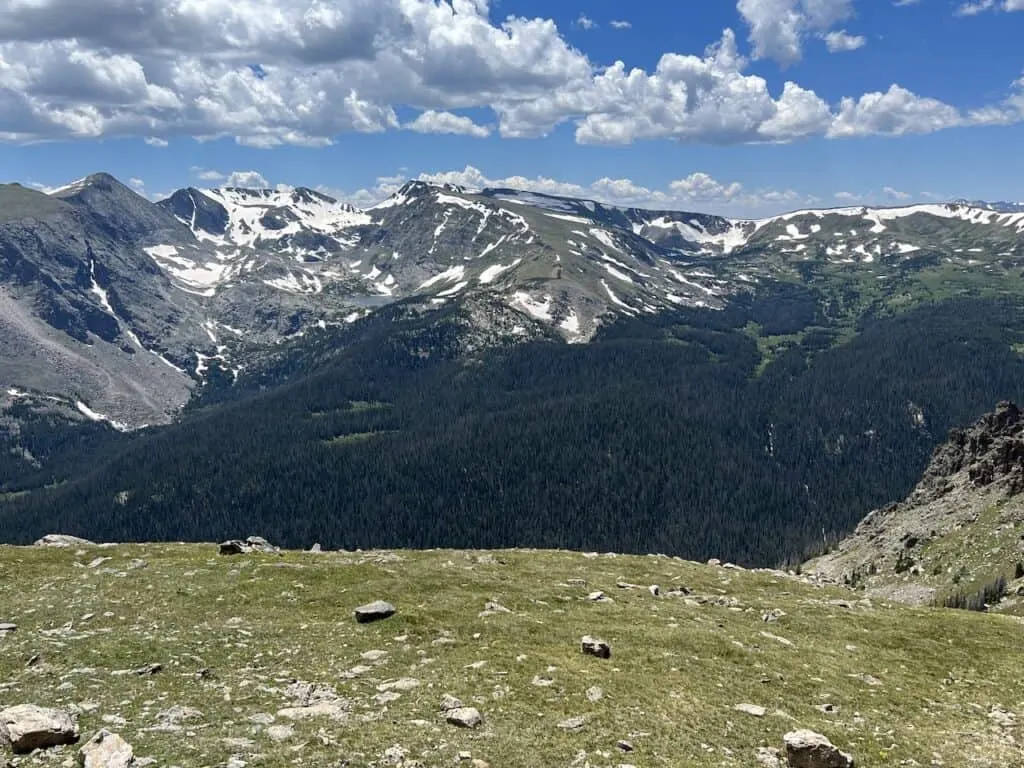 Rock Cut: here you will be able to understand the immense amount of work it took to blast through the rock to create the Trail Ridge Road. You can clearly see the cut in the rock on either side of the road that took three summers to complete. While you can't walk to the Rock Cut (as it is on the road itself), you will drive through it, and can see it from the road and trail (more on that next).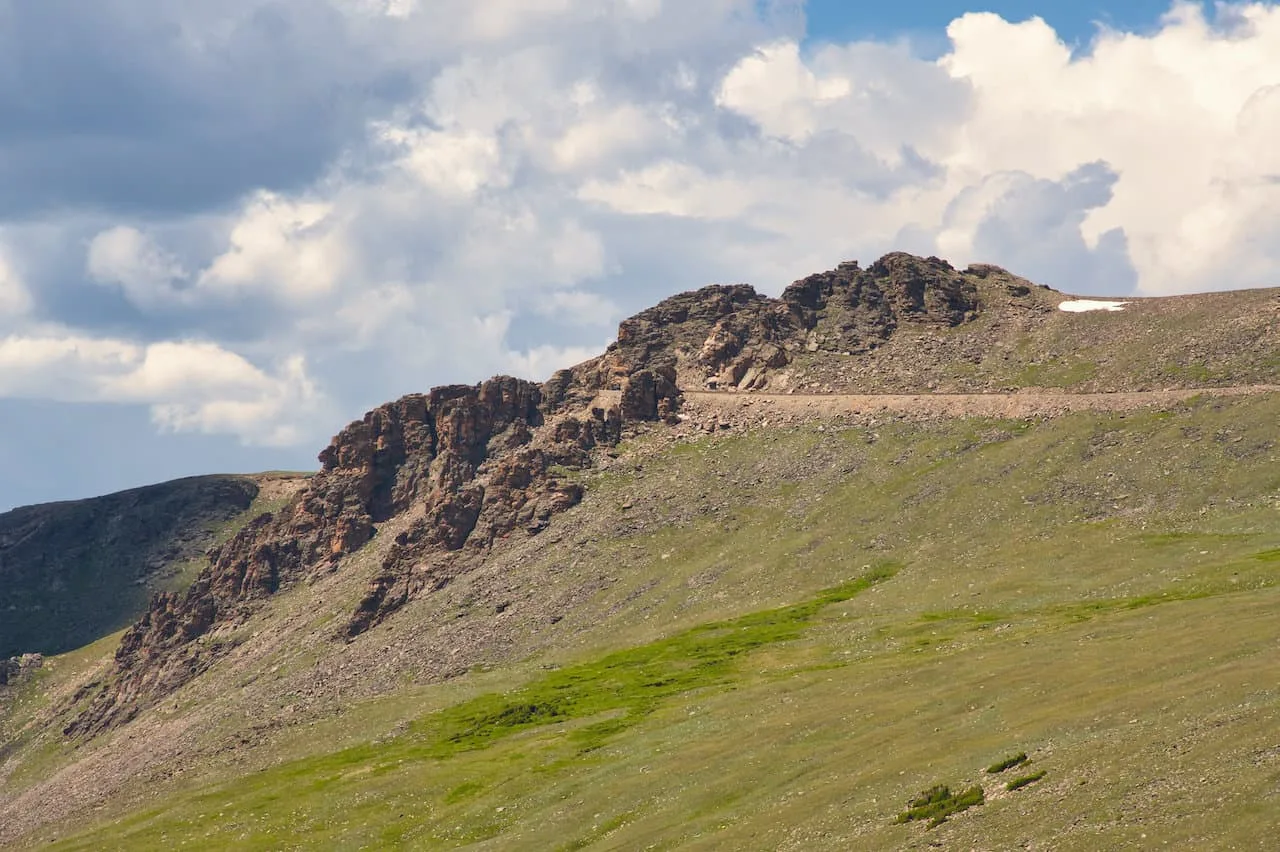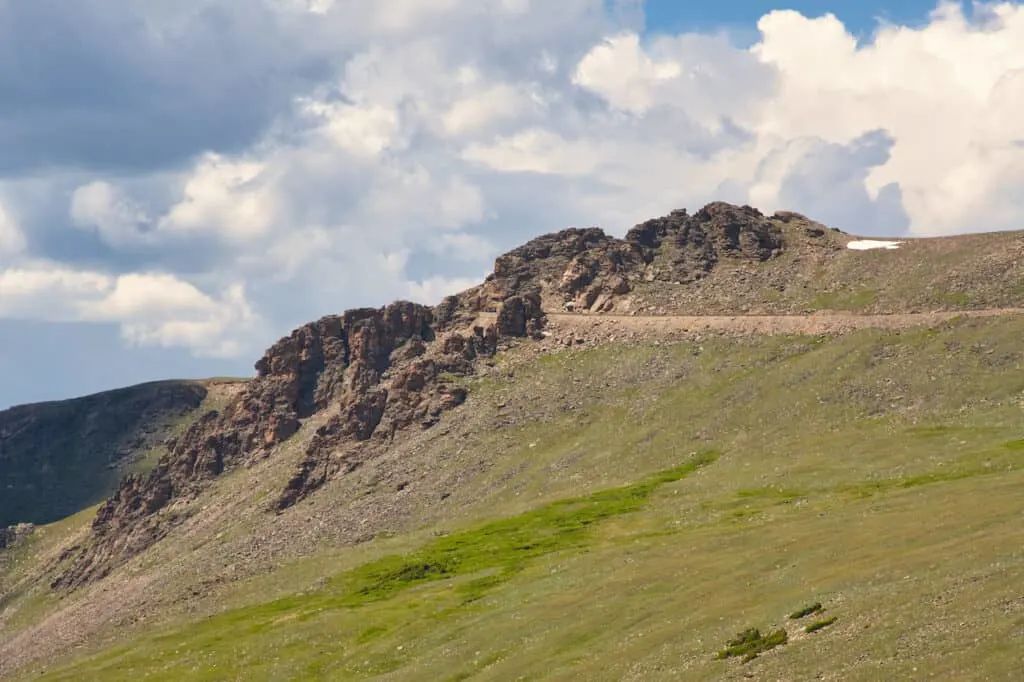 Mushroom Rocks: a short 10 minute walk from the trailhead will take you to the Mushroom Rocks. As it says on the signboard: "Mushroom shapes were formed when the granite stems eroded quicker than the schist caps". In addition, some great panorama views can be found along the trail too.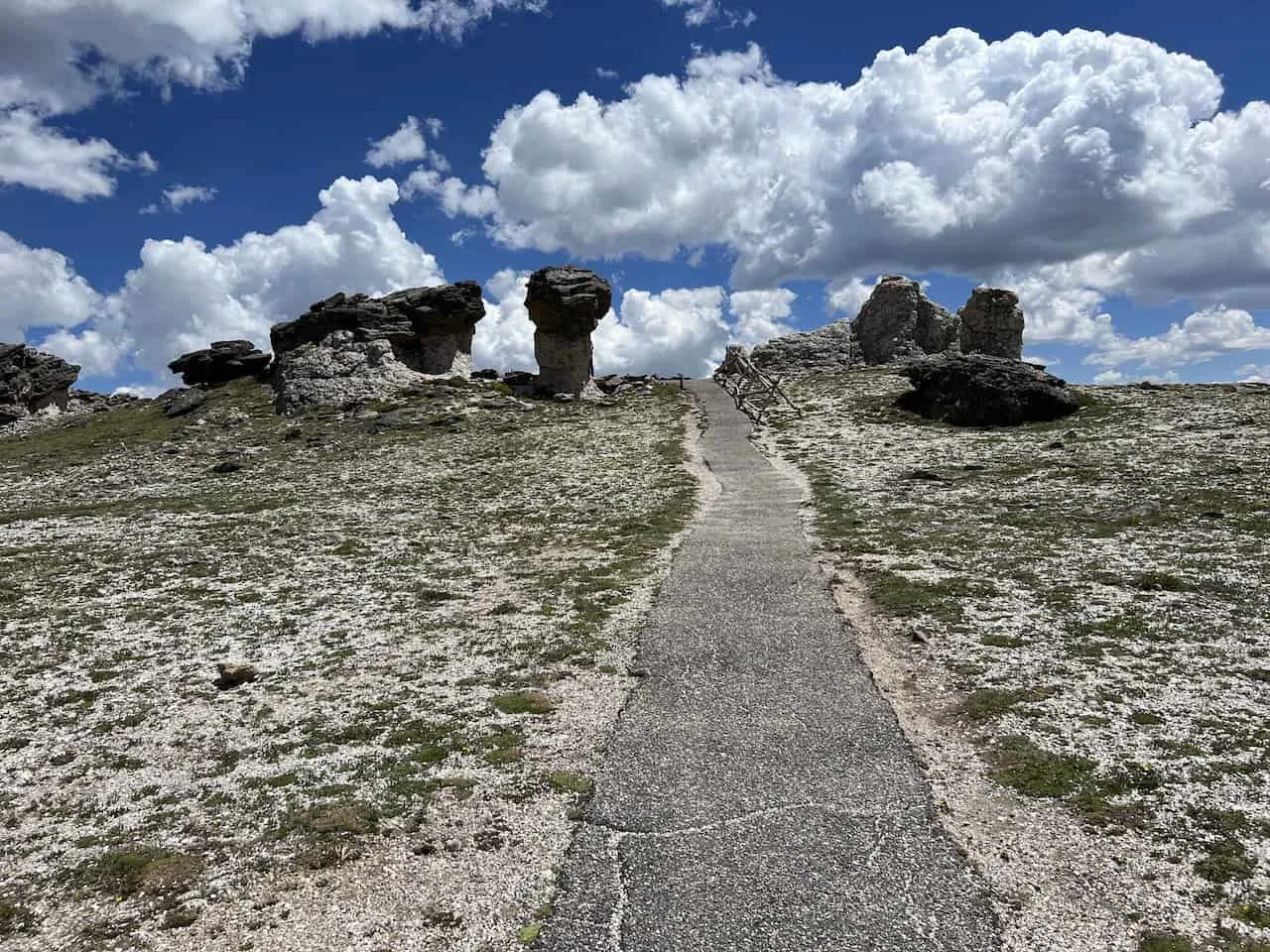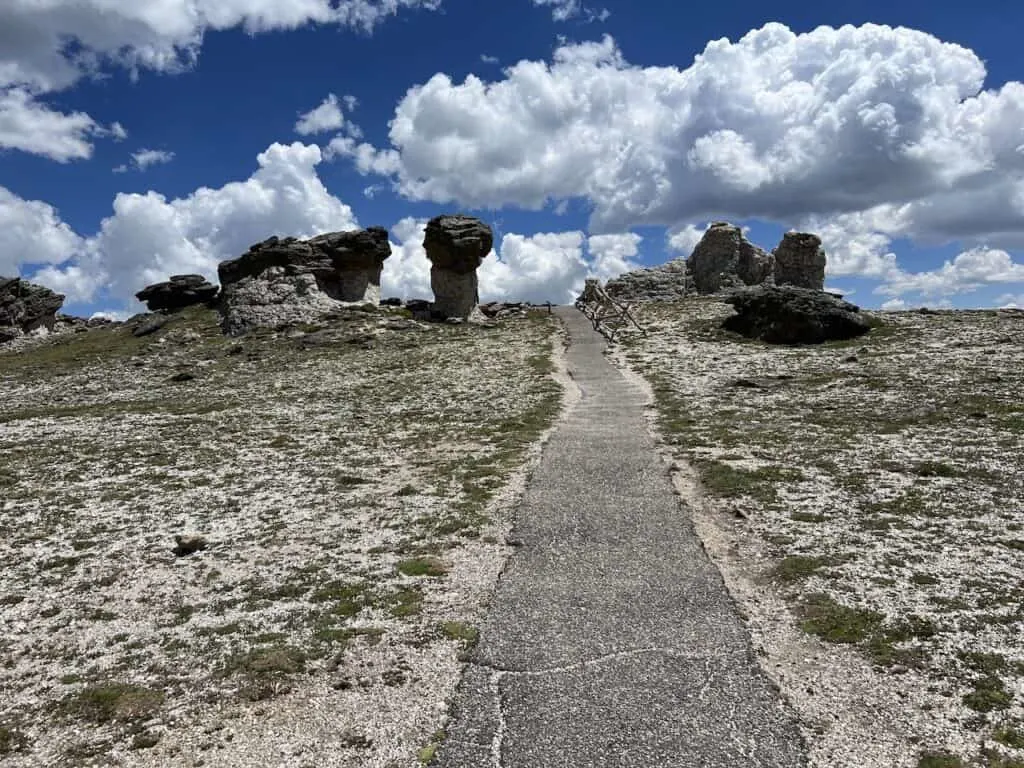 Roger Toll Memorial: if you are heading to the Mushroom Rocks, you may as well add on the Roger Toll Memorial, just another 5 or so minutes up trail. Roger was the superintendent of Rocky Mountain National Park in its early days (in addition to Mt Rainier and Yellowstone).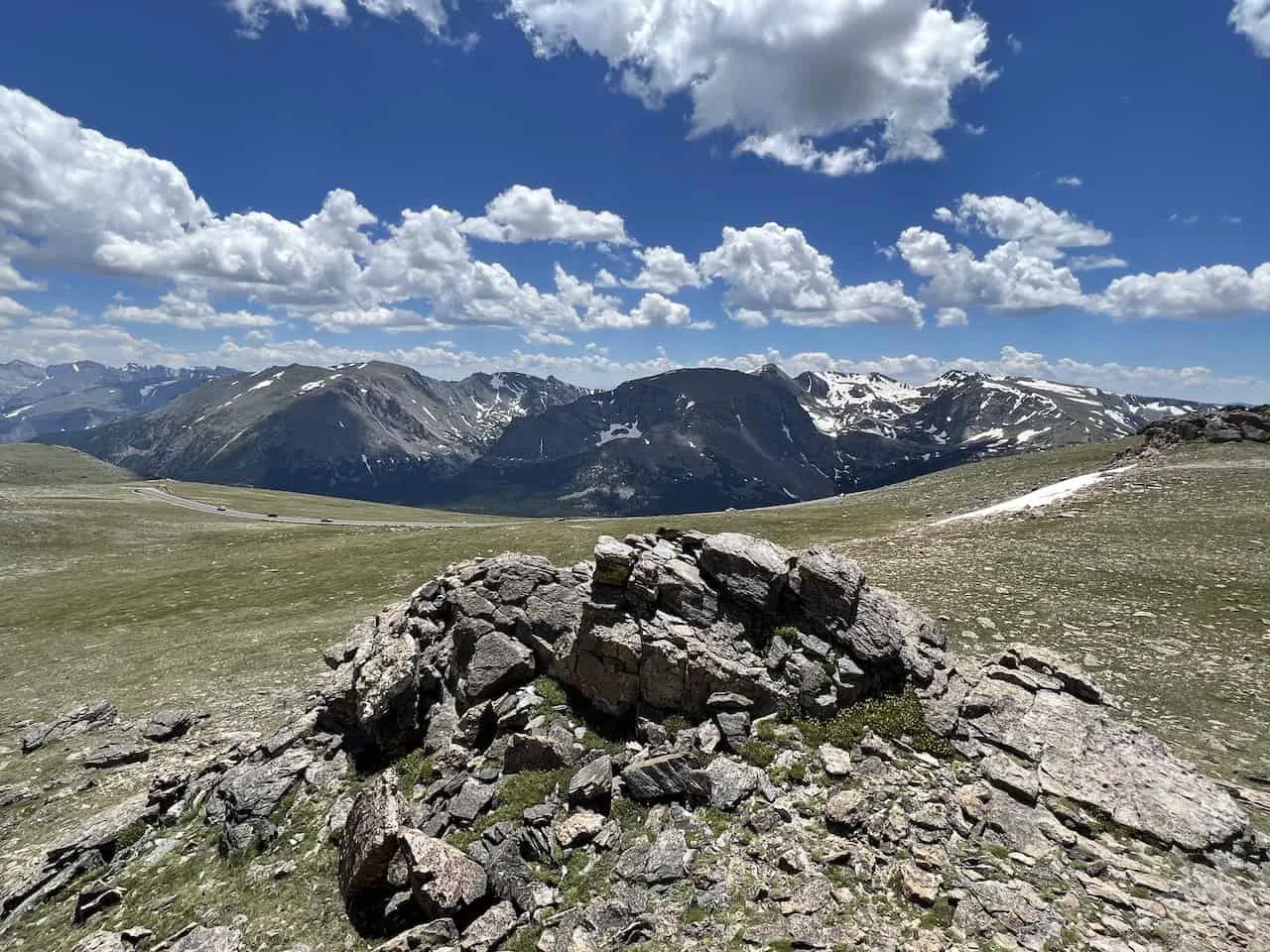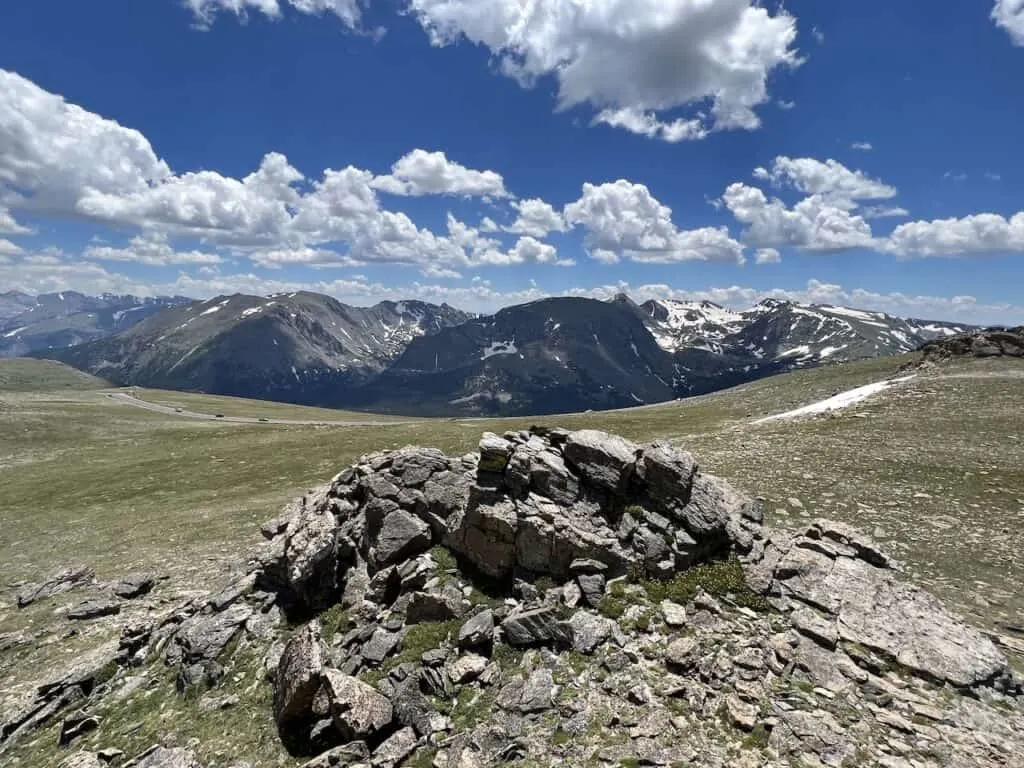 Lava Cliffs Overlook
One of the more interesting lookout areas in RMNP is the Lava Cliffs Overlook.
While it may not be obvious at first, the rock in view here is actually made up of volcanic rock. 28 million years ago, lava flowed through this area. Glaciers then made their way through and cut open the mountain to reveal the Lava Cliffs.
In addition to the overlook of the cliffs, I found the view of the Trail Ridge Road and Longs Peak to be great from the parking lot.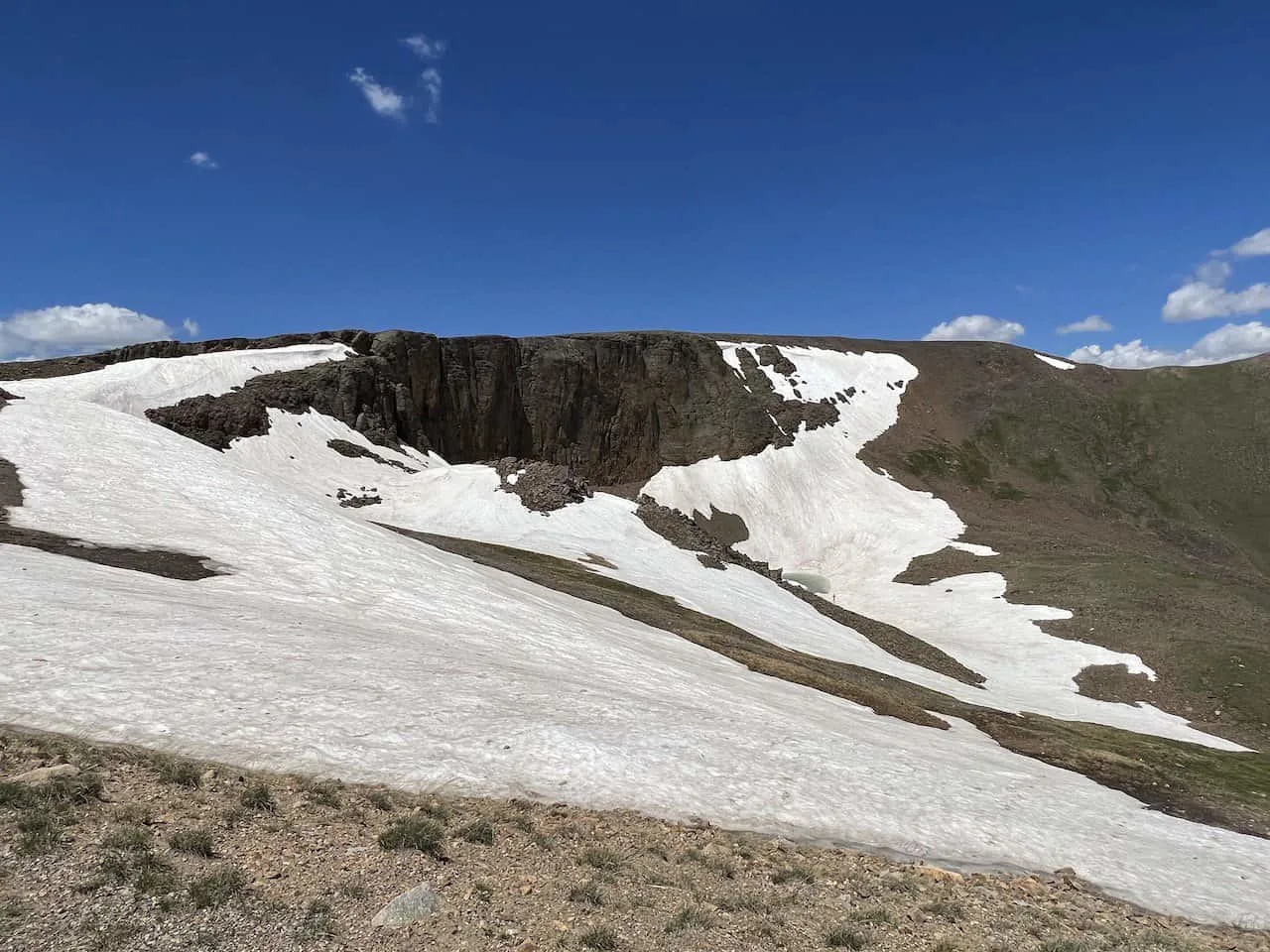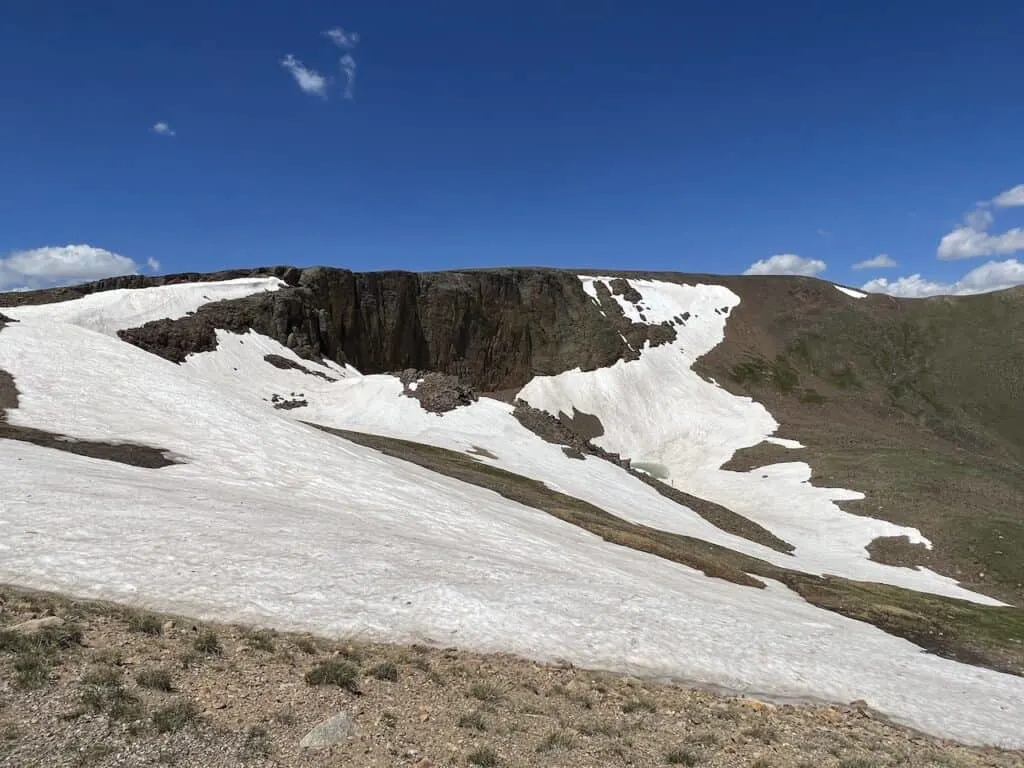 Gore Range Overlook
One of my favorite viewpoints in RMNP is at the Gore Range Overlook. Just off the road there is a small parking lot that offers views of the Gore Range and Never Summer Mountains.
Overall, it is just a beautiful and relaxing spot to enjoy as you take in the natural landscape of the park.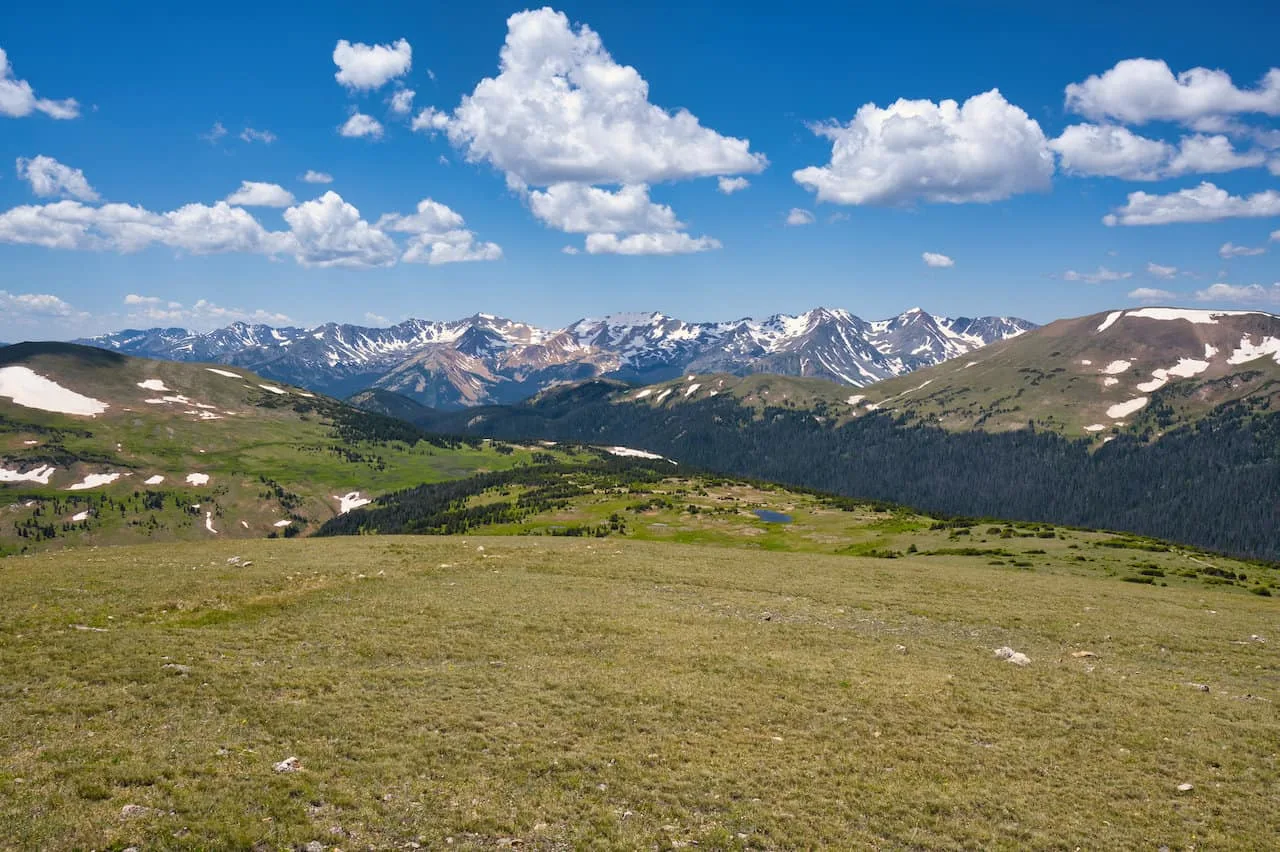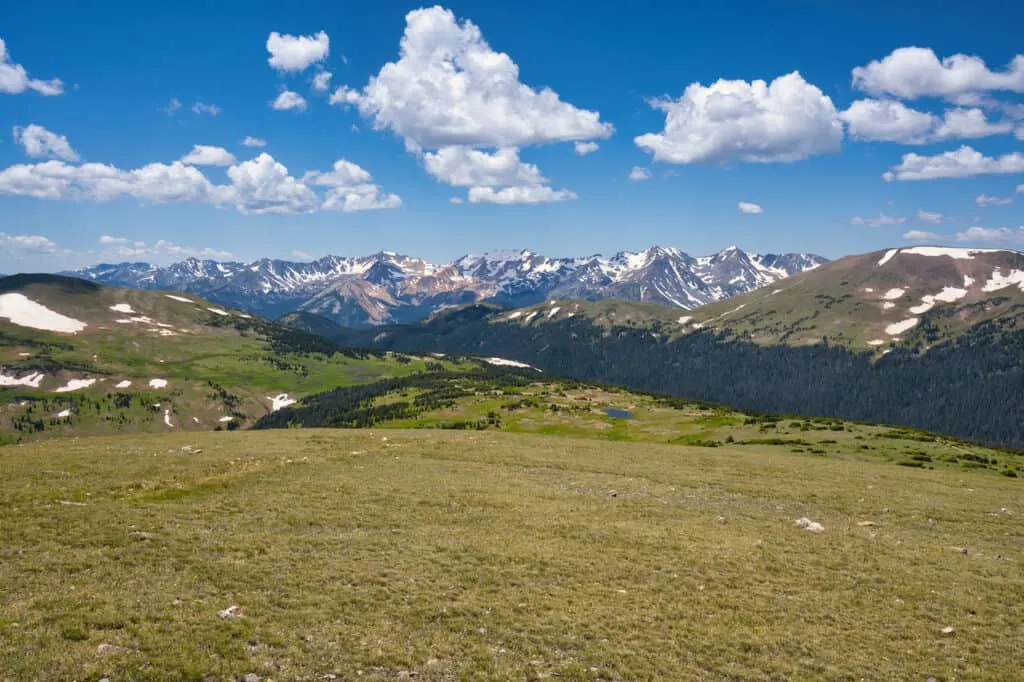 Alpine Visitor Center
Nearly everyone who is traveling along Trail Ridge Road will make the stop at the Alpine Visitor Center. This is actually the highest facility in the entire National Park Service.
Within the visitor center you will find a gift shop, informative exhibit, and info booth. In addition, next door is the Trail Ridge Store, which is a larger gift shop & dining area.
Along the outside of the center will be some great views of RMNP and its natural beauty.
If you are looking for a spot to just hang out, relax, and have some food, this is the place to do it. While it will be crowded, you can certainly still find some peaceful spots around.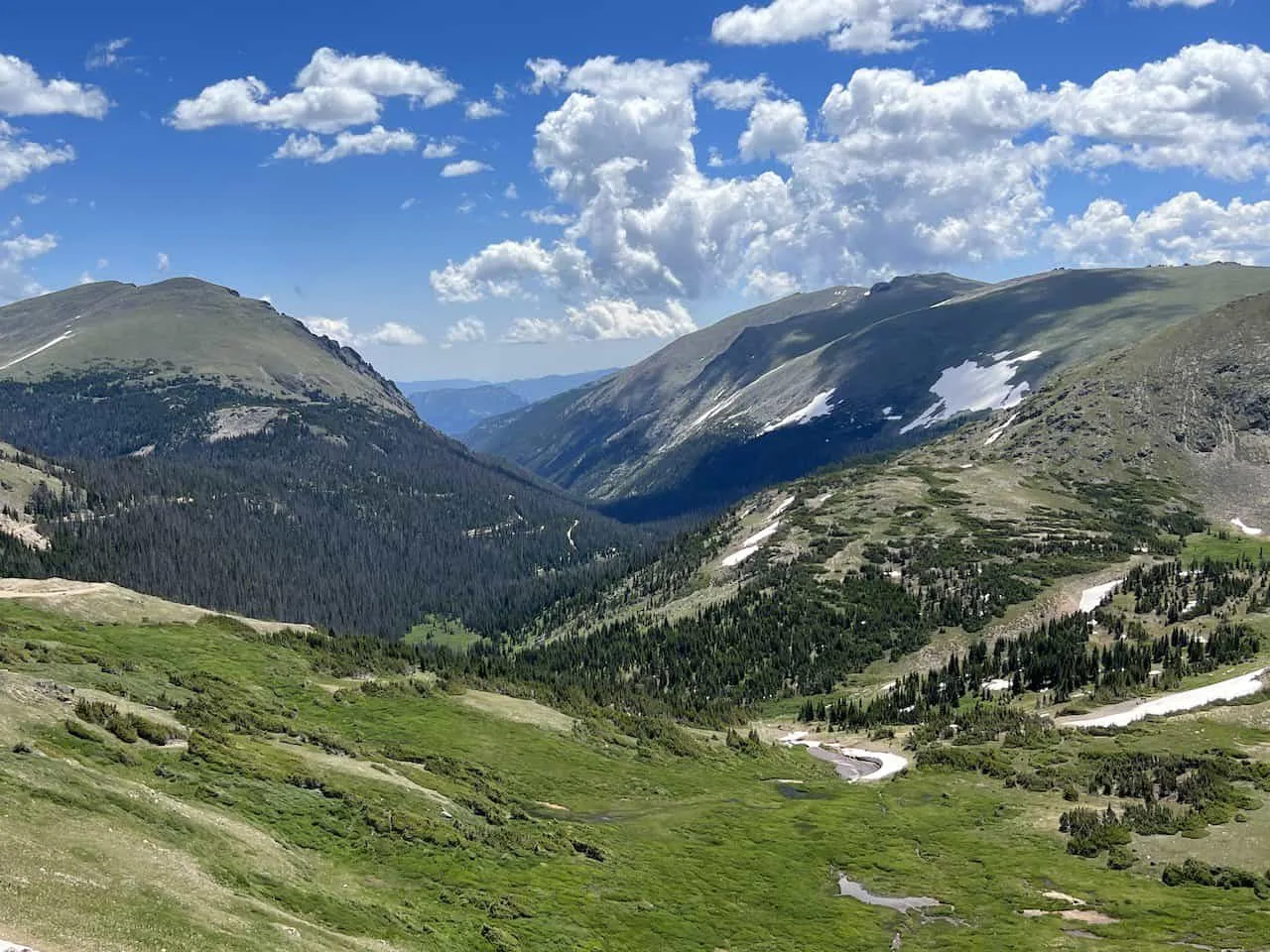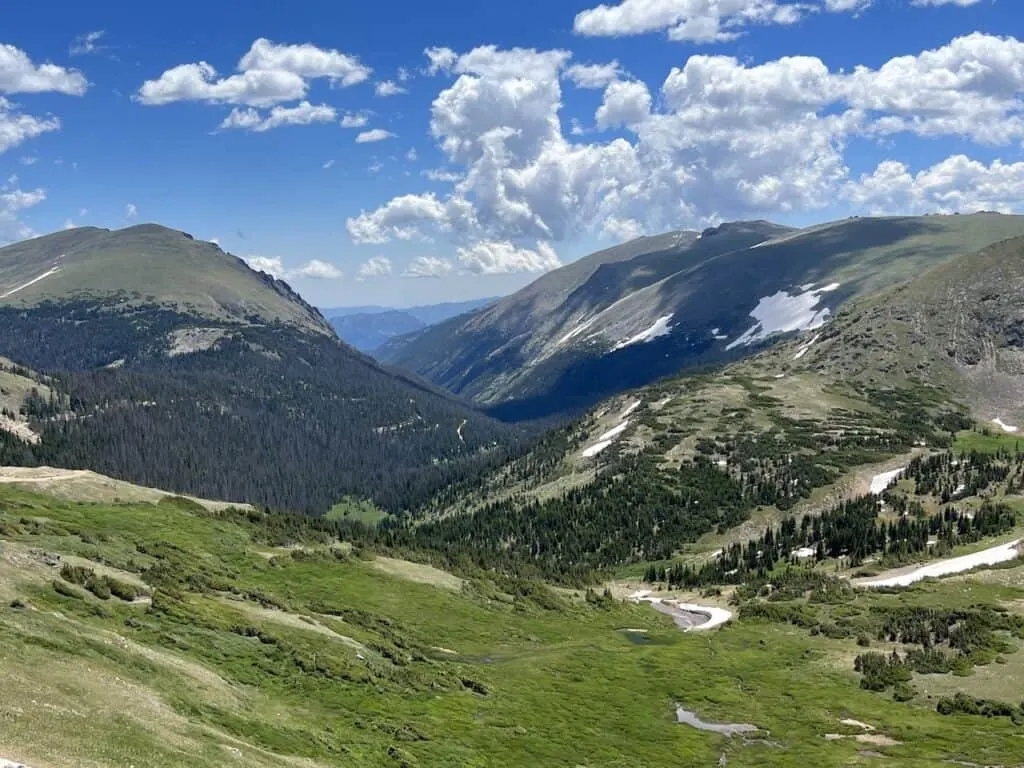 For those that are up for a little hike, why not make your way up the Alpine Ridge Trail. Starting from the parking lot, it is just a 0.6-mile round trip journey through the alpine tundra.
Once up top, more elevated views await as you get to take in one of the most accessible beautiful viewpoints in all of Rocky Mountain.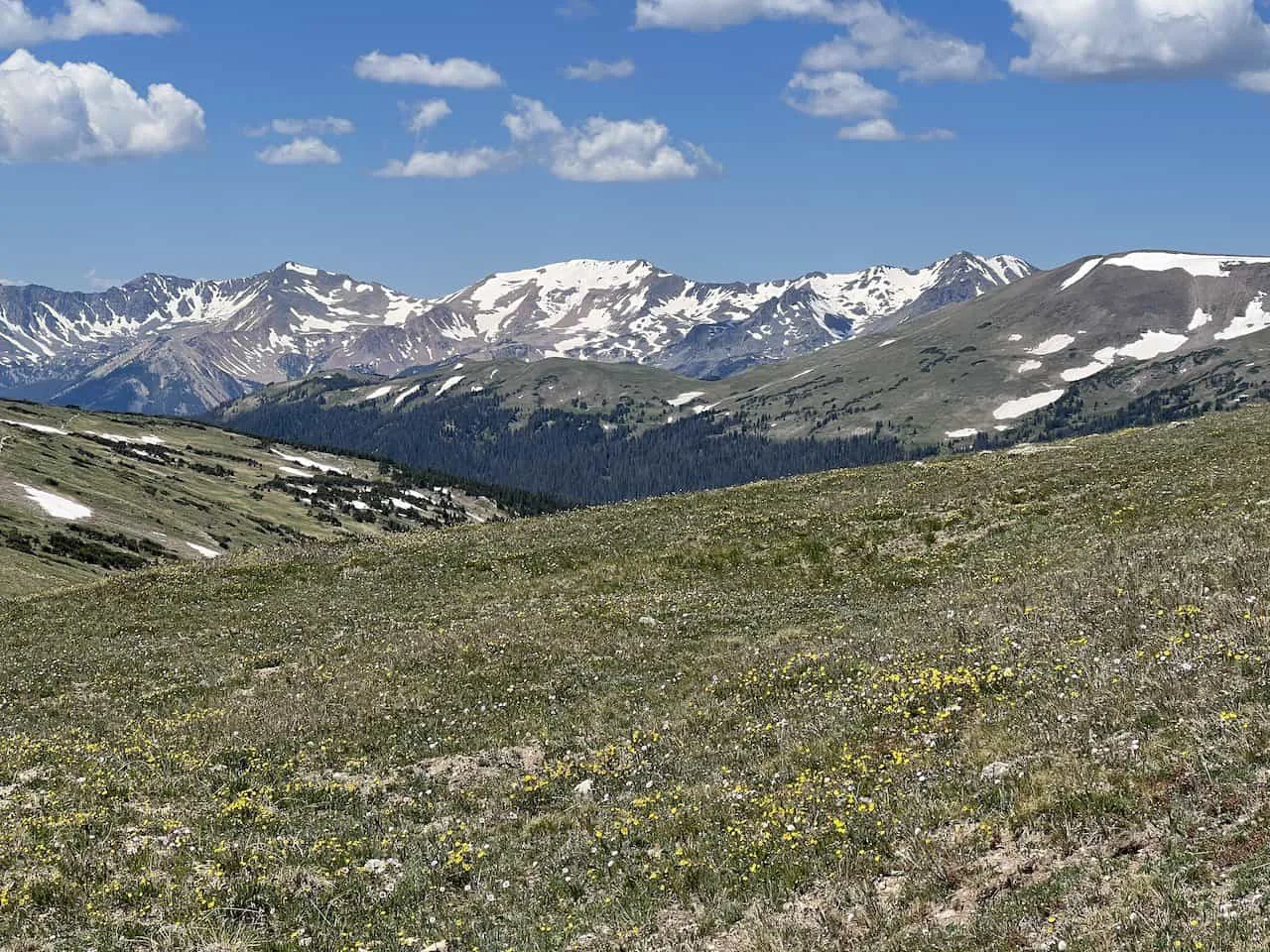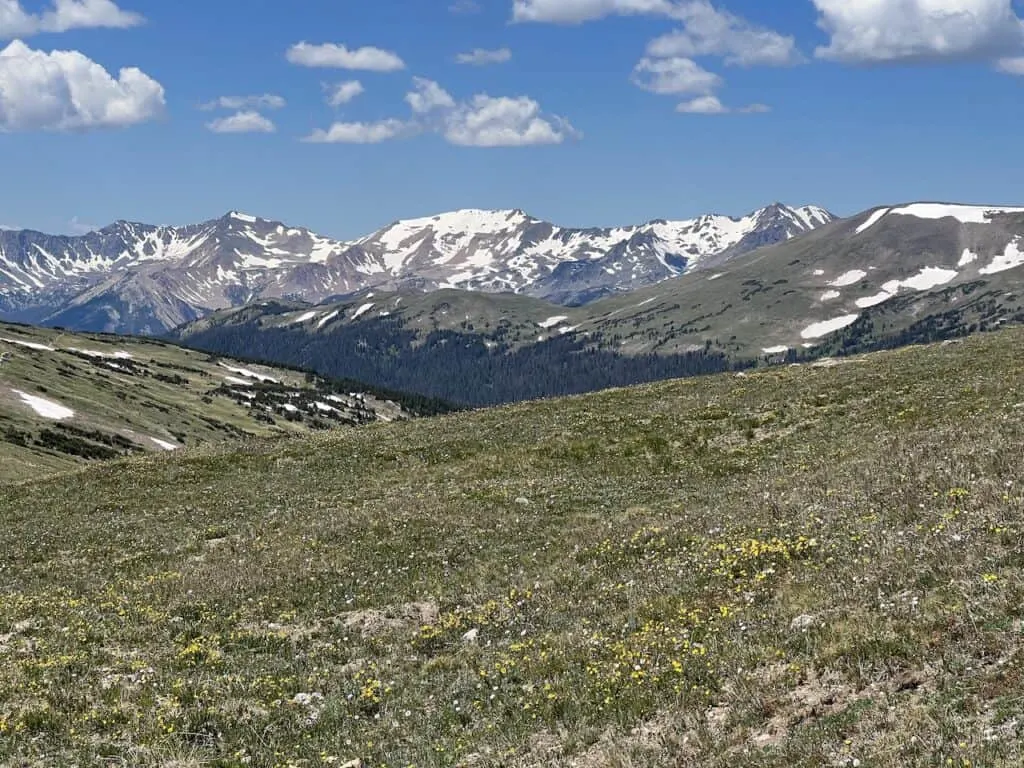 Medicine Bow Curve
Just on the other side of the Alpine Visitor Center, is another hairpin curve viewpoint at Medicine Bow Curve.
From here you will get to see some new views looking towards the northern side of the park including the Medicine Bow Mountains.
While you can simply take in the view from the hairpin parking lot, there is a 20-minute round trip trail that takes you further along the tundra.
It is a great way to get in a short easy hike, while taking in views of the mountains, trees, and valleys.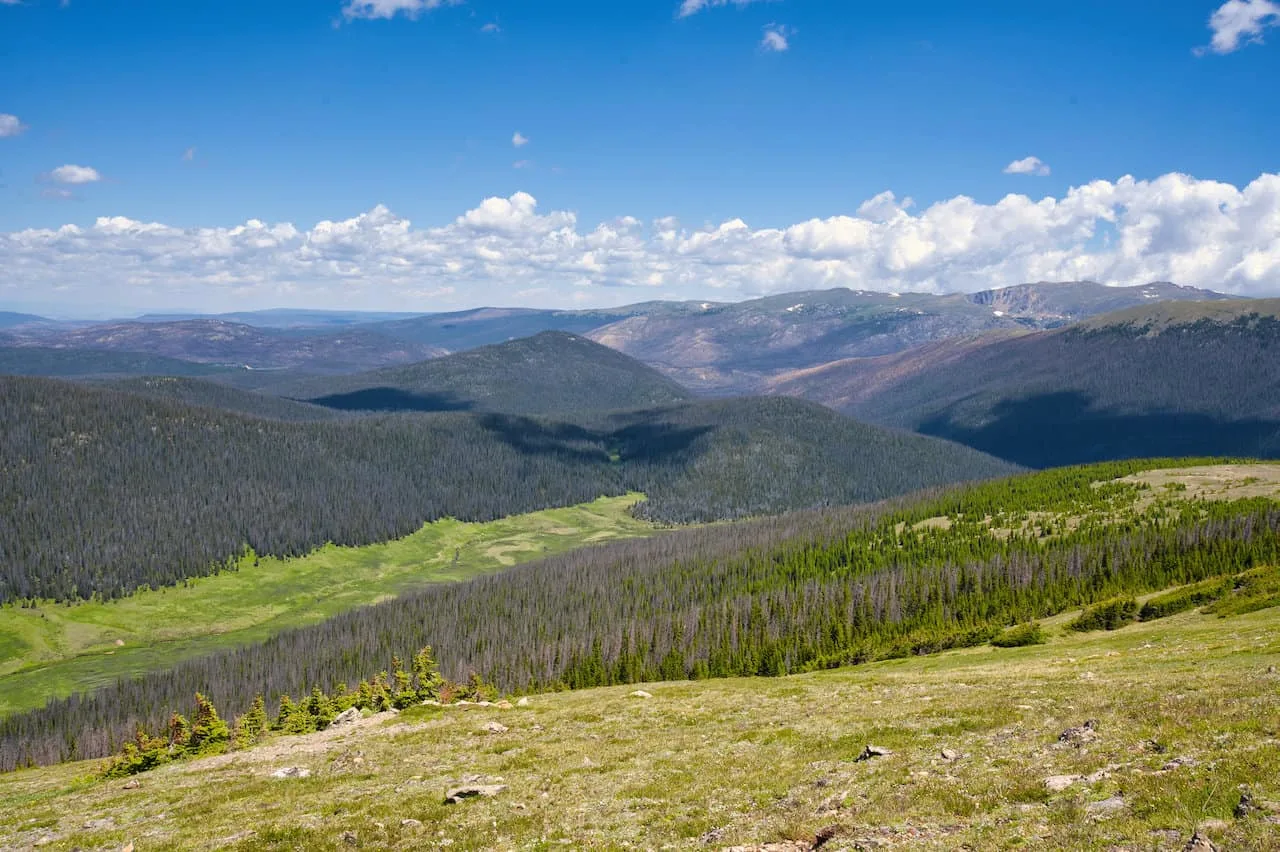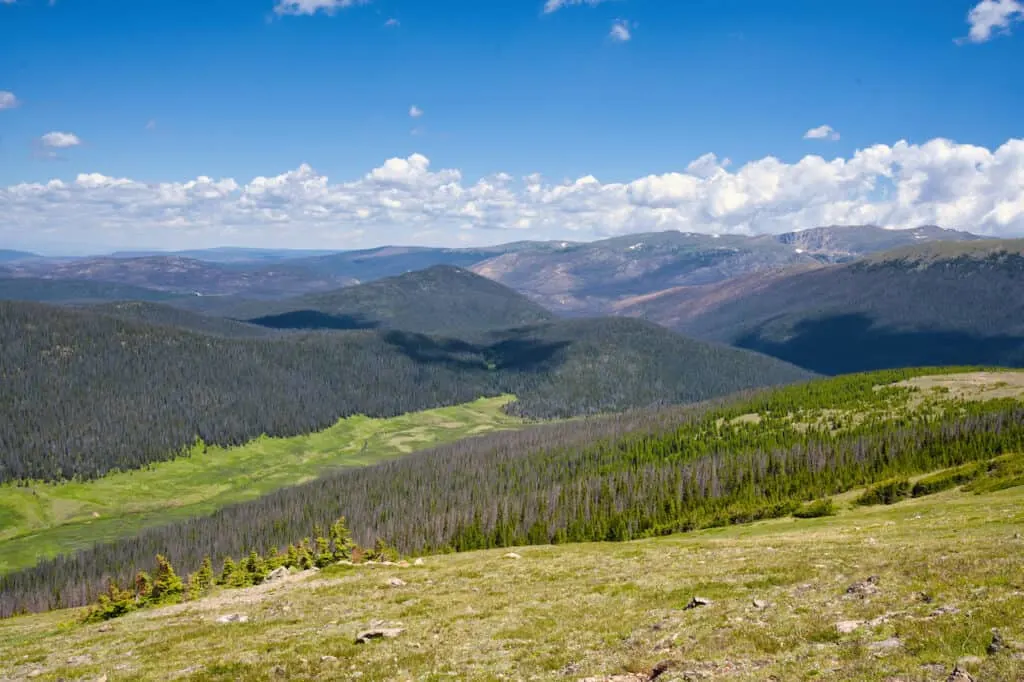 Continental Divide
Heading along the western side of the park, the next point of interest is the Continental Divide at Milner Pass. If you aren't familiar with what the Divide is, it is essentially the separation point between drainage towards the Atlantic and Pacific Oceans.
Some people hike the entire US portion of the Continental Divide that spans 3,000+ miles!
But for now, you can just enjoy a couple highlights that are found here.
One of these is Poudre Lake, which is a small scenic lake that sits right next to the main parking lot. While the parking lot can get quite busy, there are some smaller secondary lots along the lake too.
Another option to consider at the Continental Divide is hiking up to Mount Ida. This is a ~10 mile round trip hike gaining almost 2,500 feet along the way.
But with the effort, you will get to enjoy one of (if not the top) mountain hikes in Rocky Mountain National Park. This would need to be a day on its own, but add it to the list if you are interested in it!
Learn More: Check out the hiking guide for the Mount Ida Trail of RMNP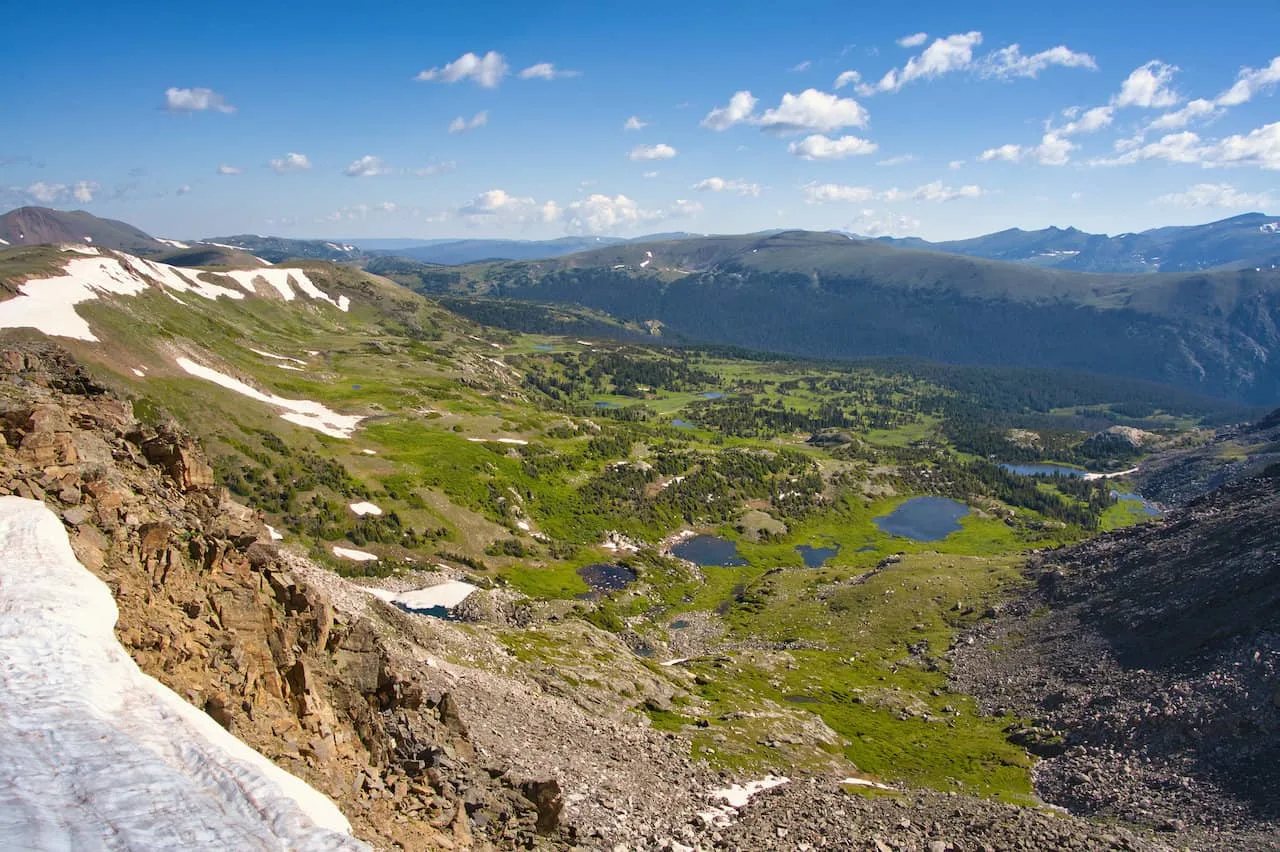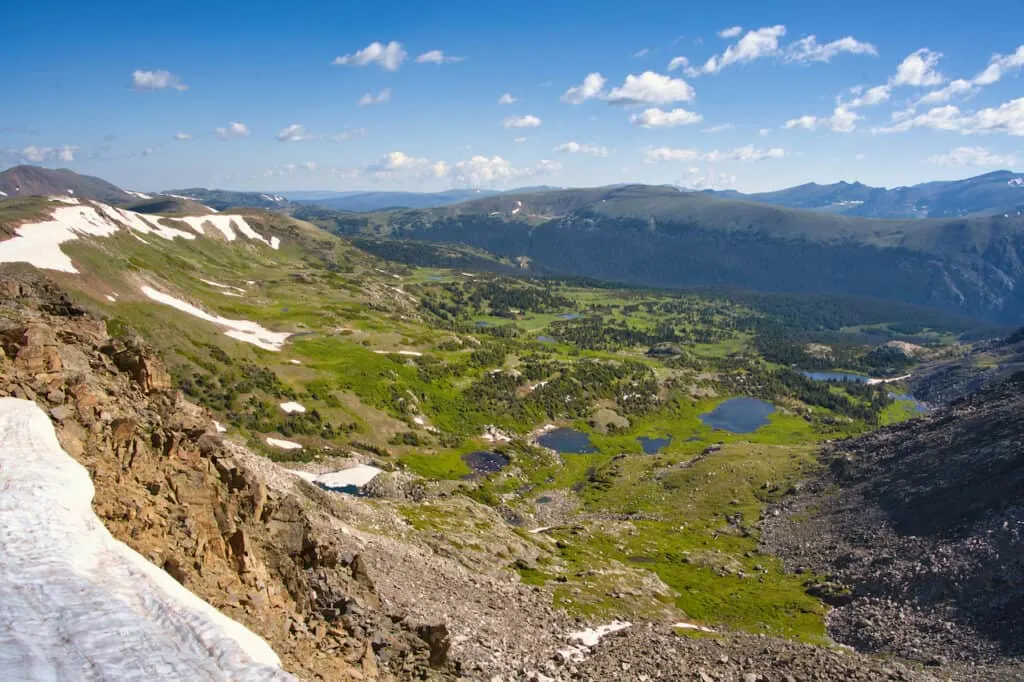 Lake Irene
One of the quieter spots I came across during my Trail Ridge Road drive was Lake Irene. This is known as a picnic spot as there are several larger tables to sit down and eat at.
There is also a short hiking trail that heads down to Lake Irene and encircles this small beautiful lake.
I would highly recommend a stop if you are looking for a nice relaxing spot to add onto your day.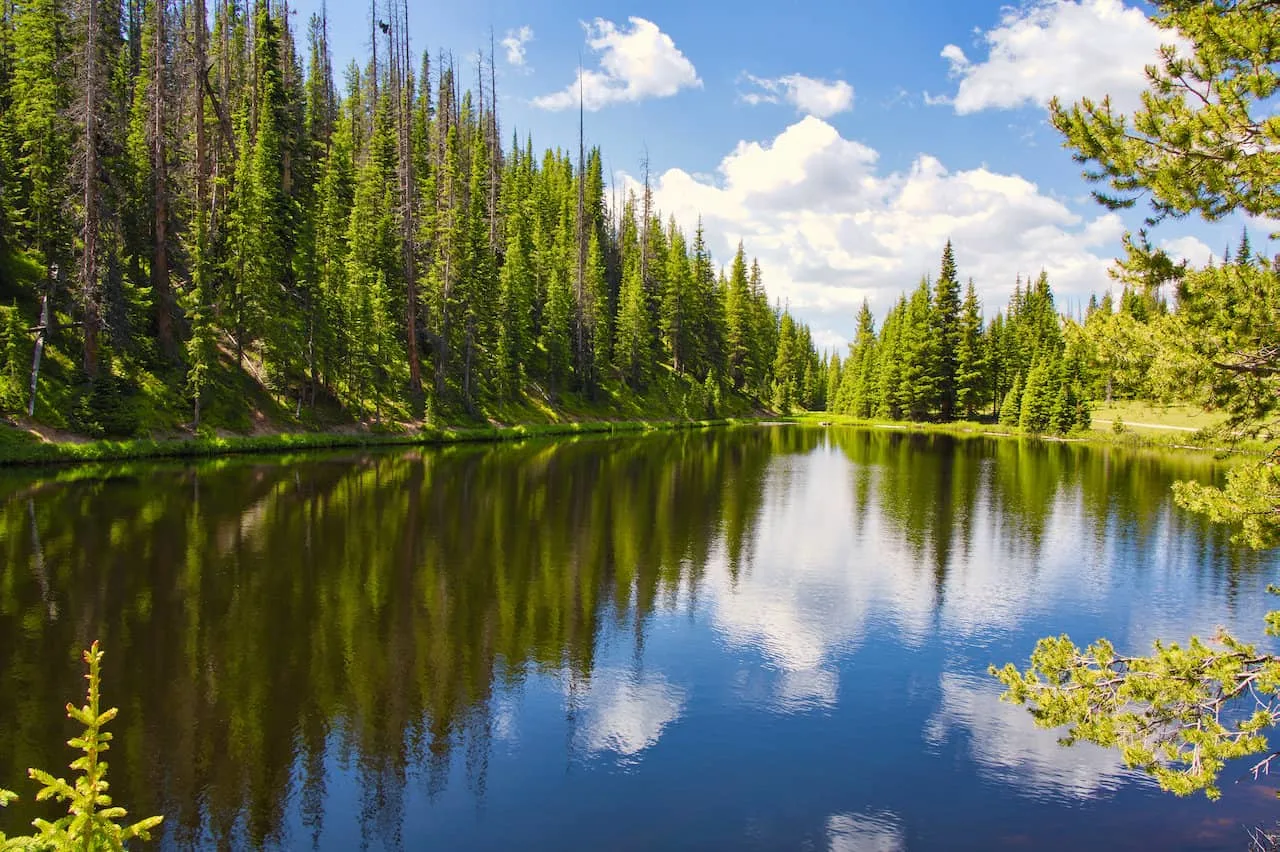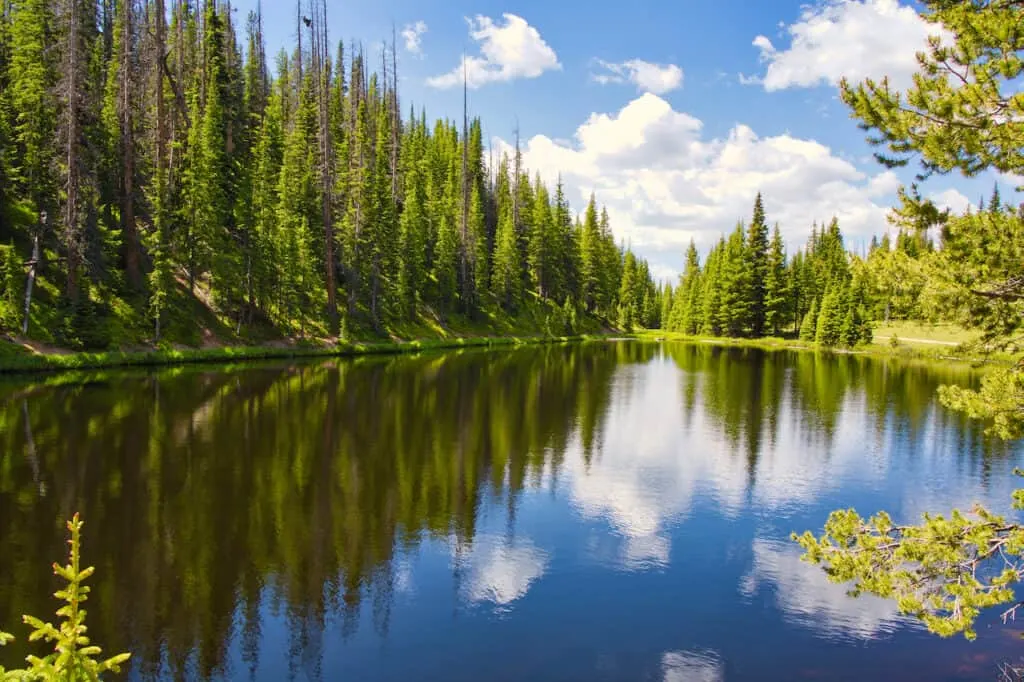 Farview Curve Viewpoint
The final point of interest on the list is the Farview Curve Viewpoint. This is the final "official" viewpoint area on the western side of the park before the road drops down in elevation towards Grand Lake.
At Farview Curve, you will get some partially obstructed views of the Never Summer Mountains, as you see the tree line meet the tundra.
If you are interested, you can continue all the way down to Grand Lake to end your day before turning back around. But if you already had all the action needed for the day, feel free to just head back from here.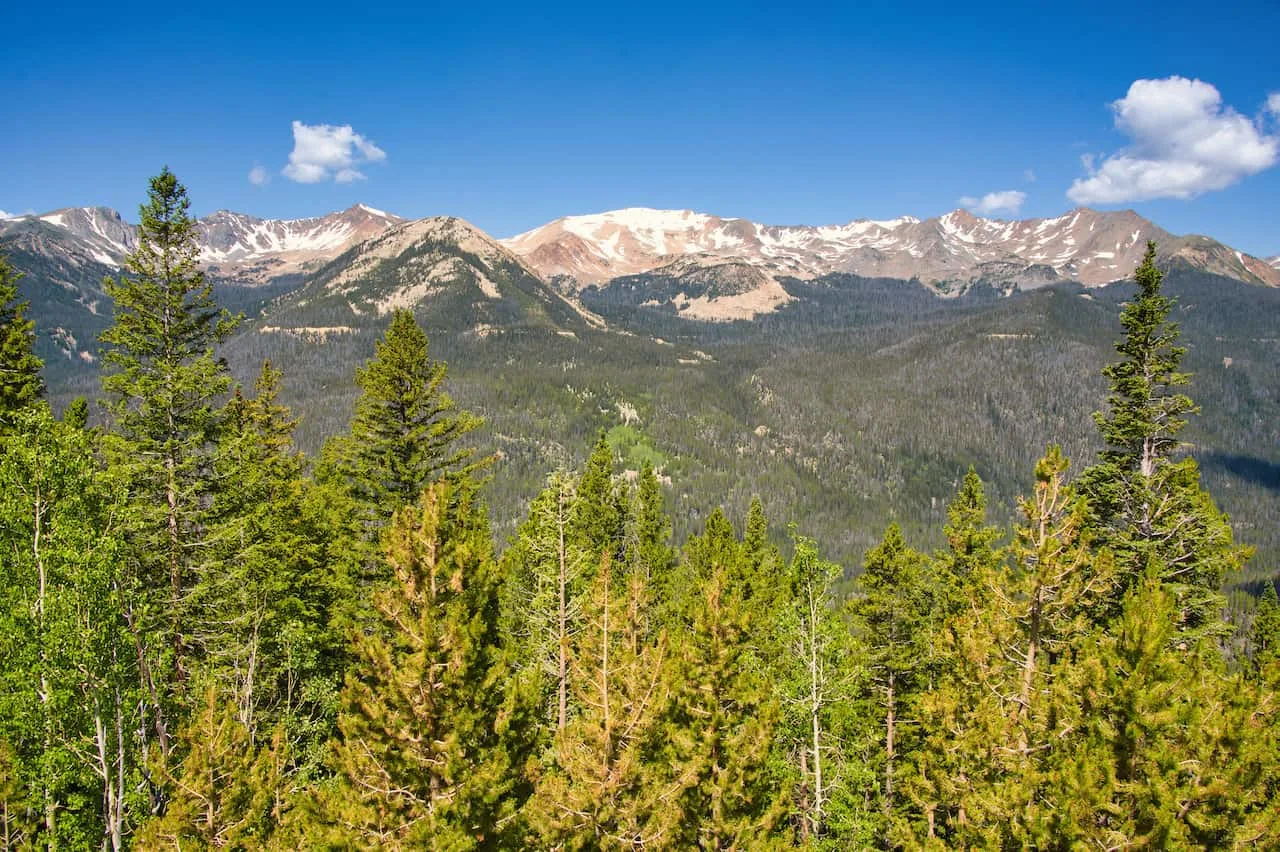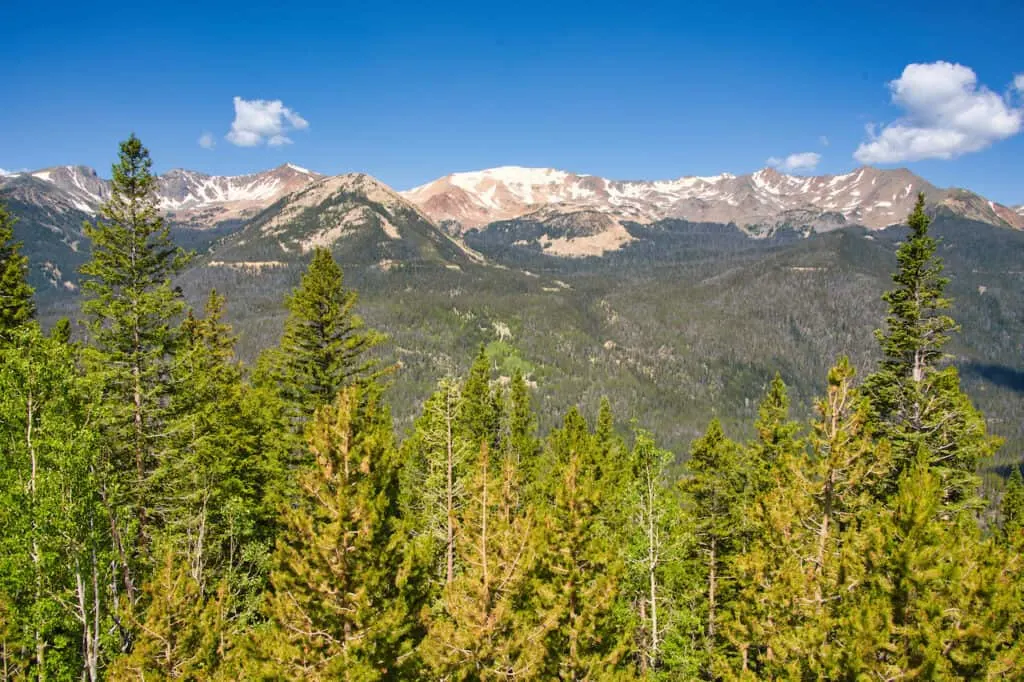 9) Trail Ridge Road FAQ's
There are A LOT of question asked about the Trail Ridge Road. Below I will answer the most frequently asked questions when it comes to going about a visit.
Where Does Trail Ridge Road Start and End?
The official starting and ending points of Trail Ridge Road are Estes Park in the east and Grand Lake in the west. The road is 48 miles in length connecting these two towns.
How Long Does it Take to Drive Trail Ridge Road?
Without stopping, expect the drive to take about 2 hours to complete. However, given the sheer amount of highlights along the way, I would recommend setting aside at least a half day to enjoy it.
Is Trail Ridge Road Difficult to Drive?
For most, Trail Ridge Road is not difficult to drive. The entirety of it is a two lane paved roadway. The difficulty can be the hairpin turns and sheer elevation gained along the way (or if the weather turns for the worse).
How Much Does it Cost to Drive Trail Ridge Road?
A one day park pass is $30 and a one week pass is $35 per vehicle. If you also purchase a timed entry permit (for entry between 9:00AM and 2:00PM), that will be an additional $2 per vehicle.
Can I Drive Over Trail Ridge Road Without a Reservation?
Yes, you can drive the road without a reservation. This can be done outside of the hours of 9:00AM – 2:00PM. It is also possible outside of May – October (however, there is a good chance that the road will be closed then).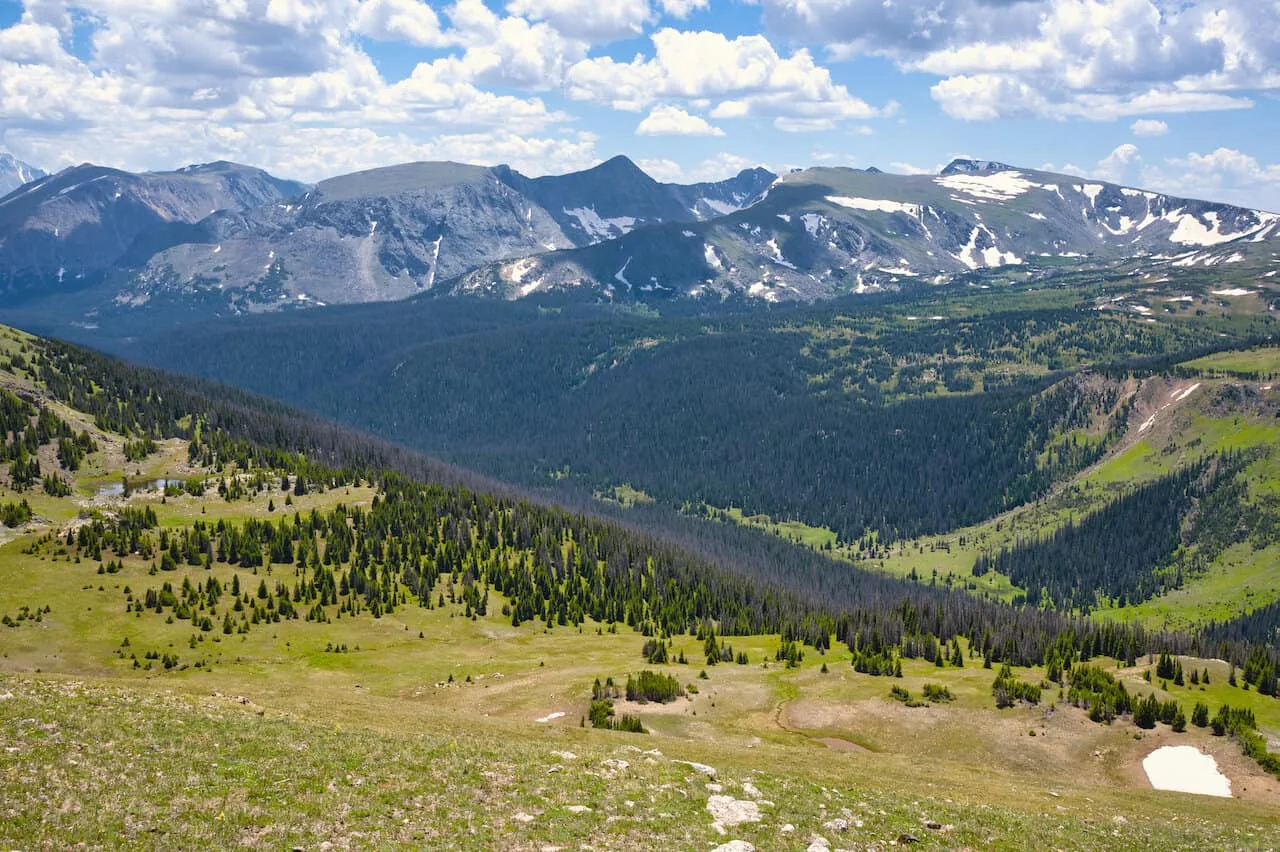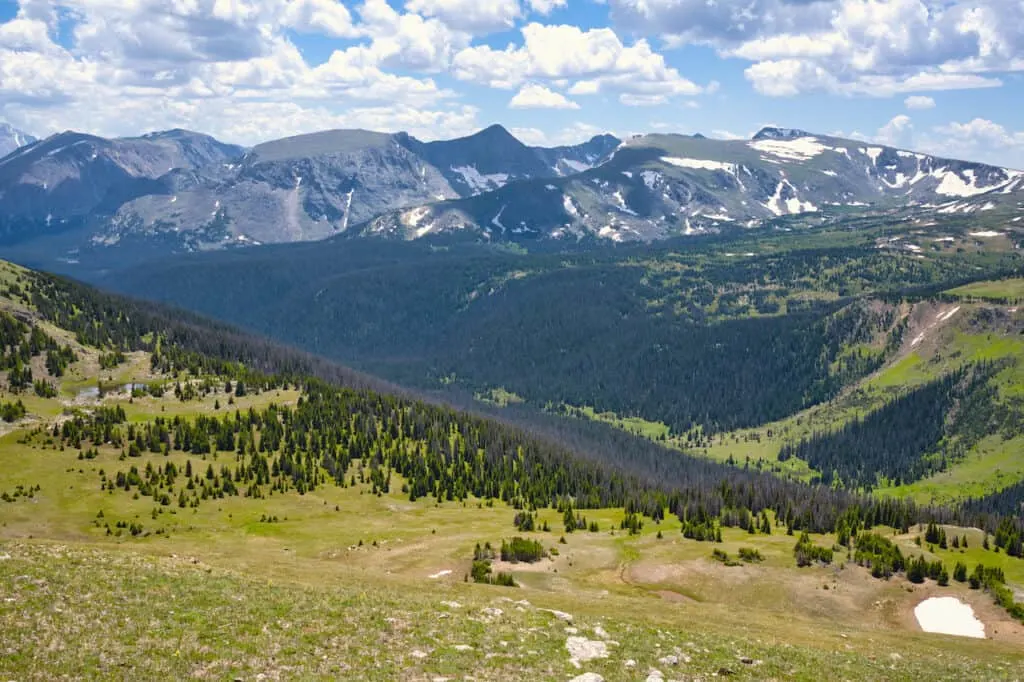 What Time of Day is Best to Drive the Trail Ridge Road?
In my opinion, an early morning drive is best. If you have it in you, I would recommend even getting to a viewpoint area for sunrise as you see the park come to life.
Is Trail Ridge Road Worth It?
Without a doubt, Trail Ridge Road is worth it. The sheer amount of viewpoints, hikes, highlights, and more, make the drive one of the best there is in Colorado (and the US).
Is Trail Ridge Road One Way?
No, Trail Ridge Road is a two way road. However, the nearby Old Fall River Road is a one way road.
What is the Speed Limit on the Trail Ridge Road?
In general, expect the speed limit to be around 30 MPH. This can be even lower on the curvier sections of the road.
Stick to the speed limit for both safety reasons and to be able to enjoy the view along the way.
Do You Need Four Wheel Drive for Trail Ridge Road?
This will all depend on time of year. For the most part you should be fine with any sort of car in the summer. However, you never know when a snowstorm may blow in. At those elevations, anything can happen.
If visiting during the shoulder seasons, be sure to check the road conditions and the forecast to better understand what the road is looking like.
What Grade is Trail Ridge Road?
Most of the road is below a 5 degree grade, with certain sections maxing out at 7 degrees.
Can You Get Altitude Sickness Driving Trail Ridge Road?
Yes, it is possible to get altitude sickness while driving the road if you are not properly acclimatized. I would recommend spending 1-2 days at lower elevations before heading up above the 10,000 foot mark.
Stay hydrated, take things slowly, and don't overexert yourself from the start.
Is it Worth to Drive All of Trail Ridge Road?
In general, I don't think it is necessary to drive all of Trail Ridge Road. As mentioned earlier on, you will find most of the highlights between Many Parks Curve Overlook in the east and Farview Curve Overlook in the west.
If you are keen on seeing Grand Lake or Estes Park (depending on direction), then driving the whole road will be worth it for you.
That wraps up a guide to the Trail Ridge Road of Rocky Mountain National Park. If you have any questions or comments, be sure to add them in below.
Also, don't forget to check out the other Colorado hiking guides up on the site.
Have fun out there and safe travels!