Rotorua is one of those places where there is just so much to see and do during a visit. You could easily spend a week around the area and not make it to all the attractions around the city.
One of my favorite stops though during my trip to Rotorua was the Blue and Green Lakes Lookout. Just outside of town there is a beautiful spot where you can enjoy the view of two lakes – one blue and one green in color.
This guide will go over how to go about a visit and what to expect along the way.
* Affiliate Disclosure: This post may contain affiliate links, which means I may receive a commission if you make a purchase through the links provided, at no additional cost to you. Thanks for supporting the work I put into TripTins!
1) What are the Blue and Green Lakes
Before jumping into logistics and how to visit, I thought it may be helpful to give a quick overview of what the Blue and Green Lakes actually are.
All around the area surrounding Rotorua you will find plenty of lakes sprawled throughout. Two of those lakes are directly next to each other separated by just a narrow piece of land.
The first is called Lake Tikitapu, known as the Blue Lake and the second is called Lake Rotokakahi, known as the Green Lake.
You may be wondering how could two lakes so close to each other have different colors? Well, this is due to the differences of the bottom of the two lakes.
The Blue Lake is "turquoise blue from above due to reflection from white rhyolite and pumice bottom" while the Green Lake is "emerald green from above due to shallow, sandy bottom".
If you are looking to enjoy the lakes themselves, I should also point out that water activities are only permitted on the Blue Lake. The Green Lake is privately owned by the local Maori and is considered a sacred lake. Due to this no boating, swimming or fishing is allowed.

2) Blue and Green Lakes Rotorua Lookout Location
The Blue and Green Lakes Lookout location is not so obvious when searching Google Maps, as it is not named on the map.
In case you are having some trouble finding it, you can simply copy and paste these GPS coordinates into your phone/computer and you should be good to go from there.
Blue and Green Lakes Address GPS: 38°12'03.5″S 176°20'25.2″E
→ Be sure to check out Rentalcars.com when it comes to renting a car in New Zealand. The site will show you car options & prices from a variety of companies. This ensures that you will be able to choose the perfect car (and deal) for your trip to the country.
If coming from Rotorua, the viewpoint turnoff point from Tarawera Road will be on the right hand side of the road. Below is a screenshot from Google Maps, that shows the entry and exit ways into the viewpoint parking lot.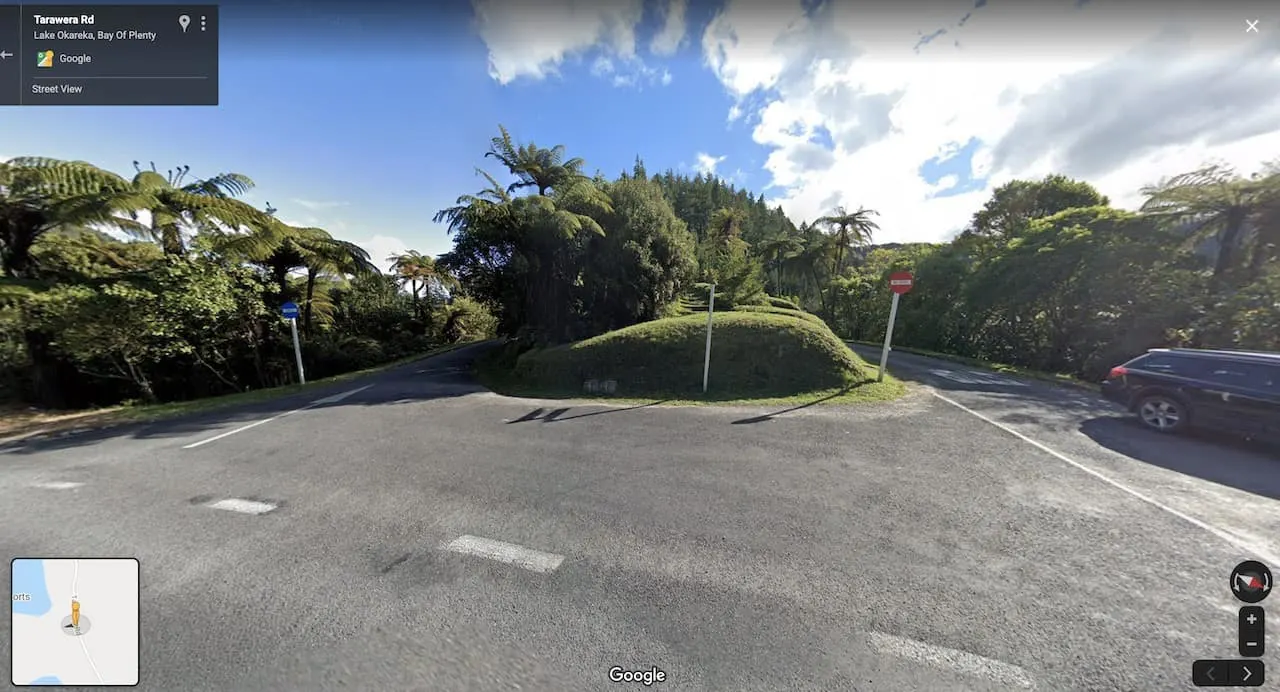 Right at the viewpoint spot you will find two information boards listing out some facts for both the Blue and Green Lakes. Below are those facts to give you a bit more background about them:
3) Lake Tikitapu Blue Lake Facts
⇔ Named as the place where the daughter of a high chief lost her scared greenstone neck ornament (Tikitapu)
⇔ 150 hectares in size, deepest point 27.5 metres
⇔ No surface outlet, probably drains via underground to Lake Rotokakahi
⇔ Formed approximately 13,500 years ago
⇔ Turquoise blue from above due to reflection from white rhyolite and pumice bottom
Tip: from the parking lot, you can head on the Blue Lake Track that takes you around Lake Tikitapu. A great add on activity if you have some more time during your day.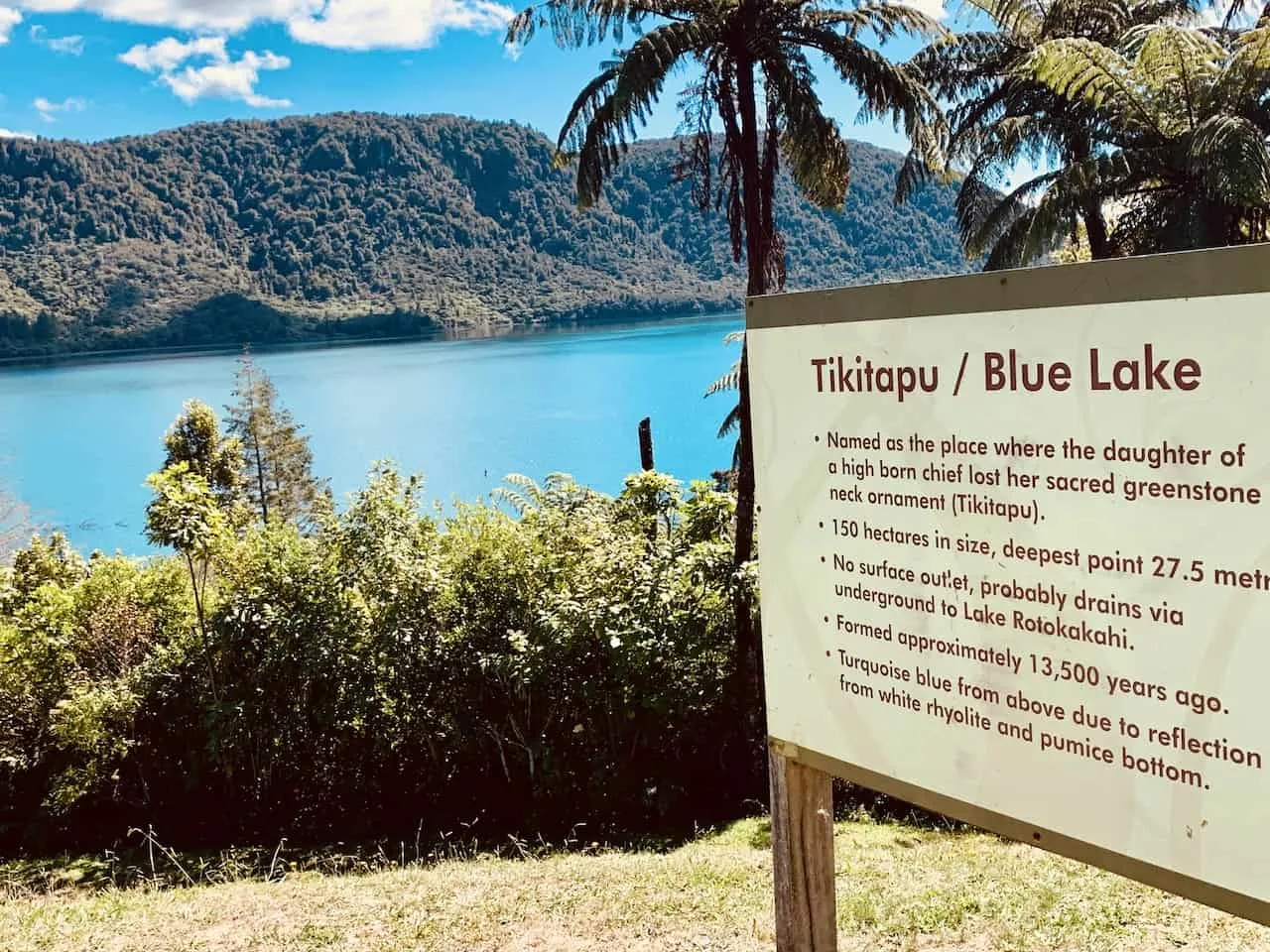 4) Lake Rotokakahi Green Lake Facts
⇔ Named lake of the shellfish (kakahi)
⇔ 440 hectares in size, deepest point 32 metres
⇔ Flows to Lake Tarawera via Te Wairoa stream
⇔ Formed approximately 13,300 years ago
⇔ Emerald green from above due to shallow, sandy bottom
⇔ Privately owned by local iwi (Maori), this lake is sacred (tapu). No boating, swimming, fishing is permitted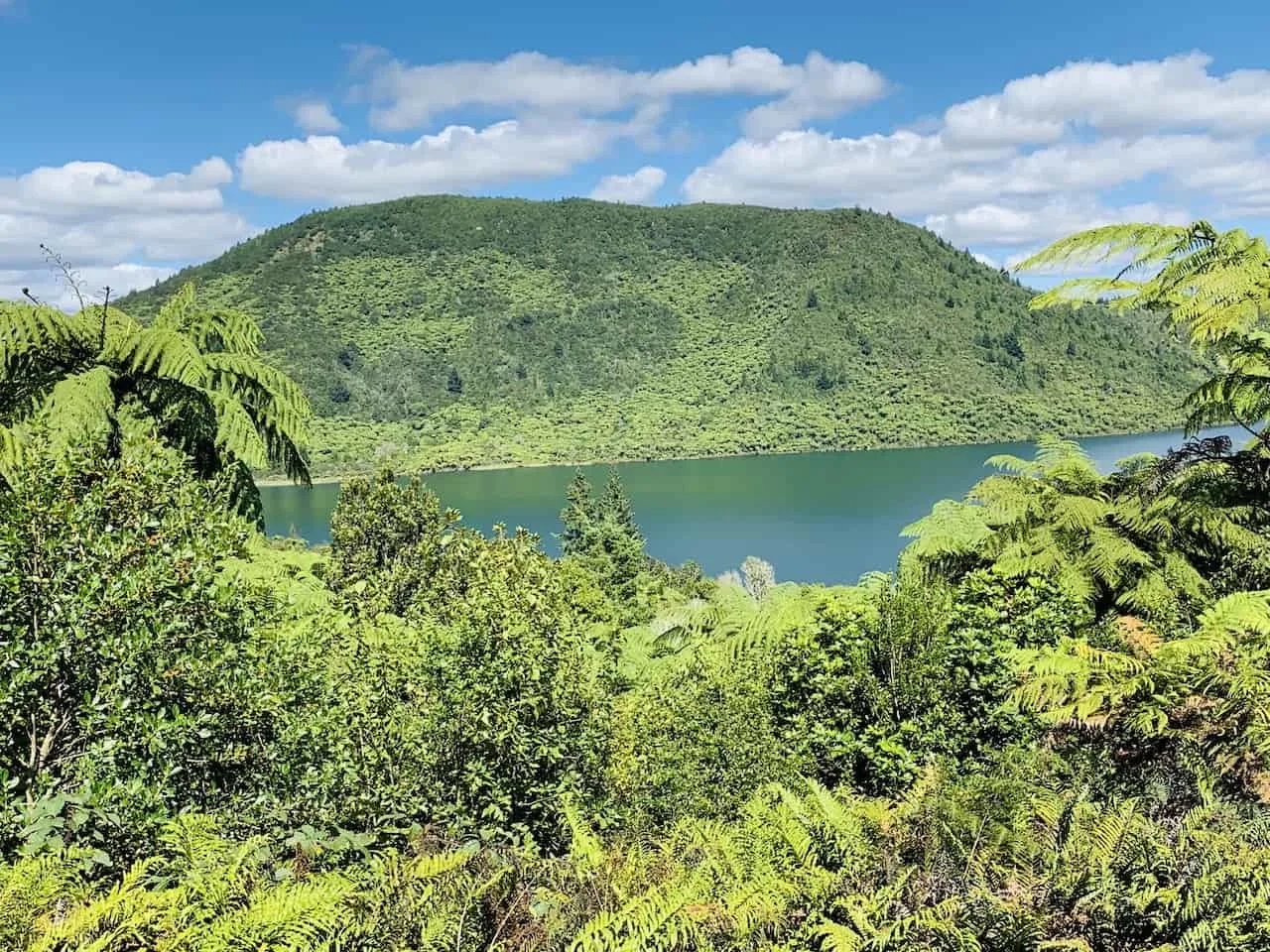 5) What to Expect at the Lookout
Once you have made the turnoff from Tarawera Road, you will simply continue the short drive down to the parking lot area. After parking your car, you will need to walk back up the driveway and to the lookout area.
The Blue and Green Lakes Lookout spot is on a small perched hill directly between the "entry" and "exit" driveways.
There is a short paved pathway that will take you to the lookout spot, where you enjoy the Blue and Green Lakes viewpoint for yourself.
Here is also where you will find those two informative sign boards with the helpful facts mentioned above.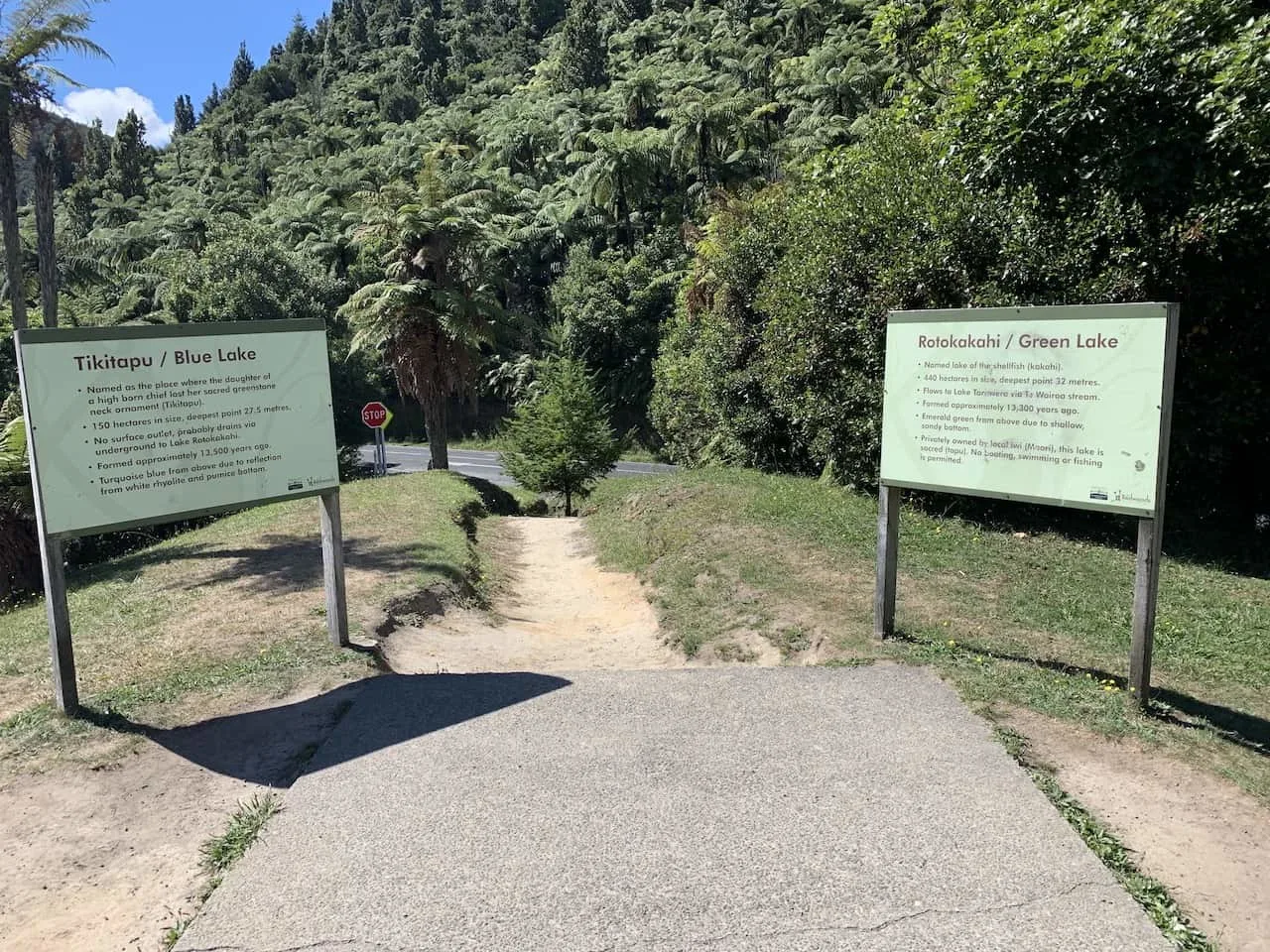 It is important to note that your experience at the Blue and Green Lakes Lookout point will all depend on the weather for the day.
If it is a nice, clear and sunny day then you will have a chance to really see the beauty and color differential of the two lakes from the viewpoint.
On the other hand if the day is very overcast or has lower cloud coverage, then you will have a less likely chance to fully enjoy the lookout spot. So, if you do have a few days In Rotorua, I would recommend heading to the Blue and Green Lakes during one of the clearer days of the forecast.
Once you are all finished up enjoying the views of both the Blue and Green Lakes, it is time to head off to your next destination for the day. Below are some of the top Rotorua activities to choose from when deciding what to add onto your itinerary.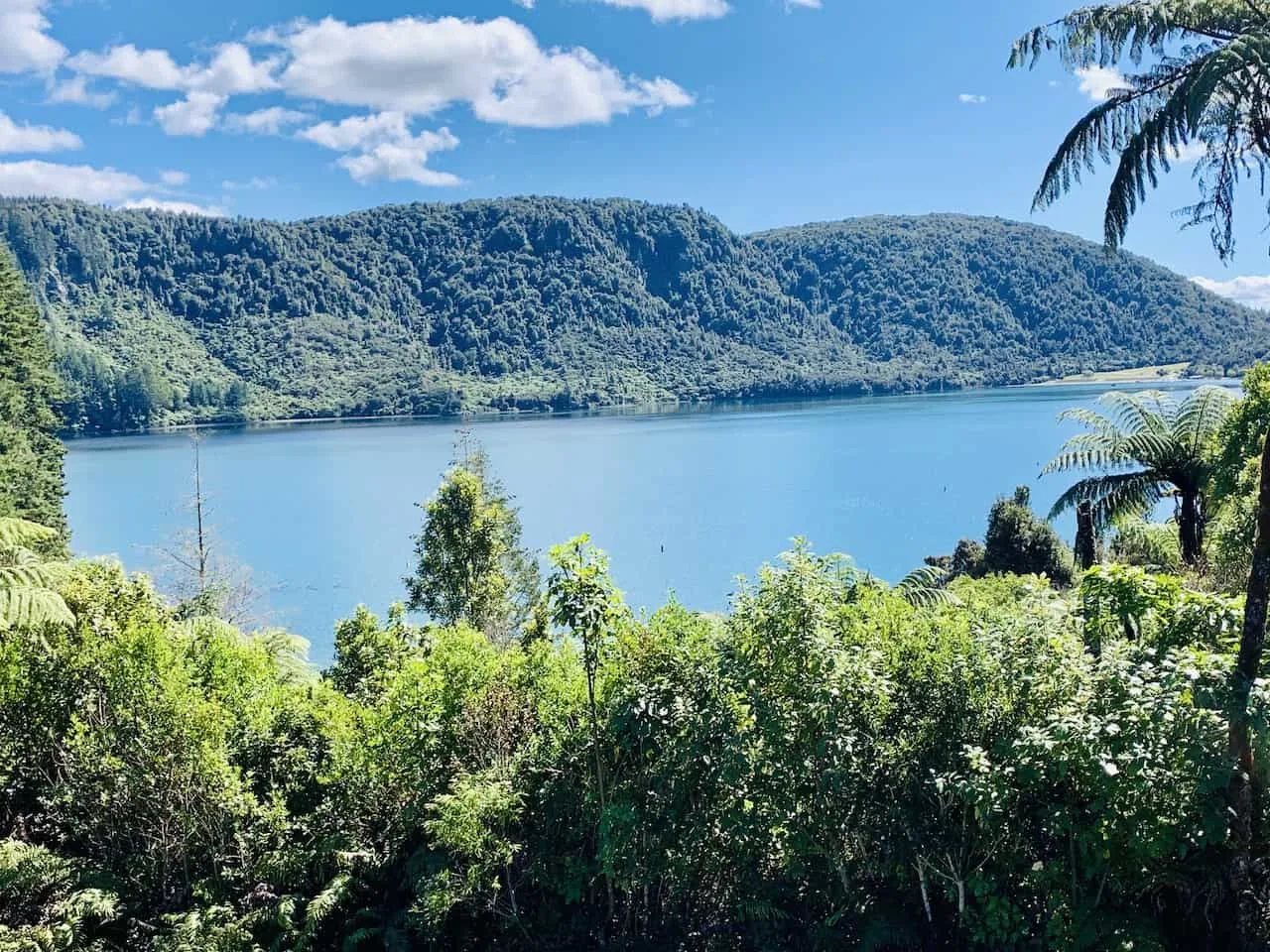 6) Other Rotorua Activities
During my time in in town I visited the following places in Rotorua and its nearby areas. Feel free to check out the top things to do in Rotorua that goes into more detail about each one of them.
1. Wai-O-Tapu Thermal Wonderland
2. Waimangu Volcanic Valley
3. Rainbow Mountain Scenic Reserve – Learn more about the hike up Rainbow Mountain
4. Hamurana Springs – Learn more about the Hamurana Springs Walk
5. Okere Falls – Learn more about the Okere Falls Walk
6. Blue / Green Lakes Viewpoint
7. Whakarewarewa Redwoods Forest – Learn more about Walking the Rotorua Redwoods
8. Kerosene Creek
9. Polynesian Spa
10. Rotorua Museum
11. Rotorua Waterfront
12. Kuirau Park – Learn more about walking through Kuirau Park
One potential day itinerary could look something like this -> Start the day at Hamurana Springs, then head to Okere Falls to take in some river rafters going over a 20 foot waterfall, followed by the Blue and Green Lakes Viewpoint, and ending the day with a stroll through the Whakarewarewa Forest. There is just a ton to do all over Rotorua and I am sure you will have a great time enjoying it all.
7) Where to Stay in Rotorua
Rotorua offers a variety of options for its visitors – everything from budget backpacker friendly to high luxury. No matter what you are looking for there will be an option for you. Below are some highly rated recommendations based on price range.
Budget: Rotorua Central Backpackers | YHA Rotorua| Fairy Springs Motel | Astray Rotorua Motel
Mid Tier: Quest Rotorua Central | Sport of Kings Motel | Silver Fern Rotorua | Regent of Rotorua
Luxury: Peppers on the Point | Black Swan Lakeside Boutique | Solitaire Lodge | Treetops Lodge & Estate
That about wraps up a guide to the Blue and Green Lakes Rotorua Lookout. If you have any additional questions or comments, feel free to add them in below.
Also be sure to check out some of the other New Zealand itineraries and guides up on the site, and be sure to add the lookout onto your 10 Day North Island New Zealand Itinerary or 3 Week New Zealand Itinerary!
Have fun out there and safe travels!