Rotorua was one of the most fun filled and action-packed cities I visited during my time on New Zealand's North Island. While the city itself is not that large, there is just so much to do and see all around the area. I spent about 2.5 days there checking out 12 different Rotorua activities to fill up my time. But even if you just have a day, you can still tick plenty off the Rotorua bucket list. So, read on for a more in-depth discussion about this incredible New Zealand city!
* Affiliate Disclosure: This post may contain affiliate links, which means I may receive a commission if you make a purchase through the links provided, at no additional cost to you. Thanks for supporting the work I put into TripTins!
A) The 12 BEST Rotorua Activities
I am just going to get right into it and list out the 12 Rotorua activities that you can take part of during your time there. Later on I will talk about some places to stay, and go into some logistic options around the area.
1. Wai-O-Tapu Thermal Wonderland
2. Waimangu Volcanic Valley
3. Rainbow Mountain Scenic Reserve
4. Hamurana Springs
5. Okere Falls
6. Blue / Green Lakes Viewpoint
7. Whakarewarewa Redwoods Forest
8. Kerosene Creek
9. Polynesian Spa
10. Rotorua Museum
11. Rotorua Waterfront
12. Kuirau Park
» Take part of these Rotorua activities as part of your New Zealand North Island Itinerary or 3 Week North & South Island Itinerary!
1) Wai-O-Tapu Geothermal Wonderland
Opening Hours: 8:30AM – 5:00PM (April to October); 8:30AM – 6:00PM (November to March)
Ticket Prices: $32.50 NZD Adult / $11.00 NZD Child / $85.00 NZD Family (2 Adults / 3 Children)
Official Website
The "must do" activity during your time in Rotorua will be a geothermal park. Now, there are several to choose from and I do not think you need to visit each and every one of them. However, I did head out to two of them – both of which I believe are worth the visit (Waimangu up next).
The Wai-O-Tapu Geothermal Wonderland is full of different types of geothermal activity throughout the complex. There are three walking loops to choose from lasting from 30 minutes to 75 minutes.
If you take part of the long route, there will be 25 spots to check out on the path. The highlights for many though is the famous Champagne Pool, a steam filled cauldron and the Artist's Palette, a multi colored geothermal area.
Outside of the main complex you will also be able to visit the Lady Know Geyser (erupts each day at 10:15AM) and the Mud Pools – just some examples of what Wai-O-Tapu has to offer.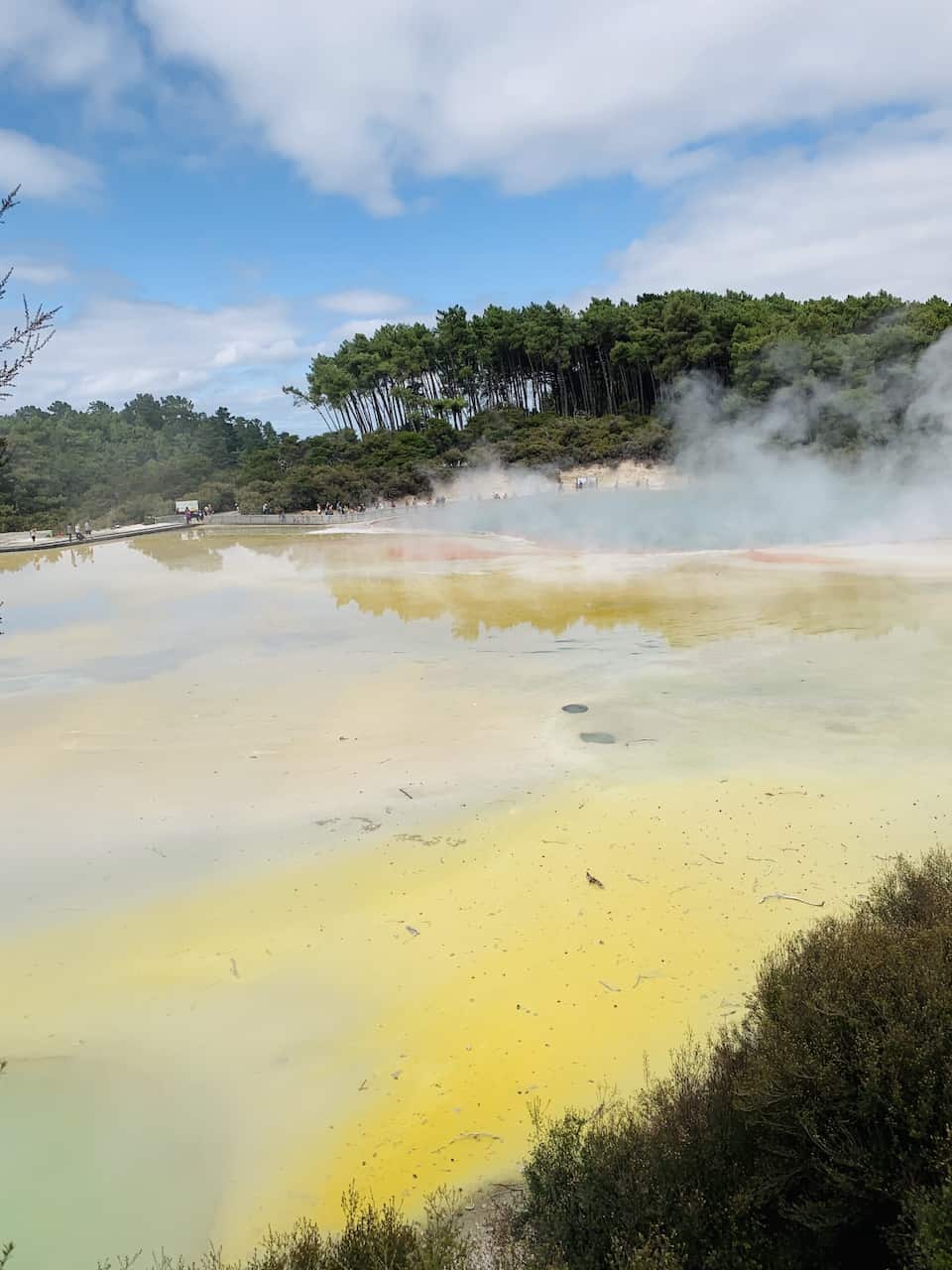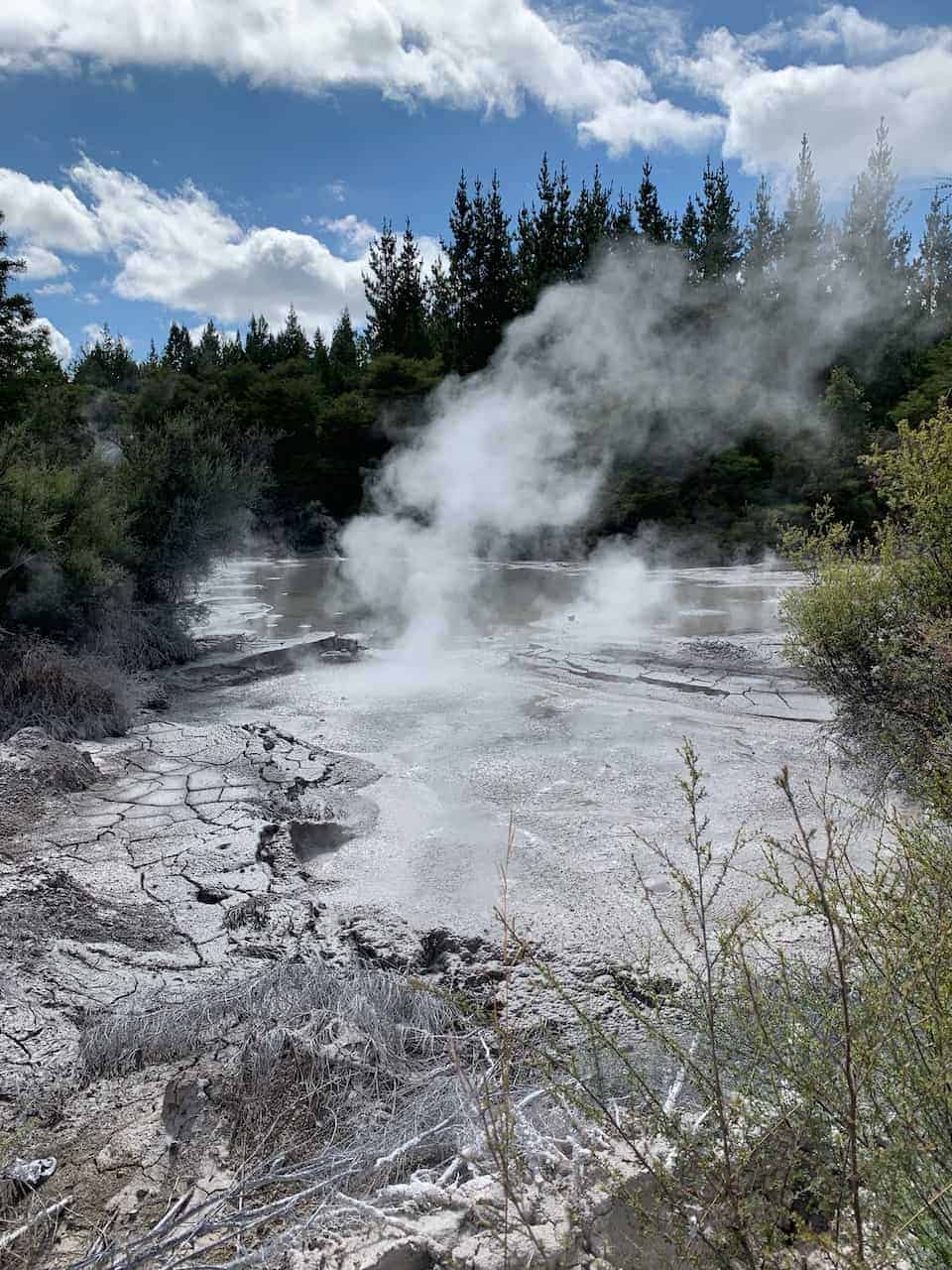 2) Waimangu Volcanic Valley
Opening Hours: 8:30AM – 5:00PM (until 6:00PM in January)
Ticket Prices: $42 NZD Walk Only / $45 NZD Boat Cruise Only / $85 NZD Walk + Boat
Official Website
The second geothermal park I will mention is the Waimangu Volcanic Valley. This as well has a few different route options but also has a bus that can bring you back to the starting point at different parts of the trail. If you decide to do the whole thing it will also take about 1.5 hours to complete.
Additionally there are options to do the Mt. Haszard Hiking Trail to get some views from above as well as take a 45 minute boat ride on Lake Rotomahana to see some additional geothermal activity.
What was very unique about Waimangu is that it is the youngest geothermal valley in the world – created in just 1886 when Mt. Tarawera erupted. Since then there have been many geothermal formations created throughout the valley. You will see things such as the famous Frying Pan Lake and Inferno Crater.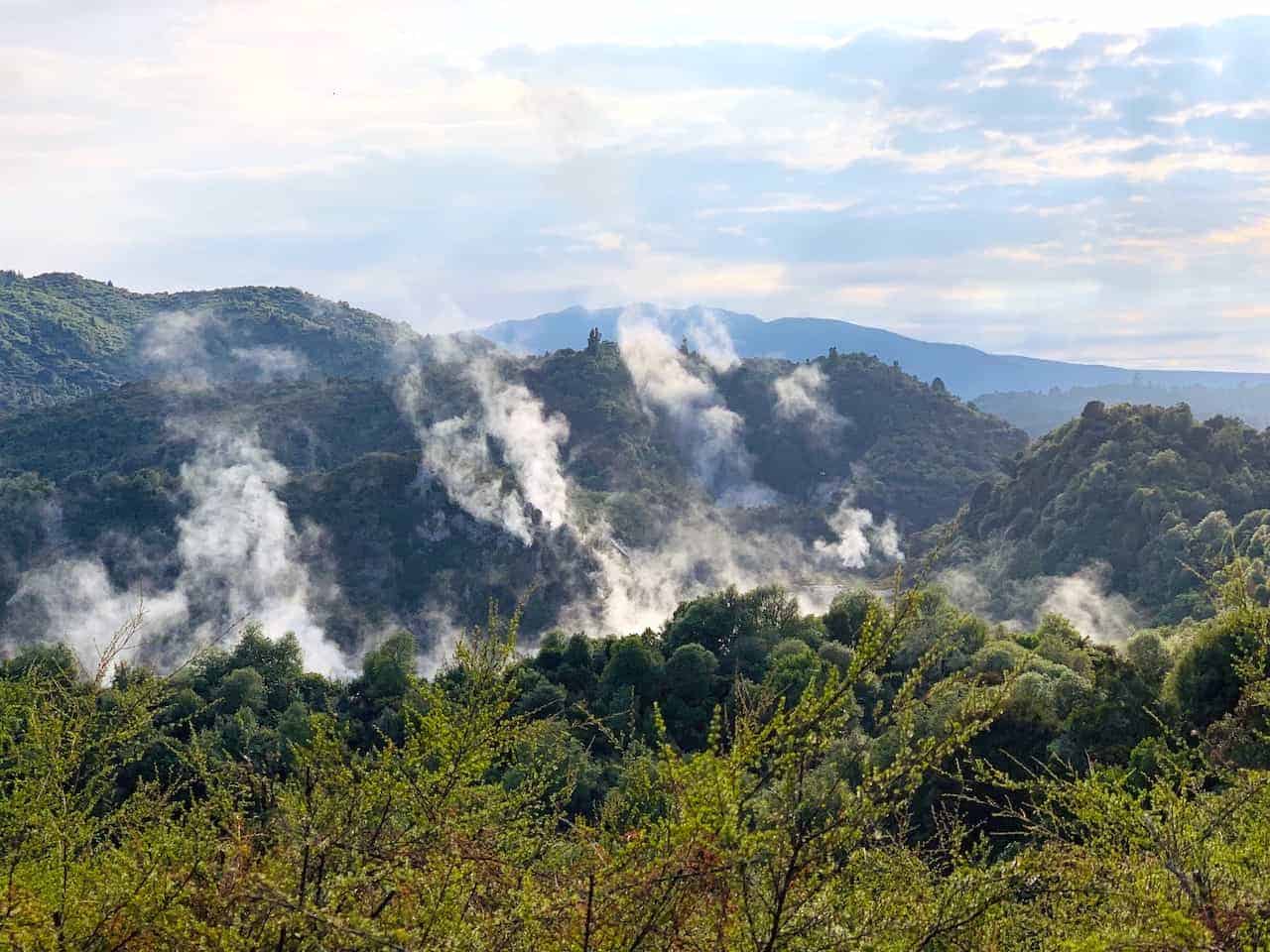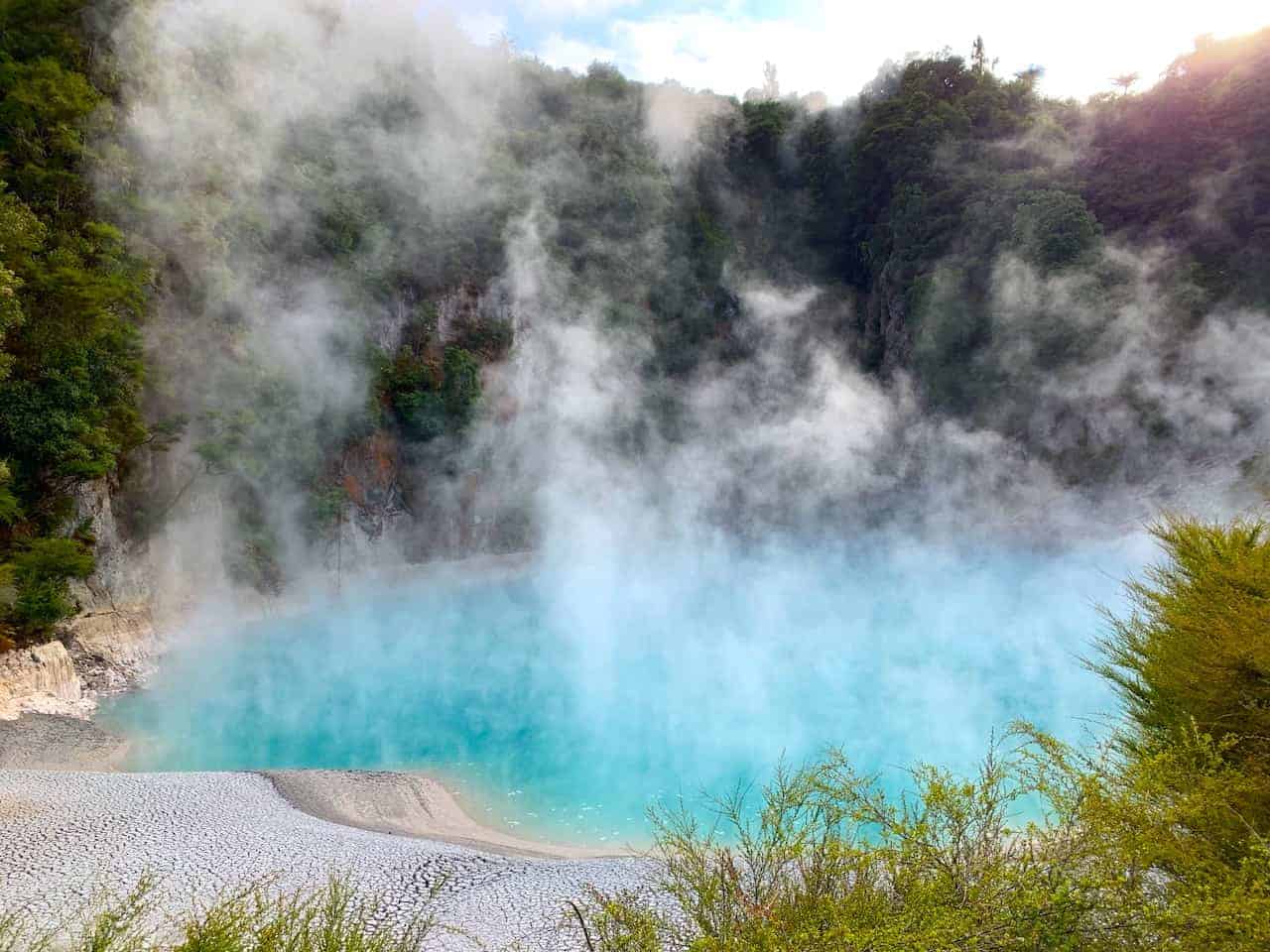 3) Rainbow Mountain Scenic Reserve
The only real hike mentioned on this list is the one up the Rainbow Mountain Reserve. Now you do not need to take part of the entire hike but could just do the quick 20 minute loop to the bright blue lagoon not too far away from the start.
If you decide to take part of the entire hike up and down, it will come out to about 5km and about 2.5 hours of your time. At the top of the mountain you will get vast views of the surrounding forest and greenery alongside the very picturesque rolling hills.
» The Rainbow Mountain Scenic Reserve Hiking Guide goes over everything you need to know about the trail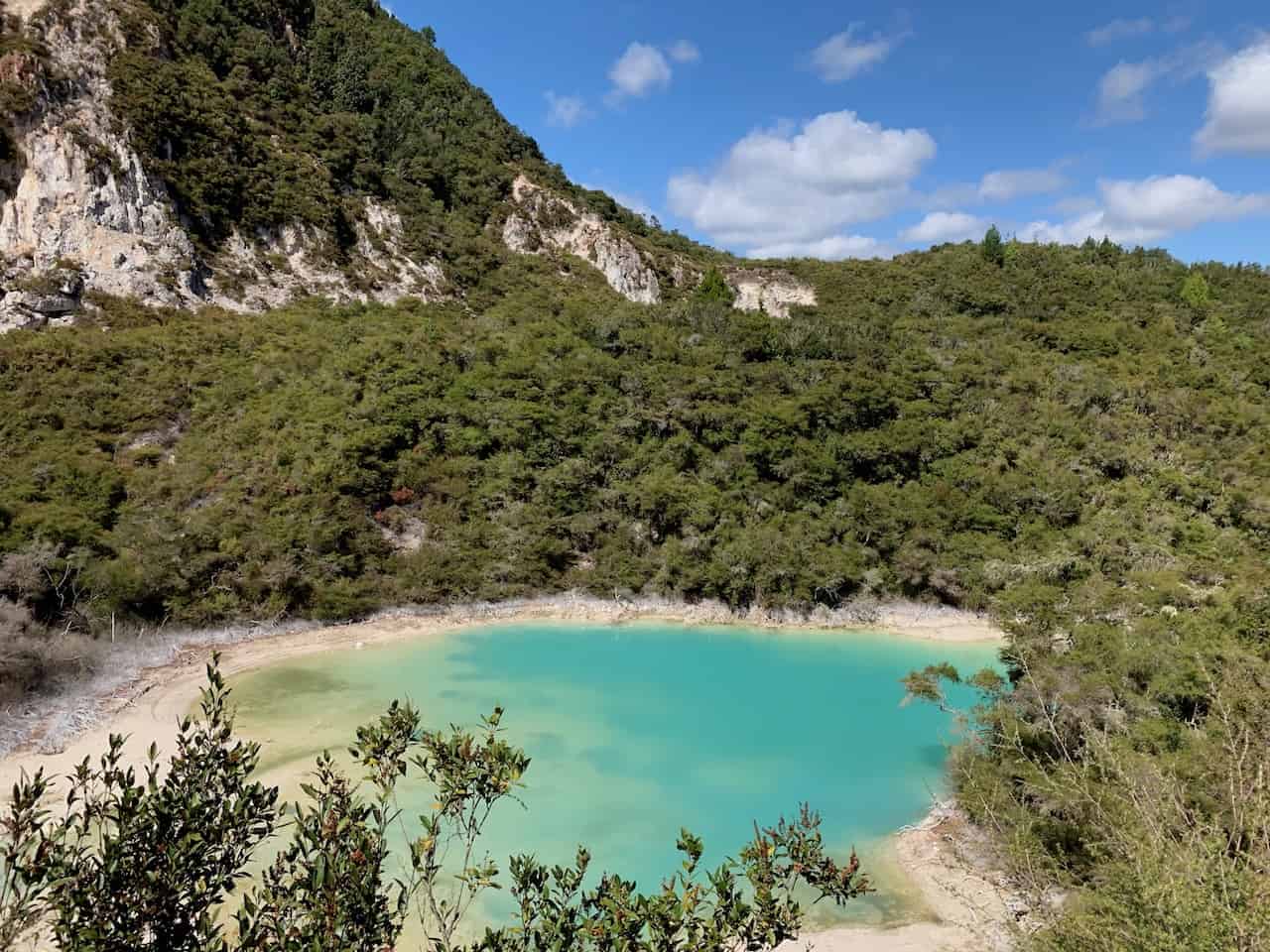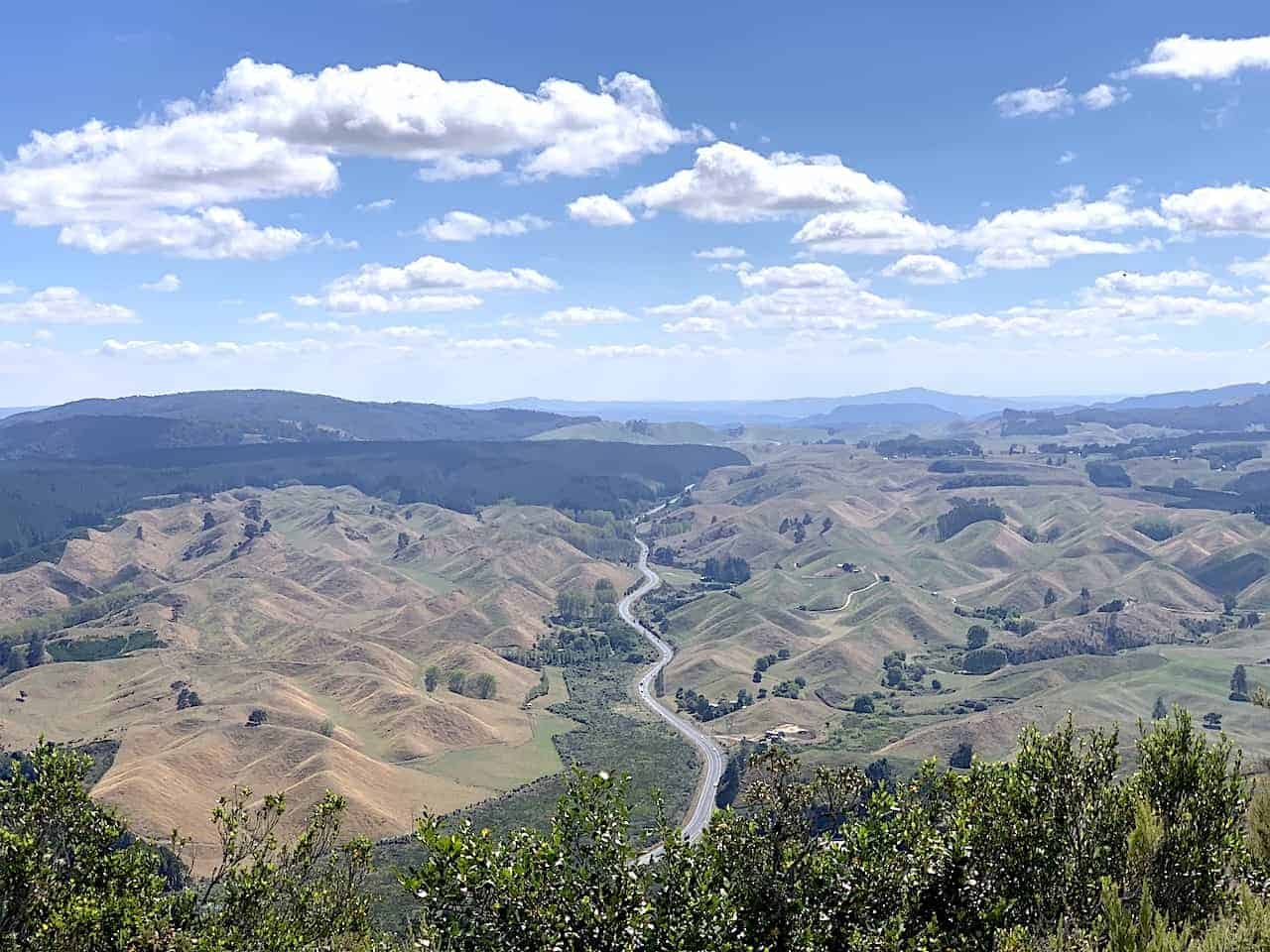 4) Hamurana Springs
Opening Hours: 9:00AM – 6:00PM (Summer) / 9:00AM – 5:00PM (Winter)
Ticket Prices: $18 NZD Adult / $8 NZD Child / $49 NZD Family (2 Adults / 3 Children)
Official Website
One of the most surprising stops in Rotorua for me was the one at Hamurana Springs. While it just consists of a short 30 minute path around the area, seeing one of the largest natural water springs in New Zealand was quite the site. Alongside the crystal clear water you can actually see down into this spring pumping out 4 million liters of water per hour. It really is a site to be seen.
Note: you may come across some recent negative TripAdvisor reviews about Hamurana Springs. These are less so about the actual experience there, but more so about the fact they recently added an admissions fee to enter.
» The Hamurana Springs Walk Guide goes talks about what you need to know about your visit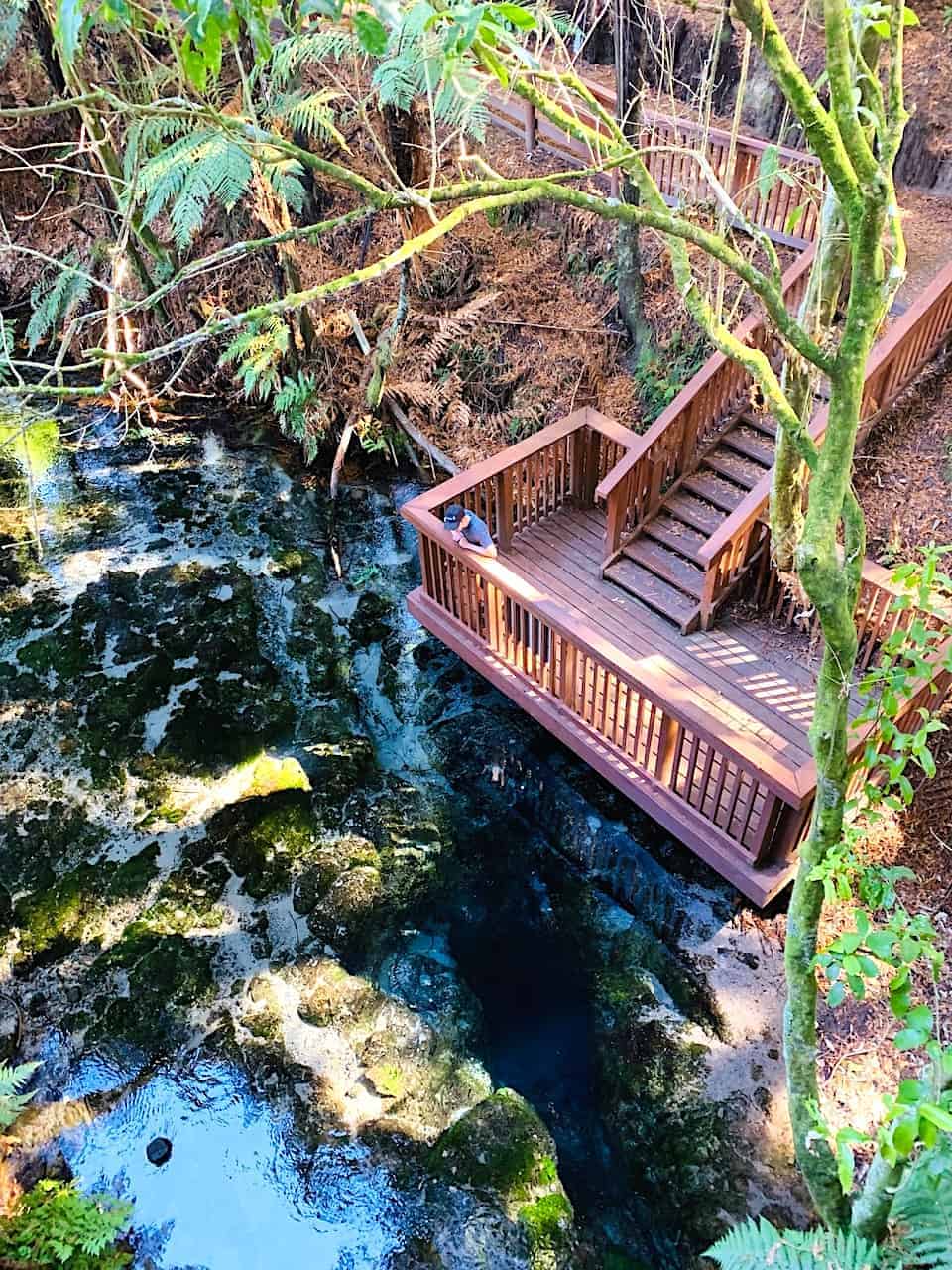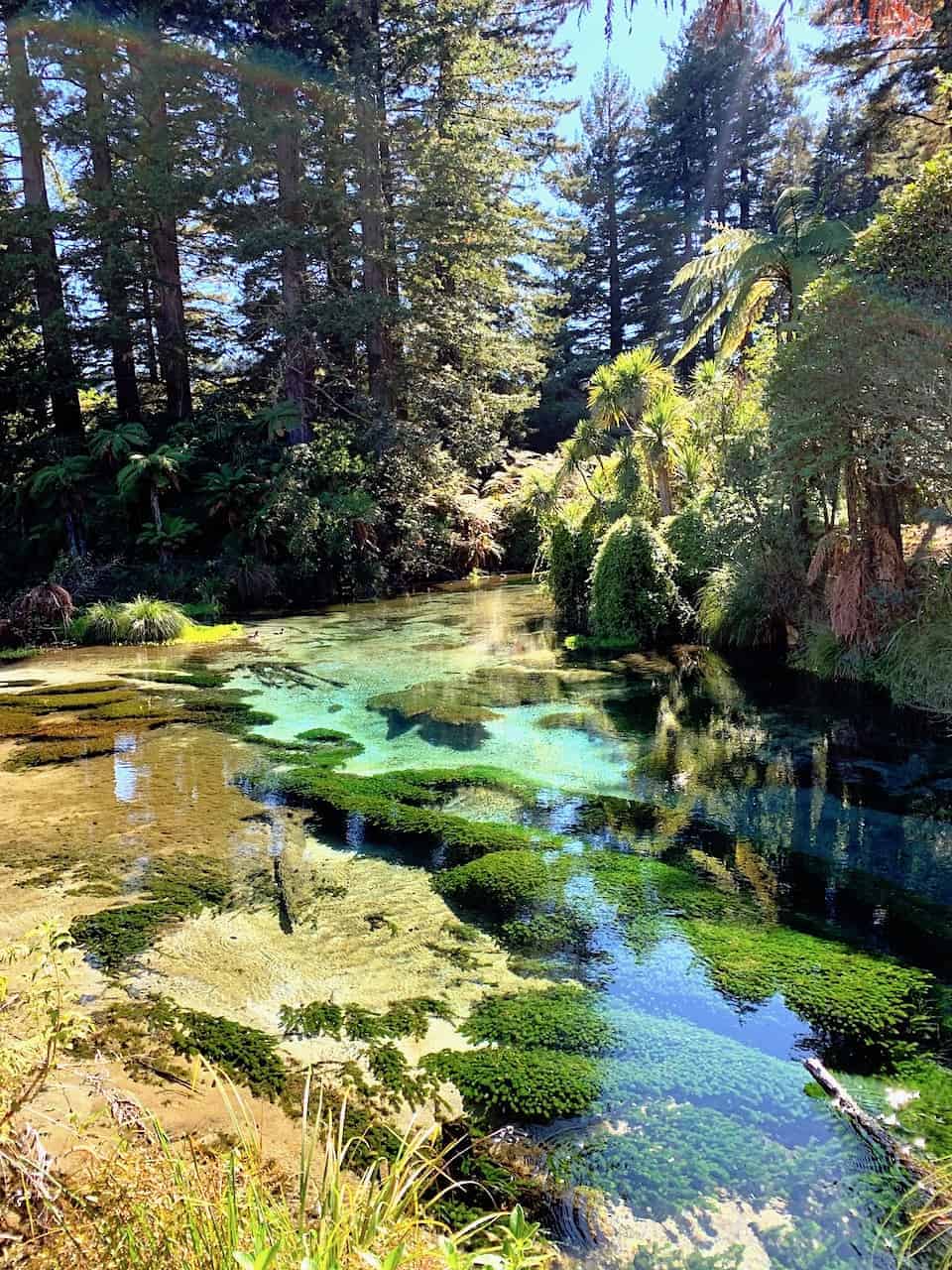 5) Okere Falls
Do you want to see a bunch of white water rafters going off the highest commercially rafted waterfall in the world!? Well Okere Falls has you covered. Located on the northwest side of Lake Rotorua, you can stop by to witness the rafters going over the 7 meter Tutea Falls as many of them fall out on their way down.
It is a short 10-15 minute walk to the famous viewing point and you will get to see several rafts come by over a span of a few minutes (note you may need to wait 30-60 minutes depending on when the rafters set out).
– Learn more about the Okere Falls Walk guide that talks more about the experience
6) Blue / Green Lakes Viewpoint
A quick but very worthwhile stop is the viewpoint directly between Lake Tikitapu and Lake Rotokakahi (aka the Blue and Green lakes). From the top of a small hill you will have a vantage point of two lakes – one blue in color and one green in color.
I would advise to head there on a sunnier day as you will have an easier time seeing the color differential between the two. Another option here is to take part of the circular Blue Lakes Track which can be started right from the parking lot.
»Learn more in the Blue & Green Lakes Lookout Guide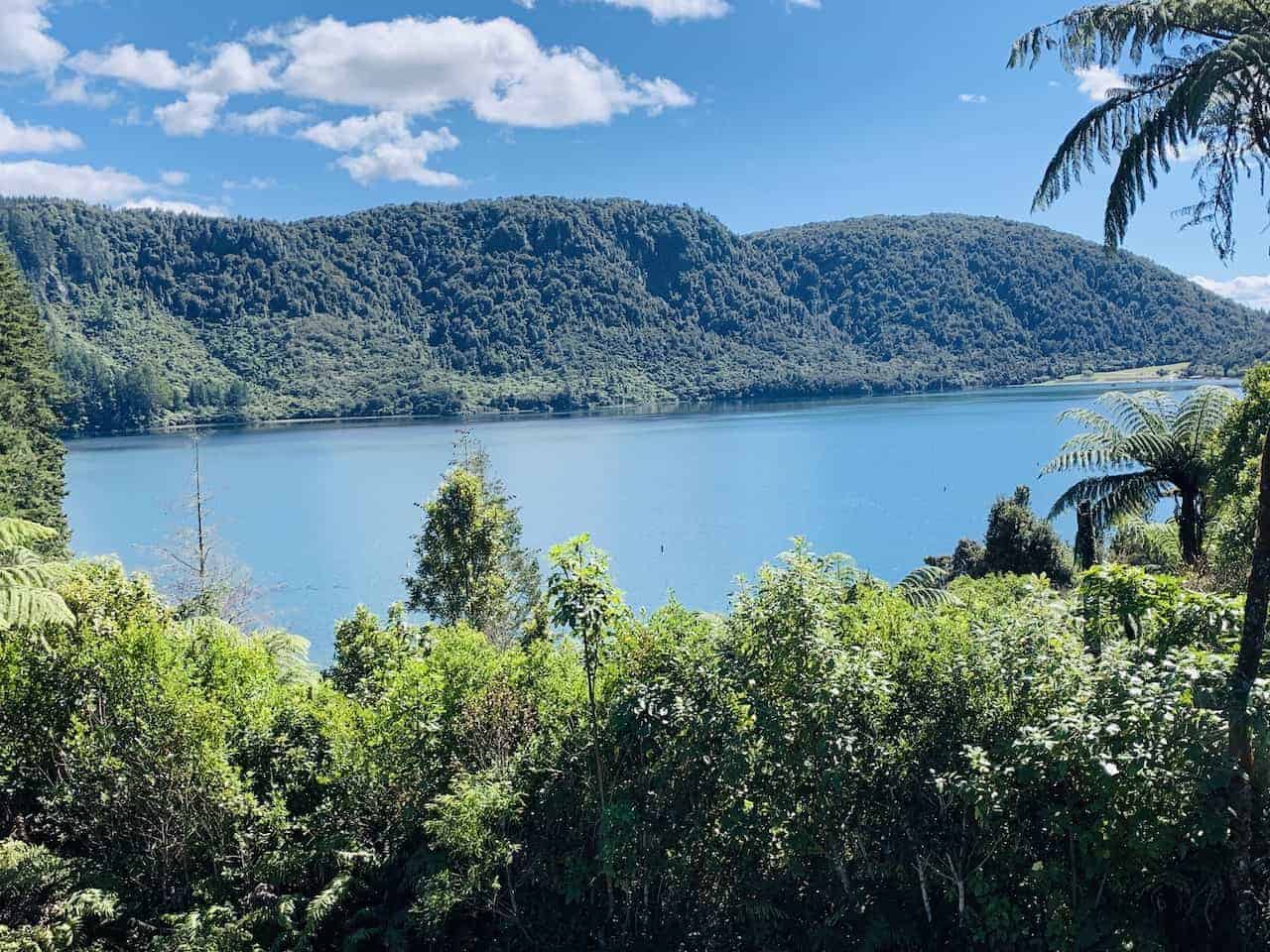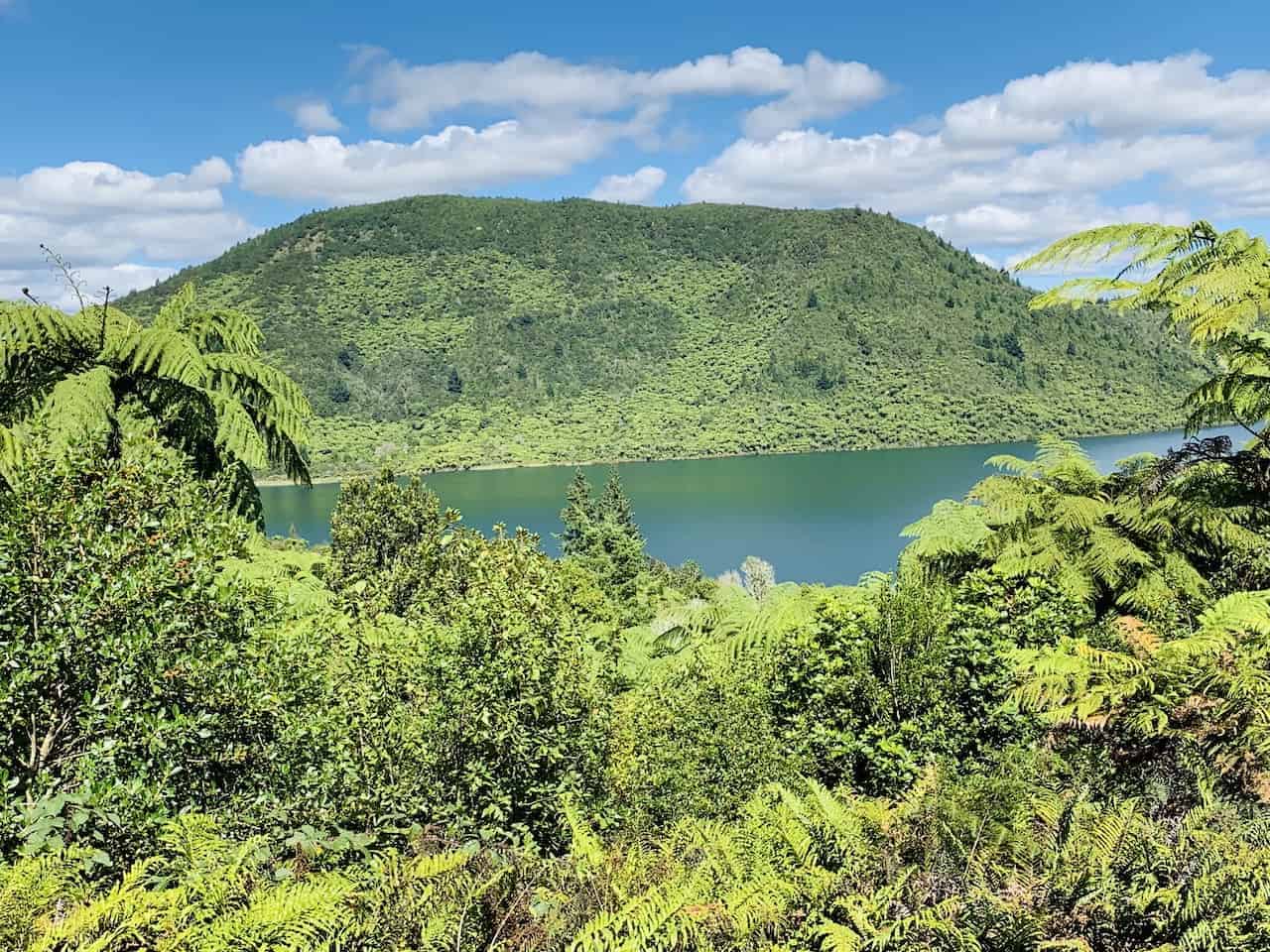 7) Whakarewarewa Redwoods Forest
One of the highlights of Rotorua is its famous redwoods forest right on the outskirts of town. These trees are absolutely massive and a site to be seen.
You can choose to do a few different things within the forest. These include taking part of one of the free hiking trails, mountain biking, and/or heading up on the Redwoods Tree Walk (for a fee).
Insider Tip: looking for a combo of redwoods and views? Take a walk on the yellow trail, which takes you to a viewpoint of the entire city of Rotorua and the lake out in the distance. To make the view even more special, it is possible that the Pohutu Geyser will be erupting down below in Te Puia.
» You can learn more about the trail in this Rotorua Walks Guide I put together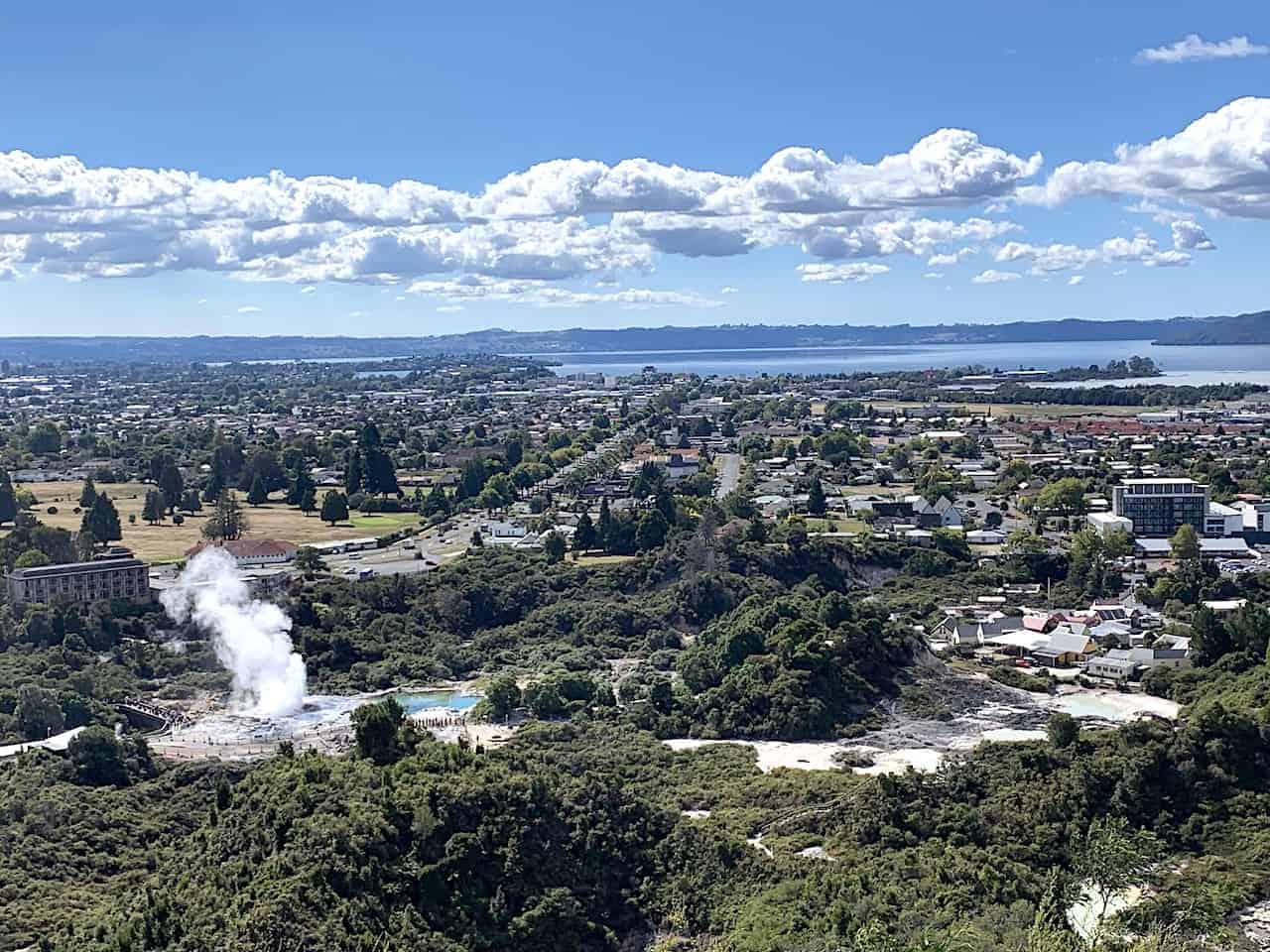 8) Kerosene Creek
One of the more popular free natural hot springs around Rotorua is Kerosene Creek. Located just 20 minutes away from the city is this natural hot spring river that you can jump in and enjoy.
There are plenty of spots around the river to sit down in and get away from the crowds but do come prepared with a swimsuit and towel!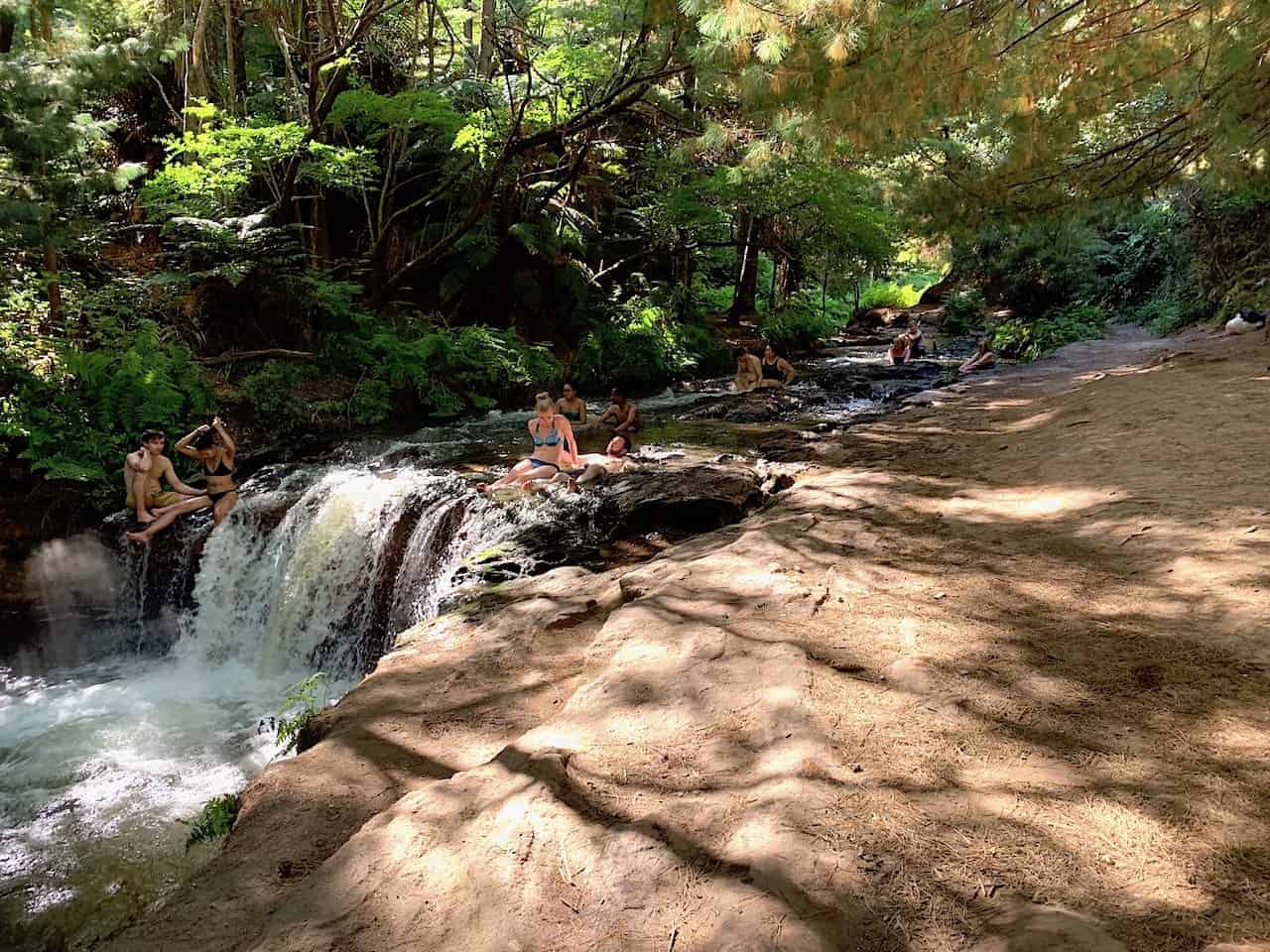 9) Polynesian Spa
Opening Hours: 8:00AM – 11:00PM
Ticket Prices: Starting at $30 NZD up to $147 NZD for bathing options
Official Website
After days of exploring it is always nice to end up in a nice geothermal spa. That is what the Polynesian Spa is all about and you will really be able to wind down and relax in one of the geothermal pools.
You will have plenty of options to choose from – everything from the larger public pool to a private pool. If you are looking for spa offerings they have those too!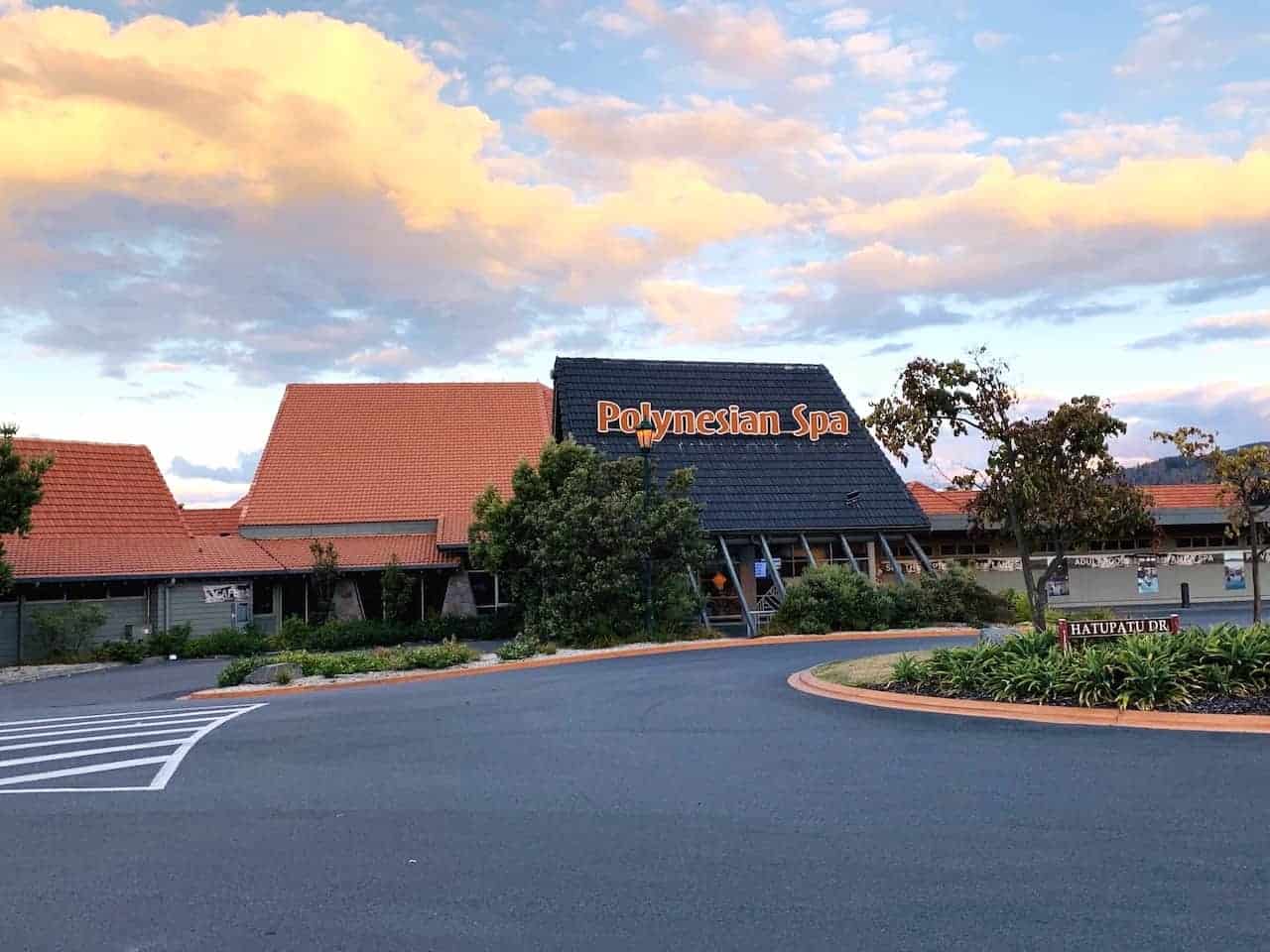 10) Rotorua Museum
While there are plenty of natural attractions around Rotorua, there is also a historical museum to visit as well. Do note however that the museum was closed for construction (March 2019) so check their website for the latest.
Even if the museum itself is still closed, they do currently have some exhibitions in other venues as well as tours of the beautiful surrounding Government Gardens.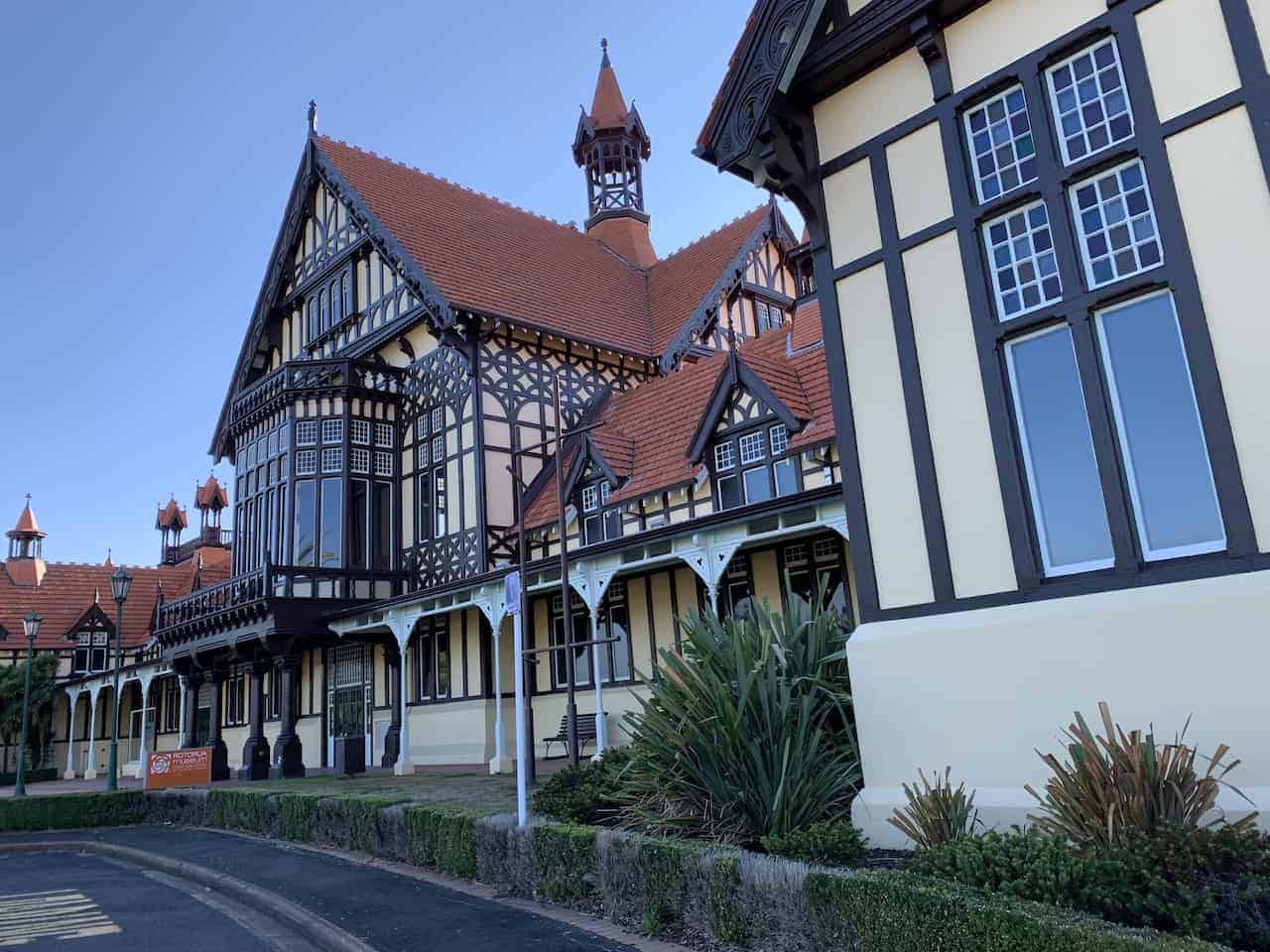 11) Rotorua Waterfront
Not as much as an activity as some of the other places on the list, the Rotorua waterfront area is still a great place to hang out at and enjoy. Taking just a 10-minute stroll here, with the lake right out in front of you is a great way to start or end your day.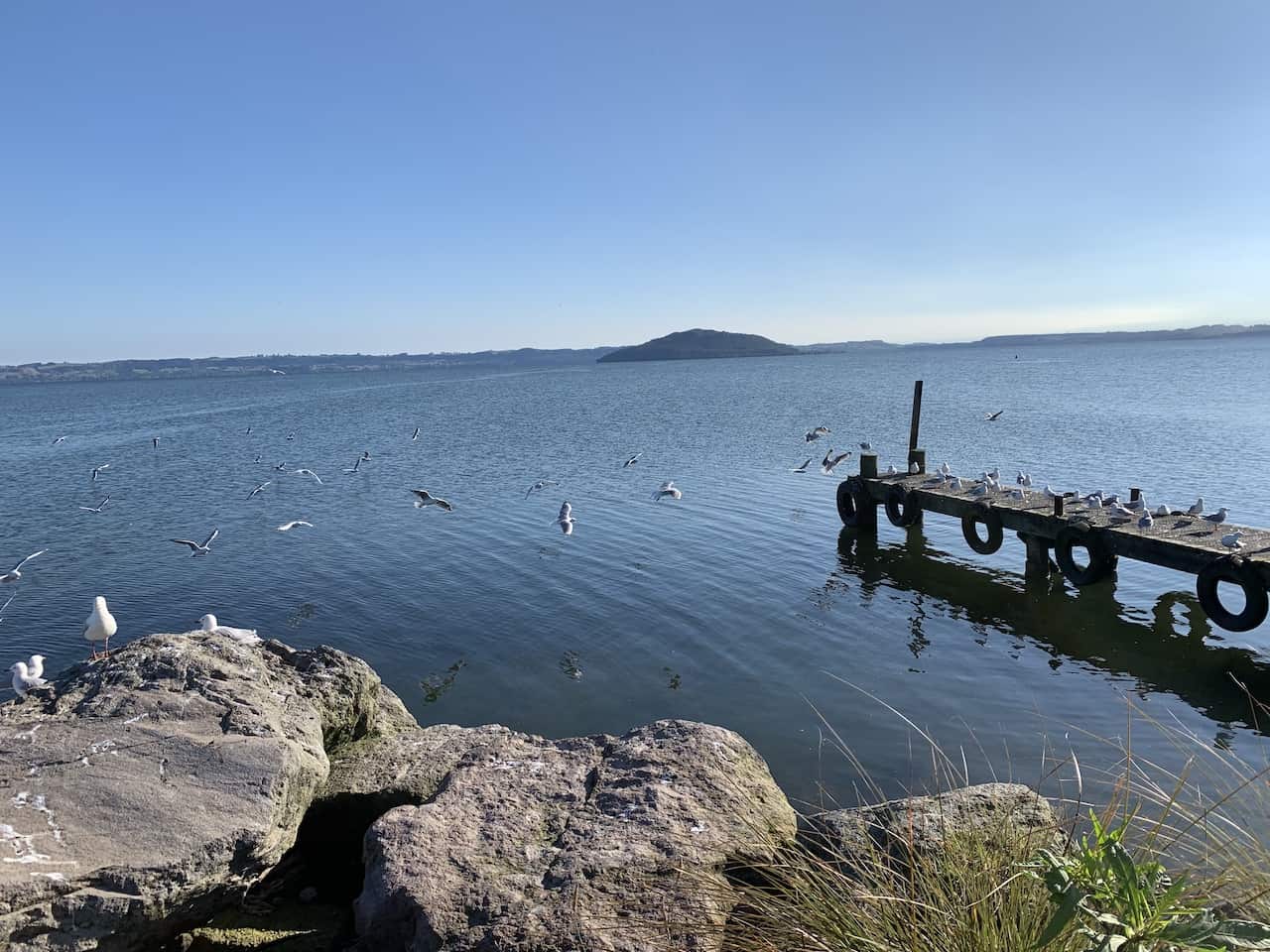 12) Kuirau Park
You may have visited some parks before but you probably have not visited a park full of geothermal activity. Located right within the city of Rotorua you will find Kuirau Park.
Spending some time walking through the park and visiting the various geothermal lakes and mud pools is a great way to get to know what Rotorua is all about. Best of all its free to visit!
» Learn everything you need to know about the area in the Kuirau Park guide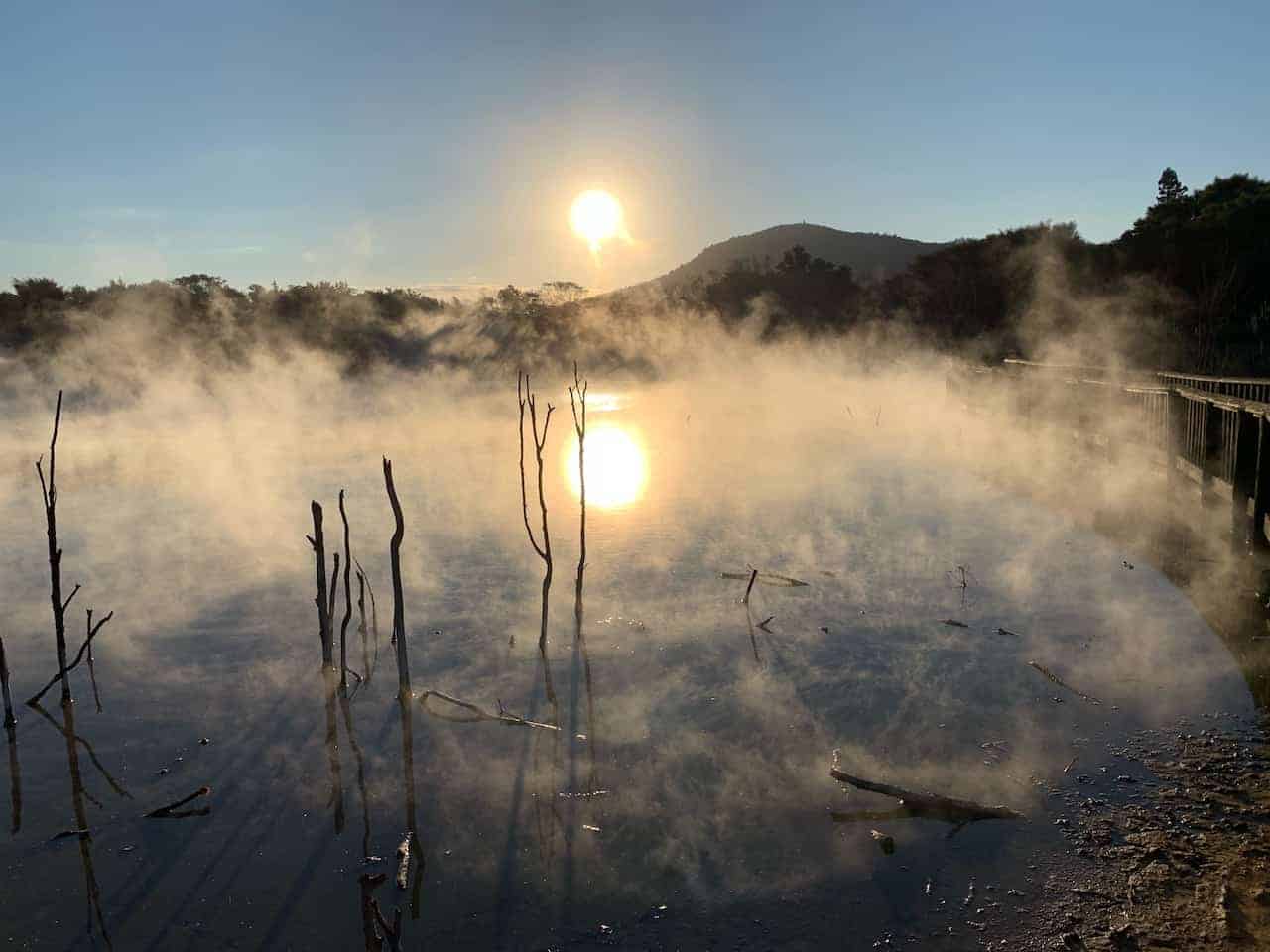 B) Location of Rotorua Activities
Even though these are all considered Rotorua activities, most of them are not directly in Rotorua itself. Rather they are in the close vicinity to the city and you will need to either drive or take public transport to get there.
Below you can see a map of the different attractions and activities.
Note: the color coded pins are a recommendation if you choose to split the activities over 3 days – more on that soon!
C) Getting Around Rotorua
The main way to make your way around these Rotorua activities is by renting your own car. Either if coming in from another city in New Zealand or by just renting a car in Rotorua for a couple of days.
Doing it on your own will be your best bet to get to see and do everything you would like to do during your time there. Nothing is further than a 30 or so minute drive and you will be able to easily mix and match your day accordingly.
While there is an option to use public transportation around Rotorua those busses will not take you too far out. If you want to get to go beyond the main city center, then it may be harder to get from place to place.
There are options for example to join a tour to Wai-O-Tapu from Rotorua that will take care of bringing you back and forth but that could also cost more than a rental car itself.
At the end of the day my advice would be to get a rental car if you can, even if it is just for a day or two.
D) 3 Days in Rotorua
Below is an example of what a 3 day Rotorua itinerary could look like during your time on New Zealand's North Island. Using all 12 Rotorua activities mentioned above, I have split them into 3 days based on location and what makes most sense logistically.
Day 1
A) Hamurana Springs
B) Okere Falls
C) Blue / Green Lakes
D) Redwoods Forest
E) Polynesian Spa
Day 2
A) Wai-O-Tapu
B) Rainbow Mountain Reserve
C) Kerosene Creek
Day 3
A) Rotorua Waterfront
B) Rotorua Museum
C) Kuirau Park
D) Waimangu Volcanic Valley
E) Drive to Taupo if heading there next
You can opt to end day 3 (or 2 if you swap them around) with a drive towards Taupo as the Waimangu Volcanic Valley (and day 2 activities) are on the way down to the south.
Alternatively if you only have two days around the area, you could fit in some of day 3's activities on day 2 but it will be a pretty jam packed day.
Obviously you can also pick and choose which places you are most interested in visiting and drop/add some to the list.
E) Save Money with Bookme
When I arrived in Rotorua I was told about the Bookme website. It is full of special deals and discounts for activities around Rotorua (and other places in NZ as well). You can get anything from breakfast discounts to activity deals, making it a very useful source to have.
Usually you will see the deals offered for the more "off peak" times – such as first thing in the morning or later in the day. So if you want to save some money, definitely check it out and see if any of the deals work for you. Below you can see I saved some money by booking an early morning ticket at Waimangu ($24 NZD vs. $42 NZD).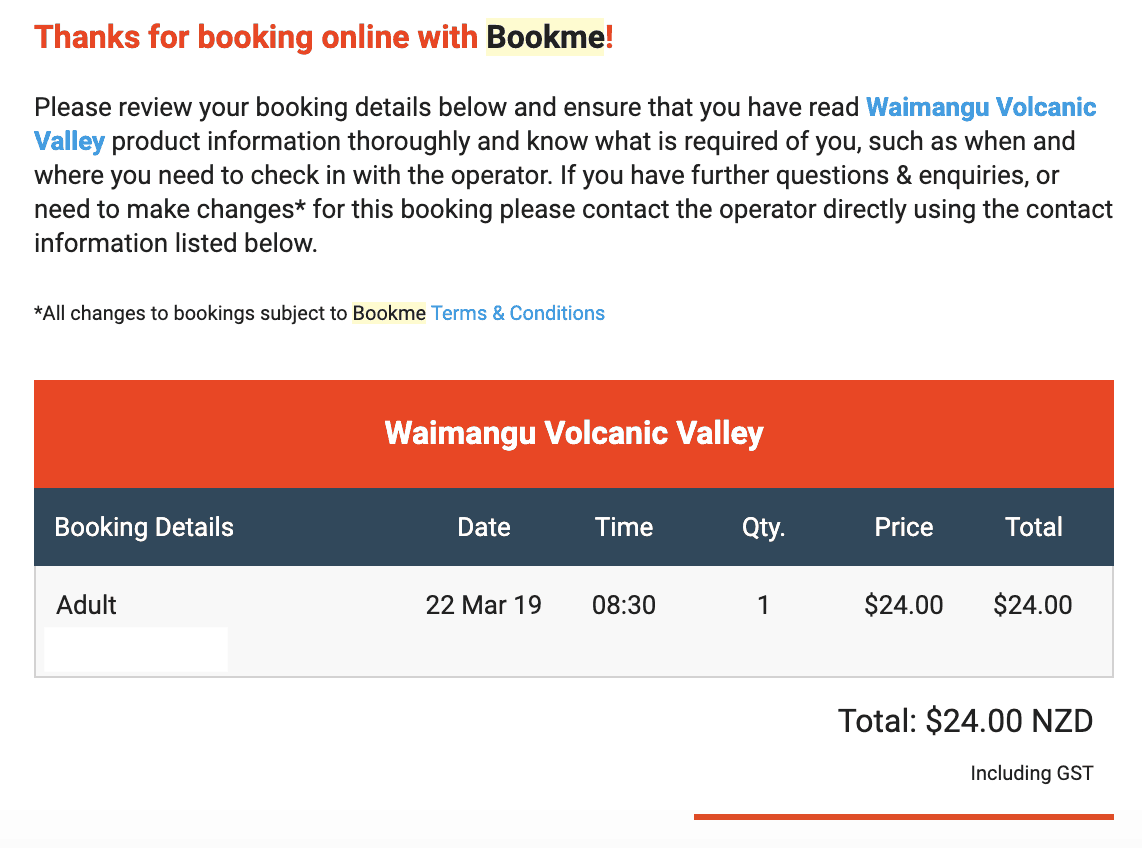 F) Where to Stay in Rotorua
Rotorua offers a variety of options for its visitors – everything from budget backpacker friendly to high luxury. No matter what you are looking for there will be an option for you. Below are some highly rated recommendations based on price range.
Budget
1. Rotorua Central Backpackers
2. YHA Rotorua
Mid Tier
Luxury
2. Black Swan Lakeside Boutique Hotel
I hope you enjoyed reading through 12 of the best Rotorua activities to do during your time in New Zealand. If you have any questions feel free to write them in below. Also check out the other New Zealand itineraries and guides I have up on the site to help out with any other trip planning. Have fun out there and safe travels!
Some of the guides currently up on the site include:
Best Walks in the Waitakere Ranges
8 Must Do Wellington Activities
21 Helpful New Zealand Travel Tips