Looking for a short and sweet hiking trail in Mount Cook National Park with some incredible mountain views? Well, the Kea Point Track is your answer.
A simple 1 hour round trip hike will bring you to an expansive lookout point over Mount Cook and Mueller Lake. This guide will go over how to get to the track and what to expect along the way.
* Affiliate Disclosure: This post may contain affiliate links, which means I may receive a commission if you make a purchase through the links provided, at no additional cost to you. Thanks for supporting the work I put into TripTins!
1) Kea Point Track Fast Facts
The Kea Point Track is a pretty simple route altogether. There should not be too many surprises on the trail and you should be on your way to the lookout point in no time.
Starting & Ending Point: White Horse Hill Campground Parking Lot
Mid Point: Kea Point
Length: 3 KM / 1.9 Miles
Elevation Gain: 95 Meters / 312 Feet
Time: 1 Hour Round Trip (+ time at Kea Point)
Track: Gravel Path
Difficulty: Easy
Note: If you do not have a car to get to the White Horse Hill parking lot, you can also start this trail right from Mount Cook Village. Allow an additional 1-1.5 hours round trip to get you to White Horse Hill from the Village.
2) Kea Point Starting Point
As mentioned, the starting point of the Kea Point Track can begin either at the White House Hill Campground parking lot or in Mount Cook Village itself. The drive from Mount Cook Village should take just a bit less than 10 minutes to get there.
If you do not have a car and are starting the trail from the village, then you will head to the north side of Terrace Road, where you can start the trail right nearby the Hermitage Hotel.
Below is a Google Maps view of the area. I have highlighted the two starting points along with the routes to Kea Point from each one – pink line from Mount Cook Village and grey line from White Horse Hill. The blue line indicates the drive to White Horse Hill from Mount Cook Village:
→ Be sure to check out Rentalcars.com when it comes to renting a car in New Zealand. The site will show you car options & prices from a variety of companies. This ensures that you will be able to choose the perfect car (and deal) for your trip to the country.
3) Mount Cook National Park Weather
The one thing that just cannot be controlled on a trip is the weather. When taking part of hiking trails with views like this one, the weather can be an important factor. The last thing you want is to head off on a trail and for it to just be covered in low clouds or be caught up in the rain.
If you are around the Mount Cook area for a few days, I would recommend choosing the best weather days possible to take part of any hiking including the Kea Point Track.
Luckily, when I was there, the weather was pretty clear. However, I have heard from many others, that the low cloud coverage can really roll in and take away any and all views.
My go to has always been a website called Meteoblue.com. On the site you can type in Mount Cook National Park (make sure to select the right one!) and see the day by day forecast (similar to any other weather forecast site out there).
However, it also gives you the ability to see the hours of sun for the day, which can be a great indicator on how clear the area will be.
If you do have some poor weather days, you can still take part of the Kea Point Track, however you may not see Mount Cook out in the distance. You may still get some great views of Mueller Lake and the Hooker Valley though!
Some snowy and cold days as spring begins in Mount Cook National Park…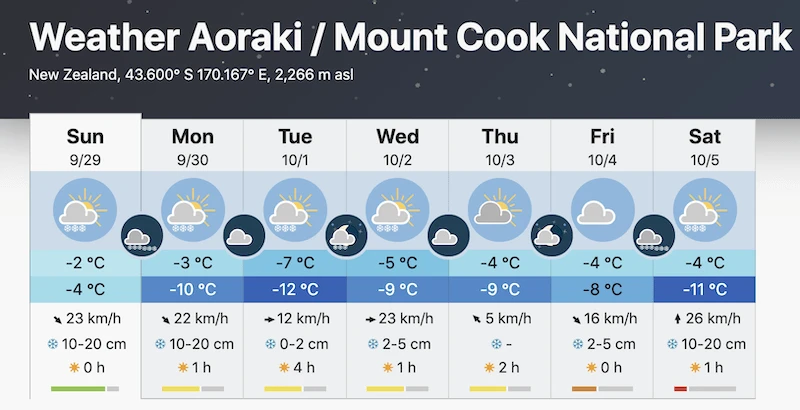 ---
Hiking Packing List

In general when it comes to hiking, there are a few main aspects to consider. These includes clothing layers, hiking shoes, hydration & fuel, electronics, and other essentials.

Below in a breakdown of some of the top items, but be sure to check out the Hiking Packing List for a more comprehensive view.

Clothing Layers

Layering is going to be a top consideration when hiking. You will want to be prepared for all sorts of weather so you can be comfortable in different situations. Some items may include:

→ Hiking Shorts
→ Hiking Pants
→ Short Sleeve Shirt
→ Long Sleeve Shirt / Sun Hoodie
→ Mid Layer Fleece
→ Puff Jacket (not always needed)
→ Packable Rain Jacket (Columbia Watertight II)

Note that your layers should be made of moisture wicking material as they are breathable and quick drying.

Footwear

Having appropriate footwear will also be very important. You will want to have shoes with the necessary grip and support to keep you safe on the trail.

→ Hiking Shoes (Keen Targhee)
→ Hiking Socks (Darn Tough)

Other Essentials

Whether it is hiking gear, electronics, or just some miscellaneous items, here are some other essentials to bring along on hikes.

→ Hiking Backpack (Osprey Talon 22) & Rain Cover (Joy Walker Cover)
→ Hiking Poles (Black Diamond Trekking Poles)
→ Water Bottle (CamelBak Chute or Katadyn Filter Bottle)
→ Portable Charger (Anker PowerCore 5000mAh)
→ Action Camera (GoPro Hero)
→ Energy Bars & Snacks
→ Hat & Sunglasses
→ Sunscreen & Bug Spray
---
4) The Kea Point Track
The track to Kea Point is pretty straightforward and shouldn't come with any surprises.
At the beginning of the trail at the White Horse Hill parking lot you should see some signs point you in the direction of Kea Point (along with some other trails around the area).
Once at one of these signs, just continue along on the trail.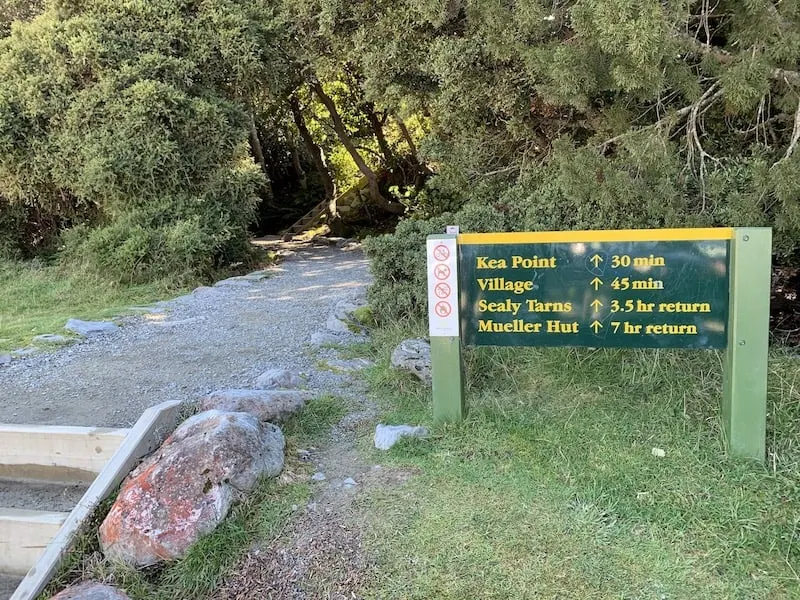 The gravel trail takes you through this picturesque valley with the beautiful Mount Sefton right up in front of you. The trail will wind its way through the valley as you continue along to Kea Point.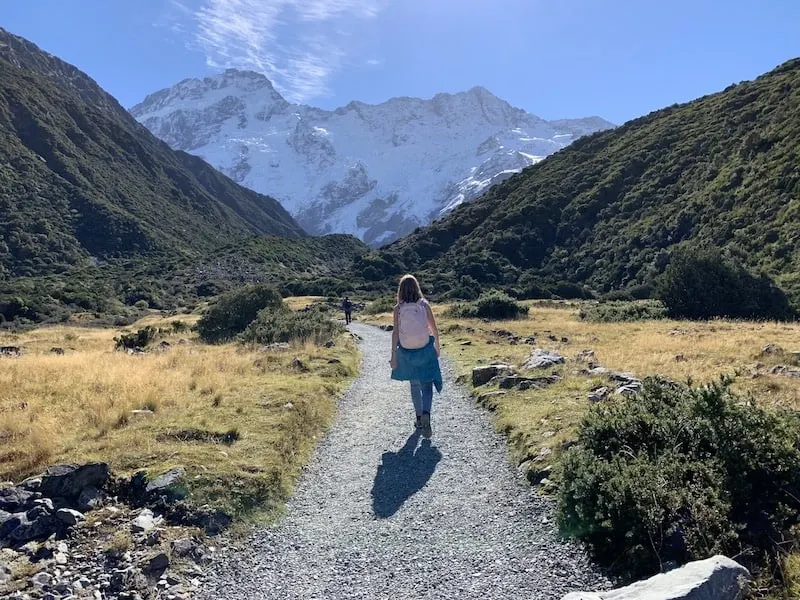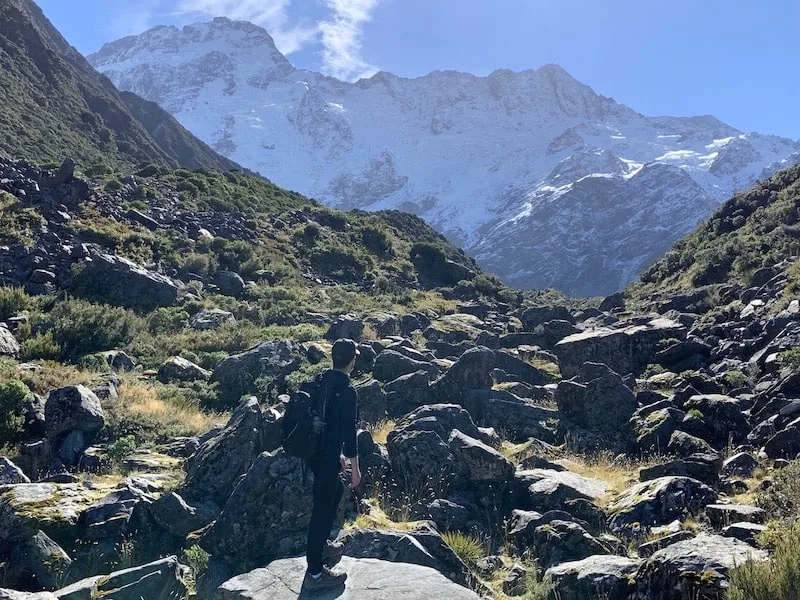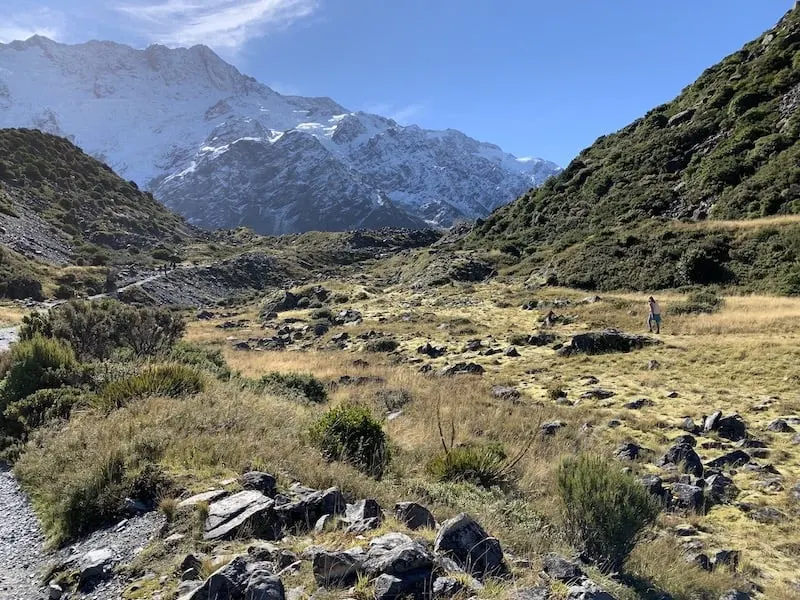 Soon enough, Mount Cook itself will appear nice and tall out in the distance.
At 3,724 meters / 12,218 Feet, Mount Cook (also known as Mount Aoraki), is the tallest peak in all of New Zealand. Continue walking along the path as you inch closer to Mount Cook itself.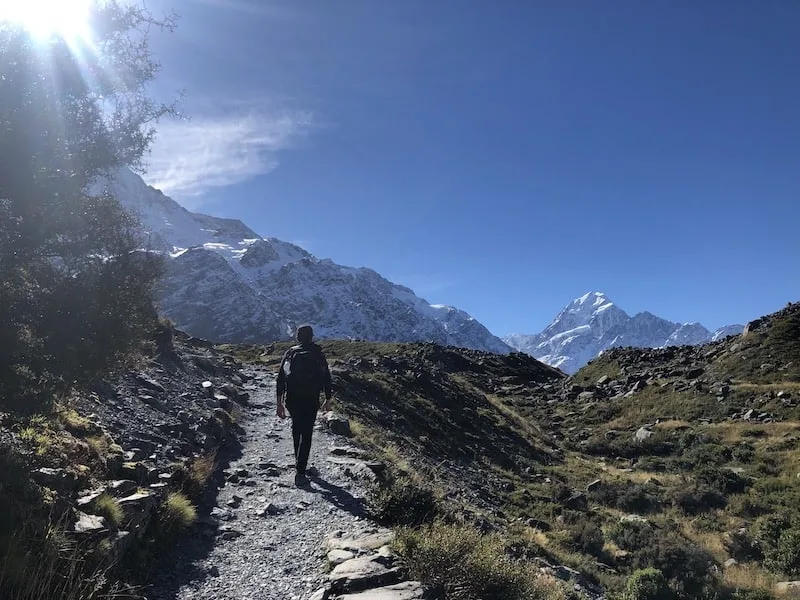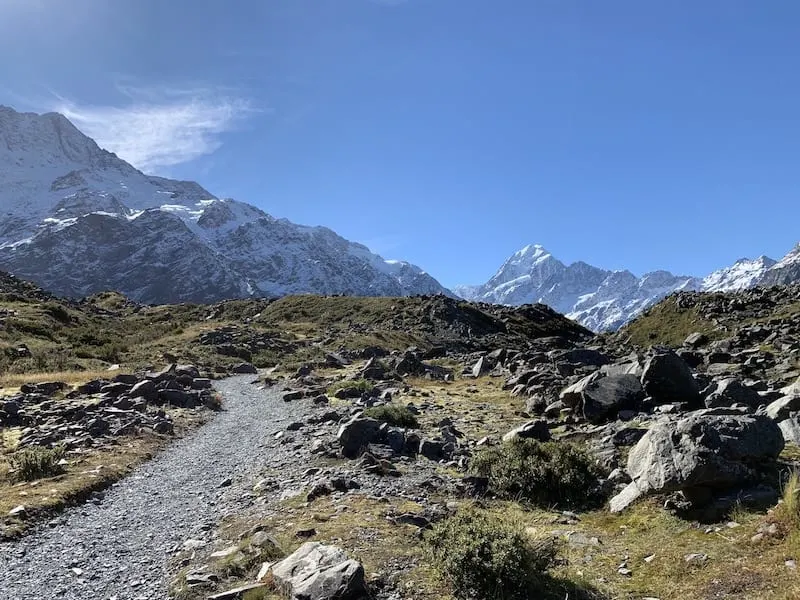 After a little bit more of walking you will begin to approach the moraine wall of Mueller Lake. A moraine wall is basically the remnants left behind by a moving glacier.
This large black wall is basically one of the boundaries of Mueller Lake that is right in front of it.
Once you reach Kea Point itself, find a nice place to sit and relax as you have Mueller Lake, the Hooker Valley and Mount Cook out in the distance.
There are also some additional mountains that will be in view including The Footstool (2,764 meters), Nazomi (2,925 meters), and Mt Wakefield (2,012 meters).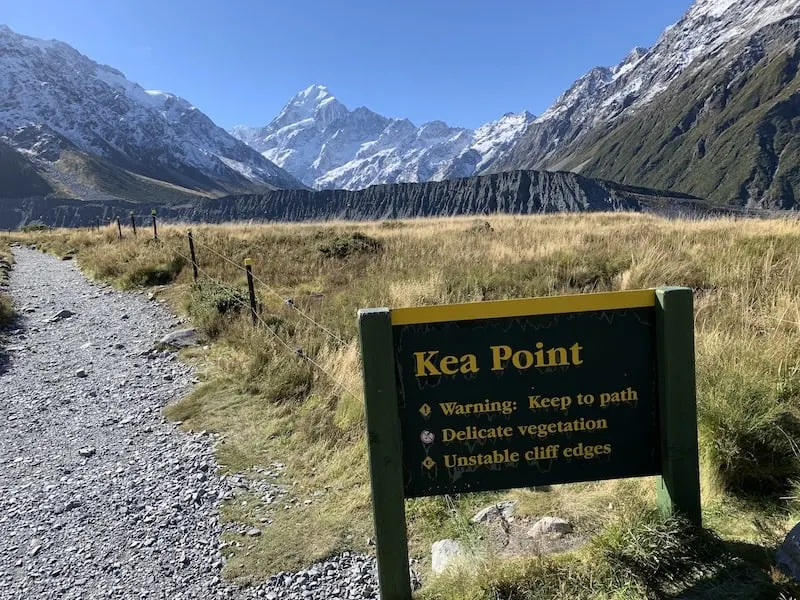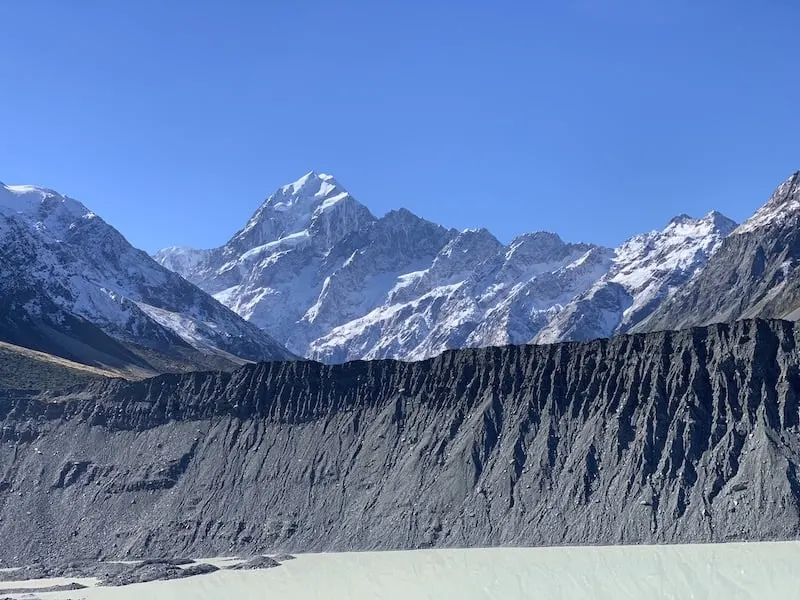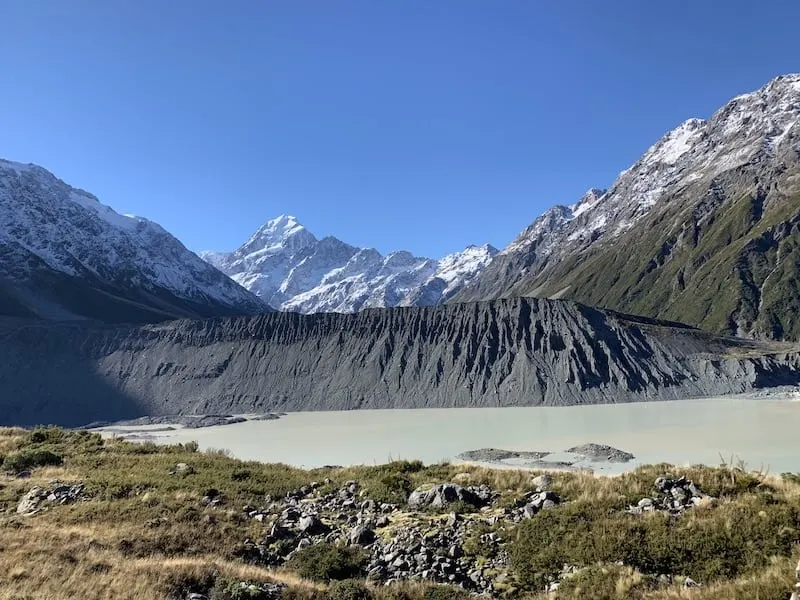 Although the trail is short, the views are spectacular and it is a great way to spend a few hours enjoying all that this wonderful national park has to offer.
Once all done with enjoying Kea Point, make the same walk back to the starting point, either to White Horse Hill or Mount Cook Village.
5) Hiking Options in Mount Cook National Park
Kea Point is definitely one of the shorter hiking routes out there. If you are looking for some longer trails, the Mount Cook area offers several others. Below are some of the main options to choose from.
» Check out an overview of every single hike in the Mt Cook Hikes Guide «
1. Hooker Valley Track
One of the must do hikes in Mount Cook National Park would be the Hooker Valley Track. An easy 3 hour trail round trip trail, this hike takes you alongside and into the valley beneath Mount Cook itself.
During the hike you will pass by the Mueller Lake, and onto three suspension bridges on your way to the base of Hooker Lake overlooking Mount Cook in the distance.
Since it is a valley walk, there is barely any elevation gain/loss, making this a hike for nearly everyone to take part of.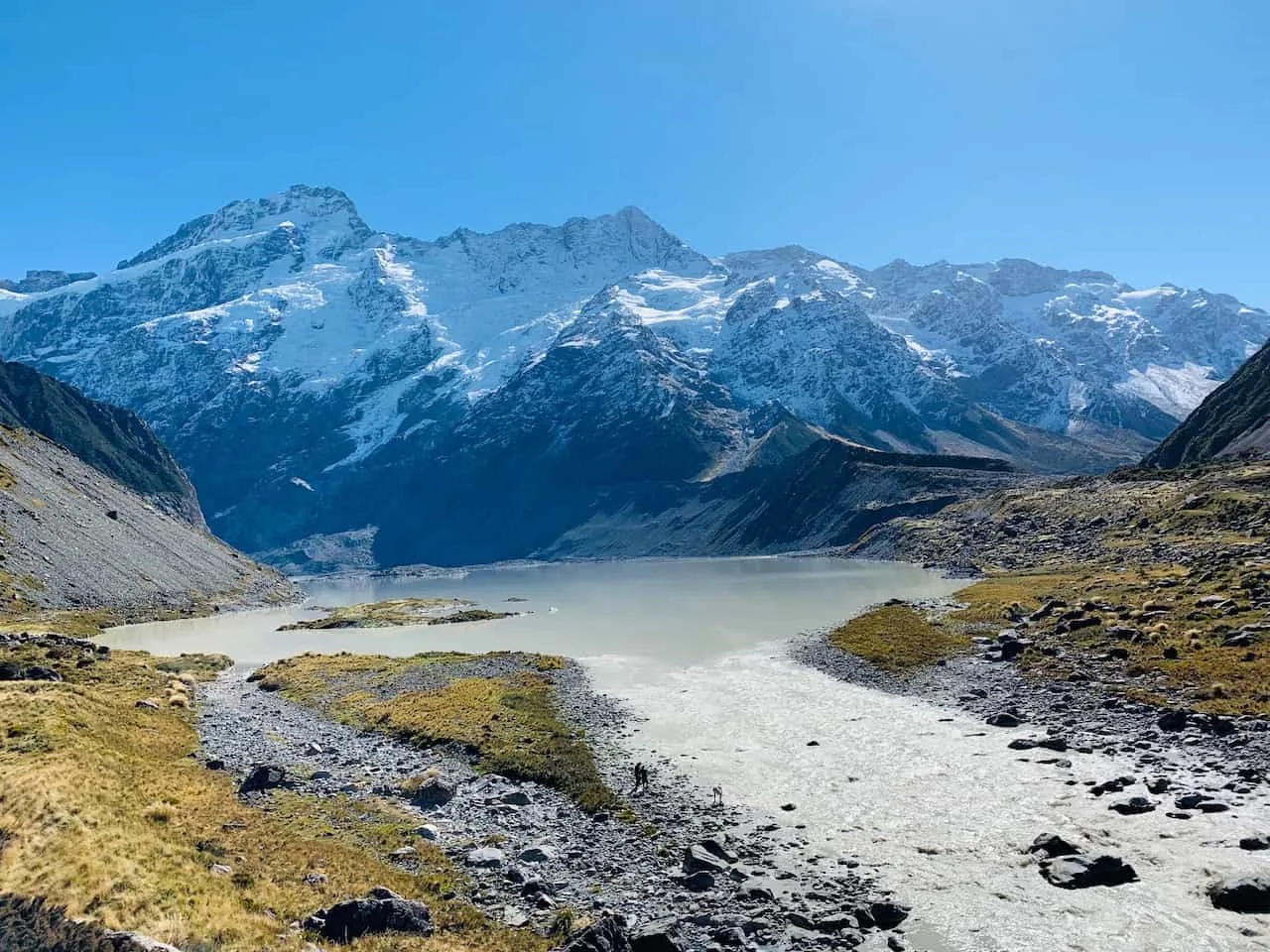 2. Red Tarns
If you are looking to get some views from above, one option is the Red Tarns Track. This track will take you above the valley with views of the glacier lake and Mount Cook out in the distance.
Now the track is full of plenty of stairs as you make the 300 meter ascent. But once up top you will be able to relax and take in those views before making your way back down in the direction you came.
» Take a look at the Red Tarns Track Guide to get you prepared for the trail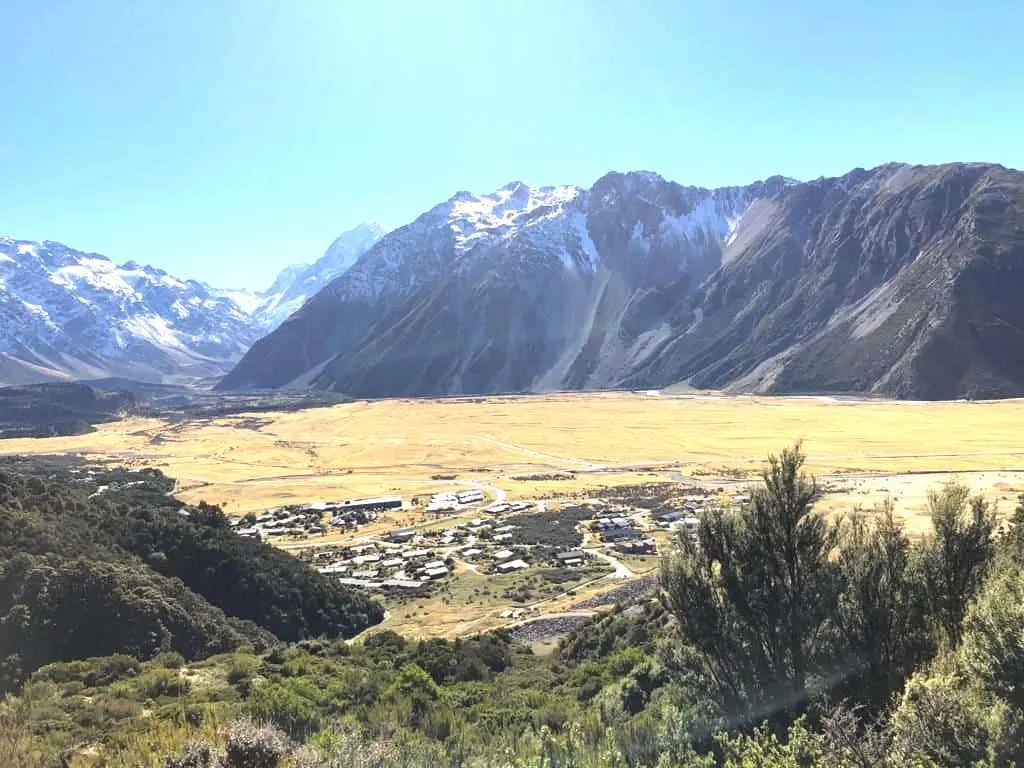 3. Mueller Hut
The most demanding of hikes in the Mount Cook region is that of the Mueller Hut. While many may opt to do the hike in two days, it can also be done in one day instead.
Expect the total round trip to be around 6-8+ hours depending on fitness level and the amount of time you want to spend at various viewpoints and the hut itself.
The track begins with 2000+ stairs (as part of the Sealy Tarns track), before continuing the ascent on steep rocky ground towards the Mueller Hut. Throughout the hike you will be taking in views of the lakes down below, with Mount Cook out in the distance.
» Take a look at the Mueller Hut Track Guide to get you prepared for the trail
Note: The Sealy Tarns Track is another option here if you do not want to complete the full trail to the Mueller Hut. Set aside about half the time if you are looking to just head up to the halfway point to the Tarns.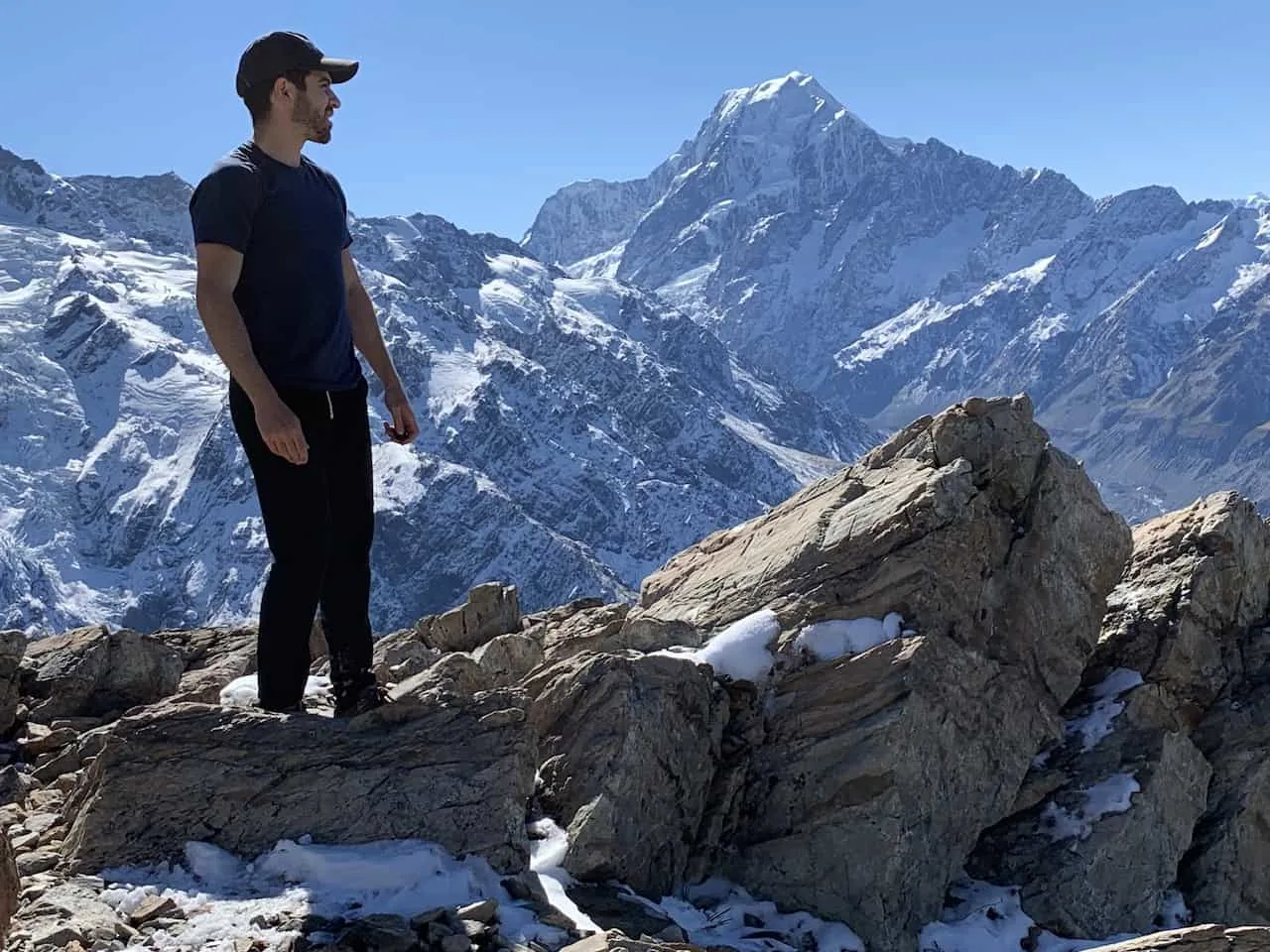 4. Blue Lakes and Tasman Lake View & Tasman Lake Track
While these may technically be a couple different trails, you should have no problem combining them into one longer route, taking you a couple hours to complete.
An easy trail takes you to 3 different small lakes around the Mount Cook area. The hike begins at the Tasman Glacier Car Park and follows a path to the first of the lakes.
When you get to each of these lakes note that you can go around each one and follow a path to the next. It may not be so obvious at first, but there is a path around. Once you have seen all of them, turn back around and head back towards the starting point.
On the way back you should see a sign pointing you towards the Tasman Lake View (you would have passed this same sign on the way to the lakes trail). Head up the path where you will be welcomed to a vast view of Tasman Lake down below.
Similarly, as you are walking back you should be pointed in the direction towards the base of Tasman Lake. Follow that path to get you right towards the waters edge, where you can take in the view from down below. It was quite surreal seeing the small icebergs pass by as you enjoy the glacier lake's surroundings.
» Take a look at the Blue Lakes and Tasman Lake View & Tasman Lake Track Guide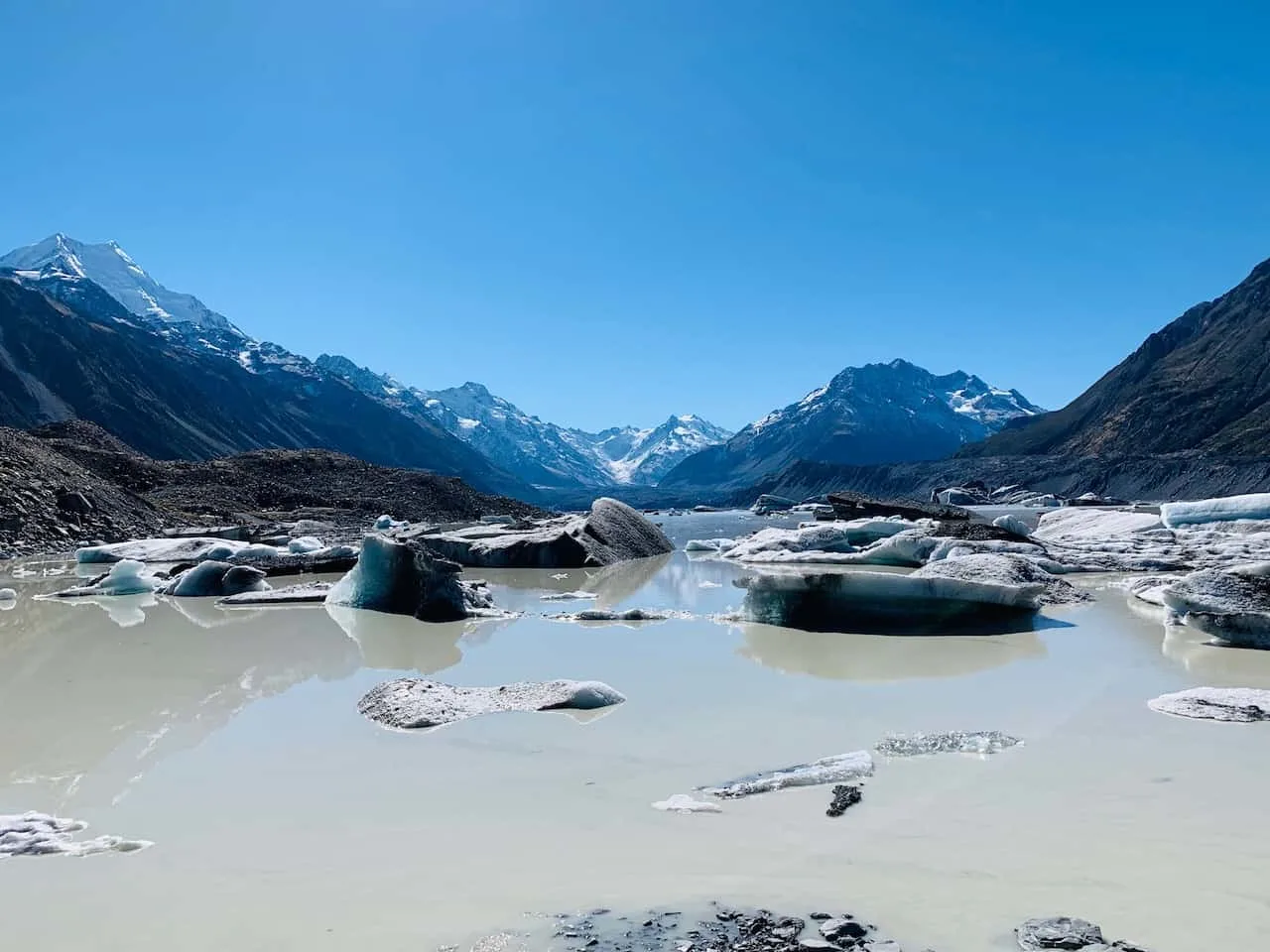 6) Where to Stay in Mount Cook Village
Staying in Mount Cook Village gives you the ability to walk right outside your doorstep and hit the hiking trails. There are not too many accommodation options to choose from but below will your main go to options.
If you cannot find something that fits your budget or if everything happens to be sold out, your next best bet is to stay in the town of Twizel or even around the Tekapo area. But like I said, if you want to be in the heart of the national park then Mount Cook Village is your answer.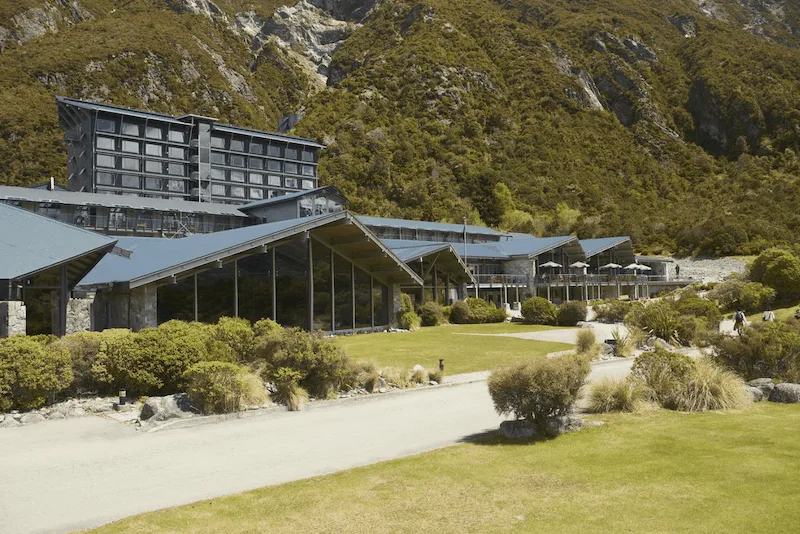 Well, that about does it for a guide to the Kea Point Track of Mount Cook National Park. If you have any questions or comments feel free to write them in below.
Also don't forget to take a look at the other New Zealand itineraries and guides up on the site!
You can easily add the Kea Point Track onto your longer New Zealand itinerary. If you are looking to just head on off to the South Island then check out the 2 Week New Zealand South Island Itinerary.
Or if you are thinking on heading to both islands, check out the 3 Week New Zealand Road Trip I put together.
These itineraries will give you a better idea how to logistically make your way around New Zealand, while adding in many of the main cities, attractions, and activities along the way.