Your Official Guide to the Mueller Hut Track
Hands down one of my favorites hikes I have ever taken part of is the Mueller Hut Track in Mt Cook National Park on the South Island of New Zealand. From the grueling ascent to the jaw dropping views, it is a hike that has it all. If you are heading to New Zealand anytime soon and think you are up for the challenge, then this guide is for you. It will go over everything you will need to know to take part of the Mueller Hut Track and get you going in the right direction when you hit the trail. Believe me, this is one you will not forget!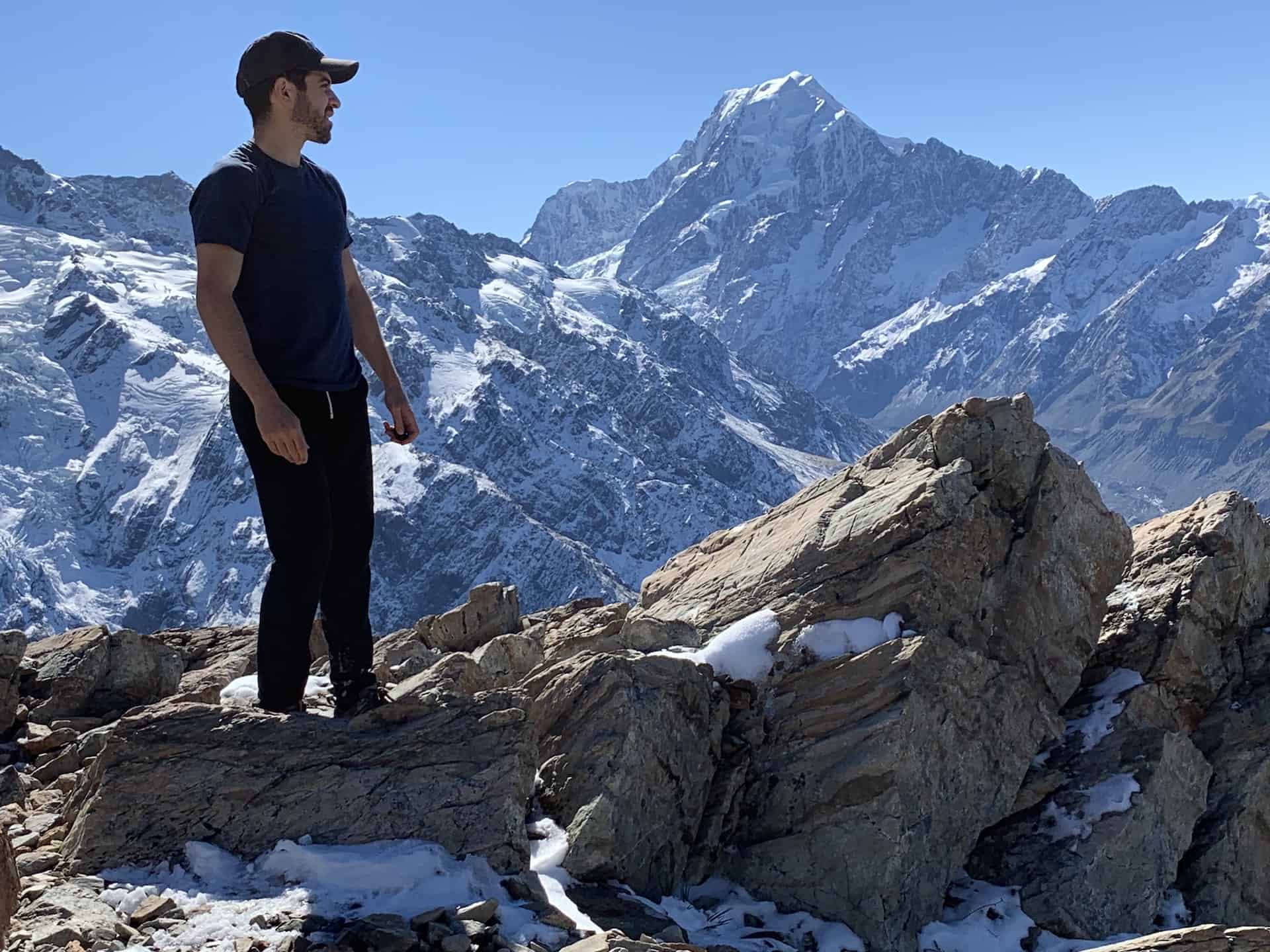 1. Mueller Hut Track Overview
While the Mueller Hut Track is one of my most memorable hikes, it does not come easy. The ascent (and descent) is no joke and it can get very technical at times. If you are not comfortable with a ton of elevation gain in a short distance, you will need to think through if this hike is for you. On the other hand, if you are one who loves to ascend some mountains to get some spectacular views, then the Mueller Hut is right up your alley. Below are some important facts to know for the climb to give you a bit more insight on what to expect.
Name: Mueller Hut Track
Starting & Ending Point: White Horse Hill Parking Lot
Length: 10.4 KM / 6.5 Miles Round Trip
Time: 7-8 Hours
Elevation Gain: 1,040 Meters / 3,412 Feet
Terrain: Dirt Path / Stairs / Rock Scramble
Track Type: There and Back (Return via Same Trail)
Official New Zealand DOC Website
Mueller Hut Track Notes
1. It is a popular option to complete this trail in two days instead of one. By doing so you would sleep up top in the Mueller Hut itself for the night before heading back down the next day.
2. Instead of starting the trail at the White Horse Hill Parking Lot, you can also begin right in Mt Cook Village nearby the Mount Cook National Park Visitor Center / Hermitage Hotel.
2. What to Bring
This section has become pretty standard throughout my hiking articles in New Zealand. You will want to bring along the following items when hitting the trail.
» Backpack
» Water Bottle x 2
» Energy Bars / Snacks
» Hat
» Sunglasses
» Hiking Shoes
» Layers – Shirt / Shorts / Light Sweater / Pants
3. Mueller Hut Weather
I say this a lot when it comes to mountain hikes but if you want to get the most out of this trail you need to pay attention to the weather forecasts. Hiking in cloudy/rainy conditions will not be the same experience as hiking on a clear day. If you want to take in the views (and believe me you do!) then try and be as flexible as you can when deciding when to take part of the trail. Remember that the weather down in the valley and village may not be the same another 1,000+ meters up in the sky.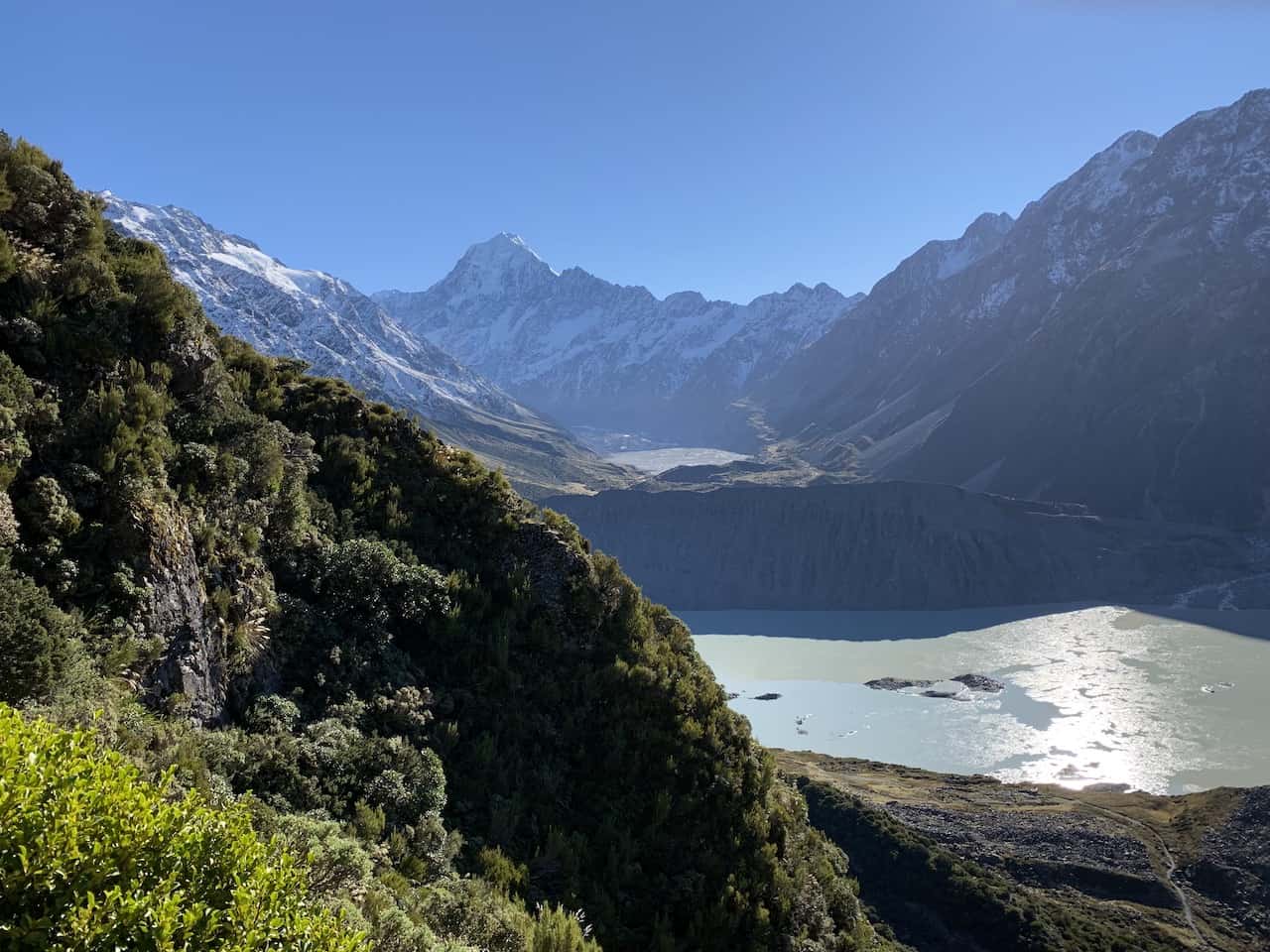 When deciding which day to take part I recommend taking a look at the Mueller Hut weather on Meteoblue.com. Keep an eye on cloud coverage, rain probability, and number of sun hours as it gets closer to your time around Mount Cook.
Take a Look at Some New Zealand Guide Books For Your Trip
4. Mueller Hut Booking
If you do decide to do the overnight in the Mueller Hut and make this a two day hike, then you must make a reservation in advance. To do so head on over to the Mueller Hut booking page to reserve your spot. There are 28 bunk beds available at the hut and it costs $36 NZD for the night. You will find some basic accommodation and cooking facilities (don't expect anything too fancy!).
5. Mueller Hut Route
Now that you have some background info about the Mueller Hut Track, it is time to dive on into the hike itself. From the White Horse Hill Parking Lot (or from Mount Cook Village), the Mueller Hut Track will actually share the same path with two trails along the way – Kea Point and Sealy Tarns. The trail to Kea Point will only be shared for a small bit until the Mueller Hut trail veers away and up the mountain. From there, the Mueller Hut Track and the Sealy Tarns Track will be one of the same until you reach Sealy Tarns itself. Everything above Sealy Tarns would just be the Mueller Hut Track on its own. So if you complete the Mueller Hut Track, well congrats because you completed the Sealy Tarns track as well!
As long as you follow the signs for the Mueller Hut you will be all good, but I just wanted to explain why you may see some other track names along the way. Below is a map that shows the different trails mentioned: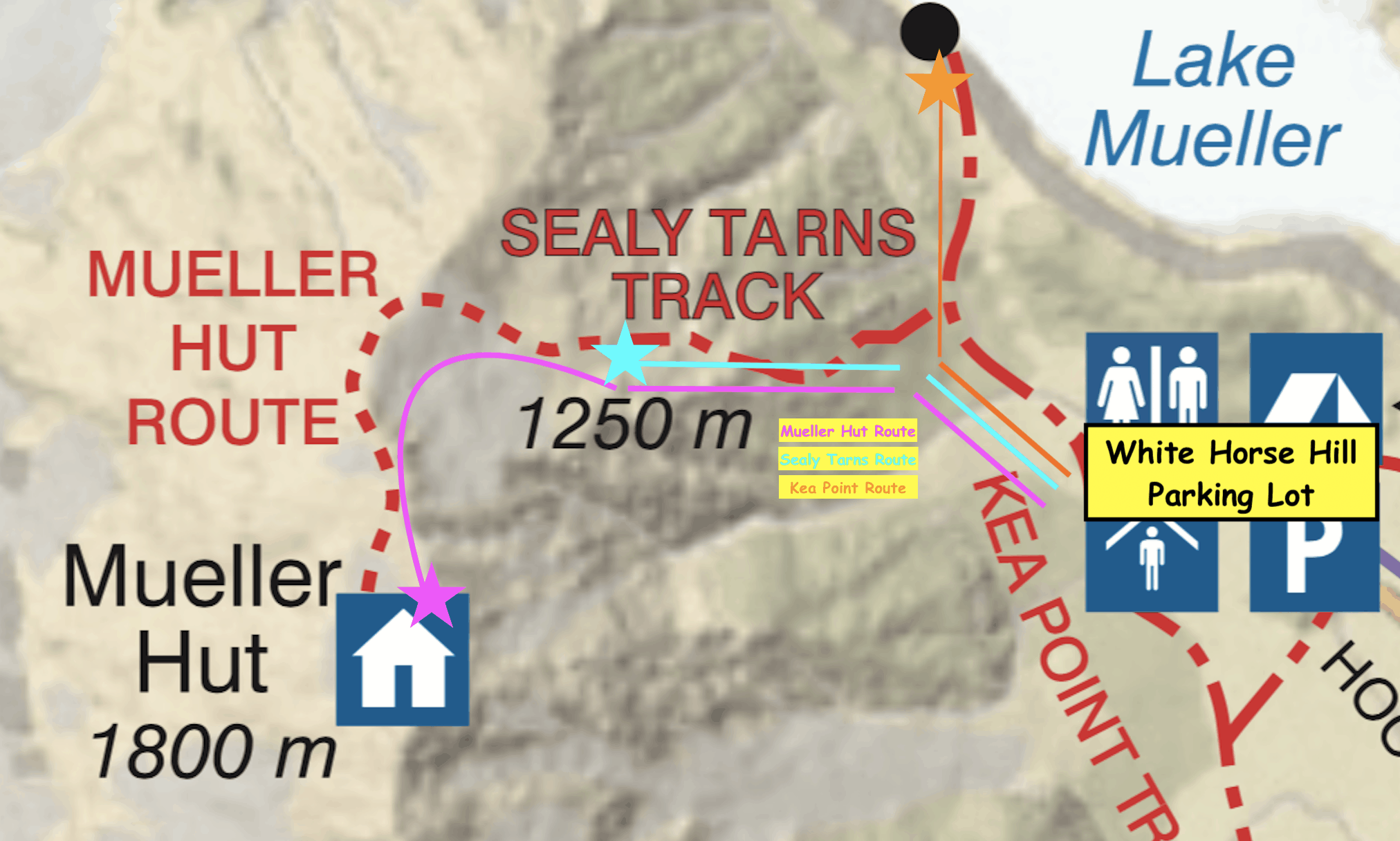 6. The Mueller Hut Track
Once you make the short walk through the valley and veer away from Kea Point, the Mueller Hut Track can be broken down into two main phases – the first is the 2000+ stairs to Sealy Tarns, which is then followed by the rock scramble to the Mueller Hut. And when coming back down it will be the same in reverse!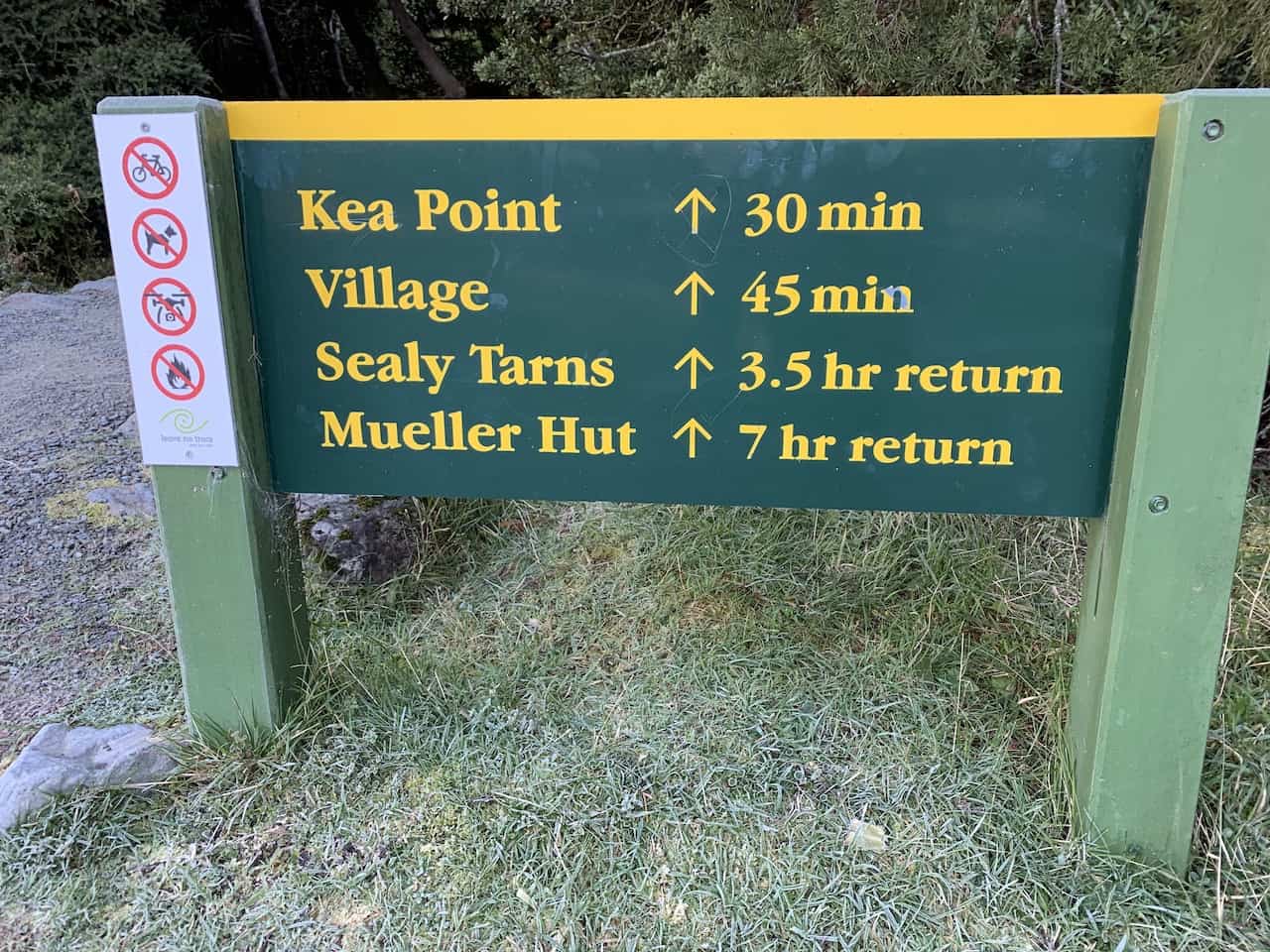 White Horse Hill Parking Lot to Sealy Tarns
As you begin the hike and follow the signs towards the Mueller Hut, you will be welcomed to some incredible views from down below of Mount Cook National Park surrounding you. Soon enough though you will come across the infamous ~2,200 step staircase. You will slowly make your way up the mountain as you zig zag your way closer and closer to Sealy Tarns. Now, while the trek up is pretty tiring, the views just continuously get better and better as you gain more elevation.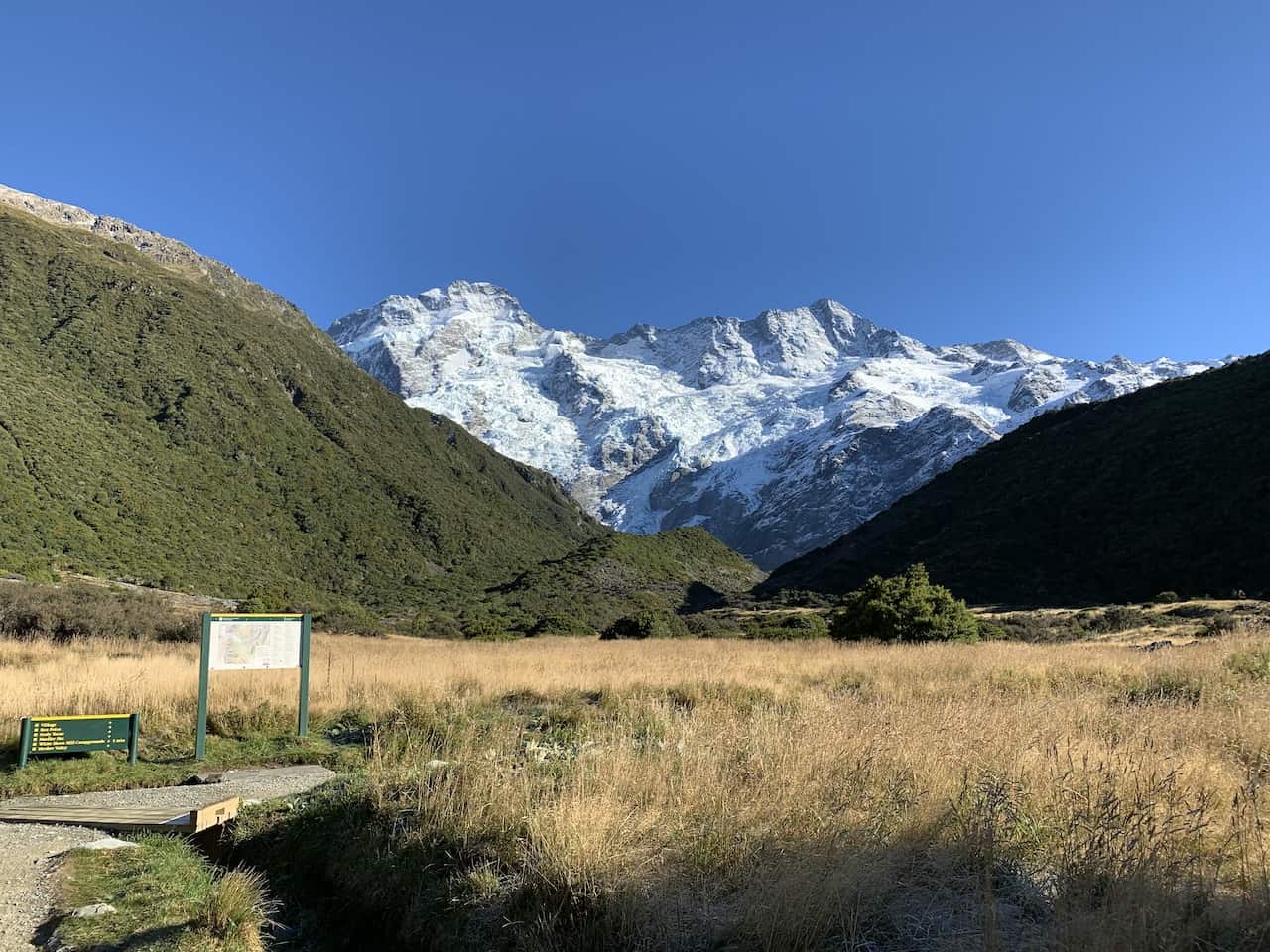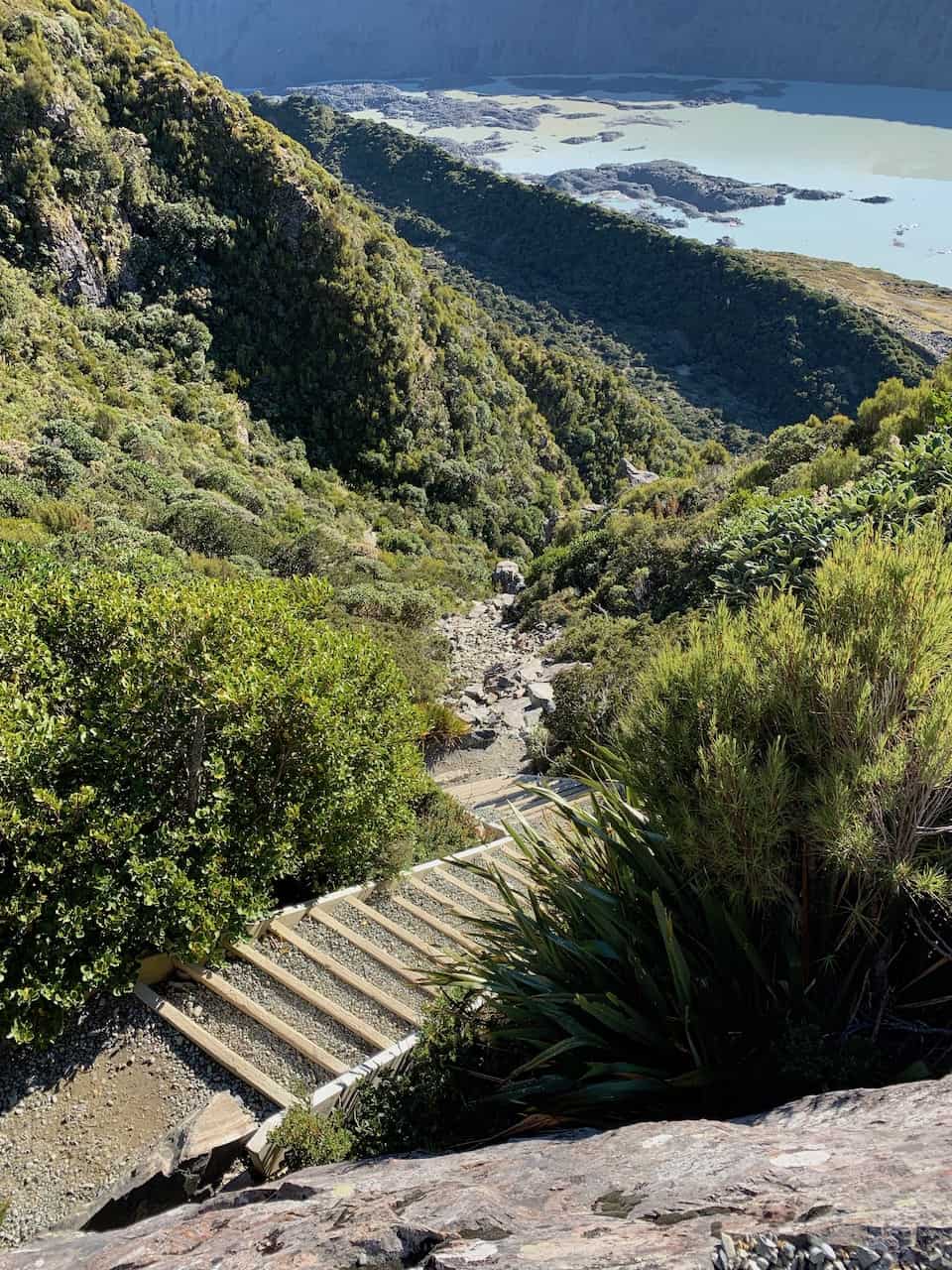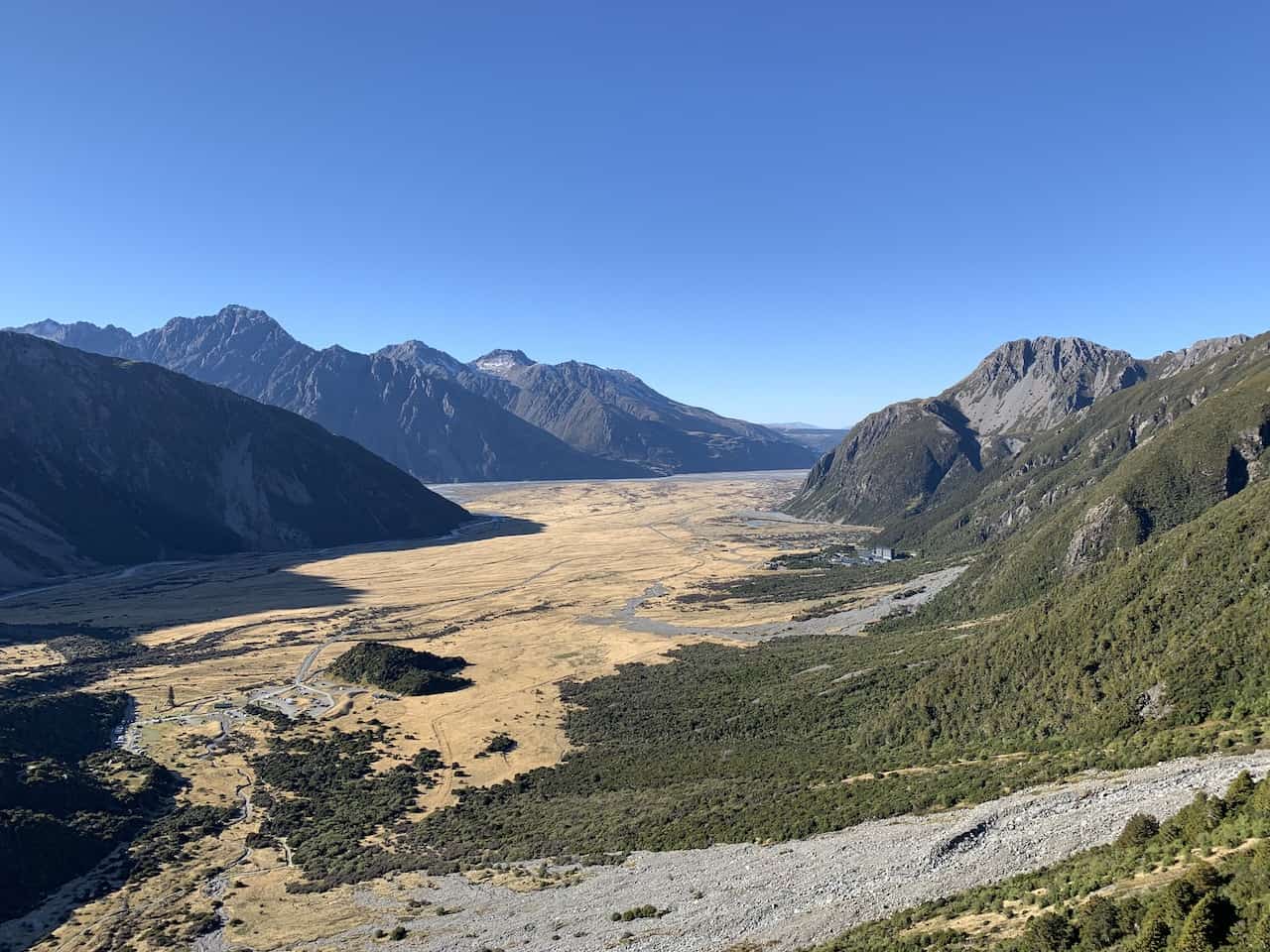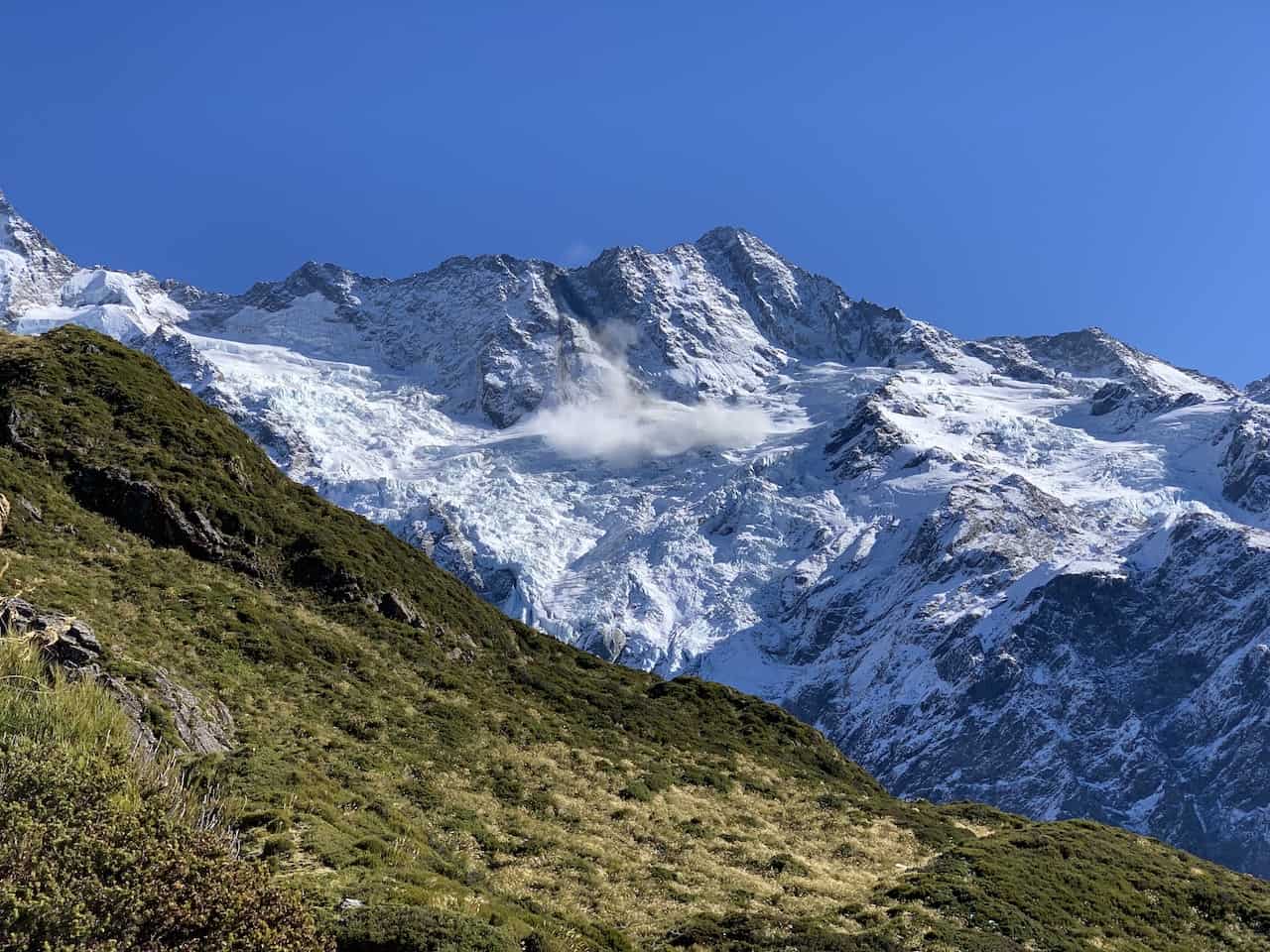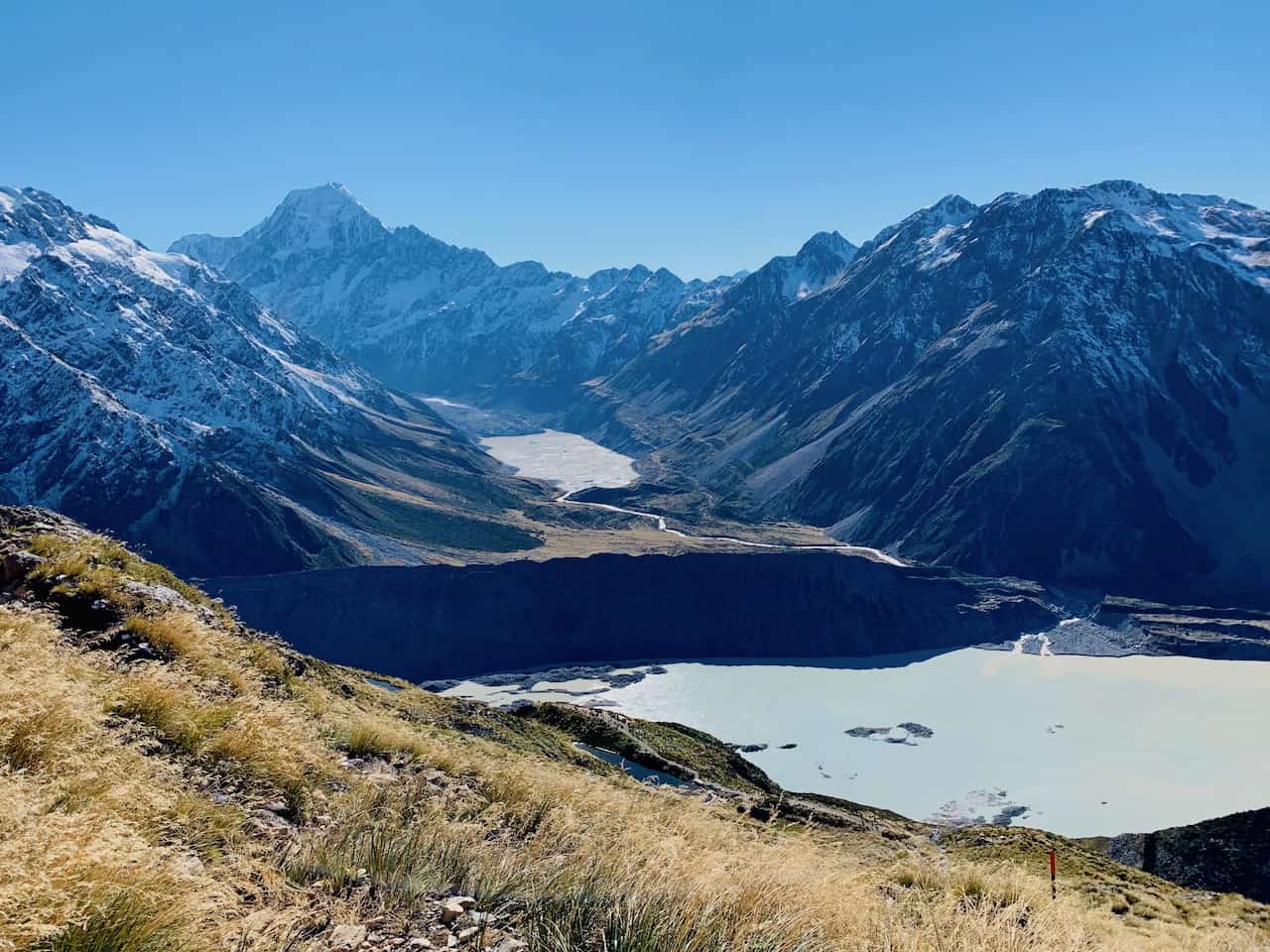 You will be able to see Mount Cook Village out to the right with the beautiful valley going on for miles, and directly in front of you will be Mueller Lake, Tasman Lake and of course Mount Cook itself. You will get a great view from up top of the Hooker Valley Track and its suspension bridges and you will soon across some more snow capped peaks surrounding you.
After a couple hours of climbing, you should reach Sealy Tarns – one of the most picturesque lakes that you can ask for high up in the mountainside. Take some time here to sit down, relax, and enjoy the ever expanding views.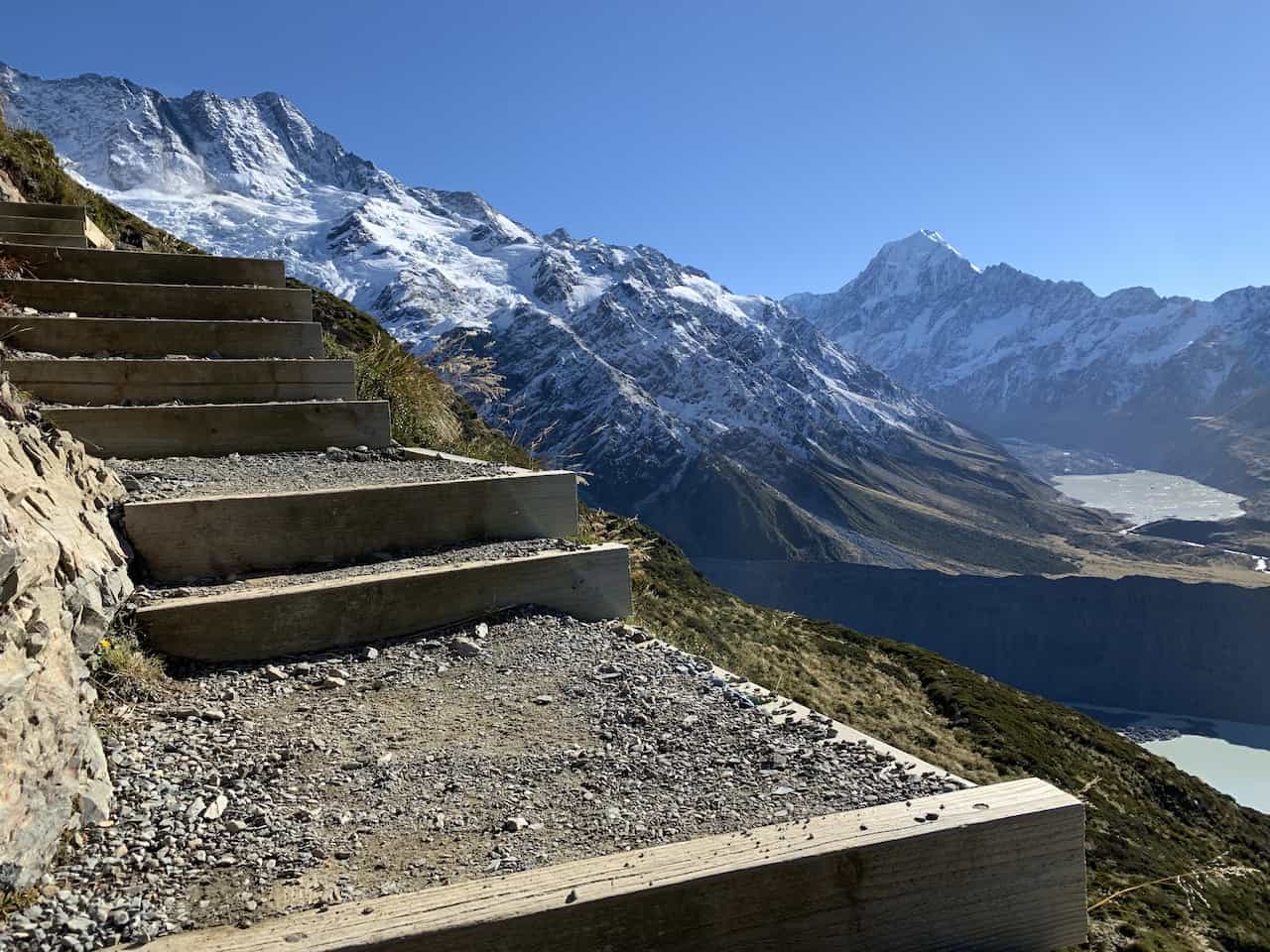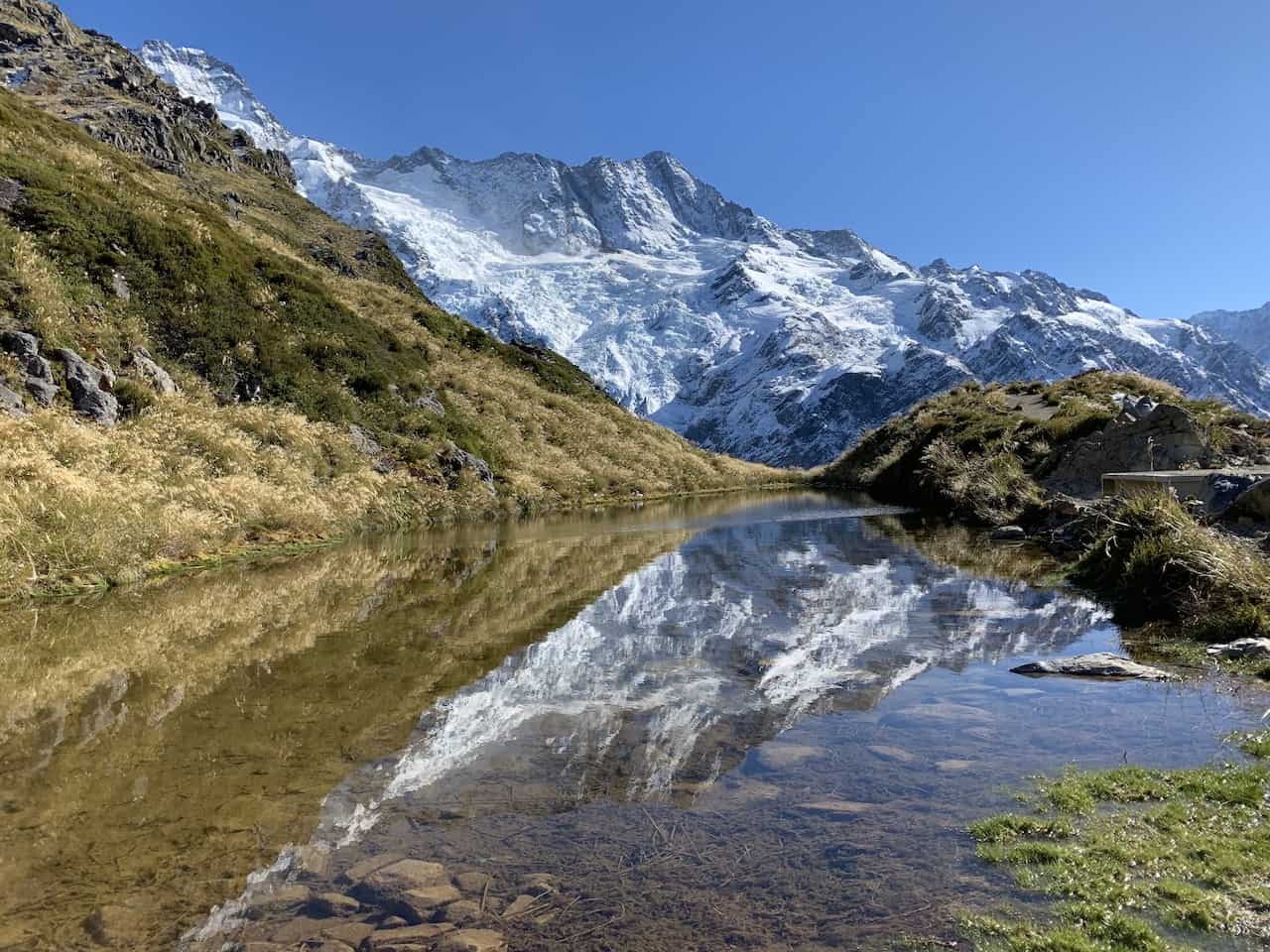 Take a Look at Some New Zealand Guide Books For Your Trip
Sealy Tarns to Mueller Hut
Once you had enough time enjoying Sealy Tarns, head back onto the trail and follow the sign to the Mueller Hut. Now this portion of the hike is going to be a bit different than the first portion. While you had some help with the stairs to begin with, now the incline will be ascended by rocks instead. During this portion of the hike, you need to be very aware of your footing. One slip and you can twist an ankle or seriously hurt yourself. Now, while there are plenty of rock sections, you will find some sections of a more normal dirt trail as well. Just continue to follow those markers as you make your way up.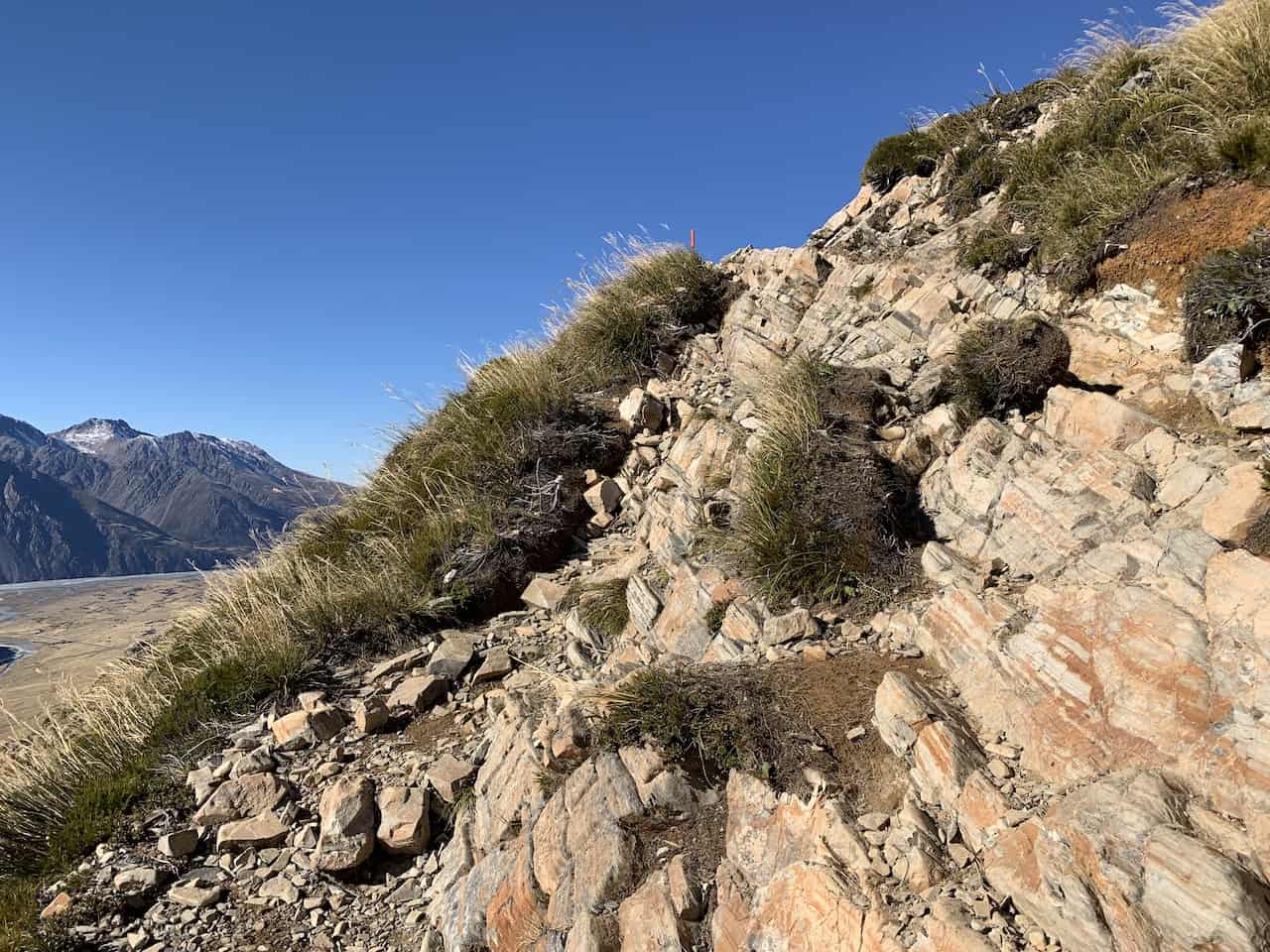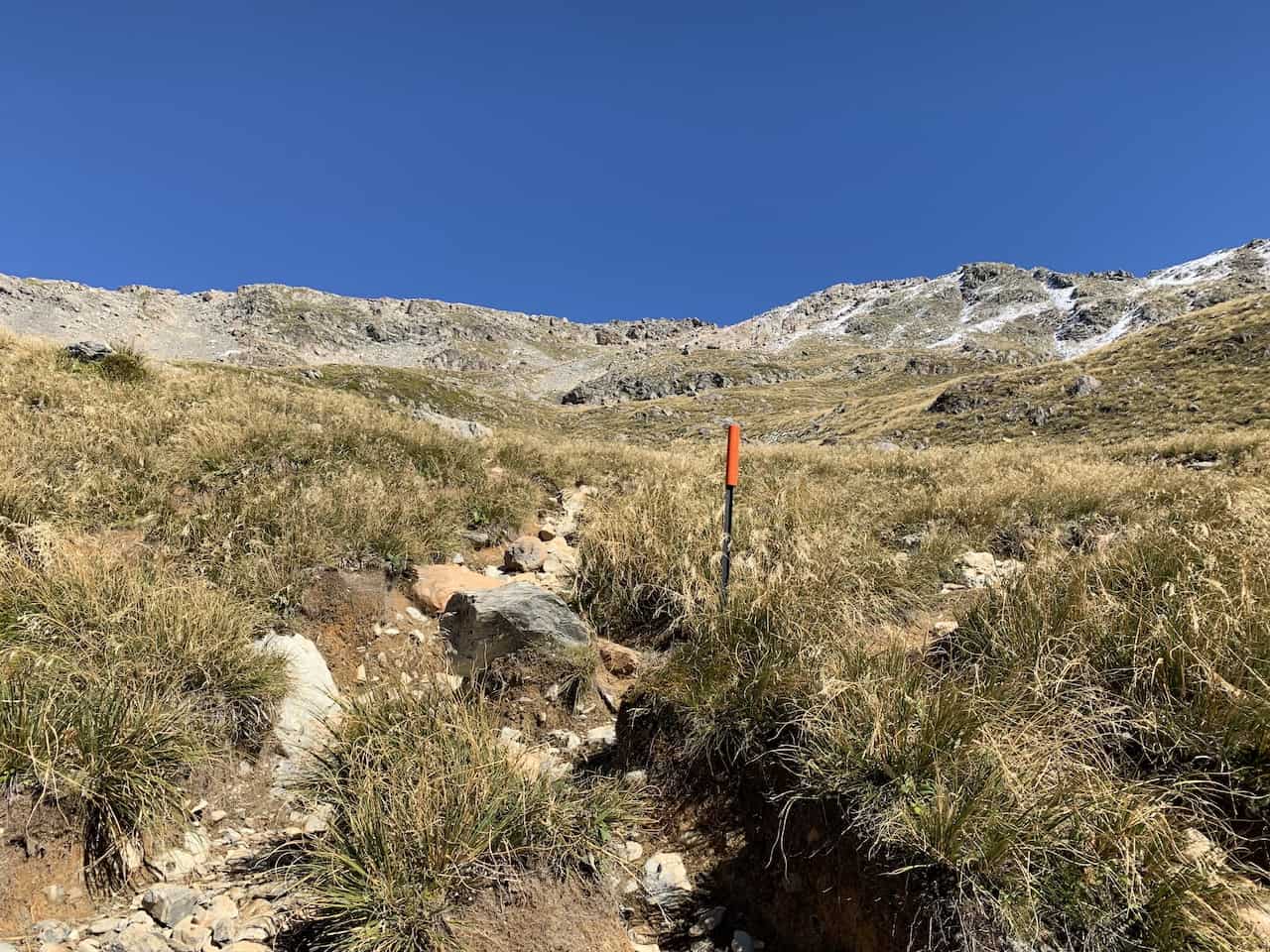 After some time you will soon come across the Mueller Glacier and Mount Sefton out in the distance. Don't be surprised either if you see small avalanches coming down from time to time – believe you will know when they are about to happen by the large crackling sounds! Soon enough though you will get your first glimpse of the bright red Mueller Hut up on the mountainside. From here all you need to do is get yourself around all the rocks and possibly some snow to reach your final destination (or mid point that is!).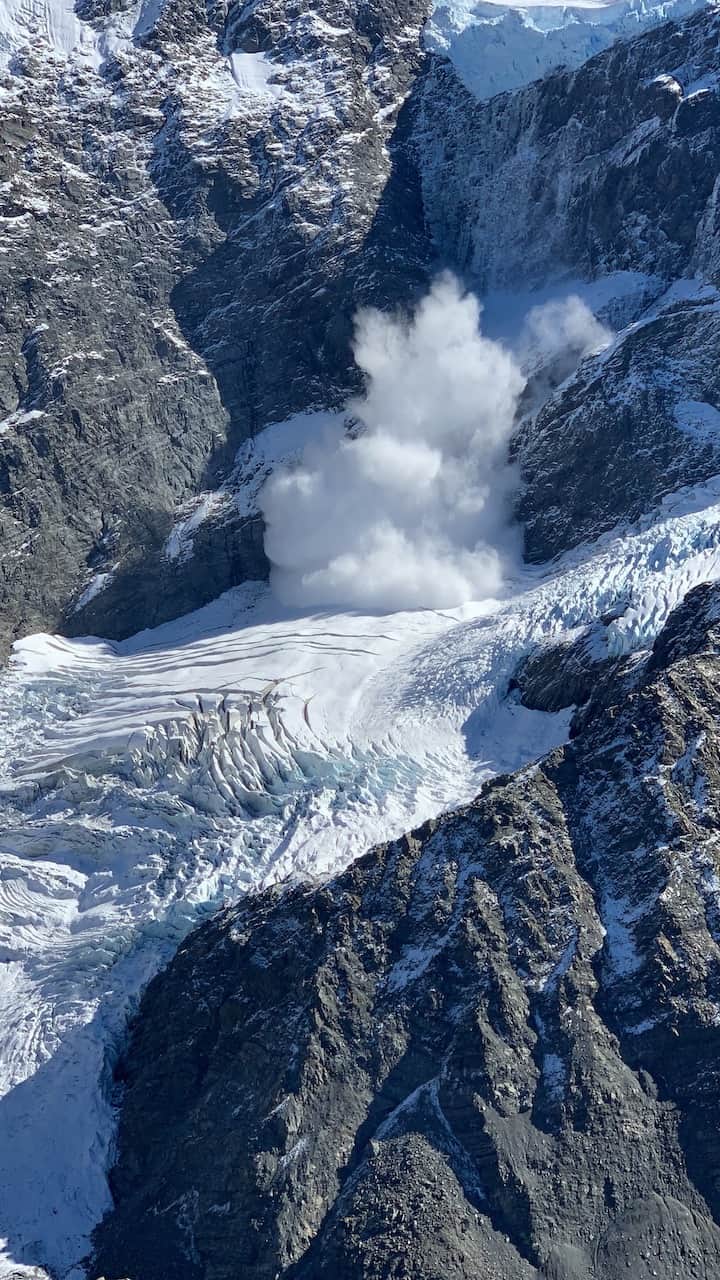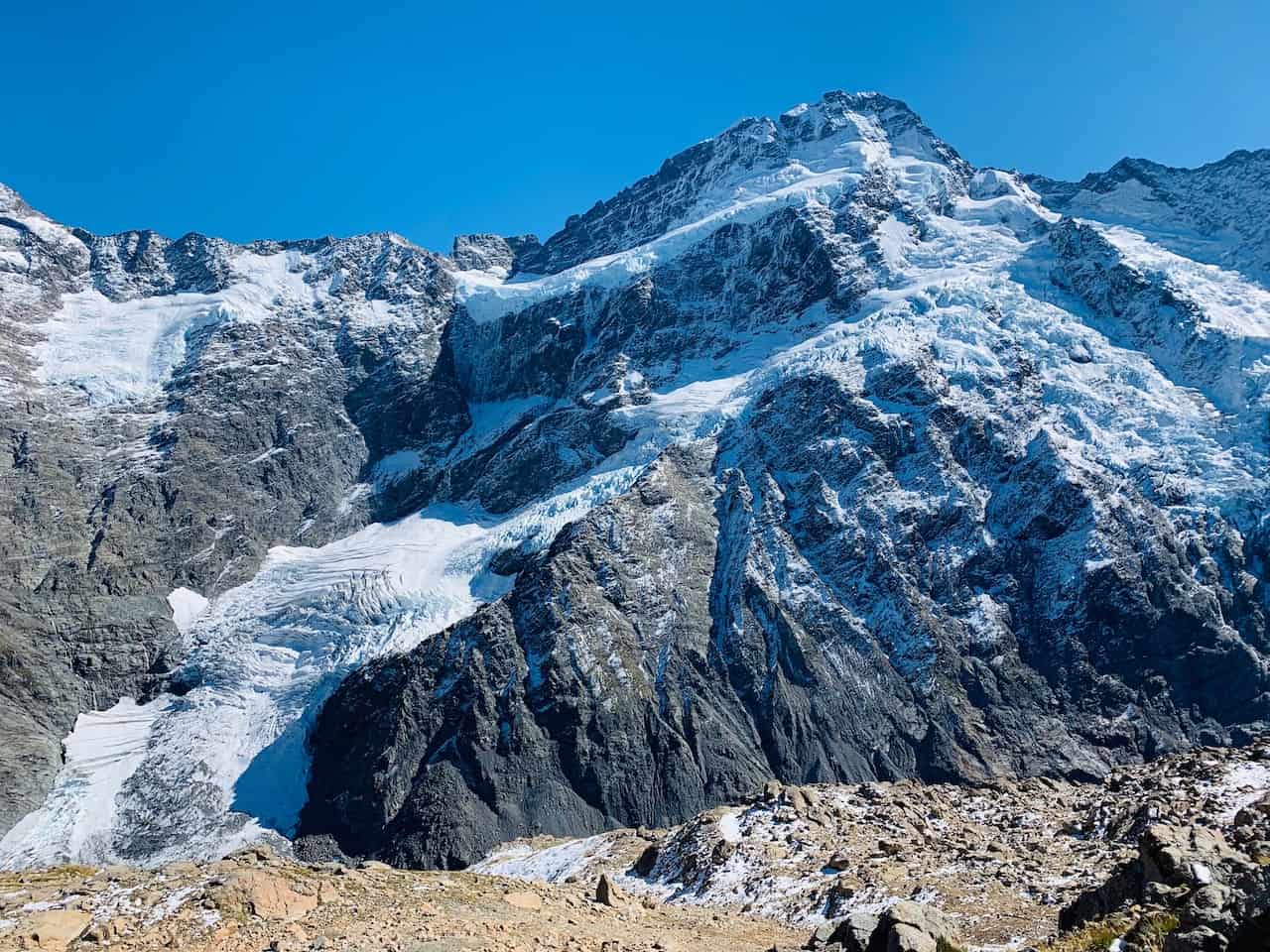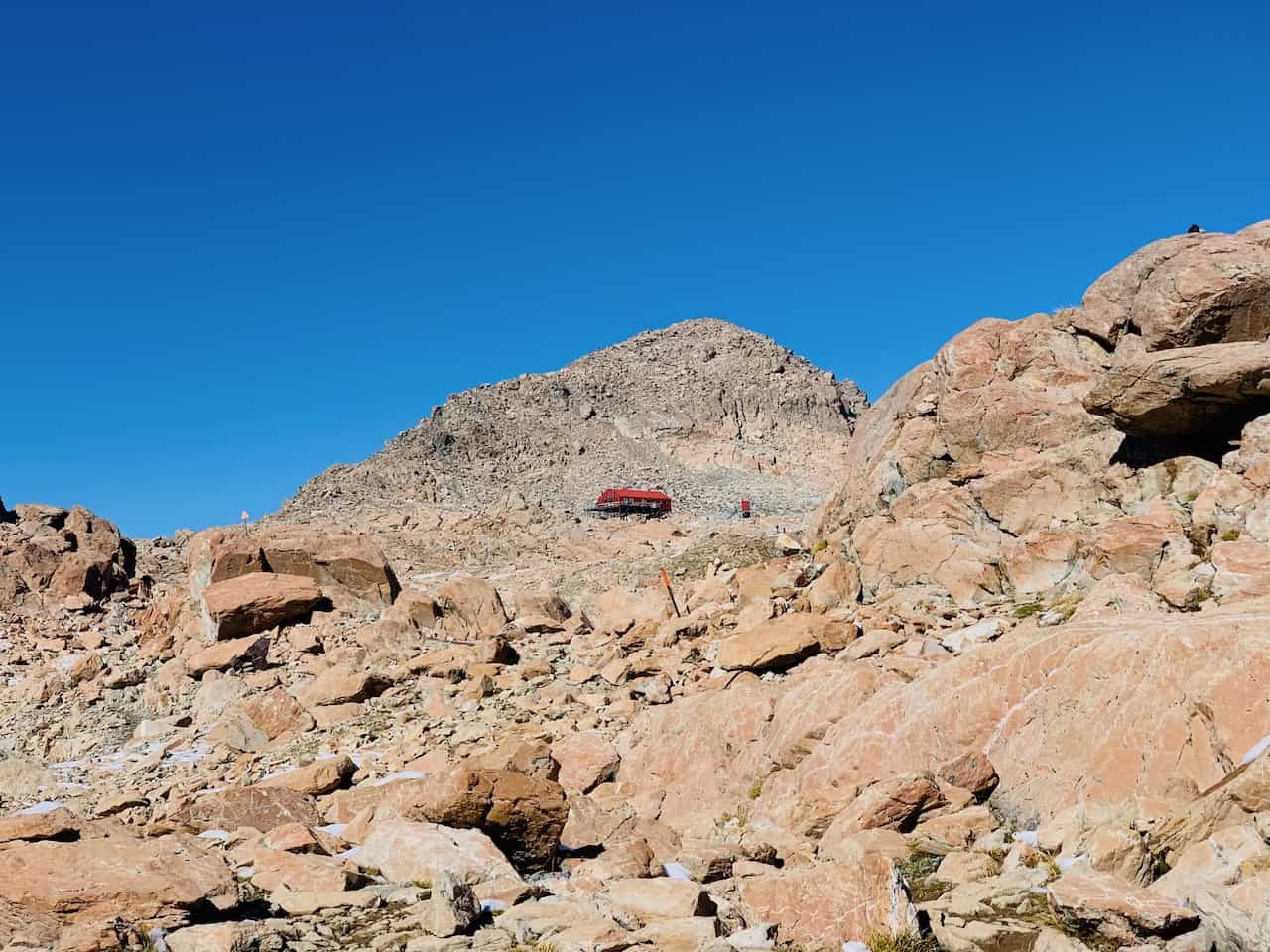 Once at the Mueller Hut it is time to rest those legs and take in the vast views in every which direction – Mount Cook, the lakes, the valley, the snow capped peaks – you name it and Mueller Hut has it for you. If you are up for a little more adventure, you can scramble some more rock to the left of the Mueller Hut (if looking at the front of it). You are sure to find a place all to yourself to take in the surroundings and enjoy everything that Mount Cook National Park has to offer.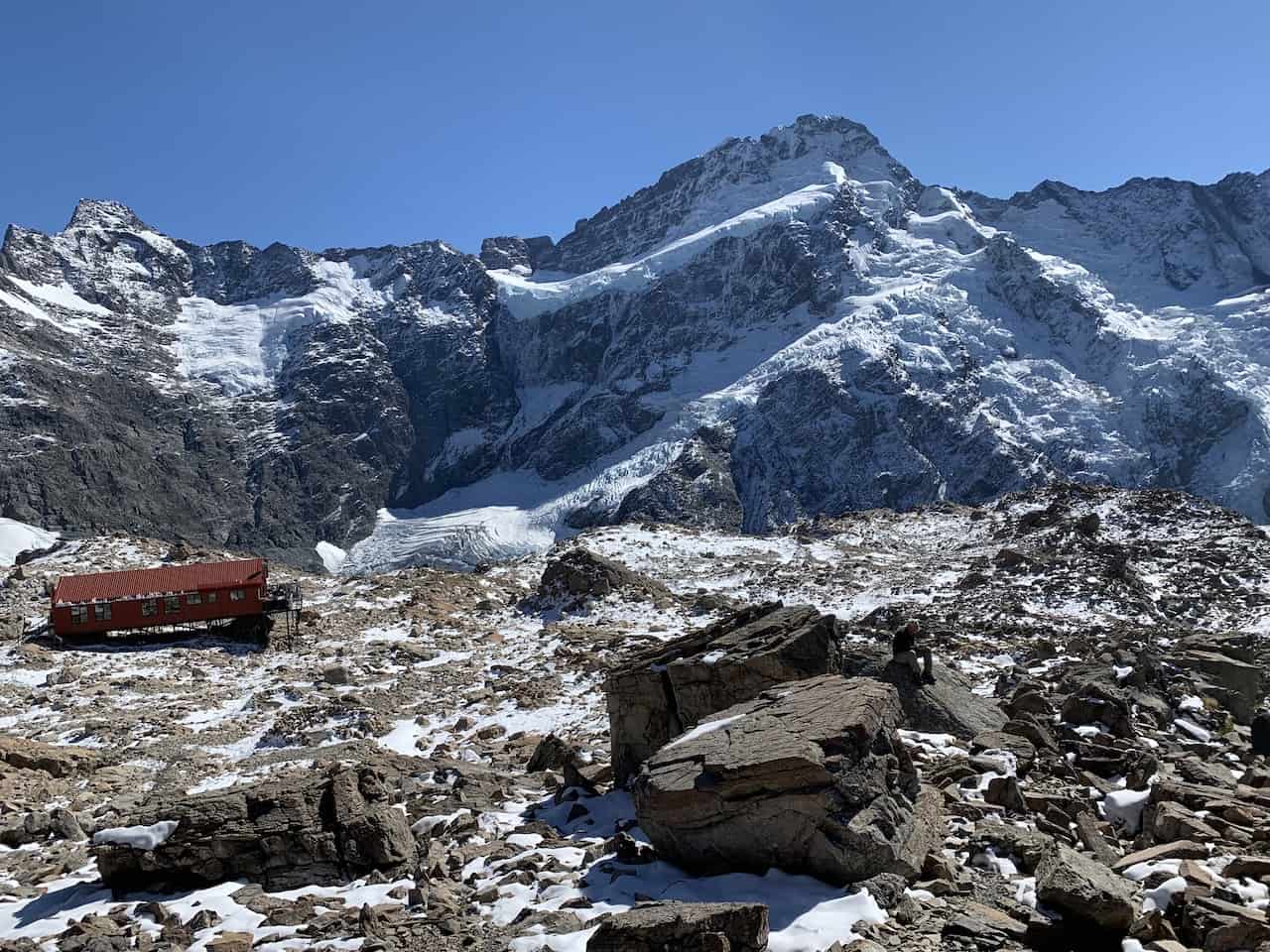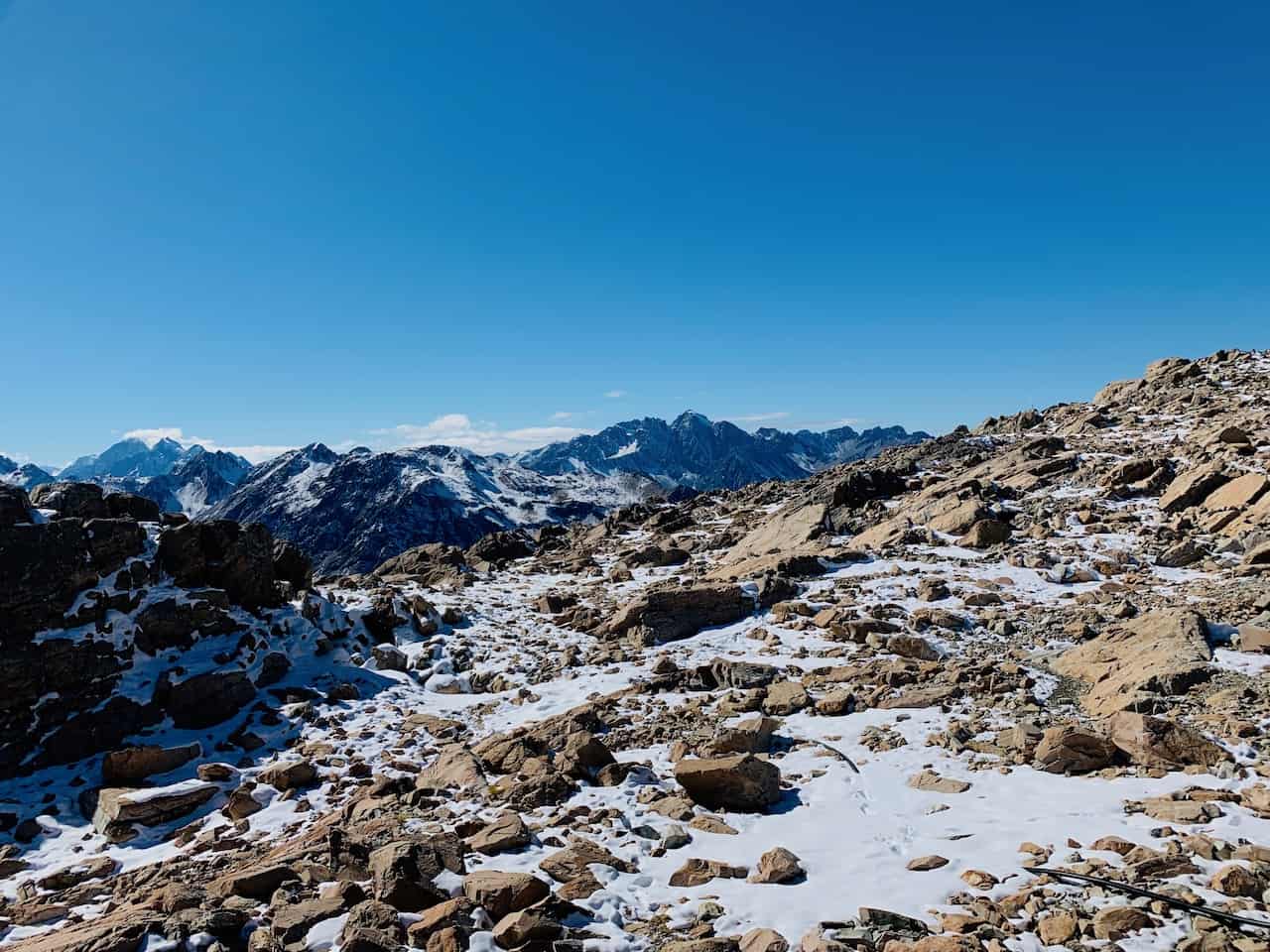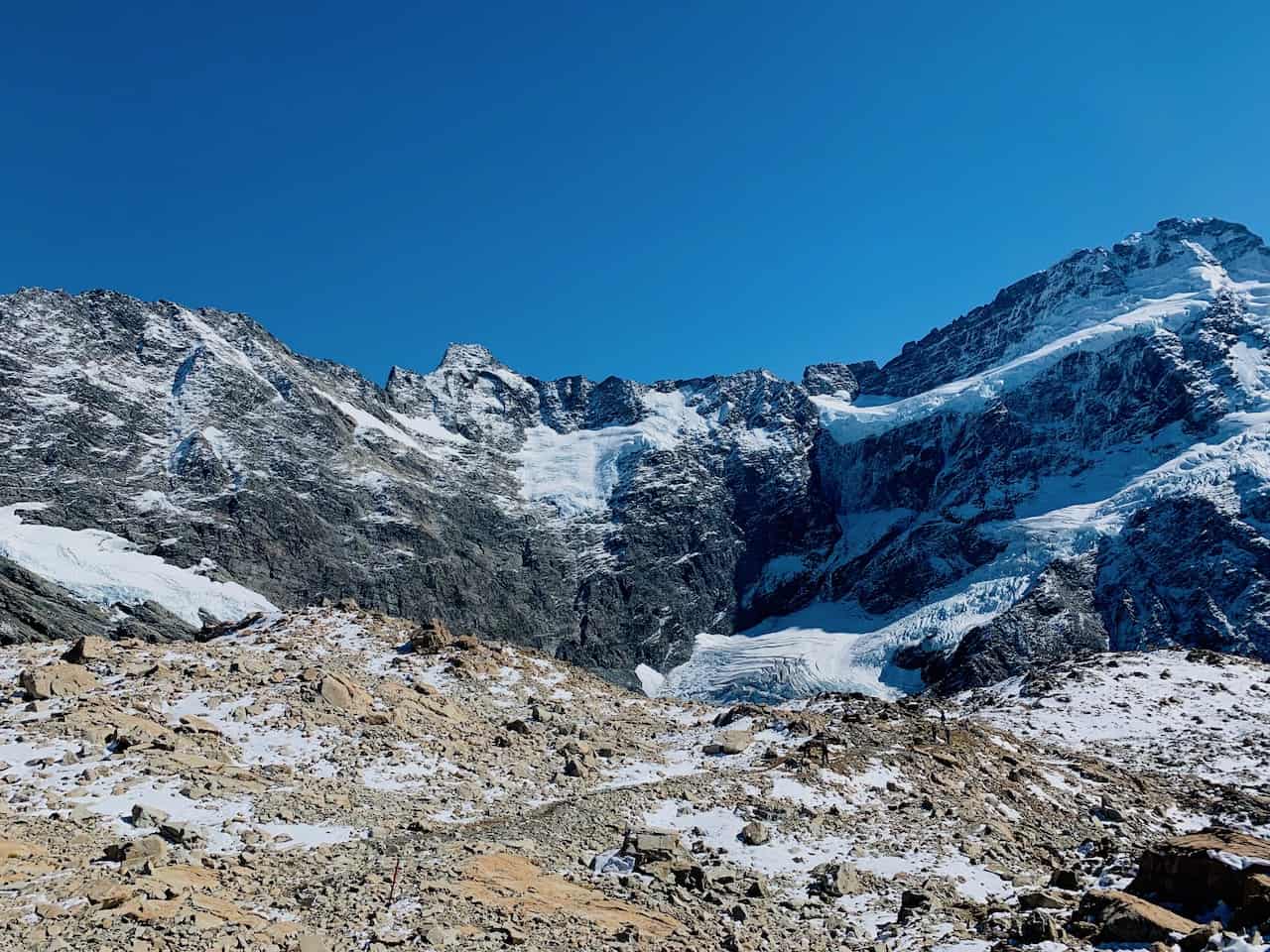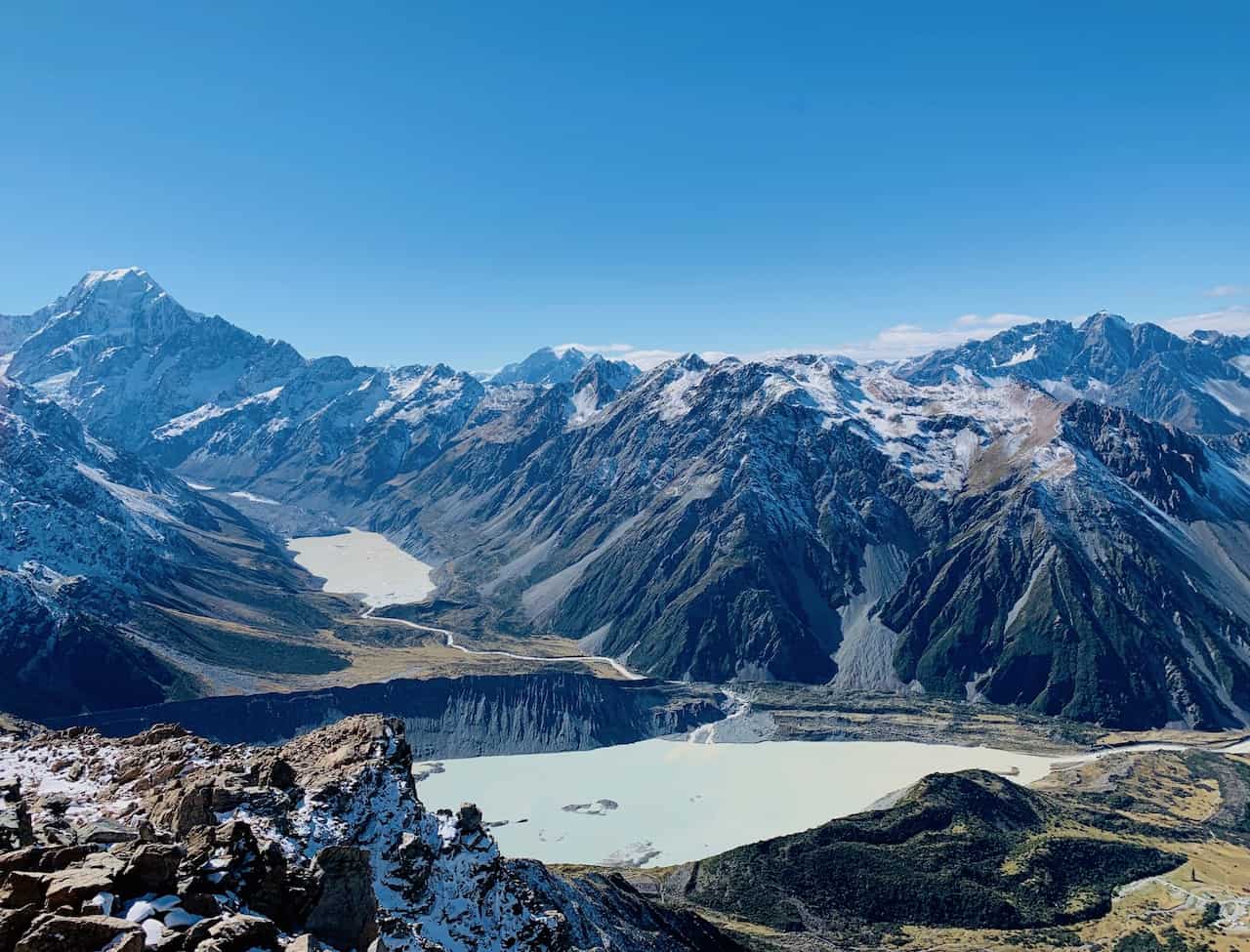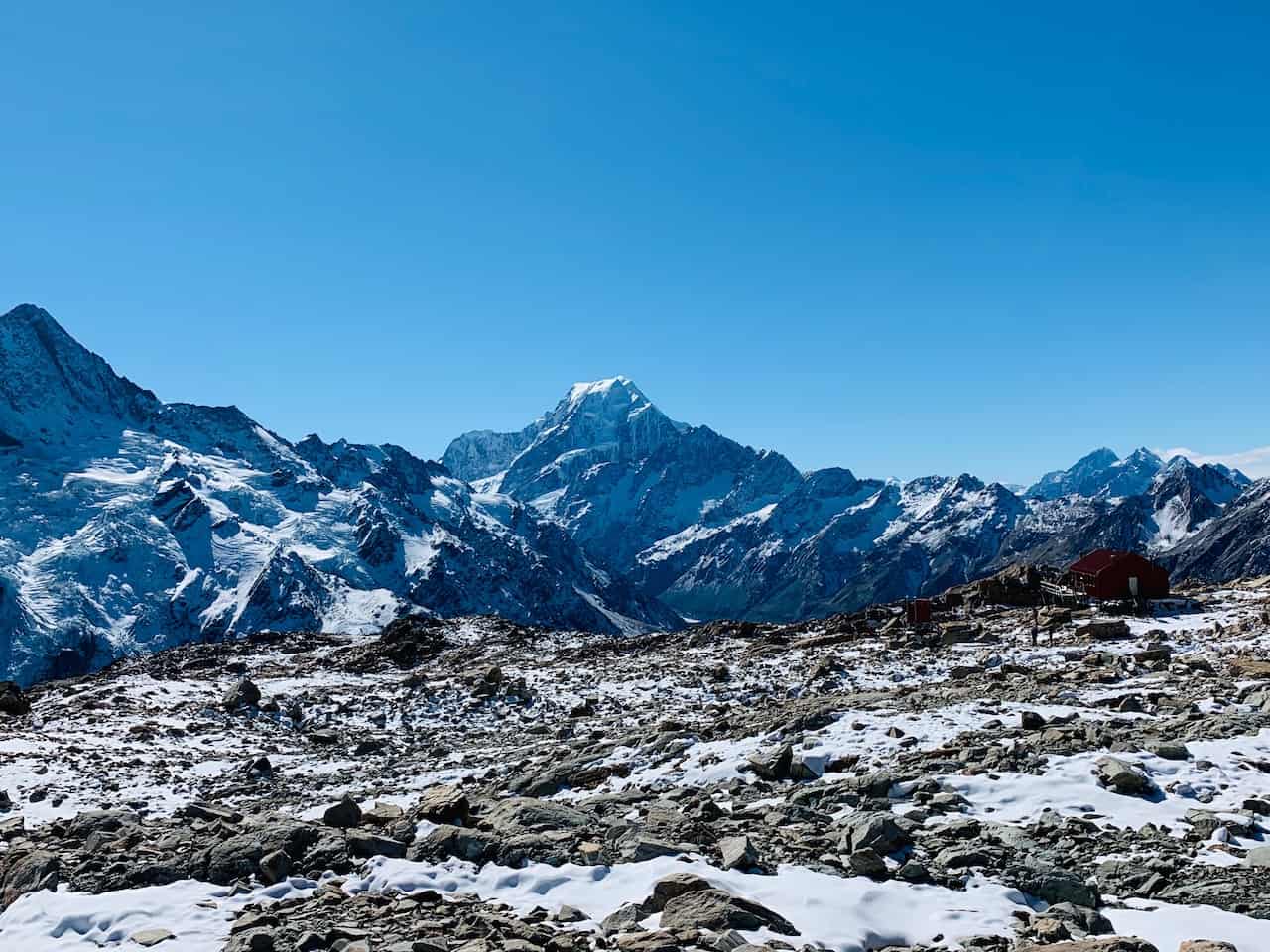 Heading Back Down
Well, it is now time to make your way back down to the White Horse Hill Parking Lot. It is a long and grueling downhill so be prepared for it! You will start off heading back to Sealy Tarns. Remember, this portion of the trail consists of mostly all rocks. Heading down on these rocks is much harder than going up on them. Be careful, watch your step, and take it slowly until you reach Sealy Tarns. Once you have made your way to the staircase, enjoy those 2,200 steps back down in the valley. By now you probably just want to be down as quickly as possible and I don't blame you after the 6+ hours of hiking. But still be careful and don't take it too fast. Soon enough you will be right back at the White Horse Hill Parking Lot after successfully completing the one of a kind Mueller Hut Track.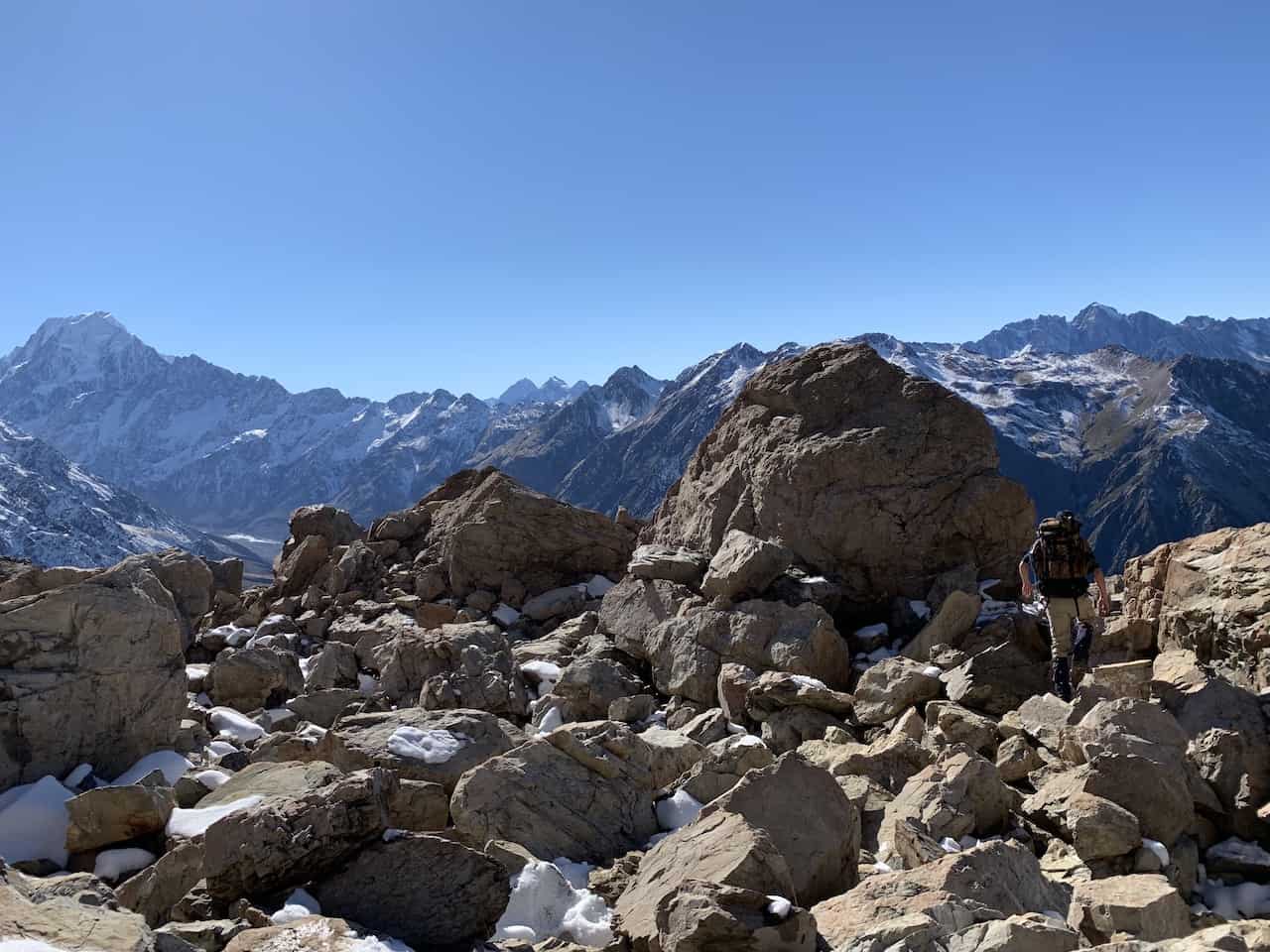 7. Where to Stay in Mt Cook Village
The village of Mount Cook is pretty small altogether. There are basically just a few hotels and a couple restaurants that make up the town center. Now while there isn't much going on per se in the village, it is the most convenient of options if you are looking to take part of the Mueller Hut Track among the other various trails in Mount Cook National Park. Below are a some of those options to choose from:
If you cannot find accommodation within the village, you can also take a look at some options in the towns of Twizel and Tekapo, which would be some of the closest main towns from Mount Cook.
Well then, that about sums up what you need to know to take part of the Mueller Hut Track. It is sure to be one of your best hiking experiences to date and I hope this guide has helped you get going in the right direction. If you have any questions at all about the trail, feel free to write them in below. Also take a look at the other New Zealand itineraries and guides up on the site for more helpful info to prepare you for your trip. Have fun out there and safe travels!
Some of the latest South Island / New Zealand guides include:
21 Helpful New Zealand Travel Tips
The Ben Lomond Track of Queenstown
And don't forget to check out the 14 Day New Zealand South Island Itinerary!