When you think about New Zealand hiking the first few things that may come to mind are vast mountain views, beautiful lakes, and plenty of climbing. Abel Tasman National Park though is a bit different from the rest of New Zealand. Instead you will find an incredible 60 KM / 37 Mile track that weaves its way in and out of the forest along some of the best beaches and bays that the country has to offer. What is great about Abel Tasman is that you can do anything from a 1 day hike on the track to a 5 day trek as you complete the entire trail. This guide will go over everything you need to know about the Abel Tasman Track and how to prepare for one of the best hikes out there.
* Affiliate Disclosure: This post may contain affiliate links, which means I may receive a commission if you make a purchase through the links provided, at no additional cost to you. Thanks for supporting the work I put into TripTins!
1) What is the Abel Tasman Track
Located on the northern coast of New Zealand's South Island lays Abel Tasman National Park. Starting in the small town of Marahau up to Wainui Bay is a 60 KM track that makes its way up the coastline.
The track is actually one of New Zealand's Great Walks (altogether there are 10 of them currently around the country) and it is advertised as a 5 day trail if you want to set out to do the entire thing.
Since many people may not have 5 full days to spare, there are also options to hike parts of the trail over just 1 or 2 days, or even complete the whole thing in just 3 days.
Below is a map (courtesy of the NZ DOC) of the Abel Tasman Track with the "normal" 5 day route with the starting point in Marahau, ending point in Wainui, and the overnights squared off.
Note: Although the official ending point is in Wainui Bay, if you do not have transport back from the car park there, you can walk another 3 hours / 9 KM back to Totaranui via the Gibbs Hill Track to get picked up by a water taxi. Totaranui is the furthest on the track that water taxis are available.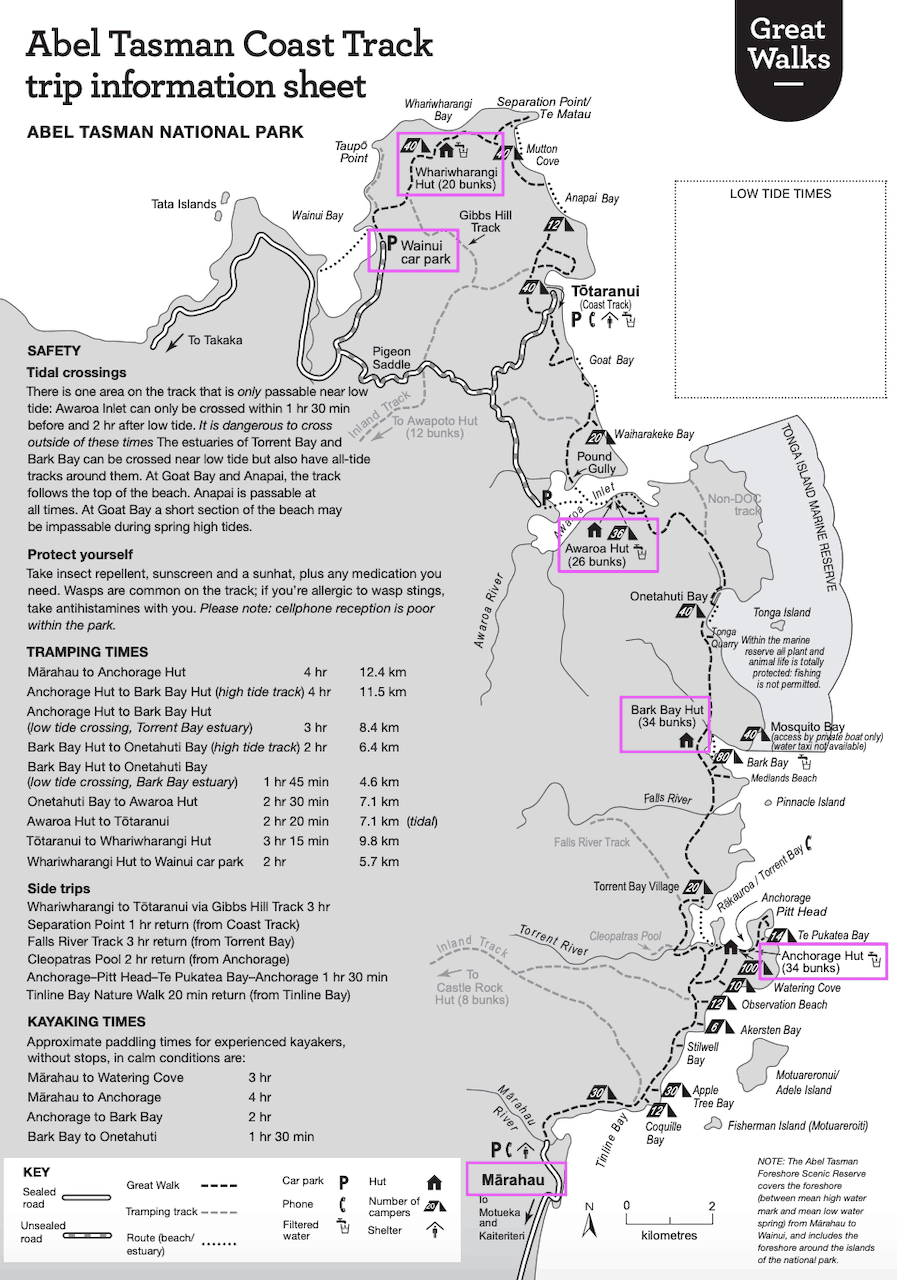 As you can see on the map, the trail winds its way throughout the national park as it stops by various beaches and bays along the way, giving hikers the chance to cool down and enjoy the water at different points of the track.
What you can also see on the map are some huts and campsites that are governed by the NZ DOC (Department of Conservation). These huts and campsites can be reserved in advance if you would like to take part of a multi day hike and need somewhere to sleep at night (more on that later on in this guide).
At the end of the day, what makes the Abel Tasman Track so great in my eyes, is that it is a much different type of trail that you will find compared to various other trails in New Zealand. On top of that, even if you do not have the chance to take part of the full hike, you still have the opportunity to do just a one day option too.
→ The Abel Tasman Track is one of the top New Zealand South Island hikes to take part of. Check out the list for more!
2) Abel Tasman Track Hiking Options
If you want to take part of the Abel Tasman Track you do have several options to choose from – either by just doing a 1 day hike and completing part of the trail or heading out on a 5 day hike and completing the whole thing.
Now I won't list out each and every option but I will list out and dive deeper into some of the more popular ones out there.
Due to this being a one way hike, you will need to utilize the Abel Tasman Water Taxis at one point or another during the trail. That means either heading out on a water taxi and walking back towards Marahau or starting the trail at Marahau and taking a water taxi back once you complete your desired hike.
I will go into more detail about the water taxis later on in this guide. There are also some part of the trail that have road access – Awaroa, Totaranui, and Wainui if you are able to figure out car logistics.
1 Day Options
» Water Taxi to Anchorage / Walk Back to Marahau (4 Hours / 12.4 KM)
» Water Taxi to Bark Bay / Walk to Anchorage / Water Taxi Back to Marahau (4 Hours / 11.5 KM)
» Water Taxi to Bark Bay / Walk Back to Marahau (8 Hours / 23.9 KM)
2 Day Options
Day 1: Water Taxi to Bark Bay / Walk to Anchorage (4 Hours / 11.5 KM)
Day 2: Walk from Anchorage to Marahau (4 Hours / 12.4 KM)
Day 1: Water Taxi to Awaroa / Walk to Bark Bay (4.5 Hours / 13.5KM)
Day 2: Walk to Anchorage / Water Taxi to Marahau OR Walk all the way to Marahau (4 Hours / 11.5KM OR 8 Hours / 23.9KM)
» You can decide to do these options starting out with a water taxi and walking towards Marahau (as I have written) or you can decide to walk out from Marahau and water taxi back – if you decide to water taxi back you will need to make sure you do not miss the last water taxi back to Marahau.
» There are plenty of other 1 and 2 day options if you want to explore the northern end of the track. The issue that comes into play though is that there is one part of the track at the Awaroa Inlet that can only be done around low tide.
If you do want to explore that part of the track you will need to understand the tide timetables as well as water taxi options to get you back to Marahau (more on tides soon too!).
» There are also companies out there that offer options of a kayak + hike. Each tour can be a bit different but as an example you may start out by kayaking out to Anchorage, followed by hiking back to Marahau. You can take a look at companies such as Abel Tasman Kayaks that offer those types of experiences.
If you are interested in completing the entire trail, below would be the 5 day route (either starting or ending in Marahau). Note that if you do not have the 5 days to spare, you can also combine a couple days in to one (such as the Marahau to Bark Bay portion).
5 Day Option (According to the New Zealand DOC)
Day 1: Marahau to Anchorage 12.4 KM / 4 Hours
Day 2: Anchorage to Bark Bay 11.5 KM / 4 Hours
Day 3: Bark Bay to Awaroa 13.5 KM / 4.5 Hours
Day 4: Awaroa to Whariwharangi 16.9 KM / 5.5 Hours
Day 5: Whariwharangi to Totarunui (via Wainui and Gibbs Hill) / Water taxi back to Marahau 14.7KM / 5 Hours
3) Abel Tasman Water Taxis
No matter which option you choose from the above, you will need to utilize water taxis at one point or another (unless you have transport back at one of the three spots that have road access). There are a few companies that run these water taxis daily to and from many of the main parts of the coastal track.
When I took part of the trail I headed out using Abel Tasman AquaTaxi and it was a pretty seamless process altogether. If headed out to the track by water taxi, simply head to their office in Marahau, jump on the boat right there, and then they will tractor pull your boat into the water and you will be off.
If you are using them to get back to Marahau, just be sure you time your hikes accordingly so you will be at the pickup point at the right time – you don't want to miss that boat!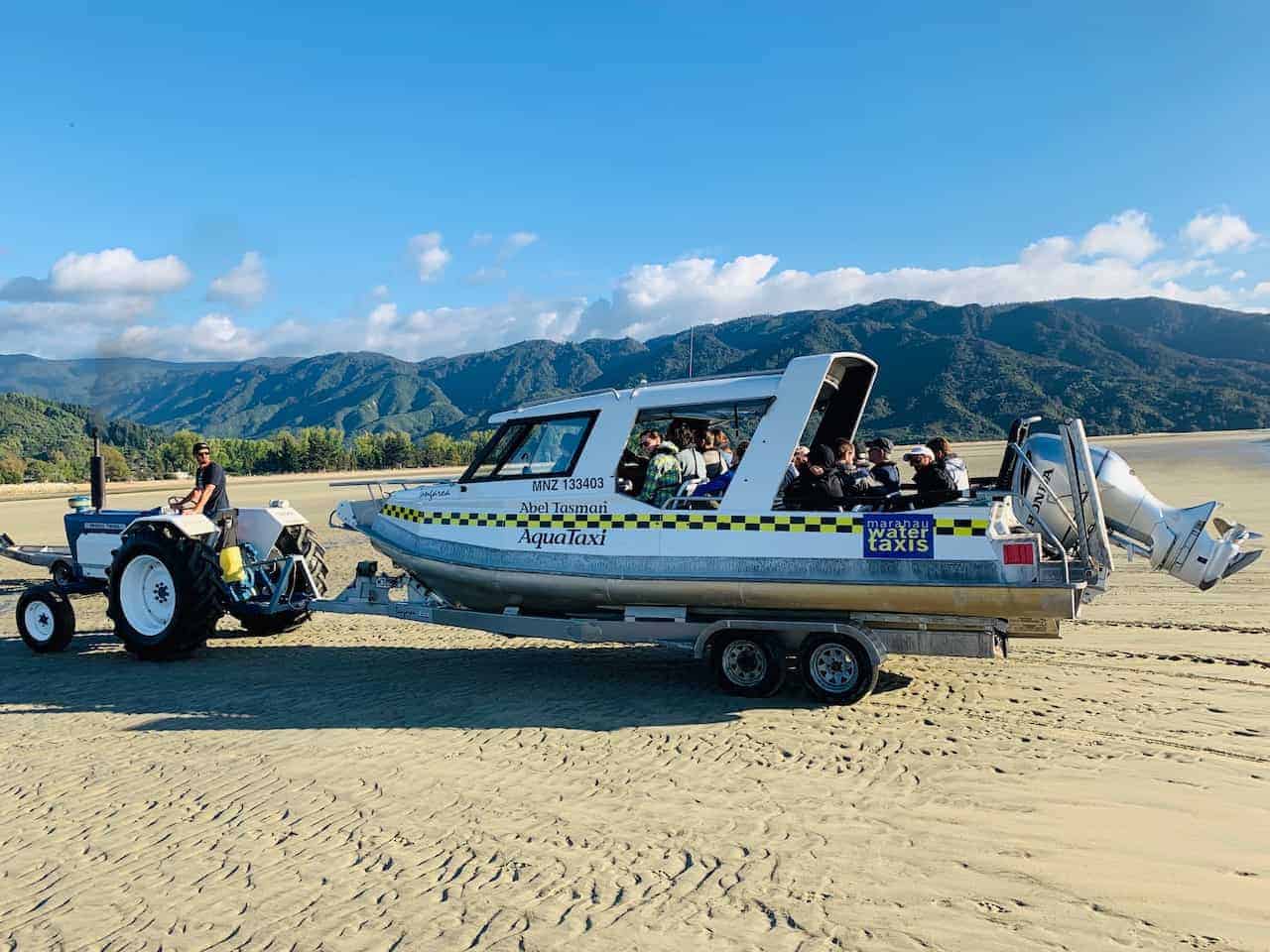 You will want to book these water taxis in advance since they do fill up! So once you better understand which hiking option is best for you, go ahead and secure your spot.
Prices range from $37 NZD to $49 NZD depending how far out you are going on the track. Below is the timetable from Abel Tasman AquaTaxi (be sure to check the website for the latest). You can also check out the schedule for Marahau Water Taxis.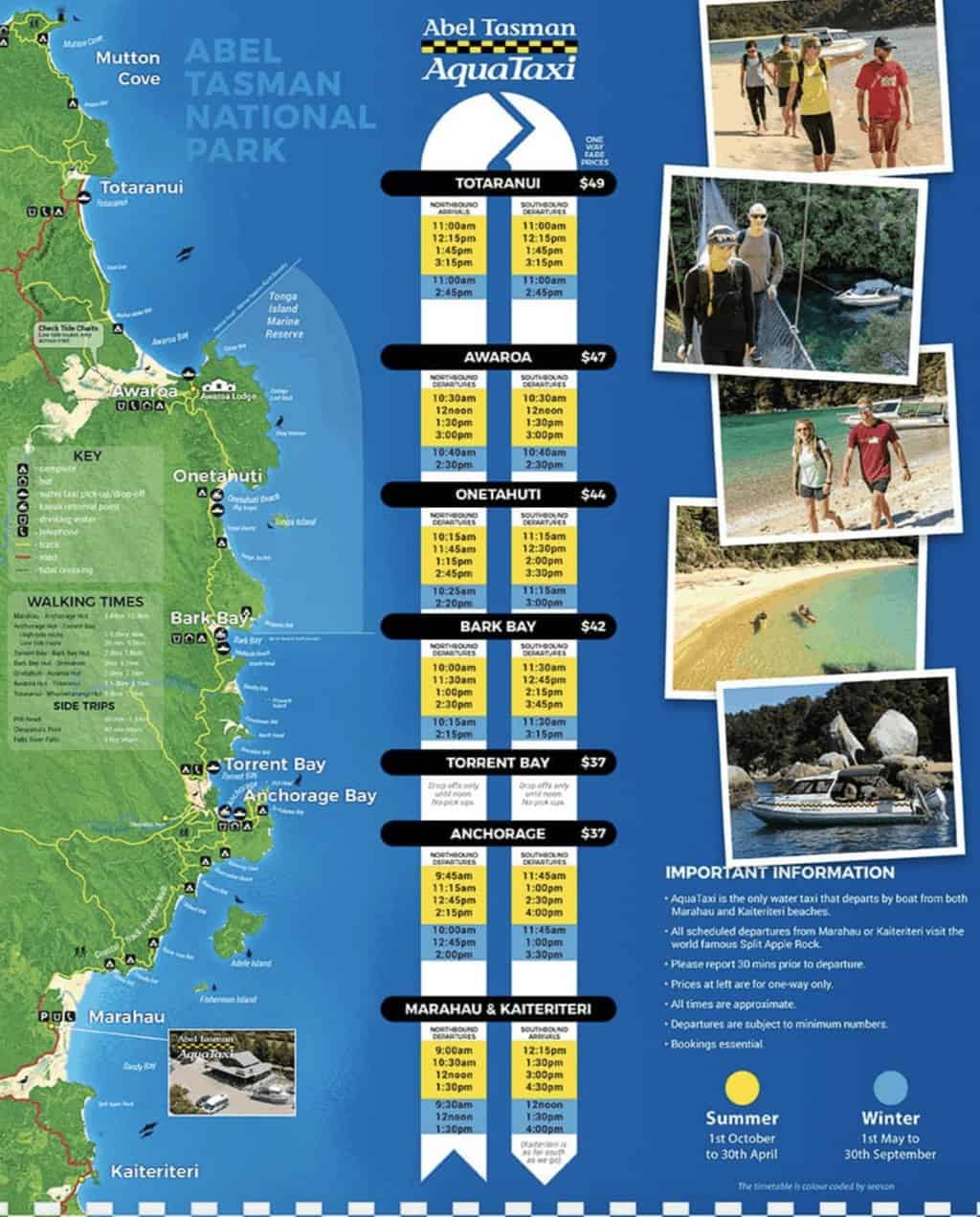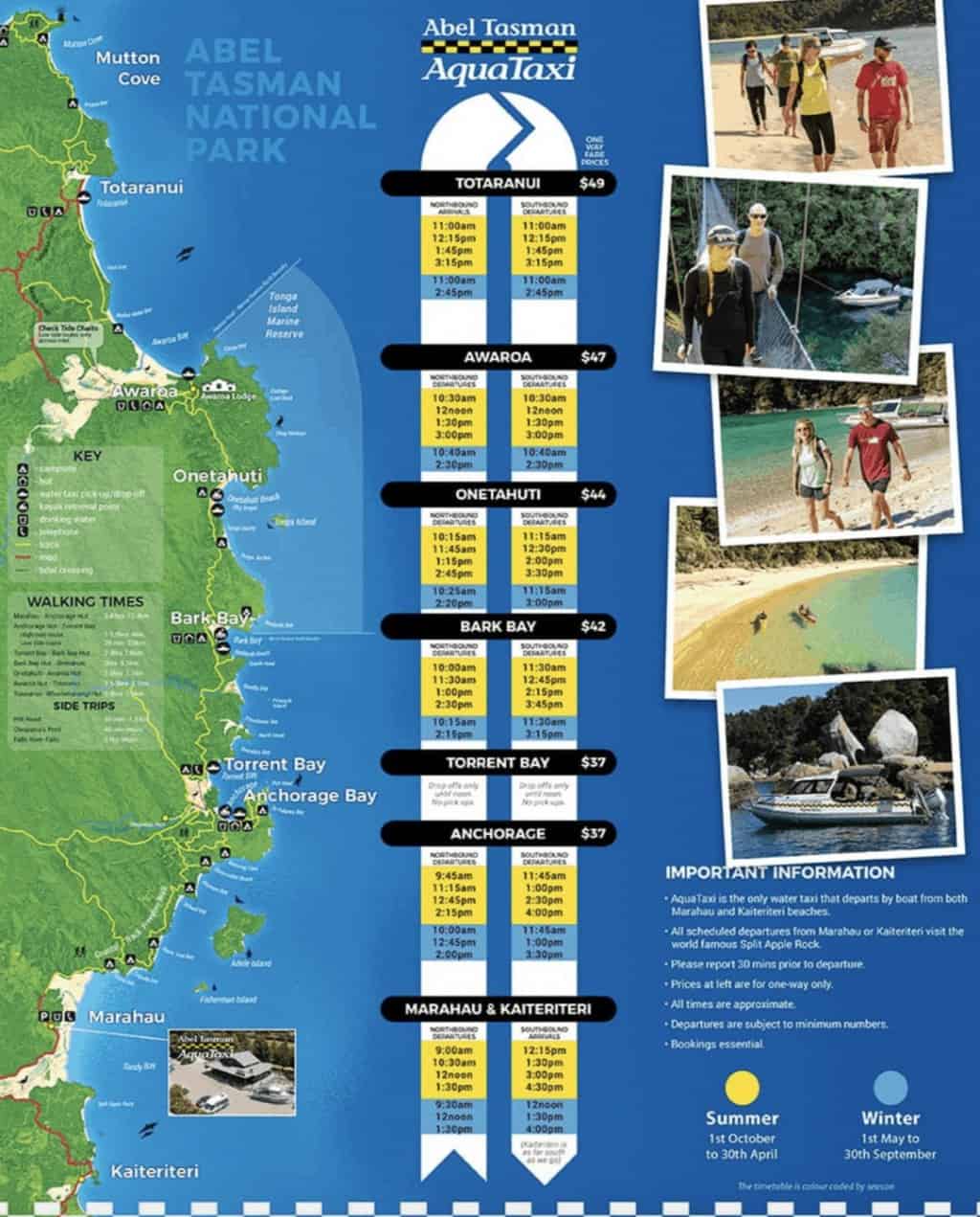 4) Low Tide Crossings
There are a couple points during the track where you may need to line up your hike with the low tide.
Torrent Bay: If you are crossing by Torrent Bay, you may want to line up your hike with low tide if you want to save an hour of hiking. There is a trail that can take you around the high tide on an alternative track. I actually preferred the high tide route as you get to see a beautiful view of the bay and you are able to visit the Cleopatra Pools more easily.
Awaroa Inlet: You must cross the Awaroa Inlet within 1.5-2 hours of low tide. Any time other than that and you will be stuck where you are. If taking part of just a day trip, it could get tricky with the crossings, but if you do have a few days to spare you will have more flexibility when to cross. Awaroa Inlet is north of the Awaroa Hut and campground.
There are also crossings near Onetahuti Beach, Goat Bay, and Anapai Bay but those can either be walked around or through even during higher tide. Take a look at the Abel Tasman Tide tables to understand when the low tides are for the park.
5) Accommodation on the Track
If you are headed out on a multi day hike on the Abel Tasman track you will need to utilize some sort of accommodation along the way. These can either be in the form of DOC campsites or huts and must be reserved in advance. During high season these will sell out (at least the huts) so once again be sure to make those reservations once you have a better idea about your route on the trail.
Campsites can be found at 18 different places along the trail while huts can be found at 4 different locations. These huts have communal areas with bathrooms and bunk beds – everything is pretty basic here but it does the trick for being out on the trail. If staying in Awaroa for the night you also have the option to stay in the Awaroa Lodge.
You can reserve your spots here if you are taking part of a multi day hike. Costs vary by season and whether you are a New Zealand citizen. Expect to pay $75 NZD per night at a hut during high season for a foreigner and $30 NZD for a campsite.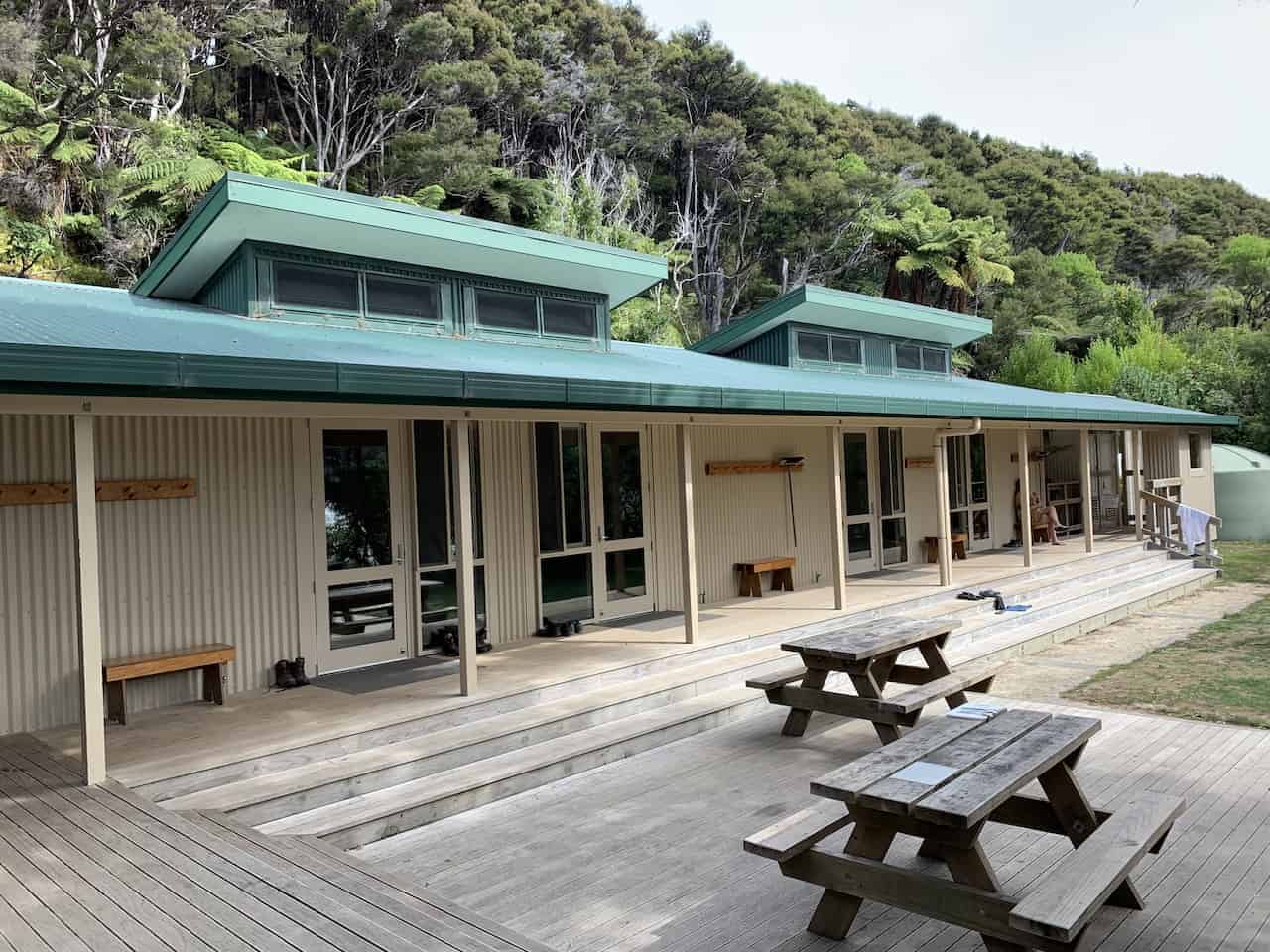 ---
» If you are wondering what to bring along when taking part of hikes in general take a look at the comprehensive Hiking Packing List that I put together. It includes everything I bring along on day hikes, and it will have you better prepared when taking part of trails all over New Zealand.
The list includes several different essentials such as:
---
6) Hiking The Abel Tasman Track (1-2 days)
Below I will go into what to expect on a 1-2 day trek on the Abel Tasman Track – starting in Bark Bay and walking back to Marahau. You can begin your journey by taking a water taxi out to Bark Bay and then walking south ending in Marahau. This can all be done in one shot (approximately 8 hours of hiking in one day) or split up between two days with a night in Anchorage in between.
For the most part, the track is relatively flat. However, there are some small sections of inclines and declines along the way. These will not last too long but you should be prepared for some elevation gain at one point or another. Compared to other hikes in New Zealand like Roys Peak in Wanaka or Ben Lomond Track in Queenstown, this should be much less strenuous.
A) Bark Bay to Anchorage
What I love most about the track in general is that all the scenery around you is constantly changing and you never know what you will come across around the corner.
Throughout your time on the trail you will be walking through forests, crossing suspension bridges, visiting bays and beaches, and enjoying plenty of viewpoints along the way.
At various points on the track you will also be directed to one off points (beaches, bays, etc.). Some of these will just add another 5 minutes to your hike while others can add up to 20 minutes. There will be signs throughout mentioning how much time and distance each one of these "additions" will be.
Below is a gallery of images from the trail starting in Bark Bay down to Anchorage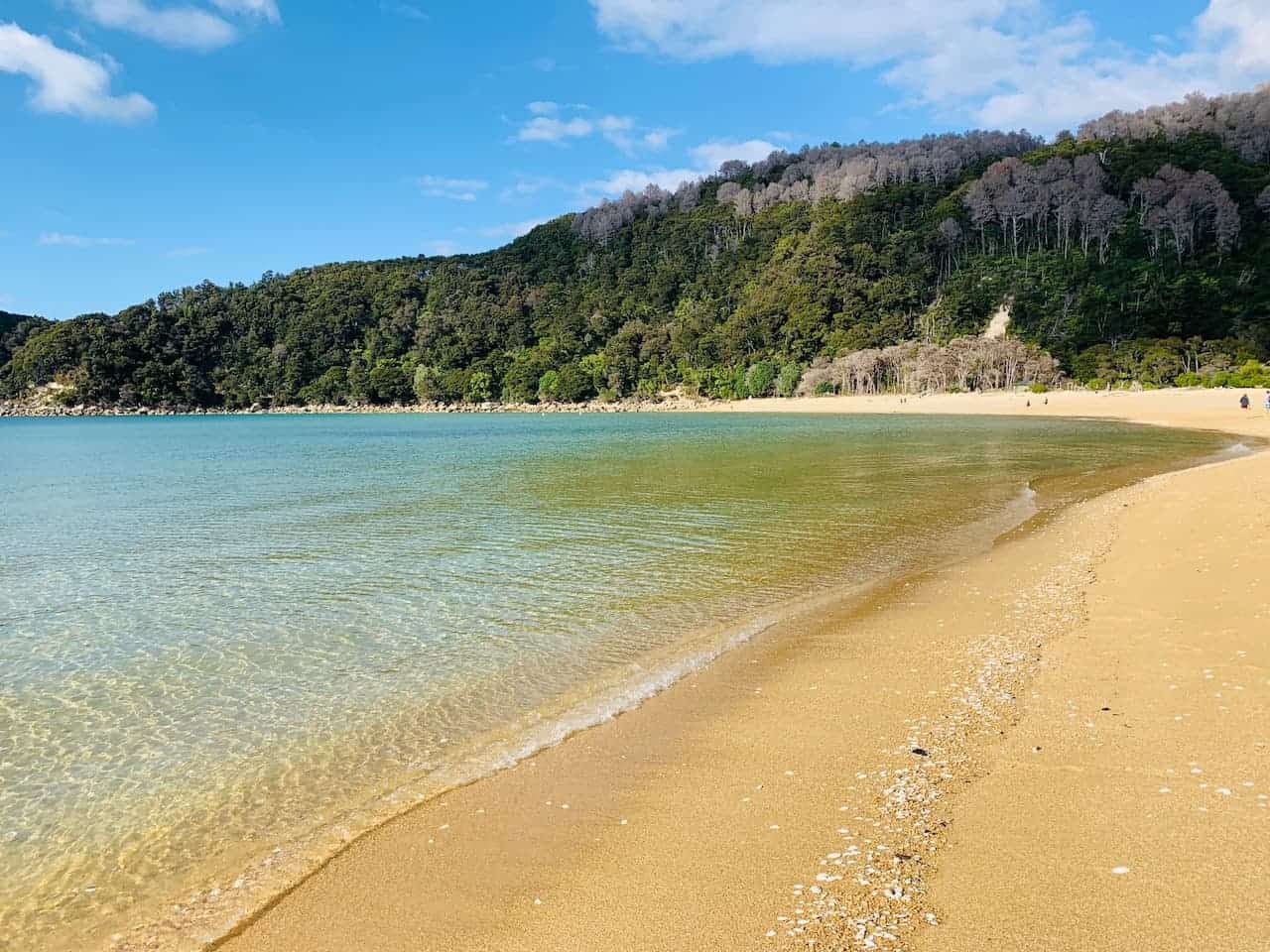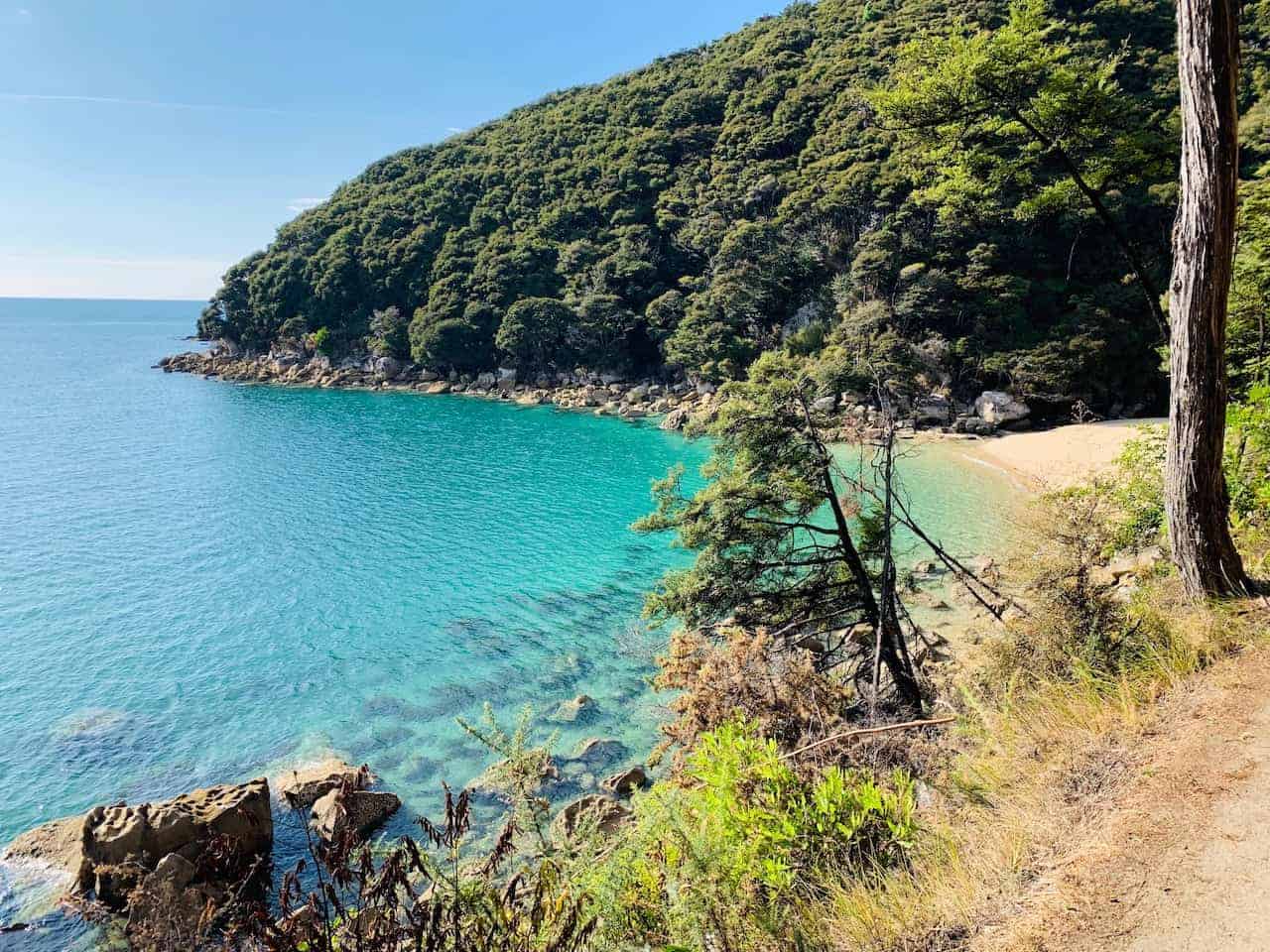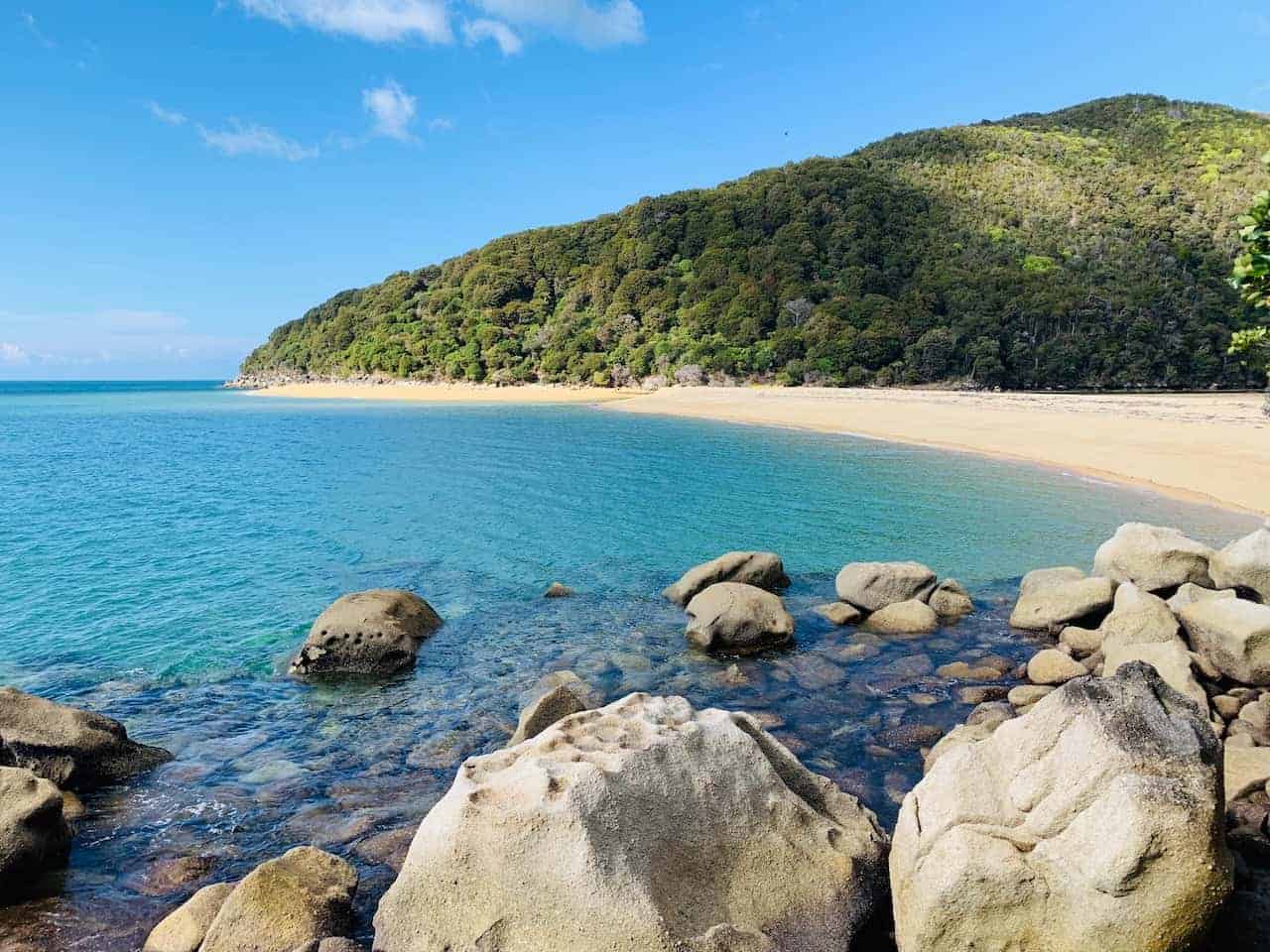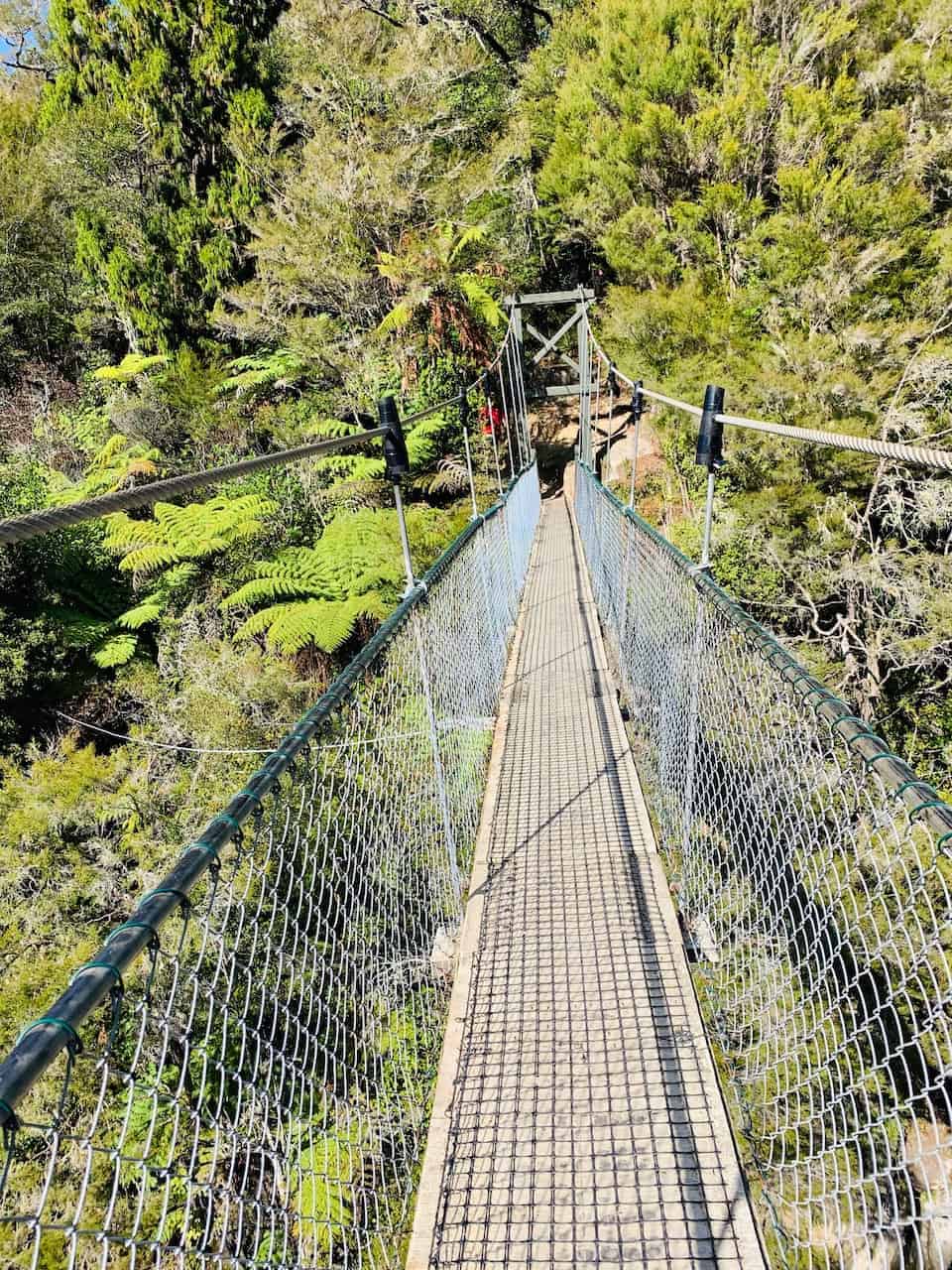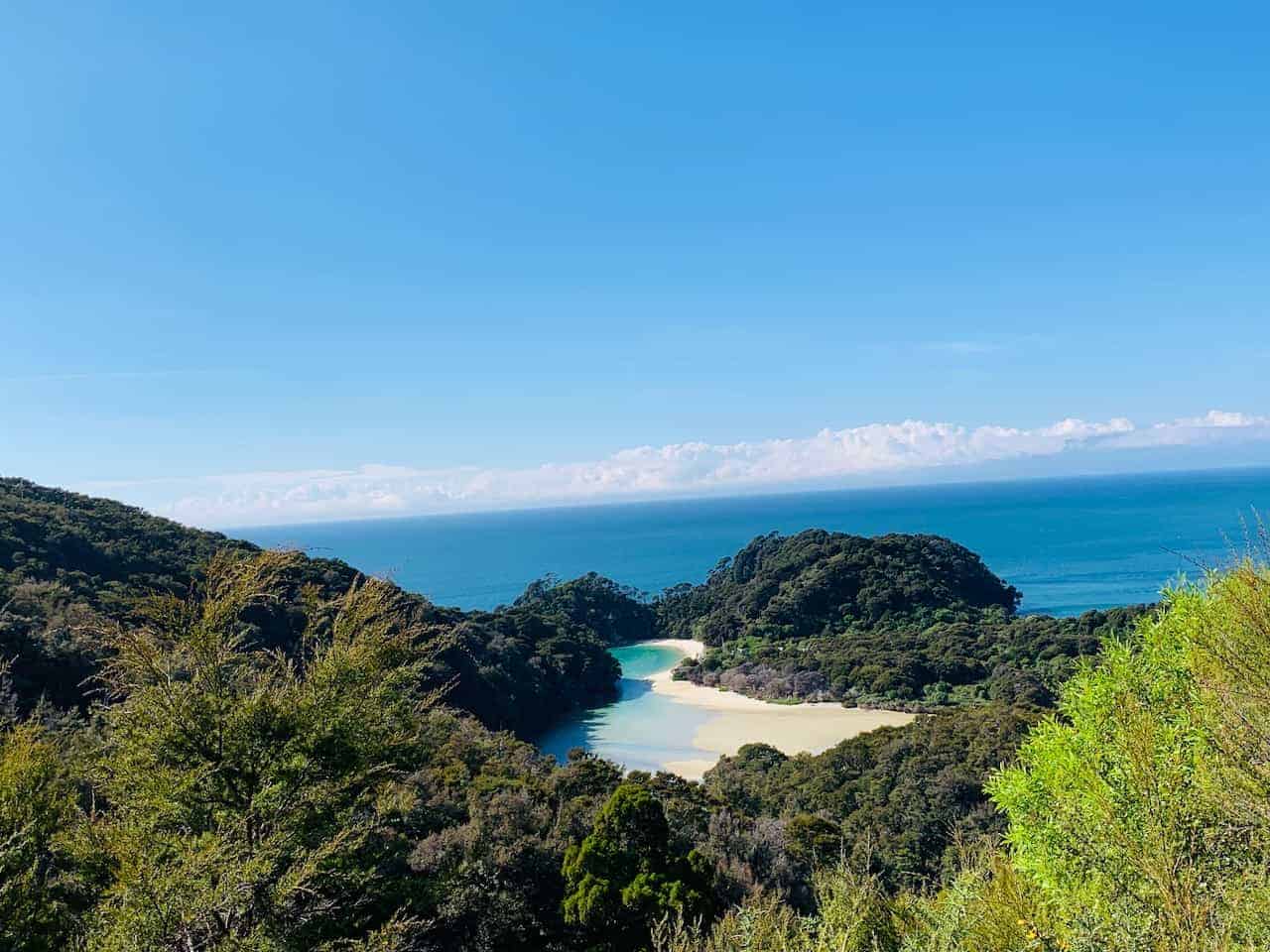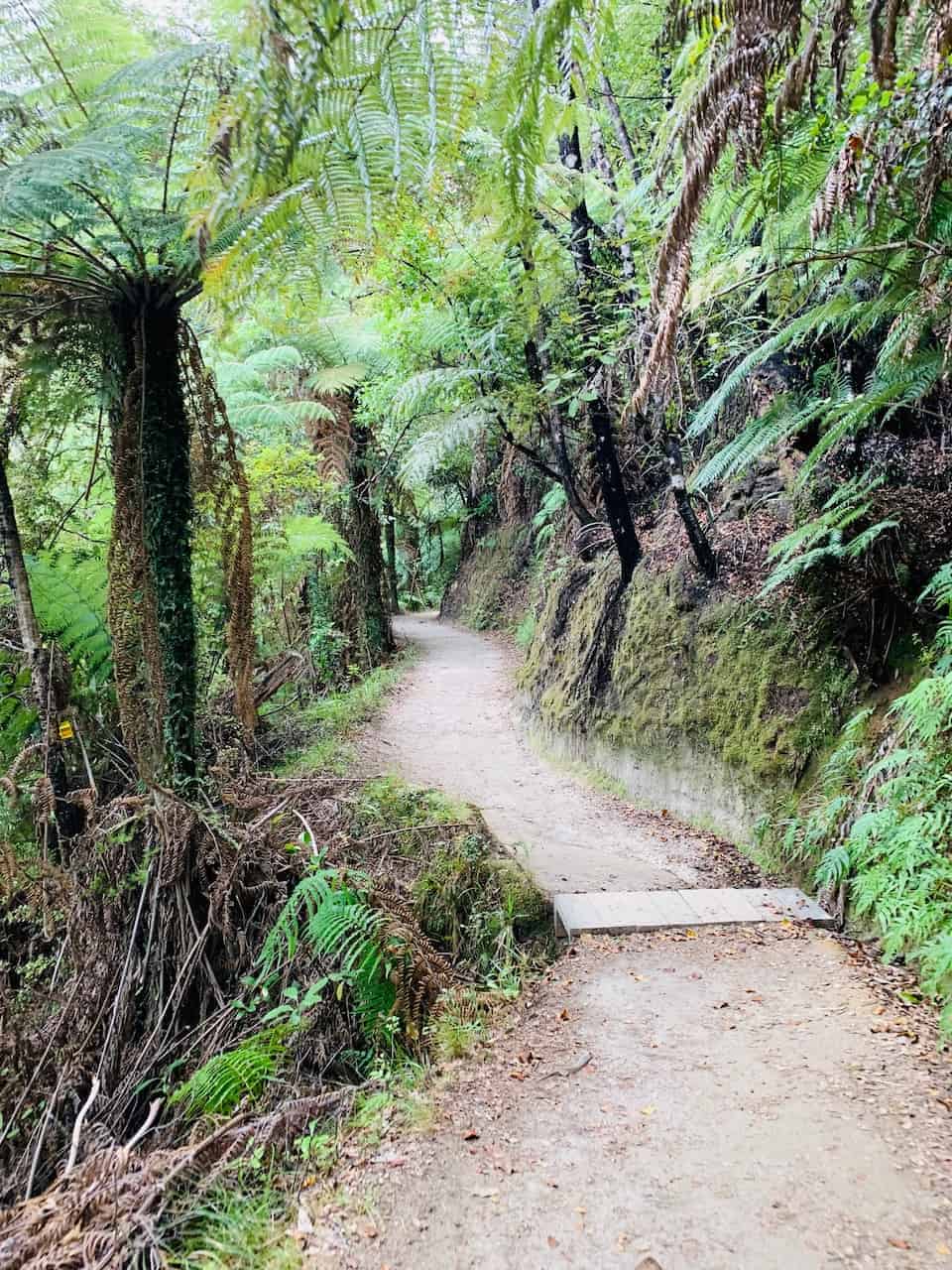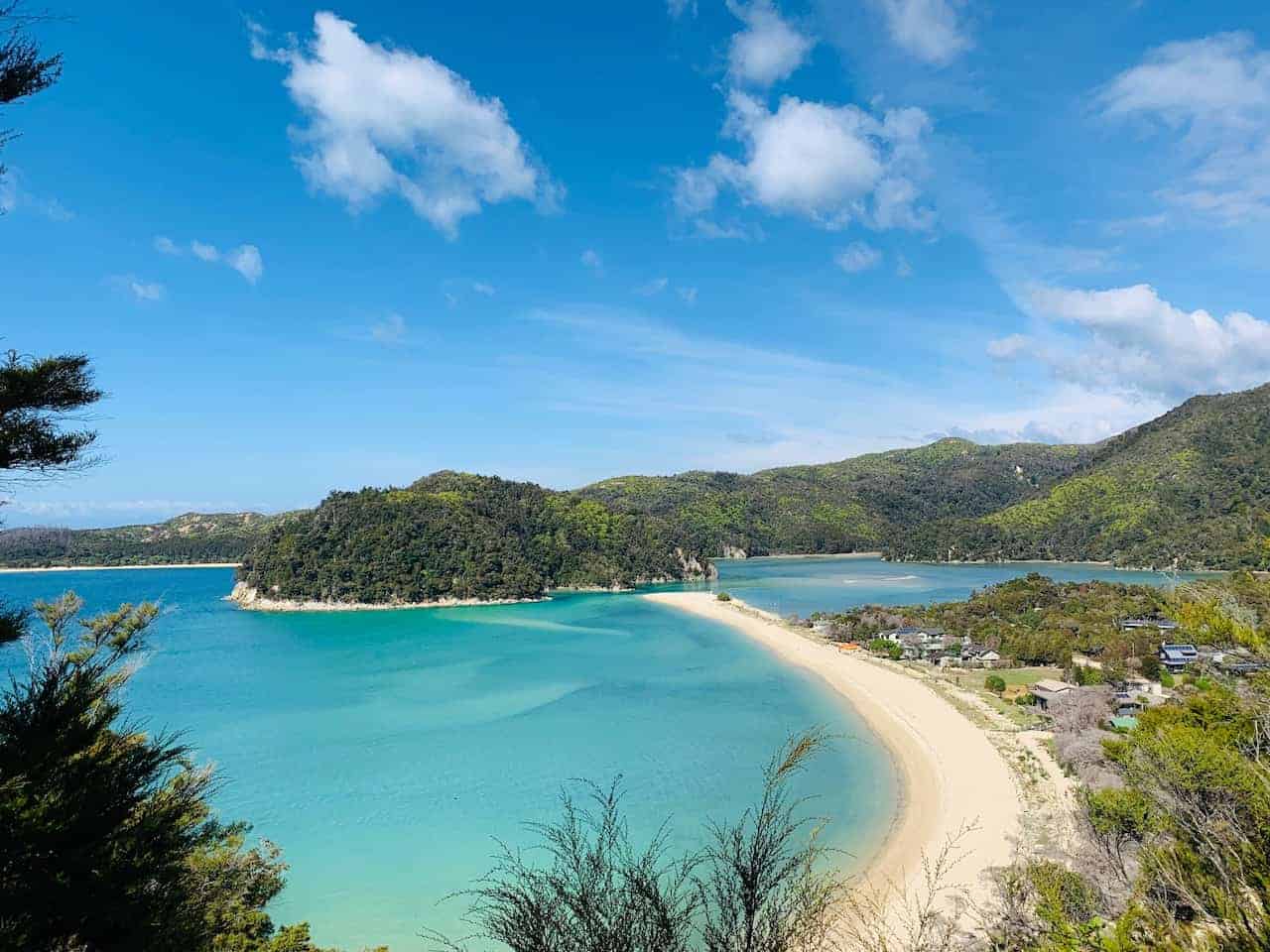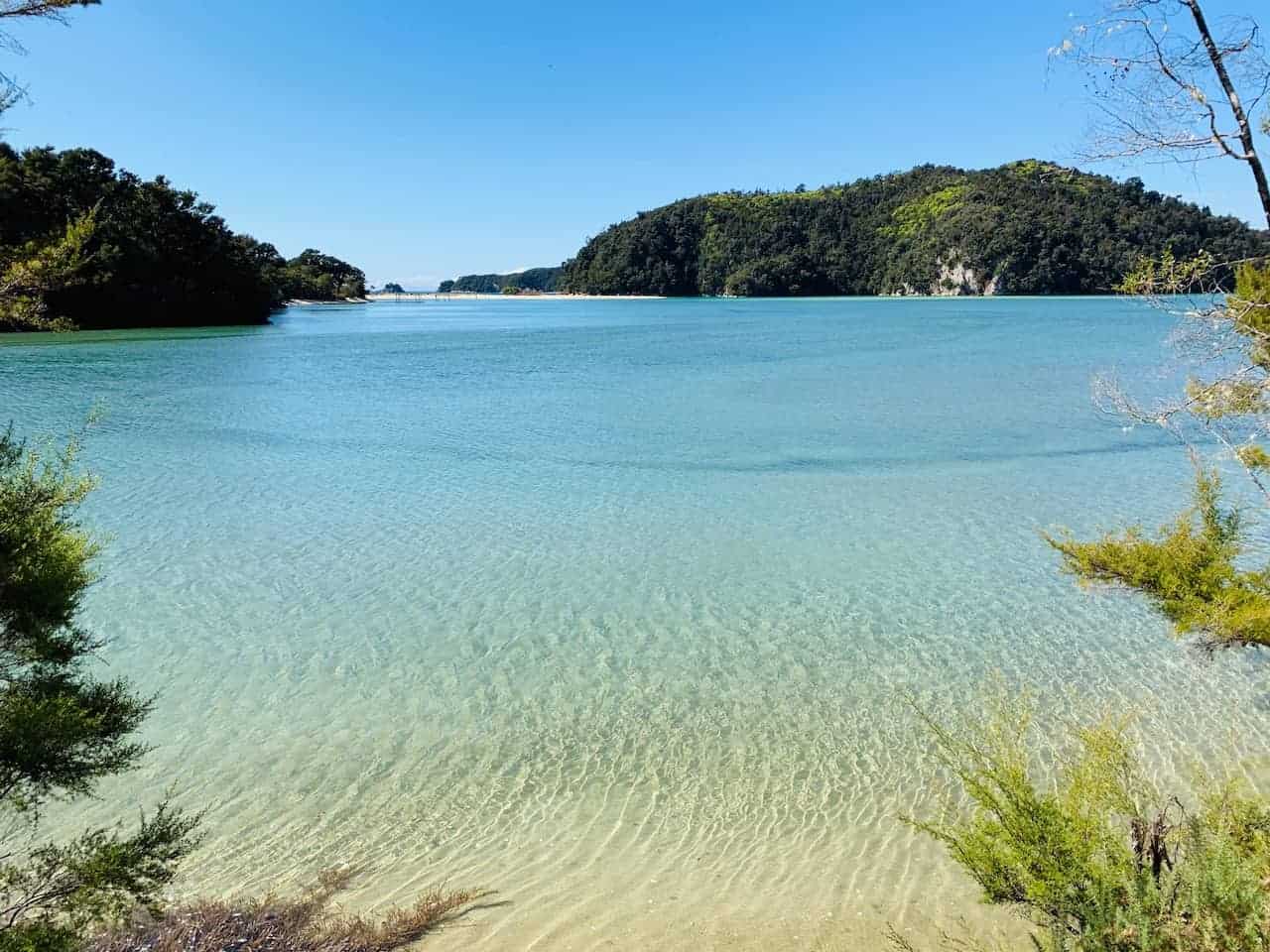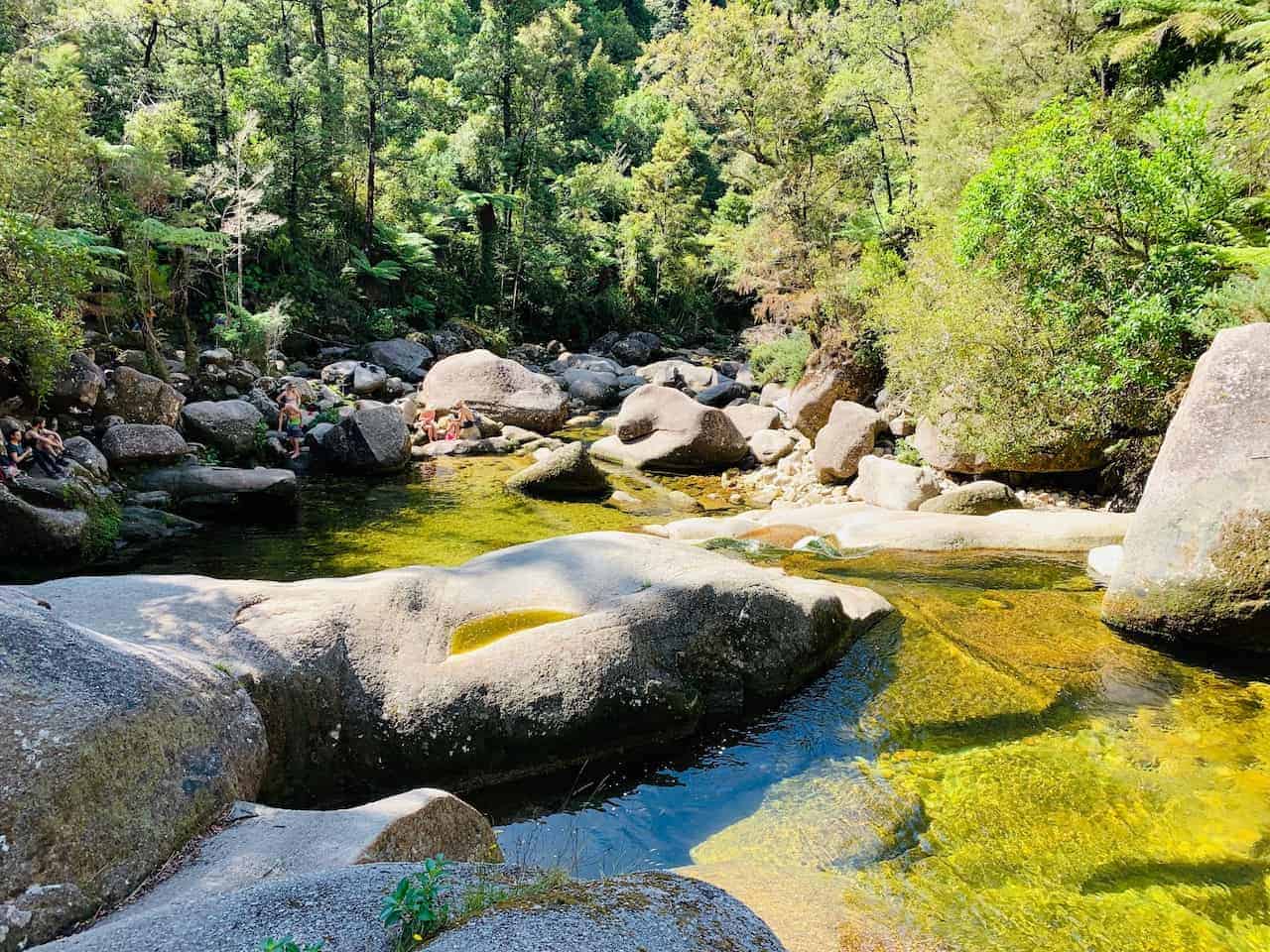 As you can see, the trail is mostly packed dirt, with some bridges and beaches spread throughout. The viewpoints are top notch as you take in the beautiful turquoise water of Abel Tasman.
After about 4+ hours of hiking plus the amount of time you spend just relaxing at various points on the trail, you will arrive at the Anchorage hut and campsite. If staying overnight you can check in before enjoying the beach and just hanging out the rest of the day.
A quick note about this part of the trail – as mentioned earlier on there is a low and high tide crossing at Torrent Bay. If it is low tide then you will save about an hour of hiking. However if it is high tide, there is a very beautiful walk around the bay and you will have easy access to the Cleopatra Pools along the way.
B) Anchorage to Marahau
Once complete with the walk to Anchorage (either the same day or the next) you can continue along to the base town of Abel Tasman – Marahau. Similarly to the previous part of the trail, there will be plenty of lookouts to enjoy of both the water and forest, as well as a variety of those one off stops along the way.
I ended up stopping at most of them as they were only a few minutes off the main trail and it was great to rest the legs a bit and enjoy the water.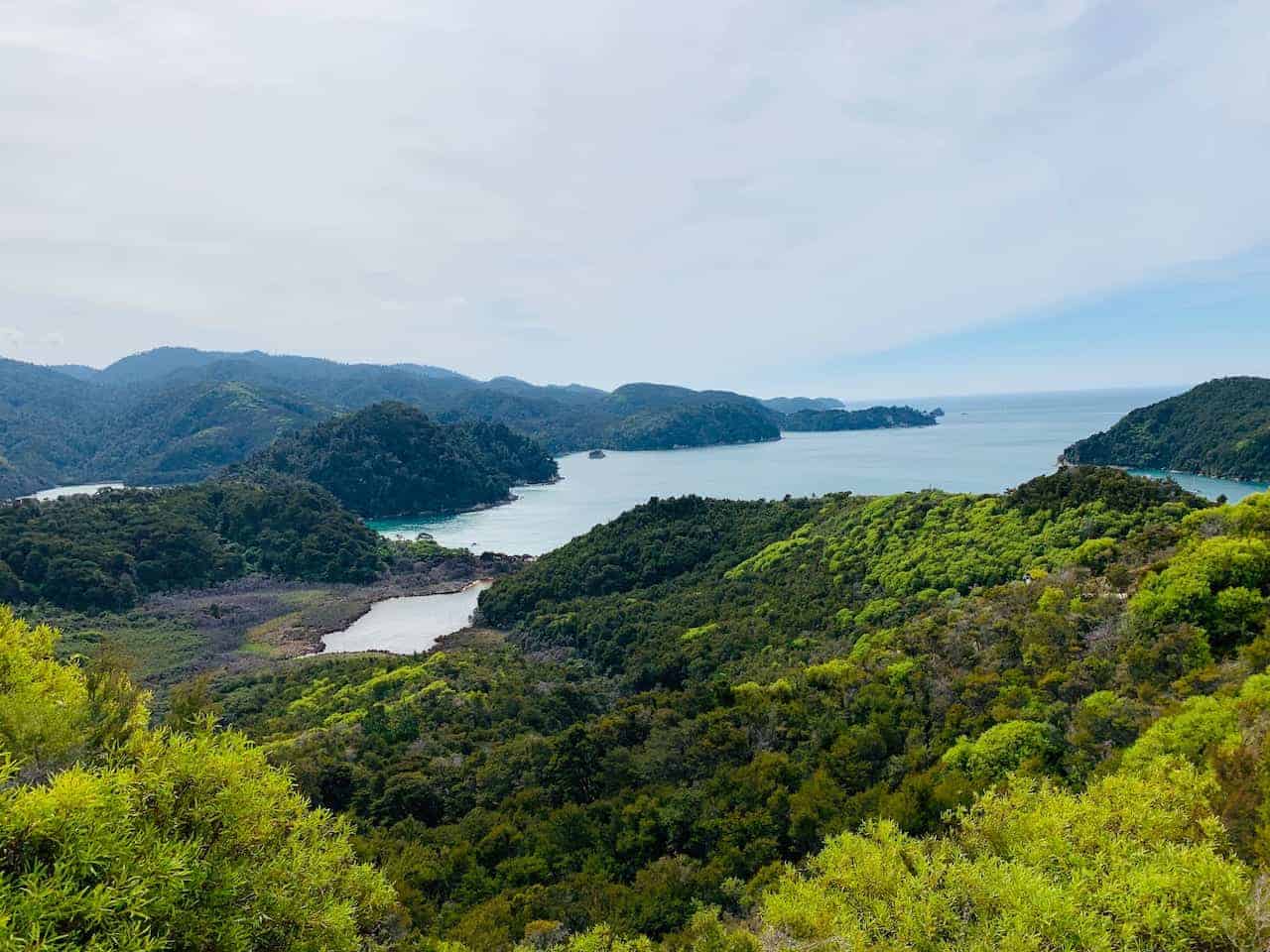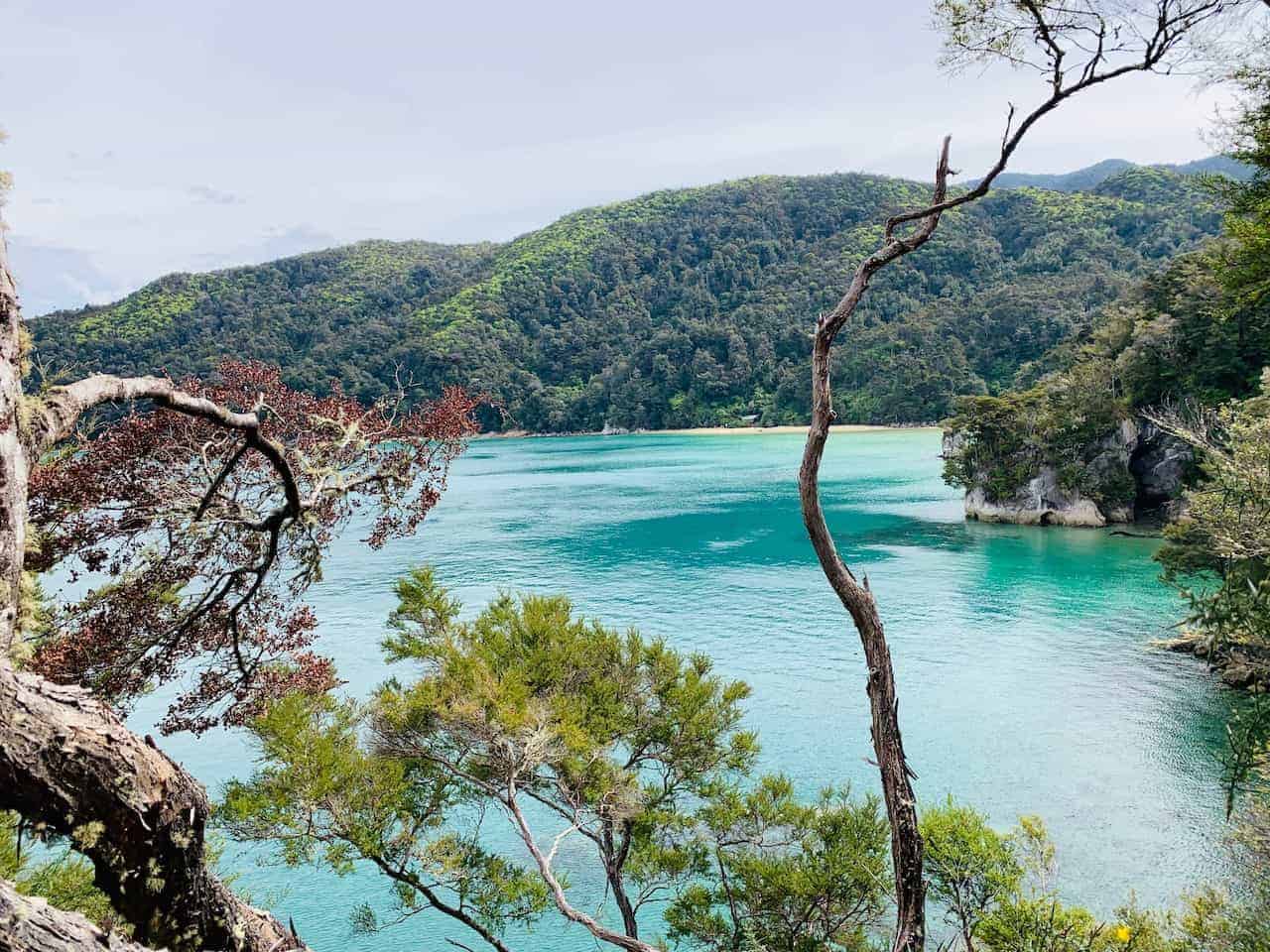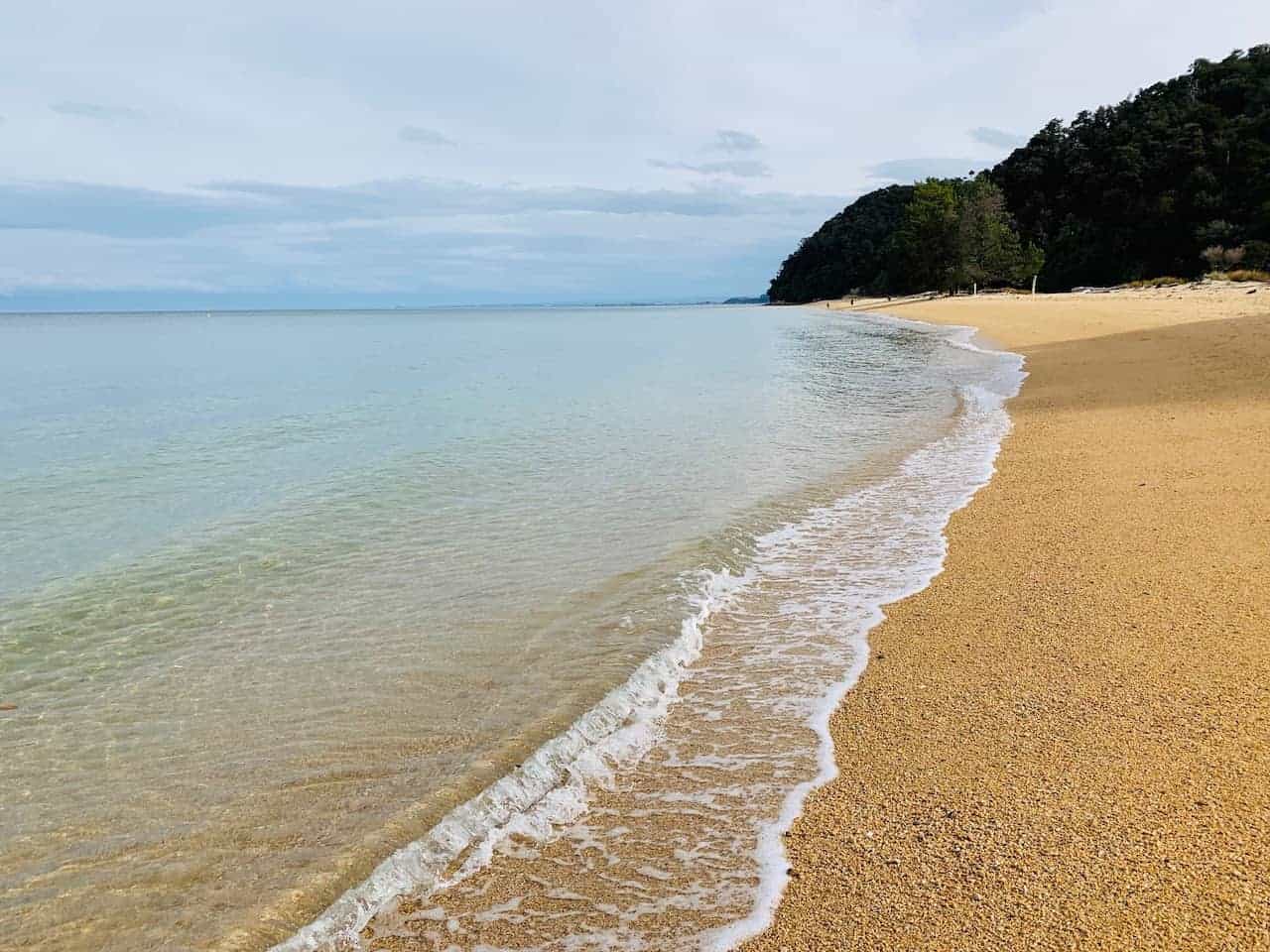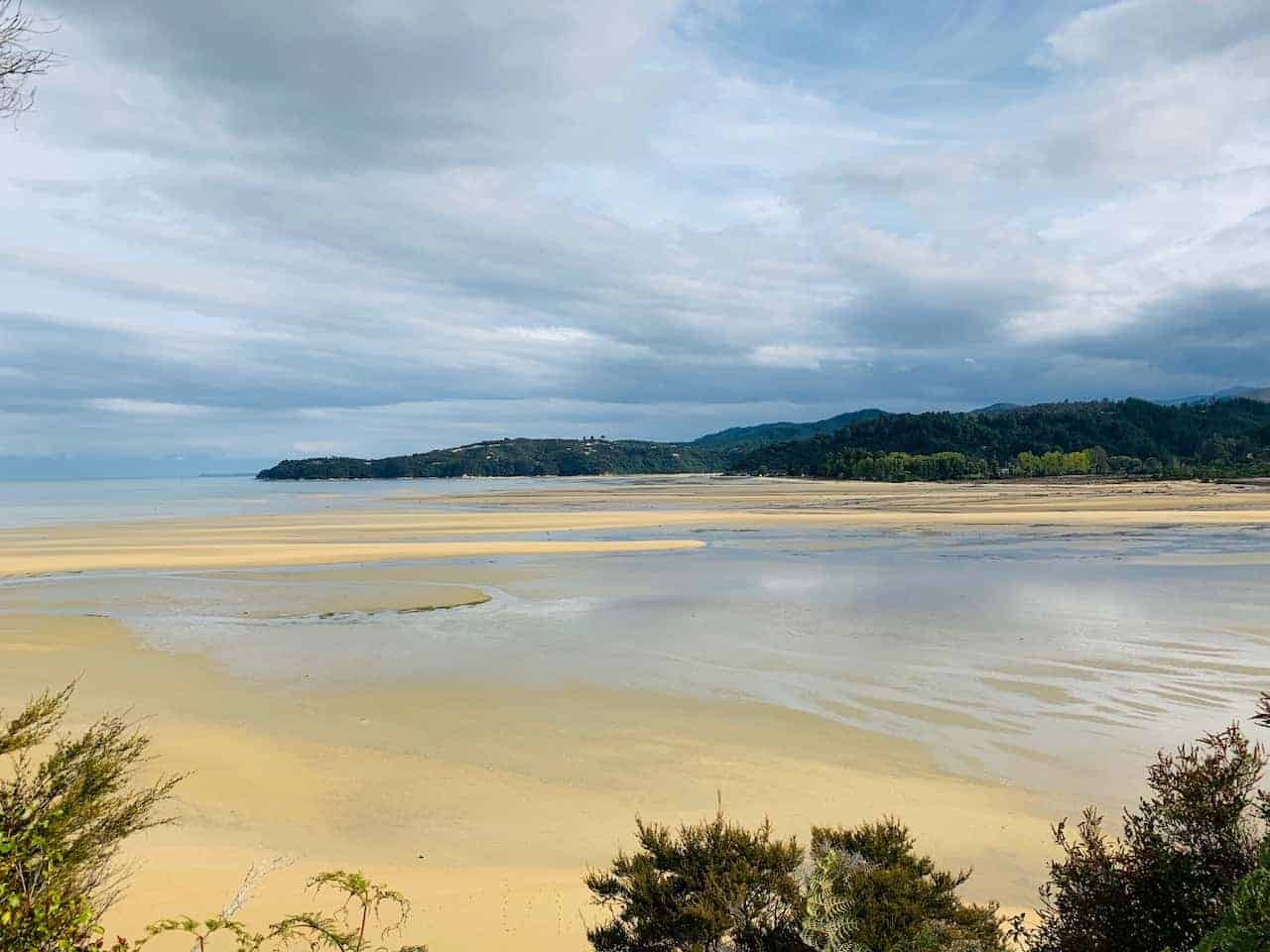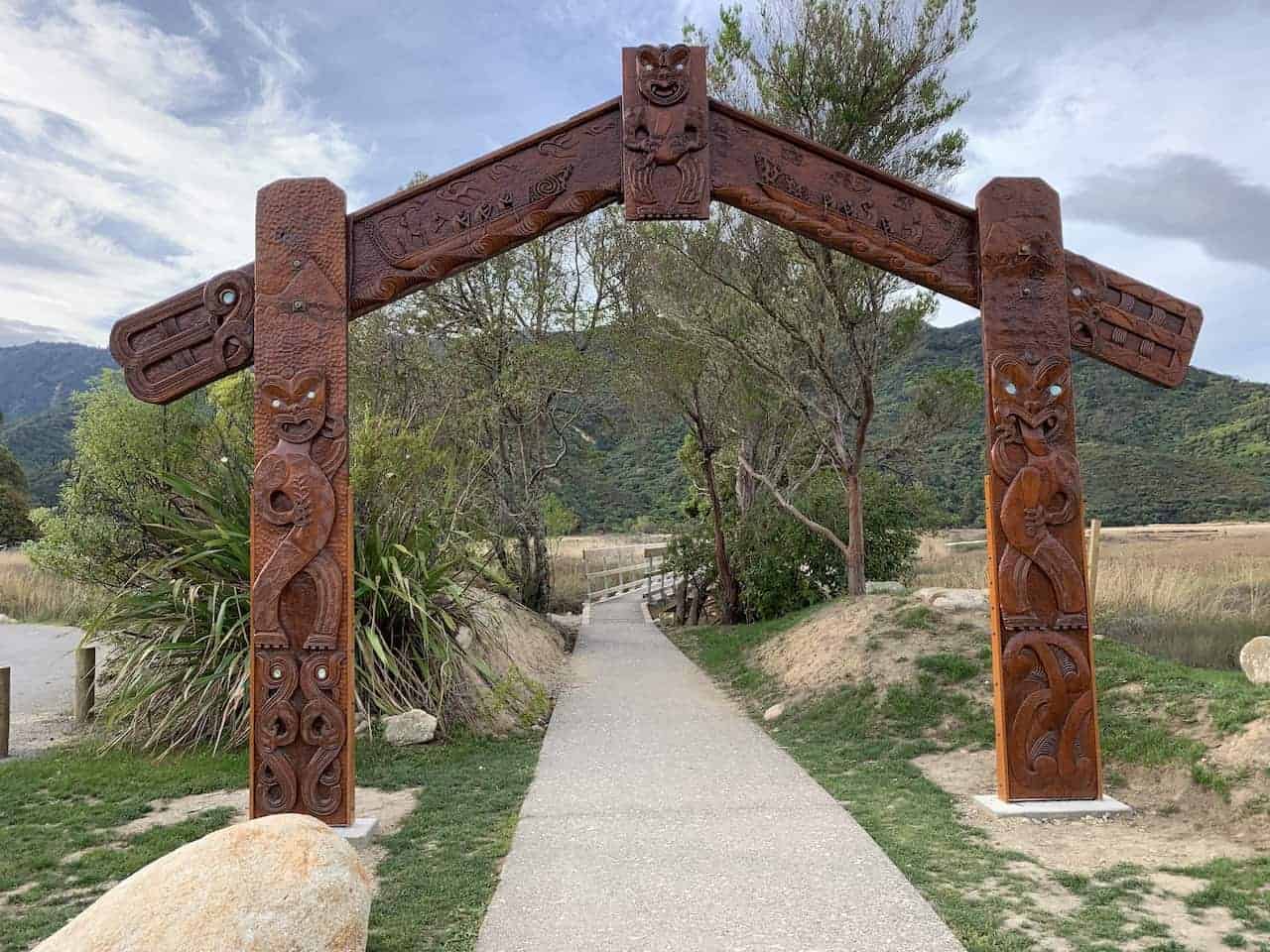 As you approach Marahau you will come across the official entrance post of the Abel Tasman National Park. From there you can continue your walk into Marahau and make your way to your accommodation.
7) Accommodation in Marahau
Whichever option you choose to do, odds are you will be staying near Abel Tasman before and/or after you take part of the hike. My advice here would be to stay in Marahau, which is the closest town to Abel Tasman.
Since Marahau literally marks the beginning of the trail, you will find all the water taxi companies leaving and returning right back in town.
On top of that you could also start or end your hike right from your accommodation – no need to figure out how to get back to your hotel when all finished up with the Abel Tasman Track.
Below are the main options to choose from in Marahau along with an average price per night.
Abel Tasman Lodge ($140 USD)
Serenity Lodge ($120 USD)
Abel Tasman Sands BnB ($120 USD)
Abel Tasman Haven ($85 USD)
The Barn Backpackers ($32 USD)
Adventure Inn ($22 USD)
If you do not want to stay directly in Marahau the closest towns would be Kaiteriteri (10 minutes away) followed by Motueka (20 minutes) and then Nelson (60 minutes). You can click on the links for some top options around those towns.
I hope this guide has given you a much better sense of what the Abel Tasman Track is all about. It really was one of my favorite places I have been to and I am hoping this guide can help you out as you plan your trip there. If you have any questions feel free to write them in below. Also don't forget to check out the other New Zealand itineraries and guides up on the site! Have fun out there and safe travels!
Some of the latest include:
21 Helpful New Zealand Travel Tips
The 12 Best Rotorua Activities
A 10 Day New Zealand North Island Itinerary