Heading off to New Zealand and planning on renting a car there? Well, if that is the case, there is plenty that you should know about driving in New Zealand before you go.
From driving rules to road signs to car rental companies, there is a lot that you should prepare for so you will be all good to go when you hit the road.
I wanted to put together this driving in New Zealand guide to combine all the various information and tips I gathered after driving the country for a month. At the end of the day, driving in New Zealand is much different from other countries around the world, so the more you know beforehand, the better.
* Affiliate Disclosure: This post may contain affiliate links, which means I may receive a commission if you make a purchase through the links provided, at no additional cost to you. Thanks for supporting the work I put into TripTins!
1) Driving in New Zealand
Have you ever driven on the left-hand side of the road? Entered a roundabout? Went on a one lane bridge? Dealt with twisty and curvy roads? In case you haven't, you better be prepared to deal with all of those (and much more) when driving in New Zealand.
They say New Zealand's roads are different and after a month of driving them, I can most definitely say they are. Driving in New Zealand is no joke especially for foreign tourists who are not used to the intricacies that can be involved at some points while driving.
Before heading to New Zealand, I had read about countless accidents (and sometimes fatal) caused by tourists who are just not familiar with the driving rules.
During my time there I witnessed one accident and spoke to another person who literally drove their car off a curvy road and down into a ditch. I am hoping that this guide can help readers be more prepared for NZ road situations and avoid accidents similar to that.
In addition, I will go over plenty of more helpful information regarding rules, regulations, tips and more that you can expect to experience when you are out there.
2) Left Hand Side Driving
If you did not know by now, New Zealand drives on the LEFT HAND SIDE of the road (with the driver's seat being on the right hand side of the car).
So, unless you are coming from Australia, the UK, Hong Kong, etc., you will need to immediately acclimate to driving on the opposite side of the road that you are used to.
It does take a bit of time to get familiar with the driving, however as you drive more and more, you will start getting used to it. As you think about driving on the left, here are some pieces of information you should think about:
A) Always make sure as a driver that you are closest to the center of the road. When driving on the left, the driver will be on the right-hand side of the car, and therefore closest to the center divider.
If you continuously have this thought in mind, it will make driving easier and less stressful for you. Note that this won't always be the case such as when driving on one way streets.
B) When making a left-hand turn, you will need to look RIGHT, and turn onto the left hand side of the ride.
This is similar to a right-hand turn in the US for example, when you look left and turn onto the right hand side.
C) When making a right-hand turn, you will need to make the wide turn onto the lefthand side of the road.
Do not make the mistake to turn onto the righthand side of the road when turning right as you may be used to (this is exactly what happened when I witnessed the accident). Always be sure to look both ways and make that WIDE RIGHT turn.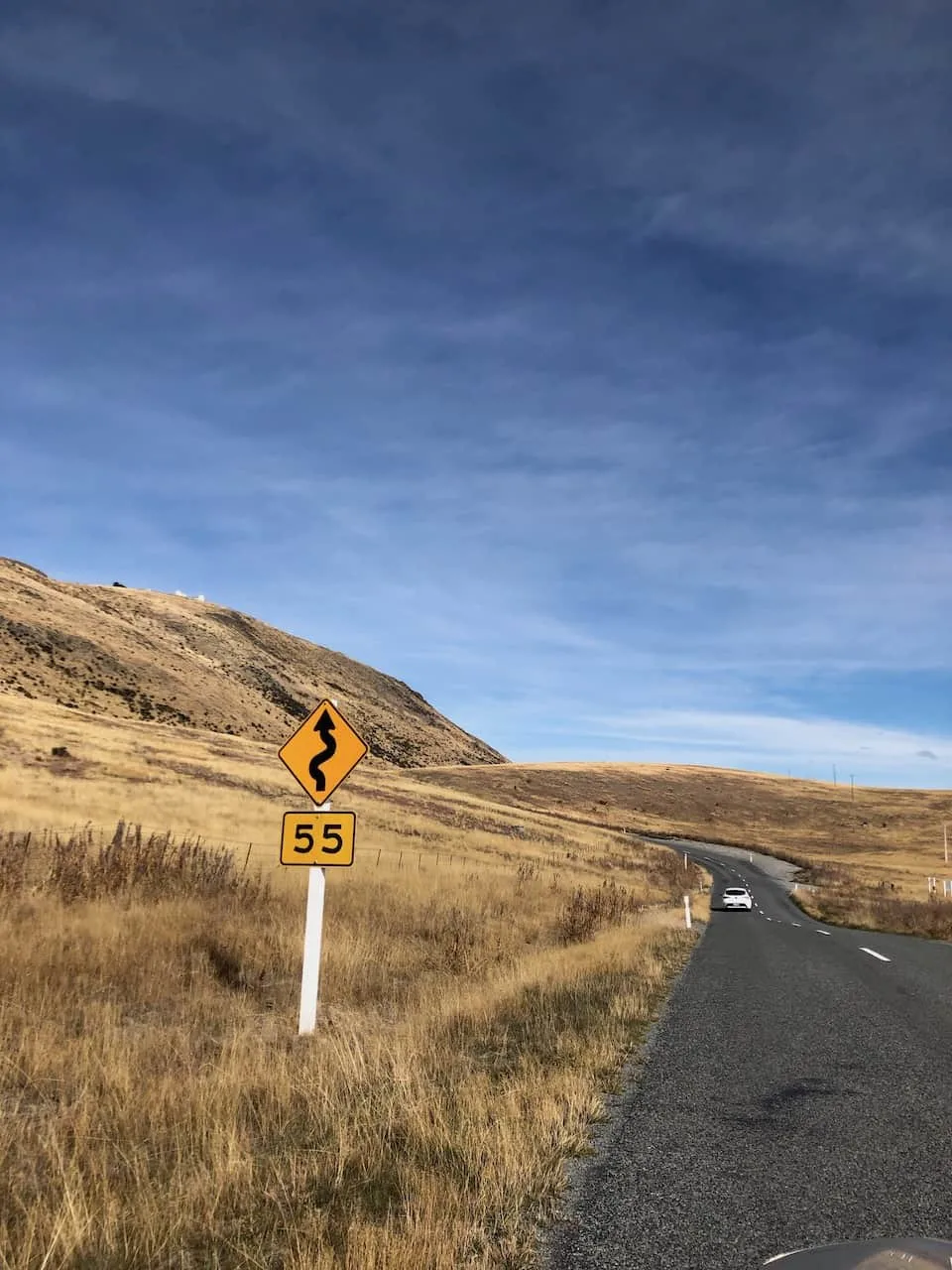 3) Roundabouts
Roundabouts are very common when driving in New Zealand and you will need to learn quickly how to drive into and out of one. Usually there will be three directions to go in when entering a roundabout – left, straight, or right.
When entering the roundabout remember you will be going clockwise (to the left first) and you MUST YIELD TO YOUR RIGHT. That means before you enter the roundabout always look right and make sure the path is clear. Only once all cars are clear from the right can you head into the roundabout.
Turning Left: When turning left out of a roundabout, you will simply signal left and make the turn.
Going Straight: When going straight you will not need to signal initially but once you are in the roundabout halfway, you will then signal left and exit the roundabout straight in front of you.
Turning Right: When turning right, you will signal at the roundabout right, continue the clockwise drive, and then signal left after you pass the halfway point of the roundabout.
Also note that sometimes there will be multiple lanes entering the roundabout and on the road itself you will see arrows pointing in the direction that the lane will go.
So, if you are turning right at the roundabout, and there are two lanes with one of the lanes showing a right turn symbol, make sure to get into that one.
For a visual representation of signals at roundabouts take a look at the images below courtesy of the NZTA.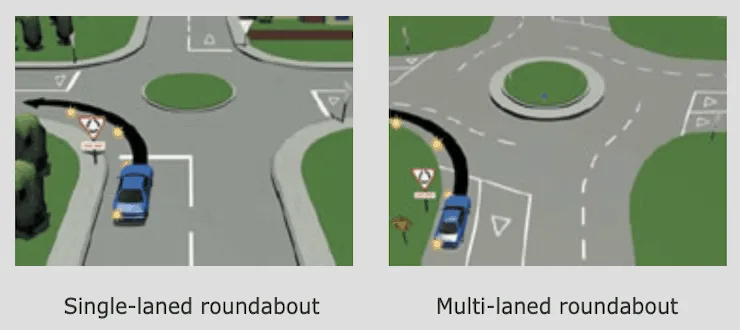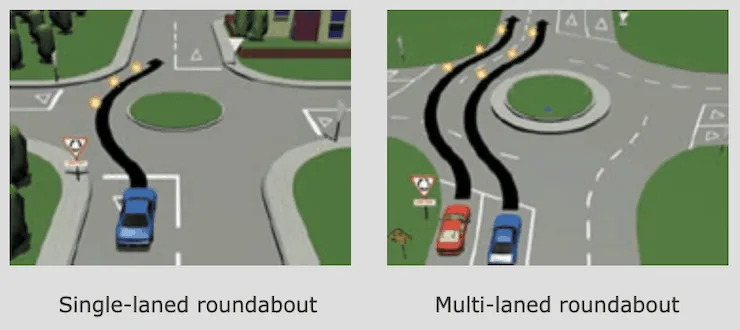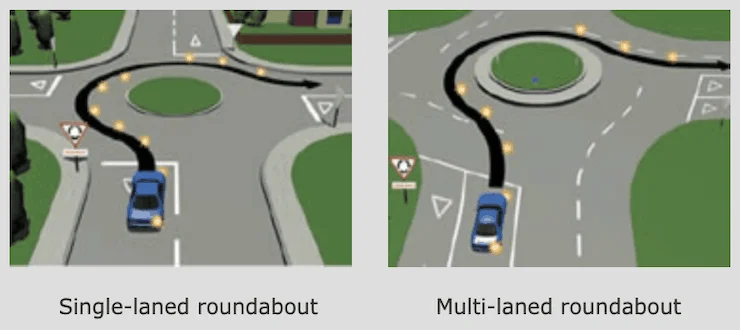 4) One Lane Bridges
Another common theme when driving in New Zealand is the one lane bridge. This simply means that there is only one lane for both ways of traffic to go through.
As you approach a one lane bridge there will be a few signs indicating that one is coming up soon. The sign will look similar to either of the below.
The one on the right means that you have the right of way (the larger arrow pointing away from you). The one on the left means the oncoming cars have the right of way (the larger arrow pointing towards you).
If you have the right of way (and if there is no one currently on the bridge coming towards you), you will be able to head onto the bridge as cars wait opposite of you.
However, if you do not have the right of way, only once ALL CARS coming towards you have finished crossing the bridge, will you be able to go.
Many of these bridges are pretty short, but there are some longer ones out there so just do be careful when entering the bridges either way.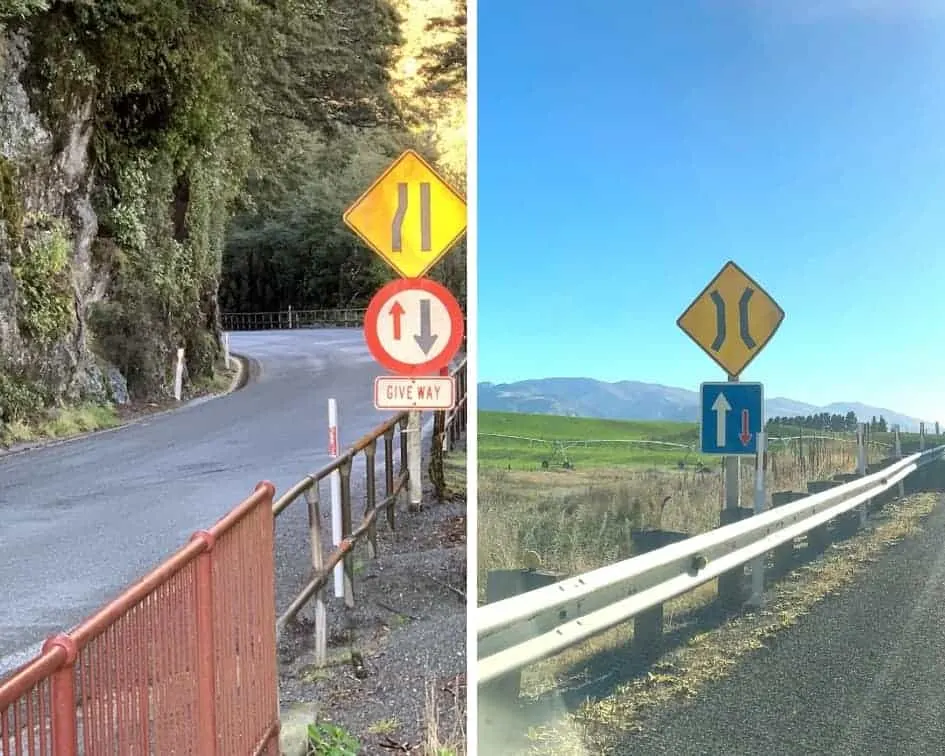 5) Passing Lane and Slow Vehicle Bays
Many of New Zealand's roads only have one lane of traffic going in either direction. This can get annoying if you have a slow car ahead of you or a fast car behind you. There simply is no way to pass or get passed at any moment.
Due to this New Zealand does have two ways to get around slow cars and let fast cars pass you – Passing Lanes and Slow Vehicle Bays. Similar in thought but different in execution.
Passing Lanes
Passing Lanes are utilized when you want to pass a car in front of you. Basically, for a short amount of road, there will be a second lane introduced before merging back into one.
Every so often on you will see a road sign signaling "Passing Lane Ahead". Once the passing lane starts you will see another sign saying "Keep Left Unless Passing".
So, if there is a slow car in front of you that you would like to pass, you will move into the right lane and pass the vehicle ahead of you before the two lanes merge back together.
Similarly, if there is a car that wants to pass you (and you are not trying to pass a car in front of you), you will stay in the left lane and the car behind you will then pass you on the right.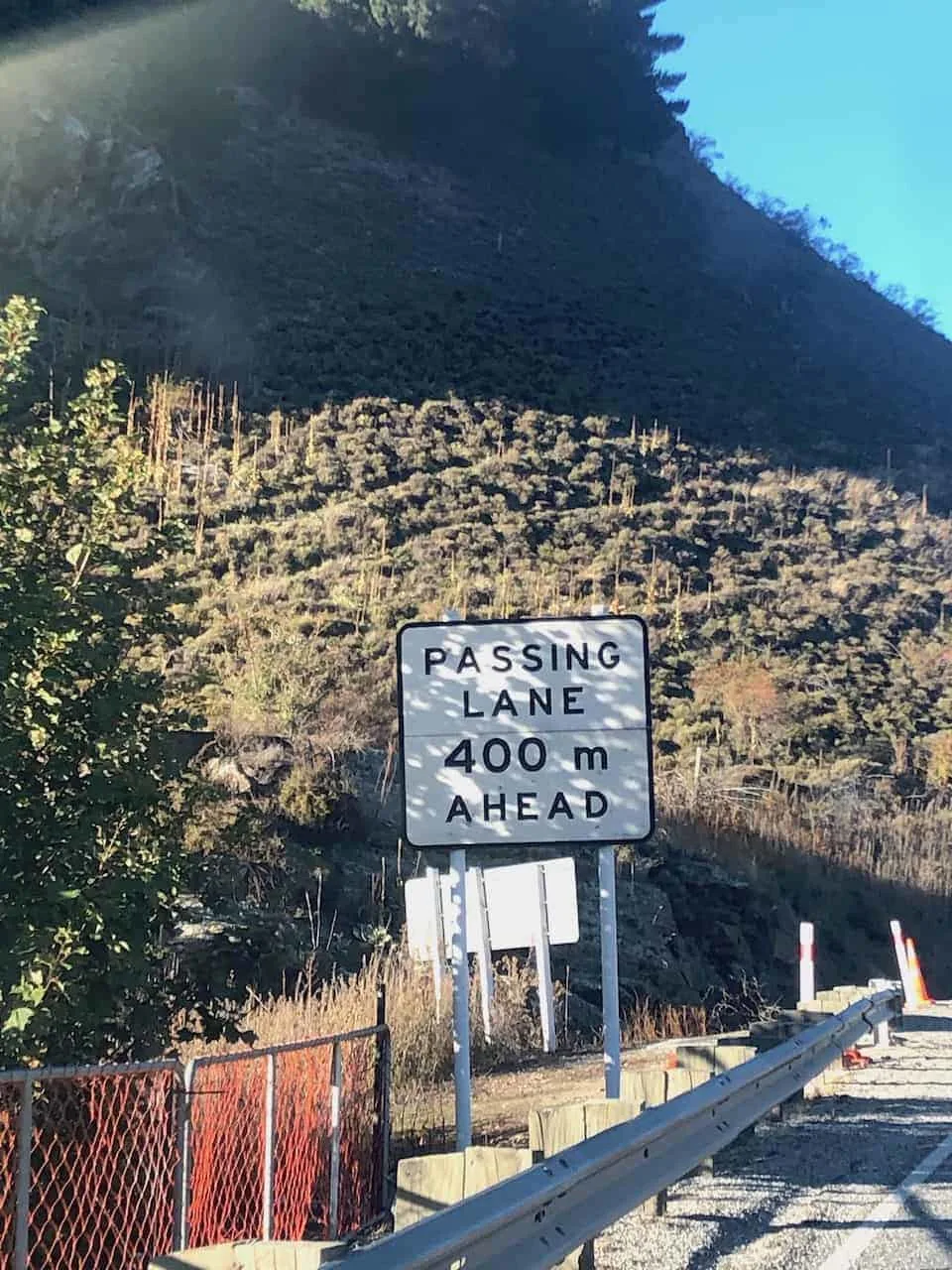 Slow Vehicle Bay
A second method of passing is in the form of Slow Vehicle Bays. Similarly, you will have a second lane for a short amount of road but unlike the Passing Lanes, if you yourself are a slow vehicle, then you will move into the left "Slow Vehicle Bay" lane to let the cars behind you pass to your right.
If there is a slow car in front of you (and they know they are being slow with cars behind them), then hopefully they will be moving into the Slow Vehicle Bay so you can pass on the right.
The main difference between the two is that:
Passing Lanes: you are making the move to pass another vehicle on the right
Slow Vehicle Bays: the vehicle in front of you is making the move to the left so you can pass on the right and stay your course.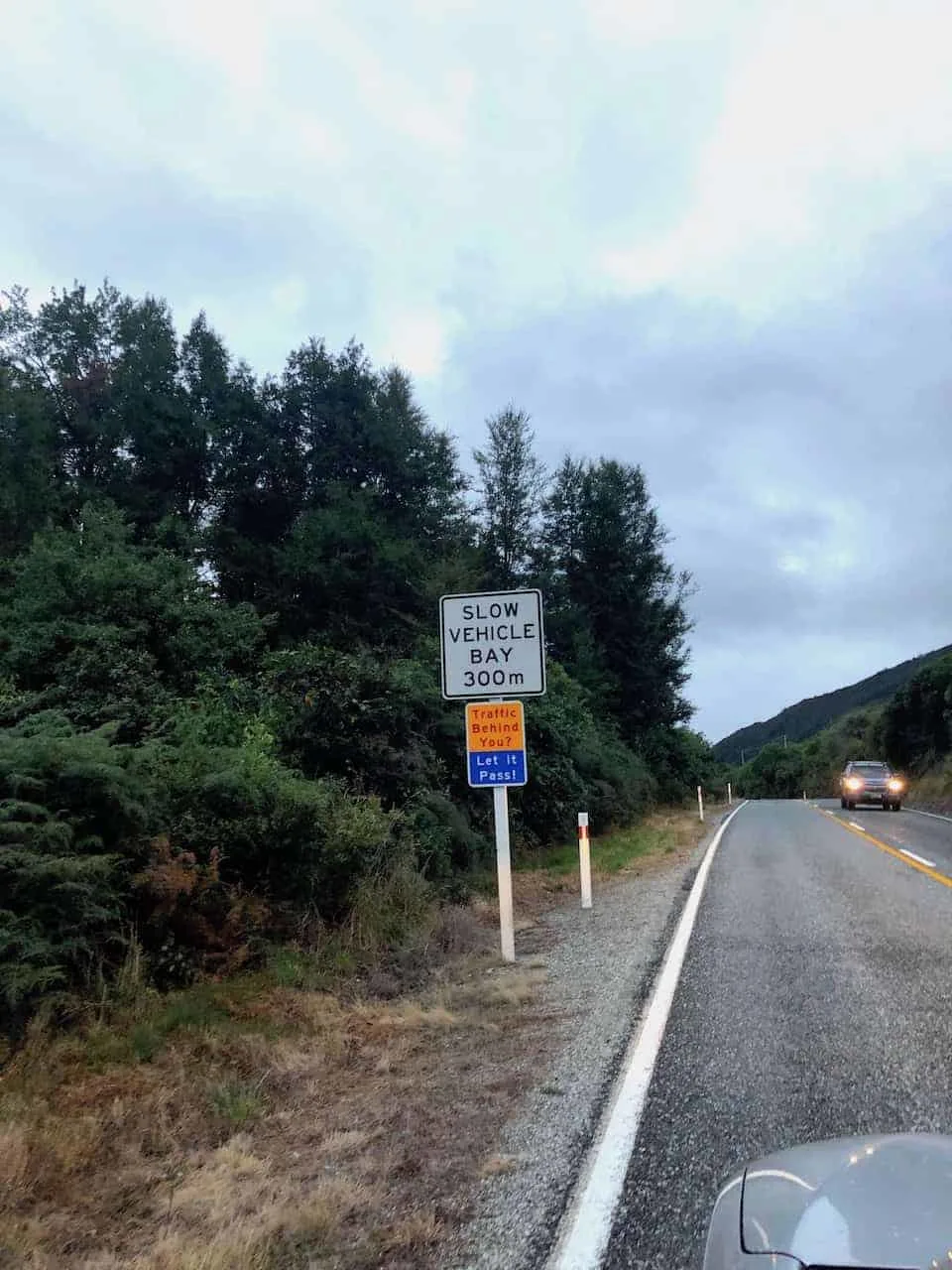 6) Driving in New Zealand Speed Limits
When driving in New Zealand most highways will have a speed limit of 100 KMH. However, you will come across frequent times when the speed limit changes to a slower speed – whether it be 80 KMH, 60 KMH etc. In cities and smaller towns, it may be even lower.
One thing to note is that there will be many times when you are on the highway going 100 KMH and all of a sudden you will be entering a small town situated on the highway itself.
When this happens the speed limit usually drops considerably. Be aware in these situations as you might not even realize it.
You will also come across plenty of twisty and curvy roads in New Zealand. When these come into play you may see signs saying speed limits as low as 25KPH.
Remember they are there for a reason! Those turns are super tight and you do not want to be going too fast around blind corners.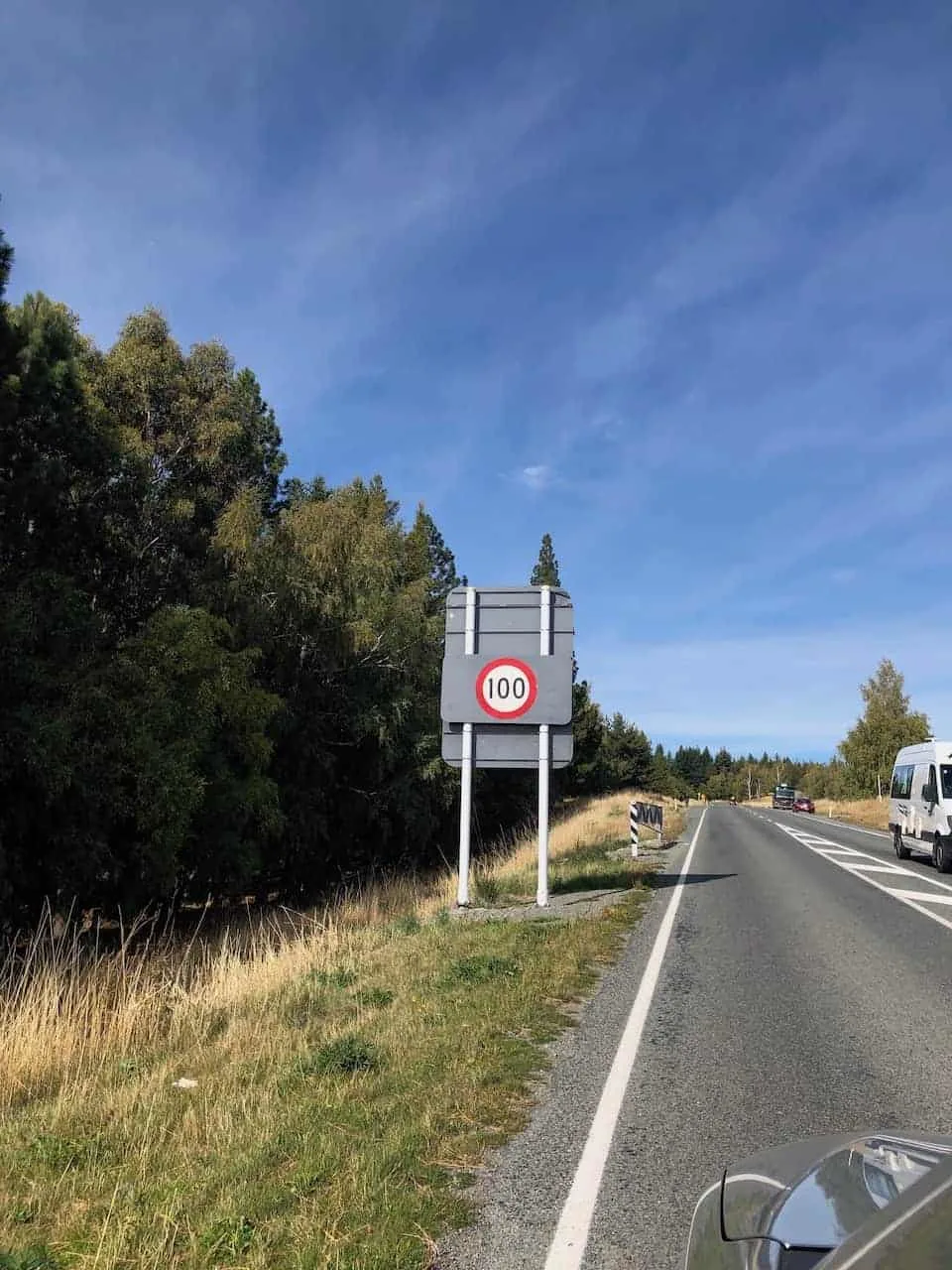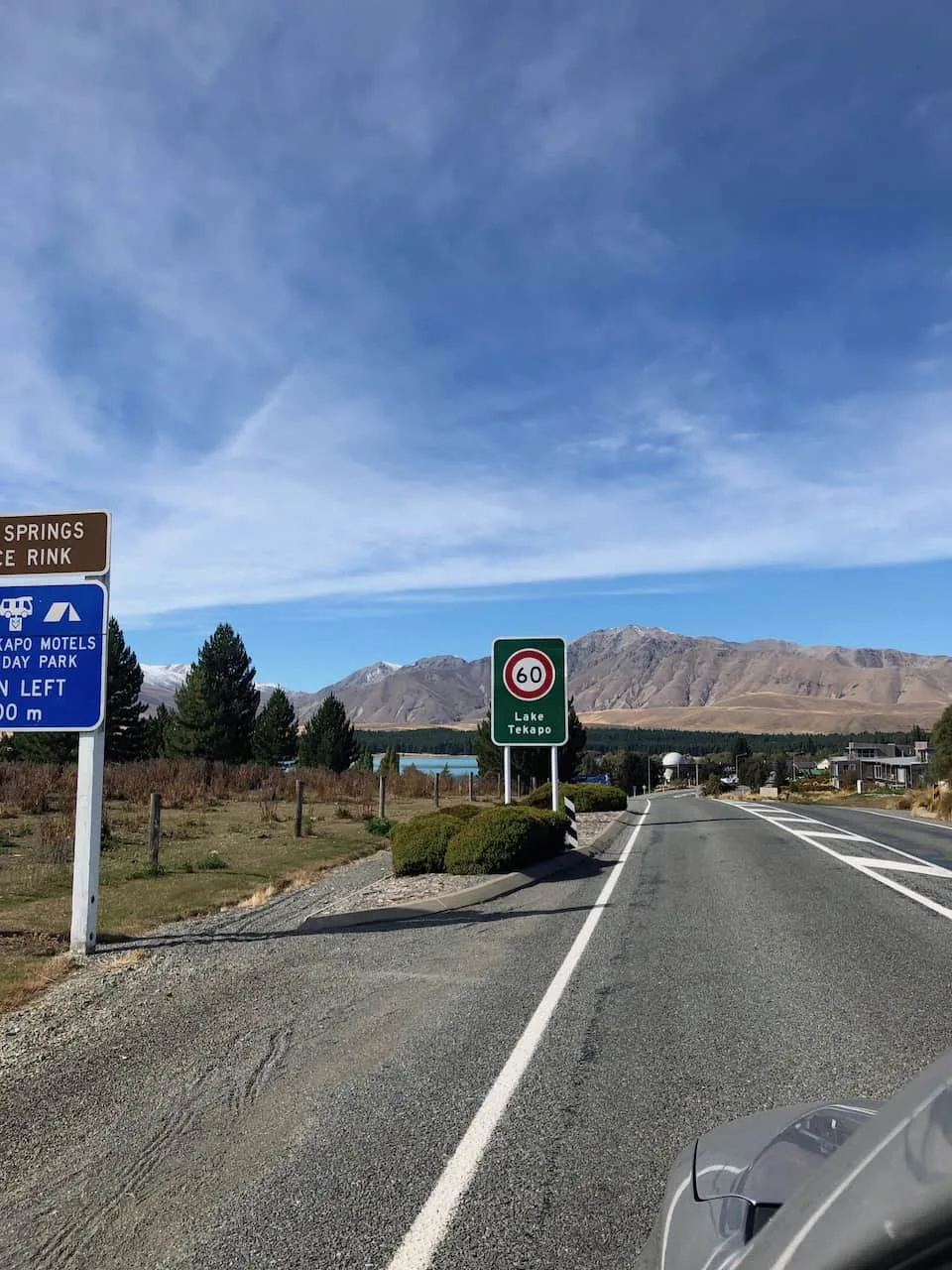 7) Gas Stations
Unlike some other countries, when you fill up your tank at many gas stations around New Zealand, you simply just need to take the pump and start putting gas into your car. No need to pay beforehand or put your credit card into the machine.
Once you are finished filling up your tank, you then will head into the gas station convenience store and pay for your tank. Be aware of this as you do not want to fill up your tank and completely forget to pay!
Note however this is not the case with every station but I did experience it with most I came across.
One other gas station tip I have (especially for those drivers who are coming from a country that drive on the right hand side of the road), is to try and add gas stations to your route that are on the left hand side of the road.
By doing so, it is much simpler to pull in and out of the gas stations and not need to worry about crossing lanes of traffic. Whenever I was taking a longer drive and knew I would need to fill up at some point, I would look at the route on Google Maps and then pinpoint a couple gas station options that were on the left hand side.
8) Road Closures
One thing I just did not realize about driving in New Zealand it that there are road closures due to slips from time to time – usually during/after heavy rainfall. A slip is basically when the rocks from above landslide onto the lanes of traffic blocking cars from getting past.
During my time on the South Island, there was one of the largest rainstorms in history to hit the West Coast. There were multiple slips all throughout and Arthur's Pass was closed down as well.
Not only that but it caused a bridge to collapse south of Franz Josef, completely blocking people from heading fully down the west coast for weeks.
So just to be certain before you start a drive, check the New Zealand Road Closures website to make sure all is looking good.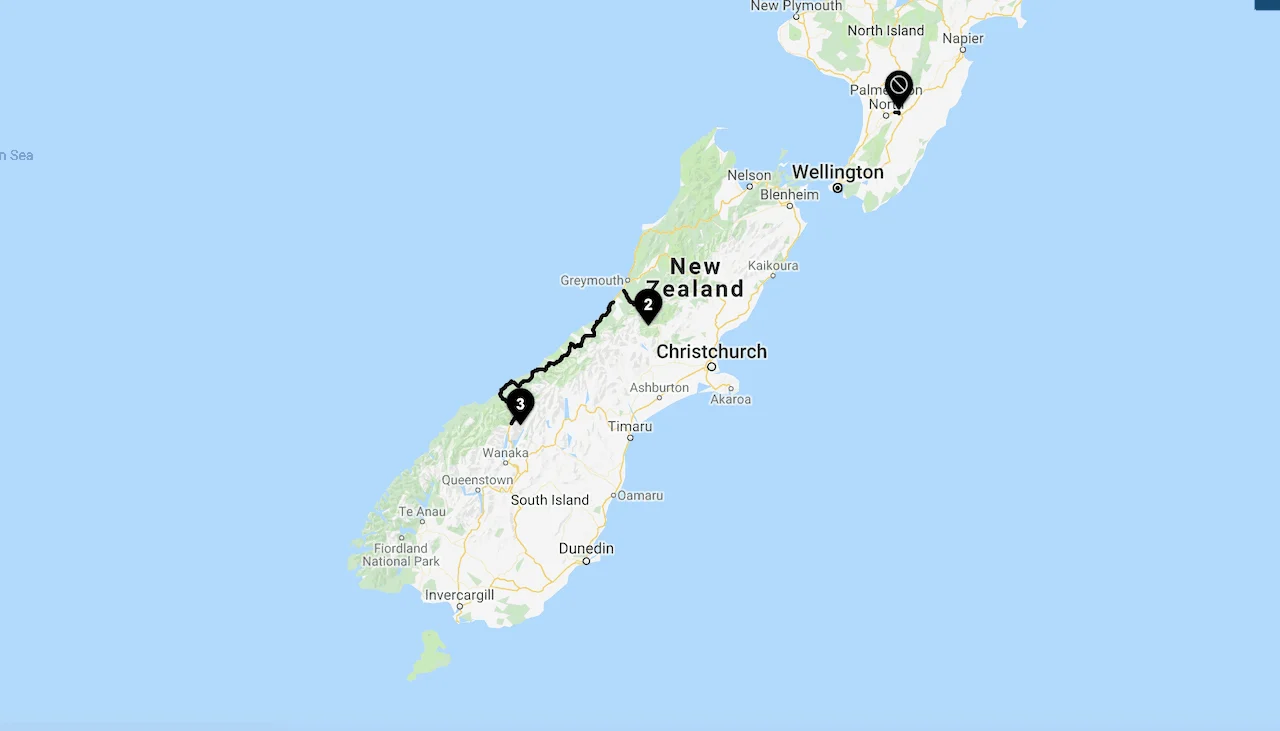 9) Viewpoints & Lookouts
You cannot drive New Zealand's roads without admiring the vast beauty that you are traveling through. Yes, it can be distracting at times so always keep your eyes on the road! But no worries, you will constantly see signs for "Scenic Lookouts" throughout the country.
These are places that are actually safe to pull over in with multiple spaces for cars. I experienced countless times when drivers tried to pull over on the side of the road for "unofficial viewpoints" with their car basically still in the lane – do not do this!!
If you really want to pull over and there is no official scenic lookout, make sure it is in a spot when you can 100% get all the way off the side of the road safely – not on turns, etc. You see many people doing this for example on the Road to Mount Cook where there are several safe areas to pull over.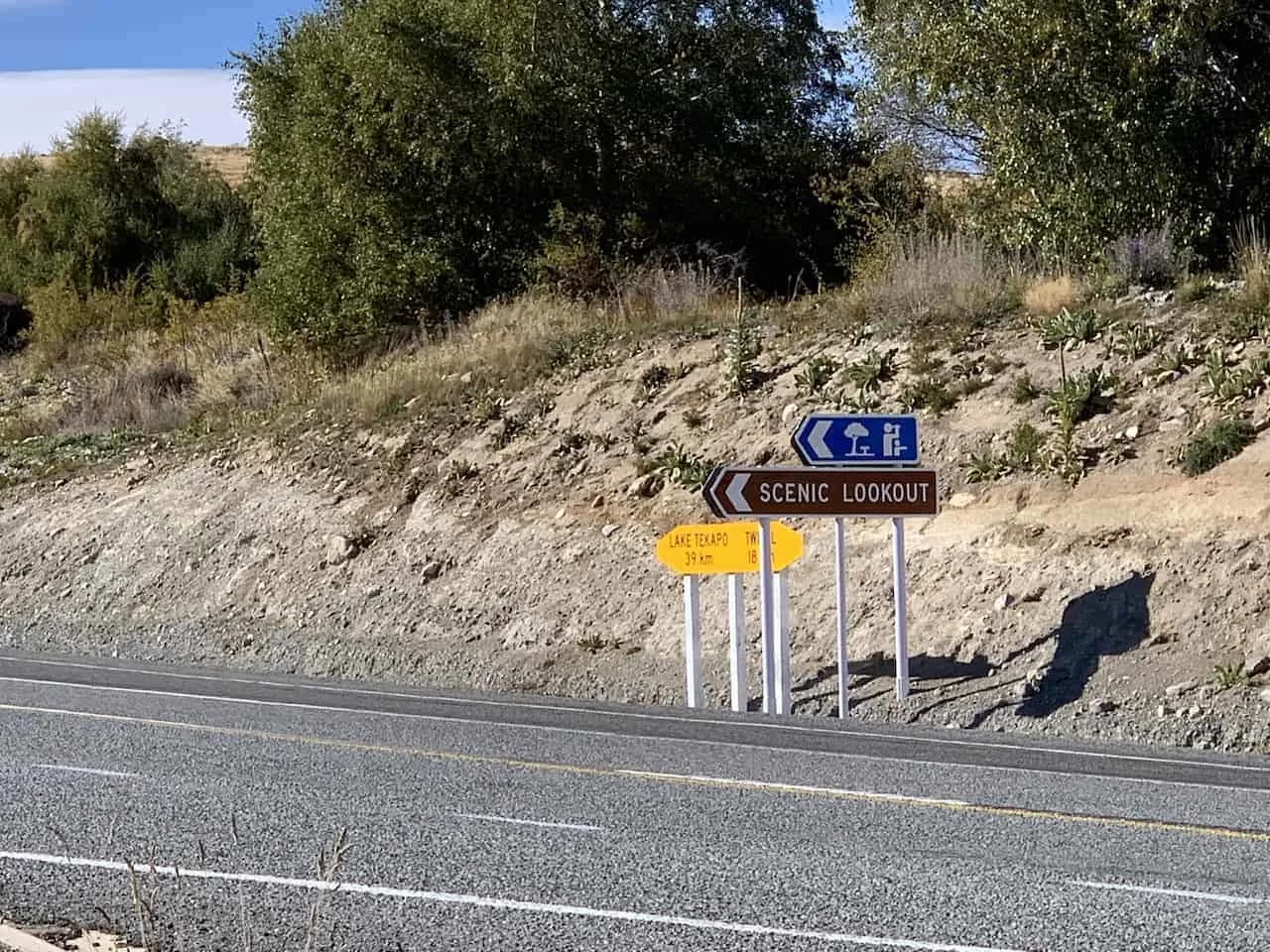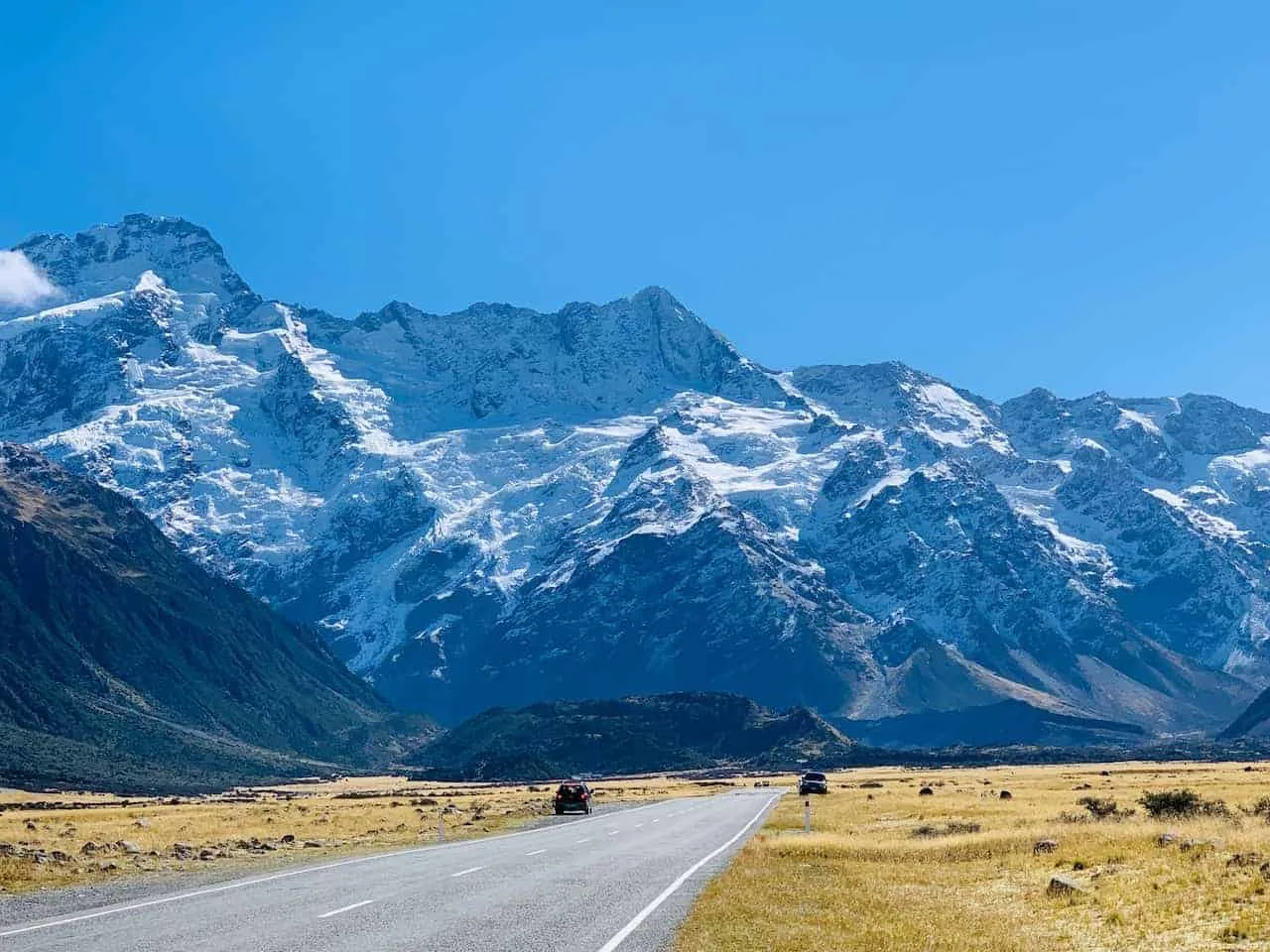 10) North – South Island Ferry
If you plan on heading to both the North and South Islands you will most likely be bringing your rental car onto the Cook Strait Ferry. Most rental car companies allow this but just make sure before you book!
If you do not want to bring the car onto the ferry or your rental company does not allow it, some companies also give you the option to drop off the car before you get on the ferry and then pick up a new car on the other side.
If you are bringing your car onto the ferry, you will need to book a ticket through one of the two companies – Bluebridge or Interislander. There is a cost (around $165 NZD) for the car as well as a cost for each passenger (around $65 NZD). Some companies like Apex pay for your car ferry ticket as part of the rental price.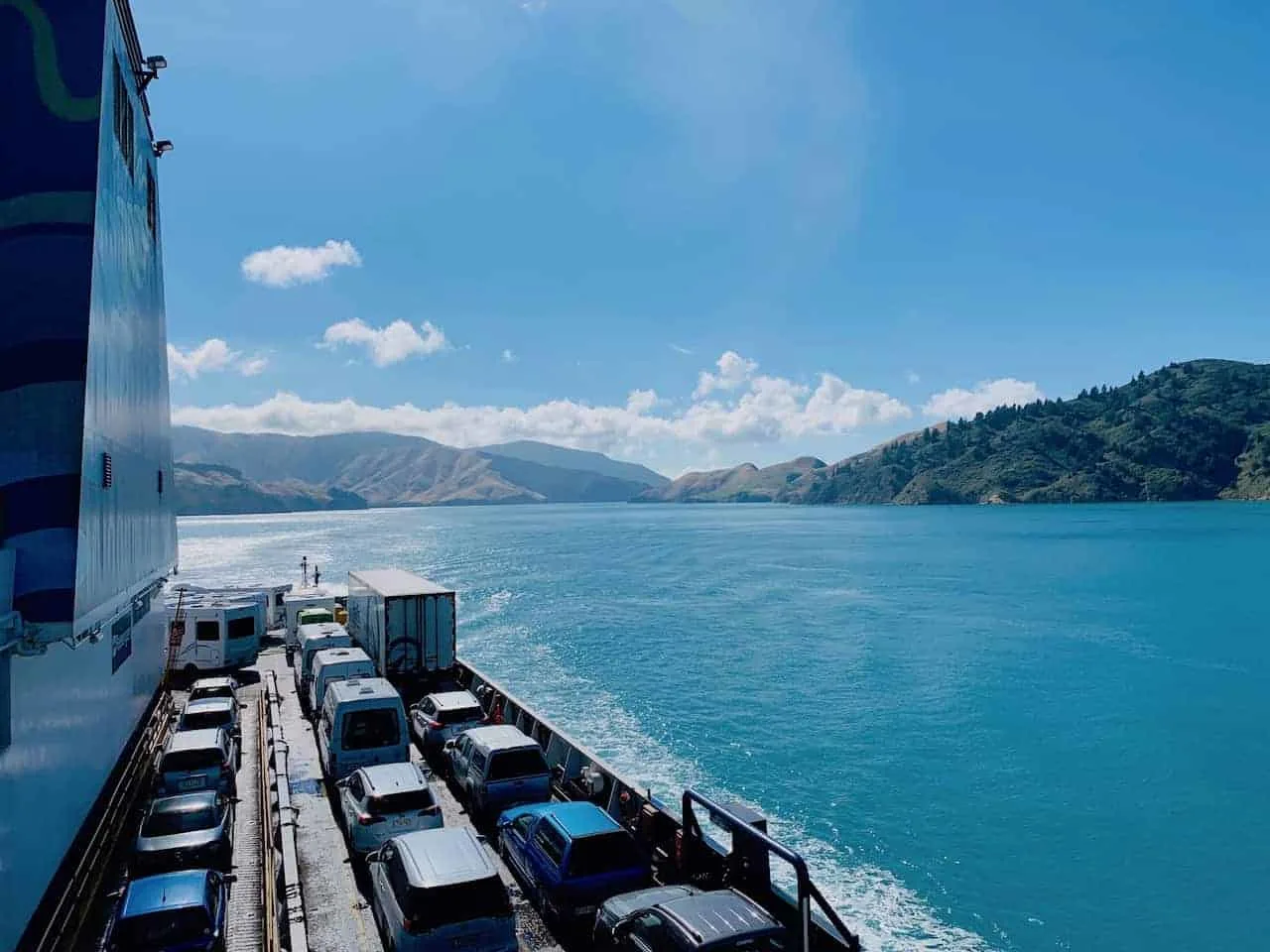 11) Driving in New Zealand Helpful Tips
To better prepare you for your time on the road, below are some helpful New Zealand driving tips.
Take Breaks
Some drives between places in New Zealand can be LONG. Always be sure to make frequent breaks throughout and switch drivers if need be as well.
Like I mentioned earlier, on a longer drive I would always zoom into the map and pin point a couple gas stations or cafes along the route that I could easily pull into.
By preparing beforehand I did not need to worry as much on the drive itself.
Sun & Rain
New Zealand weather can really bring it all. I was there in March/April and experienced mostly sunny days with a couple really brutal rainy ones. As you get more into the winter time there, snow will be an issue as well.
The sun can be very strong in NZ and I had a fair share of drives heading directly into the sunlight – definitely be prepared with sunglasses to help out.
Similarly, I also had to drive in the rain at some points and it was not fun at all. Just be sure to even more so adhere to speed limits and be cautious of the windy roads in poor conditions.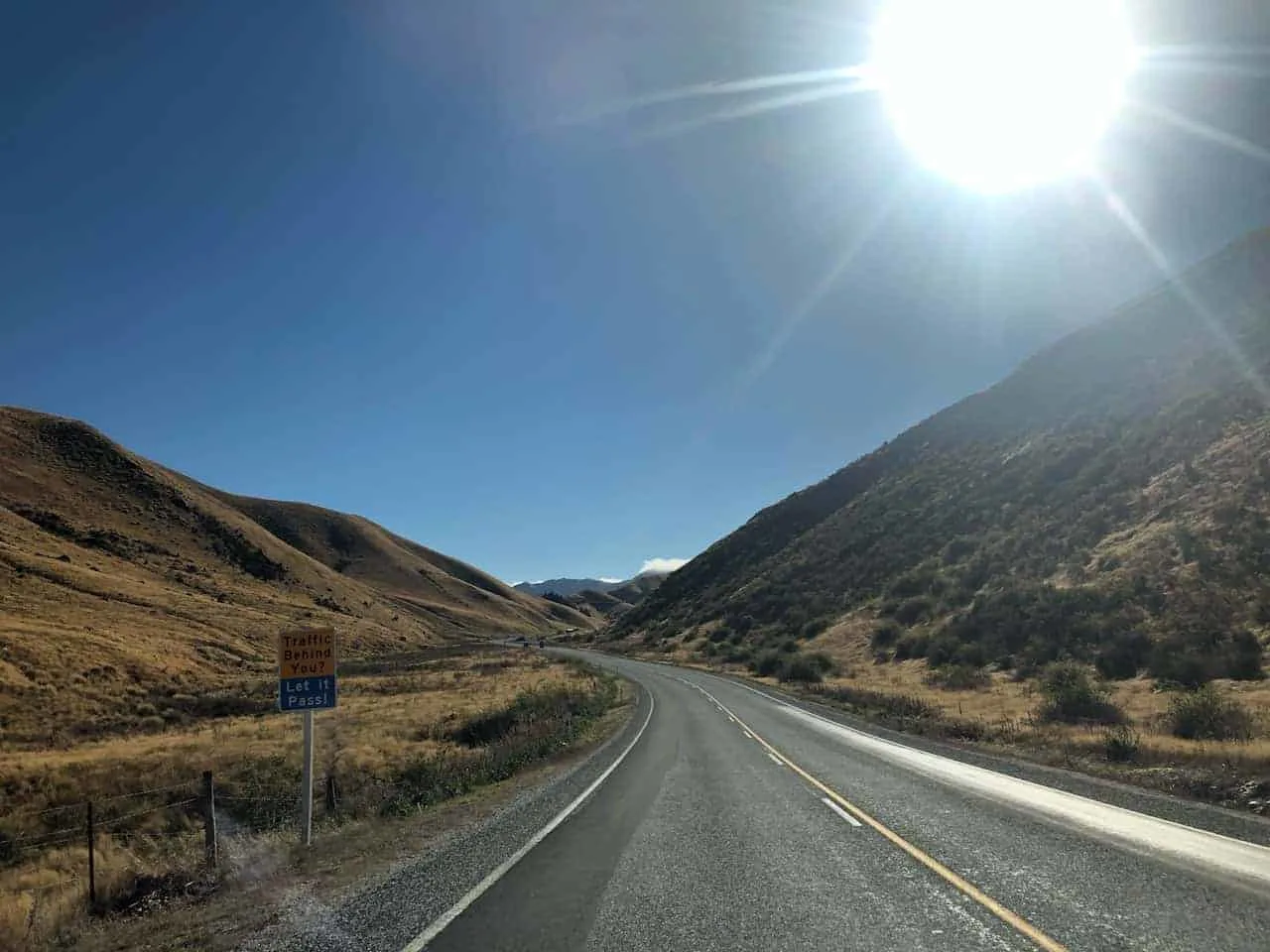 Animals on the Road
A couple quick notes regarding animals on the road.
You may come across from time to time, herds of sheep or other cattle in the middle of the road. In these situations never honk or flash your lights at them. Just go down to a very low speed and they should go right around you.
Another thing to note is the large amount of roadkill out there. On nearly every drive I took I saw some type of dead animal on the ride so just be cautious as you drive.
Construction & Temporary Traffic Lights
Every so often you will come across a small section of highway that is being worked on. When this happens, they may close down one lane of traffic.
As you approach these sections you will either see a person with a stop/go sign indicating when it is safe to proceed or you may see a traffic light (with some sort of countdown timer) that will tell you when to go.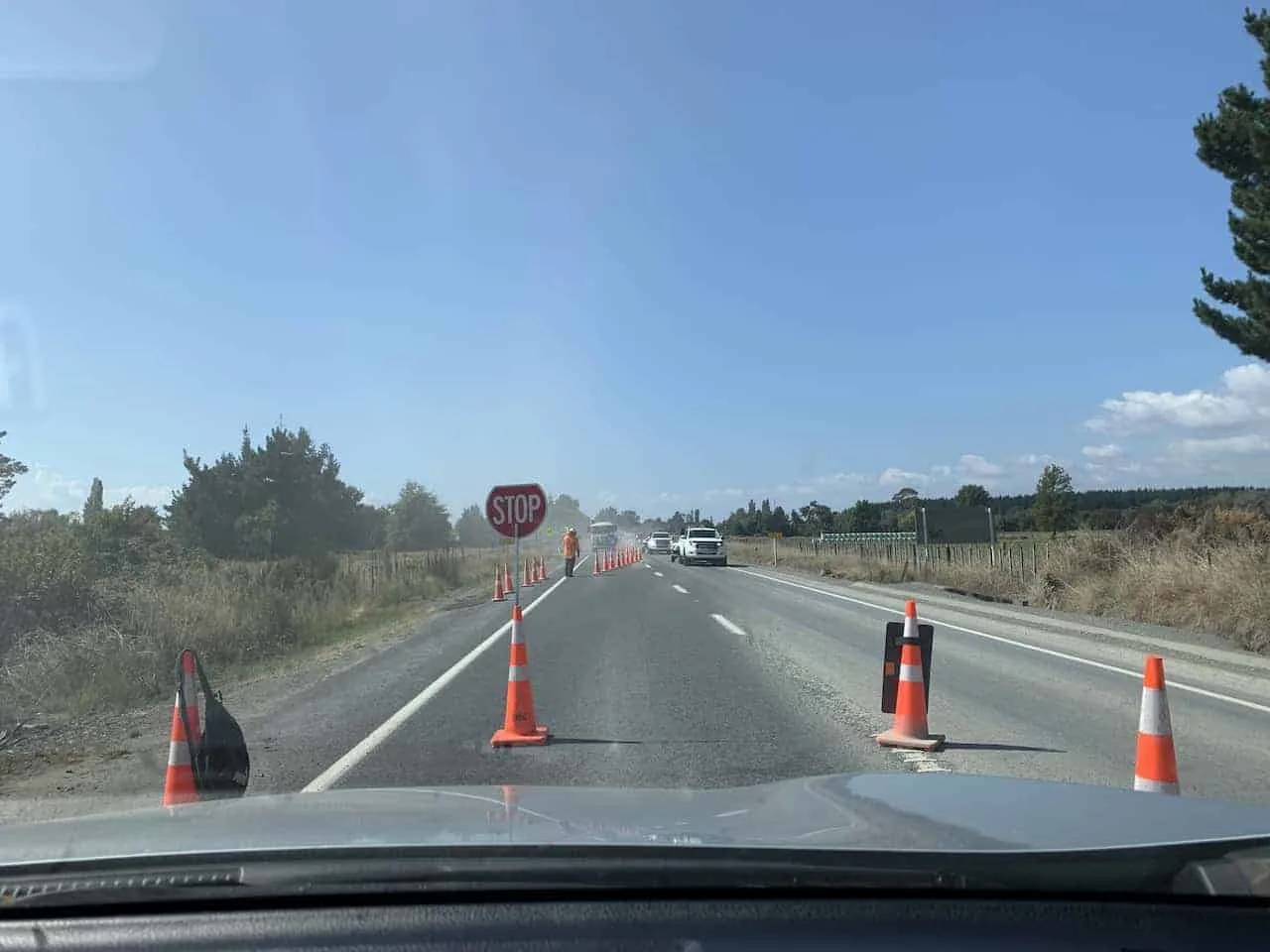 Offline Maps
On some of my drives, I came across points where I would stop for gas or a bite to eat but then not have cellular service to input the next destination. After this happened I ended up downloading offline maps for the region so I would not have that issue moving forward.
To be safe I recommend to download offline maps for one or both of New Zealand's islands before your trip depending on where you are going.
Driving Times
Although some drives may not seem too long on the map itself, you will be surprised by how long it actually takes you. This is usually because many of the windy roads have much lower speed limits compared to what you would see on an open highway.
With that said though, I usually found that the time it says on Google Maps to be pretty accurate as the app knows about these limits already. Just do not think because it looks like a short distance that it will take a short amount of time.
No Turn on Red
I know this rule is different by country, state, city but in New Zealand you are not allowed to make a left-hand turn at a red light even if there is no traffic coming.
This would be similar to a right-hand turn in the US for example, where in many places, if traffic is clear you can make the right-hand turn. In NZ though you cannot make the left hand turn so just wait for the green light.
Toll Roads
There are a few toll roads on the North Island of NZ. If you do take one you must pay the toll online for your car after the fact. If you do not do so you may get hit with a ticket from your car rental company.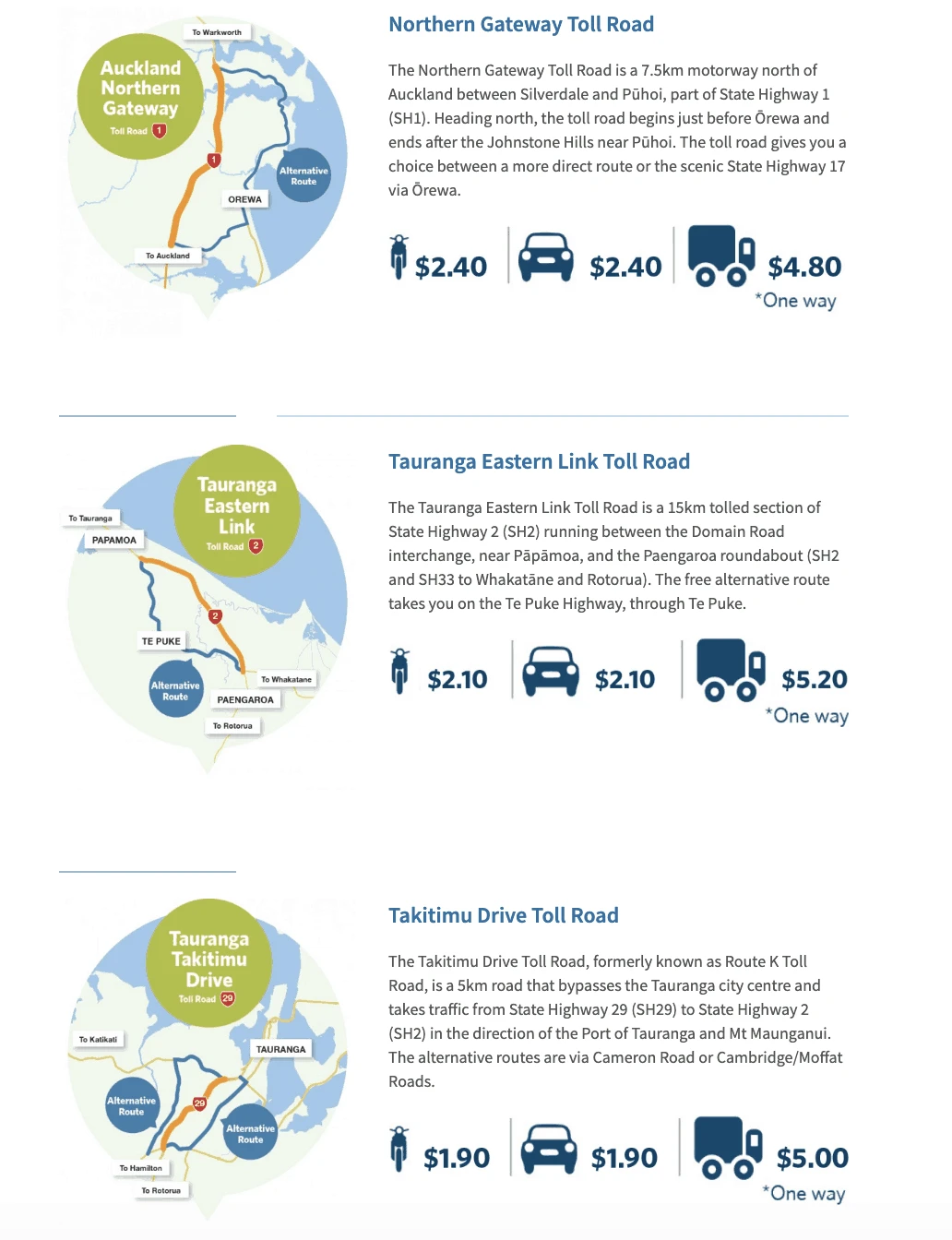 Gravel Roads
From time to time you will also come across gravel unpaved roads. Usually these will not last for too long but do be extra cautious when on them as the small rocks can pop up and scratch your vehicle and windows.
Another thing to note here is that some unpaved roads such as the one from Glenorchy to the start of the Routeburn or the one to Raspberry Car Park (for the Rob Roy Glacier Track), are restricted for some car rental companies.
I used Apex for my rental and they explicitly said in the contract I was not allowed to drive on these roads among a few others.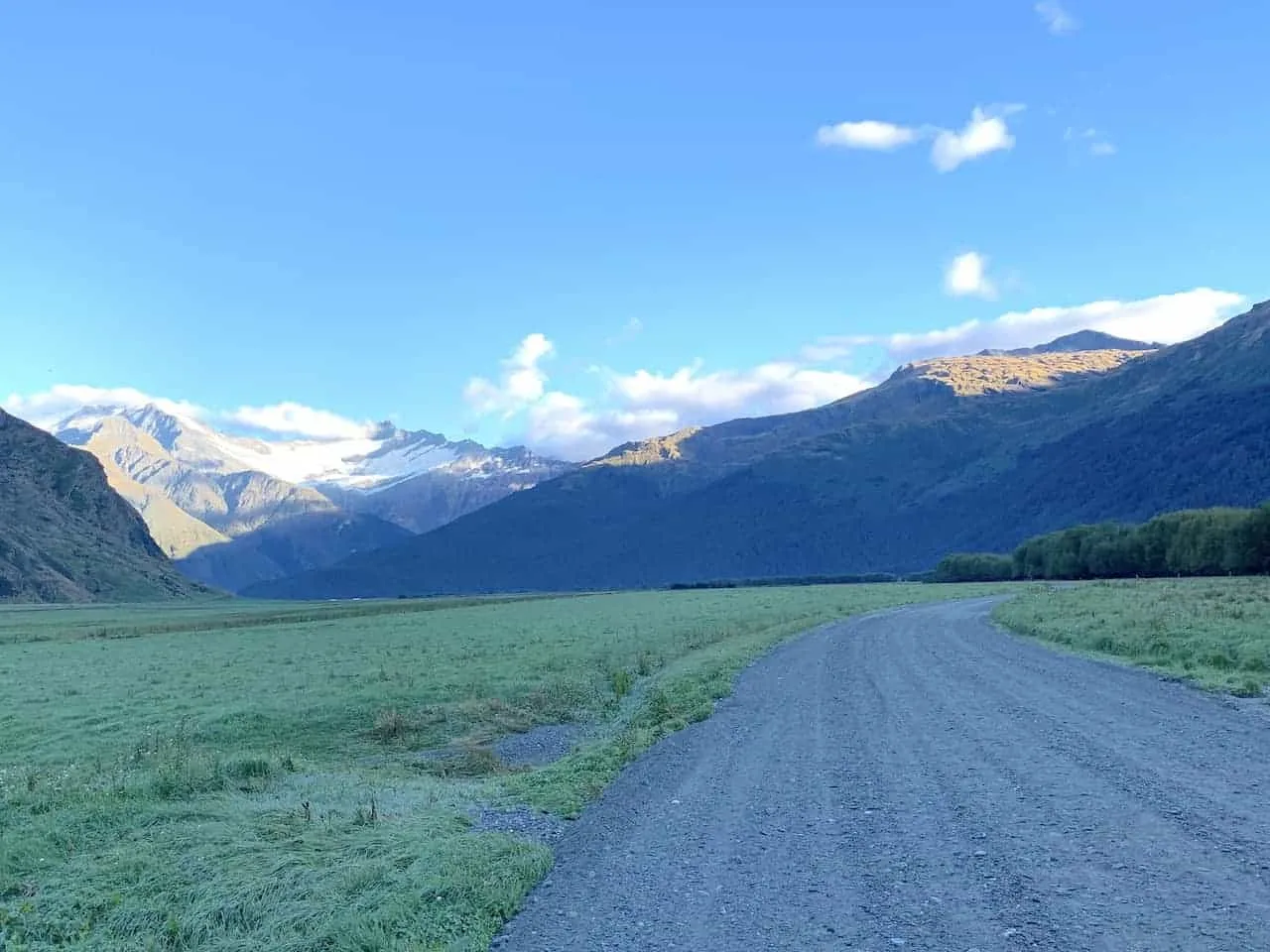 City Parking
Lastly, if you are heading into some of the more major cities with your car – Auckland, Wellington, Queenstown, Christchurch etc., be prepared to utilize a combination of on street parking or parking garages.
Parking at hotels is at a premium or non existent in many major cities so before you head into one, have some sort of plan of where to park.
Also a quick note about parking on the road – always park on the left hand side of the road – you cannot just pull into a spot on the right hand side with your car opposite traffic.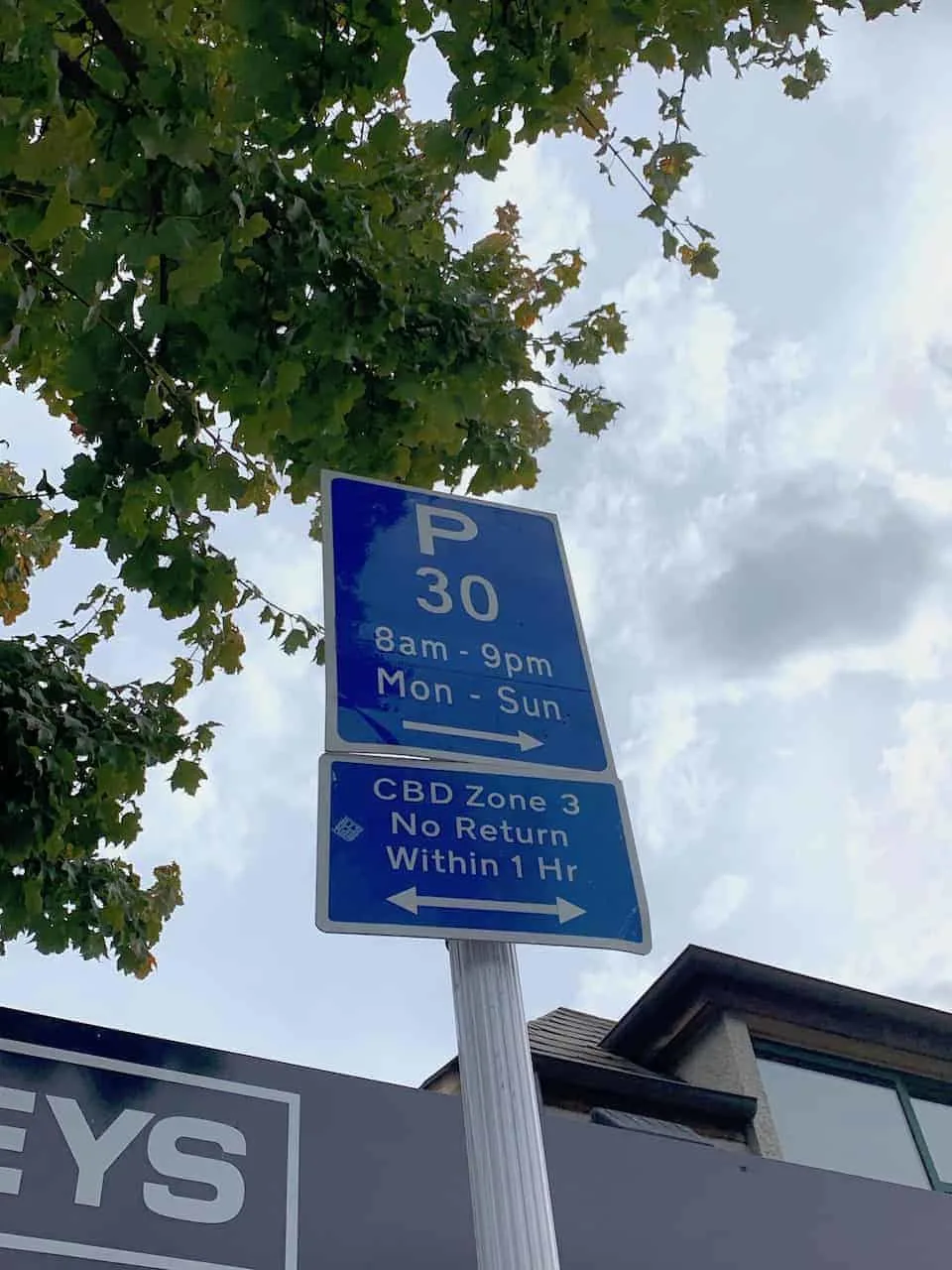 12) Car Rental Companies
If you are reading this driving in New Zealand guide, odds are that you are planning on renting a car during your time there.
When it comes to car rental companies there are many to choose from so I will just list out some below to give you a better idea.
From a budget perspective Apex, Omega, Snap, Jucy, Ace, GO, and Ezi are some of the main ones.
I went with Apex and had a flawless process. I know some others who went with Omega and have said the same. Obviously with budget companies you will see some older cars with more complaints so just don't expect to get a new high-end car.
The next tier up will be your more mainstream companies such as Europcar, Avis, Hertz, Budget, and Thrifty. With them you might find newer cars with less miles but the price will be higher accordingly.
With car rentals, many companies also allow you to pick up and drop off in different locations whether it be airport, city, ferry terminal etc. I would just advise to look through a few different companies and see the various offerings for each.
Be sure to check out Rentalcars.com when it comes to renting a car in New Zealand. The site will show you car options & prices from a variety of companies. This ensures that you will be able to choose the perfect car (and deal) for your trip to the country.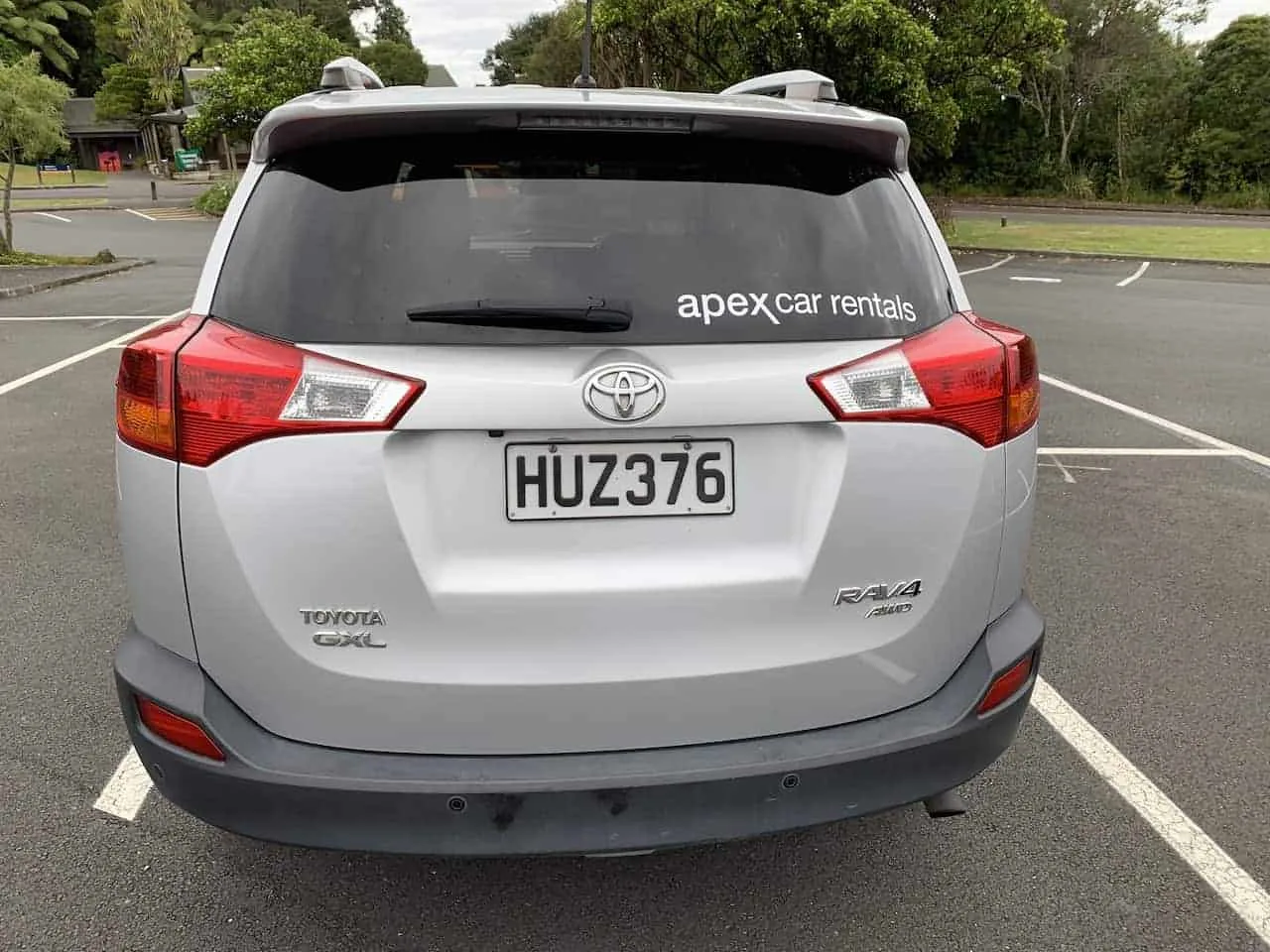 Well then, that about does it for a guide to New Zealand driving rules, tips, and my experience traveling 4,000+ KM around the roads.
I hope that all of this info can get you better prepared for the roads of New Zealand so you can have a safe and stress-free time enjoying the country.
If you have any questions feel free to write them in below. Take a look at the New Zealand guides and itineraries up on the site too!
Some of the guides currently up on the site include: