Are you interesting in hiking one of New Zealand's most famous trails but just do not have the time to complete the entire route?
This guide will go over a Routeburn Track day hike from the Routeburn Shelter to the Routeburn Falls Hut, and then back to the Shelter at day's end. It is the perfect trail for those that want to get a taste for the Routeburn in one incredible day hike.
* Affiliate Disclosure: This post may contain affiliate links, which means I may receive a commission if you make a purchase through the links provided, at no additional cost to you. Thanks for supporting the work I put into TripTins!
1) Routeburn Track Day Hike Overview
Here are some helpful facts about the trail so you better understand what to expect on this incredible day hike:
Starting & Ending Point: Routeburn Shelter
Pit Stops: Routeburn Flats Hut & Routeburn Falls Hut
Length: 17.6KM / 10.9 Miles
Time: 6-8 Hours
Track Type: Dirt Path
Elevation Gain: +495 Meters / +1,624 Feet
Routeburn Shelter: 477 meters / 1,565 feet
Routeburn Flats Hut: 685 meters / 2,247 feet
Routeburn Falls Hut: 972 meters / 3,189 feet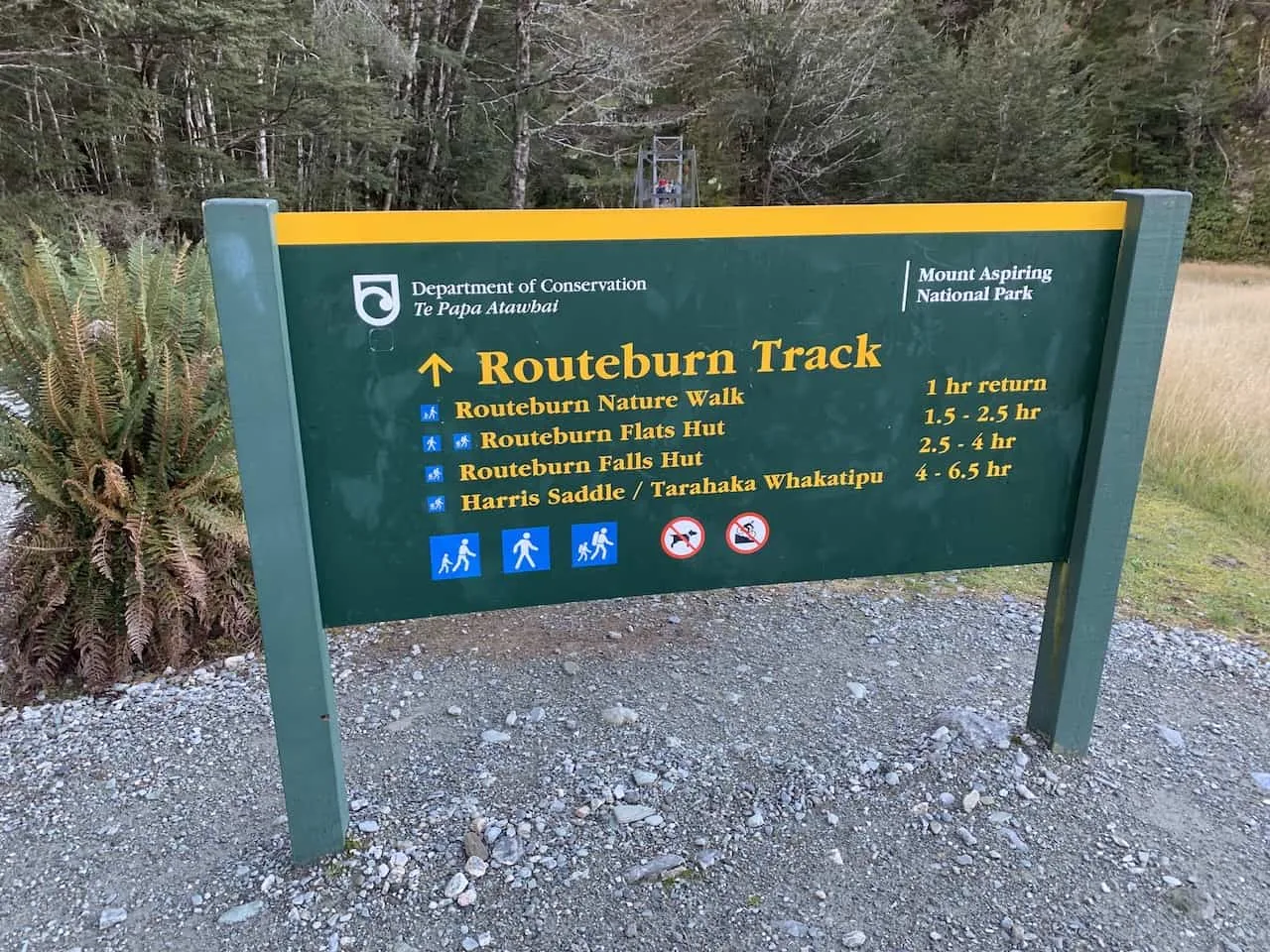 This is quite a long day hike if you decide to head all the way up to the Routeburn Falls Hut.
Depending on your timing for the day, you can make a decision once you reach the Routeburn Flats Hut whether or not you should continue up to the Falls Hut.
Below is a helpful elevation profile for the beginning of the Routeburn Track to better visualize the hike (note that the altitude axis seems to vary a bit from actuals):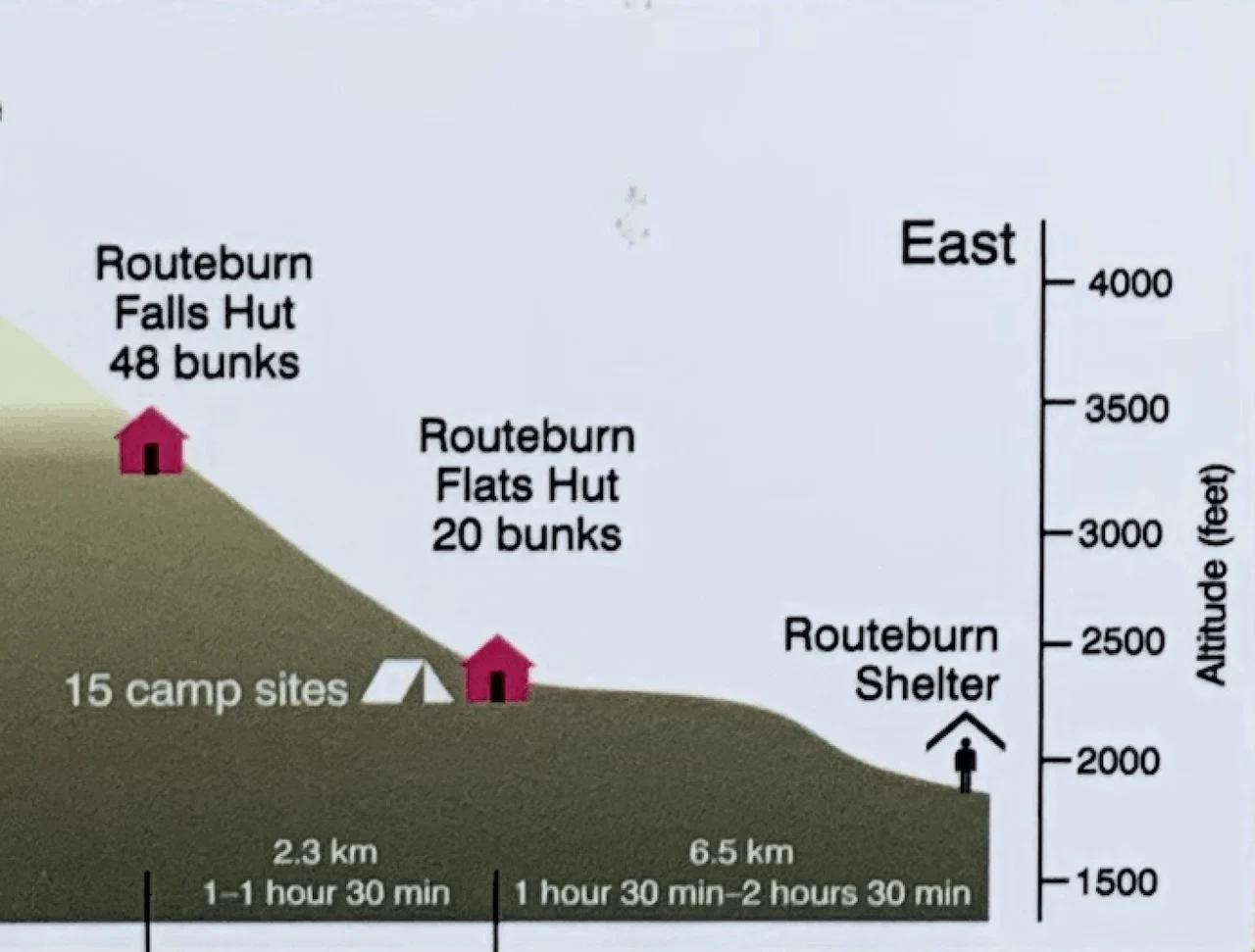 2) Routeburn Track Transport
To take part of this Routeburn Track day hike, you will need to make your way on the scenic drive past Glenorchy and onto the Routeburn Shelter.
You can reach the Shelter in one of three ways – by your own rental car, by a shuttle service, or by organized tour.
A) Rental Car
Having your own car would be easiest in this instance since you will be able to drive right to the Shelter, leave your car there, go on the track, and then head back to your car at the end of the day.
Not only would it be easiest to take part of a day like this with your own two wheels, but it will be easiest to travel all over New Zealand if you have a rental car.
You will be able to be on your own schedule and not need to worry about public transportation to get you around.
» Learn more about the NZ roads in the Driving in New Zealand Guide
One important thing to note here – the end of the road towards the Routeburn Shelter is not paved and can get a bit bumpy.
Because of this there are a few car rental companies who do not allow you to take this last portion of road. You can speak with the car rental company beforehand to see if that is the case with them.
If the car rental company does not allow you to head on this last portion of road, you can drive to Glenorchy and take the shuttle service from there.
Rental Car Booking: Be sure to check out Rentalcars.com when it comes to renting a car in New Zealand. The site will show you car options & prices from a variety of companies. This ensures that you will be able to choose the perfect car (and deal) for your trip to the country.
B) Shuttle Service
A company named Glenorchy Journeys runs a shuttle between Queenstown, Glenorchy and the Routeburn Shelter. Below are the times and prices from both Queenstown and Glenorchy, and vice versa (note the prices are for one way).



C) Joining a Tour
Another option I will mention is to join a tour from Queenstown. If you would like to not only have transport taken care of for you but also have a guide take you on the Routeburn, then this option could be for you.
» Here is a great tour option offered that would go over this exact Routeburn Track day hike
D) Queenstown to Routeburn Shelter Map
Below is a map highlighting the route to take from Queenstown to the Routeburn Shelter Parking Lot.
I have highlighted several key points along the way for your reference including:
Bennetts Bluff Lookout (more on that soon)
Shuttle stop in Glenorchy (if your rental car company does not allow you to drive all the way through to the Shelter)
Final turnoff point where some car rental companies do not allow cars past
Where the unpaved road begins
Routeburn Shelter parking lot
The full drive from Queenstown to the Routeburn Shelter should take approximately 70 minutes.
3) What to Bring On The Trail
Whenever heading off on longer day hikes, I always recommend being adequately prepared when it comes to the type of gear to bring along.
Check out the below packing list to get you ready for this hike and other hikes in New Zealand.
It includes everything I bring along on day hikes, and it will have you better prepared when taking part of New Zealand trails such as this Routeburn Track day hike.
Hiking Packing List

In general when it comes to hiking, there are a few main aspects to consider. These includes clothing layers, hiking shoes, hydration & fuel, electronics, and other essentials.

Below in a breakdown of some of the top items, but be sure to check out the Hiking Packing List for a more comprehensive view.

Clothing Layers

Layering is going to be a top consideration when hiking. You will want to be prepared for all sorts of weather so you can be comfortable in different situations. Some items may include:

→ Hiking Shorts
→ Hiking Pants
→ Short Sleeve Shirt
→ Long Sleeve Shirt / Sun Hoodie
→ Mid Layer Fleece
→ Puff Jacket (not always needed)
→ Packable Rain Jacket (Columbia Watertight II)

Note that your layers should be made of moisture wicking material as they are breathable and quick drying.

Footwear

Having appropriate footwear will also be very important. You will want to have shoes with the necessary grip and support to keep you safe on the trail.

→ Hiking Shoes (Keen Targhee)
→ Hiking Socks (Darn Tough)

Other Essentials

Whether it is hiking gear, electronics, or just some miscellaneous items, here are some other essentials to bring along on hikes.

→ Hiking Backpack (Osprey Talon 22) & Rain Cover (Joy Walker Cover)
→ Hiking Poles (Black Diamond Trekking Poles)
→ Water Bottle (CamelBak Chute or Katadyn Filter Bottle)
→ Portable Charger (Anker PowerCore 5000mAh)
→ Action Camera (GoPro Hero)
→ Energy Bars & Snacks
→ Hat & Sunglasses
→ Sunscreen & Bug Spray
→ Check out this guide if you are looking for a top lightweight hiking backpack option
4) Routeburn Track Weather
While a good portion of the first part of the track is in the forest and along the river, once you reach the Routeburn Flats Hut and then start heading up to the Routeburn Falls Hut the views will start to come into play.
On a poor weather day, these views can be obstructed or completely eliminated by rain and clouds. I would recommend taking a looking at Meteoblue for the latest forecasts to get a better idea of what day to take part of the trail.
The link will take you to the weather page for the Falls Hut as that is the highest elevation for the hike.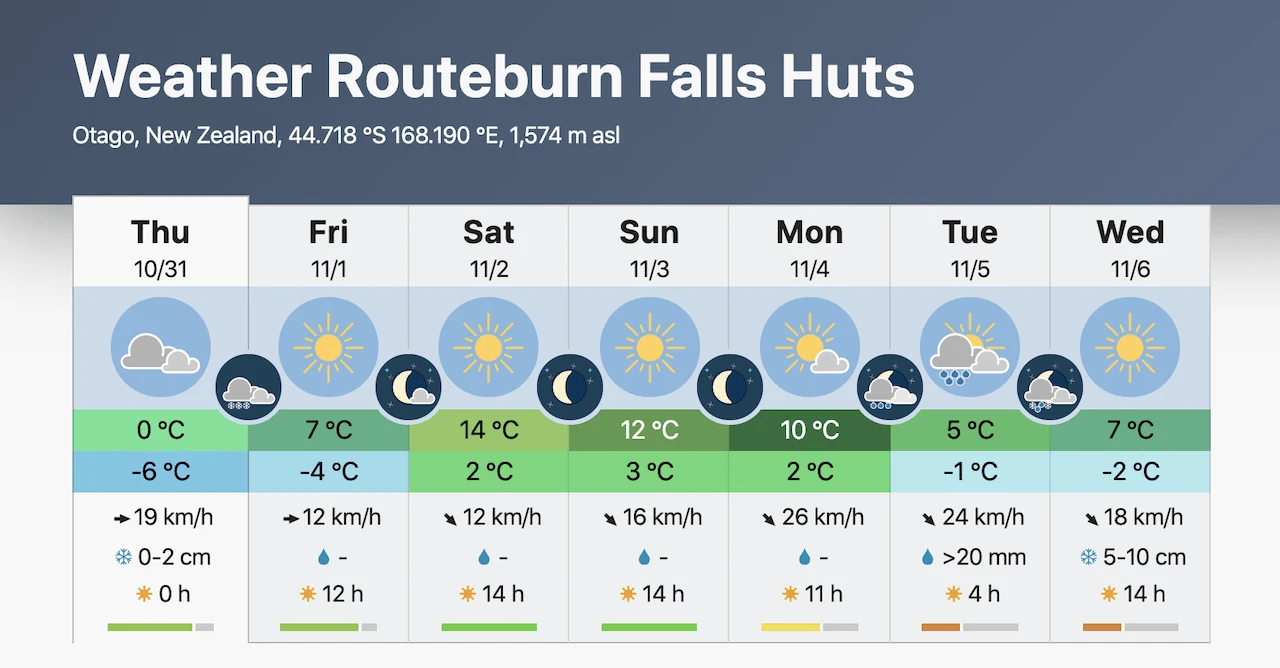 Hiking Resources & Checklist

Before heading out for the trails, be sure to read up on some of the hiking resources up on the site. These are here to better prepare you for all types of outdoor adventure.
5) The Drive from Queenstown to Glenorchy
Lucky for you, the Routeburn Shelter is located just past the town of Glenorchy. The drive from. Queenstown to Glenorchy is known to be one of the most scenic drives in the country.
So, either on the way there or on your way back, be sure to stop along the way at some beautiful viewpoints of Lake Wakatipu alongside the surrounding mountain ranges.
One of the main viewpoints is the Bennetts Bluff Lookout (pinned on the map above), so be sure to stop by if you are looking for some panoramic views.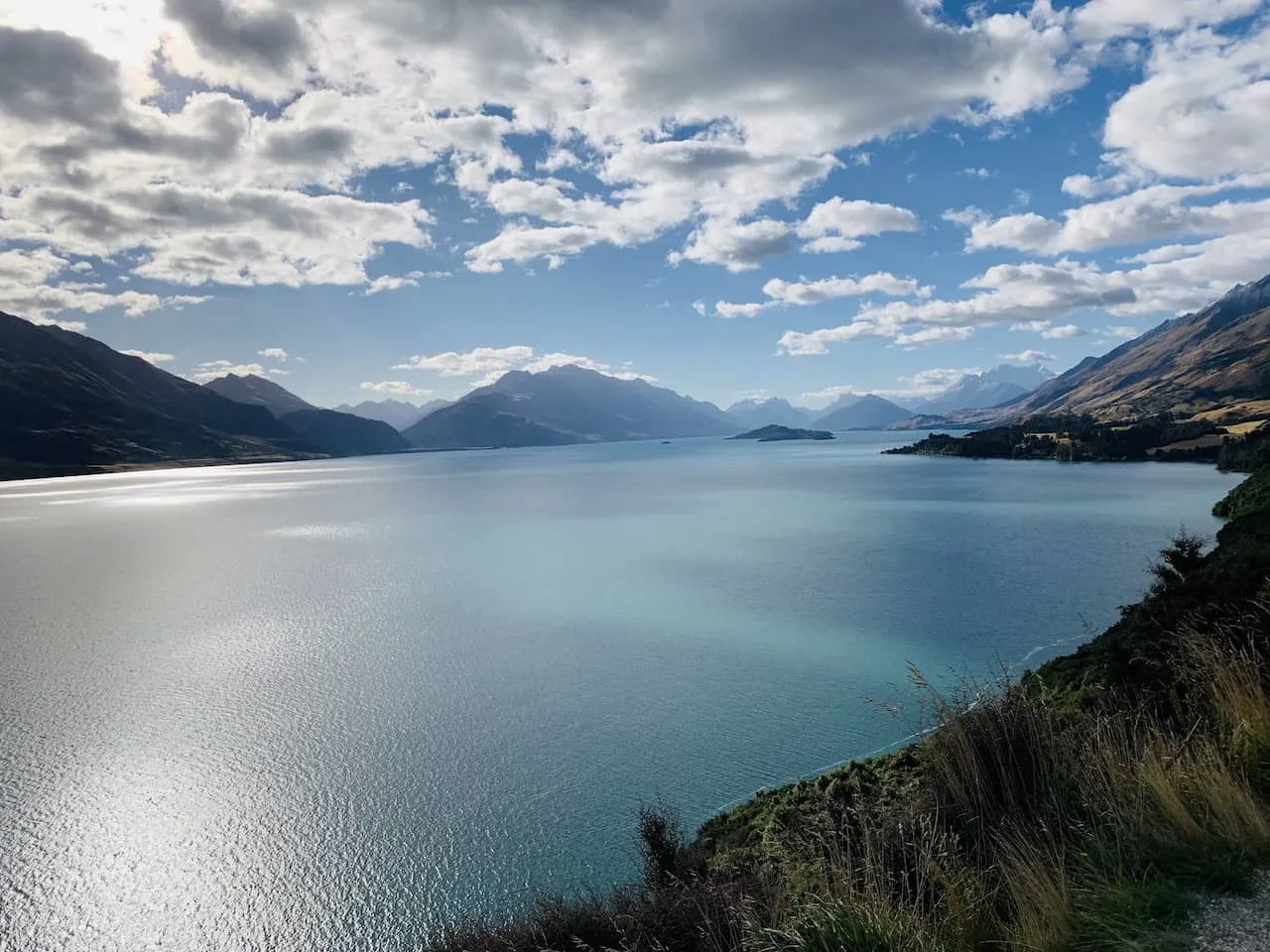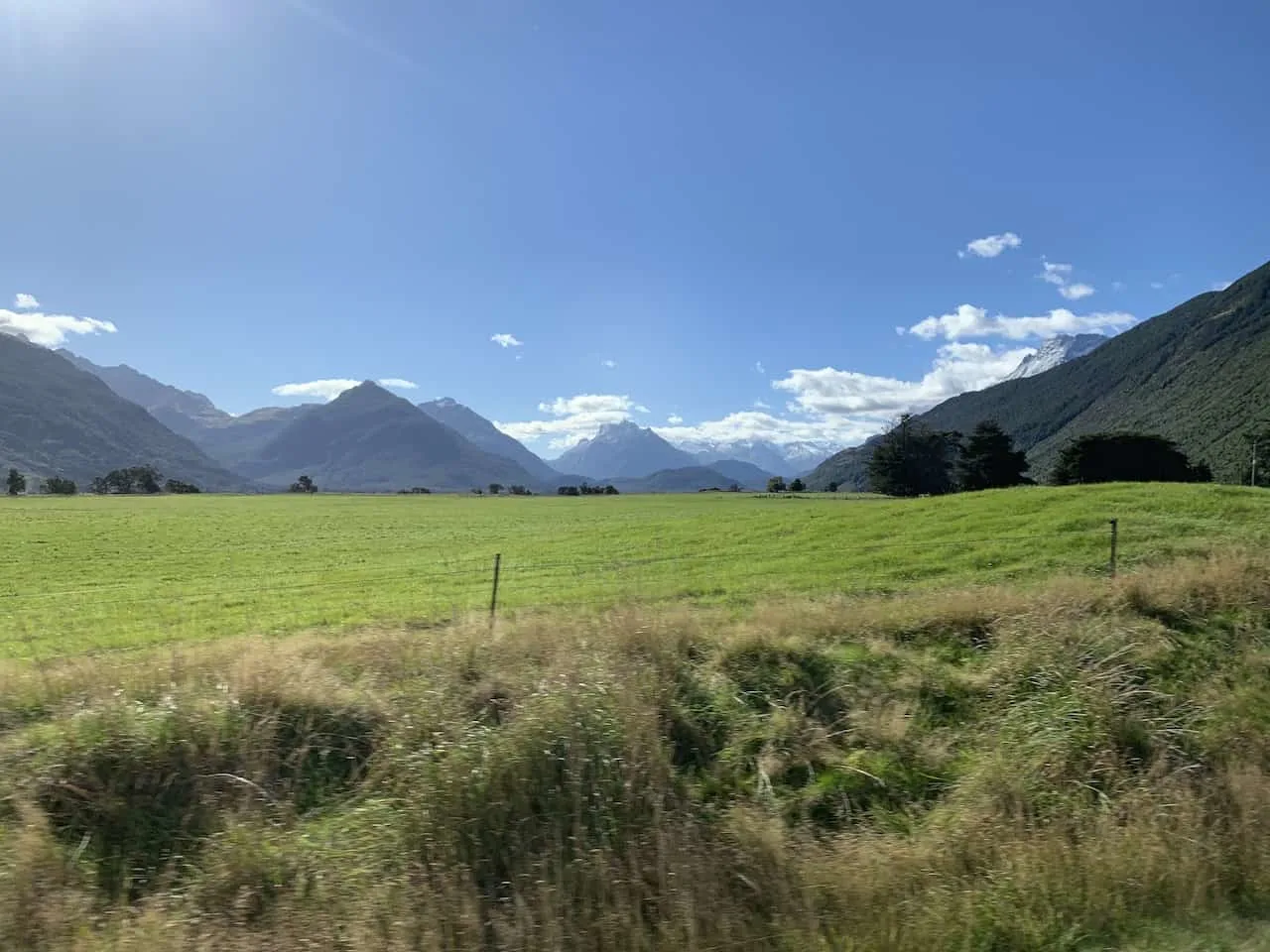 6) Routeburn Track Day Hike
Now that you have all the necessary background information for the track, it is time to talk a bit more about the trail itself and show you some pictures along the way.
You will begin at the Routeburn Shelter, head towards the Routeburn Flats and Routeburn Falls Hut, and then turn back around to the parking lot.
A) Routeburn Shelter to Routeburn Flats Hut
You will start off the hike through the intense forest greenery as you follow the well marked path further into the trees. Along the way you are sure to pass the crystal clear Routeburn river flowing down alongside you.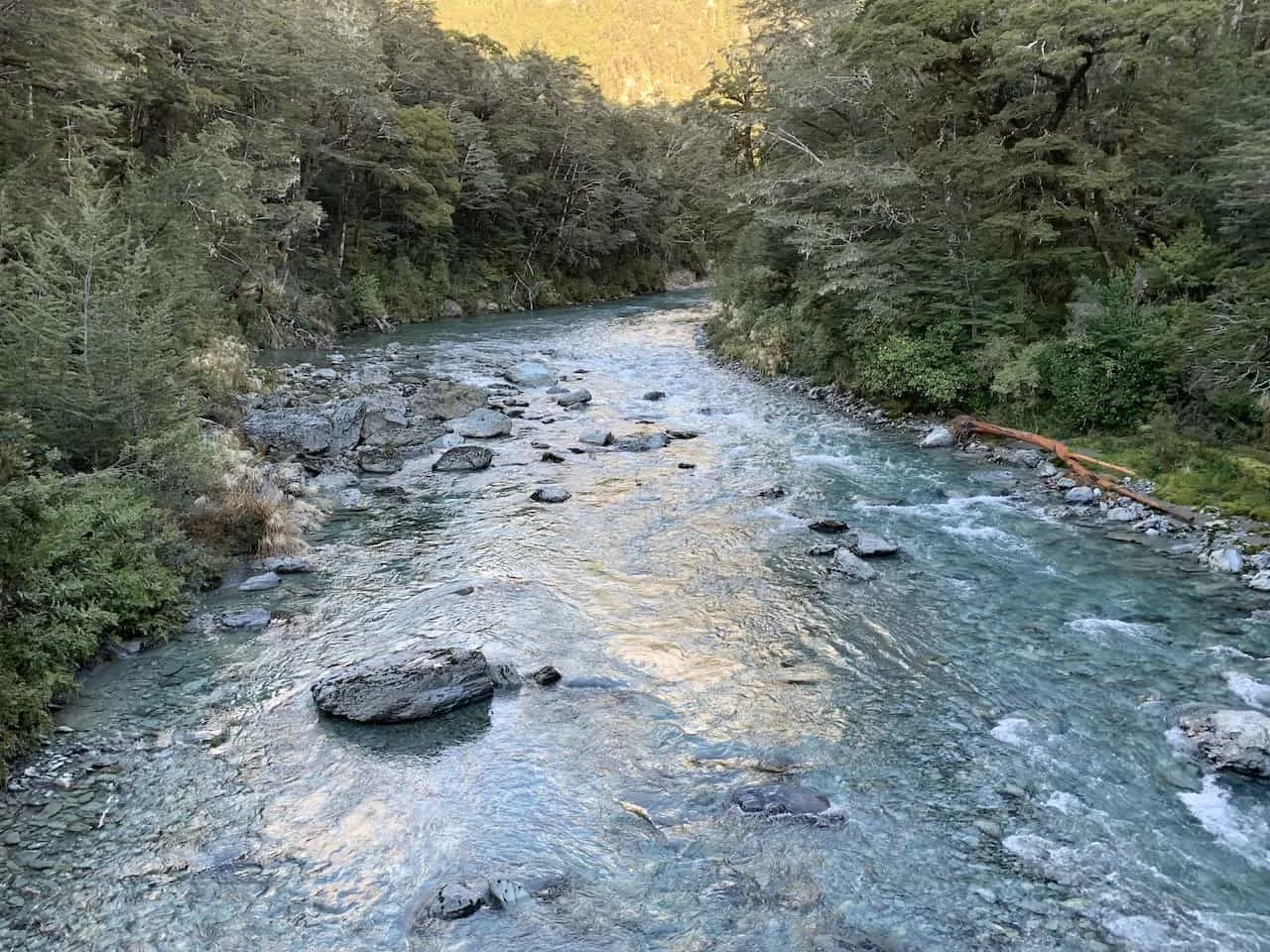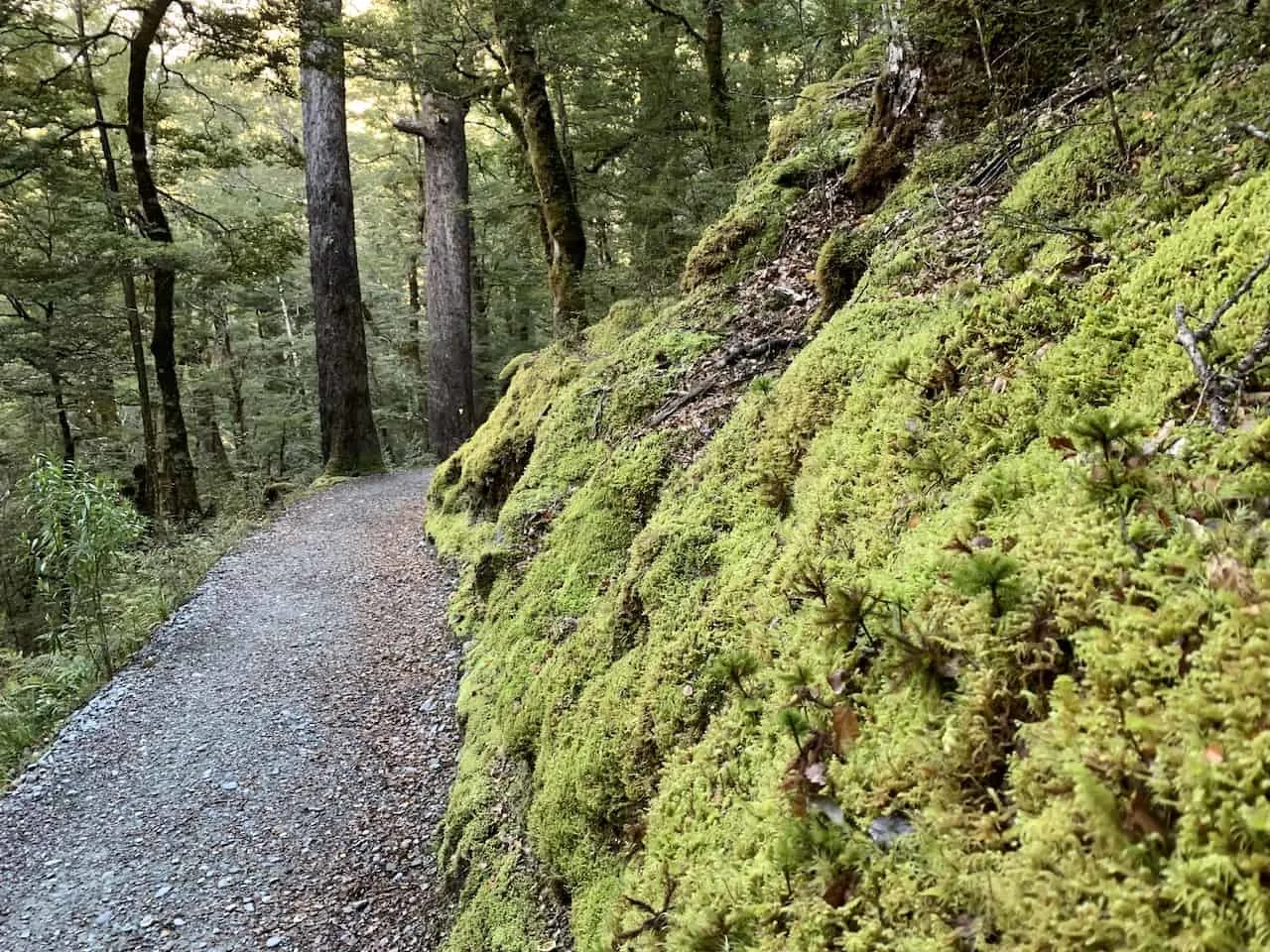 The path will slowly ascend as you walk across a suspension bridge and continue along the forest trail. Eventually you will get to a point where you will begin to get glimpses of the surrounding natural beauty from up top.
Continue along the river, where you will eventually reach a point to turn off to the Routeburn Flats Hut just a few minutes away.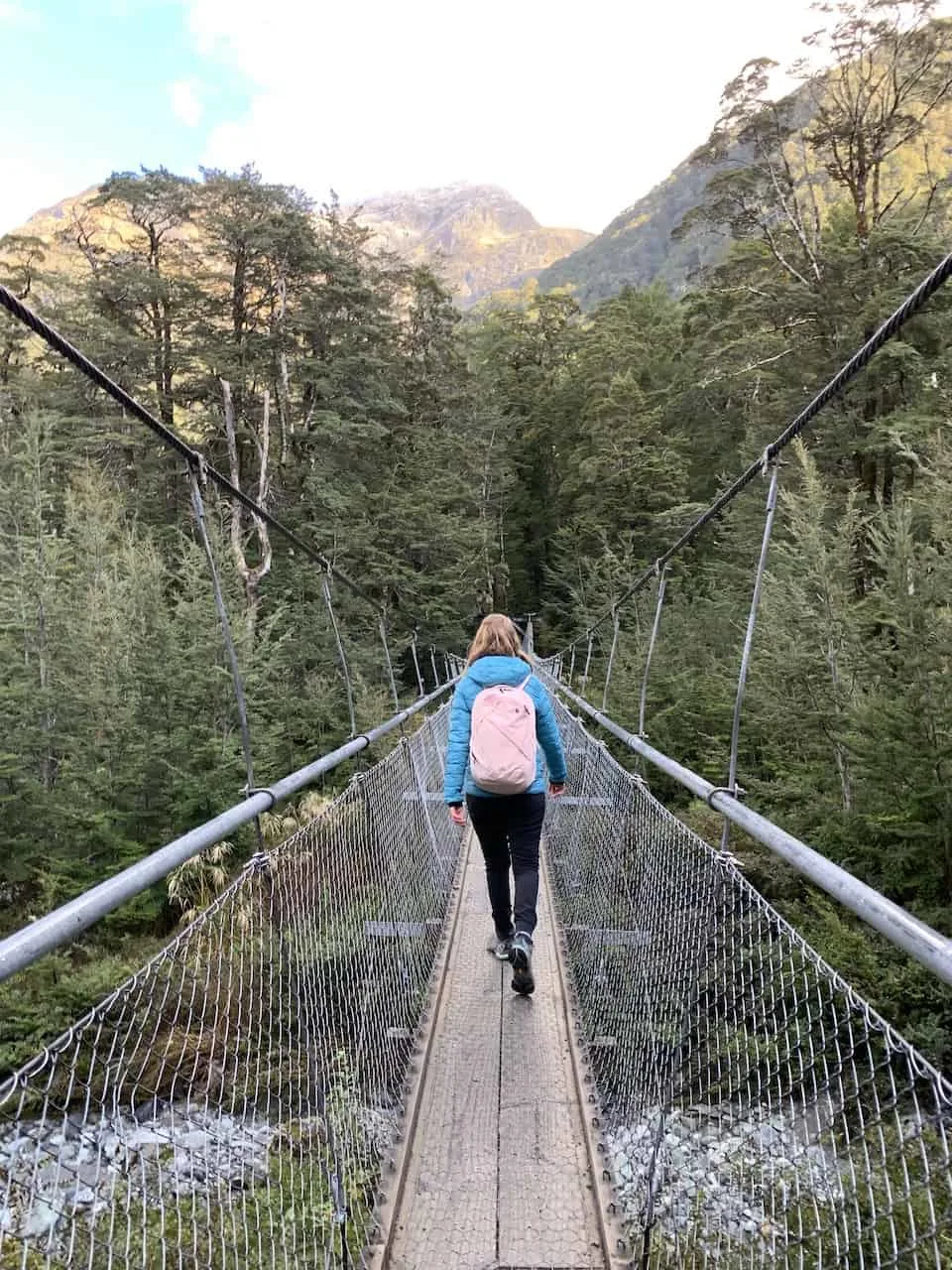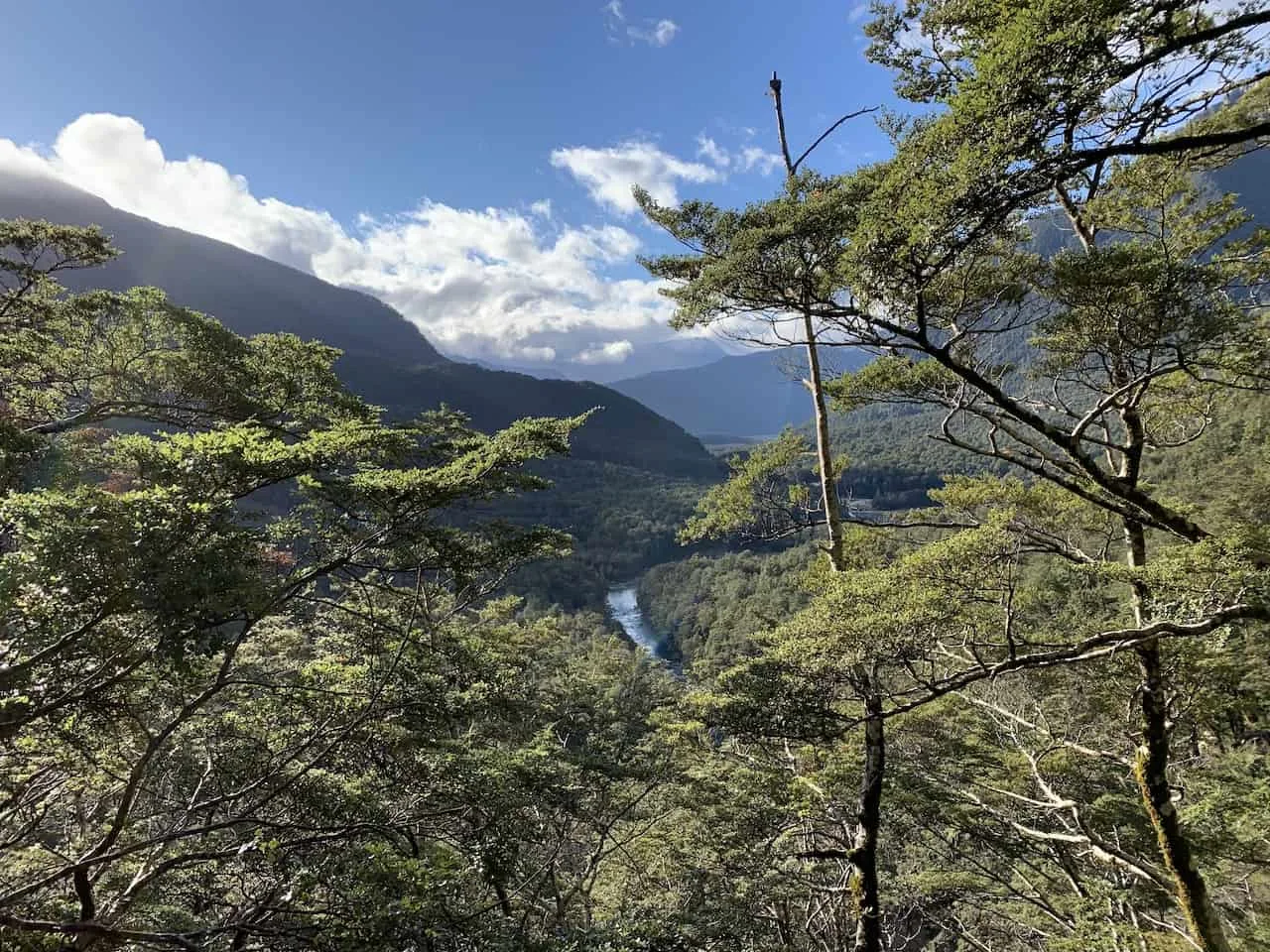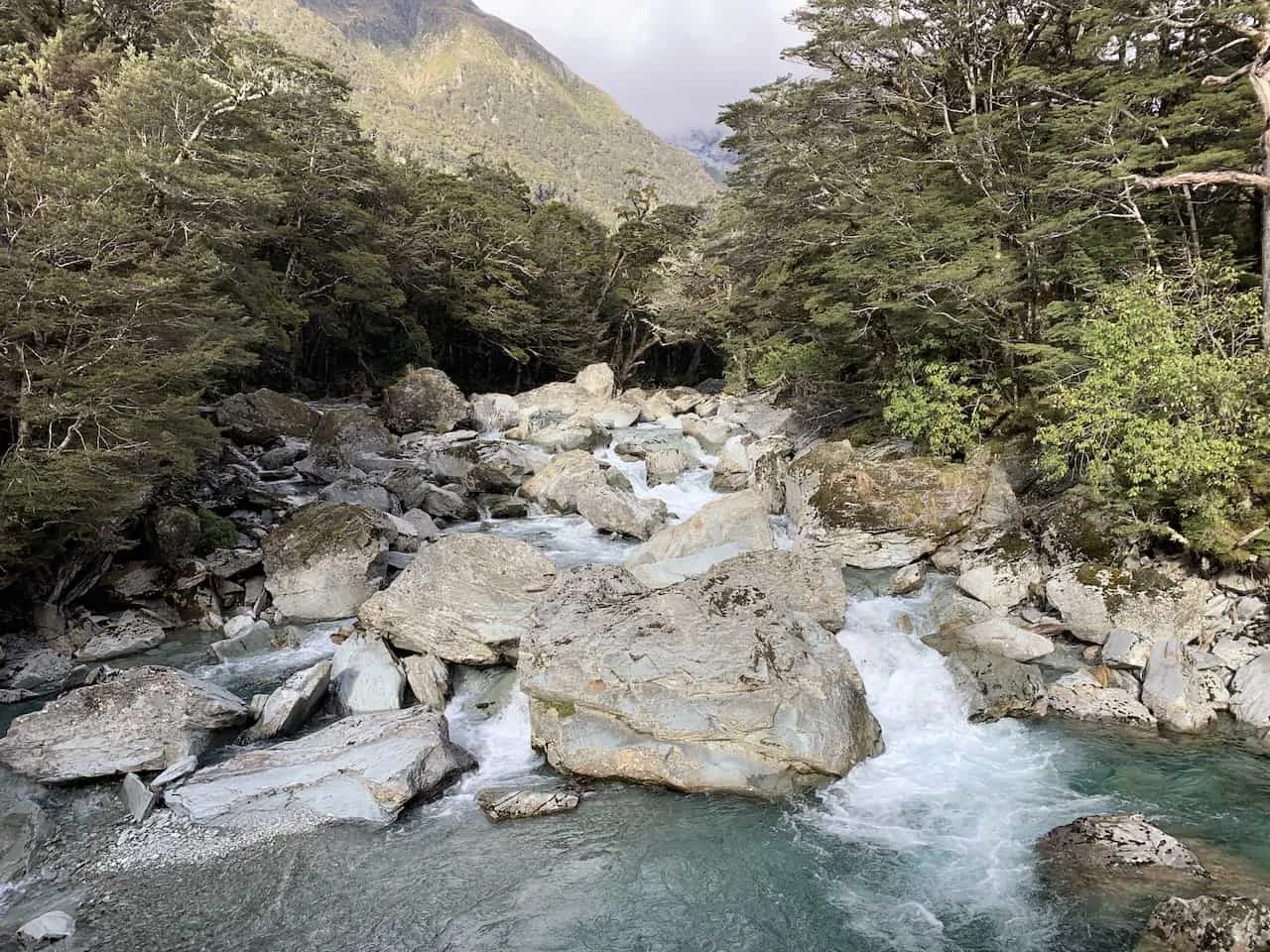 Here you will get some beautiful views from the valley of the surrounding mountains and of the crystal clear reflective river.
Spend some time near the hut to enjoy some lunch and relax a bit after completing the first part of the trail.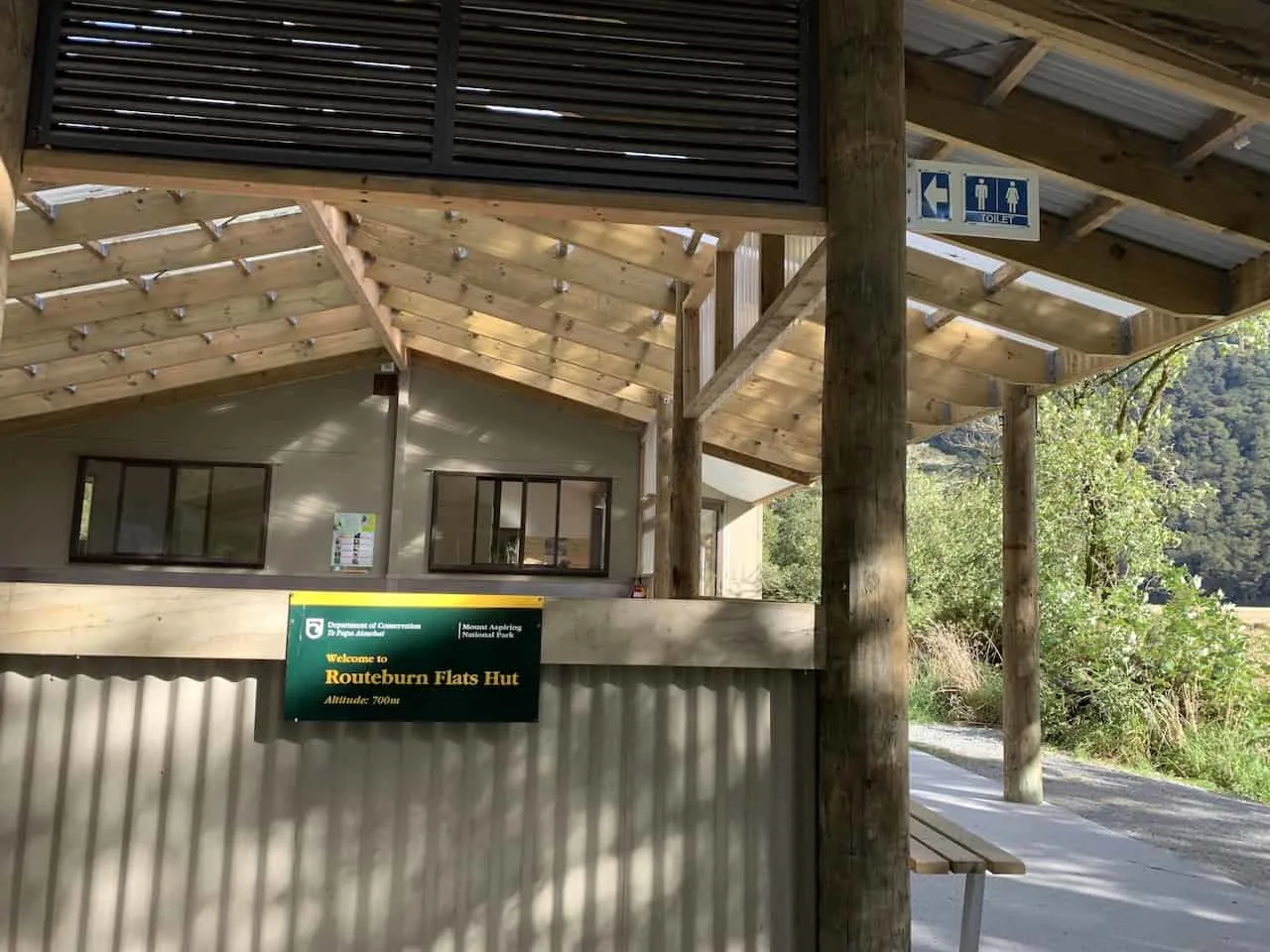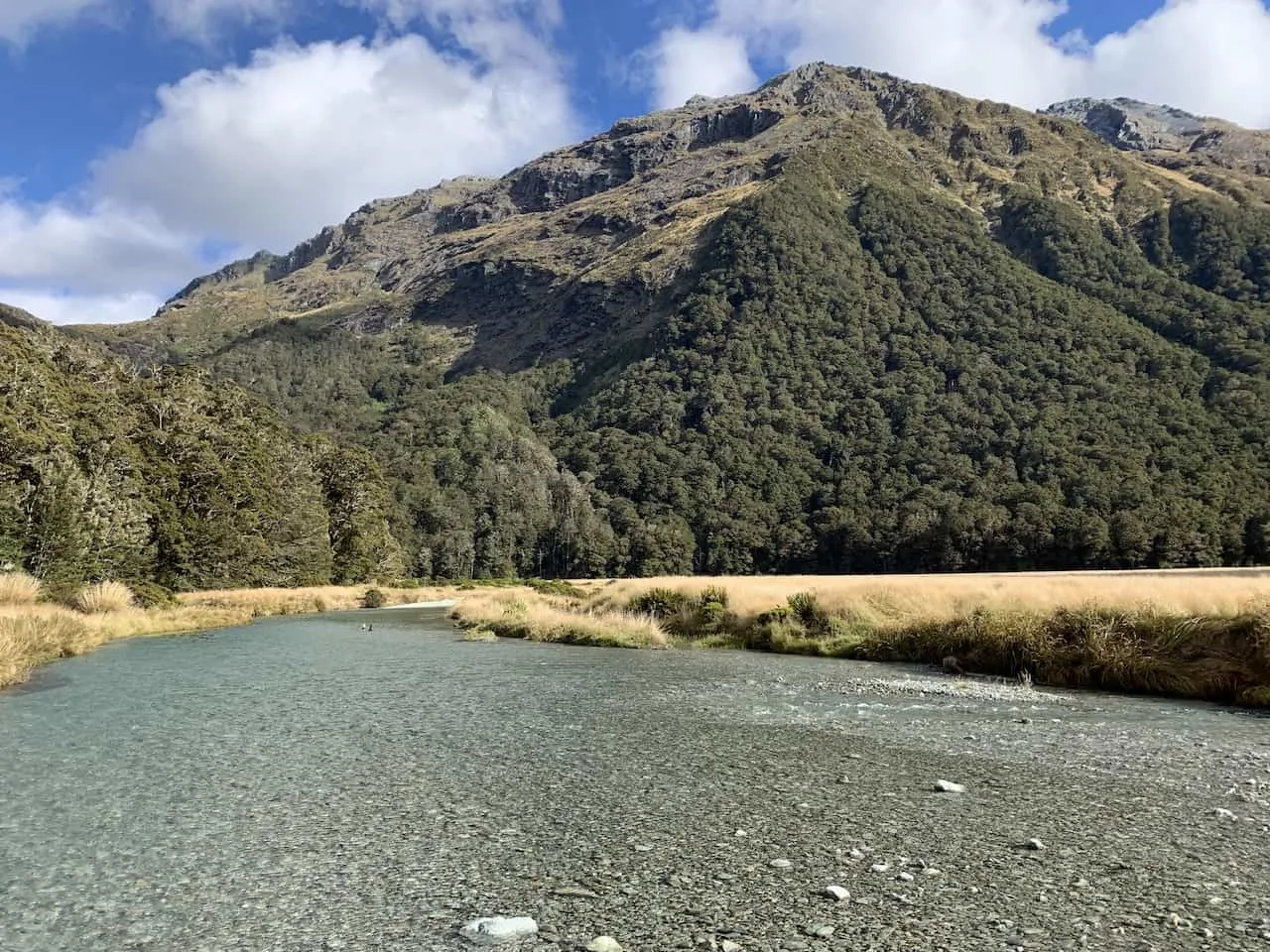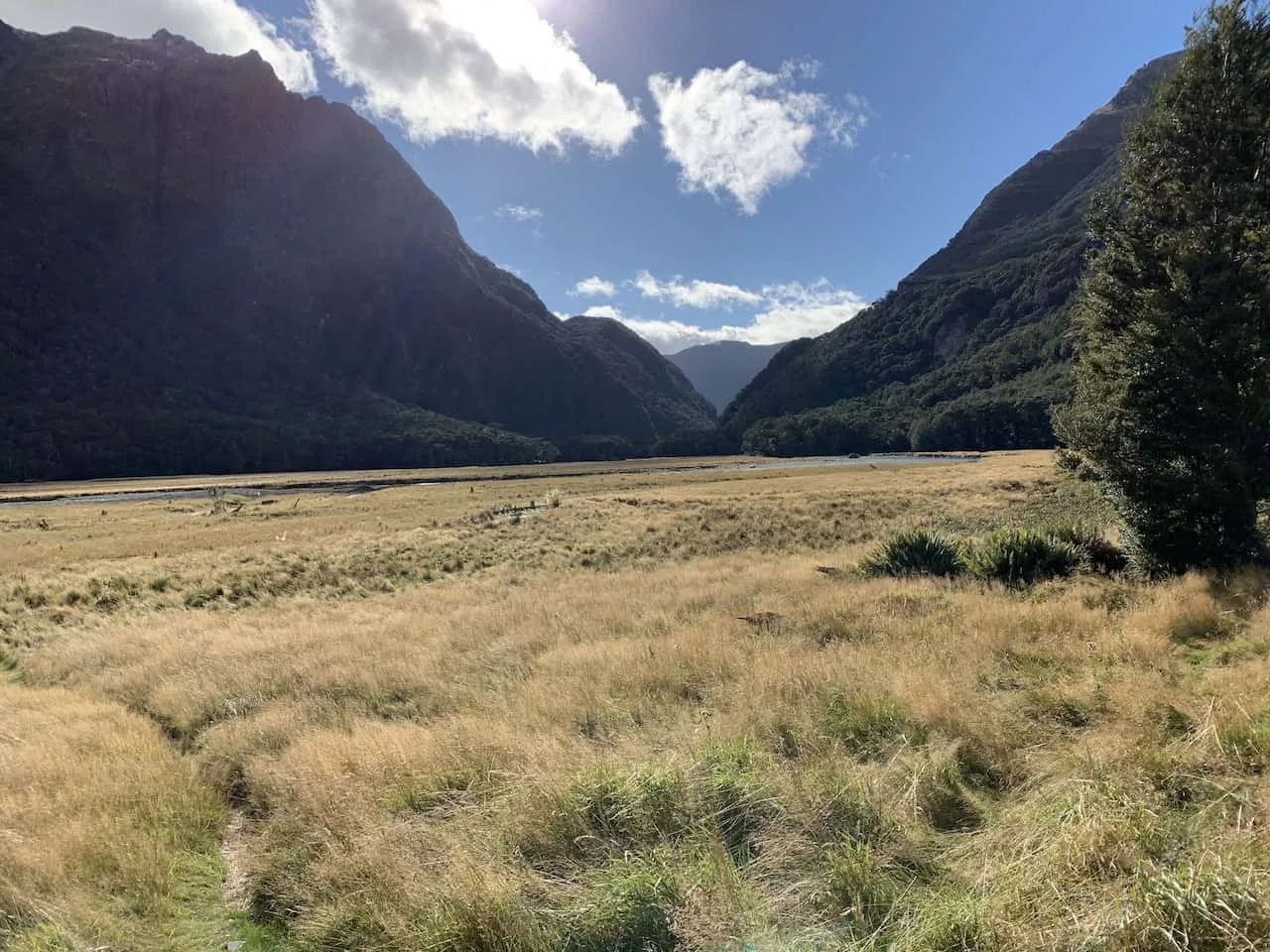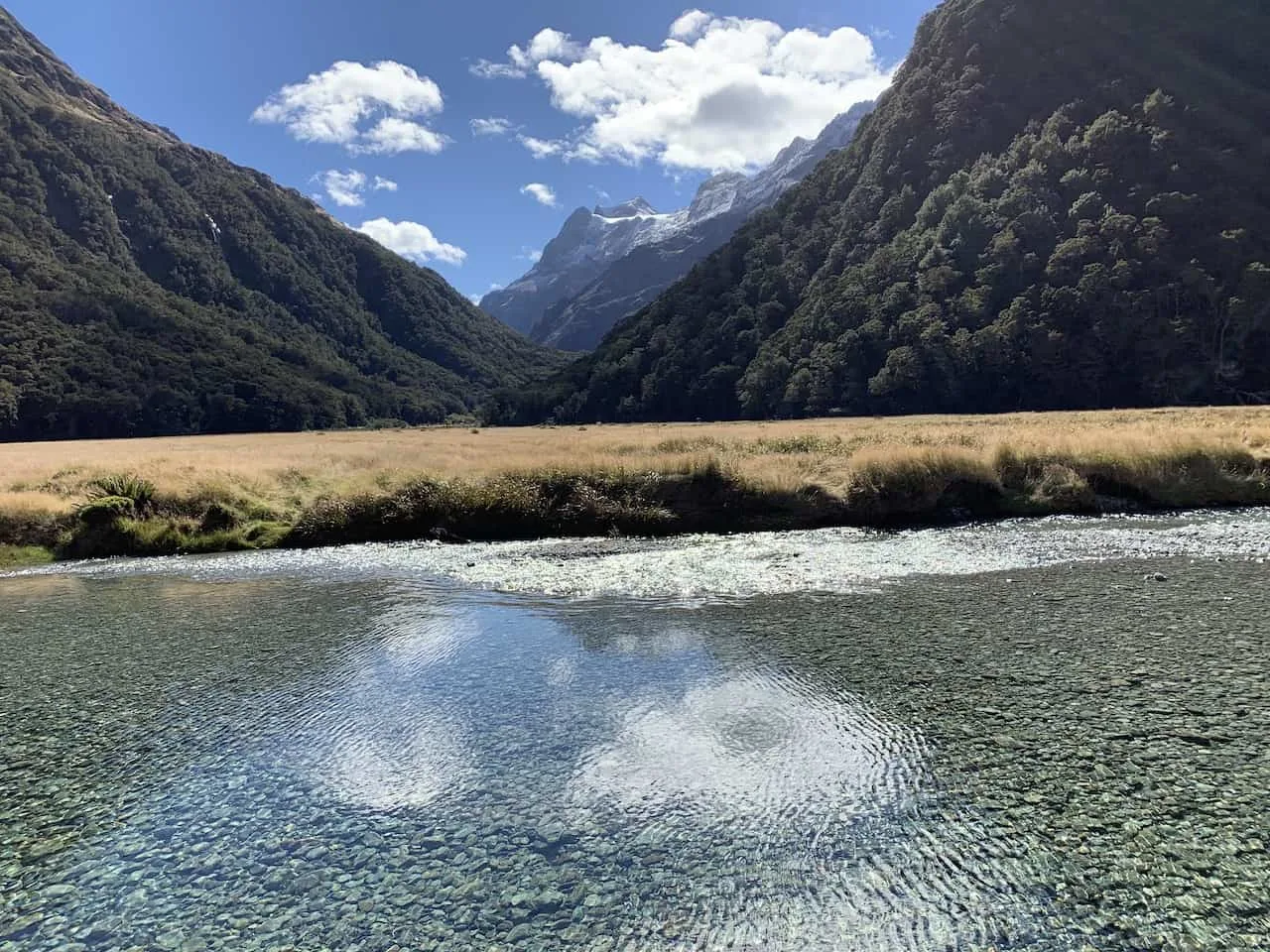 B) Routeburn Flats Hut to Routeburn Falls Hut
While the second part of the trail is shorter in length, it does come with some additional incline.
You will continue your way up over the valley, taking in some beautiful views of the Humboldt Mountains out in the distance and the grassy plains down below.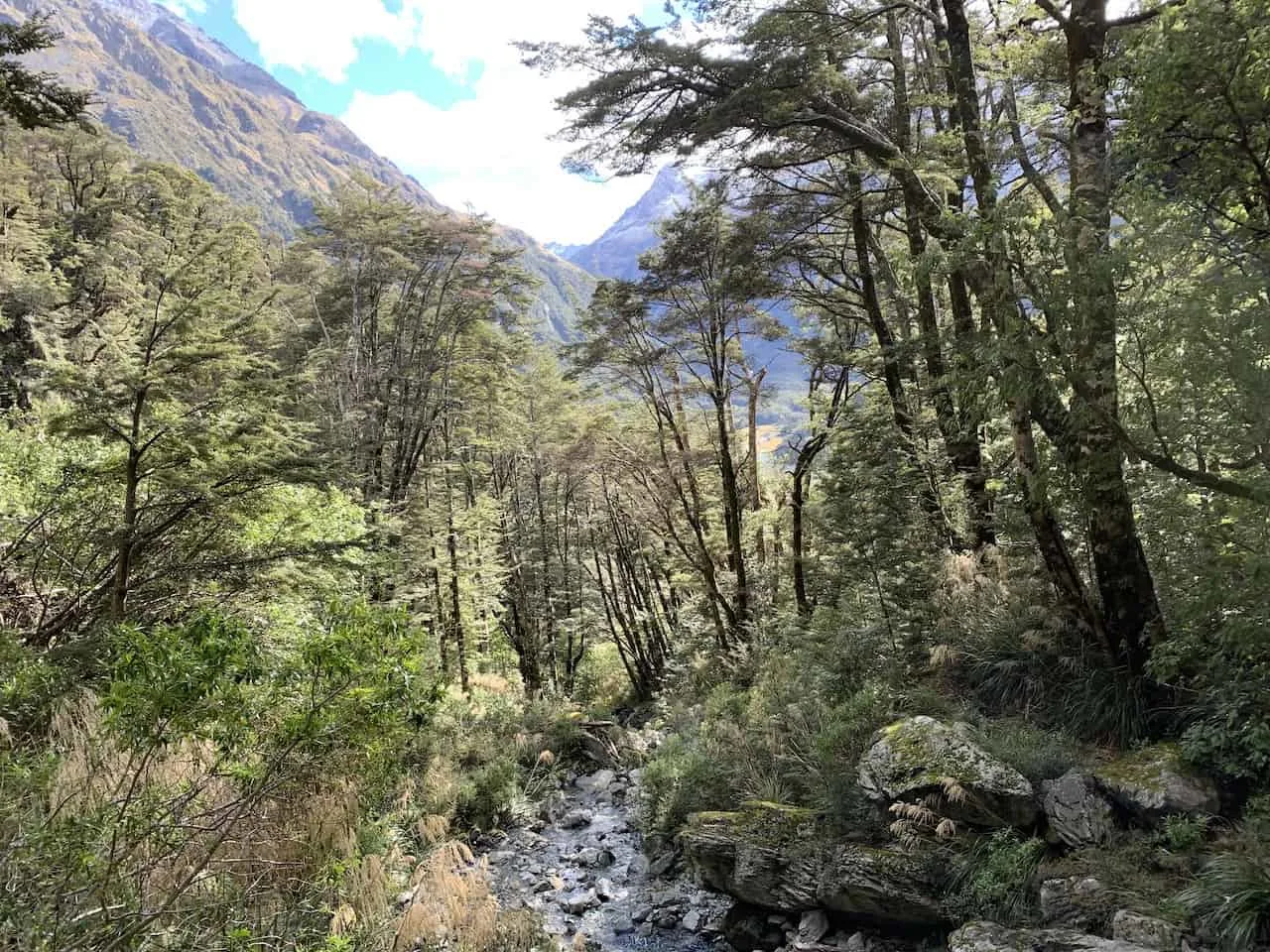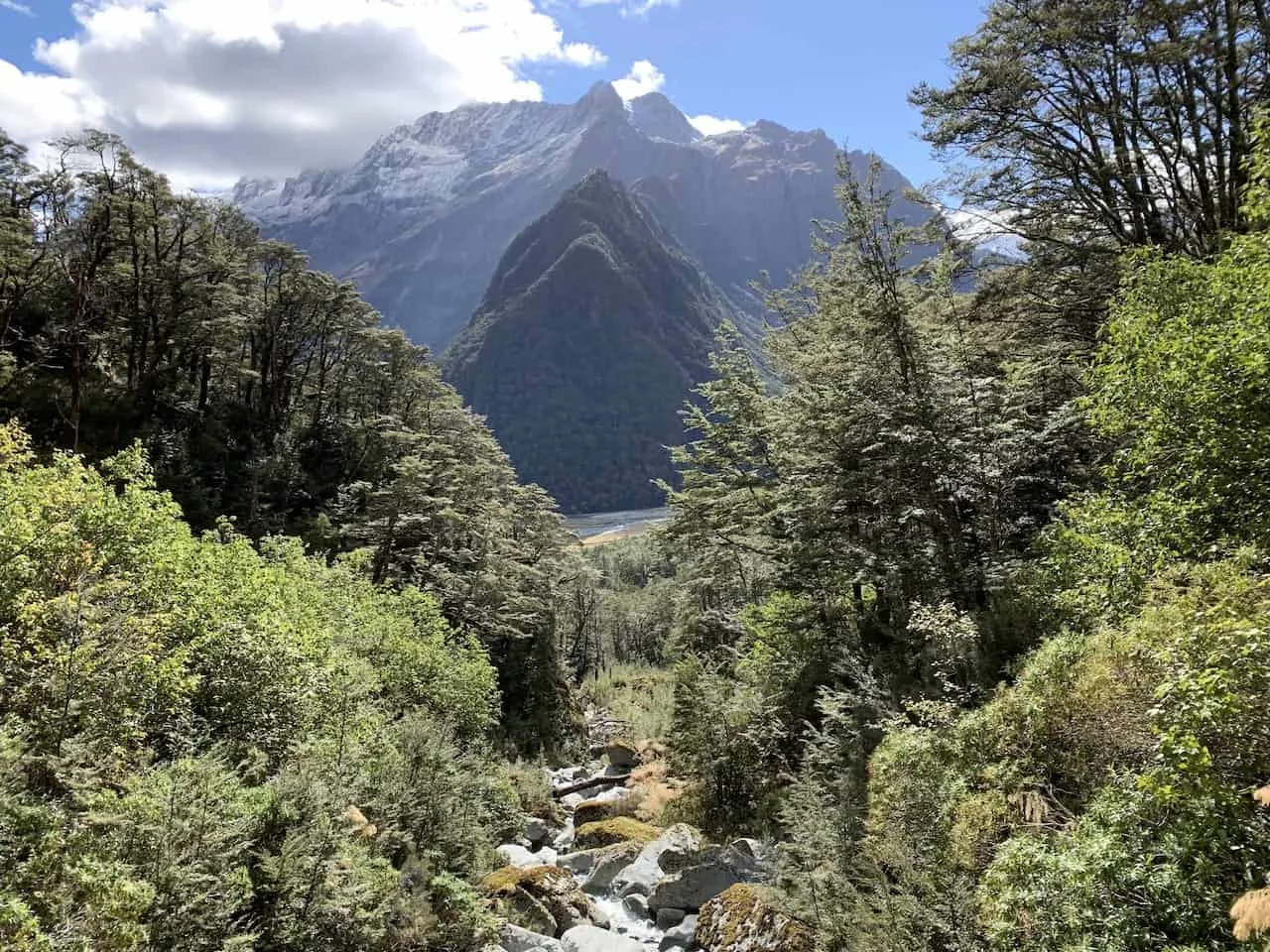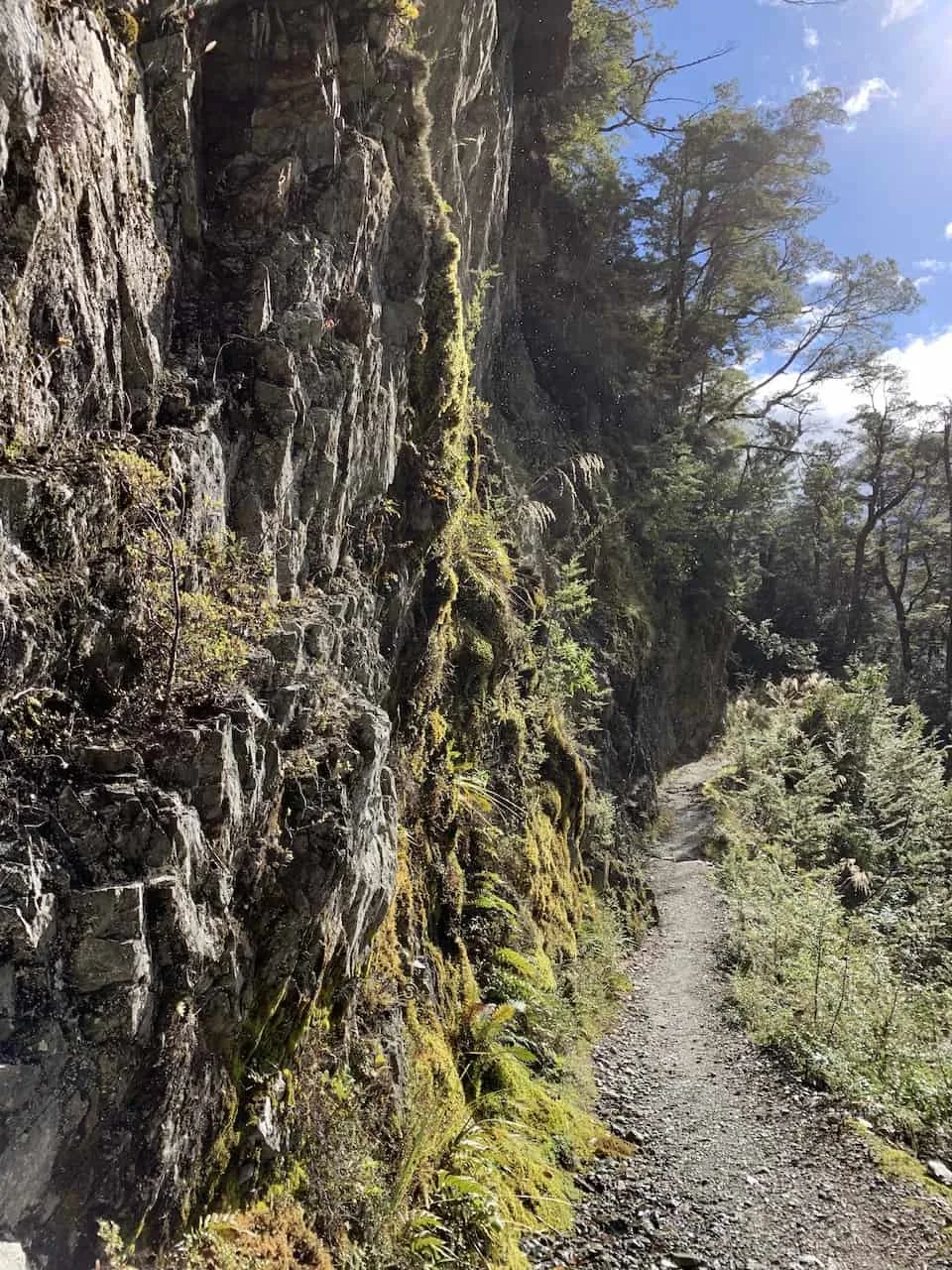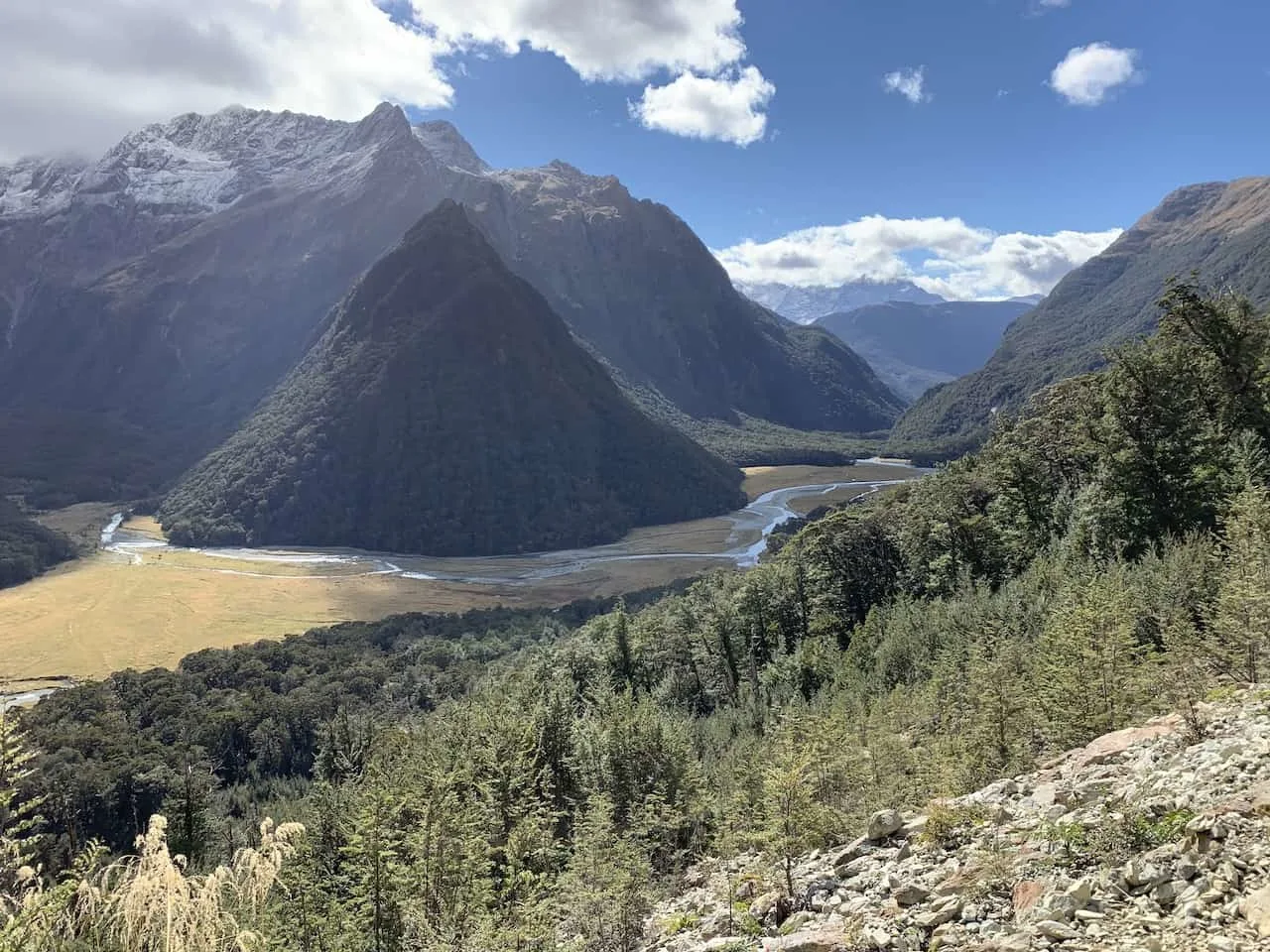 After about 1-1.5 hours you should reach the Routeburn Falls Hut, where many people decide to sleep when taking part of the full trail. Since you will only be taking part of a day hike, there is no need to book any accommodation along the trail.
The views from the hut itself are a bit obstructed from the surrounding trees, however if you continue the path up for a few more minutes you will have a much more open view.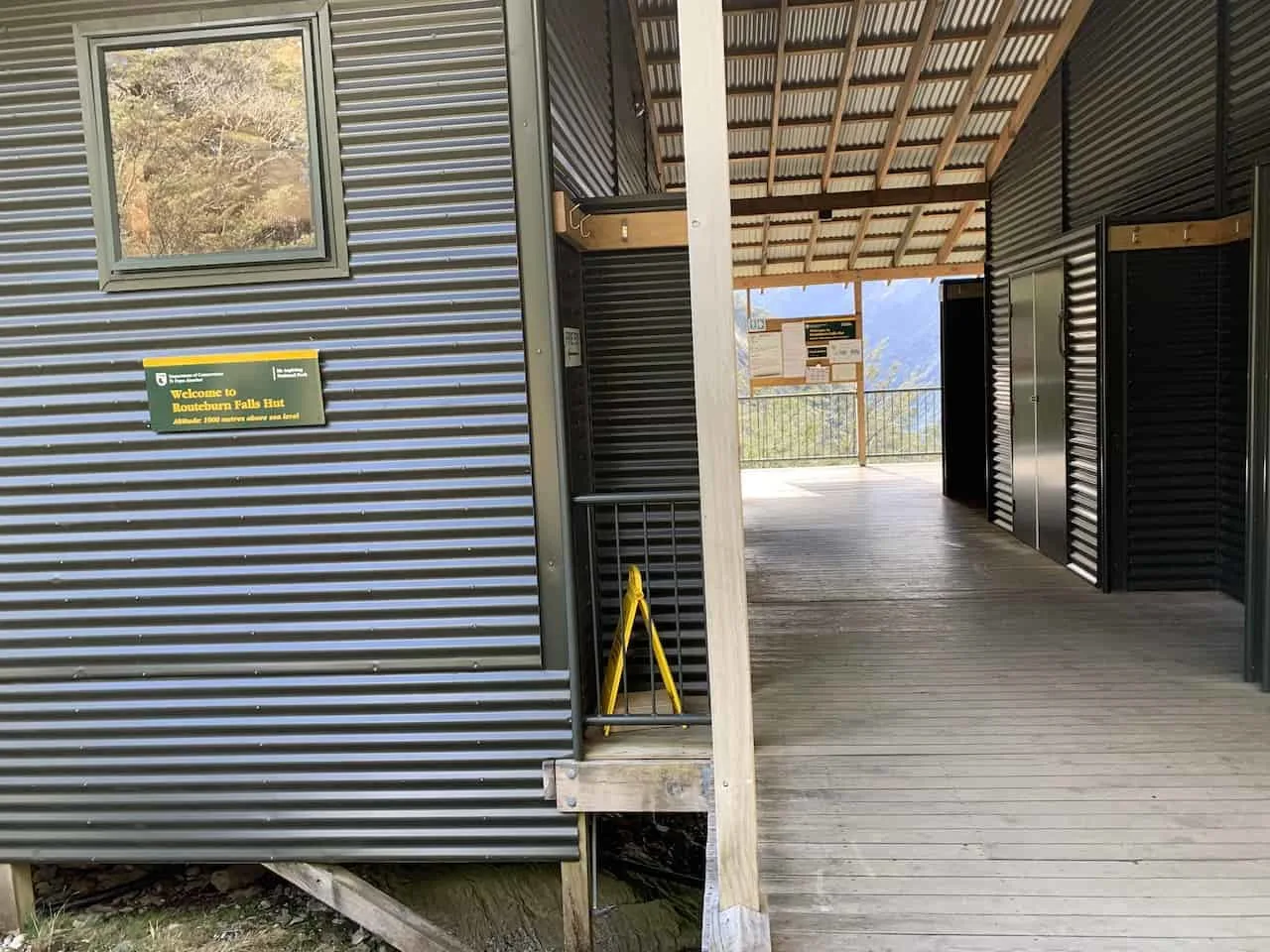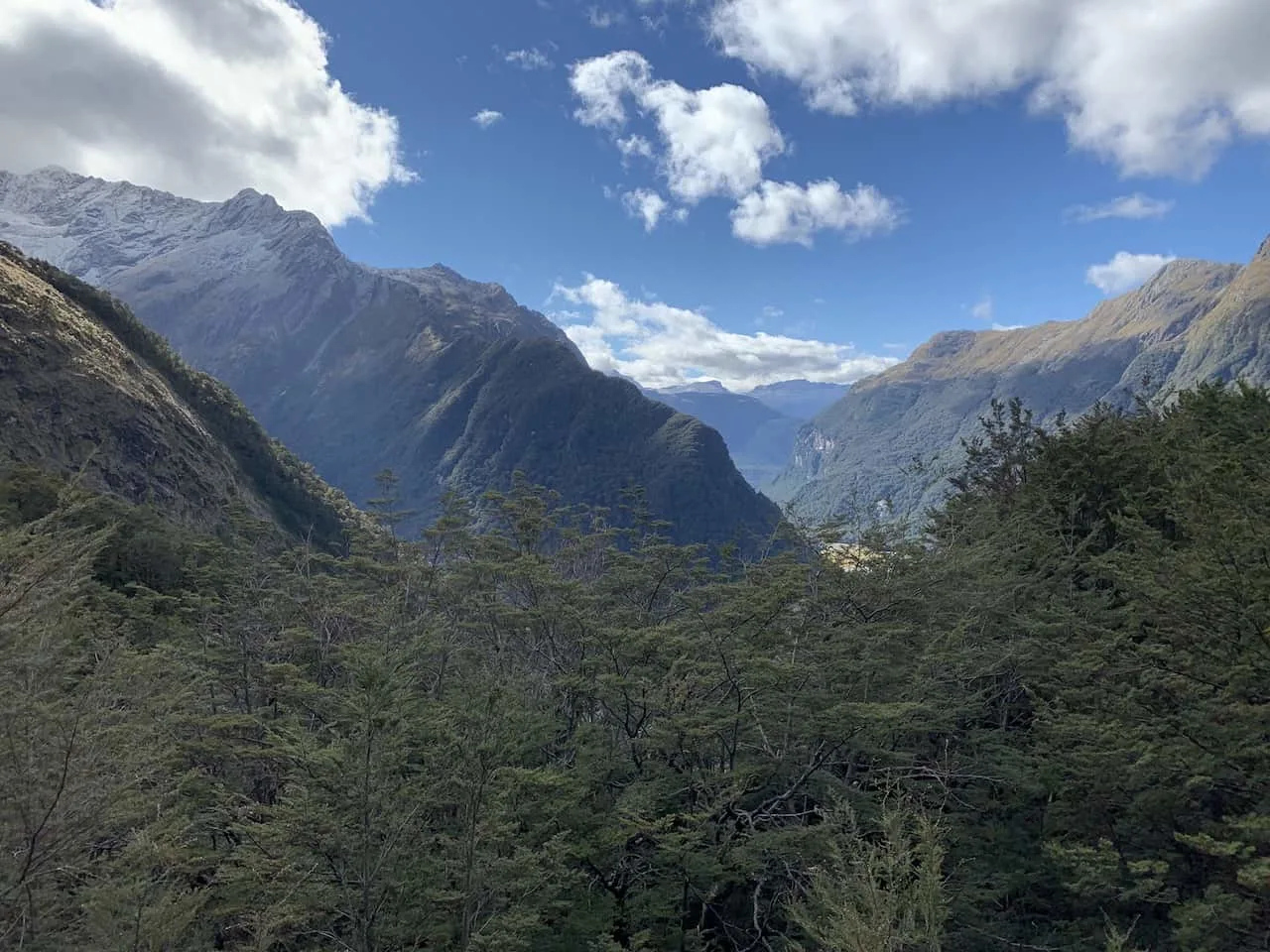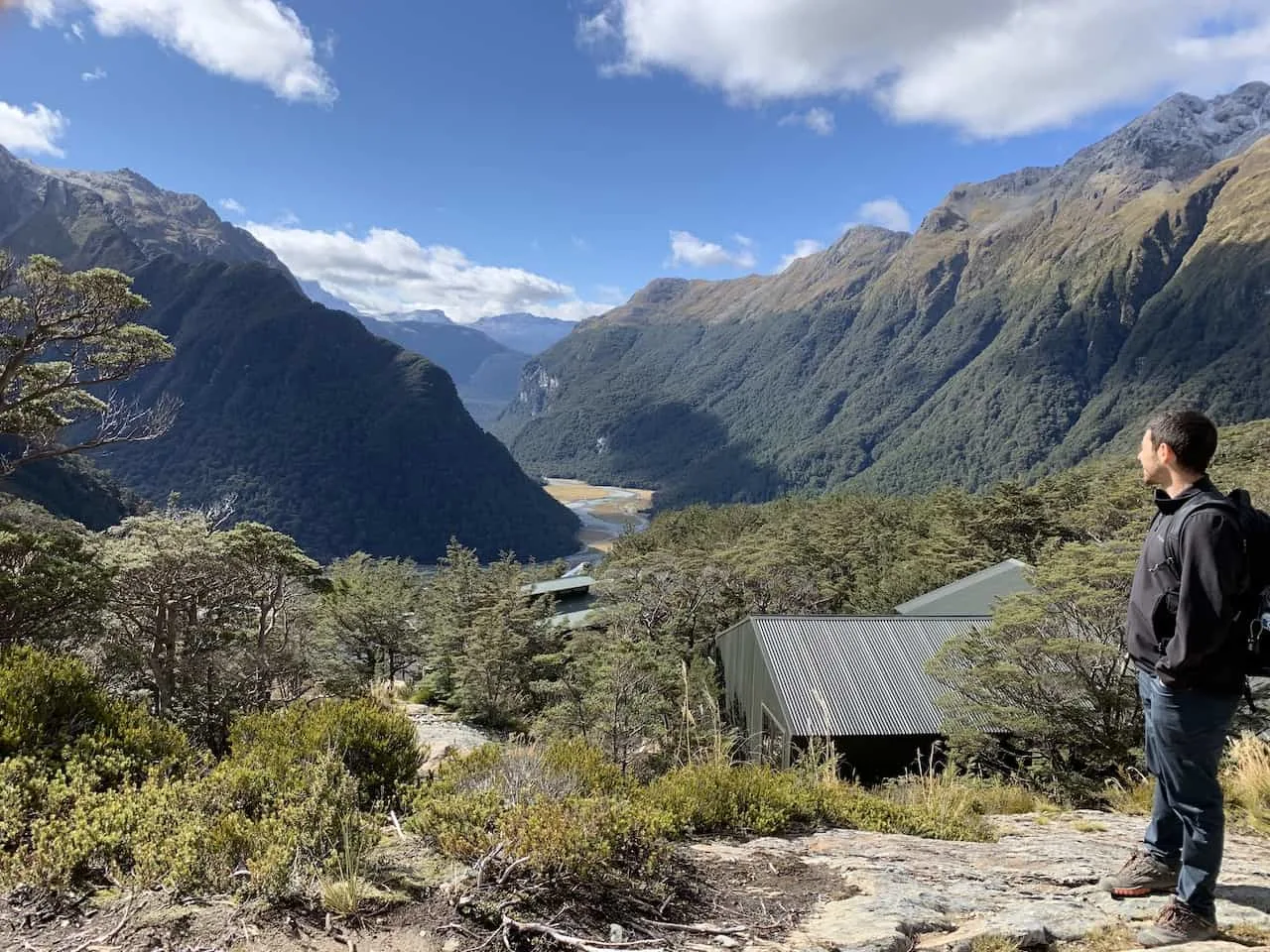 Just a bit further up from the hut you will also see the Routeburn Falls, a collection of several waterfalls flowing down from further up the mountain.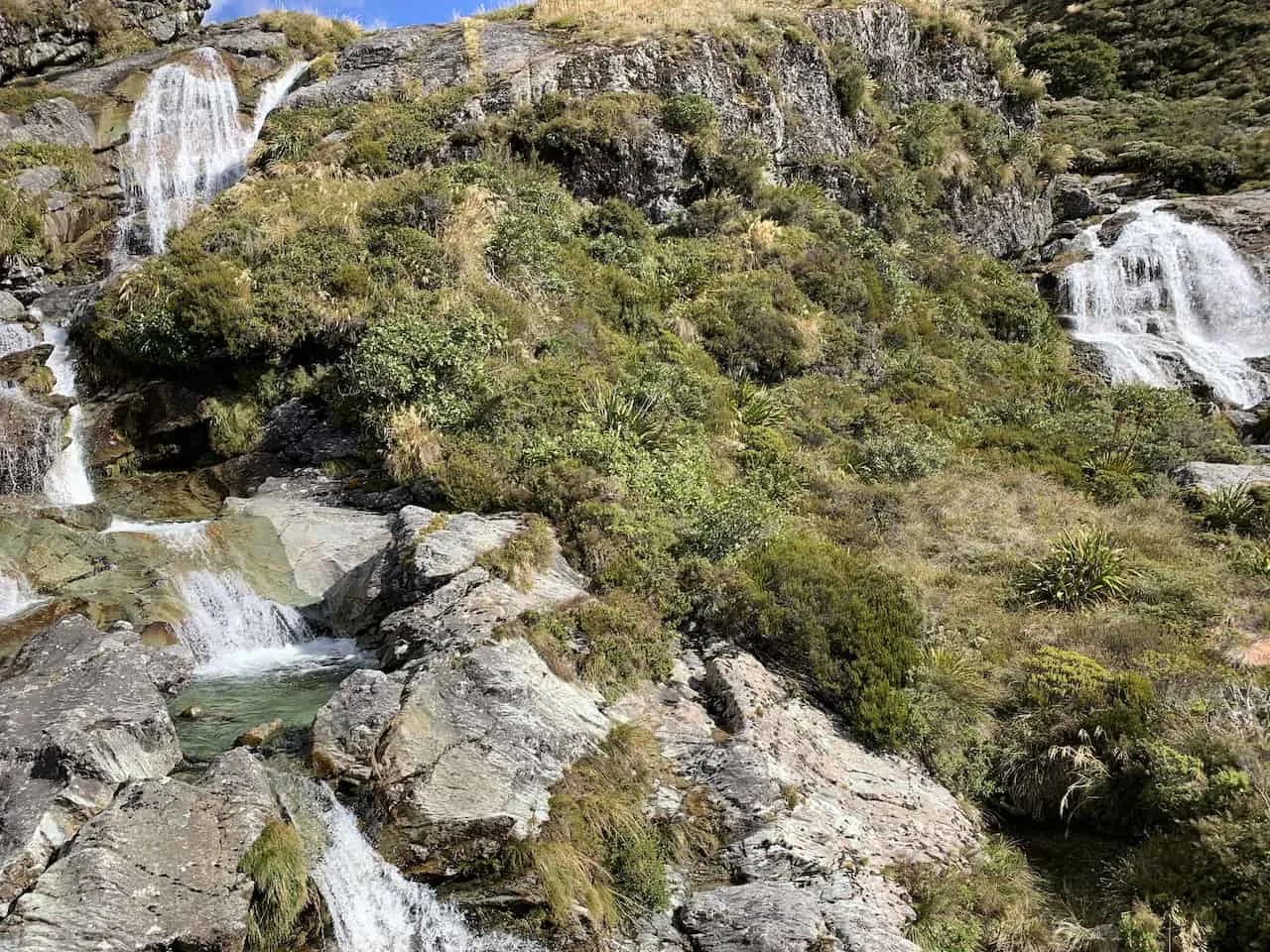 C) Heading Back Down
After enjoying the views from up top, it is time to make your way back down towards the parking lot. If you took the shuttle in the morning, just be aware of your timing because you don't want to miss your ride back!
It should be an easier hike towards the parking lot as you will be going downhill for the most part passing all the same scenery that you saw on the way up.
Once back at the parking lot, hop back into your car or shuttle and make the drive back to Queenstown or wherever else you are headed next.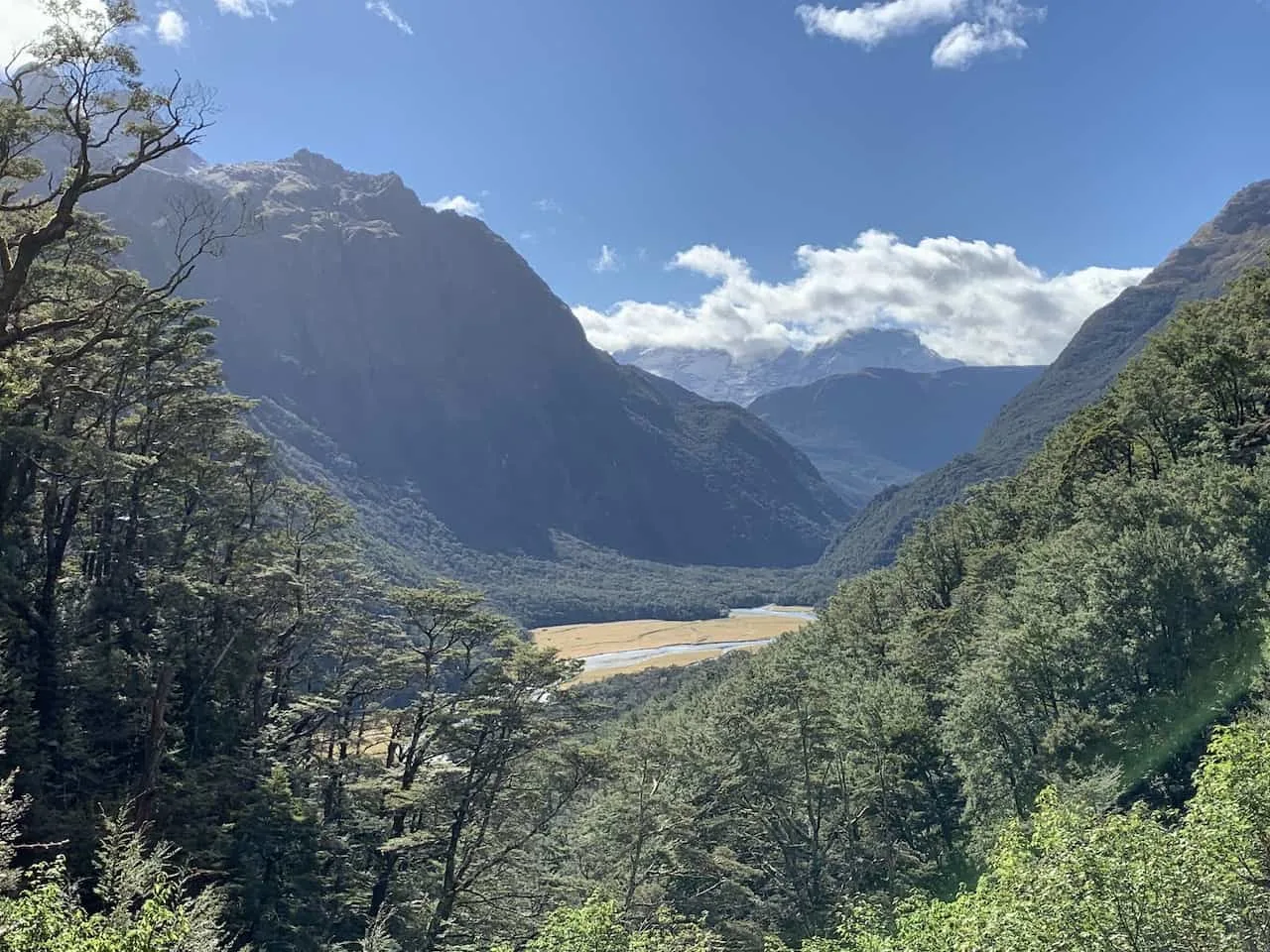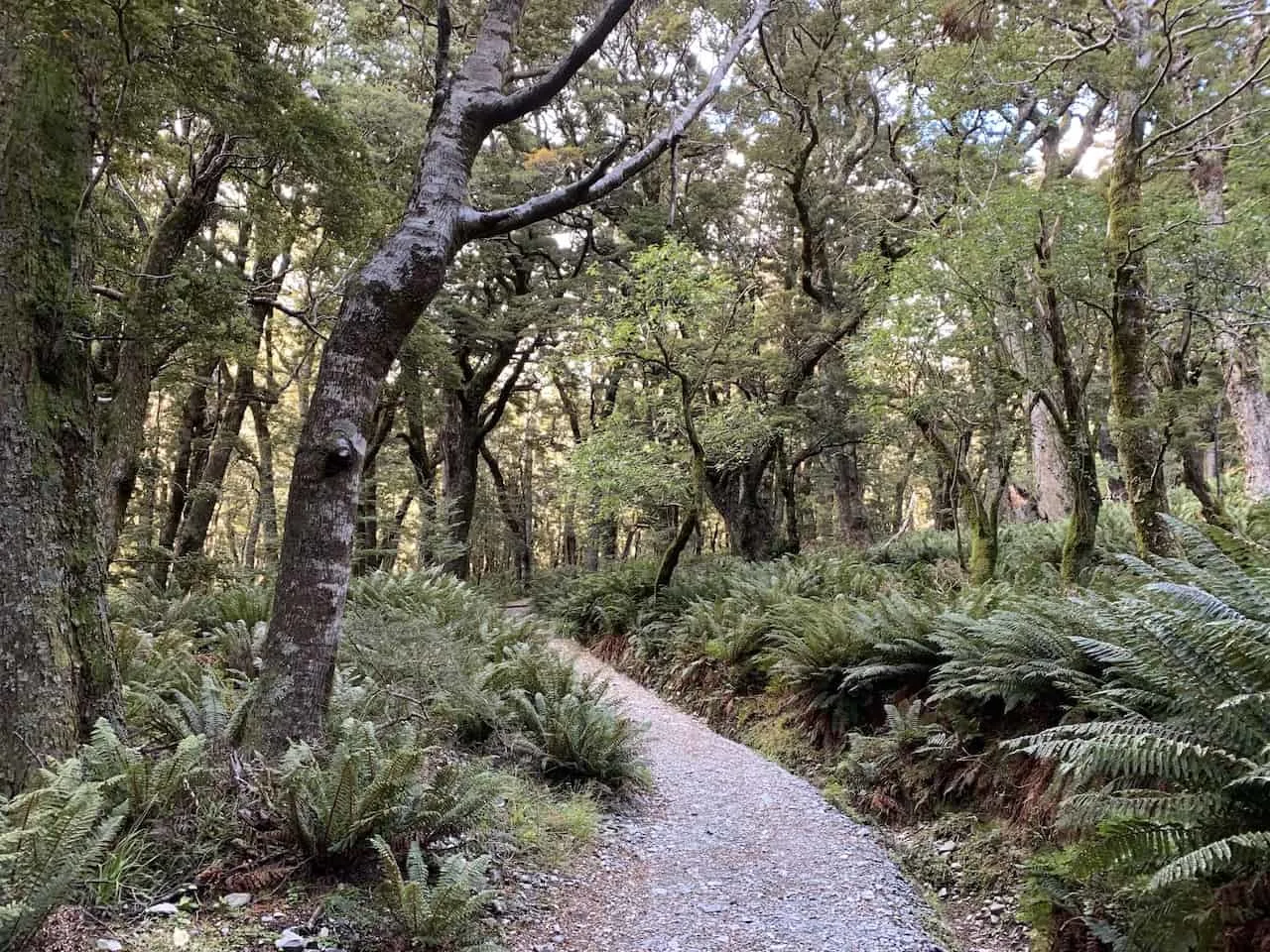 7) Ben Lomond Track
If you are a hiker like me, you may want to head on some additional hikes around the Queenstown area. One of the most famous of hikes is the one up Ben Lomond.
This track is no easy task though as you climb well above Queenstown with views of both Lake Wakatipu and the surrounding New Zealand peaks in every which direction.
» To learn more about the trail, head on over to the Ben Lomond Track Guide up on the site. An easier option around the area would be the Queenstown Hill Walk if you want to read up on that too.
Some of my other favorite hikes around New Zealand include The Tongariro Alpine Crossing, Abel Tasman Track, Roys Peak, Isthmus Peak, Mueller Hut, and a whole list of Mt Cook Hikes.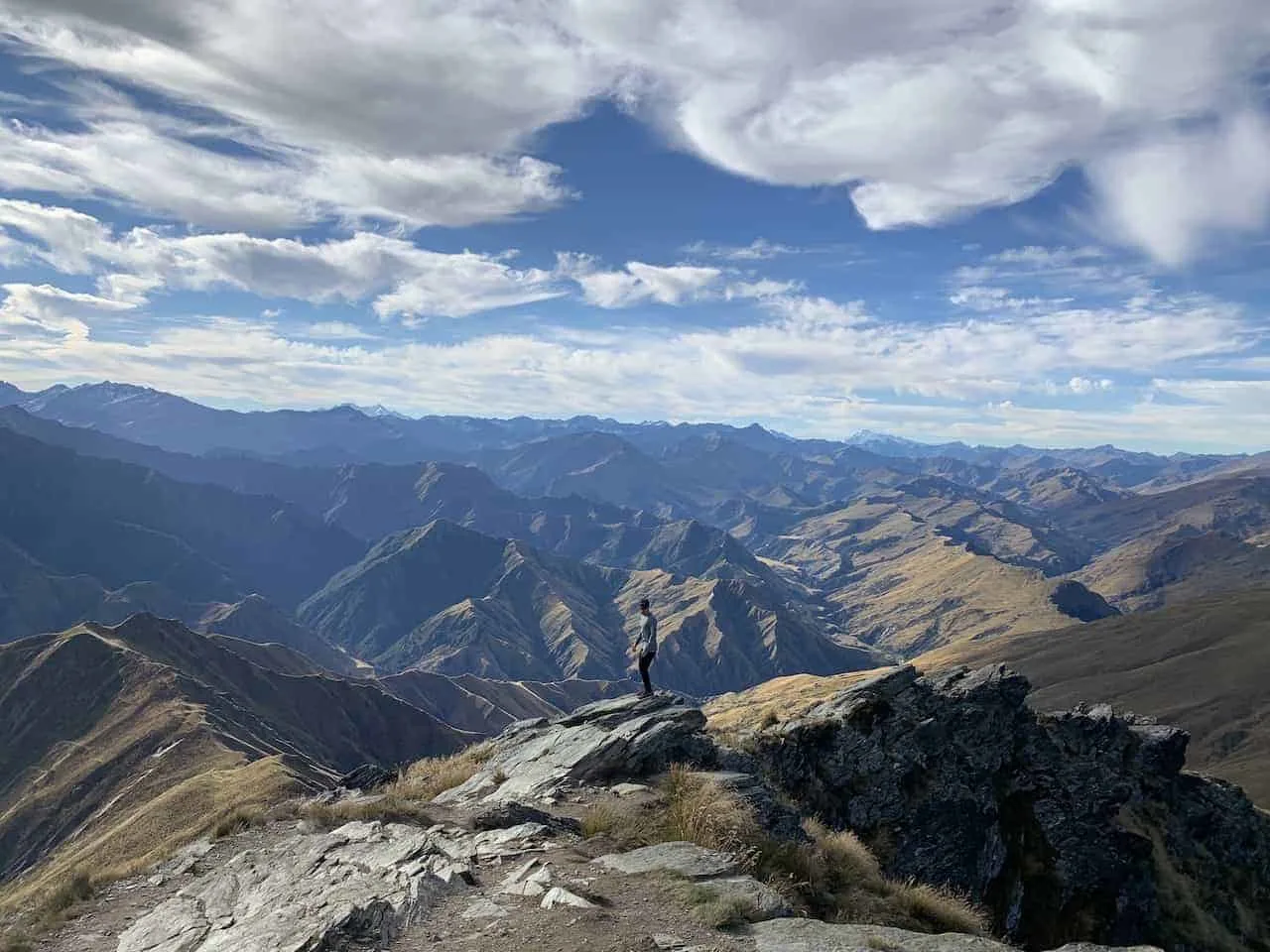 8) Where to Stay in Queenstown
If taking part of the trail you are most likely doing so from Queenstown. It is a great lakeside town with plenty of accommodation options to choose from.
Since it is not that big, location wont be too big of a deal (however you can find some places a bit further out of the way). Below are some options at different price points to take a look at that are mostly within walking distance of town center:
Mid Tier
Luxury
That about does it for a Routeburn Track day hike from the Routeburn Shelter to the Routeburn Falls Hut. If you have any questions about the hike feel free to write them in below.
Also don't forget to check out the other New Zealand itineraries and guides up on the site!
Have fun out there and safe travels!