When it comes to New Zealand towns, Wanaka is one of my favorite spots there is. It has the lake, the town, the natural beauty, and of course the epic hikes that will leave you speechless.
While most people opt for the well known Roy's Peak, there is another mountain nearby that has been getting more and more popular as of late – Isthmus Peak. It has the lake views, it has the climb, and it has one unbelievable summit.
What it does not have is the crowds (as of yet!), which makes it a great alternative or addition to those that want to have another Wanaka hiking option. This guide will walk through what you need to know about the climb and how to get yourself to the top of that peak!
* Affiliate Disclosure: This post may contain affiliate links, which means I may receive a commission if you make a purchase through the links provided, at no additional cost to you. Thanks for supporting the work I put into TripTins!
1) Isthmus Peak Track Overview
To get started, below are some helpful facts about hiking up Isthmus Peak to get you more familiar with the trail. Note the hiking details are for the round trip hike up and down the track.
Name: Isthmus Peak Track
Length: 16 km / 9.9 miles
Elevation Gain: 1,250 meters / 4,100 feet
Summit Elevation: 1,385 meters / 4,540 feet
Time: 6-8 hours
Difficulty: Hard
Path: Dirt / Rock
Type: Out & Back (Up/Down on same path)
A couple additional notes:
» The trail is closed from November 20 to December 20 for fawning season. If you are planning on heading to Wanaka during those dates and want to take part of some hikes, have some alternative options like Roys Peak.
» Make sure to check the weather forecast before heading out for the hike. If it is rainy/foggy and/or there are low hanging clouds, that could get in the way of the beautiful lake and mountain views that surround Isthmus.
If that is the case you may want to consider pushing the hike off for another day. Believe me you do not want to miss out on those views!
→ Take part of the hike as part of a New Zealand South Island itinerary or longer New Zealand North & South Island itinerary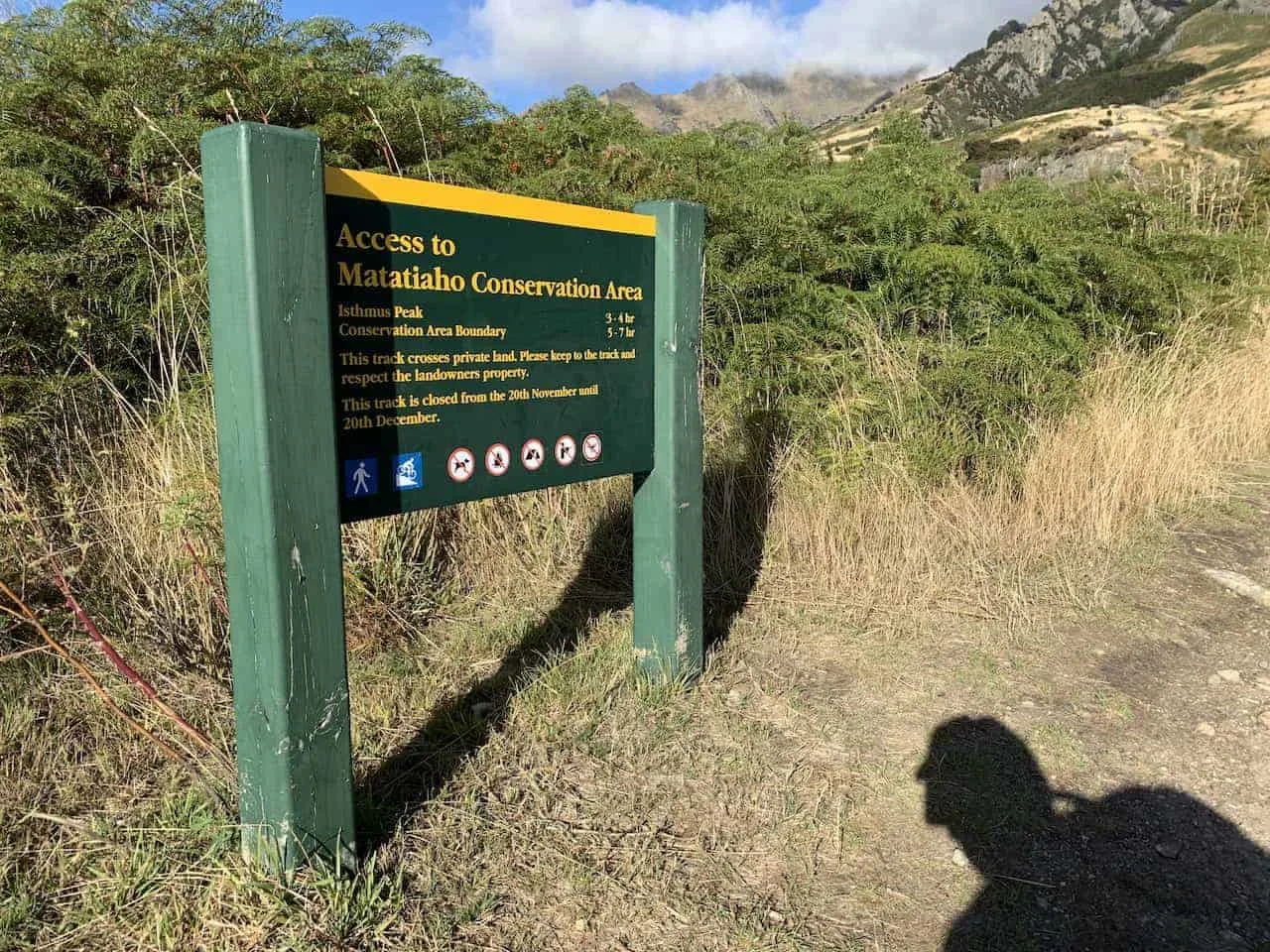 2) Where is Isthmus Peak
While Roy's Peak is just a quick 5 minute drive from Wanaka, you will need to head a bit further out to get to Isthmus. It is about a 30 minute drive north of town and having your own car to get there is your best bet.
What is great about Isthmus Peak, is that it lays between two of Wanaka's lakes – Lake Hawea and Lake Wanaka. That means you will get some great views of both at some points during the climb and the descent.
There are two parking lots to choose from when heading to Isthmus Peak, both of which are right across the street from the start of the track.
I pinned both of them down on the map below so you have a better idea. Simply type in Isthmus Peak Parking into Google Maps and one of those will show up. If you head to the lot and its full, just head another couple hundred yards and you will get to the other lot option.
→ Be sure to check out Rentalcars.com when it comes to renting a car in New Zealand. The site will show you car options & prices from a variety of companies. This ensures that you will be able to choose the perfect car (and deal) for your trip to the country.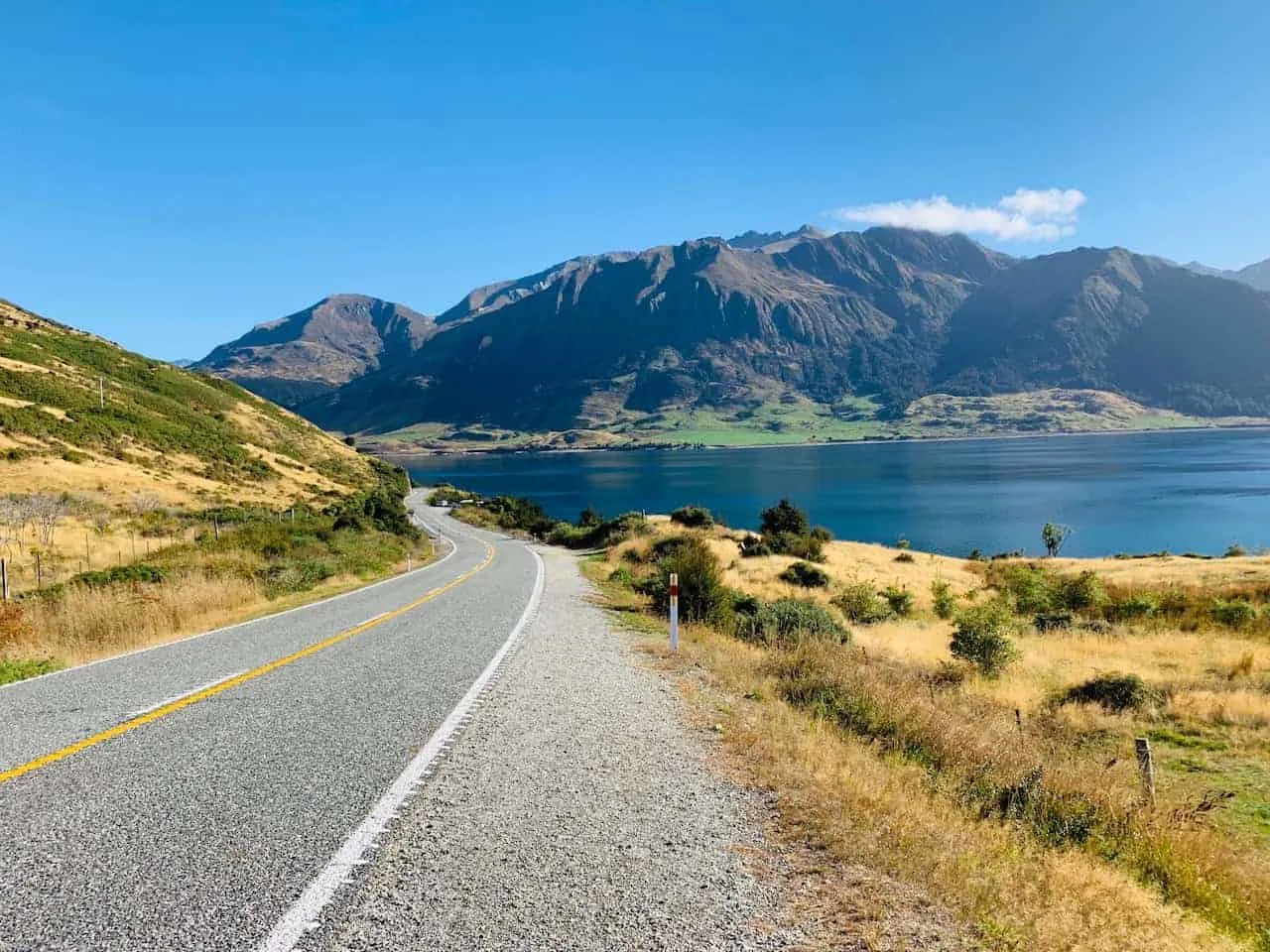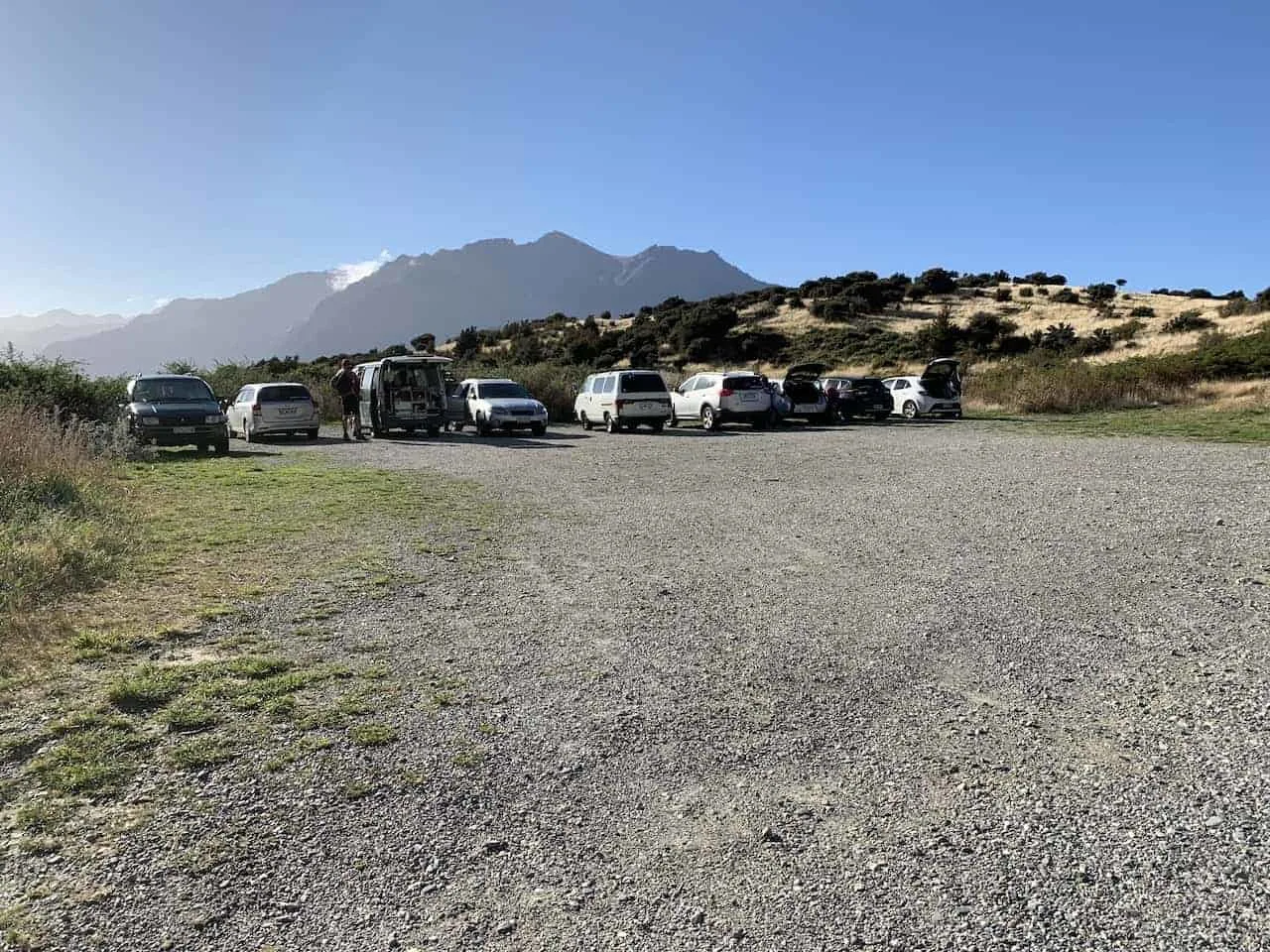 3) What to Bring on the Hike
New Zealand hikes are really no joke, especially ones like Isthmus Peak that gain so much elevation in such a short distance. That means you are constantly on an incline the whole way up with little or no breaks in between.
Since this will require some stamina and fuel, I would suggest you take a look at the comprehensive hiking packing list below.
It includes everything I bring along on the trail, and it will have you better prepared when taking part of New Zealand South Island hikes.
Hiking Packing List

In general when it comes to hiking, there are a few main aspects to consider. These includes clothing layers, hiking shoes, hydration & fuel, electronics, and other essentials.

Below in a breakdown of some of the top items, but be sure to check out the Hiking Packing List for a more comprehensive view.

Clothing Layers

Layering is going to be a top consideration when hiking. You will want to be prepared for all sorts of weather so you can be comfortable in different situations. Some items may include:

→ Hiking Shorts
→ Hiking Pants
→ Short Sleeve Shirt
→ Long Sleeve Shirt / Sun Hoodie
→ Mid Layer Fleece
→ Puff Jacket (not always needed)
→ Packable Rain Jacket (Columbia Watertight II)

Note that your layers should be made of moisture wicking material as they are breathable and quick drying.

Footwear

Having appropriate footwear will also be very important. You will want to have shoes with the necessary grip and support to keep you safe on the trail.

→ Hiking Shoes (Keen Targhee)
→ Hiking Socks (Darn Tough)

Other Essentials

Whether it is hiking gear, electronics, or just some miscellaneous items, here are some other essentials to bring along on hikes.

→ Hiking Backpack (Osprey Talon 22) & Rain Cover (Joy Walker Cover)
→ Hiking Poles (Black Diamond Trekking Poles)
→ Water Bottle (CamelBak Chute or Katadyn Filter Bottle)
→ Portable Charger (Anker PowerCore 5000mAh)
→ Action Camera (GoPro Hero)
→ Energy Bars & Snacks
→ Hat & Sunglasses
→ Sunscreen & Bug Spray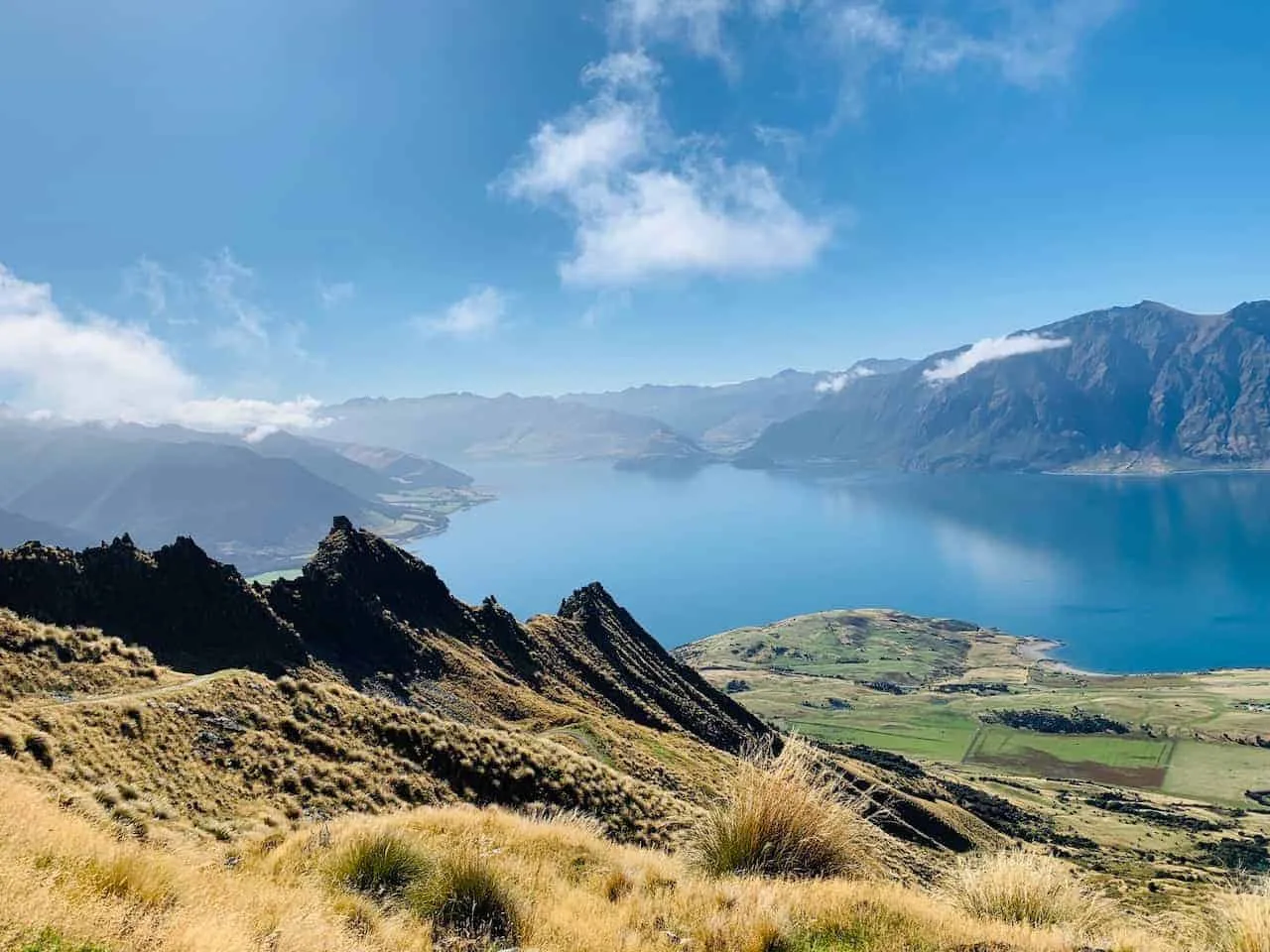 4) The Isthmus Peak Hike
Now that you have a bit more background about the hike, it is time to get into the hike itself. Starting at the parking lot you will make your way across the street to the starting point of the track.
From there, it is a stroll through some of the low farmland as you slowly follow the dirt path up the mountain.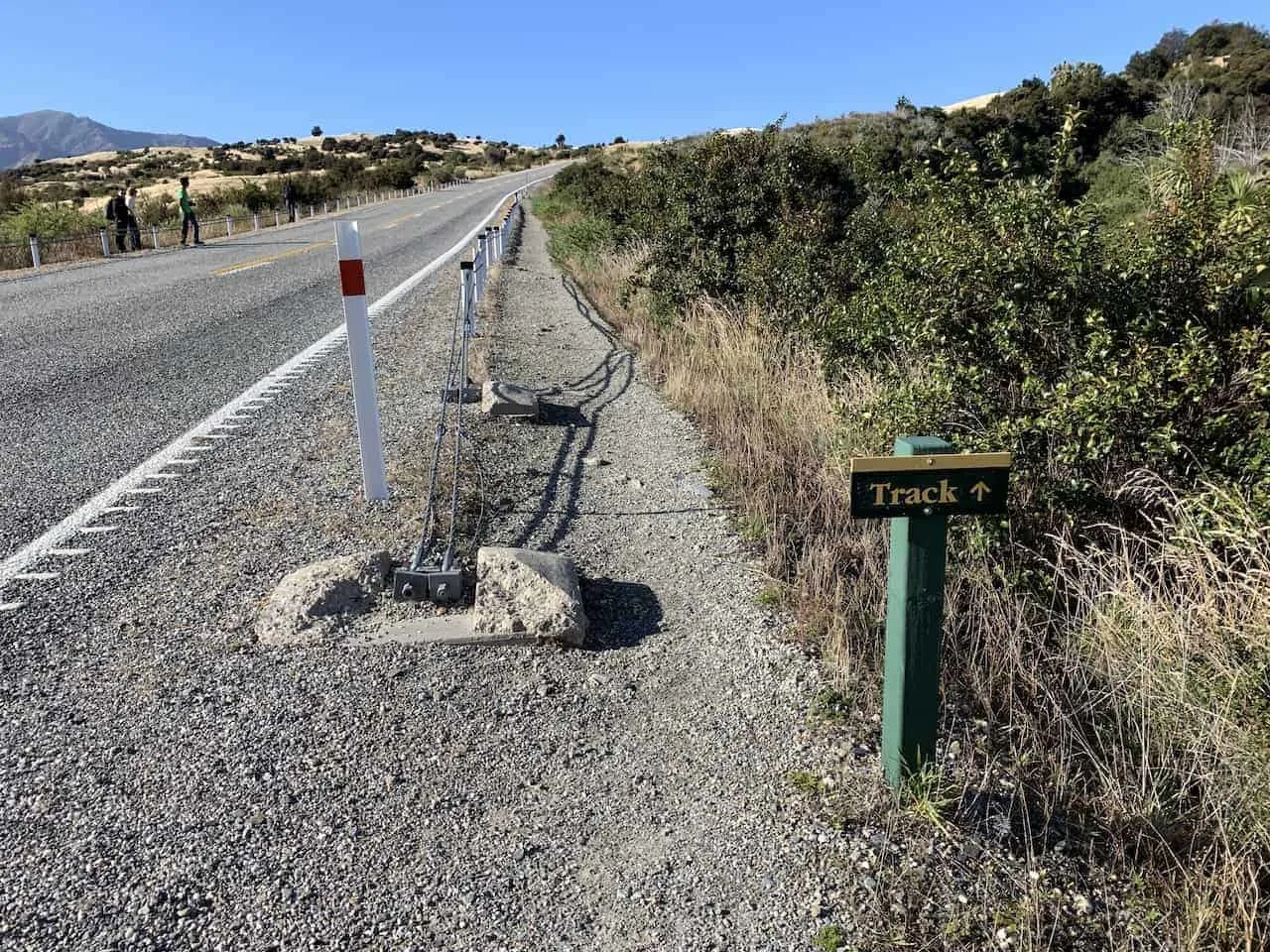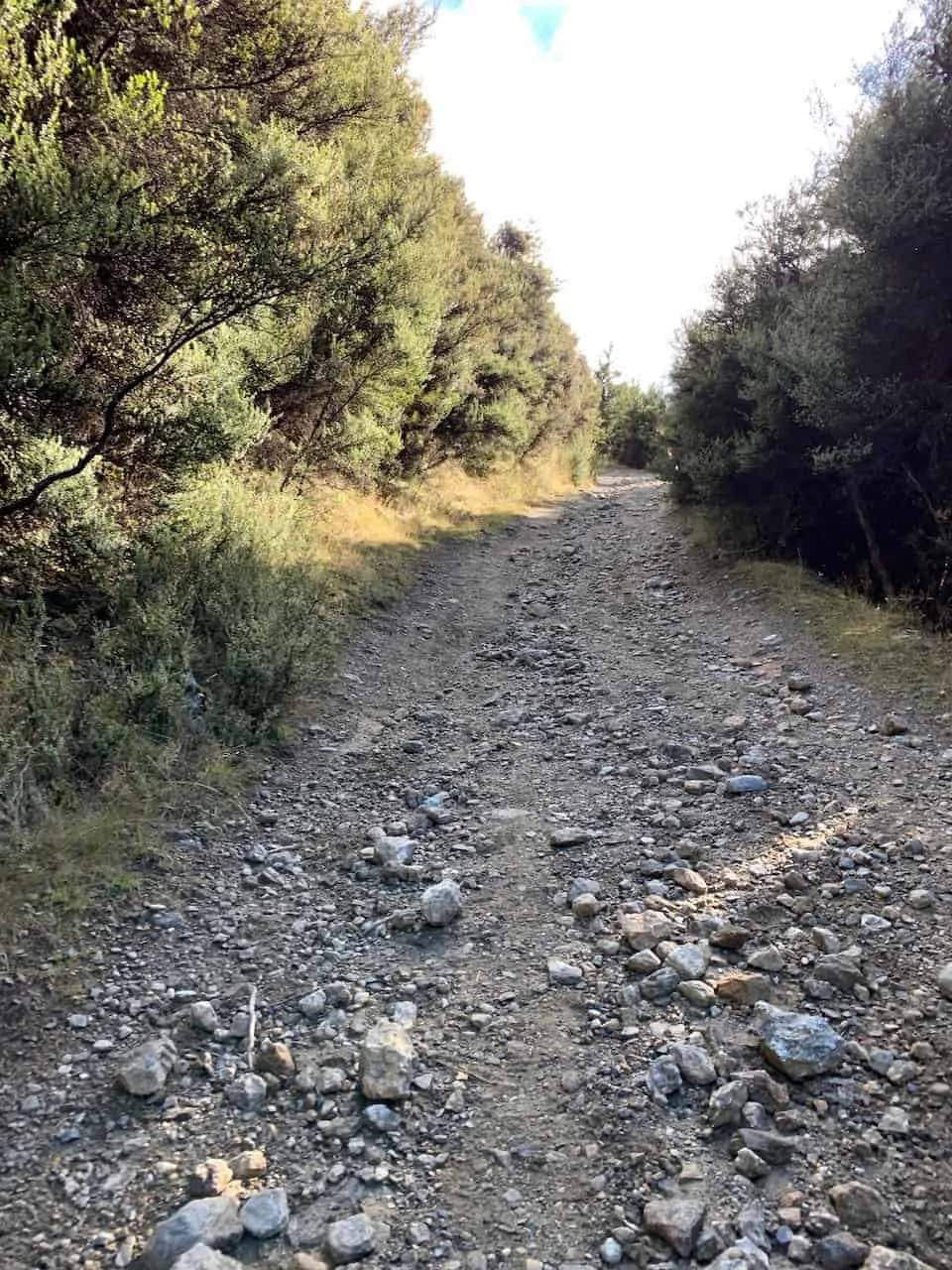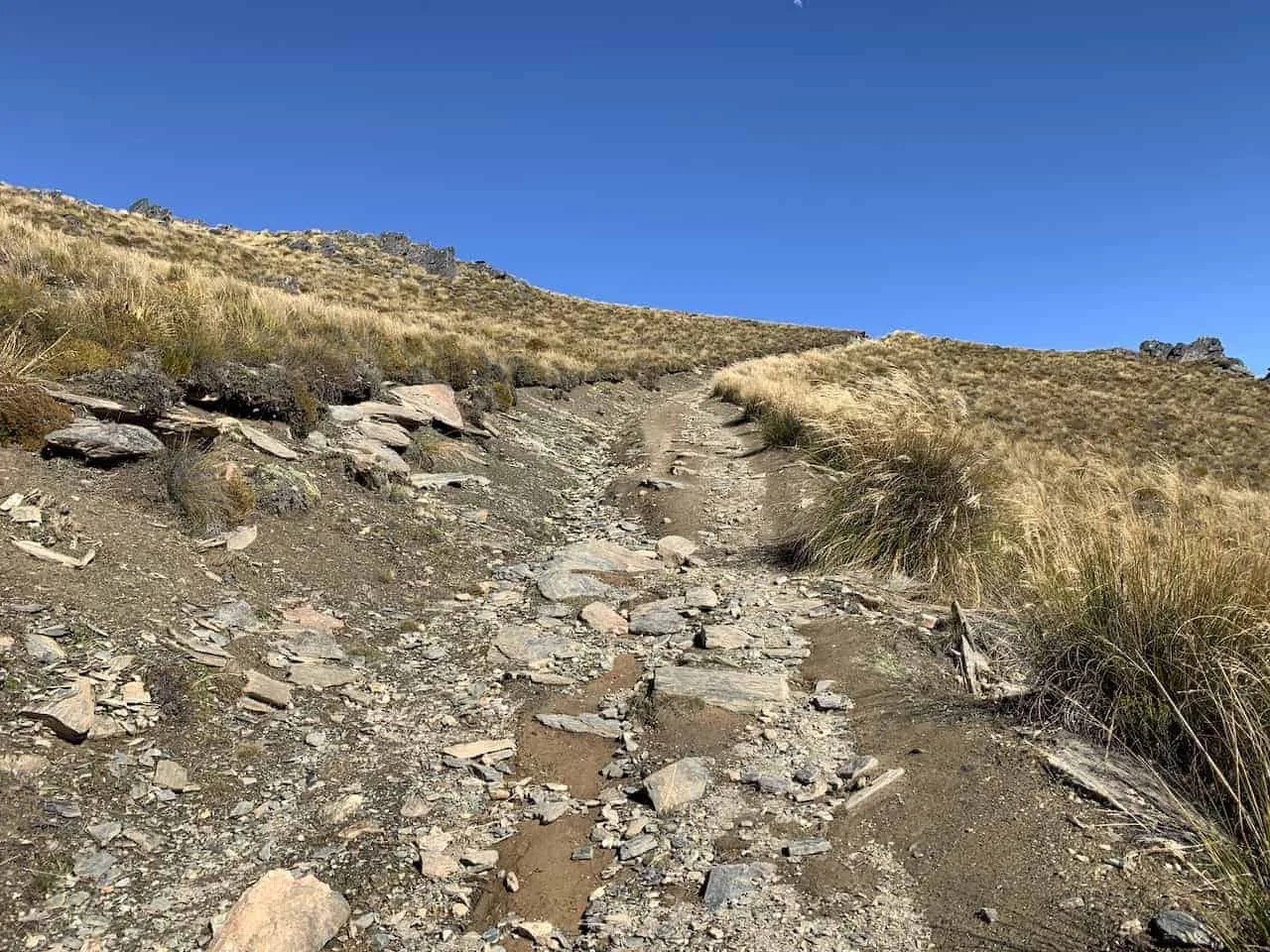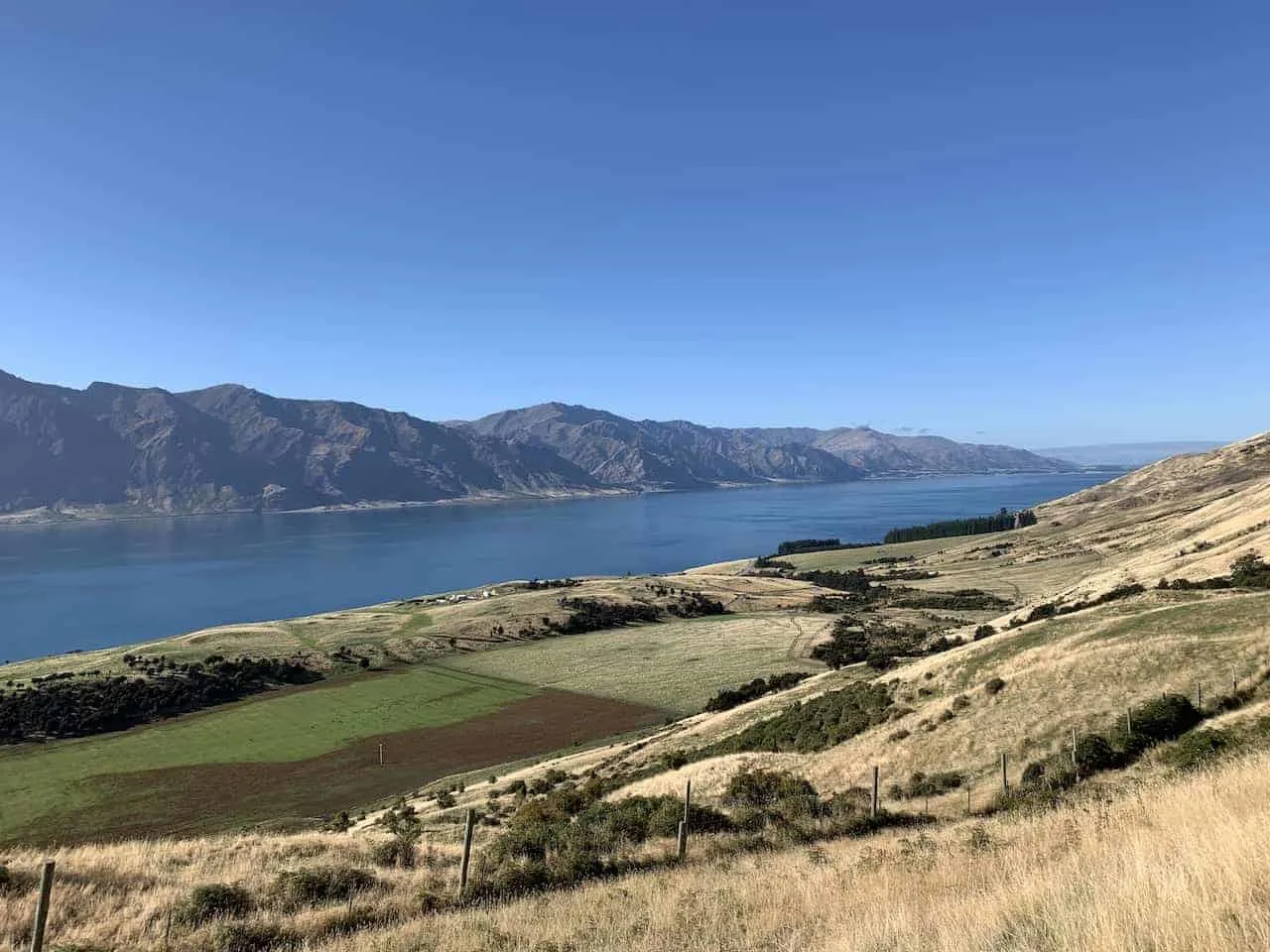 After a short while of hiking you will get high enough to see the full expansive views of Lake Hawea.
With the farmland below you, the blue lake out in the distance, and the vast mountains further back, it makes for one incredible view that will hopefully distract you a bit from the climb!
As you continue to get higher, the views will just continue to get better and you will see some incredible mountain scenery in every which direction. There are a few jagged like peaks, which makes the climb even more memorable.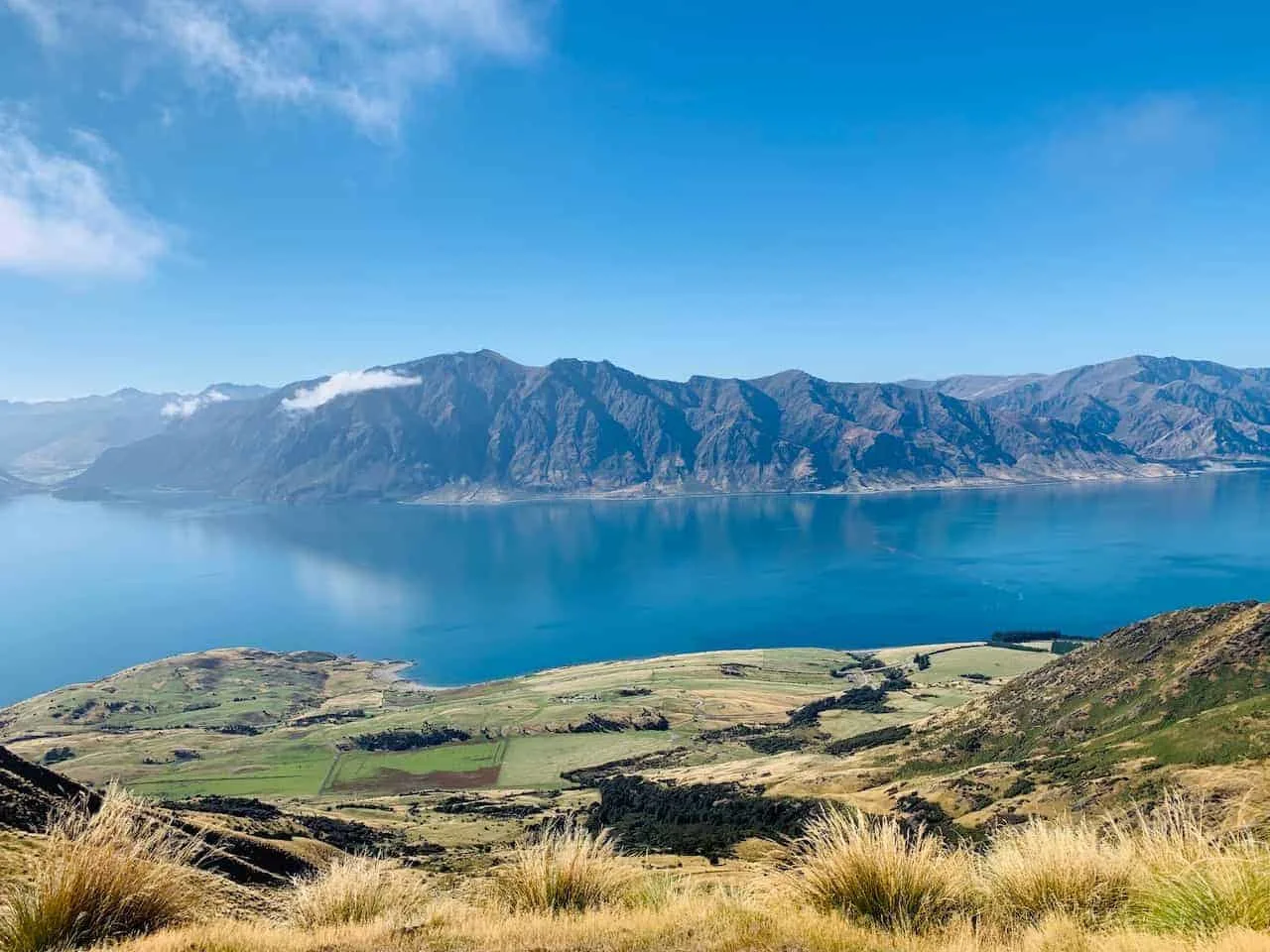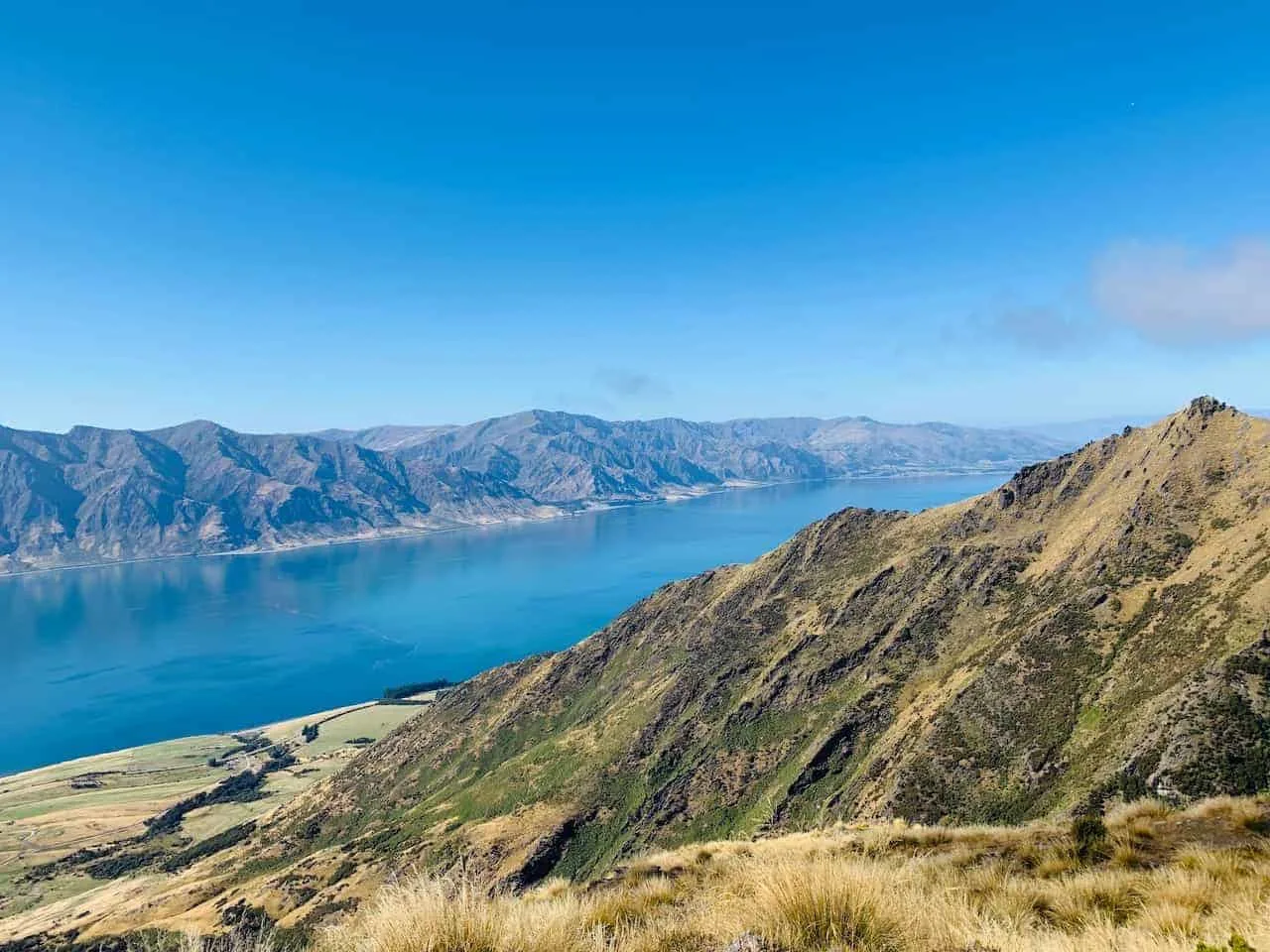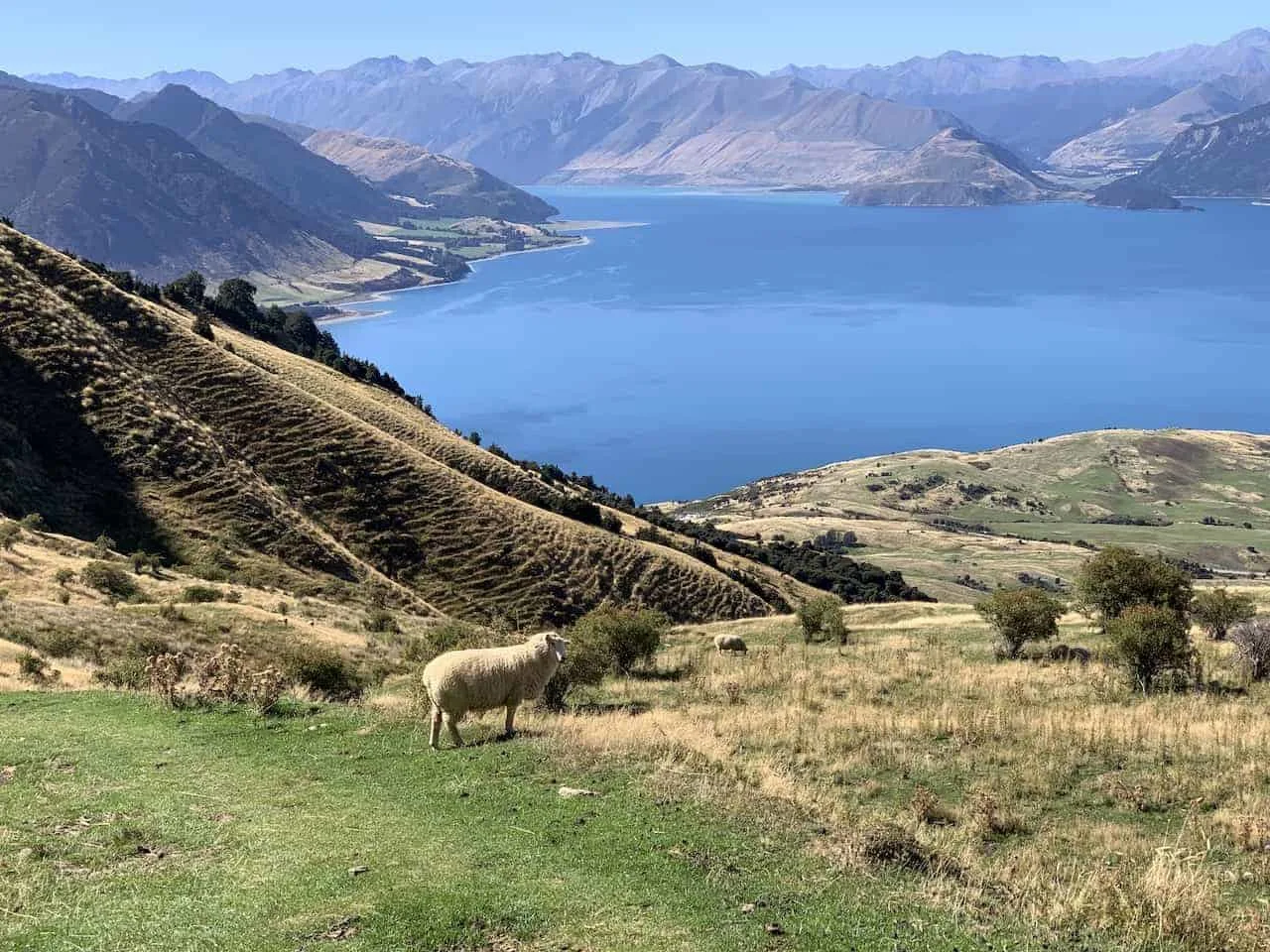 The one thing about this hike that is different from Roys Peak is that you cannot see the top of the mountain as you are making your way up.
Only once you are closer to the top can you actually see the peak. Because of this, you will be constantly passing by these "false" peaks, where you are continuously thinking you are almost at the top.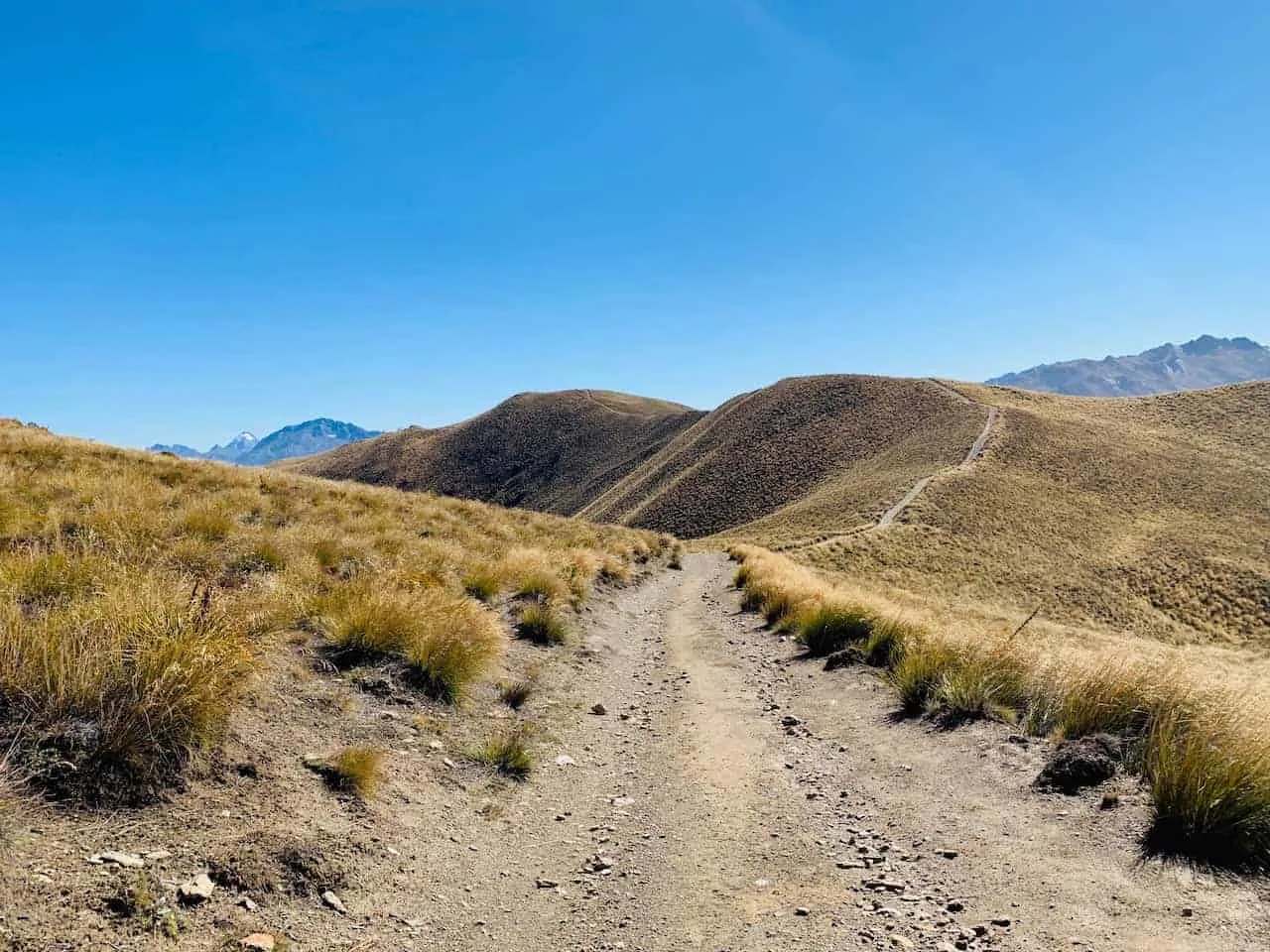 Do not worry though because soon enough you will follow the ridge to the last portion of the hike and onto the top of Isthmus Peak.
As you reach the top, Lake Wanaka will soon come into view alongside Lake Hawea in the opposite direction.
With the everlasting mountain ranges alongside the lakes, no wonder this viewpoint is right on par with Roy's Peak.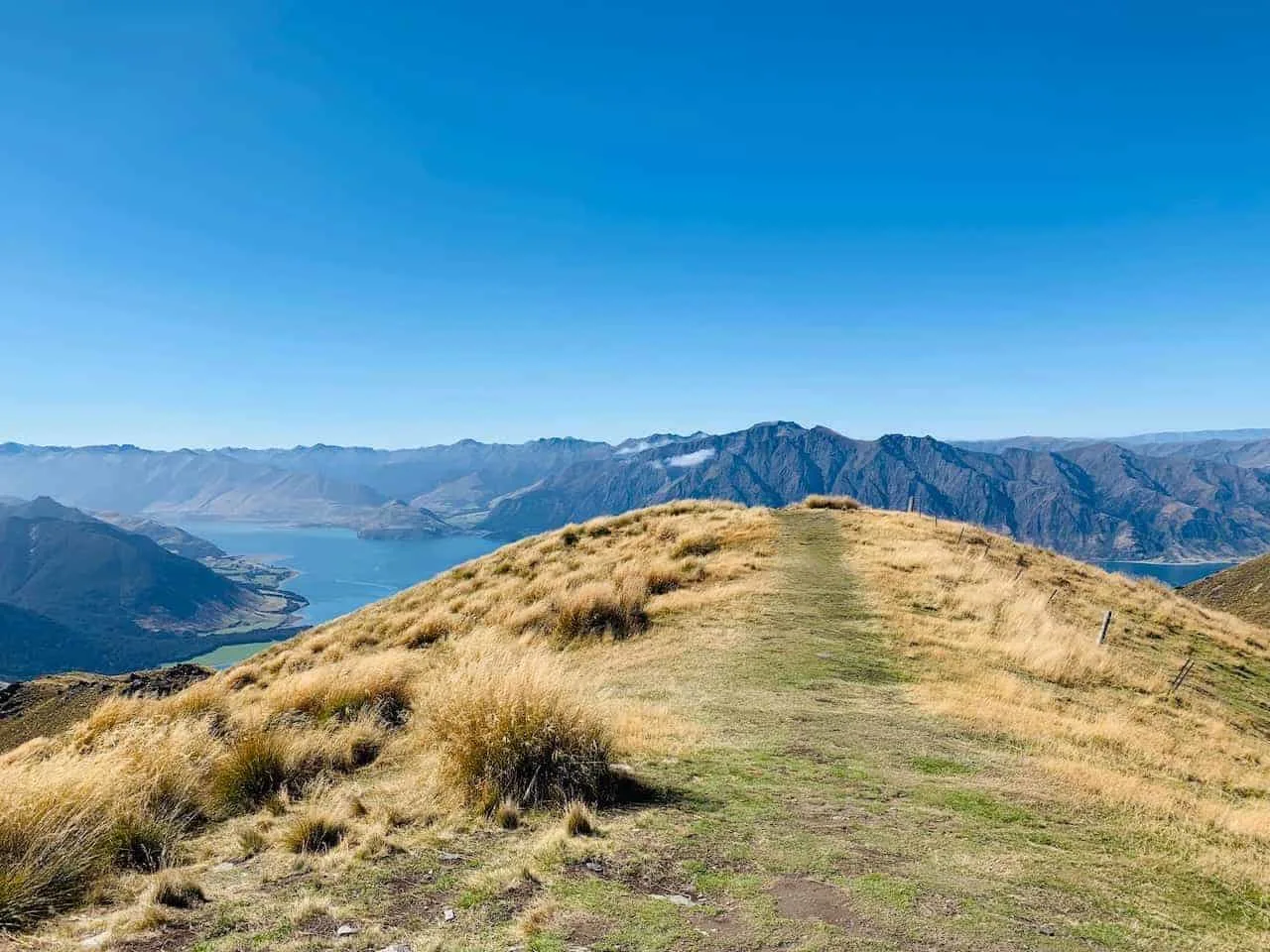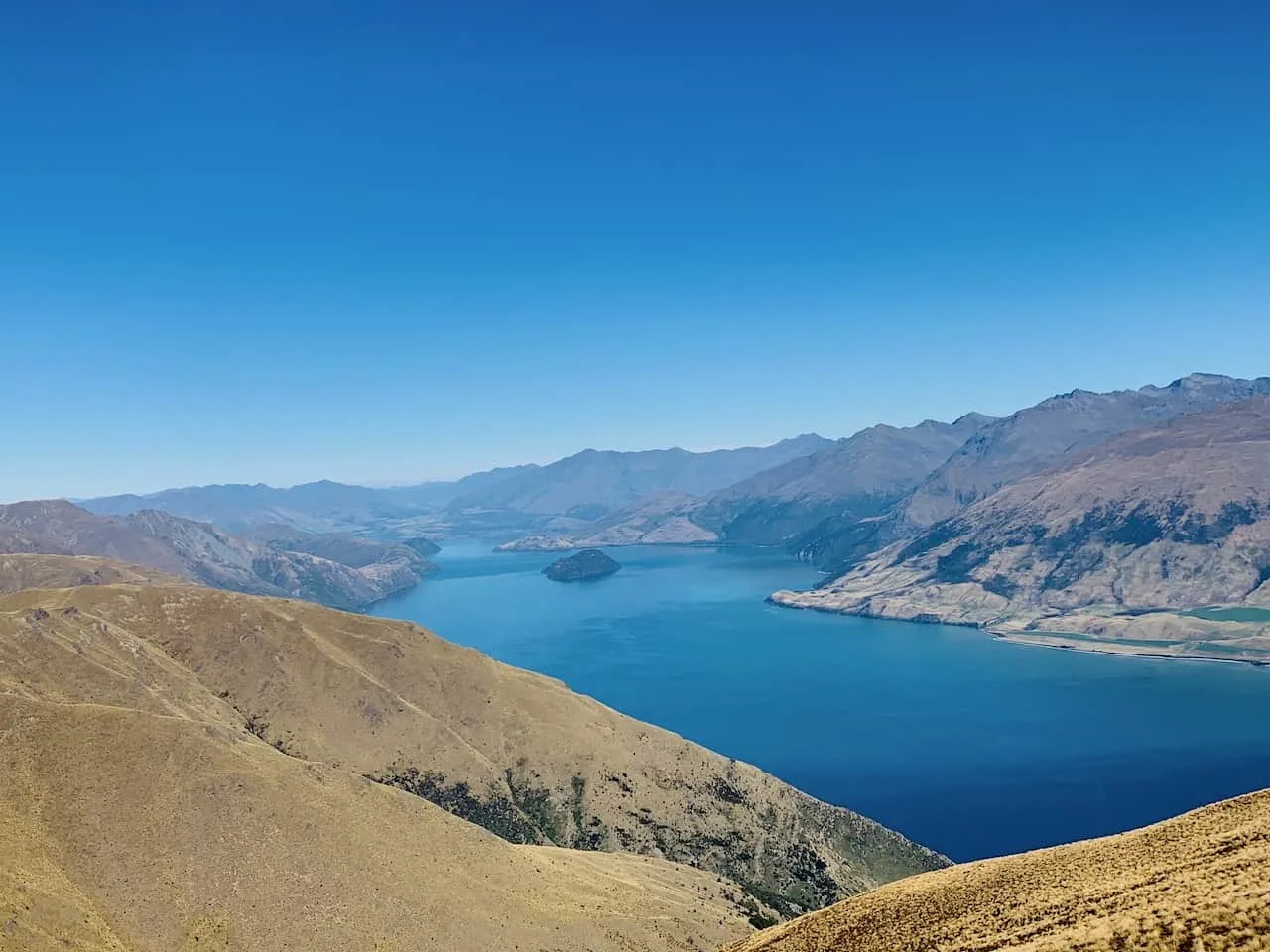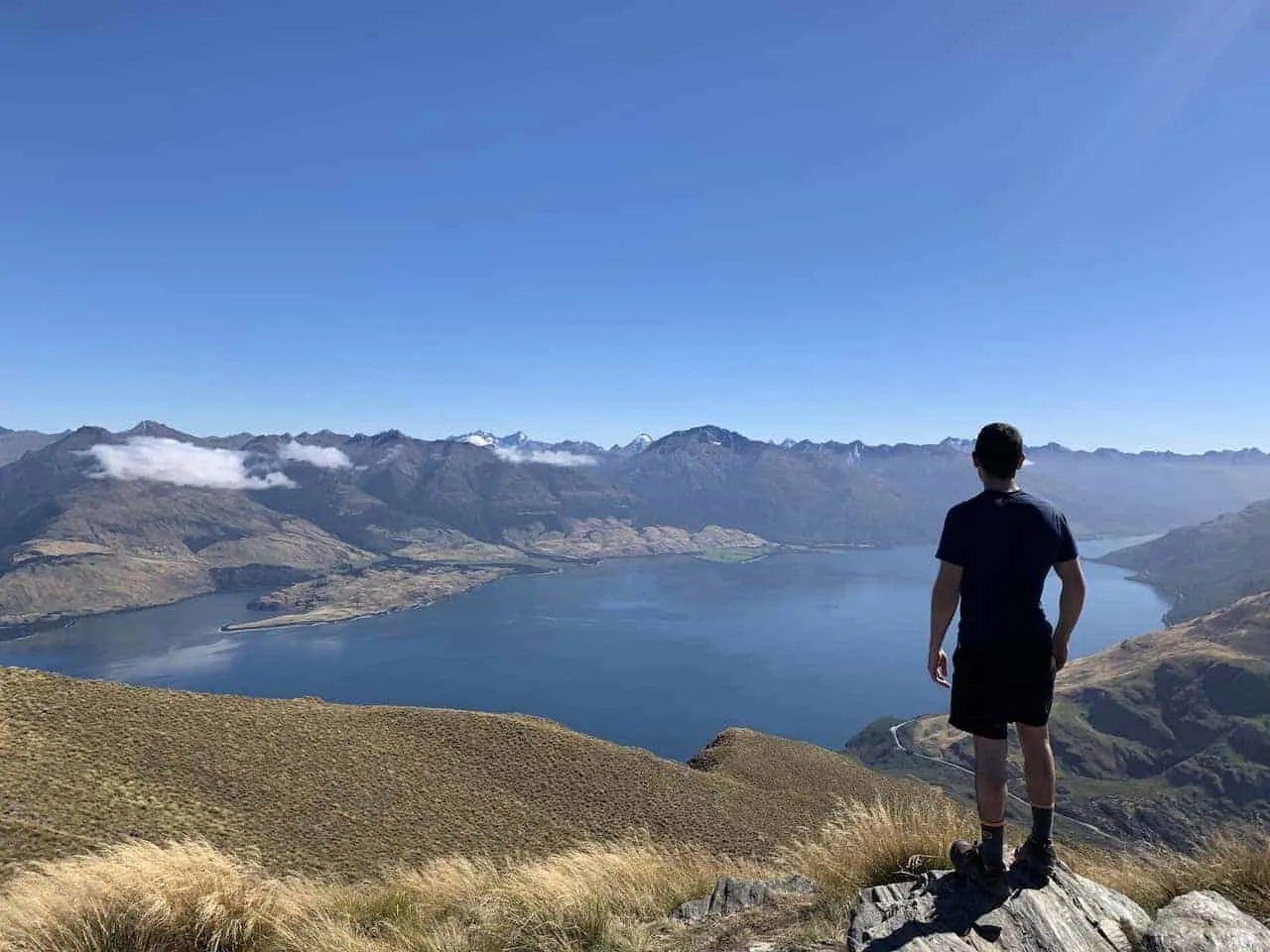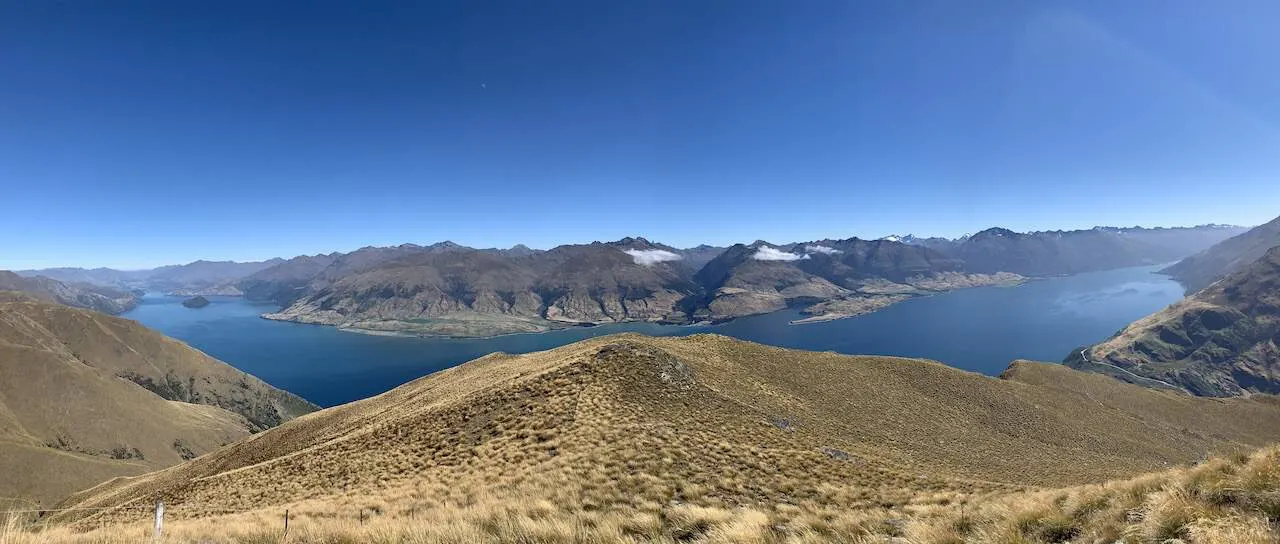 Once you are all done enjoying the views and catching your breath up top, it is time to turn around and head down on the same path you took up. This will be much easier from a stamina standpoint but much harder on your knee joints as you start the descent.
Although you got to enjoy some of these views on the way up, you will yet again take in the incredible vantage points as you make your way down (believe me you will not get sick of it!).
After a couple of hours going down, you will soon arrive back at the parking lot where you can stretch out those muscles and head back to Wanaka to end a successful day up Isthmus Peak.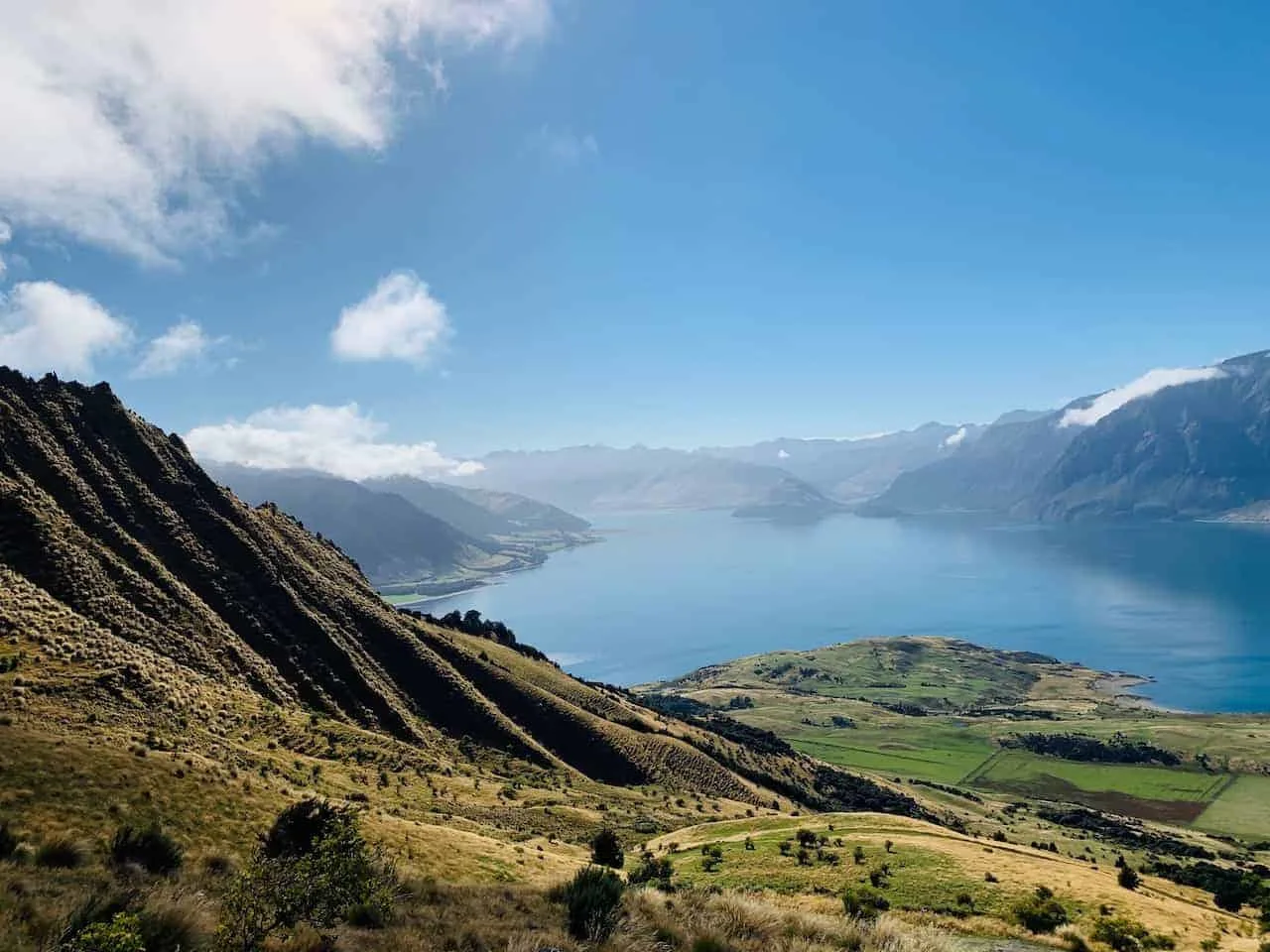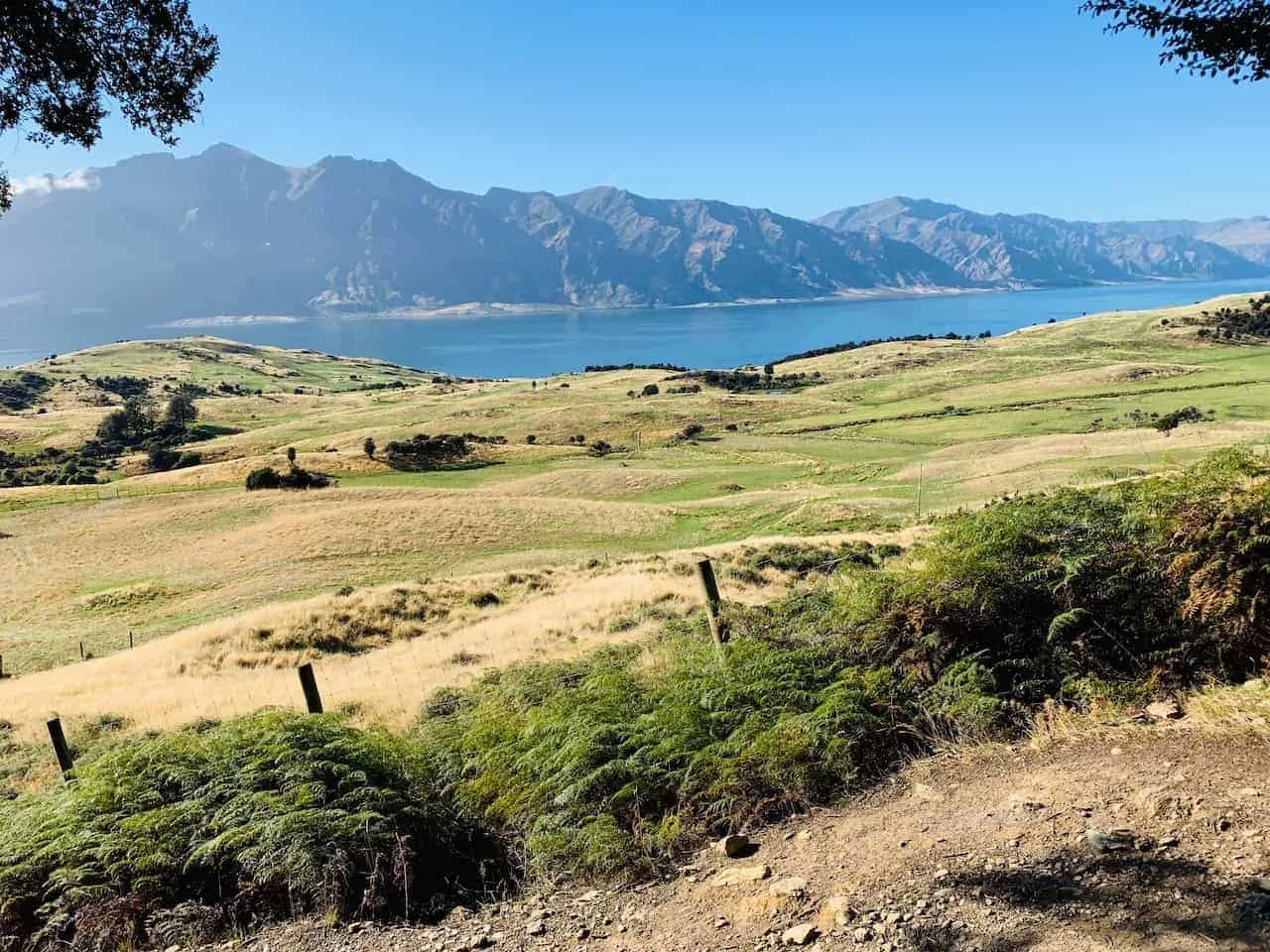 5) Roys Peak or Isthmus Peak
Since Isthmus Peak has been getting more attention lately, the big question that has been coming up is whether you should head up Roys Peak or Isthmus Peak.
My answer is obviously going to be both if you have it in you, but understandingly that is just not the case for everyone. While the two are very similar in length and difficulty, the views are a bit different on each.
Isthmus for example you will see Lake Hawea and Lake Wanaka as you make your way further up, whereas Roys you just have the view of Lake Wanaka.
On the other hand, it is hard to beat the top view of Roys on a clear day as you have the never ending Lake Wanaka, the surrounding mountains, and even a solid shot of Mount Aspiring.
So when it comes to views, each has pretty solid strengths. The one downside I will give to Roys though is that it will be much more crowded than Isthmus at any given time. So if you are looking for a more peaceful and quiet hike, then maybe Isthmus would be the choice for you.
At the end of the day, I find it very hard to decide between the two – both have outstanding views and a similar difficulty level, making either one a solid choice to choose from.
» Learn more about Roys in the Roys Peak Track Guide and if you are looking for an easier hike check out the Mount Iron Track Guide or the Rob Roy Glacier Track guide up on the site as well.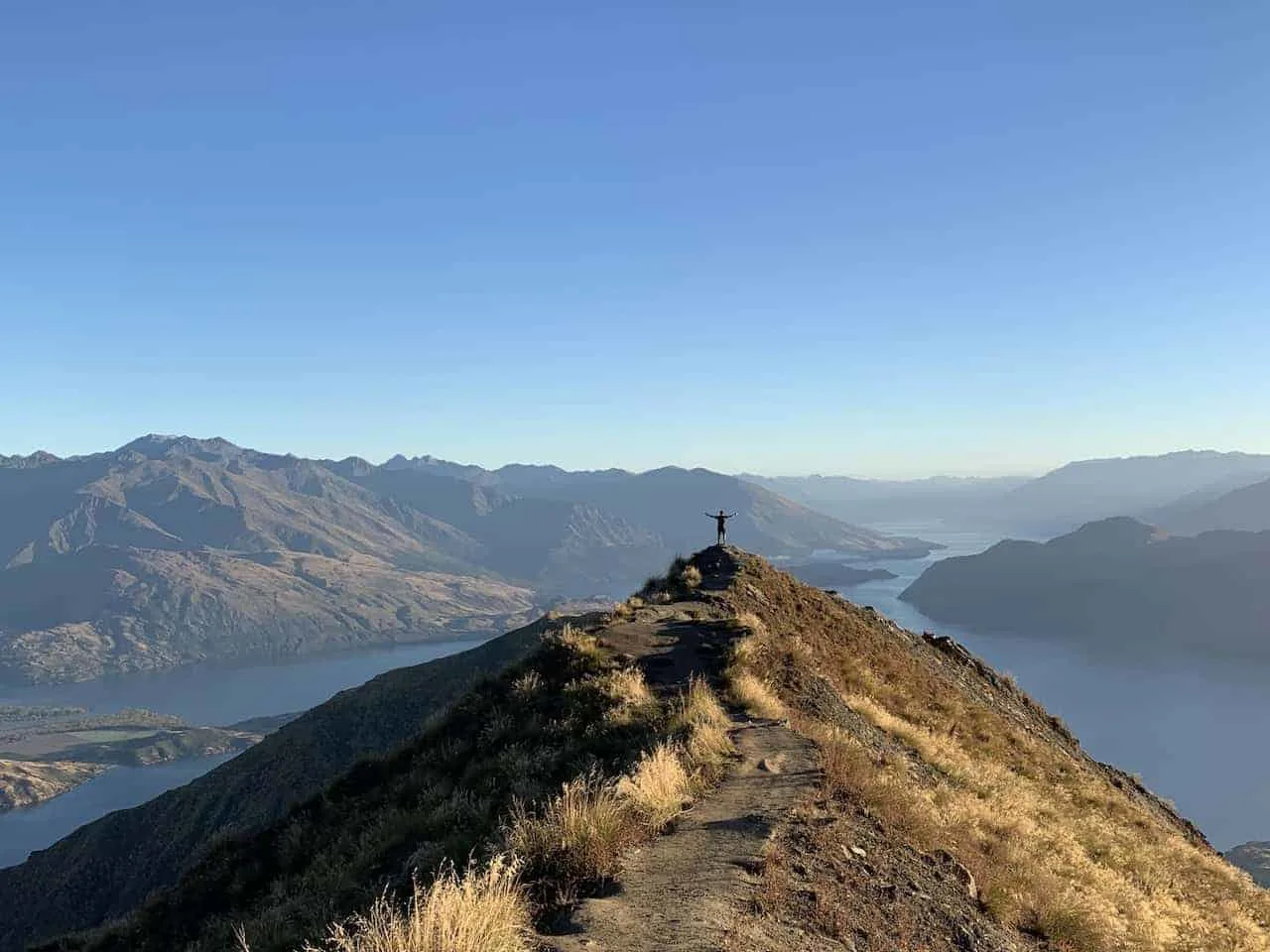 6) Where to Stay in Wanaka
Wanaka was one of my favorite spots in New Zealand. It is a small lakeside town with plenty of small restaurants, bars, cafes, and shops.
There are several accommodation options to choose from at various price points. Below are some recommended options to browse through:
Mid Tier / High End
Budget Friendly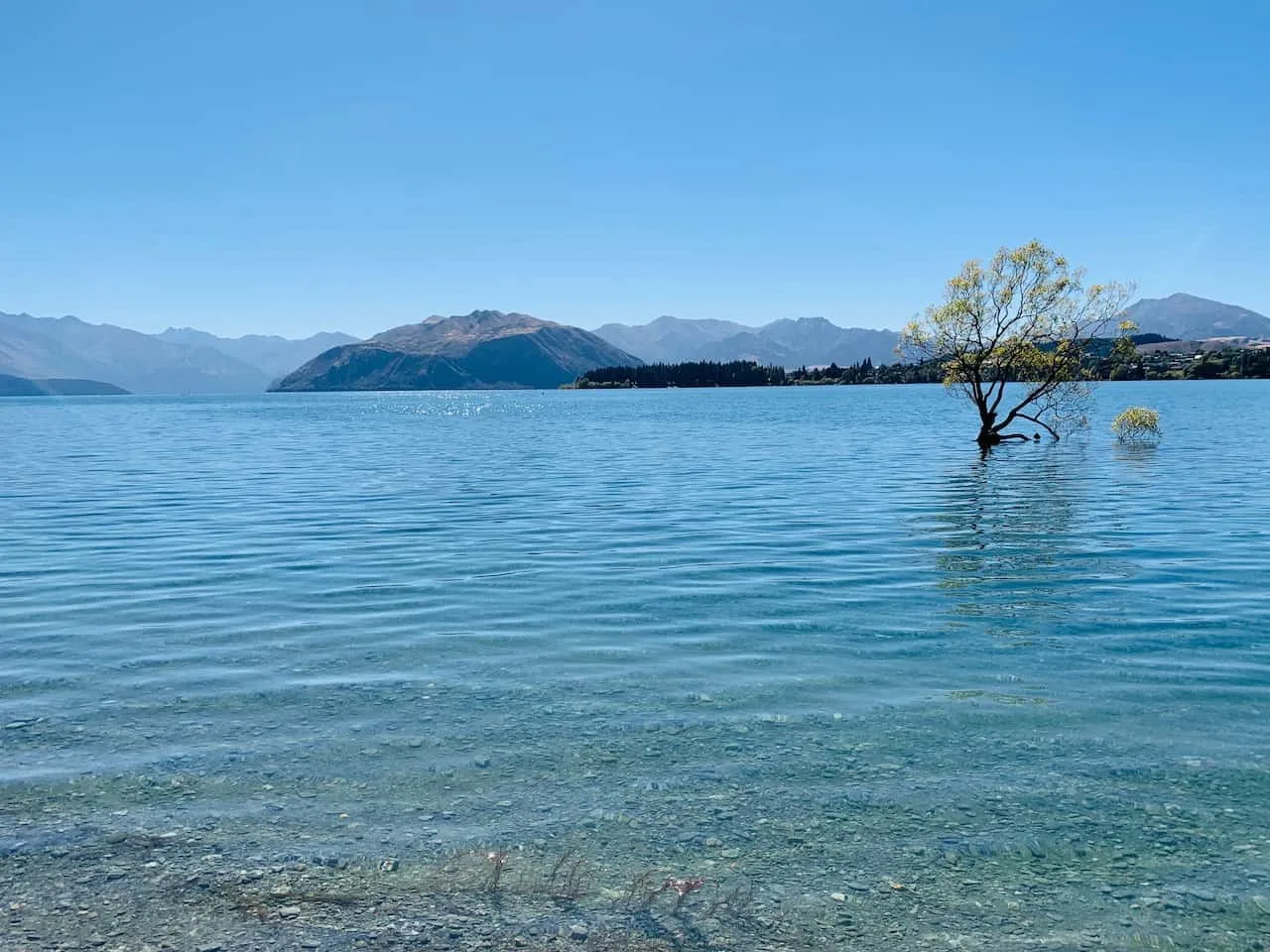 That about does it for a complete guide to hiking the Isthmus Peak Track. If you have any questions or comments write them in below!
Also don't forget to check out the other New Zealand itineraries and guides I have up on the site!
Some of the guides currently up on the site include:
Best Walks in the Waitakere Ranges
21 Helpful New Zealand Travel Tips
8 Must Do Wellington Activities
A Complete 10 Day New Zealand North Island Itinerary
The Wellington to Picton Ferry