So you are thinking on heading to the South Island of New Zealand? Well I will tell you one thing – it doesn't get much better than that. If you are one that wants to experience some of the best hikes, viewpoints, and natural beauty that this world has to offer then you have picked the right place.
New Zealand's South Island is something out of a dream and with so much to do and see you won't be bored for a second of it. This 14 day New Zealand South Island itinerary will go over in detail what to expect during your time on the island and believe me this trip is going to be a memorable one!
* Affiliate Disclosure: This post may contain affiliate links, which means I may receive a commission if you make a purchase through the links provided, at no additional cost to you. Thanks for supporting the work I put into TripTins!
The Ideal New Zealand South Island Itinerary – 14 Days
Before jumping into the itinerary itself there are some very important things to note when going about the planning and execution of your trip.
» Assume day 1 and 14 are full days. That means that you will either be arriving the night before or early on day 1 and then departing late on day 14 or early on day 15.
So if you would like to use this itinerary, note you will most likely need to add a few more days to account for travel.
» Renting a car is basically a necessity if you want to make your way to these attractions and take part of the different activities along the way.
You should take a look at the Driving in New Zealand Guide that goes over all the basic rules and regulations of the road along with some helpful tips.
→ Be sure to check out Rentalcars.com when it comes to renting a car in New Zealand. The site will show you car options & prices from a variety of companies. This ensures that you will be able to choose the perfect car (and deal) for your trip to the country.
» While you can take part of most of this itinerary year round, the optimal time of year would be from October to May.
Since there are a lot of hiking and outdoors activities involved, snow and low temperatures can get in the way of completing certain things. On top of that you will be dealing with slick curvy roads and shorter days during the winter season.
» The itinerary starts in Queenstown but you can complete the itinerary if flying into Christchurch too. In the next section I go into a little bit of detail on how to do so (day 12 of the itinerary becomes day 1, and you then continue the route clockwise).
» If you are a longer term traveler and also want to visit the North Island, you can definitely add this two week itinerary onto the 10 Day New Zealand North Island Itinerary I put together.
To do so you will need to utilize the Wellington to Picton Ferry and then begin your loop in Picton instead of Queenstown or Christchurch.
» One thing you can never control on a vacation is the weather. Unfortunately some parts of New Zealand can be quite frustrating at times.
The wind, the rain, the clouds – all of these can get in the way of completing certain activities or hikes. My best advice here is to just stay as flexible as possible.
I know this may be difficult though when dealing with a finite period trip. But if the weather is looking very poor in a certain city, maybe just continue along and spend some more time in the next place instead of just being stuck in the rain.
» Lastly take a look at the 21 Helpful New Zealand Travel Tips that will go over plenty of things to know before heading off to your trip.
Itinerary Note
While two weeks is a great amount of time to see much of New Zealand's South Island, there is just so much to see and do.
This itinerary fits in many of the must do sites and sounds of the island, however for some it can be a lot to handle.
There are some long drives in between cities and you will only be spending a day or two in each place.
If you feel like there is too much on the itinerary and only want to visit a few spots during your two week trip, feel free to use this itinerary more as a guideline. It should still be a valuable resource as you prepare for your time in New Zealand.
New Zealand South Island Itinerary Overview
Queenstown: 2 nights
Wanaka: 2 nights
Franz Josef: 2 nights
Punakaiki: 1 night
Abel Tasman: 2 nights
Kaikoura: 1 night
Christchurch: 1 night
Mount Cook: 2 nights
If starting/ending in Christchurch, the itinerary could easily be altered to reflect that.
Day 1 of itinerary would be day 12 of the itinerary below – starting in Christchurch and driving to Mount Cook. From there simply continue in the clockwise direction (Mount Cook – Queenstown – Wanaka – Franz Josef – Punakaiki – Abel Tasman – Kaikoura – Christchurch).
New Zealand South Island Itinerary 14 Days Map View
The map below shows the 14 day New Zealand South Island itinerary starting and ending in Queenstown.
The map only shows the overall route that you will be taking during the two week trip. It does not pinpoint each and every place you will be visiting along the way. The itinerary below goes into more detail.
Detailed New Zealand South Island Itinerary
Below you will find a detailed guide for what exactly you will be doing on a day to day basis. Each day gives you a good overview of what to do and what to expect along the way, along with some high level logistics of the itinerary.
If you want more details for any given day, you can click on the relevant New Zealand Guides found throughout the page. These guides will go into greater detail and give you everything you need to know about a city or attraction.


Day 1 – Queenstown
On your first day in New Zealand, it is already time to explore the lakeside town of Queenstown.
There are plenty of things to do and see right around the city center and below I will go into a bit more detail about some of those options.
1. Hike Ben Lomond
You can get started right away and hike Queenstown's most challenging climb – Ben Lomond. Climbing this mountain that overlooks Queenstown, Lake Wakatipu, and the never ending mountain ranges in every direction will 100% be worth it at the end of the day.
If you do decide to take part of the hike, leave around 4-5 hours to complete the round trip.
You can start the hike on top of the Queenstown Gondola or at the base of the Gondola, where you can take the Tiki Trail up (add another 1.5 hours of hiking round trip if you opt for the Tiki Trail).
» Check Out Hiking the Ben Lomond Track to Learn More!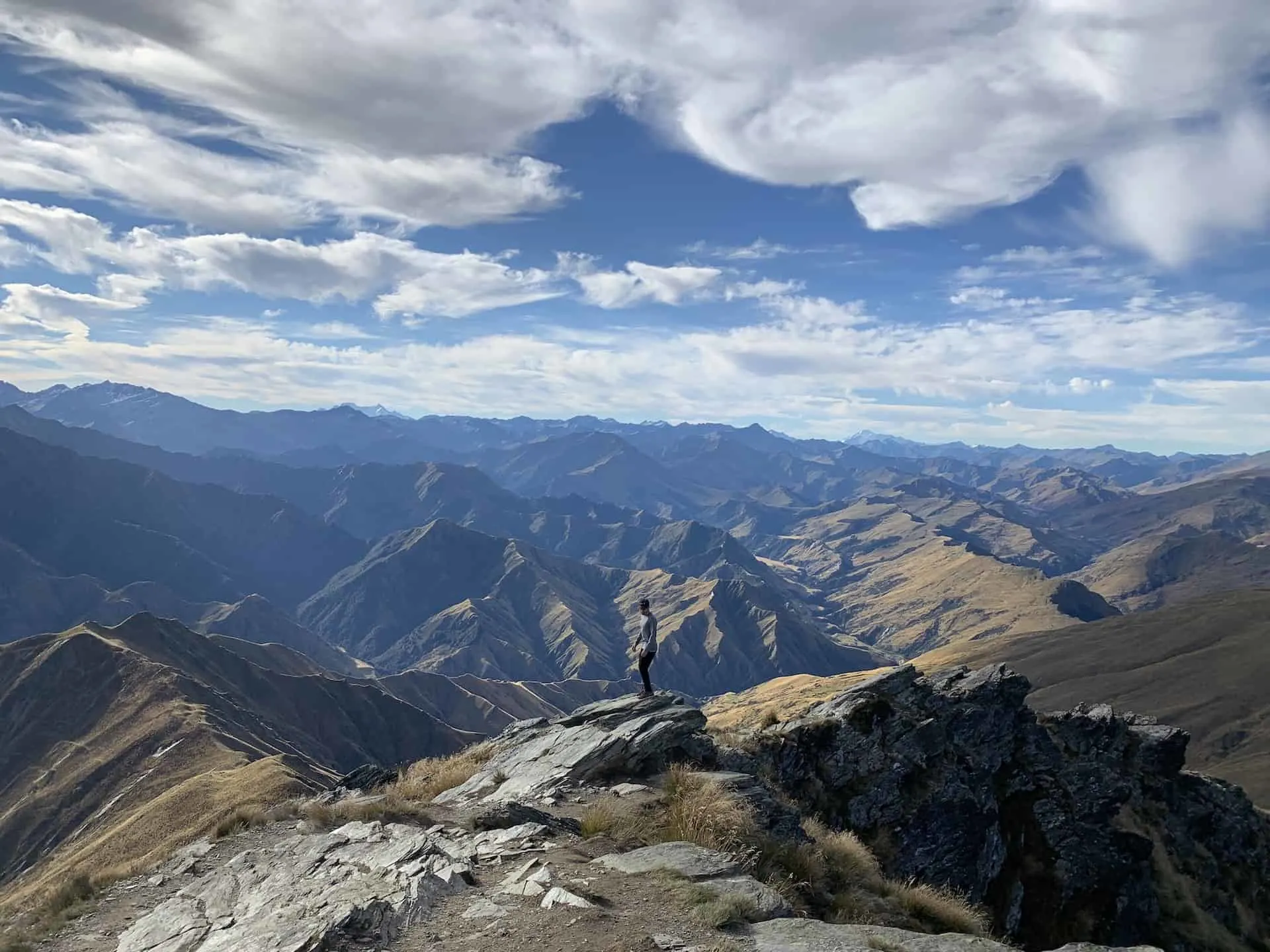 2. Queenstown Hill
A much less challenging of a climb is the one up to Queenstown Hill. It takes just about 45 minutes to get to the top (1.5 hours round trip), where you will get some incredible views of Queenstown and the lake down below.
Although it is a much shorter climb than Ben Lomond, it is a great alternative for those that do not want to take part of a full day type of climb.
Note that the hike up Queenstown Hill is nearly all uphill so it can get a bit tough at times. Much of it is also in the forest until the last part, when you then exit through the trees and are able to take in the views.
» Read More: Check out the guide to the Queenstown Hill Walk to learn all about the track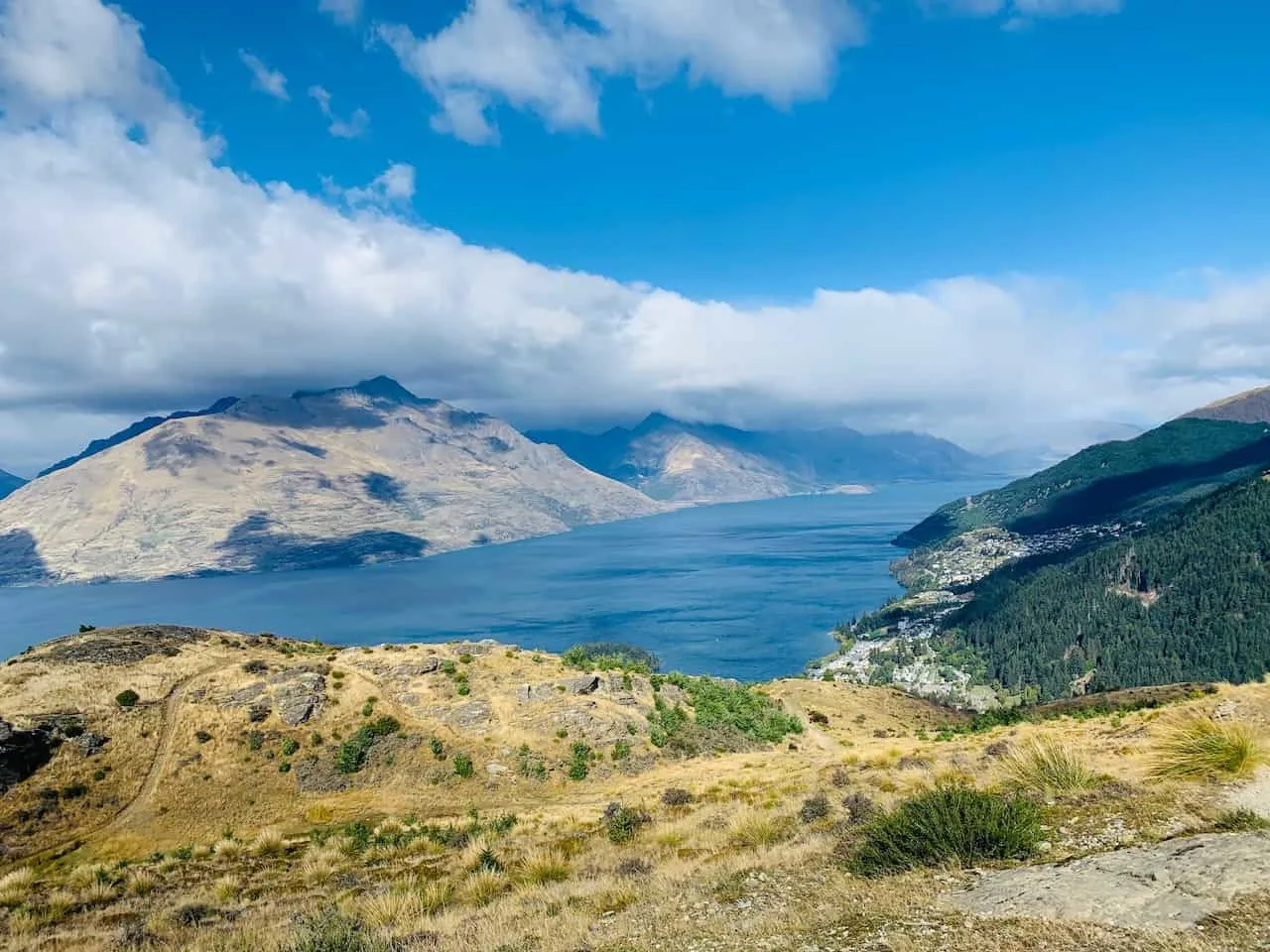 3. Enjoy Queenstown's Waterfront
If you take part of a hike or not, you should still have time to explore the waterfront area of Queenstown. You can walk along the water to Queenstown Gardens, which is full of ponds, flowers, lake views, and lots of ducks!
You can also just sit back and relax near the water with the beautiful scenic mountains all around.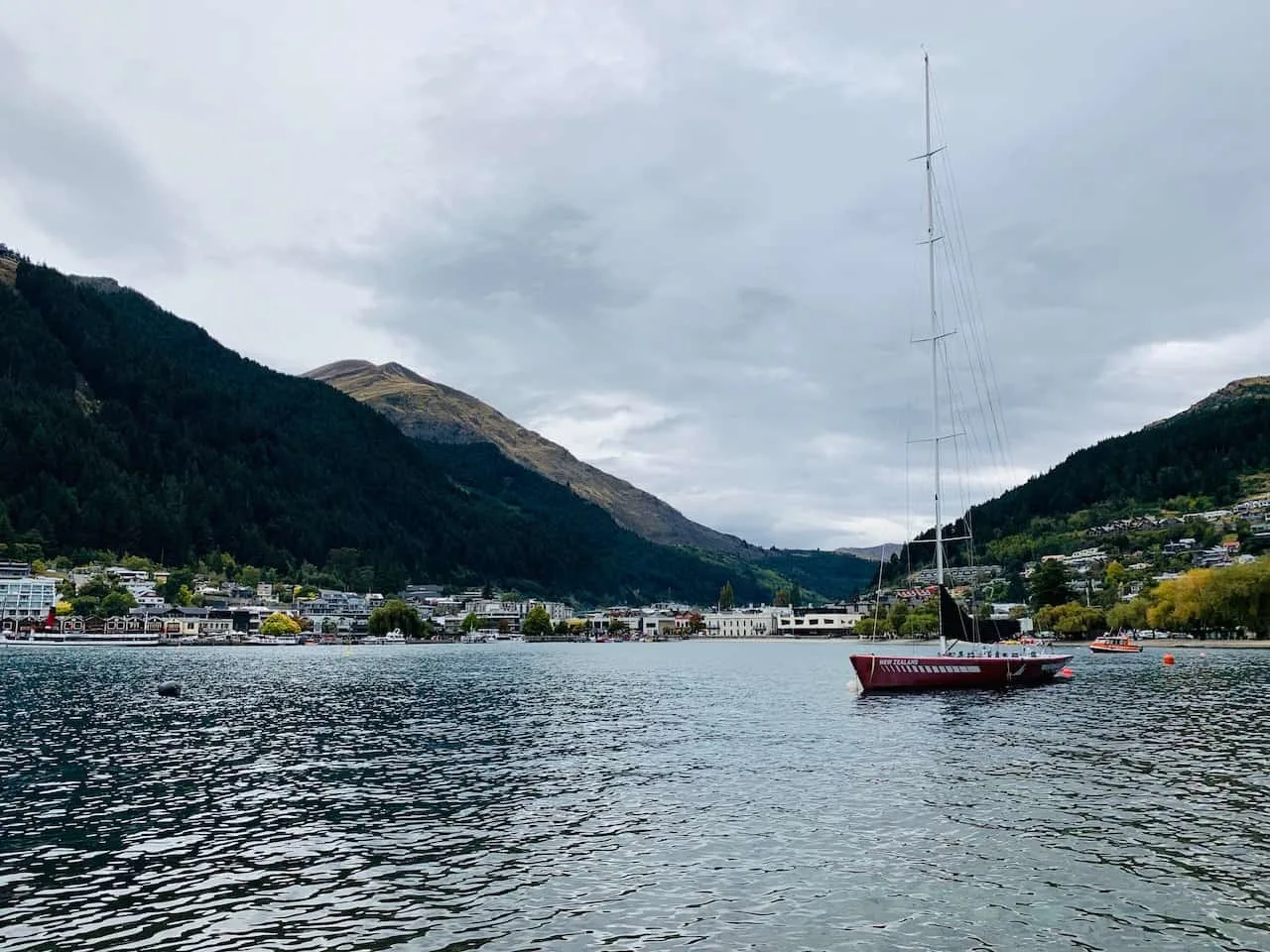 4. Do Some Luging
On top of the Queenstown Skyline Gondola (where Ben Lomond track begins), there is actually a luge circuit that takes you down a portion of the mountain.
If you are looking for some fun (and some views!!) then luging could be a great activity for you. Take a look at the Queenstown luging website to learn more.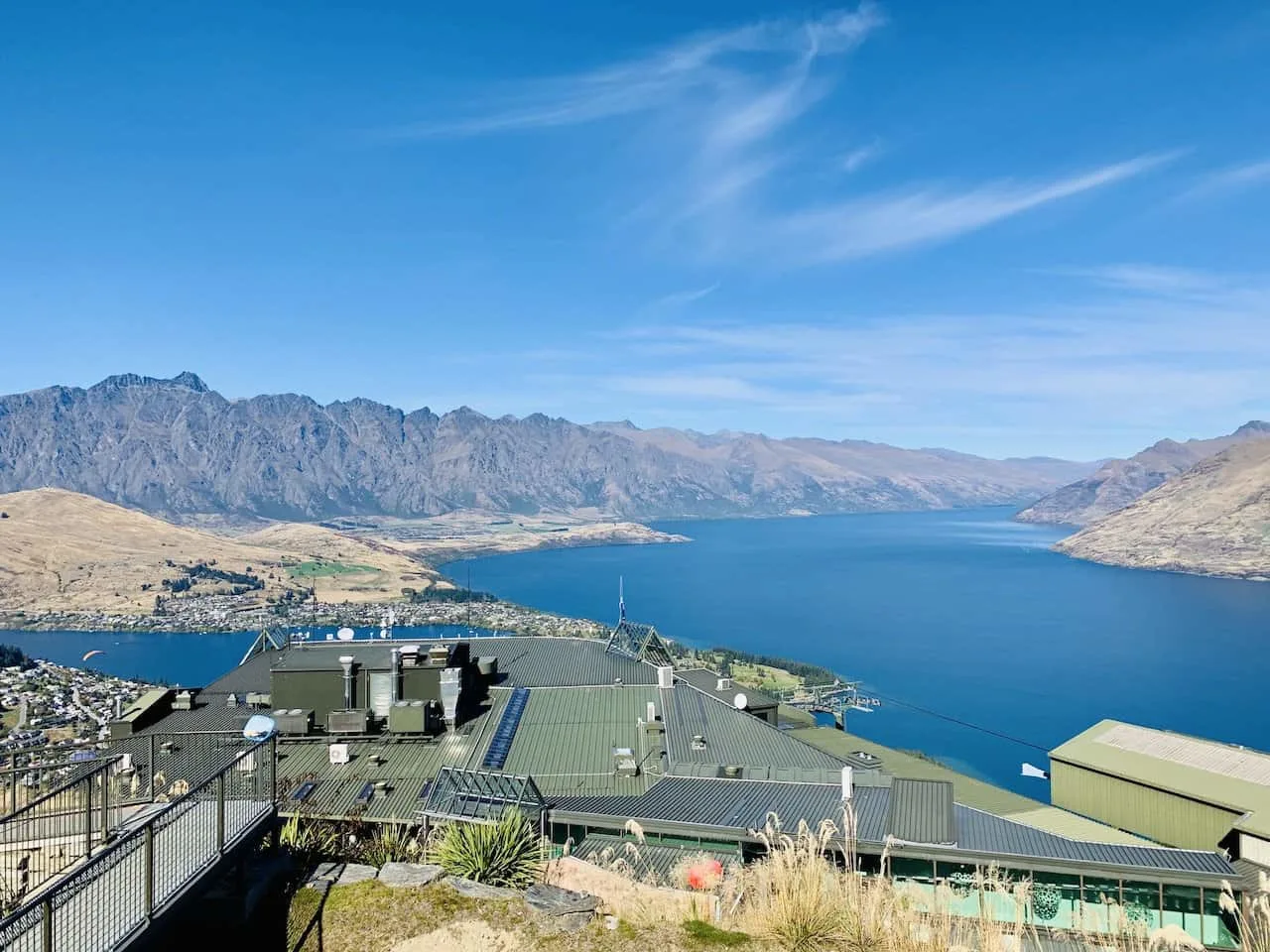 5. Day Hike the Routeburn
One of the most famous of hikes in New Zealand is the Routeburn Track. From Queenstown you can take part of a Routeburn Track day hike that will bring you on the first portion of the trail.
Not only will you get to do some hiking but you will also drive along one of the most scenic roads from Queenstown to Glenorchy.
» Learn more in the Routeburn Track Day Hike Guide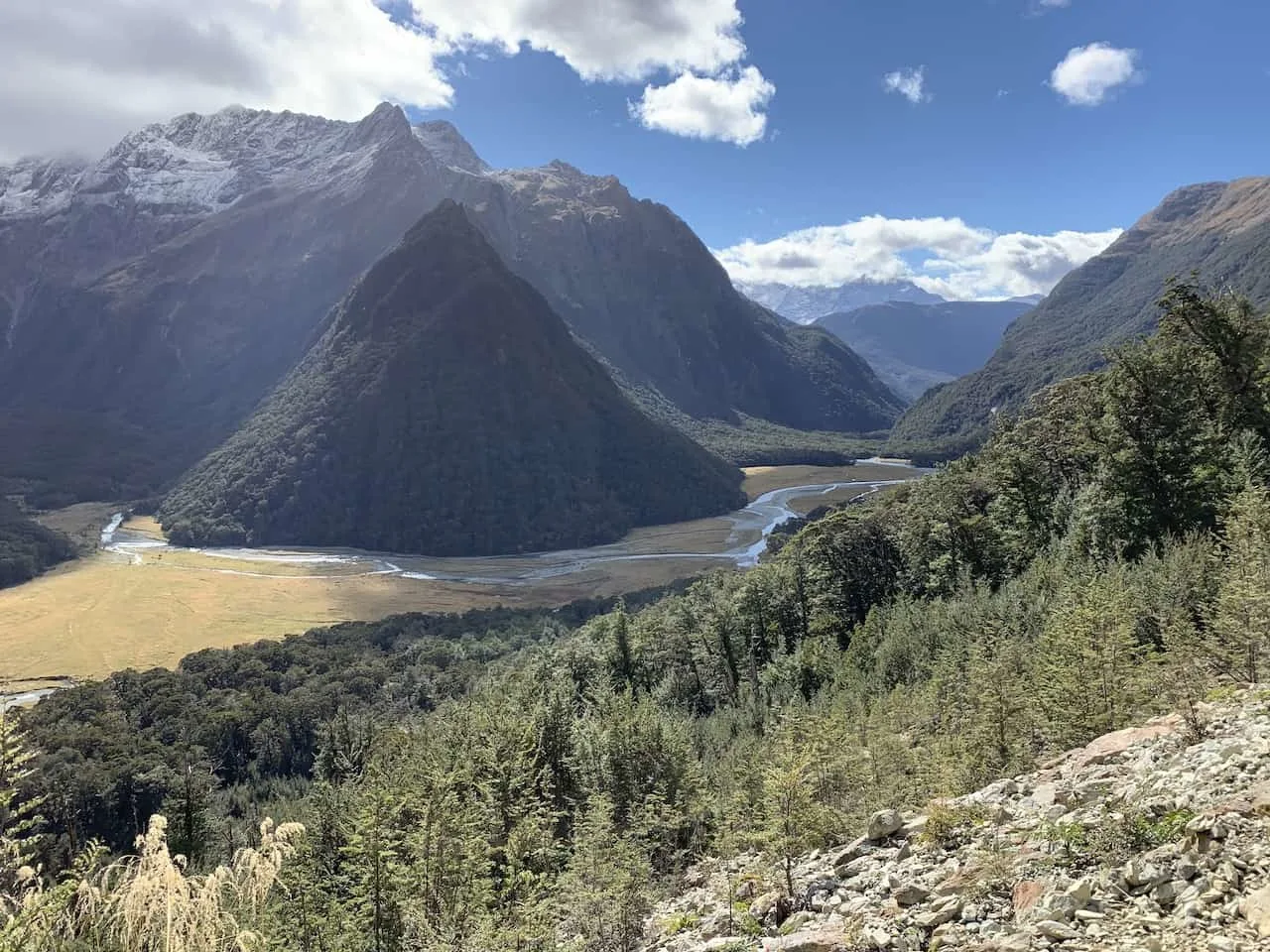 Where to Stay in Queenstown (Nights 1 & 2)
Check out some great hotel options for nights 1 & 2 of your time in New Zealand:
Mid Tier
1. Novotel Queenstown Lakeside
Luxury
Budget
3. Absoloot Value Accommodation
Queenstown Parking Note
Parking in Queenstown can be a bit tricky. For the most part, the spots of the street only allow a short amount of time so that won't work out too well longer term. There are free parking spaces near Queenstown Gardens and you can leave your car there for as long as you want.
If you cannot find a space there, my next go to would be to park at the Queenstown Skyline Gondola parking lot. You can park your car for up to 4 hours from 8:00AM – 6:00PM, which means you can leave your car overnight there and not need to worry.
Lastly, if you don't want any hassle and don't mind the extra cost, head on over to the Man Street parking structure.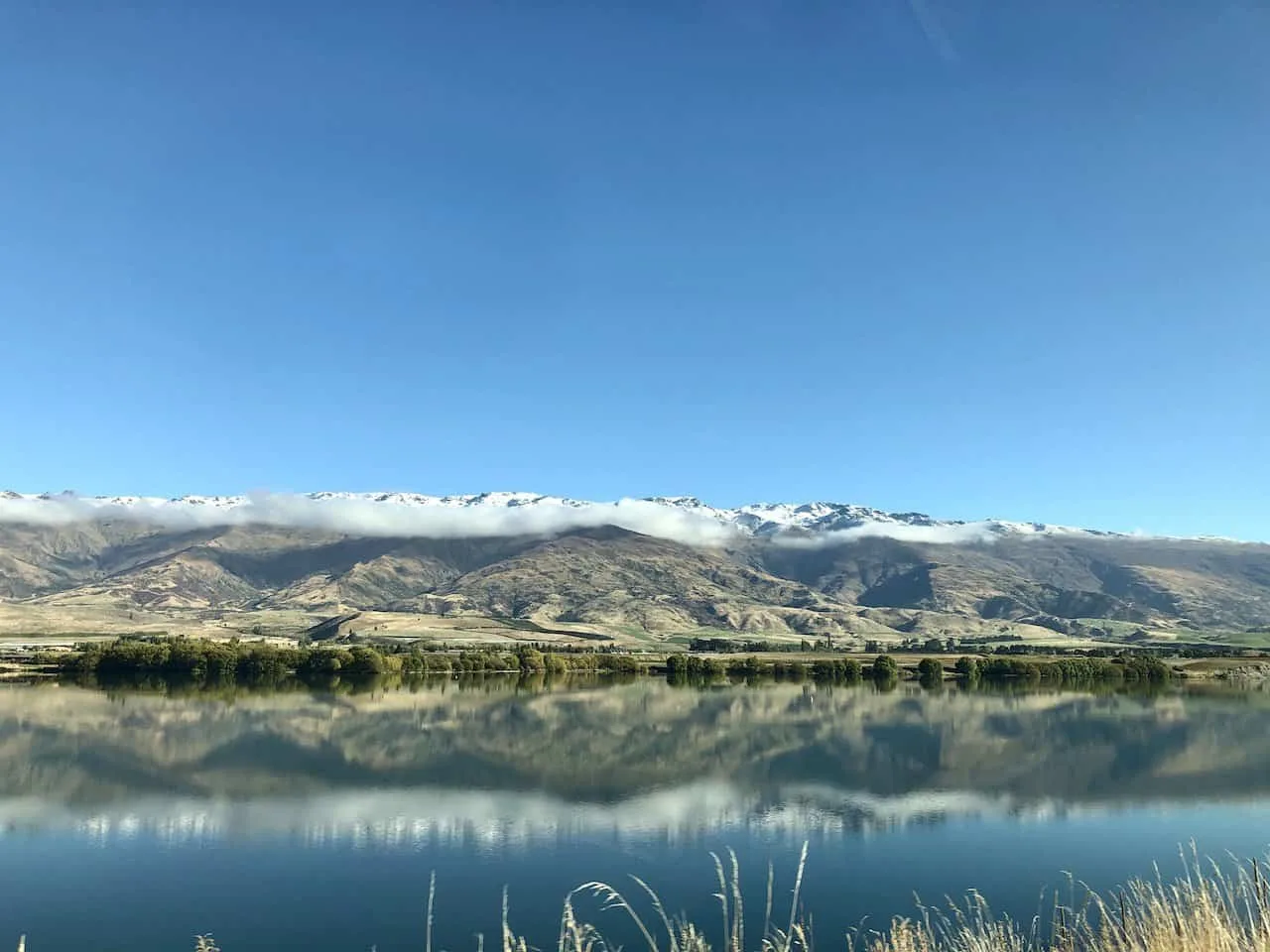 Day 2 – Queenstown Adrenaline Options
A trip to Queenstown is not complete without taking part in some adrenaline-based activities. You think of it and Queenstown has it for you. Some of these options include:
1. Skydiving
4. Jet Boating
5. Canyoning
6. Paragliding
7. Hang Gliding
You should have no problem fitting in two of these into one day and potentially even some more if you want to take part of any on day 1.
I opted for my first skydiving experience and couldn't be happier with how it turned out. Although a bit pricey, it doesn't get much better than skydiving over Queenstown!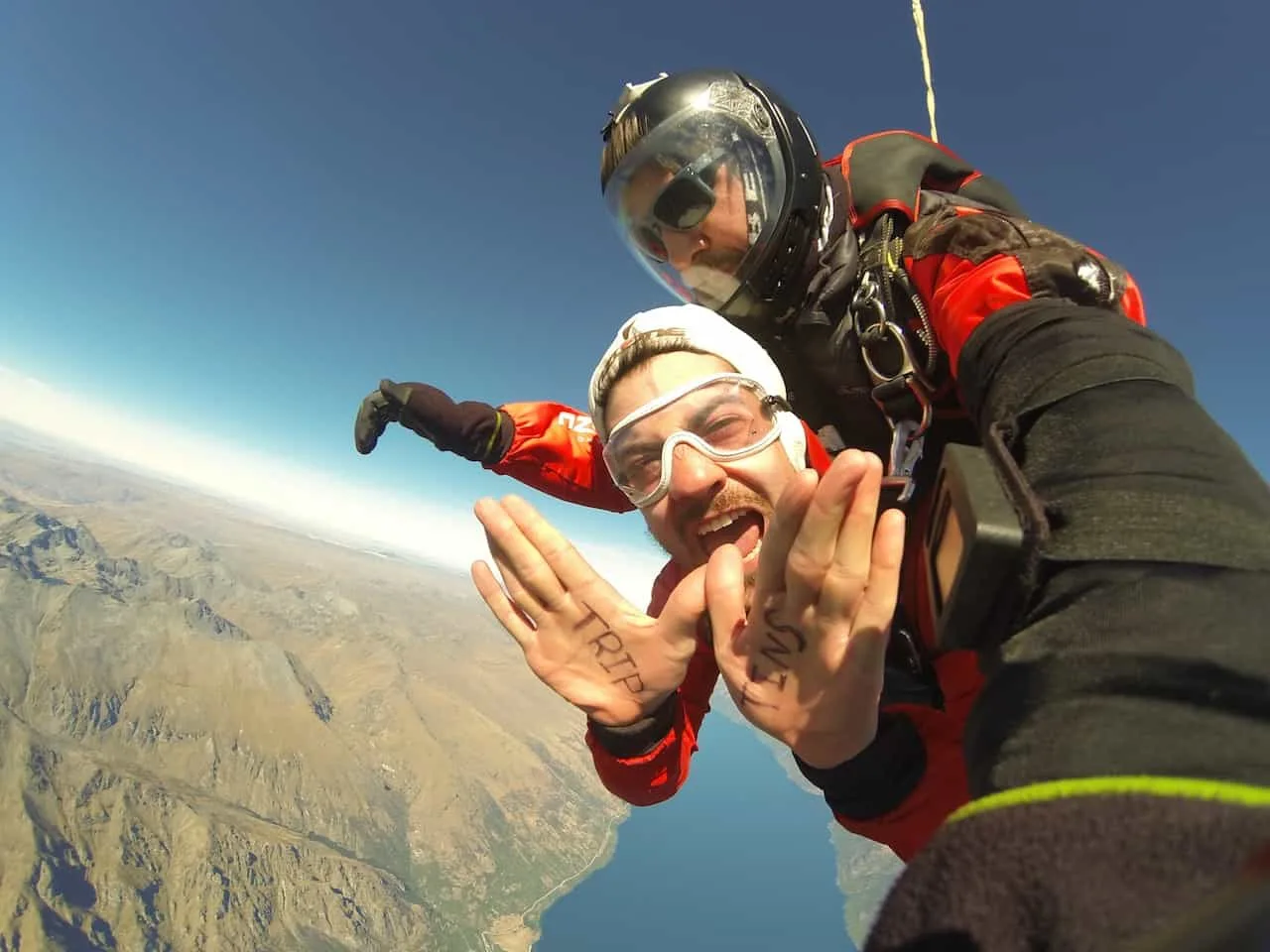 Day 3 – Milford Sound / Drive to Wanaka
Just a warning here – this day is going to be a long one. Wake up bright and early, check out of your hotel, and make the 3.5 hour drive to the one and only Milford Sound.
The drive within itself should be an activity on its own with plenty of incredible viewpoints along the way.
In order to enjoy what Milford Sound has to offer, you must sign up for a boat ride in advance. These boats are offered by several companies such as Real Journeys, Jucy and Southern Discoveries to name a few, and the boats run frequently throughout the day.
Once you arrive at Milford Sound you can hop on the boat and take a 1-2 hour cruise through the Sound and towards the open water.
As you are cruising through you are sure to see massive waterfalls, dramatic fjords, and maybe even some dolphins and seals. I remember just being in awe during the entirety of the boat ride as I stood outside and took it all in.
After enjoying a cruise out on the water, you should have some additional time to enjoy Milford Sound from the mainland. There are a few short trails that make their way alongside the waterfront as you take in some great views of the Sound out in the distance.
At the end of the day though you will need to make the 4.5 hour drive to Wanaka – your next destination in New Zealand!
A Milford Sound Note
The area around Milford is one place that the weather doesn't hold back on. It rains over 200(!) days per year around the region. So, odds are on any given day you will see the rain.
That is not always necessarily a bad thing though – the waterfalls will be more dramatic and active on rainy days, and the fjord itself can have a more mystical feel to it.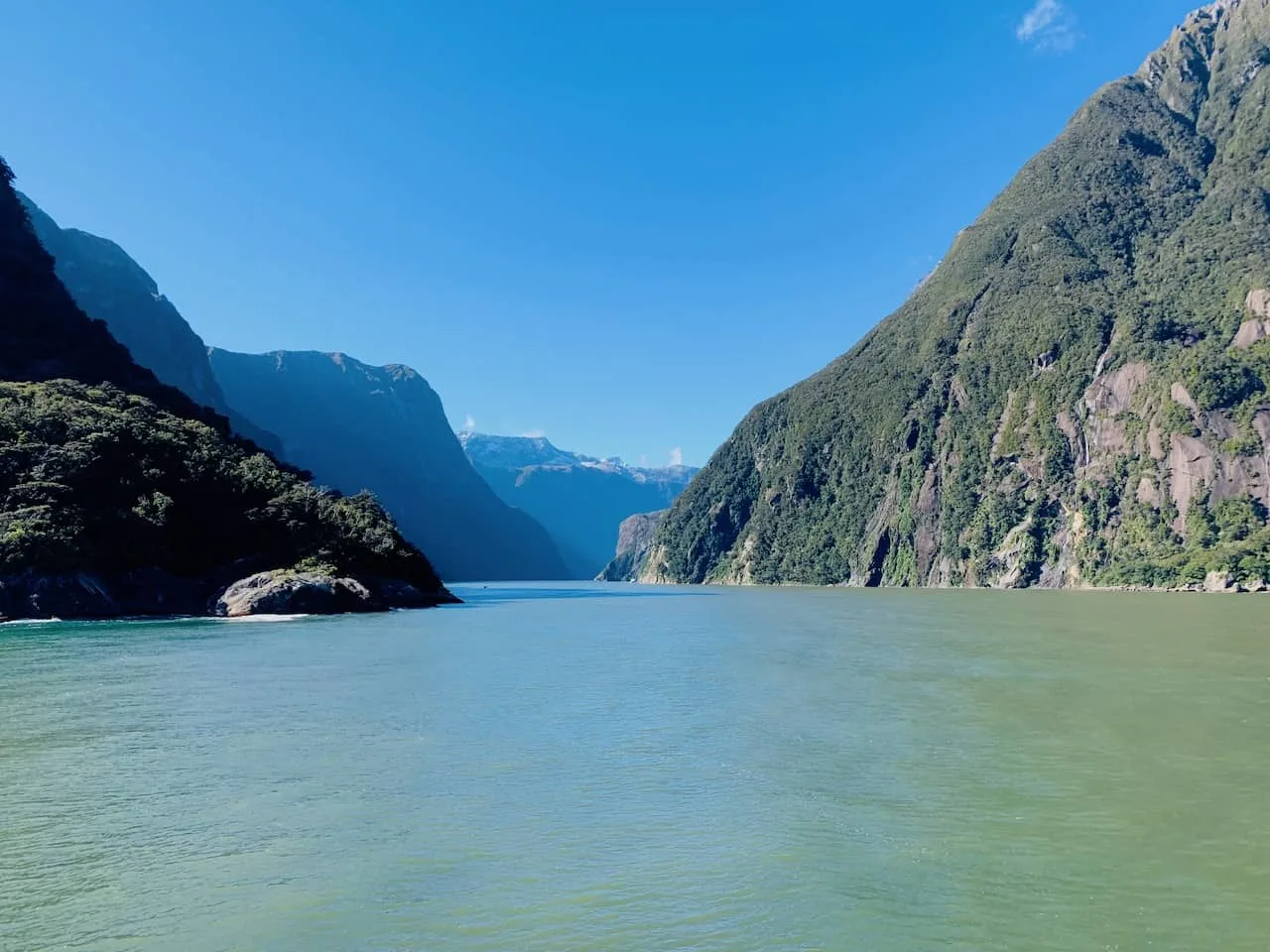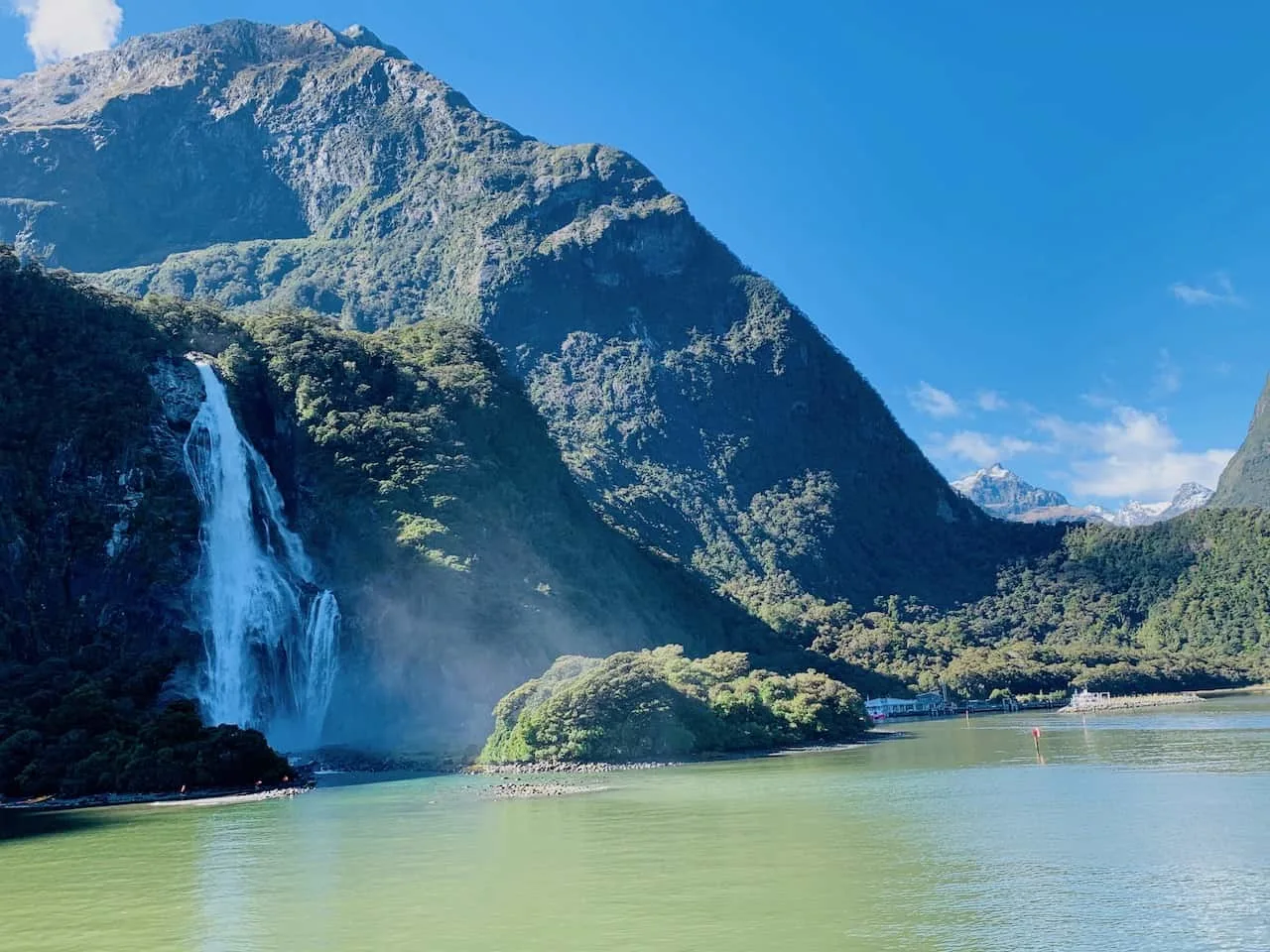 Where to Stay in Wanaka (Nights 3 & 4)
Next up is Wanaka for the next couple of days. Check out some highly rated Wanaka hotels for your stay:
Mid Tier / Luxury
1. Edgewater
3. The Moorings
Budget Friendly
1. YHA Wanaka
3. Wanaka Kiwi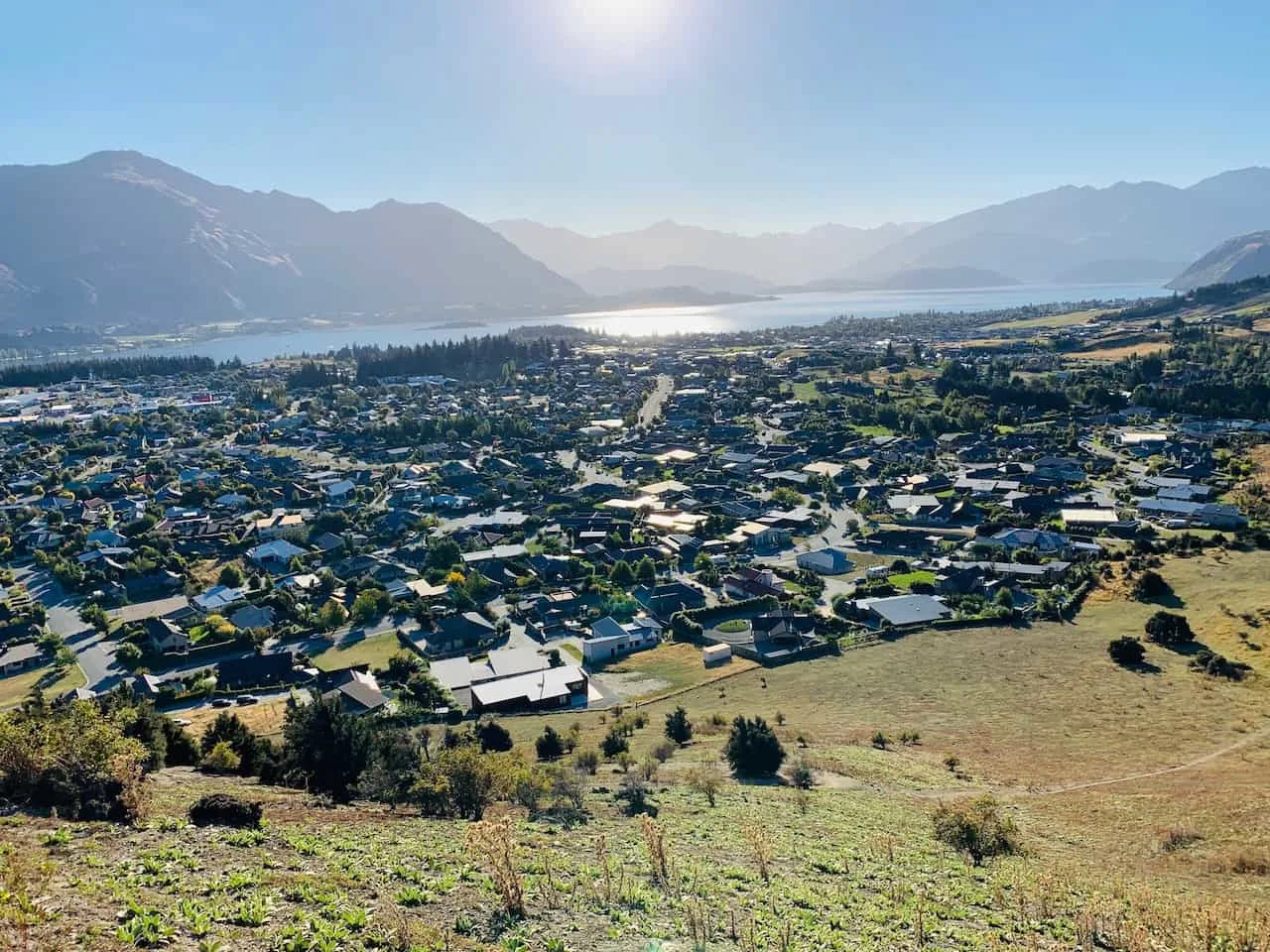 Day 4 – Hiking Wanaka
Wanaka is truly one of my favorite places I have visited. It is a small town situated right at the base of a beautiful lake and on either side you are surrounded by picturesque mountaintops.
There are cafes, restaurants, boutiques, lining the few main streets making the town feel very connected. When it comes to quintessential New Zealand towns, Wanaka checks off all the boxes.
Another thing that makes Wanaka such a hotspot is its various hiking options in the surrounding mountains. Two of these options are Roys Peak and Isthmus Peak.
On your first day in Wanaka you can opt for either one of these two trails and will be rewarded with vast views of mountains and lakes in every which direction. Either one should take the better part of 4-6 hours or so as they are very similar in distance and difficulty.
To choose between the two I recommend you read the Roys Peak and Isthmus Peak hiking guides I have up on the site. They will go over everything you need to go when going about your time on the trail.
Two other hikes around Wanaka include Rob Roys Glacier (full day) and Mt Iron (2 hours round trip). You can take a look at the Mount Iron Track Hiking Guide and Rob Roy Glacier hike up on the site for more about those trails.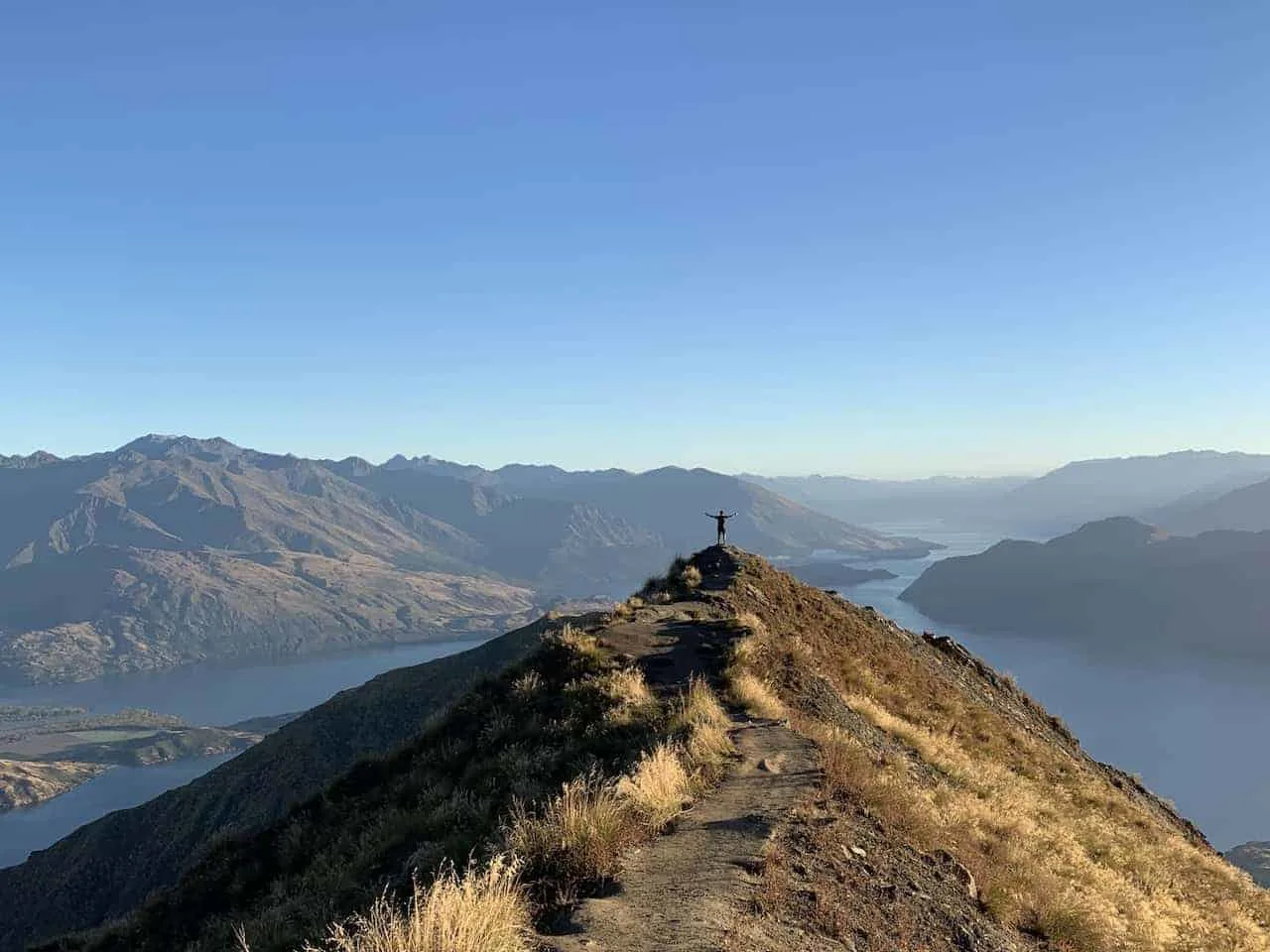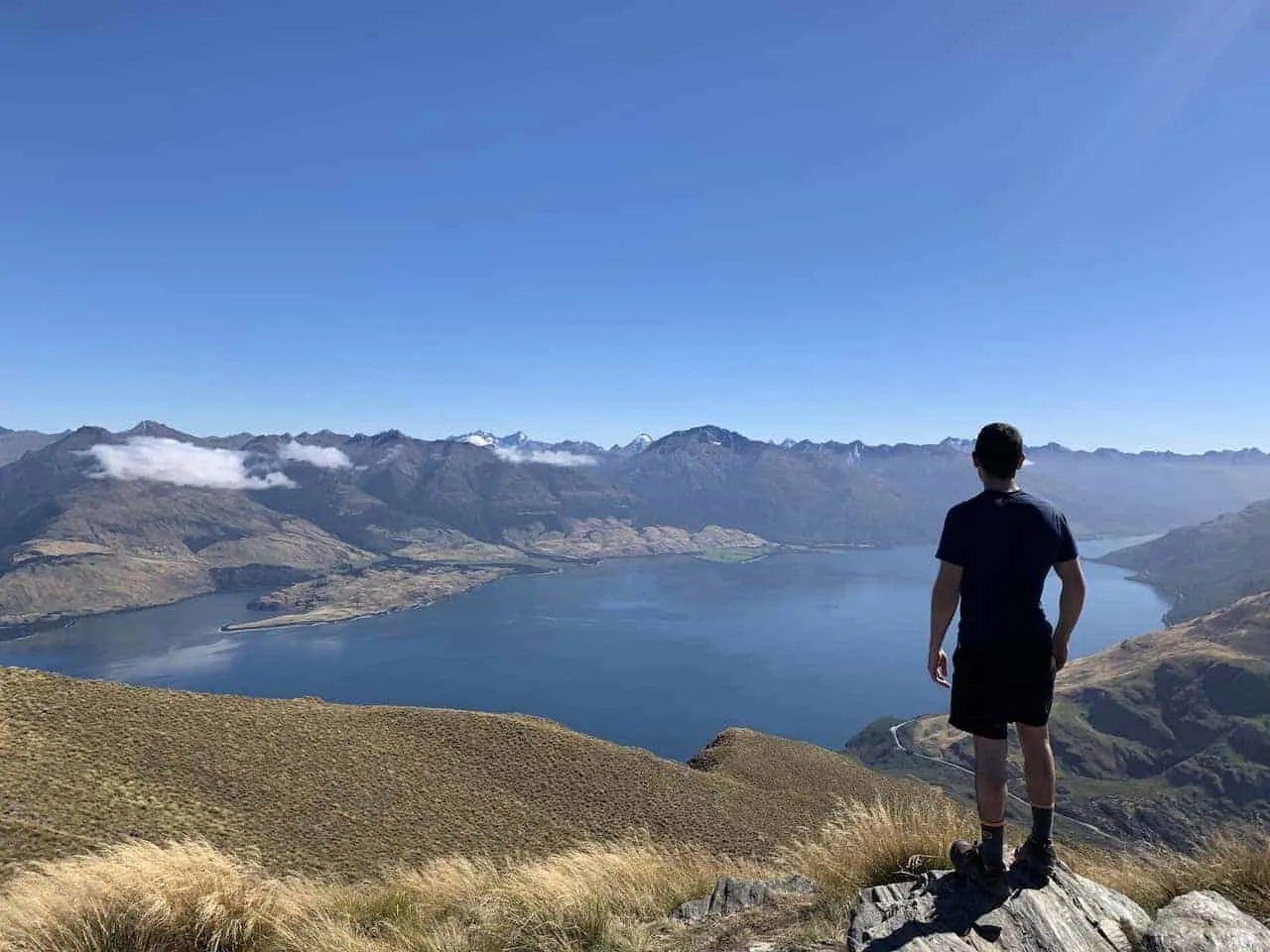 Day 5 – Enjoy Wanaka / Drive to Franz Josef
Many people just visit Wanaka for a day to do a hike and move on. But I certainly believe Wanaka deserves more time, which is why I added in another day here to enjoy all that the area has to offer.
Depending on how active you want to be you can choose from a few things to do on day 5 before heading off on a four hour drive to Franz Josef later on in the day.
More Hiking
If you want some more hiking after a big first day in Wanaka, you can opt for another hike on your second.
So you can pick and choose out of the four – Roys, Isthmus, Rob Roys, or Mt Iron depending on what you did on your first day. Below is a picture from Rob Roys Glacier – one of the most unique hikes I took part of during my trip.
→ Check out some more New Zealand South Island hikes to take part of during your trip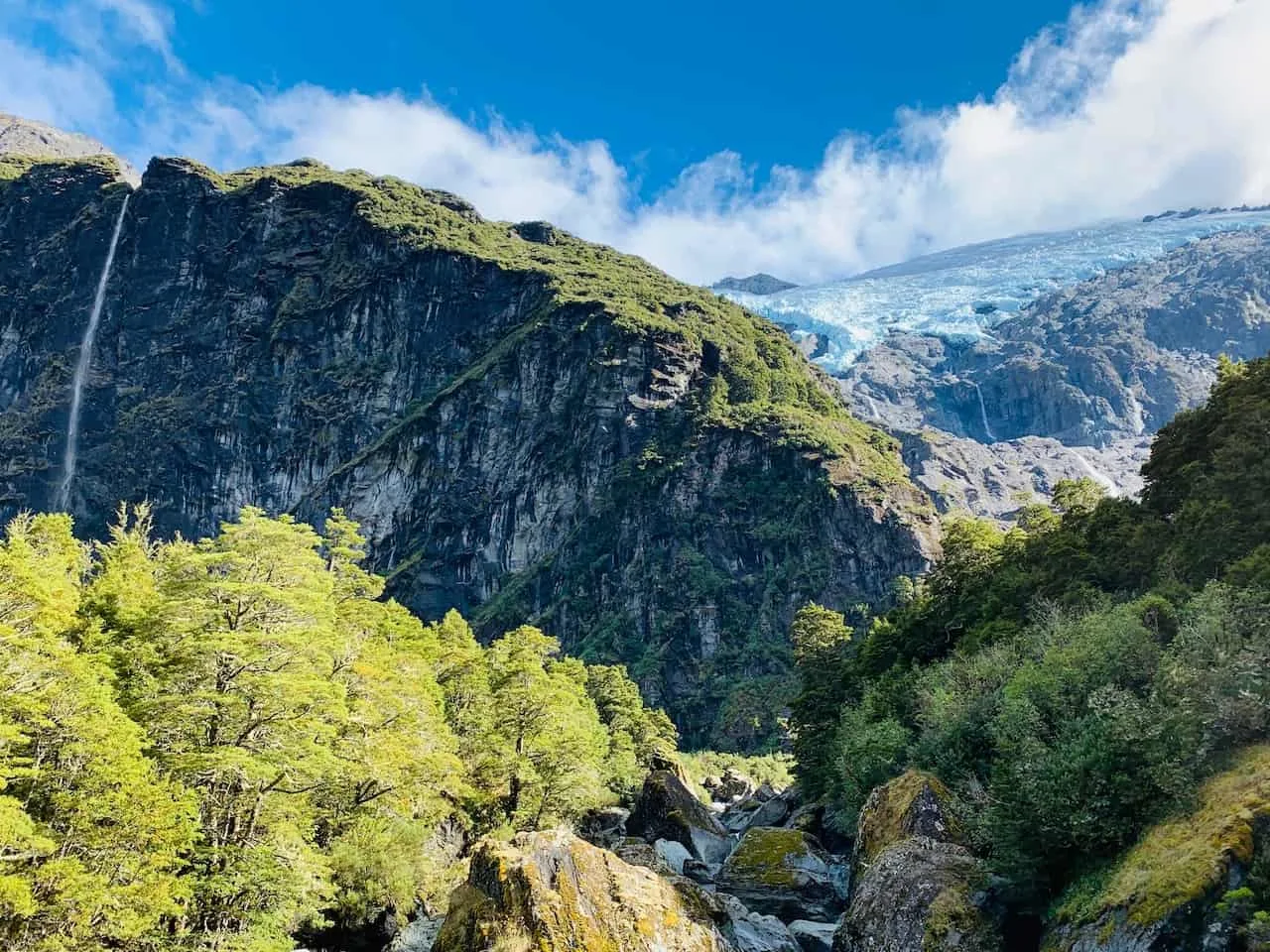 Lake Wanaka & That Wanaka Tree
Well, Wanaka is situated right on a lake, so you need to explore the lakeside a bit right? From town you can make the walk alongside the lake towards the left and continue that walk for 20 or so minutes until you reach Wanaka's (or even New Zealand's) most famous tree – That Wanaka Tree.
The tree will seem as it is floating in the water, making it a great picture opportunity for those photographers out there.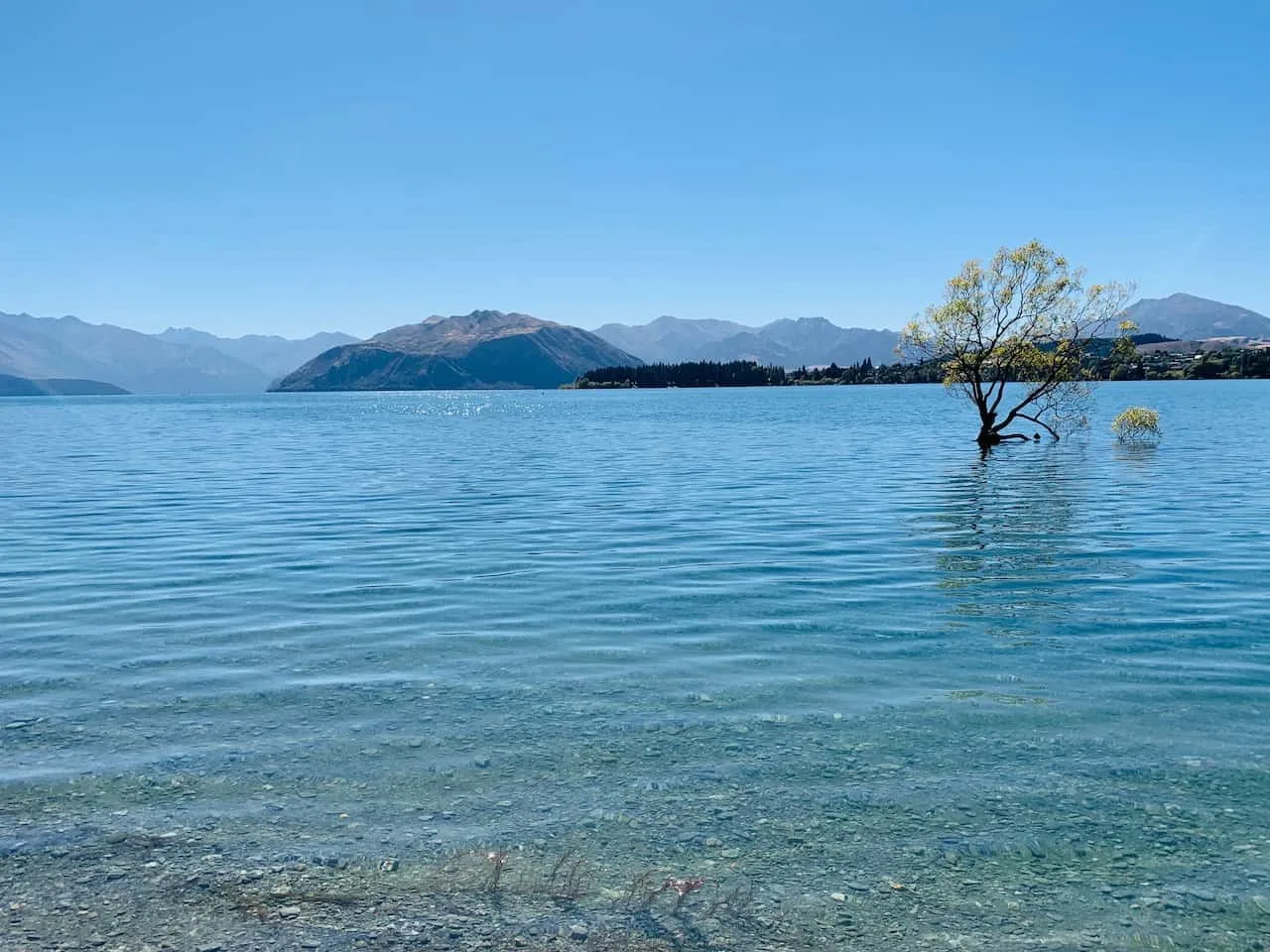 Lavender Farm
One of the more unique attractions in Wanaka is the Lavender Farm located just a 5 minute drive from the town center.
You can spend the better part of an hour roaming the fields and the various gardens, checking out some of the local animals, and taking part of a honey tasting.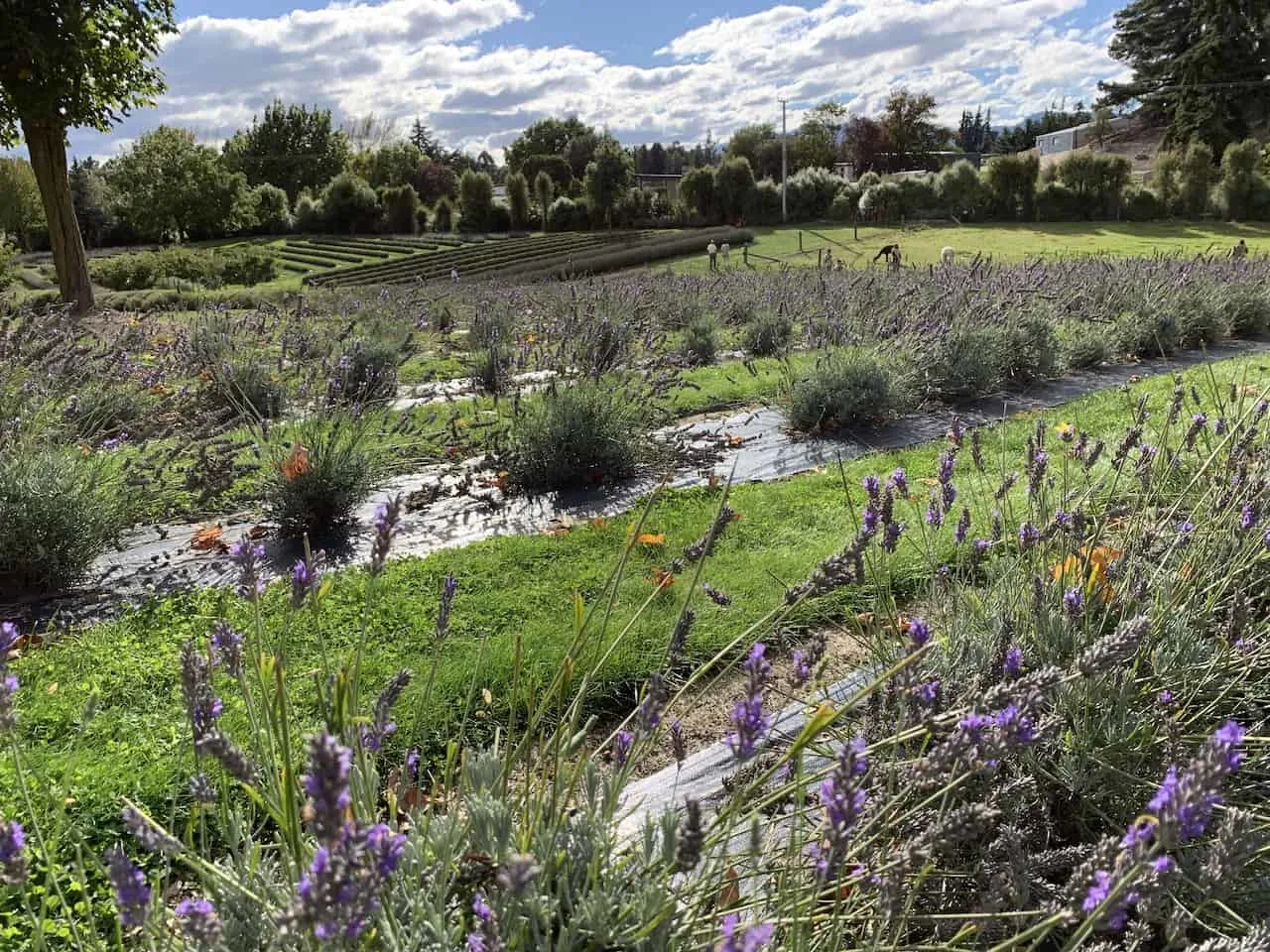 At some point in the late afternoon, it is time to leave Wanaka and head off to your next destination in this New Zealand South Island itinerary – Franz Josef.
Day 5 Note: you can also spend a good portion of the day driving to Franz Josef and stopping at some places along the way such as the Blue Pools and Lake Matheson. That would mean cutting out something from Wanaka, but that will be up to you to decide.
Where to Stay in Franz Josef (Nights 5 & 6)
The next two nights will be spent in the small town of Franz Josef on the western coast. Below are some top hotel options to choose from:
Mid Tier
2. Scenic Hotel Franz Josef Glacier
Budget
Day 6 – Franz Josef Glacier Hike
Get ready for one of the most unique experiences to take part of during your time in New Zealand – A Franz Josef Heli Glacier Hike. You will depart from Franz Josef by helicopter and head up over and onto the Franz Josef glacier for a 3 hour hike.
While the helicopter experience will just last about 5 minutes, it is an incredible way to take in the scenic landscape beneath you.
Once on top of the glacier, it is time to hike your way through it. You will spend the next few hours learning about the glacier, and maneuvering your way all around it. Once complete, it is back down to Franz Josef for the rest of the day.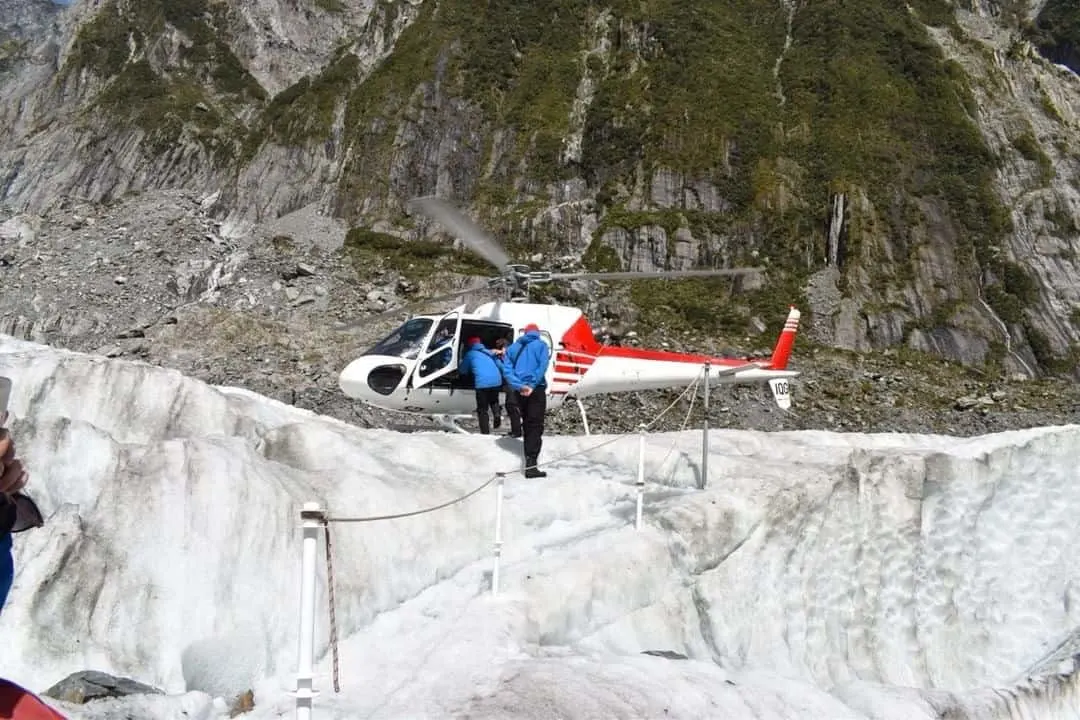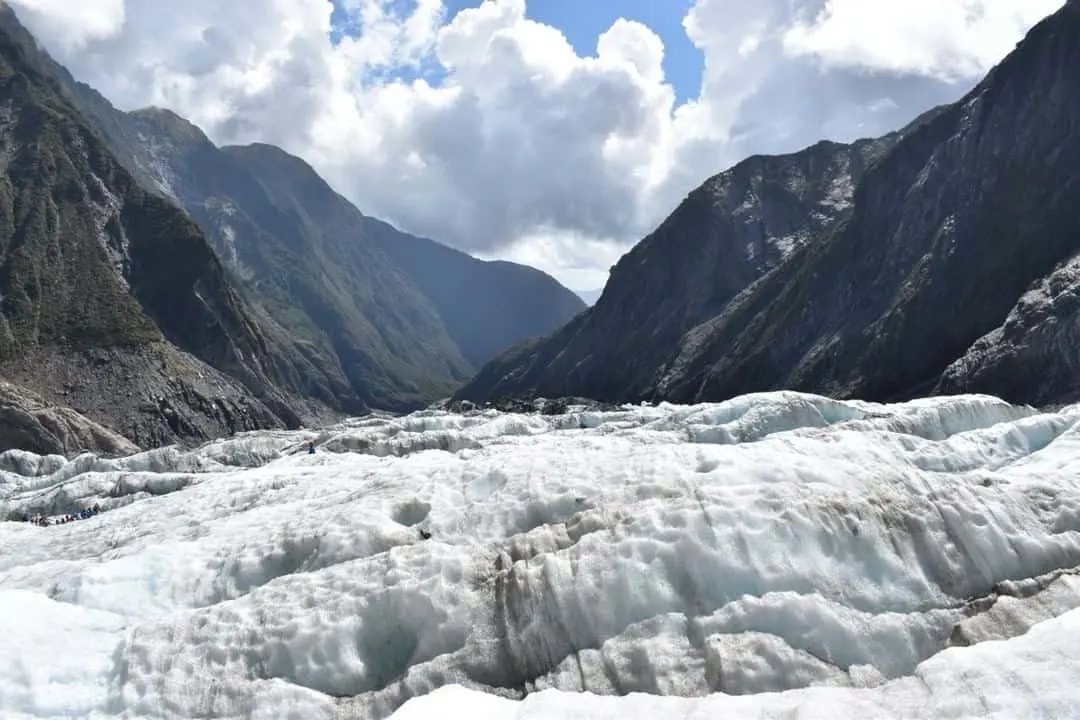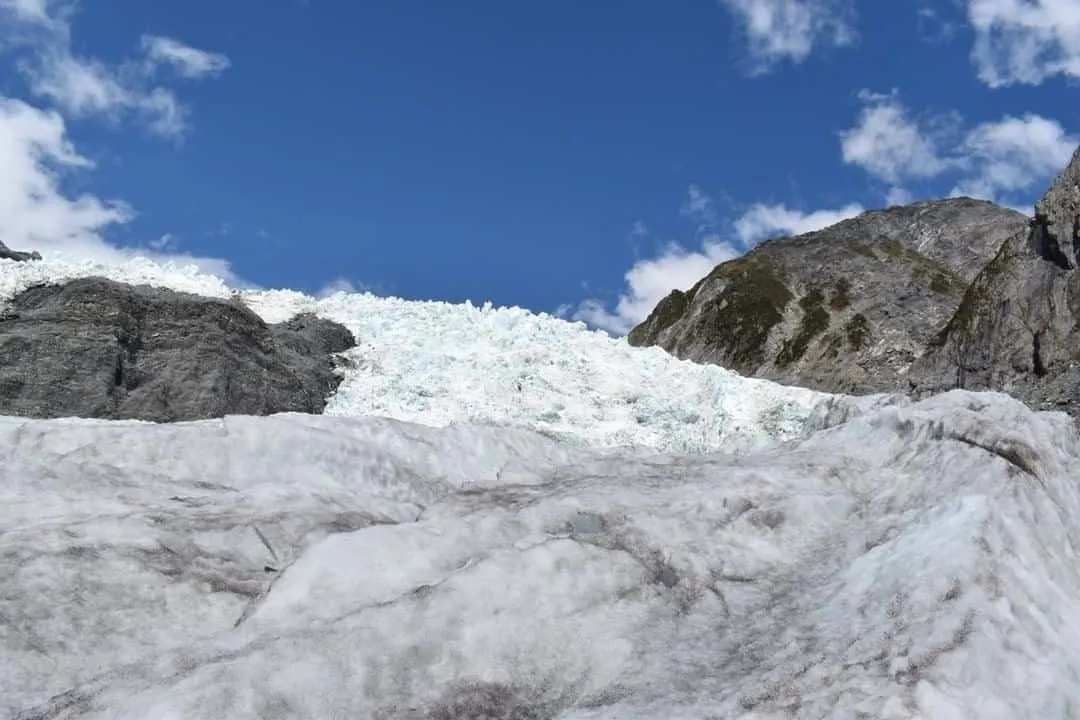 Franz Josef glacier hikes get cancelled frequently due to weather conditions up on the glacier. My recommendation would be to sign up for a hike early on in the day.
If it happens to get cancelled, then you may have the chance to get it done later on day 6 if the weather clears up or on day 7 too. This is where you may have to be a bit flexible based on weather conditions.
Day 7 – Franz Josef / Drive to Punakaiki
If you were able to get your glacier hike done on day 6 you should be in good shape here.
You can opt for a morning glacier valley walk – a scenic hour walk in the valley towards the mouth of the glacier.
Another option is the Roberts Point Track – a 5 hour hike that takes you above the valley, across suspension bridges and right up close to the glacier itself.
If you do opt for the Roberts Point Track then do plan on an early start to the day.
If your glacier hike did get cancelled the previous day then hopefully you can get it in on day 7. Once complete with your time in Franz Josef, it is time to make your way up the west coast and onto the small town of Punakaiki, a 3 hour drive away.
Where to Stay in Punakaiki (Night 7)
You will spent one quick night in Punakaiki before continuing on to Abel Tasman the next day. A few highly rated hotels to consider include:
Mid Tier
Budget
3. Te Hui House
Day 8 – Punakaiki / Drive to Abel Tasman
Punakaiki is a great place to relax in and enjoy the famous West Coast of the South Island. One thing you should certainly make your way to are the Pancake Rocks.
The track around the rocks is pretty short and should take less than 45 minutes to complete.
A bit north of Punakaiki you can also find many coastal and rainforest tracks to take part of if you are interested in adding some more onto your day.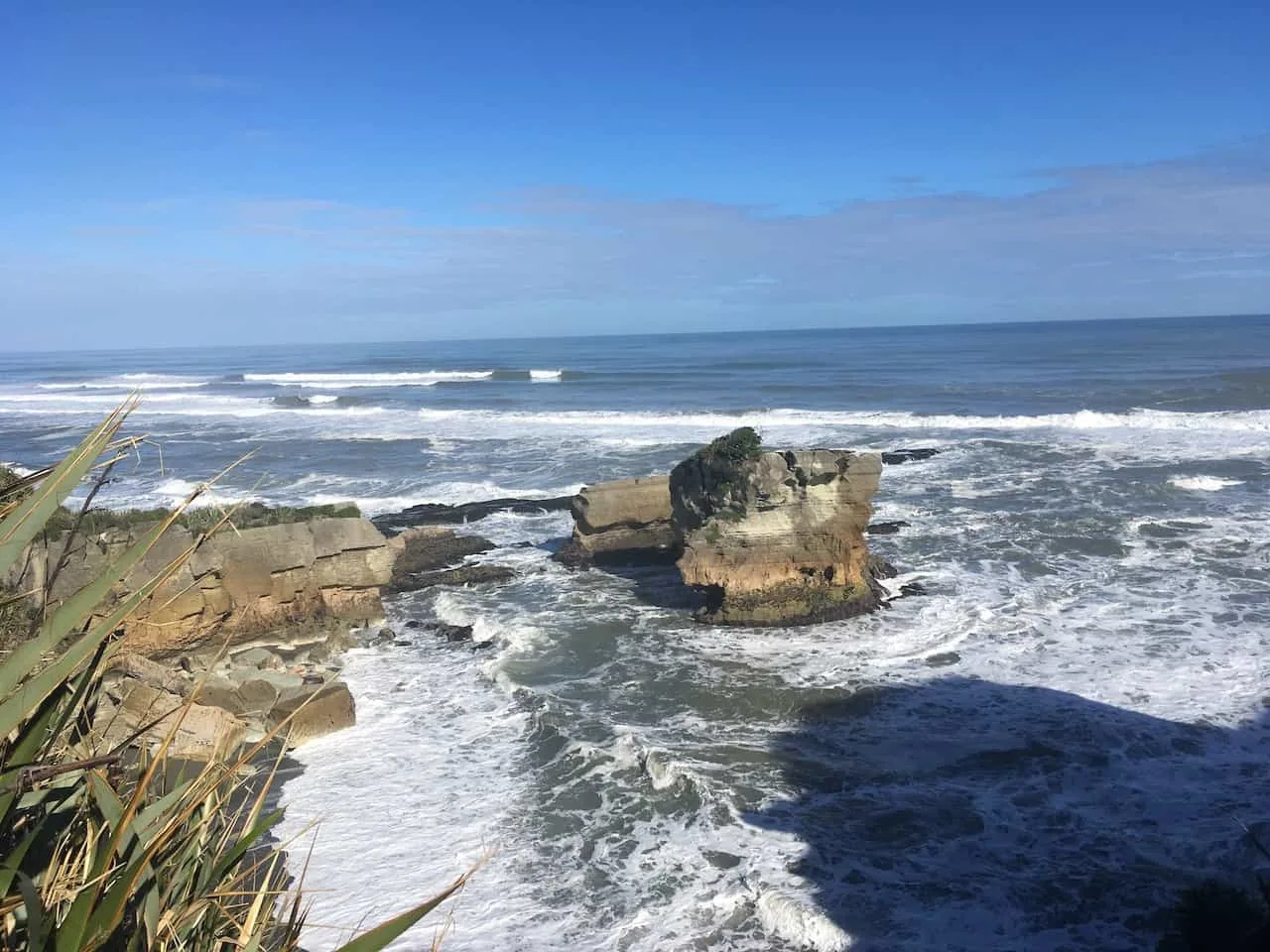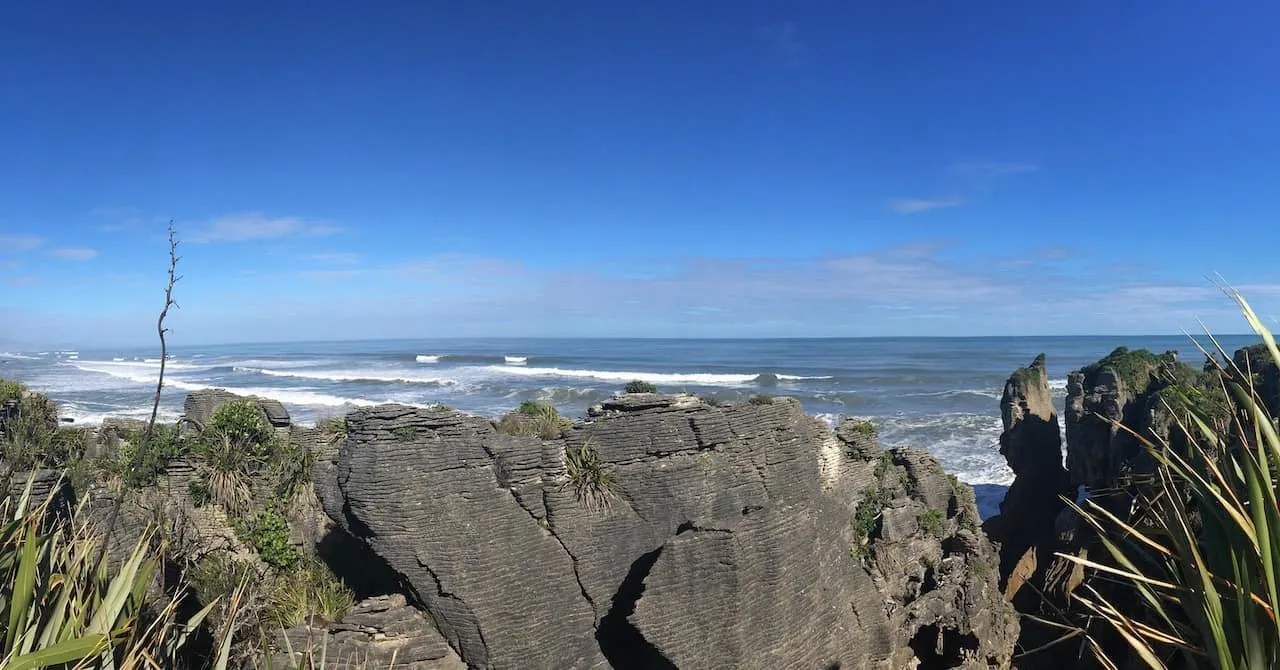 At some point though you will need to make the 4 hour drive to Abel Tasman National Park, where you will spend the next two days exploring all that it has to offer.
My advice when it comes to Abel Tasman is to stay as close as you can to the park's entrance in the small town of Marahau.
There are a few hotel and restaurant options nearby and most of the tours/activities will be based from there. You will also have the ability to just walk right from your hotel and onto the Abel Tasman Coast Track.
Day 7/8 Note
You could actually make the 6 hour drive from Franz Josef to Abel Tasman on day 7, essentially skipping over Punakaiki. This would save you an additional day on your trip but it will all depend on how you go about your time in Franz Josef and if you want to even do the 6 hour drive
Where to Stay in Marahau (Nights 8 & 9)
Below are the main options to choose from in Marahau for your time exploring Abel Tasman National Park.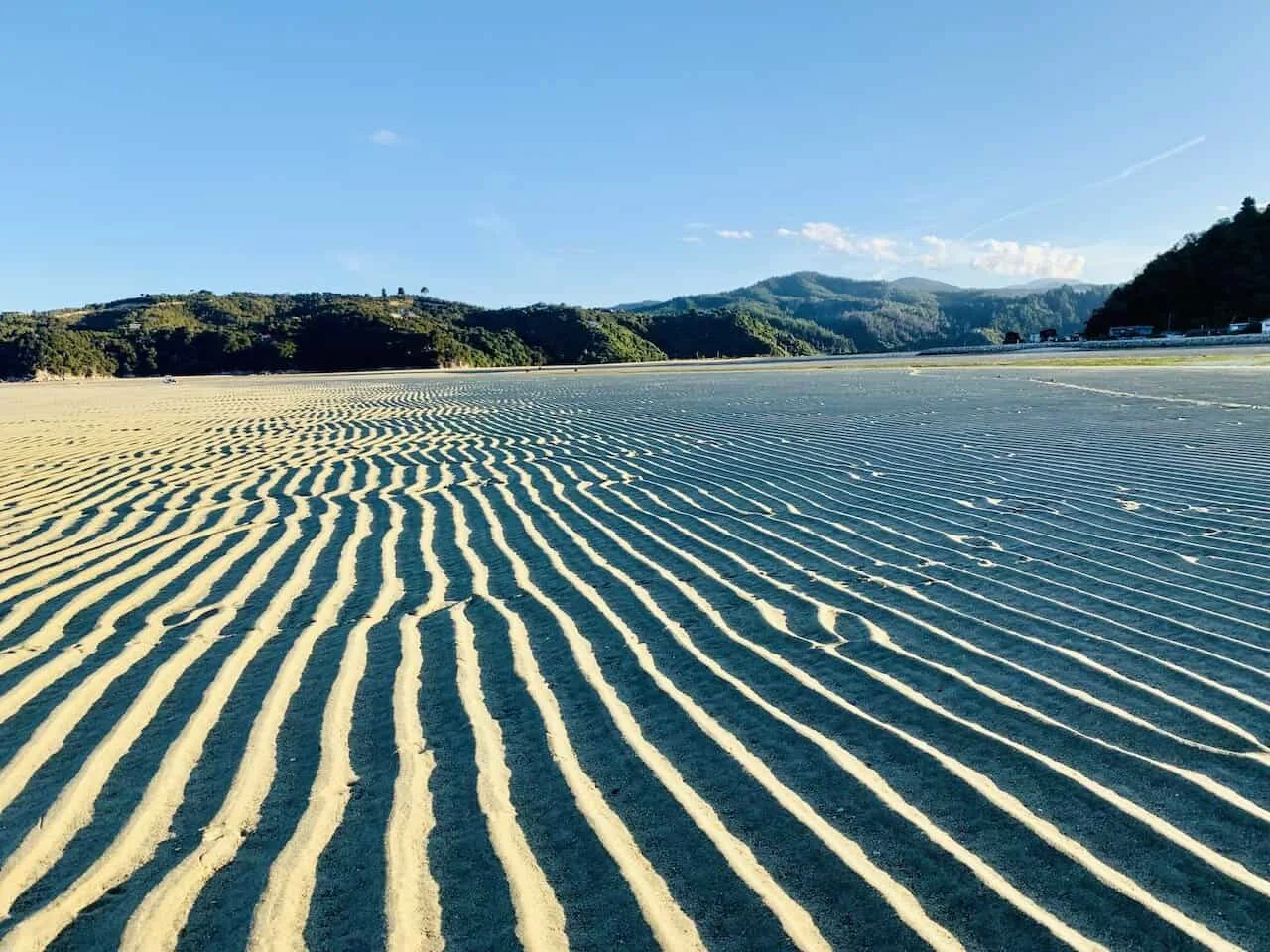 Day 9 & 10 – Abel Tasman National Park
For the next two days or so you will be able to experience a different side of the South Island of New Zealand. Instead of the mountains, lakes, and glaciers, you will now be able to visit a lush national park right on the ocean's edge.
There are a few things to do around the area but I will focus in on just a couple options over the next two days to make things a bit simpler.
Option 1: 2 Day Hike Through Abel Tasman National Park
If you are an avid hiker like me, you will want to see as much of the national park in two days as possible. Although the Abel Tasman Track (one of New Zealand's 10 Great Walks) is 60 KM in length and takes anywhere from 3-5 days to complete, you still will have your opportunity to hike a few stunning portions of it.
If you opt for a two-day hike, my advice would be to take the water taxi out to Bark Bay. From there you can make the 4-5 hour walk towards Anchorage.
You will pass by several beaches and bays along the way as you take some breaks and enjoy the water. Once you reach Anchorage, it is time to relax and spend the night there in the DOC (Department of Conservation) hut they have set up (this will need to be reserved in advanced through the DOC website).
On day 2 in the park (day 10 of the itinerary), you will then continue the walk from Anchorage to Marahau as you continuously pass by more beaches, views, and the beautiful rainforest surrounding you.
This portion of the walk should take 4 hours or so as you can then exit the park and be right back in Marahau by early afternoon.
If you opt for this two day hike you will need to book the Anchorage Hut in advance through theDOC website as there are only a limited number of spots available. Alternatively, you could also take a tent and camp there if that is more so your thing.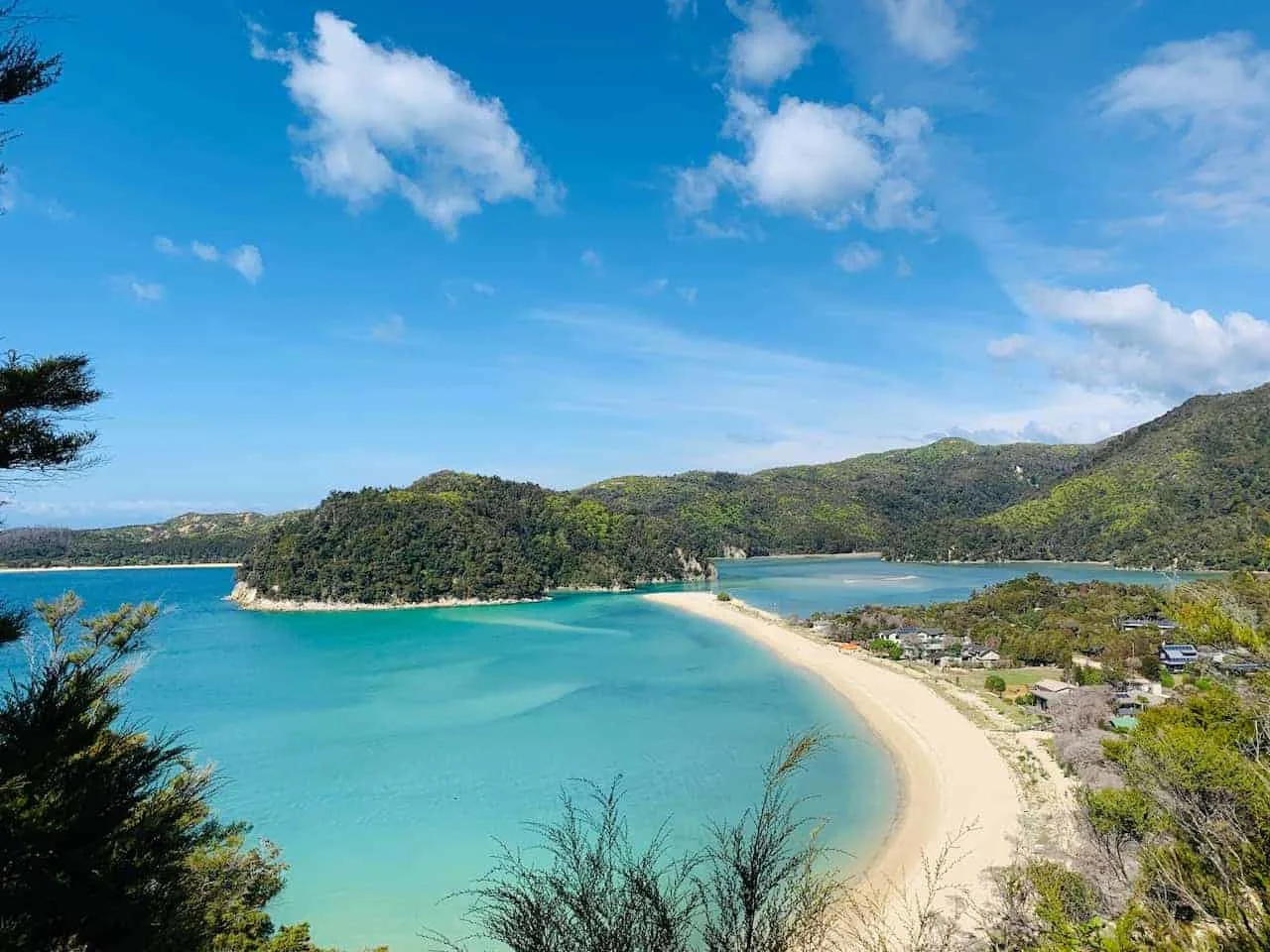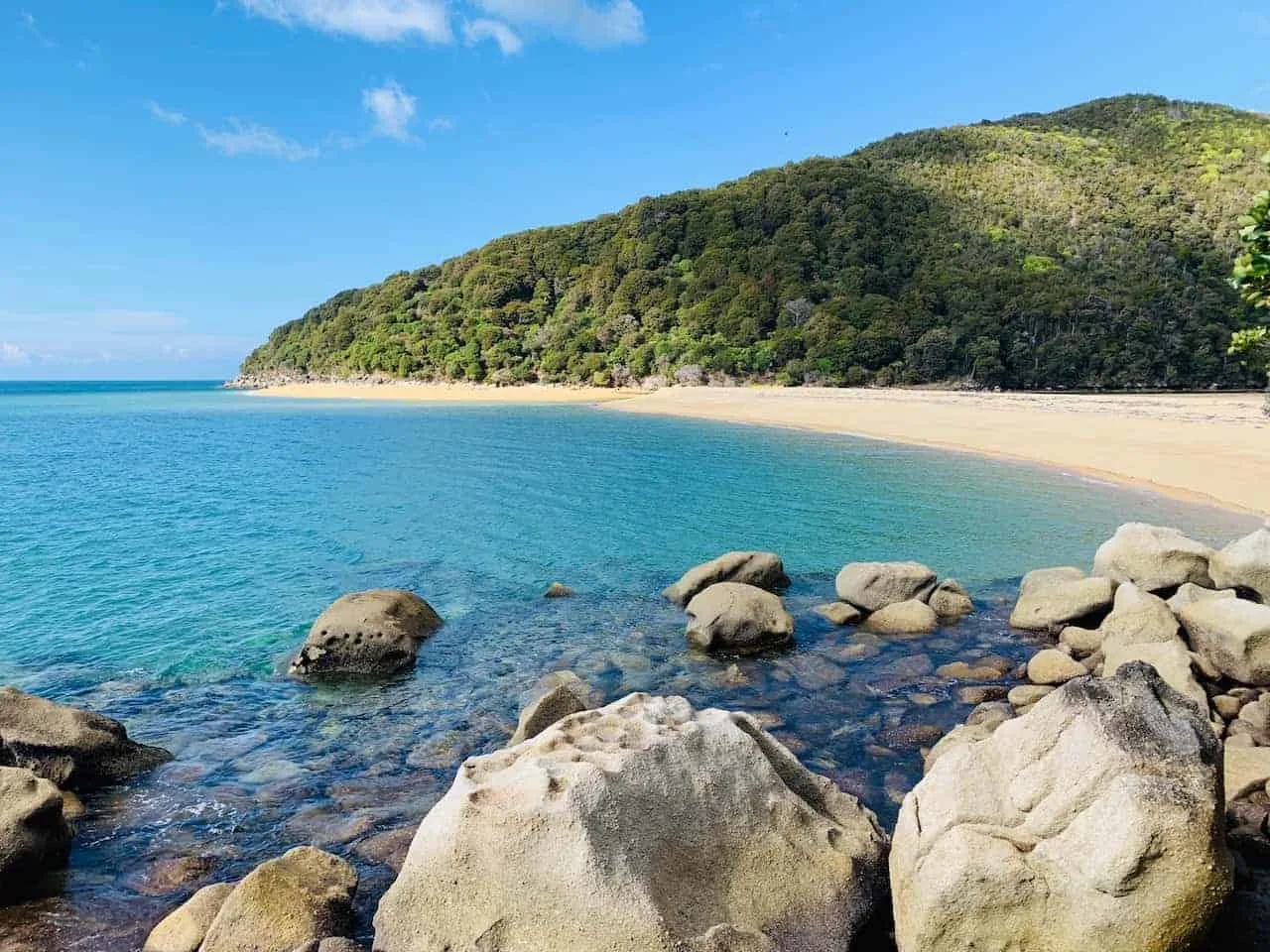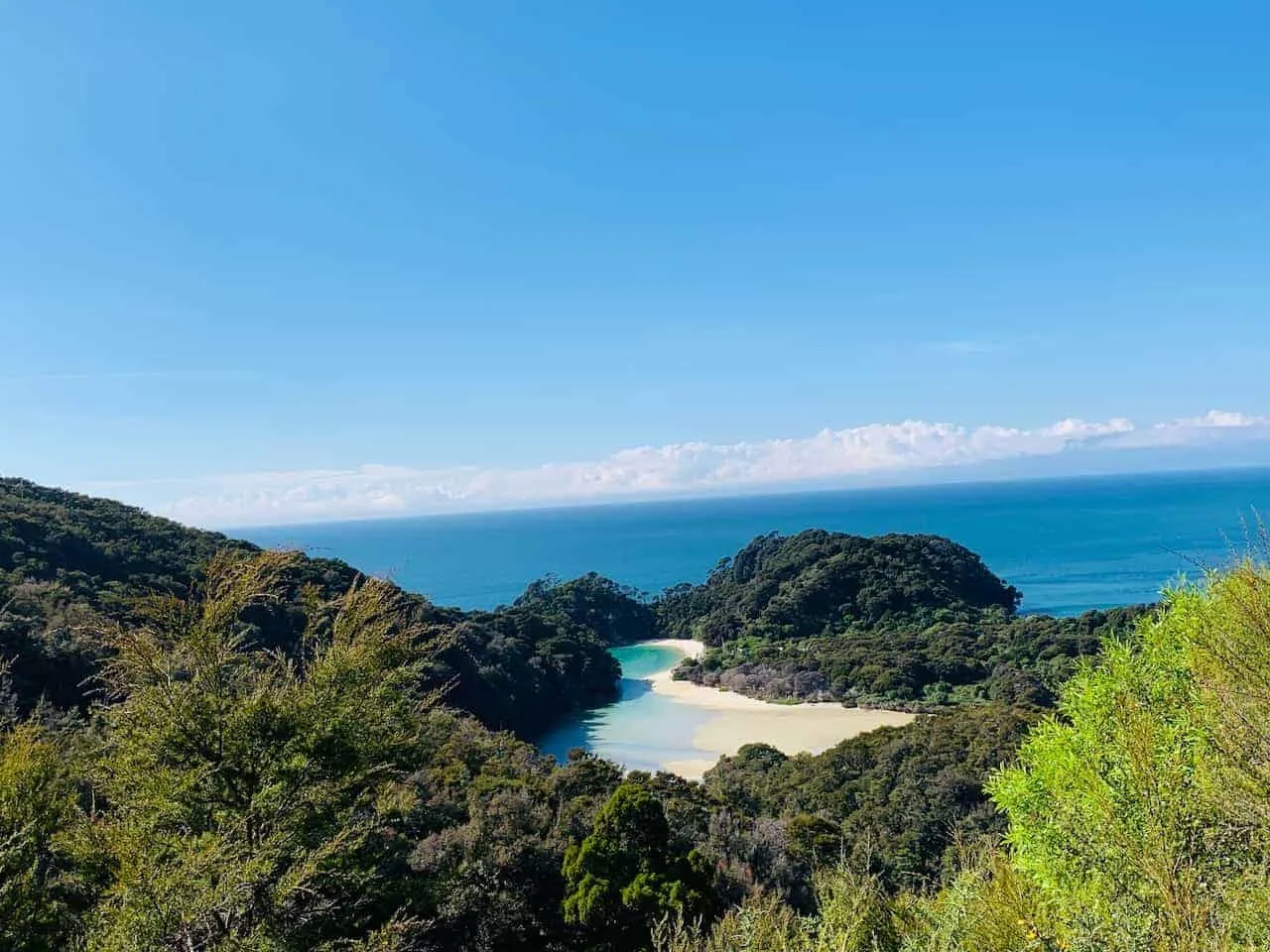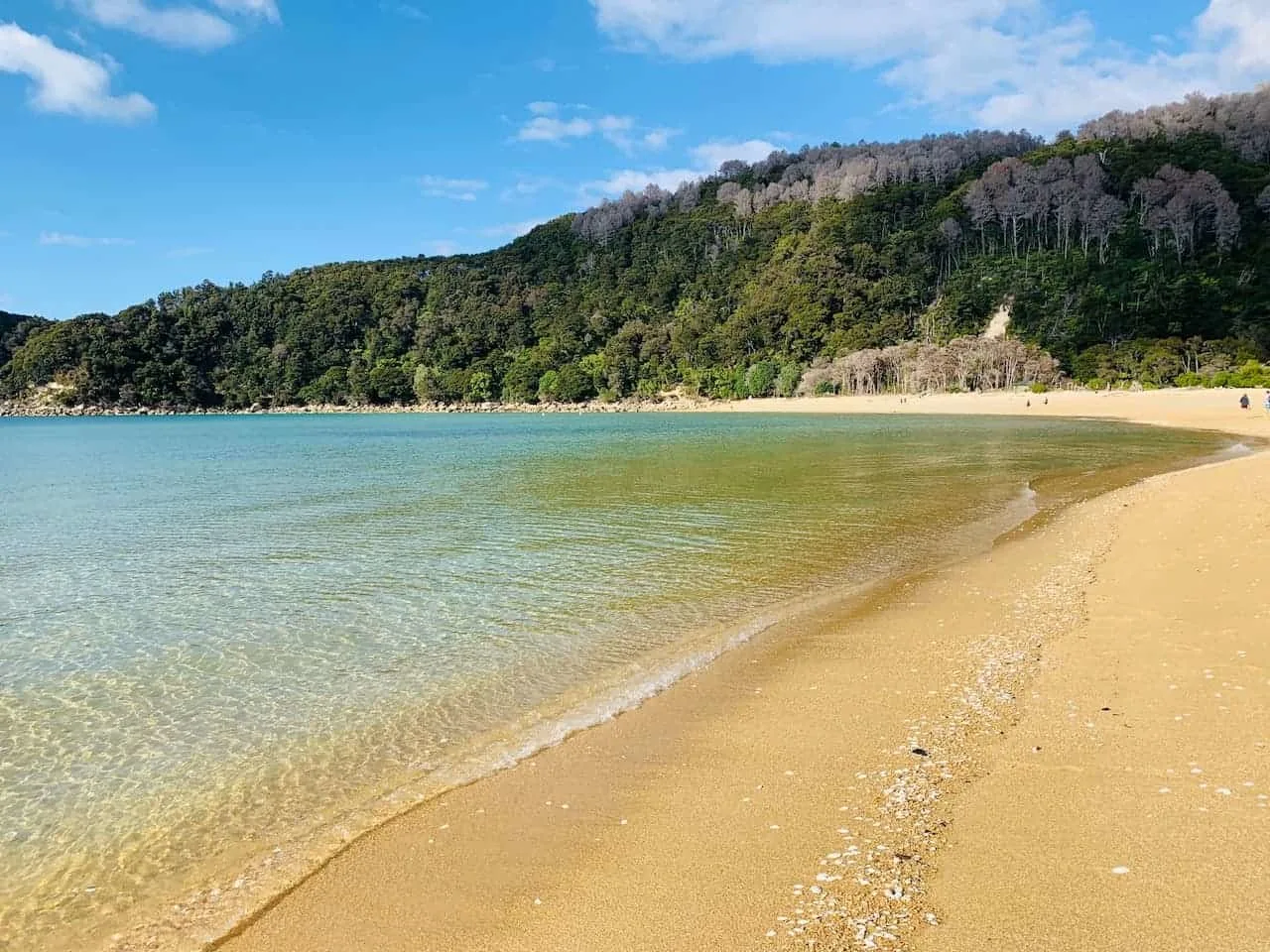 Option 2: 1 Day Hike / 1 Day Kayak
If you are not up for a two day hike with an overnight in the park itself, then you can alternatively just go for a one day hike in Abel Tasman. You can decide between a few different options here:
1) Water taxi to Bark Bay, walk to Anchorage and water taxi back to Marahau
2) Water taxi to Anchorage and walk back to Marahau
3) Be super aggressive and do an 8+ hour hike by taking the water taxi to Bark Bay and walking all the way back to Marahau.
» The Abel Tasman Track Guide goes over everything you need to know about this incredible trail
On your second day in the park, you can opt for a morning kayak all around the coastline.
Although you might have walked a portion of it on the previous day, now it is time to experience it from the water. There are several different companies that offer half or full day kayaking including Abel Tasman Kayaks.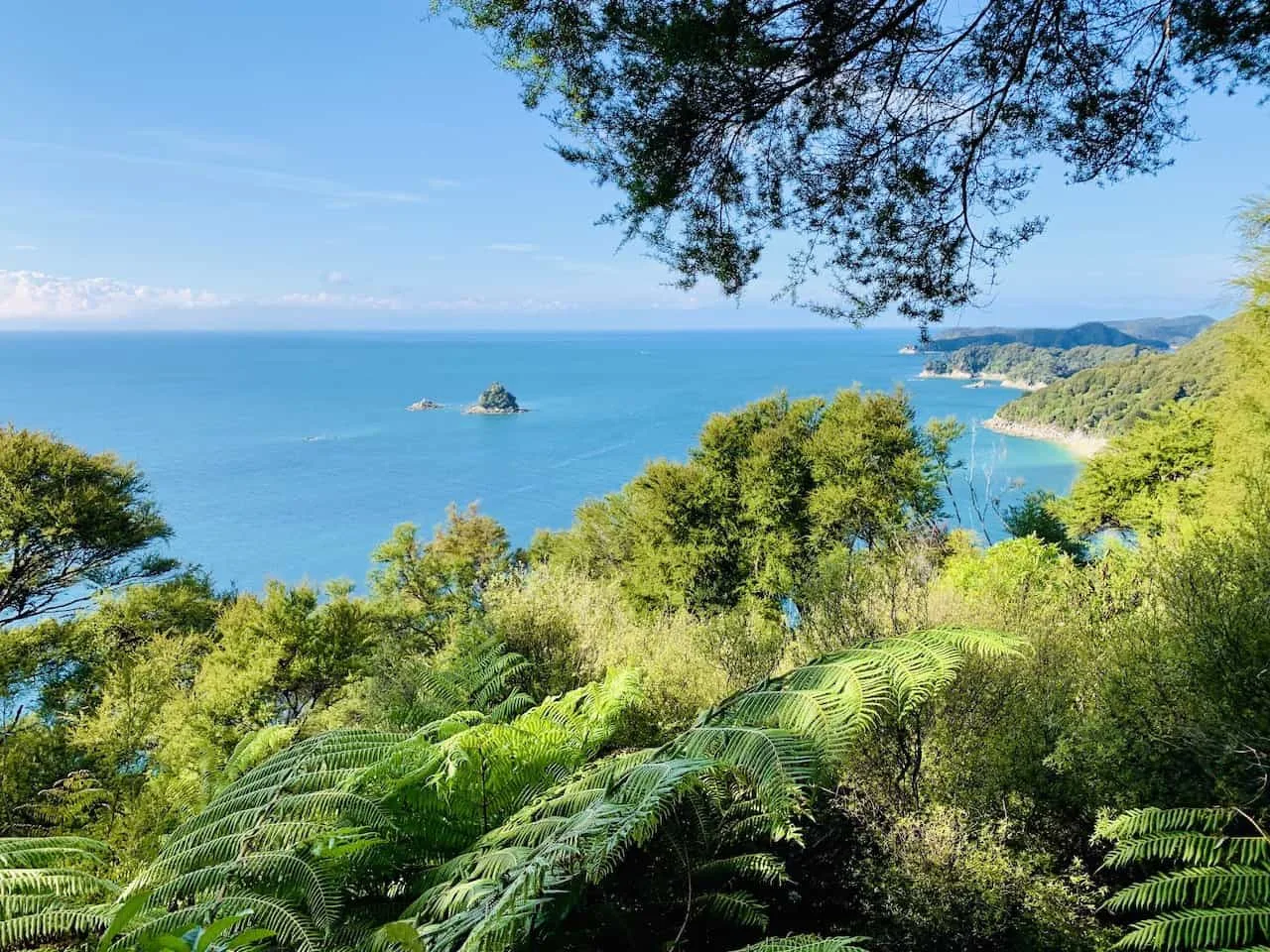 Now those are just two options to choose from (two days hiking vs. one day hiking / one day kayak). There are other activities out there such as a one day hike/kayak combo, skydiving, canyoning, among a few others.
Whatever you decide though, Abel Tasman is sure to be a highlight of your time in New Zealand. Sometime in the afternoon of day 10, hop into your car and make the 4 hour drive to your next stop – Kaikoura.
Where to Stay in Kaikoura (Night 10)
Kaikoura will just be a quick pit stop as you get to enjoy a swimming with dolphins experience. Check out some hotels for night 10 of the trip.
Mid Tier
2. The White Morph Heritage Collection
Budget
2. Alpine Pacific Holiday Park
Day 11 – Kaikoura / Drive to Christchurch
Laying on the east coast of the South Island, Kaikoura is mainly known for one thing and that is swimming with dolphins.
It is an extremely unique opportunity to swim with them out in the wild and not in some self contained pool like many other places around the world.
You will hop in a boat, be brought out to where the dolphins are hanging out, and then jump on into the water (yes it will be cold but you will have wetsuits on).
You will spend some time swimming around and enjoying this once in a lifetime experience alongside these incredible creatures. You can book your dolphin experience in Kaikoura with Dolphin Encounter.
Once all complete with your dolphin experience, you can take your time to enjoy Kaikoura before moving on to Christchurch, a 2.5 hour drive away.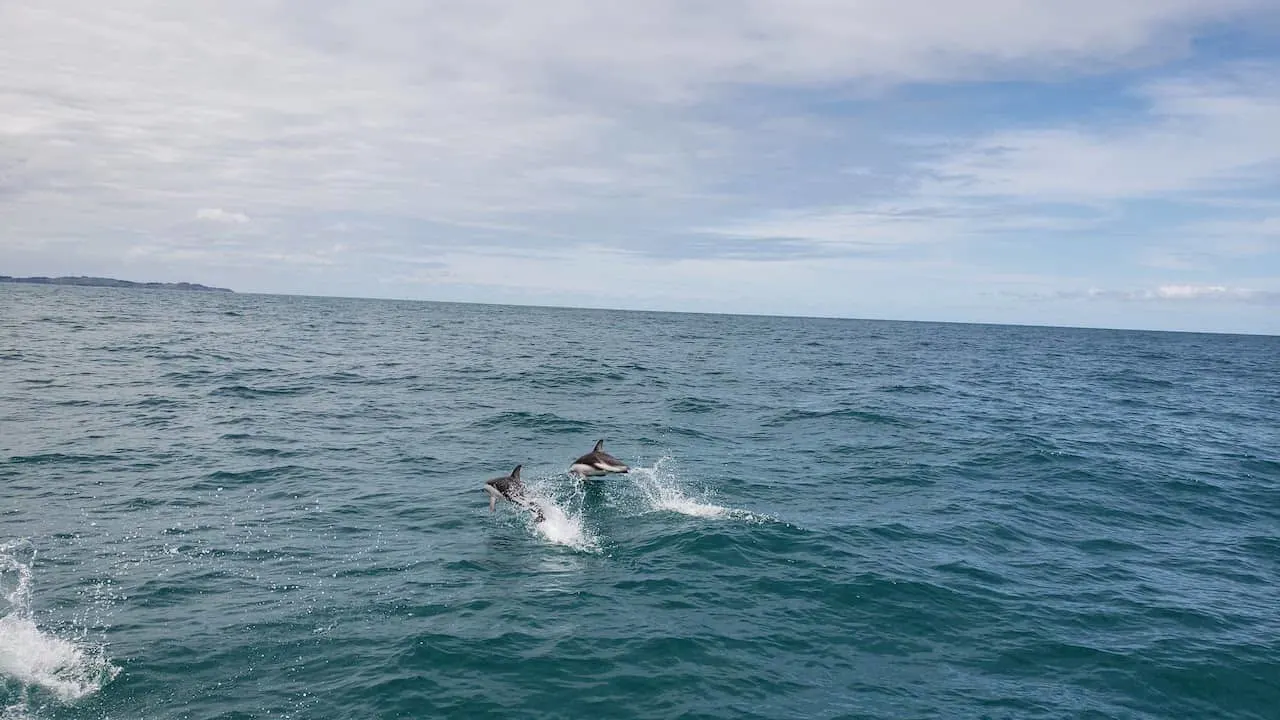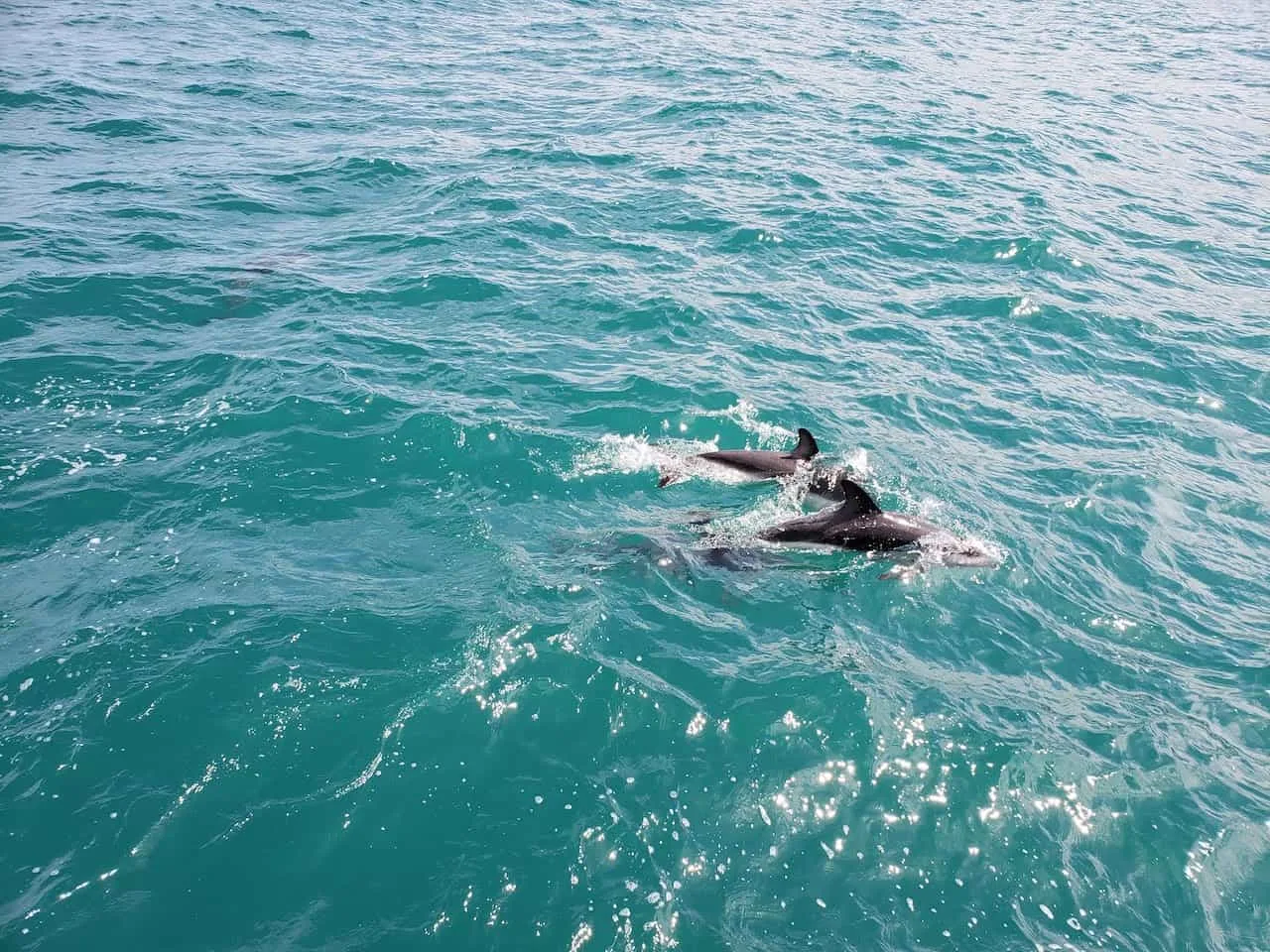 Where to Stay in Christchurch (Night 11)
Christchurch will just be used as a pitstop between Kaikoura and Mount Cook. While you won't have much time to do sightseeing, you will have plenty of that ahead over the next few days.
Mid Tier
Budget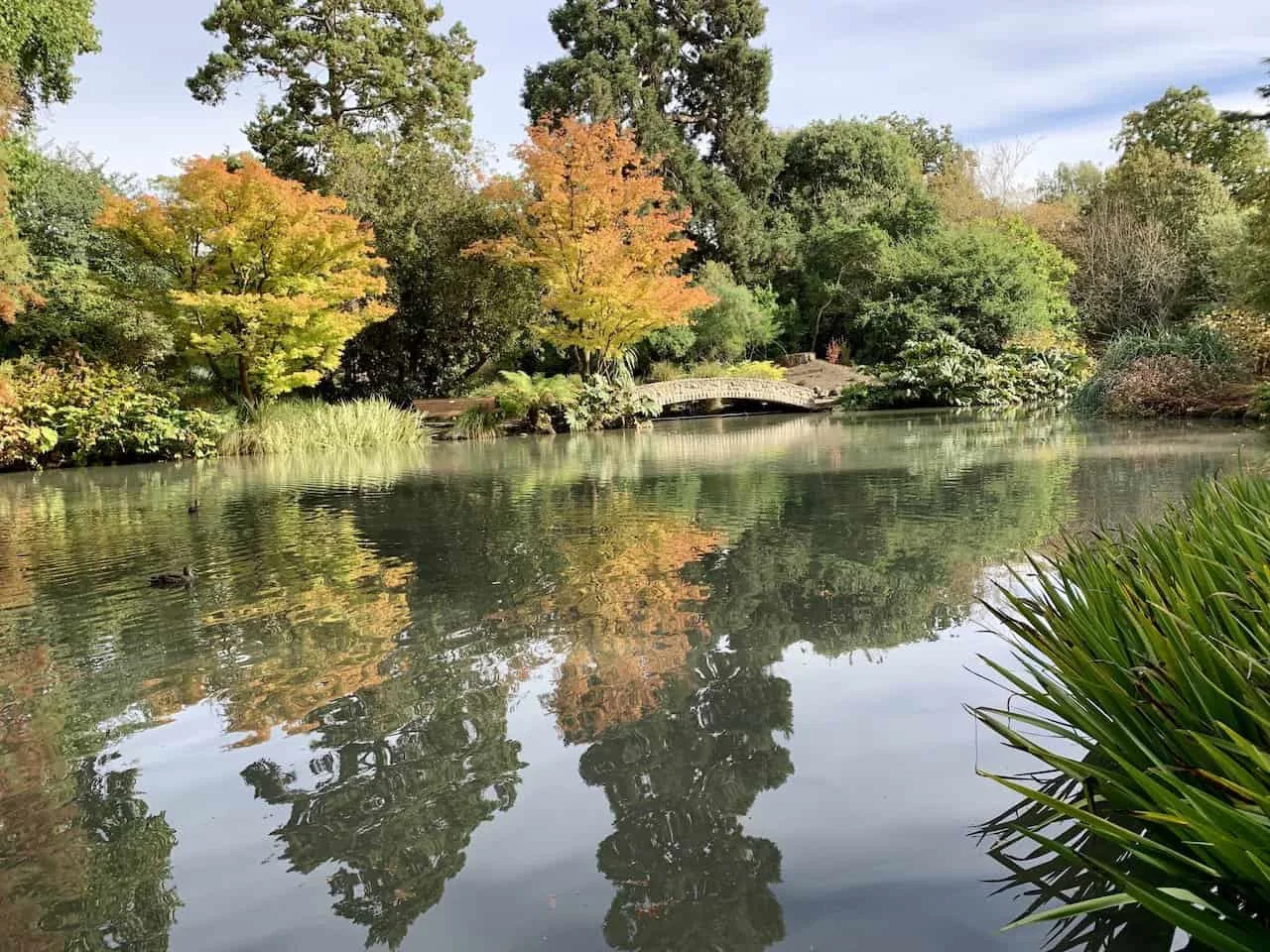 Day 12 – The Drive to Mount Cook
The drive from Christchurch to Mount Cook Village will take a bit over 4 hours to complete, but believe me you will want to make some stops along the way.
Two of my favorite lakes in New Zealand – Lake Tekapo and Lake Pukaki are on this route, and there will be plenty of viewpoints to enjoy the lakes as you make the drive.
Lake Tekapo
Your first stop from Christchurch to Mount Cook will be Lake Tekapo. As you make your way along, you will see signs pointing to viewpoints. Feel free to pullover from time to time to enjoy the view from various vantage points.
I would also recommend stopping by the Church of the Good Shepard for a very scenic photo op. You can then make your way to the Mount John Observatory, where you can get some great views from up above. It does cost a few dollars to park your car up top but the view is most definitely worth it!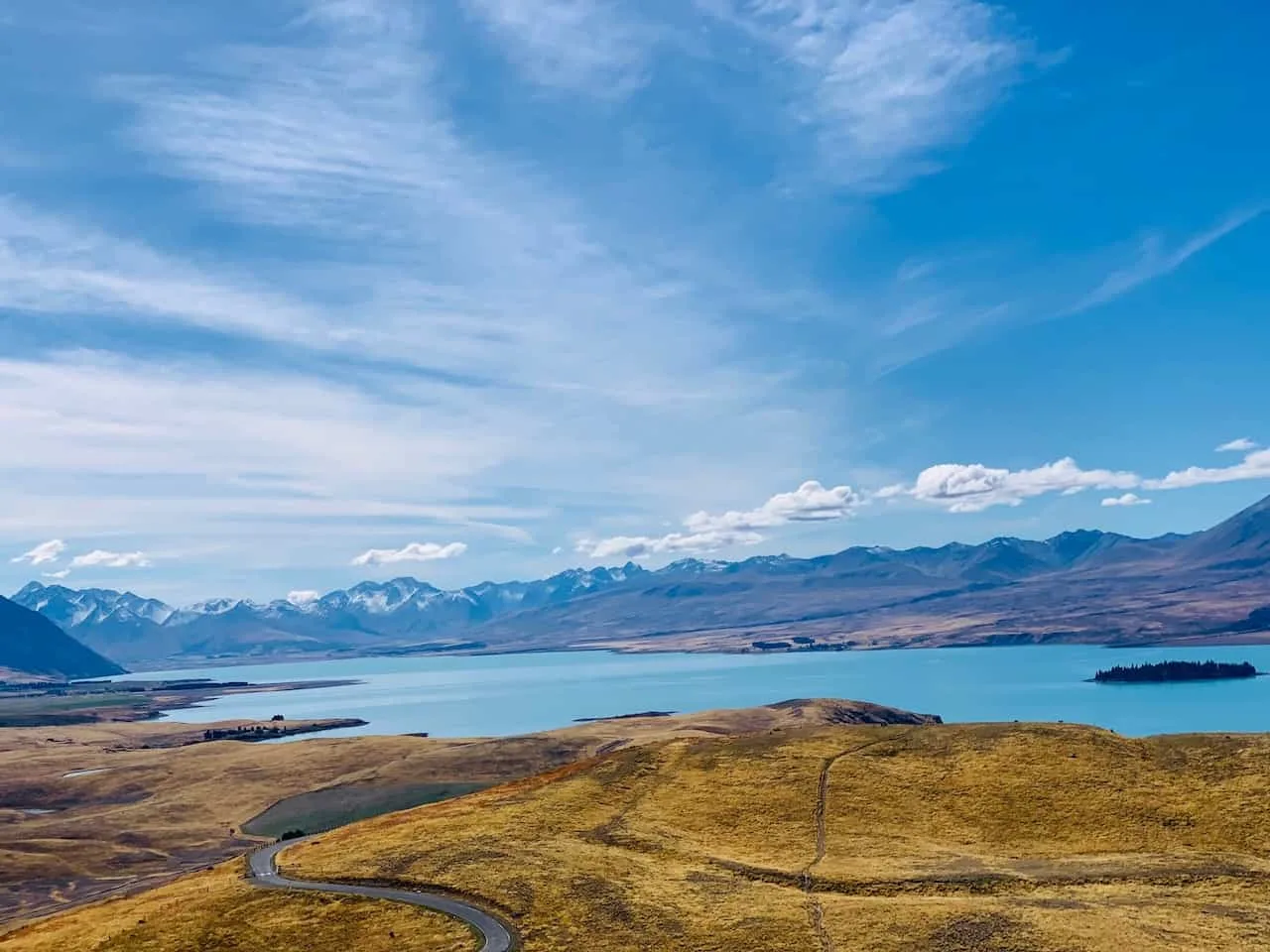 Lake Pukaki
After taking in all that Lake Tekapo has to offer, it is time for your next lake of the day – Lake Pukaki.
Similarly, there will be some viewpoints to enjoy along the way and on a clear day you should even be able to see Mt Cook out in the distance. The blue water of Pukaki is still something I can't believe is real.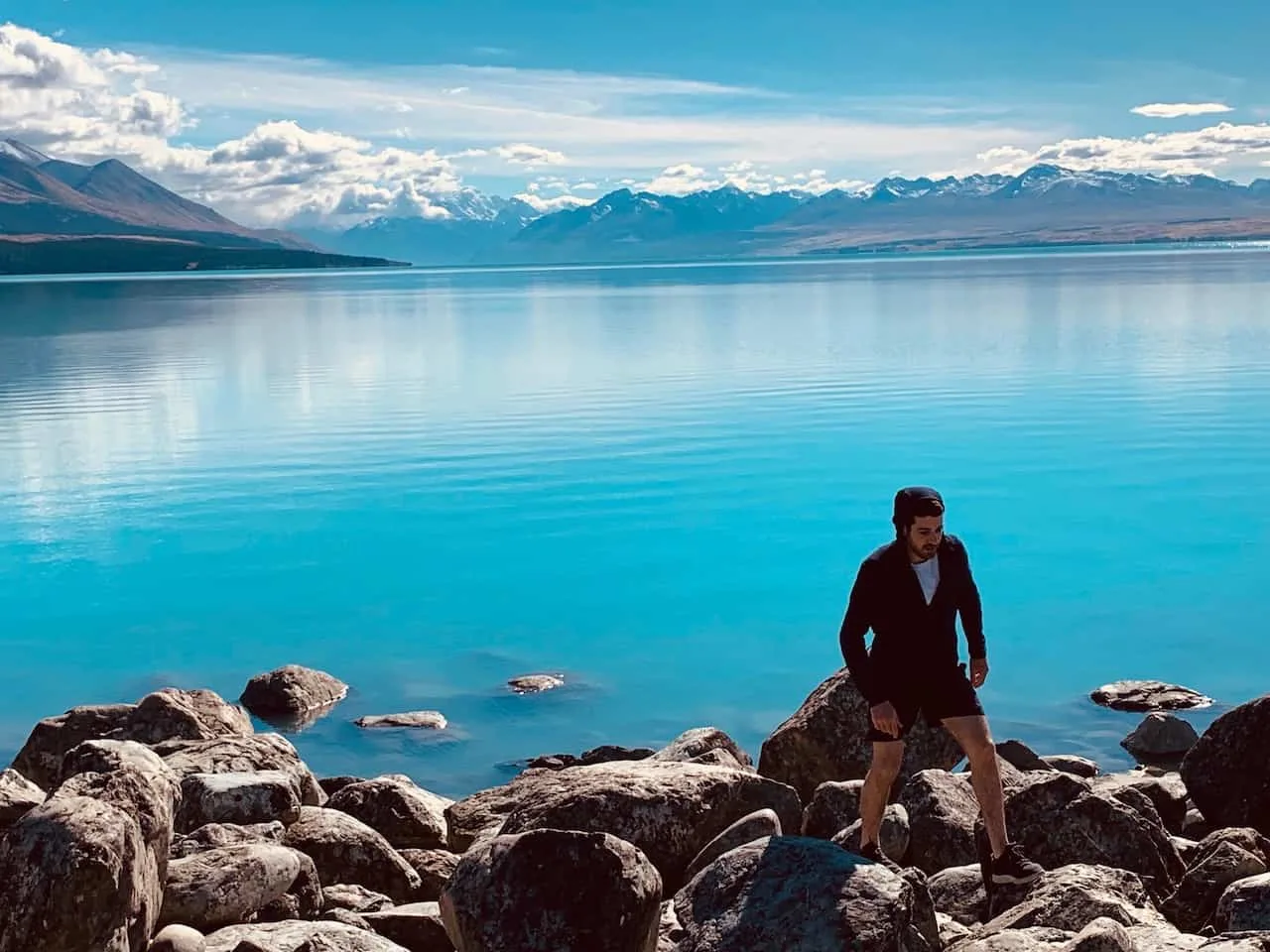 The Road to Mount Cook
Finally, it is time to make the turn up onto the Road to Mount Cook. It is most definitely one of New Zealand's most famous roads and you will soon see why.
With Lake Pukaki off to the side and Mount Cook in the distance, it is extremely difficult not to get distracted along the way. Be sure to stop at some viewpoints to really take it all in!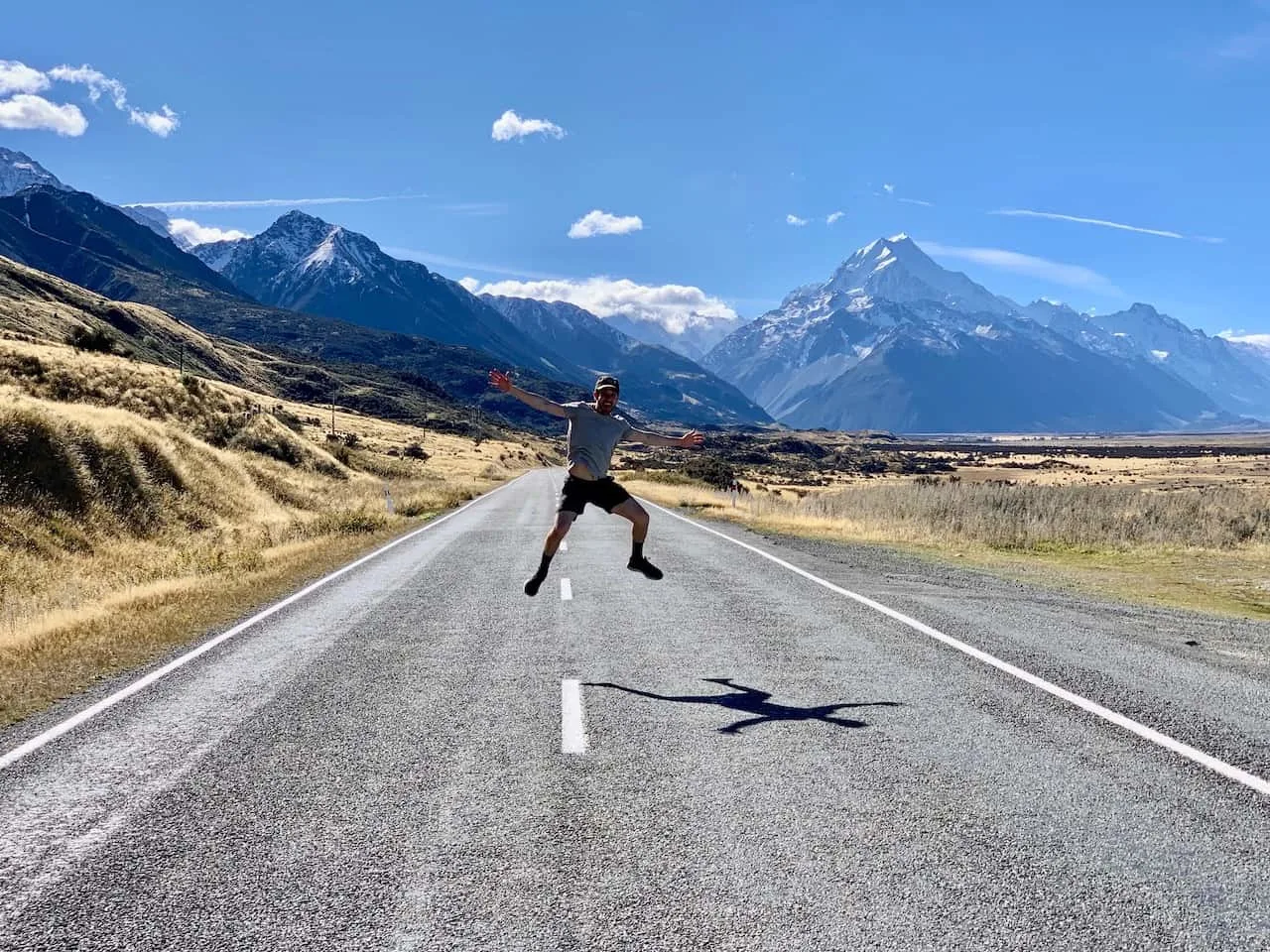 Where to Stay in Mount Cook Village (Nights 12 & 13)
My advice would be to stay within Mount Cook Village itself as all the hiking options are just a few minutes drive away. Your other option here is to stay in Tekapo (1.5 hours away) or Twizel (1 hour away) if accommodation is limited or too expensive.
Mid Tier
Budget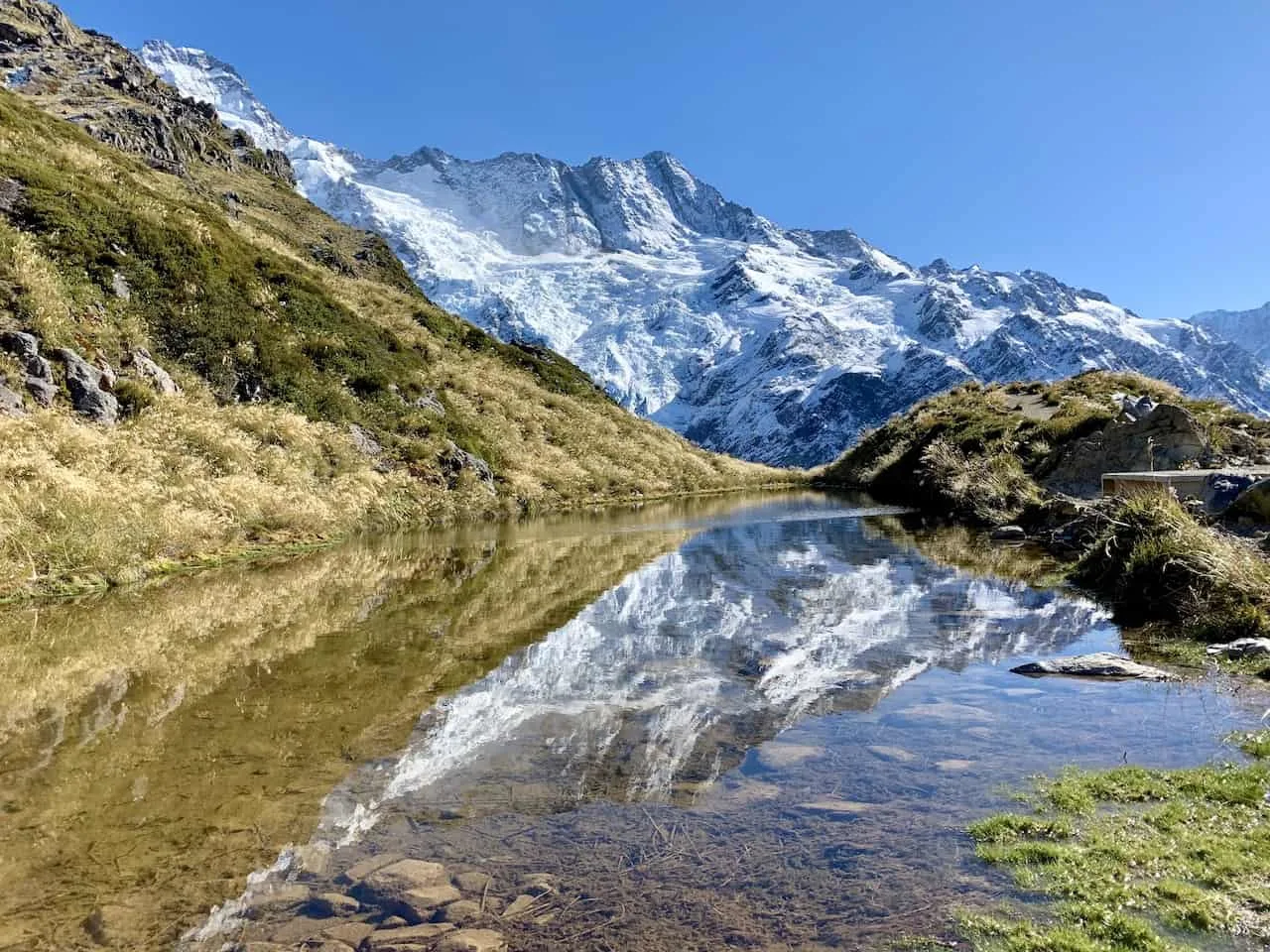 Day 13 – Mount Cook National Park
Your last stop on this two week New Zealand South Island itinerary brings you to Mount Cook National Park, home to some of the country's best hiking trails.
Since you will have two days here to explore the region, you should have time to take part in a few of them. There are several hiking trails around the area to choose from ranging from less than an hour to 8+ hours. Depending on your interest level you can choose from a variety of the below:
» Check out an overview of every single hike in the Mt Cook Hikes Guide
1. Hooker Valley Track
The "must do" hike in Mount Cook National Park would be the Hooker Valley Track. An easy 3 hour trail round trip trail, this hike takes you alongside and into the valley beneath Mount Cook itself.
During the hike you will pass by the Mueller Lake, and onto three suspension bridges on your way to the base of Hooker Lake overlooking Mount Cook in the distance.
Since it is a valley walk, there is barely any elevation gain/loss, making this a hike for nearly everyone to take part of.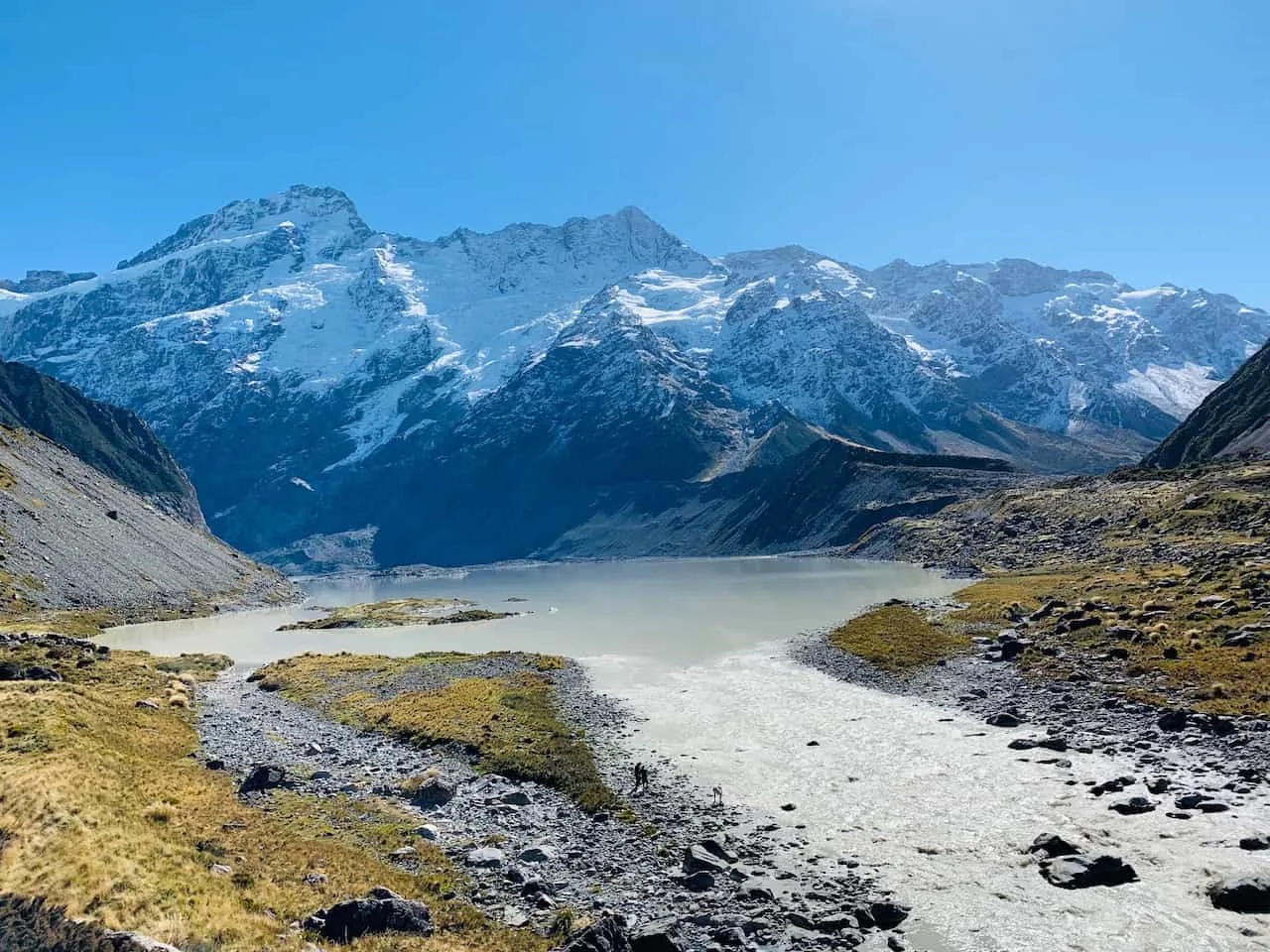 2. Kea Point
An easy add on to the Hooker Valley Track is Kea Point. The hike to Kea Point starts in the same area as the Hooker Valley trail, and is a simple 1 hour round trip walk.
Once you have reached Kea Point, you will get a great view of Mueller Lake from another angle and Mount Cook out in the distance. You will also be able to see parts of the Hooker Valley Track that you may have just completed.
» Take a look at the Kea Point Track Hiking Guide to Learn More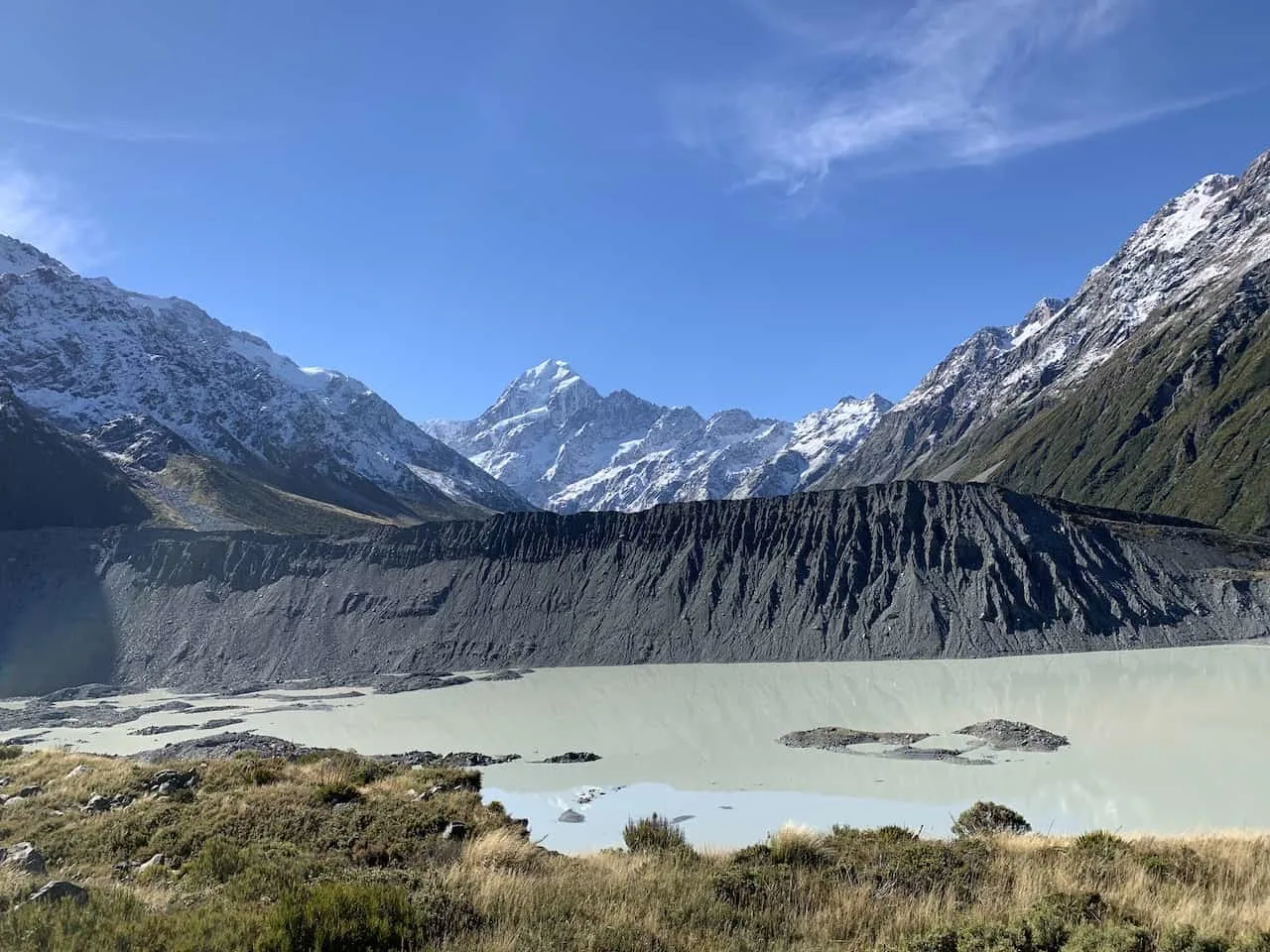 3. Red Tarns
If you are looking to get some views from above, one option is the Red Tarns Track. This track will take you above the valley with views of the glacier lake and Mount Cook out in the distance.
Now the track is full of plenty of stairs as you make the 300 meter ascent. But once up top you will be able to relax and take in those views before making your way back down in the direction you came.
» Take a look at the Red Tarns Track Guide to get you prepared for the trail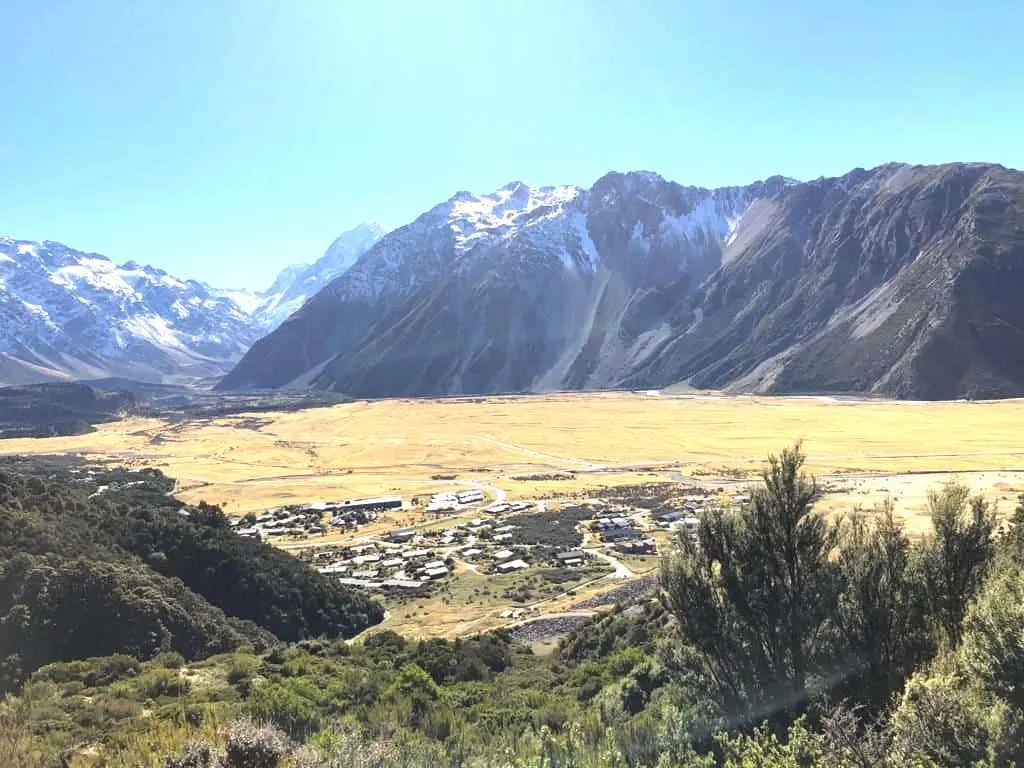 4. Mueller Hut
The most demanding of hikes in the Mount Cook region is that of the Mueller Hut. While many may opt to do the hike in two days, it can also be done in one day instead.
Expect the total round trip to be around 6-8+ hours depending on fitness level and the amount of time you want to spend at various viewpoints and the hut itself.
The track begins with 2000+ stairs (as part of the Sealy Tarns track), before continuing the ascent on steep rocky ground towards the Mueller Hut. Throughout the hike you will be taking in views of the lakes down below, with Mount Cook out in the distance. As you get higher, the views just get better and better.
» Take a look at the Mueller Hut Track Guide to get you prepared for the trail
Note: The Sealy Tarns Track is another option here if you do not want to complete the full trail to the Mueller Hut. Set aside about half the time if you are looking to just head up to the halfway point to the Tarns.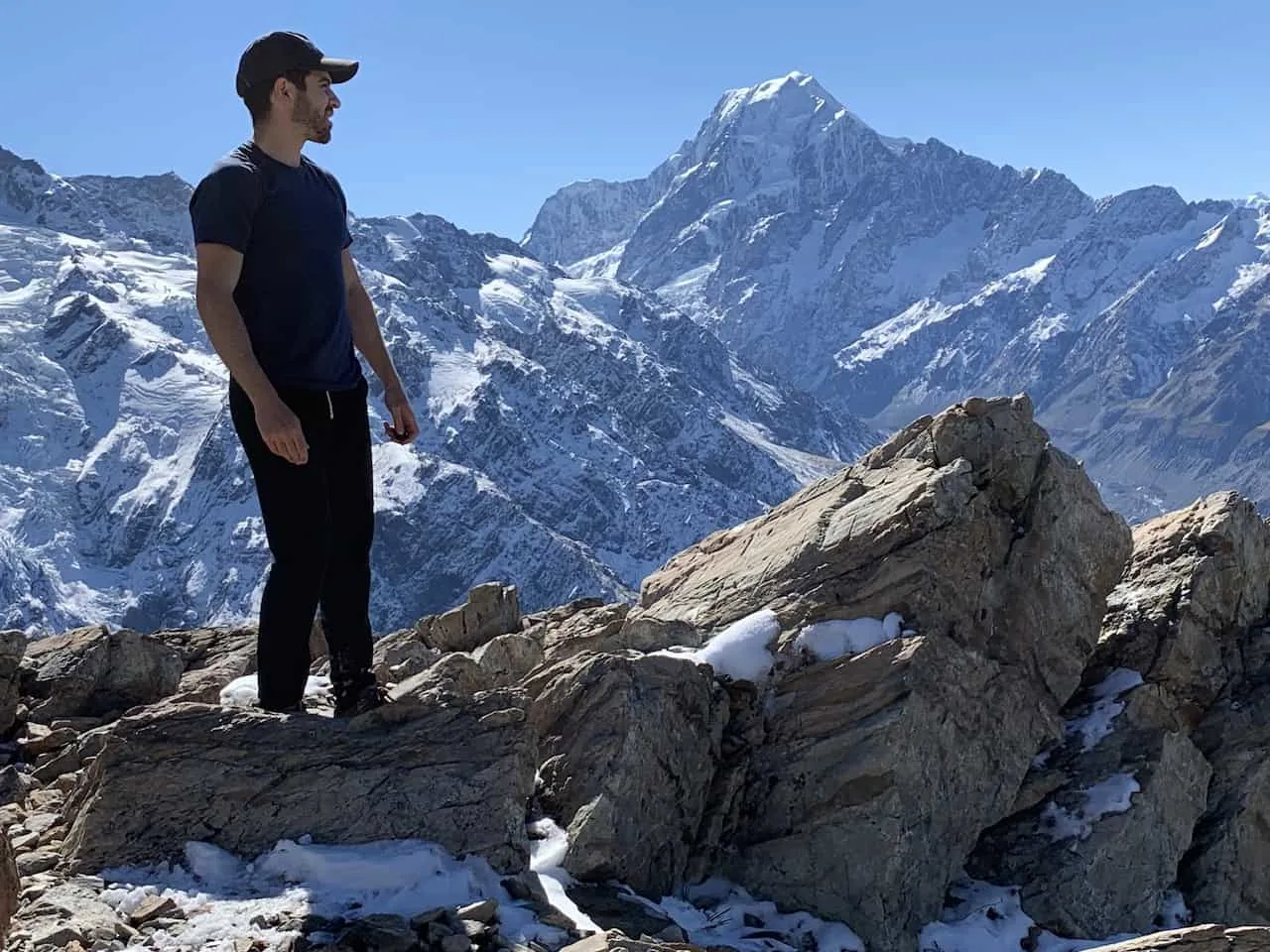 5. Blue Lakes and Tasman Lake View & Tasman Lake Track
While these may technically be a couple different trails, you should have no problem combining them into one longer route, taking you a couple hours to complete.
An easy trail takes you to 3 different small lakes around the Mount Cook area. The hike begins at the Tasman Glacier Car Park and follows a path to the first of the lakes.
When you get to each of these lakes note that you can go around each one and follow a path to the next. It may not be so obvious at first, but there is a path around. Once you have seen all of them, turn back around and head back towards the starting point.
On the way back you should see a sign pointing you towards the Tasman Lake View (you would have passed this same sign on the way to the lakes trail). Head up the path where you will be welcomed to a vast view of Tasman Lake down below.
Similarly, as you are walking back you should be pointed in the direction towards the base of Tasman Lake. Follow that path to get you right towards the waters edge, where you can take in the view from down below.
It was quite surreal seeing the small icebergs pass by as you enjoy the glacier lake's surroundings.
» Take a look at the Blue Lakes and Tasman Lake View & Tasman Lake Track Guide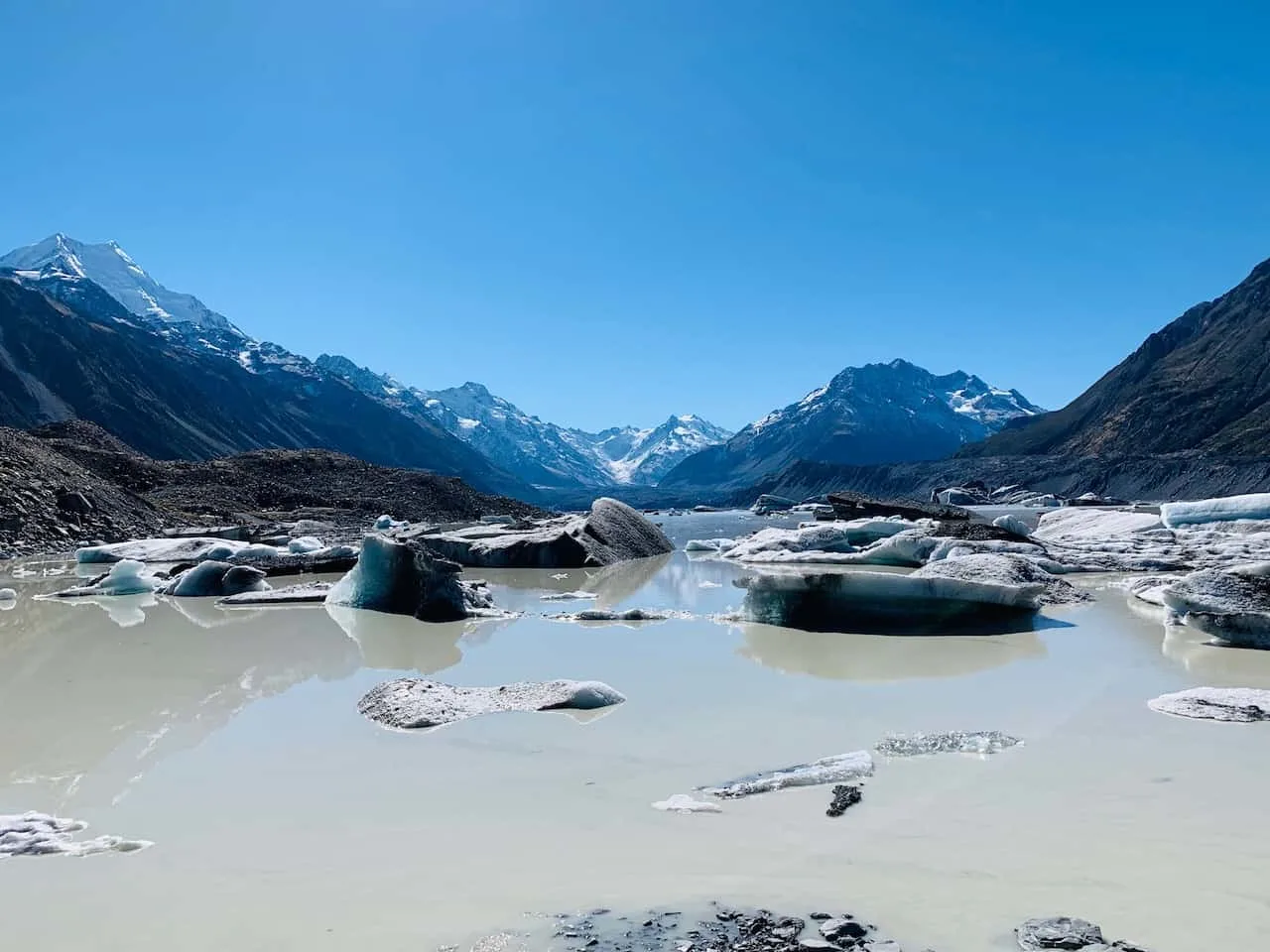 Day 14 – Mount Cook National Park & Back to Queenstown
On your second day in Mount Cook National Park, you can continue to explore the area by foot and take part of some more hiking opportunities that the area has to offer. Alternatively, you do not have to do two days of pure hiking.
Some of the other activities that you can choose from around Mount Cook National Park include cycling, glacier boating, heli glacier hiking (similar to Franz Josef), or taking a flight around the mountain ranges.
Click on the links to head over to some of the company websites that offer those activities.
Once you are all done for the day, it is time to head back to Queenstown (or Christchurch) to end your New Zealand South Island itinerary.
If your flight is later in the day, you can line up your drive from Mount Cook and head directly to the airport (3 hours to Queenstown / 4 hours to Christchurch). If your flight is the next day, you can spend one additional night around Mount Cook or in Queenstown/Christchurch before heading out on day 15.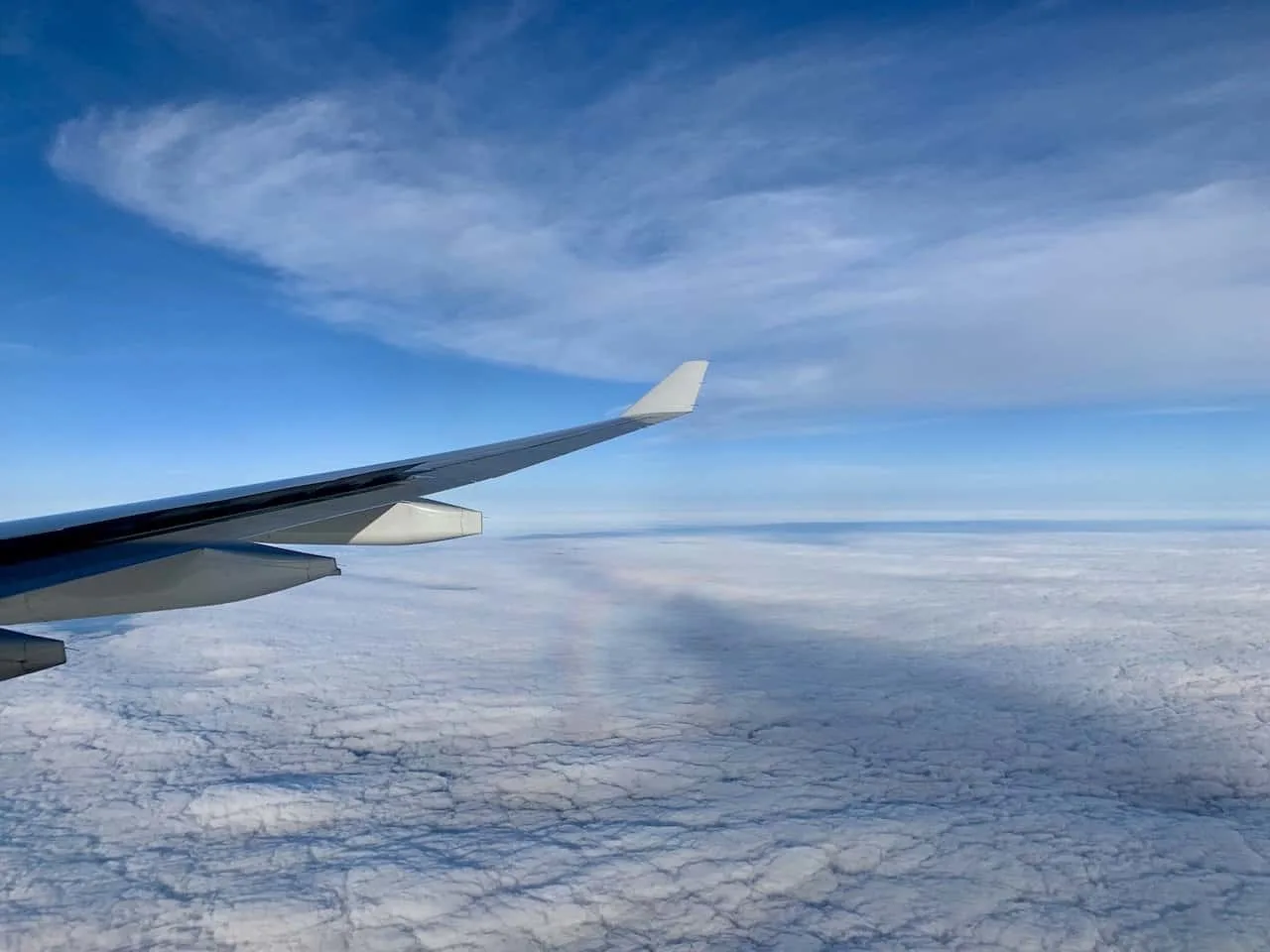 That about wraps up what is sure to be a one of a kind New Zealand South Island itinerary. The itinerary takes you around the entire island as you experience the best that the country has to offer.
If you want to learn more about New Zealand, be sure to check out the other New Zealand itineraries and guides up on the site. If you have any questions feel free to write them in below. Have fun out there and safe travels!
Heading to the North Island? Check out some of the latest guides including: