Do you want to visit deepest fresh water spring on the North Island of New Zealand that pumps out four million (!) liters of water per hour?
Well, Hamurana Springs is where you will want to go to see it for yourself. The Hamurana Springs Reserve is home to a 30 minute walking trail that will take you all along the crystal clear waters, redwoods forest and the famous spring itself.
Read on to learn more how to take part of a visit yourself!
* Affiliate Disclosure: This post may contain affiliate links, which means I may receive a commission if you make a purchase through the links provided, at no additional cost to you. Thanks for supporting the work I put into TripTins!
1) Hamurana Springs Fast Facts
1) The main spring here is called Te Puna a Hangarua but the Hamurana area is also home to more attractions to see…
2) The area also includes a 30 minute walking trail, with attractions such as the crystal clear Te Kaikaitahuna River, the towering Redwoods Forest, and Dancing Sands Springs
3) The area of Hamurana Springs can be traced to the local Ngati Rangiwewehi all the way back in the 1300's
4) The closest major city is Rotorua, which is just a 20 minute drive at 17 KM / 11 Miles away
5) Te Puna a Hangarua is the deepest fresh water spring on the North Island of New Zealand at 50 feet in depth
6) The water is at a constant temperature of 10 degrees Celsius / 50 degrees Fahrenheit
7) The water comes from the Mamaku Plateau and it takes 70 years to go underground and up from the spring itself
8) The spring pumps out four million liters per hour – that is enough to fill up two Olympic sized swimming pools!
2) Where is Hamurana Springs
If headed on over to Hamurana Springs, you are most likely doing so from the city of Rotorua. Hamurana is located on the north side of the lake, just a 20 minute drive away by car from the city center.
To get to Hamurana, the easiest and most convenient option would be by having your own car to take you there. From my understanding there is no local bus route that goes past the area so a car rental is definitely your best bet.
You could hire a taxi to take you there, wait for you and then take you back after but that would cost a bit of money.
Not only would a car rental be best for Hamurana but it will also be very convenient for the rest of your time exploring New Zealand. Having the ability to do what you want, when you want and not need to worry about public transportation is your best bet when visiting the country.
» Take a look at the Driving in New Zealand Guide to learn more about car rentals and the rules of the road.
See below for a map showing the route from Rotorua around the lake and to the Hamurana Springs Nature Reserve.
→ Be sure to check out Rentalcars.com when it comes to renting a car in New Zealand. The site will show you car options & prices from a variety of companies. This ensures that you will be able to choose the perfect car (and deal) for your trip to the country.
3) How Much Does Hamurana Springs Cost?
Just until very recently, the Hamurana Springs Reserve was free to visit for locals and tourists. However, there is now an entrance fee to visit the area.
Below you can see the latest ticket prices, which include self guided and guided options.
A normal adult ticket for the Hamurana Springs cost $18 NZD or $12 USD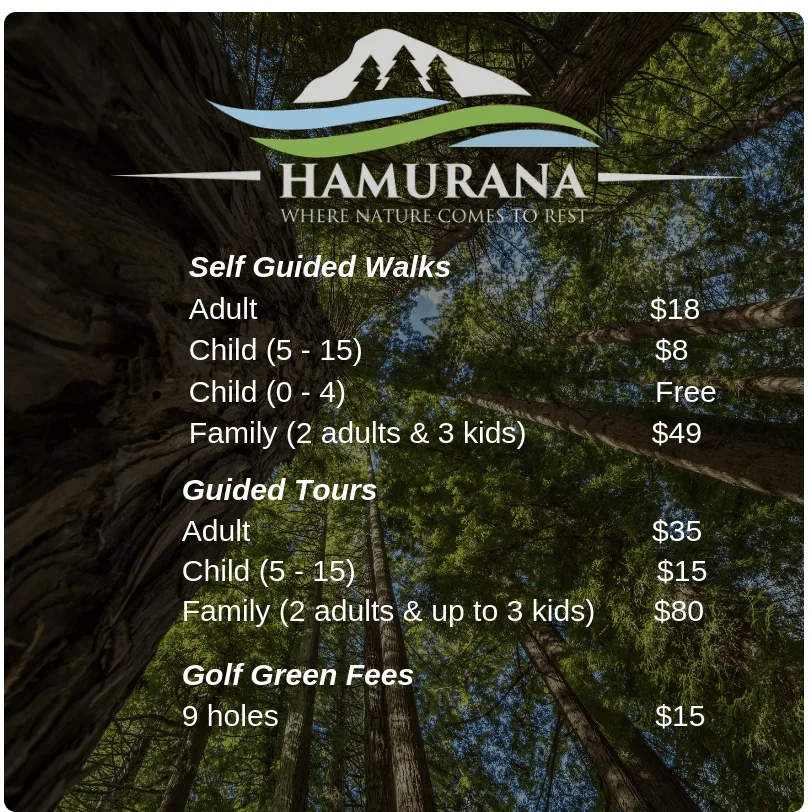 4) Hamurana Springs Hours
Hamurana Springs is open every day from 9AM to 5PM. Between October 1 and April 30 it closes at 6PM instead of 5PM.
I would recommend visiting Hamurana either early on in the morning at opening or later on in the day near closing time.
The area is not so large and during the peak months it can get packed with tourists in the middle of the day. By arriving early or very late in the day, you will have a better chance to avoid those crowds.
5) Hamurana Springs Map
There are several other places of interest that you will come across during a visit to the area of Hamurana Springs along the main Riverside Walk (green route). These highlights include:
↔ The Te Kaikaitahuna River
↔ The Redwood Grove
↔ Te Puna-i-Hangarua (main spring)
↔ Kauaenui Dancing Sand Spring
Note: you also have the chance to take part of the 500M Ynys Fraser Walk. If you opt to take part of it, you will be missing out on some of the highlights of the main walk. If you do want to take part of Ynys Fraser I would recommend doing so in addition to and not in place of the main Riverside Walk.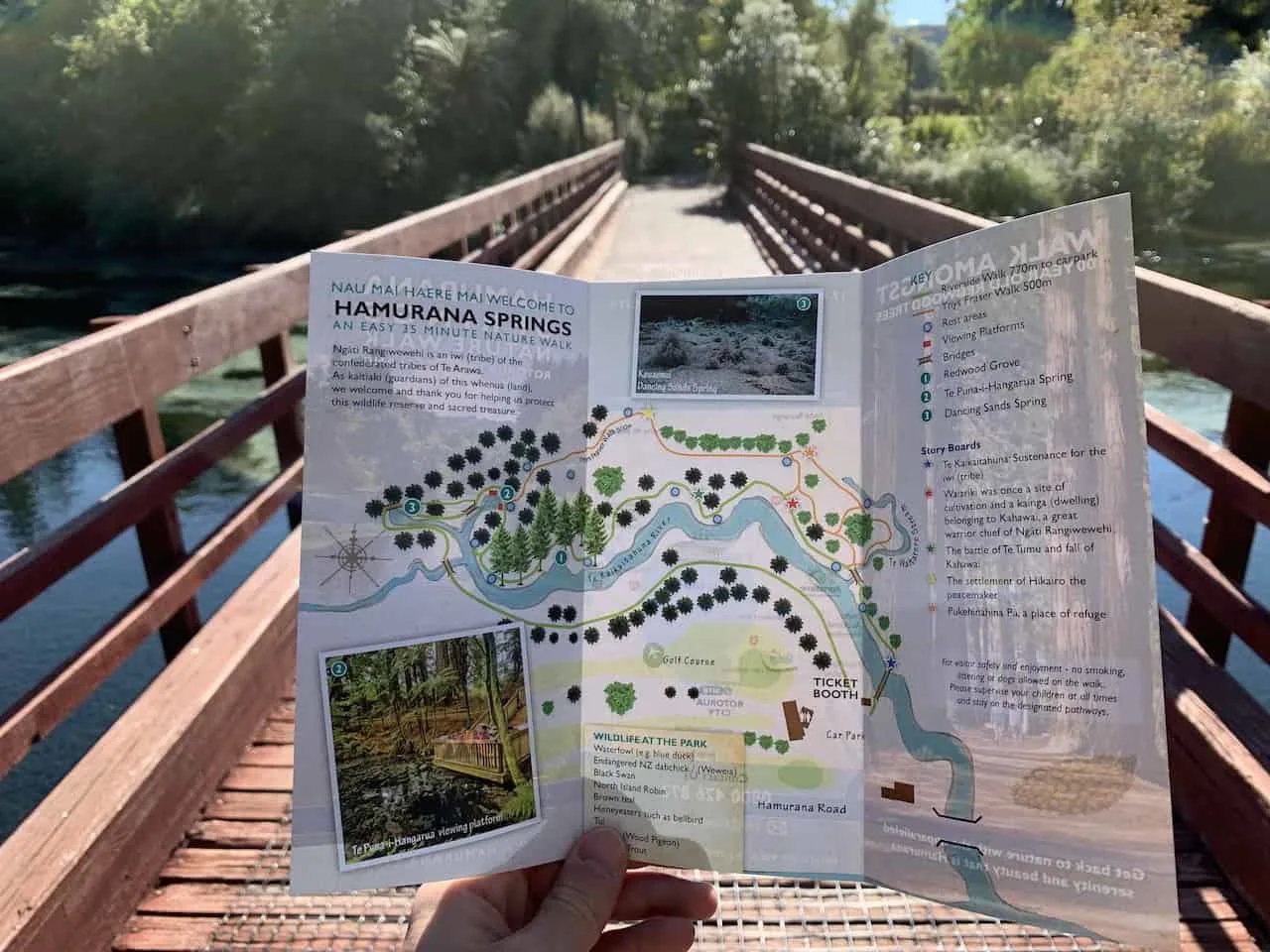 6) Hamurana Springs Walk
After parking your car and grabbing those tickets it is time to head onto the main Hamurana Springs Walk.
You will begin right away by crossing the bridge over the Te Kaikaitahuna River and heading to the other side of the Reserve.
Once on the other side you will make the walk near the river and through the surrounding greenery.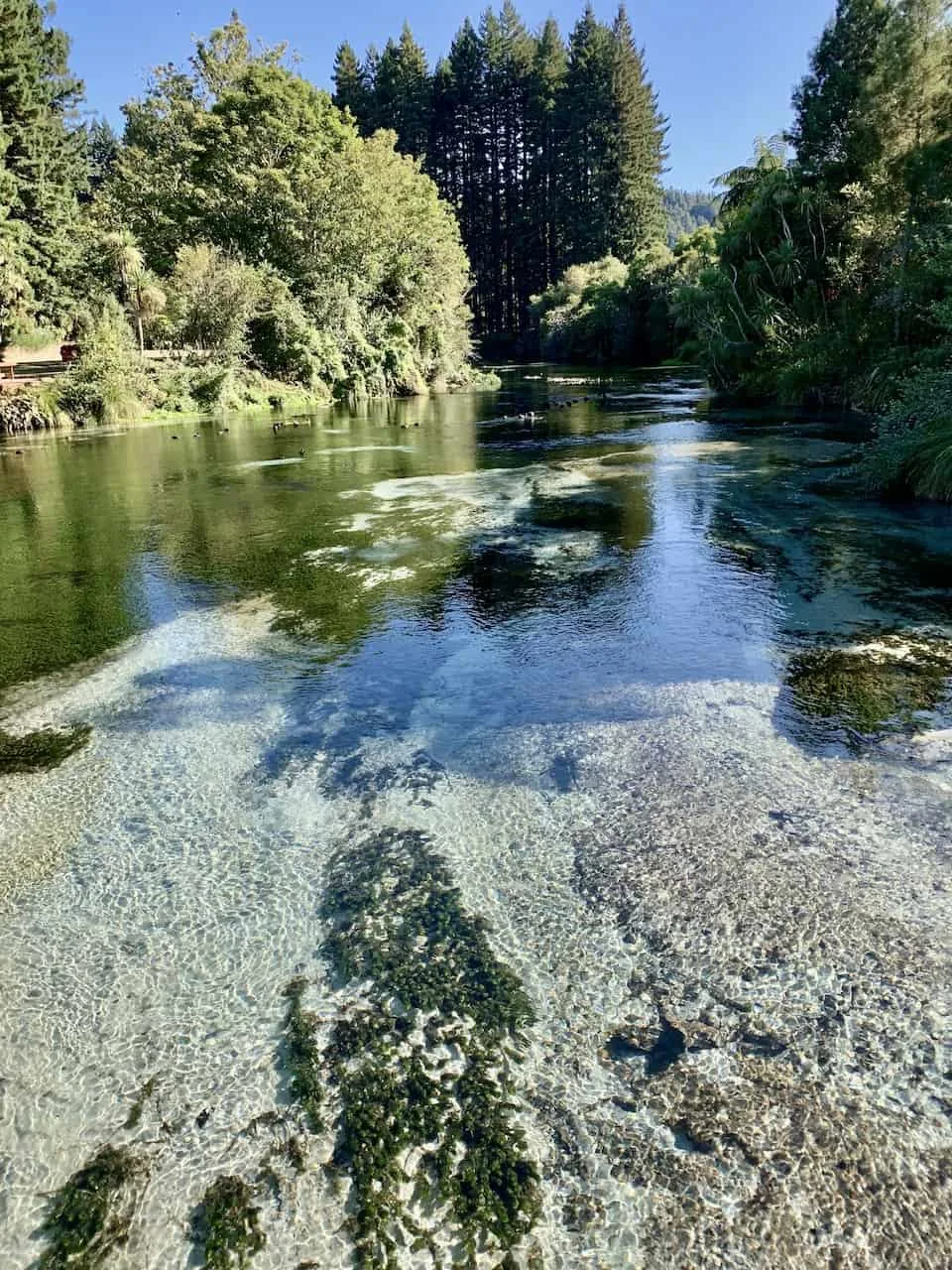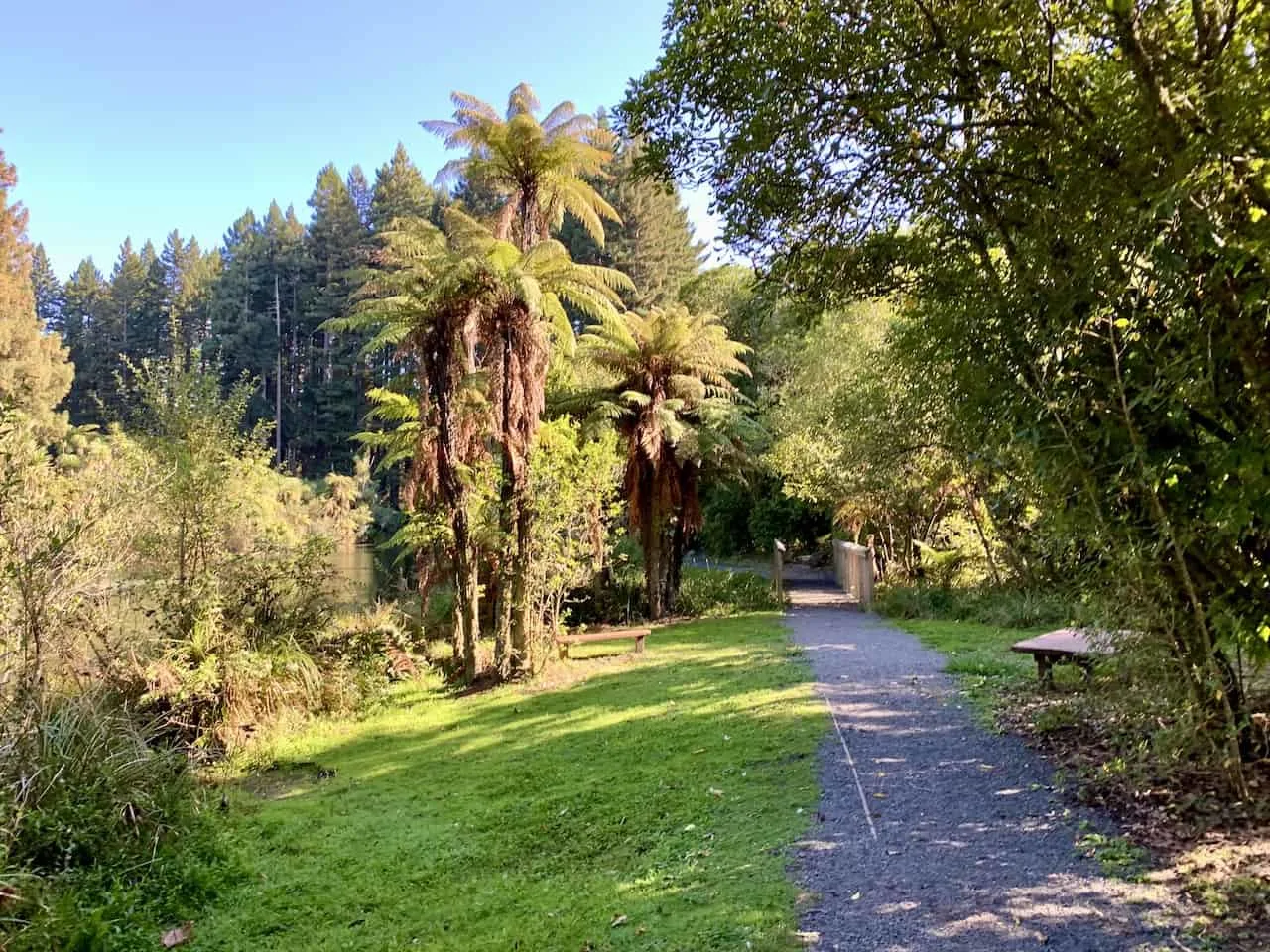 Soon enough you will pass the Redwood Grove. While not as vast as the Whakarewarewa Redwoods Forest in Rotorua, it is still a beautiful site to walk through and enjoy.
After walking through you will have a couple more river views before the main attraction itself.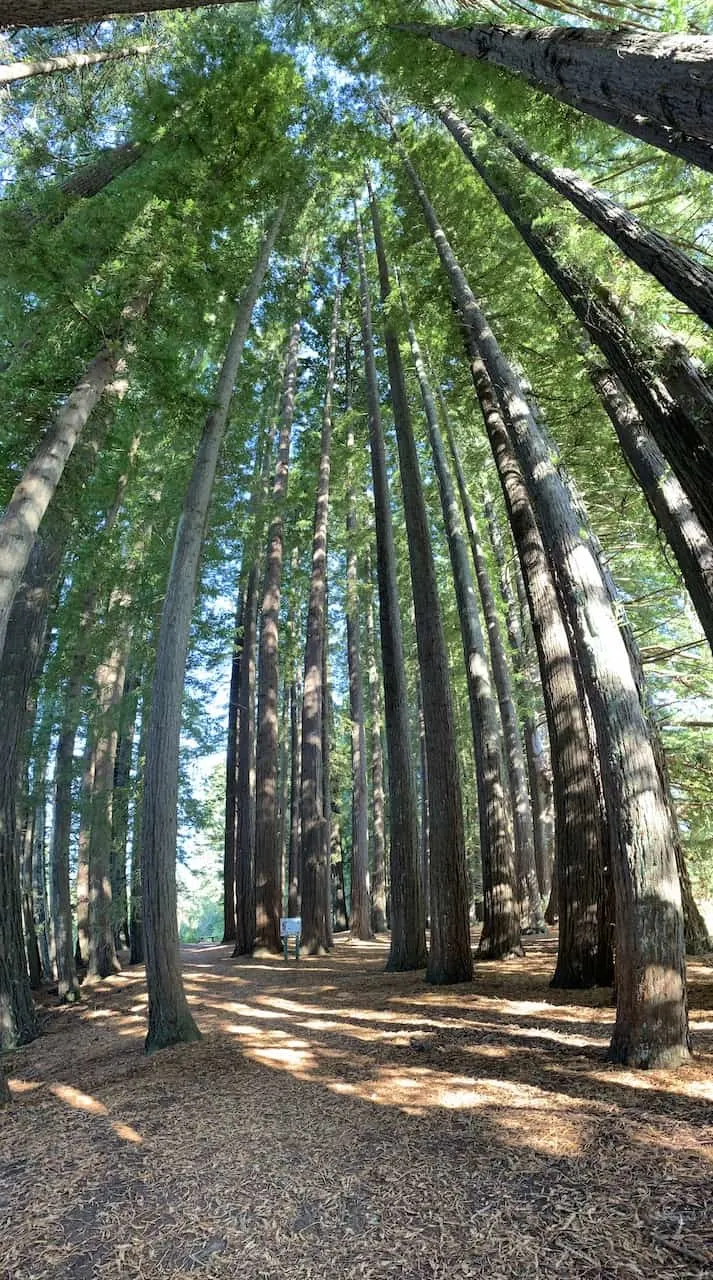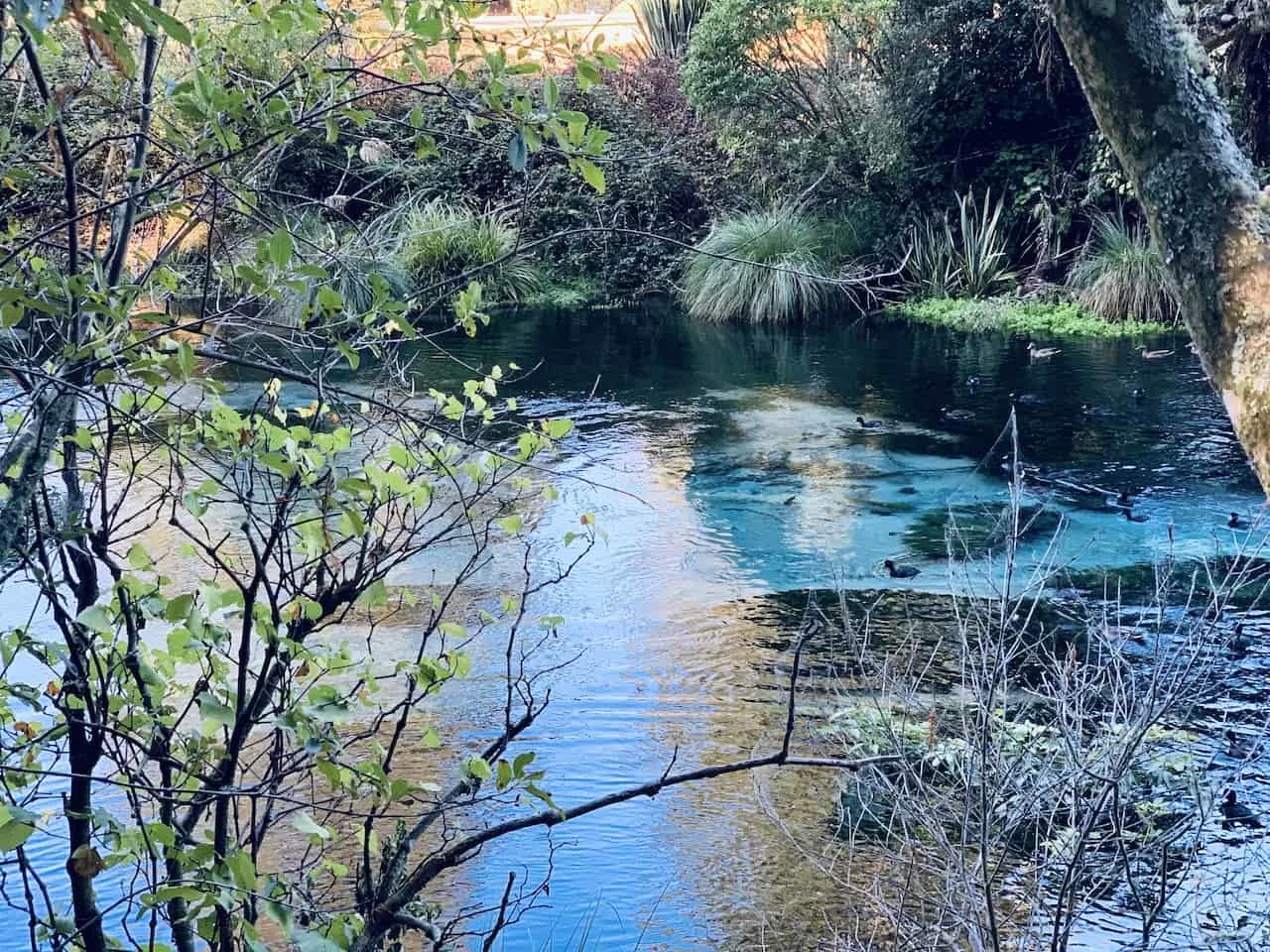 The Te Puna-i-Hangarua is up next and it is one that will surely not disappoint. You will get the chance to view the spring from up above on the platform as well as right up close and personal to it as well.
Standing right next to it you will be able to see that water continuously pumping out from down below.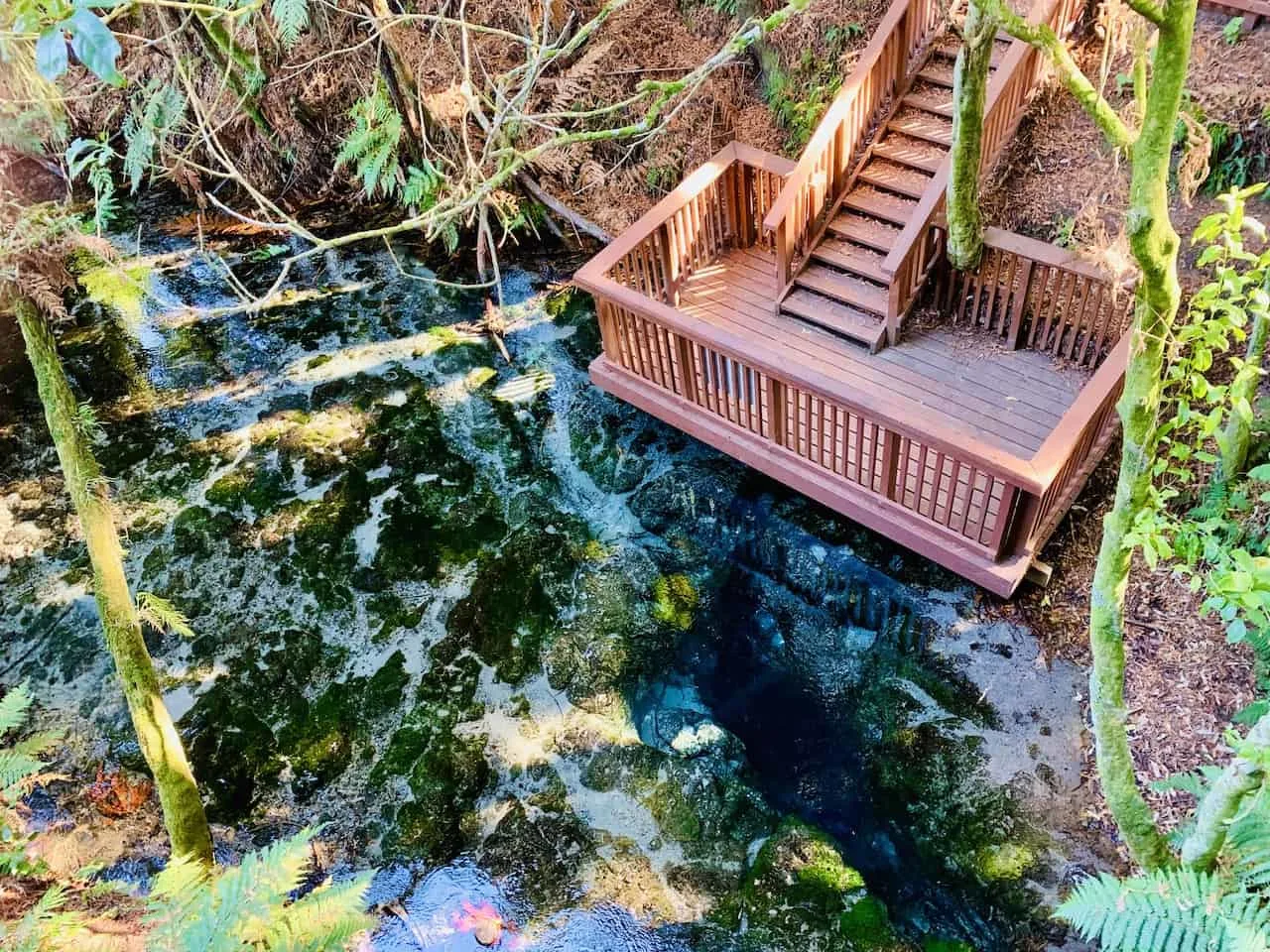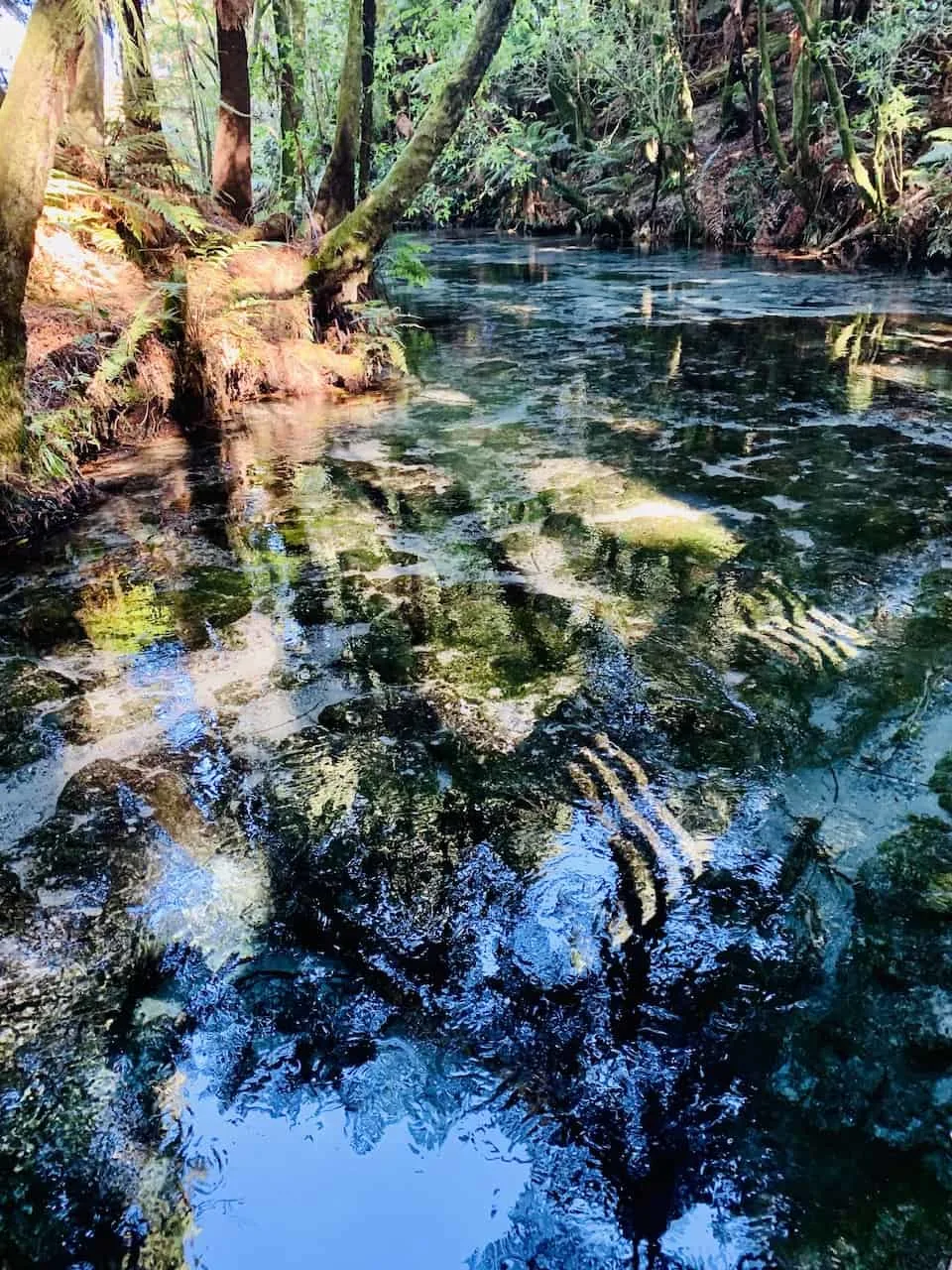 The sign board posted right near the springs also had some interested info on it including:
⇒ It is named after Hangarua, a chieftainess of Ngati Rangiwewehi and was a lair of Hinerua, the kaitiaki taniwha.
⇒ On January 9 1957, over 5,000 pennies were recovered from the spring and they were all donated to various children's charities
⇒ After exiting the springs, the water flows down the Kaikaitahuna River, into Lake Rotorua and then to Lake Rotoiti. After that it goes over Okere Falls and into the Kaituna River. It finally enters the Pacific Ocean right nearby Maketu.
Once all finished up at the main spring, continue along the pathway to the second spring of Kauaenui, or the Dancing Sands Spring.
It is known as the dancing sands spring because if you look closely enough you will see the sand on the bottom moving all around due to the water below pushing it up. This in turn makes it seem like the sand is dancing to an extent due to the constant water flow from underneath.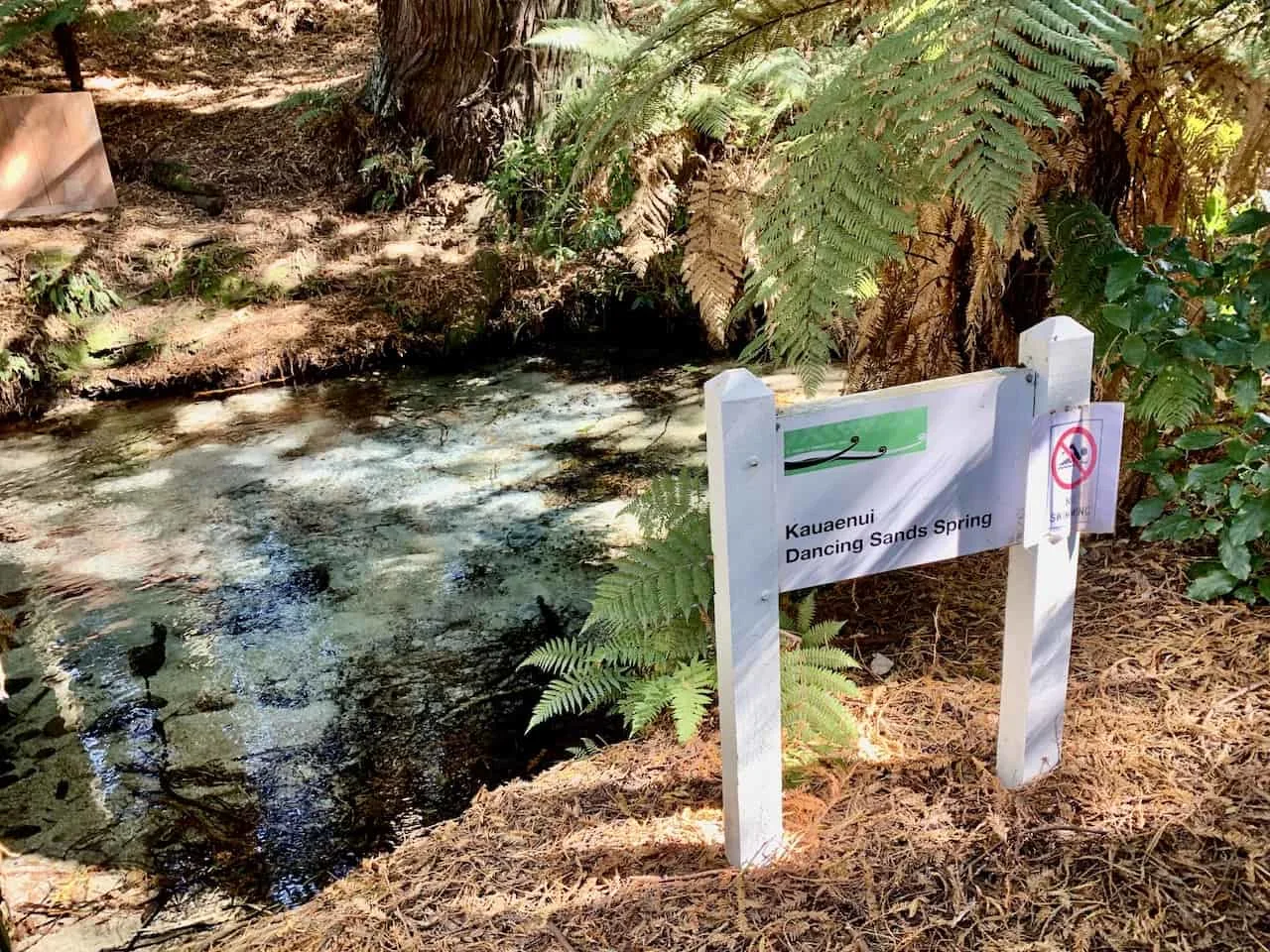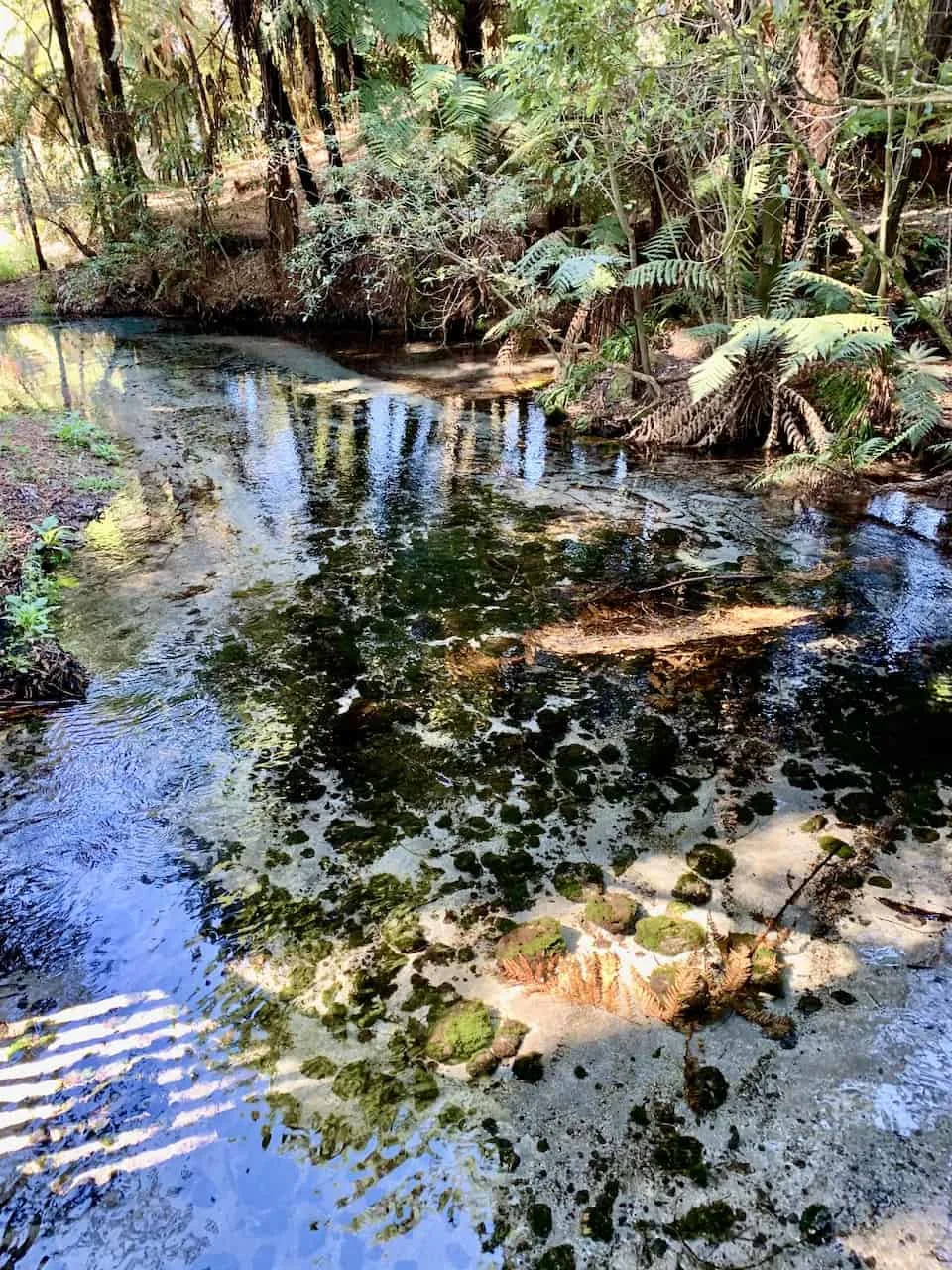 It is then time to continue the walk around Hamurana as you pass over a couple small bridges and take in some absolutely beautiful views of the crystal clear Te Kaikaitahuna River right nearby.
The river surrounded by the immense greenery is one incredible landscape to enjoy.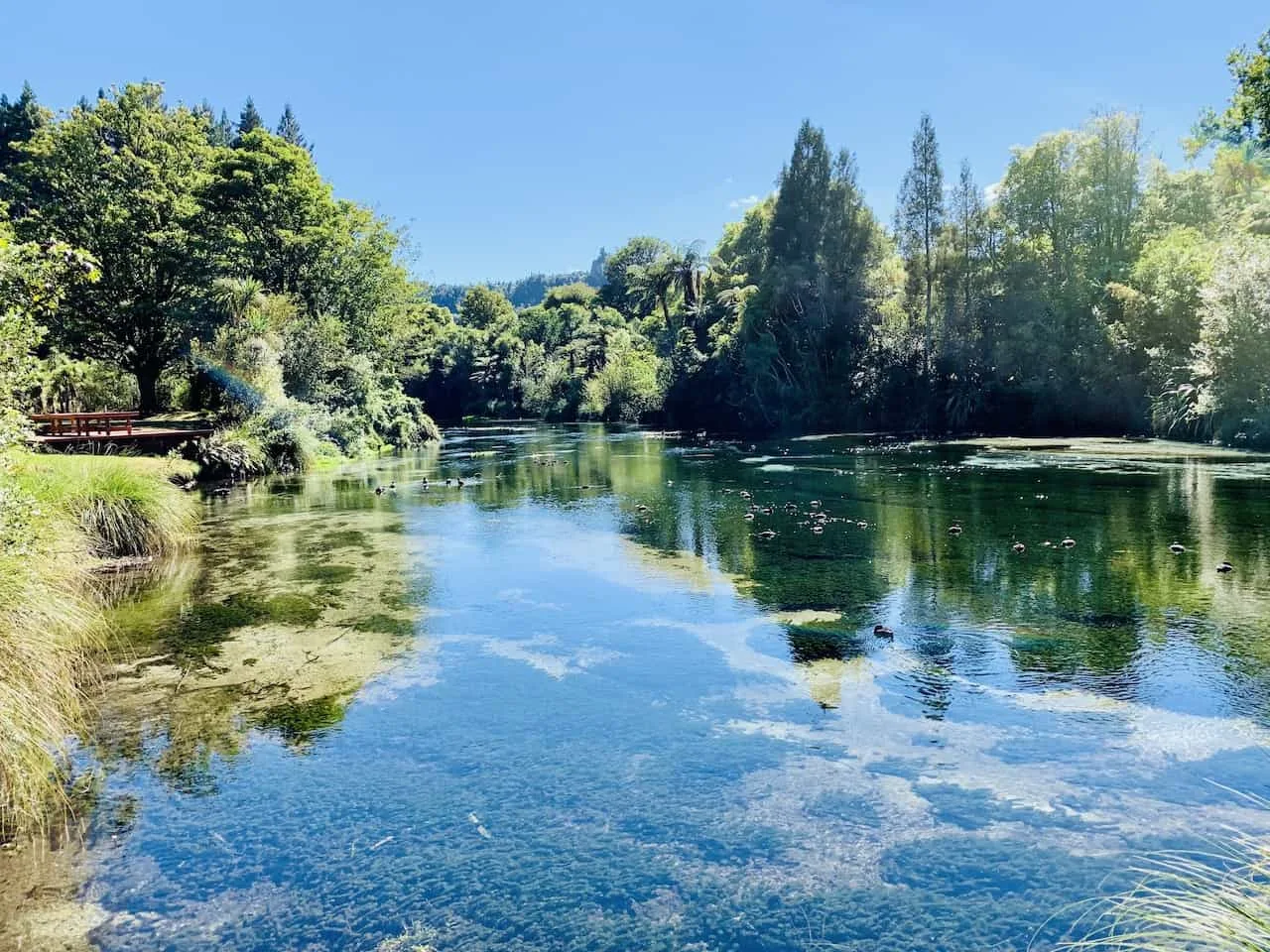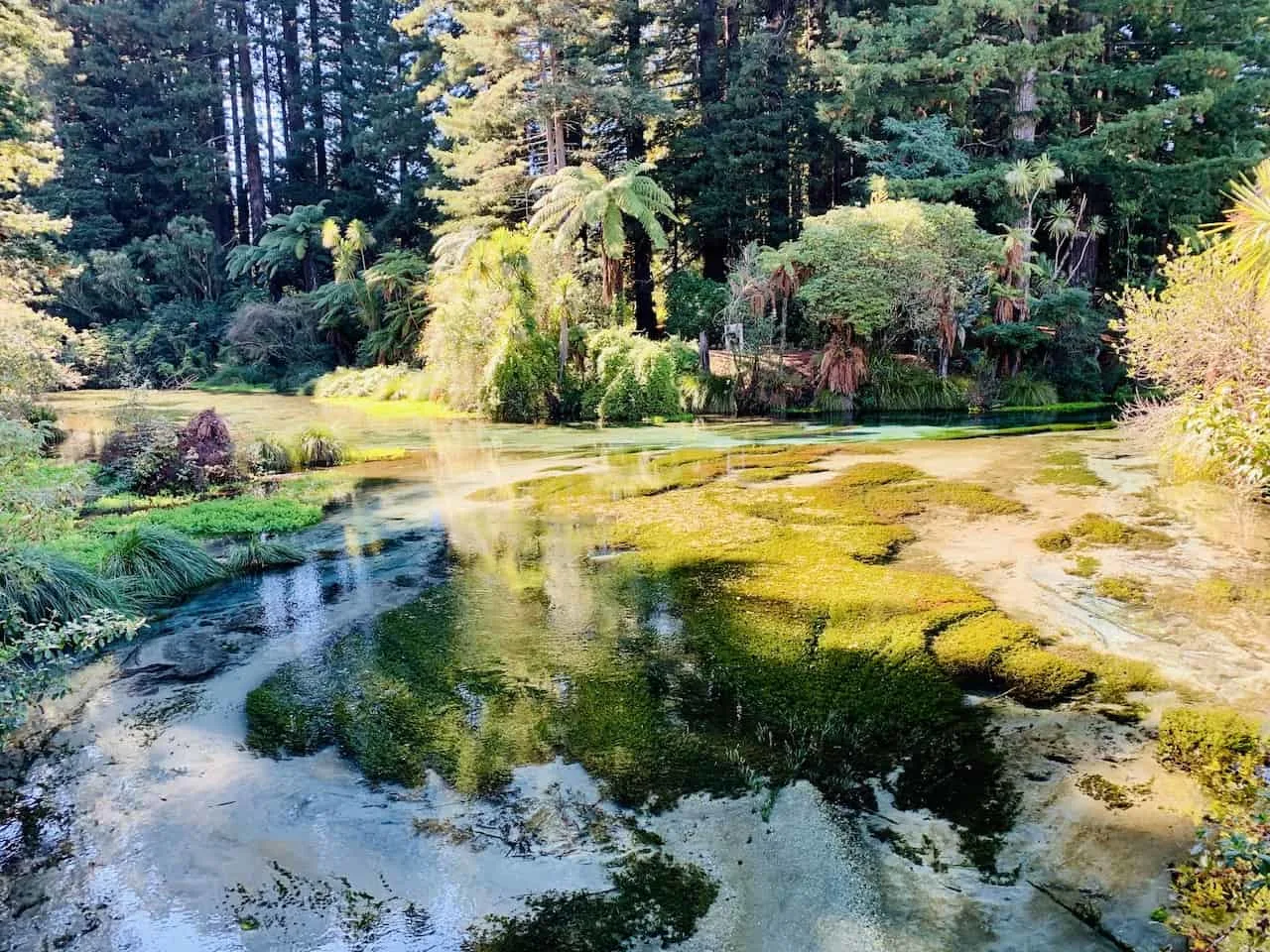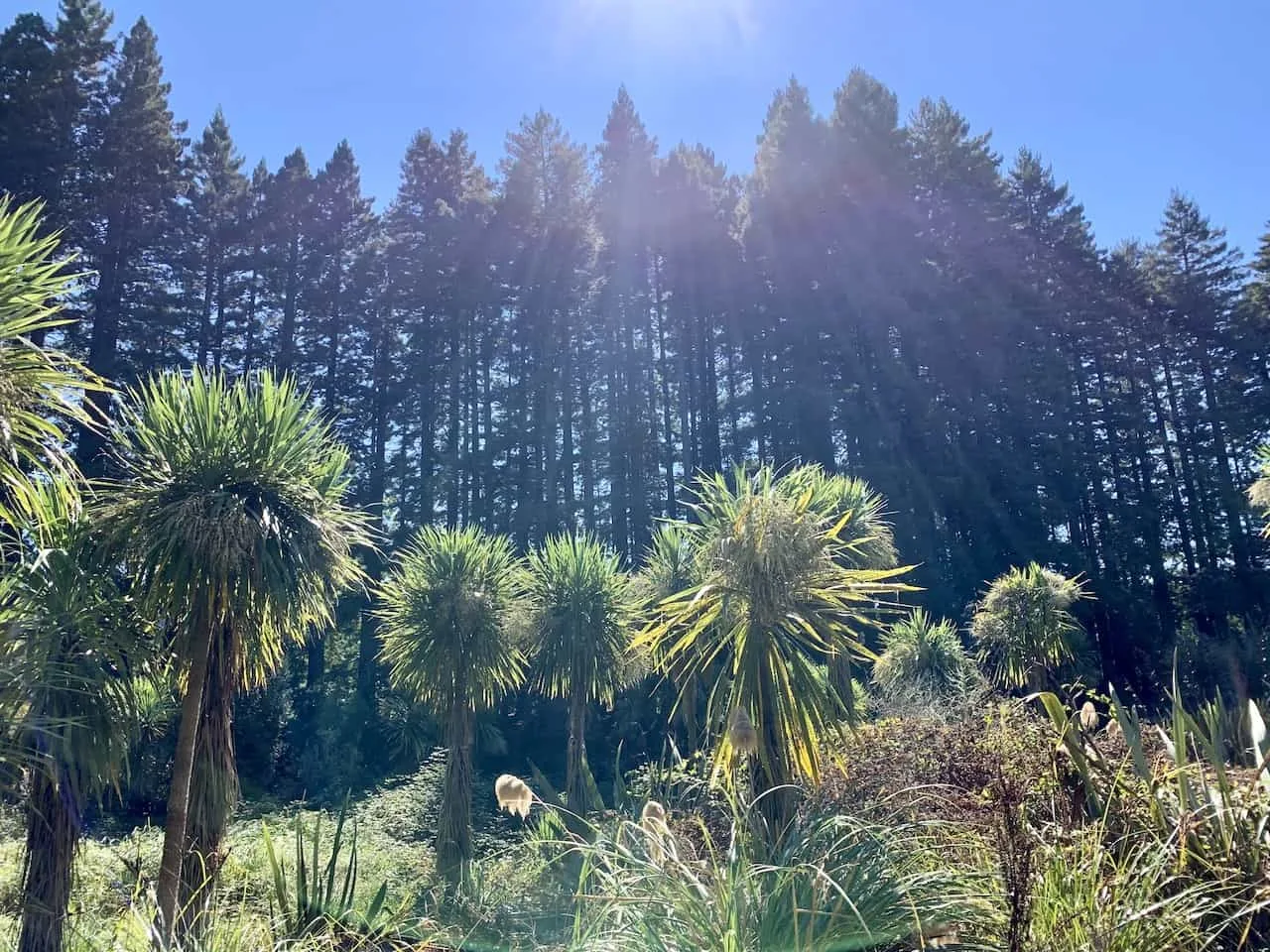 Soon enough you will be all done with the Hamurana Springs Walk and will be right back at the starting point, where you can then head off to your next destination in the area….
7) Other Rotorua Activities
If visiting Hamurana Springs, odds are you will want to visit other attractions nearby to fill up your day. I put together a list of the top things to do in Rotorua if you want to learn more about some options.
1. Wai-O-Tapu Thermal Wonderland
2. Waimangu Volcanic Valley
3. Rainbow Mountain Scenic Reserve
4. Hamurana Springs
5. Okere Falls
6. Blue / Green Lakes Viewpoint
7. Whakarewarewa Redwoods Forest
8. Kerosene Creek
9. Polynesian Spa
10. Rotorua Museum
11. Rotorua Waterfront
12. Kuirau Park
I would advise to start the day at Hamurana, then head to Okere Falls to take in some river rafters going over a 20 foot waterfall, followed by the Blue and Green Lakes Viewpoint, and ending the day with a stroll through the Whakarewarewa forest.
There is just a ton to do all over Rotorua and I am sure you will have a great time enjoying it all.
8) Where to Stay in Rotorua
Rotorua offers a variety of options for its visitors – everything from budget backpacker friendly to high luxury.
No matter what you are looking for there will be an option for you. Below are some highly rated recommendations based on price range.
Budget: Rotorua Central Backpackers | YHA Rotorua| Fairy Springs Motel | Astray Rotorua Motel
Mid Tier: Quest Rotorua Central | Sport of Kings Motel | Silver Fern Rotorua | Regent of Rotorua
Luxury: Peppers on the Point | Black Swan Lakeside Boutique | Solitaire Lodge | Treetops Lodge & Estate
Well then, you should now have a better sense of what to expect at Hamurana Springs and how to go about your visit. If you have any questions or comments feel free to add them in below.
Also be sure to check out some of the other New Zealand itineraries and guides up on the site, and be sure to add Hamurana Springs onto your 10 Day North Island New Zealand Itinerary or 3 Week New Zealand Itinerary!
Have fun out there and safe travels!