Not to be confused with the famous Rainbow Mountain in Peru, the Rainbow Mountain Scenic Reserve is located right outside the city of Rotorua on the North Island of New Zealand.
Here you will be able to take part of a fantastic hike up Rainbow Mountain and enjoy the beautiful landscape along the way and from the summit.
So, if you are interested in taking part of hiking Rainbow Mountain of Rotorua, you have come to the right place.
* Affiliate Disclosure: This post may contain affiliate links, which means I may receive a commission if you make a purchase through the links provided, at no additional cost to you. Thanks for supporting the work I put into TripTins!
1) Rainbow Mountain Rotorua Facts
Name: Rainbow Mountain / Te Tihi o Ruru Summit Track (Trail #2 & #4 on map below)
Starting / Ending Point: 38°18'55.4″S 176°22'33.0″E (off Thermal Explorer Highway)
Pit Stops: Crater Lake* and Rainbow Mountain Summit
Length: 6KM / 3.7 Miles
Time: 2.5 Hours
Elevation Gain: 285 Meters / 930 Feet
Difficulty: Medium
Track Type: Dirt
*If you do not want to make the hike all the way to the top of Rainbow Mountain, you also have the choice to just make the 20 minute round trip walk to the crater lake. Not too far away from the parking lot, there is a great viewpoint from above of the bright blue lake.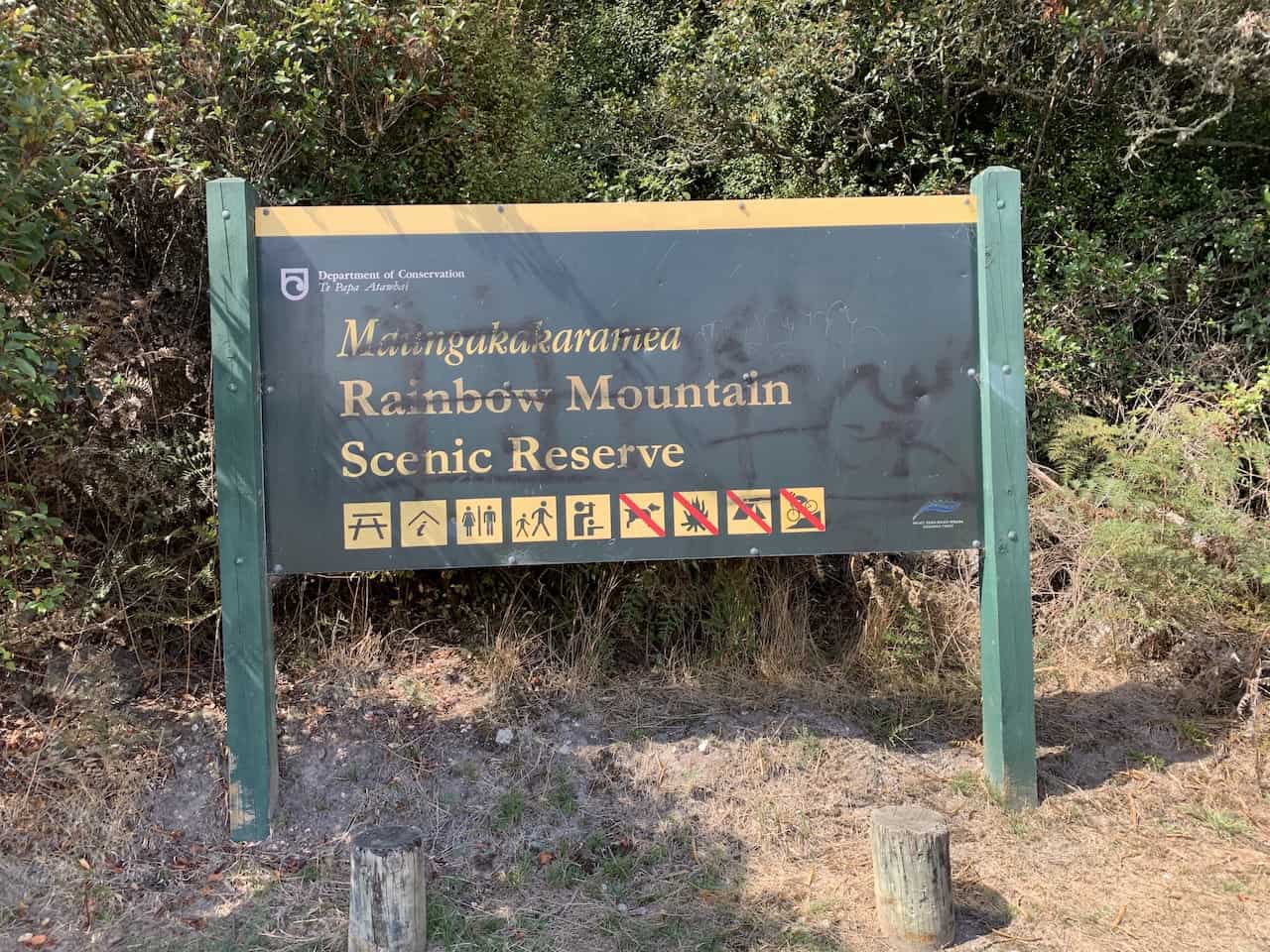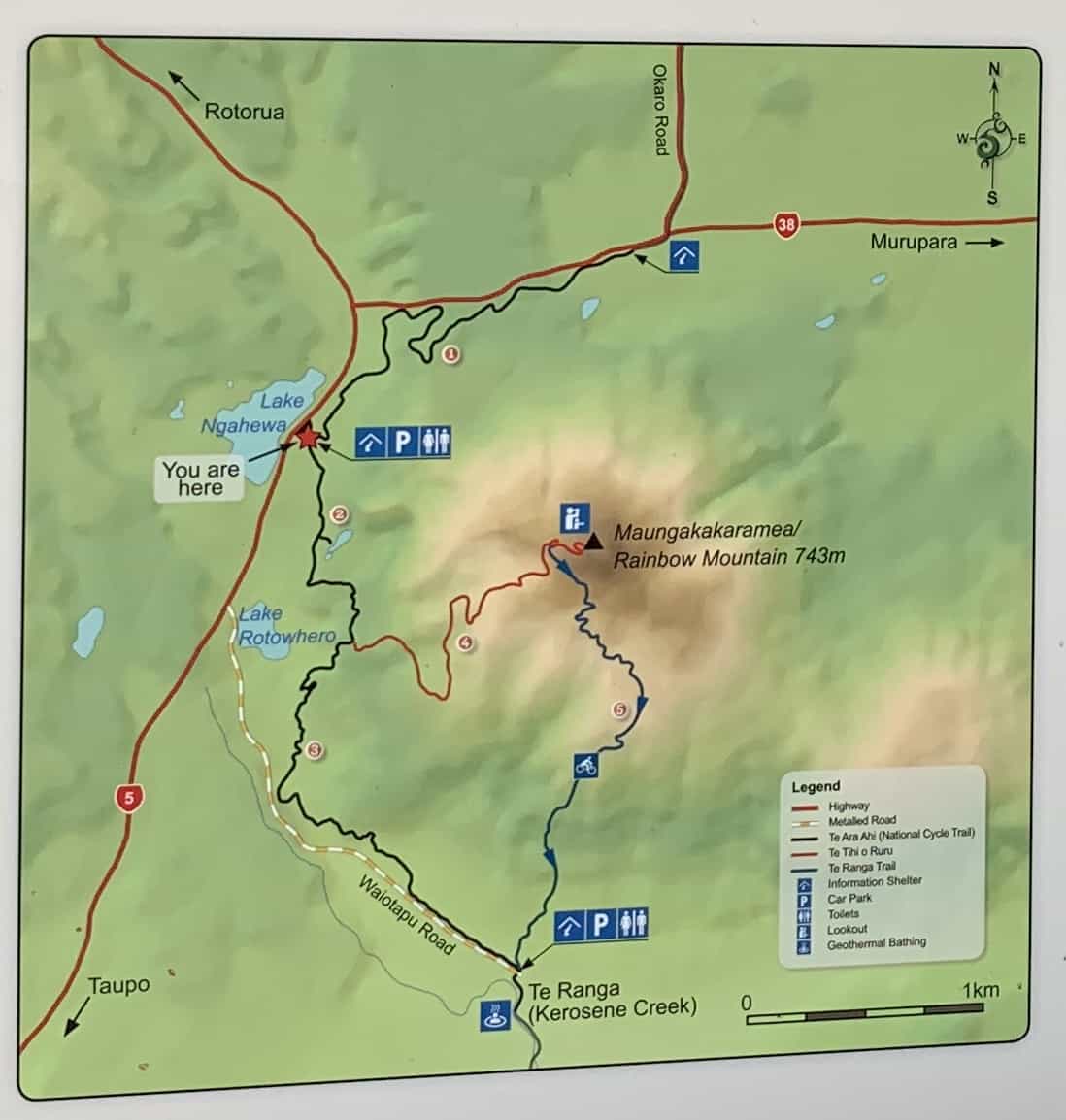 2) Rainbow Mountain Essentials
Whenever heading off on longer day hikes, I always recommend being adequately prepared when it comes to the type of gear to bring along.
Check out the below packing list to get you ready for this hike and other hikes in New Zealand.
While the hike up Rainbow Mountain is not too intense, it can still be useful to leverage several of the items.
Hiking Packing List

In general when it comes to hiking, there are a few main aspects to consider. These includes clothing layers, hiking shoes, hydration & fuel, electronics, and other essentials.

Below in a breakdown of some of the top items, but be sure to check out the Hiking Packing List for a more comprehensive view.

Clothing Layers

Layering is going to be a top consideration when hiking. You will want to be prepared for all sorts of weather so you can be comfortable in different situations. Some items may include:

→ Hiking Shorts
→ Hiking Pants
→ Short Sleeve Shirt
→ Long Sleeve Shirt / Sun Hoodie
→ Mid Layer Fleece
→ Puff Jacket (not always needed)
→ Packable Rain Jacket (Columbia Watertight II)

Note that your layers should be made of moisture wicking material as they are breathable and quick drying.

Footwear

Having appropriate footwear will also be very important. You will want to have shoes with the necessary grip and support to keep you safe on the trail.

→ Hiking Shoes (Keen Targhee)
→ Hiking Socks (Darn Tough)

Other Essentials

Whether it is hiking gear, electronics, or just some miscellaneous items, here are some other essentials to bring along on hikes.

→ Hiking Backpack (Osprey Talon 22) & Rain Cover (Joy Walker Cover)
→ Water Bottle (CamelBak Chute or Katadyn Filter Bottle)
→ Portable Charger (Anker PowerCore 5000mAh)
→ Action Camera (GoPro Hero)
→ Energy Bars & Snacks
→ Hat & Sunglasses
→ Sunscreen & Bug Spray
3) Rainbow Mountain Scenic Reserve Starting Point
The starting point of the Rainbow Mountain hike is just off of the Thermal Explorer Highway between Rotorua (20 minutes) and Taupo (40 minutes).
The exact GPS coordinates of the parking lot are 38°18'55.4″S 176°22'33.0″E. Simply input that into Google Maps and you should be on your way in no time.
The easiest way to get to the starting point of the trail is by having your own car since there aren't any official busses that have stops at the Rainbow Mountain Scenic Reserve.
» If you want to learn more about the NZ roads, check out the Driving in New Zealand Guide up on the site.
Below is a map with the starting point starred and the route from both Rotorua and Taupo.
→ Be sure to check out Rentalcars.com when it comes to renting a car in New Zealand. The site will show you car options & prices from a variety of companies. This ensures that you will be able to choose the perfect car (and deal) for your trip to the country.
4) Rainbow Mountain Rotorua Hike
Once at the starting point parking lot, it is a pretty simple path to follow all the way up to the summit. You will want to follow signs on the Te Tihi o Ruru Summit Track as that will guide you to the top.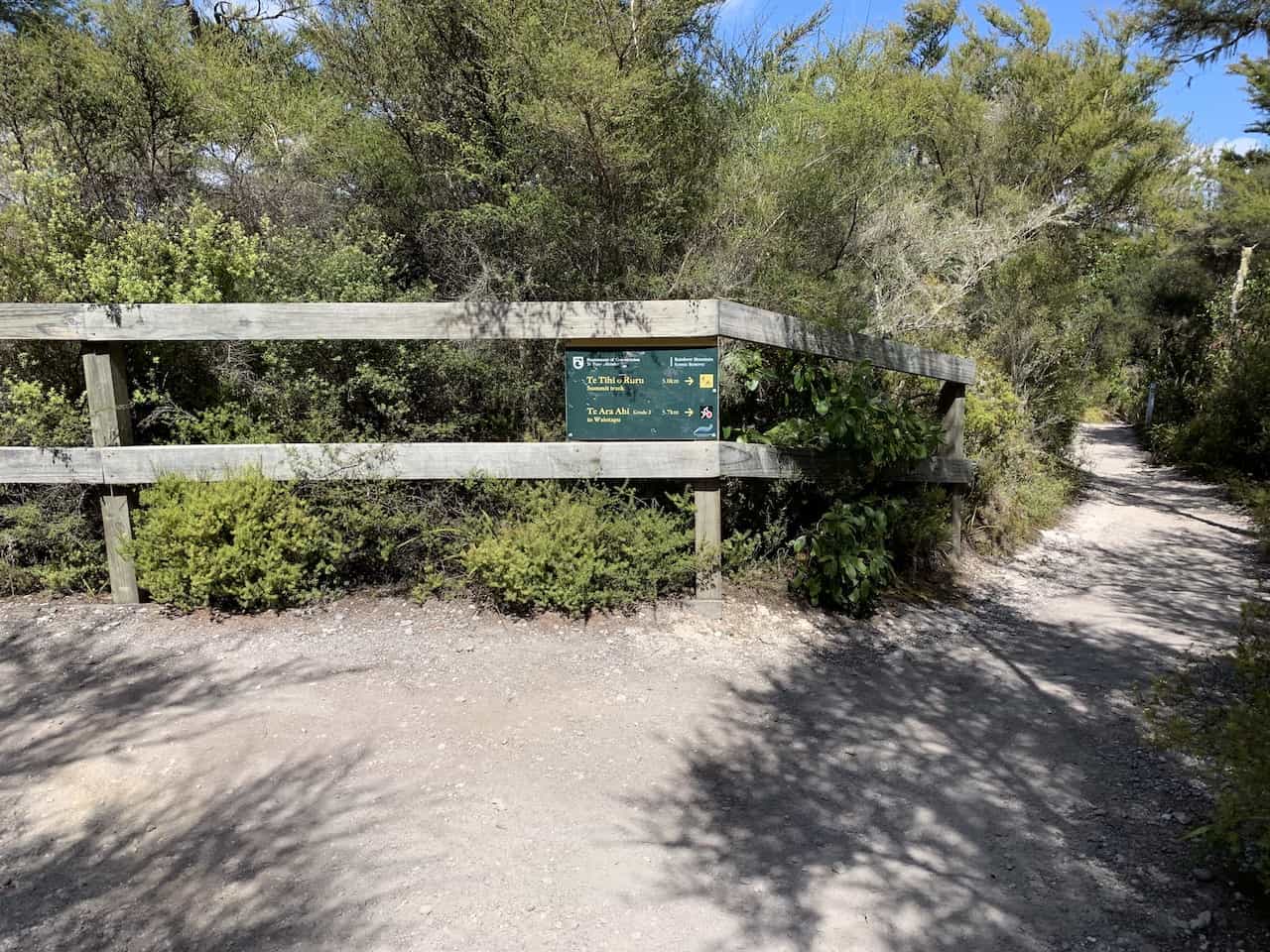 Not too far from the start of the trail though you will see a sign pointing you off the main path and towards the Crater Lake.
This is one of the highlights of the trail as you get a beautiful viewpoint of the blue crater lake down below and the multi colored rock layers of the mountain right alongside it.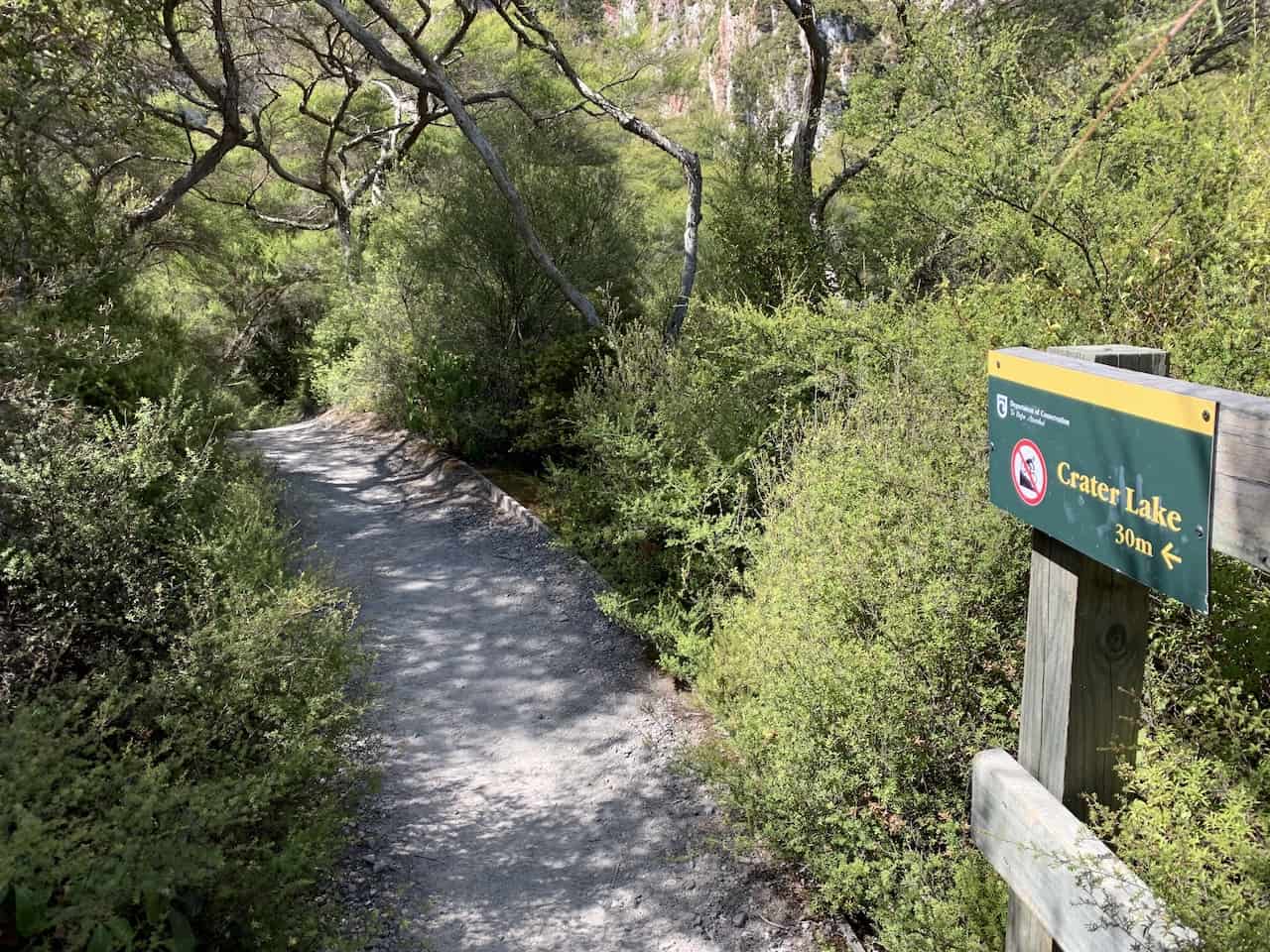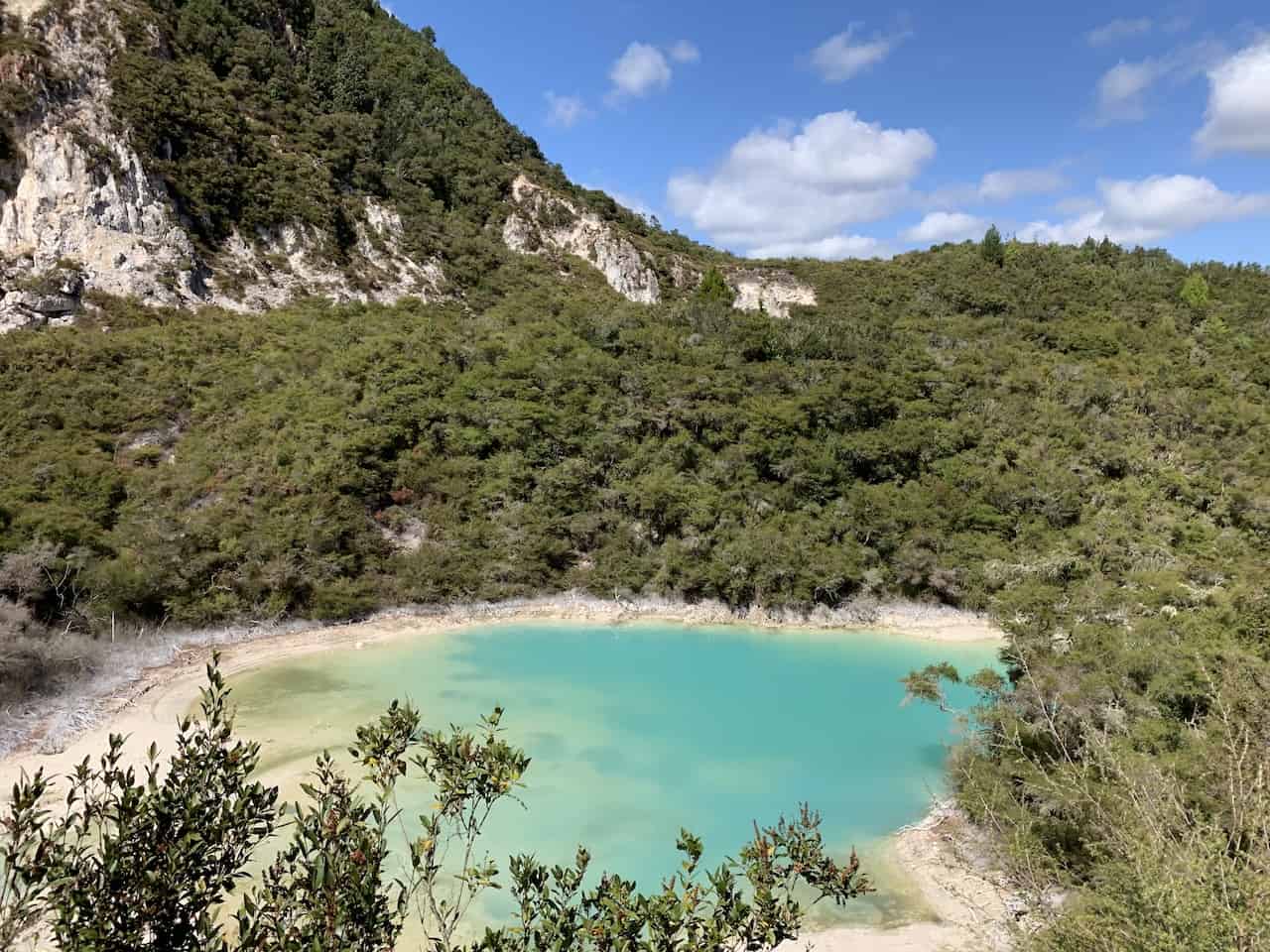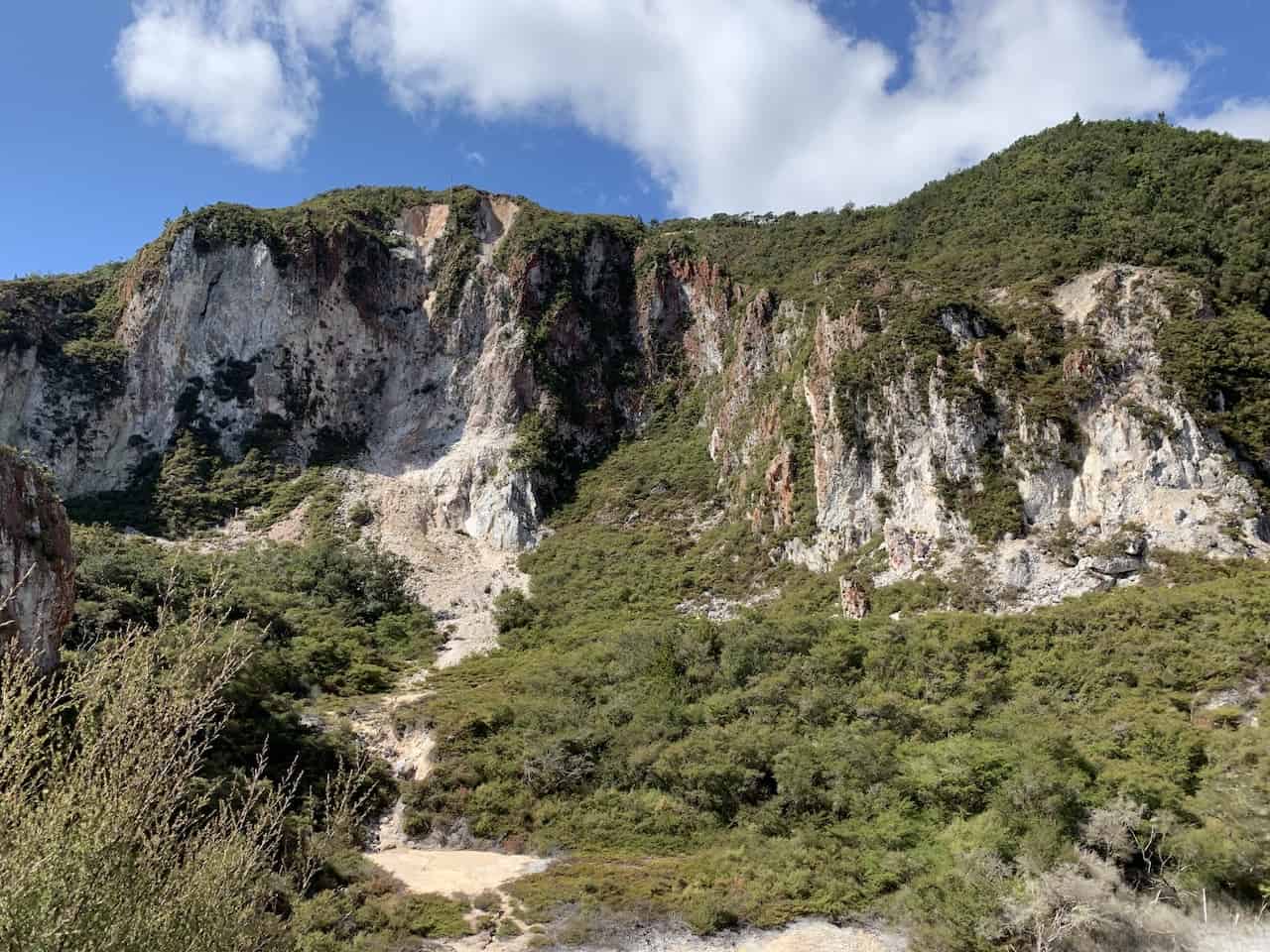 If you do not want to complete the entire trail to the summit than this is a fantastic short trail for anyone to take part of just to get in those views. But if you have it in you, I highly recommend continuing onwards to the peak.
The rest of the trail is pretty straightforward with an intersection or two along the way (just follow those Te Tihi o Ruru Summit Track signs!).
As you continue upwards you will be walking on a variety of dirt paths through the surrounding forests. From time to time you will get some great views of the vast amount of trees and nature around the Rainbow Mountain area, that seemingly go on for miles and miles.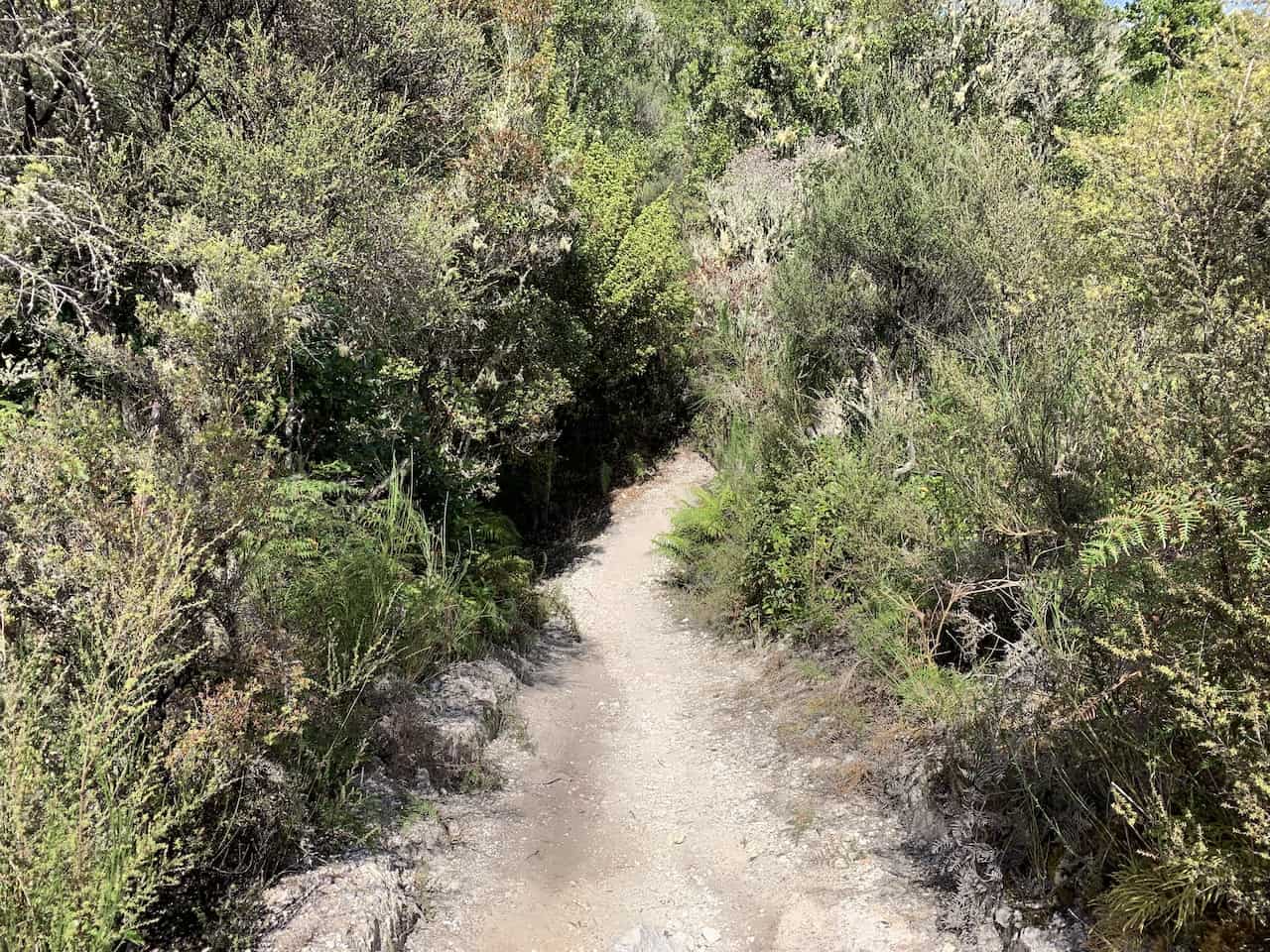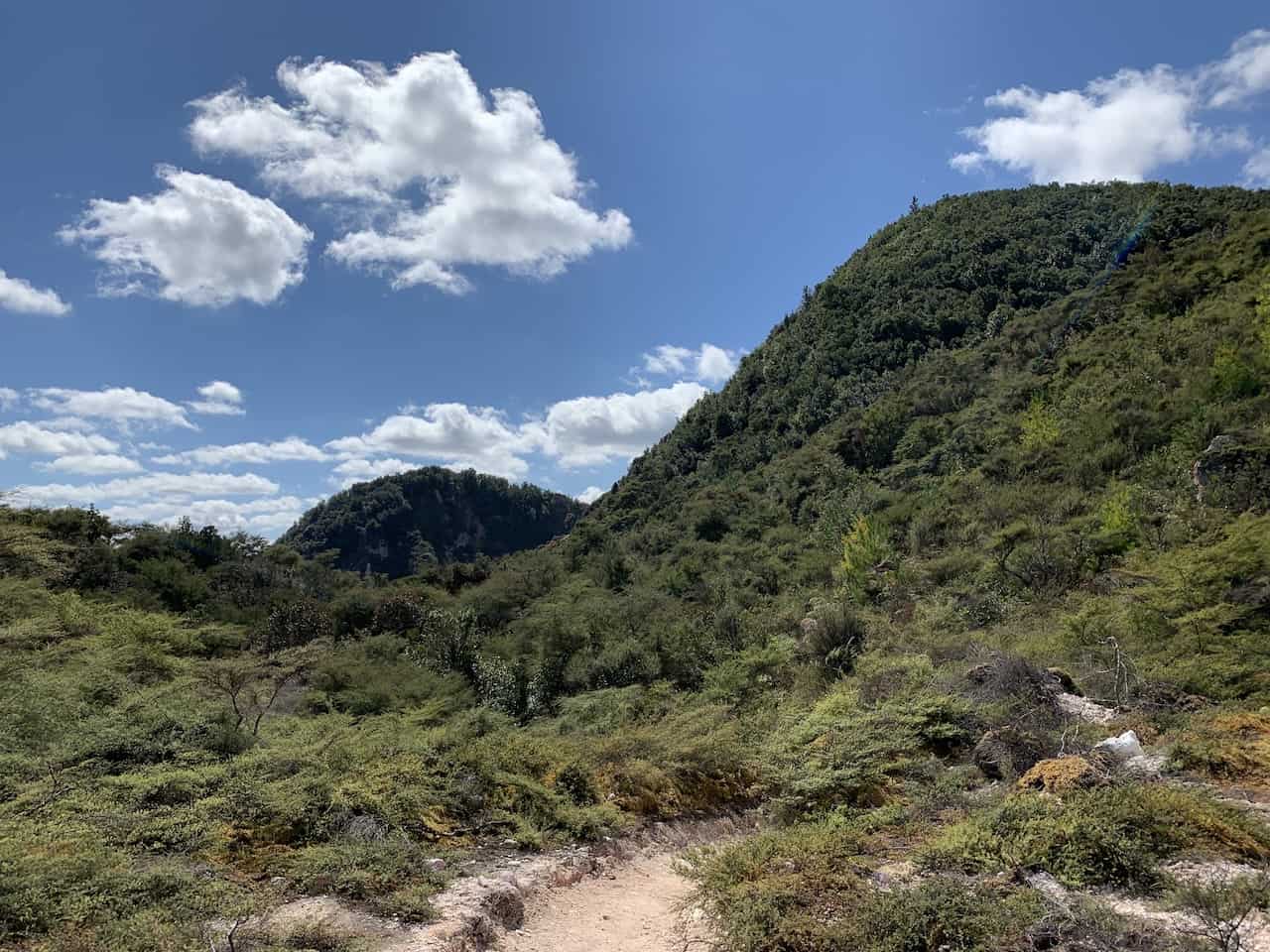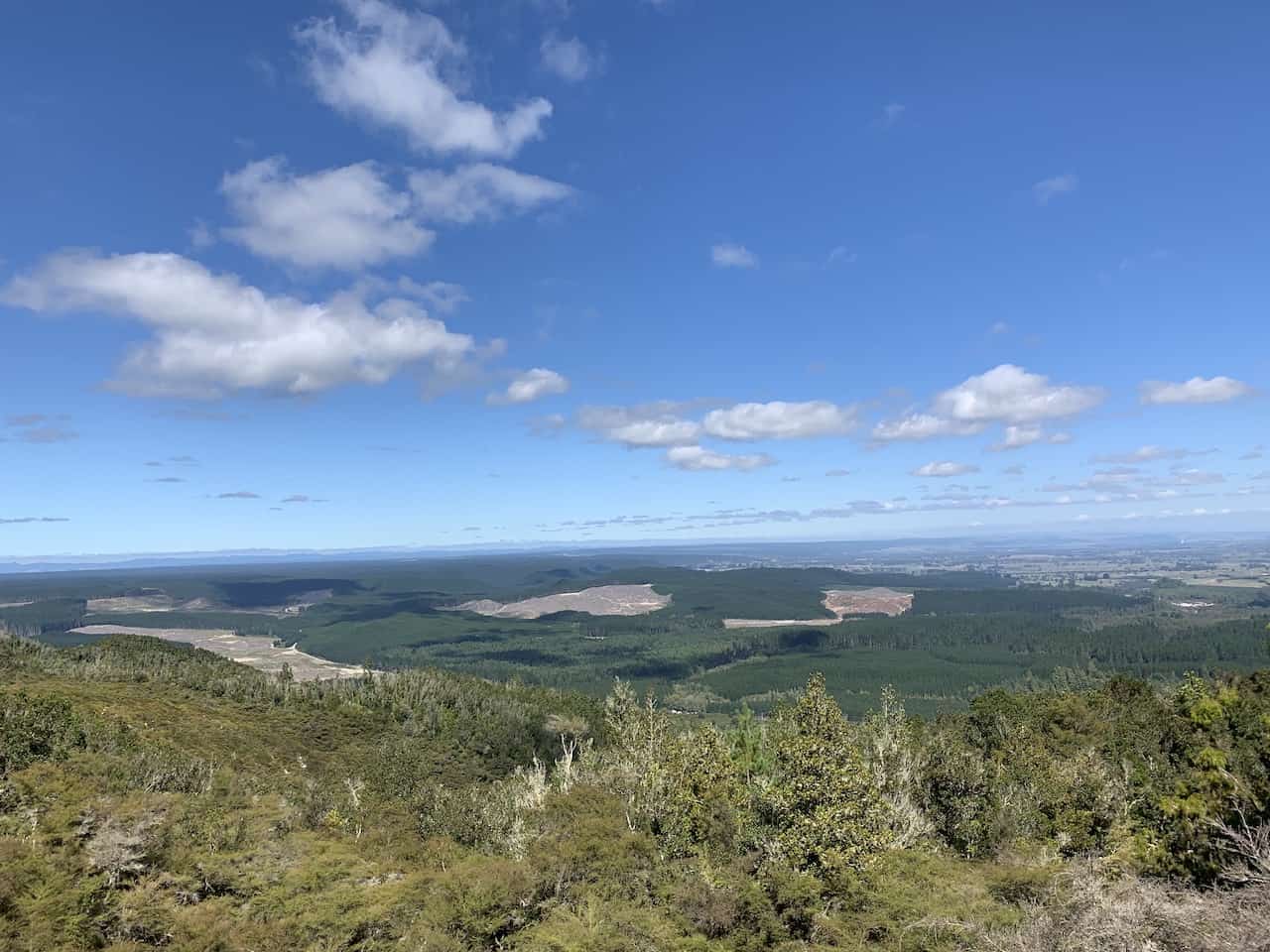 You will also be able to see more examples of the colorful rock that makes up the mountain – hence the name Rainbow Mountain.
Brown, red, orange, white – seeing these multi colored layers of rock is yet another highlight of the trail.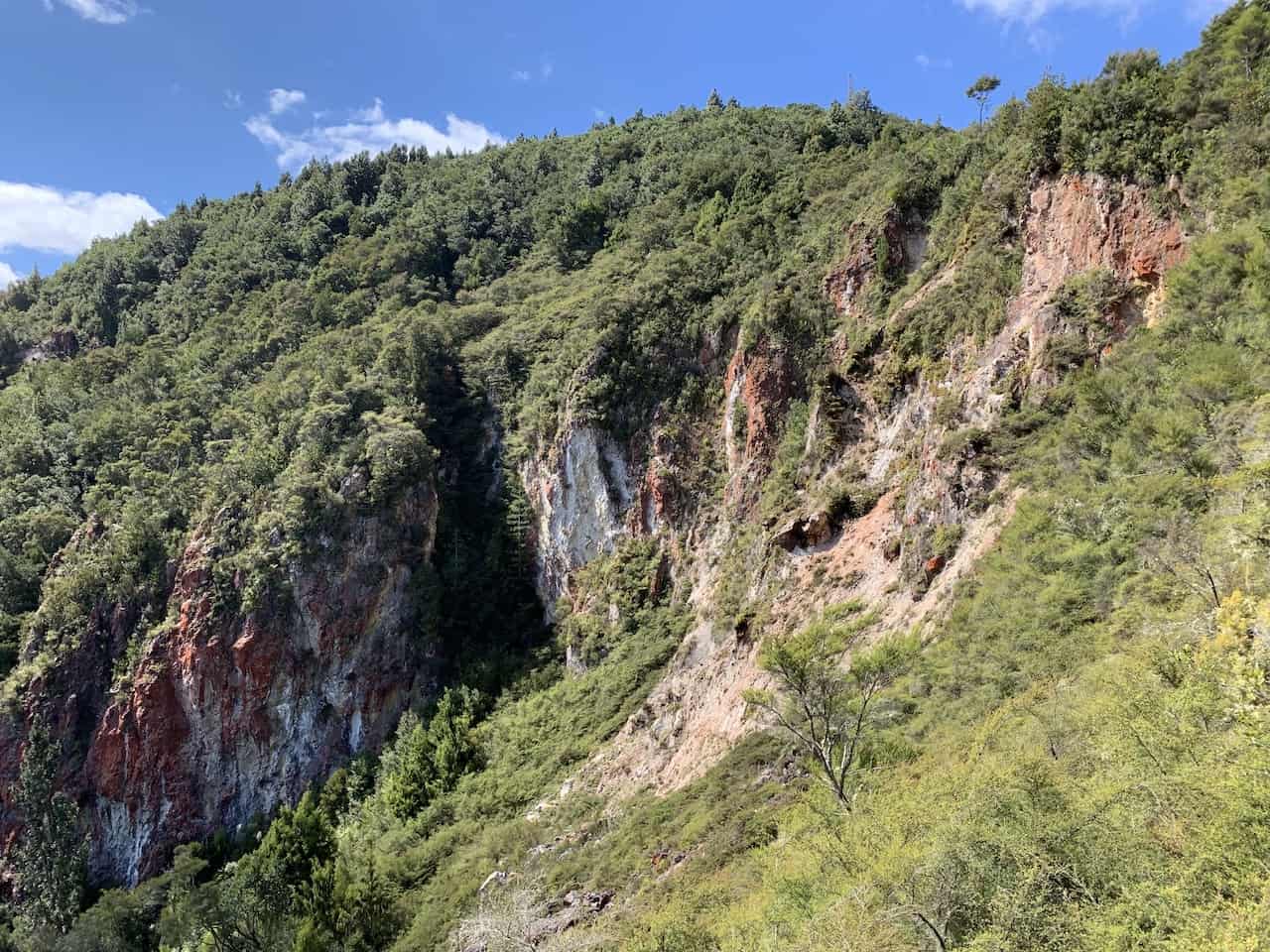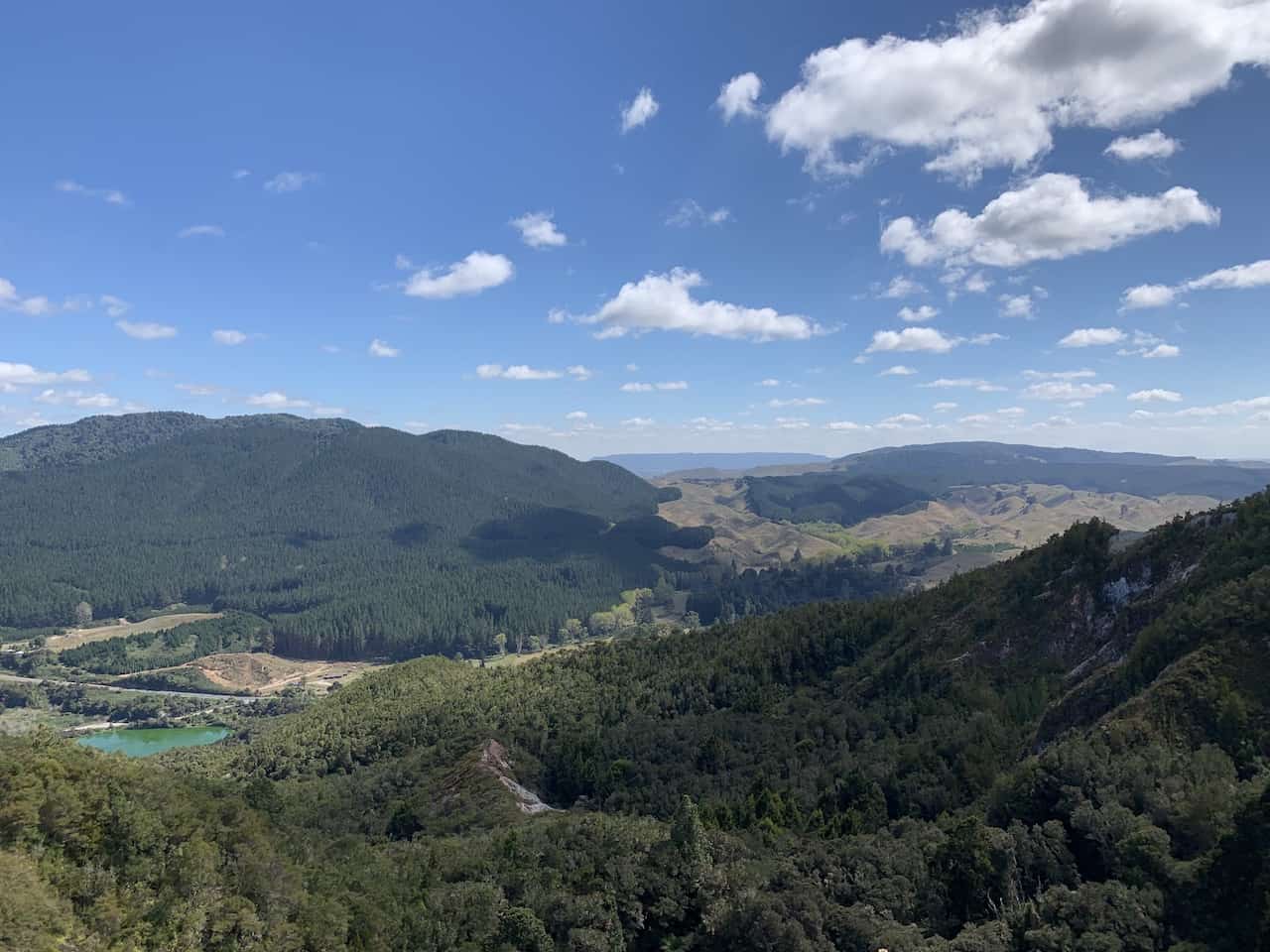 Soon enough though, after making your way through the forest and taking in some views along the way, you will reach the summit and start to see what makes this hike even more special.
From the top there will be beautiful views of the rolling hills out in the distance. They seem almost endless with the road just slicing right in between all of them.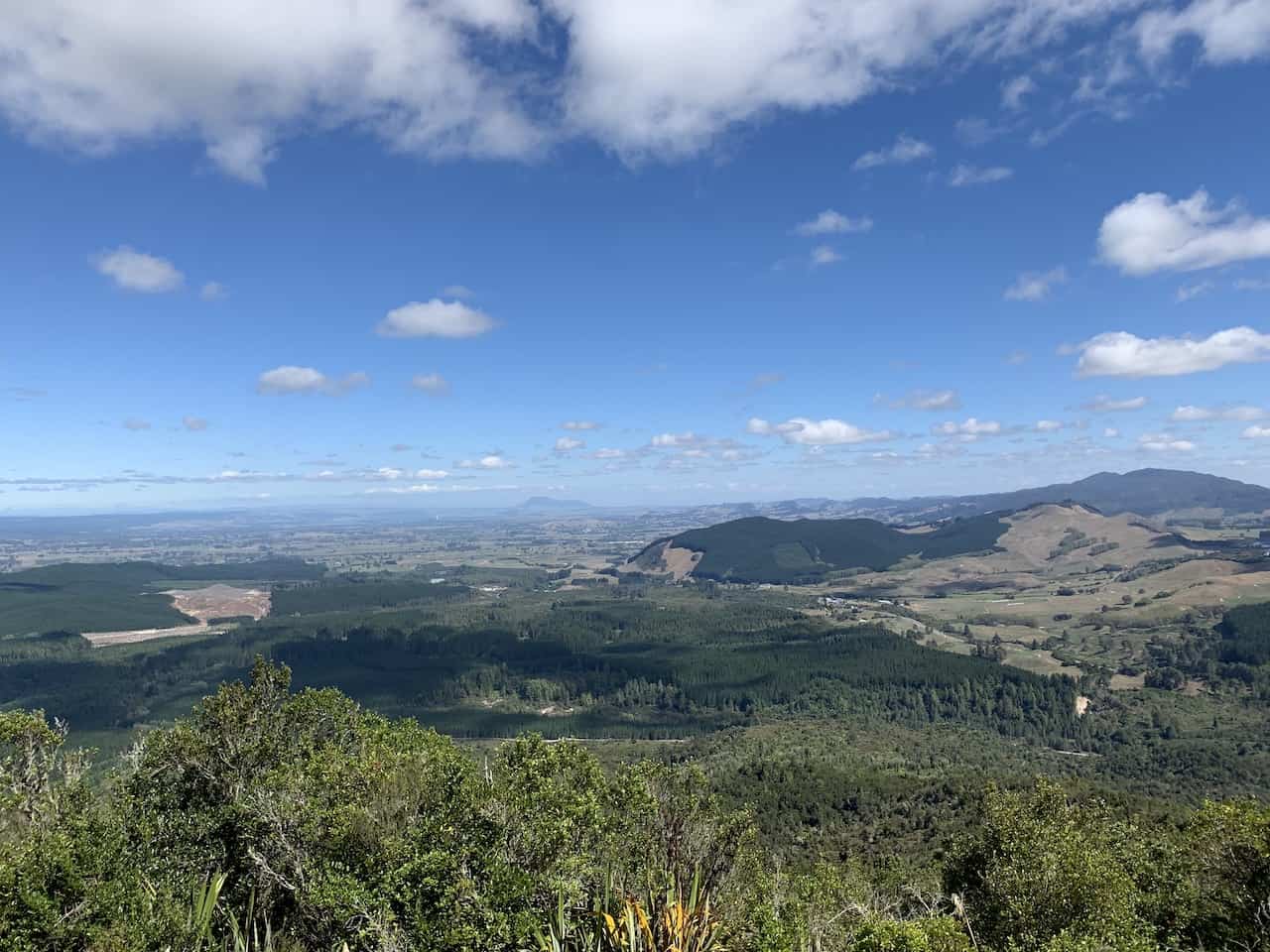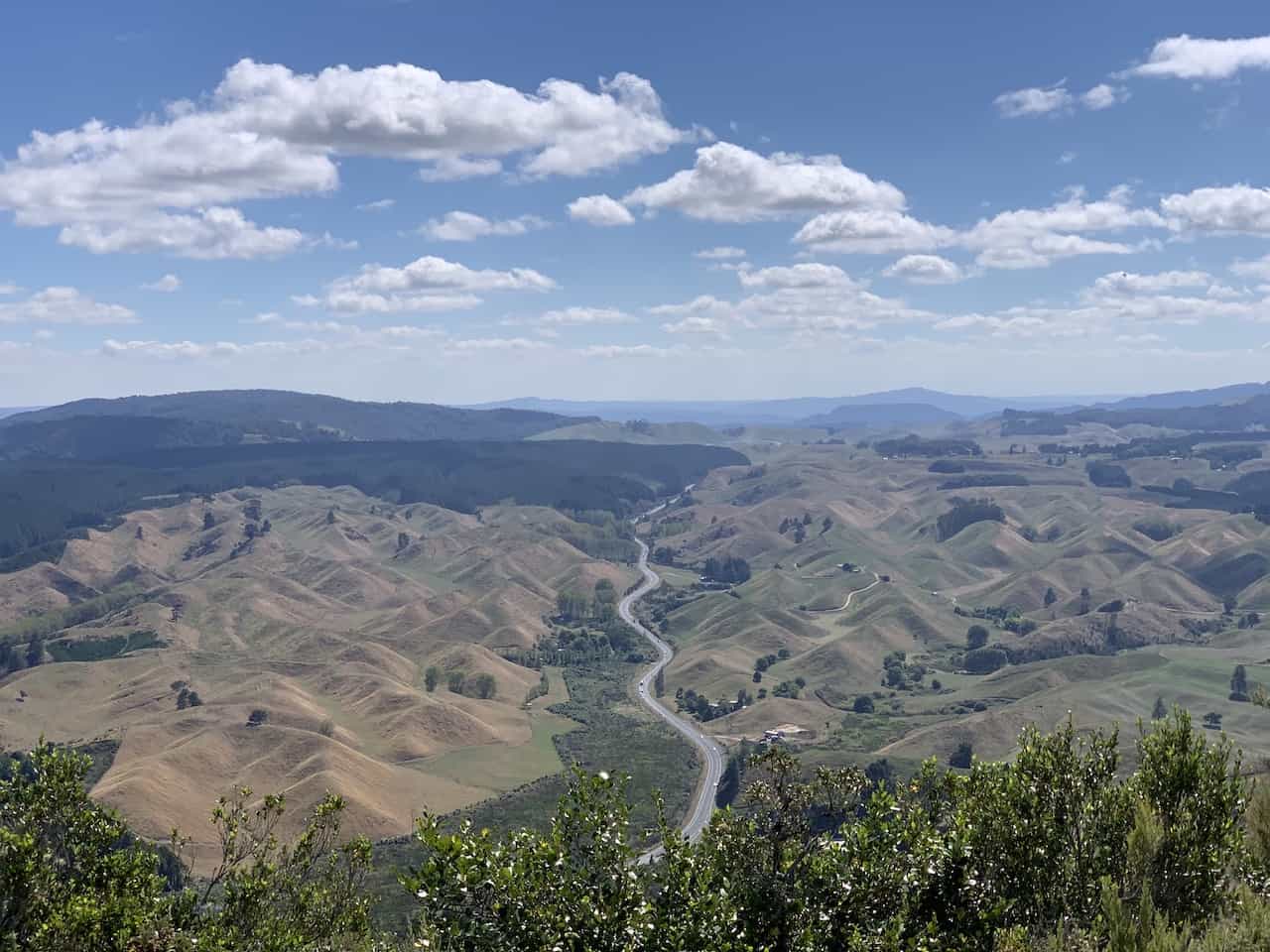 Also on top of the mountain you will find a small two storied structure. This is actually a forest fire watch tower. Around the whole area, forest fires can be a real danger.
There are a few of these towers in different sections of the forest and the person up top keeps a lookout for potential fires before they start to spread.
Definitely head up there yourself where you can learn a bit more about the area and what they do to prevent fires from spreading around the area.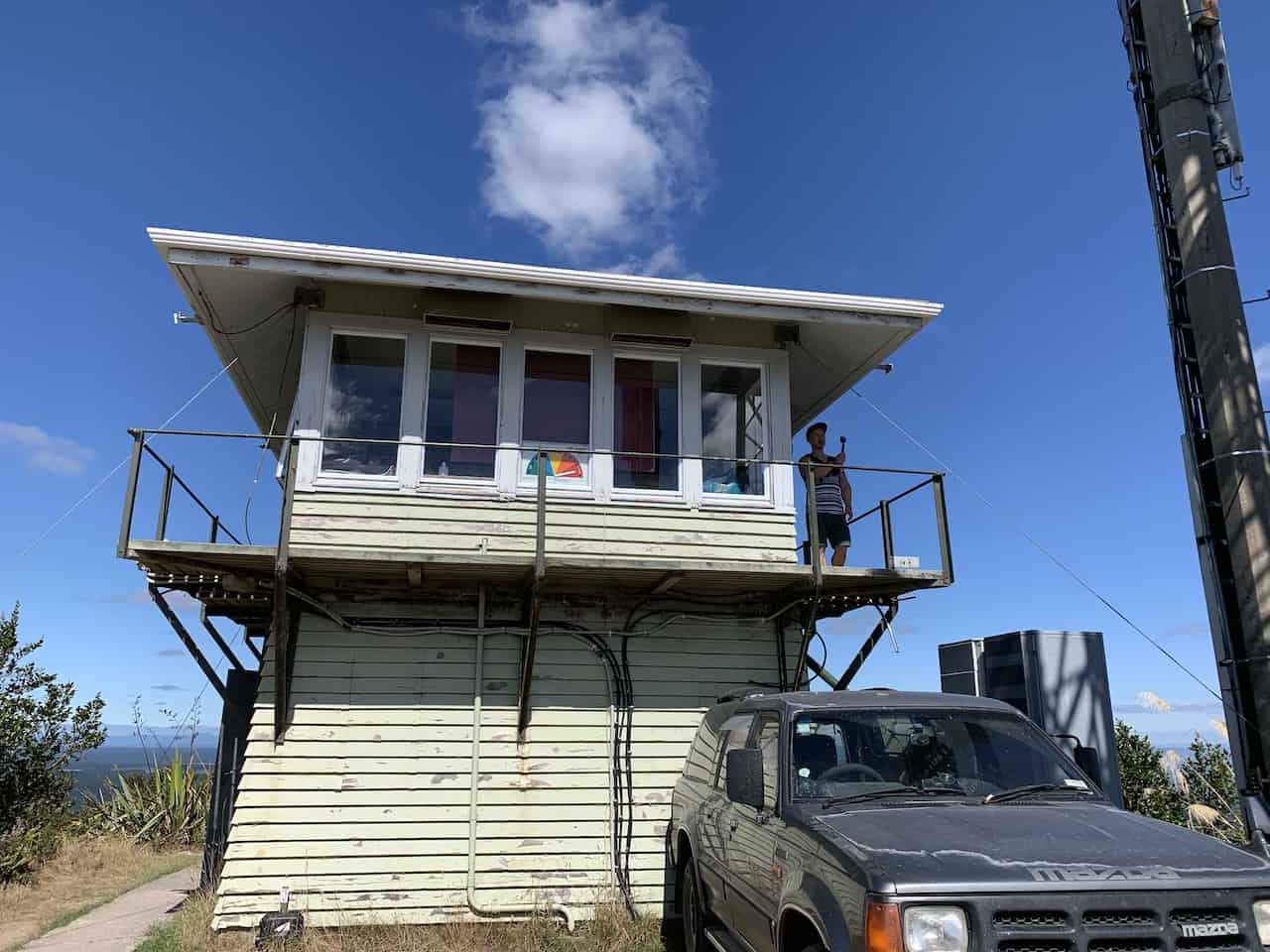 After you have had enough time taking in the views from up top and heading into the watch tower if you chose to do so, continue the same way you came back down to the parking lot.
Since this section is downhill, you can expect it to be a bit shorter than your time up the mountain.
5) Biking Trails
As you can see in the map I put in the beginning, there are also biking trails in the Rainbow Mountain Scenic Reserve.
Technically all the trails on the map can be biked in addition to walking. However, that trail to the summit can be quite difficult due to the elevation gain.
Once at the summit though, if you have a bike, you will be able to take a different path back down to the parking lot.
So instead of biking the same way up and down, you can make it more of a loop (Trail #5 -> Trail #3). Note however that this trail (Trail #5 on the map) can only be biked – no hiking allowed.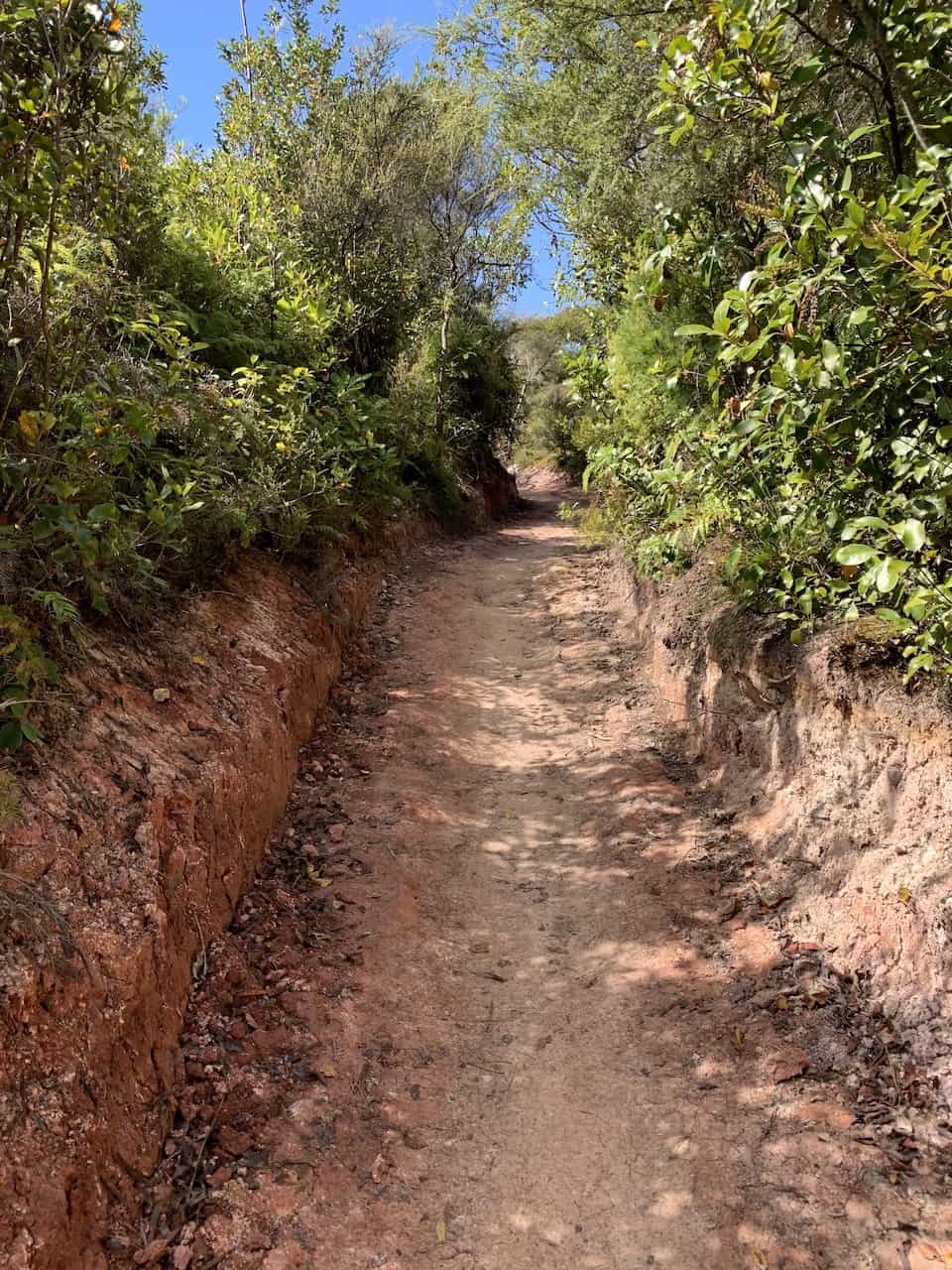 6) Kerosene Creek
A great potential add on after making the hike up Rainbow Mountain, is to take the short drive to Kerosene Creek. You can also walk to it on trail #3, however it would add several extra hours to your day.
I would recommend jumping into your car and making the 5 minute drive to the creek. Once there, it is just a short pathway until you reach a point where you can hop into the natural hot river and relaxing those muscles. It is a great way to end your day around the area.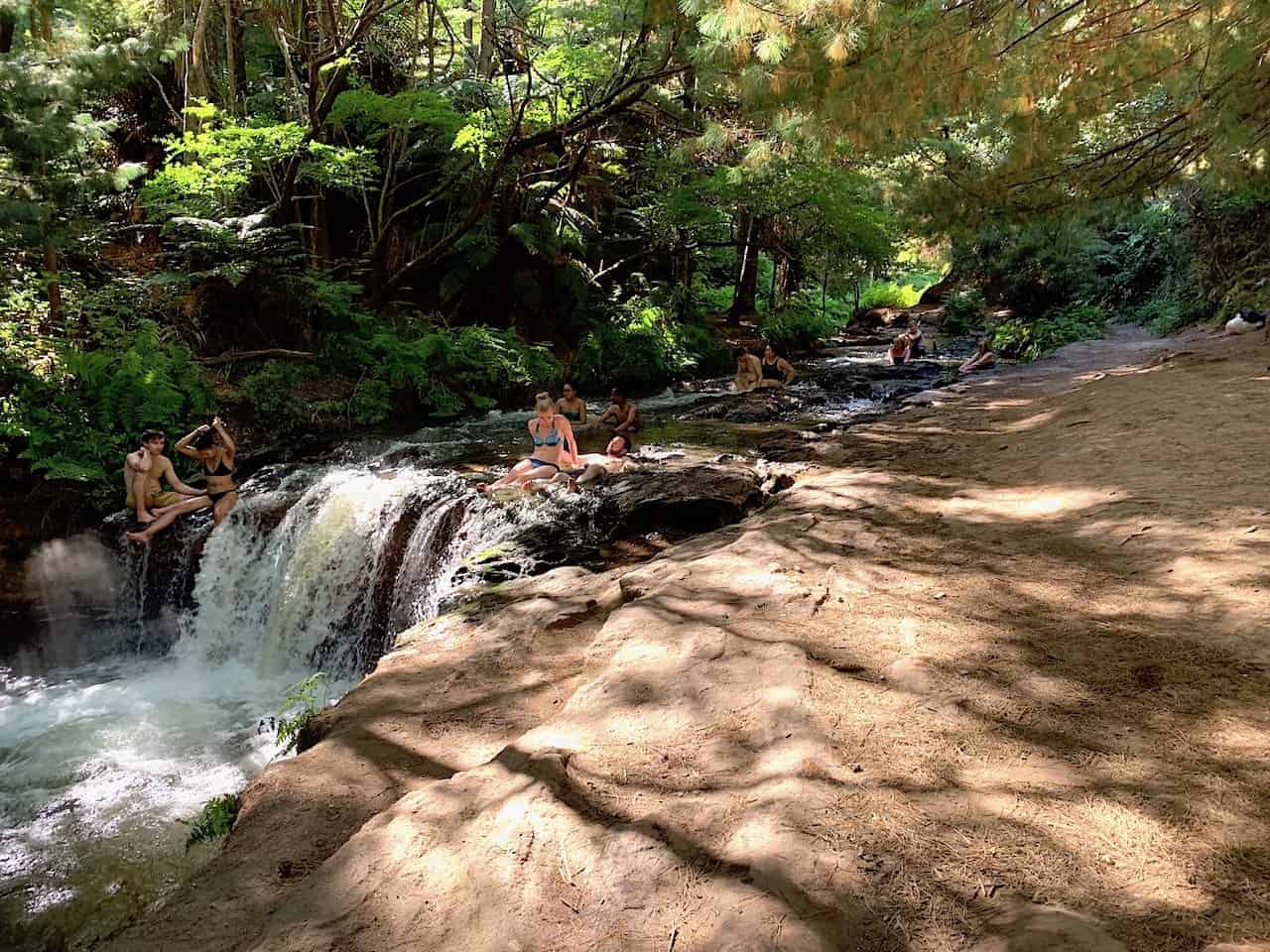 7) Other Rotorua Activities
Beyond Kerosene Creek there is a ton more to do around the Rotorua area.
I put together a list of 12 different activities to take part. Below are all the other places I would recommend visiting beyond the Rainbow Mountain Scenic Reserve and Kerosene Creek.
1. Wai-O-Tapu Thermal Wonderland
2. Waimangu Volcanic Valley
4. Okere Falls
5. Blue / Green Lakes Viewpoint
6. Whakarewarewa Redwoods Forest
7. Polynesian Spa
8. Rotorua Museum
9. Rotorua Waterfront
10. Kuirau Park
» Learn more about them all in the top things to do in Rotorua guide up on the site!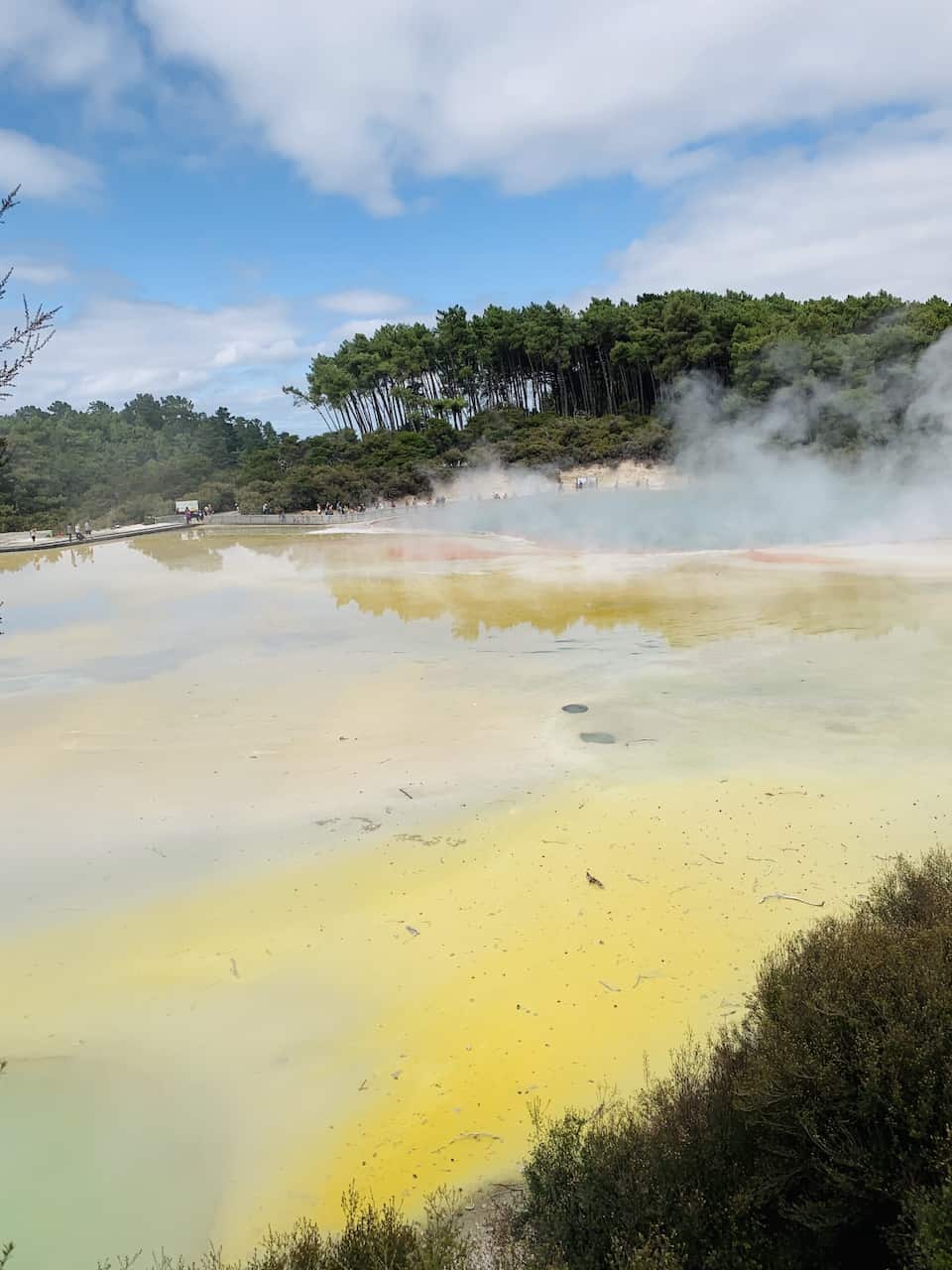 8) Where to Stay in Rotorua
Rotorua offers a variety of options for its visitors – everything from budget backpacker friendly to high luxury. No matter what you are looking for there will be an option for you.
Below are some highly rated recommendations based on price range.
Budget
1. Rotorua Central Backpackers
2. YHA Rotorua
Mid Tier
Luxury
2. Black Swan Lakeside Boutique Hotel
I hope by now you have a much better sense of how to take part of the Rainbow Mountain hike of Rotorua and you will have no trouble getting to that summit.
Feel free to let me know below if you have any questions or comments about the trail. Also be sure to check out the other New Zealand itineraries and guides up on the site.
You can take part of the Rainbow Mountain hike as part of your 10 Day New Zealand North Island Itinerary or even your 3 Week New Zealand Road Trip. Up for a tougher climb? How about the Tongariro Alpine Crossing, located not too far away!
Have fun out there and safe travels!