If you are looking for one of the most scenic lake hikes in Colorado, look no further than the Mohawk Lakes trail outside of Breckenridge.
The Mohawk Lakes hike starts along Spruce Creek and visits Mayflower Lake, Continental Falls, Lower & Upper Mohawk Lakes, as well as four more lakes along the way.
Read on to learn everything there is to know about the trail and how to take part of it during your time in Colorado.
* Affiliate Disclosure: This post may contain affiliate links, which means I may receive a commission if you make a purchase through the links provided, at no additional cost to you. Thanks for supporting the work I put into TripTins!
1) Mohawk Lakes Trail Info
As mentioned, it is not just about the Mohawk Lakes on this trail. There is actually the possibility to add on so much more. Below are the highlights (in order), to expect along the way:
Mayflower Lake
Continental Falls
Lower Mohawk Lake
Upper Mohawk Lake
Lake #4
Lake #5
Lake #6
Lake #7
Trail Notes:
After passing by the Upper Mohawk Lake, there are no official names for the remaining four lakes
Lake #7 also doesn't include a visible trail from Lake #6 – it is more so just walking around 10 minutes in the general direction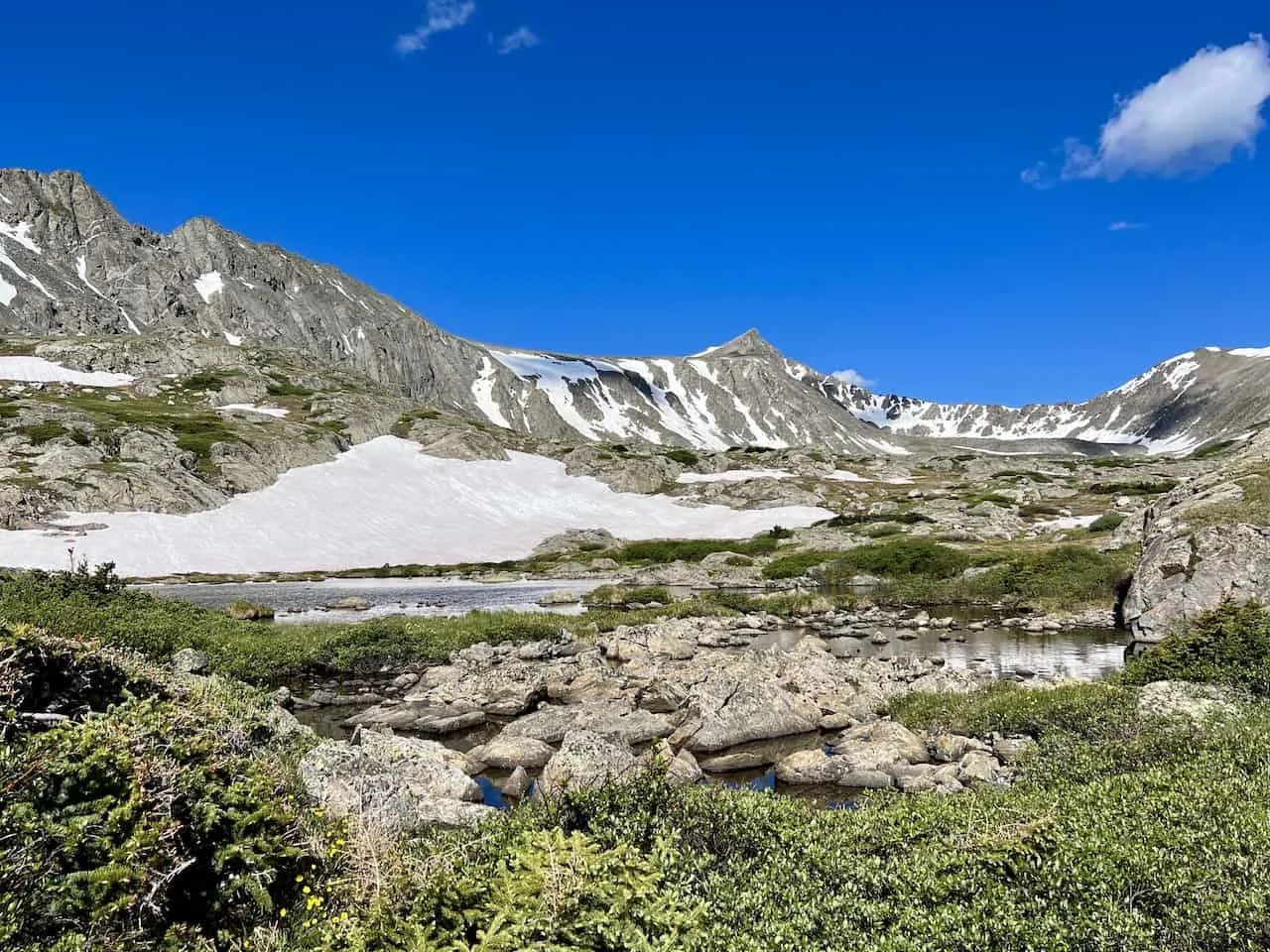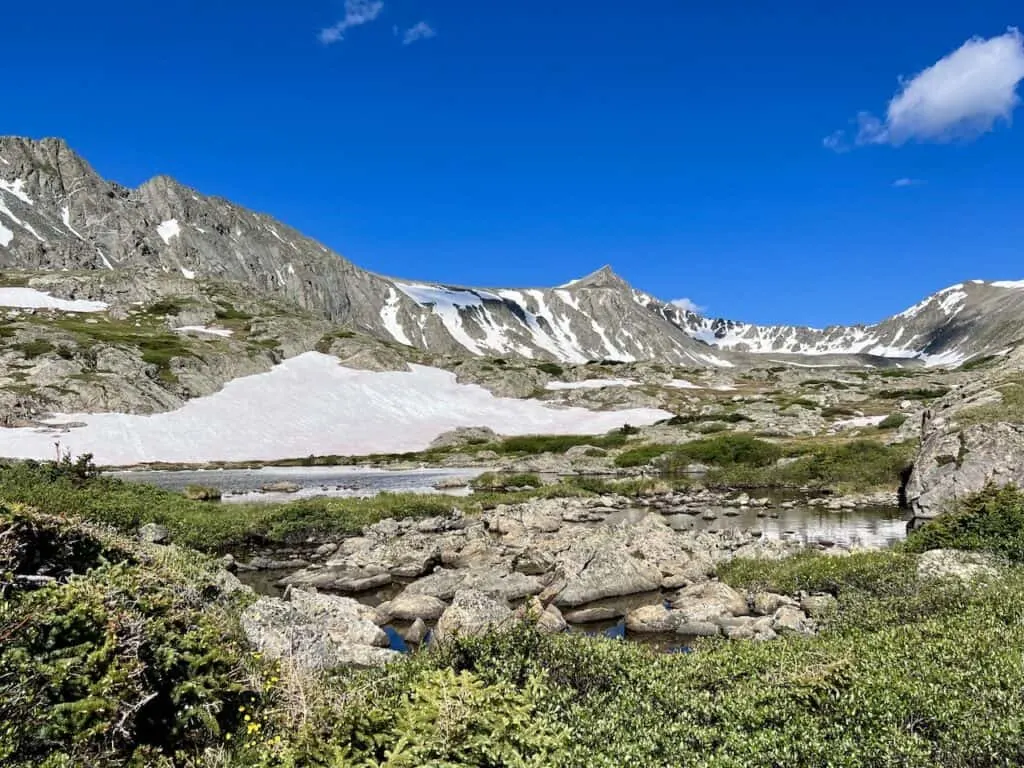 2) Hiking Options & Trail Stats
While you can certainly pick and choose how far you would like to go, I have found that most people decide between two options:
Hike to Lower & Upper Mohawk Lakes
Hike to All Seven Lakes
Below are the trail stats that cover both of these options:
Lower & Upper Mohawk Lakes
Distance: 6.5 miles
Elevation Gain: +1,700 feet
Duration: 4-5 hours
All 7 Lakes
Distance: 10 miles
Elevation Gain: +2,200 feet
Duration: 6-7 hours
While you certainly can do the hikes in a shorter amount of time, the durations mentioned also include some time to spend around the lakes themselves.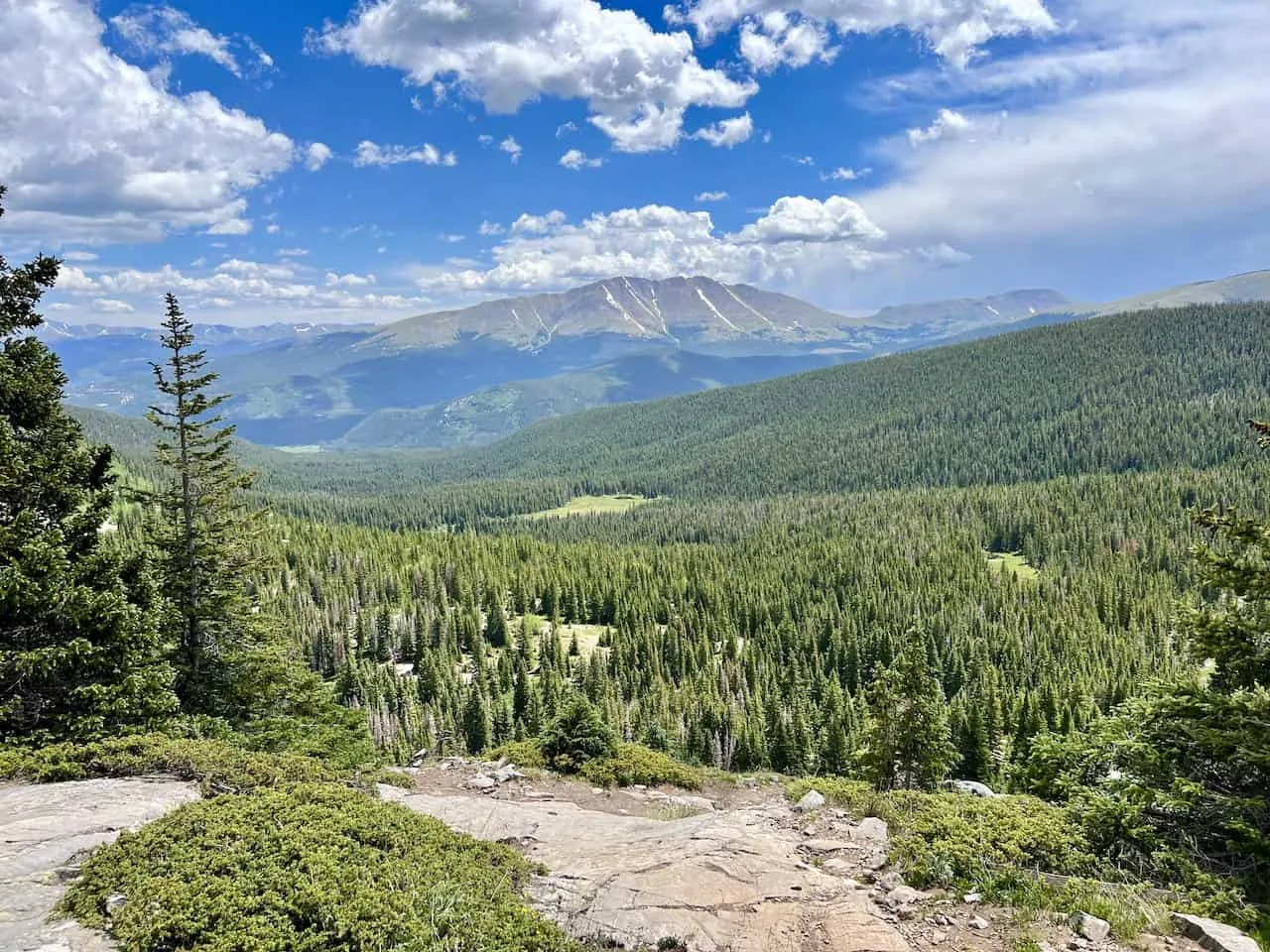 3) Mohawk Lake Parking
From a parking standpoint, there are two main ways to go about it. And this will all depend on what type of car you have.
2WD Parking Lot
Most people park at the 2WD parking lot (image below). This is where the "official" trail starts from. On Google Maps, you will see this called out as "Spruce Creek Trail".
At this parking lot there is space for around 30 cars and more roadside parking when the lot fills up.
Colorado Car Rental: Looking for a rental car in Colorado? Check out Rentalcars.com for a variety of options that can work well on your trip.
4WD Parking Lot
Now, if you have a high clearance 4WD car, you will be able to make your way further up the road to the second parking lot.
For directions, you can still put in "Spruce Creek Trail" into navigation and then simply follow the road further until you reach the small lot. On Google Maps, I see this tagged as "Francie's Hut – High Parking".
The main benefit to parking at the second parking lot is that you can save just over 2 miles (round trip) of hiking time. By doing so, you will just miss out on a portion of the trail that makes it way along Spruce Creek in the forest.
Parking Note: Mohawk Lakes is the most popular trail in the area. Due to this, the parking lot will fill up early (especially on weekends). If you want to guarantee a spot, make your way there as early as possible.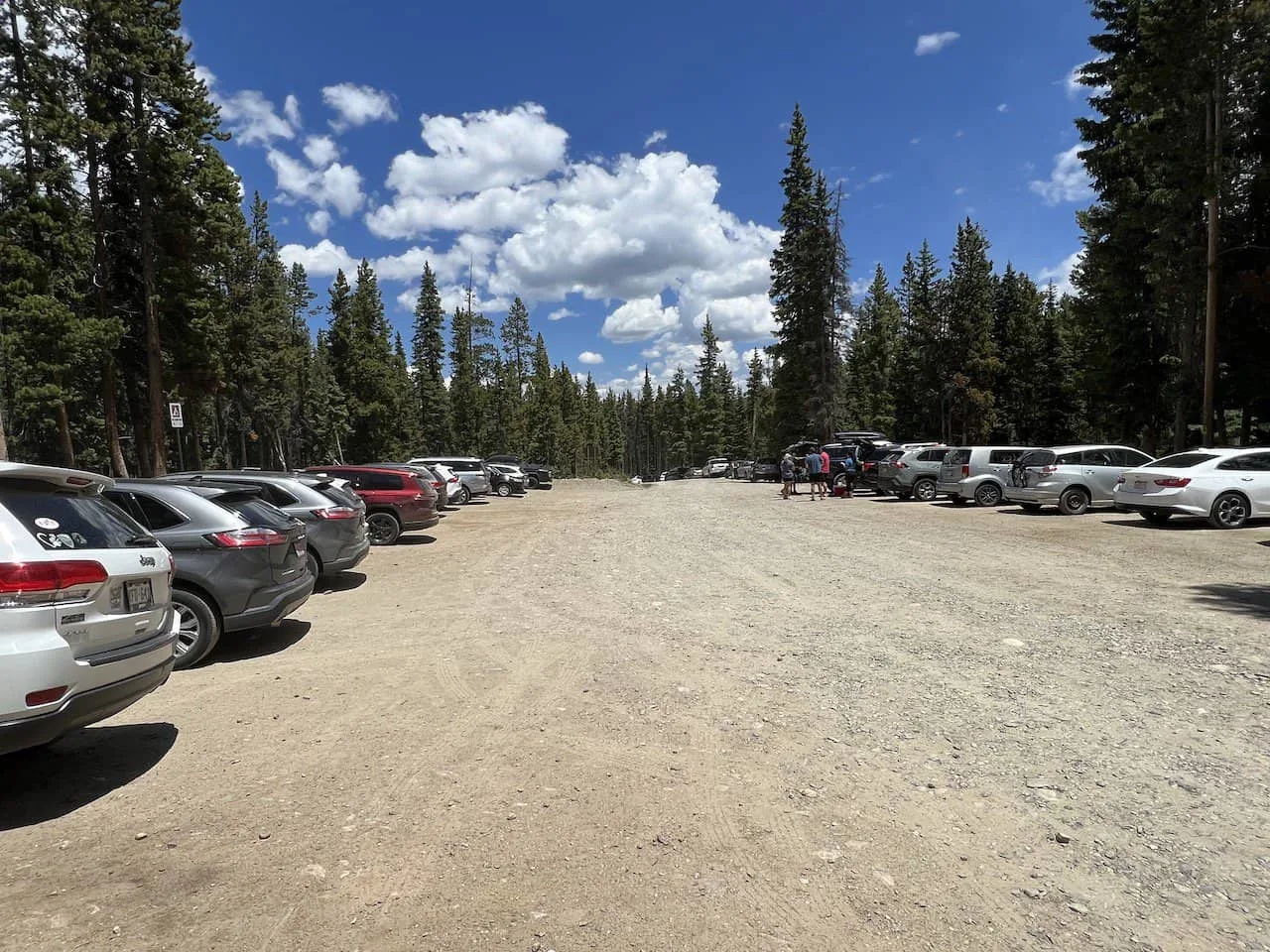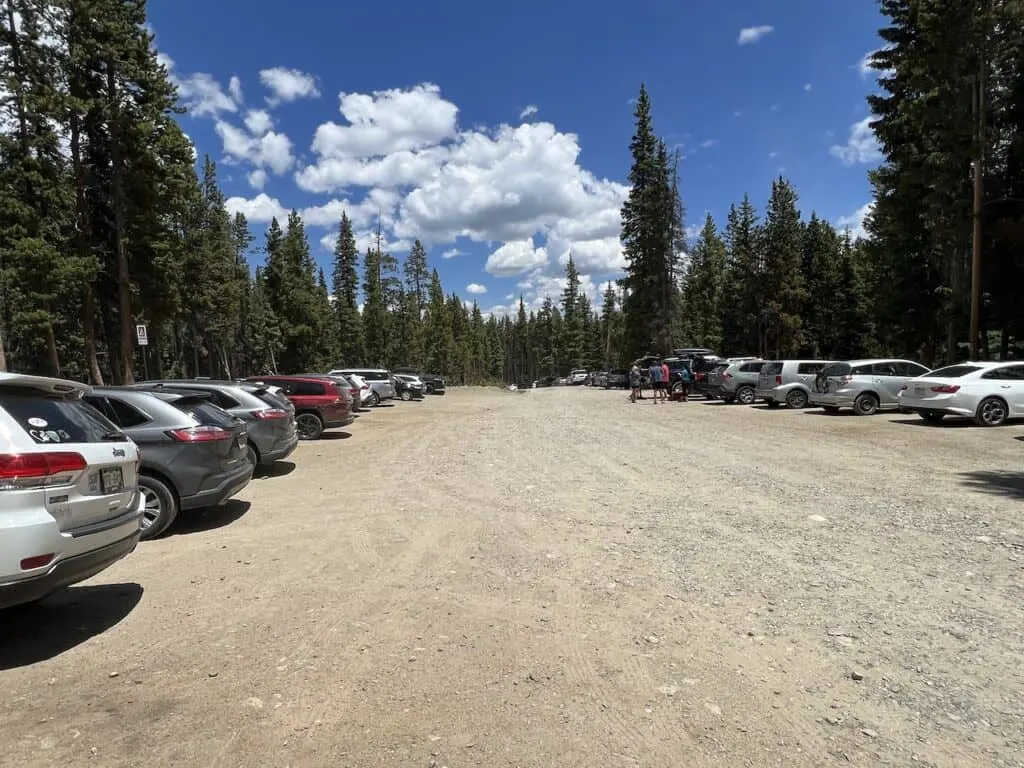 4) Mohawk Lakes Map
To better understand the parking situation along with the route and lakes, I have included a map that pinpoints all the necessary information.
5) Colorado Hiking Tips
Before jumping into the hike itself, I did want to mention some important tips when it comes to hiking in Colorado:
Be aware of the elevation: hiking at altitude is no joke and you need to ease your way into the trails. Before taking on hikes from the start, give yourself a day or so to acclimatize.
Stay hydrated: to help with the altitude and the hiking itself, stay consistently hydrated. Take plenty of water and consider a Katadyn Filter Water Bottle for the trail.
Bring bug spray: the bugs can be out in full force on many trails. Put on some bug spray to keep yourself protected while hiking.
Keep an eye on the forecast: the weather can turn suddenly out on the trails. Be sure to check the weather forecasts beforehand to avoid the rain & thunderstorms. Afternoon thunderstorms can be more prominent in the summer months (so start early!).
Download offline maps: to keep yourself on track, download offline maps for the trail. This can be done by using navigation apps such as AllTrails, Maps.me, and Gaia. You should also download offline Google Maps, as cell service does not always work closer to the trailheads.
Hiking Resources & Checklist

Before heading out for the trails, be sure to read up on some of the hiking resources up on the site. These are here to better prepare you for all types of outdoor adventure.
6) Where to Stay in Breckenridge
Breckenridge is just 15 minutes away from the trailhead and makes for the perfect base. You not only can take advantage of this hiking trail but also many other nearby ones as well.
There are a few top spots to choose from around town. Below are three highly rated hotel options to consider during your time in the area.
Marriott's Mountain Valley Lodge: when it comes to hotels in Breckenridge, it does not get much better than the Mountain Valley Lodge. Whether it is the location, rooms, pool, lake, or just overall facilities, you will be taken care of at the lodge.
Gravity Haus: this is another centrally located hotel with a very stylish design. The interior is chic & modern, and there are plenty of room choices available for different party sizes.
Residence Inn: another nearby Marriott property is the Residence Inn. The layout looks more like condos than a hotel. And that is the case because most of the rooms are studios & suites that include kitchenettes and larger layouts.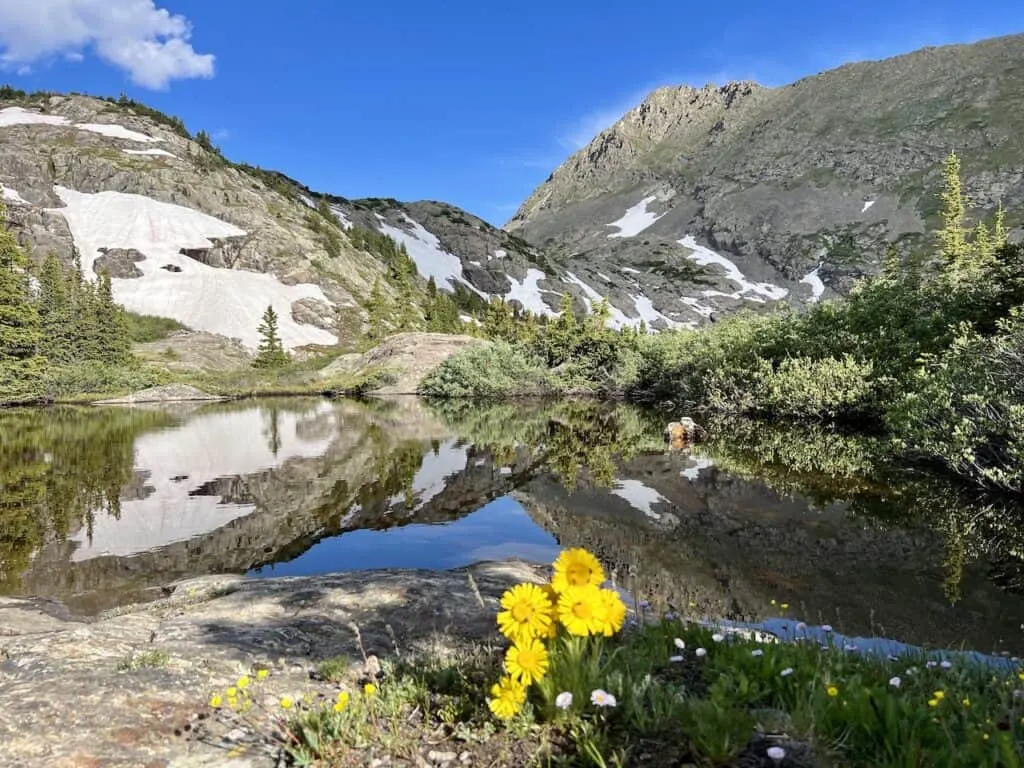 7) The Mohawk Lakes Trail
Now that you have all the background you need for the trail, let's get into the hike itself. I will go about the full hike from the Spruce Creek parking lot all the way up to Lake #7.
As mentioned earlier, feel free to turn back around based on your own preferences.
Trailhead to Mayflower Lake (2.5 miles)
The first portion of the trail takes you from the main Spruce Creek parking lot to Mayflower Lake.
All along this section of trail, you will be hiking through the forest on an easy to follow pathway. The elevation gain will be consistent from the start as you make your way across the trees and along Spruce Creek.
During this portion there will also be blue trail markers on the trees. These will just be found on the first part of the trail but will soon disappear later on.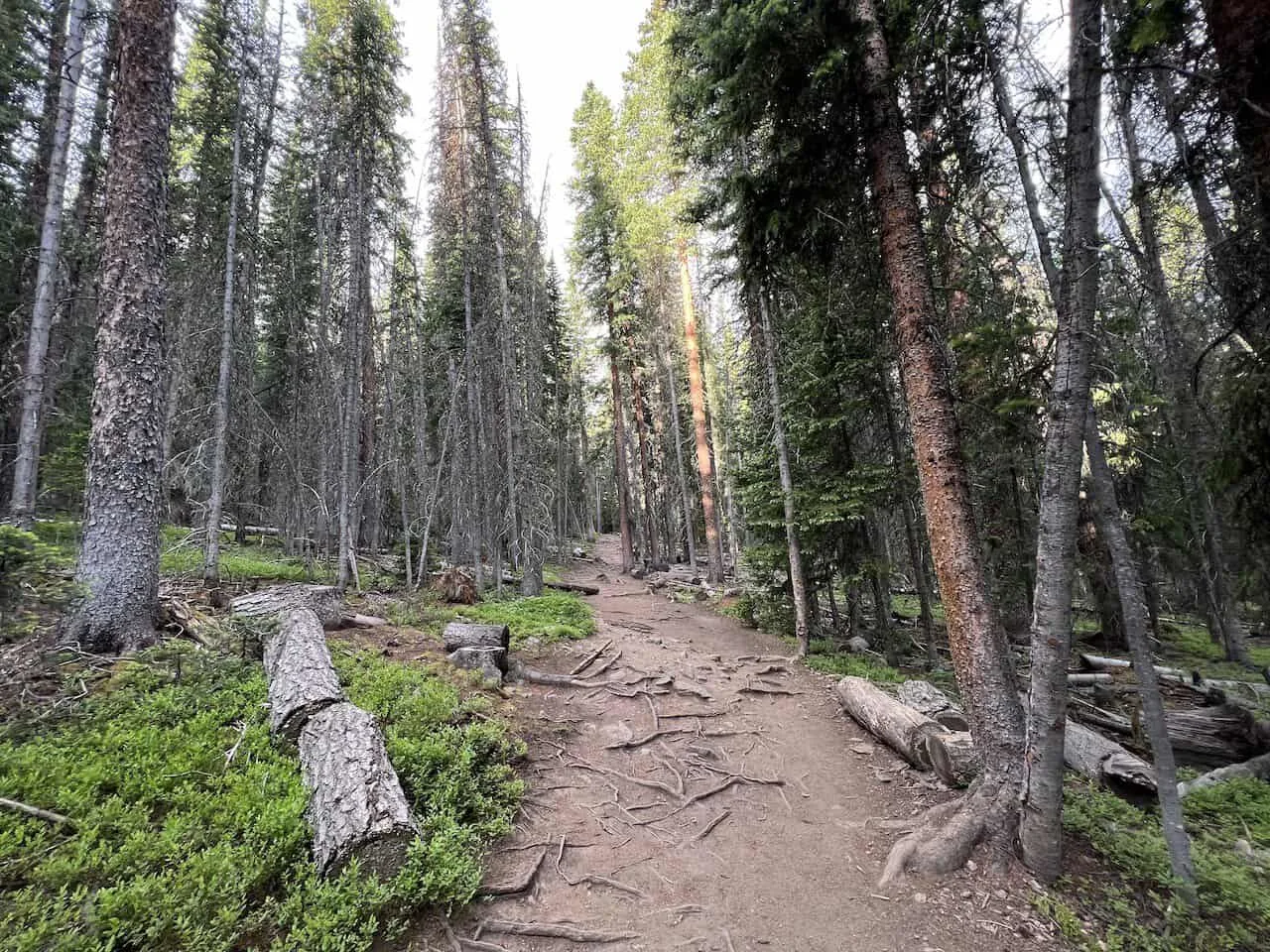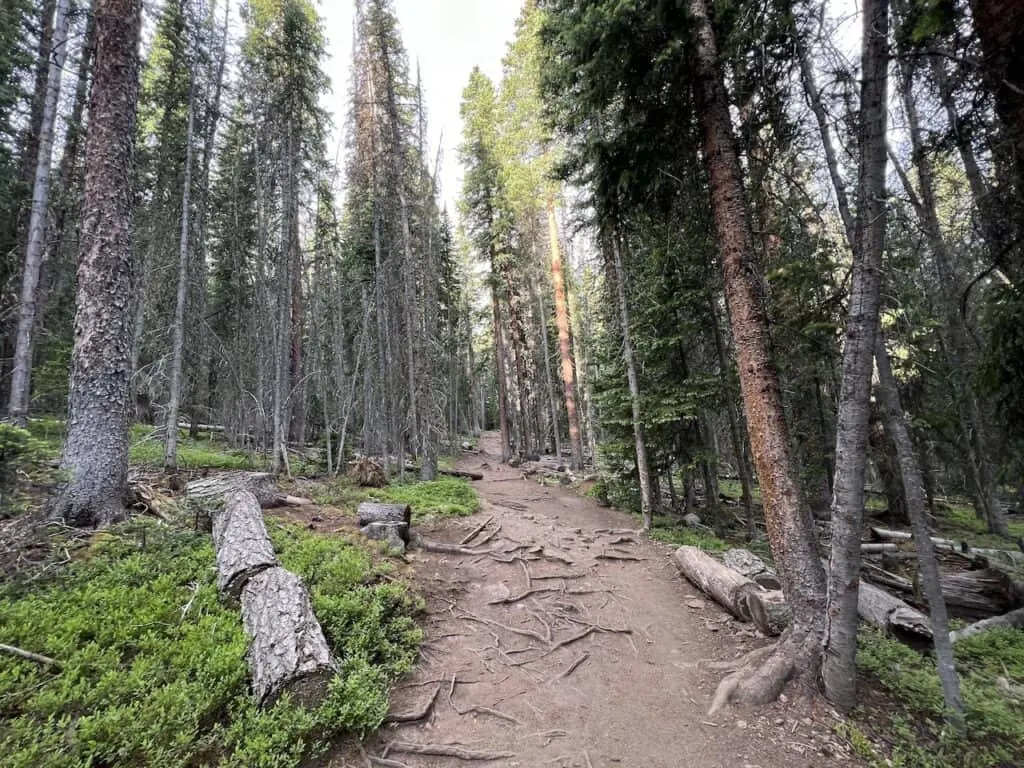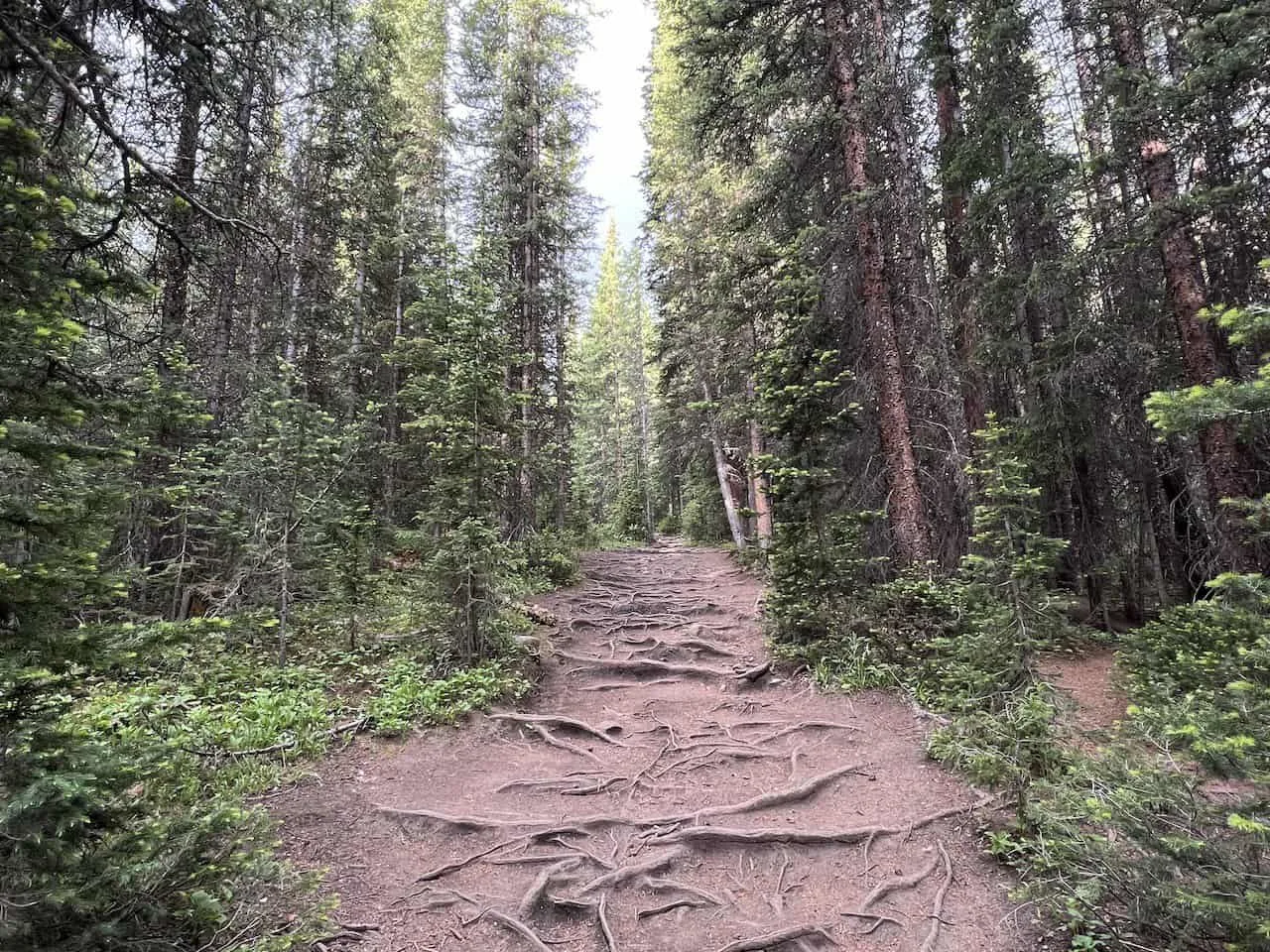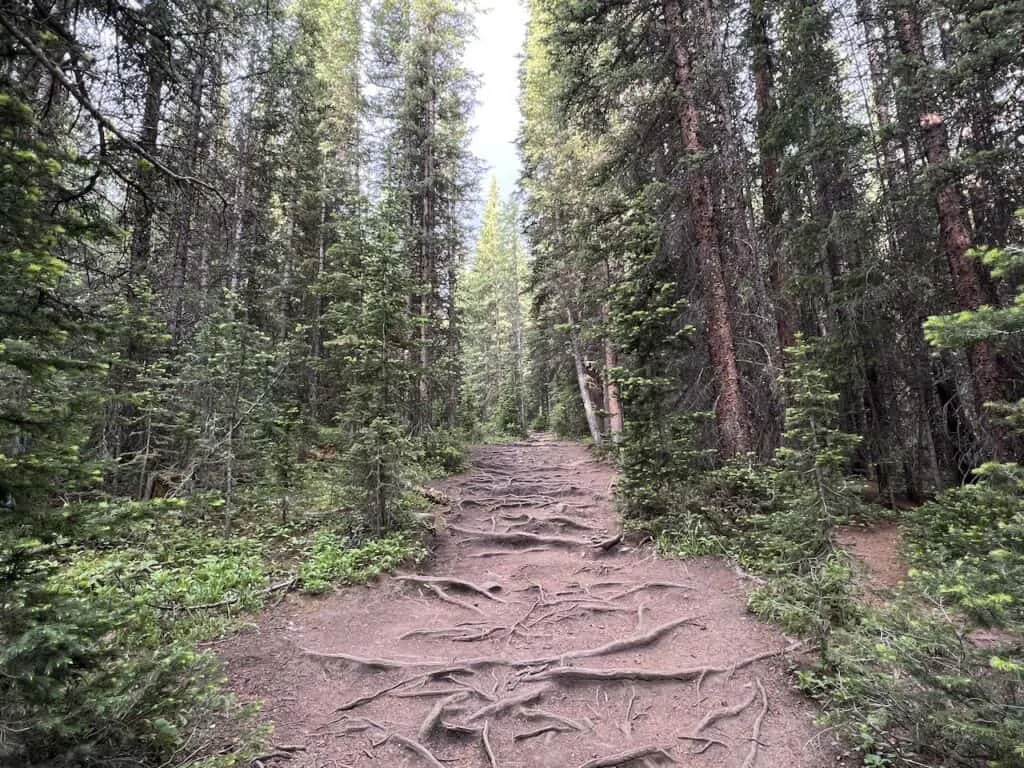 As you get closer to Mayflower Lake, there will be a secondary trail called the Wheeler Trail that cuts across. Just be sure to stay on the Spruce Creek Trail though and you should be good to go.
Just 0.3 miles before making it to the lake, the Spruce Creek Diversion will appear on the trail. This is where the 4WD route will meet up with the 2WD route. From there, it is simply following the path back into the forest and to Mayflower Lake.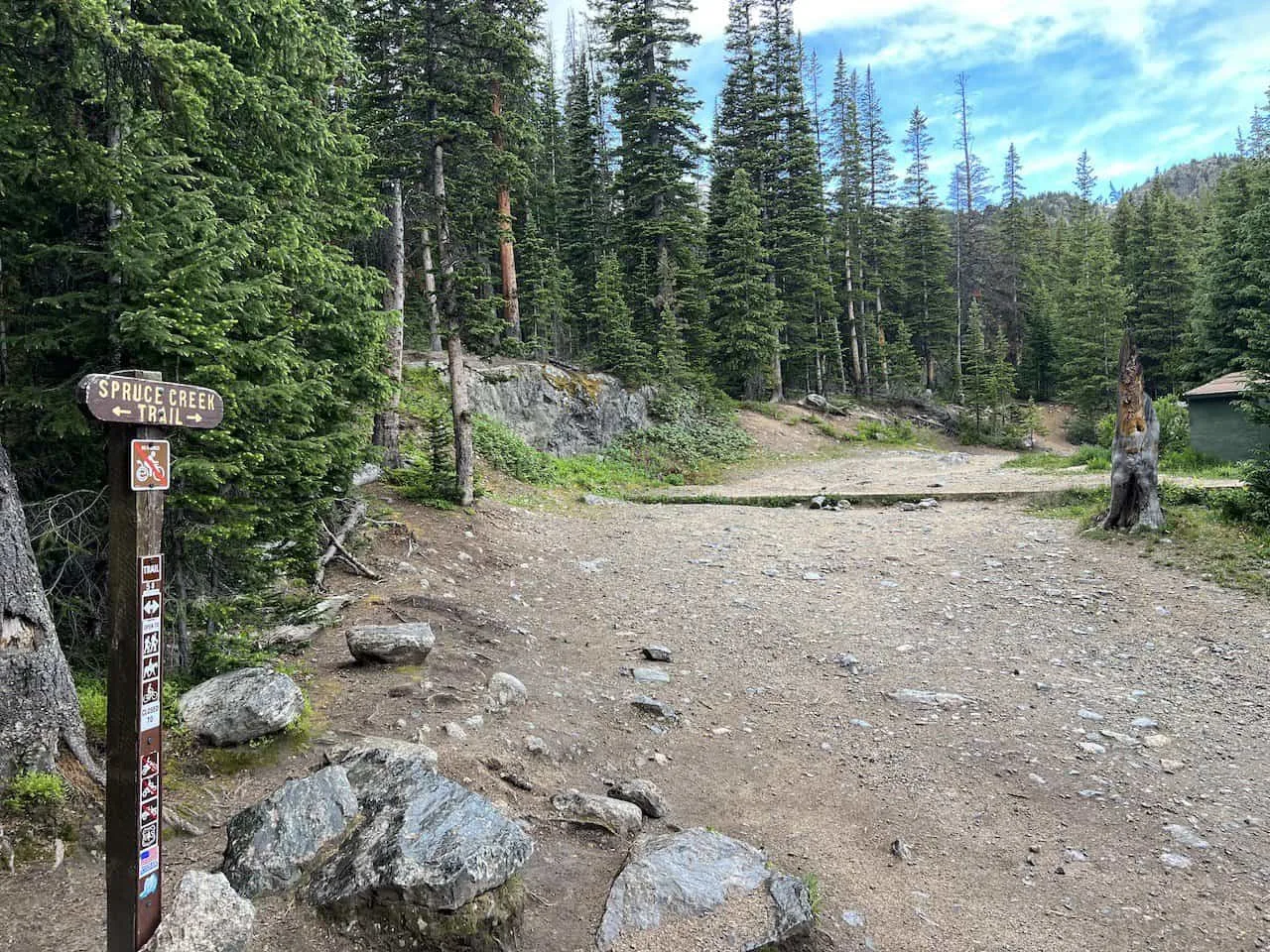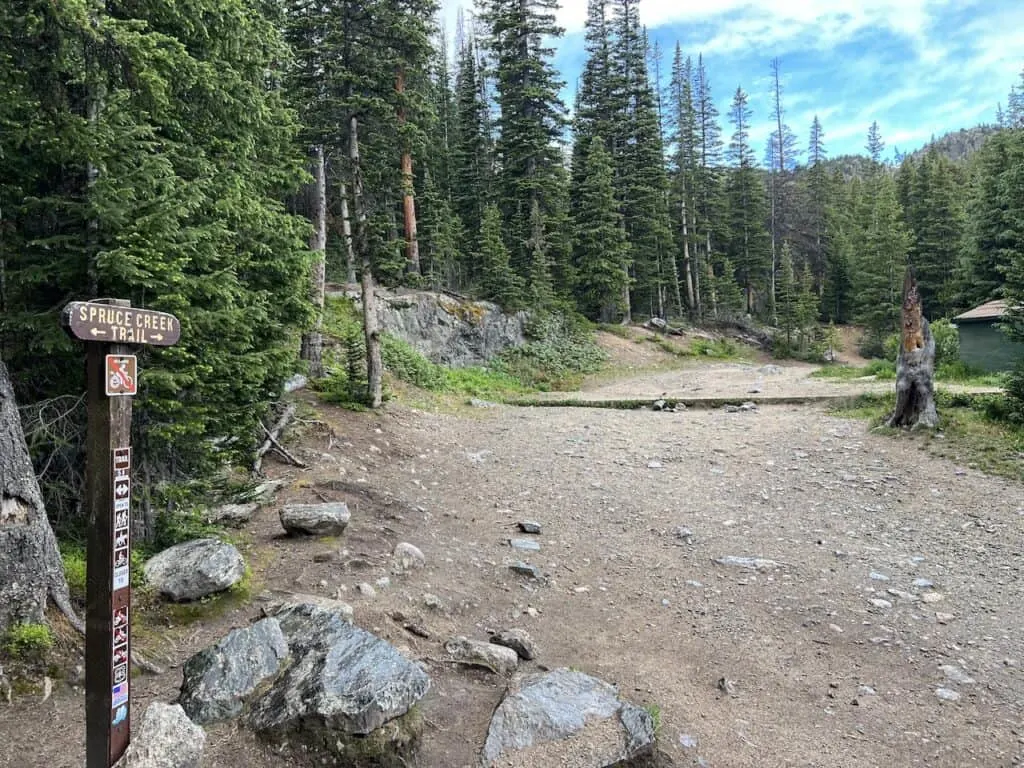 Mayflower Lake is just off of the main pathway. So, you will need to follow the signs to the lake before doubling back on the path to continue on the hike.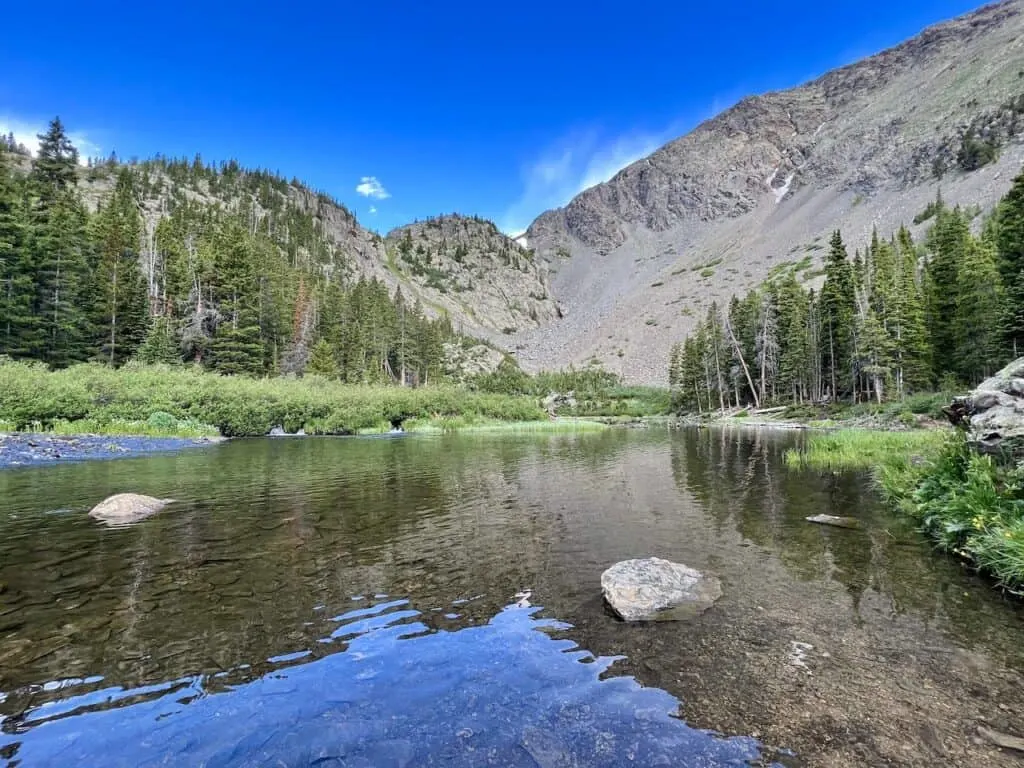 Mayflower Lake to Continental Falls (0.7 miles)
After leaving behind Mayflower Lake, it is time to make your way to the second main highlight – Continental Falls.
The waterfall has a couple main lookout points – both of which are pinned down on the map I included before.
Now, once you continue up from around this point to Lower Mohawk Lake, the trail is not as easy to follow. There are certainly several "trails" that head up in the same general direction and it can get confusing.
My recommendation is to have the offline maps handy to better direct yourself on the pathway. While I do believe these all eventually meet up with one another, it is always better to simply follow the navigation.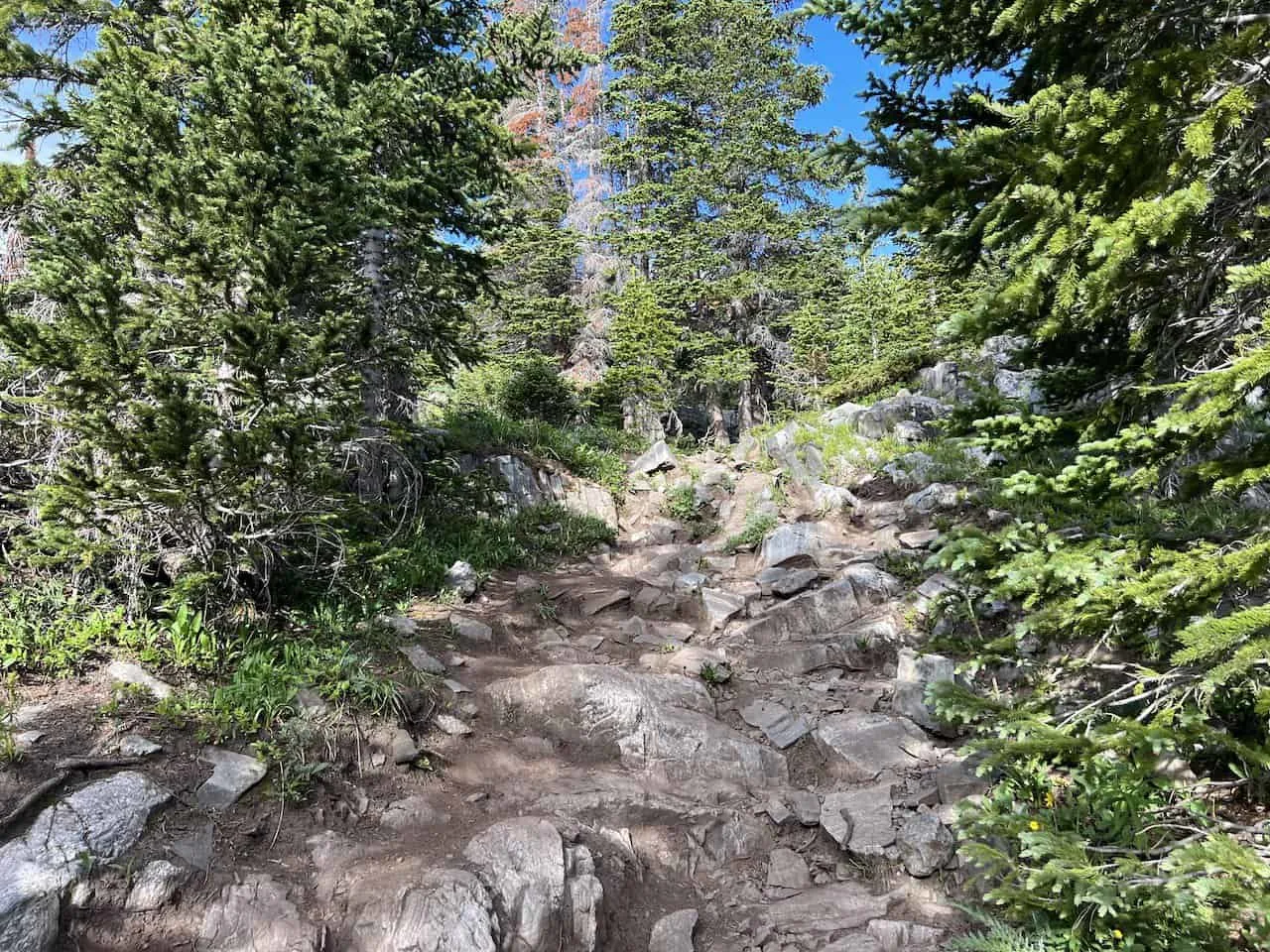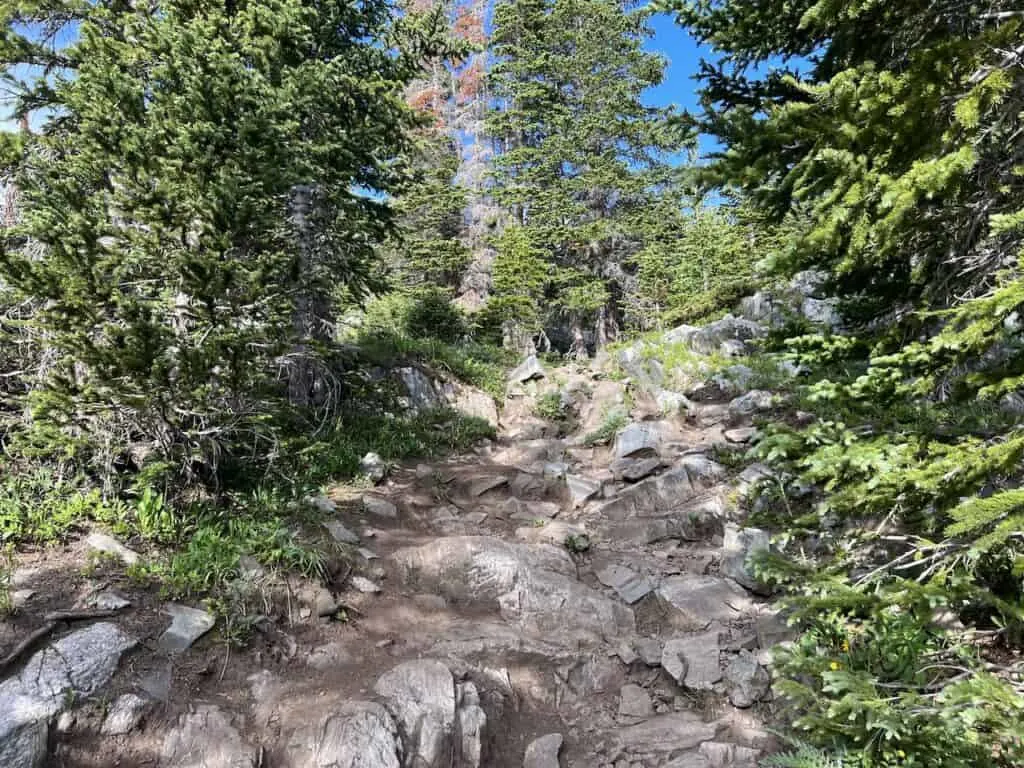 After continuing upwards and heading on a rockier terrain pathway, you will reach an old mountain cabin. Here you will see a sign pointing you to "Lower Falls Vista".
You can head out closer to the riverside to get that Continental Falls view, before heading back to the trail sign and towards "Upper Continental Falls".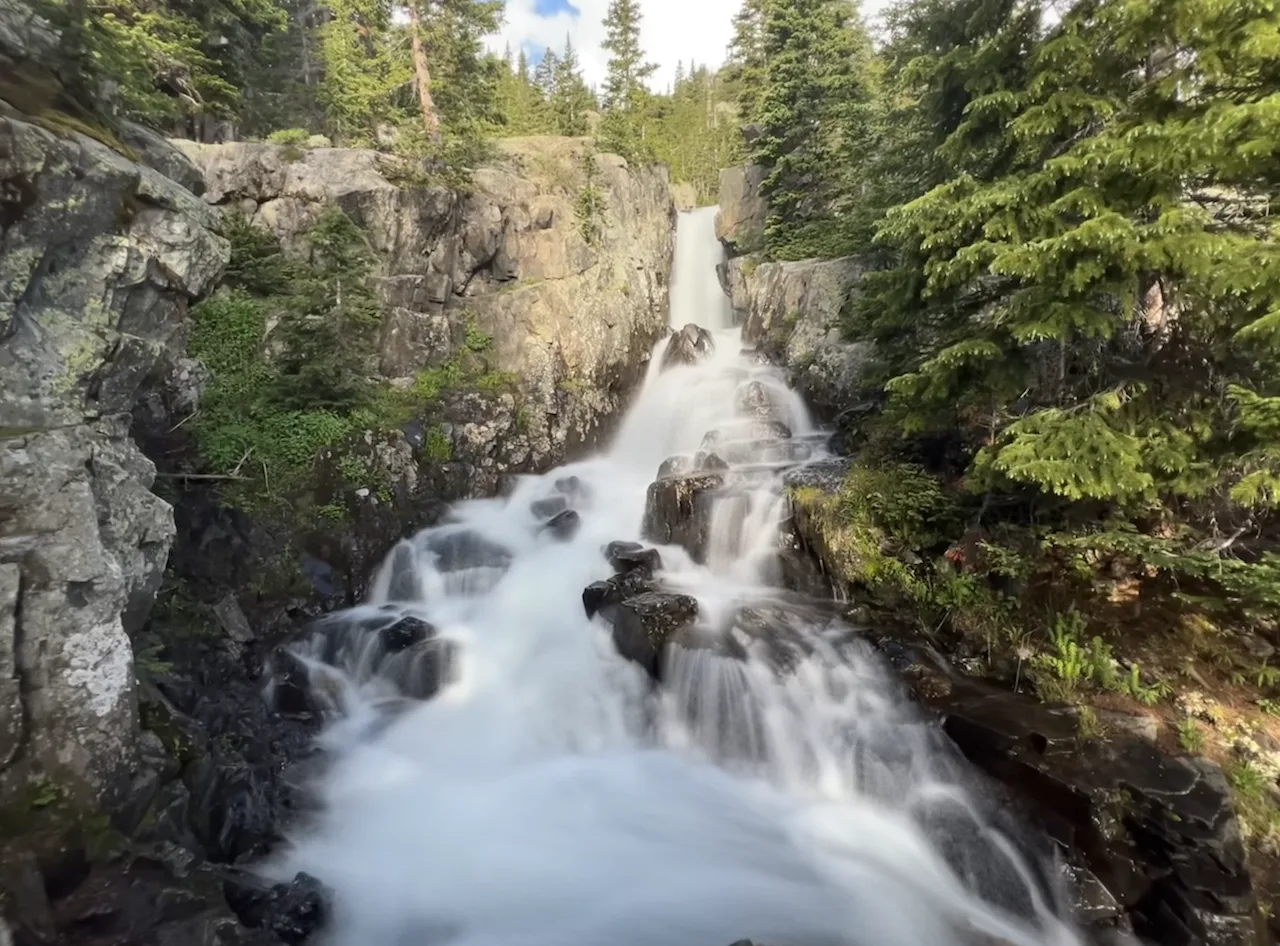 The trail zigzags up the hillside as you leave the trees behind and start to get vast views out behind you. Soon enough, the upper falls viewpoint will be out in front of you as you get to see a much vaster vantage point of Continental Falls.
Note: it is not totally obvious where the viewpoint is, but if you follow offline maps, you should have no issues.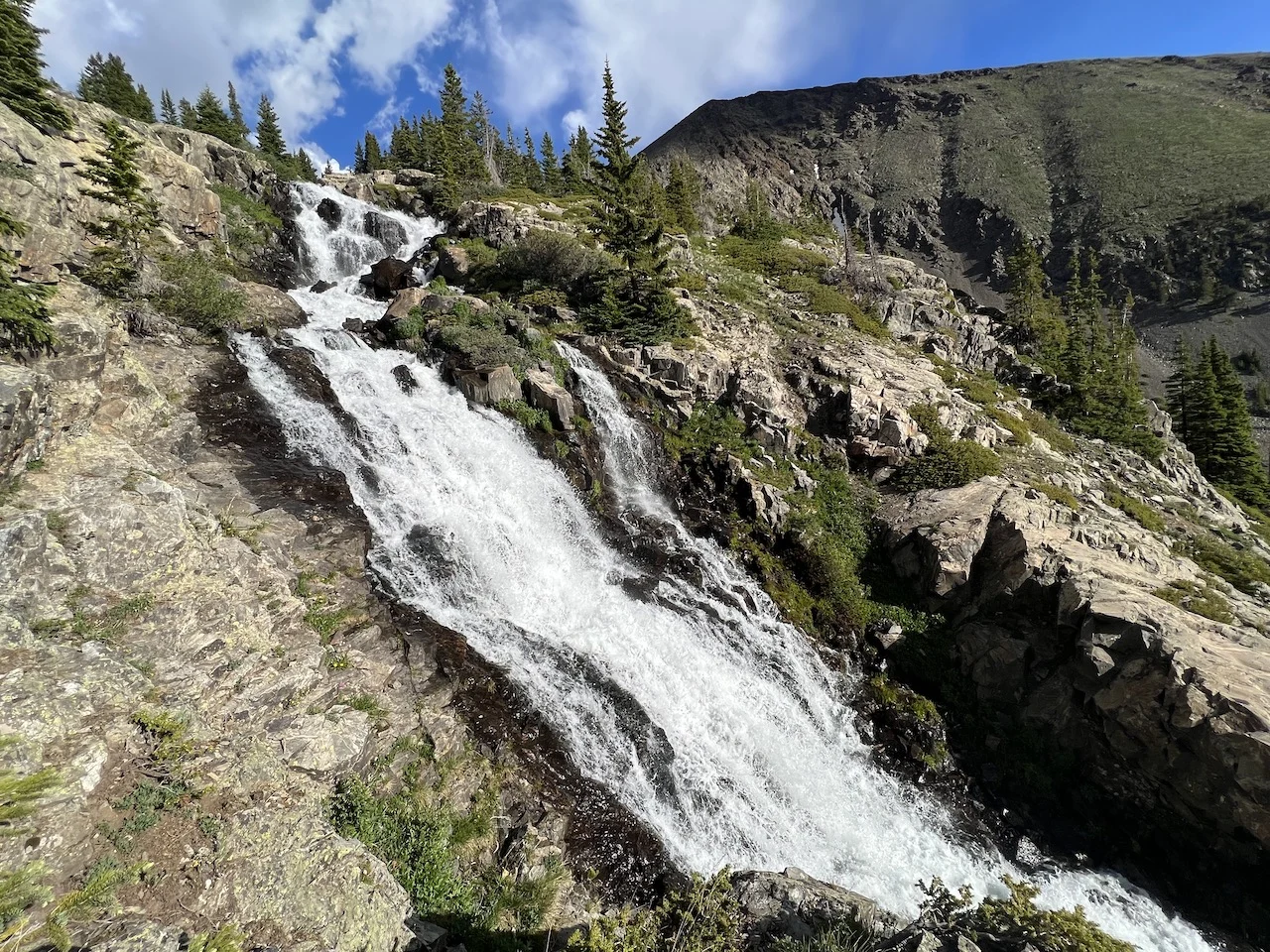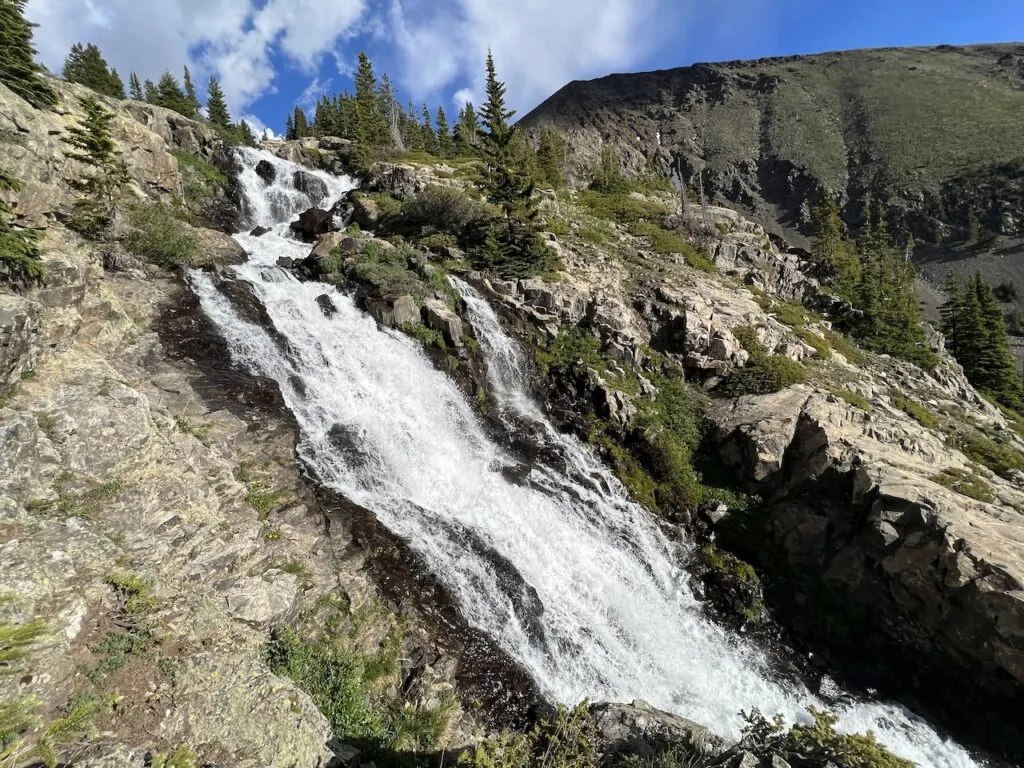 Continental Falls to Lower Mohawk Lake (0.3 miles)
Once your time at the waterfall viewpoints are complete, it is time for Lower Mohawk Lake. It is just 0.3 miles away, however, get ready for some more zigzagging rocky terrain.
There will be some light scrambling as well here as you make your way up to the next portion of trail.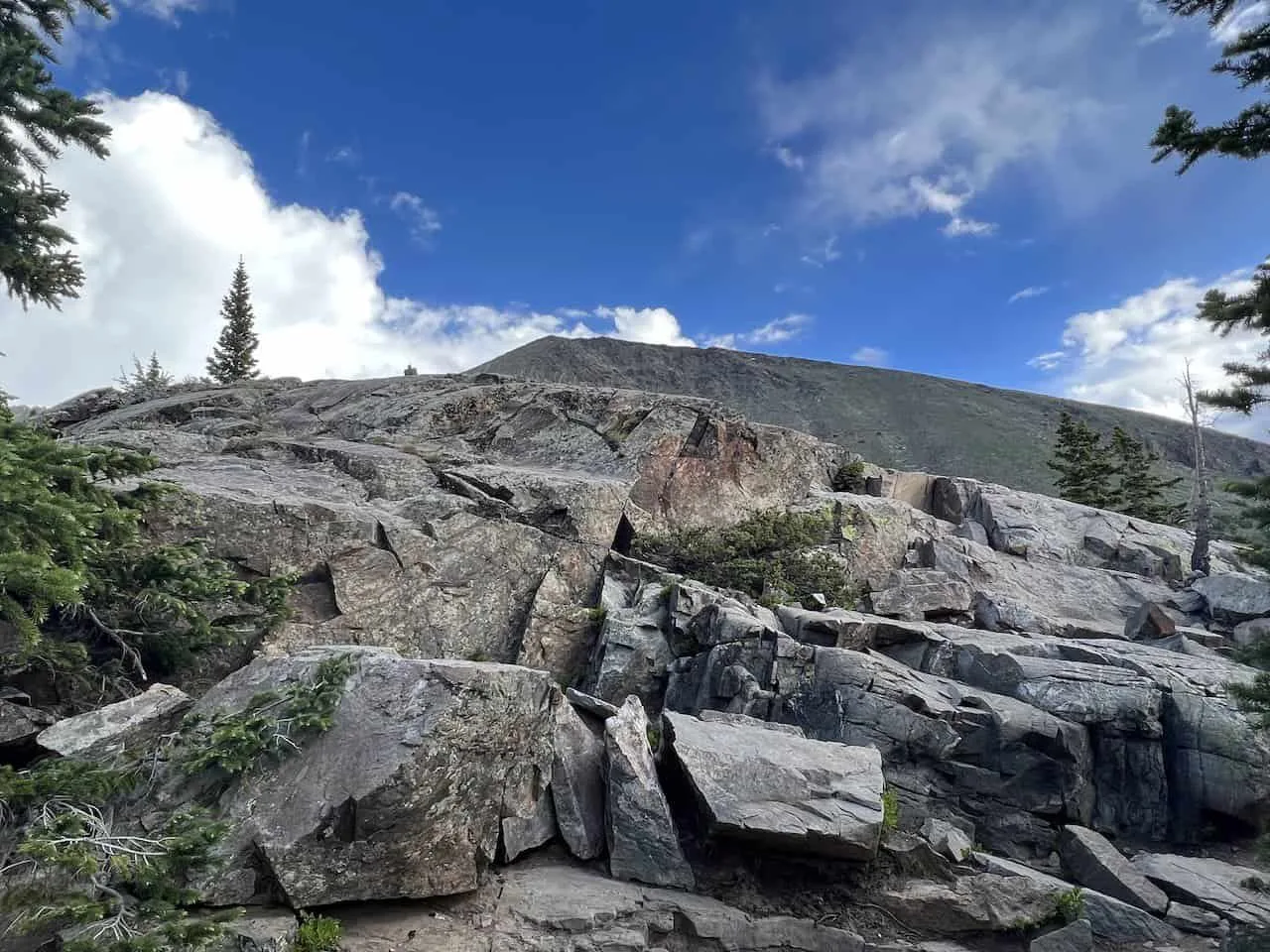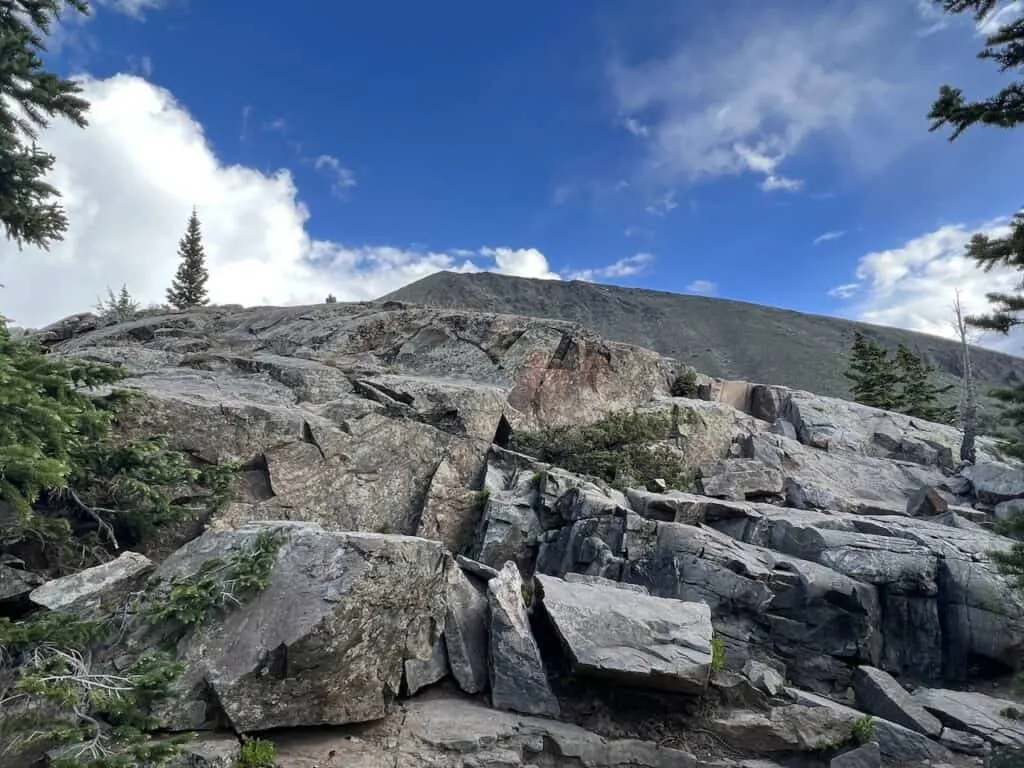 Soon enough though, you will be welcomed to vast Lower Mohawk Lake. As you approach the lake, there will be a few trails that make their way closer to the lakeside.
Be sure to follow one or two of them to get different vantage points of the lake, and find a spot to hang out and relax at.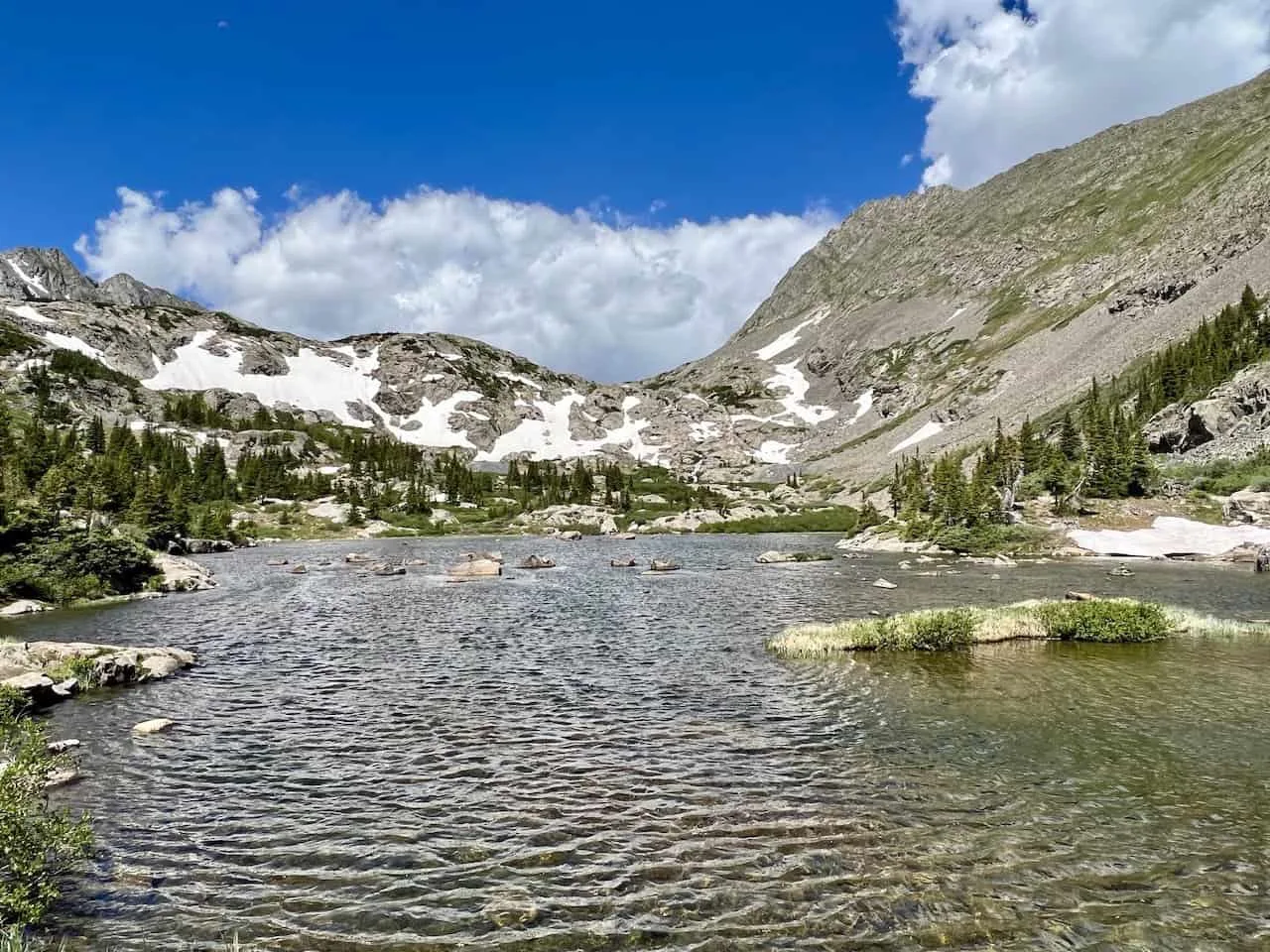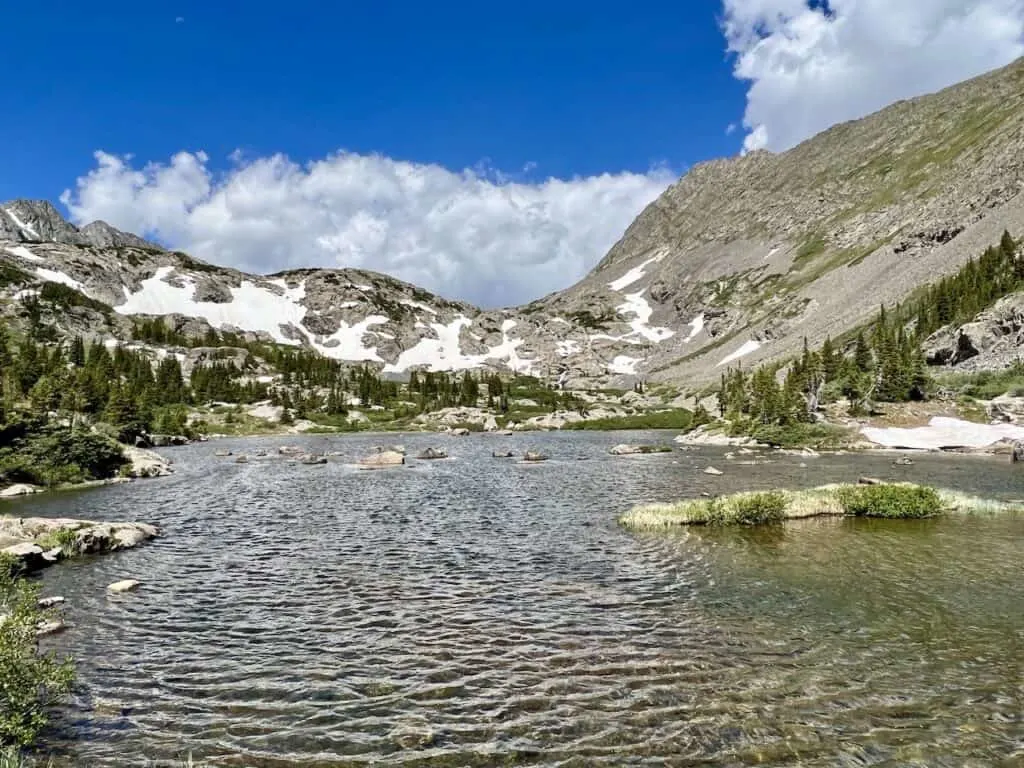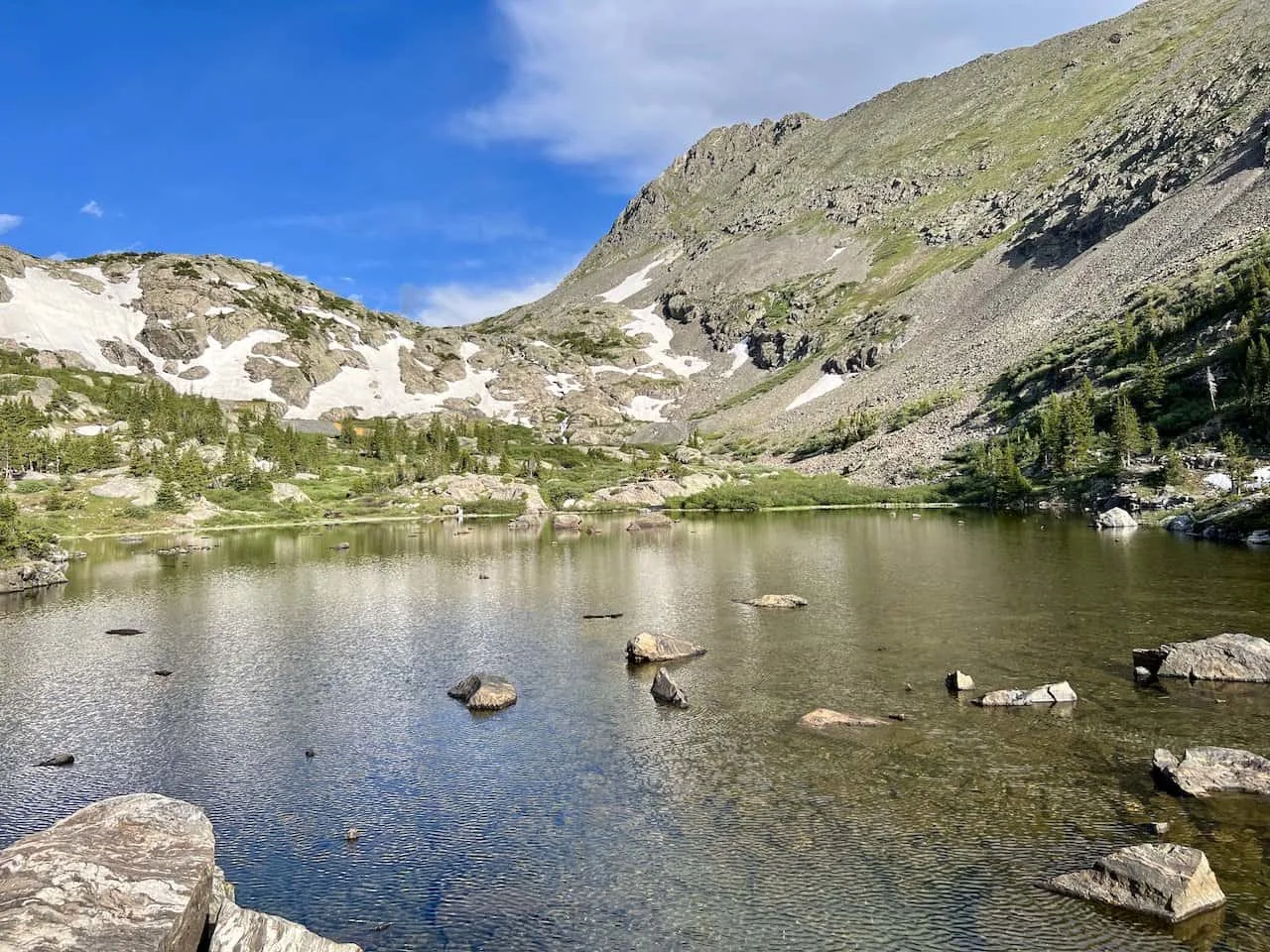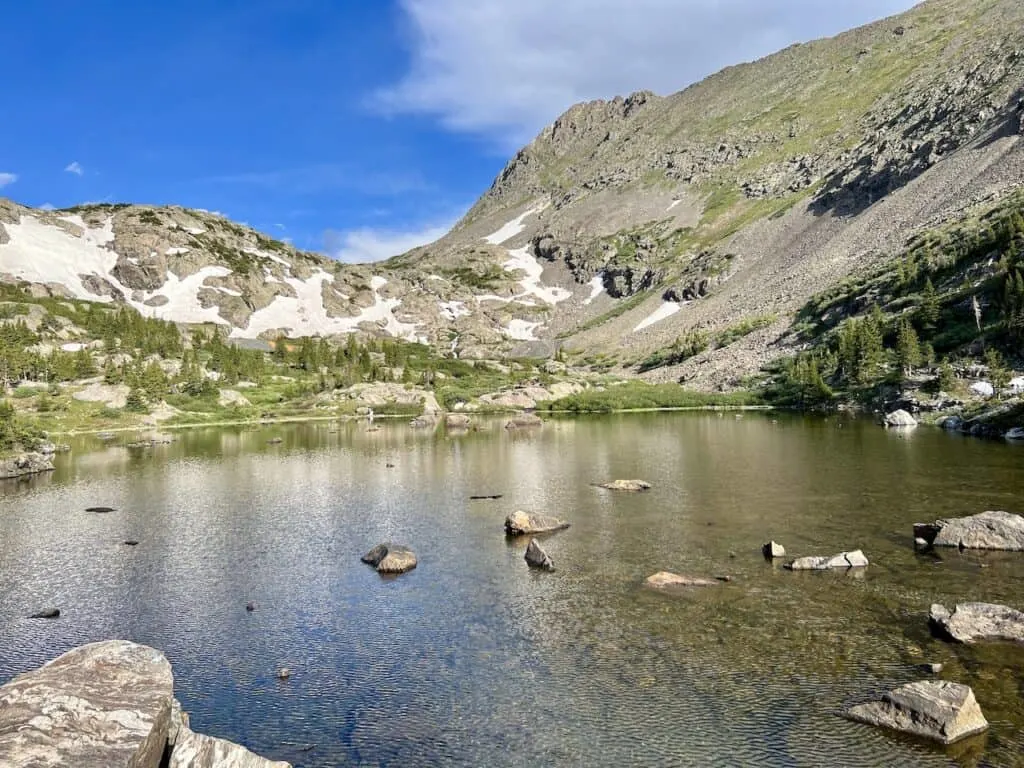 Lower Mohawk Lake to Upper Mohawk Lake (0.4 miles)
If you made it up to Lower Mohawk Lake, you should definitely also head to Upper Mohawk Lake.
The trail makes it way around the lakeside, before beginning to gain some elevation above the lake. Now, you will get some beautiful views of Lower Mohawk from above.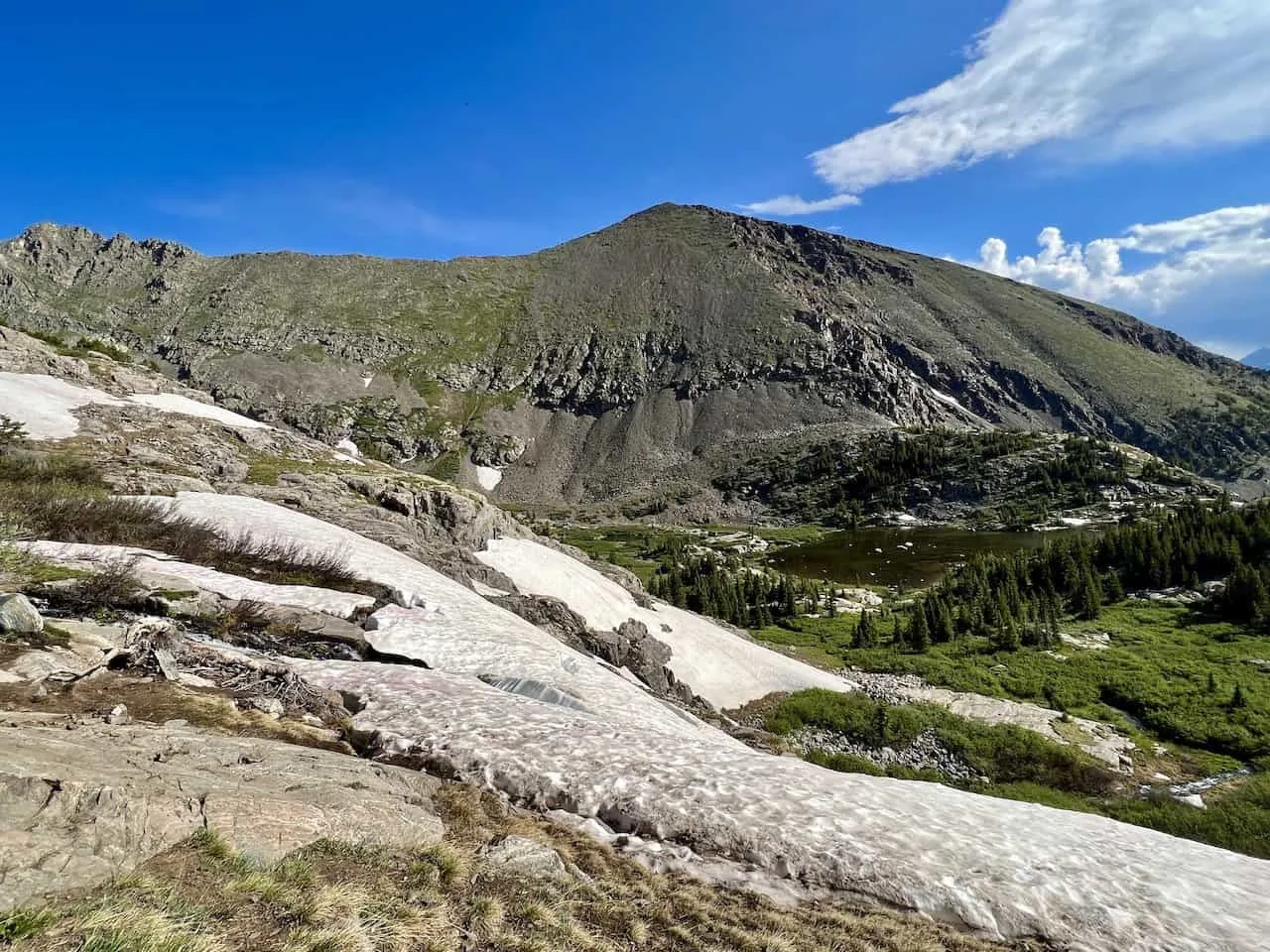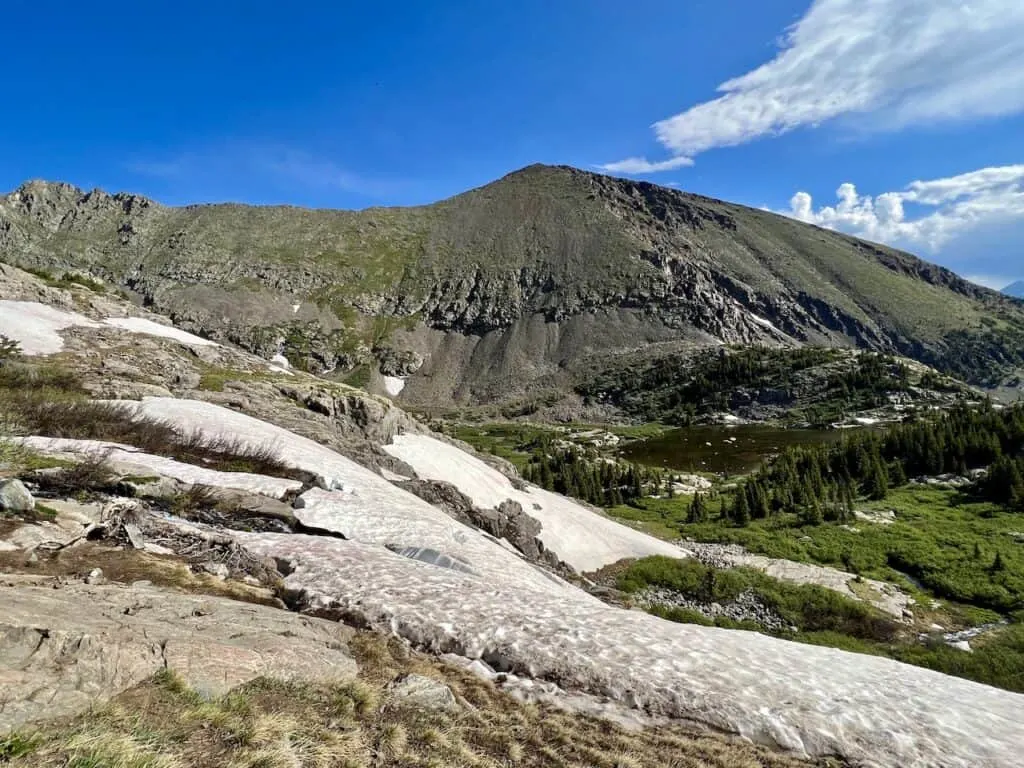 After just a little bit more of hiking, Upper Mohawk will come into view. It is a beautiful lake to take in as you have mountains out back and several spots around the lake to enjoy.
For many, this may be it. If you are only making it up to the Mohawk Lakes, all good! Once all done with your time by the lake, reverse your steps all the way back to the parking lot.
However, for those that want another four lakes, continue onwards!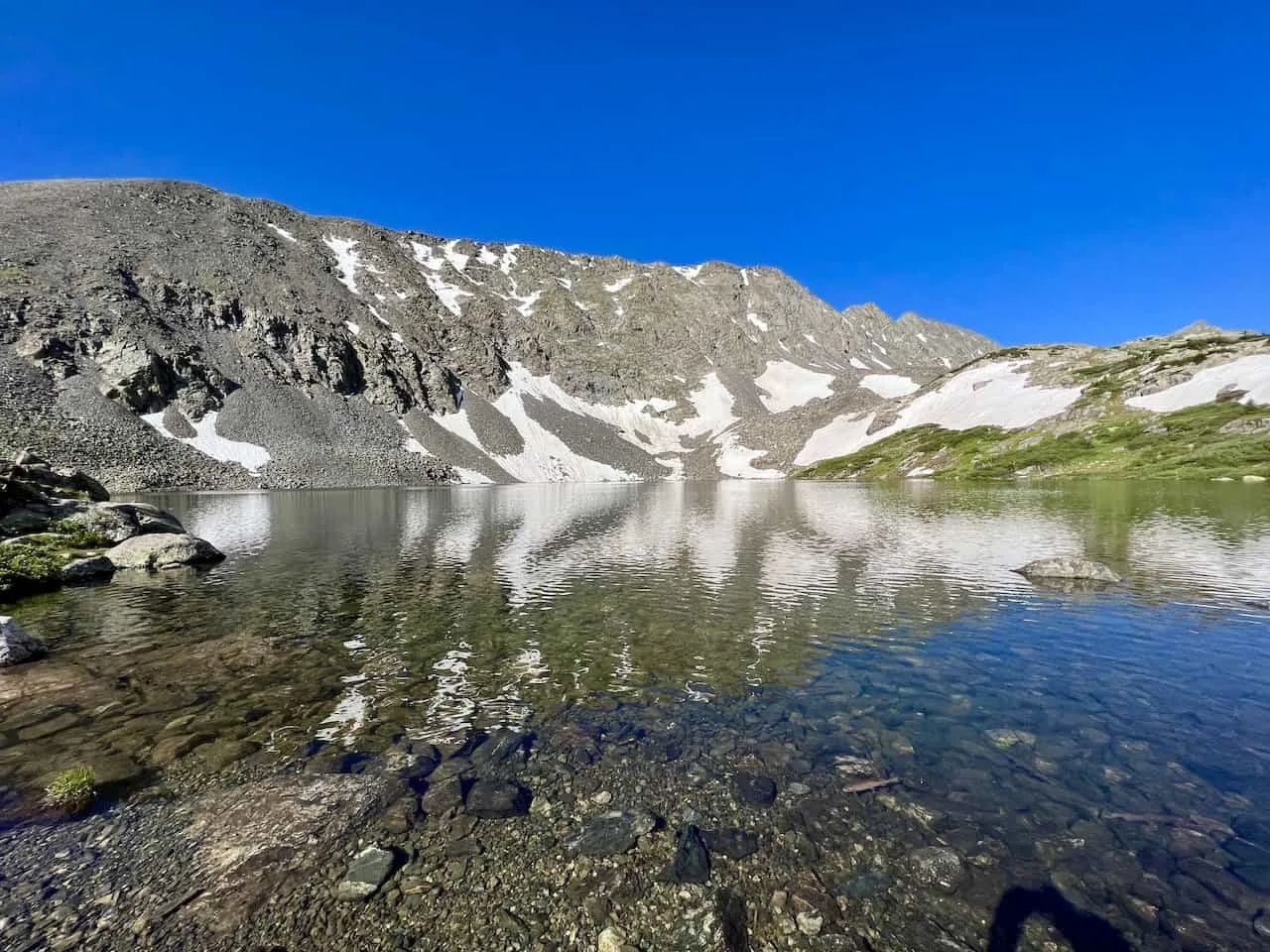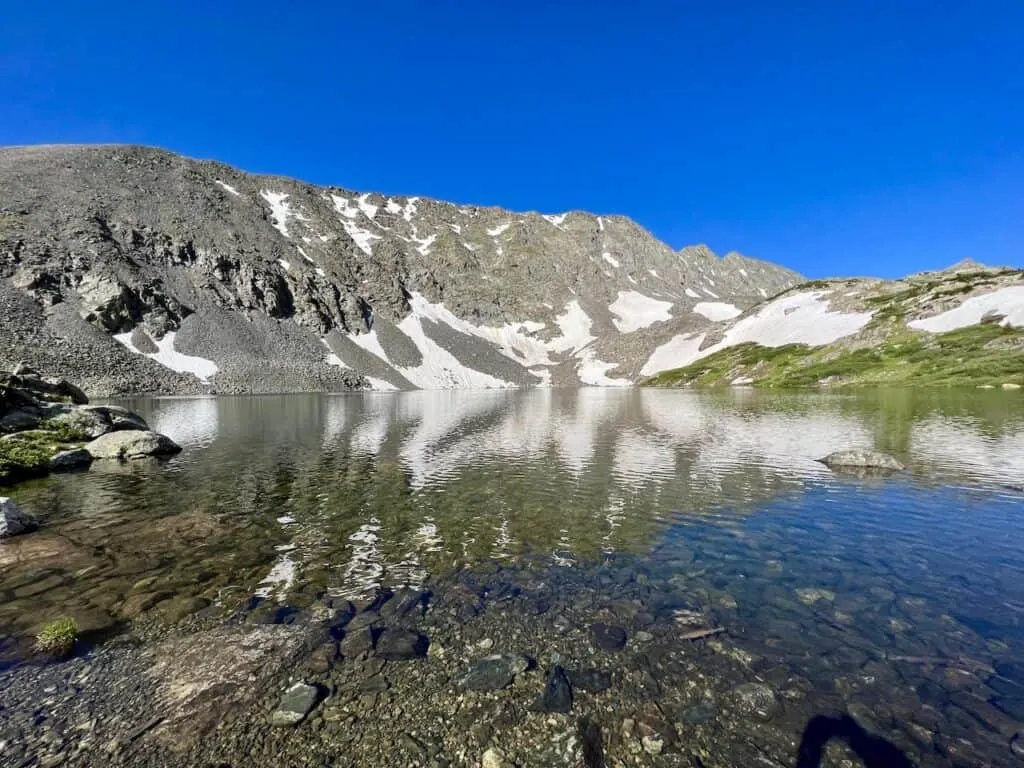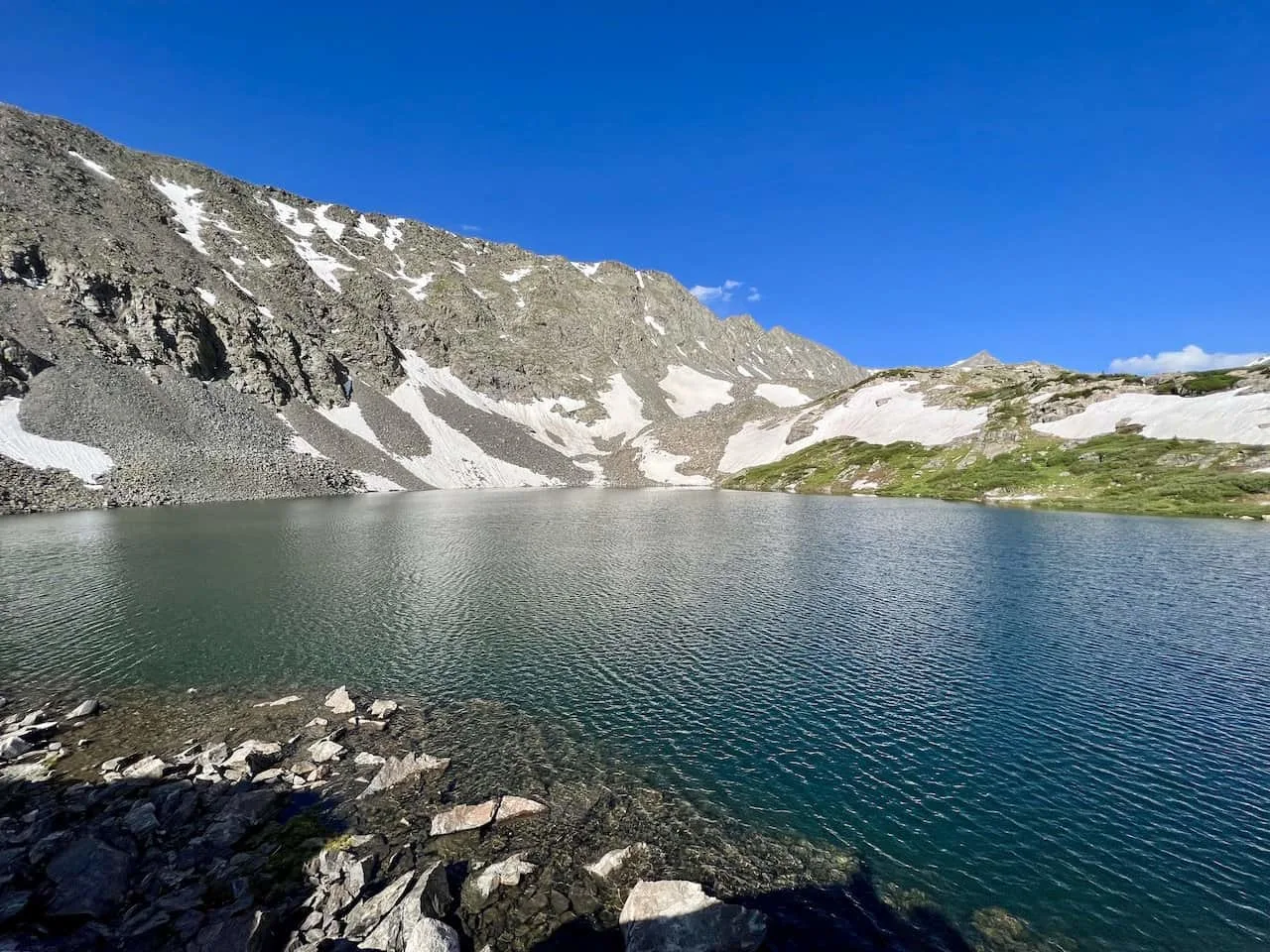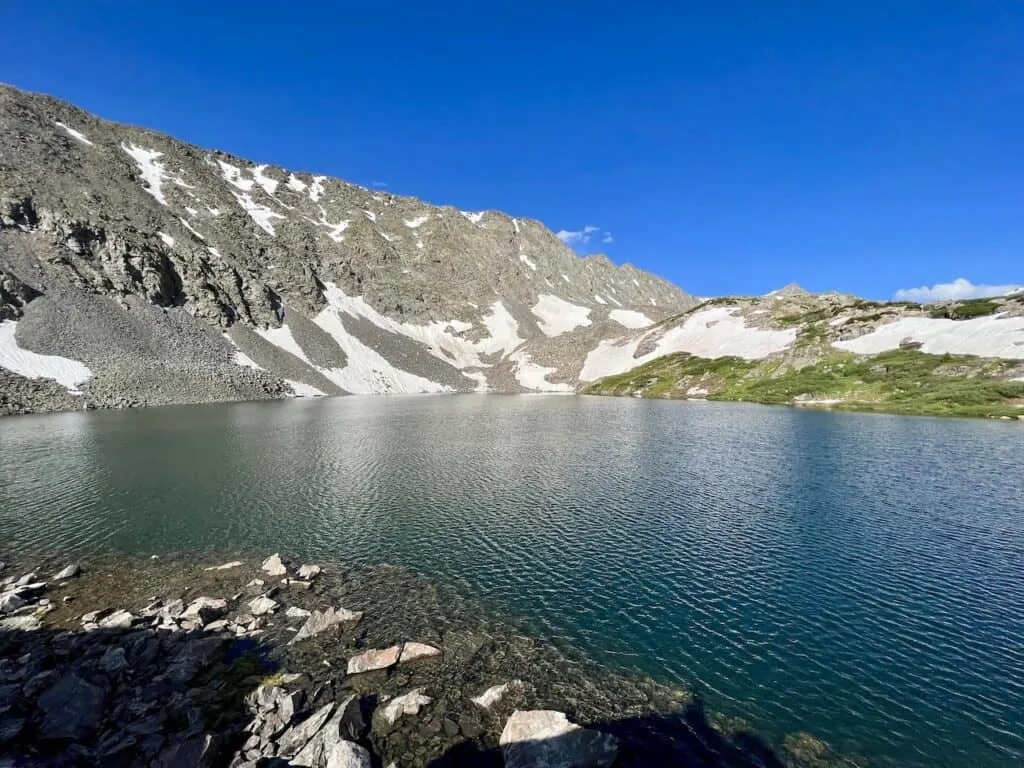 Upper Mohawk Lake to Lakes 4-7 (1.3 miles)
As you can see from the mileage, there will be four more lakes in just under 1.5 miles. That means you will never be too far from the next one.
Also, by now the hard part is over. While there still is some elevation gain, most of it is completed by the Upper Mohawk Lake.
From the lake, continue on the path up beside it, where you will begin to take in some amazing views of Upper Mohawk Lake. This is one of my favorite vantage points of the whole hike.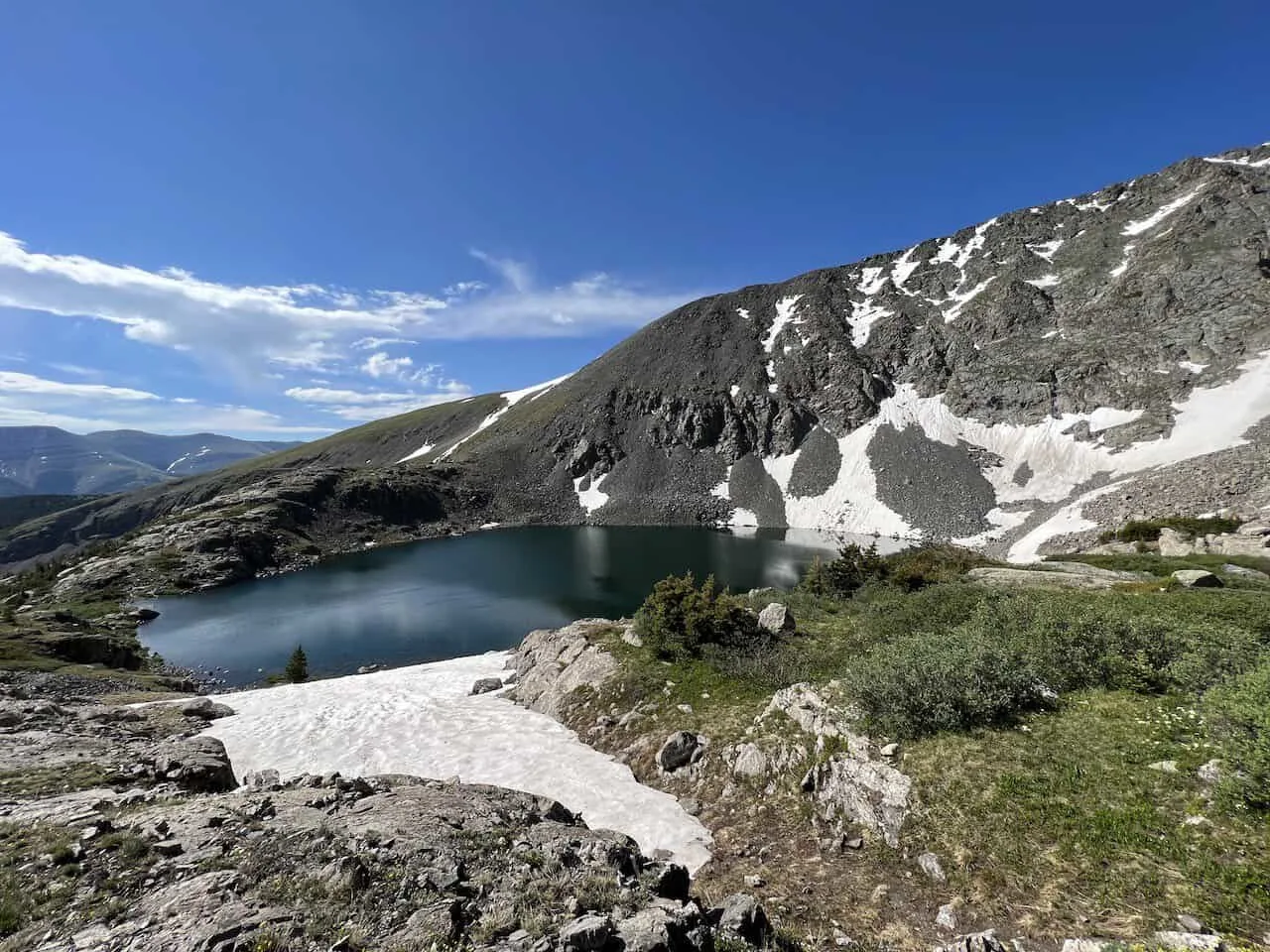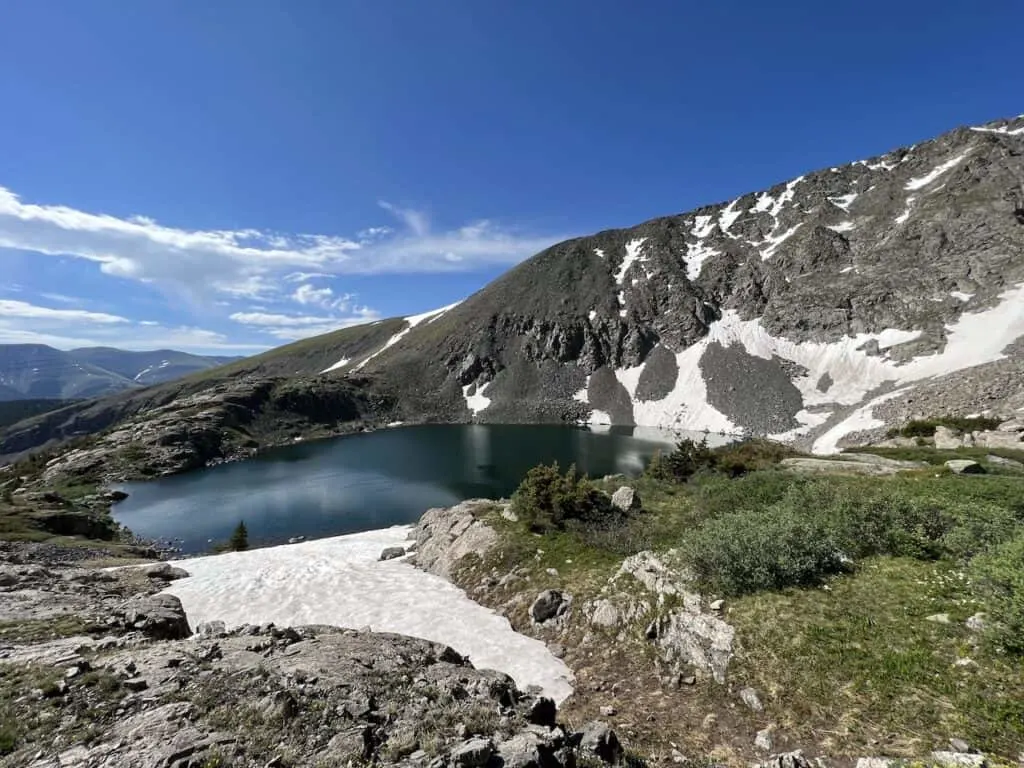 Just up on the other side of the viewpoint, lake #4 comes into view.
The trail makes its way around lake #4 as you now see the back of the valley out ahead of you.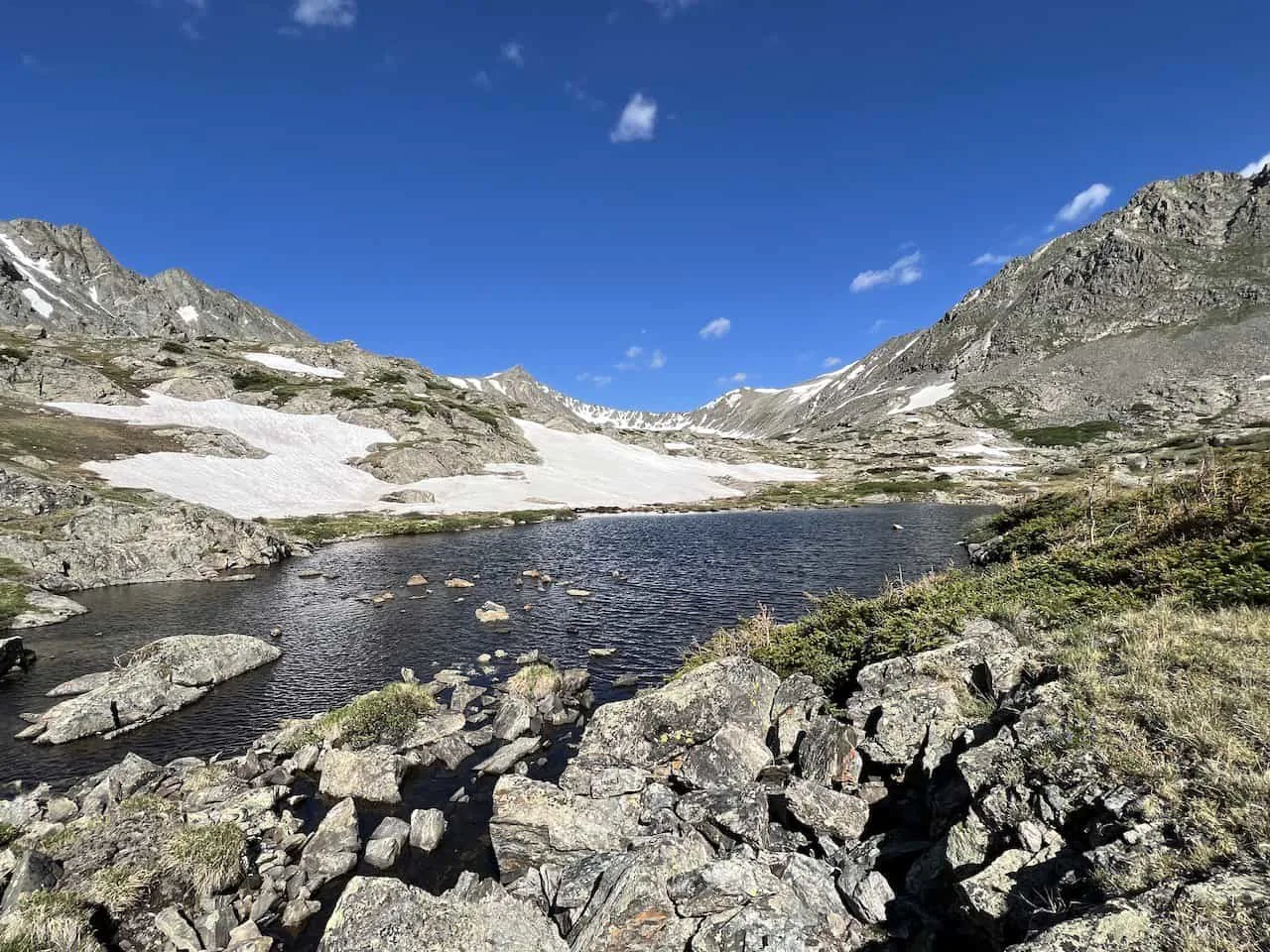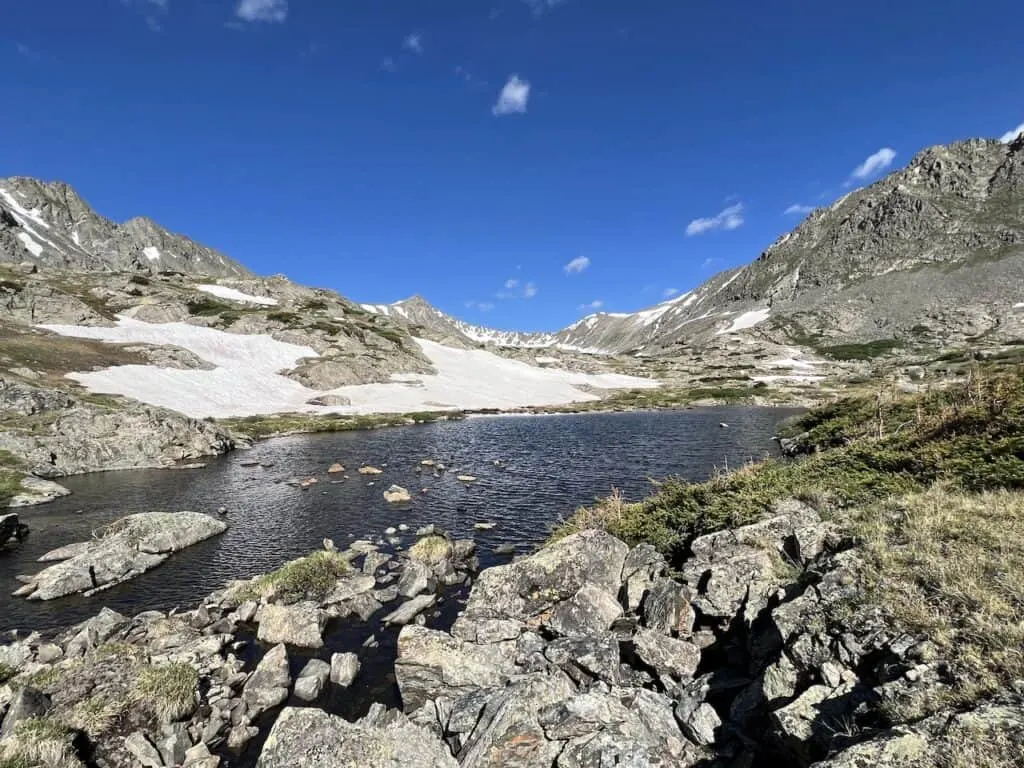 Follow the pathway until lake #5 appears on your right hand side. During my time on the trail, you can see the amount of wildflowers that were making the scenery that much more beautiful.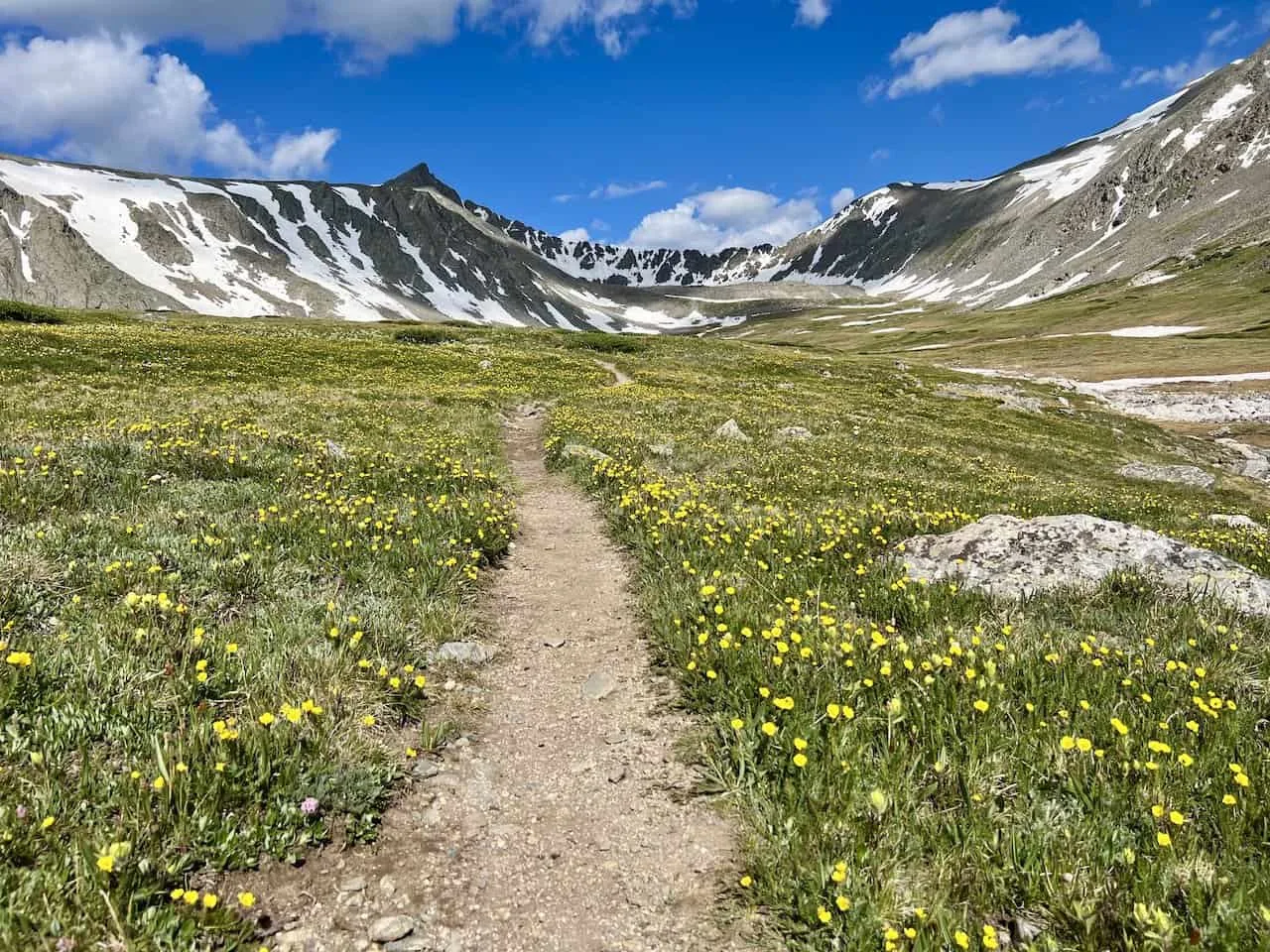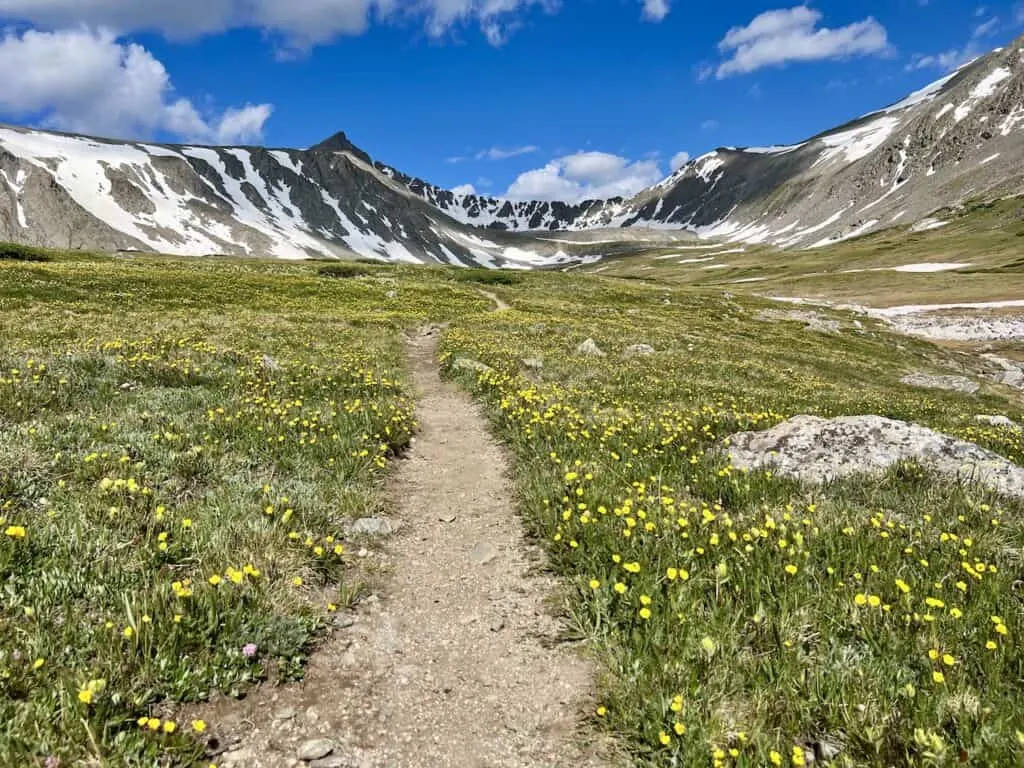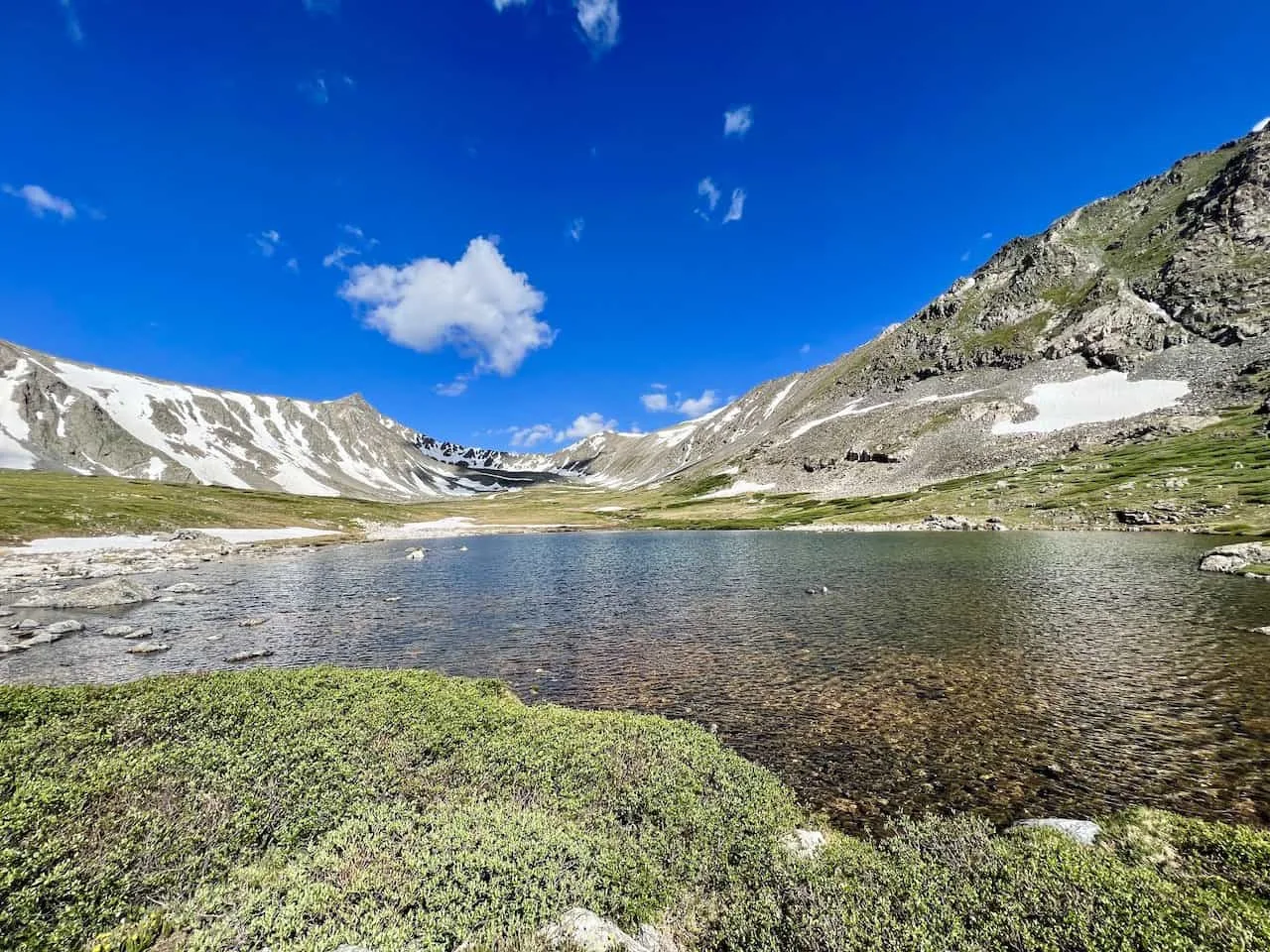 Once past lake #5, it is not too far until lake #6 comes into view. I made my way around the lake to different spots and some of it was actually still frozen.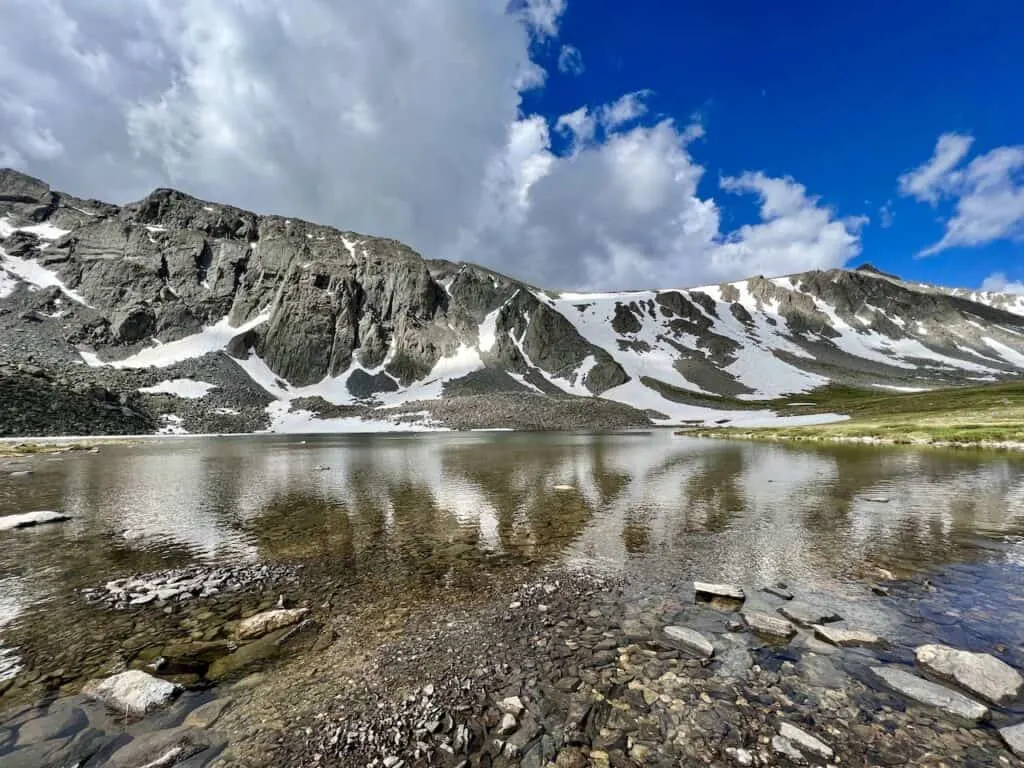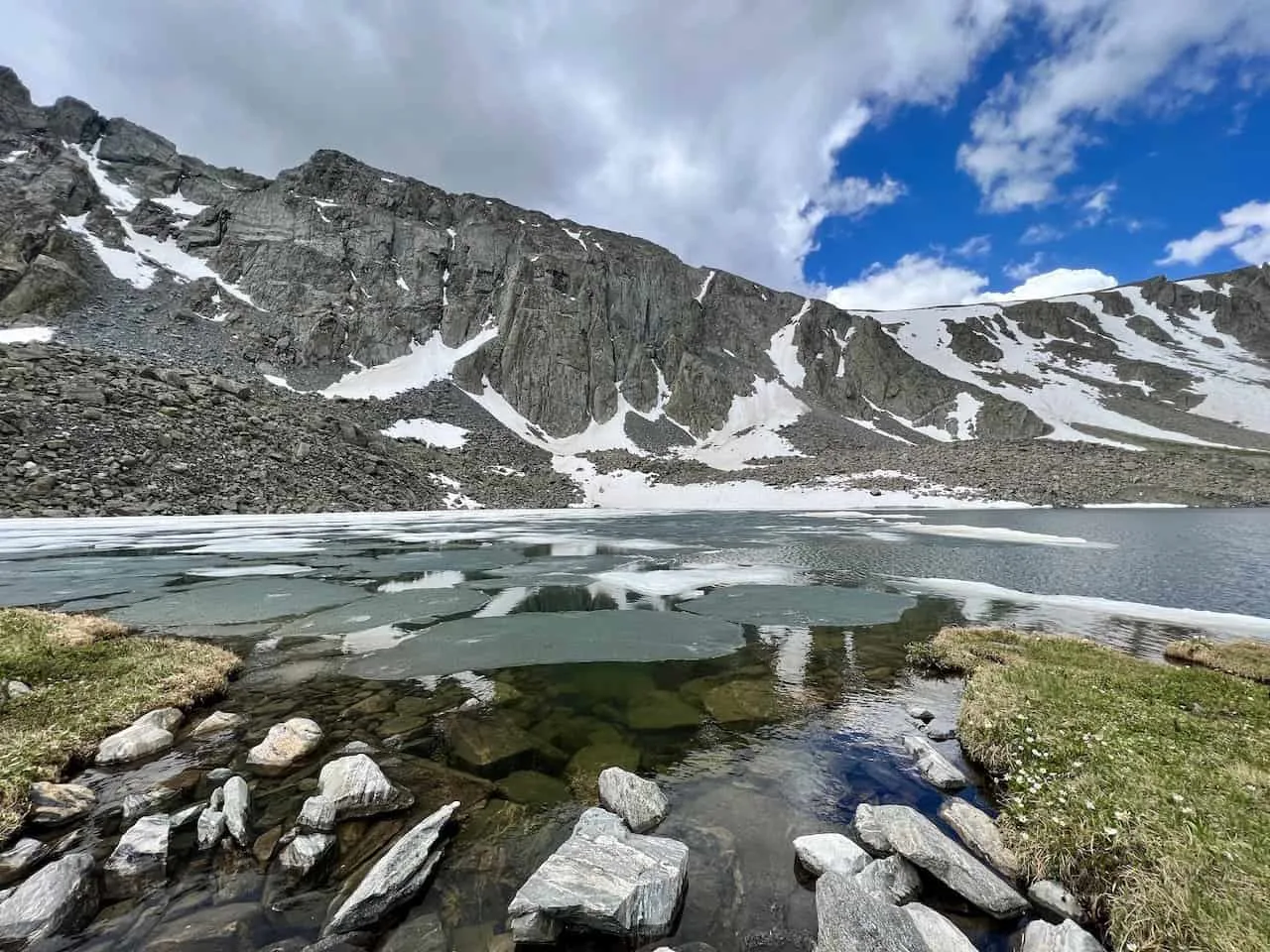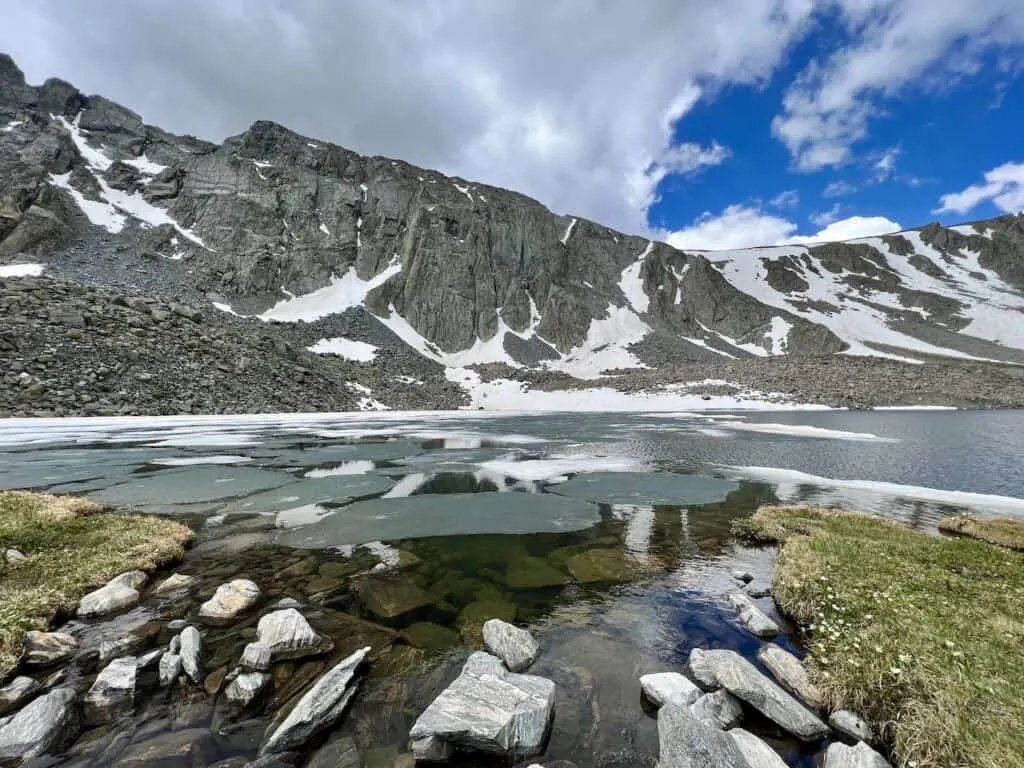 At lake #6, the official trail comes to an end. However, there is still one more lake just a bit further away. If you are up for it, you will need to carefully cross the river by hopping across some well placed rocks.
This portion can be a bit dicey so you should only do so if you have confidence in your balance.
After getting to the other side of the river, just head up a non existent pathway closer to lake #7. Having offline navigation here will just be helpful when it comes to taking the most direct route.
Soon enough, the final lake will come into view! During my time on the trail, there was only a couple other people here, making it a relaxing experience to enjoy.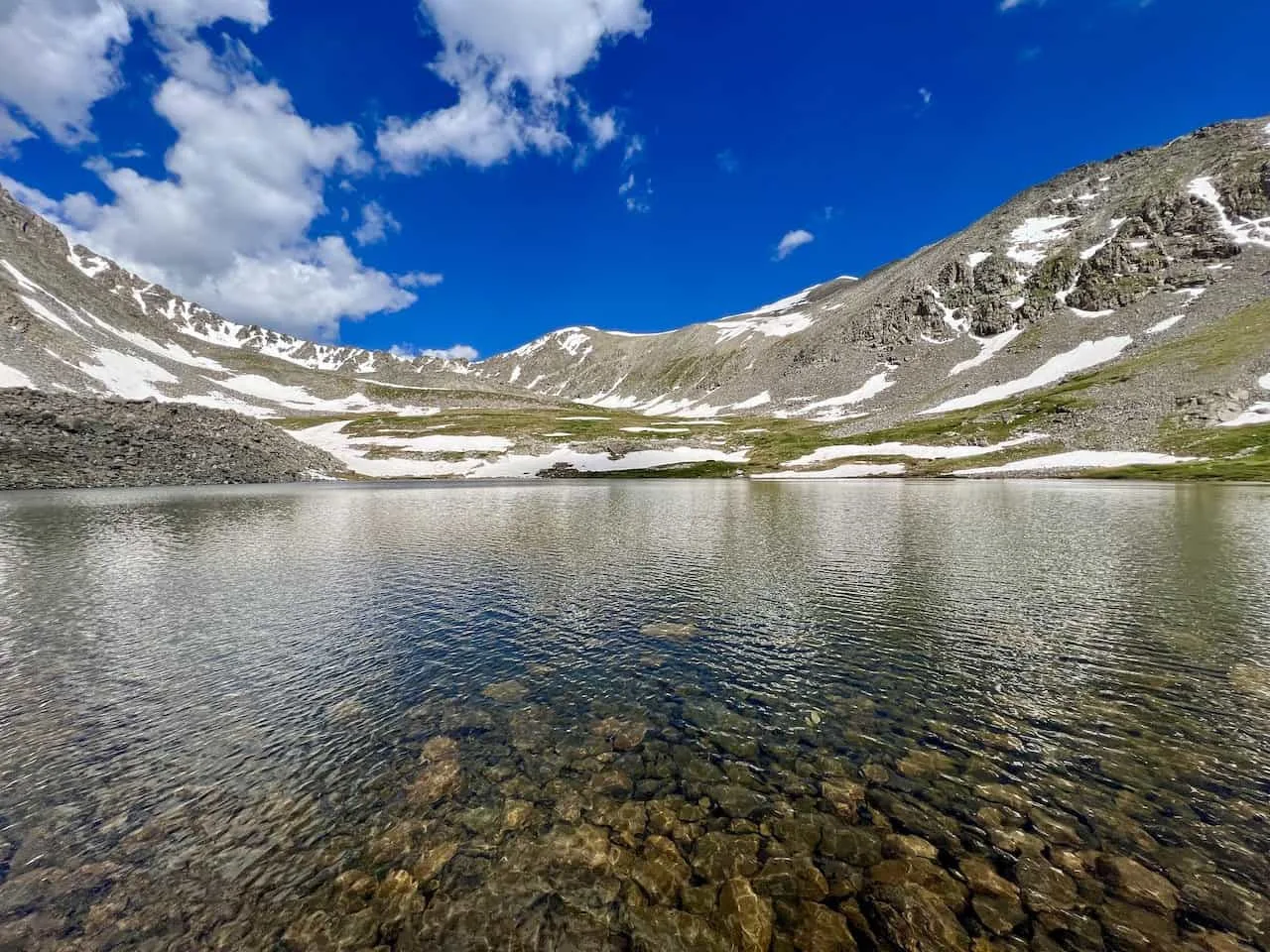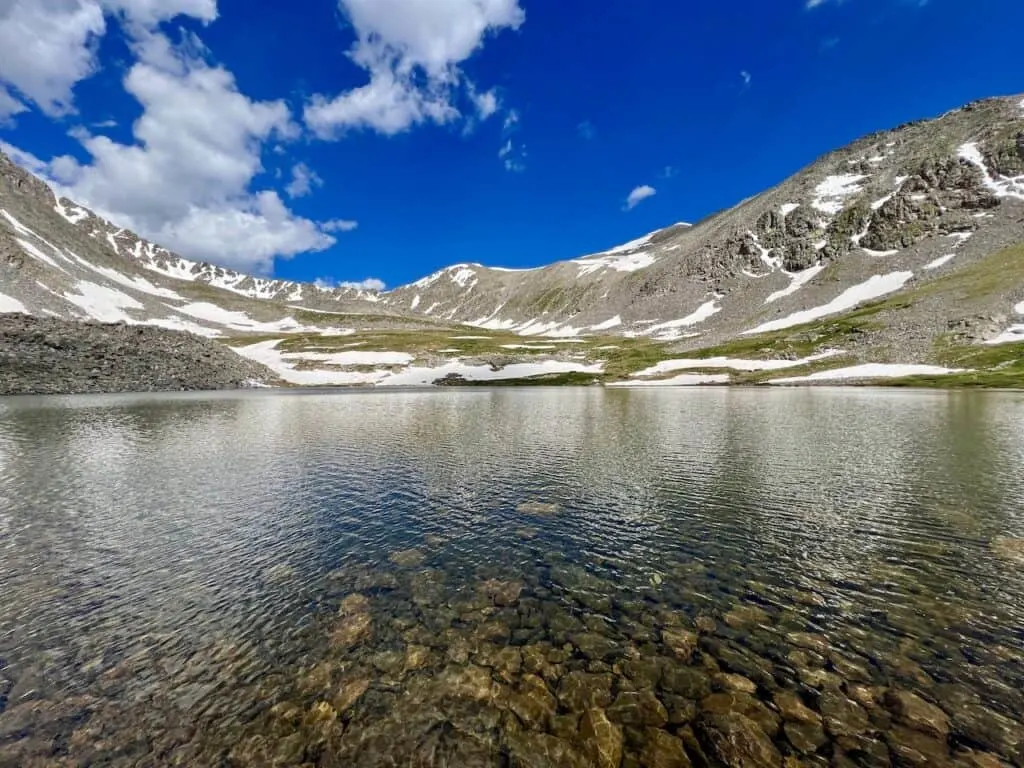 Back to the Trailhead (4.8 miles)
Once all wrapped up by the last lake, it is then all the way back down to the trailhead for the next 5 miles.
While you will be heading on the same pathway, you now get to experience the lakes once more from the opposite direction. That means more beautiful views along the way.
Most of the trail back is easy to follow, however do be aware of some of that confusion below the Lower Mohawk Lake area towards the tree line.
I also want to point out the intersection between the 4WD route and the Spruce Creek Trail. Keep an eye out at the below intersection, and follow the pathway back on the correct trail based on where you parked.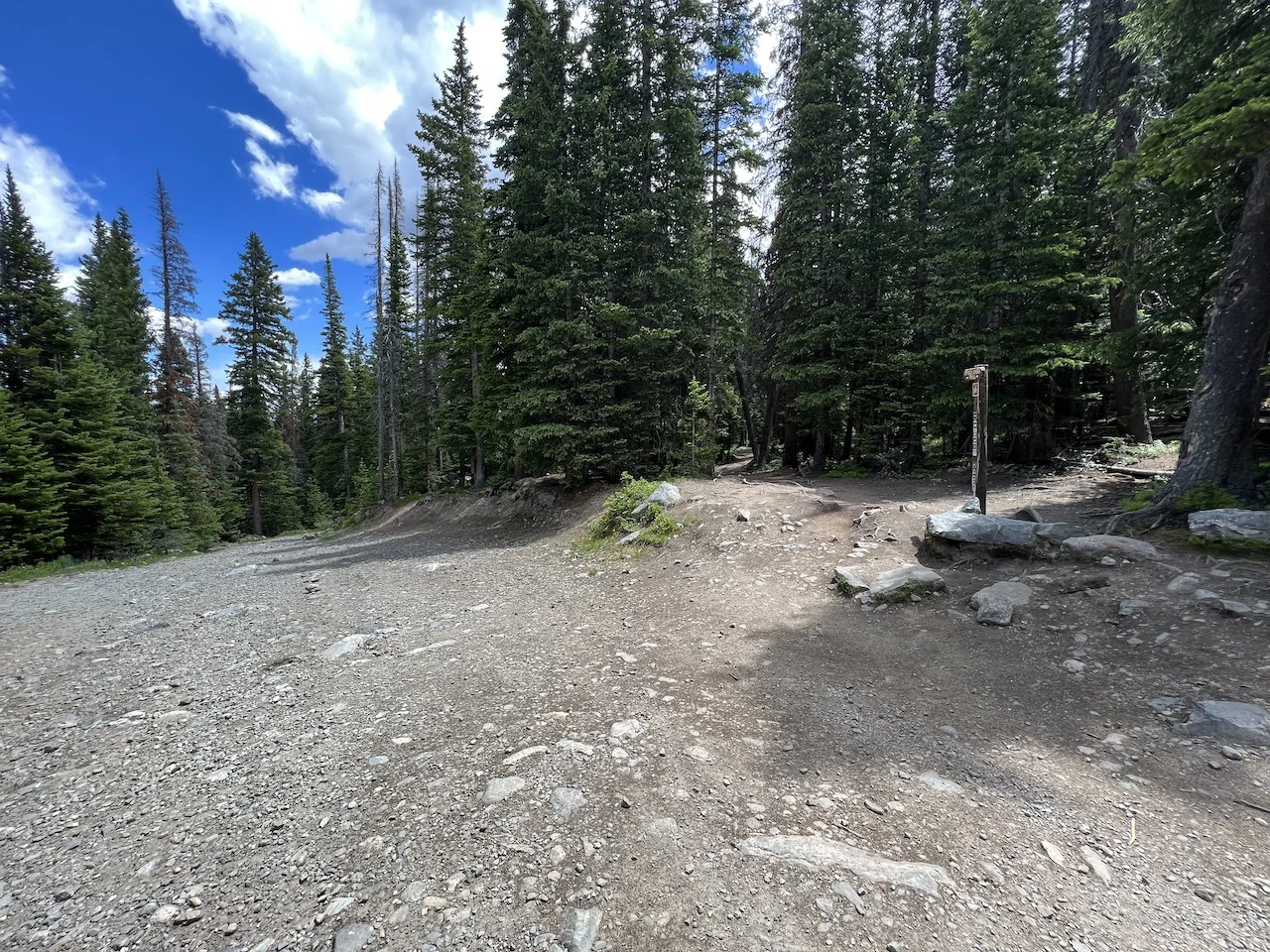 Hope you enjoy the one of kind Mohawk Lakes trail! If you have any questions or comments, be sure to add them in below.
Also, don't forget to check out the other Colorado hiking guides up on the site.
Have fun out there and safe travels!