If you are looking for a hike that is full of beautiful views & lakes, then add the Silver Dollar Lake Trail to the list.
While most people simply call this the Silver Dollar Lake Trail, there are actually three lakes altogether that you will enjoy during the hike. First you have Naylor Lake, which will be viewed from above. Then you have the main two Silver Dollar Lake and Murray Lake, which you will pass by along the way.
A hike up to all three of these lakes is not going to disappoint as you take in plenty of scenic landscape along the way.
* Affiliate Disclosure: This post may contain affiliate links, which means I may receive a commission if you make a purchase through the links provided, at no additional cost to you. Thanks for supporting the work I put into TripTins!
1) Silver Dollar Lake Trail Overview
Below are some helpful round-trip hiking stats for your time out on the trail:
Altogether the trail is a moderately easy hike as you visit these three lakes and enjoy the scenery along the way.
With that said though, this is one of the more popular hikes in the area. I would recommend getting there early to guarantee your parking spot (specifically on summer weekends).
If you want to avoid the crowds entirely, head there during the week & the earlier the start the better!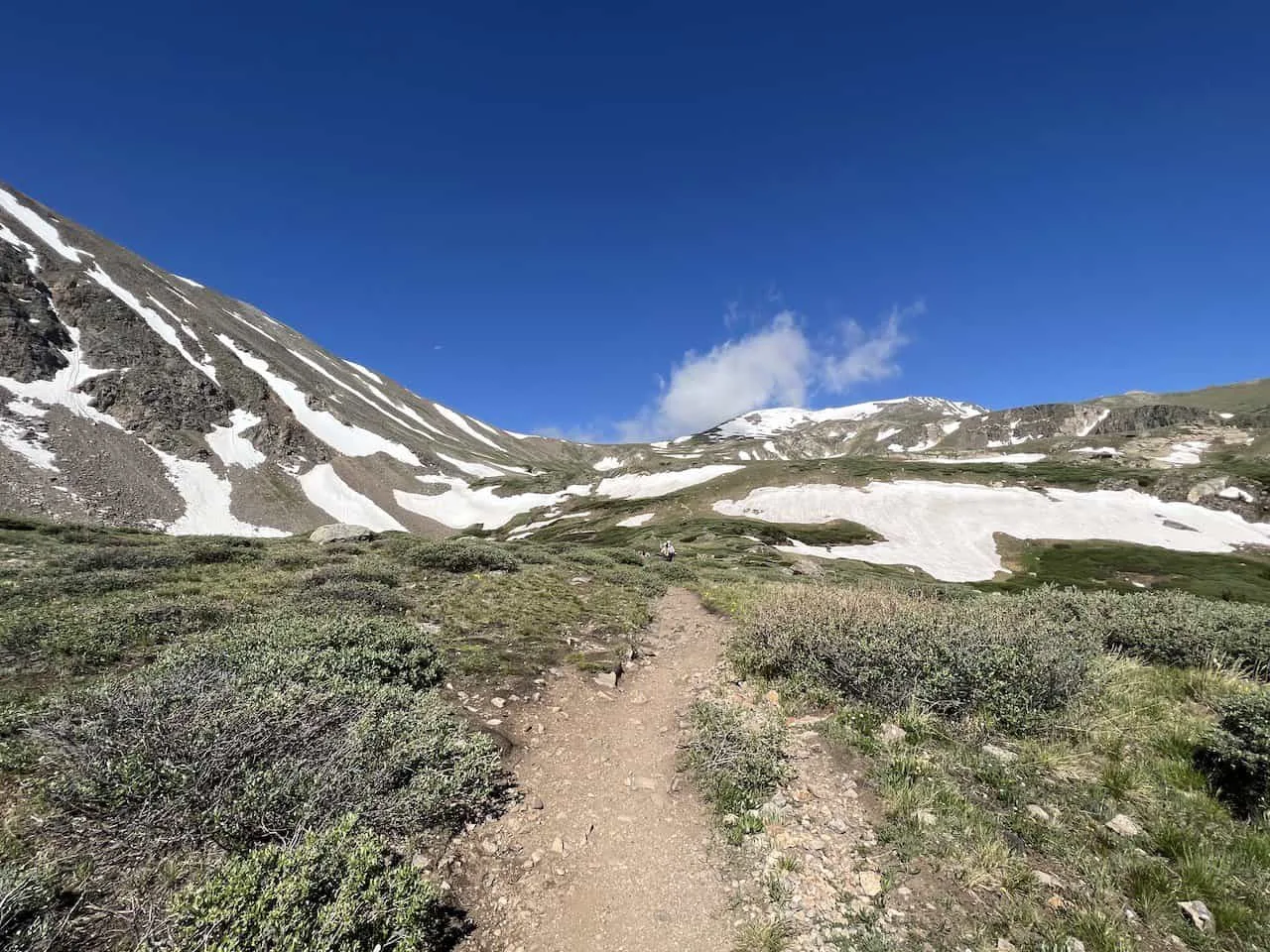 2) Silver Dollar Lake Trailhead
Now, there is one important thing to note about the Silver Dollar Lake trailhead – there are actually two potential starting points here.
You can either park directly at the trailhead (type the coordinates above or "Silver Dollar Lake Trailhead" into your GPS), or you can park at the Guanella Pass Road lot.
Trailhead Parking
While the trailhead parking is marked as a 4 X 4 parking lot, I did not find that the case at all (at least in the summer months). While it is a dirt road to reach the lot (about 0.7 miles), there did not seem to be any rough sections here.
The downside to the trailhead lot is that it can fill up quickly and it can get crowded with many people trying to cram into small spaces. If the trailhead lot is full, there are several pull off spots along the dirt road leading up to it.
Colorado Car Rental: Looking for a rental car in Colorado? Check out Rentalcars.com for a variety of options that can work well on your trip.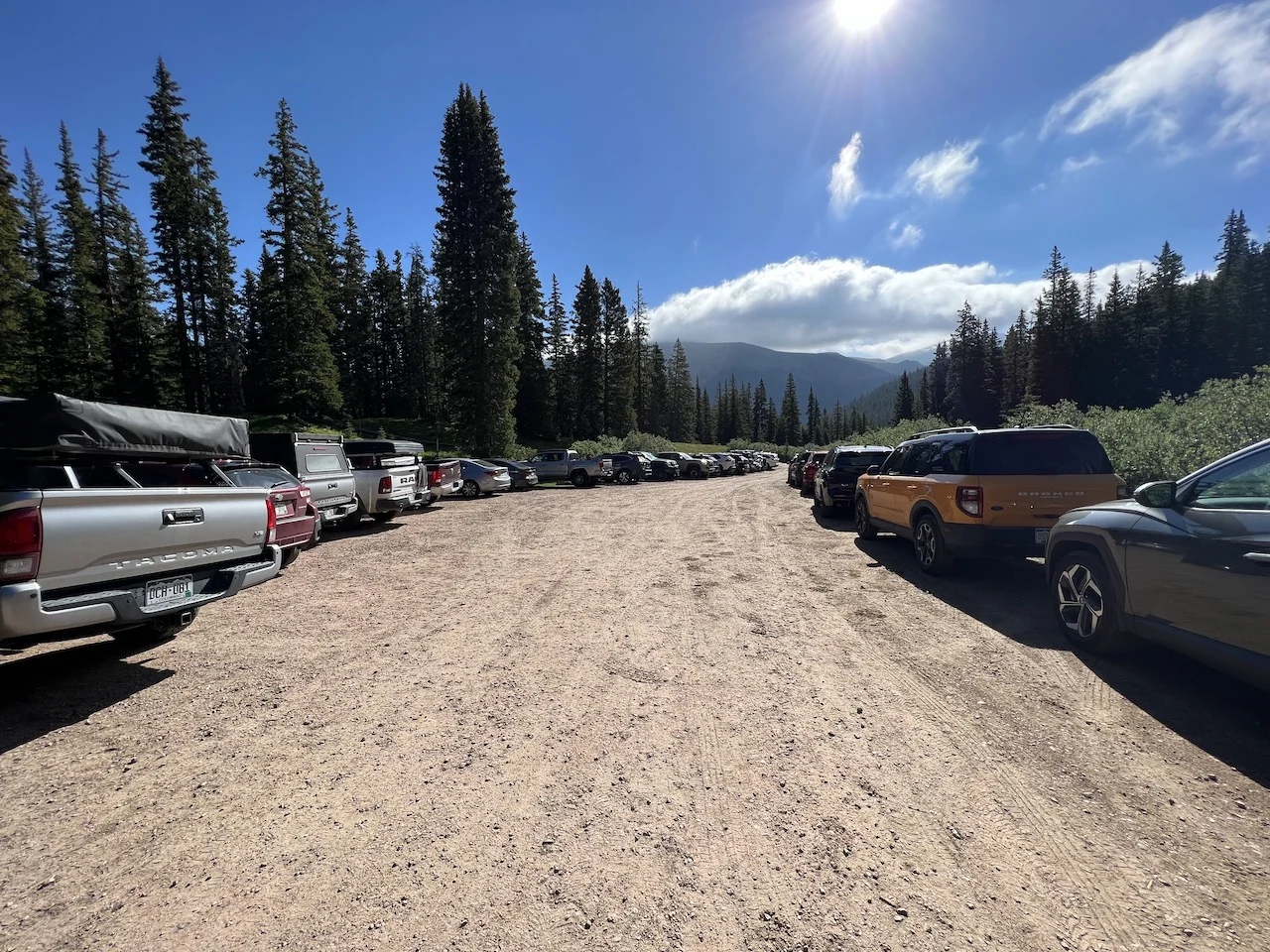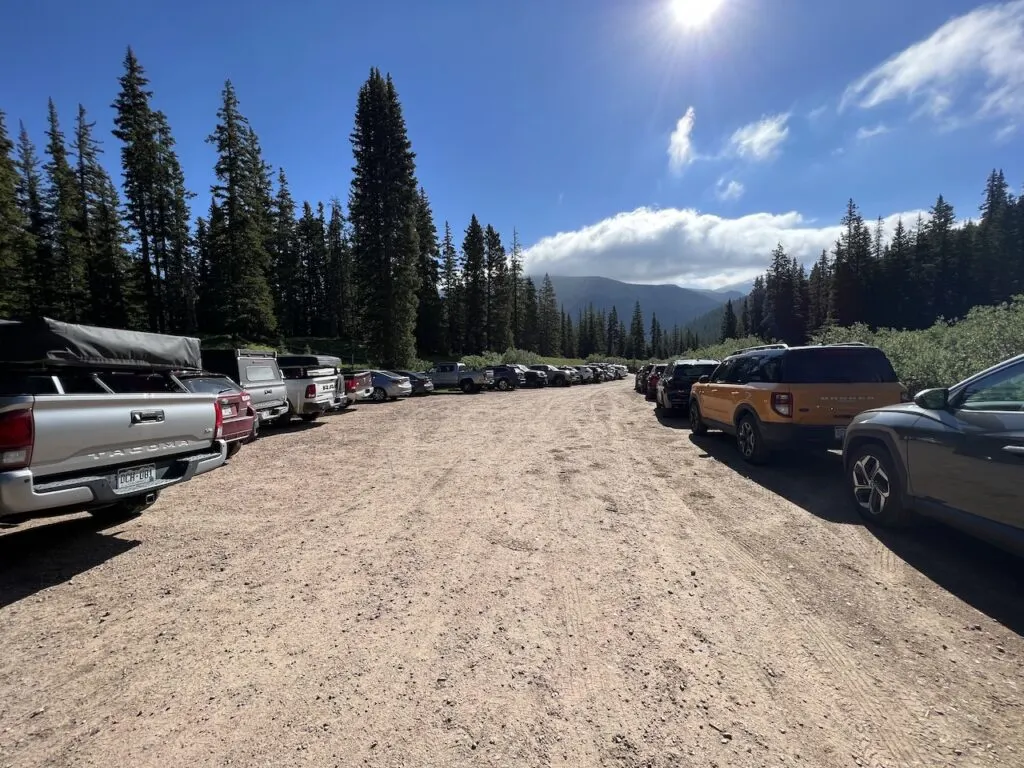 Guanella Pass Road Parking
The second option here is to simply park in the parking lot at the dirt road turnoff. Here you will find many additional spots available – some right at the dirt road entrance, and more in the lot opposite the road.
If you end up parking here though, it will add around 1.5 miles of round trip hiking (0.7 miles each way) in addition to ~300 feet of elevation gain.
You may be lucky and get to hitch a ride in either direction, but worse comes to worse, it's not too much additional mileage for the day.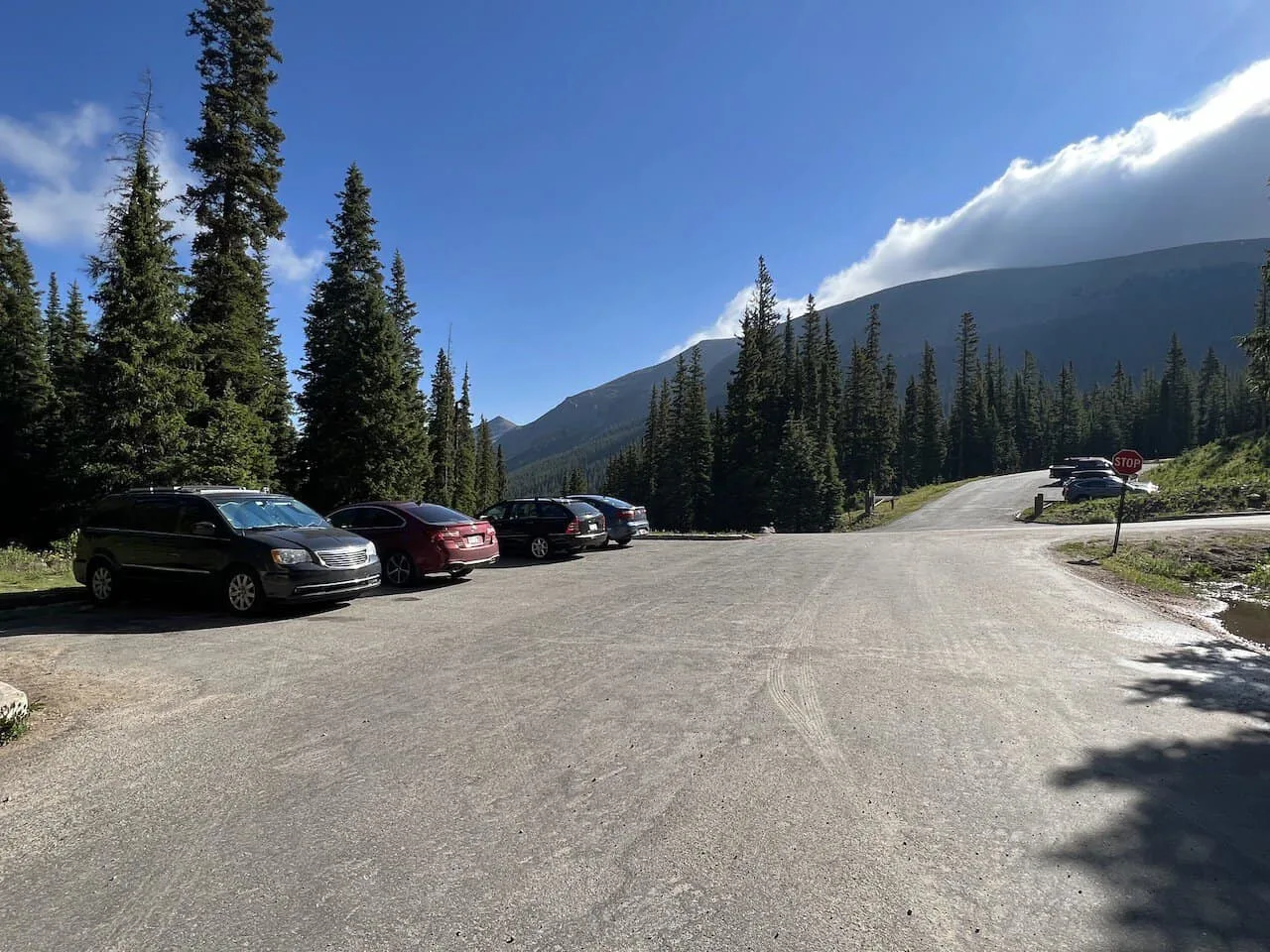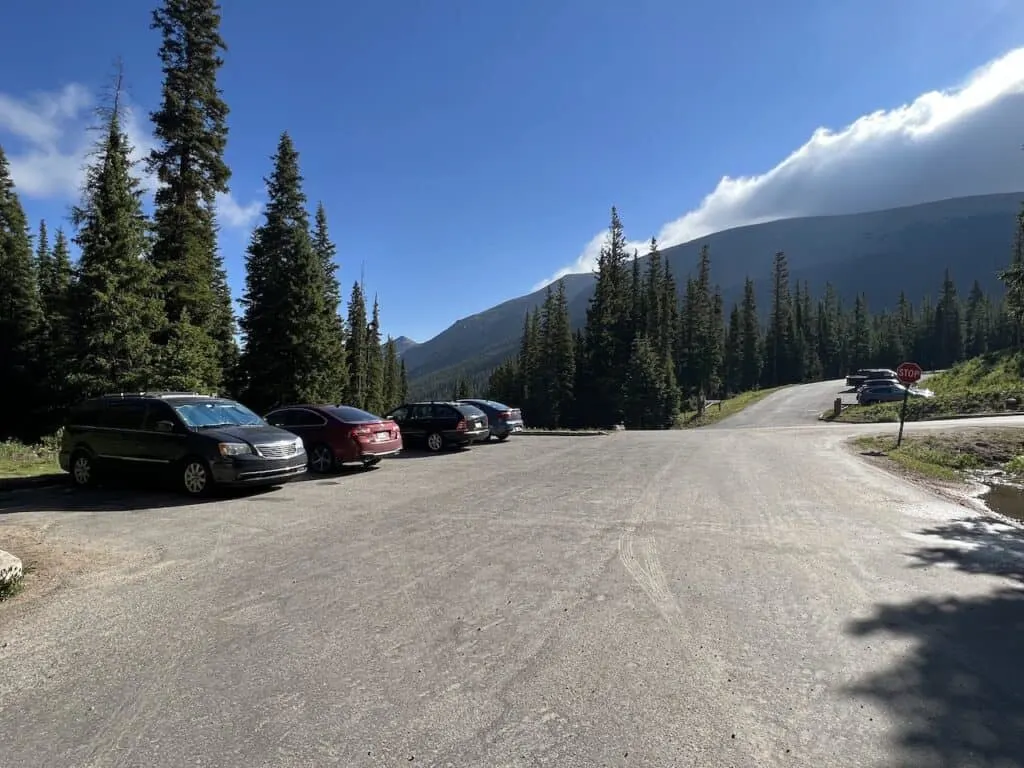 3) Trail Map & Directions
To better visualize the hike and where it is located, below is an interactive map that shows the parking lots, trail, and lakes.
From a directions standpoint, it will obviously matter where you are coming from. One way or another you will need to make your way up the Guanella Pass (from the north or south).
From Denver, it is a little over an hour as you head west along I-70, go through Georgetown, and then up the pass to the trailhead.
4) Fishing & Camping
A couple popular topics that people ask about when it comes to Silver Dollar Lake is the fishing and camping aspects of the trail.
Fishing
For those that want to catch some fish, that is possible at Silver Dollar Lake. I saw several people with their rods trying to grab some fresh fish during their hike.
Some of the main fish that can be found in the lake include rainbow, brook and cutthroat trout.
It is mentioned on some sites that a valid Colorado state fishing license is mandatory.
Camping
If you are looking to spend some time overnight camping in the area, then Silver Dollar Lake has a great option for you.
The closest major camping site is located right nearby the Guanella Pass Road parking lot, at the Guanella Pass Camground.
There are 18 sites at the campground, and you can book through the official website. Whether you want RV camping or tent camping, the campground has an option for you.
In addition, each site has a tent pad, picnic table, fire ring, and charcoal grill.
Best of all, you can be first in line to take on the trail and enjoy the views without the crowds.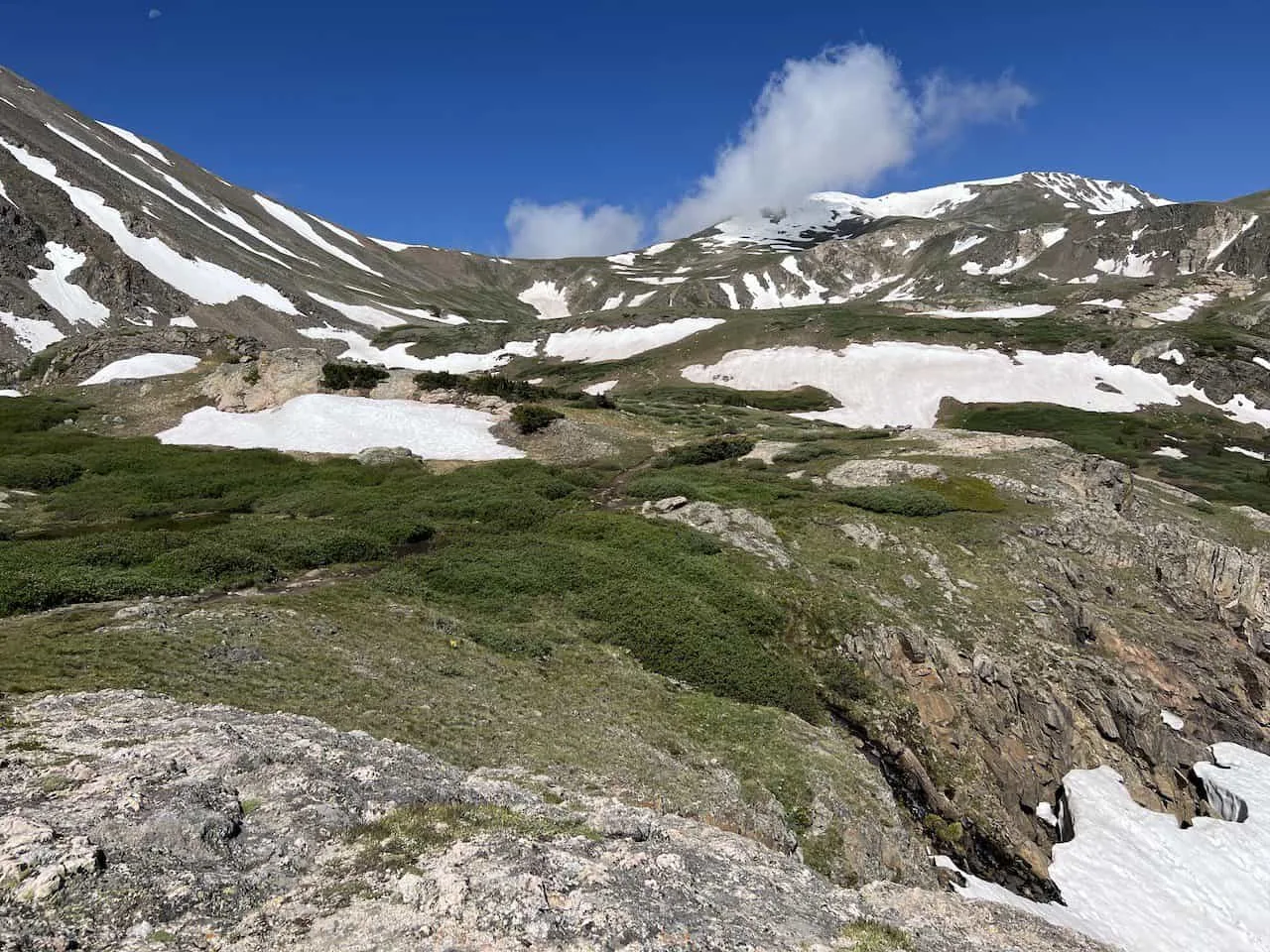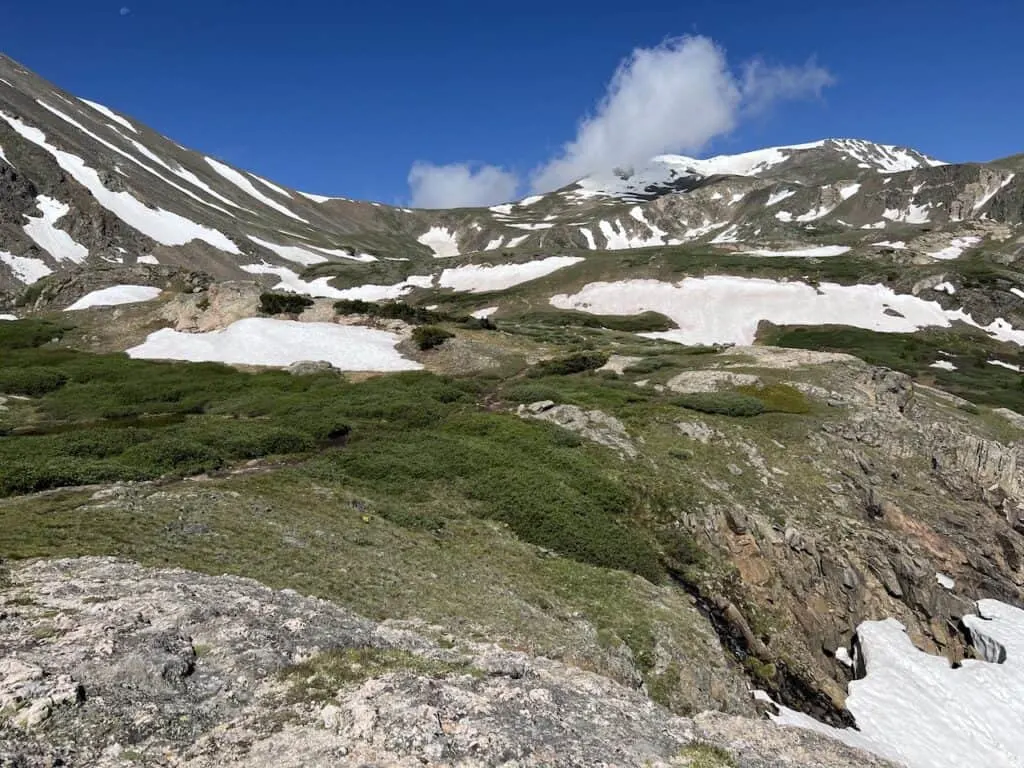 5) Silver Dollar Lake Trail Weather
When it comes to hiking to Silver Dollar Lake, the weather will be of upmost importance. Since most of the hike is done above the tree line, you have to be cautious for those thunderstorms that are common in the summer months.
In addition, the views are just so much better without those low lying or thick clouds. Saving this hike for a nice weather day is your best bet.
I would recommend checking out a few different weather forecasts prior to taking on the hike. The links will take you to the forecast of the nearby surrounding mountains:
From a time of year perspective, the summer and fall will be your best bet. You want to visit when the lakes aren't frozen and covered in snow. In addition, during the spring, you may find the trail very muddy as the snow continues to melt.
My recommendation is to take a look at the latest reviews on AllTrails to always get up to date hiking information.
Hiking Resources & Checklist

Before heading out for the trails, be sure to read up on some of the hiking resources up on the site. These are here to better prepare you for all types of outdoor adventure.
6) Where to Stay
If you aren't a local to the area, then there are a few nearby towns to consider staying in during your trip. Spending a few days in the general area will have you nearby to many other top hikes that Colorado has to offer.
Georgetown
The most convenient location to stay would be Georgetown, which is located just at the bottom of the Guanella Pass. It is a small historic town and makes for a relaxing stay. A few top options to consider include:
Silverthorne
A more major hub is Silverthorne, which is located 50 minutes away from the trailhead. You may find more options around here; however, it will be a different type of feel compared to a small town like Georgetown.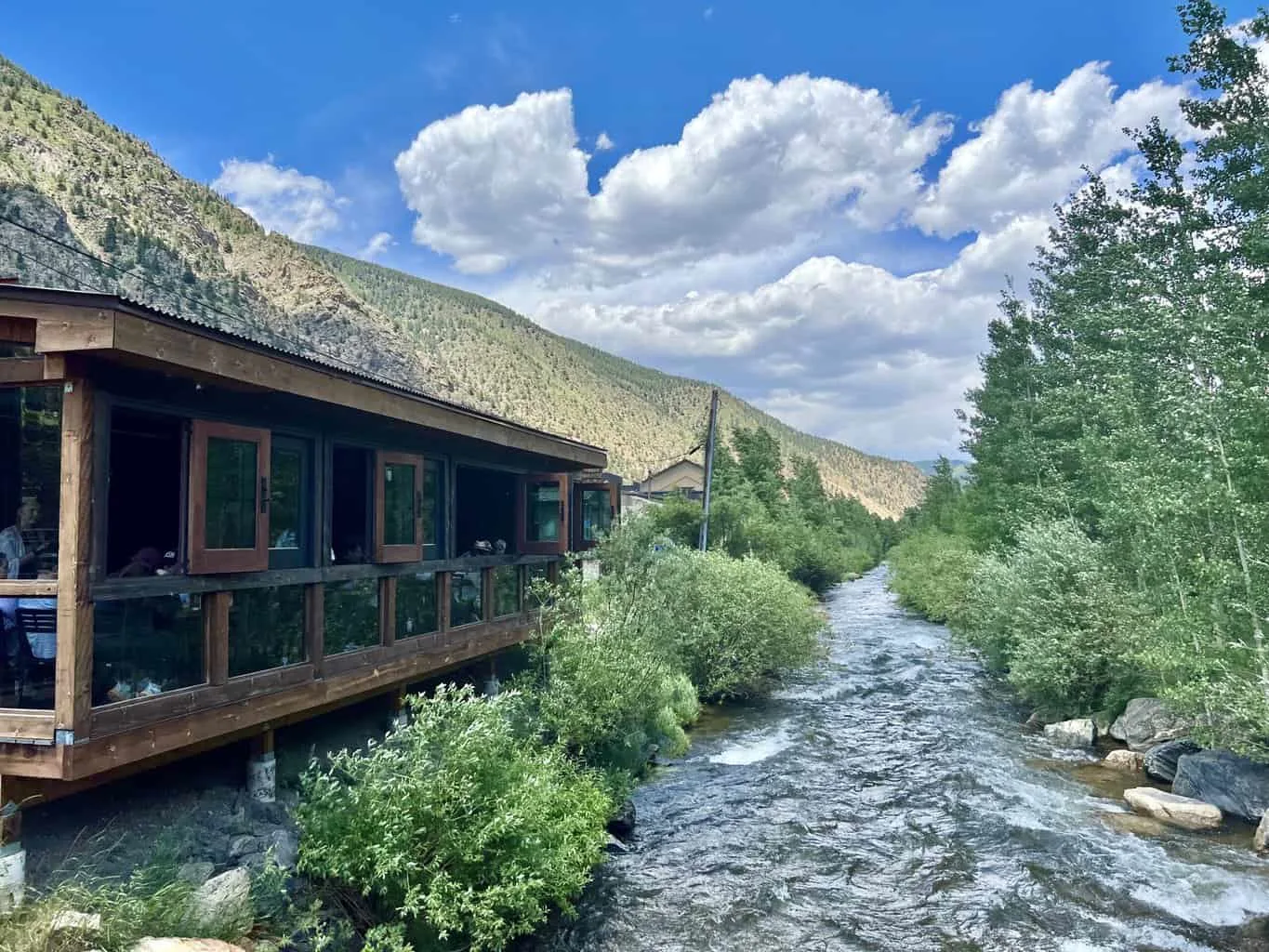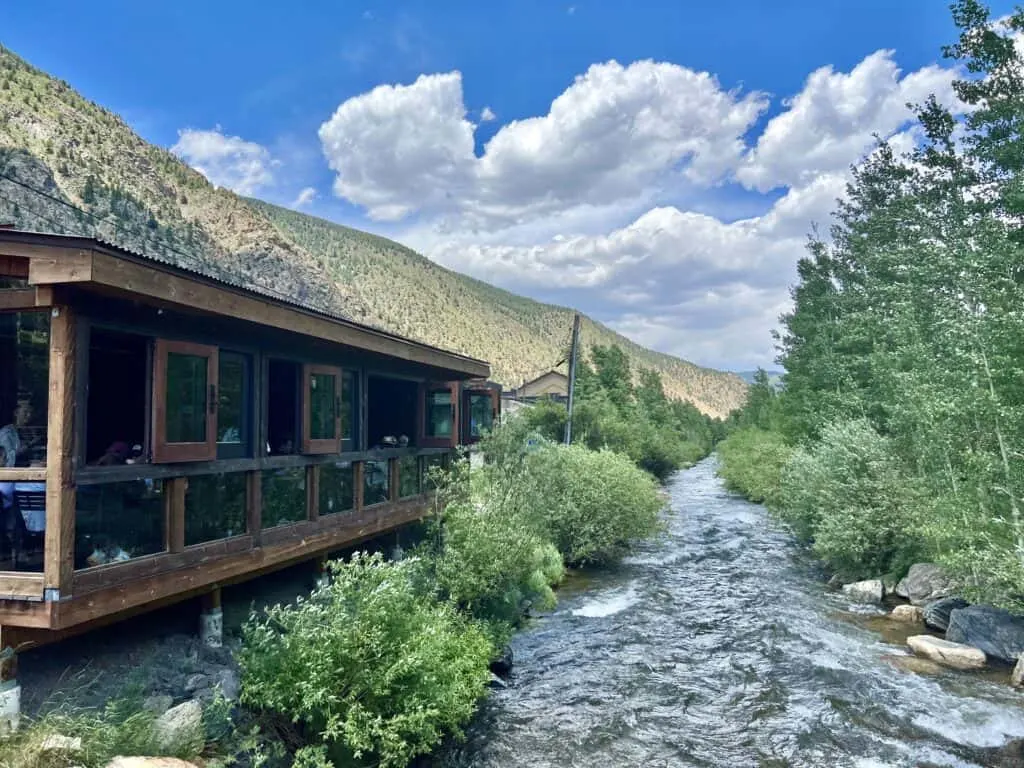 7) The Silver Dollar Lake & Murray Lake Trail
To give you a better idea of the trail, the following sections will walk you through the terrain, landscape, highlights, and what to expect along the way.
I will start the hike at the main trailhead (upper parking lot). If you happen to park at the roadside lot, expect an easy 20 minute walk along the dirt road.
At the end of the parking lot, you will see a small staircase on the left hand side. This is where the trail officially starts. If you head to the right, that takes you to Naylor Lake, which is on private property.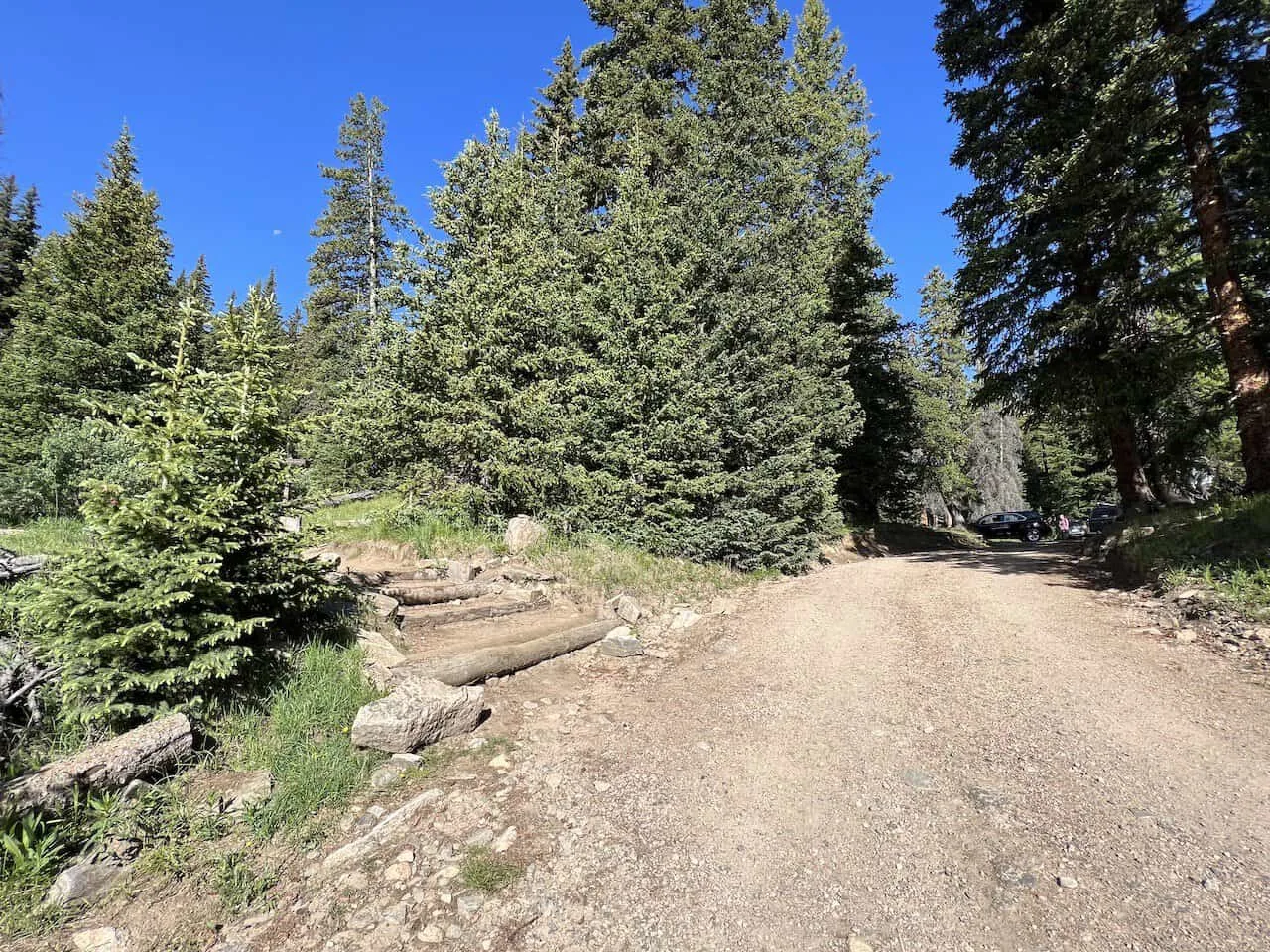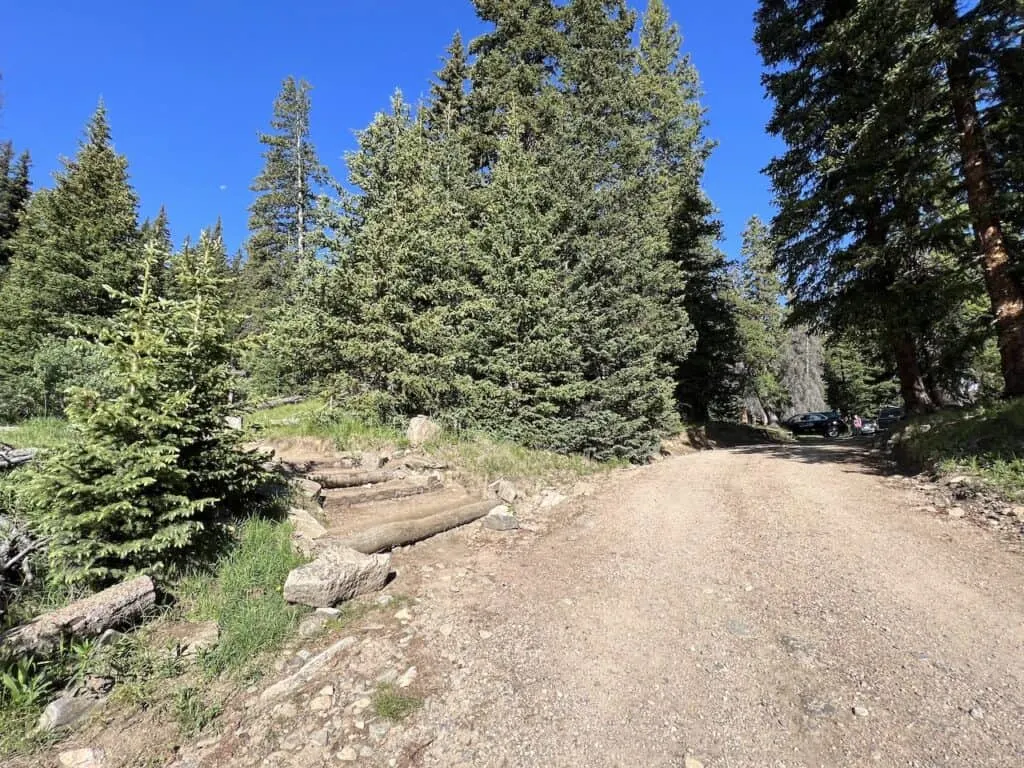 Trailhead to Tree Line (0.5 miles)
The first portion of the hike will be heading through the trees, as you immediately begin to gain some elevation. Within the forest you will come across a dirt trail with some rocky terrain spread throughout.
While the trail is easy enough to follow, you may come across a couple of intersections, where you could second guess yourself. I would recommend downloading a hiking navigation app in general to keep you on point.
In addition, there are some faint blue circle markers on various trees throughout the forest. Keep an eye for those and you should be good to go.
After around 20 minutes or so, you will leave behind the heavily forested area and be welcomed to some mountain views out in front of you.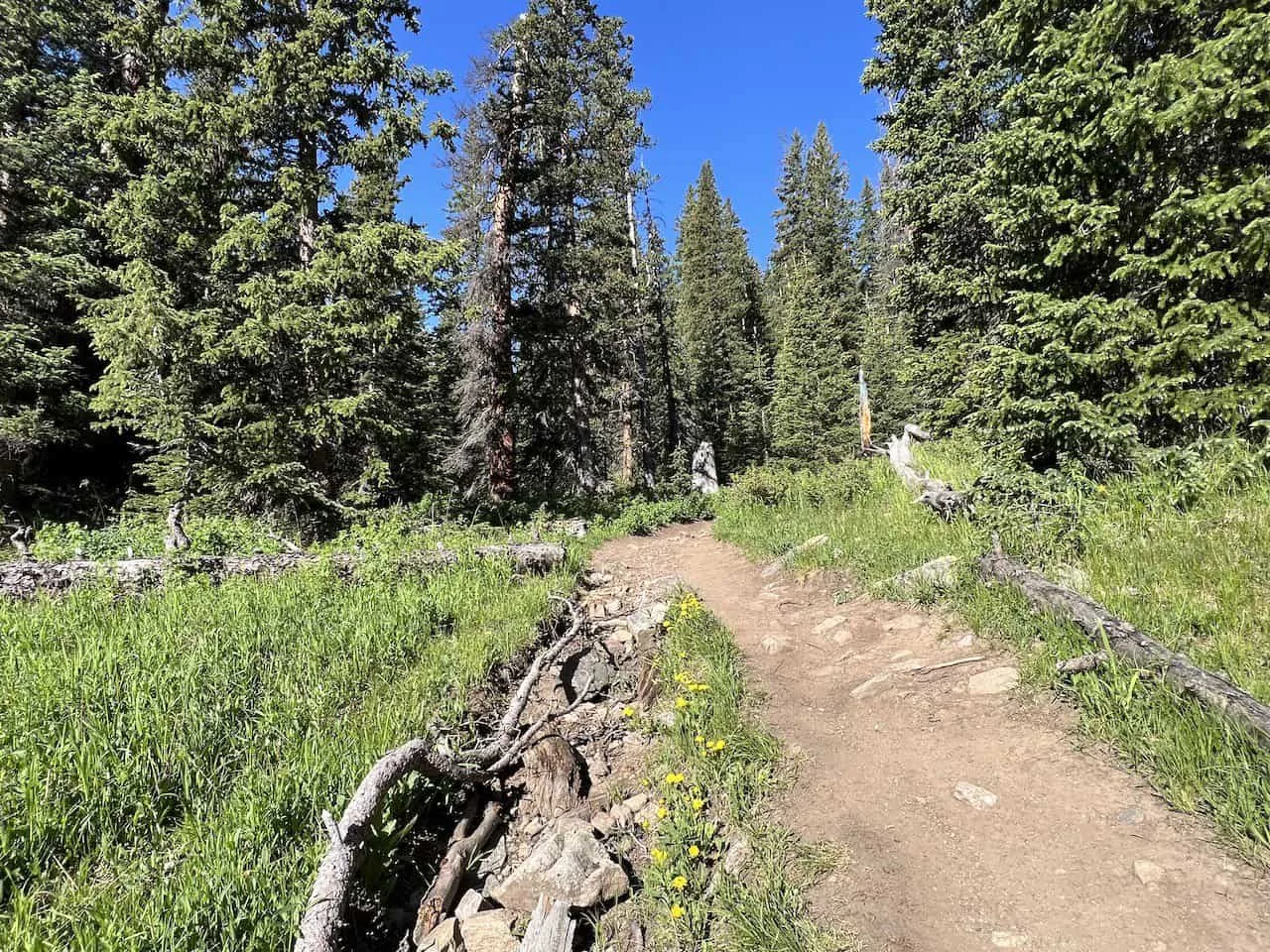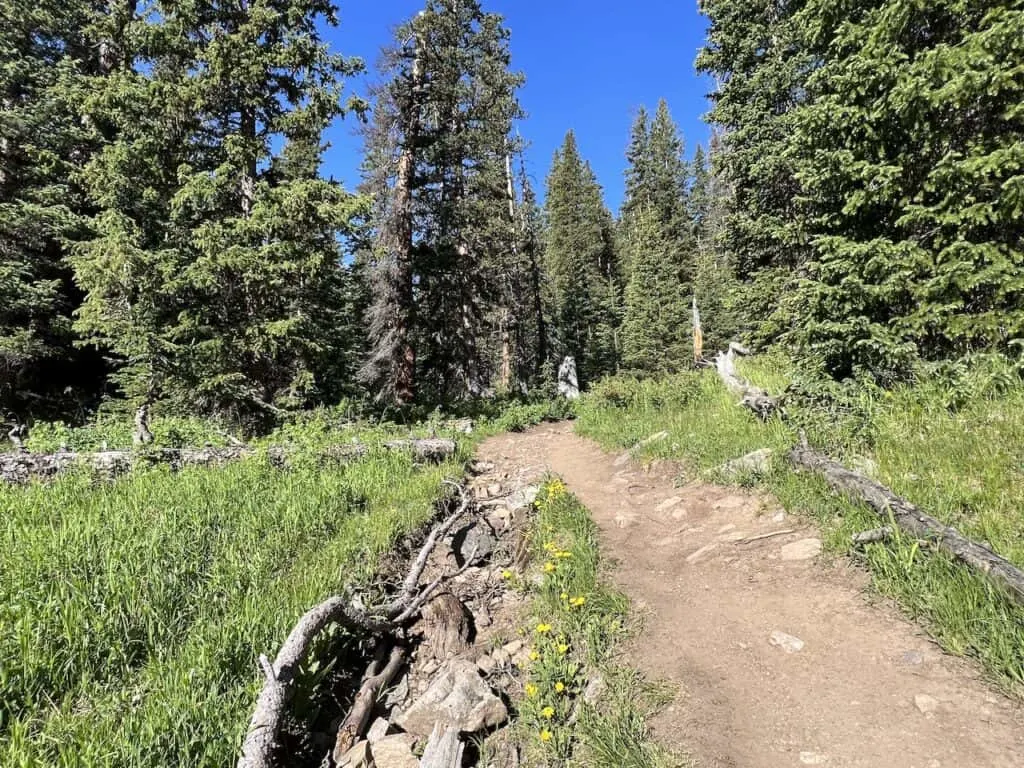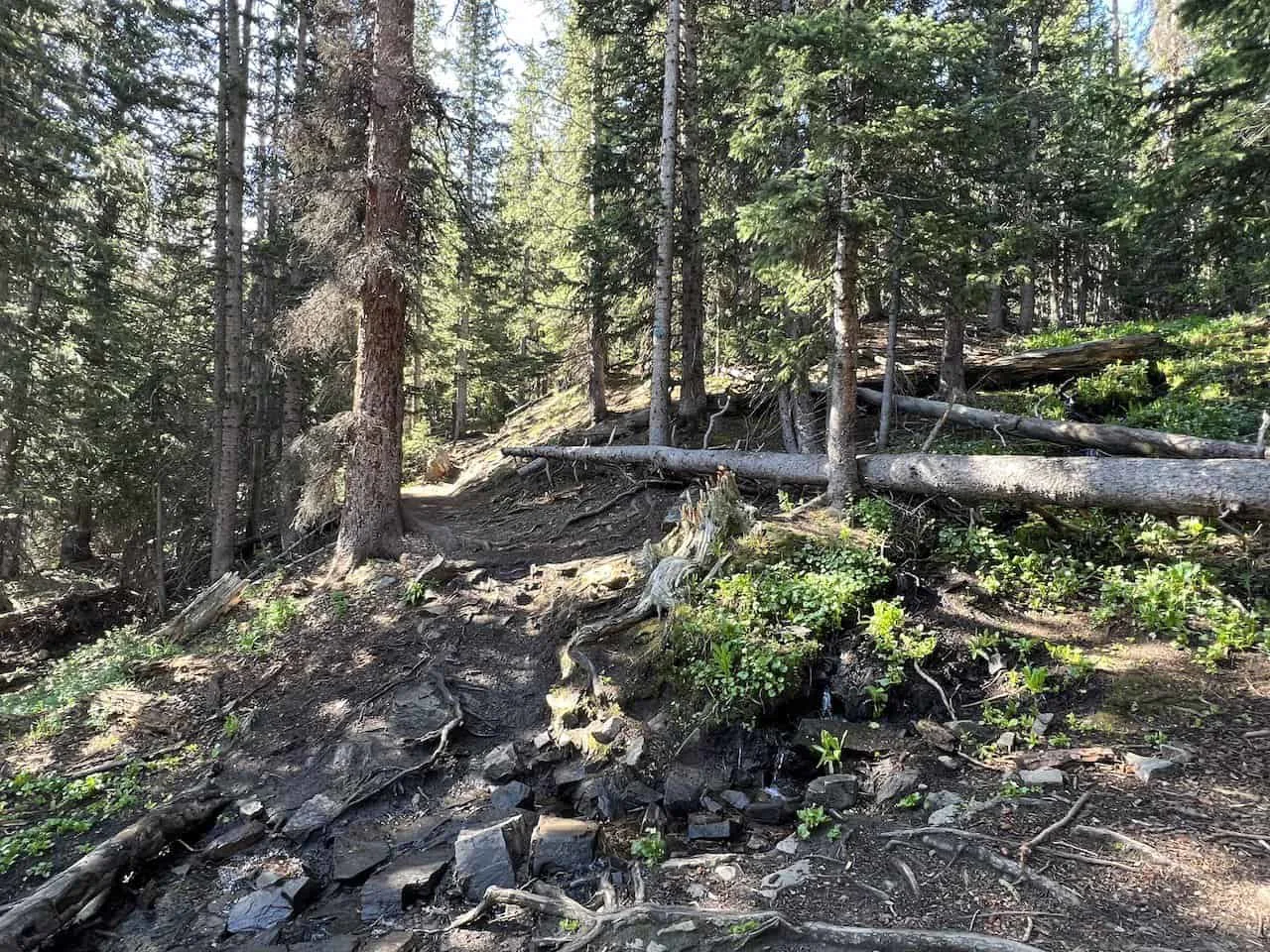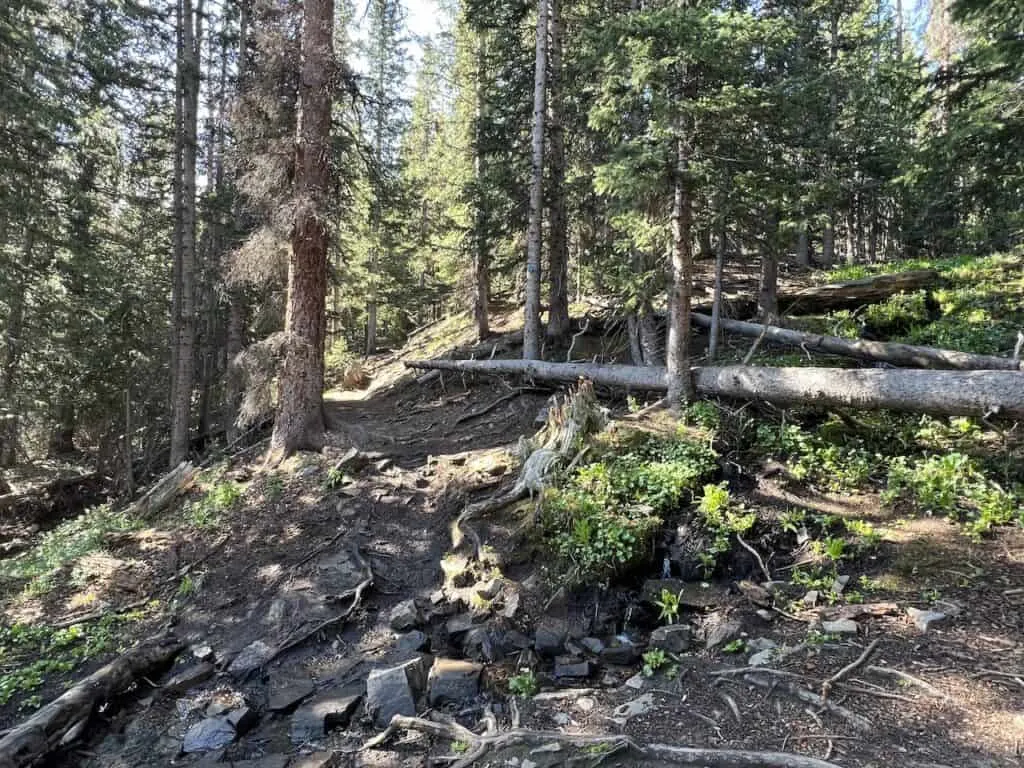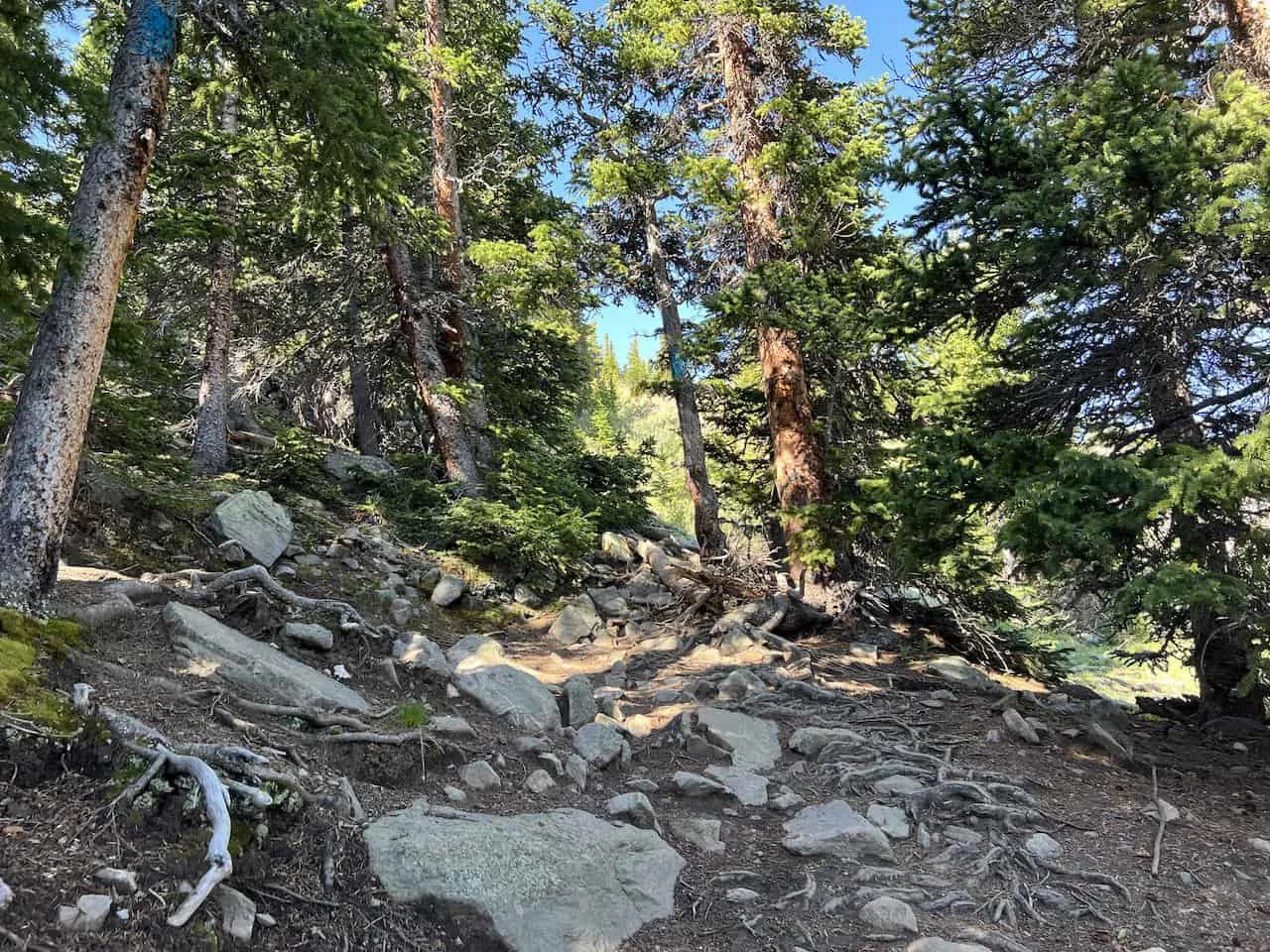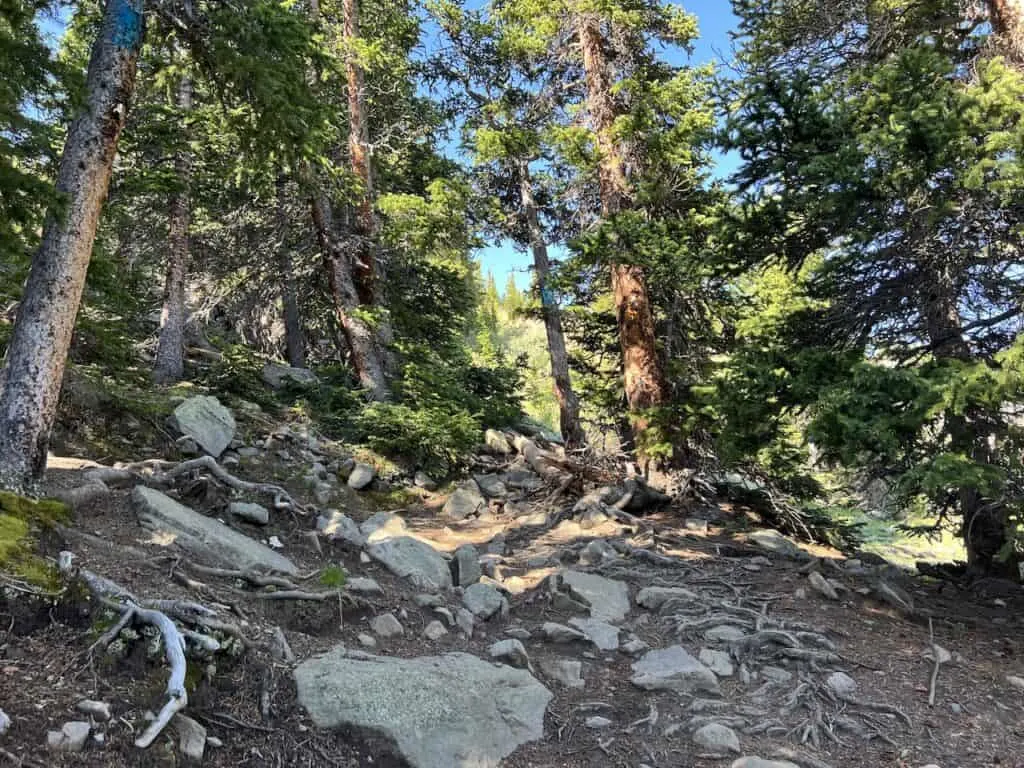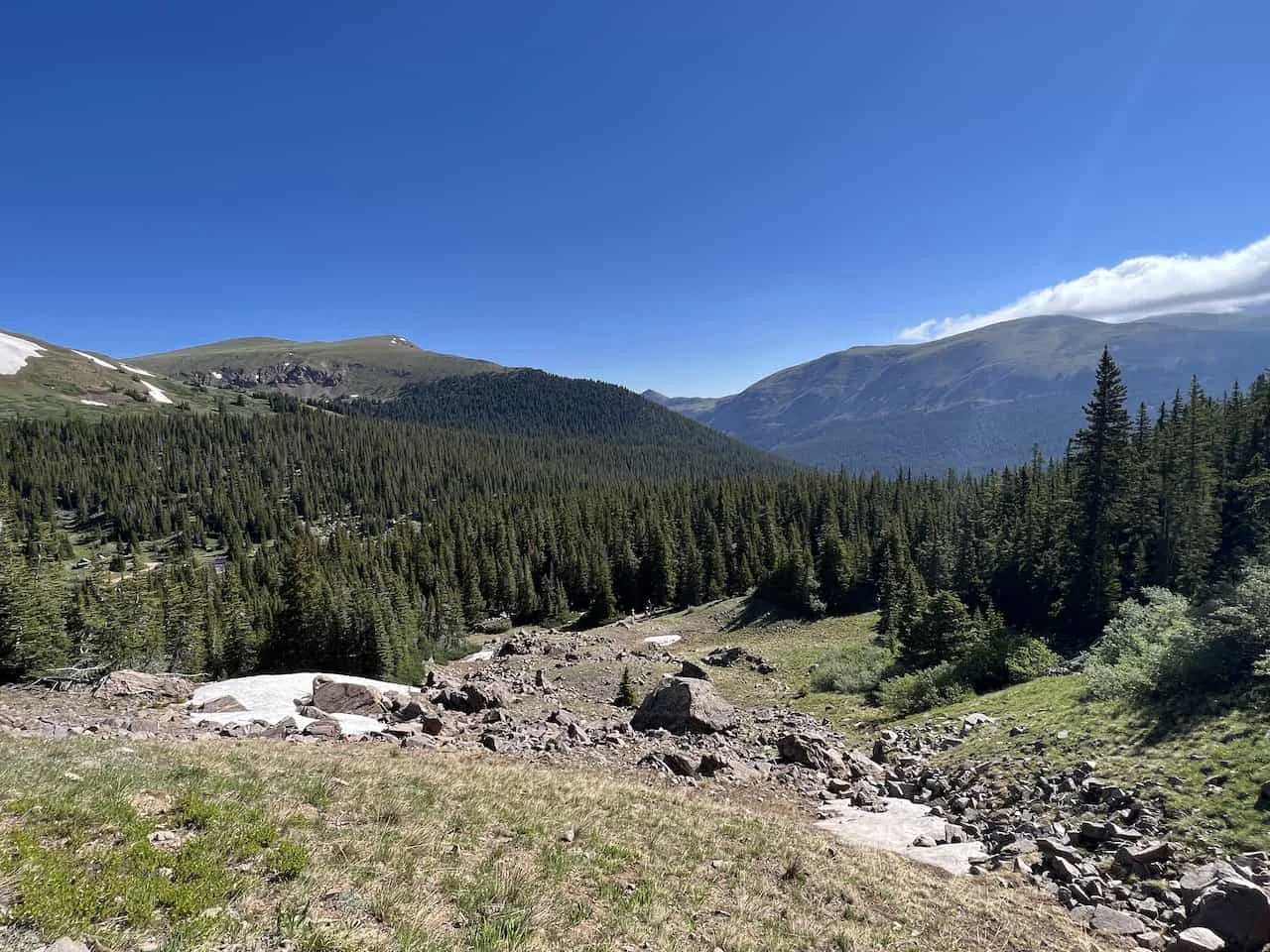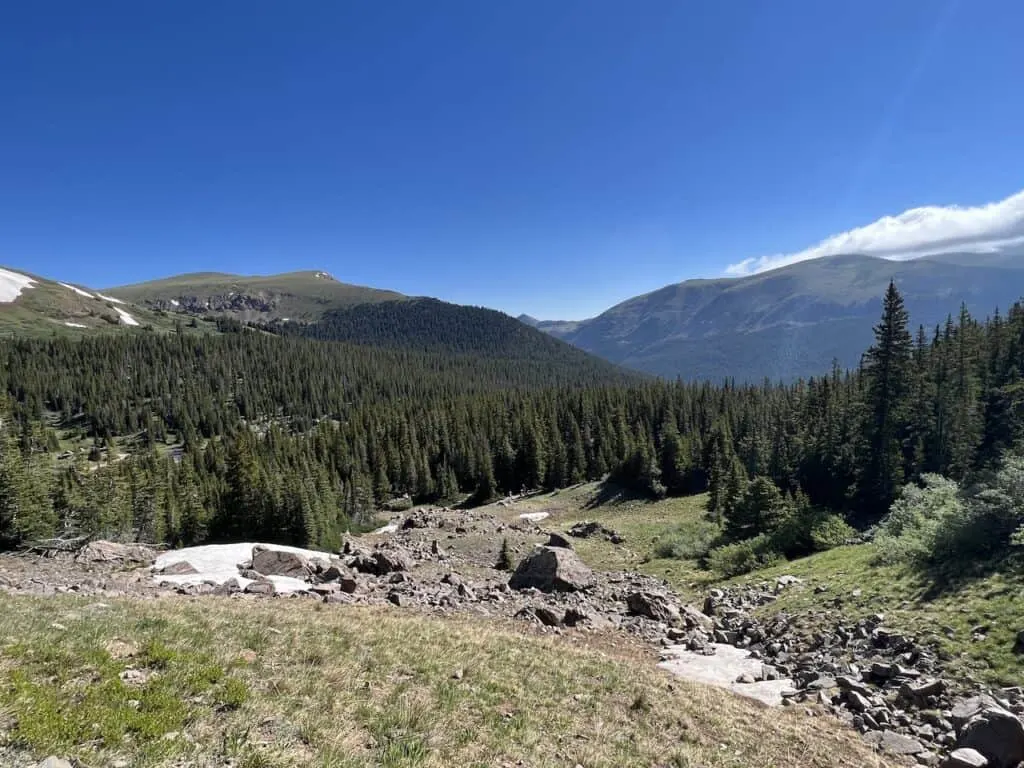 Tree Line to Silver Dollar Lake (1 mile)
This next mile from the tree line to Silver Dollar Lake is just full of beautiful views to enjoy. To your right will be Naylor Lake, and out in front of you will be some peaks such as Square Top Mountain, Mt Wilcox, and Argentine Peak.
If you hike in the late Spring and early summer, get ready for a few easy snow crossings. Just watch your step during these portions as it can be slippery. If it is heavily snowed in, you may need to consider microspikes as well.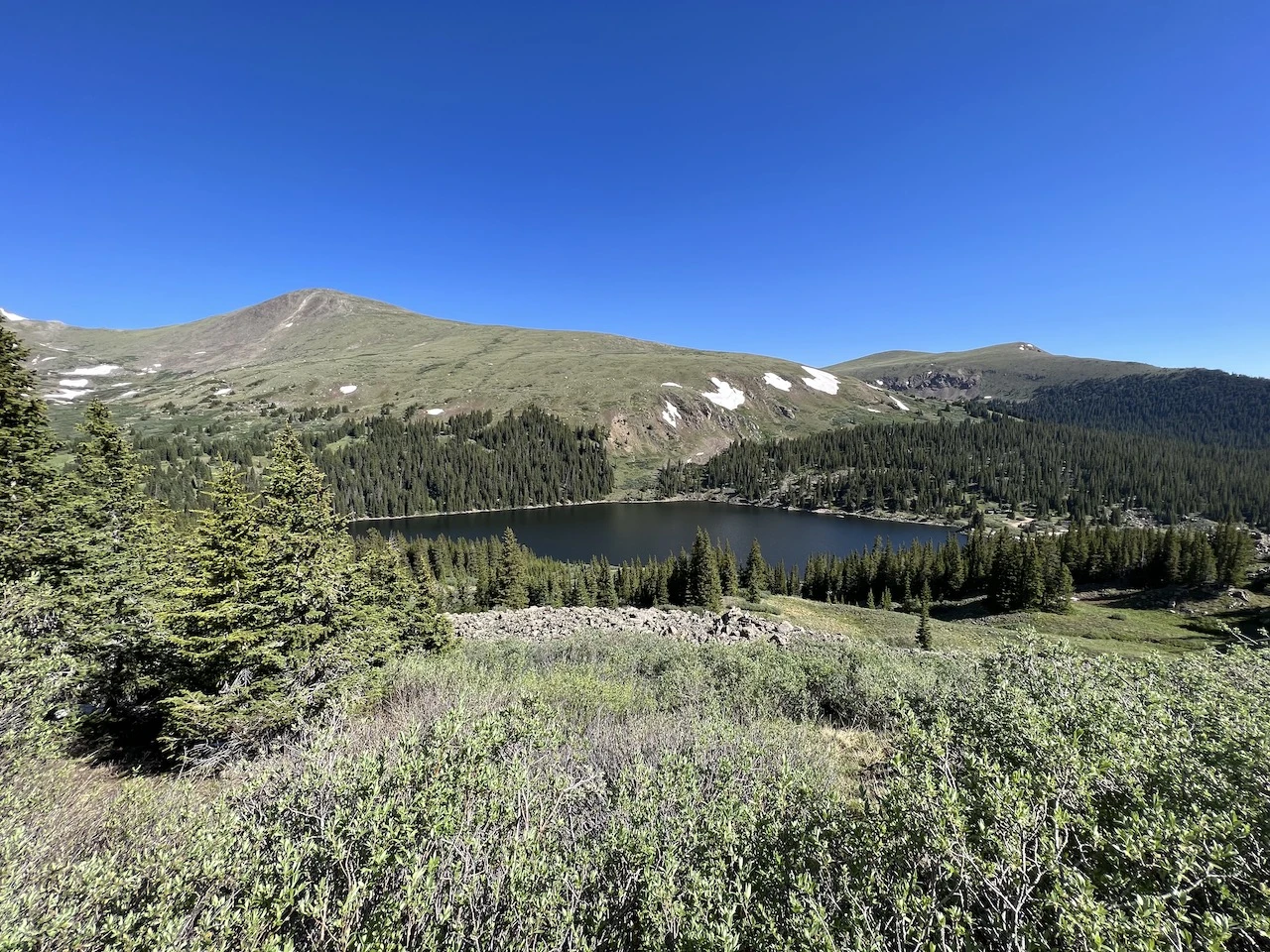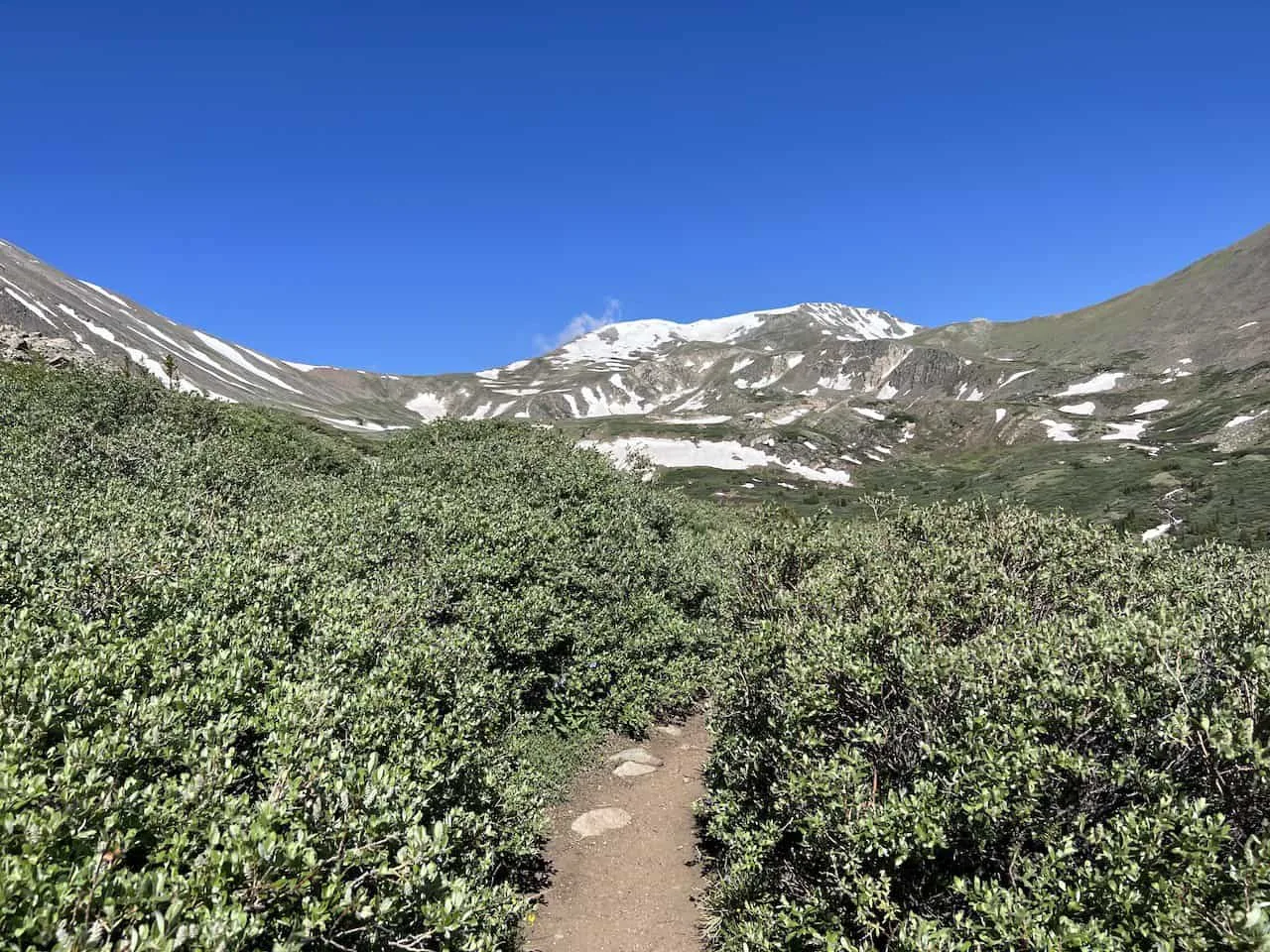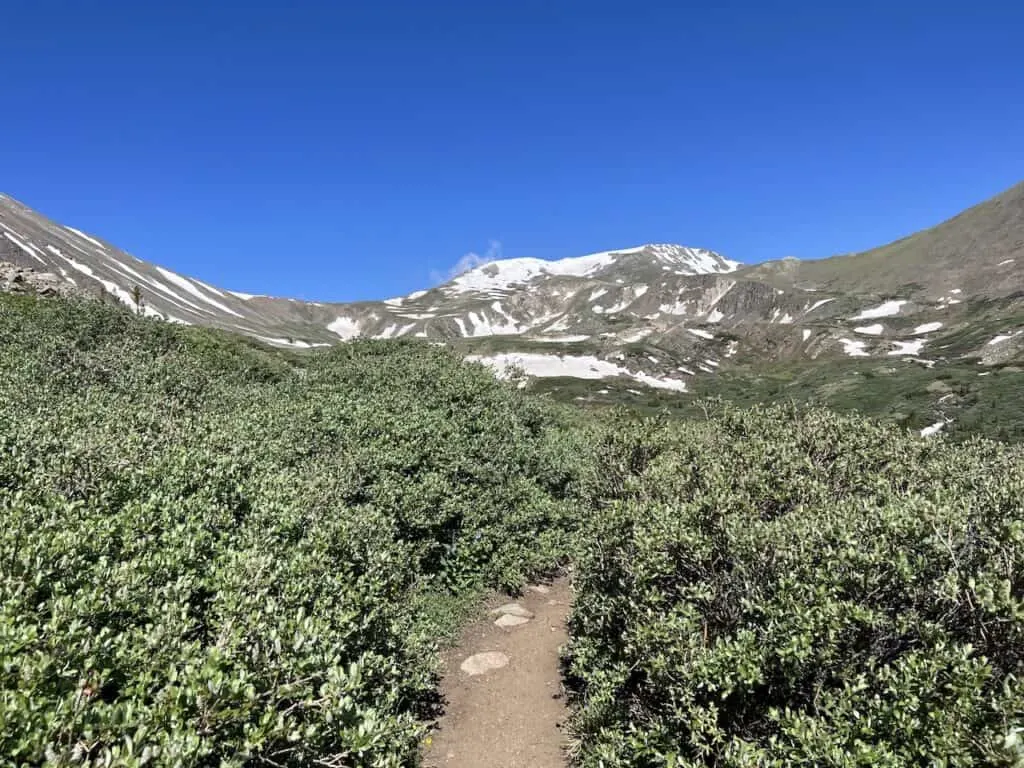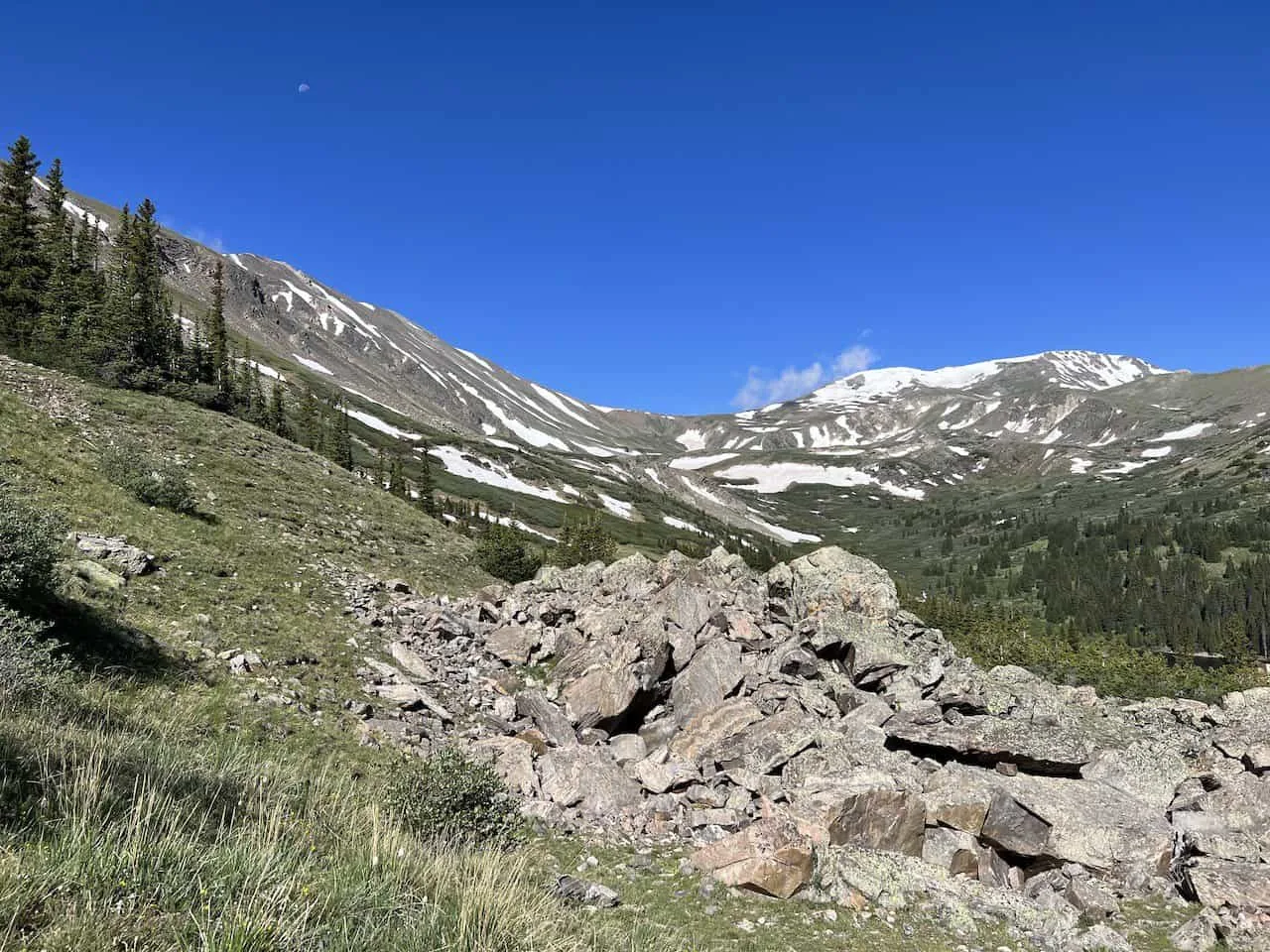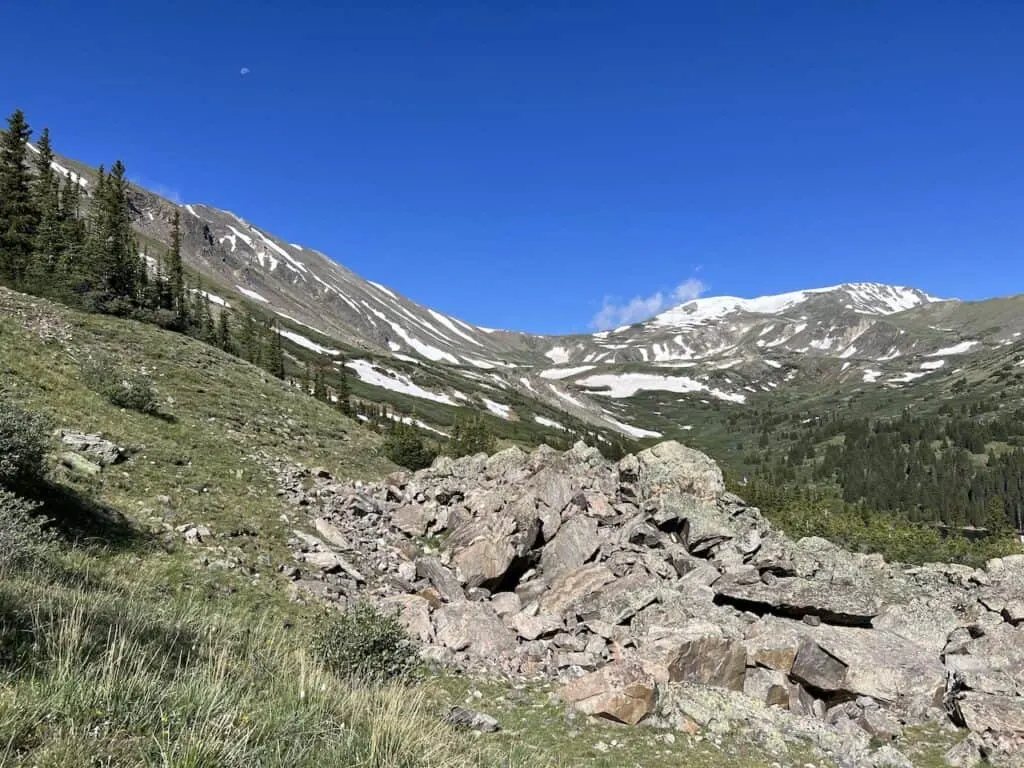 As you continue up, be sure to turn around from time to time to take in the views of Naylor Lake from above. On the map, I pinpointed a large rock outcrop on the right hand side of the trail.
From this spot, you will be able to see all of Naylor Lake surrounded by the greenery and rolling mountains out back.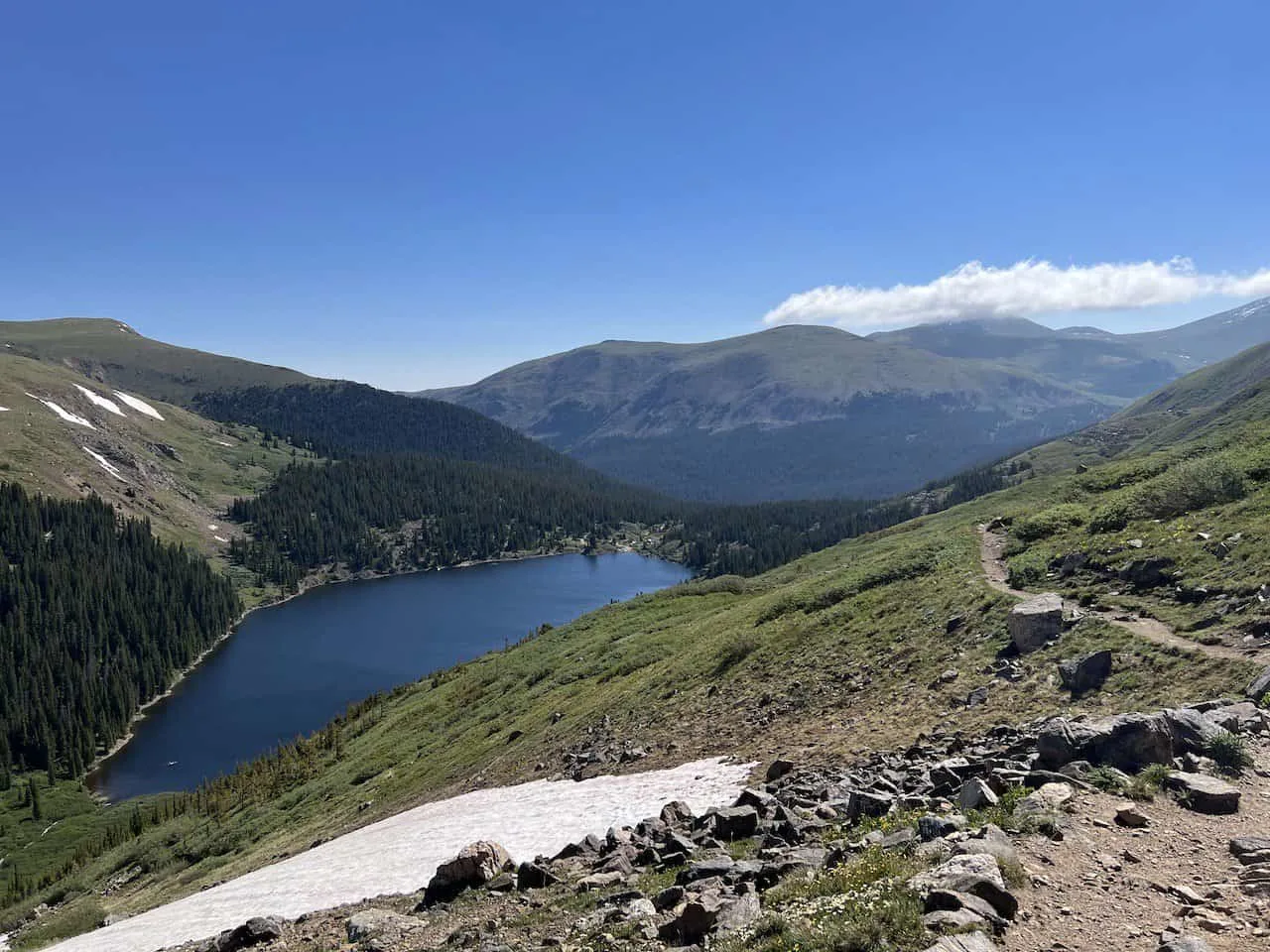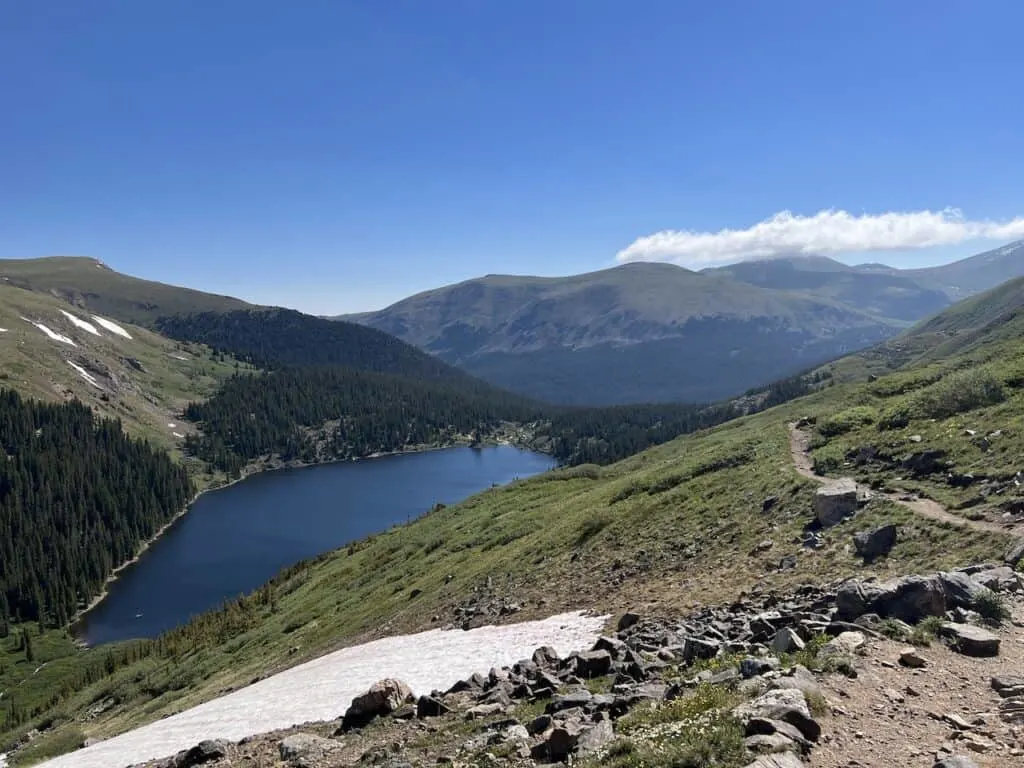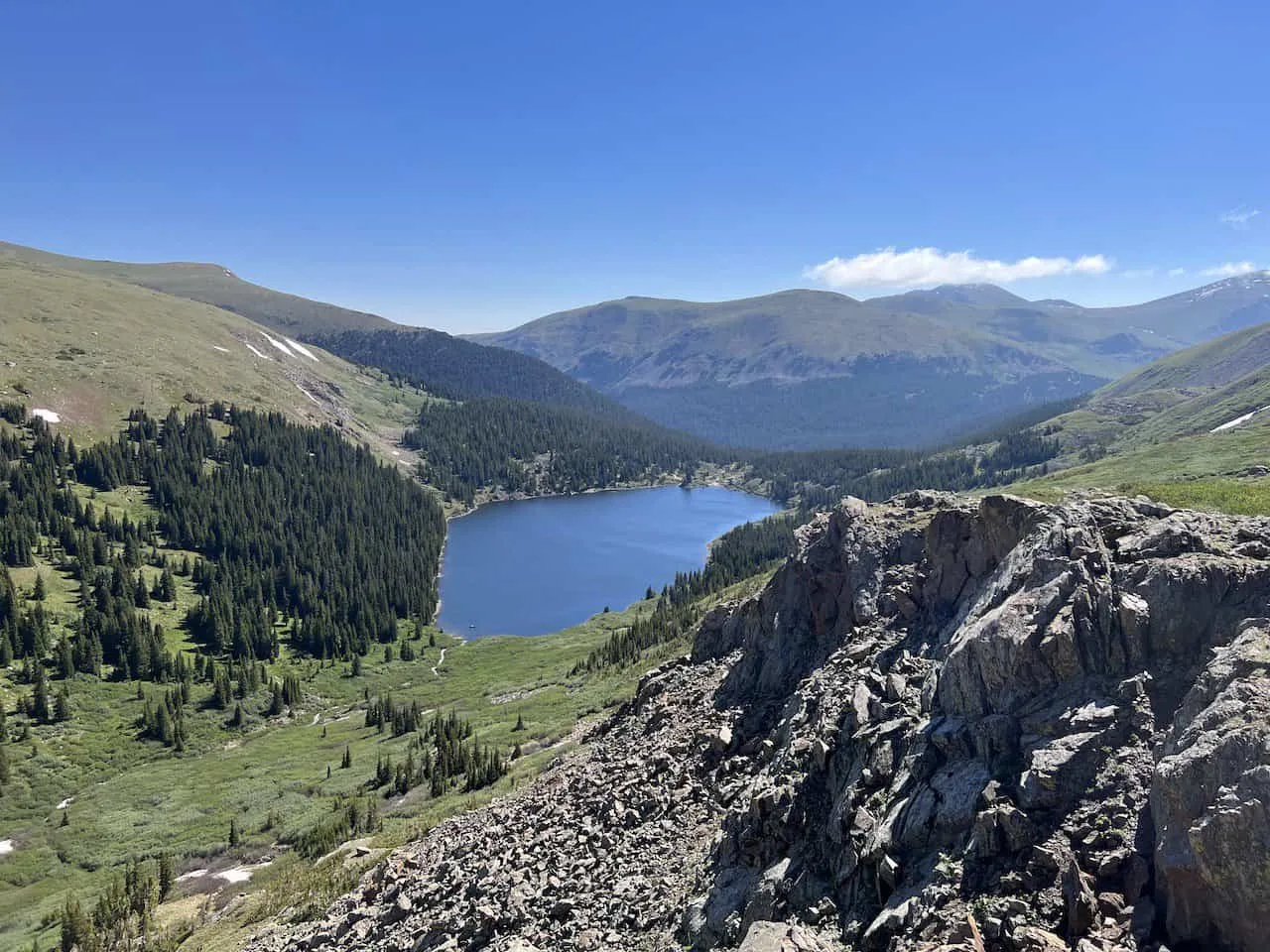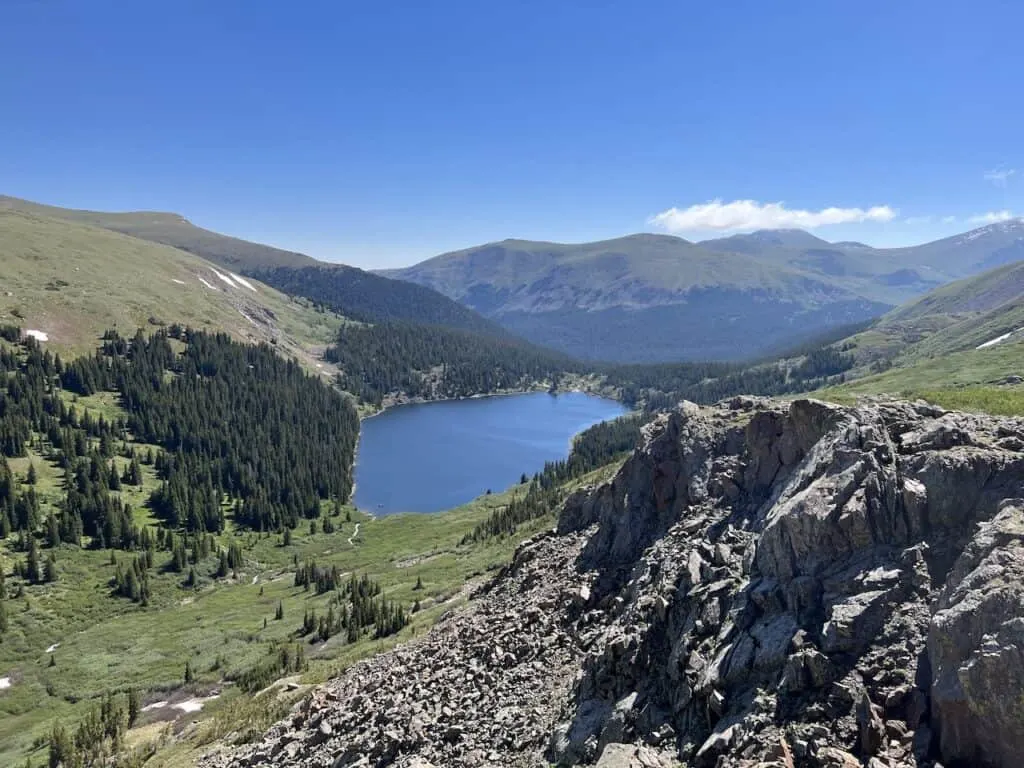 Less than 10 minutes from that viewpoint, you will come across Silver Dollar Lake. Feel free to spend some time by the lakeside before continuing further up to the final lake.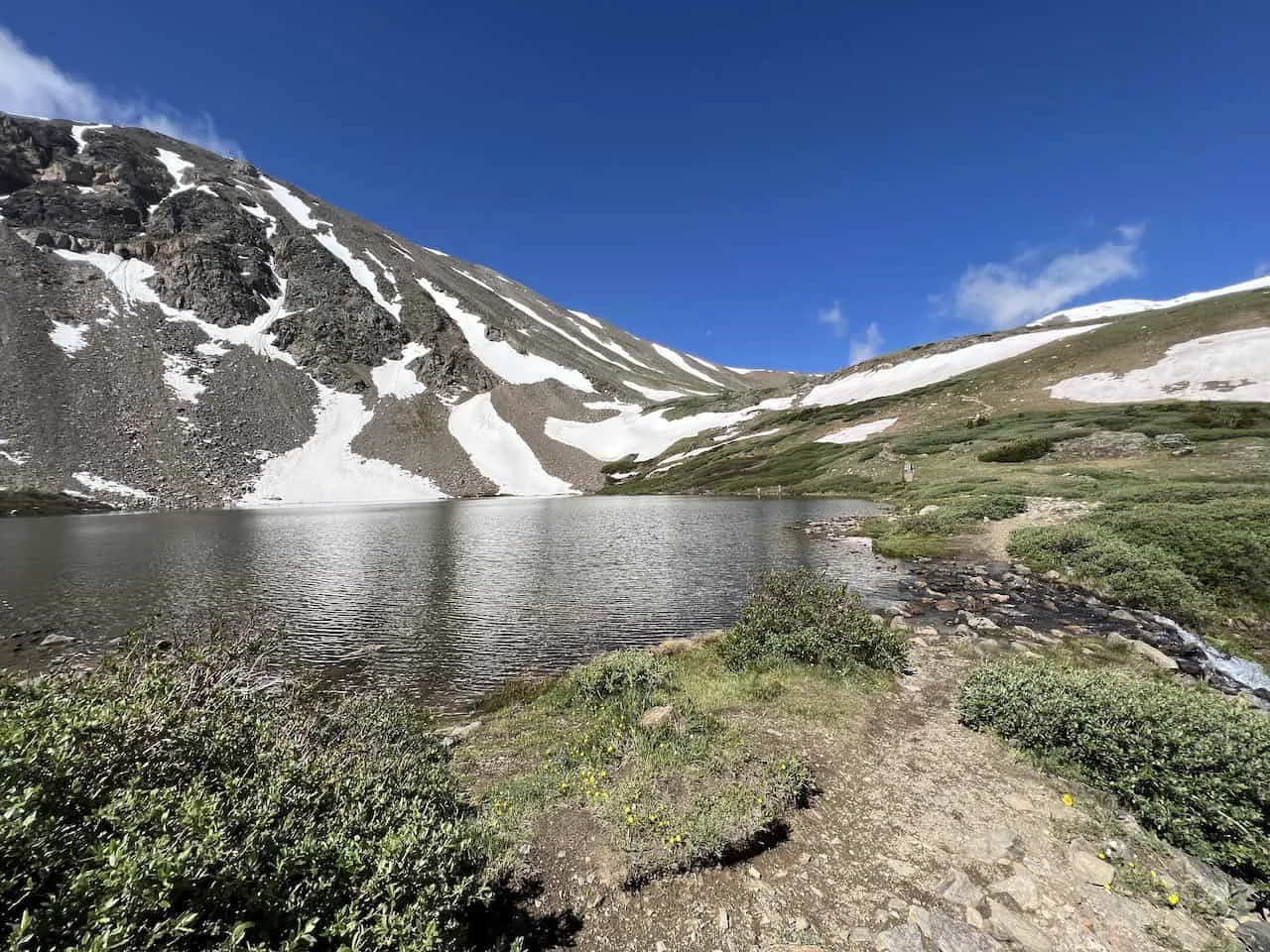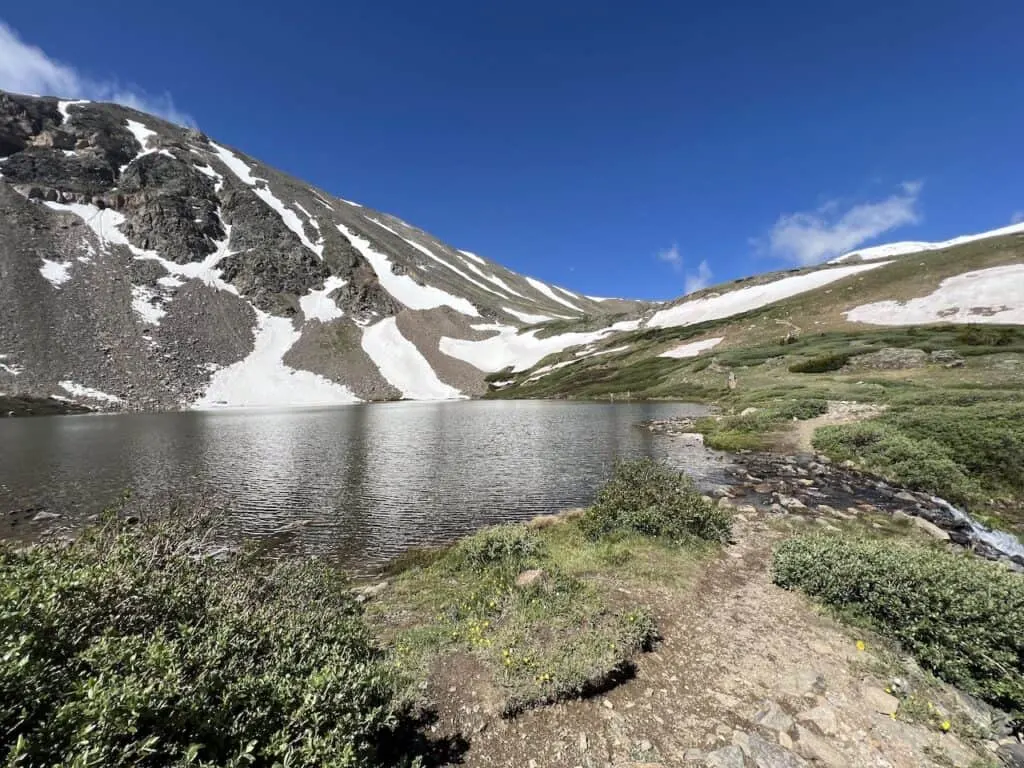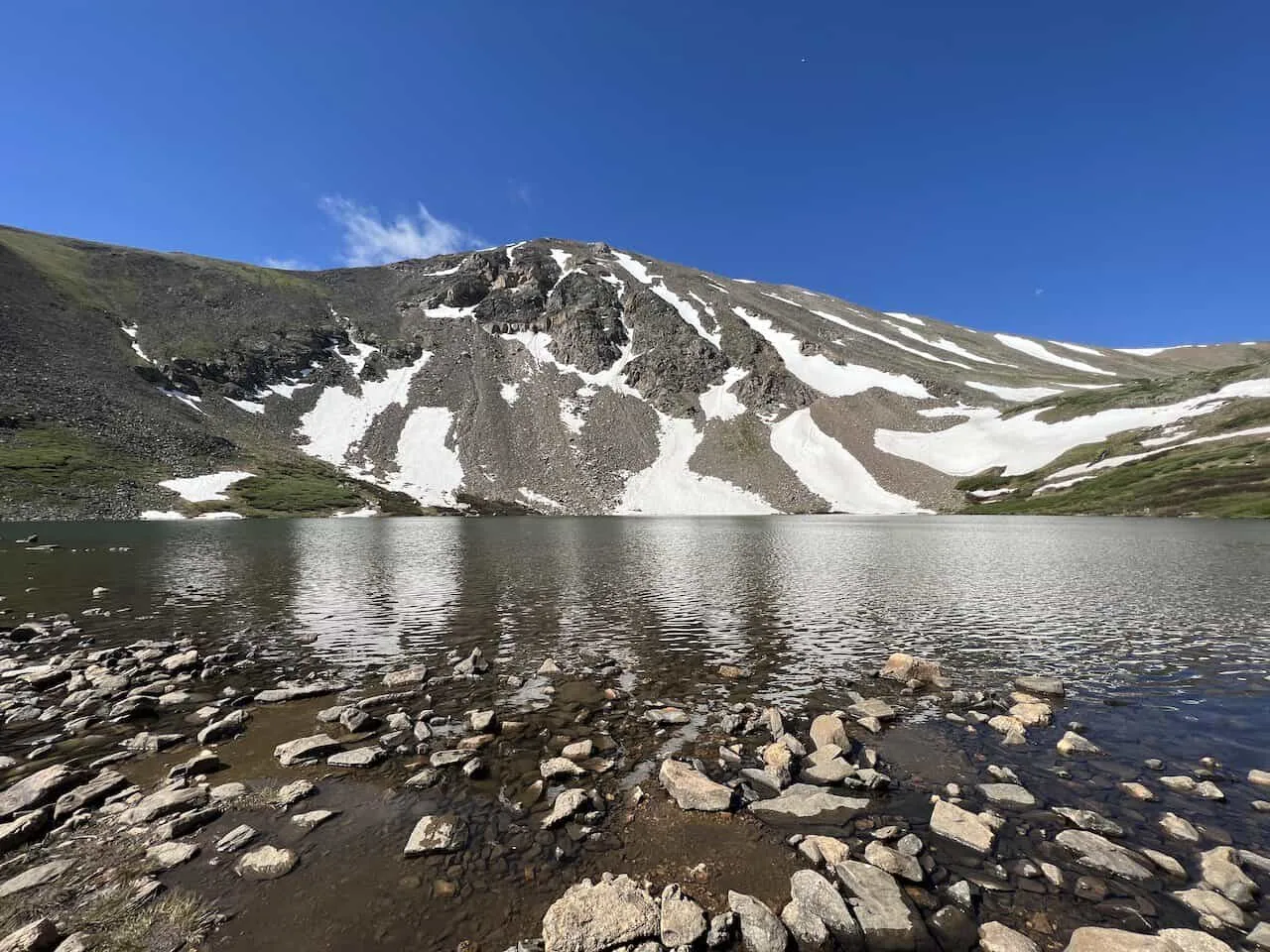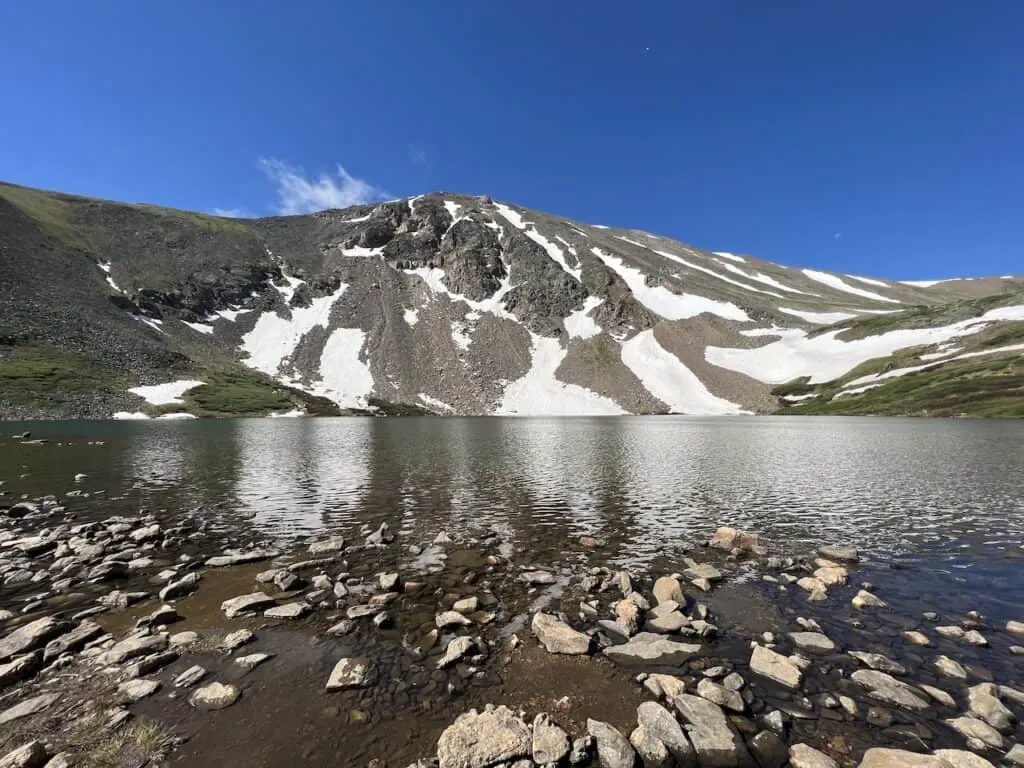 Silver Dollar Lake to Murray Lake (0.5 miles)
The final ascent towards Murray Lake is also the steepest of the hike, but altogether it isn't that bad of a climb.
As you pass by Silver Dollar, there is a small rock crossing along the area where the lake spills out. Just be wary here as you continue along.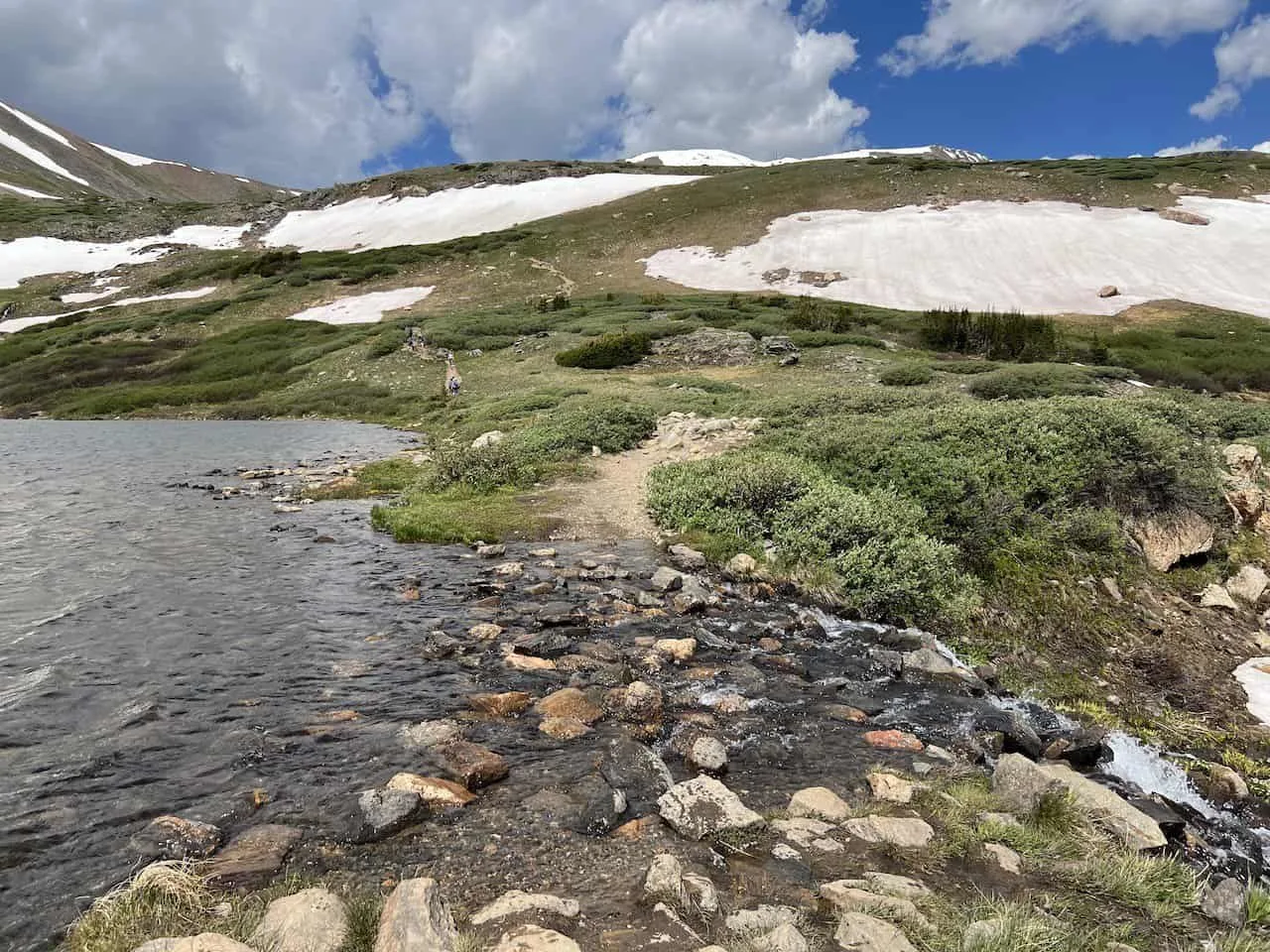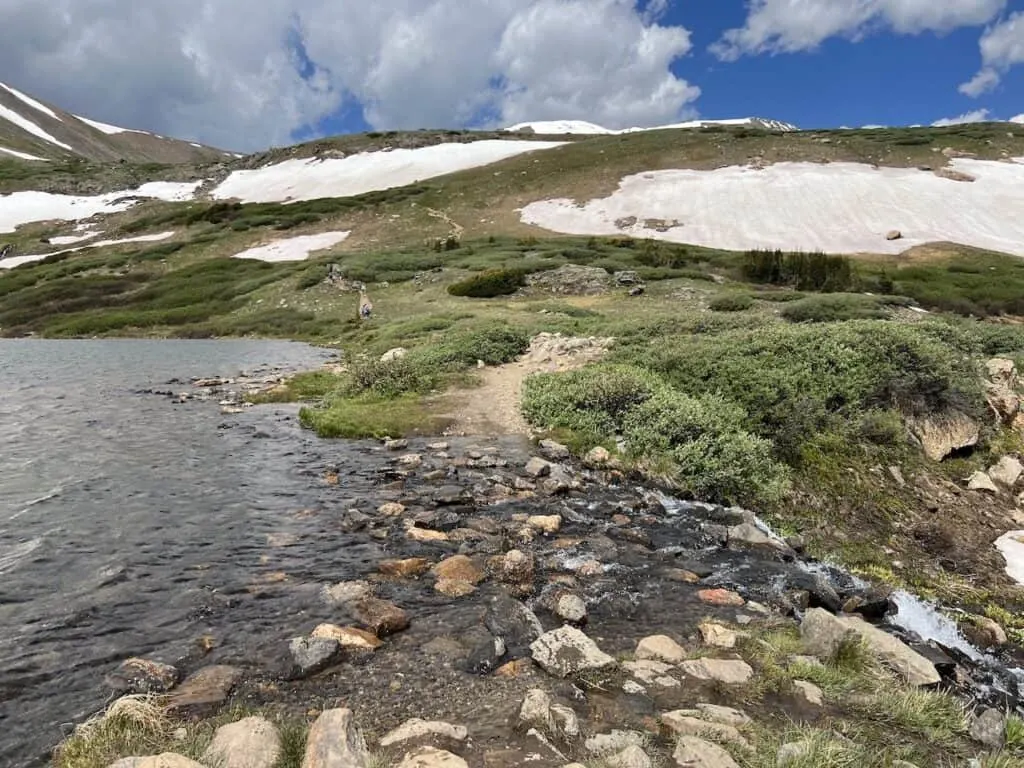 Just above Silver Dollar Lake, I would recommend taking in the viewpoint, where you can see both Silver Dollar and Naylor in one shot. I pinpointed this spot on the map as well, and it is perhaps my favorite view of the trail.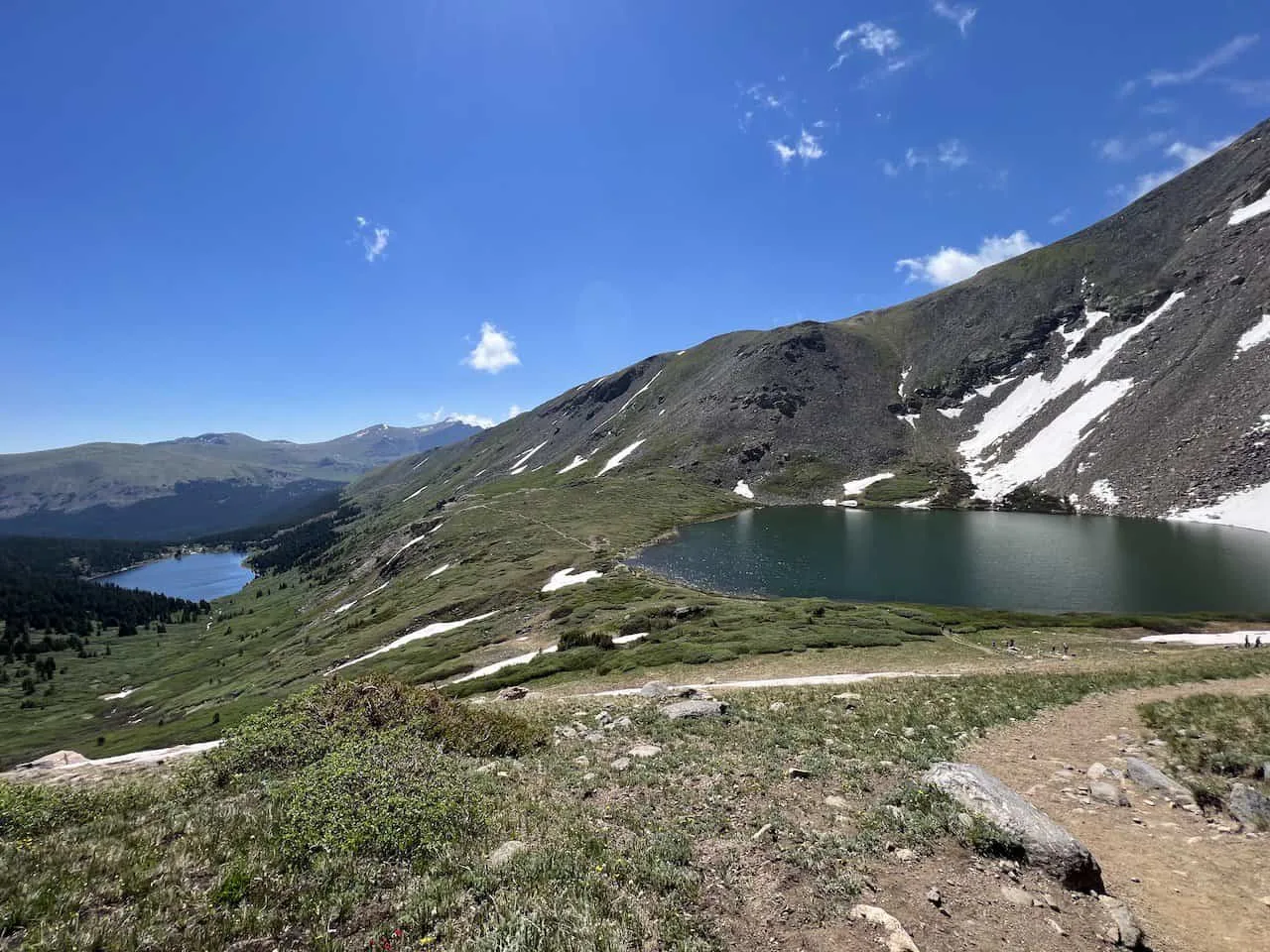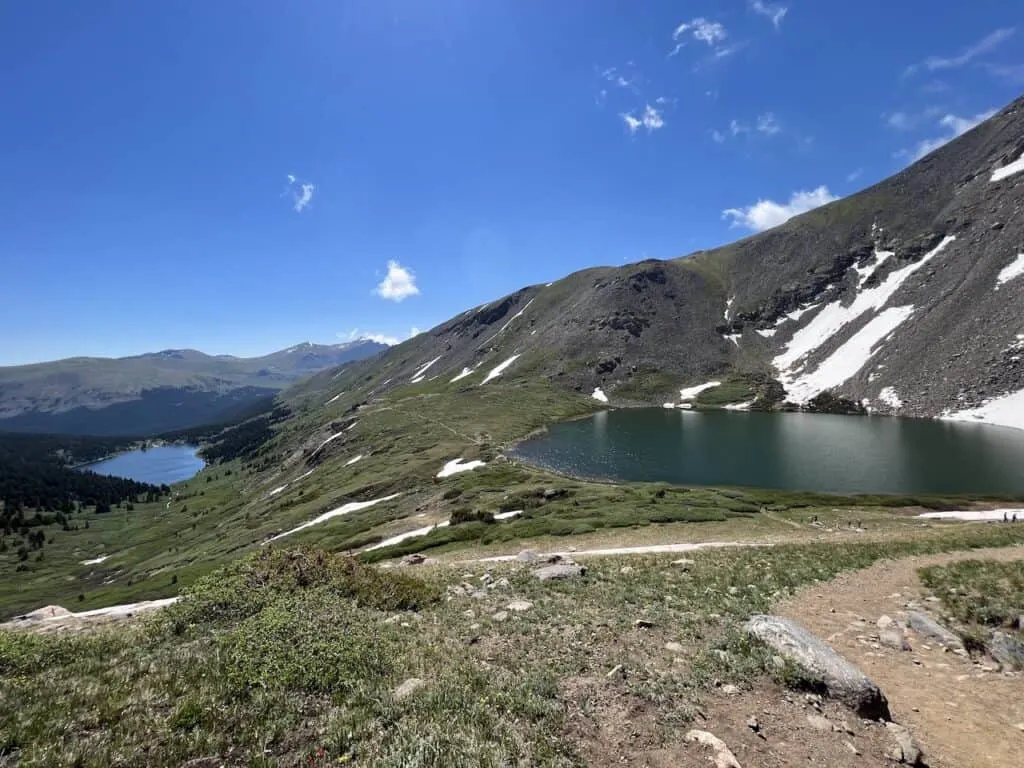 After that spot, the trail continues upwards as you gain some more elevation and soon enough you will reach Murray Lake (also called the Murray Reservoir).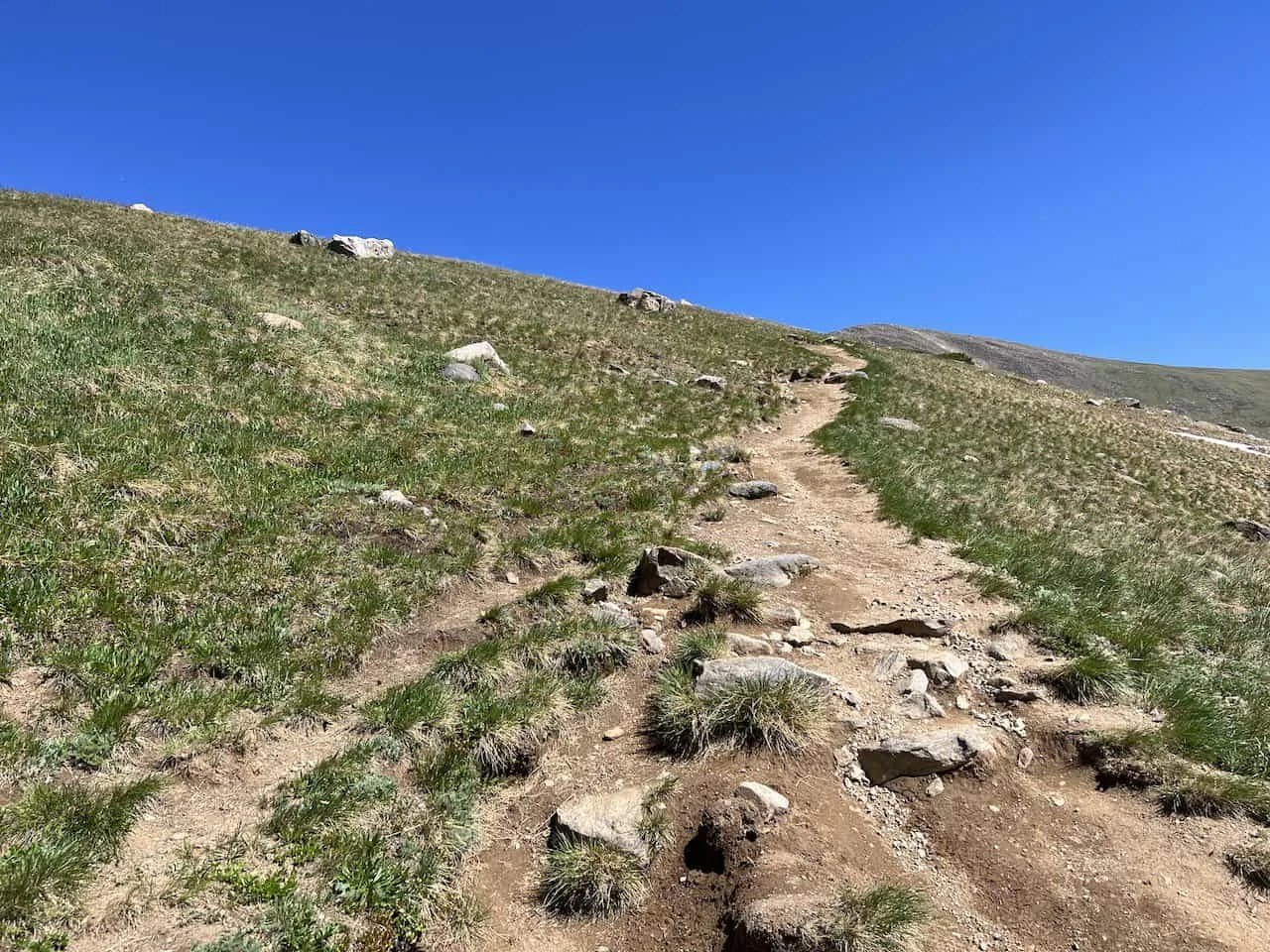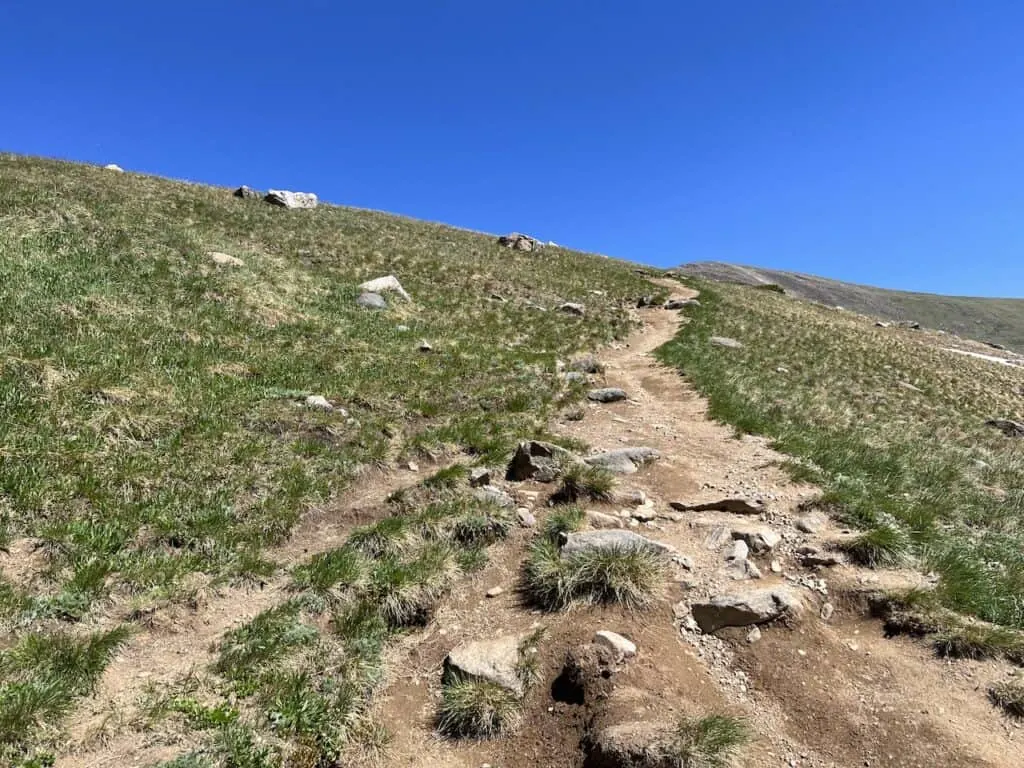 You can walk around the trail on either side of the lake, as Square Top Mountain looms above.
Be careful if you head to the opposite side of the lake as there is a little sketchy river crossing across some rocks.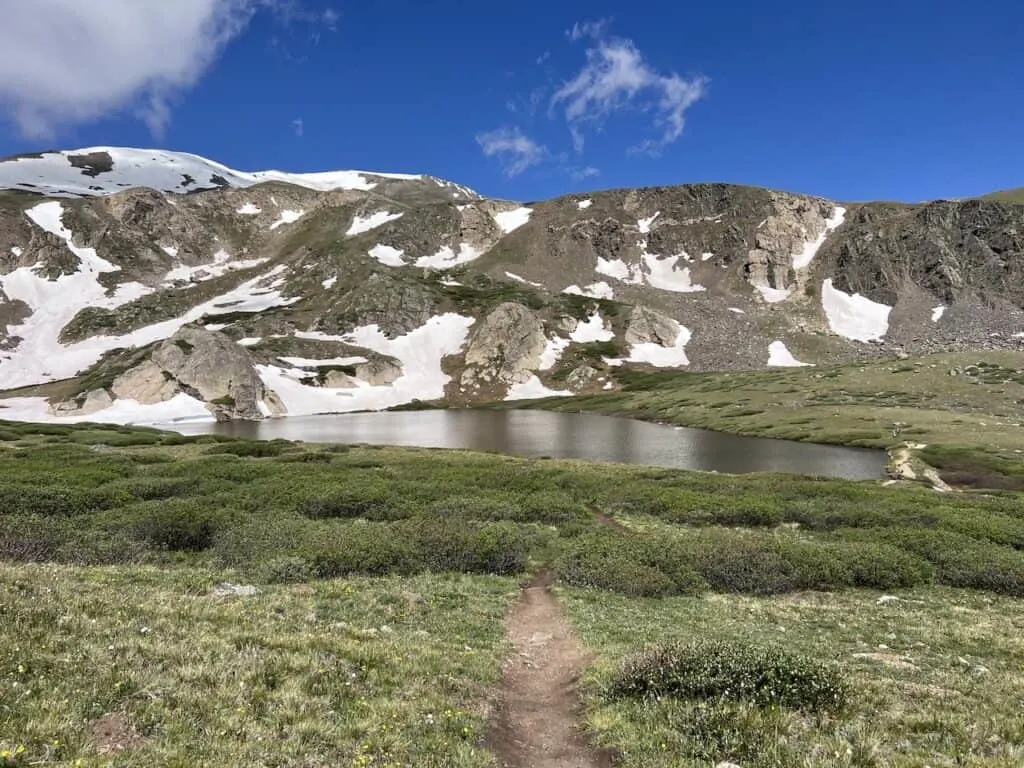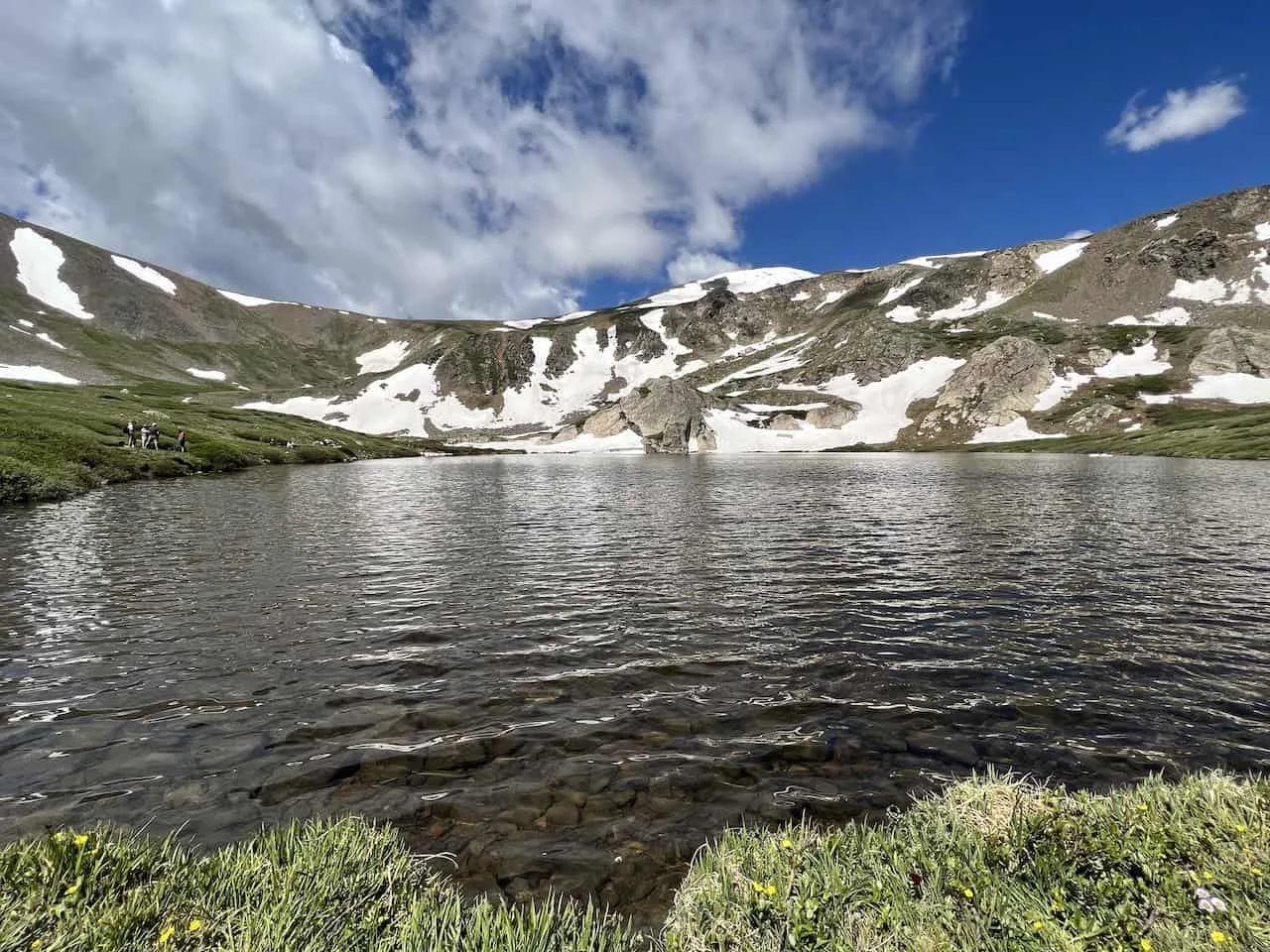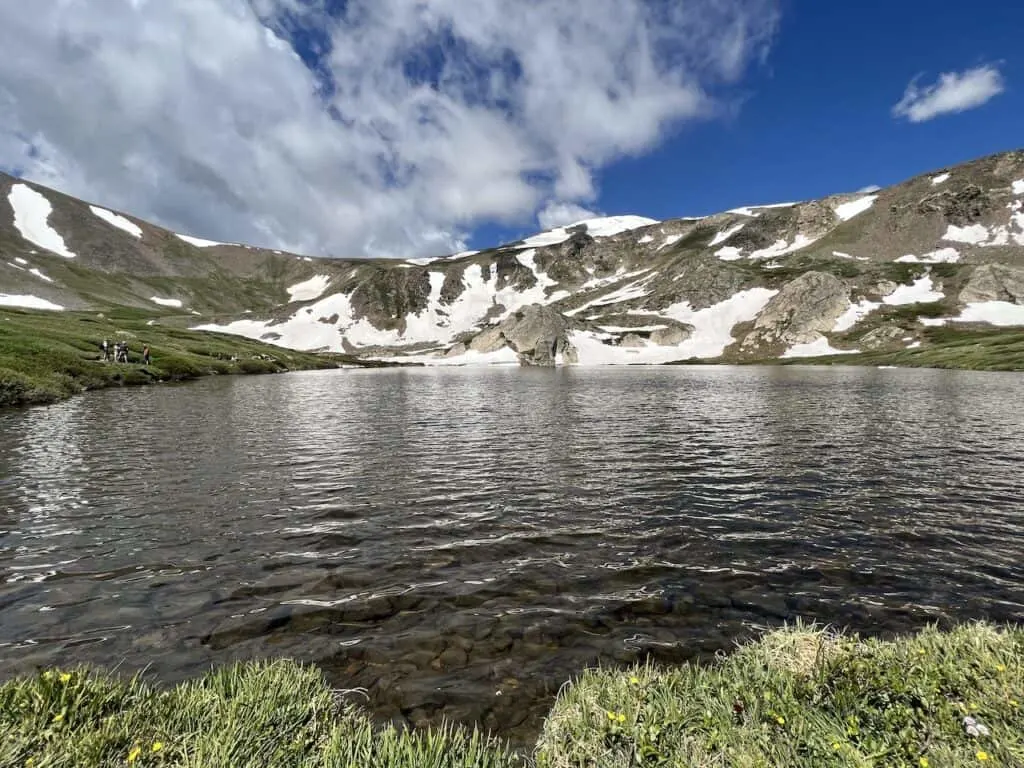 Murray Lake to Trailhead (2 miles)
It is now time to retrace your steps as you leave Murray Lake behind and head back to the trailhead. The way back should be quicker, but now you will continuously have some beautiful panoramas out in front of you.
Those Silver Dollar Lake and Naylor Lake views will continue to impress as you make your way down the trail. Be sure to take some breaks along the way, and enjoy it!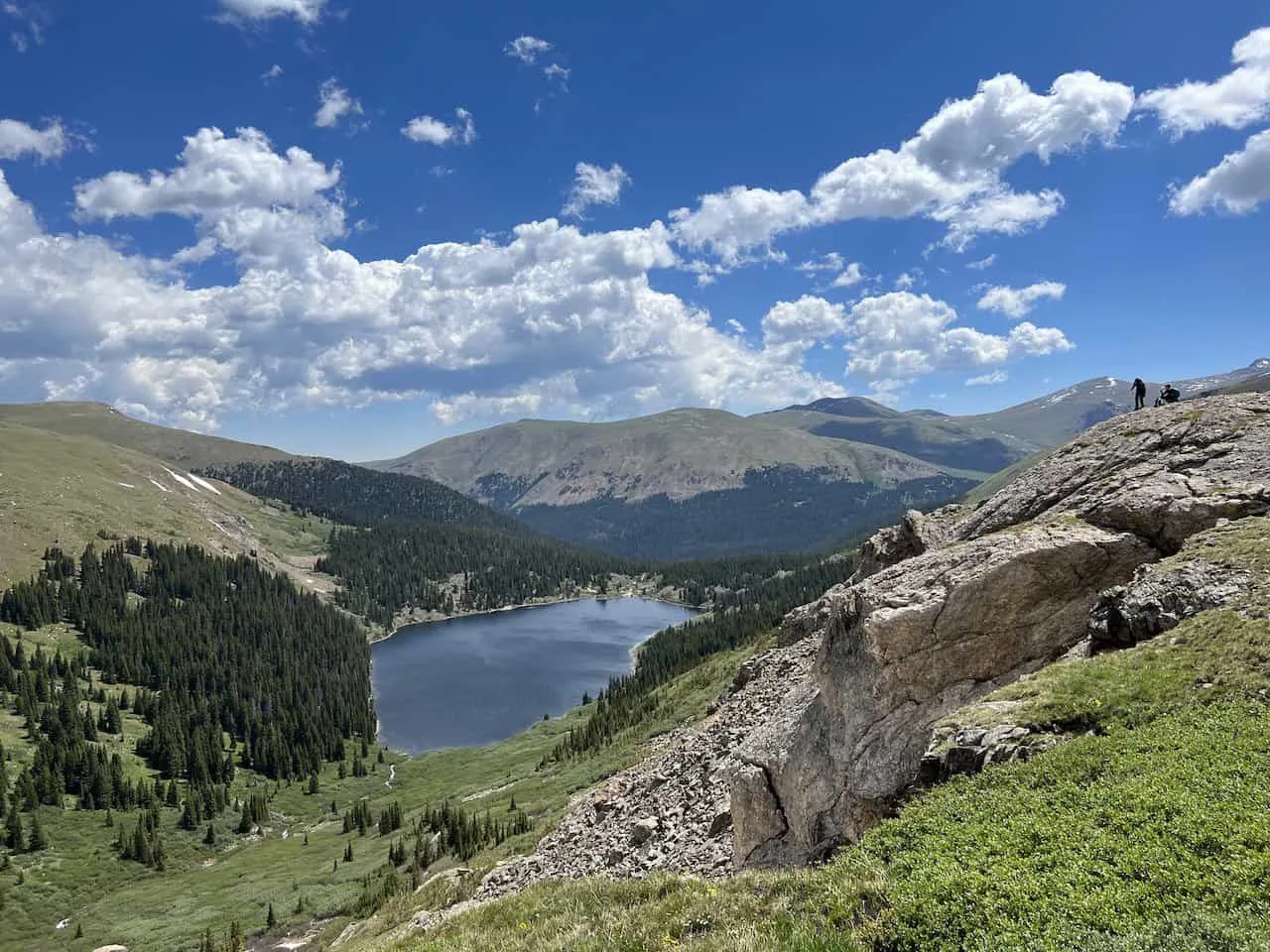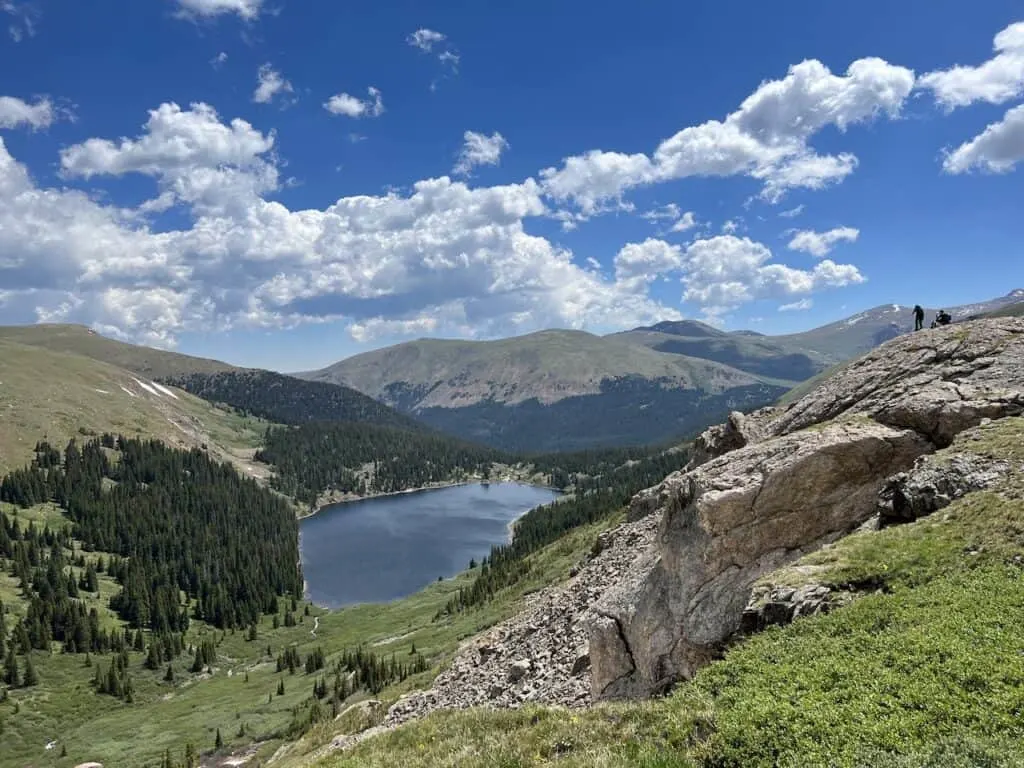 All said and done, it is the perfect short hike for most people to take part of (including your kids & dogs!).
It is also a great warmup hike for acclimatization as you may want to take on some more strenuous and higher hikes during your time in Colorado (like Mount Elbert!).
That about wraps up your guide to the Silver Dollar Lake and Murray Lake trail. If you have any questions or comments, be sure to add them in below.
Also, be sure to check out the other Colorado hiking guides up on the site. A few other top hikes include:
Have fun out there and safe travels!